Decorating the entire house, inside and out, is a great way to add a whimsical touch of spring to your home. Easter is the start of spring, so why not show your excitement with lots of colors and flowers? The list of Easter porch decor ideas below has tons of DIY projects and ways to make the exterior of your home as cute as the interior! Whether you are looking for decorations that are rustic or cute, subtle or bright, at least one of these Easter porch decor designs are sure to appeal to you.
23 Ways to Welcome the Easter Bunny to Your Porch

Many of these Easter porch decorations use materials you probably already have lying around your house like a metal bucket, wood boards, and baskets. If you have kids, the cute projects featuring bright colors and adorable bunnies will probably fit best in your home. For a more subtle spring aesthetic, try ideas that add eggs or flowers to your everyday porch set-up. You can even repurpose your Christmas tree decorations to make some of these designs. Read on for shopping lists and step by step tutorials for all 23 of these fun Easter porch decor ideas!
1. Colorful DIY Easter Bunny Planter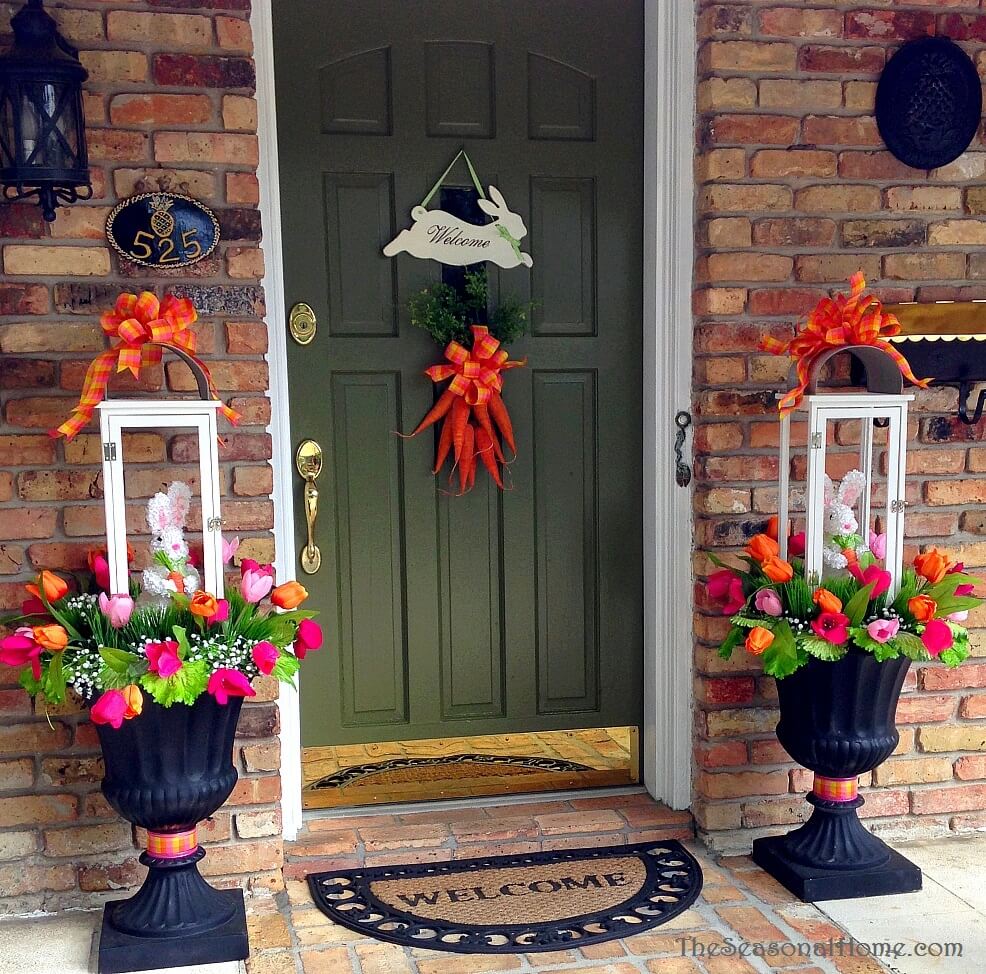 This planter is easy to put together from items commonly found at the home improvement store and craft store. Find two pedestal planters and wrap colorful ribbon around the base. Fill the planter with vivid silk tulips. Add an open-sided lantern with a stuffed bunny inside. Top it off with a bold plaid bow.
2. Rustic Wooden Bunny Family Decoration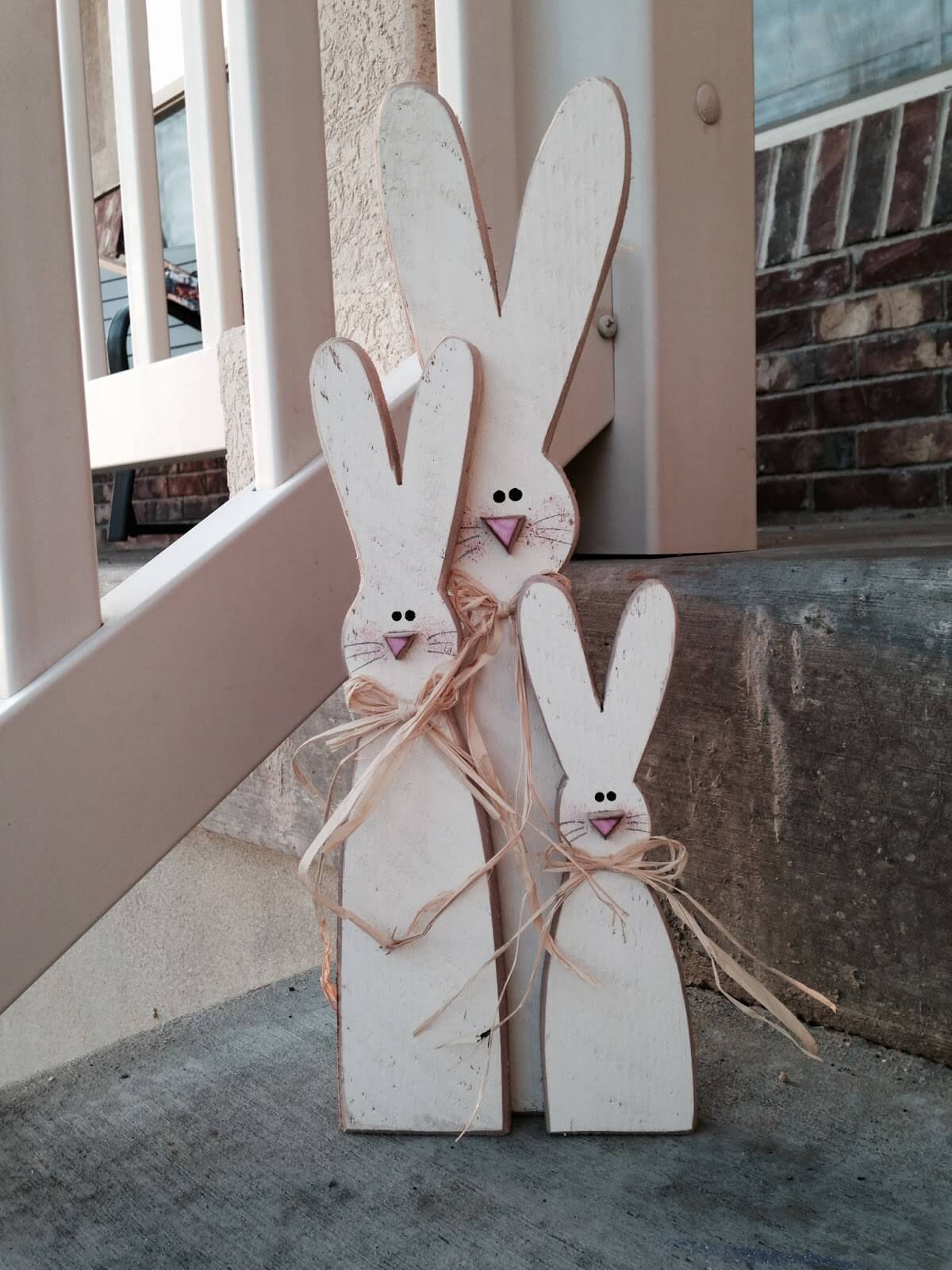 Make these bunnies from scrap wood. Use a template and cut out three different size bunnies. Paint these bunnies off-white and sand them a little for a distressed look. Add triangular cutout noses. Paint eyes and whiskers. Then tie cute raffia bows around the bunnies' necks. Your porch bunnies will make all your guests smile.
3. DIY Egg Tree Project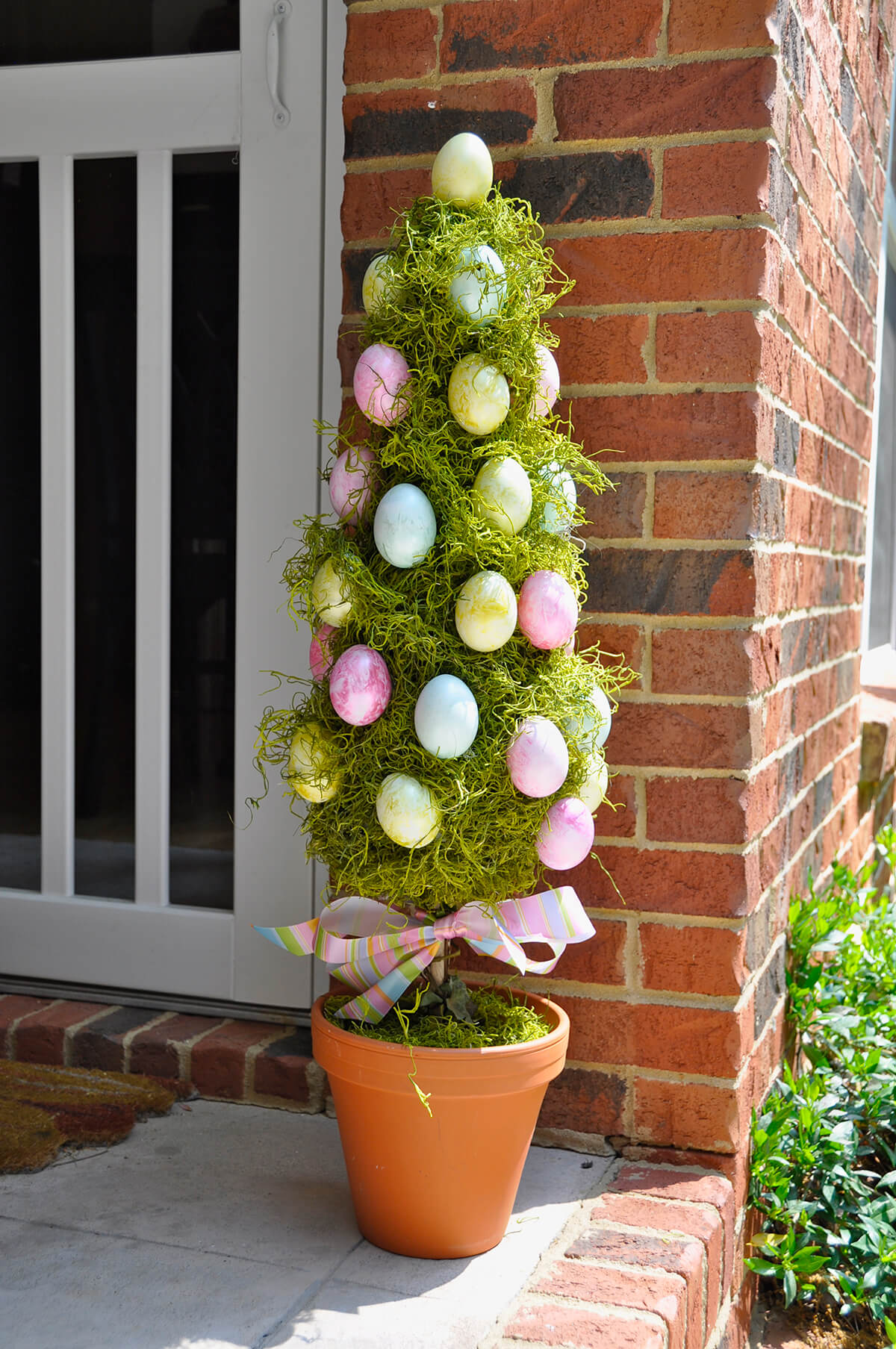 Make this easy topiary tree with a plain terracotta pot from the home improvement store. Insert a thick dowel in the base of a foam cone. On the foam cone, arrange Spanish moss in a topiary shape. Blow out white eggs and dye them in varying pastel hues. Use hot glue to secure the blown eggs to the Spanish moss.
4. Easter Bunny Nest with Eggs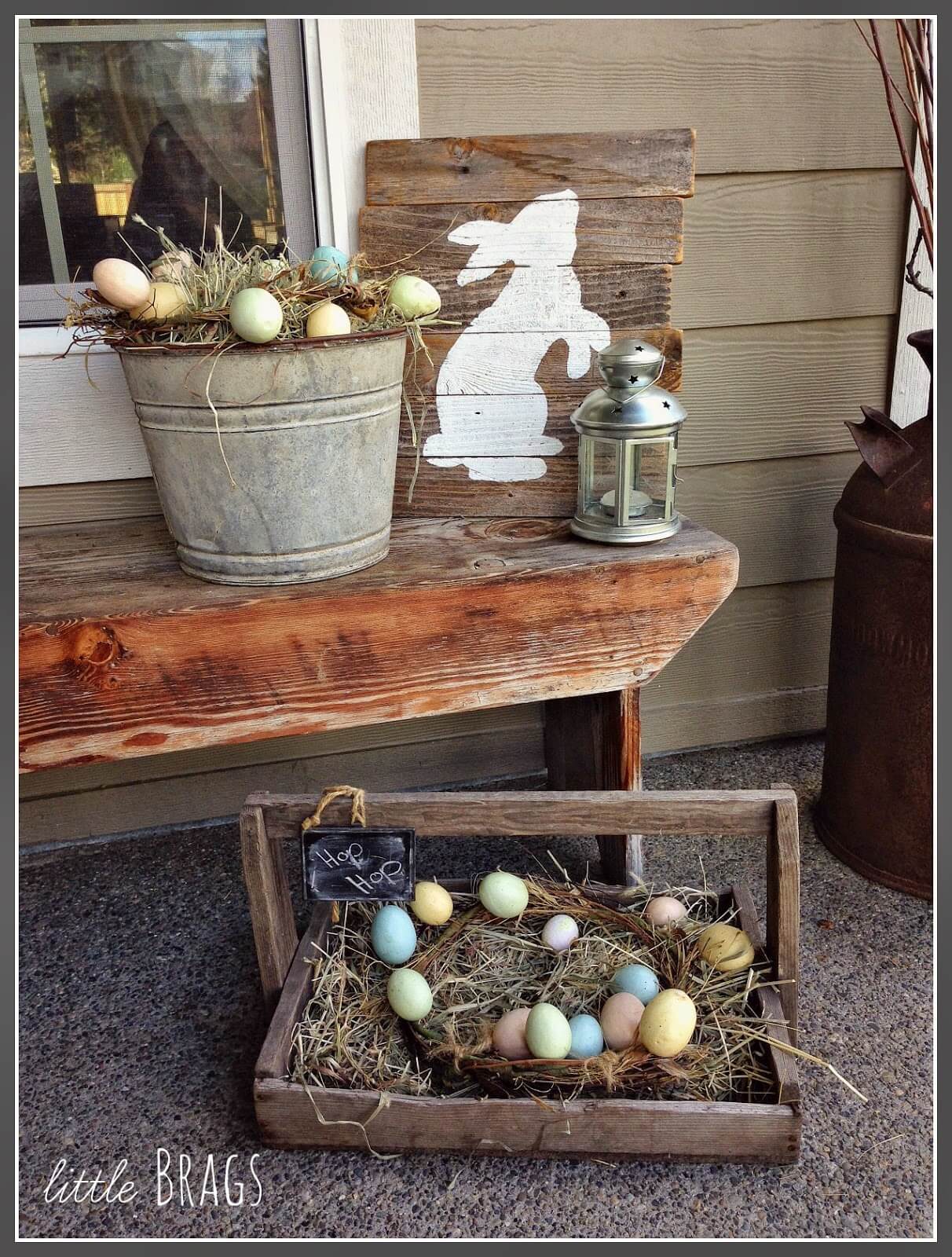 Use a reclaimed wooden tray to create this adorable Easter bunny nest. Fill the tray with hay or straw. Add a grapevine wreath to make the nest. Scatter pastel eggs around the nest. Tie a small chalkboard to the top handle of the tray. Children will be delighted with this craft.
5. Upcycled Framed Chalkboard Spring Art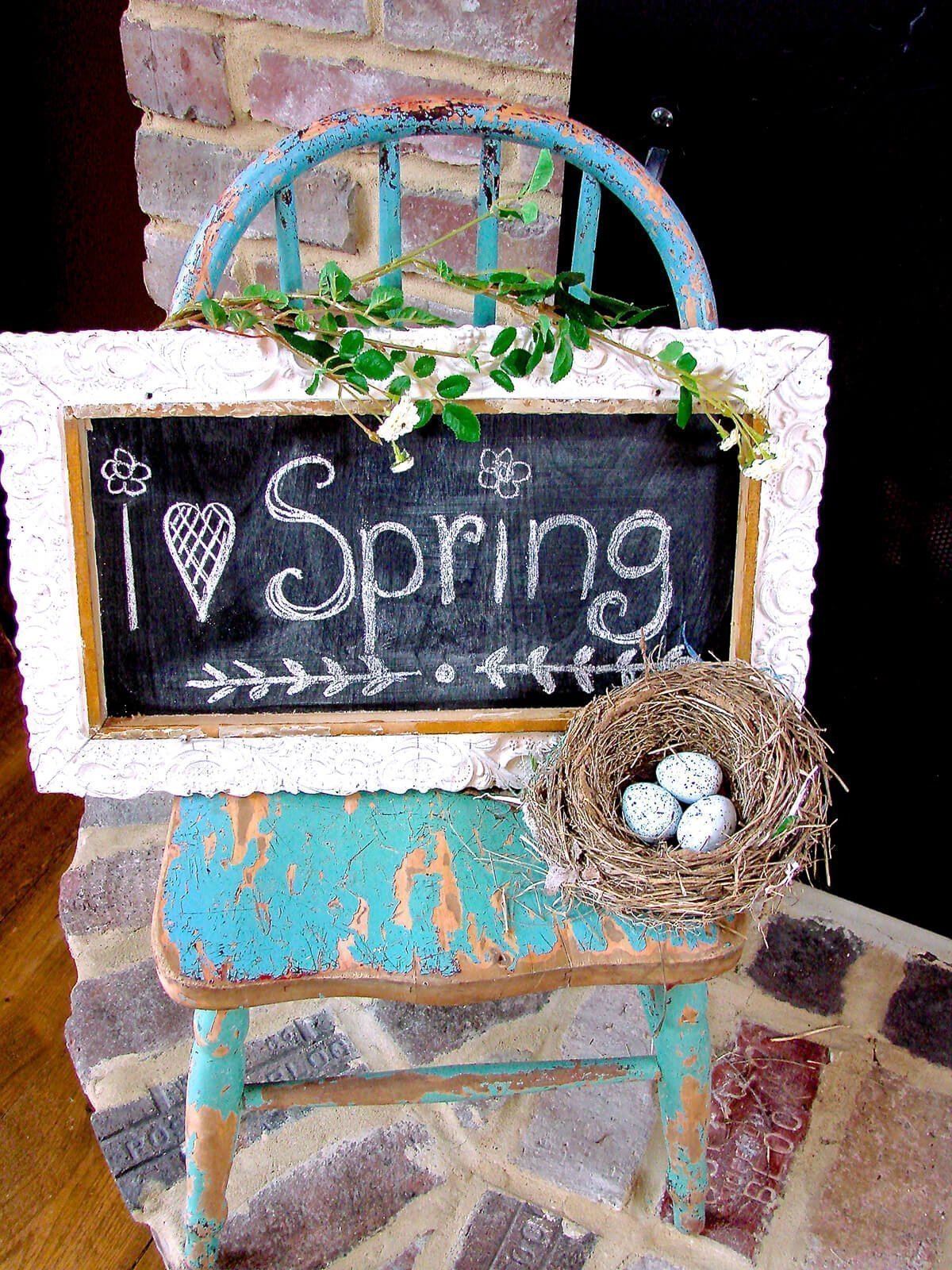 Use an old frame to create this chalkboard sign. First remove the back of the frame and paint it with chalkboard paint. Then paint the frame, giving it a distressed finish if you like. Put the chalkboard in the frame and add a cheerful message. Place the sign in a reclaimed wooden chair and add some greenery and a small bird's nest.
6. Tulip Bunny Porch Decor
Find cutout bunny faces in your local party supply store. If you can't find premade bunnies, find a template and cut the bunnies from wood. Paint these bunnies white and add details. In a large footed planter, place Styrofoam circles or some other filler. Cover the Styrofoam with a square of grass from the craft store. Add the bunny and silk tulips.
7. DIY Cute Spring Banner Tutorial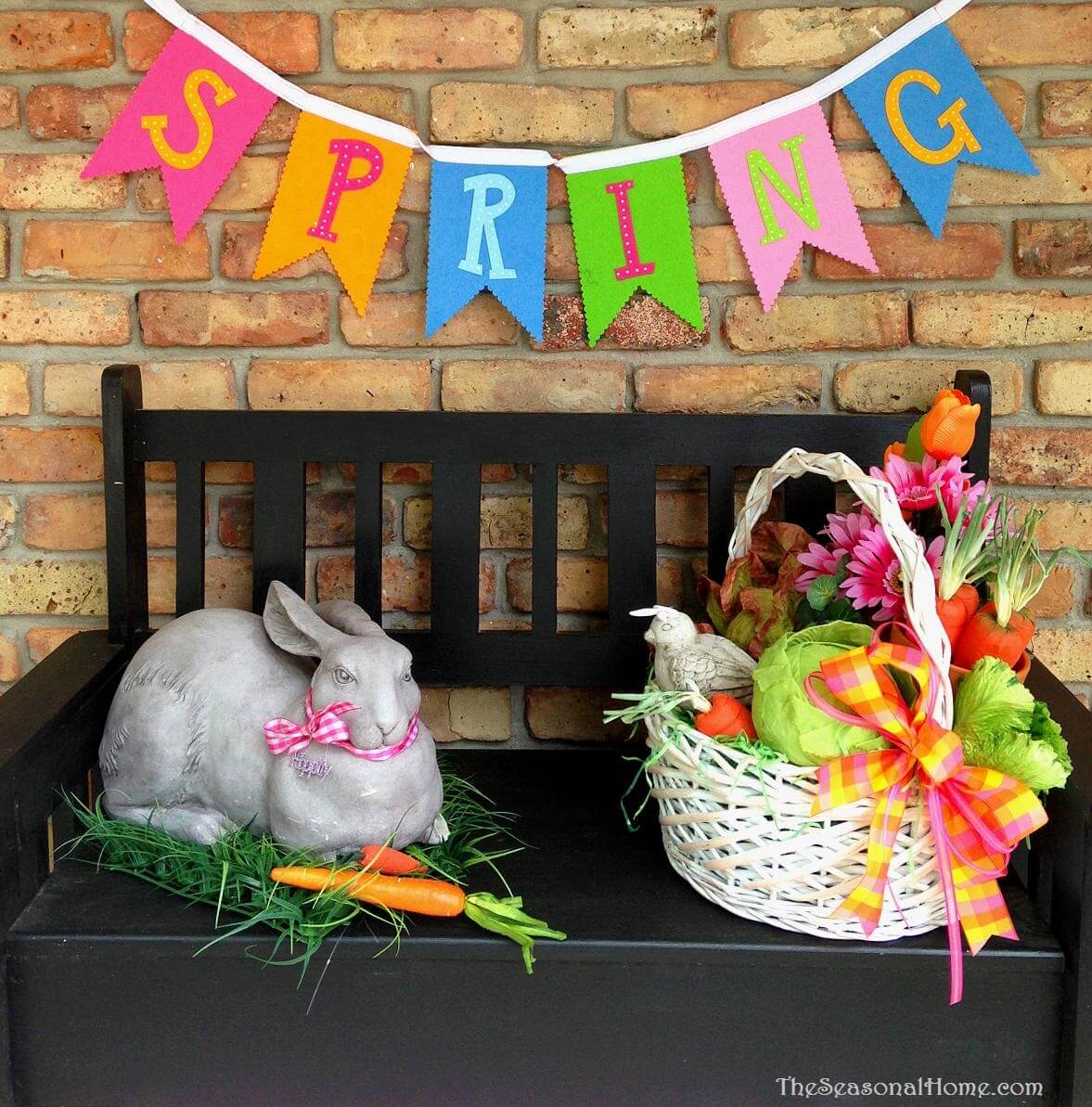 To make this cheerful banner, find bright colored felt at the craft store. Cut it into banner shapes with pinking shears. Cut letter shapes from contrasting felt. Add polkadot details with fabric paint, or for extra detail, glue rhinestones on the letters. Hot glue the letters on the felt and sew the banners on the hanging tape.
8. Hope Easter Wreath Board Decoration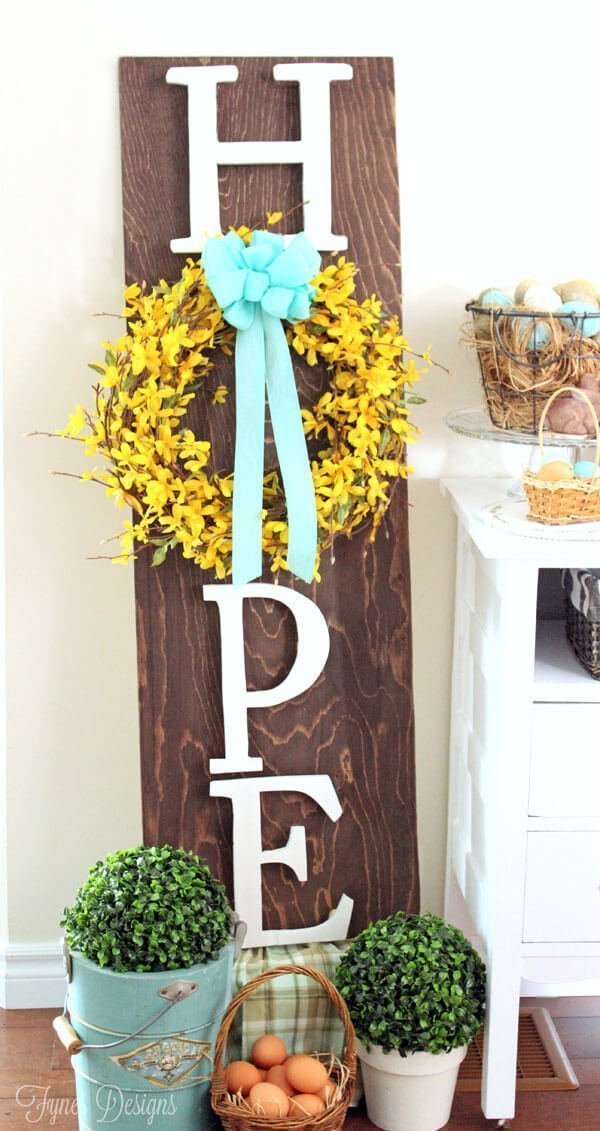 This decoration has special meaning in the Easter season. Find wooden letters spelling "Hope" at the craft store. Paint these letters white. Secure them to a wider piece of wood that you have stained in a dark color. Make a small round wreath with silk forsythia or use your favorite flower. Hang the wreath in place of the O. Add a contrasting bow to the wreath.
9. Pretty DIY Floral Wreath for Spring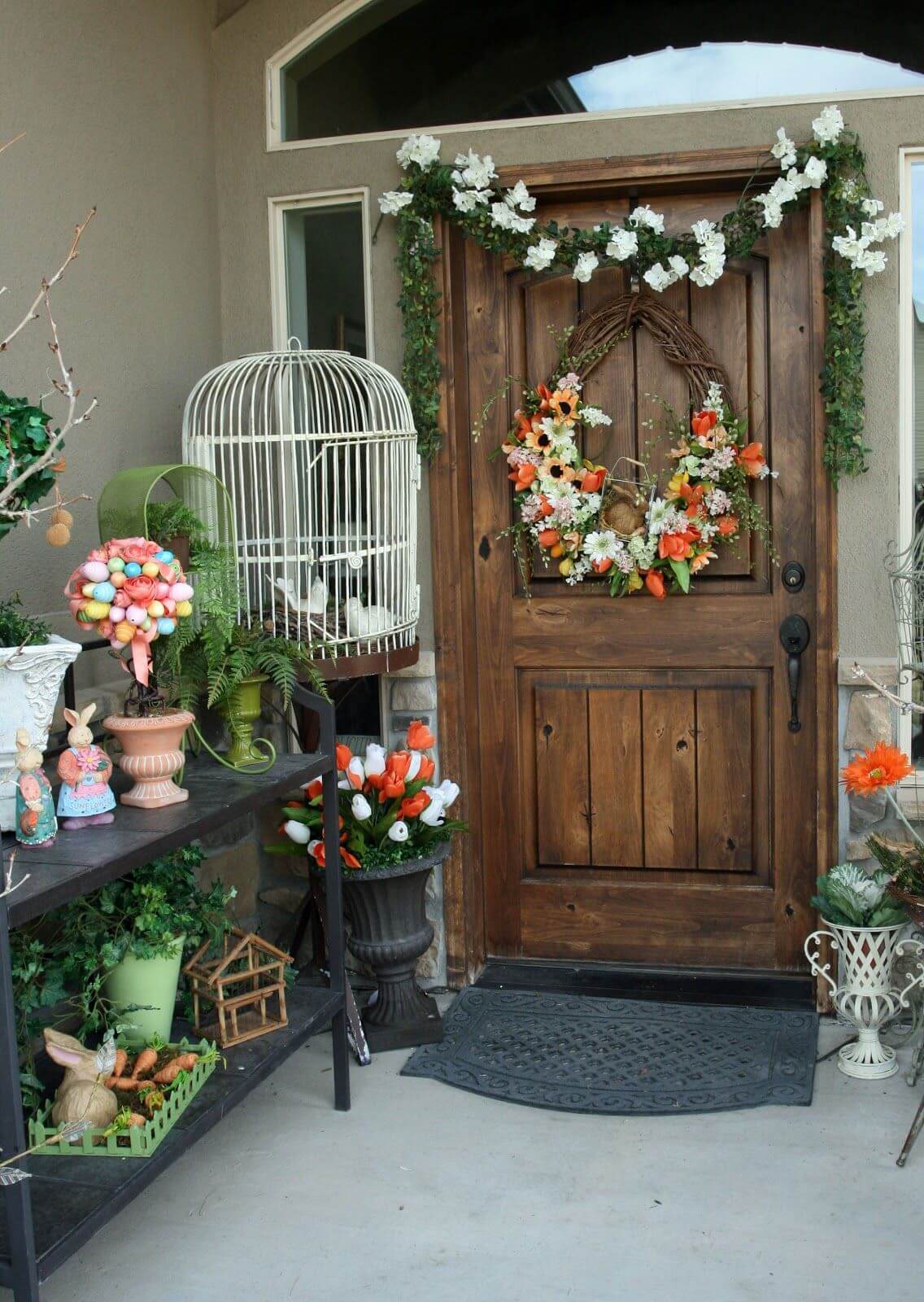 Find or make a large egg-shaped grapevine wreath. You may be able to bend a circular wreath by soaking it in water. Create a lush floral display with your favorite spring colors, allowing the flowers to spread in a natural way. In the center of the wreath, secure a small metal frame with a bunny inside.
10. Pastel Egg Wreath with Bow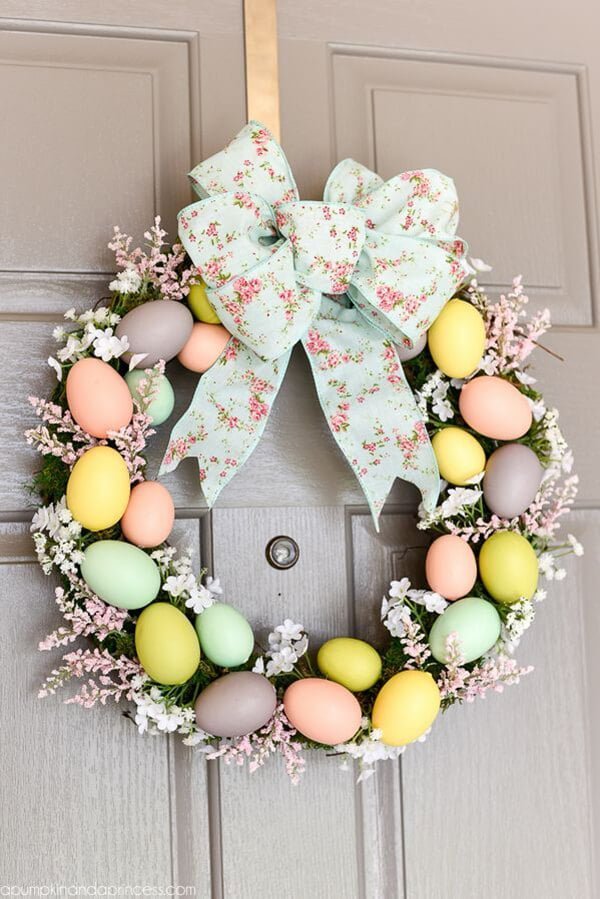 Cover a grapevine wreath with Spanish moss. Use a hot glue gun. Glue painted plastic eggs on the moss. In between the eggs, use pastel floral stems in your favorite colors. Create a large statement bow with wired floral ribbon. Secure the bow to the top of the wreath.
11. Tri-Level Easter Egg Nest Topiary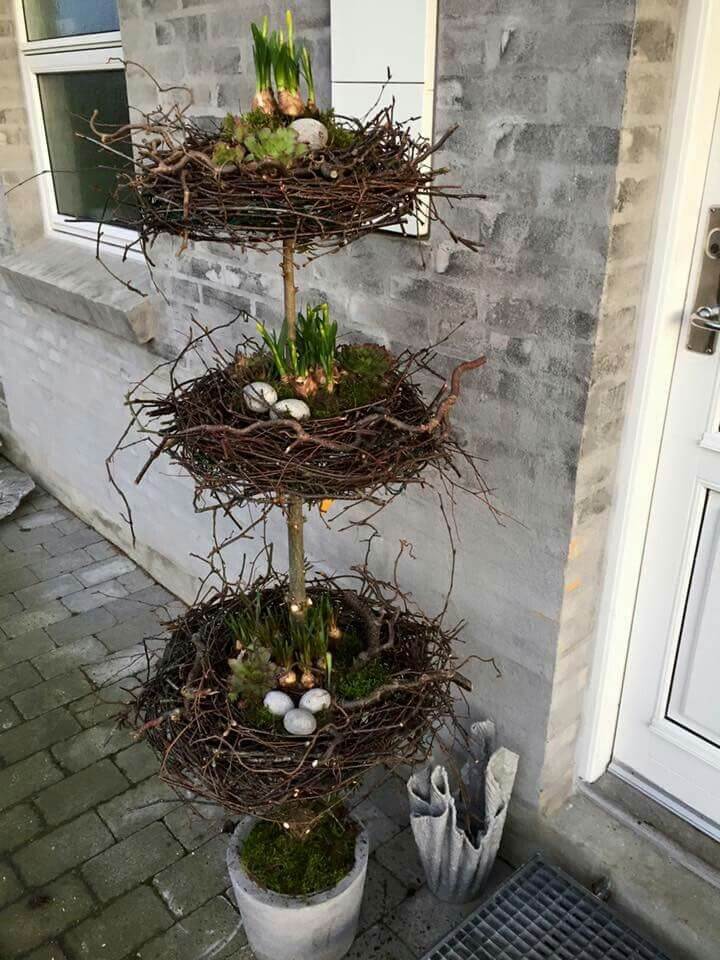 Secure three wooden nests along a natural tree branch or wooden dowel. Put small planters with soil in the center of each nest. Add real growing spring bulbs. Decorate each level of the nest topiary with silk or real plants and decorated eggs. Fill in the bottom of the planter with moss for a natural look.
12. Wood Easter Bunny and Chicken Planters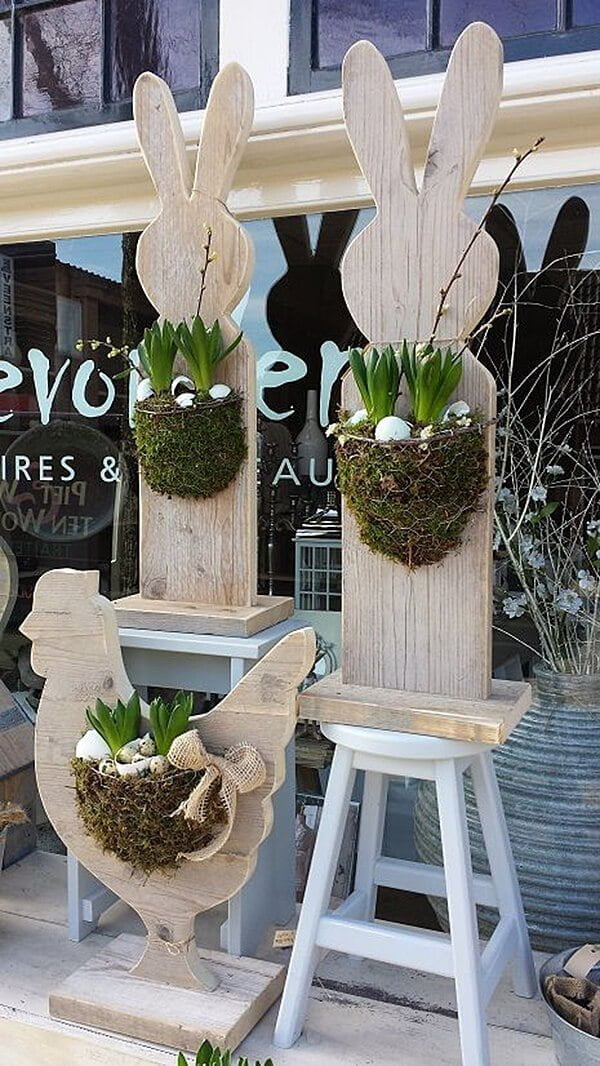 Cut bunny and chicken silhouettes from wood. Stain these a light color. Make a base for each stand. On the front of the bunny or chicken, secure a wire basket. Fill this basket with moss. Add potting soil. Place bulbs in the planter. Add eggs, pussy willows, and burlap bows for decoration. Place the bunnies and chicken on stools and tables.
13. Upcycled Metal Bucket Easter Tulip Planter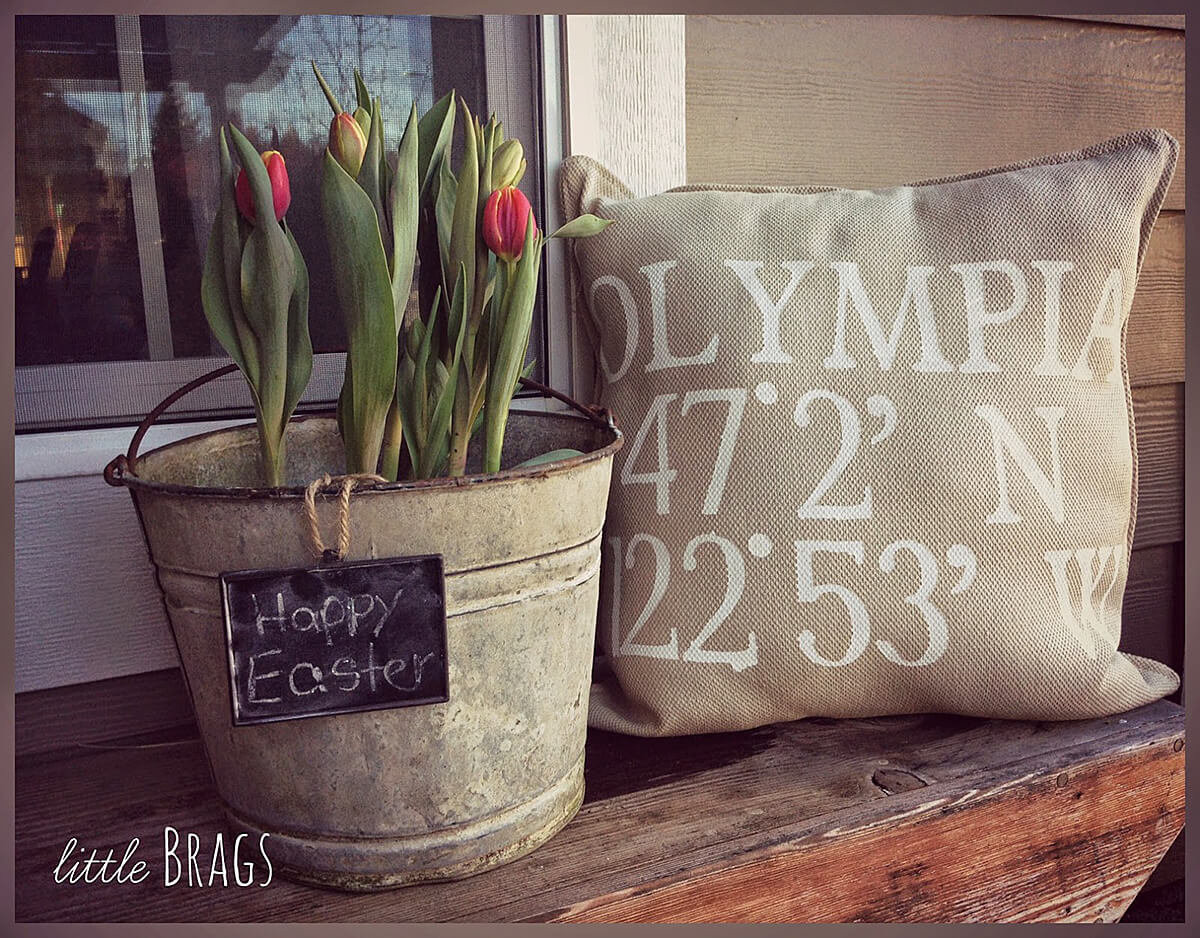 This planter takes only a few steps to put together. Find a rustic upcycled metal pail. Fill it with potting soil and add freshly blooming tulips or your favorite spring bulbs. Use a small chalkboard sign and add your favorite Easter message.
14. Grapevine Basket with Flowers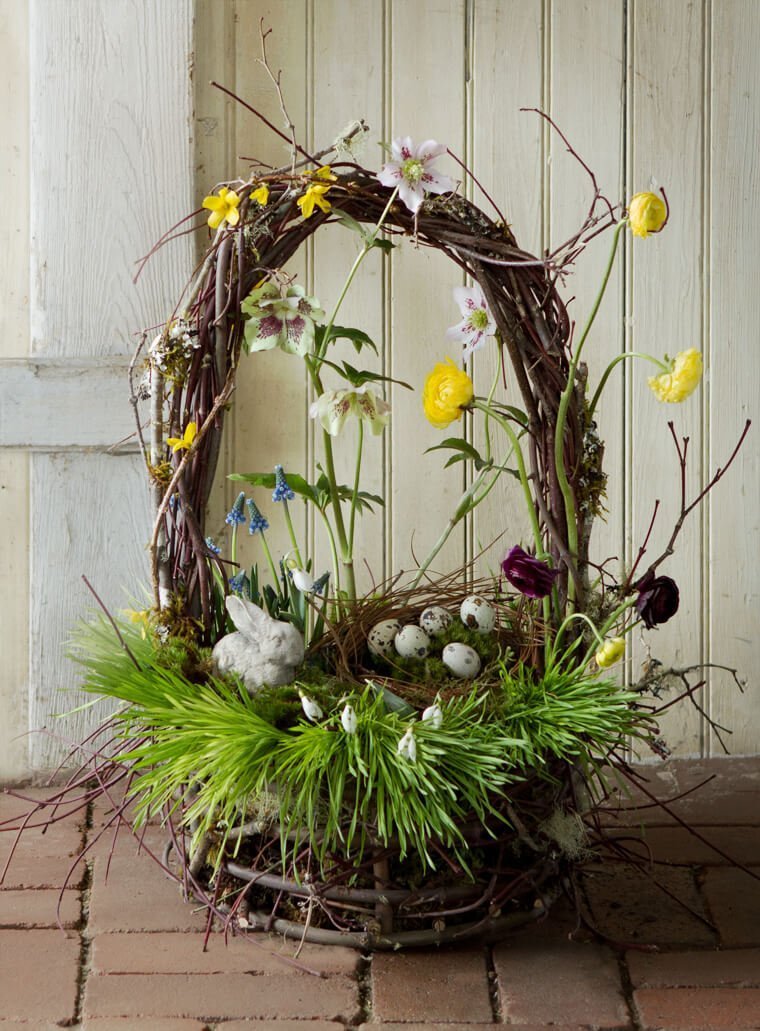 Find a large grapevine basket. Fill it with floral foam or Styrofoam. Add silk grass to the bottom of the basket. Add flowers of your choice. Let the flowers give your basket a rustic, overgrown look. Add a nest and a bunny for an extra cute touch.
15. Wood Board Bunny Porch Décor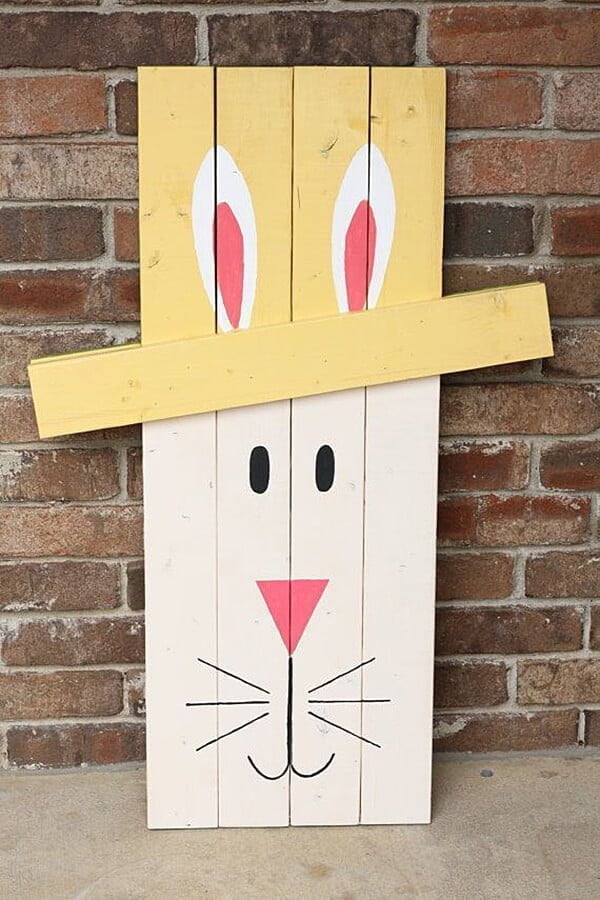 Use reclaimed boards for this whimsical bunny sign. Paint a board pale yellow on the top and white on the bottom. Add ears and a charming bunny face. Nail a pale yellow board across the bunny at a rakish angle to make a top hat. Your bunny will put a smile on your guests' faces.
16. Easy Barrel and Easter Basket Porch Decor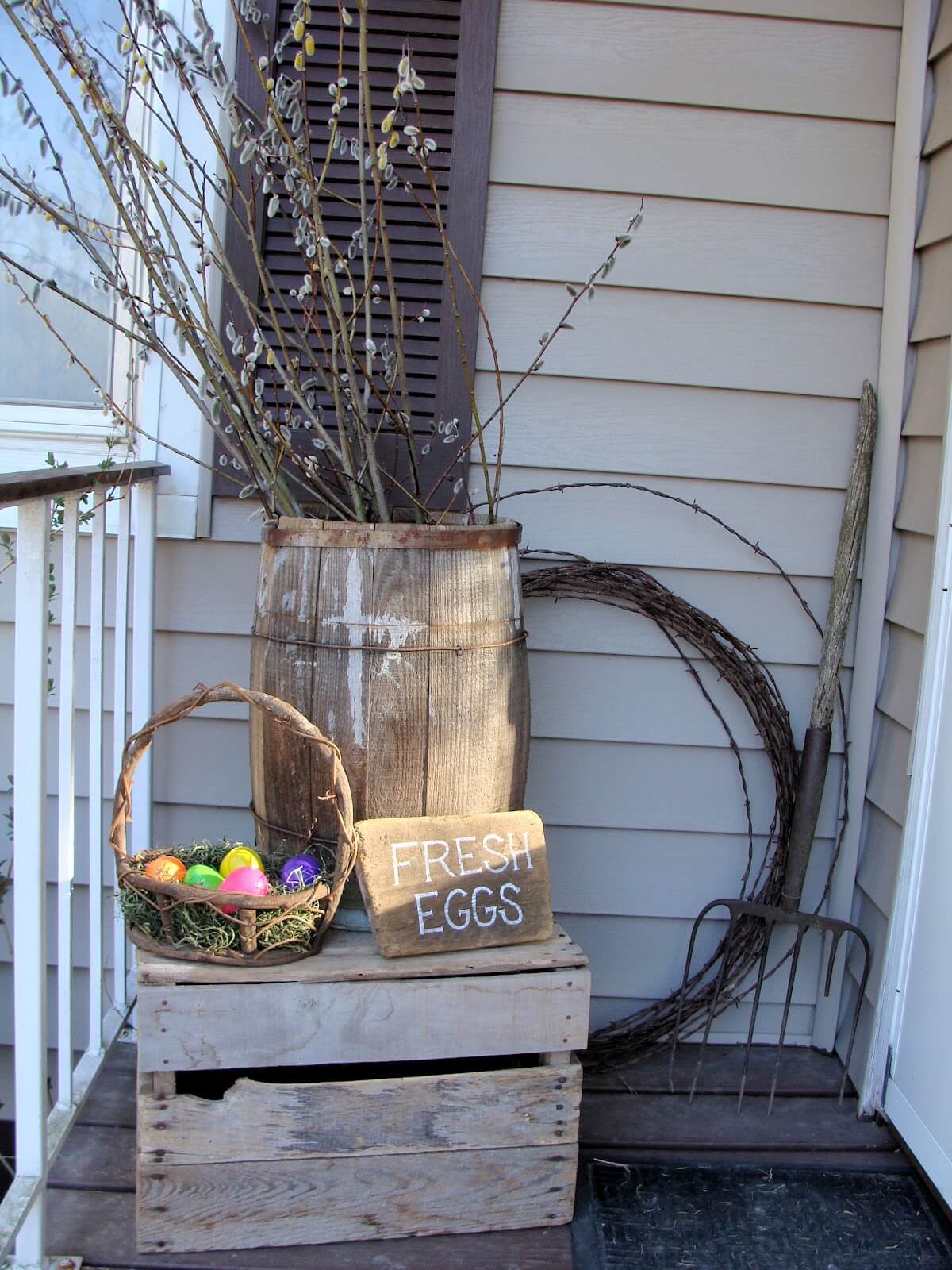 Find a reclaimed wooden barrel and crate. Place the barrel on top of the crate. Add long stems of natural pussy willows. Use a small grapevine basket with moss to hold plastic Easter eggs. Paint a little sign with "Fresh Eggs" and place it next to the basket. For extra charm, place some old garden tools beside the display.
17. Cute Easter Egg, Bunny, and Chick Garland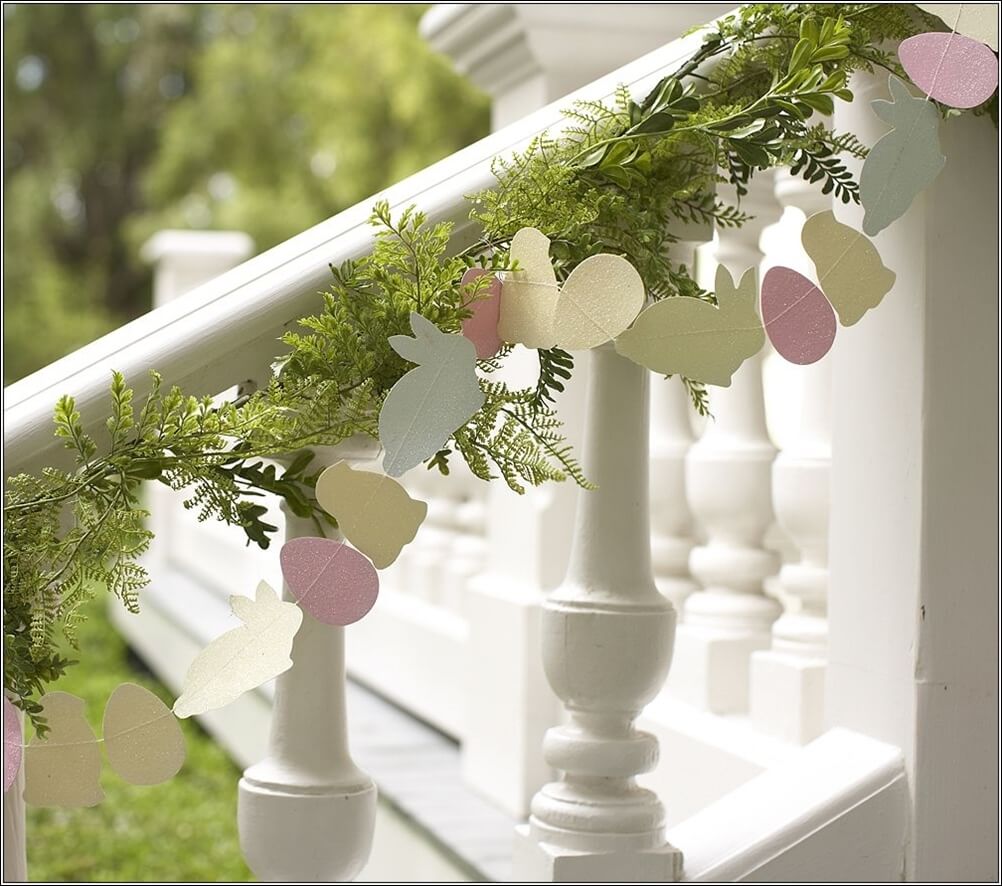 Use your paper cutter or use templates to cut out bunny, chick, and egg shapes. You can use glitter craft paper or paint the shapes with glitter yourself. Glue together matching shapes with a hanging string in the middle. String the animal shapes along a simple foliage garland from the craft store. Hang this anywhere inside or outside.
18. Bright Basket Door Decoration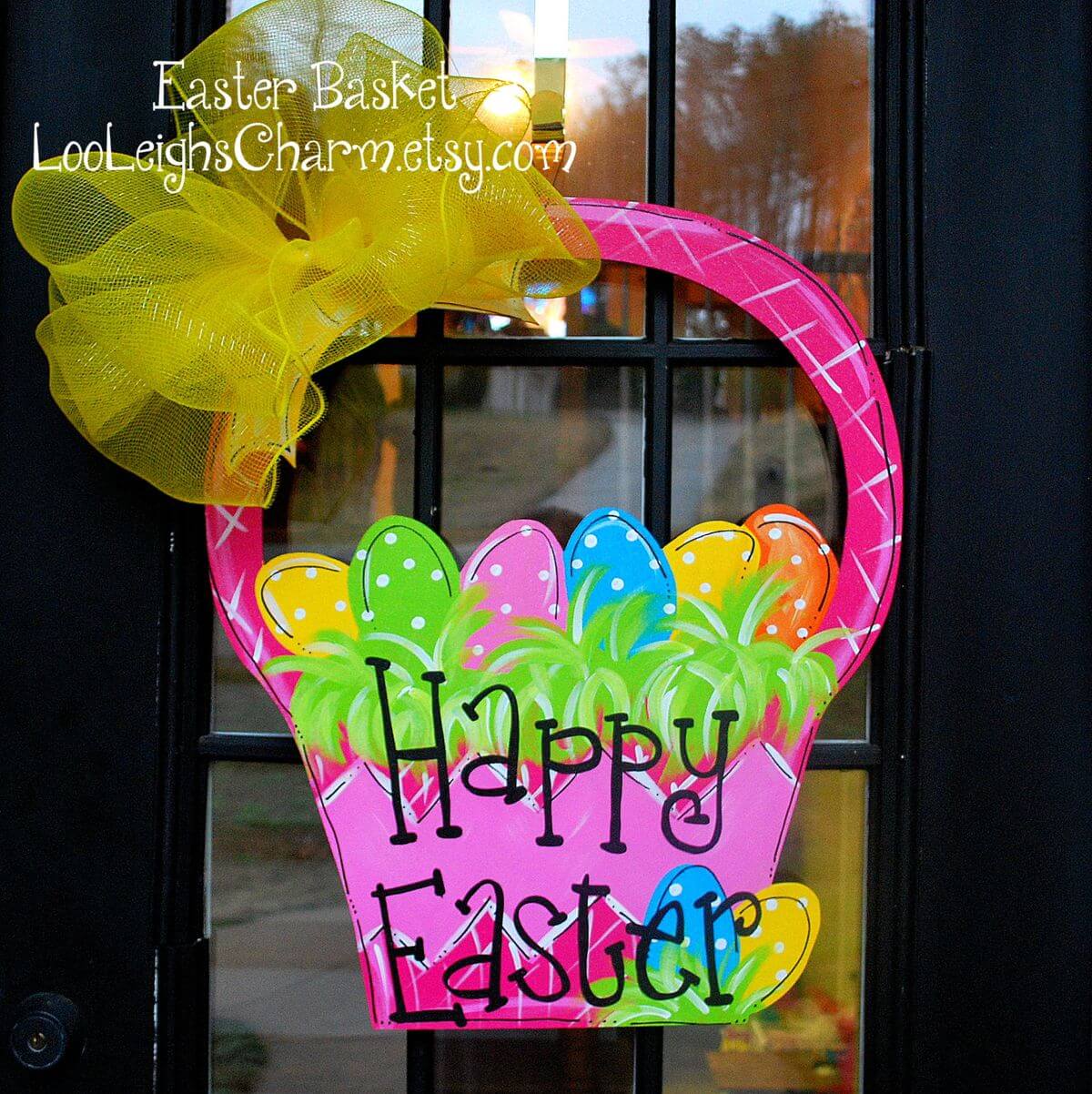 This vividly colored basket has a fun, modern sensibility. A bright pink basket is accented with colorful eggs and grass. An Easter message is lettered on the front. A large yellow bow finishes the sign.
19. Super Simple DIY Easter Egg Tree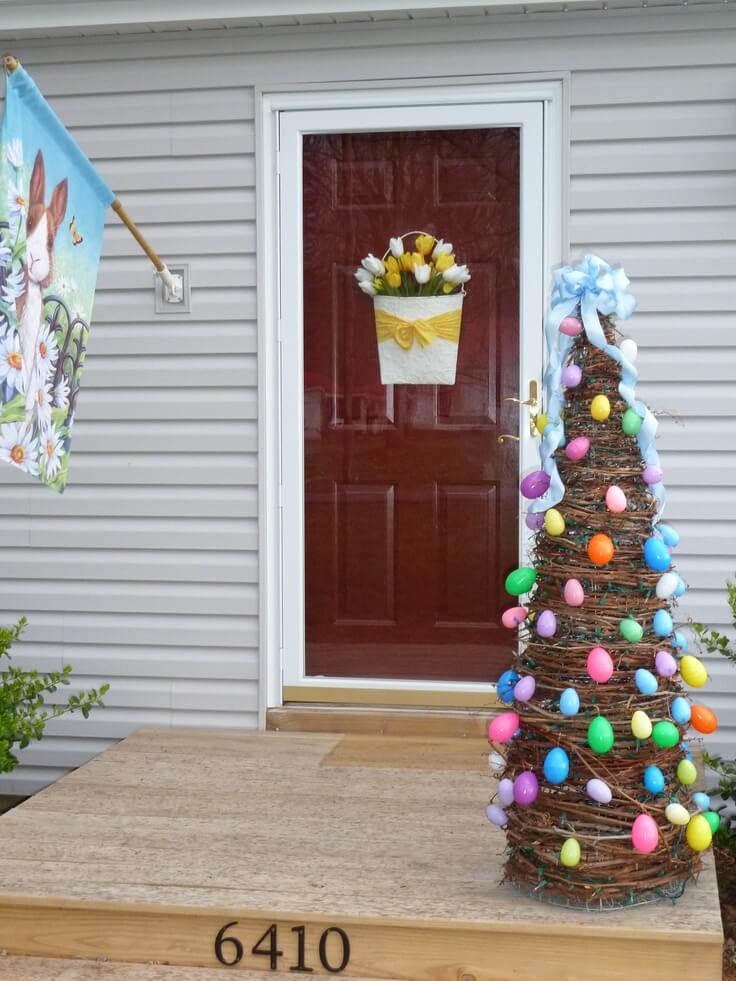 Find a grapevine tree shape. Add Christmas lights and hang plastic eggs as ornaments. Make sure you have enough eggs to create the right look. At the top, secure an oversized bow with trailing ends that cascade down the tree.
20. Bunny Egg Cart Decoration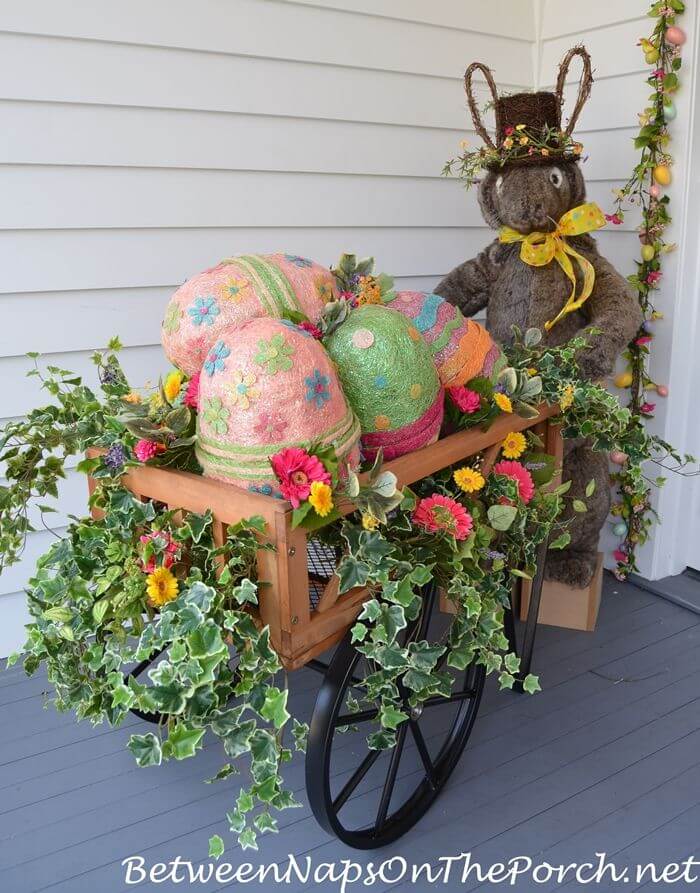 Fill a garden cart with oversized eggs. You can find these eggs at the craft store or at the home improvement store in the yard decorations area. Around the eggs, arrange silk greenery and flowers. Find a large stuffed bunny to push the cart. Give him a grapevine hat and ears, and decorate him with a rakish bow.
21. Adorable Easter Egg Paper Lanterns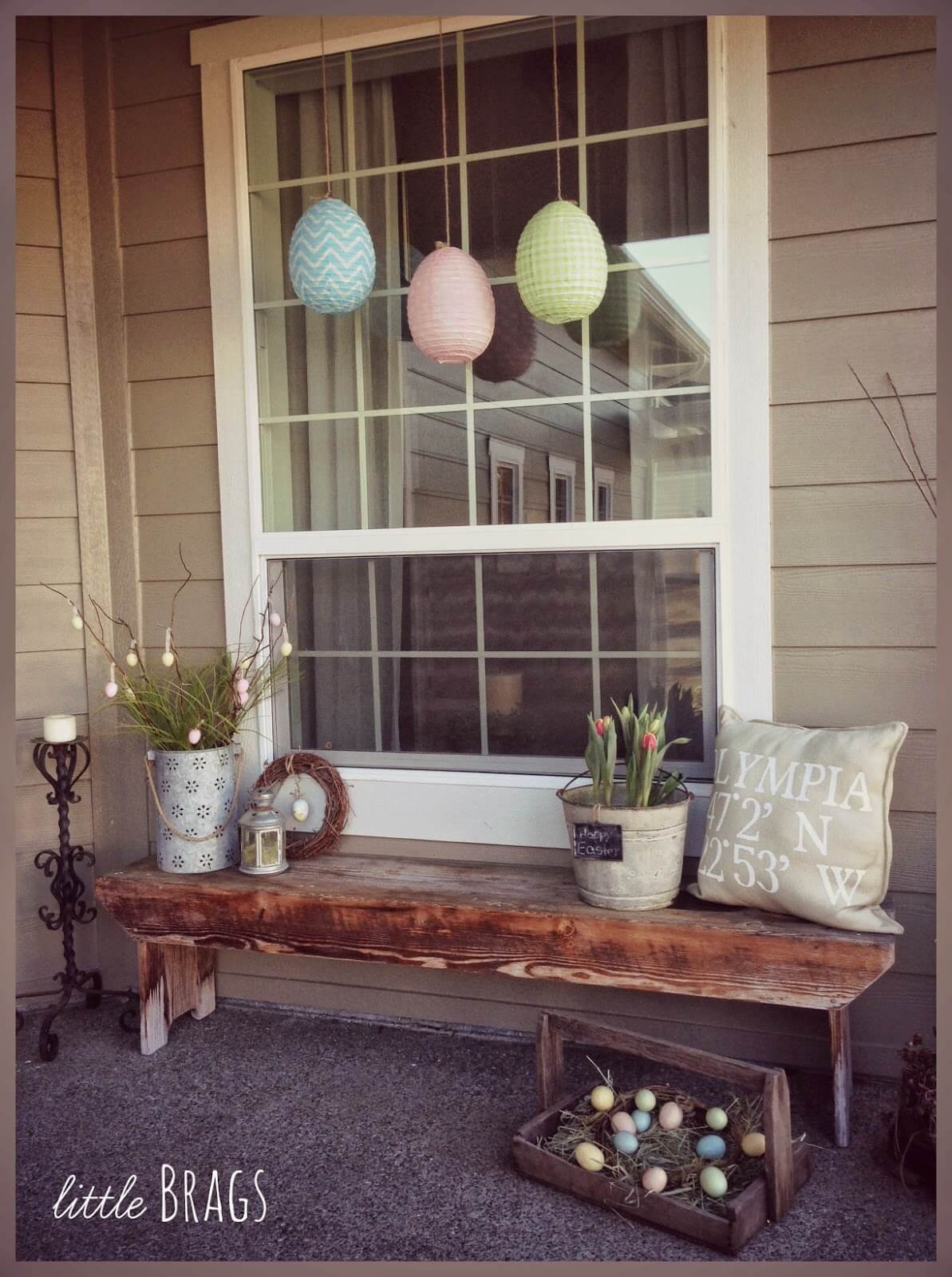 Find large Easter egg-shaped paper lanterns, or you can try your hand at making them yourself using papier-mâché. If you do make them yourself, make sure they are in a sheltered location where they cannot get wet. Hang these from the top of an exterior window with twine. These lanterns provide a source of color and interest to the outside of your home.
22. Watering Can and Lantern Floral Displays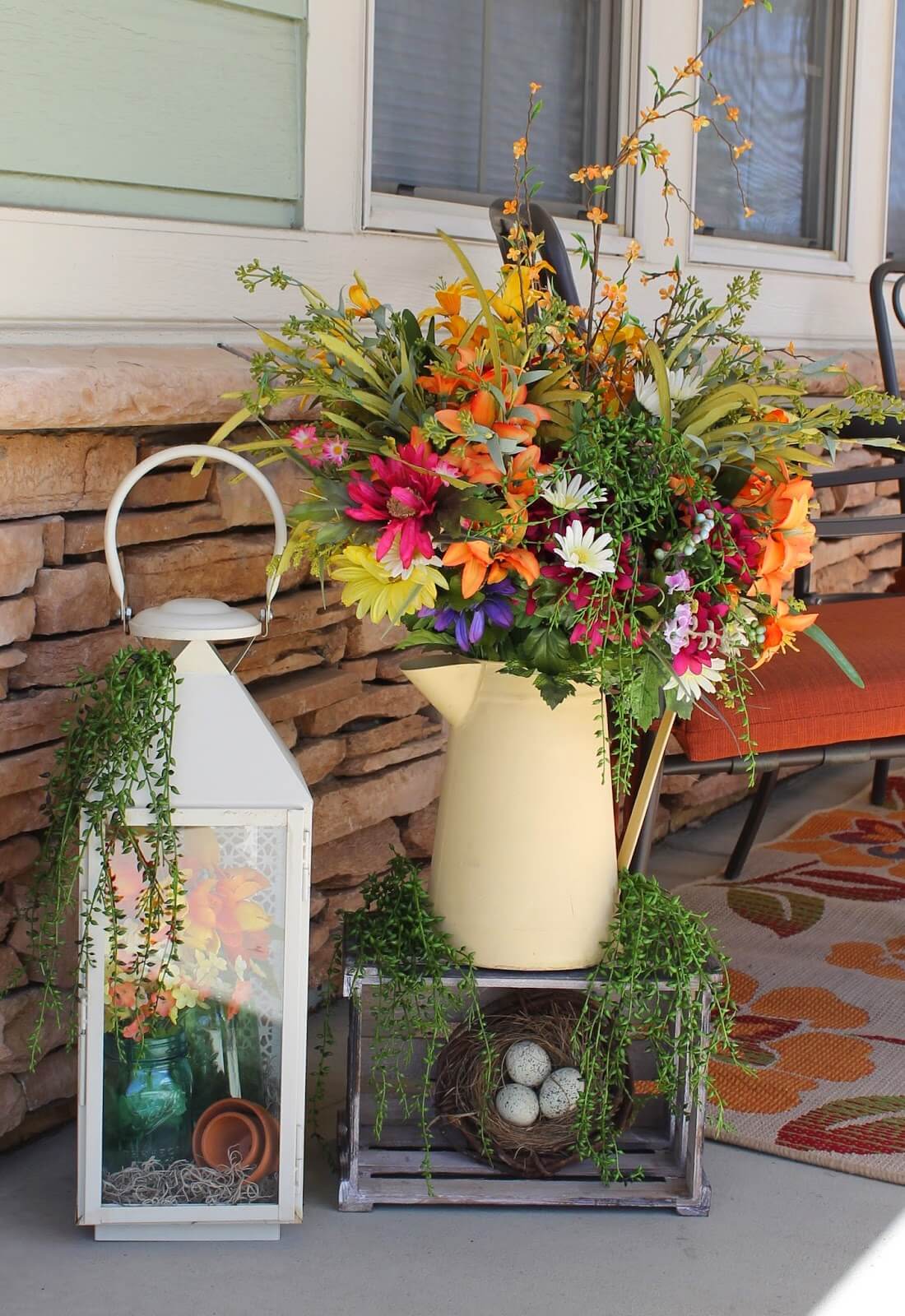 This is an easy display that relies on finding the right containers. Visit your local craft store, or find reclaimed containers and paint them. Fill these with vivid, overflowing blooms. To the lantern, add a few terracotta pots and some moss. Add silk greenery and a little nest with eggs to tie the display together.
23. Egg Tree with Rustic Burlap Bow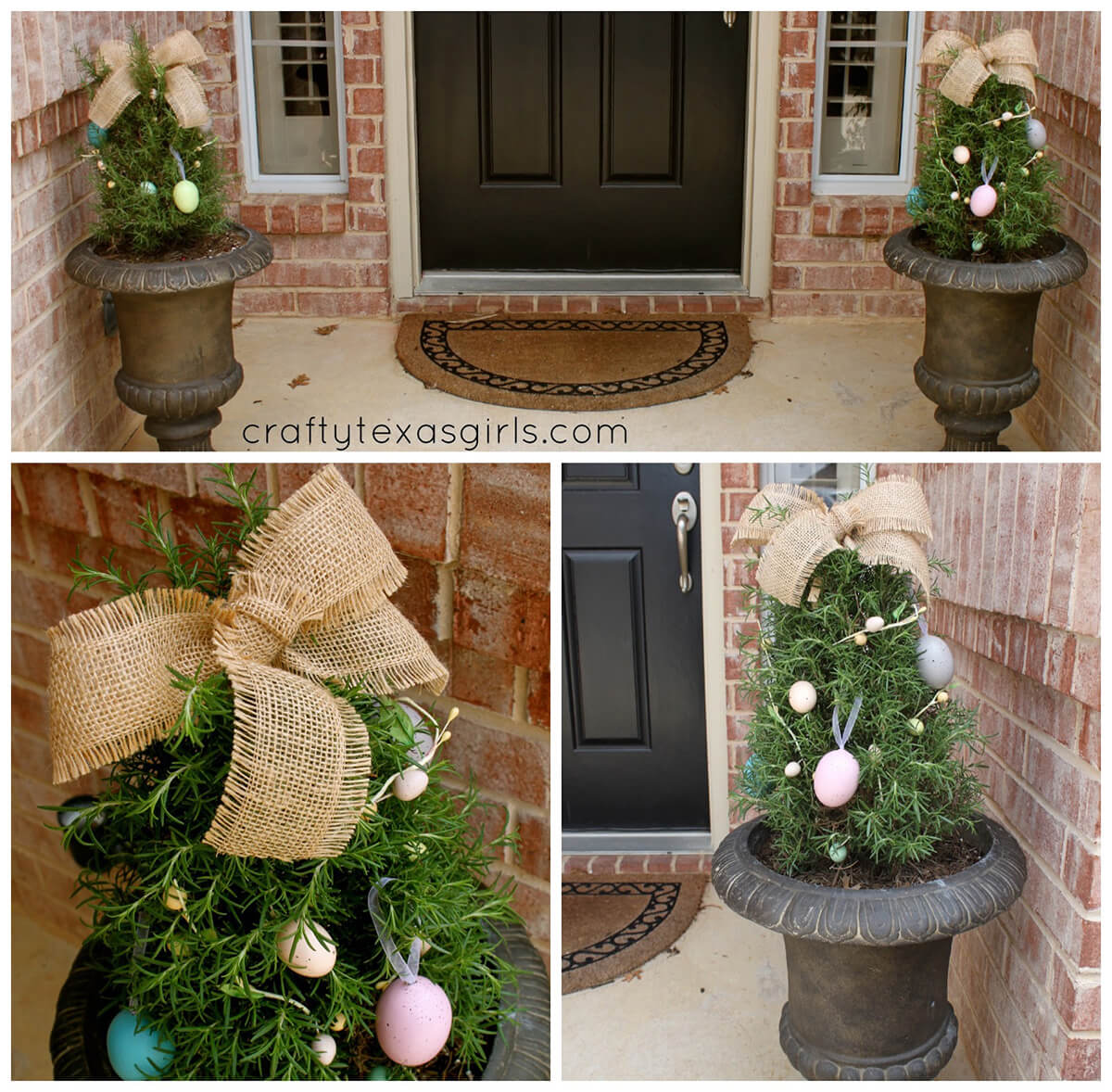 This display can be made with real trees or topiary trees from the craft store. Use a large pedestal planter. Hang a variety of plastic eggs on ribbons. Use an oversized burlap bow to tie it all together.