Entry tables have greeted guests and residents alike for thousands of years, serving multiple purposes and in countless styles. From the early Romans to the austere Victorians, entry table decorations have long provided a "first impression" glimpse into one's home. There are a number of ideas that have been utilized over the years, such as the trendy shabby chic style, as well as the more classically familiar designs.
Making An Entrance: 50+ Eye-Catching Entry Tables

While many view a home's entry table as a purely decorative accent piece, others prefer to implement their ideas with an eye for utilitarian, as well as aesthetic, appeal. To that end, many entry table ideas contain numerous drawers and plenty of tabletop space for catchalls, key dishes, and mail organizers. Conversely, some prefer to keep their tables free of clutter, with preferred additions limited to a vase of flowers or careful arrangement of candles. Whatever your personal style may be, here are 50+ editorial-worthy entry table ideas designed with every style of home in mind.
1. Rustic Farmhouse Style Console Table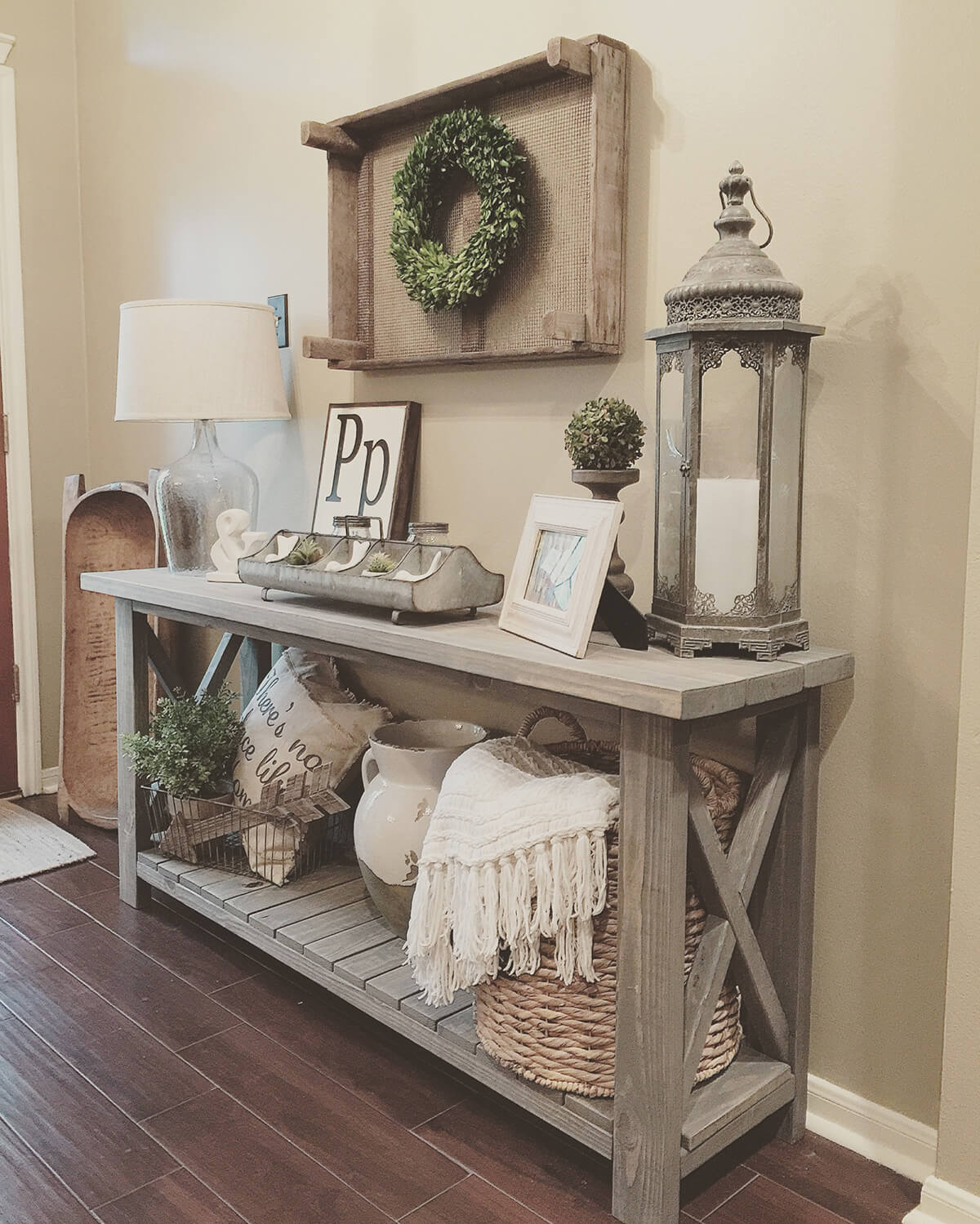 A console table is a perfect place to hold plenty of décor without overwhelming your entryway. Using a gray-like stain makes the wood appear more rustic, which can be fitting for a farmhouse themed home. Also, using slatted boards for the bottom is another way to have the console table stand out more and appear a bit more natural in design.
2. Minimalistic and Cute Entry Table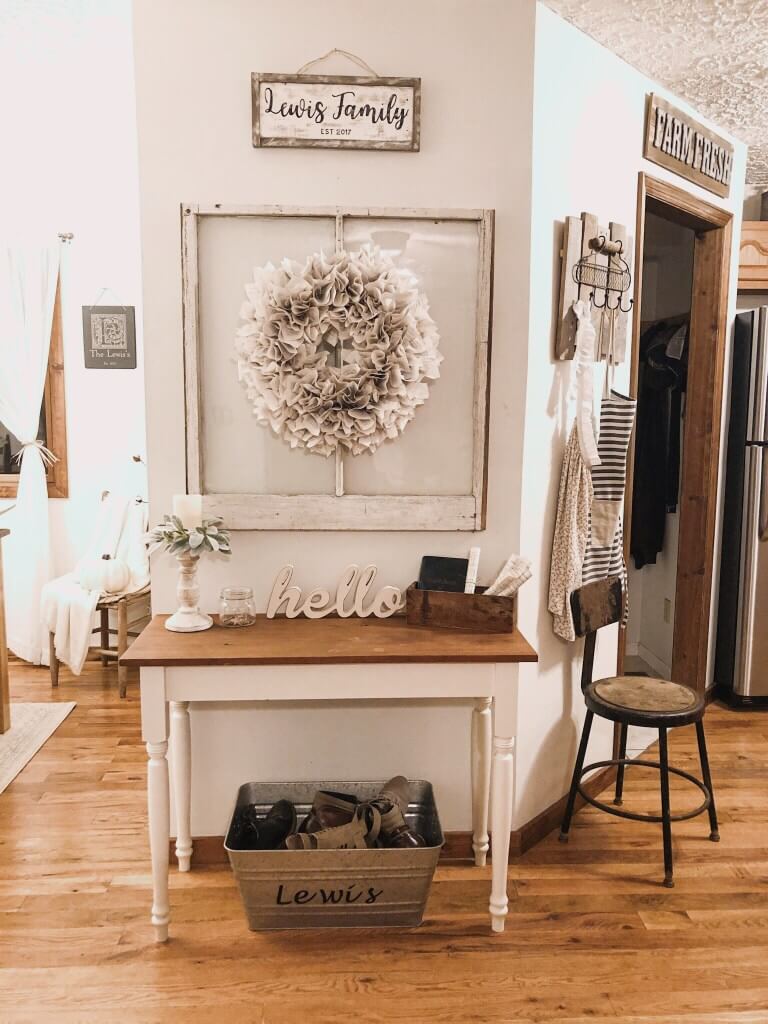 Sometimes the simpler the project, the better it comes across. In this case, a minimalistic table says a lot when space is a concern. A table such as this can make your entry appear more open than it is while still giving enough room to add some simple décor around. Opting for a solid white painting for the bottom half and legs can add a welcoming brightness to the setup.
3. IKEA Rustic Chic Sidebar Transformation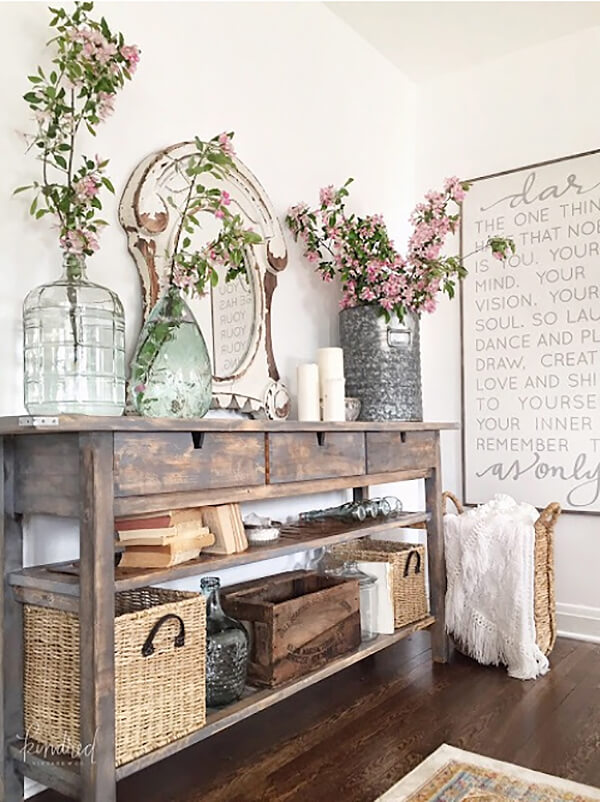 If you have an IKEA sidebar, an exciting project can be to give it a lovely makeover so that it better matches your home décor. Consider going for darker staining to breathe new life into it. In fact, a weathered appearance can dramatically change the overall mood of the piece as it has a more rustic appearance. And yet it still maintains that chic, sophisticated look at the same time.
4. Incredible Shoe Cabinet Entryway Table Hack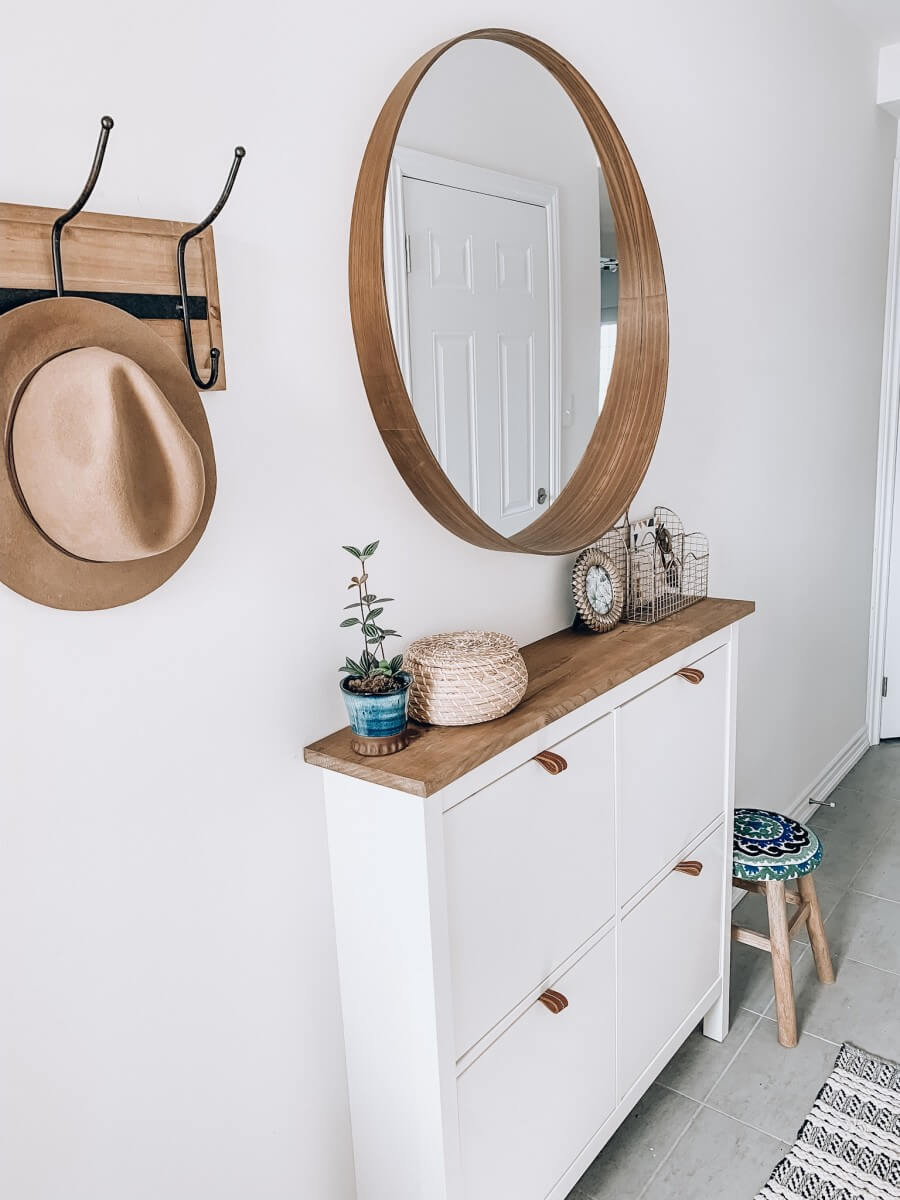 Who said shoe cabinets were only useful in containing shoes? With a good hack, you can turn it into something more multifunctional as the top section is perfect to use as an entryway table. Look into applying a fresh coat of paint or staining to the top too so that there's a more obvious transformation. Now, you can add décor on top while still using the cabinets.
5. Sophisticated Serene White and Gold Entry Table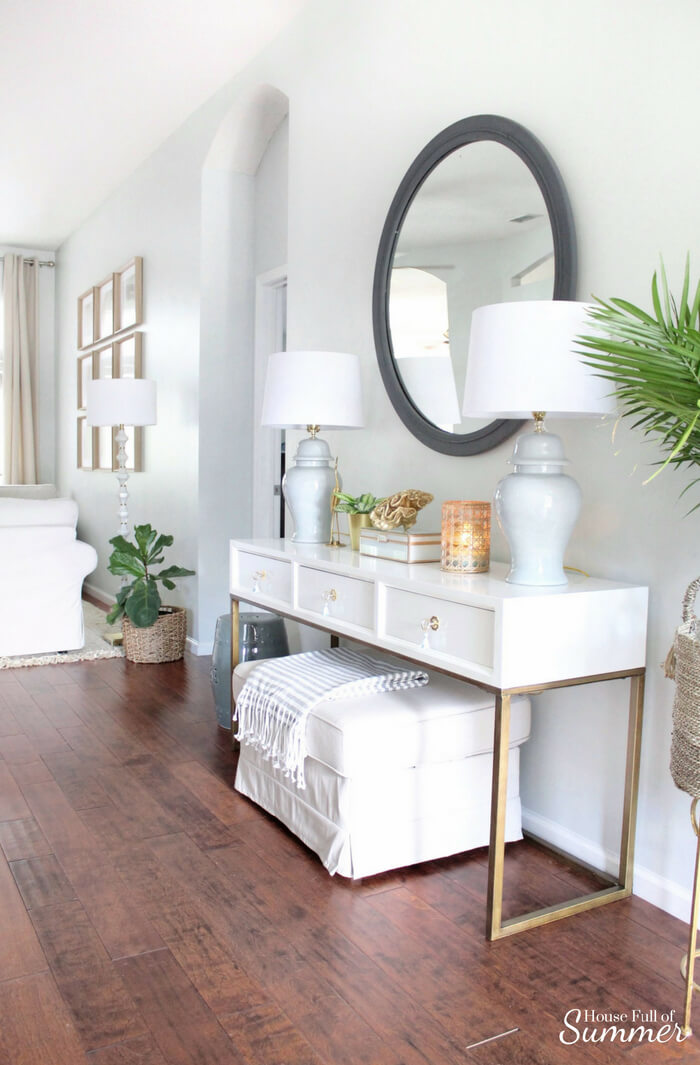 There is something that is truly serene about using a bold white color in a coastal themed home. It comes across as bright, clean, and welcoming, which is a wonderful vibe to give off in an entryway. If you add in gold trim, you can elevate the table further by giving it a chic appearance too that blends effortlessly with the rest of the feel of the table.
6. Wooden Marble Top Console Table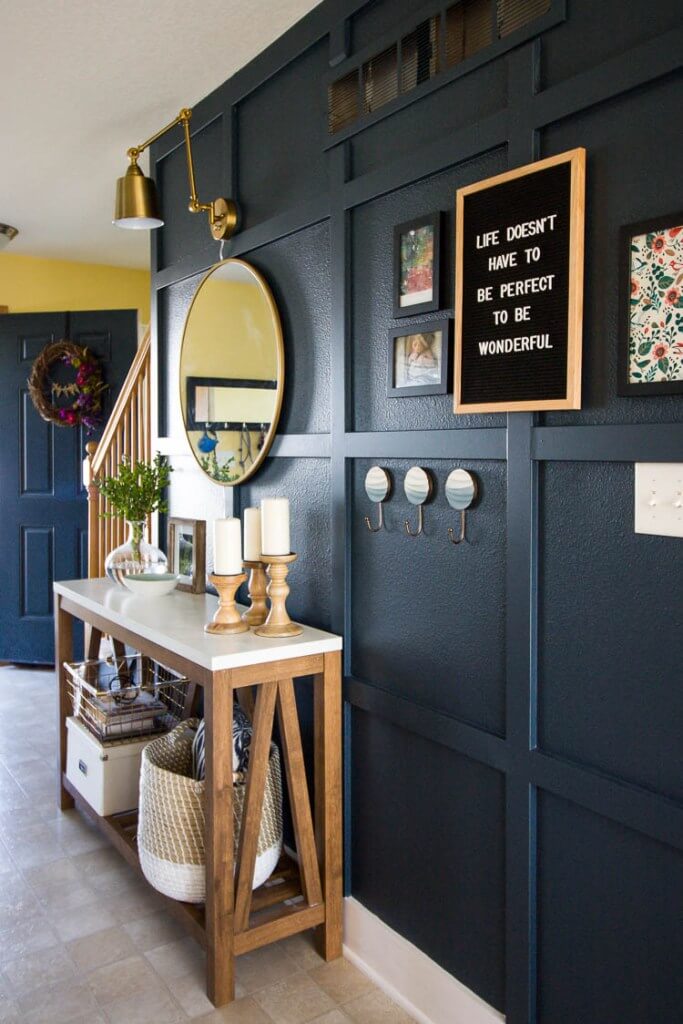 You can combine the best of both worlds with this console table. The main wooden areas give off a wonderfully natural look. Meanwhile, the use of a faux marble top adds a touch more style to the table. The faux marble comes across as authentic too so that anyone coming into your home may believe it to be the real thing.
7. Sleek and Small Scaled Entry Table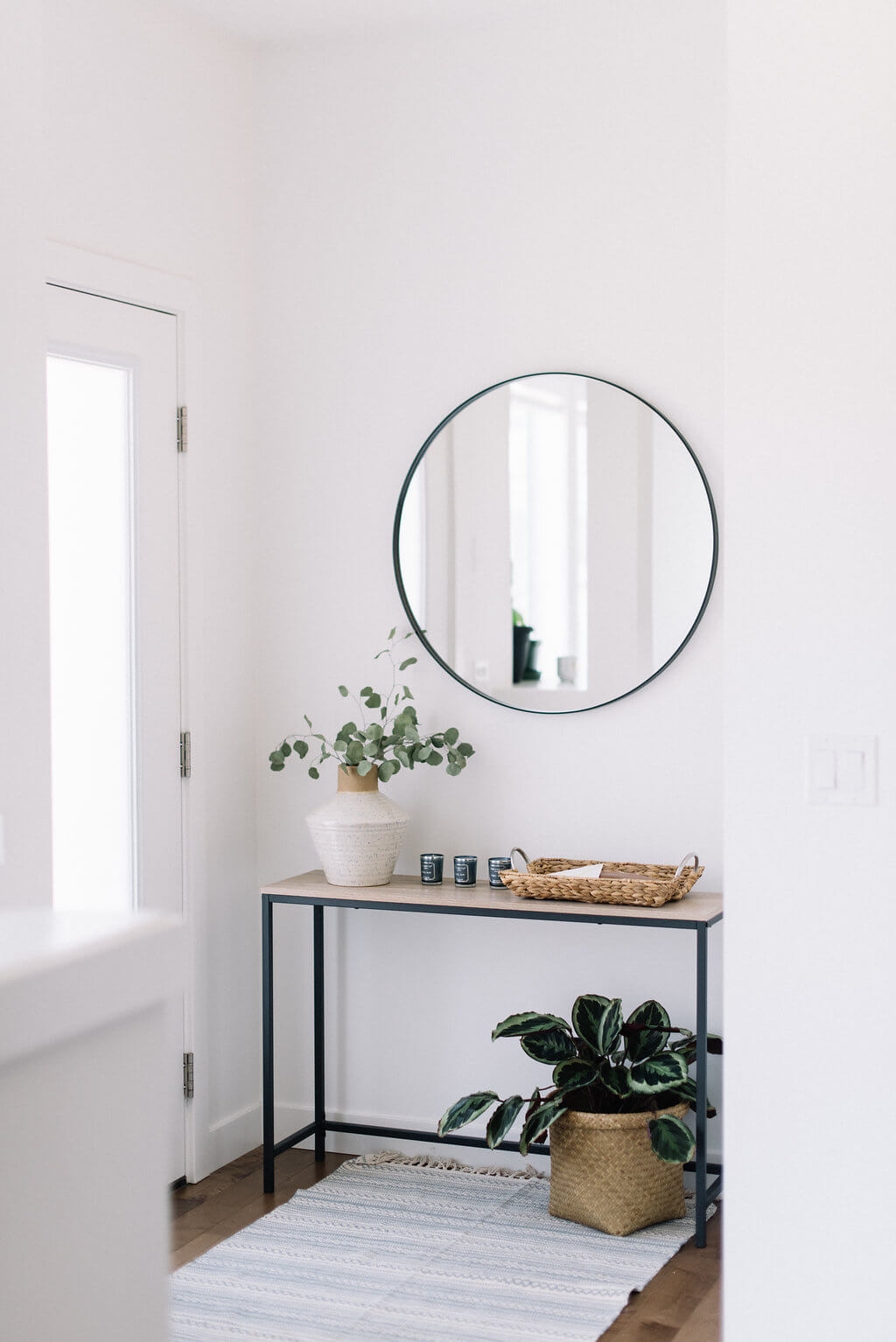 When you have a rather tight or small entryway, yet you still wish to add a table, consider going for something more streamlined. A small-scaled table can do the job just as well as it gives you the room you need for minor decorations. It is still sleek in design, and it is the perfect piece to use as a focal point so that you can add decorations all around such as greenery.
8. Three Shelf Neutral-Colored Rustic Table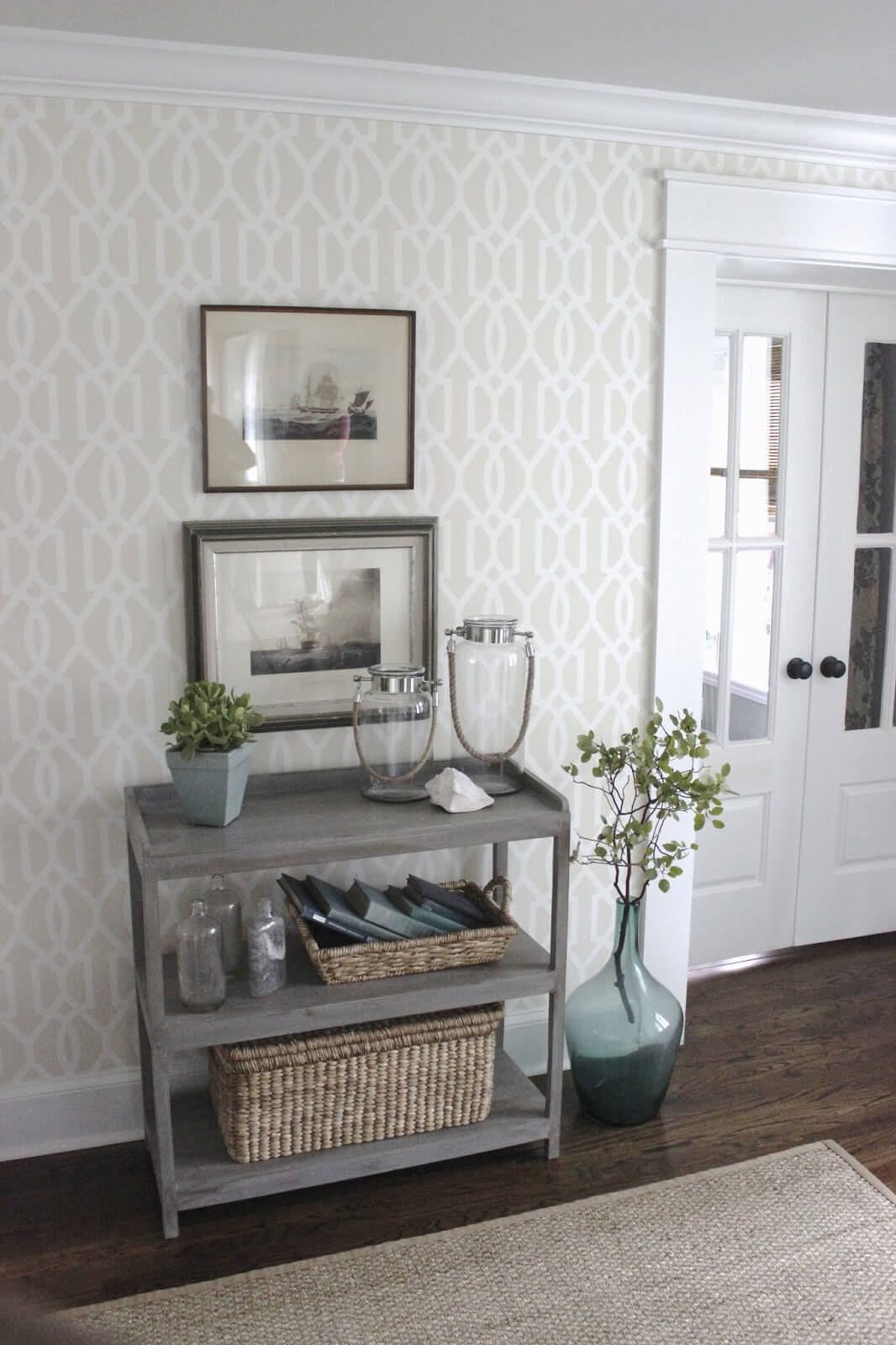 You don't need a long table in the entryway to fit numerous items. Instead, go for a table that features multiple shelves. It can be a little shorter as you have room to add a different piece of décor to each shelf instead of using just one long tabletop. This can also be a wonderful way to add some larger items such as a basket for storage.
9. Gorgeous Vintage Dark Stained Table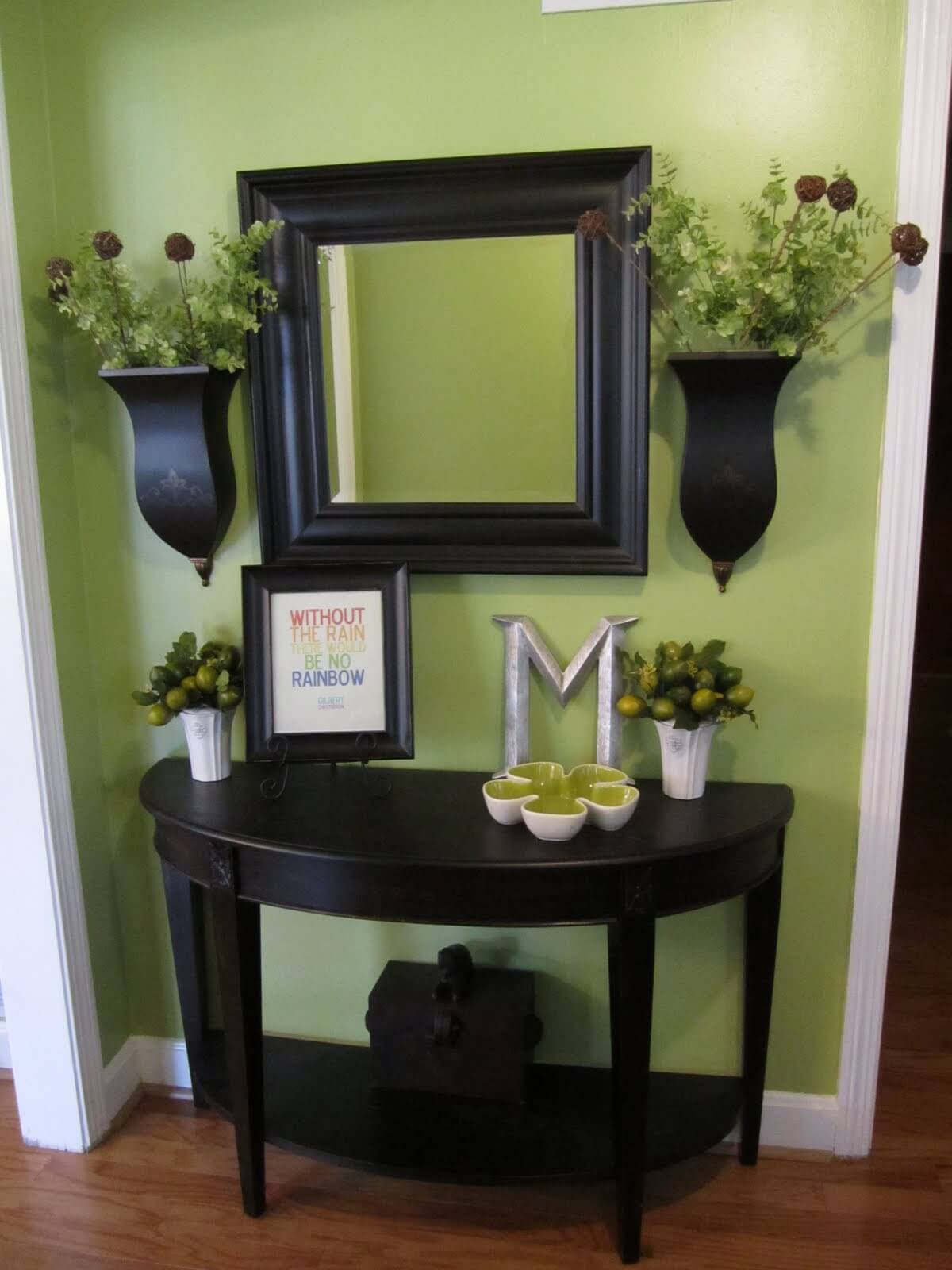 A good way to allow your décor to stand out is to focus on using dark colors against brighter backdrops. If you have lighter colored walls, a dark stained table can fit in well as it places more emphasis on your décor. This also has a lovely vintage feel to it as well thanks to the overall design and layout of the table as it is more unique than the standard rectangular-shaped console tables.
10. Faux Weathered Natural Wood Entry Table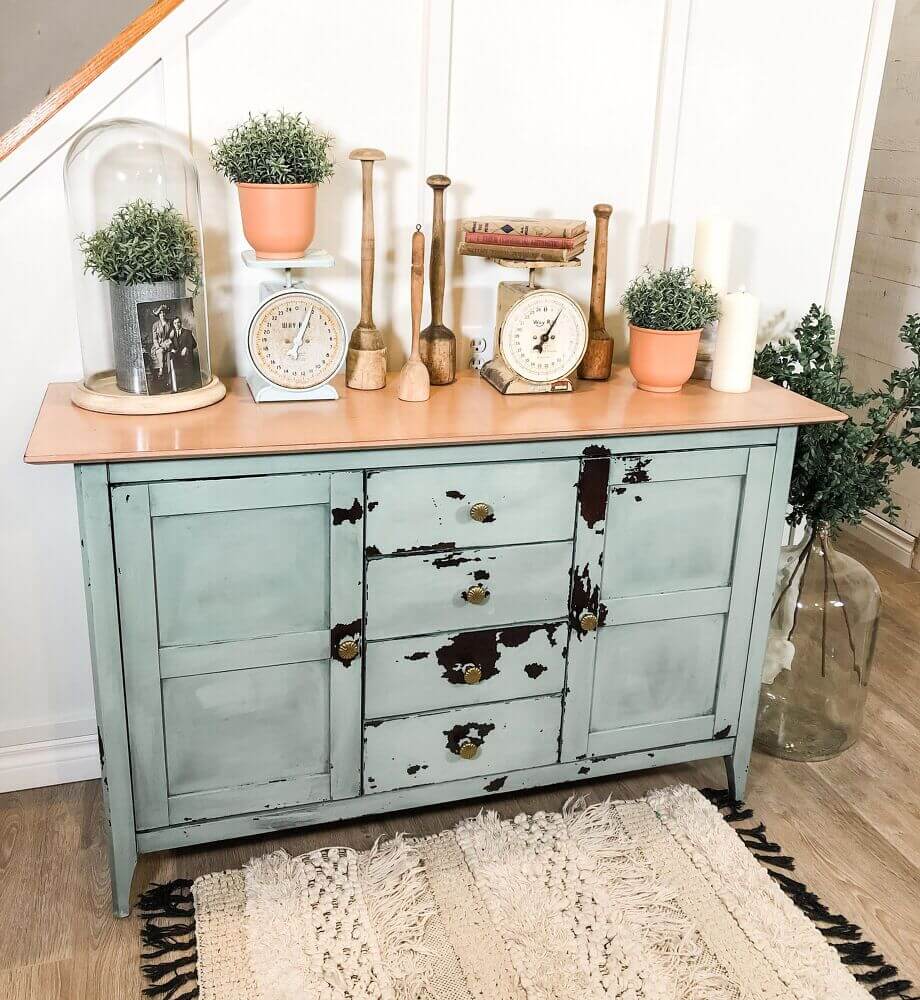 So, you have yourself a rather nice wooden table that can look good on its own in your entryway. However, you don't want to settle for something basic. Rather, you want something that looks used and old. You can "upgrade" your table, so to speak, with milk paint and wax. What you're left with is something that gives off the appearance of being used while still being new.
11. Cool Sofa Console Entry Table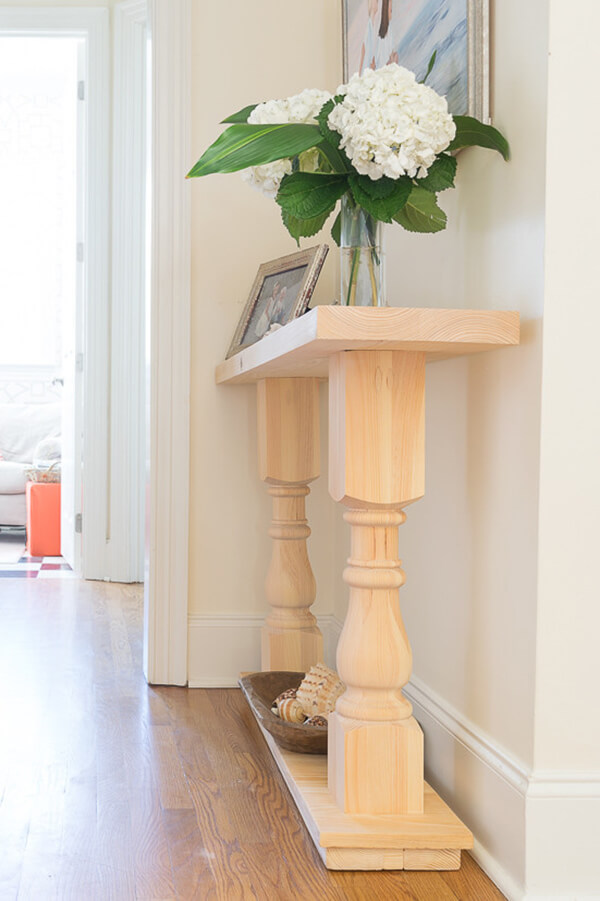 If you are building a table for the first time, this can be a fun project. You can utilize different pieces to create a cool entry table that highlights the natural wood throughout. It may give off a blended vibe of something that's both rustic and modern. This way, there's no particular type of décor you have to use as almost anything will be fitting.
12. Extended Console Table with Geometric Top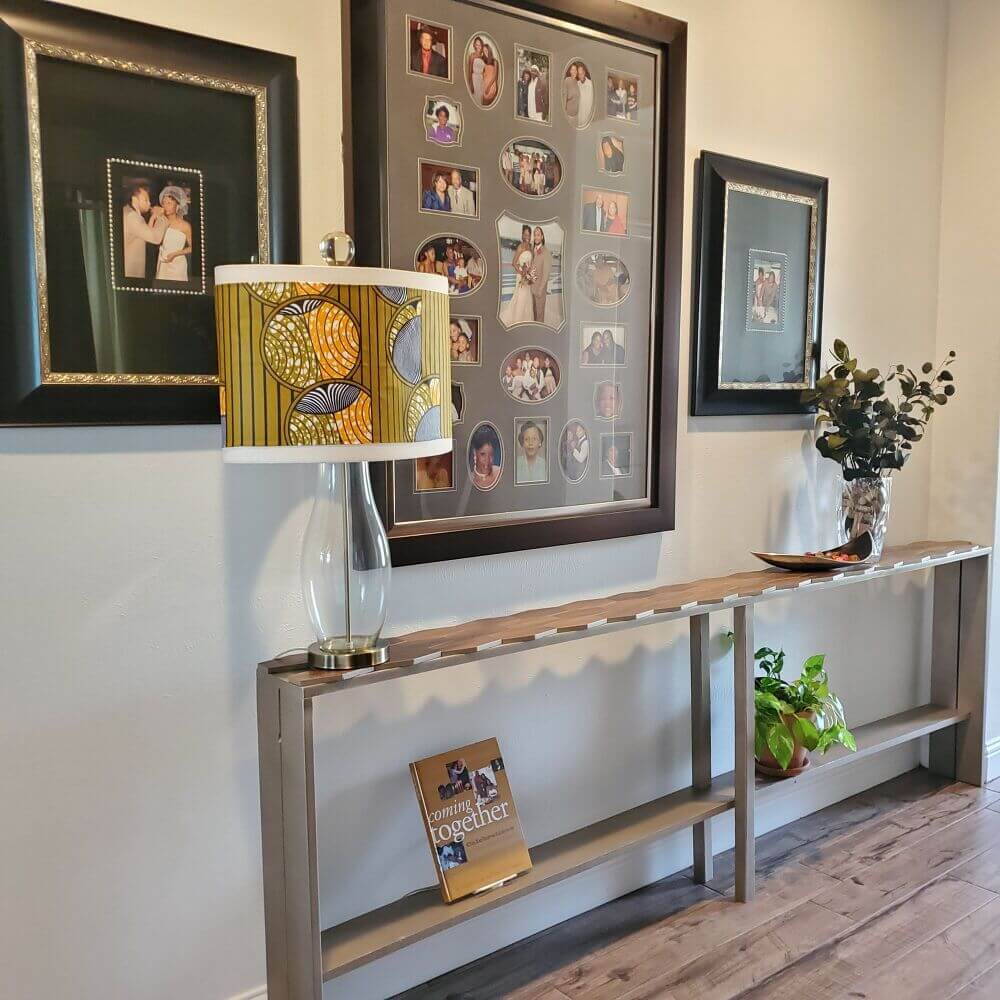 Customizing a console table is always a fun job as you can make anything to suit your personality and your home décor. Besides, as it's the first thing visitors see when they walk in, it's important that it leaves a lasting impact. Not only does a lengthy console table like this give you more room to place items, but it also gives more room to show off a cool geometric pattern.
13. Inexpensive Modernized Wooden Console Table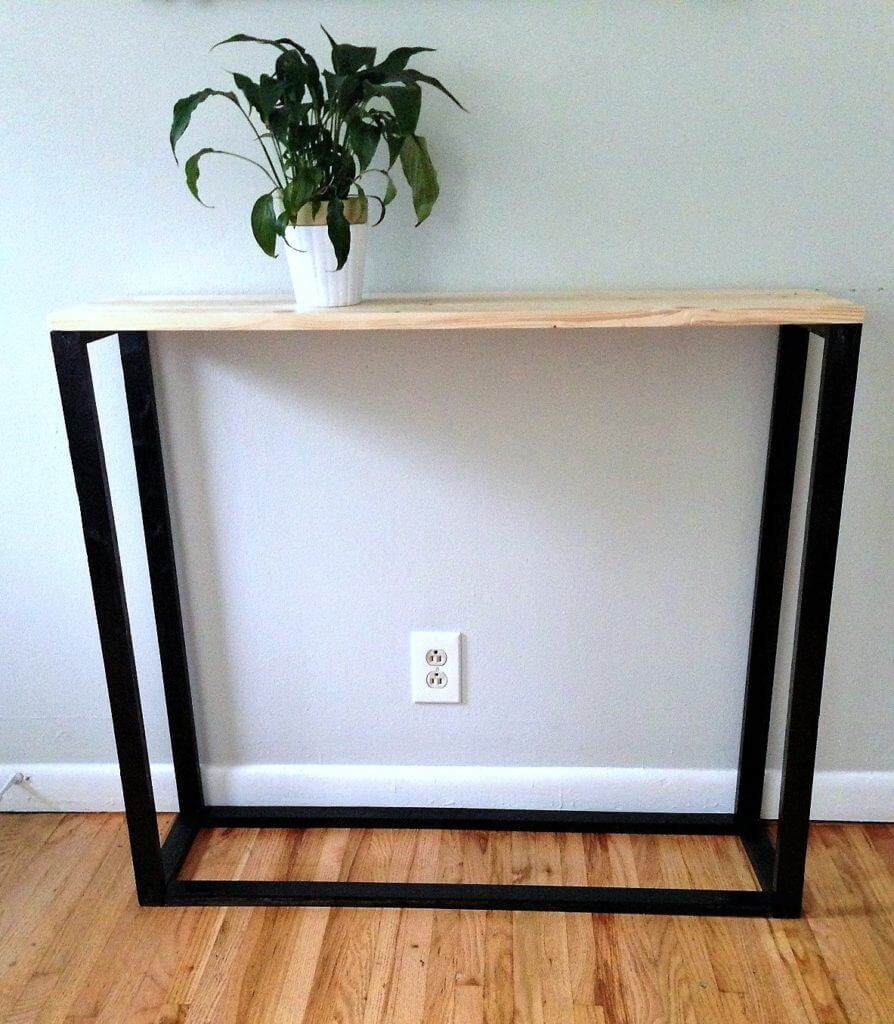 You can take a straightforward approach to design your own console table with this inexpensive project. Much of the natural wood is highlighted on the top of the table to serve as a good focal point to draw everyone's eyes to your décor. Meanwhile, the painted legs can work as a wonderful offset to the rest of the table to further emphasize the surrounding décor.
14. Two Drawer White Console Table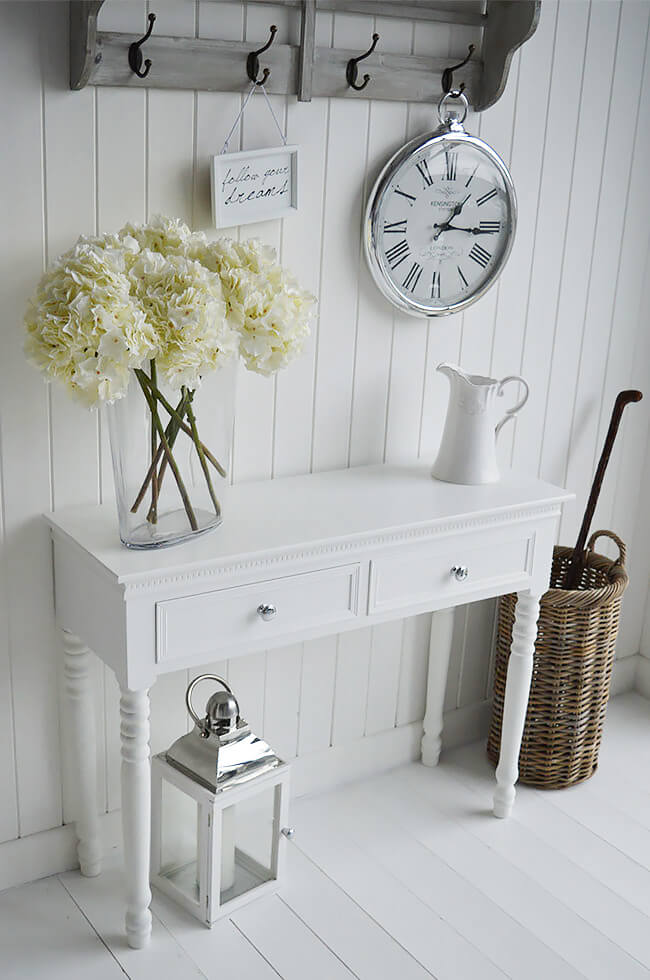 A nice way to add a touch of elegance to your entryway is with this beautiful two-drawer white console table. The crisp white paint job ensures that the table is an instant attention-grabber while giving your entryway some much-needed brightness. You can go for either silver or black in terms of the colors of the rounded handles. No matter what you choose, the table maintains a stunning classic look.
15. Two Level Beach Themed Entry Table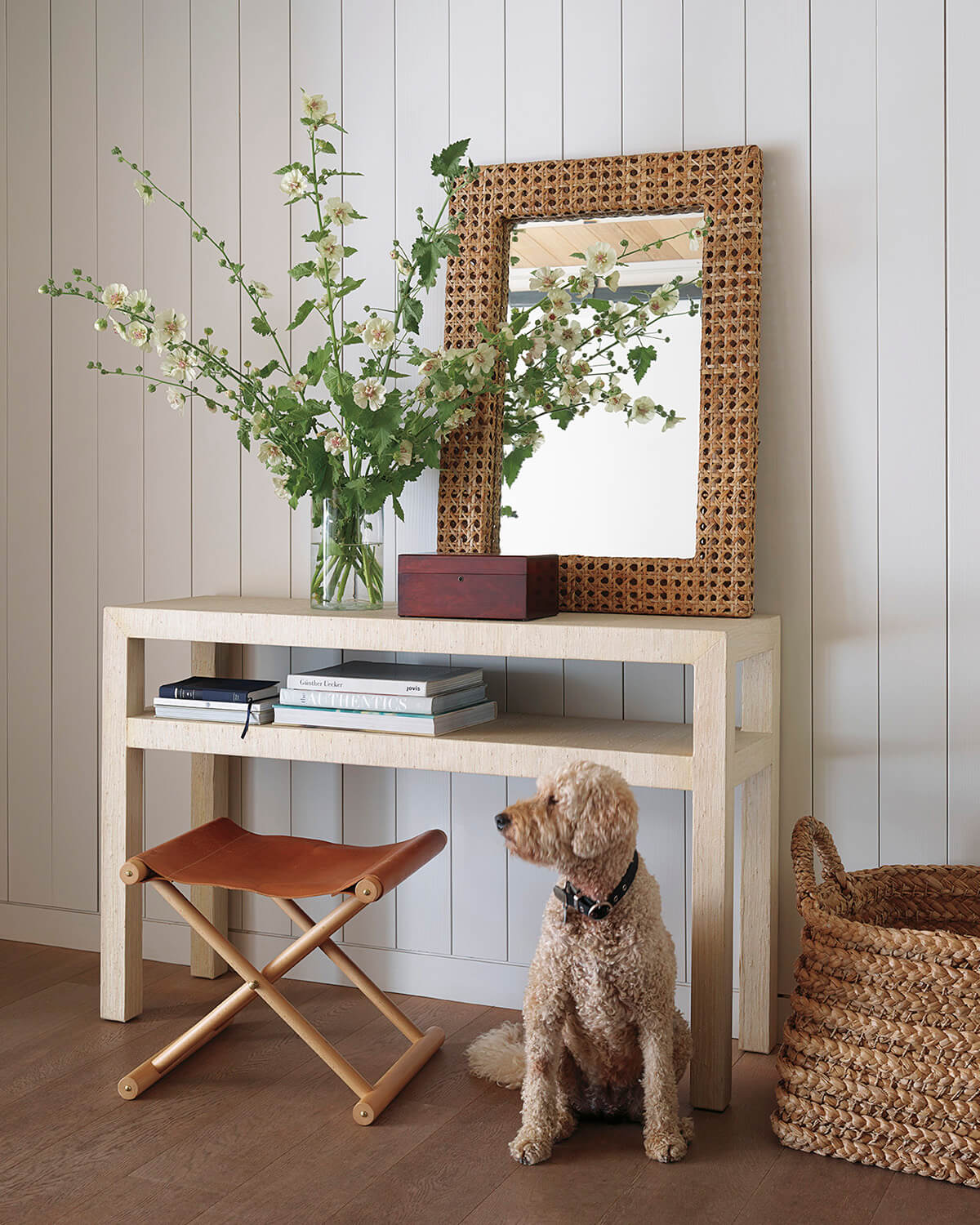 This beach themed table combines modernized elements to give it a cool, unique appearance. It radiates warmth, which is exactly the feeling you want to give off in an entryway that serves as a greeting room of sorts for all your visitors. As it is two-level in design, it gives you ample space to place a variety of items or plants to use for decorative purposes.
16. Reclaimed Oak Wood Console Table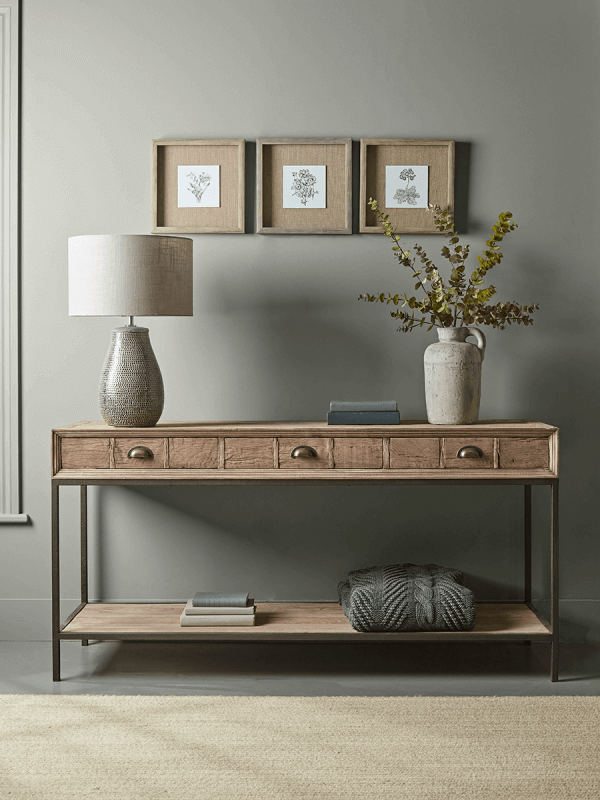 Reclaimed wood can make the most stunning furniture, and this can't be truer than with this gorgeous console table. It is large while still maintaining a slender design so that it can fit seamlessly in your entryway. With an open shelf design on the bottom along with the space on top, you have more space to play with setting up your decorations.
17. Farmhouse Style White Painted Entry Table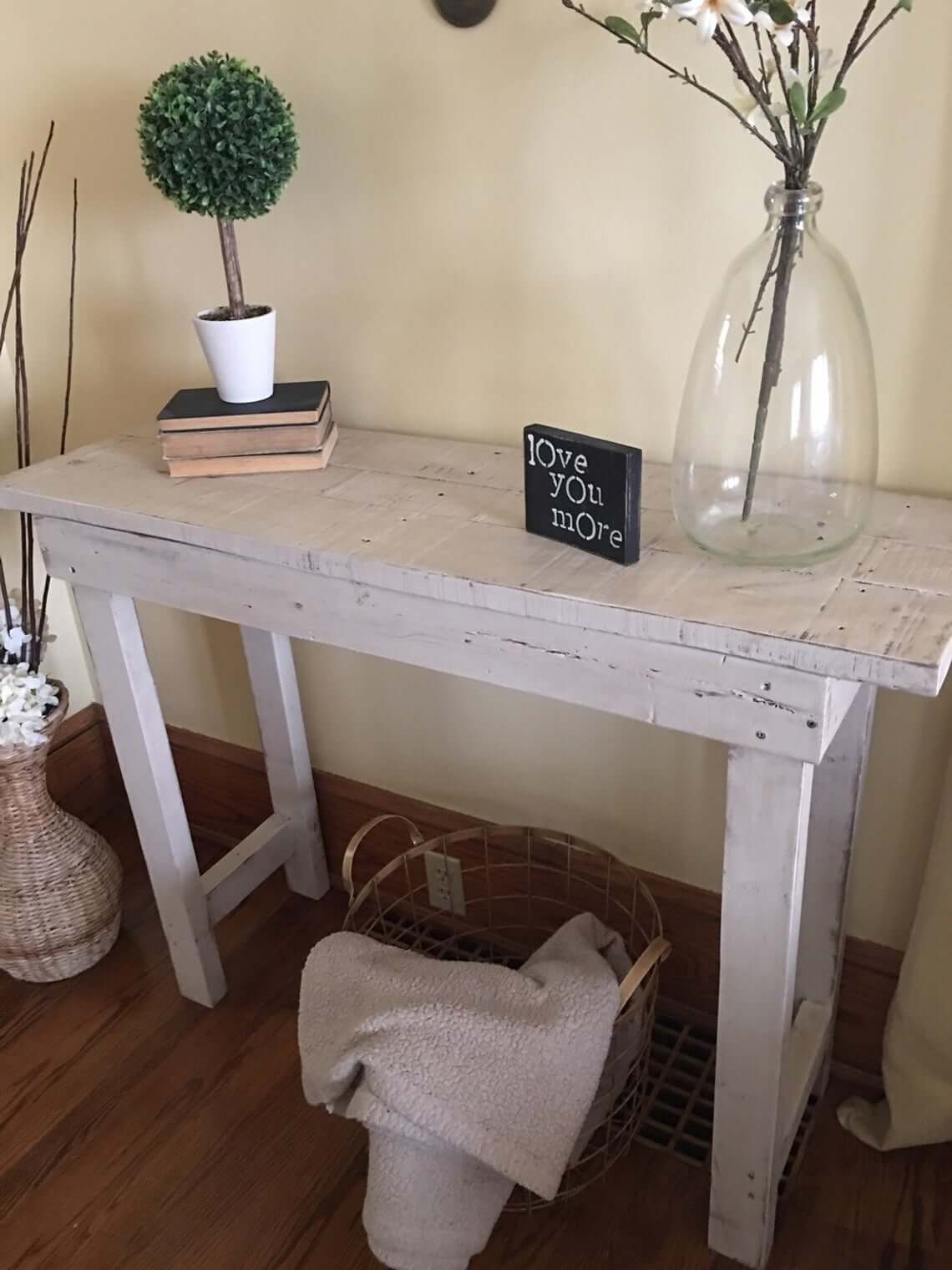 Built using solid pinewood, this beautiful rustic table is perfect for entryways that focus on a farmhouse theme. It's painted white and distressed for that vintage-like style. You have the option of ordering it with a bottom shelf if you want more open space for décor. Otherwise, you can order it without the shelf and it will still give off the same vibe.
18. Sentimental Wooden Table with Lettering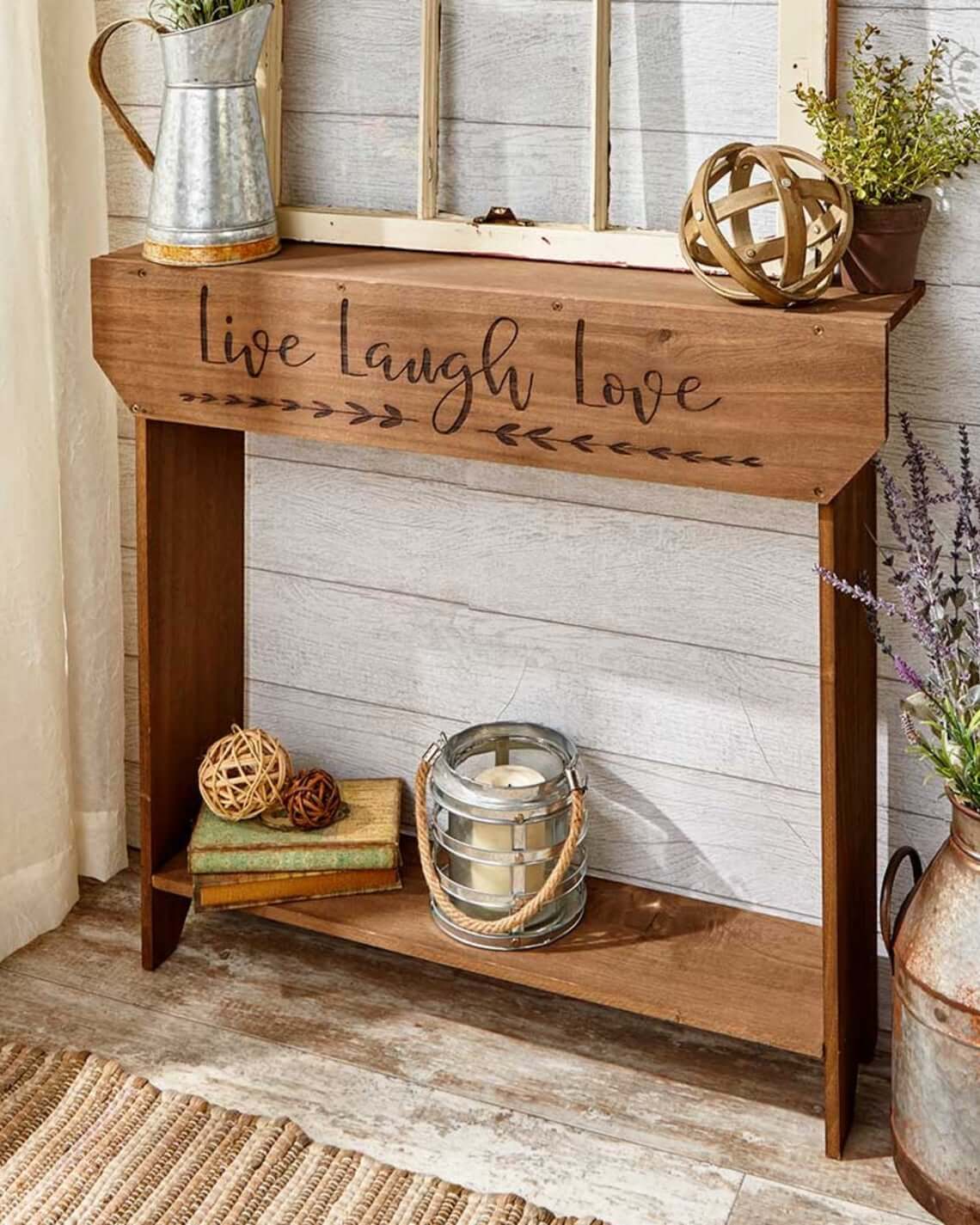 Perhaps you want a way to welcome people into your home while also having room for décor. This entry table is an awesome idea in this case. The table is simple yet striking in design. What helps it further stand out is the lettering that comes inscribed within the solid wood finish. You can choose from three different sentimental sayings too.
19. Rustic and Weathered Entry Console Table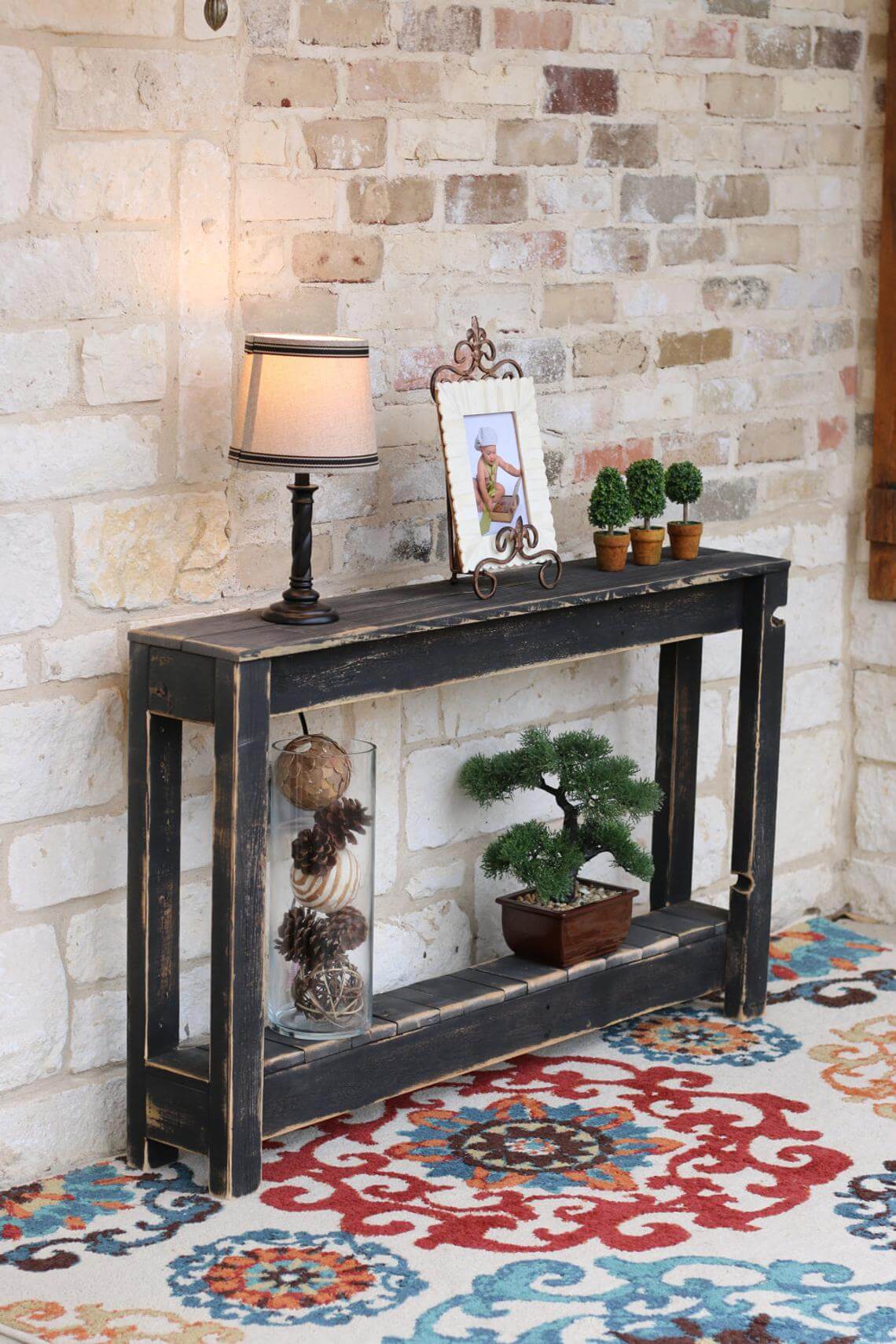 If you want a truly natural-looking table, then consider this handmade piece made using reclaimed wood that's really weathered. It will add the perfect amount of rustic charm to your home that is felt the moment anyone walks inside. You can choose to have this designed in a natural appearance. If not, you can request it be made in turquoise, black, red, or white.
20. Slim Rustic Table with Hairpin Legs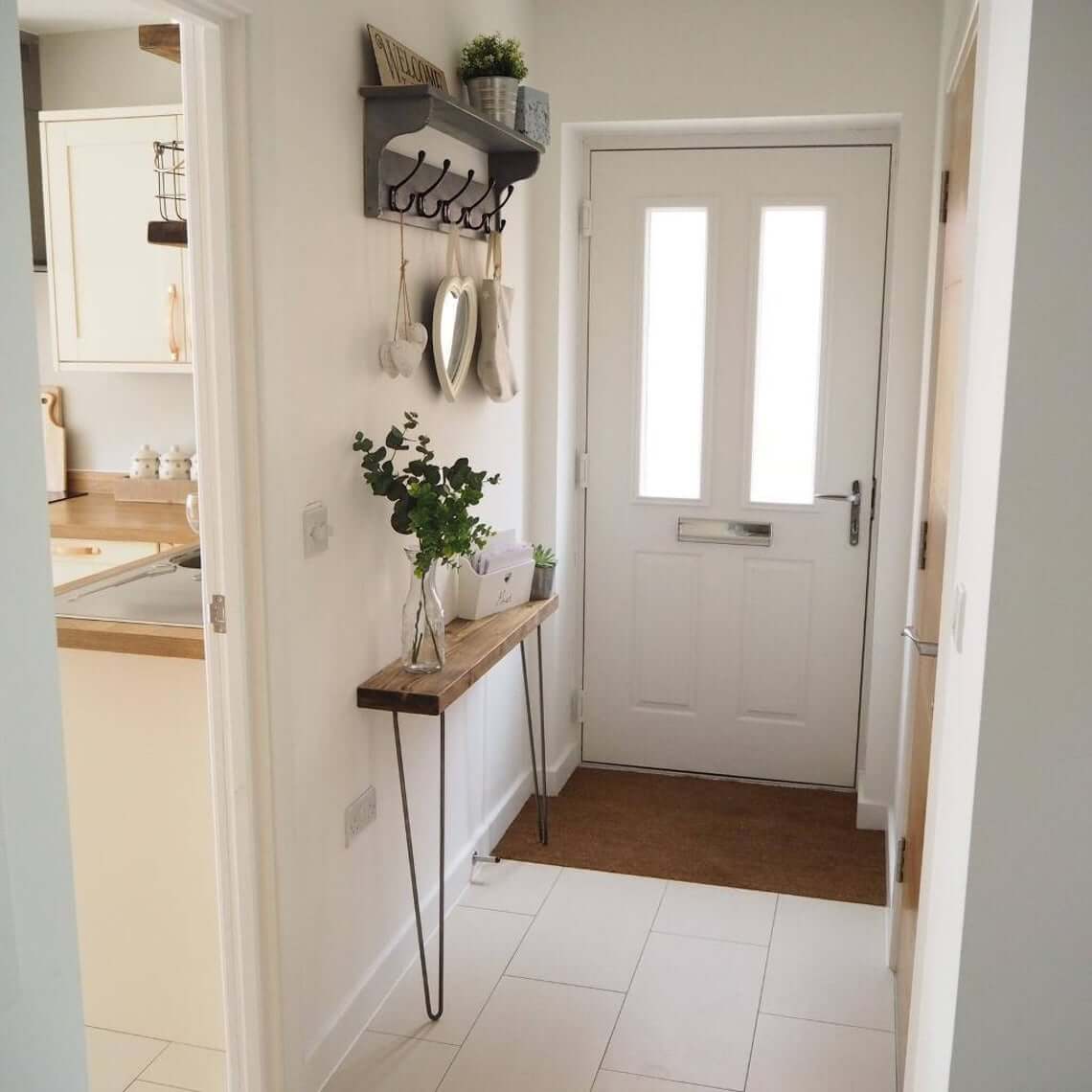 Hairpin legs may not be the first thing that comes to everyone's minds when they think about entryway tables, but in this one, they work out effortlessly. It adds to the overall farmhouse feel of the table, and it also fits in with the narrow wood top. The legs are made in various styles from copper to real steel, and each style is available in different heights. You can also choose dark or antique pine in varying lengths.
21. Space Saving All-Black Console Table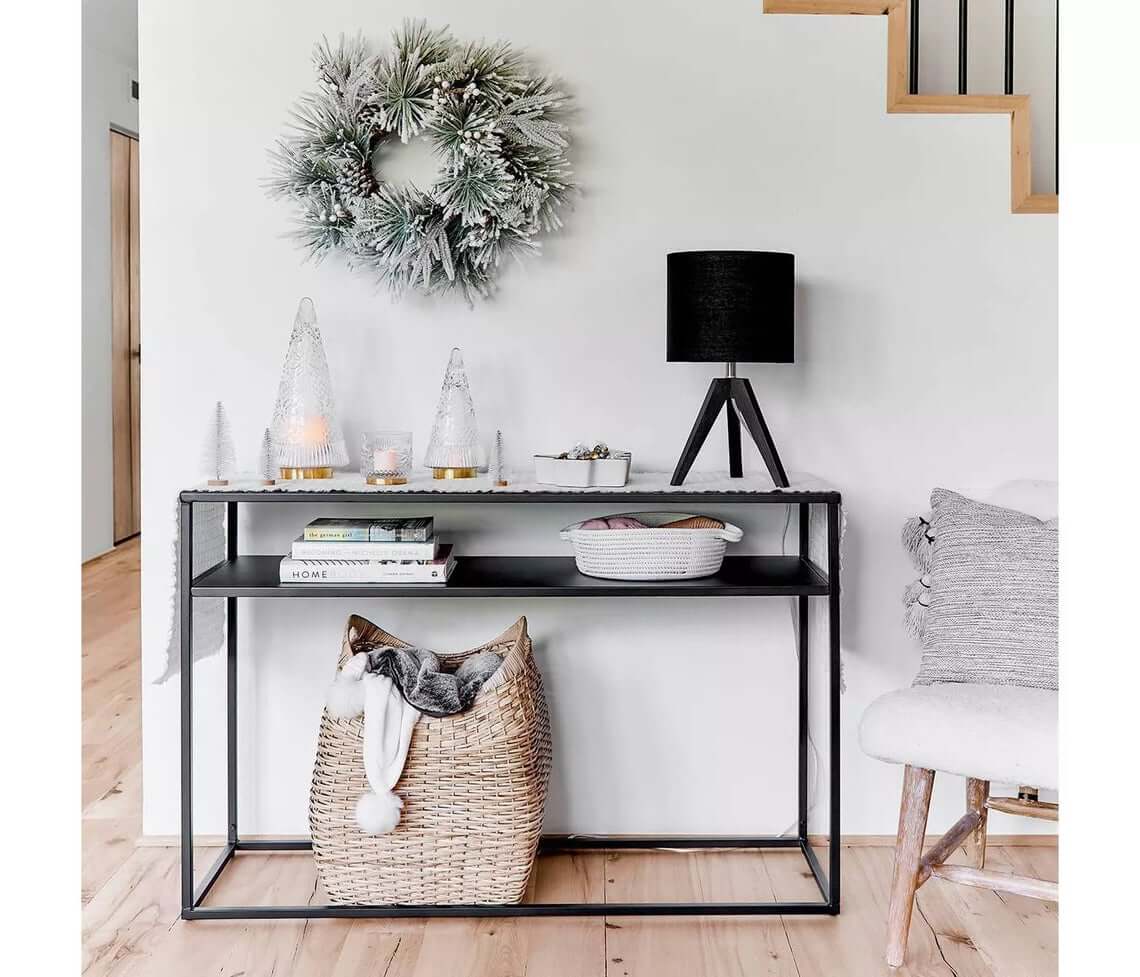 For the minimalistic spaces, a narrow and sleek console table may serve your entryway best. This modern approach is stunning and features an all-black powdered coating that is not only appealing but durable as well. This way, you know that the furniture will hold up over time so you can use the table to support various décor items for years to come.
22. Two Drawer Tall Entry Table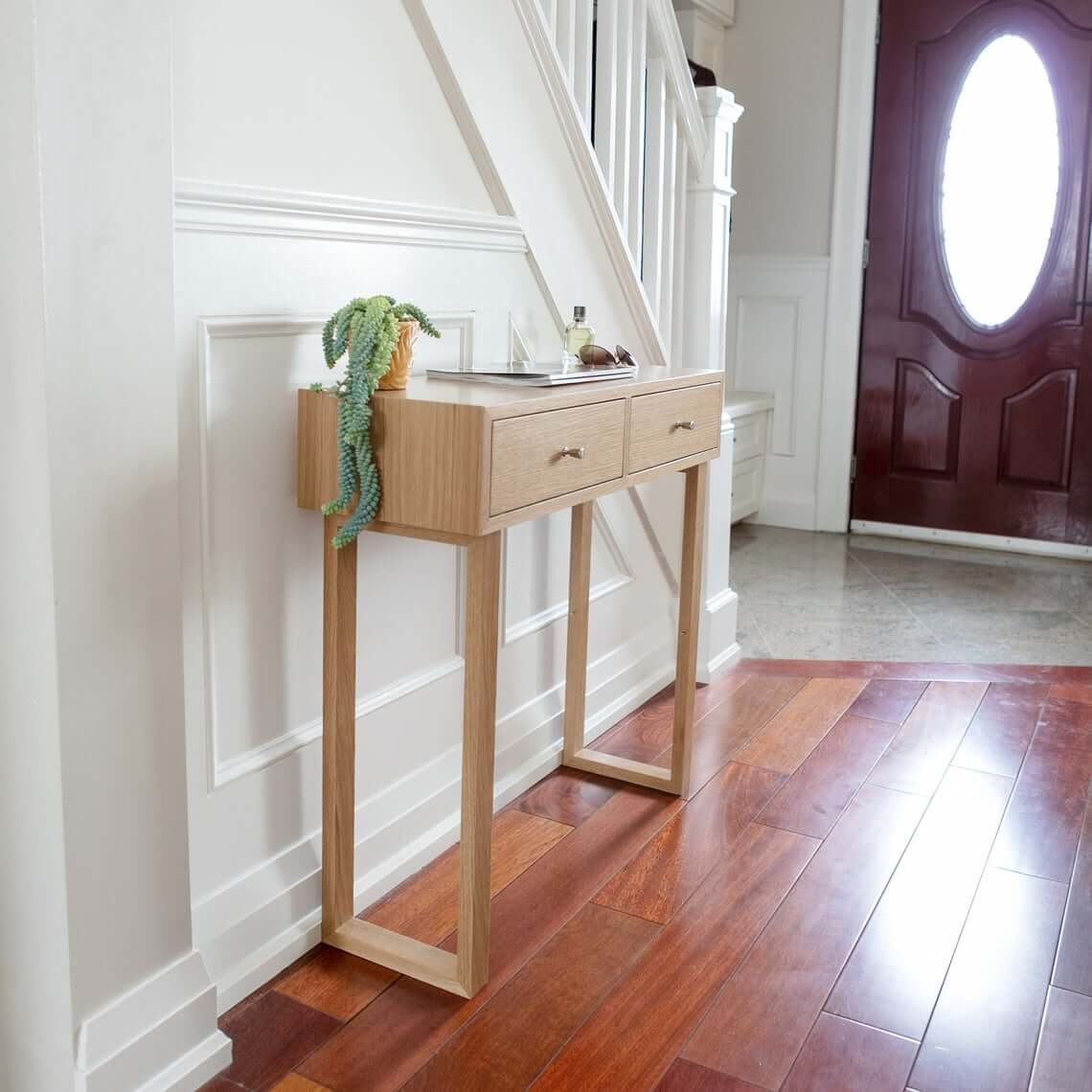 When you need to store stuff without making it too congested in your entryway, then you can go for a narrow, yet tall, console table. It's available in two sizes and painted in either a clear varnish finish or a custom stain finish. The table is streamlined in design for a contemporary look, and it features two drawers used for additional storage.
23. Unique Vintage Oblong Entry Table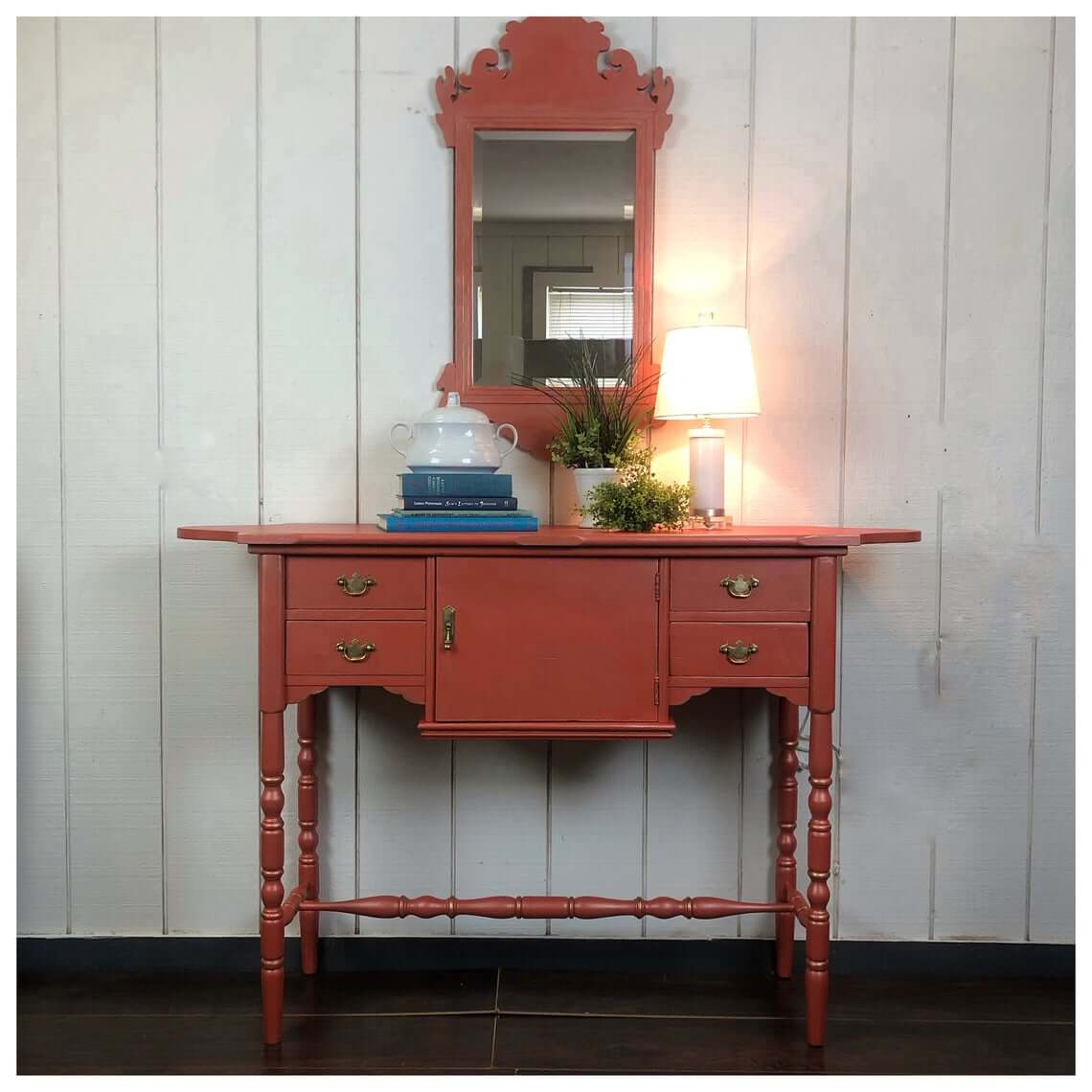 There comes a time where something more distinctive will better serve your entryway than anything else, and this vintage table doesn't disappoint. It comes from the 1980s, and it features a unique style fitting with several types of décor such as modern. There is plenty of room for storage too besides the top as it features a handful of drawers and a large center cabinet.
24. Awesome Double Shelf Wooden Console Table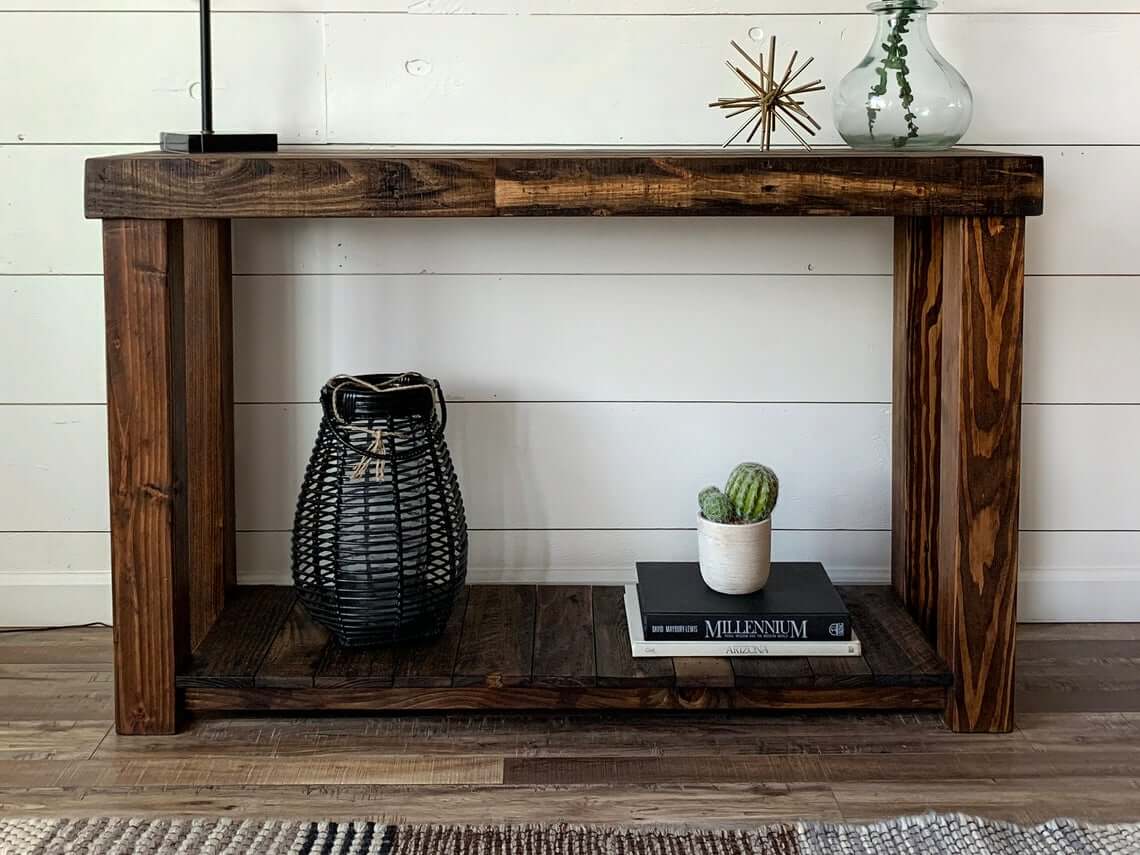 Having multiple places to set up your décor is always a good thing, and this handcrafted table offers more than enough room thanks to the top section and the open bottom shelf. There is enough space at the bottom too to hold taller items like vases or plants. It's made from reclaimed wood, and you can choose from various sizes and three different finishes.
25. Kate and Laurel Kaya Console Table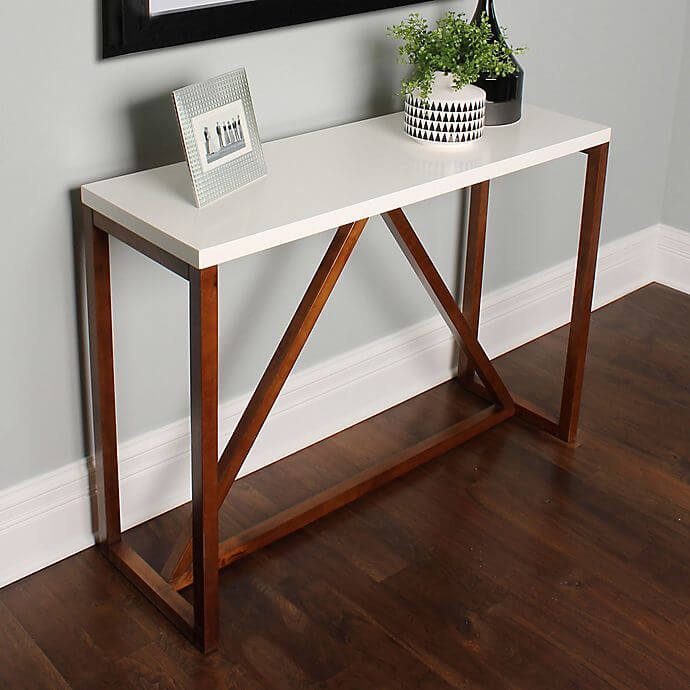 This console accent table is a great way to update your entryway with a modernized feel. One of the standout features is the cool triangle-shaped base that differs from many common entry tables. All the other lines are just as clean for that chic look. You can find this in either a white/walnut style or a white/black style depending on your preference.
26. Slim Entry Way Table with Bottom Shelf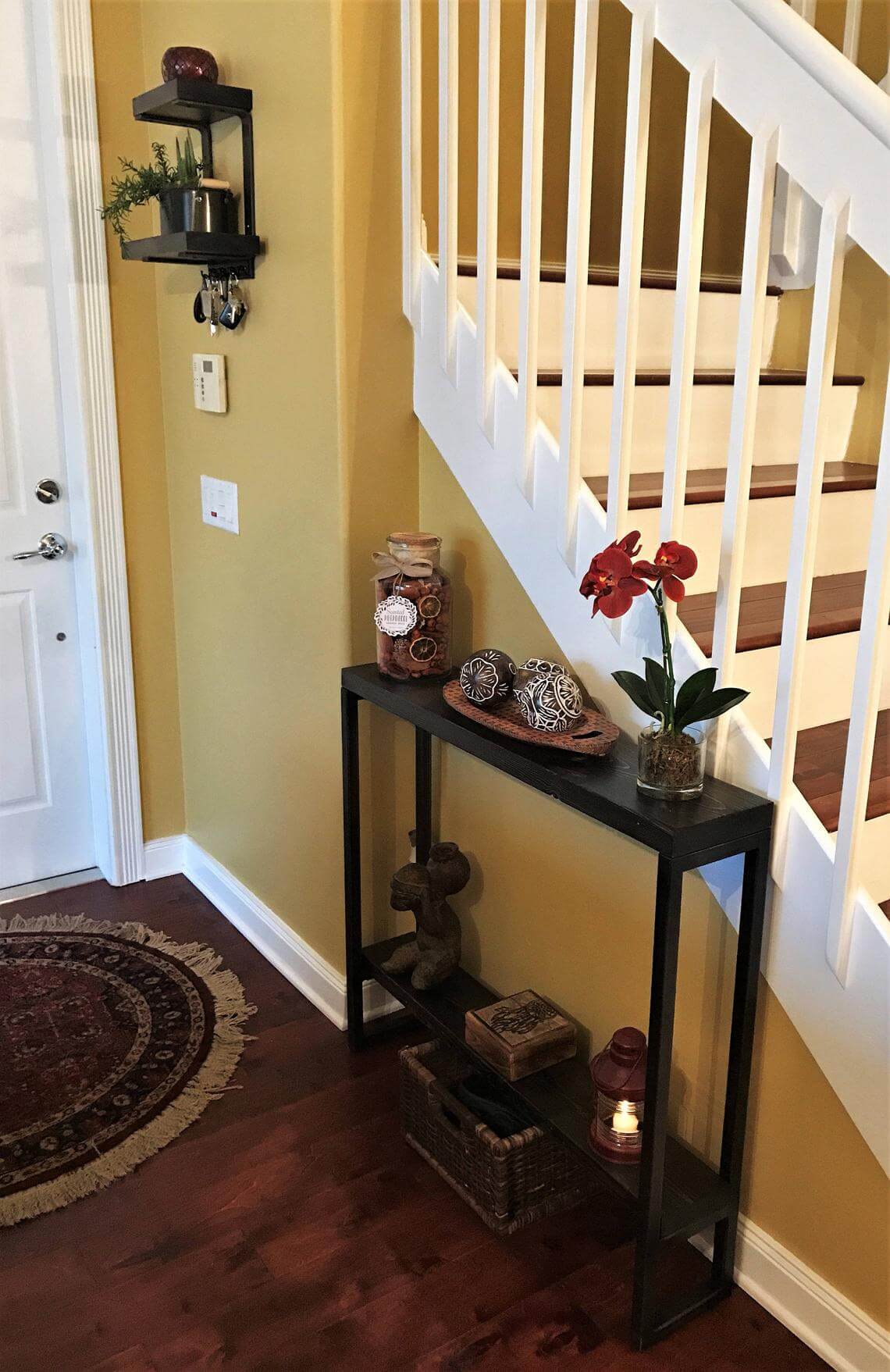 Space-saving in style, this slim console table has an airy feel about it thanks to how open it is from the top to the bottom shelf. There is enough room in between to place taller decorative items, and there is also still enough room from the floor and up so that you may stash some shoes underneath too. You can find this made in five different sizes and three different finishes.
27. Painted Modern Farmhouse Console Table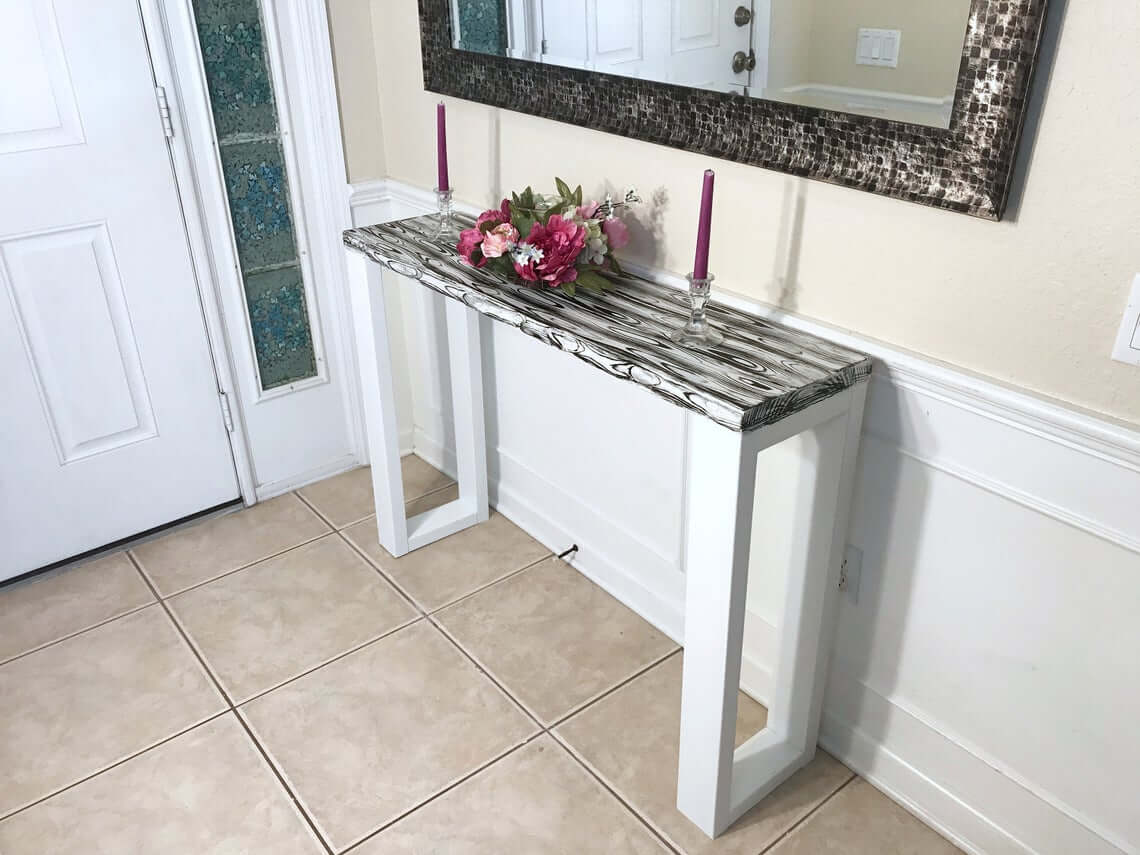 Combining different themes can be a fun way to decorate when done right, and this console table captures the essence of both modern and rustic for a farmhouse chic set up. It is bold in appearance and doesn't take up too much room in an entryway. For personalization according to your room's décor, you can find this available in five different color styles from a gorgeous brown to a unique black and white style.
28. Mediterranean Blue Entry Table Design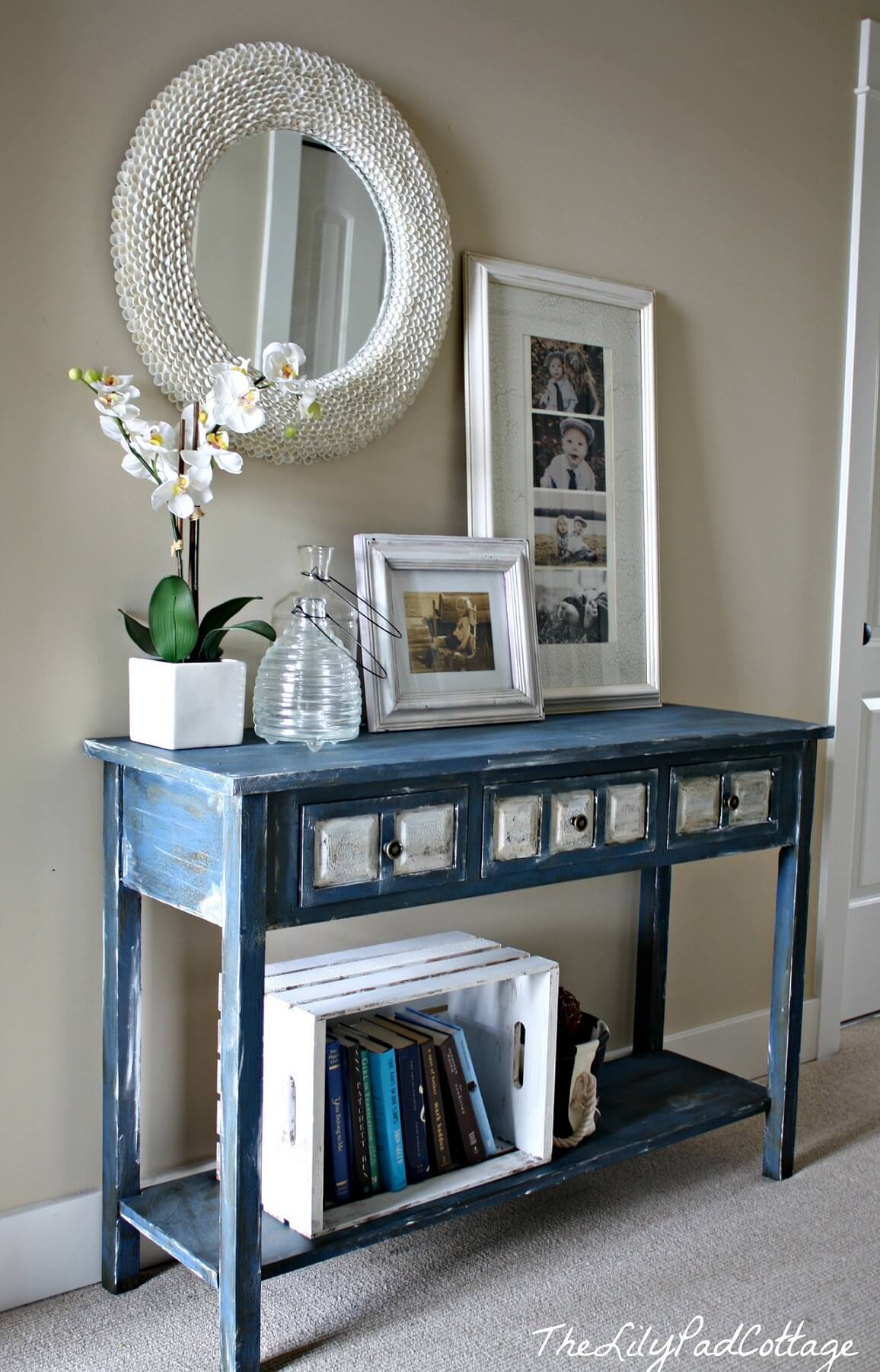 Give your entryway a pop of color with a rustic painted blue entry table. This sleek and spacious design is suitable for entryways that are small and a little larger as well. Don't forget to add a few accents here and there for a more personalized look. Paintings, fake flowers and a detailed mirror are brilliant to add to the elegance of the table.
29. French Vanilla Forest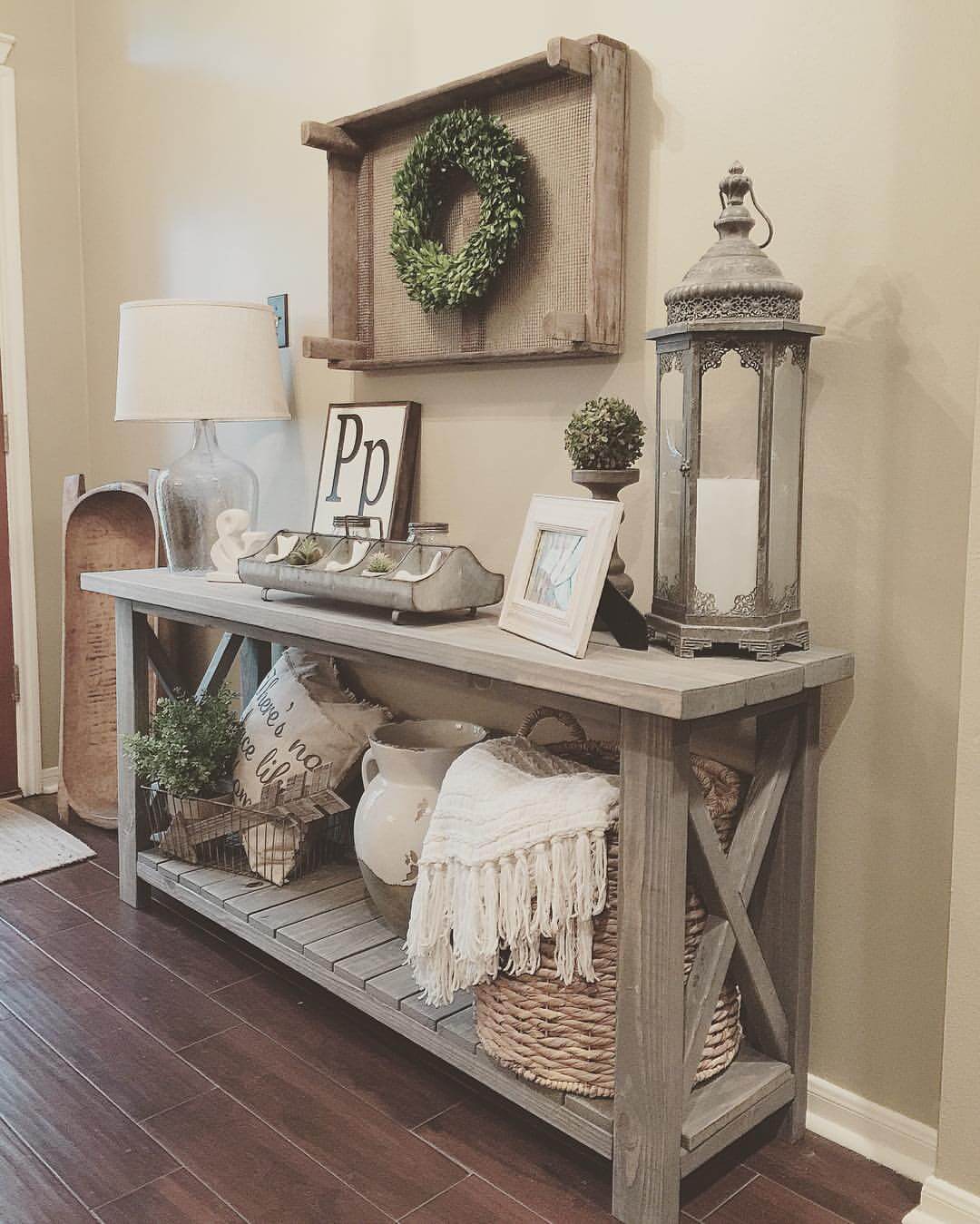 If you want your entryway to look like a beautiful ethereal wonderland, going in for a french vanilla rustic table is always a good option. Pairing up the table with similar colored accents adds to the beauty of the room while making it look more complete and wholesome. Don't forget to make sure that the color of the table is not the same as the walls or the floor.
30. Chic Console-Style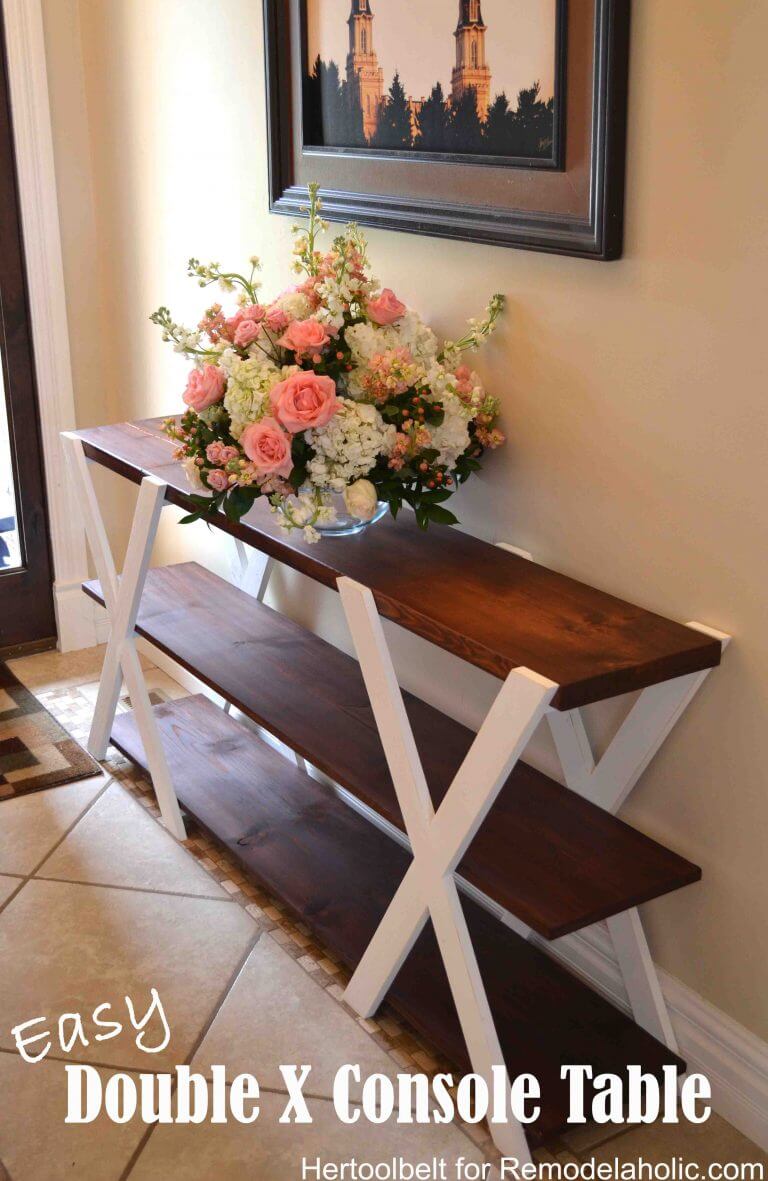 A three-tier console table is a beautiful design for a modern home with some flair. Anyone walking through your door is going to be in awe of this unusual design and color elements that make this table. Since you want the console to be the center of attention, don't add too many things to it, and keep it minimalistic.
31. Mirrored Art Deco Table for the Entryway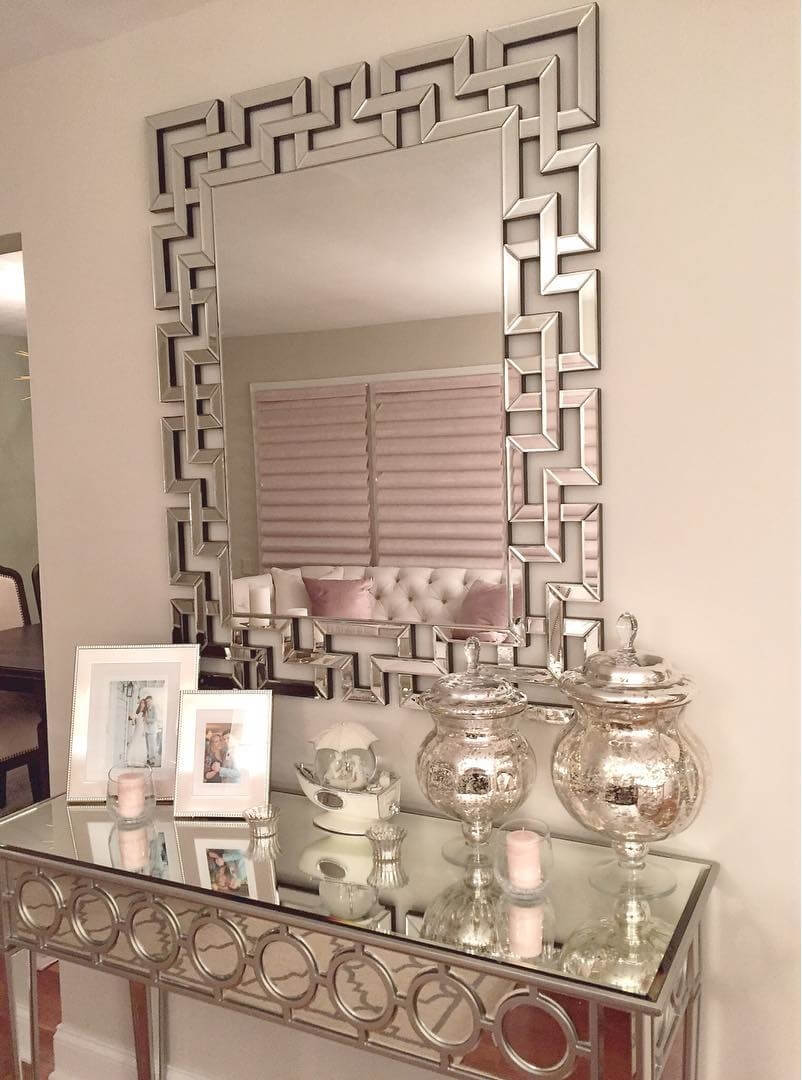 A Mirrored Table is bound to add more depth and texture to an otherwise dull room. In the right tones, a mirrored table can make your entryway look a whole lot nicer and luxurious. Pair it up with a matching artistic mirror on the wall, and you are good to go!
32. Chateau Balustrade Entry Table Décor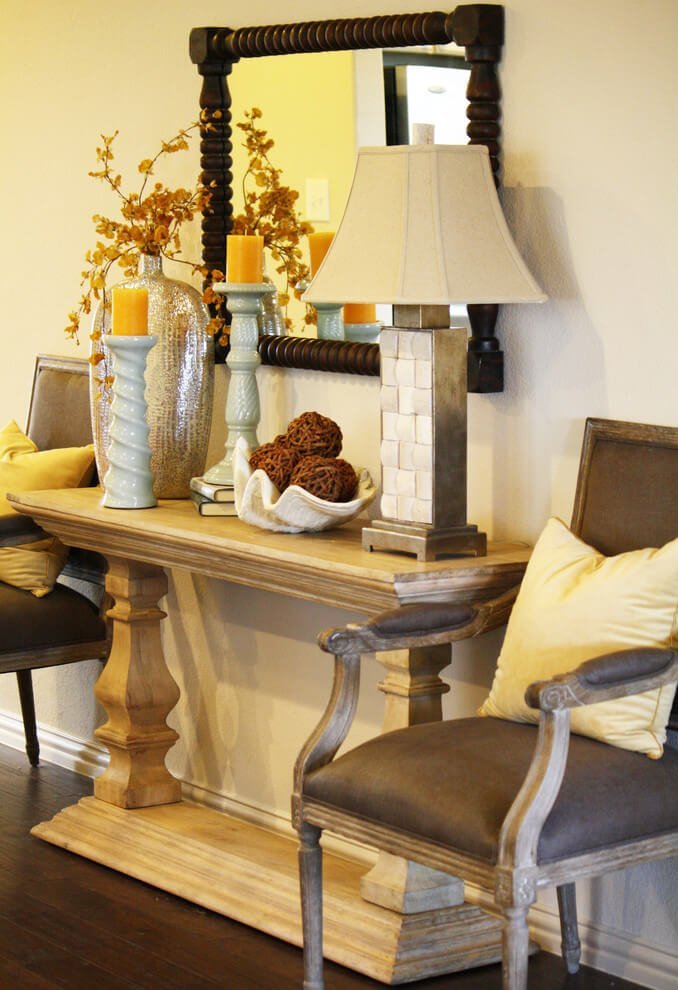 For those who like their entryways to feel more homely, a chateau balustrade entry table is the perfect item to help you achieve that. With strong legs and a marble top in warm tones, your home can look more welcoming than it was before. Placing a pair of chairs on either side of the table is also one way to amp up the look of the table.
33. Classical Study Design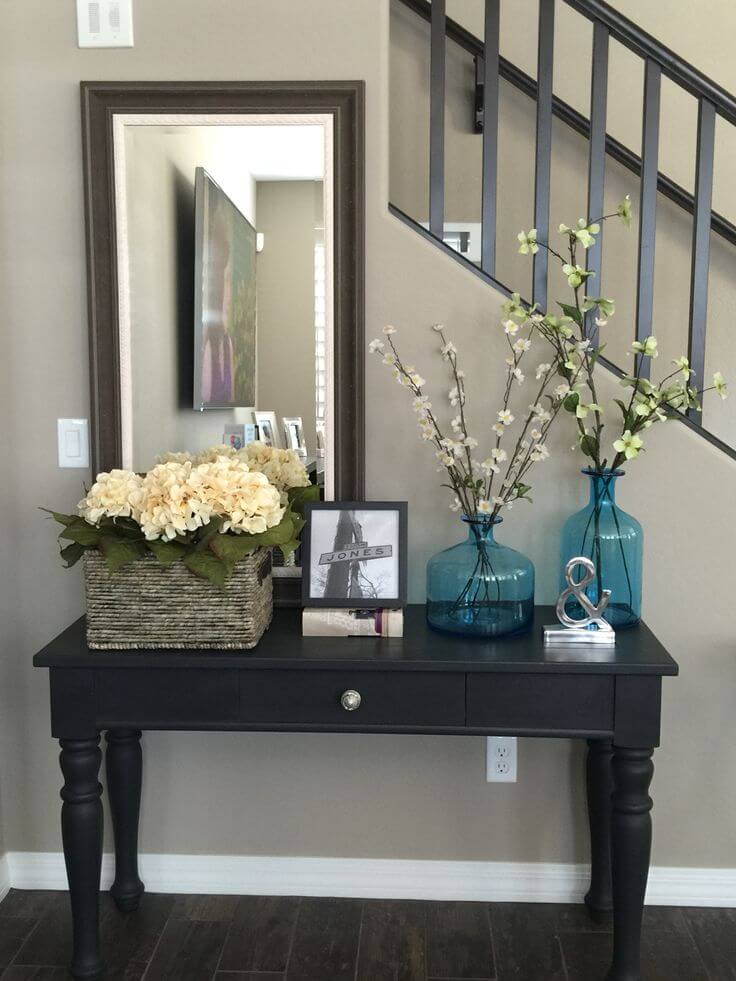 If you are looking for something that looks sleek, minimalist, and functional at the same time, a strong black table with a drawer should work for you. Keep in mind that to achieve this look, your table should not be too chunky or have any additional jarring accents on it.
34. Timelessly Handsome Wooden Table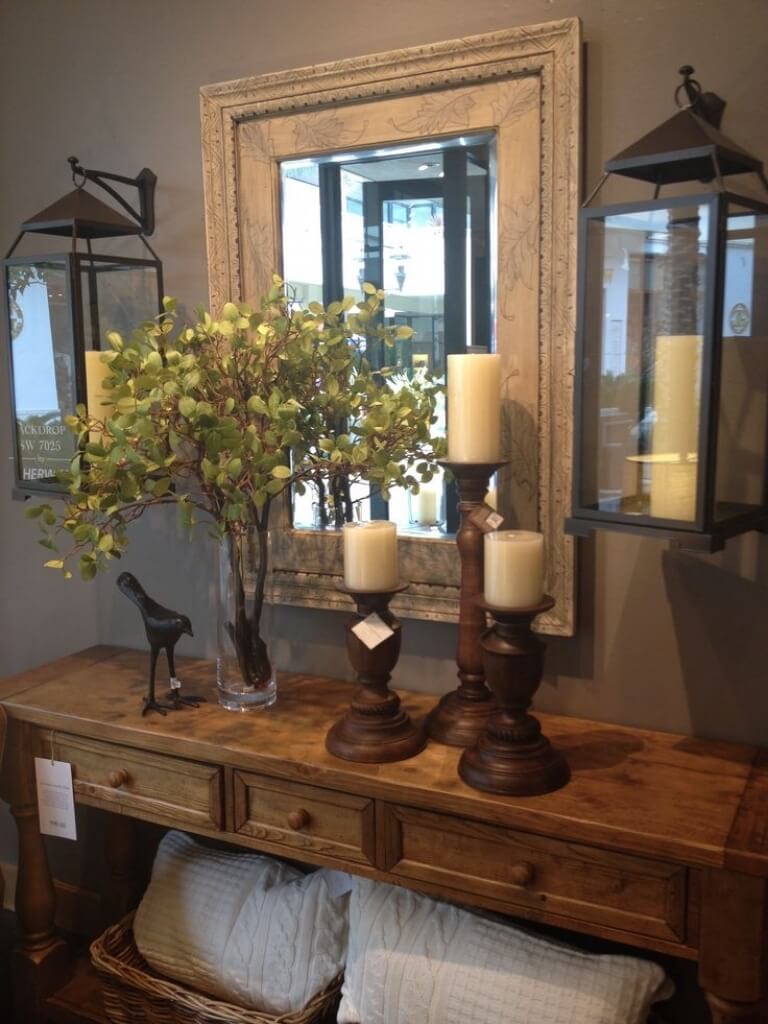 Wooden entryway tables always have a certain feel to them. They make the entryway look welcoming you never have to worry about them going out of fashion because of how elegant they look and make the room feel. Pair it up with earthy tones and elements, and your entryway table will look stunning and complete.
35. Pretty & Petite Country Style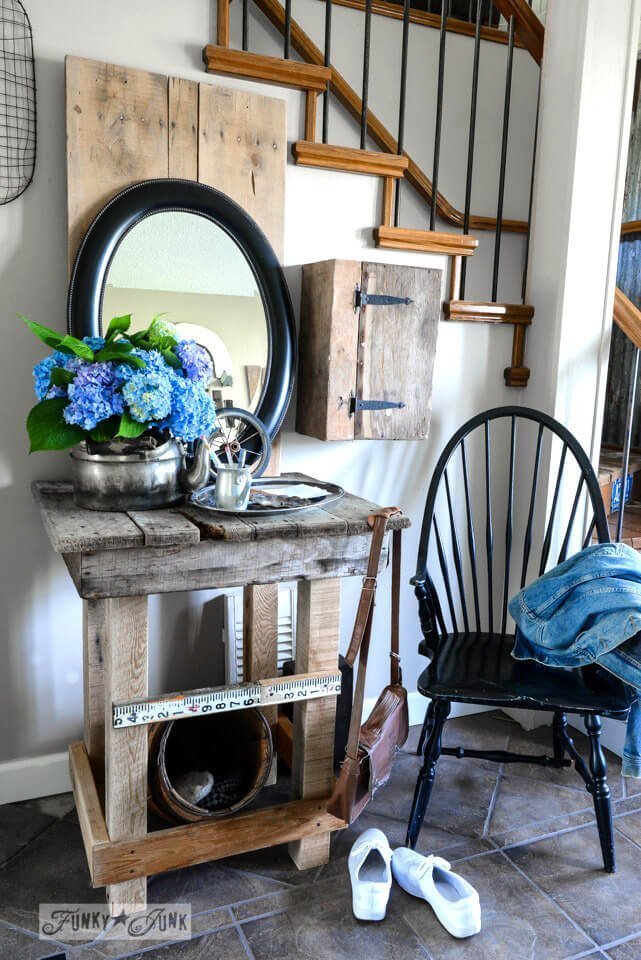 If you don't have too much space in your entryway, a small petite table in rustic tones could always do the trick. Depending on the area you have at your disposal, you can make it as small or thin as you like. Remember, don't add too many accents to the table or it may overpower it too much.
36. Sophisticated Metropolitan Design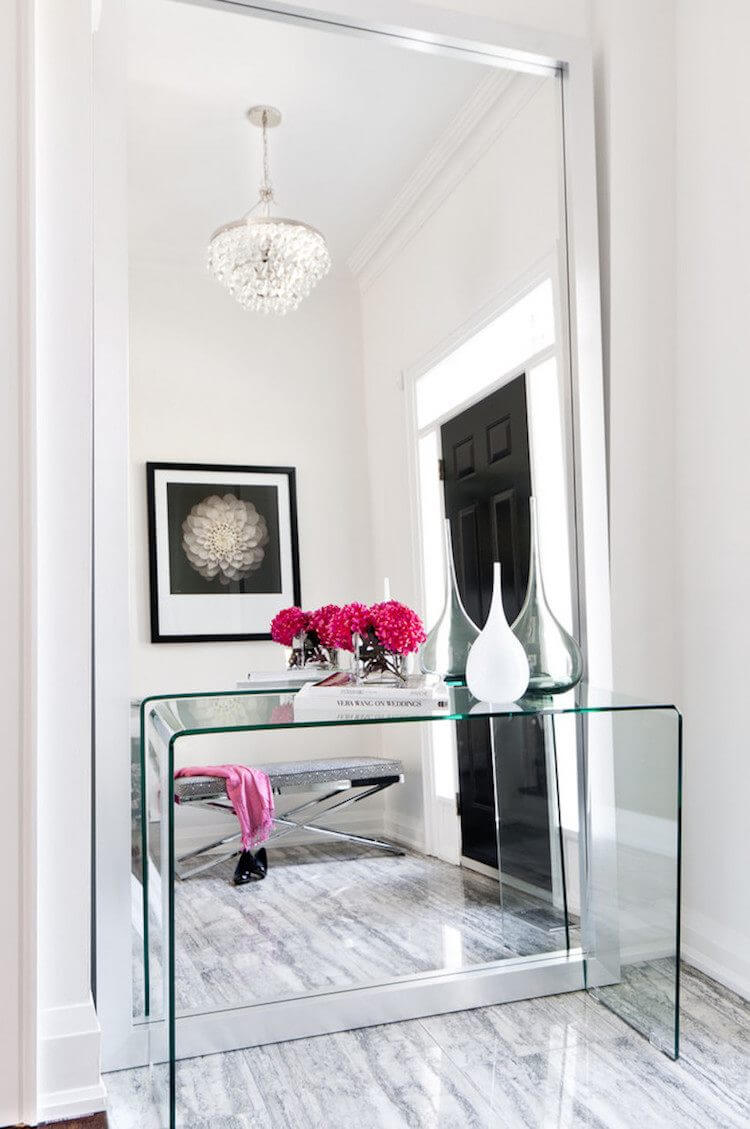 Glass tables always look sleek, modern and contemporary. They make the room look spacious while still adding an element of furniture to it. A glass entryway table in a sleek design always works well, especially if you have marble flooring, white walls, and a lot of light coming into the room.
37. Simply Rustic Wooden Table Décor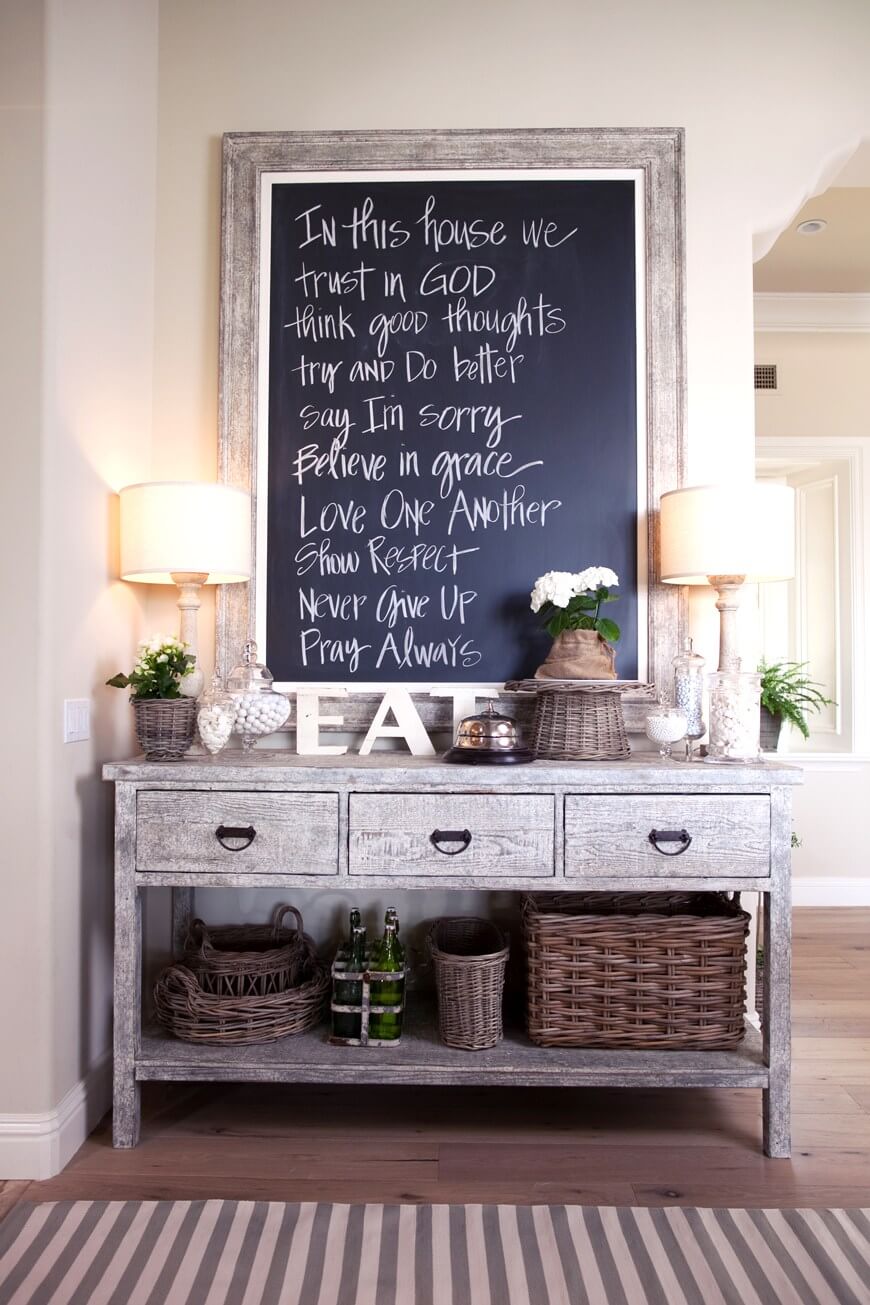 Rustic tables always have a certain air about them and make a room feel more personalized and homely. An entryway table in rustic tones paired up with a chalkboard with handwritten messages can turn any home into something more personalized. After all, home is where the heart is.
38. Charming Wooden Spool Table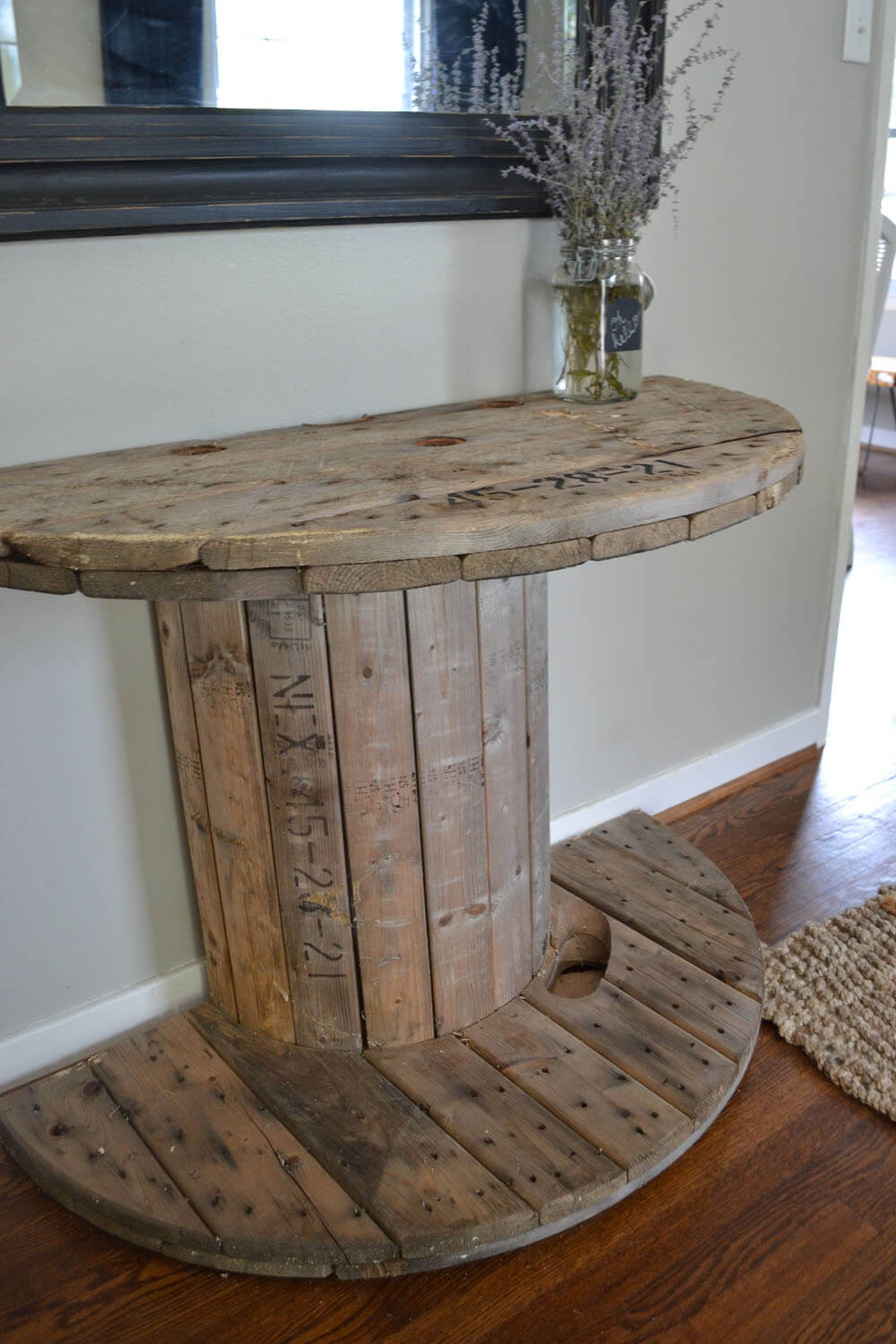 A table shaped like a semicircle is undoubtedly usual, and in an entryway with little space, can turn any home into a more picturesque setting. The wooden panels used on this table give it all the texture and color it needs to stand out from the rest of the room.
39. Elegant Versailles Scrollwork Design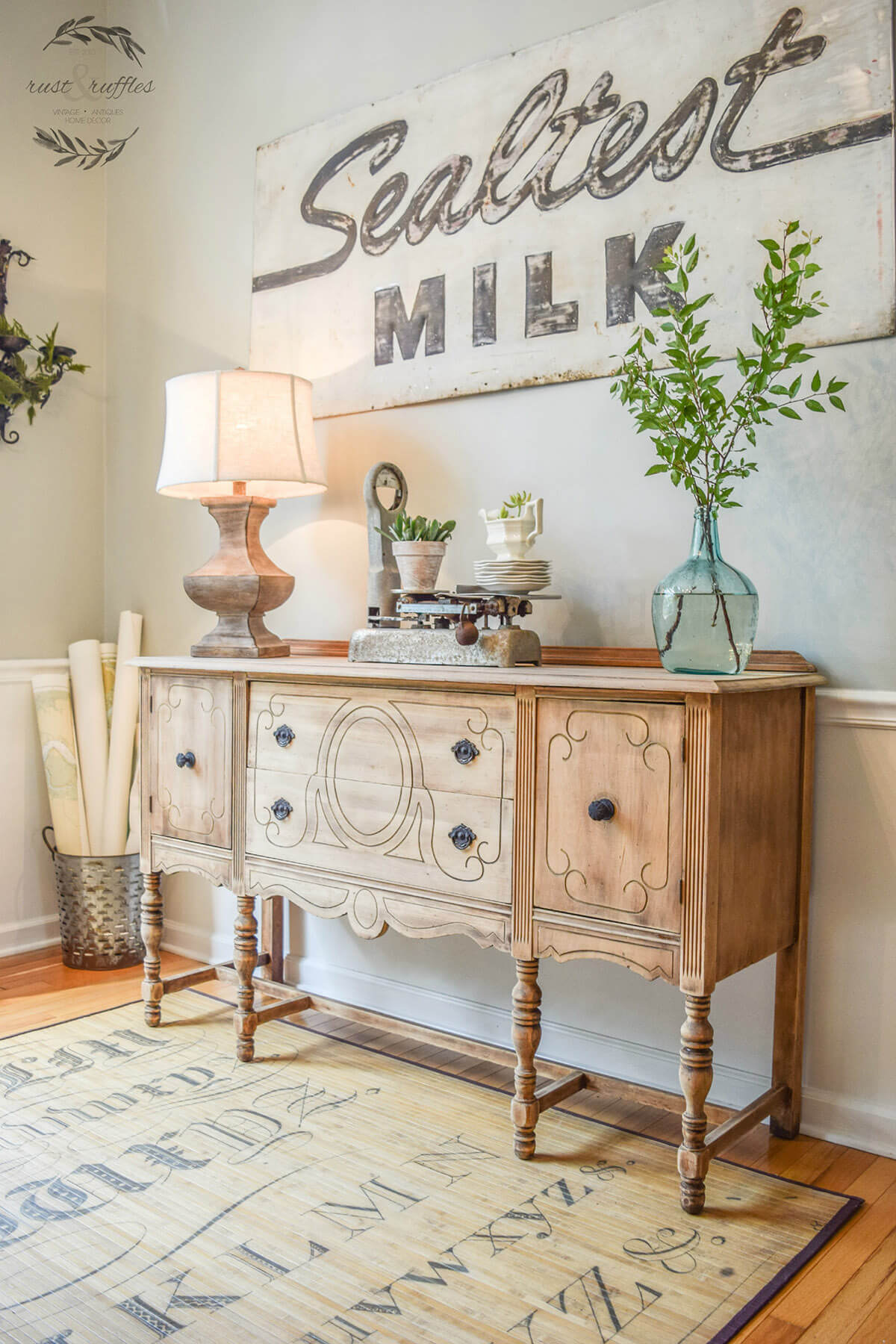 Elegance is the only beauty that never fades, and this timeless piece of furniture stands true to that. The light accents on this table make it look beautiful, while not being too overpowering, or adding too much detail. For a home that has warm toned floors and walls, this entryway table is sure to look gorgeous!
40. Antiquated Italian Marble Top Entry Table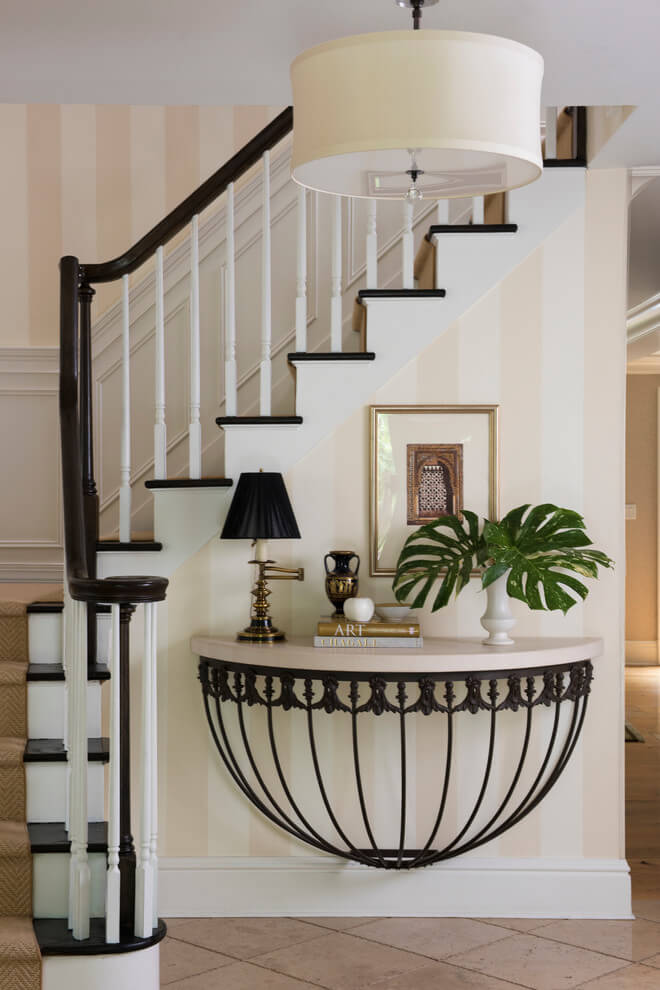 Marble tables look incredibly artistic, and when attached to a wall in this fashion, can make your entryway look like an art museum. The metal bottom with the details breaks the monotony of the table and gives it an additional focal point. Make sure that your wall doesn't have any patterns on it, as that can seem a little jarring in contrast to the table.
41. Stunning Tree Piece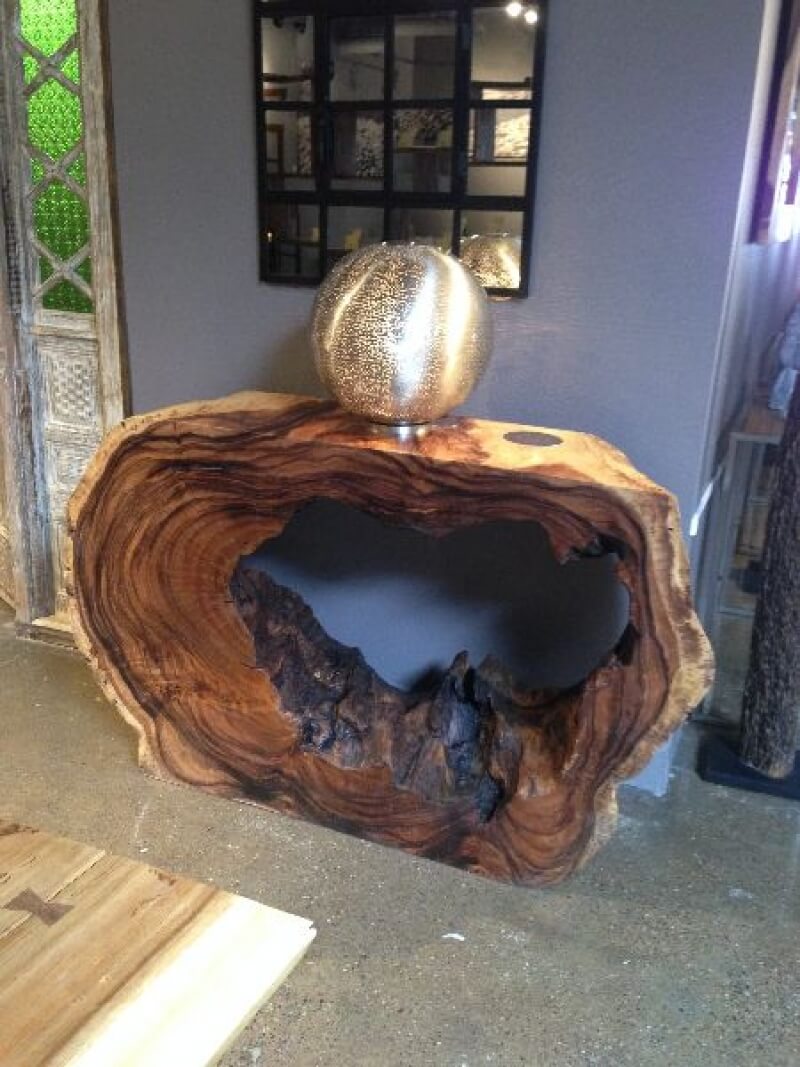 If you are into DIY projects and making unique, one of a kind furniture, carve a tree trunk to look like an entryway table. It's a great way of bringing the outdoors, indoors, and is sure to grab the attention of anyone walking through your door, because they surely won't have seen anything like this before.
42. Little Red Rooster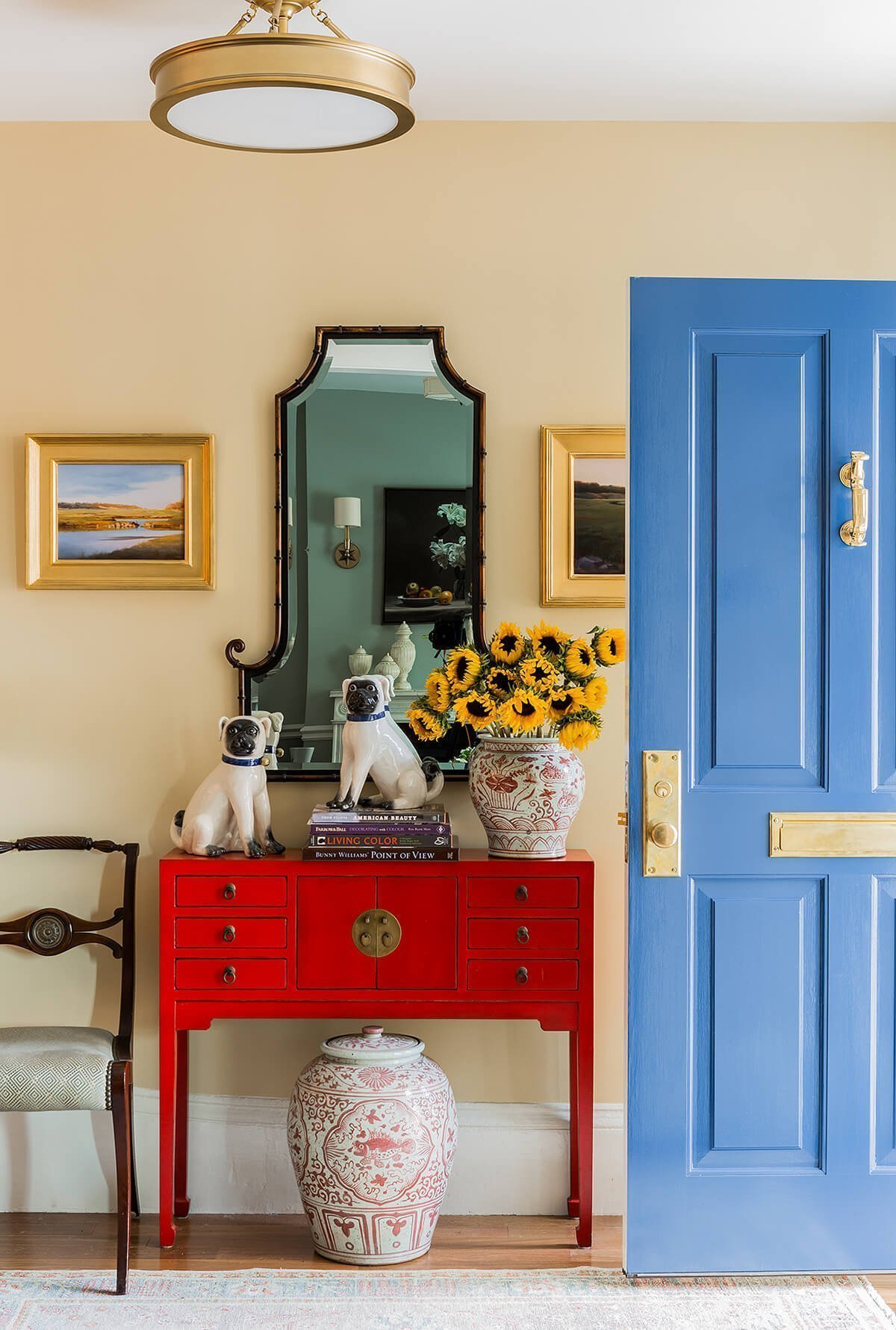 For a pop of color in your room, try an entryway table in bright red. It helps give an entryway a good contrast and makes the table the focal point of the room. Keep the table small, because if it is too big, the red can become overpowering. Don't forget to add a few accents to give it a personal touch.
43. Singer Sewing Machine Style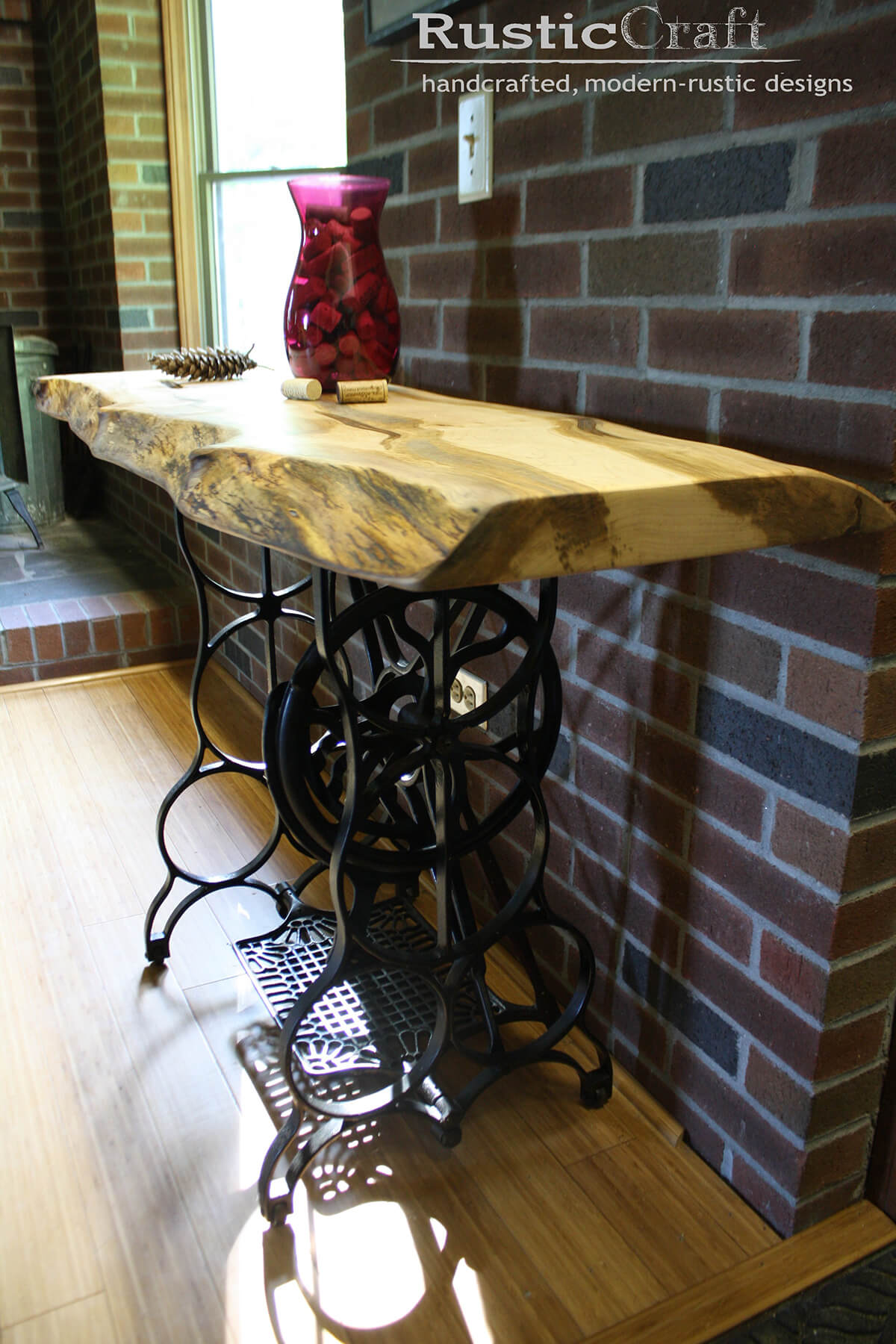 If you have an old mechanical sewing machine just sitting in your attic or garage, why not turn it into a one of a kind entryway table? Pair it up with a piece of wood for the top of the table and smoothen it out to give it a polished look. If your sewing machine looks old and faded, a fresh coat of paint should give it a makeover.
44. Shabby Chic Wooden Runner Entry Table Idea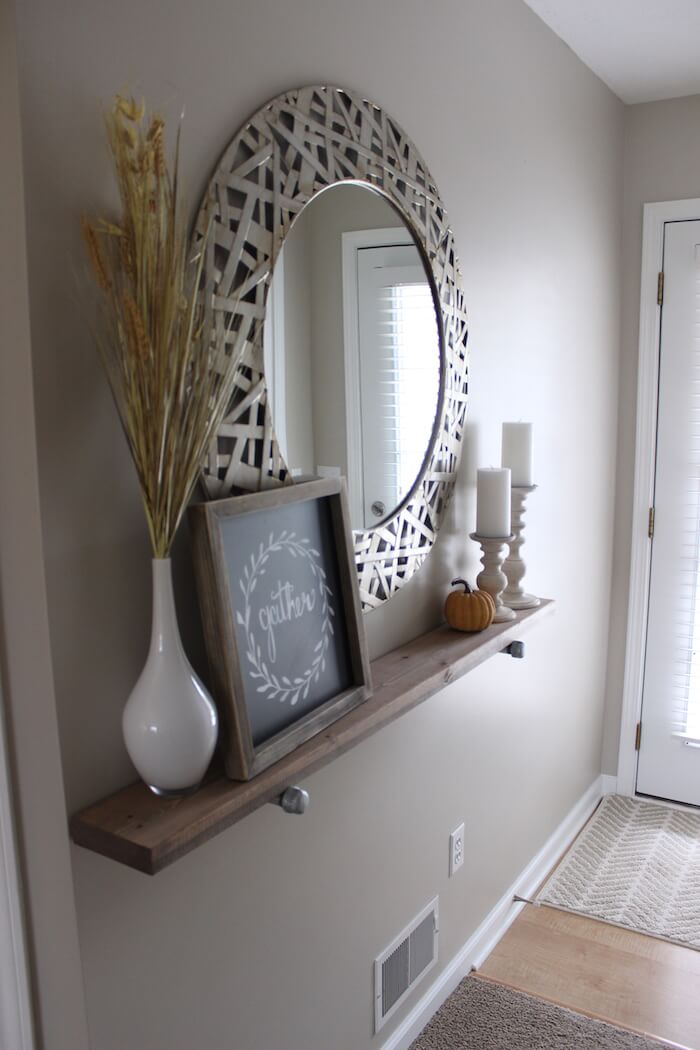 Go minimalistic all the way with a super sleek wall hinged entryway table. It gives the room a certain amount of flair, while maintaining the space, and without taking away from it. This kind of entryway table is excellent for smaller apartments with limited space to work with.
45. Deep & Rich Entry Table Decoration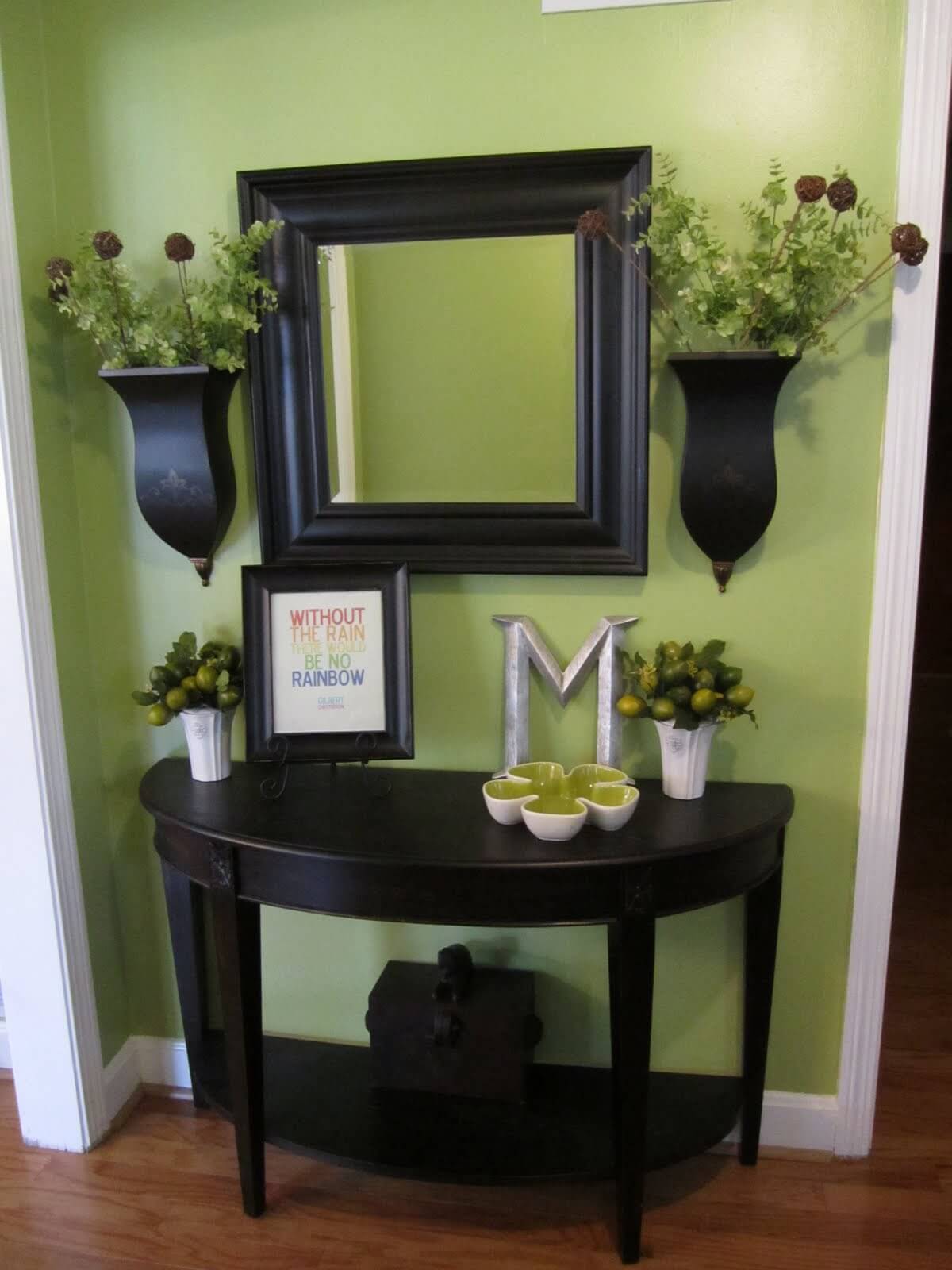 If you have a bright colored wall and want to give your room a good contrast, try a simple entryway table in dark brown or black. It will stand out immensely against the colored wall and will help tone it down a little bit as well.
46. Winter Palace Balustrade Style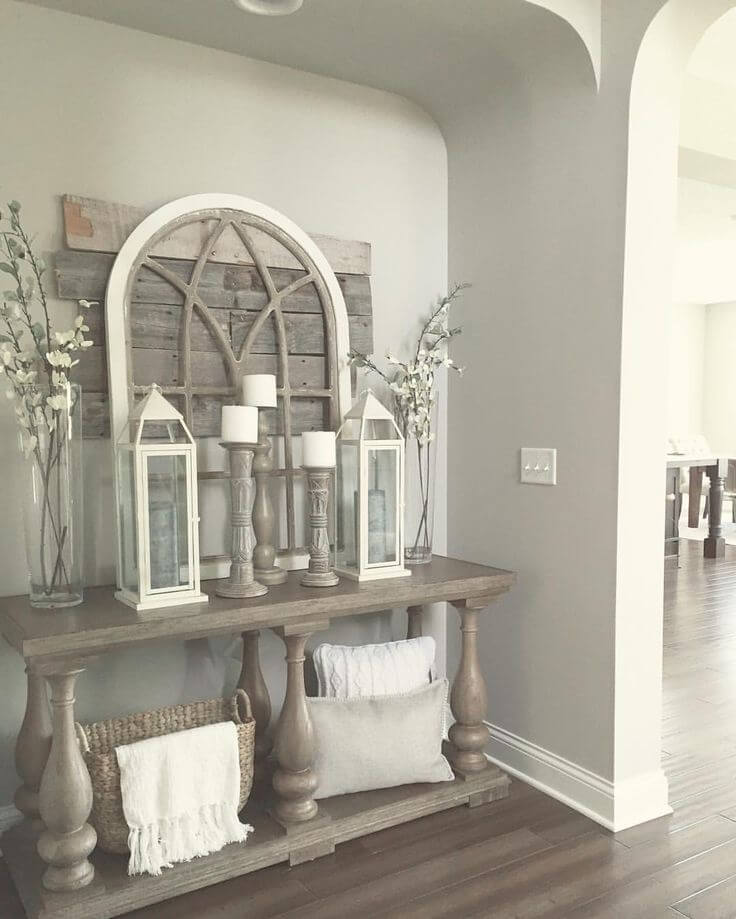 If you want your home to look like a rustic winter haven, a darker cream colored table with white accents is the way to go. Remember that this will only work as intended if the rest of the room follows a similar color palette.
47. Entry Table A'La Modern Art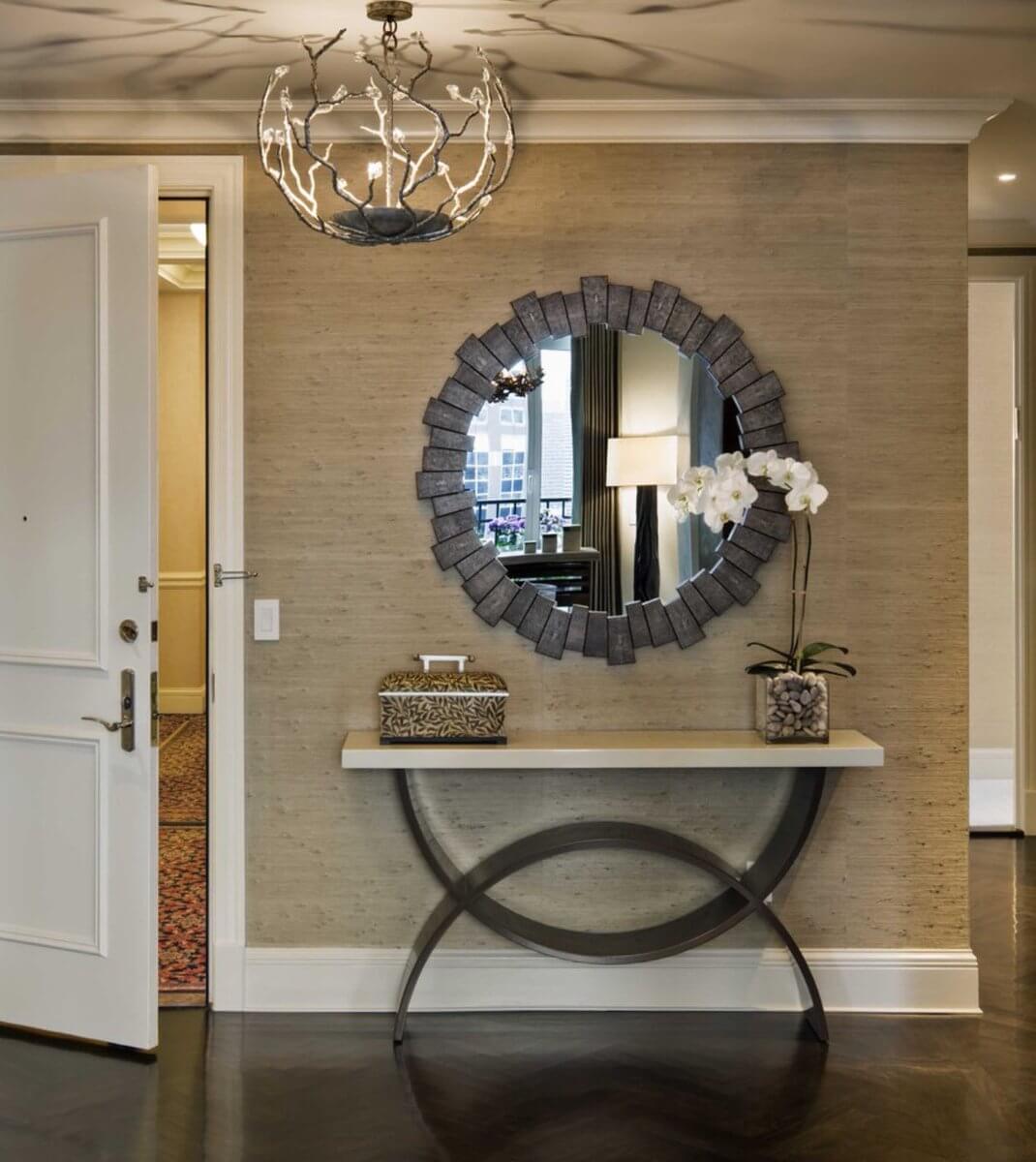 Make your entryway look like a piece of art with this beautiful geometric designed entryway table. The curves give the table the flair that it needs while making it look incredibly chic and artistic. Don't forget to pair it up with a well designed decorative mirror to give it an extra touch.
48. For the Vintage Lovers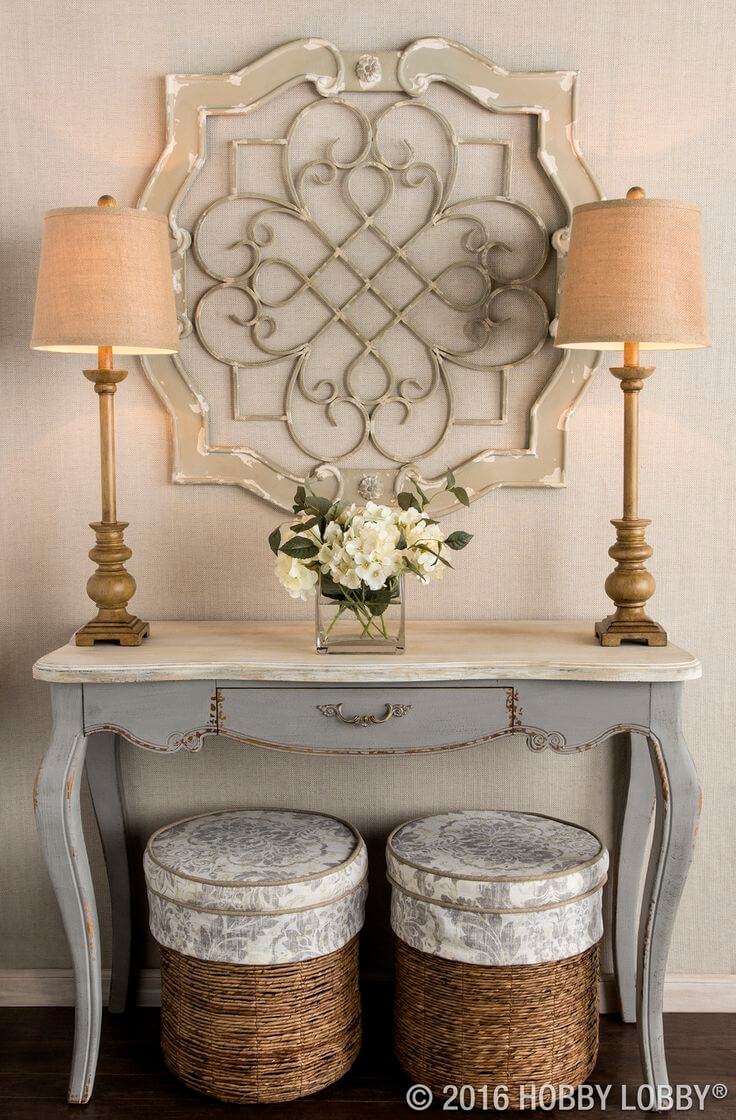 If you want a piece of vintage furniture in your home, why not pick up the trend with a beautiful vintage table! Shades of brown work well with each other, but remember to keep your color palette subtle and in sync with each other.
49. "Some Things Are Black And White"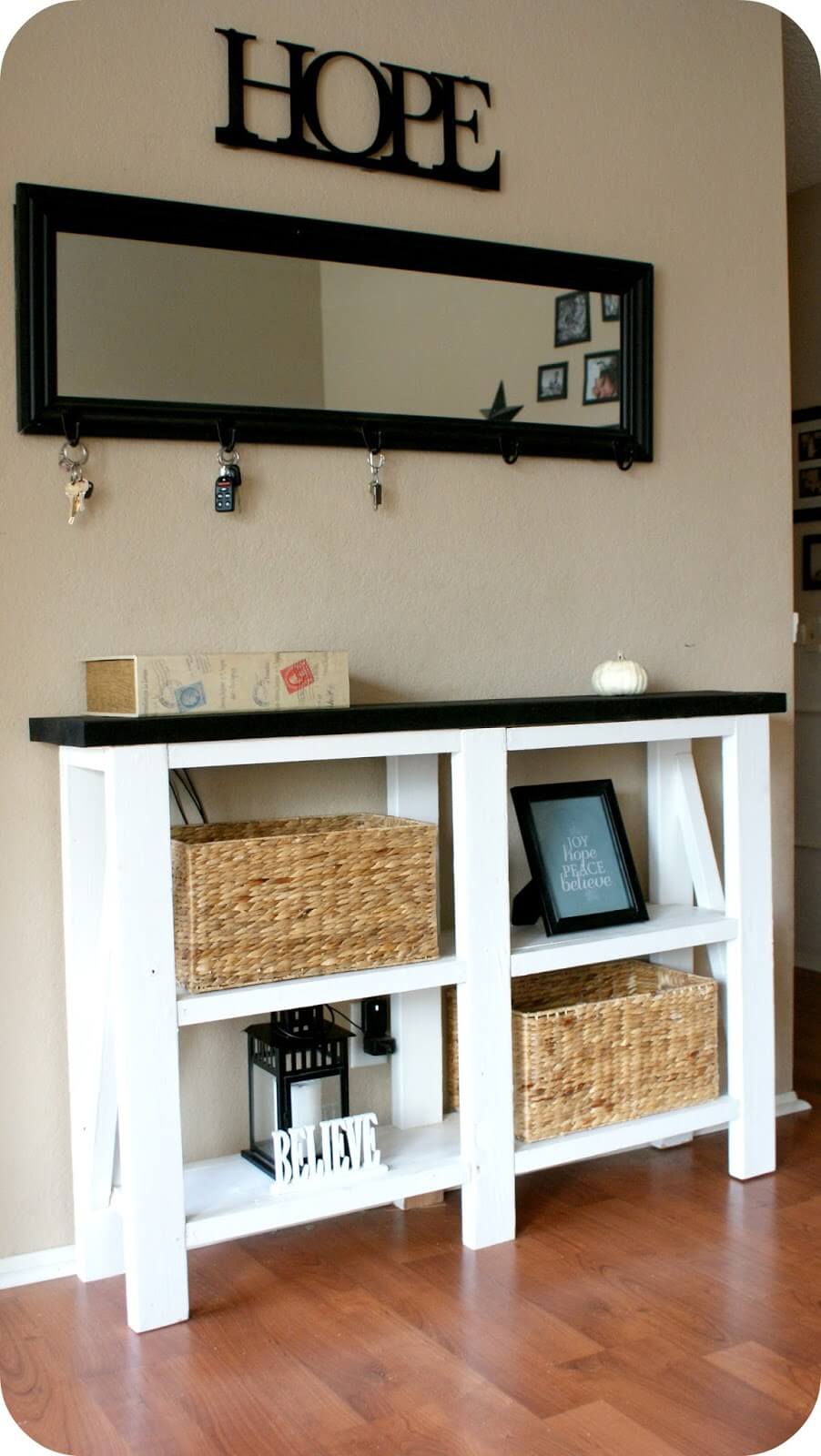 Black and white work well if paired up right and in the appropriate proportions to balance out each other. This white entryway table with a black top and matching black mirror work incredibly well with each other, and complement one another well to make the room stand out and look welcoming.
50. Rustic Apothecary Style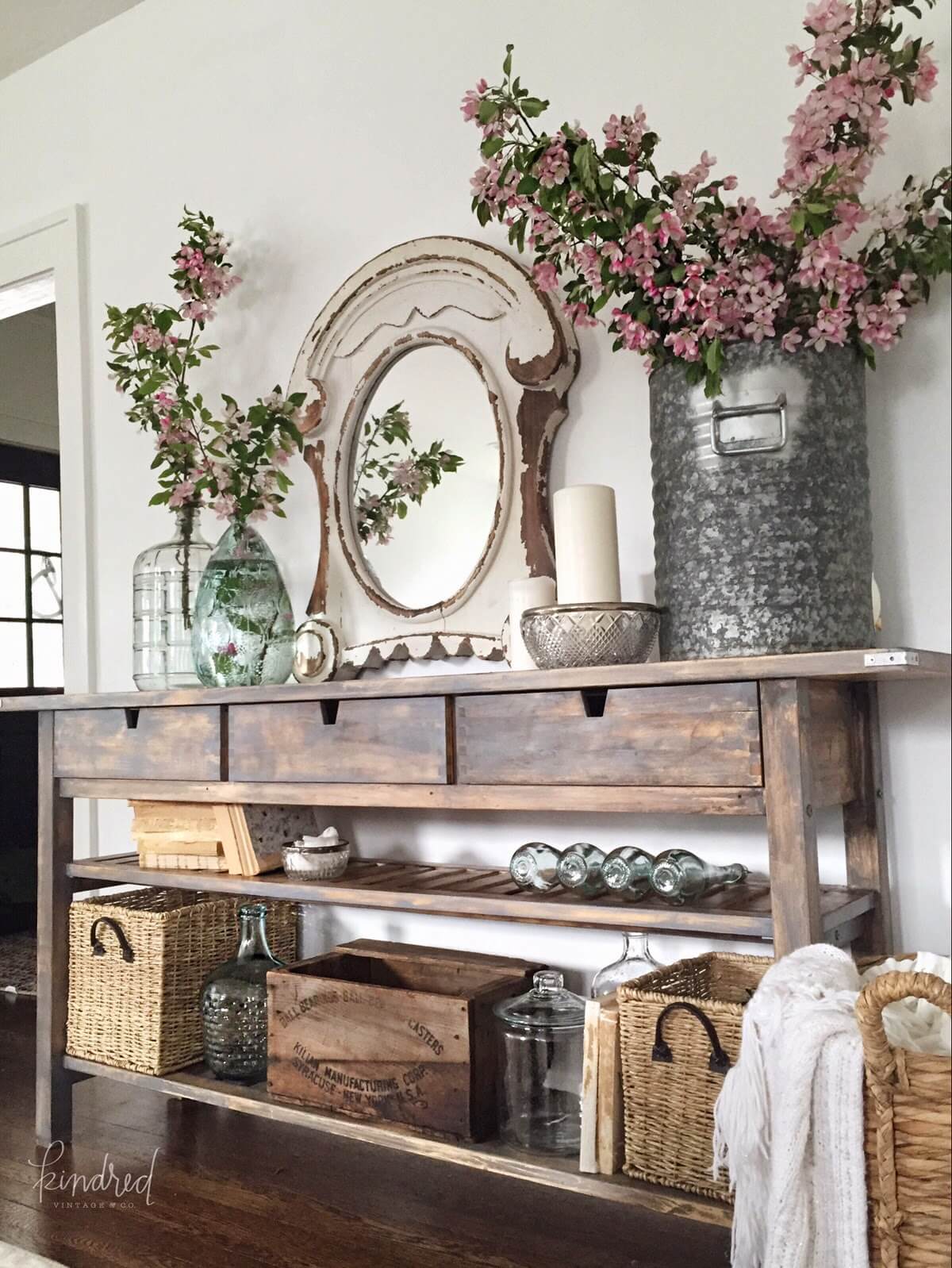 Woodland inspired furniture is always a brilliant way of bringing the beauty of nature into your home. If that is the theme you are going in for your home, why not start it off with your entryway table? This rustic apothecary style table is the perfect way to weave in that idea while looking incredibly homely and beautiful.
51. Robin's Egg Blue Entry Table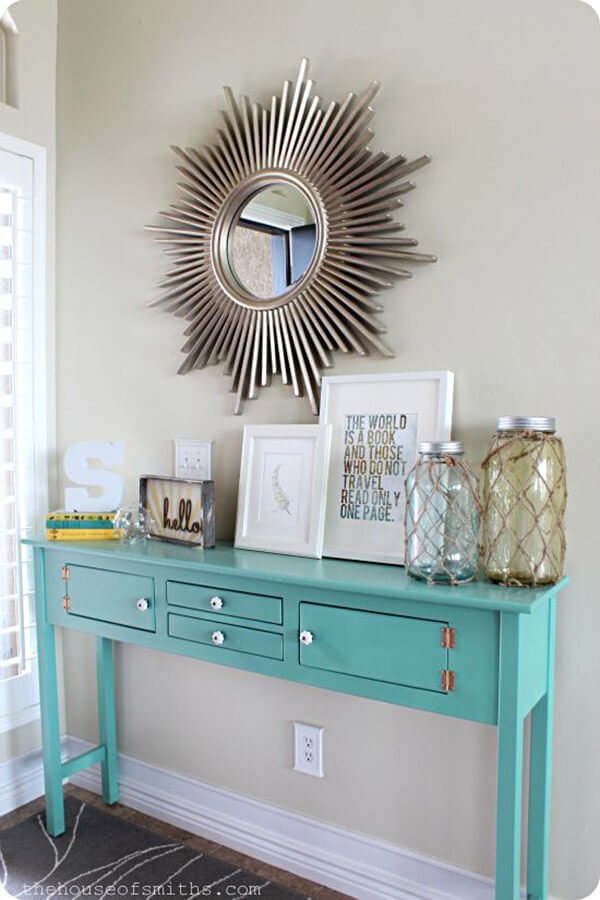 Colored entryway tables are a great way of giving a unique touch to an otherwise dull room. The right color can make even the simplest of entryway tables to look chic and modern. Don't hold back while choosing the right color. The brighter, the more it will be admired by those who see it.
52. Farmhouse Console Design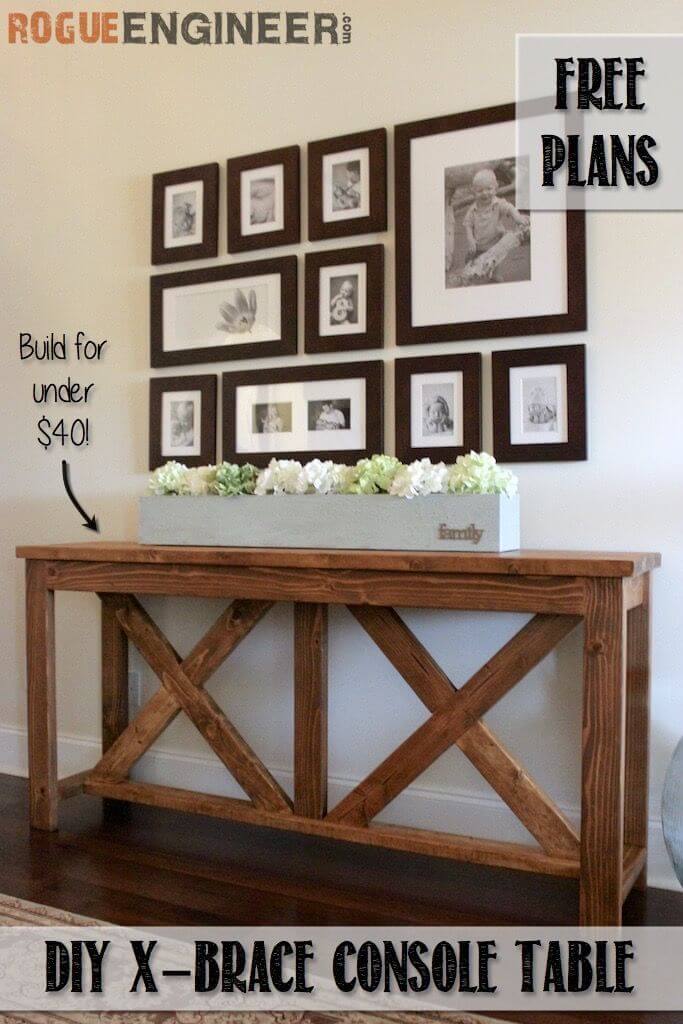 If you hear the farm life calling out for you, a barn-inspired entryway table is a brilliant way to answer back. The table doesn't need to be too bulky, and even a sleek design in the right wooden texture can look incredibly good and beautiful.
53. For a Distressed White Country House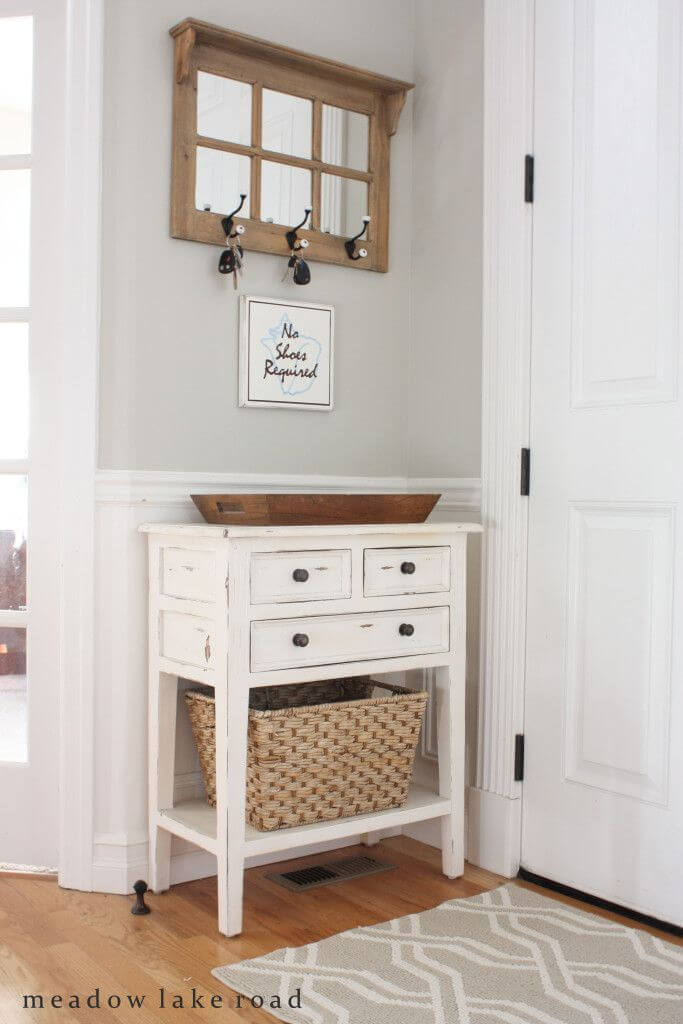 Bring a little bit of country into your home with a chic and rustic white entryway table. This is another option for smaller entryways, and even a tiny thin table can work well to give your entryway a nice look. Pair it up with a few more rustic elements either under or over it to add a little bit of a unique touch to it.
54. Fun & Functional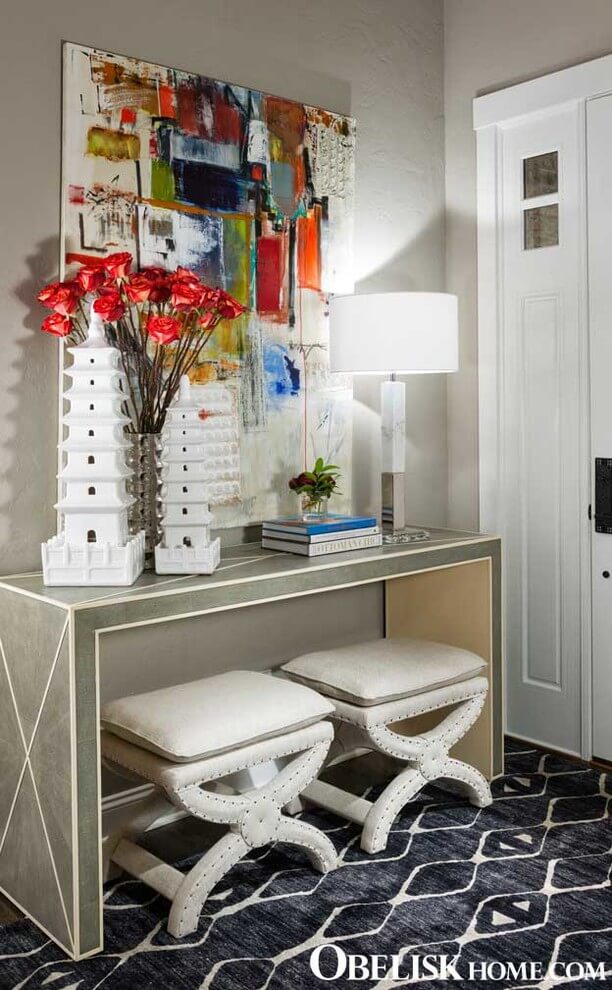 No one said that an entryway table needs to be one color and boring. This entryway table is a good way to show people that your home is one big fun art gallery with artistic elements in every piece of furniture. A chic geometric designed table with a beautiful tall piece of art in the background is a lovely way to bring some color into the room while making it look well put together.
55. Victorian "Slice" Style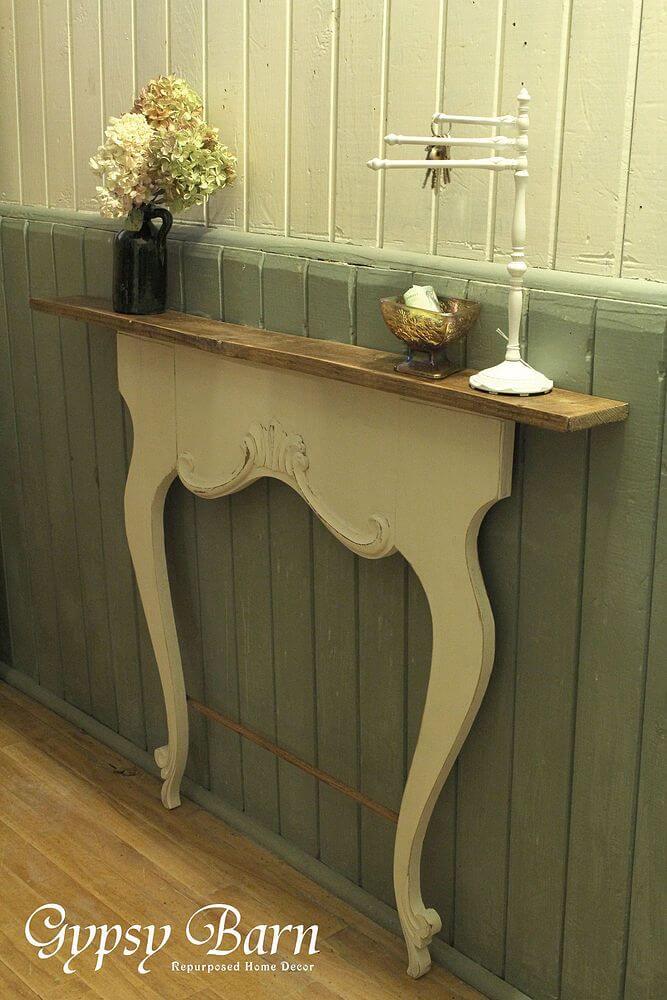 If you have a little amount of space, you don't always have to go with something that follows a minimalistic design. Try something like this minimalistic style victorian table that gives your home a little bit of texture, while not taking away from the small amount of space that you have at your disposal.
56. Table with Refinished Wooden Folding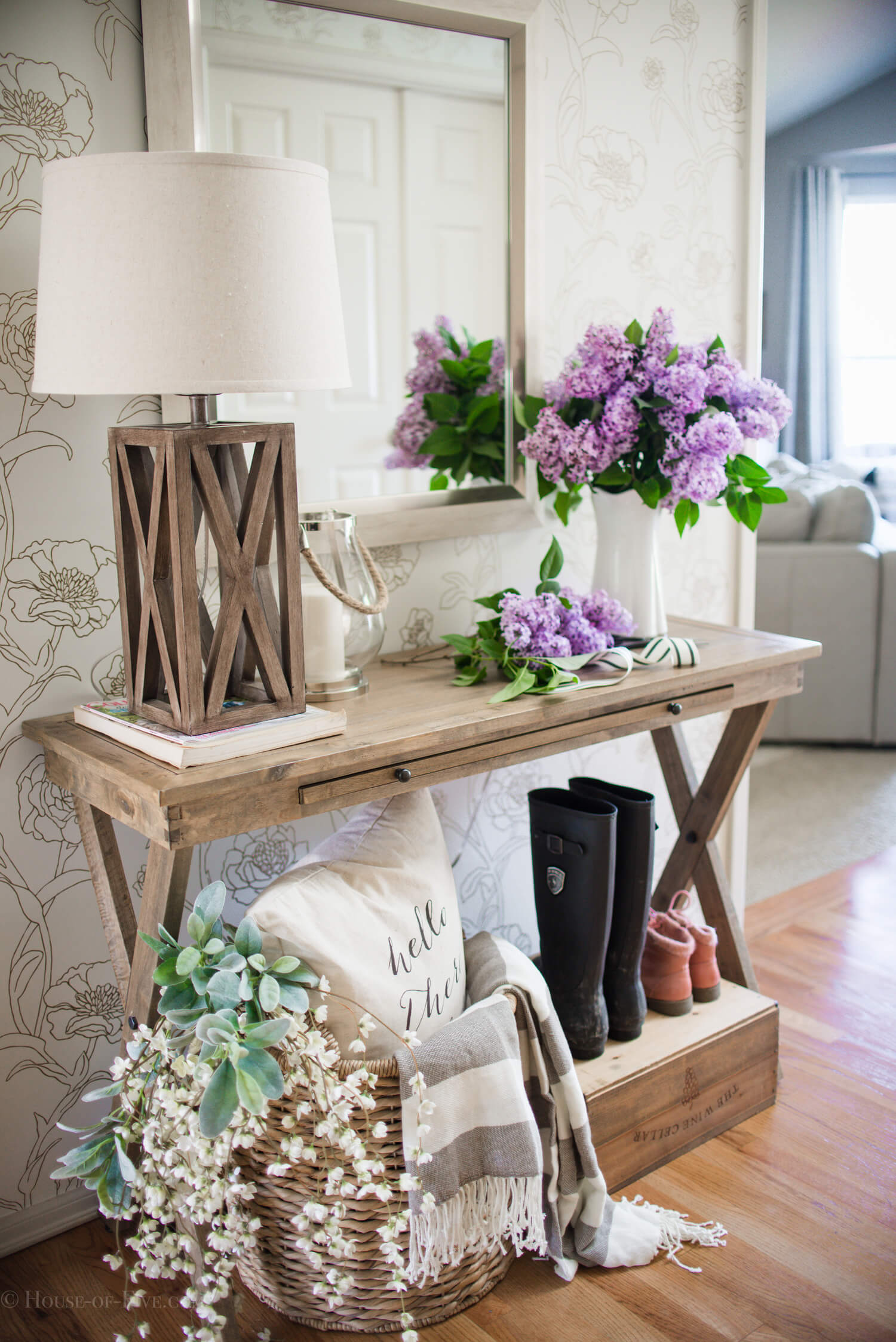 An entryway table does not only need to be something that keeps things for the show. It can also be incredibly functional, like this beautiful rustic folding table. This one was made of refinished wood, so if you are good with making furniture, this can be a good next project!
57. Provincial Pantry Table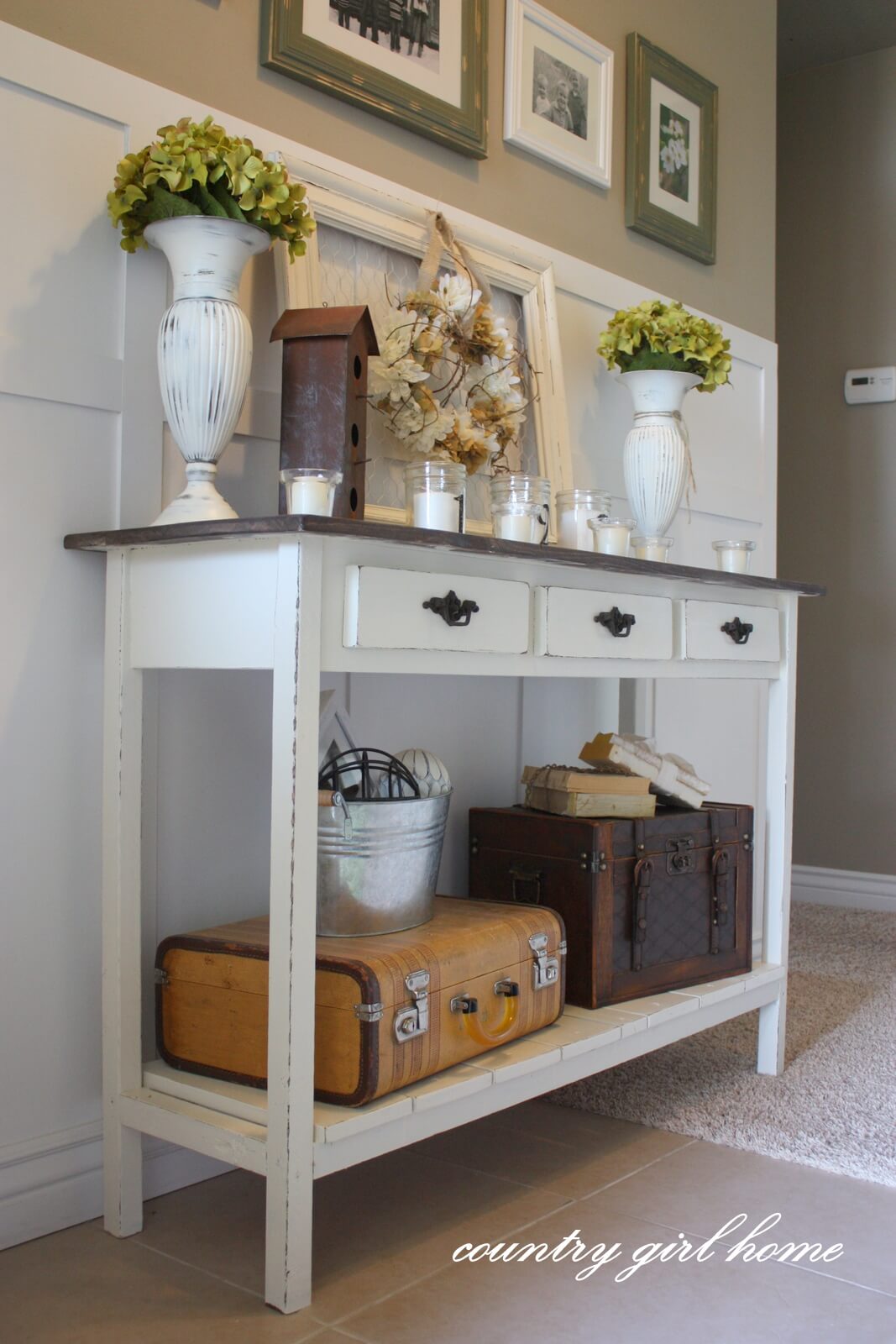 Another functional entry table design, this one with drawers and a low space holder. It doesn't need to be in white but would surely look good if your wall is also the same color. Add a few homely accents and storage items to make this otherwise simple table look more stylish and personalized so that it can grab people's attention and make it more akin to your style.
58. Abstract Art Glass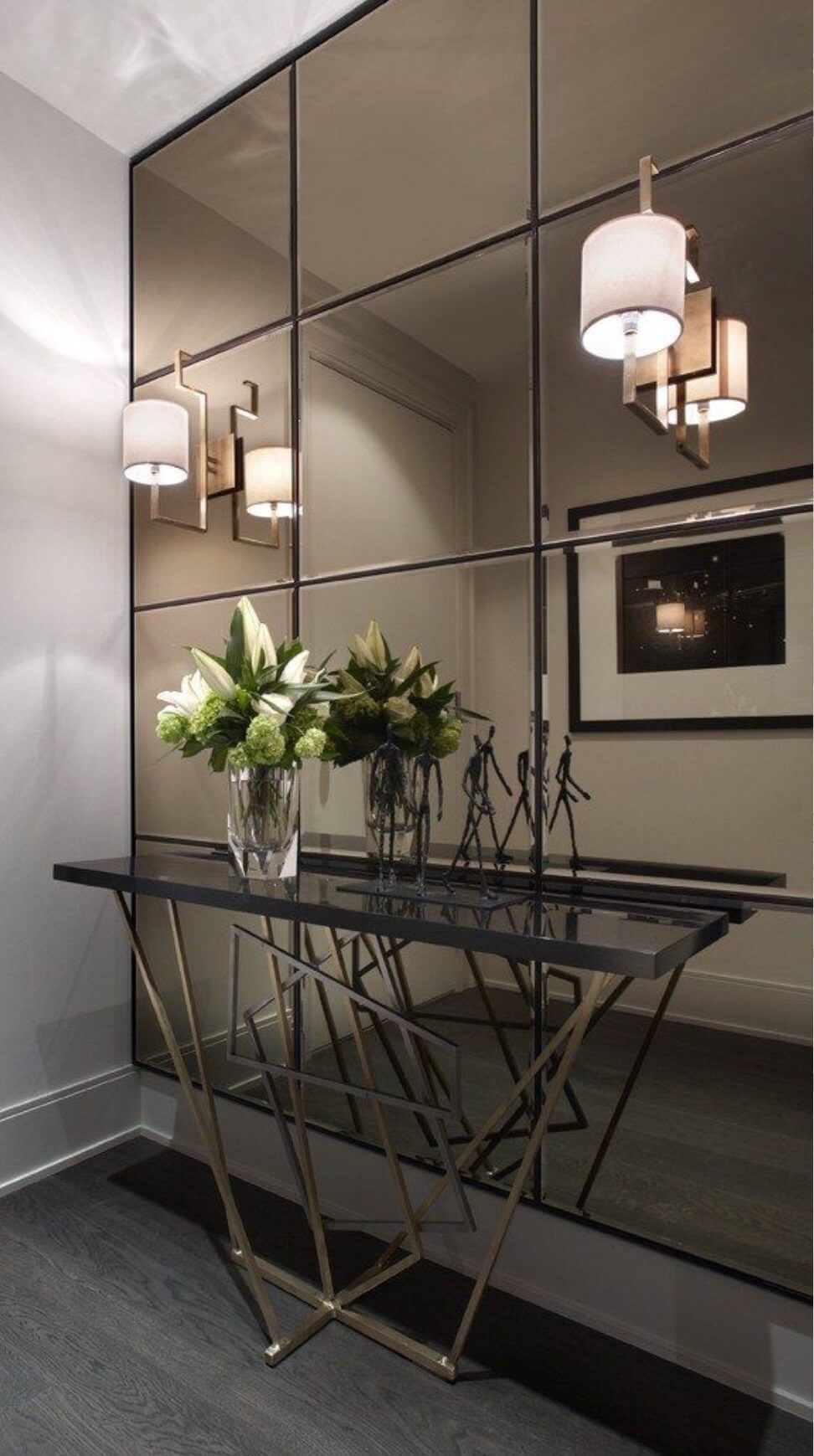 Glass can improve the look of any home, and make it look like a piece of modern art. A glass table with an abstract design base looks beautiful and is incredibly unusual. The darker glass also gives the table a certain chic finish, making it look fit for the entryway into an art gallery that is home to modern abstract works.
59. Rustic Wooden Tavern Décor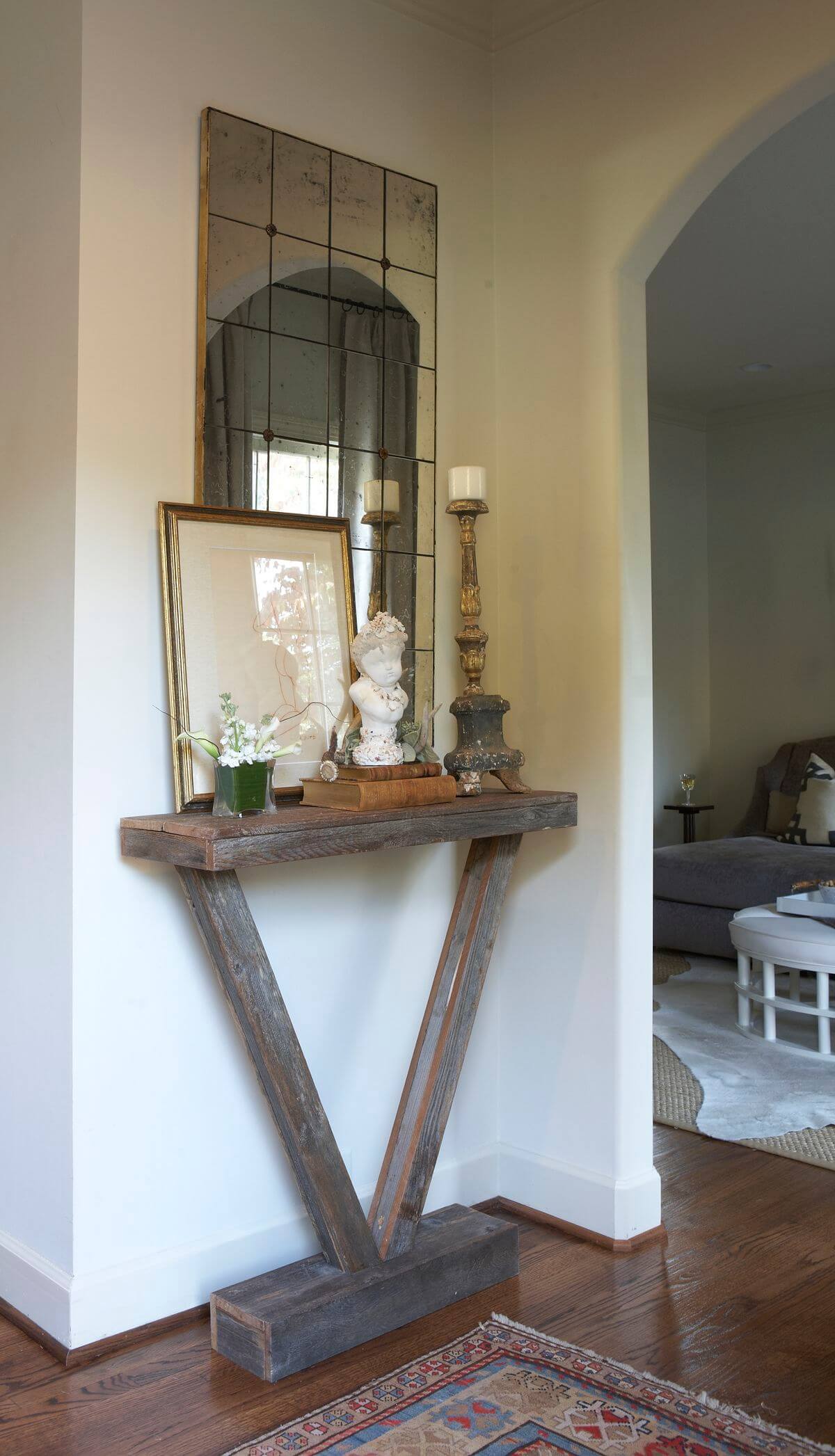 A simple rustic table with a 'V' shaped base can work wonders for a simple space that just needs a small element to be uplifted. Don't worry if your table looks a little old since that is the charm and style of rustic furniture. You can play around with the kind of wooden tones that you use depending on your preference and what tone you think looks best in your room.
60. Cheerfully Distressed Chic Entry Table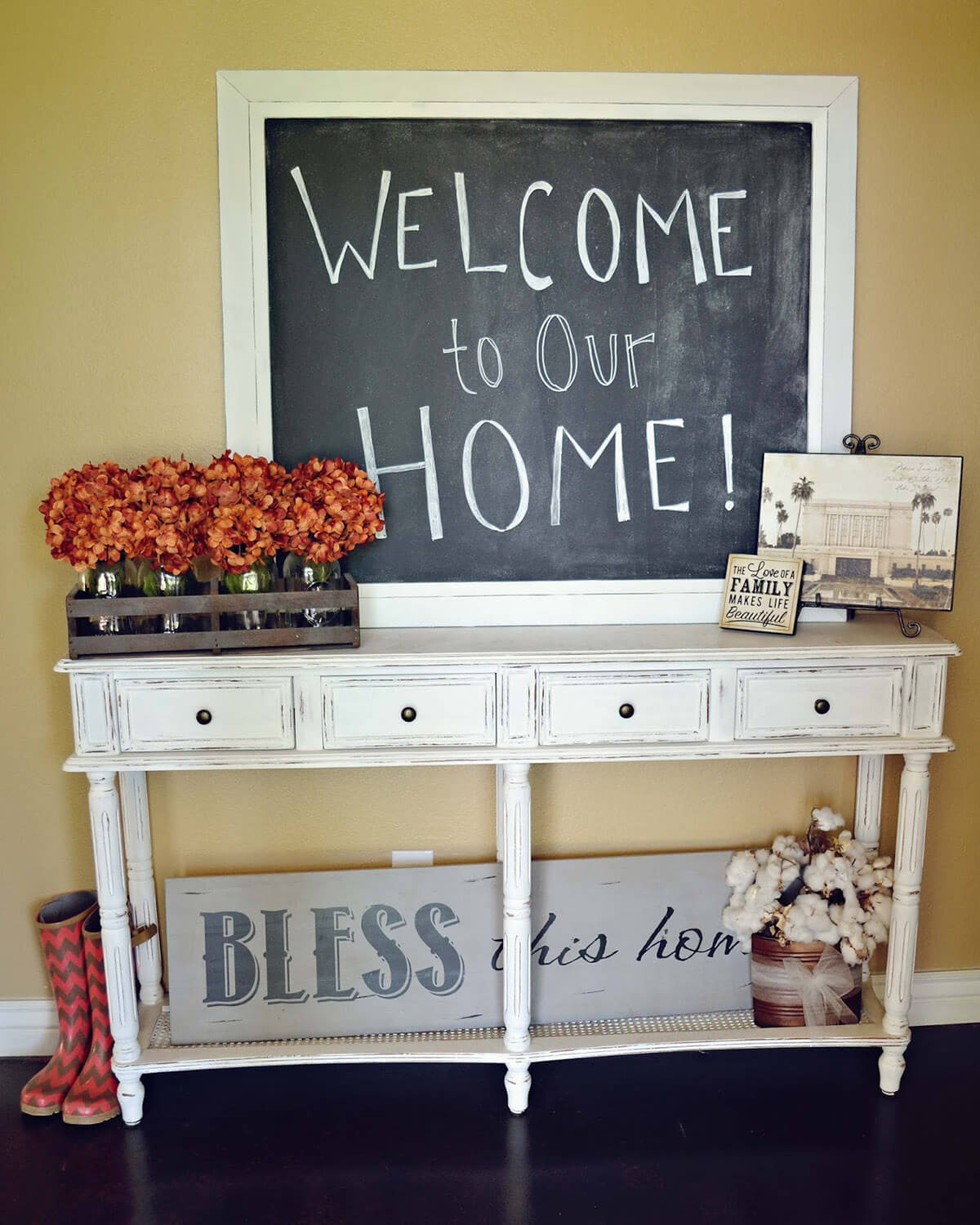 Everyone loves seeing a bit of cheer the first time they enter into a home, and this entry table is sure to exude that to anyone walking through your doors. The distressed wood gives the table the added pattern and texture that it needs to stand out, and the white adds a certain amount of elegance to it. The drawers and storage space on this also makes the table incredibly functional.
61. Stylish Sawhorse Style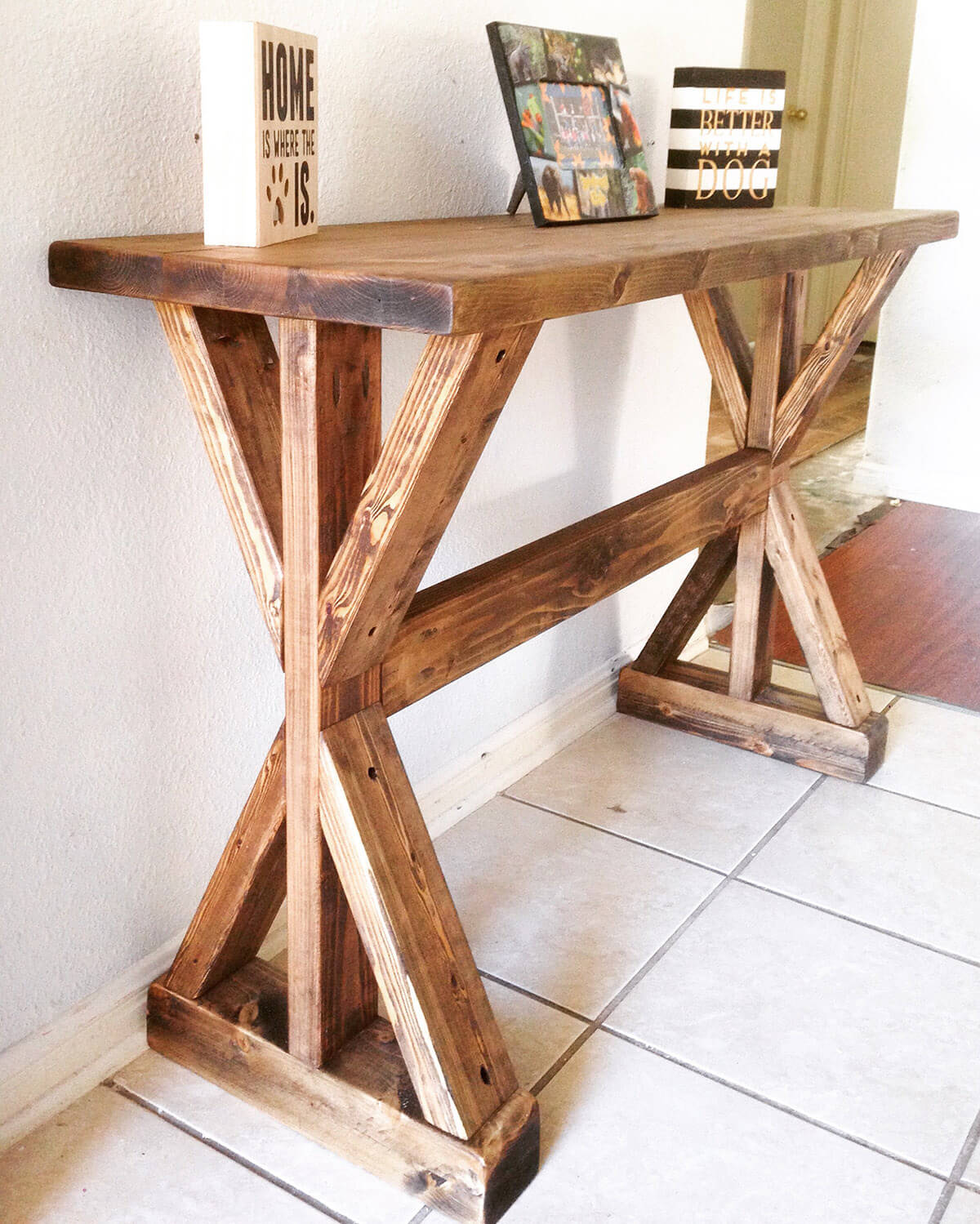 Wooden tables are always one of the most diverse kinds of entryway tables that you can incorporate into your home. A well-furnished sawhorse style table makes your home look welcoming and includes a bit of country style living in your home. It can revamp the look of any space, and give it the touch of contrast elements that it needs to make your entryway look more appealing.
62. Delicate Eastern Inspired Table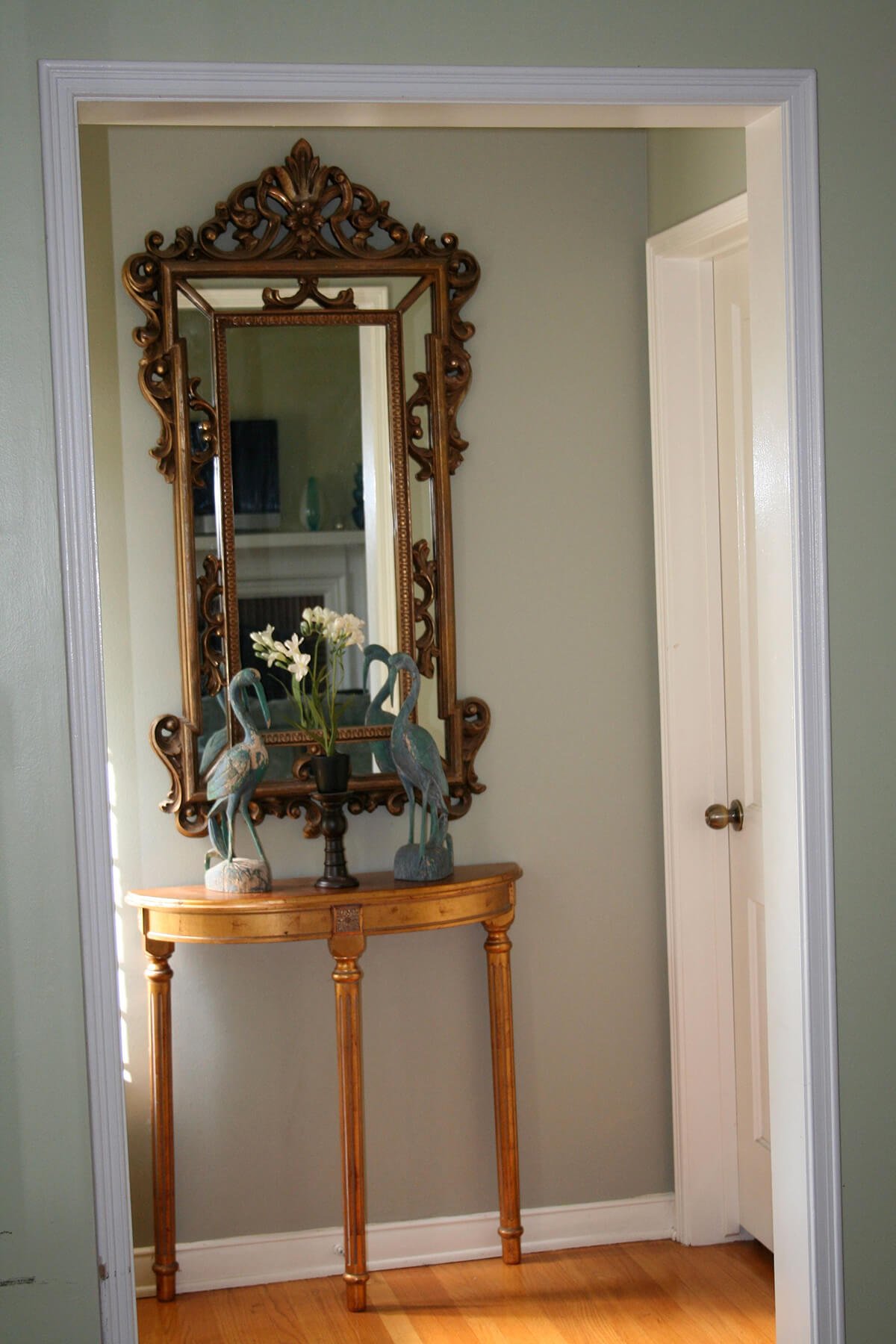 You don't need to be too daring to incorporate metallic tones into your home. It is something that people are usually skeptical about, but in the right tones, and with a minimalistic design, can give the room an entire makeover. This small entryway table in metallic gold is a stunning way to give your home a luxury makeover, without being too hard on the eyes. Pair it up with an intricately designed mirror, and you have the best combination for your home.
63. Midtown Mod Wooden Entry Table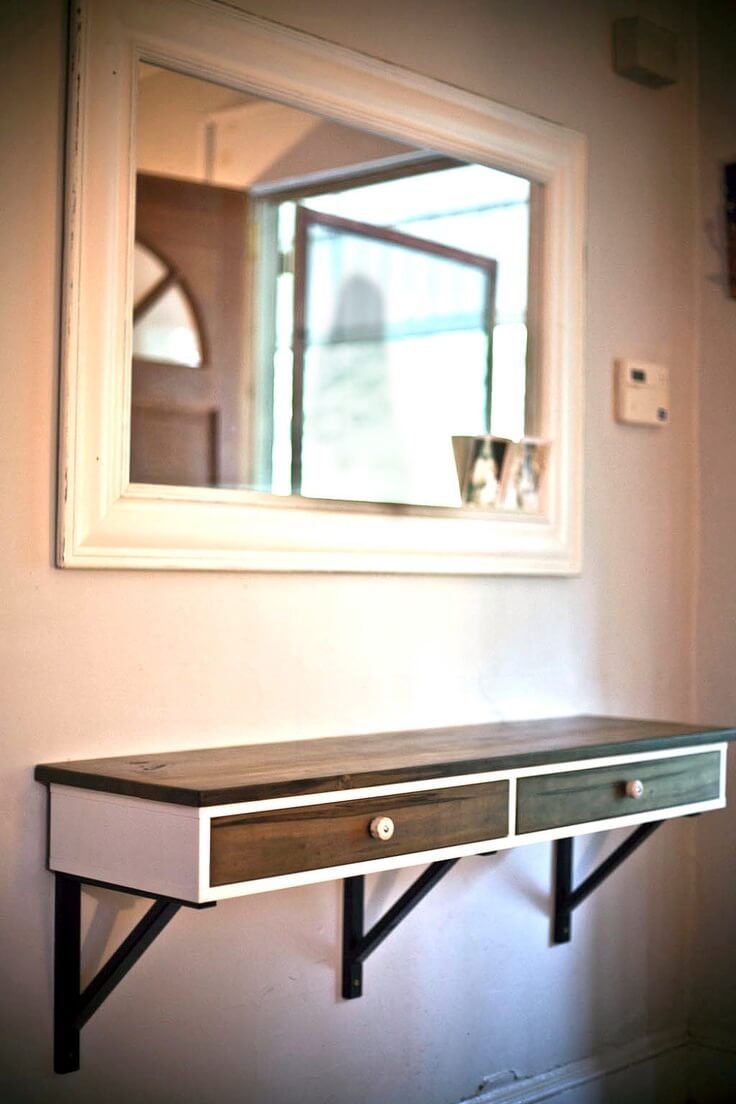 If you want to try a minimalist entryway table with storage options, this sleek wall hinged one is the perfect solution for you. With a combination of white, black and wooden tones, this table will go well with almost any kind of room decor and is incredibly versatile. Just be sure not to put anything too heavy on it, as the hinges might give way and send your table tumbling down!
64. Entryway Table with Glass Top Gala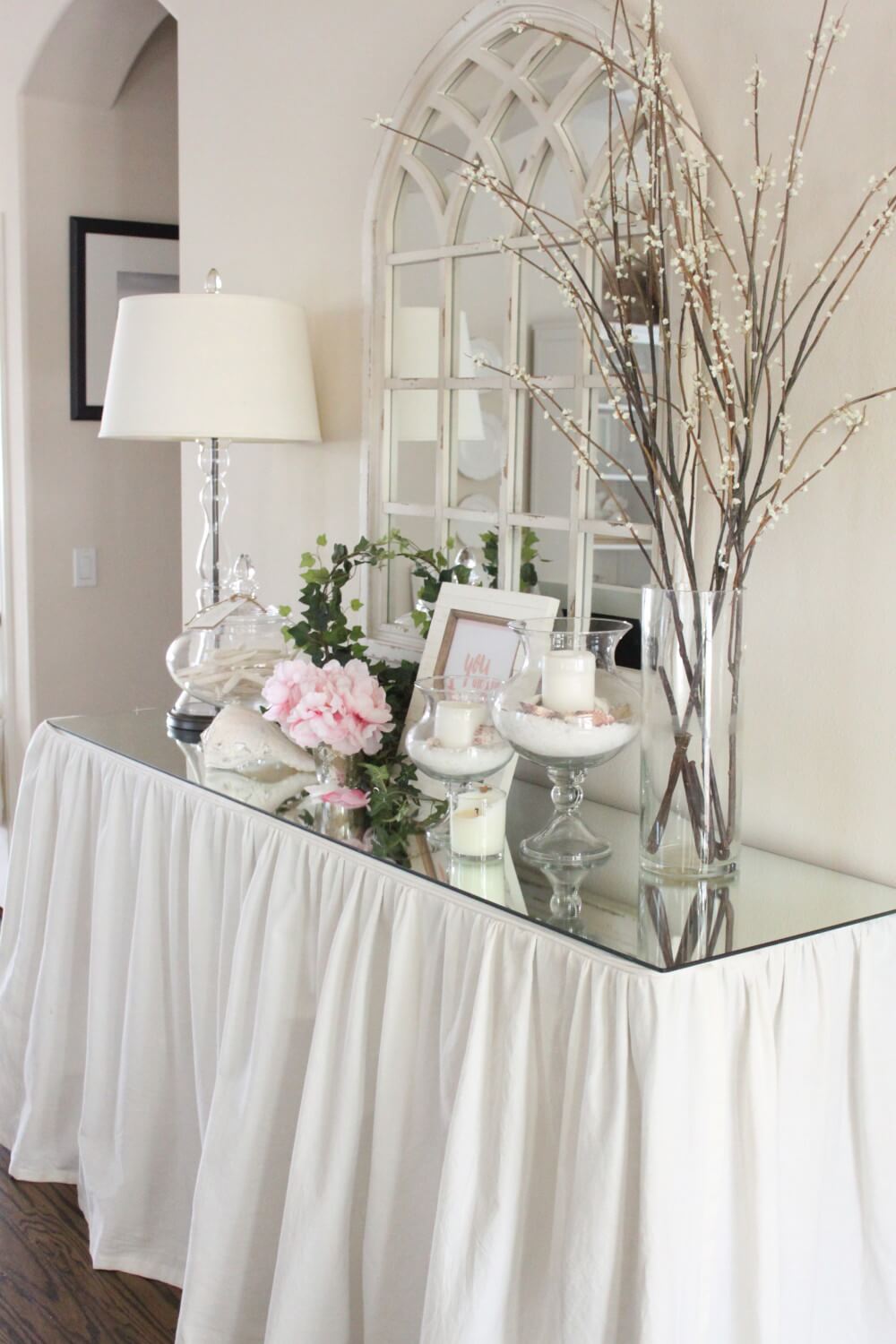 If you have an old glass table at home that you want to give a new look too, why not do so by using a white linen cloth to cover up the base. All you need to do is cut out fabric and attach it to the top of the table, and place the glass over it. It will give your entryway table a makeover, making it look entirely new. You can play around with the colors of the cloth that you want to implement, depending on your preference of course! After all, it is your home.
Our Favorite Rustic Entryway Decorations to buy on Amazon