It doesn't matter if you need to update your office, your home, or your car, living an organized life can help you reduce anxiety and keep your routine cleaner and neater. It is not that easy, but a great way to start is by getting all of your home belongings coordinated. If you're trying to find the best options for furniture or other items to help you get coordinated, the process can seem a little overwhelming. Luckily, there are several different products available through places like Etsy that can help you get your organization going and help you keep your home in a neat manner.
34 Helpful Storage Items that will Make Organizing a Lot Easier

In this article, we're going to look at several different items, 34 to be exact, to help you get your home coordinated for order and neatness. These items are perfect for various homes and styles, and there is a little something for everyone on the list. If you are ready to take the plunge toward the organization, keep reading to find the right items to add to your home for the best organization starting point.
1. Simple Jewelry Organizing Shelf with Wall Mount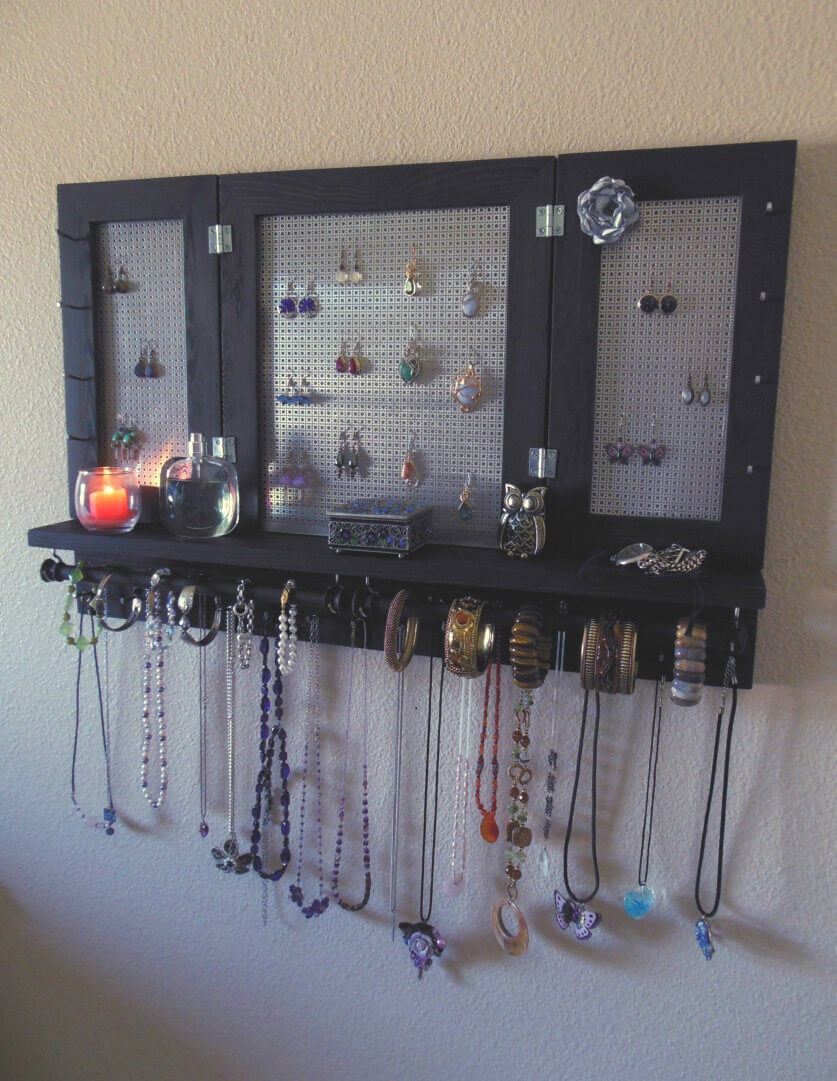 Made to resemble a screen door, this jewelry product is perfect for keeping all your necklaces from tangling, your earrings together, and your bracelets from getting disfigured. The organizer features black paint with a shelf for sitting various items. The bottom features a hanging rod for all your bracelets and necklaces, and the top features a screen where you can hang your dangling earrings together all in one place. This product mounts to the wall for best results.
2. Closet Dividers for Baby's Room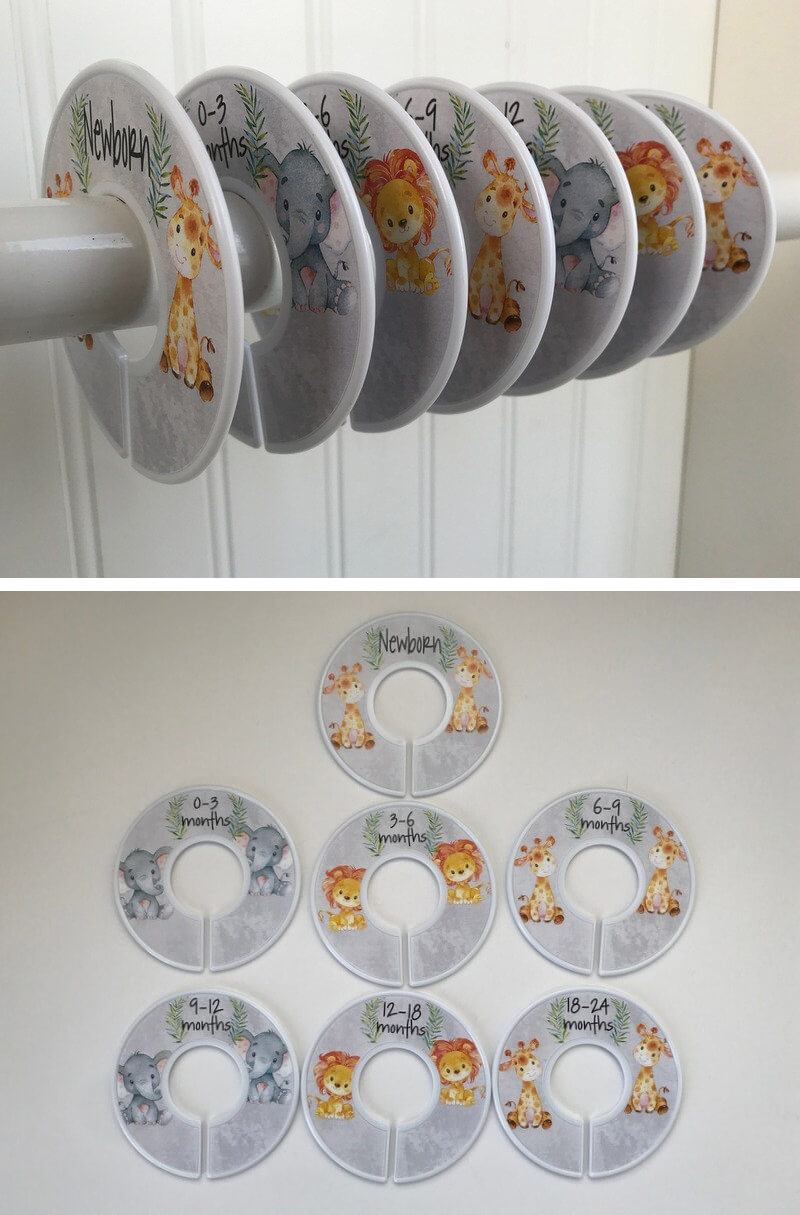 As your baby grows, so will their clothes. However, if you have a closet full of mismatched and odd sizes, it can be a nightmare to find the right clothes. These plastic closet dividers features the clothing sizes on the plastic dividers, and they sport an adorable print of zoo animals with green leaves. The dividers are easy to move around, and they fit on most clothing closet racks.
3. Rustic Mud Room Floating Coat Rack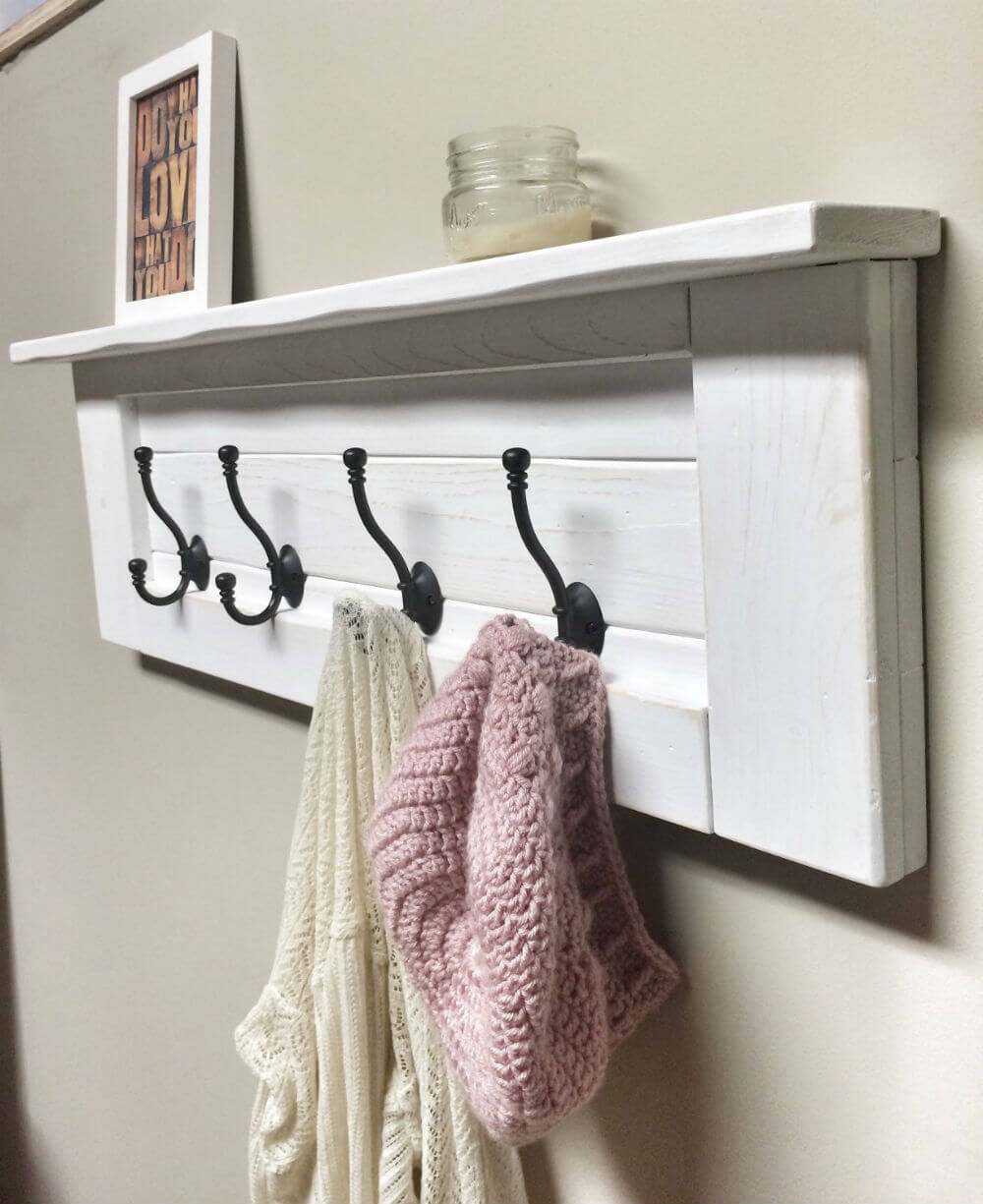 This mudroom organizing addition is perfect for keeping those coats and bags hung up and off the floor. The floating coat rack features a distressed white paint with a small shelf on the top. The hooks are made to resemble a rustic iron with ornate designs. There are four hooks on the floating rack, and the simple style makes it ideal for matching most any home décor. The coat rack is made from wood with visible planks and wood grains.
4. Rustic Ball Jar Desk Organizers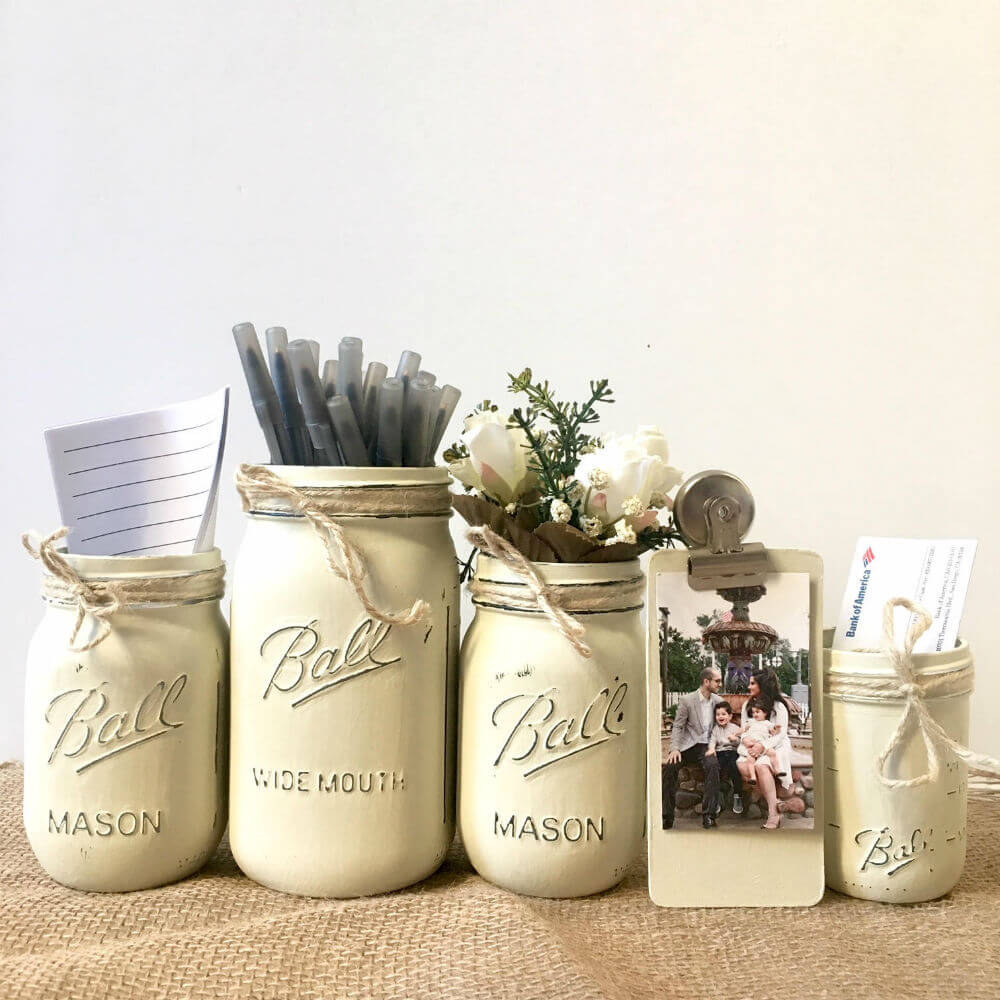 Such a cute idea for your rustic office, whether at home or at your place of business, these ball jars are painted in a light pink shade that help them stand out and conceal the things inside. The jars also feature burlap wrapped around the top for added farmhouse flair. The set comes with four jars: 1 cup, 2 pints, and 1 quart. You can even get a clipboard with the set. The most exciting thing about this organization item is the ability to customize your set according to your needs. If you only need two jars, you can purchase them.
5. Cloth Diaper Caddy for Nursery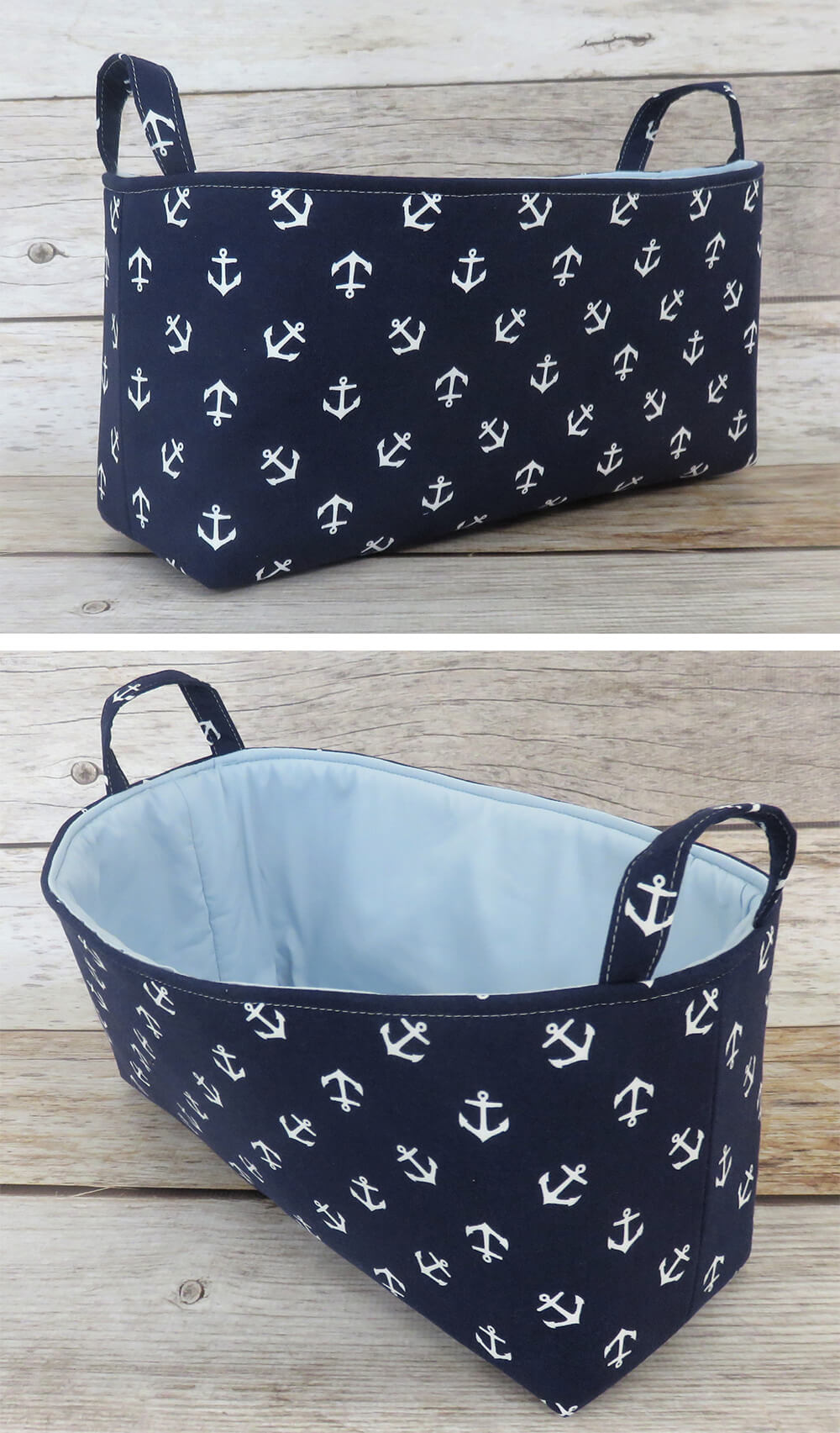 A great storage option for your nursery is a diaper caddy. You can purchase just a plain old basket, but why not get something cute that matches your nursery décor. This cloth caddy is a large organizing bin that will hold tons of diapers and wipes. It is easy to carry from room to room if needed, and you can even wash it if it gets dirty. When purchasing, you can choose your print to get the best options for your needs, especially if you like matching up décor.
6. Farmhouse Rustic Mail Product and Holder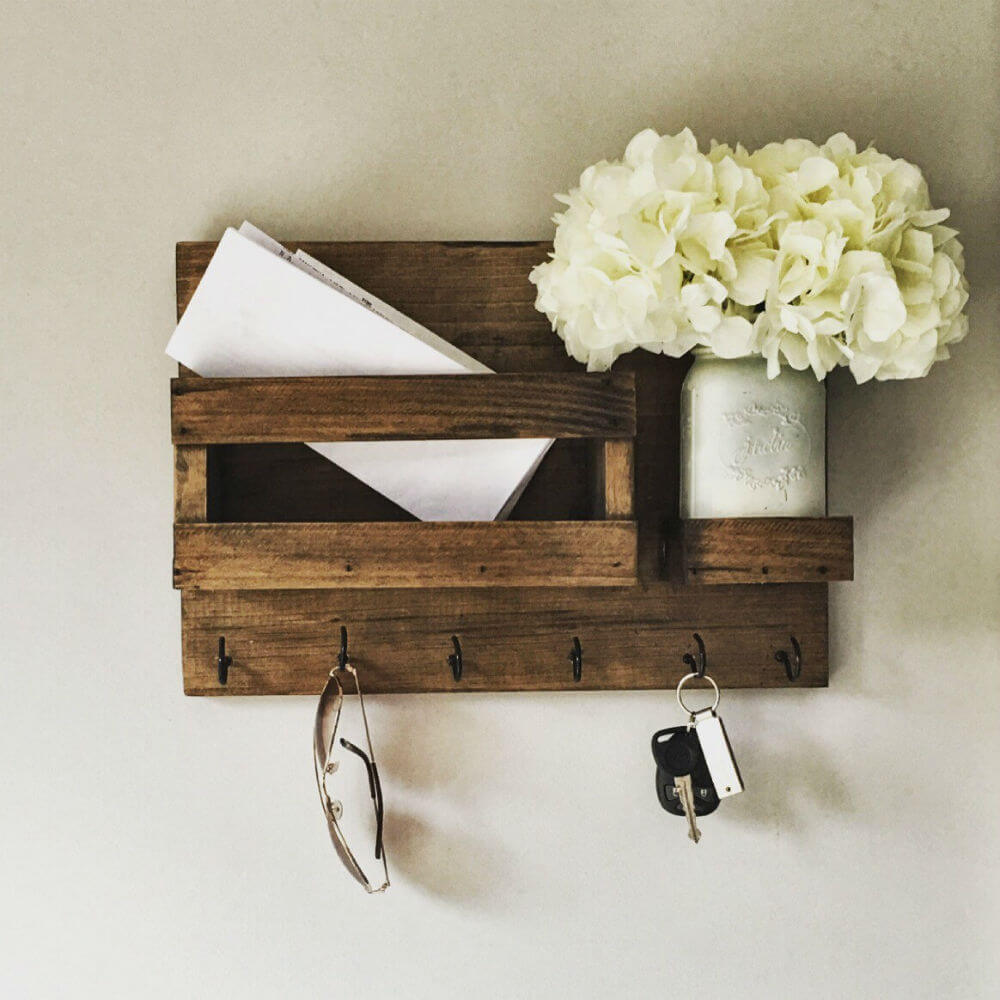 Made with rustic barn wood, this mail holder has various things that make it ideal for keeping your mail up off the table to be sorted through. This mail holder is complete with the rustic wood look as well as iron hooks for hanging your keys and sunglasses when you come inside the house. The mail holder even has a rustic white painted mason jar to put seasonal flowers to spruce up the front entrance of your home.
7. Cute Jewelry Box Organizer for Stud Earrings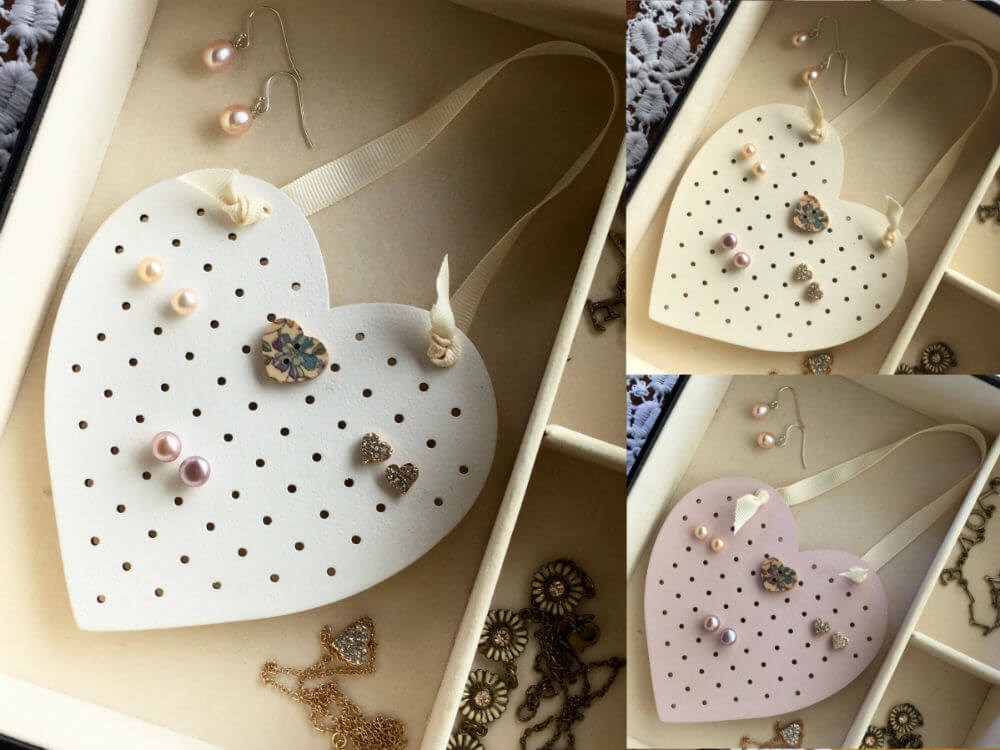 Shaped like a heart, these stud earring holders are ideal for anyone trying to up their organization game. These fit perfectly in a jewelry box, and with the ribbon on the top, you can even hang it up. The holes are just the right size to hold the earrings, and you simply put them back on the earring to keep it in place. This stud earring holder comes in three different colors: rose pink, white, and cream. They are also inexpensive, making them a great gift option as well.
8. Man's Table Docking Station and Arranger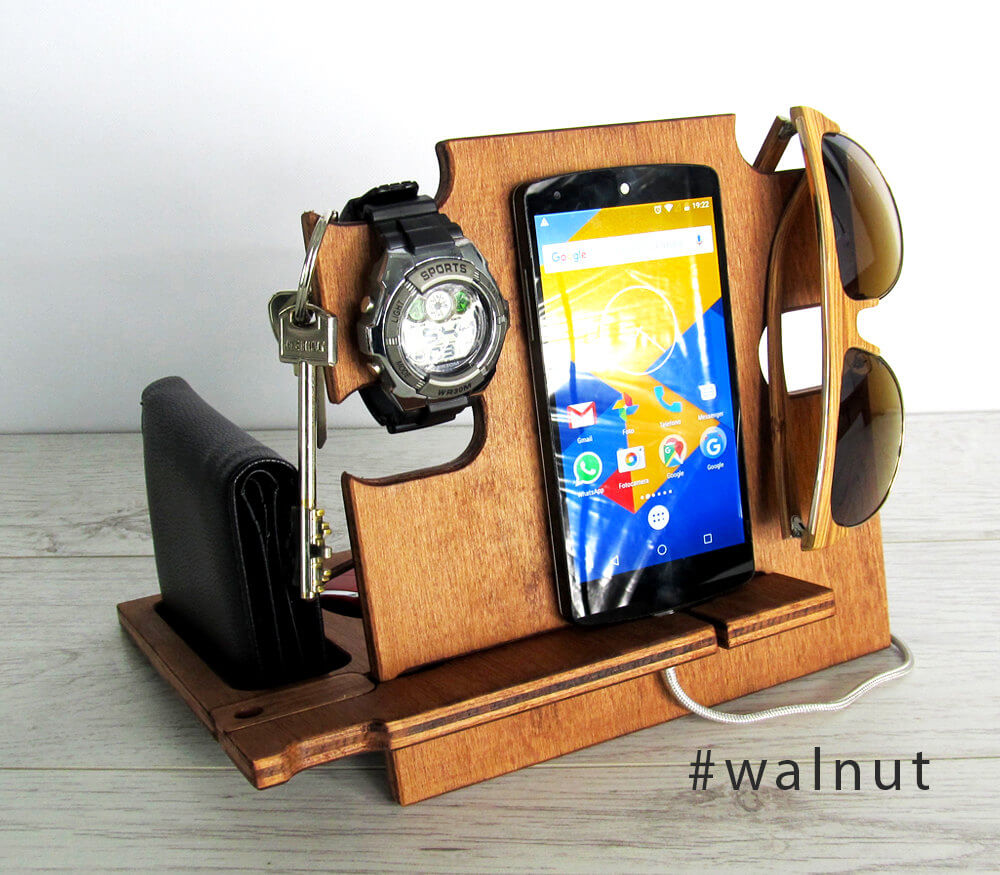 If you have a man in your life that can't seem to keep his stuff together, this table arranger is just what they need to coordinate their table and keep their items handy. The wooden design looks rather strange, but each thing has a purpose. This organizer holds sunglasses, his wallet, his keys, his watch, and the best part, his phone. Since it has a phone dock, you can feed the charger through so he can charge his phone and have it sitting up at the same time. The arranger comes in various wood color to match any décor you might have.
9. Unique Rustic Wall Storage and Mail Arranger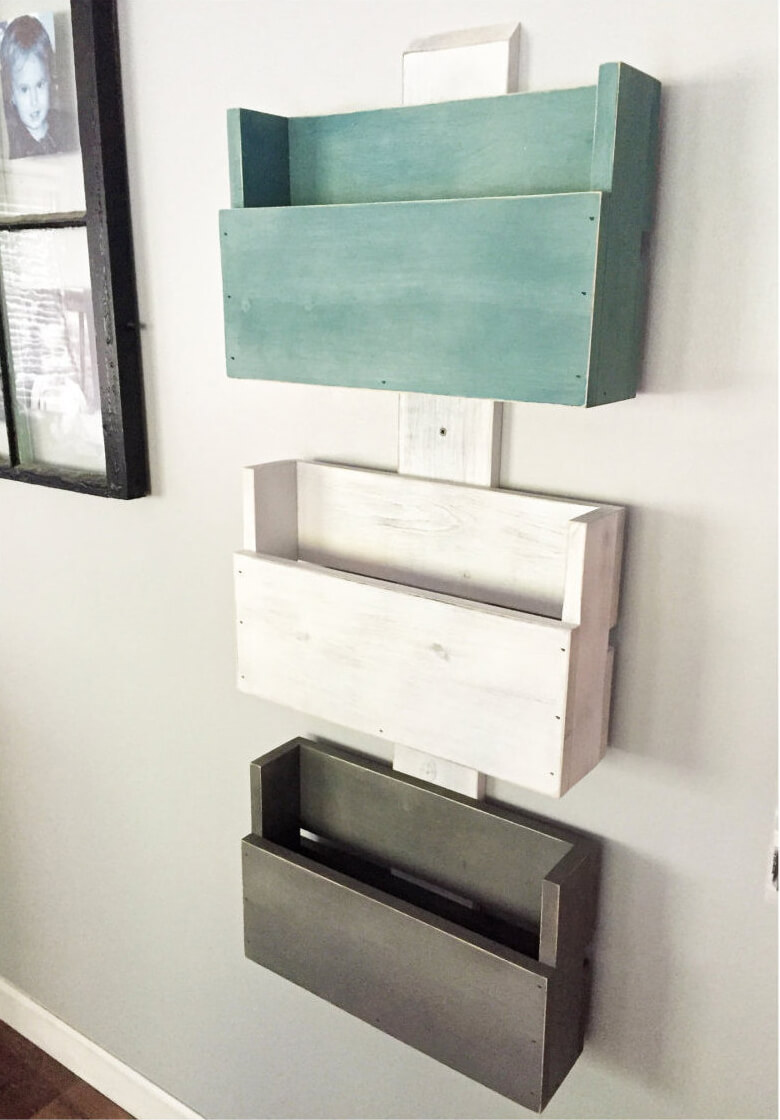 Whether you choose to put this in your kitchen or mudroom, this wall mount storage and mail organizer is perfect for keeping your items organized and up off the counter. The wall mount features distressed paint colors, as well as three different bins. The first is a teal blue shade. The second is a white color, and the third is a dark gray. Each item is made with rustic paint that looks perfect with any type of farmhouse décor.
10. Floating Shelf with Mason Jar Storage Holder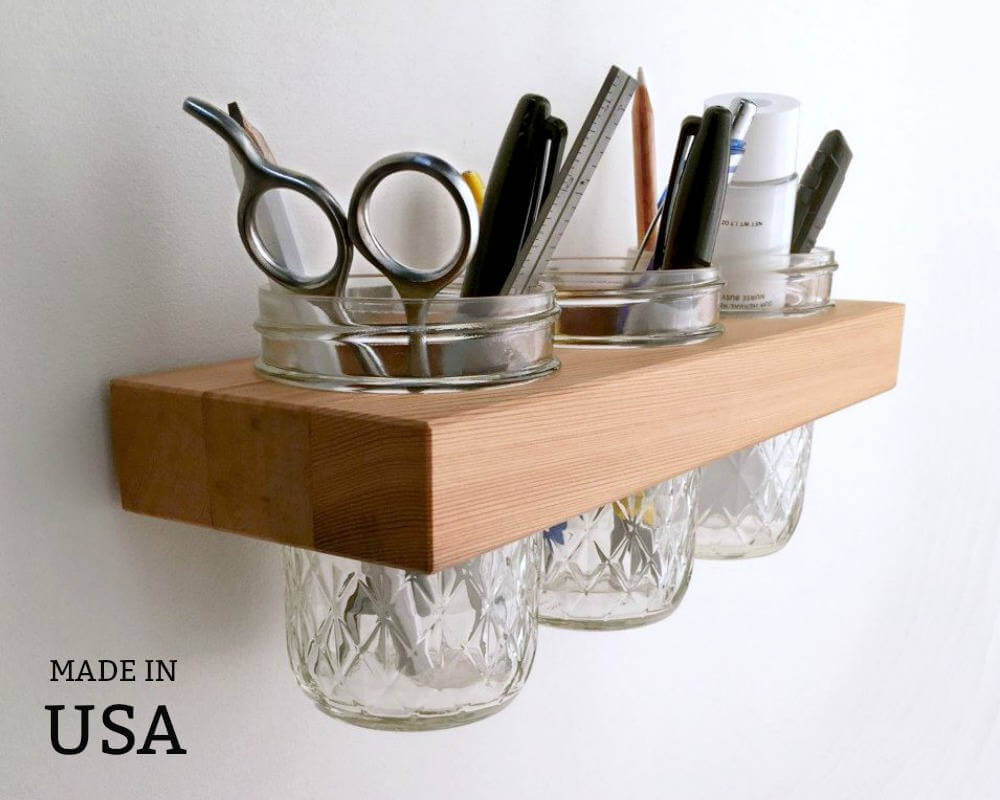 Most often used as a toothbrush holder, this floating shelf with mason jar storage compartment is ideal for keeping pens or toothbrushes coordinated. The holder features a raw wood design, with spaces for three pint-sized mason jars. The jars are put inside, and you can put whatever you want in them. Some even use them to coordinate their desk supplies. Either way, this arranger is perfect for keeping those things up off the counter or desktop to give you a tidier space.
11. Vintage Trinket and Ring Box Arranger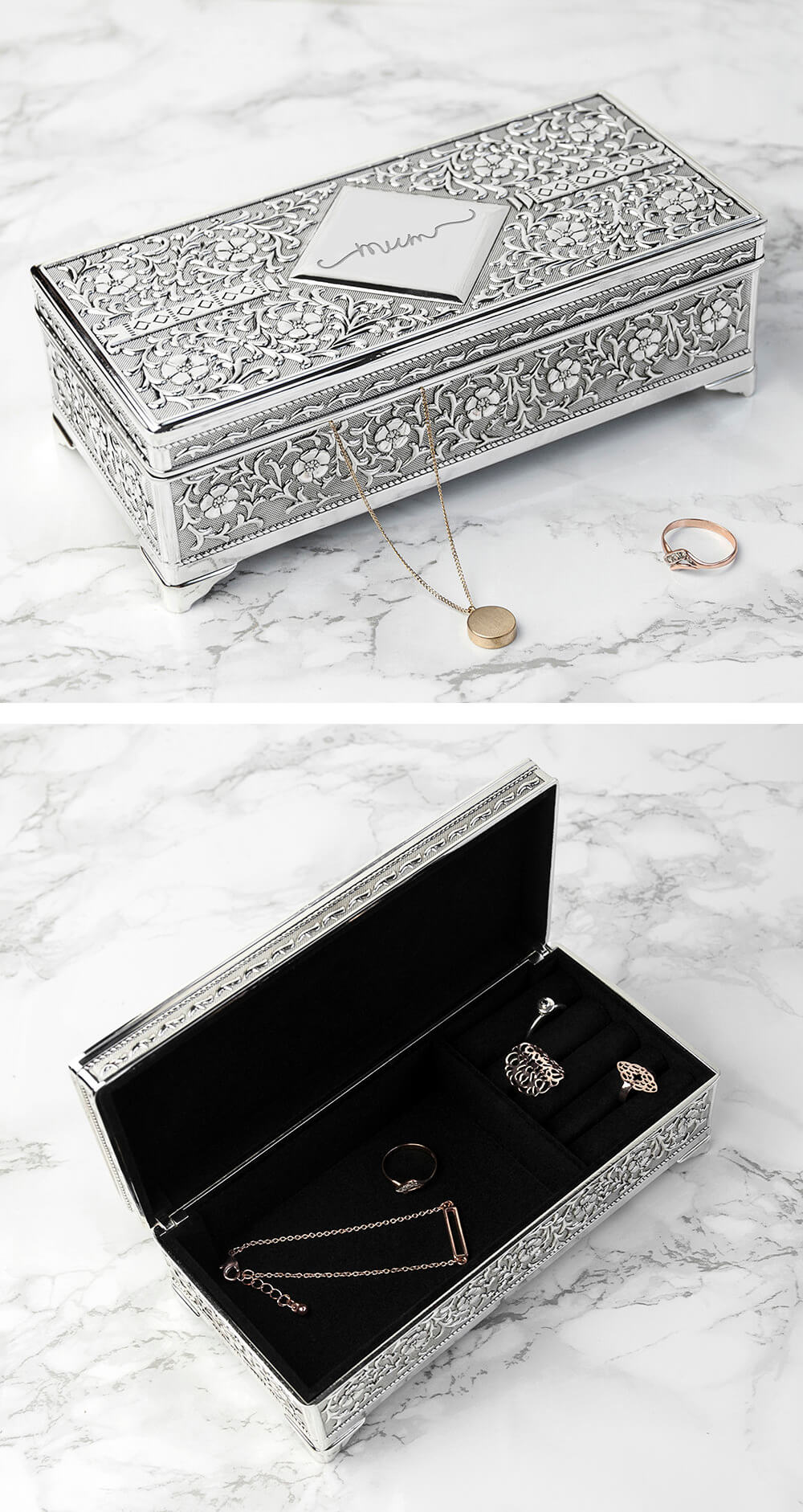 If you have a woman in your life that loves keeping their favorite jewelry pieces in a special box, this vintage trinket box is the perfect option for helping them organize. This silver box is great for holding rings or other small trinkets, and it is made to resemble those old-fashioned boxes that many people used. This is a handmade item as well.
12. Unique Organizer for Embroidery Floss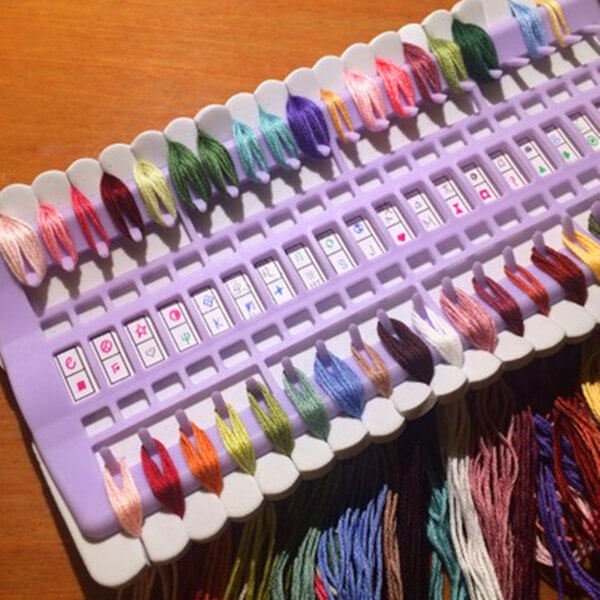 Those that spend quite a bit of time working with embroidery floss knows just how difficult it can be to keep it separate, especially if you are working on a project. This arranger is perfect for keeping your floss separated for your project and labeled so you don't forget which colors are which. This hold can store up to 50 different colored flosses, and the hard plastic makes it easy to keep the thread in place when you aren't using it. If you are ready to put it away, simply put the arranger down into your bag with the rest of your items so you can carry it anywhere.
13. Simple Rustic Sunglasses Holder with Wall Mount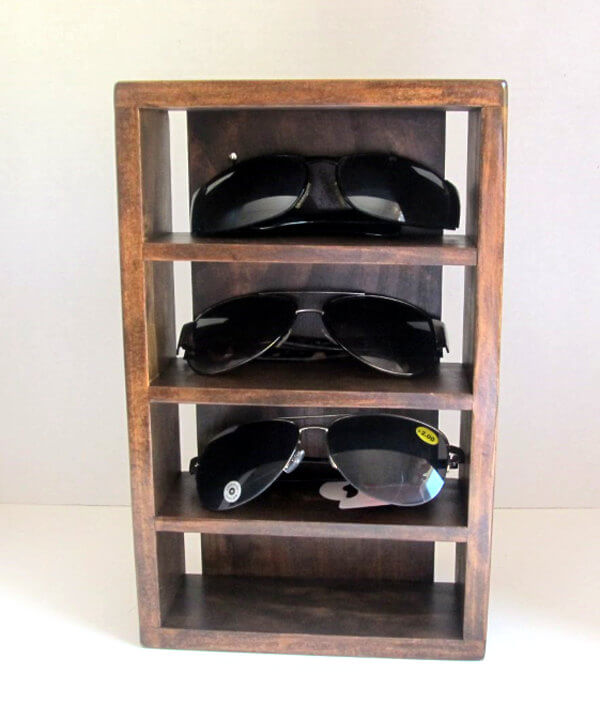 Made with rustic wood, this sunglasses holder is a great way to coordinate your shades. It easily mounts to the wall so you can hang it in your entryway or in your closet. It holds as many sunglasses as you need, since it can be made to order according to your needs. You can also choose from a variety of color options to make it truly your own. This handmade item is perfect for organizing your many sunglasses, which is great if you tend to have a lot of them lying around.
14. Wooden Painted House Entryway Hooks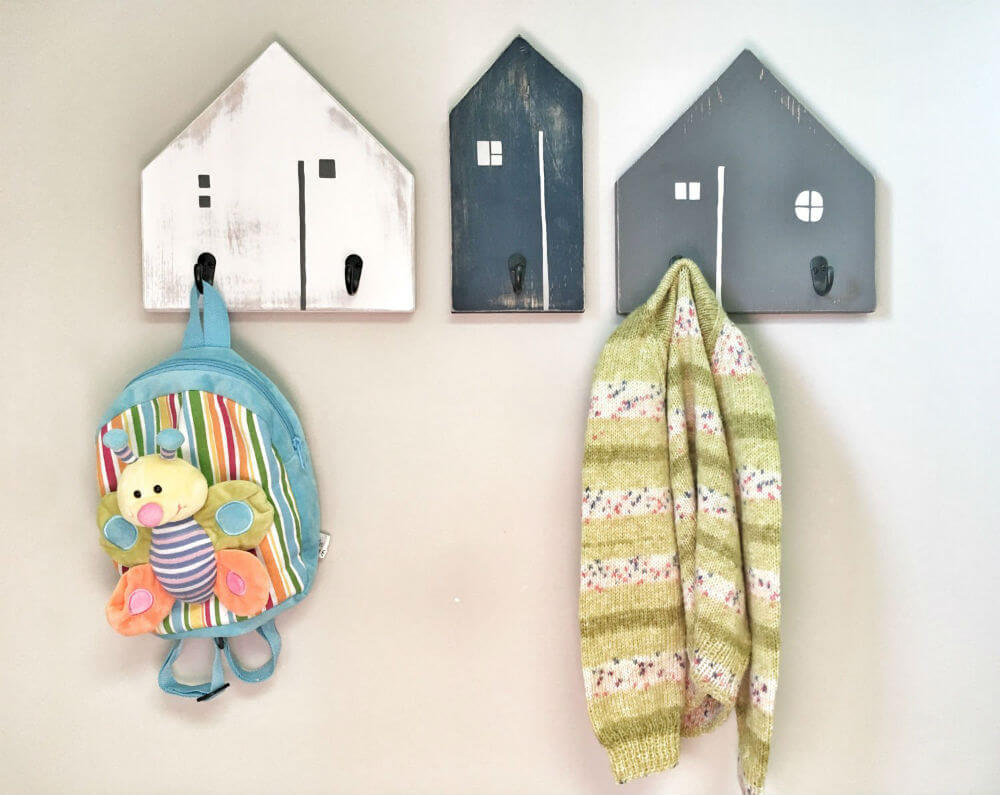 Simple but adorable, these hand-painted houses are made with wood. They have a rustic chipping of the paint to look distressed, and the various windows painted on the houses look so unique. The best part about these entryway wall décor options is the hooks for putting coats, jackets, bags, or even keys. They are made from iron to resemble that farmhouse style that most people are enjoying nowadays.
15. Wooden Floating Shelf with Iron Towel Rack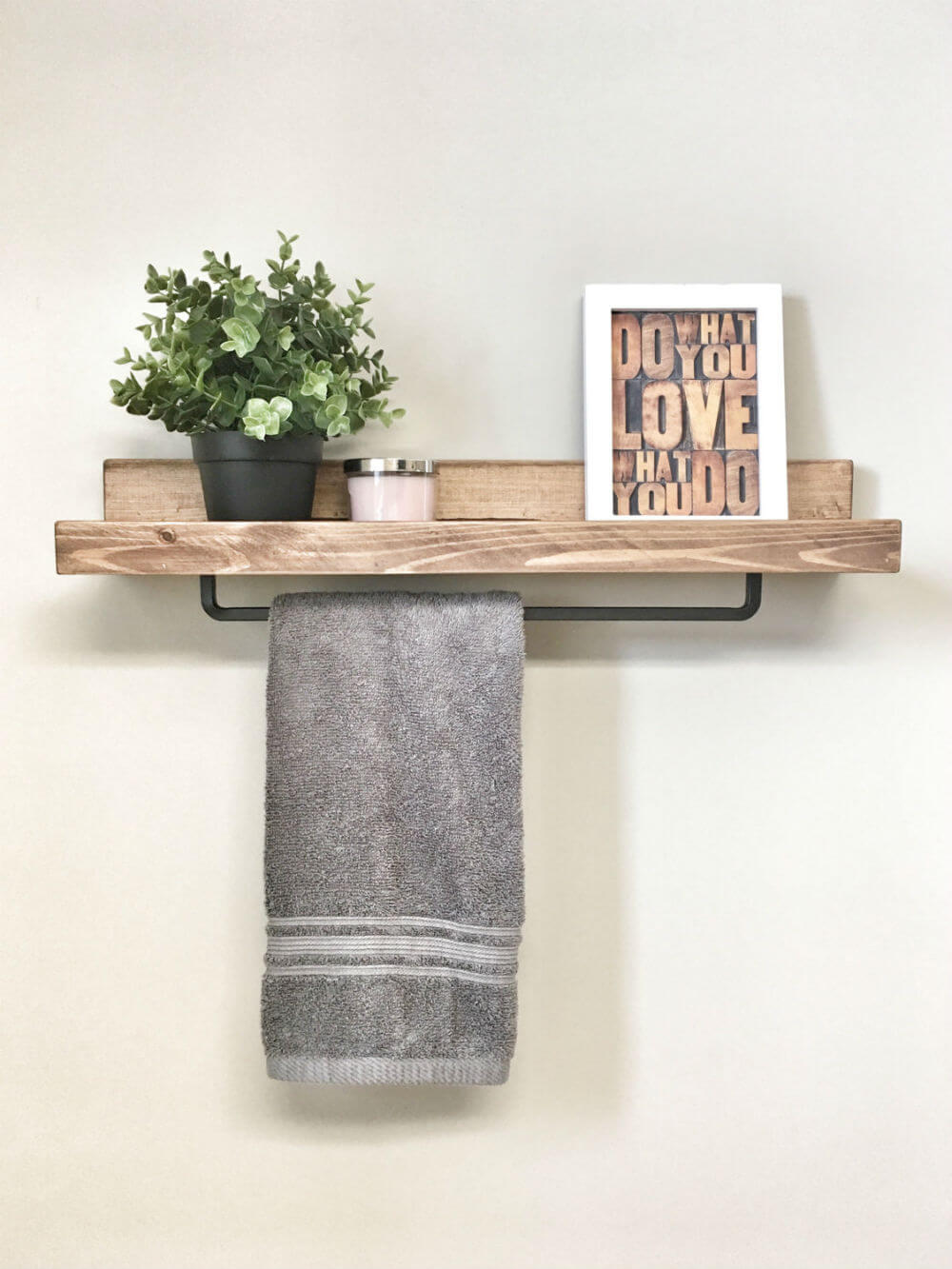 A great addition to any bathroom that needs a little organization, this floating shelf provides a decorative place to put candles or other items in your bathroom. The shelf is made from a rustic wood that truly matches any type of farmhouse or rustic décor. The bottom of the shelf features an iron like towel rack that gives you plenty of space to hang your hand towels. You can even choose from several color options to ensure that you are getting the best match for your bathroom no matter the theme or décor.
16. Kitchen Utensil Storage with Customized Face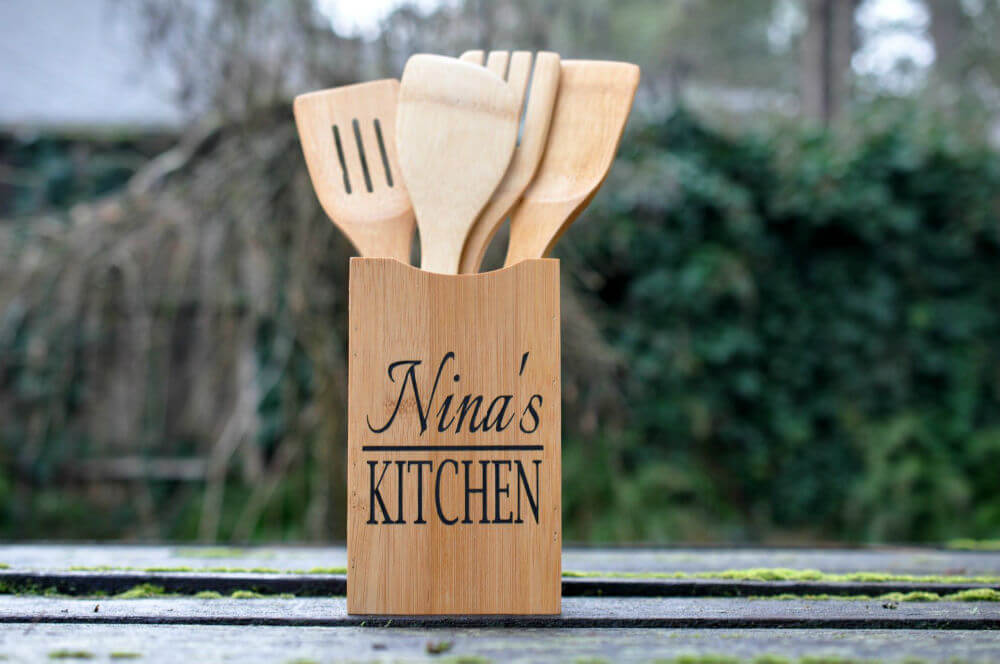 Made from a light wood, this kitchen organizer is perfect for having something cute to put your main utensils in. The storage container features a customized face with the ability to choose your own saying, font style, and color. You can even customize it to fit your kitchen style. The container is made from bamboo wood, making it lightweight, and this organization item would make a great gift for someone just starting out.
17. Unique Tie Hanger for Closet Organization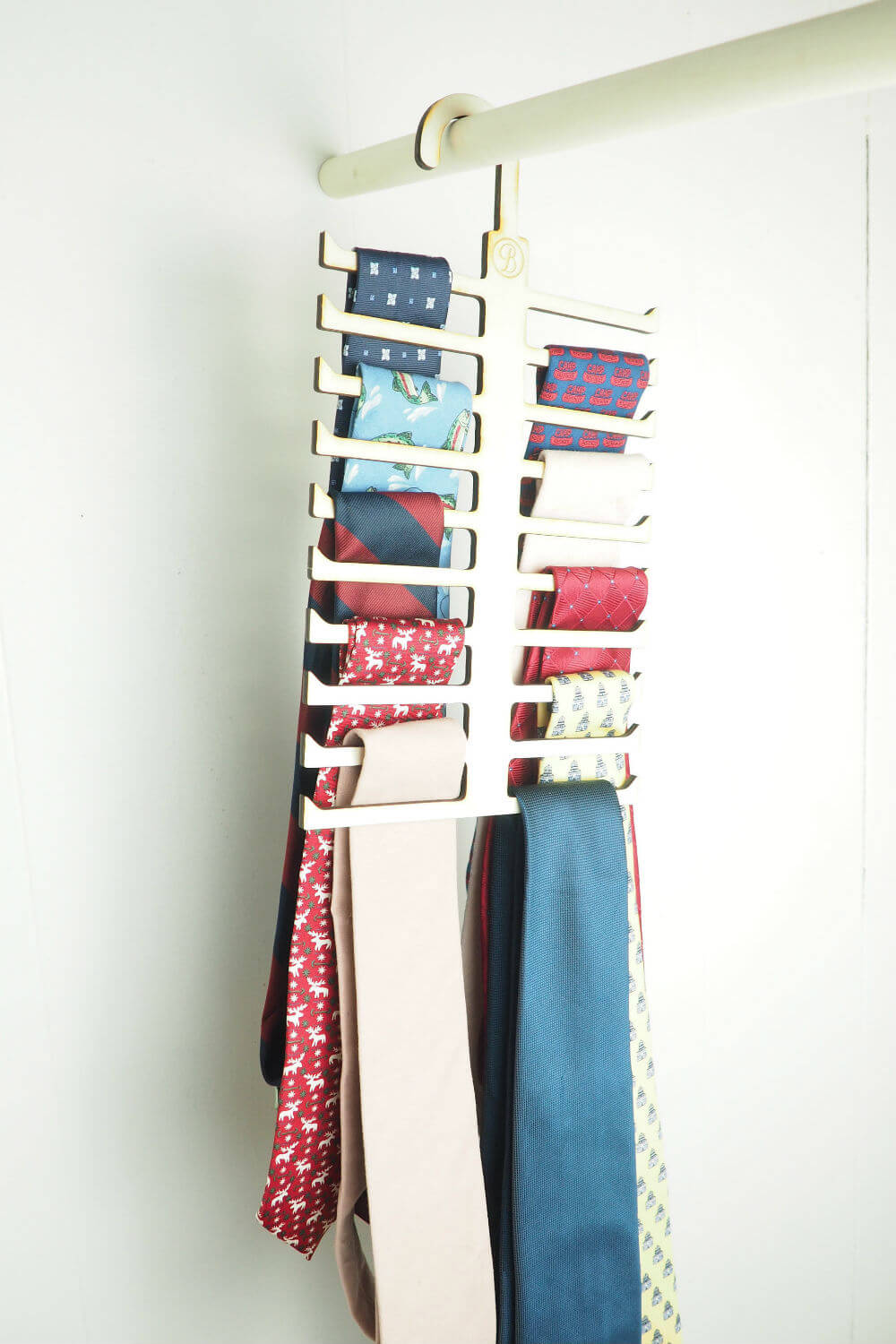 Cut with lasers, this wooden hanger holds your ties in a neat and coordinated manner. The hanger fits nicely on any type of closet rack, and it is made with a white paint design to simply showcase the bright colors and patterns of your ties. The hanger will hold as many as 20 ties, and you can get it customized with an engraved initial on the front to make it a personalized option. This is also a great gift option for those that need a little organization in their life.
18. Vintage Jewelry and Makeup Box with Florals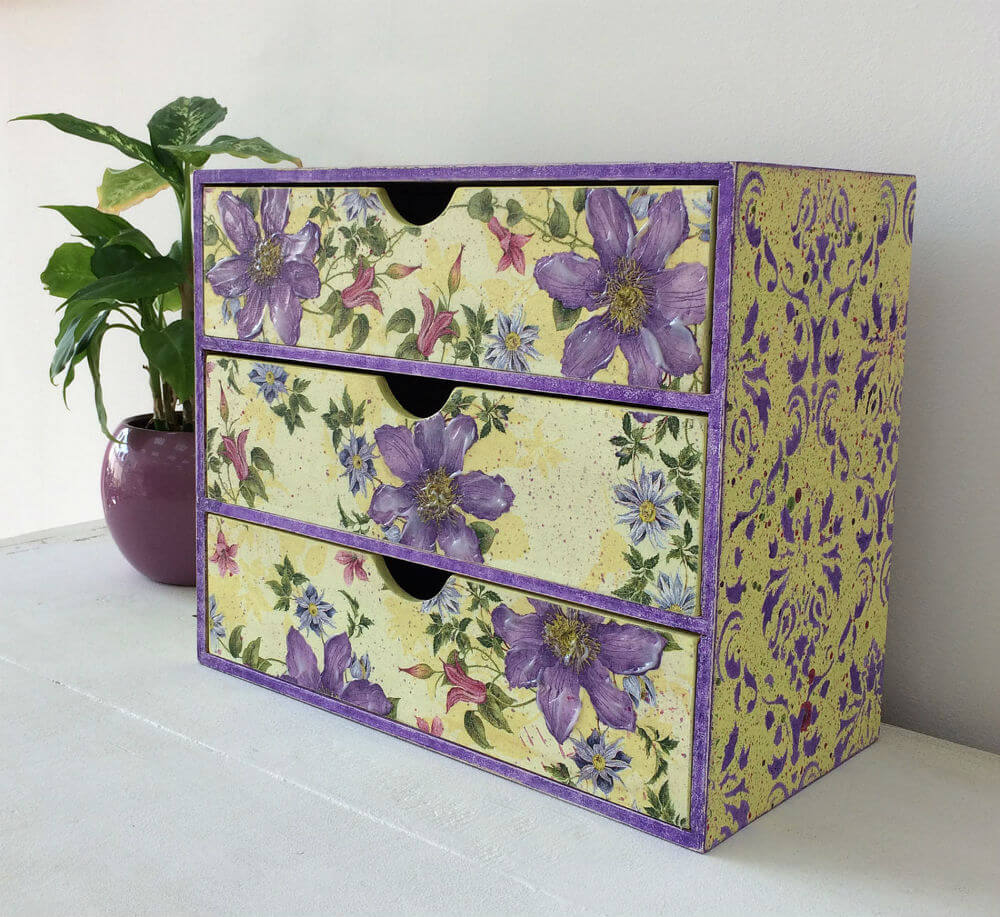 Sporting three drawers, this jewelry and makeup box is a beautiful addition to any vanity table for organization. The flowers are feature on the front with a filigree siding. The color schemes of purple and yellow give off the vintage feel that this box simply screams. The box can be personalized, and the handmade item can be in various dimensions. All you have to do is order it according to your needs. The best part is that you can store anything you need to in the box, and it is a great way to keep things neat and orderly.
19. Fabric Toy Basket for Nurseries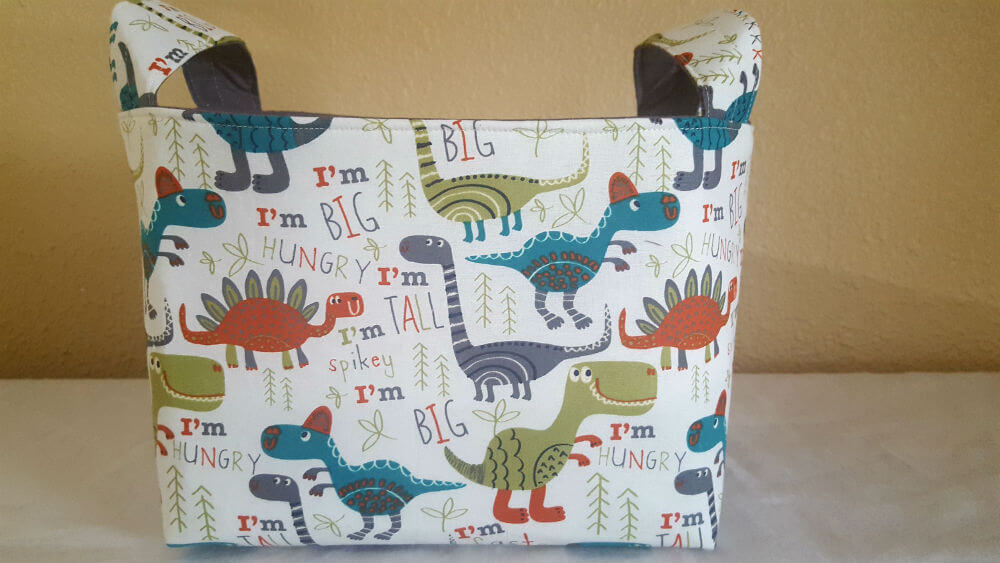 If your little one is always leaving their toys laying around, this fabric storage basket is ideal for helping encourage them to keep their toys picked up off the floor. The adorable prints make this great for boys or girls, and the inexpensive price on the item makes it a great addition to your organization efforts. The fabric is easy to wash should it get dirty, but the bin is lightweight for kids to pick up on their own.
20. Fabric Children's Room Storage Bin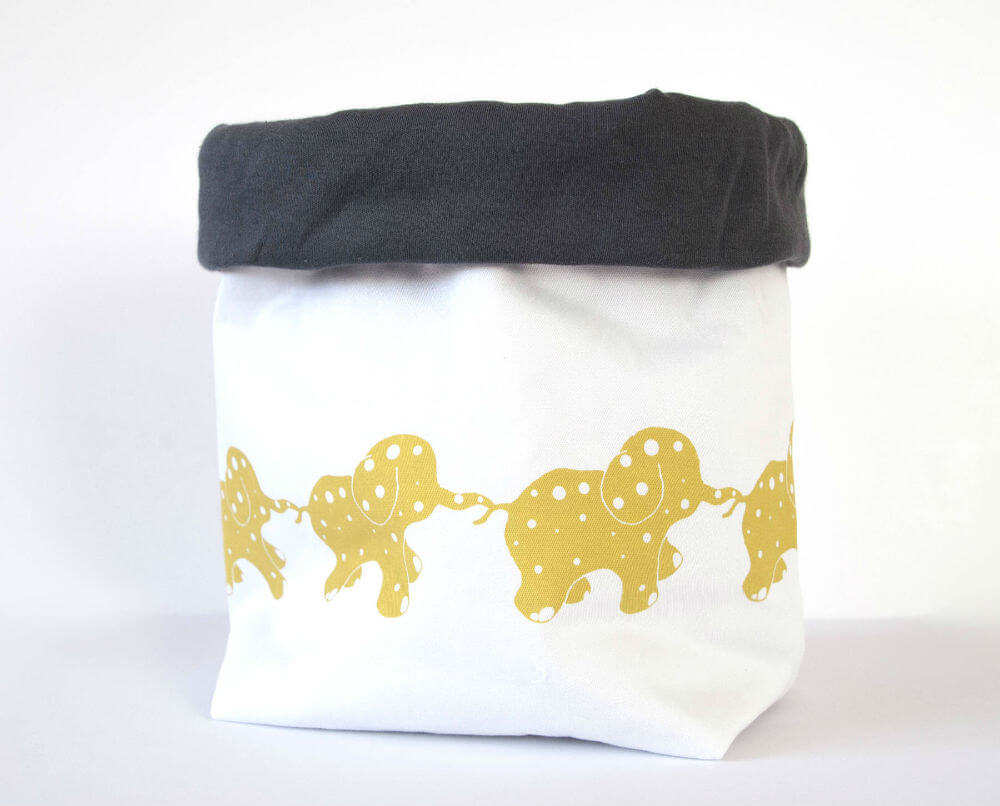 This storage bin is made with infants in mind. The cute elephant print and folded down top are perfect for storing clothing, creams, or diapers right inside. Plus, it helps keep everything looking nice and tidy as you try to coordinate. The bin is made in your choice of colors so you can get the most out of your organization efforts. It is the perfect accessory to add to your baby's nursery.
21. Revolving Round Shoe Rack Arranger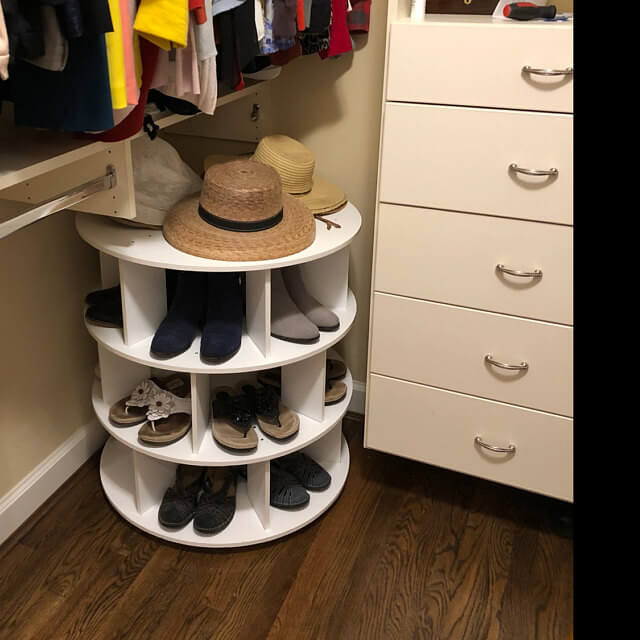 If you've ever seen a huge shoe rack in movies, you've probably been envious of their incredible organization. Luckily, this shoe rack will hold all of your shoes and bags, and it will display them neatly for you to look through and choose which you want to wear. The shoe stand is made from wood and painted white, and it rotates 360-degrees so you can easily view all your shoes in one place. It comes in three different tier options so you can get all the storage you need as well.
22. Simple Yellow Cloud Fabric Storage Container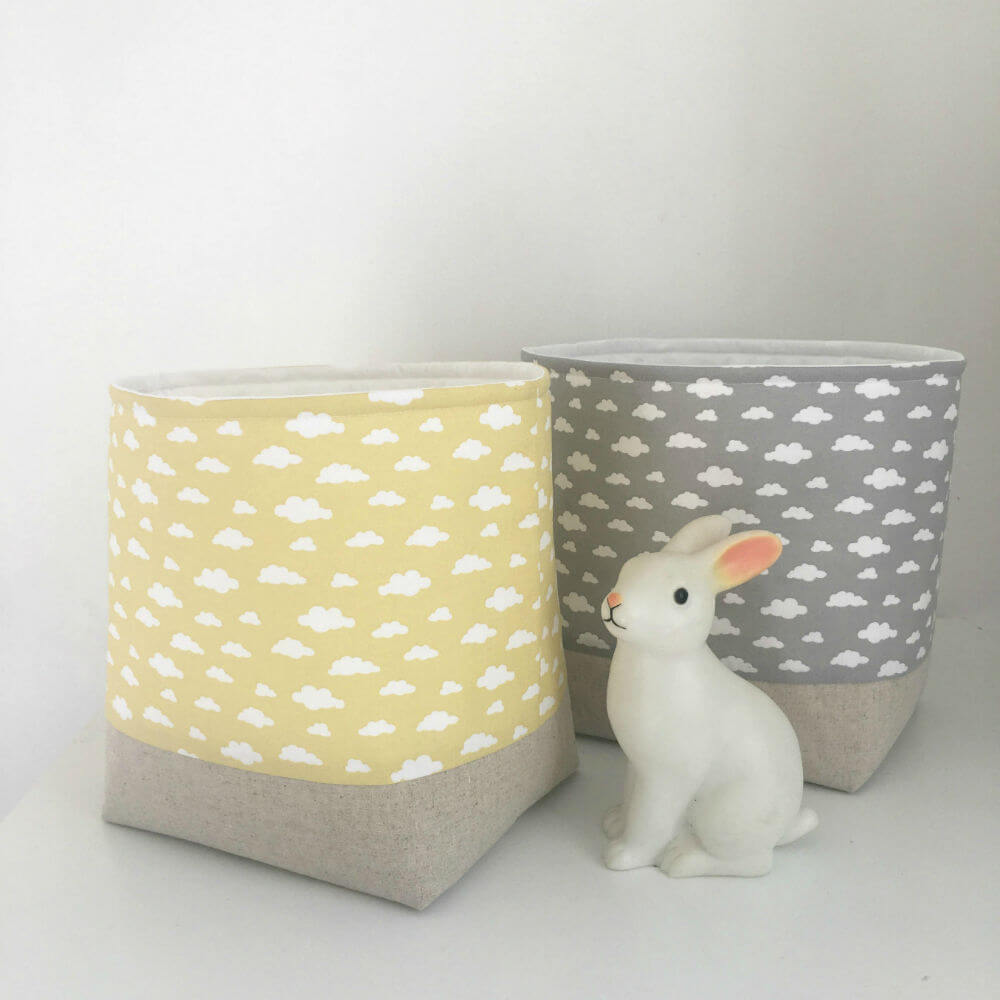 Do you need something to put your kid's socks in, or maybe their diapers? This adorable storage bin is ideal. It is made from a soft, washable fabric with an adorable yellow cloud print. The bin is handmade and great for storing anything and everything you need. If you want, it will even fit in cubicles for added organization. The bottom of the organizer is made with a burlap to fit with the farmhouse décor of most modern homes.
23. Floating Necklace Arranger with Hooks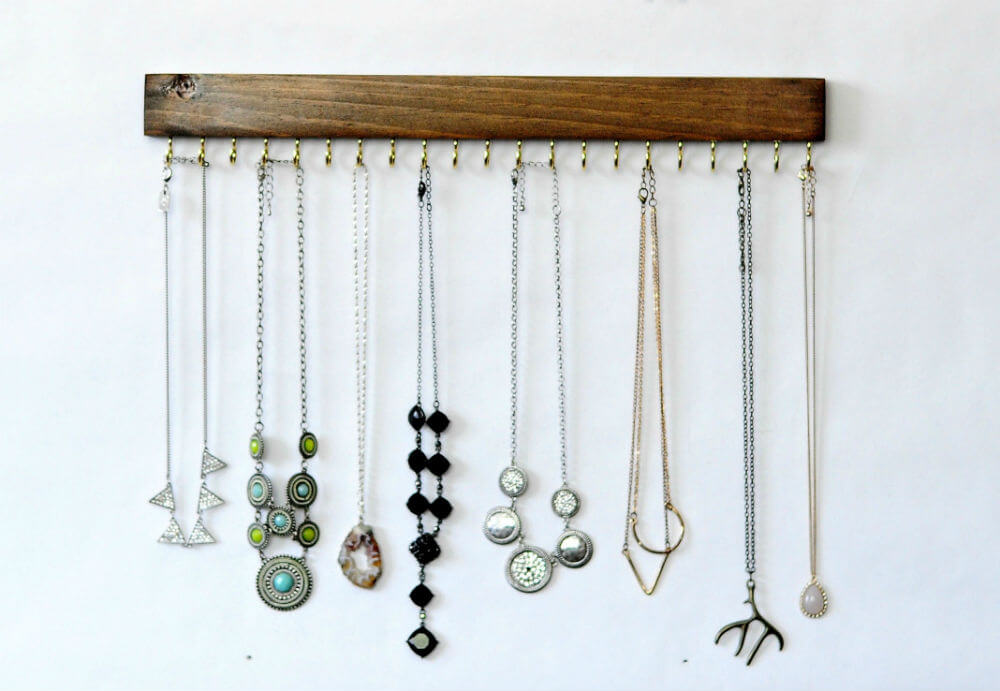 If you need something to keep those necklaces from getting tangled, this organizer is perfect. It is made with a simple wooden beam that seems to float when you mount it, and it contains several small hooks to hold on to your necklaces. You can hang the arranger anywhere that you get dressed for the day, and it will easily display your favorite options so you can choose quickly without worrying about tangles in the chains and cords.
24. Crib Pocket Organizers for Nurseries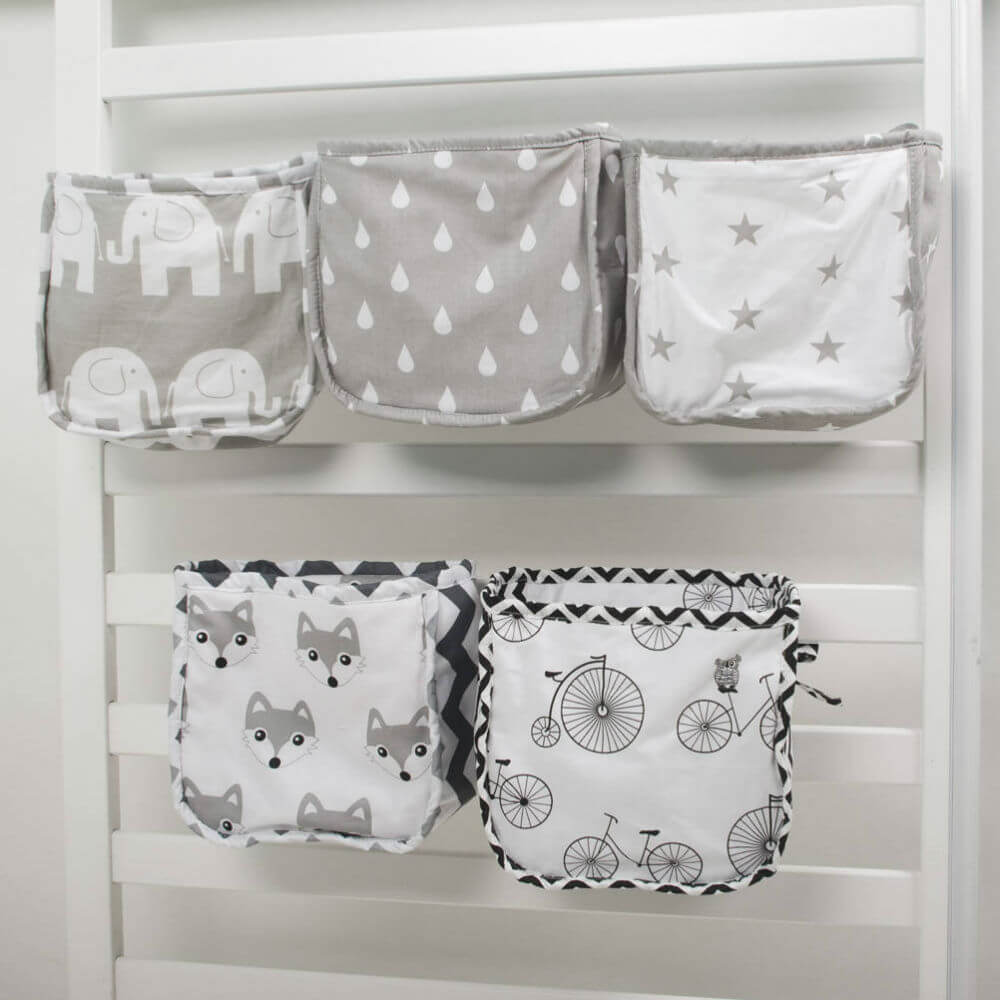 Made from soft fabric, these crib pockets are easy to help you store all the things you need for your baby. The pockets are made in various prints that will match your nursery theme. The pockets tie to the crib or anywhere else you choose to hang them, and they are washable should they get dirty. These crib pockets are handmade to give you plenty of storage space for toys, diapers, wipes, and other items your baby might need.
25. Simple and Modern Desk Arranger from Wood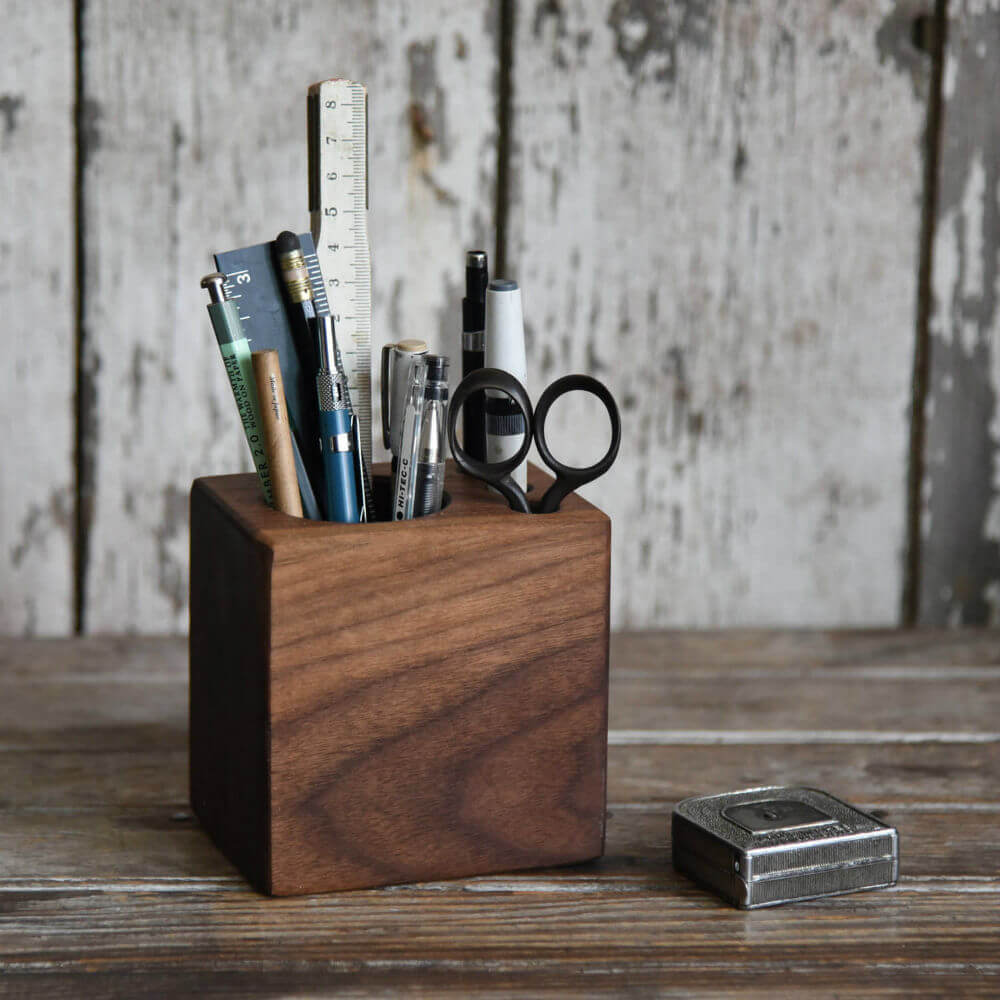 At first, this looks similar to a block of wood, but this dark wood desk arranger is perfect for keeping everything on your desk neat and tidy. The tool caddy will hold pens, pencils, rulers, and even scissors to help you keep your desk clean, and the wood finish matches well with any type of office décor. This even makes a great gift option.
26. Dorm Room Entryway Organizer with Key Hooks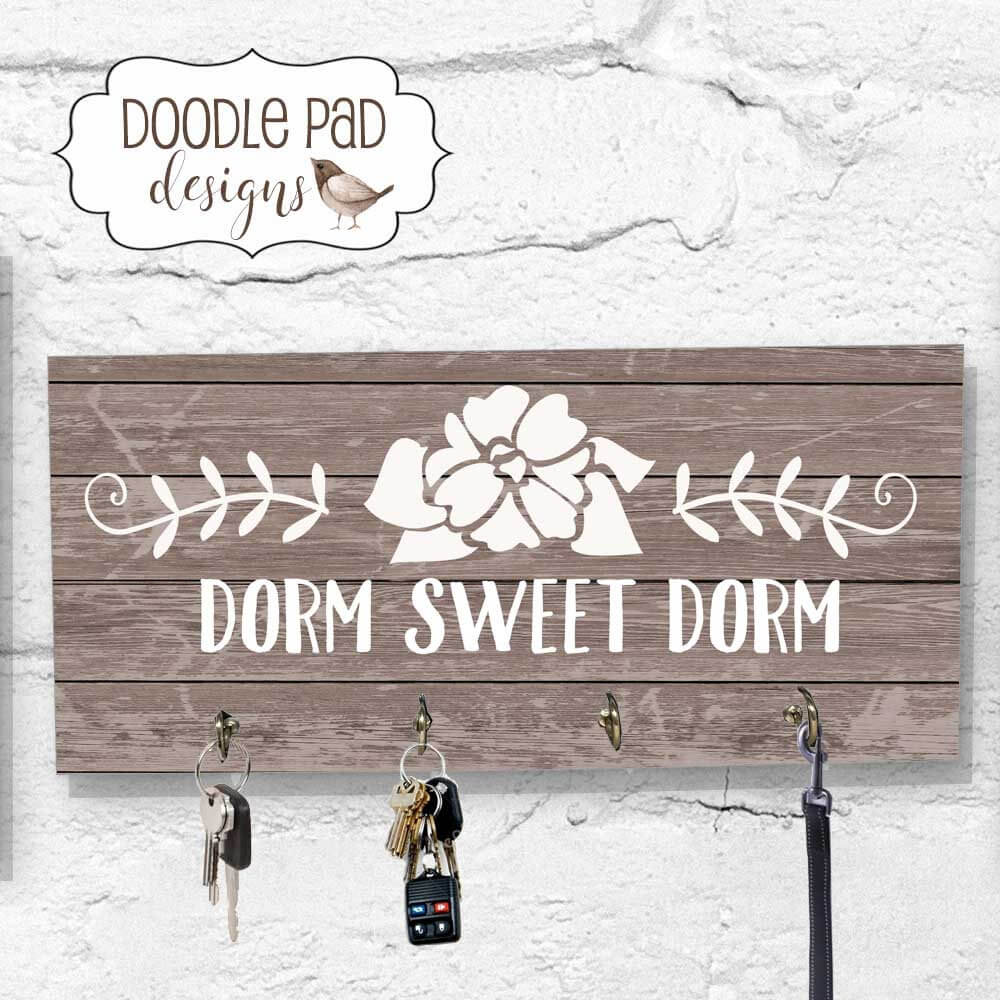 Do you know someone moving off to college that needs something to help them with organizing in their dorm room? This entryway key holder is just the perfect option they need. Made from a rustic wood, this key holder features four hooks for keys or other items, and the white flower design and "dorm sweet dorm" makes it an adorable addition to any dorm room.
27. Solid Oak Hat Arranger for the Home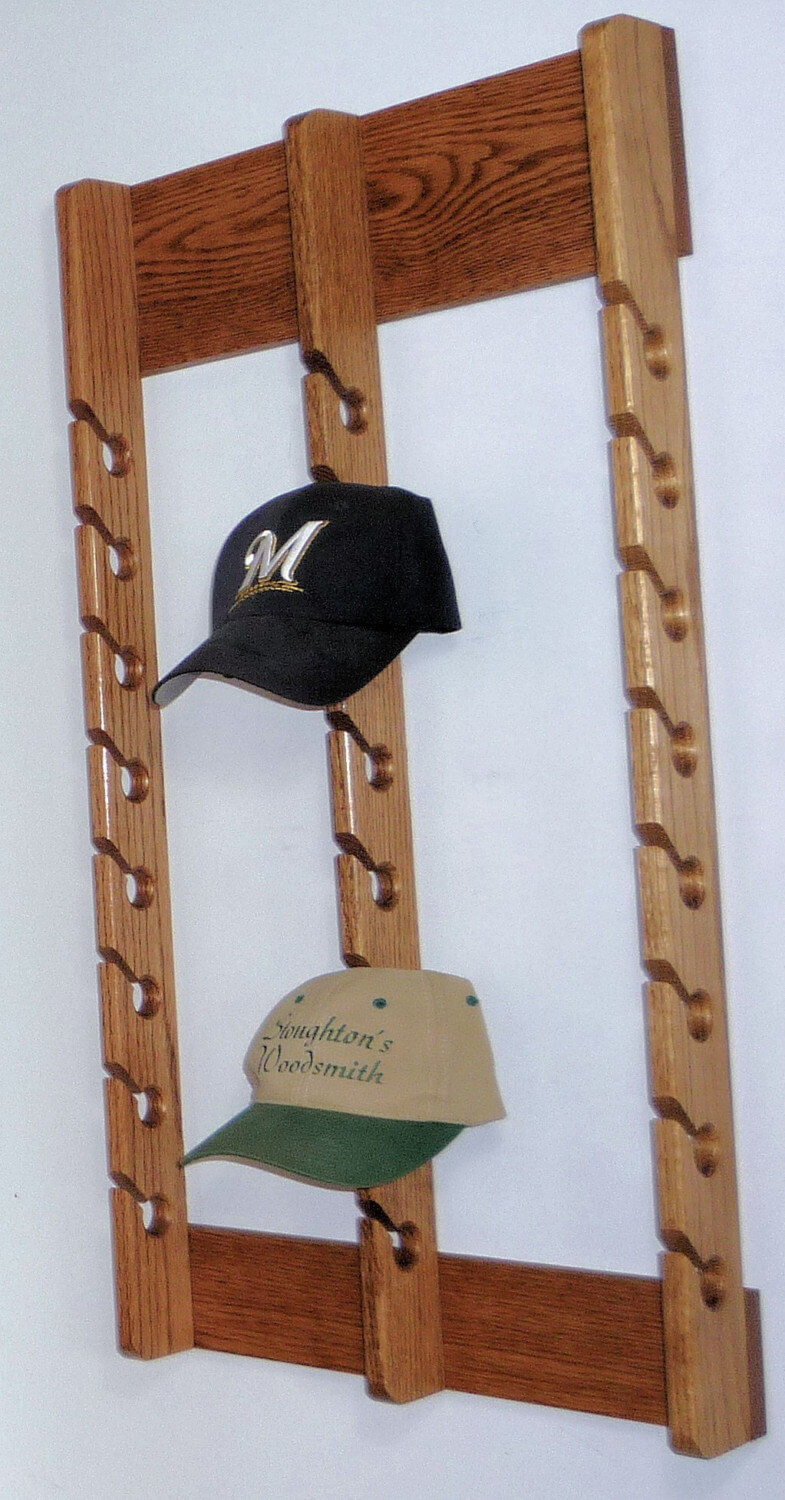 For those that have way too many hits, this solid oak arranger is perfect. It will hold up to 24 caps with the special hooks right in the wood. It is mountable and you can even choose the stain that you want the most for your home. This is a great organization item for men as well.
28. Pallet Style Coffee Cup Arranger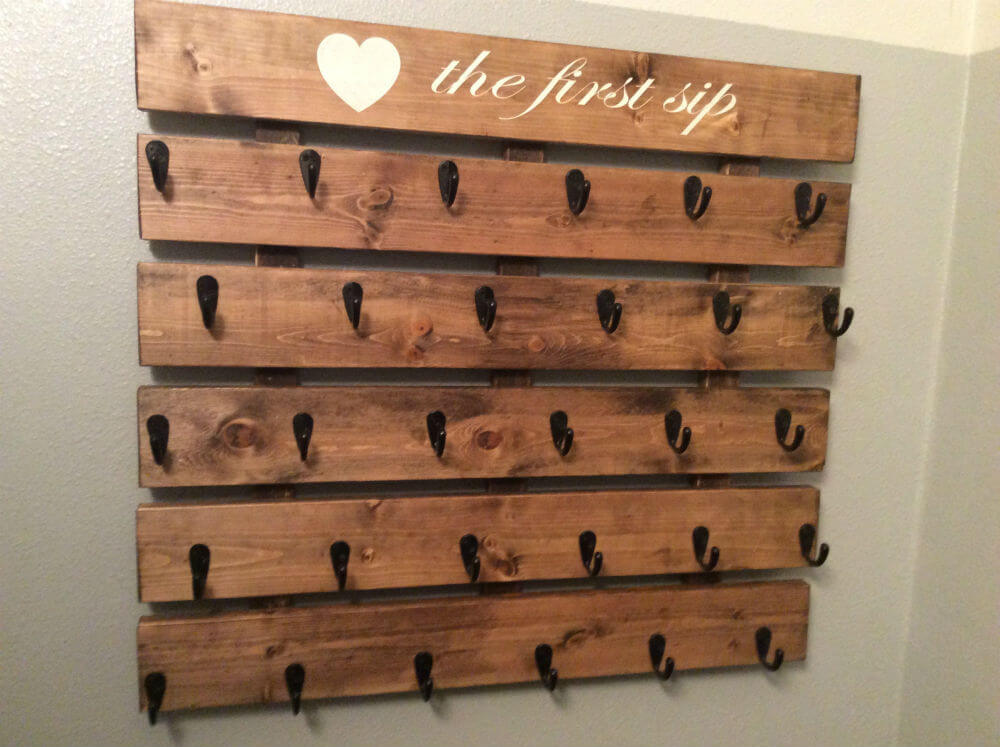 Made from a pallet, this coffee cup arranger is a cute addition to any kitchen or coffee bar. The top has beautiful lettering and the rest contains black hooks that will hold all of your coffee cups. You can choose your stain color to best match your décor, and this arranger will hold 30 average sized coffee mugs.
29. Mud Room Coat Rack and Rustic Mirror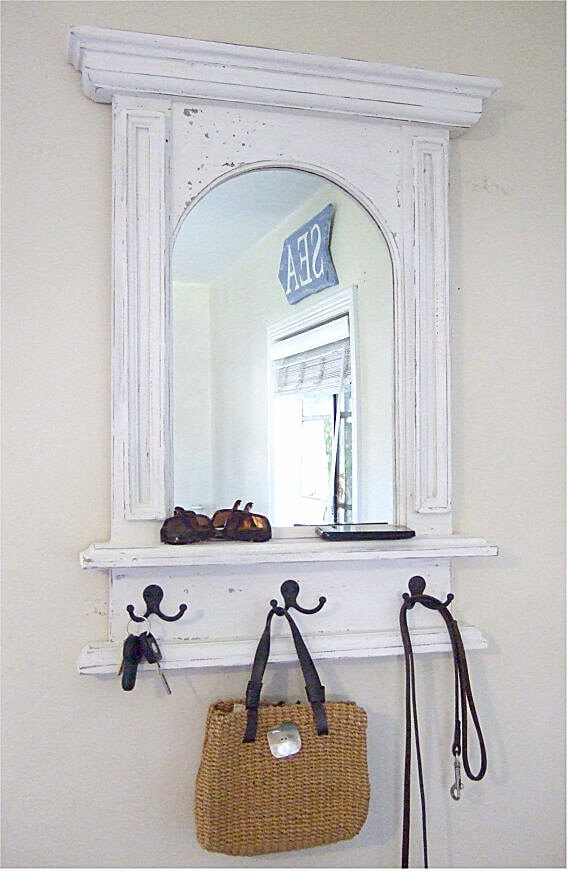 If you like checking your appearance one last time before leaving the house, this mudroom organizer is ideal. The bottom features a shelf with three double hooks to hold your keys, dog leash, or purse. There is also a shelf for putting sunglasses or other items. The mirror is rounded at the top to give off the vintage vibe, and the rustic chipping wood fits well with the farmhouse style of home décor.
30. Simple Jewelry Arranger with Metal and Knobs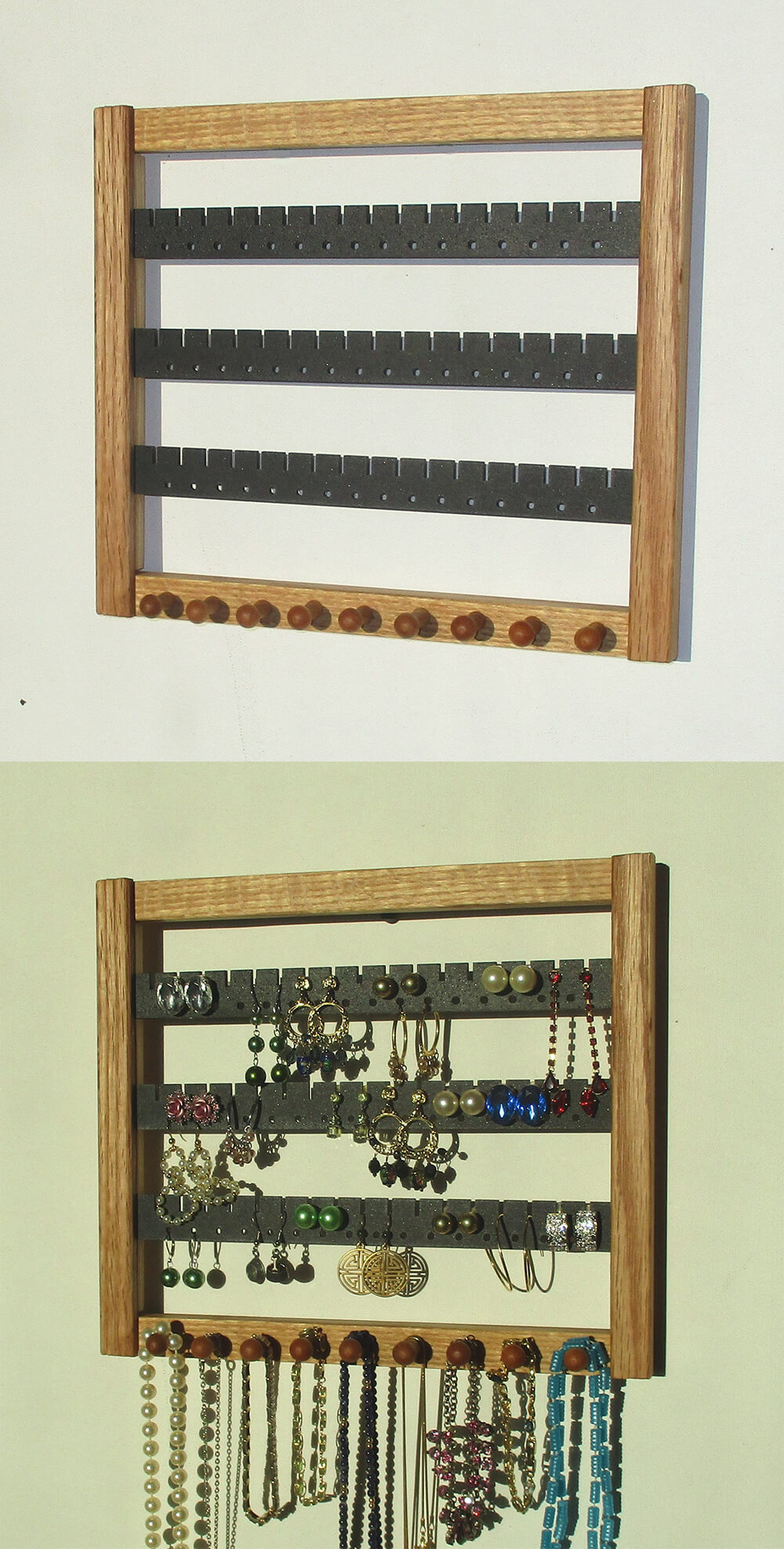 This simple organizer lets you put your necklaces on the bottom, using knobs to keep them separated for hanging, and it allows you to keep your earrings in one spot. This arranger features dark wooden knobs along the bottom to hold as few as nine necklaces. The top areas features a three-tier metal rack for holding earrings, including your studs. The entire jewelry arranger is framed with wood.
31. Customizable Family Entryway Key Hanger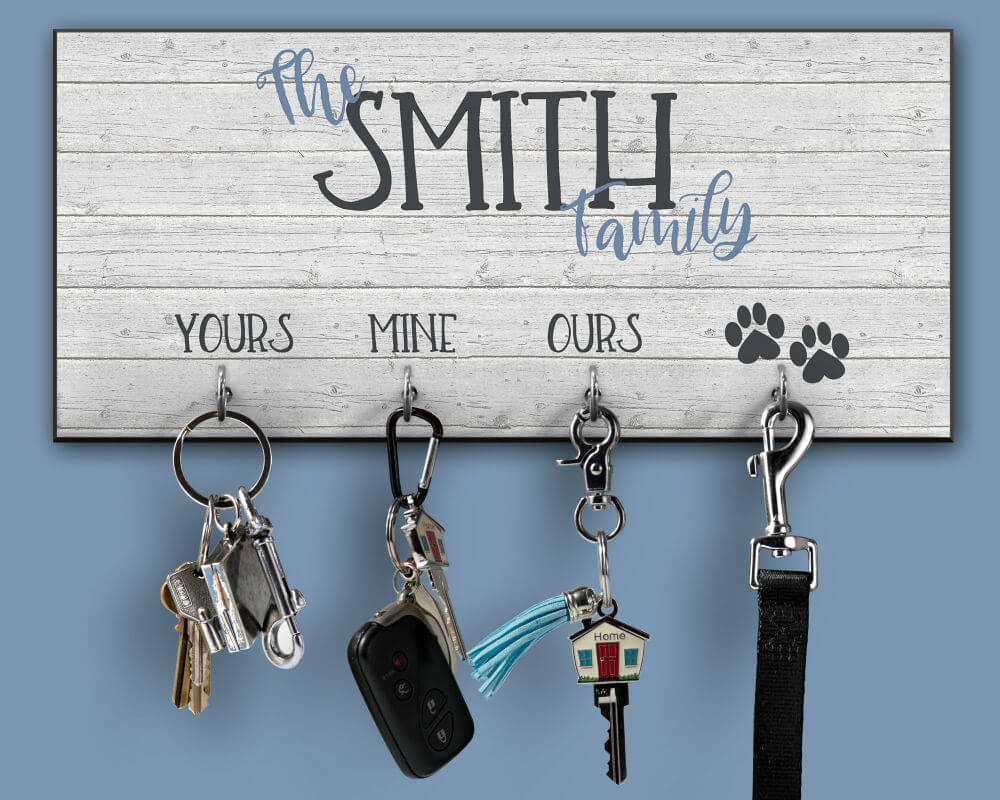 When you walk into your home, wouldn't you like to put your keys on a holder that has a specific place for everyone? This customizable entryway key arranger allows you to do just that. Made from rustic wood, you can customize the saying on the front with your family name and the key ring. Add paw prints for your pup's leash, or add your name for your set of keys.
32. Handmade Small Fabric Organizing Bin with Handles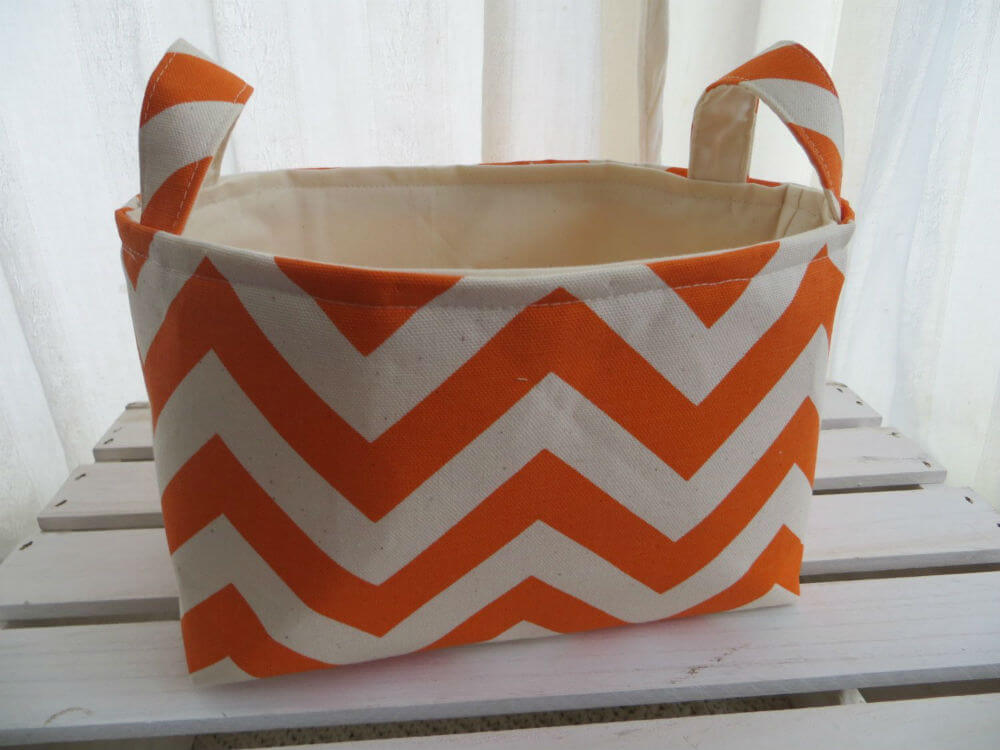 Handstitched with love, this fabric arranger is perfect for giving kids, or yourself, something to store odds and ends inside. The organizer is made with thick fabric with great prints, like the orange and white chevron pattern. It even has handles to make it easier to carry from place to place.
33. Fancy Vintage Necklace Organizer with Knobs and Hooks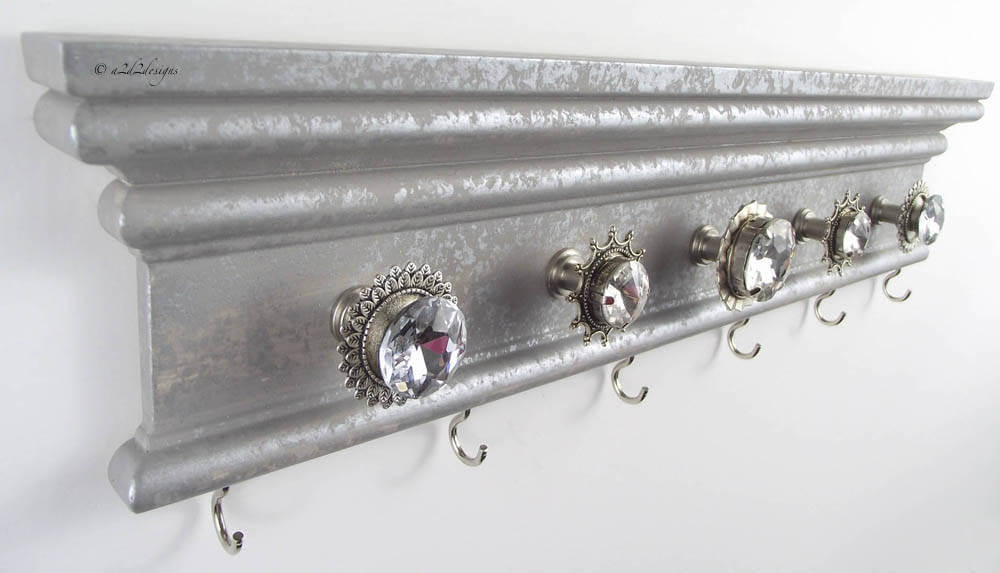 If you know someone that likes going all out with their décor, this jewelry arranger is over the top and fabulous. Made with a silver distressed paint, the silver hooks and silver/glass knobs go well together to give you plenty of space to hang your necklaces and bracelets.
34. Wooden Jewelry Organizer with Stub Earring Holes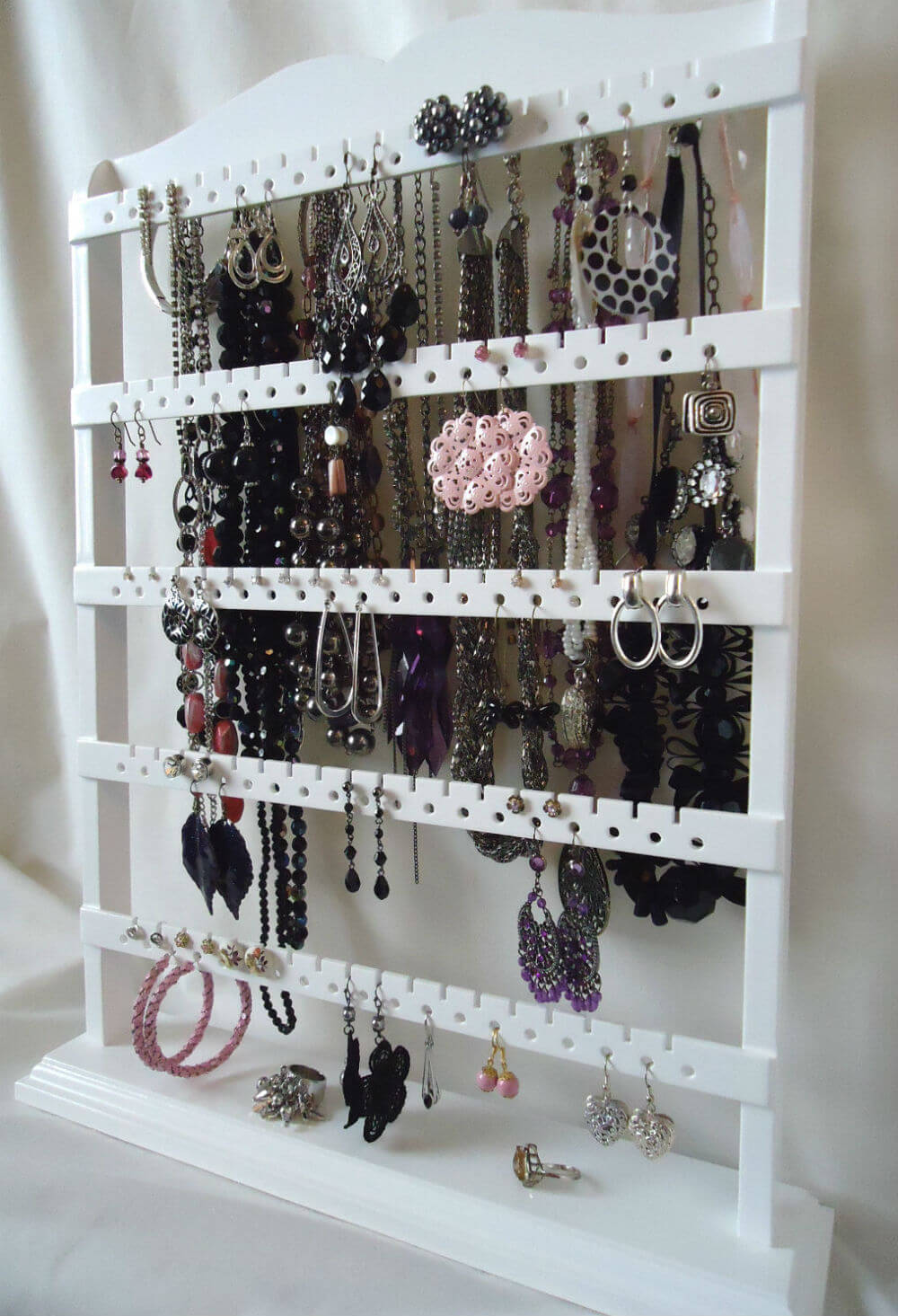 Sometimes you just need somewhere to put all your jewelry. This arranger has a place for everything you might need. With necklace hooks in the back and even places to put your stud earrings, you can easily keep your jewelry together. This arranger sits on a table top since it has a base.
Organizing your home doesn't have to be as difficult as it might seem. Just by finding the right items, you can create a new aesthetic in your home while also organizing everything to keep your home looking tidy and clean all the time. The items above are all great ways to coordinate your house from top to bottom, and most will fit into your budget. When you are organizing your home, remember to find items that fit with your decor to make them seamless and perfect for your home.