The weather starts to turn a little crisper, the sun has that warm glow that makes everything sparkle, and you start to think of all things pumpkin spice – Fall has arrived! The heat of summer is gone for another year and we start to get warm and cozy with our colorful scarves and vests, but also with our home decor. Harvest colors of burnt orange, cranberry reds, and sunset yellows adorn the trees and nature around us. What better way to greet Fall than with some fall door wreath ideas?
50+ Ways to Spice Up Your Autumn with Fall Door Wreath Ideas

Ruched and ruffled burlap, giant chrysanthemums with a burst of golden petals, acorns and twine! All you need to do is step outdoors to get some fall decor inspiration along with some fanciful fall door wreath ideas. Bring the kids along for a hike and collect some fall treasures for this diy project. Make it personal and add a monogram to your wreath or keep it simple with some pretty branches and festive ribbon.
There are endless possibilities from rustic rope and twine to bunny-soft pussy willows that you can incorporate into your fall door wreath ideas. Be creative, have fun, and welcome this beloved cinnamon and spice and everything nice season in with a flair!
1. Wooded Pumpkin Wreath on a Cotton Bed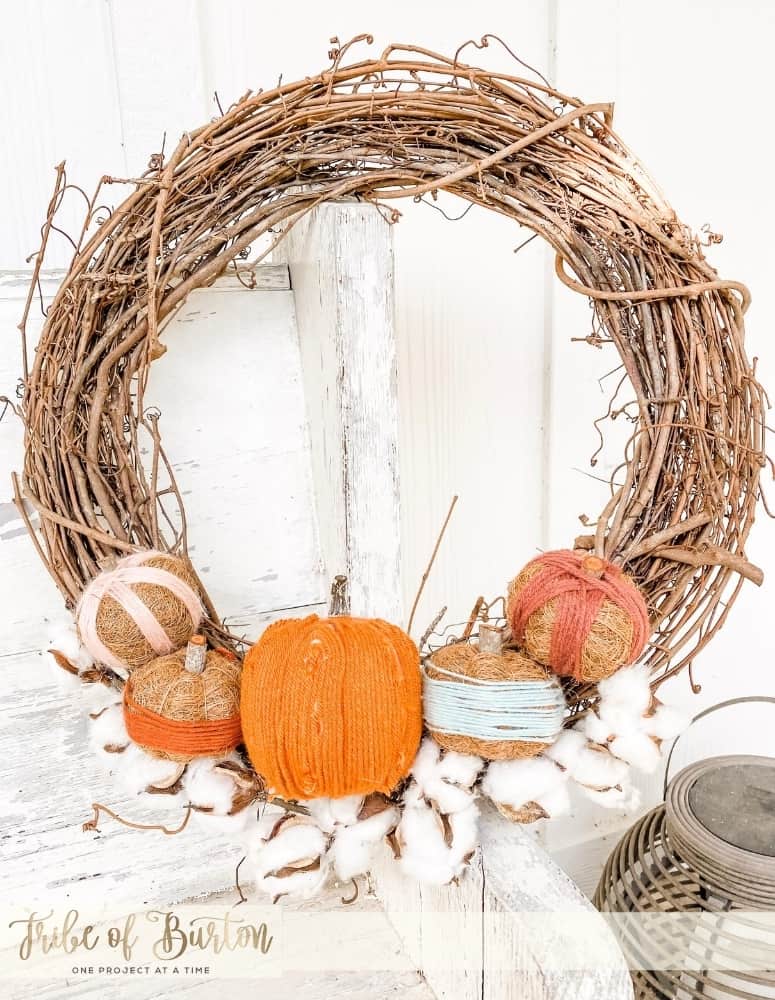 Welcome your festive Fall kinfolk into your home with this charming wooded wreath at your front door! This lovely crafted wreath is decorated along the bottom with adorable earth-toned yarn pumpkins. The pumpkins are highlighted with accent colors so that they pop out against the wooded background. They rest gently upon a soft field of cotton.
2. Sunflowers, Cotton Flowers and a Bow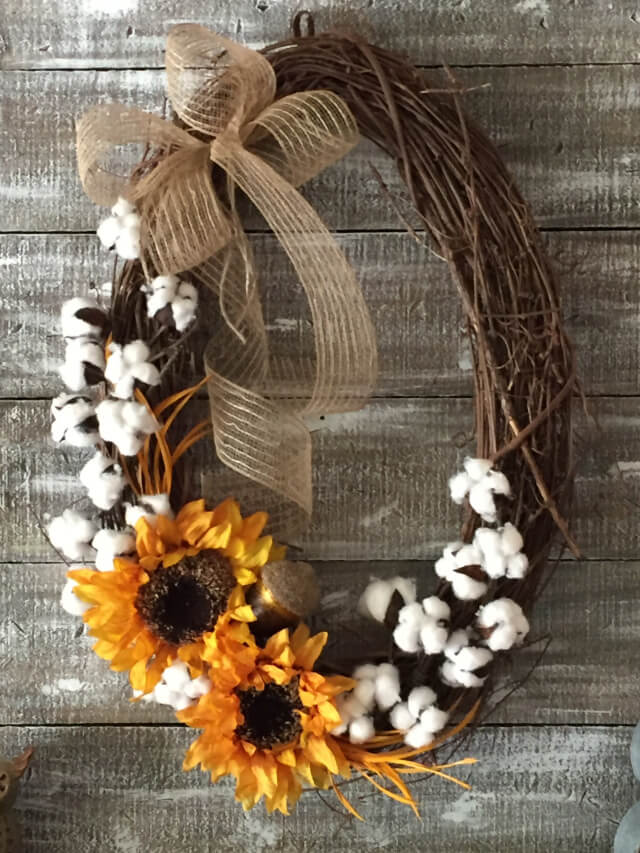 Who wouldn't appreciate the simplistic and classic beauty of this wonderfully wooded wreath? The yellow of the sunflowers adds a boost of energetic color to this wreath. It is adorned with flower-shaped raw cotton, contributing a gentle touch of character. A beautiful beige bow dangles from the top of the wreath which only enhances the classic and sophisticated feel of the wreath.
3. A Star is Born Wreath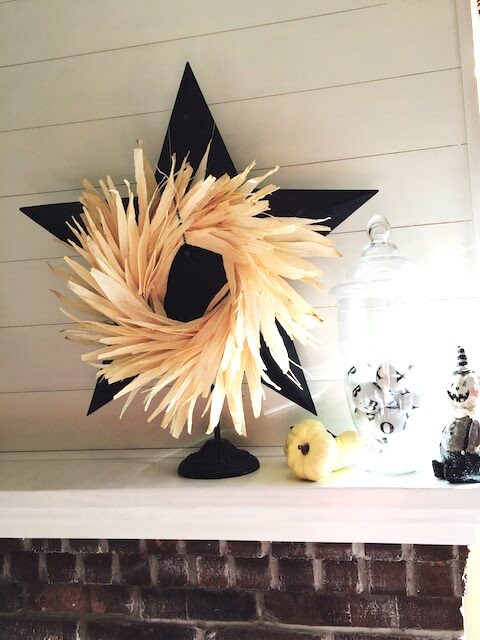 Stand out in a big way with this modern take on a classic autumn adornment! This wreath can be made with tan paper or tall leaves tied together; it is then attached to a black star stand. This cream-colored wreath bursts out of its contrasting black background with energy and vitality. It is the perfect, eye-catching centerpiece for your mantle place throughout the holiday season.
4. You Are Driving Me Bandannas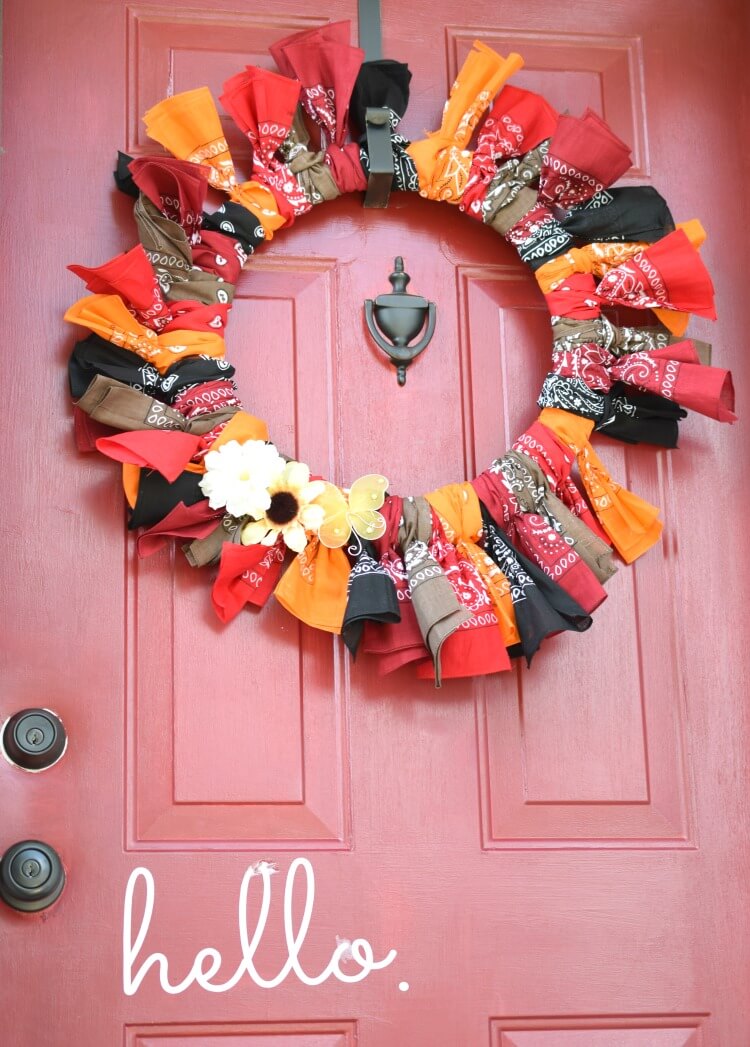 A unique use of bandannas brings us this colorful masterpiece of a holiday wreath. Bandannas of red, tan, orange, yellow, and black are tied around a frame creating a burst of Fall color to welcome your gang of the family to your front door. The wreath is then decorated at the bottom with white flowers and a butterfly to soften the feel of the wreath.
5. A Cornucopia of a Wreath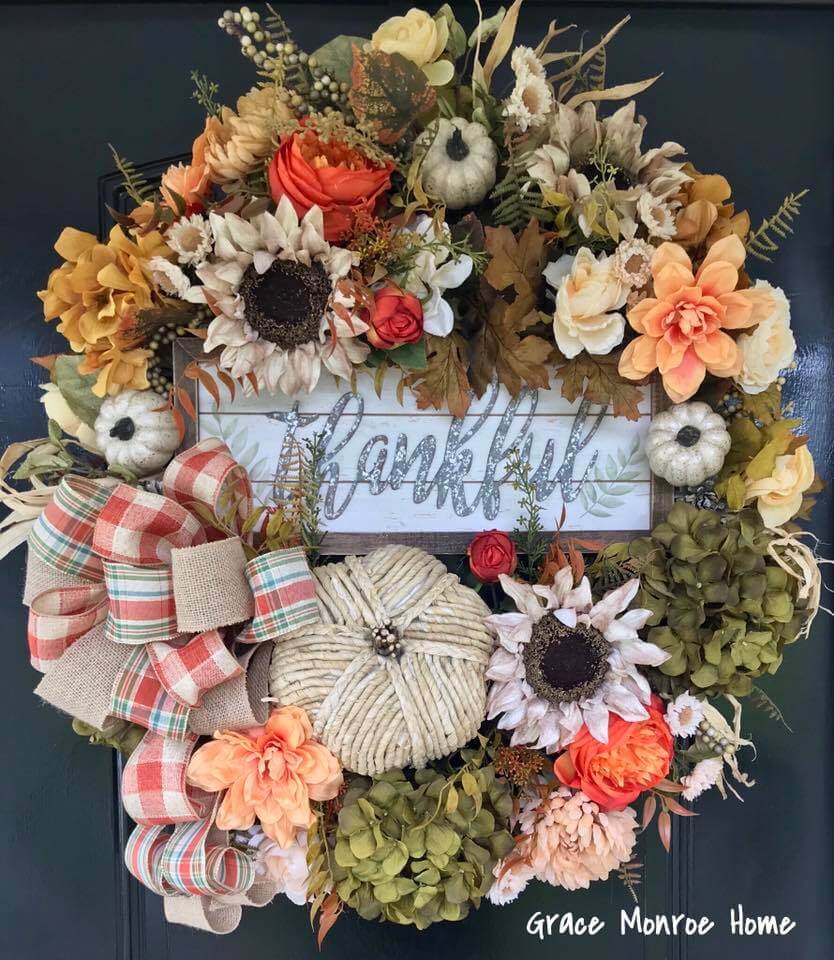 Celebrate your holiday-o-plenty with this festive wreath! This wreath is crafted with a wealth of colorful flowers all around and small white pumpkins accents. Sprouts of greenery create a base that sets the stage for the flower show to pop out. A large, intricate earth-toned and plaid bow finishes this beautifully, abundant design.
6. A Wreath of Lovely Charm and Grace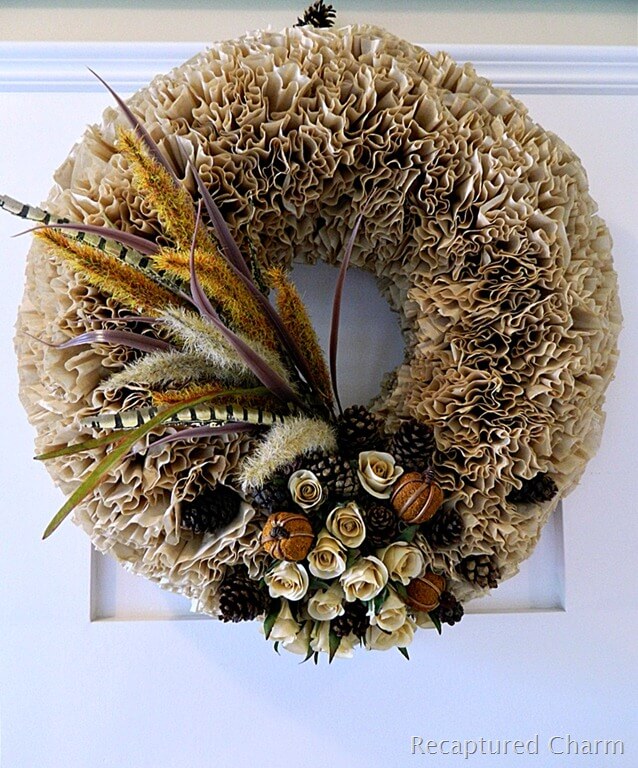 Bring in the holidays with charm and grace with this sophisticated wreath! The cream crinkle fabric of this lovely wreath is layered abundantly creating a look of waves on top of waves. Adorned with shoots of fountain grass, pine cones, crafted or silk tan flowers, and pumpkins along the bottom bring the fields to your front door to greet your guests.
7. Birds of a Feather Wreath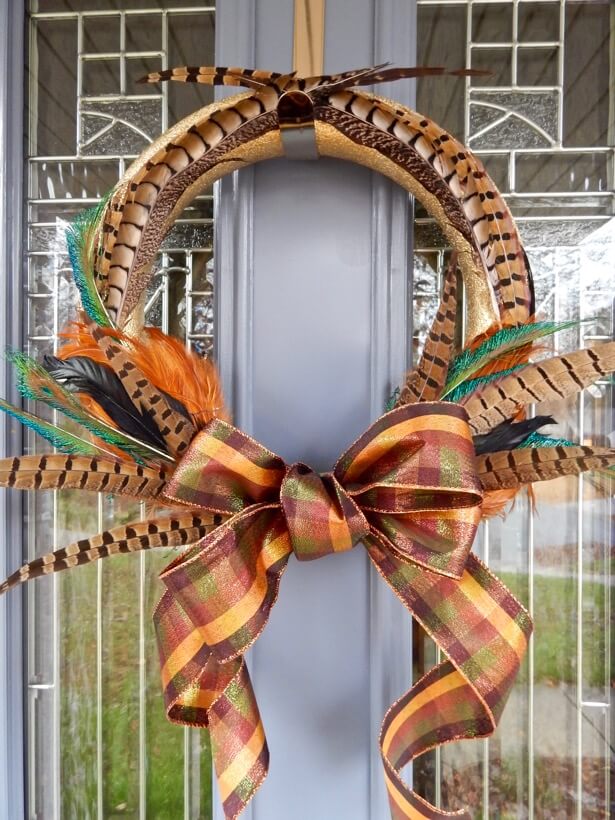 Fly into the holiday season with this fun and flighty wreath! A tan spherical base serves as a basic background for the gigantic bird feathers shaped around it. Feathers of orange and bluish-green accent the wreath adding a touch of colorful detail. A large, beautiful fabric bow finishes off this gorgeous and mysterious design.
8. Pine Cones and Leaves Beautiful Wreath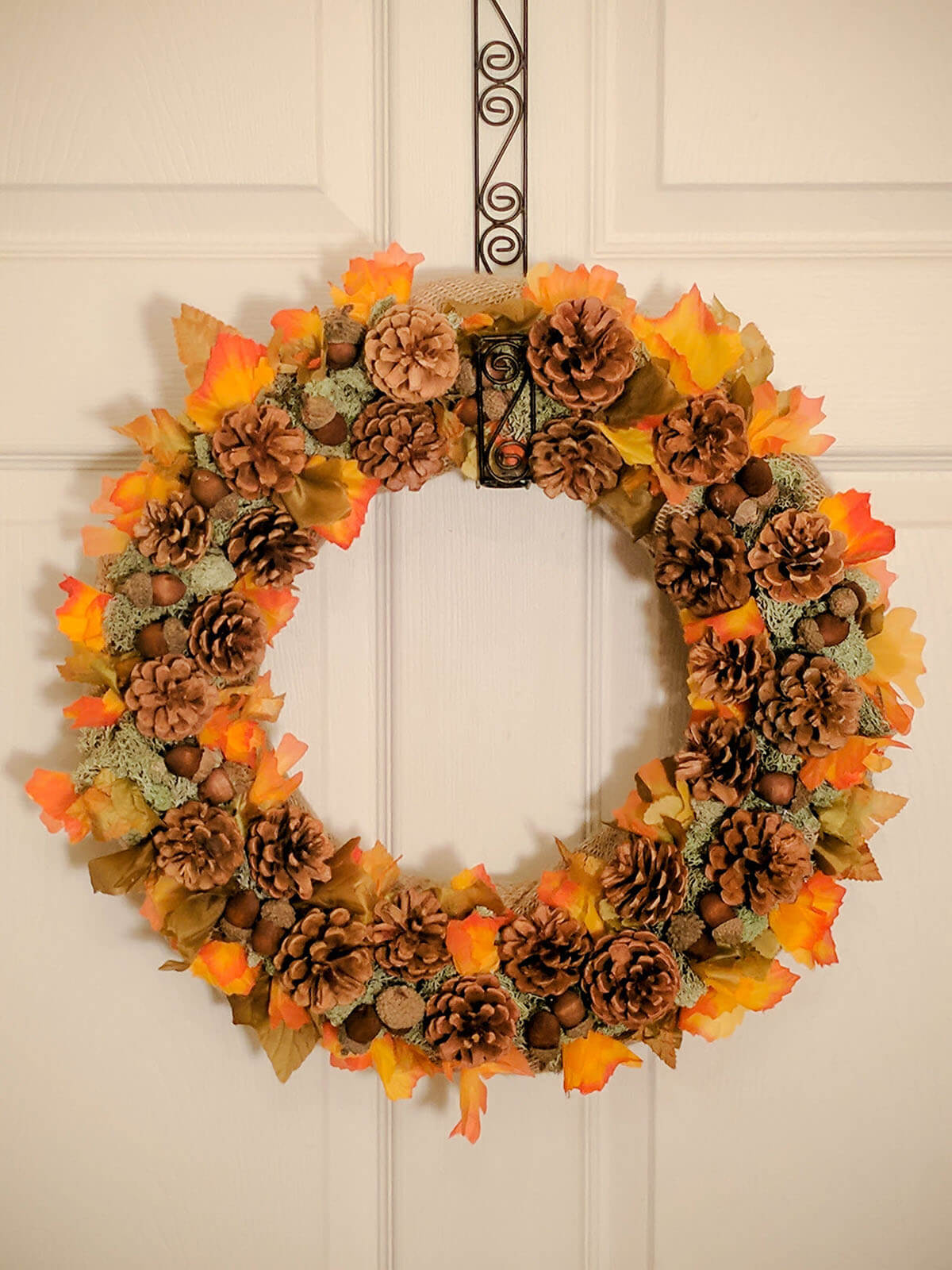 Such a beautiful and colorful design to greet your guests this holiday season! Nothing brings in the feel of autumn quite like leaves and pine cones. Unfurled pine cones cover a mossy green base with Fall leaves adorning the perimeter. The orange of the leaves contributes a burst of colorful excitement to this beautiful wreath.
9. A Grand Entrance for a Grand Celebration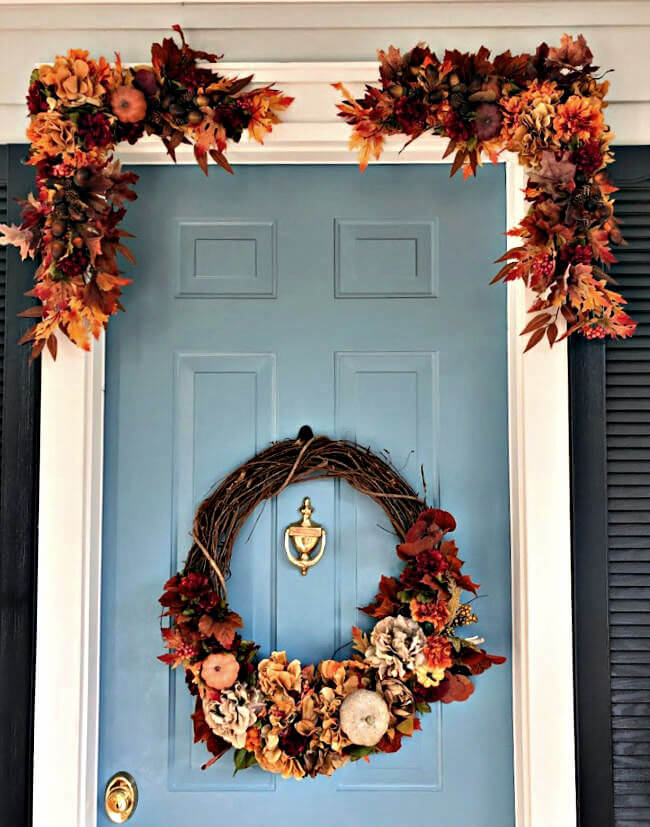 Immediately impress your guests with a beautifully ornate wreath such as this! The wooded wreath base is adorned with adorable small pumpkins and copious flowers in colors of white, red, and orange. To add to the grandeur of this entrance, the corners of the door frame are decorated with autumn leaves, flowers, and more pumpkins. An utterly amazing sight to behold!
10. Behold a Lovely Wreath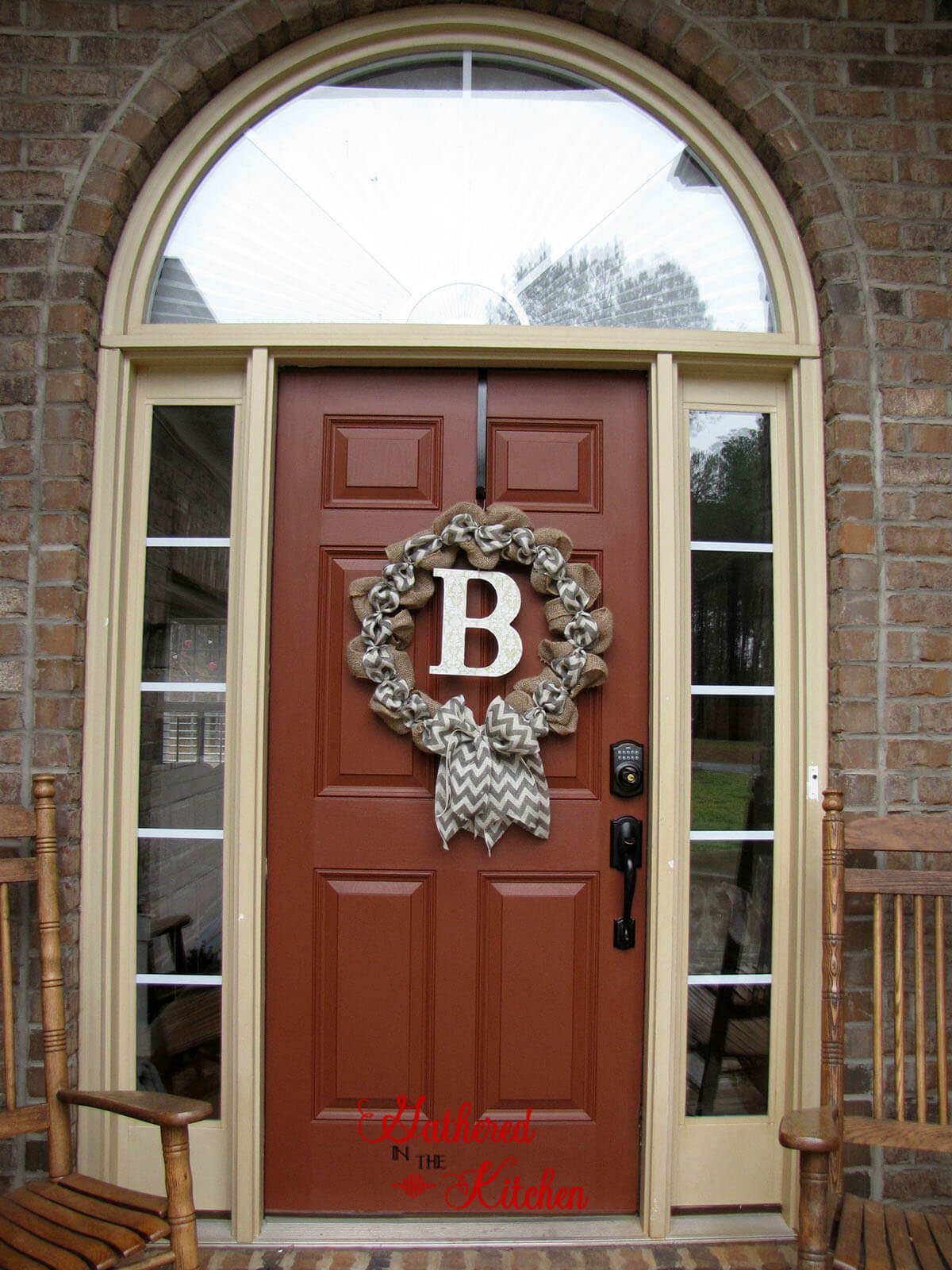 Adorn your front door with this delightful wreath! Made almost entirely of burlap sackcloth, this wreath seems to take the shape of waves all around. It is then accented with a grey and white chevron designed fabric, tied into a lovely bow at the bottom. A bold letter is placed in the center to personalize the wreath. It is quite a work of crafty loveliness!
11. Pumpkin and Pineapple Passion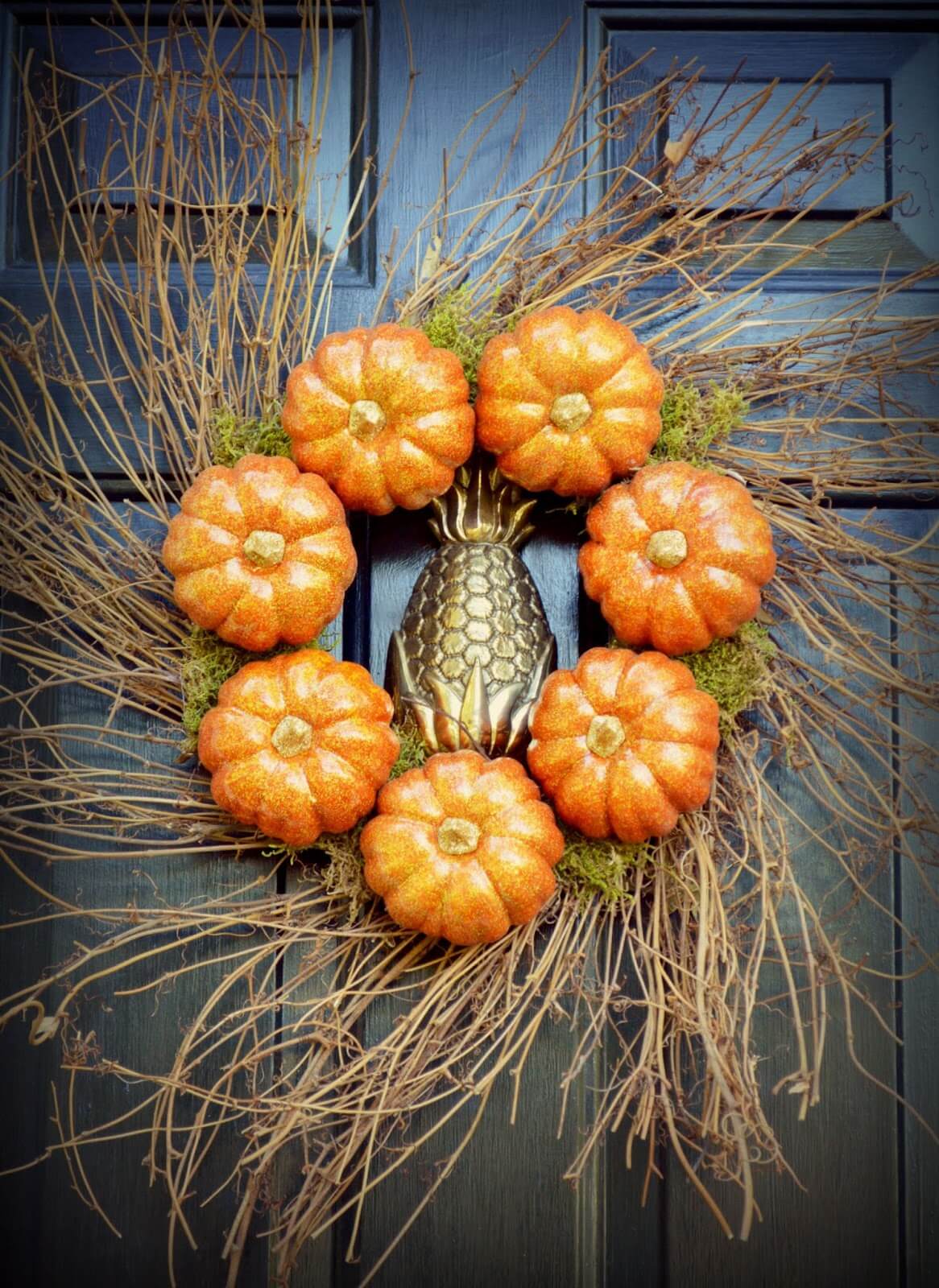 You don't see many wreaths like this one! Your home will stand out in your neighborhood with this unique gem. A green mossy wreath is a base for seven shiny pumpkins that are placed in a circle around a brass colored pineapple. Field twigs shoot out from the center like a crown adding more Fall detail to this distinctive wreath.
12. A Fun Fall Crafted Project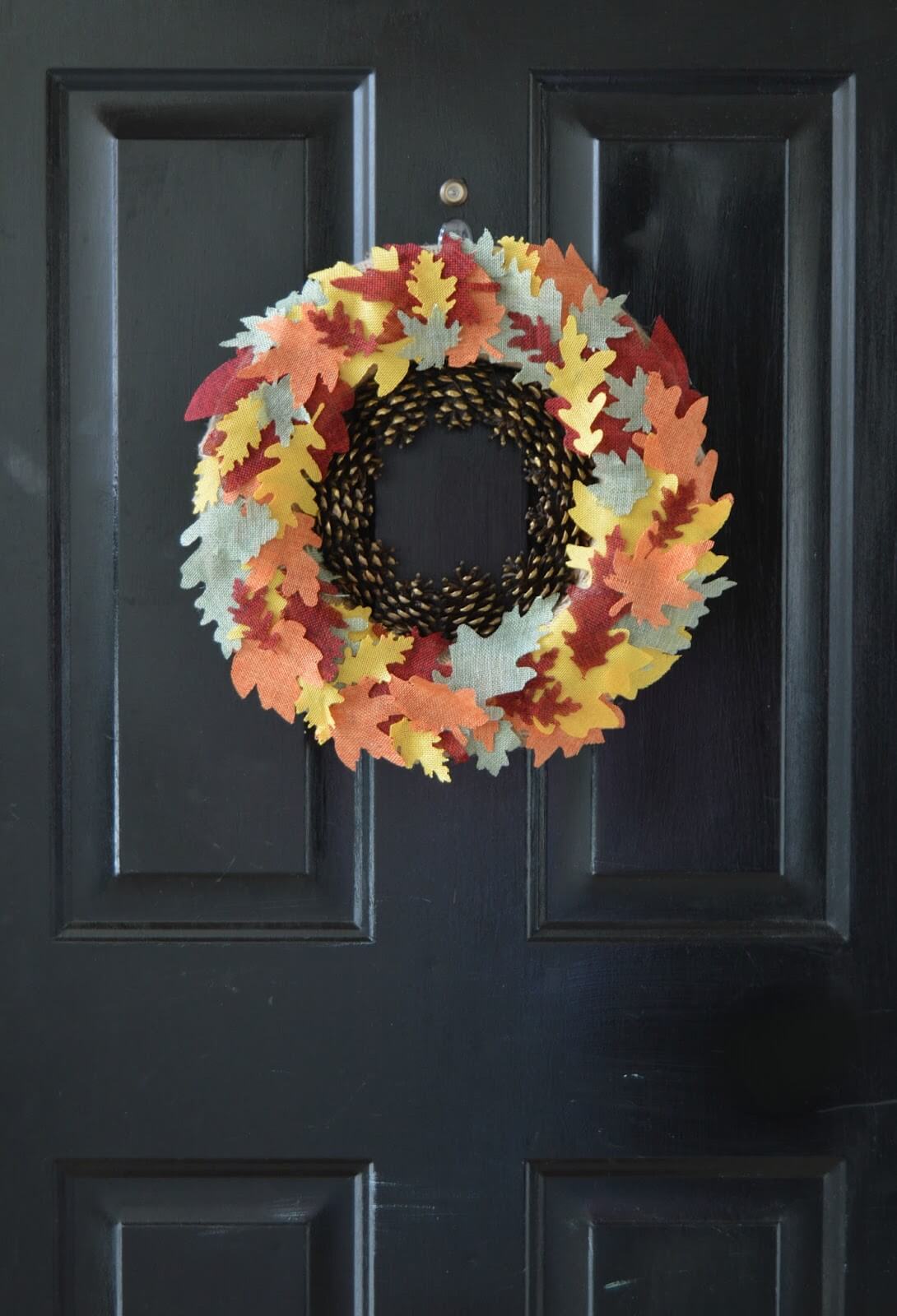 Do you and your family love to craft? This colorful wreath makes for the perfect holiday project to show off your creativity to family and friends. Pine cones form the base of this piece and colorful construction paper crafted leaves decorate the outside of the wreath. Allow your children to help design leaves to add an extra layer of pride to your home's front door.
13. Spinning Quite a Yarn Wreath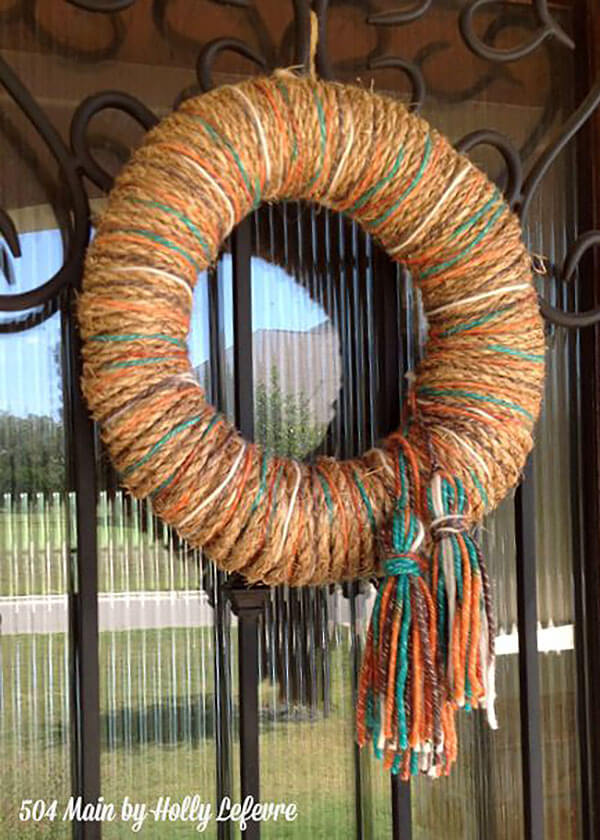 There are not many wreaths as exceptional as this one, full of Fall colors and personality! Earth toned yarn of red, orange, brown, and turquoise is woven around a large base. The yarn meets and dangles as tassels at the bottom. This wreath is an extraordinary one that stands out from the crowd.
14. A Tropical Delight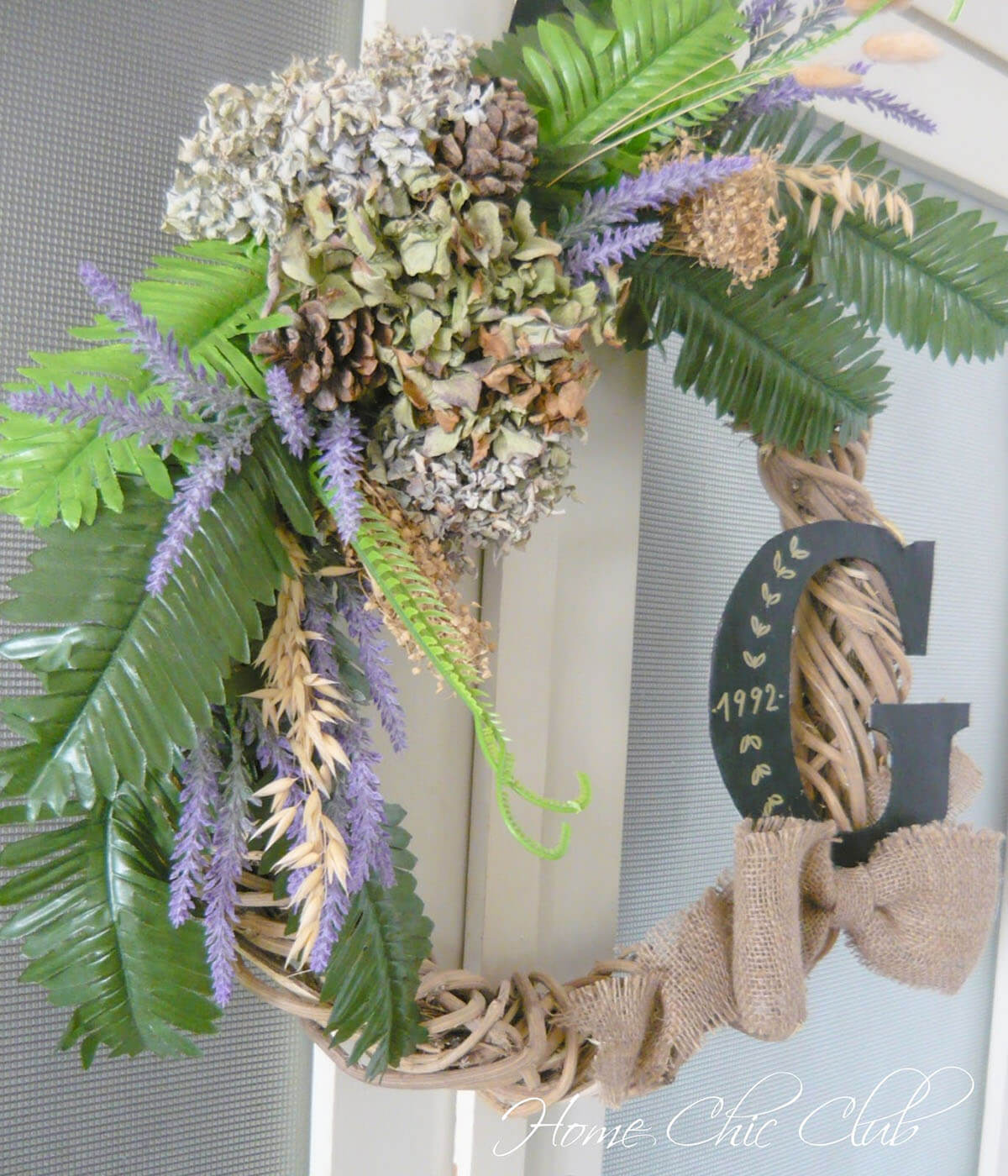 A gorgeous tropical take on autumn and winter seasonal decoration! Usually, wreaths take on the typical Fall look and feel but this wreath distinguishes itself from that trend. Created with palm leaves, pastel-colored flowers over a dried stalk base, a bow is crafted with burlap fabric, and a personalized letter is placed on this exotic take on a holiday favorite.
15. A Holiday by the Sea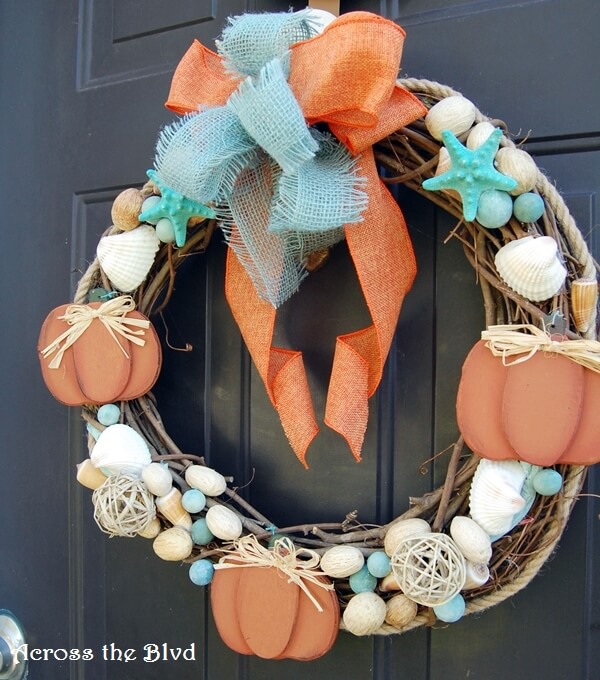 Want to celebrate your holiday season by the sea? Jump into the depth of this beach-inspired piece! This twig crafted wreath is adorned with blue and white seashells, nautical rope, and pumpkin cut-outs. A lovely orange and blue-ribbon bow top this fun, tropical and distinctive decor. You can smell the salty air of the sea by just looking at this wreath!
16. The Falling for Fall Piece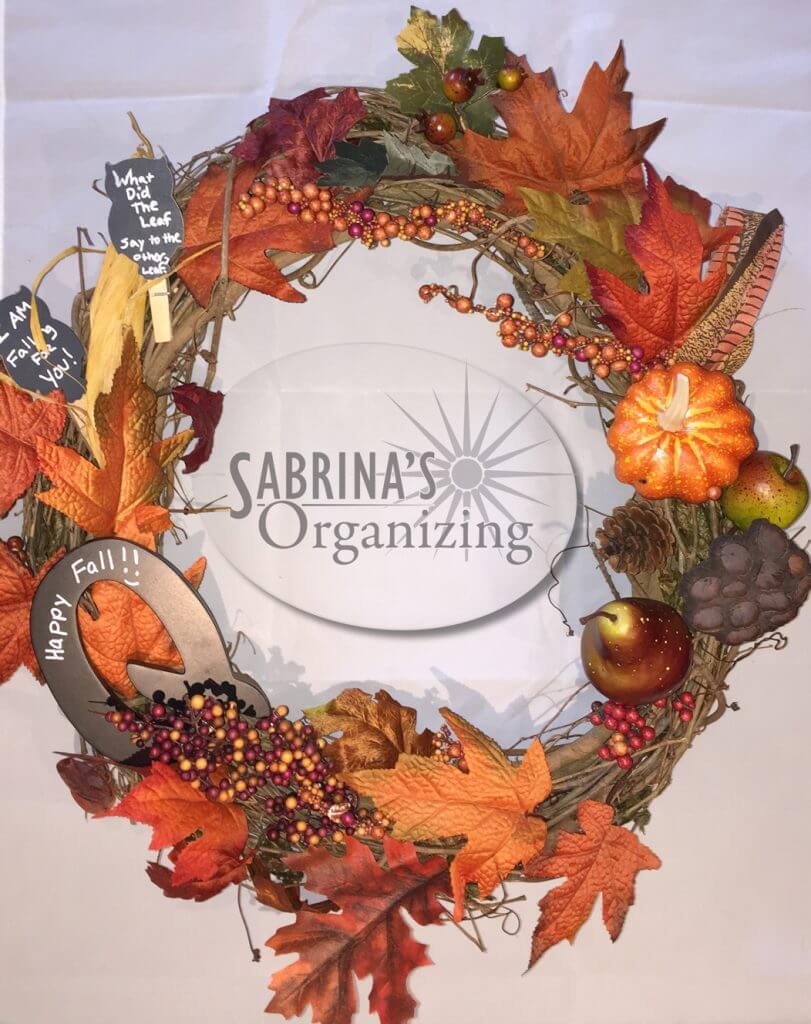 This wonderful twig wreath displays everything that autumn represents. Decorated with bright autumn leaves of red, orange, and green, you can also spot pieces of fruit, berries, and a horseshoe or two. Bring back the traditional feel of Thanksgiving with this fabulously festive wreath.
17. Non-traditional Autumn Decor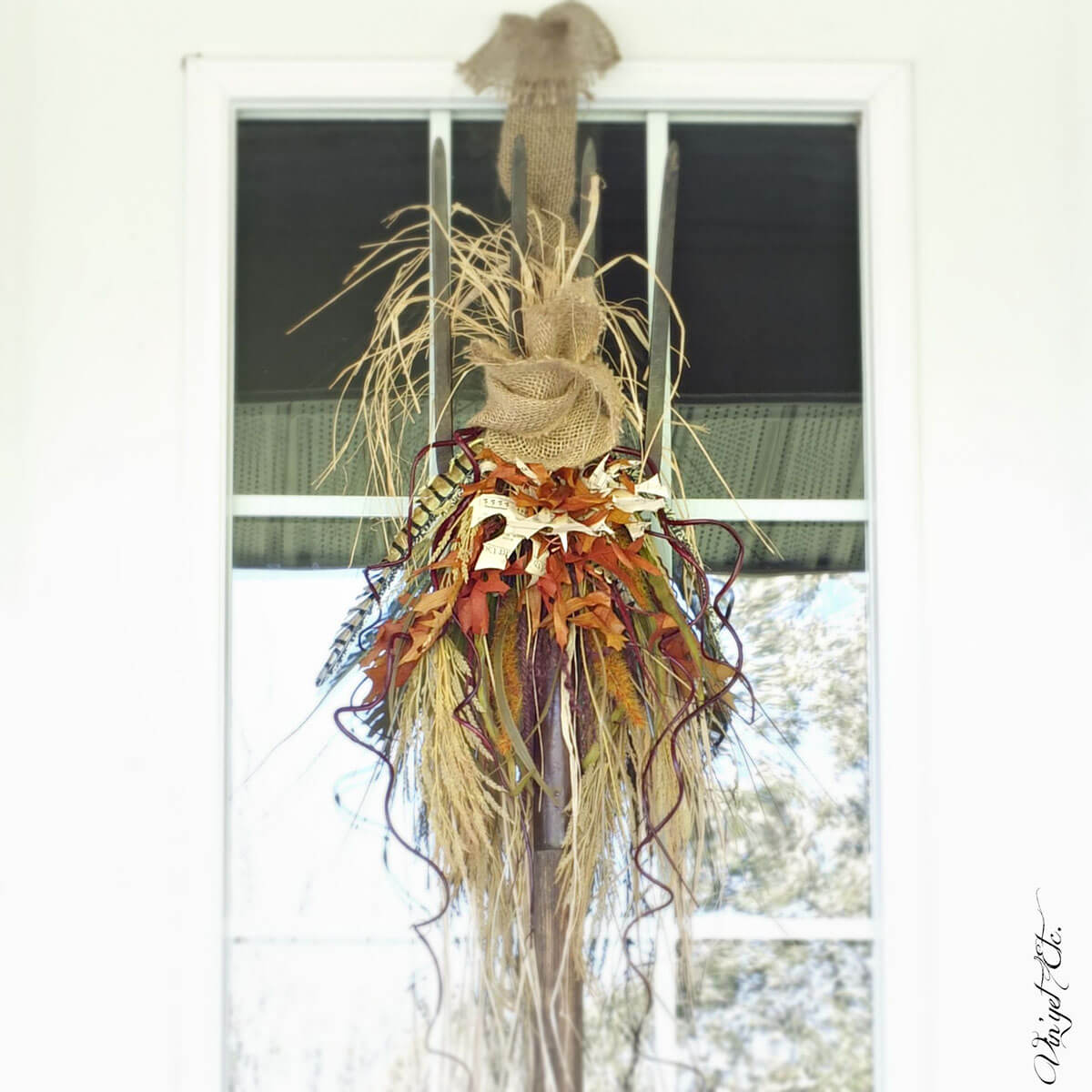 Wanna bring in the holiday season with a creatively non-traditional work of art? Freely express your love for Fall with this exceptional decorative door piece. Hay and colorful autumn leaves cascade downward, held in place by a burlap tie. A pitchfork brings everything together and adds an edge to this brilliant design.
18. A Gentle Fall into Autumn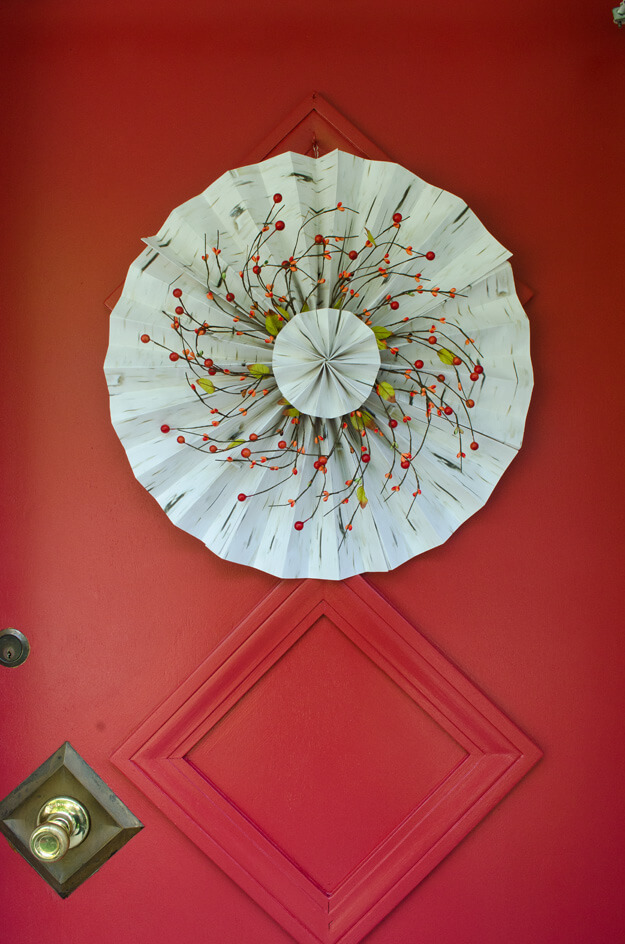 For a soft, gentle, and lovely feel to the autumn decor, try out this charming piece. A peaceful paper base plays the background for the green leaves and red berries that decorate this design. Your home will stand out in the most special way with this touch of class ornamenting your front door.
19. A Simplistic Welcome Home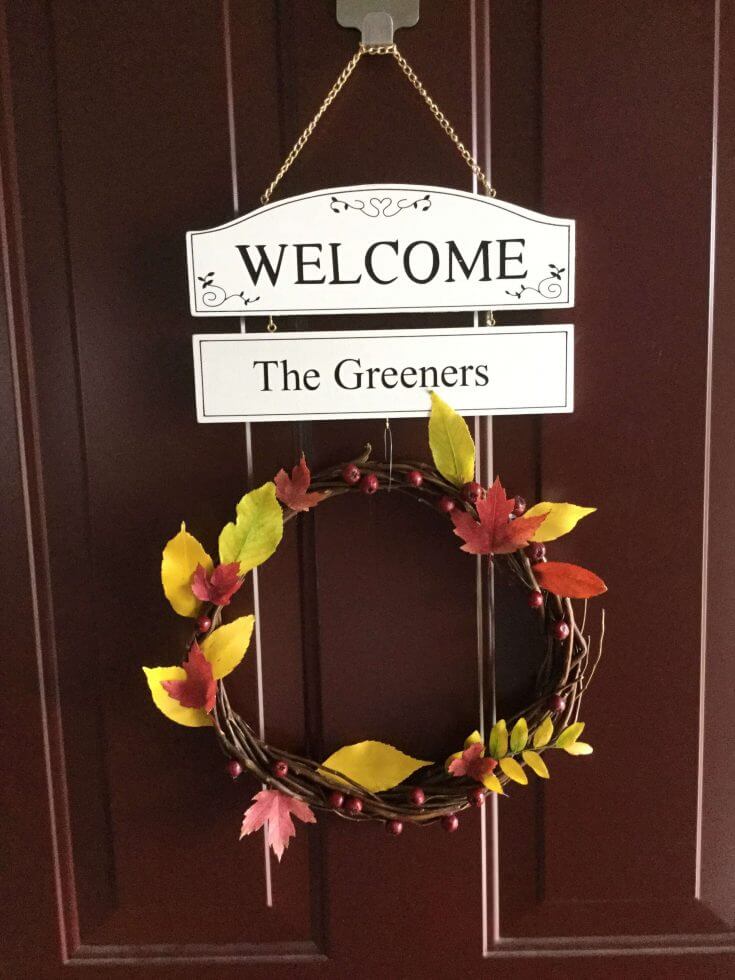 Don't let this understated piece of work fool you, it is still very bold and beautiful! A wreath of twigs is lightly decorated with berries, along with red and green leaves. An inviting welcome sign greets guests into your home for a holiday celebration filled with love, laughter, and memories.
20. Please Pass the Plump Pumpkins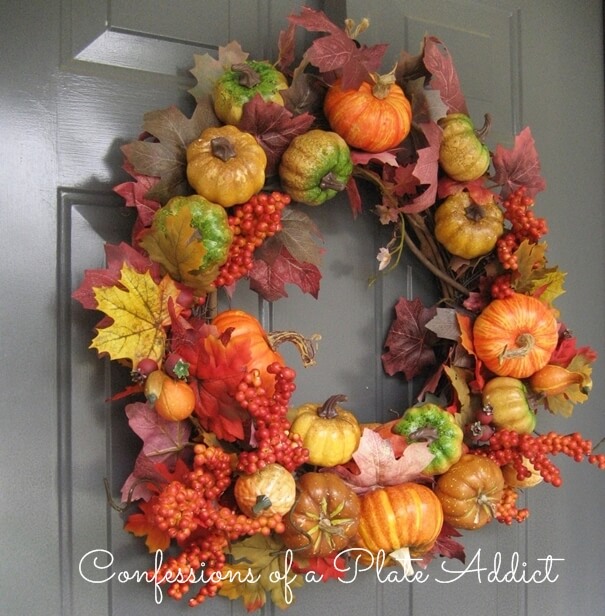 Come home to a pumpkin patch with this great wreath! Pumpkins, gourds and more pumpkins galore embellish this wreath crafted over a stick base. The pumpkins, berries, and gourds sit atop colorful Fall leaves of all kinds. The varying color palette of the pumpkins adds an additional dimension of splendor to this traditional autumn design.
21. A Wreath of Antlers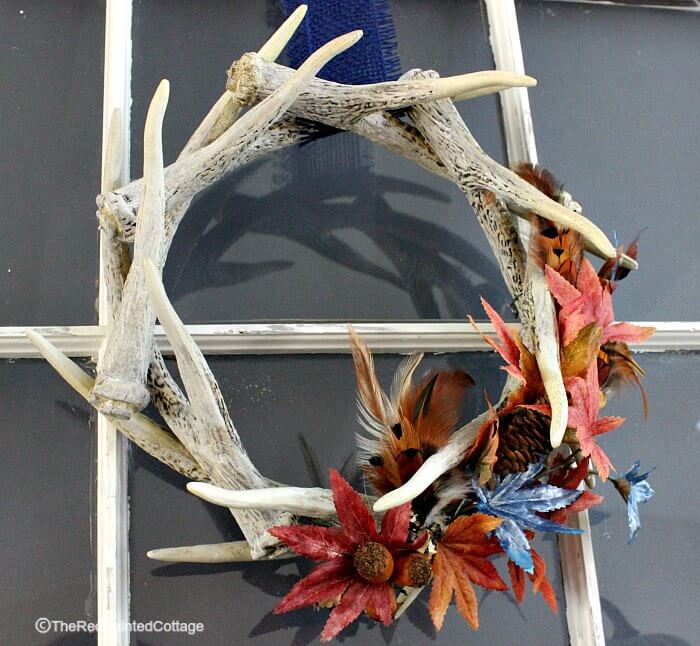 If you are looking for a touch of the mysterious to grace your front door, try out this truly unique wreath. Made from what appears to be animal antlers, this holiday decor is utterly striking upon first sight. Colorful leaves, pine cones, feathers, and nuts bring in a touch of definition and texture. This wreath will certainly make everyone look twice!
22. Bringing the Field Home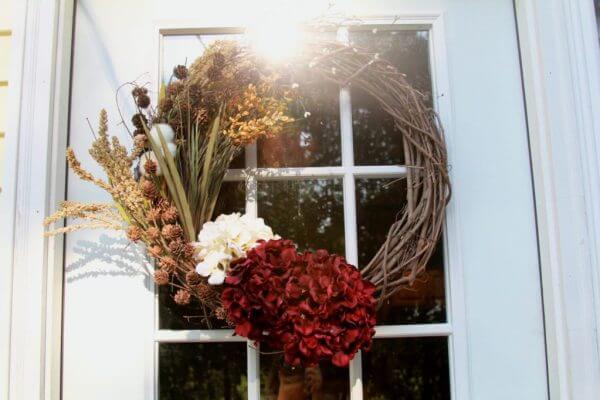 Simplicity meets grace and beauty with this lovely autumn decoration. Strikingly beautiful foliage trims this simple twig wreath. Dried grass, stalks, and flowers of all kinds were used to garnish this marvelous design. This wreath attracts those who love nature and enjoy a run through the fields every now and then.
23. B for Berry Wreath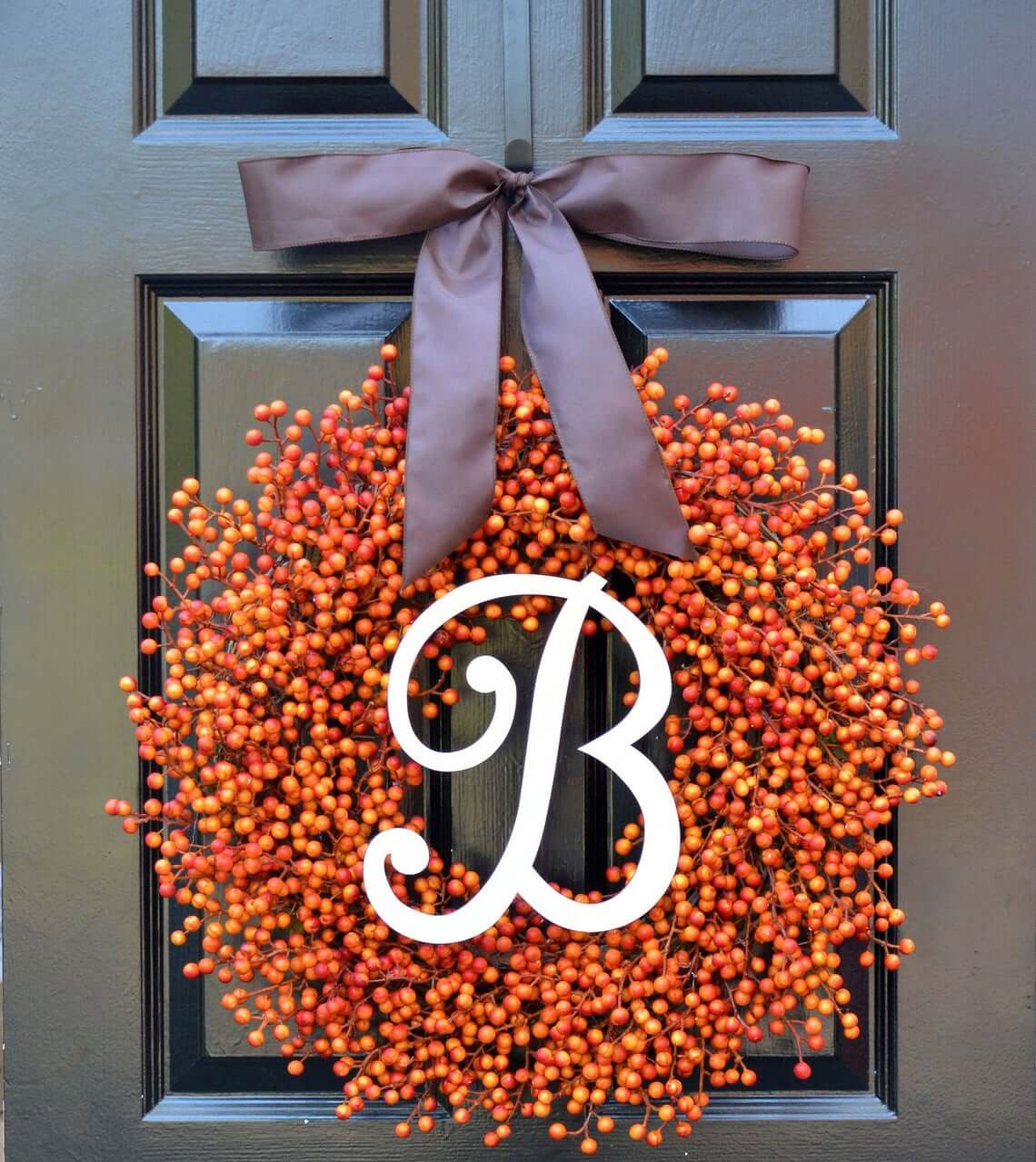 Bring a huge splash of color to your front door with this lively berry wreath! Made entirely of red and orange-colored berries, this wreath is fun, flirty, and festive. A large ornamental letter B takes up the center of the wreath and a majestic plum-colored bow is placed atop for a grand, elegant feel.
24. Fall in the Country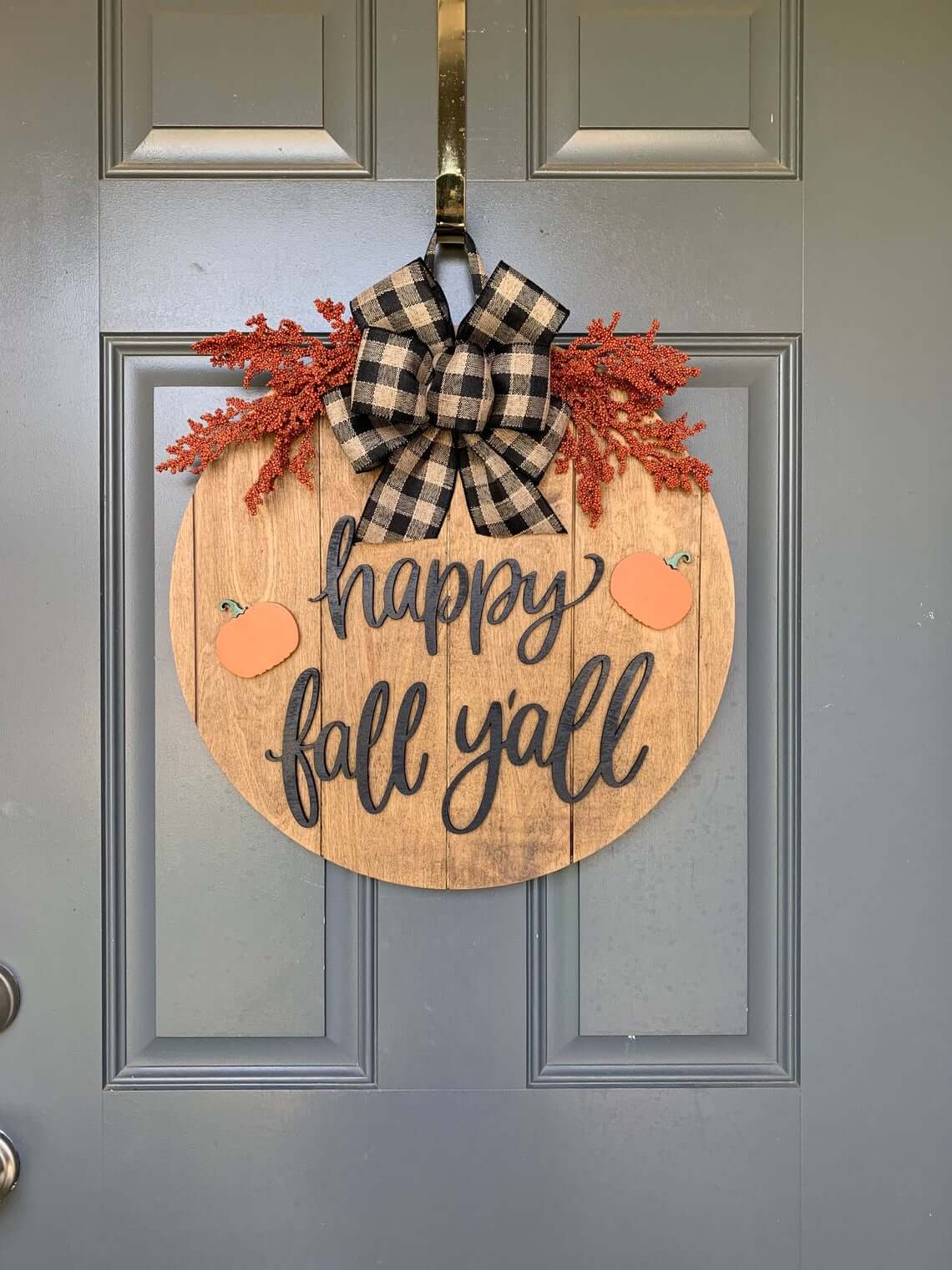 Welcome your country cousins into your home for the holidays with this rustic pumpkin decal. Quite the convenient and simple decoration as it sticks right to your door with little effort. Orange wintergreen leaves and a plaid bow are placed at the top to enhance the loveliness of this simplistic design.
25. Gigantic Garden Wreath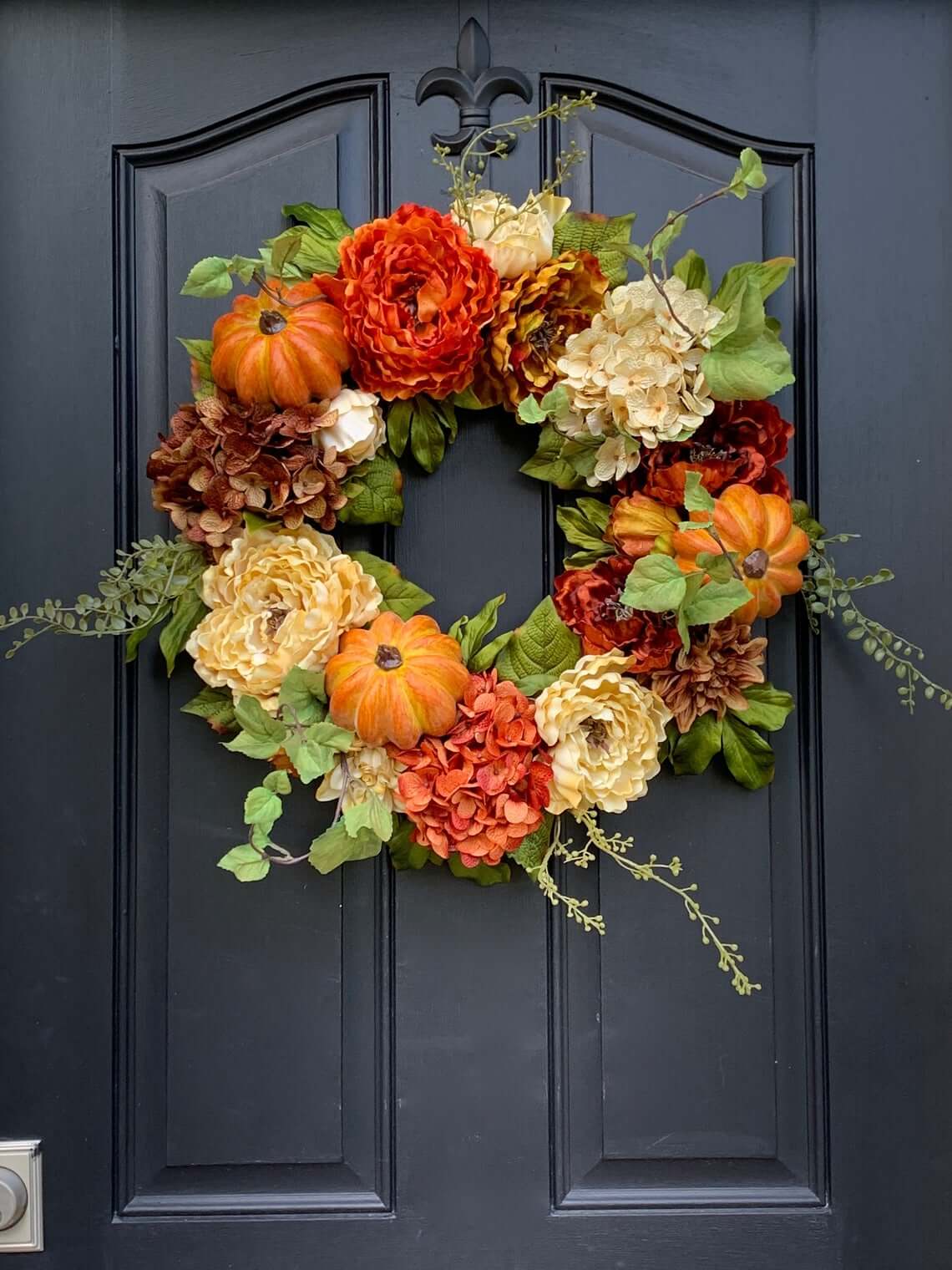 If you love flowers, you are sure to love this amazing door ornament. Super large flowers make up this super fabulous wreath! Flowers of orange, cream, and the green leaves take center stage in this cheerful design. Pumpkins accent the wreath reminding you and your guests that Fall has finally arrived.
26. Sun Shiny Hello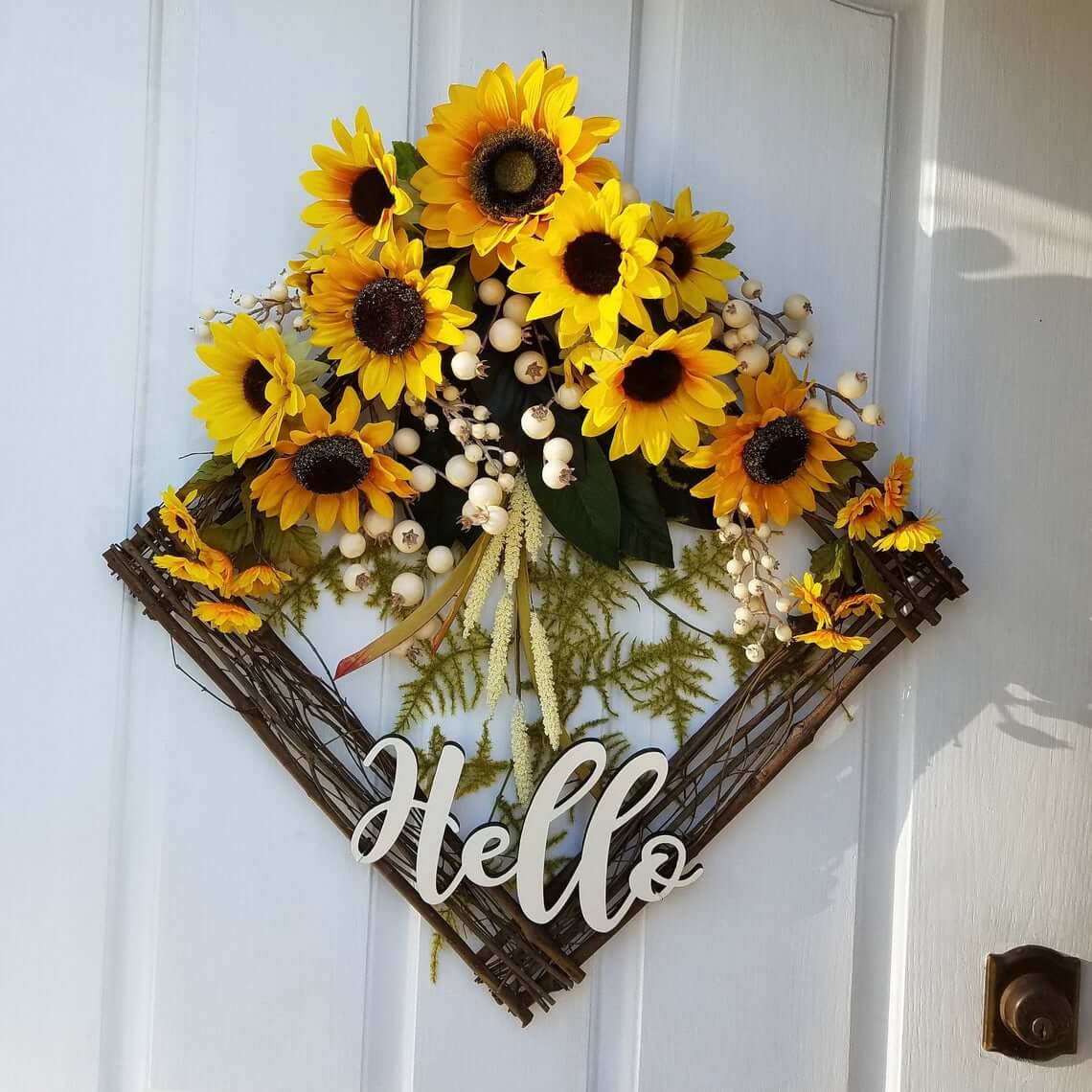 Looking to brighten up someone's day? This gorgeous design will bring a smile to anyone's face. Bright yellow sunflowers sit upon a diamond-shaped wooden wreath giving a burst of energy and vitality to your home's entrance. A welcoming message invites your guests to let their hair down and have a great time for the holidays!
27. Full of Fall Greetings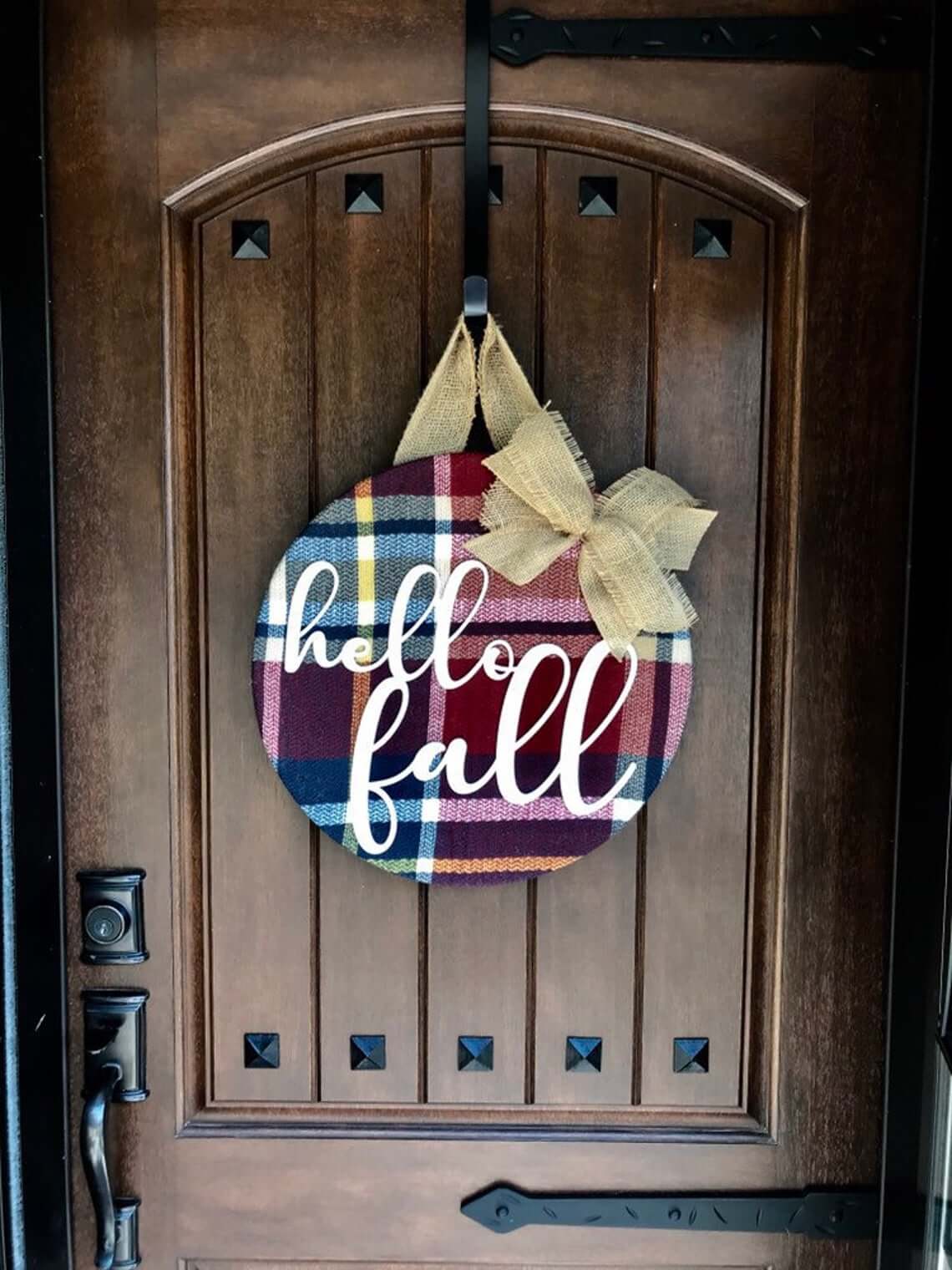 Lovely simplicity is the word that comes to mind when gazing upon this stylish greeting. Graceful tartan design is the base of this holiday sign. A simple greeting welcomes the autumn season and provides a warm feeling to your guests. A grand cream-colored bow accents the top of the design leaving a lasting impression.
28. There's No Place Like Home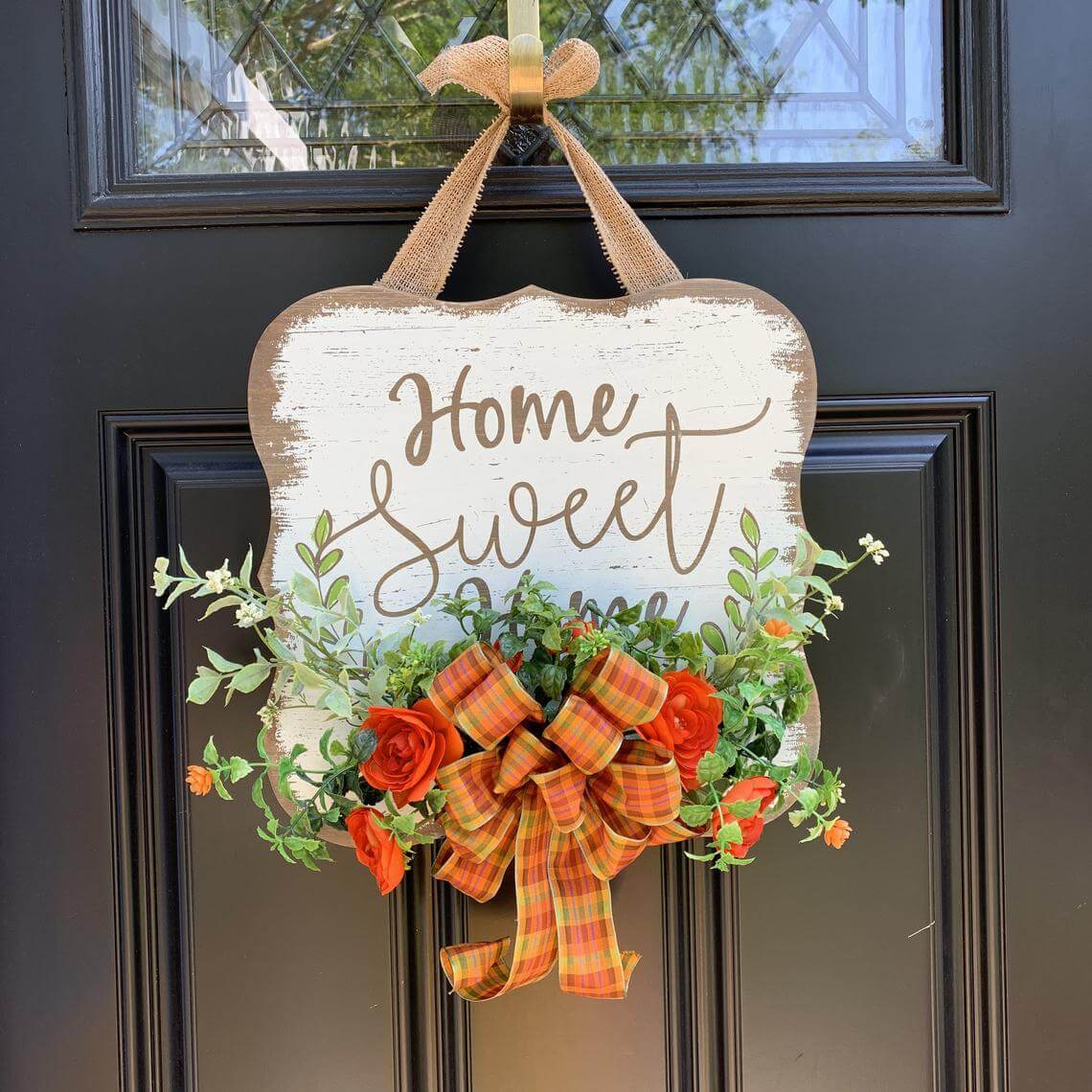 This quaint and humble sign lets your guests know that they have found the comfort of home. A grand orange tartan bow sits atop green leaves and orange flowers providing a warm and open feel to this design. A tan-colored bow at the top finishes this sweet sign.
29. Welcome to the Season Wreath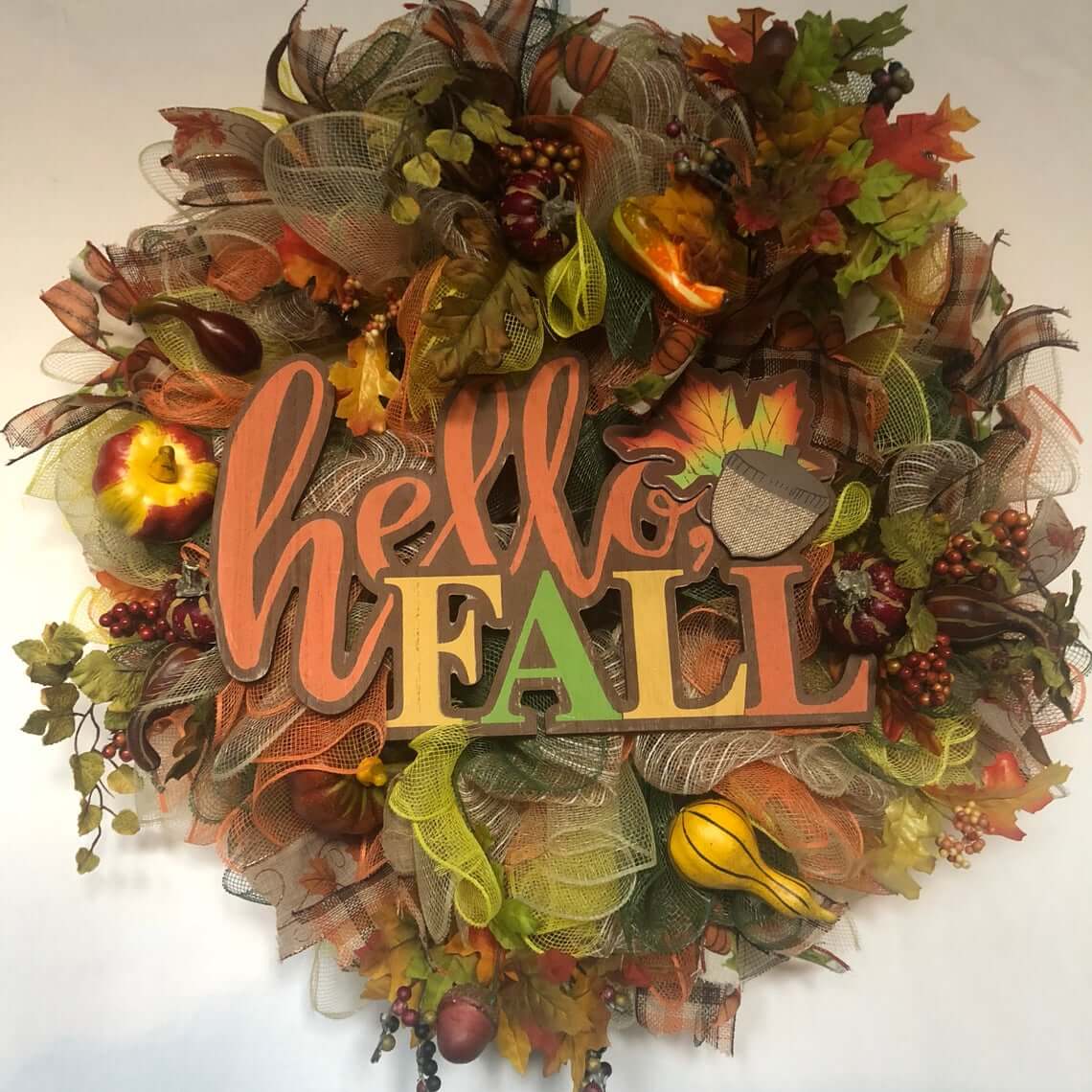 Greet the holiday season with this energetic and bountiful wreath. Everything that autumn represents can be found in this wreath design with enigmatic colors of green, orange, and yellow. Leaves, fruits, and gourds fill this busy design. If you are in love with everything Fall, this is the wreath for you!
30. Orange Pumpkin Passion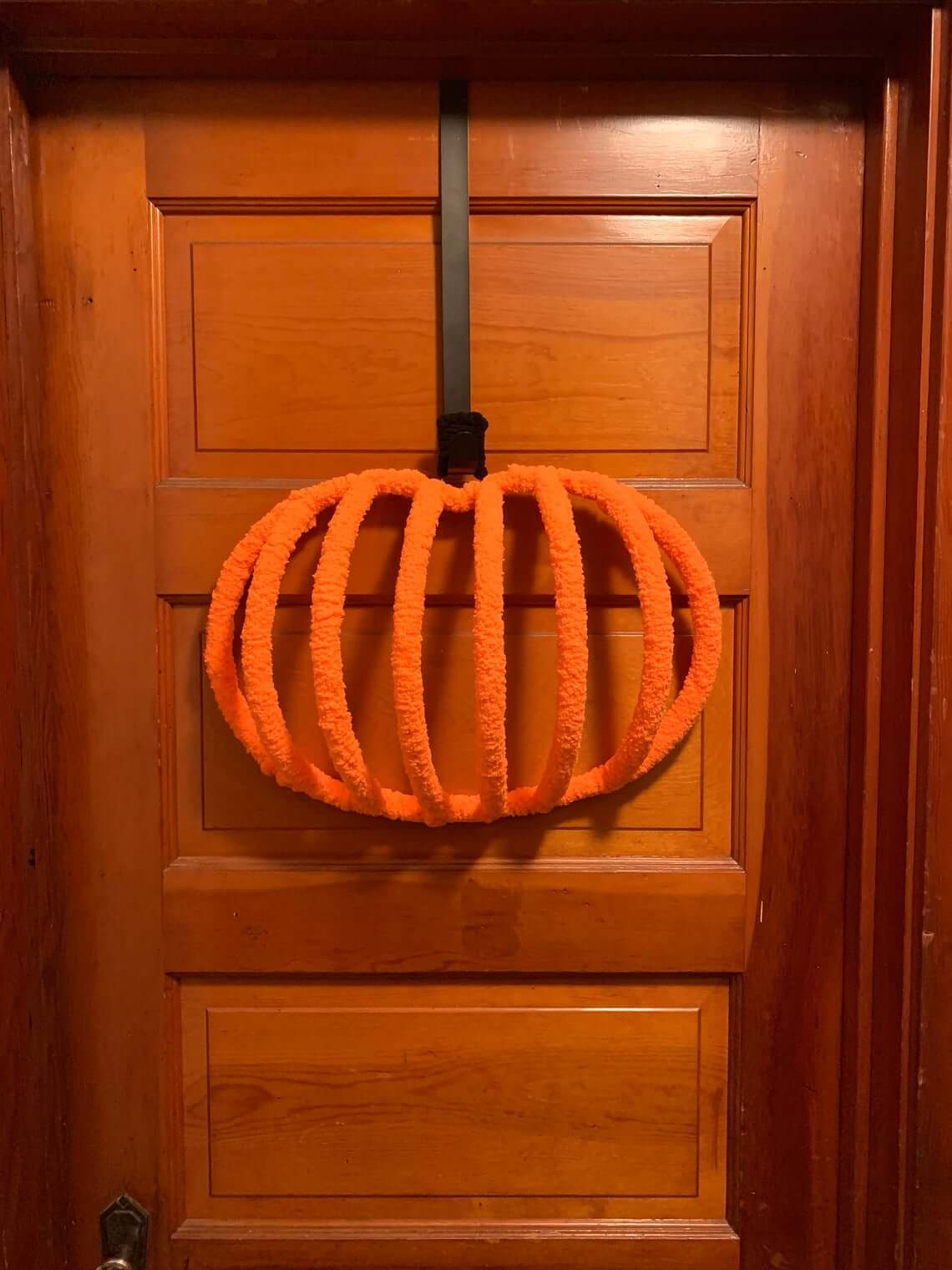 If you have a passion for pumpkins, then this three-dimensional pumpkin design should suit your fancy. The bright orange color makes this door decor stand out from the rest. Its fuzzy texture brings feelings of delight when you touch it. Nothing says Fall like pumpkins making this design a holiday favorite for all!
31. Make it Personal with a Monogram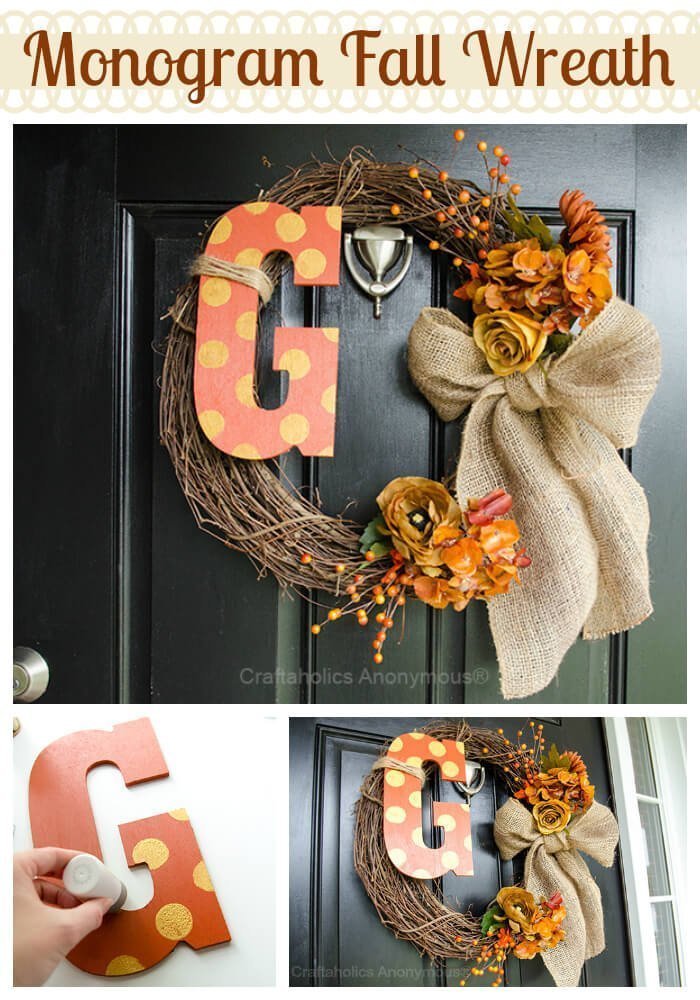 A monogram adds a splash of color and personality to a fall wreath staple. Using natural materials, silk flowers, twine, plus some glue and paint, this wreath showcases the homeowner's name and attitude. Decorating the monogrammed letter in a bright or funky style can add whimsy to a traditional wreath form.
32. Ruffled Burlap with Pretty Petals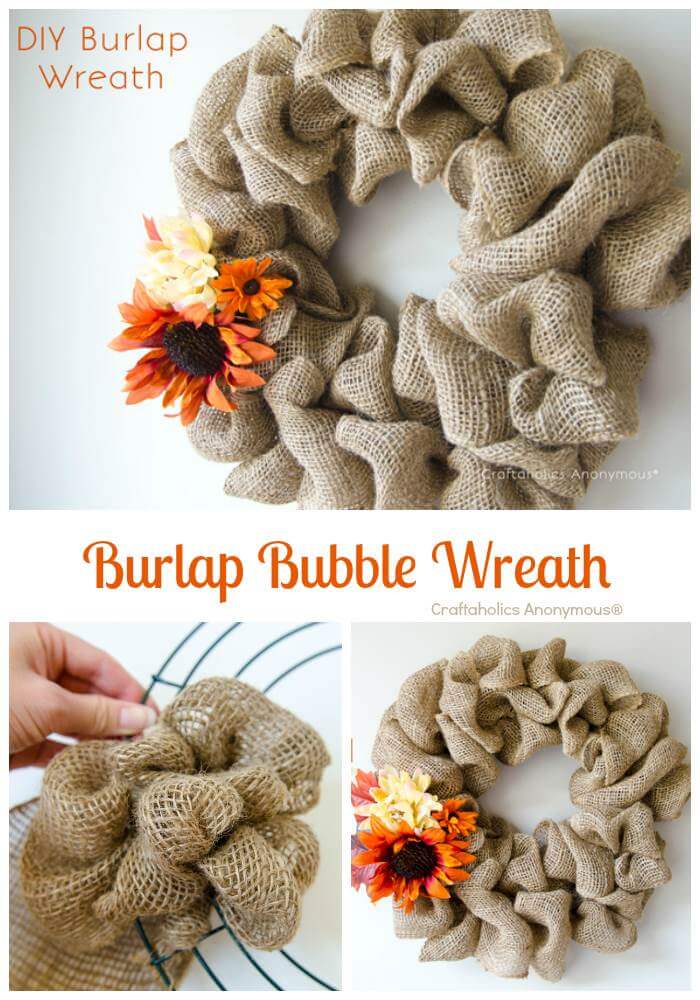 If rustic simplicity is more your style, this burlap wreath fits the bill. By ruffling burlap around a circular form, this departs from a traditional wreath and adds some country flair. Adding some accent flowers in autumn colors doesn't detract from this wreath's understated beauty.
33. Harvest-ful of Mini Pumpkins

Nothing says fall like pumpkins. Taking a full circular form and covering it with reindeer moss will create a natural, bushy look, and attaching craft pumpkins will complete the project. The orange and green colors complement each other well, and the simplicity shines. The decorative ribbon accents the textured nature of this wreath and holds it in place.
34. Southern Charm Cotton Field Inspiration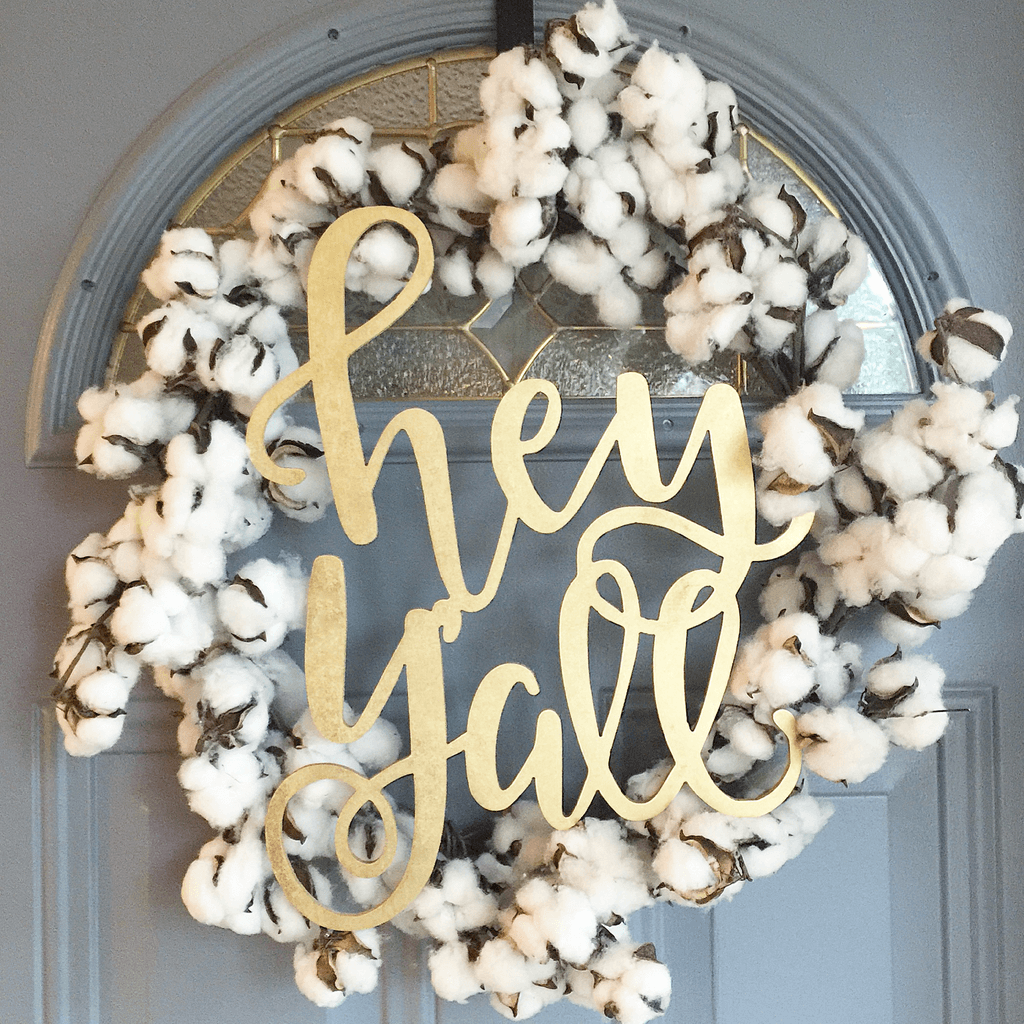 You don't have to be from the South to see the beautiful gentility of this cotton ball wreath. An unconventional choice, this wreath uses puffs of cotton entwined with natural vines to frame cursive hand-lettering. The metallic paint of the letter offsets the airy cotton balls. This wreath would look especially striking against a red or brightly-colored wall or door.
35. Dressed Up Monogram with Corsage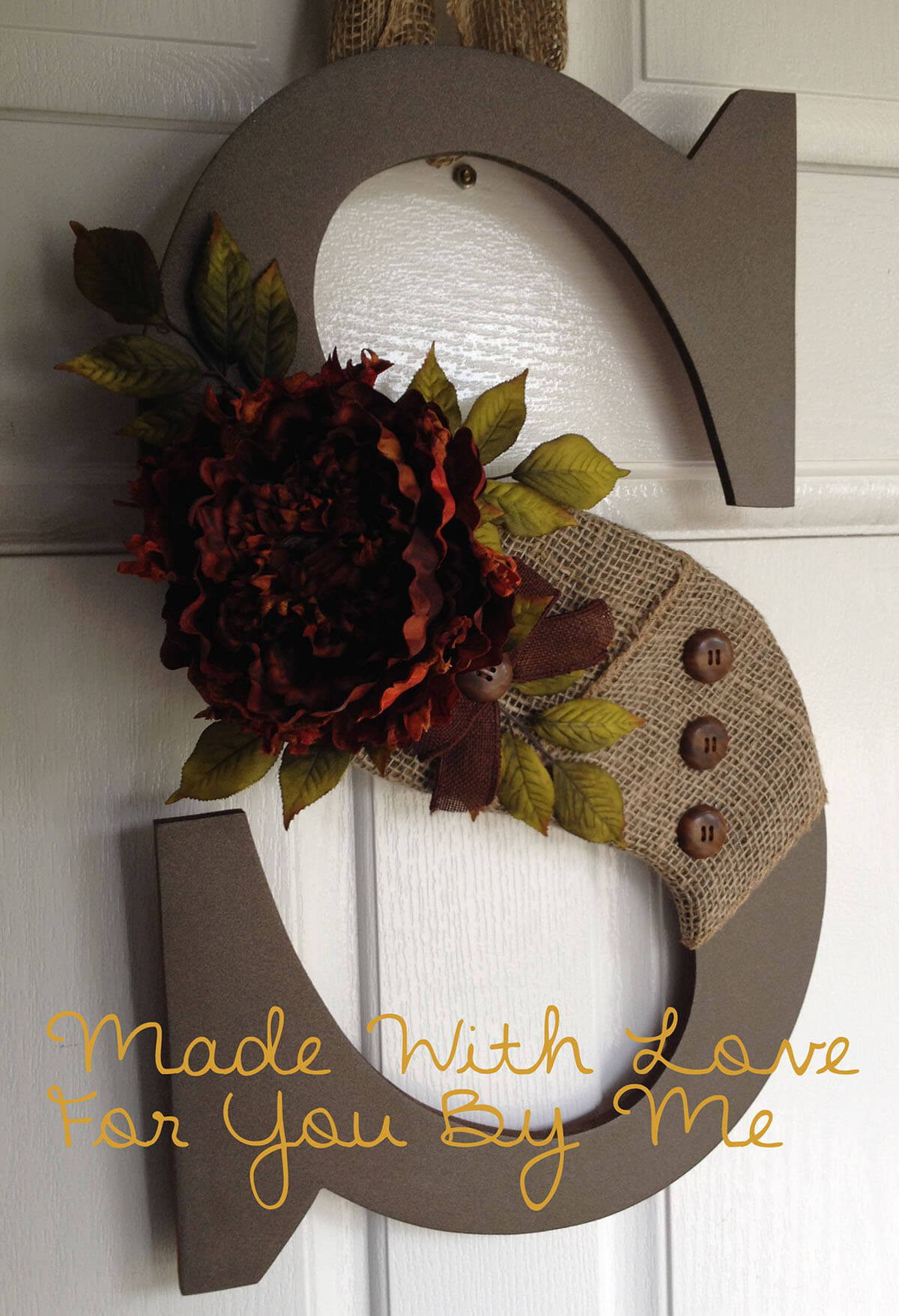 Thinking outside the box, this wreath follows the form of a monogrammed letter. Offsetting the initial letter with a large statement flower and the graceful placement of burlap and buttons, this door decoration adds an elegant autumn touch. because of its hint of cuteness, it also offers a cozy, homey feel while remaining refined and minimal.
36. Sun Burst of Indian Corn
This statement wreath is not for the faint of heart. Bold and colorful, this wreath stays true to simple autumn pleasures of Indian corn and warm, inviting colors. The minimal nature of this wreath is contrasted by the striking sunburst pattern formed by the corn husks and is ideal for those who love natural materials in fall wreath-making. Because of its size and statement, it would best be used in a large space.
37. Rustic Floral Framed Monogram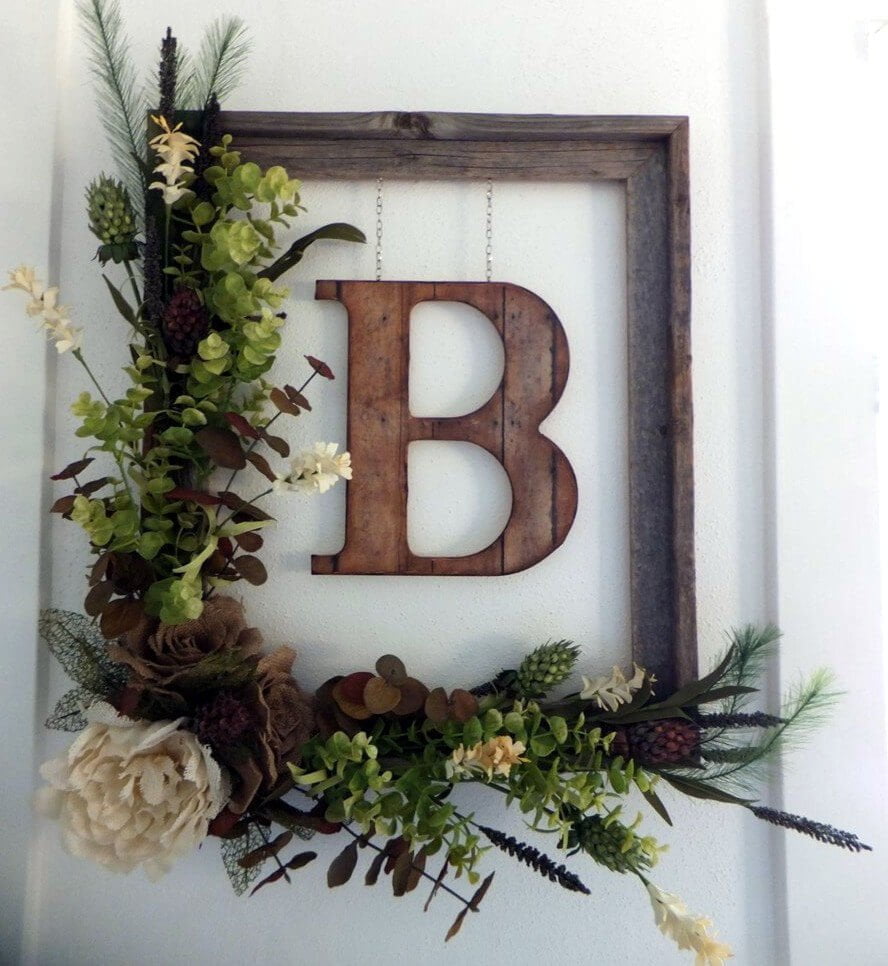 Instead of circular, why not square? Try this modern wreath that mimics a picture frame around a homeowner's monogram. The wooden frame is accented in one corner with natural greenery and small, delicate flowers, making this an elegant but rustic statement for the front door. The extra detail of a wooden initial that mimics hardwood flooring adds to the richness of this design.
38. Fall Glow of Ornamental Colors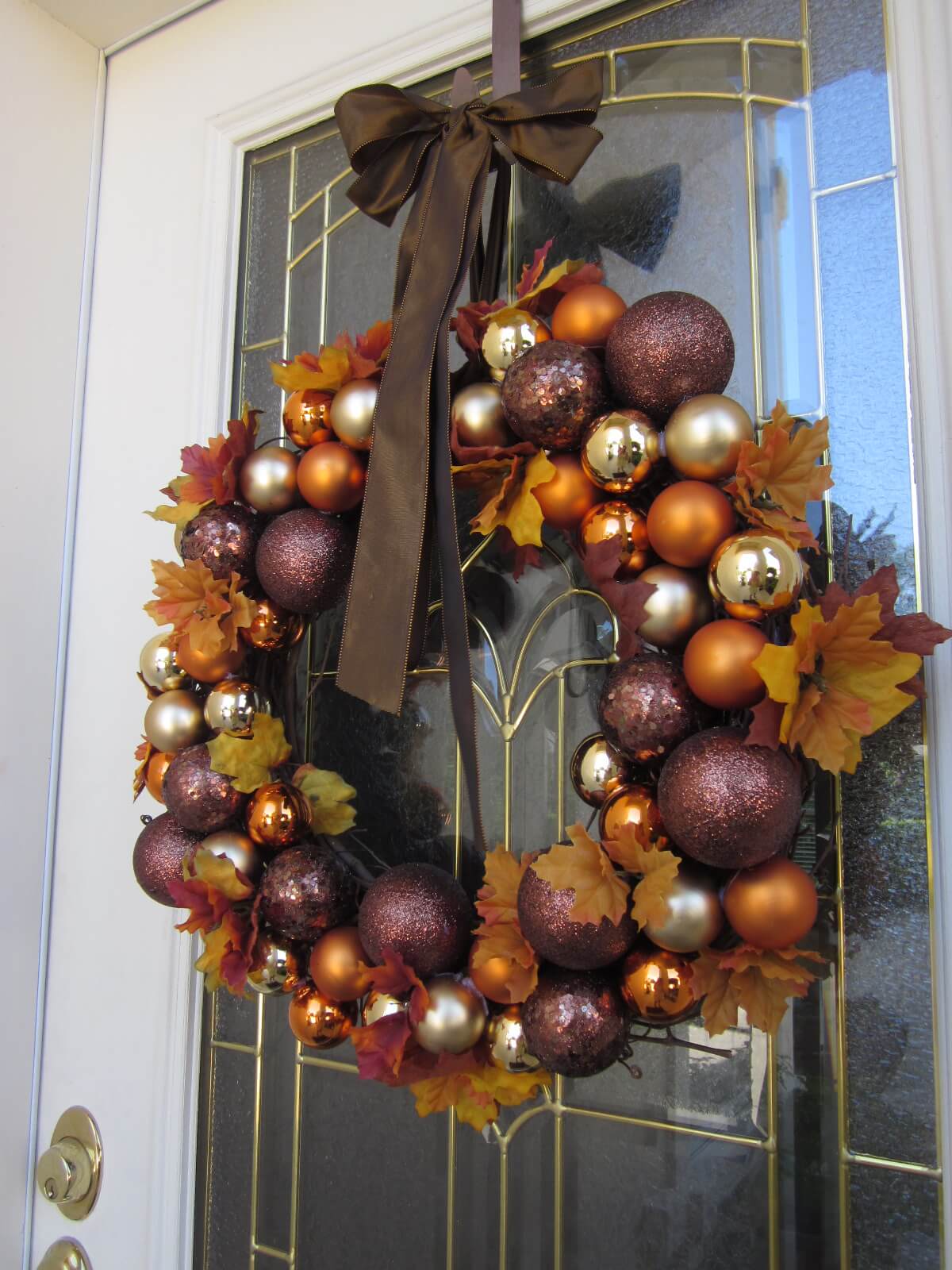 To add some glamour and glitz into fall, try this colorful wreath. It incorporates ornamental balls of varied textures and materials, but the color scheme is kept within the autumn range of rich reds, burnt oranges, and deep golds. Natural fall leaves contrast the smooth, shiny, and glittering ornamental balls, and a brown ribbon adds an understated touch. This wreath manages to be fun but avoids being tacky.
39. Beautiful and Bountiful Hydrangeas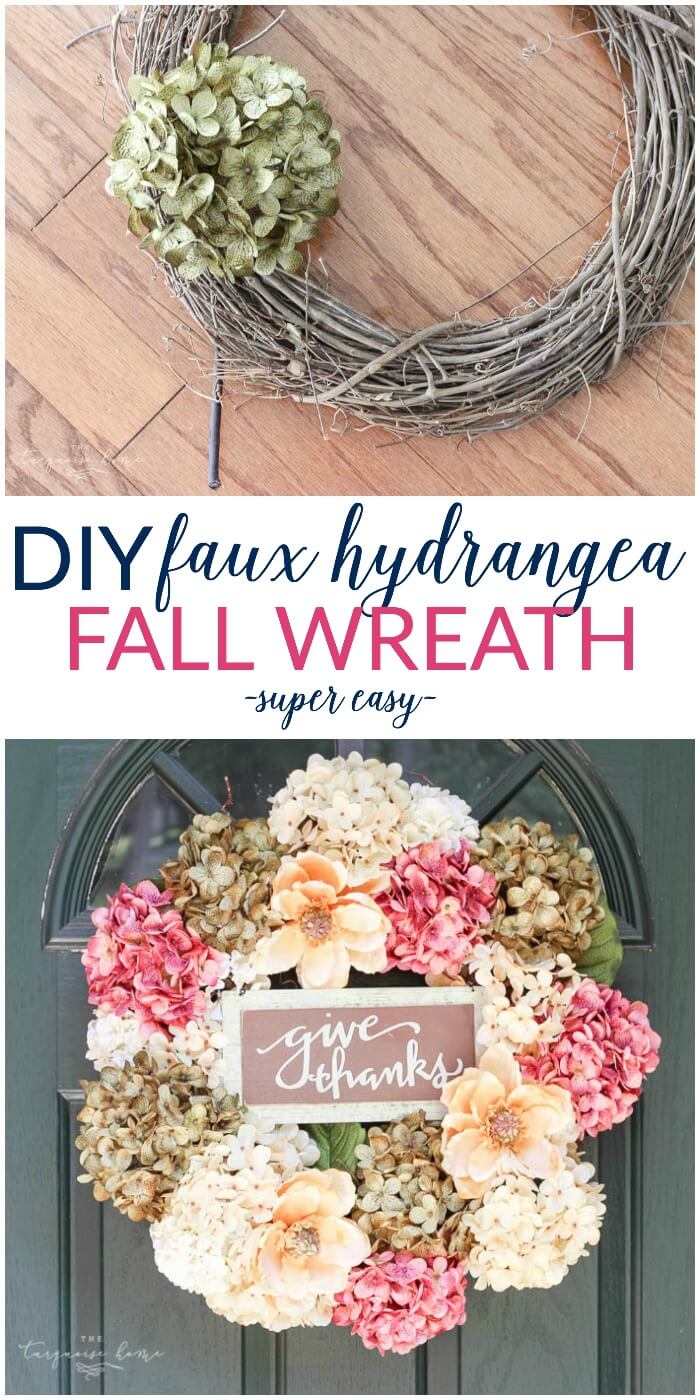 Keep flower power going all year long with this wreath. Using a simple intertwined branch wreath form, hydrangea blooms in several color combinations make for maximum impact. Alternatively, a single large bloom may be added at a strategic angle to an otherwise bare branch wreath. Neutral colors combined with vibrant ones can make this wreath a welcome departure from typically warm autumn color schemes.
40. Pretty Posies on Intertwined Wreath

This wreath is all about texture. Combining an intertwined branch base with berry accents, faux ribbon flowers, and a chalkboard label, this wreath offers a more structured appearance rather than a wreath that might feature more natural or feathery elements. The dark tones of the base contrast with the faux rolled flowers, which give it an autumn feel. This wreath could also be adapted for other seasons and occasions.
41. Candy Corn Colored Ruffles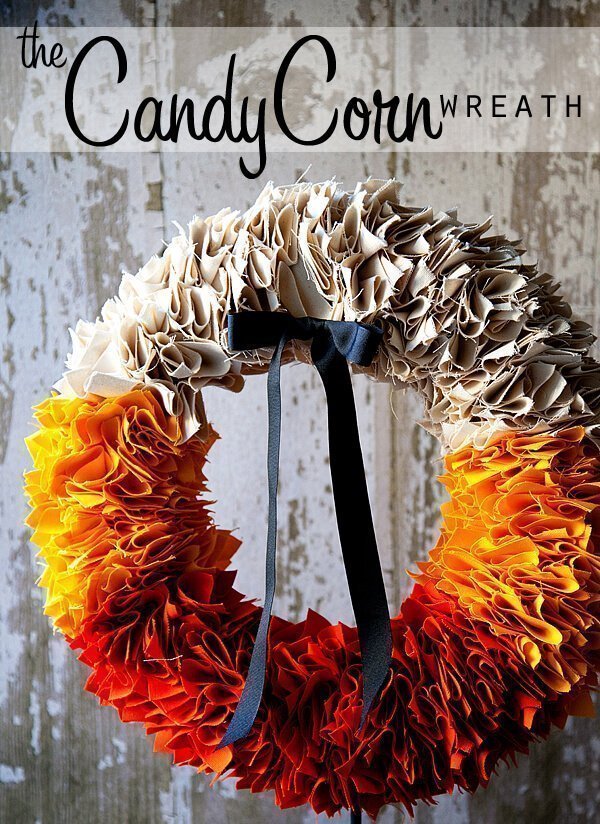 Three striking shades of scrunched muslin fabric gives this wreath its pizzazz. Bold and striking, it calls to mind the traditionally autumn food, candy corn, without falling into cliche. It also keeps things simple by avoiding too many distracting style elements. An elegant navy blue ribbon accents the dazzling texture and colors of this wreath, making it a clever yet classy wreath for the season.
42. Glorious Green Apples with Sunflowers
Nothing says early fall like apple pie or apple cider, and an apple wreath is no different. This wreath offers a departure from traditional fall colors by using the bright green of seasonal apples contrasted with the sunny orange sunflowers, all mounted on an ash color base. Both the fruit and the flowers echo fall in a gentle, natural way, and is ideal for those who prefer lighter, spring color schemes.
43. Simple and Pretty Frilly Fall Flowers

This simple but striking flower wreath combines the magical colors of fall with the beautiful, spiky texture of flower petals. Since it uses a foam form, the blooms are the only visible component of this wreath, alternating bright orange with brown in a friendly but minimalist fashion. This design is simple but classic and is perfect for anyone who wants to add an understated touch of fall to their home.
44. Ornate Fall Framed Monogram with Harvest Embellishments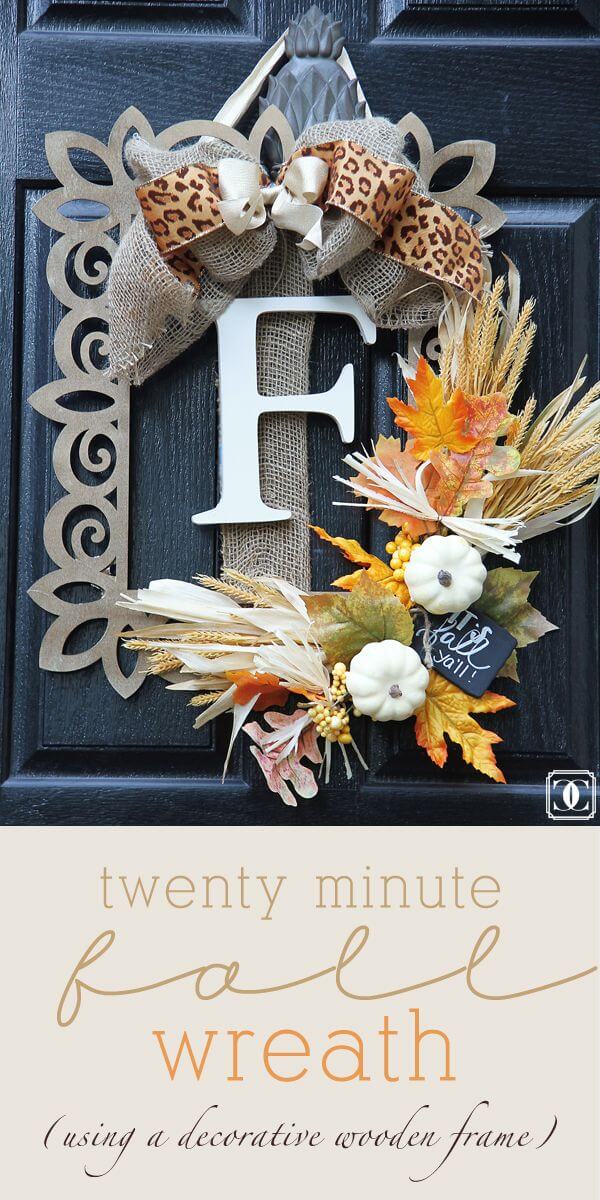 For a more contemporary touch, this framed monogram may fit the bill. Using a wide array of ribbon patterns, textures, and materials, this hodgepodge is tied together by a stately monogram in the middle. Certainly wild while still maintaining an air of traditional themes, this wreath is a modern dream. Family members may also contribute their personality to elements of the wreath, making it even more special.
45. Chalkboard Inspired with Fall Leaves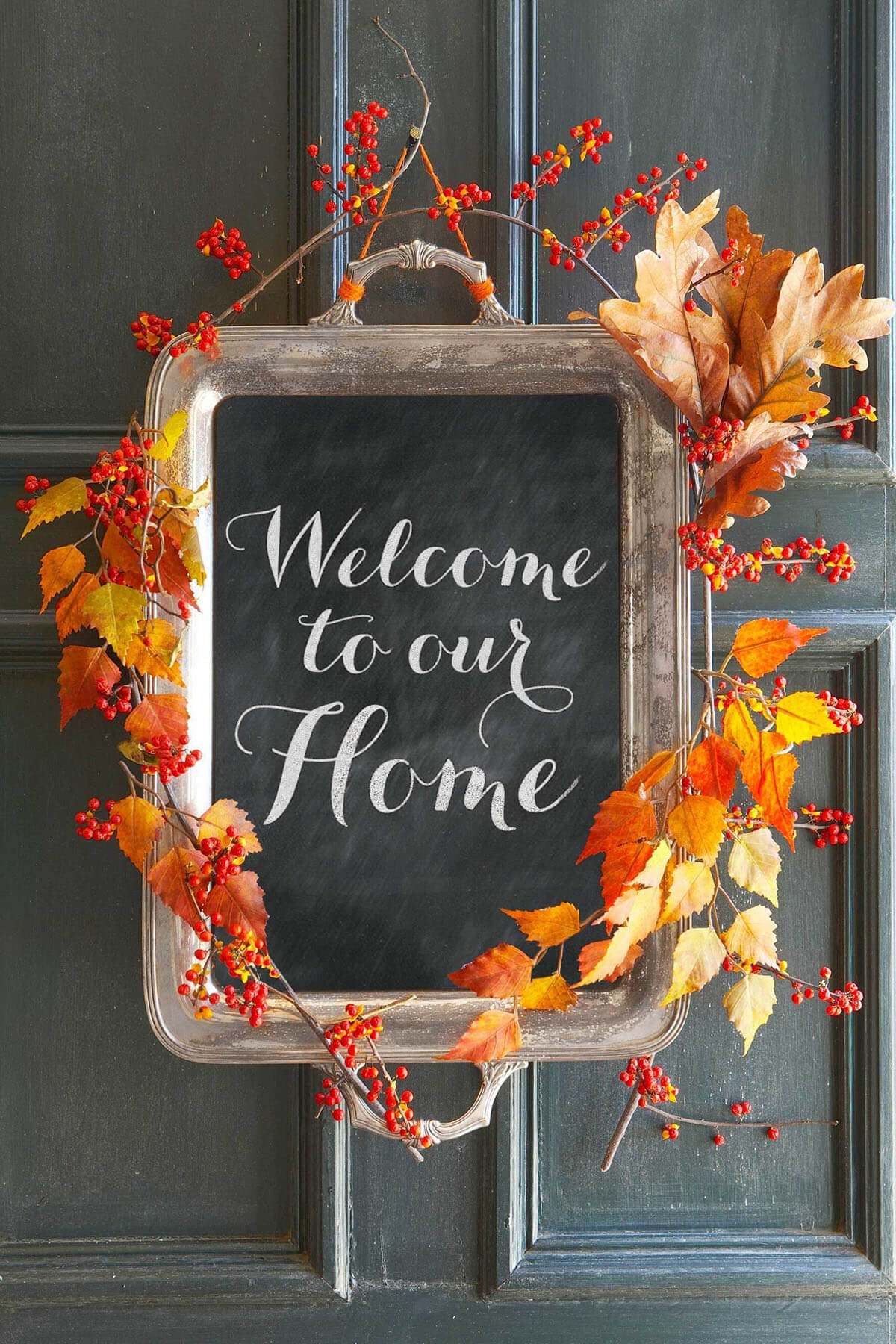 Airy and simple, this wreath offers a sense of windblown leaves around a chalkboard and is perfect for those who love the return of schooldays and homework. The natural flow of the leaf and berry garland twisted around the more formal statement plaque provides a satisfying contrast, and the written message makes all visitors feel welcome without going overboard.
46. Big Beautiful Burlap Bow and Flower Arrangement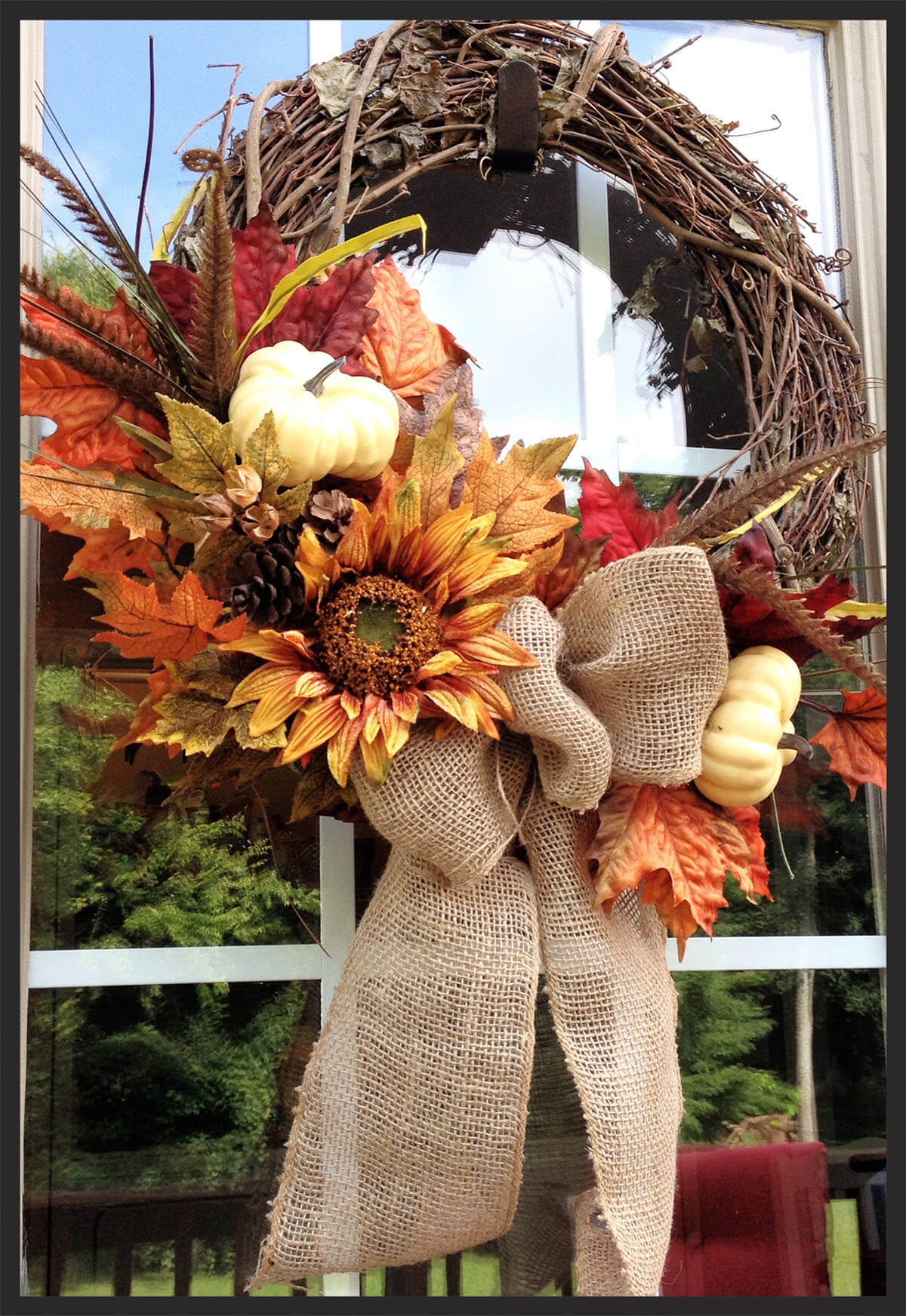 Full and bountiful, this wreath is replete with classic fall wreath elements, such as seasonal flowers, pine cones, and pumpkins. A rustic burlap bow finishes it off, making this wreath an excellent choice for a large entryway in a country or farmhouse setting. Small, feathery accents add to the effect. This is a classic fall wreath design.
47. Layers of Frosted Fall Leaves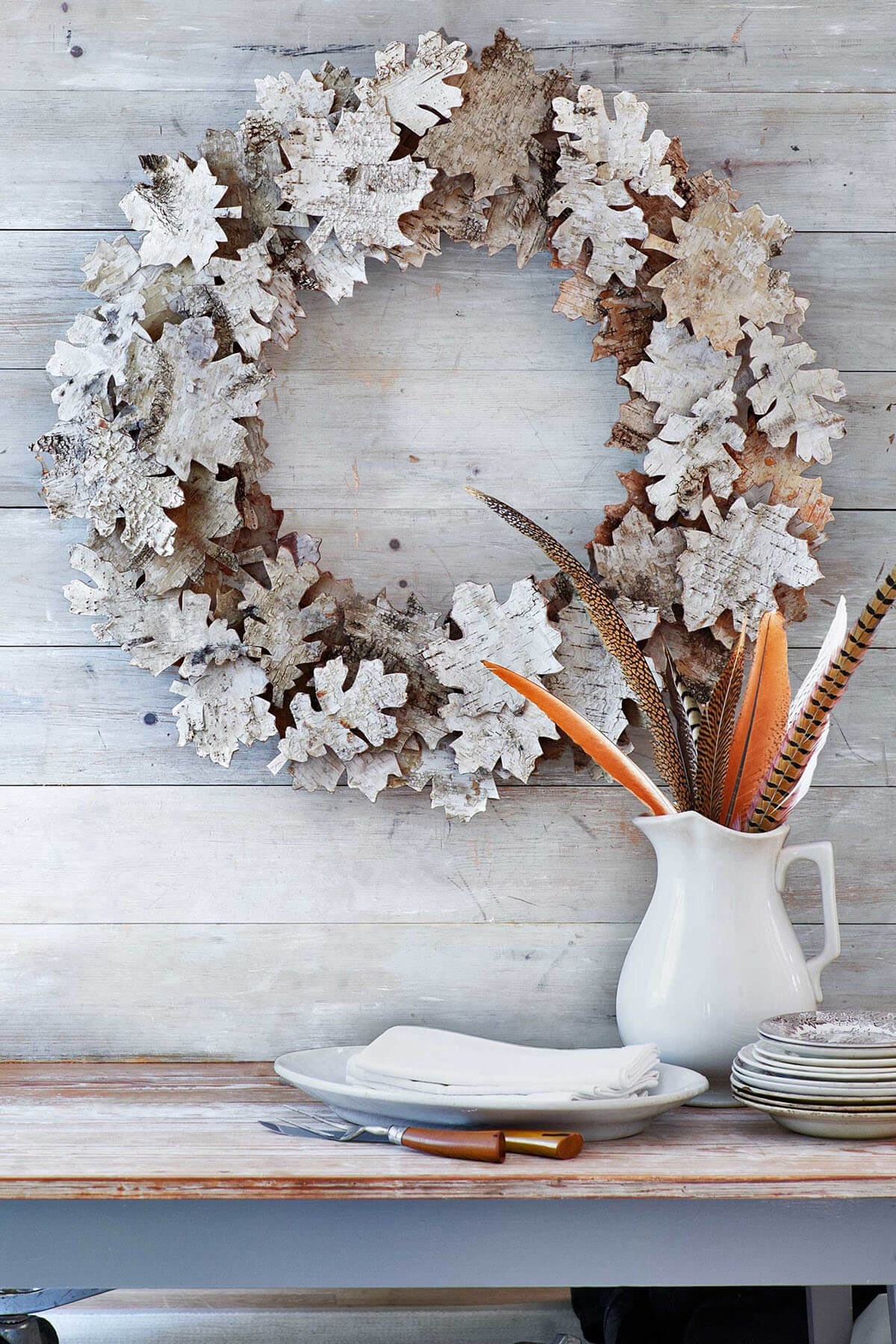 A great late-fall wreath, this design brings whiffs of winter. Frosted leaves set the tone for the colder months, and the frozen texture of the leaves offer a whimsical touch. Great for people who enjoy less-is-more designs, this wreath highlights texture more than colorful or bold elements.
48. Teeny Tiny and Twisted Miniature Pumpkins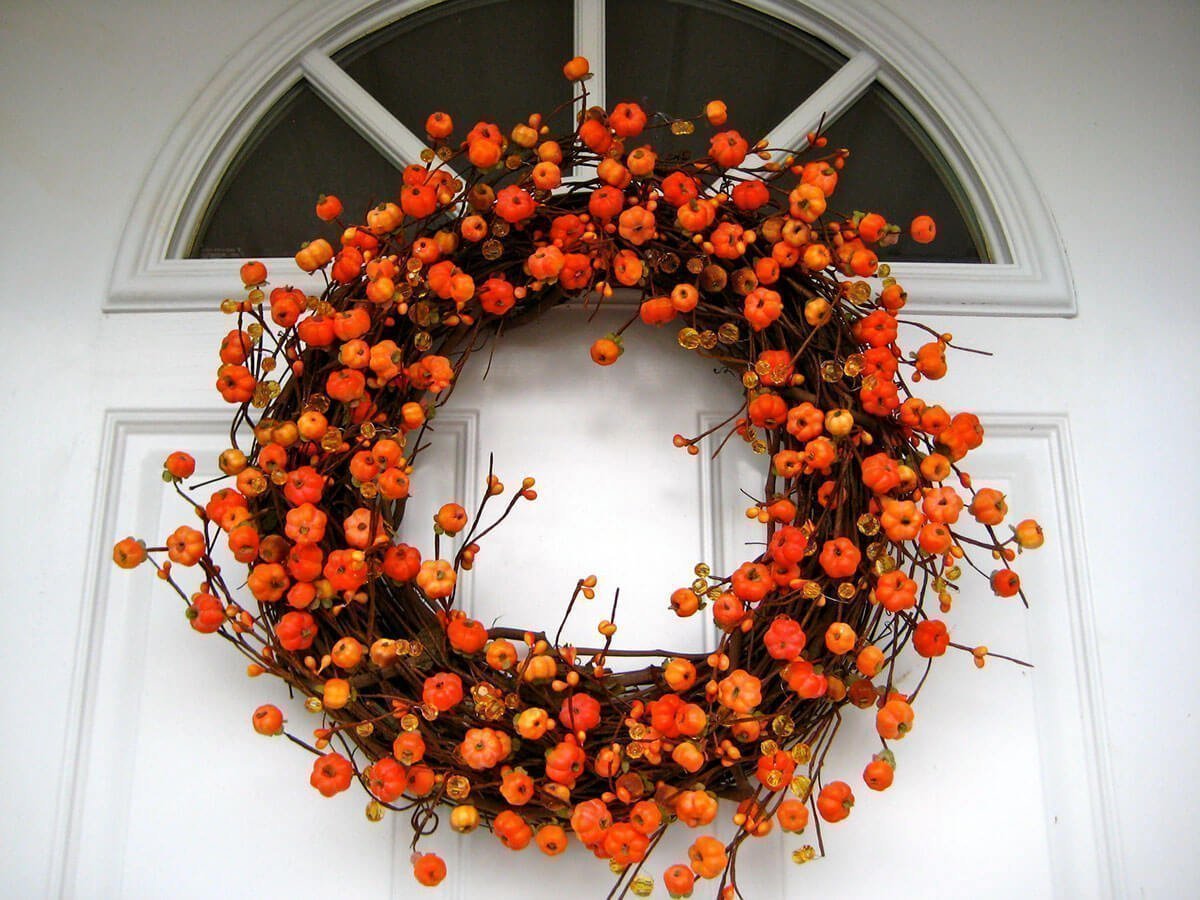 Simple but quirky, this natural wreath is surrounded by a halo of tiny pumpkins, and the color pops. The lack of other elements to this wreath allow the color and structural interest of the pumpkins to stand out and make a statement, and the brightness of their color contrasts beautifully with the rich brown color of the base.
49. Easy Breezy Bohemian Inspired Fall Feathers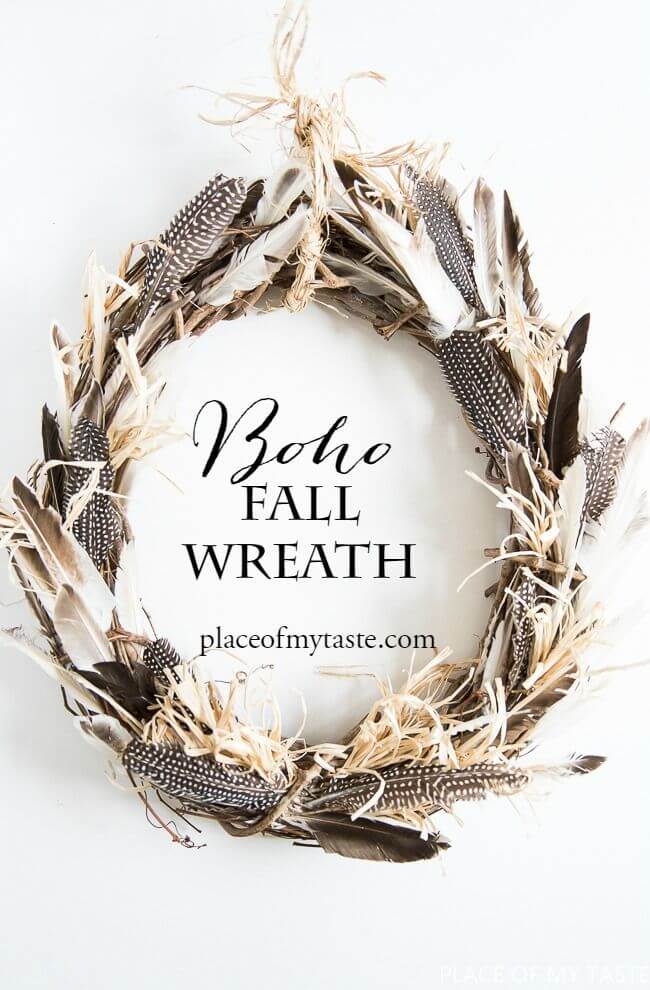 For bird-lovers, this wreath is a dream. It features the feathers of fall birds such as pheasants, and the feathers are interspersed with the textural elements of wheat and other dried plant matter. The colors are neutral, which make it ideal for brightly colored rooms or doorways.
50. Multicolored Clusters of Fall Flowers and Leaves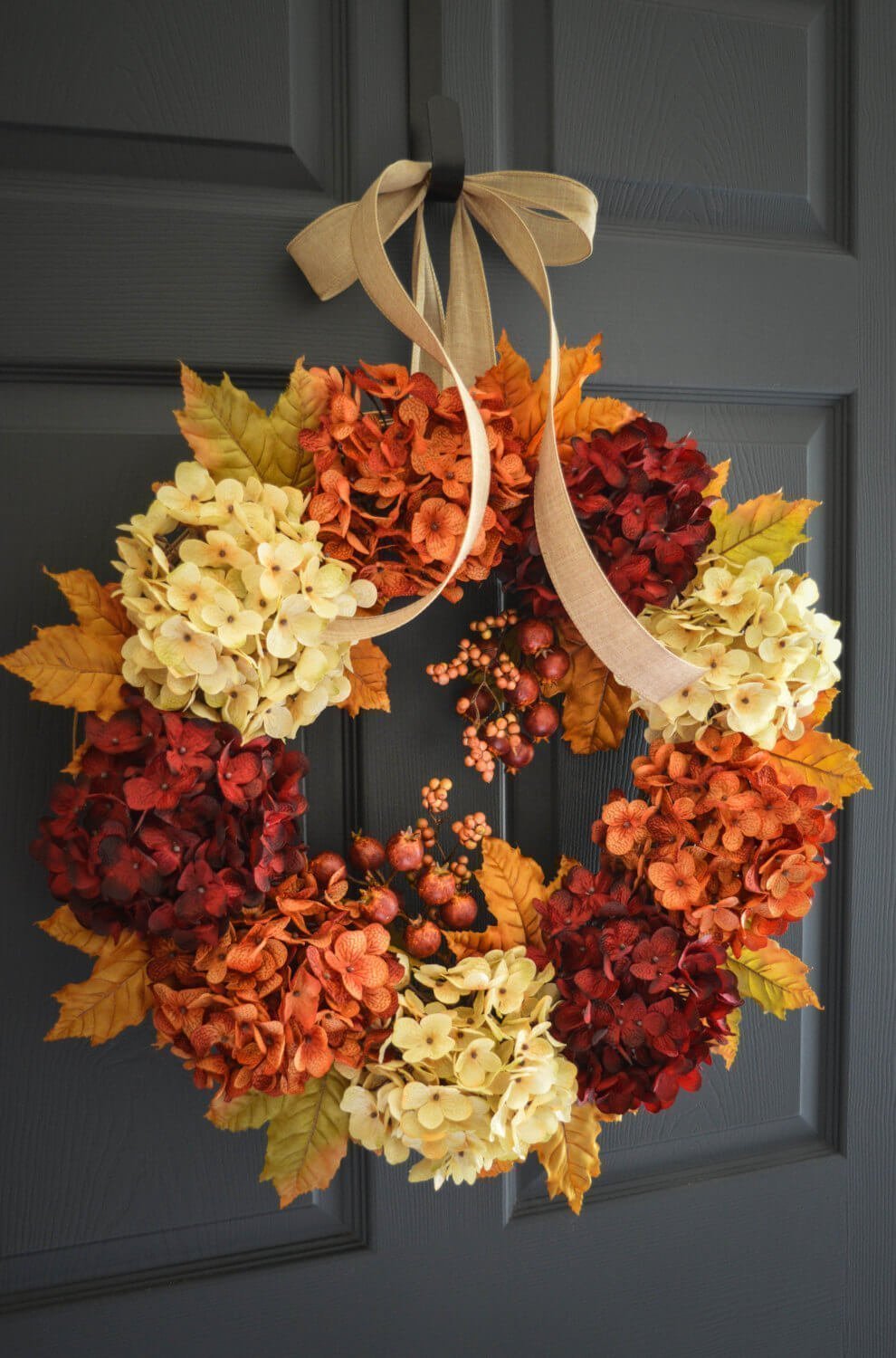 This traditional wreath is not only elegant, it also looks refined. Using flower bunches of alternating colors, there is a diagonal element that bridges the diameter of the wreath in a surprising yet understated way. Green leaves offset the colorful flowers at the edges, and a cream, luxurious ribbon tops off this classy wreath.
51. Nature's Harvest of Pinecones, Leaves, and Berries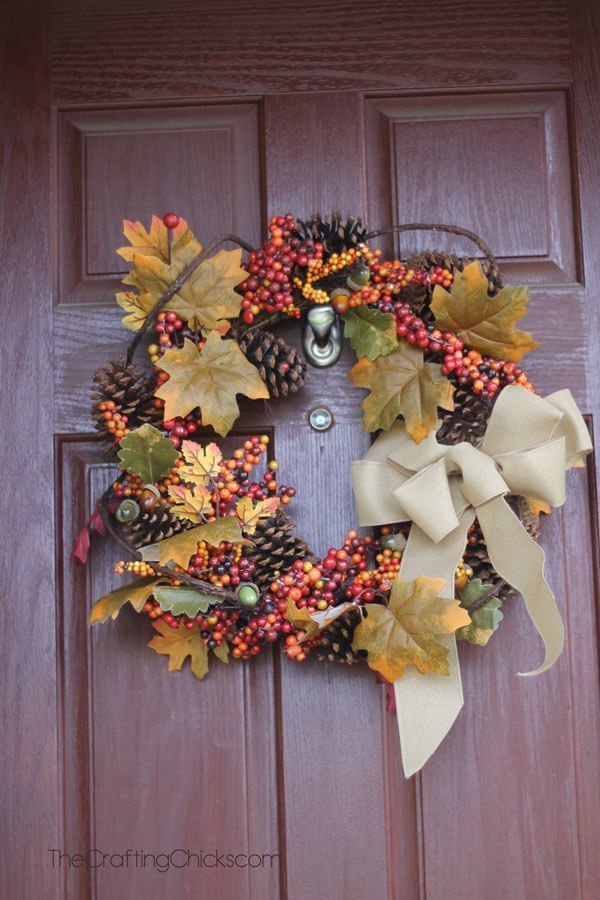 A different take on the natural fall wreath, this design leaves out the flowers and instead showcases the other bounties of the forest floor. The winding base adds a particularly striking design element that echoes the branches of trees and bushes. A bow ties off this wreath in a traditional manner.
52. Fun and Frilly Felt Flowers

This felt wreath uses fabrics to achieve a "flowered" look, and it is most striking as a textural decoration. Several colors are used in this wreath, ranging from warm fall colors to all shades of green. Rather than being a traditional wreath, this design gives a more contemporary appearance that simply suggests autumn.
53. Bold Flowers with Sweet Bunting Detail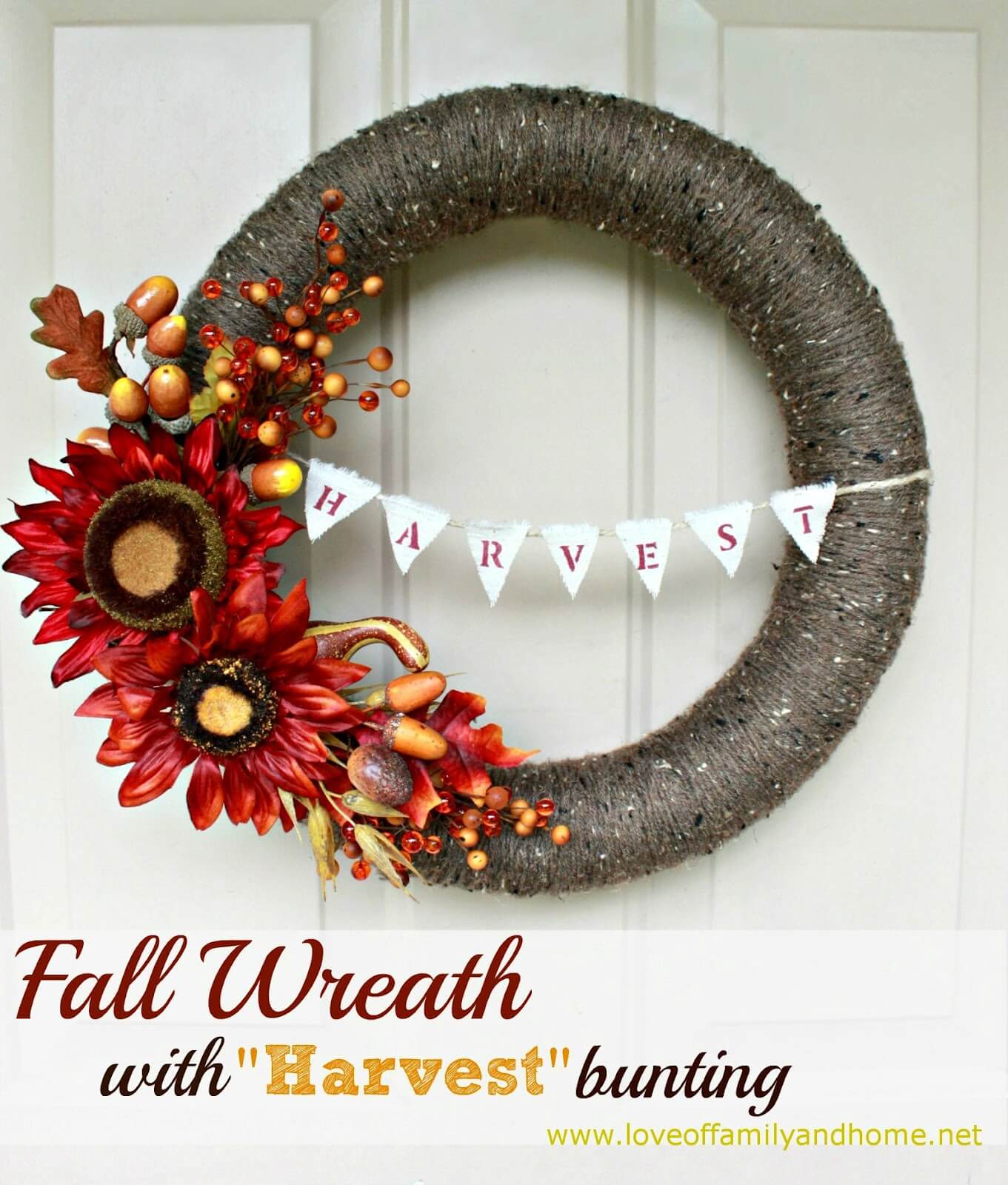 This structured wreath features a neatly wrapped base and large, splashy flowers. A "Harvest" bunting adds interest and makes the whole effect a tad more informal, though the colors used are bright and serious. Overall, this wreath has an understated appearance that combines the cozy with the refined.
54. Flora, Feathers, and Frills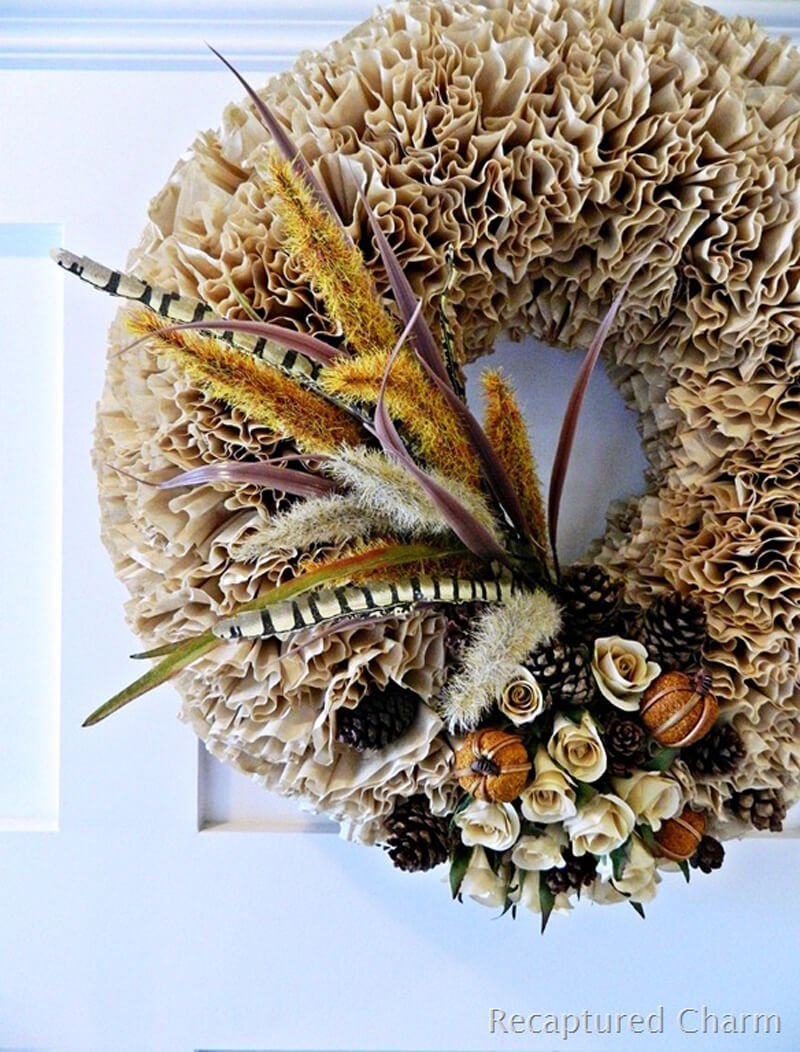 A textural masterpiece, this wreath's scrunched fabric brings to mind the underside of fall mushrooms, and the colorful feathers and pine cones further the idea of a forest celebration. While the fabric creates structural interest, the neutral color allows the wreath to remain understated and elegant, though hints of the country shine through.
55. Bold Front Door Wreath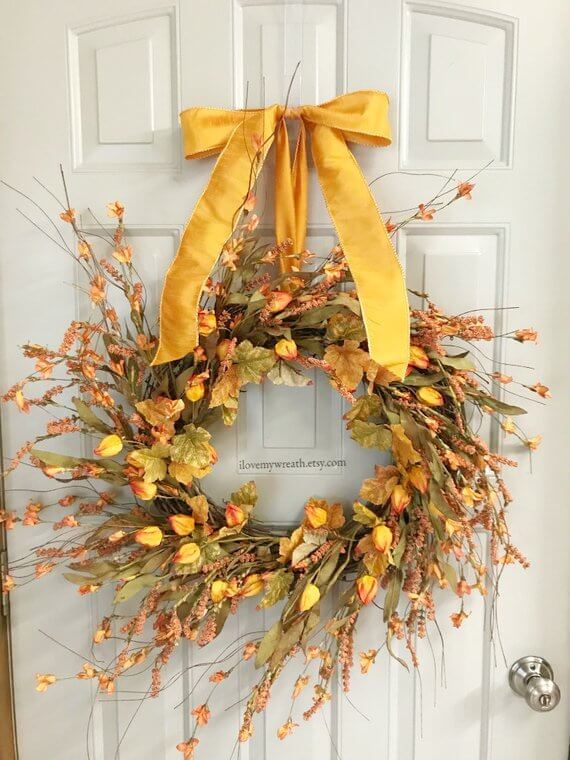 Would you like some elegance for your front door this fall? Try your DIY skills on this beauty! You'll needs a few bushes for this one. Find a fall bush with a variety of wild flowers, leaves, and berries with tons of color and texture. Cut into even pieces and place at an angle starting from the middle of the wreath outwards. The placement gives it a great flowing circular motion. Add a bold ribbon and pat yourself on the back.
56. Handmade Fall Hydrangea Wreath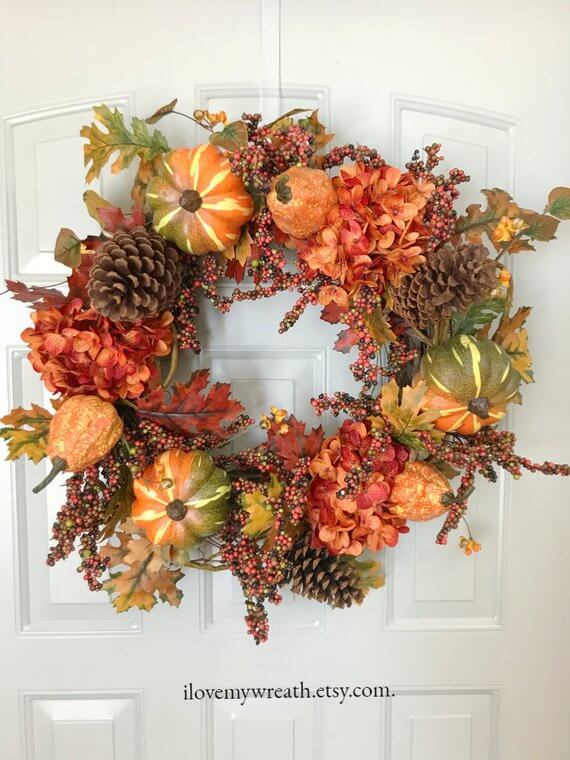 Gather three of everything fall! Three large blooms, two different gourd species and don't forget the pine cones! Now, place each set of three in a triangular shape on a grapevine wreath base, then fill in the spaces with beautiful fall colored leaves and fall berries. Wala! Masterpiece!