The weather starts to turn a little crisper, the sun has that warm glow that makes everything sparkle, and you start to think of all things pumpkin spice – Fall has arrived! The heat of summer is gone for another year and we start to get warm and cozy with our colorful scarves and vests, but also with our home decor. Harvest colors of burnt orange, cranberry reds, and sunset yellows adorn the trees and nature around us. What better way to greet Fall than with some fall door wreath ideas?
25 Ways to Spice Up Your Autumn with Fall Door Wreath Ideas
Ruched and ruffled burlap, giant chrysanthemums with a burst of golden petals, acorns and twine! All you need to do is step outdoors to get some fall decor inspiration along with some fanciful fall door wreath ideas. Bring the kids along for a hike and collect some fall treasures for this diy project. Make it personal and add a monogram to your wreath or keep it simple with some pretty branches and festive ribbon.
There are endless possibilities from rustic rope and twine to bunny-soft pussy willows that you can incorporate into your fall door wreath ideas. Be creative, have fun, and welcome this beloved cinnamon and spice and everything nice season in with a flair!
1. Make it Personal with a Monogram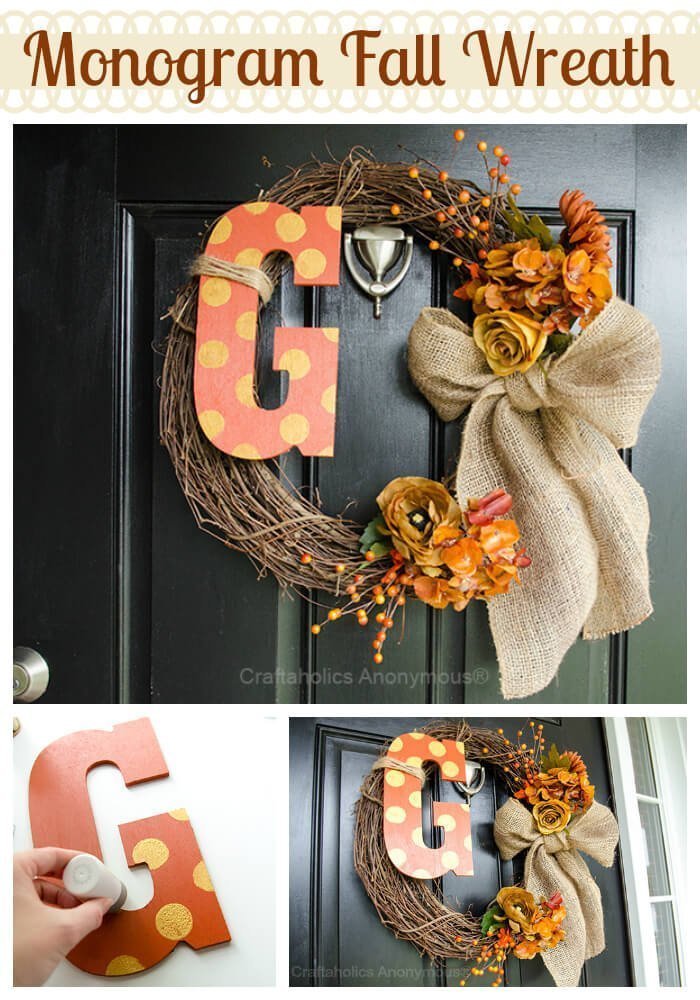 A monogram adds a splash of color and personality to a fall wreath staple. Using natural materials, silk flowers, twine, plus some glue and paint, this wreath showcases the homeowner's name and attitude. Decorating the monogrammed letter in a bright or funky style can add whimsy to a traditional wreath form.
2. Ruffled Burlap with Pretty Petals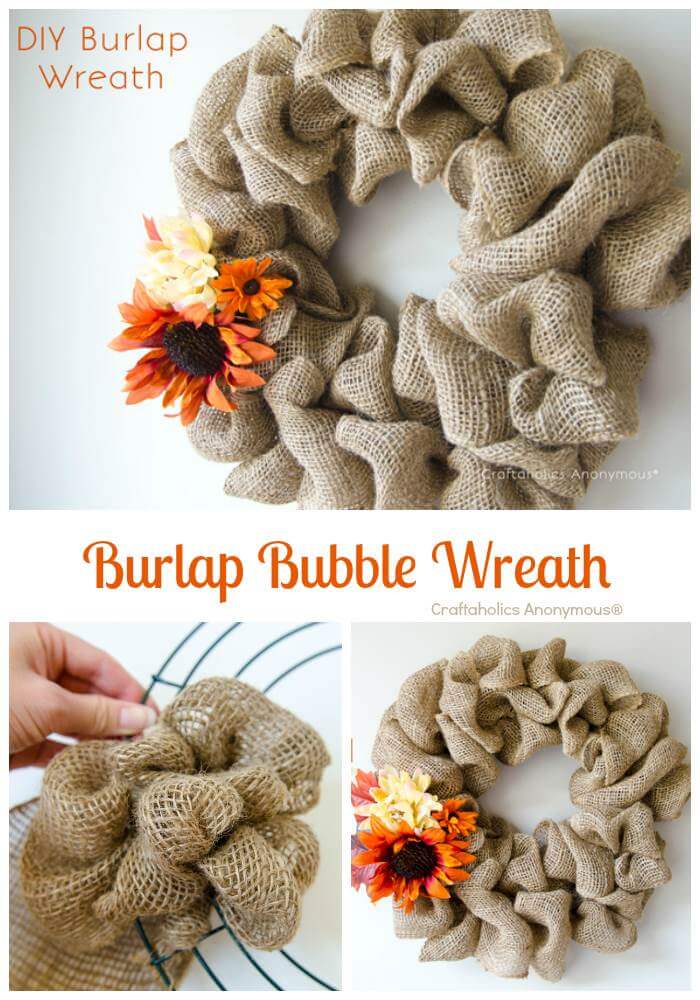 If rustic simplicity is more your style, this burlap wreath fits the bill. By ruffling burlap around a circular form, this departs from a traditional wreath and adds some country flair. Adding some accent flowers in autumn colors doesn't detract from this wreath's understated beauty.
3. Harvest-ful of Mini Pumpkins

Nothing says fall like pumpkins. Taking a full circular form and covering it with reindeer moss will create a natural, bushy look, and attaching craft pumpkins will complete the project. The orange and green colors complement each other well, and the simplicity shines. The decorative ribbon accents the textured nature of this wreath and holds it in place.
4. Southern Charm Cotton Field Inspiration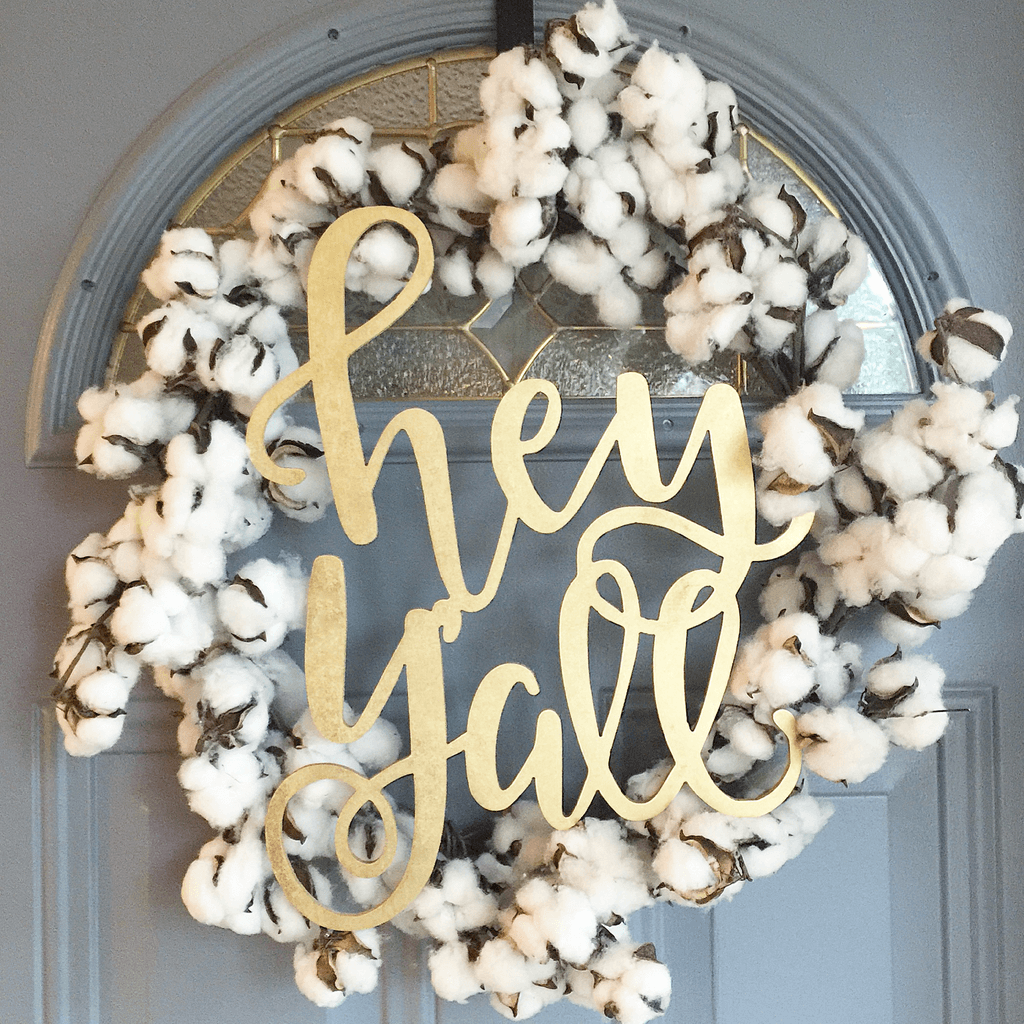 You don't have to be from the South to see the beautiful gentility of this cotton ball wreath. An unconventional choice, this wreath uses puffs of cotton entwined with natural vines to frame cursive hand-lettering. The metallic paint of the letter offsets the airy cotton balls. This wreath would look especially striking against a red or brightly-colored wall or door.
5. Dressed Up Monogram with Corsage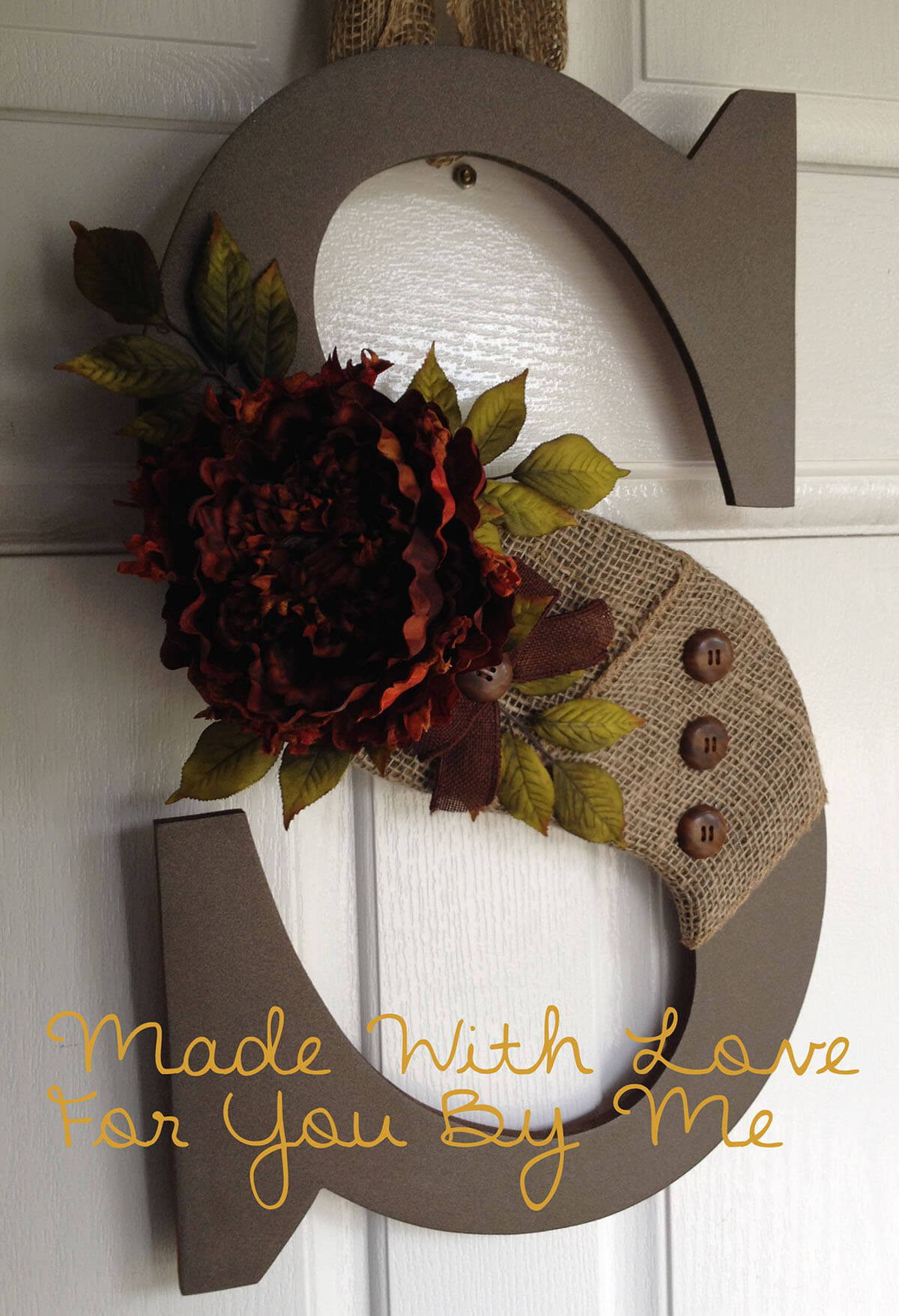 Thinking outside the box, this wreath follows the form of a monogrammed letter. Offsetting the initial letter with a large statement flower and the graceful placement of burlap and buttons, this door decoration adds an elegant autumn touch. because of its hint of cuteness, it also offers a cozy, homey feel while remaining refined and minimal.
6. Sun Burst of Indian Corn
This statement wreath is not for the faint of heart. Bold and colorful, this wreath stays true to simple autumn pleasures of Indian corn and warm, inviting colors. The minimal nature of this wreath is contrasted by the striking sunburst pattern formed by the corn husks and is ideal for those who love natural materials in fall wreath-making. Because of its size and statement, it would best be used in a large space.
7. Rustic Floral Framed Monogram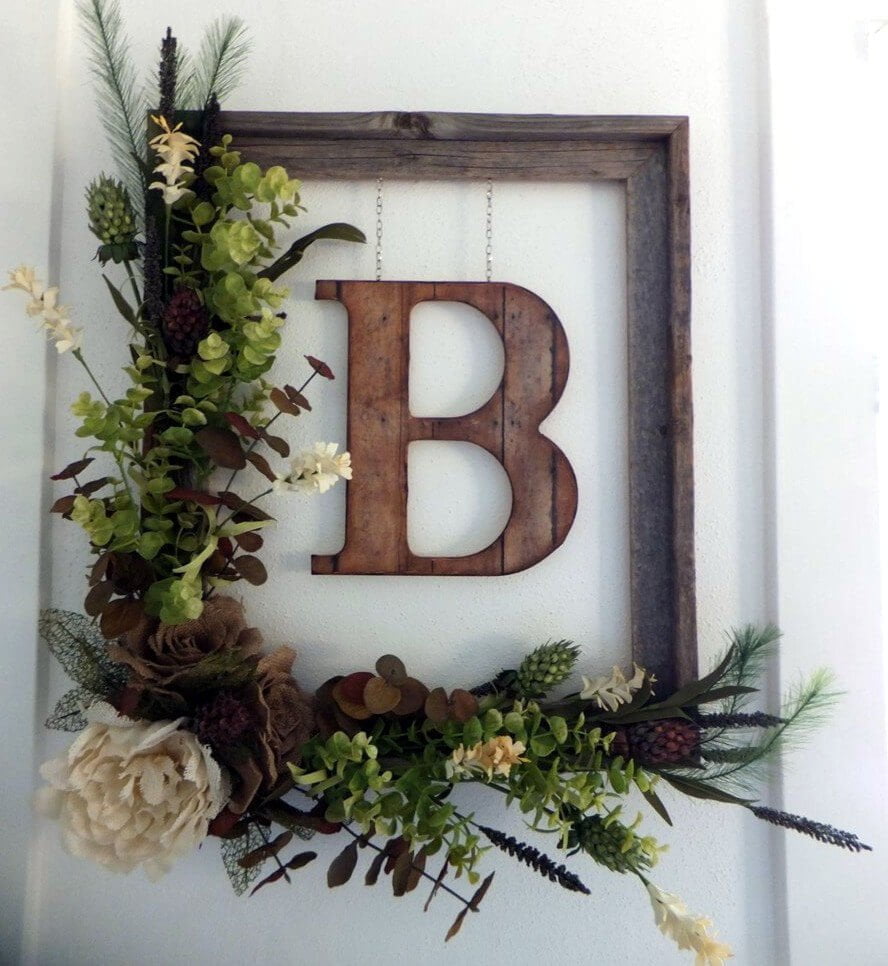 Instead of circular, why not square? Try this modern wreath that mimics a picture frame around a homeowner's monogram. The wooden frame is accented in one corner with natural greenery and small, delicate flowers, making this an elegant but rustic statement for the front door. The extra detail of a wooden initial that mimics hardwood flooring adds to the richness of this design.
8. Fall Glow of Ornamental Colors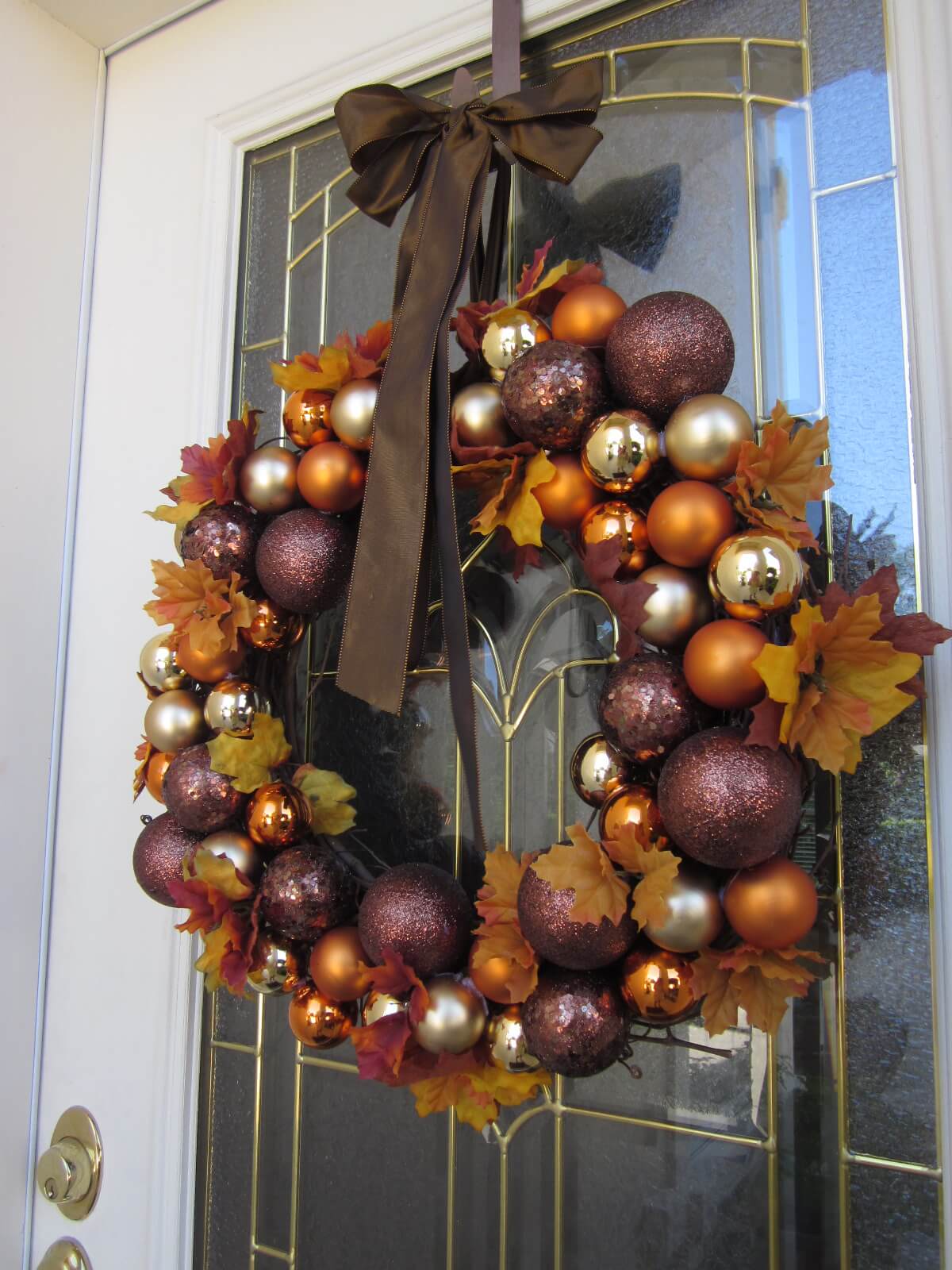 To add some glamour and glitz into fall, try this colorful wreath. It incorporates ornamental balls of varied textures and materials, but the color scheme is kept within the autumn range of rich reds, burnt oranges, and deep golds. Natural fall leaves contrast the smooth, shiny, and glittering ornamental balls, and a brown ribbon adds an understated touch. This wreath manages to be fun but avoids being tacky.
9. Beautiful and Bountiful Hydrangeas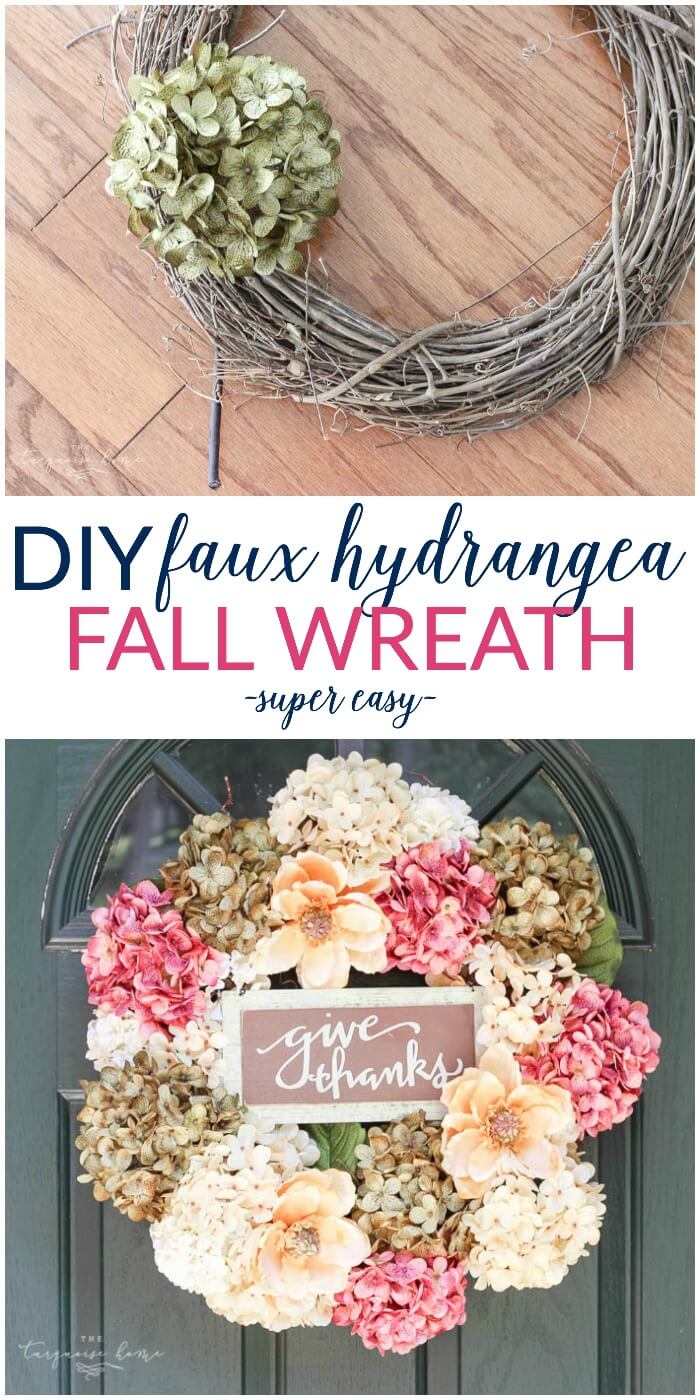 Keep flower power going all year long with this wreath. Using a simple intertwined branch wreath form, hydrangea blooms in several color combinations make for maximum impact. Alternatively, a single large bloom may be added at a strategic angle to an otherwise bare branch wreath. Neutral colors combined with vibrant ones can make this wreath a welcome departure from typically warm autumn color schemes.
10. Pretty Posies on Intertwined Wreath

This wreath is all about texture. Combining an intertwined branch base with berry accents, faux ribbon flowers, and a chalkboard label, this wreath offers a more structured appearance rather than a wreath that might feature more natural or feathery elements. The dark tones of the base contrast with the faux rolled flowers, which give it an autumn feel. This wreath could also be adapted for other seasons and occasions.
11. Candy Corn Colored Ruffles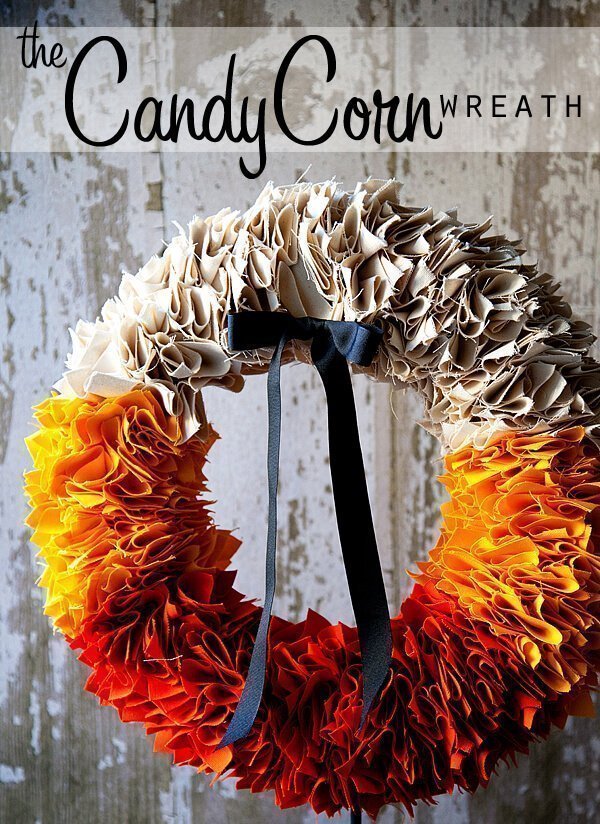 Three striking shades of scrunched muslin fabric gives this wreath its pizzazz. Bold and striking, it calls to mind the traditionally autumn food, candy corn, without falling into cliche. It also keeps things simple by avoiding too many distracting style elements. An elegant navy blue ribbon accents the dazzling texture and colors of this wreath, making it a clever yet classy wreath for the season.
12. Glorious Green Apples with Sunflowers
Nothing says early fall like apple pie or apple cider, and an apple wreath is no different. This wreath offers a departure from traditional fall colors by using the bright green of seasonal apples contrasted with the sunny orange sunflowers, all mounted on an ash color base. Both the fruit and the flowers echo fall in a gentle, natural way, and is ideal for those who prefer lighter, spring color schemes.
13. Simple and Pretty Frilly Fall Flowers

This simple but striking flower wreath combines the magical colors of fall with the beautiful, spiky texture of flower petals. Since it uses a foam form, the blooms are the only visible component of this wreath, alternating bright orange with brown in a friendly but minimalist fashion. This design is simple but classic and is perfect for anyone who wants to add an understated touch of fall to their home.
14. Ornate Fall Framed Monogram with Harvest Embellishments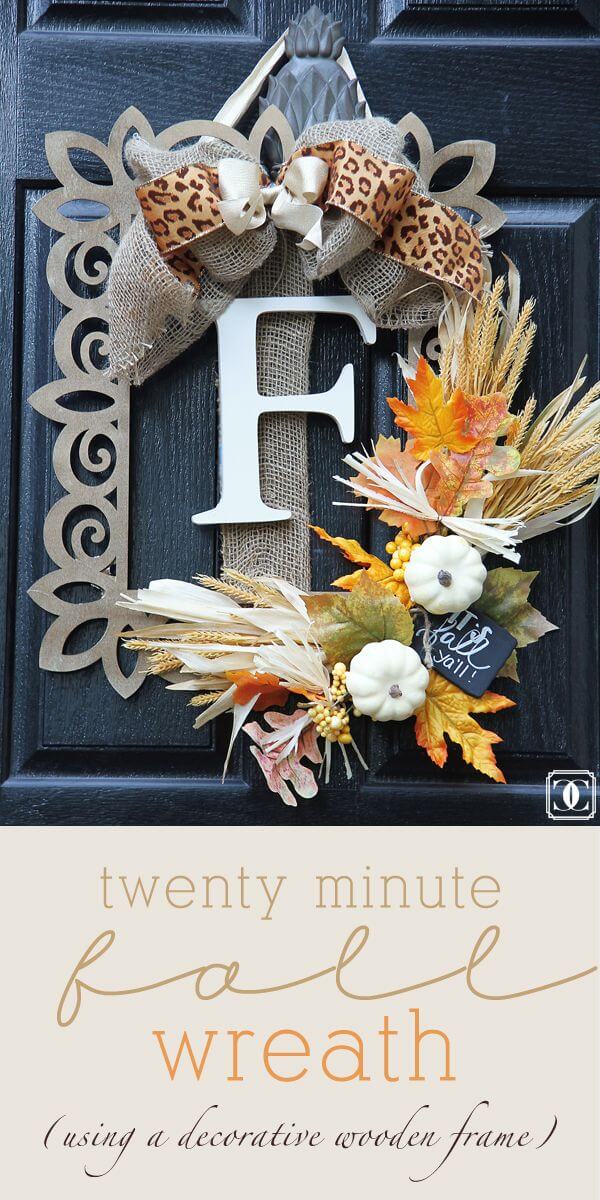 For a more contemporary touch, this framed monogram may fit the bill. Using a wide array of ribbon patterns, textures, and materials, this hodgepodge is tied together by a stately monogram in the middle. Certainly wild while still maintaining an air of traditional themes, this wreath is a modern dream. Family members may also contribute their personality to elements of the wreath, making it even more special.
16. Chalkboard Inspired with Fall Leaves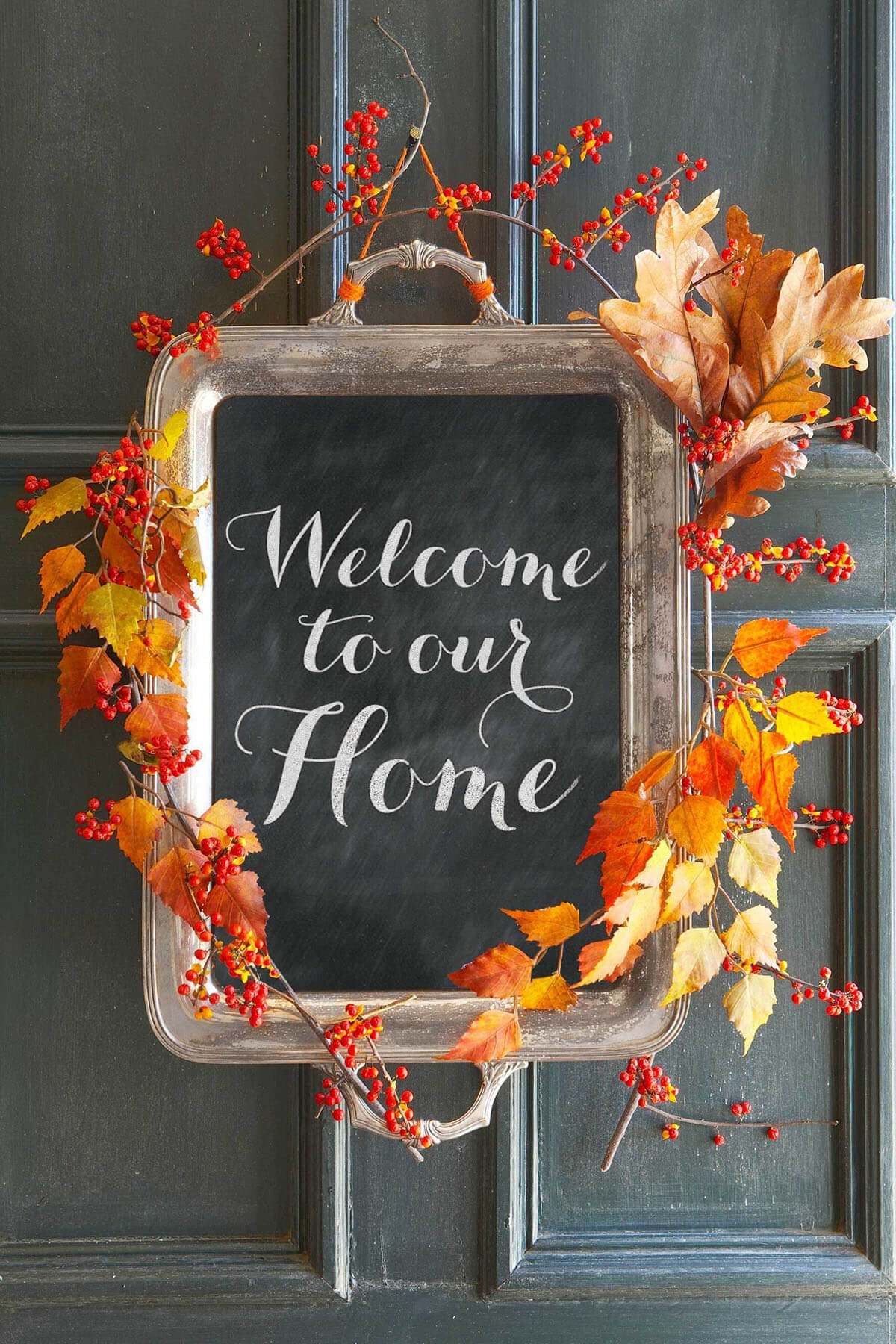 Airy and simple, this wreath offers a sense of windblown leaves around a chalkboard and is perfect for those who love the return of schooldays and homework. The natural flow of the leaf and berry garland twisted around the more formal statement plaque provides a satisfying contrast, and the written message makes all visitors feel welcome without going overboard.
17. Big Beautiful Burlap Bow and Flower Arrangement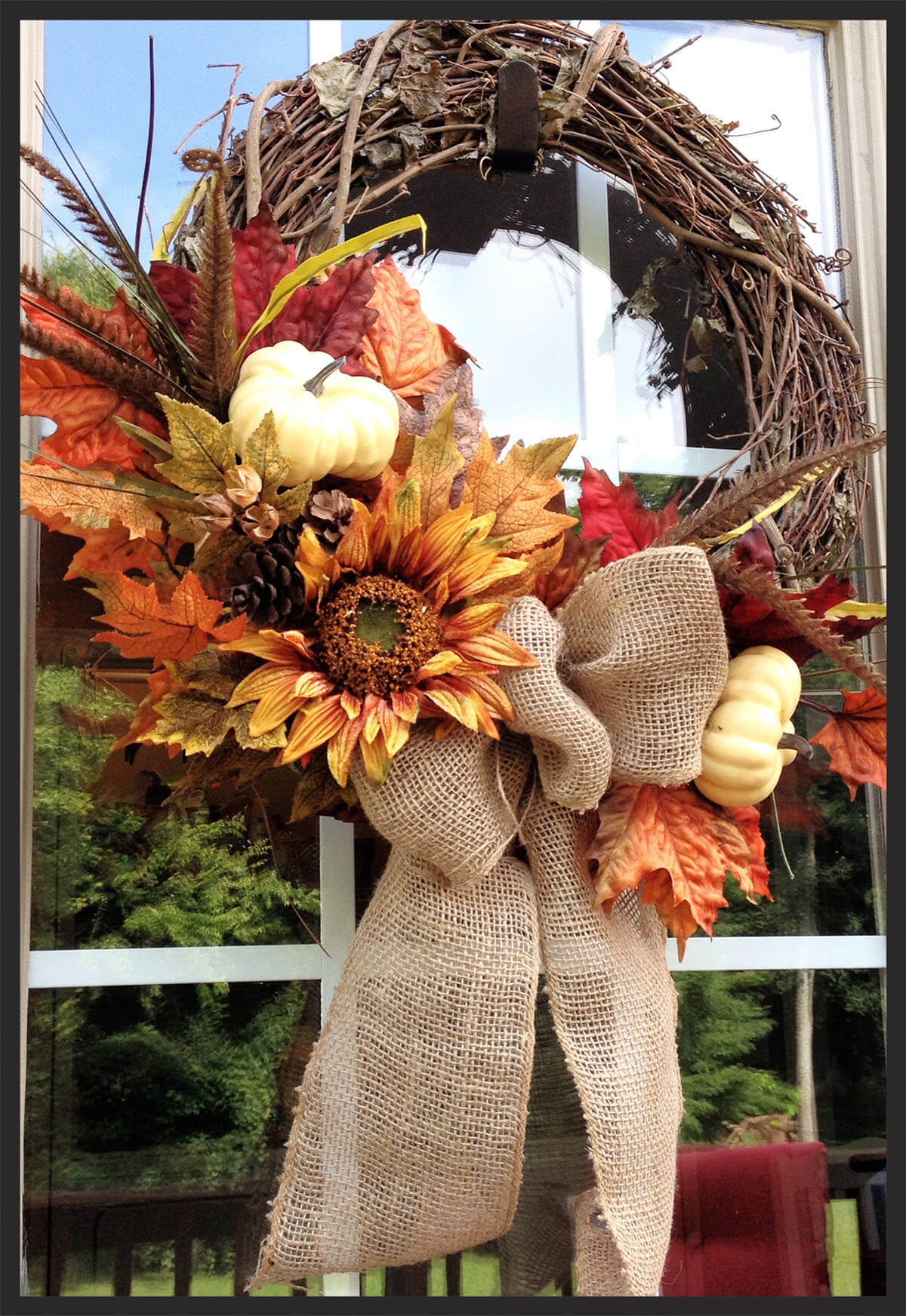 Full and bountiful, this wreath is replete with classic fall wreath elements, such as seasonal flowers, pine cones, and pumpkins. A rustic burlap bow finishes it off, making this wreath an excellent choice for a large entryway in a country or farmhouse setting. Small, feathery accents add to the effect. This is a classic fall wreath design.
18. Layers of Frosted Fall Leaves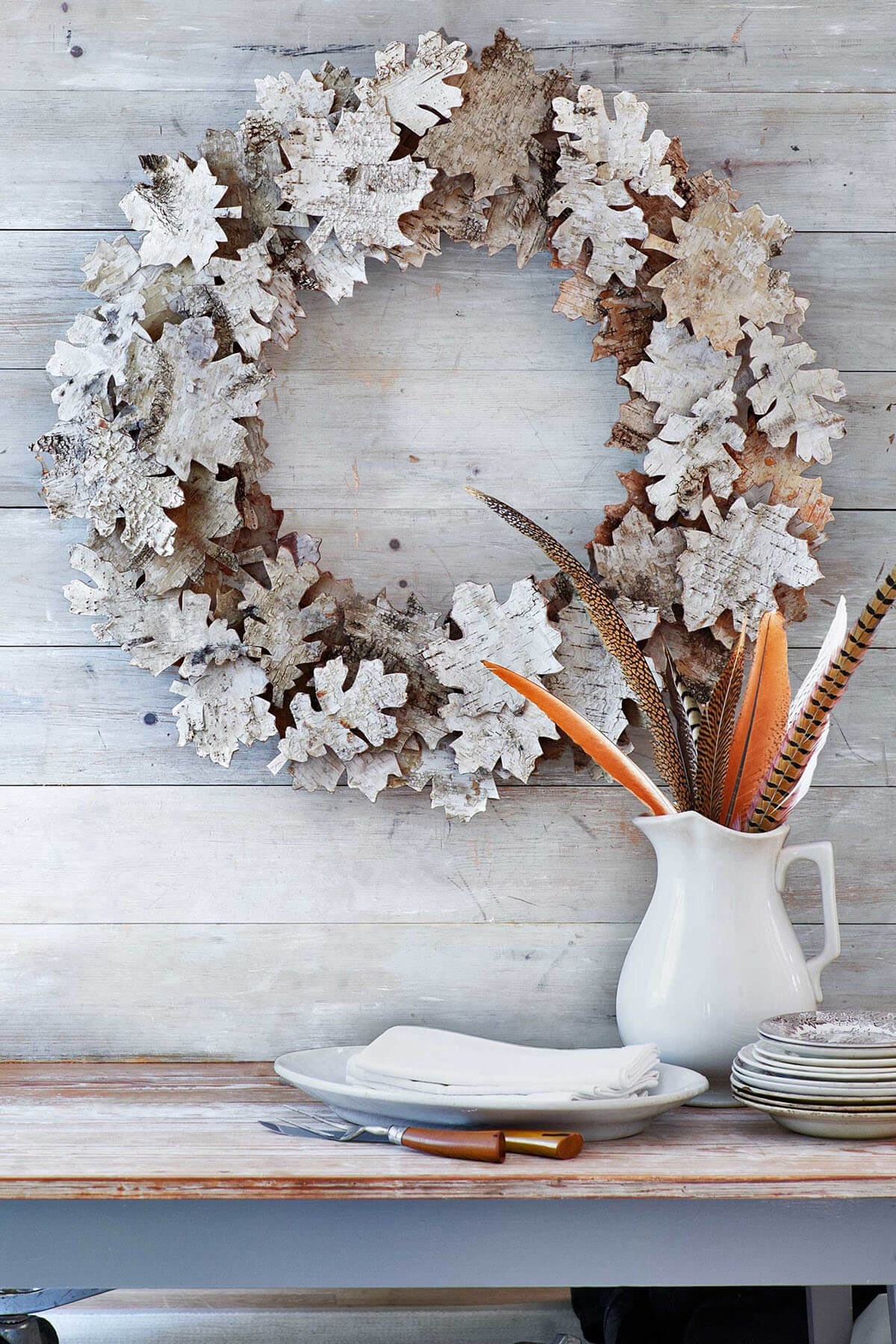 A great late-fall wreath, this design brings whiffs of winter. Frosted leaves set the tone for the colder months, and the frozen texture of the leaves offer a whimsical touch. Great for people who enjoy less-is-more designs, this wreath highlights texture more than colorful or bold elements.
19. Teeny Tiny and Twisted Miniature Pumpkins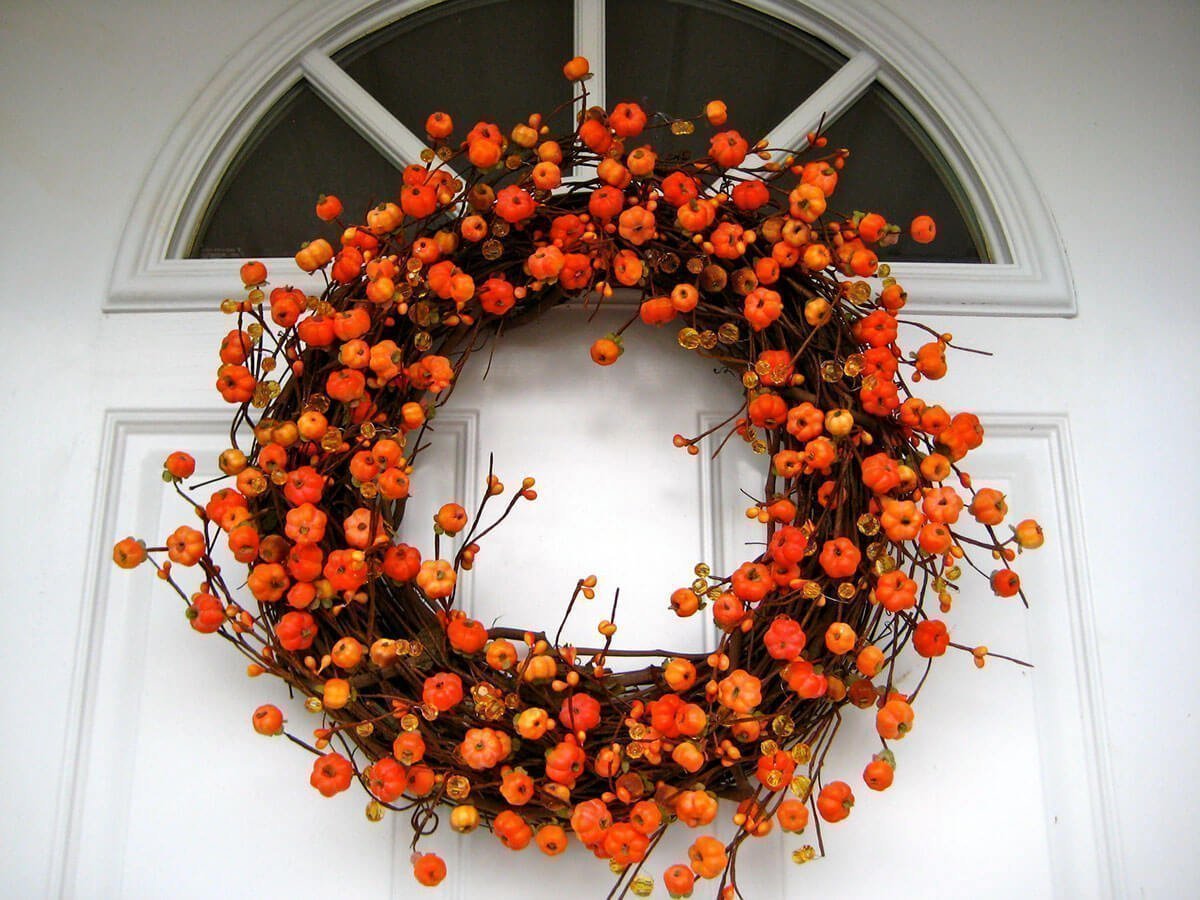 Simple but quirky, this natural wreath is surrounded by a halo of tiny pumpkins, and the color pops. The lack of other elements to this wreath allow the color and structural interest of the pumpkins to stand out and make a statement, and the brightness of their color contrasts beautifully with the rich brown color of the base.
20. Easy Breezy Bohemian Inspired Fall Feathers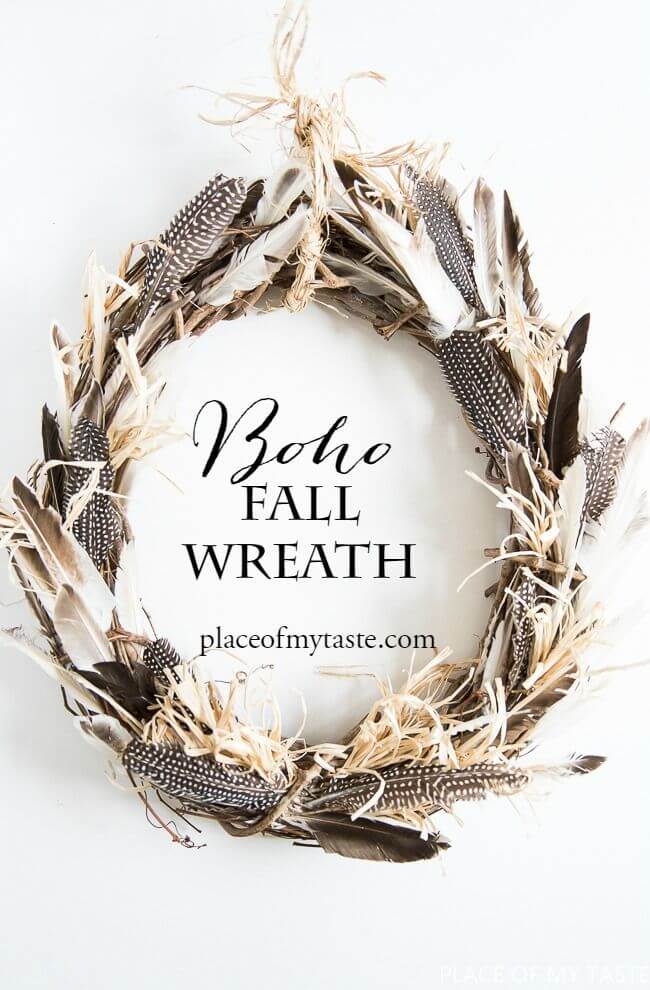 For bird-lovers, this wreath is a dream. It features the feathers of fall birds such as pheasants, and the feathers are interspersed with the textural elements of wheat and other dried plant matter. The colors are neutral, which make it ideal for brightly colored rooms or doorways.
21. Multicolored Clusters of Fall Flowers and Leaves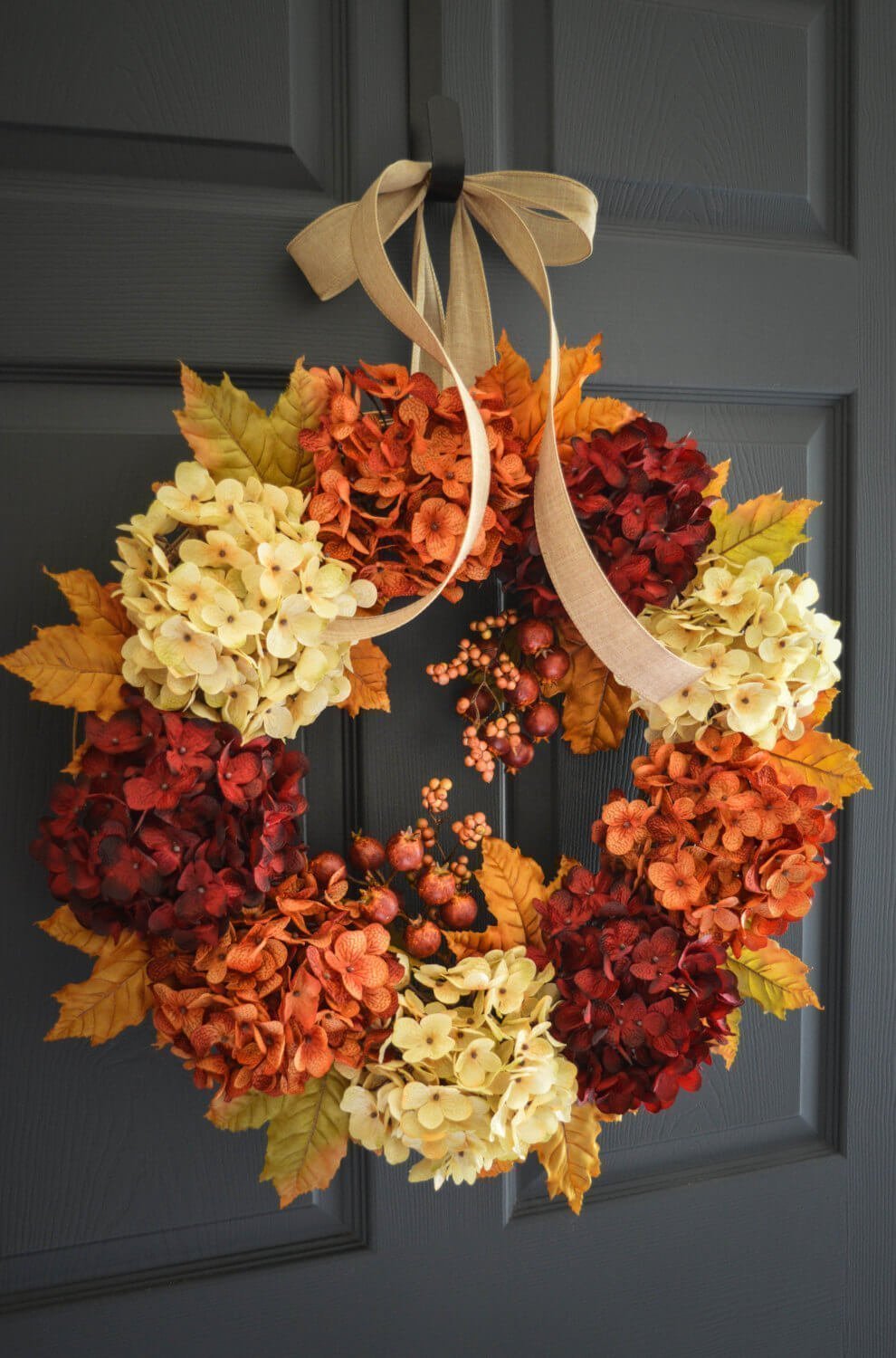 This traditional wreath is not only elegant, it also looks refined. Using flower bunches of alternating colors, there is a diagonal element that bridges the diameter of the wreath in a surprising yet understated way. Green leaves offset the colorful flowers at the edges, and a cream, luxurious ribbon tops off this classy wreath.
22. Nature's Harvest of Pinecones, Leaves, and Berries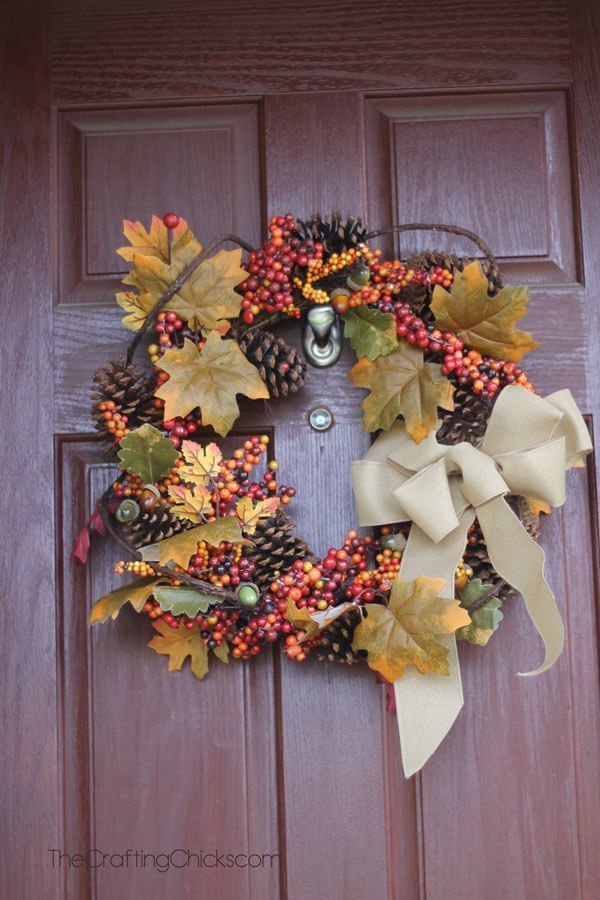 A different take on the natural fall wreath, this design leaves out the flowers and instead showcases the other bounties of the forest floor. The winding base adds a particularly striking design element that echoes the branches of trees and bushes. A bow ties off this wreath in a traditional manner.
23. Fun and Frilly Felt Flowers

This felt wreath uses fabrics to achieve a "flowered" look, and it is most striking as a textural decoration. Several colors are used in this wreath, ranging from warm fall colors to all shades of green. Rather than being a traditional wreath, this design gives a more contemporary appearance that simply suggests autumn.
24. Bold Flowers with Sweet Bunting Detail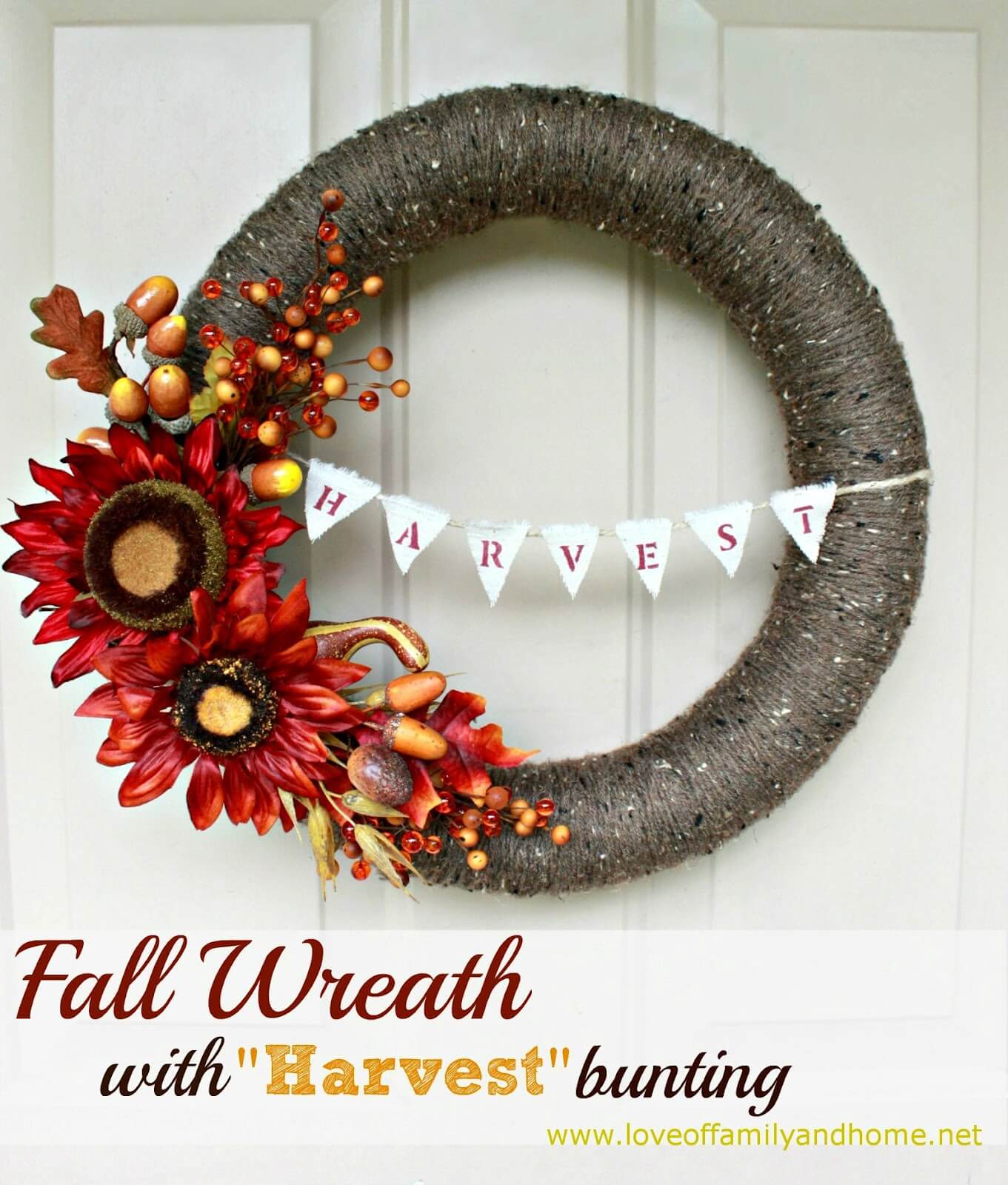 This structured wreath features a neatly wrapped base and large, splashy flowers. A "Harvest" bunting adds interest and makes the whole effect a tad more informal, though the colors used are bright and serious. Overall, this wreath has an understated appearance that combines the cozy with the refined.
25. Flora, Feathers, and Frills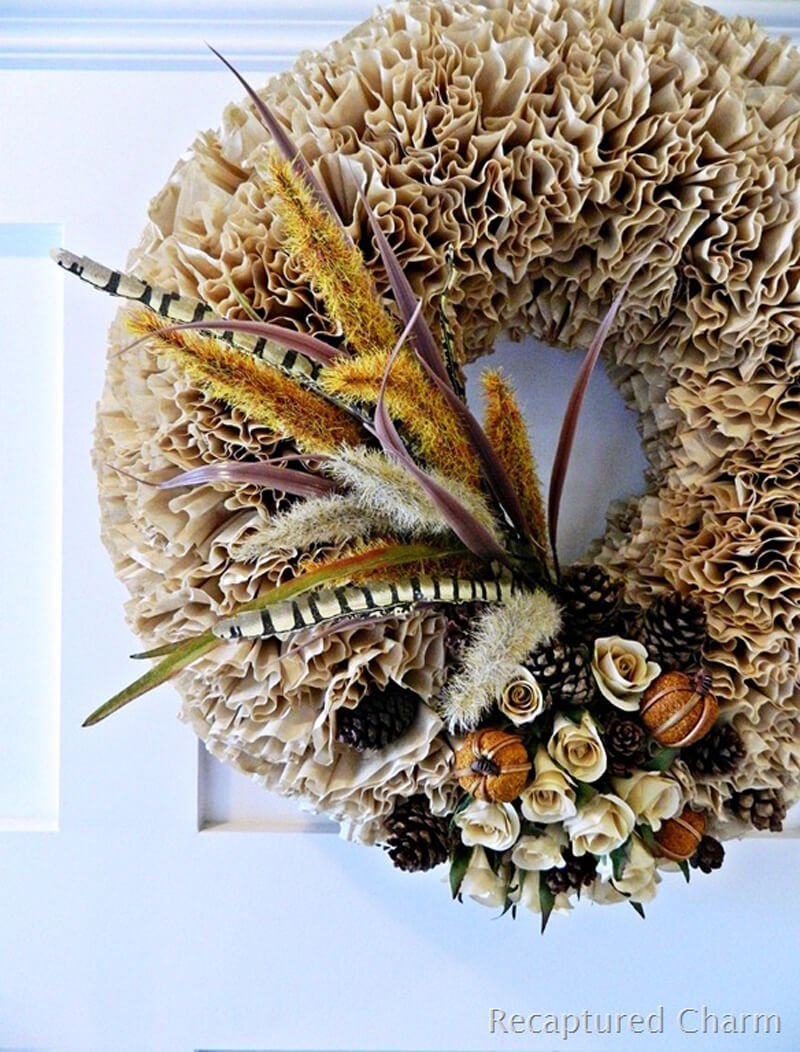 A textural masterpiece, this wreath's scrunched fabric brings to mind the underside of fall mushrooms, and the colorful feathers and pine cones further the idea of a forest celebration. While the fabric creates structural interest, the neutral color allows the wreath to remain understated and elegant, though hints of the country shine through.
26. Bold Front Door Wreath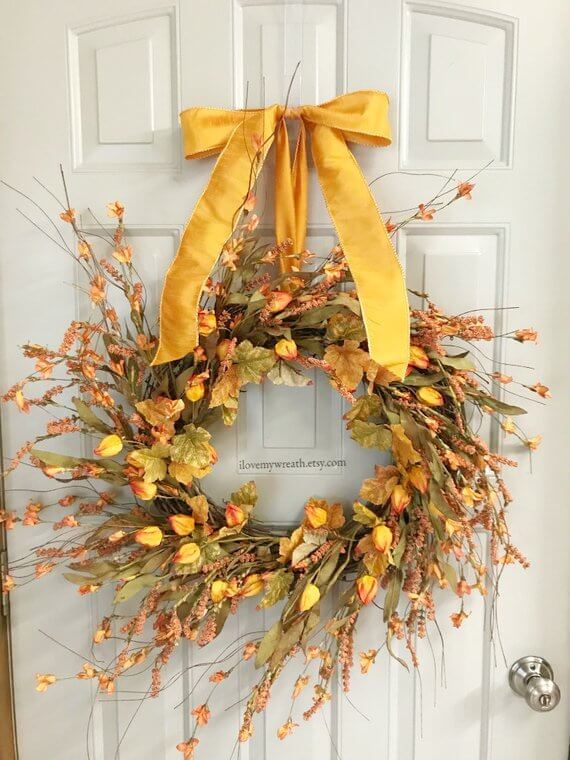 Would you like some elegance for your front door this fall? Try your DIY skills on this beauty! You'll needs a few bushes for this one. Find a fall bush with a variety of wild flowers, leaves, and berries with tons of color and texture. Cut into even pieces and place at an angle starting from the middle of the wreath outwards. The placement gives it a great flowing circular motion. Add a bold ribbon and pat yourself on the back.
27. Handmade Fall Hydrangea Wreath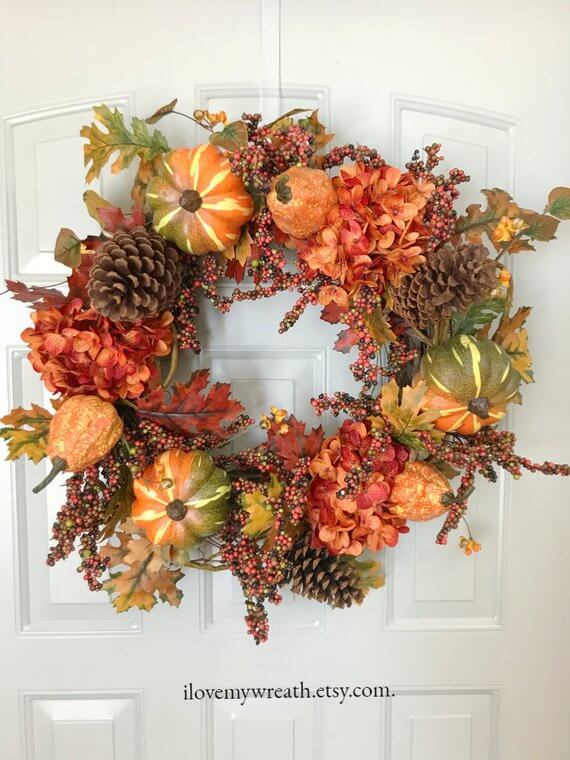 Gather three of everything fall! Three large blooms, two different gourd species and don't forget the pine cones! Now, place each set of three in a triangular shape on a grapevine wreath base, then fill in the spaces with beautiful fall colored leaves and fall berries. Wala! Masterpiece!