As the years go by with our families we collect so many photos that we want to display. The challenge comes when we are looking for a tasteful and attractive display idea that suits our style and our already existing décor. Some of us live in modest homes which do not allow for large displays but rather call for intimate showcases of family and friends. Others of us live in larger homes with expansive wall space that can be a wonderful setting for our family photos. These family inspired home decor ideas present solutions for both small and large wall spaces.
50+ Engaging Family Inspired Home Decor Ideas for Displaying Family Photos and Messages

Look at some of the family inspired home decor ideas that are ideal for limited wall spaces. The crossword of family name is a unique way to identify family members and couple it with distinctive memorabilia. Using craft clothespins to hang snapshots, creates a tight informal gallery of a lot of pictures. A wired frame makes for a close collage of photos and related knick knacks. A unique use of candlelight to brighten a small corner with smiling faces really adds warmth to any spot. These groupings are just a few of the family inspired home décor ideas that would work for the small spaces in your home. You'll definitely want to check out the other creative ideas.
For the larger wall spaces, consider making a sizeable wreath with an encircling collection of pictures. Several of the collage-like collections would be fabulous for any open wall space. Create your own personalized reading corner. Take note of the family tree which creates a unique combination using a popular wall decal with picture frames interspersed throughout the branches.
All of these family inspired home decor ideas are lovely ways to show off those pictures that we've all kept safely stored in boxes for years. Show them off!
1. Capture the Caption with Floating Pictures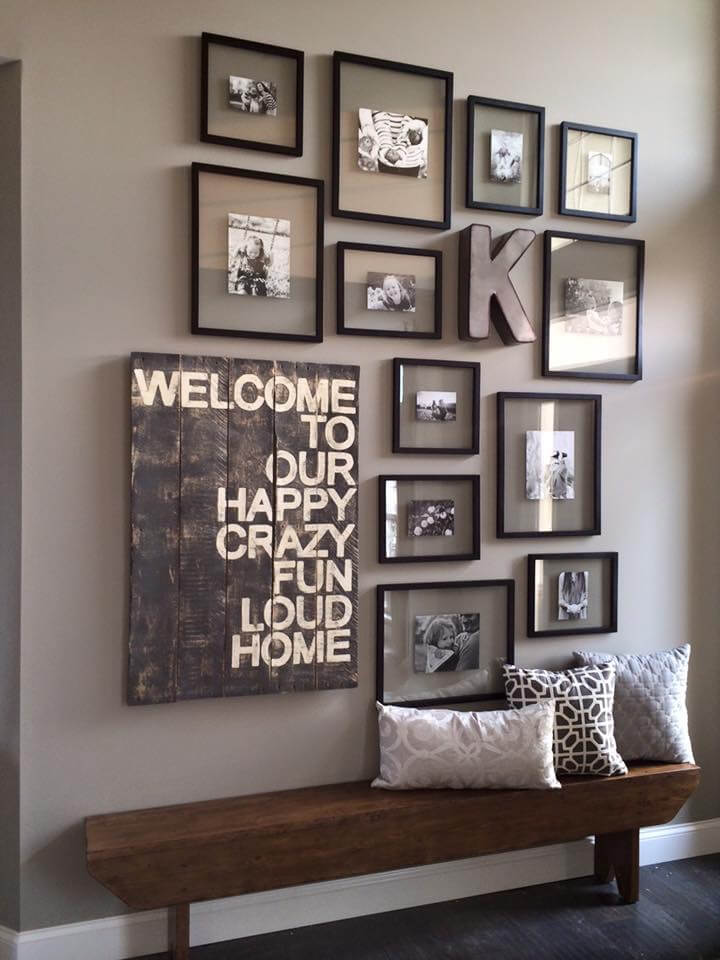 2. Crossword Family Stays Connected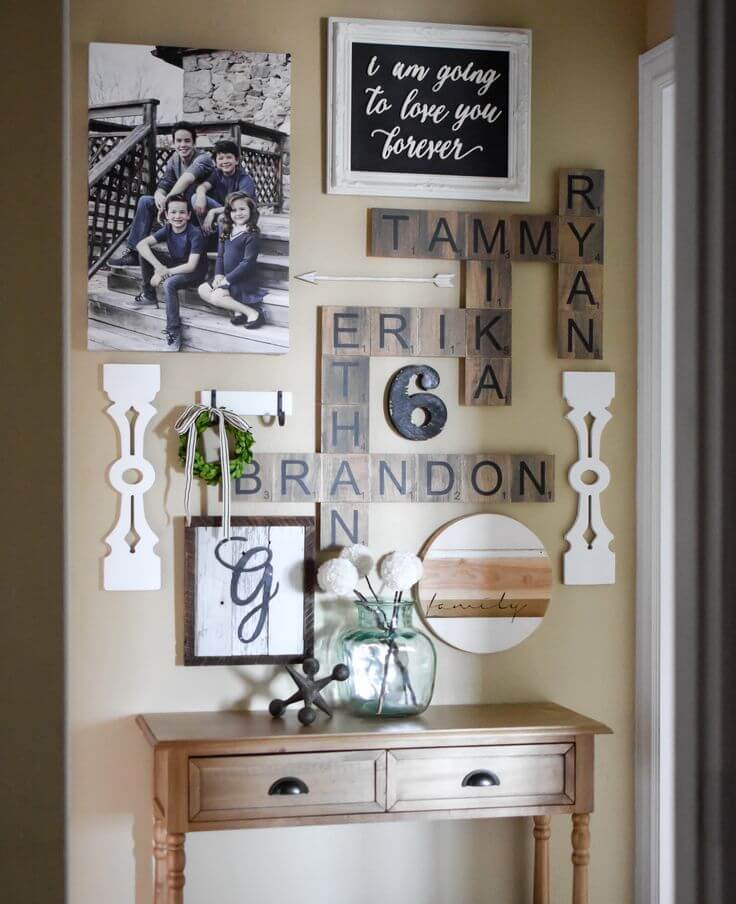 3. Pics on the Clothesline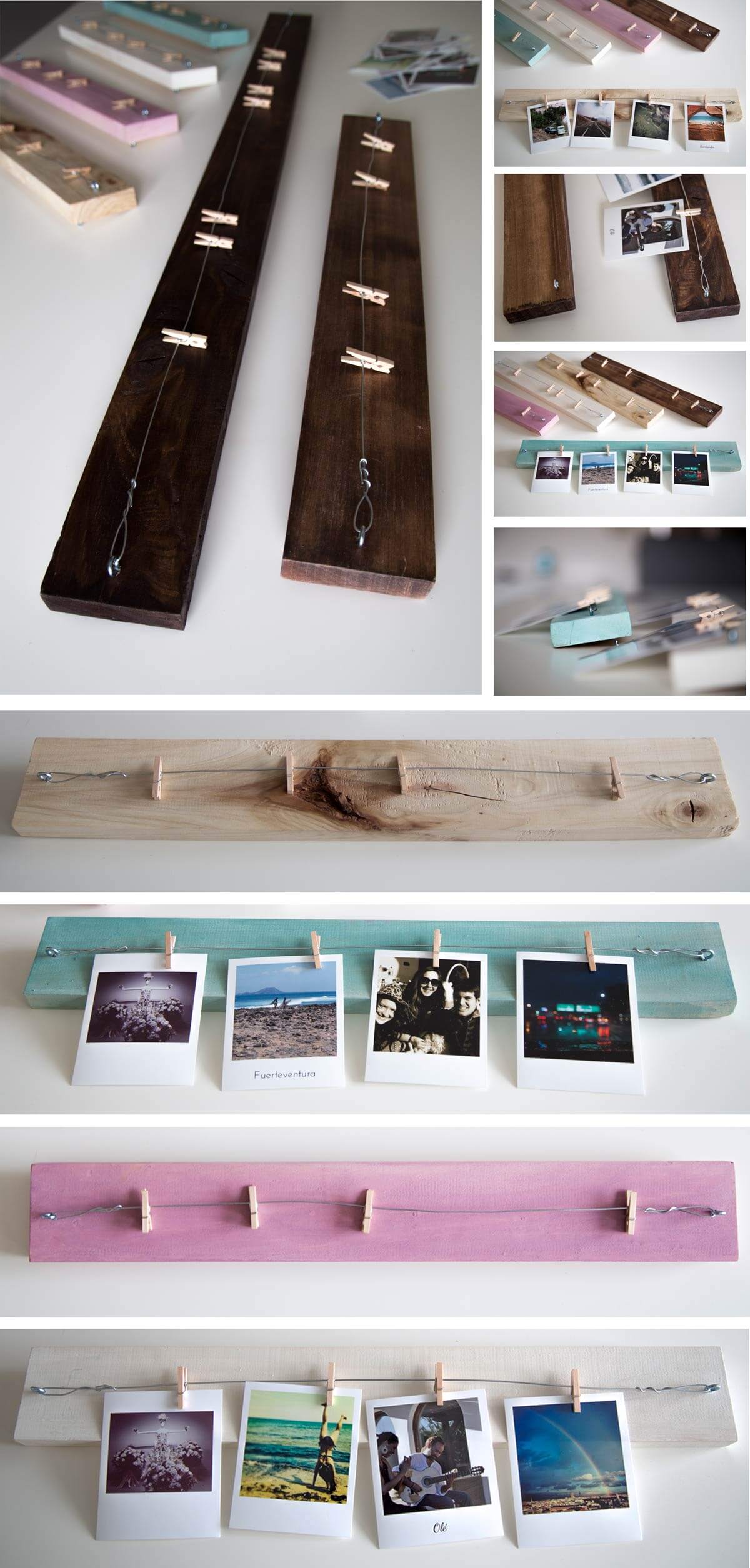 4. A Cozy Nook for Reminiscing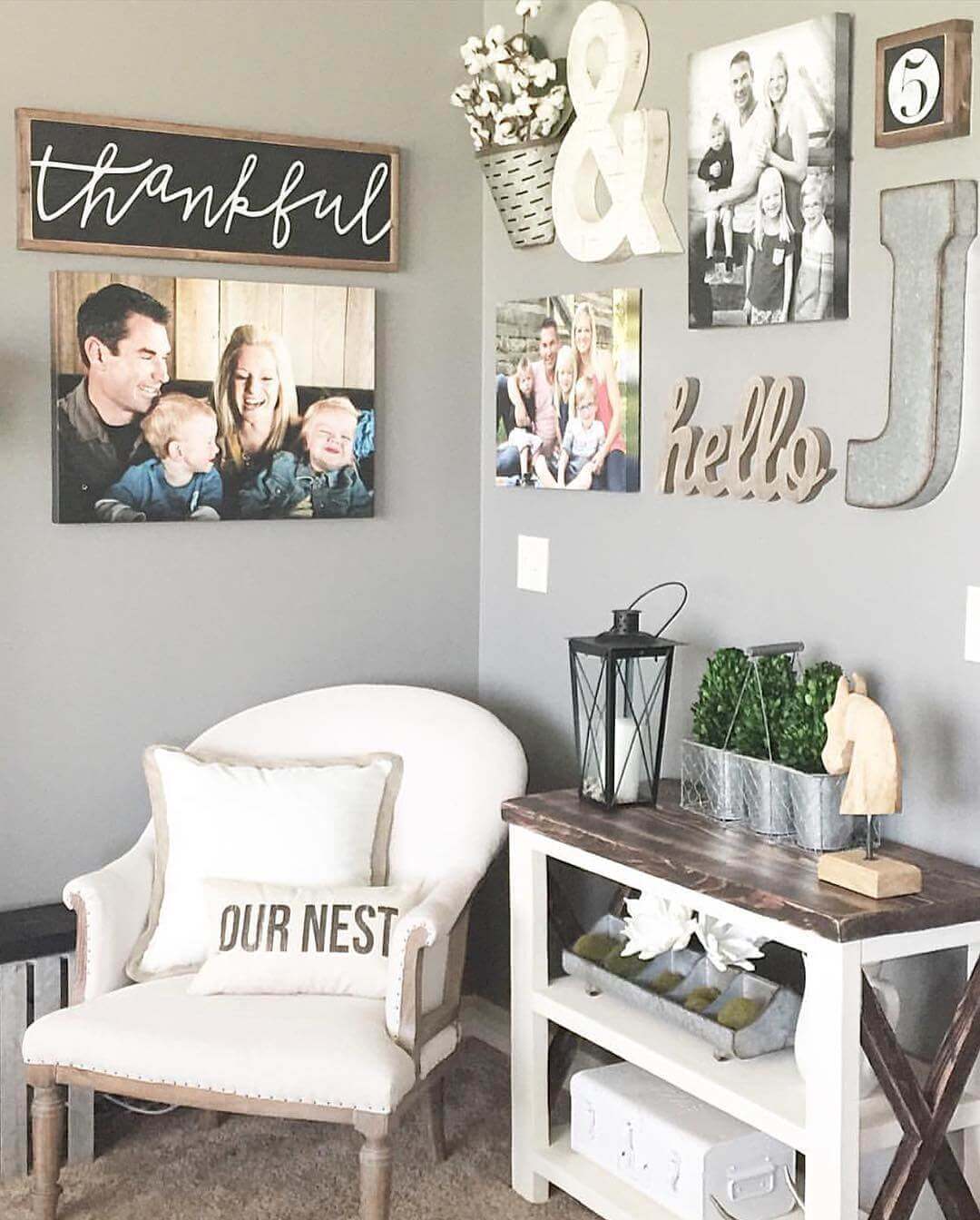 5. Love Letters for the Baby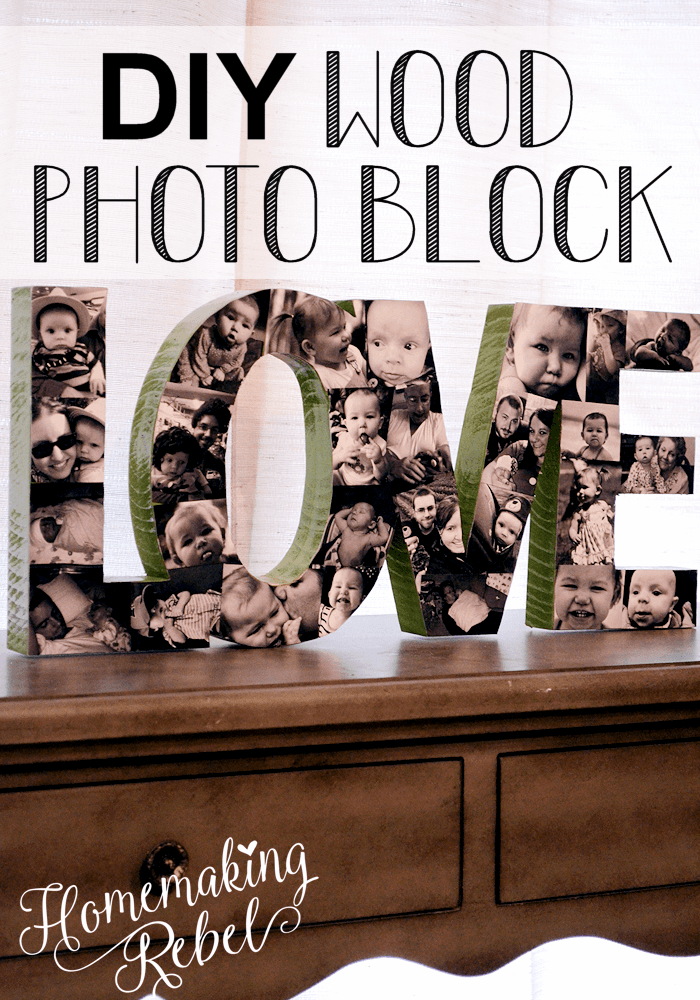 6. Family Rules to Remember and Follow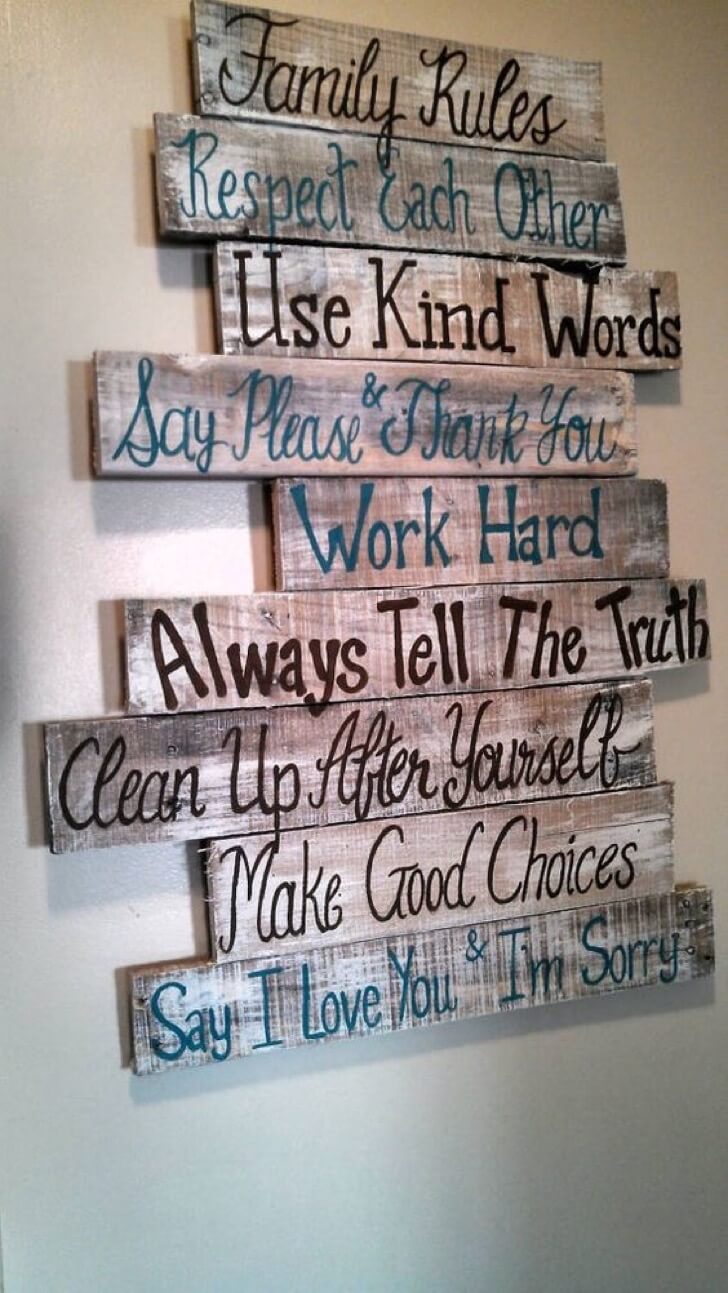 7. Hang a Wreath of Smiles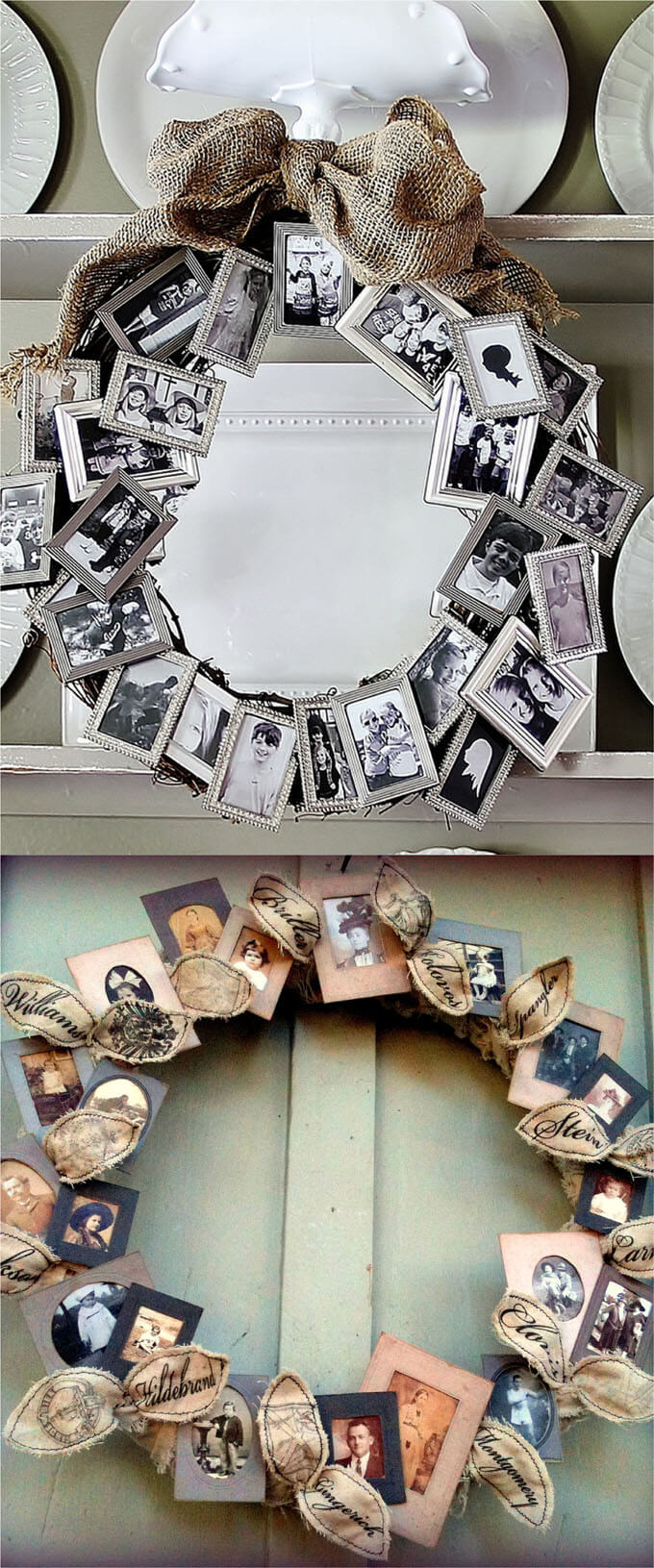 8. Tic Tac Toe of Pictures on White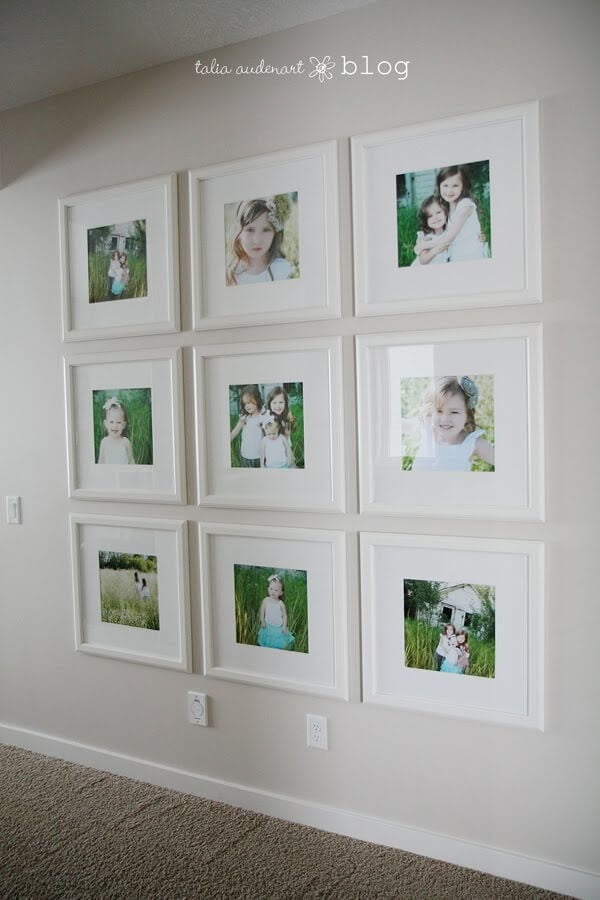 9. Family Tree Branches out and Blooms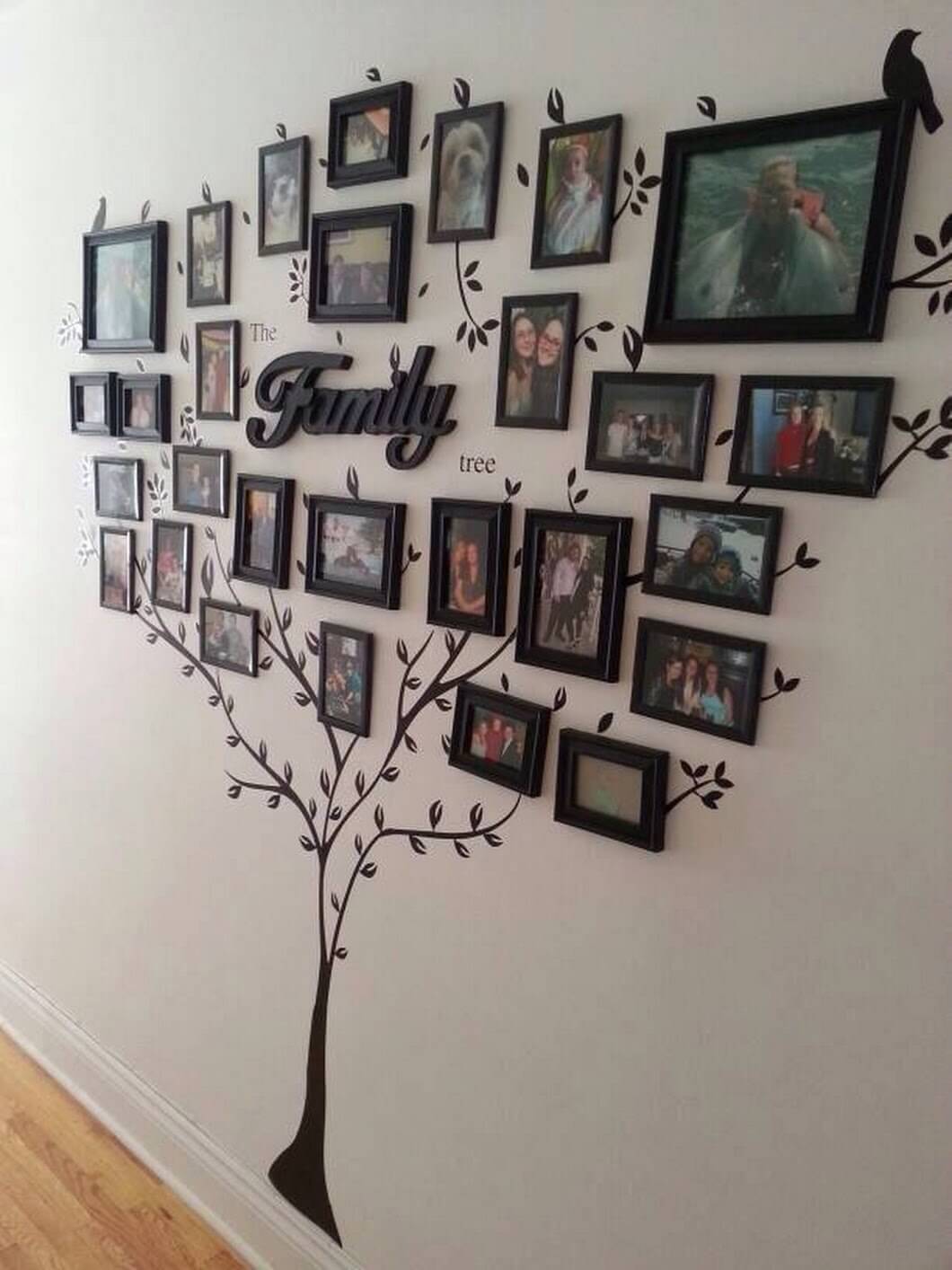 10. Pictures Lined up in a Pretty Blue Frame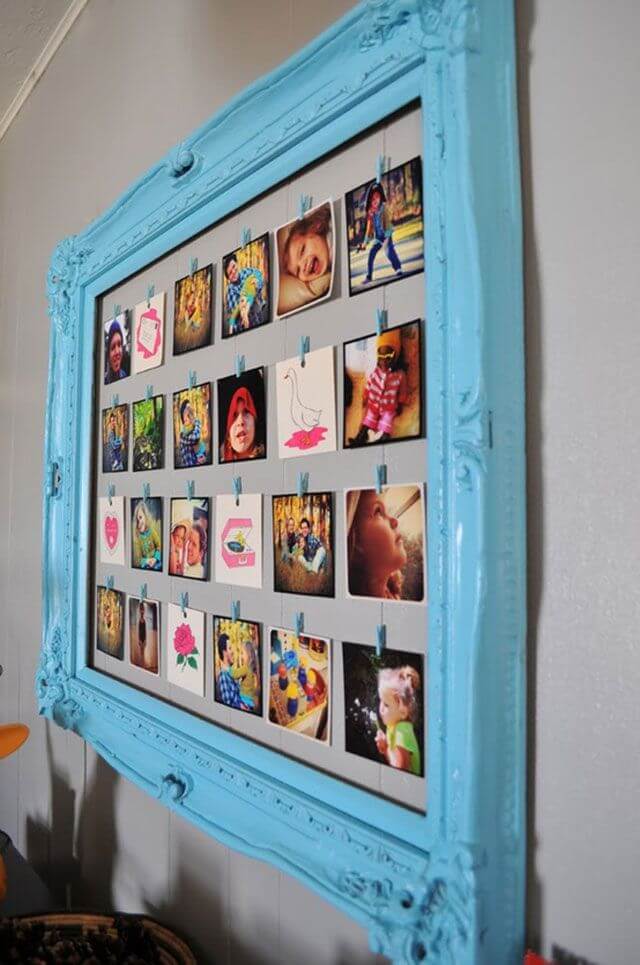 11. Connected Plaques Telling Our Story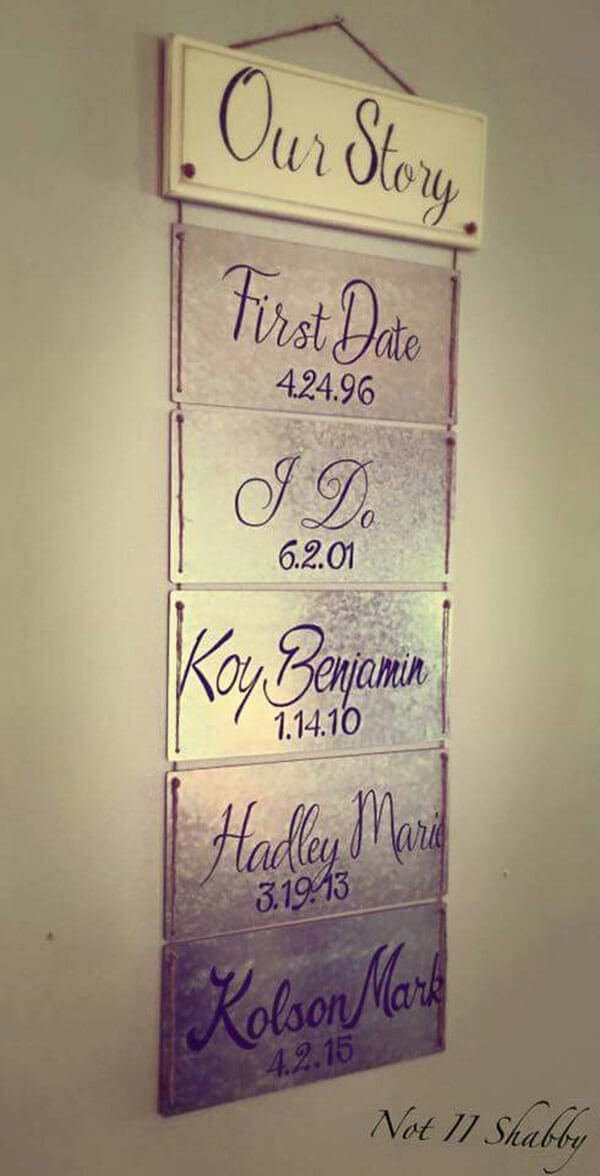 12. Photo Collection in a Colorful Collage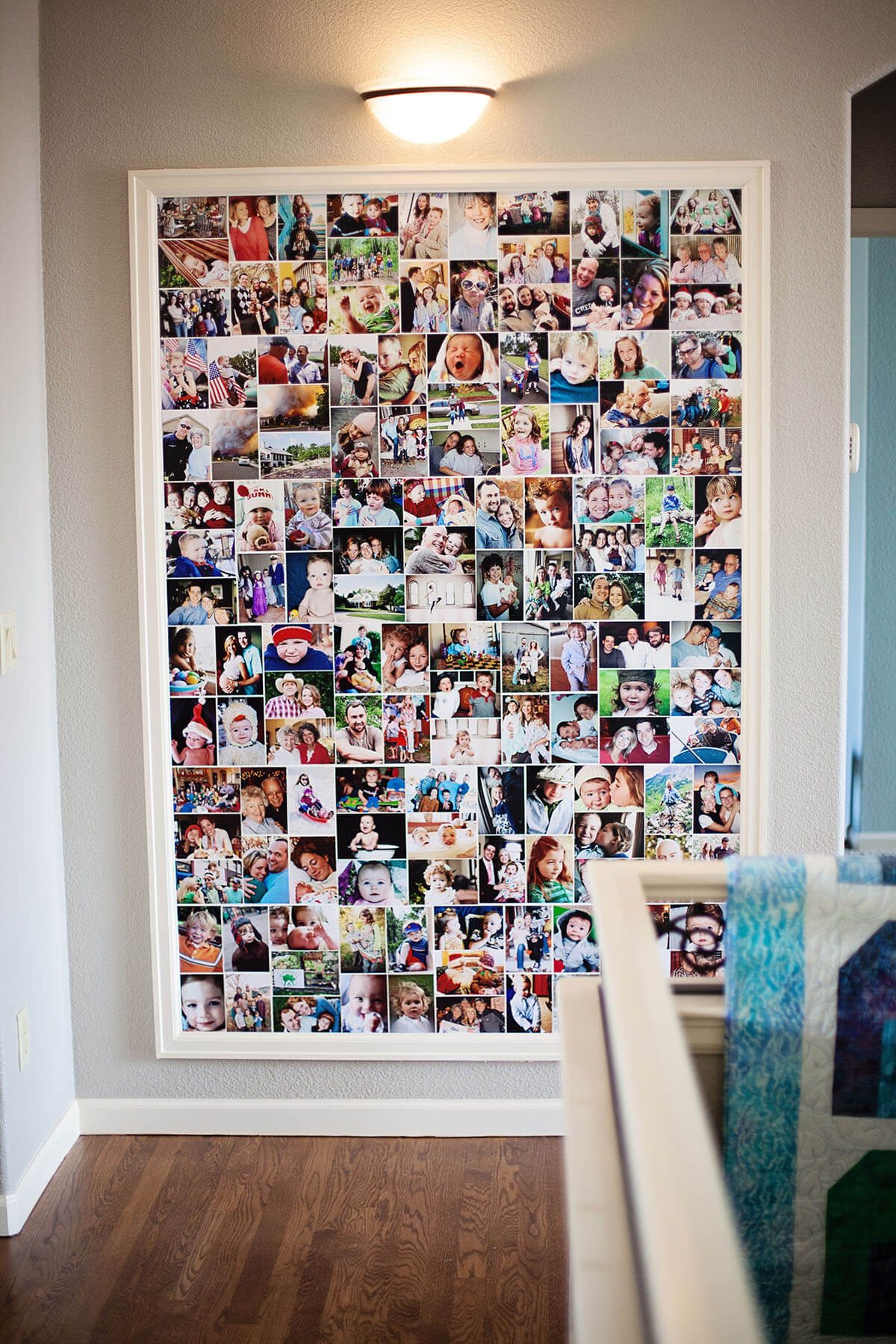 13. Hemmed in by Family Photos

14. Remember the Date and Time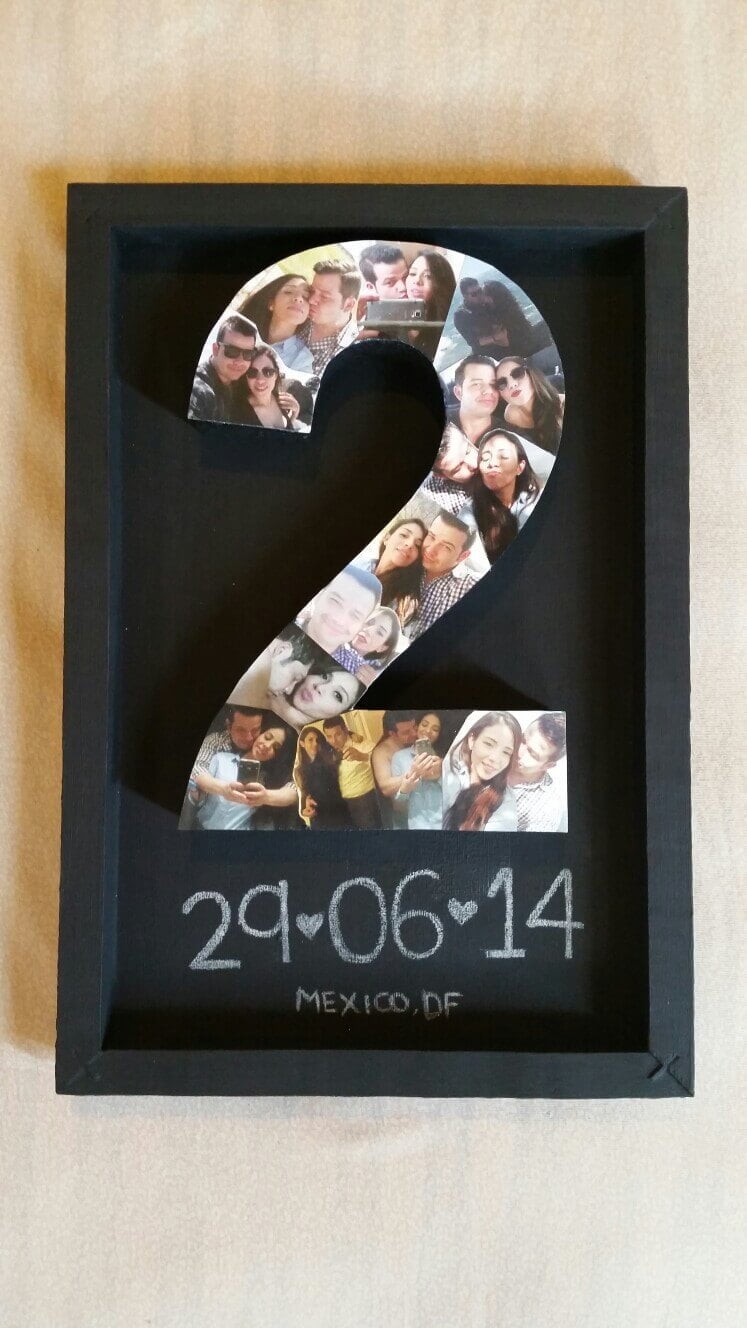 15. Hanging Home on a Hook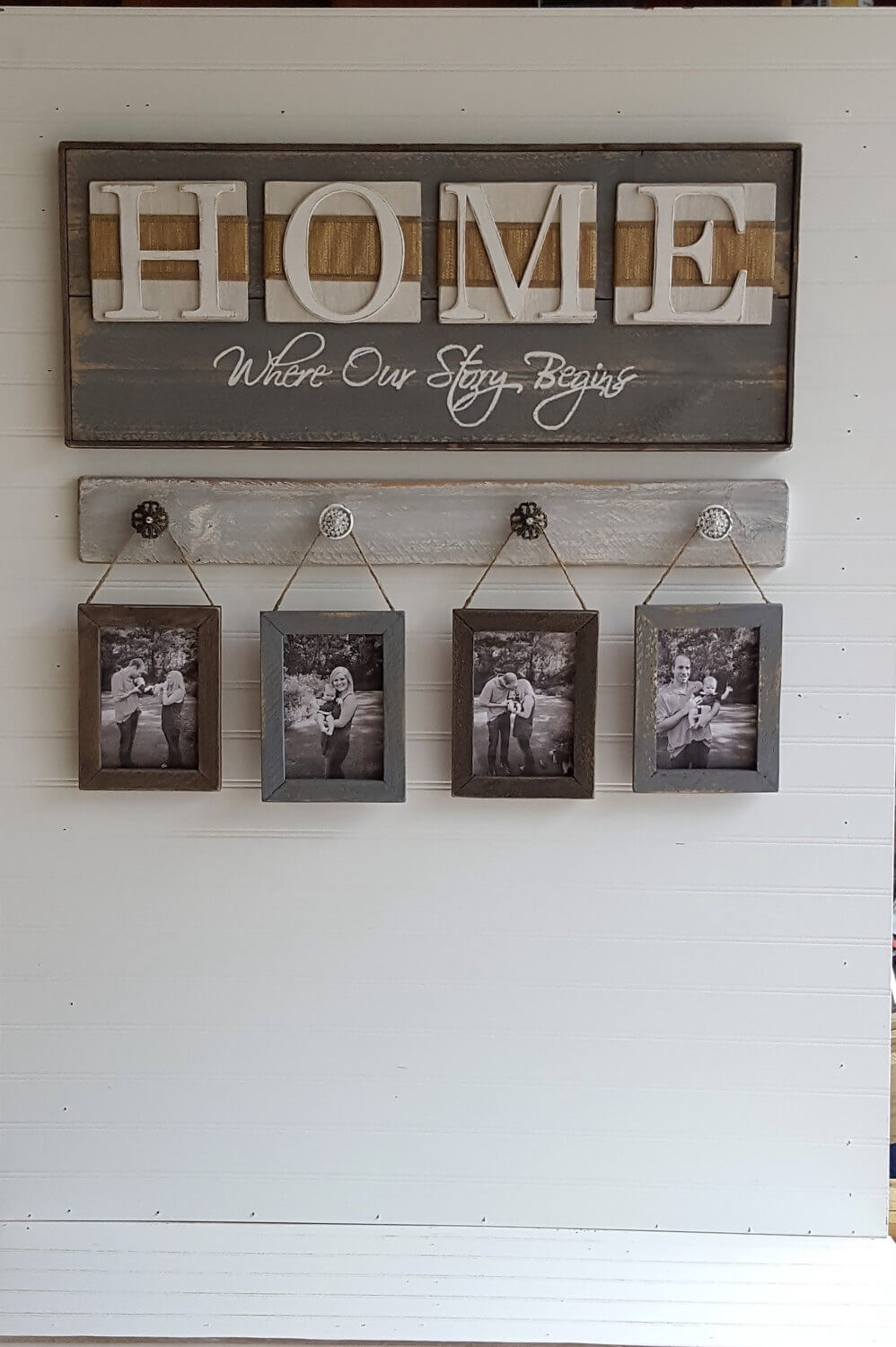 16. String of Black and Whites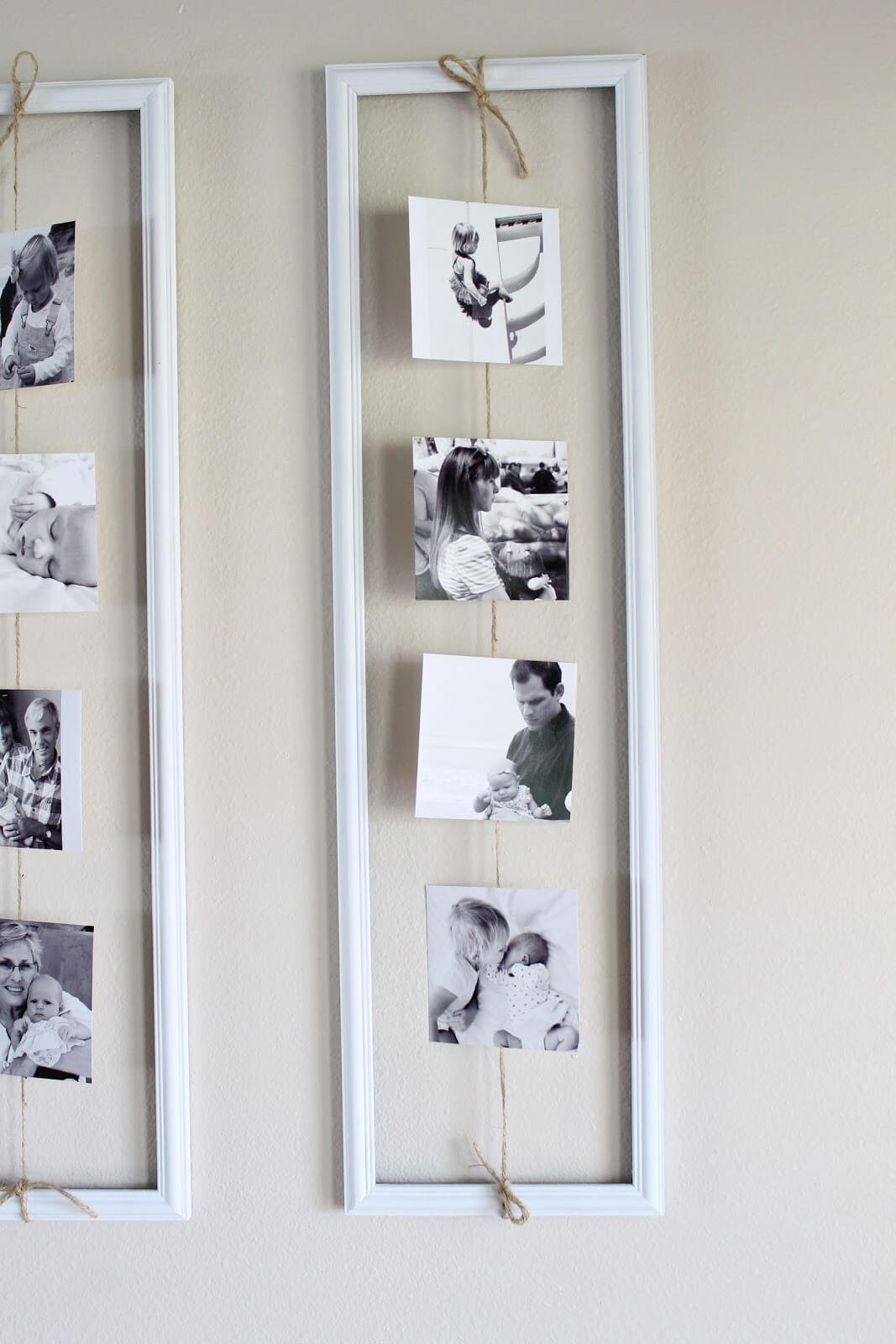 17. The Extended Family Photo Gallery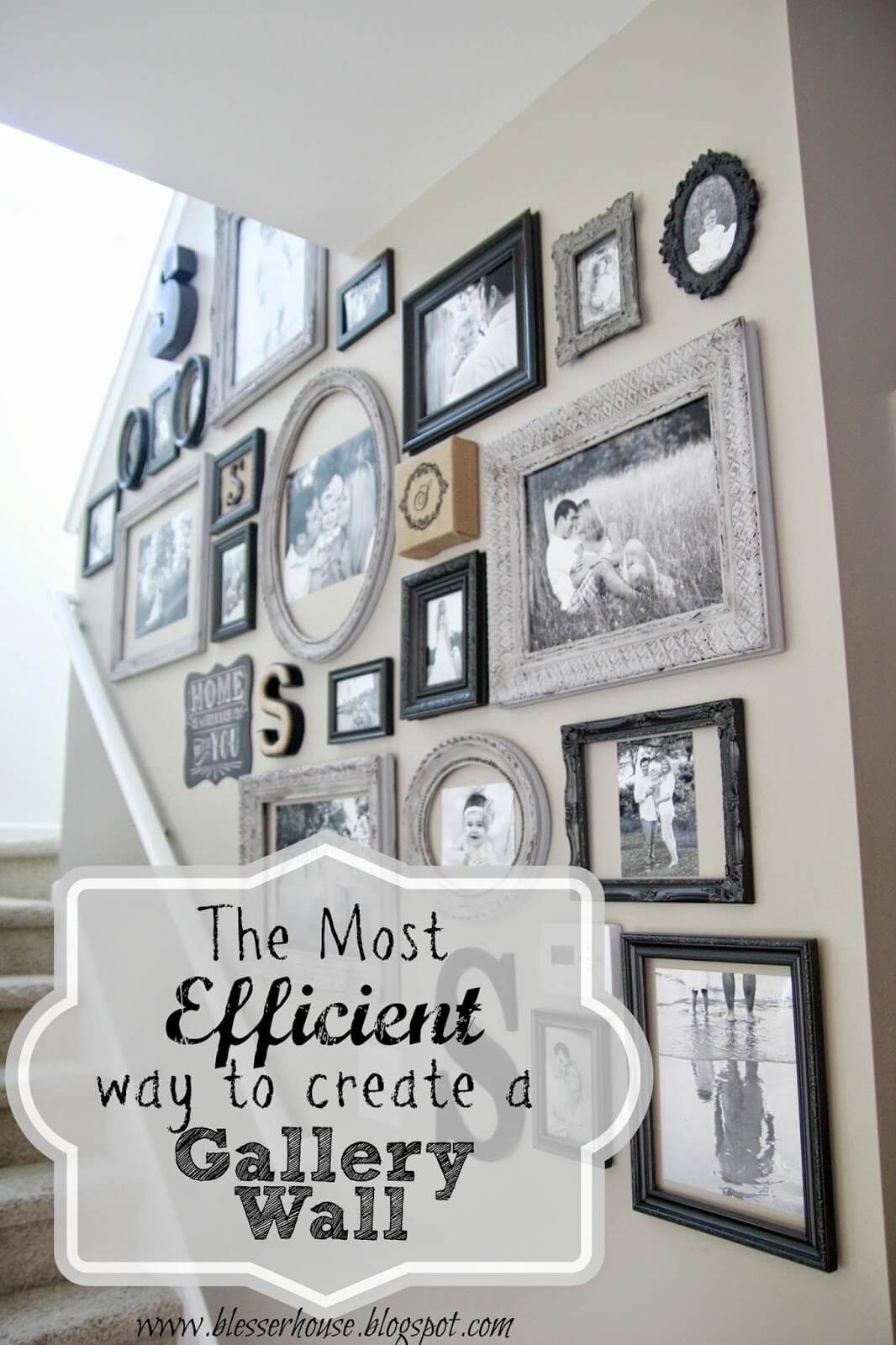 18. Family Means Time for Love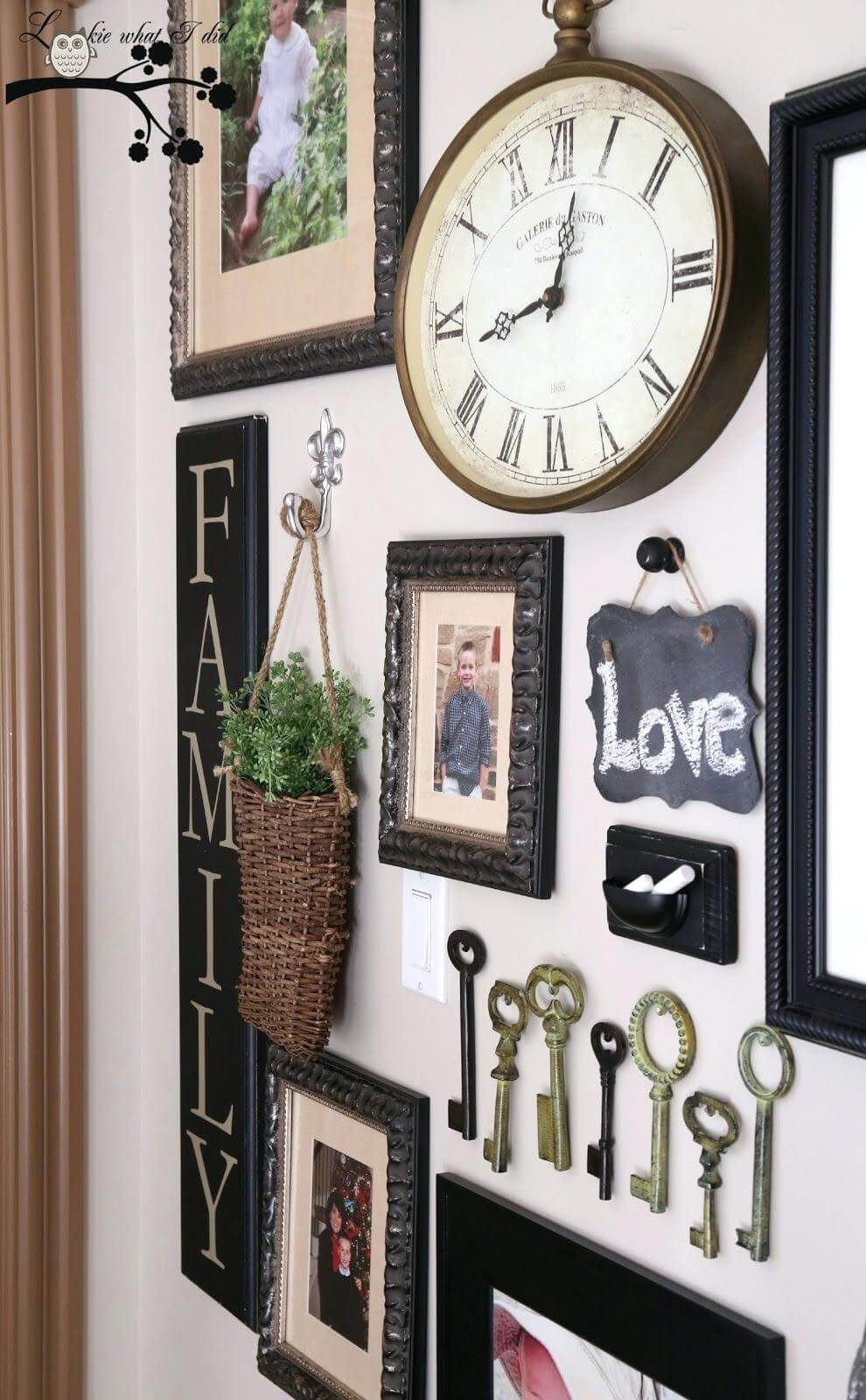 19. The Family's Most Loved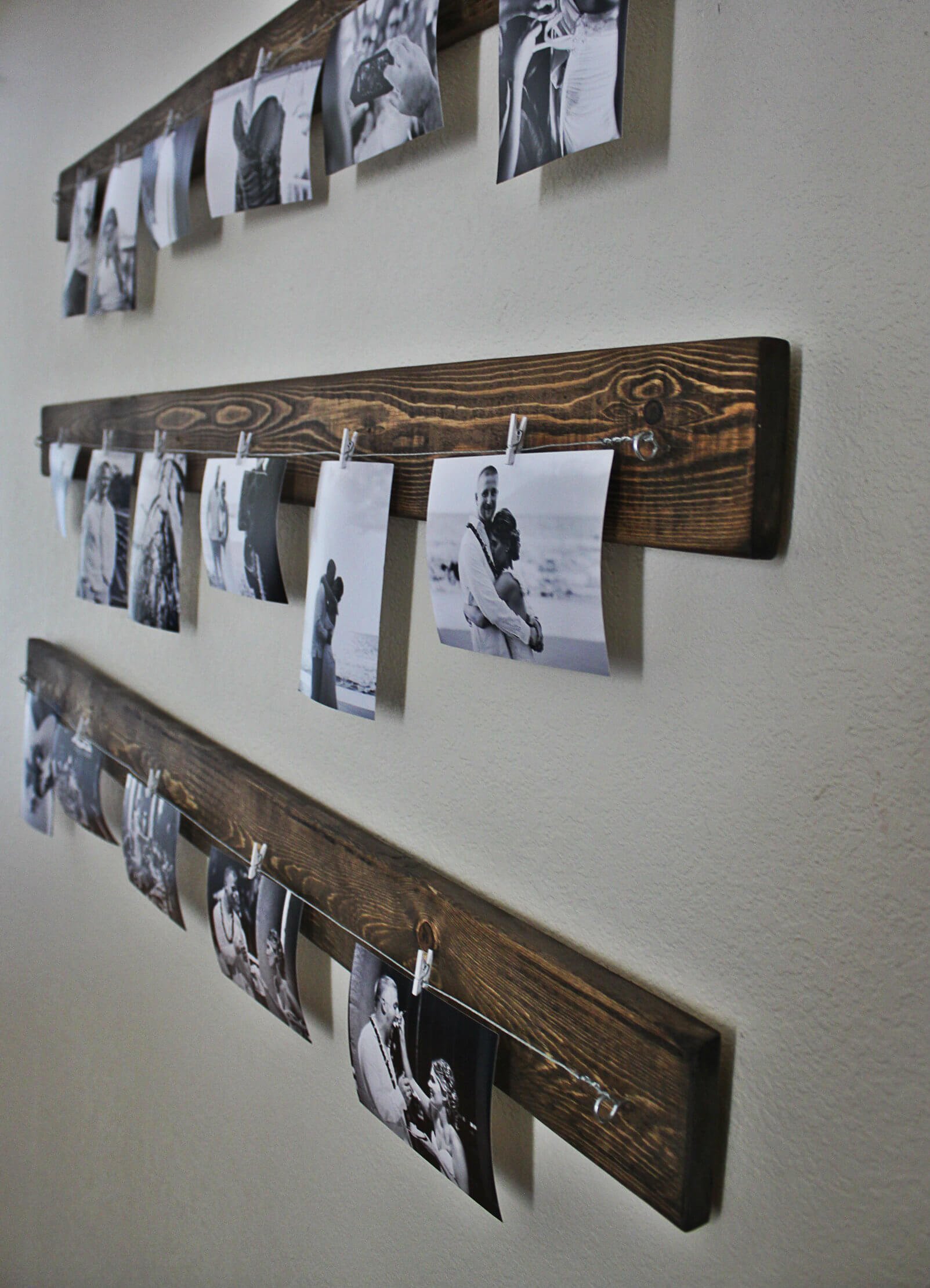 20. Photo-covered Letters Spell Joy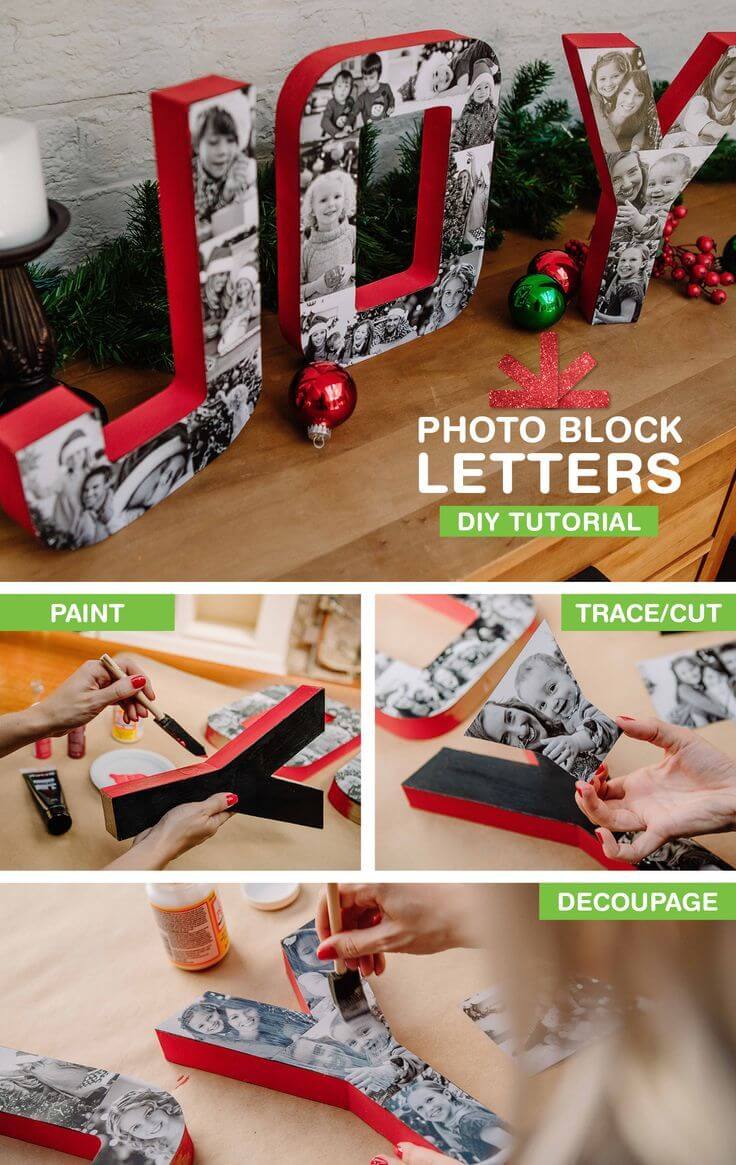 21. The Smiling Wall of Photos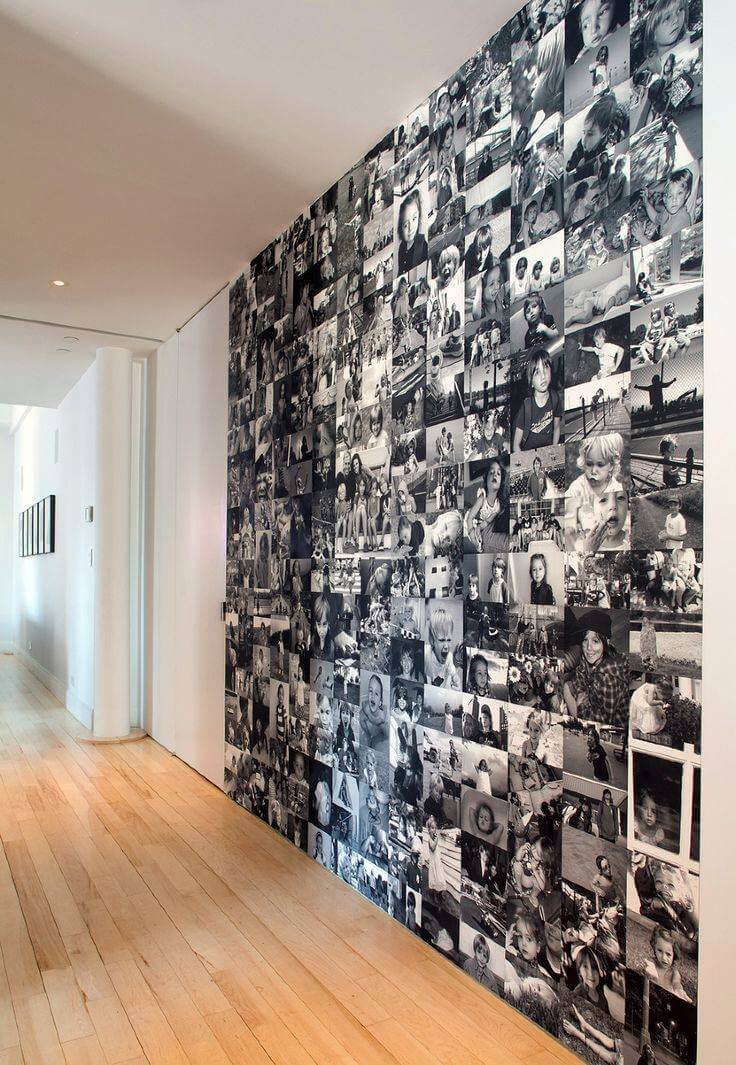 22. A Bright Light Illuminates Smiles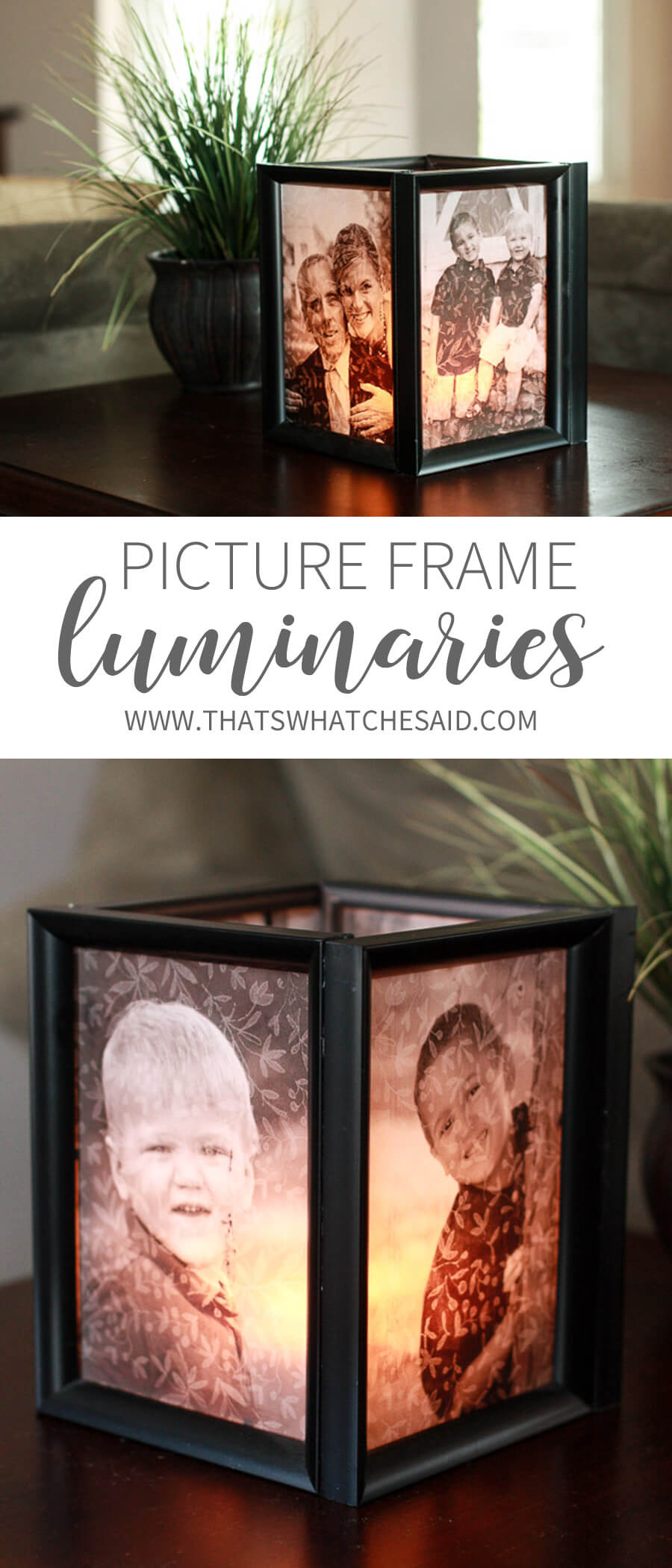 23. Glowing Glasses Light up the Family

24. Big and Bold on the Wall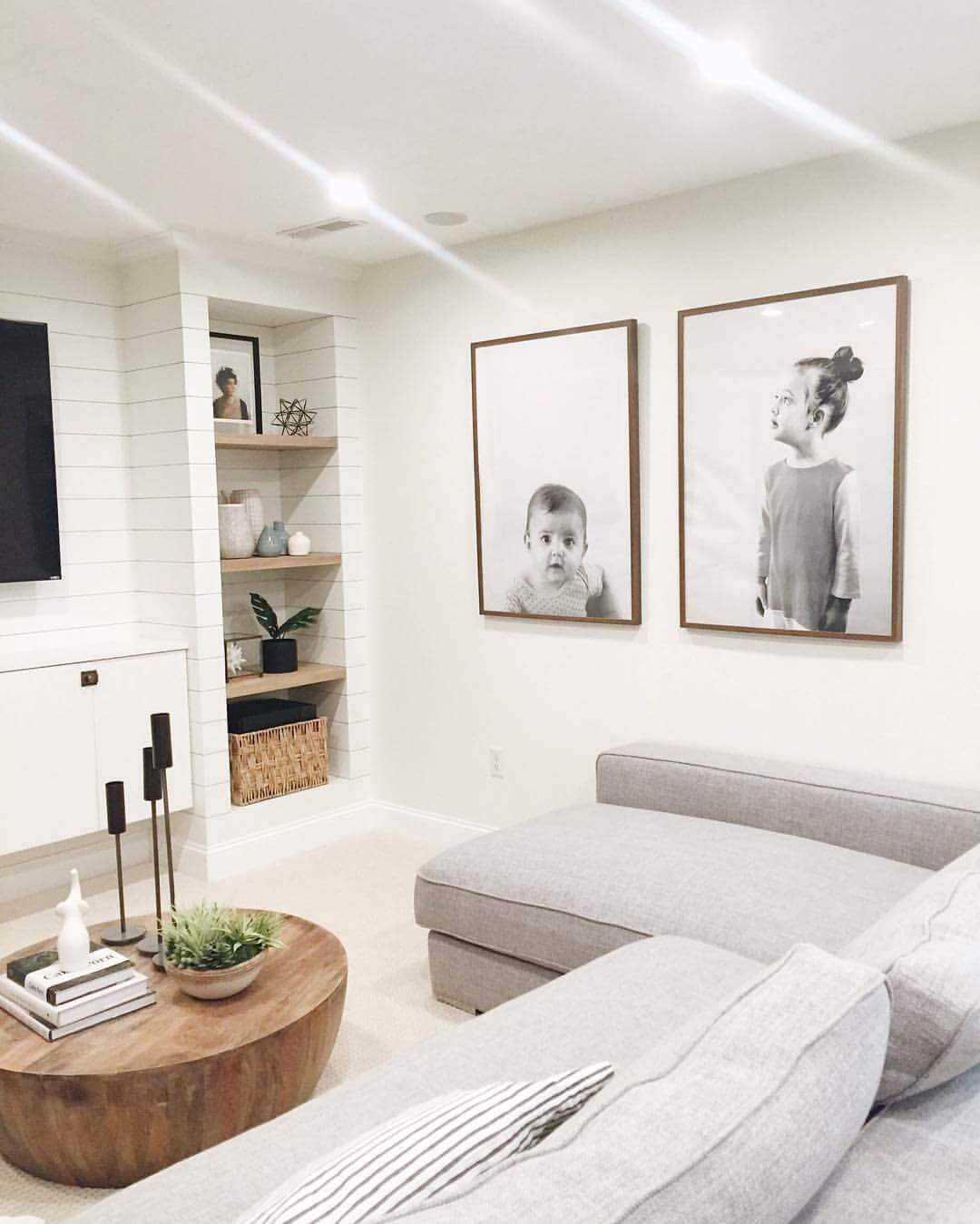 25. Clipboard Art Hanging on the Wall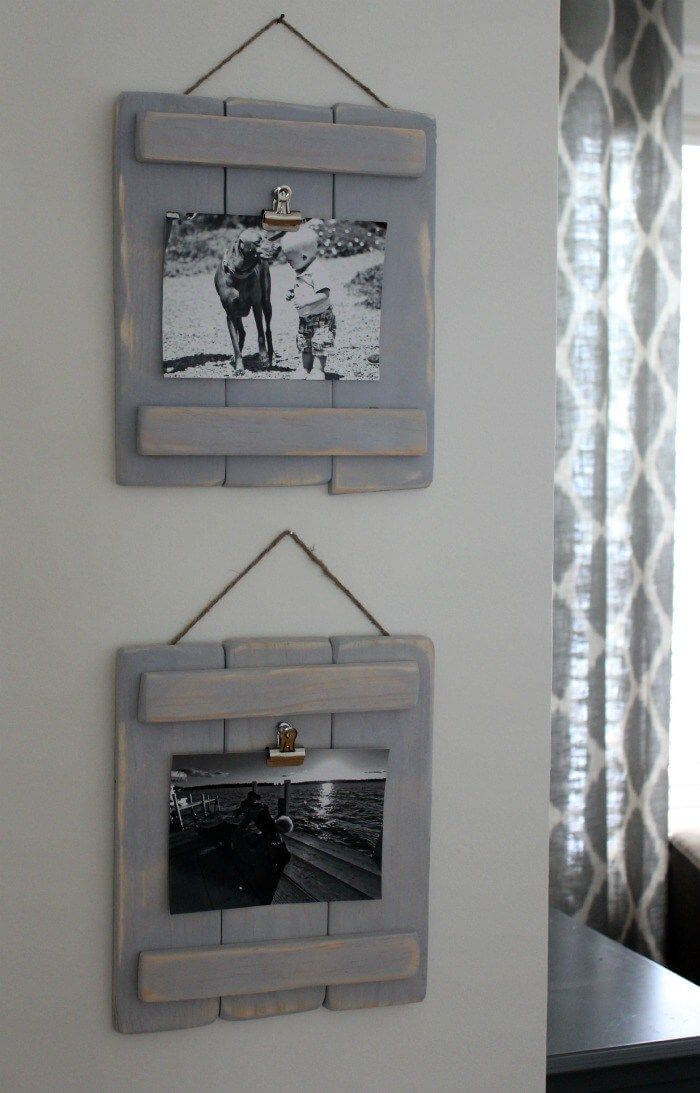 26. Happy Family on the Wire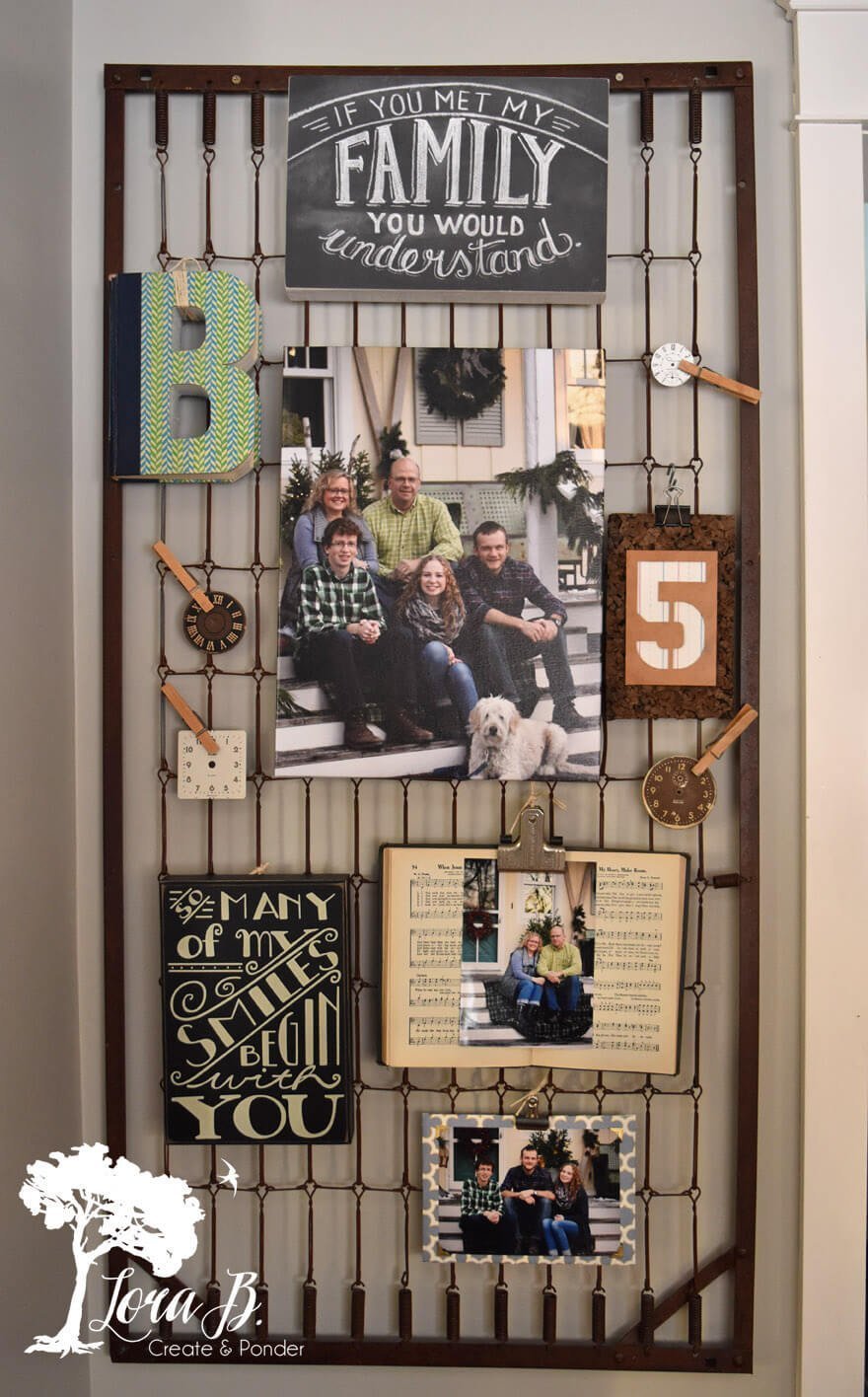 27. Blessings Come in Threes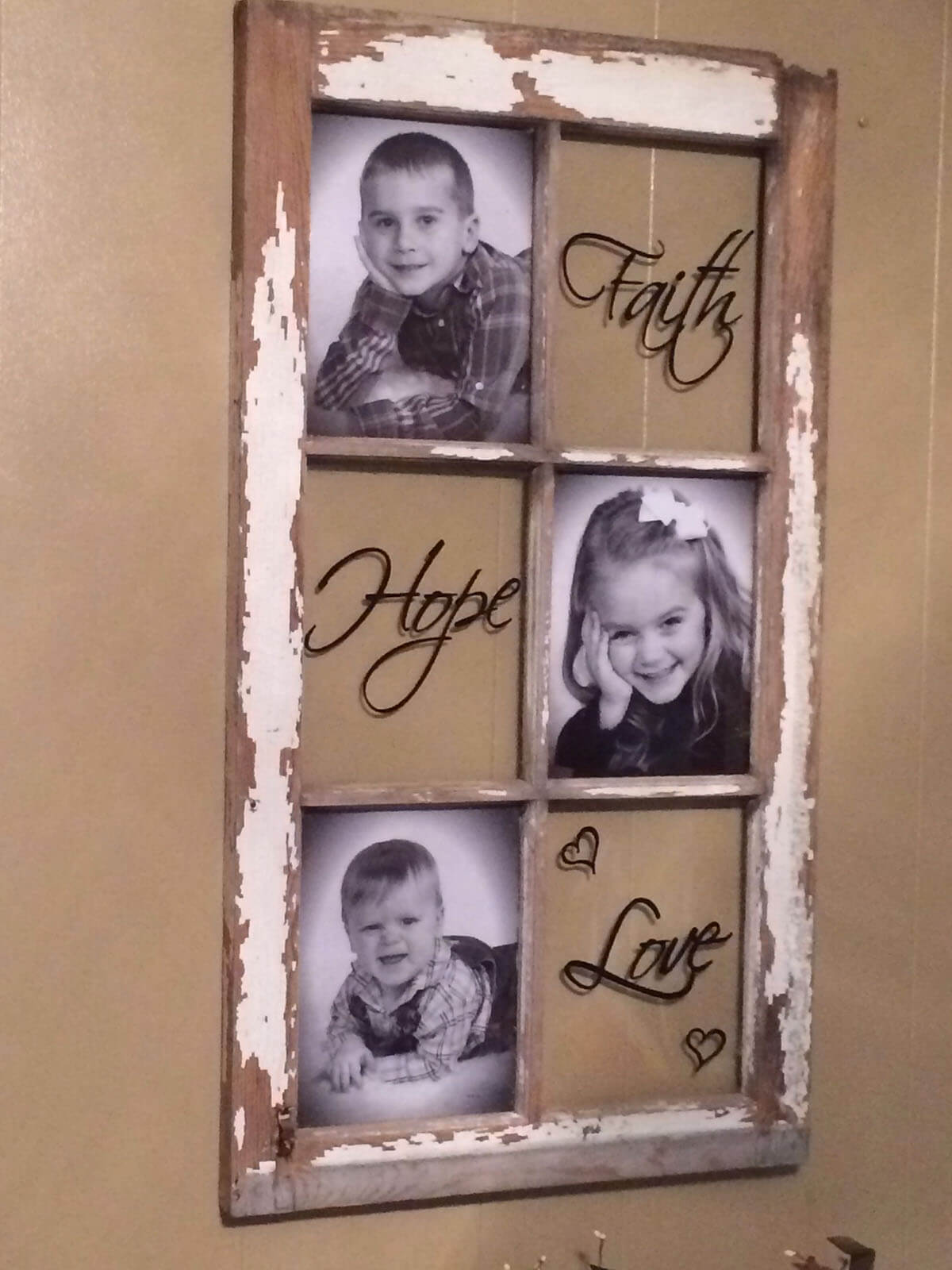 29. A Special Spot for Special People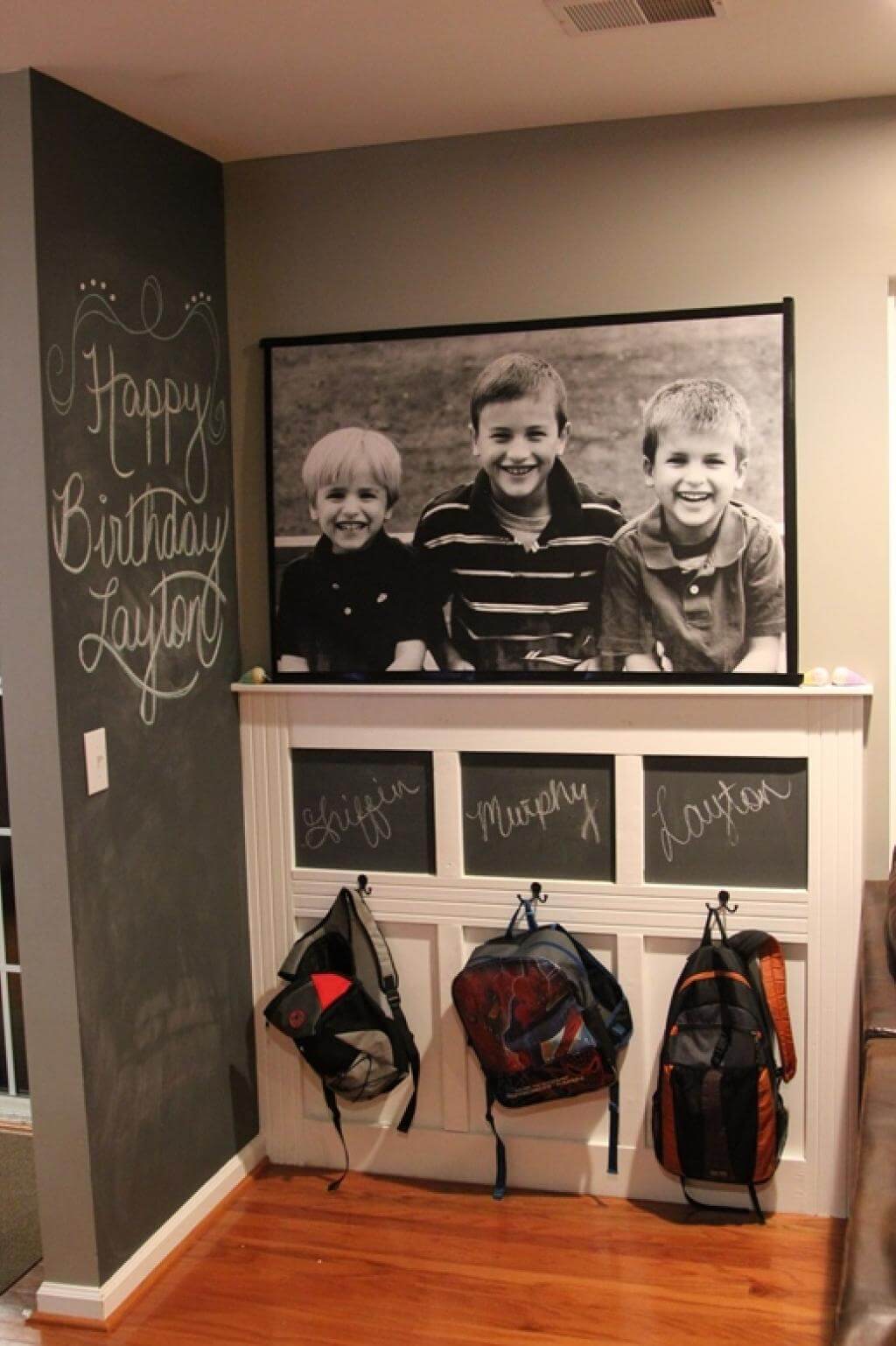 30. Happy Handprints on the Wall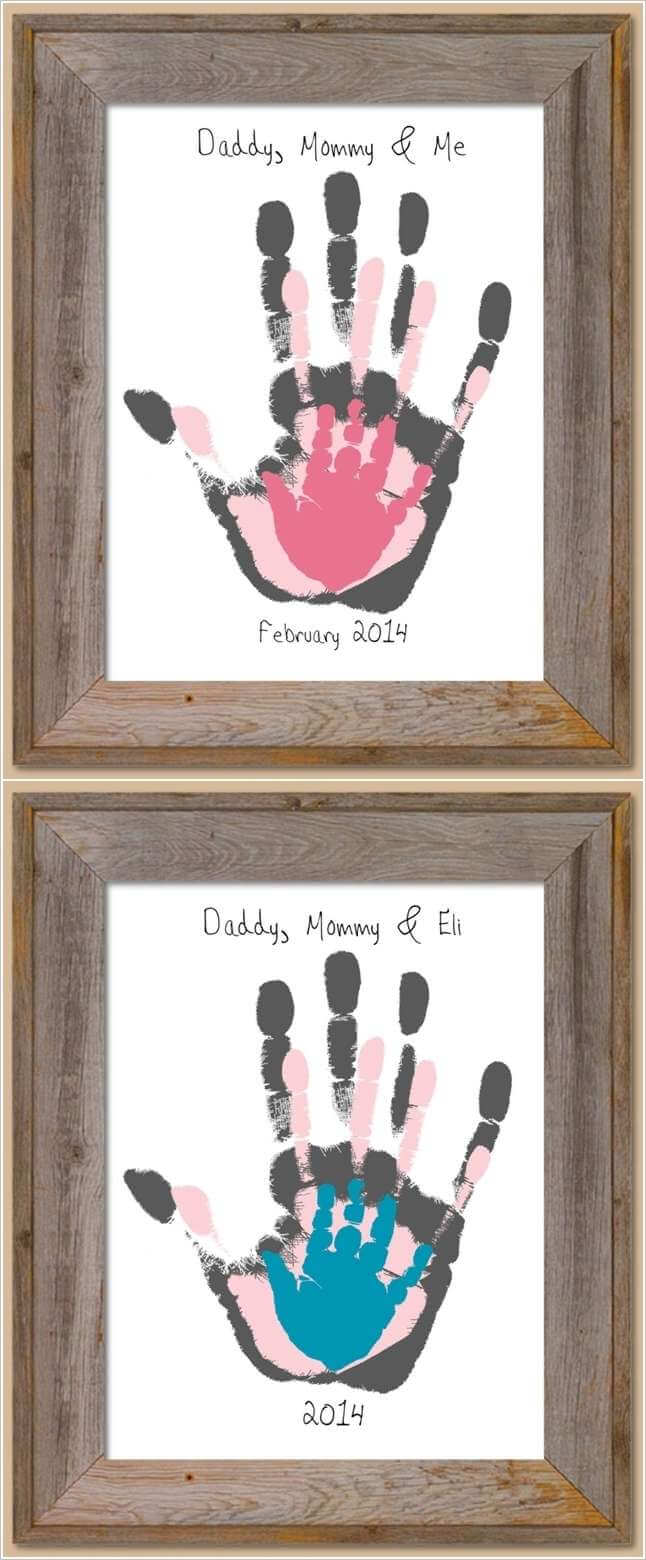 31. Rustic Wood Frames Dates to Remember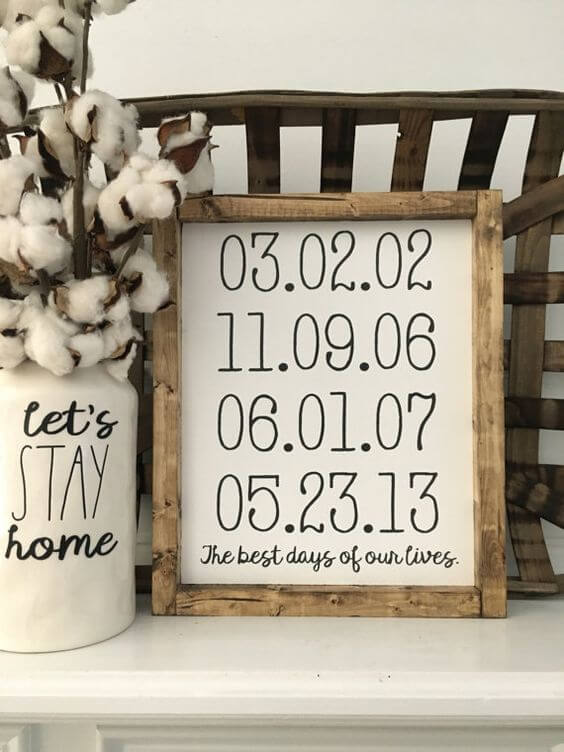 32. The Ladder of a Loving Family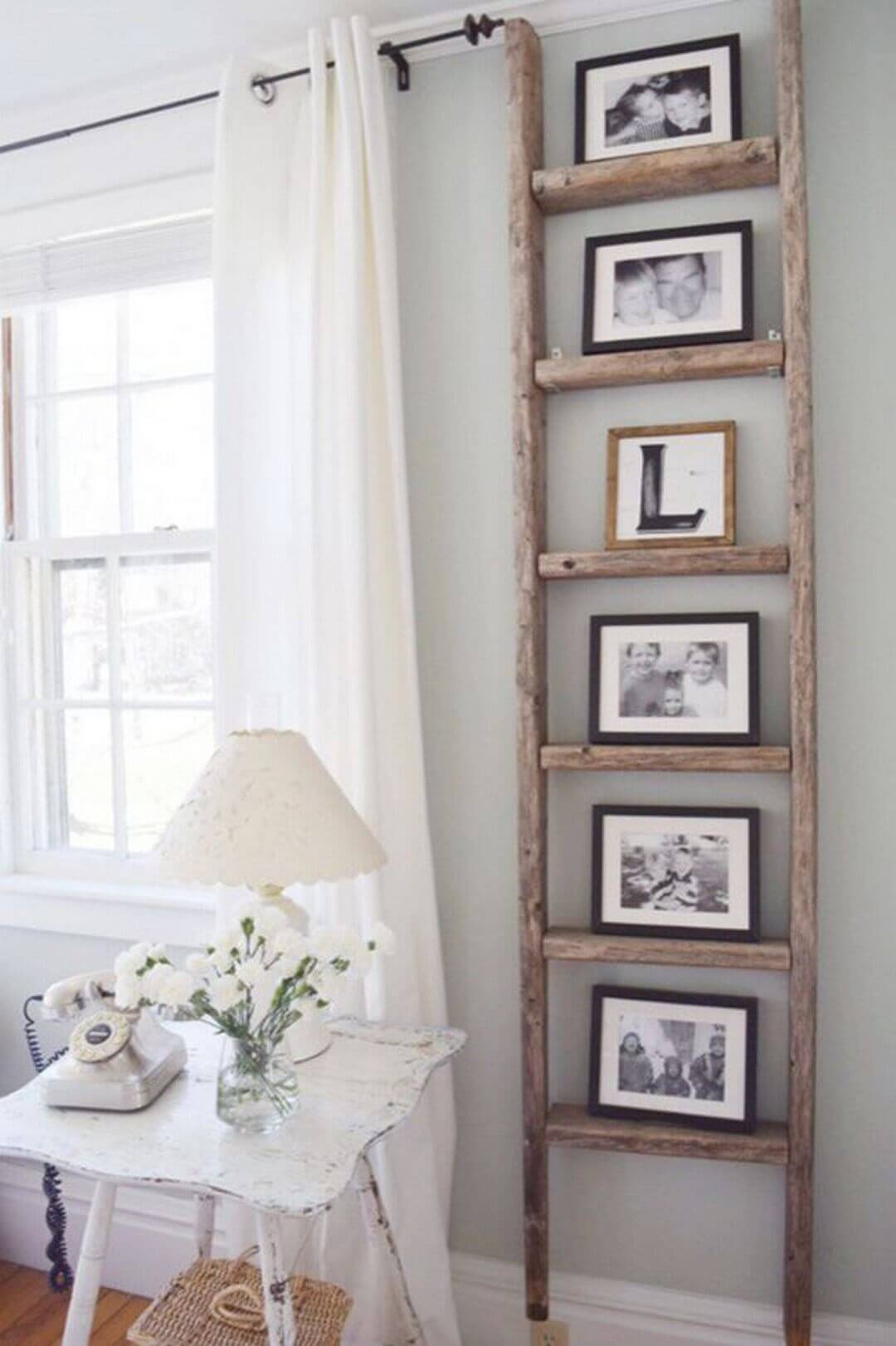 33. Nameplate Style Family Name Book Figurine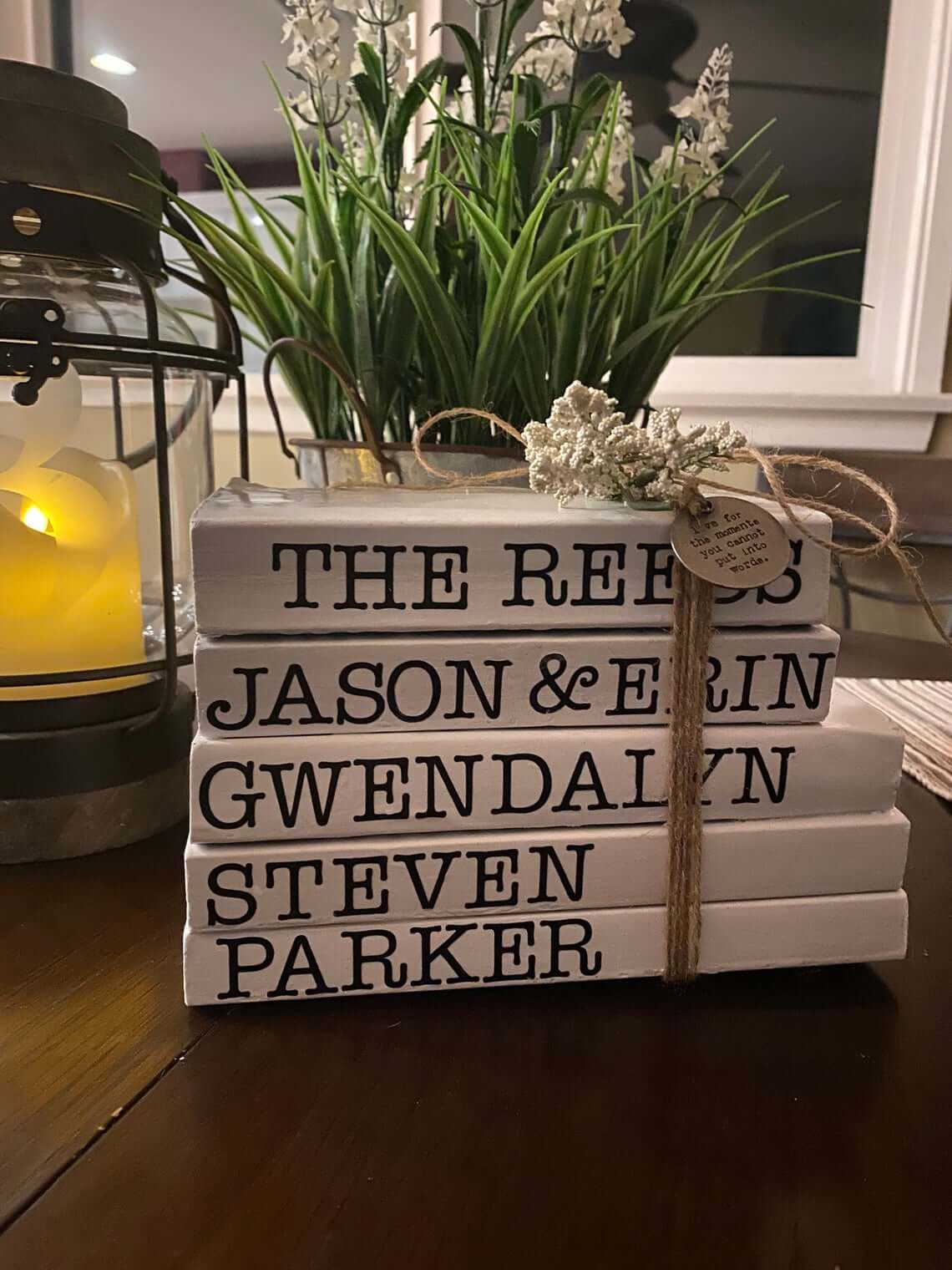 Paperback books form the basic structure of this piece of decor. While hardcover books could be used, paperback spines tend to be more concave over time and enable any decoration to stick securely. The lettering is a bold, simple capitalized typeface against a pale background, creating a striking effect.
34. Framed Surname with Capital Letter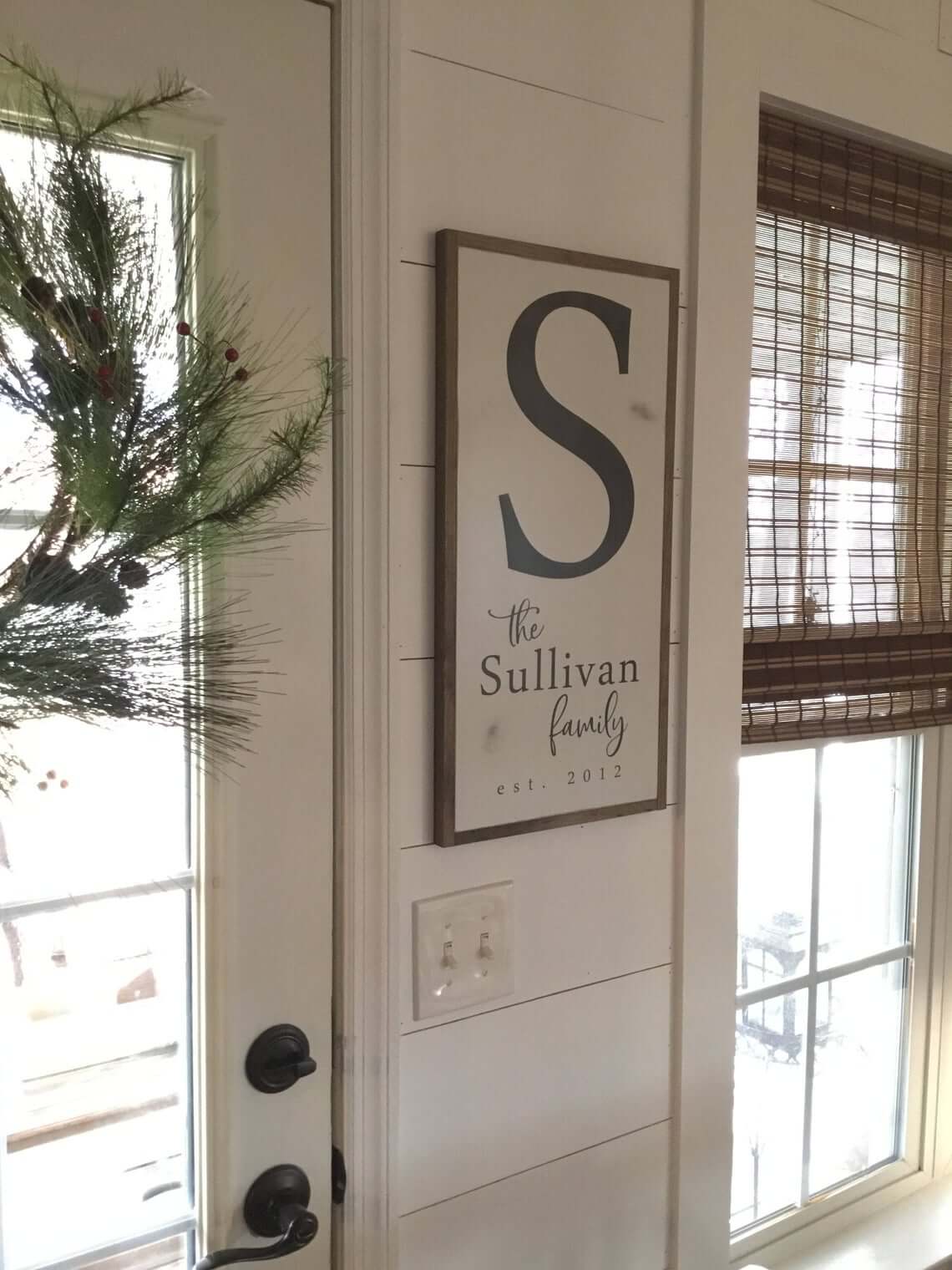 A thin black frame is fitted snugly around a white background that features a large "S," the first letter of the family's surname. Also on the backing is an "established" date, no doubt the year of a wedding. This piece is highly versatile and can be diversified with plenty of fonts, colors, and other decorations.
35. Welcome Sign with Rustic Wooden Frame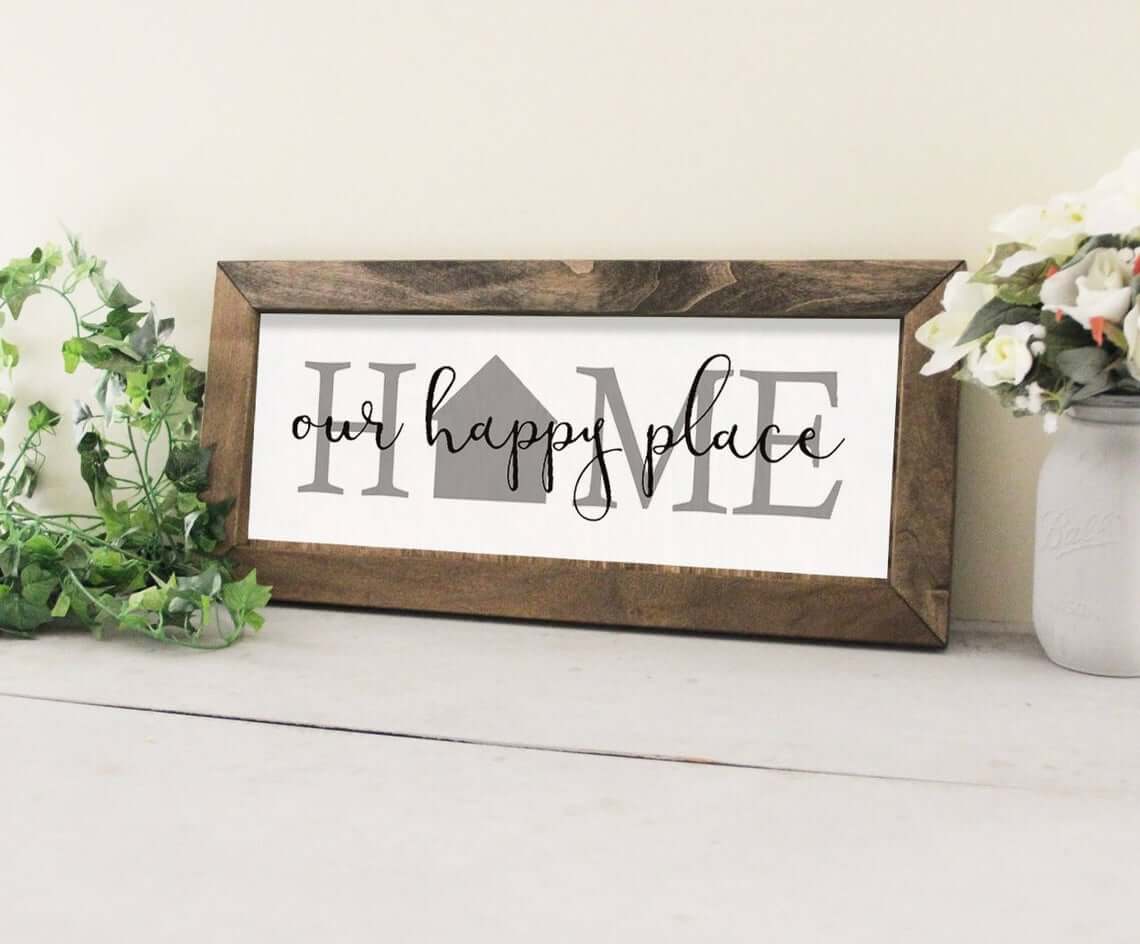 "Our happy place" is superimposed in a swirling cursive script over "home" in block letters, the "O" being the outline of a house. A white background covers the rest of the image inside the dark-stained wooden frame. Simple angular joints at the corners of the frame complete the piece's homey, down-to-earth feel.
36. Family Themed Plaque of Togetherness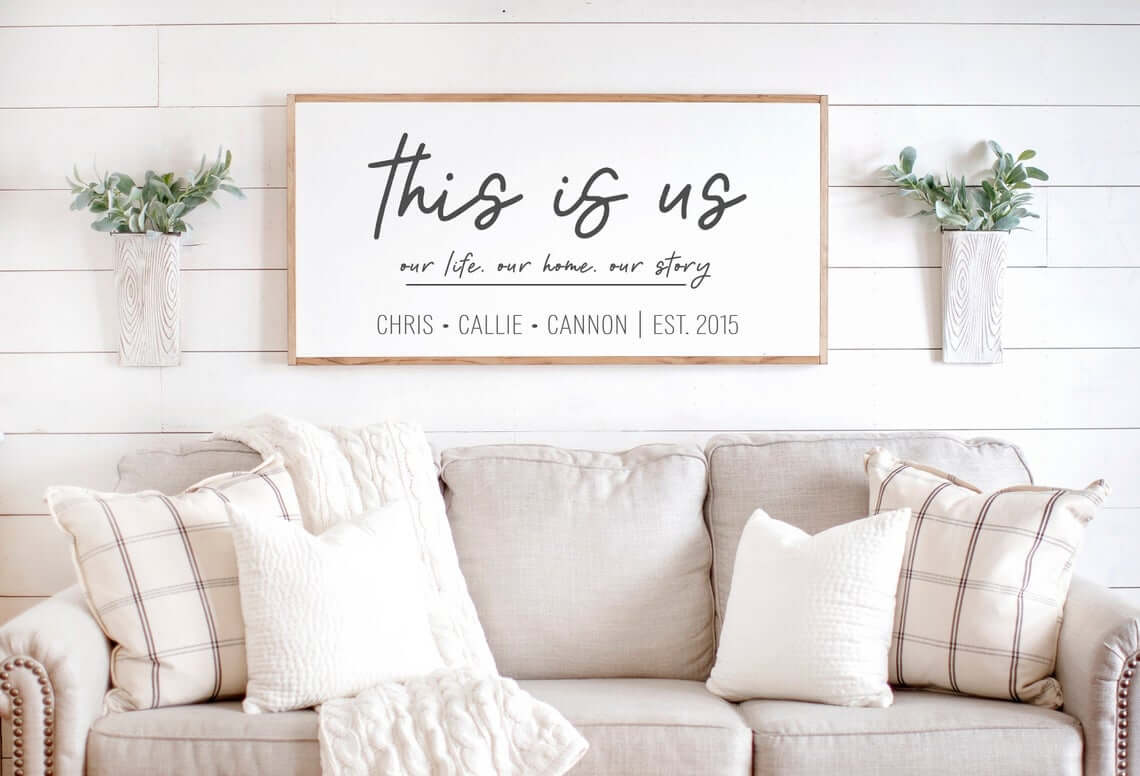 A thin wooden border stained in medium tan wraps around the edges of this wall hanging. On the bottom are the names of the family members with an "established by" date to create a tangible timeline. The phrases "this is us" and "our life, our home, our story" stand out in black ink against a white background.
37. Lettered Round Wooden Name Plaque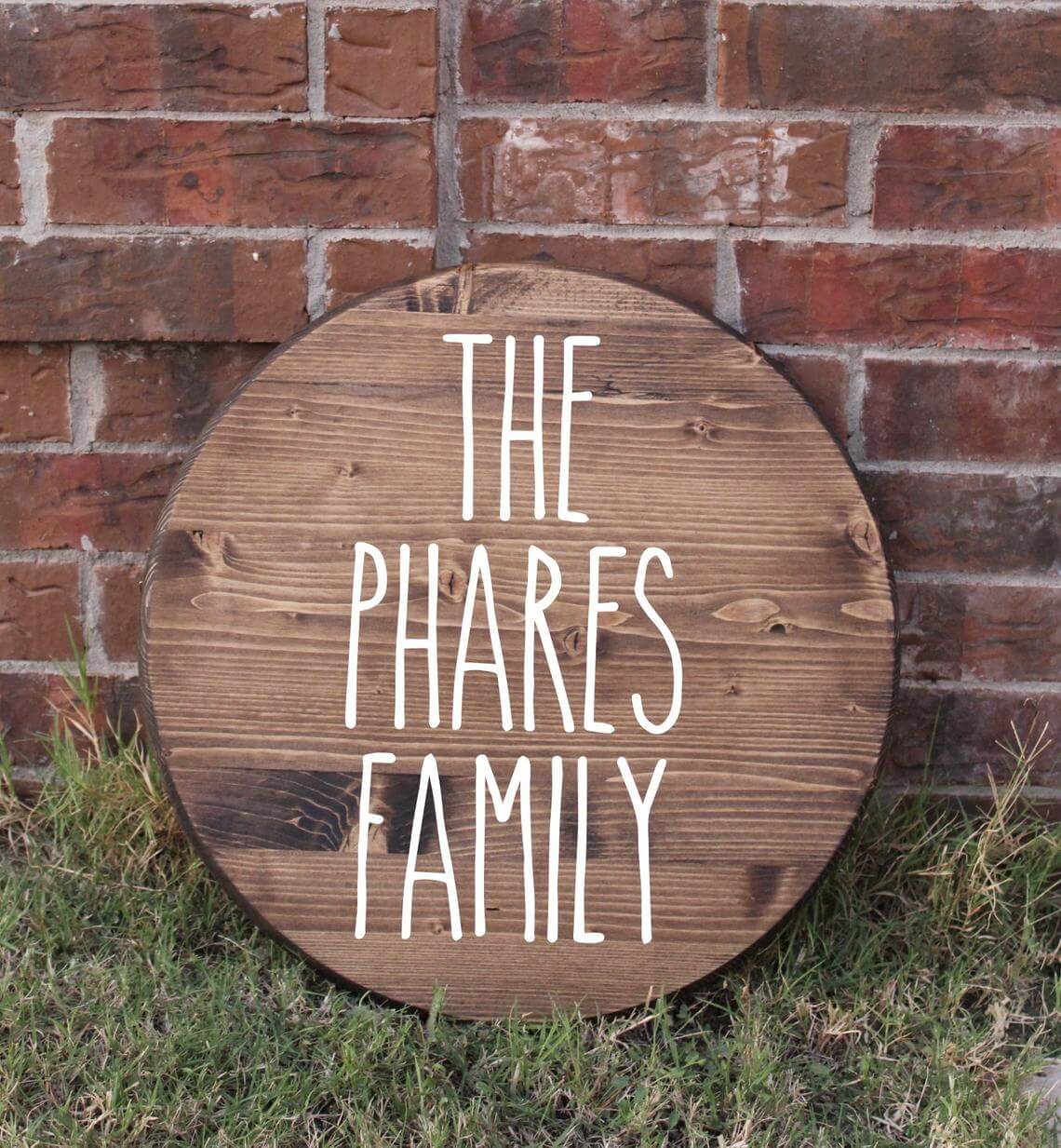 Round hanging decorations are almost always eye-catching. This medium stained wooden plaque is a perfect example, thin white lettering announcing "the XX family." While this example is plan other than the lettering, simple decorations could be added around the border for extra flair.
38. Woven Bench with Engraved Glass Back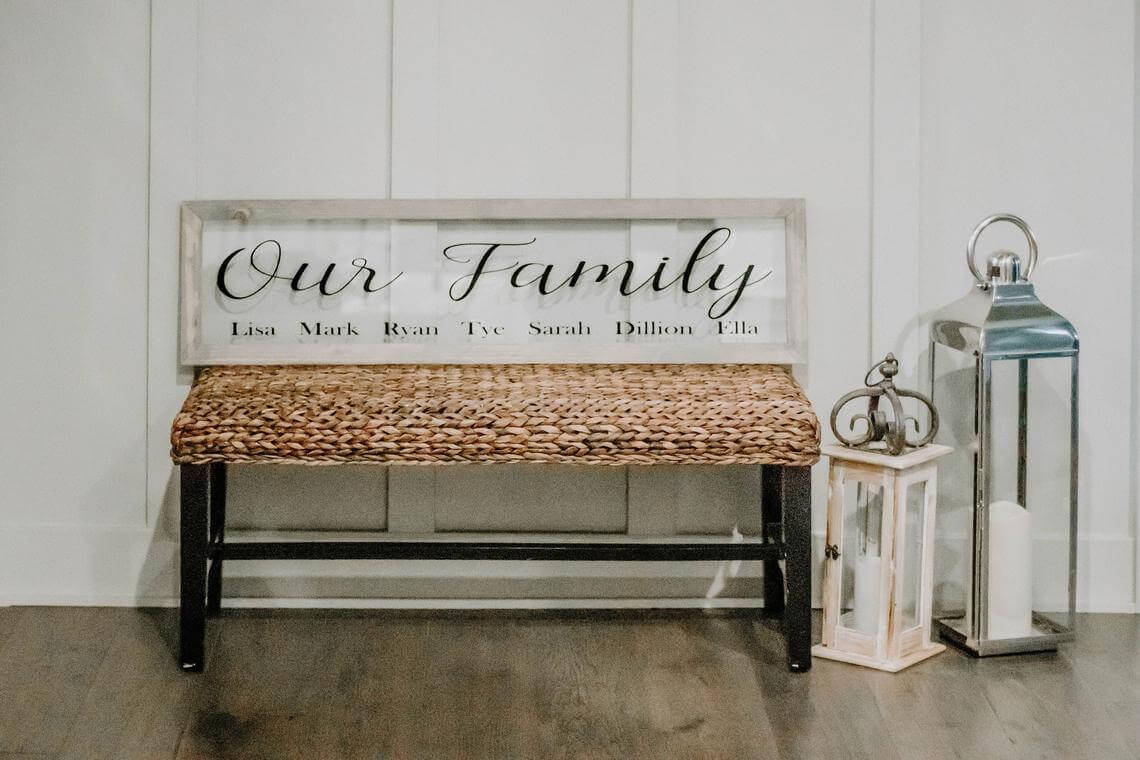 This bench features a dark frame and legs, woven seat, and engraves back with the words "our family" and the names of each family member underneath. The sides are cut at a forward angle and sanded down. This emphasizes the shine and the lettering on the front.
39. Painted Canvas Worn in Wall Hanging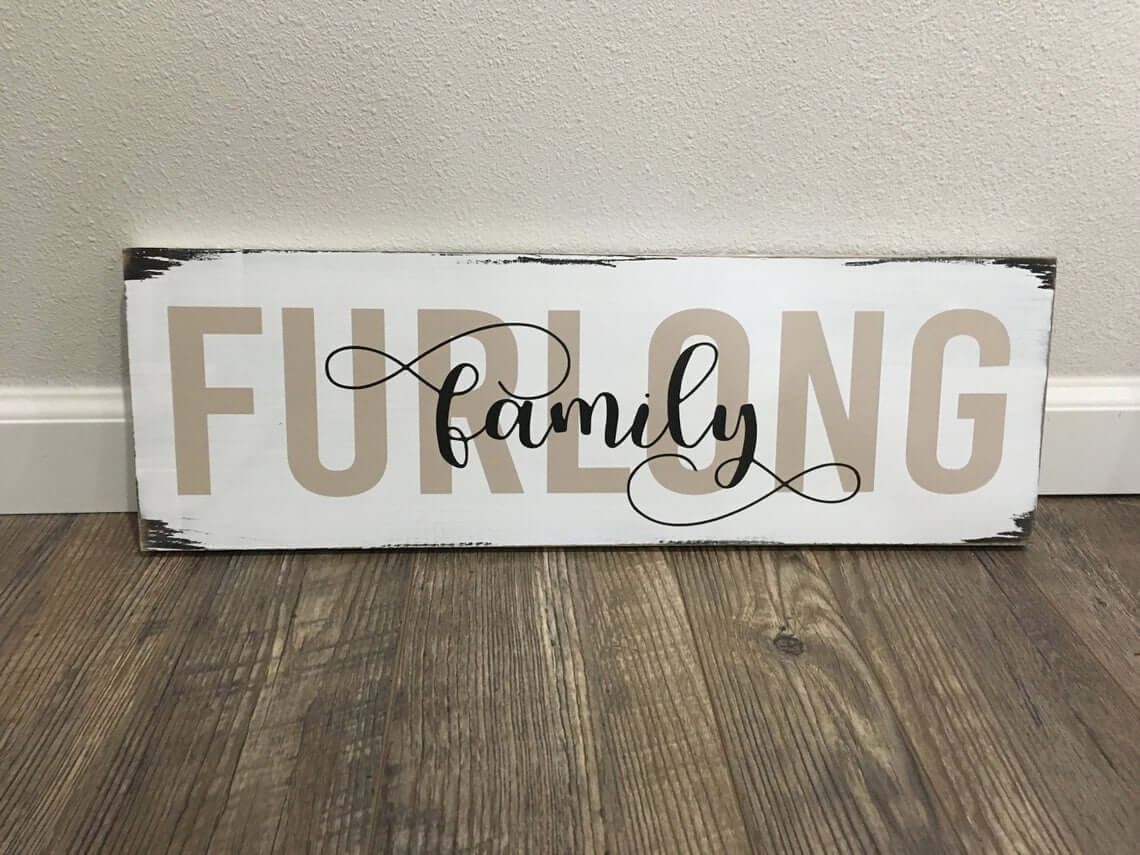 This canvas is painted white with the sides worn to a sharp black. The smooth front sports the word "family" in swirling script superimposed over the family name. The juxtaposition of smooth and rough makes this a striking piece, as do the delicate letters on top of bold ones.
40. Commemorative Wedding Plaque with Wood Frame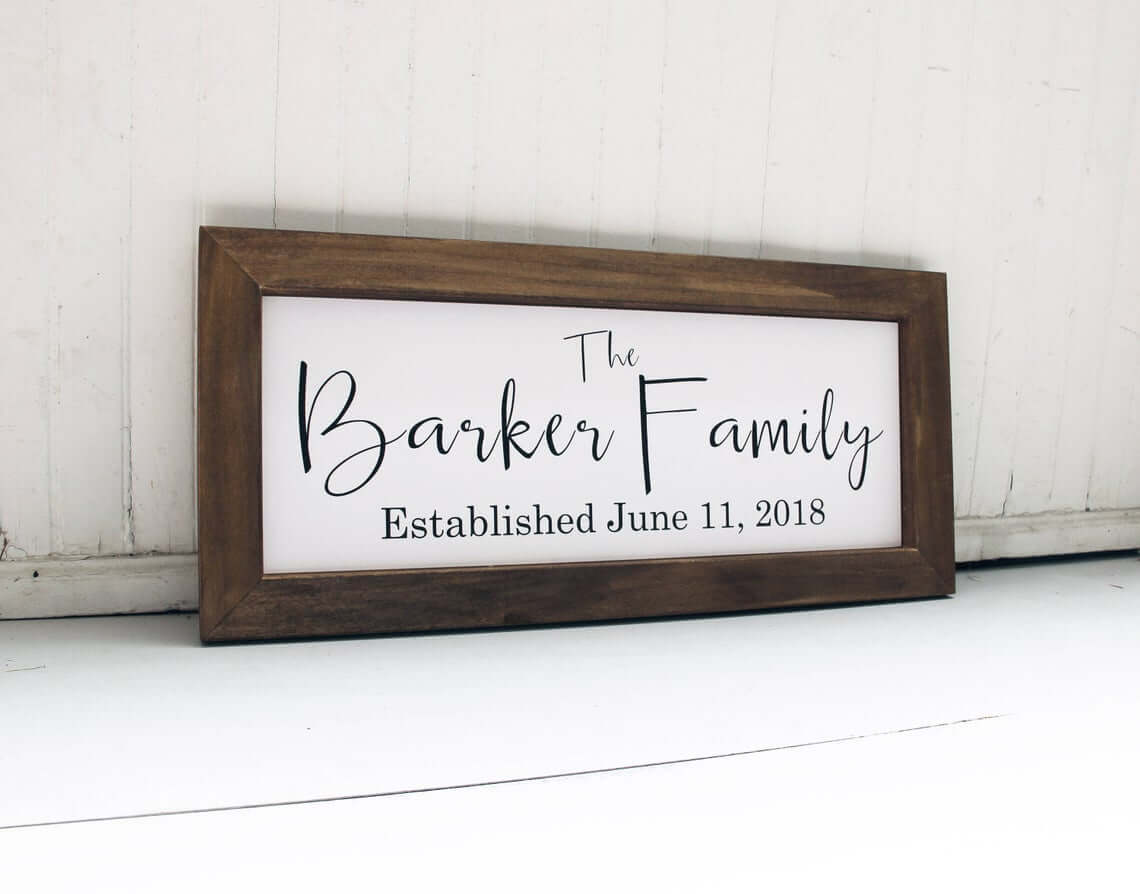 Some families start when marriages occur and this commemorative plaque is a lovely way to memorialize that family beginning. Generously spaced thin black lettering stretches across the white background to announce the family name and the date it began. A dark wooden frame completes the picture.
41. Wall Hanging with Initial and Name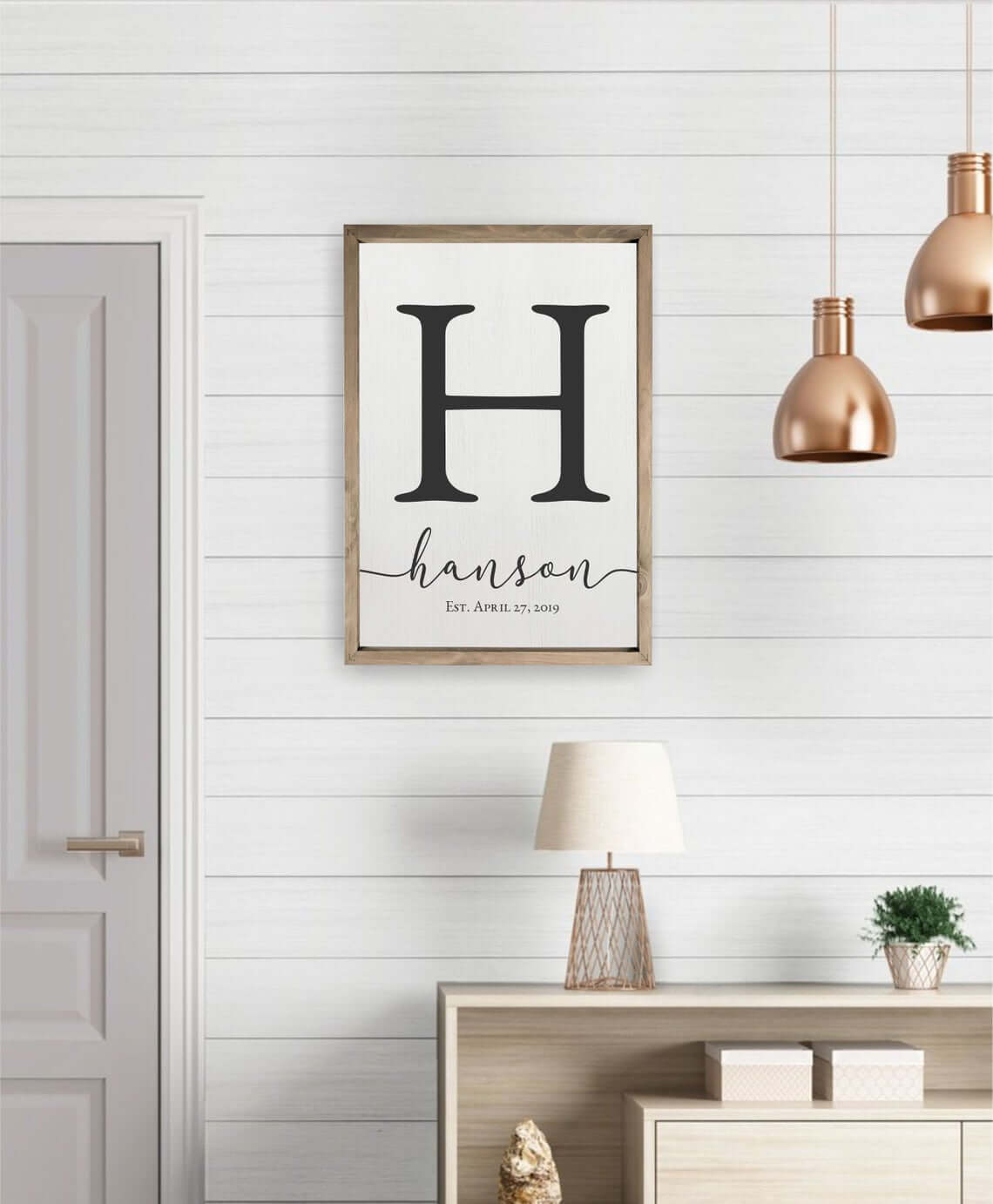 A portrait-style orientation and bold capital letter are the defining features of this eye-catching piece. A "date of origin" and delicately scrawled last name are accented by the thin matte wood frame. The simplicity of this piece makes it extremely versatile.
42. Family Portrait on Large Canvas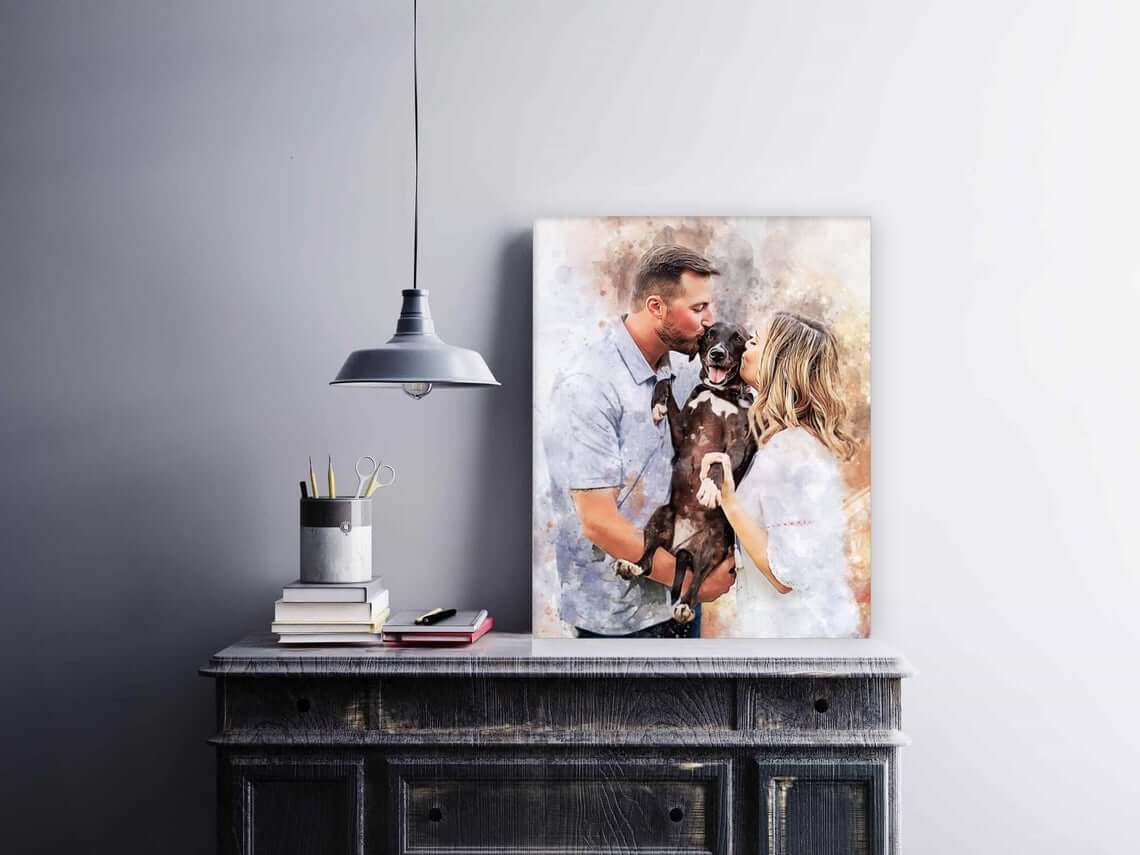 A popular gift or decoration option is a family portrait painted or printed on canvas. This version is a happy couple and their delighted dog. Each person plants a kiss on either side of the dog's head. While the image is photorealistic, the speckled background makes it clear that creative expression is also possible.
43. Family Tree Painted on Wood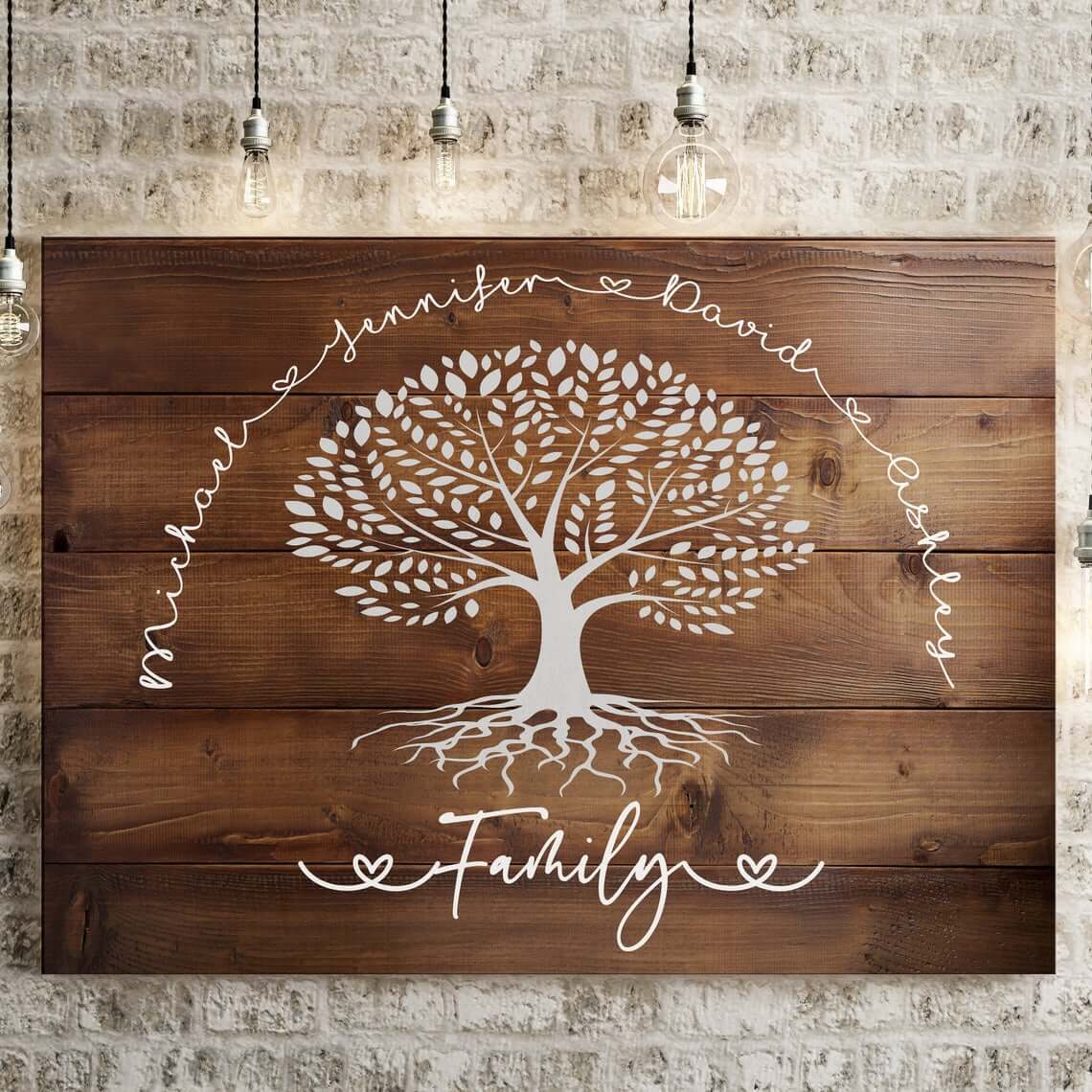 Shiny dark stained wood with a gloss forms the backdrop for this wall hanging. Bright white paint is used to paint a fluffy, well-rooted tree and around the top are painted names of individual family members. "Family" is accented by hearts and painted underneath the tree.
44. Ladder with Names and Birthdates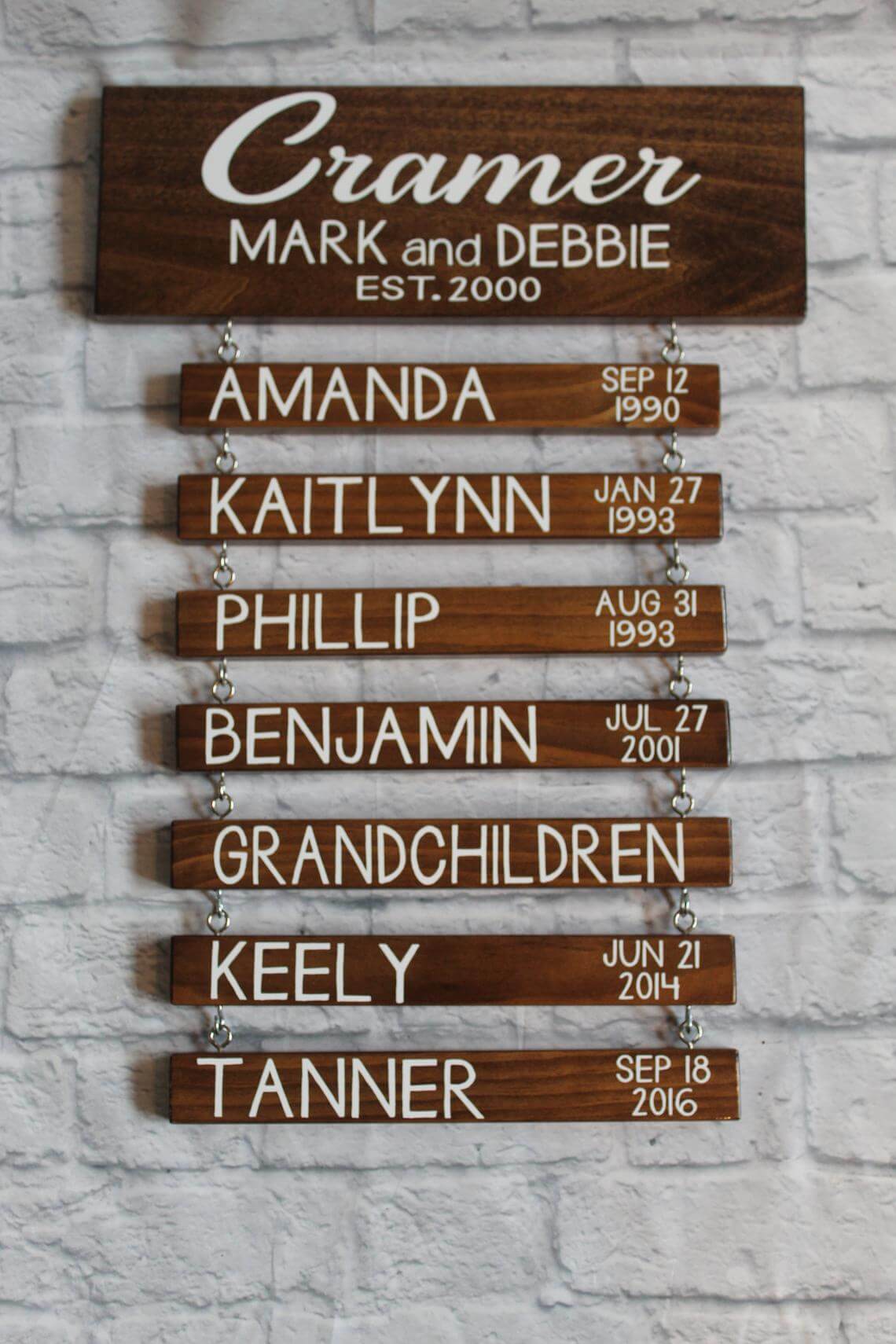 This wall hanging features a primary plate with the family's last name and the date the parents were married. Each rung of the ladder beneath this plate has a child's name and the date of birth. Grandchildren are also included on the lower rungs, which leaves room for more additions.
45. Log Slice Tree Ring Family Record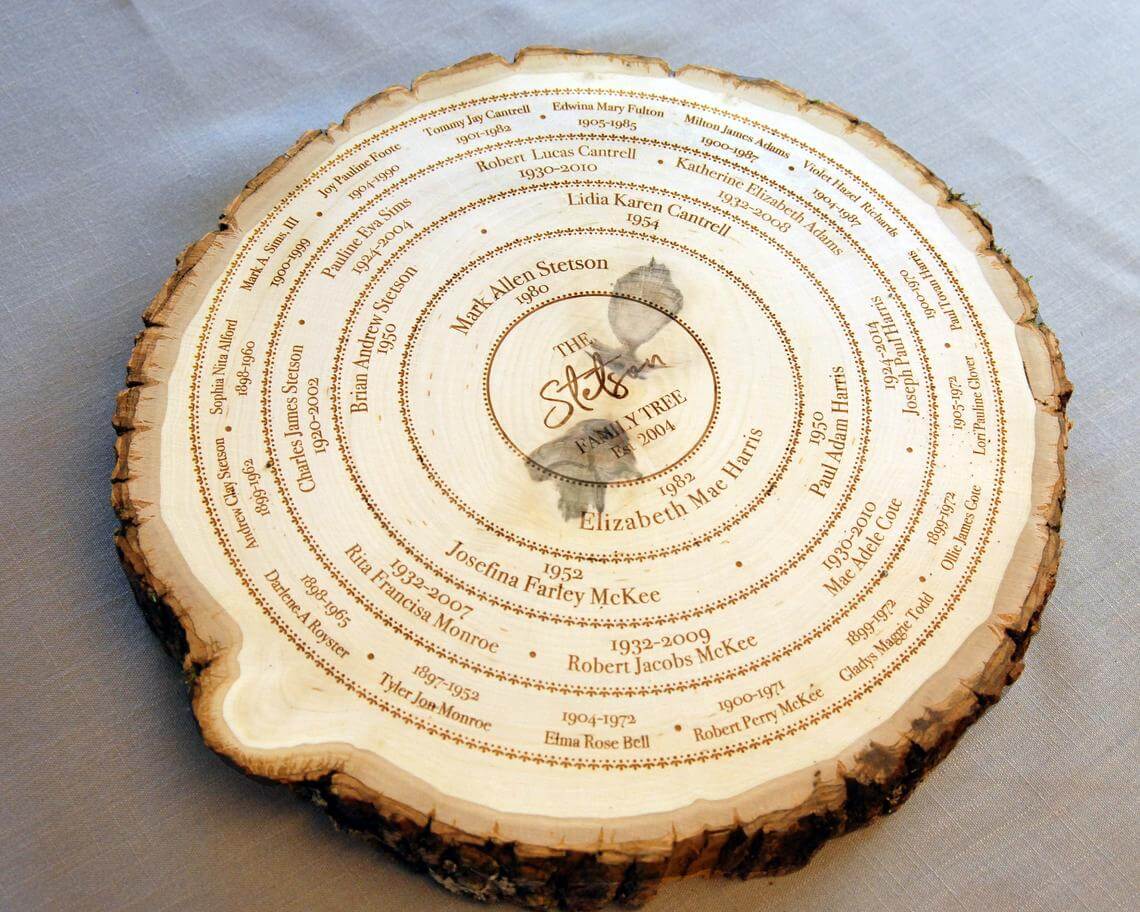 Like tree rings that tell the tree's life story, the rings of this wood burned piece chart multiple generations of the same family. The outer rings are the beginning and contain the older generations. The middle section declares the family name and commemorates whichever significant date the family prefers.
46. Name Plaque with Individual Name Styles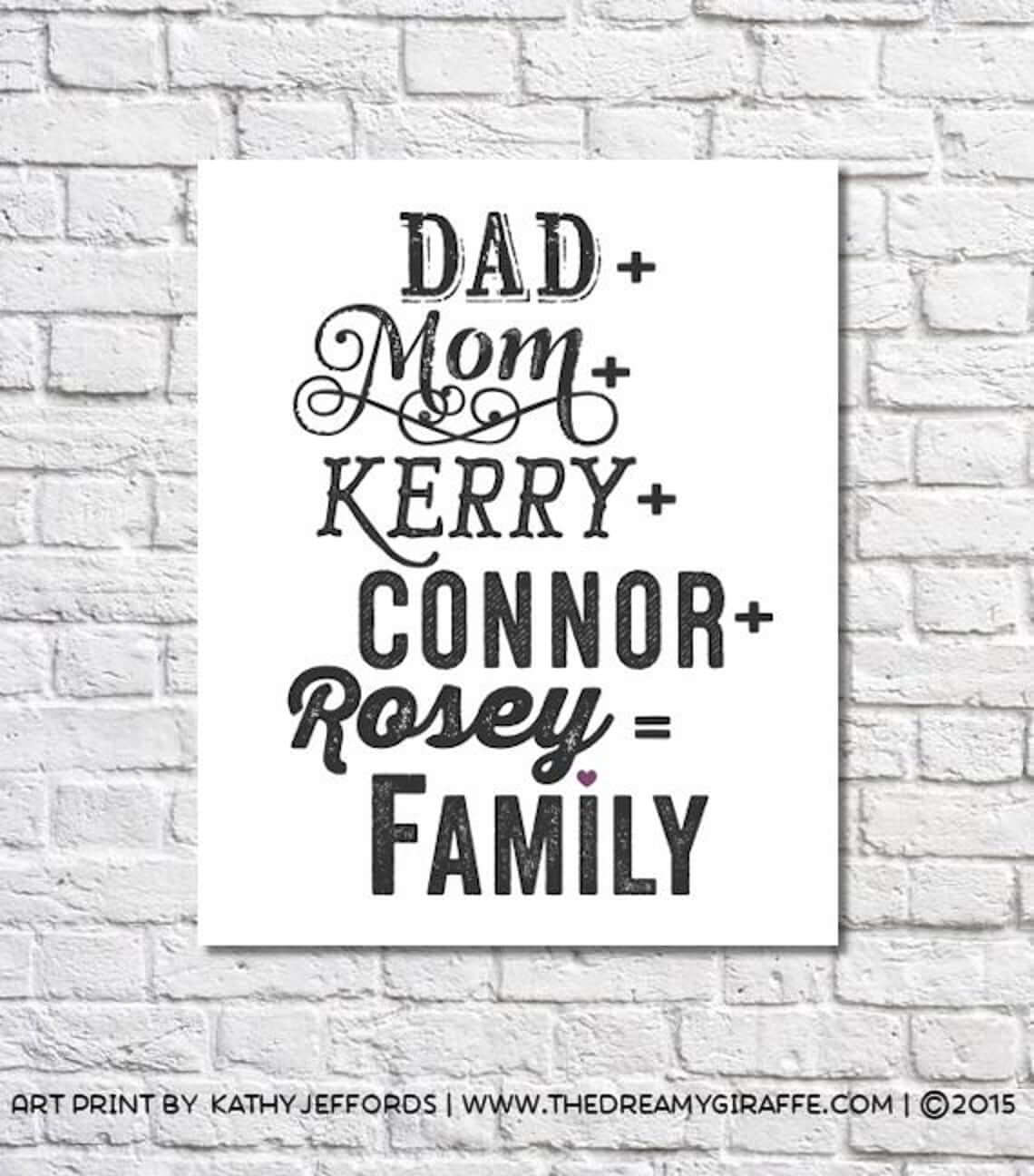 This plaque lists all the members of the family in a mathematical addition style. The sum of each person together equals family, and each name is written in black with its own style. A bright white background helps the names to visually pop.
47. Framed Family Portrait with Positive Message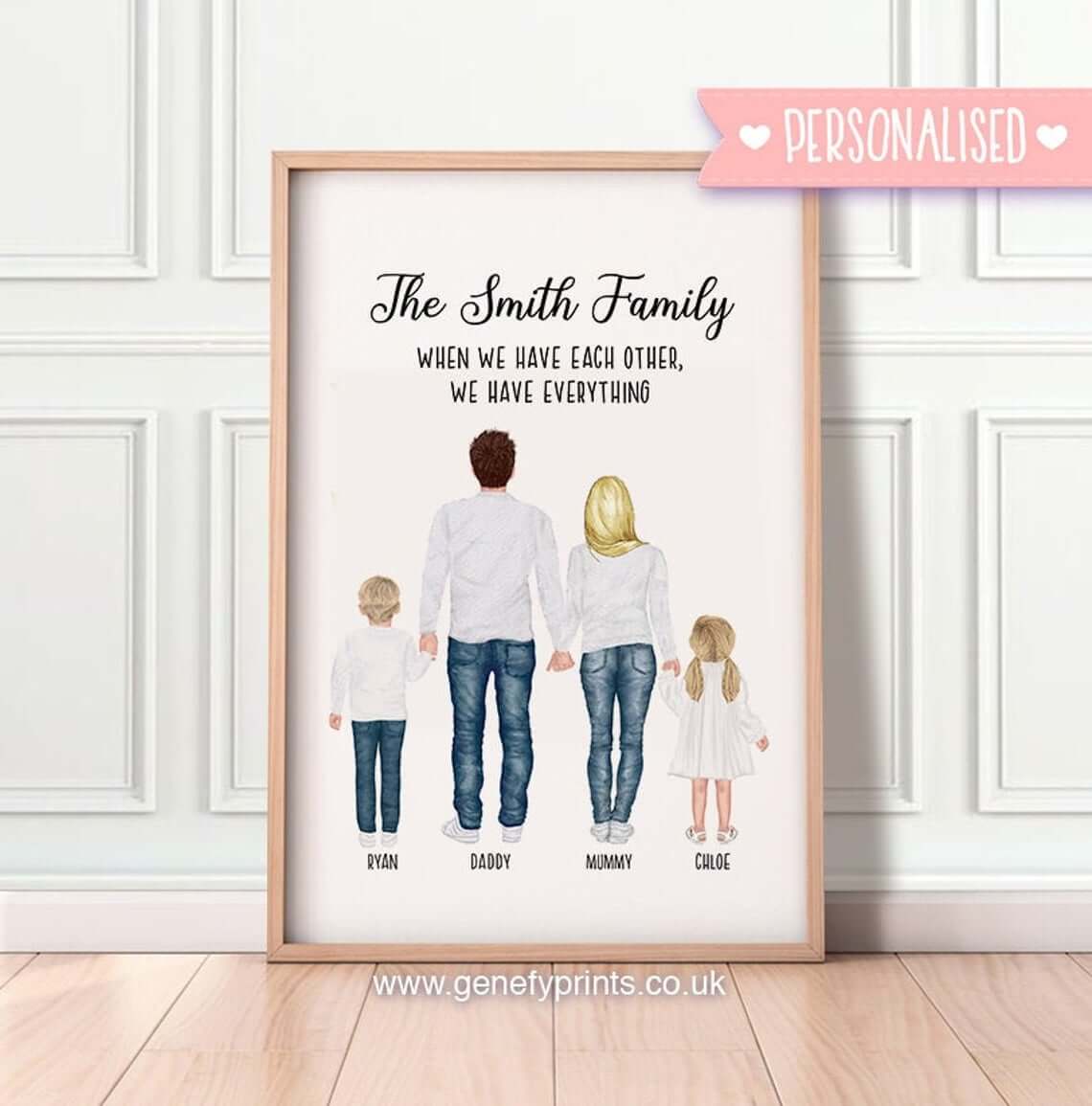 Each family member is pictured from the back of this decoration. Care is taken with details such as height and hair color. Above the figures is a carefully lettered message of love and encouragement, and above that is the family name. A light brown border polishes the portrait.
48. Hearts with Dates and Featured Locations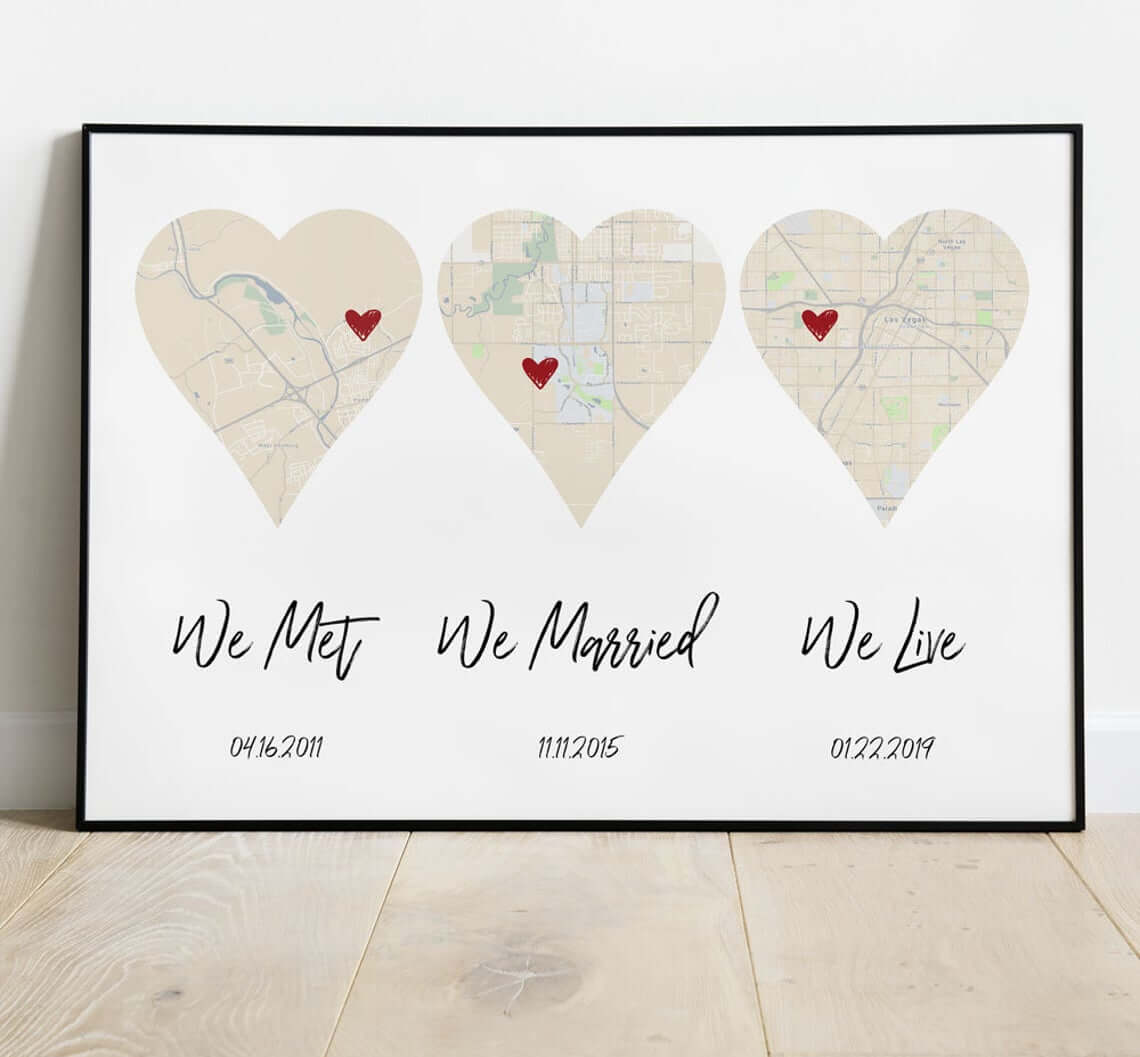 The hearts at the center of this piece feature significant locations and dates. "We met" is a location where the couple had their first meeting and it is indicated by a red heart on the map inside one of the larger featured hearts. "We married" and "we live" are indicated in the same way in the other hearts.
49. Puzzle Style Family Name Poster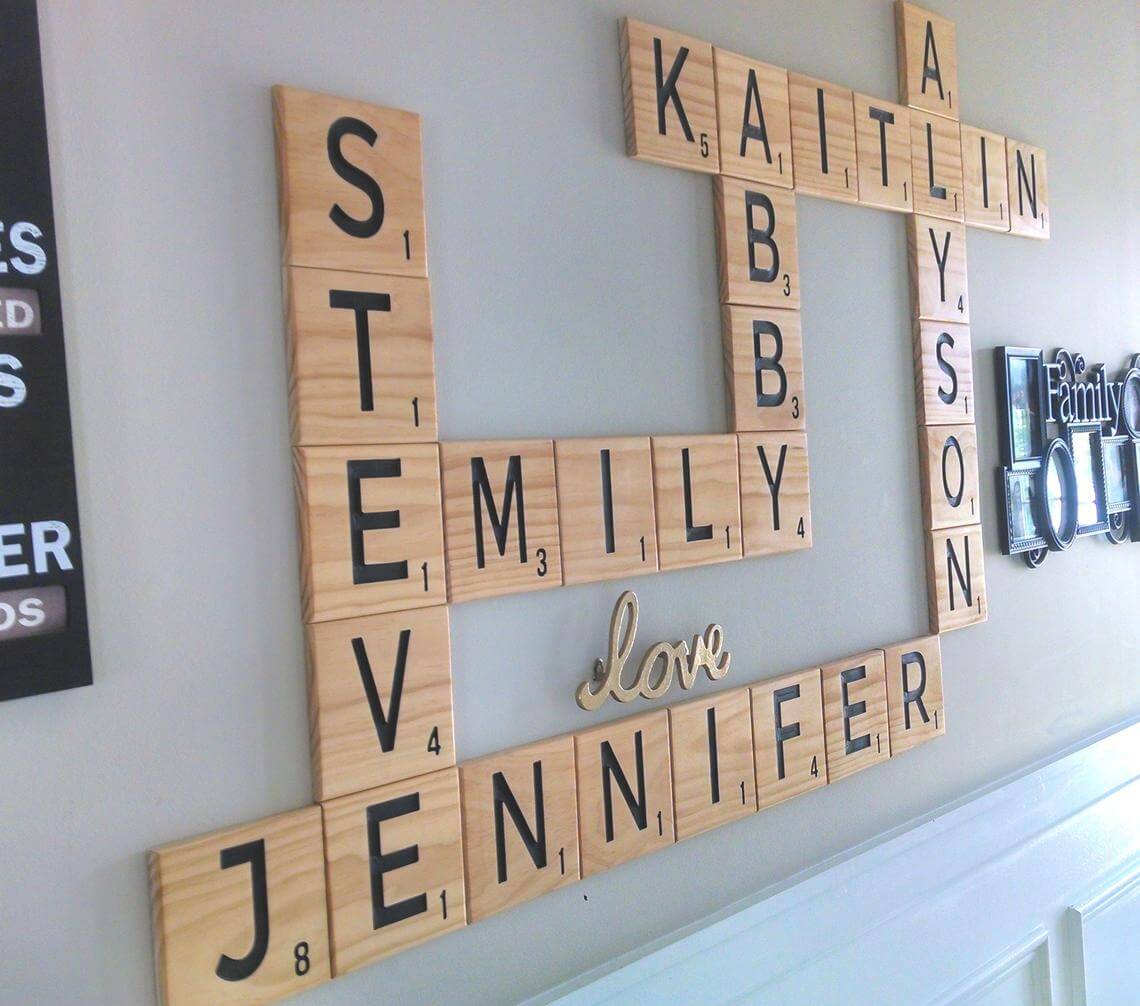 These tiles imitate a certain popular word-based game and the effect is eye-catching. Common letters within each family member's name are linked together. The resulting image is both individualized by piece and closely interconnected. Light wood grain finishes off the fun and clever look.
50. Joyful Portrait Collage Family Tree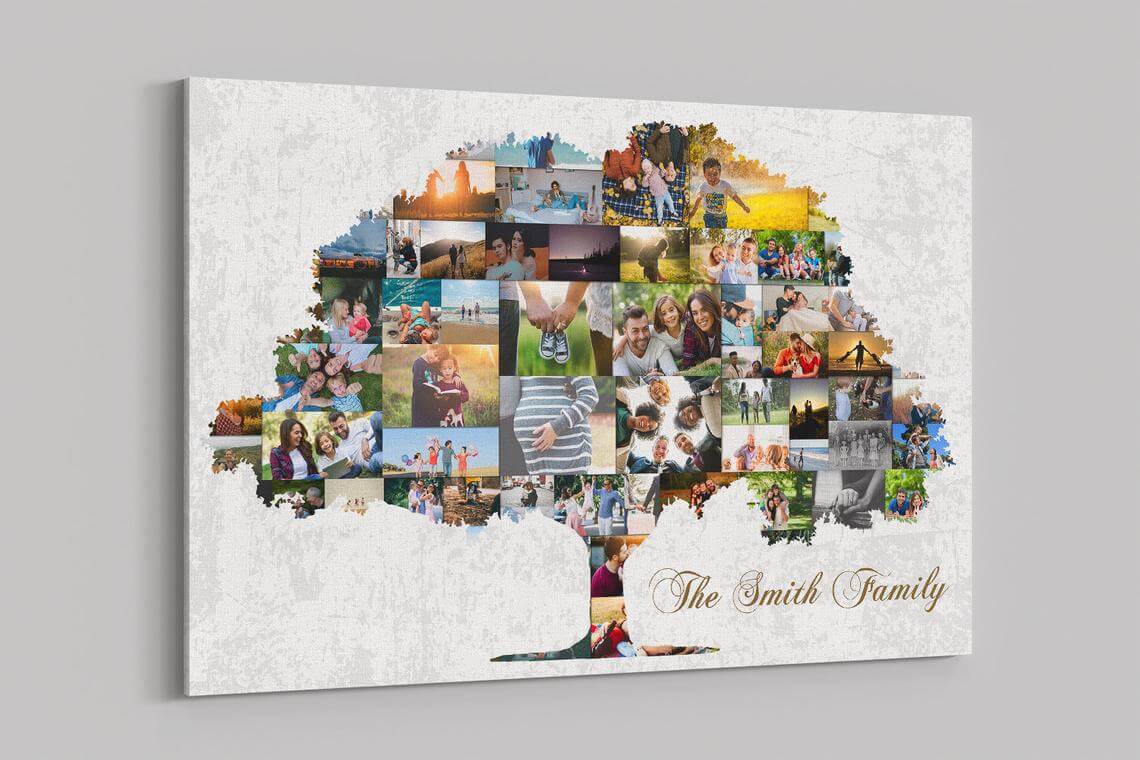 The easily recognizable outline of a tree is used as the basic shape for this portrait collage. Within the tree are dozens of photographs showing the journey and evolution of several generations. From the roots to the very top, each inch of space is full of tender memories.
51. Pillow with Printed Family Roster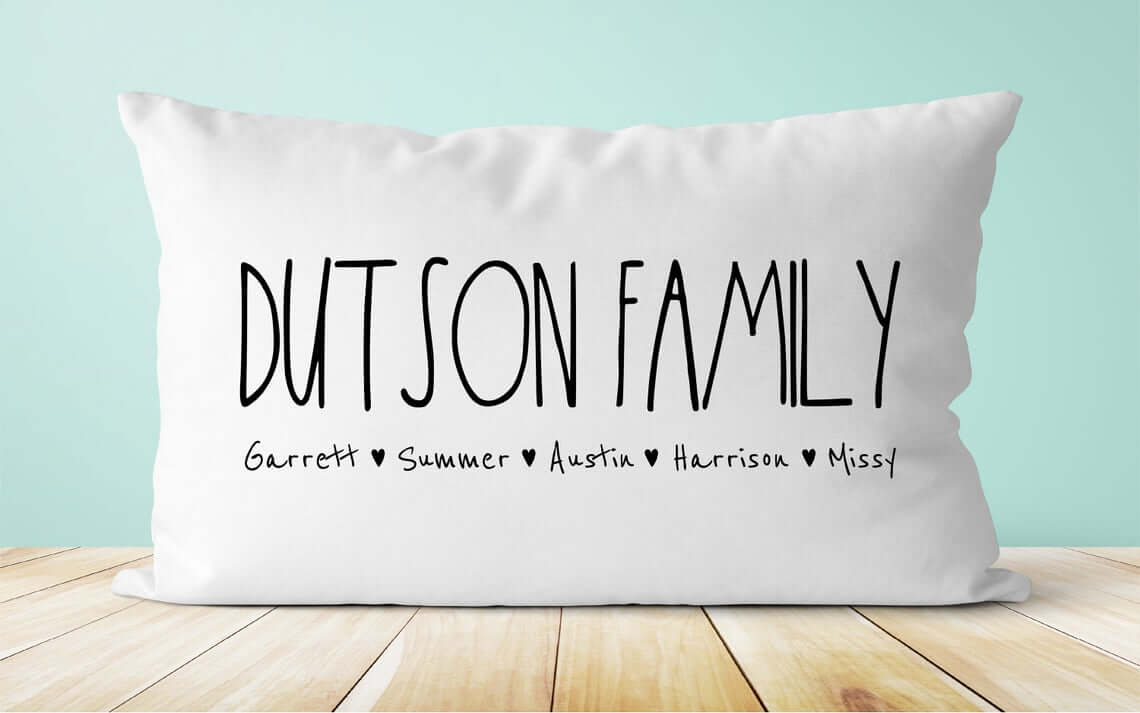 This rectangular pillow is white and features a family name in black lettering. Each member is listed underneath and the names are separated by small solid black hearts. Clean lines and even letters are done in a thin font to create a pillow that will match most design schemes.
52. Intricate Calligraphy Style Name Sign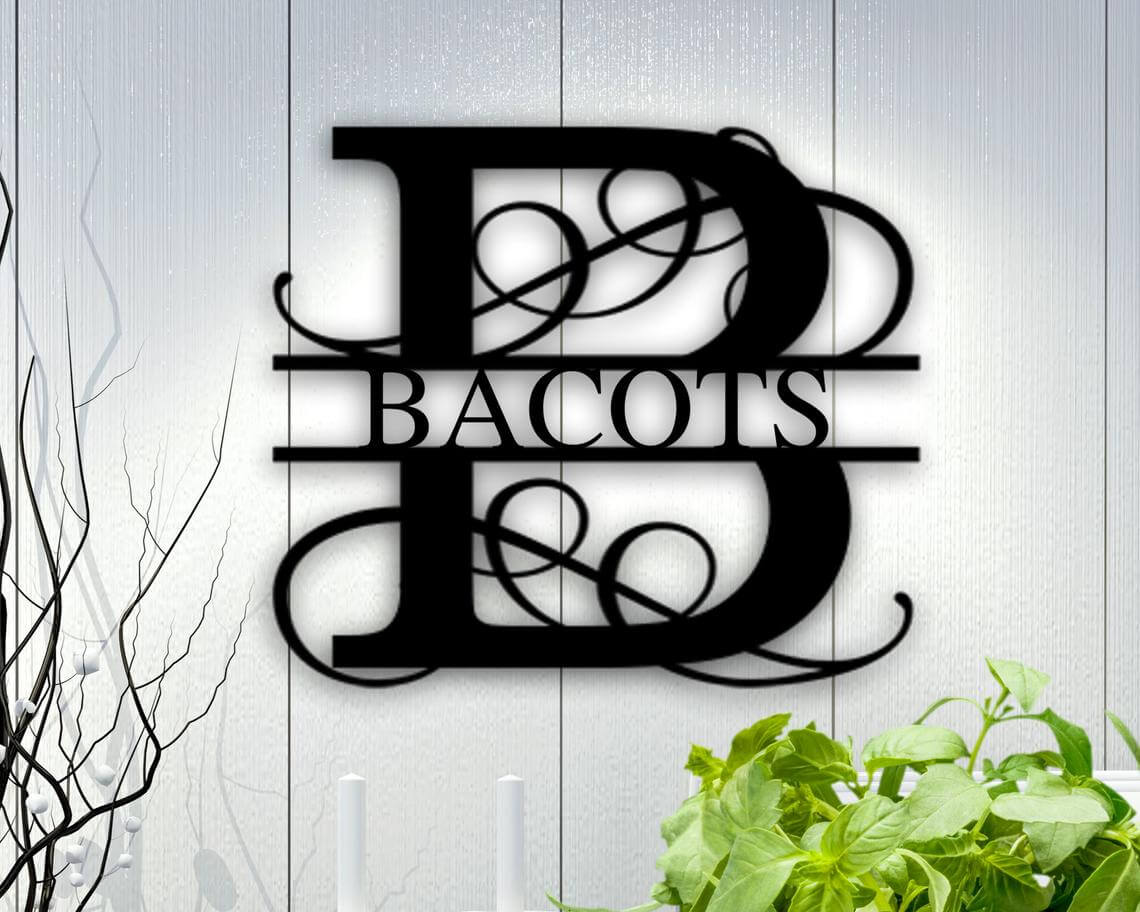 A large "B" is boldly set against a double filigree background that also features the family name of "Bacots" slipped through the middle of the larger "B." The material appears to be either metal or a very smooth, solid wood.
53. Glittering Holiday Ornaments with Painted Names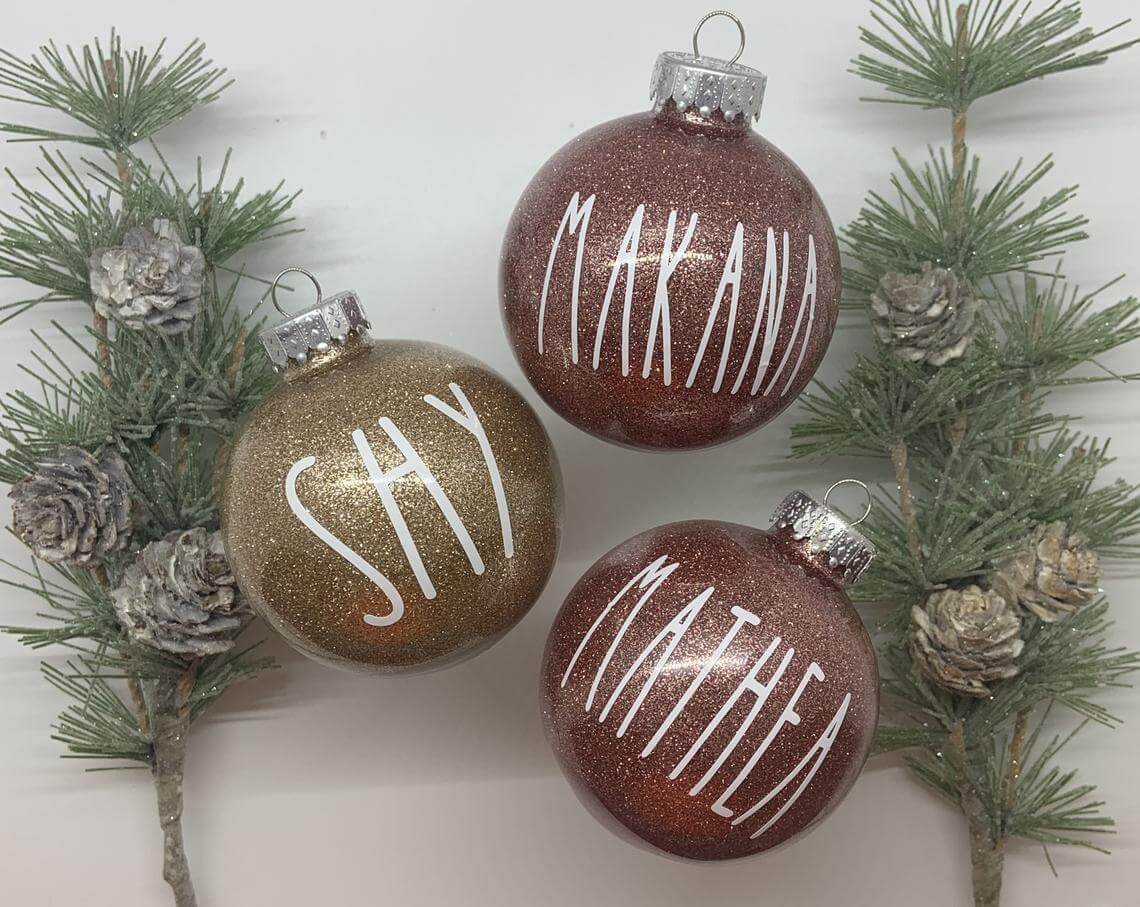 These ornaments in gold and burgundy glitter are painted in thin white letters with the names of individual family members. Any sort of ornament with a solid or glitter background can be used. If an ornament with a design is used, be careful to ensure that the name is still easy to read against the background.
54. Three Dimensional Family Name Plaque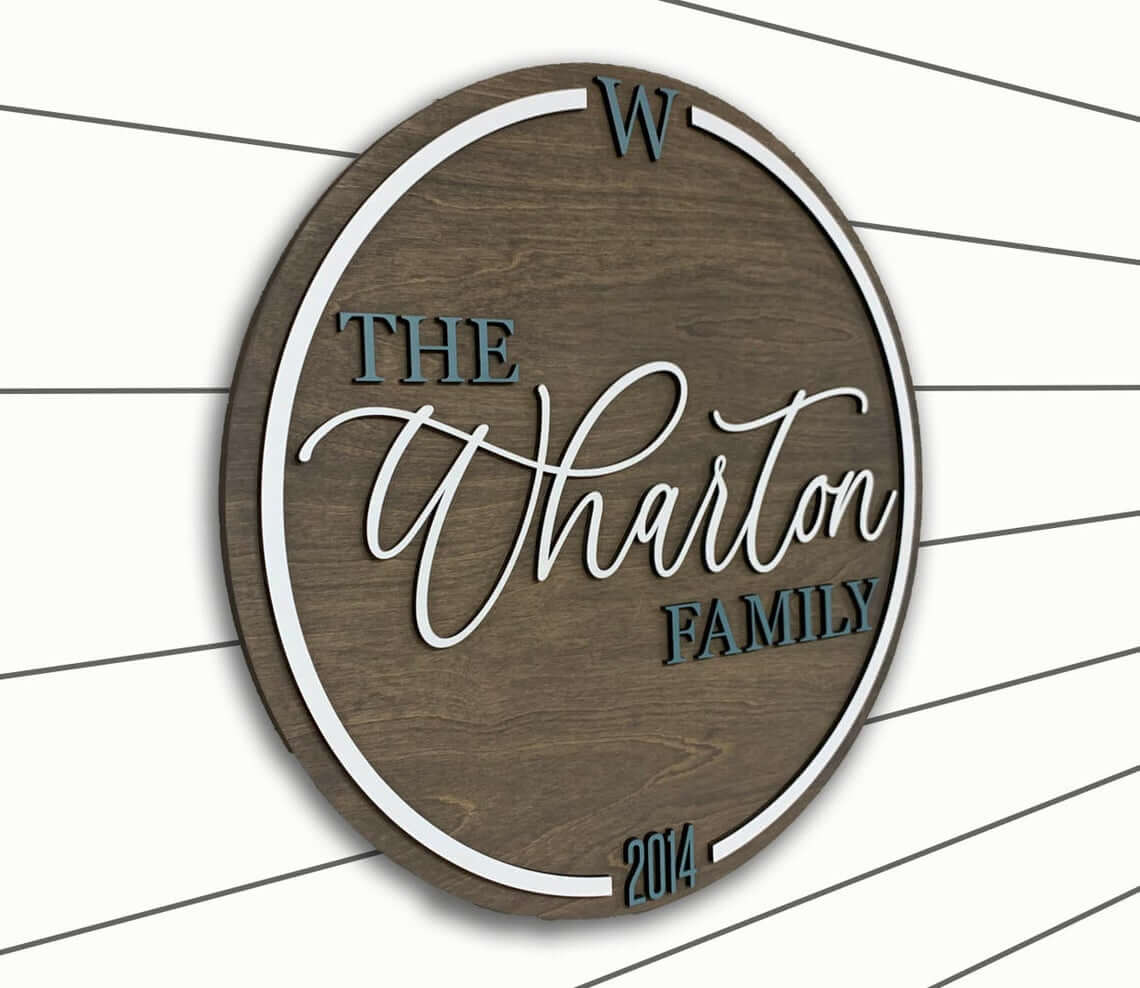 This rounded plaque is embellished with three-dimensional lettering and border accents. A dark brown background allows the family name to stand out in white. Green and white embellishments and border decorations present a polished look. An initial at the top and an origin date at the bottom complete the piece.
55. Cartoon Watercolor Personalized Family Portrait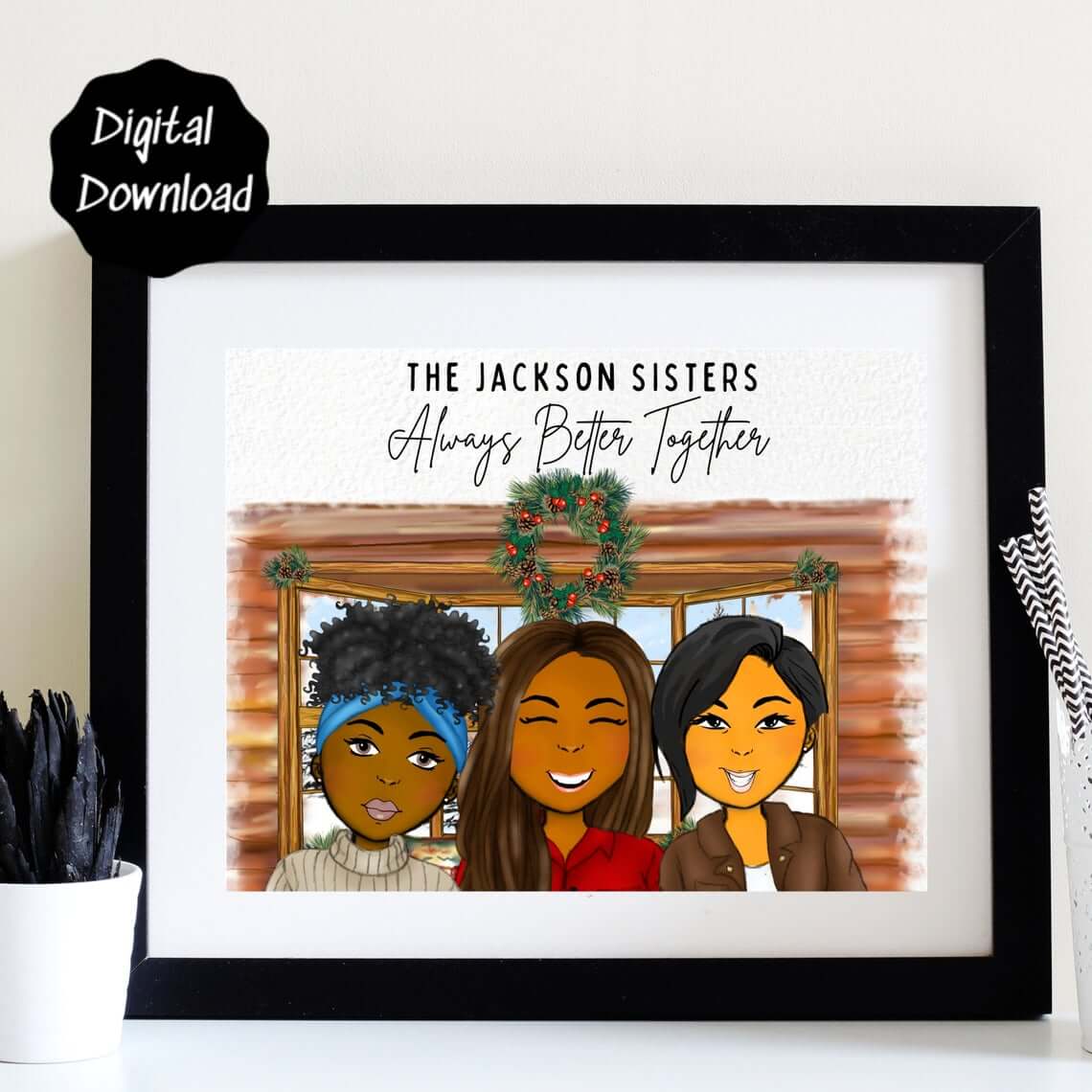 The watercolor style of this family portrait is charming and fun, while the stark black lettering above the drawing brings balance with a more polished look. Each member of the family in this portrait has a unique look and expression, proving that photorealism is not the only kind of nice portraiture technique.
56. Three Dimensional Marriage Commemoration Plaque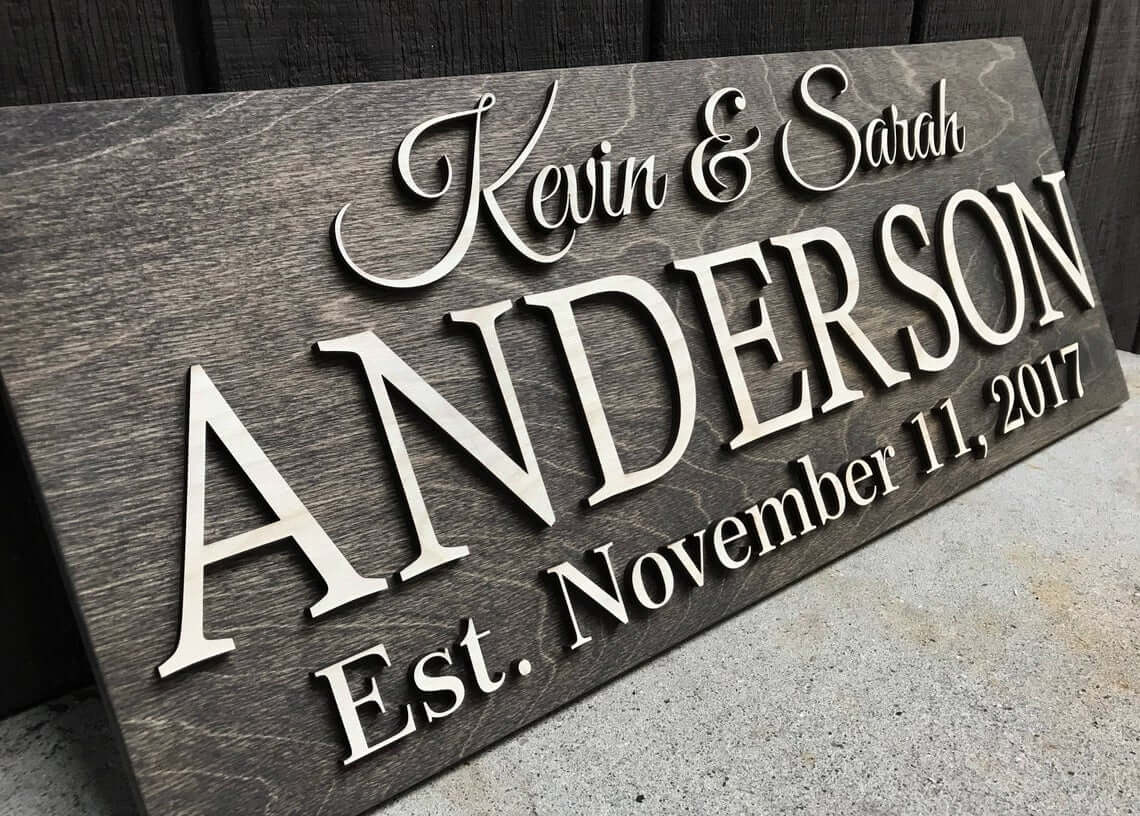 The rough wooden background of this plaque creates a striking contrast with the bold white script and block lettering. The first and last names of the couple are perfectly sculpted and below them is the wedding date.
57. Family Activity Cards in Glass Jar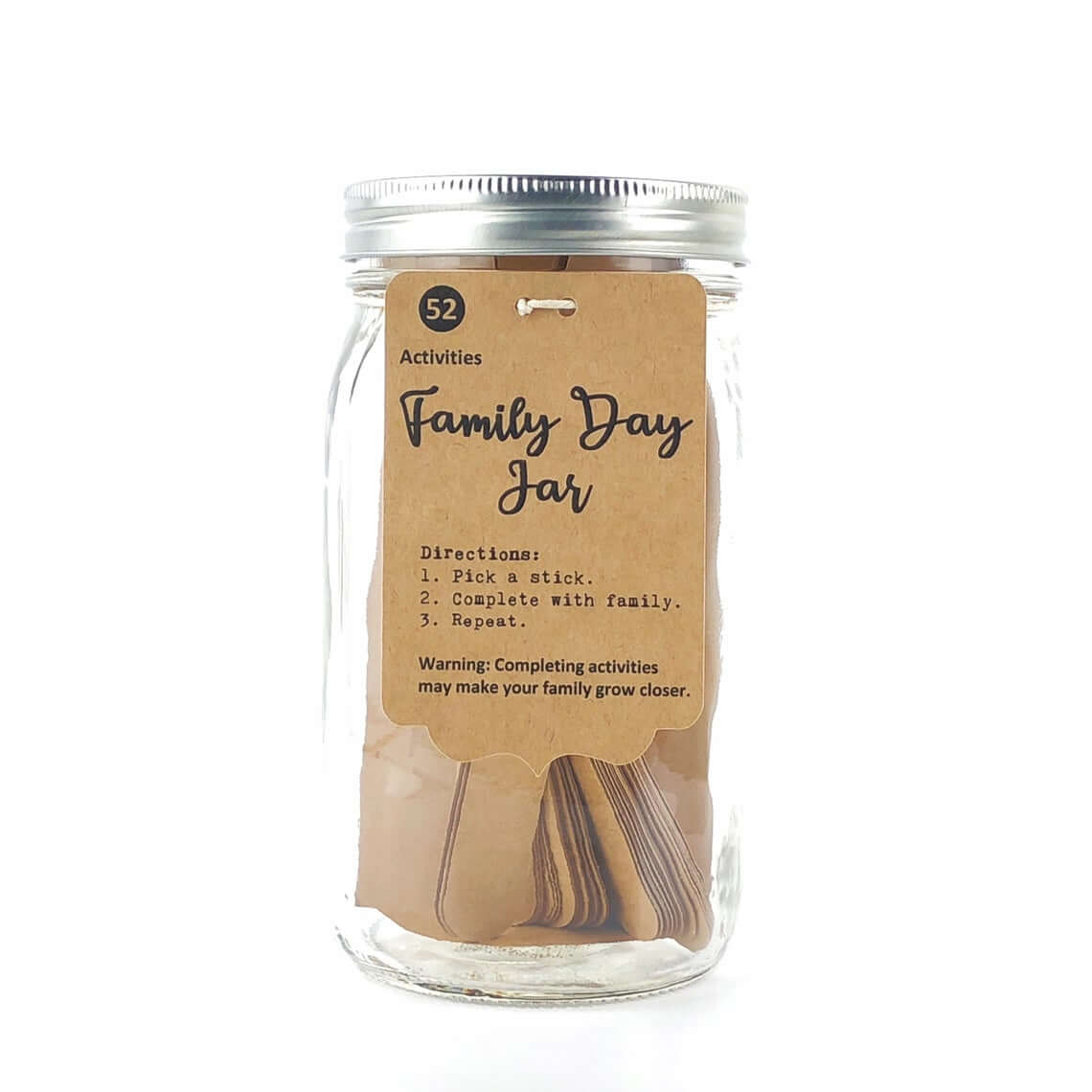 A tall clear glass jar is filled with 52 blank cards. The purpose of these cards is to come up with 52 different activities for a family to do together and for them to pick one out of the jar once a week. More cards can be added, and families can pick a card more than once a week if they so desire.