50. A Bounty of Fall Décor in Any Color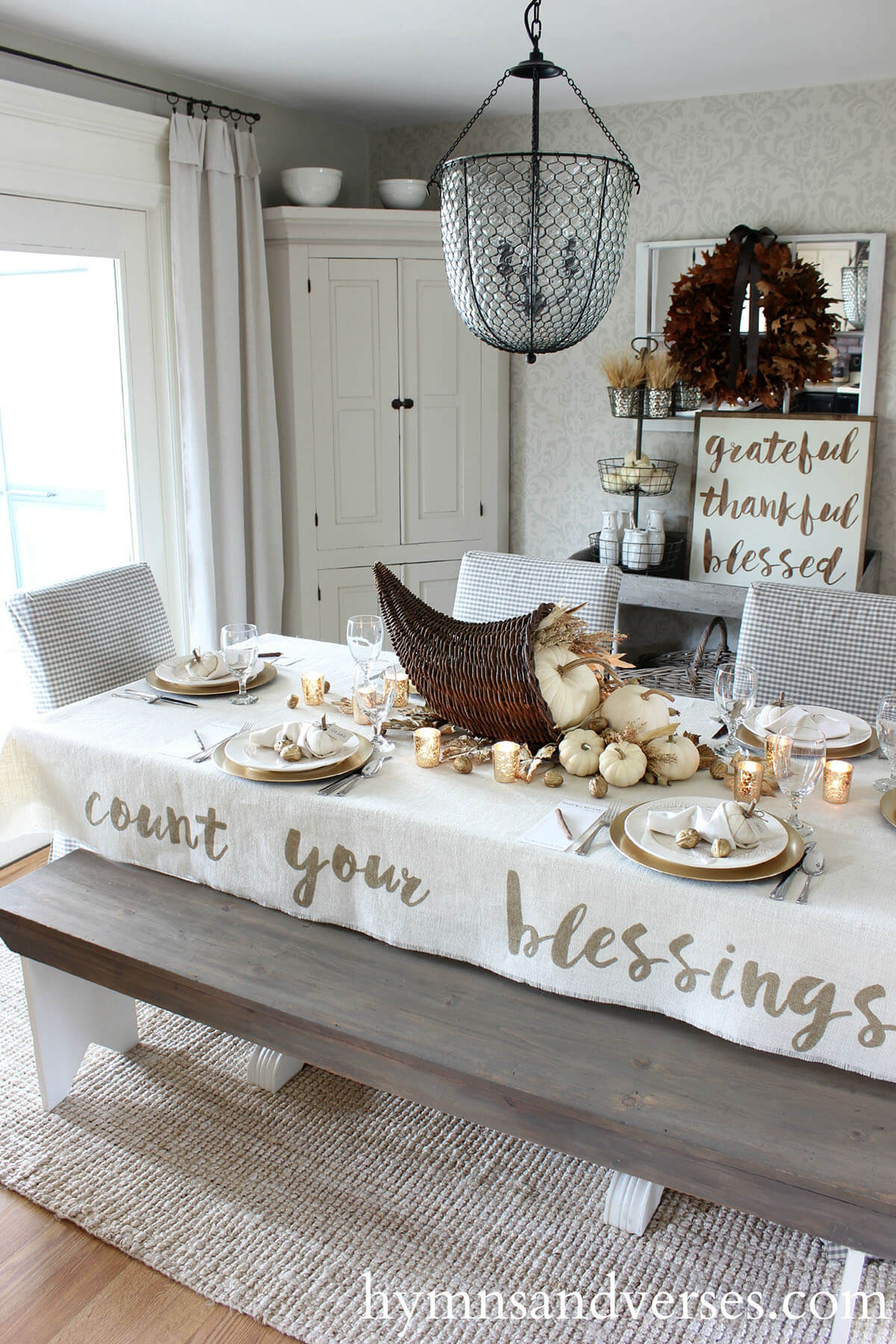 This gorgeous table arrangement features a cornucopia overflowing with small white pumpkins and dried grasses. Done in shades of white and gold, the table arrangement fully reflects the beauty of fall farmhouse style. This table is so pretty, it could be set for Thanksgiving dinner. The tablecloth is printed with a charming saying, "Count Your Blessings."
51. Simple Signs of the Harvest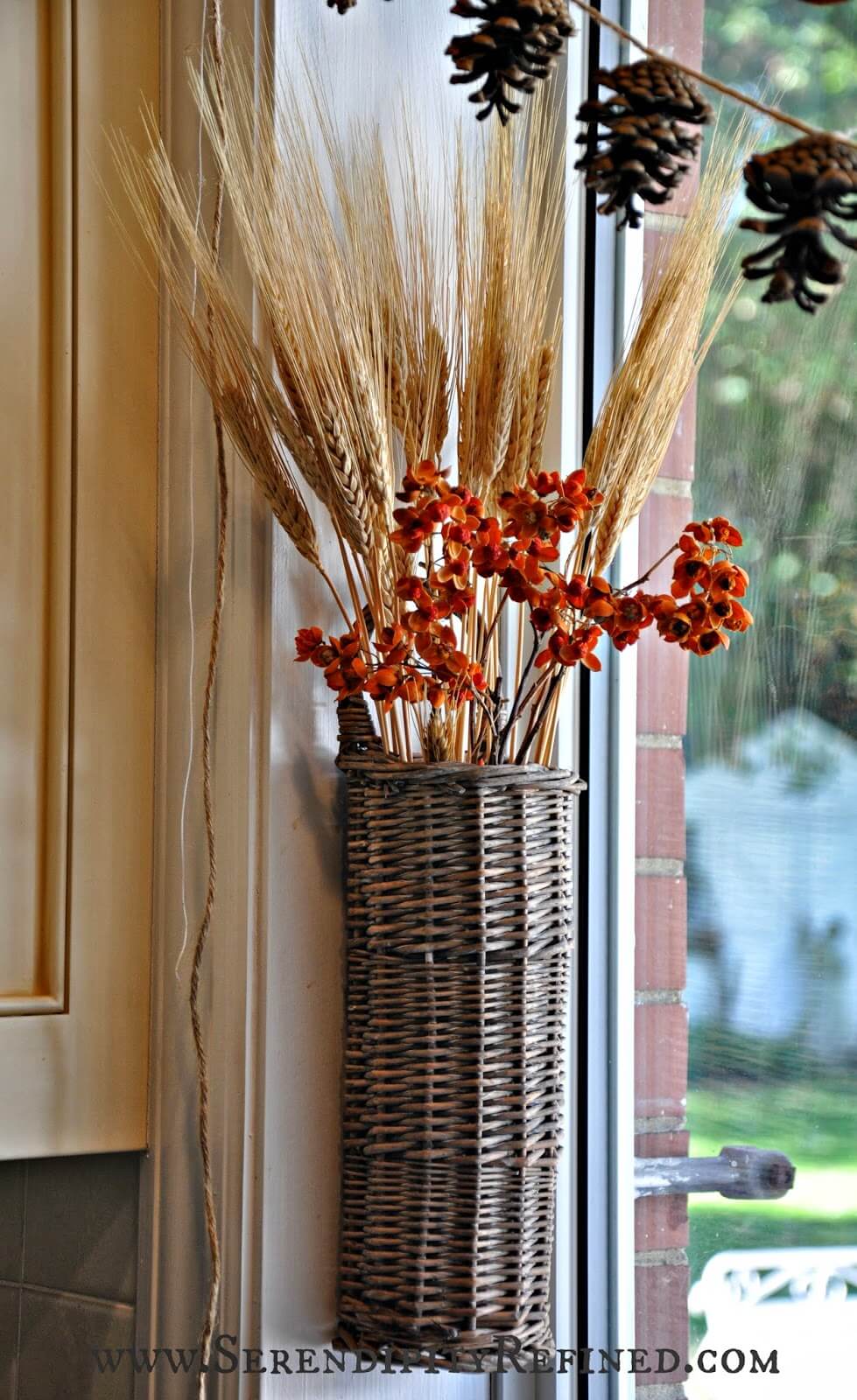 This tall woven wall basket holds an arrangement of wheat stalks and small orange flowers. Wheat stalks symbolize the bounty of the harvest. The orange flowers echo the colors of pumpkins. Across the window hangs a garland of natural pine cones. This arrangement proves that simple doesn't have to be boring.
52. Who Says Halloween Has to Include Orange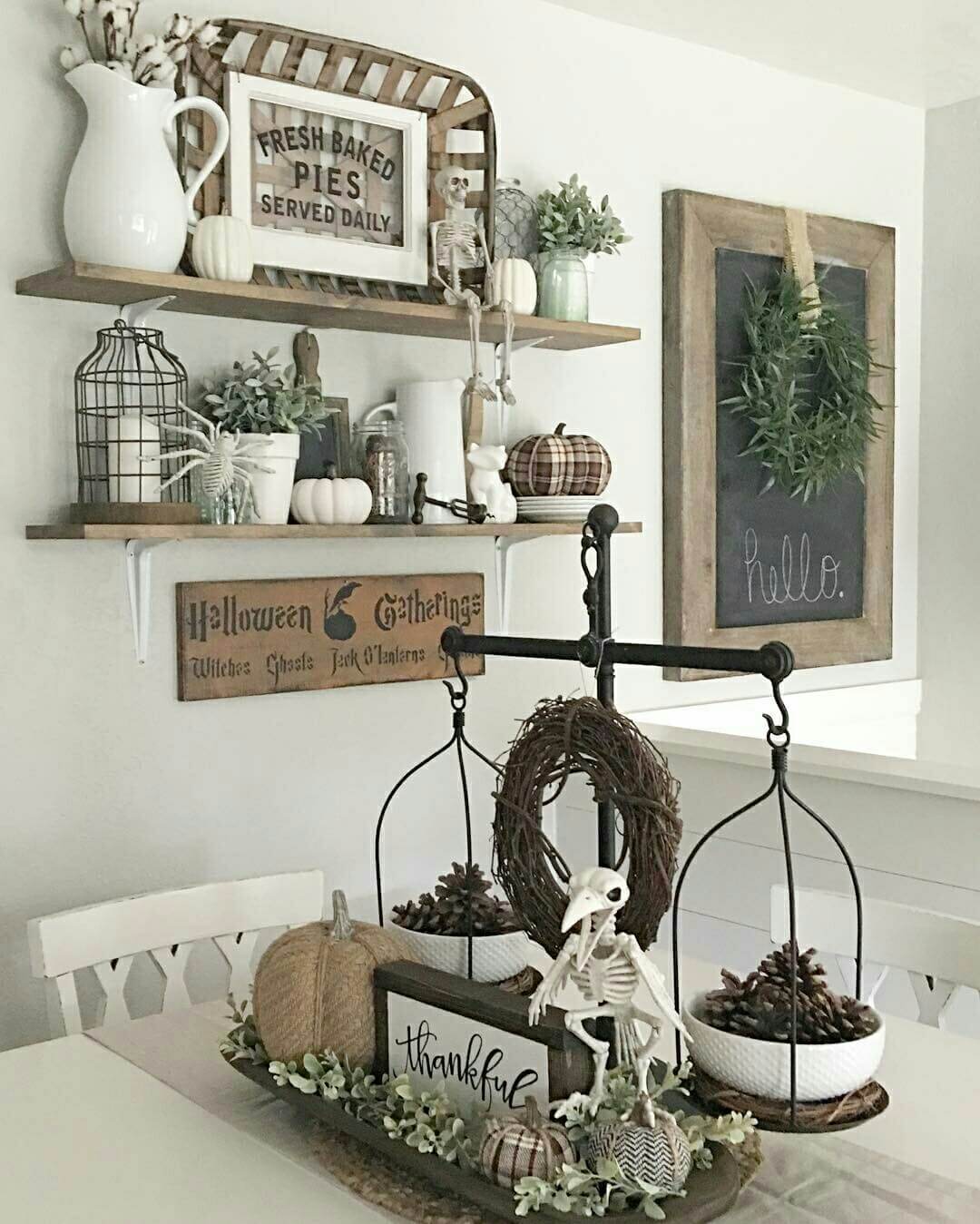 Farmhouse Halloween style has distinctive features. Vivid colors like orange and black don't have to be included in Halloween decorating. Burlap, wood tones, and white take its place. This seems like an ordinary farmhouse kitchen arrangement until you take a look at the details. Spooky bird "skeletons," oversized spiders, and a cute lettered sign finish the look.
53. A Spray of Autumn Greenery can Transform a Room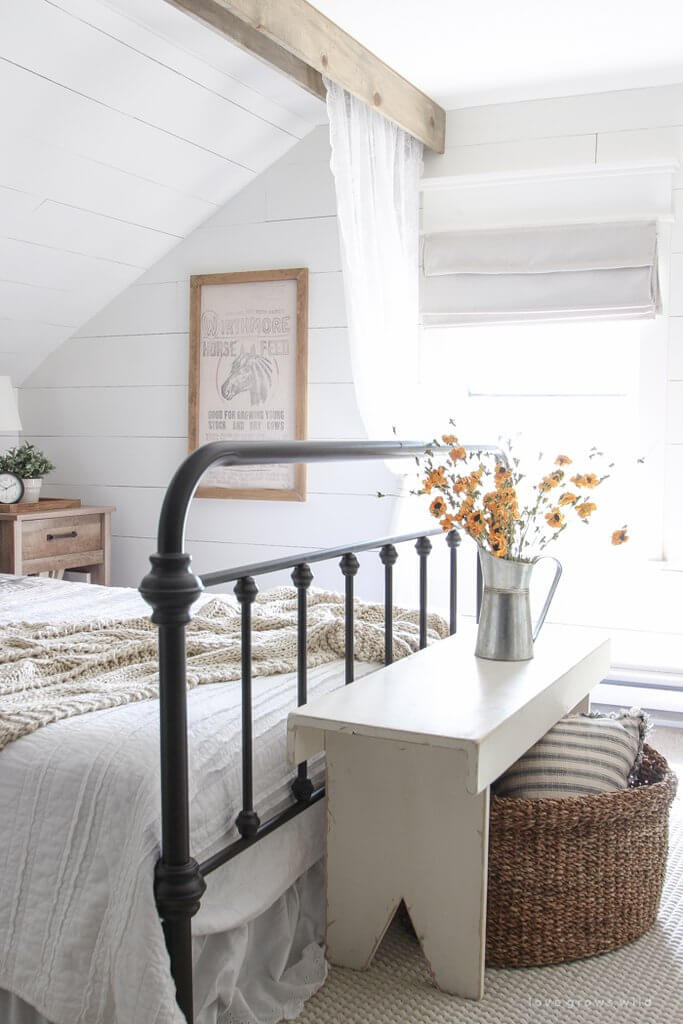 This simple white – on – white bedroom features an old fashioned iron bedstead. The bed is made with soft and luxurious white fabrics. A cute "horse feed" sign hangs on the wall. This room only needs one burst of color to decorate for autumn. A galvanized pitcher with yellow dried flowers stands at the end of the bed.
54. Fall to Winter Transition Greenery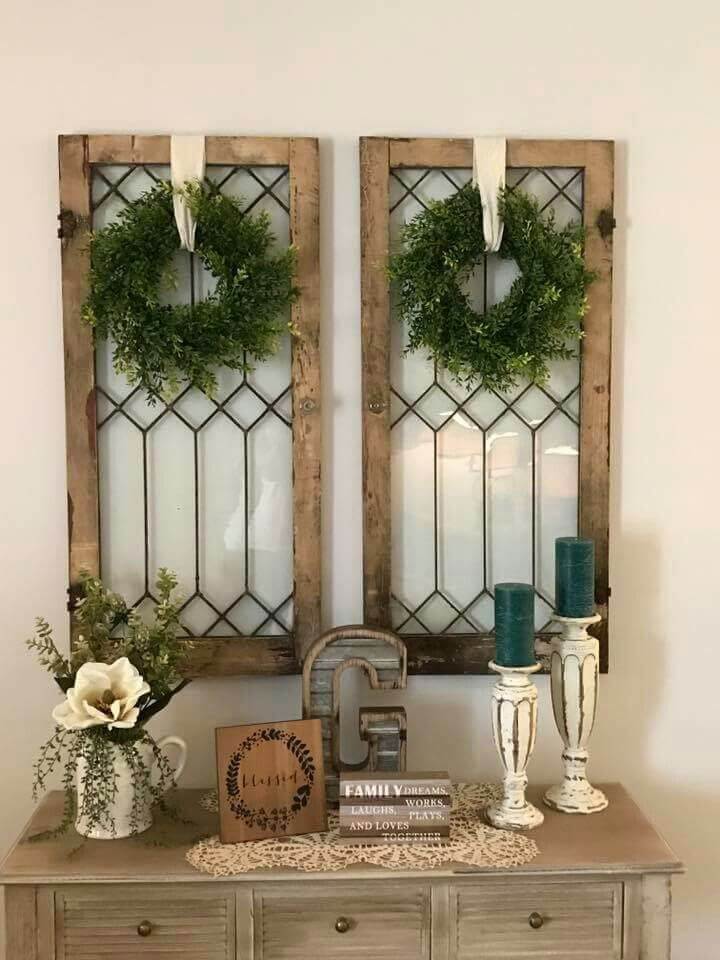 This side table arrangement shows how easy it is to transition fall décor into a winter mode. Pretty leaded glass window frames hang on the wall behind the side table. On each window frame hangs a boxwood wreath with a wide ribbon hanger. A corrugated metal initial letter stands in the middle of the table.
55. A Basket of Pumpkins in Any Color Means Fall is Here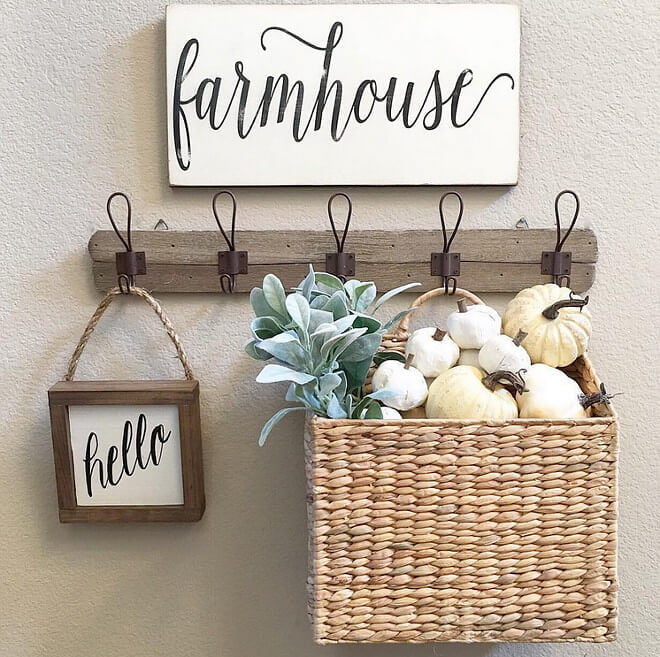 A vintage wall hook holds a basket overflowing with little white pumpkins. Sage leaves complement the soft white colors of the pumpkins. A cute "hello" sign hangs on the wall hook and a "Farmhouse" sign is on the wall. The pumpkins clearly show a fall flair, even though the colors are muted.
56. A Pretty Tabletop Display for Thanksgiving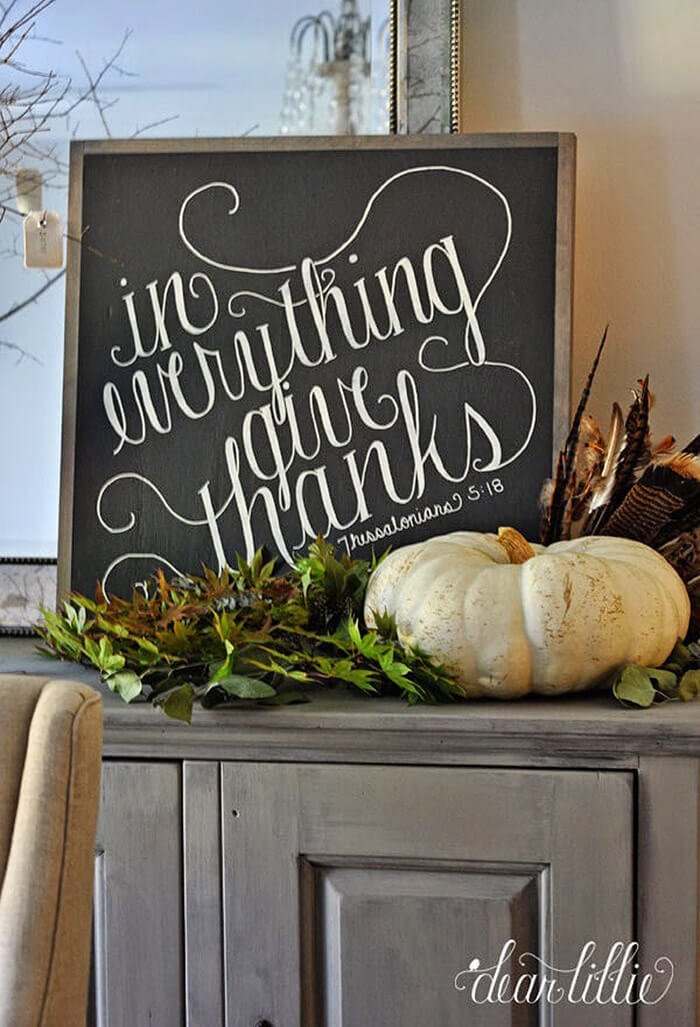 An oversized lettered sign with an inspirational saying highlights this side table. The sign reminds viewers to be grateful for the blessings in their lives. Bountiful green leaves, a quirky shaped pumpkin, and rich colored feathers complete the look. This would make the perfect accent to any Thanksgiving celebration in your farmhouse home.
58. Cheerful Sunflowers Bring Early Autumn Joy to the Table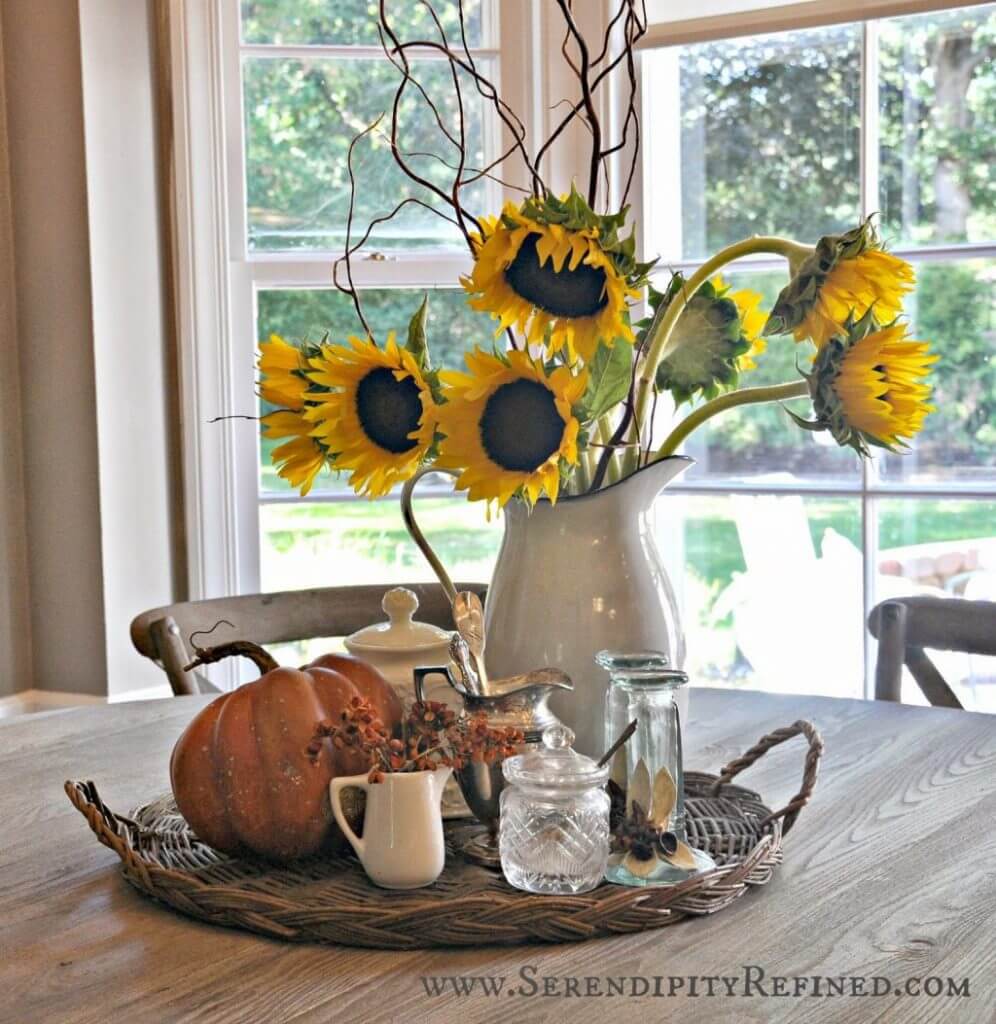 On the kitchen table, a basket woven tray holds the everyday essentials like a sugar bowl and a few carefully chosen fall accents. A tall vintage pitcher holds an arrangement of gorgeous yellow sunflowers for the early fall. A cute pumpkin and some berries in a cream pitcher round it out. Farmhouse style shines when functional items are combined with seasonal touches.
60. Upend a Crate for a Perfect Fall Display End Table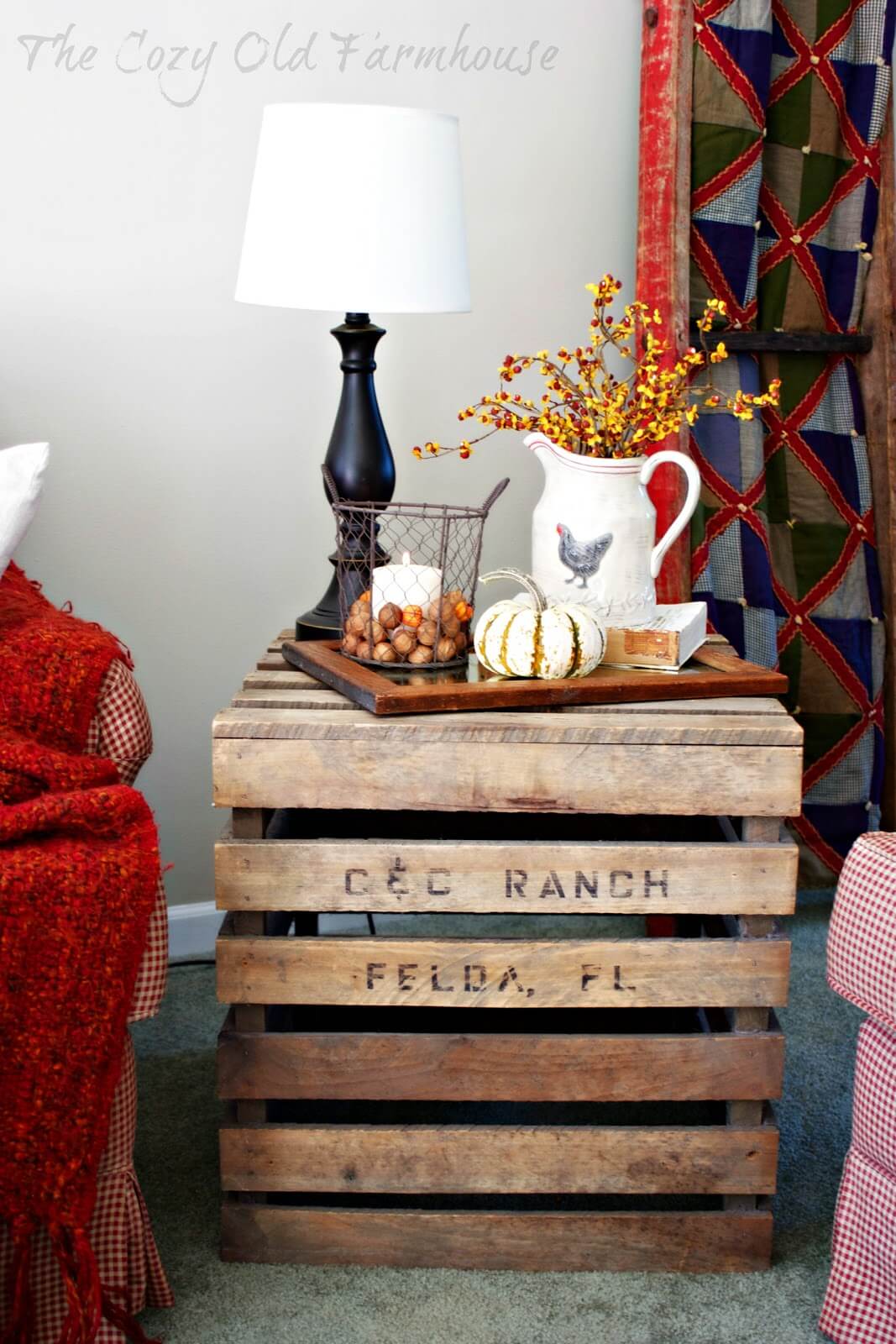 Repurposed barn crates are great as end tables in the farmhouse living room. On a mirrored tray, the homeowner has placed a chicken wire candle holder with acorns, a tall pitcher with a chicken theme, and an interesting pumpkin. An arrangement of yellow and red berries makes a pop of color.
61. Stairs are the Perfect Stage for a Décor to Celebrate Fall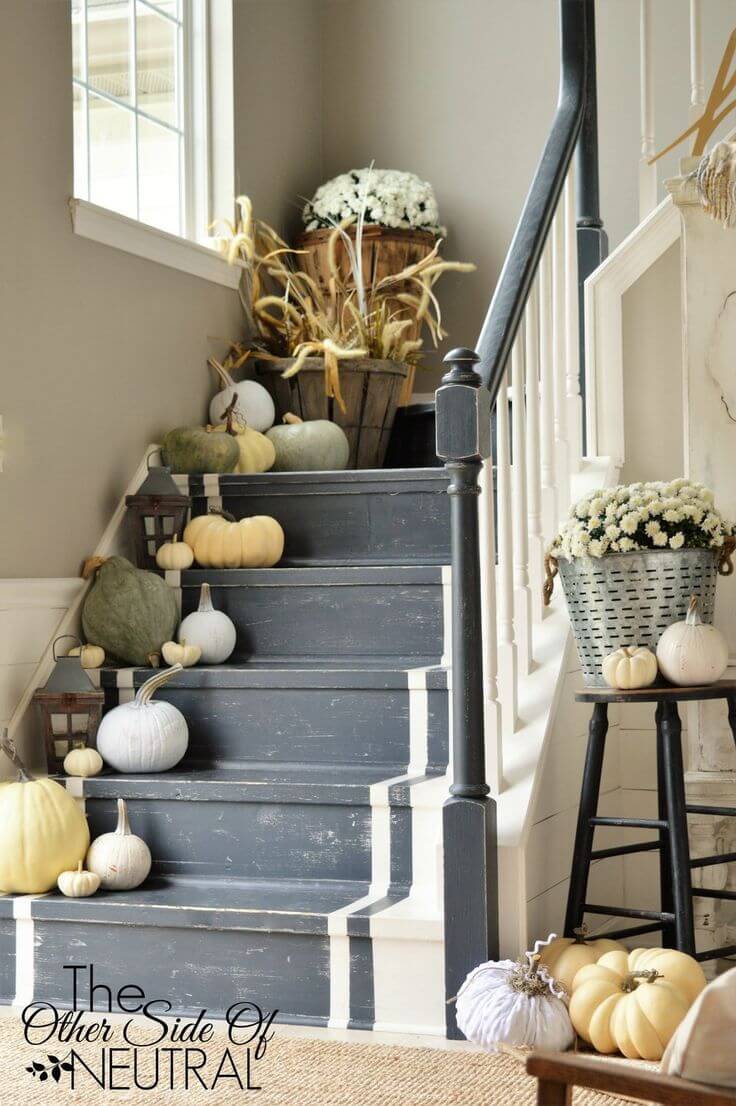 This staircase is overflowing with the bounty of fall. A wide range of white, cream-colored, and pale blue pumpkins stands on every step. There are candle lanterns mixed in with the pumpkins. At the top of the stairs, vintage baskets hold dried grasses and chrysanthemums. This is a great way to bring the fall spirit to other parts of your home.
62. Dry Summer's Hydrangeas for Fabulous Fall Decoration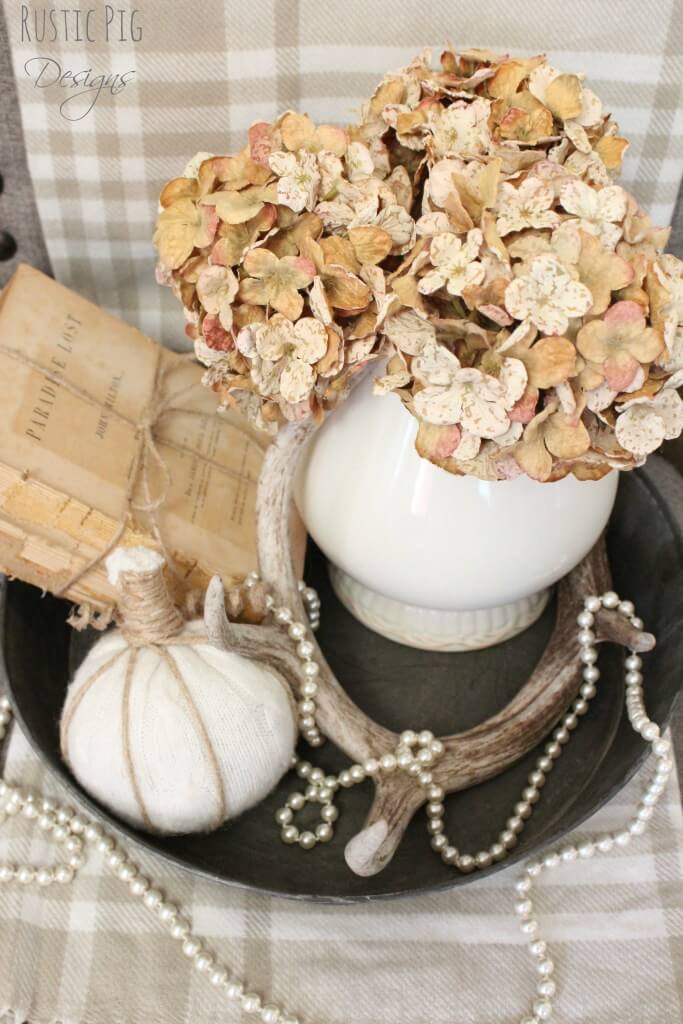 Dried hydrangeas make this pretty arrangement stand out. The combination of delicate items like the pearls and rustic touches like the antler make this display special. The muted colors of the hydrangeas are echoed in the pages of the old book. A crafted burlap pumpkin finishes the arrangement.
63. Pumpkins and Gourds Dress Up Your Hearth for Fall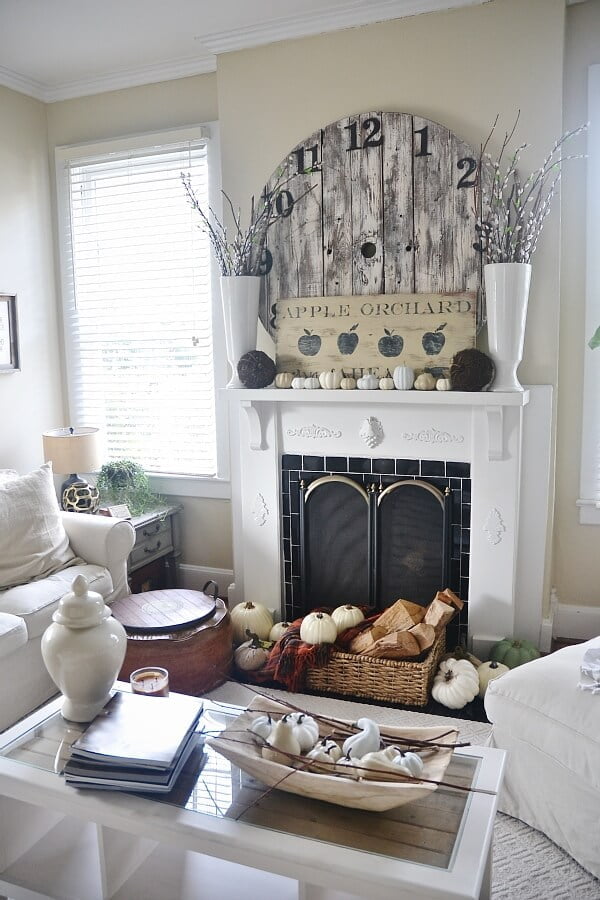 This living room is enlivened by the beauty of various kinds of pumpkins and gourds. In shades of white and blue, the pumpkins blend perfectly with farmhouse style. A rich pop of color comes from the soft throw in the firewood basket. Pumpkin lovers would enjoy this living room.
64. Heirloom Pumpkins for a Farmhouse-Perfect Centerpiece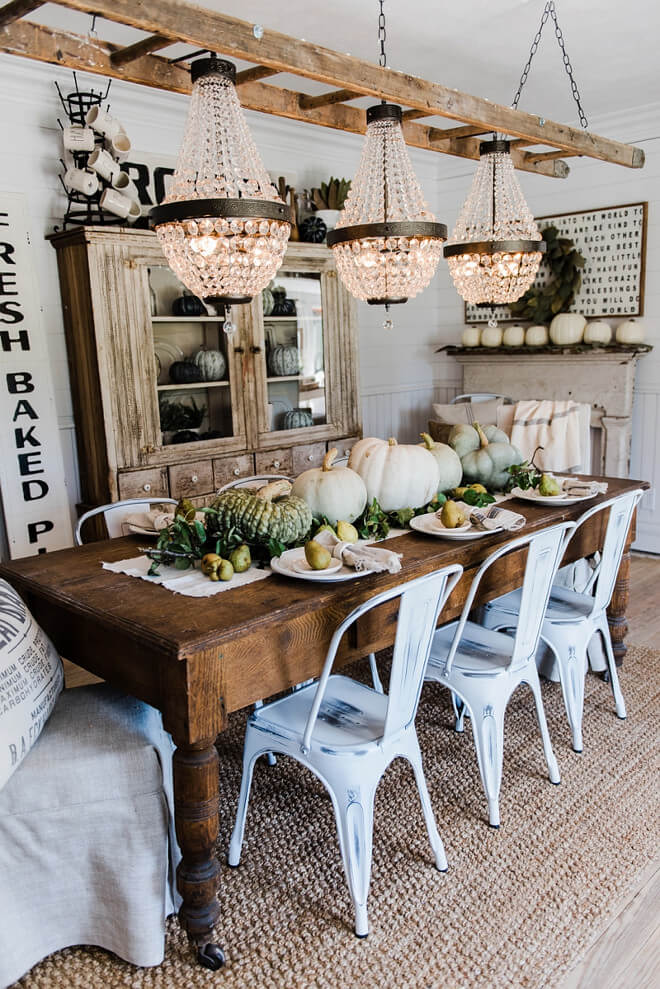 An elegant ladder hanger holds crystal chandeliers over this rustic fall table. Different kinds of quirky pumpkins in shades of white and blue accent the center of the table. The tables are set with cream-colored napkins and green seasonal pears. This is an inviting table for Thanksgiving that fits in beautifully with the farmhouse aesthetic.