44. Clamp Lid Canning Jars for Dry Goods Organization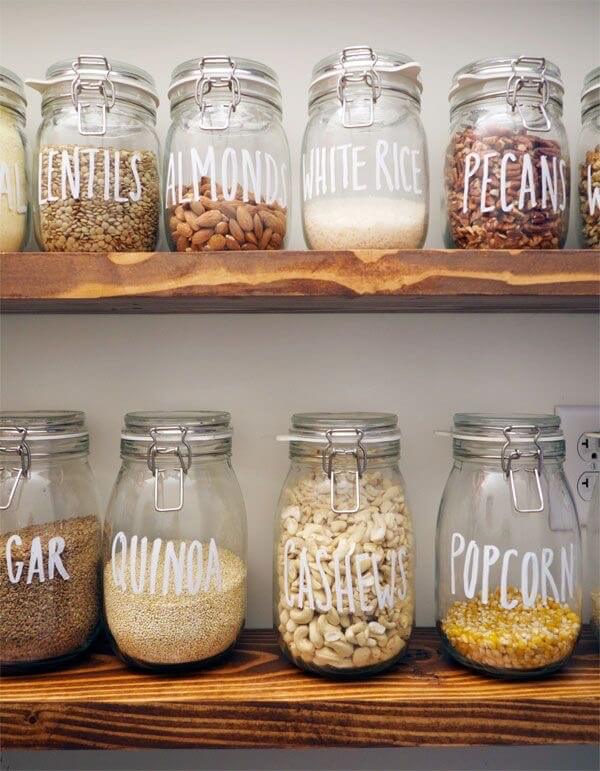 Streamline your pantry by filling mason jars with pop tops with your favorite dry goods — such as popcorn and beans. Use a paint marker to identify the contents.
45. Collection of Turned-Wood Vessels and Tools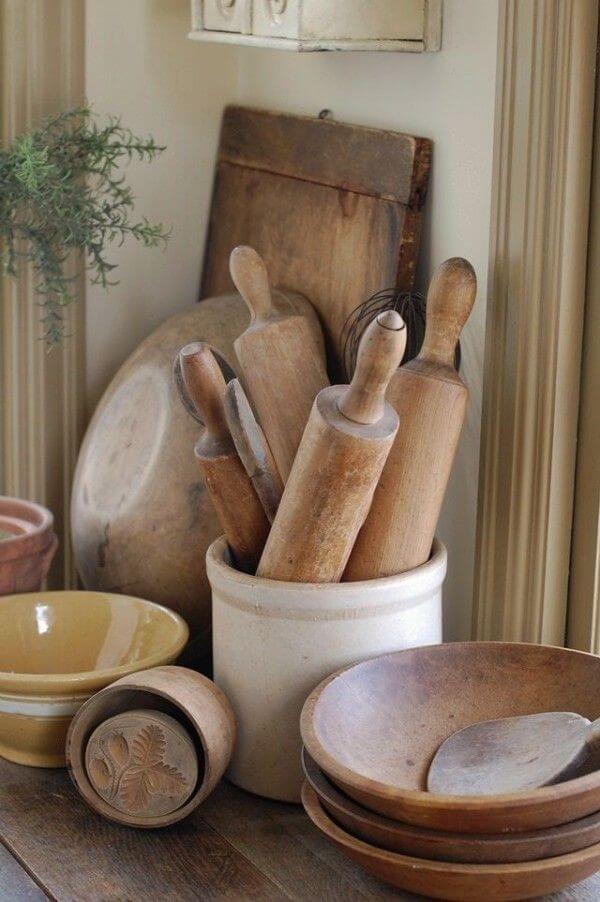 All those rolling pins you picked up from the flea market make a vintage display on your kitchen counter — and keep them handy for when it's time for the family to roll some dough.
47. Farmhouse Kitchen Baker's Hutch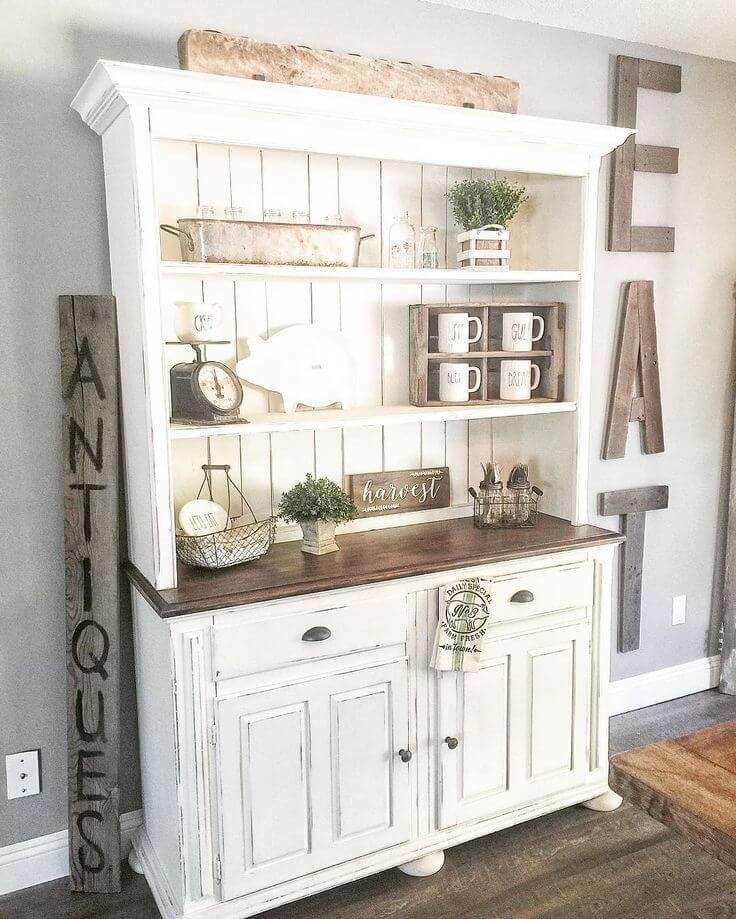 A hutch and cupboard make the perfect storage piece for all of your dining room and kitchen utensils. The shelves make the perfect spot for displaying your vintage finds.
48. Ceramic Mason Jar Storage Set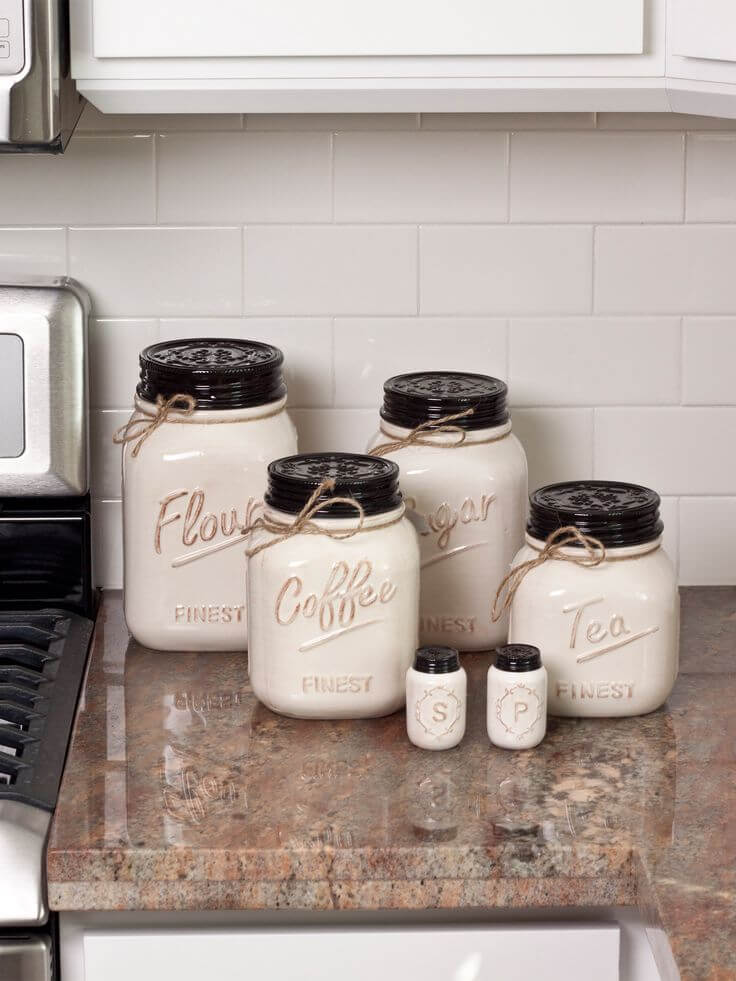 Up-cycled mason jars get new life with a quick spray paint project. Paint the tops black and the bodies cream and fill with your favorite sundry items.
49. Dutch Door Leading to Kitchen Garden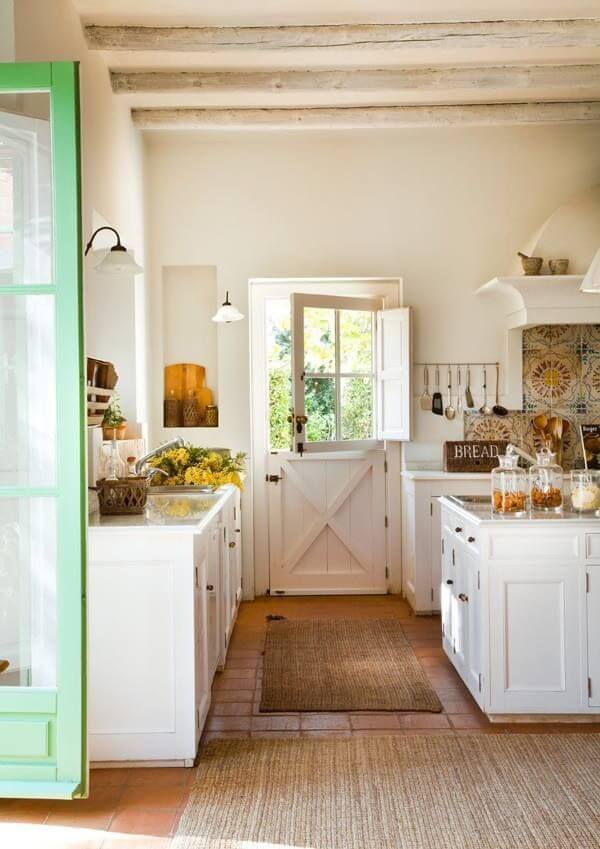 There is nothing sweeter than a Dutch door in your kitchen. On warm days, open up the top for a little breeze while still providing protection from animals that might try to sneak in. You have options with this door.
50. Plantation's Bounty Display Shelves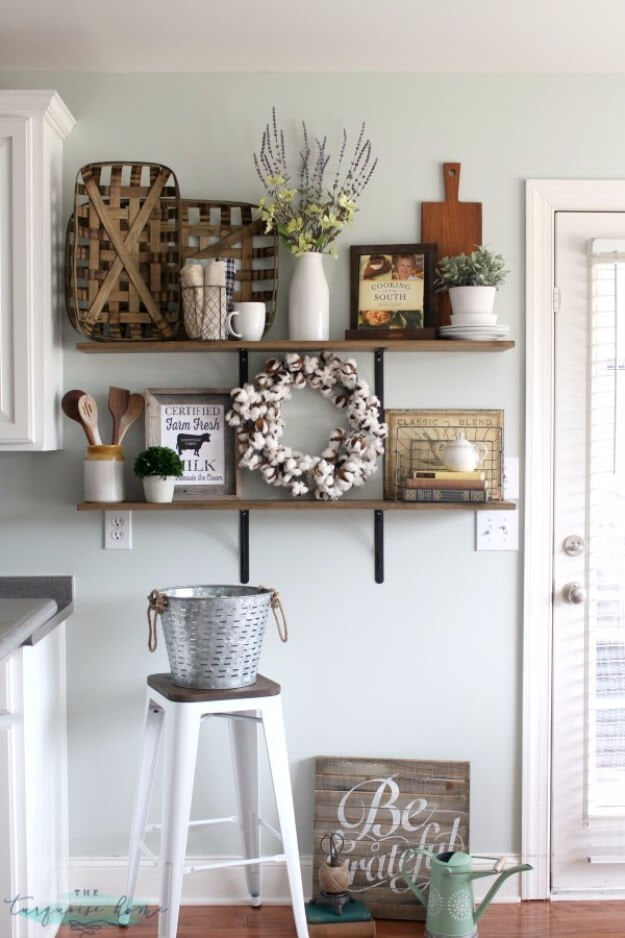 Who says a tables-scape needs to be only on a table? Think of your bookshelves as a place to tell a story via display items. For example, add bread baskets, a cotton wreath, a vase with dried flowers to create a vintage country look that feels like a museum piece.
51. Chicken Wire Lattice Cupboard Door Fronts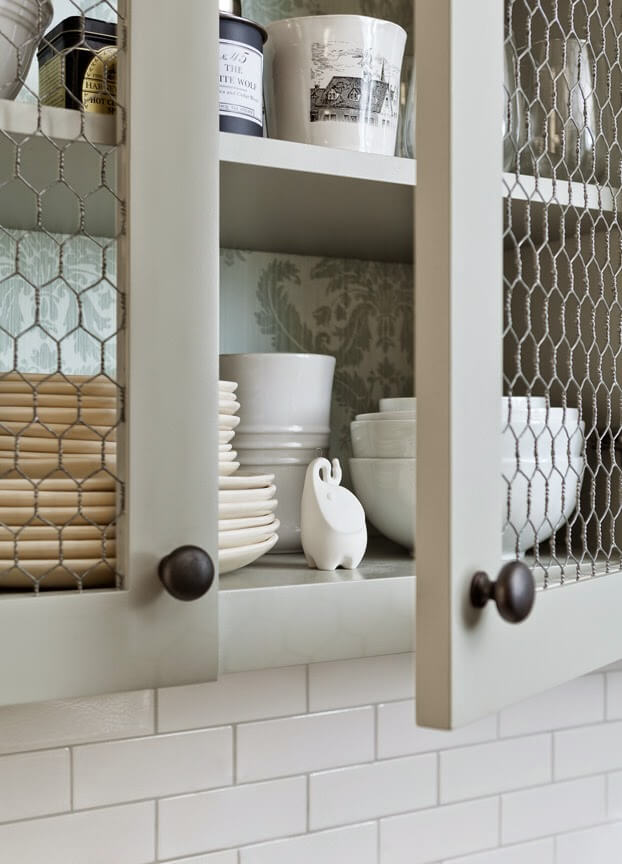 Your kitchen has never been so airy and country by replacing the glass in your kitchen cabinets with chicken wire. This is cost-effective and fits perfectly in a country kitchen.
52. Country White Cabinetry & Kitchen Tiles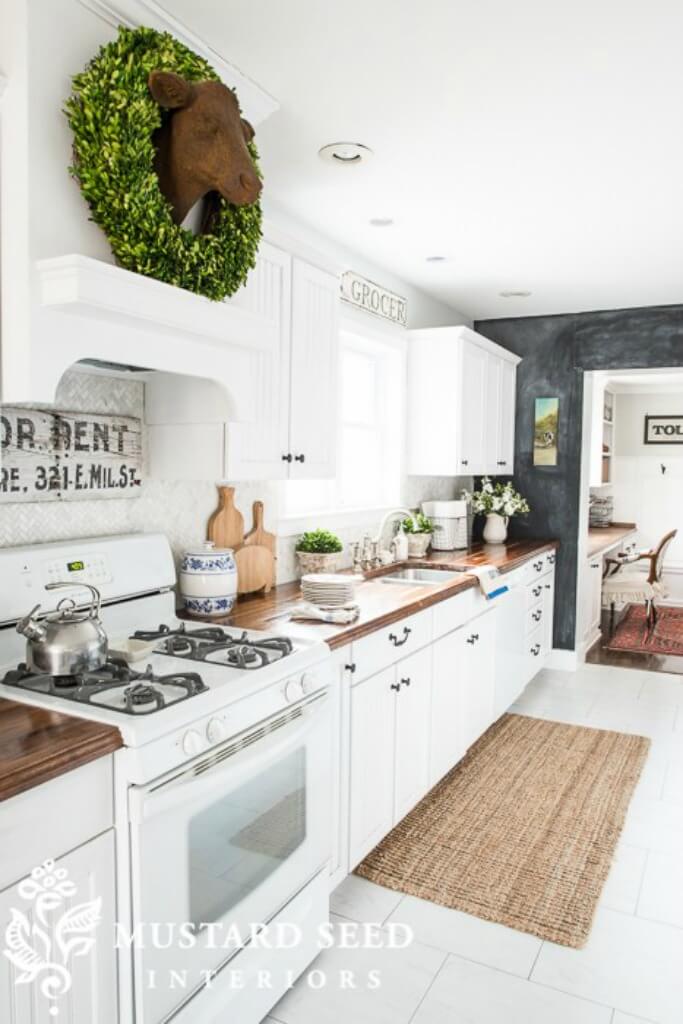 Think of your next kitchen as a blend of mixed materials for a natural, modern look. Add a chalkboard wall, wood countertops, a natural jute rug and a little pop of greenery.
53. Suspended Mini-Mason Jar Bud Vase Trio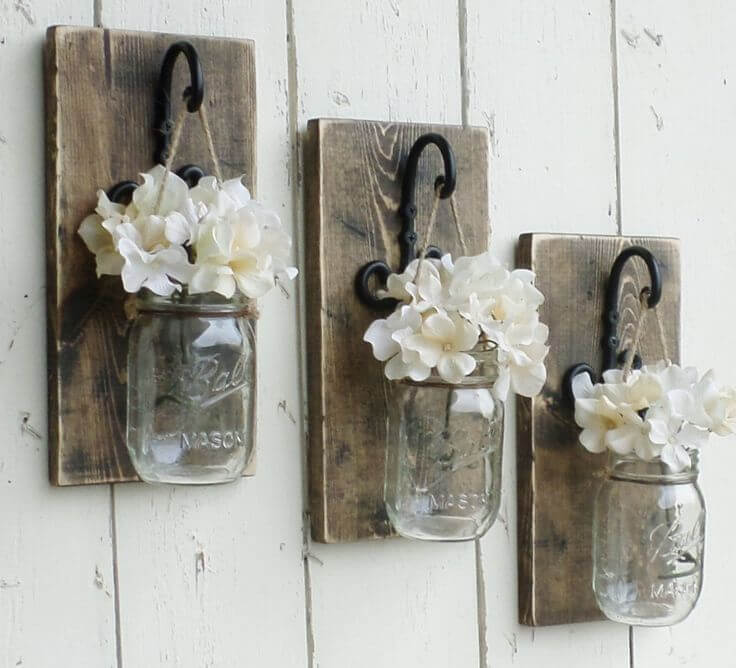 Make a cute flower display with remanent wood and mason jars. Add a hook to the boards and hang the jars on the hooks with decorative ribbon or string. You'll have an instant vase.
54. Antique Produce Shelf with Wire Baskets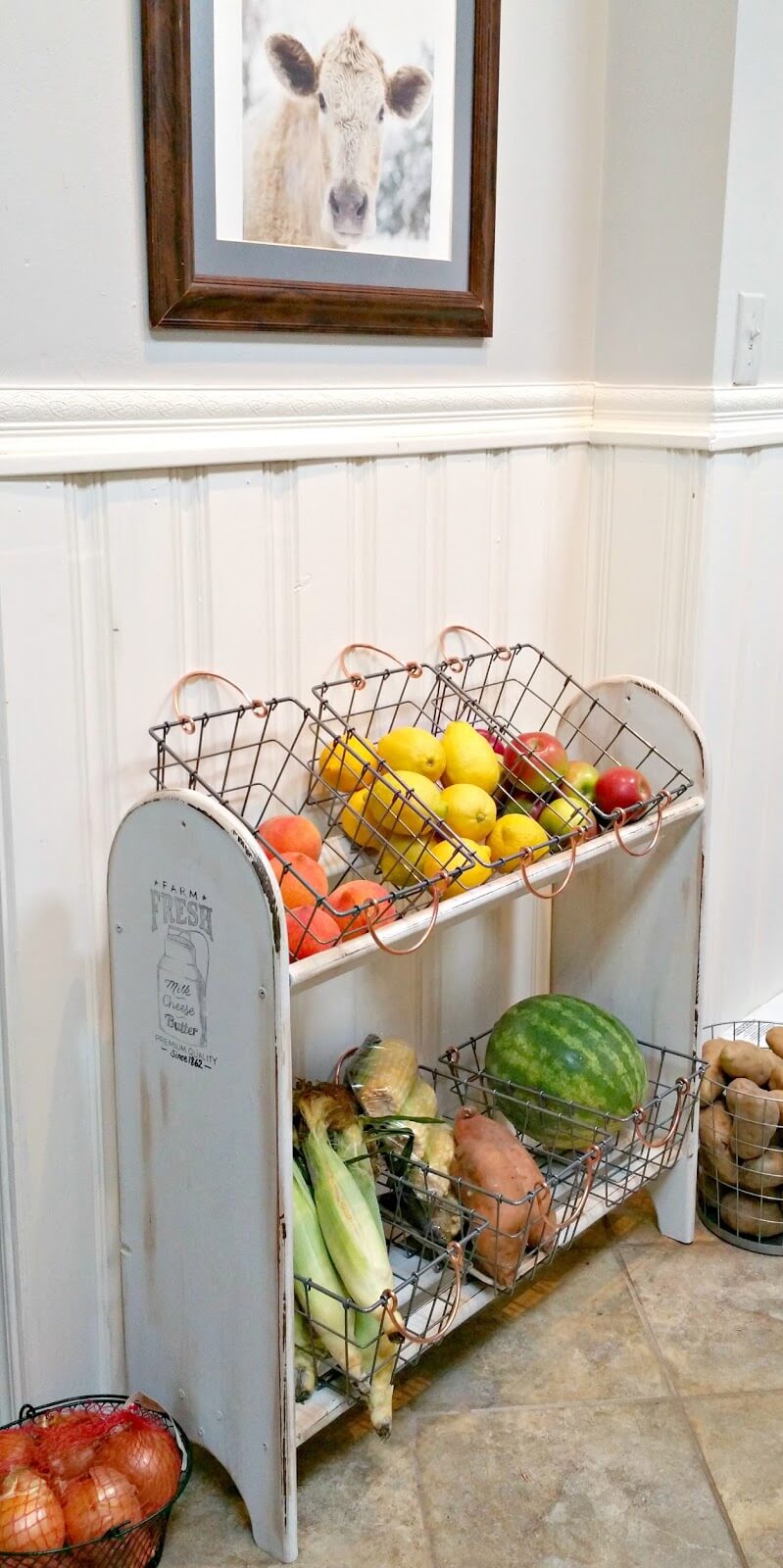 A shoe rack becomes the perfect vegetable caddy by adding wire baskets to the shelves and filling up on produce. Perfect for a pantry.
55. Vintage Desk as Farmhouse Kitchen Island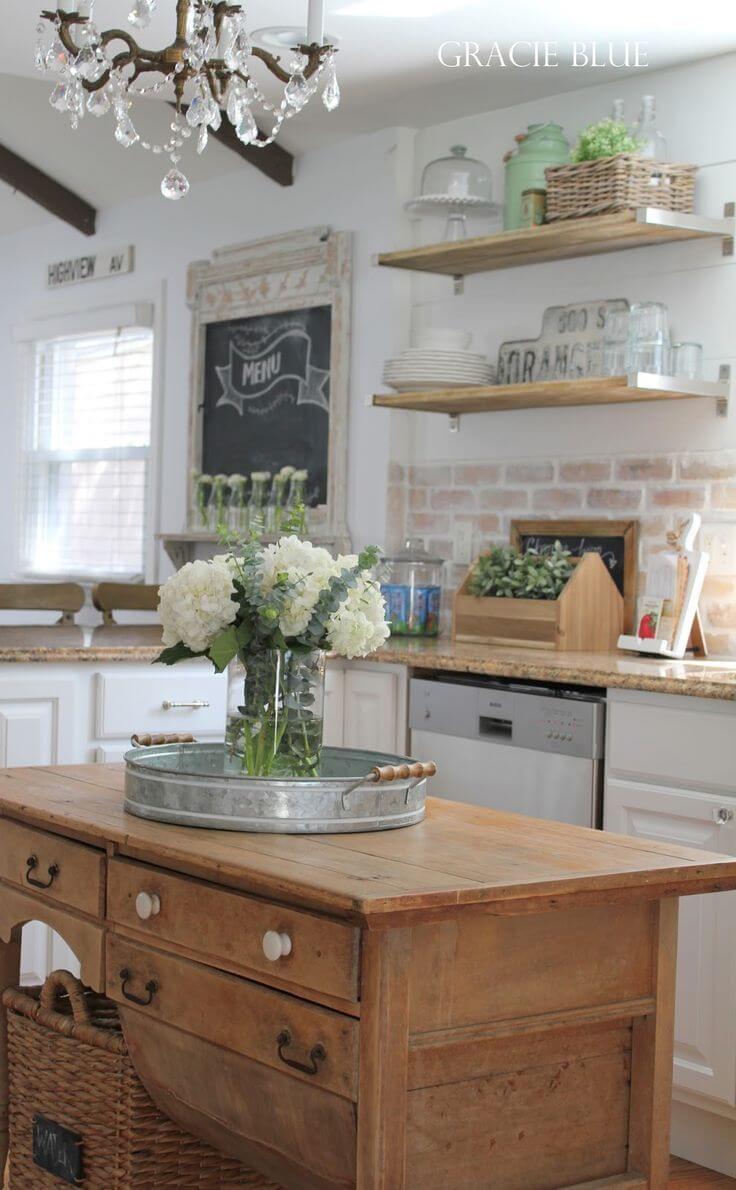 Repurpose an old desk as a butcher's block or island in your kitchen. Look for a desk that has a shelf beneath the drawers so you can add a basket for storing pots and pans an other utensils.
56. Counter Organizer with Metal Basket Storage Drawers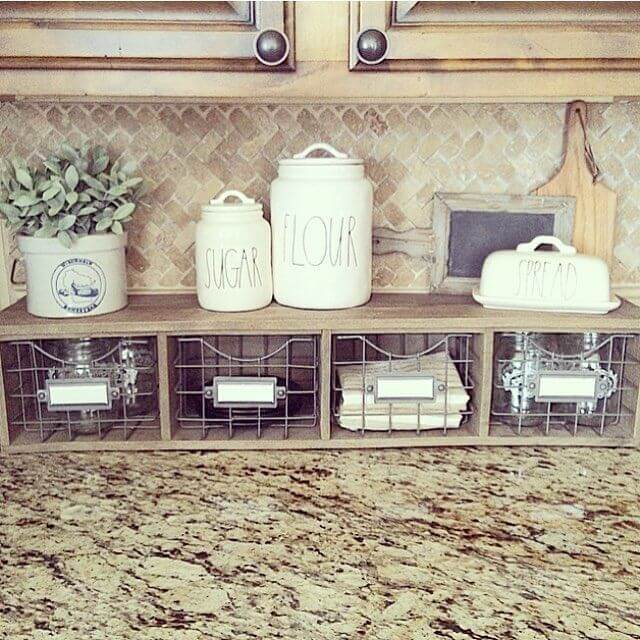 A four-cube shoe cubby can become an instant countertop storage station by adding wire baskets to the cubby holes.
57. Eat-In Kitchen Dinette with Distressed X-Back Chairs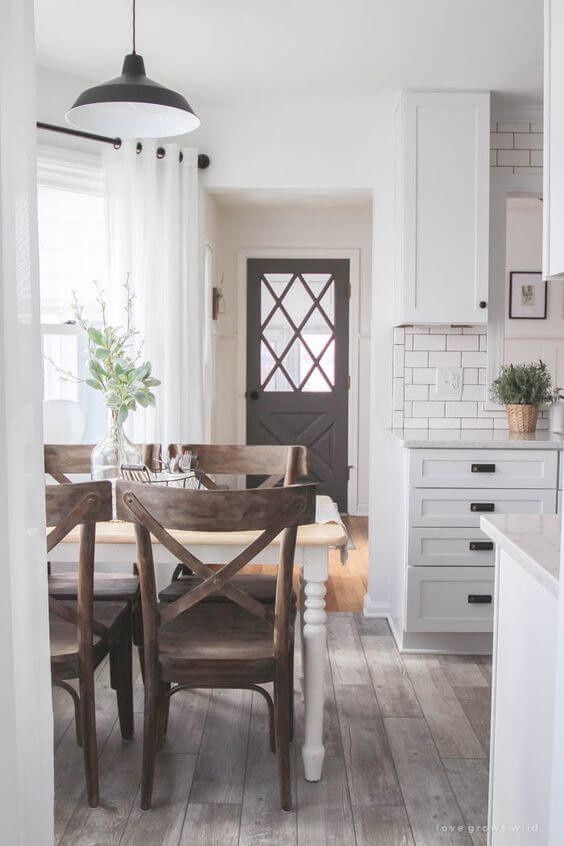 Add a pop of color to French country, minimalist kitchen by painting the door a deep gray while keeping neutrals on everything else — white walls, white curtains, white-washed flooring and white cabinets.
58. Dark Wood Work Bench Kitchen Island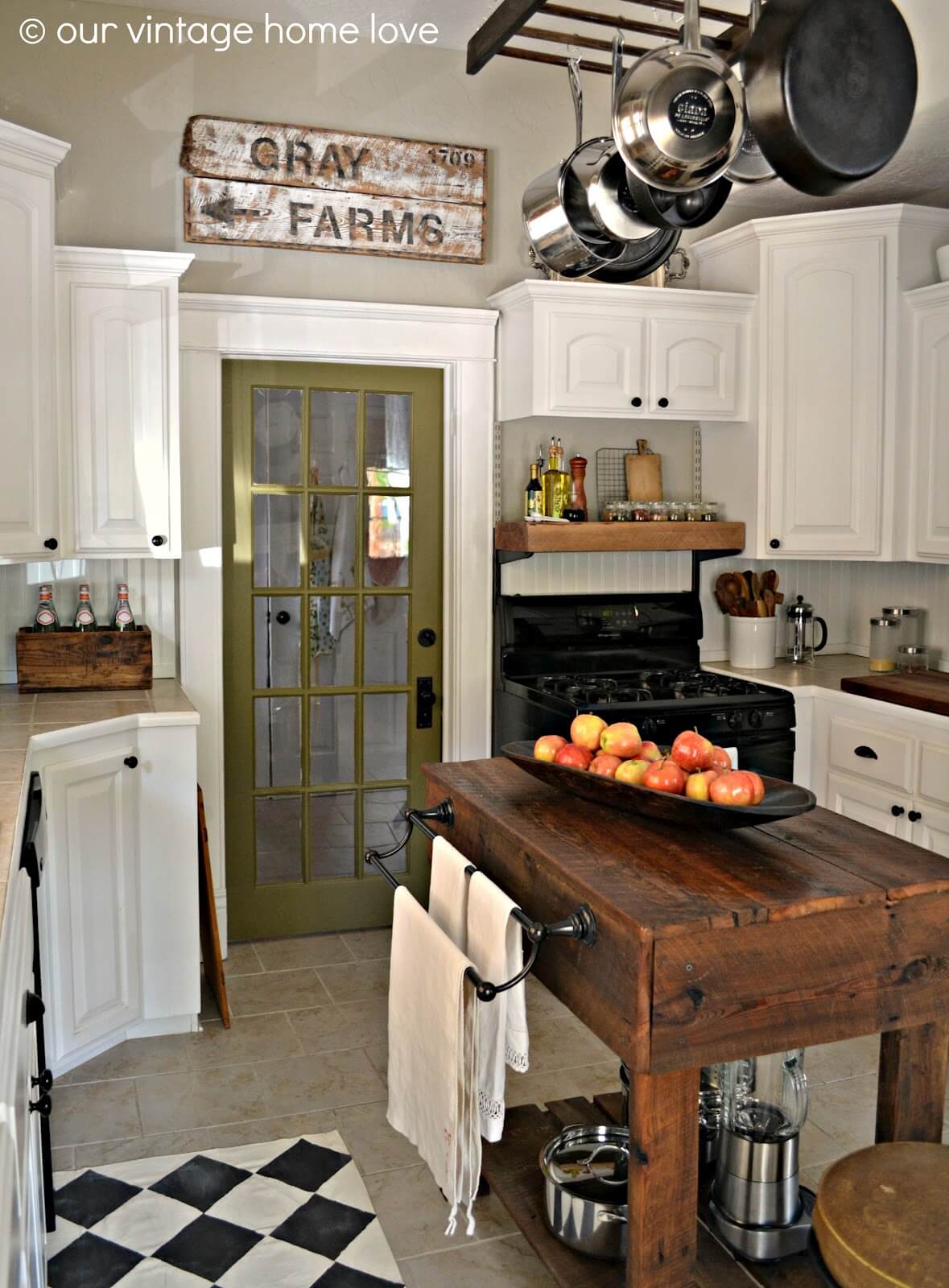 A kitchen that has a color palette of white and earthy woods needs a little color pop. Get that by painting an interior door a muted, deep green.
59. Perforated Milk Pail Pendant Lamp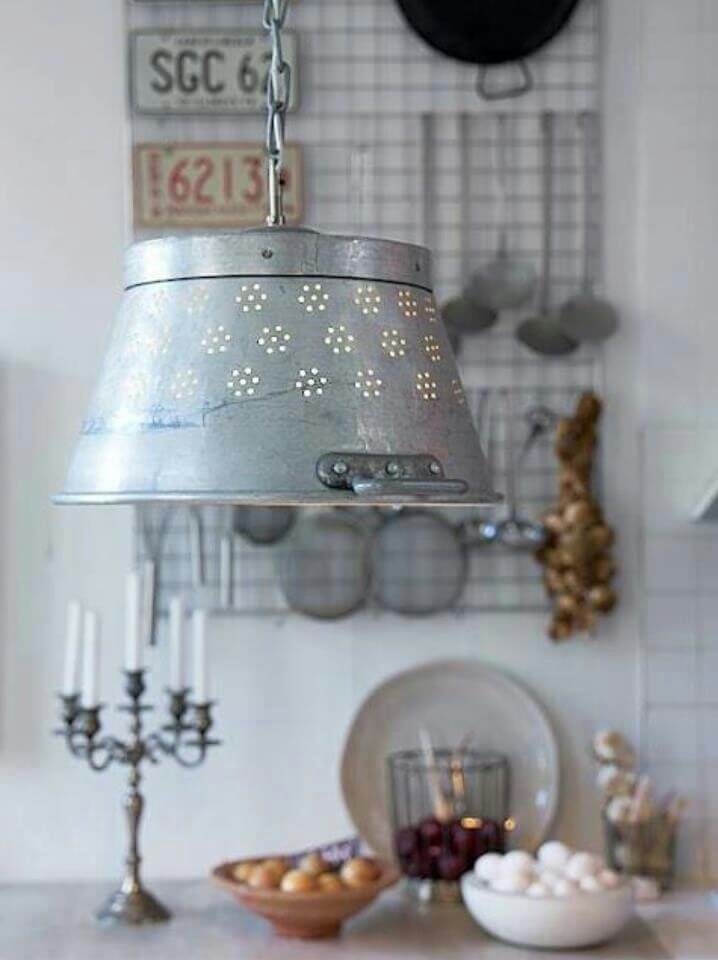 With the help of your local electrician, you can turn a vintage colander into your next hanging lampshade.
60. Oink, Moo, Cockadoodledoo Welcome Sign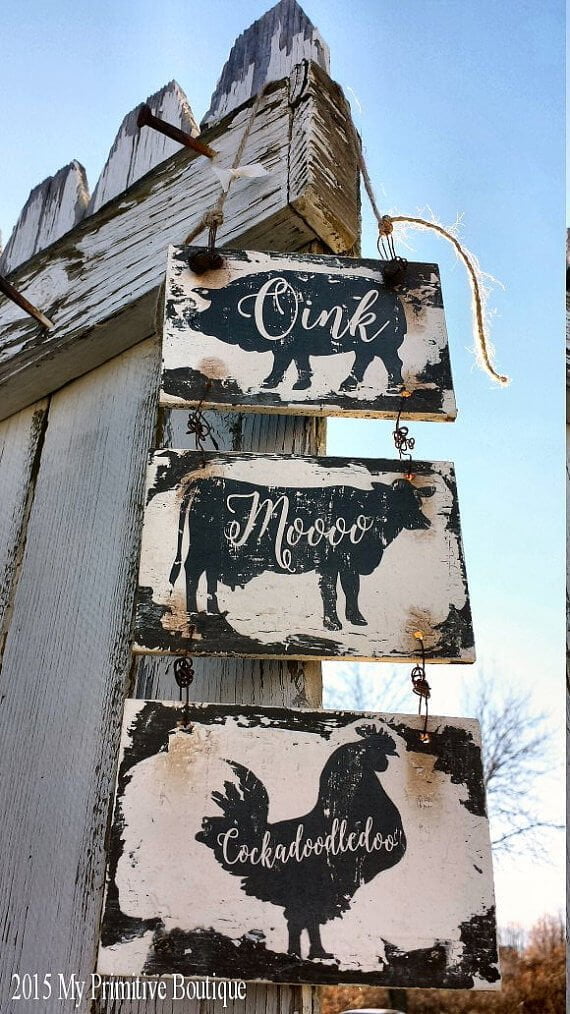 Welcome guests to your country paradise by hanging a tiered sign on the fence that identifies the farm animals they are likely to see — a pig, a cow and of course, chickens.