Home decor experts agree that there are three types of lighting, and you can achieve each of them with the best floor lamps. General lighting illuminates the room for practical use. Tension pole floor lamps are ideal for this purpose. They feature three small lights arranged on either side of the main pole. These can often be adjusted for maximum brilliance. Torchiere lamps flip the classic lampshade upside down. Here, the light bulb is fixed at the bottom of a bowl-shaped shade, which allows the most light to radiate throughout your room.
30 Stunning Floor Lamps that Will Light Up Your Life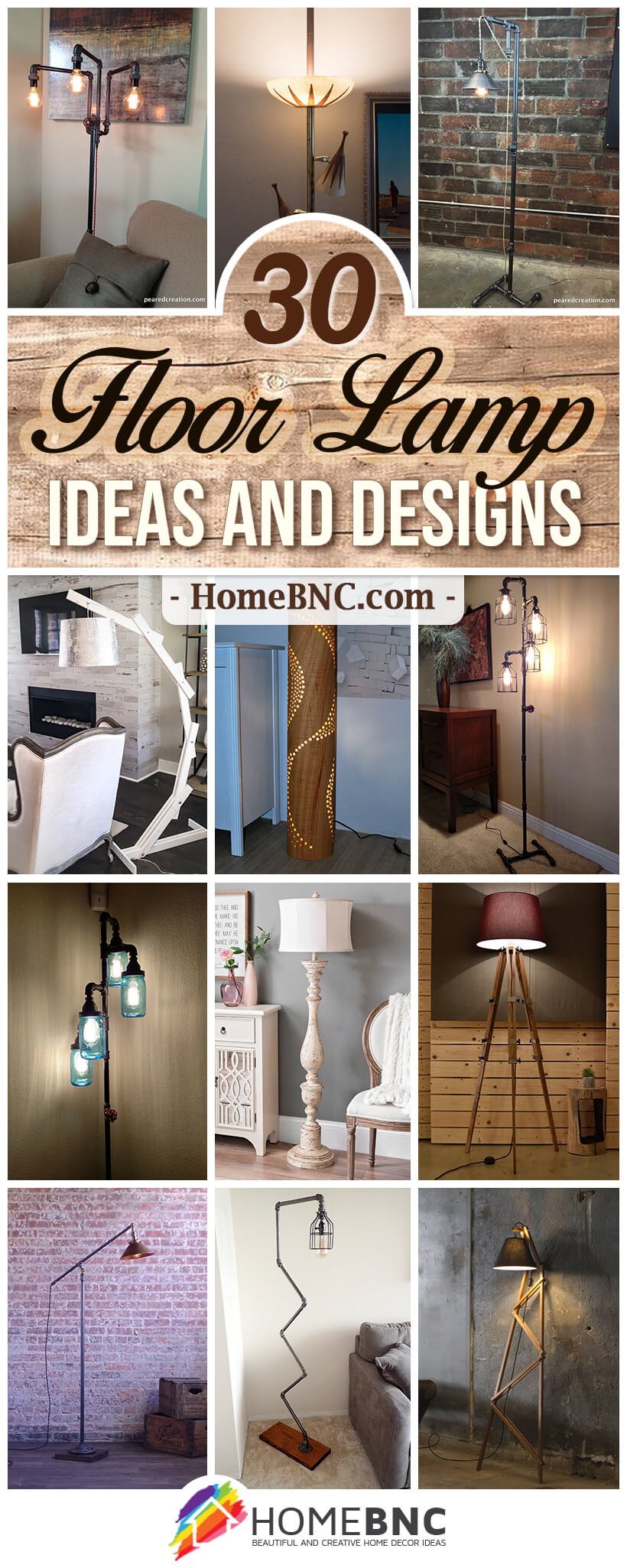 Task lighting sheds light upon a small area, helping you read, type, sketch, and study to your heart's content. Gooseneck lamps and arc lamps are the best options for this. They bend artfully, aiming their lights downward. These lamps are often slim and easy to move, so you can bring them wherever your tasks take you. If you think "task lamp" sounds boring, you'll enjoy perusing some of these artsy, unusual, and fashionable floor lamps.
Accent lighting infuses your space with warmth and depth. Forget fragrant candles–an accent light is the best way to add ambiance to a room. You might associate such subtle lighting with wall sconces and recessed ceiling lights. But don't underestimate ambient floor lamps, which often come in interesting shapes and materials and include LED lights.
The lighting you choose will define your experience of a room. You don't need to knock down walls to renovate your space. Experiment with different types of lights in different positions. Don't settle for an uninspired piece; try floor lamps that harmonize with your decor theme and colors. Lamps are full of personality. They don't just bring light into your home. They bring an interesting design element that can become the focal point of the room.
1. Industrial Pipe Lamp with Adjustable Arms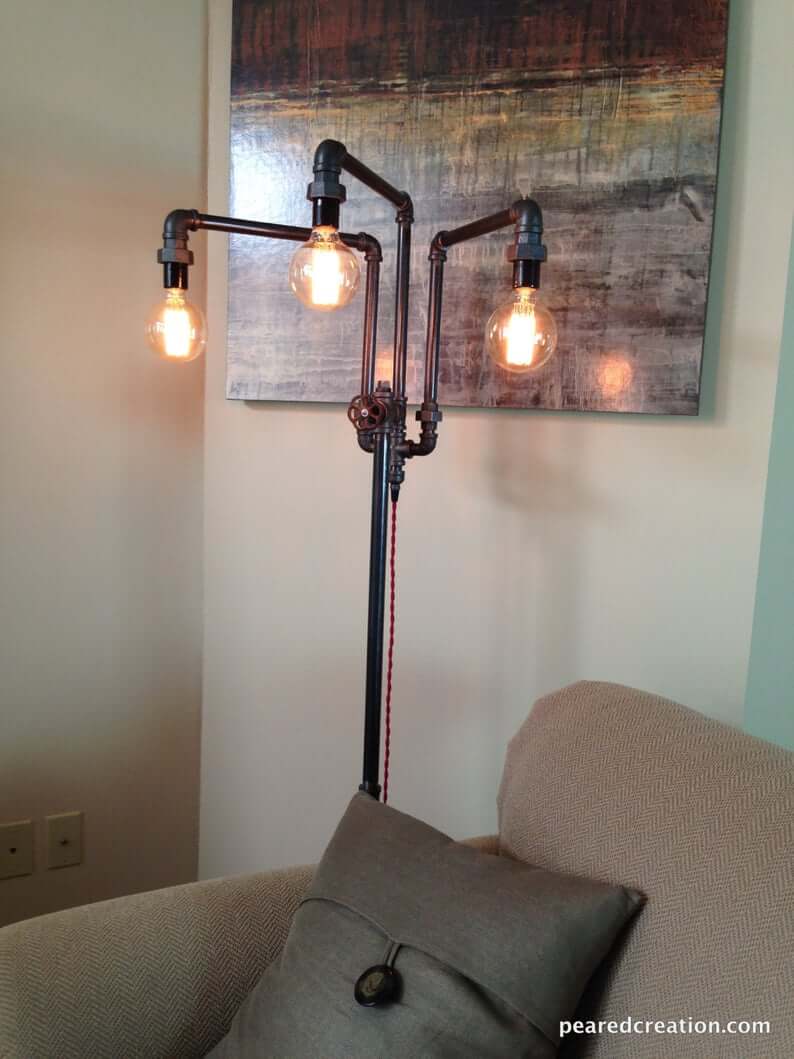 Black iron pipes compose this bare-bones standing lamp. You can swing its three faucet-shaped arms into a position to illuminate your sitting area. Large round Edison bulbs provide a warm, subtle light that softens the lamp's industrial structure. You can switch the light on and off with the antique iron faucet wheel on the stem of the lamp. The vintage vibe even extends to the electrical wire, which is covered in red cloth. This lamp looks like it belongs in an inventor's studio. It's a great choice for a warehouse-chic interior, or to contrast a room full of soft neutral colors.
2. Unique Leaning Floor Lamp with Wood Lattice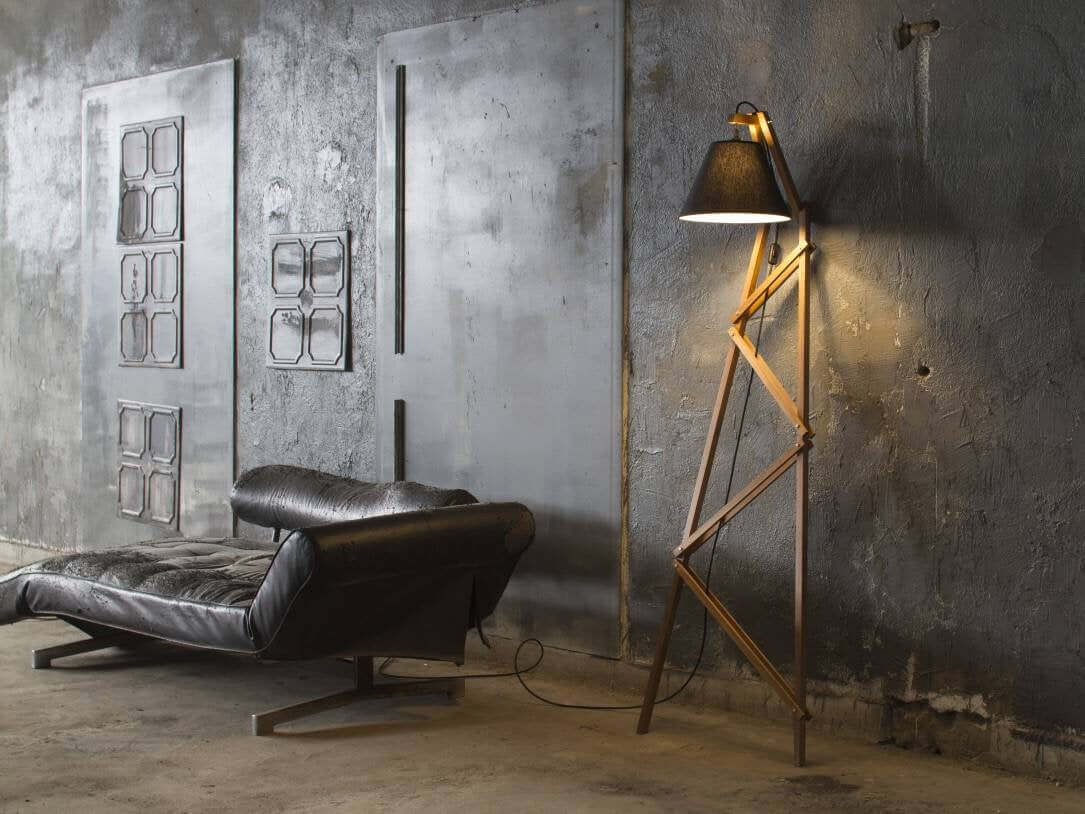 This floor lamp is unlike any you own. Instead of standing, it leans gently against the wall. Though it looks slim and airy, there's nothing precarious about this lamp. Its zig-zagging beams promise support. A crane-like extension holds the hanging light and its basic dark shade. The wire is neatly contained; it loops over the top of the structure and descends in between the parallel slats. With its chopstick-like body and the way it lounges against the wall, this lamp has its own personality. It can be the centerpiece of a room, but it can also coexist with flashier furniture.
3. Standing Iron Barn Lamp with Pendant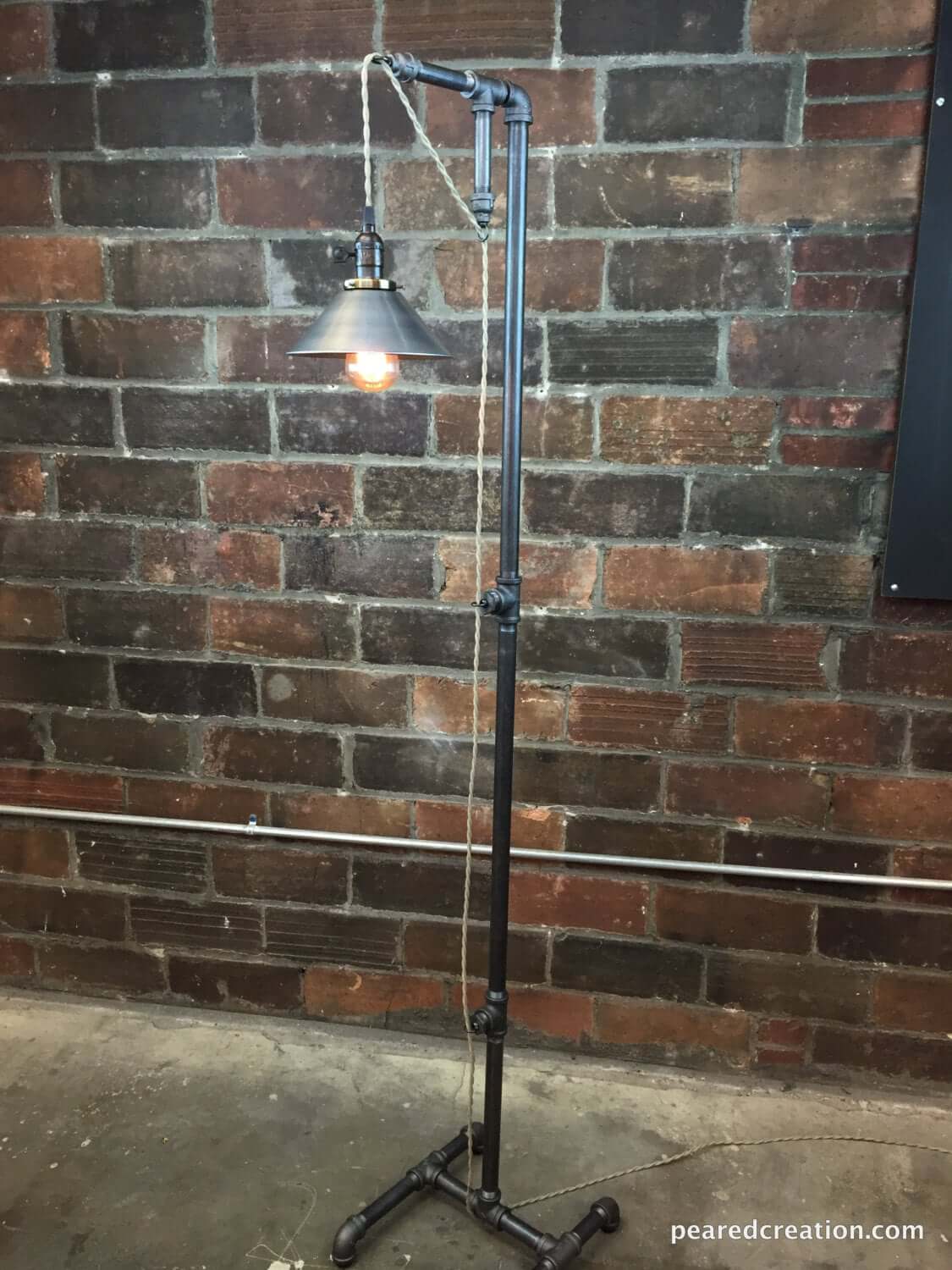 It may feature a barn light, but this lamp is more factory-chic than farm-adjacent. Its structure is made of rugged iron pipes, linked together by sturdy compression joints. A braided white pendant goes through the loopholes and dangles the cone-shaped steel lampshade. The oblong "squirrel trap" lightbulb juts out from under the shade, emphasizing the vintage-industrial style. Look closely and you'll notice the key that serves as the light switch. A reliable H-shaped base holds the lampstand steady and makes it easy to move. Because the light hangs down, this lamp would work well beside a desk or armchair.
4. Elegant Golden Lily Shaped Lamp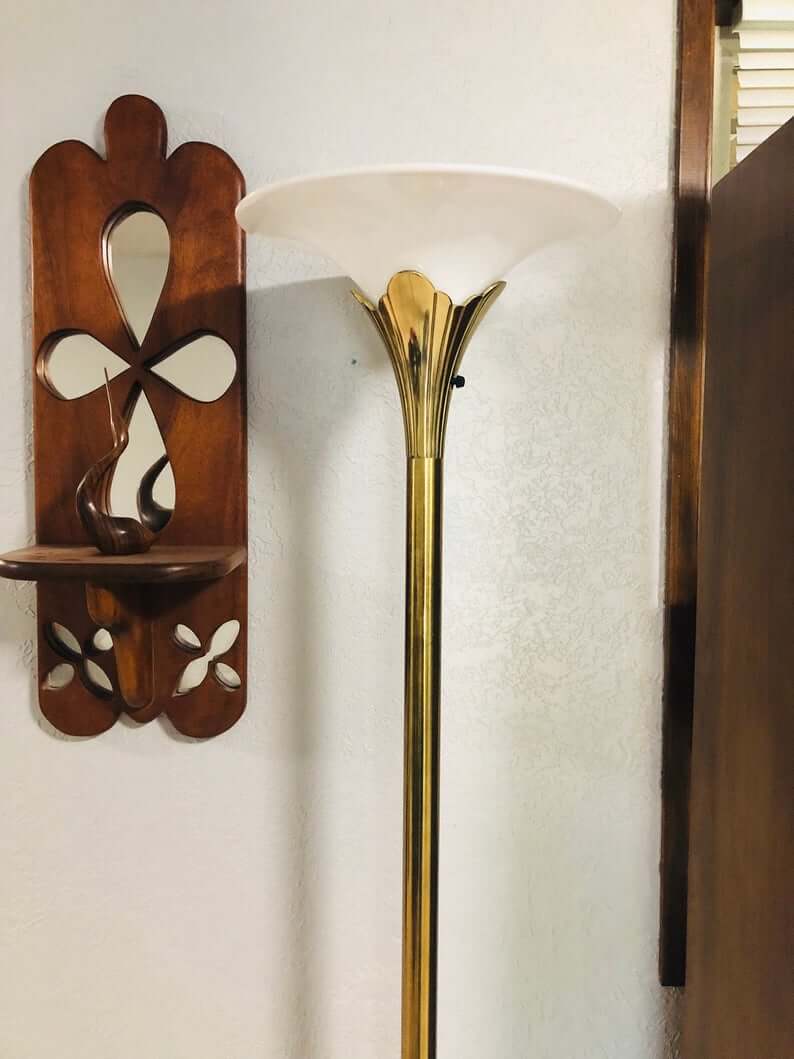 The best floor lamps are the ones that are shaped like flowers. This graceful torch lamp looks like a fresh calla lily blooming out of your floor. A long brass stem flares outward into a decorative sconce, which cradles the bell-shaped white lampshade. The gold and white coloring of the lamp adds a touch of tasteful, minimalist luxury to any room. This standing lamp would be right at home in a lavish warm-toned master bedroom. It would also be a nice addition to the end of a hallway. Its Old Hollywood appeal would really shine beside your fanciest wall mirror.
5. Funky Geometric Standing Lamp with Simple Shade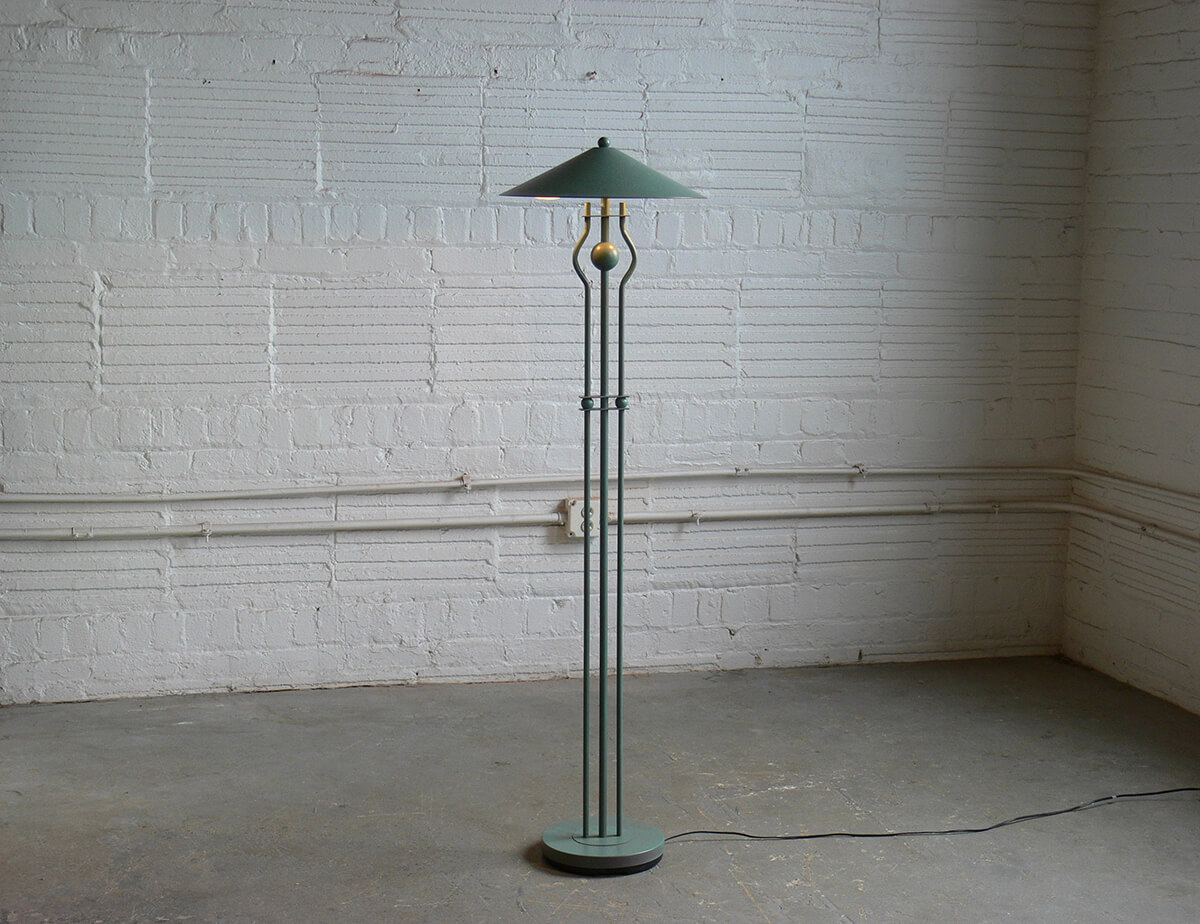 If you're all about modern, geometrical pieces, this one is for you. It's an interesting floor lamp that resembles a sketch of shapes and lines. Three thin beams rise from the circular base and are interrupted by small spheres. A cone lampshade extends wider than the stand itself. The whole thing is made of muted gray-green metal. This uniform low-key color keeps the lamp from looking too wacky. In your interior, it will be a somewhat artsy piece that doesn't command too much attention. It would thrive in a kid's room, a library, or a living room with similar mod furniture.
6. Brass Art Deco Torchiere Tension Pole Lamp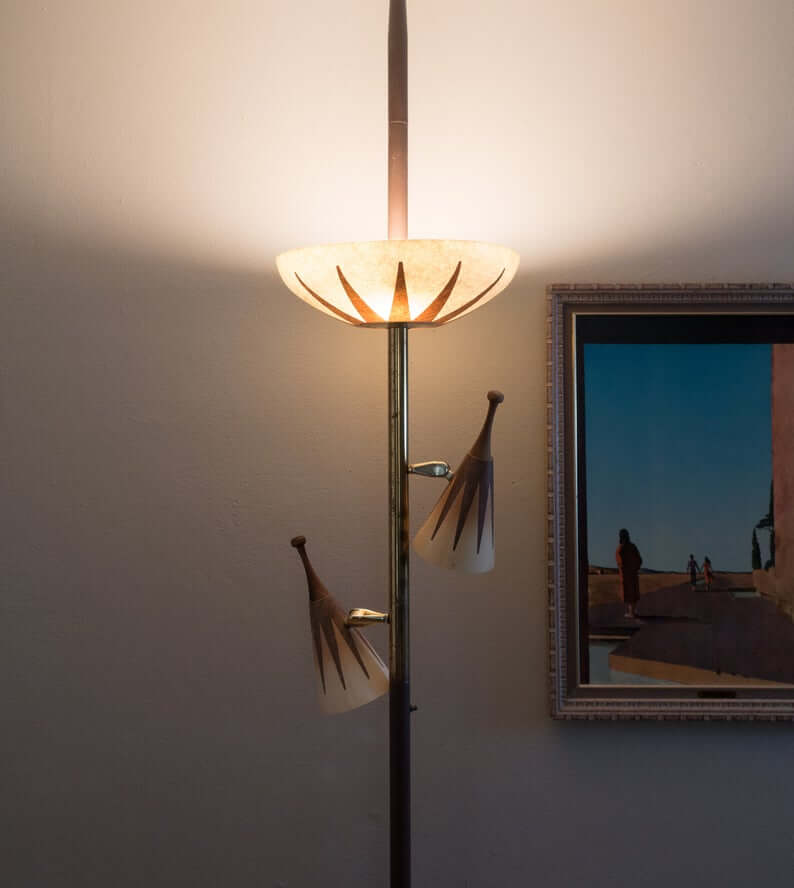 Send out those Gatsby theme party invites. This brassy beauty looks like something straight out of the Roaring Twenties. The vintage brass pole is different colors in places, adding to the ambiance. Each lampshade, from the main torchiere to the two lower lights, has an ivory hue with an antique golden-brown patina. The shades also feature walnut woodgrain detailing around the bottom. The result is warm yet dramatic lighting. You can turn each light on and off individually and adjust the cone-shaped lamps. This floor lamp brings throwback grandeur to any room, and its light makes the space feel cozy.
7. Slender Mid-Century Modern Arc Floor Lamp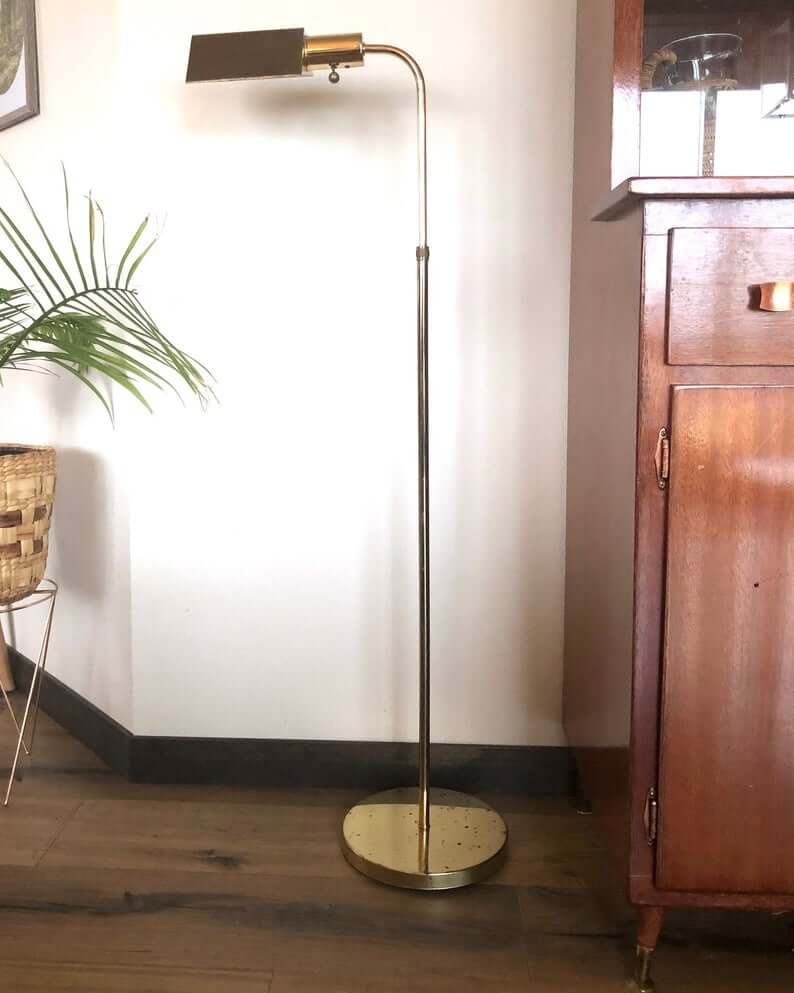 "Mid-century modern" is the trend on every decorator's lips these days. The popular post-war design style is all about re-imagining classic materials with clean lines and seamless shapes. One such material, brass, is perfect for a narrow floor lamp with a contemporary curve. The long prism of the brass lampshade calls to mind the oblong piano lamps you often see on a desk. If your living room is minimalist but homey, you'll love the effect of this lamp. You can use the lamp's angled stem to "frame" an important piece. Its super-thin stand and wide base are easily portable.
8. Dramatic Arched Floor Lamp with Pleated Lampshade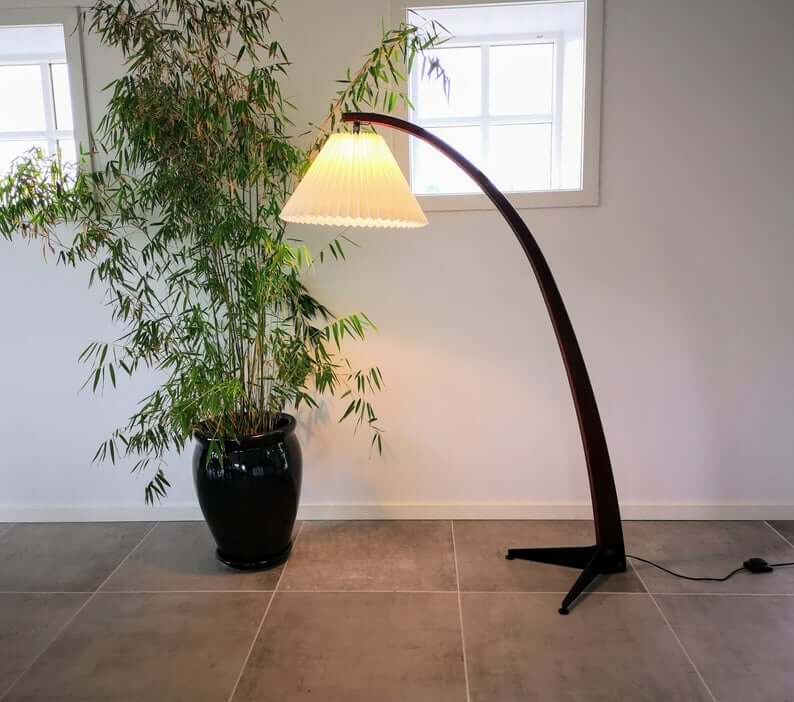 To say that this arc lamp has character is an understatement. Its dark wooden stand tapers like a tree trunk, bending to the side like an island palm. A cream-colored lampshade hangs off the tip as it grew there. The light within looks like sunlight coming through a leaf. If you love your open floor plan but need something to fill up all that space, this floor lamp is for you. It echoes the shape of your house plants. The lamp, with its controlled whimsy, would be a nice piece for a kid's room. A two-pronged stand stabilizes it.
9. Glamorous Tree Lamp with Three Perforated Shades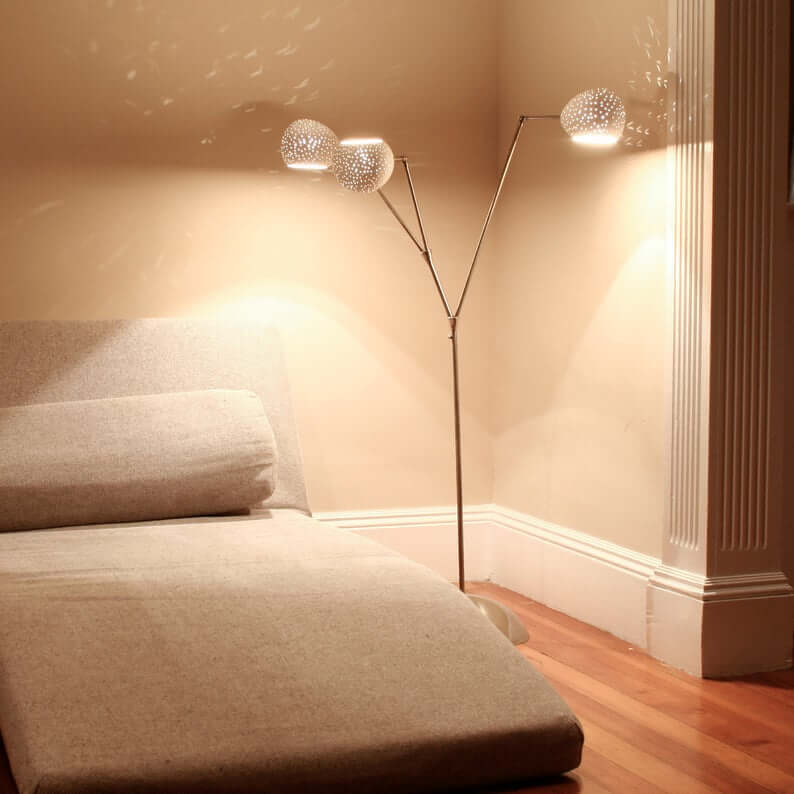 Wow your guests with an exquisite tree lamp that provides both practical and decorative lighting. Atop a brushed metal base, this willowy lamp stand branches out into three small lamps. The ceramic lampshades are shaped like irregular globes, punctured with holes that will cast tiny constellations on the nearby walls. But it's more than just a pretty piece. Each lamp can be swiveled and pointed in any direction. This ethereal floor lamp is lovely mood lighting for a bedroom, while also supplying light for your midnight reading sessions. Place it in a corner to get the full starry night effect.
10. Modern Rustic White Wood Standing Lamp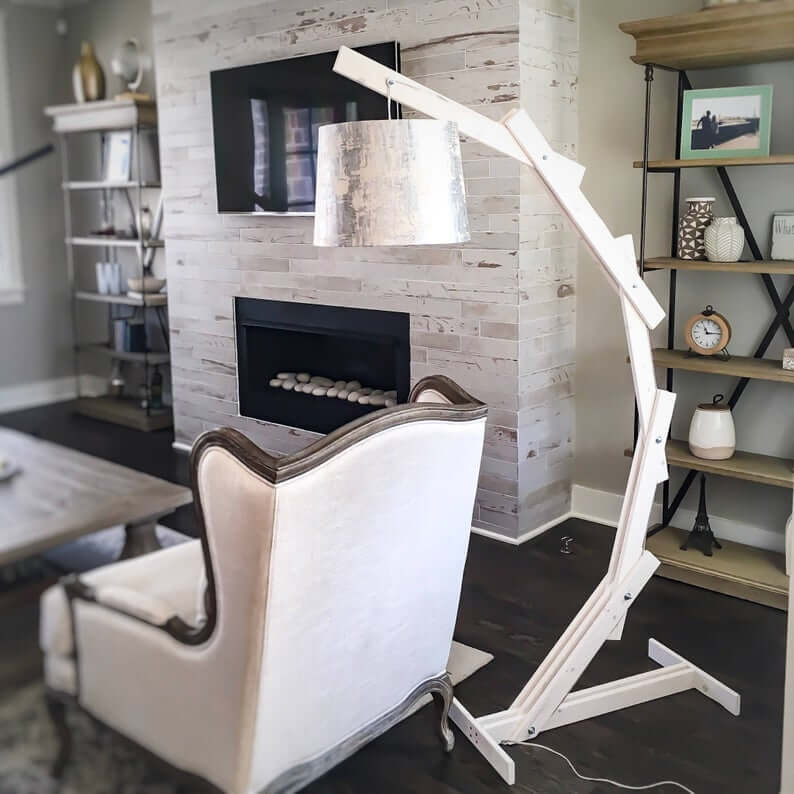 This arc lamp is farmhouse decor with a twist. Its C-shaped body is an erector set of whitewashed wooden slats. A metallic silver drum lampshade hangs from the highest plank. The bottom of the "C" is strengthened by three beams attached to the long H-shaped base. This is the rare piece of furniture that would suit a rustic cabin interior or an avant-garde aesthetic. Whitewood matches pretty much everything. And depending on your room's personality, the silver shade could be futuristic or milk pail vintage. This lamp occupies a considerable amount of space, so give it room to shine.
11. Brass Floor Lamp with Jointed Arm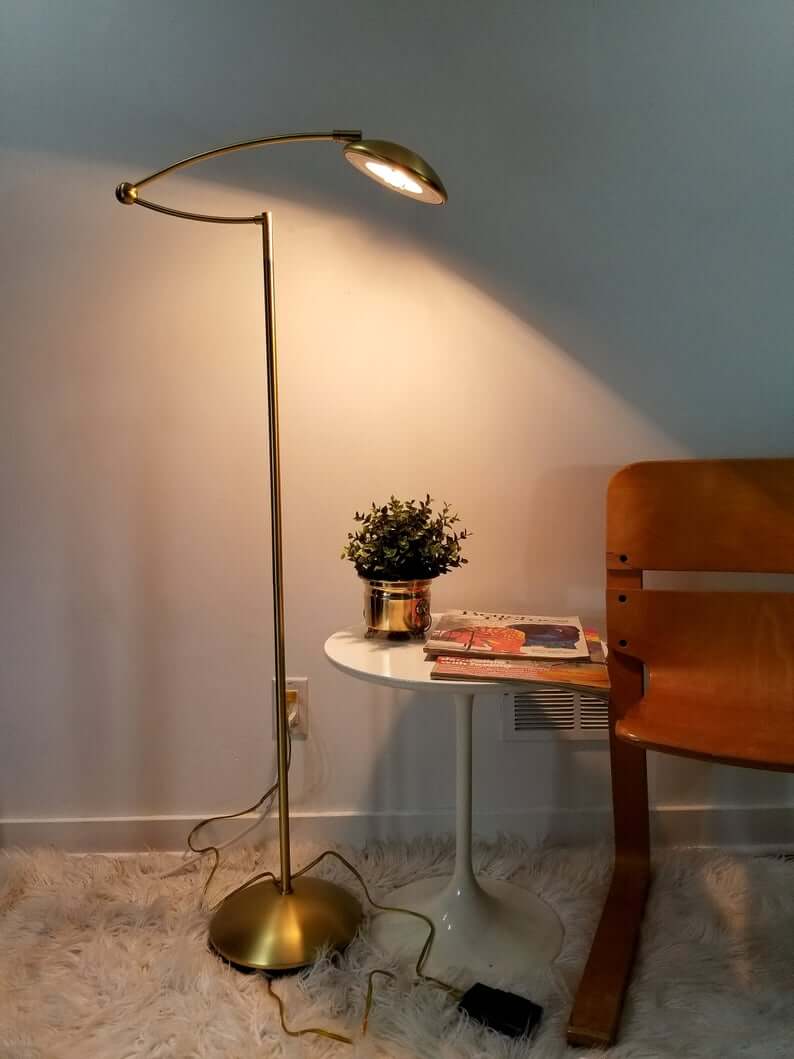 Enrich your study or library with this smart standing lamp. Most task lamps just have a simple arm that bends at an angle. This one has a more conspicuous shape; the arm arcs backward, then forward at the "elbow" joint. There's a shallow bowl-shaped lampshade that you can adjust at your leisure. Aged brass reflects the light with a soft gleam. You'll want to replace your basic pole lamp with this one. Its slender, unusual silhouette could be the partner your work desk needs. And its yellowy vintage brass finish complements the best blue and gray furniture in the room.
12. Wood Cylinder Lamp with Decorative Hole Design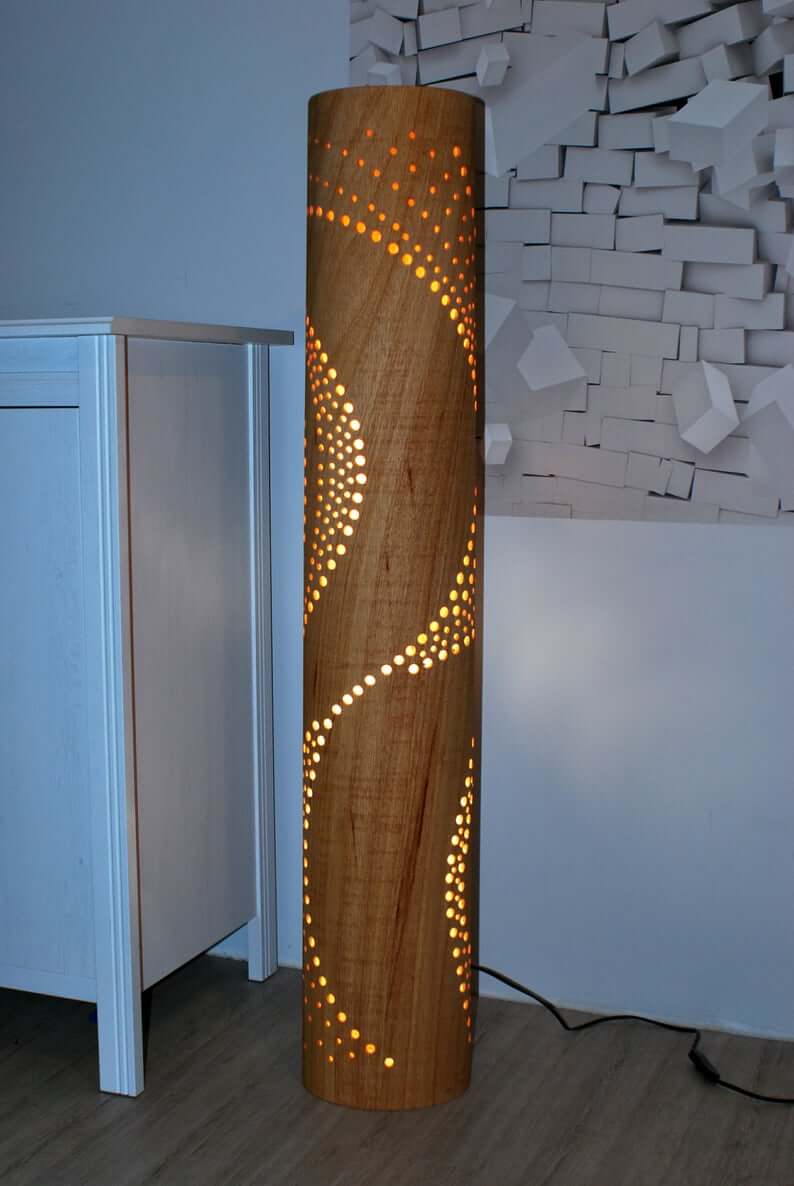 Interior decorators suggest illuminating a room with different types of lighting. You probably have a ceiling light and some reading lamps here and there. But mood lighting, like this modern plywood lamp, imitates the glow of natural sunlight and instantly improves your space. Wave patterns of small holes flow up and down the smooth wood cylinder. These openings allow a warm, pleasant golden light to filter out. It's a simpler take on the famous Moroccan calligraphy lamp. Position this floor lamp near the television or next to a display shelf. It can also create a romantic ambiance in your dining room.
13. Four Armed Standing Lamp with Cage Shades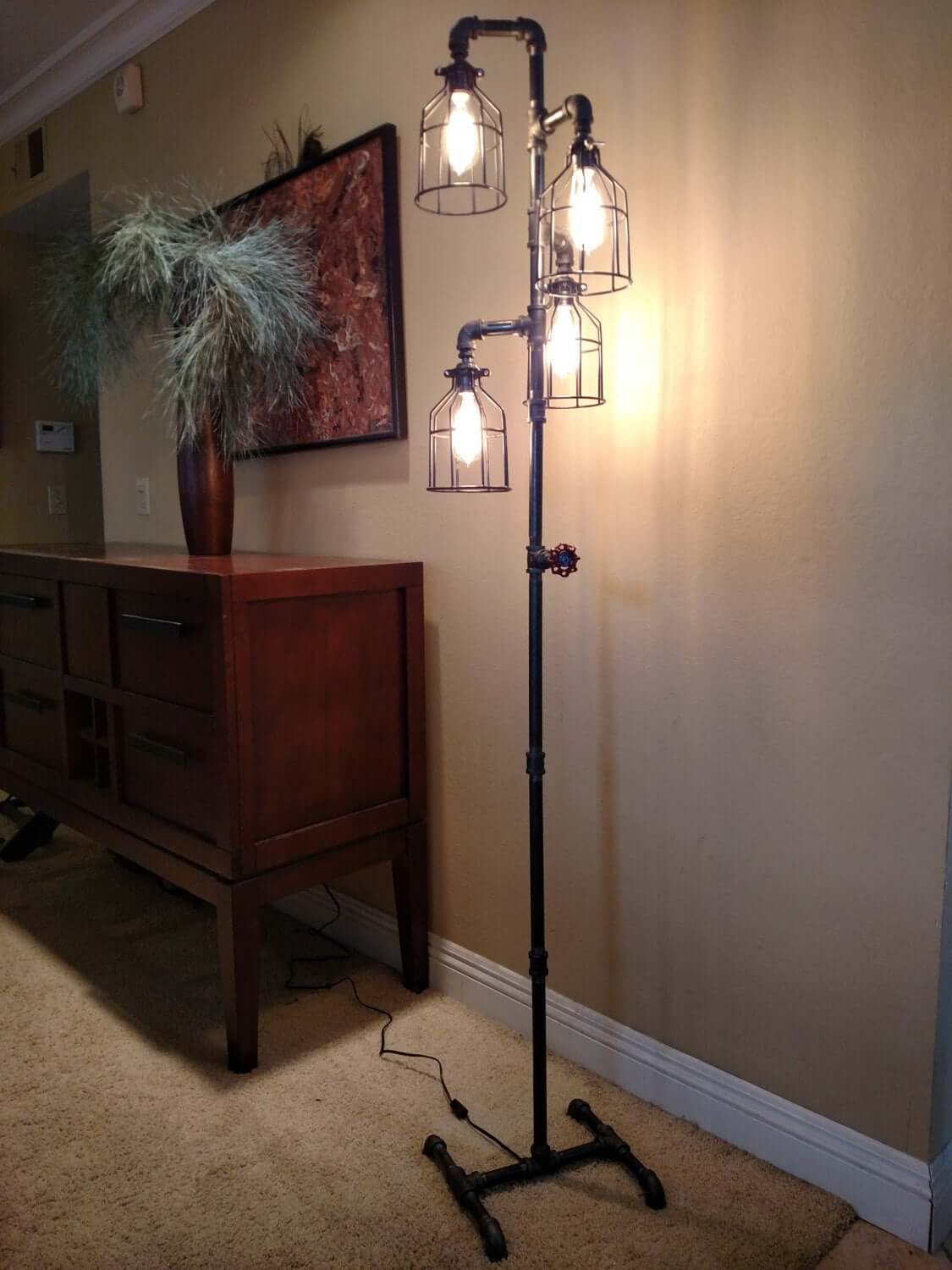 You'll adore this knobby tension pole lamp, which looks like it belongs on a cobblestone street in London. The structure is crafted from black iron pipes and joints of different sizes. The four lamps themselves stick out of the lampstand at different heights and angles, each aimed downward. Long lightbulbs are surrounded by round black cage shades that evoke antique lanterns. The light switch, an old faucet wheel valve, is located halfway down the main pole. This Dickensian four-pronged lamp would comfortably stand alone on a stair landing. In your sitting room, it would offer some unexpected industrial flair.
14. Mason Jar Lampshades on Metal Lamp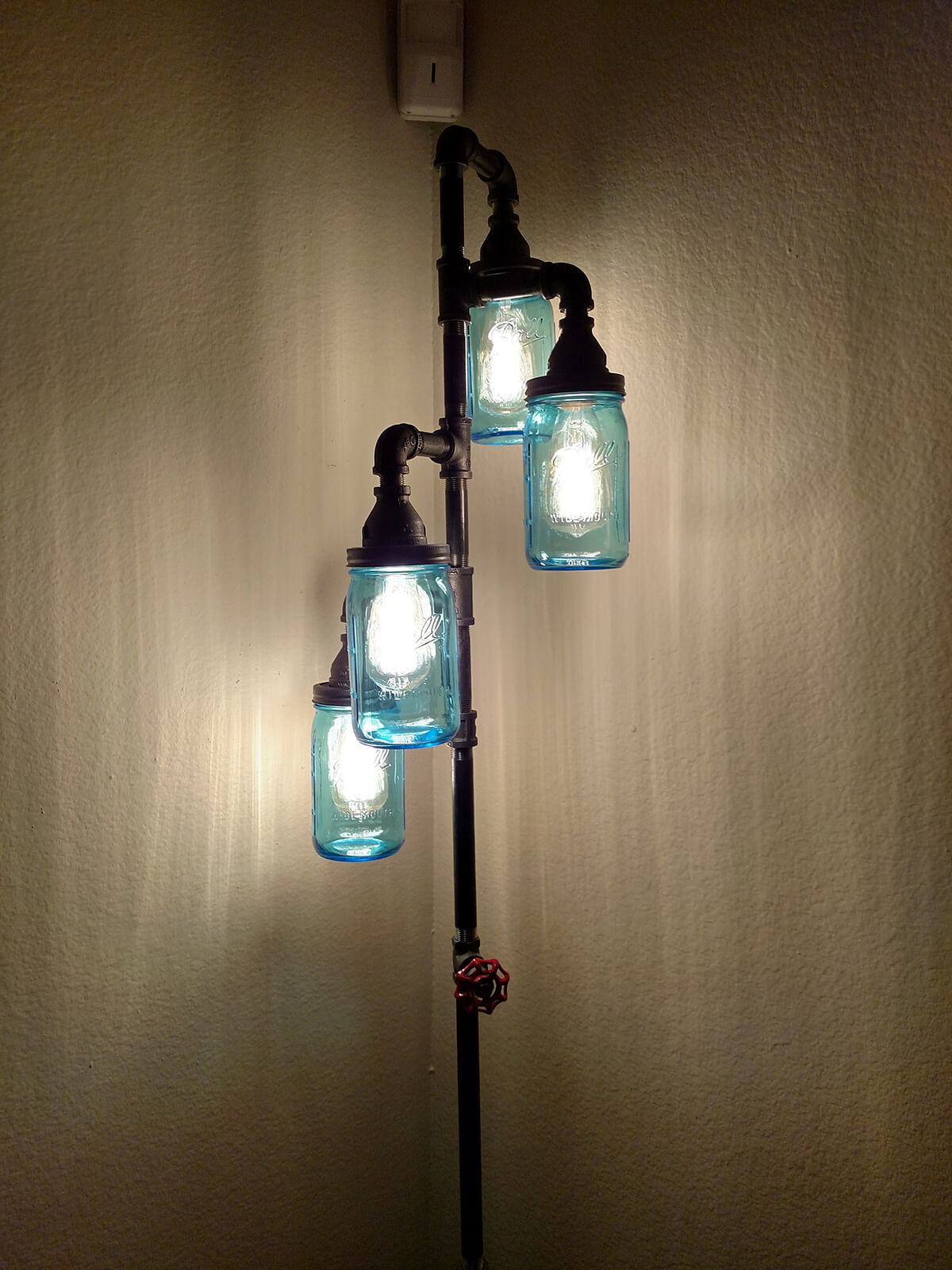 You use Mason jars for everything else. Why not have them on your lamp? On this standing lamp, typical lampshades are replaced by large blue-toned glass jars. It's a tension pole lamp, which means that the lights are position at different levels on the main spine. Tough black metal pipes are a welcome change from light flimsy lamp posts. When the lights are on, the blue hue of the glass jars creates the impression of four enormous water droplets pouring out of iron spigots. Put this low-key floor lamp to work providing mood lighting on a sheltered patio or porch.
15. Statuesque Cream Spindle Lamp with White Lampshade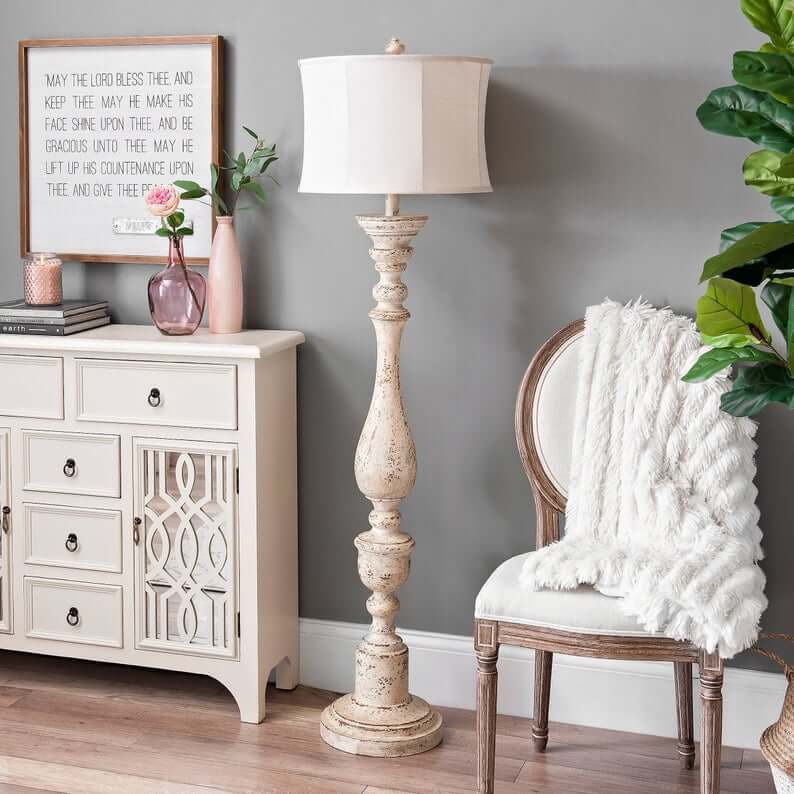 Envision your home as an estate in the South of France. The rooms are full of natural light. The furniture is romantically faded, with sturdy craftsmanship that stands the test of time. And in the living room, this lamp shines. Its ivory color and gently distressed surface fit the vision. The white drum lampshade has a very subtle curve that reflects the sculpted spindle body. We all know that monochromatic rooms are a hot decor trend. This floor lamp completes your refreshing all-white area, and its texture adds vintage flavor. It could also be a fixture in a bohemian-chic room.
16. Bell-Shaped Lampshades Alternating Direction on Floor Lamp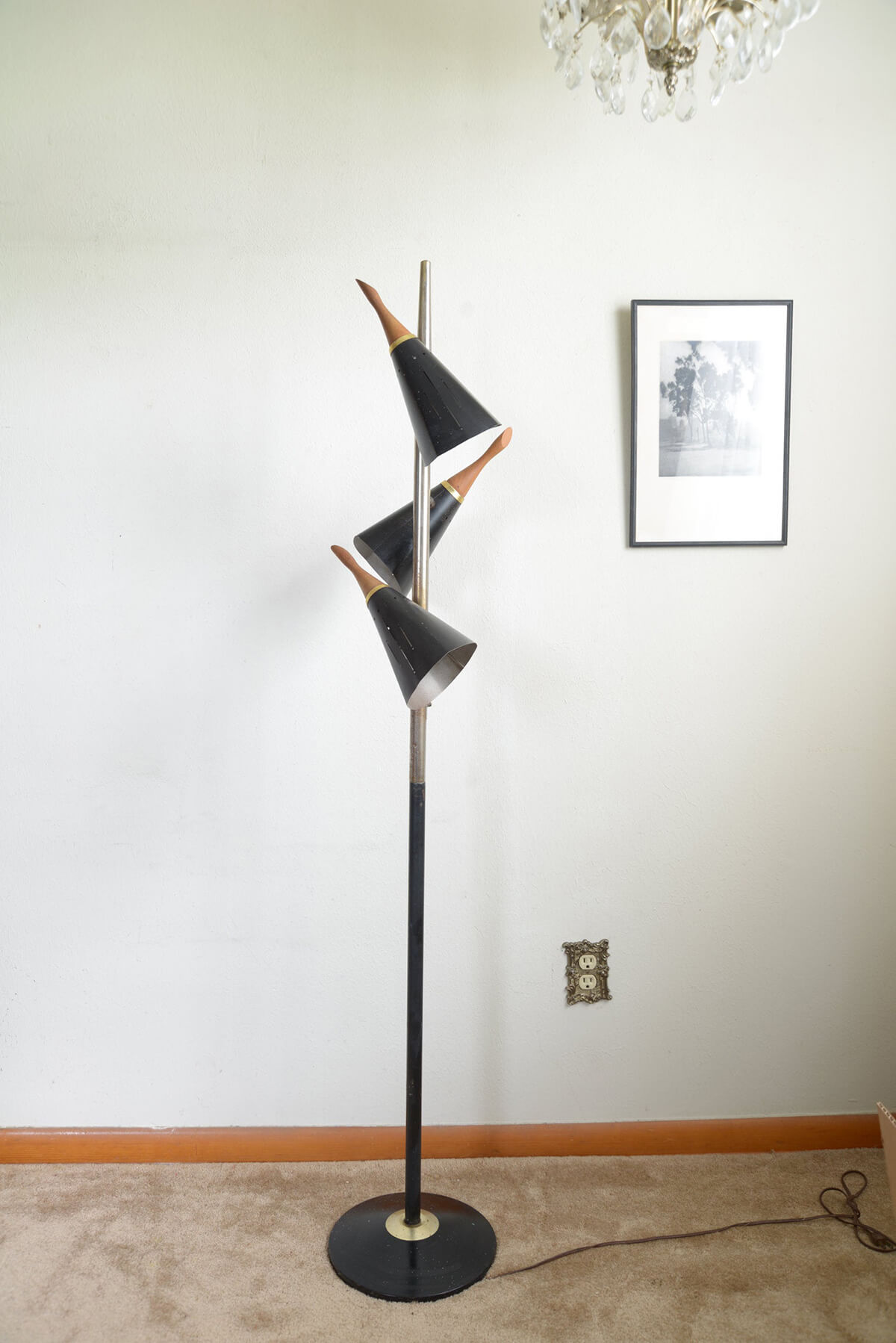 Who says black and brown don't go together? This is one of the lamps for a dignified home office setting. Alternatively, it can be the secondary light source in the corner of a stately dining room. On this tension pole lamp, three conical lampshades resemble black bells with long brown handles. The pole itself is half black, half silver, with a polished black circular base for portability. As a whole, the lamp matches all sorts of furniture, from your leather chairs and oak shelves to chrome coffee tables. The lights angle different directions to illuminate a larger area.
17. Awesome Tripod Lamp with Large Glass Globe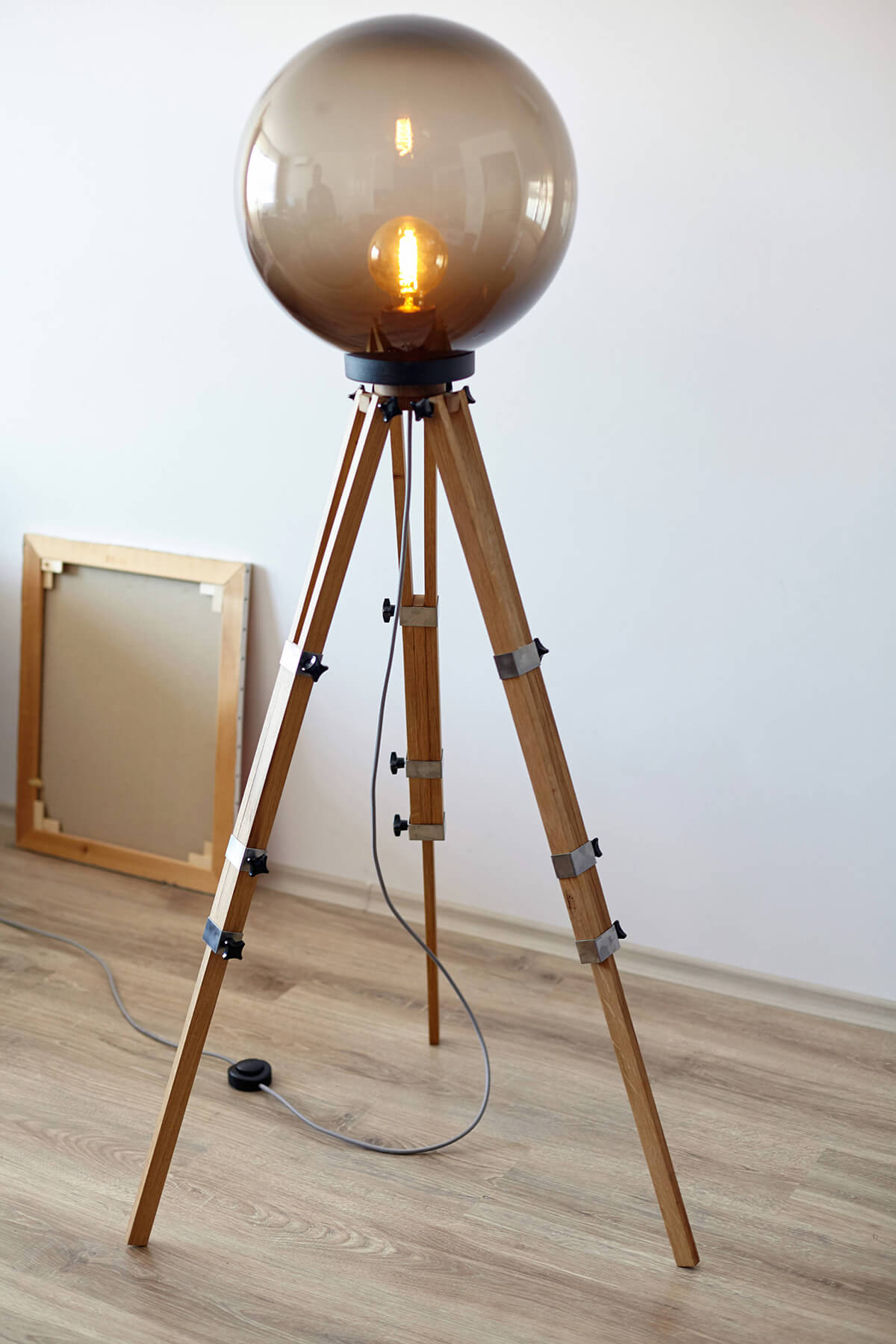 Has a floor lamp ever grabbed your attention like this one? It's part Scandinavian design, part science museum. Although its light is not super bright, it deserves to be the main piece in any room. Place it near a low armchair or couch, but give it plenty of space. The huge brown-tinted glass sphere softens the glow from the Edison bulb within, generating a gentle, moon-like ambient light. It can serve as a nightlight in a creative nursery. The adjustable tripod, which is reinforced with metal bands, lets you expand and compress the lampstand to fit your special needs.
18. Artistic Tube Shade on Black Floor Lamp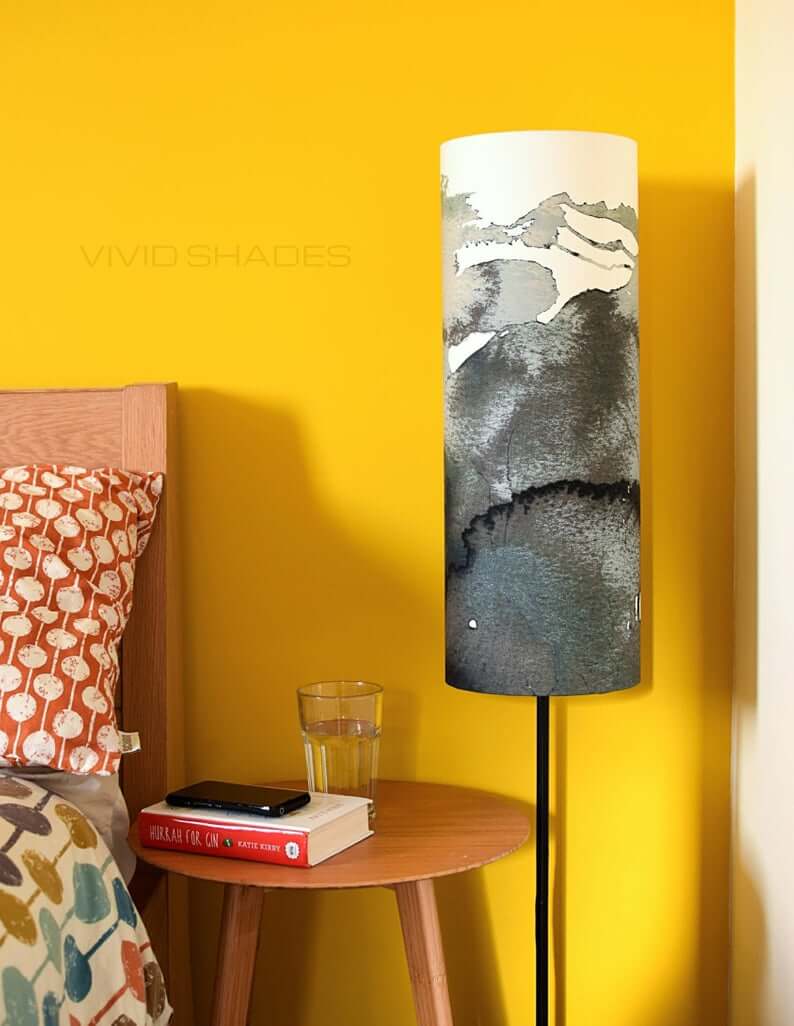 This artsy lamp is a versatile piece. It livens up a monochrome room without breaking the theme. It stands out against a bright solid-colored wall. The long cylinder shade flaunts an abstract painted design. In a luxe setting, it looks like a custom watercolor. In a bohemian room, it's a fun tie-dye. And in a nature-inspired space, it will mimic an inky landscape print. A thin black pole won't distract from this unique beauty. The large shade seems to float atop the pole pleasingly. You'll want to put this lamp somewhere everyone can admire it.
19. Wood Tripod Floor Lamp with Brown Lampshade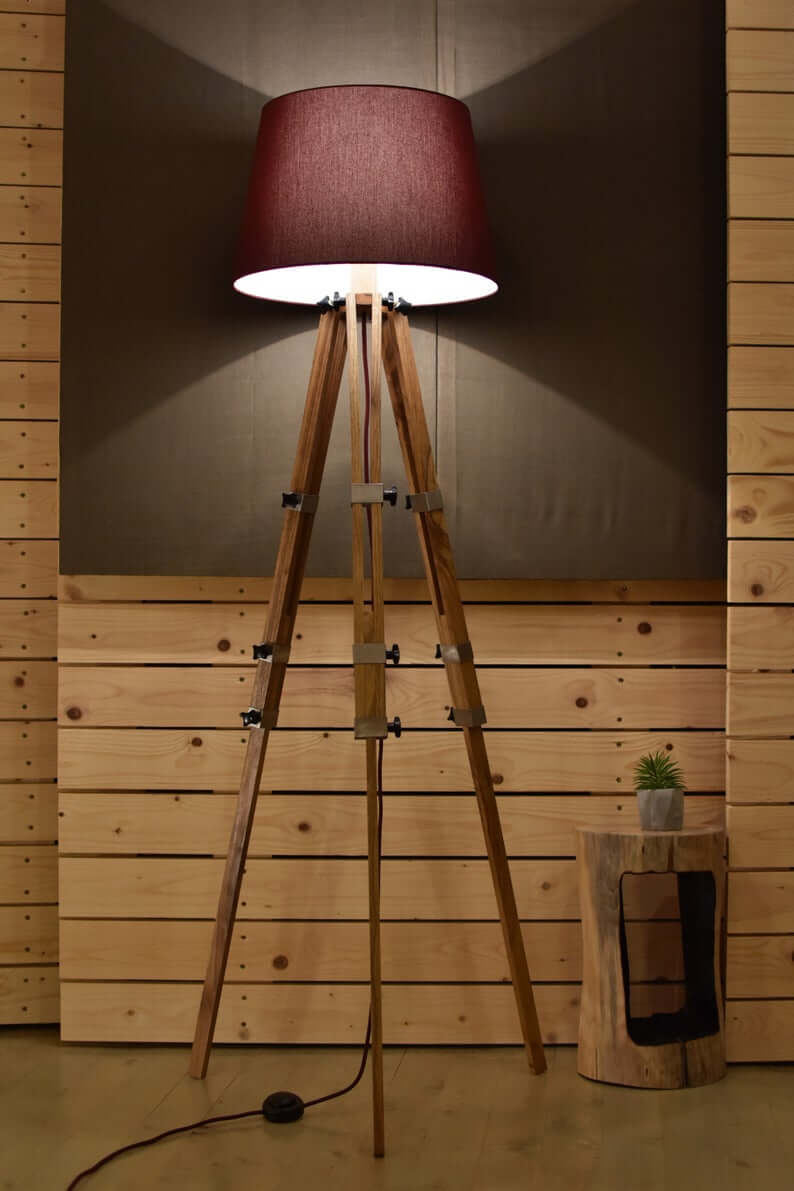 A standard "tapered drum" lampshade has an open cylinder shape; it can shed wide swaths of light above and below. But if you look down, you'll see that this is no ordinary lamp. Instead of a pole or basic stand, the lamp rests on a tall wooden tripod. The three-legged stand provides stability and character. A home library is a good place for this floor lamp. And with its construction-set appearance, it would be a natural next to a desk, workbench, or craft table. The reddish-brown shade tempers the brightness of the light so it won't be too intense.
20. Quirky Zig-Zag Metal Gooseneck Floor Lamp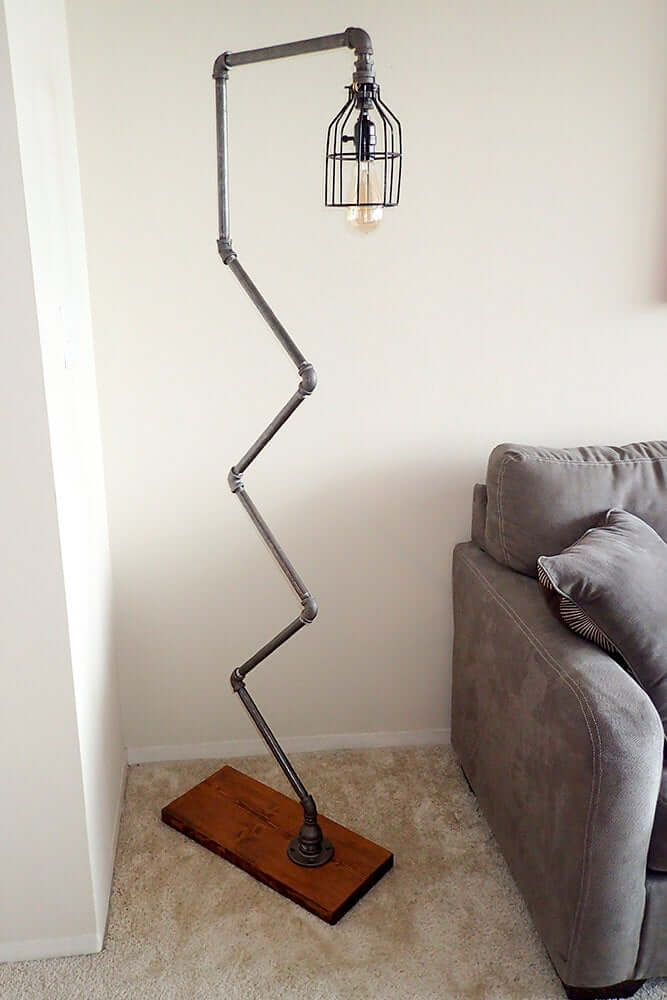 Industrial decor has never been so fun. This lovably crooked lamp is built from spindly metal pipes. The lamp straightens out at the top, bends at a right angle, and holds a single bulb on a long socket. The lightbulb itself surpasses the bottom of the metal cage-style lampshade. You could place this lamp beside a chunky, rounded furniture piece for the contrast. Its flat, rectangular wood base aligns easily with walls and corners. If you're creating an industrial-themed home bar, you'll appreciate the lamp's crude materials and alluring shape. It would be a hit in your downstairs rec room.
21. Chic Bamboo Hourglass Floor Lamp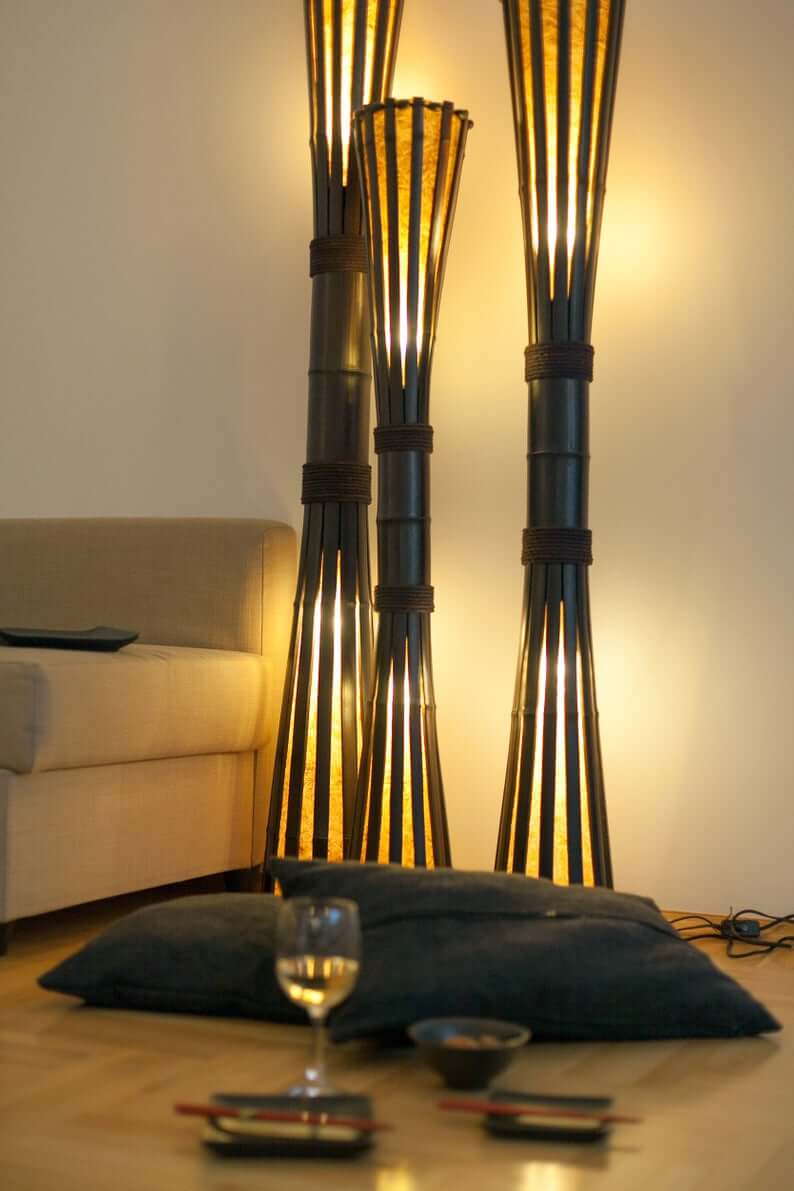 Serenity is something we're all constantly chasing–especially in our interior spaces. With these gorgeous lamps, you're halfway there. Their design marries a modern concept with a timeless silhouette. And the materials, bamboo, and paper, have been used to light the way since ancient times. LED bulbs inside these lamps emanate light, which is muted into a gradient golden glow that feels organic. This lamp is a great choice for a spa-like atmosphere. They don't take up much space. You can place them in any area that needs a calm aura and a stylish look. You'll want more than one.
22. Floor Lamp with Innovative Two Wheel Pulley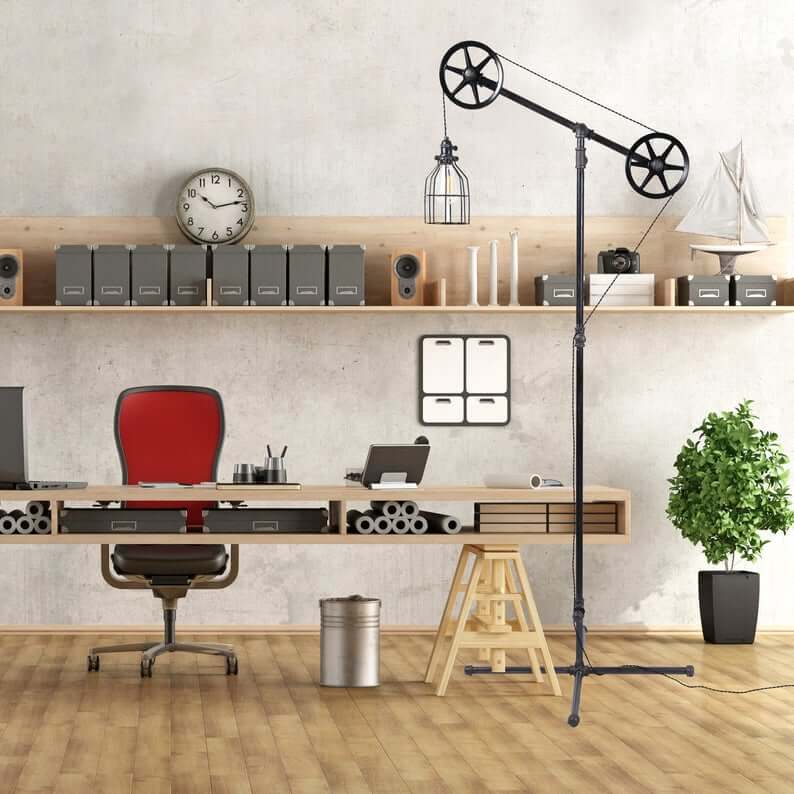 Remember learning about the simple machines? Of all of them, the pulley is probably most aesthetically pleasing. On this floor lamp, a bulb in a cage hangs on a pendant, which is drawn taut over two wheels. The pulley apparatus balances atop a tall pole stand. The wide four-armed base provides ample stability. And its black metal body promises that this cantilever floor lamp will fit with any decor color scheme. The small lantern-like lamp looks quaint juxtaposed near the larger pulley wheels. You'll want to suspend this light above your workspace. It has an appealing "turn-of-the-century art studio" vibe.
23. Cantilever Floor Lamp with Metal Cone Shade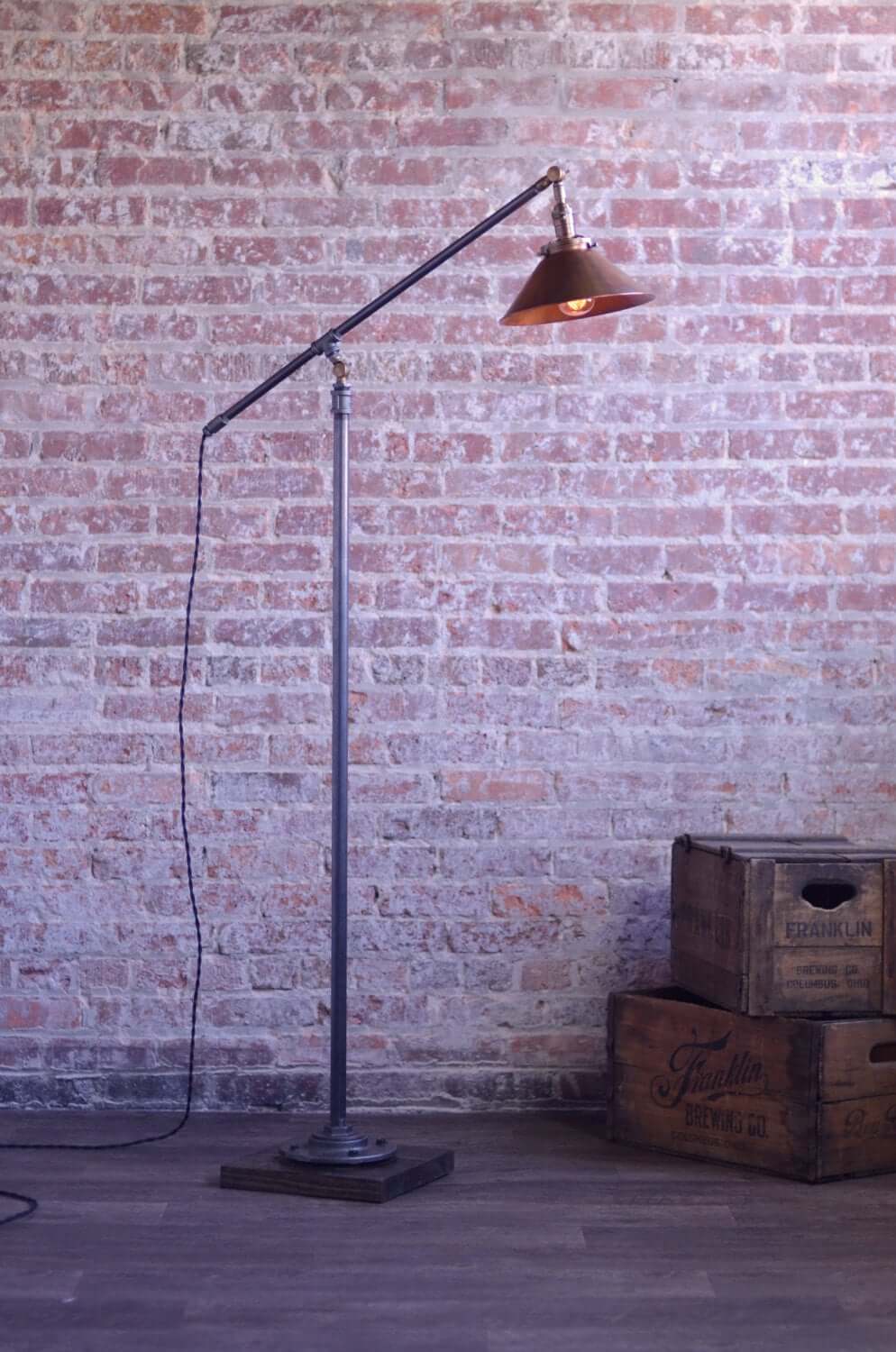 Sometimes less is more. This slim standing lamp is a minimalists' dream. The metal stem supports a long, cantilevered pole that holds a light on a sturdy socket. Its metal shade has a coppery tone that lends warmth to the lamp's spare structure. You can adjust the lamp lever for optimum illumination. "Red metals" like copper have been popular in interior design lately. They offer a sophisticated, color-infused alternative to plain materials. This lamp will fit in with the other metals in the room while still distinguishing itself. If you don't have a lot of space, you'll adore this lamp.
24. Four Legged Wooden Lamp with Black Shade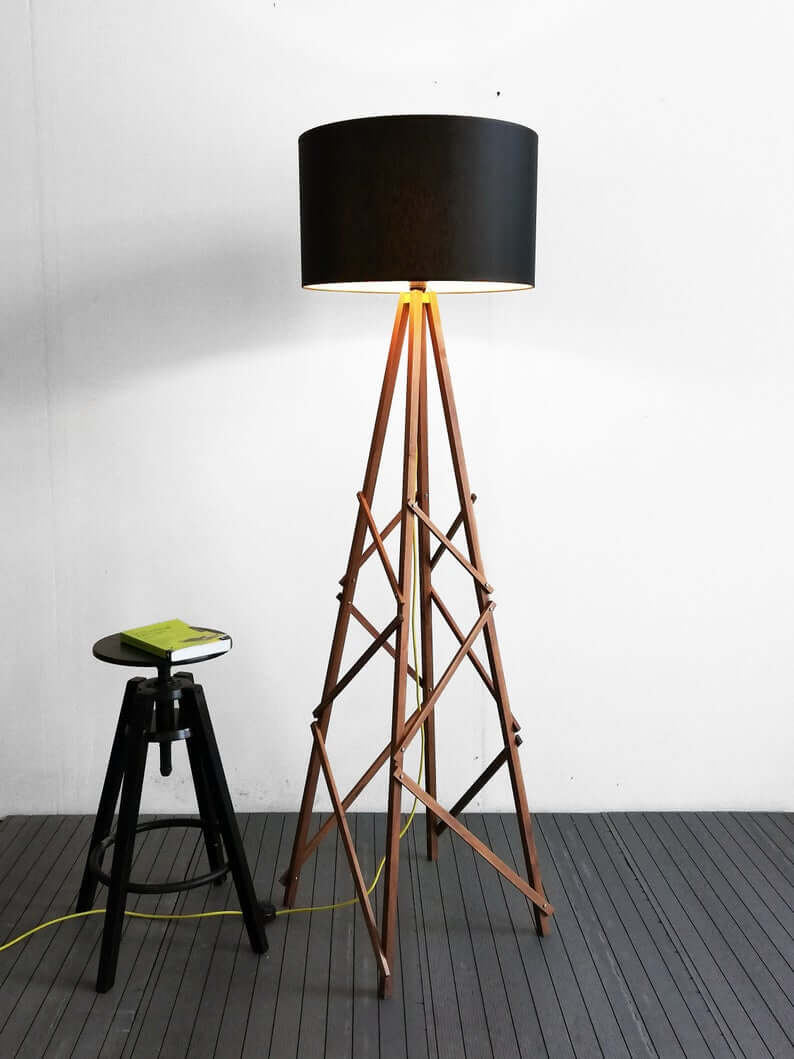 In a room full of bold furniture pieces, a lamp like this one can hold its own. Its geometry is striking. A large cylinder shade balances out the angular wooden latticework that composes the lampstand. Four legs keep the whole structure standing firm, no matter where you position it. The lampshade is solid black, but there's plenty of room for light to shine through the wide openings at the top and bottom. It can be fun to decorate a room with dramatic dark colors. This cool "quadpod" lamp will keep your space from looking too strict.
25. Orange Lamp on Chrome and Glass Stand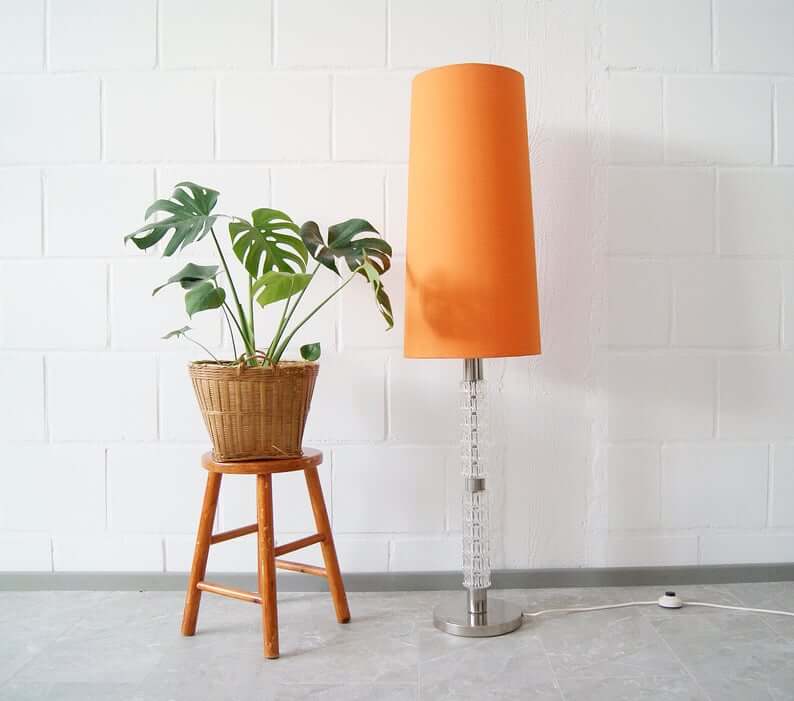 The '70s are back, baby. Refresh any room with a splash of citrus color and some retro-mod materials. This funky lamp stand pairs reflective chrome with stacked glass blocks. The sunny orange cylinder shade flares slightly at the end, reminiscent of bell-bottom pants. Stick this lamp in a modern dining room, where it will complement a glass table and sleek round stools. Or place it in a boho space, alongside house plants and fun artwork. The tangerine orange lampshade will pop next to a piece you probably already own, like a gray couch or a dark blue wall.
26. Exquisite Modern Lamp with Tall Petal-Like Lampshade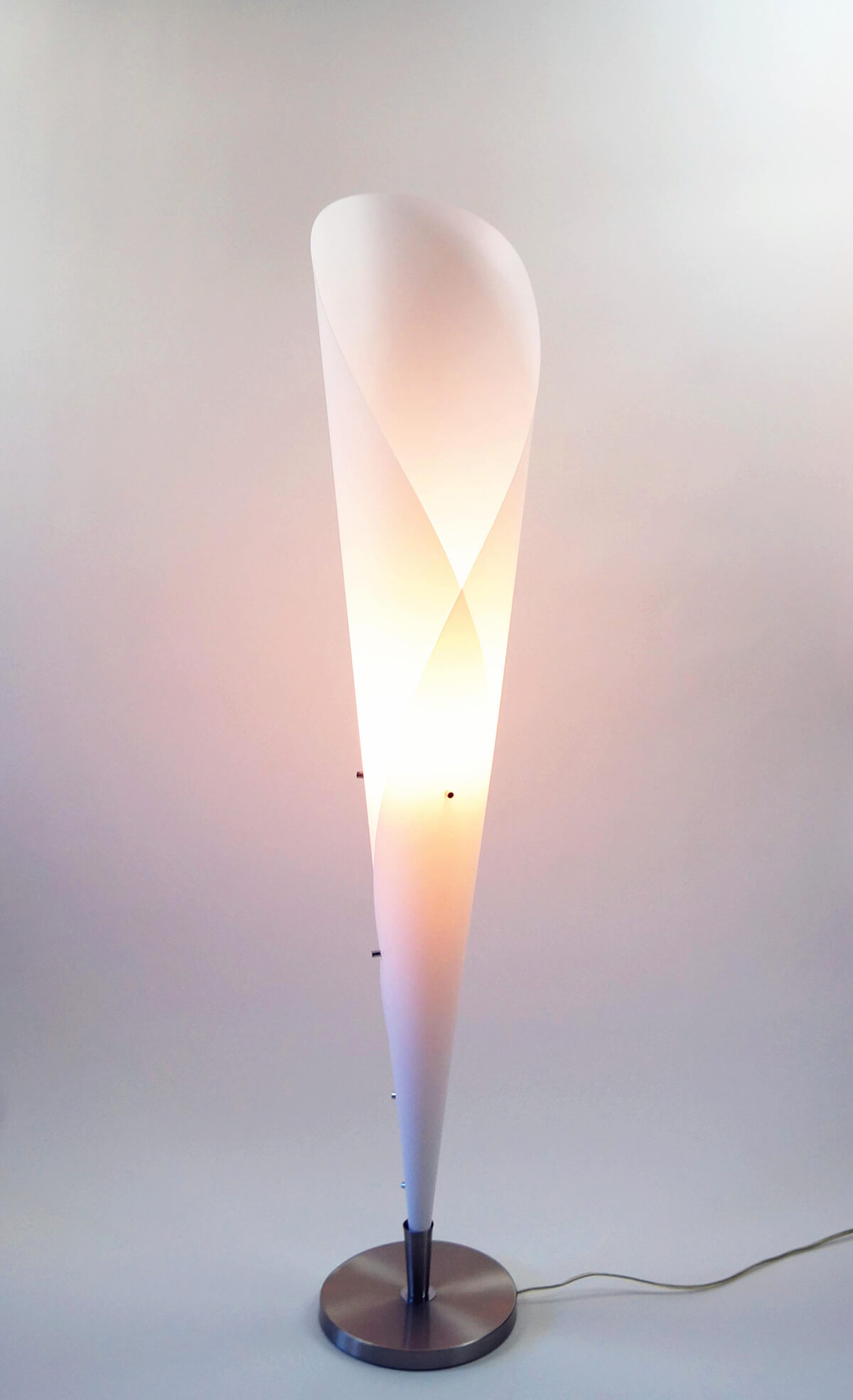 Somewhere between a floor lamp and a work of art, you'll find this magnificent piece. The white polypropylene shade wraps around itself like a rosebud. It has a fluid trumpet shape, opening at the top and tapering down to the circular metal base. The form and the overlapping material diffuse the inner light into a soft gradient. It's the tranquil mood lighting your sitting or dining area needs. This lamp could also stand at the end of a hallway, as it's not too wide. When it's on, it's a delicate ambient light, and when it's off it's practically a sculpture.
27. Branch Shaped Arc Lamp with Hurricane Shade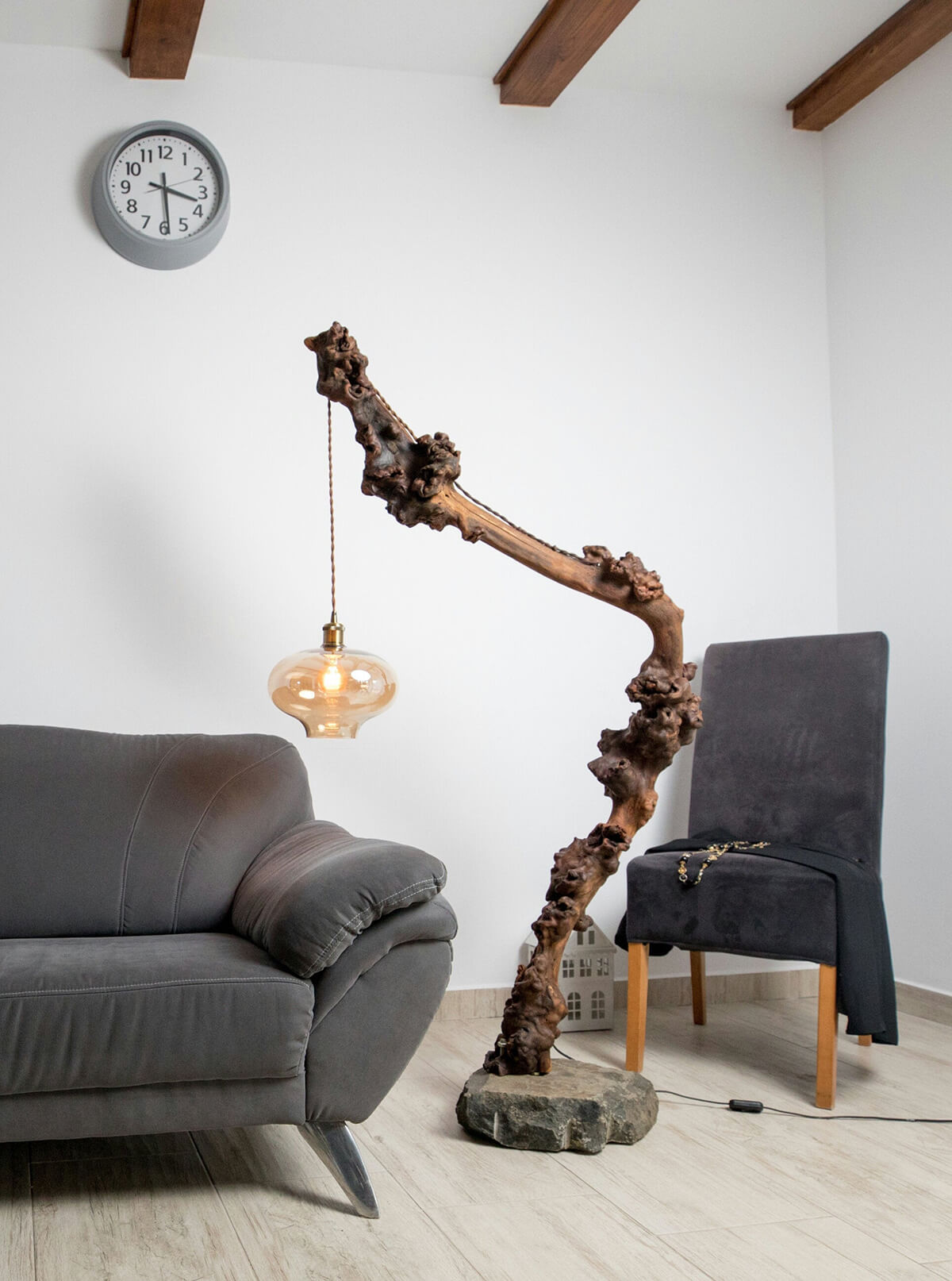 Here's a lamp that wouldn't be out of place in a fairy tale. The gnarled apple branch lamp stand bends organically into a crooked arc. A long golden pendant hangs from it, suspending the light inside a bulged glass shade. The whole structure rests on a slab of gray stone. Everything about this lamp commands attention. It's a work of natural grandeur, from the boulder base to the unique knotty growths on the wood. The enchanting lamp would transform a library or study. In a room full of basic wooden furniture, let this lamp be a taste of the wilderness.
28. Sleek Minimalist Metal Floor Lamp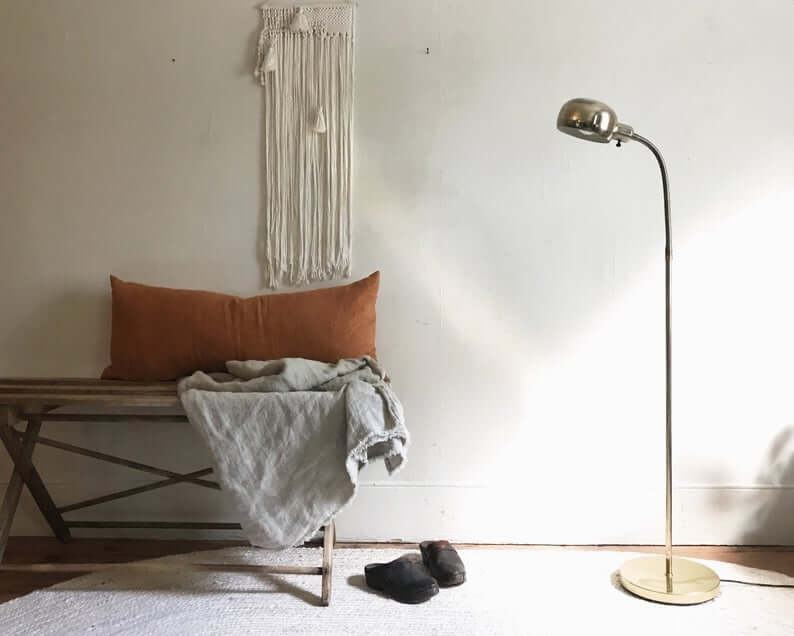 This is one of the best floor lamps to pair with other furniture, due to its sheer simplicity. The gooseneck lamp features a glossy chrome finish from top to bottom. A small, rounded metal lampshade echoes the wide, flat round base. In between the two, the thin, stalk-like pole bends ever so subtly. This lamp would work well in a smaller room. Fortunately, it suits any color scheme you could dream up. And there's just enough shiny metal to offset your favorite soft textiles, like throw blankets and sheepskin rugs. Anyone could make use of this polished metal floor lamp.
29. Tubular Bulb on Copper Pipe Lamp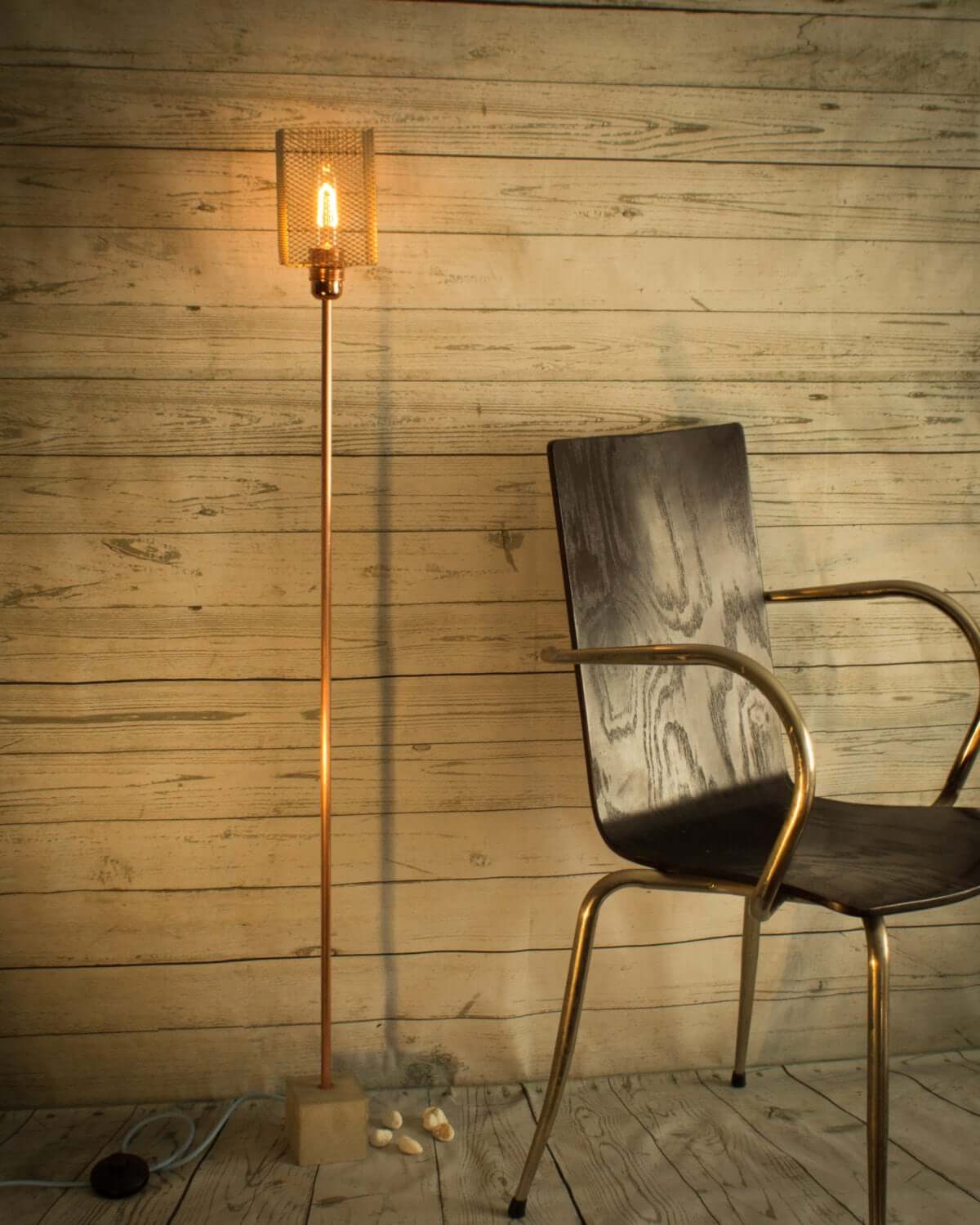 What's not the love about this homespun floor lamp? Its unrefined charm is unmatched. The vintage tubular bulb supplies a warm, cozy glow. It's fully visible within the prism of metal mesh that serves as the lampshade. A thin copper pole holds the bulb in its large socket. This lamp is just right for a rustic, relaxed interior. If you have a deck or another outdoor space with a roof, you could use it as a low-key light source for those summer night soirees. The lamp is easy to move, as its base is a simple block of wood.
30. Gorgeous Bamboo and Wood Standing Lamp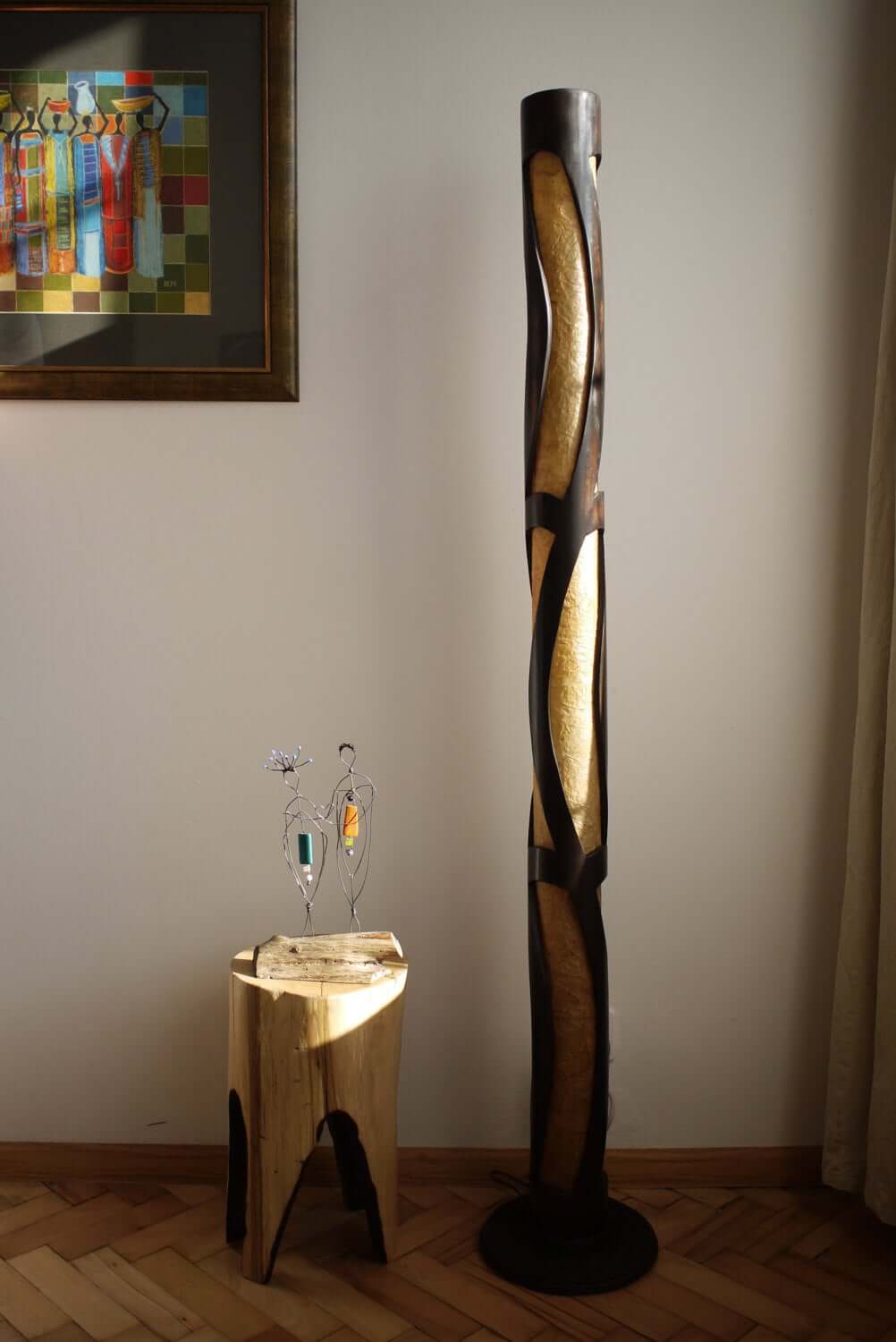 The shape is basic: a tall, narrow tube rests on a circular base. But the materials and craftsmanship will make you stare. There's the skeleton of dark brown bamboo, cut in wave designs. Then there's what's inside–a handmade golden-yellow paper that creases and wrinkles in countless patterns. Switch it on, and you'll be surprised at how bright the light is. This lamp would improve any dark corner in the house. In a luxurious dining room, it sets a peaceful mood. Put it next to some wall art to give your space a museum vibe. Romantic and exotic, this one's a keeper.
30 Creative Floor Lamps that Steal the Spotlight
To this day, the floor lamp is an important addition to a home interior. From dorm-dwellers to hotel designers, everyone loves a good floor lamp. Portable and practical, they provide multiple types of lighting. They can shine overhead like streetlights, or radiate quietly in the corner, setting the mood. Many of them are narrow enough to fit into tight spots. They won't block a hallway or dominate an open room.
The best floor lamps are innovations of style and function. With the wide array of styles available, it's hard to go wrong with these standalone lamps. From mystical bamboo cylinders to industrious metal pipe contraptions, floor lamps have a way of fitting in and standing out at the same time. True to its history, the versatile floor lamp is the symbol of leisure moments and late-night passion projects.
Our Favorite Rustic Chic Decorations to buy on Amazon