Would you like to take your decorating style up a notch with the best floral home decoration ideas out there today? Using flowers in home décor has always been on-trend, but the ways we use them has certainly evolved over the years. With so many new ways to use floral home decorations, you are sure to find something new for your home. Whether you are looking for inexpensive DIY projects or for items that you can order, you will find them all here.
29 Floral Home Decoration Ideas to Add Personality and Color to Your Home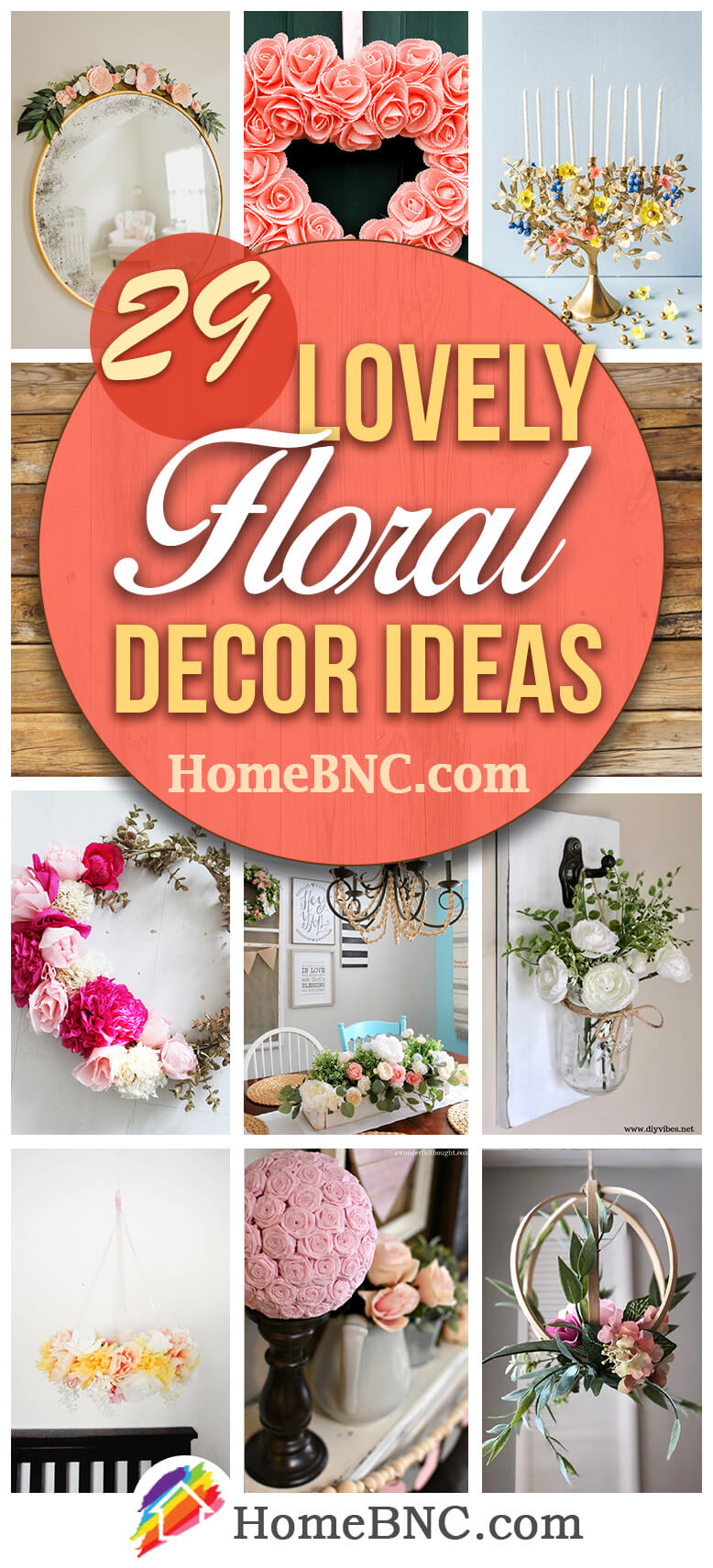 Adding flowers to your home instantly adds a welcoming feel to your space. It is also a great way to bring in pops of color. If your décor is more neutral, then consider bold colors for your floral decorations to give some contrast. You may also wish to refresh the colors every few months by changing them to match the colors of the season. A simple bouquet may look fantastic, but you can go much further with floral decorations. From memo boards to picture frames, you can add flowers almost anywhere in your home.
Consider showing family pride with the initial of your family name covered in flowers, hanging prominently in the living room. Add some plaster of Paris flowers to a jar of toiletries to decorate your bathroom. Even the baby's room will look extra special when you add an array of flowers on the wall over the crib.
With so many ways to incorporate beautiful floral decorations into your spaces, it may be difficult to know where to start. Look through this list and choose your favorite to get started with. Check out the inspiring photos in our collection here and save the list so you can come back each time you would like to add some more flowers to your home.
1. Wooden Plaque with Ball Jar Vase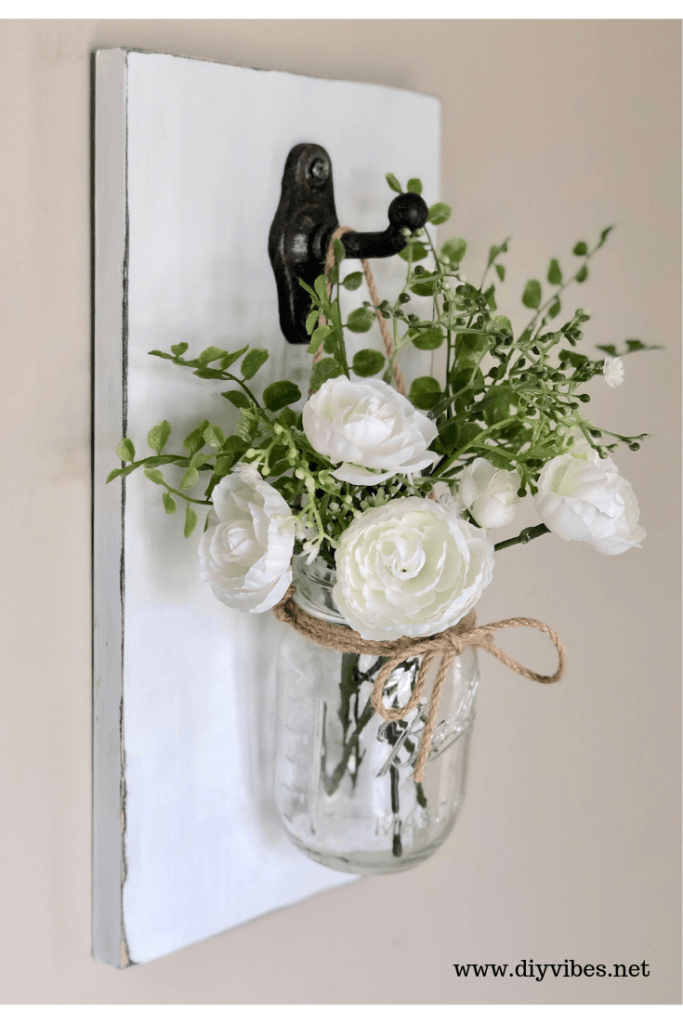 The gorgeous plaque is a fantastic alternative to your typical vase. The background is a modern, clean white so it will look good in any space in your home. There is a rustic-style hook attached to the plaque to hang the Ball jar from. The jar holds beautiful silk flowers in the picture, and they would last forever. You could simply add water to the jar and use it for fresh flowers too. Just be sure that the water does not make it too heavy. Consider only using a third of a jar of water and refreshing it each day.
2. Eucalyptus Glitter Wreath with Paper Flowers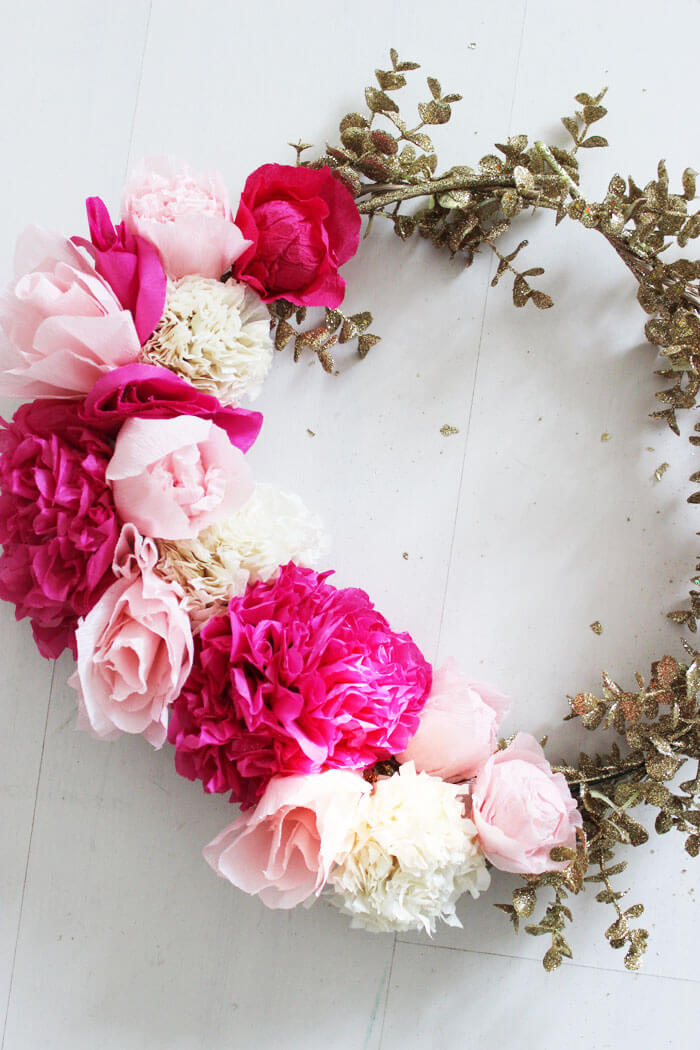 Crepe paper and tissue paper flowers lead to some of the best floral home decoration ideas. Because crepe paper and tissue paper are available in so many different colors, it makes them popular options for flowers. You can choose any color to match any of your existing décor. Also, they are light-weight and easy to work with. This beautiful wreath is covered in gold glittered eucalyptus on one side and paper flowers in shades of fuchsia, blush, and pink on the other. This wreath would fabulous on a door, as part of a gallery wall or even above a bed.
3. Menorah with Beaded Paper Flowers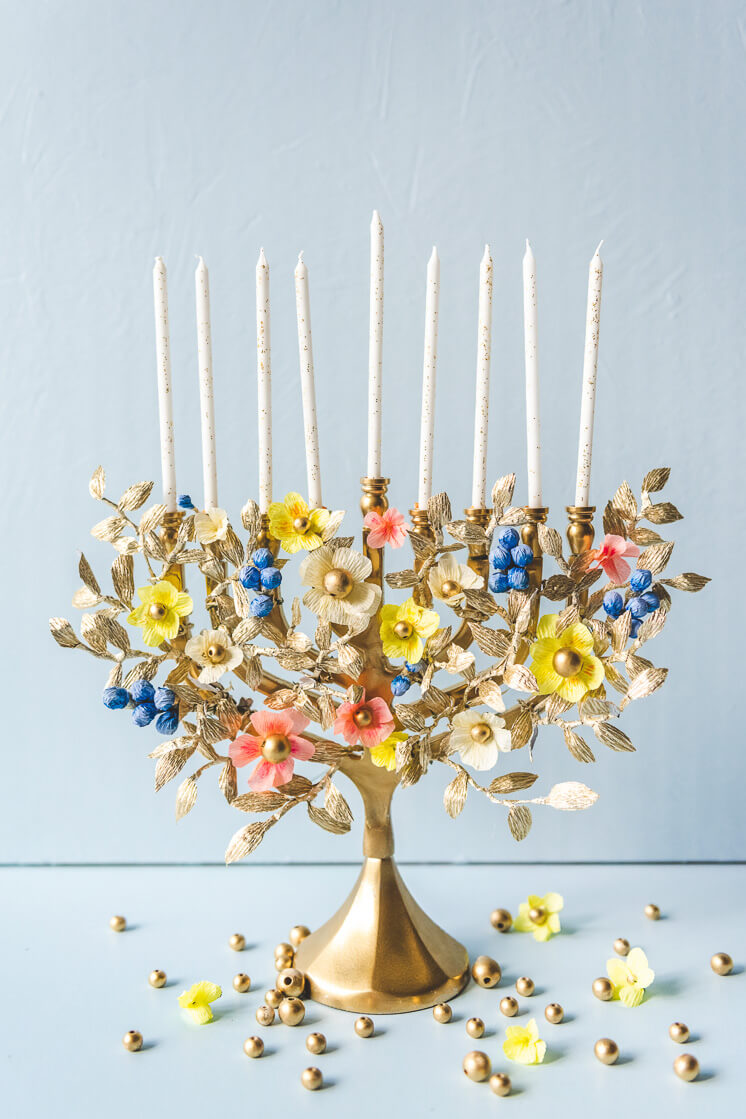 This beautiful menorah makes a great floral home decoration. Each flower is made from crepe paper and is finished off with a bead in the center. The beads are simply wooden beads painted in gold. They really make each flower pop. The unique combination of colors really makes this menorah stand out with hues of gold, yellow, blue and pink. The flowers are pink and yellow, the berries are blue and the leaves and stems are gold. Each flower petal and leaf is cut out separately. Each berry is wrapped separately in crepe paper. Together, they make a stunning piece for any table.
4. Kissing Balls with Crepe Paper Flowers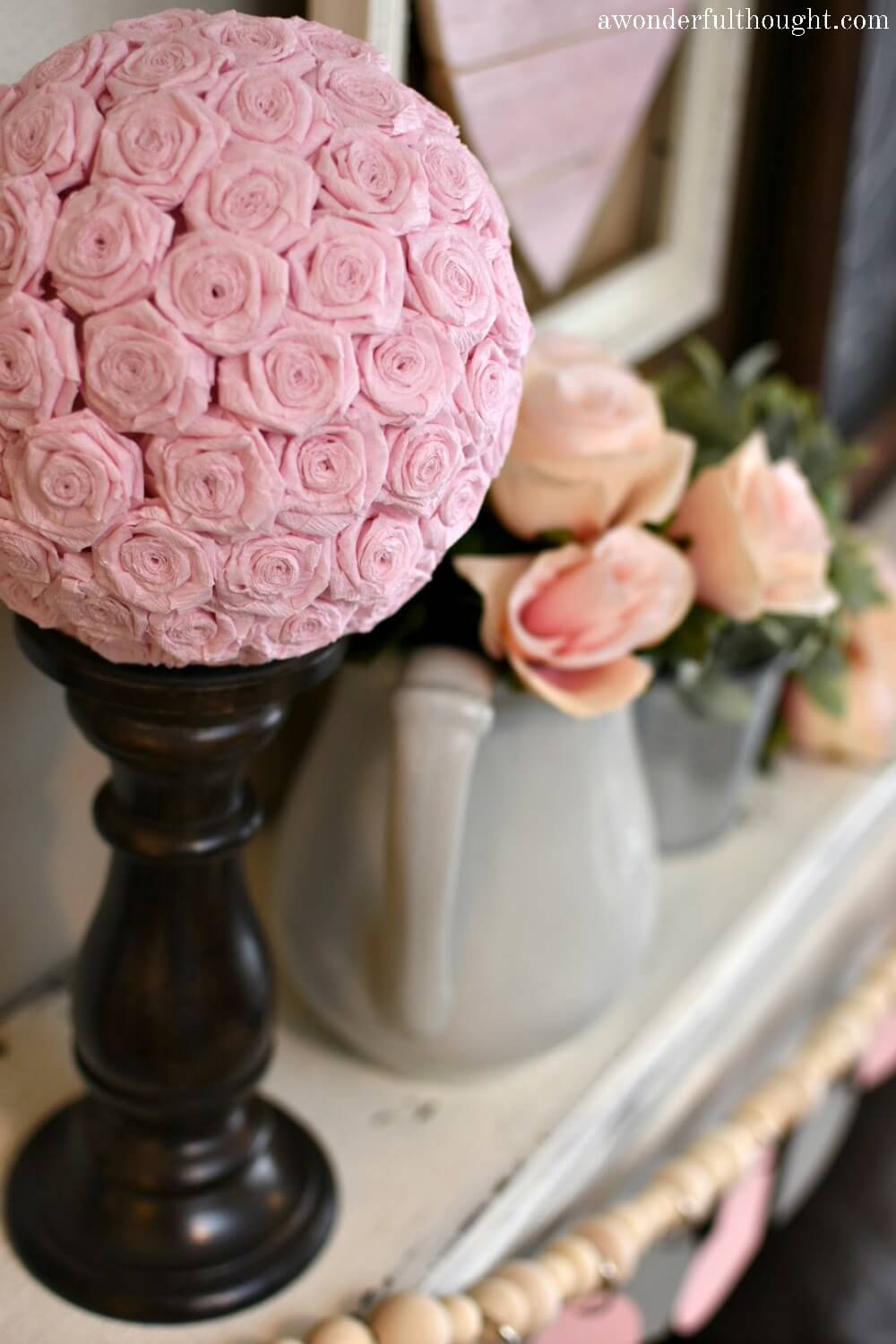 Kissing balls have become very popular in decorating lately and these one will look fabulous in any style of décor. The tiny flowers are each made from crepe paper which adds a nice texture, but does not leave it looking like a big bunch of crepe paper. Each one is carefully molded, with no raw edges showing. They are sturdy enough that you can lay them down without the flowers crushing, which makes them perfect for sitting on top of large candlesticks. They could also sit in a basket or on a dish. You could even attach a hanger to hang them from the ceiling.
5. Pretty in Pink Lampshade with Rosettes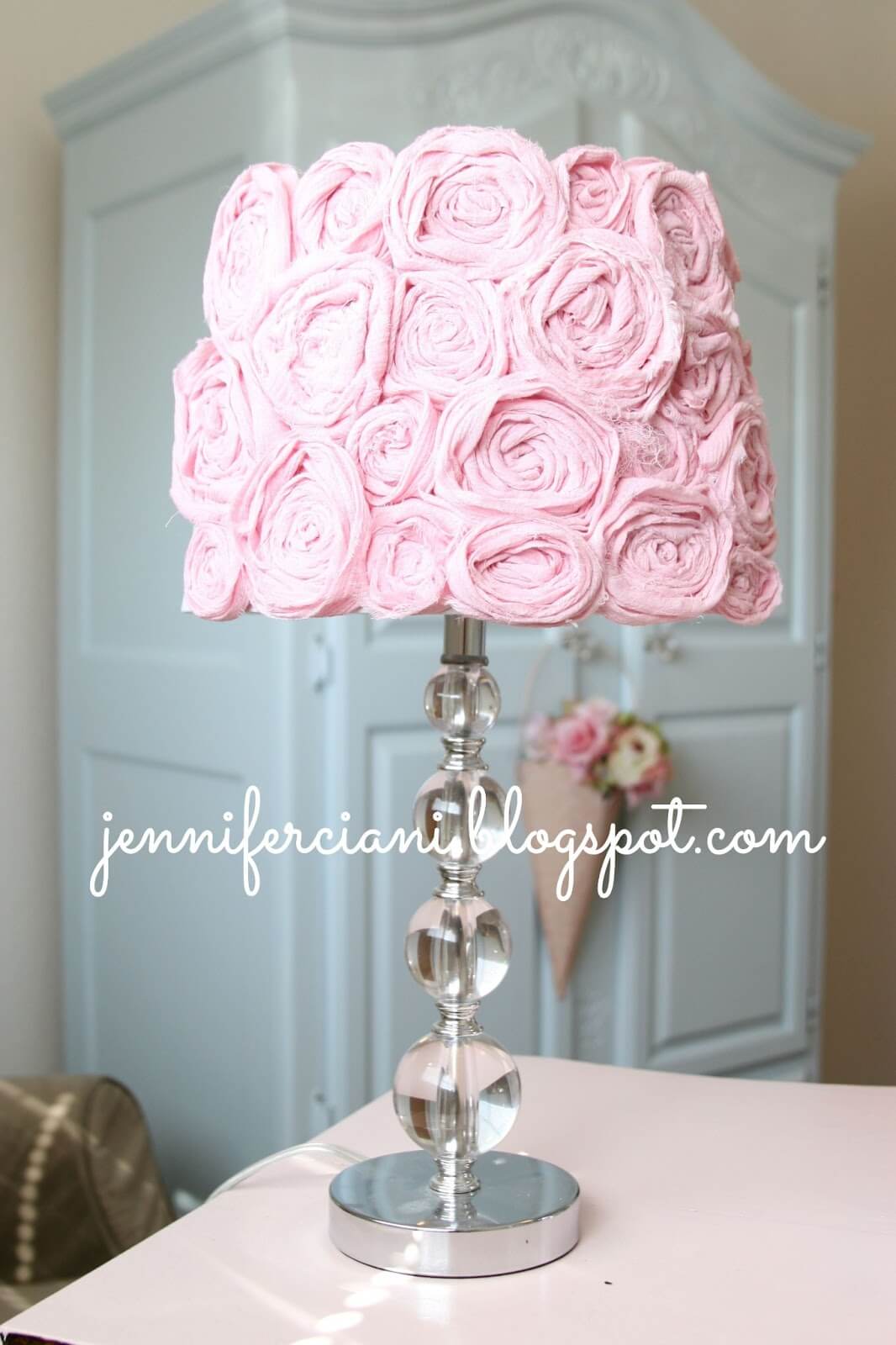 The best floral home decoration ideas are often completely covered in flowers and this one is no exception. The lampshade is completely covered in beautiful rosettes made from rose-colored muslin gauze. You could also use white gauze and dye it any color that you want. Keep in mind that darker colors will allow less light to come through than lighter colors. Each of the flowers is carefully handcrafted to look like a delicate rose and then applied to the lampshade. This is delicate enough to look nice in a baby's room, but it is sophisticated enough to look great in a living room as well.
6. Framed Artwork of Paper Roses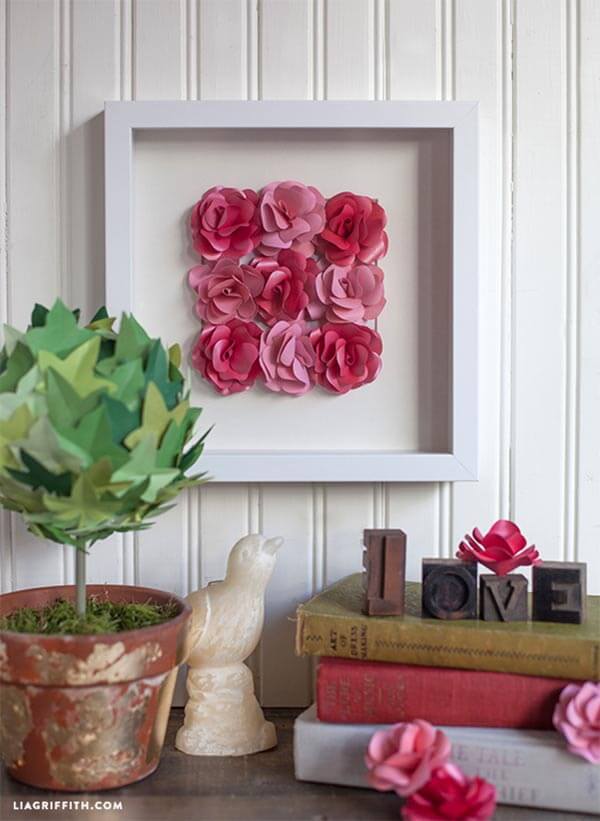 Flower decorations at home can come in all different shapes and sizes, including framed artwork. We tend to think of flowers appearing in vases or on wreaths and garland. This artwork takes us outside of the box by putting the flower inside of the frame. Paper flowers are delicately handcrafted out of metallic text weight paper. The metallic sheen gives the flowers such an interesting look, almost a glow, from certain angles. There are nine flowers, in two different striking shades of pink, arranged in a three by three square in the center of the frame. A wide, white border completes the look.
7. Hanging Poms with Silk Flowers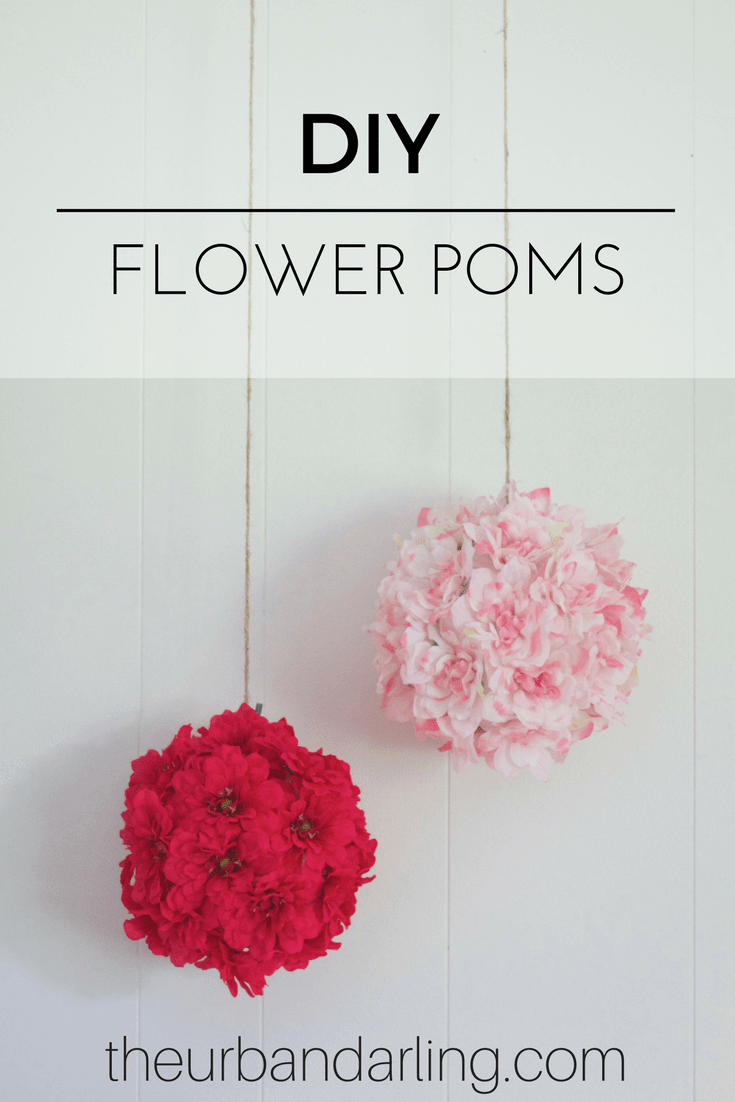 You may refer to these as kissing balls, but they are also known as flower poms. These flower poms use only the flower heads and none of the leaves. Since they are made from Styrofoam balls and silk flowers, they are very lightweight and easy to hang. They will fit in with all types of décor and will look great in any room. They can be made from any color that you can find the flowers in, so they can easily be made to fit your current style of décor. These can also make a baby shower or wedding shower feel a little extra special.
8. Centerpiece Made with Silk Roses and Burlap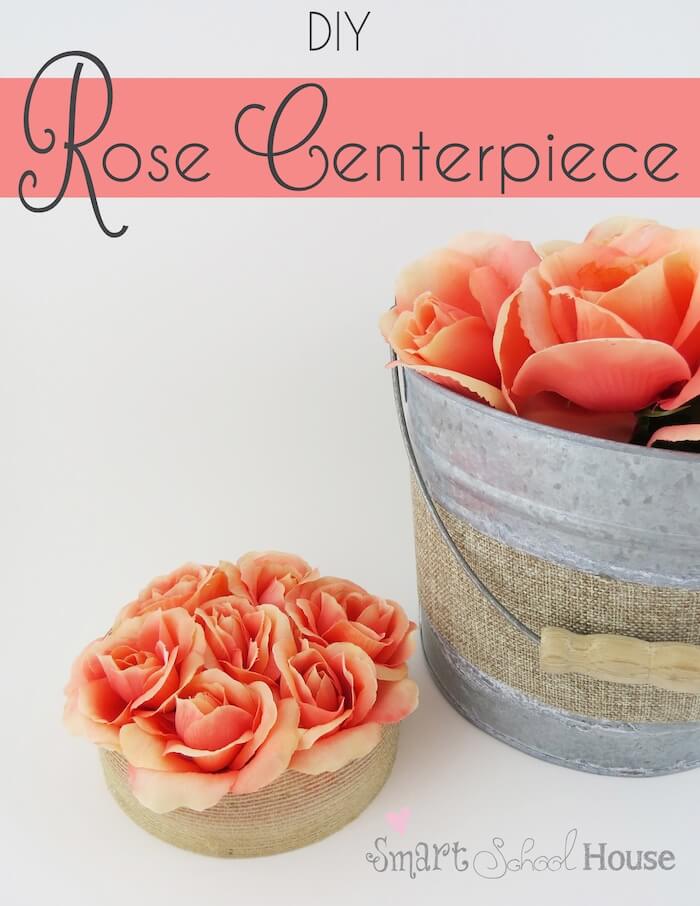 This centerpiece is simple yet elegant. This is an awesome idea because the flower heads are completely removed from the stems and leaves. Usually we try to incorporate those parts also, but sometimes letting the flower steal the show is okay too. One rose adorns the center of the top of a burlap-covered cylinder, while six other roses surround it. They are peach in color, which plays nicely with the light brown burlap. This could be used as a centerpiece on a table or mantle, but it could just as easily sit beside a framed picture on a shelf.
9. Silk Flower Initial Home Decoration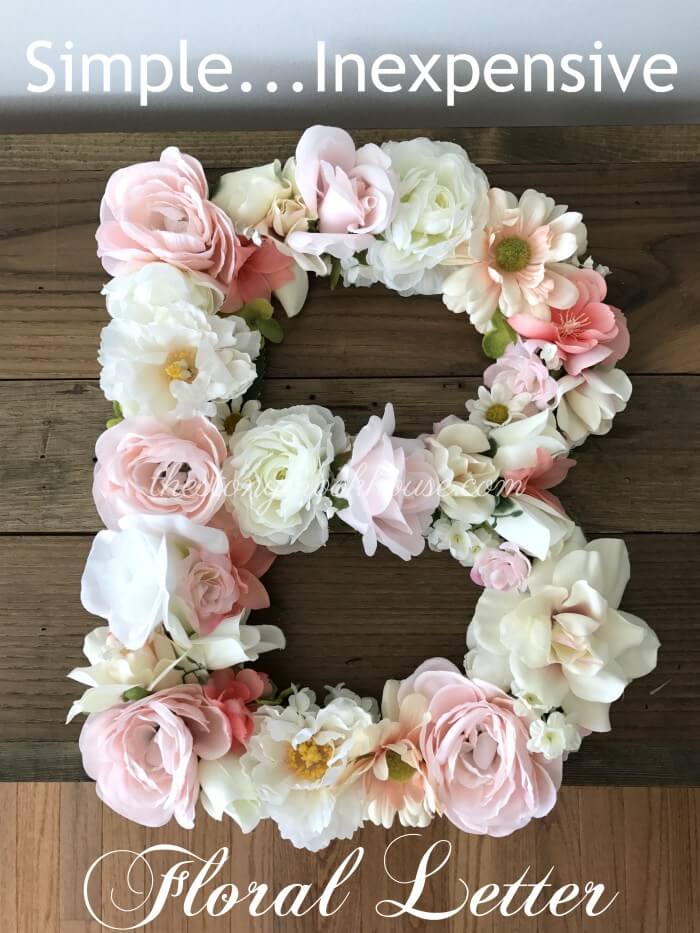 Floral letters are very popular and can be found in all shapes and sizes. This one is made from a variety of white, pink and blush-colored flowers. There are a few leaves tucked in around the bottom to anchor the flowers, but it is mostly the beautiful flowers that we see. These can be made in any combination of colors and types of flowers and leaves. They can also be added to a variety of backgrounds, such as foam or wood. This one happens to be made from cardboard, and it is one of the best floral home decoration ideas out there.
10. Wreath with Hand-Painted Pinecone Flowers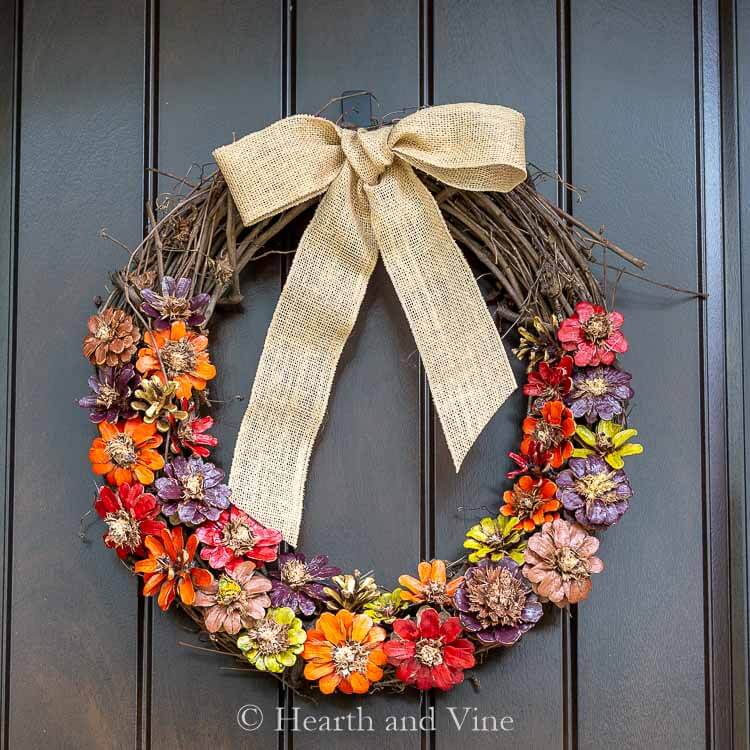 Grapevine wreaths are timeless, and right now hand-painted pinecone flowers are totally in style. Put them together for the perfect floral home decoration. This wreath has dozens of pinecone flowers adorning all but the top center of the wreath. That space if left for a pretty burlap bow. Each of the flowers is hand-painted in a beautiful of hue of orange, red, purple or yellow. Gold is added to the center of each to really make it stand out. This wreath would look great on a front door, in a hallway, or as part of a gallery wall.
11. Barn Wood Box Centerpiece with Silk Flowers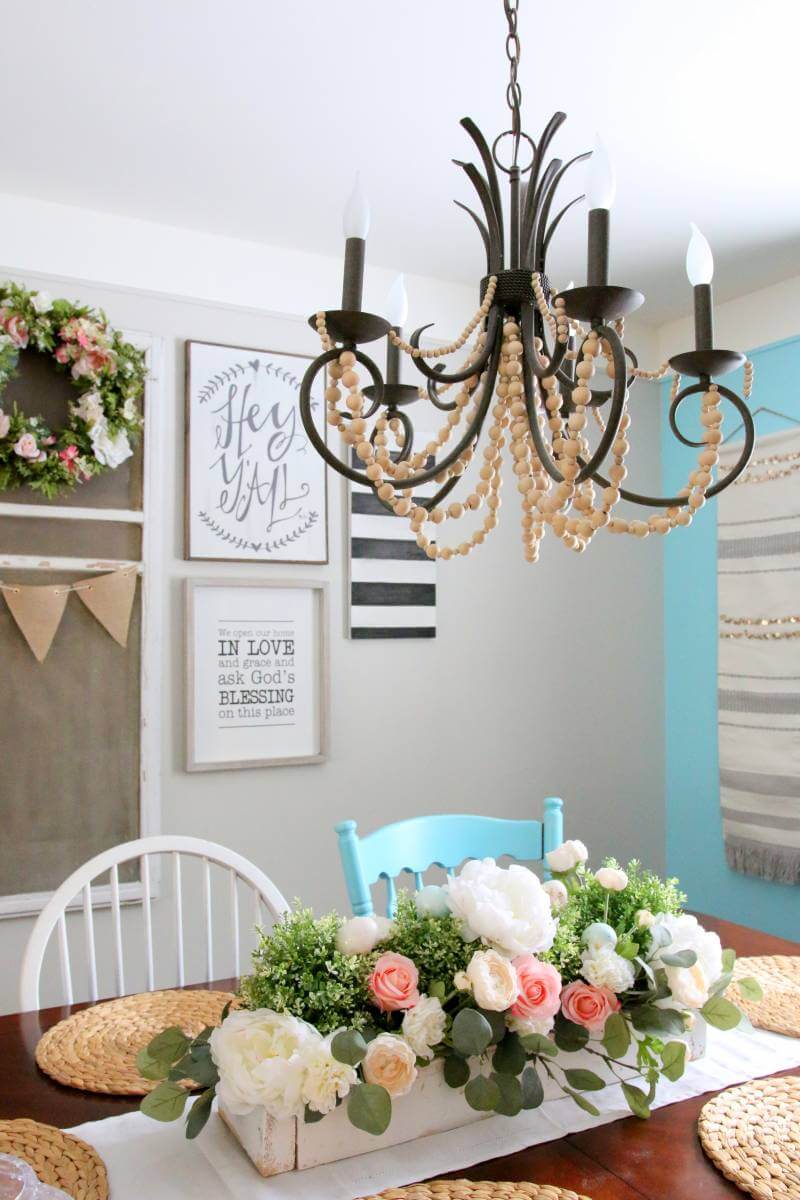 This gorgeous box is made from reclaimed barn wood that has been painted white. The rustic look is perfect for farmhouse décor, but the addition of the delicate flowers makes it truly fit in to any style. Roses, peonies, ranunculus and carnations are mixed with eucalyptus and other mixed greenery. The flowers are beautiful shades of white, blush and pink so they will go well in any other color scheme. As always though, the colors can be changed since silk flowers come in many different hues. The elongated box makes this the perfect centerpiece for a rectangular table or a mantle.
12. Mobile with Silk Flowers for Baby's Nursery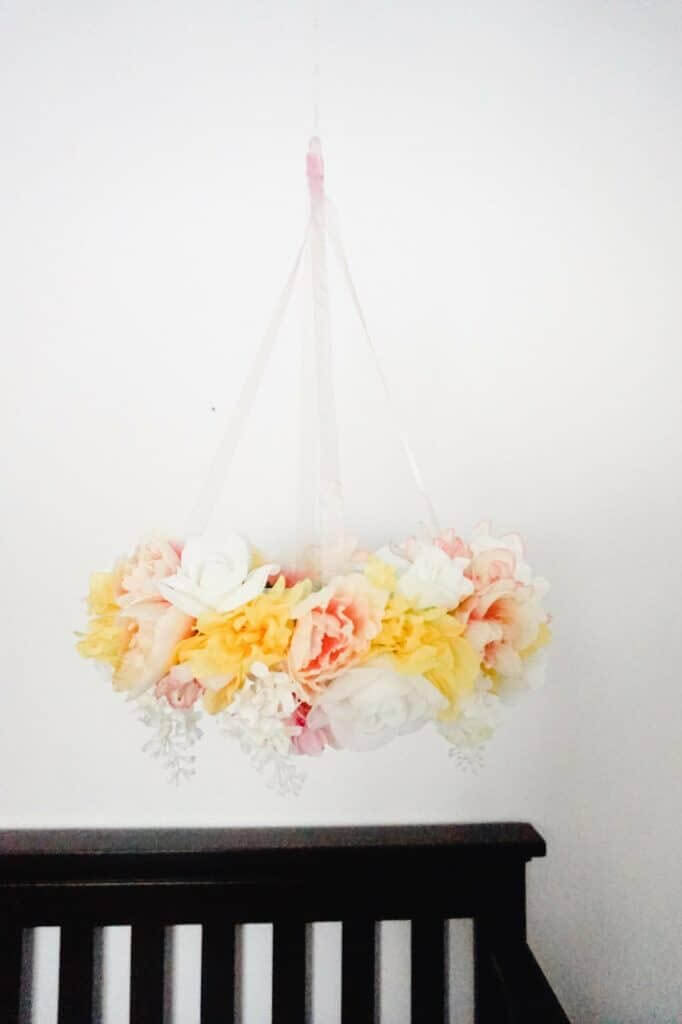 This is not your typical baby mobile, but it is certainly breathtaking. Made for looks rather than play, this floral mobile will be a gorgeous addition to the nursery. This awesome idea takes an ordinary wreath and covers it completely. Instead of having a defined back and front, it is decorated all the way around, on top and on bottom. Then it hangs as if it were lying down. It makes a stunning statement when hung with delicate ribbons, adorned in all of those beautiful flowers. This one is shown in pink, yellow and white, but could be made in any colors.
13. Hydrangeas Made from Metallic Paper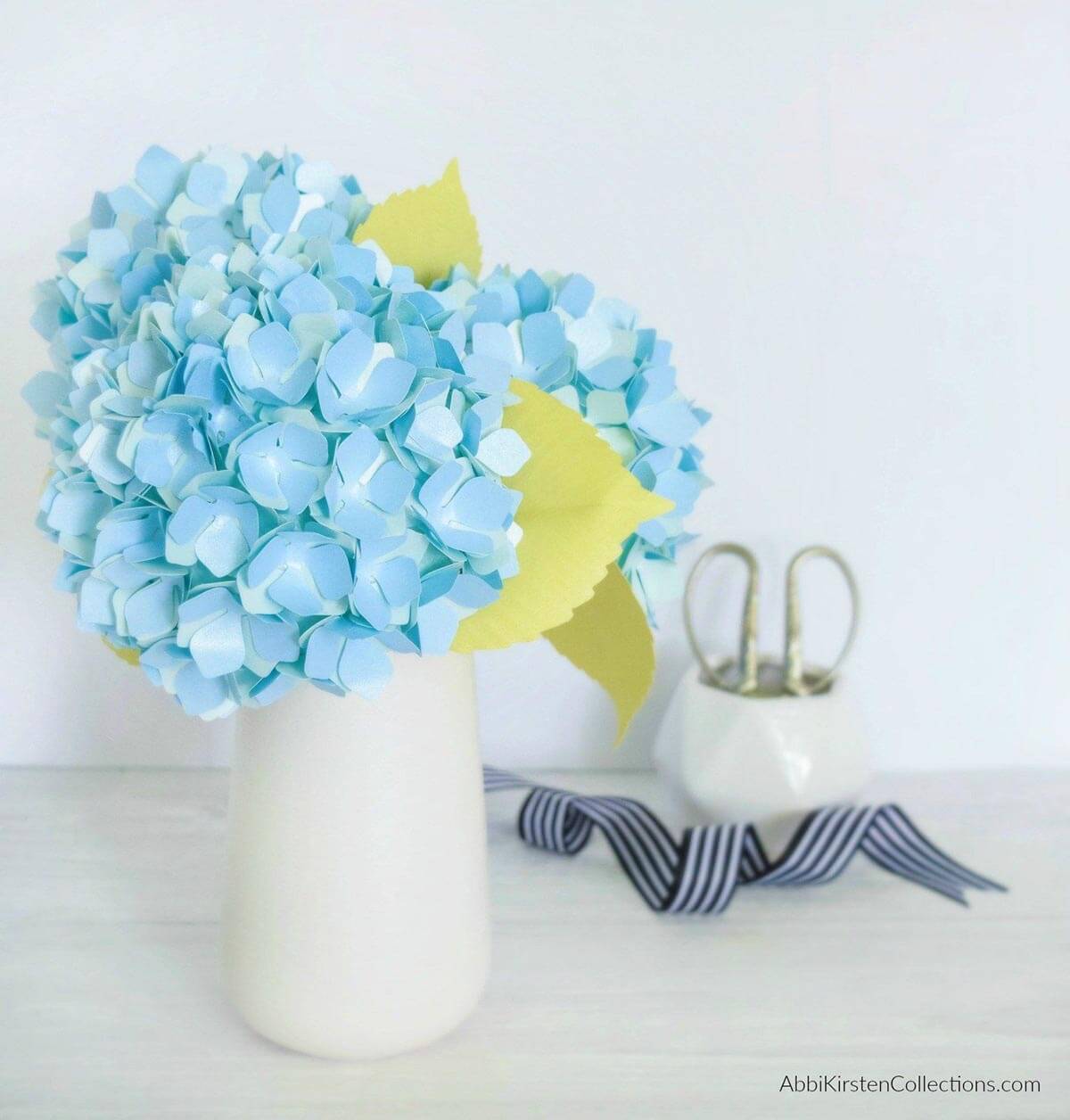 These gorgeous hydrangea blooms are made from text weight metallic paper. The metallic paper has a unique sheen to it that really makes the flowers stand out. Different shades layered upon one another help to add depth to the flower and to give it a more realistic look. This hydrangea bloom could be used in a vase as shown or nestled into a basket. It could also be used similar to a kissing ball and be displayed on a charger or hung from the ceiling. This one is shown in shades of blue, but shades of pink and purple would also be stunning.
14. Anemone Flower Made from Tissue Paper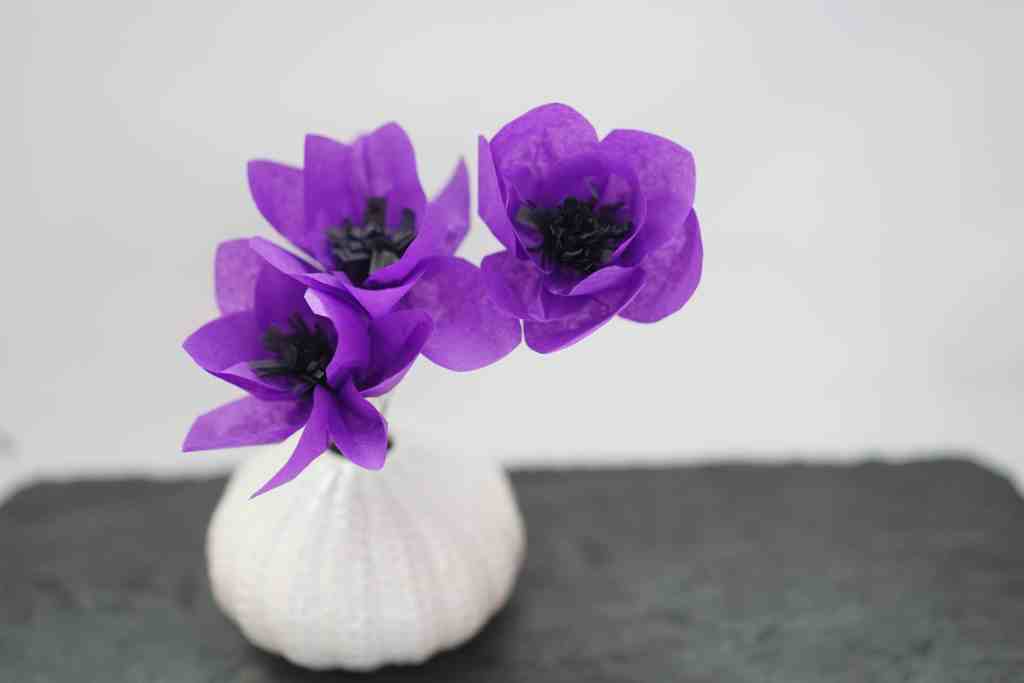 With fewer petals than most flowers, anemone flowers are beautiful, simple flowers. These ones are very easy to make with only a few supplies, but they look amazing. The tissue paper gives a nice, delicate look to the flowers. These ones are purple, but actual anemone flowers come in all shades of purple, blue, red and white. These could be made in any of those colors to add a pop of color to your décor. They look great in a vase by themselves, tucked in with other flowers on a wreath or just sitting beside a picture frame.
15. Kissing Balls Made from Old Book Pages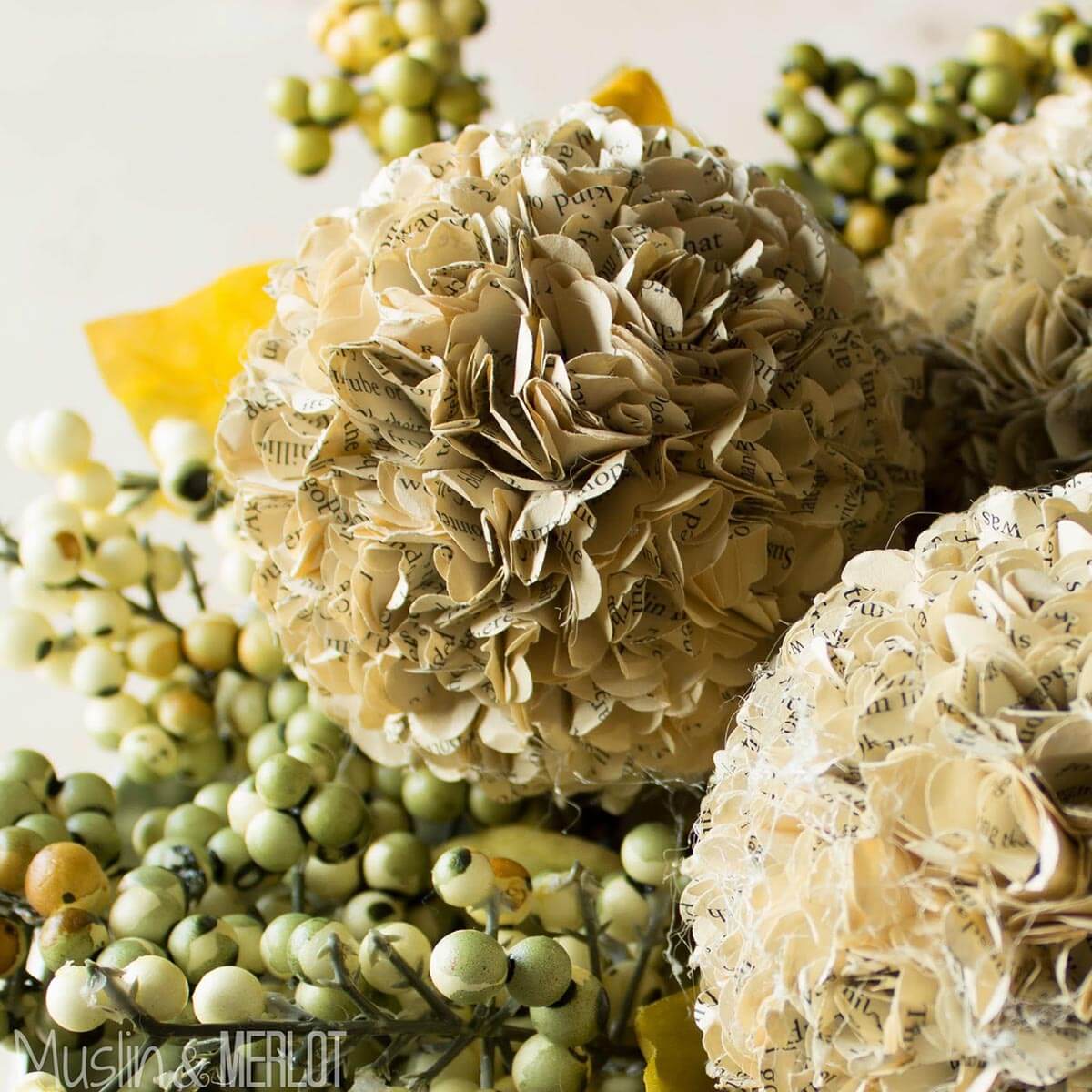 These kissing balls are made to look like hydrangea blooms, except they have words all over them. They are perfect for any book lover or someone who would like some neutral-colored texture added to their home décor. These can be made in any size that a Styrofoam ball can be purchased in. The petals are carefully crafted out of book pages, but the overall look is still off-white from a distance. The black words add some depth, but you do not notice the words unless you are close. They are great talking pieces and can be tucked into all kinds of decorating spaces.
16. DIY Heart-Shaped Wreath with Foam Roses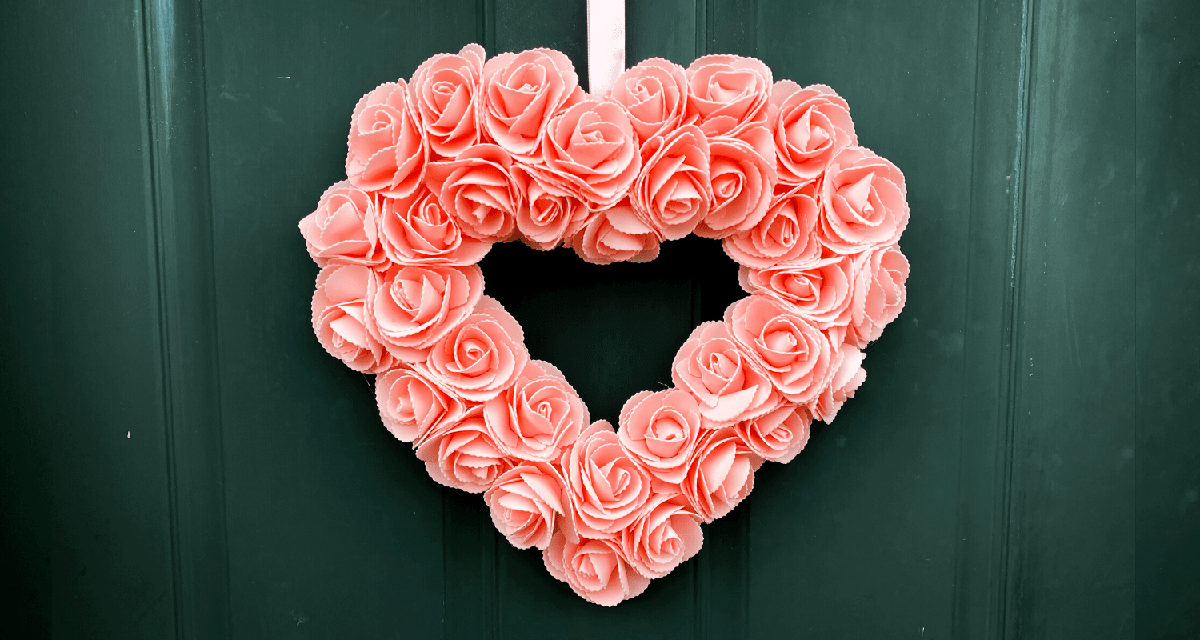 Foam flowers have truly come a long way. Many of them look very real, so they are becoming more and more popular in design. The ones pictured here actually came from a dollar store, making them very affordable as well. They were simply added to a heart-shaped wired wreath frame. The final product definitely looks high-end, although it was actually very affordable. These could be made in any shape wreath, with any color flowers, to match your existing décor. This wonderful home decoration would look great on a door, as part of a gallery wall or as a stand-alone wall decoration.
17. Plaster of Paris Flowers Home Decoration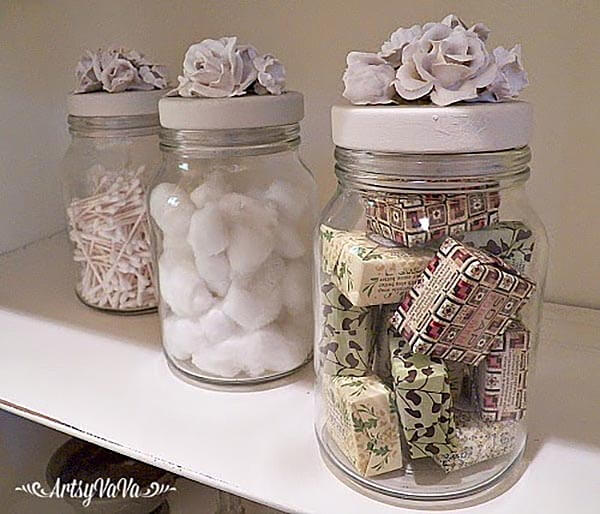 These beautiful plaster of Paris flowers give the look of porcelain but at a much lower cost. Rather than using a mold to create these flowers, silk flowers were simply dipped into plaster of Paris. They could have been painted once dry, but the artist left them the color of the plaster. This resembles the color of cement which is a very hot trend right now. They were added to a lid that is painted the same color and sits upon a jar of toiletries. The flowers would also look fabulous on picture frames or trinket boxes.
18. Silk Leaf and Felt Floral Swag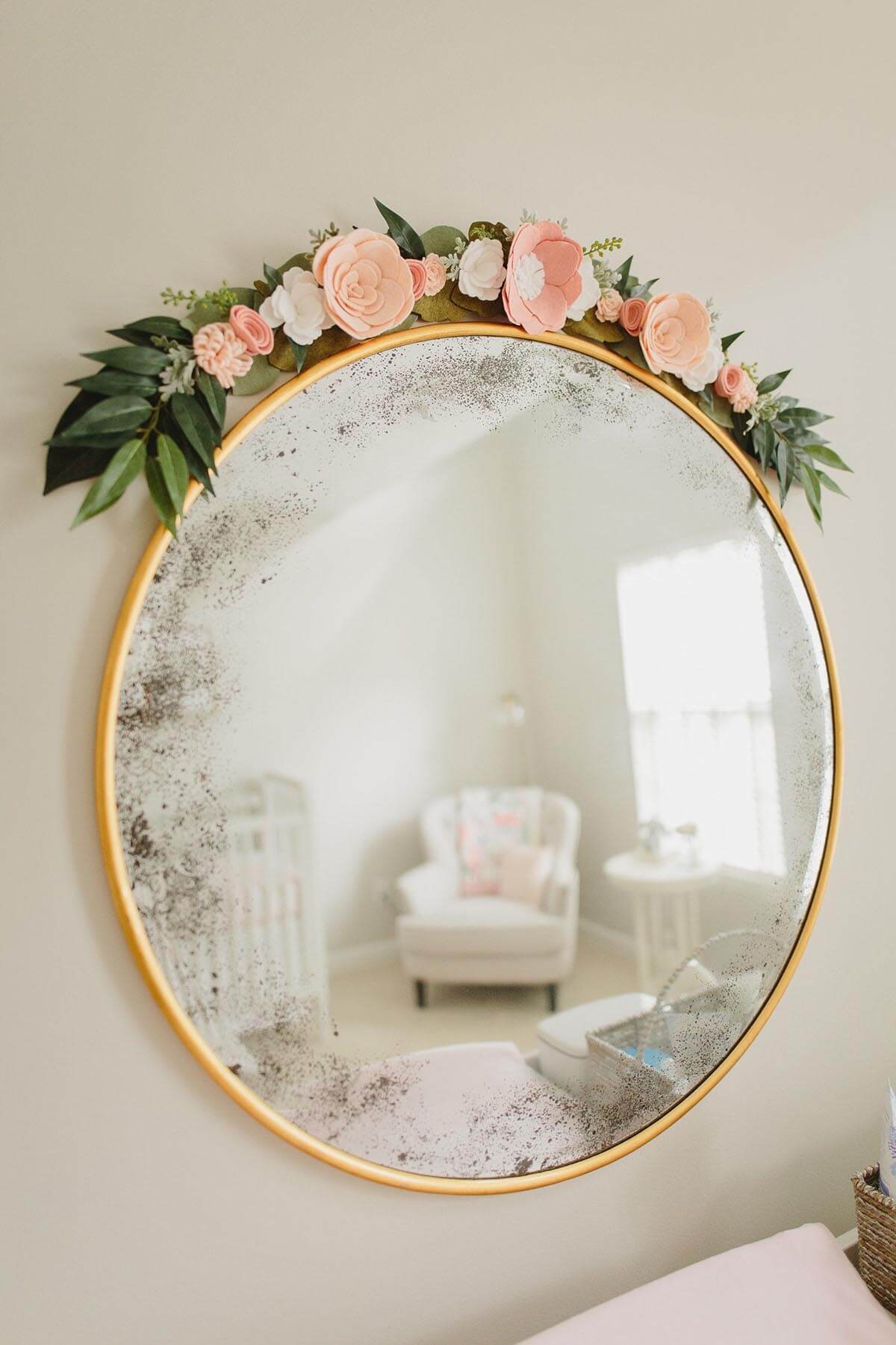 This beautiful floral swag will look fantastic in any room. The focal point is a large flower in the center, with an additional large flower and several small flowers on each side of it. They trail down each side of the swag, intertwining with the gorgeous silk leaves. Shown in dusty rose, white and blush, the color of the flowers can be chosen from forty-six total colors. The swag is thirty-six inches wide and has a nice arch so it looks great over a rounded mirror or sign. It could also hang over a doorway or as a nice addition to a gallery wall.
19. Heart of Wooden Flowers on Wooden Plaque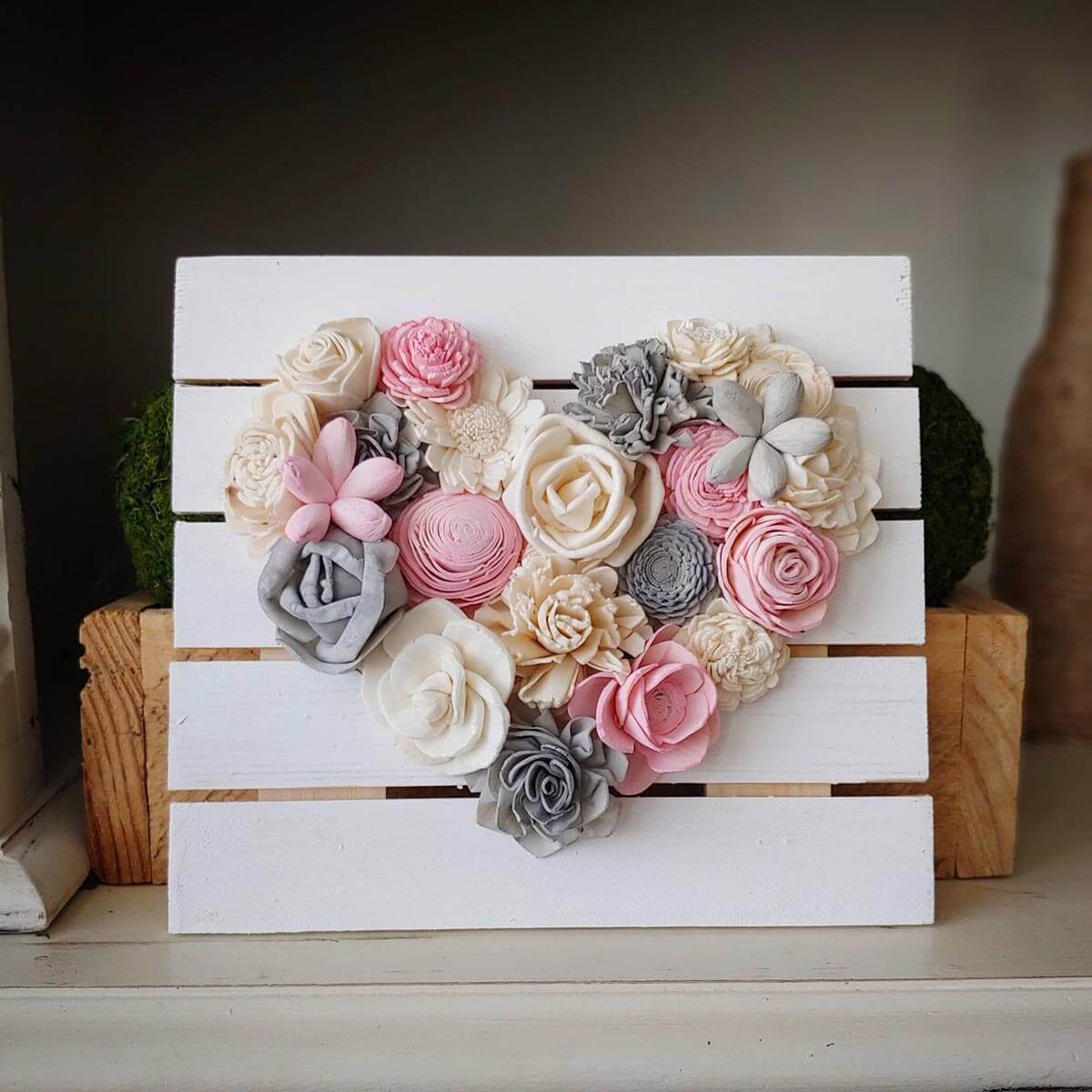 A generous array of pretty wooden flowers creates the shape of a heart on this horizontal wood plank plaque. They are so delicate looking, yet they are made of wood. These unique flowers are hand-dyed or hand-painted to achieve the gorgeous colors that you see. Because they are hand-made and because each piece of wood accepts the dyes and paints differently, there can be some variation from what is pictured. These variations make each piece one of a kind. The plaque is eight by eight and a half inches, making it the perfect size to tuck in with any home decoration.
20. Framed Floral Wreath with Hanging Initial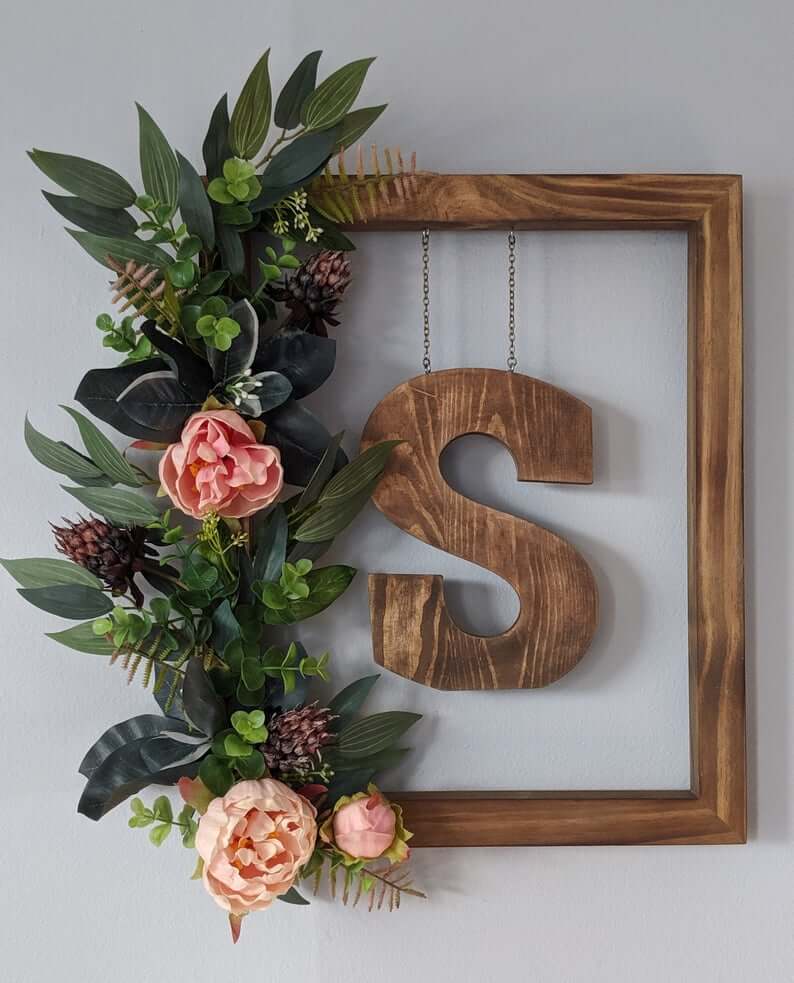 If you want to have a gorgeous flower decoration at home that is also personalized, then this is the perfect piece. The flowers trail down the left side of a dark wooden frame, curving slightly at the top and the bottom. Peonies in soft, peach tones are mixed with an array of greens in many shades of sage. A few darker pine cones are tucked in for contrast. A single letter hangs down from the frame by two small chains. The letter is stained to match the frame and can be customized for your family's initial.
21. Boho Style Floral Hoop Wreath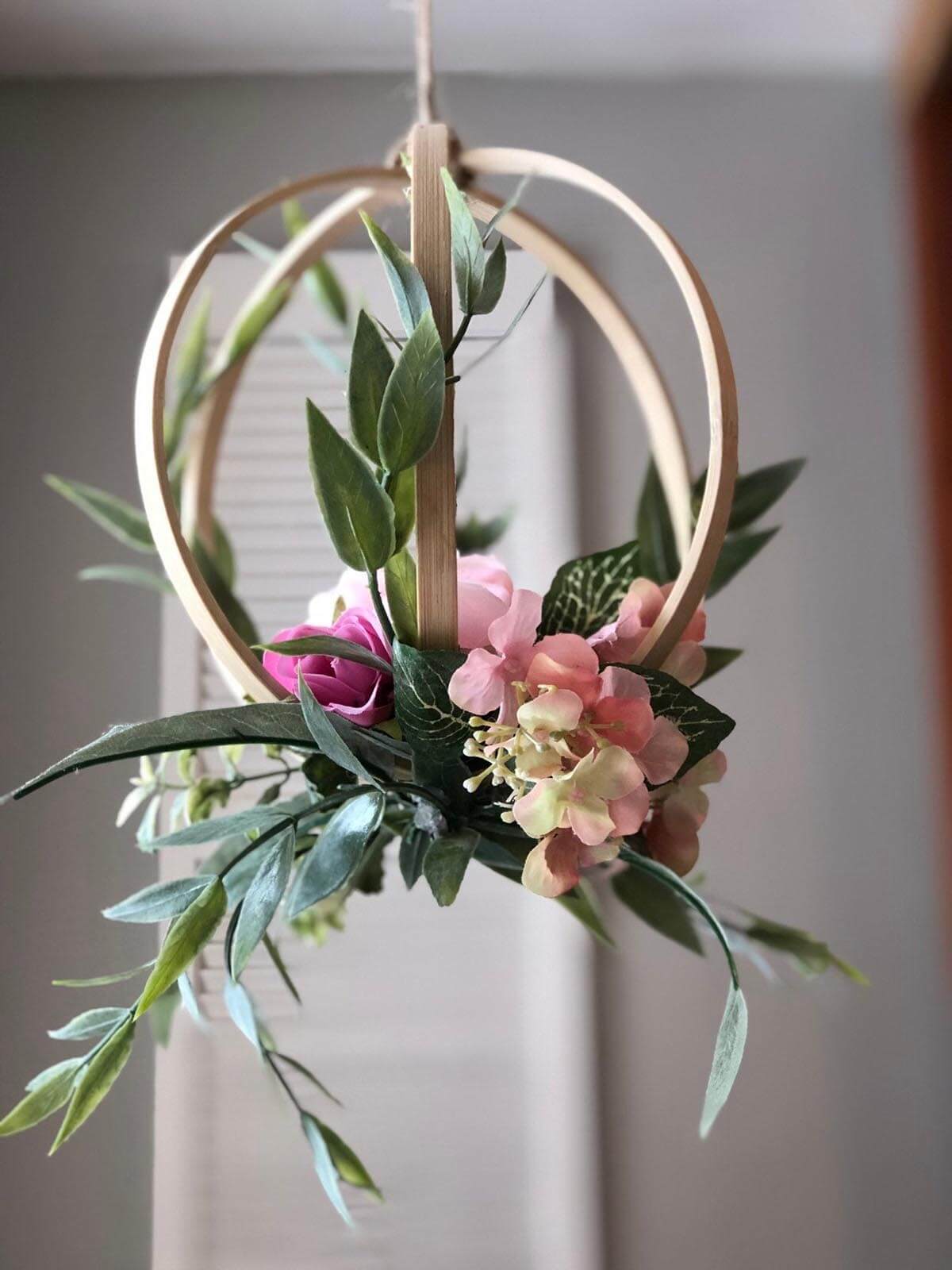 This wreath is truly one of a kind. It is meant to be hung from the ceiling because there is no front or back. This three-hundred and sixty degree angle piece of art is made from three hoops, nestled together to form a sphere. At the bottom, inside of the sphere, flowers and green are tucked in to create the focal point. Greens trail both up and down, giving this piece a lot of life. The flowers are beautiful shades of blush and pink and include rose buds as well as open roses. The piece includes a twine hoop for hanging.
22. Wooden Frame with Polymer Clay Flower Embellishments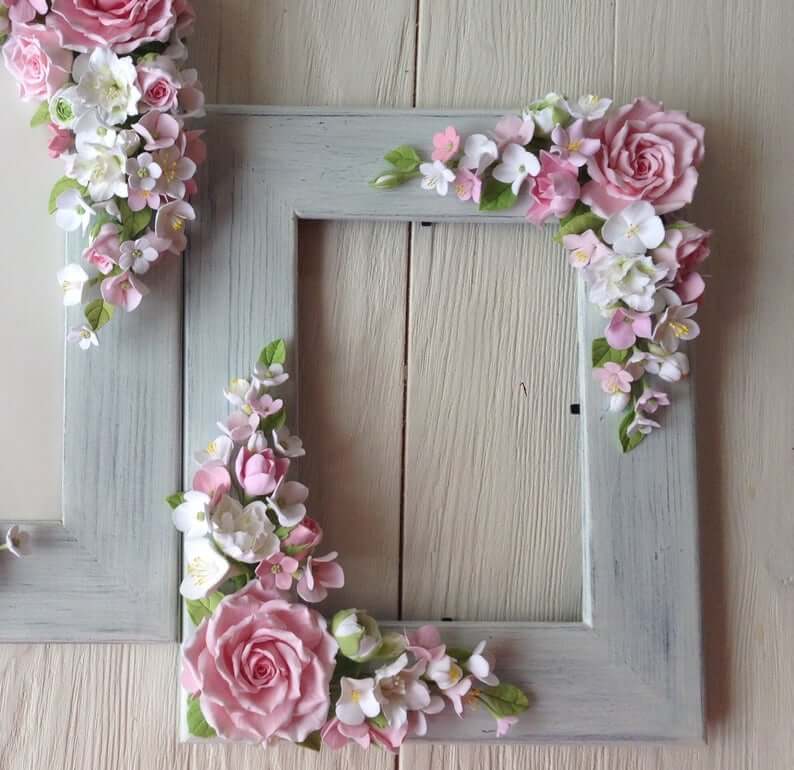 This frame is gorgeous enough to hold your most beloved wedding photo, yet delicate enough to proudly display a baby photo. A light gray wooden frame is embellished with beautiful flowers made out of polymer clay. Included among the flowers are cherry blossoms, white azaleas, blush pink roses, pink and white hydrangeas and white ranunculus. The combination is simply breathtaking. These flowers adorn the upper right corner and the lower left corner of the frame. Because the flowers are made from polymer clay, they are very light-weight, making this frame easy to use anywhere. It also comes ready for hanging.
23. Sparkle Unicorn Jar with Trailing Paper Flowers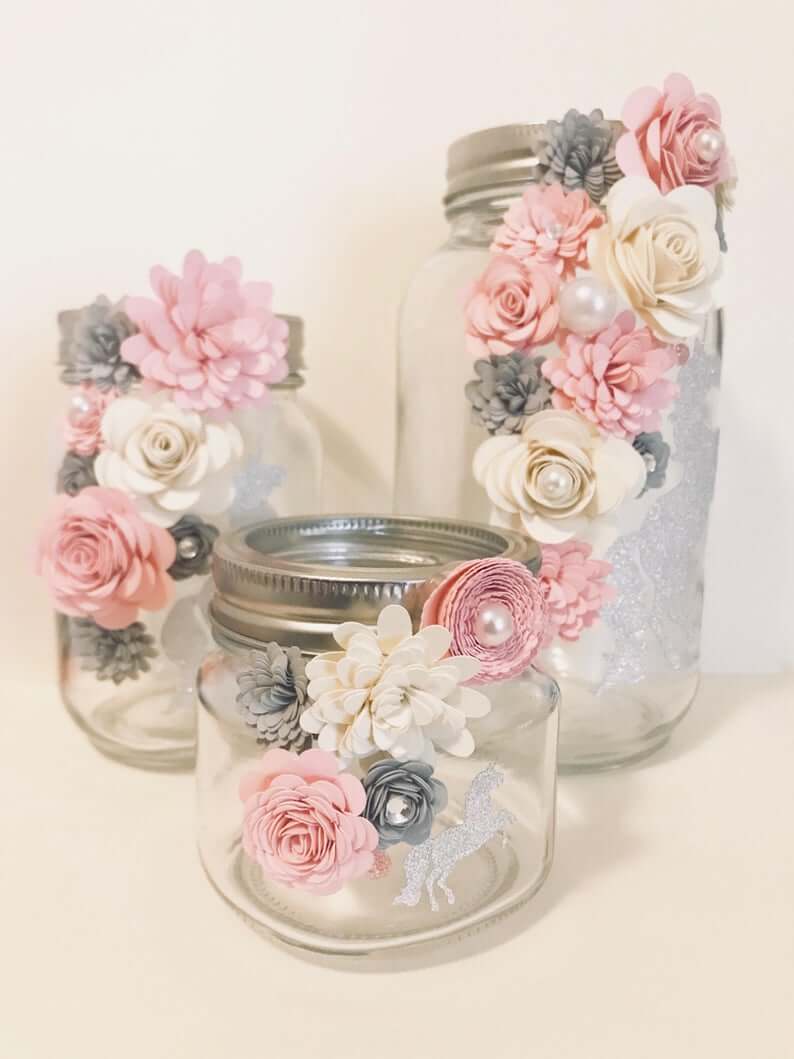 Some of the best floral home decoration ideas include paper flowers. They are becoming very popular as the options for colors are much broader than they are with silk or even felt flowers. The paper flowers on these jars can be made in any color that you request. You also have the choice of three different sizes of Mason jars. You can choose from liter, pint or half-pint. They do not include the lid, but do have the ring. Each is also adorned with a sparkly unicorn. A few ideas for using these are for makeup brushes or pens, but the options are truly endless.
24. Whimsical Garland with Felt Flowers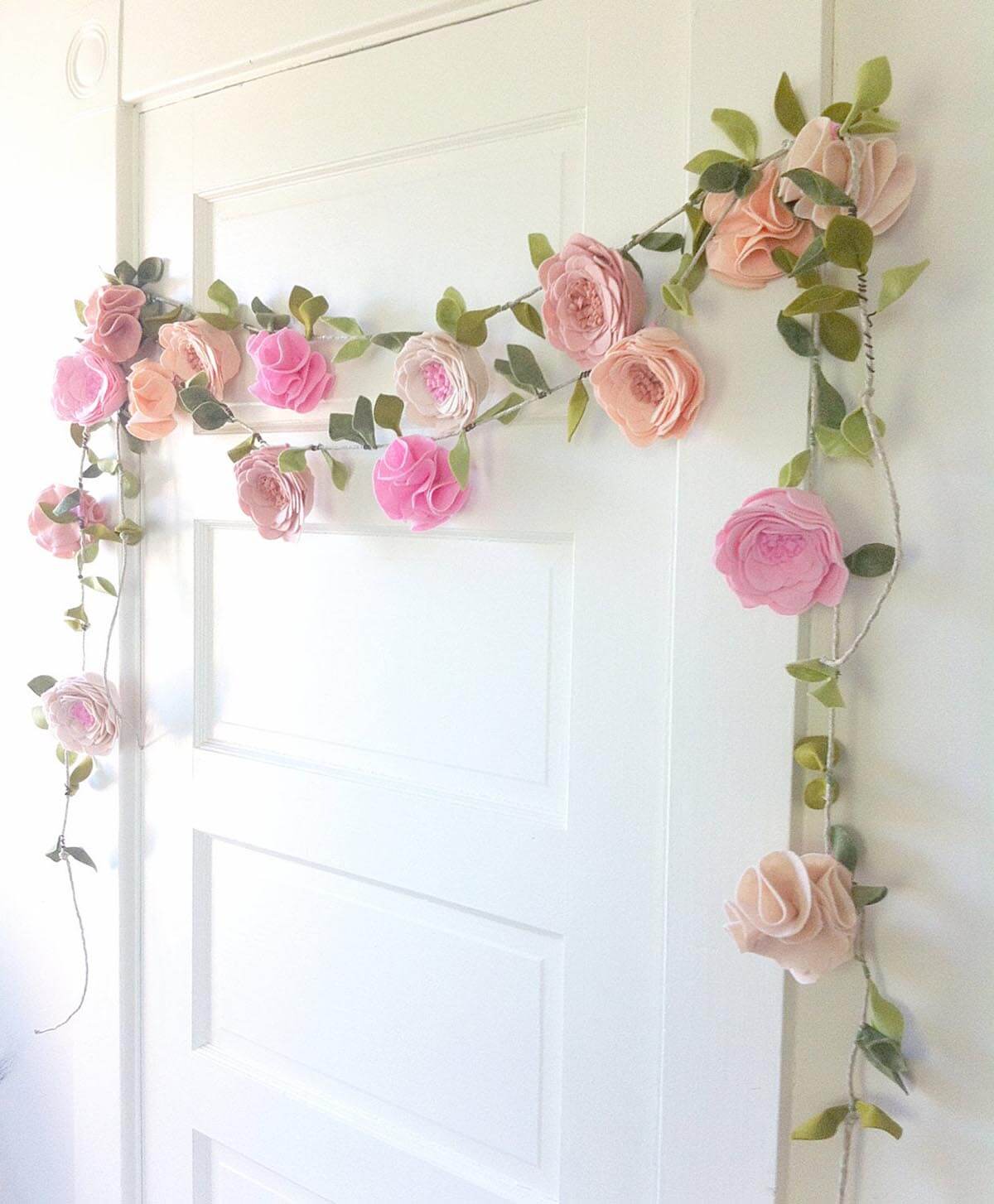 This garland is one of the best floral home decoration ideas. Each delicate flower on this beautiful garland is handcrafted from felt to be one of a kind. The flowers are made in varying shades of pink, rose and blush. Varying shades of green-colored leaves are added in between the flowers. This garland will add a whimsical storybook-like feel to your baby or child's room, but it is sophisticated enough to use in grown-up spaces as well. It would look fabulous around a bathroom mirror, hanging above a picture on the sun porch, or as a decoration for a baby or wedding shower.
25. Ball Jar String Art with Newspaper Flowers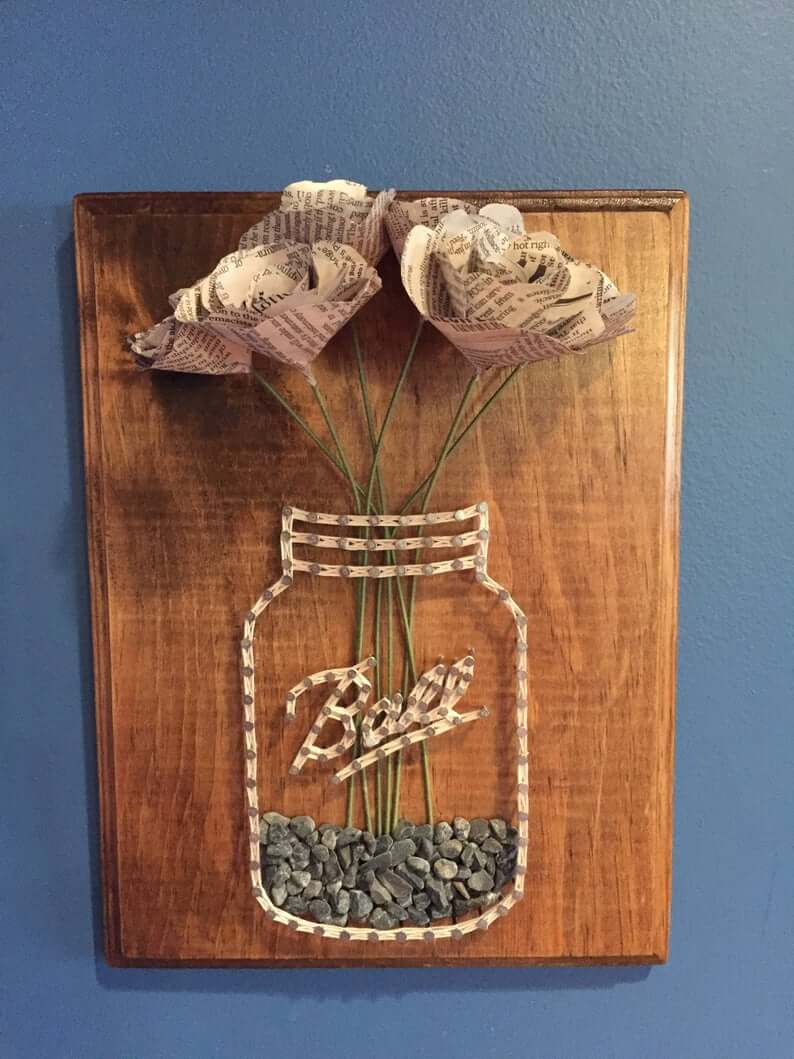 This cute, little plaque uses string art to create a Ball jar. Off-white embroidery string is wound around many nails to form the outline and to write the word "Ball" on the jar. The bottom of the jar has some tiny pebbles, which adds more depth and interest to the overall piece. Flowers with long green stems are added to the jar. The flowers are made from newspaper and help to make the string color pop. In these neutral colors, the plaque would be a great addition to any room, but the artist will customize your colors upon request.
26. Paper Flowers and Butterflies Wall Décor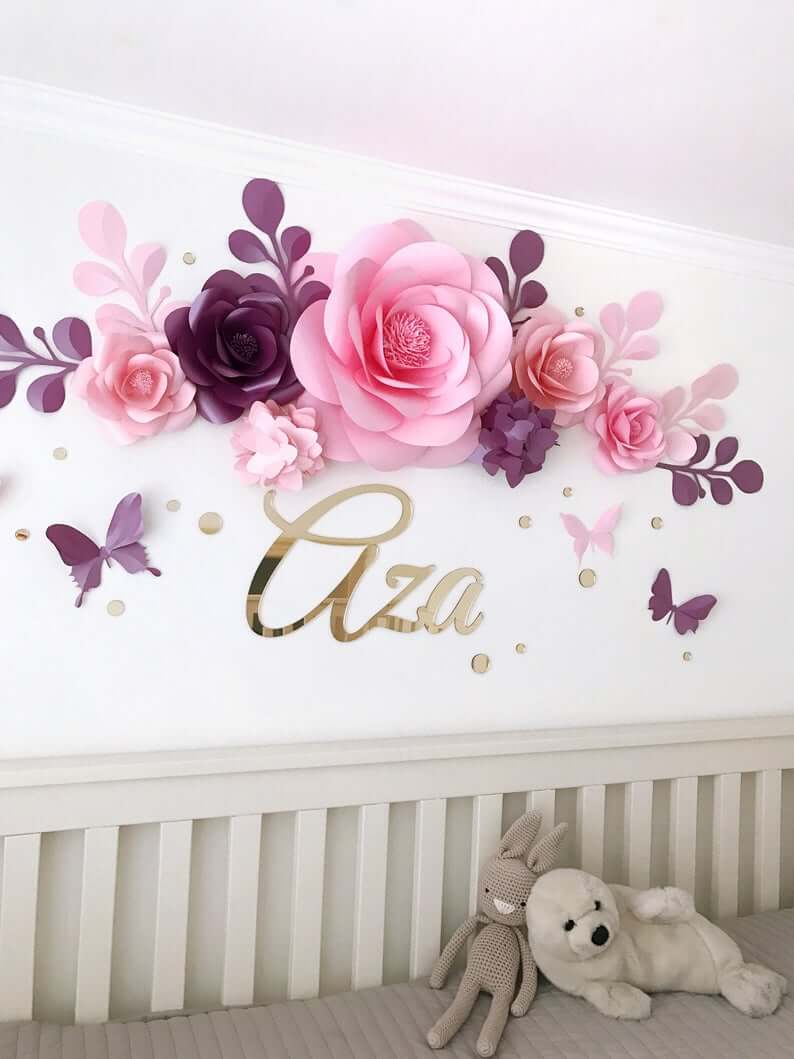 This set is super cool for hanging above a crib or a bed. You can piece it together however you want when you hang it, but it can span as far as twenty inches high and fifty-two inches wide. Because the pieces are separate, you have many options. You could lay them out as they are in the photo, or you could wrap them around the corner of a mirror or door frame. You could also use them vertically if you have a small wall that needs décor. The colors are customizable, and a name can be added for an additional fee.
27. Wooden Plaque with Hand-Painted Pinecone Flowers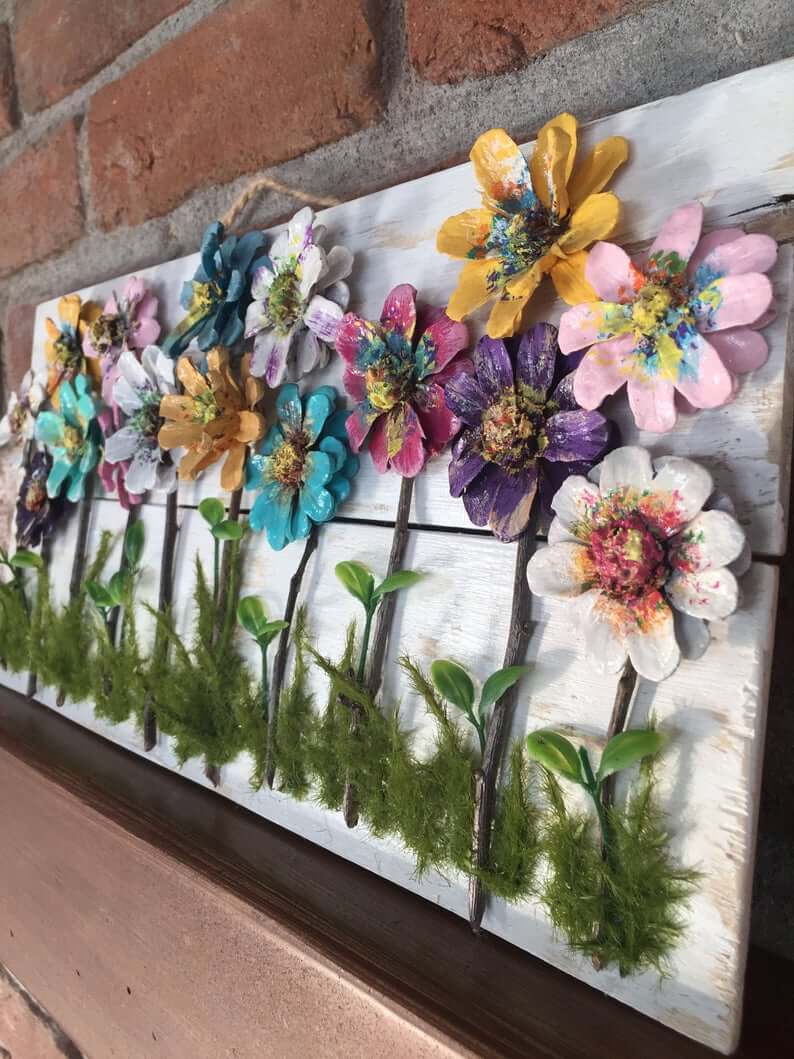 This artist used the awesome idea of turning pinecones into flowers, and it paid off. They are truly stunning, and you would never know that were just pinecones at glance. Each piece is hand painted in a variety of shades of seven different colors. Every flower has a small piece of a branch used to resemble the stem. The stem is has some greenery added to it to give it some leaves, and there is moss along the bottom to represent grass. The background is a wooden plaque that is painted in white to truly showcase the beautiful colors of the flowers.
28. Burlap Message Board with Paper Flowers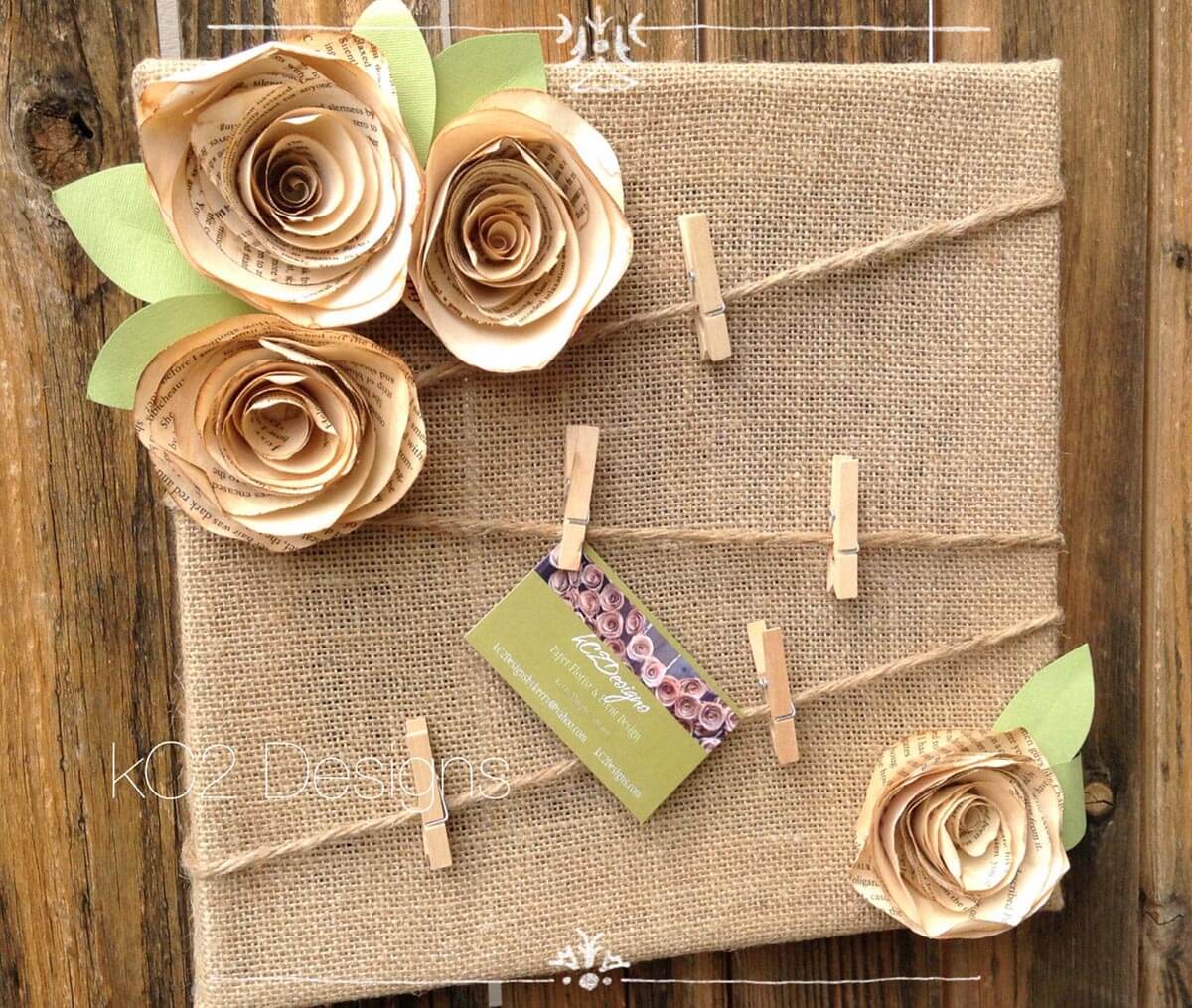 This little message board is totally cool. It is made of corkboard, but the background is completely wrapped in burlap for a country chic look. It has twine with mini clothespins to hold photos, business cards, greeting cards or anything other little mementos. It is also adorned with cute, little flowers made from book pages and sheet music. They are tea-dyed to add interest and give them some extra dimension. The message board is twelve inches by twelve inches, so it will fit nicely into almost any space. It would be perfect for a dorm room, bedroom or kitchen.
29. Boho Chic Style Felt Flower Garland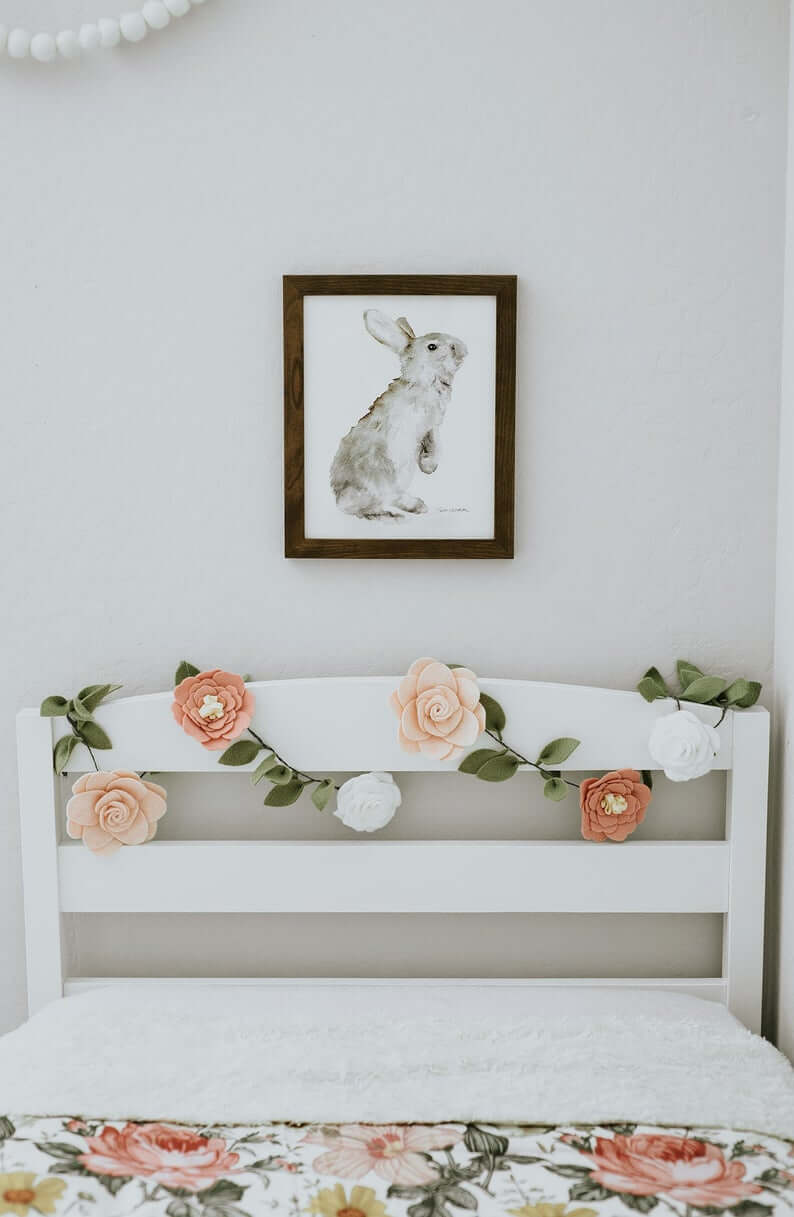 This fancy felt garland can be used in any room of the house to give it a little touch of Boho chic style. It is available in seven different lengths to meet all of your decorating needs. You can select as little as three feet, which includes four main flowers. The longest you can select is twelve feet with fifteen main flowers. The flowers include roses, magnolias and peonies in colors of blush, white and pale pink. There are sage colored leaves in between the flowers. All of the pieces are handmade by the artist, providing you with a unique flower decoration at home.
29 of the Prettiest Floral Home Decoration Ideas to Show Off Your True Style
There are so many fantastic ways to bring flowers into your home décor. From simple crepe flowers to elaborate wreaths, you really can bring the outside in easily. If you enjoy making things, why not try out one of the fantastic DIY projects? Once you make flowers out of pinecones, you may just want to use them everywhere. They are easy and inexpensive to make, but they definitely have a higher-end look. Paper flowers are also super easy to make and are very on-trend right now. Try adding some to your list of DIY projects today.
If you would rather leave the creating to someone else, then be sure to go back and look over all of the projects that are available for purchase from Etsy. Many of the artists allow for customization in colors. Some even have different size options. From garlands and swags to plaques and frames, there are all kinds of floral home decorations to choose from there. You are sure to find exactly what you need for any room in your home. Be sure to think outside of the box when it comes to floral decorations. In addition to your everyday décor, consider using them for bridal and baby showers or other gatherings as well.