When the weather gets warm, a smattering of flowers and plants gives your outdoor space a springtime feel. With their pops of color and texture, flower beds easily shake the winter dullness off of your home and it gives you more to look at than just evergreen trees. This list of 27 beautiful flower bed designs can help transform your yard from boring to "wow!".
27 Pretty Flower Bed Projects

Whether you want to plant flowers, herbs, vegetables, or shrubs, there are pretty flower bed ideas here list for you. If you think plant beds are for grandmas and country cottages, think again! Flower beds don't have to be boring or predictable. On this list you will find gorgeous floral layouts, unique planters made from repurposed household objects and designs using fun props.
From old suitcases to antique cauldrons, all it takes is a little creativity to show your personality through your garden! There are also tons of simple and easy to make projects, too. There are even ideas for raised beds so you never run over your plants with the lawn mower. Never fear if you have a small yard; simply try one of the vertical flower bed decorations on this list. It's time to find your favorite bright and sunny flower bed ideas!
1. Perennial Flower Bed for Summer-long Blooms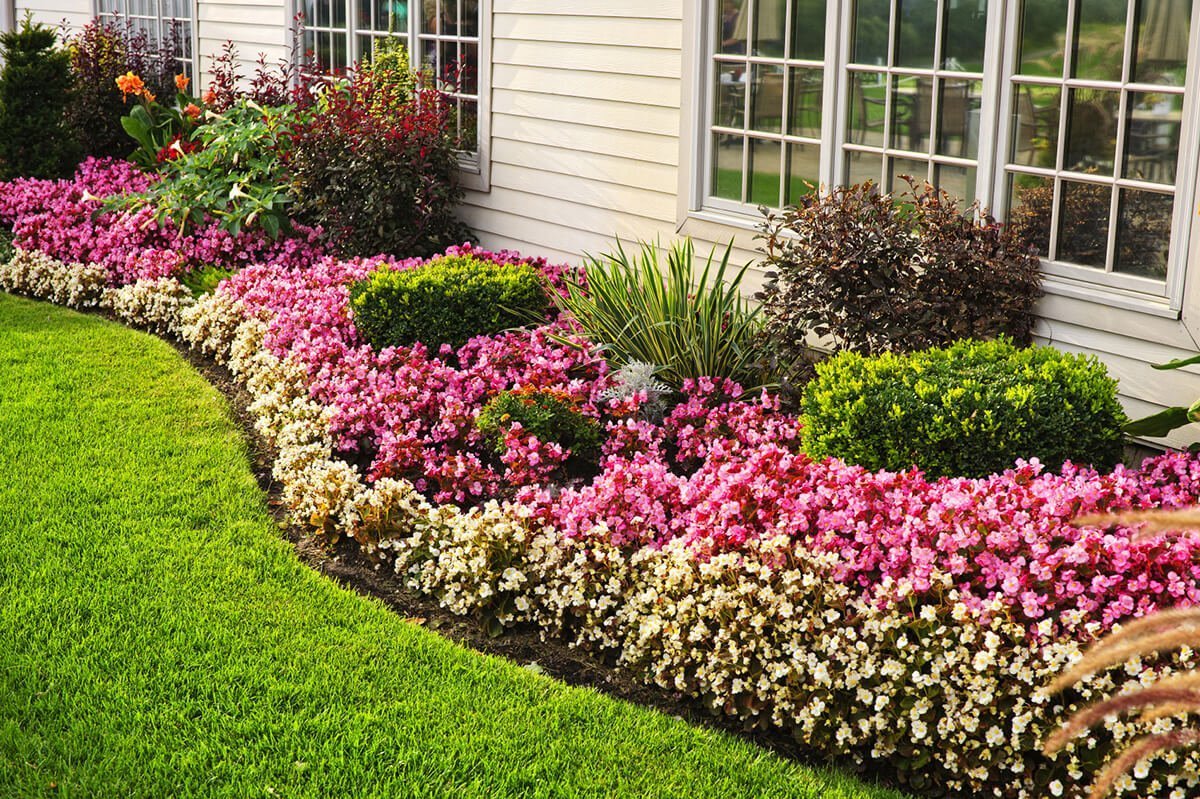 A flower bed filled with perennials is just the thing for blooms that last the entire summer then return year after year. Try a bed with a serpentine border dominated by pink begonias edged with smaller white begonias. Break up the pink and add height with discreet plantings of boxwood, miscanthus grass, barberries, day lilies and tall, orange flowers.
2. Combining Tulips with Annuals and Perennials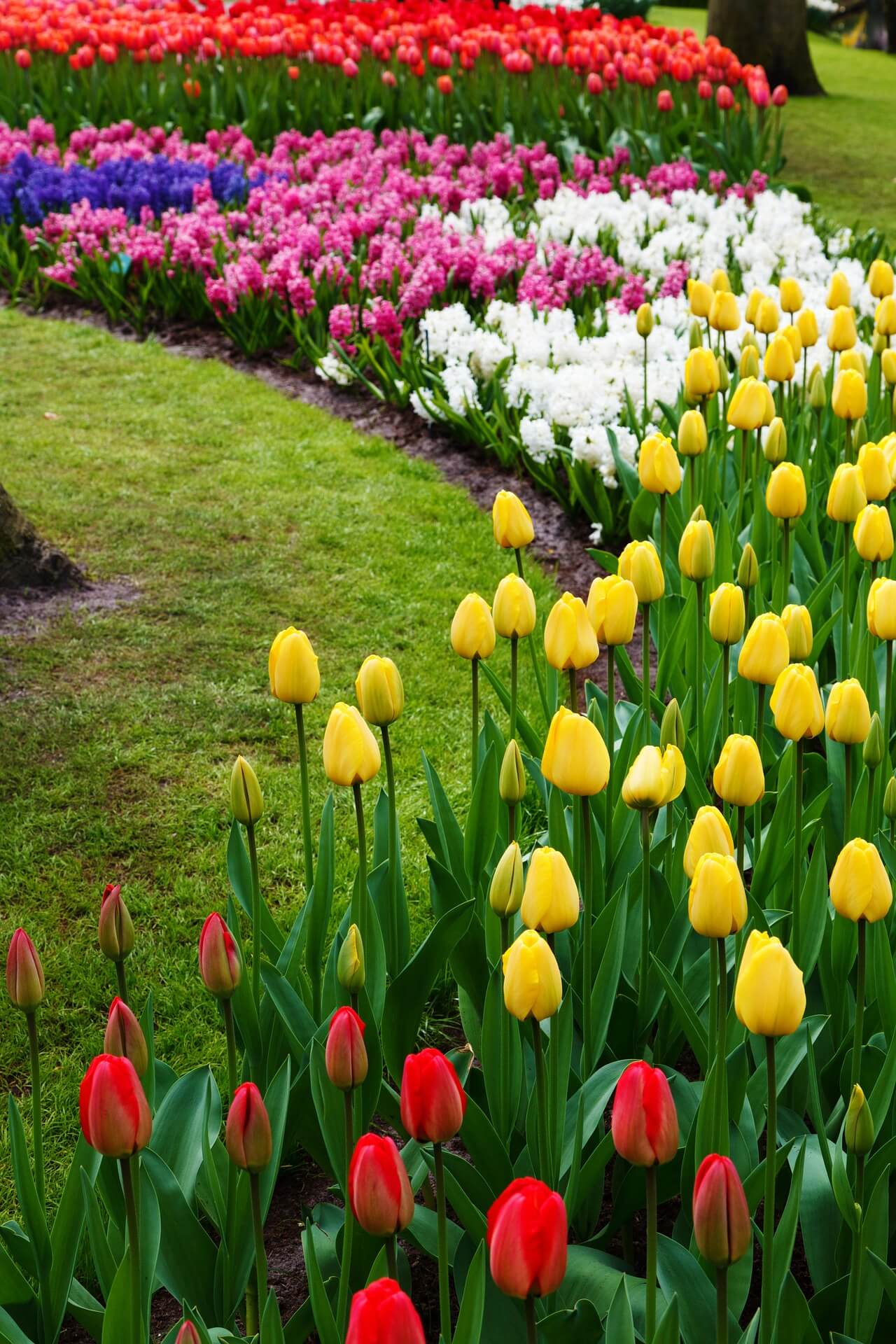 This dream garden creates a harmonious arrangement. Why not extend your garden blooms every year with tulips, annuals and perennials that will come back around each year with little maintenance? Space your flowers out so that the tulips stand taller than your shorter, low-growing annuals and perennials. Your tulips will return for several years when winters are cold, but may not survive when grown in warmer, moist climates. This stunning flower bed has a unique blend of red and yellow tulips. There are numerous color choices from white to even black tulips. Planting clear, primary tulips will create a festive effect in a mixed flower bed. Daylily, Catnip, Salvia and Bells of Ireland are all great companions for tulips and ones to consider if you're thinking about recreating this gorgeous full flower bed.
3. Side Yard Flower Bed for Small Spaces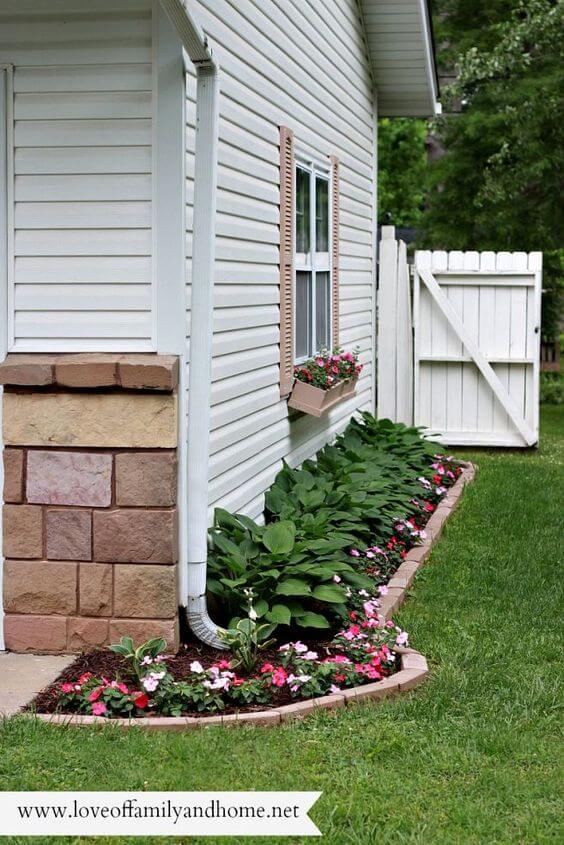 Don't neglect the side yard! Plant bizzy lizzies in a flower box and around the edge of a modest foundation bed. Contrast their pink and white blossoms with plantings of deep green hosta lilies. Though hosta lilies are mostly planted for their foliage, now and then they send up spires that bear small, lavender, violet or white flowers.
4. Pretty Repurposed Tree Stump Flower Bed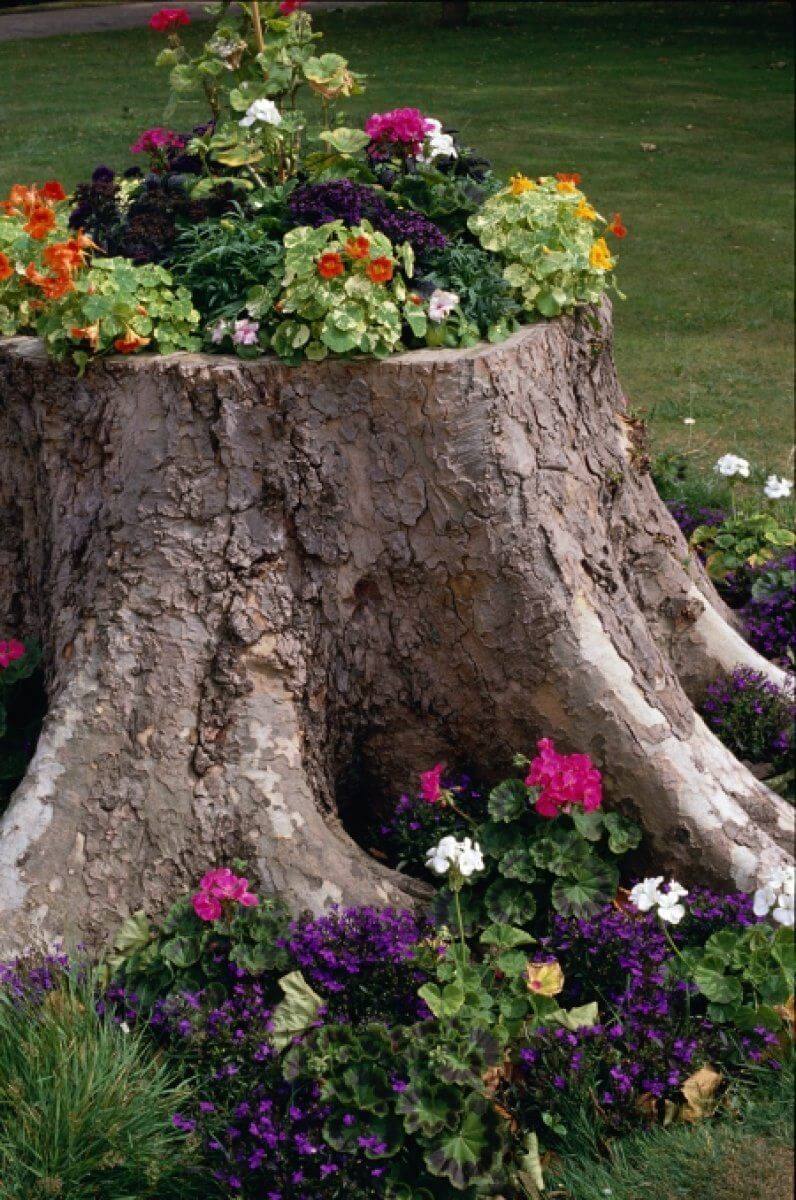 Old tree stumps are hard to dig out, so why not use them for a flower bed? One idea is to add pelargonium in the center surrounded by orange and gold nasturtium with variegated leaves — nasturtiums, by the way, are edible — and deep purple bellflowers. Plant some pelargonium, bellflowers and ornamental grass around the roots for a perfect balance.
5. Flower Shaped Floral Garden Layout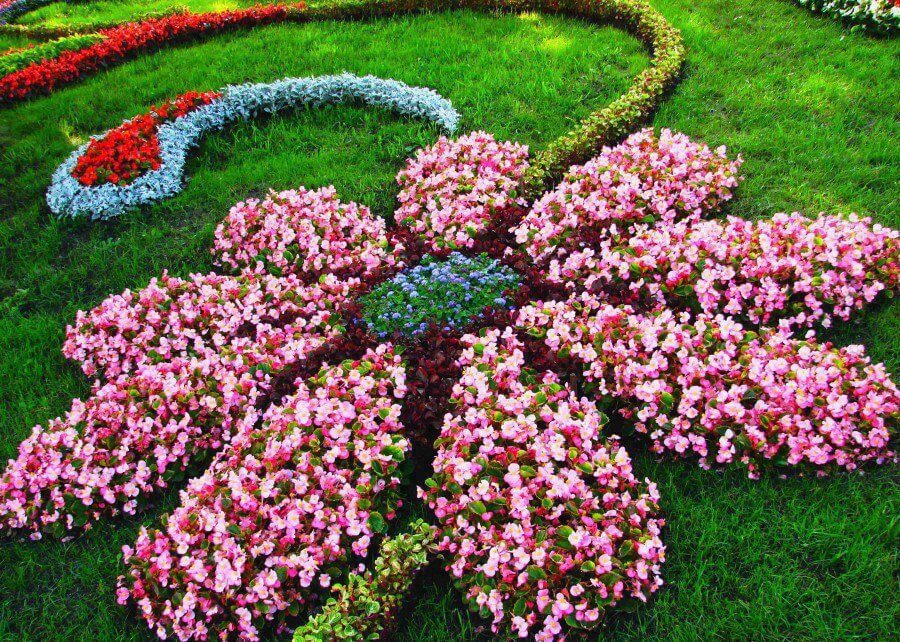 Why not have a flowerbed shaped like a flower? Plant pink begonias for the petals, blue forget-me-nots for the center and a prostrate green plant such as Hacquetia for the curving stems. Scarlet impatiens tucked into a curl of sky blue spring gentian add a lovely accent. Make sure to keep everything trimmed and tidy.
6. Rustic Hollow Log Flower Bed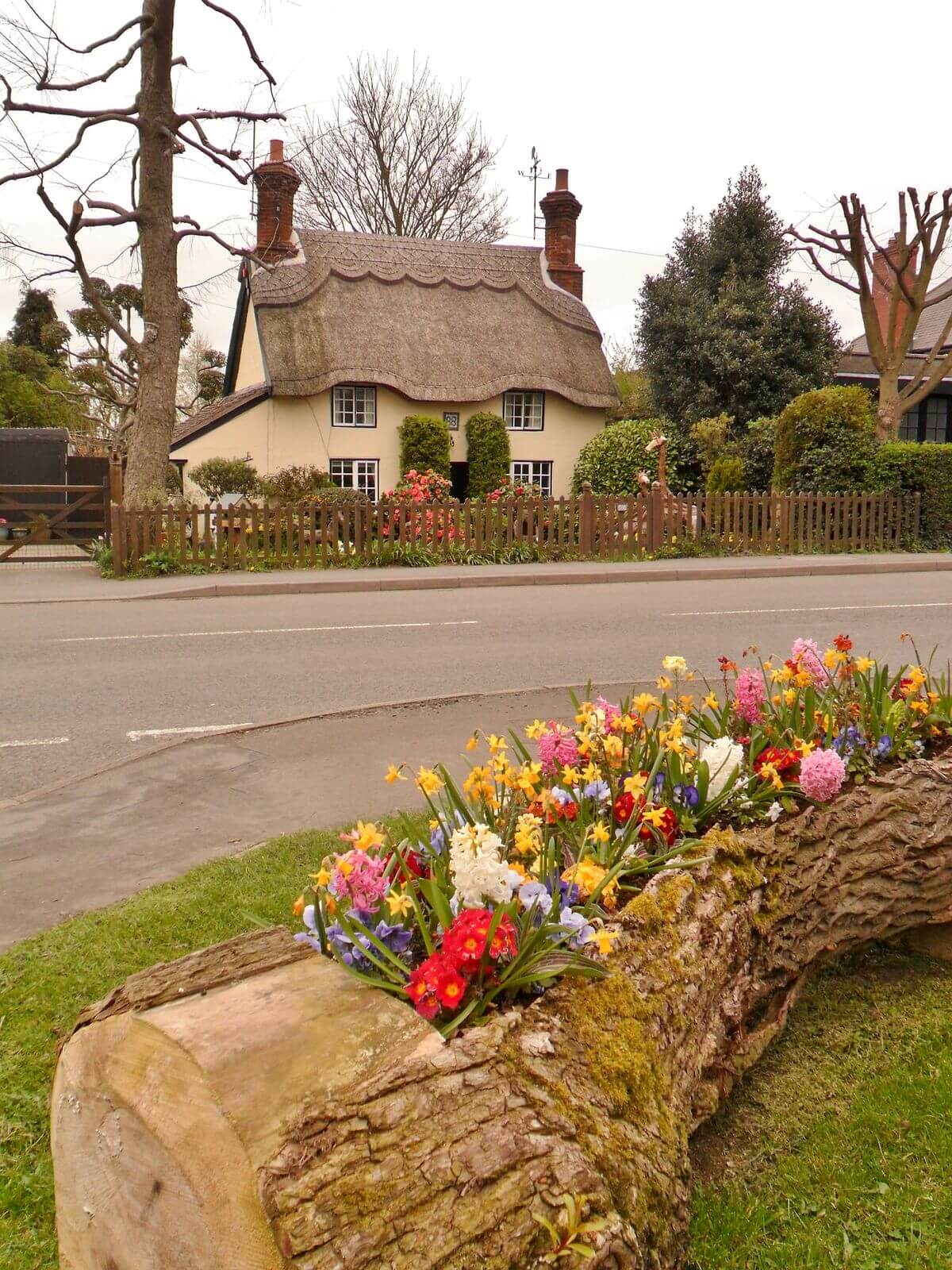 A hollow log also makes an excellent flower bed. Shovel in some gardening soil and fill it up with cheerful flowers such as daffodils, pinks, blue and white phlox, blue irises and red gerbera daisies. The sword-shaped green leaves of these flowers contrast with the softness and brightness of the blooms.
7. Tile Deck with Built-In Flower Beds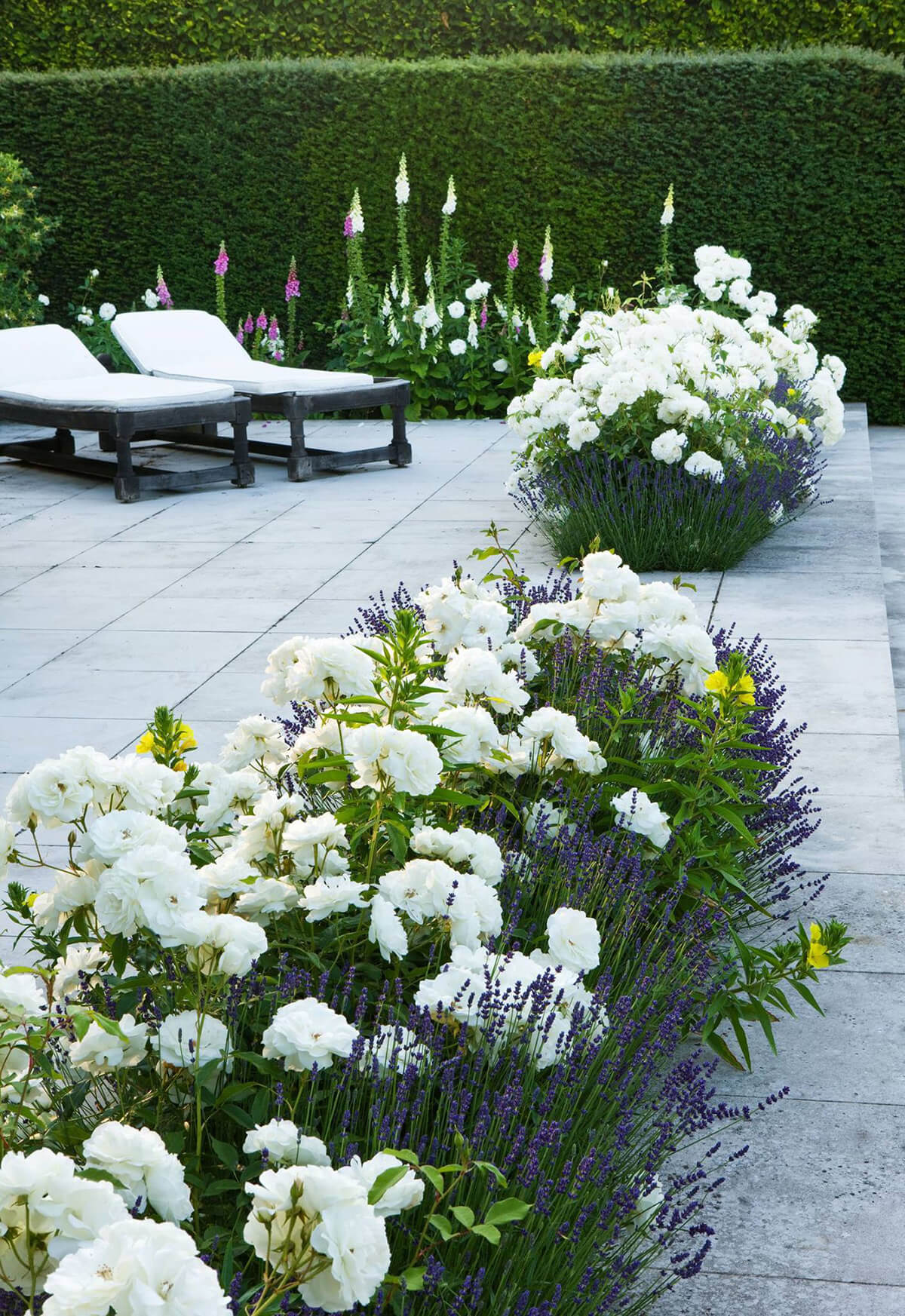 A homeowner who is thinking of adding a deck should think about one with built in planters. In this case, the deck has a tile floor, but planters can also be built into decks made of wood. These beds delight the eye with pure white roses contrasted with purple lavender and butter yellow sundrops.
8. Side Yard Plant, Flower, and Herb Garden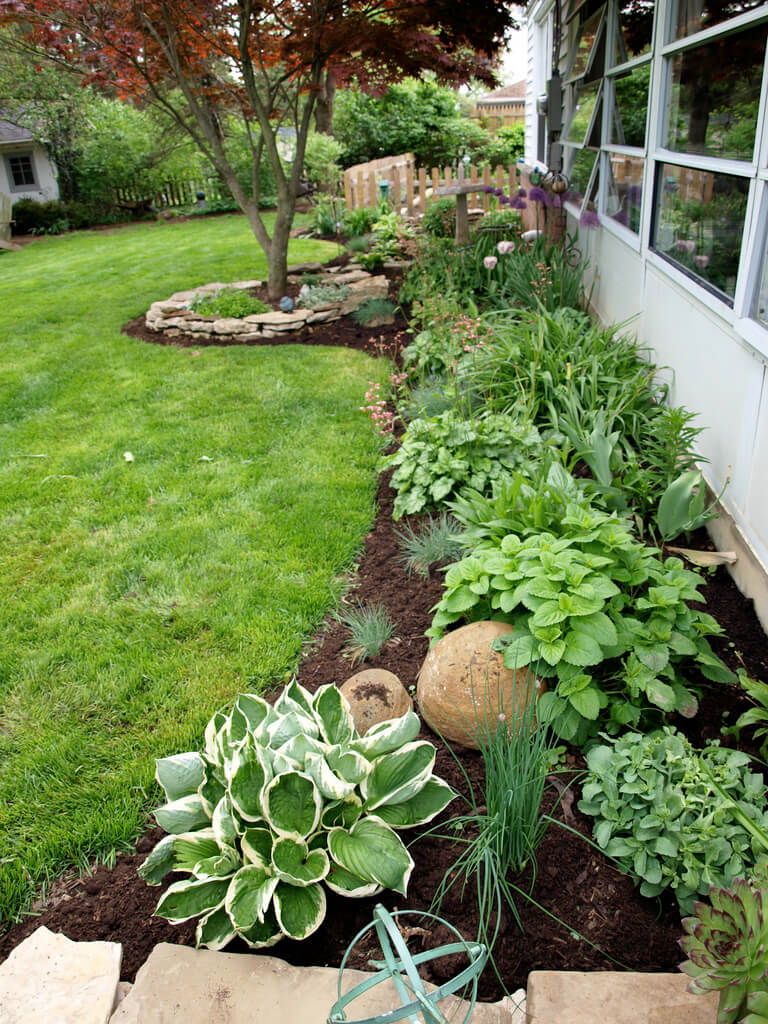 It's perfectly acceptable to mix ornamental flowers with herbs, as long as they can be planted together. Try chives and different species of basil along with hosta lilies, heuchera, hen and chicks and ornamental grasses. Strategically placed round cobbles give the bed a certain gravitas. Their hard, rough brown surfaces go well with the soft green of plants and herbs.
9. Raised Block Flower and Plant Bed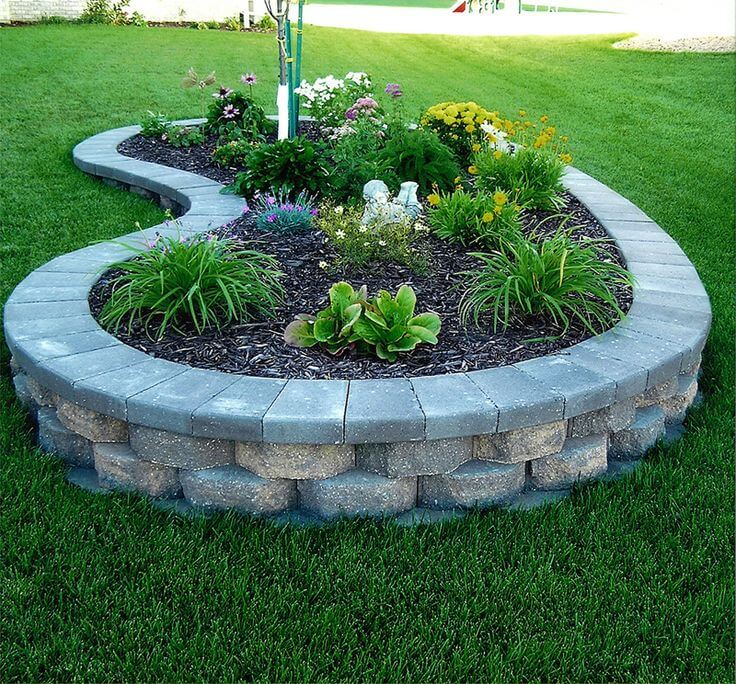 A raised bed made of pre-cut blocks and pavers makes tending to the plants easier, especially if the gardener is getting on in years. Plant some ornamental grasses, turf lily, chrysanthemums, asters, thrift and perhaps a small, ornamental tree. Like the garden mentioned above, a vegetable or herb can be added. Don't forget the garden gnome.
10. Make a Statement with a Bold, Colorful Flower Bed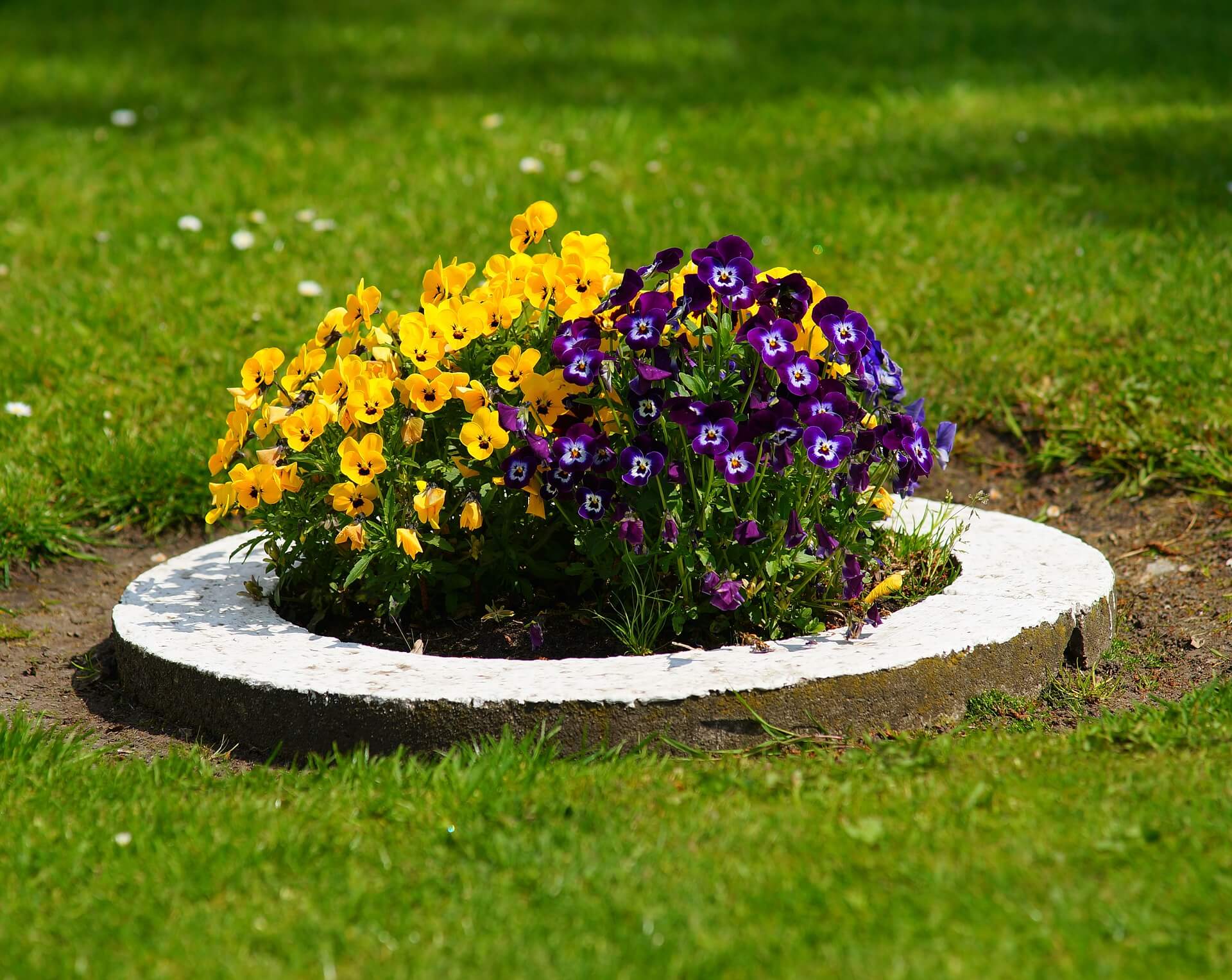 What better way to add a little color to your garden than with a round flower bed with bright colorful flowers. The round cement border makes this little flower bed stand out and make a statement. The painted concrete border is an easy DIY that makes this backyard flower garden look customized and almost like a built-in feature. When it comes to choosing the actual flowers you want for your flower bed, the options are endless. If you want a cohesive look, try pairing the same color flowers together, like this yellow and purple all throughout your garden or around the backyard to really maintain the color theme.
11. Gravel Yard with Plant Bed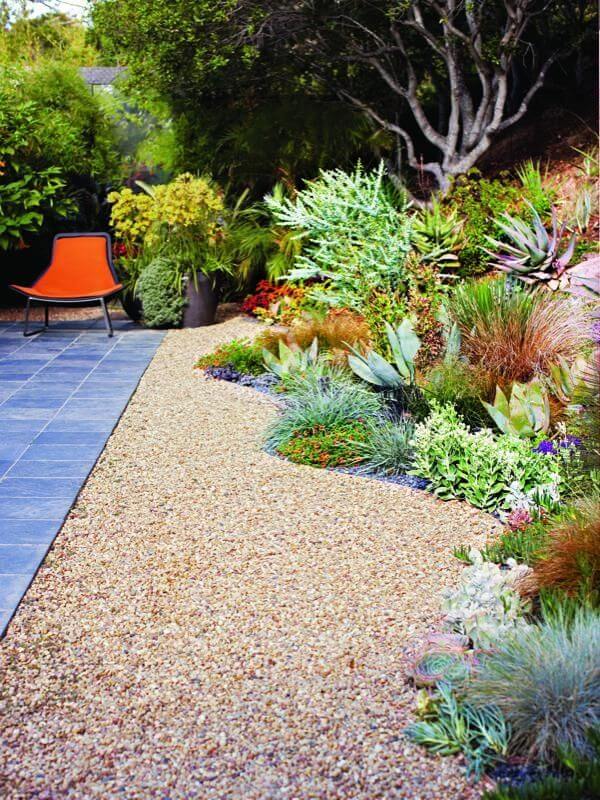 A bed in a gravel yard lets the gardener indulge in all kinds of colors, heights and textures provided by aloe and agave plants, ornamental grasses, sedges and a rosemary plant allowed to grow to shrub-size. Blue gravel used both to separate the bed from the yard and as mulch brightens the colors of the plants.
12. Flower Bed with Clay Pots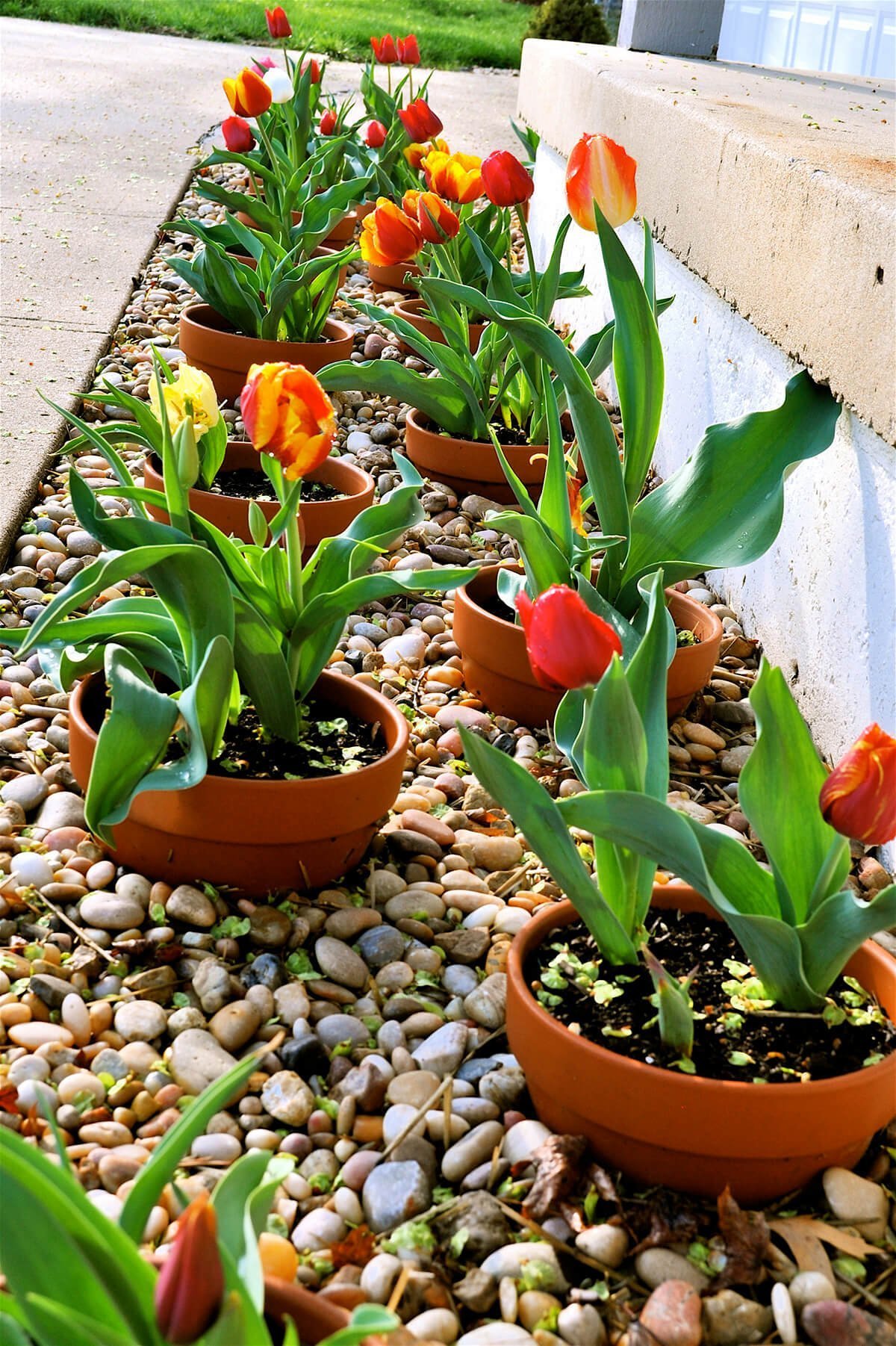 When it comes to convenience, nothing beats flowers planted in clay pots half-buried in a bed of gravel. Bulbs do fantastically well with this scheme, including these party-colored tulips. Other flowers that sprout from bulbs or corms that would do well here are daffodils, members of the allium family such as onions and garlic and crocus.
13. Flower Bed with Wheelbarrow Planter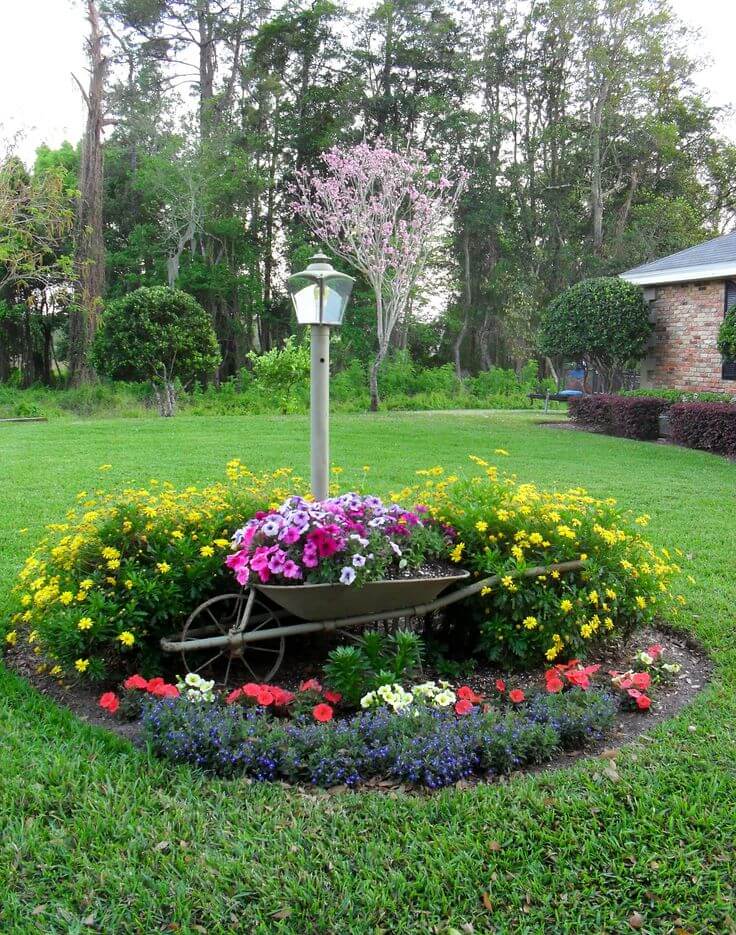 If a homeowner has an old wheelbarrow that is past its prime, there's no reason not to install it in the middle of a flower bed. Fill it with bizzy lizzies against a background of golden false sunflowers. Plant more bizzy lizzies, bellflowers and daylilies in front. An old fashioned streetlamp behind the wheelbarrow gives the bed height and interest.
14. Vintage Suitcase Flower Planter Idea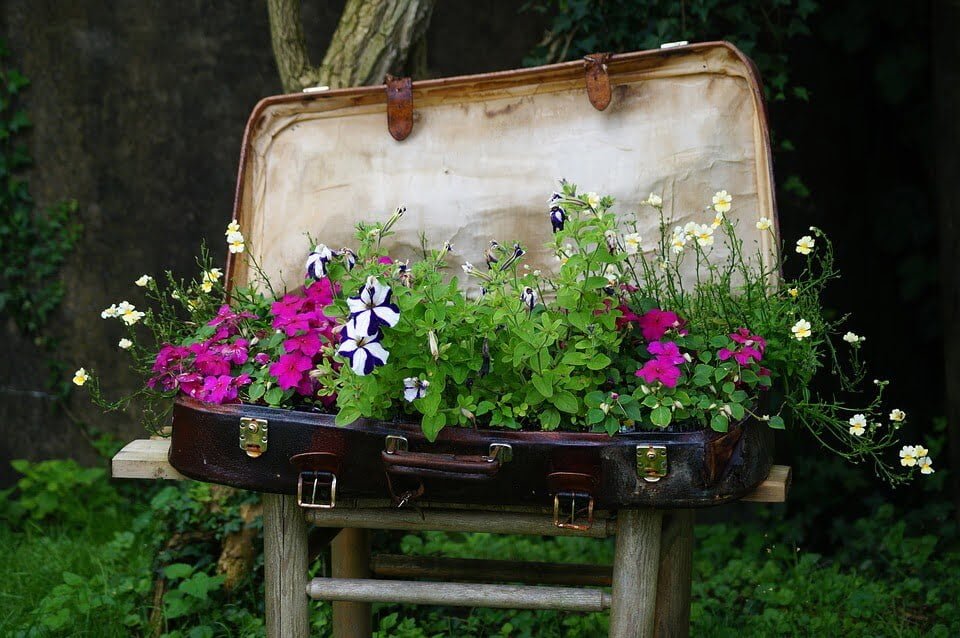 An old suitcase can be repurposed as well as an old wheelbarrow. Prop the suitcase on chair and plant some magenta or white and purple striped bizzy lizzies or petunias and white asters. A gardener who is worried about filling the suitcase directly with dirt can place the plants in containers first.
15. Pretty River Rock Flower Bed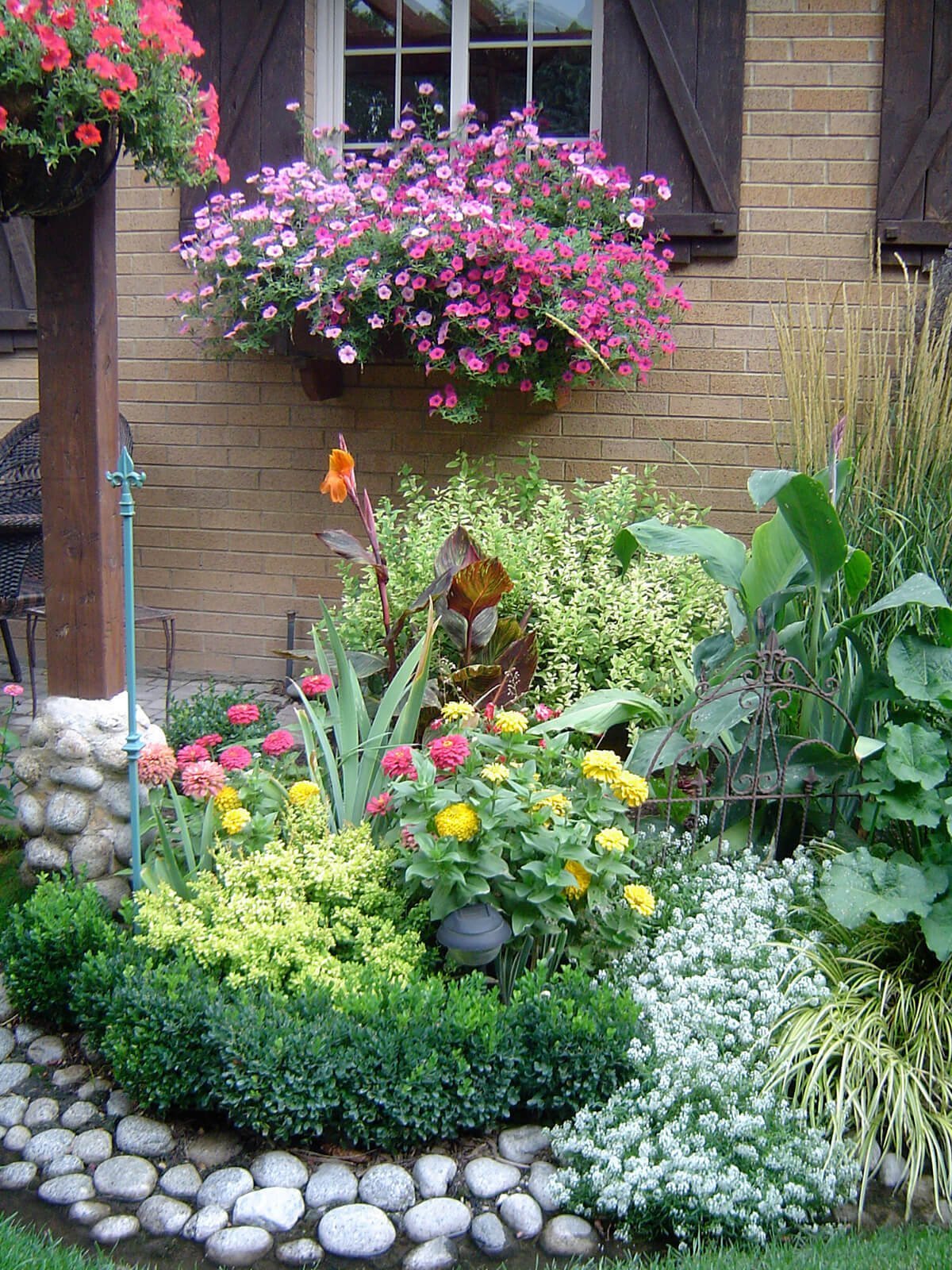 River rocks make an interesting border for a bed that's been planted under a cheerful window box. The main planting can be orange canna lilies, yellow flowers and pink chrysanthemums or zinnias, stonecrop and a semi-circular hedge of bugleweed. A planting of white candytuft echoes the curve of the river rocks and makes the viewer think of a waterfall.
16. DIY Wood Flower and Herb Bed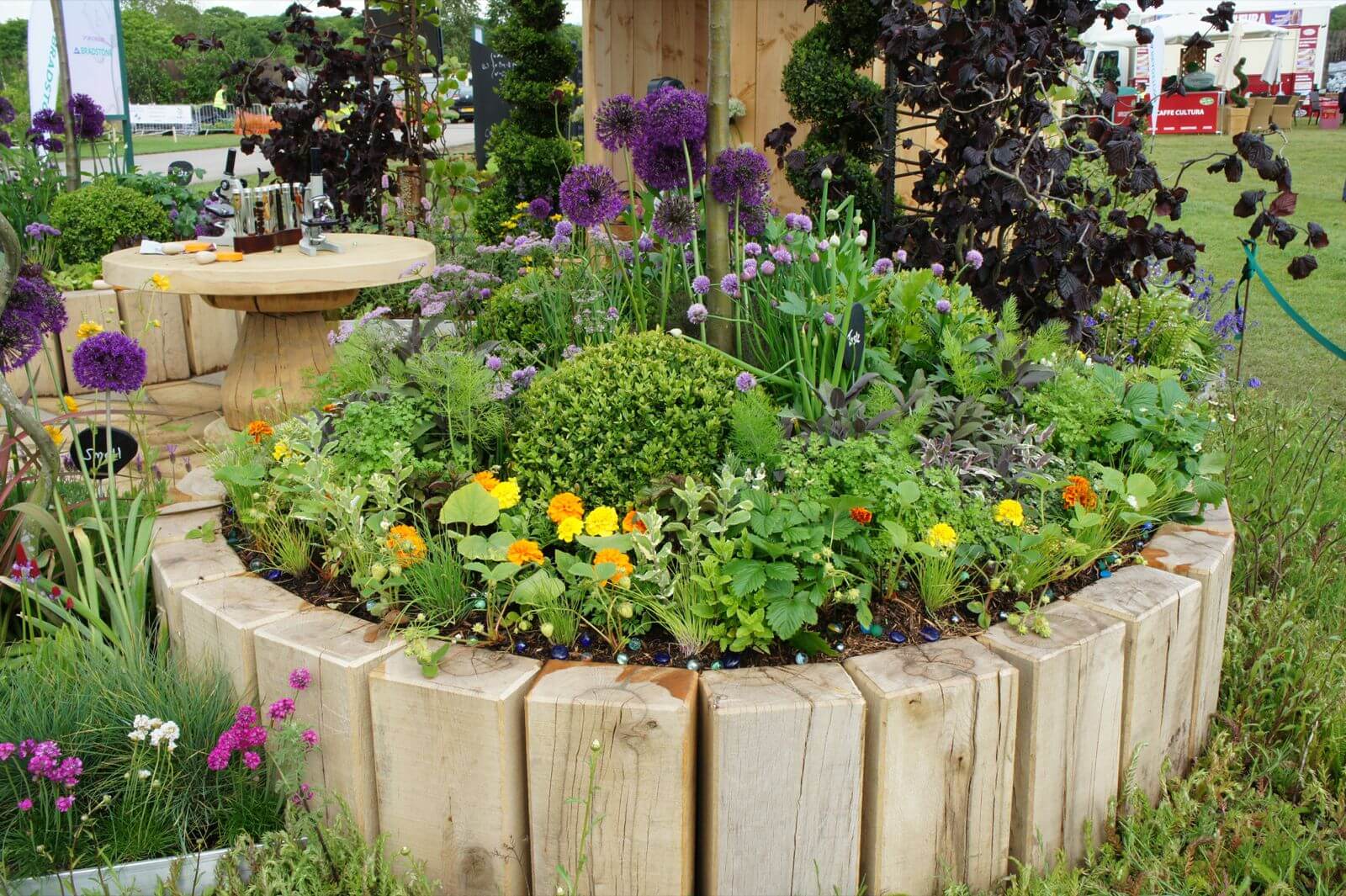 Another DIY flower and herb bed is made of wooden "soldiers." In the center, at the base of a tree which may be an ornamental maple, are stalks of flowering onion surrounded by chives, dill, orange and yellow chrysanthemum and sage. A small mounded juniper gives the bed some heft and contrasts with the tall stalks of the allium.
17. Round Flower Bed with Pots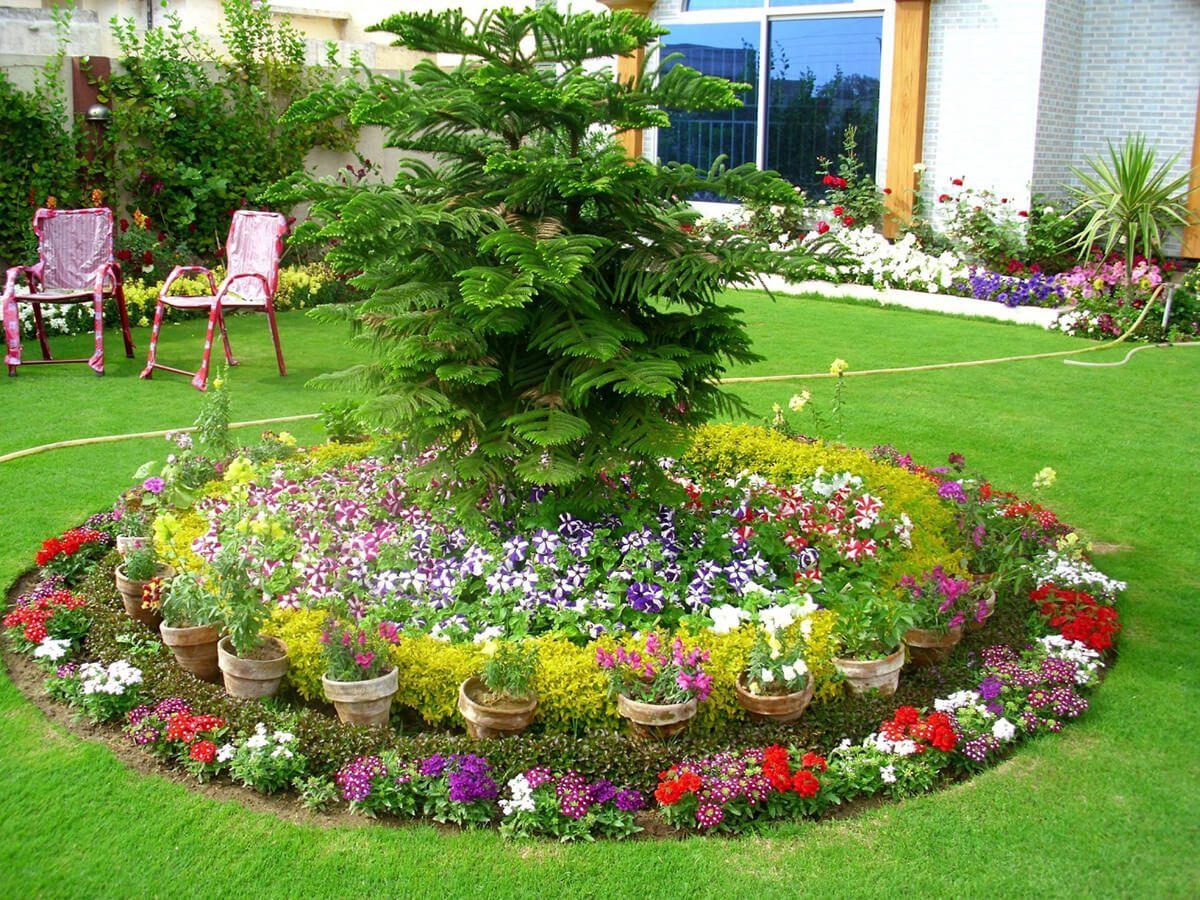 Surround a stately Norfolk Island pine with plants bursting with color in this bed. A circle of purple and white and red and white striped bizzy lizzies spread out from the pine ringed by stonecrop, moss and pots of pink and white bizzy lizzies. Colorful zinnias and impatiens are found at the very edge of the bed.
18. Romantic Rose and Lavender Garden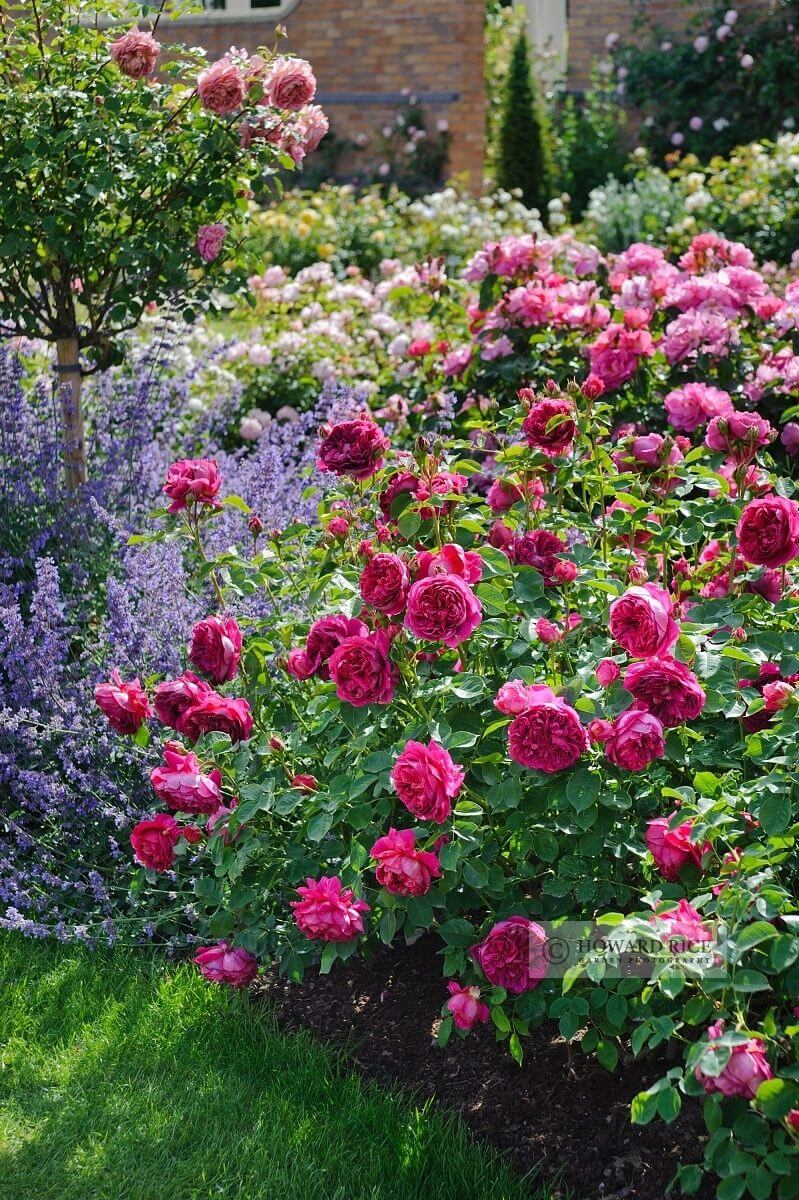 Surround a stately Norfolk Island pine with plants bursting with color in this bed. A circle of purple and white and red and white striped bizzy lizzies spread out from the pine ringed by stonecrop, moss and pots of pink and white bizzy lizzies. Colorful zinnias and impatiens are found at the very edge of the bed.
19. Lush, Magical Flower Garden with Pathway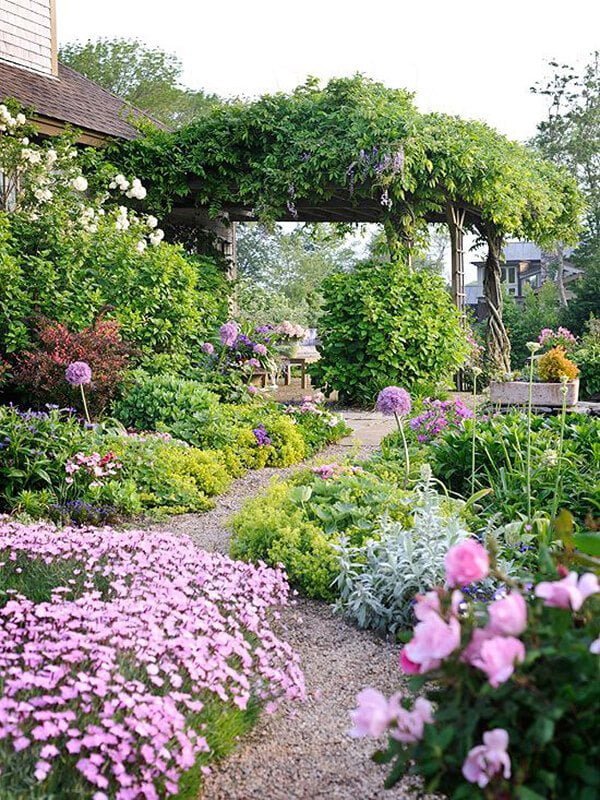 A brave gardener can tolerate their garden going a little crazy. In this one, a sturdy pergola is muffled with a blue-flowering wisteria, and white roses cling to the wall. The lower stories of the garden are planted with stonecrop, wild onion, ornamental grasses, lamb's ear and a mass of pinks. A meandering, gravel path winds through it all.
20. Antique Bed Frame Flower Bed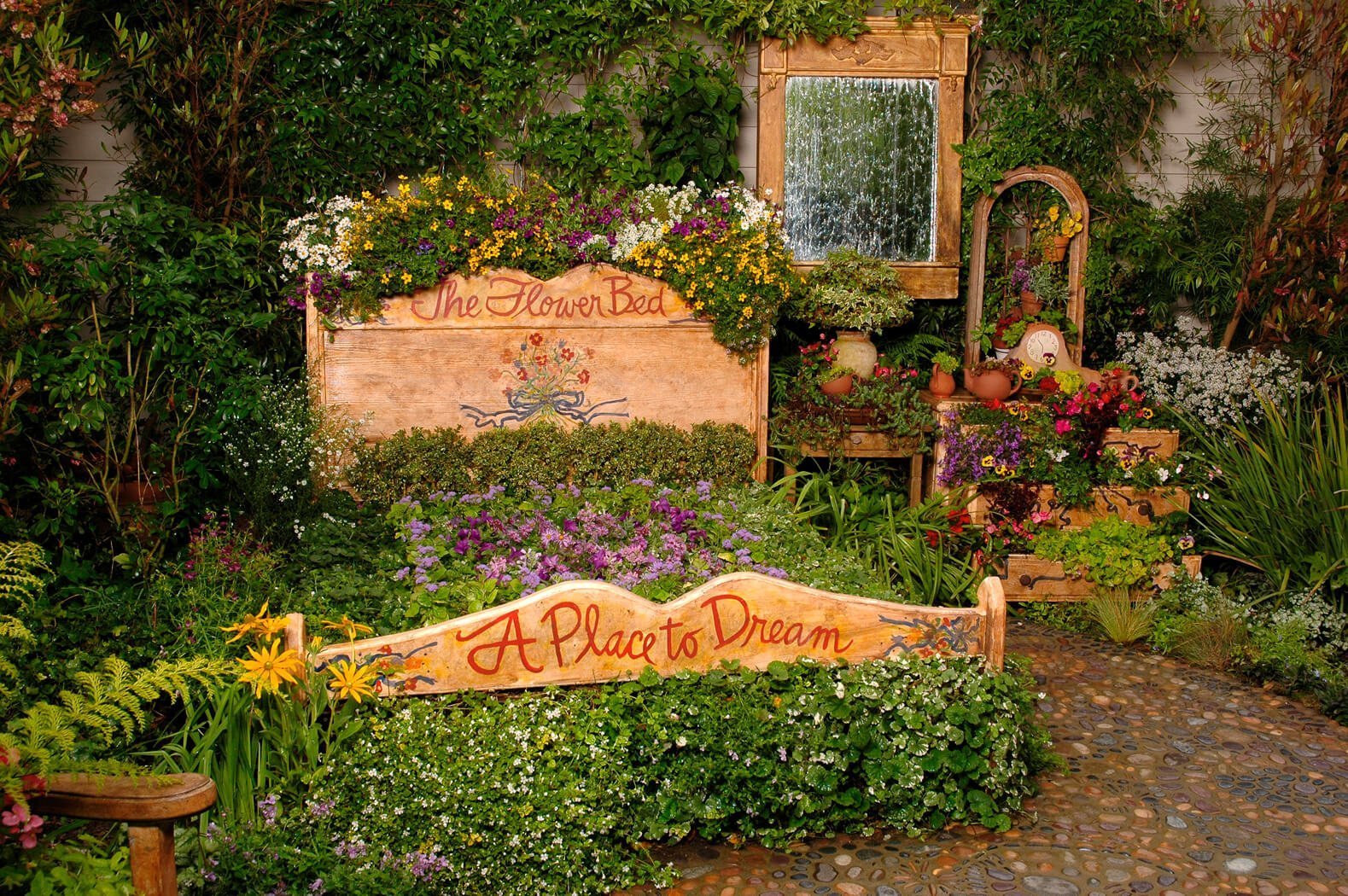 A lovely trend is to make a garden out of old furniture. This garden bed has a headboard draped with white, gold and purple flowers, pillows made of small privets, a "mattress" is made of grasses, violets or flax, a footboard of a white-flowered shrub. A playful group of golden-ray stands at one corner near a fern frond.
21. Flower Bed for Small Yards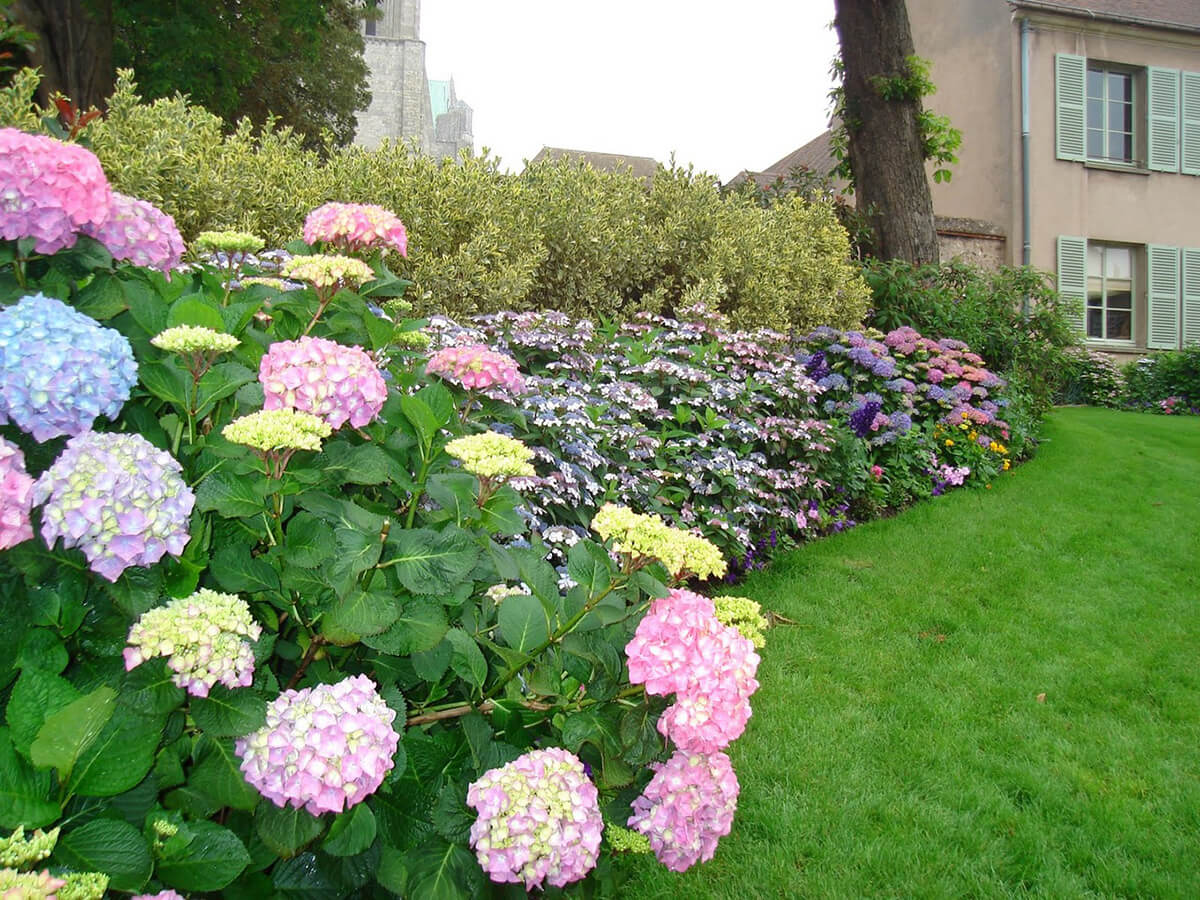 Sometimes a small yard is a blessing. There's less work, and the gardener can make a statement. This little yard has a back story of lovely euonymus or holly shrubs with different types of hydrangeas in the front bordering a lush lawn. At the edge the border, a vine quietly climbs an old tree.
22. DIY Vertical Flower Garden Tower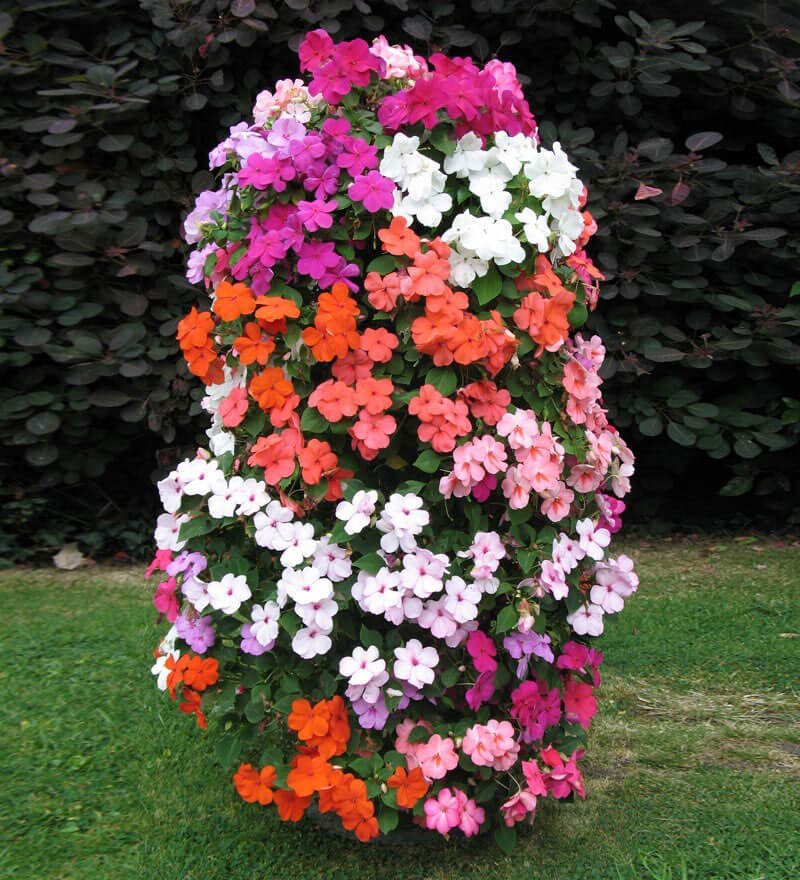 If the gardener finds that they really do not have a lot of space, they can build a vertical garden. This garden tower is made of white, salmon, pink, magenta, lavender and white bizzy lizzies. Of course, a gardener can use just about any flower of their choosing to make a garden tower, including roses and flowering vines.
24. Wood Trellis Vertical Flower Bed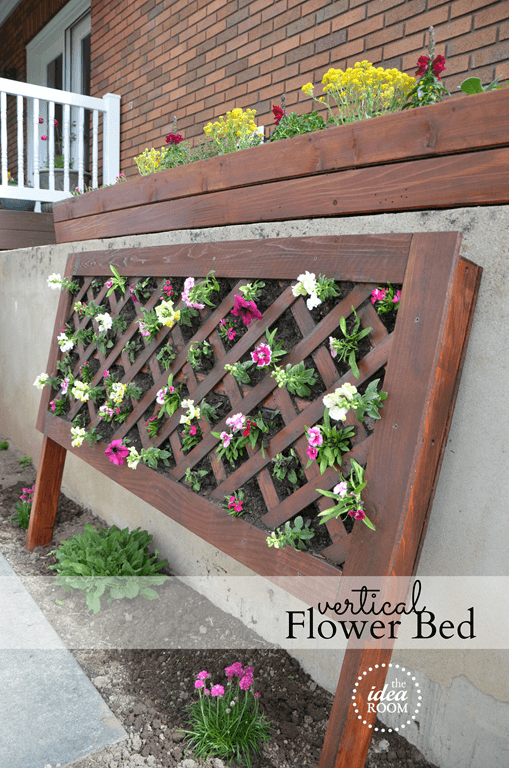 Another idea for a gardener with a small space is a vertical flower bed made of a wood trellis. Gloxinias, petunias and their foliage cheerfully poke their heads out from between the slats. Above, alternating yellow lady's mantle and a scarlet flowered plant grow in a box that spans the length of the house's wall.
25. Antique Cauldron Flower Bed Design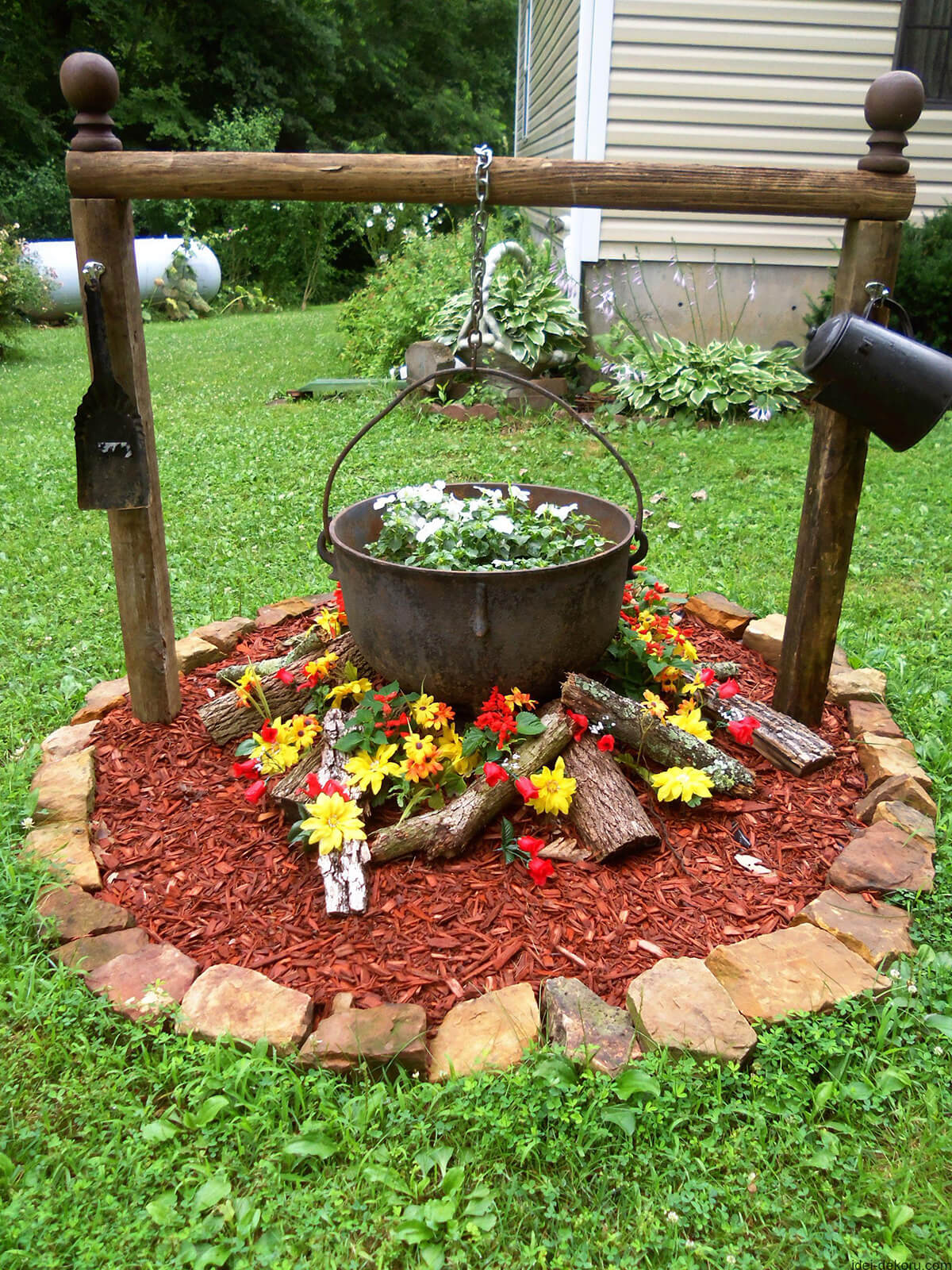 This whimsical planting has a cauldron chained to a post. But instead of stew, this cauldron is filled with white bizzy lizzies. The flames are made of red salvia, yellow Adonis flowers, African daisies and planted among kindling. More warmth is added by the red mulch that covers the garden soil.
26. Pretty Birch Log Plant Bed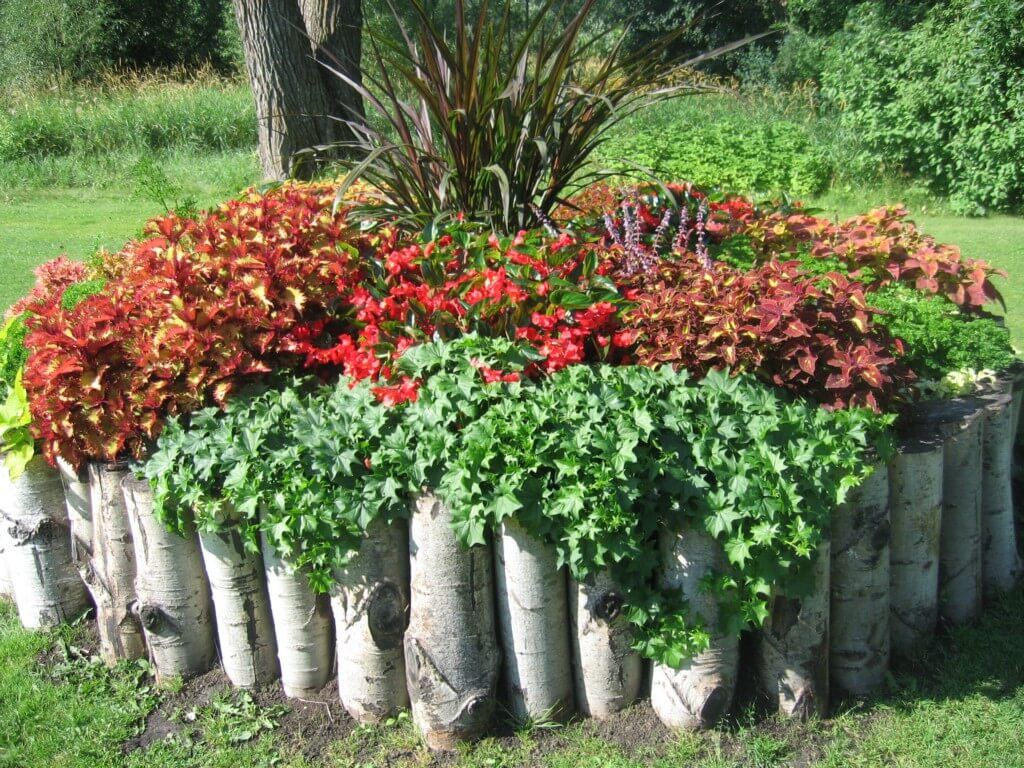 Sawn birch logs also make an interesting plant holder in this bed. The birch log, with its pale bark and darker markings, has its own beauty. Its planting of a red-brown ornamental grass such as Japanese blood grass, spilling ivy, red and bronze coleus and red azalea make it even more aesthetically pleasing.
27. Easy DIY Peony Flower Bed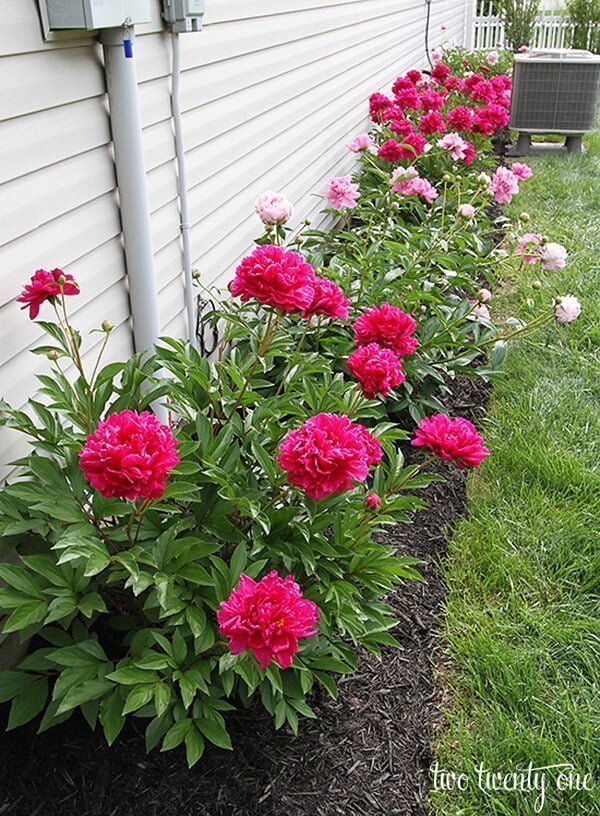 Peonies are so showy that they don't need company. The flowers come in white as well as the pink and red seen here, and their foliage is also attractive. This foundation planting is so full of these sensational flowers that the visitor won't even notice the A/C unit or the electrical meter around them.