Your front door is the first thing that people see when they look at your home. Shouldn't it say something about you? The good news is that there are plenty of front door color ideas to choose from, so you'll never lack for new shades and styles. Whether you're going for "big and bold" or "subtle and sophisticated," there's a color out there that will suit your needs.
30 Amazing Front Door Color Ideas for a Cute and Kitschy Home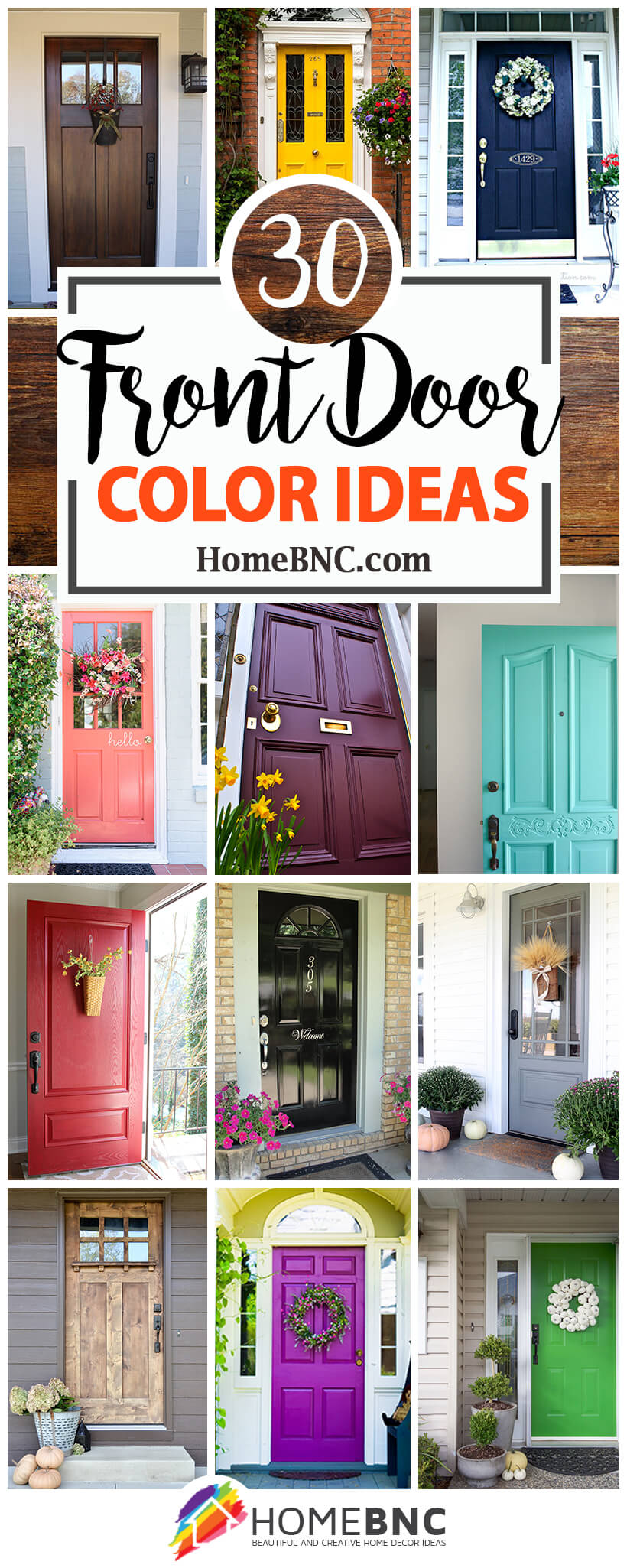 Before you haul out the paint bucket, however, there are a few things to consider about your color choice. For example:
Will it complement your existing color scheme? Does it pair well with your brick walls or hardwood patio?
If your front door gets a lot of sunlight, will the color fade over time? How often will it have to be touched up or repainted?
Can it be matched with other exterior home decors? Will it stick out like a sore thumb on Halloween or Christmas?
Is it a color that everyone in the family will enjoy seeing in their home? Will your son hate the pink? Will your spouse think that the black is too depressing?
These are all important questions to ask before you whip out your rollers. As you can see, there's more to choosing a front door color than simply picking one from a batch of paint samples.
Do you need some inspiration? Would you like to see what other people have done with their front doors? If you're ready to jazz up your exterior home decor, here are just a few front door color ideas.
1. Elegant Neutrals as a Front Door Foundation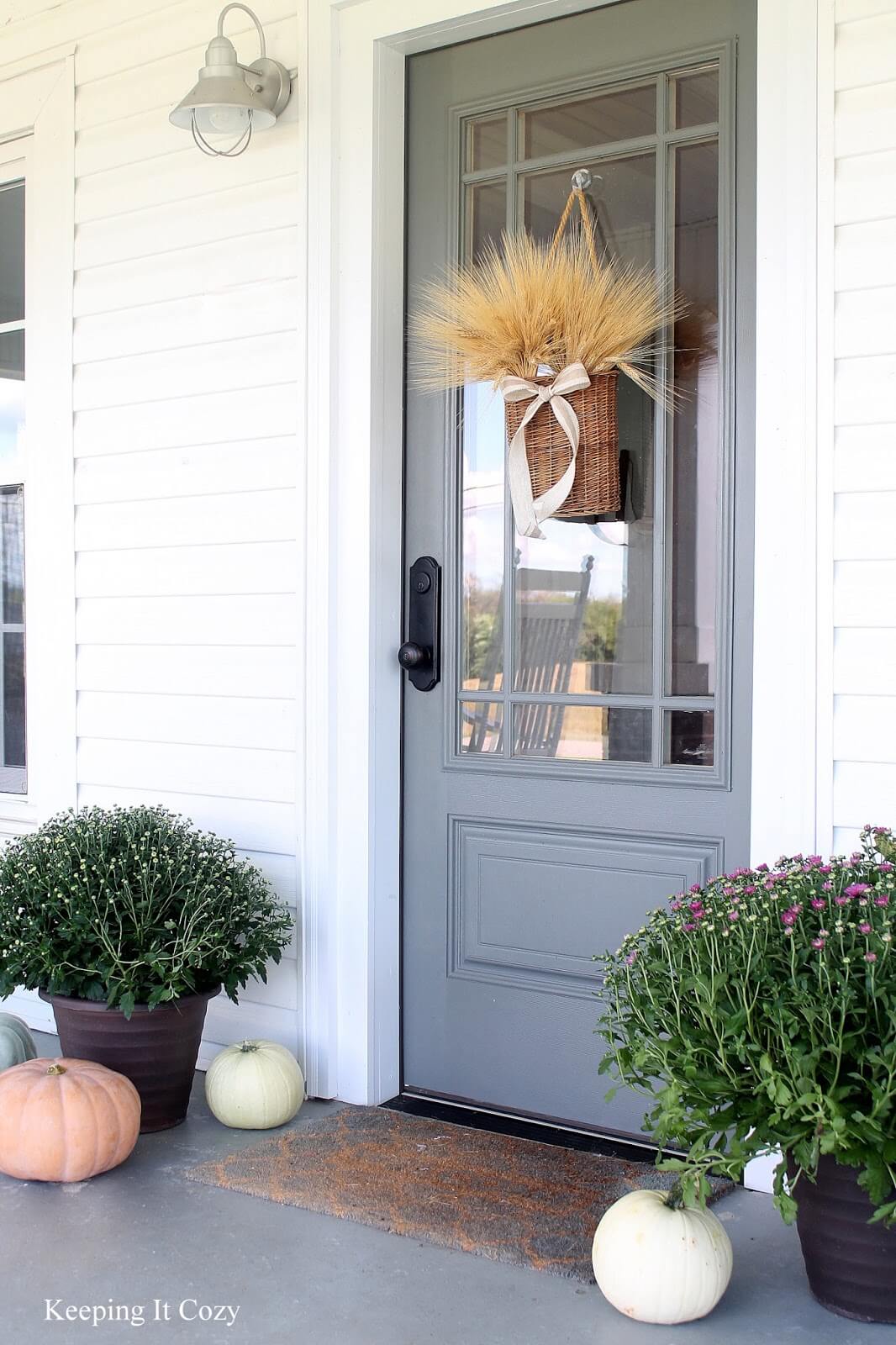 When you are choosing front door colors, soft dove gray makes a sophisticated choice. This classic neutral paint color goes well with white house siding. It is perfect for older homes with an understated style footprint. Try hanging a basket of dried grasses in beige tones to welcome fall in a subtle way.
2. They Call Me Mellow Yellow Color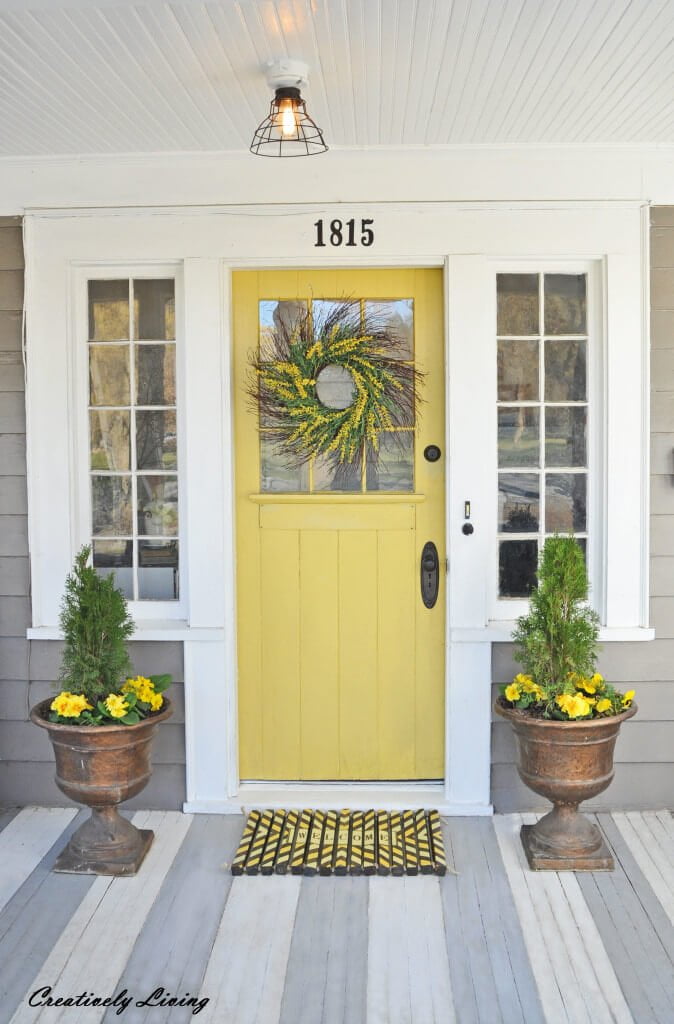 This soft yellow door welcomes guests in a cheery fashion. The yellow door brightens up the gray exterior paint. When you choose a yellow door, you are letting guests and passers by know that you have a sense of fun and a lively decorating style. Accent your yellow door with matching flowers, a doormat, and a wreath.
3. Beautifully Bold and Bodacious Blue Door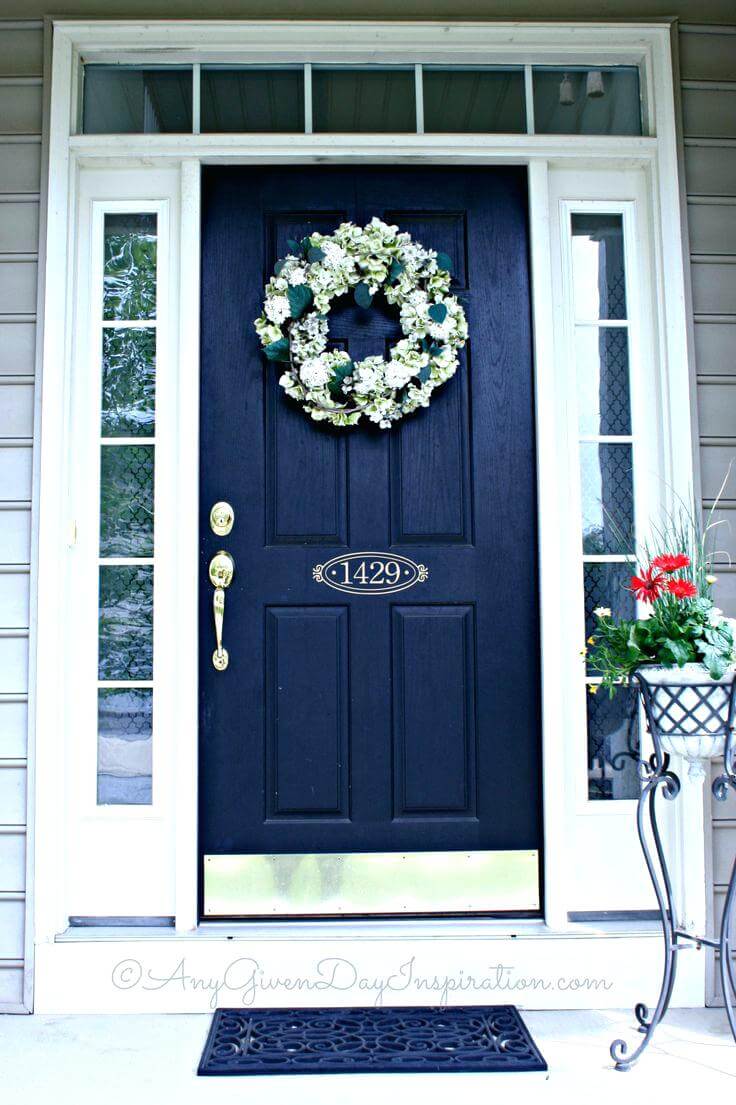 Vivid royal blue is one of the standout front door colors. The deep blue color is calming and goes with most house colors, but it accents the pale gray of this house very nicely. Royal blue is a timeless color choice that will wear well and look great with accents from many seasons. Hang a wreath with touches of blue for a pulled together look.
4. Purple Door Is The Mark of Royalty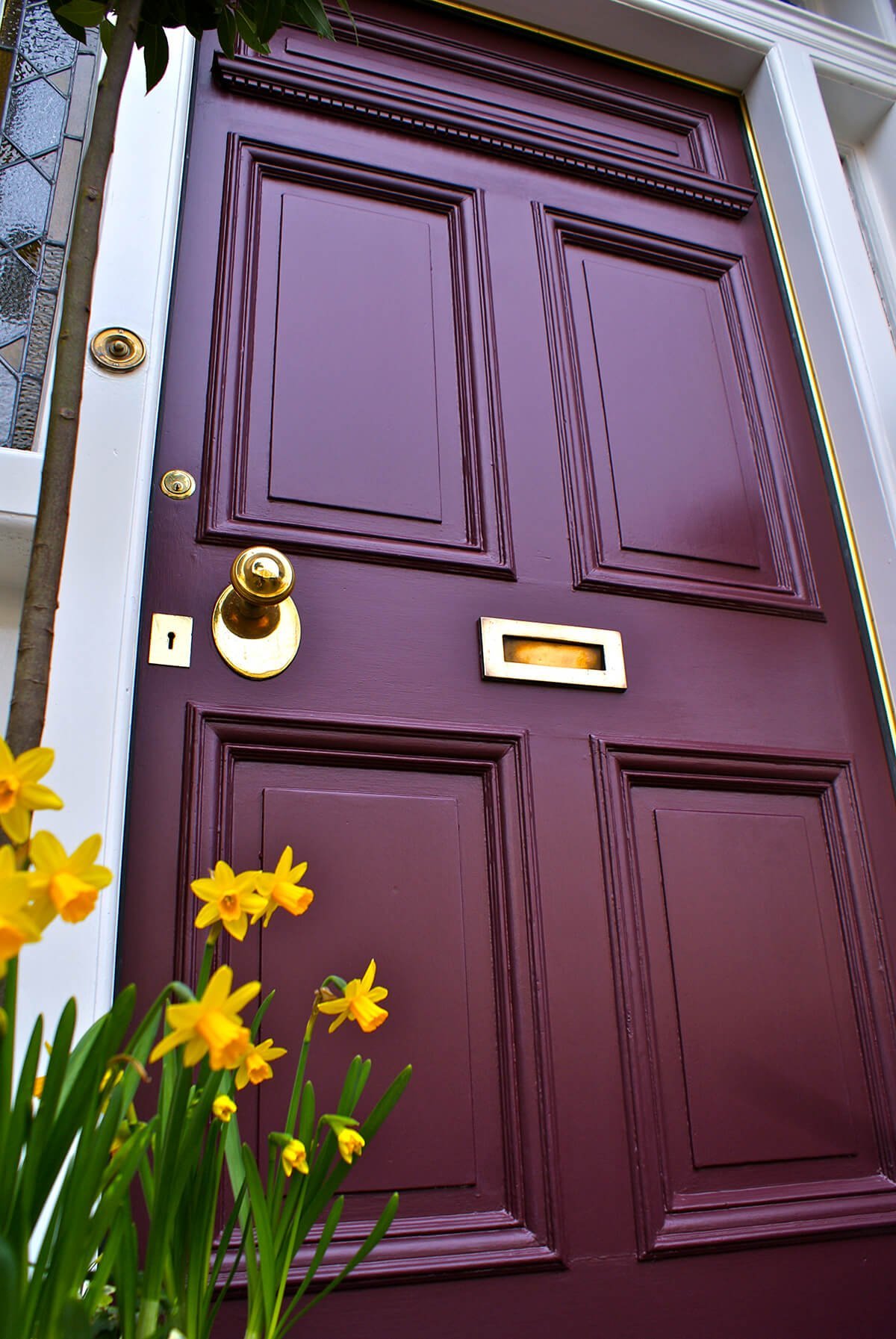 Bold purple is an elegant color choice. Rich shades like purple draw the eye to your door and make an exciting visual accent to your home. This purple color shades toward red for a warm look. Choose a door with fine architectural features to make your home stand out. Plant some contrasting flowers for the season.
5. Pretty in Pink And Picket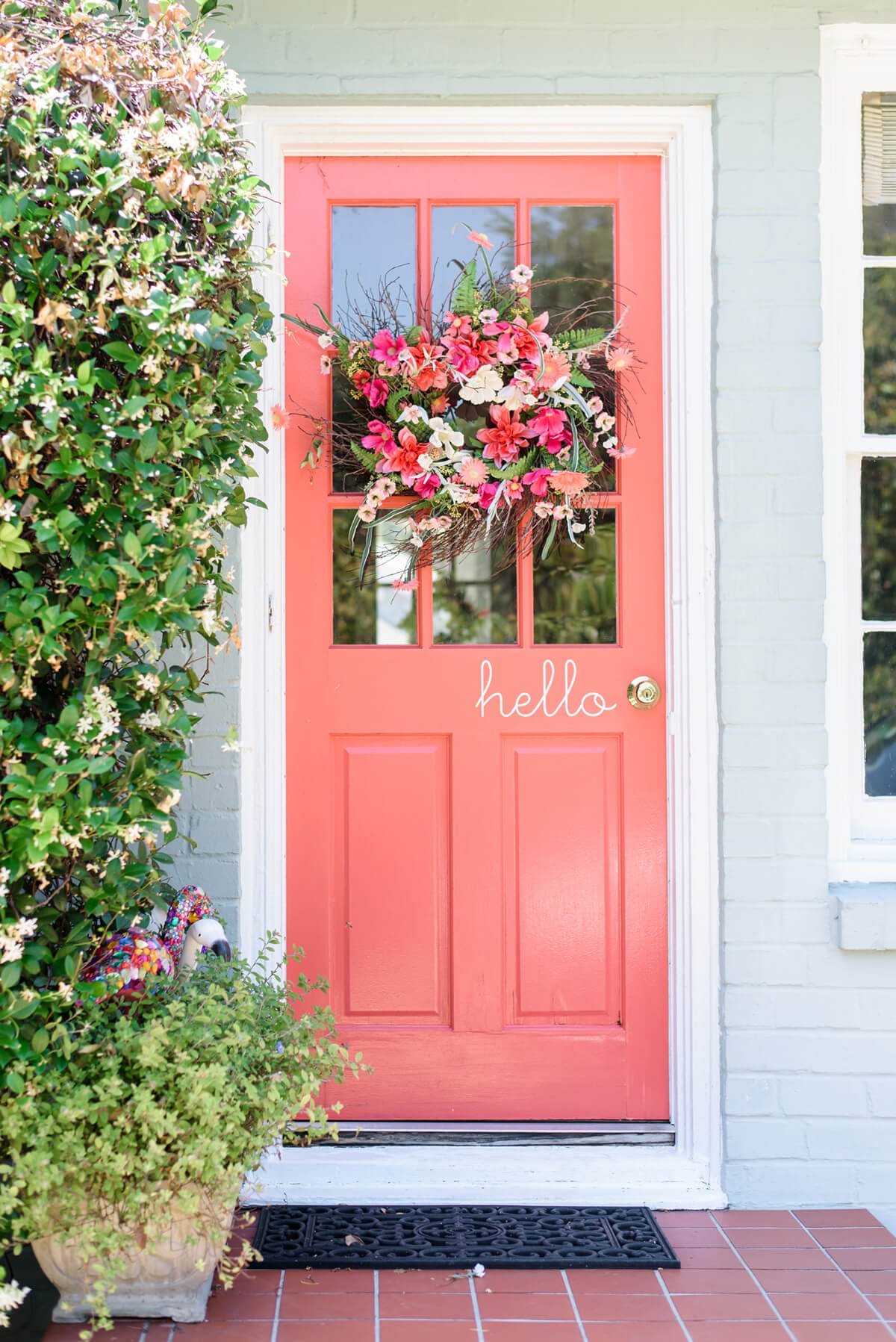 Pink is a whimsical choice for front door colors. It brightens up the pale blue painted brick exterior walls of the home. With pink as a front door color, your decorating options are limitless. Pink goes beautifully with many different types of flowers. Hang a wild looking wreath to pull the look together.
6. White Door and Red Brick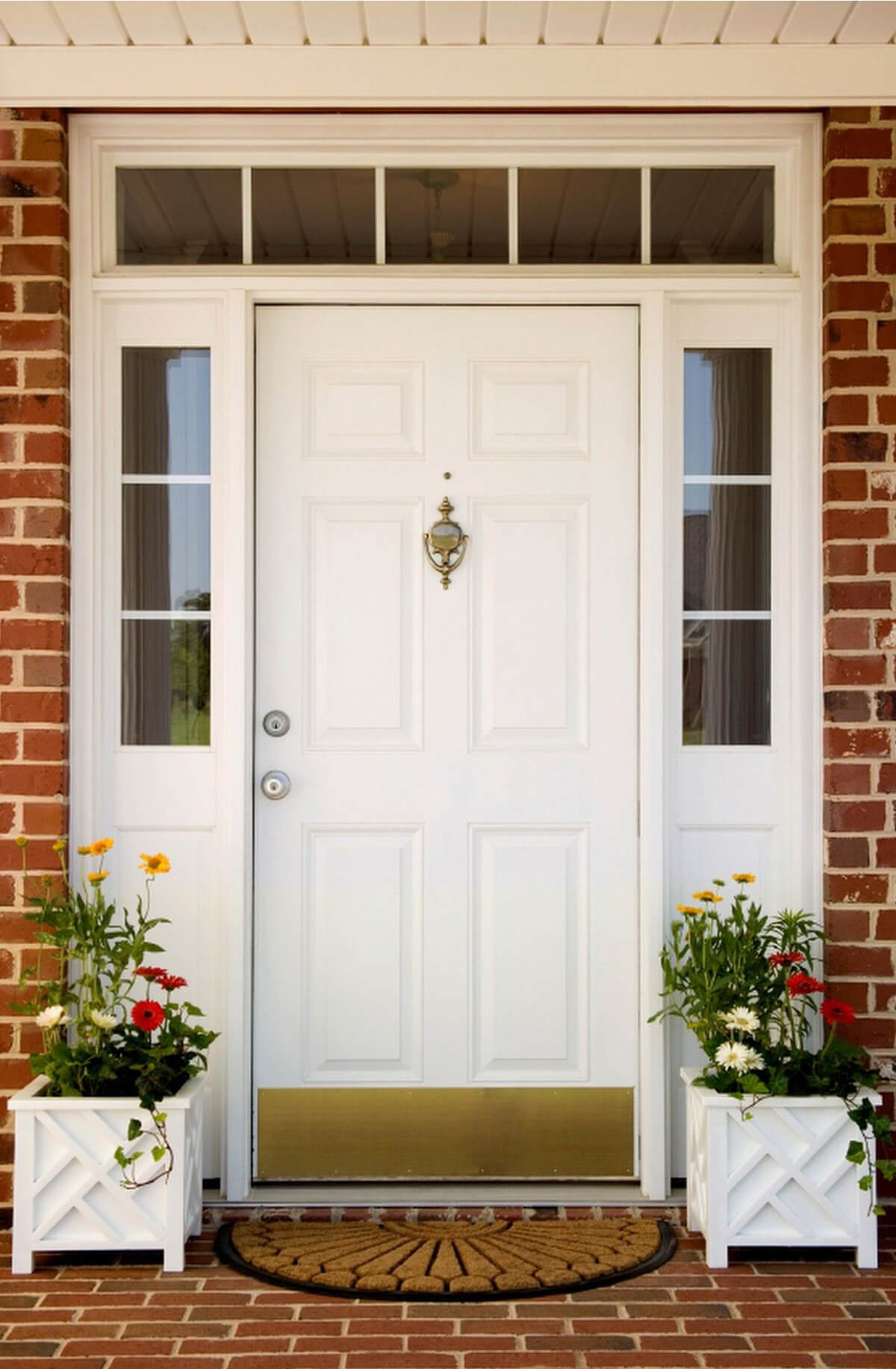 The classics are often your best choice when deciding on your front door color. While bright colors are trendy, you may get more years of wear out of a classic white door. This door has elegant windows on the sides and at the top. The door is accented with a brass knocker and with a brass kick plate to keep the white door looking fresh.
7. The Color of the Sea at Dawn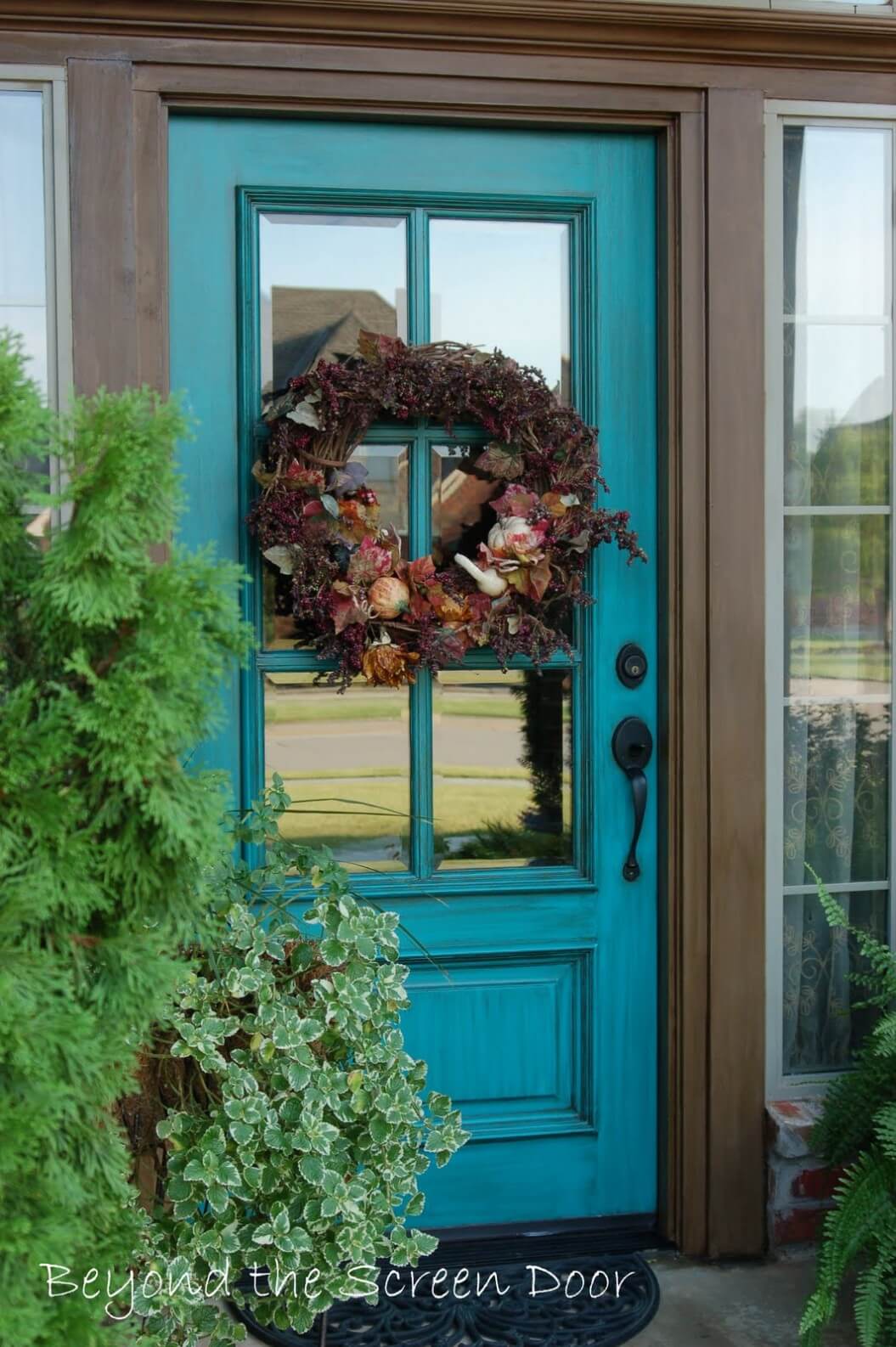 Turquoise blue is an exciting choice in front door colors. The hue brings thoughts of the beach to your home. It is unique without being loud. A contrasting wreath in fall colors brings out the elegance of turquoise blue. Lush greenery around the door provides another natural accent to the home.
8. Modern White Door with Plants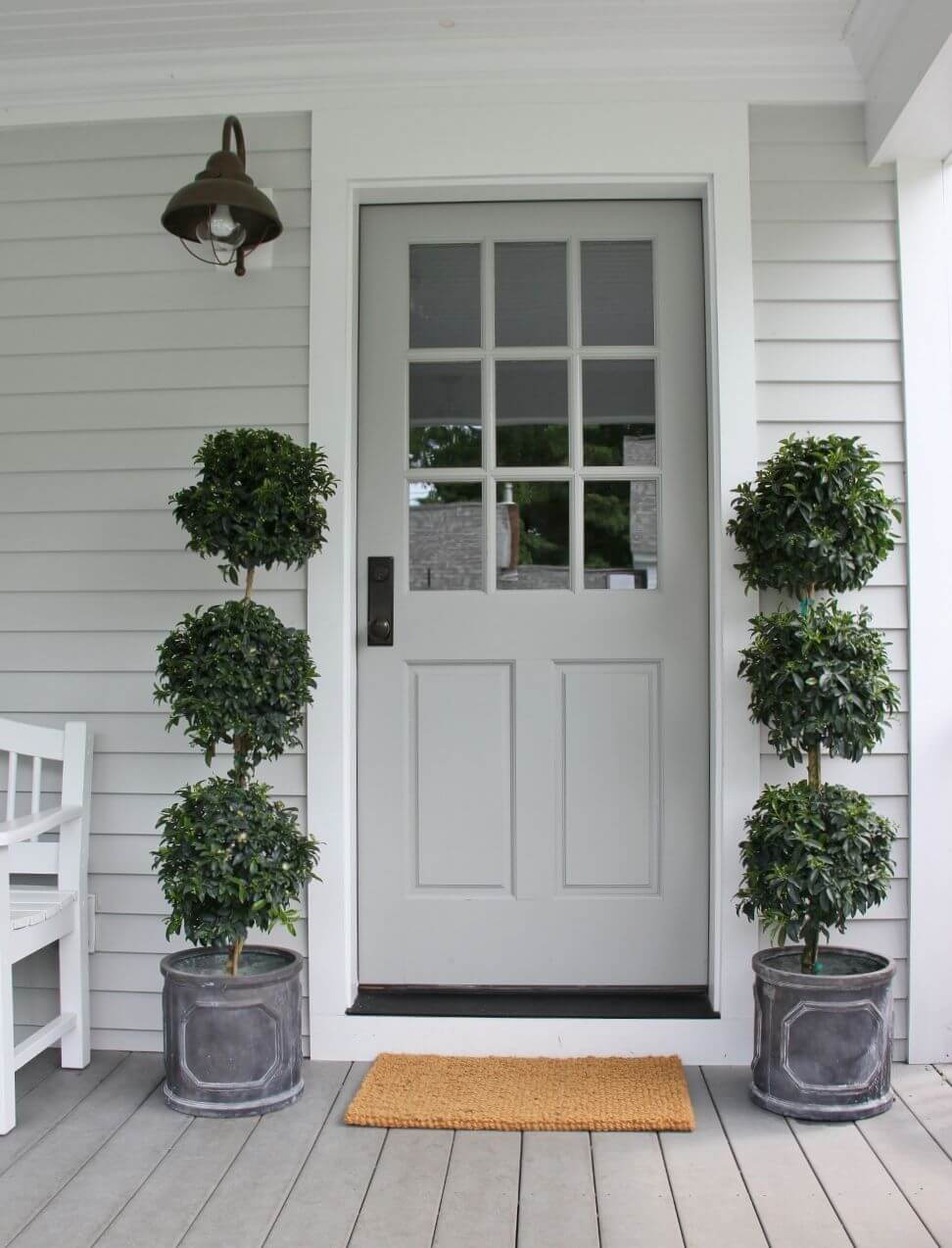 This pale grayish white door is classic and understated. It matches the exterior color of the house. The door has brushed metal hardware for a timeless look. This neutral backdrop would welcome decorations from any season without clashing. Try it with graceful topiaries on either side of the door.
9. Green Door Idea with Wreath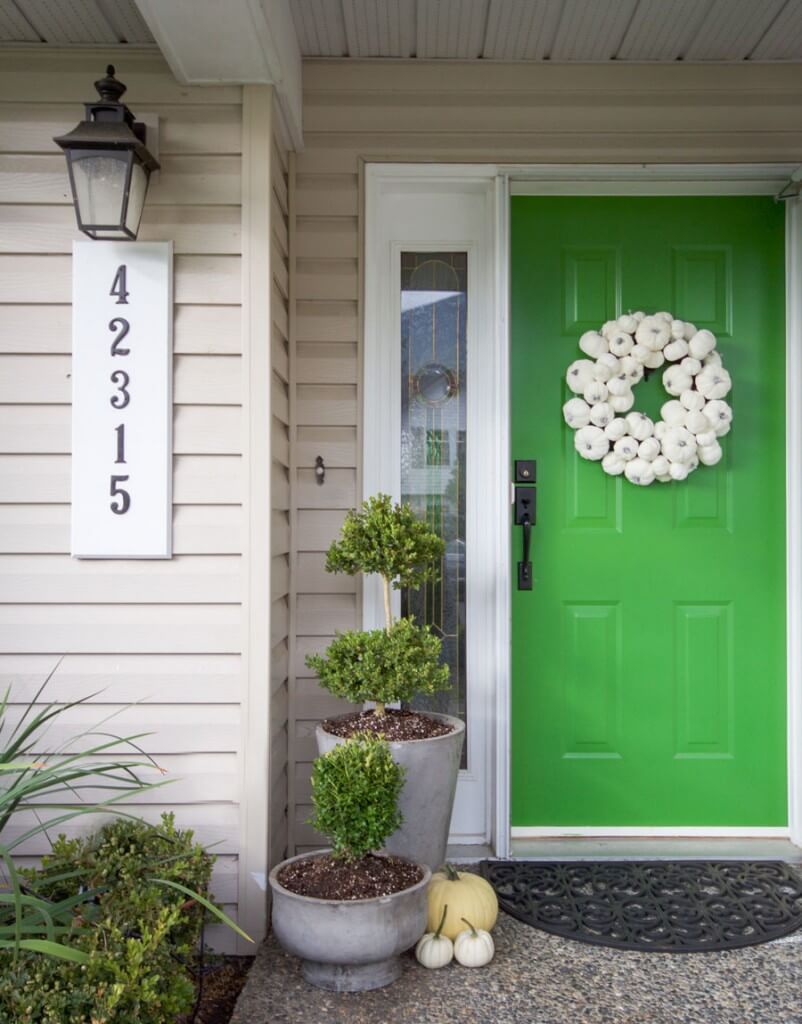 Bright spring green is a vivid choice of front door colors. Having a bright colored door gives a fun and whimsical look to your home. The green color is echoed in the stained glass window to the side of the door. A bright green door looks best with more restrained decorations. A wreath of white gourds sets off the door.
10. Hardwood Door Never Looked So Good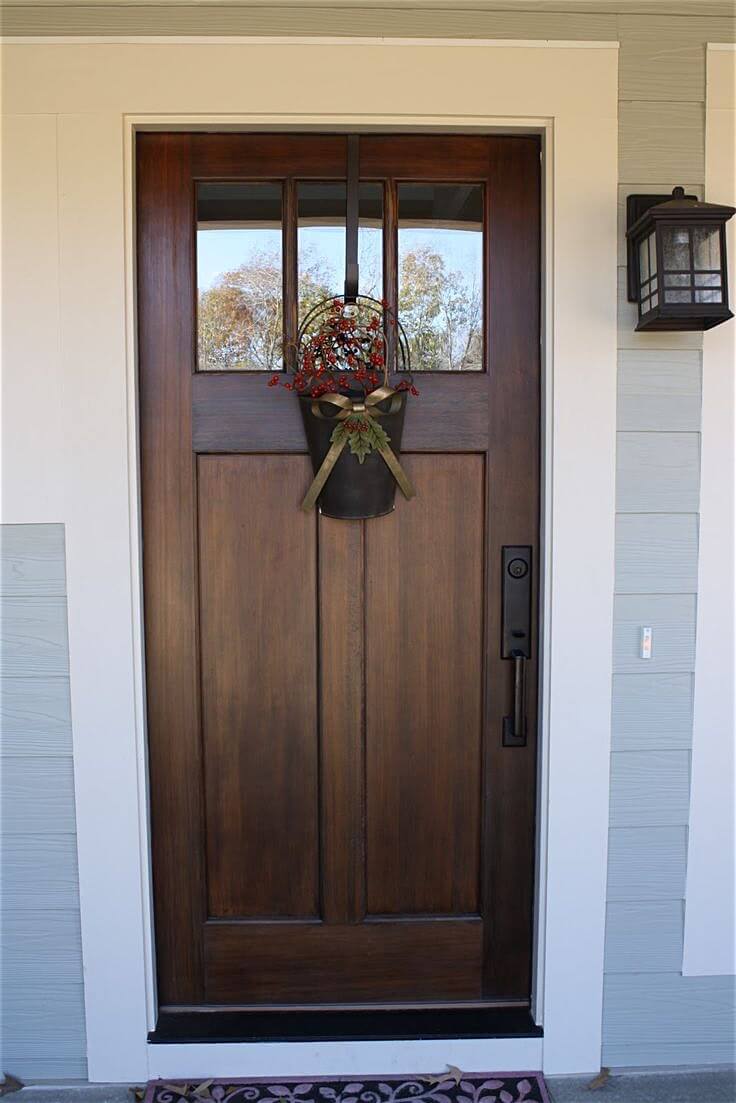 When choosing colors for a front door, we shouldn't overlook basic hardwoods. A hardwood door brings natural warmth to the front of your home. This door has a Mission style lantern and brushed metal hardware. A classy and elegant Christmas basket hangs on the door with bright berry accents.
11. Neutrals and Contrasts Can Be Classic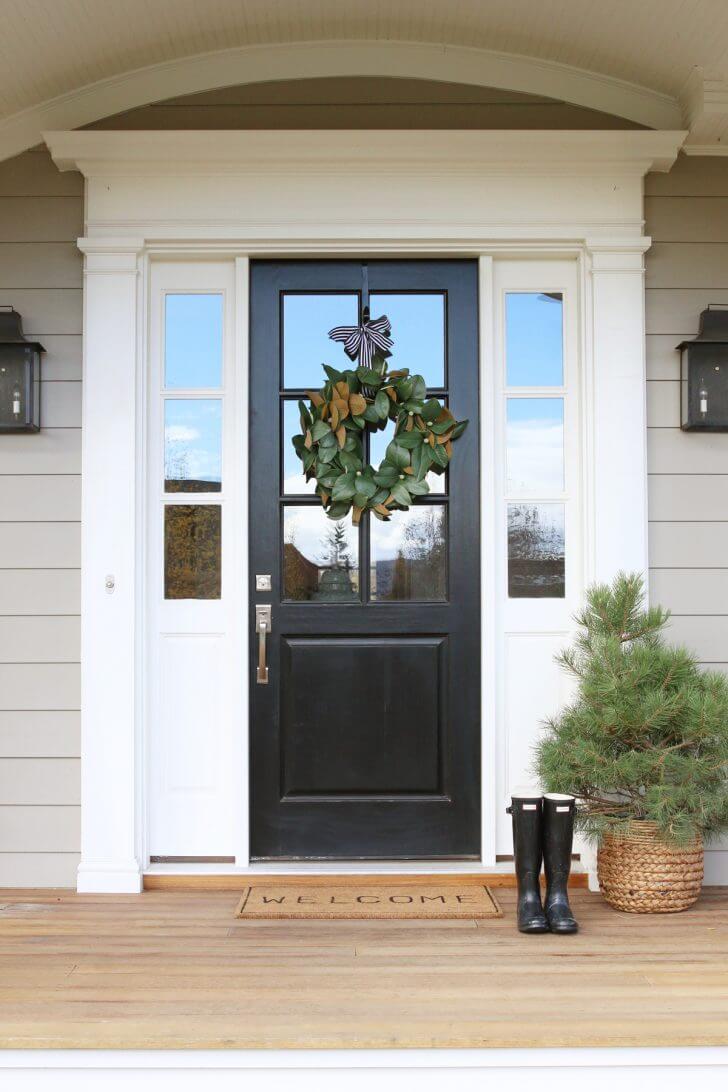 Black is one of the best front door colors if you want your home to look refined. This sophisticated color is contrasted with white framing for a bold appearance. The best thing about choosing classic black and white is that you have free rein of whatever colors you want to use to decorate your door. This door looks lovely with a magnolia leaf wreath.
12. Pretty Pastels for Picturesque People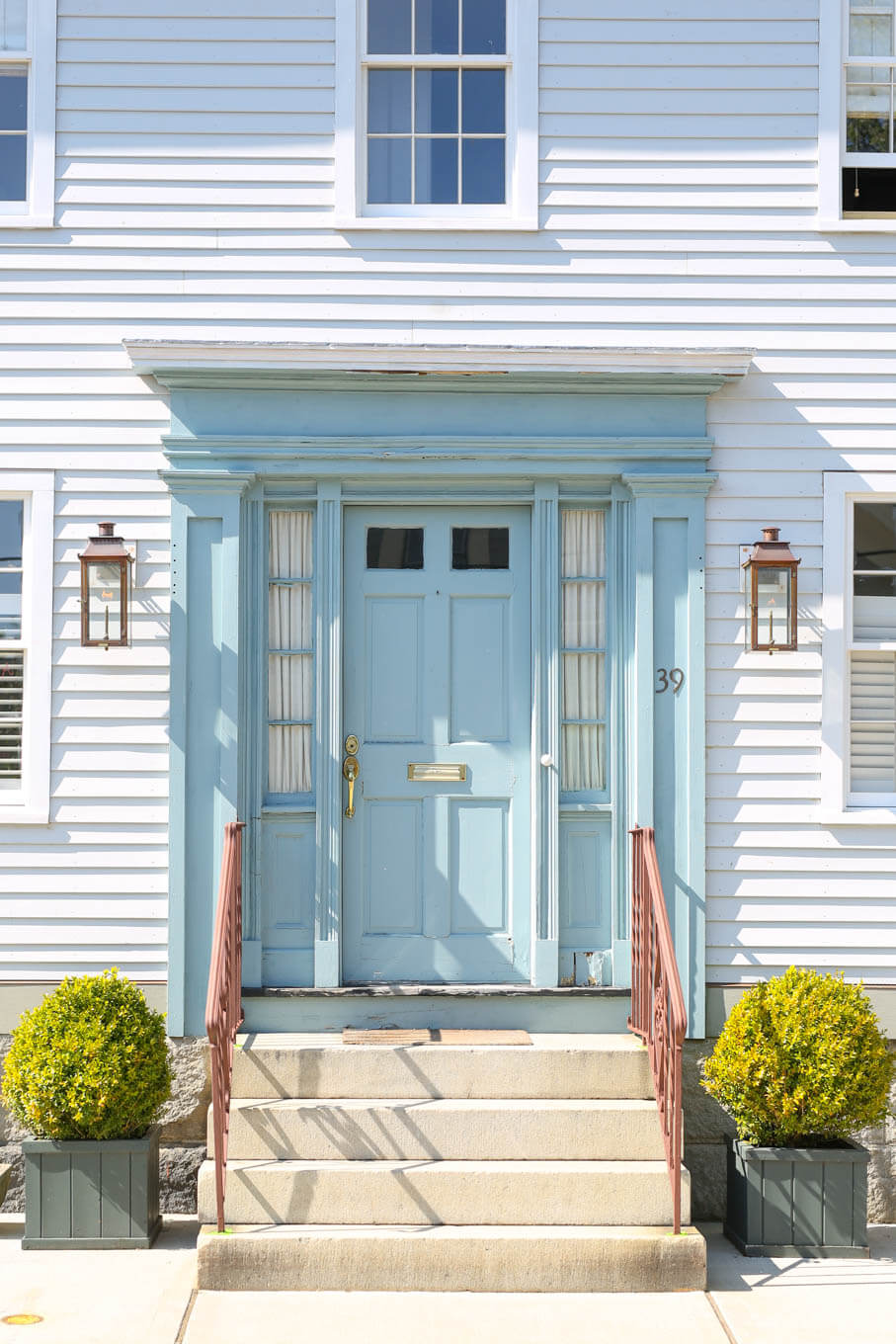 Sunny pale blue brings a seaside look to this older home. The door framing is painted in the same calming shade. Pale blue is a nice choice for a white house. The iron railings on the steps are painted in a cute shade of blush pink. This whimsical color choice is cheerful and fun.
13. Sailor Blue Front Door Idea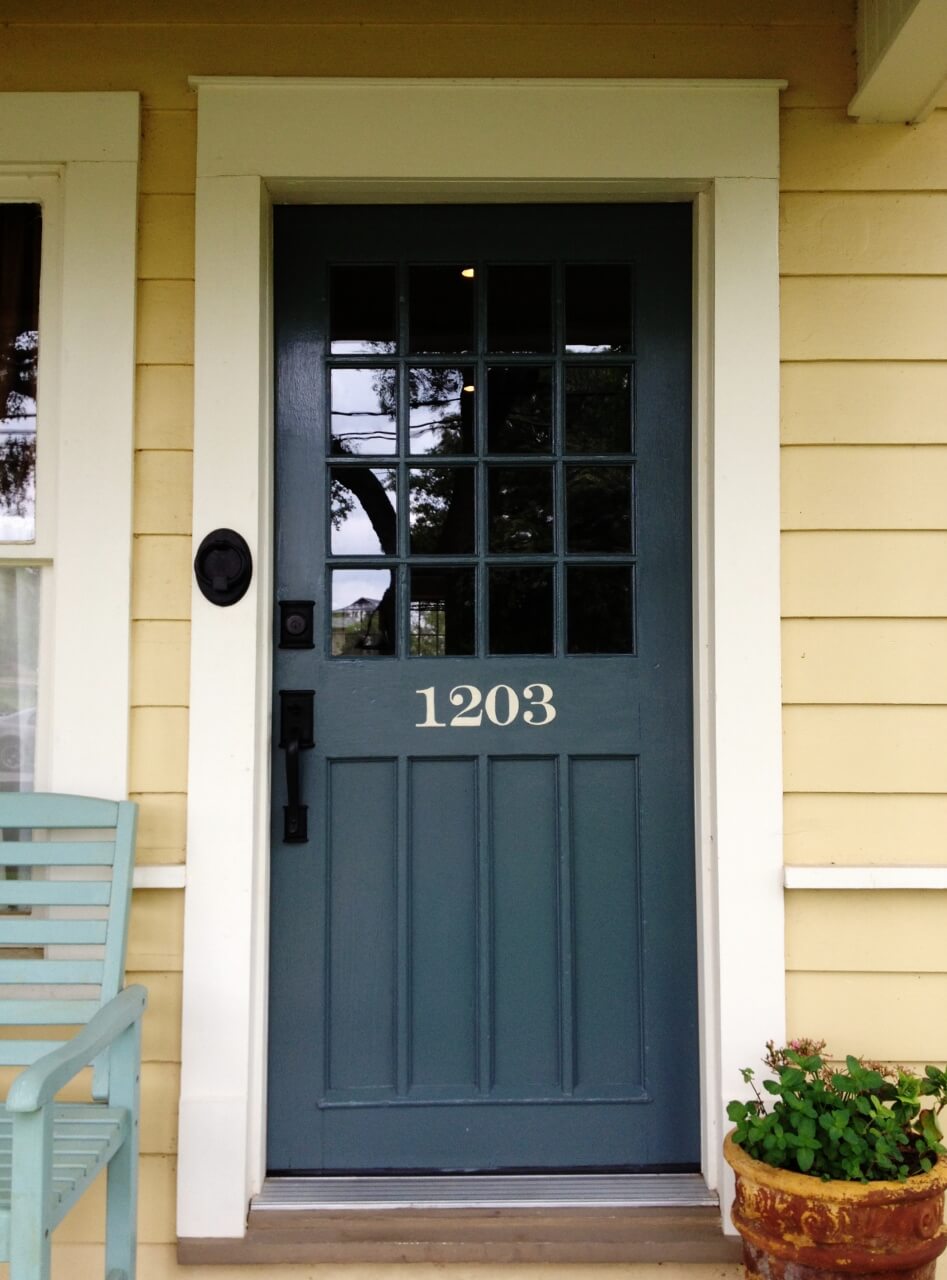 This sailor blue is a great example of cool front door colors. The door has an oversized 16 panel window to let the light in and allow people to see who's at the door. The door has black brushed metal hardware and a bold cream colored house number in an interesting font. The house number matches the cream colored trim paint.
14. The Color Purple and Gold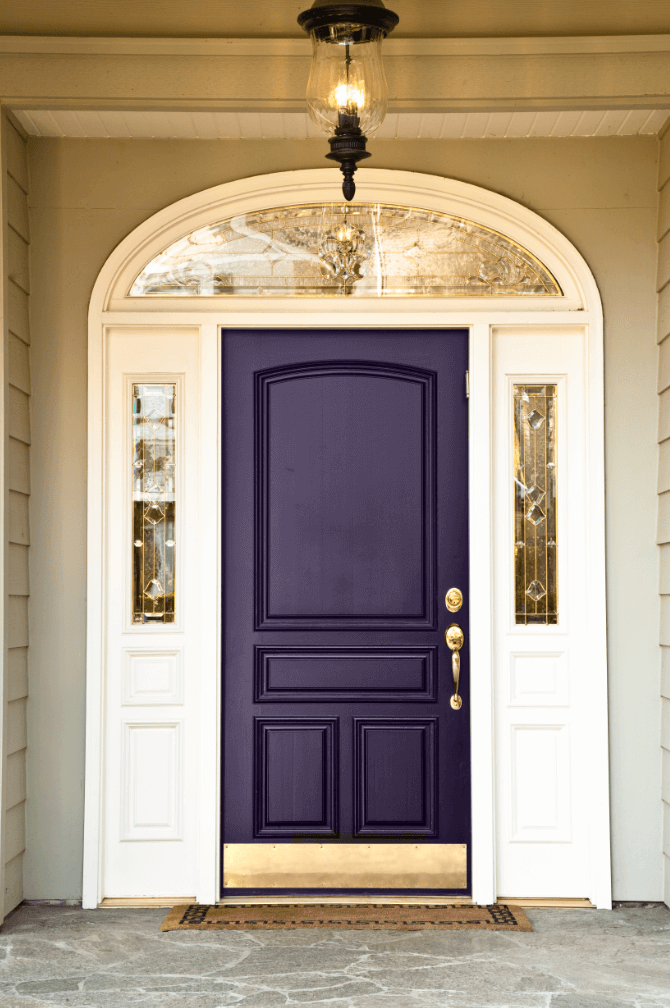 Purple makes an exciting statement in a front door. This door is especially elegant with stained glass and gold accents. A purple front door brings rich color to the front of the house. It is best when used with a neutral colored home. This beige house looks nice with the purple door.
15. The Exact Shade of Your Heart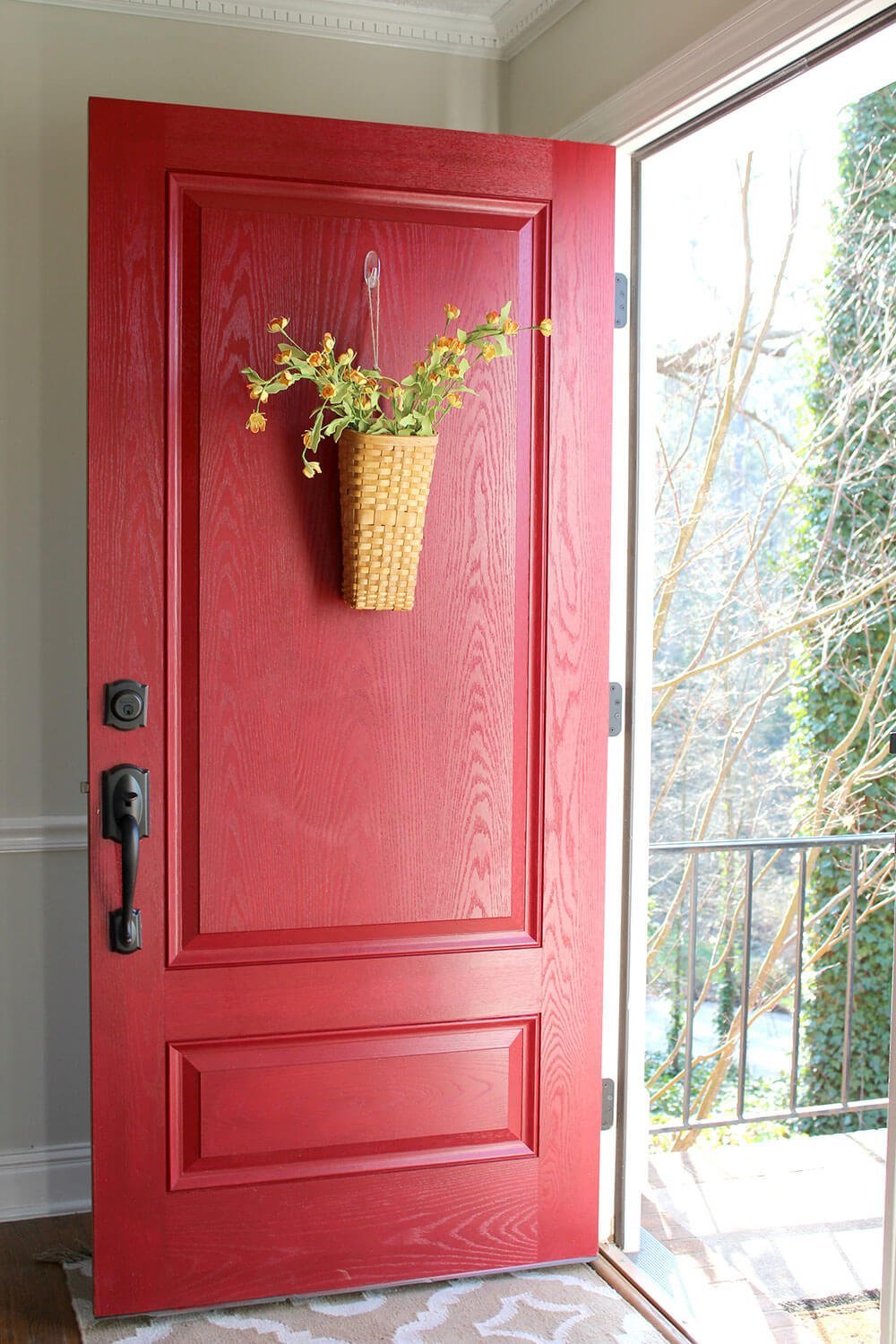 Red is a romantic and vivid choice of front door colors. Red brings warmth and exciting color to your front door area. This door has black brushed metal hardware for a classy look. A red door would look best with a white or gray home, but feel free to try other color combinations. Hang a basket of lovely spring flowers to accent the door.
16. Quietly Peeping Through the Pastels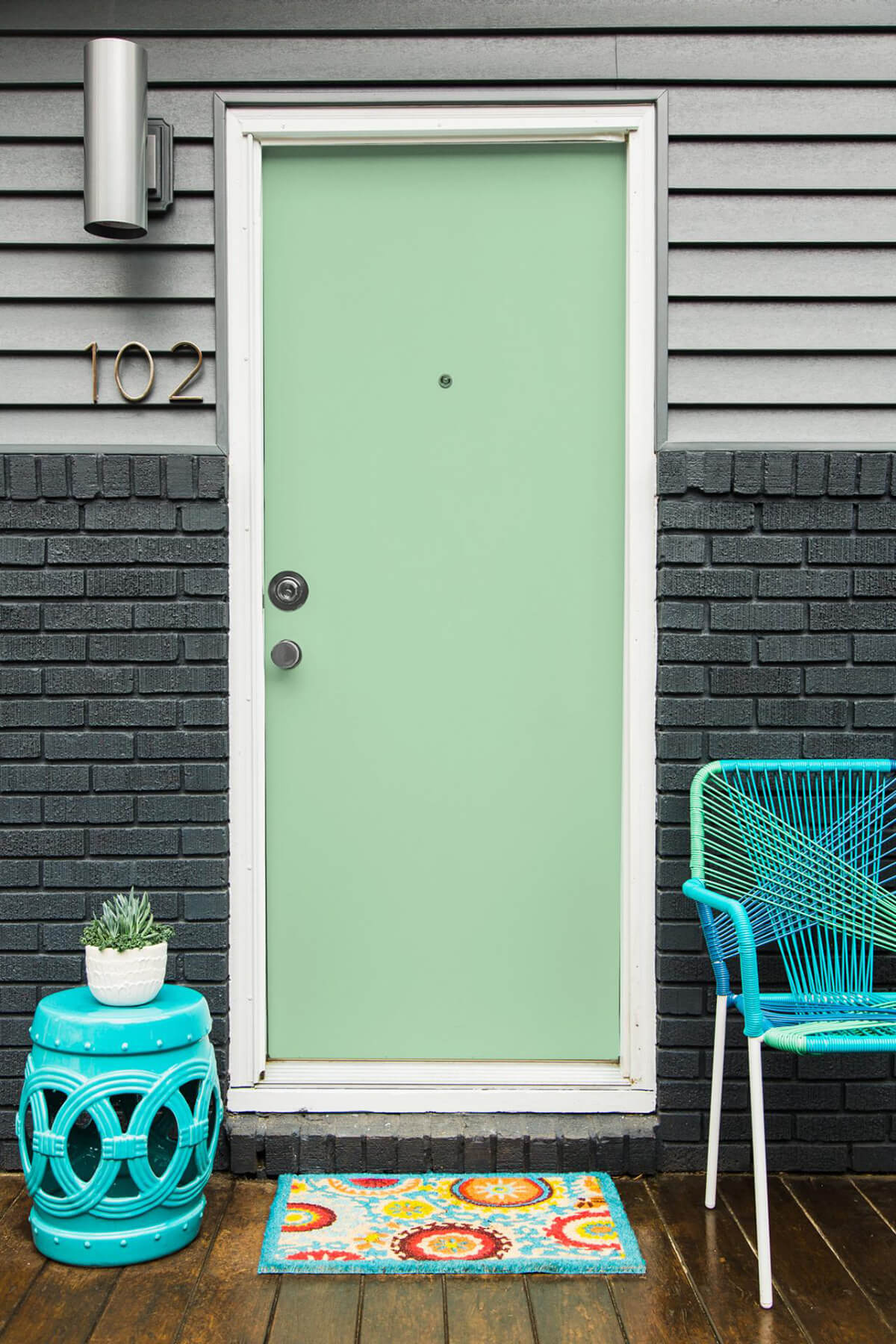 Soft mint green makes a nice accent to the gray siding and brick of the home. The color is brought out by pretty turquoise accents like a chair and a plant stand. The homeowner has chosen a bright and cheery welcome mat to go with the door and the outdoor furniture.
17. Olive Green with Red Brick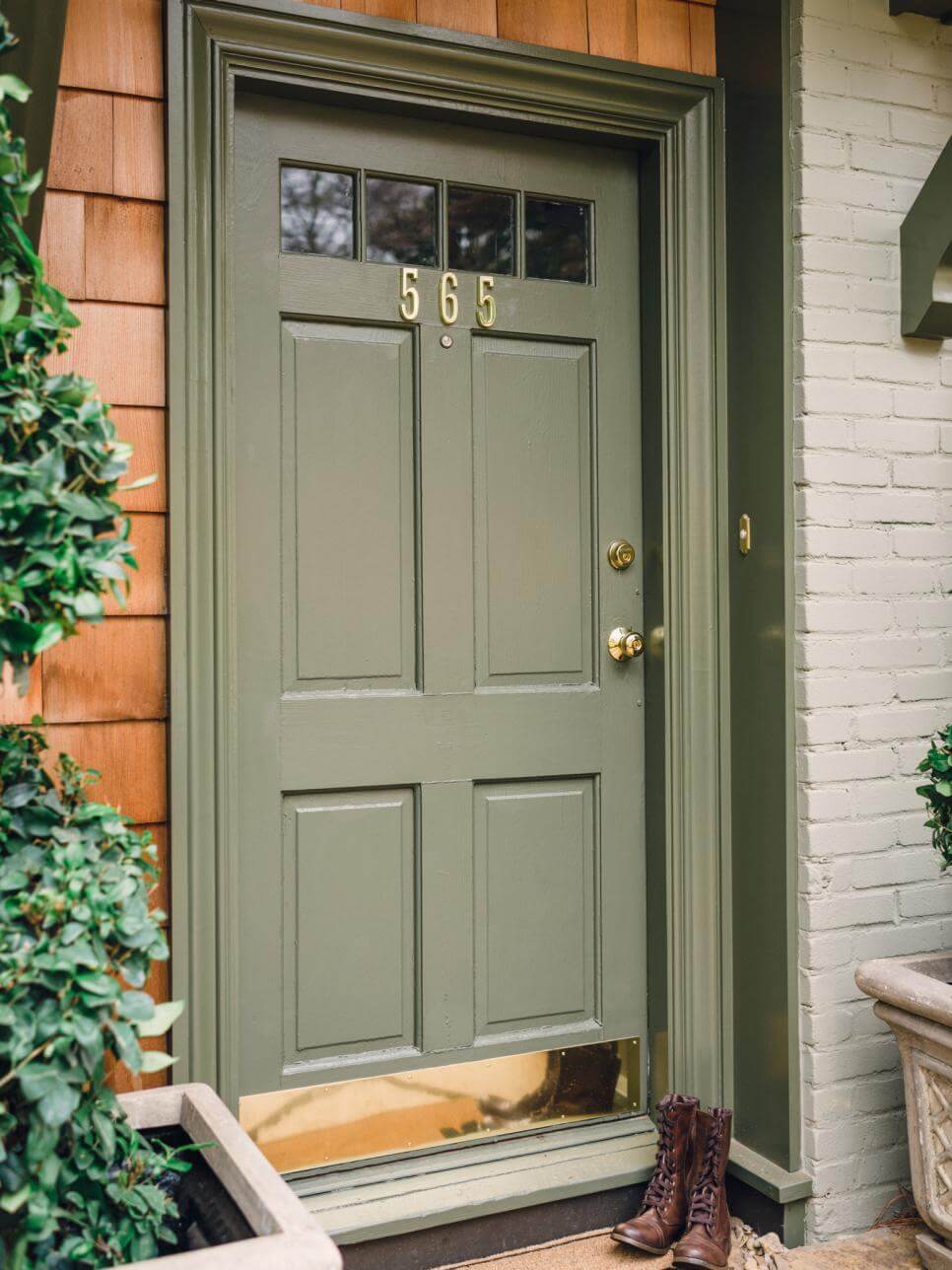 When choosing front door colors, think about olive green. It is a soothing, neutral shade that complements many exterior paint colors. This house has an attractive combination of shingles and painted gray bricks. The door has brass numbers, hardware, and a kick plate. Olive green is a great choice because it complements the natural greenery on the doorstep.
18. Orange with a Pine Cone Wreath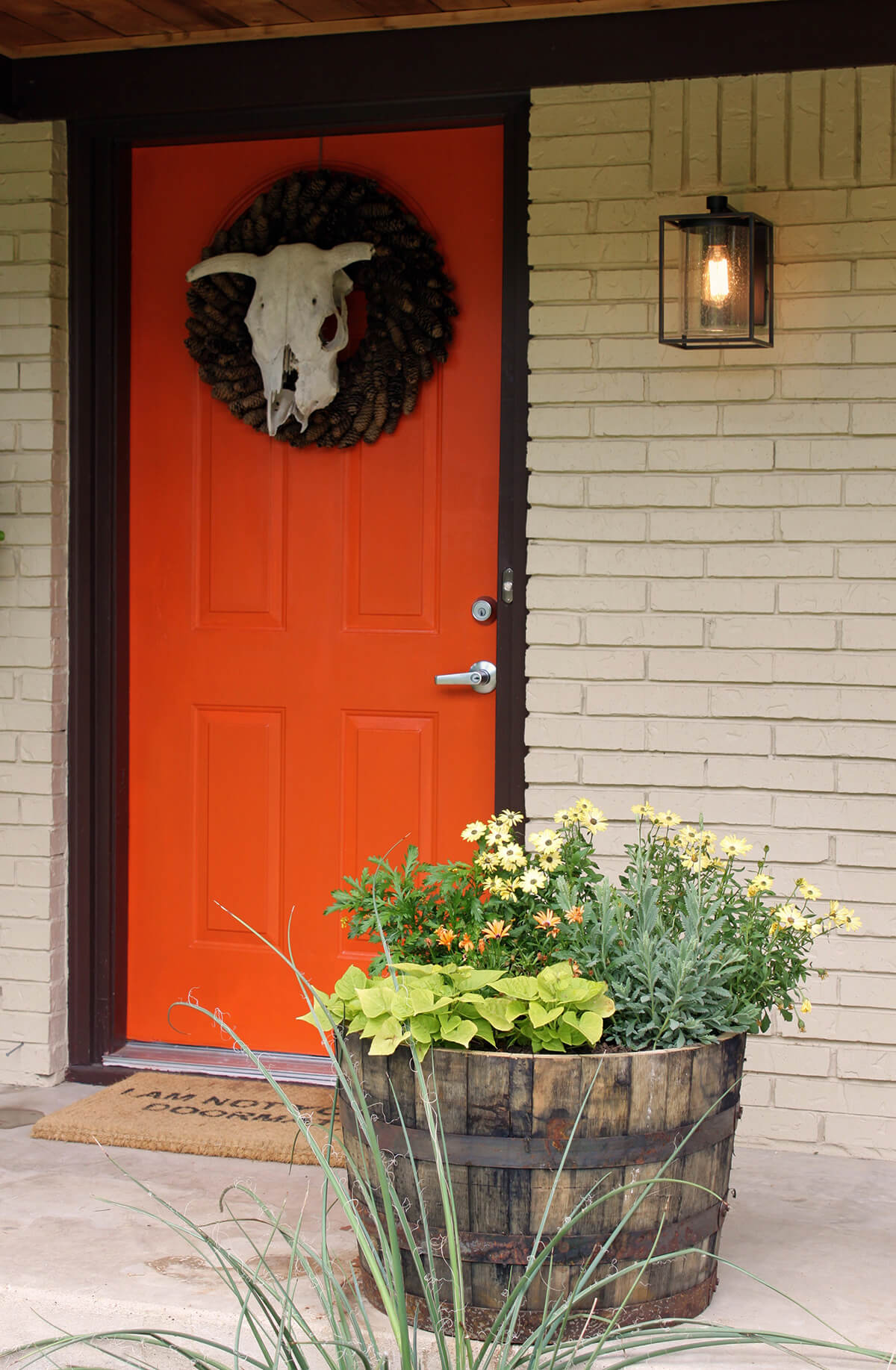 Orange makes a splash on this bold and exciting front door. Orange warms up the front of the house and creates a new and different look for your home. The owners of this home have a sense of humor, as shown by their cattle skull wreath and funny doormat. Flowers with hints of orange echo the door color.
19. Rustic Aesthetic with Wood Panels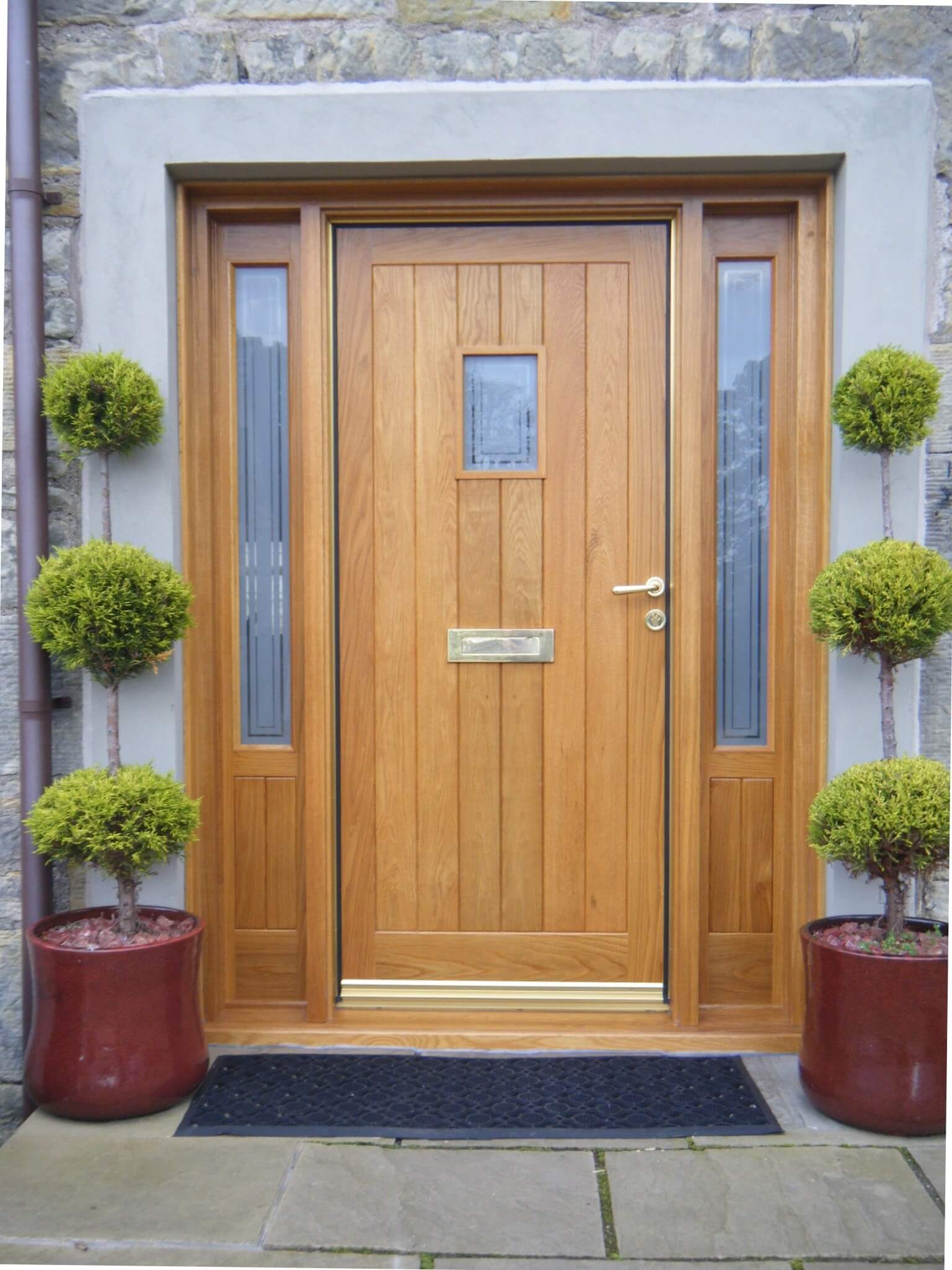 Simplicity in blonde wood is a nice choice of front door colors. The frosted glass windows give the door a practical accent. The hardware on this door is light gold in color. The rustic quality of this door looks nice with the stone exterior walls of the house.
20. Squares in Blue with Pretty Glasses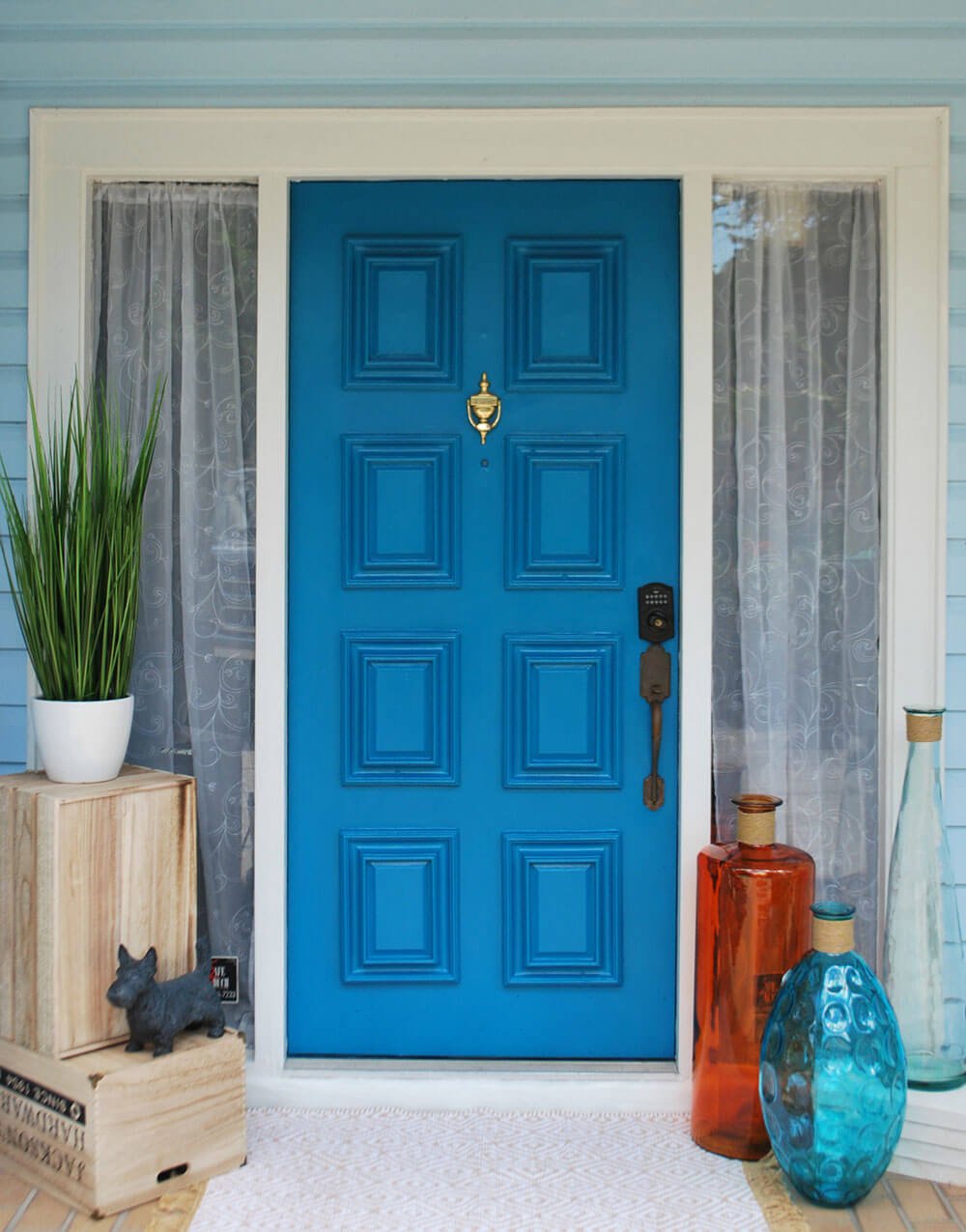 Pretty French blue makes this front door stand out. The door has brown, brushed metal and brass hardware. Lovely sheer curtains accent the wide sidelight windows. This front door arrangement shows off a variety of decorating options. The oversized glass vases echo and contrast with the color of the door.
21. Sunshine Yellow Door on a Cloudy Day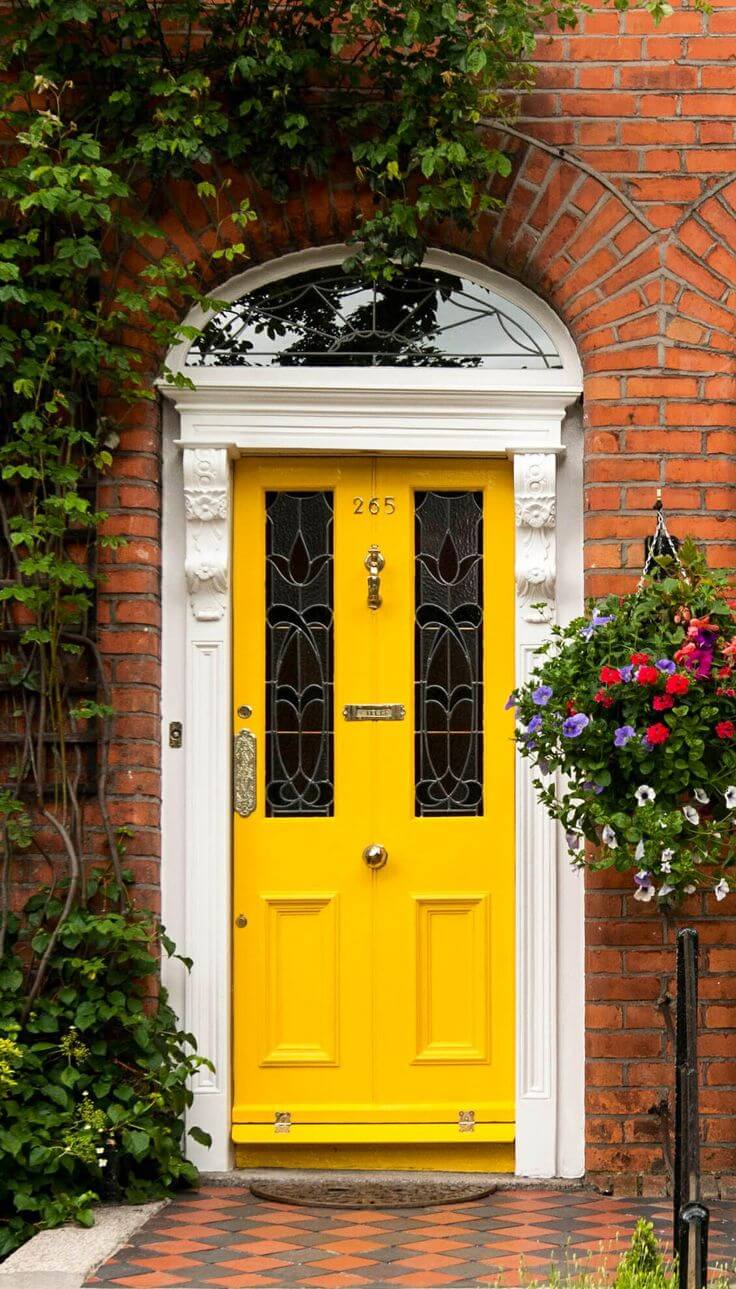 This yellow door shows that you can make a bold choice of front door colors even with a traditional home. The vivid, sunny color brings light and warmth to the red brick walls and contrasts with the ivy growing on the house. This is an interesting door with a center doorknob and refined stained glass windows. The architectural details around the door are elegant.
22. Start Your Own Olive Garden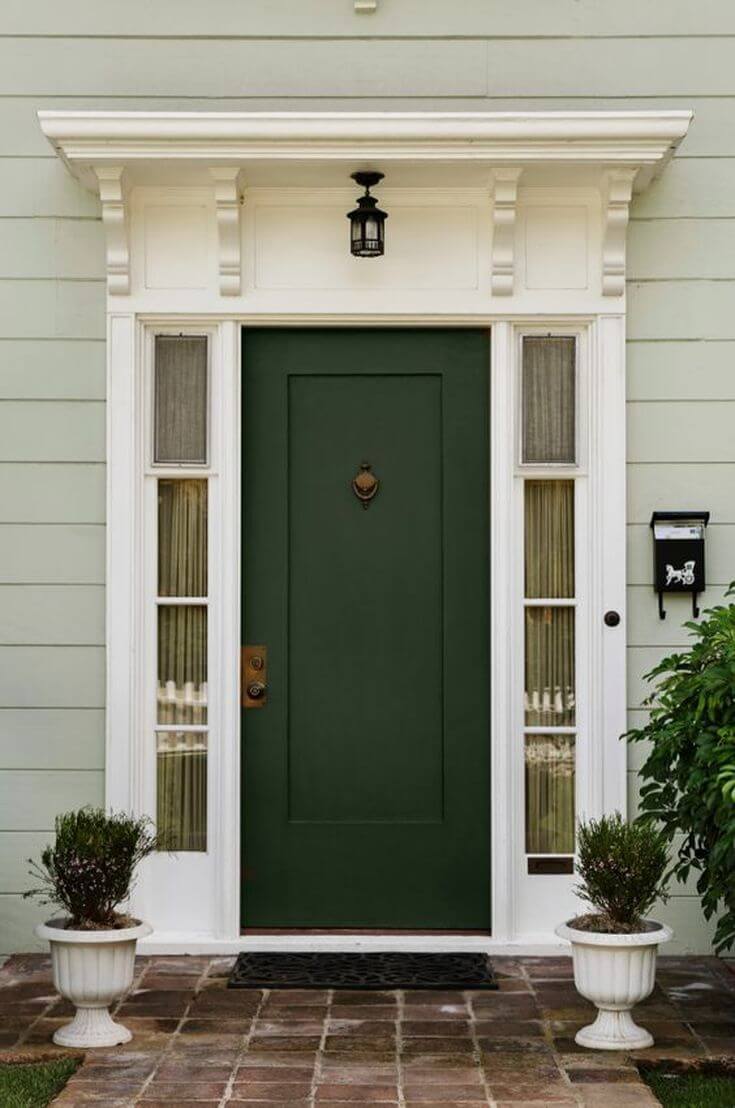 Muted olive green is a classic choice of door color. This door complements the pale gray exterior paint. Elaborate molding around the door gives it architectural interest. Neutral colored curtains cover the sidelight windows. The door has antiqued brass hardware. The light fixture and mailbox are basic black.
23. Wood Front Door with Hydrangea Bloom Decor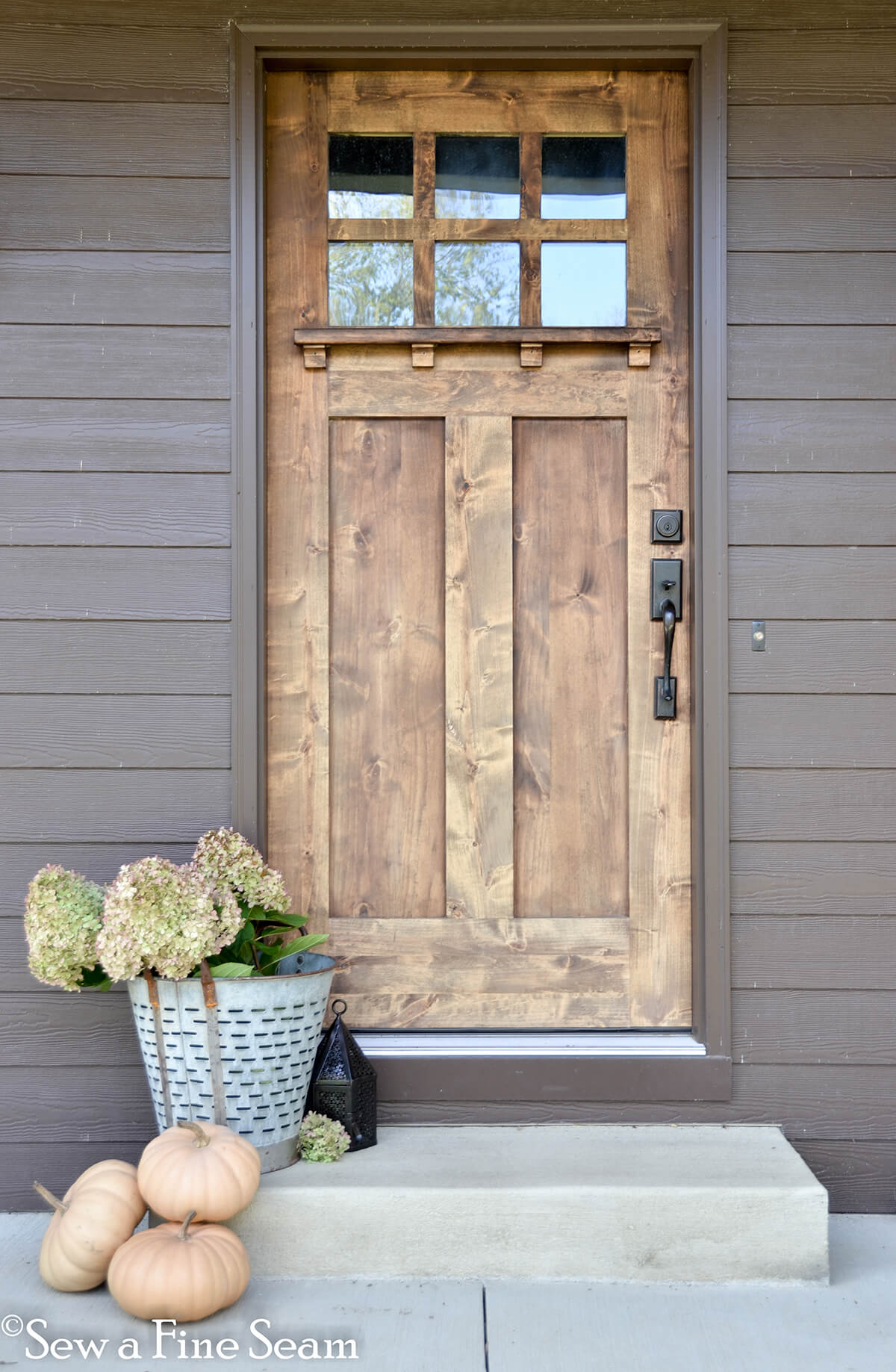 A burled finish makes this stand out as a bold choice of front door colors. The door has six windows and a shelf. It has black brushed metal hardware. The wood texture is exciting and unique. The warm neutral wood tone will go nicely with any sort of front porch décor. This homeowner has placed a galvanized pail with hydrangea blooms.
25. Gorgeous Red Door in Holiday Style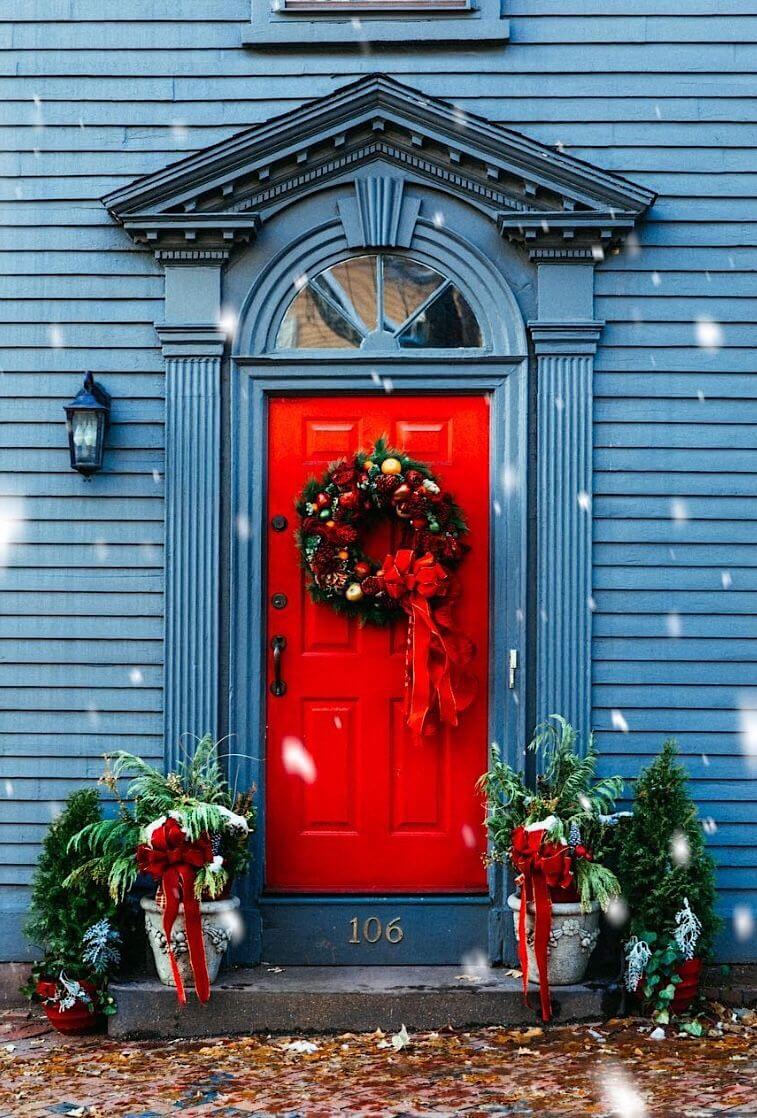 Red is tailor made for holiday decorations. It is a good choice of front door colors at any time of year. This red door contrasts with the muted blue of the house. Architectural features make the door look stately. The homeowner has brought a full holiday look to this door, starting with an oversized wreath with a red bow.
26. Neutral Grey Is As Neutral Does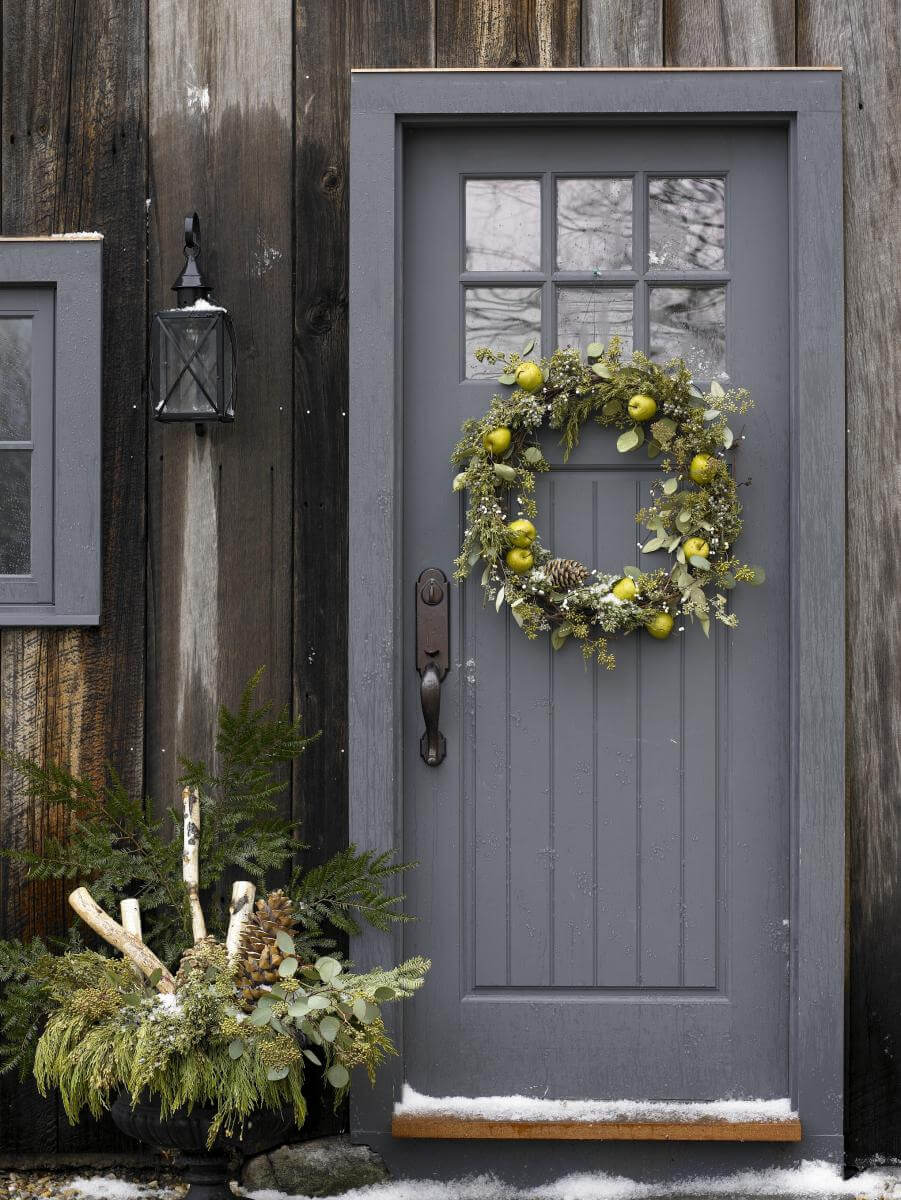 Neutral gray is a good choice to go with the unpainted wood paneling on the exterior of the house. The homeowner has chosen a unique winter or holiday style of decorating, with apple green and muted foliage rather than going for the traditional red and white. The door has brown, brushed metal hardware.
27. Magenta Version Front Door Color Ideas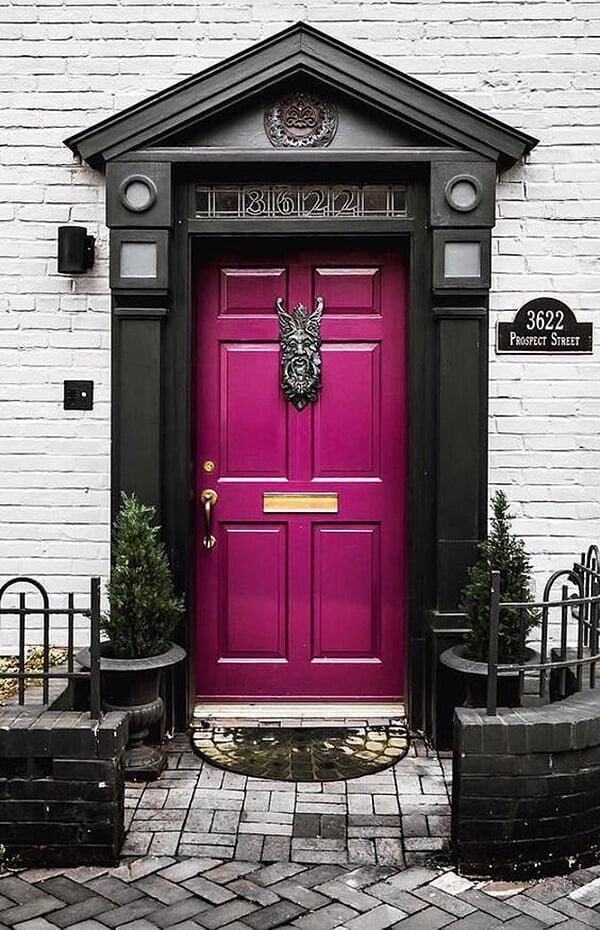 Magenta is a unique choice of front door colors. This homeowner has painted all of the fixtures and detail, including the brick half walls, in charcoal gray to make the magenta stand out. The brass hardware provides a shiny accent. This door has a fantastic sculptured knocker.
28. Newly Painted Black Door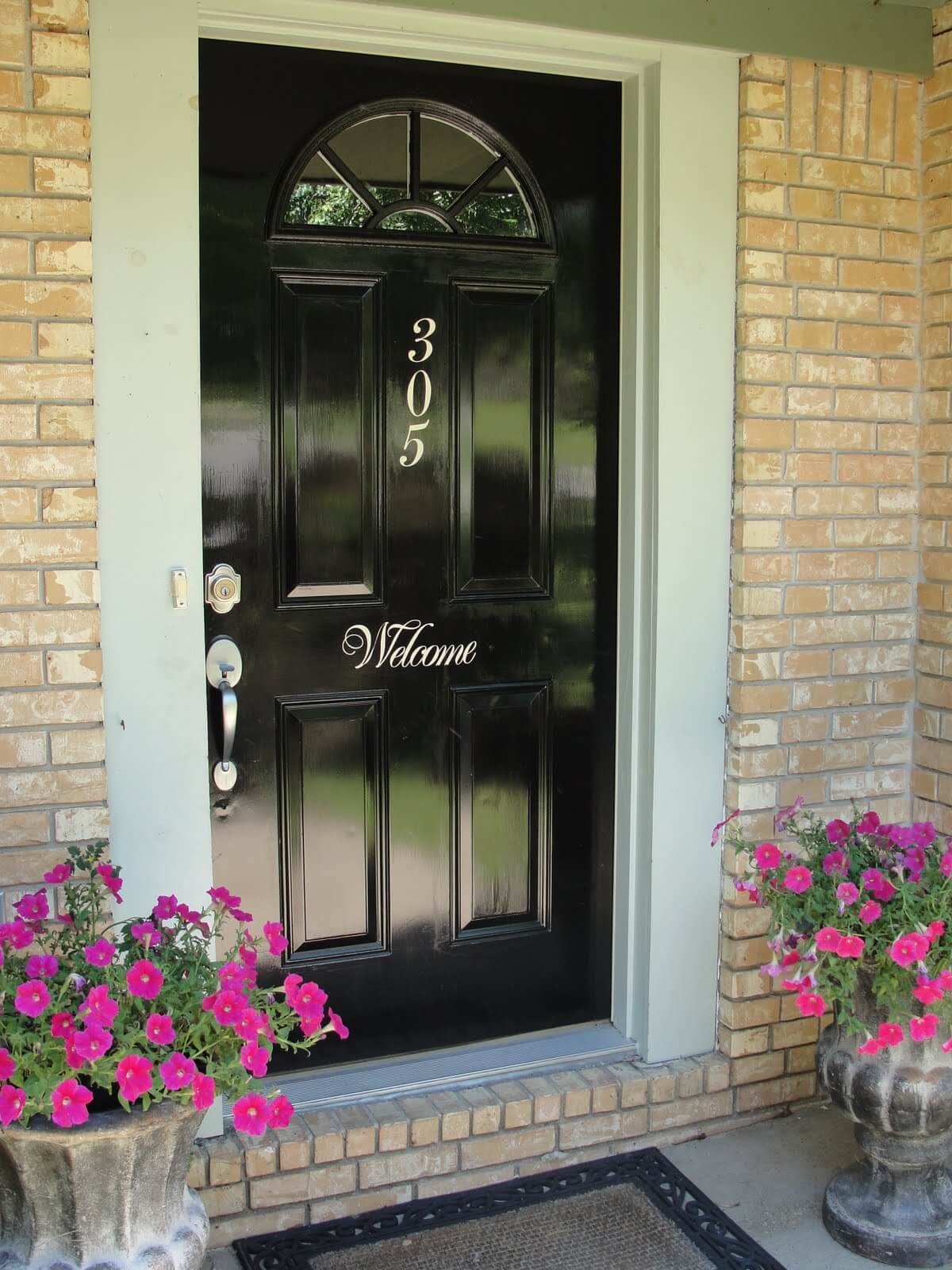 Glossy black doors are a classy addition to any home. The shiny black paint contrasts nicely with the pale neutral bricks. The door has house numbers and a welcome sign painted on it. The hardware is brushed silver. The homeowner has chosen to accent the door area with vivid pink petunias in concrete planters.
29. Cool Purple Front Door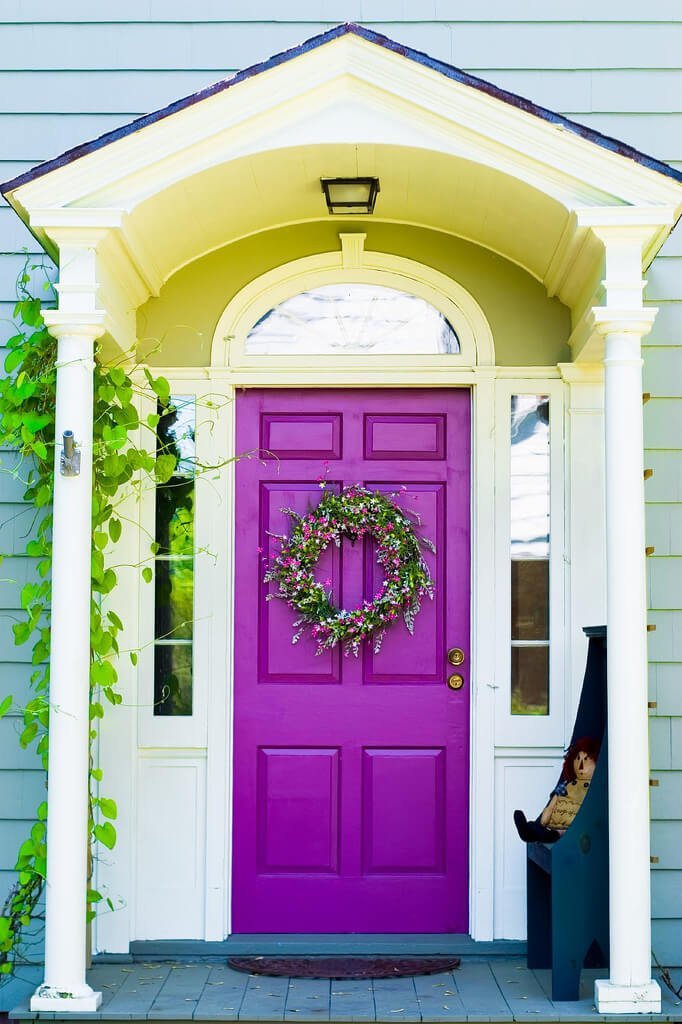 Bright purple makes this choice of front door colors stand out in a crowd. The enclosure over the door is painted with a pea green to contrast with the bright and cheerful door. The porch is painted blue, echoed in the small front door bench. This combination of colors and styles livens up the front door area.
30. Porch Freshness with Turquoise Door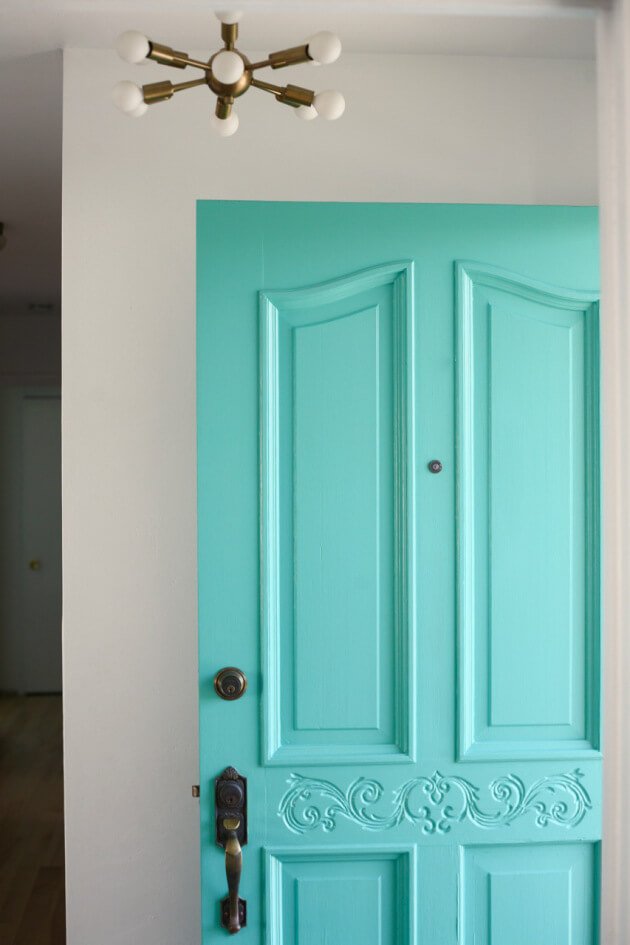 This elegant door has a carved panel for a pretty, old fashioned look. The door is painted in a soft shade of light turquoise and makes a cool toned accent to the front of the home. The door has brown brushed metal hardware for a practical look. This door color brings a touch of the sea to any home.