Welcome your guests to your home no matter the season with these fun front door flower pot ideas! Just like an outfit is never truly complete without jewelry, your home can always use a bit of "bling" in the form of pretty front door flower pots. You can show off your aesthetic to anyone who passes by. Whether you want a colorful, whimsical decoration that appeals to families, a rustic country display, or a more chic flower pot decoration, the list below has you covered.
40+ Pretty Flower Pot Décor Ideas for Your Front Door

Many of these front door flower pots use up-cycled items to make a display that is truly unique. From old milk cans to fruit baskets to antique chairs, anything can be turned into a planter with a bit of creativity and gumption! These designs look great all year long; just switch out the plants to change your home's look with the season. Front door flower pot decorations are the perfect way to show your love of plants if you have little or no yard for a garden. Read on to find your favorite flower pot ideas that will add a pop of color and personality to your outdoor space.
1. Stenciled and Stained Wooden Planter Box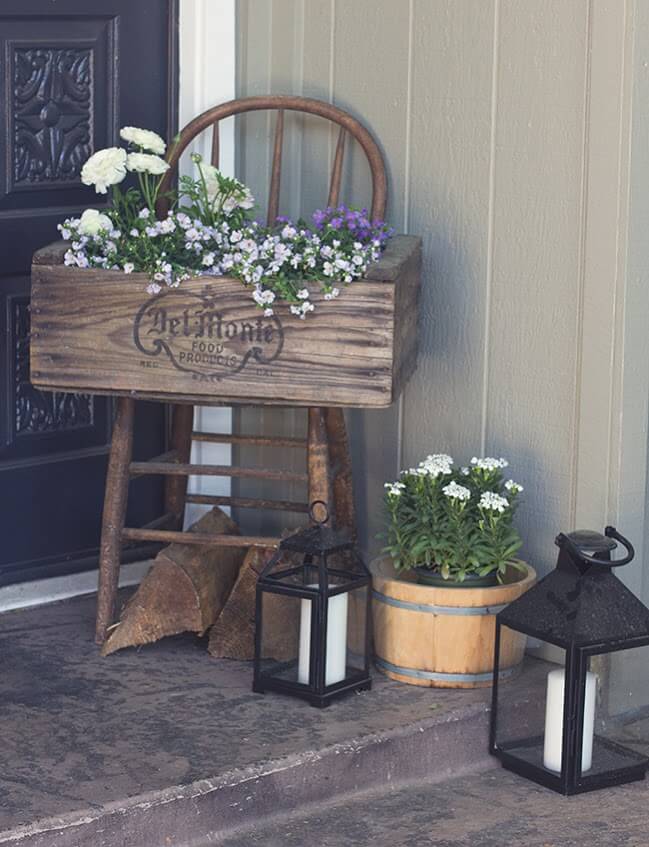 Do you have wood scraps or old planks hanging around the garage? With a few supplies, you can transform them into these gorgeous planter boxes. Add a coat of stain and a simple DIY stencil, and you have a box that looks like it's been around for decades. The large size is ideal for the front porch — load it up with small potted plants to create the look of a mini English garden.
2. Tiered Flower Pot Planters with Solar Lights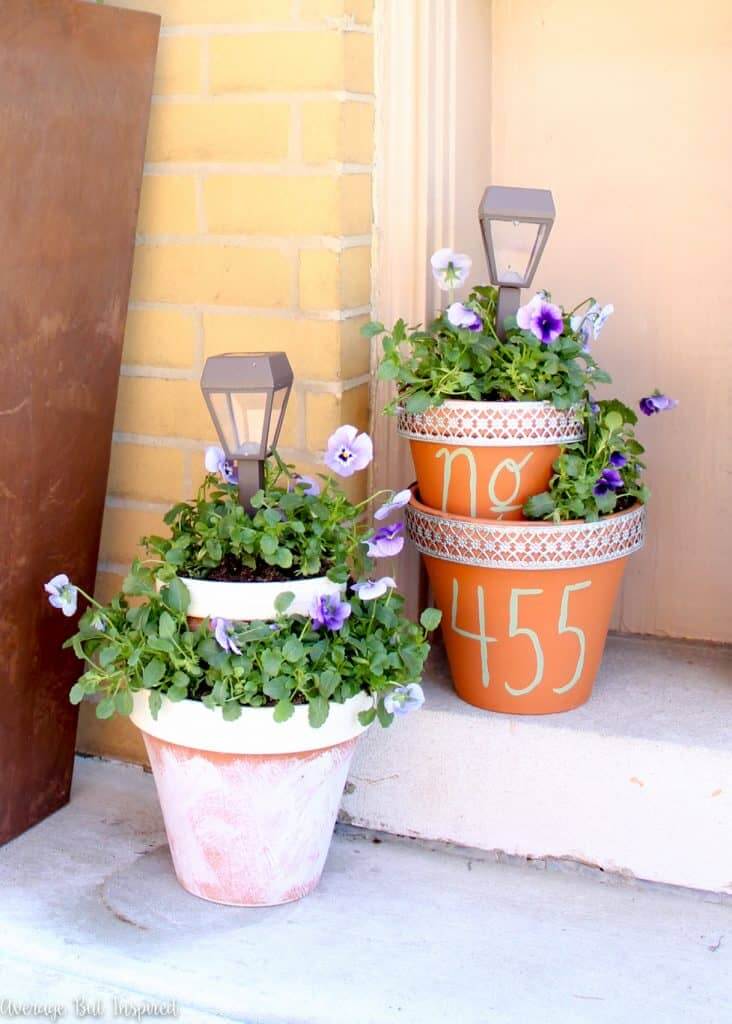 Add levels and depth to your front steps with these lovely tiered flower planters. The materials are inexpensive and easy to find — all you need is two flower pots in different sizes. Since the top pot rests on the soil of the bottom pot, there's no construction required. With two levels of greenery, this piece creates a lush look. Add a solar-powered stake light to illuminate your walkway, and choose cascading fronds for maximum visual effect.
3. DIY Vintage Wooden Crate Planters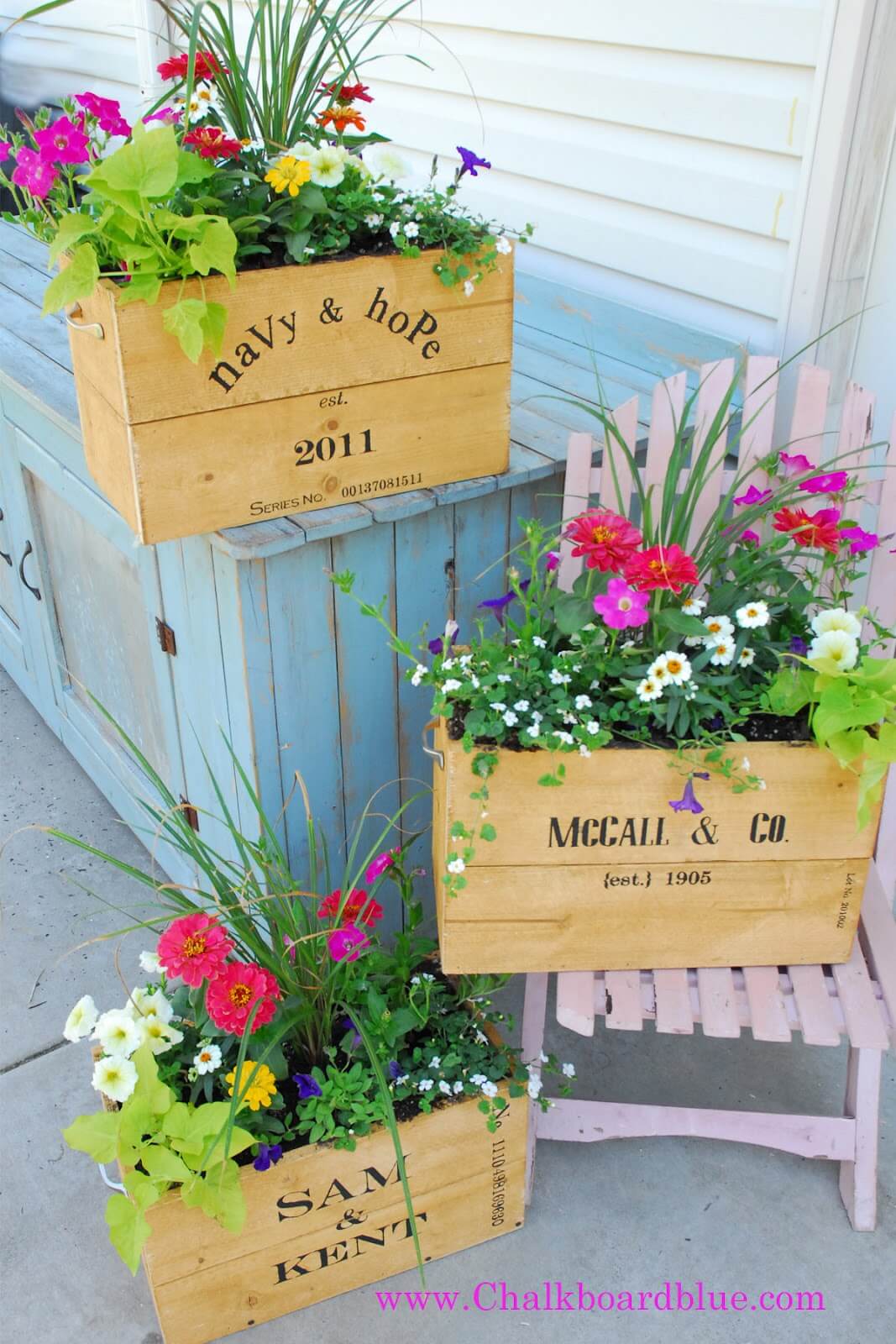 Vintage wooden crates offer a rich blend of texture and color, but they can be hard to find. With this DIY option, you can create the same look at home. Each box is made from cedar boards (or any planks you have on hand) and basic hardware, so it's easy to build even if this is your first construction project. Personalize your crate with stain or distress the surface with a hammer for an antique twist.
4. Wooden Plant Hanger and Welcome Sign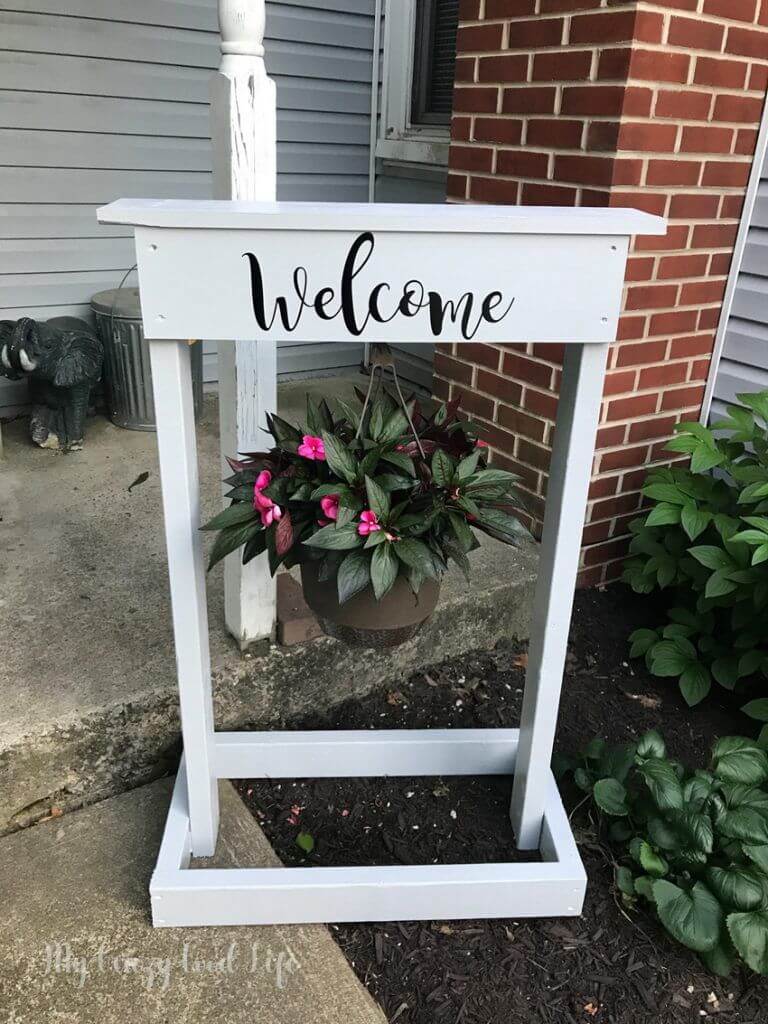 Create an inviting feeling in your front entry with this plant hanger, which doubles as a welcome sign. It looks like a professional piece, but all it requires is a few 2 x 4 pieces of wood and some basic construction skills. A sturdy hook holds your favorite potted plant off of the ground, enabling the leaves or blooms to cascade to full effect. Leave the wood unfinished for a rustic look, or give it a coat of white paint if you're after a cottage aesthetic. A hand-painted or vinyl-cut "welcome" completes the project.
5. Artificial Topiaries in Painted Urns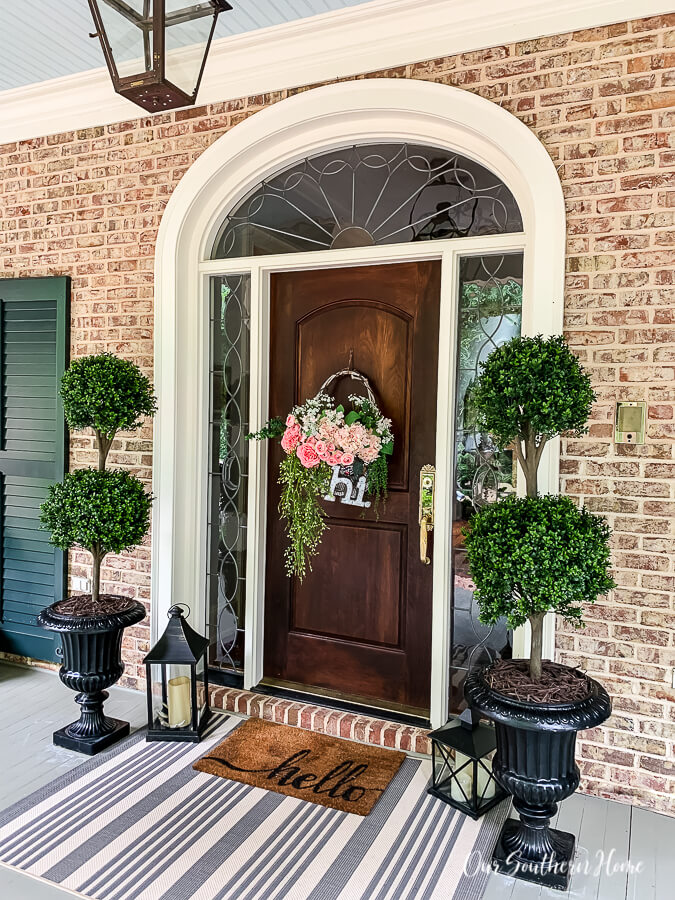 Topiaries add a formal look to your front entry, but the maintenance can be a turn-off. That's where this artificial option comes in. With its lush greenery and natural bark bed, it brings a lifelike look with zero maintenance. For a true touch of grandeur, pot your faux topiaries in a large urn — sand provides stability and allows efficient drainage after a rainstorm.
6. DIY Two-Pot Planter Project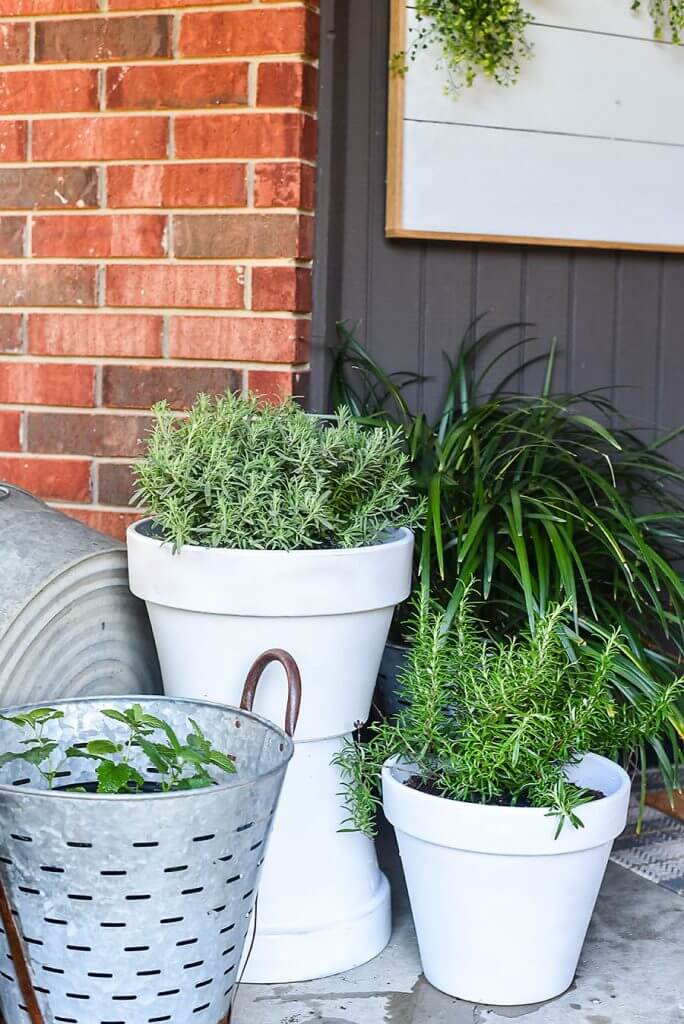 Are you looking for a quick project to upgrade your front entry? This two-pot planter is a great option. The construction process is fast and easy — just join two clay pots by their bottoms and add a coat of paint. The resulting shape stands out among traditional planters; plus, since it features simple lines, you can use it with any type of home style. Personalize your project with a few freeform or stenciled designs, or leave it plain for a modern vibe.
7. Upscale Burlap Laundry Basket Planter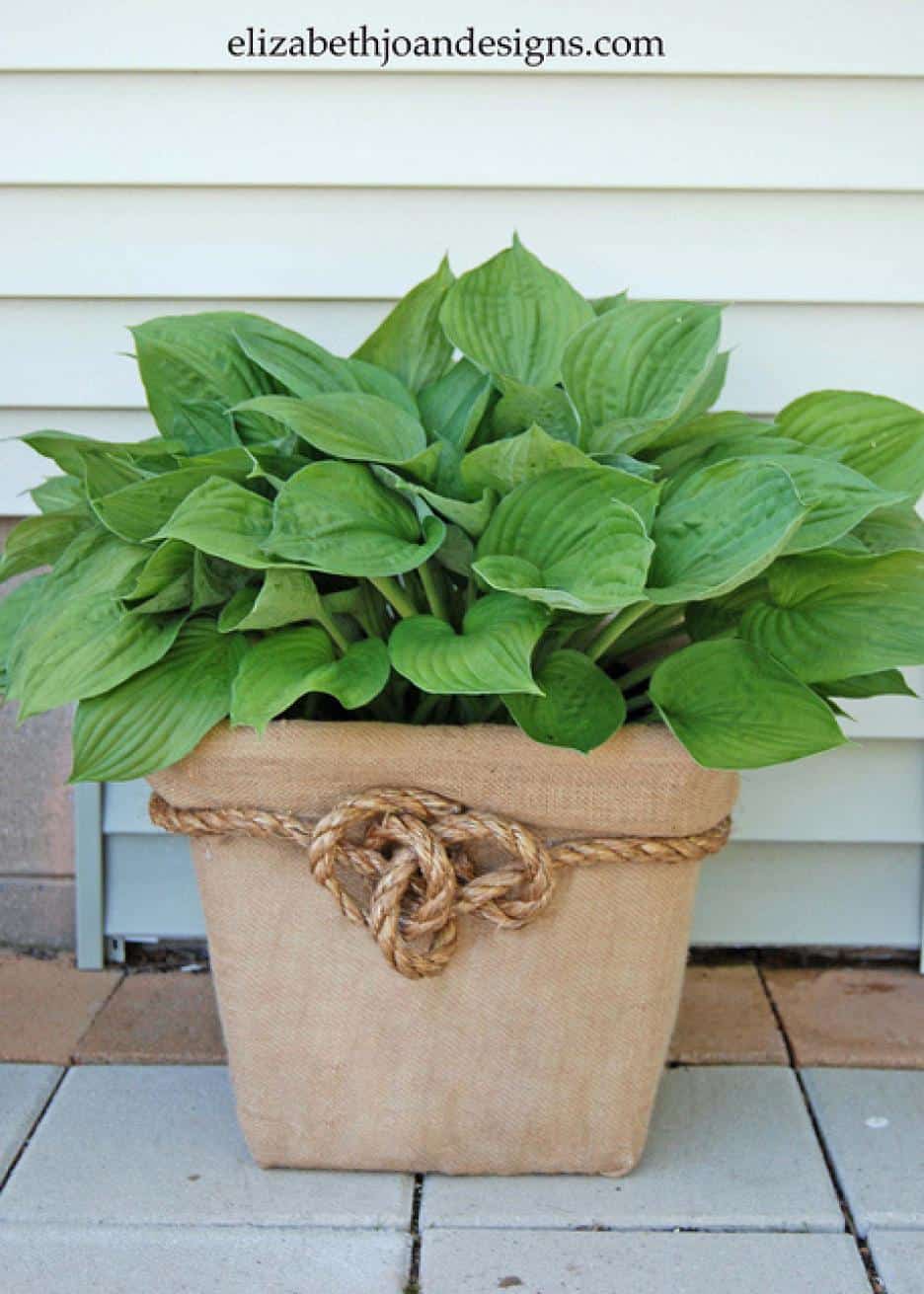 Display a large, leafy plant in style using this burlap planter. If you're looking for an affordable DIY project, this is the perfect option. It transforms an old laundry basket into a beautiful display piece that you'll be proud to place on your porch. The trick? A thick layer of burlap that reinforces the sides of the basket. A length of rustic rope tied in an ornate knot adds a nautical finishing touch.
8. Burlap-Wrapped Rustic Planter with Twine Accent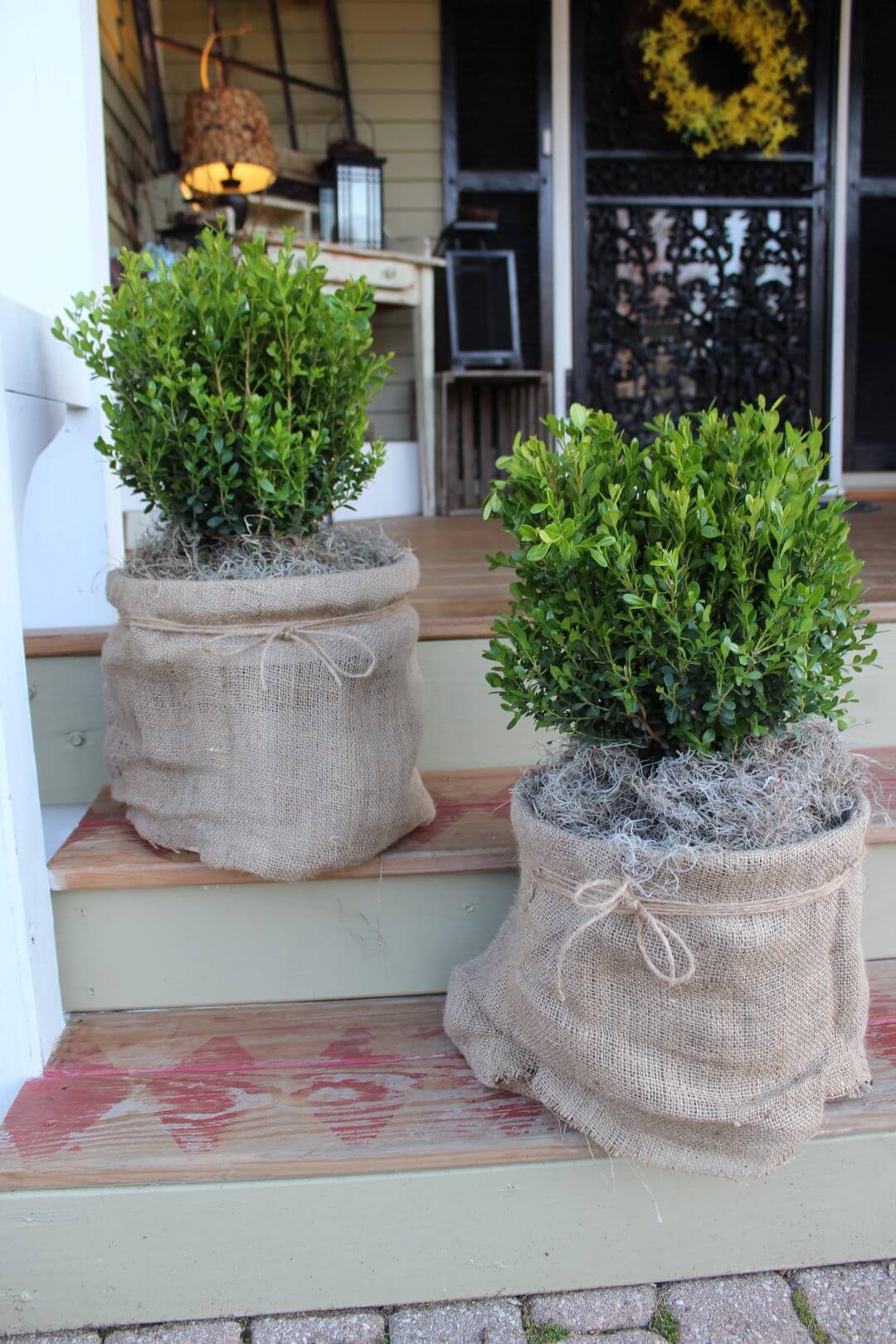 These gorgeous burlap-covered planters look expensive — but peek underneath, and you'll discover that they're actually an ingenious way to use things you probably already have around the house. Each planter is made from an old bucket, but you'd never guess it. A loose layer of burlap secured by twine adds an instant upgrade. Use these planters on your front porch for an upscale-farmhouse vibe, and add a bit of moss around the base to conceal the top of the bucket.
9. Spray Painted Textured Flower Pot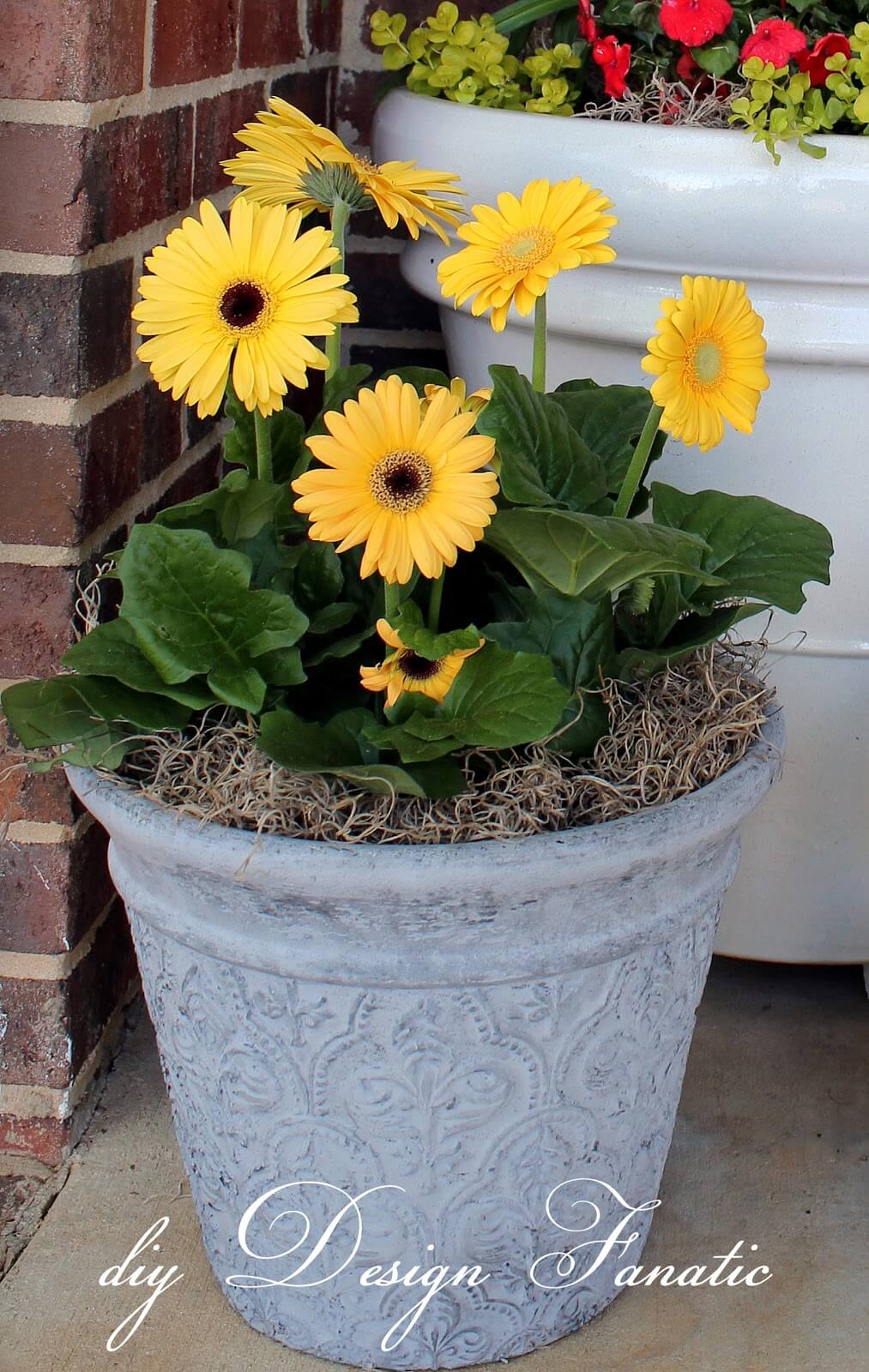 It's a miracle what a can of spray paint can do for your front porch — with a quick layer of paint, you can transform an old, tired-looking planter into a thing of beauty. Do this project with any pot you have hiding in the corner of the garage; spray it with metallic paint for a completely new look. For a rustic twist, add in a bit of moss at the base of your plant. We love it paired with brilliant flowers that set off the metal surface.
10. Rustic Vintage Watering Can Planter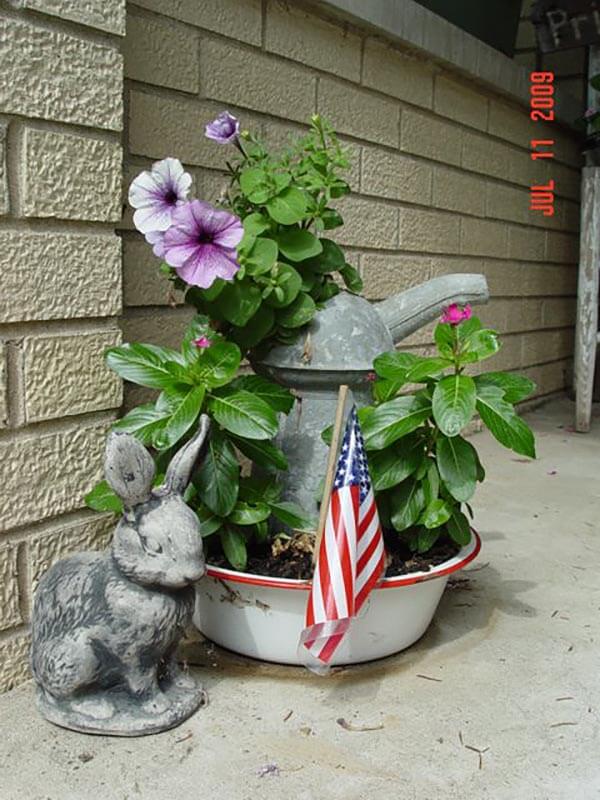 Turn a beautiful antique watering can and a metal bowl into a truly unique planter with this fun project. It's a lovely way to showcase the vintage pieces you have on hand; the plants grow around and out of the watering can itself, highlighting the unique shape and creating a piece that will make your friends look twice. For maximum impact, choose a base and a can in two different colors; galvanized metal adds a rustic look, while enamel brings a hint of vintage charm.
11. Patriotic Three-Tier Floral Arrangement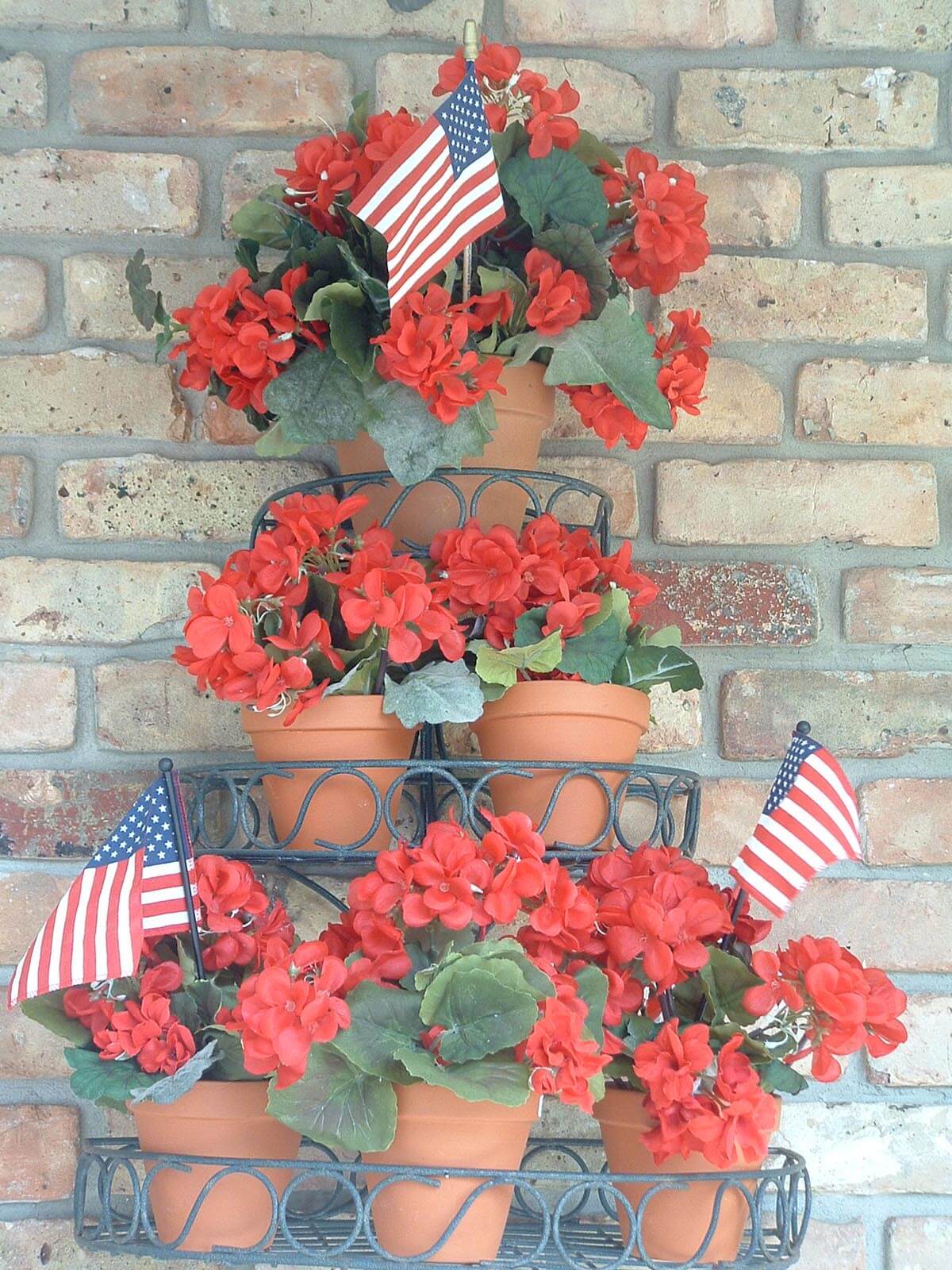 Dress up your front entryway for the Fourth of July or Memorial Day with this fun arrangement. Using three wall-mounted plant racks, this design brings flowers to eye level, where your guests can truly appreciate the beauty. Add in rows of tiny potted plants for a lush, luxurious look that's perfect for summer. A few American flags add just the right touch of patriotic style.
12. Painted and Distressed Wooden Planter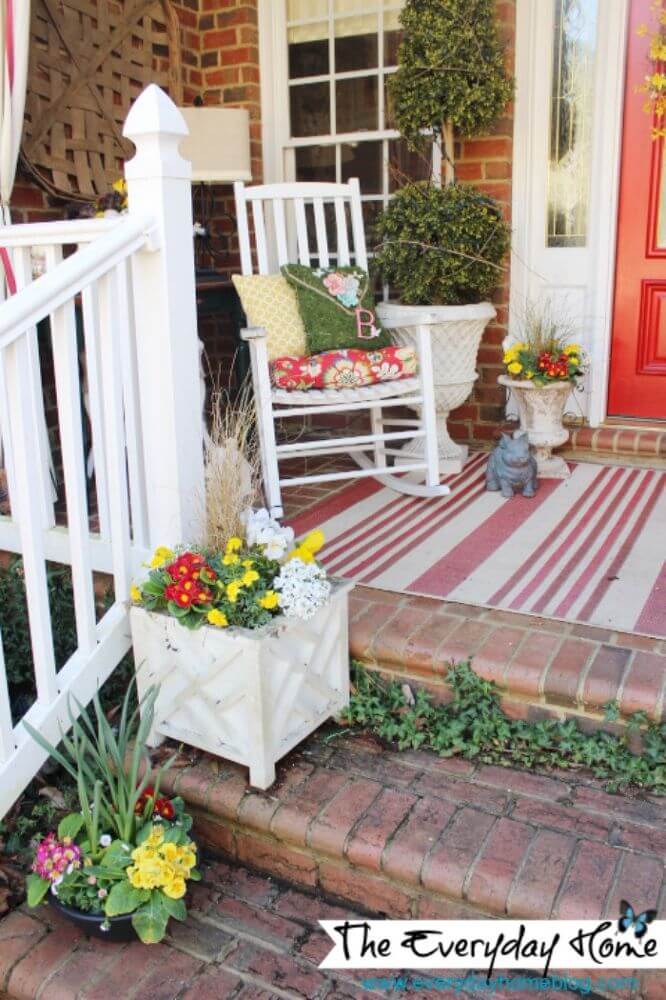 This beautiful planter looks like it's been a part of your family for decades, but really, it's an easy project that you can complete in an afternoon. The magic in this design is the shape; the crisp lines and sharp angles make a lovely contrast with the natural beauty of your plants and flowers. With a coat of paint and some sandpaper, you can coordinate with your entry and add a distressed finish.
13. Unfinished Tapered Cedar Plank Planter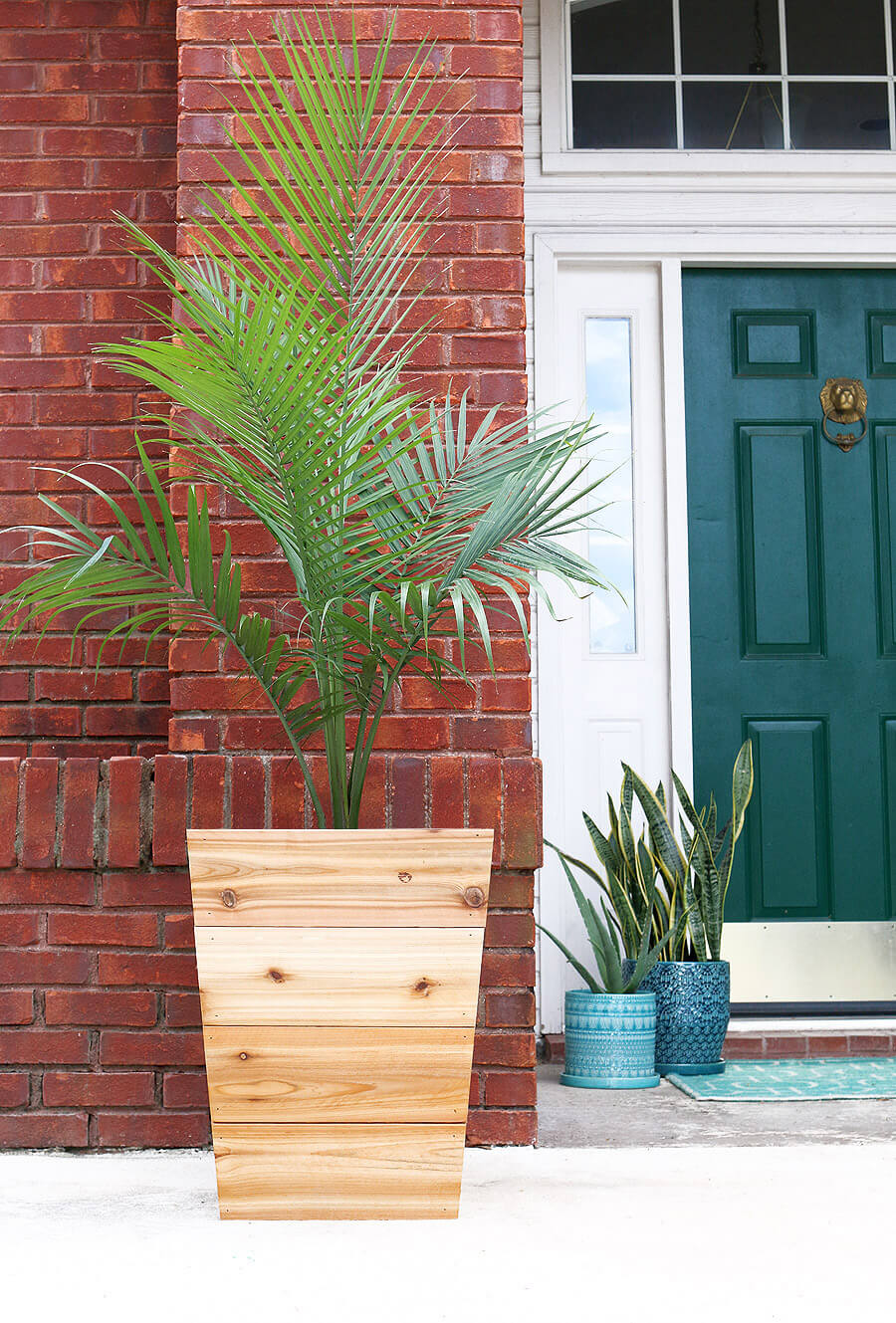 With its crisp shape and clean lines, this planter puts a rustic spin on a mid-century modern design. In fact, its beauty is in its simplicity. The strong shape makes a striking impression, and the unadorned style highlights the grain of the wood. Use this planter to bring a natural look to a contemporary home, or place it in on your traditional house's front porch for a chic update. With its roomy size, there's plenty of space for a large plant or bush.
14. Shabby Chic Flower Planter Box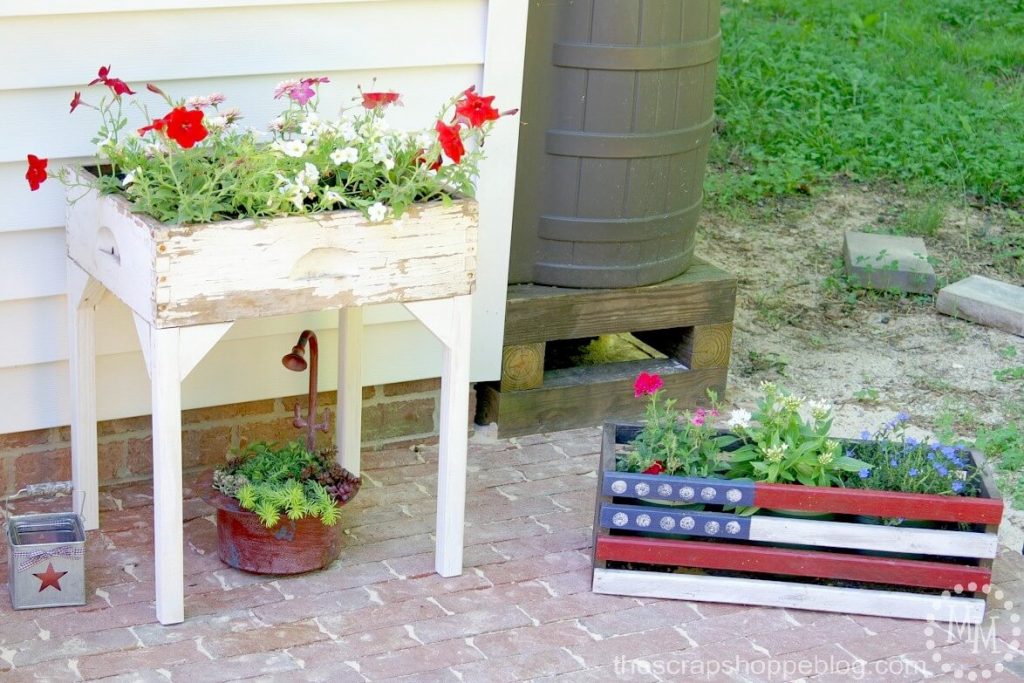 Do you have an old dresser that's waiting to be thrown out? Don't waste the material — turn it into a flower planter. This DIY project turns a drawer into a place to display a flat of flowers or other plants. All you need to do is add legs and simple braces, and you have a freestanding planter that's tough and durable. This planter is completely customizable; sand off some of the paint for a distressed look, or add a coat of paint to bring a fresh pop of color to your porch.
15. Three-Tiered Planter with Clay Pots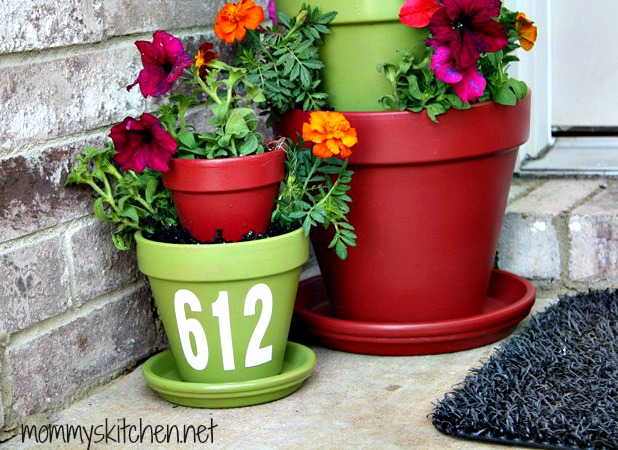 As any designer will tell you, levels are an easy way to make a space look more luxe and intentional. This three-tiered planter gets the job done perfectly using three inexpensive pots. Soil in each pot provides plenty of room for plants to take root, and the different heights create the look of a full, blooming shrub. Help friends and delivery people find your home by painting the house number on the pot for a personal touch.
16. Rustic Indoor/Outdoor Tall Log Planters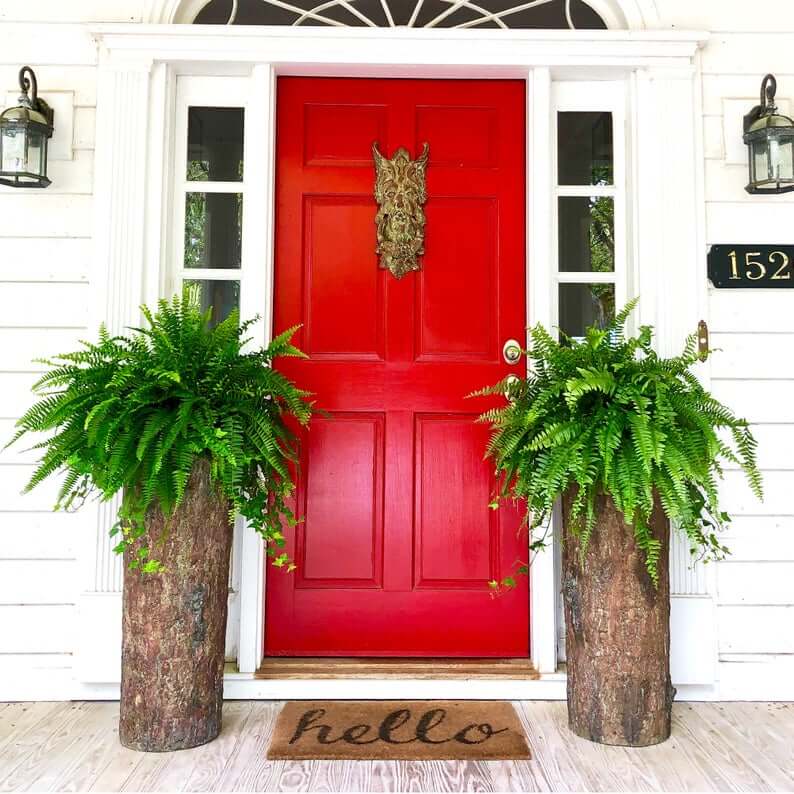 Give your home a rustic, natural vibe by flanking the front door with these log-style planters. Tall and graceful, they make the perfect place to display flower plots or leafy greens. The cement resin composite material is tough enough for outdoor use — there are even built-in drainage holes to help keep your plants healthy. The bark detailing creates a realistic look, and the durable materials need no maintenance.
17. Faux Agave Plant in Cement Planter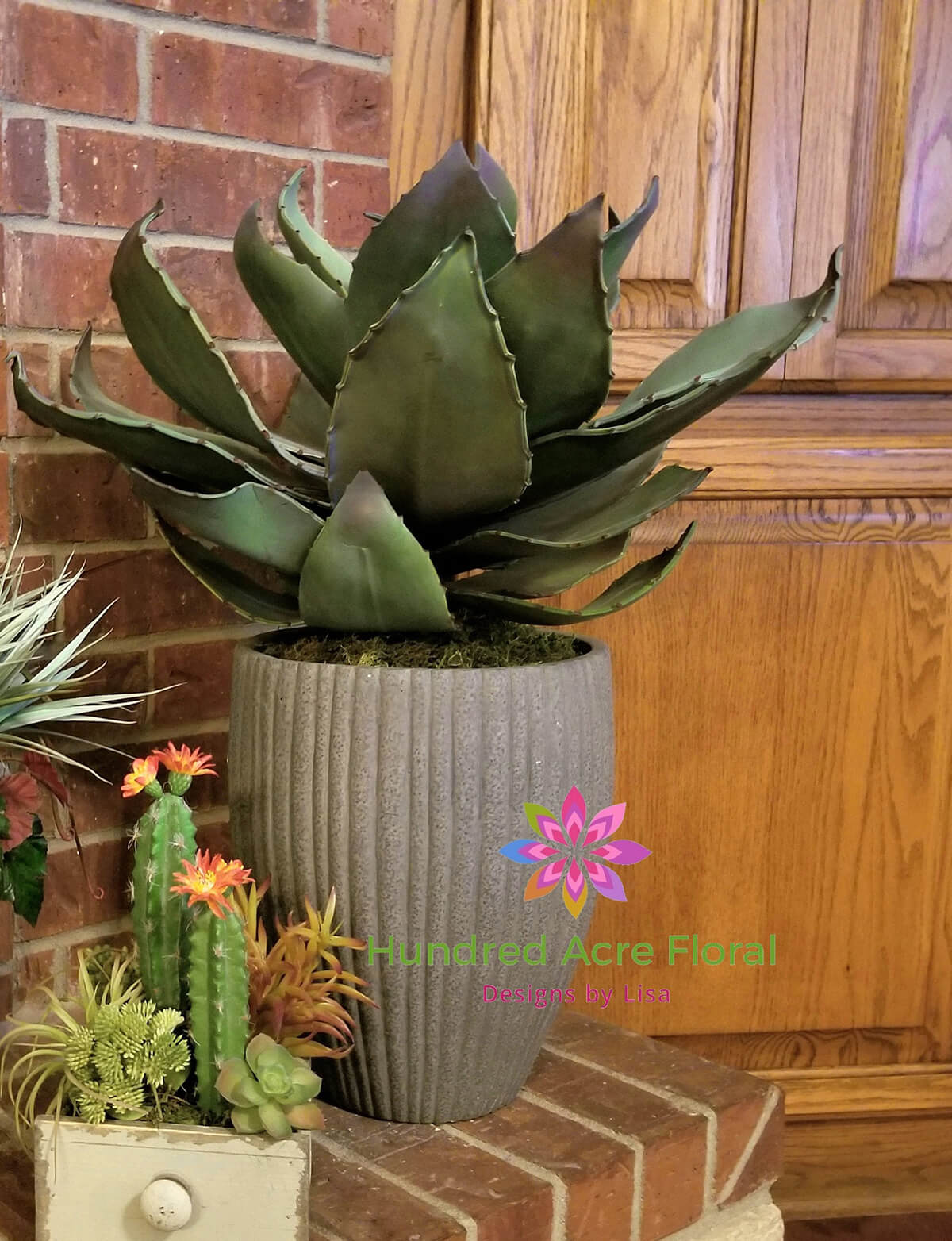 Glorious green leaves curve up toward the sky in this faux agave plant, bringing a rich burst of color and texture to your front entry. The masterful shading on each leaf creates a lifelike look — your guests will never guess that this plant is artificial. The ribbed cement planter adds a hint of simple, subtle texture for a desert-inspired vibe. Display this plant alone to highlight its subtle beauty, or pair it with tiny cacti for a fun southwestern arrangement.
18. Decal for a Vintage Milk Can Planter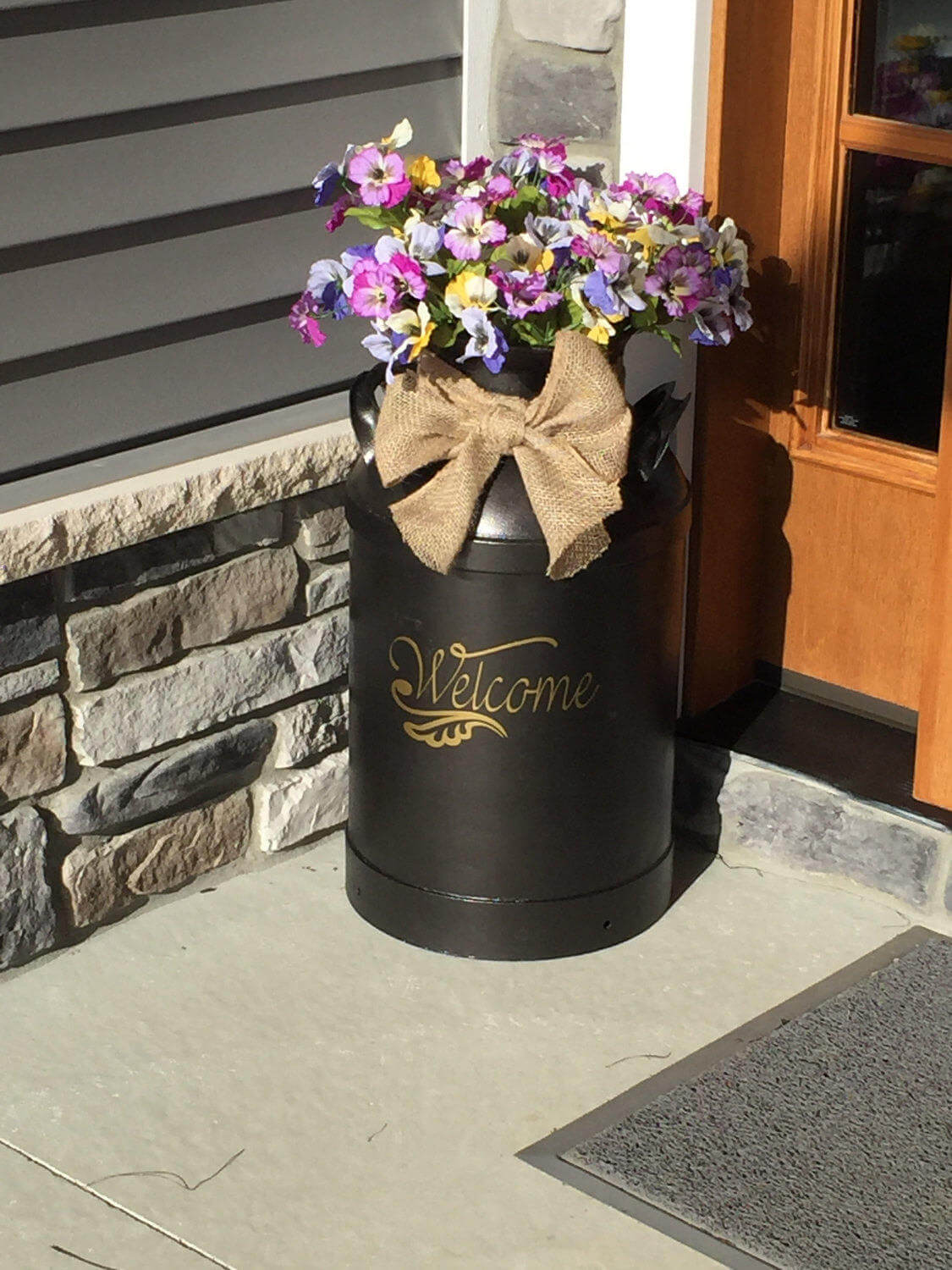 Bring a personalized look to your favorite planter with this "Welcome" decal. Crafted from vinyl, this decal is a breeze to apply — just peel and stick. The durable material stands up to the wind, rain, and snow, so you can leave your favorite planter outside with confidence. Choose from 31 different color options to find the one that best compliments your planter and your porch.
19. Small Planked Wooden Farmhouse Planter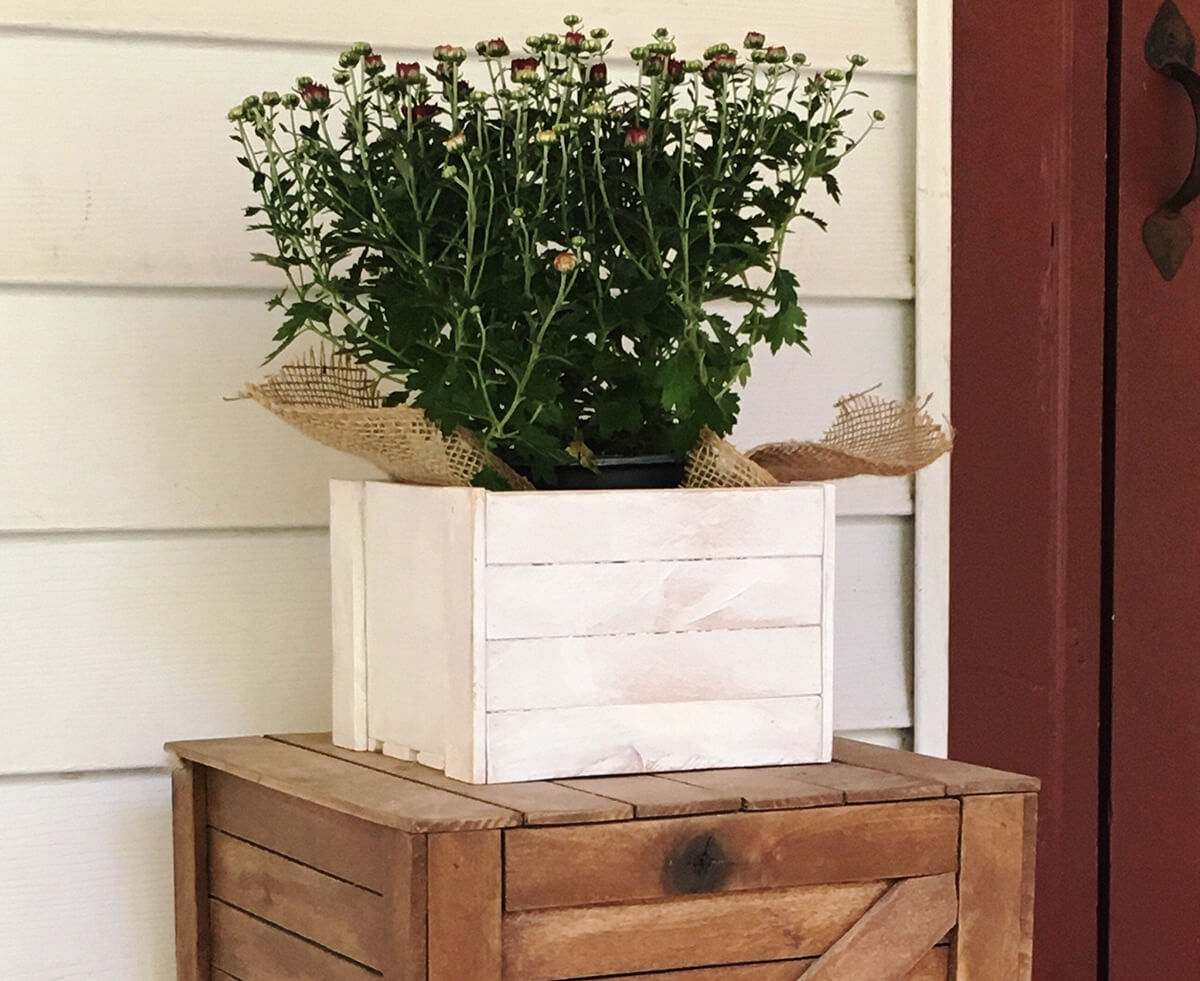 Accent your farmhouse with this lovely little planter. Measuring just 7.5 inches x 7 inches x 5.25 inches, it fits neatly on a small table next to your front door. Each planter is built to resemble a vintage crate; the planked front and vertical side posts exude handmade charm. The simple white finish highlights the rustic construction and makes the colors of your plants pop. Made from repurposed hardwood, these crates are built to stand the test of time.
20. Galvanized Bucket Planter with Personalized Monogram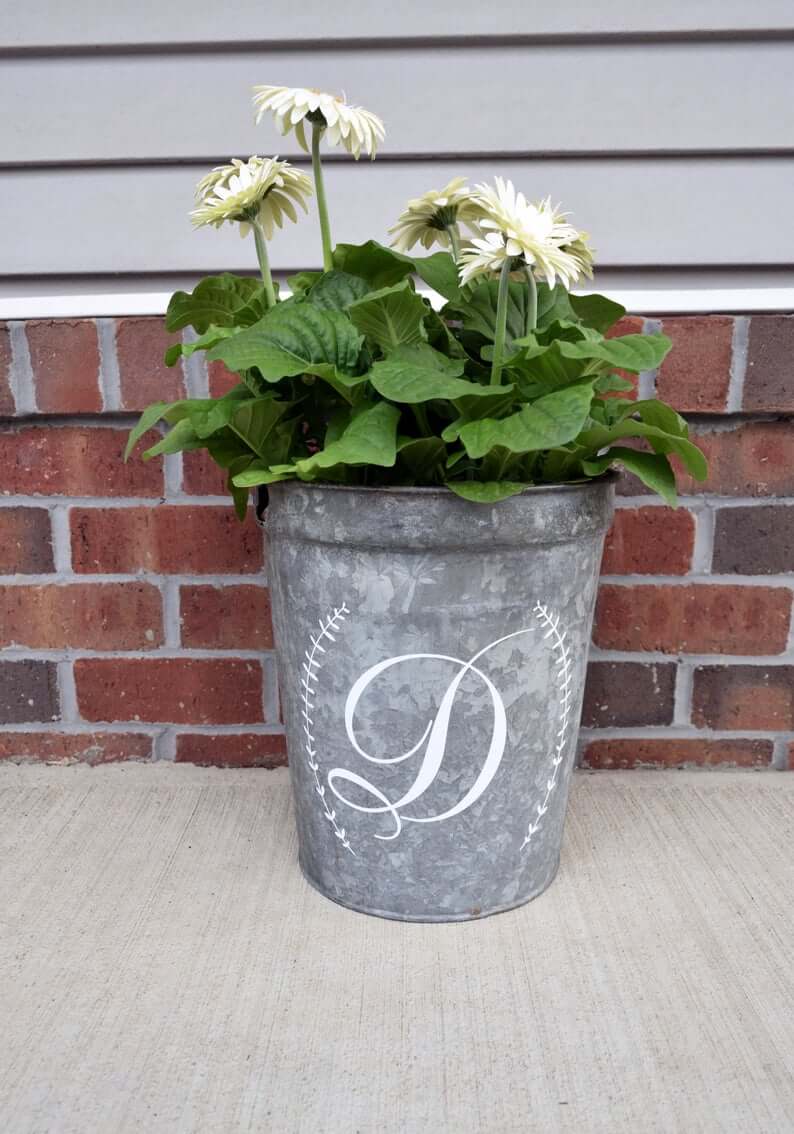 Bring the simple beauty of galvanized metal to your front porch with this farmhouse-style planter. It's made from a sap bucket, which features an eye-catching tapered shape and tall frame. The best part? You can personalize each bucket with a vinyl initial; the lovely script font and leaf accents complete the vintage look. The result looks lovingly handmade — a beautiful way to welcome friends to your home.
21. Adorable Vintage Metal Bicycle Planter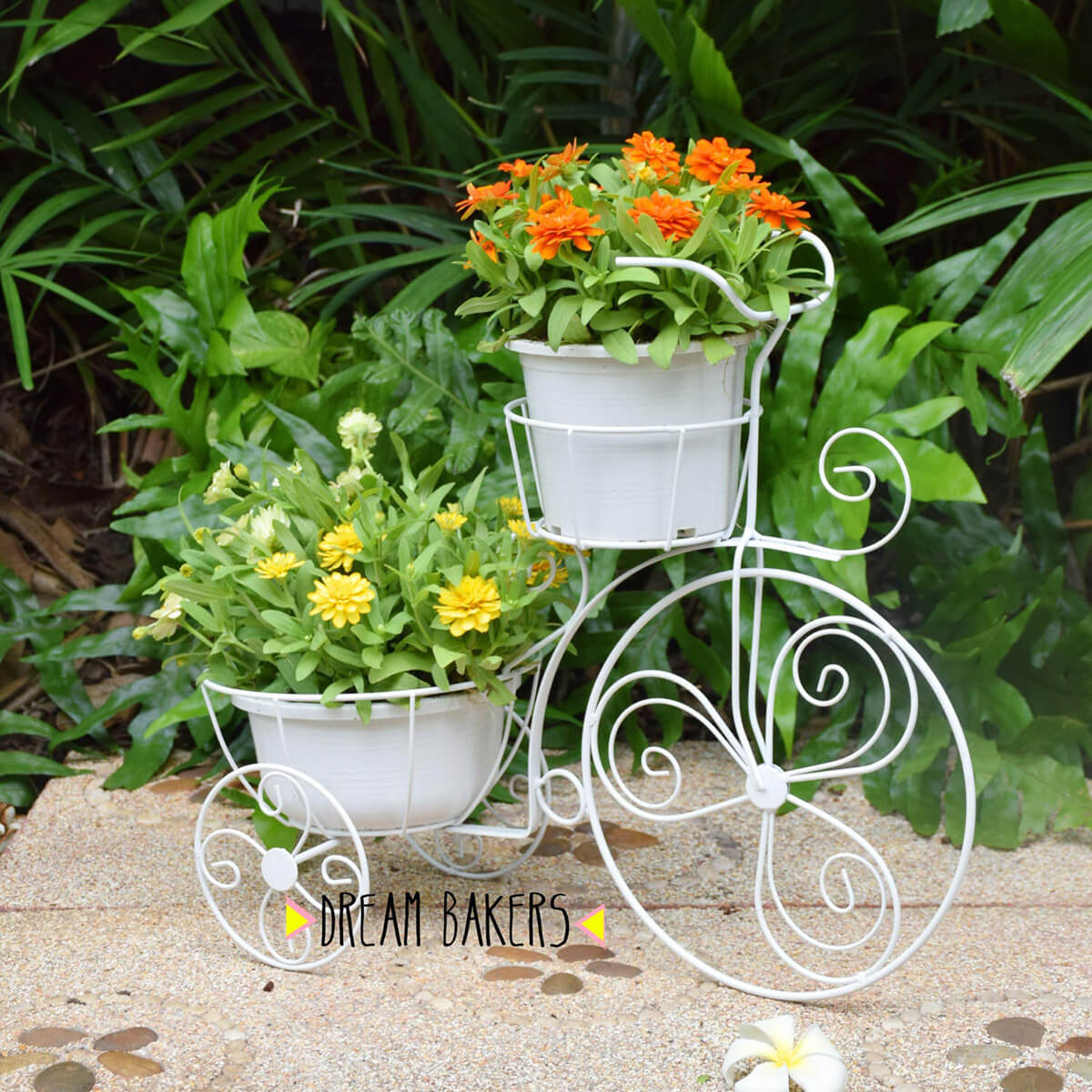 With its scrolling metal accents and vintage style, this bicycle planter adds a touch of whimsy to your garden or front porch. Although it looks delicate, you can use it outdoors with confidence — the durable metal and three-wheeled design creates a remarkably stable base. The two-tiered design provides space for two potted plants. Display brilliant flowers or simple greenery; the crisp white finish sets off the colors beautifully.
22. Slim Cedar Wood Planter Box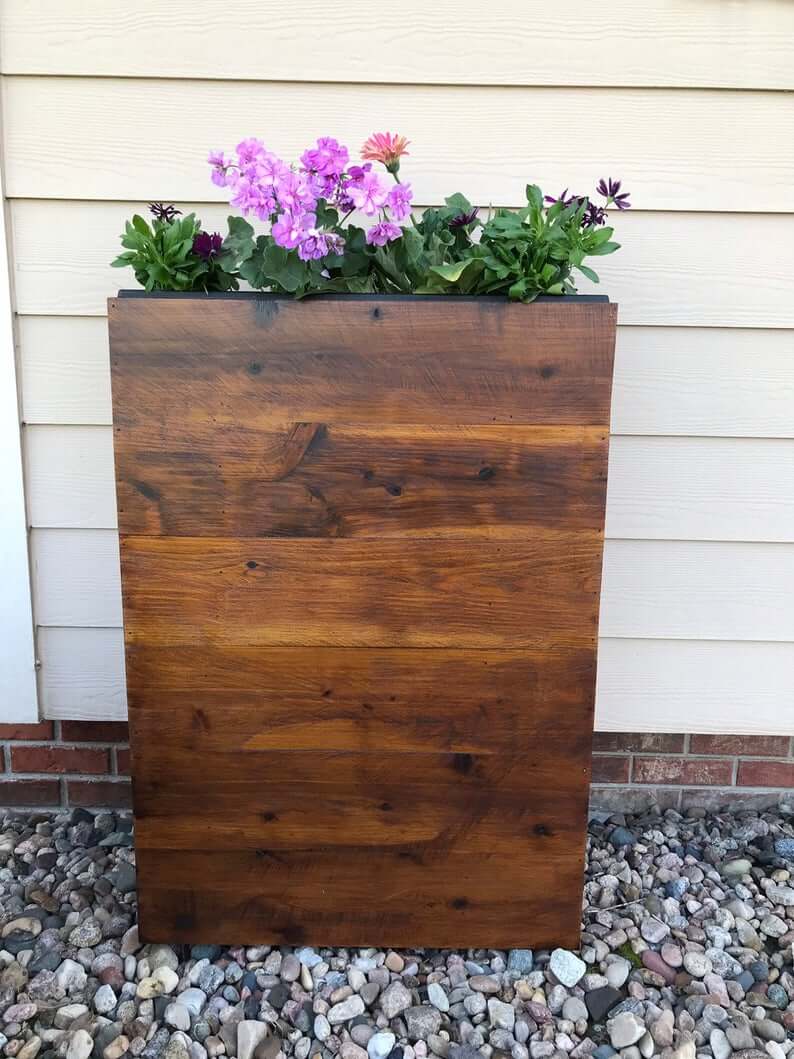 Welcome guests to your home with this lovely wooden planter box. Made from aged cedar planks, it complements your farmhouse, cottage, or traditional style. The exterior is stained to highlight the knots and grain of the wood for an extra pop of texture. Use this slim planter when space is limited — it's just 6 inches deep. The 30-year sealer is designed to last, and the weighty design resists tipping.
23. Patriotic Red White and Blue Chair Garland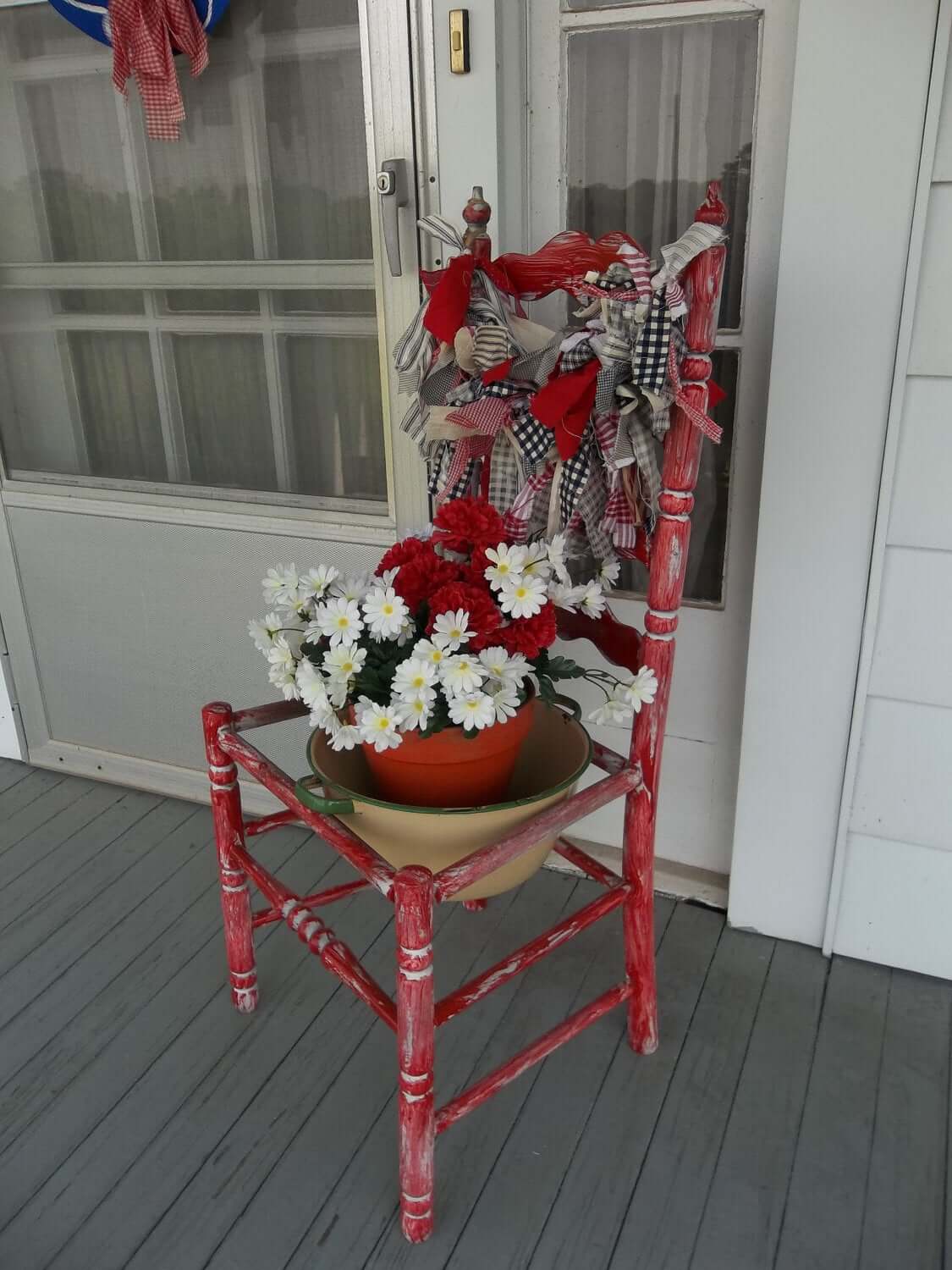 Do you use a vintage chair planter on your front porch? Decorate it for the Fourth of July with this lush garland. Handmade from strips of fabric, this piece adds a burst of color and texture to a simple planter. The frayed edges create the look of a beloved heirloom, and the simple fabric patterns bring a French Country twist. Each garland is made to order, so you know that you're getting a one-of-a-kind decoration.
24. Tall Tapered Cedar Wood Planter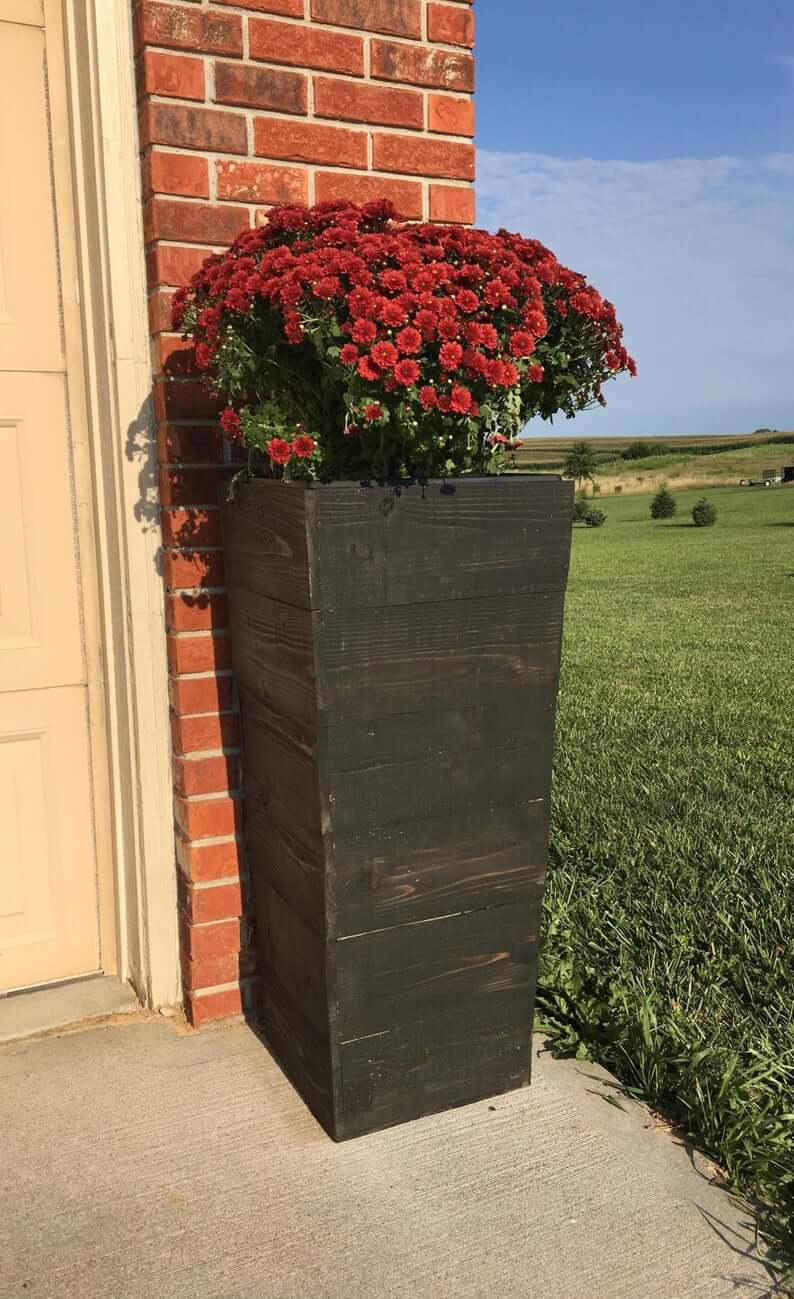 Show off your favorite plants with this tall wooden planter. Rising 33 inches off of the ground, it's a beautiful way to elevate plants on a porch or patio. The aged cedar frame brings a rugged, rustic texture to your outdoor space; plus, since it's heavier than traditional planters and comes with a built-in shelf for sandbags, it won't blow over on windy days. Each planter is built to order for a one-of-a-kind outdoor accent.
25. Tall Antique Bronze Flower Planter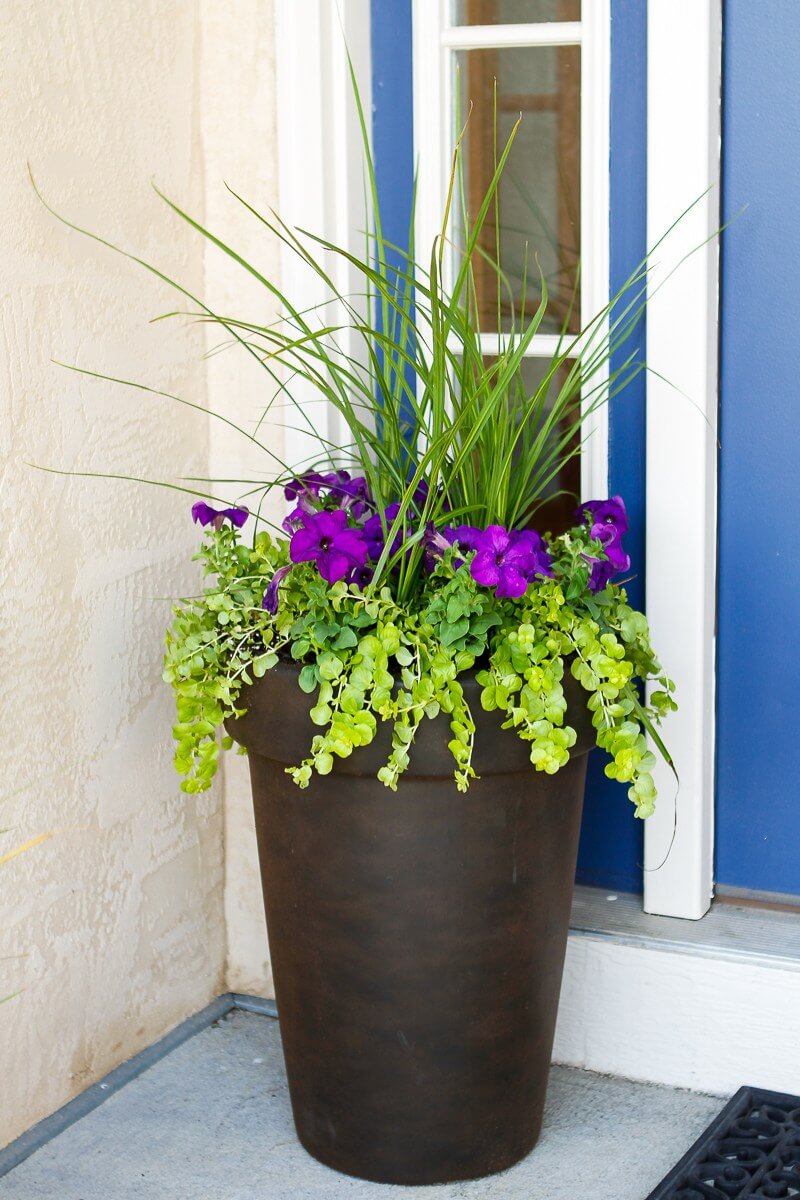 This arrangement is as simple as its unique bronze pot. Cheerful purple flowers peek out above sprays of a vine with round, bright green leaves and a species of ivy. Above all are fronds of ornamental grass. Grasses to use include blue oat grass, hair grass, miscanthus, rush and big bluestem.
26. Antique Milk Can Porch Planter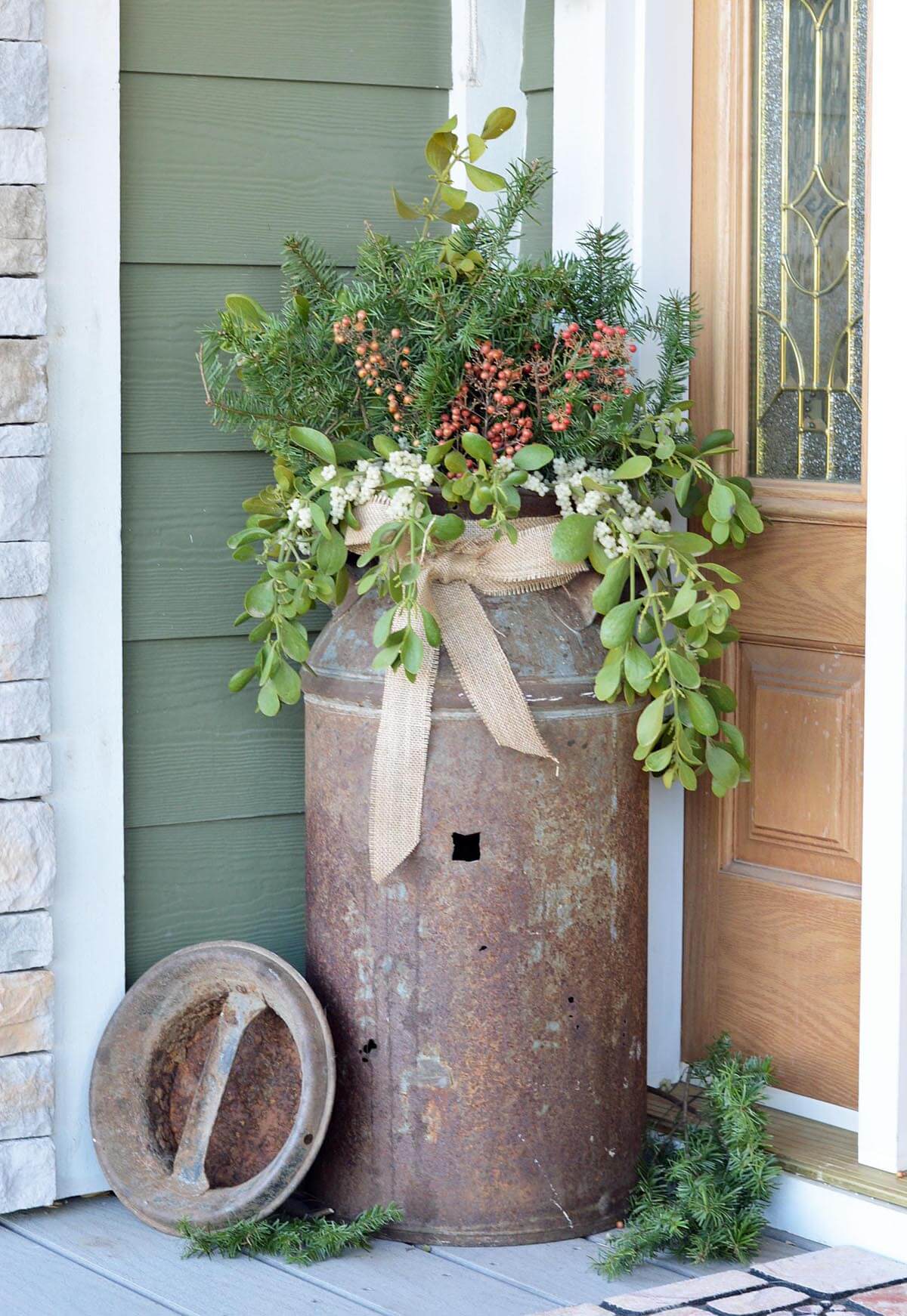 Who knew that milk cans would be so valued when they were no longer so necessary? This big milk can by the door holds a spilling vine with tiny, frothy white flowers, red berries and sprigs of juniper, all tied with a burlap bow. The lid on the floor leans daintily against the can.
27. Fruit Basket Fall Mum Planters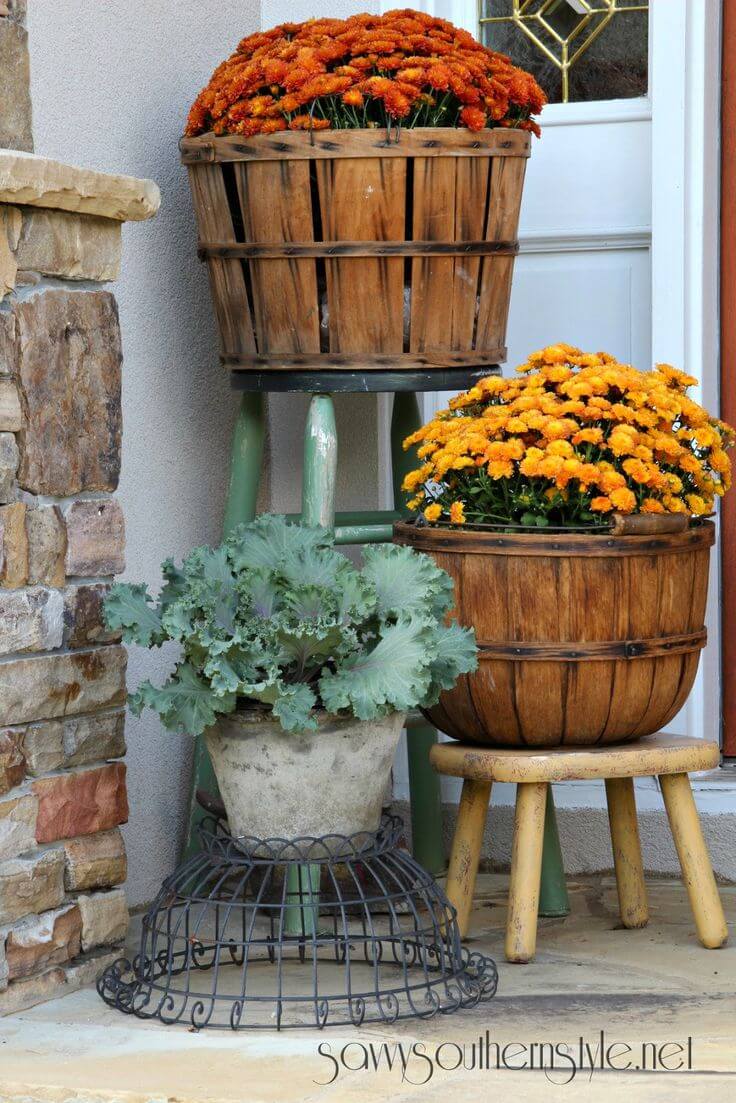 If a gardener didn't know what to do with old fruit baskets, here's a solution. Plant them full of fall chrysanthemums in gold and burnt orange. Place one on a tall stool and one on a foot stool in front of it. Add a pot of ornamental kale to add a spot of glaucous green.
28. Antique Chair with House Number Front Door Flower Pots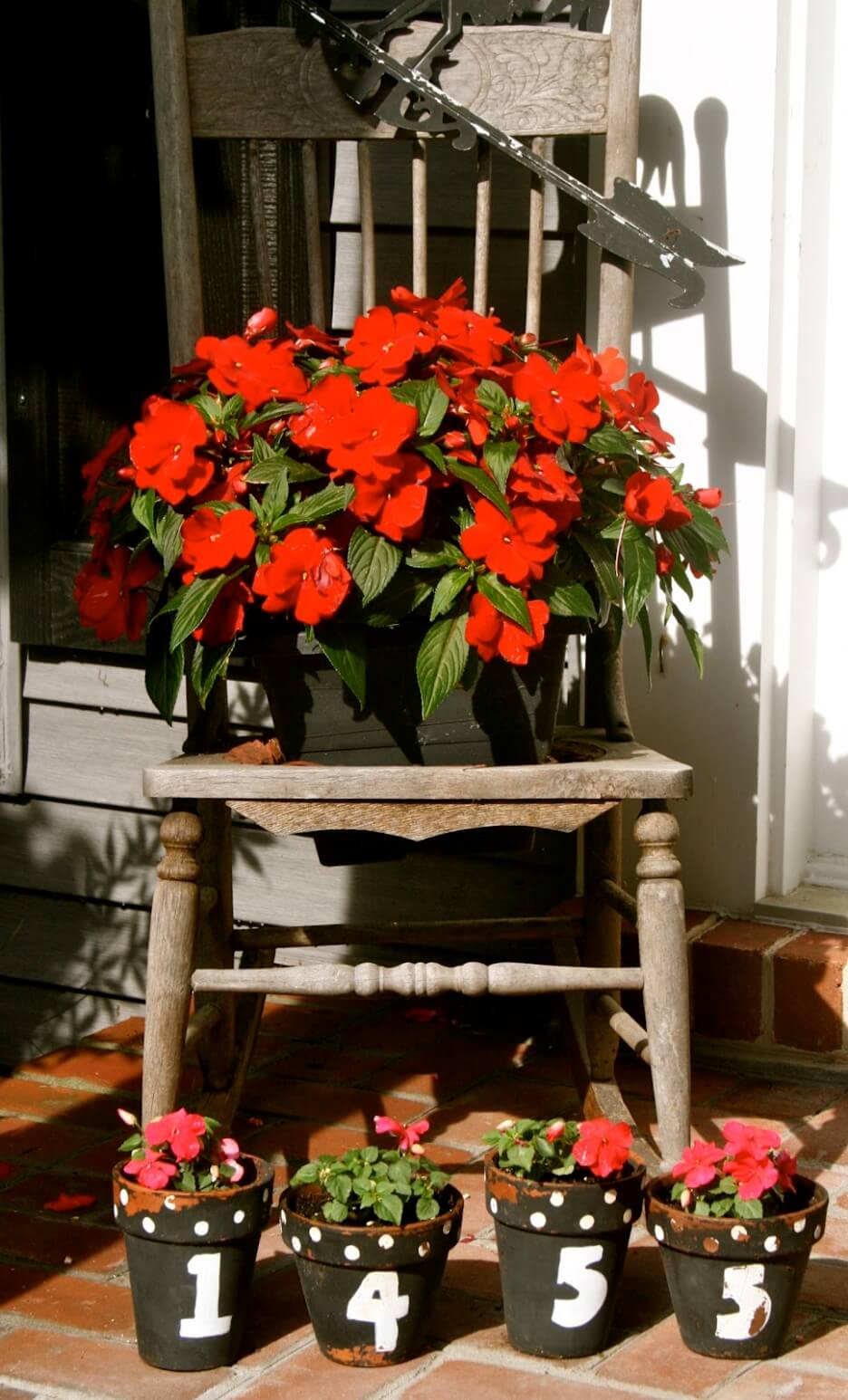 A mass of red impatiens in a pot placed on a chair is enough to catch and delight the eye, but look what is beneath it. There are four pots of the same flowers, and each pot has one of the house numbers painted on it. Once seen, this won't be forgotten.
29. Metal Flower and Fern Planter Pair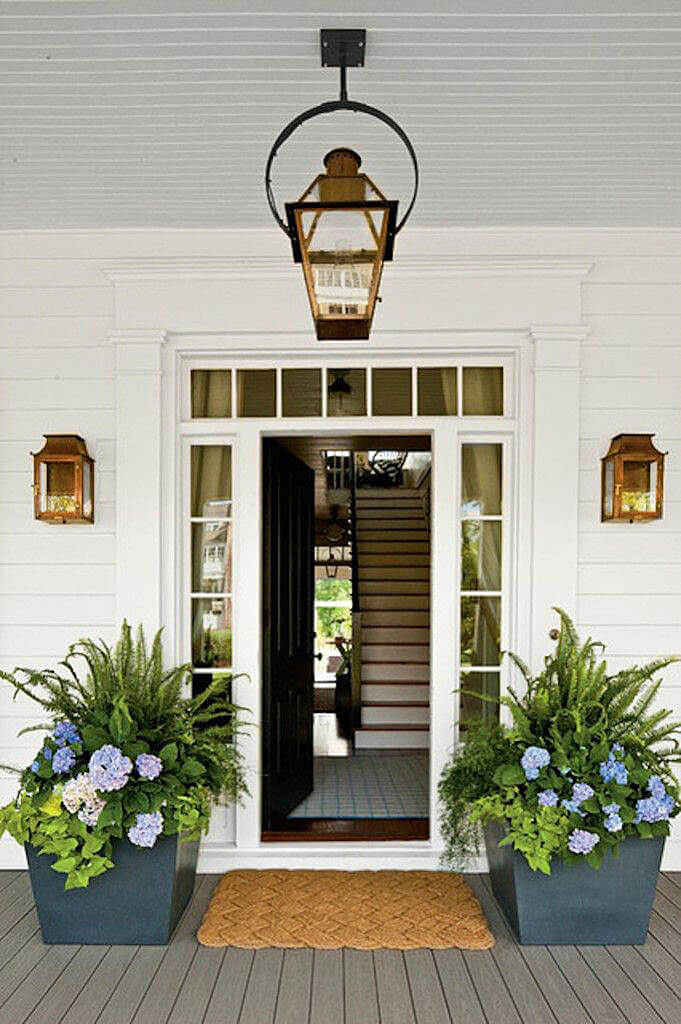 Ferns have always had an elegance about them, especially when more than one type are planted together. One interesting mix is the delicate maidenhair fern with the more robust Boston fern. The two rectangular pots here have a matching arrangement of ferns and blue hydrangea to add pops of blue-lavender to the shades of green.
30. Tiered Terra Cotta Pot Planter with Candle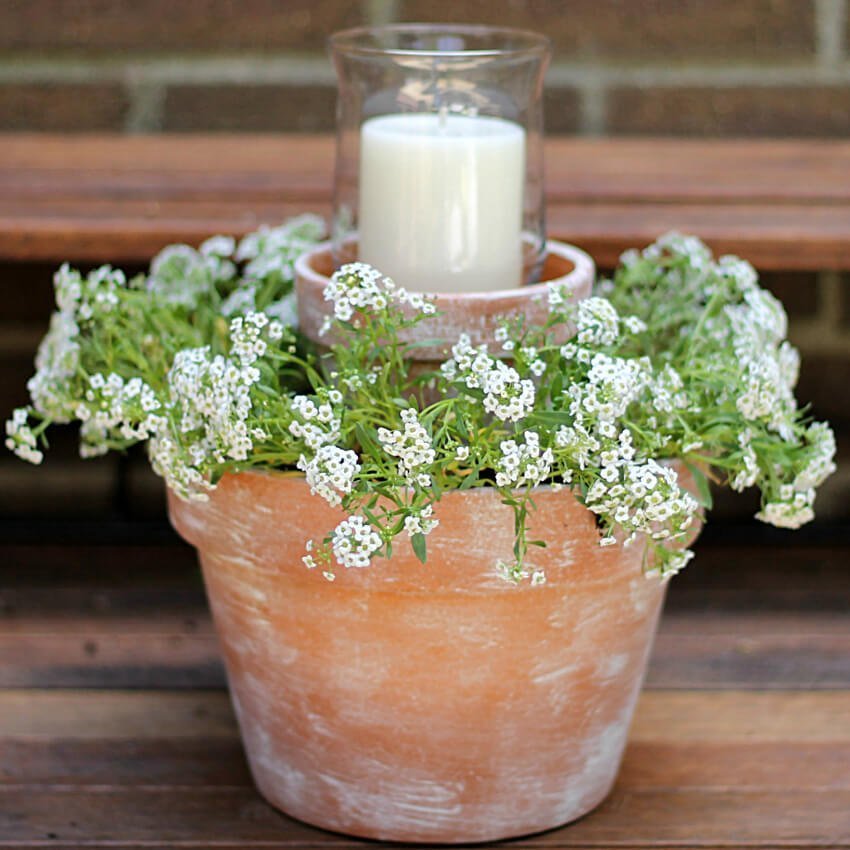 If a gardener has an extra pot or two to spare, they could do no worse than place gardening soil in one, half bury a smaller pot in it, then plant the larger pot with a plant such as Androsace, and put a votive candle in the smaller pot. Light the candle at night for a welcoming glow by the door. It can also act as a security light.
31. Oil Rubbed Bronze Mum Planters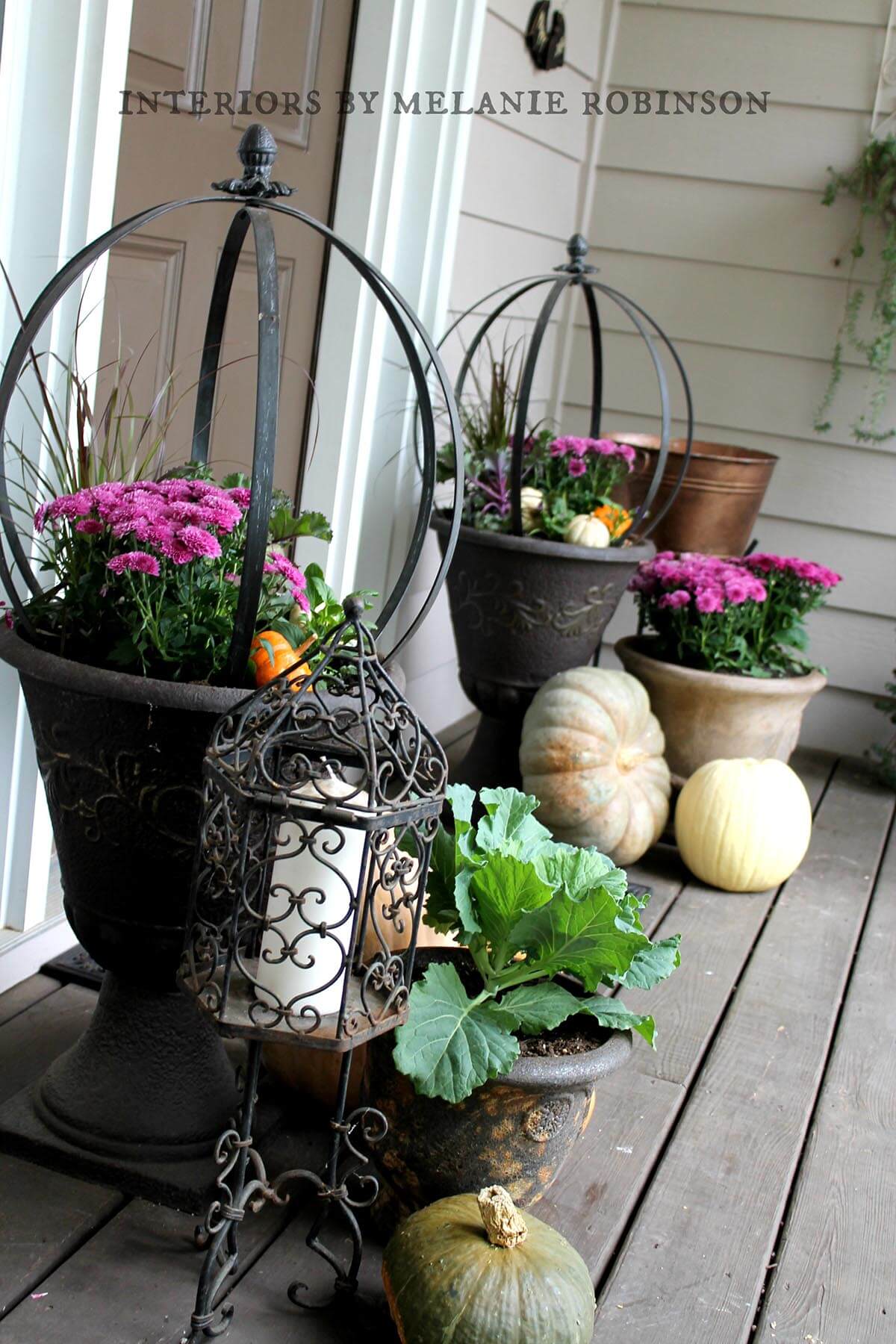 These rubbed oil mum planters are just the thing for the cooler weather. Don't just plant chrysanthemums in them, but add tiny pumpkins and other squash and a bunch of switchgrass or ornamental kale. Fill other planters with more mums or other plants, and set them among a rubbed oil lantern with a candle and bigger pumpkins for more effect.
32. Painted Monogram Porch Planter Duo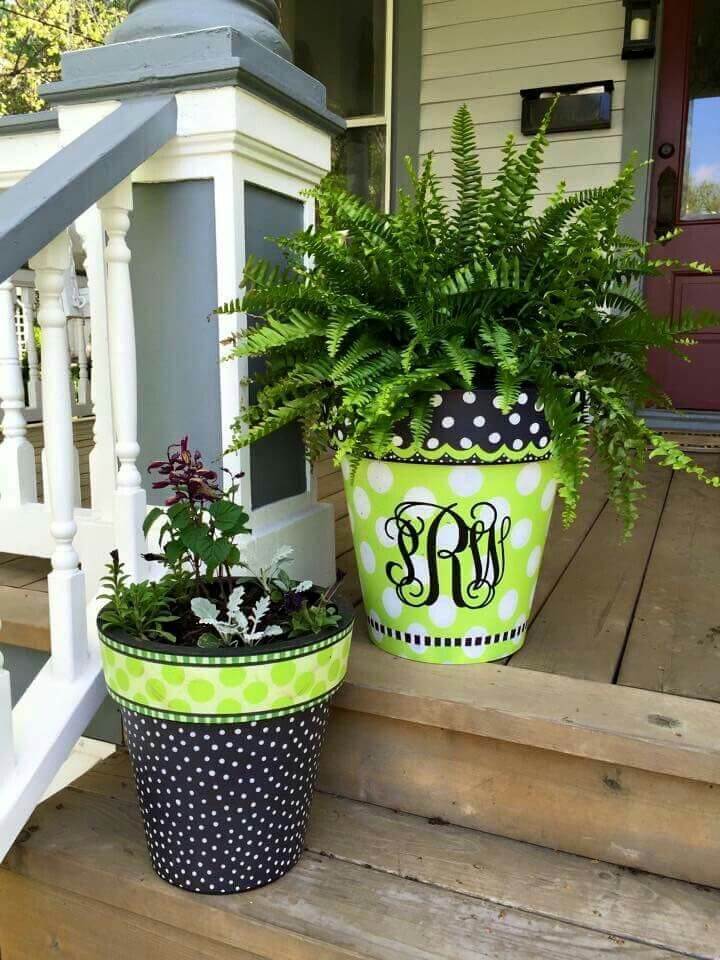 Both of these pots are painted black and white and chartreuse and polka-dotted all over. The one on the porch is both monogrammed and bursting with fern plants, most likely Boston fern or hay-scented fern. The smaller pot on the top step has more modest plantings of salvia and dusty miller.
33. Tiered Front Door Flower Pot Welcome Decoration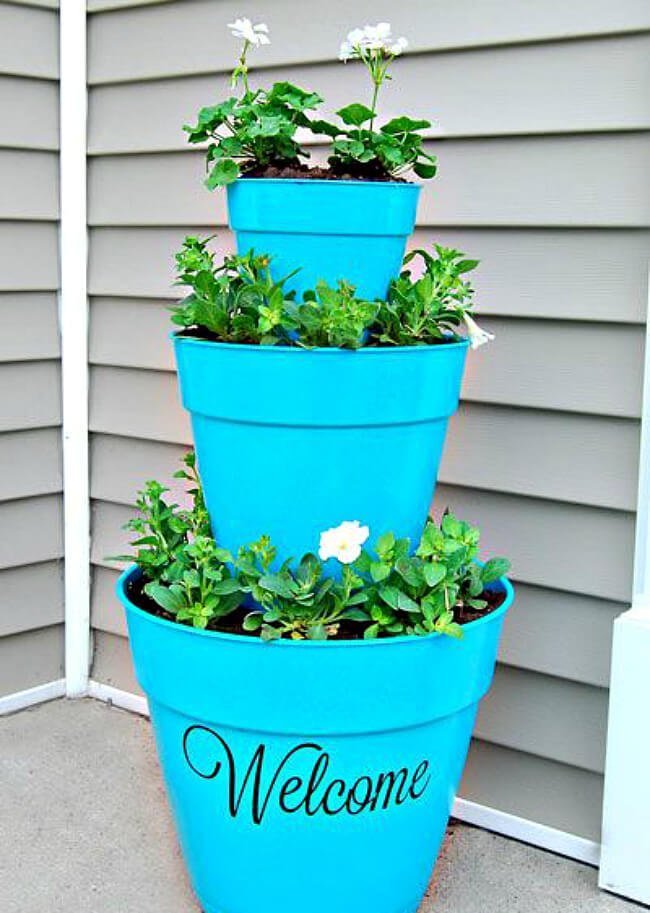 Another idea is to paint three pots an arresting cerulean blue and paint "Welcome," on the largest. Make a tiered arrangement with the other, smaller pots, and plant them with white petunias and white pelargoniums. The white of flowers and blue of pots remind a viewer of the sky on a sunny day.
34. Eclectic Summer Flower Pot Trio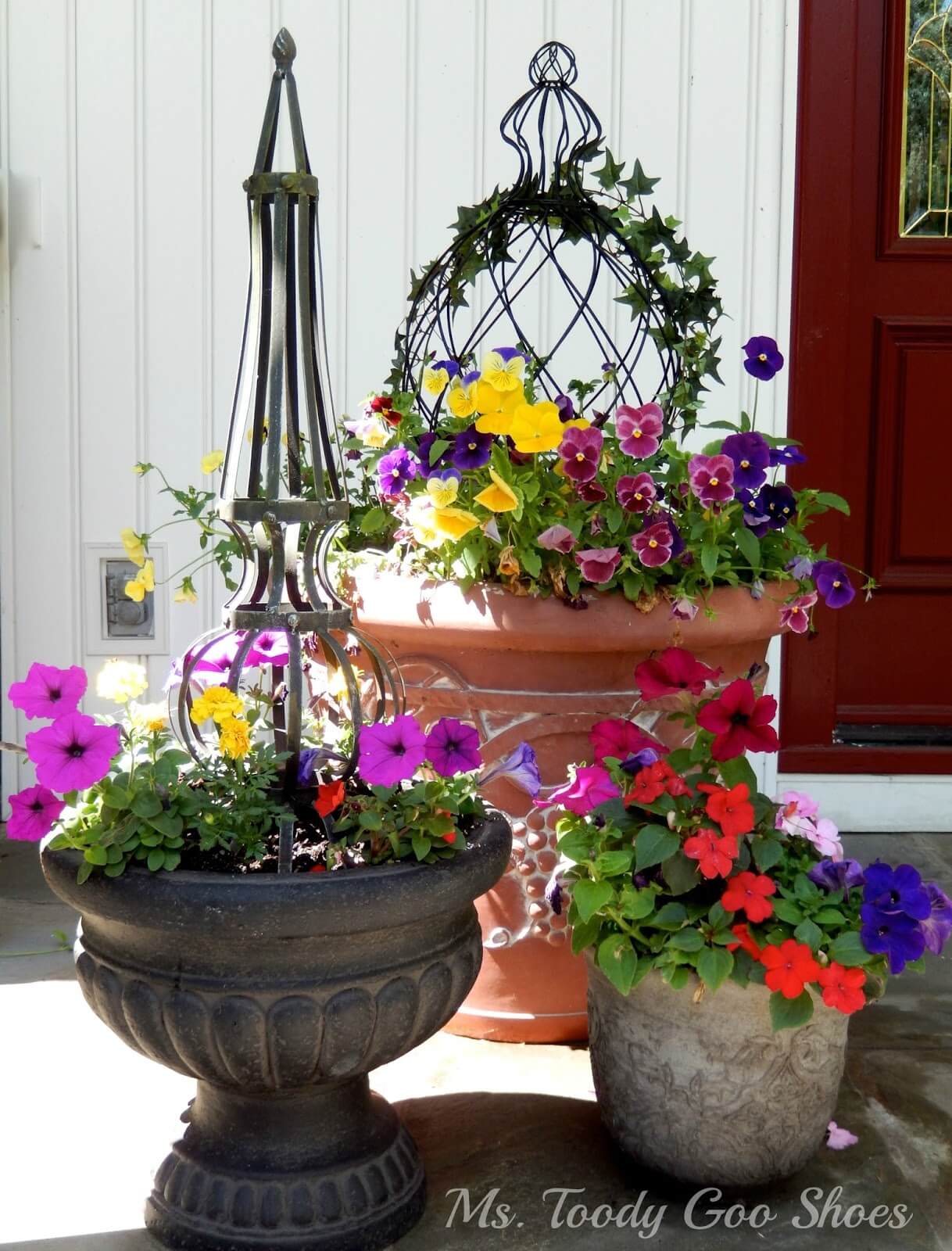 A trio of pots makes for a joyful grouping on the front porch. Te largest, made of terracotta, holds violas and a topiary frame on which ivy is trained. The second largest has a classic, cast iron look and is filled with petunias and a wrought metal sculpture. The third, a simple crockpot, is planted with cascading impatiens and gloxinias.
35. Rustic Metal Bucket and Wood Crate Planters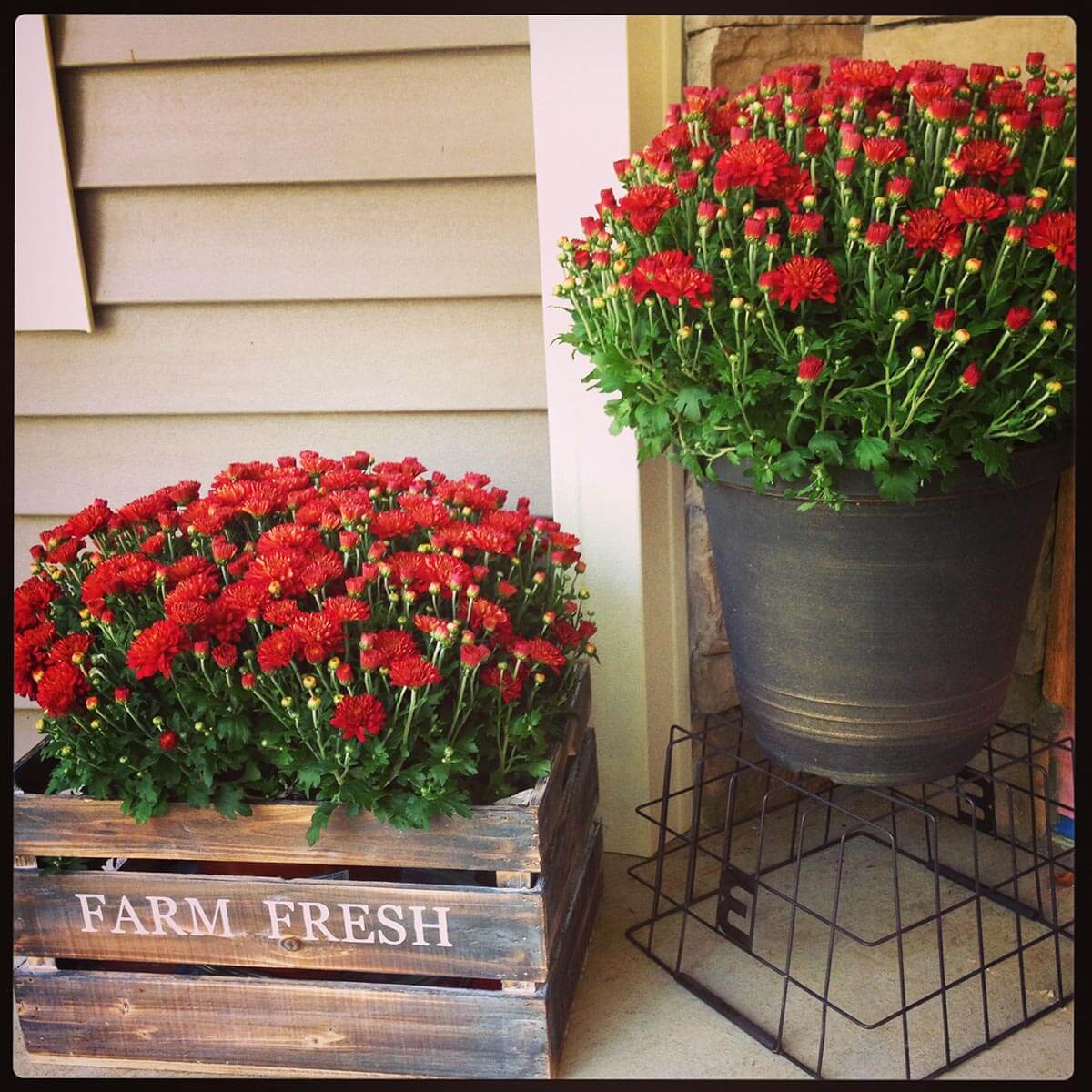 Plant red chrysanthemums in a metal bucket and another in a wooden crate and set them together near the door. Give the plants in the metal bucket some height by putting them on an upside down wire basket. If the gardener is worried about the wood of the crate, put the mums in containers first, then put the containers in the crate.
36. DIY Flower Pot Barn Board Display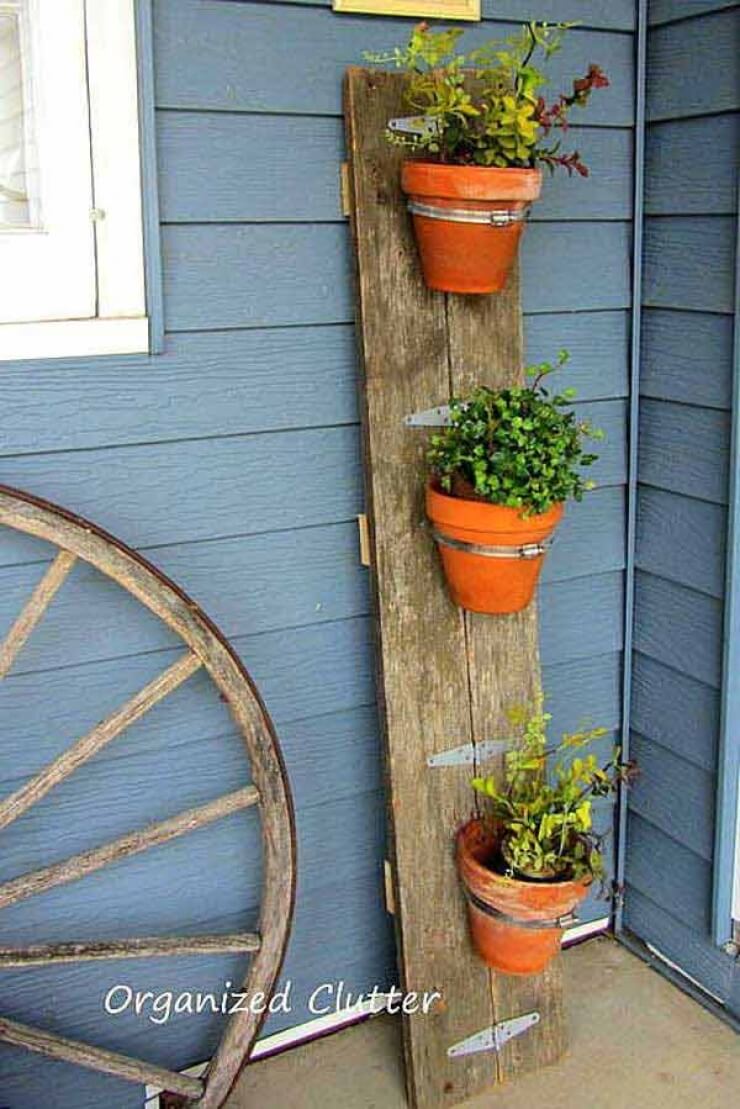 If there is an old board in the barn or the garage that no one knows what to do with or even where it came from, one idea is to lean it against the porch wall and strap pots of plants and flowers to it. An old wagon wheel beside it gives everything a cozy, rustic feel.
37. Rustic Galvanized Metal Porch Planters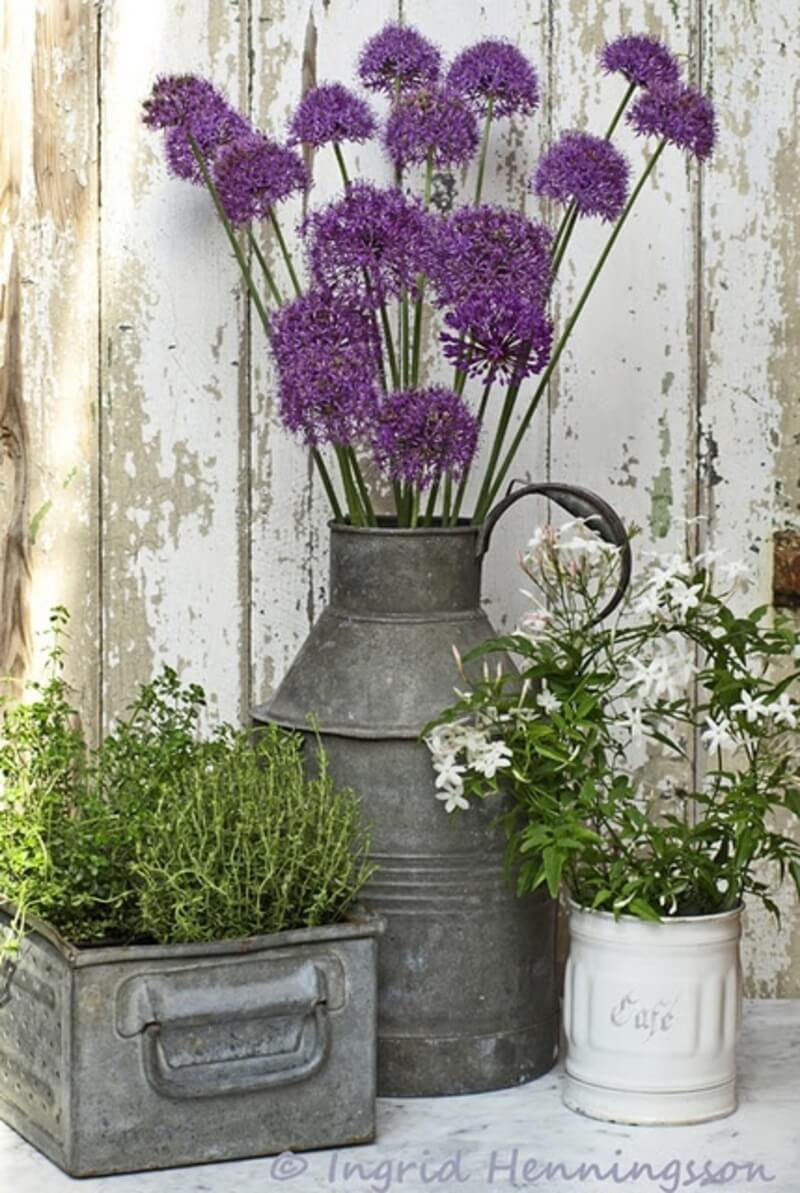 People loved galvanized metal when they needed it to carry stuff around, and they love it still. Place the blooms of wild onion in a galvanized metal jug behind a galvanized metal box planted with herbs such as rosemary or thyme. Group them together with a metal coffee container planted with a plant such as white phlox.
38. DIY Minion Flower Pot Decorations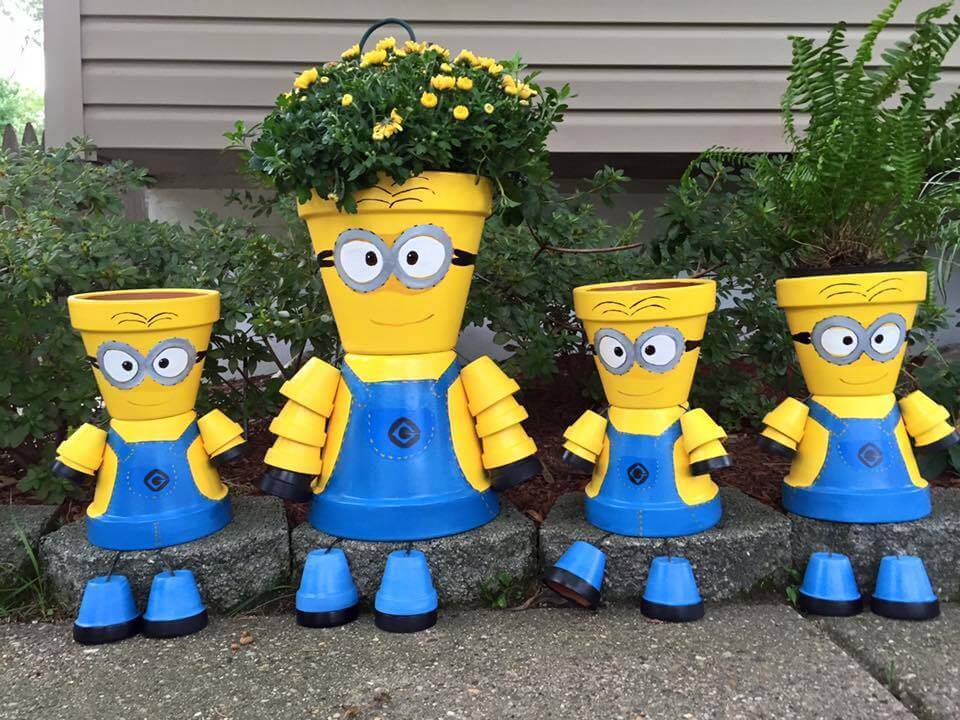 A gardener who loves their Minions can actually engage the whole family in making a nice squadron of them out of pots of varying sizes. Paint them blue and yellow, sit them down on concrete blocks near the door, and plant their heads with the flower of the hour, be in chrysanthemums or ferns.
39. Home Sweet Home Tiered Flower Pot Planter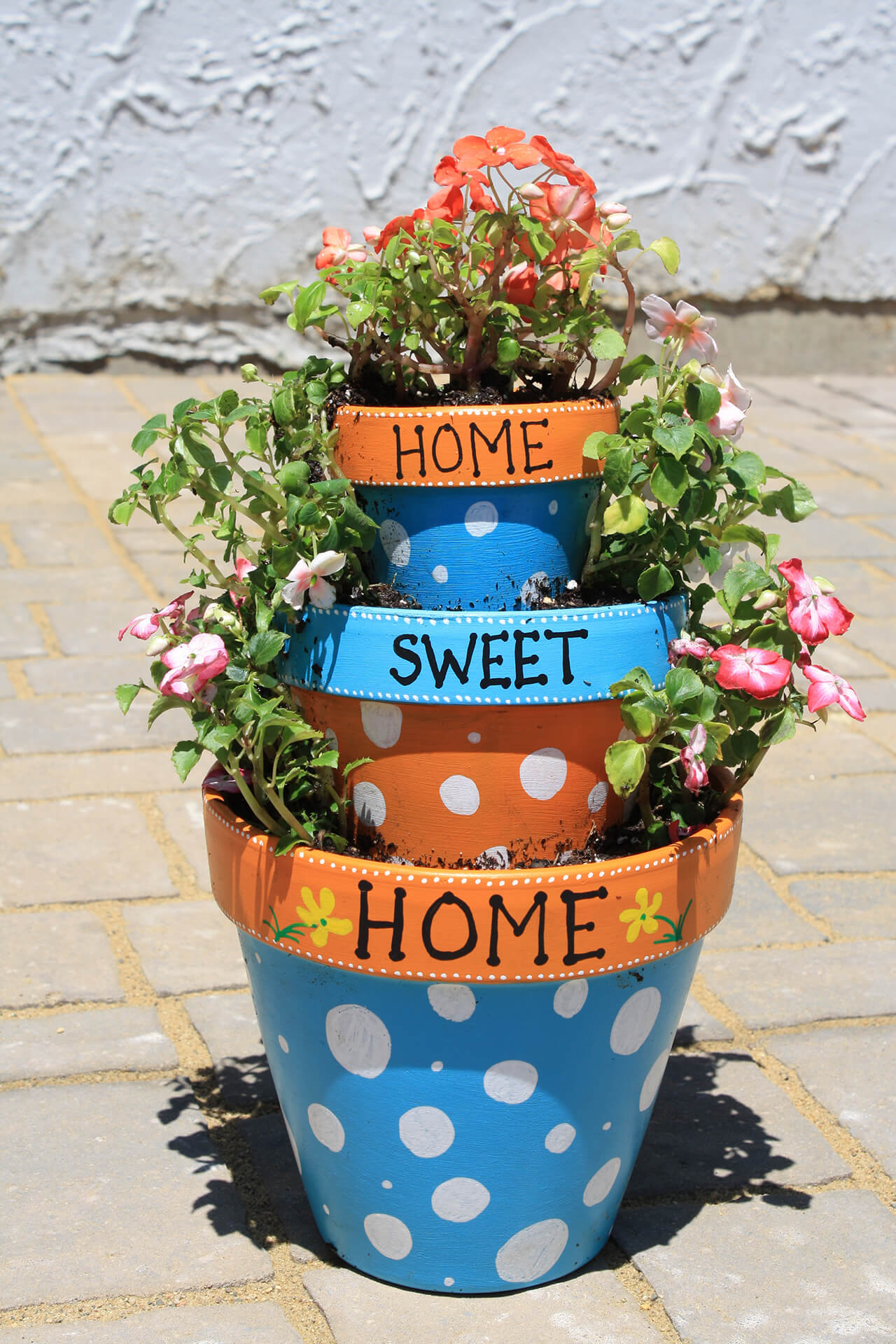 Another tiered design has Home Sweet Home written on the three pots painted blue and orange with whimsical white polka dots. This comforting sentiment reads the same way whether it's read from the bottom up or the top down! Plant flowers such as begonias, impatiens or petunias, but make sure they don't cover up the words.
40. Copper Container Fall Porch Display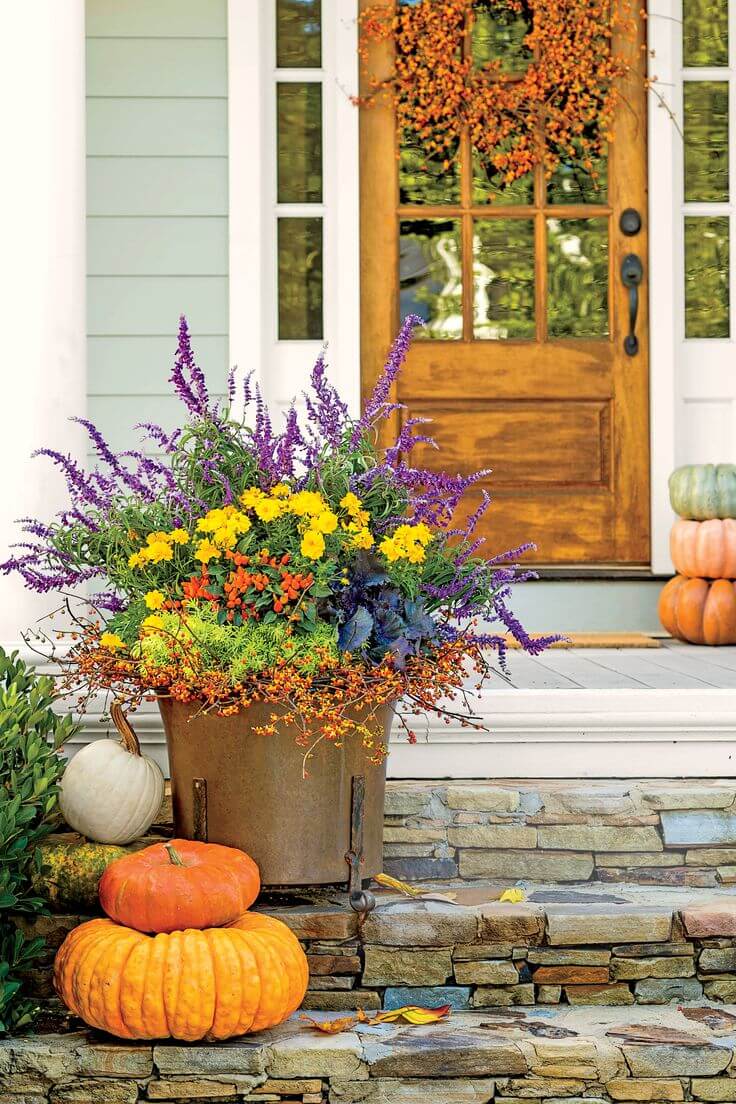 Fall is harvest time, so let an arrangement of fall-blooming plants on the front porch join the wreath on the door. Options can include yellow flowers such as mums, ornamental kale, purple sage flowers, red or orange berries from the viburnum or the bittersweet and a bit of moss. Scatter gourds and pumpkins around the base.
41. Giant Clay Front Door Flower Pot Design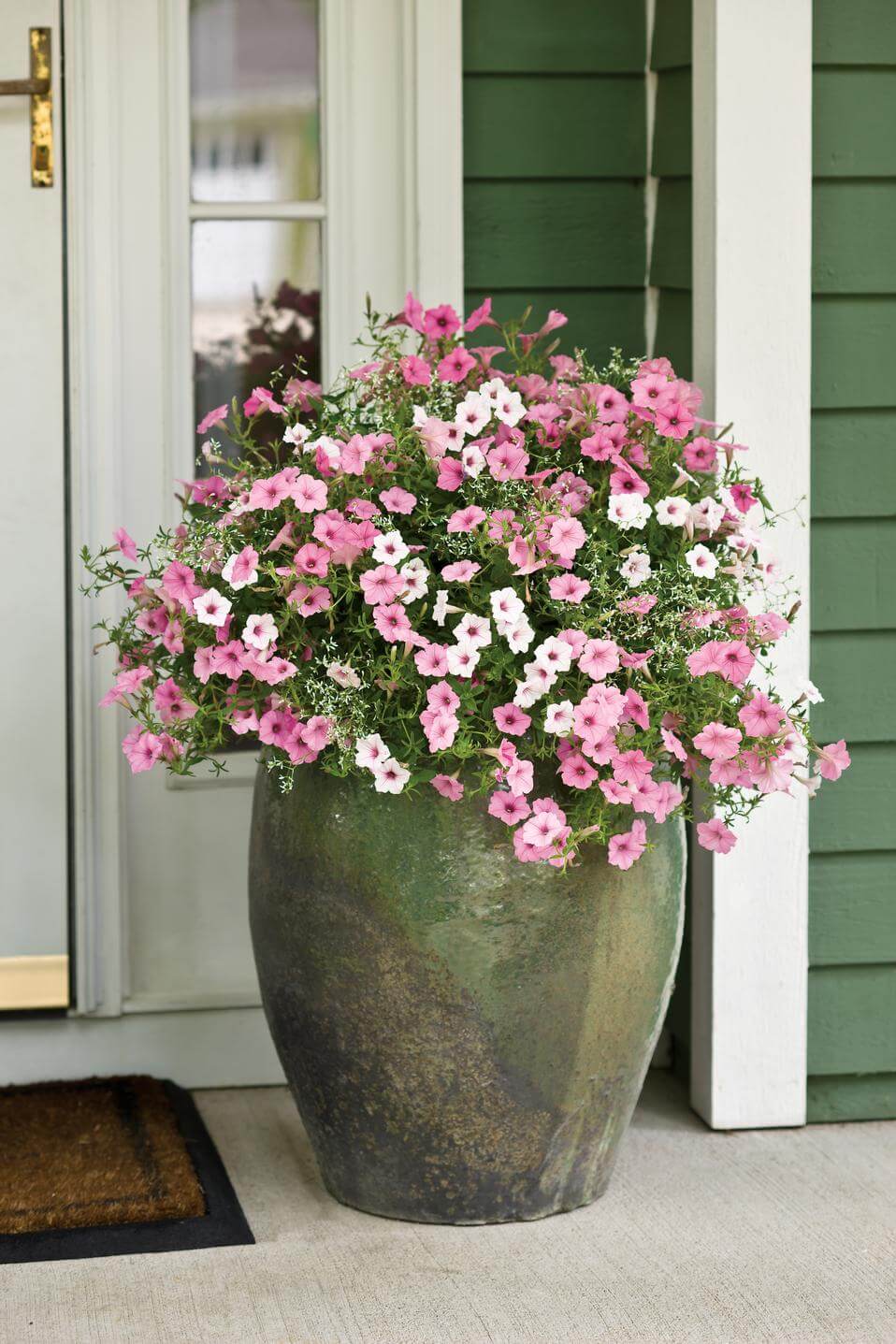 A huge clay pot needs to make a big but simple statement, so fill this one with great masses of pink and palest pink petunias. The gardener may want to tuck sprigs of baby's breath or stephanotis among the flowers to make the arrangement bit more airy. Glazing the pot to match the house's siding is another idea.
42. Upcycled Wash Tub and Window Planter Display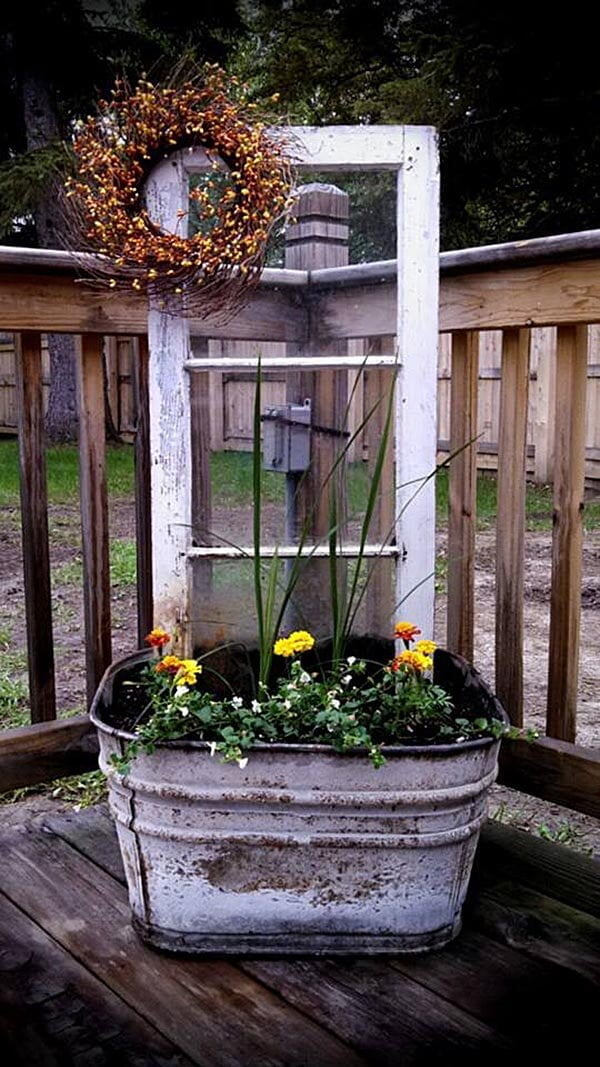 This old washtub has been planted with an empty door frame as well as some marigolds, a white-flowered creeper and some spartan blades of ornamental grass, and set in a corner of the porch. A wreath of bent twigs, dried flowers and berries has been fixed to the upper part of the doorframe.
43. Pretty Wicker Basket Flower Pots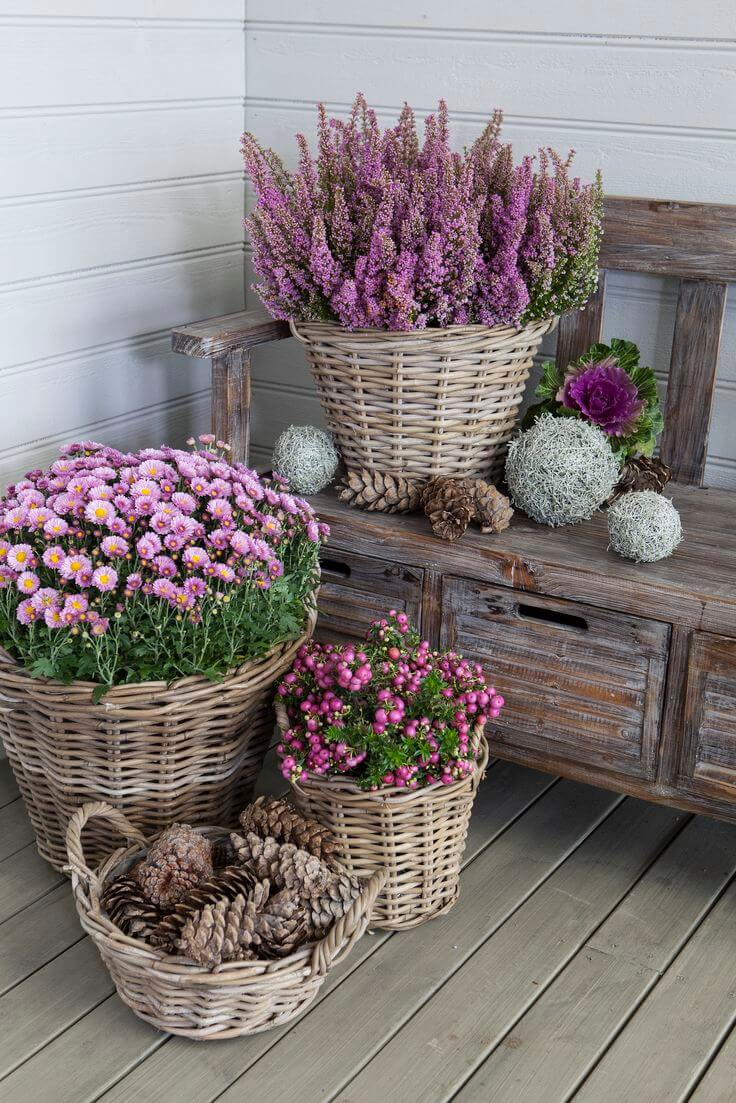 Wicker is a lovely material for flower pots. Again, if the gardener is worried that the wicker will rot because of the moisture, put the flowers in a container first. The largest basket holds purple asters while a smaller one holds pink pepper berries. An even smaller, shallower basket holds pine cones, and the basket on the bench holds lilacs.
44. Tiered Front Porch Fairy Garden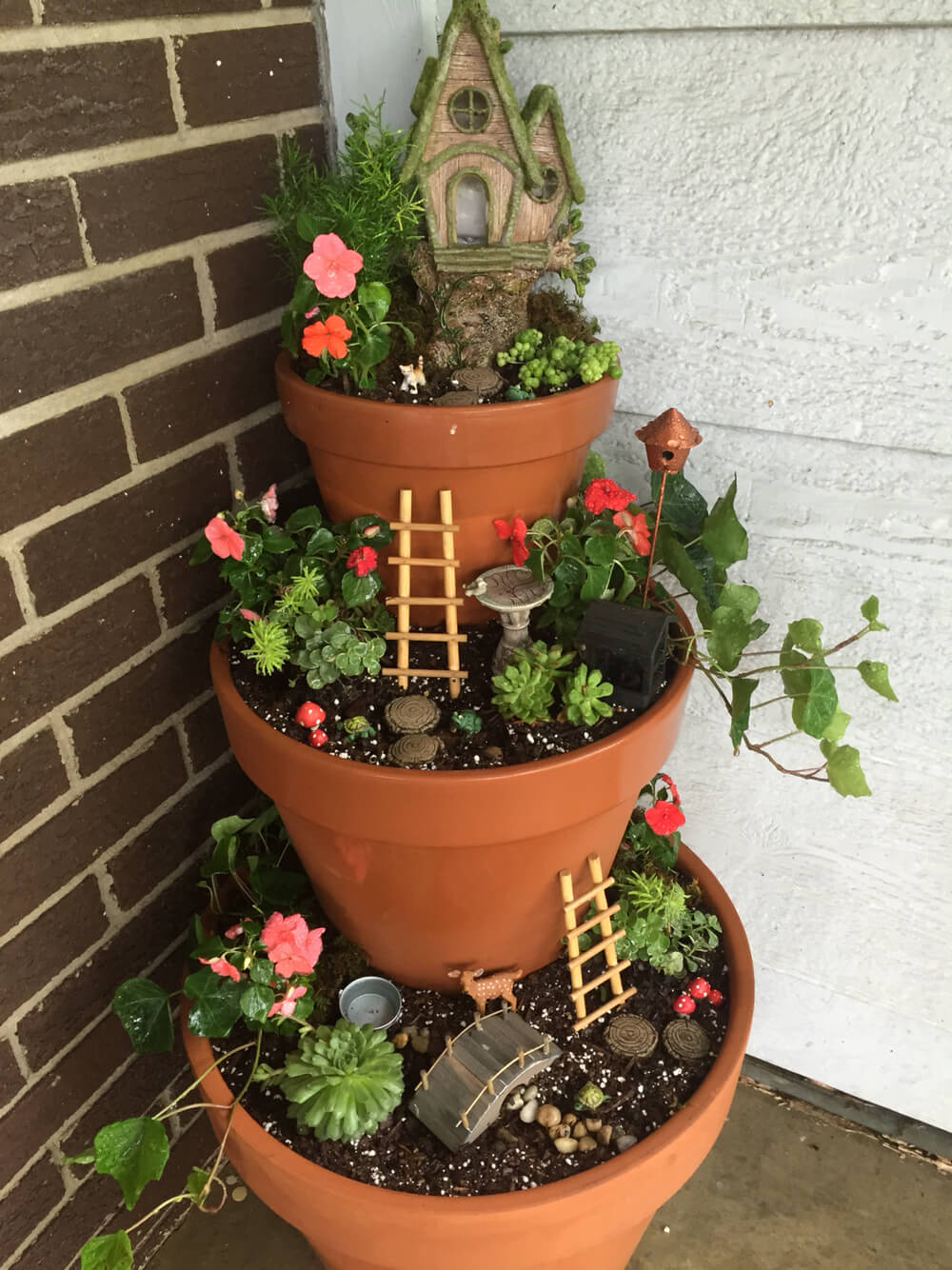 A tiered fairy garden is just the thing for the little ones. Objects such as miniature ladders, bridges, stepping stones, birdbaths and animals are placed in among tiny succulents, red impatiens and a modest sprays of ivy. At the very top, the house sits inits own little garden of rosemary, pink impatiens, moss and burro's tail.
45. Springtime Hydrangea Front Porch Pots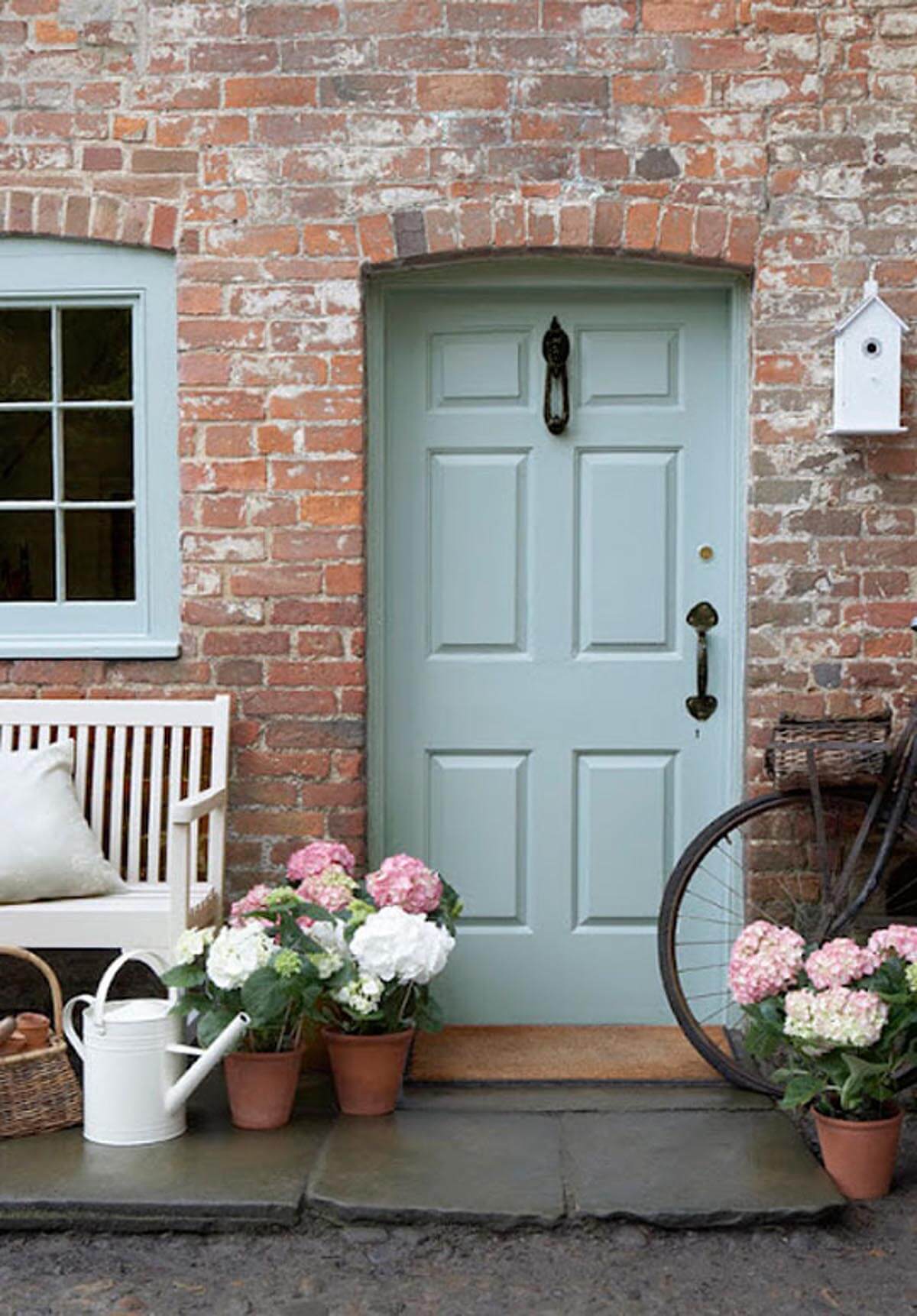 Nothing says spring like pots of big, round hydrangeas by the door. Simply arrange pots of pink or snow white hydrangeas beside the welcome mat. By the way, the color of the hydrangeas often depend on whether the soil is alkaline or acidic. Alkaline soil produces pink hydrangeas, while acidic soil produces blue ones.
46. Galvanized Metal Flower and Fern Planters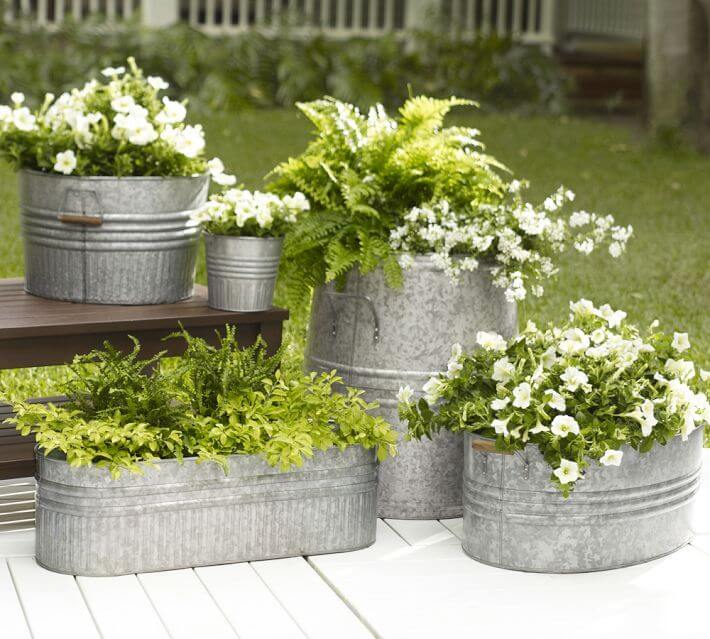 Fern and galvanized metal pots go together, for the combination of hard, shiny metal and soft green fronds is unbeatable. In this grouping, the tallest pot, a milk can, holds the fern and a spray of white flowers. Other buckets hold white petunias, and another long bucket holds yet more ferns and clumps of chartreuse colored greenery.
47. Concrete Spring Flower Pot Display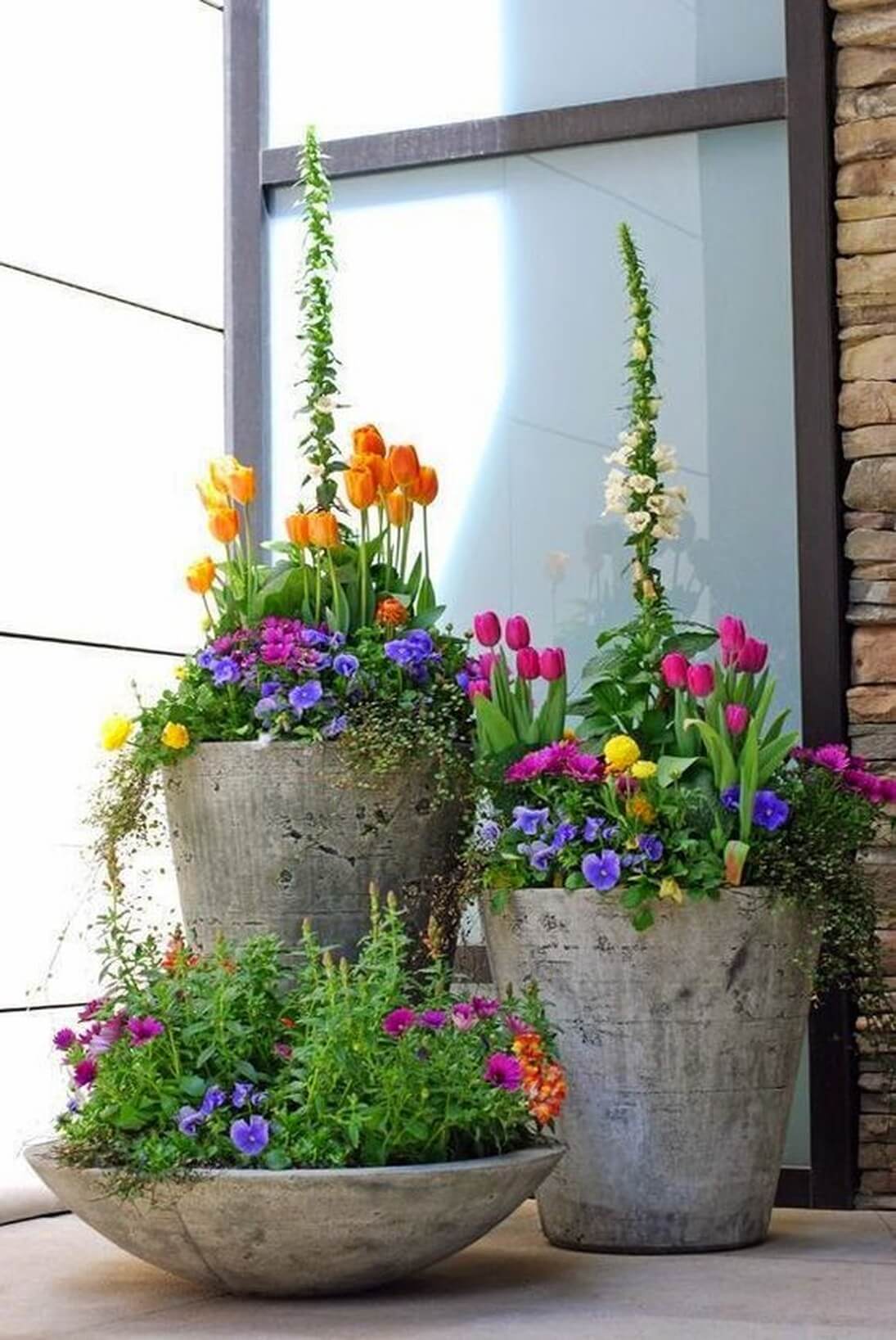 Some people think a concrete anything is unattractive, but how can a concrete pot be ugly when holds a wealth of beautiful spring flowers? These three are planted with violas, pink, orange flowers and yellow tulips and trailing baby's breath. The two largest pots are made taller by single stalks of white-flowered snapdragon.
48. Milk Can and Metal Basket Flower Display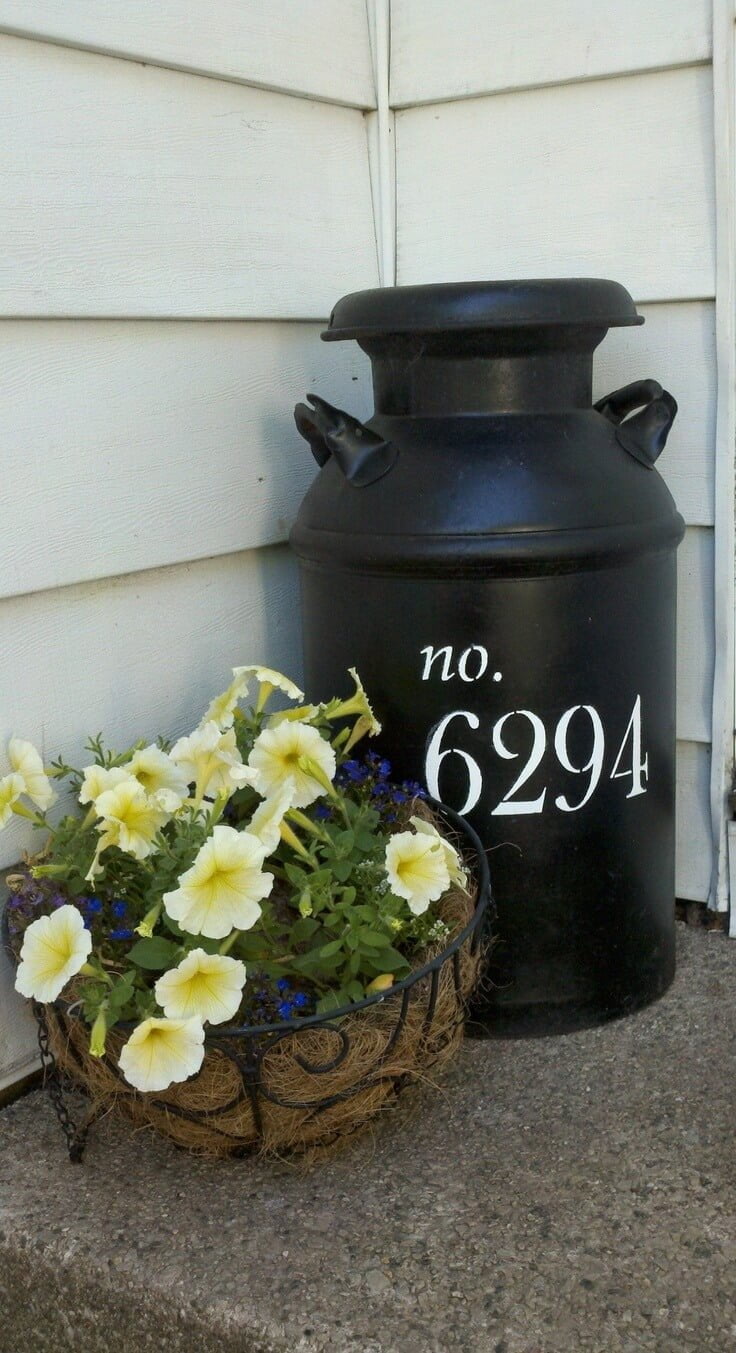 This huge black milk can is empty, but the wire basket beneath it holds a planting of cream-colored, golden throated petunias in straw. prompting memories of the milk and cream the can used to hold. Small plumbago flowers add pops of royal blue. Other flowers that have a similar eye-catching deep blue include species of bellflower and speedwell.
49. Rustic Wooden Bench with Flower Box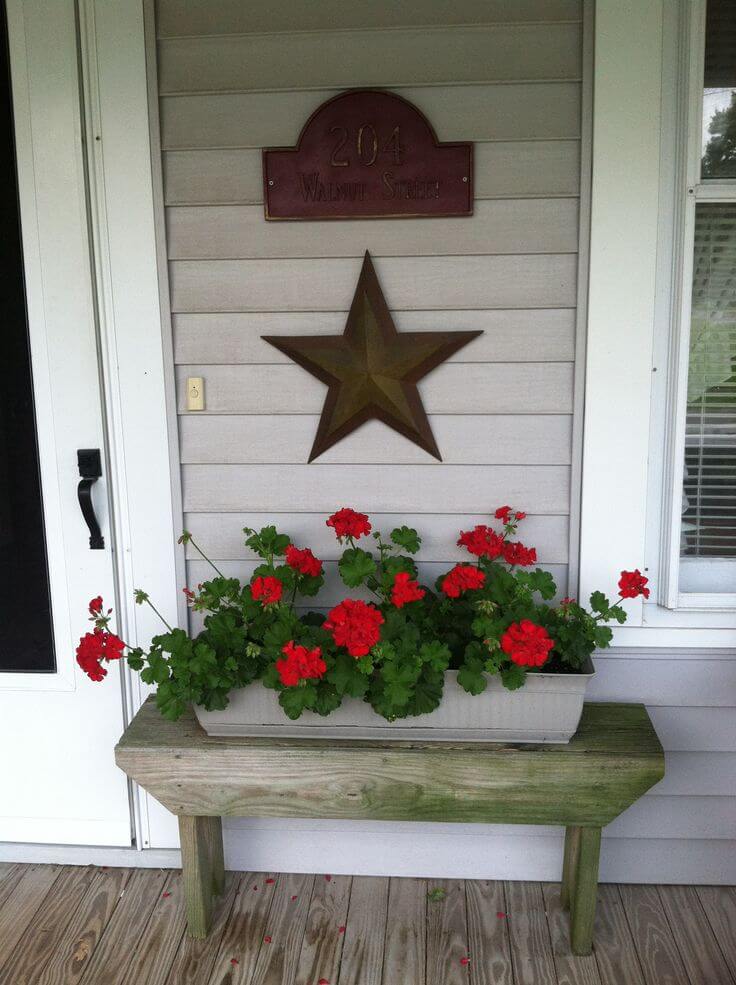 This simple and perennial planting greets guests and family members alike with a long planter full of pelargonium, all propped upon a simple, rustic bench beneath a star and a plaque that displays the house number. The blazing red of the flowers contrasts with everything else.
50. Metal Olive Bucket Fall Planters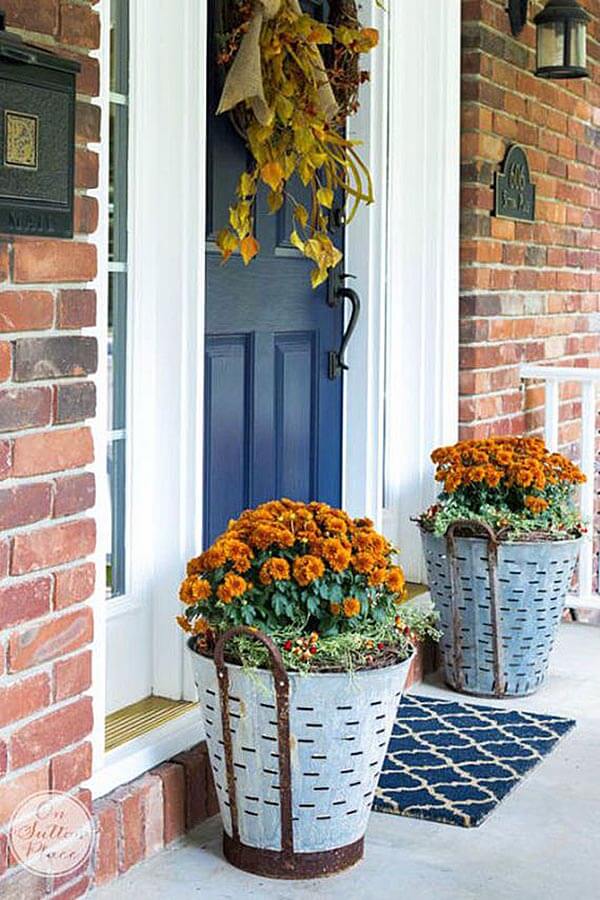 Who knew people used special buckets to gather olives? These seem antique, made of metal with handles for ease of lifting. If the gardener can get their hands on a pair them, they are just right to fill up with containers of orange fall chrysanthemums, and place by the welcome mat.
51. Chic Flower and Tree Porch Pots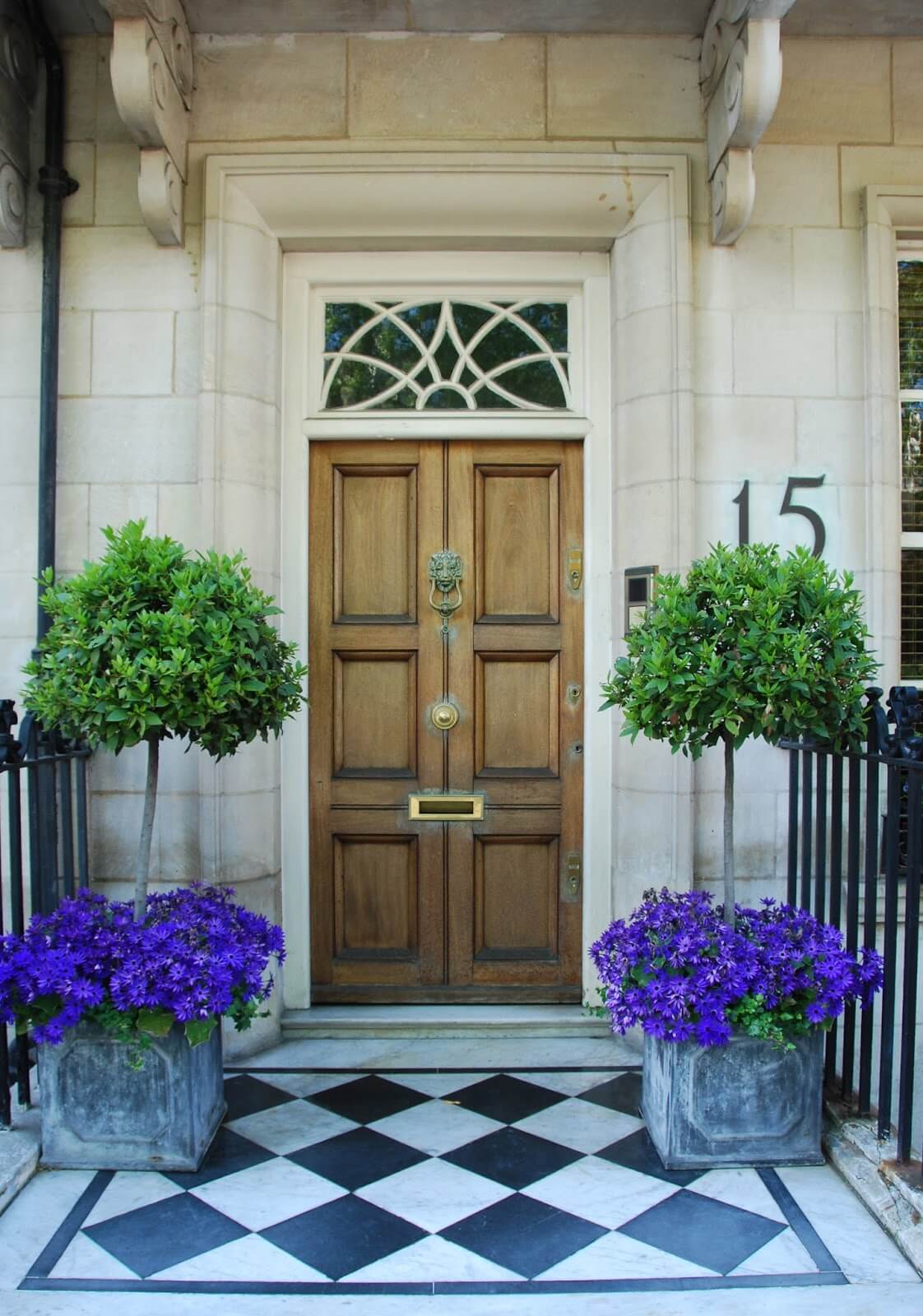 Lovingly pruned trees in pots are a real sign of elegance: a visitor can find them all over the grounds of Versailles. These little trees which flank a door with a lion head knocker are enlivened with nearly identical plantings of bright purple asters in antiqued planting boxes on a black and white harlequin front stoup.
52. Topsy Turvy Flower Pot Display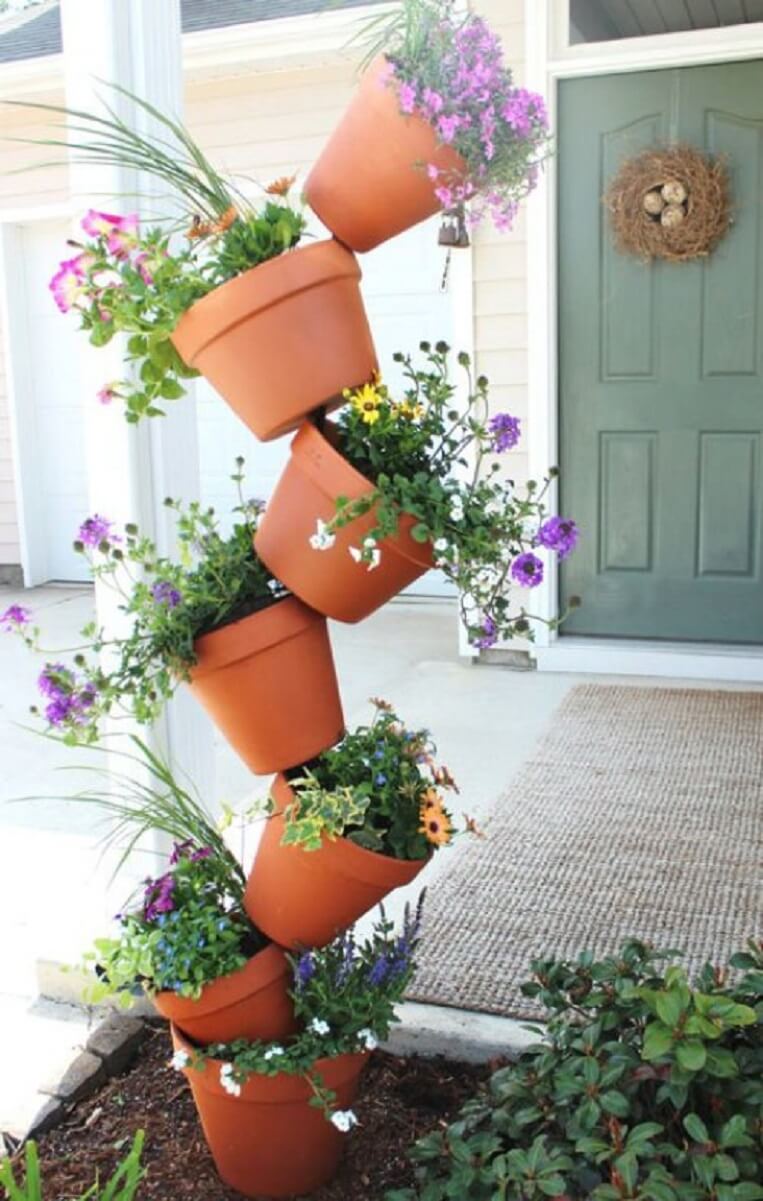 Guests will wonder how the homeowner keeps these pots from falling over for real, but it's a bit of a secret. These topsy turvy pots, set in a garden bed at the edge of the porch, still do a great job of holding on to their many flowers, vines and grasses, and the plants don't seem to mind.
53. Rustic Wood Shrub Porch Planters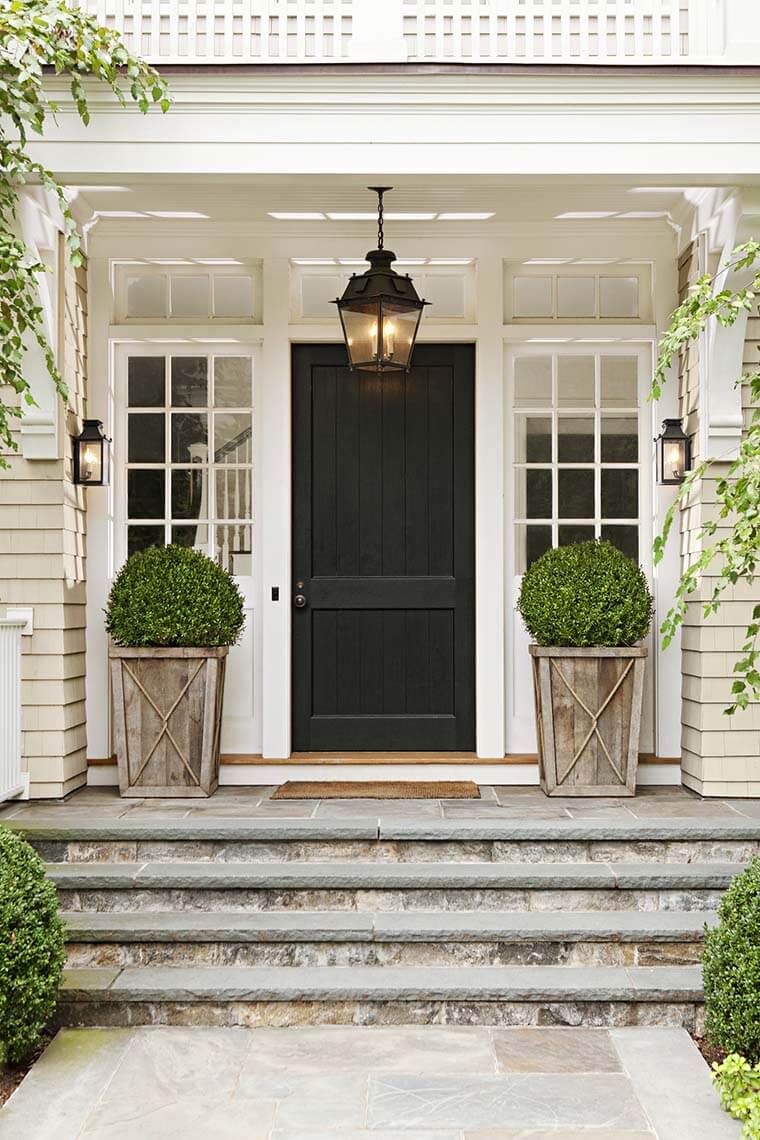 Another utterly simple design has two boxwood specimens in rustic wooden porch planters. Boxwoods are long lived shrubs with tiny leaves that add a beautiful texture. A bit of work with the hedge clippers now and then keeps them round and compact.
Our Favorite Front Door Flower Pots to buy on Amazon