Welcome posts are a great way to enhance the curb appeal of your home and make your front porch or entry way even more inviting. Regardless of your level of DIY skills, it is easy to transform any store-bought post into a unique and versatile accessory for your front porch that will add warmth and charm throughout the entire year.
40+ Ways to Make Your Home More Inviting with These Front Porch Welcome Post Ideas

When it comes to front porch posts, customization is key. For instance, you can customize your post to fit the look of your home with different wood finishes and metal hardware. Likewise, decorating for each season is as easy as changing your welcome sign!
What is more? You can effortlessly create the perfect vignette by styling your post with interchangeable hanging signs, seasonal decor items, and charming accessories — you will never have to commit to the same look or theme. And what better way to showcase your own originality and creativity?
As a matter of fact, welcome posts are not just for hanging welcome signs anymore — you can take your post to the next level by adding hooks for a hanging lantern or add a hanging flower pot. Below are 40+ unique front porch welcome post ideas that are sure to inspire your next project.
1. Whimsical Post and Chalkboard Welcome Sign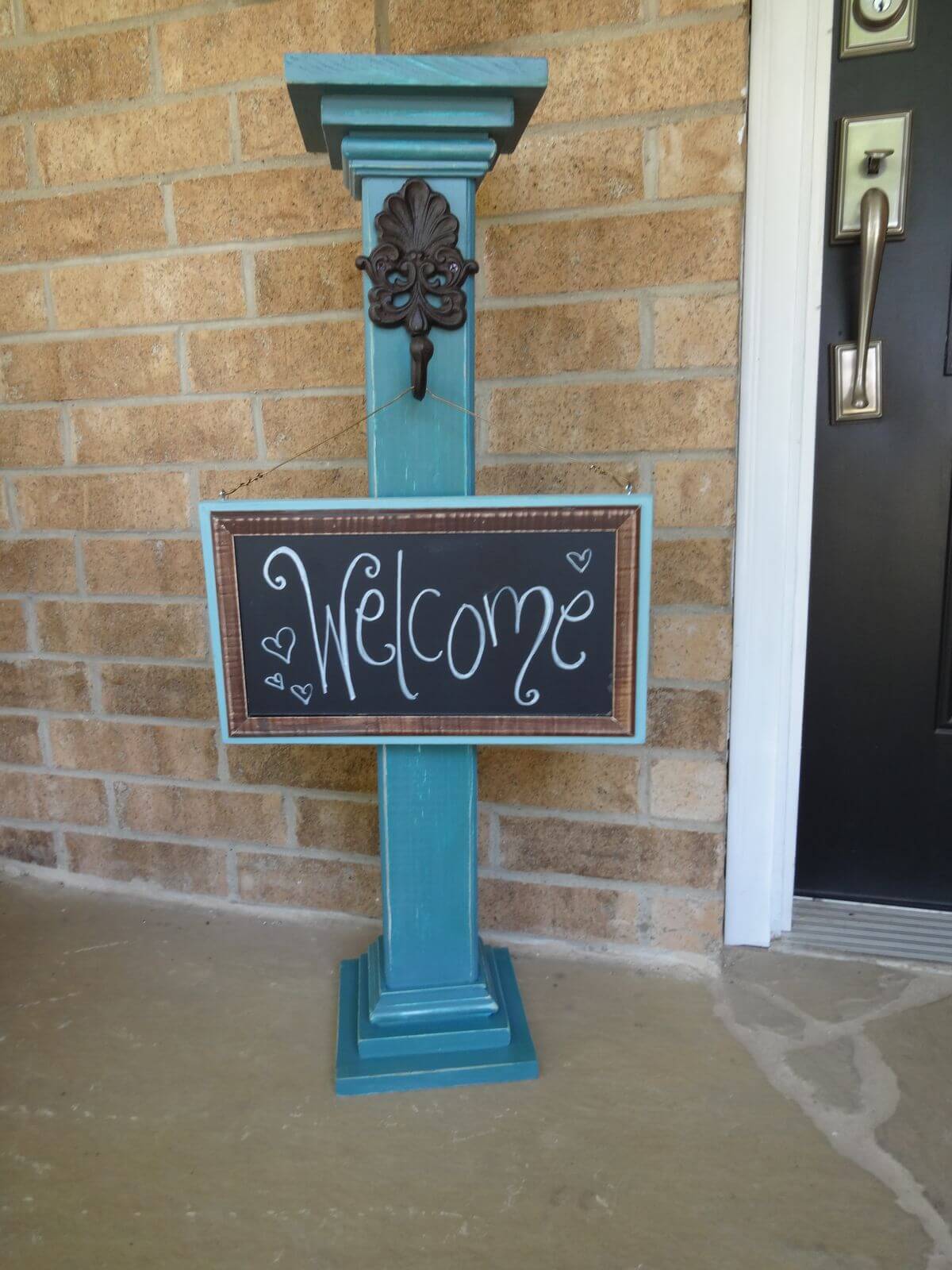 2. Welcome Post Ideas for Halloween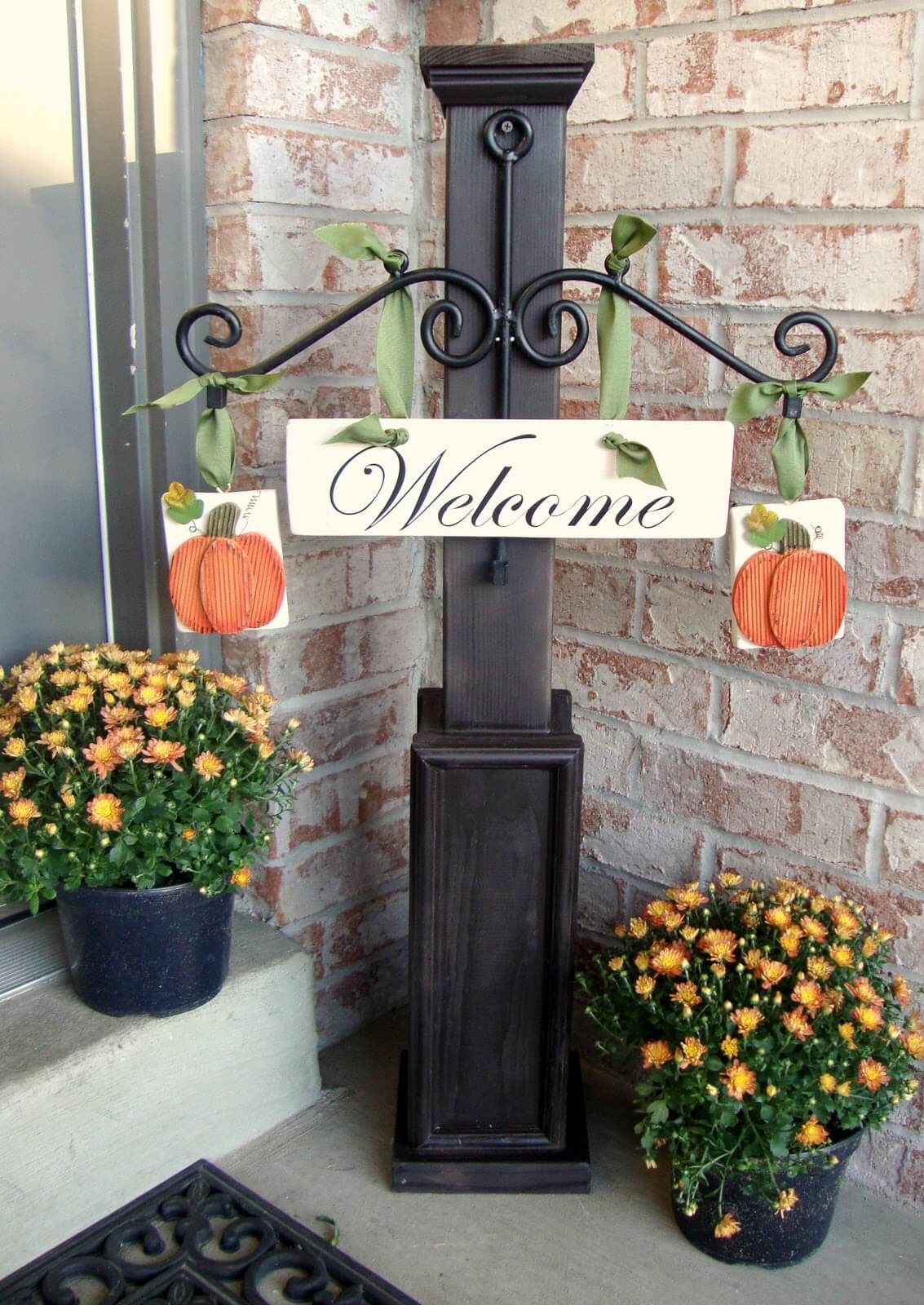 3. Initial Letter Sign for Front Porch Post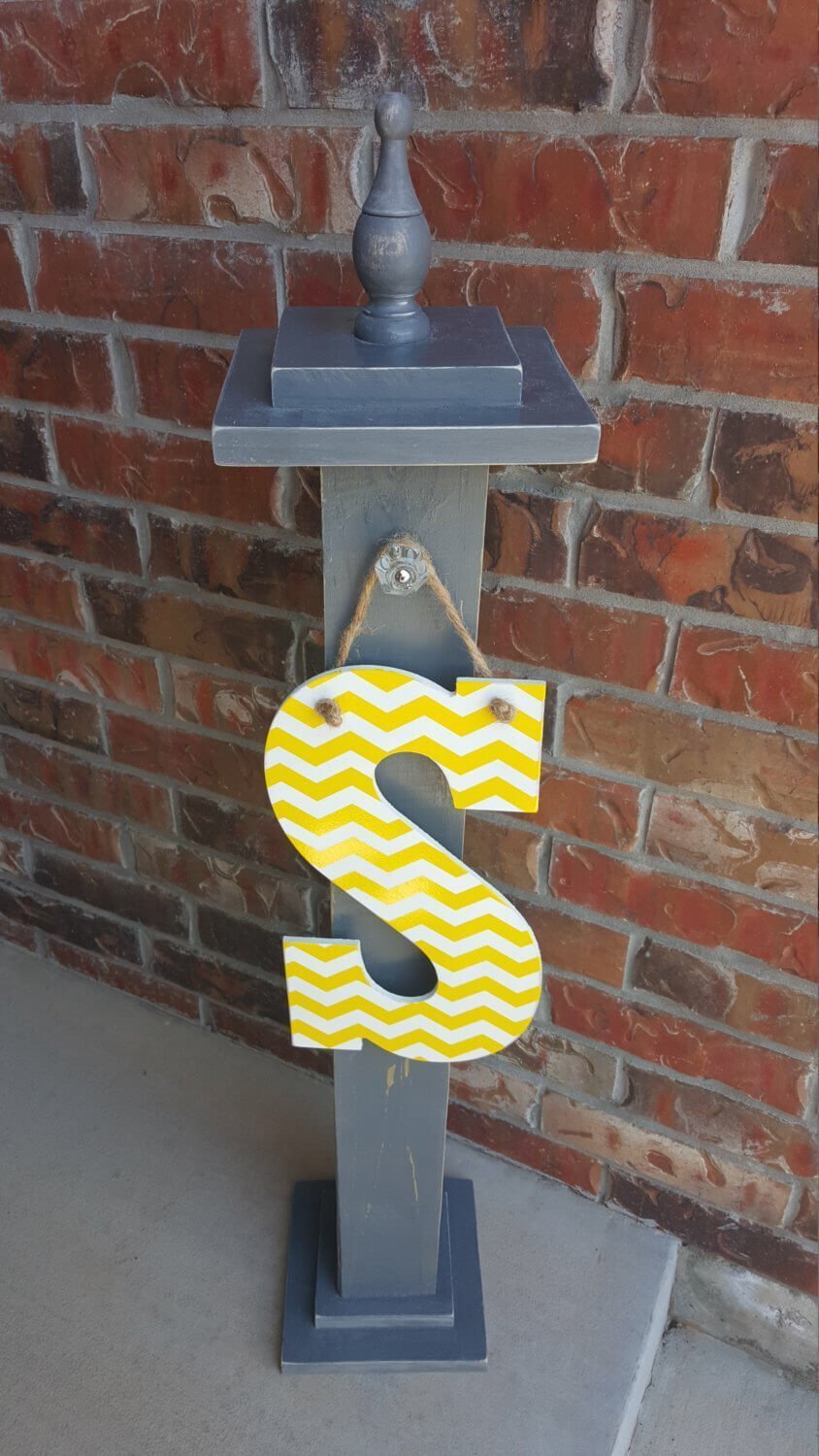 4. Creative Front Porch Welcome Post Ideas for Fall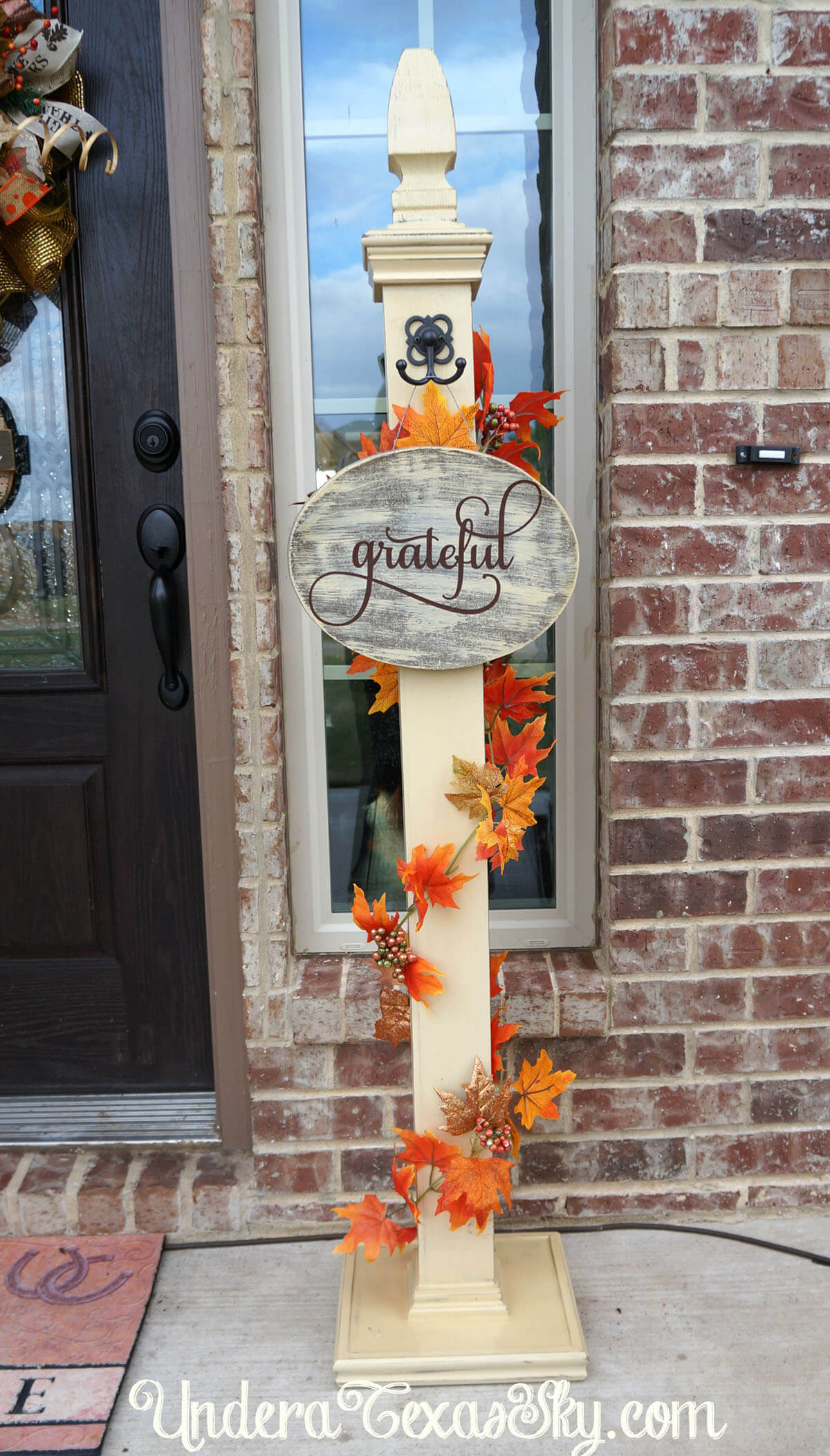 5. Front Porch Post with Hanging Planters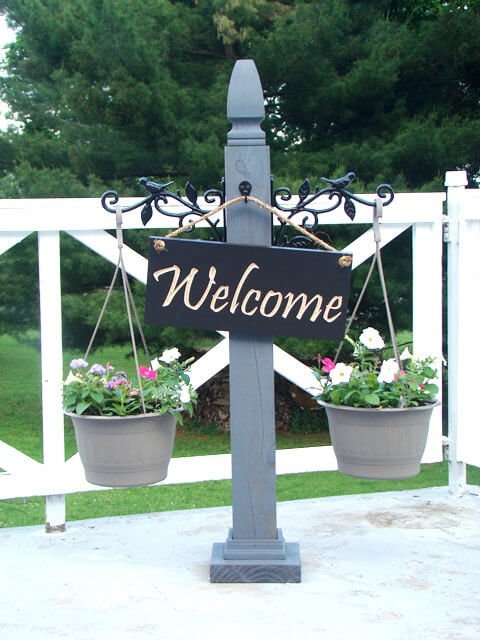 6. Rustic Post and Hand-Painted Welcome Sign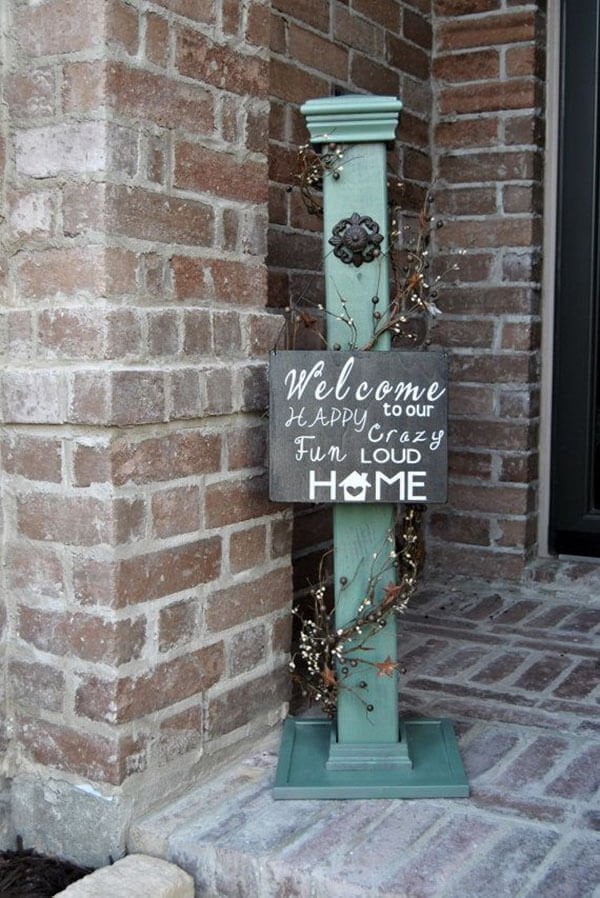 7. Multi-purpose Post with Flower Box and Lantern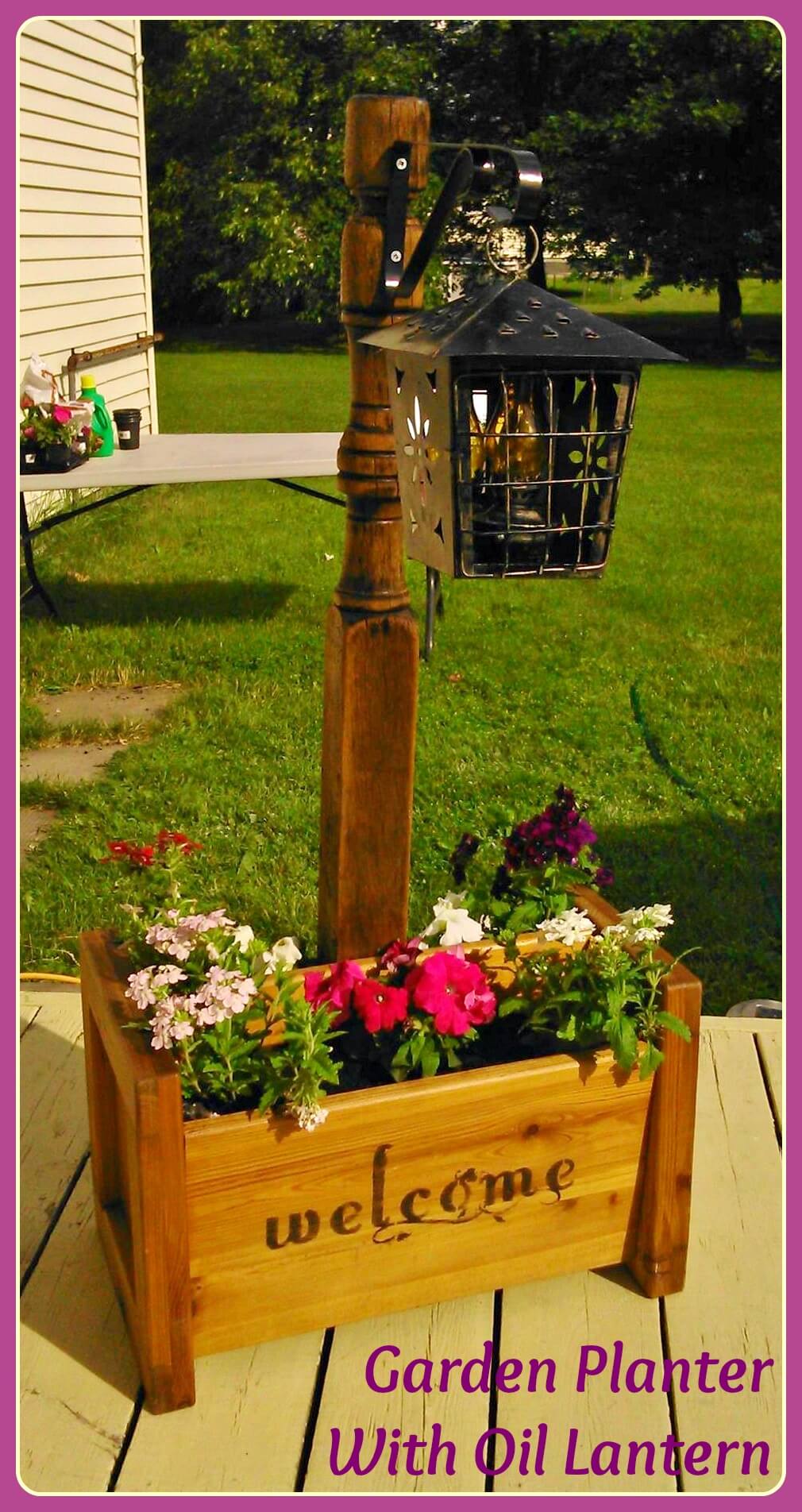 8. Charming White Welcome Post and Hanging Sign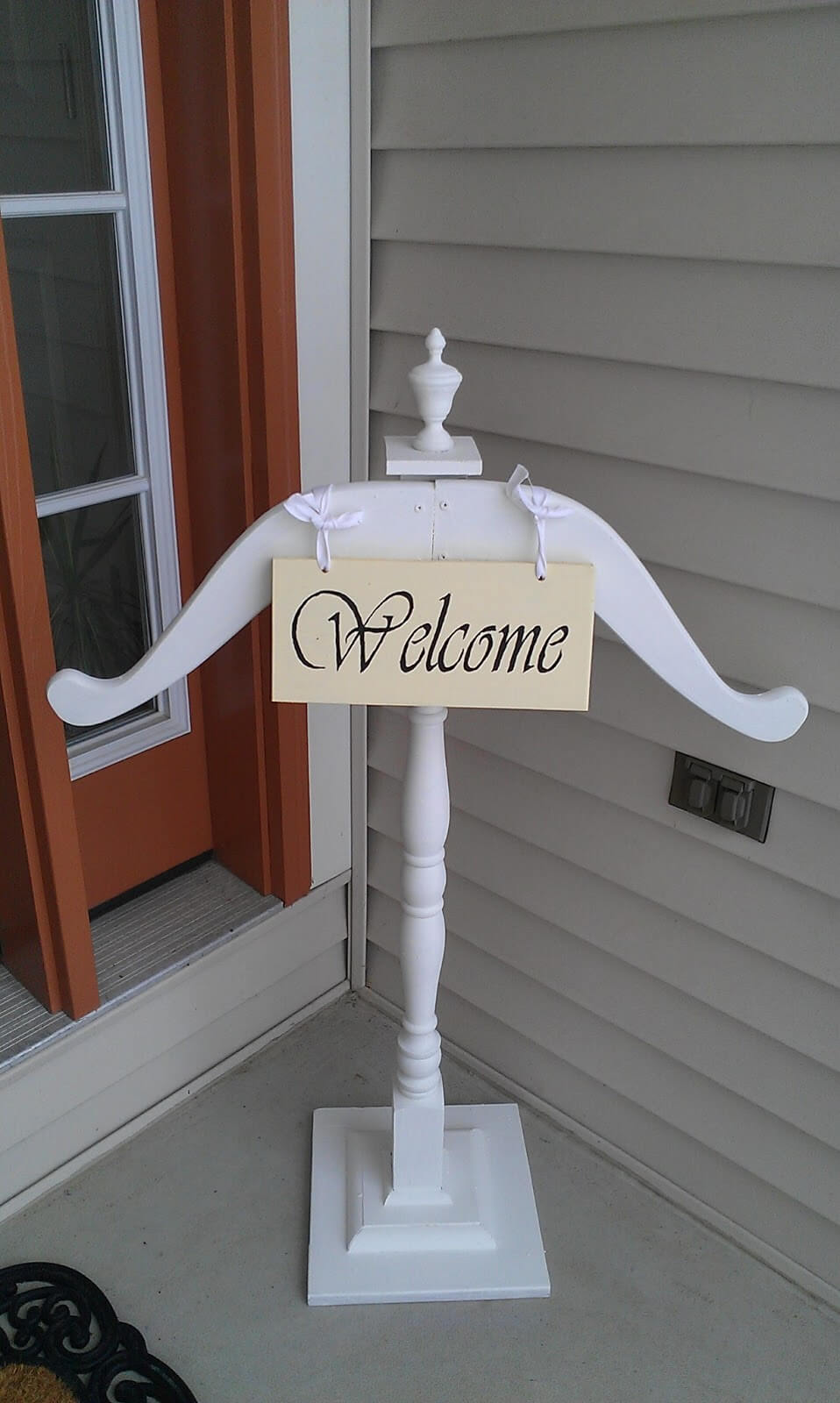 9. Mission-Style Post and Rustic Welcome Sign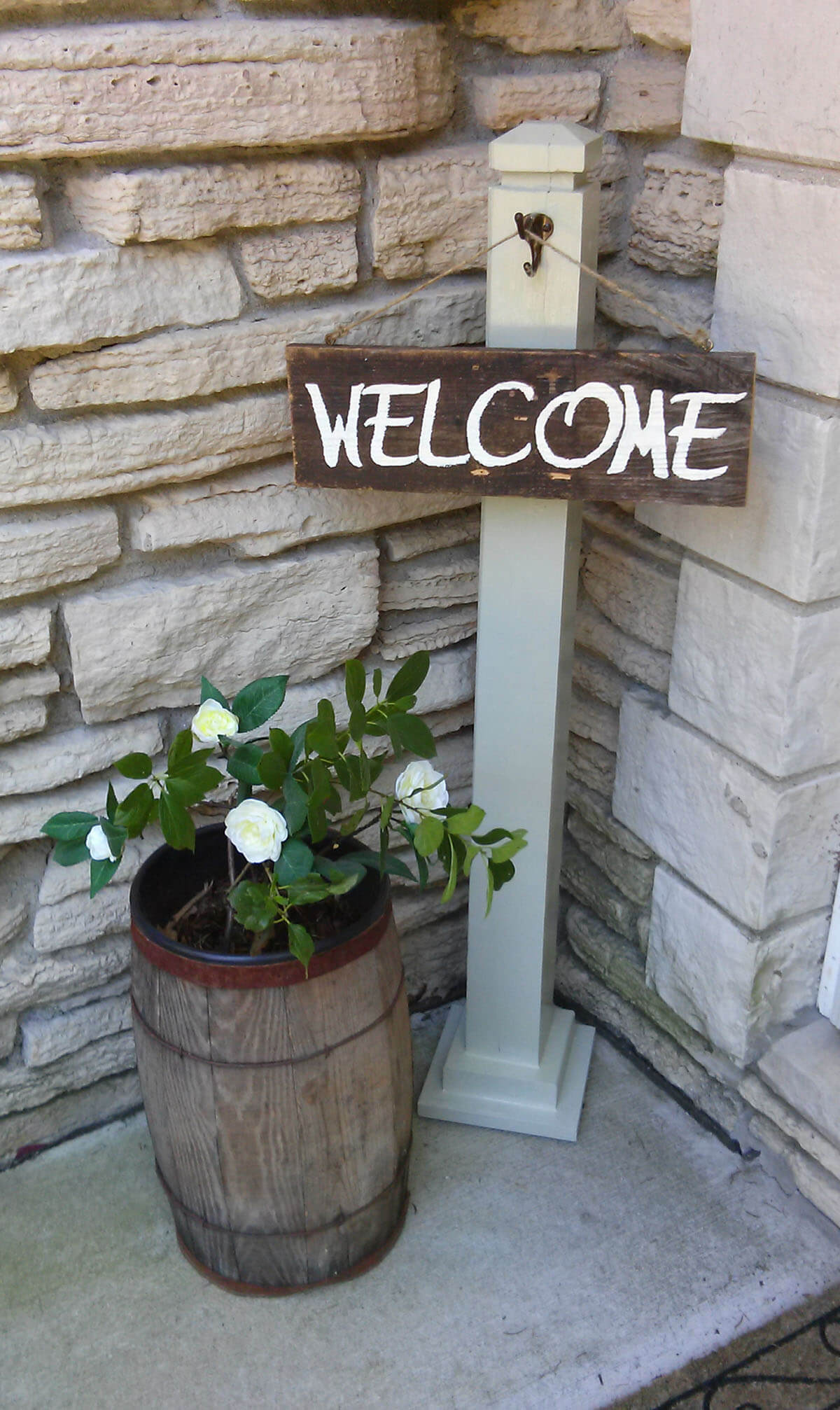 10. Versatile Post and Welcome Sign for Fall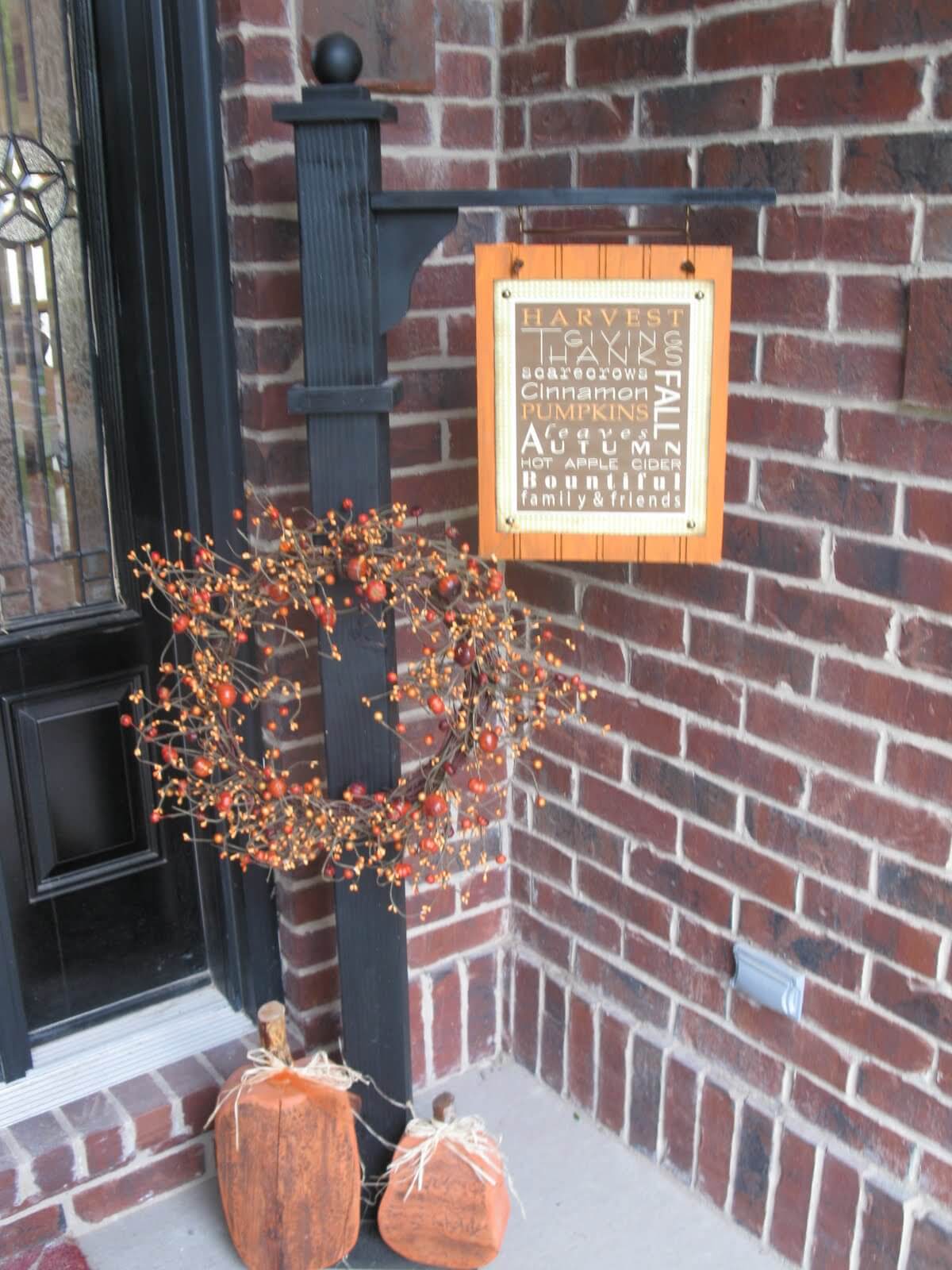 11. Simple Post and Decorative Hanging Fabric Sign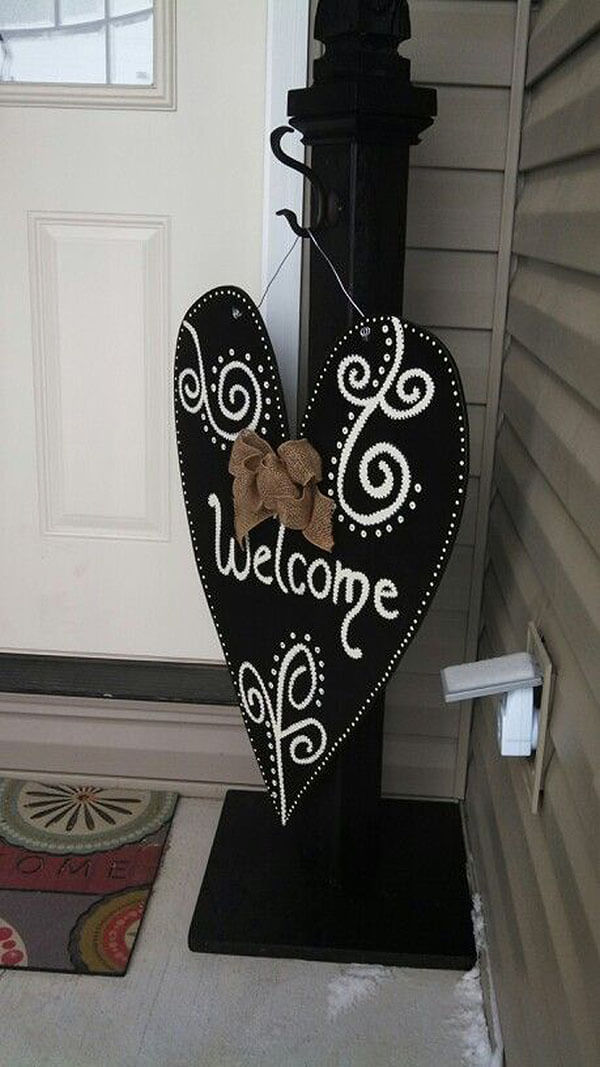 12. Cute Post Styled with Seasonal Decor Items

13. Rustic Front Porch Welcome Post Ideas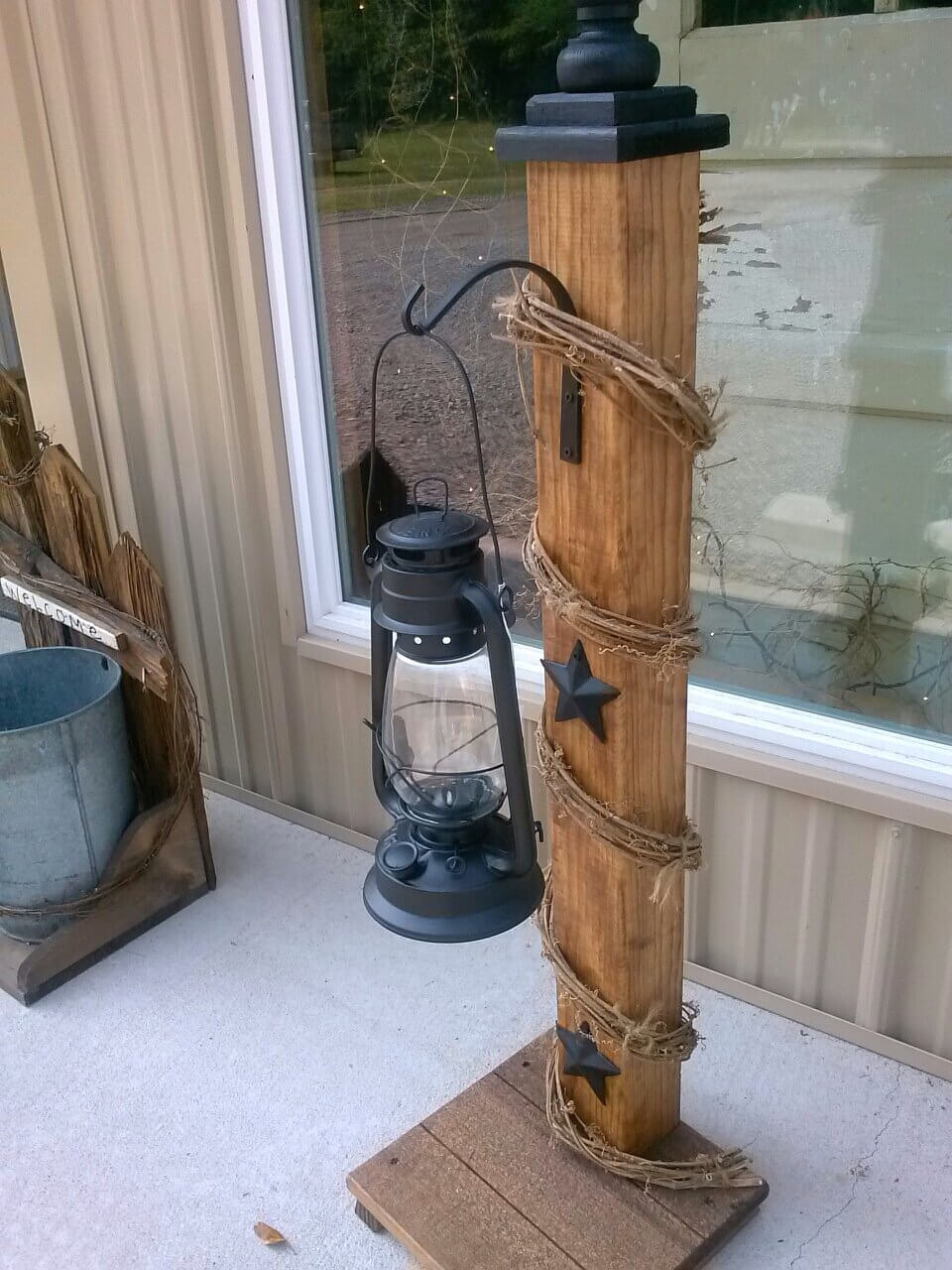 14. Low-Maintenance Front Porch Welcome Post Ideas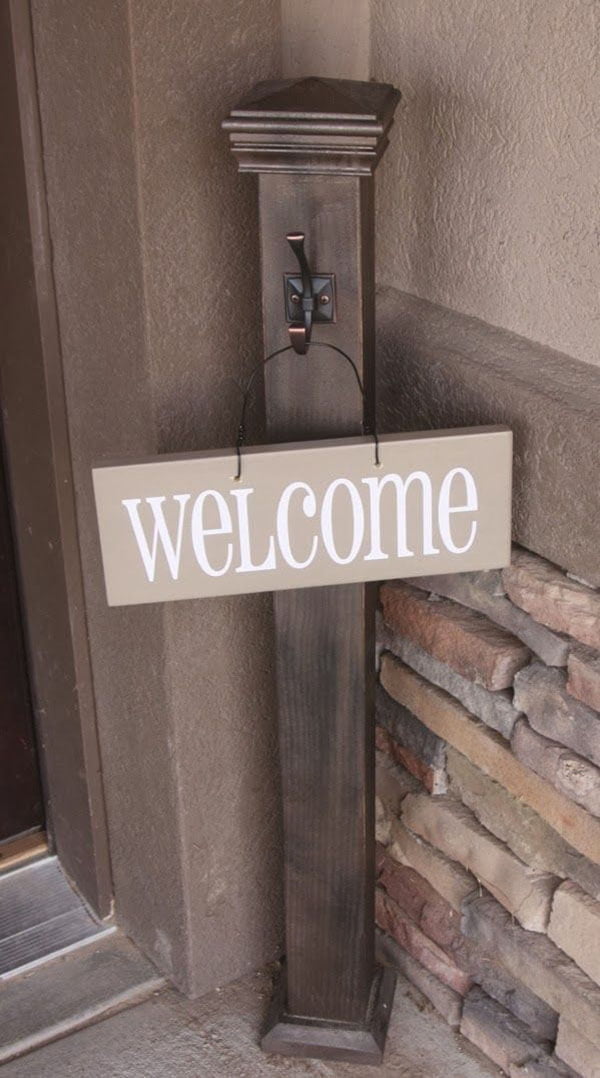 15. Flower Stand Post and Decorative Summer Sign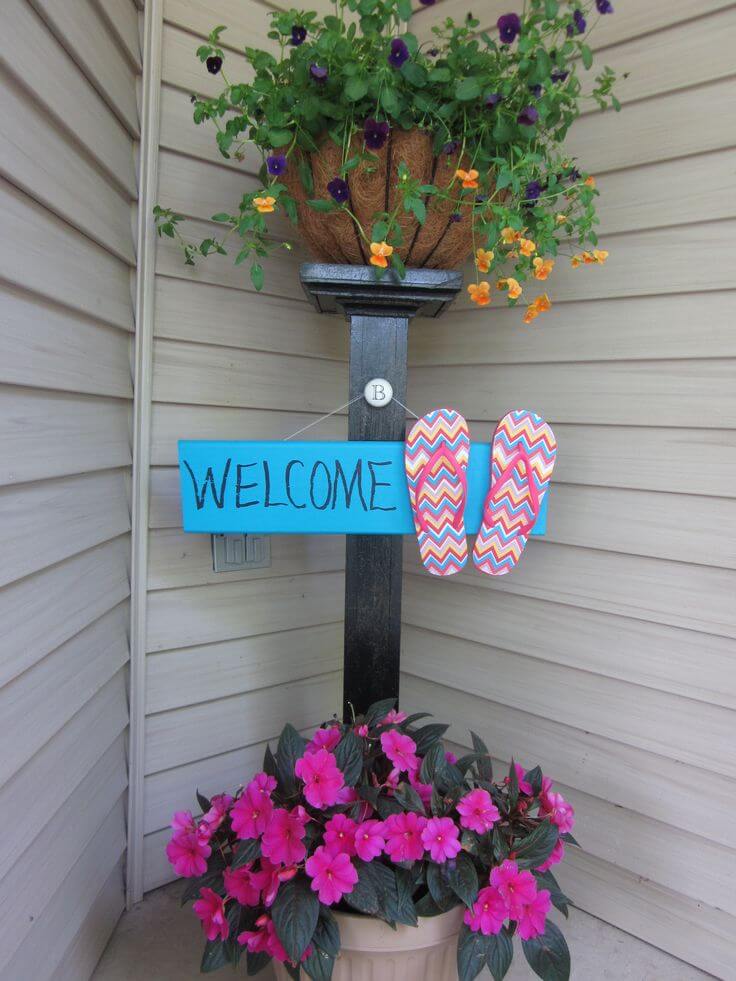 16. Style Posts for Winter with Interchangeable Signs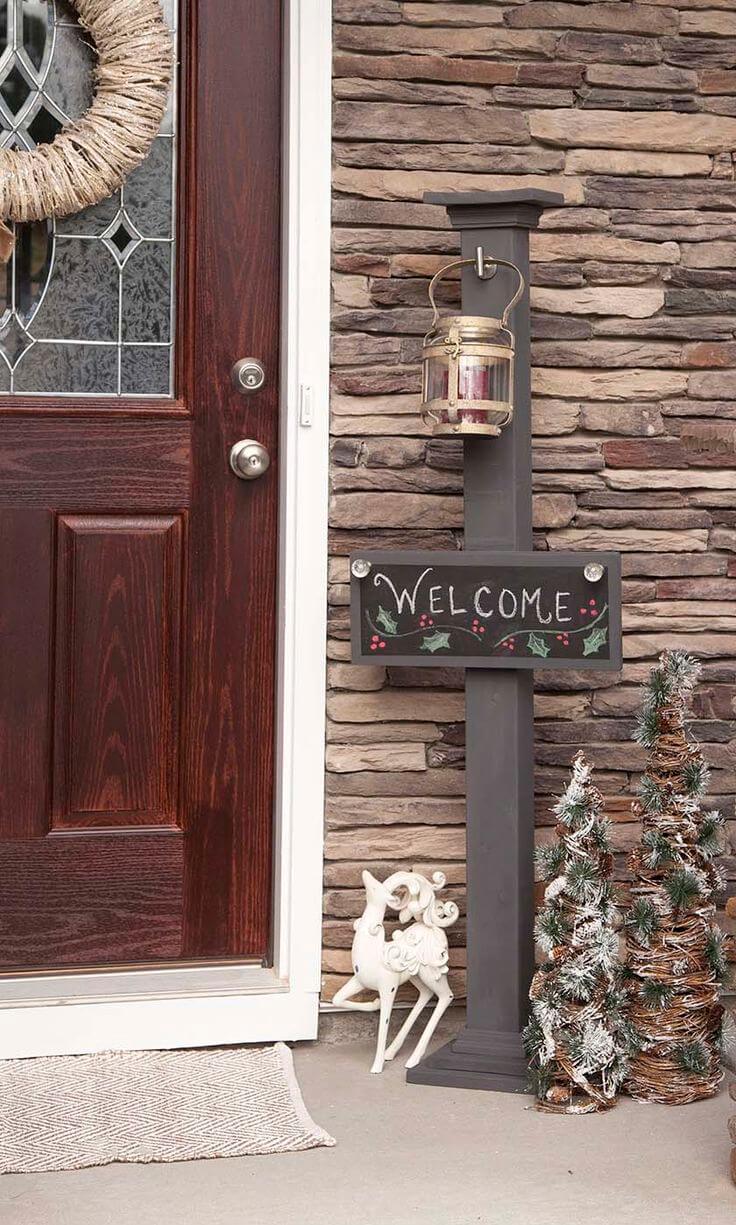 17. Whimsical Painted Garden-Themed Post and Simple Sign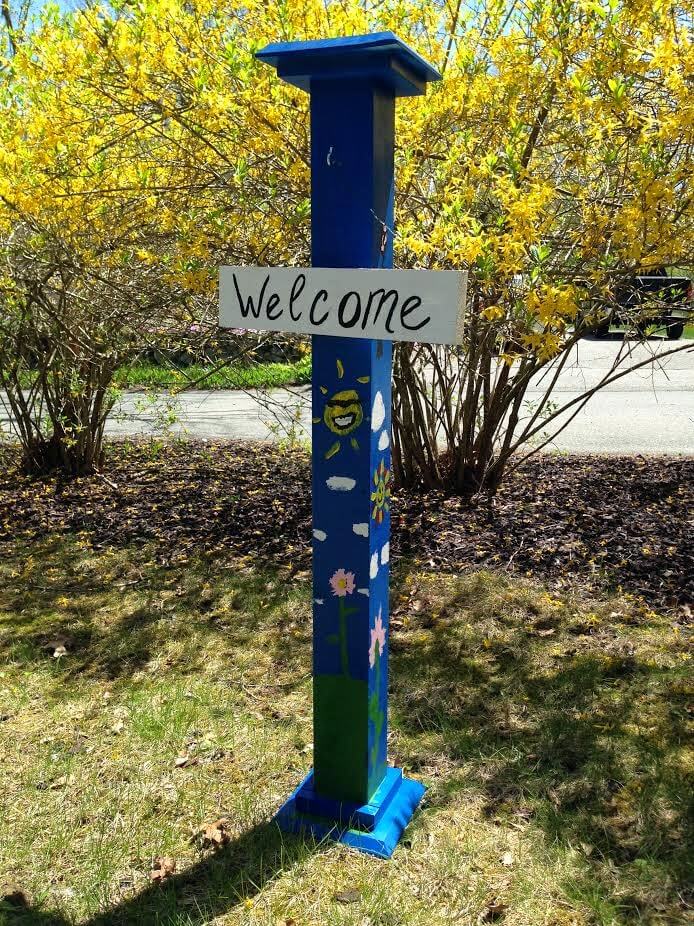 18. Eye-Catching Welcome Posts for Front Porches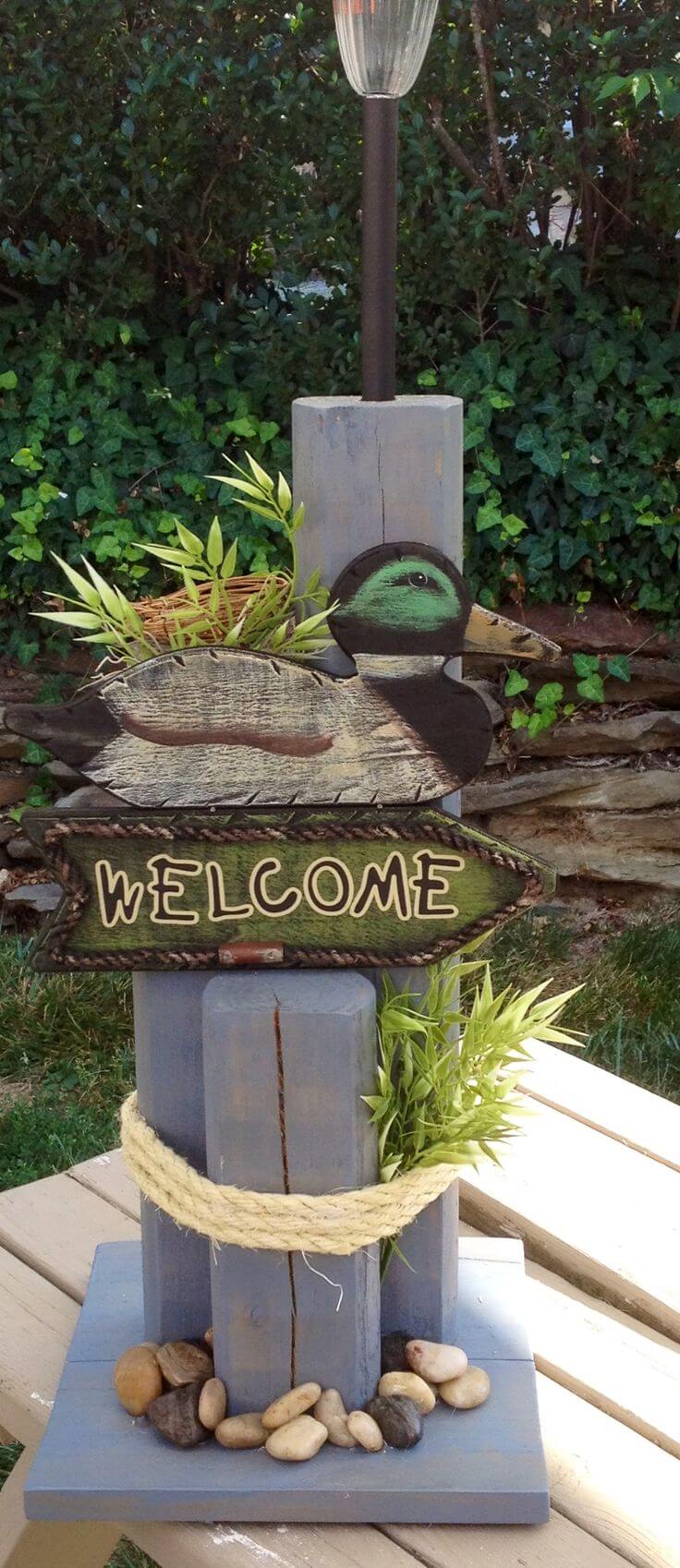 19. Style Your Post with Seasonal Decor Items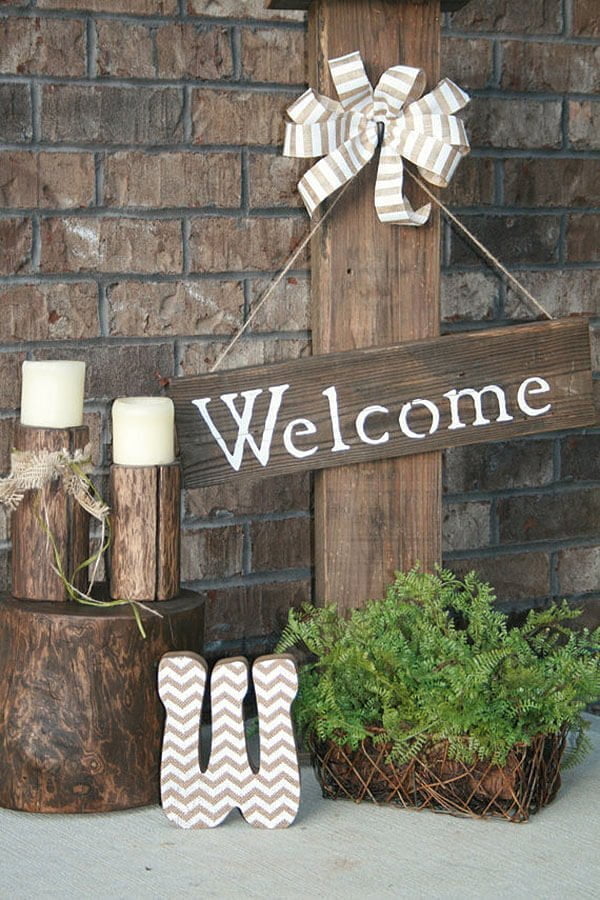 20. Baroque-Style Wood Post and Hanging Welcome Sign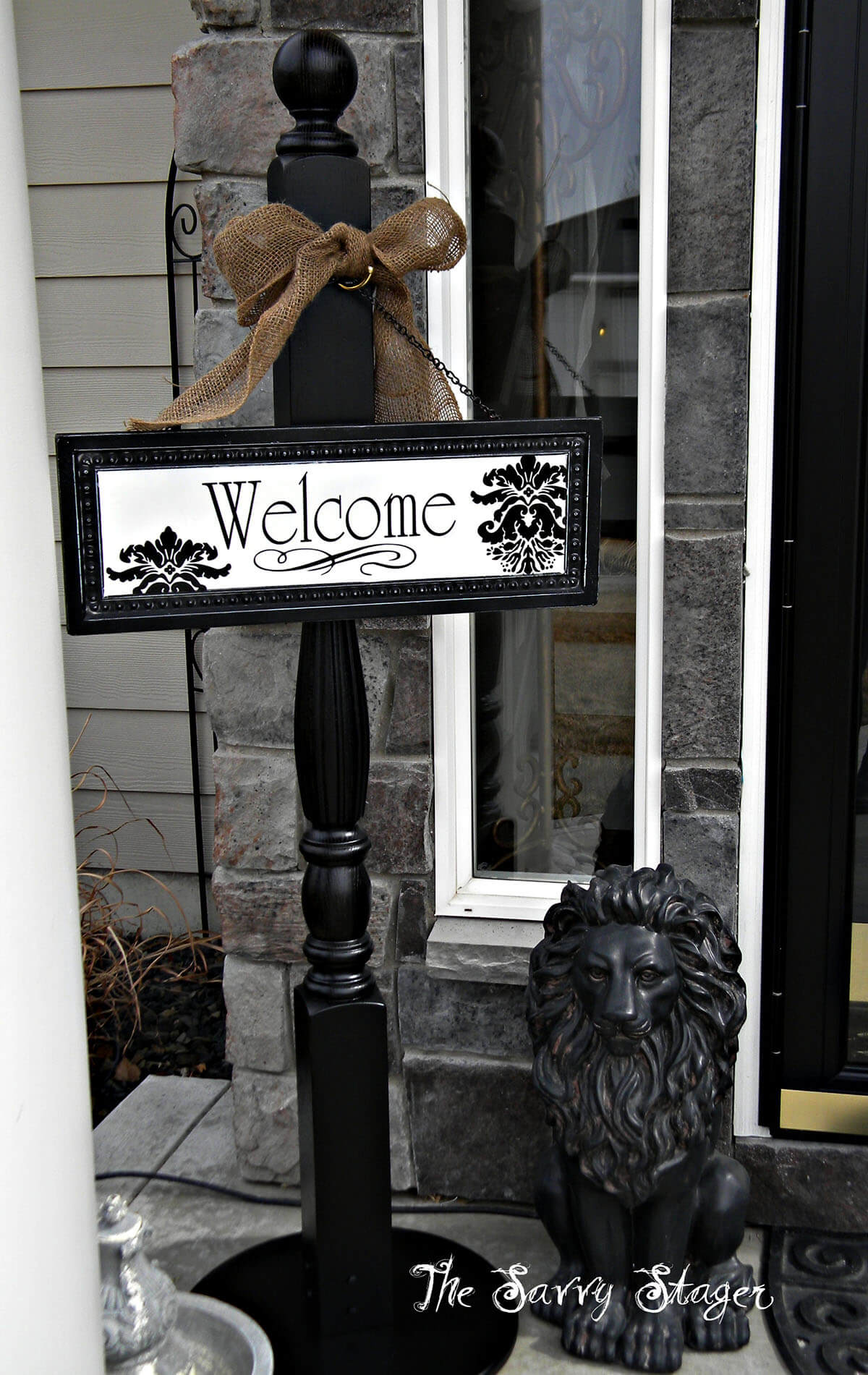 21. Ornate Post and Rustic Welcome Sign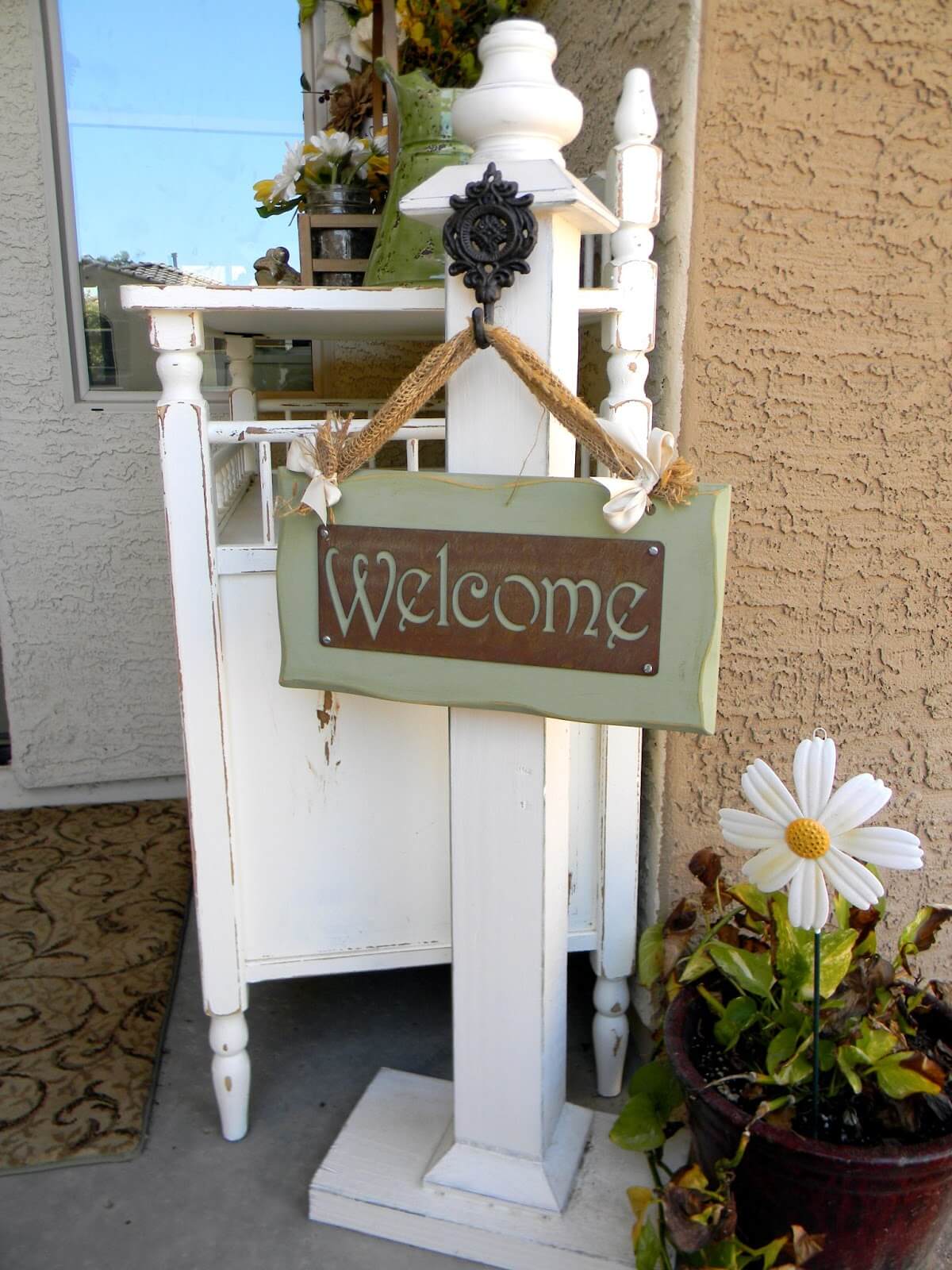 22. Space Saving Simple Post and Welcome Sign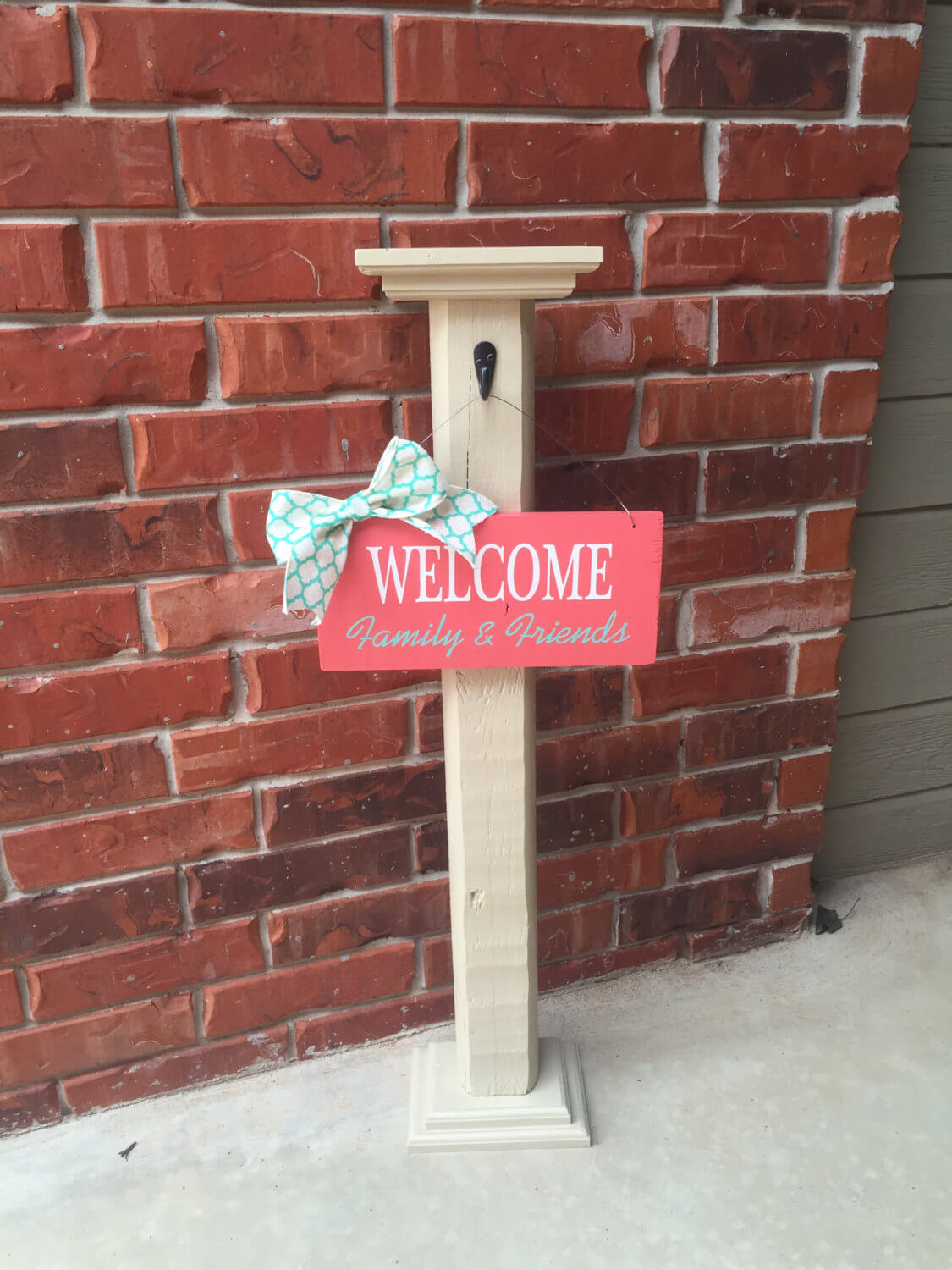 23. Painted Post with Flower Stand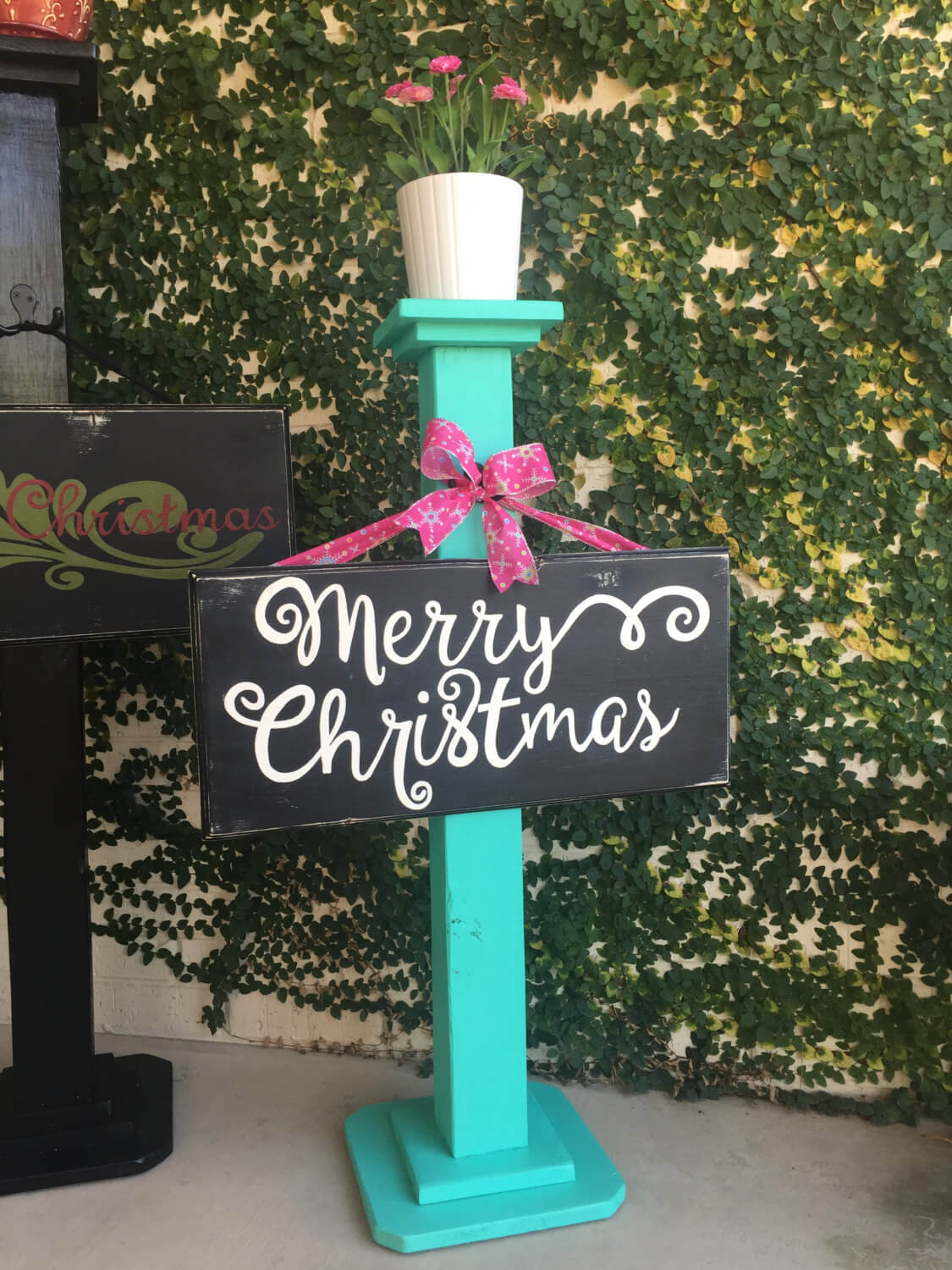 24. Patriotic Front Porch Welcome Sign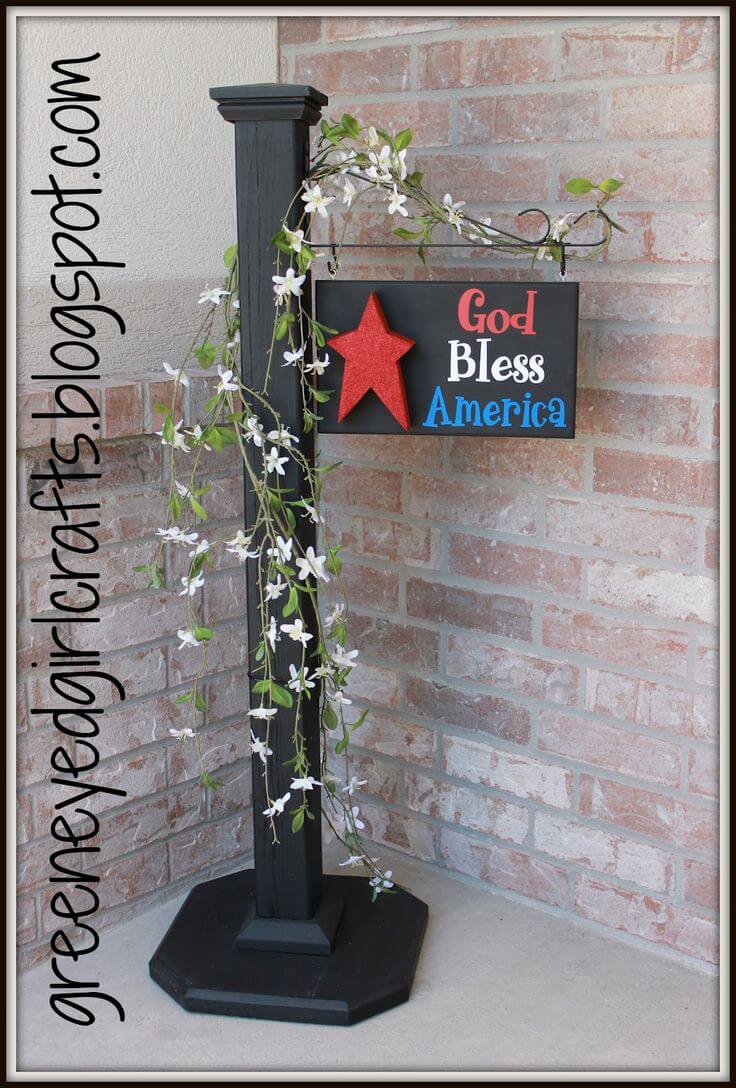 25. Hanging Welcome Post Porch Sign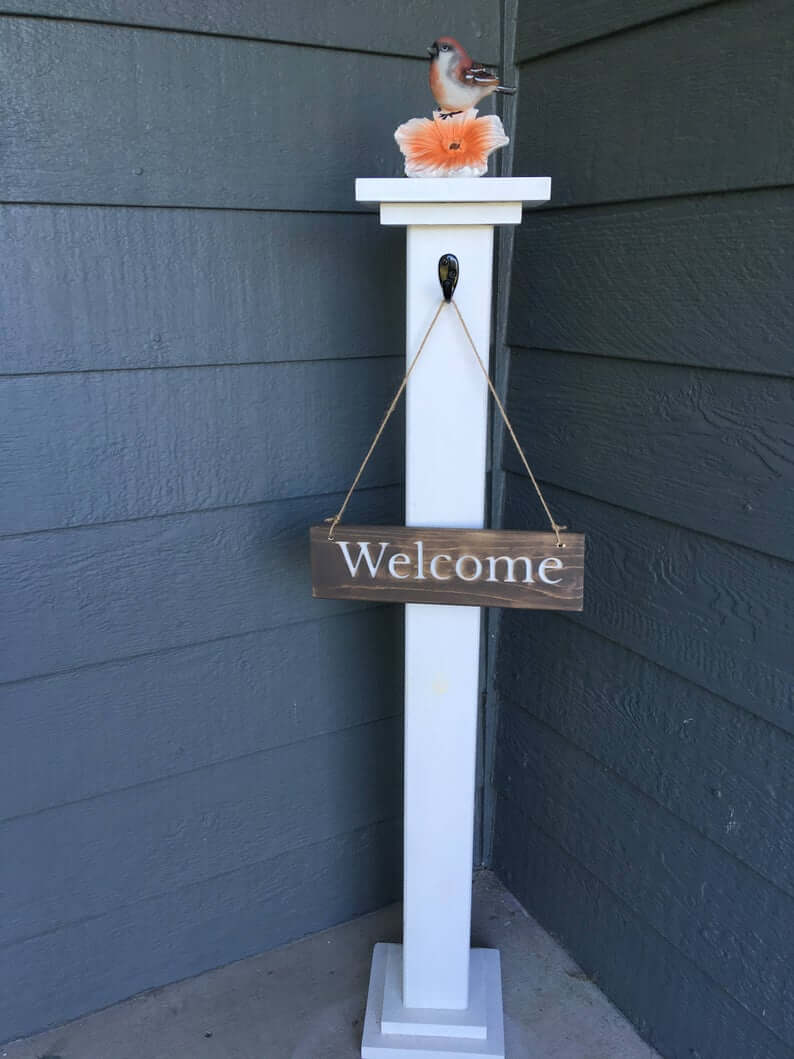 If you are out for a cute way to make all your guests feel at home even before they come inside, this simple and beautiful post sign will do the job well. Made in either black or white, the sign has a decorative hook where the wooden "welcome" sign hangs from. With the staining on the wood and the jute rope it hangs from, this piece has a nice farmhouse feel to it.
26. Decorative Black Stained Porch Post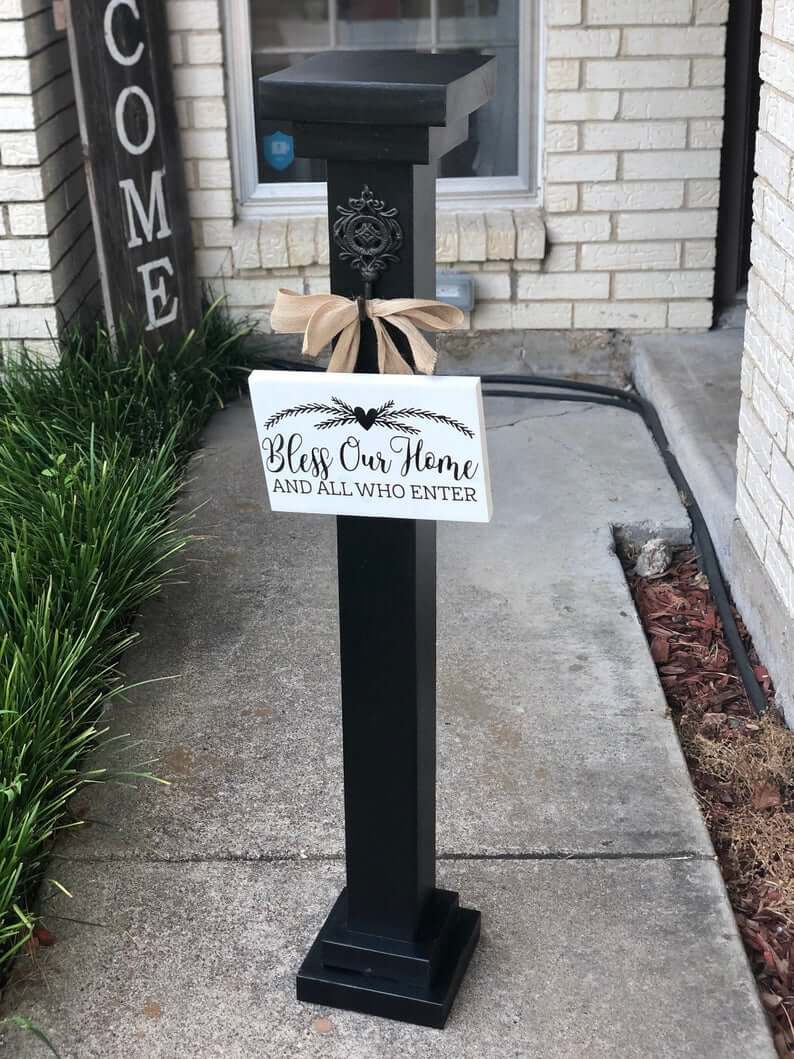 With this decorative handmade post, you get a perfect addition to your front porch that suits almost any style. It can fit just about anywhere on the porch, and since it comes with just the post itself, you are free to hang on additional décor to the piece as you see fit. There is enough room to place something on top, and you can also use the iron hook to hang a sign, wreath, etc.
27. "Welcome Hope You Like Dog Hair" Sign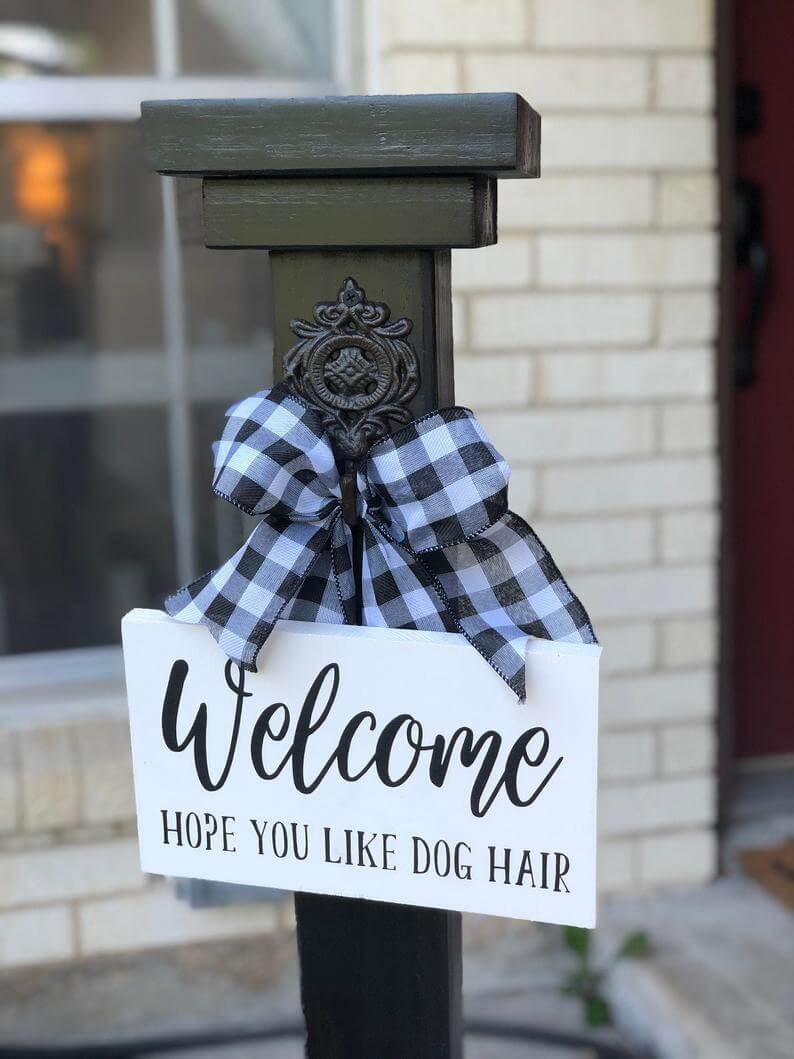 For dog owners, this welcoming sign is a cute option to set the tone of your home for anyone who visits. You can hang it from a post or hang it directly on the front door. No matter where you put it, the emphasis is made that this is a dog-loving home. The use of two different fonts helps the message stand out even more.
28. Distressed Wooden Painted Porch Post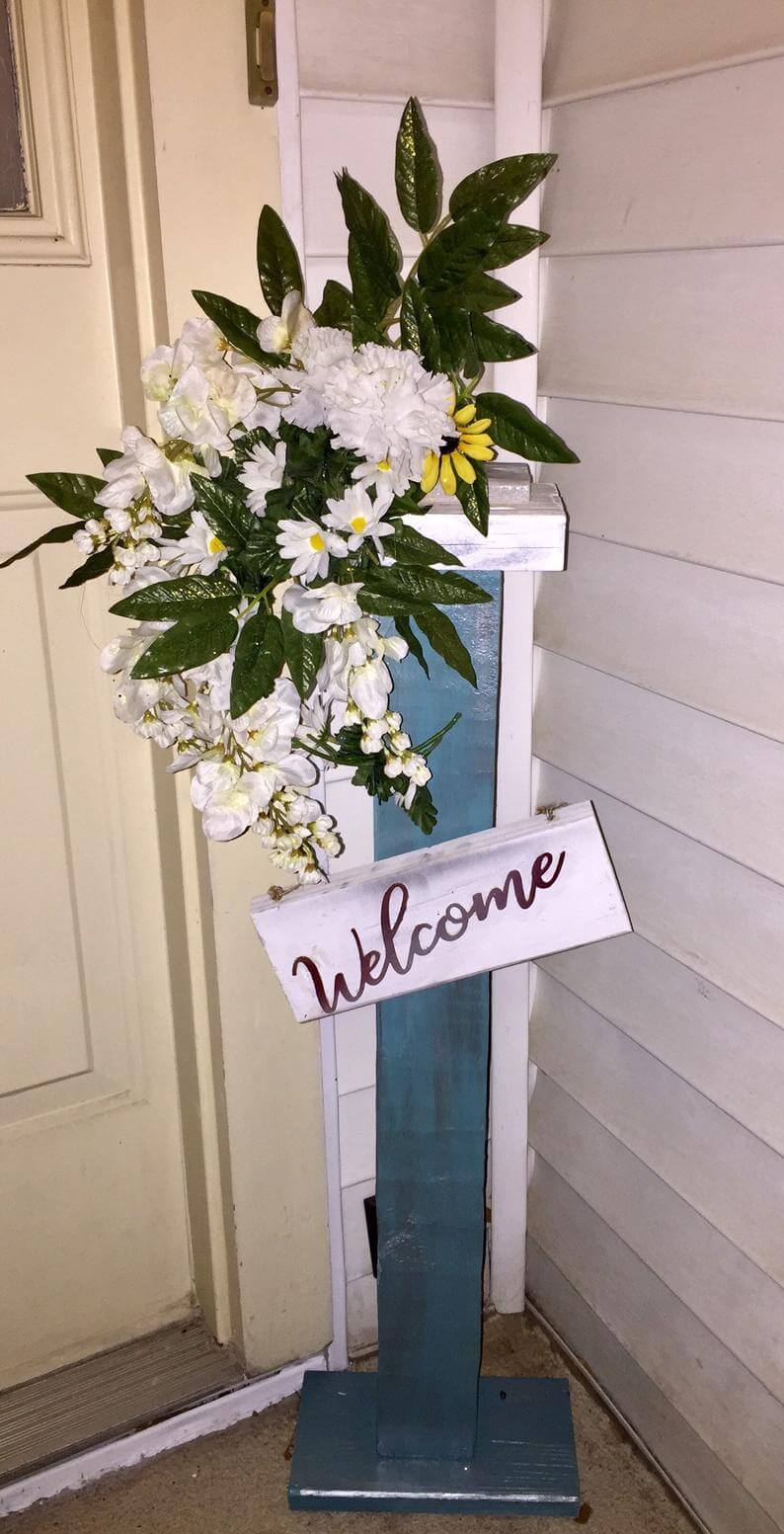 Good for a rustic, whimsical decoration, this painted post is perfect for your front porch. It has such a small footprint that it can fit into the corner with ease, yet you can still use it to house other decorations like greenery, signs, lanterns, etc. It's spray-painted with a nice teal and gray color that's been distressed to mimic the look of aging.
29. Simplistic Wooden Welcoming Porch Post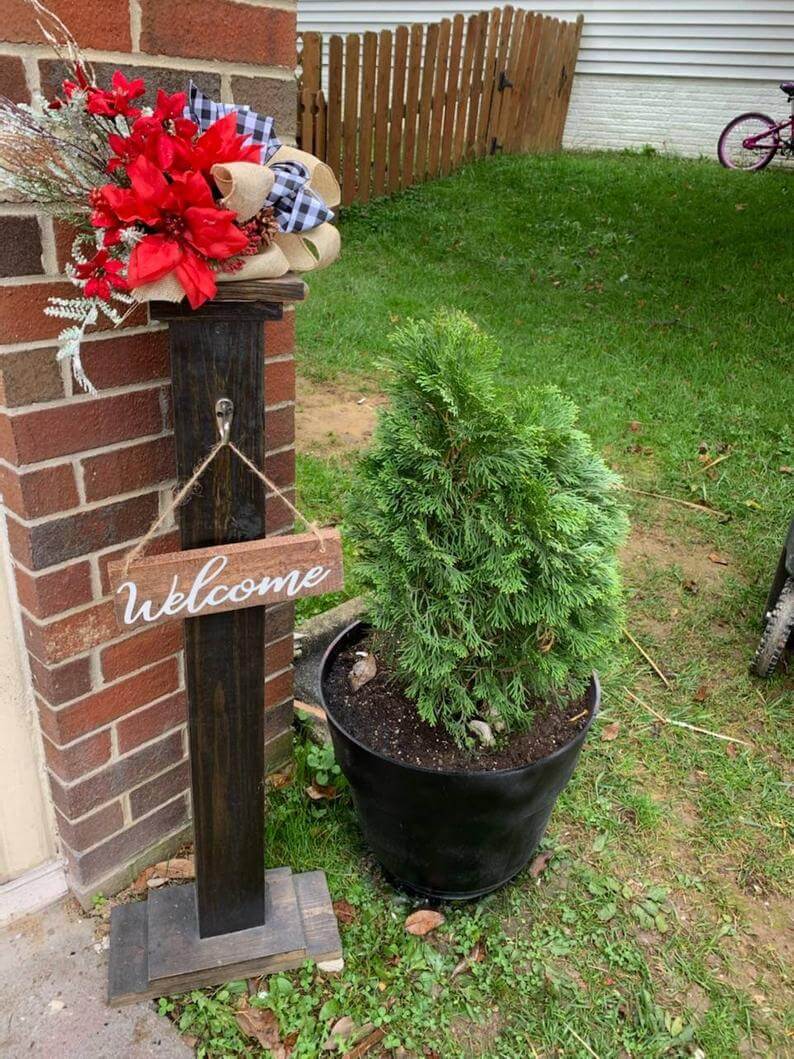 Something as simple as this wooden porch post can be the centerpiece for your entire front porch décor. You can let your creativity flow with this post, using it to hold the likes of wreaths and any decorative sign you can think to use. As for the appearance, it has a stained design that maintains the natural look of the wood.
30. Farmhouse Style Painted Porch Post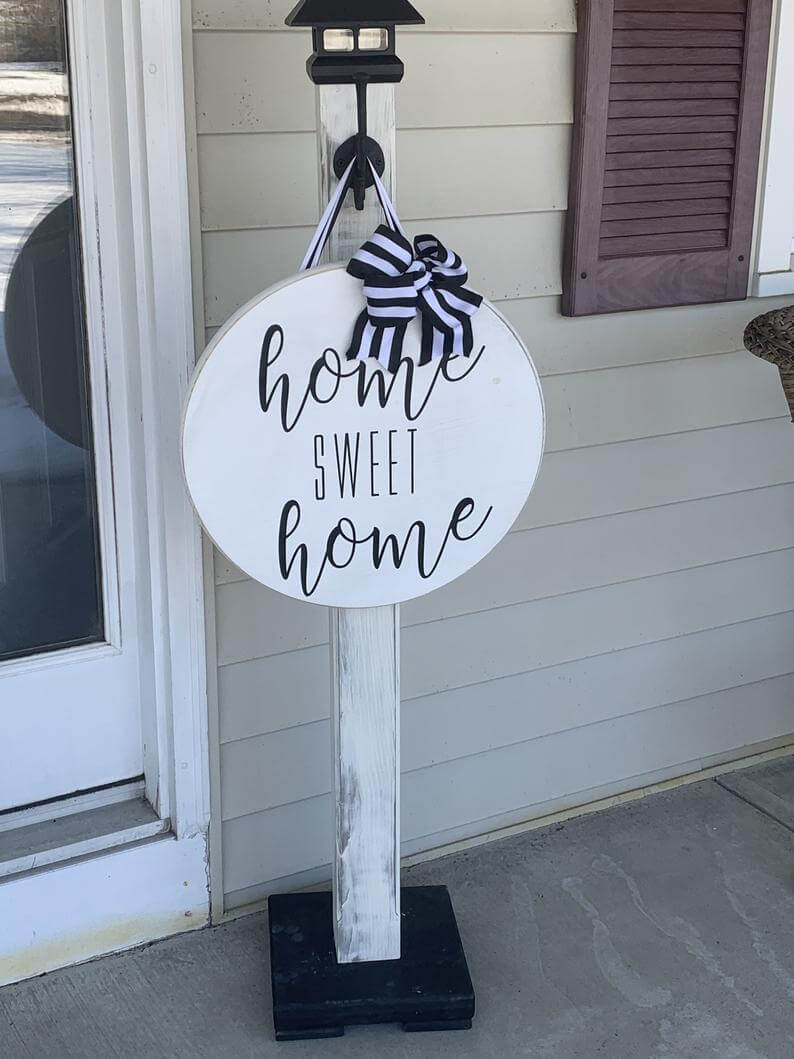 This porch post effortlessly displays a stylish farmhouse vibe. It features a lovely chalk paint job that has been distressed, adding to the rural feel of the post. Additionally, this post has an incredible solar cap on top. It gives it a lantern-like effect that can instantly capture attention. Lastly, this also has a large hook for easy hanging of signs and wreaths.
31. Welcome Post with Chalk Board Sign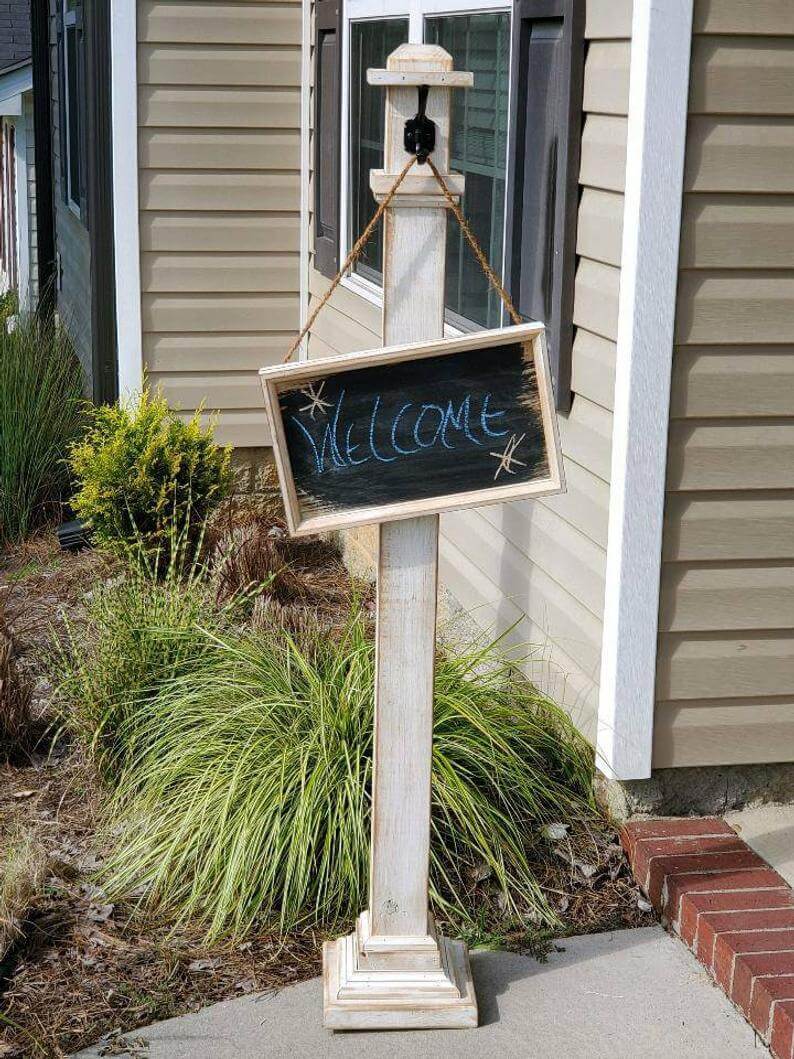 Heavily distressed, this post is a go-to option when you want to add more country-like style to your front porch. It seems straightforward at first glance, but it blends with the theme at hand well. You can get this in four different colors, each of them given that distressed look so that it still comes across as aged. Also, this comes with a chalkboard sign so you can create any message you wish to personalize the welcome.
32. Slightly Distressed Teal Painted Post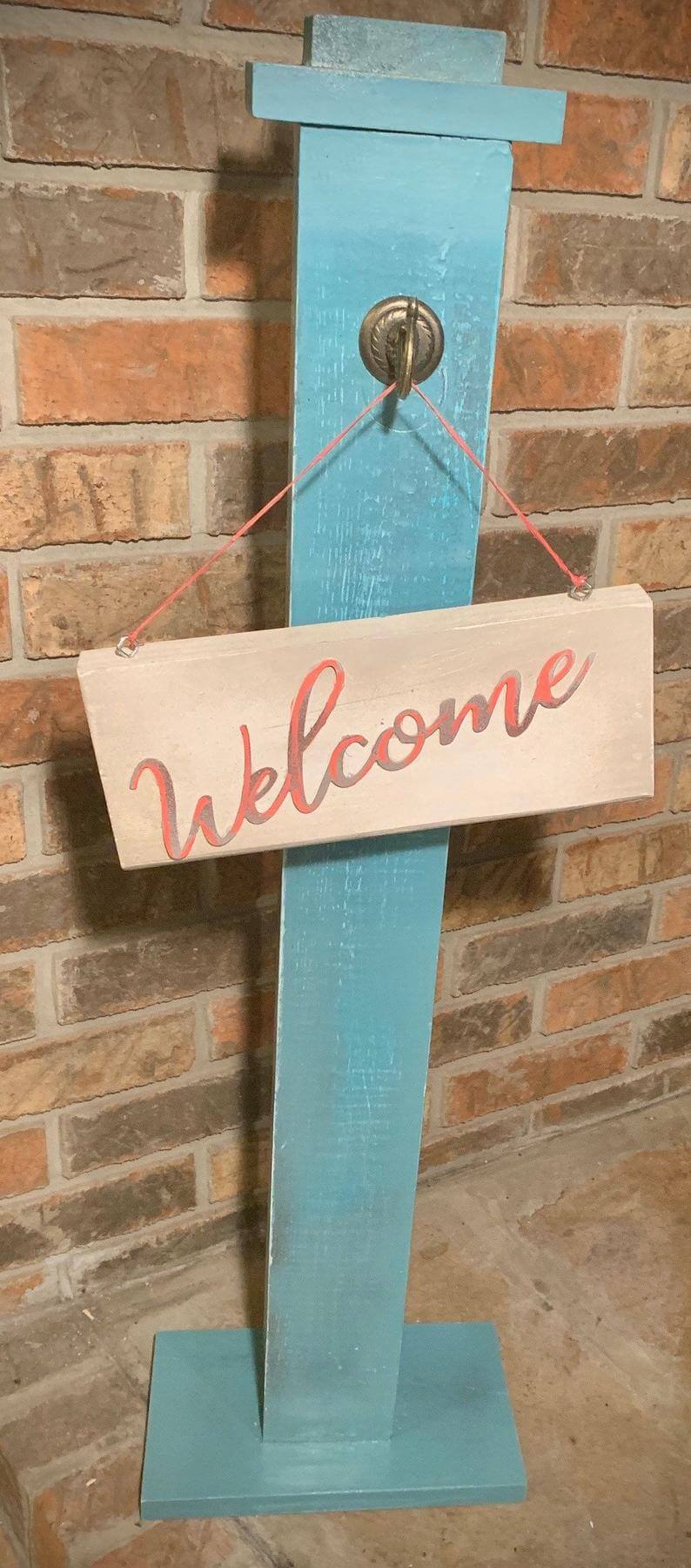 Teal is a lovely color that pops with ease, and it works wonderfully with this aged post. The weathered appearance stands out even more against the color used. There is also room for you to seamlessly add more decorations on or around the post. Although it has two different height options, this is still compact enough to fit along with other furniture or décor on your porch.
33. Hand Painted Rustic Wood Sign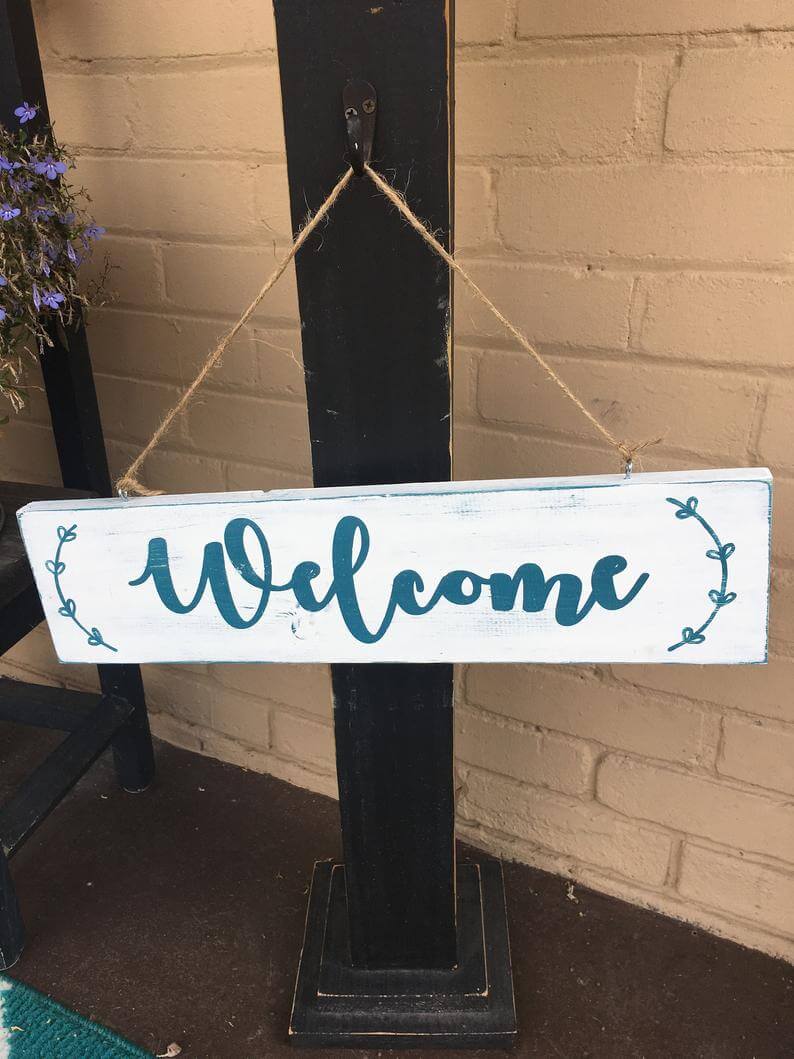 The perfect versatile sign to add to your porch post, this welcome sign features writing that adds a touch of elegance to an otherwise rustic decorative item. There are endless color options you can choose for both the background and the lettering. This way, you can ensure you get something that best matches your porch décor. As everything is handmade, you will always get a unique sign, letting you add more of your personality to your porch.
34. Tall Black Painted Wooden Post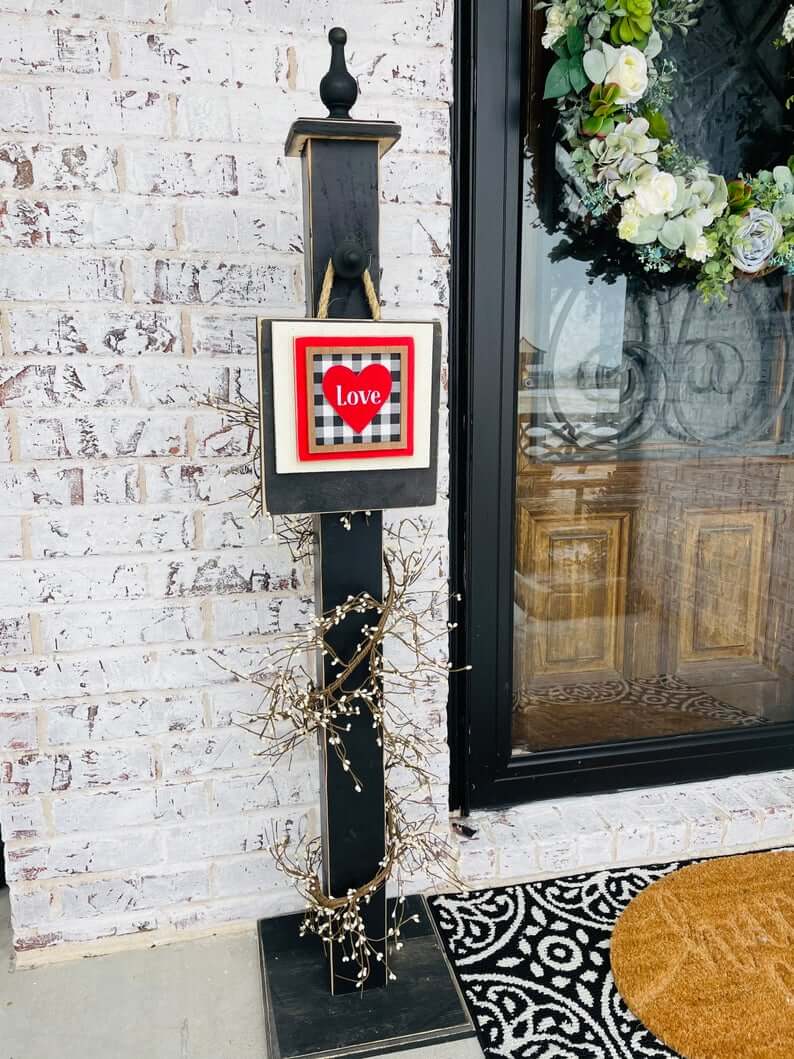 When you need something a bit darker to go along with the rest of your front porch décor, this black wooden post is a good option. It's just the right height that it stands out without taking over the porch since it's also slim and easy to set up in different locations. This features almost a classic design as well, but there is some slight weathering on the wood that it also can work for a farmhouse theme. It also comes with a nice beaded garland that adds an extra bit of life to the piece.
35. Stained or Painted Wooden Welcome Post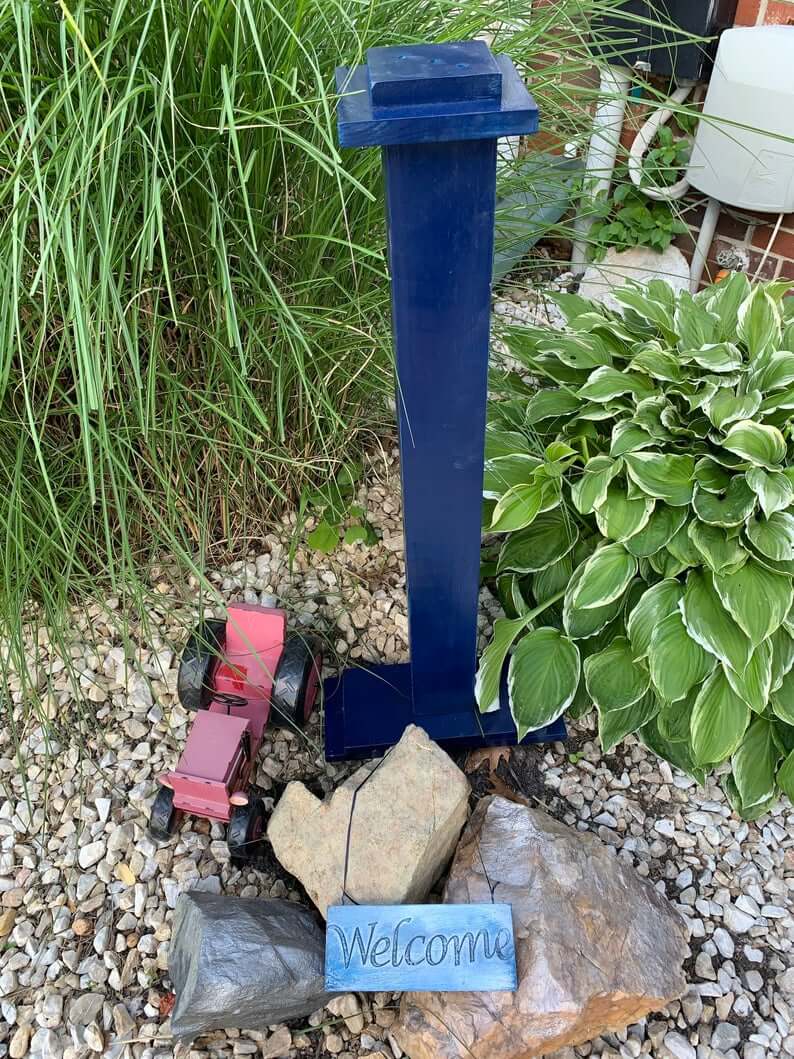 Available in two heights, this wooden post provides some versatility for how you set up the decorative items on your front porch. It's narrow in design so you can tuck it in various areas, using it as a focal point or simply to hold your favorite sign or wreath. The top is still spacious enough to even hold a lantern if you want to add some light using the post. You can request to have this made with specific stains or paint as well.
36. Decorative Stained Dark Walnut Post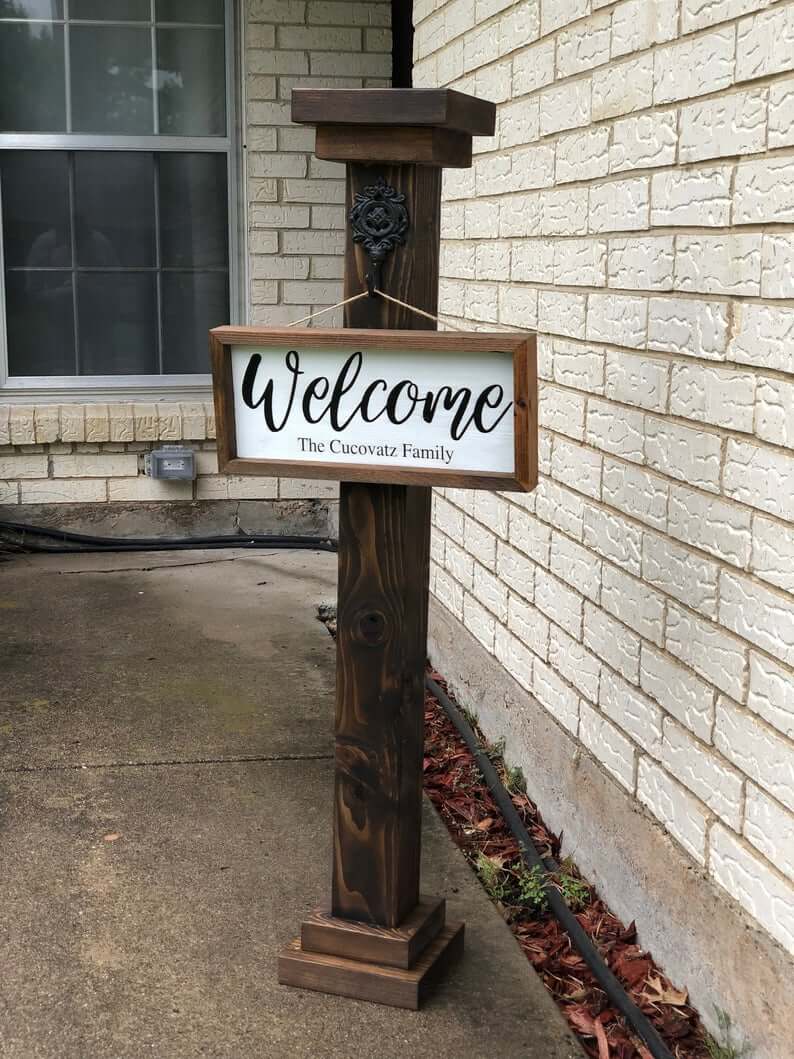 This stunning front porch sign holder welcomes guests in style. It features a gorgeous dark walnut construction that is stained to give it a bold, classic look. The iron hook is even elegant in design, the black color standing out perfectly against the wooden post. Although it has a dark look overall, it manages to light up your porch, more so if you add a sign or even some greenery to it.
37. Wooden Porch Post with Flag Stand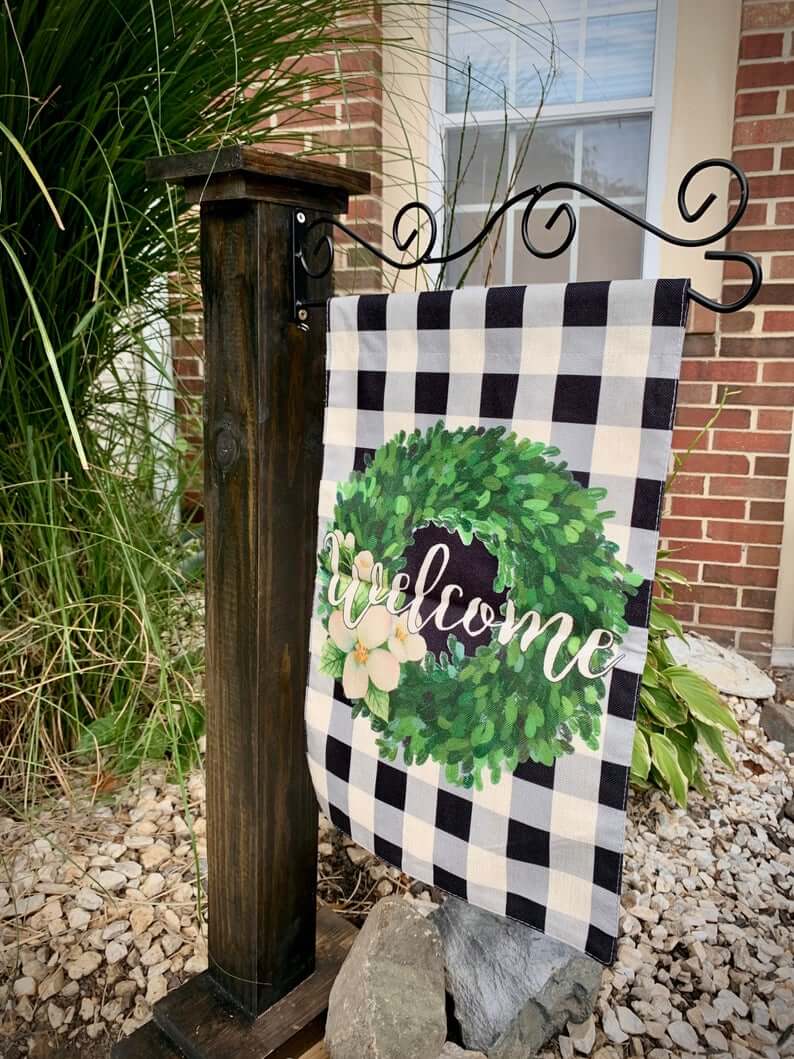 Posts are so wonderful as they are multi-functional. This one, in particular, can also act as a flag stand. The post combines with a standard garden flag pole, giving you a unique decorative item to add on or near your front porch. The post is constructed from quality wood with simple staining so it has a darker look. As for the stand, you are able to hang various flags from it, letting you use this throughout different events at your home or seasons.
38. Rustic Wooden Porch Post Planter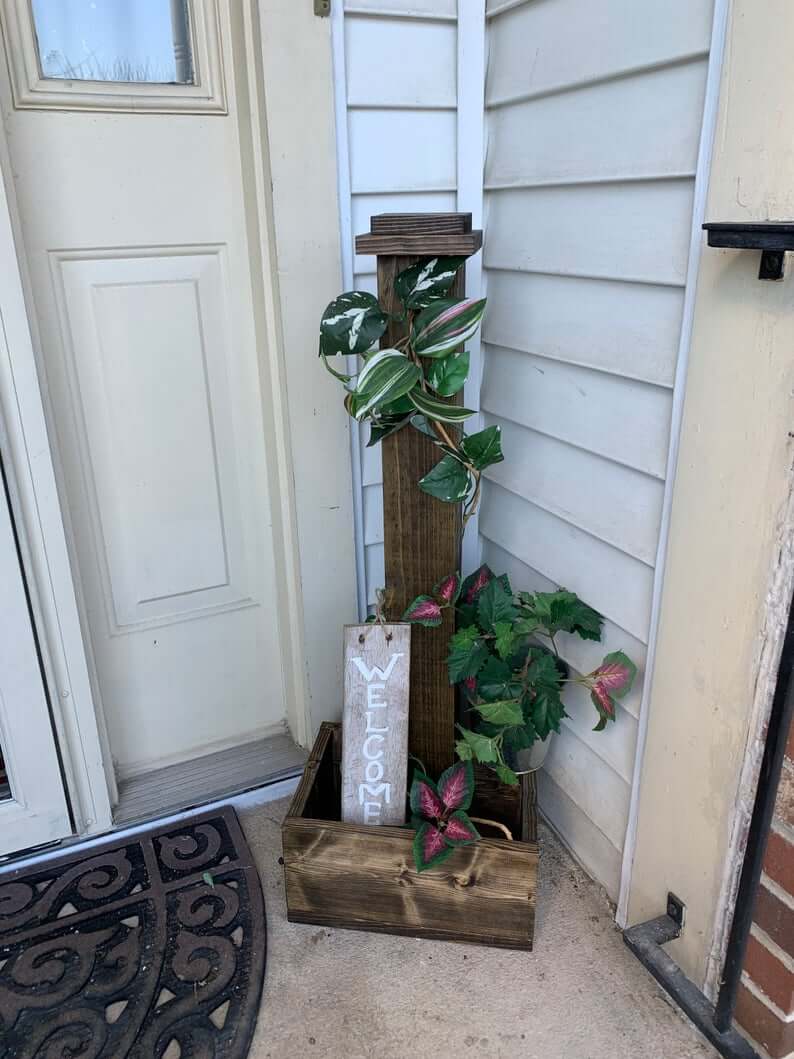 Are you looking for something that is both decorative and convenient? This post planter is a perfect choice when you need functional décor. You can completely use the bottom as an actual planter to easily throw in some greenery to your front porch. If you don't want to do that, then you can always use the planter to hold other decorative items instead. Either way, it gives you a useful bit of extra room.
39. Cranberry Colored Porch Post Decoration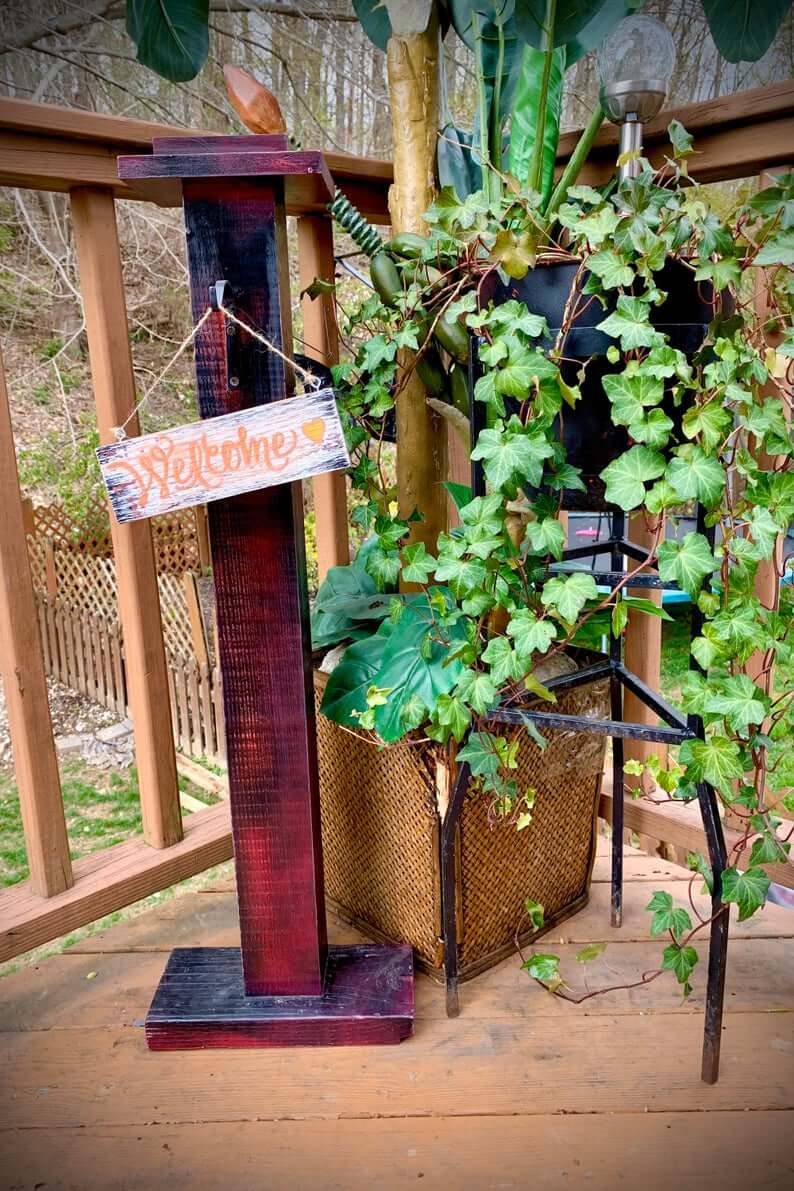 Unlike many other porch posts, this one is painted a lovely red and black color, giving it a cranberry appearance. This does farmhouse rustic well, especially since there is slight distressing added to give off a weathered vibe. With this item, you get just the post, but there is a hook installed so you can hang up anything you'd like that will fit the post.
40. Thin Cute Painted Sign Post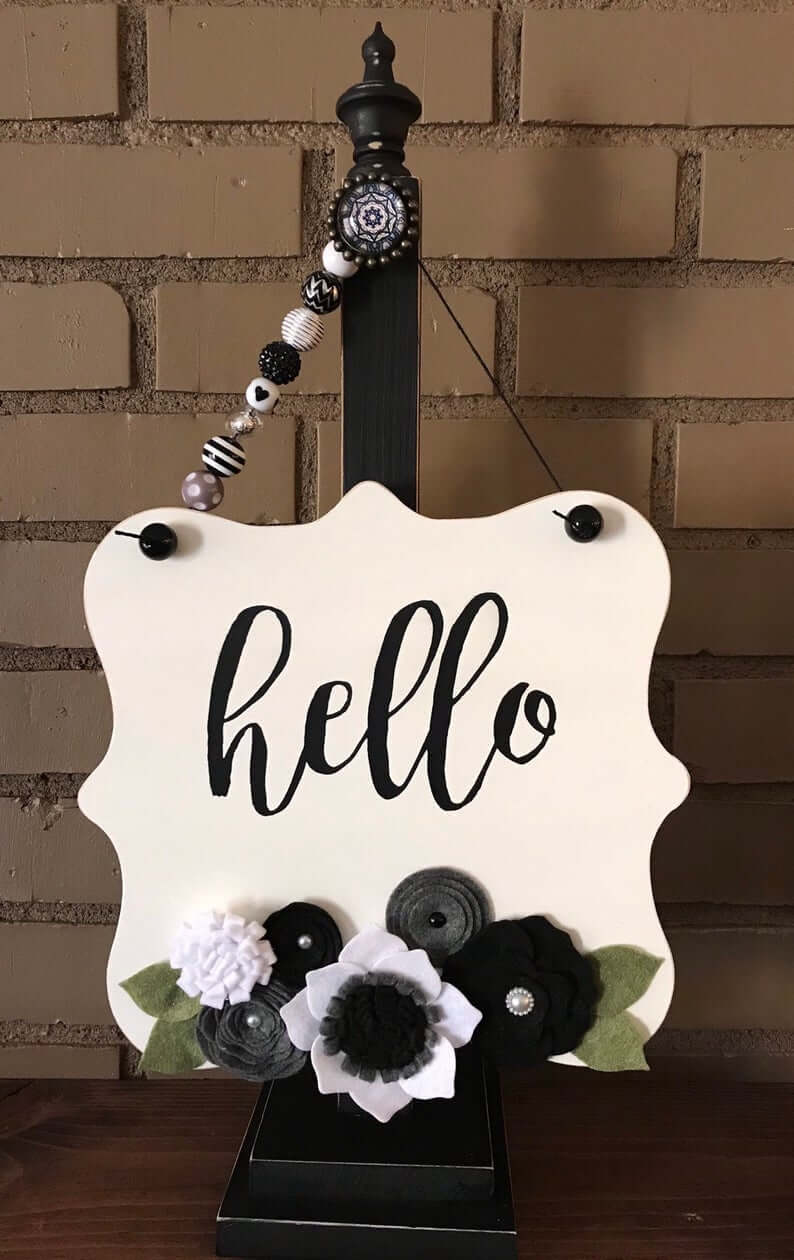 This thin sign post is a cute choice that can fit different scenarios around your porch. Made from solid pine wood, this comes in multiple colors so you can find something that best suits your personal taste. This post has a wide base, giving it much-needed stability so that you can hang various items off it without worry. Also, you can choose whether you want this post to come with a standard hook or if you want to go for the rustic knob design instead to hang things off of.
41. Beautiful Hanging Flower Basket Post Stand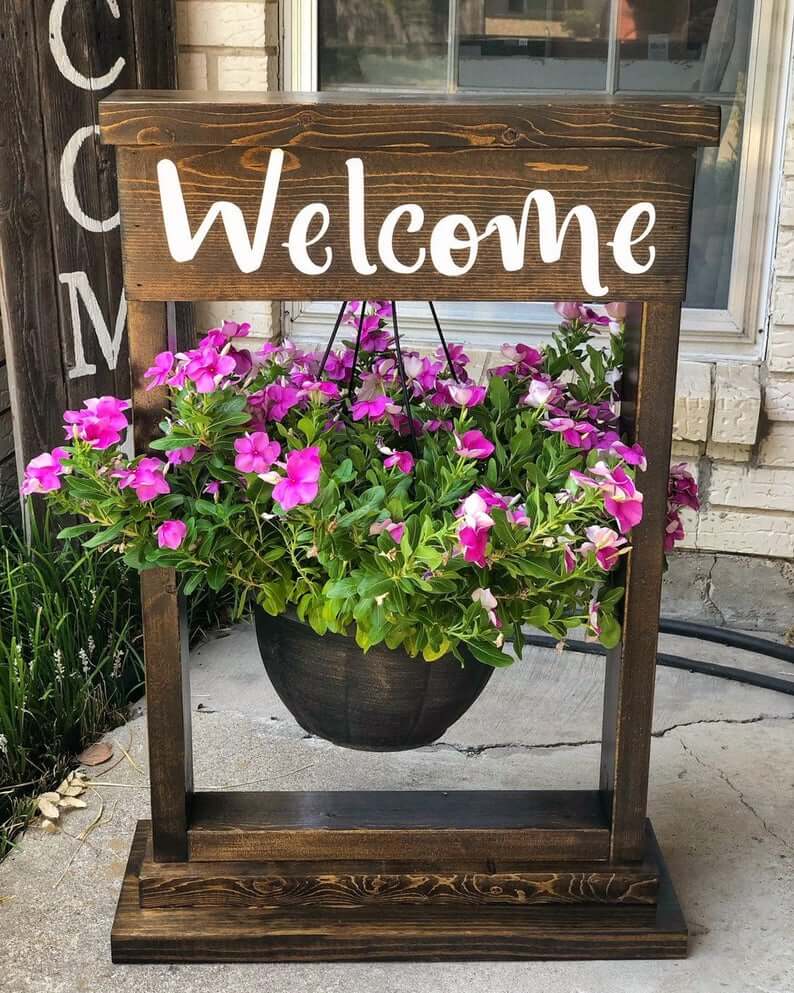 Make an impact on those visiting your home with this incredible hanging flower basket stand. This is made heavy and comes fully assembled, so you can place it and go without worry that it will fall over. It's a perfect choice to bring some life into your porch since you can add flowers or other greenery to it. Also, you can request what you want to be painted on the wood in addition to choosing the font and the color you want it painted.
42. Fall Welcome Porch Post Décor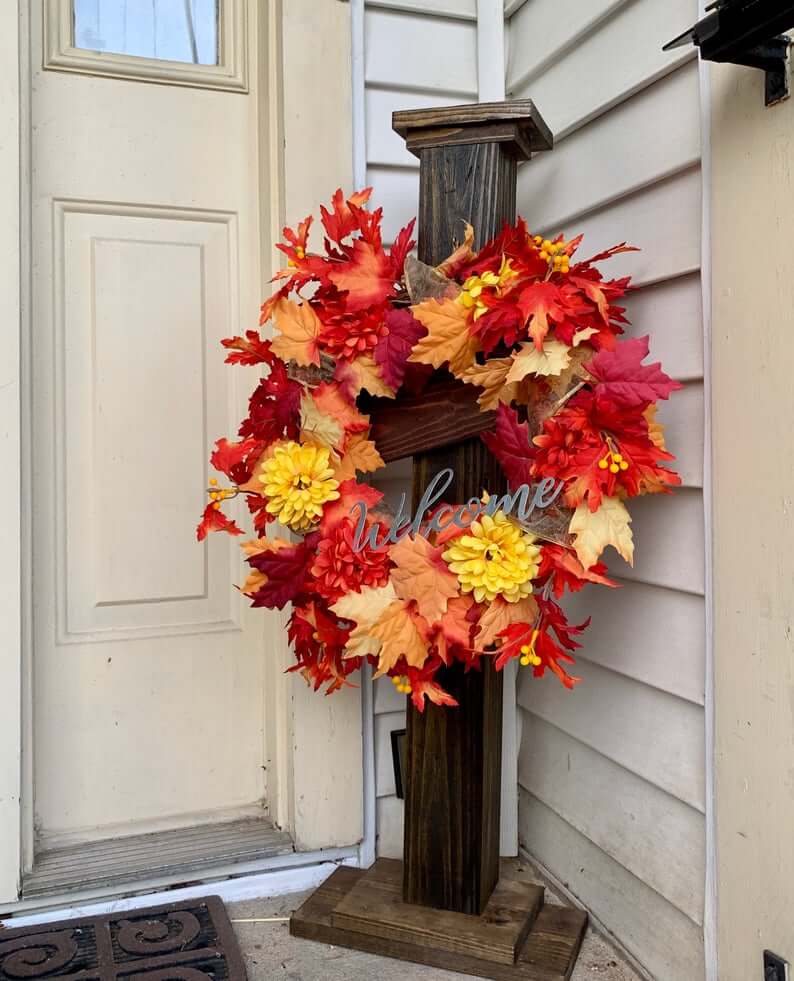 This porch post may be just what you need to set up your décor to suit the fall season or any other season. Handcrafted from wood, this comes in three different heights as well as two different colors. However, you can always request a color not listed for further customization of the post. This also features a hook so that you can hang various items from it.
43. Welcome Sign with Black Post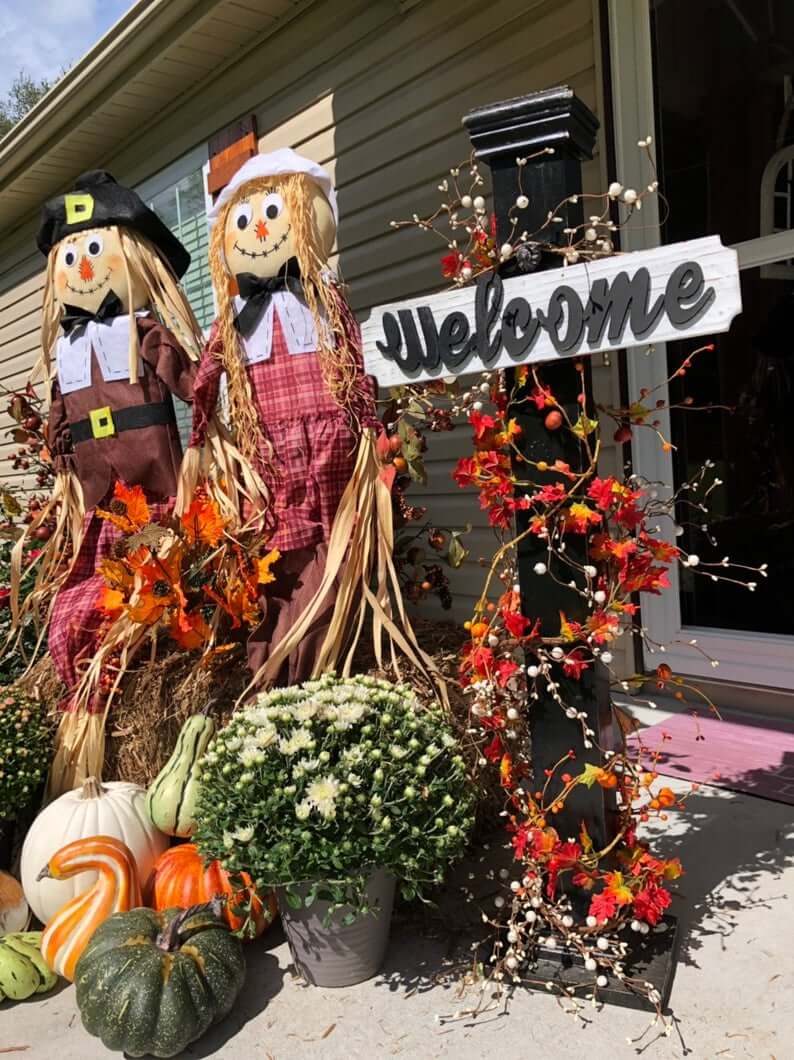 This attractive post features a bold black painting along with a matching "welcome" sign with thick, black lettering. With the use of a white background for the sign, the words stand out better against the post. It is easy enough to add your own decorative items to go along with this post or use it as-is since the signpost alone works well.

Our Favorite Outdoor Decorations to buy on Amazon