Garages tend to get cold, whether at night or during winter, it can be hard to get work done if you don't have a garage heater to keep things warm. Maybe you've never considered getting a heater for your garage before, or maybe you have tried but failed to find one that actually works to heat your space sufficiently, or maybe you have one that you love but it's getting time to buy a new one.
Whatever your garage heating needs may be, this handy buyers guide will provide you with everything you need to know about heating your garage and will help you narrow down the best heater for your individual space. Stay warm and read on to learn how to transform your garage from oh-so-cold to oh-so-cozy!
Use Your Garage Year-Round With These Fantastic Heating Solutions
1. Comfort Zone CZ220 Fan-Forced Ceiling Mount Heater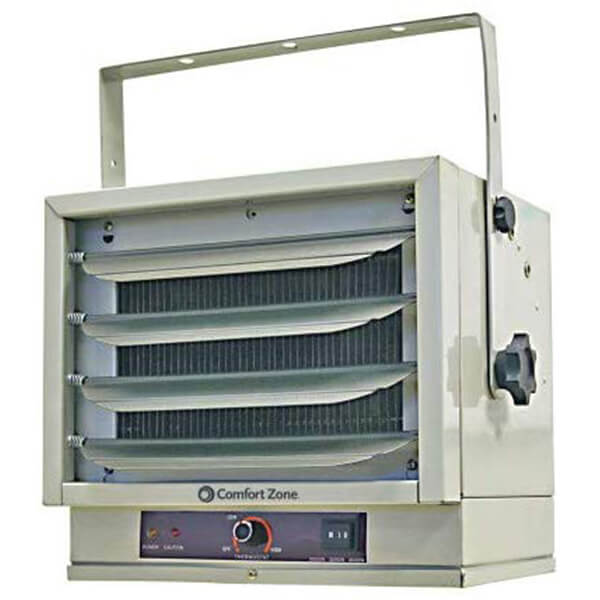 Saves floor space
Steel body
Easy to control
See on Amazon
The Comfort Zone CZ220 features a steel body and is designed to save floor space. One really nice feature of this heater is that it's quiet and very easy to control. If you're considering this heater for your garage, please keep in mind that it is heating capabilities are limited, so it's best for smaller-sized spaces. People who have purchased this heater in the past have said that they really like the size of this heater as it saves a lot of space and that it's also very reasonably priced, making it a great option for anyone looking for a good deal!
This heater uses forced-air and is intended to be mounted to a ceiling via hardwired installation. The use of heavy gauge steel in this product helps it handle fluctuating temperatures, even in spaces that are poorly insulated. The heater can be angled to target airflow in a specific direction, while built-in fans help to disperse the heat throughout the space. The heater's control panel can be used to adjust the temperature and easily turn the heater on and off.
For added safety, this heater includes an automatic shut-off feature which will turn the heater off if sensors identify any overheating. This heater uses 240 volts and weighs around 25lbs. It uses 5,000 watts of power. Overall, this heater is a great deal and is relatively quiet. It's sturdy and doesn't get hot easily which is also nice when it comes to safety. This heater can easily heat spaces the size of a three-car garage in about 30 minutes, making this heater a very efficient option for individuals who don't intend to have the heater running continuously.
Pros
Reasonable price
Quiet
Can be turned off completely
Cons
Fan blade is loose
Delivered with some technical issues
Insufficient heating
2. Dr. Infrared Heater DR-966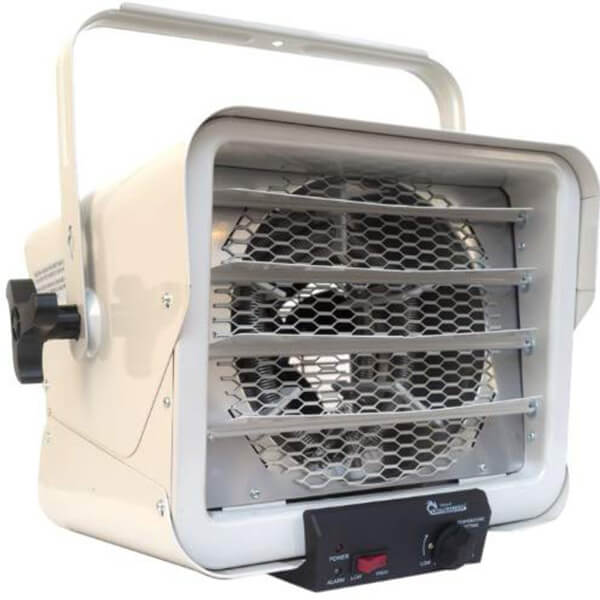 Low maintenance
Easy to controly
Minimum noise
See on Amazon
The Dr. Infrared Heater DR966 is the perfect choice if you're trying to heat a garage in super cold climates, as this tough little heater is capable of keeping garages cool even when it's below 10 degrees. Something very important to keep in mind if you purchase this heater is that it should never be left running unattended as it is capable of catching fire. However, as long as safety precautions are taken, people who have purchased the DR-966 in the past have said this heater is a great option due to the fact that its low maintenance, easy to control, and only produces a small amount of noise.
This heater uses 240 volts and 3,000-6,000 watts of power. This heater is desired to be hardwired (no power cord is included), and is intended to be mounted on a wall or ceiling. It does come with a bracket for mounting and can be used with a thermostat assuming the thermostat has the correct amperage. The heater weighs around 27lbs.
The heat can be adjusted using a high and low setting and uses a fan to distribute airflow. This heater runs on electricity and its components are made of spiral steel metal, which helps add durability to this heater. The motor is thermally enclosed, which helps prevent the heater from getting too hot and aids in noise reduction.
Pros
Works well
Reasonable price
Keeps the garage warm even in single digit temperatures
Cons
After 6 weeks it caught fire
Stopped working after a few months
Overall poor quality product
3. NewAir G56 5600 Watt Electric Heater for the Garage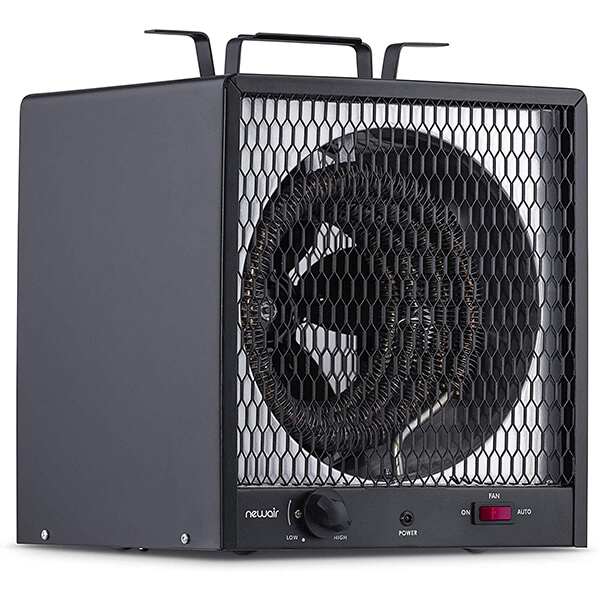 Suitable for large areas
Portable
Easy to control
See on Amazon
If it's a large garage you need to heat, the NewAir G56 5600 is an excellent option. It's ideal for large spaces, yet maintains portability and is of high quality. Although it works better in insulated garages and is a bit louder than some of the smaller heaters available, customers have said that this heater is easy to control and is very reasonably priced.
This little heater can quickly heat up to 800 square feet of space and is constructed of steel, which makes it a very durable option. It also features a 6ft long cord as well as a carrying handle, which makes this a super portable option. Although this heater is small (it only weighs around 17lbs), it is quite powerful, with around 19,000 BTU.
Ideal for anyone interested in increased safety when using these heaters, the G65 holds a safety certification for this overheats protection features. It's best to use this heater with 30 amps. This is not an option for you if you want to heat a larger space, as it's best suited for spaces around 560 square feet.
Pros
Works well
Great customer service
Reasonable price
Cons
Doesn't work well for uninsulated garages
May overheat easily
May be a little bit noisy
4. Dr. Infrared Heater DR-988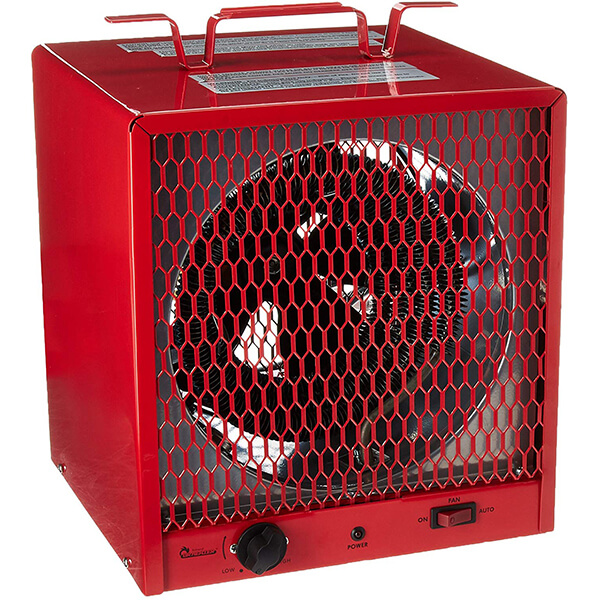 Built-in thermostat
Portable
Easy to control
See on Amazon
Another great choice from Dr. Infrared is the DR-988. Customers love the fact that this heater has a built-in thermostat, which is ideal to help prevent overheating. Additionally, this heater is known to be long-lasting and is capable of heating large spaces in below-freezing temperatures. If you are considering buying this heater, please be extra vigilant when using it as it is capable of catching fire.
This heater is similar in size and capabilities as the G65 above, as it runs on 240 volts and 5,600 watts. This is a portable heater that is not designed to be mounted. Designed as an industrial-strength electrical heater, it features an adjustable thermostat and features a fan that helps distribute airflow evenly throughout the space.
Overall, this heater is a dependable, sturdy option that is ideal for anyone looking to heat a smaller space in a cost-friendly way. It's very lightweight, at only about 12lbs. Despite its small size, this is a heater that was built to last. Some customers have claimed that they were able to continue using this heater for years before it failed. However, when using this heater over longer periods of time, it is critically important to regularly inspect it before use as long-term wear and tear on this product has been known to cause malfunctions, including fires.
Pros
Heats well in temperatures below freezing
Suitable for large areas
Works well for years
Cons
May catch fire
May be a little bit noisy
Some people say it doesn't heat well
5. NewAir G73 Hardwired Electric Heater for Garages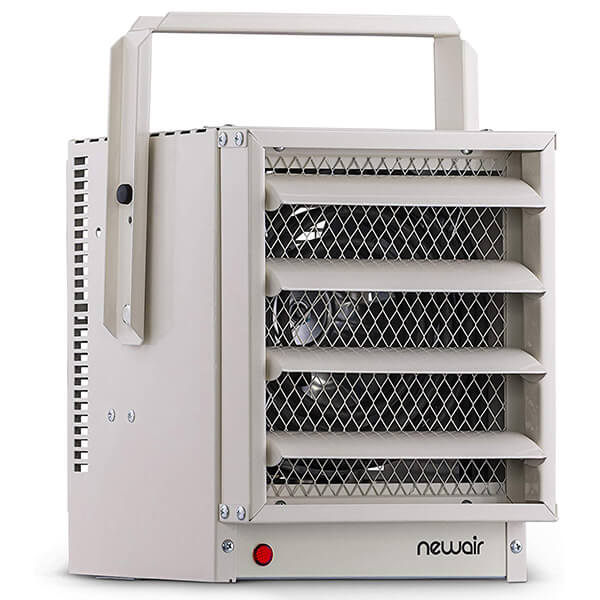 Suitable for large areas (500 squares)
Built-in thermostat
Automatic shut-off (protection against overheating)
See on Amazon
The NewAir G73 electric heater is going to be a top choice for anyone who is looking for the ultimate level of safety when it comes to heating their space. Thanks to the G73's automatic shut-off feature, this heater protects against overheating. This heater also features a built-in thermostat. People who have purchased this heater in the past have said that they love how well this heater works for uninsulated garages, especially because it can heat up to 500 square feet. Despite its big capabilities, the heater is still pretty small and capable of heating a garage all day long.
The G73 features a heavy-duty stainless steel shell that is designed to withstand tough conditions. It is a hardwired heater that is intended to be mounted on a wall or ceiling (mounting bracket is included). Although this is a hardwired option, it's unique in that it's intended for smaller spaces up to about 500 square feet, and it is designed to distribute heat evenly throughout the space.
This is an ideal option for anyone working in a two-car garage down to spaces the size of a shed. However, it should be noted that this heater requires professional installation, but once it's installed it's effortless to use with just a flip of a switch. The G73 offers around 17,000 BTUs of heating capacity and heats up spaces quickly, as it can heat up a space easily within 15-30 minutes. It weighs in at around 15lbs.
Pros
Heats well in temperatures below freezing
Keeps the garage warm all day
It's small
Cons
A little bit noisy
It seems they sell returned items without checking as some people receive open box with broken product
Increases electricity bills immensely
6. Homegear 1500W Infrared Electric Portable Space Heater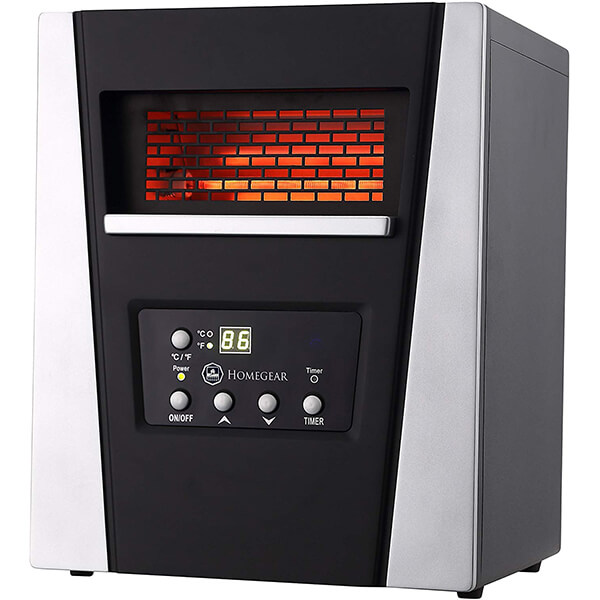 Portable
Quiet
Remote control
See on Amazon
If you are looking for a heater that delivers big power without running up the electric bills, the Homegear 1500W is your new best friend. This great little heater is both portable and quiet. People rave about the handy remote control that is included with this heater, as this makes it easy to adjust the temperature conveniently as needed, even from across the garage. Best of all, this heater really heats up the space fast and is made of high-quality materials. If you are considering this heater, please keep in mind that it's not ideal for very large spaces.
This heater features a dual heating system and uses heating tubes made of mica and quartz. One nice upgrade on this product is its LED display which helps users monitor the heater and control it. This heater runs on a nifty 120 volts and has a capacity of 1,500 watts. It works best in medium-sized spaces (up to 1,500 square feet), as it provides only about 5,100 BTUs.
The heater weighs about 12lbs and has a plastic casing. People who have purchased this product in the past have raved about its efficiency and reliability. This is a great option for anyone who is looking to heat a space on a tight budget, even when the weather is extra cold. As an added bonus, the low voltage requirements of this heater make it suitable to use both in a garage and inside a home. It may be small, but it certainly packs a powerful punch. Best used in insulated garages.
Pros
Reasonable electricity bills
Quality product
Heats up quickly
Cons
May stop working after a few months
Safety hazard – May blow up in sparks
Some people say it doesn't heat up 1500+ squares rooms
7. Mr. Heater F260560 Big Maxx MHU80NG Natural Gas Unit Heater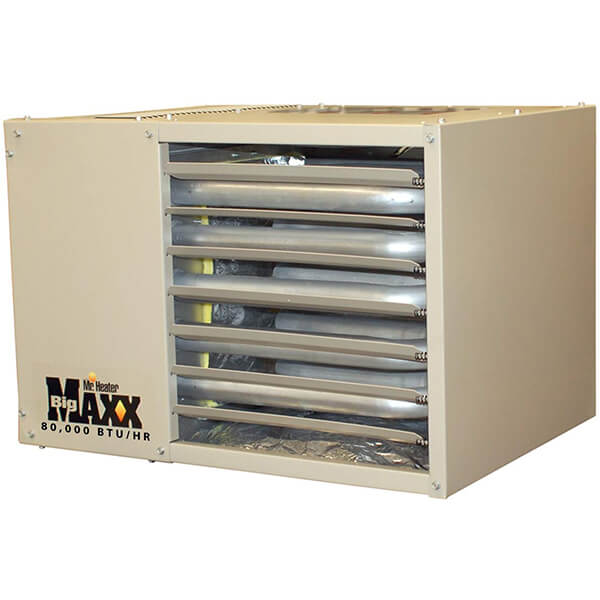 To use with natural gas
Built-in fan
Low-maintenance
See on Amazon
This amazing natural gas heater from Mr. Heater features a built-in fan and can supply heat for up to 2,000 square feet with ease. If you are trying to heat up a very large space, this heater is a great option, but keep in mind that it needs to be installed and controlled with a thermostat (purchased separately). People who have purchased this heater in the past have said that this fan is a great value for what it's capable of. If you are considering buying this heater, you may want to line yourself up with someone who can install it for you, as this isn't one you'd want to DIY unless you have experience installing heaters.
This heater uses a 0.5" gas connection and has vents that run both vertically and horizontally. It runs on natural gas but also includes a conversion kit that will allow it to run on propane instead. It has a heating capacity of 80,000 BTUs per hour. Interestingly, the manufacturer says this heater only uses 115 volts of power and can be mounted with only 1 inch of clearance. Pretty solid!
On the downside, this unit is quite heavy, weighing in at around 88lbs. On the plus side, this is a great option for anyone trying to properly heat up an insulated space. It's relatively easy to install and can hook up to a thermostat. If you are looking for a super-powerful heater at a reasonable price, this is the one for you!
Pros
Easy to install (thermostat is a separate unit)
Works well (especially in the shops 2,000 sq. ft)
Reasonable price
Cons
Was delivered broken
People have a lot of troubles with it
8. Dr. Heater DR218 Greenhouse Garage Workshop Infrared Heater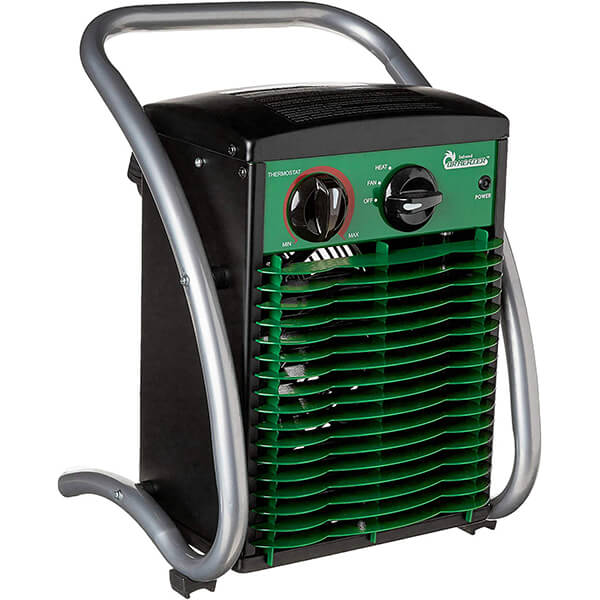 Built-in overheat protection
Portable
Low-maintenance
See on Amazon
Another great option from Dr. Heater is the DR218-1500W which features built-in overheating protection and is designed to be water-resistant, making it perfect for greenhouses or other workspaces where water may accidentally splash onto the heater. Customers who have purchased this heater in the past have said that they love the portability of this heater and that it's a low-maintenance option. Additionally, this heater is known for being quite sturdy so it's a great choice for any space where the likelihood of it getting accidentally knocked over is higher.
One important thing to keep in mind is that this heater is intended for heating up small spaces only. It is designed to cover up to 150 square feet, and likewise, it only runs on 120 volts. Despite its small size, it heats enough to keep greenhouse plants warm in freezing temperatures and the motor features permanent lubrication in a fully-enclosed thermally protected cabinet.
As an added safety measure, it features built-in protection against overheating along with temperature controls. The casing is made of steel and the entire unit only weighs around 13lbs. One thing users of this heater have noted is that this heater blows warm air rather than hot air, which makes it ideal for anyone who wants a warm environment during the winter months without things getting too hot.
Pros
Perfect for a greenhouse
The construction is water resistant in case of water splashing
Sturdy construction
Cons
May blow up in sparks (or fire)
Not very efficient
Poor customer service
9. Bio Green PAL 2.0/US Palma BioGreen Basic Electric Fan Heater for Greenhouse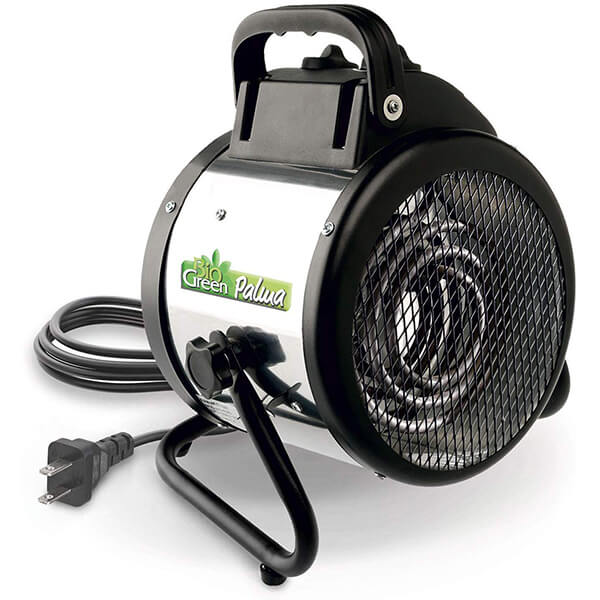 BThe construction is made of Stainless Steel
Includes airciculation fan
Energy efficient
See on Amazon
This stainless steel heater from Bio Green is the perfect choice for anyone looking for an eco-friendly heating option is this heater is designed to be energy efficient. It can heat up spaces the size of a two-car garage and it easily connects to a thermostat. Customers who have purchased this heater in the past have noted that it can keep spaces warm even in freezing temperatures.
The Bio Green Pal is designed to sit on the floor and can pivot to send air up higher. The casing is made of stainless steel and is suitable for use in greenhouses or other uninsulated spaces. An added benefit of this heater is that is designed to be splash-proof making it suitable for any work areas where the humidity is higher.
Although it's small, this adorable heater is designed to last up to 2-years with a heating capacity of over 5,100 BTU or 1,500 watts. Overall it's a very energy efficient little PAL! Customers who have purchased this product have also noted that, while the airflow and overall heating temperature provided by this product seem quite low, the heater actually does a really good job of keeping a semi-insulated garage warm.
Pros
Suitable for a 2-car garage
Easy to connect to a thermostat
Heats up the greenhouse well even when it's freezing
Cons
Amazon forgot to send thermostat
It isn't very efficient
10. Lasko 675919 Stanley Pro-Ceramic Utility Heater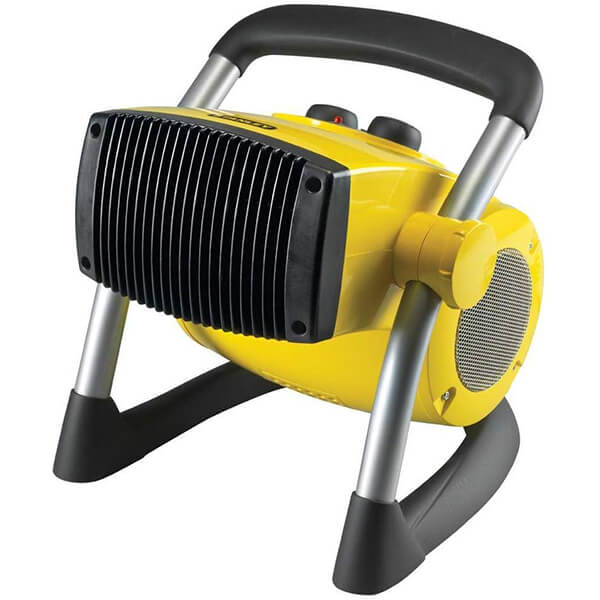 Includes termostat
Includes protection against overheating (ceramic element, not shut-off feature)
Doesn't take up too much space
See on Amazon
The Lasko 675919 has a ceramic element that serves as protection against overheating. People who have purchased this heater in the past say they love the built-in thermostat feature and also the small size of this heater, as it doesn't take up a lot of space. This heater is suitable for greenhouses or garages and can heat up these spaces well despite its size. If you're interested in this heater, please be aware that it does not feature an automatic shut-off feature. Additionally, it's best to use this heater in tandem with a fan as it doesn't circulate heat very well on its own.
Like the Bio Green Pal above, this Lasko heater features a pivot design that allows the user to target the heat where they want it most. It includes an adjustable thermostat and is constructed using a tubular steel base, which helps to make this heater more rugged and durable.
This heater is intended to heat spaces that are up to 300 square feet and have a heating capacity of 1,500 watts. The Lasko 675919 weighs a super-friendly 9lbs.
Pros
Suitable for a greenhouse
It's small
Heats up the space well
Cons
Doesn't include automatic shut-off
Stopped working after a few weeks/months
Doesn't circulate the heat well
11. Mr. Heater 40,000 BTU Propane Heater for Garages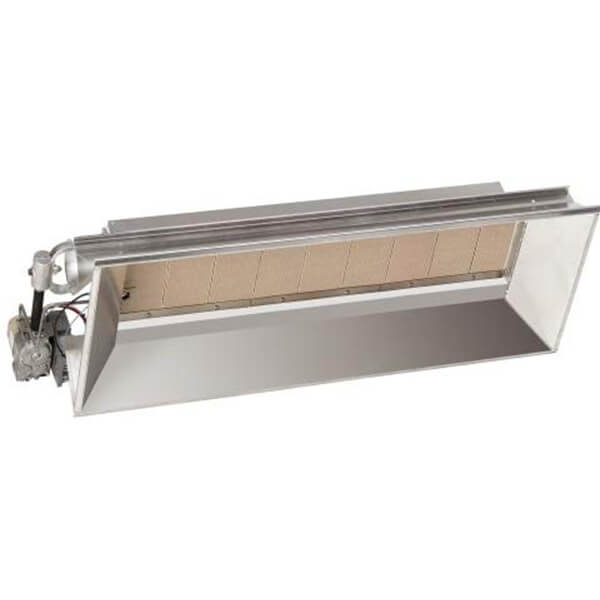 Doesn't require electricity
Includes termostat
Low-maintenance
See on Amazon
Another great option for anyone looking for an eco-friendly space heater is the Mr. Heater 40,000 BTU. This heater is eco-friendly because it doesn't rely on the use of electricity. People who have purchased this heater in the past have said that it can quickly heat up larger spaces the size of a 3-car garage and customers love how easy it is to install. Best of all, this heater is very quiet and is a low-maintenance option.
If you are looking for an efficient and cost-effective way to heat your space, this is a great option. It can effectively heat spaces up to 1,000 square feet and continues running even if the power goes out. It features a thermostat for temperature control and is recommended for spaces with 12-15 ft high ceilings.
Customers who live in particularly cold environs have stated that this heater is a game-changer, as it can help large spaces warm even when the temperatures drop as low as 10 degrees Fahrenheit. One thing to keep in mind is that this heater seems to work best in spaces that are at least semi-insulated.
Pros
Heats up 3-car garage quickly
Easy installation
Quiet
How to Choose a Heater for Your Garage:
When thinking of options to heat a garage, many people fall under the assumption that a simple household space heater will do the trick, but this is far from the truth. Space heaters for garages often times have industrial qualities that residential heaters can't compare to. These qualities are necessary when trying to heat places like garages that tend to lack insulation, central heating, and often have fluctuating temperatures. All in all, heaters that are specifically designed for places like garages just have more power, and this power is necessary if you actually want to keep the space warm.
The first thing you'll want to consider before purchasing a heater for your space is how much power it provides, and how much power is required to heat your space. Most heaters measure power in BTUs or watts. The higher the BTU or wattage, the more powerful the heater is. Smaller spaces can get away with heaters that have around 1500 watts, while larger spaces often require wattage as high as 4,000-5,000. Additionally, when thinking about power, the heating source is also important to consider. While electric units work just swell for smaller spaces, larger spaces tend to require gas-fueled heaters.
Some other factors to consider before buying a heater for your garage is what the overall environment of your garage is like. The insulation of the garage, the size of the garage, ceiling height, and temperature fluctuations should all be taken into account. Let's take a moment to explore each of these areas in a bit more detail:
Garage Insulation – Garages that have insulated walls and ceilings along with high-quality windows and a properly sealed garage door doesn't require as much heat as an insulated or less-insulated garage. Therefore, if your garage lacks insulation, you'll want to be in the market for a space heater with more power.
Garage Size – Think about this for a moment… which part of your garage are you trying to heat? Do you want to heat the entire space or just a specific corner where you work? How many cars can your garage hold? The bigger your garage the more powerful of a heater you will need if you are trying to heat the whole place. However, if you are looking to heat up just one small area, you can easily get away with a much smaller heater, such as a portable electric heater or even a radiant heater.
Ceiling Height – When thinking of the square footage you want to heat, don't forget to count the ceiling space. This area is extra important since heat rises. The bigger your space, the bigger your ceiling space, and the more heat that will get lost rising to the top of the room. Using ceiling fans can help to keep some of this heat down, but overall, you'll want to make sure that you plan accordingly when it comes to your ceiling height. The higher your ceilings are, the more powerful of heater you will need. Most garages have a ceiling height of at least eight feet.
Temperature Fluctuations – Depending on what type of climate you live in, you may need to consider a more or less powerful heater. In colder climates, you'll need a more powerful heater to heat a space that a smaller heater could heat in a warmer climate. The colder your temperatures are overall, the more you will want to scale up on power.
Electrical requirements are another key factor you will want to consider before purchasing a heater for your workspace, specifically if you are in the market for an electric heater. Since space heaters for garages tend to be more powerful than standard residential space heaters, many of them can only be plugged into outlets that have a higher voltage. Luckily, many garages are already equipped with such outlets. Most garage-suitable heaters require somewhere between 220 and 240 volts. You'll want to double-check what your outlets can handle before purchasing a heater for your space. In addition to checking the voltage, you'll also want to confirm that your space can tolerate the necessary amperage. Many garage-suitable heaters require 15-20 amps. Heaters that run on natural gas are a good option if you are looking to avoid the worries of voltage and amps as they don't need to be plugged in.
Speaking of plugs… one last bit of advice to consider before buying a heater is whether you are in the market for a plug-in heater or a hardwired heater. While plug-in heaters simply plug into an outlet, hardwired heaters need to be installed directly into a wall or ceiling. These installations should be done by a professional as they need to adhere to local electrical codes and it will be necessary to connect the heater directly to a circuit using cables. Hardwired versions are for individuals who are looking for a more permanent solution and space-saving (as these types of heaters can get mounted), while plug-in options are best for people who want portability or don't intend to use the heater as often.
Types of Heaters Available:
There are many different types of heaters available on the market that can be used to heat a garage, shed or other workspaces. Overall, these types of heaters are broken down by fuel type. The most common types are natural gas, liquid propane, and electricity. Let's take a look at what each of these types has to offer!
Natural Gas – Natural gas is one of the most popular methods of heat generation. This type of heater would be ideal for individuals who have a natural gas line easily accessible to the area in which they want to install the heater, otherwise, a professional will need to be hired to come and install a customized line. This shouldn't be too much trouble if your home is already equipped with appliances that run on natural gas such as a clothes dryer, oven or furnace. In any case, natural gas is one of the most cost-effective methods of heating your garage in the long run.
Liquid Propane – Liquid propane is a great, cost-friendly alternative to natural gas for anyone who doesn't already have convenient access to a natural gas line. Heaters that run on propane can be a convenient option since propane is readily available and can usually be found in a typical hardware store. If you choose to go with this option, please keep in mind that you will need to monitor the level of propane left in your tank so that you don't run out.
Electricity – If measuring propane and dealing with natural gas lines sounds like too much of a hassle, electric heaters may be the right choice for you. Although they aren't likely to be as cost-efficient to run, they are one of the most convenient options as these heaters are often portable and can be plugged into most outlets. These heaters can actually be a cost-effective option if your electricity is relatively inexpensive. The downside of electric heaters is that they don't heat up large spaces as efficiently as natural gas. This is because their heating capabilities are limited to the amount of energy that the outlet is capable of supplying. On the plus side, electric heaters can often be mounted on a wall or ceiling which makes them great for saving space and staying out of the way.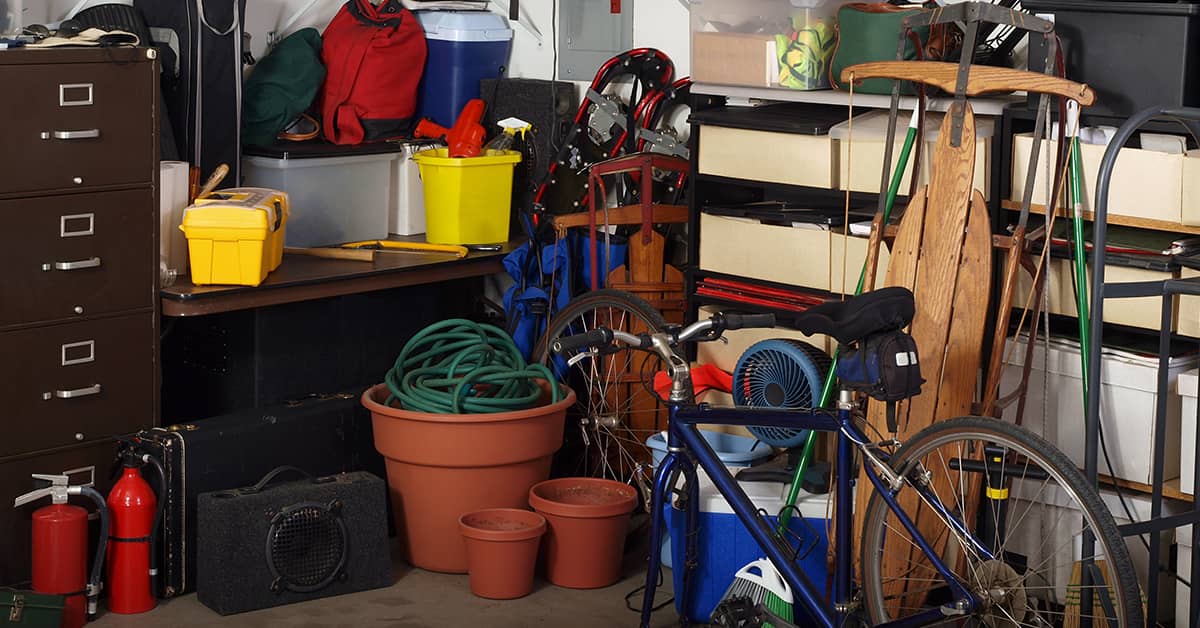 Safety Features:
Adding a heater to your garage is one of the best ways to make the most of this space, especially during the colder months. However, any type of heating product is automatically a known safety hazard due to the fact that any number of issues or accidents can occur as a result of normal use. In this section, we'll explore the key safety tips and features that everyone should read carefully before using one of these products:
Safety Feature 1 – The Owner's Manual
While it's easy to want to toss the manual aside and just get your heater up and running the moment you unbox it, reading the owner's manual is a critical step when it comes to safety. While many heaters look the same, they aren't all built the same, and therefore, they don't all operate in the exact same way and may require varying levels of maintenance or care. Keep in mind that what one heater might be able to handle with ease, another might not, even if they look the same or have similar features. So please, always read the owner's manual. It only takes a few moments, but this step can truly be a lifesaver. Plus, you're likely to learn a bunch of cool stuff about your new heater that you can brag to your friends about when they compliment your nice, warm garage.
Safety Feature 2 – Automatic Shut-Off
Heaters, especially space heaters, are prone to all kinds of issues when it comes to overheating. Overall, it's downright dangerous to leave one of these heaters running unattended. But of course, we all make mistakes, and sometimes we forget to turn things off every time we leave the room, or perhaps we intend to leave just for a minute and end up taking a lot longer than expected to return. For all these blunders and more, the automatic shut-off features that are available on many space heaters can add an extra layer of protection in case your heater begins to overheat. This is a super important consideration when it comes to safety as overheating can head to fires, explosions, burns, and even fatal injuries.
Safety Feature 3 – Mounting and Stability
One of the biggest risks when it comes to using space heaters is their likelihood to fall over. When a heater falls over, it can restrict proper ventilation or cause surfaces to become too hot and catch fire, along with a number of other potential disasters. Because of this, heaters should always be placed on hard, stable surfaces. Many heaters also come with the ability to be mounted on a wall or ceiling or are built with extra stabilizing features that prevent it from falling over.
Safety Feature 4 – Low-Maintenance Capabilities
While most people think "convenience" when they hear terms like 'low-maintenance', when it comes to heaters, low-maintenance options are a key safety feature. This is because heater maintenance can be quite dangerous, so the less maintenance the owner has to do, the better. Remember that it's always important to make sure that the heater vents are free from blockage and debris and that you should always unplug the heater before performing any maintenance. You should never attempt to repair or modify a space heater yourself, as this can cause catastrophic failures and accidents. If your heater is need of some more serious maintenance, you should have it worked on by a certified technician.
FAQ – The most frequently asked questions before buying the right garage heater
What type of heater is best for a garage?
The type of heater that is best for a garage really depends on the type of garage and the individual's heating needs. However, for a typical garage (i.e. one that is uninsulated or minimally insulated, in a true four-seasons climate, can hold 1-2 cars) a powerful yet portable electric heater is a nice option. For example, the DR-988 by Dr. Infrared would be a safe bet for most typical garages. It's portable and yet can still heat up large spaces in freezing temperatures. It's also known for its ability to last for years, which is a great bonus given that many space heaters putter-out after a short while.
How many BTU does it take to heat a 2 car garage?
The answer to this question relies on various factors such as the size of the garage, the ceiling height, the overall climate the garage is in, and how well the garage is insulated. Given that a 2-car garage is typically at least 400 square feet, let's suppose the garage has a standard 8-foot ceiling height in a climate with mixed temperature ranges and poor insulation; in this case, the space would need 75,000 BTUs. However, the same garage in a cold climate that has very good insulation would only need around 30,000 BTUs.
What is the best way to heat a garage?
First and foremost, spend the time and money to insulate your garage if you want it to be warm. It may seem like a hassle, but it's a worthwhile investment that will save you money in the long run. When insulating the garage, don't forget to insulate the garage doors as well. One cost-effective way to help insulate your garage is to put shrink film over the windows. Without proper insulation, you're gonna end up losing a lot of heat and a lot of money. Overall, no matter what type of heater you choose for your garage, insulation is a key trick. Beyond that, the best heater type for you will depend largely on your space and your individual heating needs. Please see the buyer's guide above for more information on factors to consider before buying a heater.
How much does it cost to heat a garage?
If you are adding insulation, this will usually cost about $500 to DIY, plus an additional $100-$200 to insulate the garage door. The cost to purchase a heater for a typical 2-car garage will cost upwards of $100 and as high as $1,500 depending on the heater and fuel type. The cost of the power needed to supply the heat will vary widely. Your electric and gas bill can help you measure these costs, as you can use the prices provided to calculate the cost to heat your electric bill based on the BTUs of your heater.
What is the safest heater for a garage?
Flat panel heaters and infrared heaters are known to be among the safest types of space heaters. Infrared heaters can be especially useful in situations where the owner only wants to heat one small area of the garage, such as a workspace in the corner. On the other hand, electric heaters, while one of the most convenient and more powerful than an infrared heater, are notoriously known as one of the least safe space heating options.
What is the cheapest way to heat a garage?
There are various ways to keep the cost of heating your garage low. Here are some factors to keep in mind: 1) Only use as much heat as you need by carefully calculating the amount of BTUs you need, 2) Insulate your garage before buying a heater to reduce the number of BTUs needed, 3) Sacrifice convenience for cost-effectiveness and go for a gas-powered heater if you're looking for real cost savings.
How do I keep my garage warm in the winter?
Choose a heater that has more power and is known to withstand very low temperatures. In some cases, you may want to rely on multiple heaters. And of course, make sure that your garage is properly insulated if you really want to keep the garage warm. Insulation will help trap heat inside the garage and will keep it warm long after you have turned off the heater.
How big of a heater do I need for my garage?
As a rule of thumb, 20 BTUs are needed to heat every square foot of space.
Where are the best places to buy a garage heater?
Amazon is one of the best places to buy a heater for your garage, as you can quickly and easily comparison shop across various types of brands and also read user reviews of each one. Hardware stores and department stores that sell tools and hardware also usually have these types of heaters available. Larger heaters that require professional installation can also sometimes be purchased from third-party distributors.
What's the best electric heater to use in a garage?
The best electric heaters are those that have built-in safety features. As these types of heaters are known for being comparatively more dangerous than other types of heaters, added safety features can help to alleviate much of the risk associated with using these types of heaters. Look for options that have things like built-in thermostats and automatic shut-off features such as the NewAir G73, or even things like water resistance, such as in the DR218-1500W by Dr. Heater.
How do garage heaters work?
Space heaters intended for garage use work differently depending on the type of heater. An infrared heater emits constant, low levels of heat that radiate out from the heater, while many natural gas varieties rely on forced air using vents and fans. Electric heaters can usually just be plugged into a wall and turned on using a dial.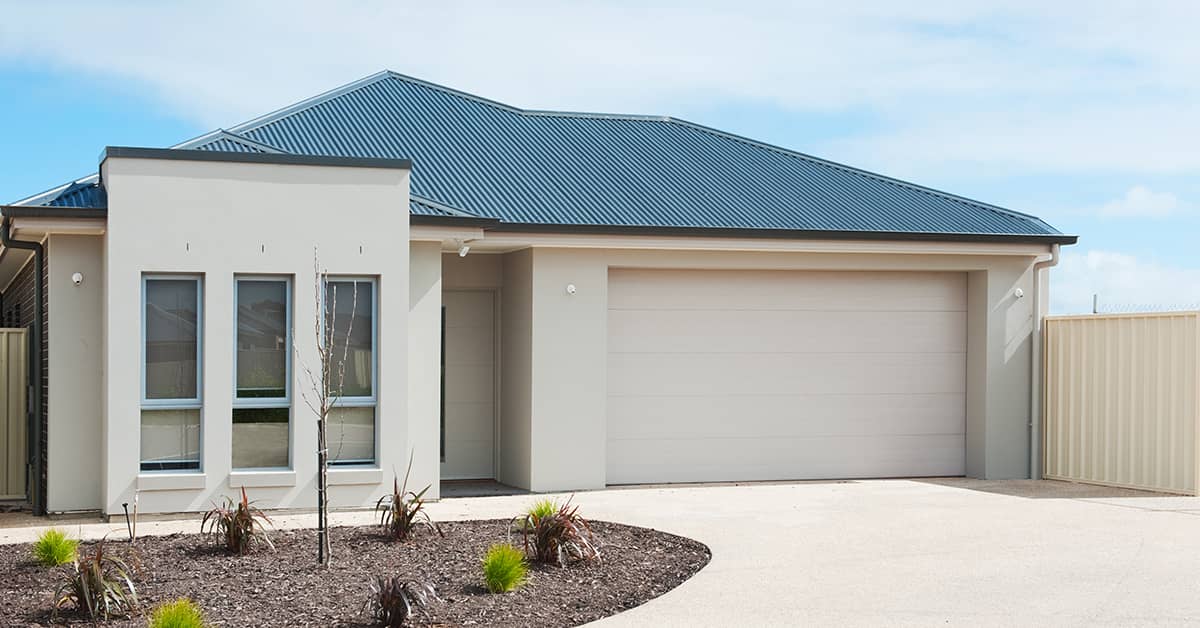 Additional safety tips when using space heaters in your garage:
Never leave heaters running unattended.
Do not plug heaters into extension cords.
Keep children and pets away from heaters.
Ensure that flammable objects are kept far away from the heater.
Read the manufacturer's information to note the required spatial clearance around the product.
Never attempt to mount a heater on a wall or ceiling unless the heater is specifically designed to be mounted.
Never attempt to install a hardwired heater without the assistance of a trained professional.
Remember that heaters can cause fires and even explosions. Use extreme caution when operating space heaters.
Always turn off the heater if it starts to become too hot.
Turn off heaters if they are emitting strong odors, such as the smell of melting plastic.
Always check the voltage of an outlet before attempting to plug in a heater.
Always read the manufacturer's instructions before using any heater.
Never place objects on top of a space heater.
When using gas or propane heaters, be sure to install a carbon monoxide detector.
Keep heaters free from dust and debris.
Do not spray air fresheners or other aerosol-based products near the heater.
Have your space heater inspected annually (ideally before each winter use).
Be sure that all exits are free and clear in case of a fire when using a space heater.
Look for heaters that have safety certifications.
Keep heaters away from water sources, unless the heater is specifically designed for use in damp environments.