The best garage pegboard ideas can help you figure out cool and useful ways to organize all those tools in your workspace. It is far too easy to find yourself overwhelmed with the tools lying around your garage or on a workbench. That is where pegboards come in.
21 Fun Pegboard Tool Ideas to Tidy up your Workspace

They seem so simple, yet they have incredible uses. For you, they are a welcoming board to hang up all those tools. This keeps them within sight so you can grab what you need without much searching. Plus, it just makes your garage appear neat and inviting. If you aren't sure how you want to approach this, we can help you find the best way to organize tools on a pegboard. Take a look at our favorite ideas to find the motivation you need.
1. Chic Homemade Pegboard Tool Storage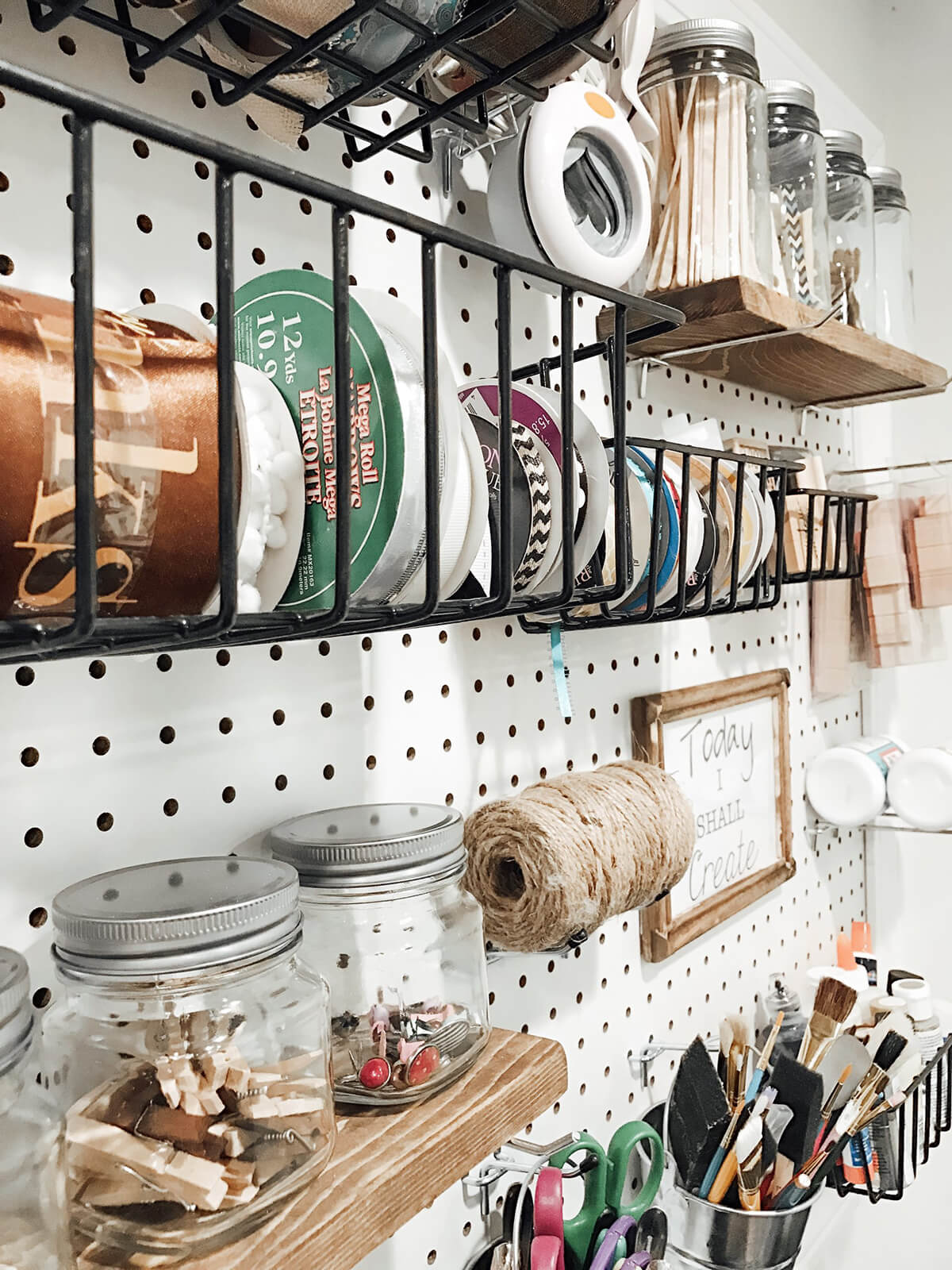 You can add a chic spin to your pegboard garage storage design with some fun additions to the board. This includes the likes of baskets, shelves, and even buckets. These items can allow you to organize in more distinctive ways while also leaving you with something that simply looks good.
2. Minimalistic Wall Pegboard Tool Storage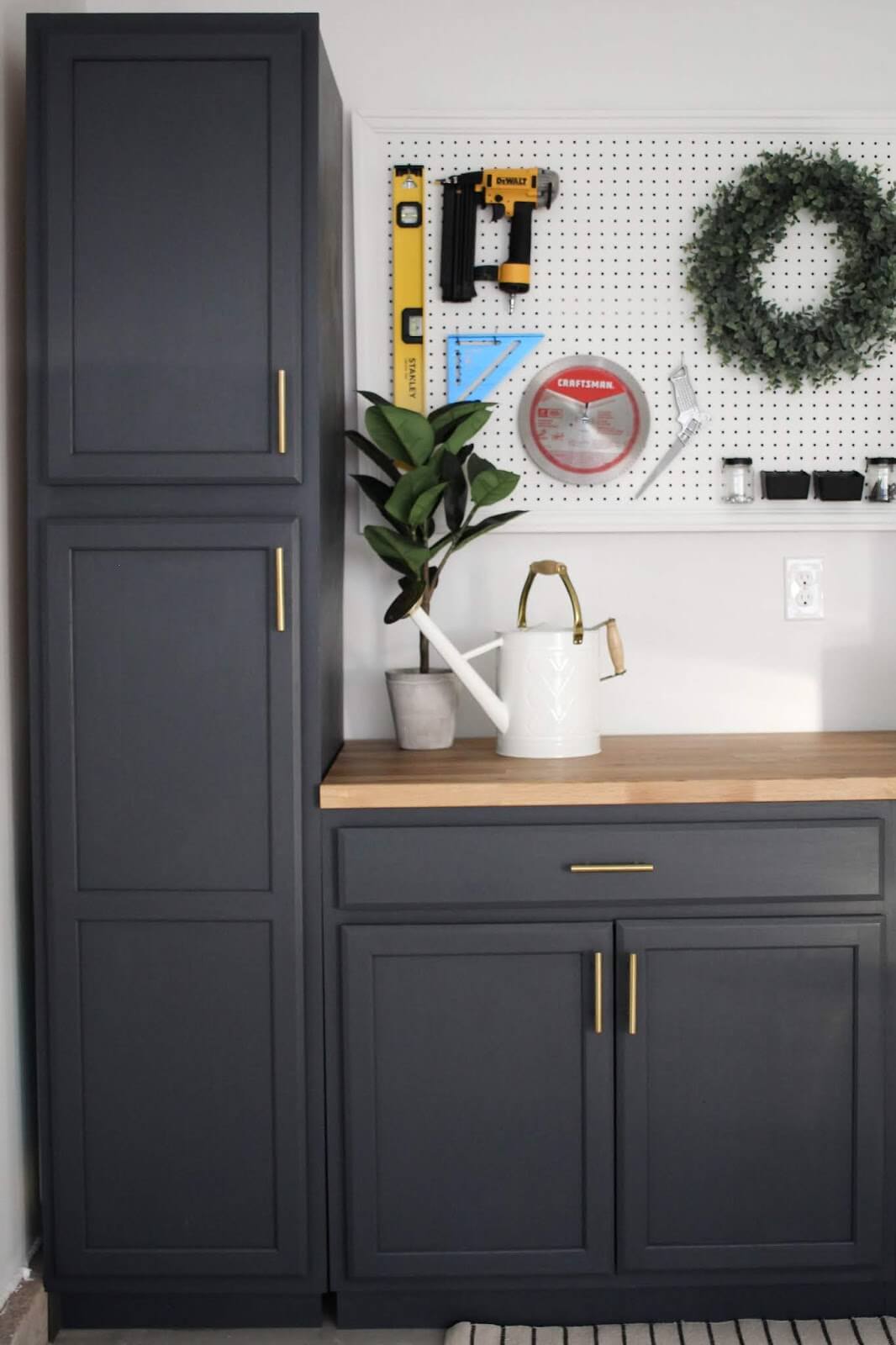 Even those of you who don't have too many tools can still benefit from a pegboard in your garage. Proper placement can allow for your few tools to still grace the entirety of the pegboard without it appearing overwhelming or cluttered.
3. Simple Pegboard Tool Organizer Idea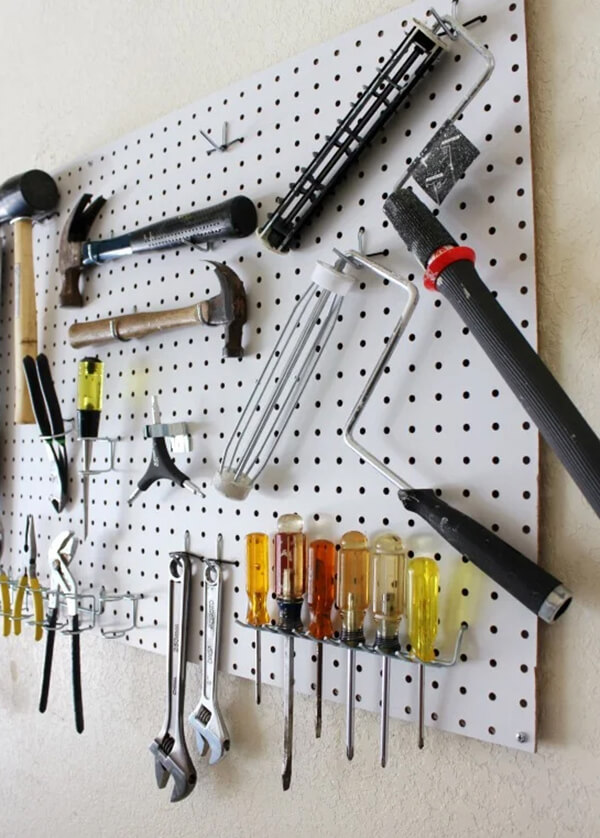 A pegboard is a wonderful item when you need something that is just straightforward to stash your tools. You don't have to add anything extra to the pegboard beyond the hooks to hang the tools. Plus, the way the hooks hang allow you to string up your tools in interesting and beneficial patterns that make them easier to grab.
4. Homemade Tool Pegboard Storage and Organizer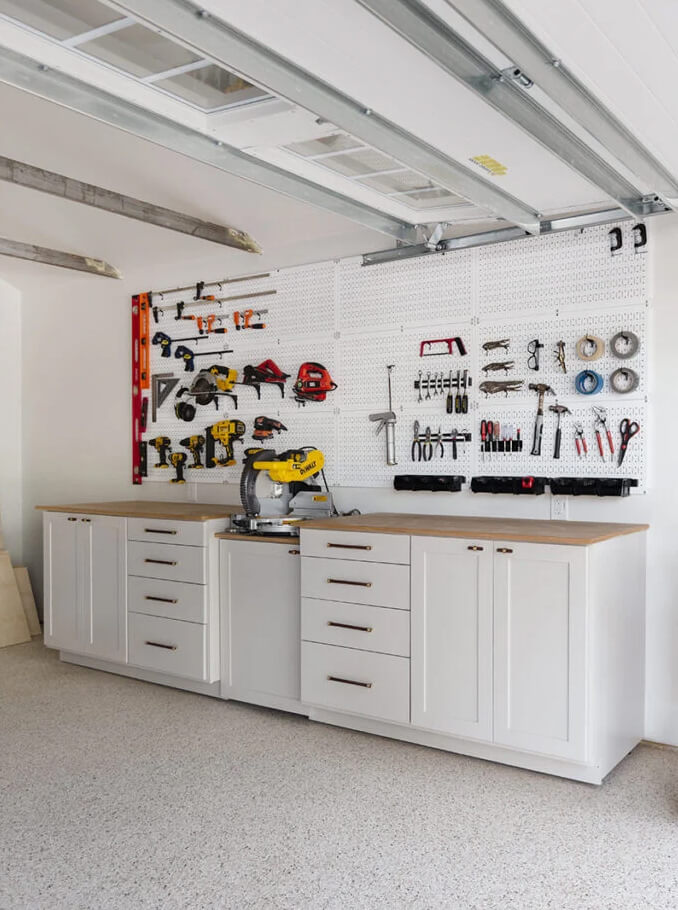 If you have a wide workspace, then you require an impressive pegboard design to match it. This way, you can move from space to space and still have what you need right within reach. Plus, a pegboard style like this is great for holding those heavier and larger tools like saws.
5. Small Scale Tool Pegboard Design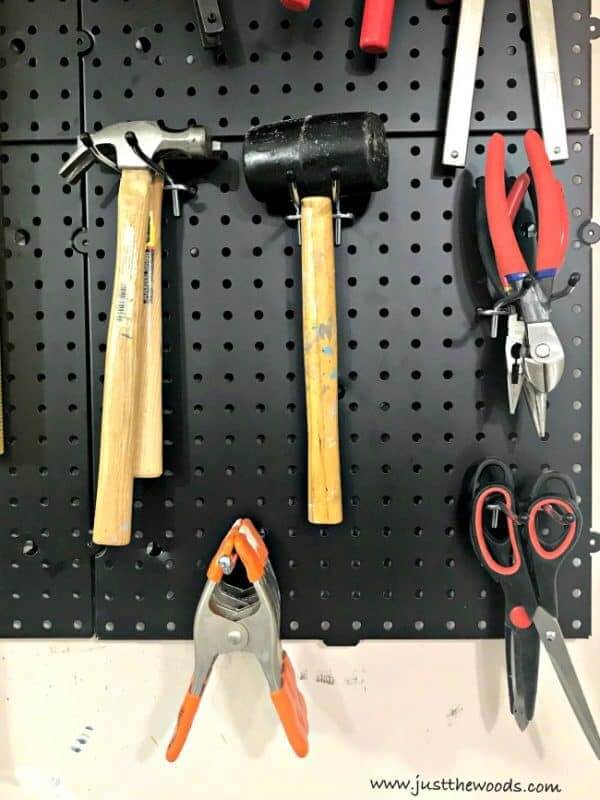 Not all pegboards need to be large. In fact, some of the best ones are more compact and space-saving. This is ideal if you are only working with a small footprint. The pegboard still gives you the room you need to store and organize what you need.
6. Wrap Around Tool Pegboard Organizer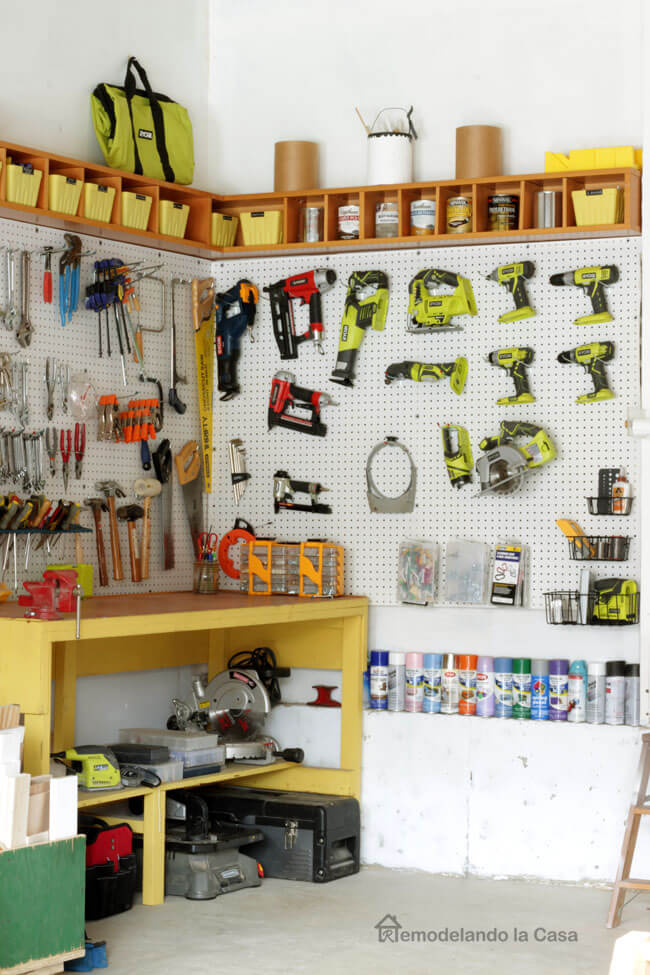 Some pegboard tool organization ideas work well when tucked away into a corner. This gives you the option to use two walls for your tools, increasing your workspace while keeping it all neat and organized. This is ideal too if you have a lot of tools you need to store.
7. Framed Pegboard Tool Organizer Idea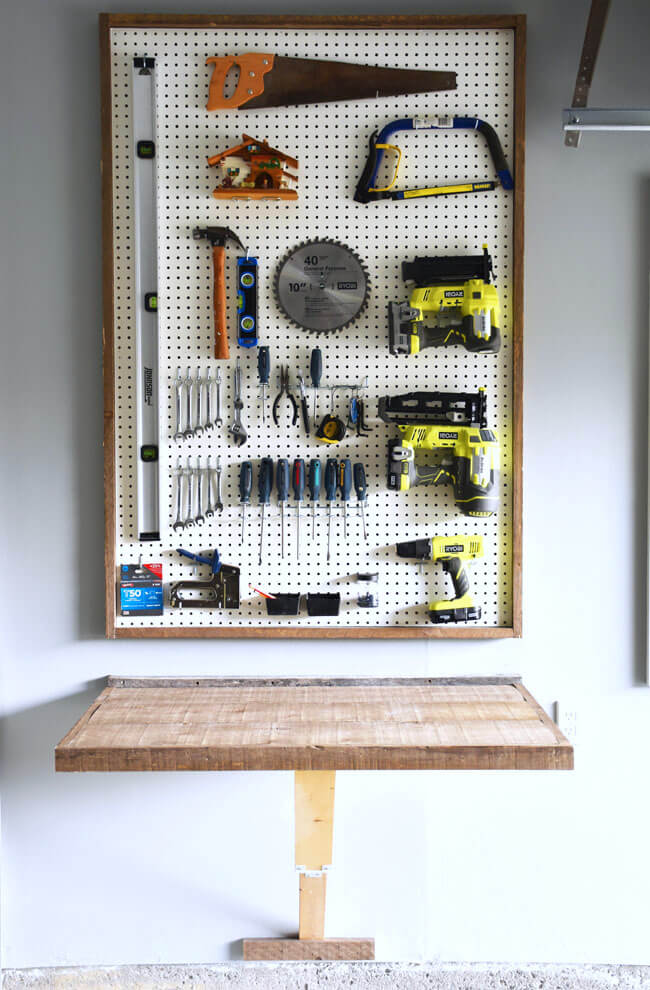 It is one thing to use a pegboard to organize all your tools above your workbench. It is another thing to add just a hint of décor to it, and all you need is a wooden frame. This can give the pegboard a bit more life, more so if you want a decorative touch to your garage.
8. Silver Pegboard Garage Tool Organizer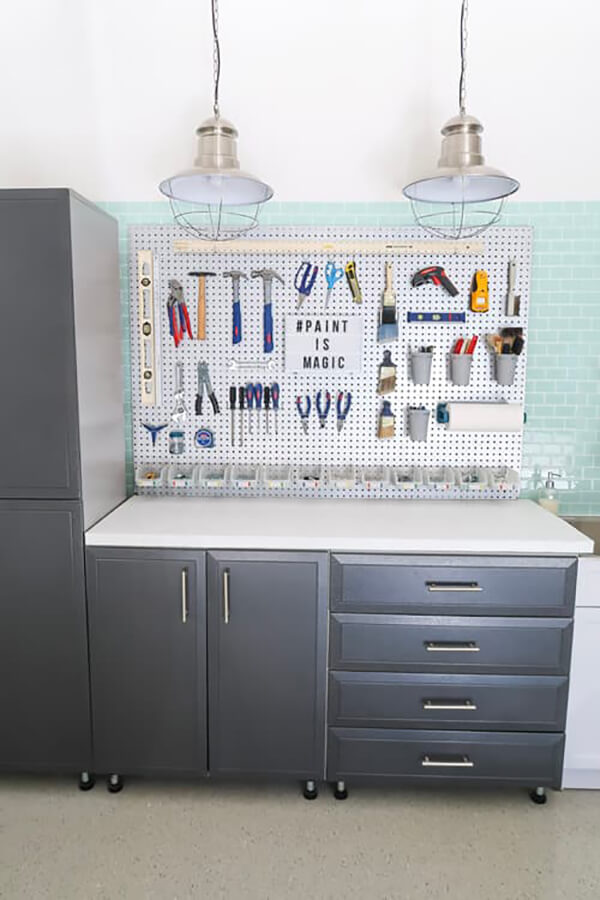 Need some brightness in your garage? Then consider this bold white and silver pegboard to organize all your tools. Beyond looking aesthetically pleasing, this spacious board has enough room to add things like cups and containers to hold your smaller items too. You may even have enough space to tack on a cute sign for that extra décor.
9. Tool Pegboard with Baskets Idea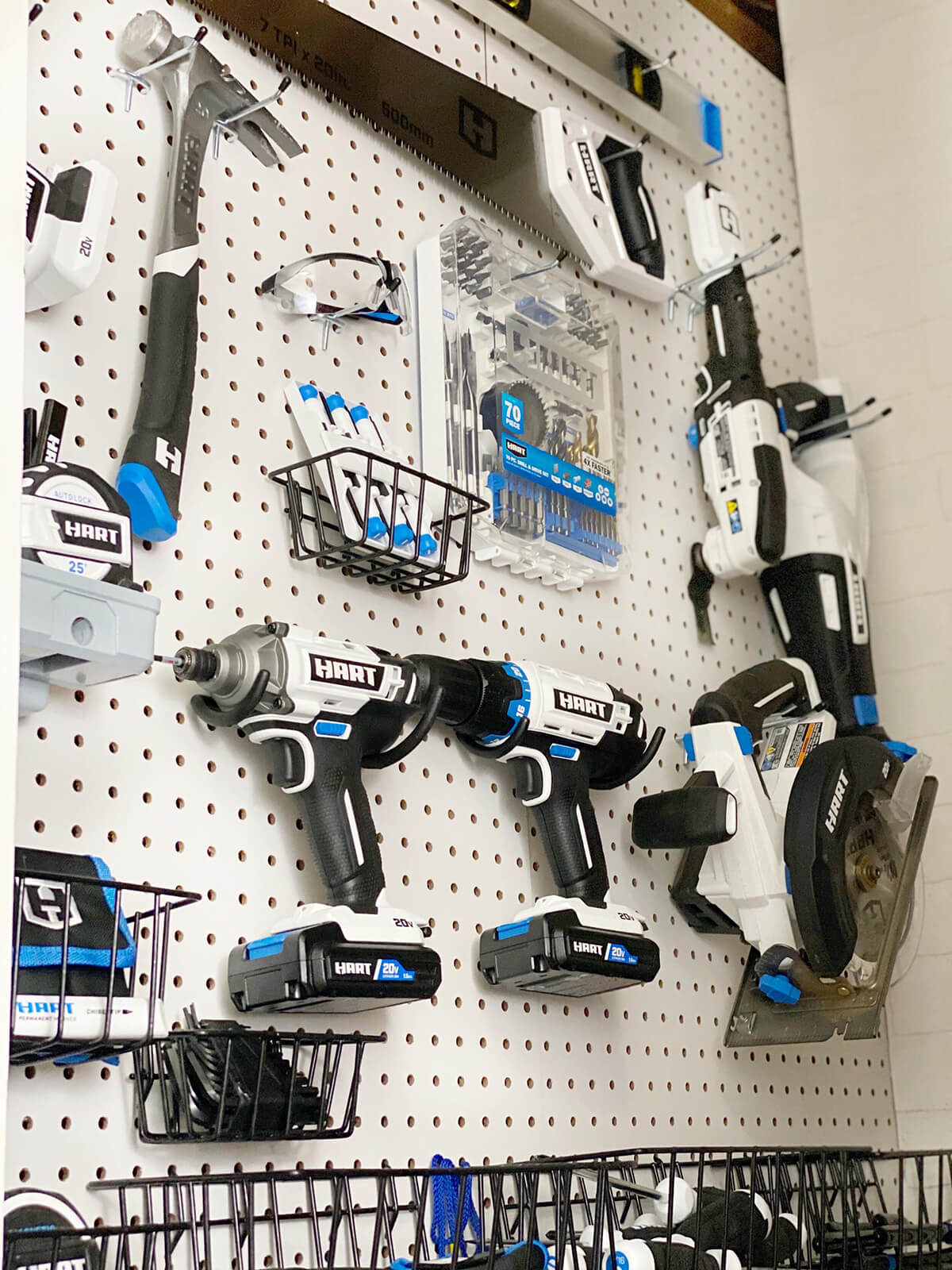 Pegboard hooks are not just useful for hanging up your tools. They are also handy when you need to hang up some small baskets. Adding in some matching baskets gives your pegboard a slightly more unique appearance while providing you with additional space to store other things you need.
10. Small Space Pegboard Tool Organizer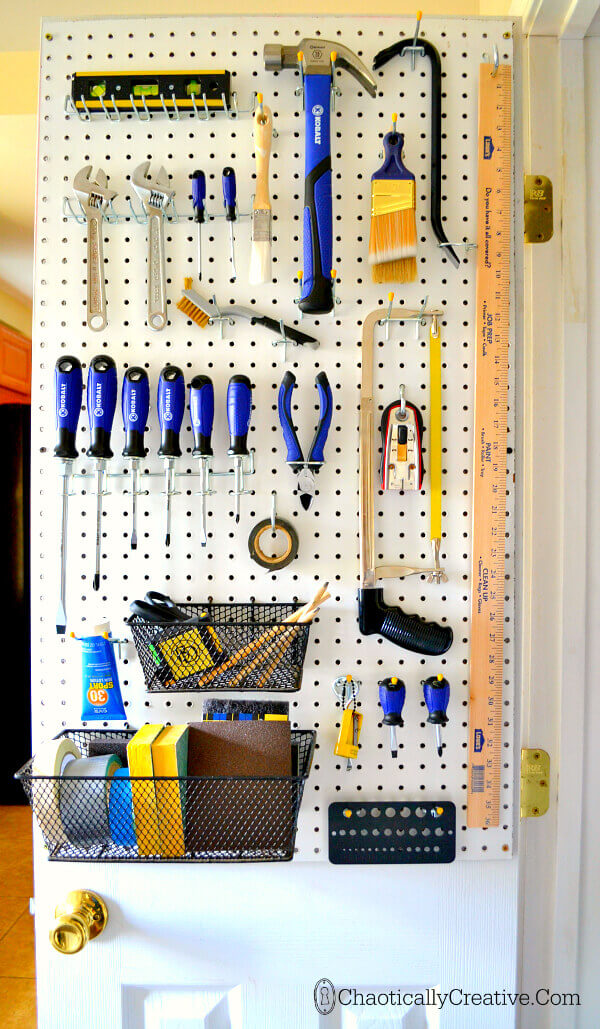 Perhaps you don't really have the wall space for a pegboard in your garage? That shouldn't stop you from having some great organization for your tools. You can add a pegboard to the back of the door leading into your garage. This way, the tools are still where you need them to be while not taking over your garage.
12. Super Sized Pegboard Tool Organizer Idea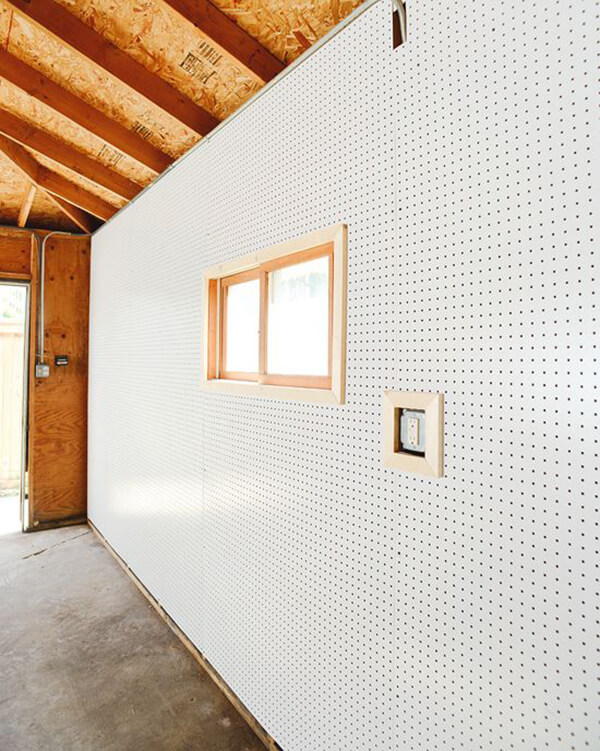 Oftentimes, the best garage pegboard ideas will take over an entire area in your garage. Maybe you have that one wall that desperately needs something on it. A pegboard is a perfect choice then. Also, it will give you the freedom to either add numerous tools or just space out the few that you have.
13. Creative Pegboard Tool Garage Organization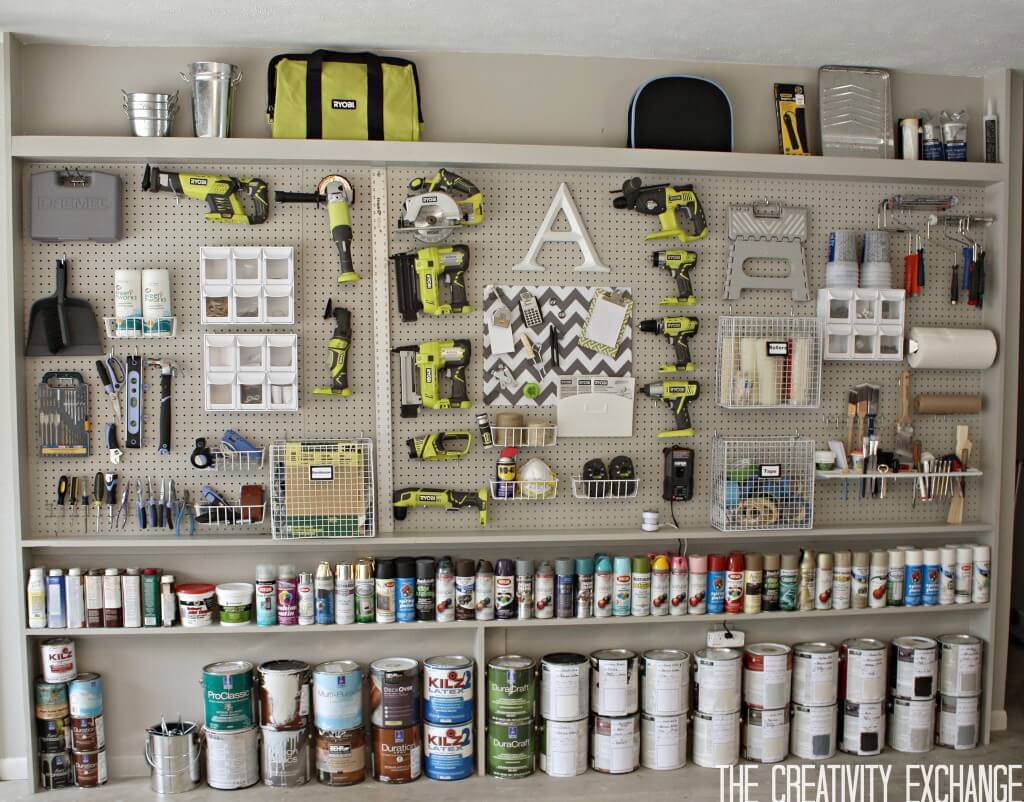 Sometimes, you can blend creativity with necessity when it comes to organizing your garage. Feel free to stretch multiple pegboards to cover a wall up. This is useful if you truly have too many tools and absolutely zero space for them. With some shelves, you can stash some extra items in your garage that you want out of the way too.
14. Orderly Garage Tool Pegboard Design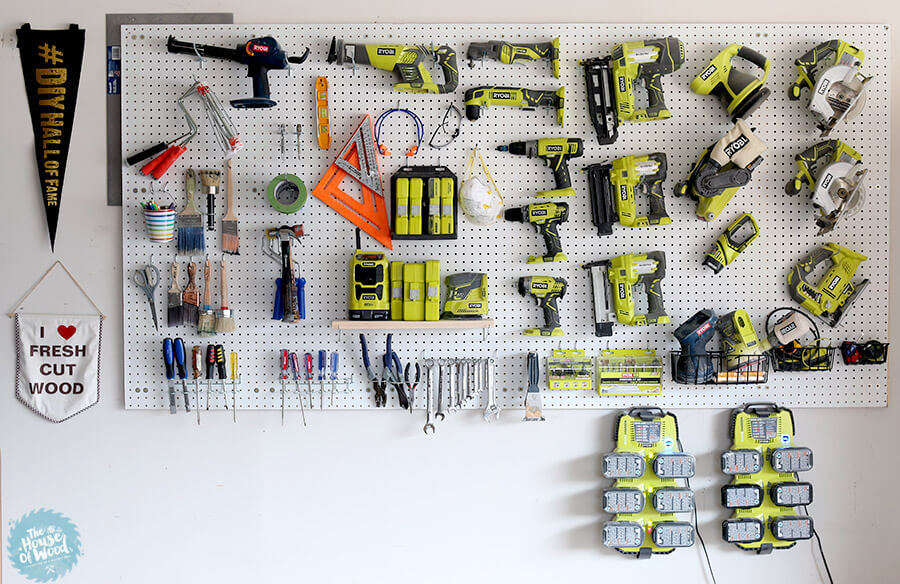 There is a host of different hooks you can use on your pegboard to create distinct spots to hold a variety of tools. This way, you can ensure that everything is hanging up and in its place, making it easier to clean up afterward and leave everything looking just as neat as when it all started.
15. Cabinet Style Pegboard Tool Idea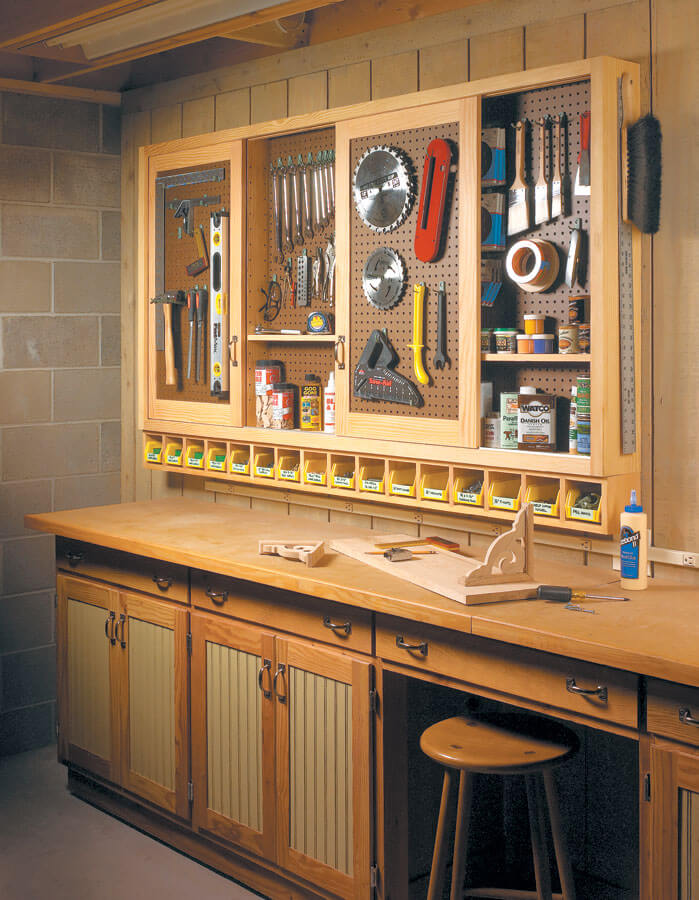 If you are looking for a more unique approach to pegboard organization, consider this cabinet-style design. It makes your garage space look neat and professional. The cabinet is fun to use as it adds charm and flair to your organization.
16. INCLY 12 Pack Pegboard Accessories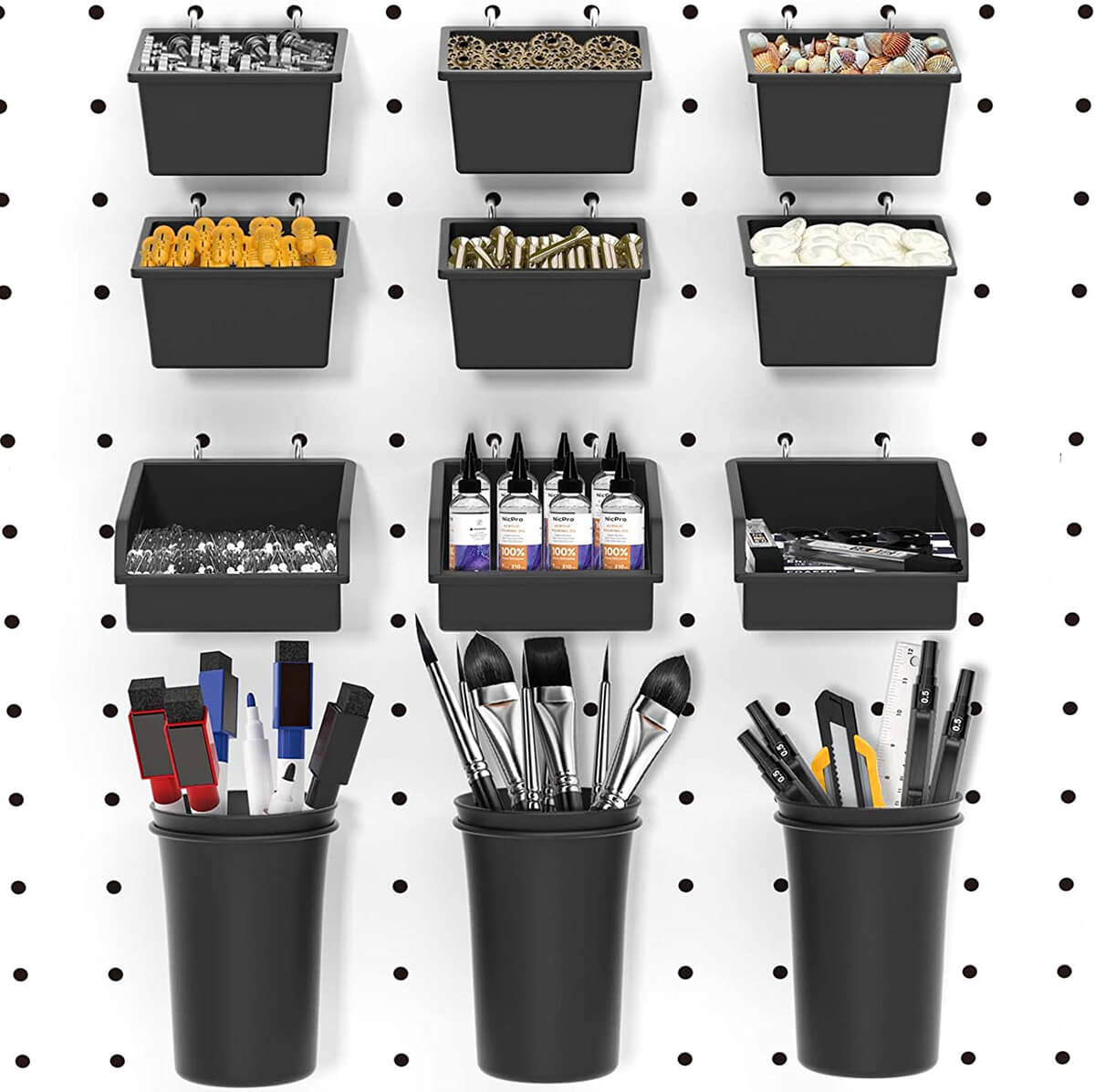 To prepare your pegboard for your tools, you need an awesome pegboard accessories kit like this. This is just the right size to support some of the smaller items you need for your workspace. You get multiple-sized bins as well as cup holders.
17. Wallmaster Pegboard Organizer Garage Storage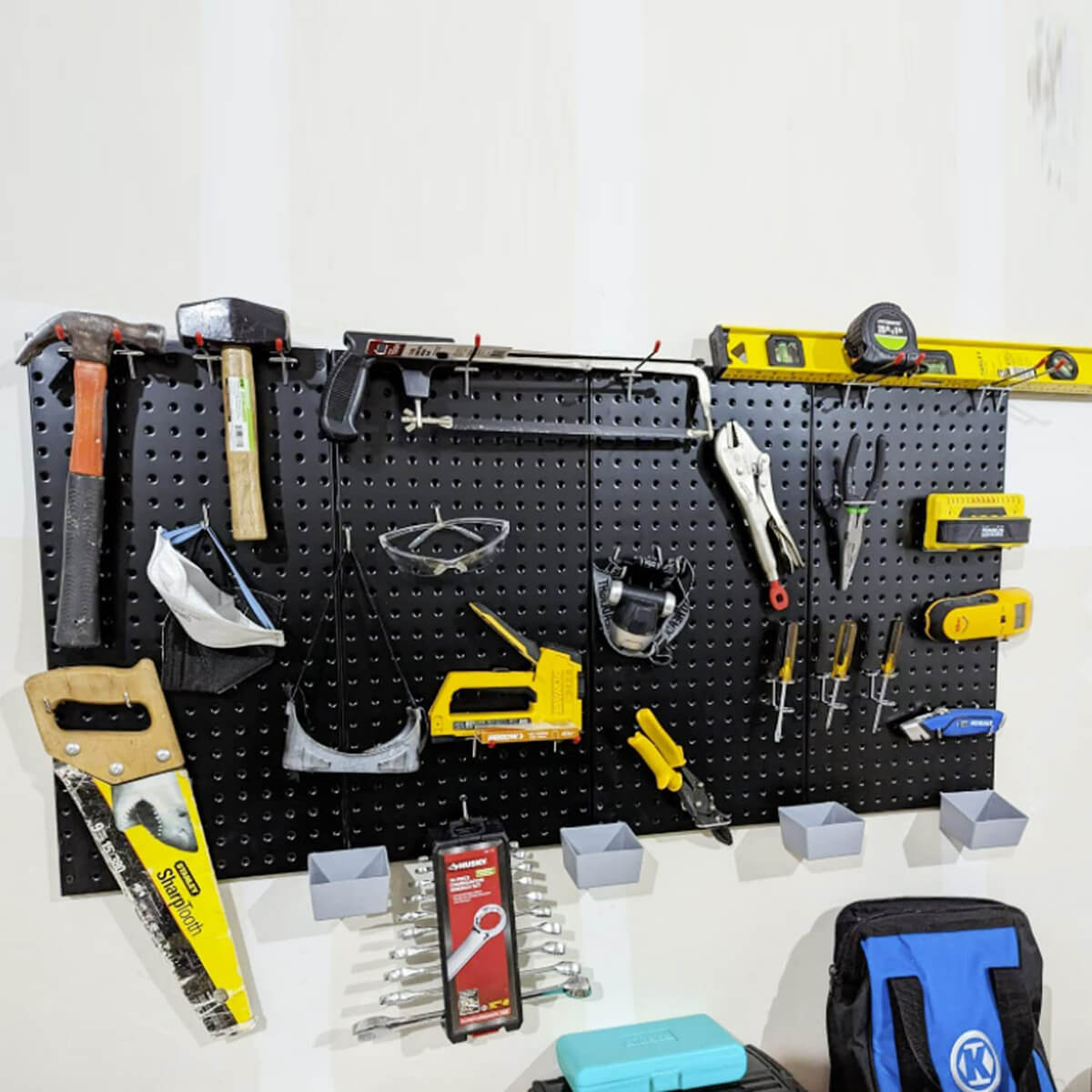 This steel pegboard is a wonderful option to hold simple tools. It is well-designed in terms of space so that you can organize several different tools of various sizes. Plus, this comes along with four storage bins, giving you more options in how you want to store your things.
18. TNINE Black Plastic Pegboard Wall Organizer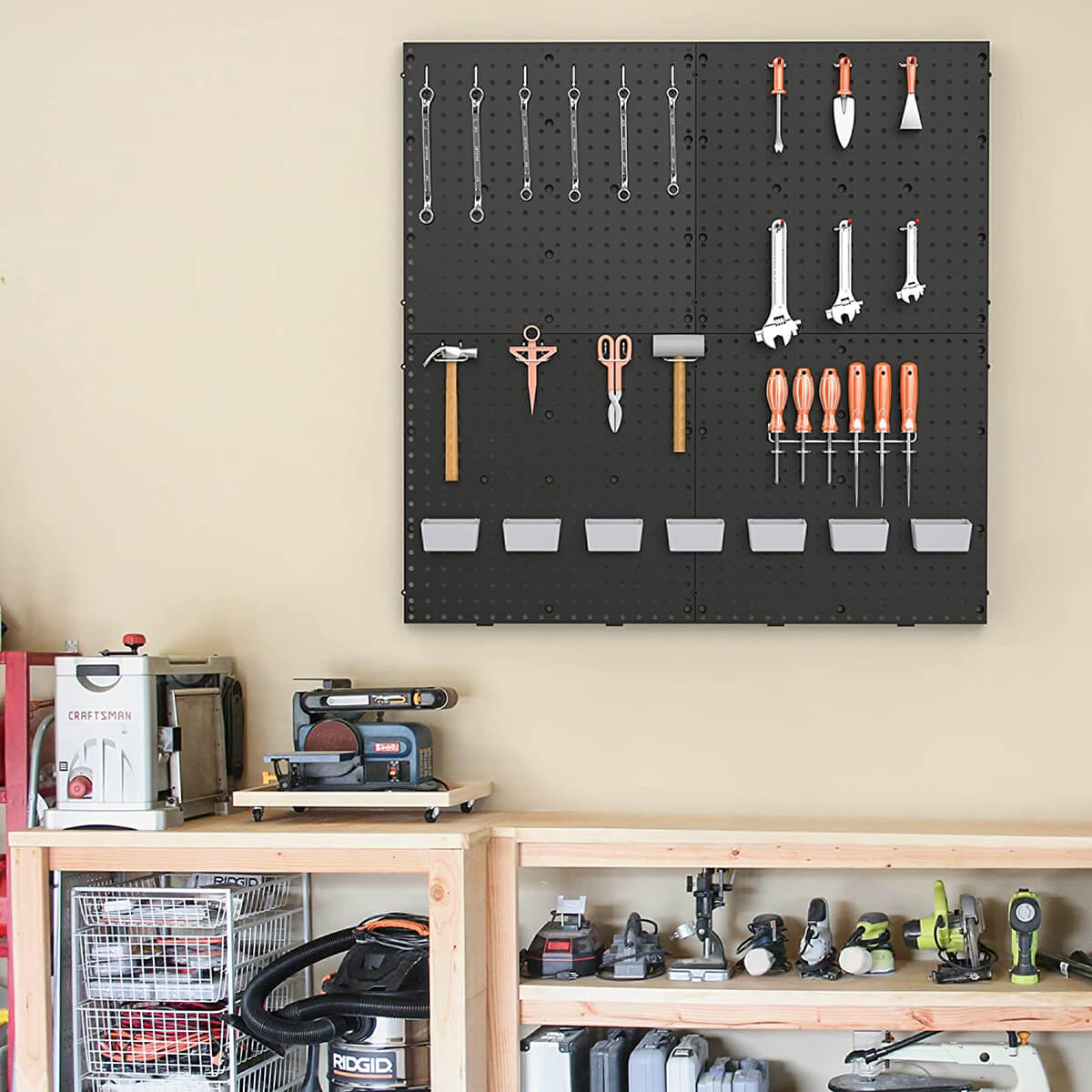 For casual tools, this plastic pegboard is ideal for your utility tools. This comes with four pegboard panels as well as extra accessories that will make storing your tools that much easier. There are different types of hooks as well as small-sized bins.
19. Wall Control Galvanized Steel Pegboard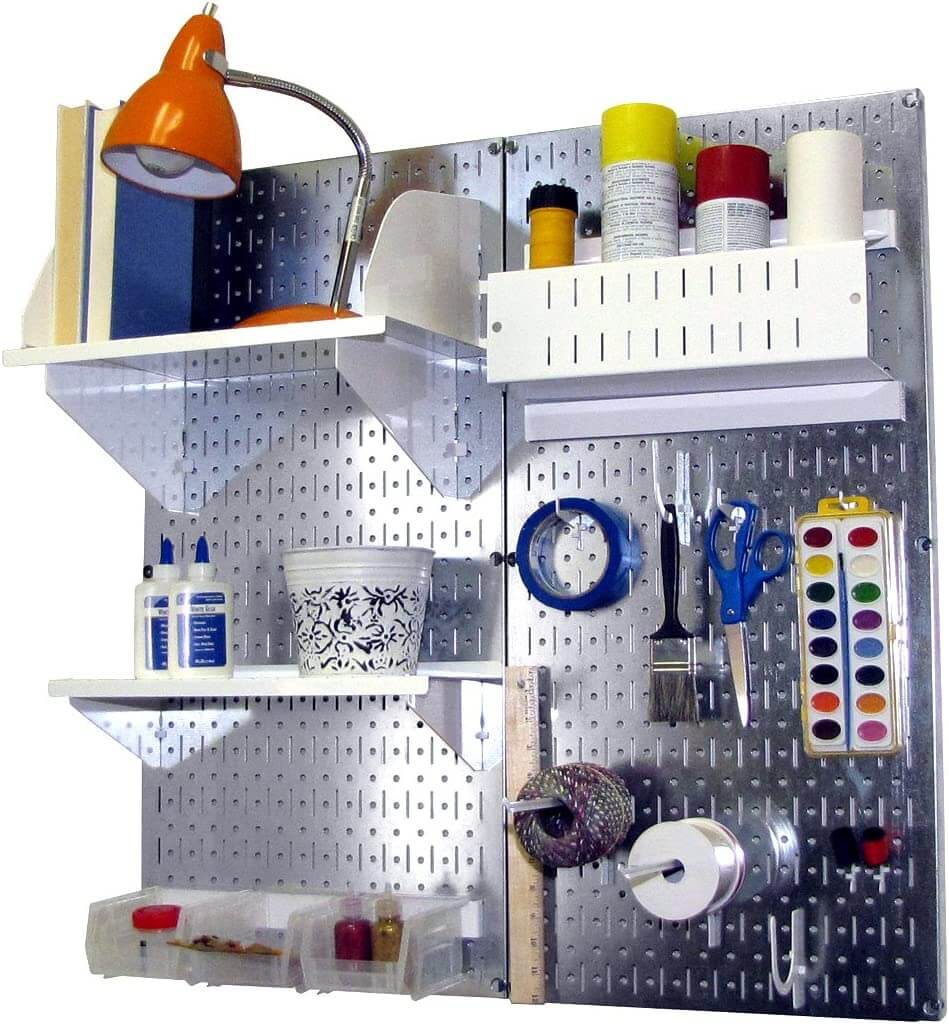 Want something cool to store your tools on? Well, this galvanized steel pegboard is an amazing choice. It is straightforward in design, but it does come with several color options. This is a fun way for you to play around with décor while also organizing your tools.
20. Massive Pegboard Garage Tool Storage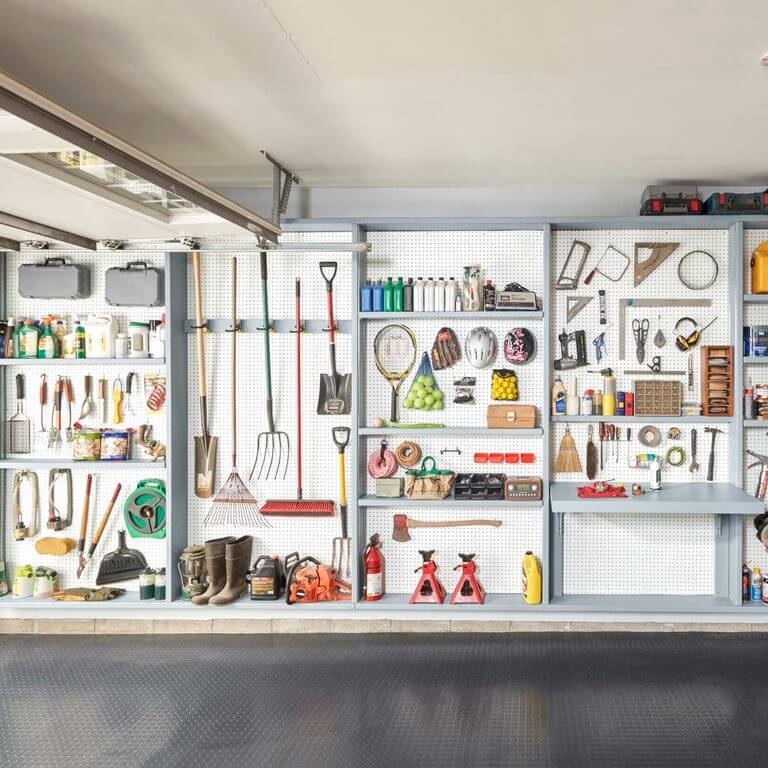 Those that have an insane amount of tools need pegboard tool ideas that can practically take over a wall. Nothing looks cluttered with this super-sized pegboard. Instead, it all looks that much more appealing and well-organized. Feel free to install some shelves to make it even handier as you can store plenty of tools.
21. WallPeg Garage Storage System Organizer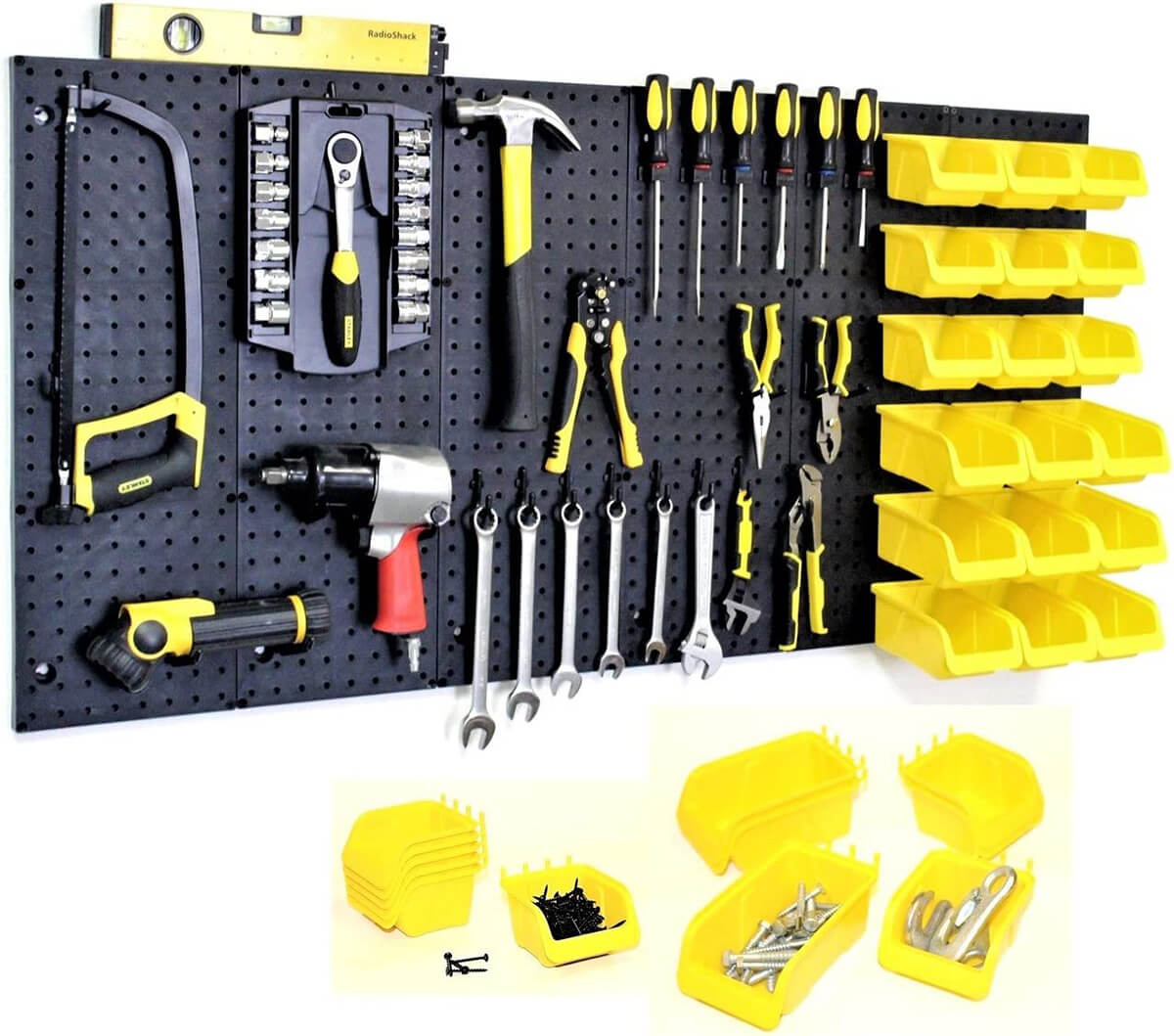 With this kit, you can store numerous items and accessories in your garage. This storage system comes with two pegboard panels along with 12 yellow bins and a variety of peg hooks. The bins are a great size to support smaller accessories such as nails and screws.
21 Garage Pegboard Ideas to De-clutter your Space
Pegboards are probably one of the most versatile objects that can work well in just about any room in your home. In this case, it is a great addition to your garage as it is perfectly designed to handle your tools. With our guide, you can find the best way to organize tools on a pegboard that suits your needs.