33. A Refined Halloween Decoration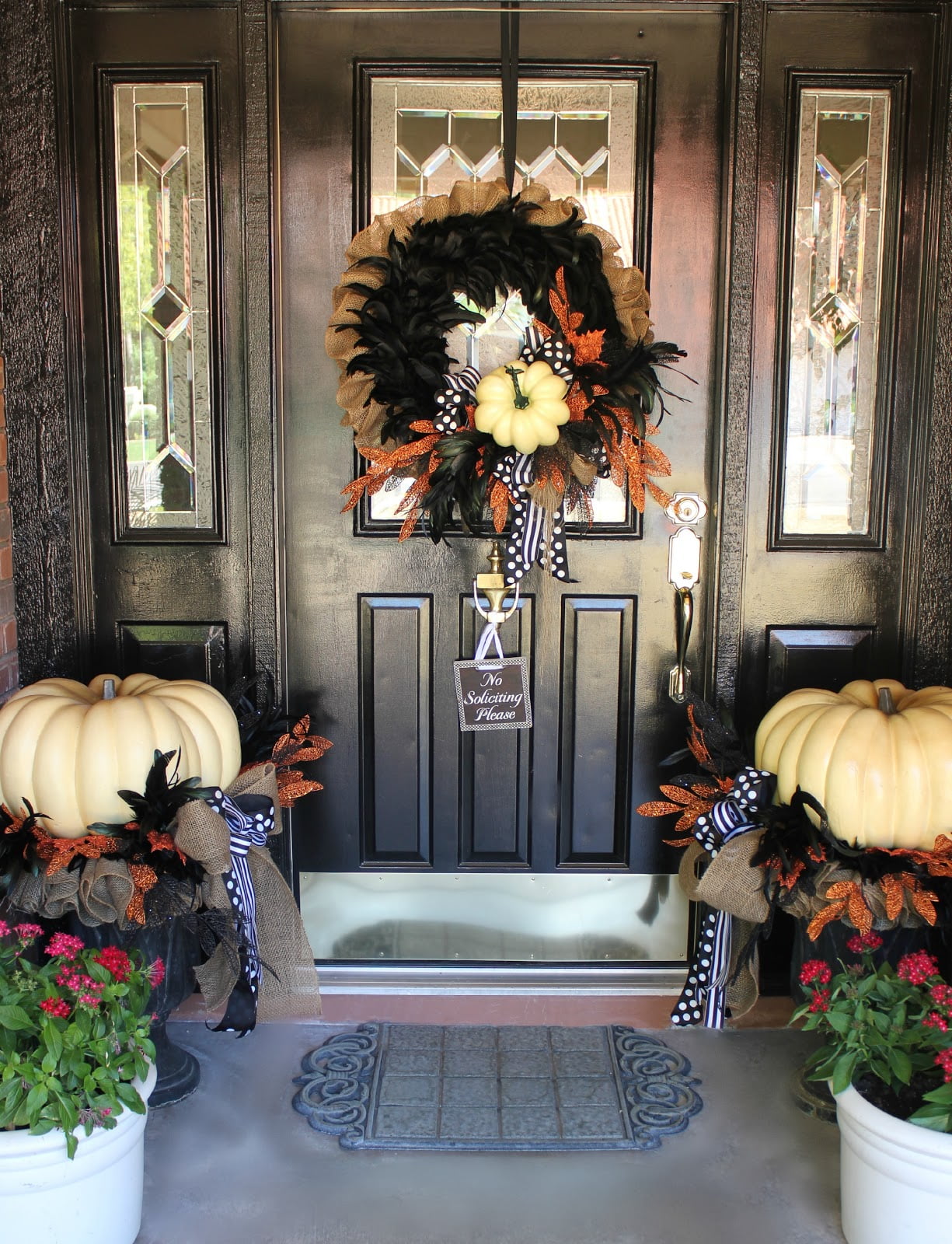 If a simple and low-key decoration of autumn colors is more to your taste, this is a classic design you are sure to love. The pale yellow pumpkins set in mild tones of orange, gray and black sitting in an urn offer subtle but distinctive fall or Halloween décor. The black fur wreath is entwined with polka dots and stripes, which give a depth to the design. The matching color scheme in the wreath against the newly varnished door, provides a glimmering focal point that is pleasing to the eye. A floor mat that contributes to the theme is the finishing touch.
34. A Pumpkin Snowman?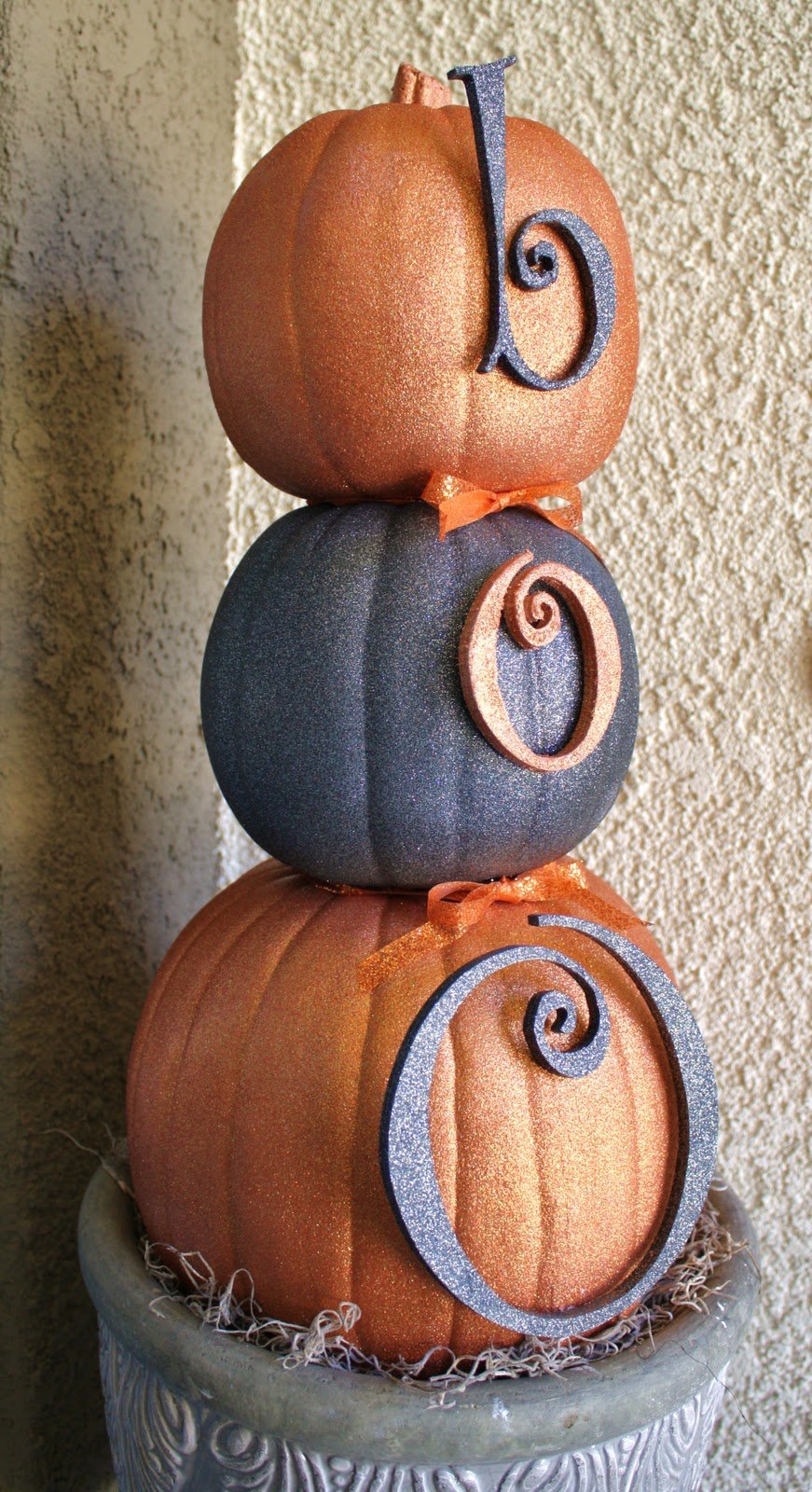 No, it is not winter yet, but as you can see, this is a very simple and cute version of a snowman. Three pumpkins spray painted with glitter paint stacked on a post placed in a large garden pot. If you choose your pumpkins carefully, or use plastic pumpkins, you may not need a post if you carve the tops and bottoms to fit into each other. Create a message you want to display from the wide array of Halloween fonts available or cut them out of sparkly felt yourself. You don't have to be limited to one letter per pumpkin.
35. A Spidery Welcome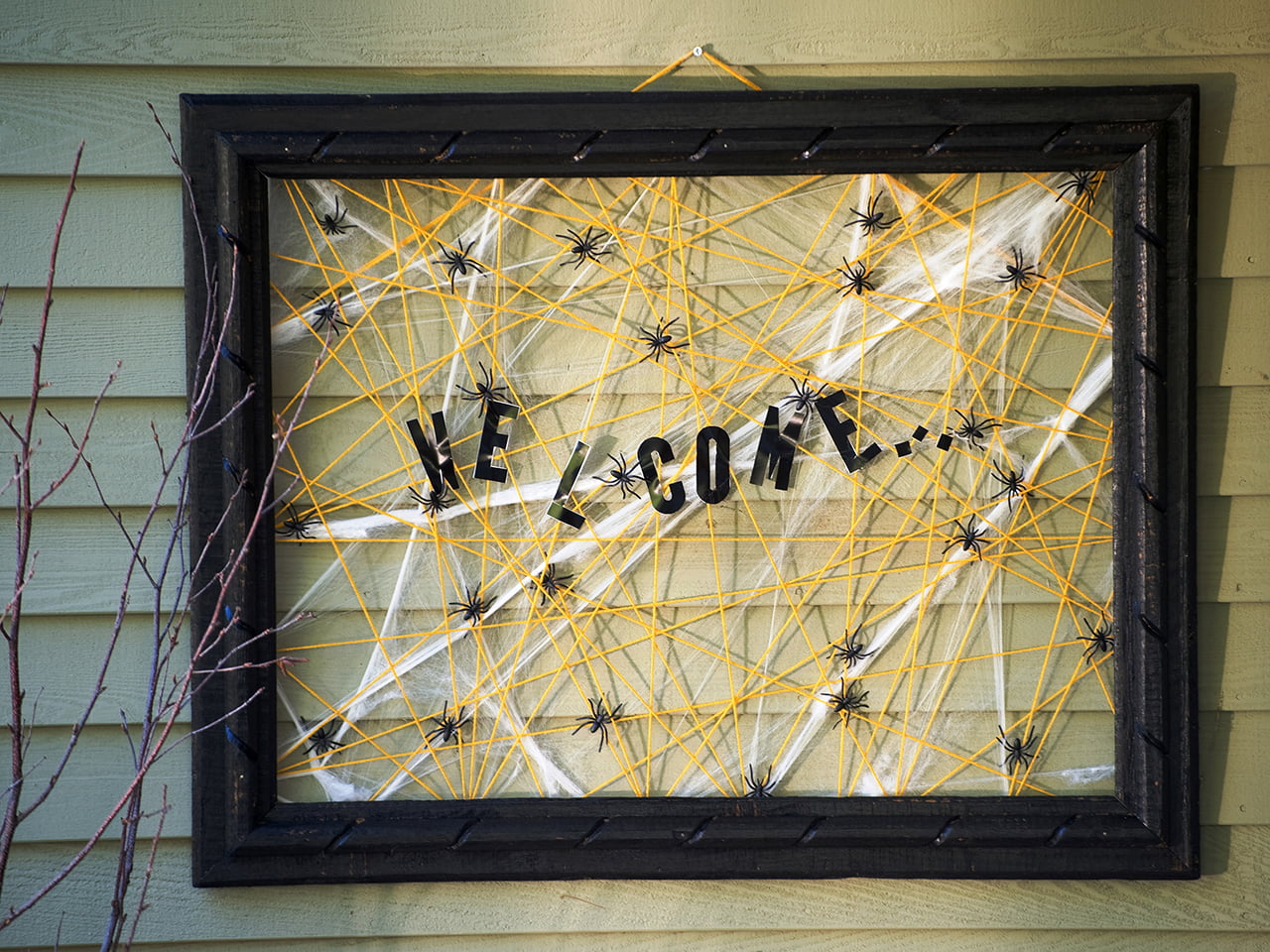 This is a wonderful creation and very in keeping with the Halloween theme, and it is not as hard to do as it looks. It is great on its own hanging on your door, but if you like it, you could incorporate it into other Halloween porch decorations. All you need is a large picture frame, different kinds of yard and thread, tacks or tiny nails, and an assortment of spiders. If you can't find a frame with character, or the one with character is too expensive, it is not a problem. You can paint it black or brown and then distress it to look like something old. Once you put in the nails along the back of the frame, you can stretch the yarn back and forth to create a messy nest and then place the spiders and the letters for your message.
36. The Great Halloween Countdown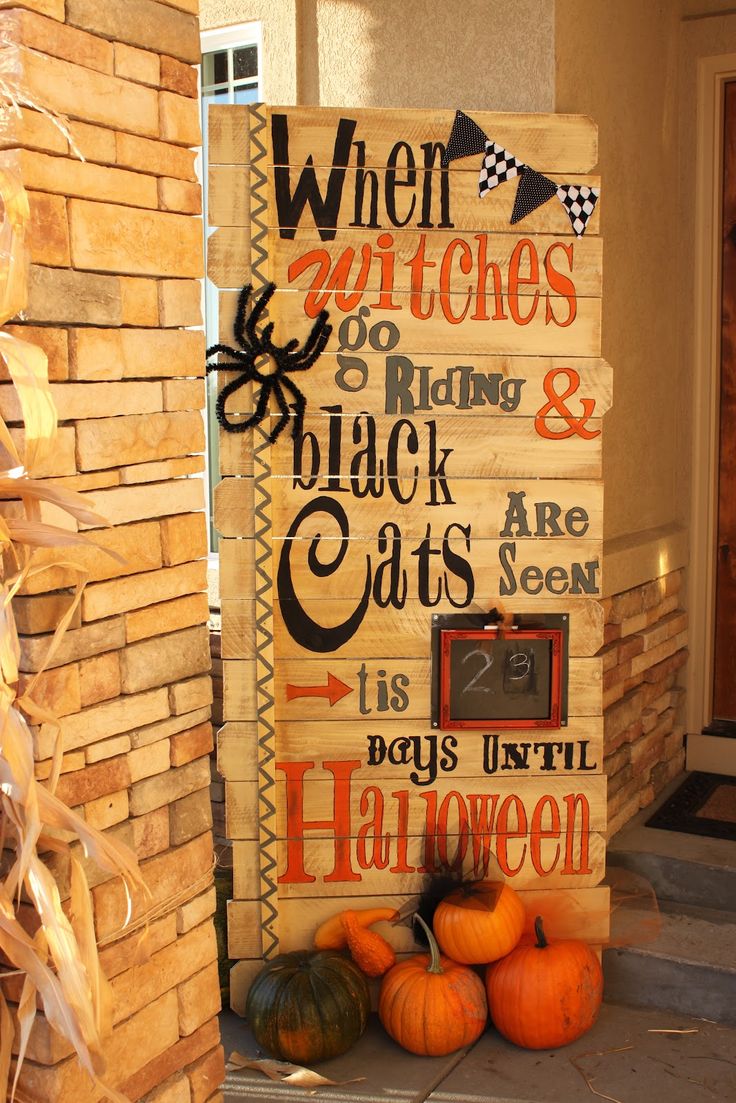 Your neighborhood Halloween celebrations wouldn't be complete without a countdown sign, and what a great way to make one. Stack up a bunch of old crate or cardboard boxes, and you have the perfect background for your Halloween message. All you have to do is write your message and decorate it with critters, and of course, don't forget your pumpkins! Taking the extra step of carving out each pumpkin and placing a light in them will take this already amazing idea to the next level. Just remember to change the number every day!
37. A Halloween Tree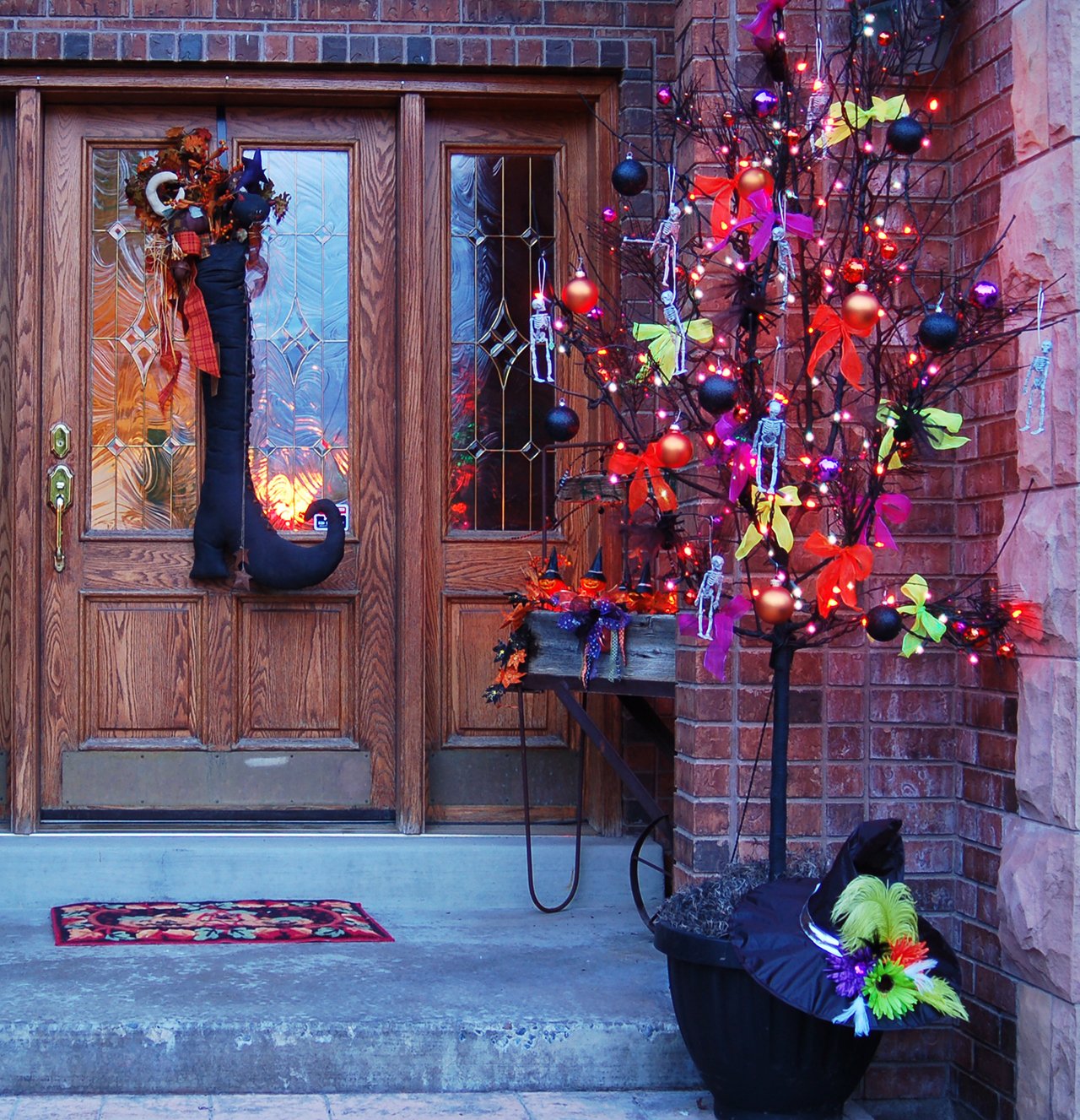 Well, there is always a first for everything, so why not! If you've got a large branch, or maybe even a dead tree, in your yard, strip off all the leaves and excess branches, and it makes for a great addition to Halloween porch decorations. Place it in a pot, and fill the pot up with dirt. You now have a blank canvas for your spooky creations. A little flower cart in the corner filled with a lighted pumpkin witches is a delightful touch to the scene. The witch's hat below the tree and a broom in the corner lets you know why this tree is covered in bones and eerie colored lights.
38. Fun Fear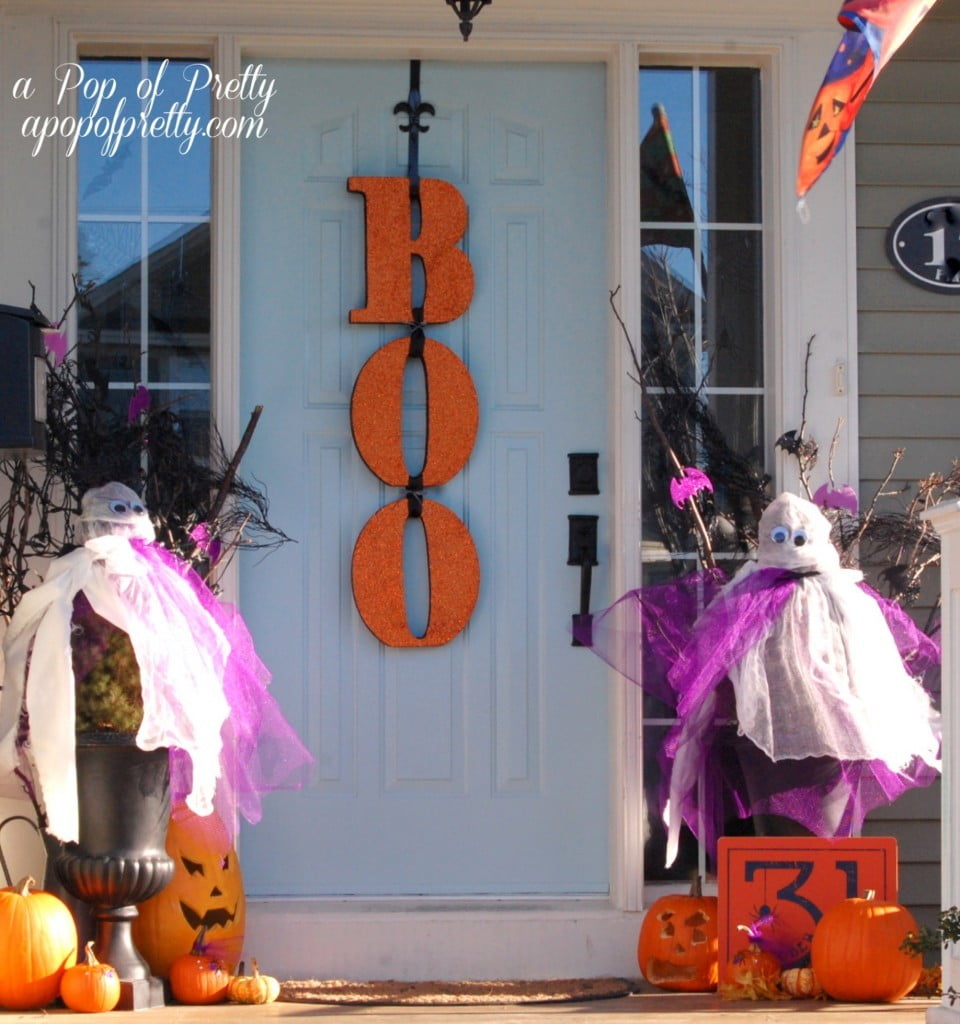 Here is a front porch that gives a pop of color and Halloween cheer to every visitor and passerby. These ghosts with googly eyes are friendly, and using shredded white tissue paper along with some colored ones maintains the ghost-like feature of the décor. A popping boo sign is the focal point, and pumpkins carved with different faces in different sizes provides a more celebratory feature instead of fearful one.
39. A Themed Welcome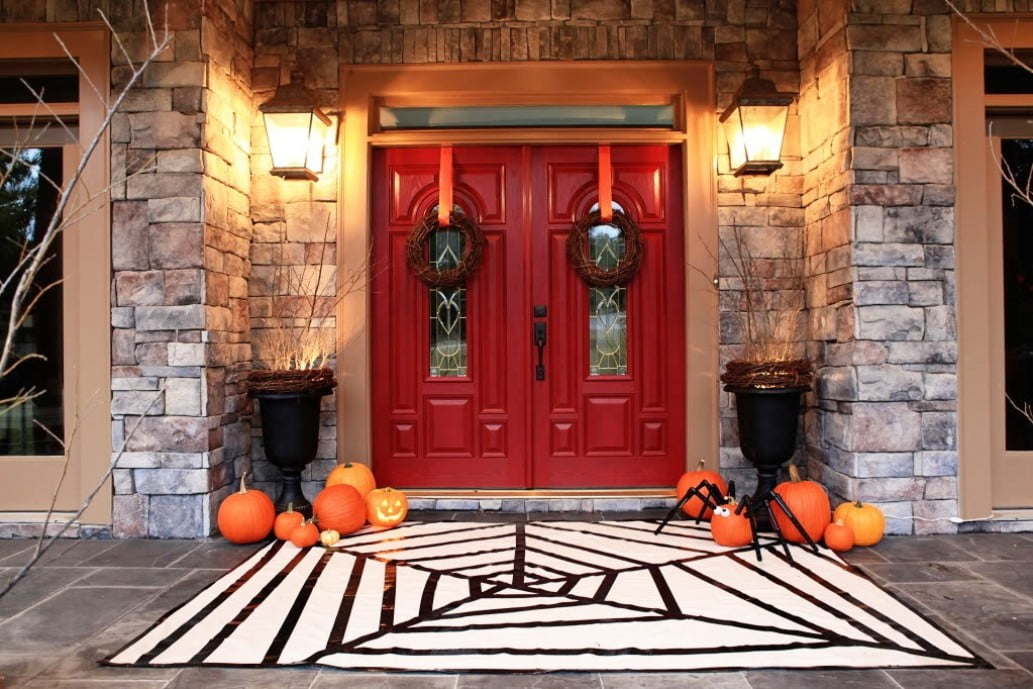 A beautiful Halloween porch decoration idea that you might want to keep till it is time for Christmas decorations. From the urns on the side to the arrangement of pumpkins, every element in this display is simple, but each part comes together to offer a grand reception. Even the spider made by sticking legs into a pumpkin is tastefully done giving a subtle hint of the spooky thrills of Halloween. The black and white cobweb rug on the floor gives a classic but dramatic finish to the look. You can create this in a simpler way by drawing a large cobweb on the floor with chalk.
40. Pumpkins Have Character Too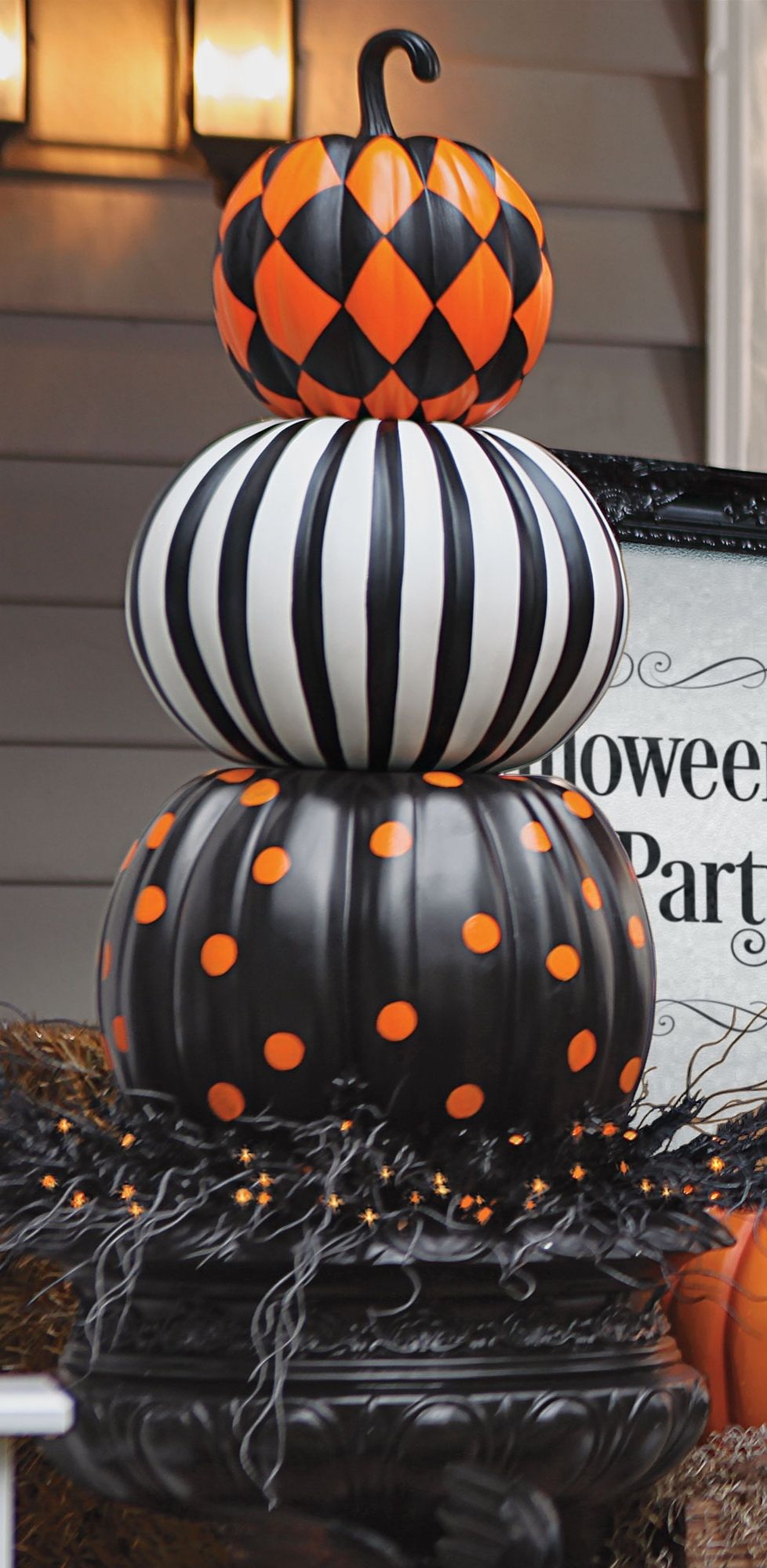 A multi-printed tiered pumpkin presentation is a wonderful option as a centerpiece or as part of your overall porch decoration idea. These are plastic pumpkins set in a bundle of sticks, and you can use an urn for a unique touch. Or, you can give yourself the challenge and paint your own patterns on three perfectly sized pumpkins that will stack up easily. If you already have a big beautiful pot in your garden, go ahead and use it. Save yourself time and money and take pride in a decoration that will be unique to your home.
41. Spider on the Swing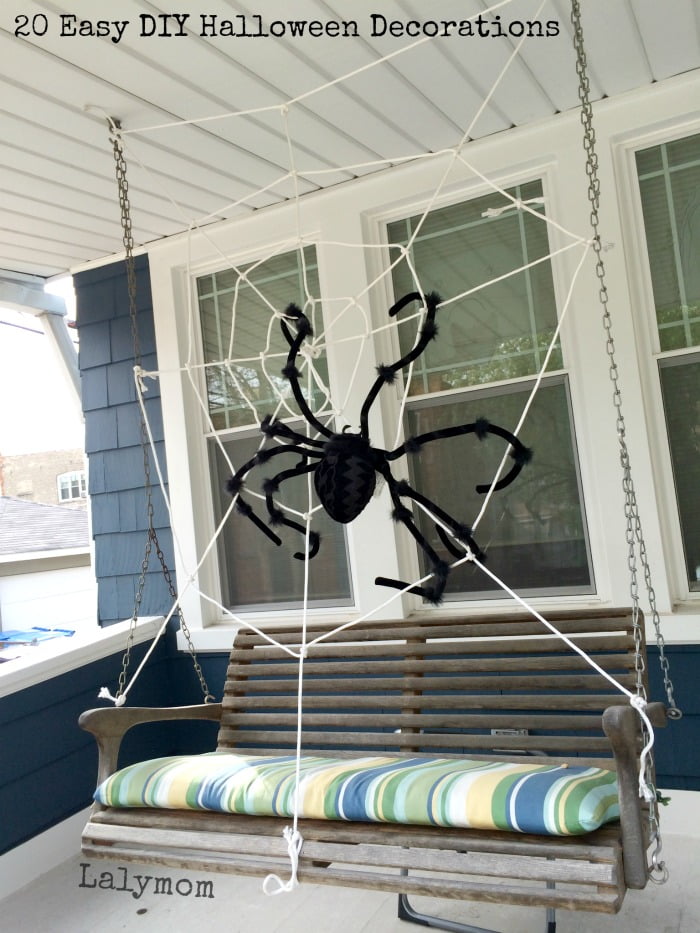 If you have a swing or another large piece of furniture on your front porch, this spider web is surprisingly easy to create, and once you make the web, you can use it every year. It is a great option for those not interested with all the pumpkin carving and ghost building because this web looks quite beautiful and delicate! What you need is a rope, a pair of scissors and a step stool for the web. Then tie the outside rim of the web and work your way in. If you are really crafty, make the body of the spider with paper-mâché and roll up long, thin strips of newspaper to stick on for the legs and paint the whole thing black. There are large, fluffy ready-made spiders in stores if you want to do it the easy way.
More Halloween porch decoration ideas on the next page…