It is time to start preparing for October 31st to arrive with Halloween window decorations. The air is crisp and the nights are becoming longer, making this the perfect season for a whimsical, yet spooky holiday. As an adult, there is no better way to embrace this holiday than to decorate. Pumpkins, bats, skeletons, witches, ghosts, and other creatures of the night will make great additions to your home this season. No matter how you decorate, whether it is placing jack-o-lanterns on your pathway or adding Halloween window decorations to your windows, decorating is part of the fun, especially if the decorations are scary. Choosing a theme for your decorations this Halloween can be a difficult decision, so we've put together a few ideas to help you to create an atmosphere that adds to the trick or treating excitement. Take a look.

1. Black Cat Silhouette Halloween Decoration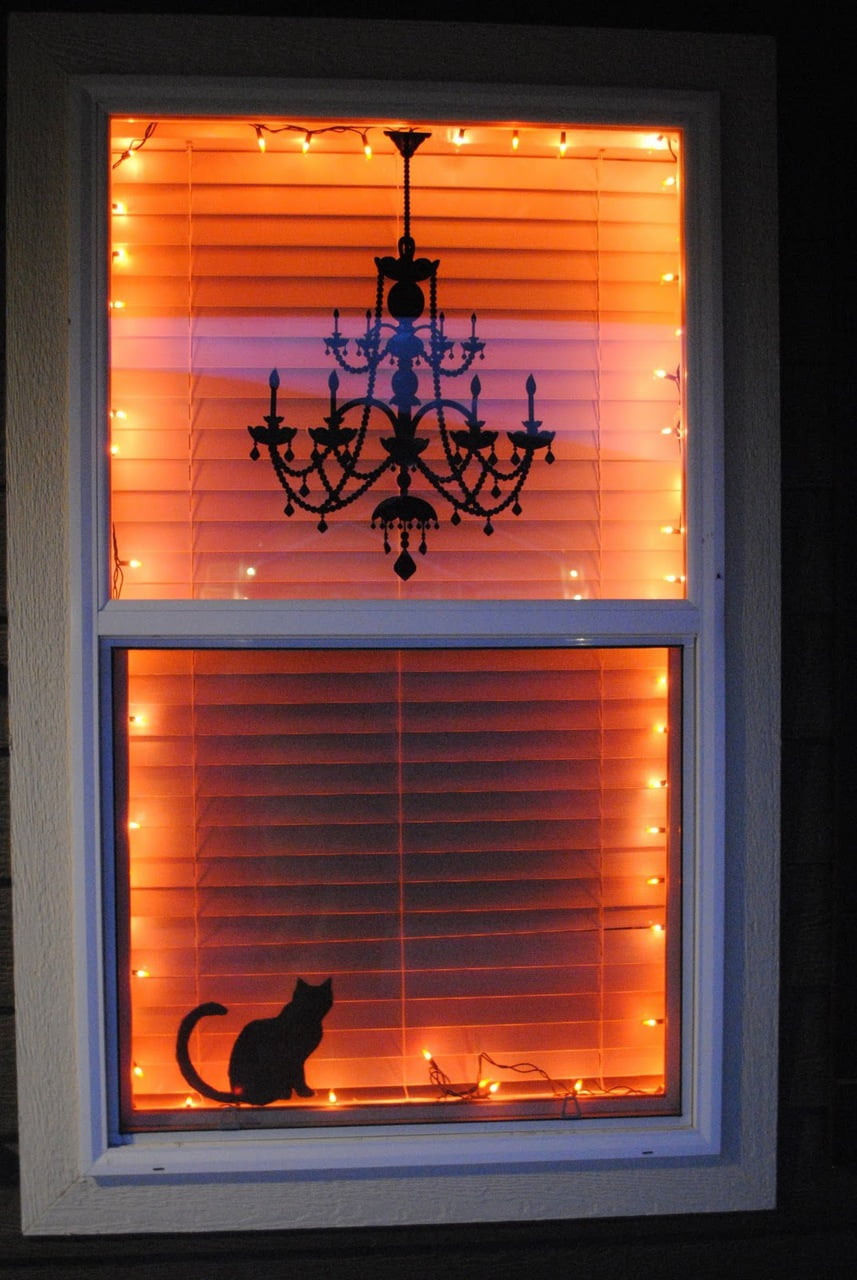 Black cats are typically at the root of many superstitions during the Halloween season. This Halloween window decoration is not spooky or scary, it simply plays on the fright that is created by this superstition. Black cats are not bad luck, but the silhouette of the black cat in the window with an orange glow behind it, which is created by hanging lights, adds a mystical aura to the cat. The silhouette of the cat and the chandelier is simple to create. The designs can be cut out of paper or cardboard and attached to the inside of your window.
2. The Monster Mashup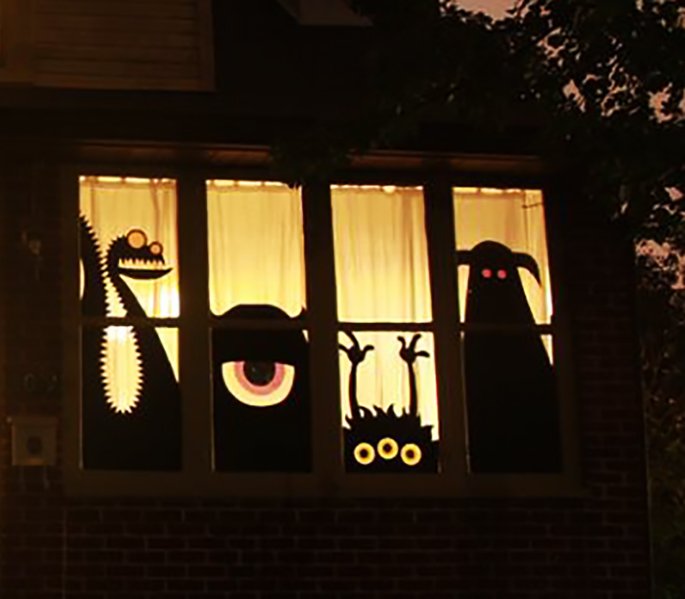 Imagine that you are a child on Halloween night and you encounter a house that has windows that are filled with scary monsters. It is dark outside, so all you can see is the shadows of the creatures from the light inside the home, but their silhouette is spooky enough to give you a fright. To create this Halloween window decoration, all you need to do is find large pieces of cardboard; a box will do, and cut monster shapes into the material to be attached to the windows. If you need inspiration, Monsters Inc has some amazing monsters that you can style your creatures after.
3. Zombie Escape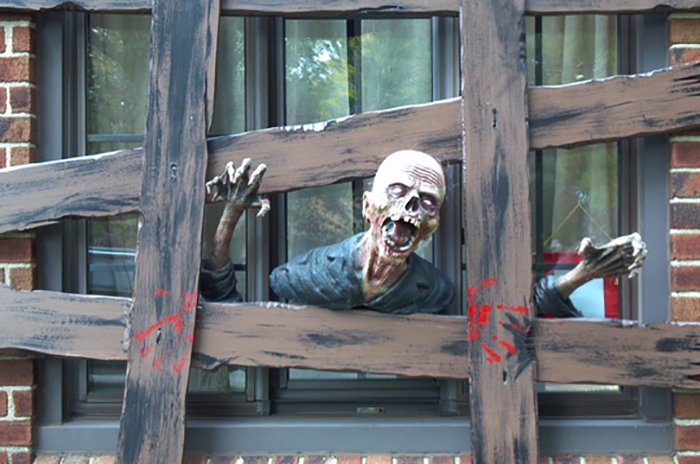 Zombies are terrifying for many of us, so using decorations to make it appear as though they are breaking free from the confines of your home is thrilling and a little bit scary. This decoration is designed on the outside of your home. It will require a zombie dummy head and arms, which you can sew together if you want, and some wooden beams to make it appear that they are keeping the zombie from breaking through the window. Add some dark paint to the boards to make them look older in the low light of night, and place some bloody handprints on the beams. Attach the beams to the window in the formation of a tic-tac-toe board with the zombie in the center.
4. Blood Splatter Galore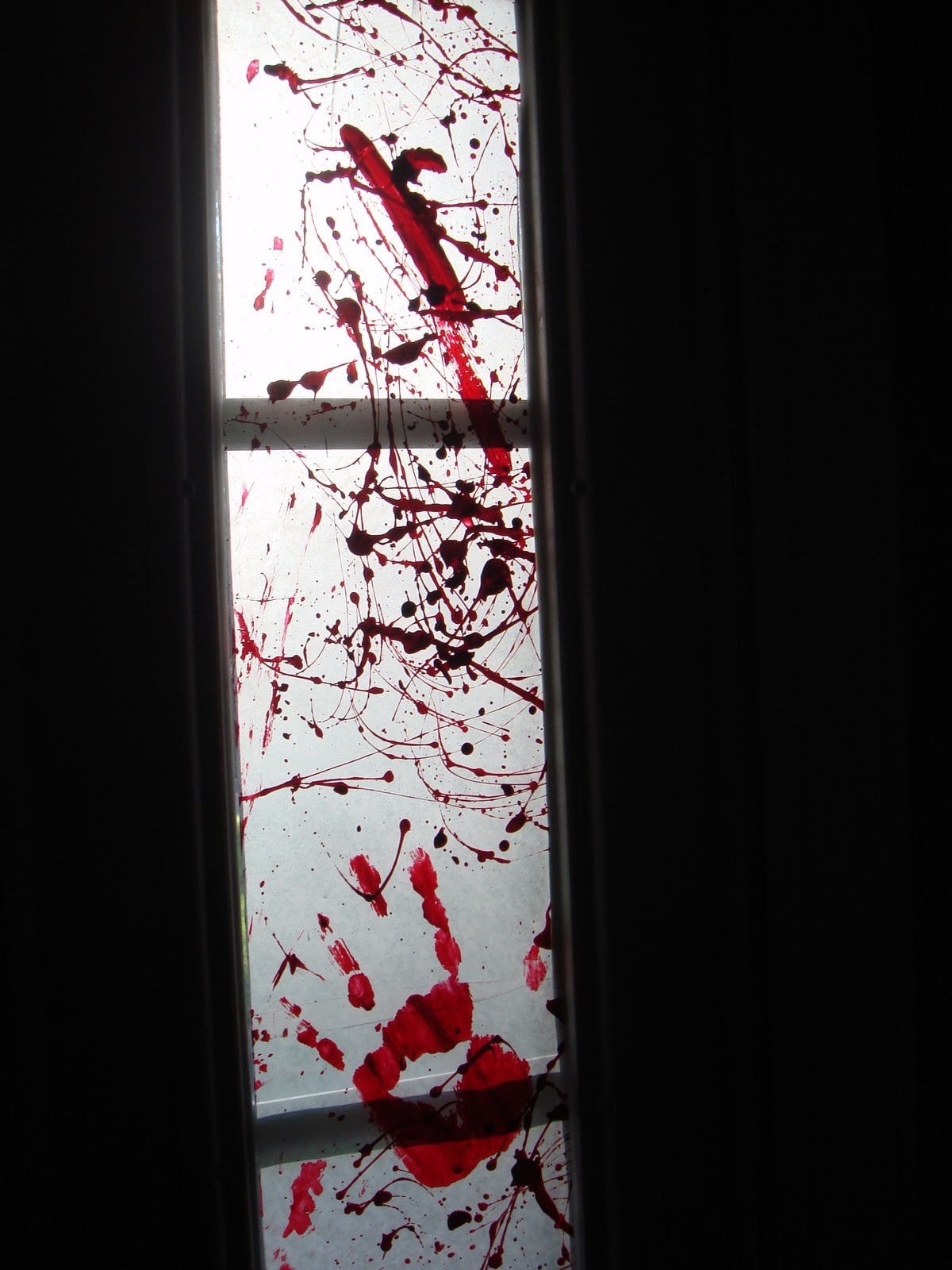 Blood is typically a sign that something has gone horribly wrong, especially when it is seen splattered all over the walls. This Halloween window decoration plays on the scary image of coming home to a blood splattered window. You can add handprints to the blood splatter to make it look like the victim was attempting to escape or keep the splatter design simple. A hand that slides down the window can make this scene even spookier and it will only take a few seconds to enhance the decoration.
5. Tarantula Terror Halloween Window Decoration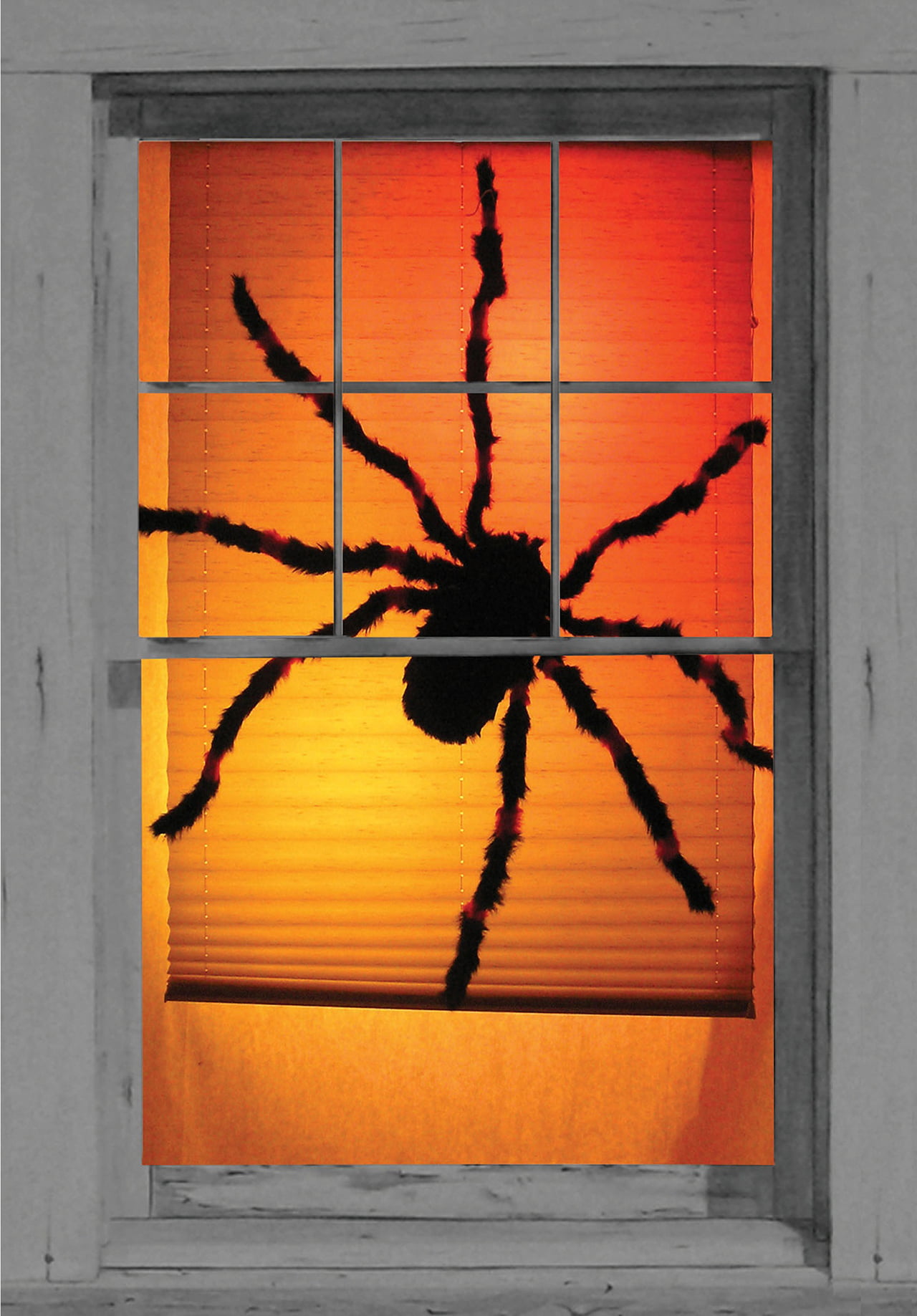 Spiders are a part of Halloween, but they are not the scariest creatures that you can encounter. Did you expect to see one whose body covers an entire window? This massive spider silhouette is perfect for scaring those who have a fear of spiders, but encountering a spider this large in nature would be deadly. Make sure to have good backlighting behind the window so that all of the details of the spider can easily be seen as trick-or-treaters approach your home. You can even add some smaller spiders to the window to make it look like your home is infested with the arachnids.
6. Zombie Child wants to Play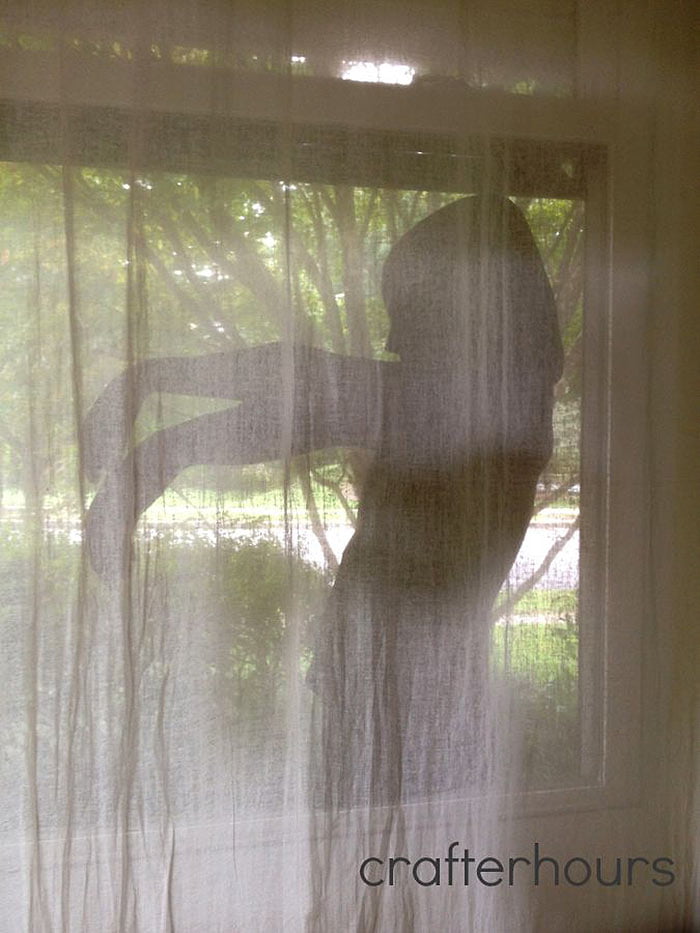 Zombies are frightful, but child zombies take it to a whole new level. Imaging that this zombie was your child or one from your neighborhood, how would you cope? If you have a child, create a cardboard cutout of them in a zombified state. During the day it can be an unwanted surprise for you, but at night the neighbors will become terrified knowing that your child has turned into a brain eating zombie. Backlighting the window for this Halloween window decoration can enhance the details greatly.
8. Eerie Glowing Ghost Halloween Décor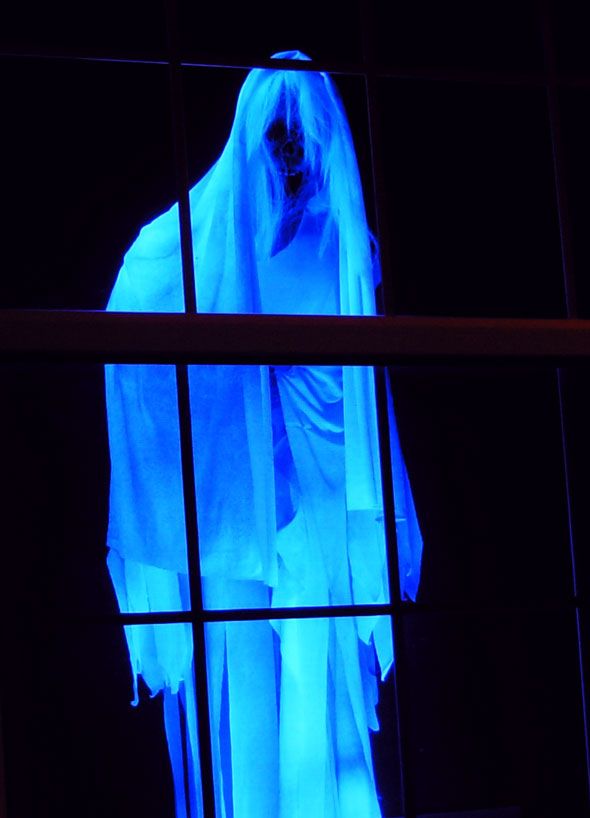 Ghosts are Halloween creatures that have been used for ages, but ghosts can also be boring. Make them interesting by creating a Halloween window decoration that will illuminate your window with an eerie blue glow. You can achieve this design by cutting some sheets to look like a ghost and placing a black light in the midst of the sheets. Creating this design in a dark space will make it glow even more. Spirits may exist in this world, but creating a freestanding ghost in your window will make it seem like your home is truly haunted by spirits from beyond the grave.
9. Trashy Spiderwebs

Do you have black trash bags at home? If so, they can be the source of a lot of interesting and creative Halloween window decorations. Cut spiderweb designs out of the trash bags and attach them to your window. During the day they will be visible, but at night when the lights are out you will need some backlighting inside the windows to make the silhouette visible from outside the window. Orange backlighting adds a spooky atmosphere to the spiderweb scene. In addition, spiders can be added to the design to enhance it if you prefer.
10. Halloween Greeting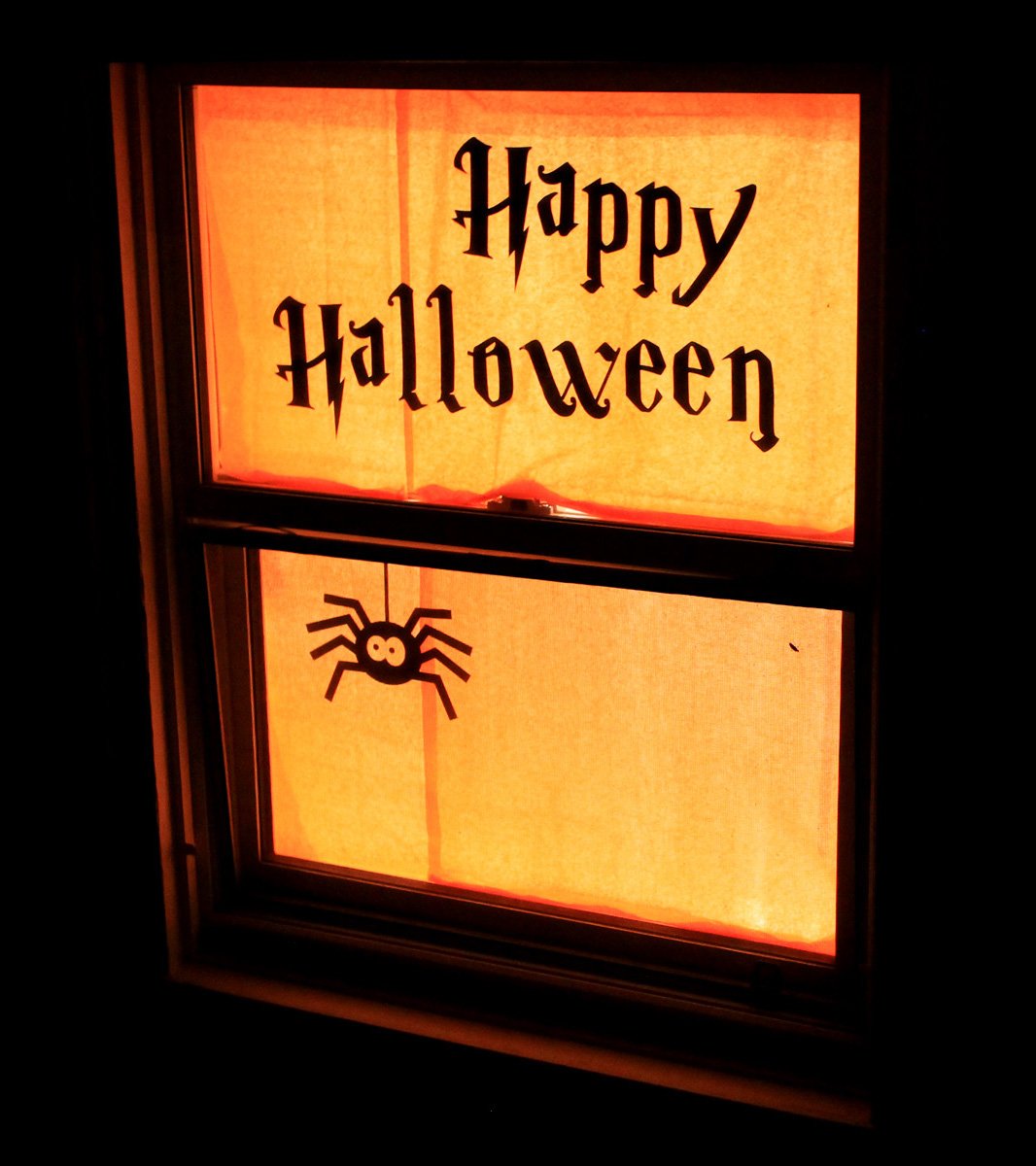 Your Halloween Window decorations can be creative messages that you want the neighbors to see. Create a cutout that says Happy Halloween to attach to your window and add a few spiders to the design. It is a simple decoration that you can do at the last minute. You can also add candy to let passing by trick-or-treaters now that they can stop at your door for a treat. Use a creative style of lettering to make the design more unique, and don't forget to keep the lights on at night so that the message can easily be seen.
11. Miniature Pumpkins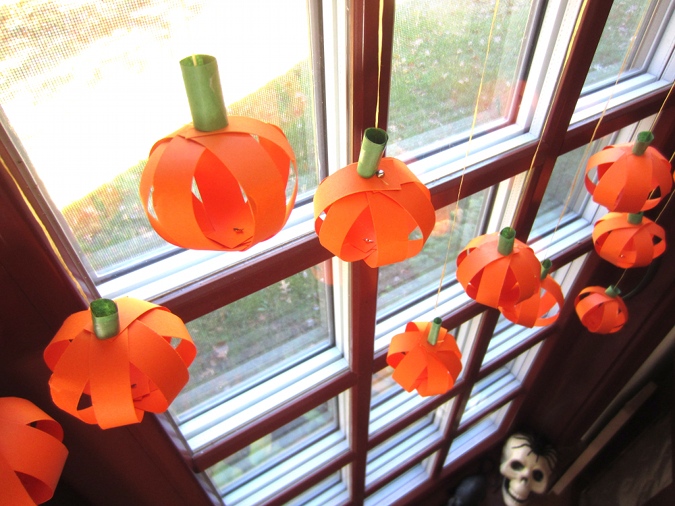 Not all of the decorations that you put in front of your windows need to be silhouettes; you can create pumpkin decorations using orange and green construction paper. Hang the pumpkins from the curtain rod or the top of the window to make them sit at different heights in front of the window. These little pumpkin ornaments are perfect for the hallways and the spooky corners of your home as well. If you have children in your home, it is a great way to involve then in the decoration creation for Halloween.
12. Stop Looking at Me!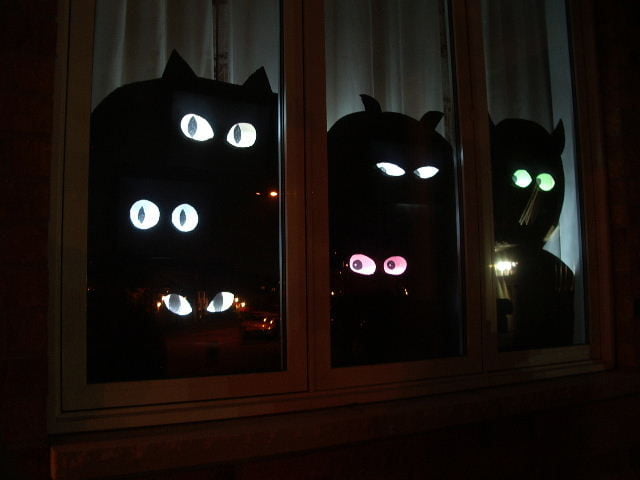 Silhouettes are great to have for Halloween window decorations, but creating a design that makes it look like the eyes of the cats, ghosts, or other creatures are following you is one of the spookiest ideas you could have in your window. As your neighbors pass by your window, they will feel like they are being watched. The trick to creating this effect is to position the pupils slightly back in the eye cavity. The pupils will also need to have a dome shape, and no matter which direction you are looking from, the eyes will be looking back at you.
13. The Spooky Tree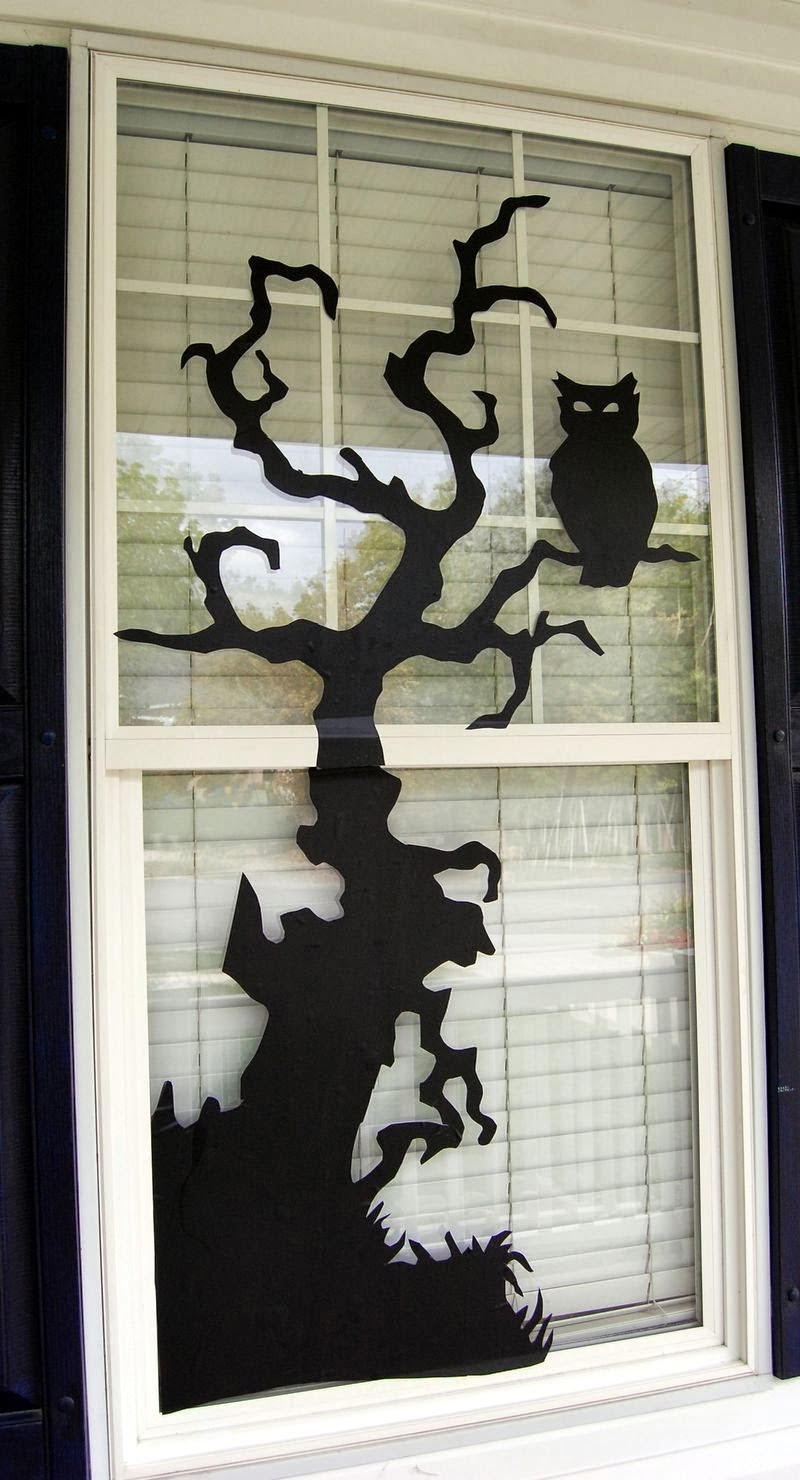 Old crooked trees that creek in the wind on Halloween night can be scary, especially if you are traversing through the forest alone. To recreate this unsettling feeling, make a silhouette of a large tree that has jagged reaching branches that could easily grab you from the path that you are walking on. You can complete the look of the tree by adding an owl to one of the branches or you can add some upside down bats if you prefer. Add a tombstone at the base of the tree for a spine tingling graveyard feel.
14. Ghost in the House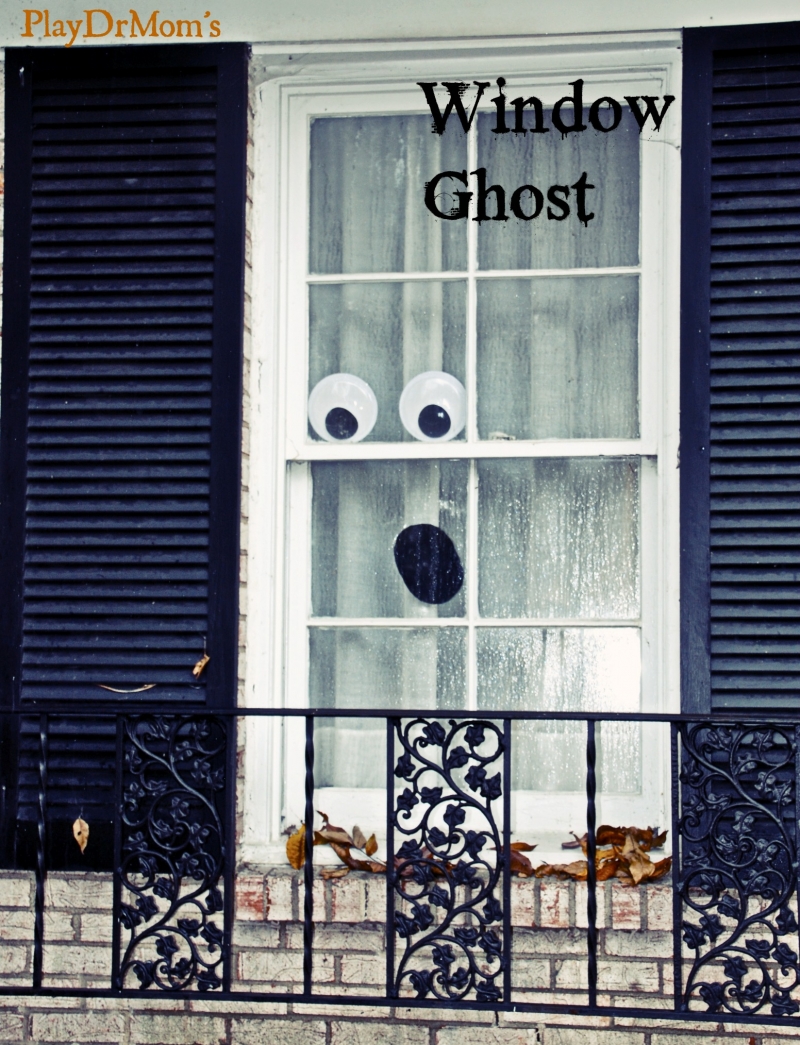 Attaching a ghost to the window can provide an awesome silhouette, but have you ever considered designing a ghost that is attached to your curtains? All you need to do is create some large eyes and a wide open mouth that looks like it is saying boo. Attach them to your curtains with some tape or glue, and it will be easily visible to neighbors passing by your window. You can even incorporate a fan to make the curtains blow around so that the ghost appears to move in the window. This design is a fun, yet haunted decoration that the kids can enjoy creating.
More Halloween window decoration ideas on the next page…