16. Jack-O-Lantern Design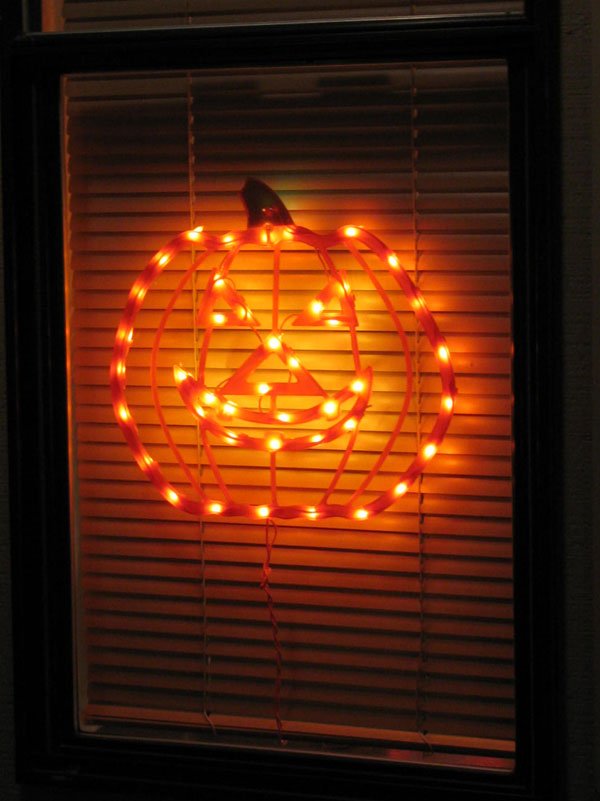 Most people like to carve jack-o-lanterns near Halloween to create unique looking pumpkins that express your creative side, but doing that can be messy. If you prefer to avoid the mess of a live pumpkin, then you can use an orange colored string of lights to create a pumpkin design on your windows that will glow at night. You can make the pumpkin look anyway you want, and there is no backlighting required to see the display from the sidewalk, so you can easily watch a movie in the dark if you wish.
17. The Bats Attack at Night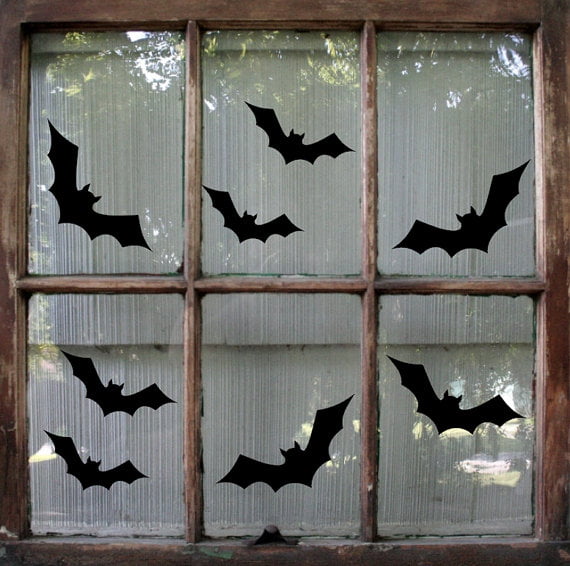 Bat silhouettes are perfect for Halloween night. They are simple to create, and it takes very little time to create a window full of these creatures of the night. Use black construction paper and a pair of scissors to create bat shaped cutouts, and then use clear tape to attach them to your window in any pattern you like. You can even include a moon design to make it a little more terrifying. Once the sun goes down and the lights inside are turned on, the window will look spectacular from the sidewalk.
18. Is this House Haunted?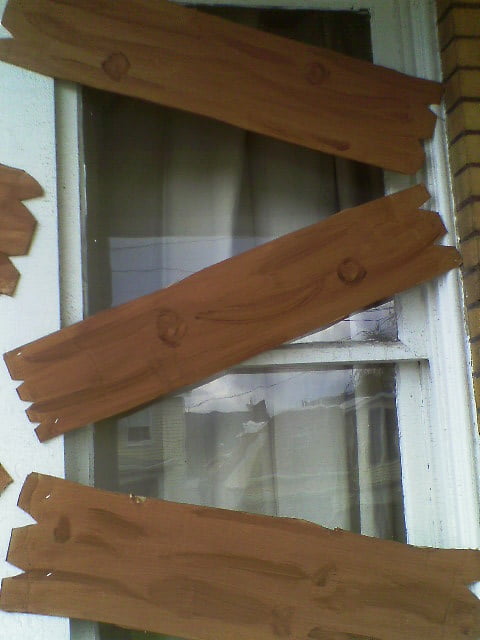 Boarding up the windows on your home will make it look abandoned, haunted, and an extremely terrifying place to visit on Halloween night. Since these are only Halloween decorations, you can simply create this look by cutting cardboard into lengths that can reach both sides of the window frame. Make sure to add details to the cardboard planks to make them look as close to similar to real wood as possible. Add knots into the wood design and you can even add areas that look slightly rotten to show that the wood has been there for an extended period of time.
19. Bubble, Bubble, Toil, and Trouble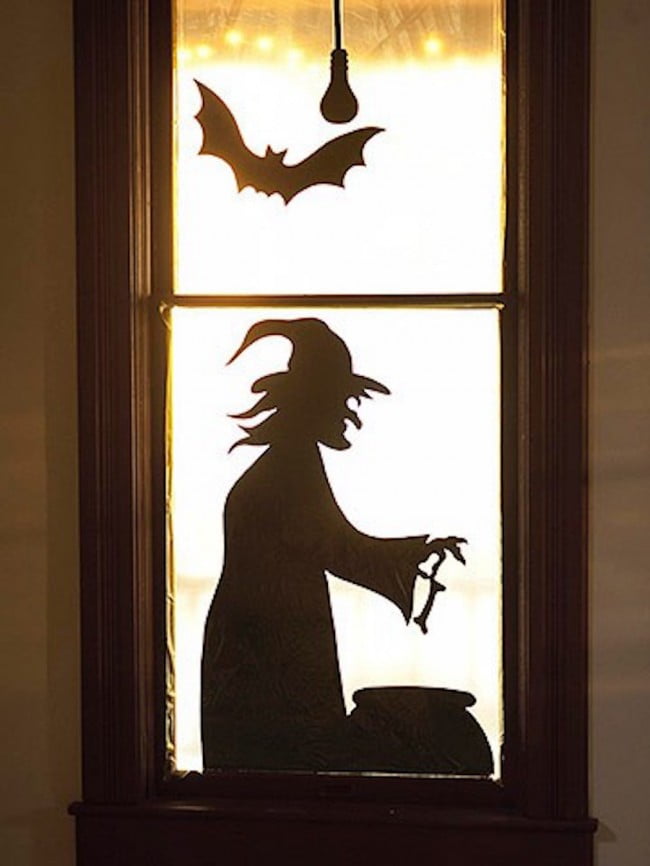 Nothing can have more of a classic Halloween feel than a witch. Creating a window silhouette of a witch can add a sense of mystery to your Halloween decorations. Use construction paper to create any witch you desire, but don't forget the hat. You can also use green construction paper for the skin if you wish. It will be able to be seen during the day, but at night it will become a mere shadow of what it once was. If the witch is concocting a potion in her cauldron, it invites more mystery and intrigue into the design. Including bats above the witch or a cat as her familiar will enhance the image as well.
20. Portal from the Afterlife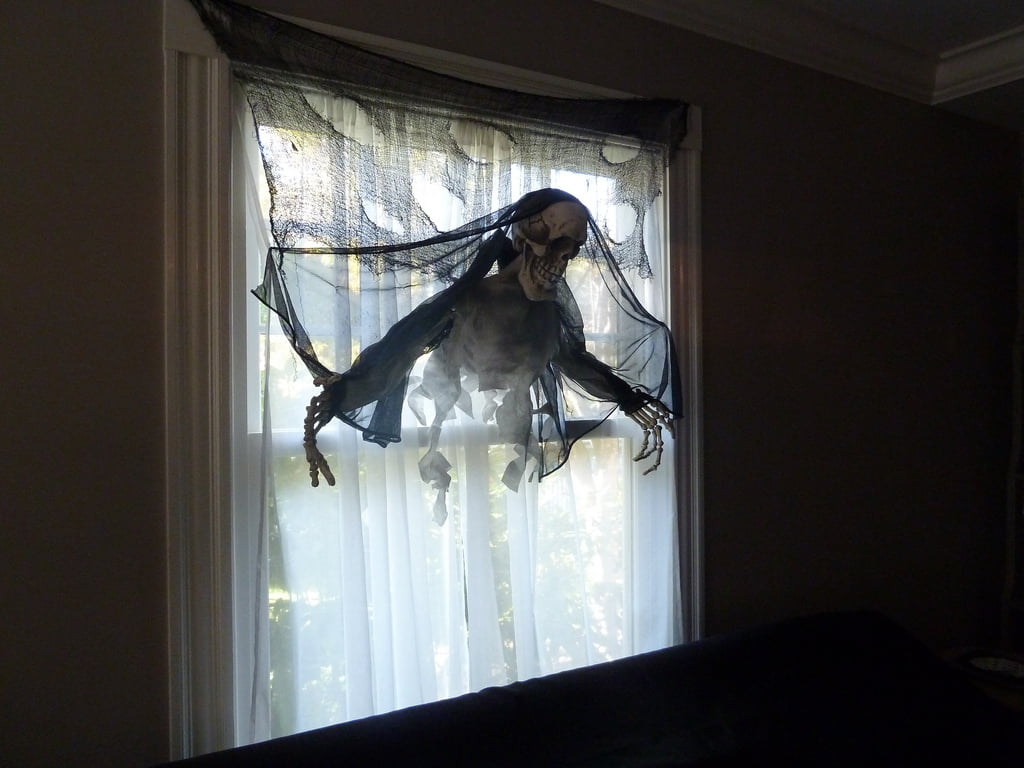 Creating a unique skeletal looking ghost that looks as if it is emerging from your window is perfect for Halloween. You can use any skeleton decoration, but you only need the top half for this idea. Place the torso on the window and make it appear as though the deceased individual is coming into your home through the window. Placing this design on a window that is located behind a couch or chair is perfect. Invite your friends to your home, and let the hilarity of the avoidance of the seat with the skeleton ensue. You can even use a thin piece of curtain or a veil to make the skeleton into an undead bride.
21. Always Watching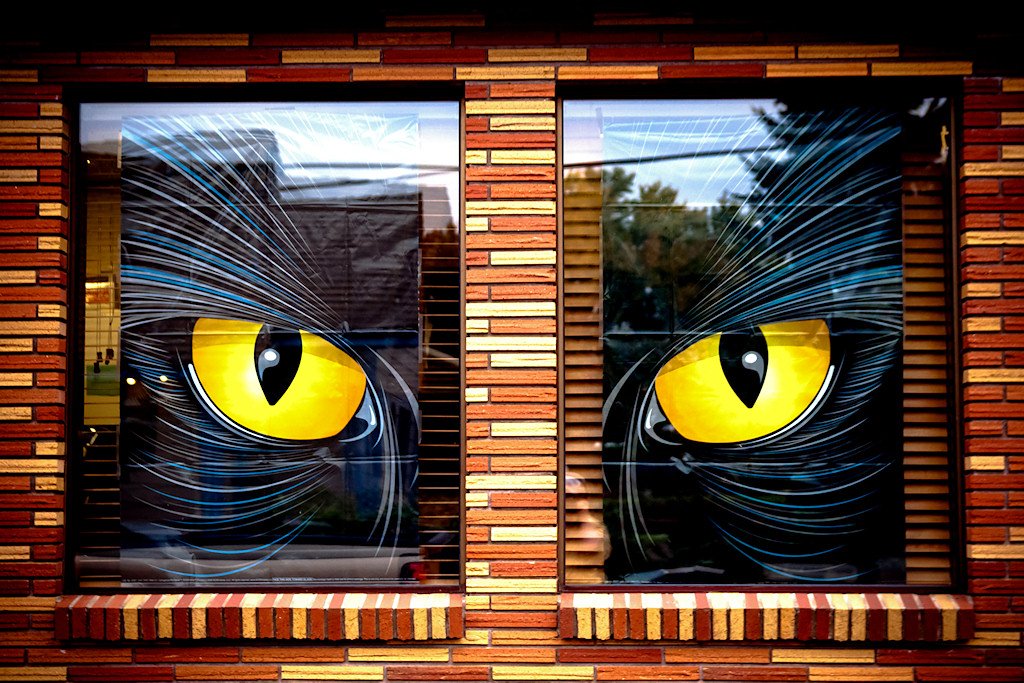 Do you have two windows in your home that are positioned beside each other? If you do, then consider making those boring windows into glowing eyes that follow you down the sidewalk. The eyes should be big enough to cover that majority of the window to create the illusion that a very large creature is inside. Cat eyes would be perfect; it is Halloween after all, but the eyes of a monster would be a great way to decorate your windows as well. When you are designing the eyes it is going to be important to add creases, wrinkles, and folds to make it look more like a real cat that is looking out of the window.
22. Window of a Haunted Mansion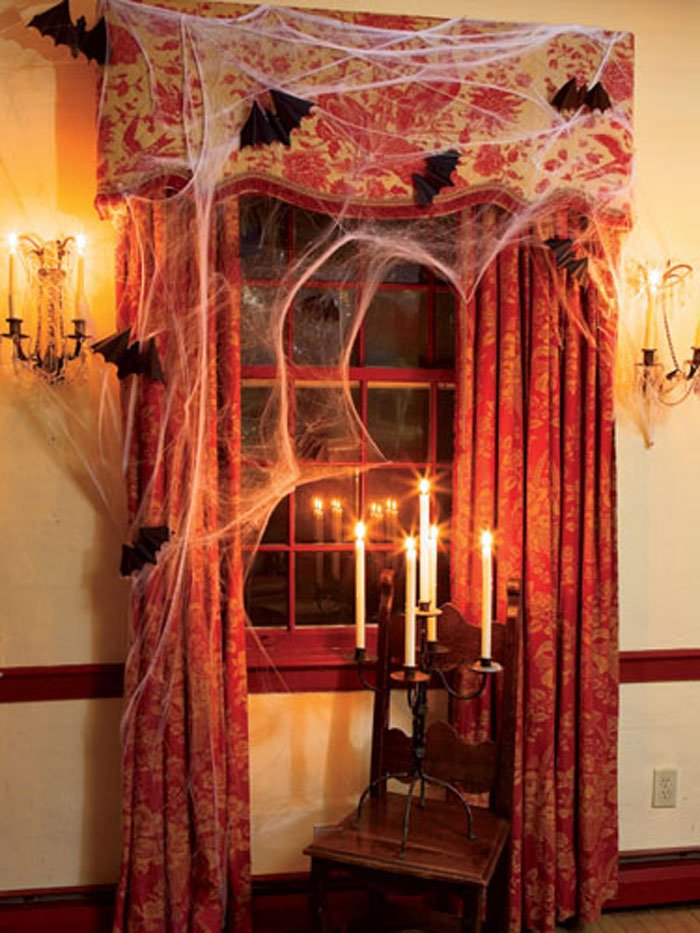 Decorating the inside of your windows is just as important as decorating the outside. Hang some old drapes in the window and decorate the area with a large cheesecloth spiderweb. Add a lot of small spiders onto the web, and make it seem like the area has not been cleaned for years. You can use baby powder to create dust and silver sparkles on the web to make it sparkle in the light that comes through the window. Incorporate bats into the design where you feel that it is appropriate, and maybe add some candles onto a small table that is located in front of the window.
23. Sinister Smile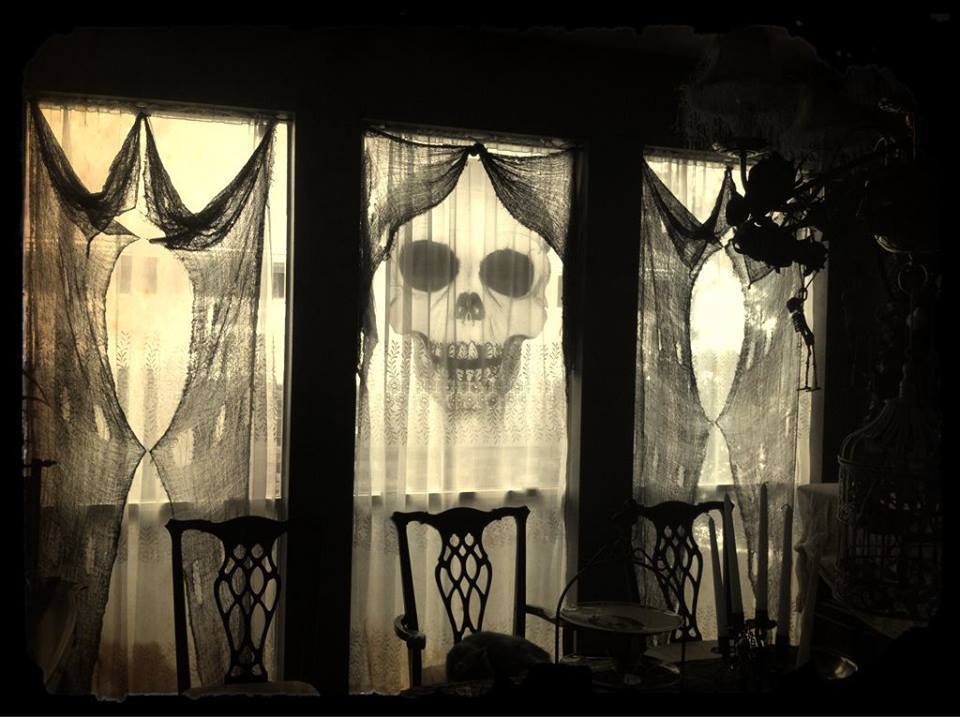 Do you have bay windows in your home that you are not sure how to incorporate into your Halloween decorations? Try to create a giant smiling skeleton that will give your neighbors a spine tingling sensation as they pass by. Start by hanging thin black curtains on the window because they will add a unique background to your design. You can also use black cheese cloth if you prefer. Create the image of a very large skeleton face in the window, and make sure that it has a big toothy smile that is almost too creepy to look at.
24. Friendly Skeleton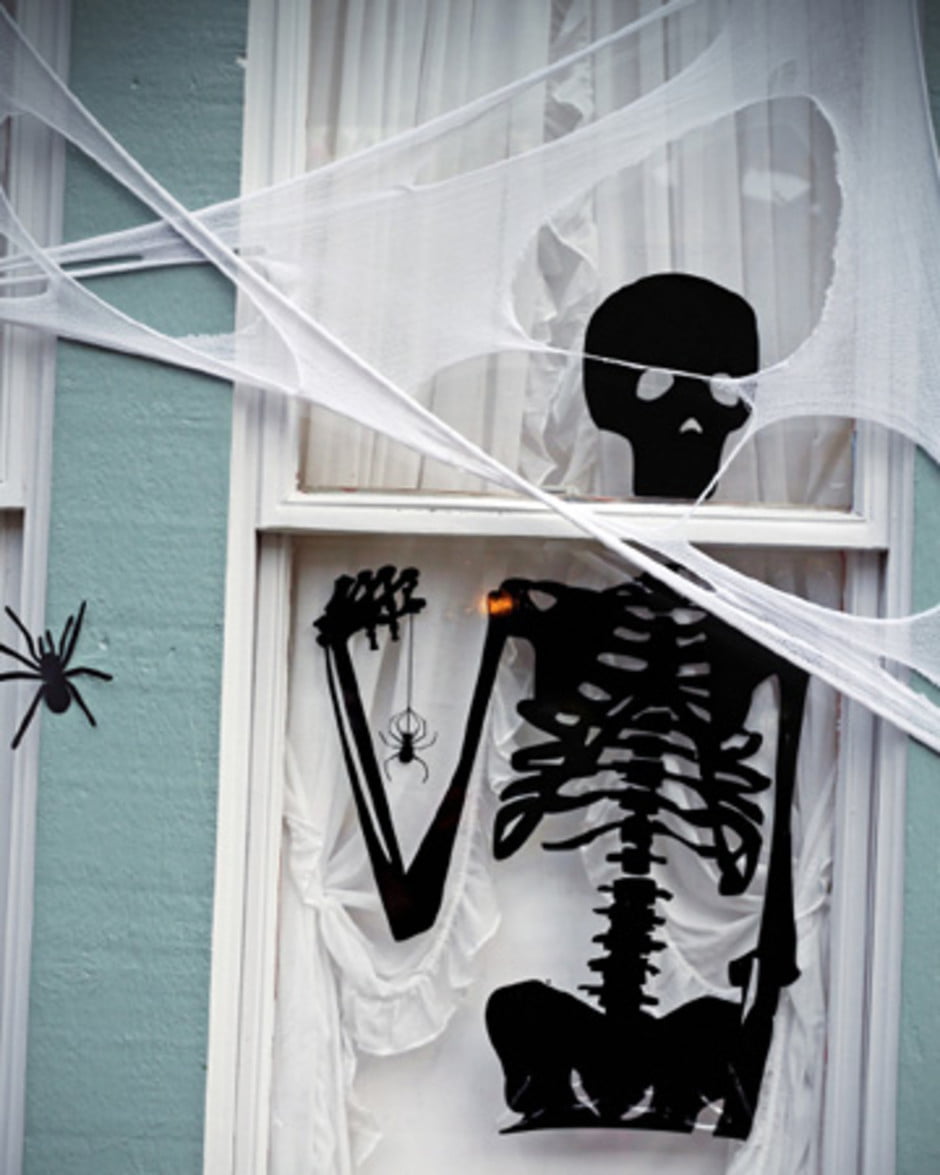 Not all Halloween decorations need to be frightening; some can simply be whimsical and fun. One way to create this type of Halloween vibe is to place a place a waving skeleton in your window. If you want a little less friend of a creation, then you can incorporate spiders and bats into the design. Spiders make it easy to add cobwebs in front of the skeleton if you wish. This idea is perfect for homes with older windows. It makes it seem like the person who these bones belong to simply died inside your home; turning this friendly waving skeleton into a frightful figure of Halloween.
More Halloween window decorations on the next page…