25. Haunted Windows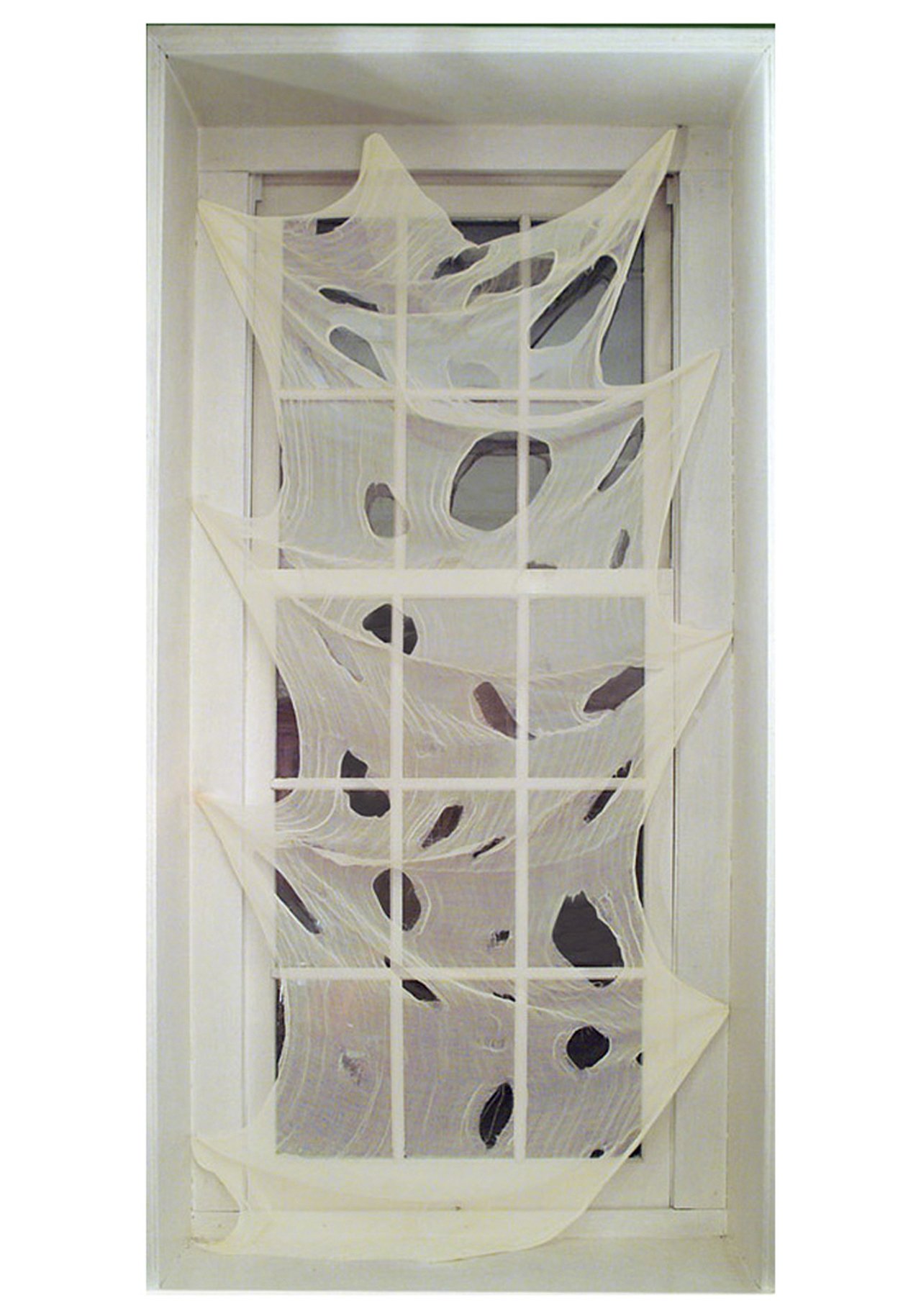 Ghosts can take a bit of work to create, and once they are designed, do you really want your house to be haunted? Instead of going through a lot of work to make a ghost, simply make the window look like a ghost is present in your home. Make sure to tear a lot of holes in the material that you are using to create a large web that covers the entire window. This idea works really well for windows that are on the second floor' it allows the design to lack details that you may wish to have when the window is easily visible from the sidewalk.
26. Perfect Pumpkins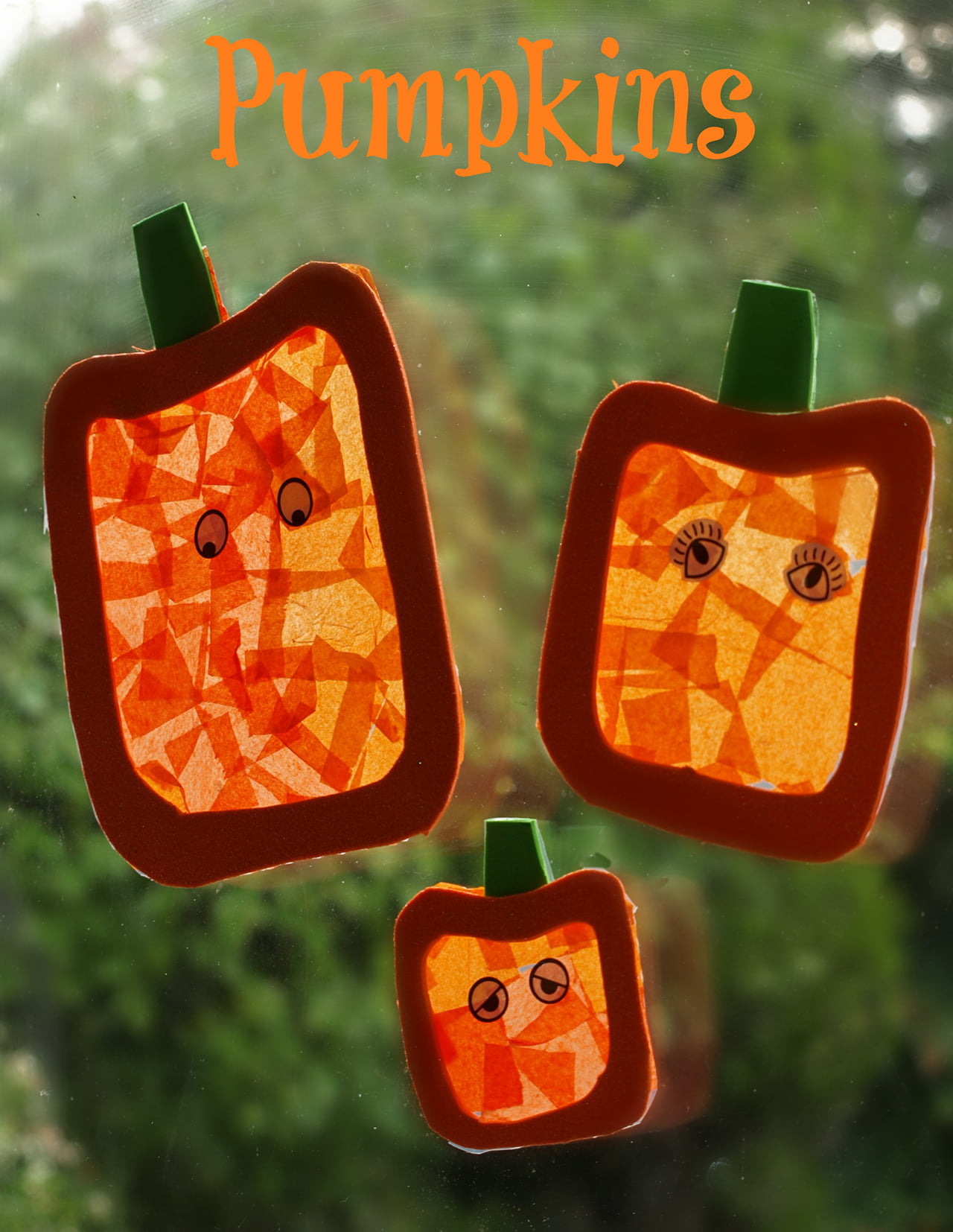 If you have kids, you know how much they enjoy helping you to create new ideas and decorations for Halloween. Using a sheet of tissue paper and some orange and green construction paper you can create pumpkins for your windows. Add eyes, a mouth, and any features that you desire. Clear tape is perfect for adhering them, and the tissue paper allows the sun to shine through the pumpkin to give it a unique glow. You can make a pumpkin creation to represent each member of the family. Smaller sized tissue paper can even be used to represent the younger individuals of the family.
27. Bats, Bats, and More Bats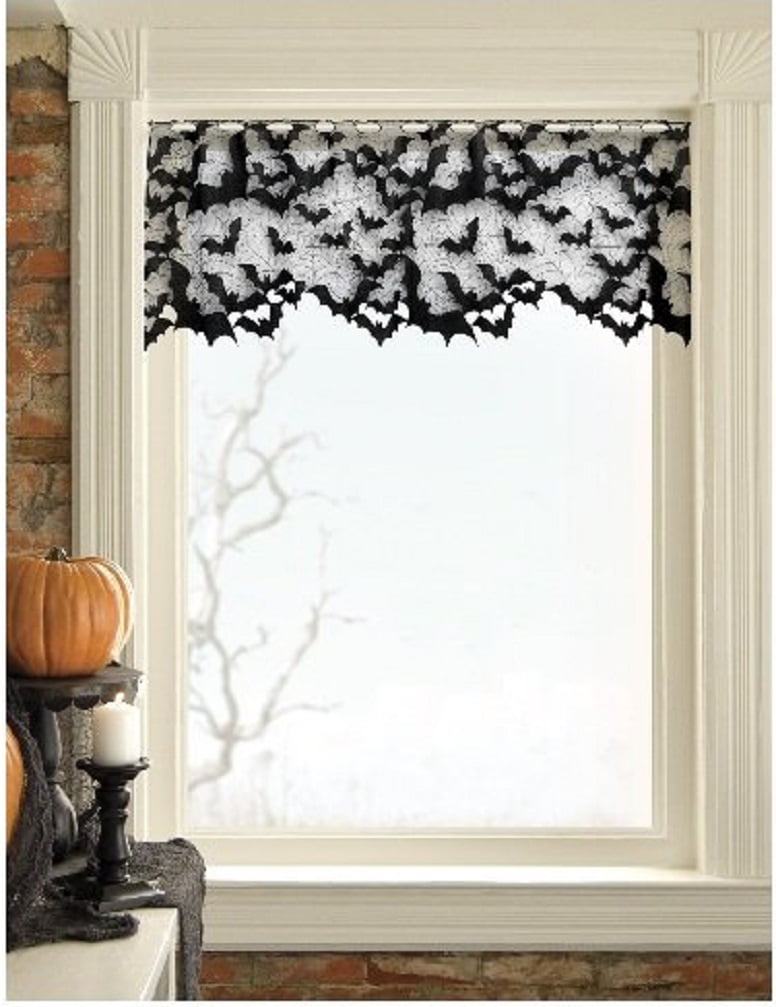 Curtains are the perfect background for silhouettes, but they can also serve as a place to hang bats from. The more bats that you incorporate into this design idea, the better it will look. Anywhere that the curtain is bare, place a bat. Use several different sizes of bats to make it look like they have been living in your home for a while. The simplest way to make these bats is to cut them from black construction paper. Once you make one bat, it is easy to trace a few to recreate more that are the same size.
28. Archeology or a Massacre?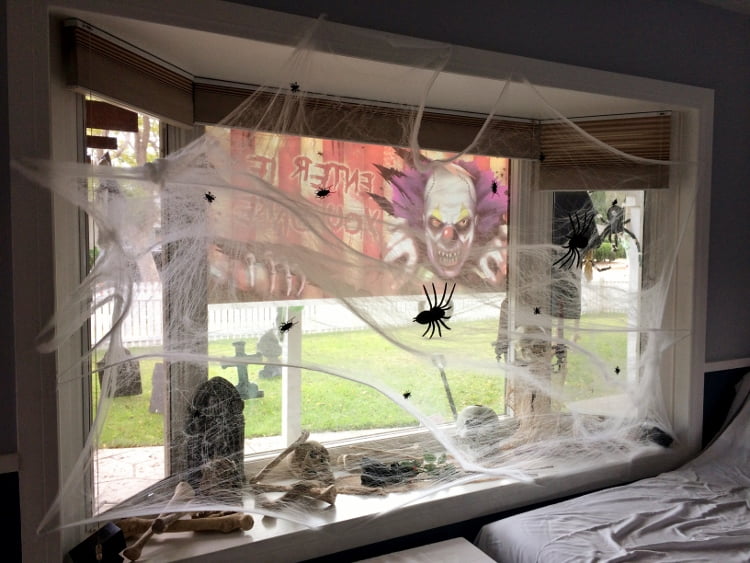 Bay windows are perfect for Halloween decorations. It gives you a window to create silhouettes that can be seen from the sidewalk, but you can also use the area in front of the window to create a Halloween themed scene that will look amazing. You can simply strategically place bones, skulls, and spiders around the window pane and incorporate webs to create an enclosure that only the spiders can get through. Tombstones, plant life, and anything else that you feel will add to the design is welcome.
29. Shades of a Ghost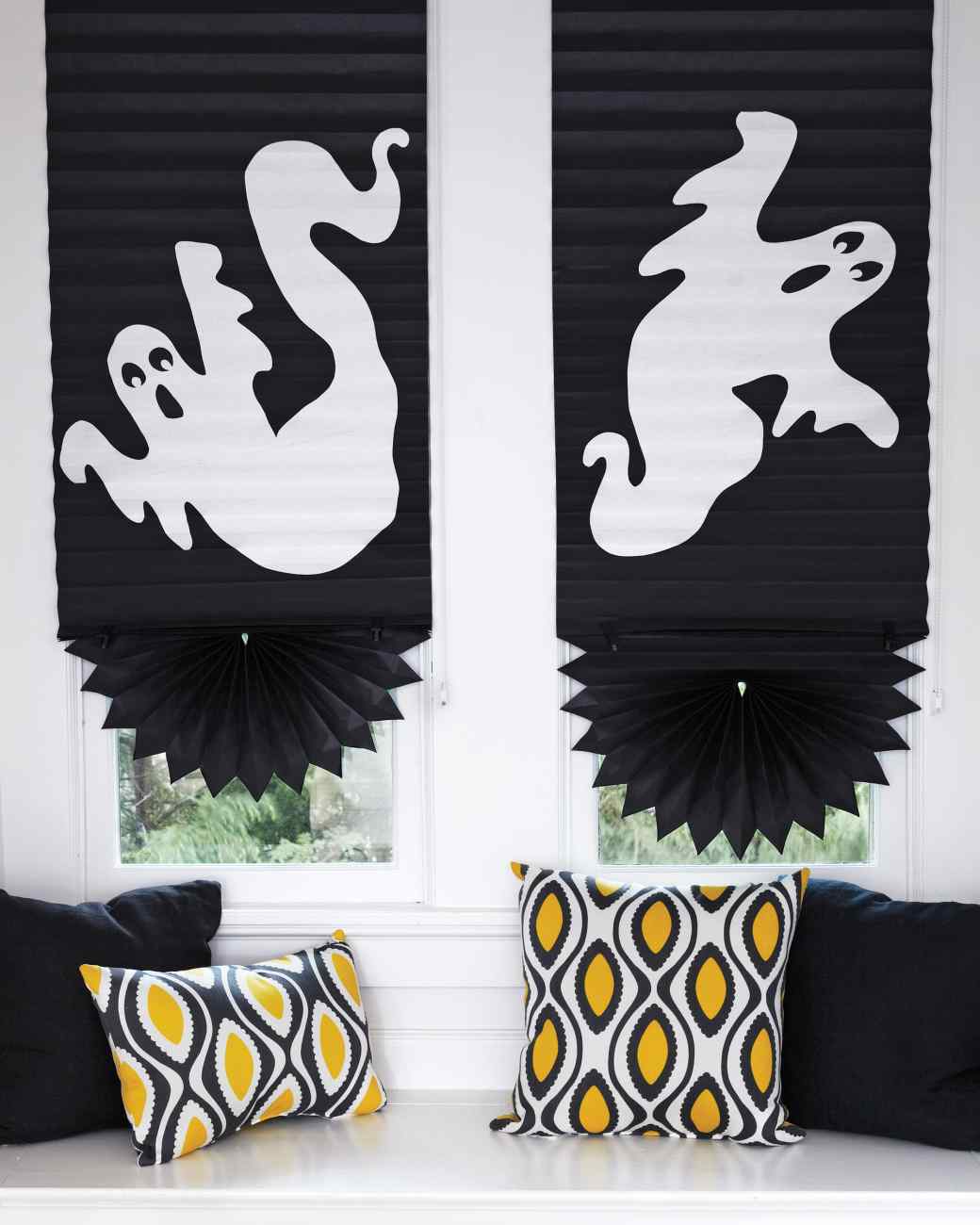 Adding shades to your windows is a great way to add an extra layer of Halloween fun. Purchase some cheap paper shades in both the black and white variety, and then cut a ghost shape out of the blackout shades. Place the two shades together and tape them or glue them so that they remain attached. You will see a ghost in the shade from the sidewalk below as you walk by. The ghosts can be standing still or flying through the air. In addition, the shades can also be cut into any design pattern you want, so a moon, stars, bats, or other simple designs can be added as well.
30. Creepy Jack-O-Lantern House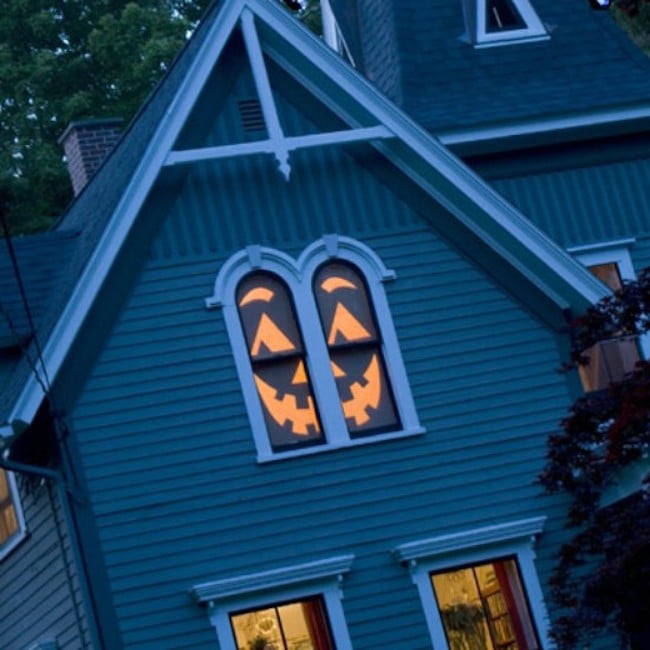 If you live in an old house that has an attic, then you have the perfect place to create an unforgettable Halloween window decoration. Using the windows in the attic, take some black construction paper and cover up the entire window. Mark the paper with the locations for the eyes, nose, and mouth; in fact, you can even throw in some eyebrows if you want. Remove the paper from the windows to cut the design out, and then secure it in the window. Place spotlights or other bright lights in the attic to give the eyes an eerie jack-o-lantern glow.
31. Vintage Pumpkin Design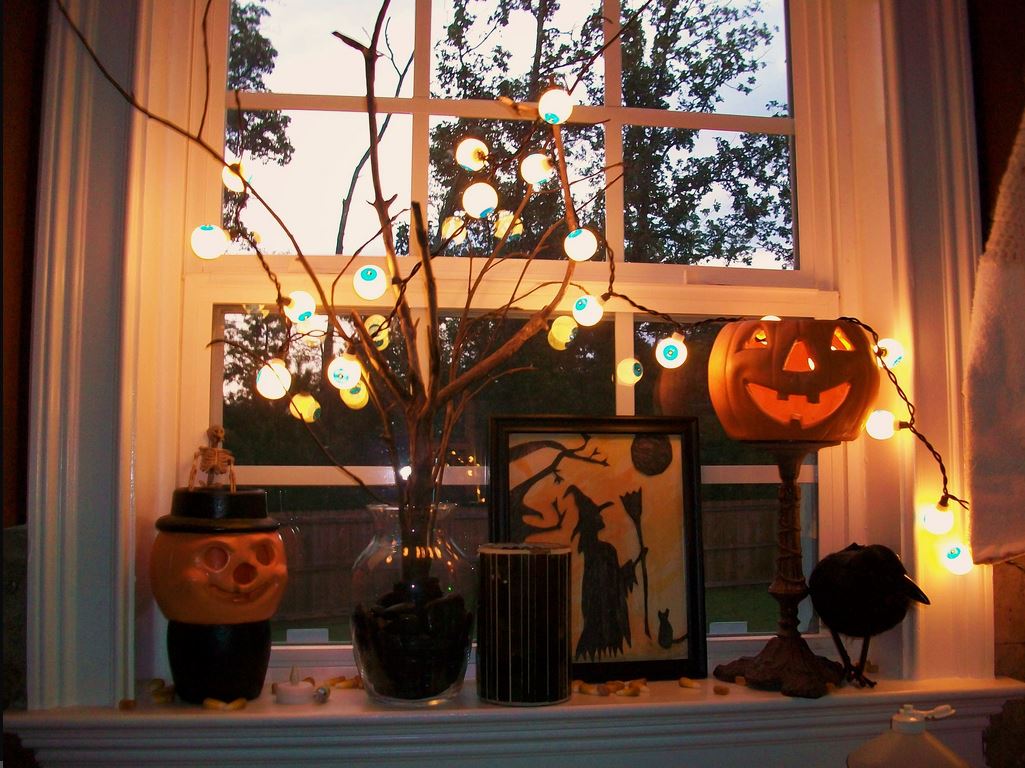 The kitchen is an area that is often overlooked, so when you have a large open area in front of your window that you can decorate for Halloween, the options are endless. Use this space to create a design that features pumpkins and vintage decorations. Place some pumpkins on raised surfaces and others right on the window pane. Crows make everything seem a bit more vintage, so try to incorporate those as well. The last consideration that is important with this design is the lighting; this can be incorporated on a plant, on a lighting string, or with candles.
32. Creepy Cemetery at Night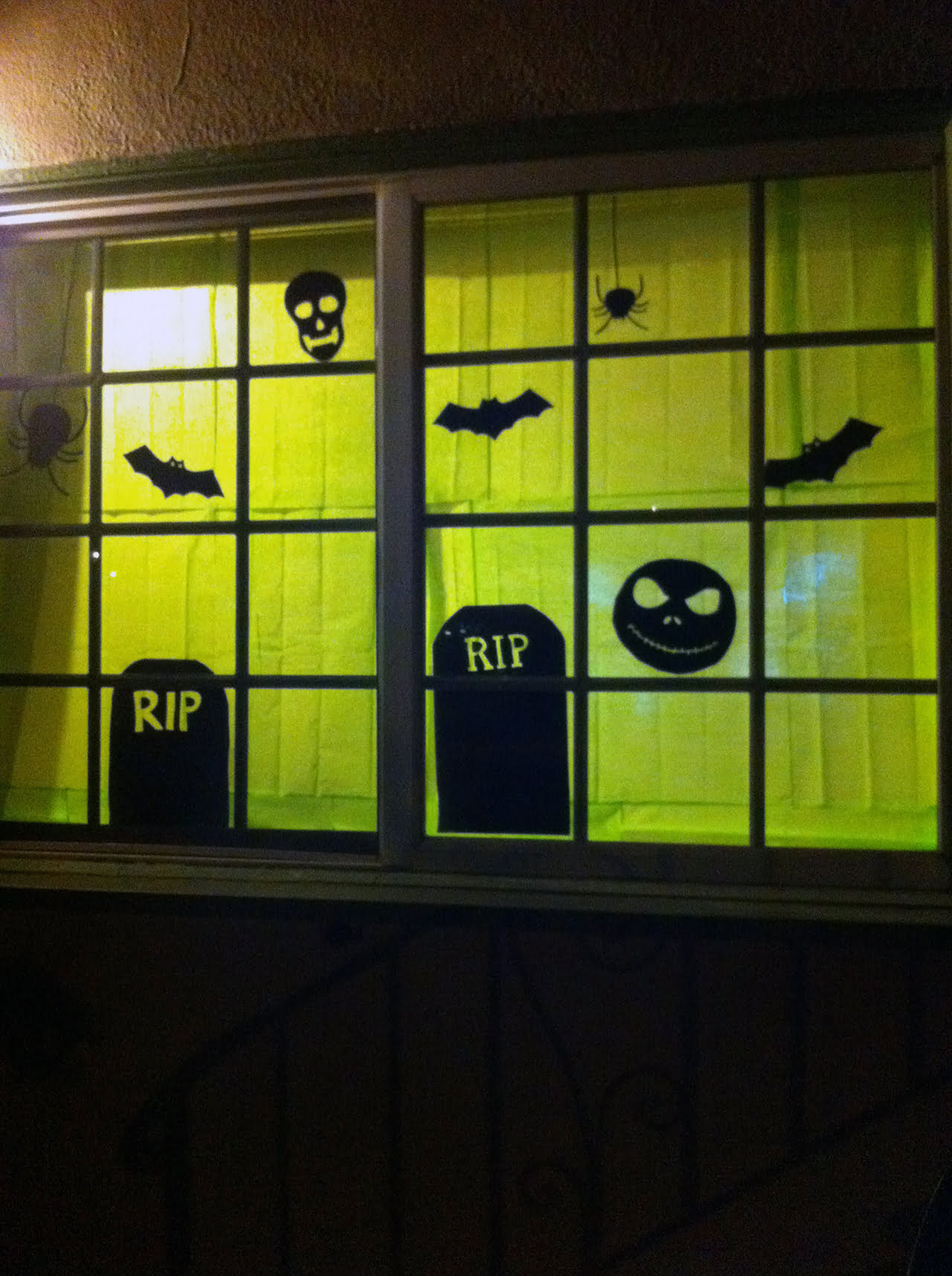 No one likes to be alone in a cemetery, but one way to bring the creepiness that comes with a graveyard on Halloween night is to create a design that can be seen on your window. Use black construction paper to cut out images of tombstones, skeletons, bats, and spiders. Attach them to your window with clear tape, and then place green or orange tissue paper over the construction paper so that it covers the entire window. When light shines through, an eerie light will shine out to the sidewalk to invite trick-or-treaters into your home.
33. The Creeping Overgrowth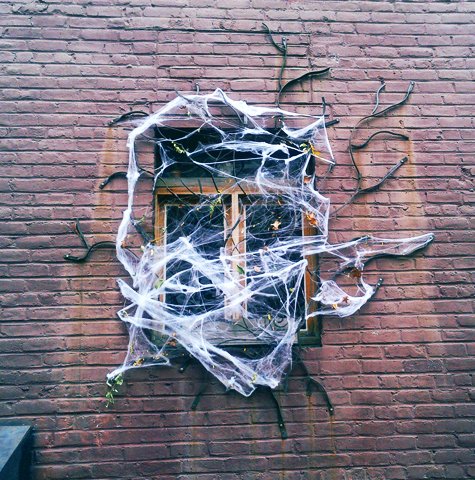 If you are looking for a creepy setting, then an abandoned cottage in the woods is perfect for Halloween. Make your windows resemble a home that is overgrown by wildlife in the woods. Brick homes will look damaged and the bricks will look cracked, making for an abandoned place that is taken right out of a horror film. Use lots of sticks, leaves, and spiderwebs to make sure that it looks like the window to your home has not been used for years. If the window is on the second floor, incorporating ivy growth may also be a great idea.