When structuring your home, it's important to think about the order in which people will take it all in. If you're simply focusing on how you personally view your home, you're going about it all wrong. Somebody who is entering your home for the first time will likely enter through the front door, seeing the front hallway before they see other rooms.
28 Beautiful and Bold Hallway Furniture Ideas to Spruce Up Your Space

For this reason, it's incredibly important to have a grasp on what you want your front hallway to look like. Your front hallway acts as an introduction to your house, meaning that you should seriously consider what it says about you. This is why out of all of the rooms in your home, you should put extra care into designing what happens in your front hallway.
However, there are so many different types of furniture and approaches that it can feel difficult to know just where to start. For example, do you want your front hallway to have room for people to put their shoes? What about a coat rack? Do you want a closet? And what type of furniture do you get?
Contrary to what you might think, it is possible to focus in on what's important and find the right furniture for your front hallway. It might actually even be easy! To help you find the right front hallway furniture ideas, we've scoured the internet and compiled a list of 28 beautiful and bold ideas.
1. Beautiful Black Bamboo Shoe Rack Bench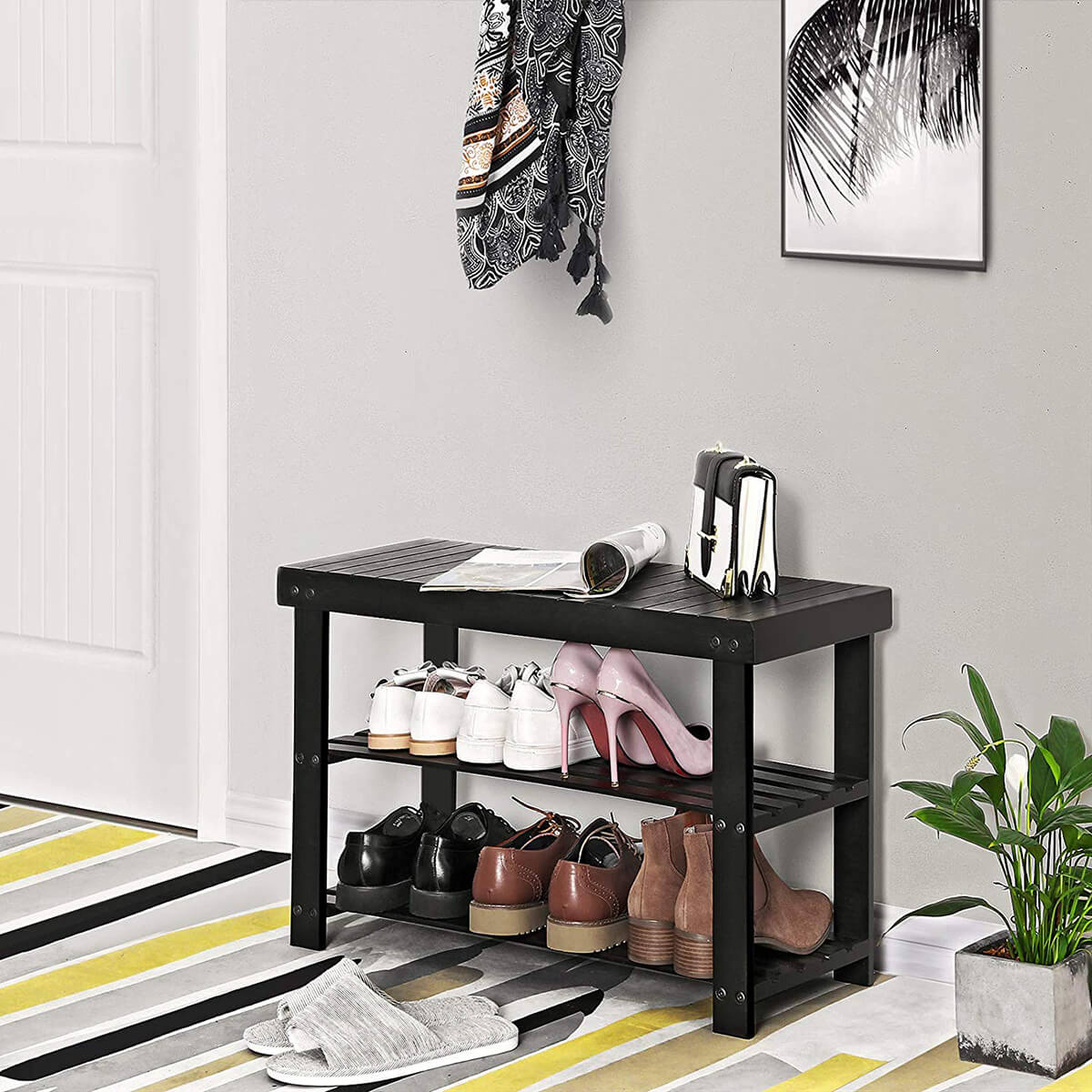 If you're somebody who prefers a utilitarian approach to your home décor, then you'll love this bench. It works perfectly as a shoe rack, but it can also be more flexible than that. For example, if you want to make it a shoe rack for parties and then put books on it when there isn't company, that is possible! On top of this, the bamboo material is high-quality and gives the bench character unlike plastic benches that might take on too much damage. The bamboo itself is also as sturdy as wood, meaning that it is a pretty durable product.
2. Elegant White Standing Entryway Coat Rack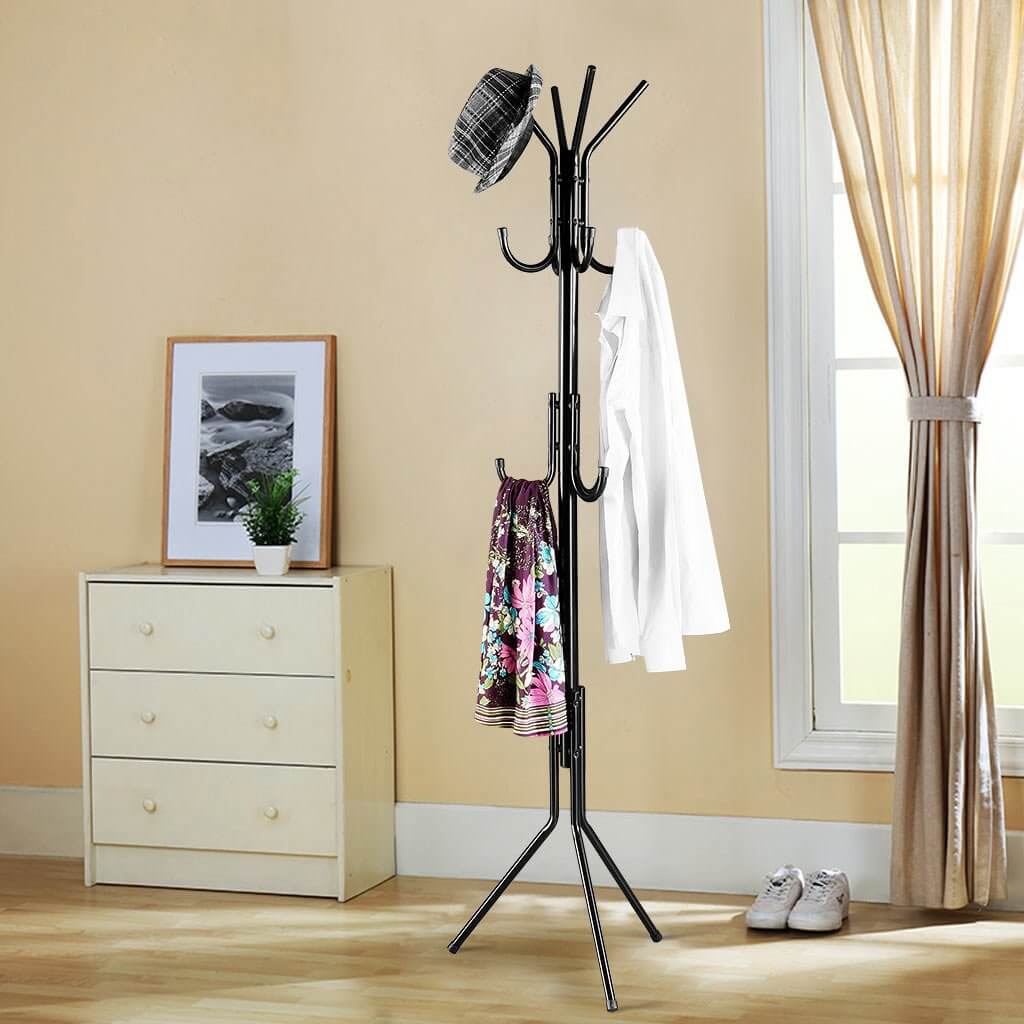 Having a coat rack is essential for anyone who wants to host events at their home, giving their guests the opportunity to put their coat in a place that they will not forget to return to later. For those who don't need something too fancy, this coat rack gets the job done perfectly! Aside from it being made of durable metal, the rack itself also has curved arms that make it incredibly easy to not just hang coats up, but hats and umbrellas as well! The white color of the metal itself allows you to put the rack in a discreet location near the door, allowing your guests to hang up their coats without drawing their attention too much to the coat rack.
3. Adorable and Minimalist ClosetMaid Cubicles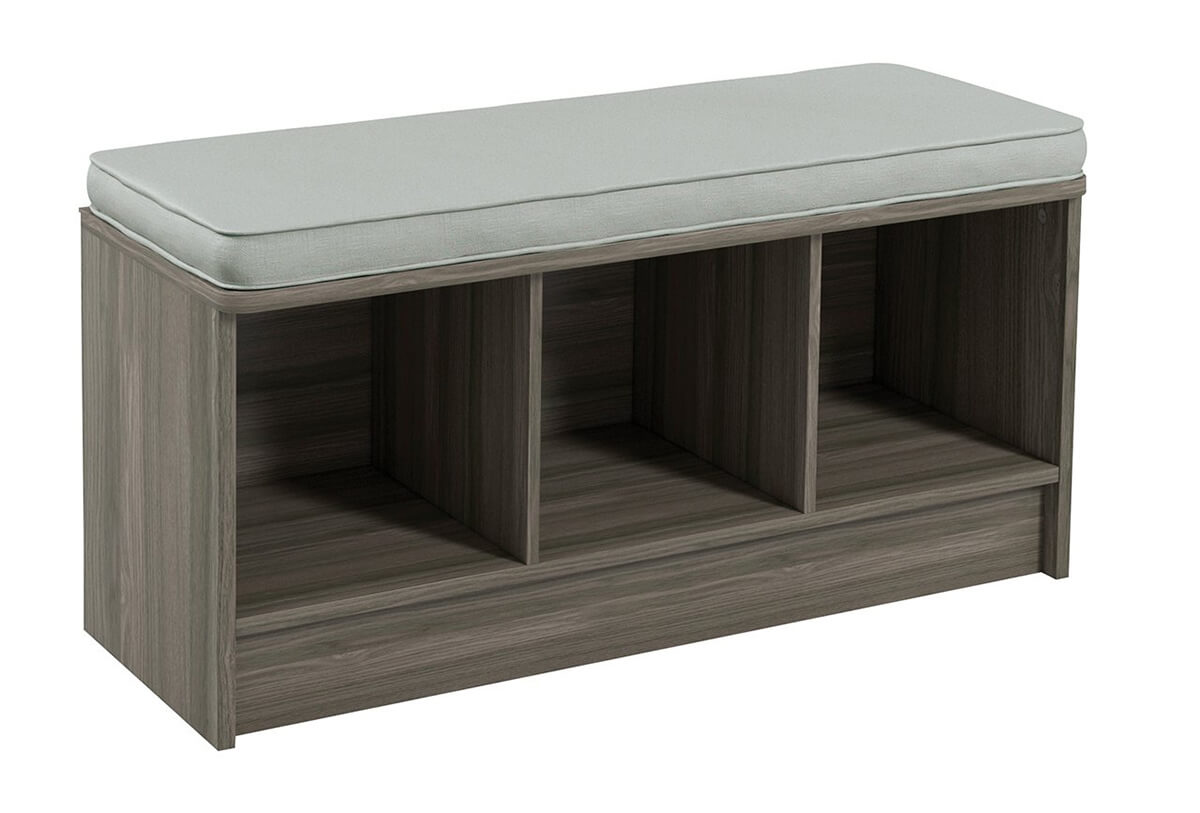 For a modern home, having benches that are versatile and comfortable is a must. This is why these ClosetMaid cubicles stand out, offering a way for you to have a place to put shoes and any other type of objects. What makes this product so unique when compared to others is the high-quality polyester cushion that rests on top of the cubicles, allowing people to sit down while taking off their shoes. This is also a great match for any type of reserved color pallette, giving off a very minimalist mood!
4. Unique Espresso Brown Vertical Storage Tower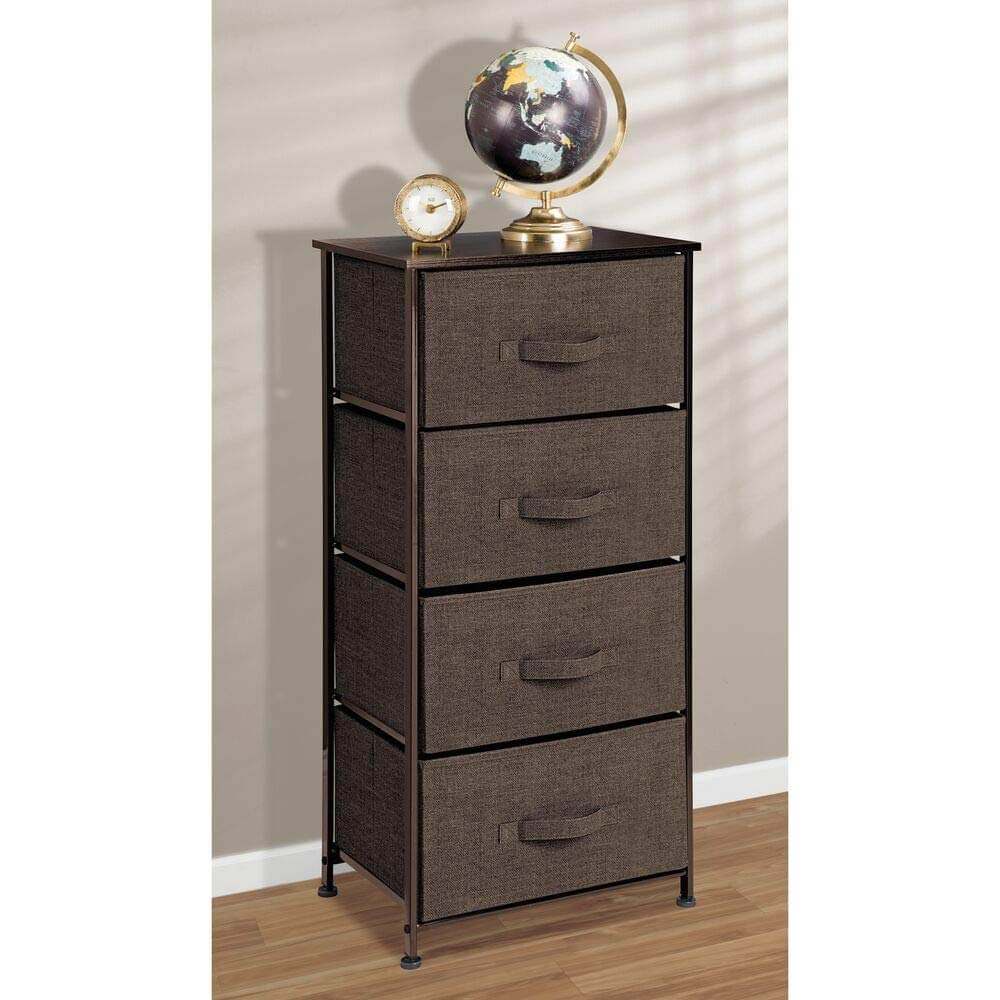 When you have people over, it's a given that you want to have a place for them to put their coats and shoes. However, what about other miscellaneous items that they might want to remove (i.e. headbands, sunglasses, bracelets, etc.)? This vertical storage tower allows your guests to do just that, having four different drawers to choose from. The espresso brown color is also quite beautiful, making this a truly unique product to put in your front hallway. If you want to make it even more unique, put a lamp or potted plant on top of it to add extra flair and match other parts of your front hallway!
5. Sophisticated and Smooth Wooden Console Table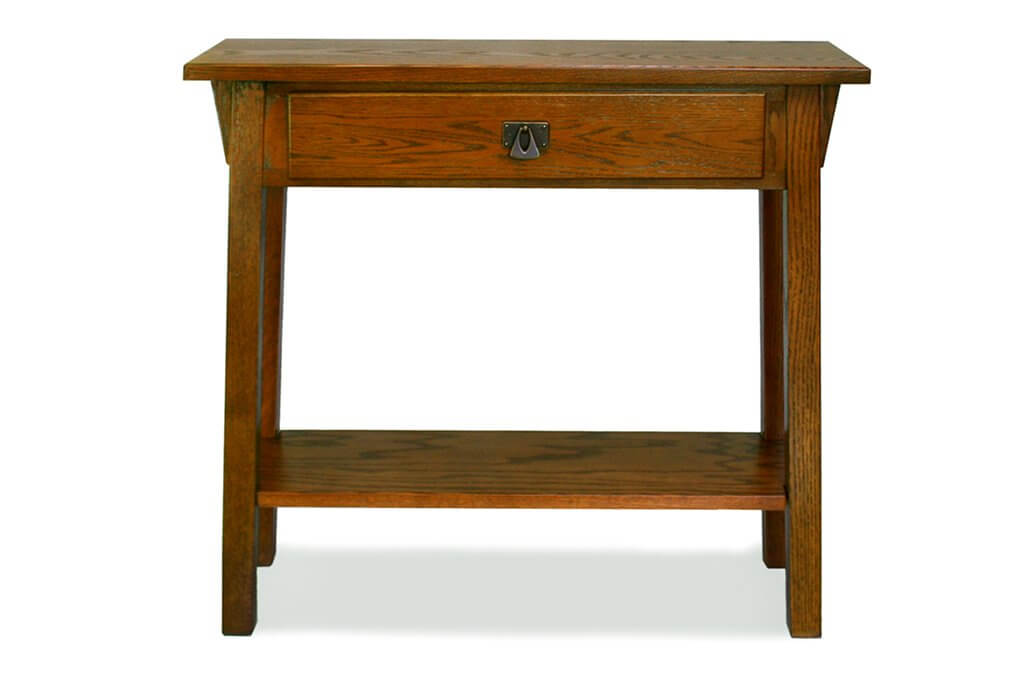 Those who are more interested in having a sophisticated look to go with their front hallway should seriously check out this wooden console table. It is a great place to put a lamp, allowing you to have more nuanced lighting in your front hallway as opposed to generic overhead lighting. The drawer it comes with is also a great place to put your keys, wallet or any other things you might want to take with you when leaving the house. If there is a bathroom entrance right next to your front hallway, this console table is also a great place to put potential reading materials!
6. Futuristic and Enticing Fabric Shoe Rack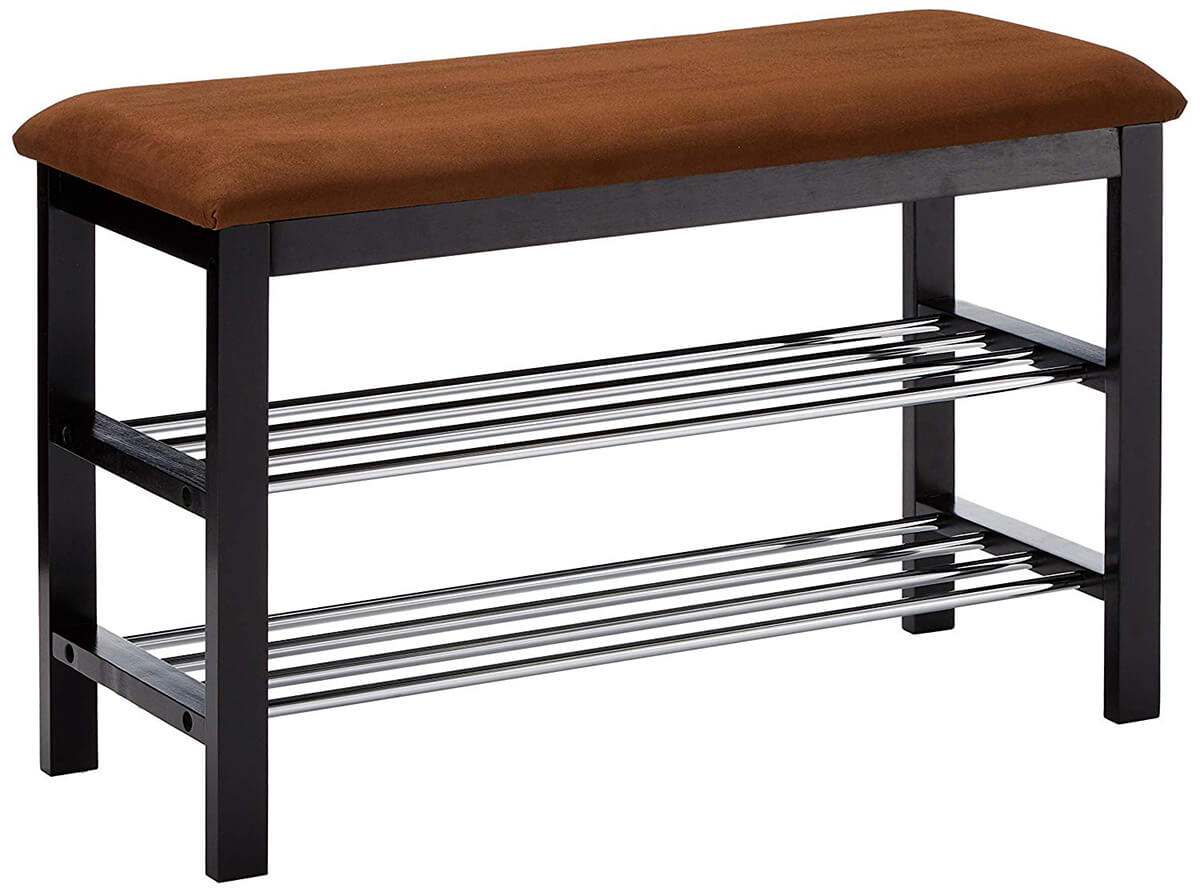 When thinking about more reserved colors, it makes sense that you would flock towards something that involves metal. After all, black and chrome go so well together, giving off a very seductive, futuristic aesthetic. The incorporation of metal bars into this shoe rack also makes it unique, highlighting its purpose for only storing shoes. The metal bars also make it easier to clean overall, with dirt and debris falling to the floor to be vacuumed. With a micro fabric upholstery seat cover, anybody taking off or putting on their shoes will feel comforted by this bench.
7. Utilitarian Three-in-One Coat Rack and Bench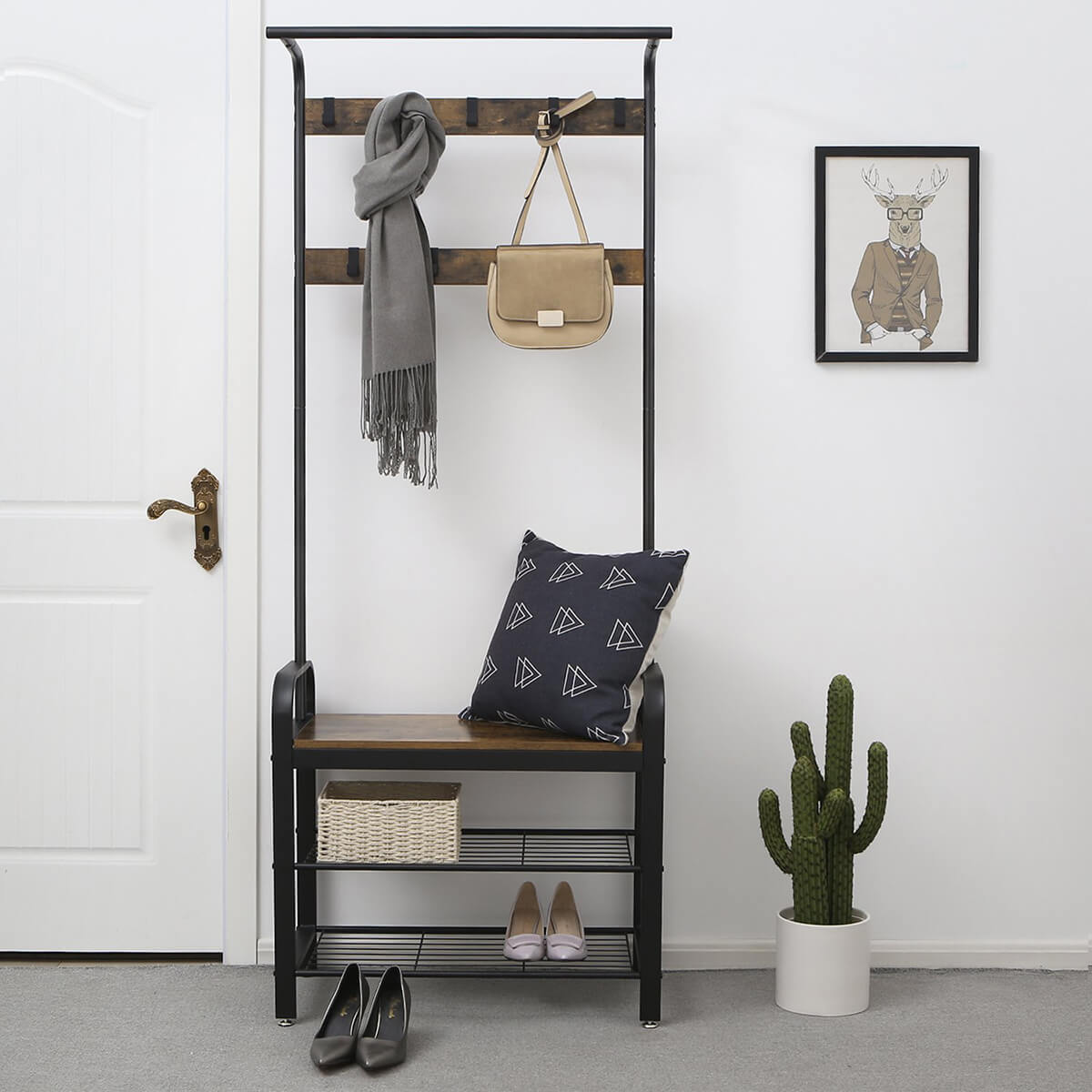 Sometimes it can feel so cumbersome to have to purchase so many different pieces of furniture for your front hallway. You also might not have enough room, making this Vasagle Three-in-One Coat Rack and Bench a perfect option for your home. With just one piece of furniture, you can have a coat rack, a shoe rack and a bench for people to sit on! The aesthetic also looks very rustic with a mixture of wood and metal, making it great for those interested in an antiquated charm. The shoe rack itself is also very easy to clean!
8. Modern and Rustic Wood and Metal Bookshelf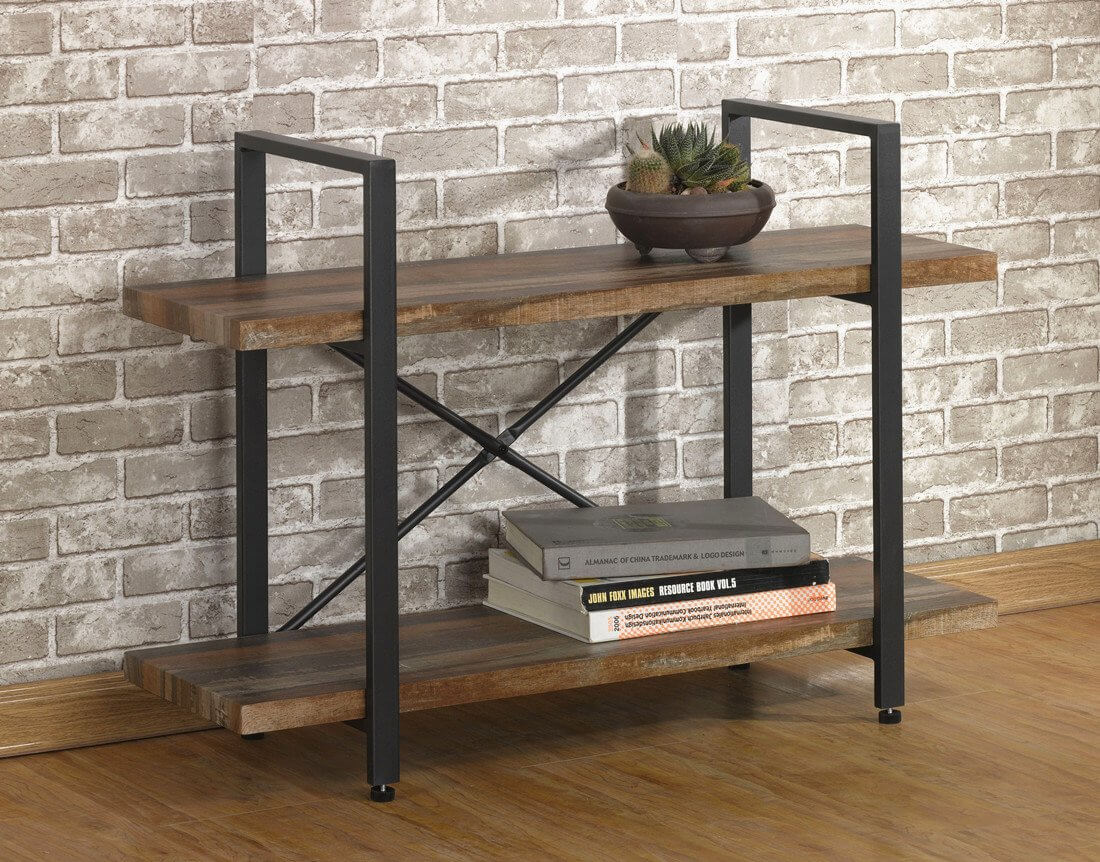 Mixing the old with the new can feel like a difficult task. This rustic bookshelf does just the trick, though, with a minimalist metal and wood design that looks simply gorgeous. If you have any exposed brick in your front hallway, it will go up perfectly against it, giving a look that feels just as modern as it is antiquated. The overarching style of the metal support bars are reminiscent of cubism while the wood has a dark tone that reminds you of nature—truly a unique idea!
9. Langria Coat Rack Shelf Lets You Decorate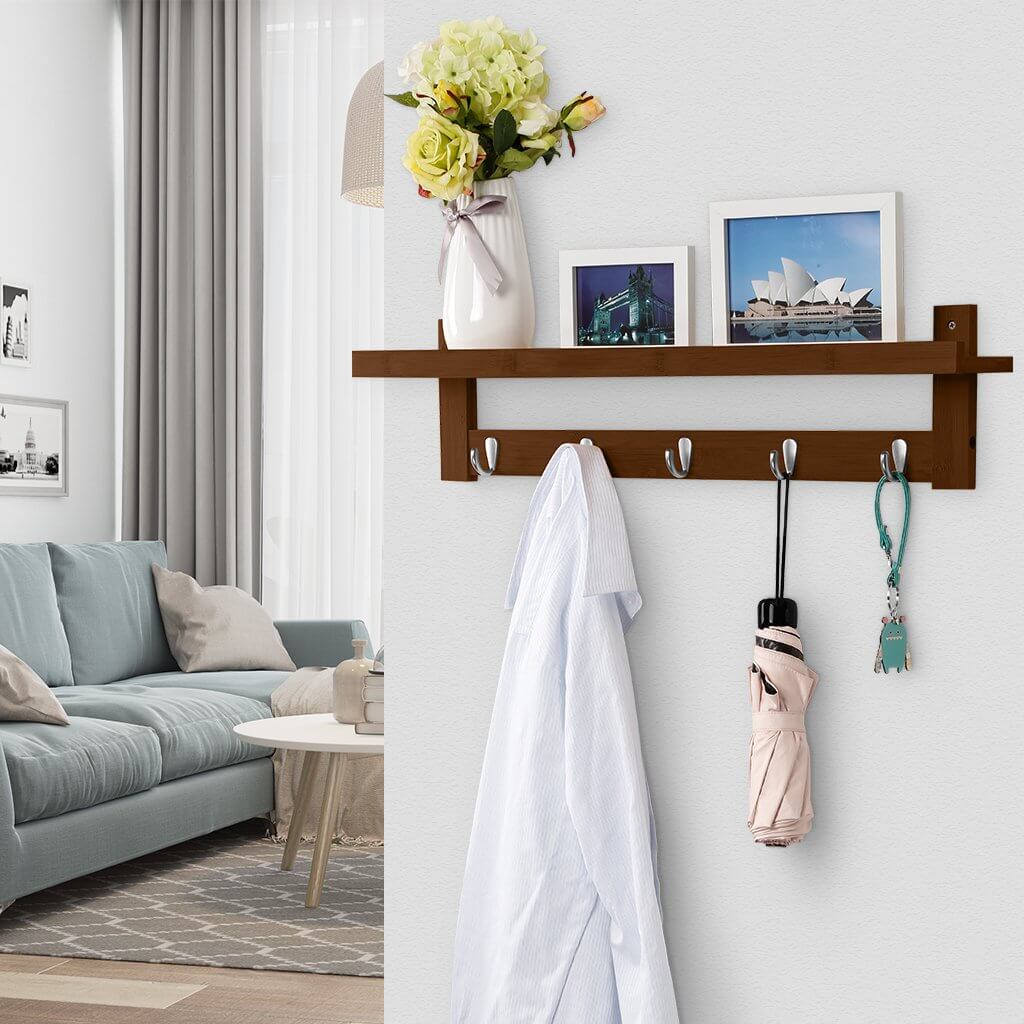 oIf you're somebody who isn't satisfied with a purely utilitarian piece of furniture like a coat rack, this Langria Coat Rack Shelf gives you an ideal configuration. Not only is it made of elegant, brown bamboo that goes well with a variety of different colors, but it also has a shelf on top where you can put photo frames, flowers, or even candles. The design itself is made to be secured to a wall, allowing you to put the coat rack shelf off to the side as people enter.
10. Natural Bamboo Shoe Rack Evokes the Beach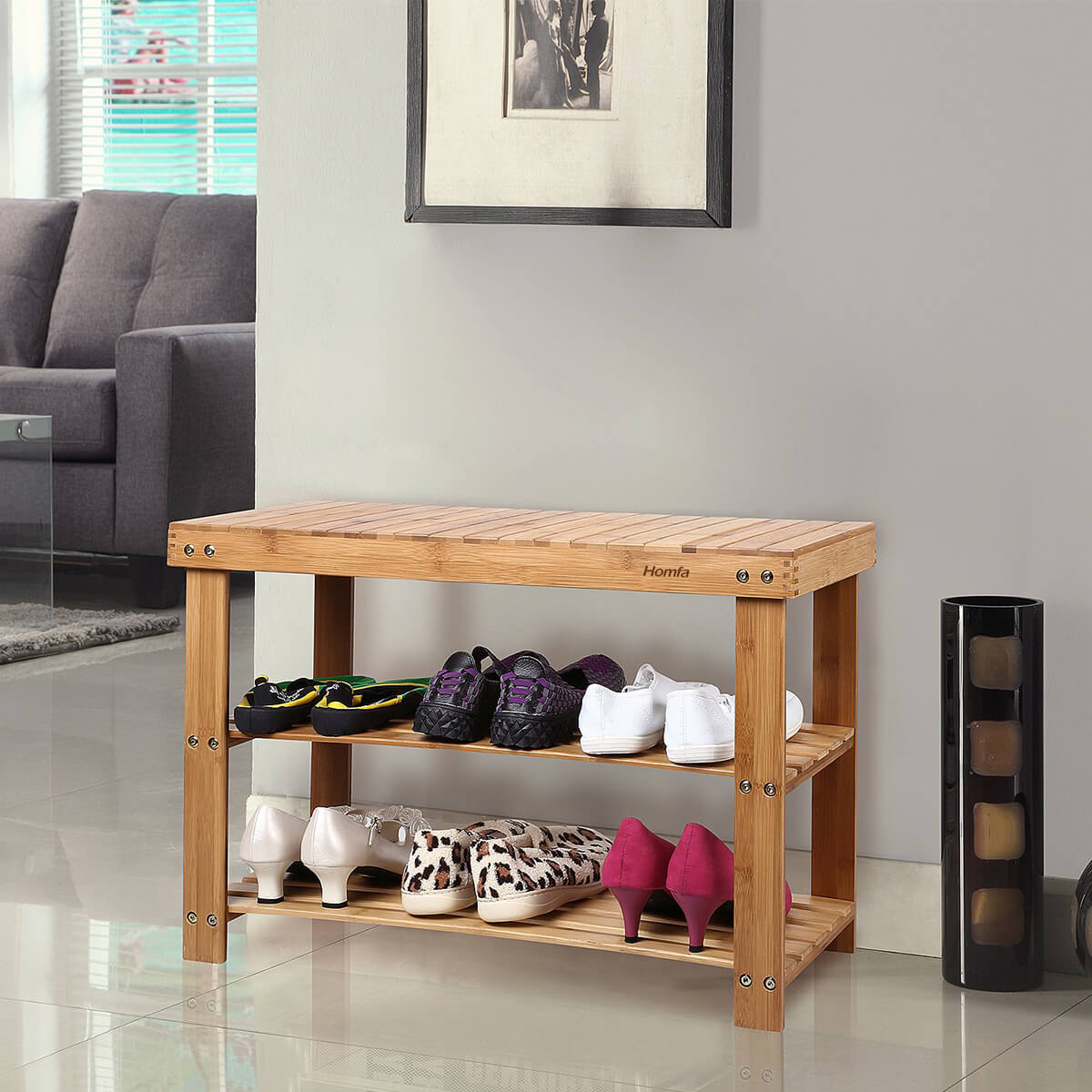 Despite paint often being great for consistency, there's something distinctly elegant about just having exposed bamboo in a natural color. HOMFA understands this, introducing a shoe rack bench that is just as elegant as it is classic. It's also very sturdy, being made of high-quality bamboo that is non-toxic and secured effectively. The wooden look of the shoe rack evokes a beach-like scenario, something that will make anyone entering your front hallway feel like they're on vacation!
11. Multi-Use Shoe Rack Comes with Storage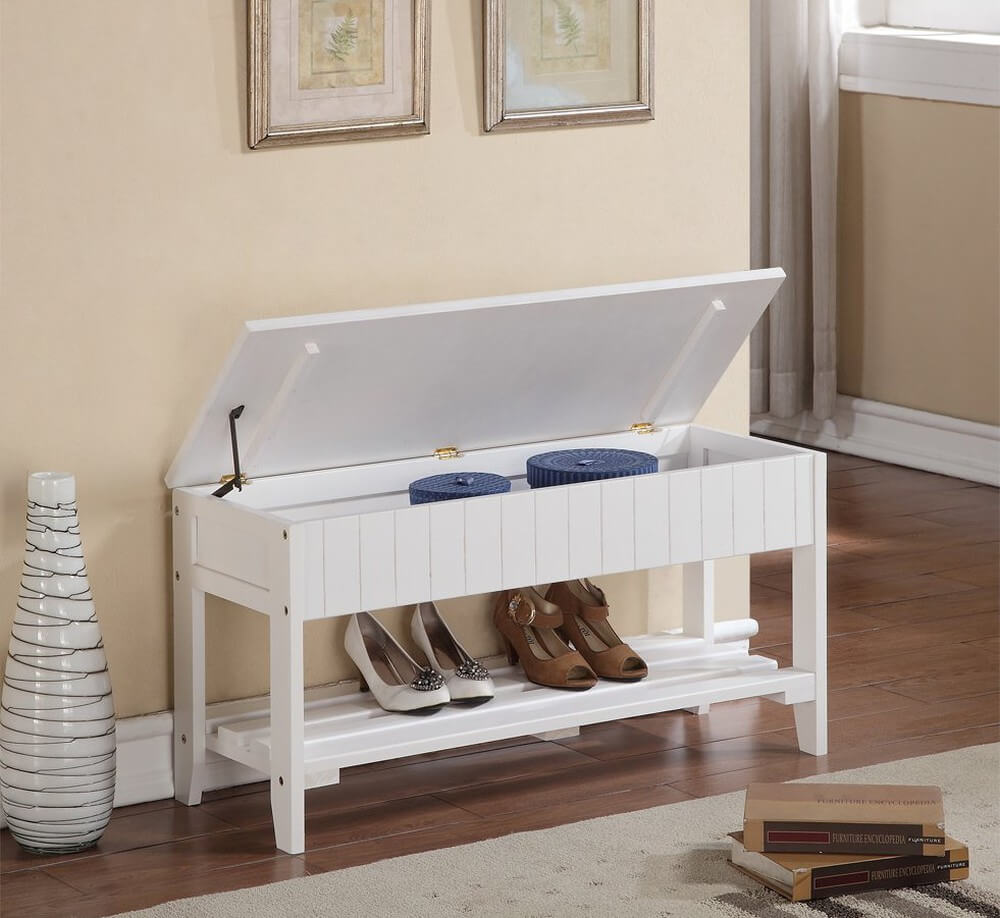 If you have a taste that borders on the preppy side of home décor, you'll love this shoe rack. Not only does it have a design that evokes the nuclear family white picket fence look, but it also has gaps in the shoe rack portion so you can catch dirt and dust that falls through the cracks. However, what makes this bench so unique is that you can lift up the top to reveal a storage space! This is a great option to have if you want to store your beach towels and gear in there or anything else you'd need to grab on your way out!
12. Contemporary Steel Dresser Storage Tower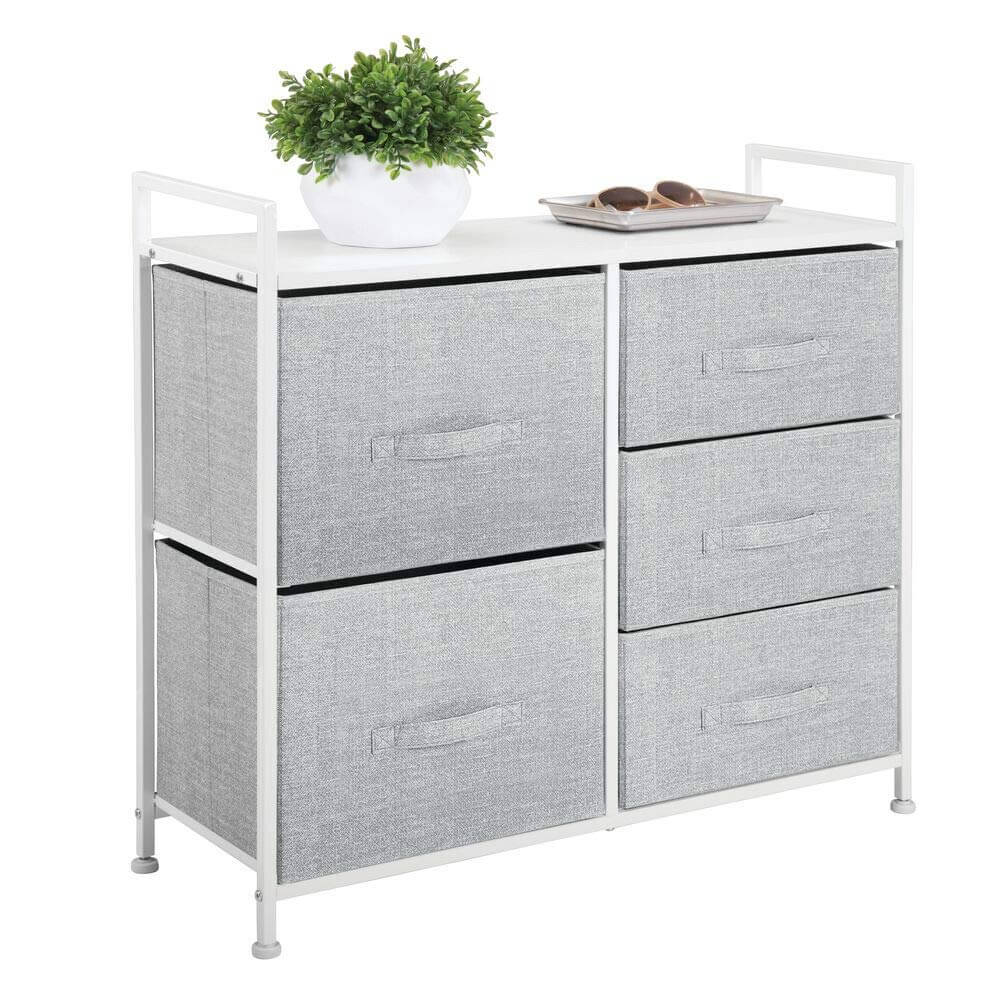 Those who prefer to have dressers in their front hallway will be impressed by this mDesign dresser storage tower. By using a unique design featuring one column of two drawers and another column of three, you can store a variety of different objects and classify them based on size. The drawers themselves being made of fabric also shows how durable they are, with the metal frame surrounding the tower holding the unit together. You can also put objects on top of it, making this dresser a great place to leave notes, keys, and anything else you might want to keep near the door!
13. Sleek Shoe Rack Upgrades Your Front Hallway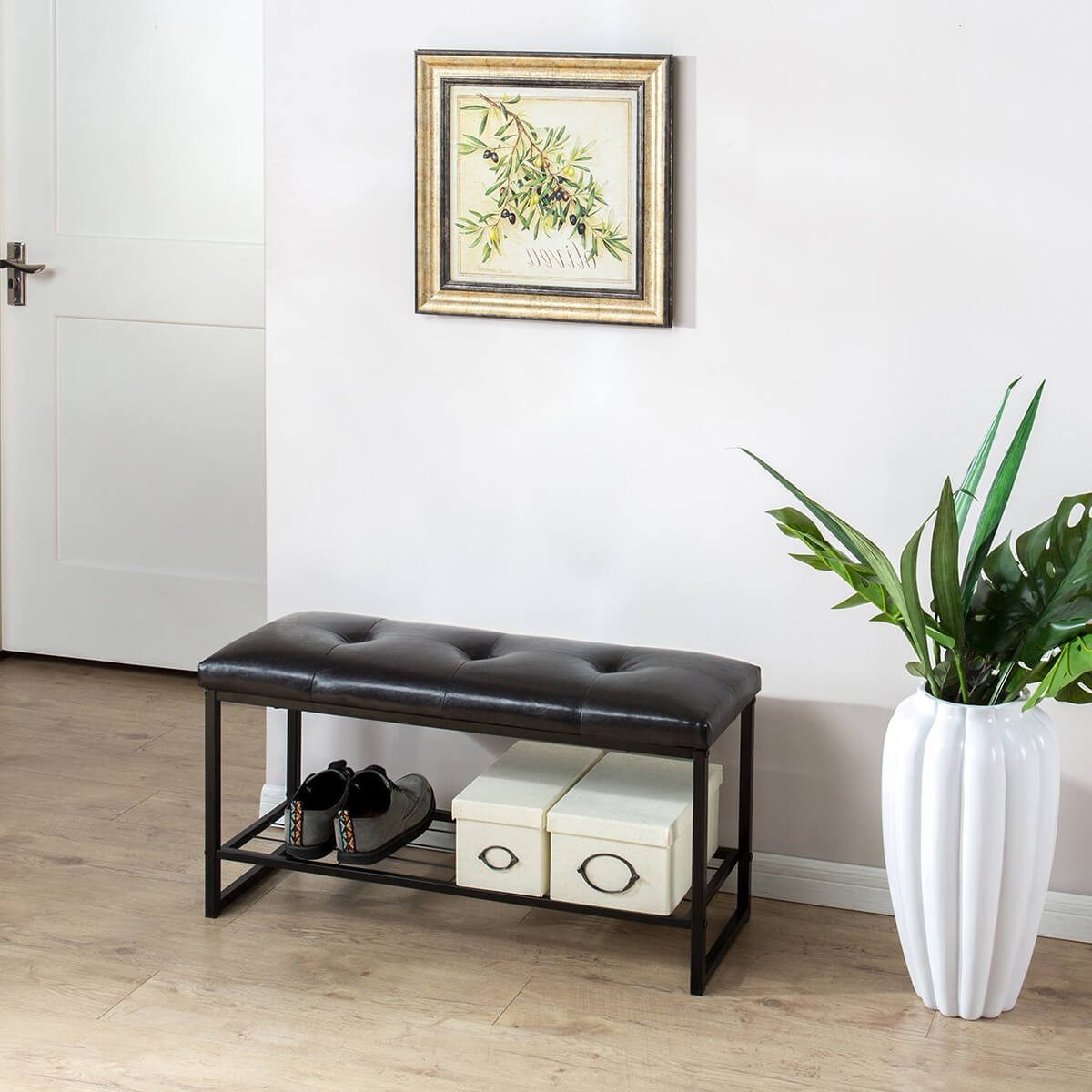 Sometimes it can be tricky to play into your formal desires. For example, the aesthetic of leather is so sleek and fancy, but it is also not the most animal-friendly product to use.This is where this shoe rack comes in—as a Zinus Mindy product, it uses faux leather while still achieving the distinct, sleek leather shine. This look makes it a perfect choice for those who need something subtle to put in their front hallway. In fact, the bench part is so eye-catching that you might even forget that it's technically a shoe rack!
14. Unique 3-Tier Industrial Bookshelves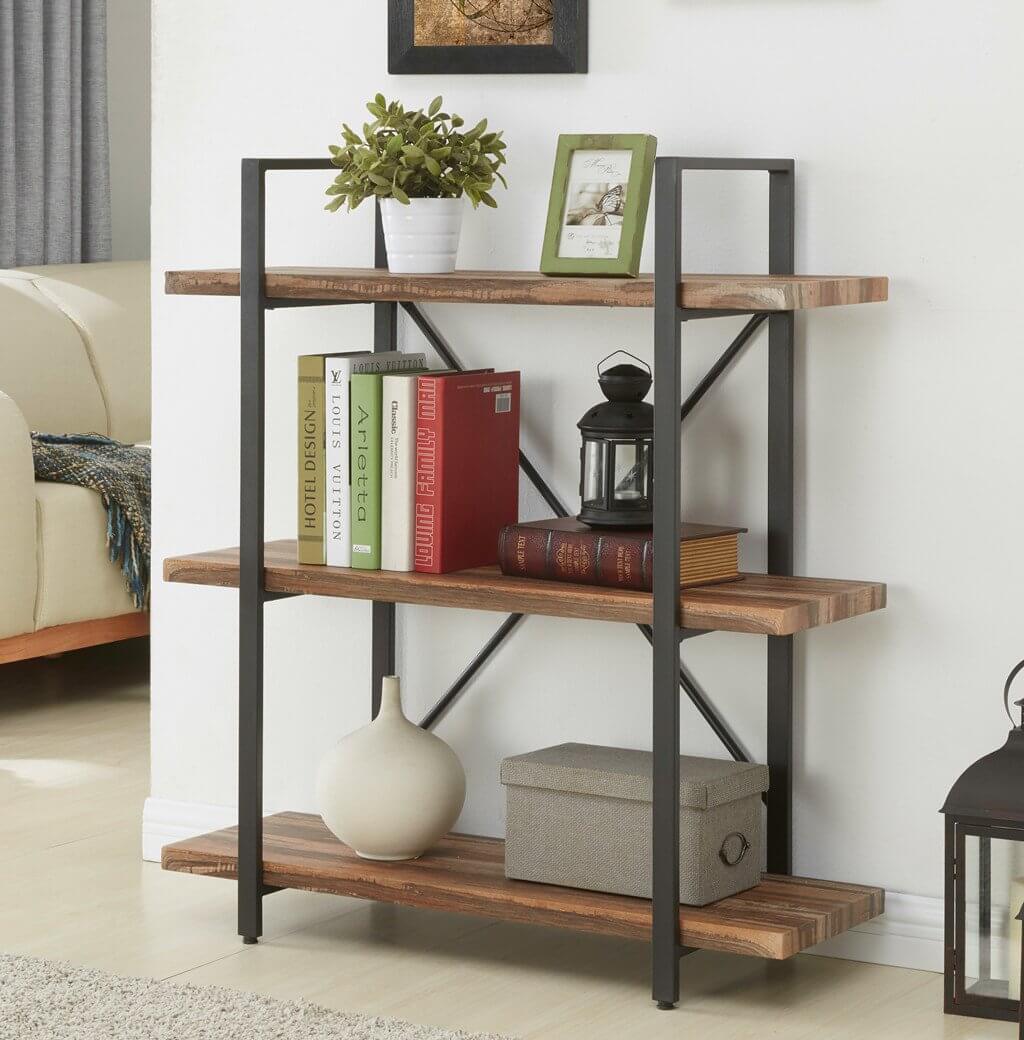 This is a very similar furniture idea to #8 on this list, but it has three shelves instead of two. It still retains the very rustic look that is both very modern and antiquated, making it a great pick for someone who needs something unique to put books and objects on. Whether or not you get the 2-tier or the 3-tier one will depend on the size of your front hallway and your personal preference, but we're including both on this list because they're great options.
15. Lavish and Royal Slate Hall Stand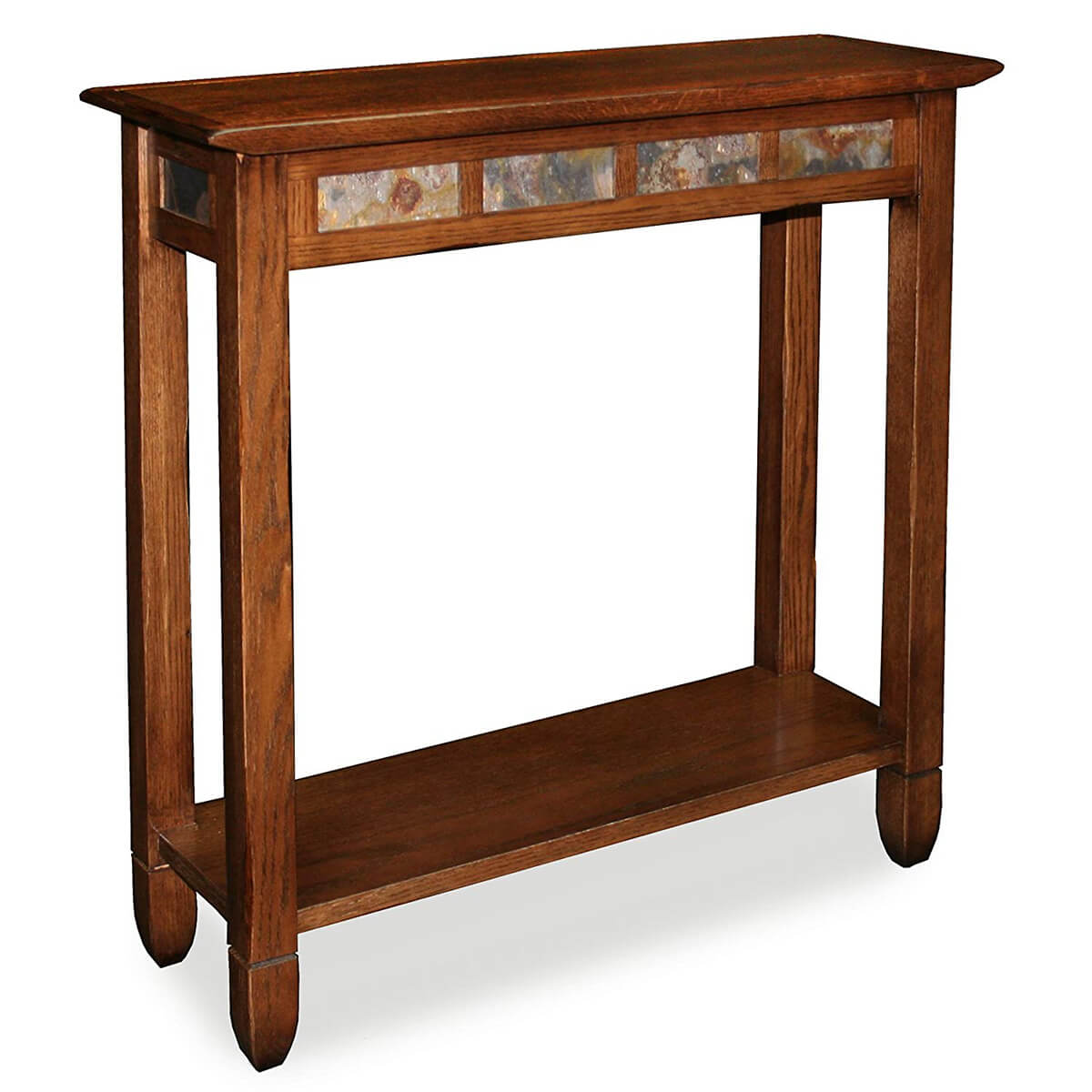 If you're somebody who has a very fancy, royal tone to your home décor, then this is the right hall stand for you. Though it might resemble some of the shoe racks on this list, it's not something you'd want to rest your shoes on. The oak is ornate with the slate partitions giving off a marble-like look that makes this product one of the fanciest ideas on this list.
16. Practical Metal Coat and Shoe Rack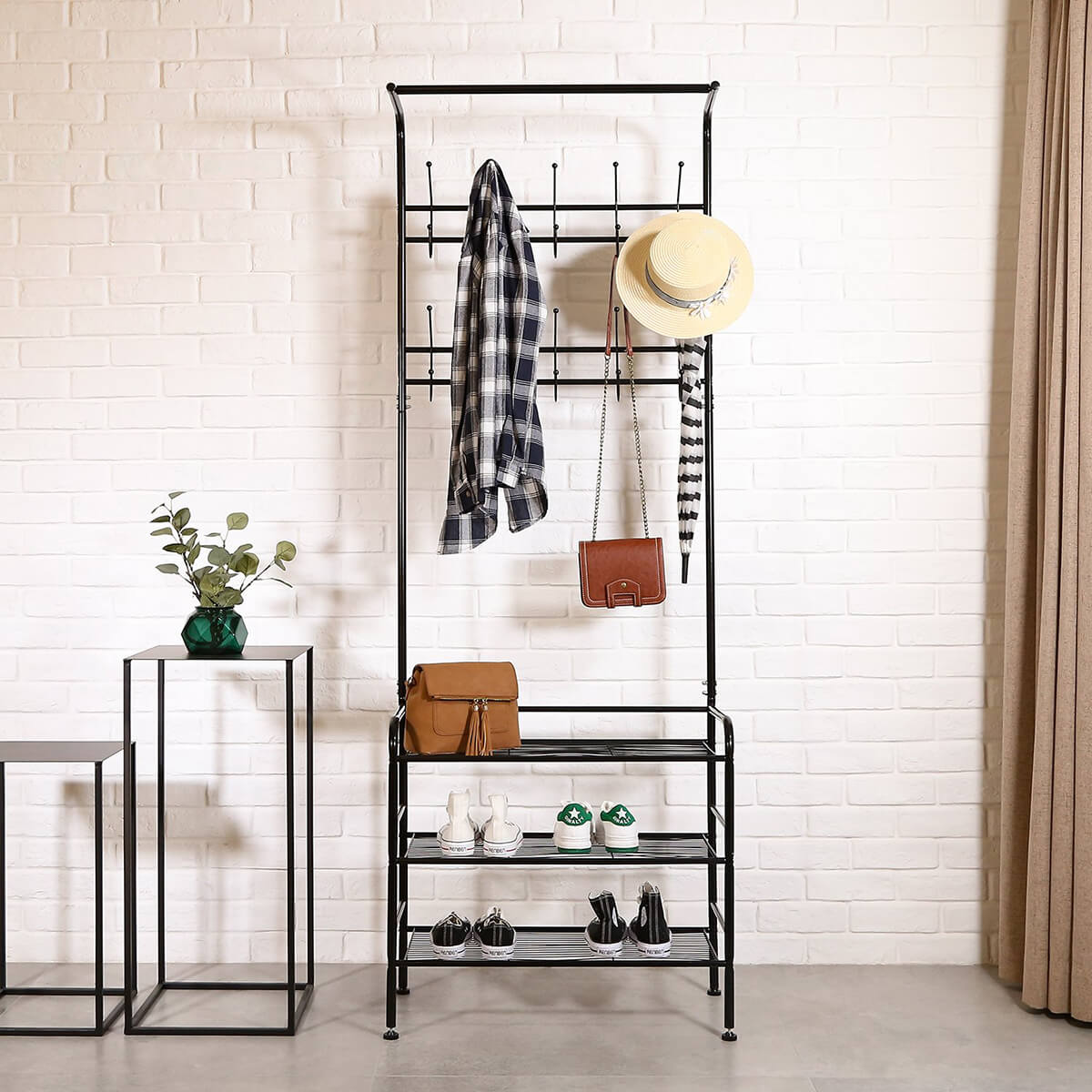 If you want a product similar to #7 on this list but don't want it to feel bulky, this practical metal coat and shoe rack is ideal. Not only does it have more hooks for coats (20, to be exact), but it also has a slim design that doesn't make it stand out as easily. The slim design is due in part to the rack being made of metal bars, also making it easy to setup!
17. Vivid and Colorful Oxford Console Table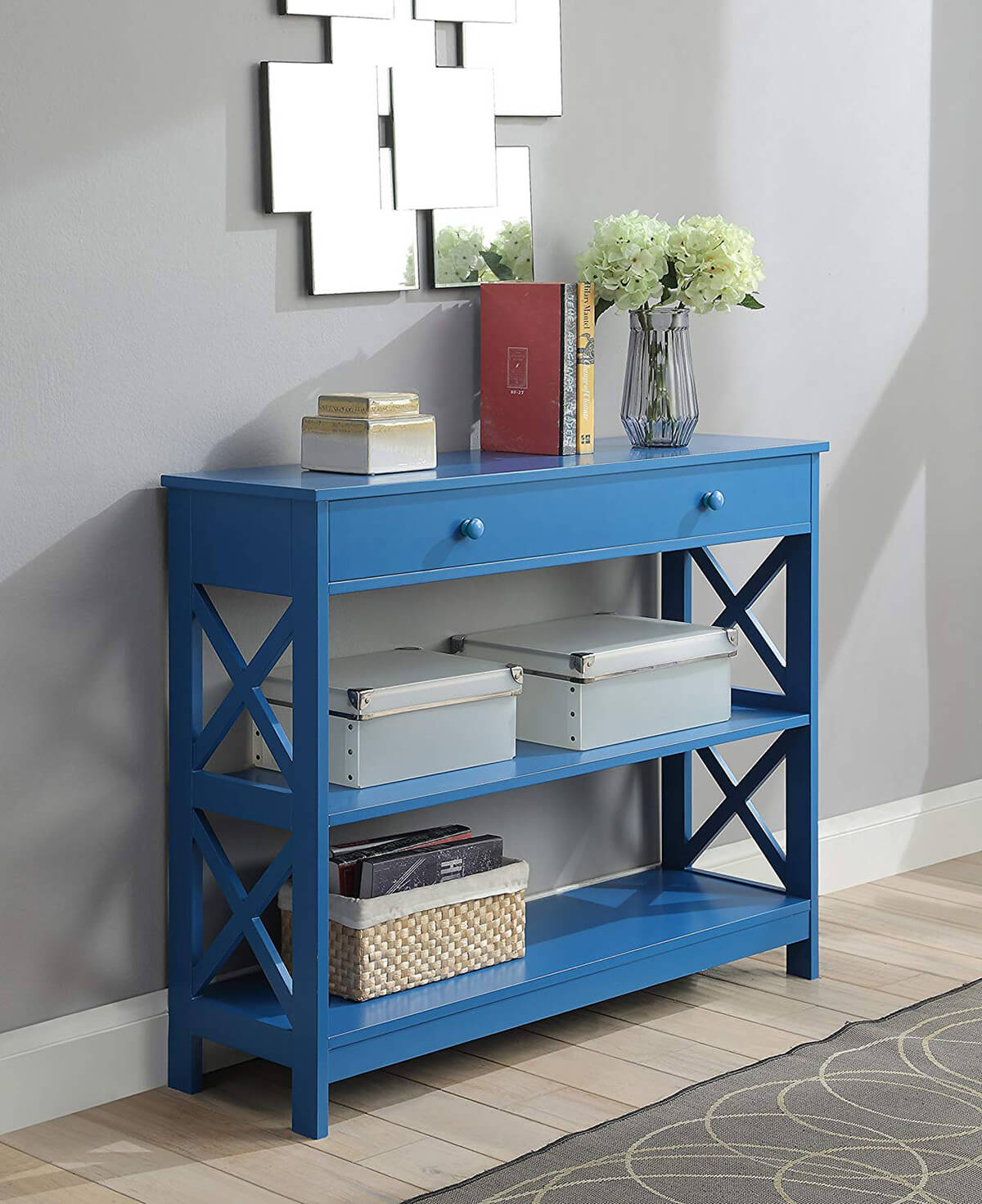 The ideas on this list so far have been largely muted or darker colors. This is because front hallway pieces such as coat racks and shoe benches are best when they aren't part of the focal point of a room, but that isn't the case with this vivid and colorful Oxford console table. The blue gives this piece a lot of character, making it a great object to put underneath a mirror to create a center for your front hallway.
18. Wooden Coat Rack Looks Like a Tree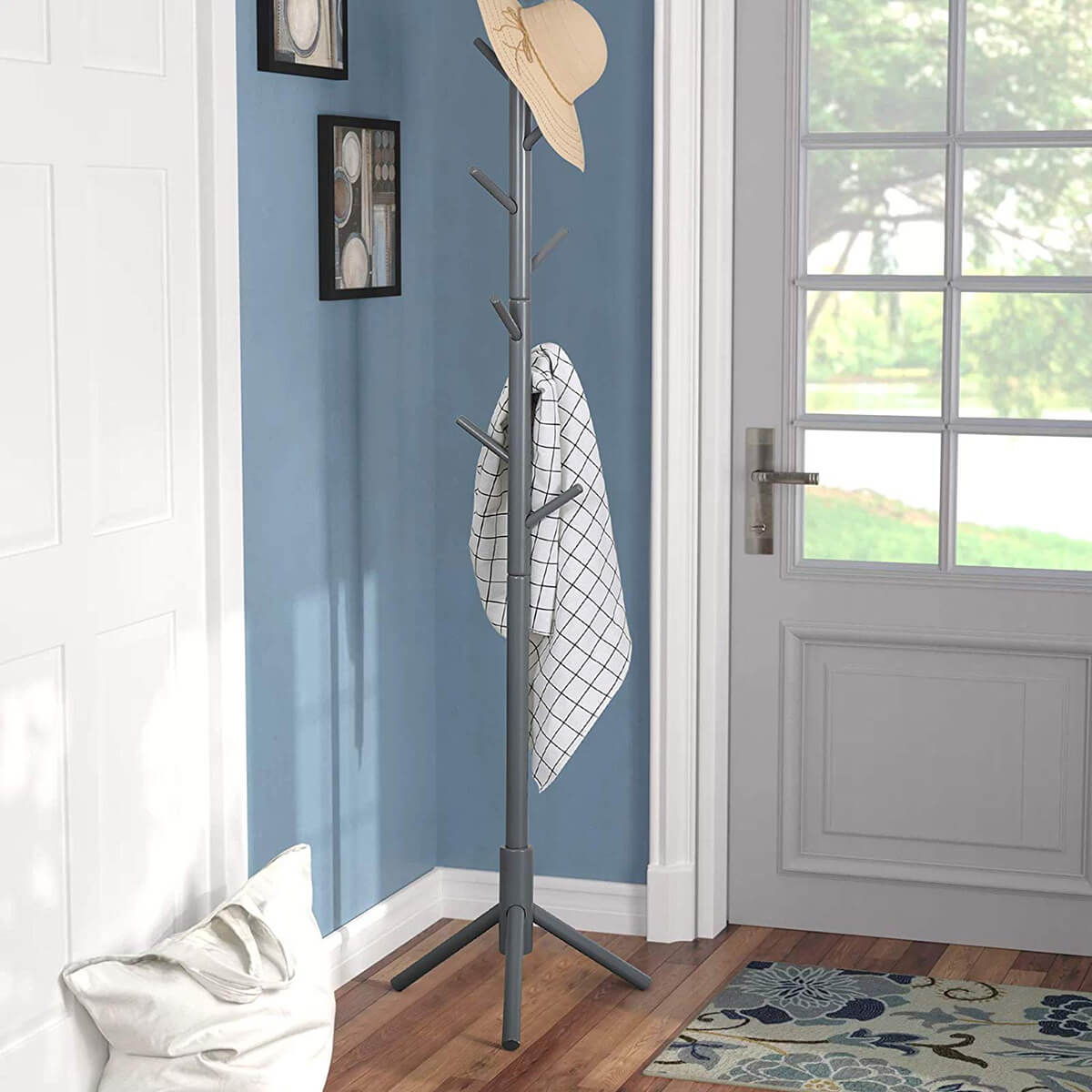 Sometimes you want a more natural look for your front hallway to make the transition from nature to a house setting to be as seamless as possible. This is where this coat rack comes in, looking like a bare tree. The simplistic nature of its design also makes it great to put right next to a door, indicating to people where they should hang their coats without taking too much of their attention. The arms themselves are also not too large, allowing the coat rack to not take up too much space!
19. Minimalist and Modern Console Table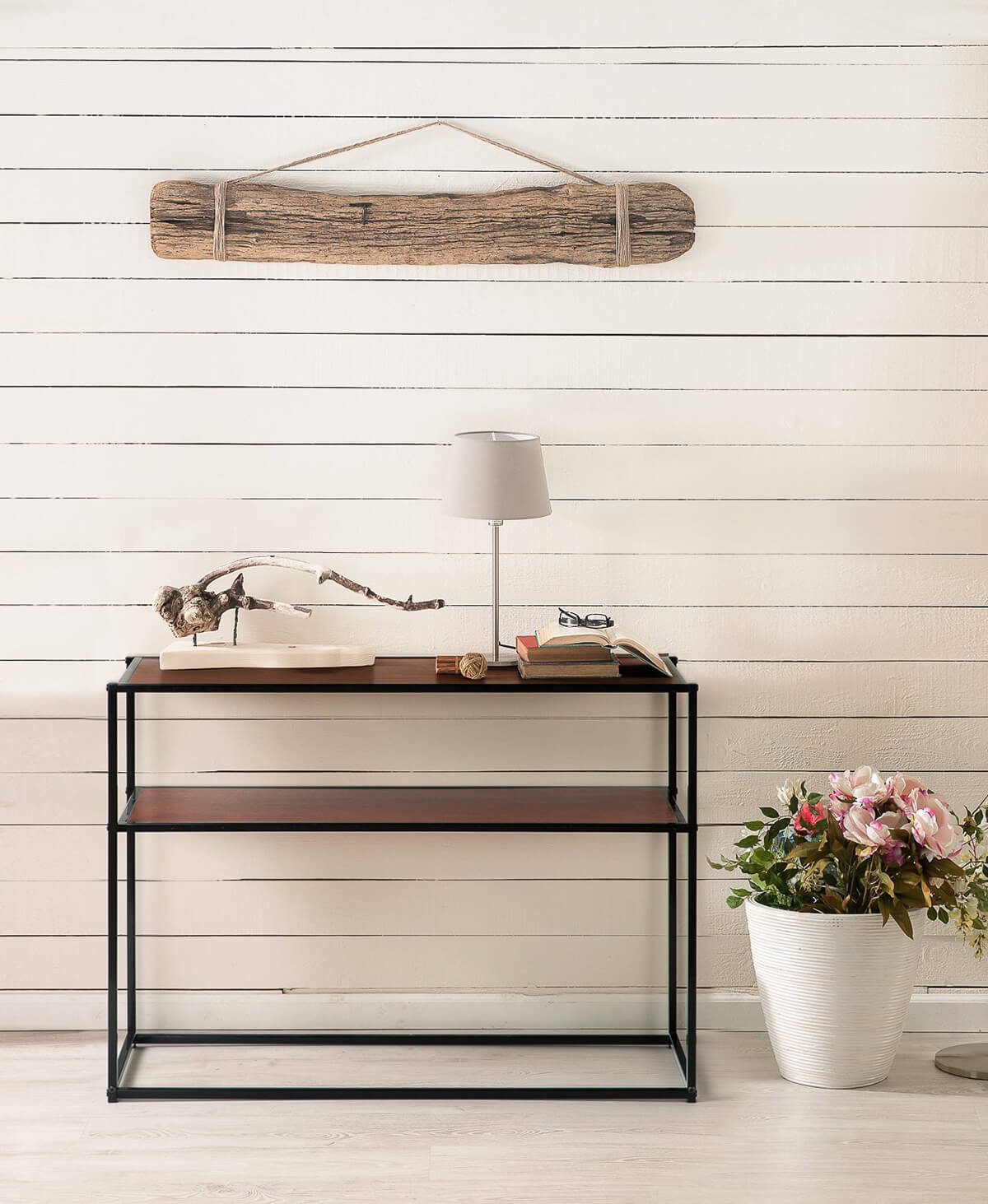 If you happen to have any pets in your house, it makes sense that you wouldn't want a shelf too close to the ground. After all, that leaves any objects placed on said shelf open to being taken pretty easily! This Zinus Kay product helps you avoid that dilemma, keeping both your shoes and books safe from dogs (or any other pets you might have around)! The minimalist style also makes it easy to set up and place in a hallway!
20. Industrial Shoe Rack is Easy-to-Assemble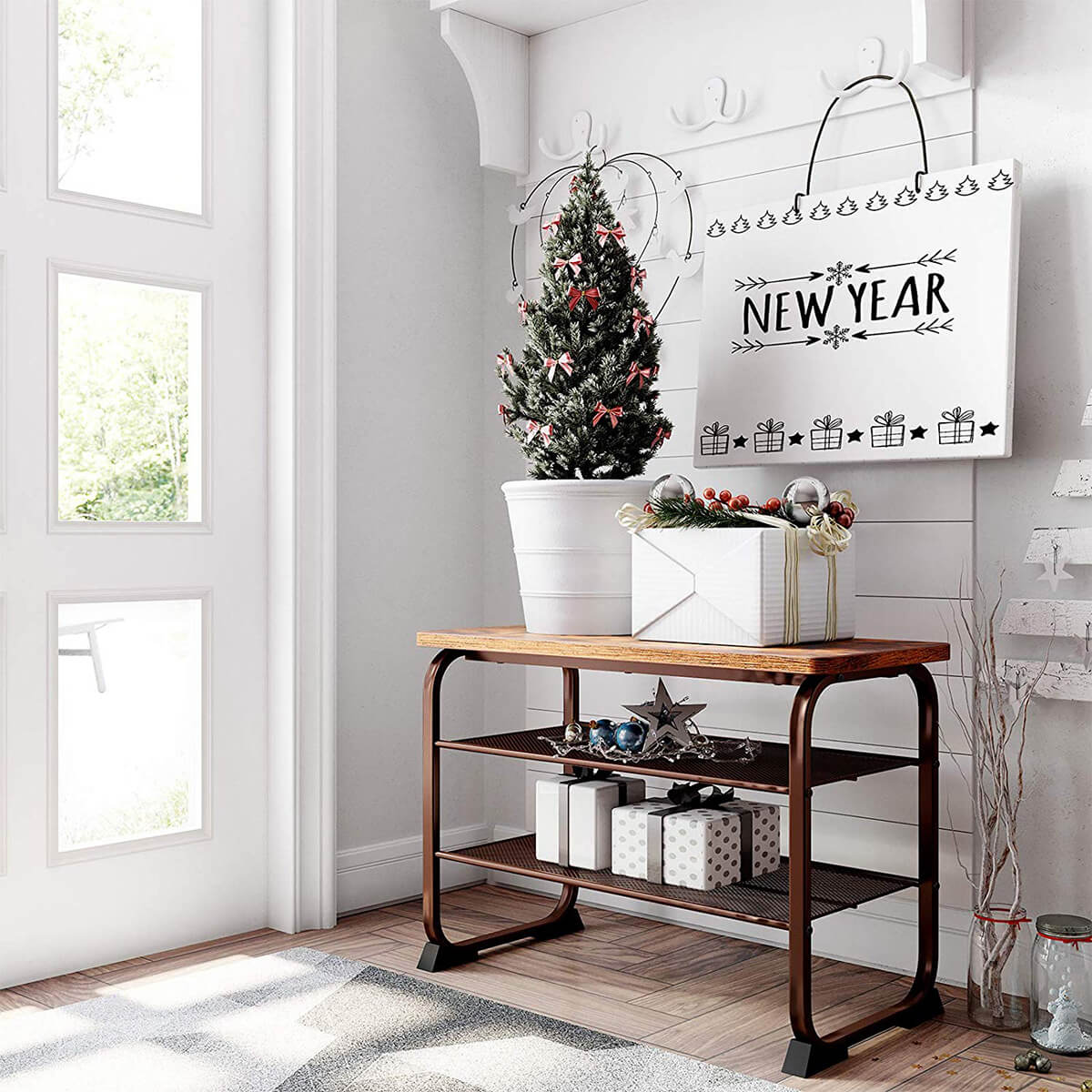 Front hallways don't always have to be extravagant. If you're somebody who is into modern home décor, chances are you're well aware of this fact, embracing subtle decoration in an effort to make your home easily approachable. This Vasagle shoe rack is not only perfect for a minimalist, modern setting, but it's also incredibly easy to set up! The shoe rack itself also allows for a lot to rest on it, holding up to 198 pounds!
21. Canterbury End Table Evokes the 1800s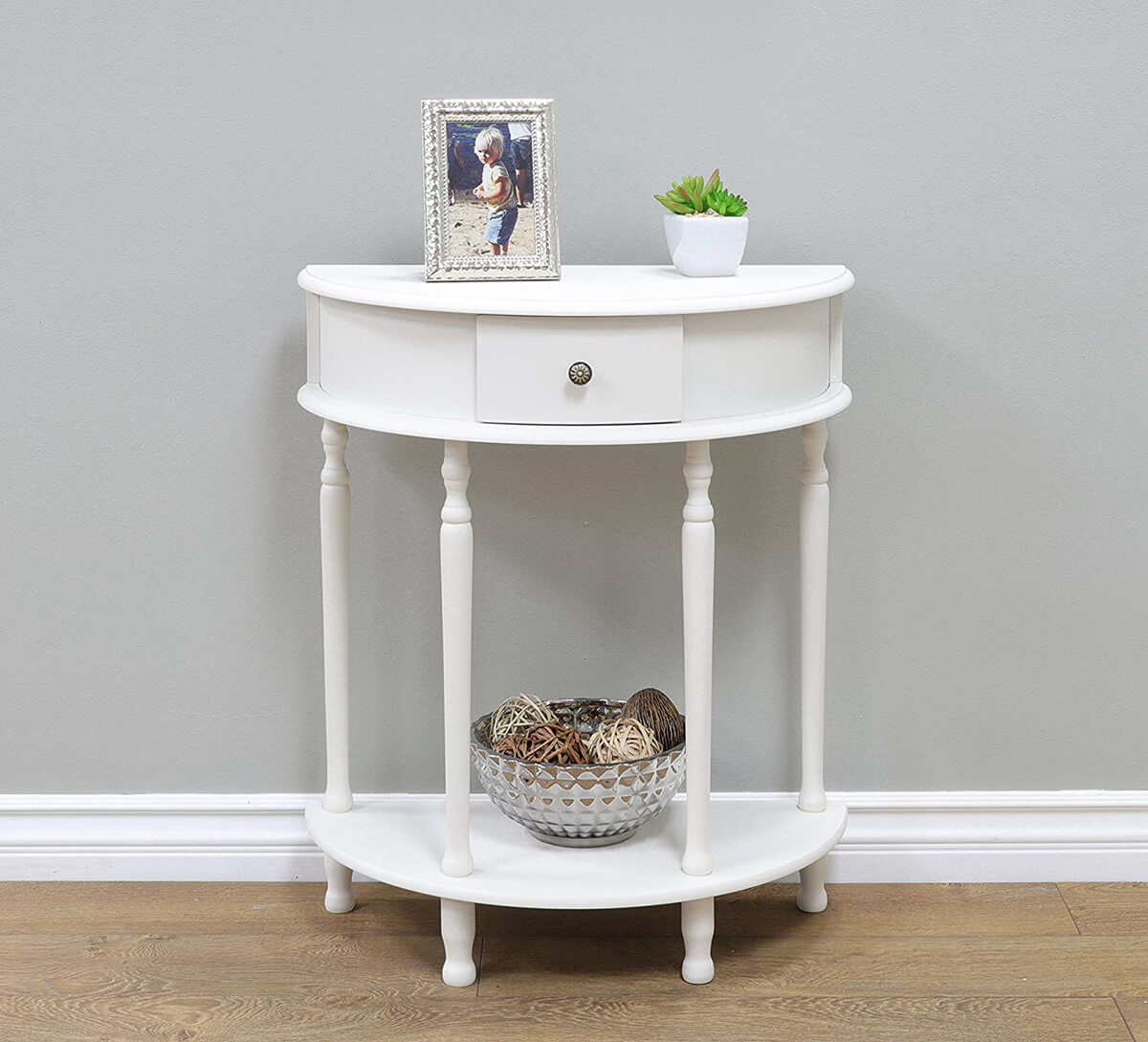 There are some who prefer to have a traditional approach to their hoe décor, even choosing to be inspired by 19th century furniture and lifestyles. If you or somebody you know fits this description, then they would love this Frenchi Home end table. Based on how gorgeous it looks, you would never expect that it is actually incredibly affordable! In particular, we love the elegant touch of the single drawer in the center of the table, allowing you to store various objects so you can grab them on your way out.
22. Have Industrial Elegance with this Console Table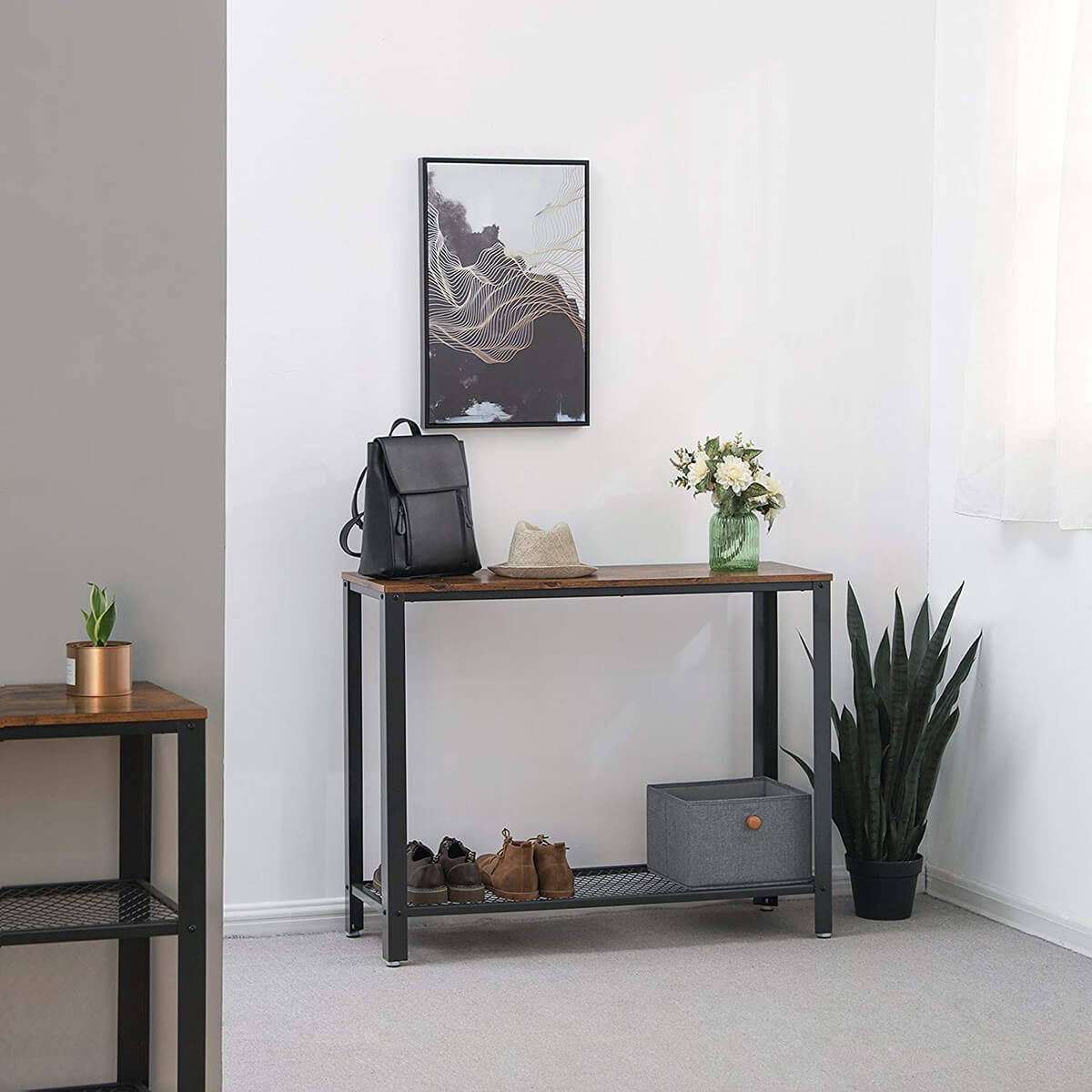 Though it might seem like "industrial" and "elegance" are contradictory, this isn't true. Industrial aesthetics have been incredibly popular in recent years, taking inspiration from city aesthetics to create a look that is just as grungy as it is minimalist. In the event that you need to rearrange your house on a moment's notice, this piece can also look great in other areas of a home, such as a living room!
23. Lotusville Vintage Dining Chairs Add Intimacy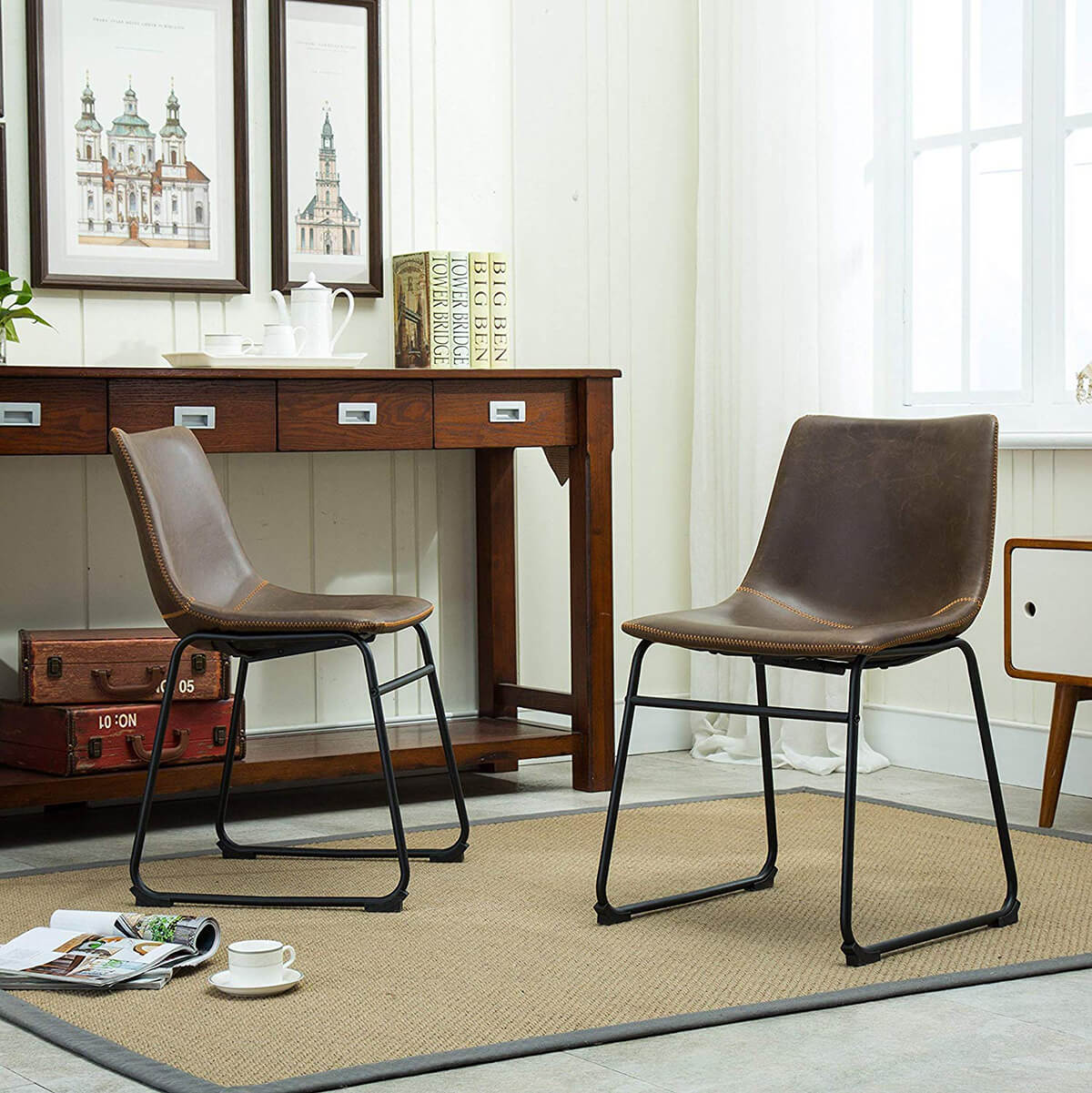 Out of all of the furniture ideas we're including in this list, these chairs are perhaps some of the most unique. This is because that many people don't consider having chairs in their front hallways, usually due to the lack of space they have there. If you're interested in trying something different, though, these are a great way of doing so. Simply place them in your front hallway with one on each side of a shoe rack—this gives people a chance to take a break and take their shoes off while not obstructing the view of the shoe rack for everyone else!
24. Dark Walnut Hall Tree Brings Cabin Flare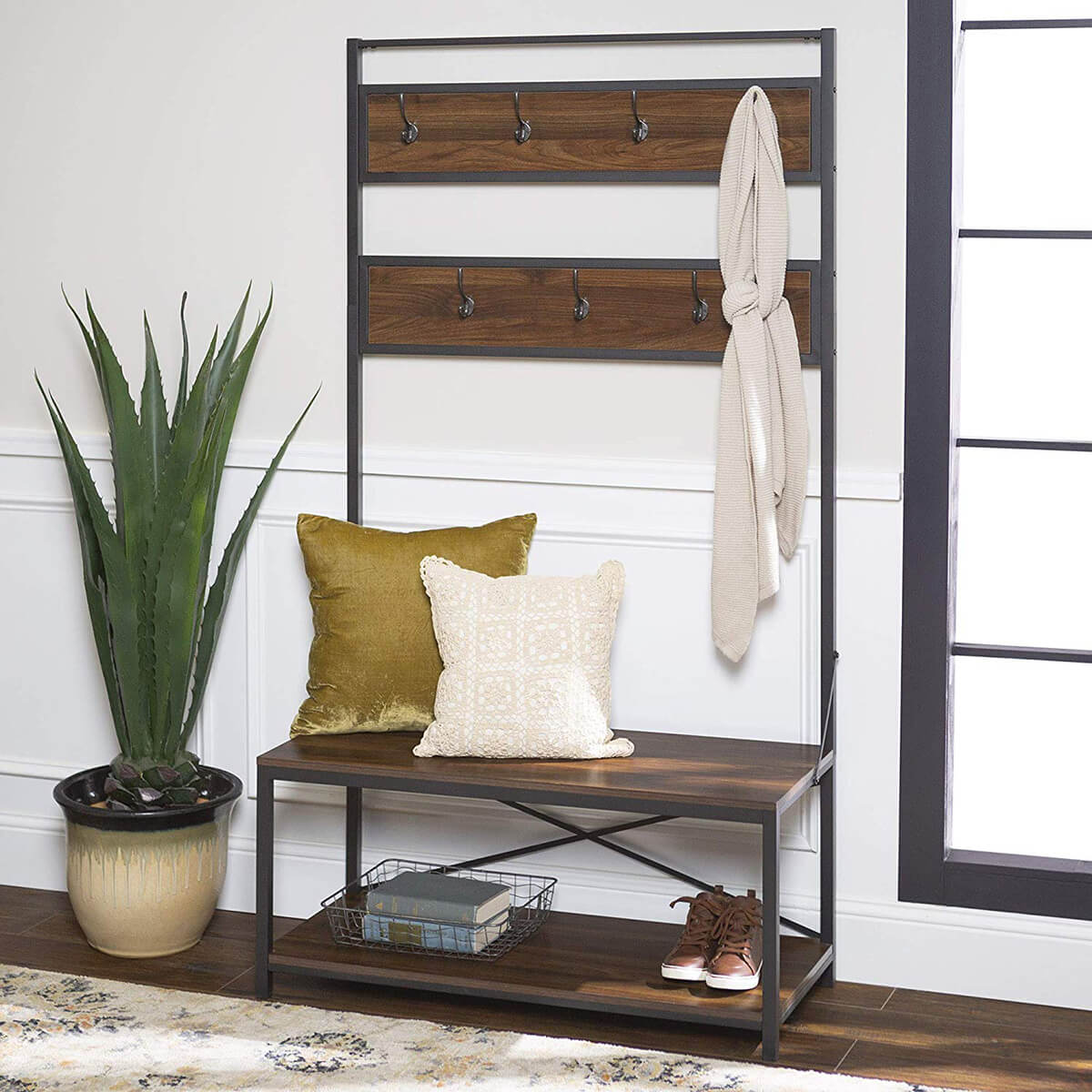 If you're somebody who is enthralled by cabin aesthetics, this is a great product for you. As one of the three-in-one products that works as a coat rack, a bench and a shoe rack, this hall tree will take up as little space as possible while bringing a lot of flexibility to your front hallway. On top of this, the dark walnut color makes it take on the smoky vibe that reminds you of being in the woods. This is why it fits so well with a cabin aesthetic, evoking the outdoors in a unique way. With 7 different hooks to hang your coat on, you'll also be able to invite plenty of people over and still have room for more coats!
25. Innovative Corner Bookcase and Shelf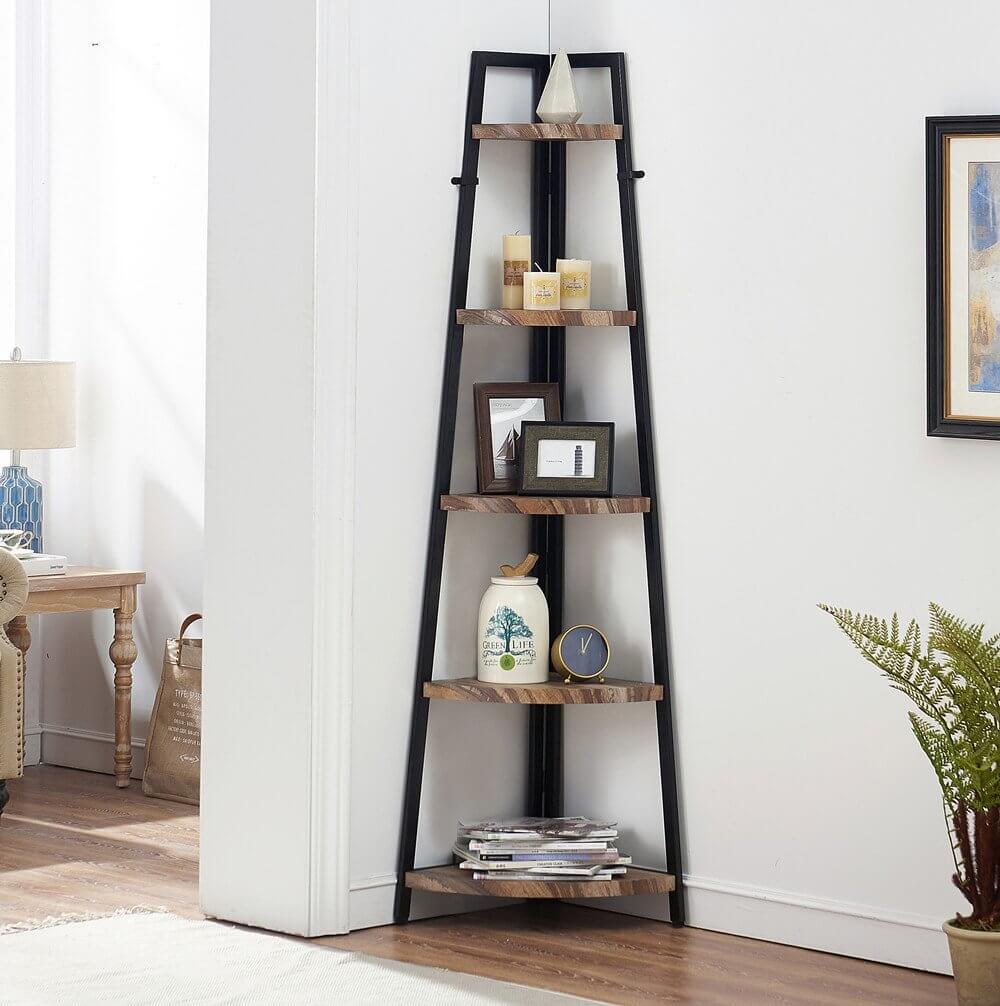 This is definitely one of the most innovative furniture ideas on this list. By combining 5 bookshelves into a single design and designating it to a corner, O&K Furniture have created a unique piece that is unlikely to be duplicated anywhere else. This product combines what we love about both modern and vintage aesthetics, evoking 50s interior design while also having a metal frame that is undoubtedly from the 21st century. This is also a very durable product, with the corner-oriented shape making sure that it stays up and doesn't take on too much damage. The wood that comprises the shelves is also very high-quality, while the shelves themselves provide enough variety that you can have different types of objects on each level.
26. Country Style Sofa Table Sets the Mood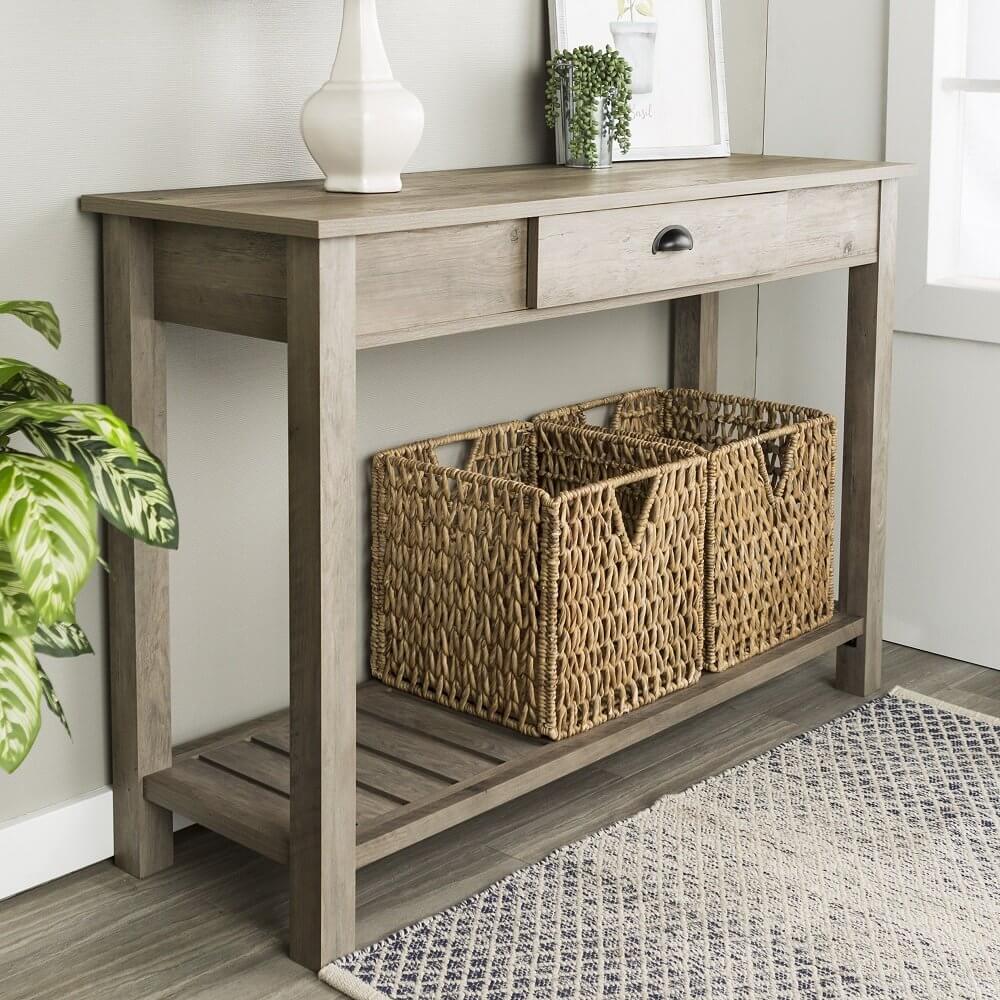 Having a home that uses a muted color palette doesn't necessarily mean that you have to have dull colors. This product shows otherwise, showing how you can have compelling design that brings as much character as a rainbow piece of furniture. This country style sofa table gives you a nice, wooden aesthetic without having to be made out of wood (it's actually made out of high-grade MDF and laminate). However, our favorite part about this piece is that it gives you a great 48 inches of space! Decorate it with flowers, photo frames or anything else you have lying around!
27. Blooming Damask Rug Immerses Guests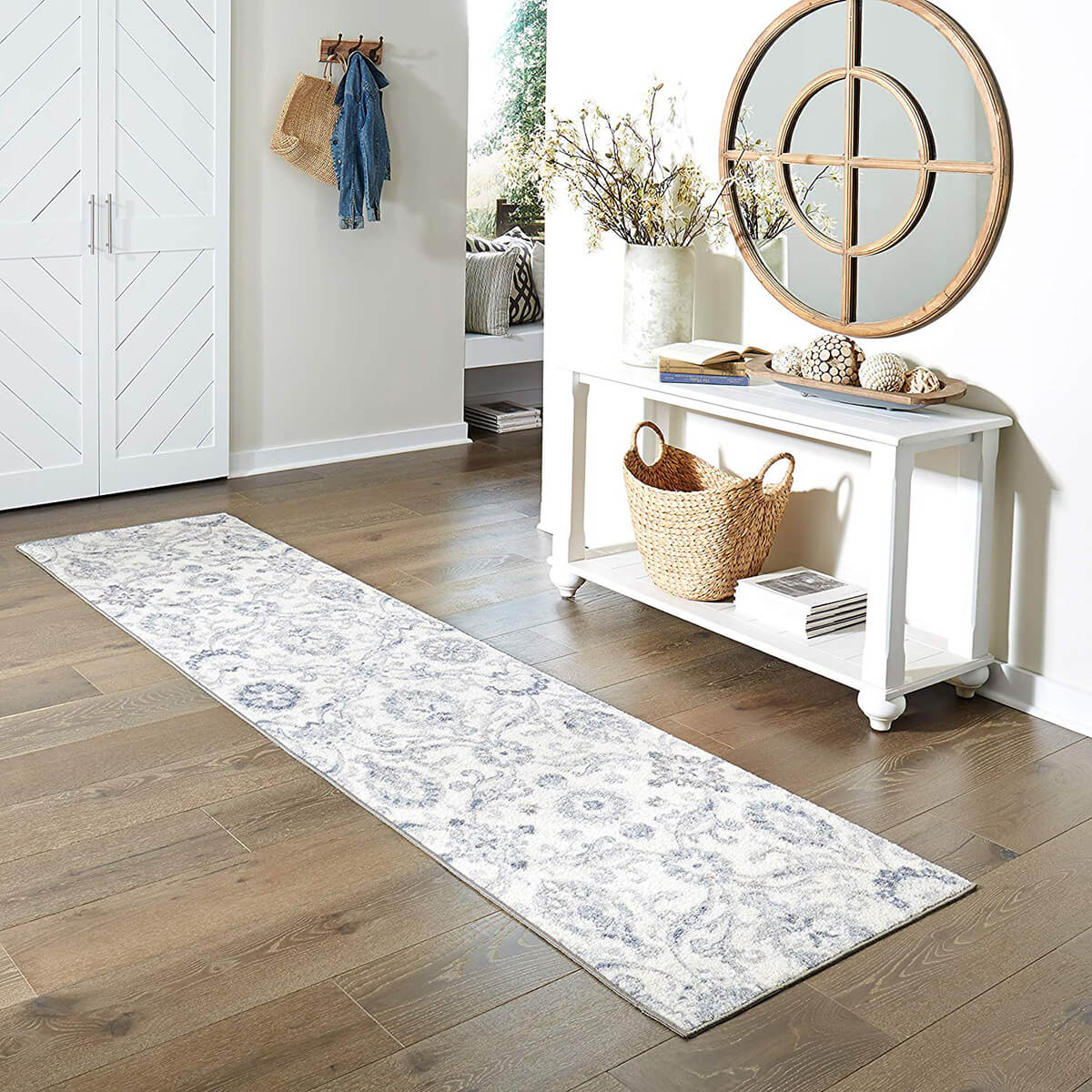 Many people don't have rugs in their front hallway due to the potential for shoes to drag dirt and mud on it, but this doesn't mean they can't be incredibly stylish. This blooming damask rug proves this point efficiently, with a beautiful design that is incredibly detailed and evocative of ornate wall rugs. At the same time, the rug itself doesn't take up too much space, allowing you to place it in a part of your front hallway that won't come in contact with as many shoes.
28. Beautiful and French-Inspired Country Hallway Table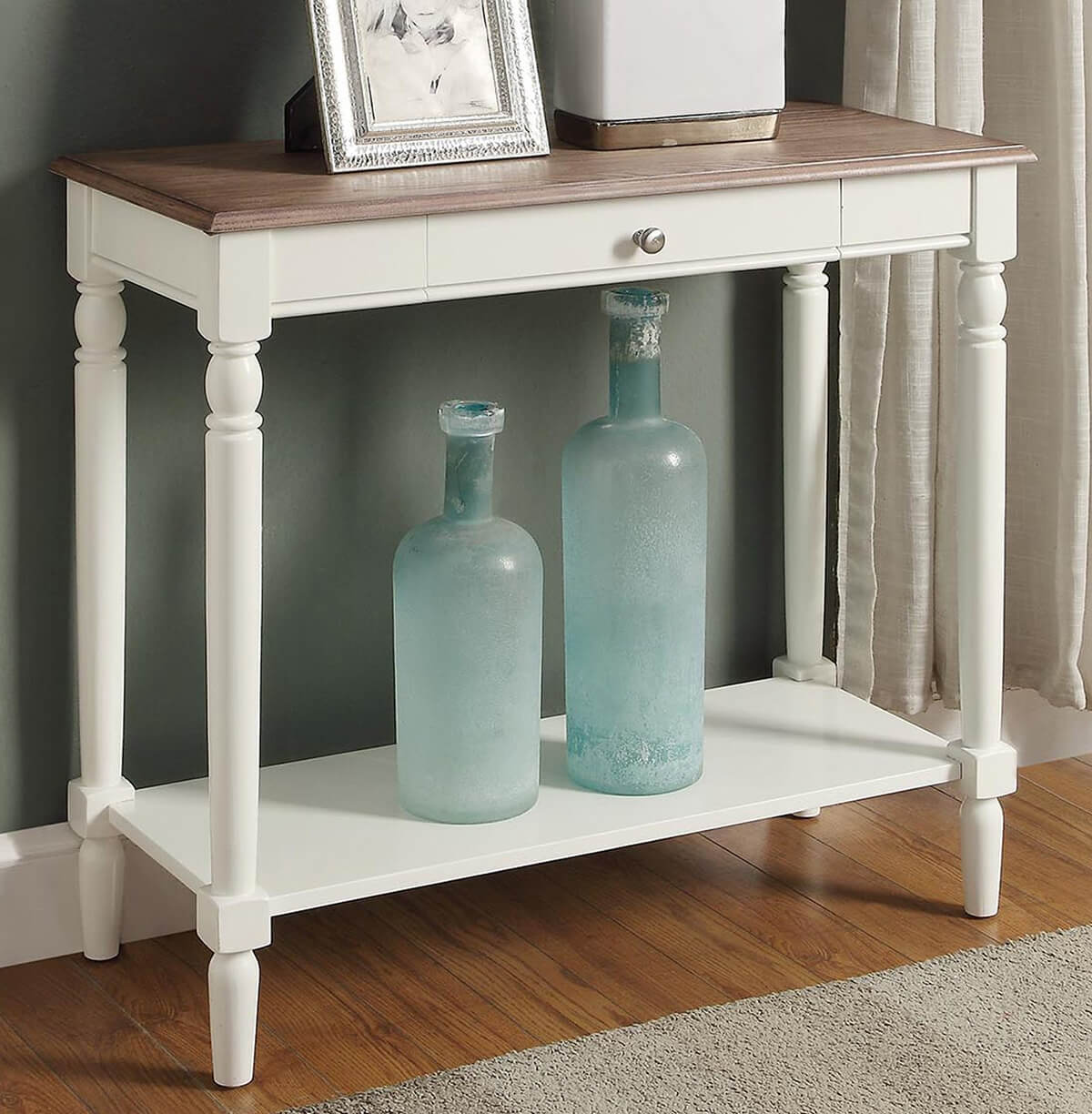 At the end of our furniture ideas list is this beautiful country hallway table that is just as evocative of the American south as it is the French countryside. This is what makes this such a unique project—the driftwood top gives it a rural flair while the white body grounds it in elegance. It's also very versatile, being a table that will fit with a majority of different colors. The drawer is also very subtle, not sticking out of the body and giving you enough room to put a few trinkets (such as keys) that you might need to grab on your way out.
28 Hallway Furniture Ideas to Add Beauty and Function to Your Space
It's difficult to overstate the importance of having a cohesive front hallway. As the first thing people will see when they enter your home, the front hallway is your biggest opportunity to show off your personality, style and set a precedent for what the rest of your home will look like.
As you can see from our list of 28 Beautiful and Bold Hallway Furniture Ideas, there are many ways you can go about that. Do you want a reserved color palette that relies on darker tones, or do you want to have a vivid sense of color that makes the entire room pop? Do you want your furniture to act as a shoe rack, or do you want to have a closet for people to put their shoes in? When furnishing your front hallway, do you want to leave room for books, flowers and other types of embellishments?
Regardless of what your personal preference is, we hope that our list has helped you find the perfect furniture idea to implement in your front hallway. Are there any ideas you're specifically looking forward to trying? Let us know what you think!
Our Favorite Rustic Entryway Decorations to buy on Amazon