Filling your home with the best hallway wall decor ideas can transform a terrifying design challenge into an open, friendly space. Any room that connects other parts of your home offers a decorating adventure. However, there are a few strategies you can employ to help your hallway live up to its fullest potential.
16 of the Best Hallway Wall Decor Ideas to Bring Your Home Together

The first key to a successful hallway is to avoid boring blank walls. Gallery walls are one of the most popular hallway wall art ideas to add interest and dimension to a hallway. There is no single right way to compile a gallery wall, and each has a unique personality. You can choose to highlight your family's favorite memories or a single event like the birth of a child, a wedding, or a spectacular vacation. If gallery walls are not your style, another option is to use architectural features like wainscotting or board and batten. While this approach is more intense to install than hanging a gallery wall, it is also more permanent. If both strategies sound exciting, gallery walls and architectural features like these are compatible.
In the world of design, the most difficult hallways to decorate are long, narrow, and poorly lit. This combination leads to dim, crowded spaces. Fortunately, there are several ways you can make your hallway feel big and breezy. An excellent first step is to apply a fresh coat of light-colored paint. Increasing the lighting in your hallway is another way to help it feel less confined. Natural light is the most effective option, but any additional lighting can have spectacular results. As you look through the list of the best hallway wall decor ideas, imagine how each would look in your space with a little of your personality added.
1. Shiplap Walls and Weathered Plank Ceiling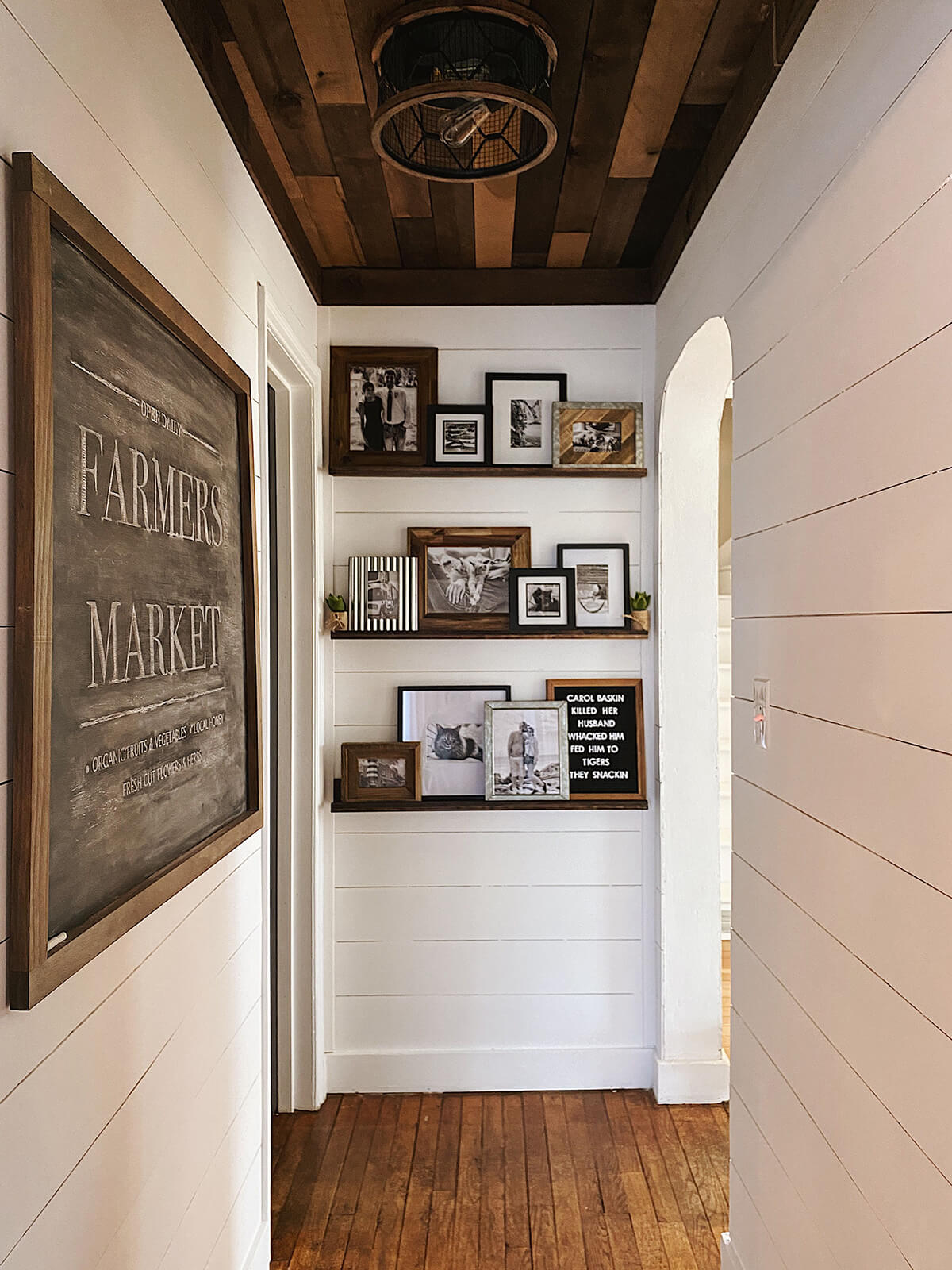 The secret to this hallway's success is how lines are used to draw the focus to one place: the end of the hallway. White shiplap keeps the hallway from feeling too small while providing crisp horizontal lines. Weathered planks on the ceiling offer color variety and help this hallway feel cohesive in the perfect balance between rustic and industrial. If shiplap and natural wood finish are not your style, this technique could easily be tailored for a different feel. Imagine a blonde wood ceiling and simple light fixture to achieve a Scandinavian feel. For a glamorous hallway, imagine painting your ceiling planks gold.
2. Corner Shelving for a Delightful Display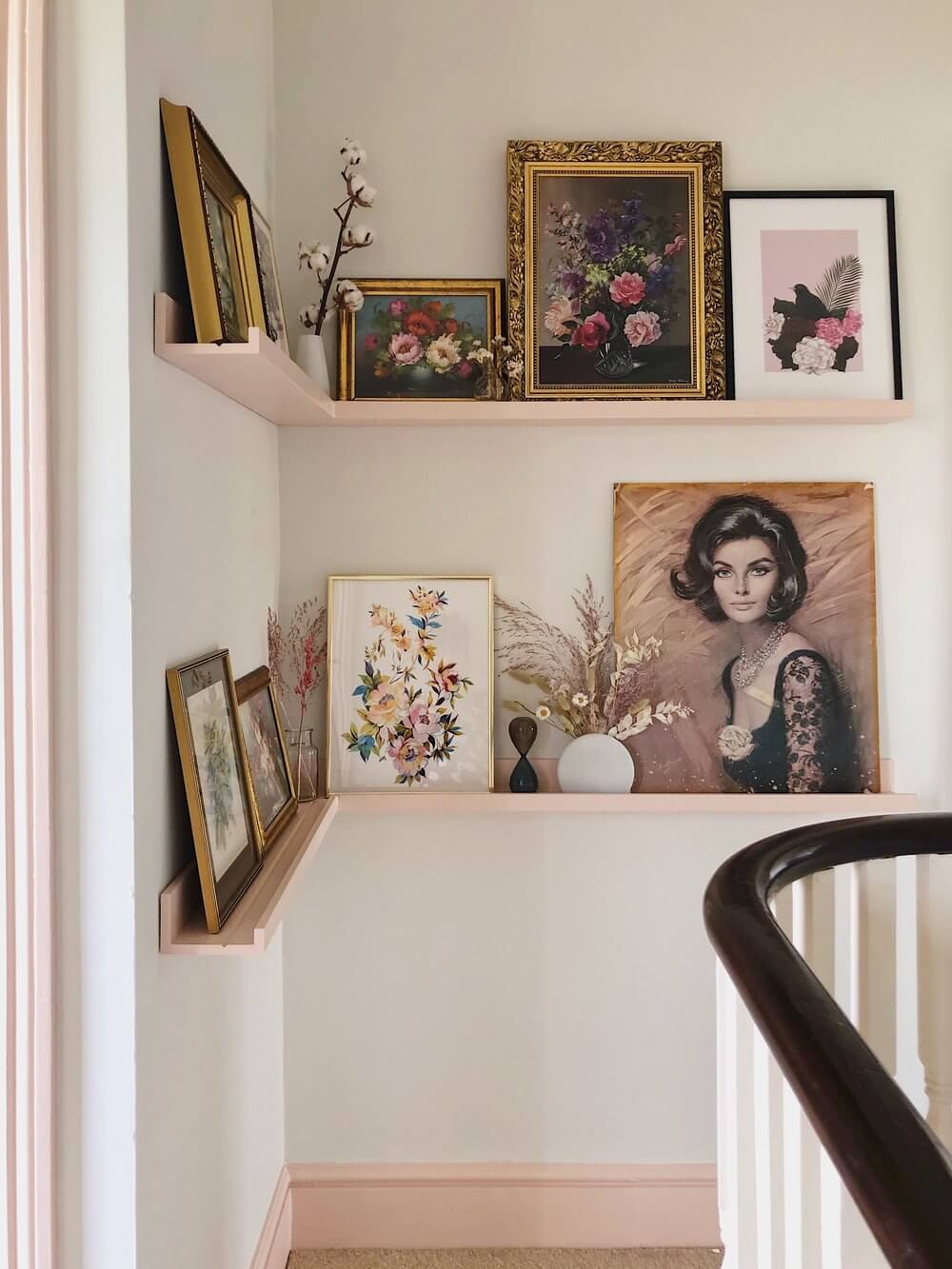 Because of their smaller scale and difficult lighting, hallways can be one of the most challenging spaces to decorate. Installing corner shelving can help your home avoid boring blank walls while making the most of your precious space. As you can see in this image, these corner shelves offer enough width to allow you to display small vases, paintings, and tchotchkes. Spice it up with your favorite finds to show off your decorating style. While this image shows vintage floral artwork interspersed with botanicals, imagine the possibilities in your space. Also, this setup makes switching out seasonal decor a breeze.
3. Gold-Framed Gallery Wall Popping with Color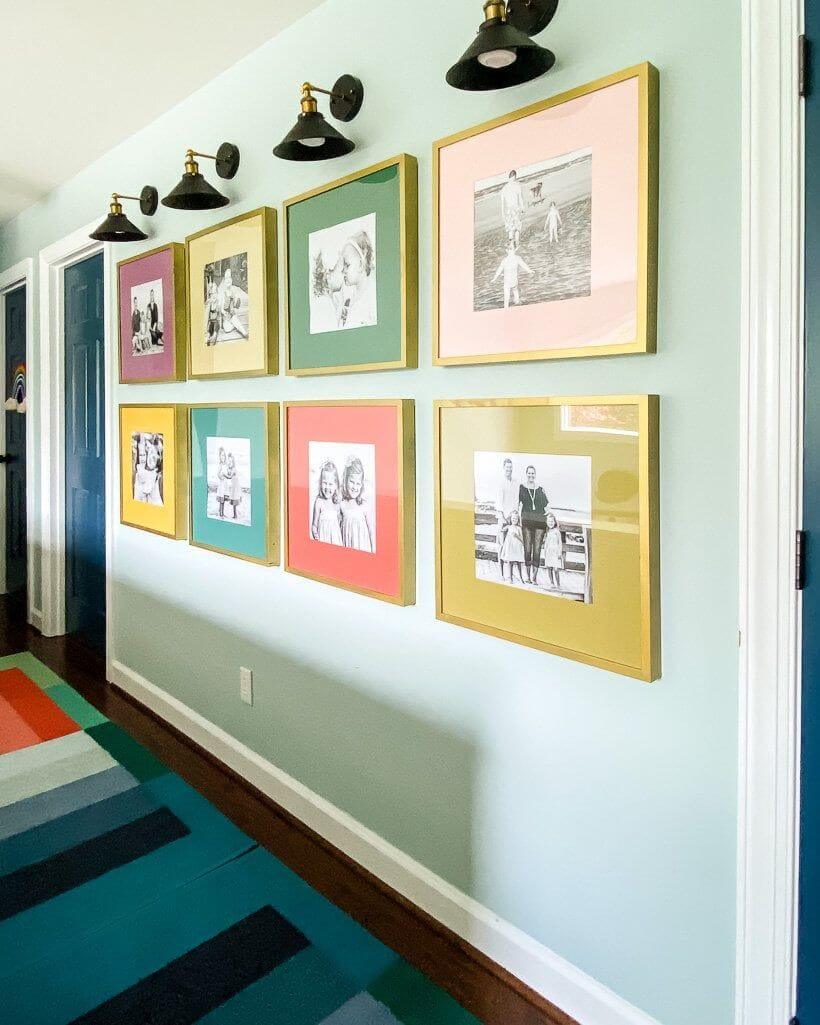 What better way to use hallway space than to display some favorite family snapshots? Colorful mattes give this hallway gallery wall plenty of life while the black and white prints provide an air of sophistication. Paired with gold frames and black lights with gold accents, the entire effect feels both luxurious and vivacious. This is one of the best hallway decor ideas because it can tie your gallery wall into the rest of your space by showcasing colors featured in other parts of your home. Personalize this technique with your style to achieve a hallway you will love to show off.
4. Create Your Own Black and White Gallery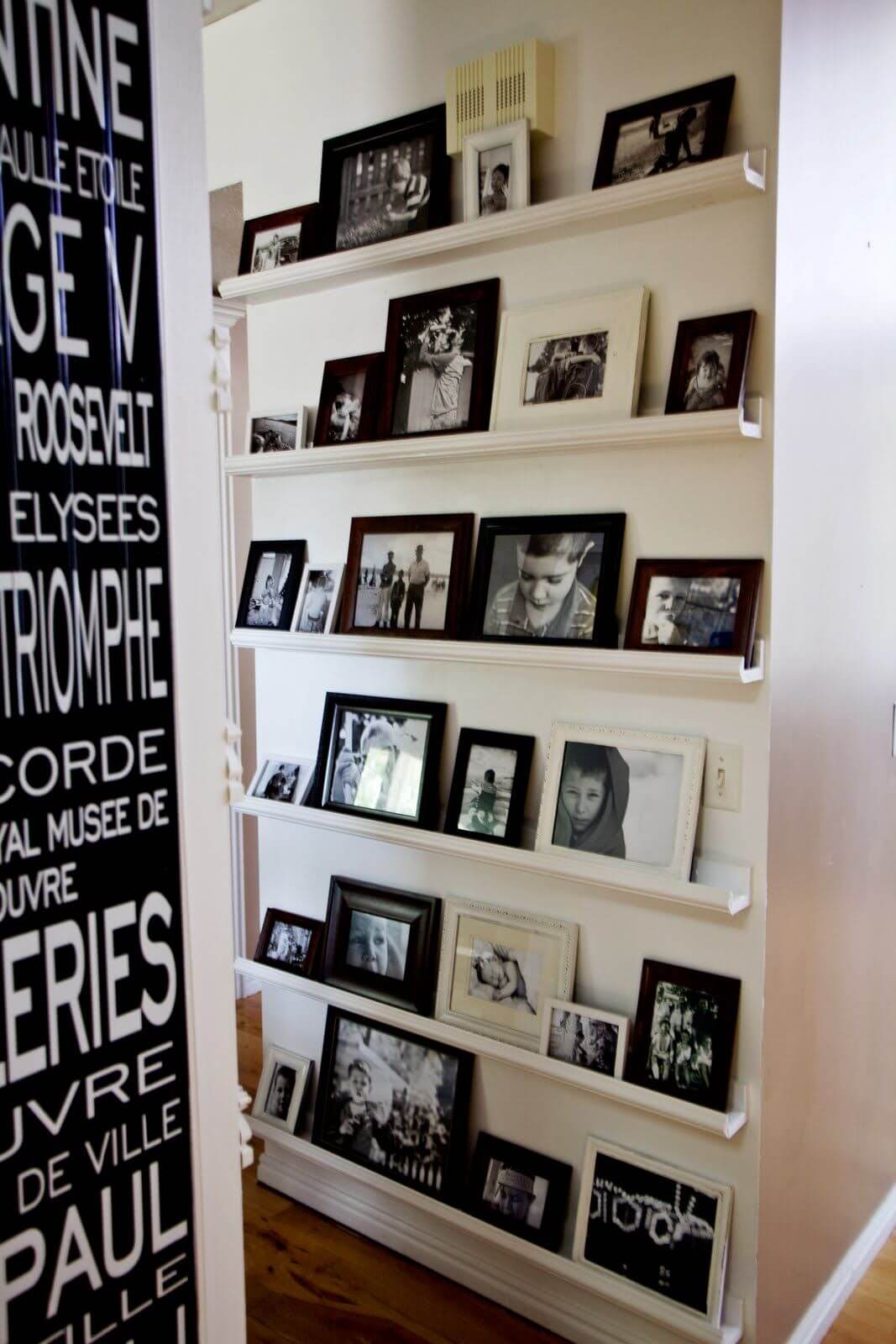 Pair floor-to-ceiling gallery shelves with black and white photographs for a display that is both stunning and timeless. For these hallway wall art ideas, you can mix and match pictures of your family, your travels, or anything you love. Add black and white frames to that mixture, and you have a chic gallery. If you want a softer look than black and white, experiment with sepia-toned photographs and frames in a natural wood finish. While this artistic wall is one of the best hallway wall art ideas for oddly-sized sections of wall, it can also be used in corridor-style hallways.
5. Spicing Up A Gallery Wall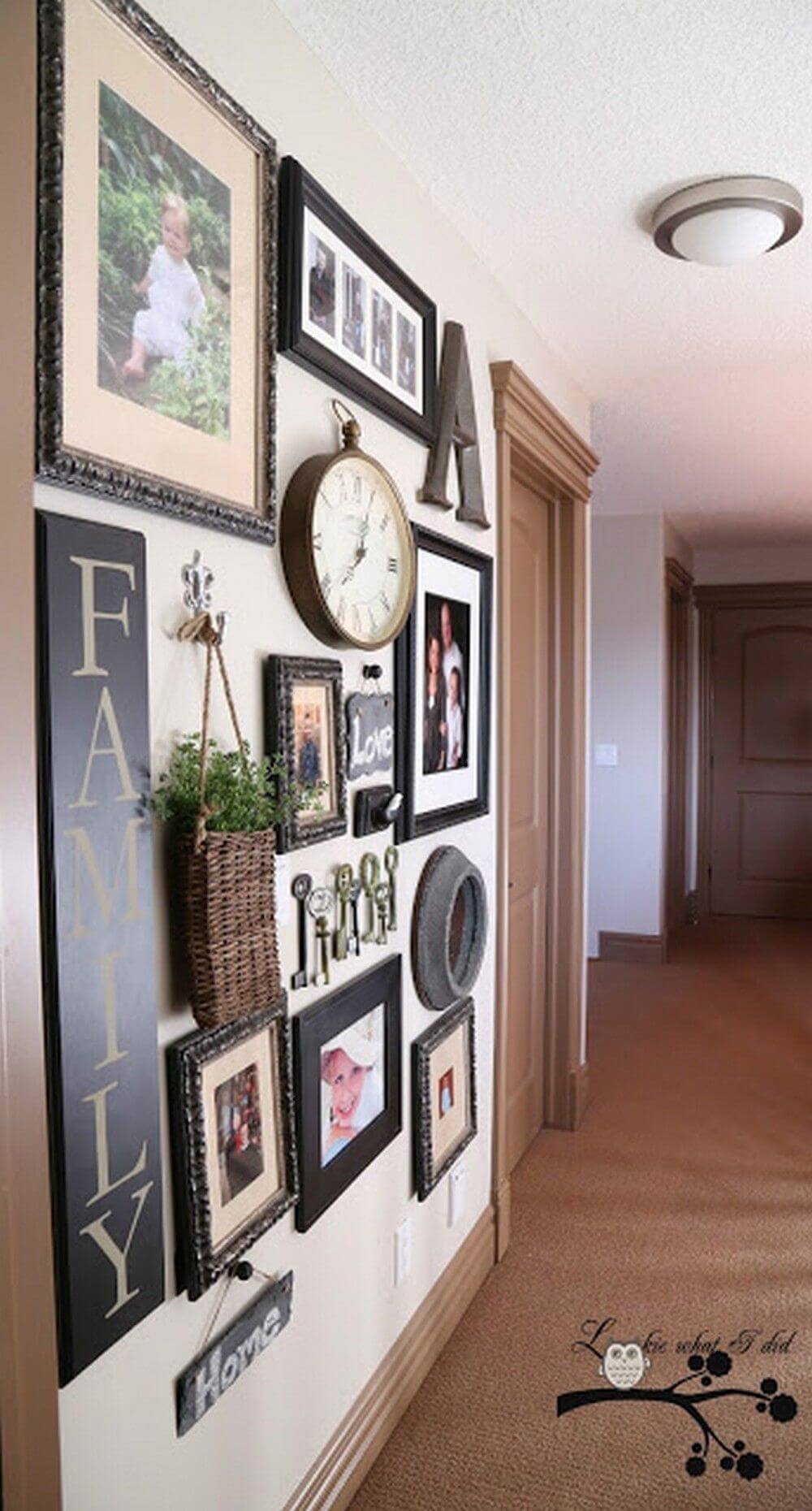 As one of the most perennially popular options for filing space, gallery walls are one of the best hallway wall decor ideas. To make your gallery wall stand out, do not be afraid to break some rules. Instead of exclusively using framed pictures at eye level, create an immersive floor-to-ceiling experience using objects, plants, and, of course, photographs. If your hallway is somewhere guests might see, featuring objects or photographs that hold special meaning to you can make great conversation pieces. Then, you get to choose whether you want to emphasize a single event or highlight a wider range of time.
6. Natural Wood Frames to Accentuate Hardwood Flooring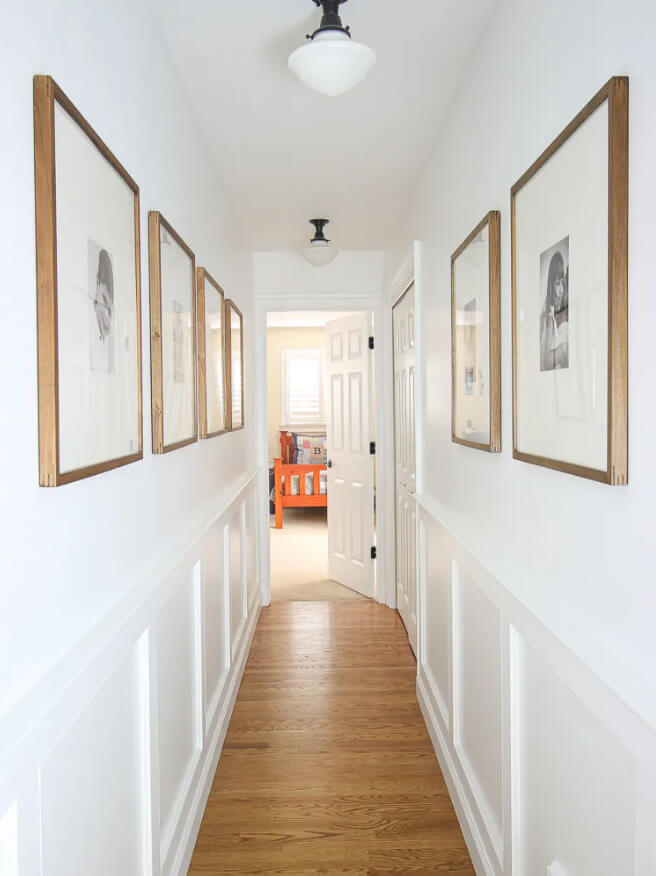 By painting a narrow hallway in a cool white hue, you can help it seem larger than it is. Although white dominates, the focus in this image is on the flooring. Choosing frames with a finish that echoes the hardwood floors gives this hallway airy, cohesive energy. Black and white photos help the black-accented light fixtures fit into the space. If your flooring does not look like the hardwood in this example, you can still use this strategy to achieve a harmonious hallway. All you have to do is use the floor as a focal point, paint everything else white, and choose picture frames that reflect the floor.
7. Disguising the Unsightly in Your Hallway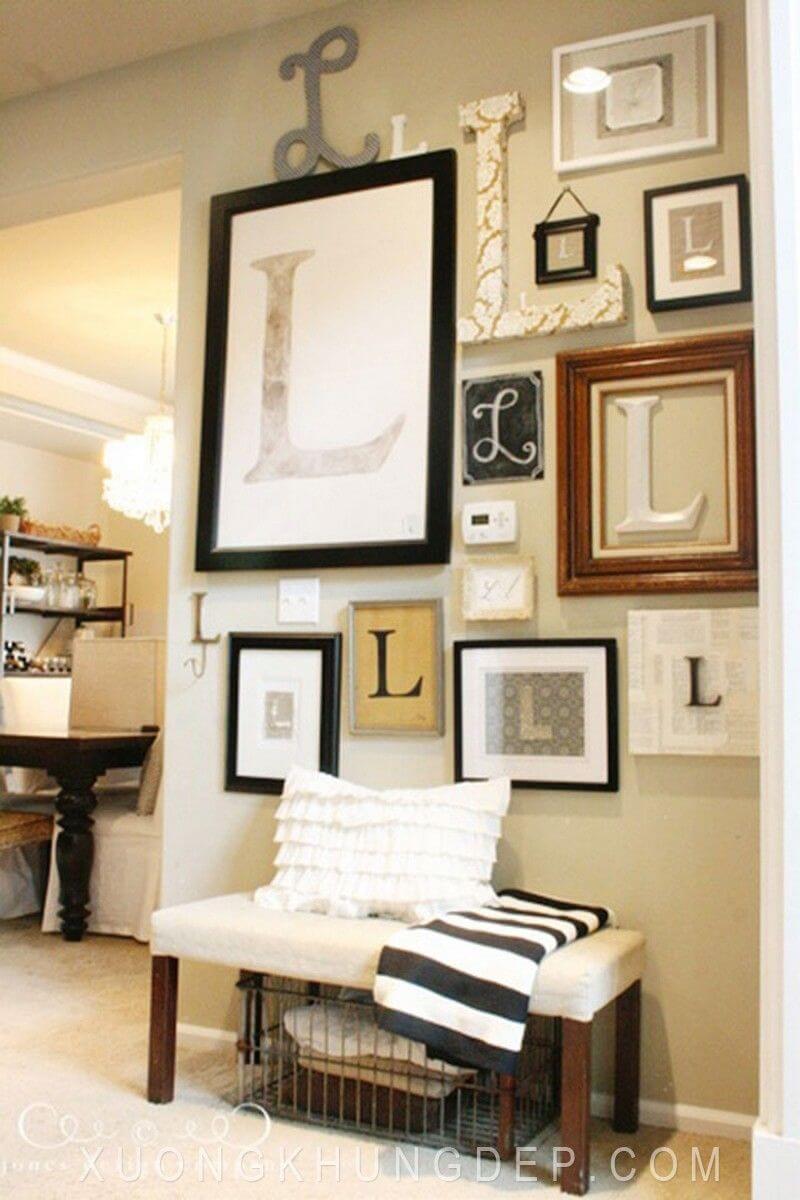 Did you notice the thermostat, light switch, and carbon monoxide alarm in the image of this hallway? By providing a profusion of hallway wall decorations, you can hide distracting details in a unique way. Because many of the letters include the same white color seen in the thermostat and light switch, they no longer draw unwanted attention. To top the space off, a low-profile bench outfitted with a pillow and blanket provides a hygge-filled place to land. However, letters like the monogram shown here will not fit in everyone's home. To make this fit your style, find or make artwork in a theme like cool seashells, vibrant sunflowers, or comforting coffee beans.
8. Adding Zones to Your Hallway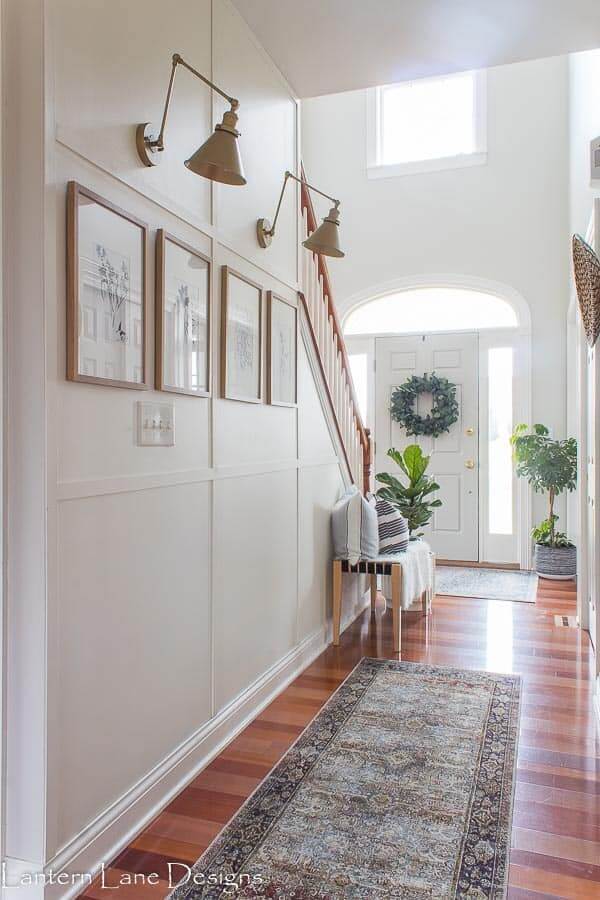 Long, narrow hallways can be a challenge because there is simply so much space. Instead of trying to create a single long, narrow space, focus on decorating your hallway in zones. This image includes three zones: the plants, the bench, and the lighted gallery wall. By breaking the space into manageable pieces, you can still design a cohesive hallway with complementary pieces instead of stressing trying to find a single theme for the entire hallway. This example also illustrates a few strategies to make a narrow hallway feel bigger like using light colors and incorporating as much natural lighting as possible.
9. Anchoring with Seating and Greenery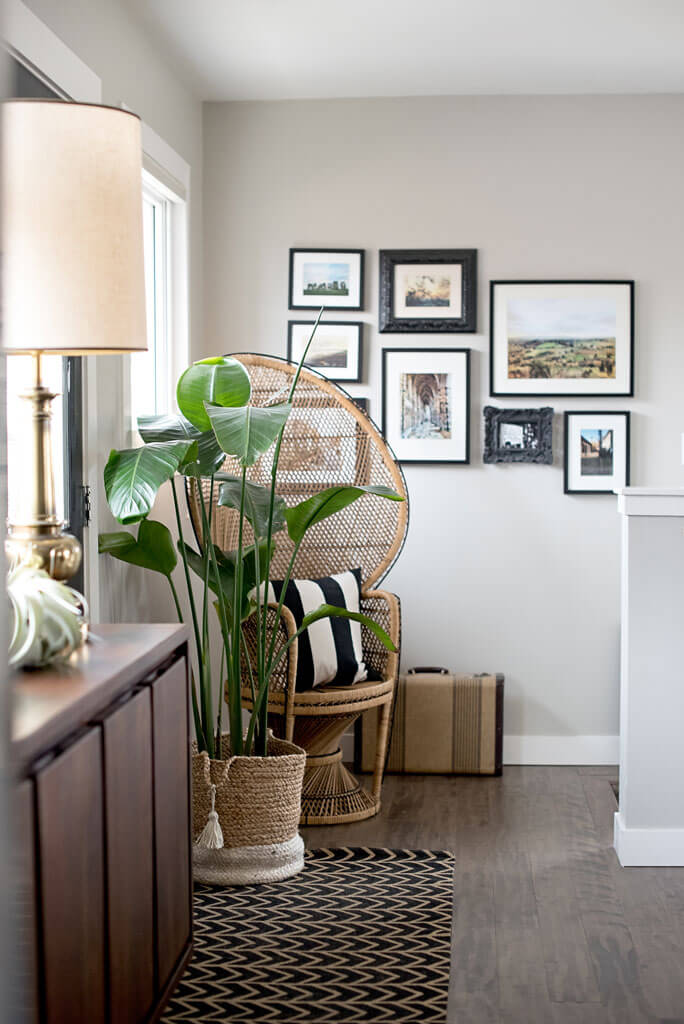 If your hallway is large enough to accommodate a chair, this is an excellent strategy to add a focal point to an otherwise sparse space. By giving the seating area some greenery, you can give a nook its own atmosphere. As shown in this image, a tall plant with large, tropical leaves works perfectly with the natural fibers to make this hallway feel like an exotic adventure. The suitcase behind the chair adds to this impression. Make sure to avoid the dreaded boring wall by adding details like a gallery wall, a single piece of artwork, or anything that fits your space and style.
10. White-On-White Frames for Instant Dimension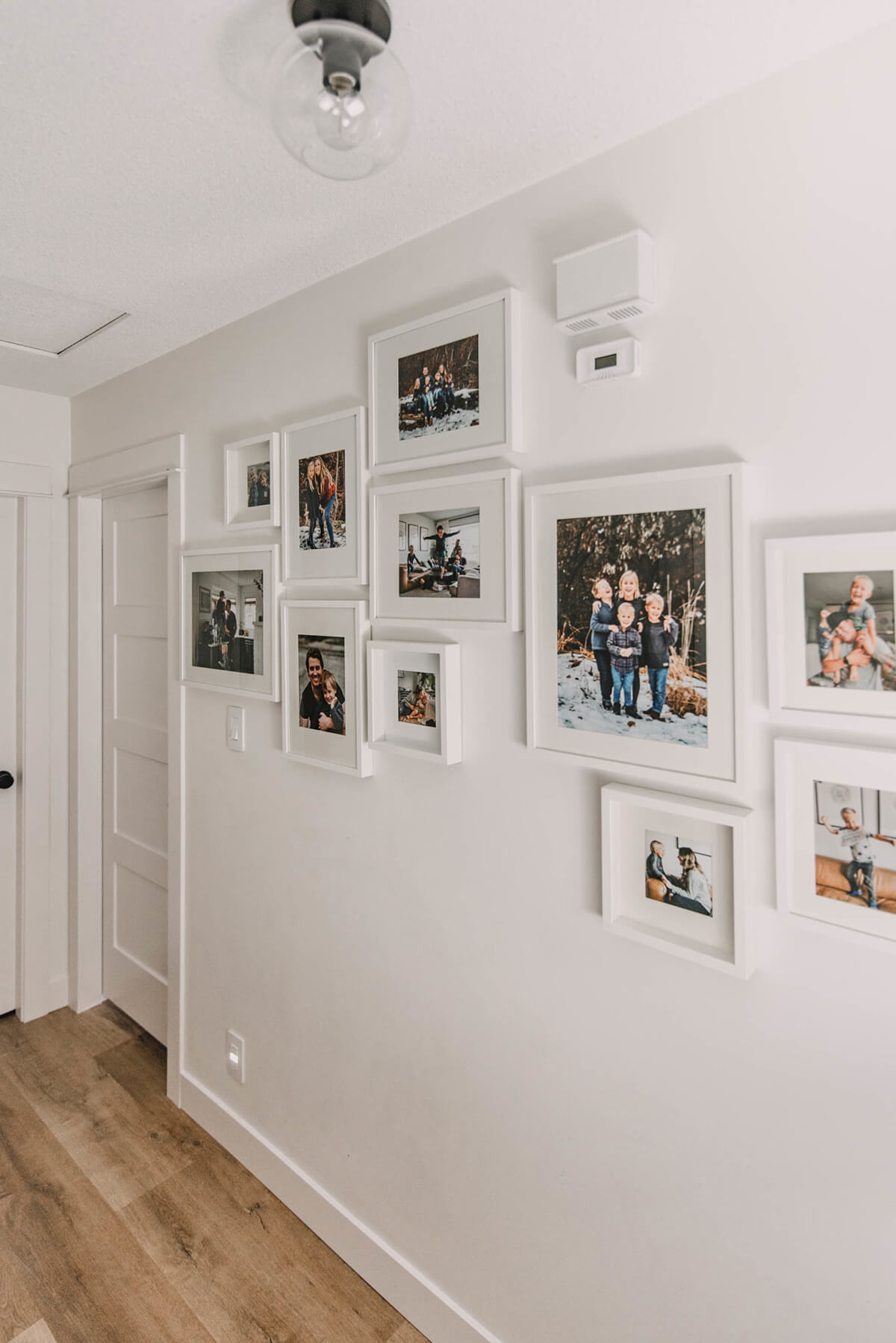 One of the best hallway wall decor ideas to make your hallway seem bigger is to use white whenever possible. White helps make small rooms feel larger, lighter, and more spacious. By choosing white frames and white mattes for your photos, you emphasize your photographs as well and help a small hallway feel big. However, you will need to make sure that the whites in your frames and mattes do not clash with your paint. Choose frames with some depth to achieve subtle shadows and some intriguing dimension. If done correctly, going monochrome is bold, elegant, and sleek.
11. Hallway Design Fit for a World Traveler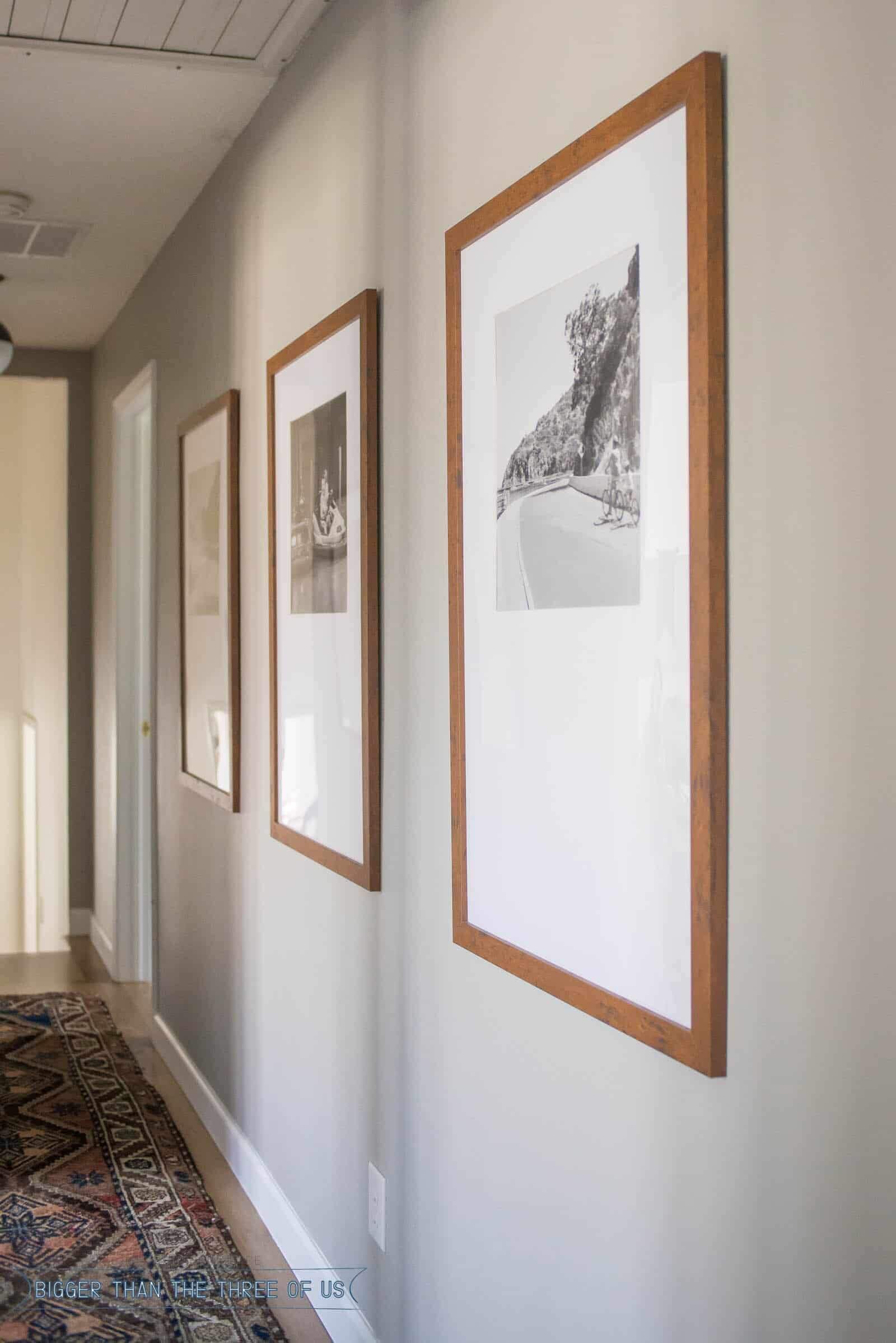 The beautiful part about gallery walls is that there are so many different approaches. Instead of a conglomeration of important moments, this gallery wall follows a modern aesthetic and offers ordered calm to the hallway. An intricate Persian-style carpet runner adds a hint of the exotic from across the world. If this style of carpet in this example is not right in your space, it might be time to explore all the possibilities carpet runners offer. This hallway is a study in cohesion: notice how the grayscale photos tie into the gray wall and how the warm wooden frames tie into the carpet.
12. Board and Batten as the Focal Point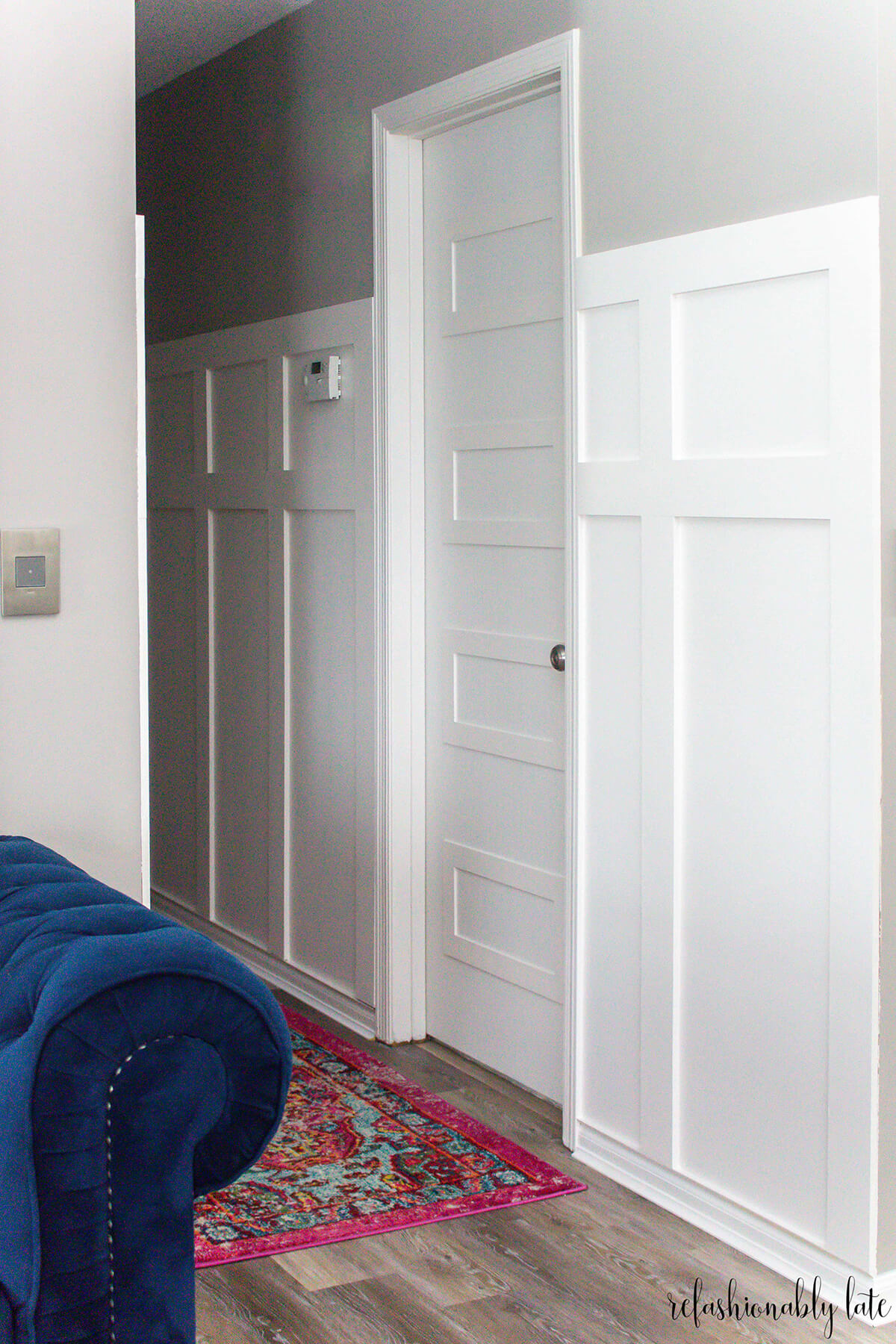 For hallways where gallery walls or other decorations are not a good fit, consider implementing an architectural feature like board and batten. Subtle shadows, interesting texture, and engaging geometry make this hallway seem anything but boring. Because a board and batten feature relies on monochromatic elegance, you can have fun with carpets bursting with color and filled with intricate designs. If your style is a little more rebellious than plain board and batten, try painting or staining the batten a different color than the board. As you plan your project, you will want to be aware of any thermostats or other wall distractions.
13. Switch it Up with Board and Batten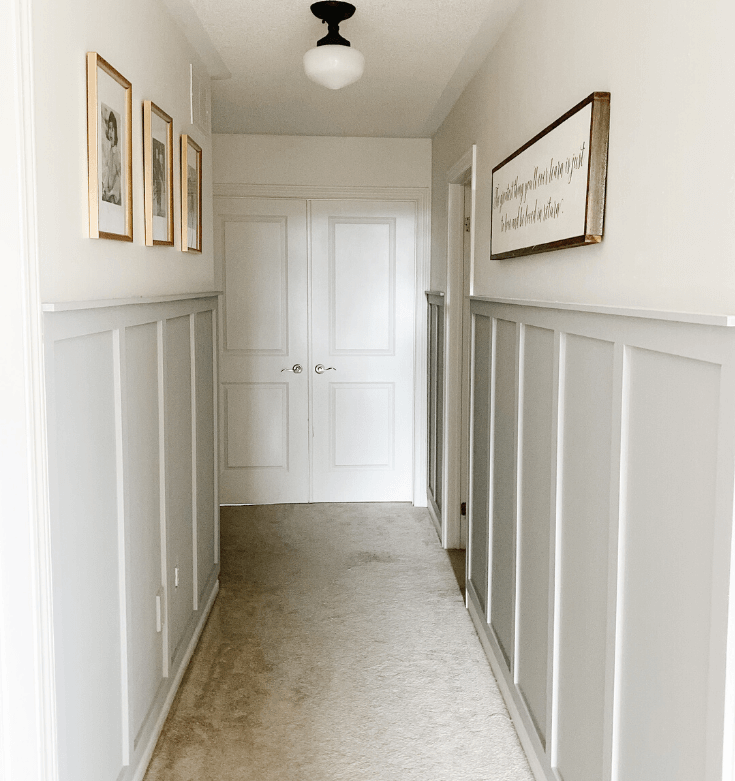 If standard wainscotting or ordinary walls are too plain for your tastes, maybe a board and batten feature is right for your hallway. This unique style is a great way to achieve a hallway that feels unpretentious and friendly. Because the board and batten style harnesses geometric symmetry, it can help your subconscious relax every time you travel through the hallway. Once you have your decorative woodwork installed, choose hallway wall decorations that express your style. While this image illustrates a sophisticated subdued palette, you can go as big and bold as you like in your hallway decked out with board and batten.
14. Cursive "This Is Us" Wooden Sign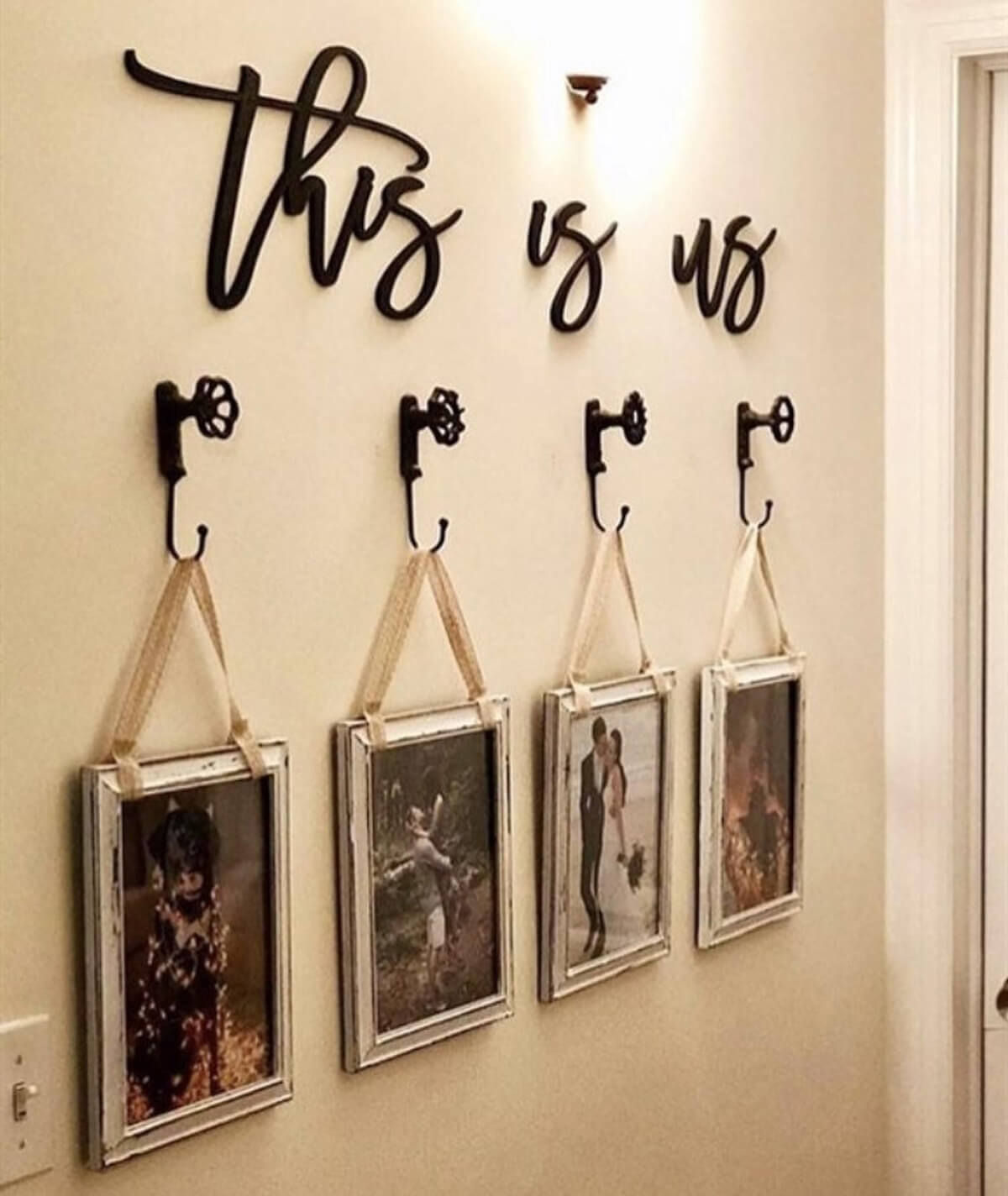 Every family looks different, and a "this is us" sign is a great way to tie family pictures into a space. To ensure precision and crisp lines, the words are laser-cut from high-quality birch wood. A swooping cursive font adds a sense of sweeping sophistication to a space. With four finish options, you can pick the perfect feel for your hallway. The best part about this wooden sign is that it is compatible with a wide variety of themes and can be used in so many ways. What will you hang beneath to highlight what is most important to your family?
15. Console Table Perfect for Narrow Hallways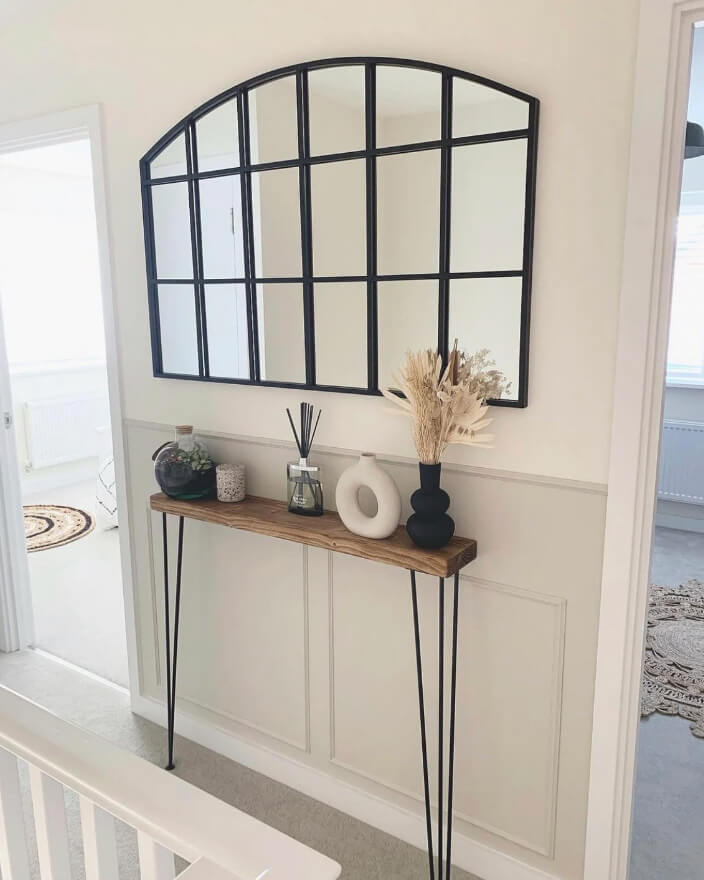 Unless you choose the right furniture, a narrow hallway can feel cramped and claustrophobic. Because this console table is only six inches deep, it can live happily in tight hallways. Beyond the space constraints, furniture also needs to vibe with your hallway's aesthetic. Two wood finishes and 10 leg options mean that you can adjust the table to fit your space instead of changing your hallway to suit the table. Each table is made from new, kiln-dried wood and given a high-quality wax finish. With the natural grain exposed, this table looks fantastic in any home where wood is welcome.
16. Large Mirrors as Hallway Wall Decorations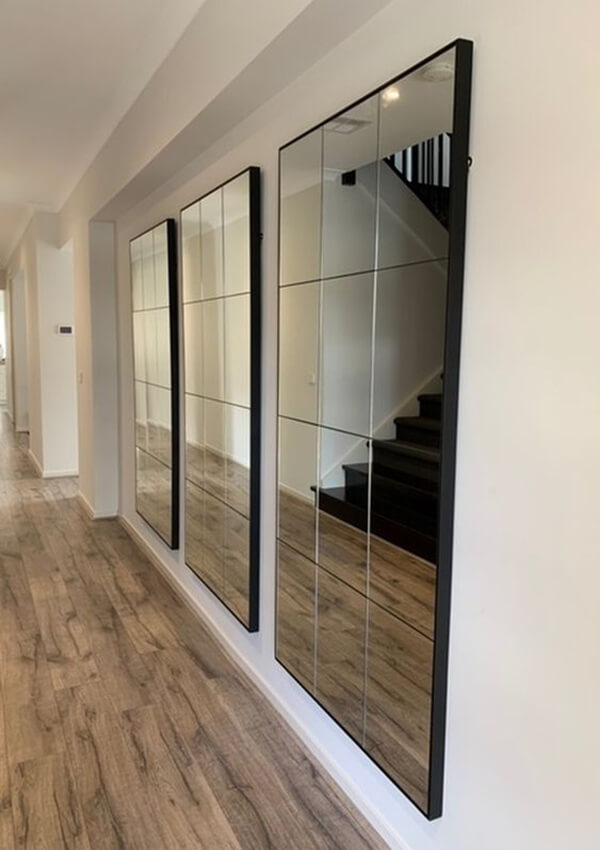 Fighting claustrophobia in narrow hallways can be a real challenge. By using paneled mirrors like the ones shown in this image, your quest for a spacious hallway will end in triumph. These mirrors offer a chic black frame along with a symmetrical grid pattern perfect for soothing the spirit. Choose between a standard mirror finish or a more subtle smoked gray finish. Because these mirrors are simple, they can easily blend with most decor. If you have a decoration or feature in your hallway that you love, hang these mirrors opposite to double the dazzle. Use more than one mirror to maximize the illusion of a larger hallway.
16 Ways to Implement the Best Hallway Wall Decor Ideas to Chase the Claustrophobia Away
Decorating a hallway might seem like a difficult task, but it can be a fun space to experiment with new ideas and techniques. Maybe you will be able to try a new approach with a gallery wall by including eclectic objects along with some of your favorite photographs. If you want to explore beyond gallery walls, try out features like board and batten. Remember to include decorations that resonate with your style and to have fun on this decorating journey. You might be surprised how easy it is to transform a narrow hallway from a dungeon to a pleasant space to pass through.