When you have the best DIY heart crafts, you can adorn your home with such a beautiful and appealing theme that captures anyone's attention. Did you know that using hearts as décor is not just something reserved for Valentine's Day? It may come as a shock, but it is true that hearts fit in with your décor on any given day, holiday or otherwise. This is because the heart shape is simply a pleasure to admire. Hearts can hold numerous feelings. They can be carefree, great for use in a more modern home setting. You can also create homemade crafts with hearts that have a more elegant touch like a heart made out of flowers.
21 Incredible DIY Heart Crafts for a Charming Home

There are numerous ways you can approach decorating with hearts too. If you want a wreath, create your own personal wreath that you can hang up throughout the year. Not interested in a wreath? You can always hang up some garland, fitting for that special occasion or party. Maybe you want something more small scale when it comes to your heart-making crafts? Create something functional that is also decorative like a bookmark. There is no end to what you can craft using hearts as a theme.
You can take many routes in your journey to create your own heart crafts for decorating purposes. If you are struggling on where to start, checking out a list like ours should hopefully spark some inspiration. So, check out our top picks of the best DIY heart crafts.
1. Beautiful and Full Floral Heart Wreath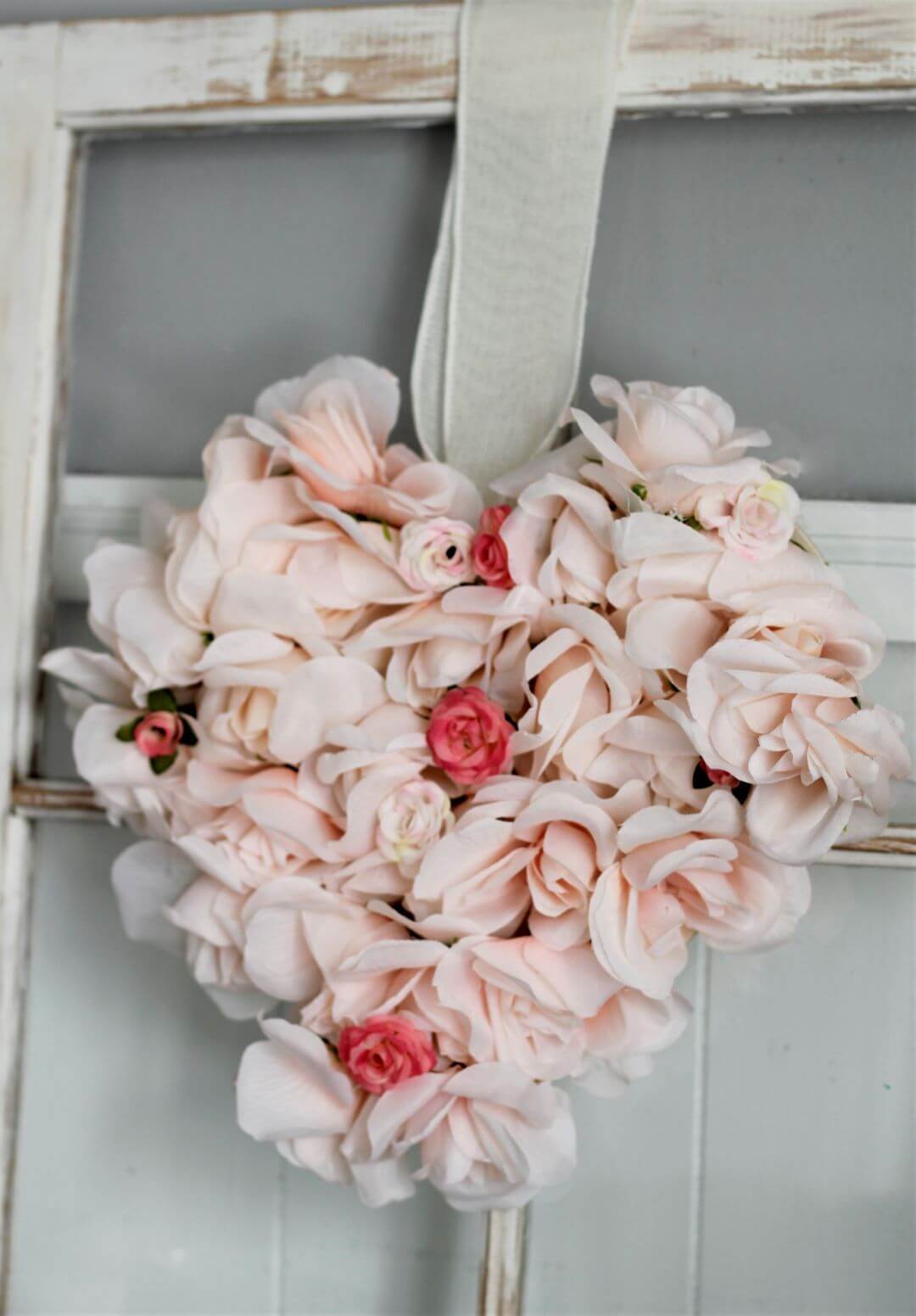 Want to boast your devotion to the heart theme with your decorations? Then this floral wreath is a great option for you. It is absolutely full with flowers to push the overall floral theme. These flowers are poignant and can serve as a statement piece. The wreath isn't even overly large either, allowing it to blend better into the rest of the décor you have going on in the room. With the color scheme happening, this is certainly a wreath that can work out well during the holiday.
2. Fun Multi-Colored Yarn Hearts Craft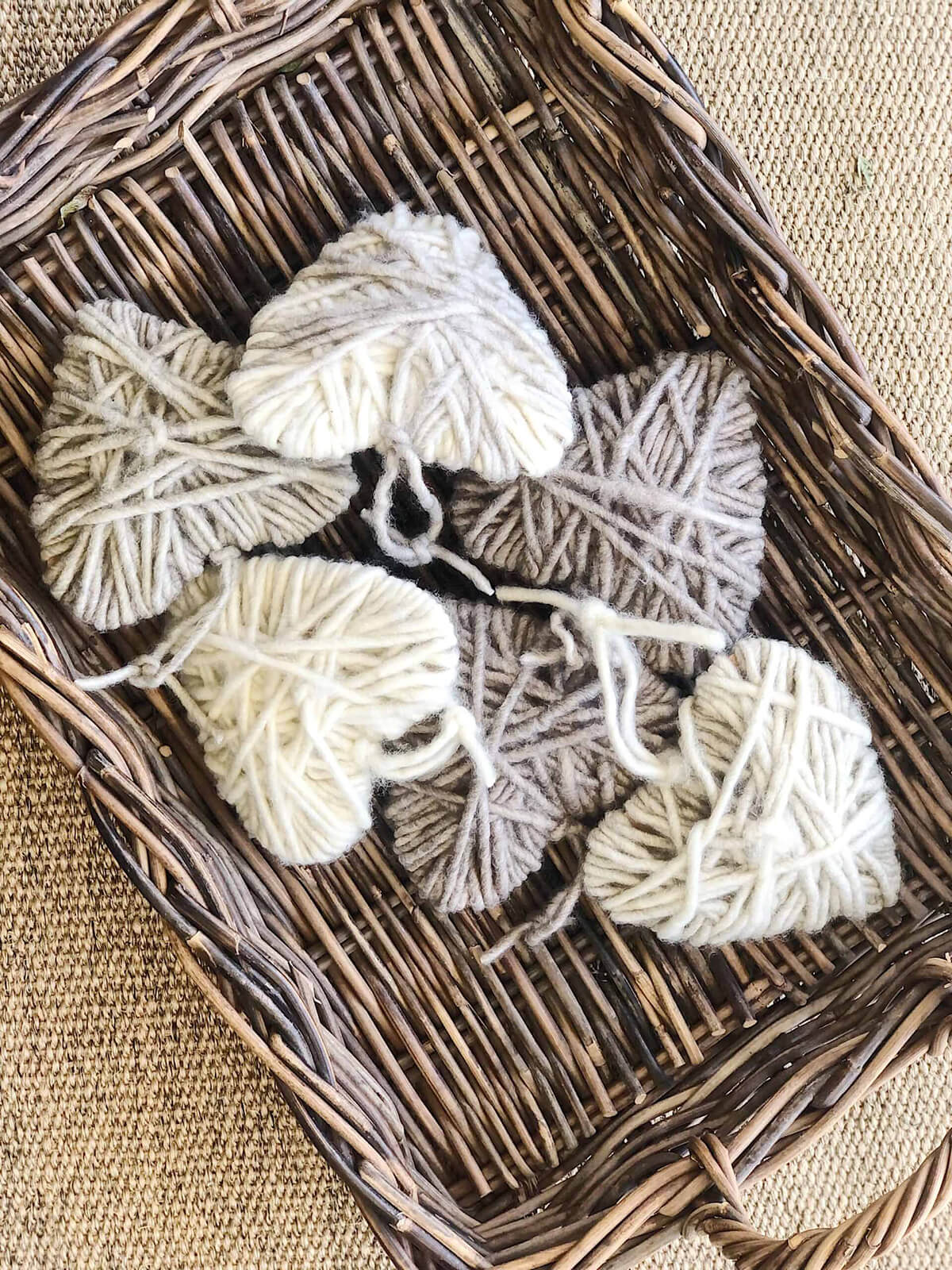 Some of the best DIY heart crafts are purely simple. Take these yarn hearts for instance. They are simply adorable and fun. You can make them in any color, of course. However, more muted colors are a nice way to go about this too. They can allow these little yarn hearts to blend into any décor with ease. You can use these for any purpose as well. Toss them all in a basket as a giant decorative piece. Or maybe you want to set them up in a more creative way in time for a party of to celebrate the holiday of love? Any way you use them, they remain a cute and creative decorative piece.
3. Upcycled Coffee Filter Heart Wreath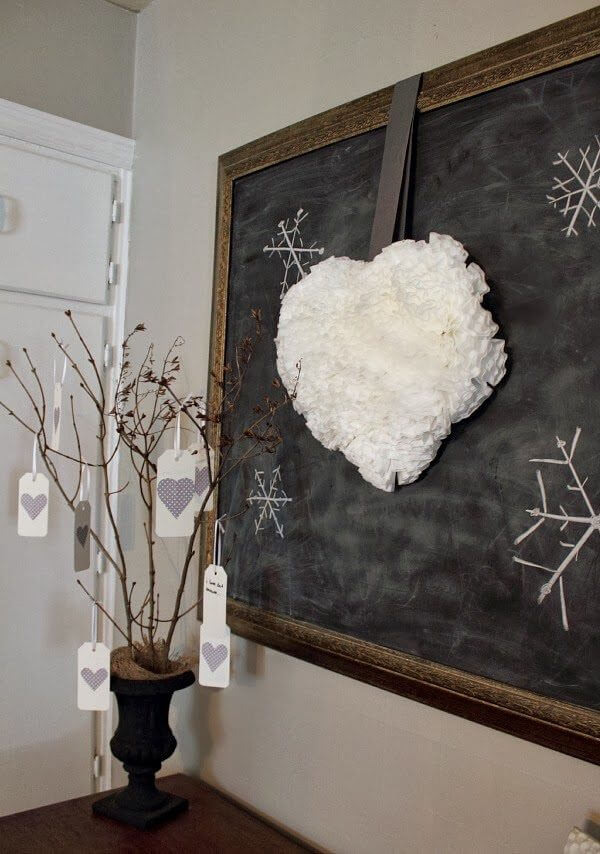 A good way to enjoy a cool crafting project is to turn it into an upcycling project as well. Have a bunch of coffee filters and an old pizza box? Then you can create a distinctive heart-shaped wreath. The coffee filters do an exceptional job at providing depth to the wreath. It has an easy 3D vibe that instantly stands out in the best way, paired well thanks to the white coloring from the coffee filters. This bold wreath looks stunning no matter where you decide to hang it up. So, use this as a way to spice up your living room or kitchen area.
4. Sweet Tissue Paper Heart Wall Art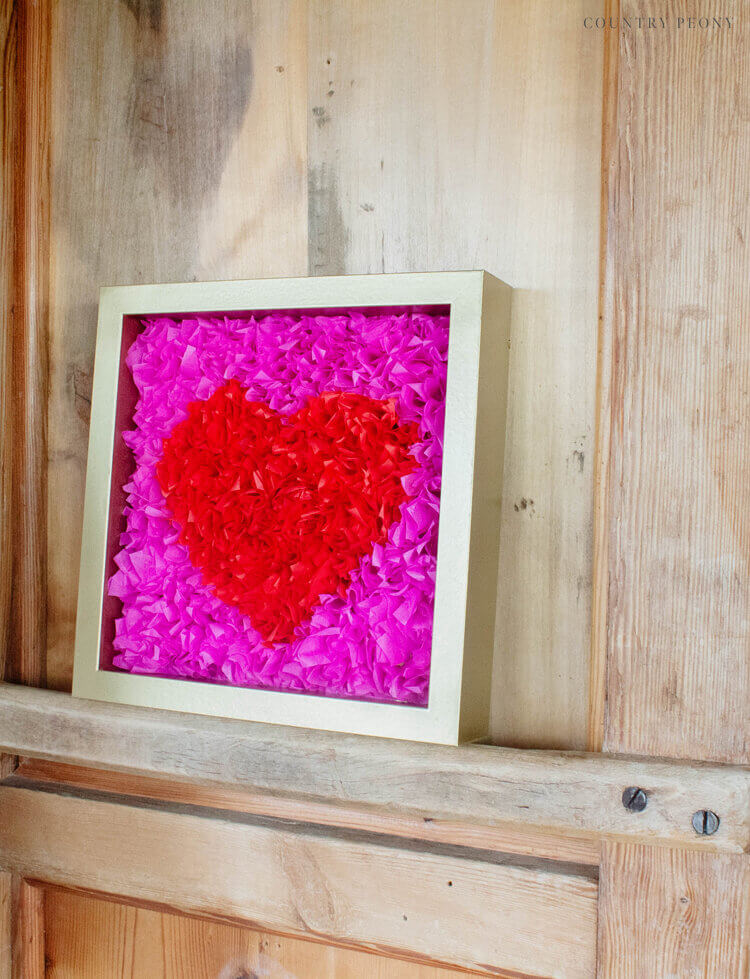 Tissue paper can go a long way when it comes to decorating with a heart theme. You can easily manage to create such an appealing and cute style with the right amount of tissue paper. Thankfully, the color choices are plentiful. This way, you can decide whether you wish to make a traditional heart color with a strong background, or a more creative heart using a host of different colors. Thanks to using tissue paper to create this piece, you are also able to capture more personality in the piece as it stands out, not leaving any empty space.
5. DIY Faux Flowers Heart Wreath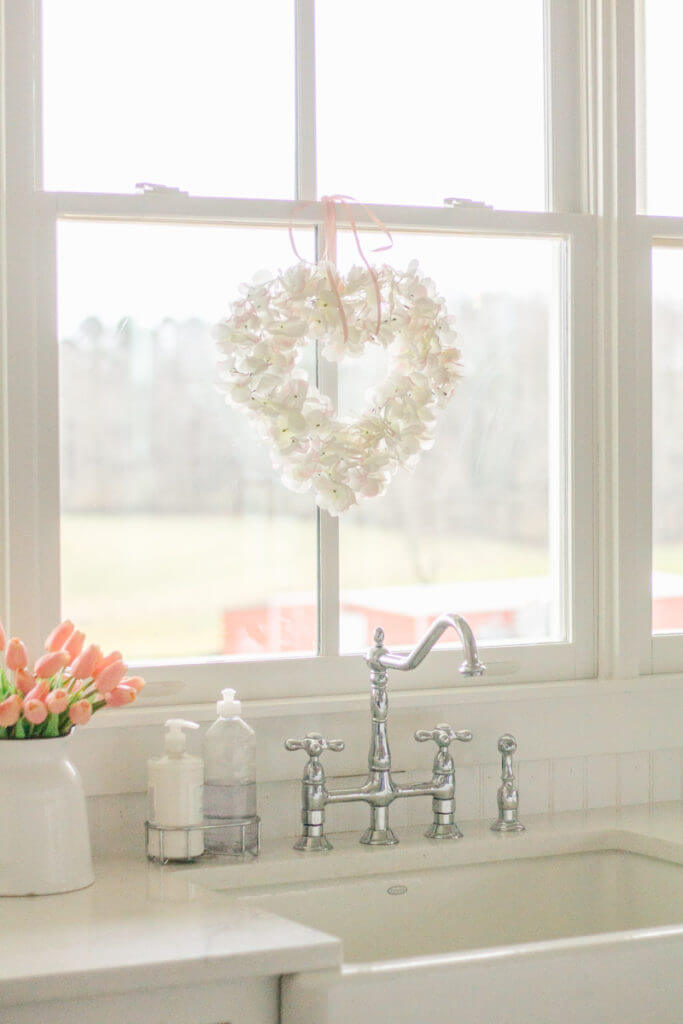 You don't need to spend a lot to make an attractive heart wreath. For an affordable solution, consider this heart crafting project. It leaves you with something that looks store-bought. The wreath is naturally a heart shape, making this easier to handle. Meanwhile, the faux flowers look adorable and allow the heart wreath to look far more expensive and impressive. Thanks to the ease of this project as well as the simplicity behind it, you can make multiple wreaths and hang them up throughout the home to add more flair to your décor.
6. Sweet Folded Paper Heart Layout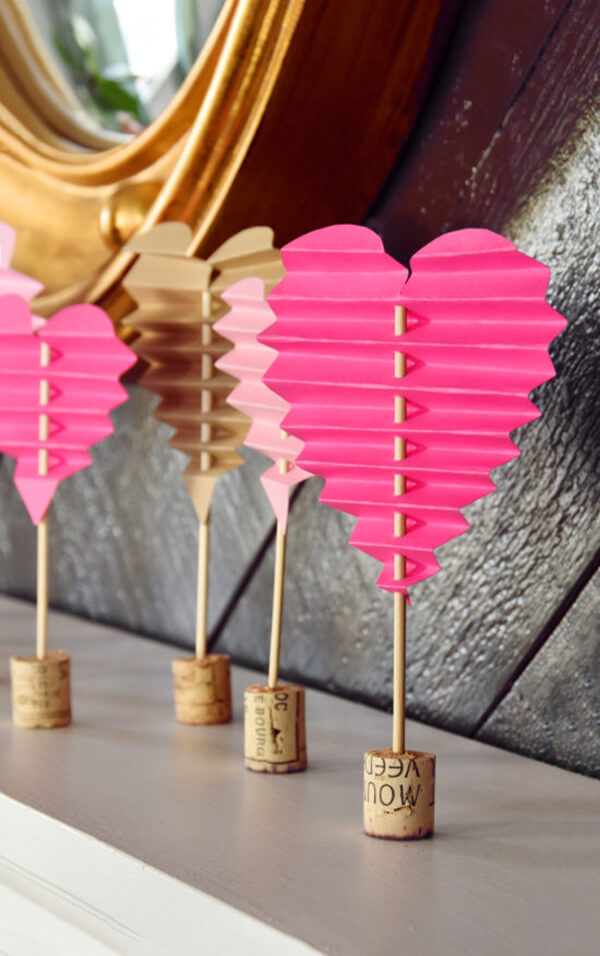 When it comes to using heart décor as a way to help with a party, these folded paper hearts are absolutely stunning. Thanks to the design choice, these paper hearts have an incredible amount of depth to them. This helps them have much more movement to them so that they don't come across as one-note instead. Plus, you can easily stand these flowers up to serve as some good centerpieces for the party. They are obvious without being overbearing, a wonderful balance that allows you to use these for multiple types of parties.
7. Cool Driftwood Heart Art Design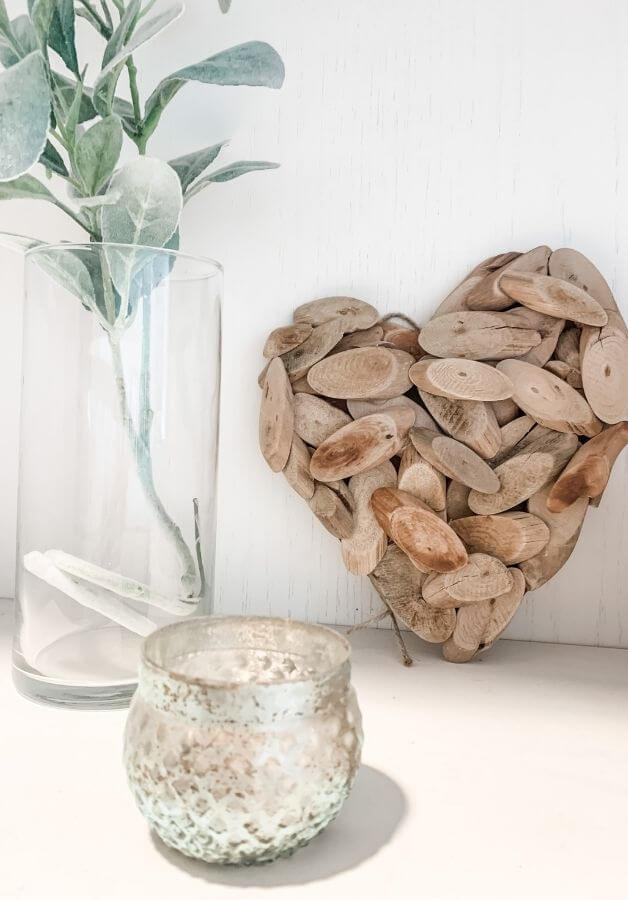 Decorating with driftwood is a good way to bring a nautical theme into your home. If you already boast that style, then this wooden heart design can only serve to complement everything else in the room. The driftwood pieces all have a unique look about them, providing the entire piece with some incredible contrast so that there is much more personality within them. It isn't difficult to shape them all to resemble a heart, and once done, this can provide your walls with some eye-catching 3D art to admire.
8. Heart String Wall Hanging Art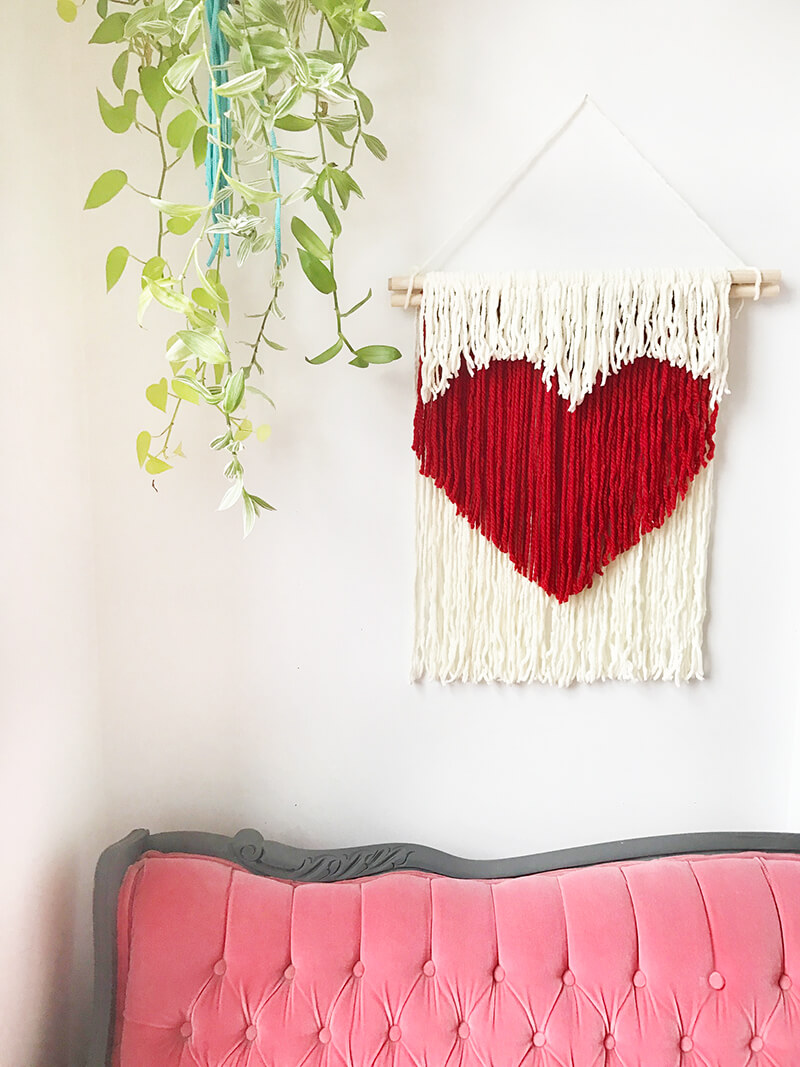 Another distinctive route you can take when you want to decorate with the heart theme is to use something like string to create it. This piece of art stands out very well thanks to simply how it is made. The strings all fall perfectly, creating such a compelling heart in the center of the wall hanging. It is a wonderfully large size as too, able to be seen at a wide thanks to her being filty.
9. DIY Cute Heart Pillow Design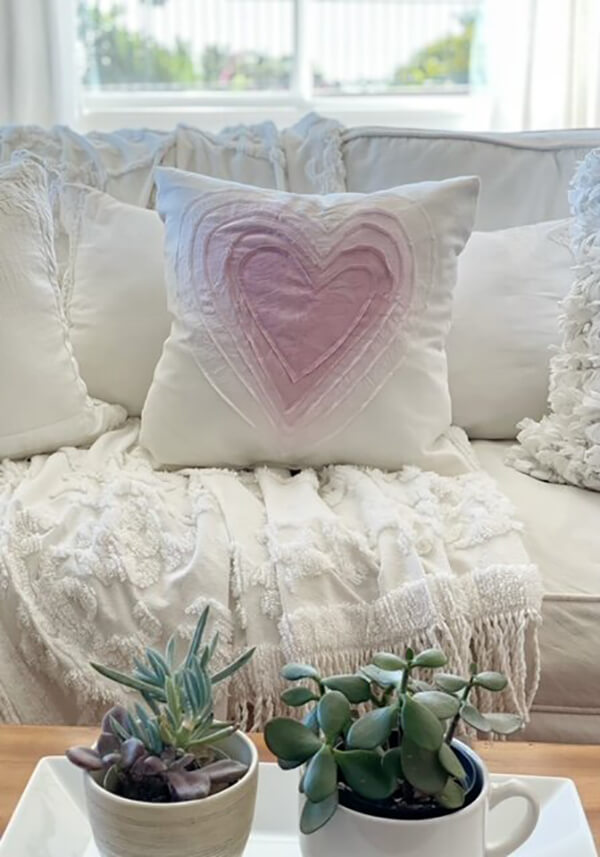 In many cases, all that is needed in a room is a pop of color. If you don't want this to be too obvious, then consider going this route when creating your heart pillow design. The hearts stand out with ease, and they are designed in such an appreciative color that does not go overboard. Instead, it serves to blend well into a room that features light or neutral color tones. There are layers to this heart too that makes it even cuter and sweeter to set up. Use this as a throw pillow for a chair, a couch, or even your bed. The possibilities are limitless.
10. Unique Vintage Button Heart Craft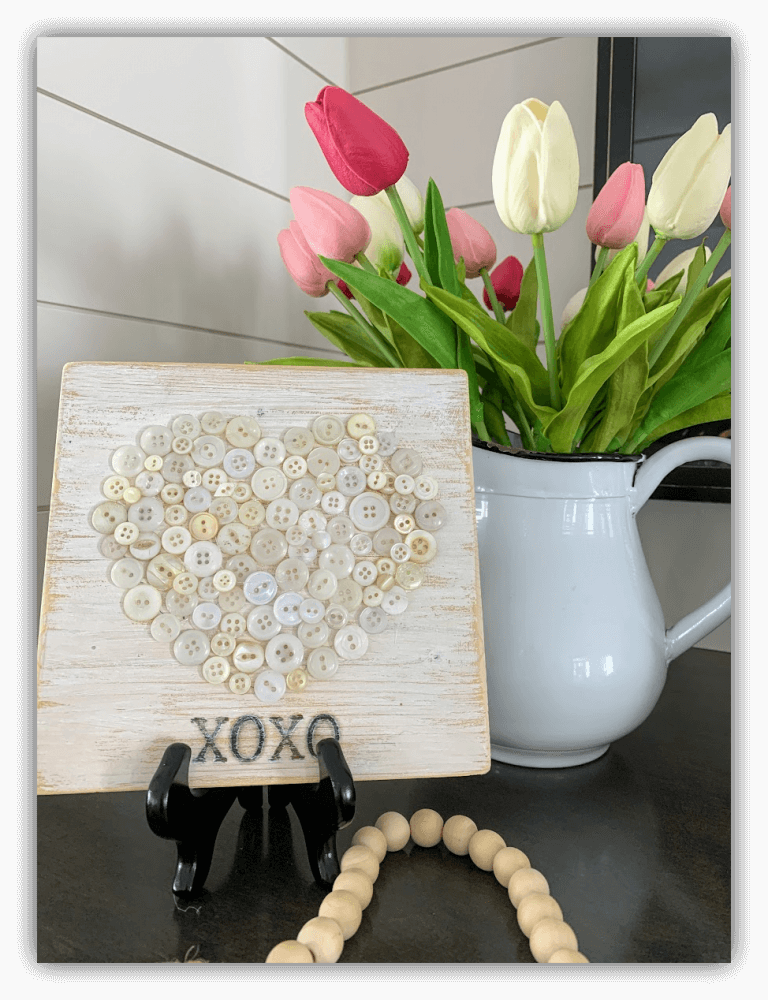 If you want to spruce up your decorating with something that will get people talking, this button heart craft is a wonderful way to go about it. The buttons and the board have that vintage look about them, which can help this piece work well if you have that type of theme going on in the room. You can set this aside to work along with any other decorative piece you have up. So, this crafting set up also works out well when you need a more space-saving craft to make and show off to your guests.
11. Simple Valentine's Day Heart Garland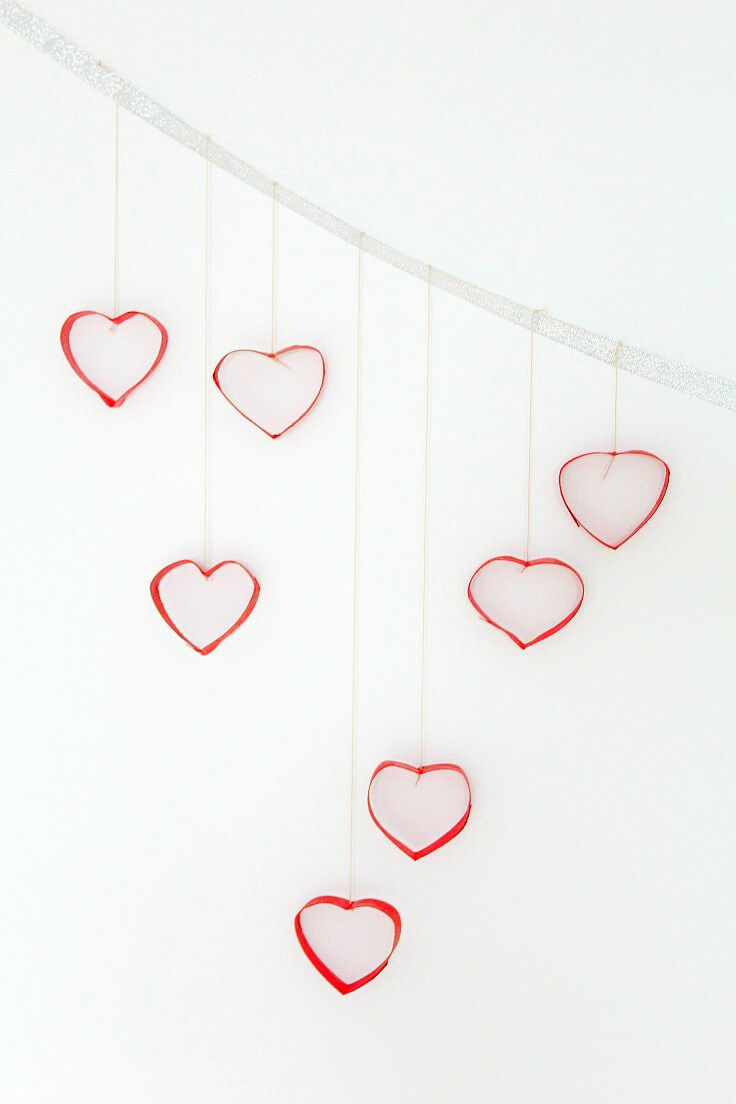 There are many garlands out there, and this one in particular takes a bit of a different approach. Although they are connected with a single line, all of the hearts hang down. This gives it that personal, distinctive appearance. It is so simple though that you can make as many as you would like, hanging them up around for a party or just to have a cute decoration in time for parties. There is some good space within these hanging flowers too so that the background shows off as well.
12. Cute DIY Conversation Heart Pillows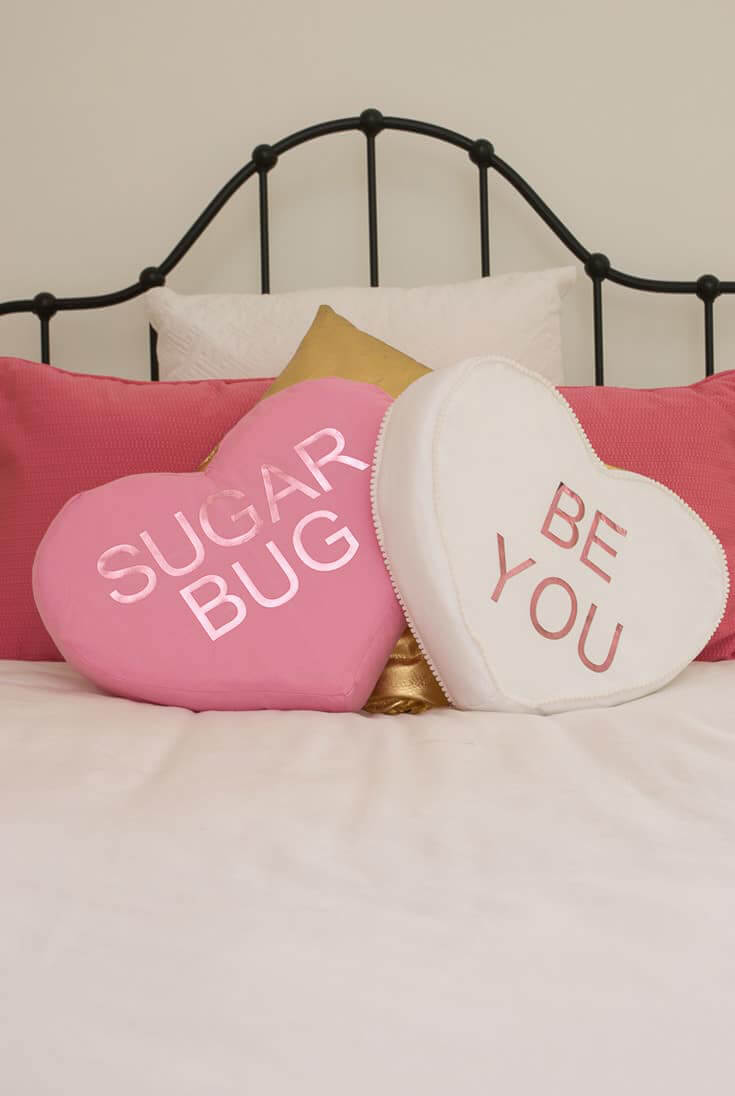 Sometimes having a conversation is easier when it is done in a more distinctive and compelling fashion. These heart-shaped pillows are absolutely adorable. They can boast any saying you like, letting you completely personalize this crafting item. You can set them up around your home for a get-together or perhaps save them for Valentine's Day as they are perfect for the occasion. Perhaps you can even use these as gifts to friends and loved ones? Whether you keep them or give them away, these pillows are sure to be conversation-starters if you use them in places like the living room.
13. Classic Grapevine Heart Wreath Design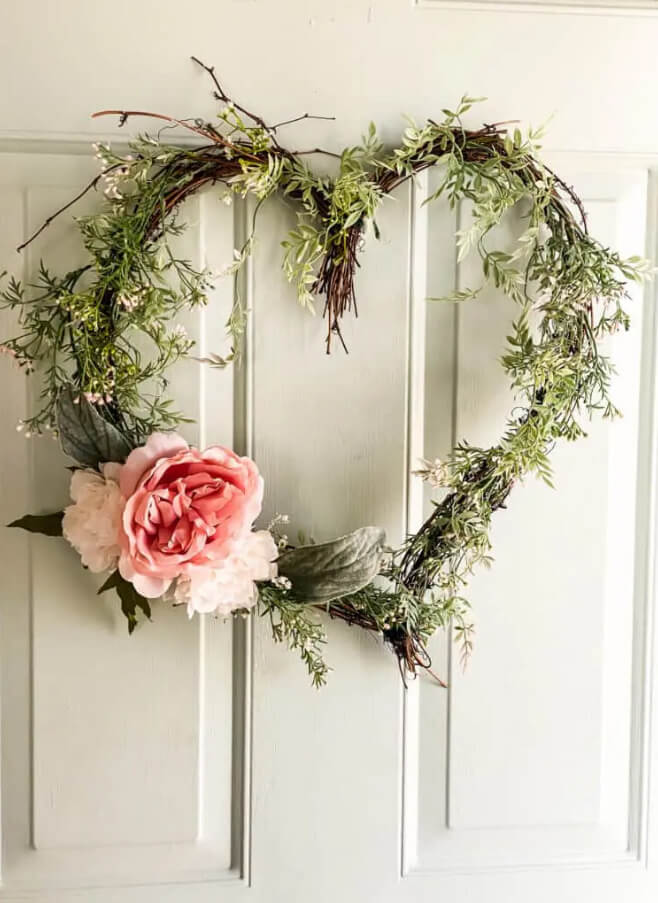 Sometimes, going the more traditional route is a great way to show off your DIY skills and your personal style. A grapevine wreath is that classic vibe you need. There is a nice rustic feel about this type of wreath. Now, all you need to do is shape it in the way of a heart. Once it holds the shape, you can always add more to the heart to allow it to hold up to a specific style. Greenery never hurts, so feel free to toss in some faux flowers throughout the wreath. Thanks to the grapevine base, everything should stick in easier so that you have a rather simple DIY craft to manage.
14. Stunning DIY Wooden Heart Riser Design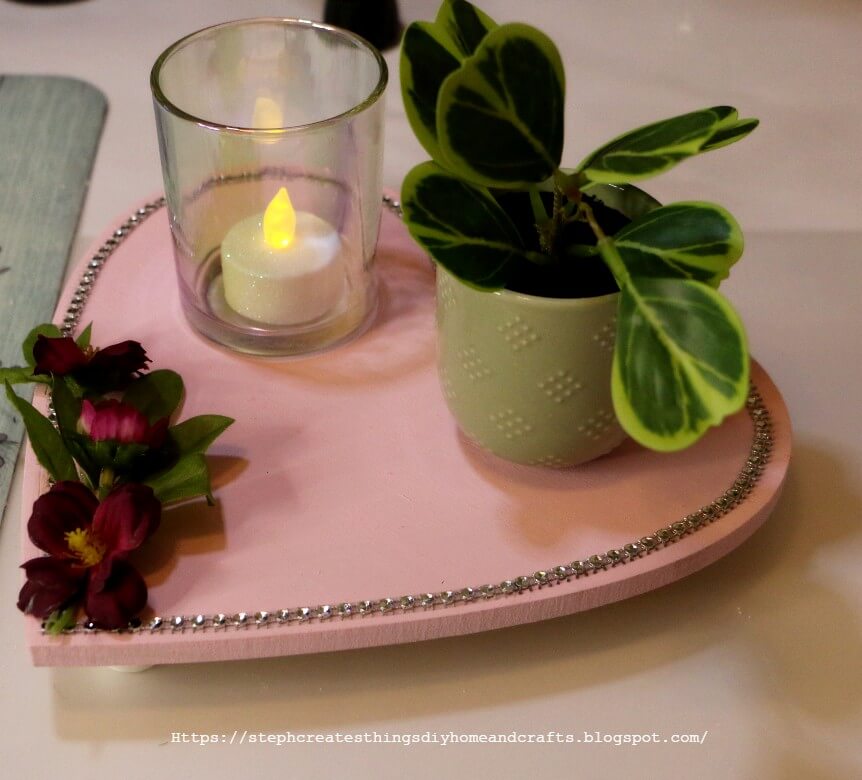 With a riser, you can use it as a lovely base to support a variety of other decorative items. So, why not do so with a rise shaped like a heart? It is a beautiful way to bring your personality into your decorations, but it does so in a way that is a bit understated. The wooden heart certainly stands out, but it also works well at elevating anything you decide to put on it. You can even use this as a nice statement piece or centerpiece when it comes to decorating for the holiday or perhaps a special anniversary.
15. Simple DIY Heart Curtain Ties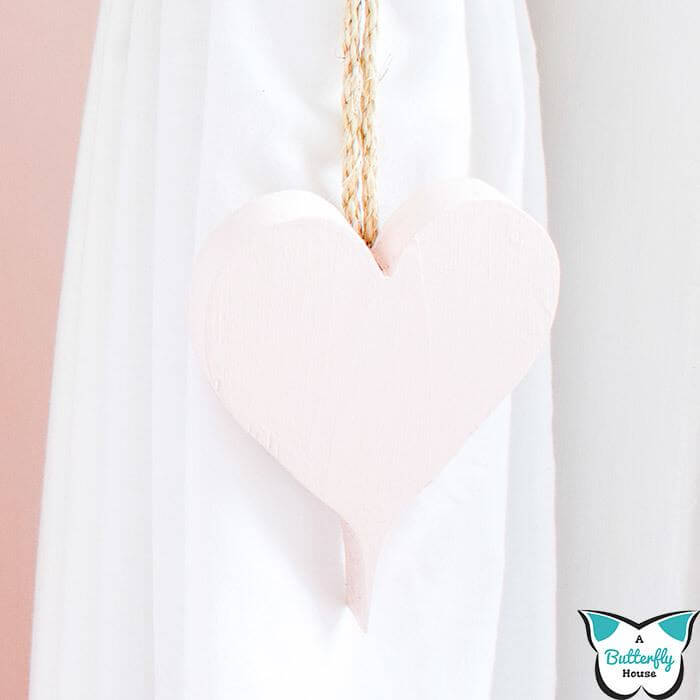 For those of you who maybe want to go more lowkey when it comes to a homemade craft, take a look at the accessories you can add around your home. The curtains are a good place to start. They are an area that some people may overlook. However, with the right craft, you can create something to elevate those otherwise plain curtains. A heart is a great theme for this too. The shape is compelling so that you can better manage to draw attention to the curtains. This is a nice way to decorate for the holiday, providing just enough of that color pop to blend in with any other decorations you have.
16. Neutral Color DIY Heart Art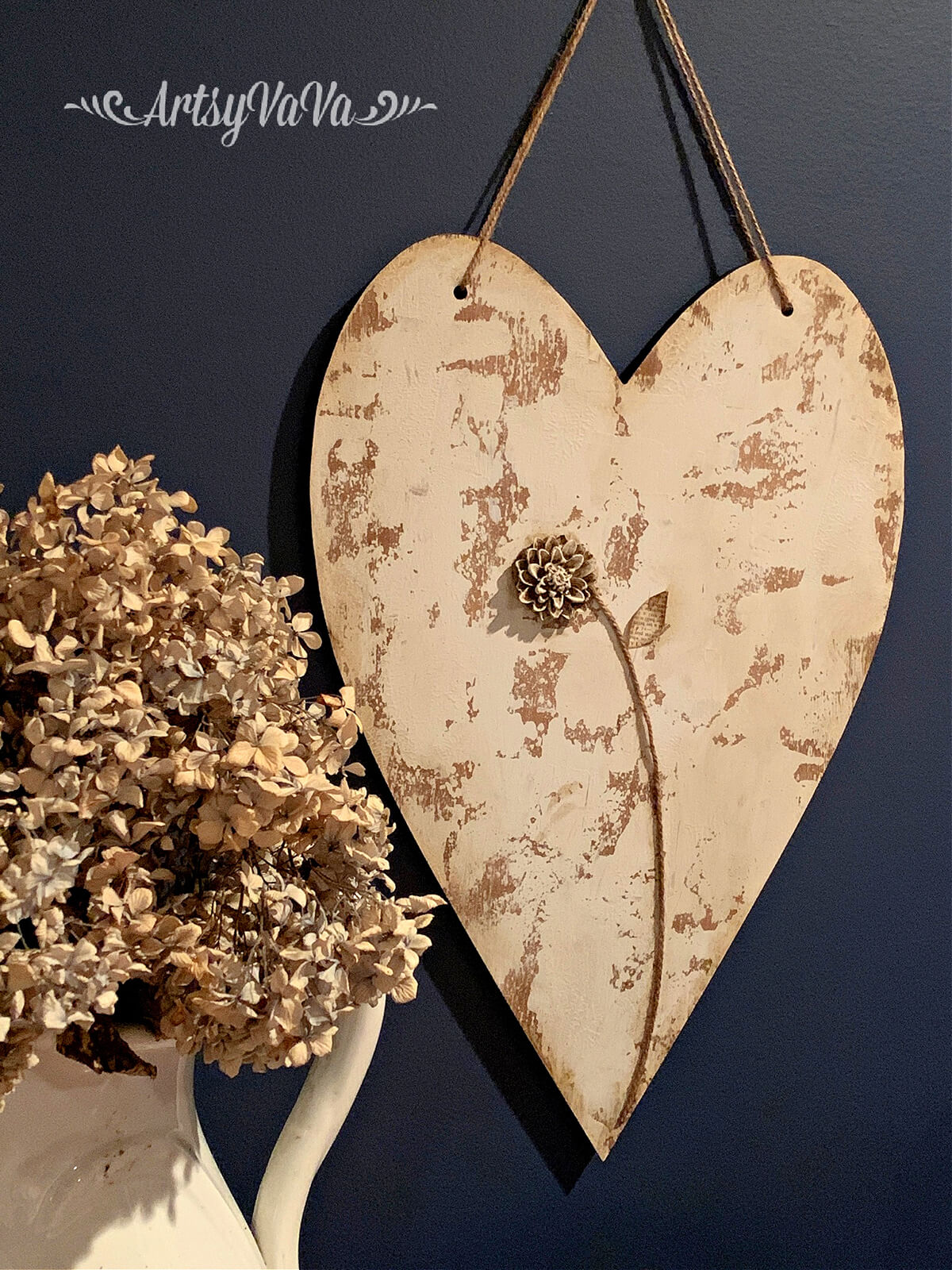 Art is always a nice thing to create to play with your creative skills. When it comes to creating heart shaped art, you don't have to go the route of any traditional colors found with heart art. Instead, consider more neutral coloring throughout this piece. It is such a nice way to capture attention regardless of where you decide to set this art piece up. Plus, you have such an array of space to work with. This way, you can completely enjoy pushing your artistic skills to new levels. This helps you personalize the art in your home as much as possible.
17. Cute and Simple Wire Heart Bookmark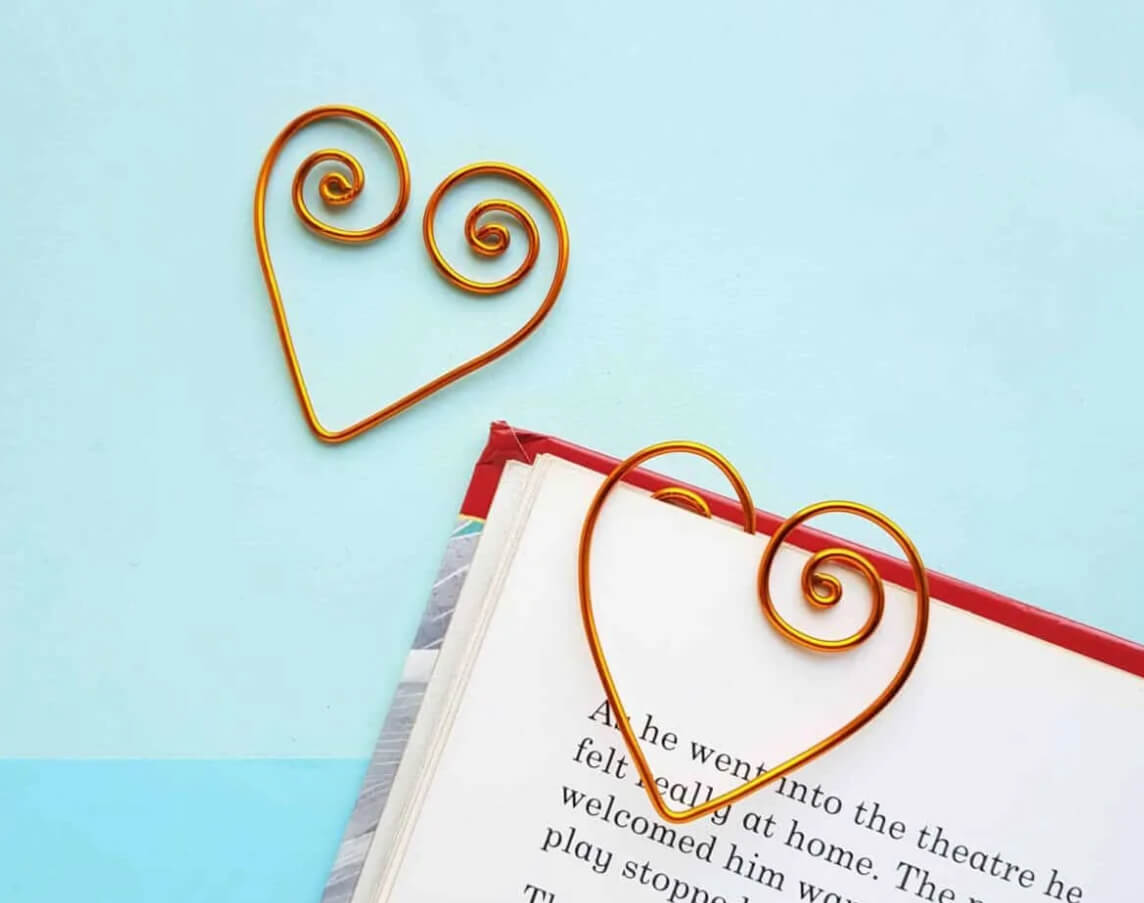 To all you book lovers out there, little feels better than actually having a bookmark to save your page rather than bending the paper in any way. You don't have to settle for your average bookmark though when you can create these adorable wire heart bookmarks. They are shiny, easily noticeable, and simply awesome to use. If you wish, they even work out as some awesome homemade craft presents. Give them away to any other book lover in your life or even as a gift to a loved one. The heart certainly fits the love theme well enough.
18. Sparkly DIY Heart Garland Design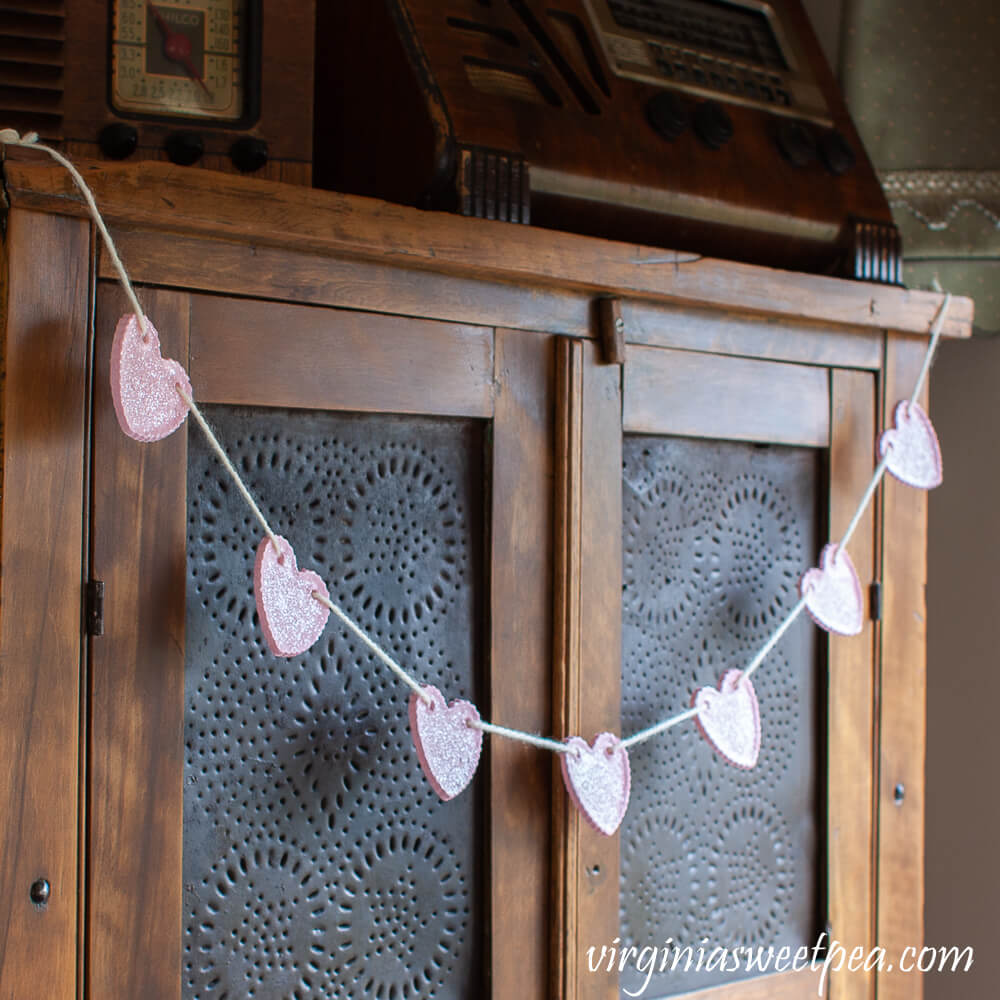 Garland is an easy way to breathe new life into a room's décor. More so, they are cool party accessories. So, why not use them as a base for your heart craft décor? There is simplicity seen within this design that makes them fit in well with a minimalistic layout. In fact, these even work out well in various styles, allowing this crafting project to be far more versatile. At the same time, there is some amazing personality in these hearts thanks to some glitter. It allows the hearts to easily stand out no matter where you decide to string them up.
19. DIY Farmhouse Style Heart Design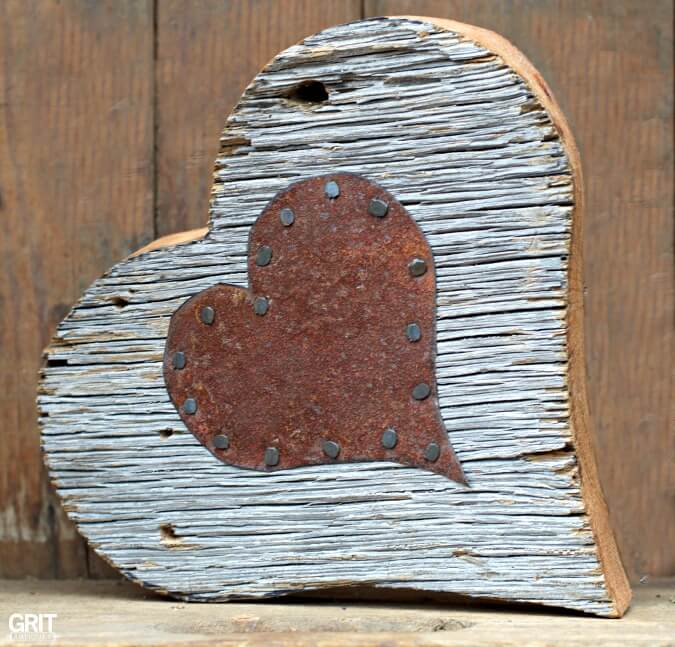 Just because you have a rougher, rustic vibe in your décor does not mean you cannot boast an awesome heart as decoration. Barn wood is perfectly fitting for all this. But another incredible thing about this DIY project is that you wind up with two hearts rather than one. The barn wood itself boasts the heart shape. However, as does the center nailed-in heart. It is such a distinctive way to get people looking twice at your heart based decorations. At the same time, you have not lost that farmhouse feel of the project as a whole.
20. DIY Sea Glass Heart Shape Design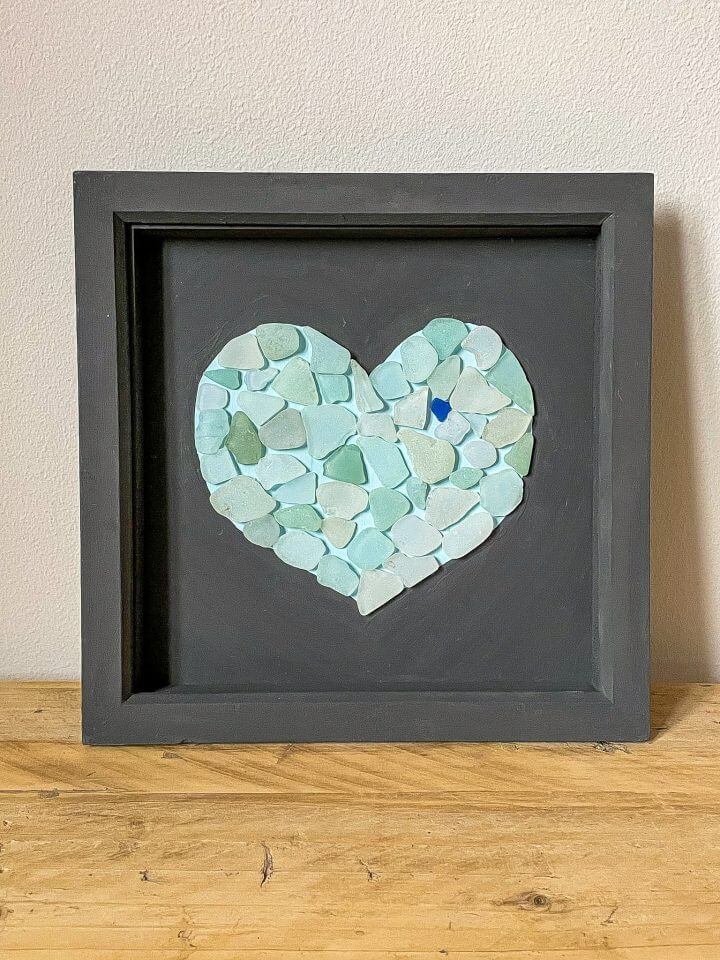 Sea glass is a beauty within its own right. Now, once you add it into a heart shape, you have elevated that beauty to new levels. The color is light and easy, giving off a relaxing vibe. Frame this to give this a more professional look. It is such an awesome way to add some artistic décor within your home. With this project, it is fitting for a minimalistic home setting. It hardly takes up any room, and you can set this up in numerous ways from relaxing on the couch, propping it up on a table, or even hanging it against the wall.
21. Festive Hanging Heart Art Design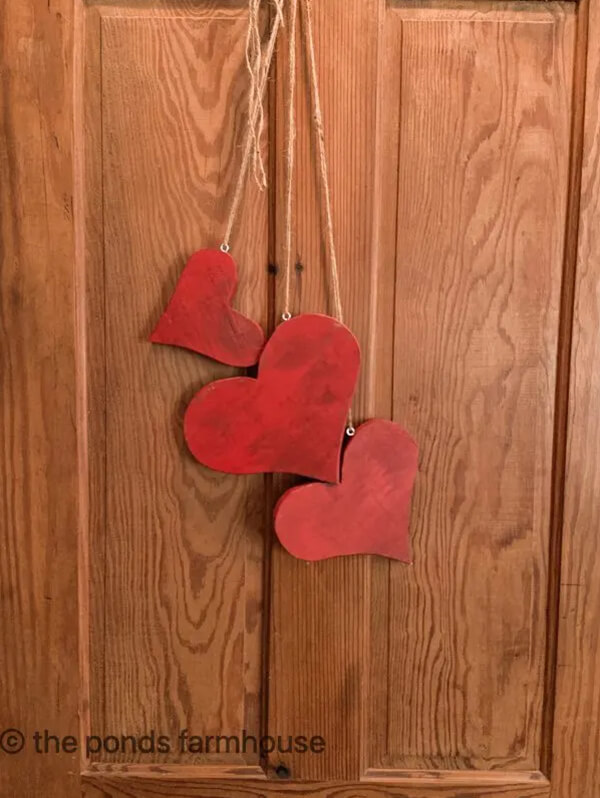 Looking to add some more color or life to your outdoor décor? Then perhaps you will enjoy these hanging hearts. The hearts are bold and made in a good size so that they don't fall into the background. You can hang multiple of these, further improving your outdoor décor and overall style. This is further helped thanks to the hearts being made in various sizes. By doing so, there is no way for these hearts to become static, thus blending too much into the background that they become overlooked. Instead, the hearts provide depth.
Beautiful Handmade Heart Crafts for a Gentler Decorating Experience
Hearts are always a fun homemade craft to decorate with, and this holds true no matter what style your room is. You can discover a design fitting for a farmhouse layout, or you can design something elegant or minimalistic that is perfect for a contemporary home. Another lovely thing about decorating with hearts is that you can use them throughout the various seasons. Of course, they work out well during Valentine's or for any heartfelt, special occasion.
The way you make your handmade heart crafts can also vary depending on the material used. Pillows are a great way to approach this as you also have room to add further decorations to it like words and sayings. Another fine route is to go large with something you can hang up like a wreath. Even from there, the possibilities are endless with what you can explore, freeing you to stretch your creativity and imagination as far as it can go. If you ever need help coming up with an idea, our list of the best DIY heart crafts will serve as the perfect guide.