Do you desire to decorate your home with the best heart shaped flower arrangements to make your home livelier and elegant? If that is your plan, then you are in the right place. Whether you need bouquets, potted plants, or wreaths, we have prepared a list of unique heart shaped floral décor ideas that will transform your look.
21 Brilliant Heart Shaped Flower Arrangements that are Impossible to not Love

Nowadays, we are spending more time at home thanks to remote jobs or working from home arrangements by companies. Therefore, we are here to motivate you to enhance your living space with beautiful and alluring floral arrangements. Here are a few reasons why decorating your living space with flowers is an excellent idea:
Flowers cultivate better moods
If you want to turn your home into a serene space where you can unwind and feel more relaxed, then you might want to consider heart shaped floral arrangements. Did you know that the atmosphere of your home sets the tone for the rest of your day? Filling your home with beautiful alluring flowers that have a softer palette can make you feel calm and tranquil, thereby helping you manage your stress levels. Additionally, brightly colored flowers can boost your energy and leave you feeling exhilarated. Flowers help you feel in touch with nature, which in turn boosts your mental health.
Flowers are conversation starters
Apart from representing your personality, flowers can easily spark up conversations in your home whenever you have guests over. The best heart shaped flower arrangements can leave your guests in awe prompting them to ask you how you came up with such magnificent floral décor. Flowers are really helpful especially during those awkward silences when the conversation runs dry because they give both parties an idea on what to talk about. As stated earlier, we have prepared the best heart shaped flower arrangements that you can try out for your home. Check them out below.
1. Whimsical Hanging Heart Shaped Wreath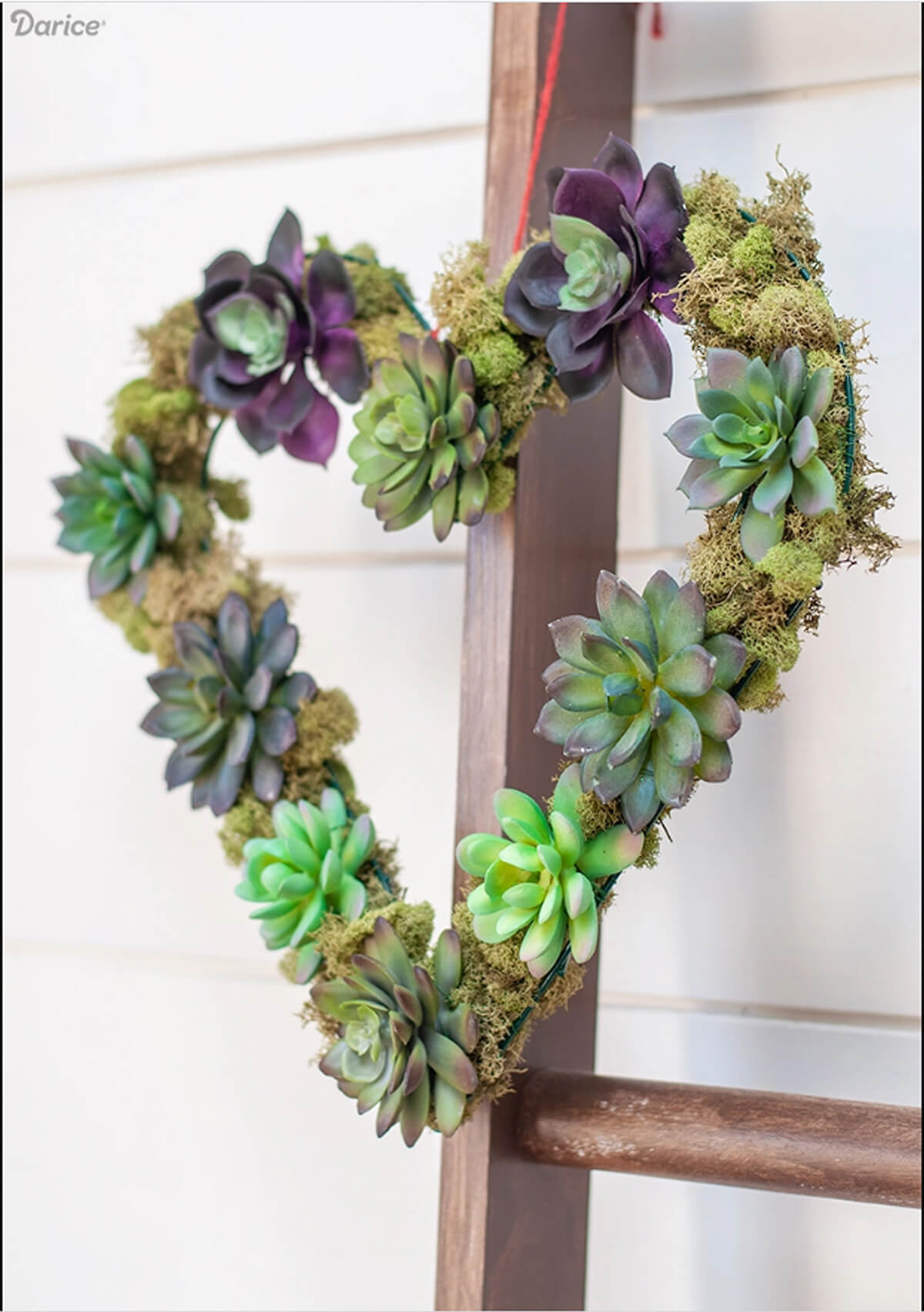 If you are looking for a heart shape flower decoration that you can hang outside your house to make your home more inviting to visitors, then this unique purple flower arrangement is perfect for you. The differently colored petals make the wreath more appealing from a distance. For instance, the purple colored petals add a mysterious touch to the hanging heart, and the heart shape gives off the impression that you are a warm open person to approach. You can order this whimsical hanging heart shaped wreath from Etsy. If you want an exact duplicate to the one in the photo, you can try and make one for yourself and then hang the finished masterpiece outside your home.
2. Fascinating Grass Wreath with Pink Ribbon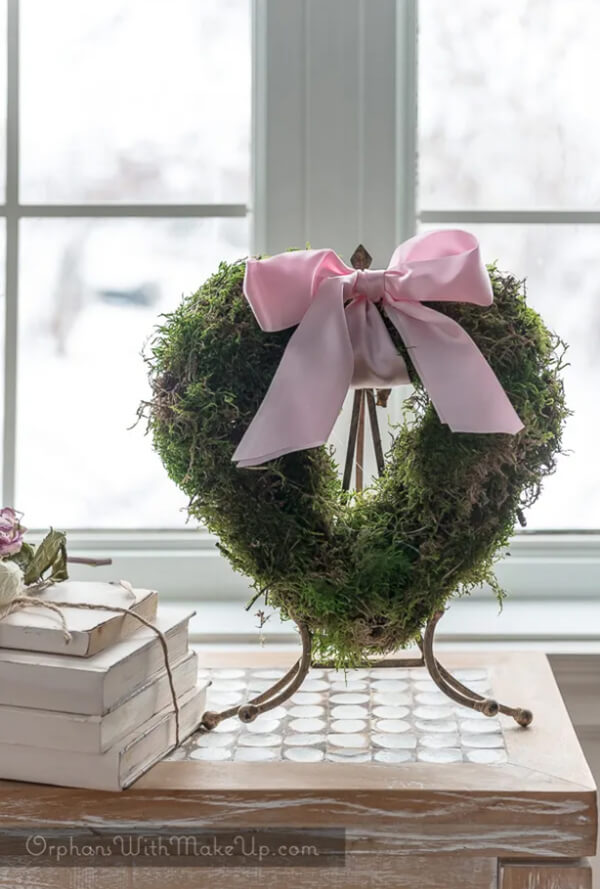 Maybe you are allergic to flowers but you still want to add some heart shaped floral arrangements to your home. If that sounds like you, this heart shape grass wreath is perfect for your home. Also, the grass wreath will add a touch of nature to your home and perhaps even sooth your mind when you are relaxing. The stand supporting the wreath makes it appear more fancy and attractive as a home decor item. If you want to add more color to the item, you can tie a pink ribbon on the wreath as seen above to give it a more floral nature. Place this fascinating grass wreath with pink ribbon on a book stand to make it more interesting to look at.
3. Amazing Framed Artwork of White Flowers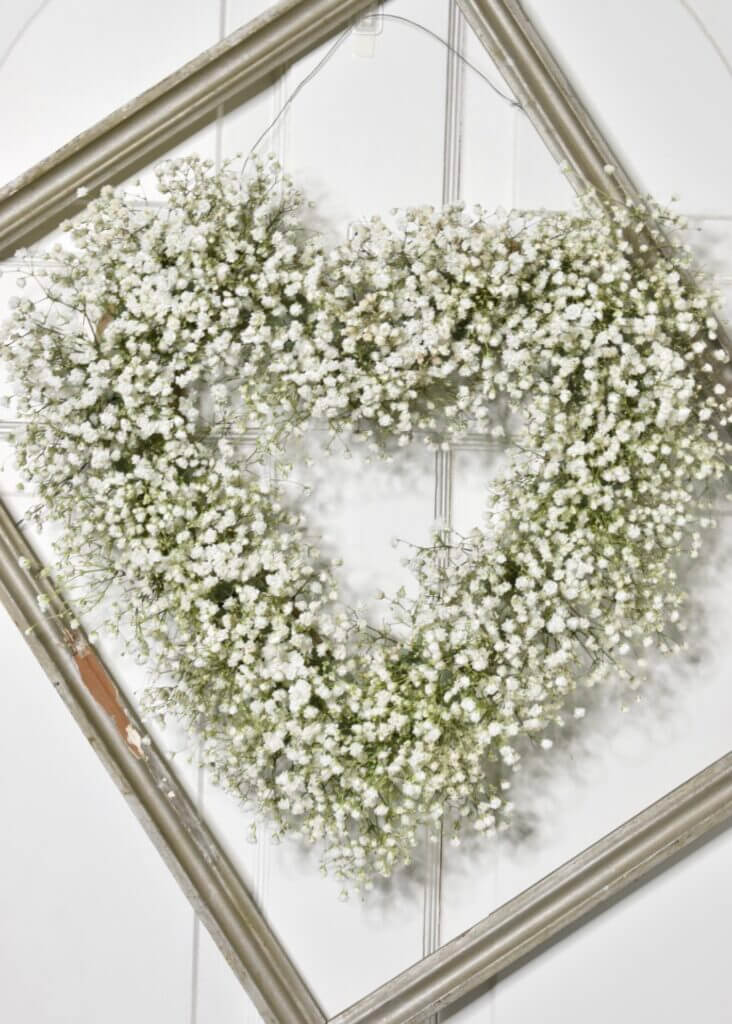 This great home décor item is one of the best heart shaped flower arrangements on this list. The tiny white flowers resemble snowflakes and will make you think of winter whenever you look at them. This is a creative way to display a wreath compared to the traditional method of hanging a wreath on the wall or door. As you can see in the image above, the wreath is framed to add an artistic touch to the item and then displayed on the wall. We recommend hanging this framed artwork of white flowers outside your door. The unique nature of the floral decoration will give your guests something to admire as they ring your door bell.
4. Beautiful Heart Shaped Foam Roses Wreath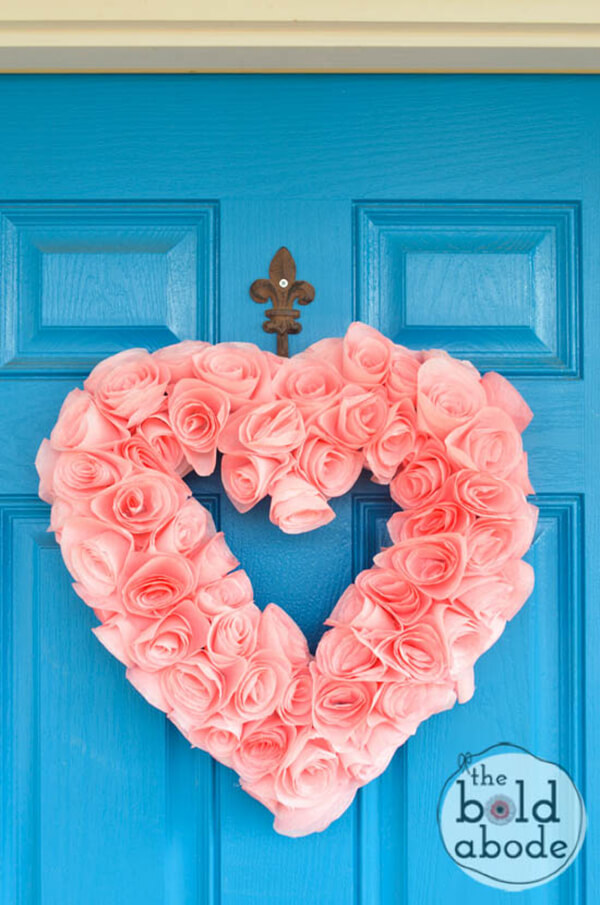 Want to add a home décor item on your front door to draw more visitors to your home? This cool heart shaped foam roses wreath may be just what your front door needs. The alluring pink color will instantly make your front door more attractive especially if you have a monochrome door. If you want these specific pink colored foam roses, you can find them on Etsy. You can either order the wreath as a whole online or order the foam roses and create the wreath on your own. All you need is a wire that you will fold into a heart shape and attach the foam roses to it. Once you are done, hang the charming heart shape flower decoration on your front door and let it charm your guests.
5. Striking Cherry Blossom Wreath with Ribbon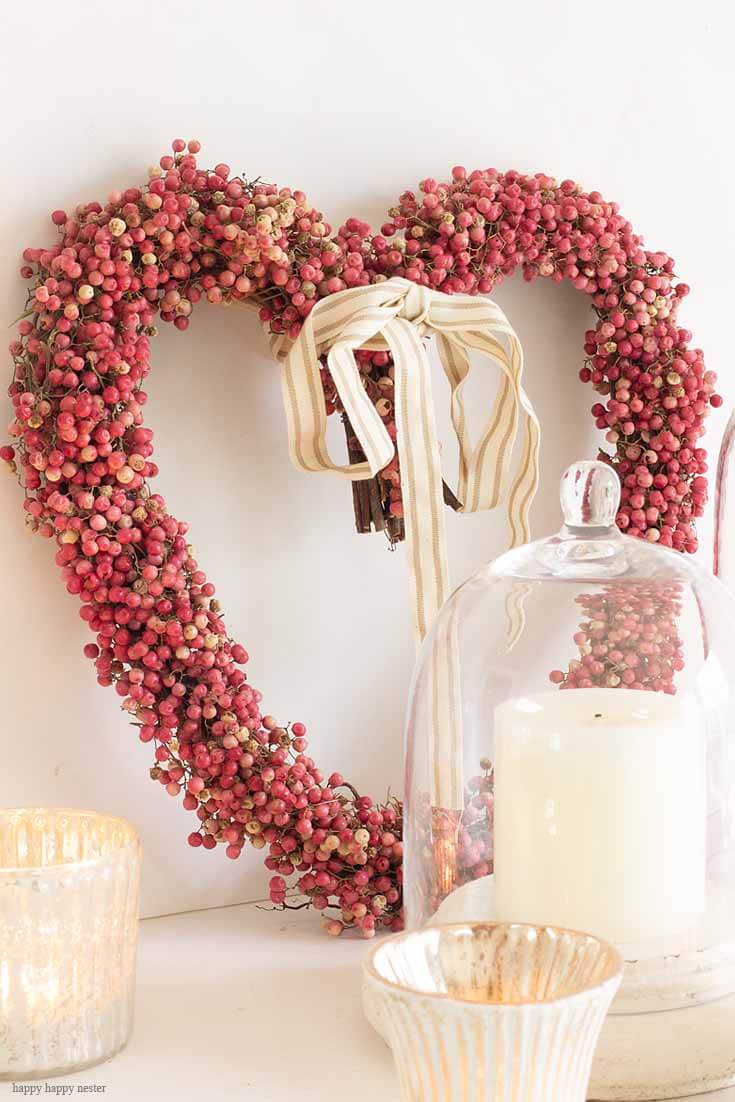 Do you want a unique wreath for your home that will immediately attract attention when someone walks in the room? This striking cherry blossom wreath with ribbon will produce the effect you desire. The stunning pink color of the cherry blossoms is easy to the eye and will add more pop and color into your home. Additionally, the white ribbon helps to hold the entire piece together and add a touch of sophistication to the look. We recommend placing the wreath against a white surface to create a beautiful contrast that will make the wreath stick out and stand out.
6. Pleasing Grapevine Wreath with Foam Roses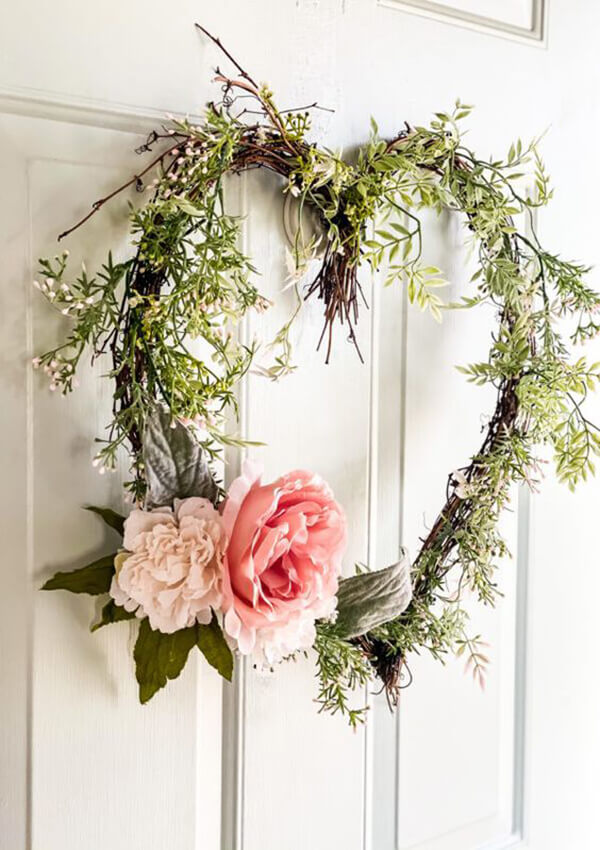 Want to make the best heart shaped flower arrangements for your front door? Get a bunch of grapevine twigs and fold them into a heart shape and attach them at both ends. Find some leaves to add to the sides of the wreath to make it more attractive. Then take the foam roses and attach them to the wreath to add a floral touch to the look. This fancy wreath will add a Boho chic personality to your home and make you appear more adventurous. Additionally, you can hang this pleasing wreath with foam roses to other parts of your home such as the living room, bedroom, or bathroom.
7. Pink White Flowers in Heart Rose Box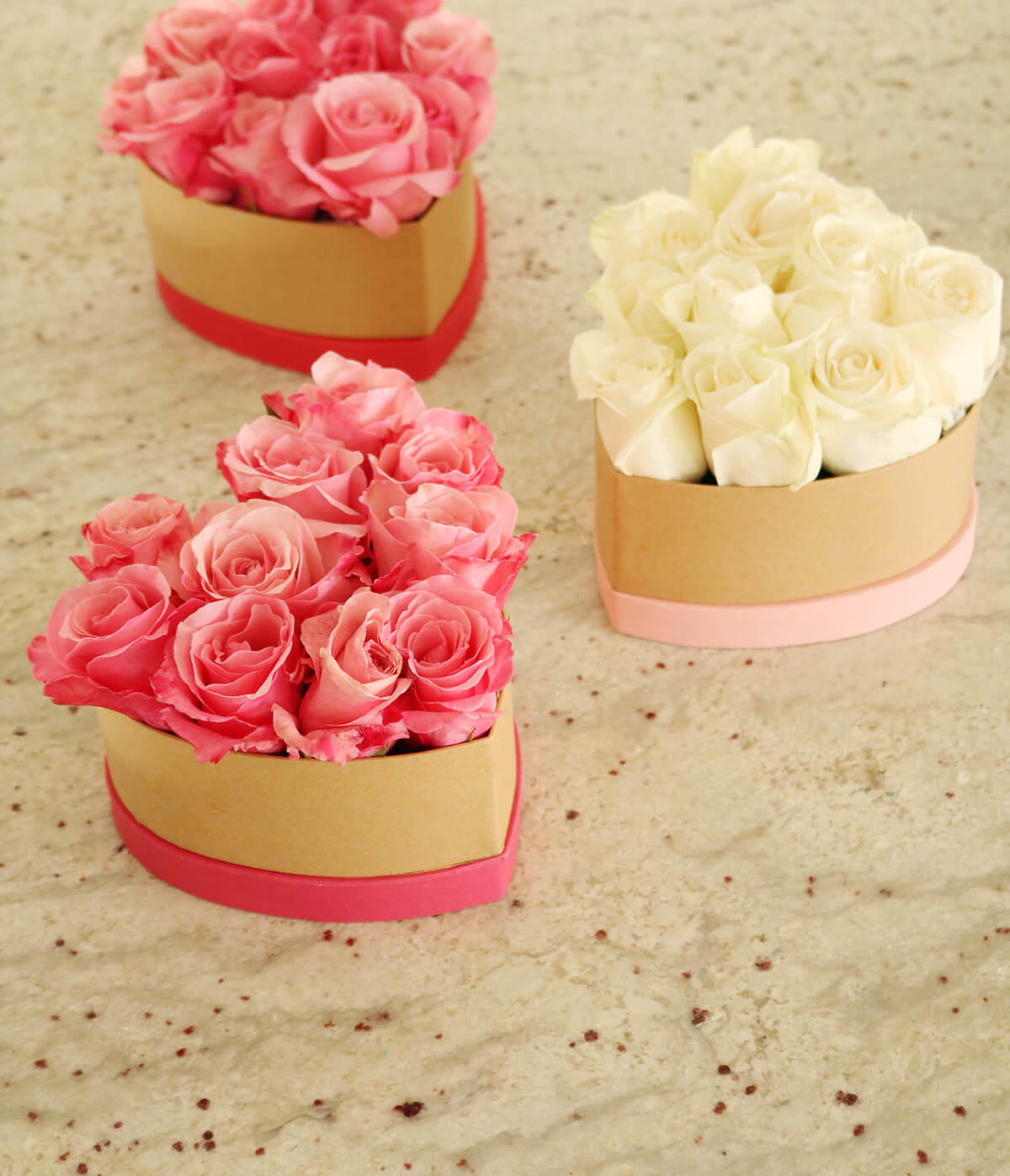 Want to decorate your coffee table or dining table with a centerpiece? These pink and white roses are perfect for adding a touch of elegance into your living room. Additionally, the pink and white roses will add more color and taste into your home. You can order the flowers on Etsy or talk to that neighbor that has a garden full of roses and see if they would be willing to give or sell some roses to you. Once you have the flowers, find some hard paper that you can shape into two or three hearts so that you can place the heads of the roses inside as shown above. The roses will also add an excellent scent to the room.
8. Leafy Heart Shaped Wreath on Wall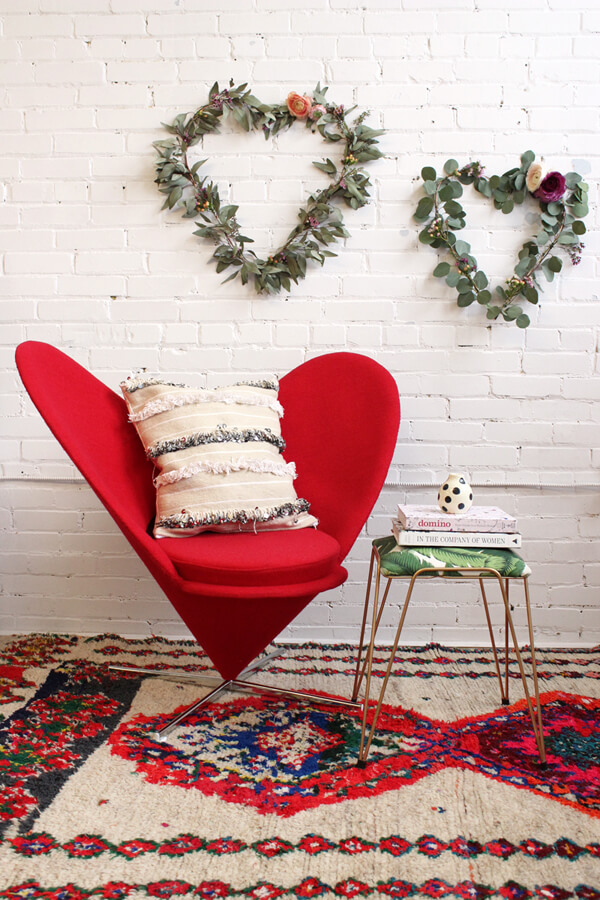 Do you have a section in your living room or bedroom where you feel the wall is a bit empty and could use some decorations? This leafy heart shaped wreath is one of the best heart shaped flower arrangements that you can try out for your home. It is a simple DIY task and you probably have all the items that you need in your garden. Take a wire and fold it into a heart shape then stick some leaves and flower heads to it to form a heart shaped wreath. Alternatively, you can purchase synthetic leaves and flower heads on Etsy to make the wreath so that the materials will not decay over time thereby creating an amazing long lasting home décor item.
9. Creative Wreath on a Pot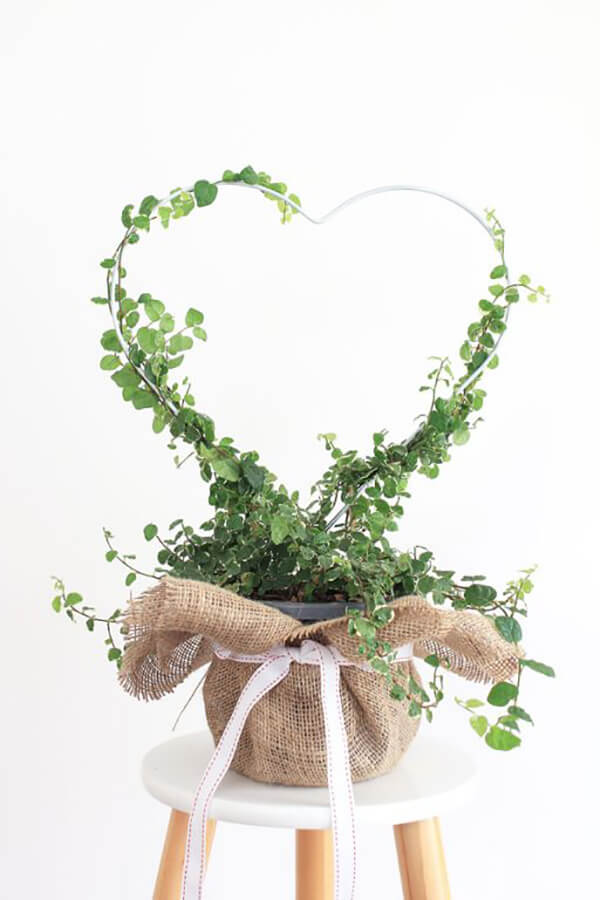 Want a minimalistic wreath idea for your home? Well, you can try out this great wreath idea for your living room. As you can see, the design does not have any flowers, which makes it perfect for people who are allergic to pollen or people who don't like flowers. Simply take a smooth wire and fold it into a heart shaped wreath then place it gently into a pot or vase of a green plant. Gently stretch the leaves succulent branches of the leaves and entwine them along the wreath. To add a more decorative touch to the look, place the vase or pot into a brown sack and tie a white ribbon to complete the look.
10. Roses with Ribbon on Wooden Plaque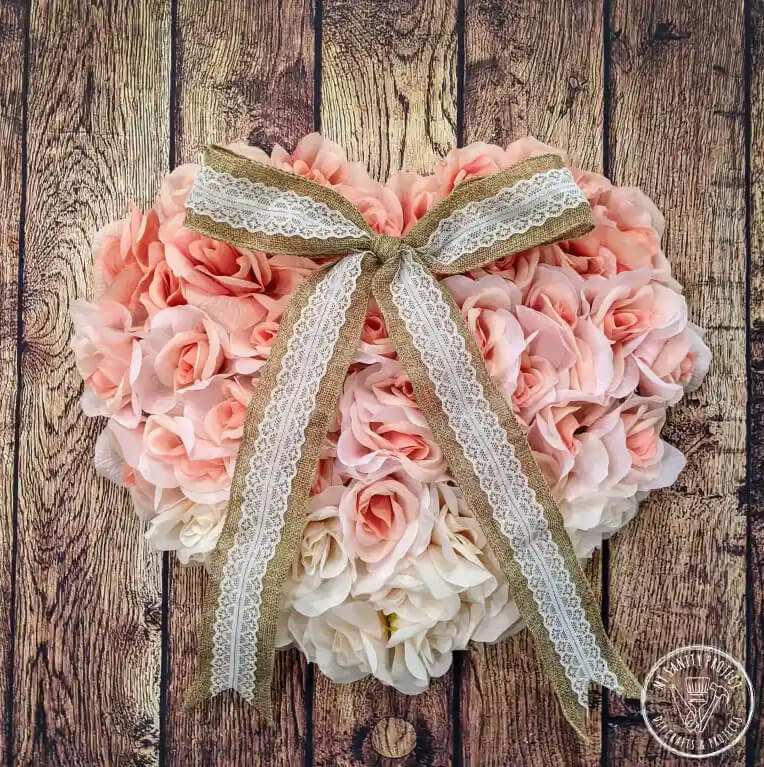 Are you thinking of a creative way to decorate heart shaped floral arrangements? Well, you can arrange the roses in a heart shaped manner on a plaque of wood. You can order the roses on Etsy so that you can find the exact pink and white roses as the ones used in the image above. The rustic wooden plaque adds a vintage appeal to the look and it will look excellent in a home with vintage furniture. The ribbon adds a delicate touch to the roses and makes the heart shape flower decoration more fascinating to look at. Place it on your living room preferable above a couch as a standalone wall center piece.
11. Gorgeous Floral Arrangements on Heart Surface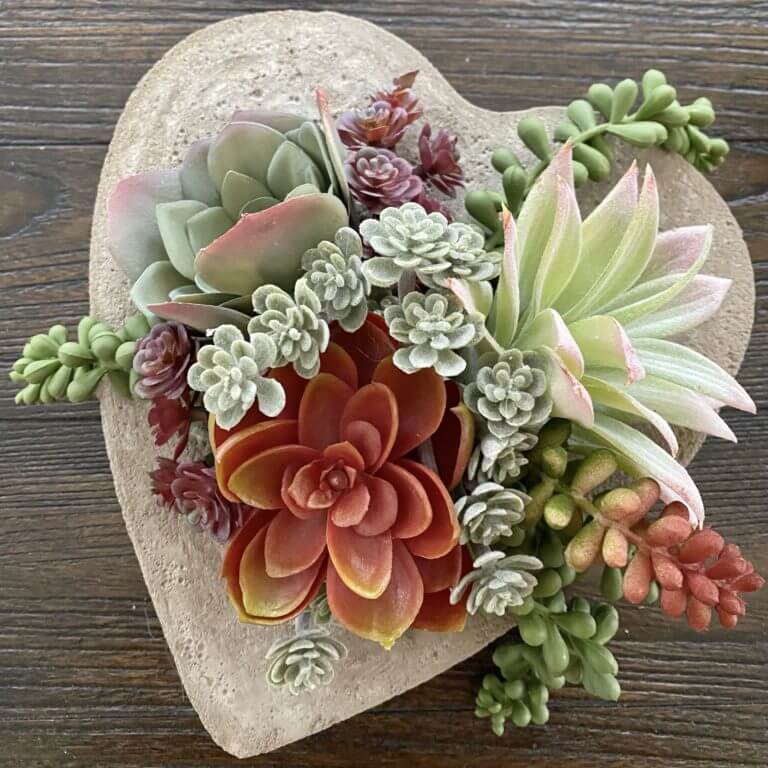 Looking for a unique and cool heart shape flower decoration that is not a wreath? This combination of floral arrangements on a heart shaped surface will do the trick. This is the perfect floral home décor idea because it allows you to combine all your favorite flowers into one look. You can use roses, hydrangeas, azaleas, and cherry blossoms to create an astonishing floral arrangement. Attach the different flowers to a heart shaped base made of wood, metal, or plastic as seen in the image above. You can then place the flowers on the table in your living room as a beautiful centerpiece.
12. Bright Heart Shaped Hanging Roses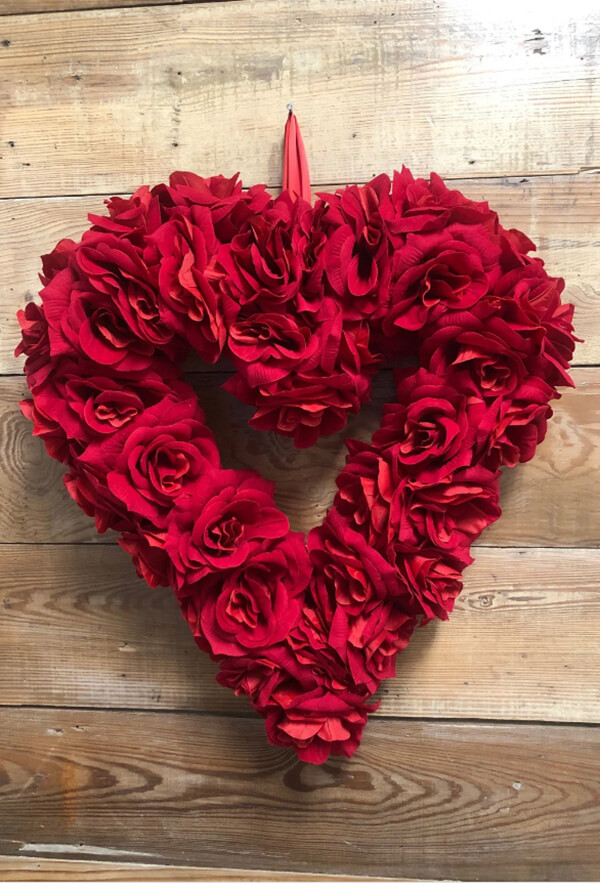 Do you just love the smell of roses in your home? You can now hang roses on your walls as a piece of art instead of placing them in a vase. This is a unique way to display your love for delicate aromatic flowers to add more life and color to your home. By arranging the roses in a heart shape, you create a fantastic work of art that immediately catches your eye whenever you walk into the room. This particular style of hanging roses is excellent for your living room or bedroom. To make the roses stand out, ensure that you hang them on a wooden plaque and stick the plaque to your wall for a rustic vintage appeal.
13. Unique Swanky Flowers on Layered Surface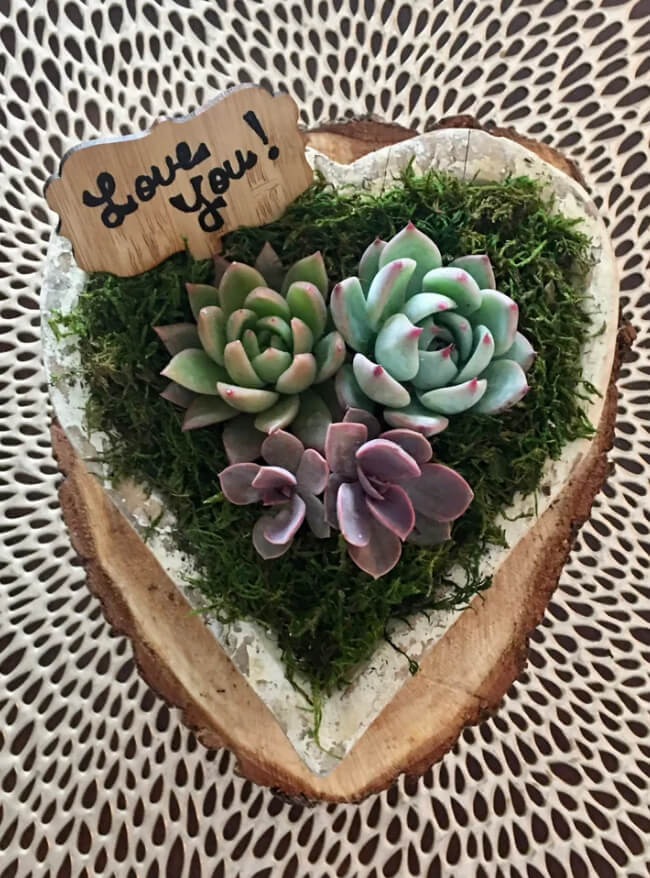 This centerpiece floral arrangement is simple yet rustic in an elegant way. If farmhouse is your home's design style, then this brilliant arrangement of swanky flowers on a layered surface will sit perfectly in your home. The heart shaped grass sitting on a heart shaped white surface which is then placed inside a heart shaped brown surface creates the illusion of a tiny heart shaped garden on your wall. If you are passionate about nature, this is the perfect floral décor for your home because it combines all your favorite elements of nature (flowers, grass, and earth which is represented by the brown color).
14. Eccentric Flowers on Heart Plaque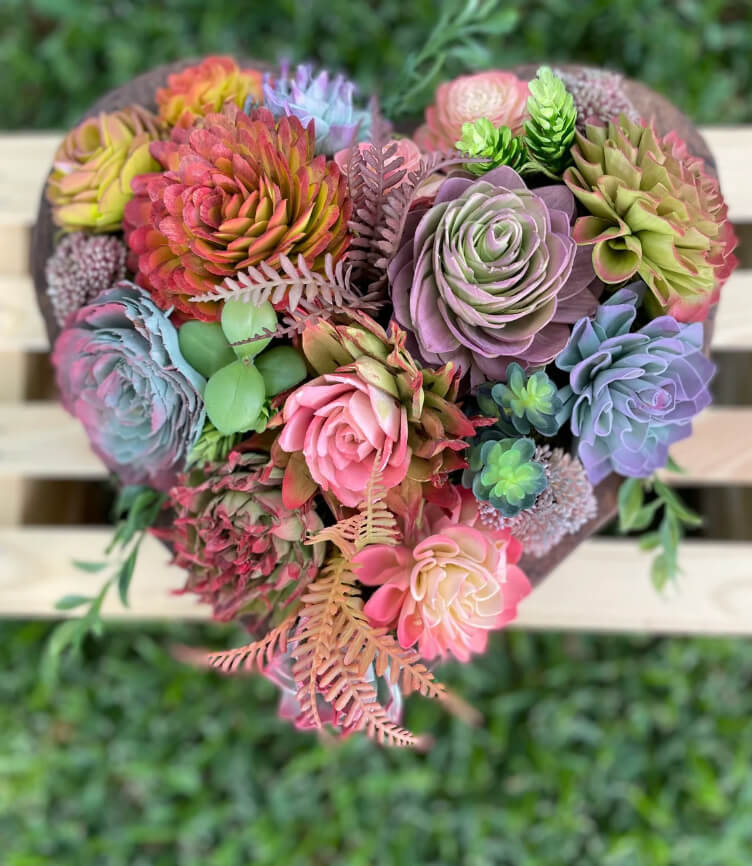 Thinking of a creative way to decorate your patio or porch? This great heart plaque might be just what you need. Find the most colorful flowers in your garden and cut off their stems. Stick the heads of the flowers to the plaque to create a heart shape and then hang it anywhere on your porch. You can create the heart shaped plaque from any wood, plastic, or metal materials in your backyard. If you do not have access to beautiful colorful flowers, you can always order different types of flowers from Etsy to achieve this look. This floral decoration will add a colorful edge to the entrance of your home.
15. Delightful Heart Full of Roses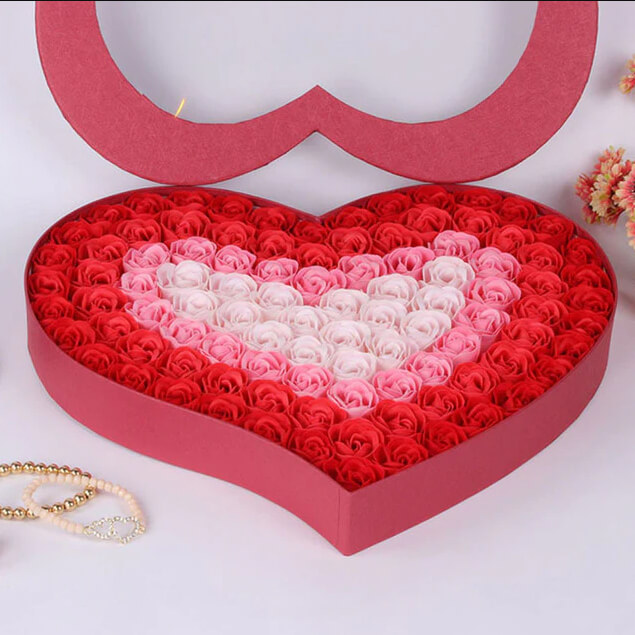 Does your dressing table look like its missing something but you can't quite put a finger on it? Well, maybe all it needs is a colorful heart of roses to boost your mood as you prepare yourself every morning. This pink heart shaped box filled with foam roses will add a feminine touch to your dressing table and even inspire you to wear more bright colors. The roses are arranged such that the white roses form the innermost heart, followed by the pink roses, then the bold red roses form the outer heart layer. This arrangement brings out the satisfying contrast of the different colors adding an elegant twist to the unique decorative item.
16. Stylish Bedside Heart Flower Arrangement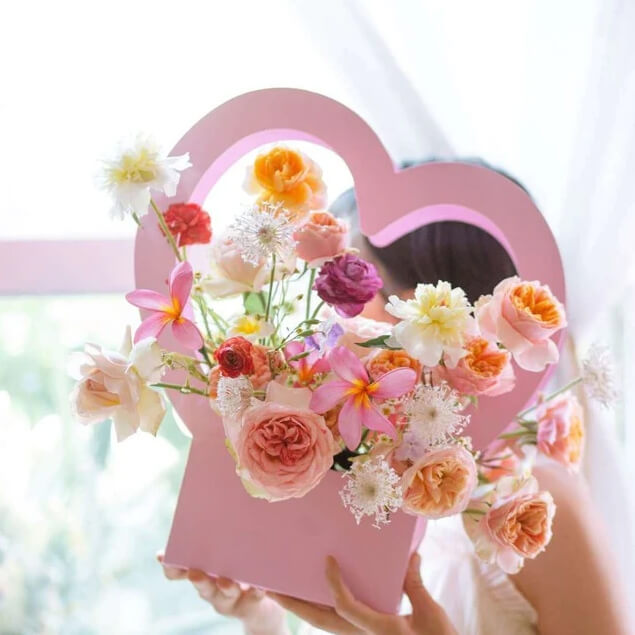 Are you looking for a great flower arrangement idea that you can decorate your bedroom with? This heart shape flower decoration is perfect because you get to put all your favorite flowers in a box. You can handpick your favorite flowers from the garden and arrange them in a box as seen above to create a beautiful piece of floral art. If you like waking up to the pleasant smell of delicate flowers, then this décor idea is the best way to add lovely fragrances to your home. You can order the heart shaped box from Etsy and pick out the flowers on your own.
17. Framed heart shaped roses for mum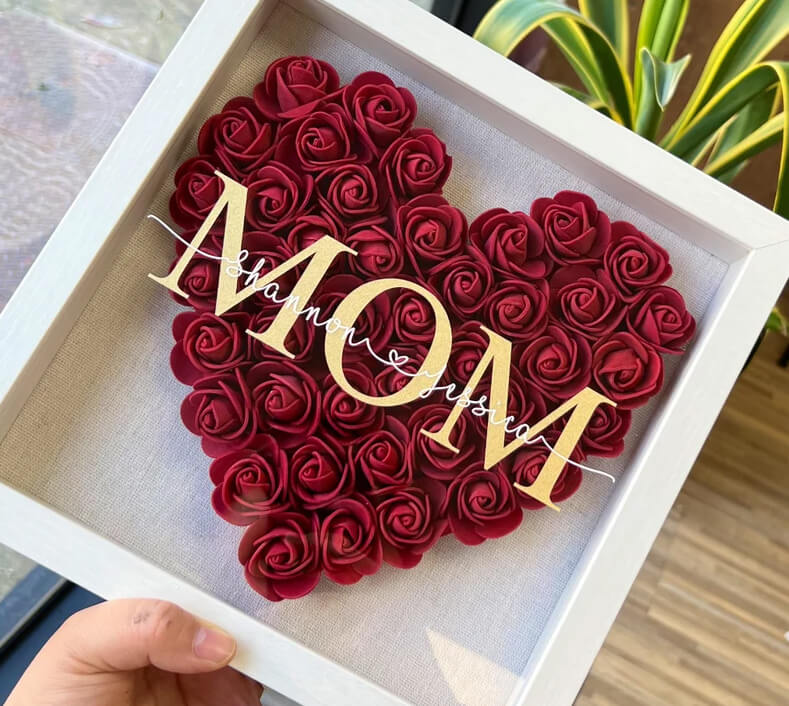 Thinking of a beautiful thoughtful gift to share with your mom? How about a frames box of roses that will never wither to represent the never-ending love that you have for your mom! One thing about your mom is that she will always have your back when you need her. This is the perfect gift for your mom and she will gladly hang it on her living room wall for all to see. The heart shaped red foam roses are placed against a white surface to create an alluring contrast that makes you want to stare at the roses all day long. You can get this amazing gift for your mom on Etsy.
18. Alluring Grapevine Wreath with Ribbon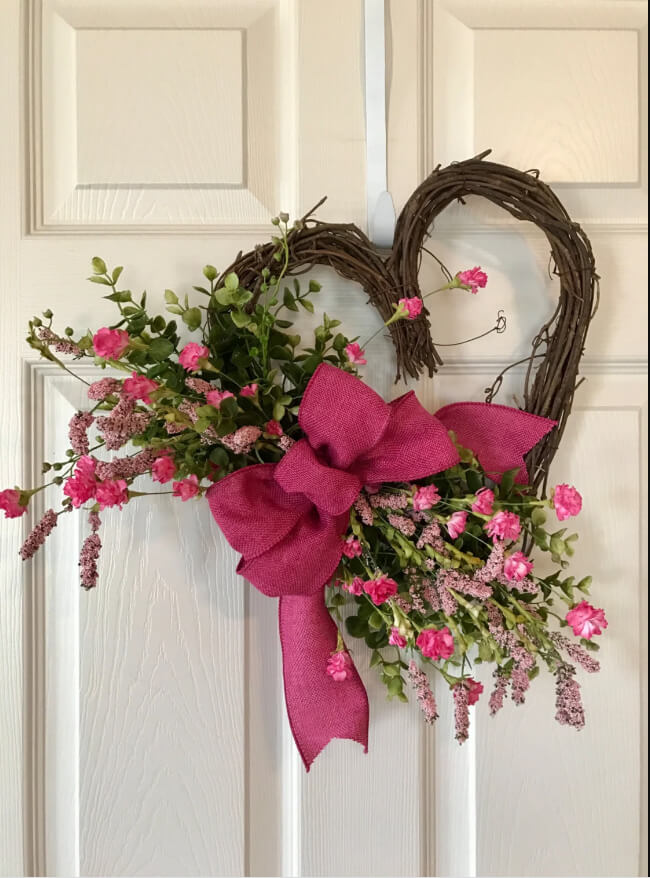 Want to hang a wreath on your front door but with an exciting twist? This heart shaped grapevine wreath idea is the best idea. Simply find some long grapevine twigs and fold them to form a love-shaped wreath. Once you are done, find a handful of flowers e.g. sedums or snapdragons, and attach them to the wreath. Sedums and snapdragons are colorful tiny flowers that will make your front door more attractive. Tie the flowers in place using a ribbon to add a stylish touch to the wreath. Find a ribbon whose color matches the flowers as seen in the image above.
19. Charming Heart of White and Pink Flowers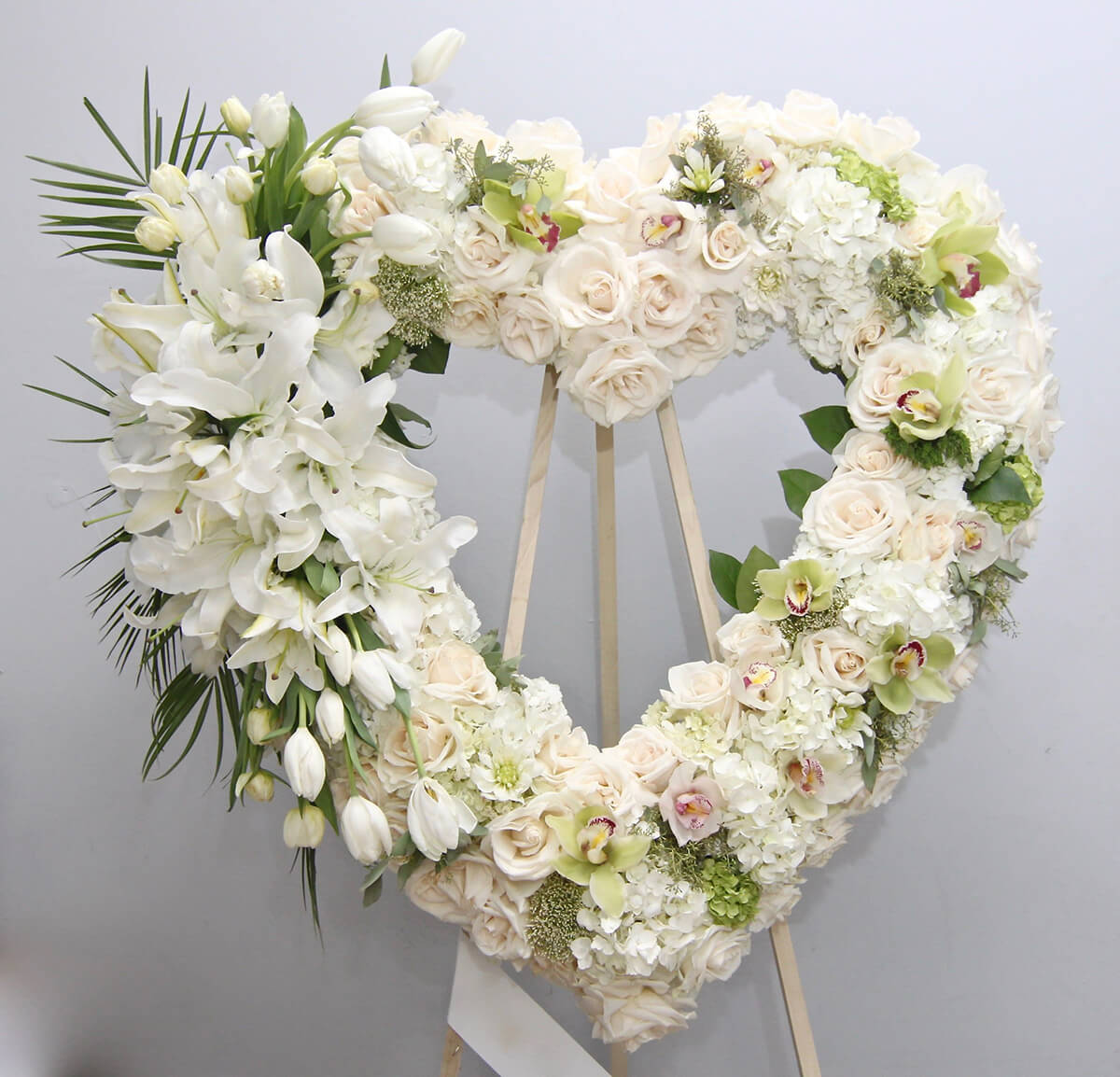 Differently colored flowers create the best heart shaped flower arrangements decor for a home. If you want a classy tasteful heart shaped decoration for your home, this is the design to go with. You can place this wreath in your living room above a couch or as an accent piece on the wall. Additionally, you can choose to bring the floral glory into your bedroom by placing it above your bed. You can buy this beautiful floral wreath on Etsy where you can choose from a multitude of colors. The light shades of pink pair excellently with the white and green colors of the floral pieces giving this particular flower decoration an elegant and luxurious touch.
20. Enchanting Flowers in Heart Shaped Vase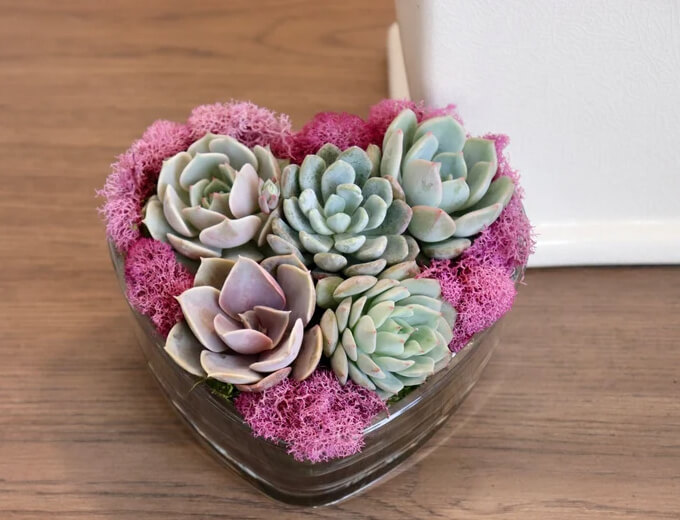 This gorgeous floral arrangement brings a chic vibe that will fit with any home style. The hand painted pink grass adds more texture and color to the heart shaped glass vase. If you are looking for truly cool heart shaped floral arrangements, then this is it. You can place the décor item on a bookshelf or as a centerpiece for your coffee table. This beautiful piece of art can be found on Etsy. As you can see, the flowers are light shades of green which make them blend easily with any color scheme and will therefore fit perfectly in your home.
21. Pleasant Wild Flowers for Front Door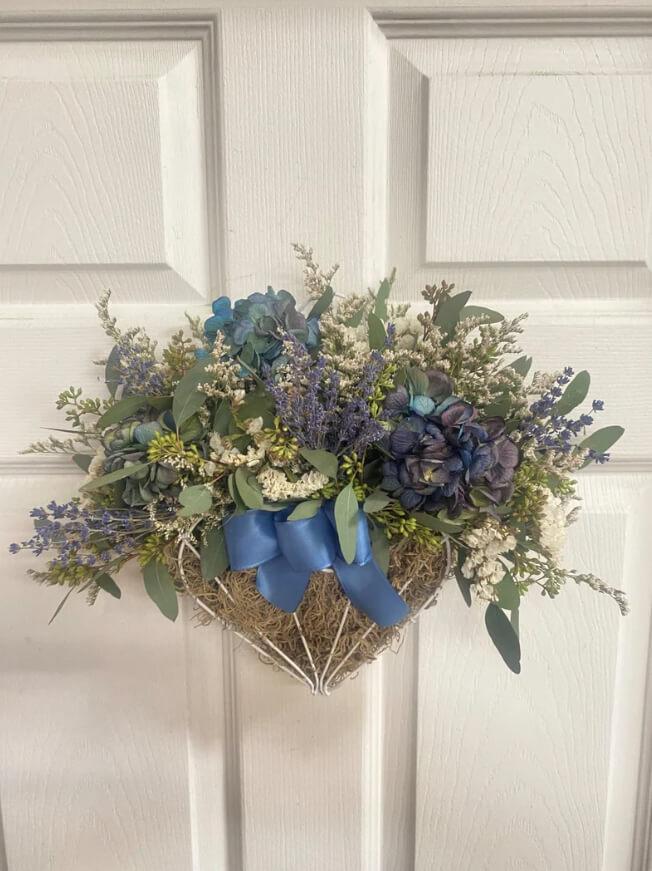 Another cool way to decorate your front door is by collecting a bunch of wildflowers and displaying them skillfully on your front door. You can also add a ribbon to decorate the flowers and give them a chic look. This décor idea is excellent for those people that like to take long walks in nature. You can add new brilliantly colored flowers to your door every other week to display your adventurous personality. The v-shaped holder creates a heart impression that makes your door look more inviting and enticing. If you like having guests over, the flowers will be a pleasant conversation starter anytime someone knocks on your door.
Get these Cool DIY Heart Floral ideas for your Home
You now have the best heart shaped floral arrangements to decorate your home. The above flower ideas will add a beautiful aesthetic to your home while allowing you to display your personality as well. The soft petals and the translucent colors of the flowers will add more tranquility to a busy décor space and make your home more elegant. Additionally, flowers help to tie competing décor elements together to add a finishing look to the entire room. As we mentioned earlier, flowers add traces of nature into your home by creating a natural ambiance making you feel closer to nature.
You can opt for big potted heart shaped floral arrangements for your living room or choose hanging baskets in order to offset a nearby window. Alternatively, you may opt for the creative wreath ideas that we have listed for you above. By adding flowers into your home, you will benefit from the filtered fresh air that they produce, which will undoubtedly also have a positive effect on your mental health. Additionally, a well-placed large heart shape flower decoration will make your living room appear much bigger than it is by creating the perception of extra space. Transform your home today with our unique heart shaped flower ideas.