Searching for the best high-end furniture stores is simple when you realize many are easily accessible from your personal computer. After spending a year at home, the world is falling in love again with their homes, and what better way to celebrate getting back to normal than with a revitalized interior design?
13 of the Best Places to Find High end Furniture

From high-end furniture websites that look like a page torn from an interior design magazine, you'll discover a never-ending abundance of beds, chairs, sofas, tables, rugs, and accessories you now realize you need. You can grab life by the horns and curate the home you've always wanted without scouring the entire world for unique, one-of-a-kind items that take a lifetime to collect.
1. Maker & Son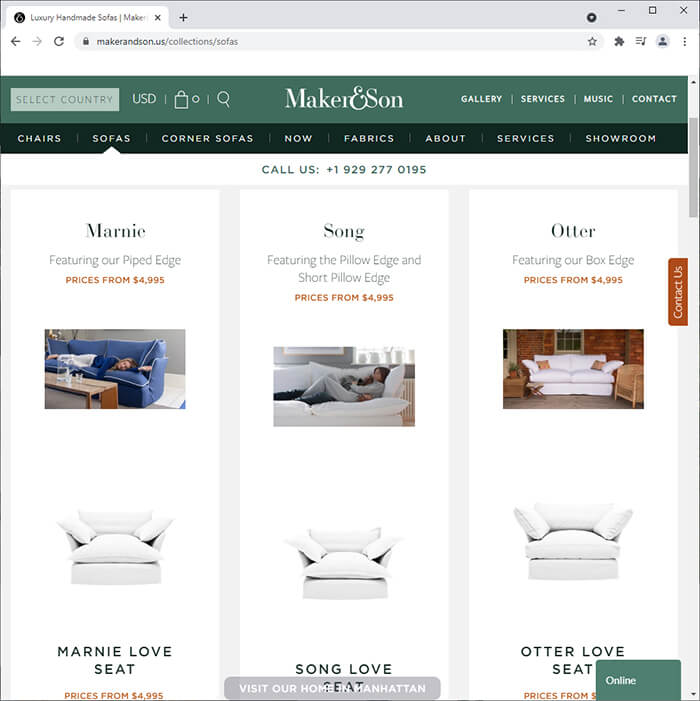 See website: makerandson.us
Established over thirty years ago from the brainchild of a family dream, Maker & Son makes its mark with a vision of luxurious comfort in traditional furniture pieces. You'll find their trademark design across their lines from corner couches, aka sectionals, as well as loveseats and chairs. The overstuffed, fluffy pillow design is echoed on the cushions and armrests in each of these pieces. One of the best parts about this family-run business's furniture is its dream to use natural materials to create luxurious items that positively impact people forever. What customers will love is their comfortable creations that never compromise the integrity in construction. The finished product is luxurious and entirely handmade as each piece is made to order. Maker & Son utilizes a mobile showroom, fabric samples, reviews, blog, and a live chat to further assist their current and future customers. The ability to try before you buy is merely icing on the cake!
2. Kelly Wearstler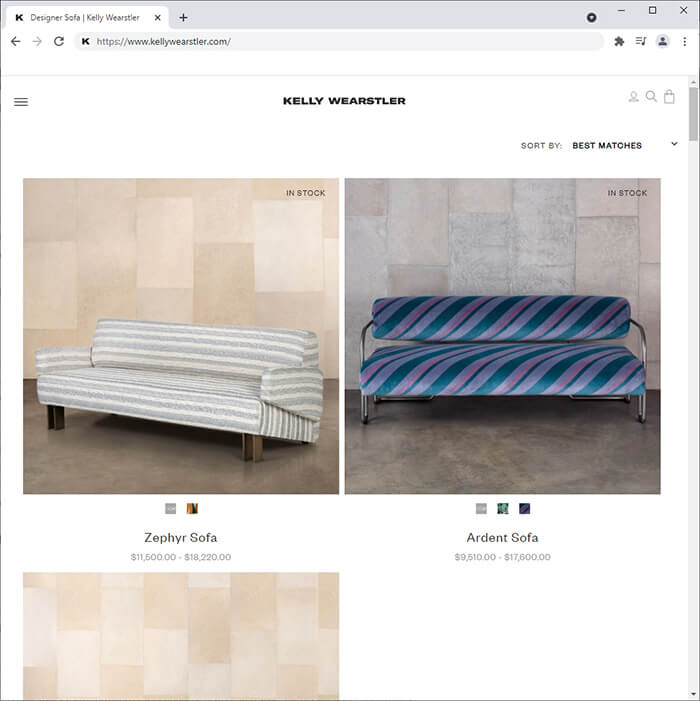 See website: kellywearstler.com
Armed with brains and brawn, the Kelly Wearstler brand is blazing a path in the world of modern interior design. You'll find this company featured in residential and commercial venues alike. Featuring ultra-modern and stylish furnishings from fundamental furniture pieces to decorative accents, you'll be intrigued and astounded by the beautiful quality apparent in each item. Founded in 1995, Wearstler started this company with the vision of multi-faceted creations to be used in hotels, houses, and places of business. Her look transcends time as it's a juxtaposition of functionality, history, and style. Clients will adore the brand's clean lines and sturdy shapes that embrace the longevity of such organic elements in the curation of geometric and contemporary designs. Kelly Wearstler delivers a modern mid-century style that nearly seems futuristic in its boldness.
3. Bunny Williams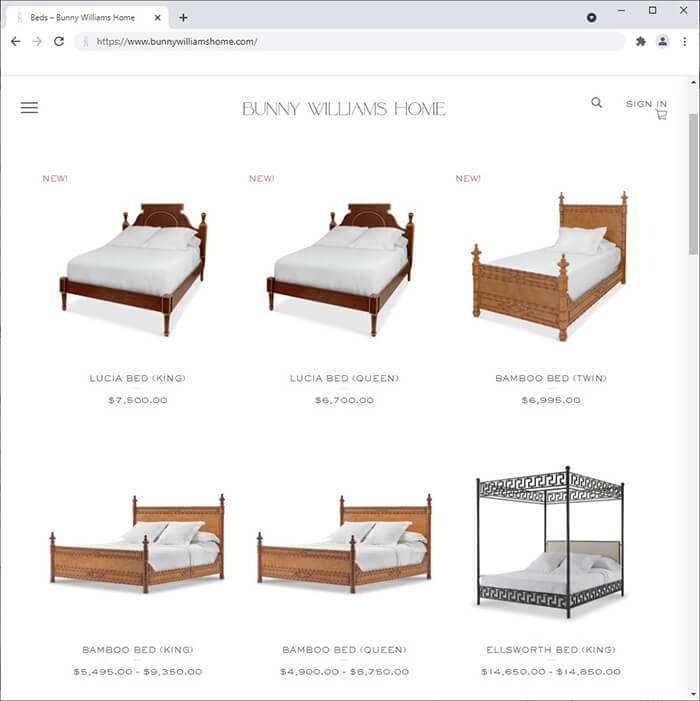 See website: bunnywilliamshome.com
Take home the unique stylings of famous interior designer Bunny Williams with her namesake brand's line of home furnishings. What's not to love about this infusion of style? Bunny Williams even incorporates her personal pieces into the collection as she reproduces some of her favorites for everyone to enjoy. The spirit of the items screams eclectic excellence in each piece. From drink tables to lampshades and all the essential furniture pieces in between, you'll find it quite easy to create a one-of-a-kind look for your home that is anything but cookie-cutter. And the eclectic nature of Williams' designs makes blending them into your existing decor quite simple. Exploring the collections, it's pleasing to discover the plethora of lighting in the form of tabletop lamps as these are not as readily available in today's world of design. Choose your favorite first, then pair it with the perfect shade to create a unique look for your home.
4. BoConcept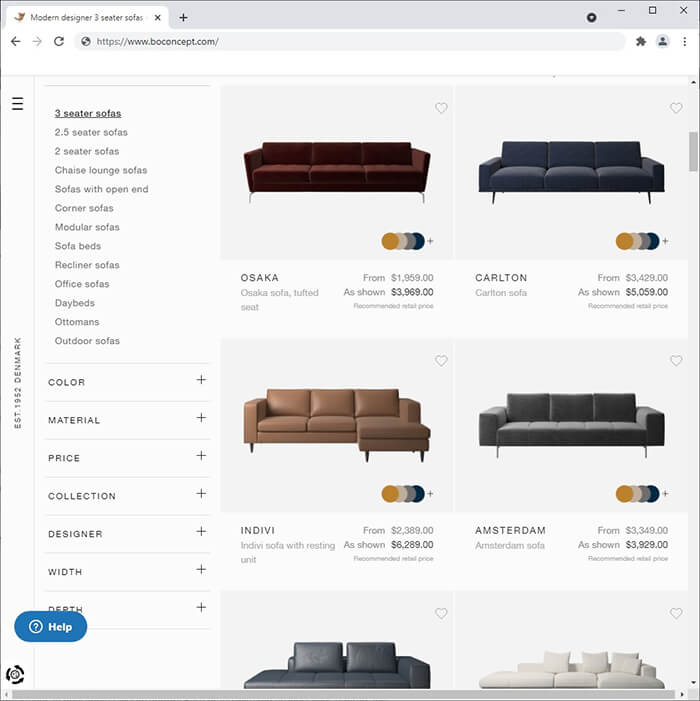 See website: boconcept.com
Interior design and modern living are the lovechildren born in 1952 when the contemporary Danish furniture company of BoConcept was launched. Styling your home with Scandinavian flair has never been simpler than today with all of the company's personalized designer-driven options. Shop in-store and consult with a professional interior designer or have one come to your home for a hands-on design experience. Mix your favorite old with your favorite new pieces to achieve a look that's truly you. Create the Nordic style of modern simplicity without feeling like a sterile hospital lobby. While BoConcept's vision is to continue the look and feel that's strikingly Danish design, it aspires to infuse current technology into the pieces to make them appealing to today's homeowners. One of the best aspects of this company's online site is the user-friendly format. If you know what piece you're looking for, it's right at your fingertips. Click on the sofa and a pull-down expands to specify your size to pinpoint your search to meet your exact needs. What's not to love about this type of precision and efficiency?
5. Sweetpea & Willow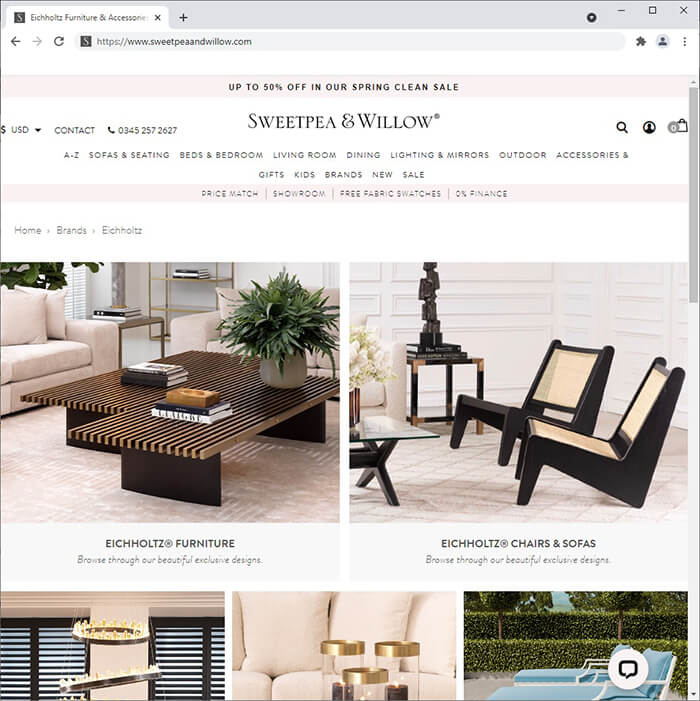 See website: sweetpeaandwillow.com
The sky's the limit in terms of nooks and crannies to fill up your home with these amazing pieces. Sweetpea & Willow offers something for every room of your home and even some pieces for your great big backyard. Infused with a European and contemporary style, the company features top designers as well as their signature line of custom-designed pieces. And if you are looking for something for the littles in your home, you're at the right place because this brand features a line just for them. The overall look and feel nearly compares to the American household favorite Pottery Barn brand with the product lines offered and seemingly curated vibe that anyone can style a piece and make it his/her own. This London-based brand has been brightening up homes since 2006 when its dream became a reality to enable everyone to bring to life the home they've always imagined, without breaking the bank.
6. McElheran's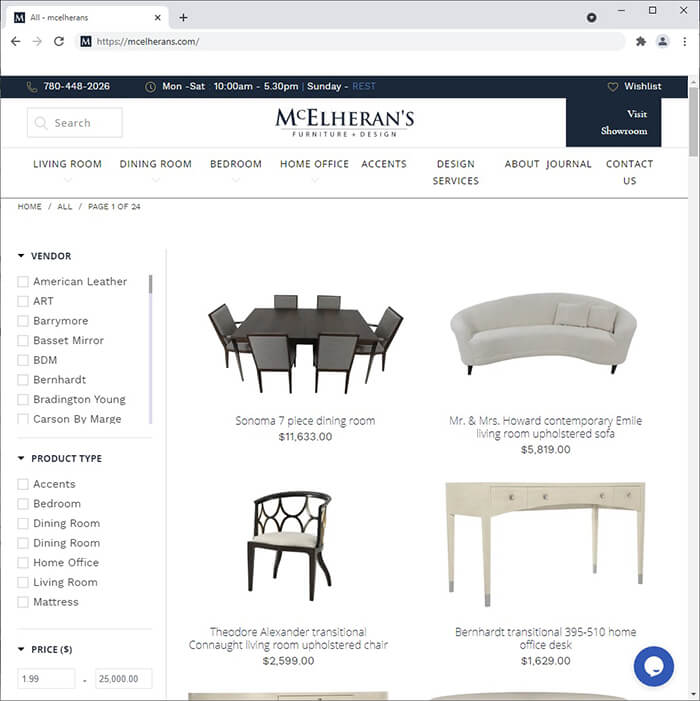 See website: mcelherans.com
If you're searching for one of the best high-end furniture stores be sure to visit McElheran's. You'll be thrilled to discover their classic contemporary styles that are a refreshing display of modern elegance. Grown from a father-son duo determined to share their love of fine furnishings with the world, the company has grown to inhabit a vast 18,000 square feet showroom and storefront. What you'll love about their furniture boutique is the ease in bringing your vision to life. With trademarked Style Guides on hand, you work side-by-side to revolutionize your home whether it's one room or the entire house. Coming home will feel like an escape as you'll enjoy lavishing in the space with your signature stamp in terms of style and design. Every room in your home will feel the love as their friendly website offers something for the kitchen to the bedroom. Gorgeous paintings are even included in their accents tab.
7. Danetti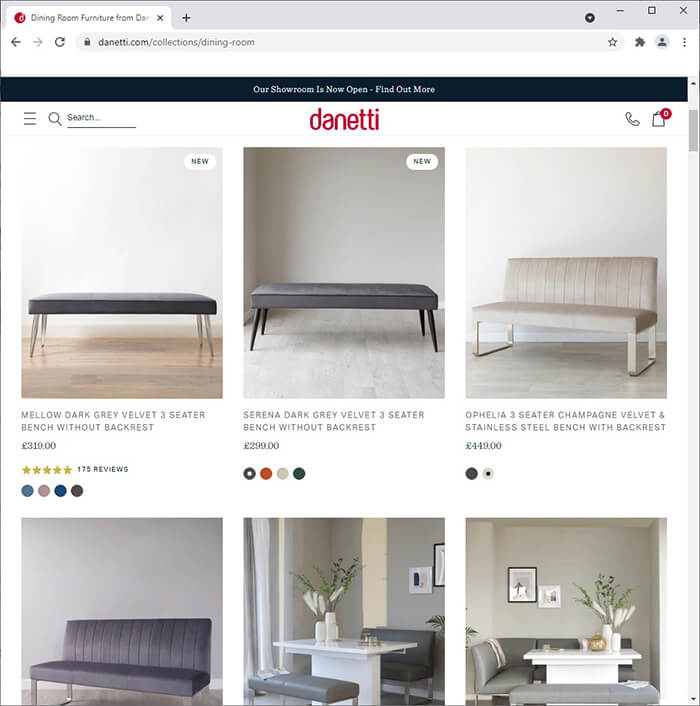 See website: danetti.com
Perhaps you've been known to have champagne taste on a beer budget? If this sounds familiar, Danetti must move to the top of your high-end furniture website list! You'll be amazed at the style that fits your budget without sacrificing quality or design. The modern contemporary look you love is everyone from your outdoor garden to the intimate bedrooms of your home with the vast options of this store. Whether you need a cool accent piece or a new sofa or bed, you'll be pleased to find they have what you want. What's the goal at Danetti? For everyone to have the opportunity to love the home they live in, that's the purpose. Whether it's lounging on Sunday afternoon or hosting a soiree on Saturday night, everyone should love the home they've curated and Danetti offers the style necessary for achieving this on a modest family budget. Featuring clean lines and smooth neutrals, you'll definitely discover a few pops of bold jewel tones sprinkled throughout their lush fabrics to add a unique personality to your modern home.
8. Boca Do Lobo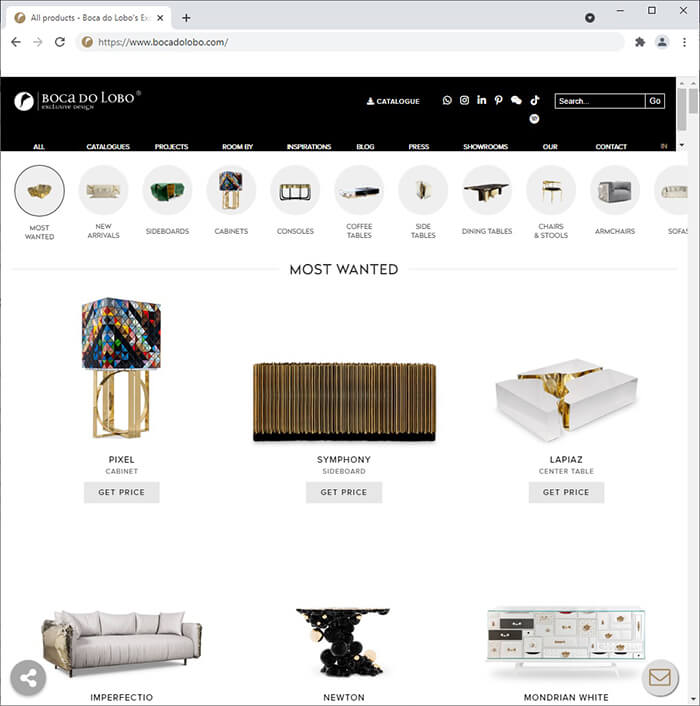 See website: bocadolobo.com
From safes to sideboards, Boca Do Lobo brings luxurious living to your fingertips! With traditional items in modern luxury style, your everyday living will be transformed into an elegant and tasteful designer's world in the comfort of your own home. Perhaps the iconic element in their high-end online store is the expansive assortment of over-the-top stylish storage units. Pieces that simply look like decorative accents are actually cabinets for normal living functions. You can love the home you live in and live in the home you love with the gorgeous designer-infused furniture and home accents offered here. Simply stated, Boca Do Lobo's look is Italian Hollywood Penthouse as only seen on the cover of a magazine. The incredible contemporary creations crafted from master artisans using traditional ancient techniques produce unique, posh pieces that are truly timeless.
9. ARHAUS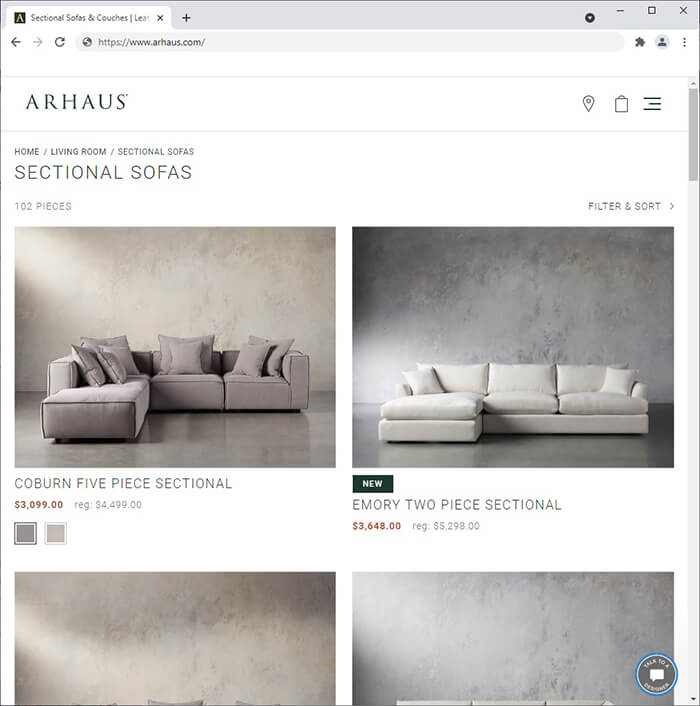 See website: arhaus.com
Built to last in designs that your future great-grandchildren will enjoy receiving, Arhaus furniture feeds itself on earth-friendly materials that produce stylish and quality decorations for your home. The lines feature furniture that isn't trendy or runway-stylish, yet offer impeccable taste with subtle style. From the back patio to the family room, Arhaus has something to fill the space. Additionally, the fabulous high-end furniture website has an extensive collection of paintings and prints to finish off a room with that perfect polished touch. One of the best parts of this brand's style is the simplistic character of the pieces that are gender-neutral in nature and work in nearly any design style from modern farmhouse to modern contemporary. The vision is clear in the construction as anyone can identify with the heirloom-quality exhibited in the craftsmanship and style presented in each piece.
10. CB2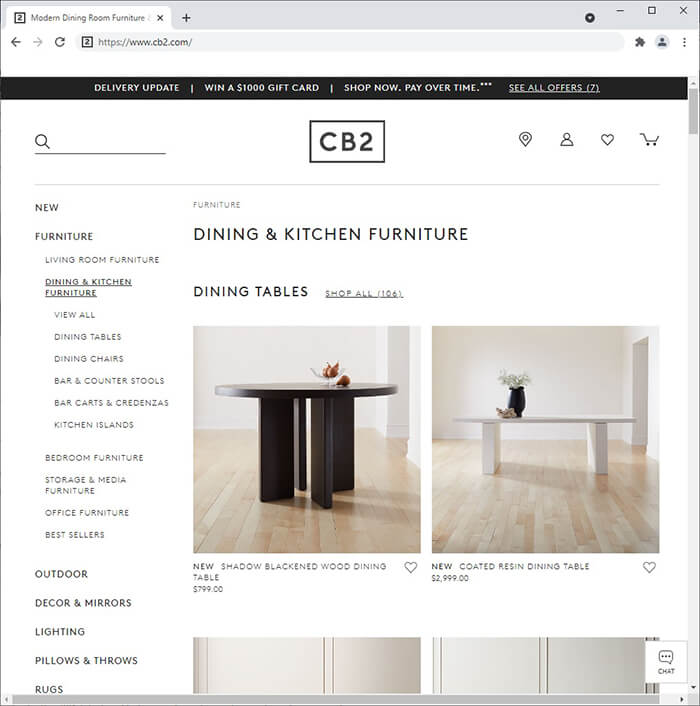 See website: cb2.com
Extending from the American company that includes Crate & Barrel comes the modern industrial influx that outfits the interior and exterior living space of your home known as CB2. With an extensive array of materials included in their designs, the curators of CB2 present the specific piece you've been searching for to complete your home. In the kitchen, you have a selection of bar stools including stylish materials like rattan, boucle, leather, wood, and metal. With an overall modern minimalist and industrial vibe, CB2 lends a professionally styled design to your home on a smaller scaled budget. Every room of your home is certain to enjoy updated recharging by incorporating some of these pieces into the mix. They take a step away from the classic high-end furniture boutique crowd with their ultra-cool games and accent pieces. From a brass and leather basketball hoop to sleek charging hubs, your modern space will feel at home with these personal touches.
11. Perigold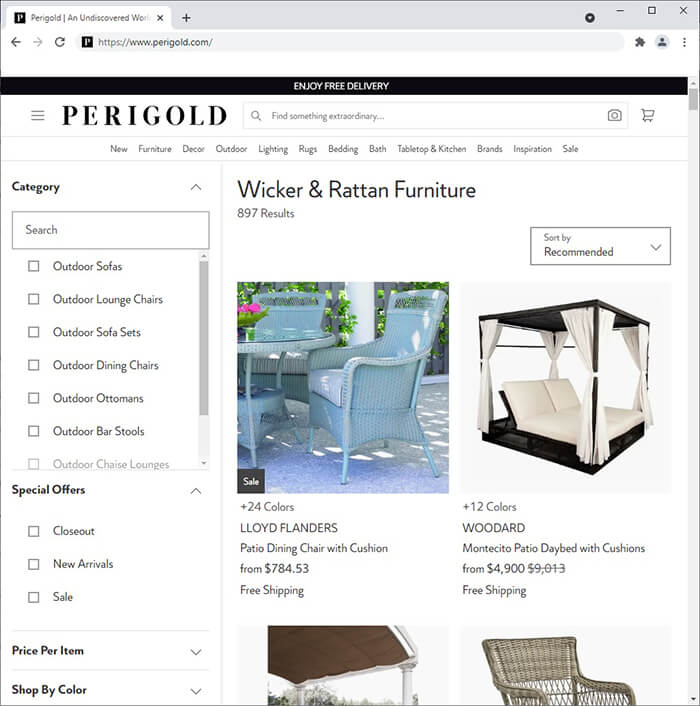 See website: perigold.com
This Wayfair company took off in 2017 destined to bring extraordinary designs to ordinary people. Dedicated to a new era of the online furniture boutique, Perigold has done its homework so you can reap the rewards. What generally took most of a lifetime to accumulate, now takes a few clicks of the keyboard to curate. Long gone are the days of settling for cookie-cutter furniture that meets the need and welcomed are the days of decorating the home you want. In the Perigold brand, customers love the timeless, old-world glamour they find in the carefully considered collections available. The rooms of the magazine lying on your coffee table can be lifted off the cover and fill up your home with rich golds, plush velvets, and neutral hues to blend right in with your coveted personal style.
12. MODLOFT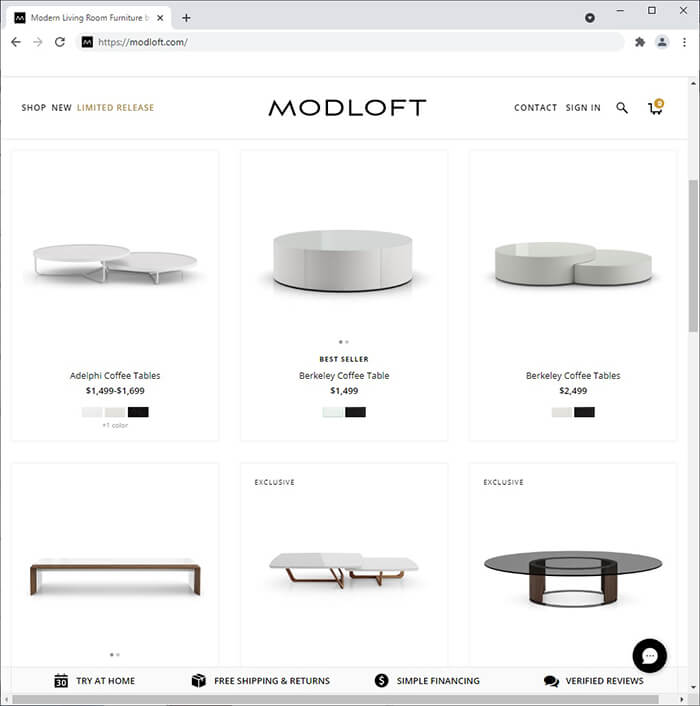 See website: modloft.com
Urban interior design at its finest is one way to describe Modloft. Focused looks that optimize the urban loft of a modern dwelling are the perfect backdrop for these sleek and sophisticated beds and sofas. As part of the family in pioneering the high end online store market for furniture, Modloft strives for intentional pieces giving you the design you'll enjoy calling home. Great design and personalized decorating doesn't merely happen: it takes planning, preparation, and plenty of heart and soul poured into the process. At Modloft, the people believe that what you put in is what you get out of life so why not make your home the place you dream? Forget the bachelor pad of yesteryear and take delight in this refined sophistication that would make any mate happy to take up residence.
13. ARTEMEST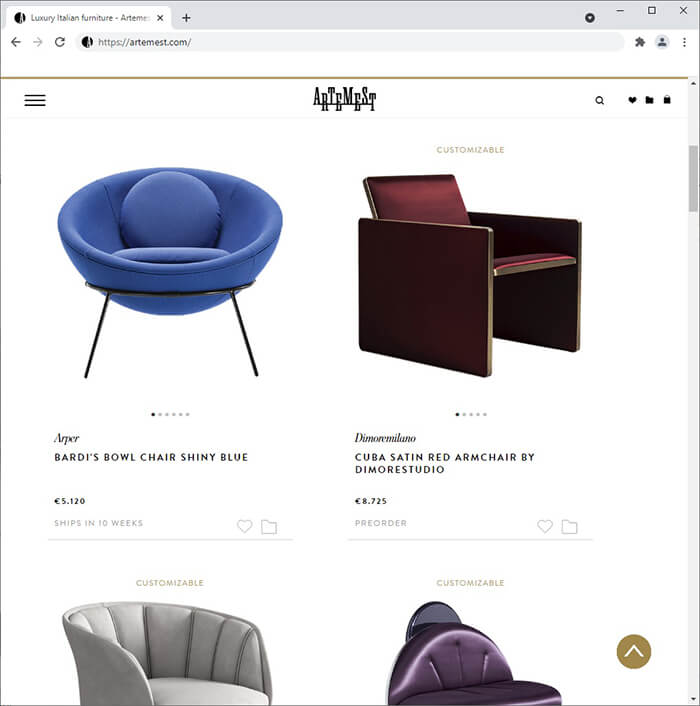 See website: artemest.com
Ultra luxurious and uber contemporary is where Artemest melds together. With an unmatched modern design mind and a bold splash of color, you'll love the unique and cool chairs and furniture pieces available to purchase at one of the best high end furniture stores online. You'll start with re-decorating one room in your home and before you know it, you'll be engrossed in a house full of style. It's easy to love the top-notch quality and impeccably unique styles delivered with several pieces that include your personalized stamp of approval in the customization process. Choosing the style and color are standard options on many of their interesting pieces. Be reminded of an unforgettable vacation as you bring luxury resort furniture into the comfort of your living room with the fashion-forward finds at Artemest.
13 Great Online Stores for Finding High-end Furniture
You decide whether this list of thirteen of the best high end furniture stores is lucky or unlucky. Expressing your personal style has never been easier than today with the accessibility of high end online stores that have taken careful consideration in offering you the best of luxurious and modern contemporary decorations that resemble a five-star hotel lobby.
Long gone are the days of settling for pieces to get by because now you can bring your dreams to life in the comfort of your own home. No longer do you just have a dining table: you decorate the dining room around your table since it is a statement piece on its own. Whether you stick to a budget or not, a couple of these amazing featured shops will become your go-to home decorating resources as the best high end furniture stores on the planet!