Welcome the warm weather with cheer and excitement as you update your interiors with a colorful and lightened look this summer. With these fifty decoration ideas, you can easily transform the boring looking living space to a relaxing and bright cozy setting. Summer is all about beach, fun, and outdoor enjoyment. Make your home or apartment look like a beautiful summer beach house or a coastal inspired cottage. Many of us often assume that a home makeover will cost a lot. The truth is you actually don't have to spend a lot on these summer house ideas for a home makeover. You just have to be creative and use some of these coolest decoration ideas for your home interior decorations. It is important to keep in mind not to overdo the theme. By combining some neutral accents with some colorful decorations, you can creatively give a contemporary and vibrant look to your interiors.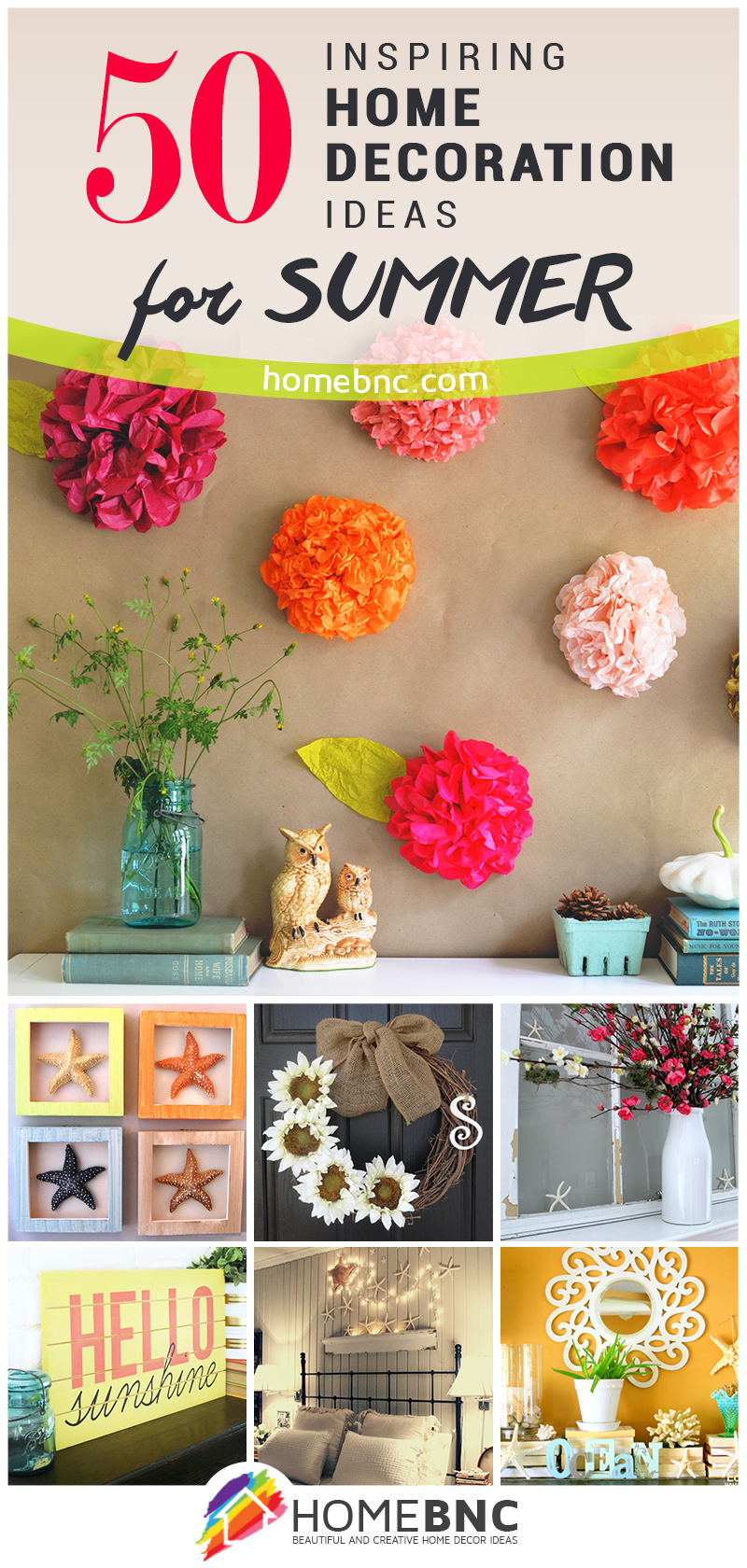 With these fifty easy-to-do makeover and summer house ideas, you can easily make your living room look less formal and more like an optimal place for family entertainment and relaxation. These room décor ideas include everything from a DIY project for your living room to an easy color combination scheme for your interiors. Try these easy summer house ideas and enjoy the new look of your home and all that the season has to offer.
Prepare for Summer with These Fifty Home Décor Ideas
1. Colorful summer design tissue paper flowers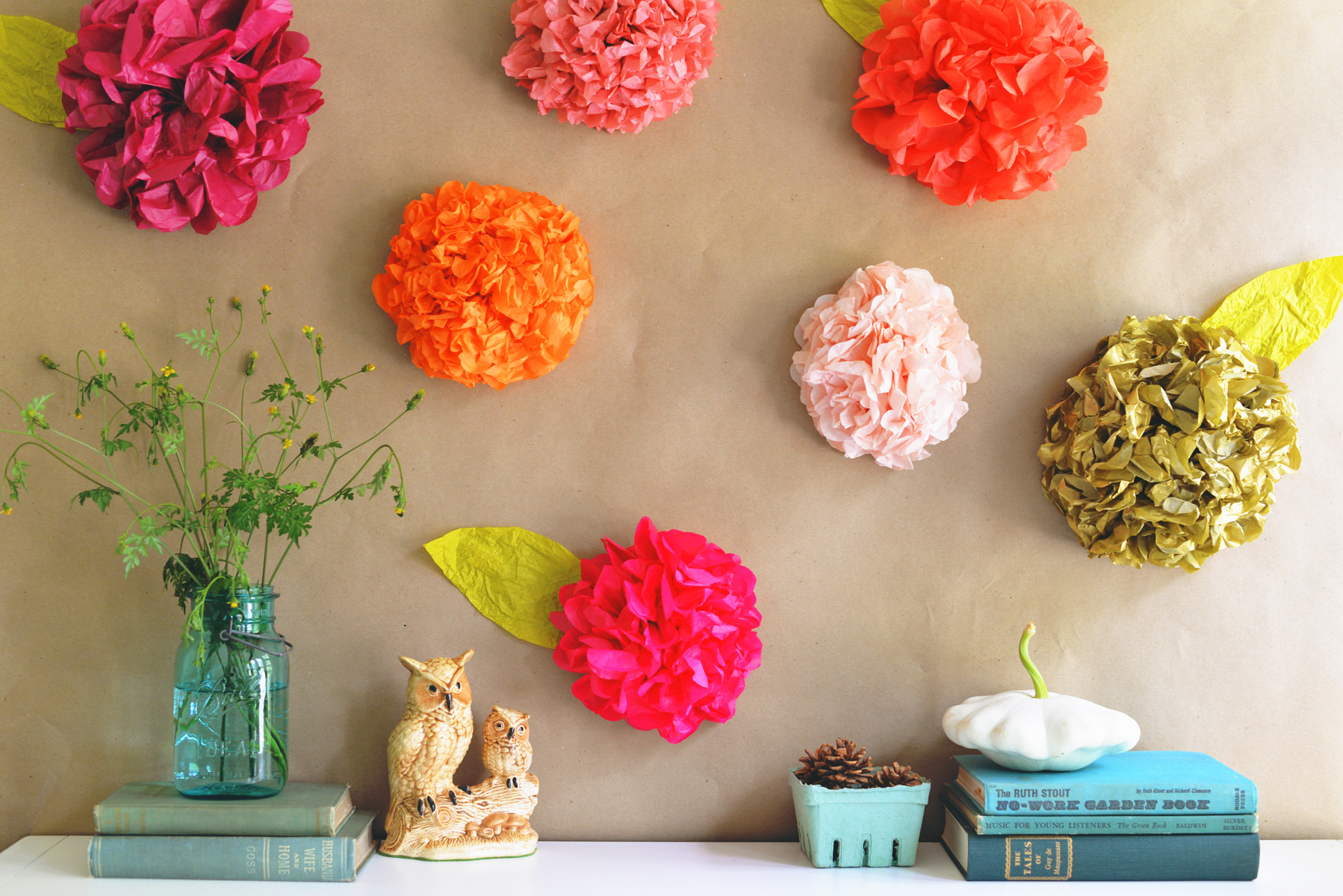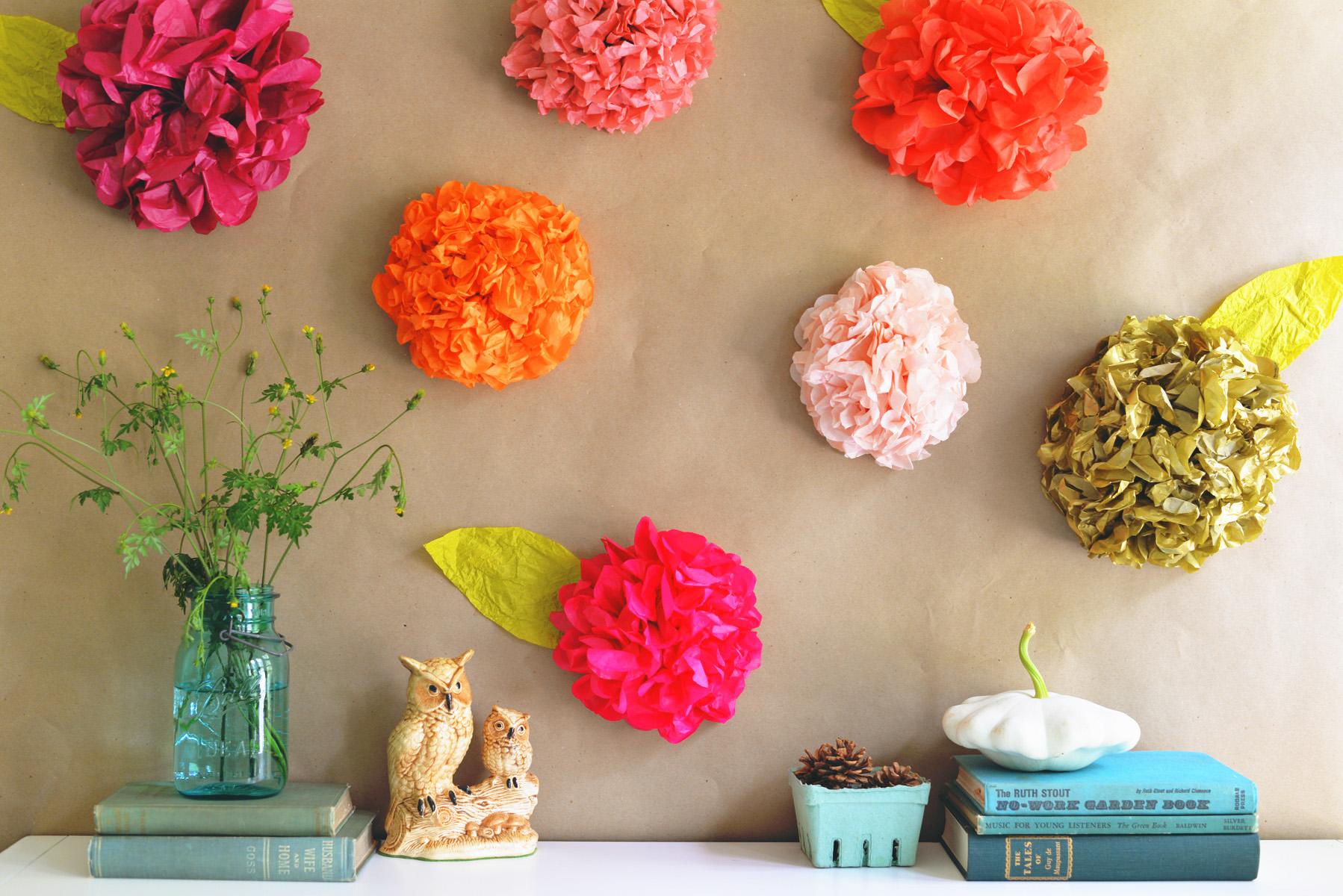 Surprisingly, these beautiful tissue paper flowers can be a great décor. These paper flowers are very inexpensive and easy to make. The supplies you need are colorful tissue paper, stapler and scissors. Just with a few steps, you can create these lovely flowers. There are lots of ideas to make tissue paper flowers and you can incorporate them in your summer room decor project. These colorful flowers are perfect choices for centerpieces, flower vases, doorway swags and garlands for showers and special party decorations. To give you tissue paper flower a new look, use glitters, ribbons and even paper leaves. Find all required supplies you can find at any craft store.
2. Beach-themed summer decor for any room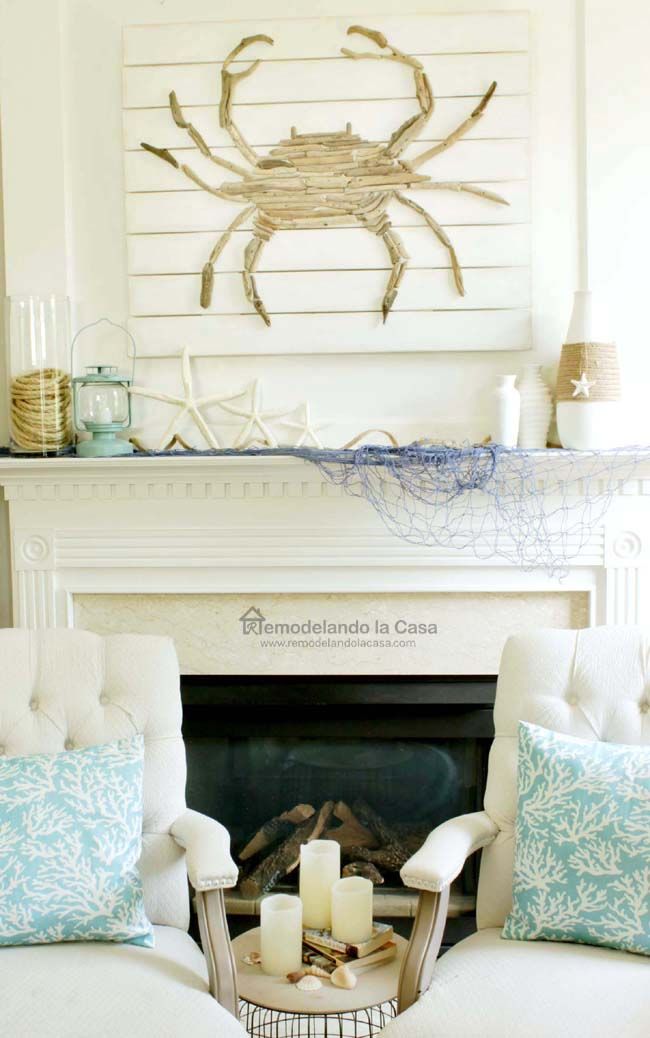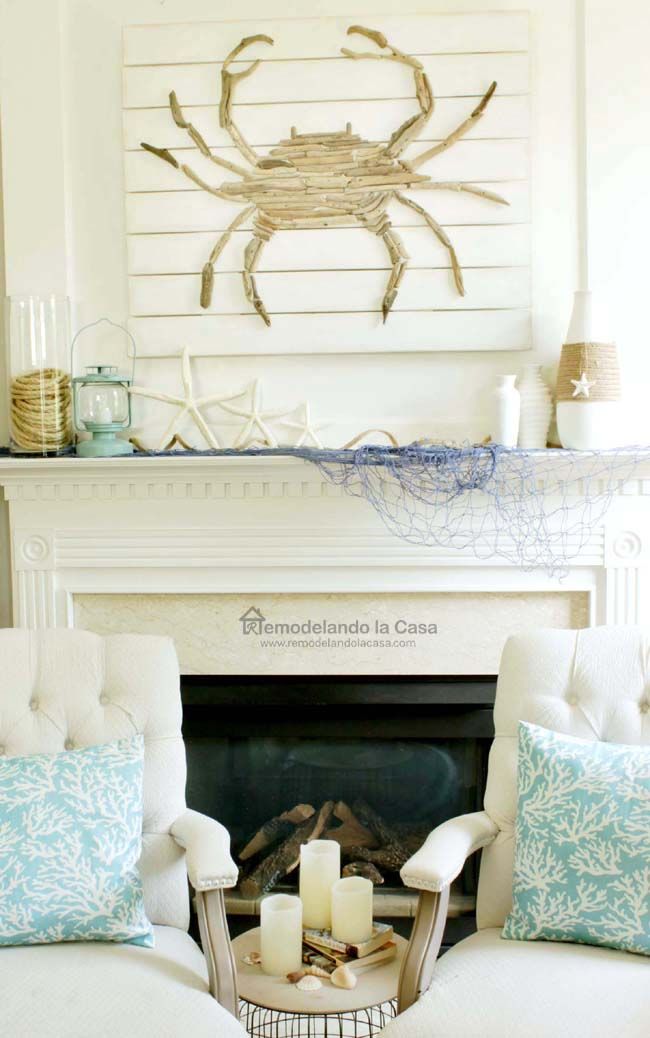 A perfect summer must include some beach fun. Bring that joyous vibe to your home by choosing these beach theme summer decorations. Choose some pastel and neural shades to create a perfect summer backdrop in your living room or bedroom. White accent chairs with turquoise pillows, a rustic lantern on the fireplace mantle, and some beach-inspired wall decors such as ropes, fishing nets and shells and a matching vase will complement this theme. Neutral shades will match beautifully with the nautical and beach theme. Pick some of the decoration of your choice, match with beach-themed decors and give your room a complete summer makeover. Be creative in choosing your summer decorations. Include everything from shells to driftwood and even spare trinkets to create a charming center piece or to make an art from this beach bounty.
3. Photo garlands and summer mantel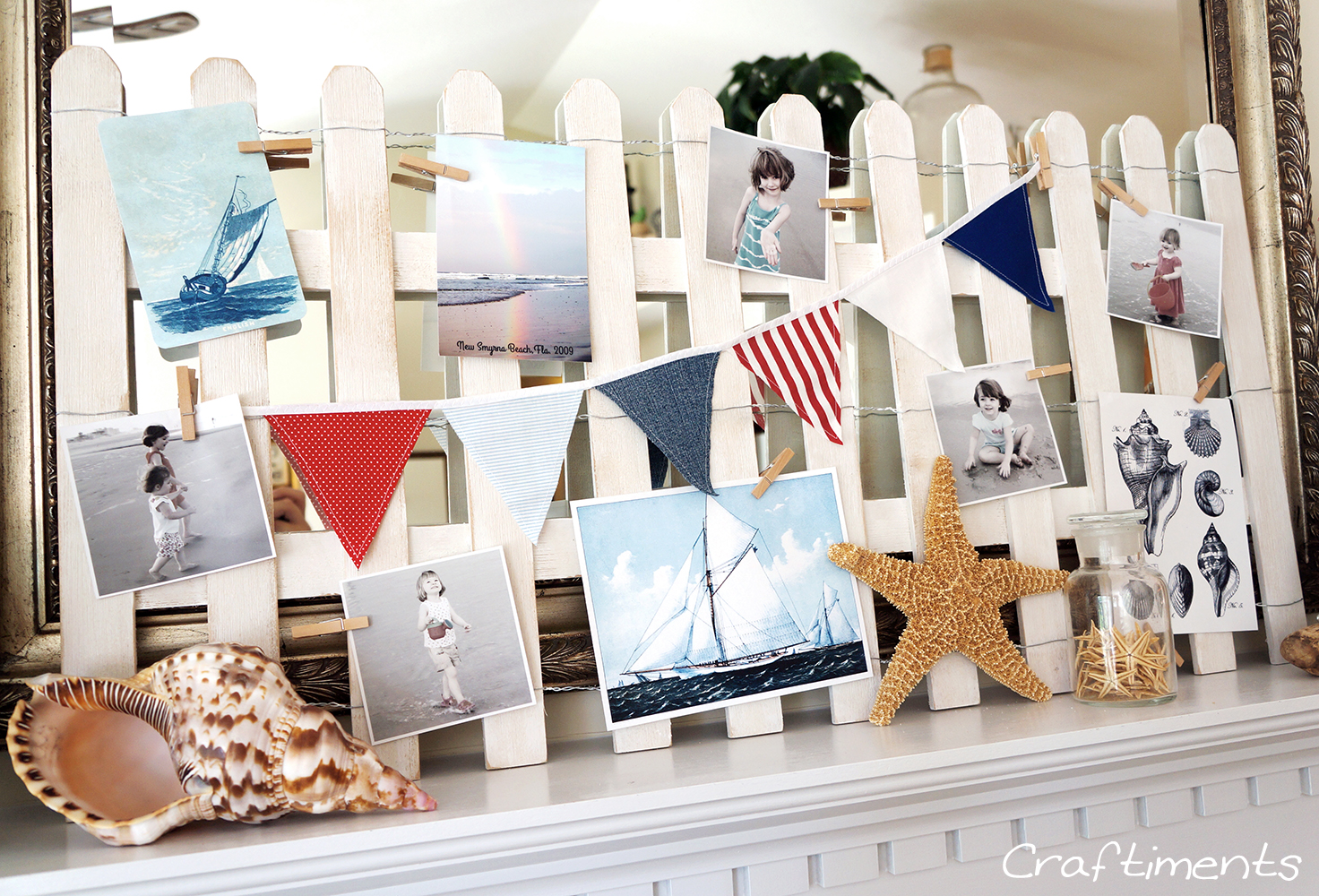 Bring your summer memories to your home by creating a photo garland with these summer house ideas. Choose some of your old summer time pictures, your family portraits in flower gardens or near the beach for this garland. Add some old postcards and hanging shells to give this garland an eye-catchy look. Making this photo garland is easy and fun. Work together with your kids and loved one to make this beautiful summer décor for your home. Hang it in a room with beach-inspired summer decor or at the entryway. Create a backdrop with faux wood fences to hang your garlands and add some shells or artificial flowers to match the theme. This photo garland can be used with your beach themed centerpiece or over your fireplace mantle too. Hang it over the fireplace and create a beautiful summer room decor.
4. Colorful floral arrangements summer house ideas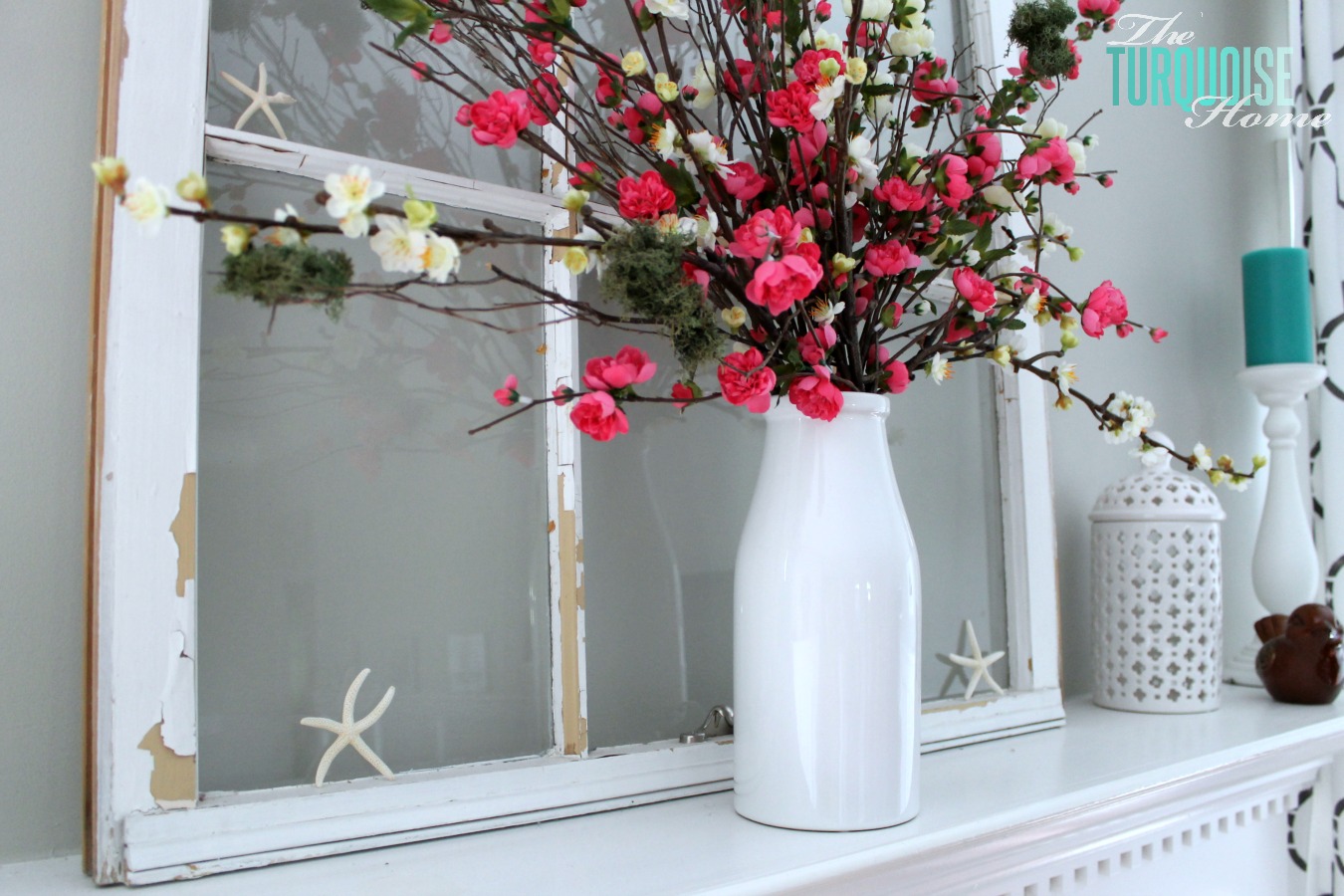 Source: The original source is not available anymore.
Brighten up your interior space with some colorful floral arrangements and summer decorations. You can never feel bored with these floral decorations. Spring and summer are all about lush greens, breezy outdoors and colorful flowers. Blossoming trees in living room or a colorful bunch of flowers in a glass or neutral colored vase makes a perfect summer décor. Create a floral arrangement with some bright shades of flowers and place it on the entryway console table, near a wall niche or on a side table in your living room. Same summer house ideas and theme can be applied to other parts of your house too. Make your breakfast area or dining room look stylish and summery with some floral runners, flower centerpiece and floral themed crockery. You can match the theme with some breezy drapes or neutral colored curtains.
5. Nautical summer decor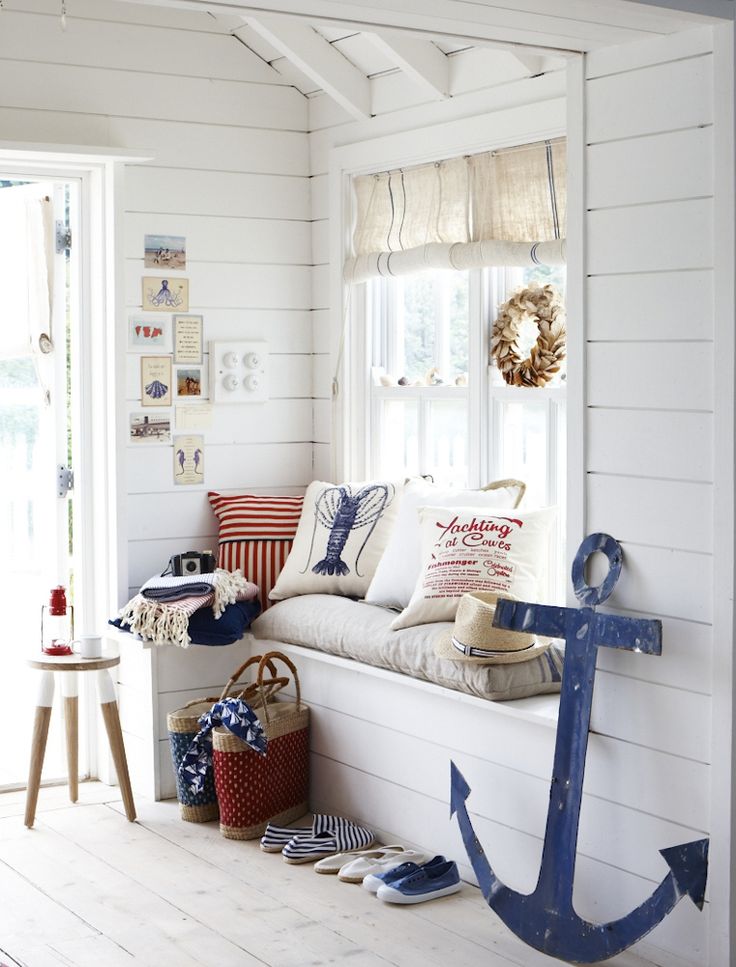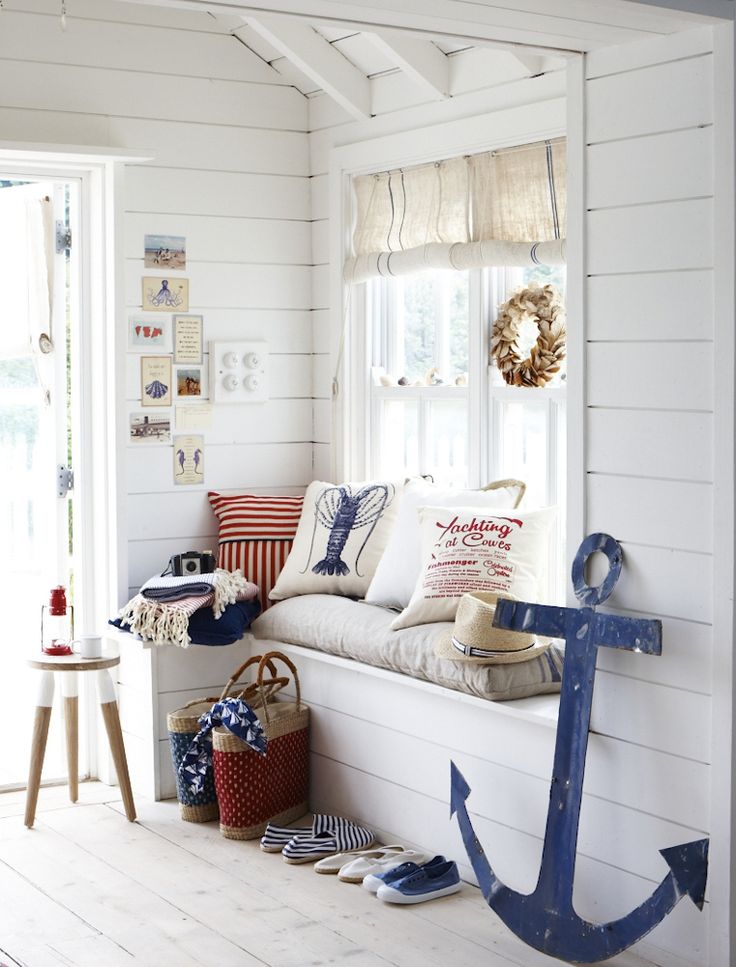 Source: The original source is not available anymore.
Decorate your home with a nautical charm to make it look like a coastal inspired setting. Whether you leave in a city far from a seashore or in a peaceful countryside, these beautiful themed summer decorations will bring back your memories of a relaxing beach vacation. Regardless of your home's overall style, home design and home décor, you can always add some nautical summer decorations to give your home a relaxing and refreshing touch. The simple hues of seaside colors add a laidback charm to your interior space. Nautical decorations look great with a warm and white backdrop. Choose a space of your choice and give it a complete summer makeover. Paint the walls with any shades of white or beige before you start with your nautical theme. Add some accessories like beach tote or hats to give the space a complete beach-inspired look. A nautical wall décor with some seashell centerpiece or wall hangings will match this theme beautifully.
6. Bright and bold summer decor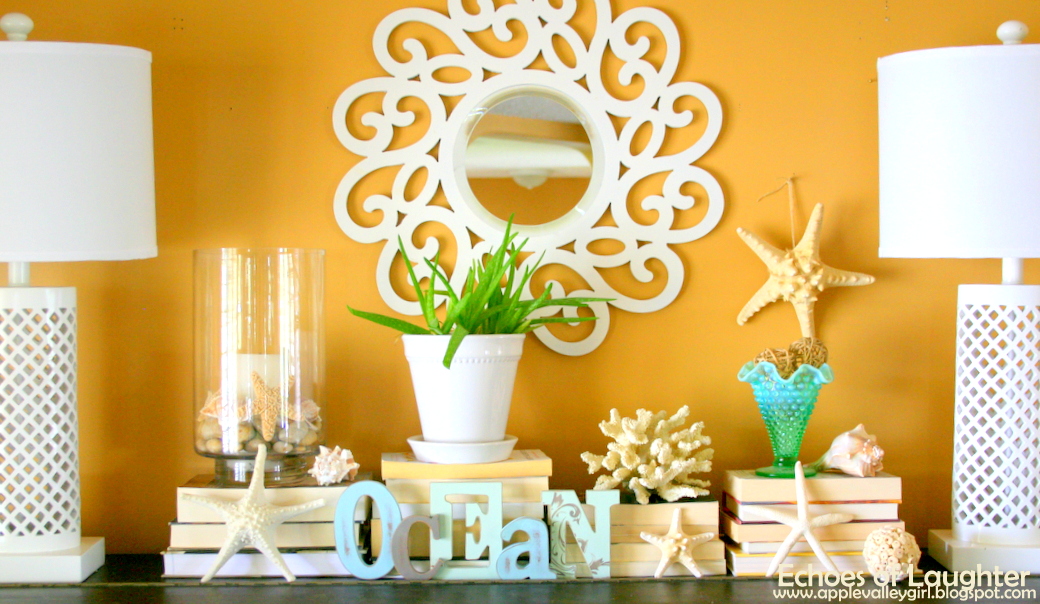 Source: The original source is not available anymore.
This idea is not for those who love warm and pastel shades in their home. Summer is all about flowers, colors and sunshine. Make your home look like a summer-inspired space with some bold and bright hues. A yellow backdrop with some nautical summer room decor, white furniture and lush plants will brighten up your home this summer. Choose a wall in your bedroom or in the hallway to create this theme. Select any color of your choice that goes well with the summer theme. A bright yellow or a bold pink and turquoise makes a perfect summer backdrop. Because you are choosing a bold backdrop, use white or neutral shades of décor and furniture to complete this theme. Add some mirrors, lamps with warm lamp shades and a few decorations. Don't overcrowd the area with a lot of summer decoration or matching flowers.
7. Summer design Pinwheel centerpiece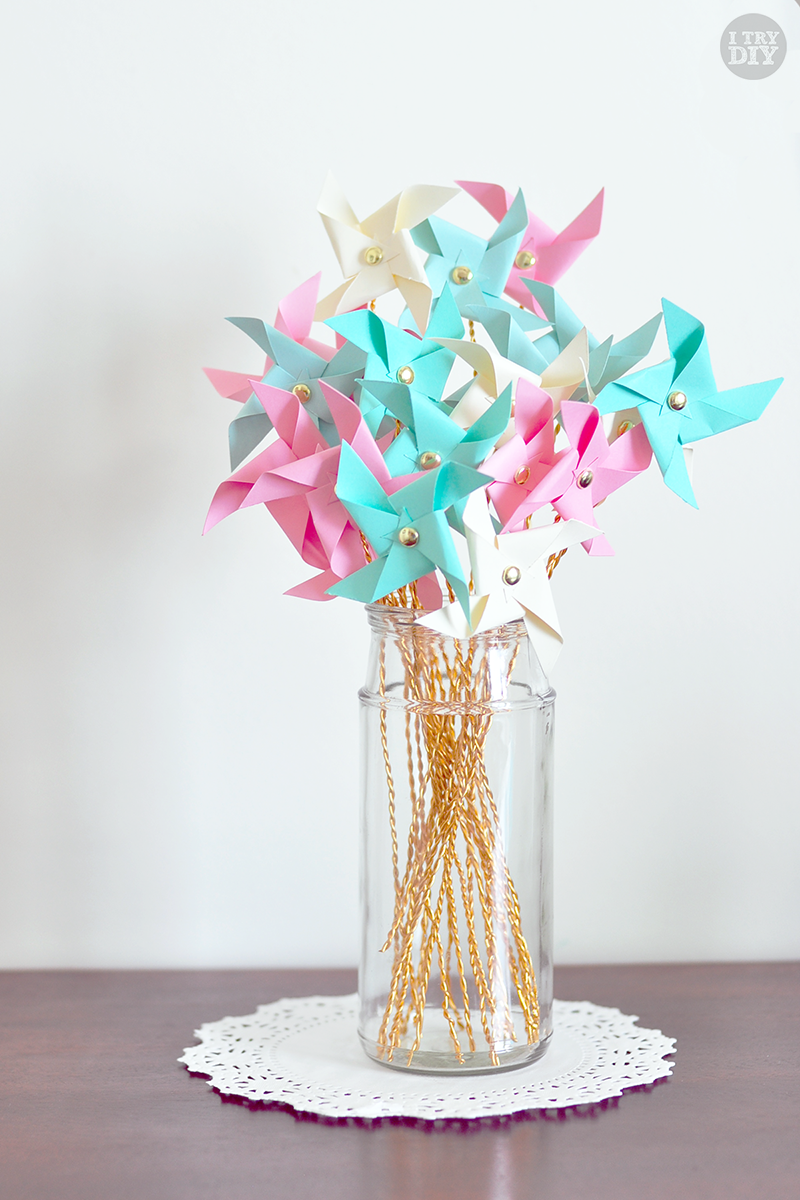 Source: The original source is not available anymore.
Pinwheel paper fans always relate to our childhood summer memories. Create an exceptional bouquet with some handmade pinwheels to add a pop of color to your living space. These paper pinwheels are easy to make. All you need is a variety of colorful cardstock, scissors and a few round fasteners. Use some wires to create the pinwheel stem and you are good to go. These beautiful pinwheels can be made in different lengths to fill the vase. This centerpiece makes a perfect summer decor. Choose some unusual summer shades or bold colors for your pinwheels. Place this vase anywhere you want and you will surely get some complements.
8. Summer-themed living room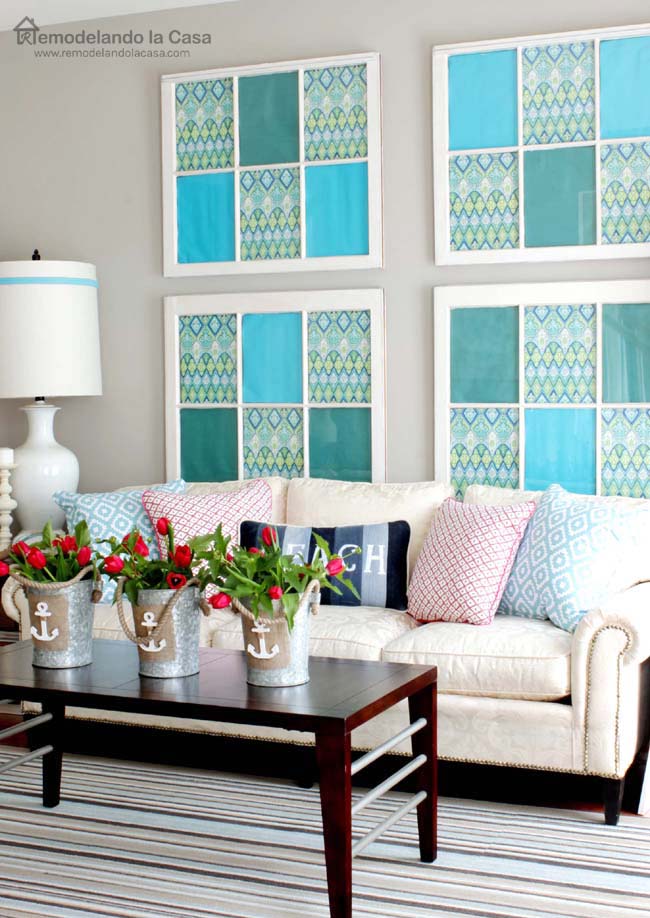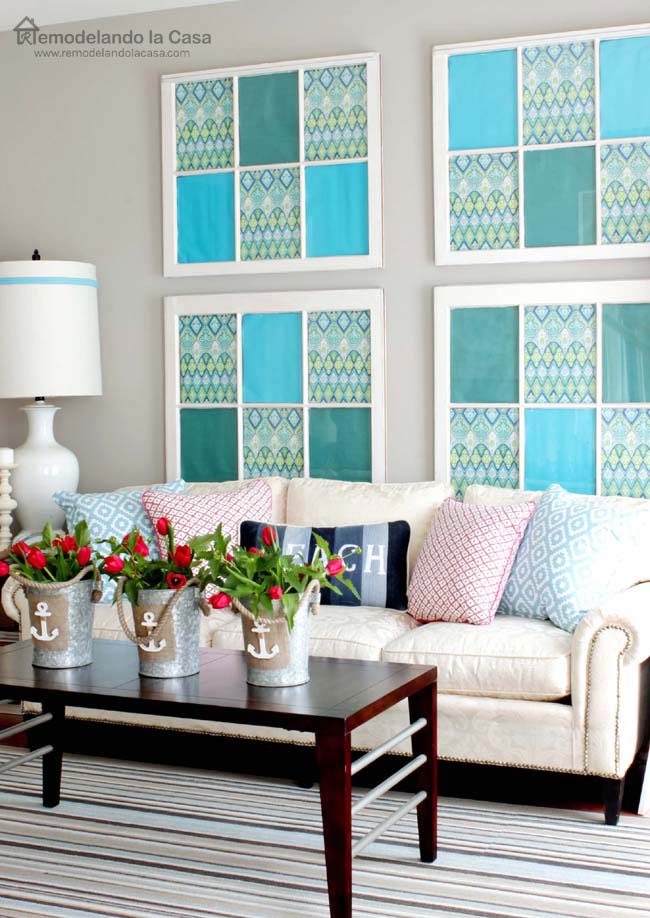 Whether you have a small or a huge living room, this summer-inspired theme will perfectly match your living space. Just by changing the theme, you can actually save a lot of money that you might have spent in remodeling your home design. Update your living room walls with some gray or white shade. A neutral shade creates an ideal backdrop for a perfect summer themed décor. Use some neutral colored furniture with some bold accent pillow. Add some bold shades to the wall by choosing any of those coastal themed wall art or abstract painting of your choice. An old window gallery wall is also a perfect option for your summer decoration. Create a centerpiece with a galvanized bucket filled with fresh or artificial flower. This contrast combination makes a strikingly stunning home décor. Place these buckets on your coffee table or any corner of your choice.
9. Tissue paper lanterns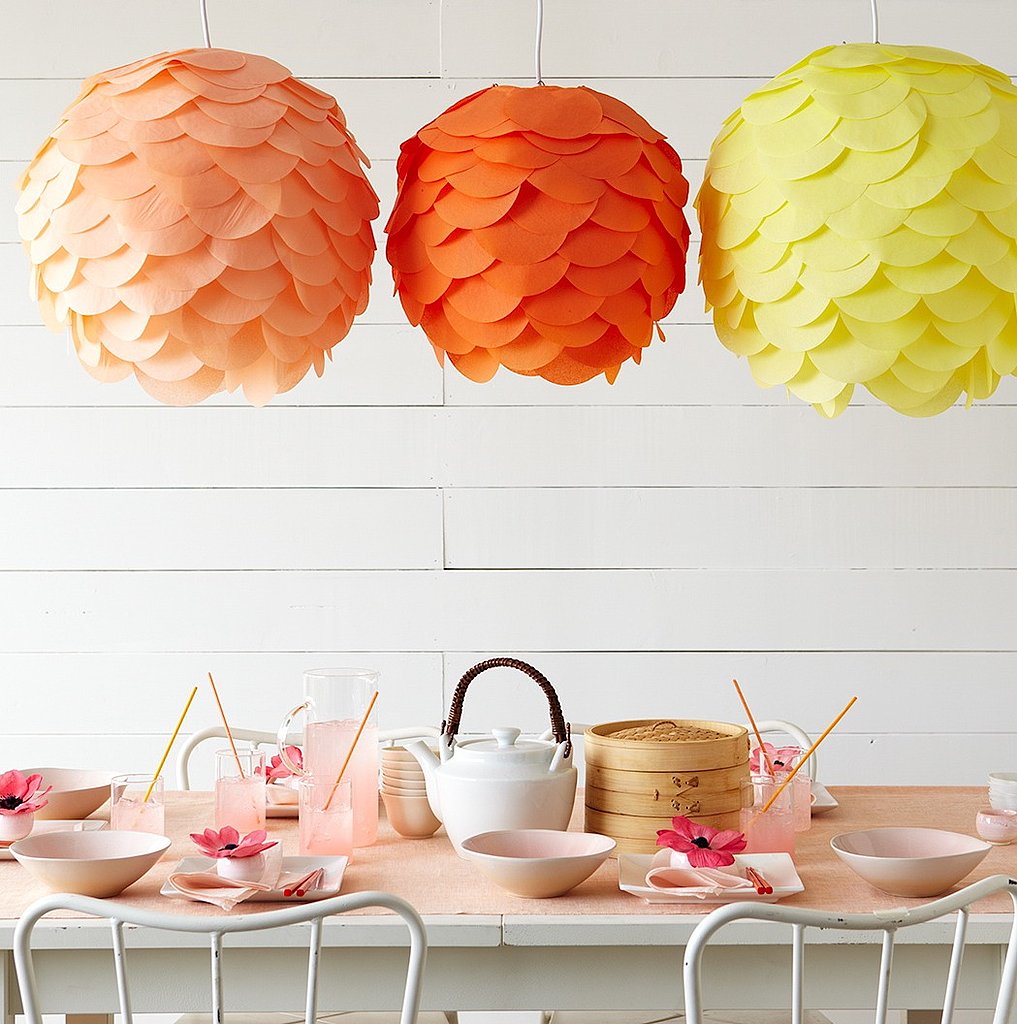 These colorful lanterns not only look great, but these are also easy to make. Add a pop of color and a touch of Japanese style to your home this summer with these colorful summer design paper lanterns. This easy DIY project is fun for each one in your family. Get some of those white paper lanterns to start with this project. Choose some vibrant orange, yellow or pink colored tissue papers for your summer lantern. These colorful summer design lanterns can be used indoors and outdoors too. For a summer themed party, these lanterns make a perfect home décor.
10. Cool summer mantle summer room ideas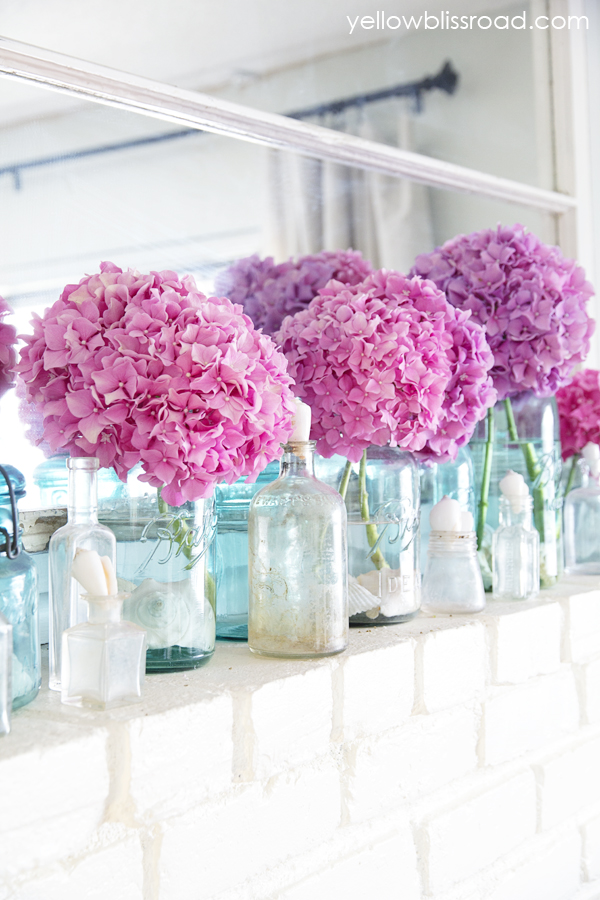 When it comes to the modern mantel summer decorating ideas, you cannot go wrong with some bright and fresh floral arrangements. Arrange some fresh pink flowers in a clear vase and give your mantel a summery look. You can use more than one flower vases and create a monochrome effect too. Add some glass jars with seashells or glass showpieces to complete the look. Use this summer design idea to decorate your fireplace mantle or any mantle around your home. This cool summer décor works best for a party night summer room décor arrangement too. You can make these floral arrangements in the last minute to keep the flowers fresh for a longer period.
11. Floral door wreath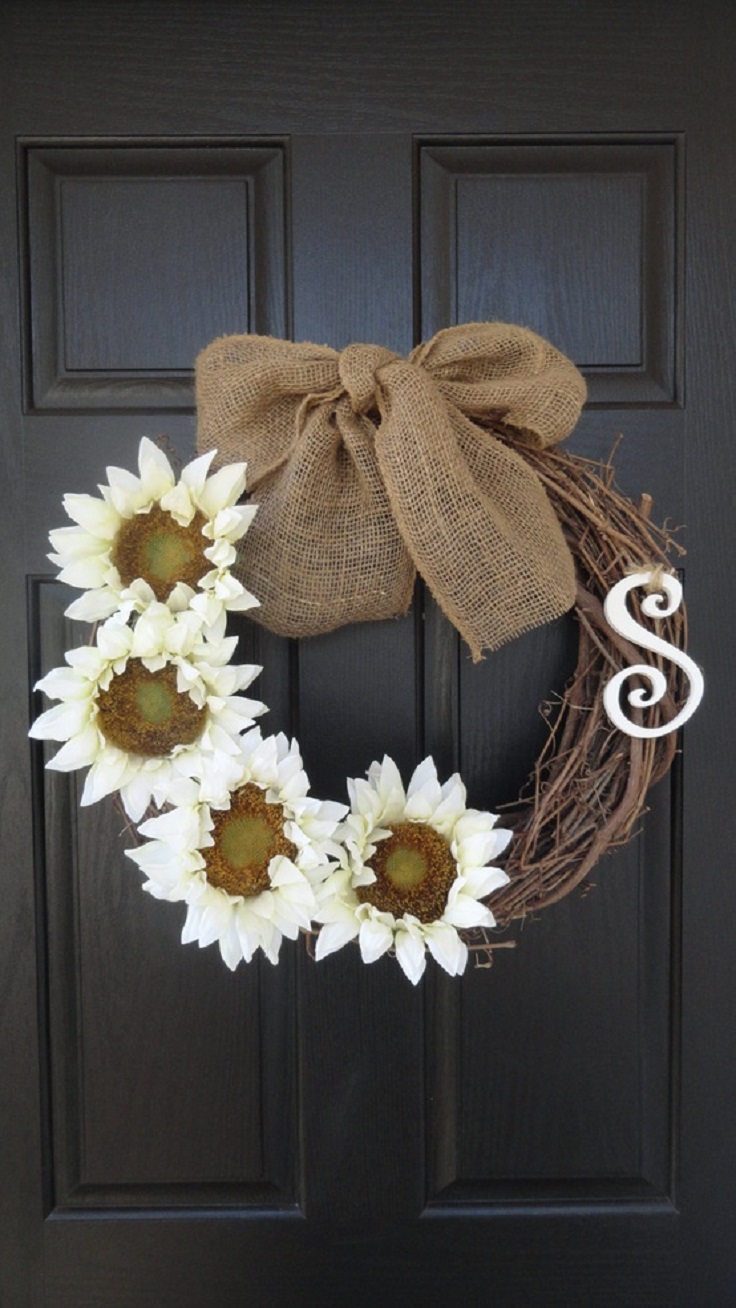 Source: The original source is not available anymore.
A wreath is not just for fall or Christmas. You can create a beautiful floral wreath for your summer decorations too. Use a twig wreath to start with this DIY project. Hot glue some artificial sunflowers to the twig wreath and adorn it with some matching ribbons and embellishments. If you love colors, add flowers of different colors and sizes. Bright yellow flowers and summer blooms look great on this door wreath. Instead of choosing pastel flowers, go for the bold colored ones. This will be a perfect transition from spring to summer. This neutral and bold color combination on the summer décor twig wreath looks great on a dark colored door.
12. Summer themed study room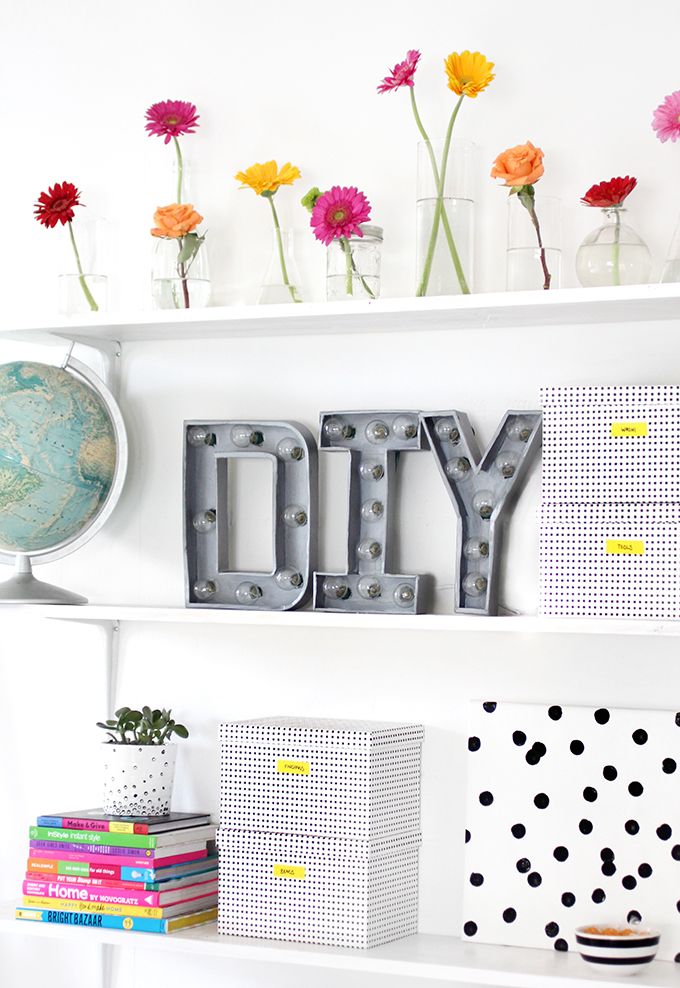 Source: The original source is not available anymore.
Your little study corner or library also deserves a cool summer makeover too. Although the classic dark wood and earthy tone combinations are ideal for a library setting, you can brighten up the room's look with some summer decorations. Bright flowers, neutral backdrop and colorful book boxes will ideally fit your summer house ideas in the study room. Paint your study room in white and choose white library book shelves. Add some floral decorations to highlight the shelves. You can use fresh flowers in clear glass vases. Minimalist décor style suits the theme very beautifully. A polka dot storage box or a damask book box will complement the theme. Don't forget to add some lights for that nighttime shine.
13. Colorful floral accent pillow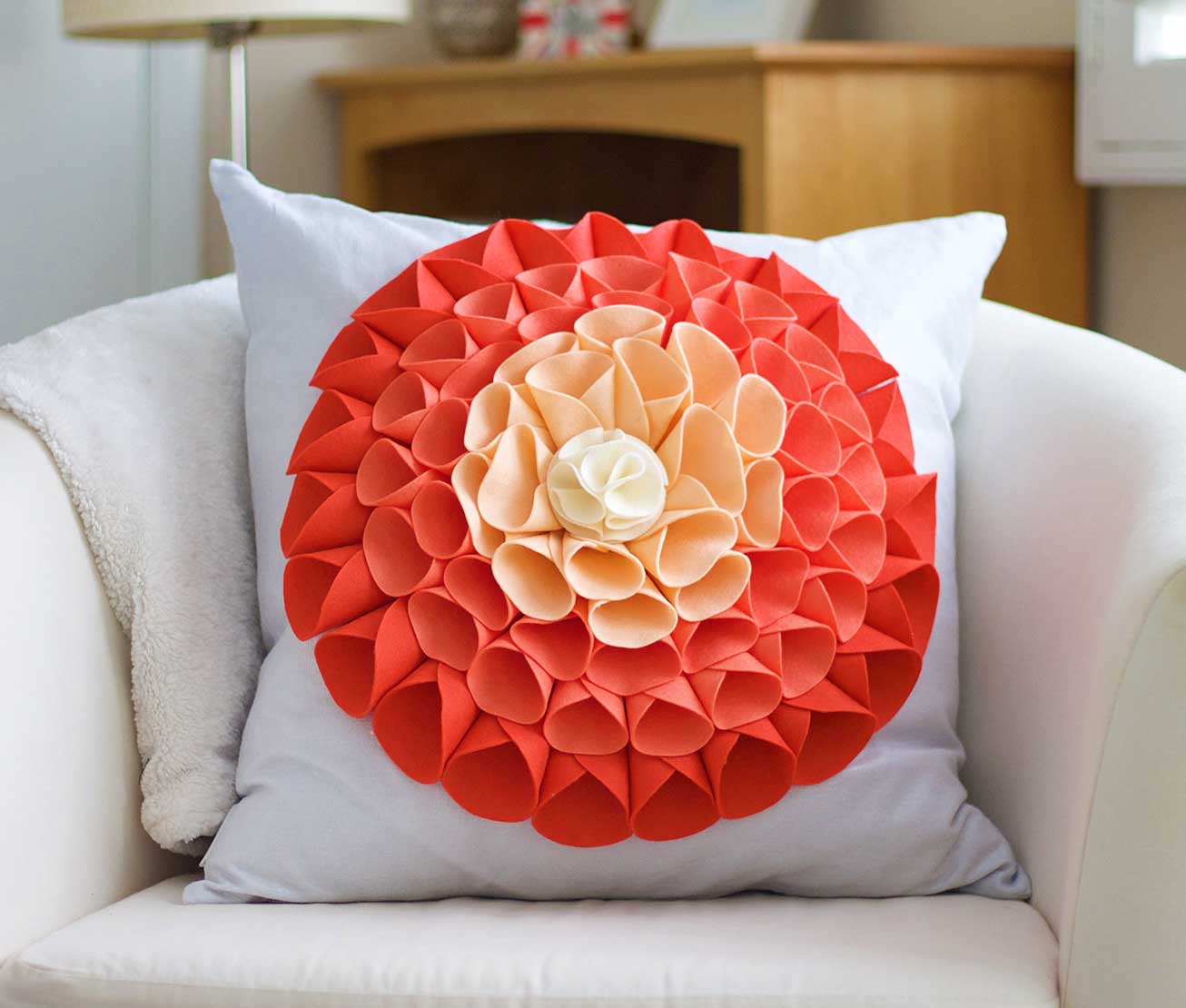 Source: The original source is not available anymore.
Decorative pillows can accentuate the summer theme home decor and home design. This DIY accent pillow with 3D floral design will add a pop of color in your living room. Choose a white or neutral pillow cover to start with. Select the felt craft fabric of three vibrant colors. You can cut out discs to make petals out of the felt fabrics. Hot glue the petals in a circular manner and create the full bloomed flower on your pillow cover. This accent pillow works great in a neutral themed living room. You can also match the color with your rug, curtains and lighting to complete your theme. This floral pillow makes a perfect accent summer home decor. After all, summer is all about color and freshness.
14. Perfect coastal shadow boxes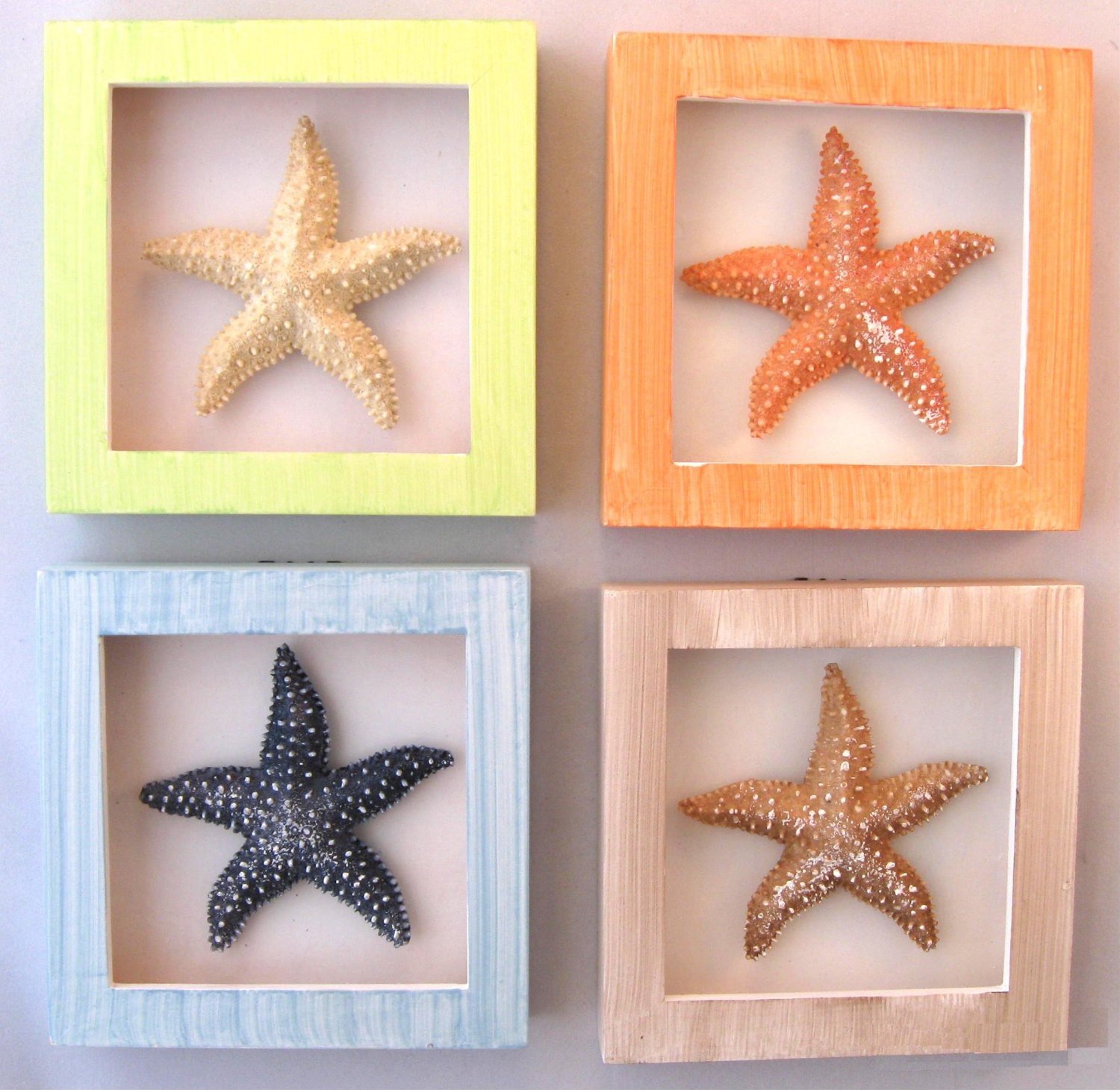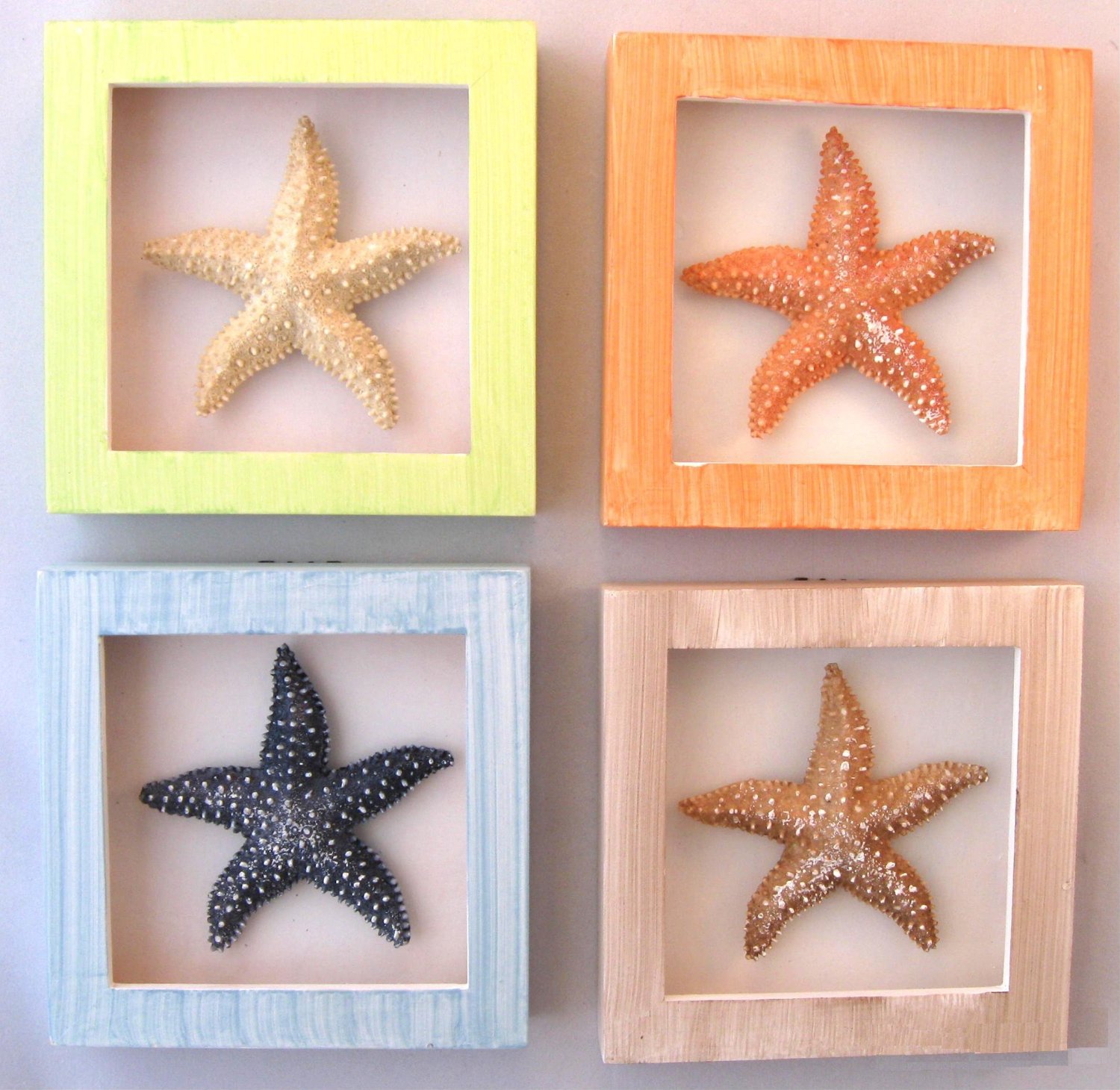 Shadow boxes with seashells or organic treasures can be a perfect addition to your coastal themed summer room ideas. You can find a variety of shadow boxes in stores. If a DIY project excites you, create a shadow box on your own. Choose seashells of different shapes and glue them on a white backdrop in a shadow box. You can use one seashell per box or multiple seashells based on your preference. Make two to four shadow boxes to use them for decoration. Coloring the seashells is another option to highlight their shapes too. These beach-themed shadow boxes can be placed on a wall inside your bedroom or at any place you like. You can choose shadow boxes with open in the front style or with a glass enclosure. Add some themed home decor in your beach room with these beach shadow boxes.
15. Colorful bedroom home decor for summer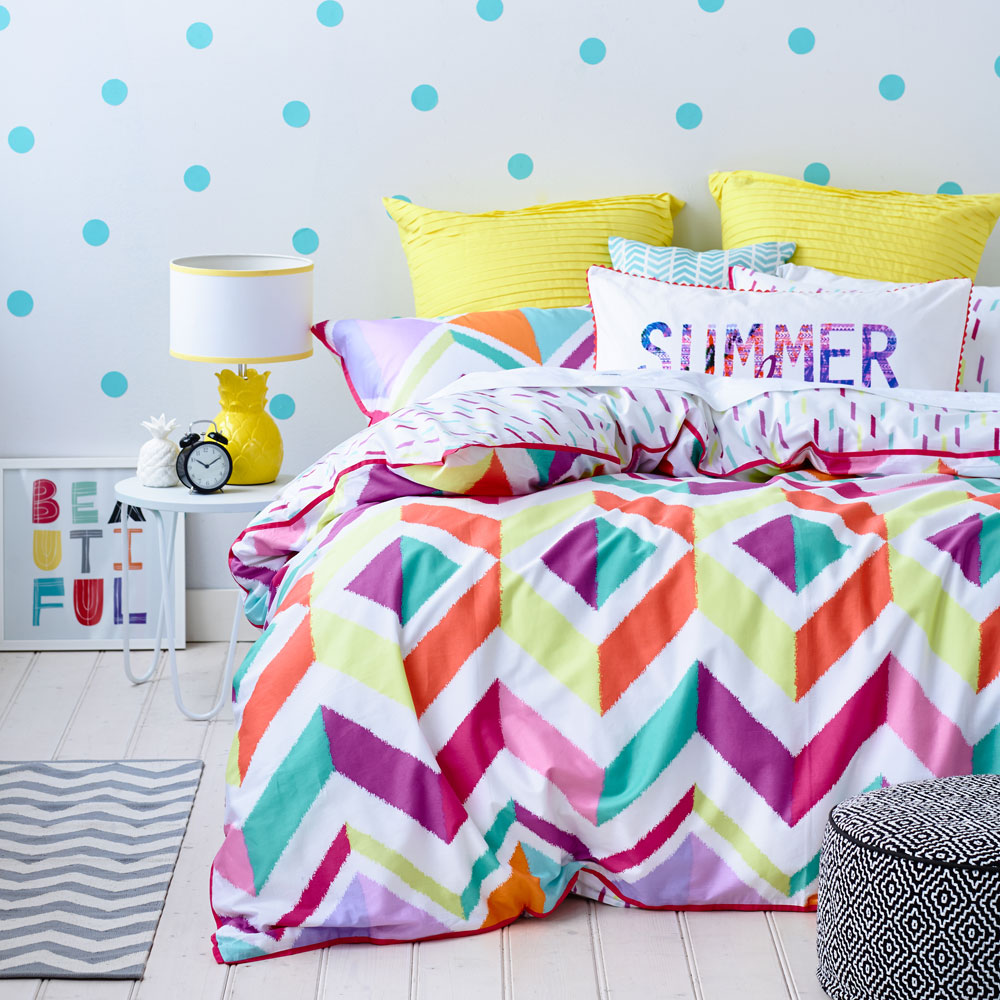 Source: The original source is not available anymore.
If you don't want to change the look of your living space or kitchen this summer, then target your cozy bedroom to give it a new and refreshing summer make over. Decorating your bedroom in summer is easier than you think. Choose some vibrant colored sheets and bedding sets. Match the theme with some white lamps, warm lights and bold decors. If you want a pop of color, add some accent rugs, a decorative seashell centerpiece or a mantle wall decoration on your bedroom wall. You can also choose to give your bedroom wall a new look by adding some accent paints to match your summer theme. Choose some white furniture to make your bedroom look bright and beautiful.
16. Sea-inspired wind chimes for summer room ideas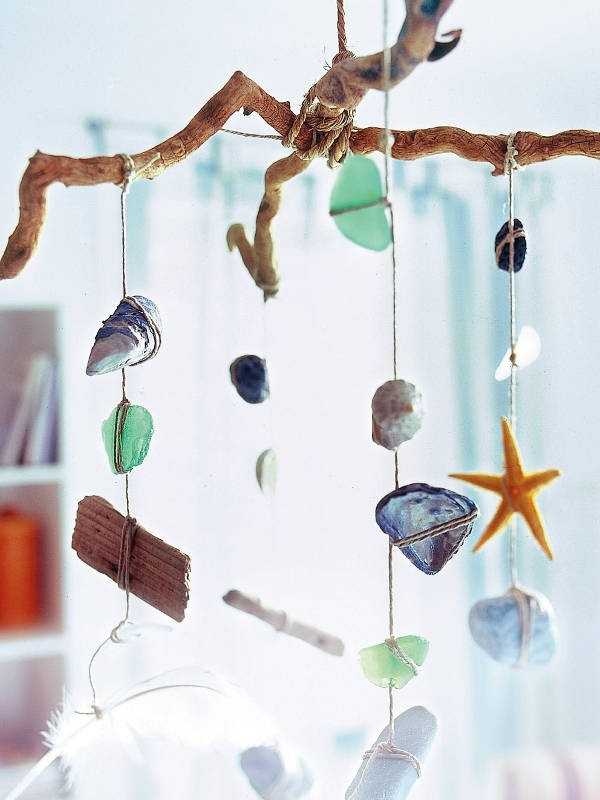 Summer room ideas are all about creating a cozy and relaxing space. Create a welcoming space in your patio or deck this summer and make your home an inviting setting for summer grilling parties. Add some accent home decor and sea-inspired wind chimes to complete your summer home design theme. You can choose some of those cool hued summer wind chimes with seashells and driftwood or create a wind chime by choosing some faux glass beads, decorative gem stones and colorful shells. Be creative and add some nautical charms or coastal inspired lanterns to make your living space look stunning and appealing. Hang this chime in the patio.
17. Vibrant living room summer decor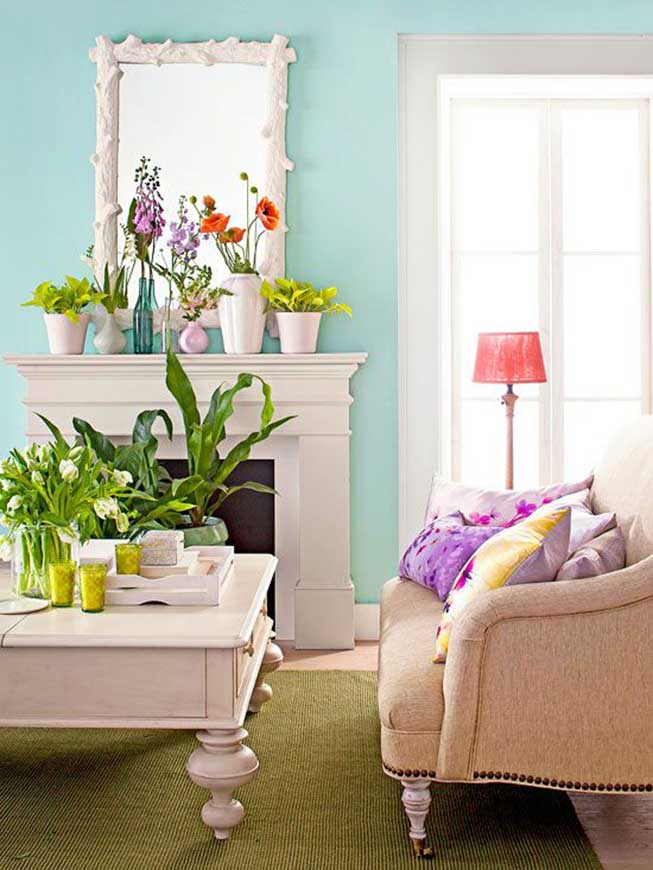 Source: The original source is not available anymore.
A colorful living room not only adds a cool vibe to your home, but also it makes your interiors feel more inviting. When you have a summer theme in mind, you should choose a good color scheme for your living room update. Generate a bold statement by combining some neutral decors and furniture with bold colored walls. You can choose any color of your choice and match it with some classic home décor and furniture. Don't make your interiors look like a palette of rainbow. Instead choose a single hue and create the theme with various shades of it. Add some prints and solids to complete your theme. For a vibrant summer look, classic green, yellow and orange shades are highly recommended.
18. Beach cottage summer room decor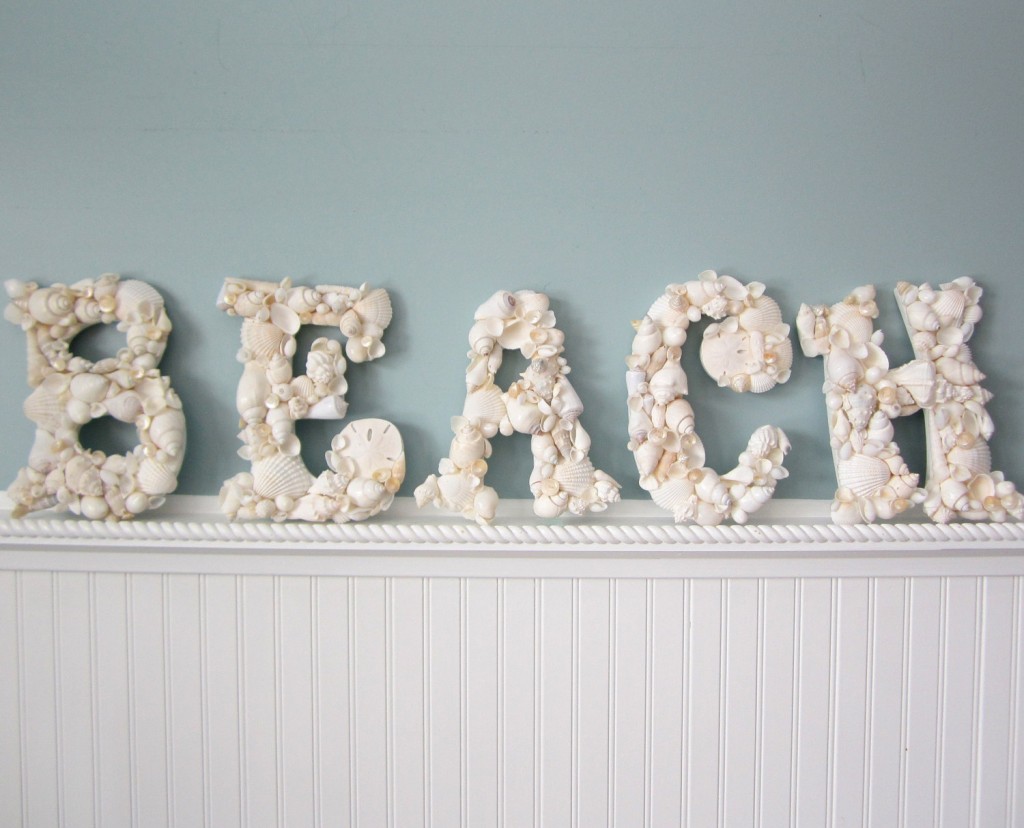 Remember those cute coastal themed cottage décors at some of those beach front vacation homes. These seashell decors are a perfect choice for your summer room makeover. These stunning pieces are beautifully handcrafted featuring some of the best organic treasures. Add some elegance and beauty to your home interiors with these beach-inspired summer decorating ideas. You can use these seashell photo frames or centerpieces when you choose a coastal summer room décor theme for your home. Make your home a relaxing haven and add some cool decorations this summer. Choose any of these themed décor to complete your summer room decor.
19. Seashell wall summer room decor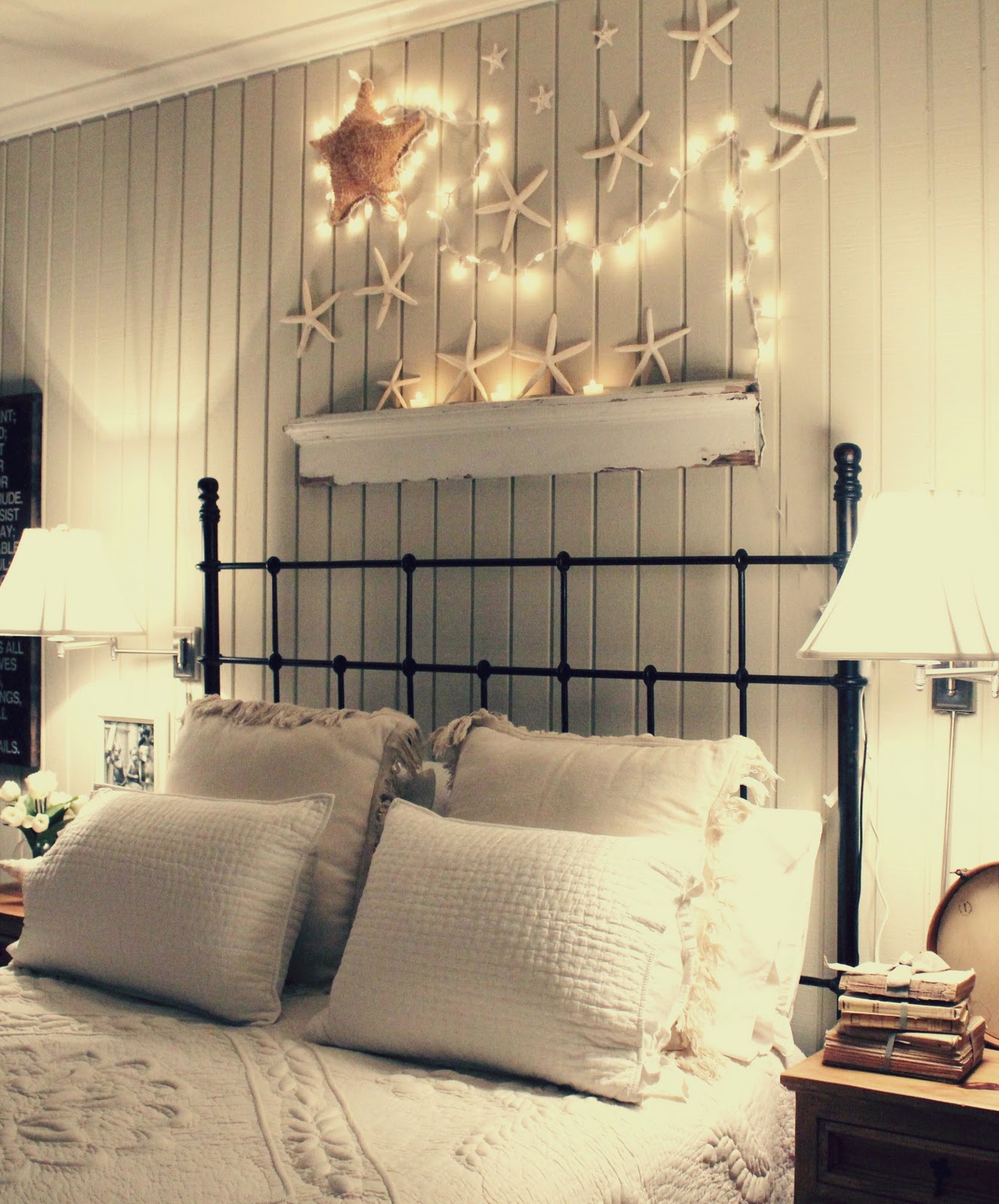 Source: The original source is not available anymore.
Make your home look summer themed with this stunning seashell wall décor. Use it in your bedroom or place it at a corner niche to highlight the wall. Choose from a variety of seashell wall decors sold at local stores. This seashell wall mount décor adds a cool vibe to your interior space. If you are interested in taking up a fun DIY project, enjoy making this seashell wall décor today. Choose star shaped seashells or any seashell of your choice, add some lights and your wall décor is ready. Hang these seashells arbitrarily on the wall and add a nautical charm to complete the coastal theme. Your bedroom wall or living room space will be instantly brightened up with this cool seashell summer design wall décor.
20. Colorful DIY glitter vase decoration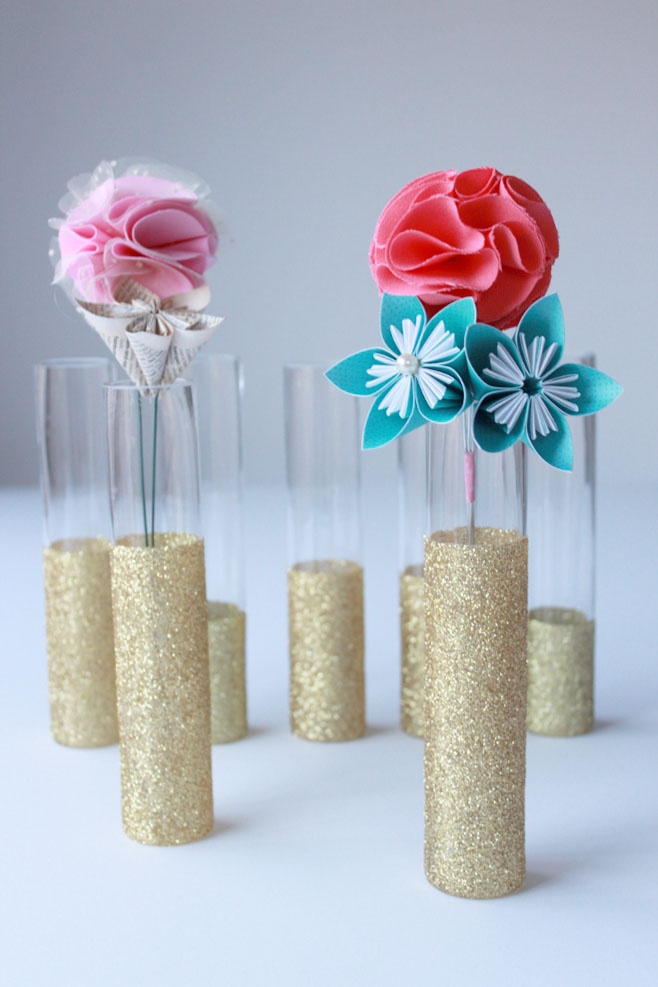 For a floral indoor summer decoration, you don't have to spend a lot in buying the vases. Use some clear glass vases and glue some glitters on them. These shiny vases can be used for your summer home decoration. You can add fresh flowers to these vases or make some paper flowers from cardboard papers and felt fabric. Create the stem with green colored wire to give it a natural look. Twist the flower stems and add them to these hand-crafted vases. Keep these on your table, side tables, and consoles or over the fireplace mantel. These beautiful glitter vases make a perfect party decoration too. For a themed summer party, you can use these cute little glitter vases with handmade paper flowers as a part of your party decoration.
21. Nautical themed mantel summer room ideas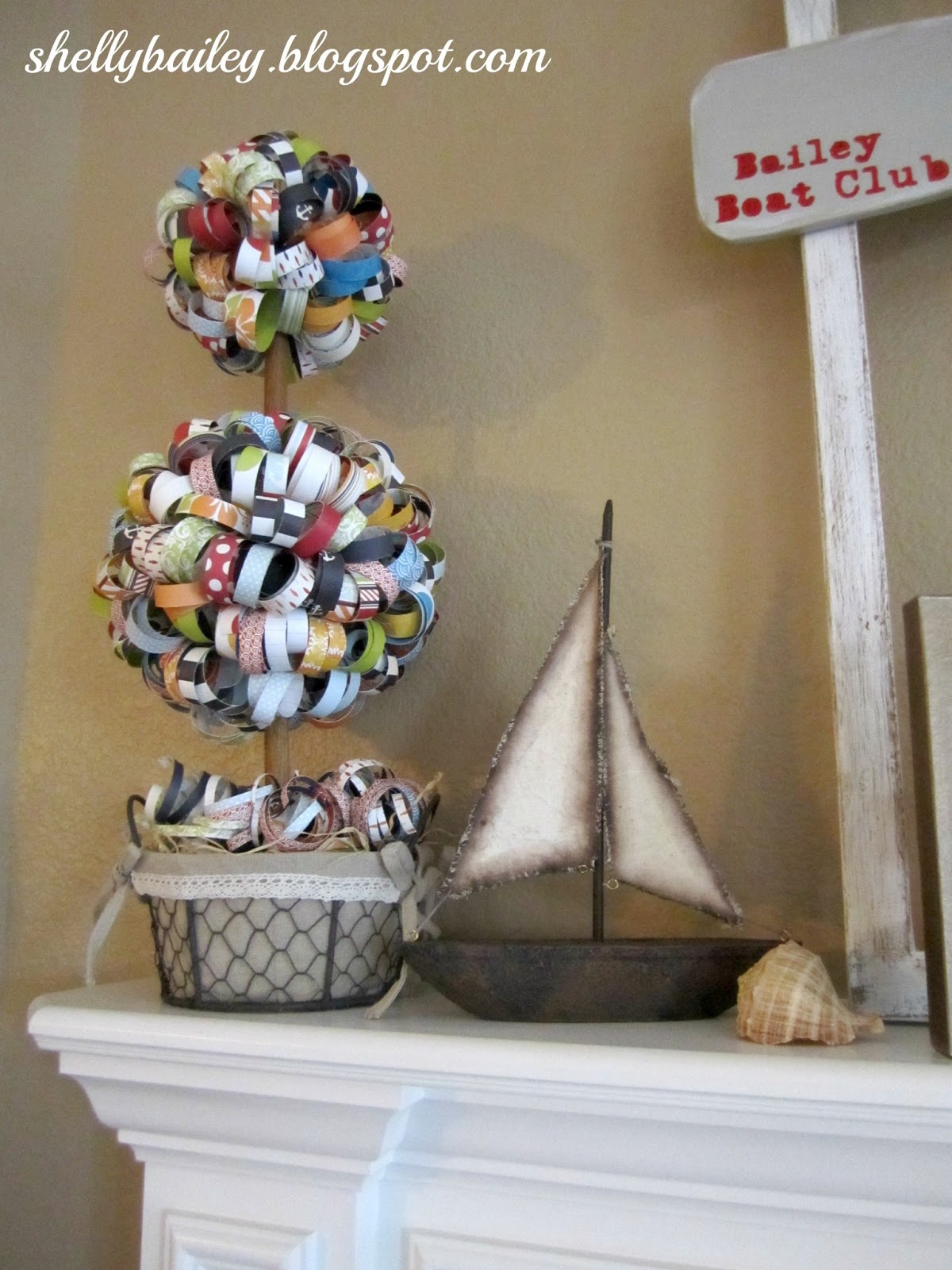 Source: The original source is not available anymore.
Nautical theme summer house ideas perfectly match with the coastal decoration for a summer look in your home. Whether you choose a big nautical charm or a rustic looking boat, your nautical themed mantel summer decor will give a refreshing look to your living room. Use paper topiary made from colorful rolled papers on the mantle. This DIY project is a perfect choice for your kids' craft time. Adding a sailboat to the mantle is a good option too. You can choose any size as per your choice to complete your nautical themed mantel decoration. A few seashells, candle holders, lanterns and some coastal themed showpieces are great décor choices too. Add a backdrop fence or a sailboat paddle to highlight your nautical theme.
22. Patio arrangements summer house ideas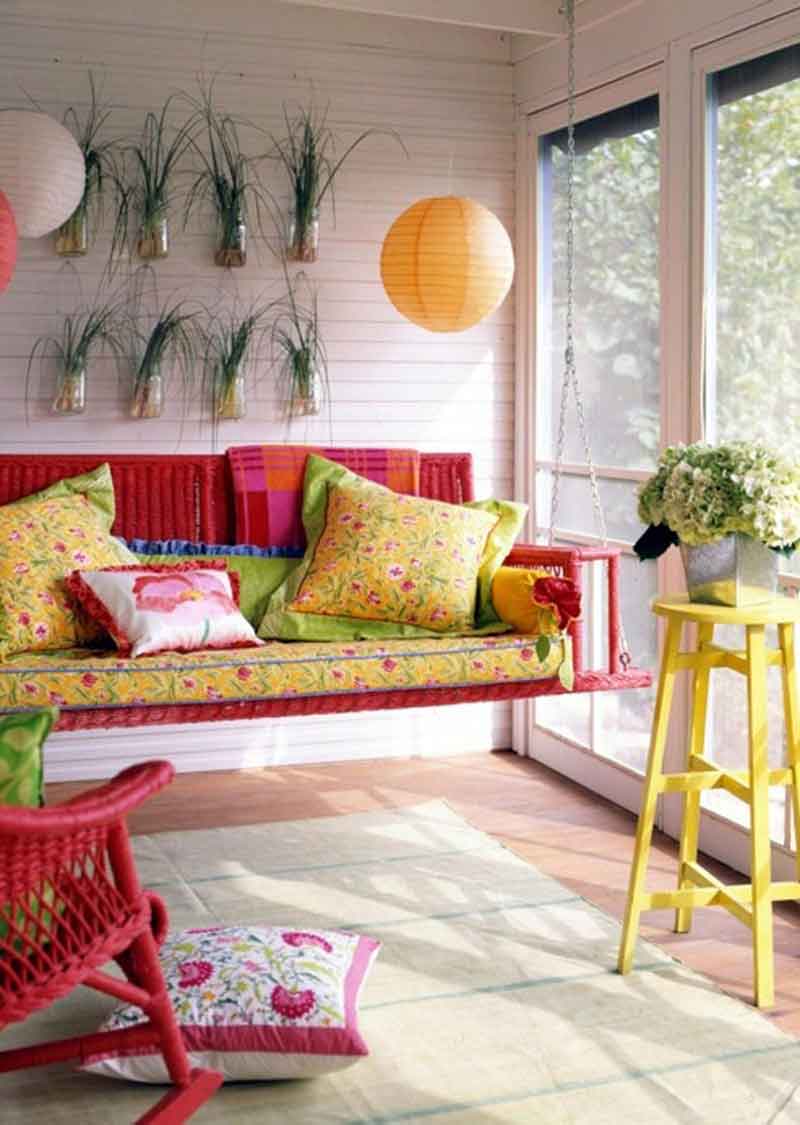 Source: The original source is not available anymore.
Summer time cannot be enjoyed in a better way without some fun in the outdoors. Whether you want to host a party by the poolside or just want to relax with your family at the patio in a cozy evening, giving your patio a nice and welcoming touch is highly recommended. Start with the furniture selection first. Instead of choosing some neutral furniture, go for the bold ones. Add a patio swing with cushion, some side chairs and some relaxing rockers. Adding some soft colored lanterns, fresh planters and accent rugs will brighten up the area. Don't go for bulky patio furniture. Instead choose some lightweight and foldable furniture. In this way, you can easily manage maintaining your patio. This summer patio arrangement is a cool way to give your outdoors a refreshing look.
23. Wooden box centerpiece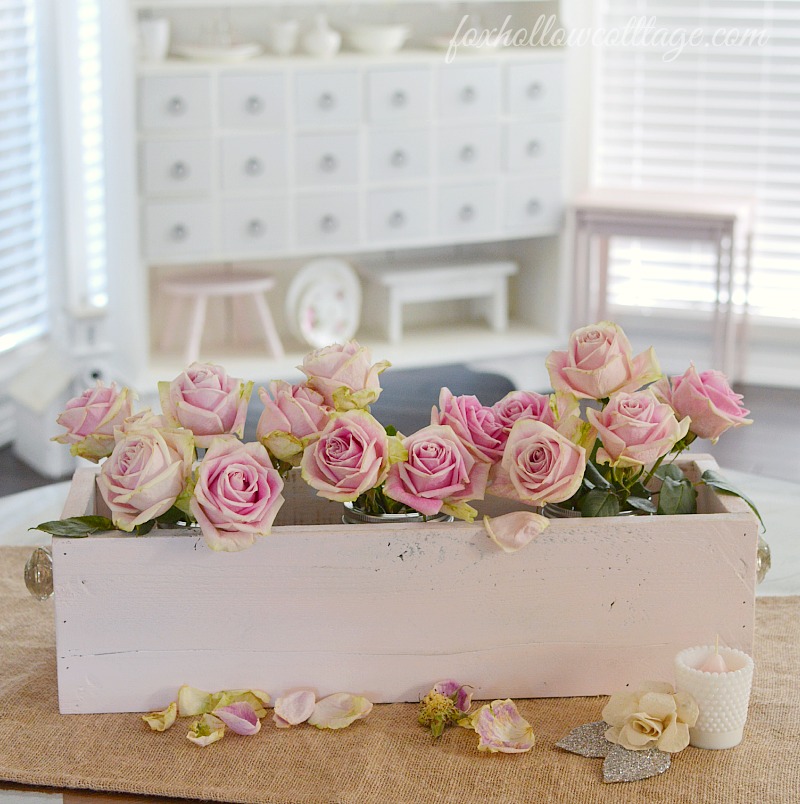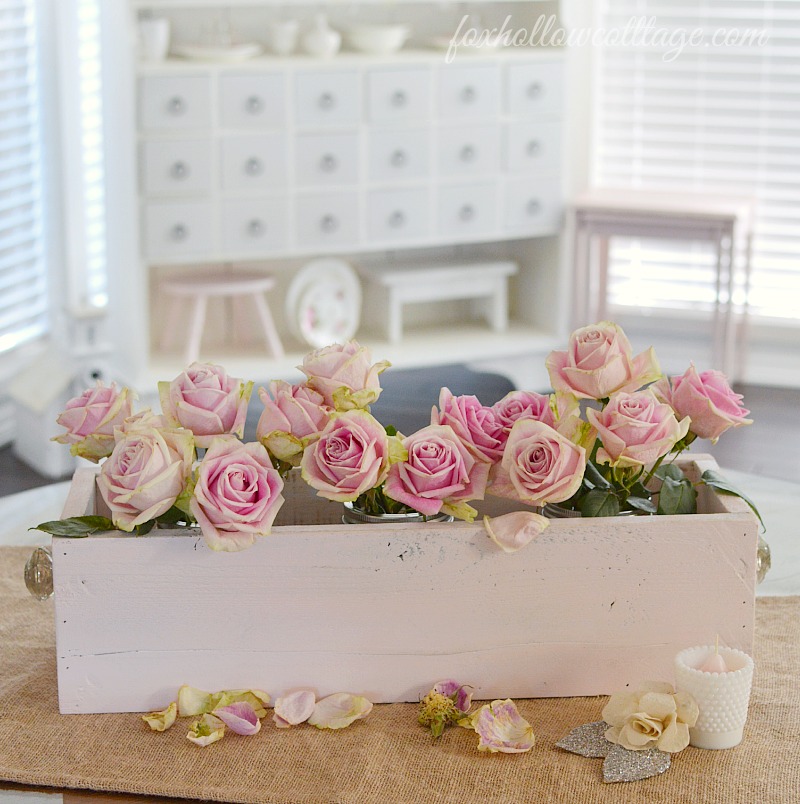 Pale pastels add some soothing colors that we all love about summer. Create a pastel pink box and add some flowers to create an elegant and charming centerpiece for your table. This box can be easily made at home with few easy steps. If you are not a DIY person, then buy a rustic looking wooden box from outside. Once you have the box handy, you can paint it with a soft pastel color. Add some flowers to the box, and place it over your kitchen island or a mantle. This decorative centerpiece will go really well with vintage furniture. You can use this rustic wooden box to store a few of your items as well. If you want to add a contemporary touch to this vintage box, add some ribbons and use some bold color flowers instead.
24. Summer sunshine in sunroom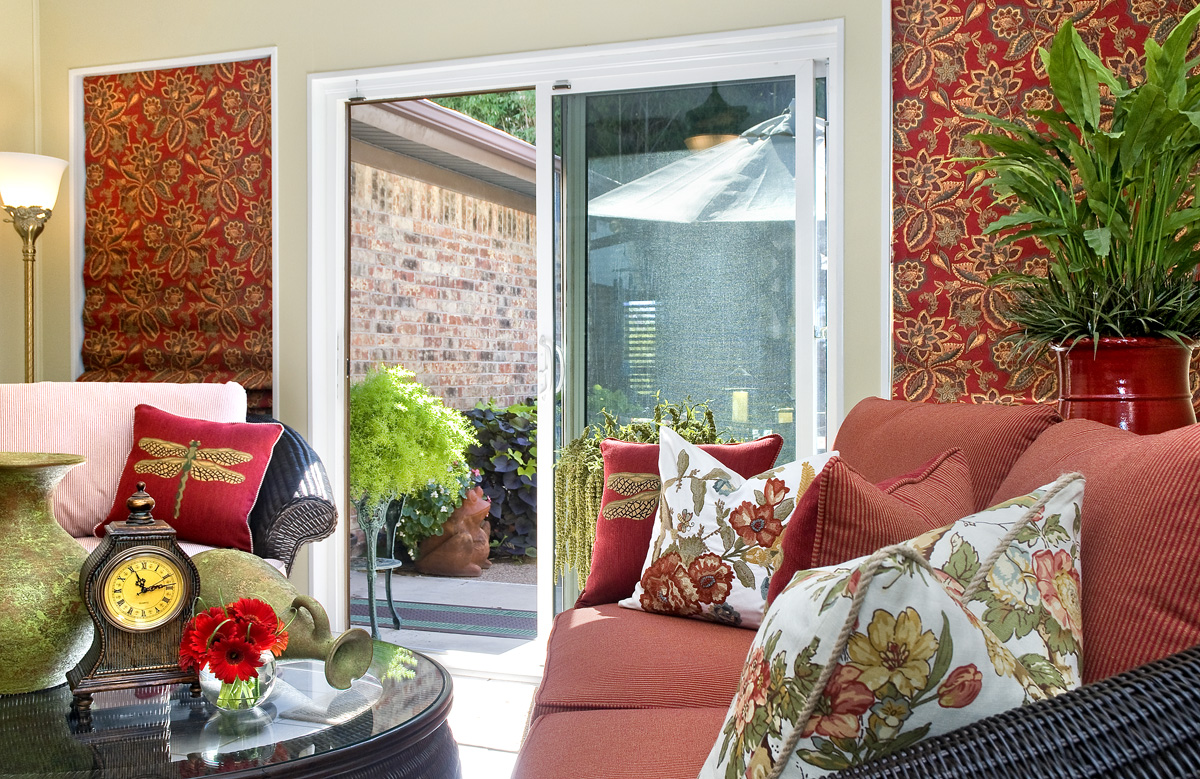 Source: The original source is not available anymore.
Add the soft colors to your interiors to create a perfect summer vibe. Summer is all about colors, warm sunshine and glistening water. Choose some bold color accent pillows, earthy toned decors and neutral furniture for your home this summer. Add greens, floral decorations and lights to make the living space or sunroom look vibrant and beautiful. Select from a wide range of colors, including opal blues, bold yellows, and dusky lilacs. Whether you choose soft hues or bold tones, mix and match a number of patterns while giving a finishing touch to the room. A color scheme with a combination of solids and prints create a stunning look in your home. Choose solid or printed area rugs and match it with curtains, fabrics and artwork.
25. Umbrella door wreath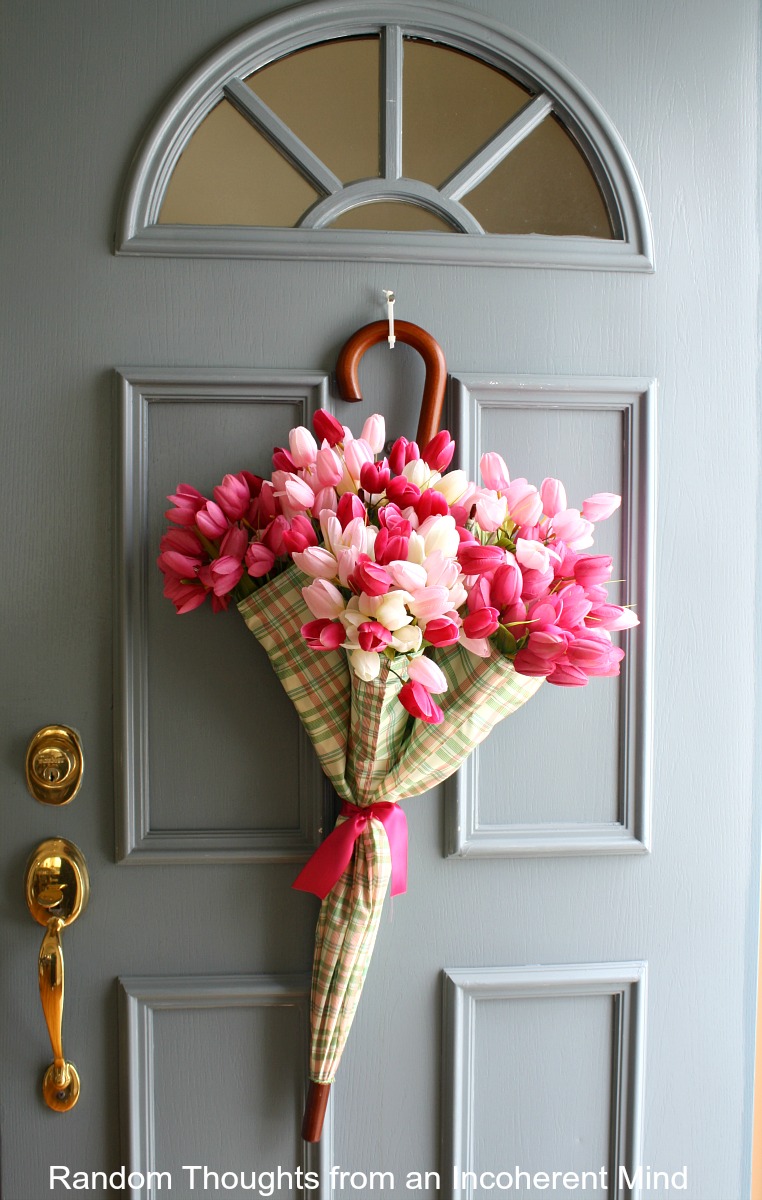 A door wreath doesn't have to be a round one. This umbrella wreath will showcase your creativity and add a new look to your entry door. This DIY project will take only five minutes of your time. Choose an umbrella with a twisted handle, ribbon of your choice and some fresh flowers. Prop the umbrella up with its base heading down and standing straight. Tie a bow with the ribbon and tie it to the middle of the umbrella. Now arrange the fresh blooms on the top of the umbrella and your wreath is ready to hang. If you are choosing colorful flowers, then use a neutral colored umbrella. This project gives you endless possibilities to create a stunning wreath for your home.
26. Summer party table arrangement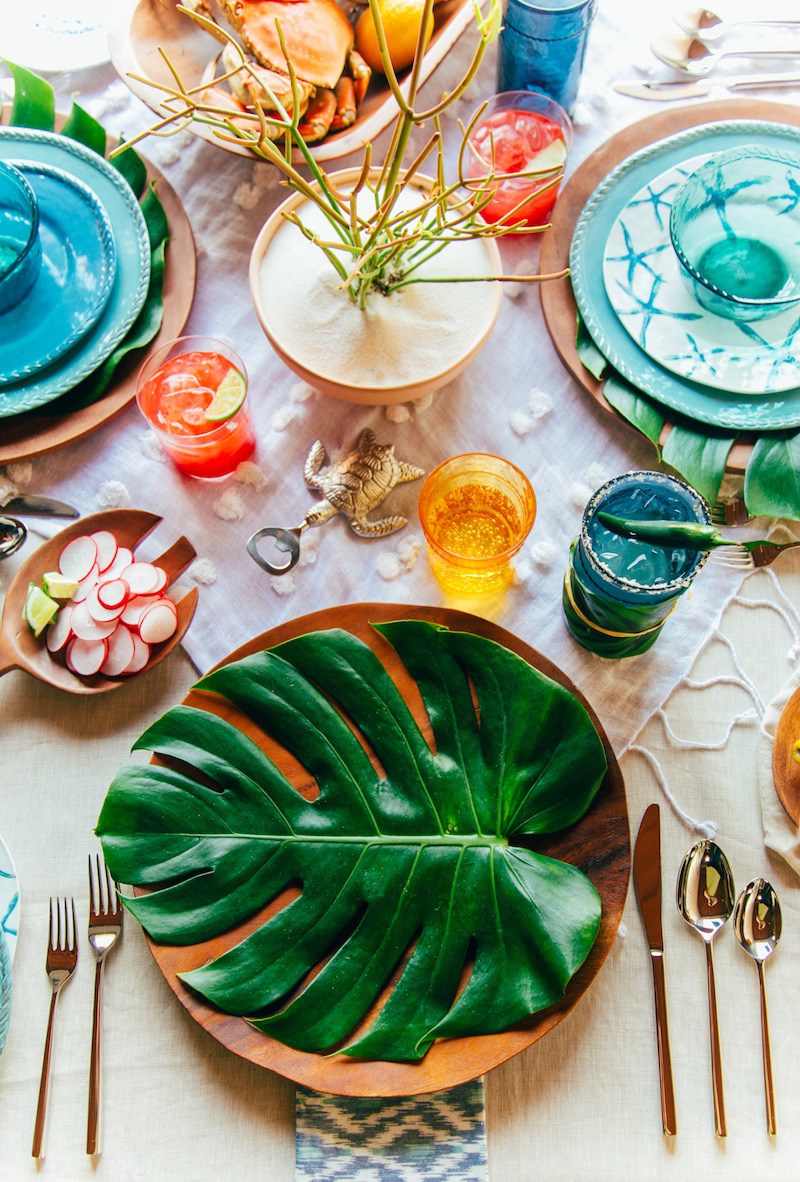 Source: The original source is not available anymore.
Choose a vibrant and cool theme when hosting a party this summer. Don't use the party decors available in store. Instead, use your creative ideas to decorate the party table in a different way. Forget those pricey chargers for your table arrangement. Select the tropical Split-Leaf Philodendron leaves to add a bold color to your party dining table. These bold green leaves under your dishes will create a visually appealing layer. Be creative in using leaves, twines and even flowers on your table. Serve punches on coconut shells or pineapple shells. You can use pineapple leaves to make a tree and succulents in a glass vase to create an attractive centerpiece. Your guests will surely admire your creativity and this colorful summer party arrangement in your home.
27. Laidback coastal mantle summer house ideas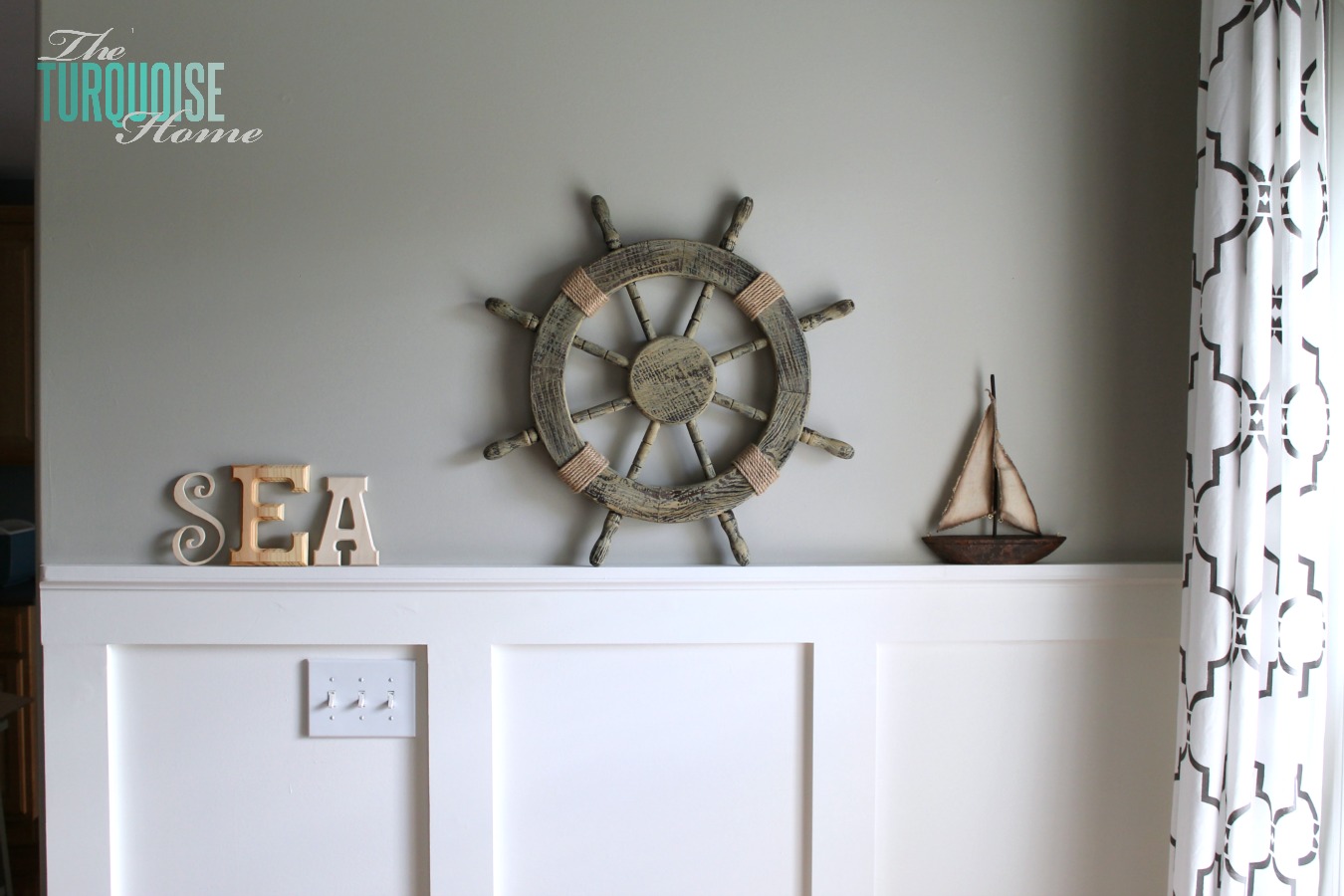 Coastal themed mantle suits perfectly to the summer theme. Go old-school and choose some themed decorations to give your coastal themed mantle a laidback yet elegant look. A vintage lantern, rustic captain's ship wheel and a nautical backdrop will create the perfect beach vibe. Add some ropes, seashells and candle holders to complete the look. If choosing the minimalist way, then just use the ship wheel, sailboat showpiece and a focal décor on the mantle. This lightly decorated coastal themed mantle will add an instant coastal vibe in your room.
28. Unique floral arrangement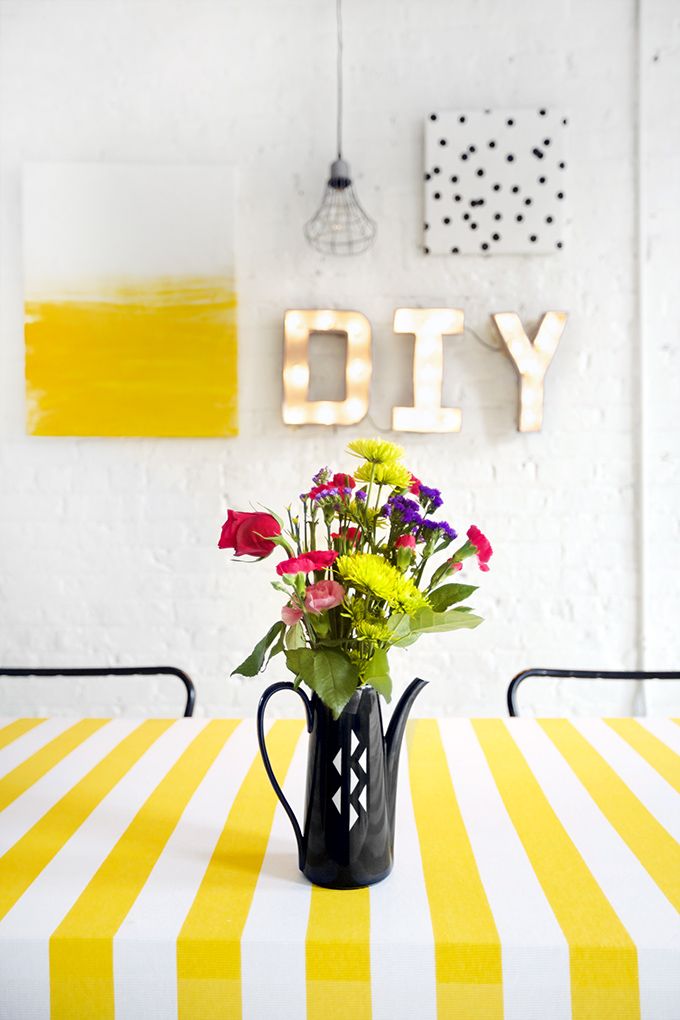 Source: The original source is not available anymore.
You don't always have to choose a glass or wooden vase for your floral arrangement. Interior decoration gurus say that a unique shaped flower vase adds a new dimension to the room. Use a bold colored or dark pitcher to make your floral arrangement. If you are using summer white or pink blooms, go for a bold hued pitcher. If using a printed pitcher, choose flowers of neutral tones. Add some greens to this arrangement to brighten up the look. This unique floral arrangement makes a perfect summer table décor. Place it on your dining table as a centerpiece or on a side table in your living room. This exquisite floral arrangement will be a stunning summer party décor too.
29. Coral decorative pillows for summer decoration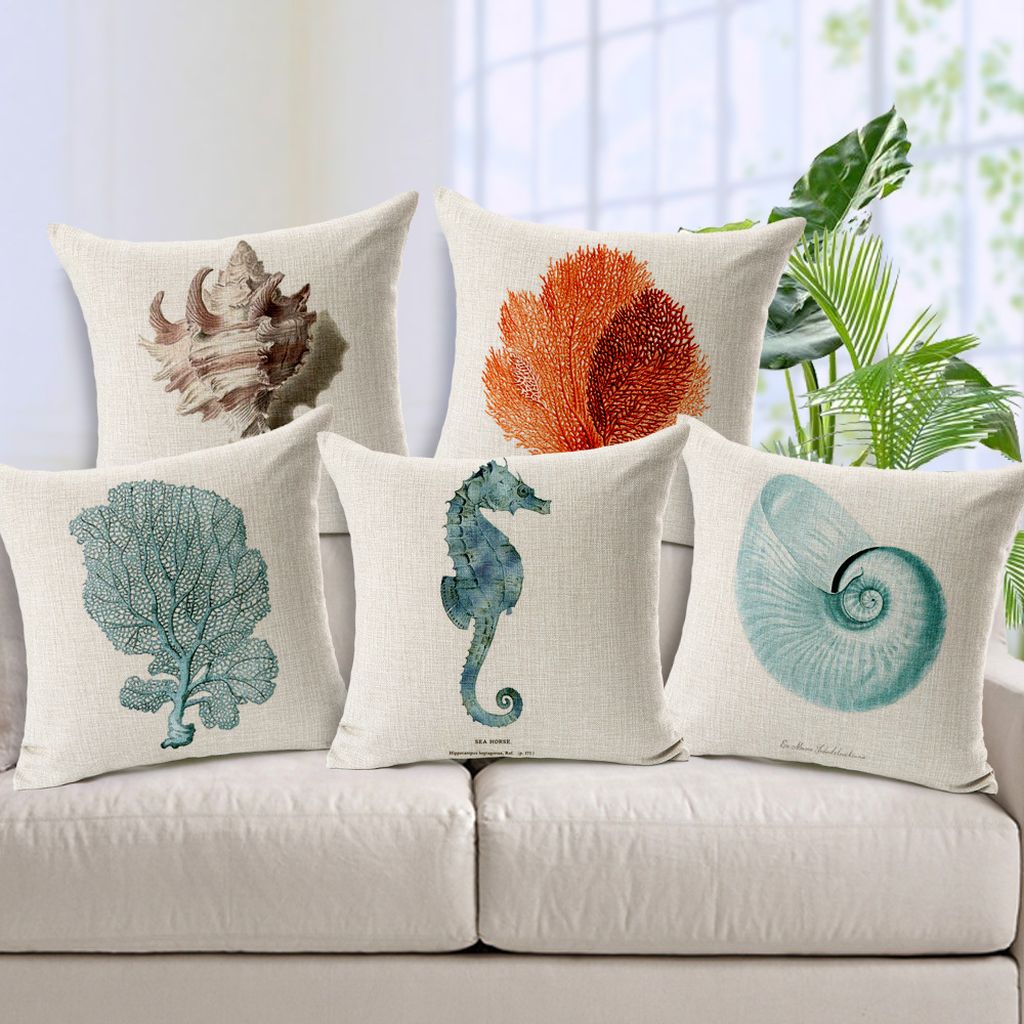 If you are choosing a coastal theme for your living room's summer makeover, then add some decorative pillows with coral prints. You can mix them with some seashell themed decorative pillows too. Your beach inspired living room will be beautifully highlighted with these decorative pillows. Use them on accent chairs or mix and match with your existing pillows on sofa. The choice is all yours. Go the minimalist way to avoid overdoing the theme. Choose some coastal shadow boxes or beach-themed candle holders for the coffee table and mantle decoration. Add some neutral hued curtains or breezy drapery to create a coastal vibe in your room.
30. Decorative summer garlands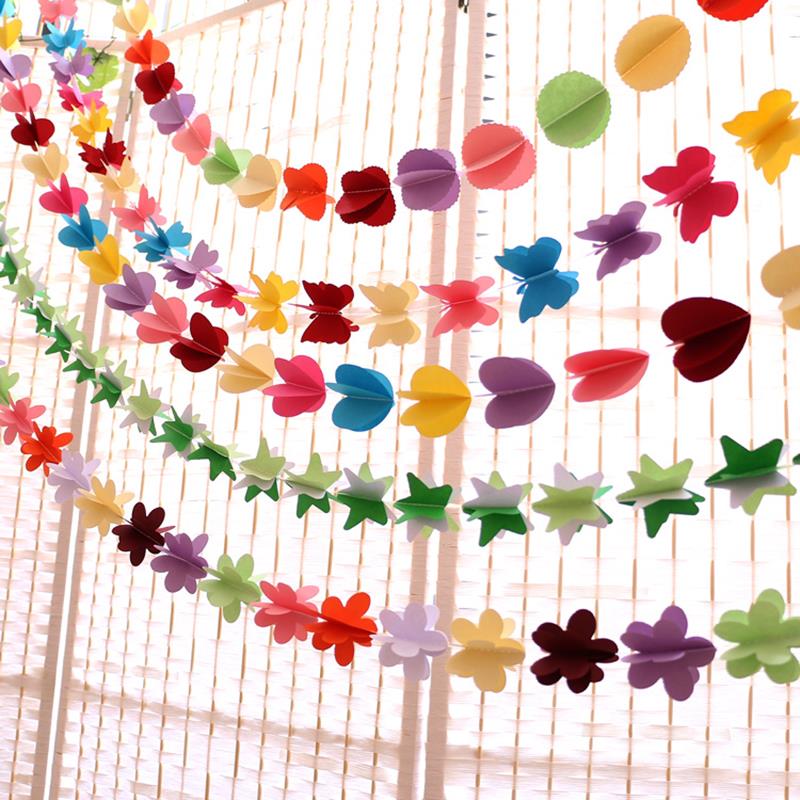 Summer Tiki party is a perfect time to catch up with friends and family. Make your party setting look colorful and fun with some perfect summer party decoration. Use some floral garlands to make your party setting look vibrant and welcoming. Floral garlands add a pop of color to your outdoor setting too. You can use these as a part of your indoor summer decoration as well. This tissue tassel garland is an ideal theme décor for a wedding or birthday party too.
31. Organic handmade summer chandelier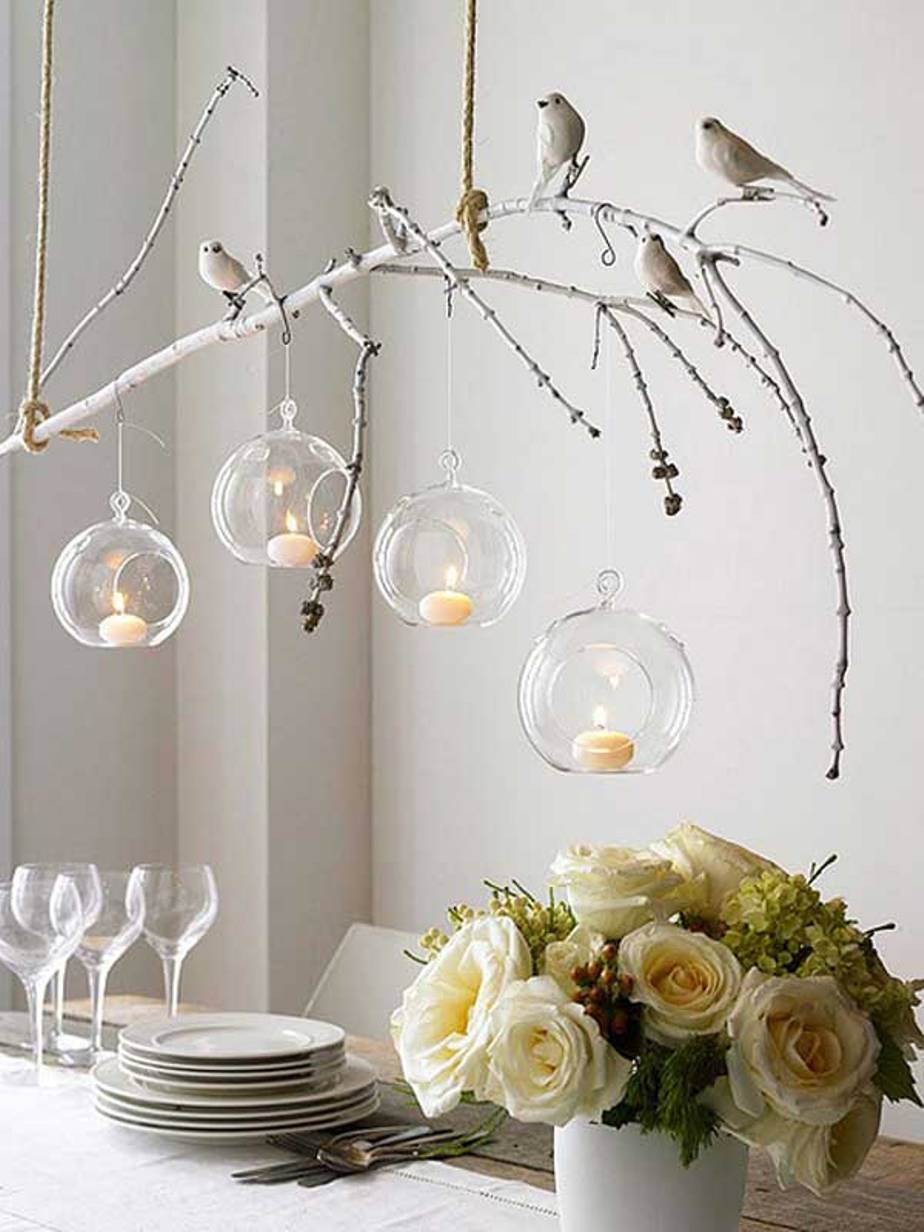 Bring some natural element to your living room with this easy DIY organic tree branch chandelier. This stunning handmade piece perfectly matches the summer decoration theme as well. A simple tree branch can make a stunning handmade piece. Start by choosing a beautiful tree branch. Tie some round glass terrarium vases to it. You can later place tea light candles in them. Add some decorations like artificial leaves or birds to the branch to give it a natural look. Hang it over your breakfast area or dining table.
32. Beach inspired breakfast room summer house ideas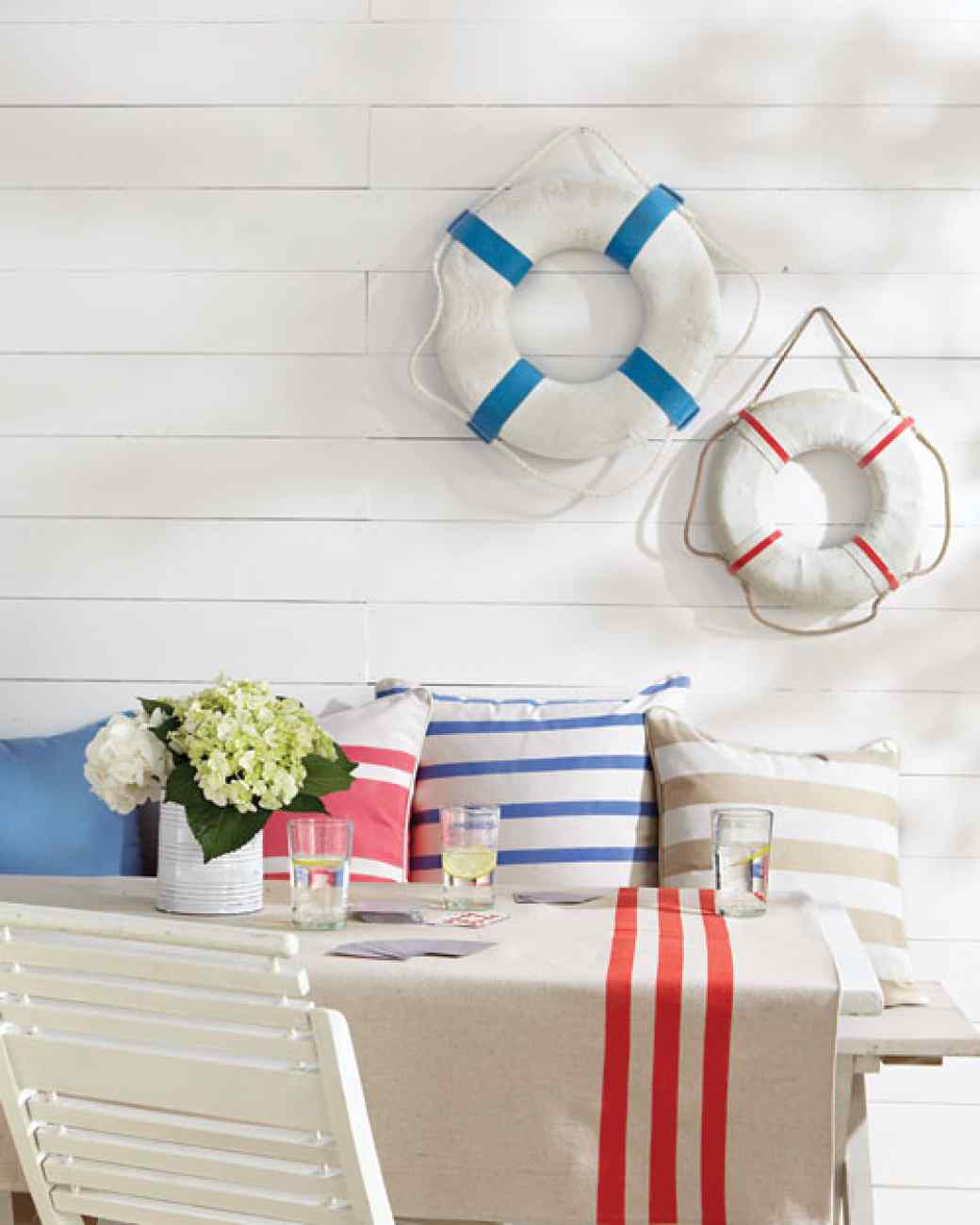 Source: The original source is not available anymore.
Give your breakfast room a makeover this summer too. You have close to endless themes to choose from. Select a nautical or coastal theme to give your breakfast area a new and vibrant look. Paint the walls white and add some coastal inspired decorations. Hang some life preserver tubes. You can add some personalized life preservers too. Complete the nautical theme with some red and blue striped cushions or pillows. For the breakfast table, you can choose a themed table cover and some dining chair cushions too.
33. Bright summer outdoor lights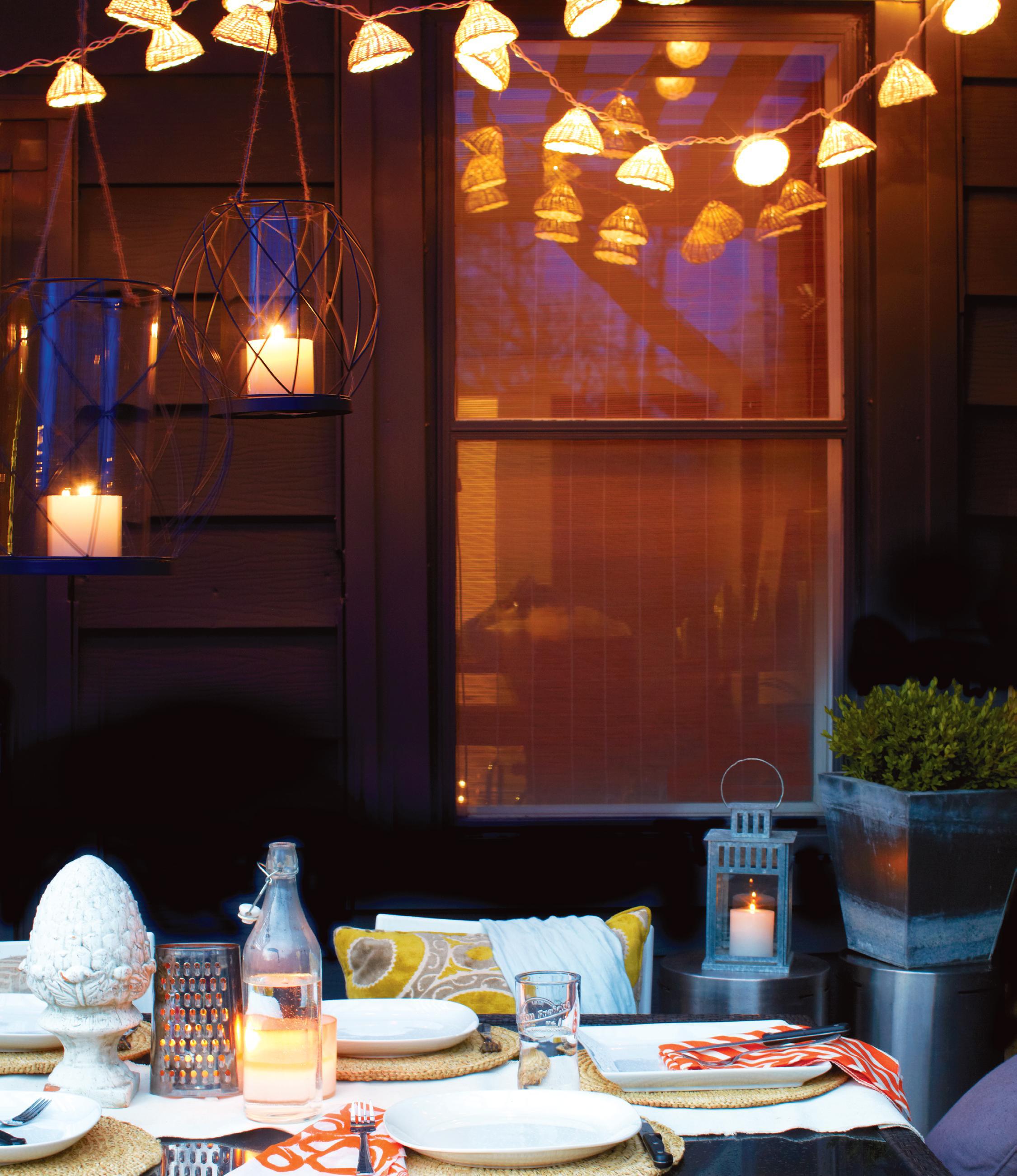 Choose some different outdoor lighting for your patio this summer. Using solar lights is a good idea as well. You can place some solar powered votives or some solar strings of light to decorate your outdoor space. These lights transform the votive holders into gleaming lanterns once the sun sets. The solar string lights also give enough light to brighten your outdoor space. Whether you have used them for your party setting or created a relaxing patio setting for your family, these lights are perfect choices of bright summer outdoor lights.
34. Rustic driftwood coastal sign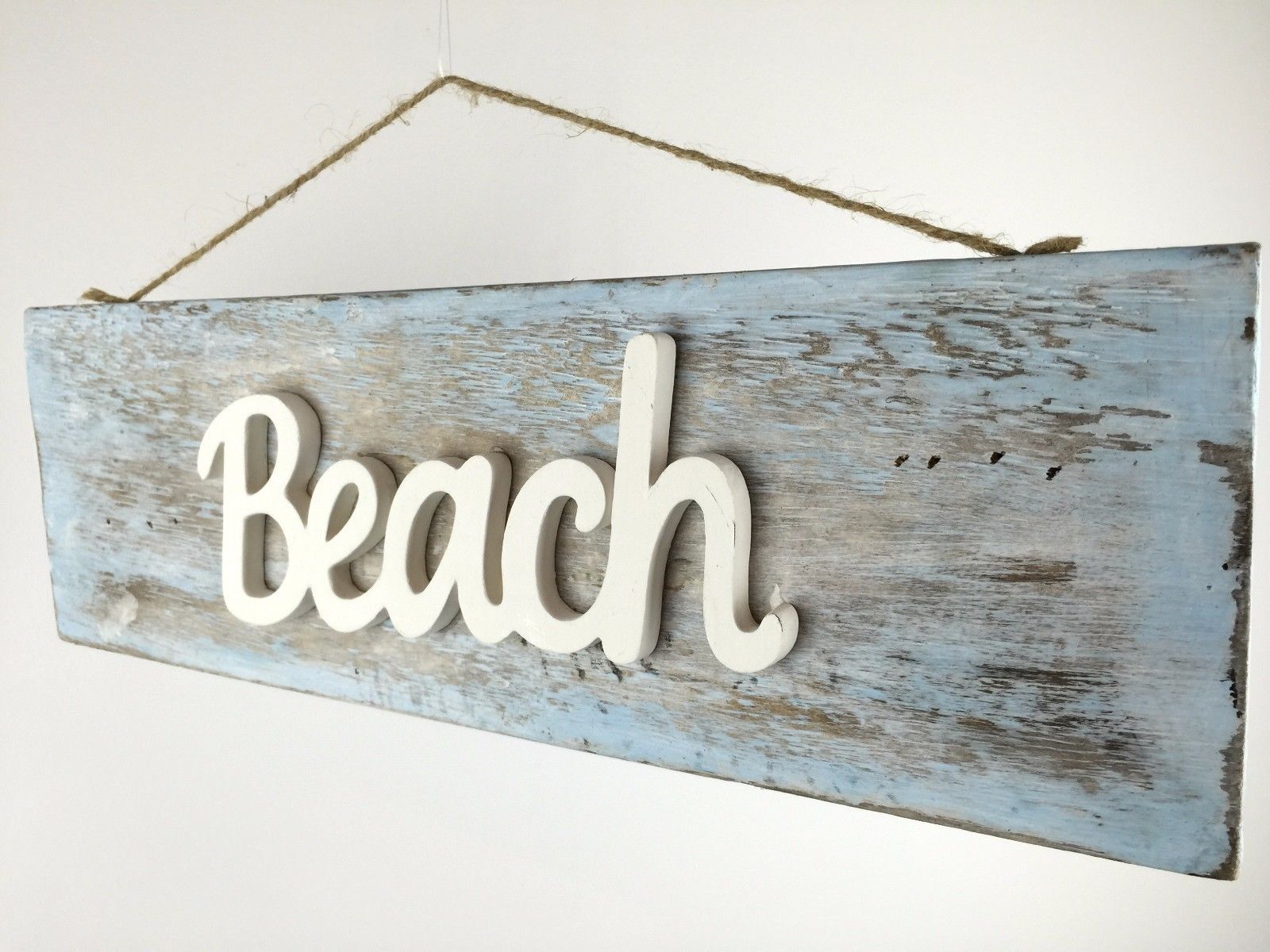 Source: The original source is not available anymore.
Driftwood showpieces are perfect for a coastal theme. Add some driftwood handcrafted items or rustic looking beach sign to your bedroom wall or beach-inspired living room. This rustic looking driftwood beach sign is an ideal choice too. The unique rustic backdrop with bold white letters gives a natural and eye-catchy look to this sign. These handcrafted natural items make a perfect home décor for summer. Complete with theme with some seashell decorative showpieces and nautical charms. You can use these over your fireplace mantel, bedroom wall and even in your other rooms where you want to create a beach themed cottage look.
35. Seashell vase centerpiece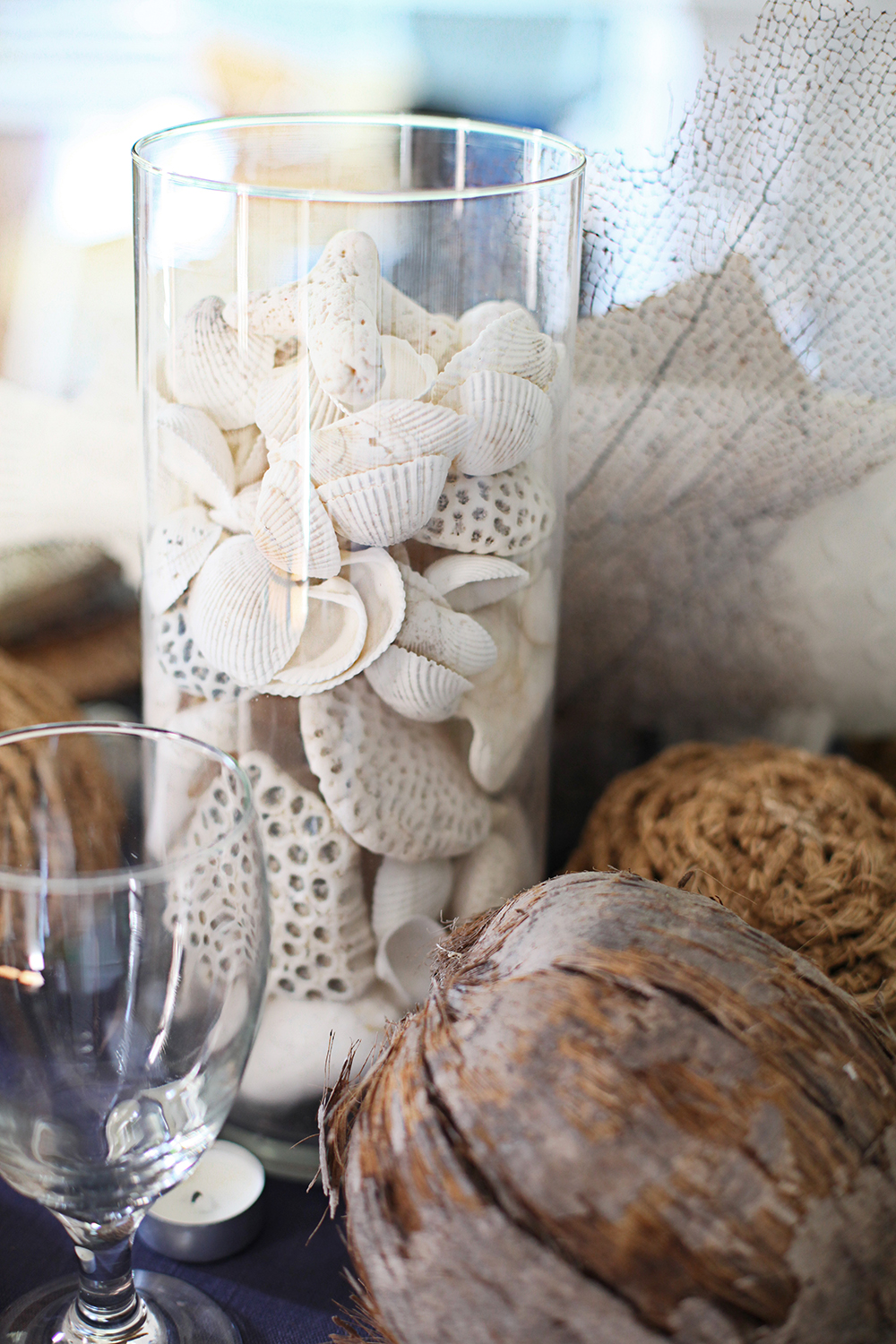 Source: The original source is not available anymore.
Undersea treasures are a perfect summer décor choice for your home. Instead of choosing a floral vase or any other centerpiece, create a seashell centerpiece on your own. Choose seashells of various shapes, sizes, and colors. Place them in a tall vase filled with sand at the base. You can also color a few of the seashells to highlight their shape and natural designs. This will also add a pop of color to the seashell vase centerpiece. This beautiful decorative vase can be used as a dining table centerpiece, beach-themed décor for mantel decoration and with some candle holders too.
36. Rainbow effect with paper dahlias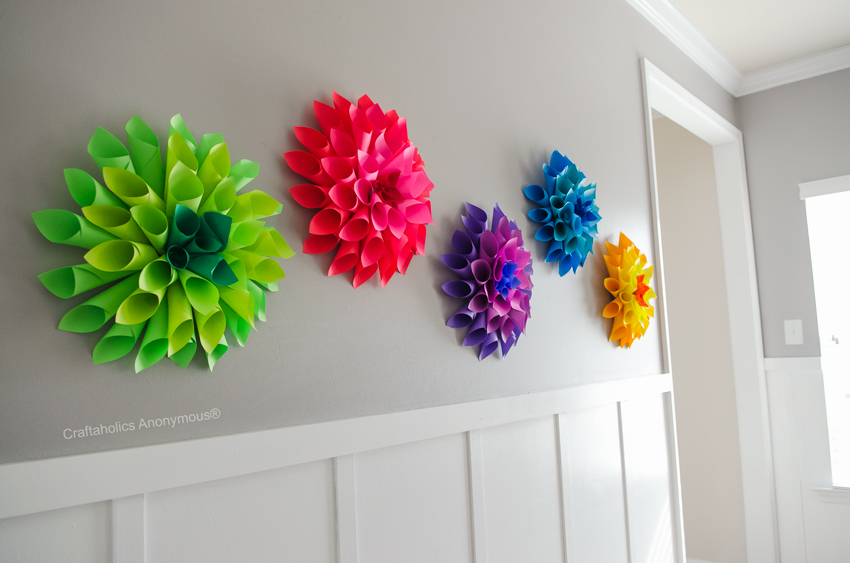 If you are looking forward to colorize your walls to give a spring-summer look, then create the rainbow effect with some handmade paper dahlias. This paper flower DIY project is a perfect craft project for all ages. Choose some vibrant colored Astrobright papers for this project. You can also choose colored papers of various tones for making a single flower. Cut out squares from the colored paper and make cones out of each. Arrange the cones around a disc and glue them. Your paper dahlia flower is ready. Stick these paper dahlias on a neutral colored wall in your home. These handmade flowers make a perfect Easter and summer decoration too.
37. Bright and Sunny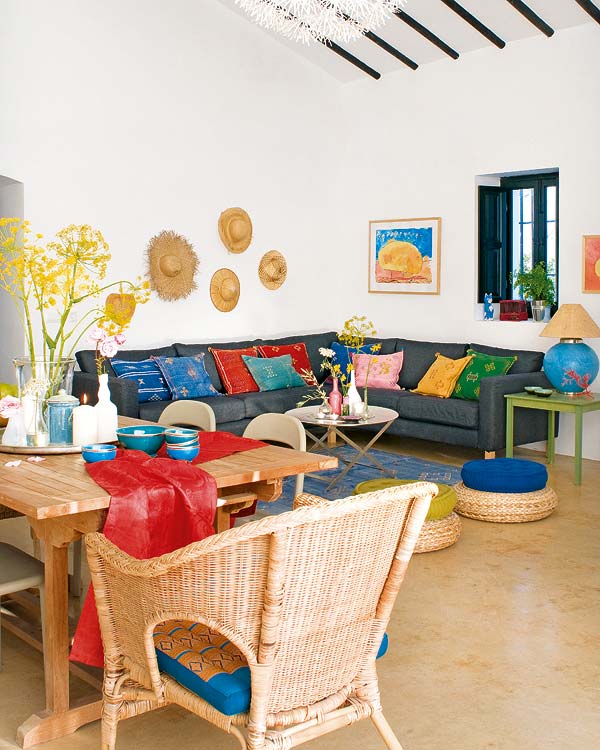 Give you attic or basement room a complete makeover this summer. Make it look bright and sunny with some smart furniture choices, colorful accent pillows, rugs and floral decorations. Summer is all about outdoor fun and sun. Make your room ready for summer with some summer inspired decorations. Hang some straw hats, beach art and decorate the center table with a bright yellow flower vase. If choosing a bright yellow vase, add some light colored flowers for a perfect match. Colorful accent rugs, floral decorative pillows and fresh plants in some pots can be other good décor choices to add in this summer sunshine room.
38. Rustic sea mantel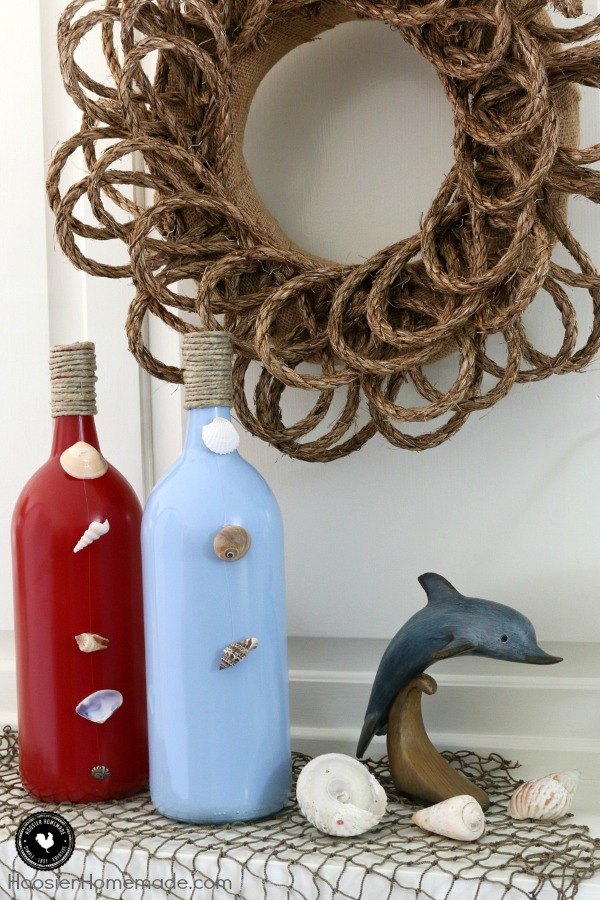 Rustic fishnets, driftwood and ropes, and seashells remind us of a serene and laidback beach setting. Bring a little beach setting inside your home with this easy-to-make DIY project. Decorate the mantels around your house with some beach-inspired decoration. This can be a perfect DIY project for a lazy afternoon. Spray paint some old wine bottles with red and nautical blue, and wrap some twines around the top to finish. Secure the twine with hot glue. You can also add some small shells attached to a thin fishing line onto this bottle. Add a small dolphin showpiece and a twine wreath on the wall. Place all these items on a rustic looking fishing net on your mantel. Your sea-inspired mantel is ready.
39. Vibrant library setting with hand painted ottoman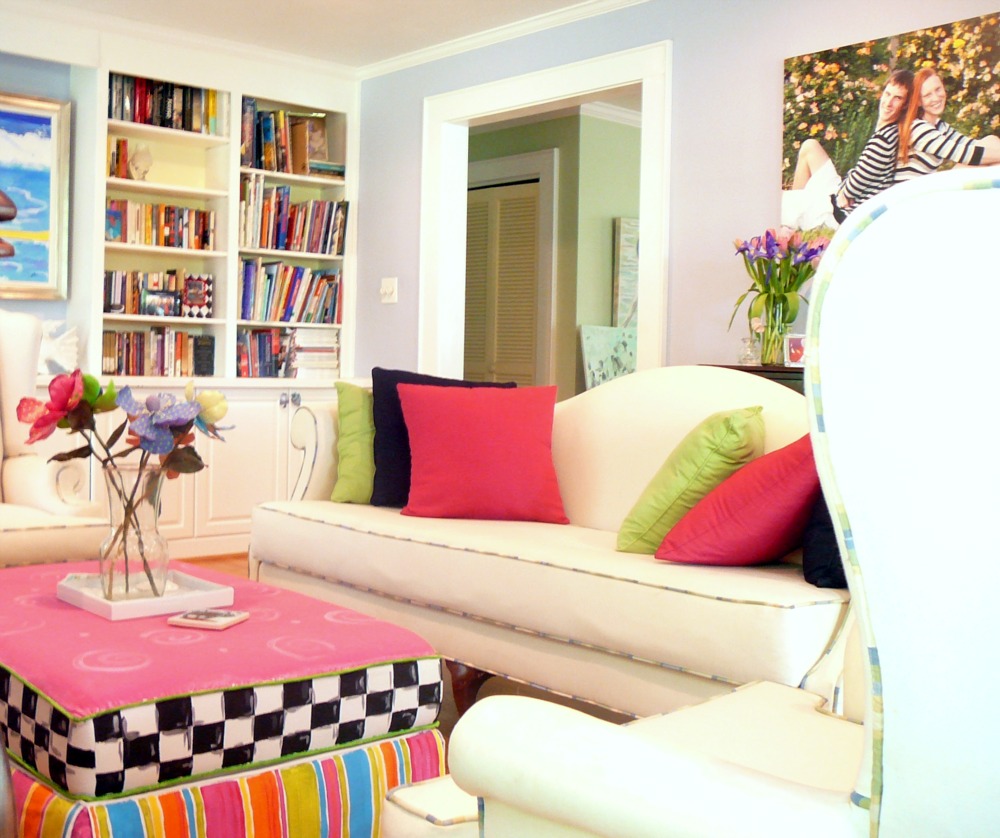 Source: The original source is not available anymore.
Add a bright color to your breakfast nook or corner library room with this hand painted ottoman. Pick an unusual and bold color for the ottoman. Paint the top of your ottoman with a vibrant pink or any color of your choice. Choose a classic print pattern to both the sides and the ends too. Adding whimsical elements to a neatly decorated area will brighten up the vibe. Make sure to choose mellow colored art and furniture to create a balanced look in the room. A perfect combination of bold décor, color and art combination makes the living room or library setting look refreshed and relaxing.
40. Floral hat wreath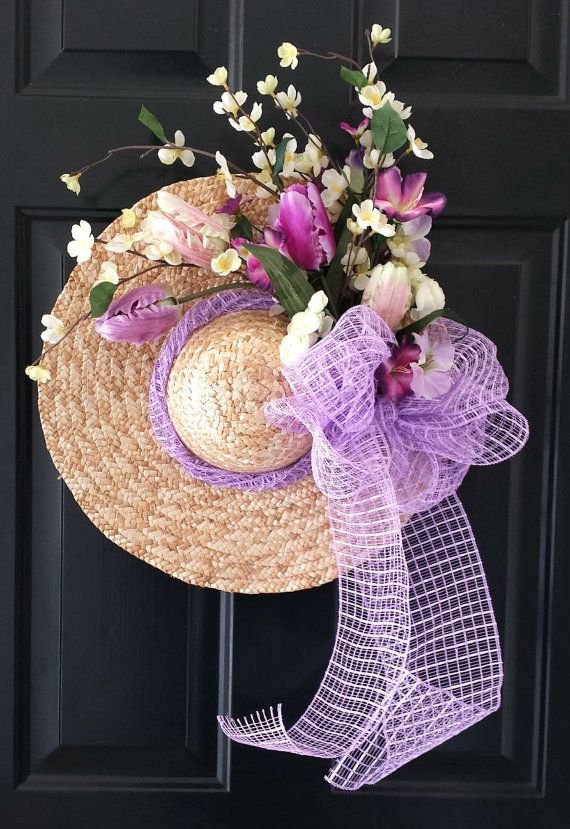 Source: The original source is not available anymore.
Create a door wreath for this summer with your old straw hat. This quick and easy DIY project will be a fun one to work with. You can finish making the wreath well under 15 minutes too. Choose a color of your choice and buy decorative ribbons of that color. Match it with fresh blooms or artificial flowers from a store. Tie the flower bunch with the ribbon and wrap it around the hat. Secure it by tying a bow in the end. Your hat door wreath is ready to use. Decorate your front door with this stunning looking floral wreath to add a cool summer look.
41. Bright summer candle holder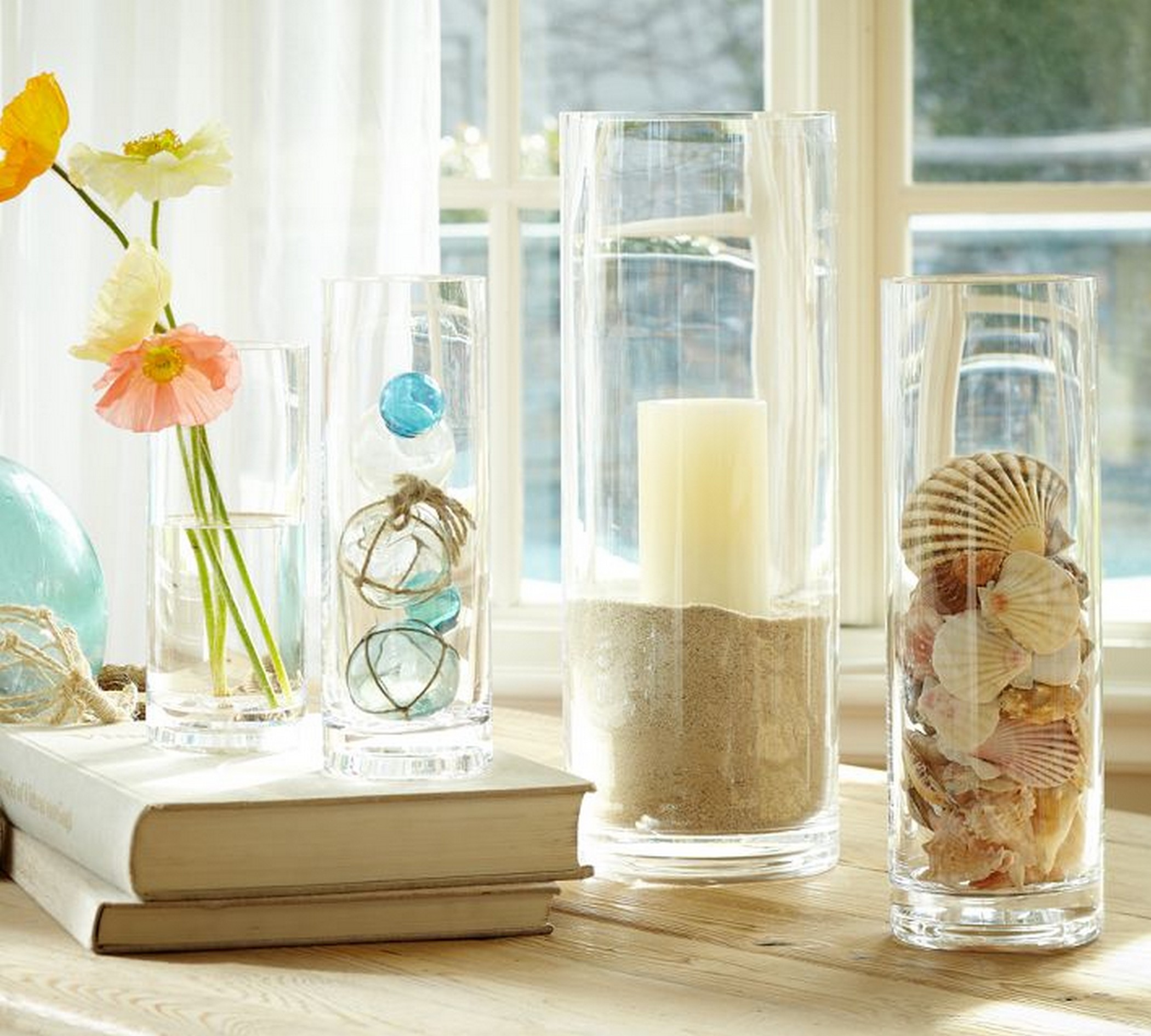 A summer themed table decoration must include something related to the sea, sand and sun. Create a little coastal corner in your home with a themed table decoration. Make candle holders with tall clear glasses. Fill approximately 1/5th of the glass with sand and place a candle in it. You can add shells in the glass to create a beach theme. Make three glass candle holders and place them together on your side table or console table. You can keep these on a tray and add some seashells to the tray for a beautiful coastal themed look. A fishing net, nautical charm and a life preserver tube will add some beach vibe to this setting.
42. Summer inspired living room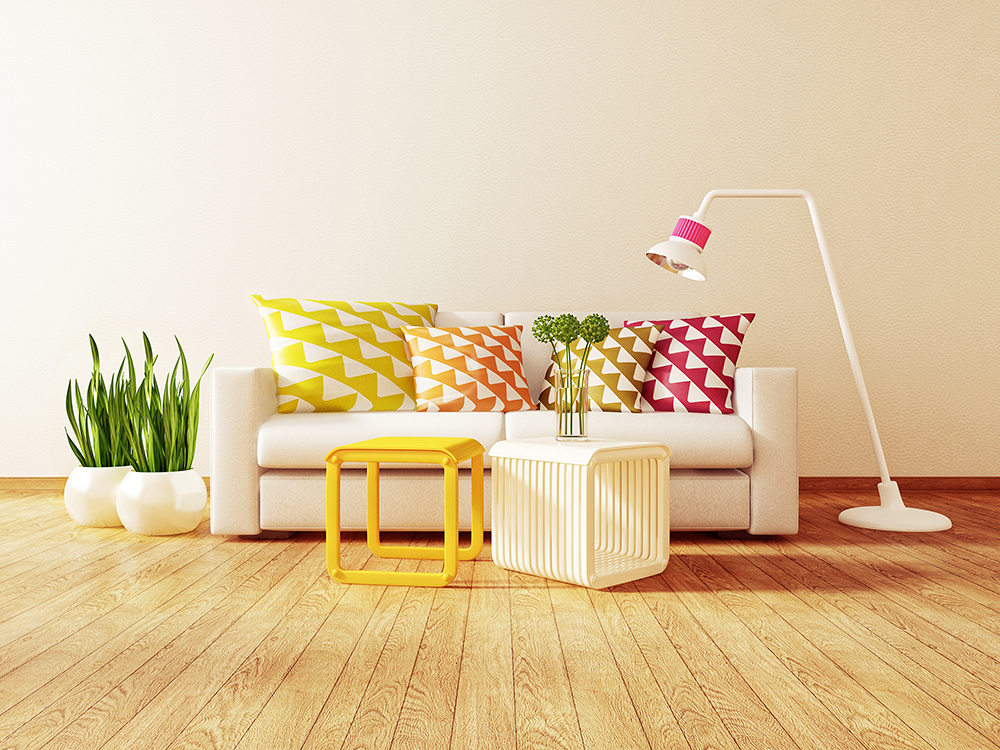 Source: The original source is not available anymore.
A bright and colorful living room makes your living space a more cheerful and relaxing setting. This summer, try something different while changing the look of your living room. Select some white or gray furniture and combine it with bold-colored side tables, quirky looking console tables and vibrant decorative pillows. Look for the patterns and solid colors of same hue or mix and match more than two tones to create this look. Fresh plants in a pot, contemporary floor lamp and area rugs with geometric pattern will also uplift this bold look in your summer inspired living room.
43. Personalized summer banner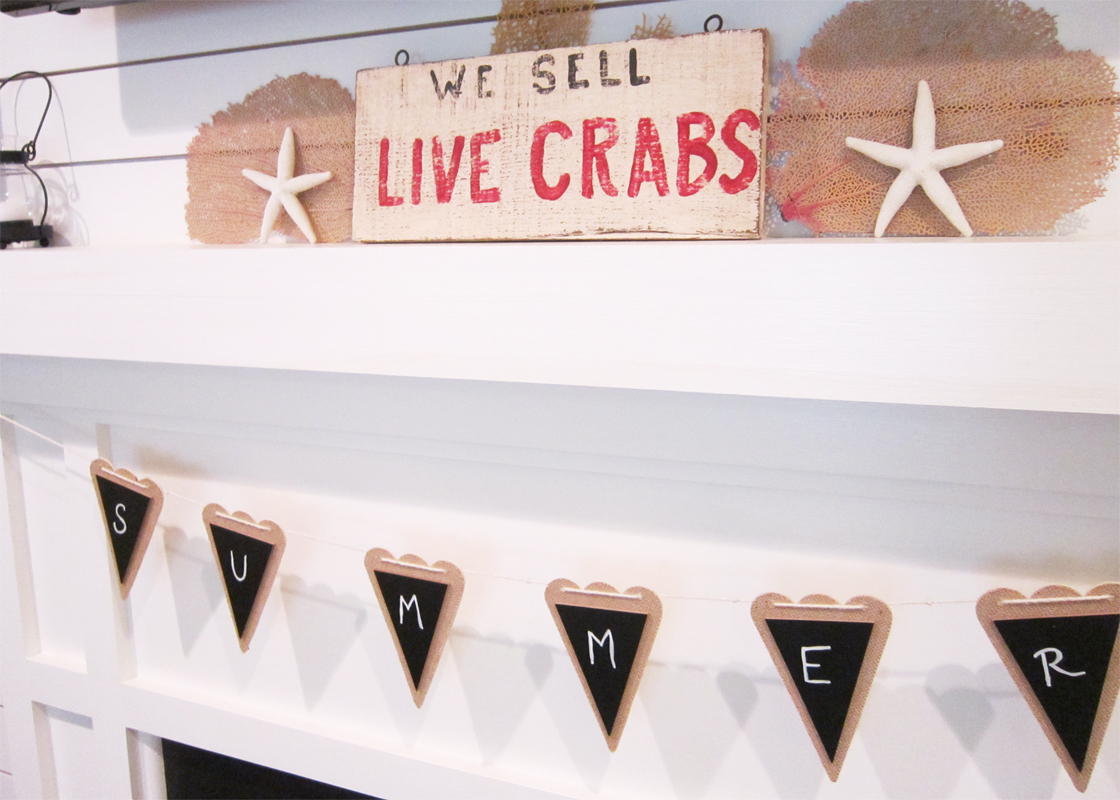 Source: The original source is not available anymore.
Make a fireplace mantle summer banner with a few easy steps. This cute and attractive banner will make your home interiors more inviting and elegant. If you have chosen a nautical themed mantel makeover, you will surely love this summer banner. This DIY project is a perfect craft time for each one in your family. Make this little corner near the fireplace a summer-inspired setting. Put together some coastal themed decors, nautical charms, seashell wall hanging décor and this cute banner. This little summer bunting is easily found at any local store. Use them for several projects or just to create the summer-inspired fireplace corner in your house.
44. DIY Mason jar flower vase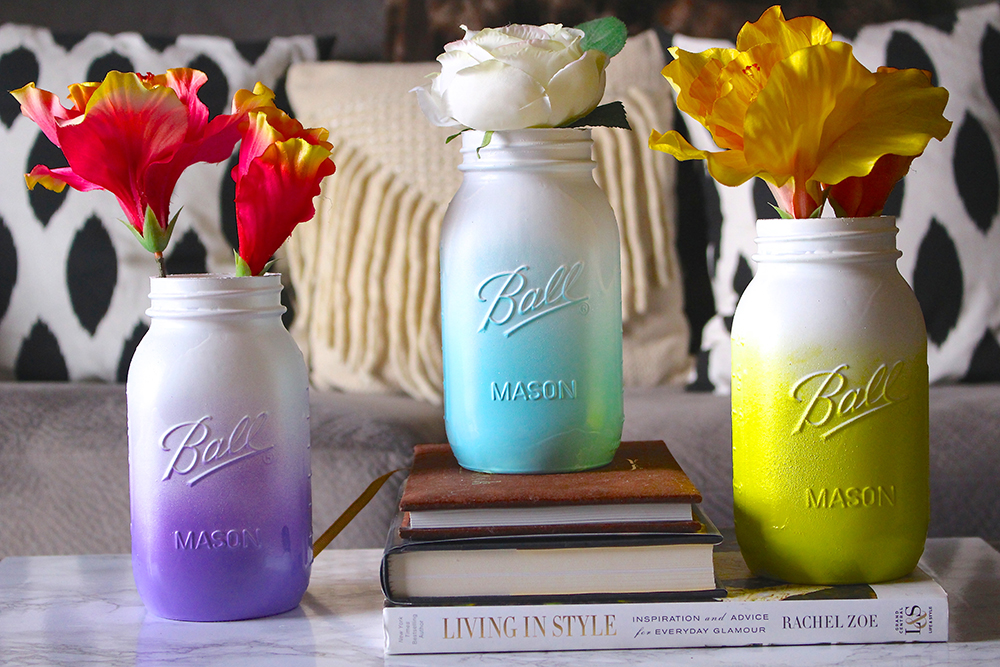 Source: The original source is not available anymore.
Update your home's look with these DIY Mason jar in ombre shades. Use two to three pastel shades to create the ombre effect on each jar. Allow each one to dry before using them as a flower vase. Start with the white spray paint base coat and use the pastel shades toward the bottom of the jar. These ombre pastel jars add a pop of color wherever they are used. Add some fresh flowers and decorate any corner of your house that needs a fresh summer makeover.
45. Floral table arrangements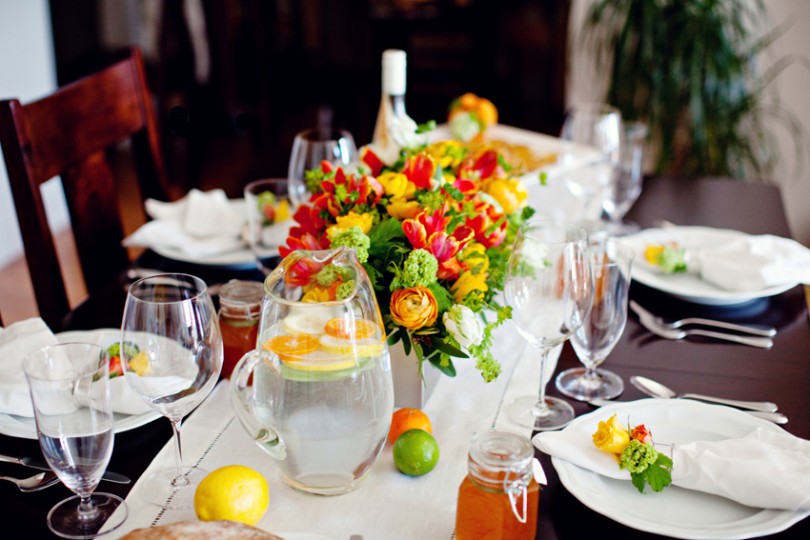 Source: The original source is not available anymore.
Spruce up a plain dining room with some summer inspired decorations. This is the best and most inexpensive way to give your dining table a summery makeover. Choose fresh and bold colored blooms. A combination of vibrant sunflowers and coral colored blossoms will brighten your table arrangement. If not using fresh flowers, use some silk flowers instead. These will last all summer long without withering. Match the theme with some bright colored napkins and a table runner that complements the look.
46. Summer themed sign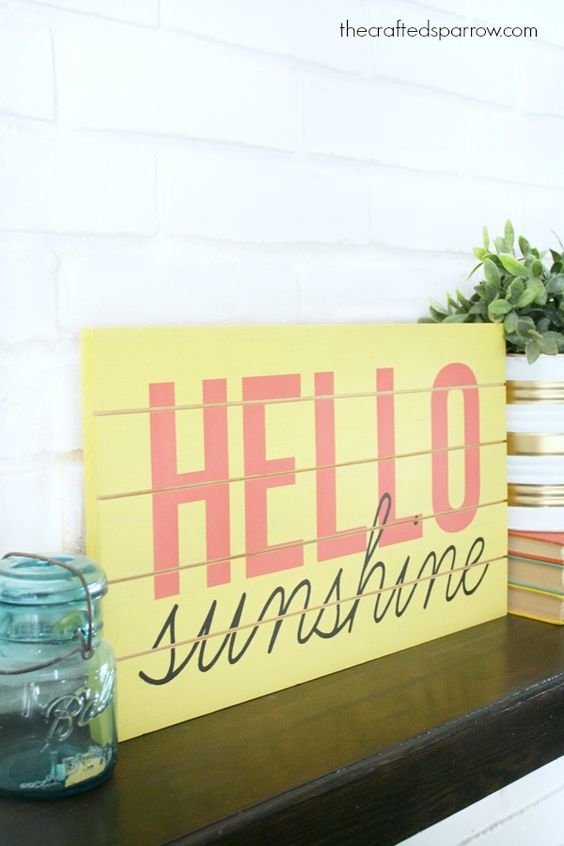 A bright "Hello Sunshine" DIY sign is a perfect addition to your summer home décor. Just with a wood slatted base, you can create this décor art-style sign easily. Use some multi-surface paints, foam brushes and vinyl stencil for this easy DIY project. Choose a light base color for the slatted wood base. Glue the stencil on the base and spray paint the sign to create this beautiful summer décor. Place this sign on a mantel or hang it on the entryway wall. You can create more summer banners with this process and give each corner of your home a new look.
47. DIY beach themed bathroom wall art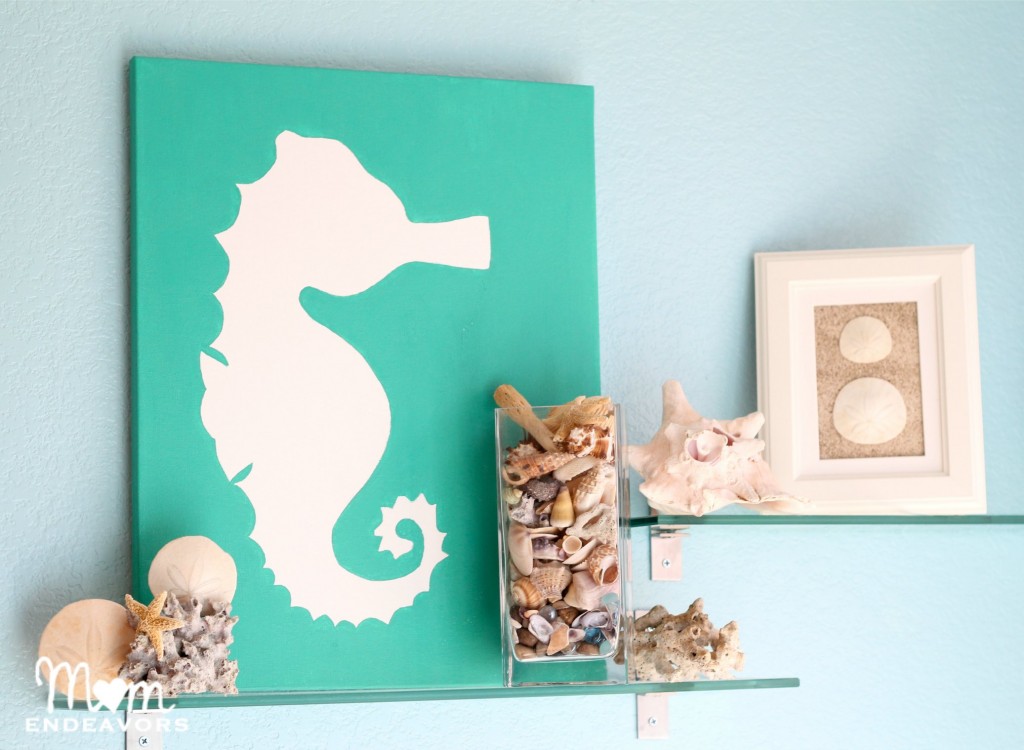 Refresh the look of your master bathroom or secondary bathroom with some fresh summer decoration ideas. Choose this easy DIY project to create a modern living room wall art. A polished wooden base or a canvas works best for this project. You will need a vinyl stencil for creating this wall art too. Use multi-surface spray paint of light turquoise shade. Cut out a sea horse on the stencil and attach it on the wooden base with some light glue. Now spray paint on the stencil and allow it to dry. Peel the stencil off and your beach themed bathroom art is ready.
48. Handmade coastal lamp shade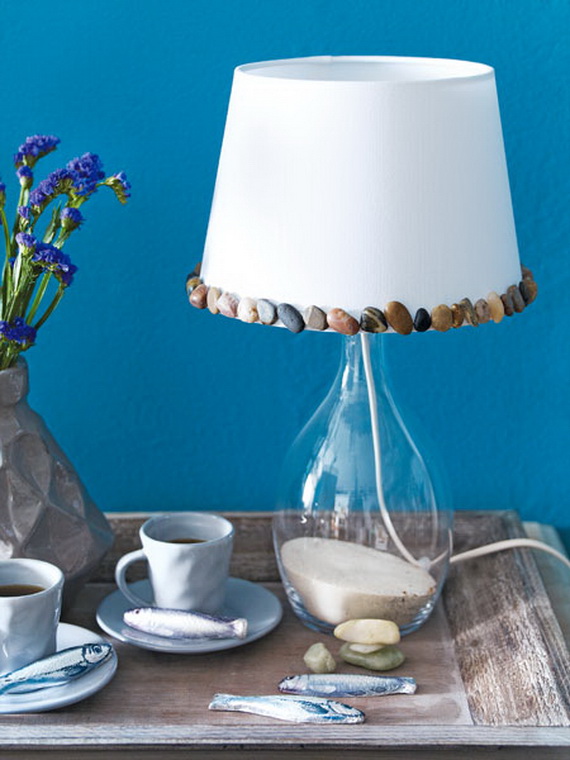 Highlight your dull looking lamp shade with this easy DIY project. This beautiful lamp will accentuate your beach themed room. Use natural stones and shells for this easy project. Glue the pebbles and shells onto the rim of the lampshade and allow it to dry. Add some sands into the lamp base to complete your lamp makeover. This coastal themed lamp can be a trendy décor for summer time. Choose other beach-inspired banners, candle holders and nautical backdrops to complete your theme.
49. Floral wall planters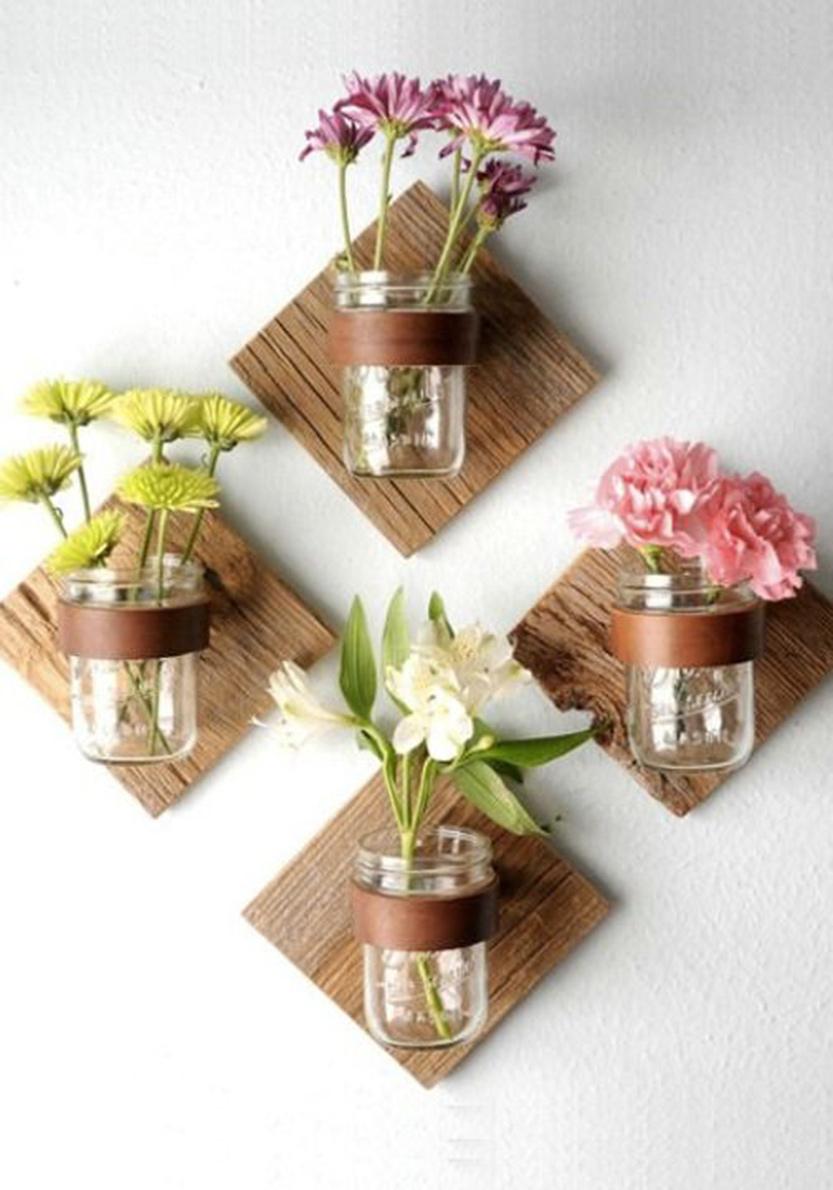 Source: The original source is not available anymore.
Fresh green planters add a touch of elegance and summary feel to your home. Choose a plain wall to decorate with these planters. Buy these beautiful wooden bases with planter hangers. Make the glass planters out of clear mason jars. Add some soil and a flowering plant in each. If you want, just use these jars as flower vases. Hang the jars on these planter hangers. This creative planter wall décor will highlight your summer inspired livings pace and interiors beautifully.
Summary
While decorating your home this summer, ensure to use a variety of themes for each room. A room with neutral walls and furniture will complement these summer decoration themed very well. Creating a casual vibe in your living space or a coastal setting in your breakfast nook is easy with this theme. Don't forget to use organic treasures as a part of your decoration. Choosing these ideas for a room or area with lots of natural light is highly recommended. After all, your summer-inspired interiors cannot be complete without some sunshine and lots of natural décor.