41. Bright summer candle holder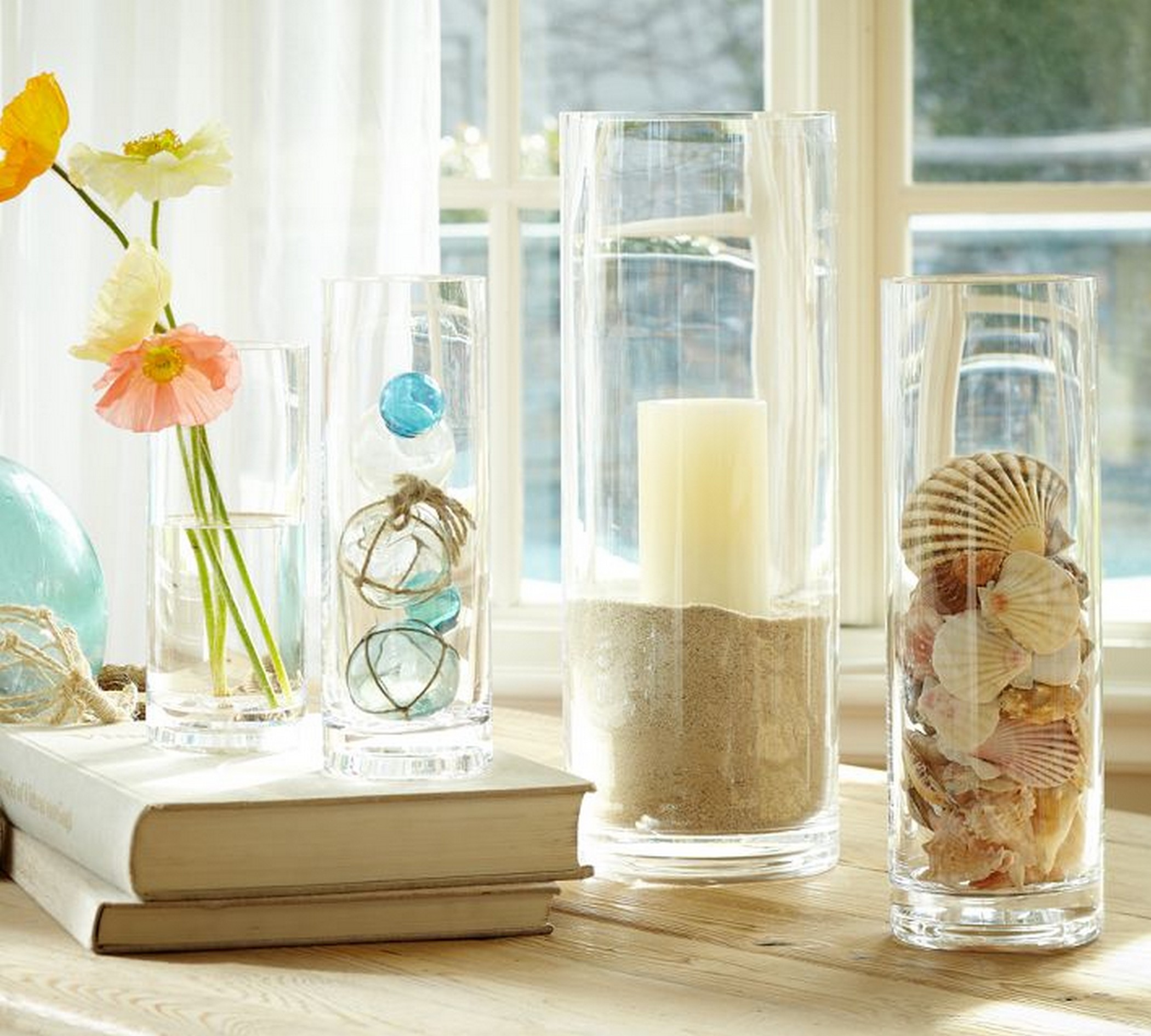 A summer themed table decoration must include something related to the sea, sand and sun. Create a little coastal corner in your home with a themed table decoration. Make candle holders with tall clear glasses. Fill approximately 1/5th of the glass with sand and place a candle in it. You can add shells in the glass to create a beach theme. Make three glass candle holders and place them together on your side table or console table. You can keep these on a tray and add some seashells to the tray for a beautiful coastal themed look. A fishing net, nautical charm and a life preserver tube will add some beach vibe to this setting.
42. Summer inspired living room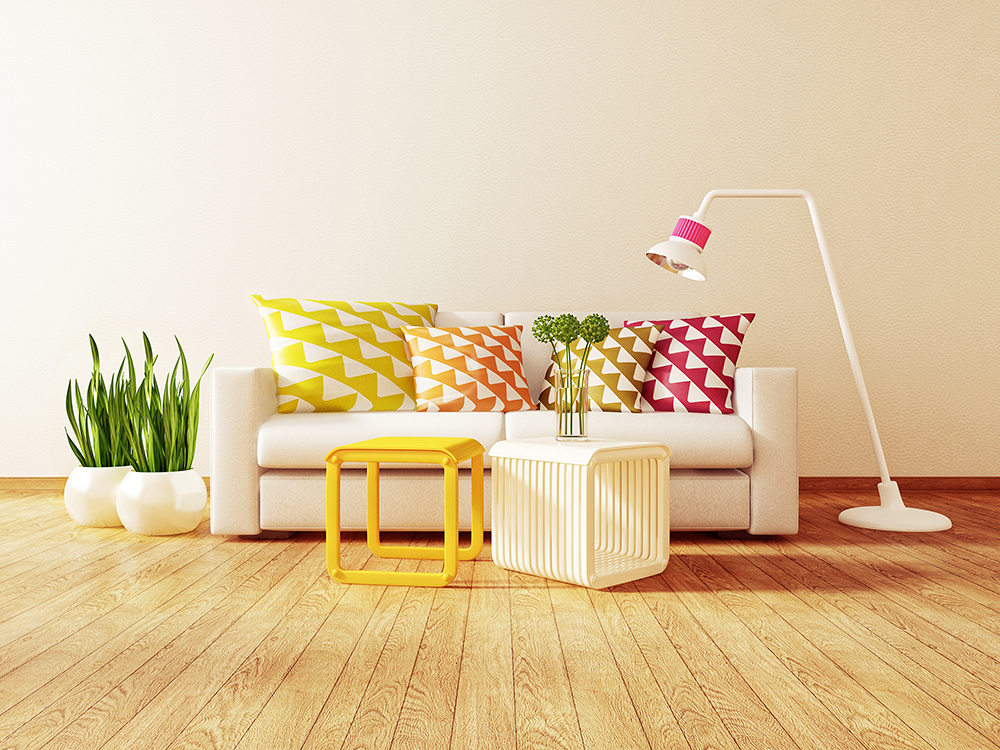 A bright and colorful living room makes your living space a more cheerful and relaxing setting. This summer, try something different while changing the look of your living room. Select some white or gray furniture and combine it with bold-colored side tables, quirky looking console tables and vibrant decorative pillows. Look for the patterns and solid colors of same hue or mix and match more than two tones to create this look. Fresh plants in a pot, contemporary floor lamp and area rugs with geometric pattern will also uplift this bold look in your summer inspired living room.
43. Personalized summer banner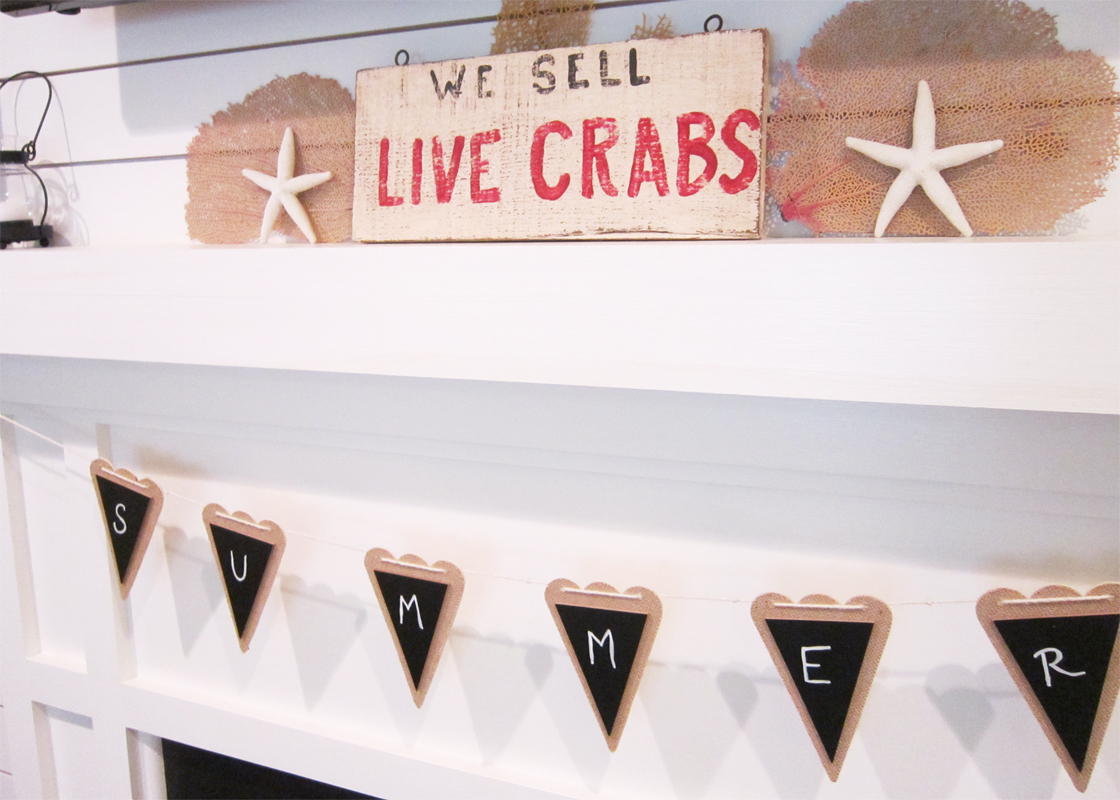 Make a fireplace mantle summer banner with a few easy steps. This cute and attractive banner will make your home interiors more inviting and elegant. If you have chosen a nautical themed mantel makeover, you will surely love this summer banner. This DIY project is a perfect craft time for each one in your family. Make this little corner near the fireplace a summer-inspired setting. Put together some coastal themed decors, nautical charms, seashell wall hanging décor and this cute banner. This little summer bunting is easily found at any local store. Use them for several projects or just to create the summer-inspired fireplace corner in your house.
44. DIY Mason jar flower vase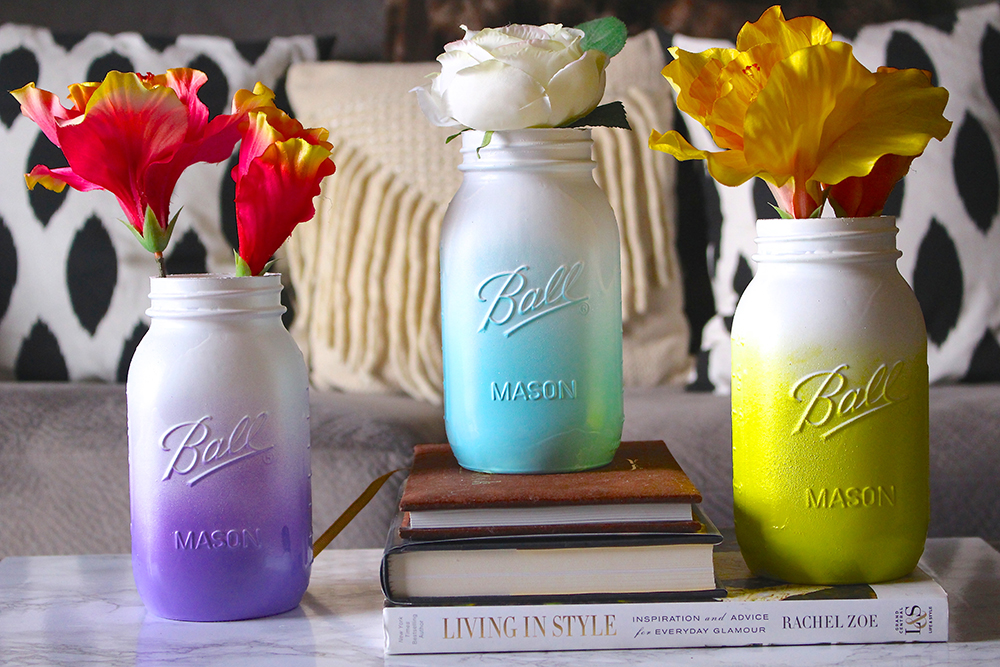 Update your home's look with these DIY Mason jar in ombre shades. Use two to three pastel shades to create the ombre effect on each jar. Allow each one to dry before using them as a flower vase. Start with the white spray paint base coat and use the pastel shades toward the bottom of the jar. These ombre pastel jars add a pop of color wherever they are used. Add some fresh flowers and decorate any corner of your house that needs a fresh summer makeover.
45. Floral table arrangements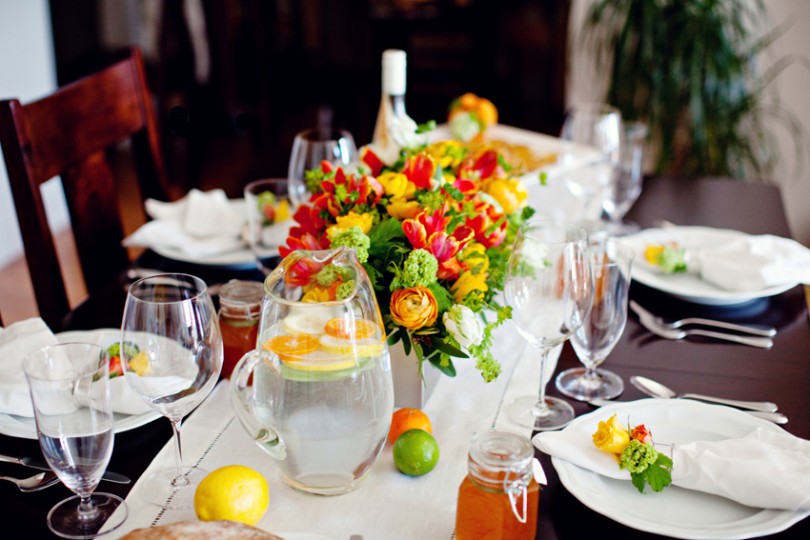 Spruce up a plain dining room with some summer inspired decorations. This is the best and most inexpensive way to give your dining table a summery makeover. Choose fresh and bold colored blooms. A combination of vibrant sunflowers and coral colored blossoms will brighten your table arrangement. If not using fresh flowers, use some silk flowers instead. These will last all summer long without withering. Match the theme with some bright colored napkins and a table runner that complements the look.
46. Summer themed sign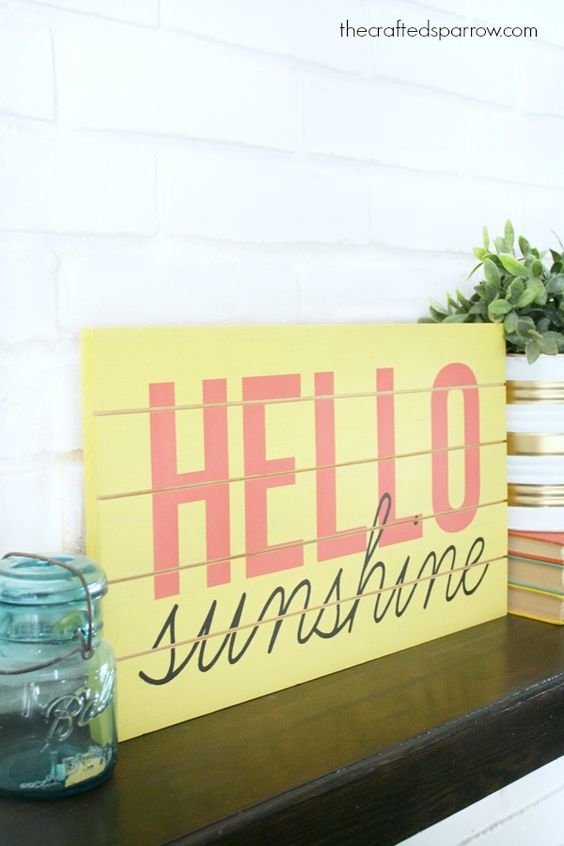 A bright "Hello Sunshine" DIY sign is a perfect addition to your summer home décor. Just with a wood slatted base, you can create this décor art-style sign easily. Use some multi-surface paints, foam brushes and vinyl stencil for this easy DIY project. Choose a light base color for the slatted wood base. Glue the stencil on the base and spray paint the sign to create this beautiful summer décor. Place this sign on a mantel or hang it on the entryway wall. You can create more summer banners with this process and give each corner of your home a new look.
47. DIY beach themed bathroom wall art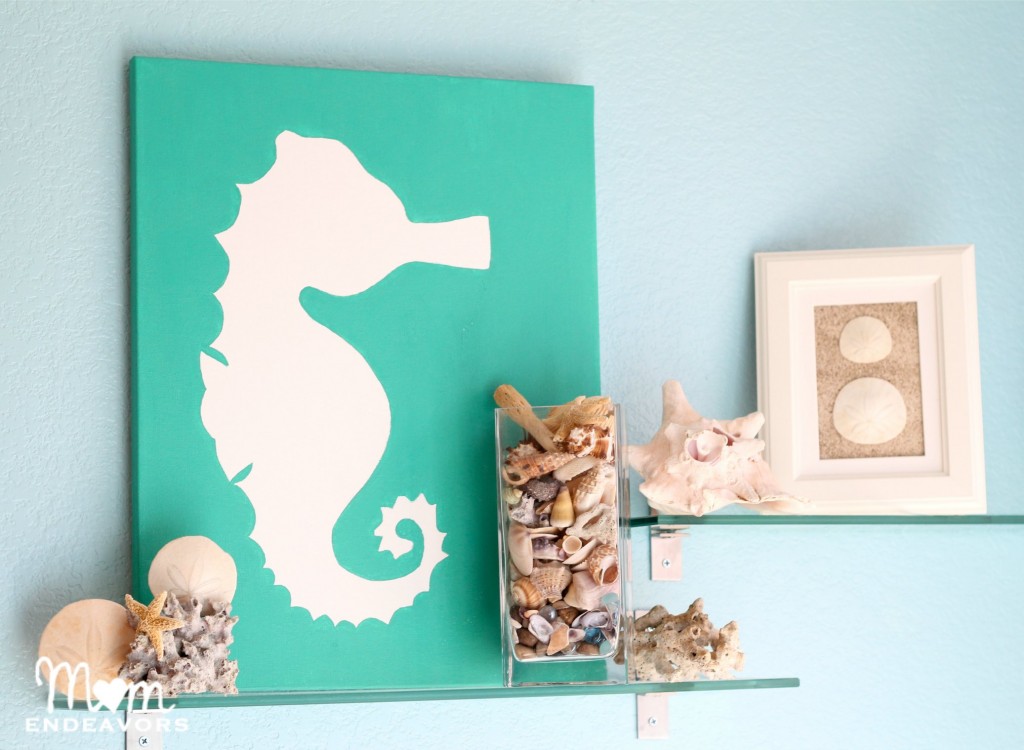 Refresh the look of your master bathroom or secondary bathroom with some fresh summer decoration ideas. Choose this easy DIY project to create a modern wall art. A polished wooden base or a canvas works best for this project. You will need a vinyl stencil for creating this wall art too. Use multi-surface spray paint of light turquoise shade. Cut out a sea horse on the stencil and attach it on the wooden base with some light glue. Now spray paint on the stencil and allow it to dry. Peel the stencil off and your beach themed bathroom art is ready.
48. Handmade coastal lamp shade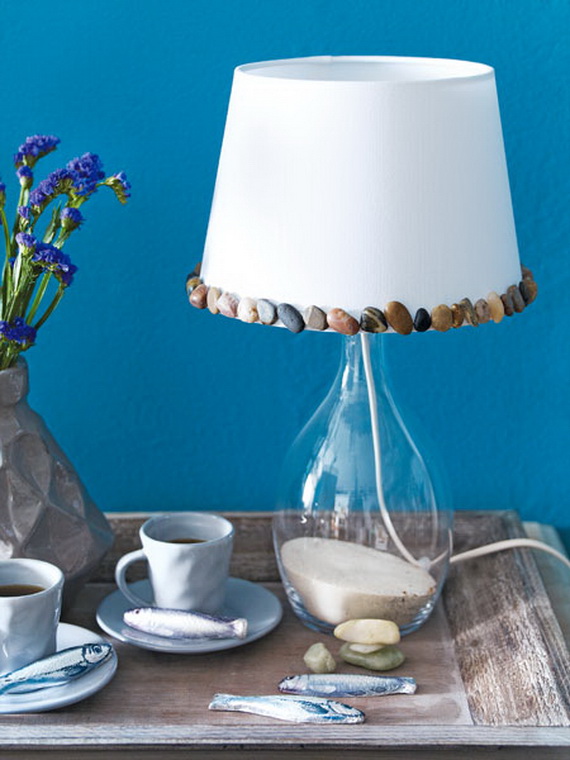 Highlight your dull looking lamp shade with this easy DIY project. This beautiful lamp will accentuate your beach themed room. Use natural stones and shells for this easy project. Glue the pebbles and shells onto the rim of the lampshade and allow it to dry. Add some sands into the lamp base to complete your lamp makeover. This coastal themed lamp can be a trendy décor for summer time. Choose other beach-inspired banners, candle holders and nautical backdrops to complete your theme.
49. Floral wall planters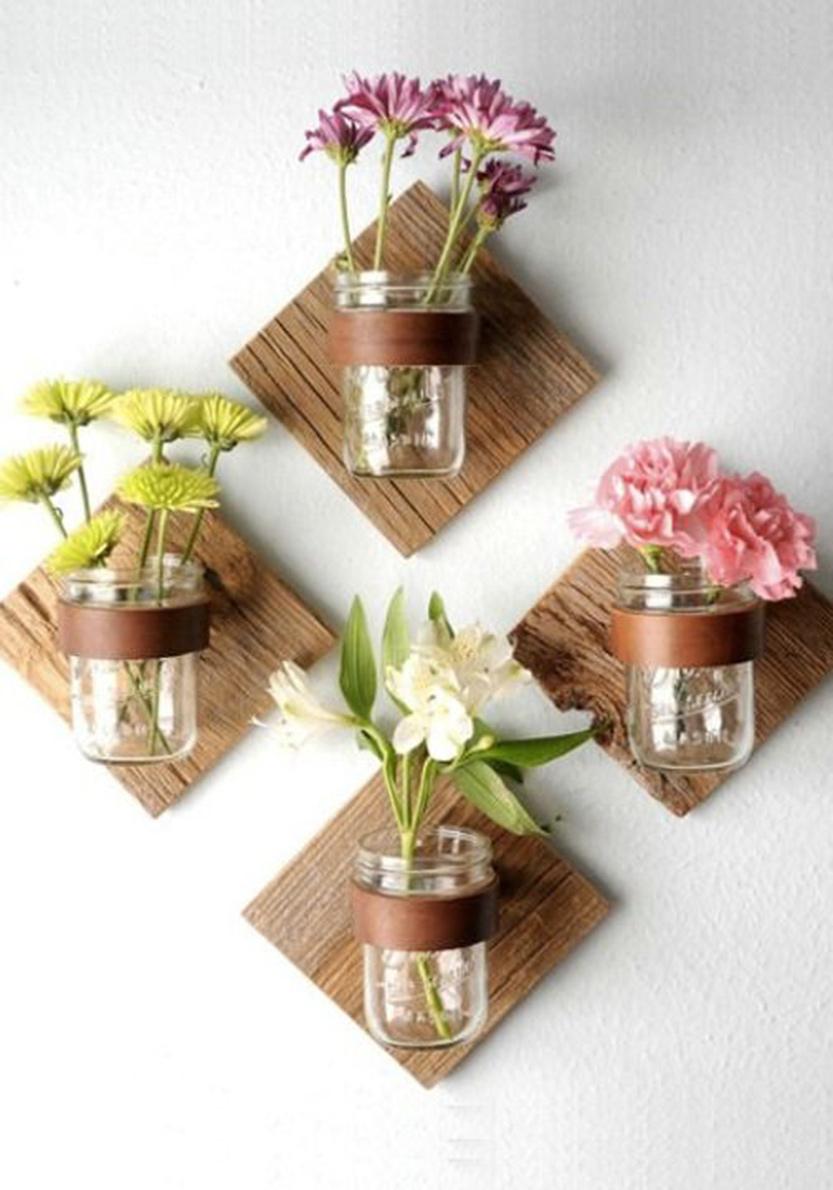 Fresh green planters add a touch of elegance and summary feel to your home. Choose a plain wall to decorate with these planters. Buy these beautiful wooden bases with planter hangers. Make the glass planters out of clear mason jars. Add some soil and a flowering plant in each. If you want, just use these jars as flower vases. Hang the jars on these planter hangers. This creative planter wall décor will highlight your summer inspired livings pace and interiors beautifully.
Summary
While decorating your home this summer, ensure to use a variety of themes for each room. A room with neutral walls and furniture will complement these summer decoration themed very well. Creating a casual vibe in your living space or a coastal setting in your breakfast nook is easy with this theme. Don't forget to use organic treasures as a part of your decoration. Choosing these ideas for a room or area with lots of natural light is highly recommended. After all, your summer-inspired interiors cannot be complete without some sunshine and lots of natural décor.