42. White and Silver Wonder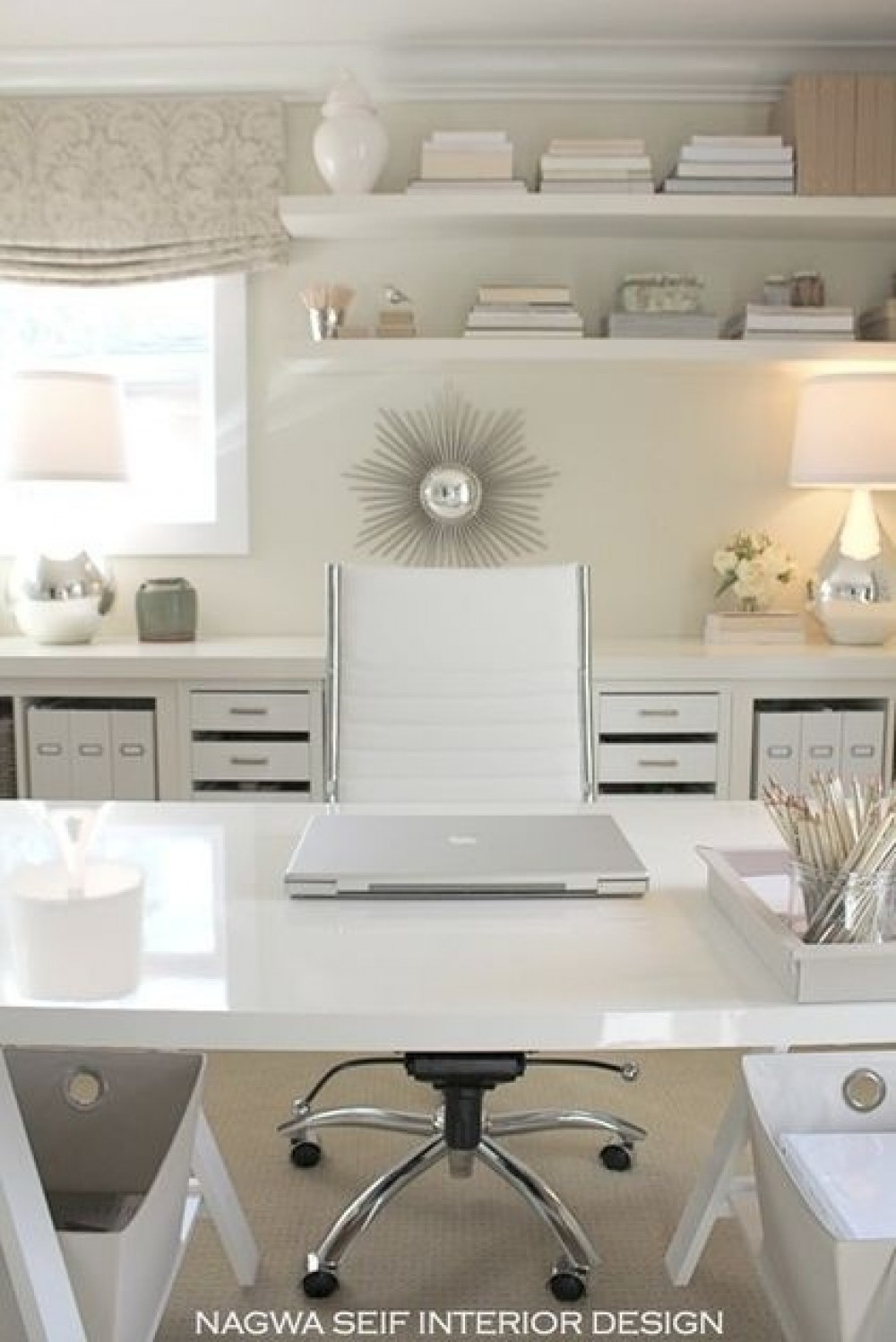 Sticking with two or three colors is an easy way in general to make your office space look well-designed, but it looks even more sleek when those colors are white and silver, as you see in this picture. You'll certainly feel awake when you walk in here. One of the biggest challenges when using a unique desk, such as the desk top balanced on carpenter's horses, is the lack of storage space underneath. This person solves the problem by placing cute storage boxes in between the legs.
43. A Part of Nature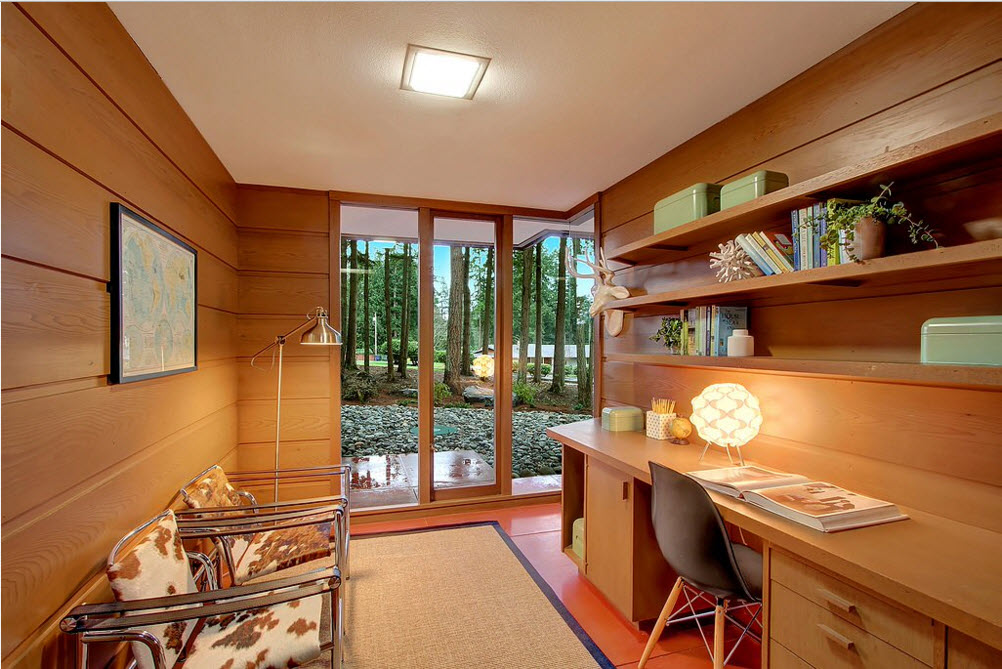 With the wooden walls and desk and the floor-to-ceiling windows looking out into the woods, you almost feel like this office is an extension of the outdoors. Anyone with a home that sits on a gorgeous piece of land like this one should definitely make use of the view outside in their home design choices. This office space may be long and narrow, but it still has everything you really need to work efficiently, along with some extra seating.
44. Creating the Penthouse Suite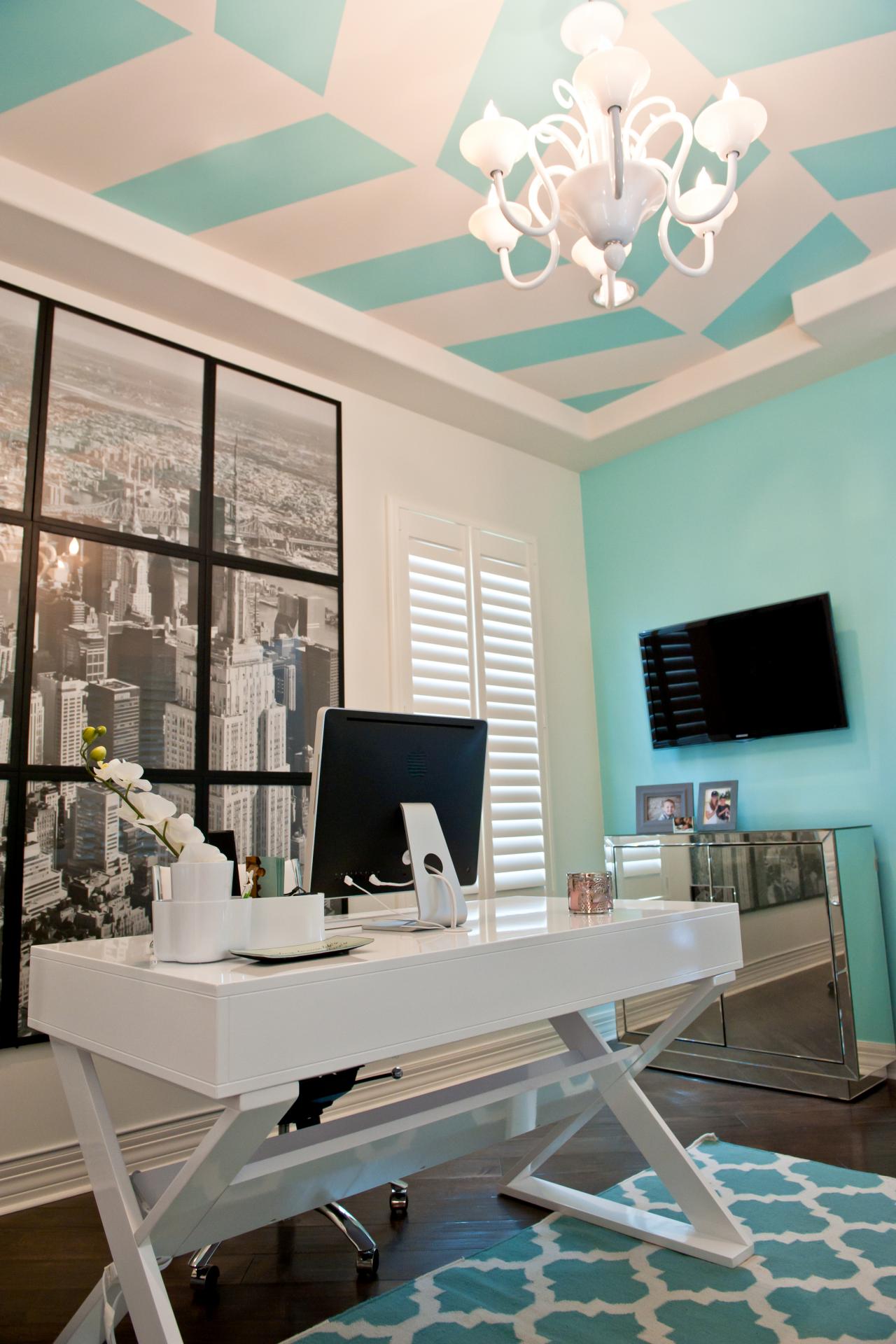 Have you always dreamed on the top floor with windows overlooking the city? You can get that feel even in the country by creating a mural of photographs, as seen in this picture. The light blue and white walls are calming, yet fun, and the design painted on the ceiling gives it a three-dimensional look.
45. Cozy and Funky Home Library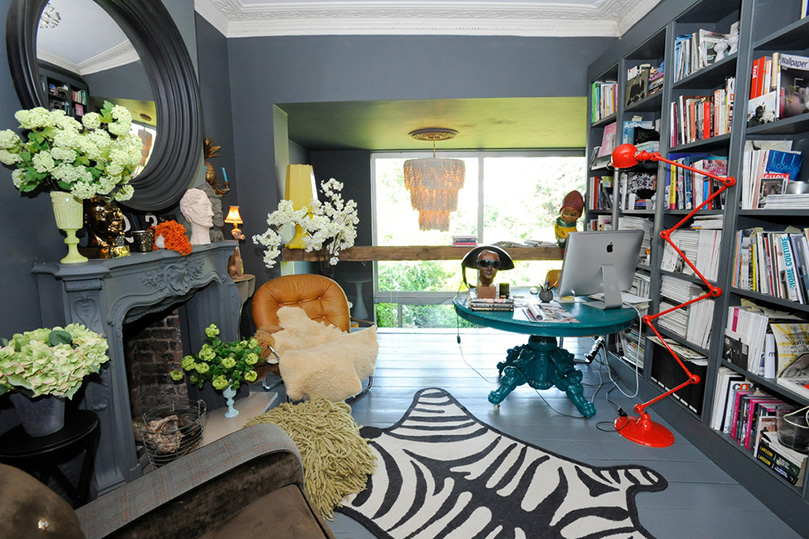 Floor-to-ceiling shelves cover the wall and offer you plenty of space to store your books, while the fireplace and cozy pillows and chairs invite you to settle in for some reading. If it's time to work, though, you'll feel inspired by the elegant table-turned-desk painted in a bright blue. Kitchy elements like the orange lamp and the pirate hat on the bust add a playful element that's sorely missing in some home office ideas.
46. Retro Chic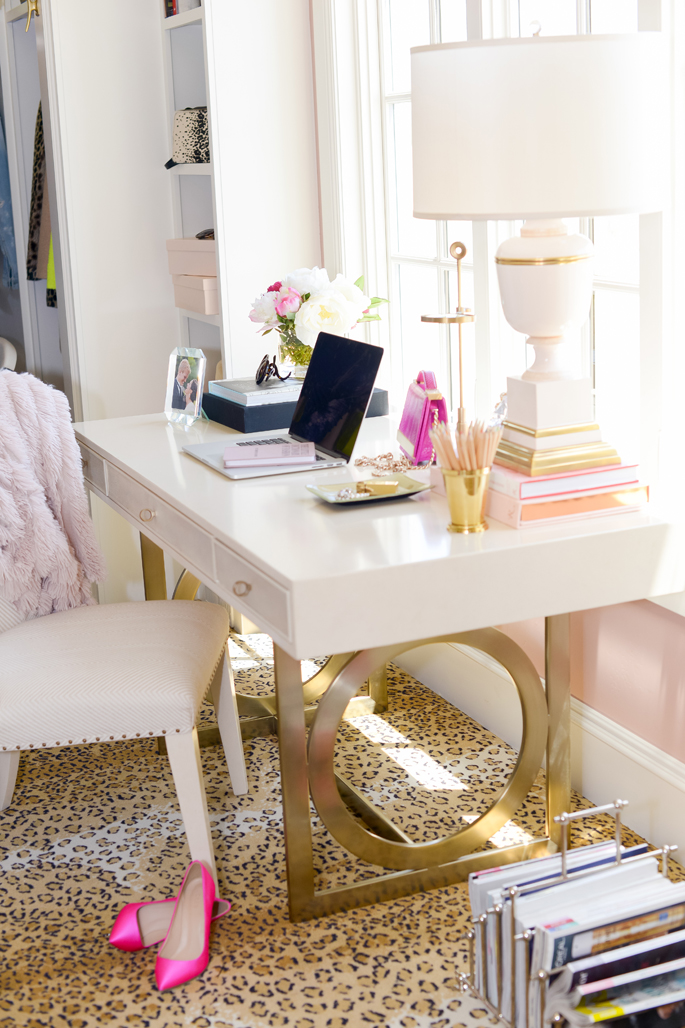 With a leopard-print carpet and gold trim on the desk and accessories, you'll feel like you're stepping back in time to the days when style clearly mattered. This desk is small, so it should easily fit in just about any room, and placing it in front of a window gives you necessary light as well as a view to look at out. While the desk doesn't have a lot of extra storage space, it's the ideal home office design for someone who just needs to check emails after hours.
47. Energized with Colors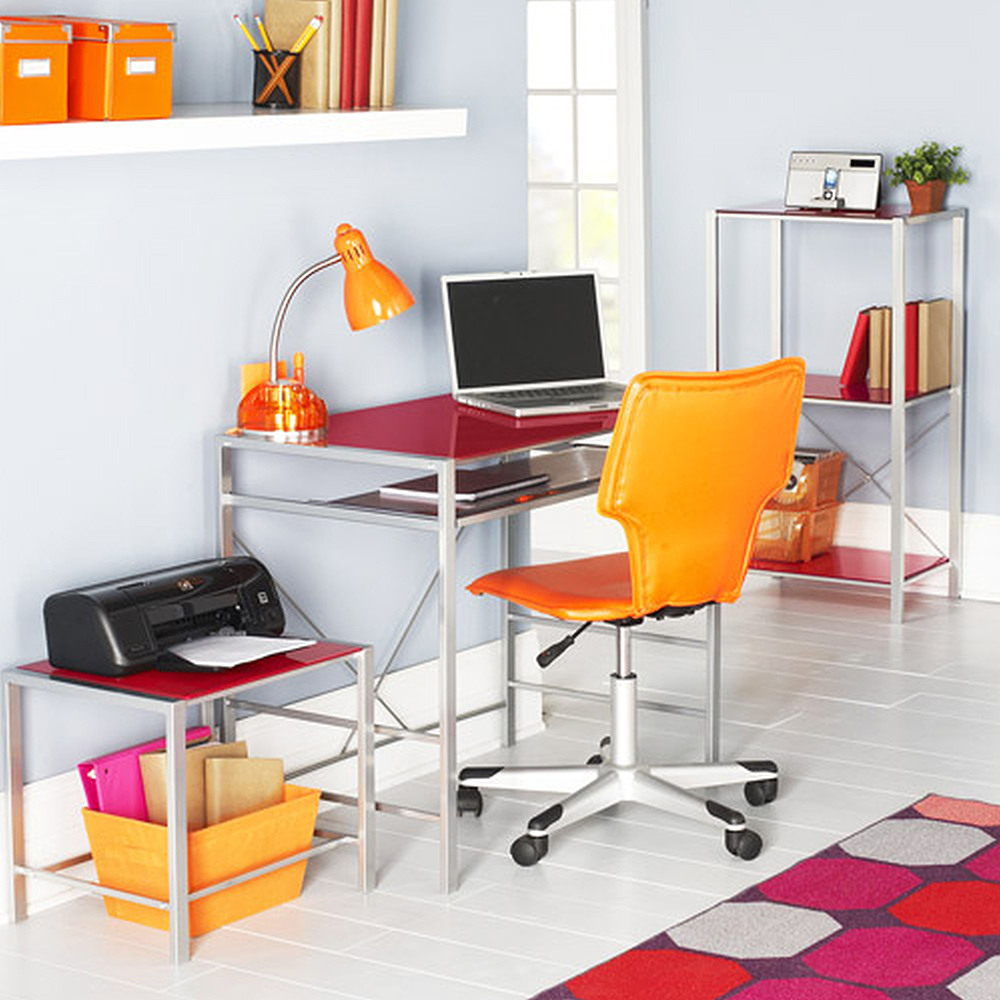 As you come up with home office ideas, it's essential to fit in all the basics. This office has a desk, a shelf, and a small table to hold the printer, and they all make use of the same metal framing to make all the pieces come together. Bright reds, yellows, and oranges located throughout the space help you to feel energized as you sit down to work.
48. Repurposed Furniture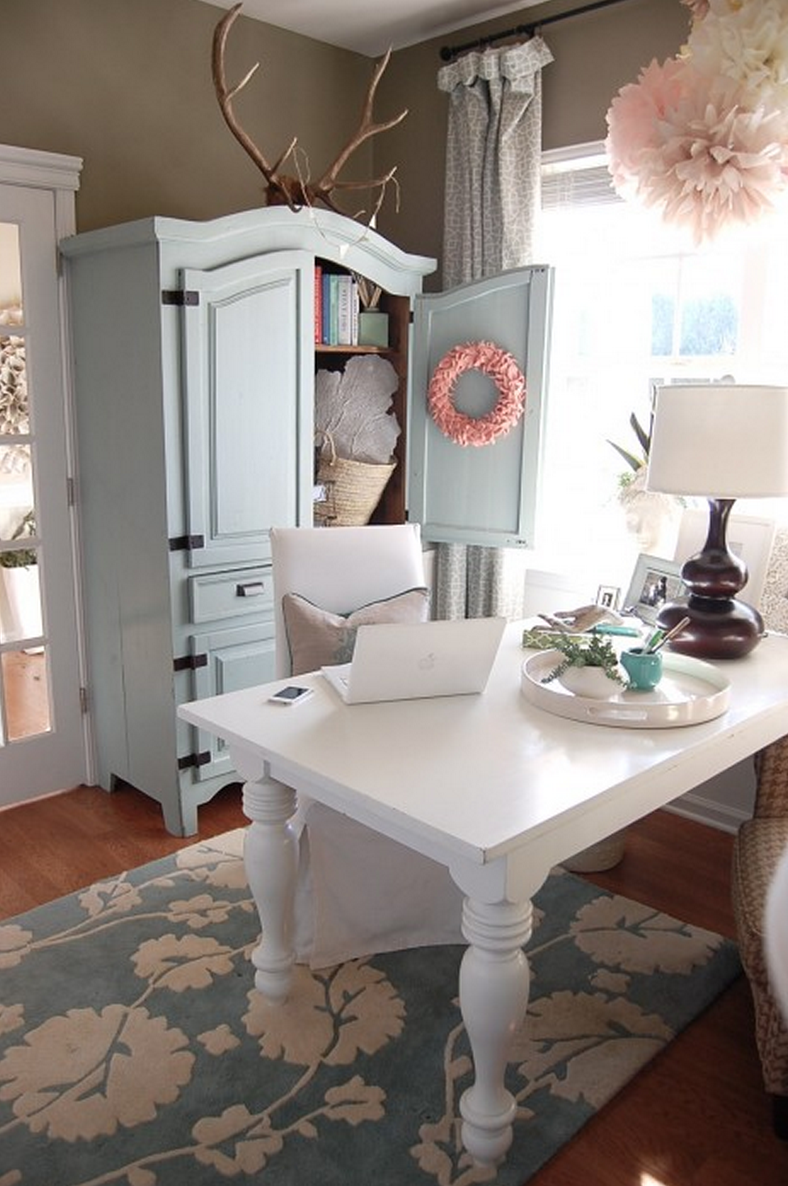 Sometimes, home office design seems to be trying too hard to mimic what you might expect in a traditional office. What makes this home workspace unique is the way that it uses many different types of furniture as office pieces. An armoire becomes office storage space; a dining room table becomes the desk; an easy chair becomes a special seat for clients. Also interesting is the way that the designer has used texture to tie elements together, as you see in the wreath and decorations hanging from the ceiling. They go well with the design on the carpet.
49. Wooden Simplicity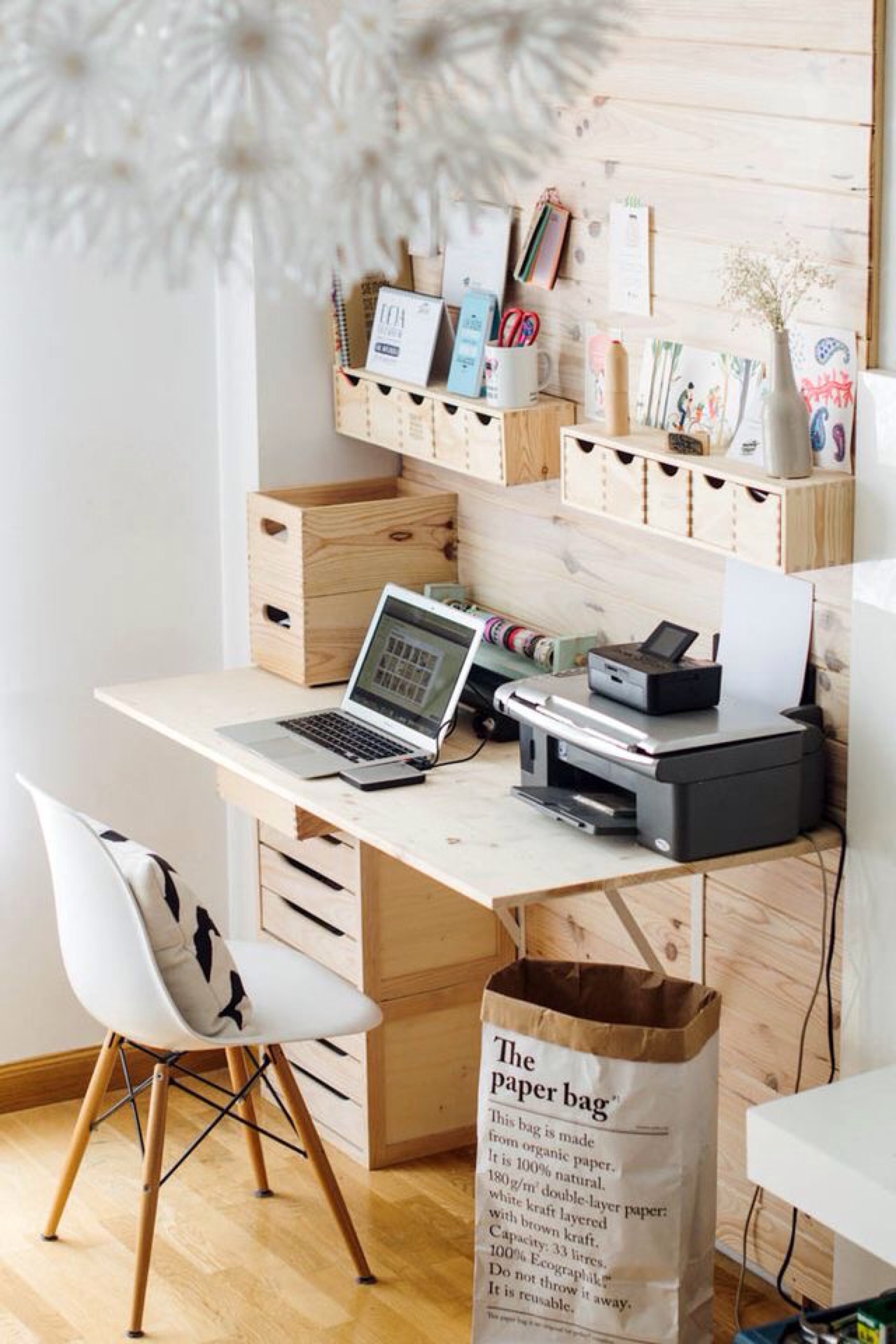 If you're looking for inexpensive home office decorating ideas, take a look at this picture. You can easily purchase the simple wooden storage boxes at a craft store, and the desk is little more than a sanded-down panel of wood attached to the wall. Bare wood throughout the office area make this design effective, but you can easily make the space your own for a bit more money. Simply purchase some paints in your favorite colors to instantly transform this idea to better fit your personality.
50. A Touch of Pink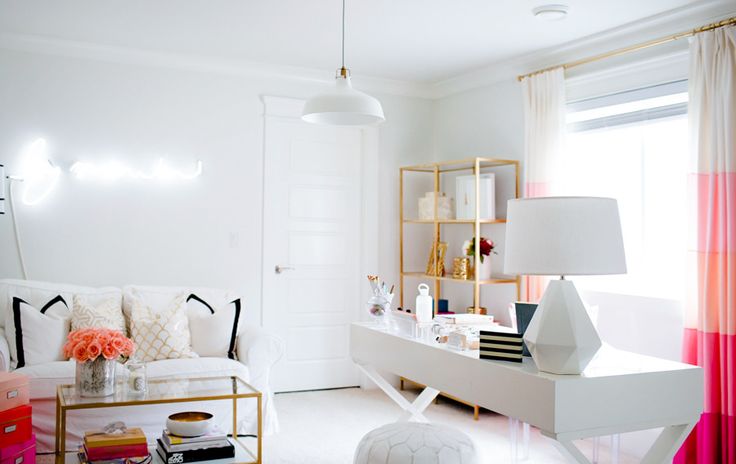 This large home office has a separate sitting area in the same room. The comfortable couch is the perfect place for going over edits or brainstorming new ideas. However, the commanding desk lets you know that this is indeed an office. The mostly-white space has a wide-open feel to it, but small elements break up the monotony. Gold trim on both the shelving and table, for instance, add some elegance, while the pink ombre curtains, pink boxes, and pink flowers add some much-needed color.
50 Functional and Stylish Home Offices to Keep You Focused
When you're trying to plan out your home office design, it's important to keep several things in mind. First, you need to think about functionality. What type of work will you be doing at home? How will you use your space? Will you need a lot of storage space? The needs of someone doing work on the computer are completely different than the needs of someone creating artwork. Seek out office design ideas that are right for the way you want to use the space.
You also need to consider the available space that you have in your home. If you're working from home full-time and have a room that you can dedicate to work, you'll want the types of home office ideas that can fill a large space. Those who don't have this space, on the other hand, will need to seek out a home office design that can be just a small area. No matter how big or small your space, creating a dedicated place to work can help you stay focused.
By thinking your needs and your space and you look through the many pictures we've shown you, we hope that you'll be able to design the home workspace that's perfect for you. It's a small home project that can reap big rewards.