24. Shelves of Joy and Happiness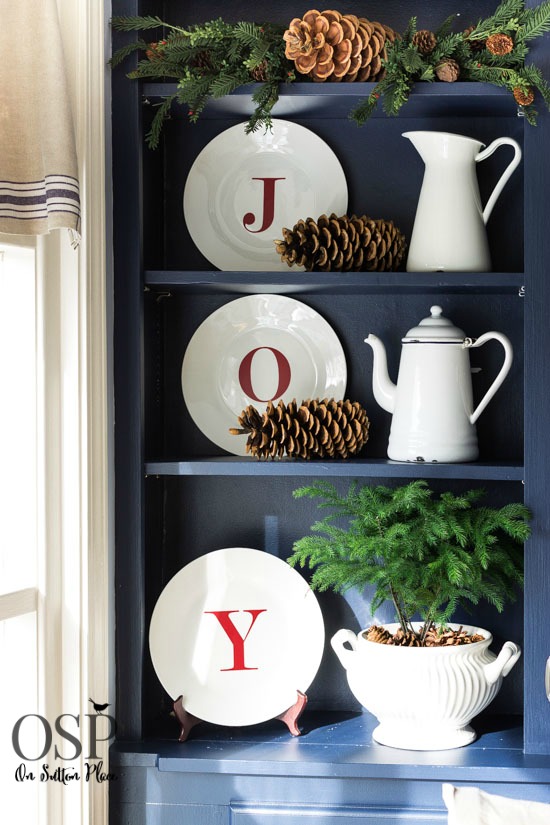 Many homes have shelves that are placed conveniently around your living space. If you have one of these types of shelves, then it can easily become part of your Christmas indoor decorations this year. If you have pictures of your family on the shelves, remove them until after the holidays are over. Add pinecones, evergreen branches, and anything that puts you in the holiday spirit to the design of the shelves. Garland can be used, but this image shows plates that bring you joy.
25. Rustic Wooden Tree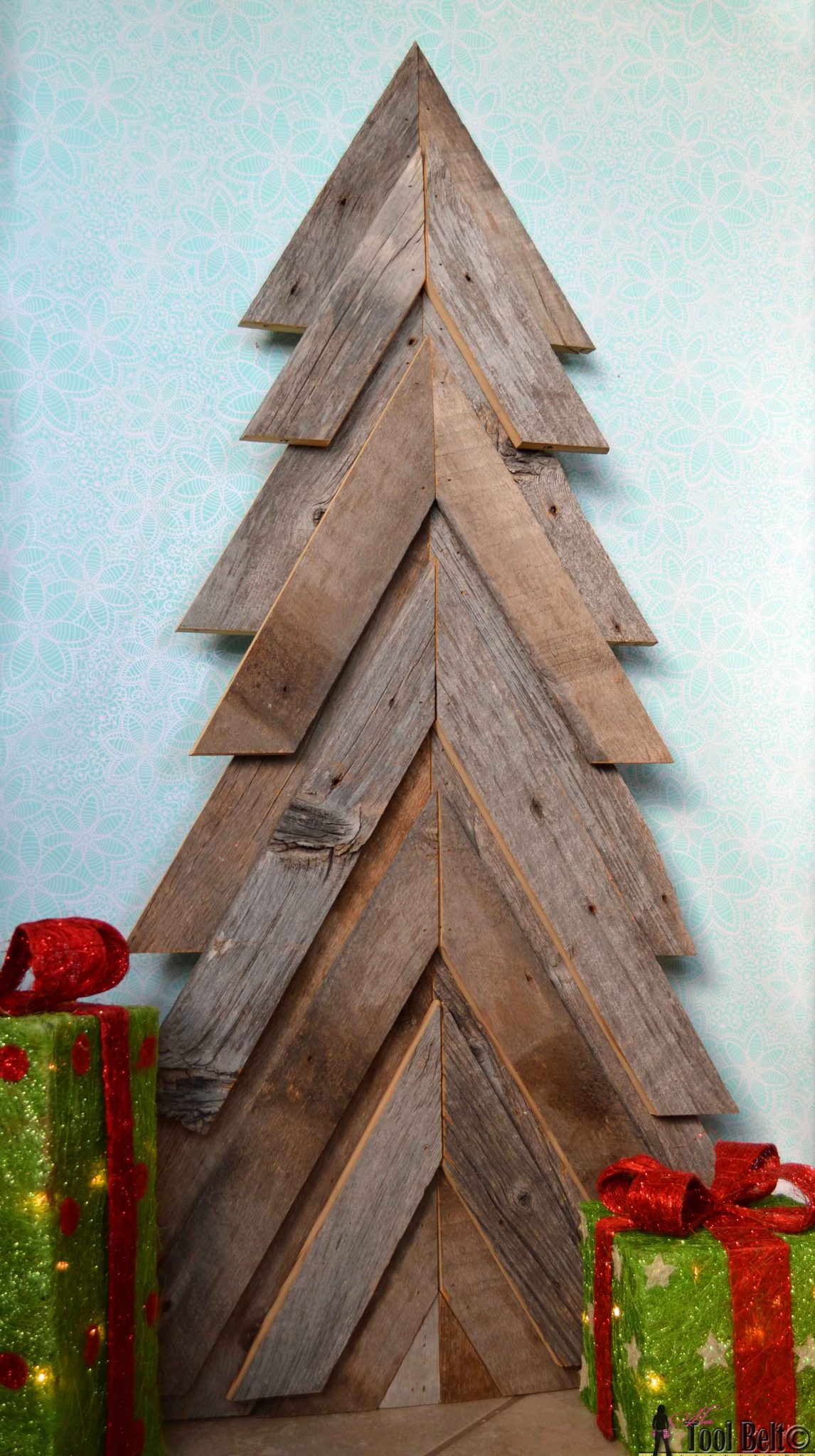 If you are tired of having a real tree in your home that looses pine needles and requires care, then this rustic wooden tree is the perfect solution to your problems. It is a tree that is designed onto the wall of your home, and it can easily be made out of pallets or other pieces of wood that you could have in your woodshop. Creating this tree will take a bit of maneuvering with a saw because it needs to have the perfect angles to create a pointed top on the tree. You can even place your presents under the tree.
26. Pinecone Garland

Creating a string of garland is a great way to add a personal touch to your indoor Christmas decoration ideas. The garland that you find in the store is often not as creative as you'd like, but if you construct your own garland at home, then you can add that personal touch to the mantle, tree, or around your living area. The pinecones utilized here are dipped in white paint to give them snow covered tips then the pinecones are evenly spaced across a length of string to be hung in your home.
27. Bare Branch Tree of Lights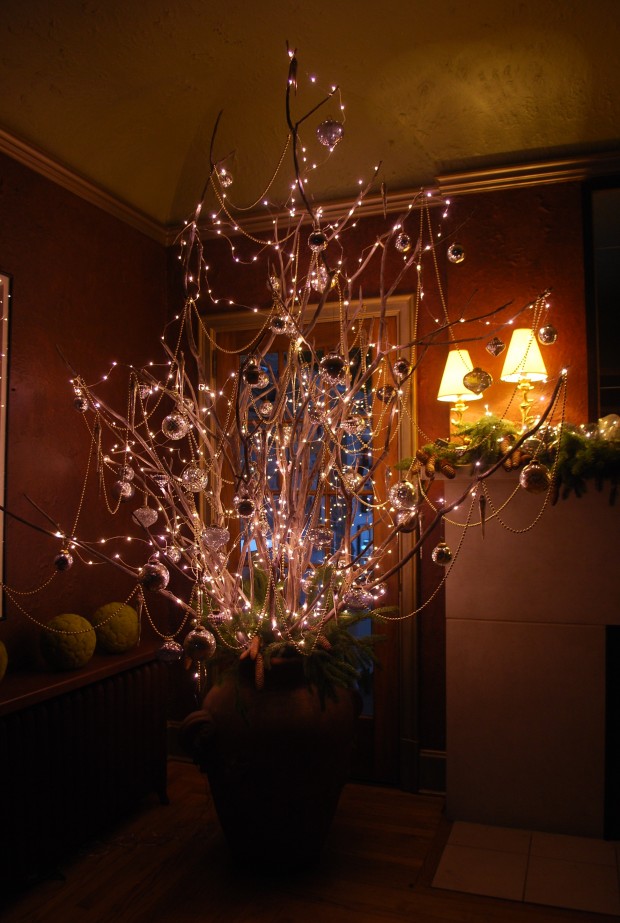 If your decor ideas this holiday season do not feature the traditional evergreen tree and wreath, then there are plenty of other ideas that can put you in the holiday spirit. This tree is not an evergreen at all; in fact, it is simply the branches of the tree without the foliage. It is placed in a large vase and decorated with white lights that look as if they are floating. The tree also sports beaded garland that is simple and practical as well as a few antique Christmas ornaments that add a stylish flair to this design.
28. Christmas Tree Forest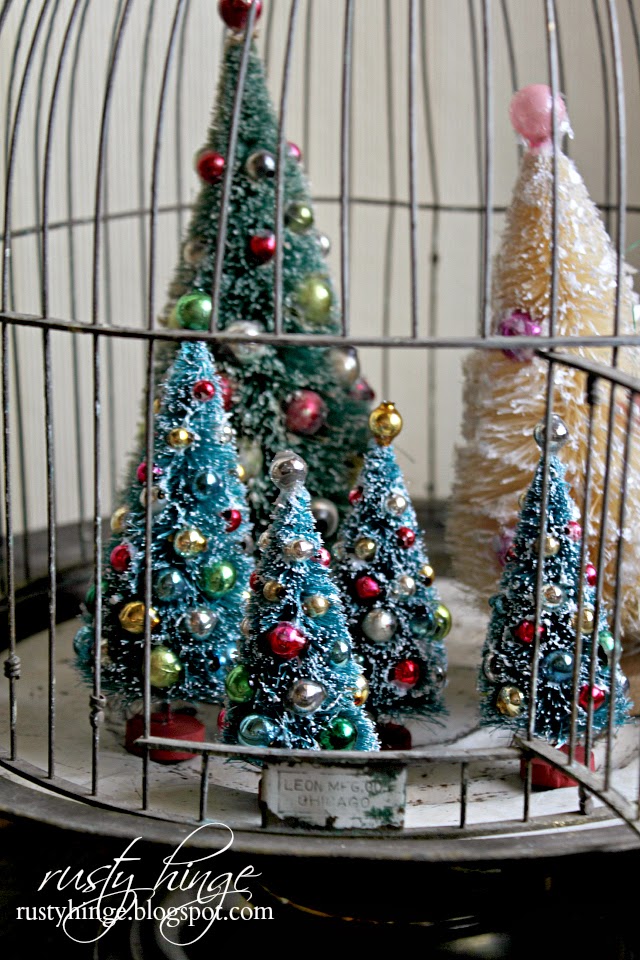 One of the most interesting decor ideas in this gallery is the one seen here. If you have an old bird cage that is no longer being used, turn it into a small Christmas tree forest that will add to your holiday decorations. Make sure that the trees are different sizes, and be sure to decorate them and give each tree a light dusting of snow upon the branches of the trees. If you have small figurines, you can add them to the winter wonderland and create a winter scene that is perfect for the season.
29. Christmas Pillows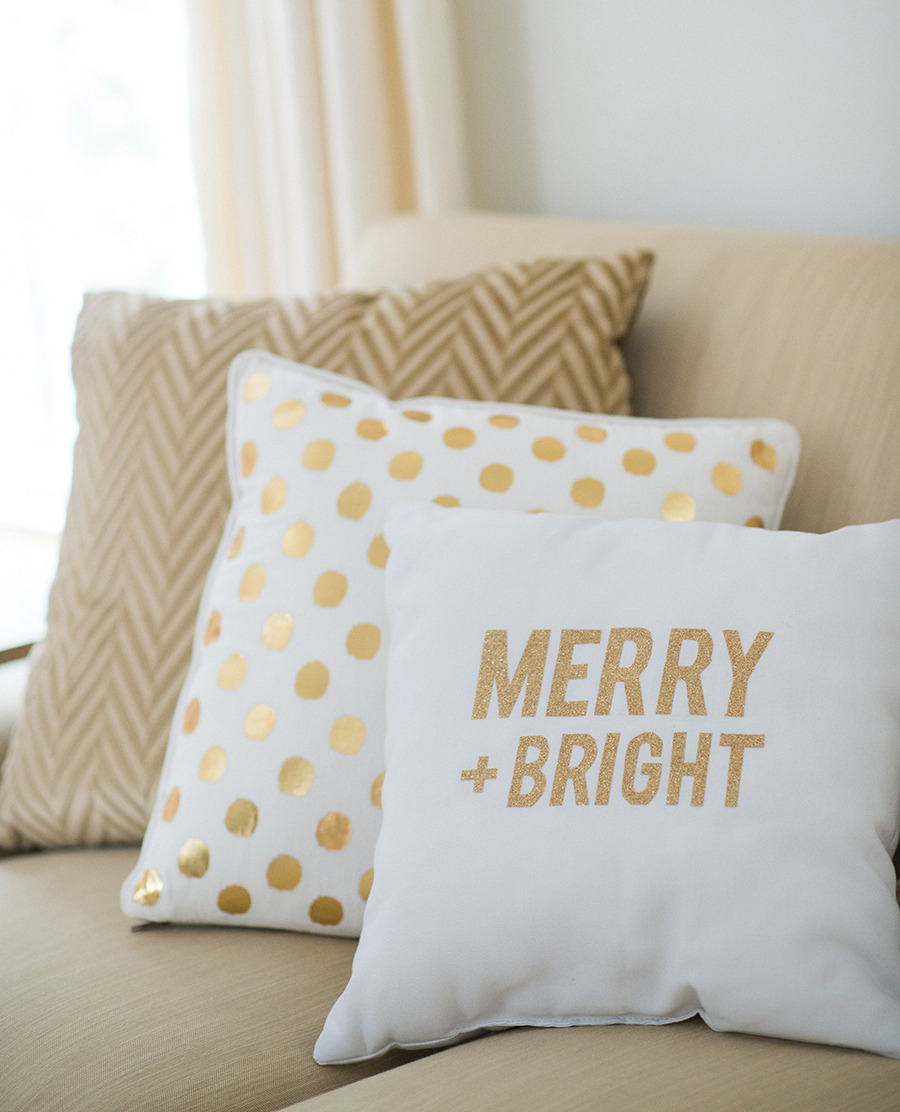 When you decorate your living space, your indoor Christmas decoration ideas do not need to be a traditional type of decoration. In fact, decorating pillows is the perfect way to add the spirit of Christmas to your living space. White and gold are the perfect colors to match this beige couch, but if you have a red couch, perhaps green and white pillows would be more fitting. If you decide to use a traditional Christmas color, then perhaps you can get garland to match and wrap it around the room.
30. White Winter Creation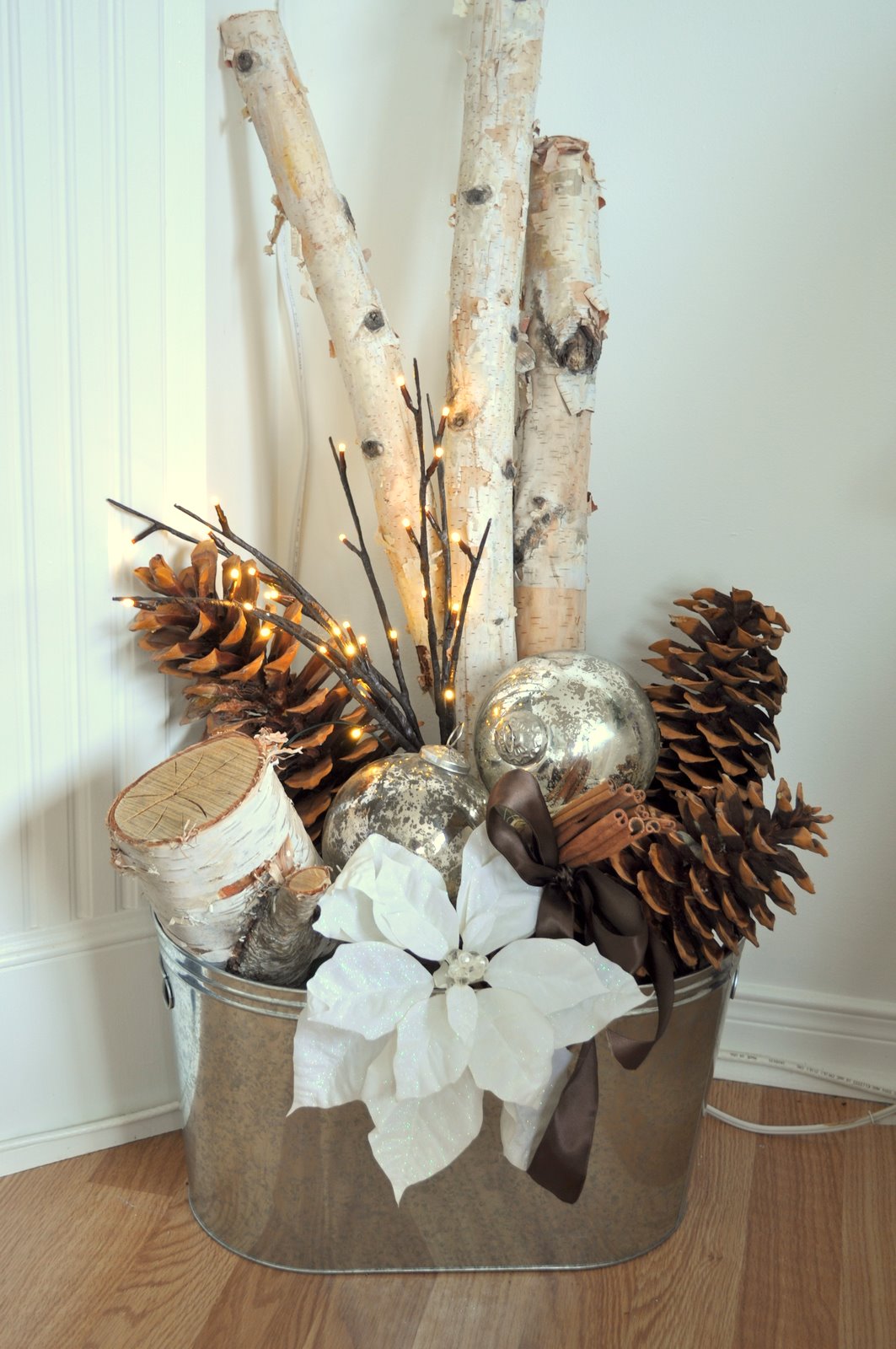 If you are looking for an indoor Christmas decoration idea that is perfect for the small corners and unused spaces of your home, then this next idea is perfect for you. The idea begins with a metal bucket that is shined to perfection, and then it is filled with things that remind you of winter like small limbs from a white Birchwood tree, pinecones, silver ornaments for the tree, and a dreamy white poinsettia that is positioned on the exact front and center of the basket. There is also a small branch with light to brighten the area of the room that this basket calls home.
31. I Believe in Santa Clause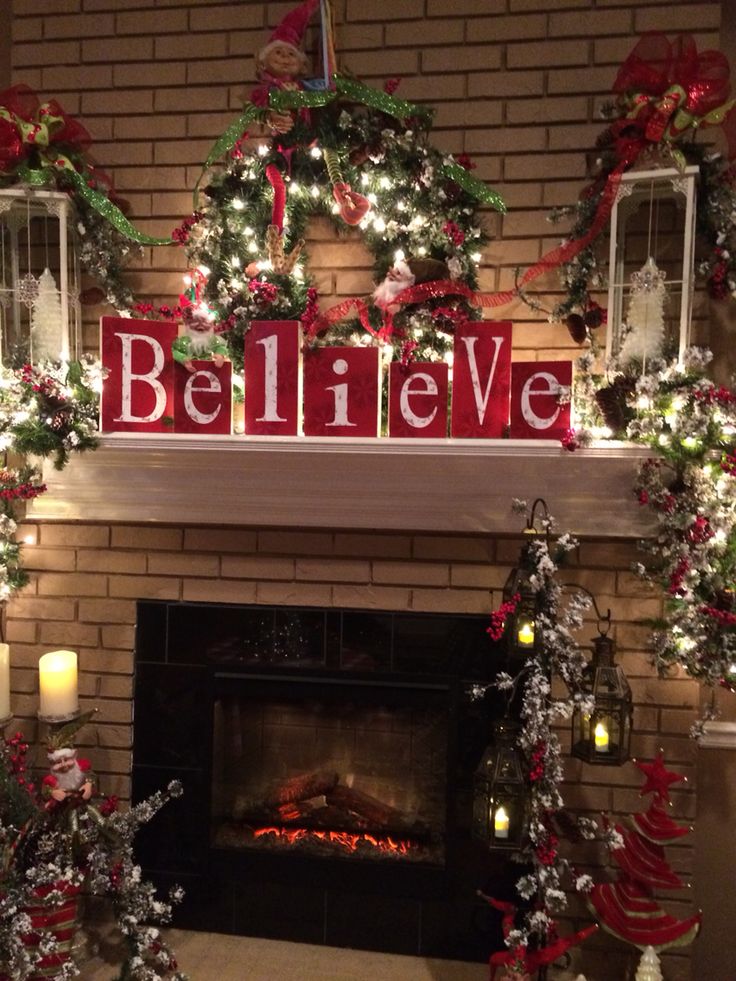 Another one of the decor ideas that utilize a fireplace and a mantle is the Believe design that is meant to center the decorations around the fireplace, which is where Santa comes down the chimney on Christmas Eve. There is a lot of garland, evergreen wreathes, and red ribbons that form an amazing looking display. There are also a lot of white Christmas lights surrounding the mantle. In addition, the mantle has a red letter display that says believe, but that aspect of the design can easily be changed if you prefer it to say something else.
32. Light-up Door Display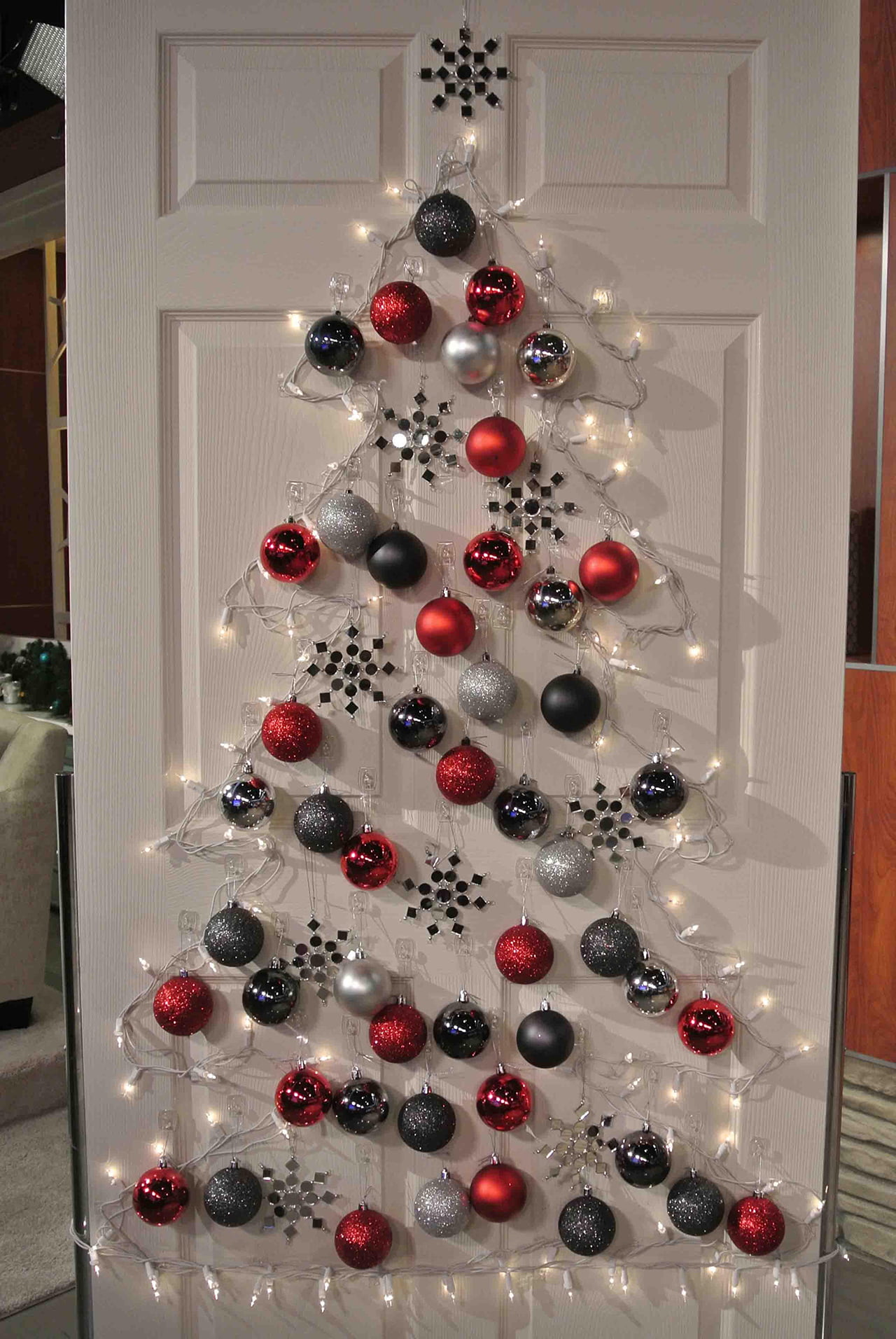 Another simple indoor Christmas decoration idea that you can easily recreate at home is one that displays a Christmas tree on a door within your living space. This display features an outline of a Christmas tree that is designed in white lights. These light look great in this color, but you can also choose other Christmas colors if you prefer something a little less bright. Once the light outline is in place, add a star to the top of the display as well as a lineup of colorful Christmas ornaments that match the color and style of your current Christmas decor.
More indoor Christmas decorations on the next page…