48. Bloody Candles without the Gore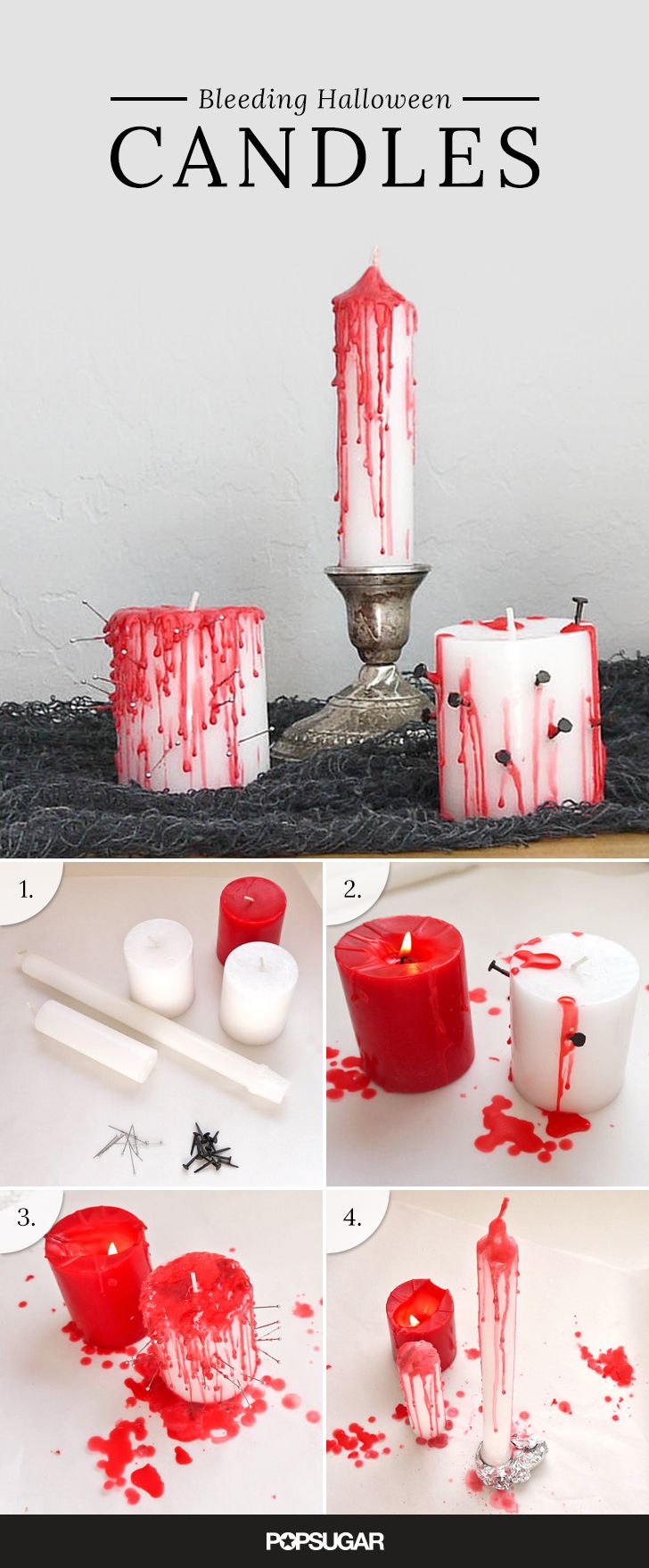 The most extreme Halloween costumes have a common denominator: blood. While most people don't want to turn their home into a blood-spattered crime scene with indoor Halloween decorations, one or two "bloody" Halloween decorations can be a nice touch. This classy project requires some caution (after all, you're working with hot wax), but delivers a cool mix of red candle wax and a few tacks making white candles appear to be bleeding. This is definitely not a project for beginners, but it can be a neat addition to almost any room of the house. Position it where it'll get maximum shock value!
49. Candles Glisten with Unique Patterns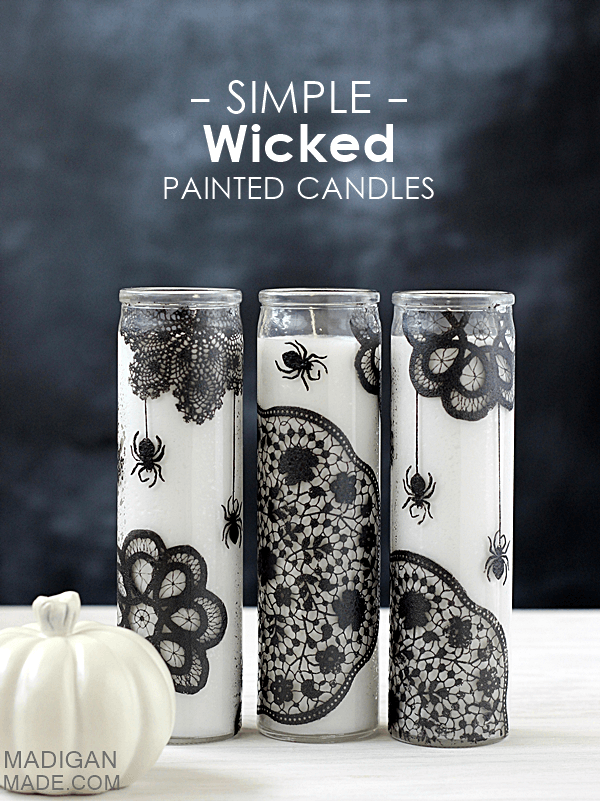 Everyone knows that a candle in a darkened room can make an eerie impression. But what about when that candle is crawling with spiders and has the kind of lace patterns you'd expect to find in a haunted house? This easy indoor decoration requires just a few tall candles, glass candle holders, a few stencils of your favorite pattern, and some simple glass paint. Patterns can vary to your tastes: maybe you want a glass covered in spiders, but maybe you'd prefer several doily-like patterns. The result is a creation that mixes pretty and creepy, while working perfectly in any room in the house.
50. Spray Paint Flips Holiday Village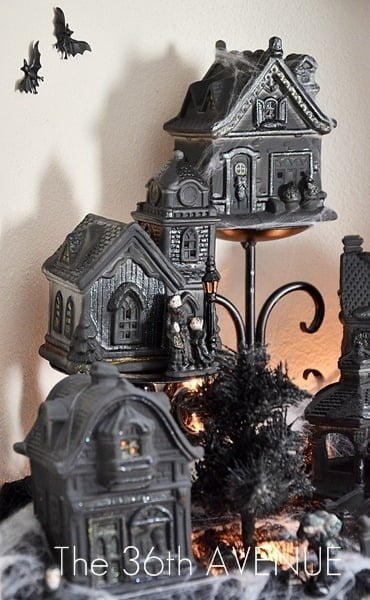 As the old saying goes, there's a lot you can do with a can of spray paint. With this fun and creative project, you can turn a staid Christmas village – the kind sold in just about every dollar store – into a dark and spooky Halloween village. There's plenty of scope to put your own spin on this idea, placing the different characters in unique arrangements and adding fake spider webs or a few LED lights to create the illusion of a cold, foggy Halloween night. This interesting project can work in just about any room.
51. Candy Corn Makes Season Shadow Box Sweet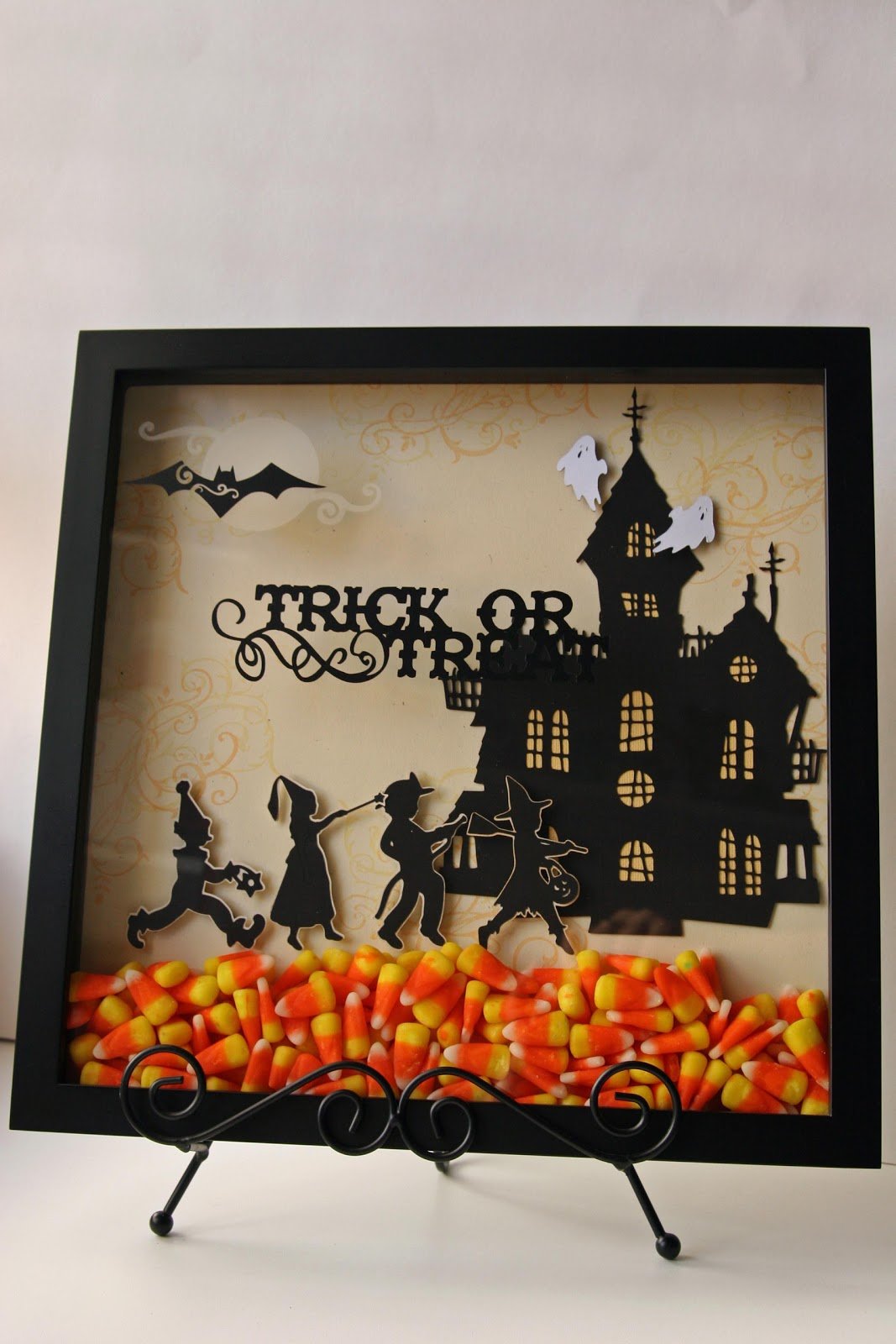 If witches and black cats make Halloween spooky, candy corn – a perennial favorite Halloween treat – makes it sweet. With this unique shadow box idea, you can create the perfect object for a foyer table or pride of place in your kitchen. It's easy to make project that simply uses a glass box, a few patterned items, some silhouette cut outs – and candy corn. You can customize the design inside the box however you'd like. And for everyone watching their candy intake this Halloween, the best part is that the candy corn is trapped behind the glass!
52. "Pumpkin Patch" Floats Majestically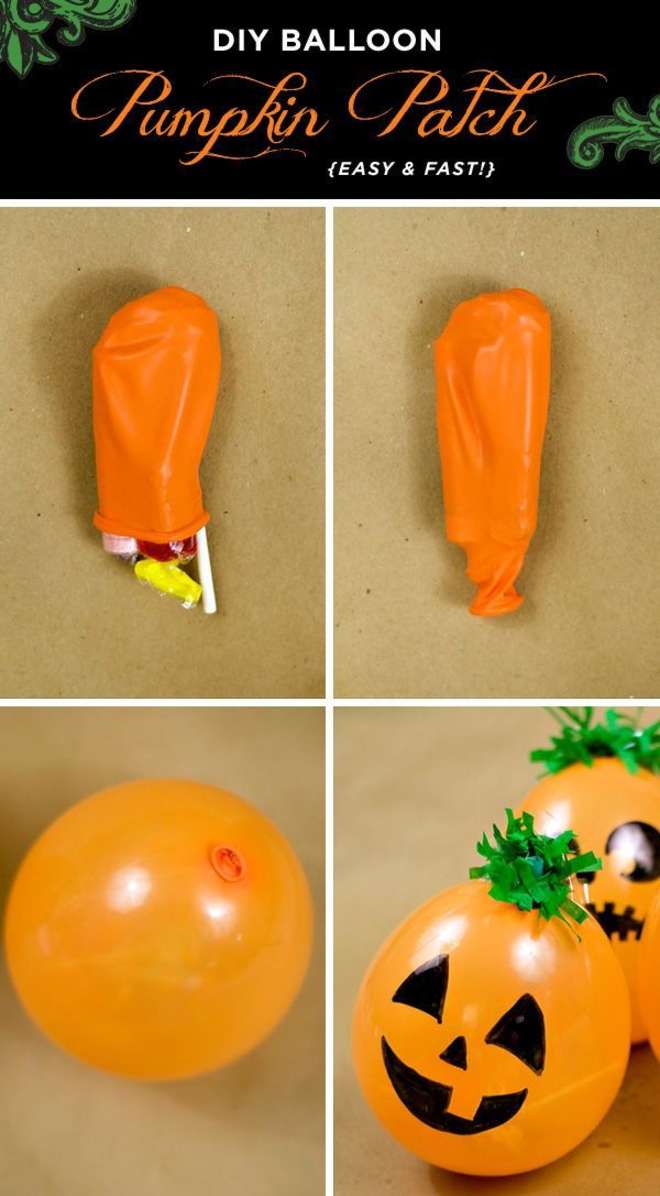 Finding creative ideas to take advantage of familiar Halloween themes is one of the best parts about creating your own indoor Halloween decorations. In this example, which is perfect for kids, balloons stuffed with candy can be inflated, decorated with Sharpie and green party fringe and made to look like a modern Jack-O-Lantern. Because the candy lets the balloons stand on the end and keeps them stationary, you can create several and put them together to create a "pumpkin patch" that kids and adults alike will enjoy!
53. Snowflakes Work for Halloween, Too

One of the great joys of childhood Christmases for many Americans was cutting out paper snowflakes to decorate their rooms and their houses. But cut-out snowflakes don't have to just be for Christmas! Using this do-it-yourself spider design, you can create "snowflakes" that are perfect for Halloween. Better yet, you can create your own cut out design of a witch or a pumpkin. Either way, creating this project with kids and letting them place these snowflakes where they want (within reason!) is a great way to foster creativity in sons and daughters.
54. Spooky Lanterns Made Easy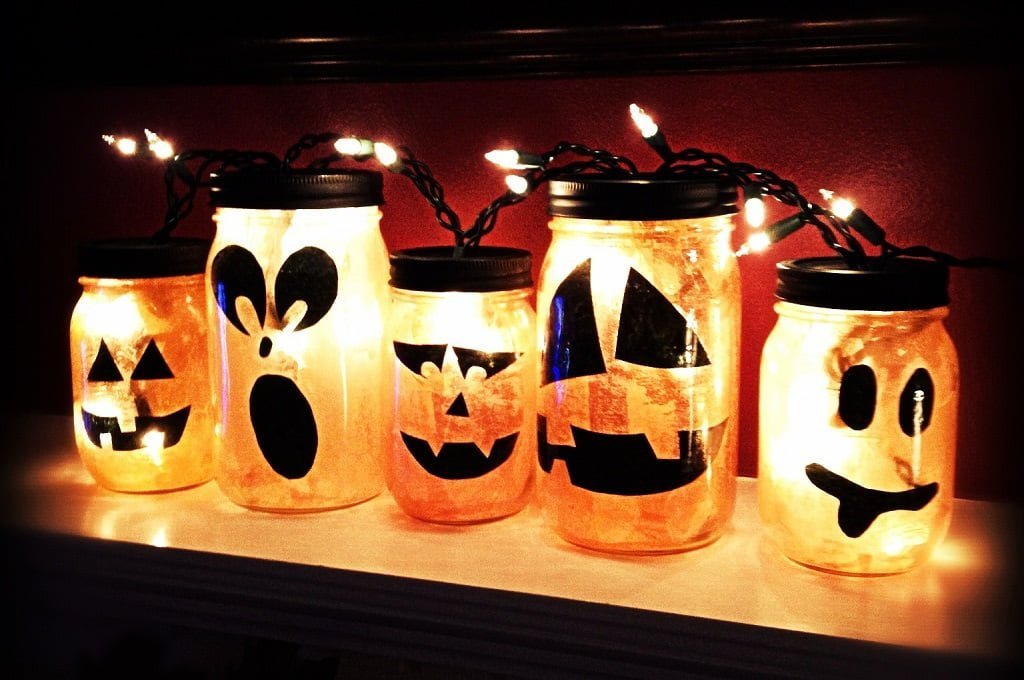 For some reason, an eerie light from a small lantern quickly brings back storybook images of Halloween. You can create that same aesthetic in your home by stuffing glass jars with paper or cloth and drawing or painting spooky images on the outside of the jar. You can use LED lights or a candle to project images on to the wall or to just create a special glow with a spooky image. The best part is that you can get creative and come up with your own designs for each and every jar in your set.
More Halloween indoor decorations on the next page…