15. Personalize with Found Items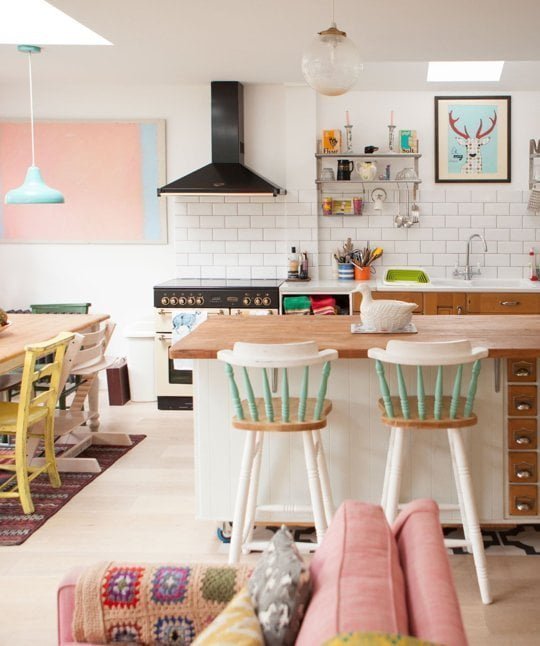 Trying to piece together your favorite kitchen design ideas can be a struggle, but letting pieces themselves inspire you could be the key to finding the right fit. In this darling home, there are no mass produced items to be found. A comforting granny square afghan is just in reach of the pastel accented bar chairs. The quirky water fowl accented as the centerpiece could have come from a high end boutique or be the perfect yard sale find. A print on the wall ties together the various colorful flourishes in the room, while a rack on the wall holds precious kitchen gadgets. While this look isn't one you could necessarily go order an exact replica of, it shows how various pieces that speak to you can be combined into a very comforting epicenter of your home.
16. Patterned Walls Set Off Painted Cabinets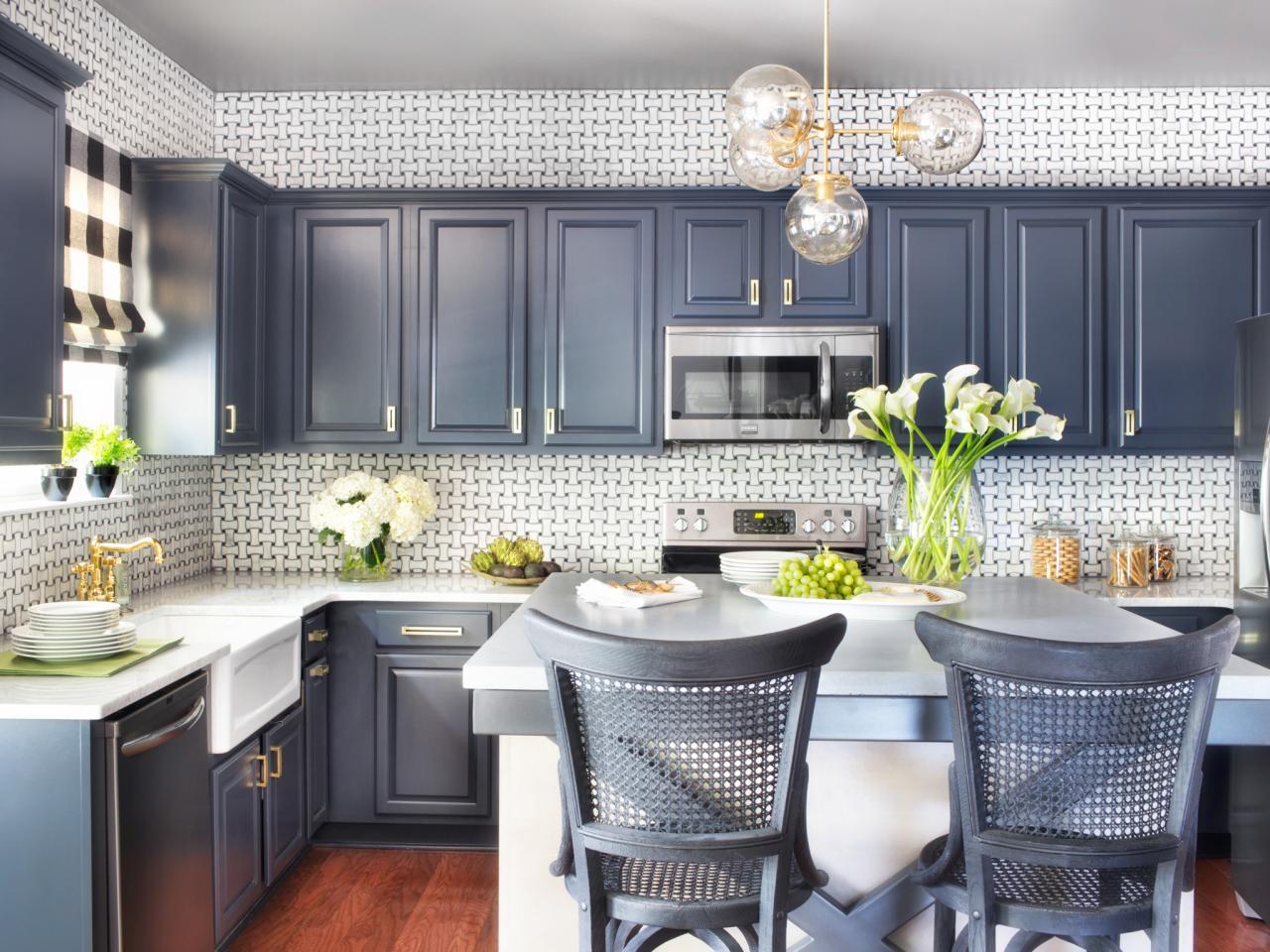 A dull kitchen can seem like an intimidating and costly fix, but there are several options for revitalizing your home yourself! This kitchen appears complicated at first, but a second glance shows that the fun patterned wall could be easily achieved with choice wallpaper, and those cabinets could easily be a weekend DIY project. Painting your existing cabinets may take a little research, but is a mere fraction of the cost replacement would incur. Find a hue that complements the wallpaper of your dreams and your guests will marvel at the perfect pairing. Add chairs with a similar texture, a statement piece such as that bubbly light fixture and your kitchen will be a drab space no more!
17. Artfully Transform Walls Kitchen Decoration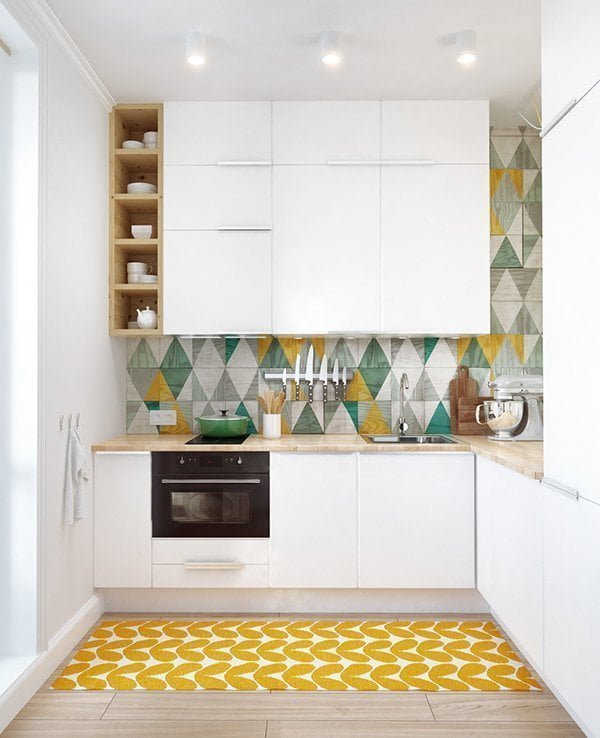 Artwork does not need to be confined within the borders of a frame. Utilize the largest spaces in most kitchens by adding glorious graphics to your walls and flooring. In this delightful kitchen, the accent wall is illustrated in a calming geometric print. Punches of color throughout the design correlate to the fresh mustard print on the rug. Open shelves continue the underlying motif of light wood grain, while the minimalist white cabinets above and below provide the solid structure of the room. Wondering how you would ever match that unique design? Simple white dishware and accessories would add simple function without distraction.
18. Never Underestimate the Versatility of Wood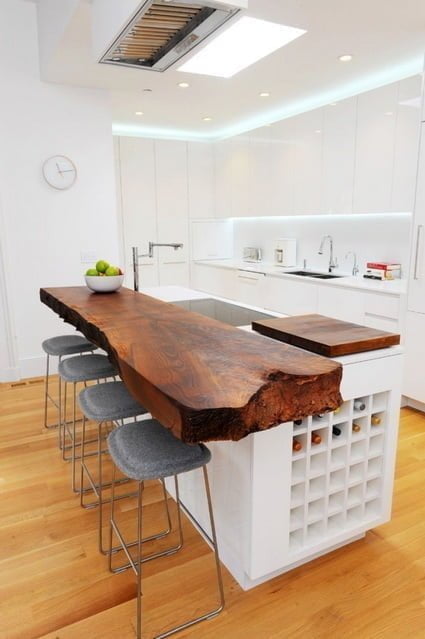 Nowadays, Sheetrock and prefab structures have replaced the rough hewn buildings of ages past. However, the incredible detail and stunning beauty of raw wood cannot be denied. Many fancy kitchen design ideas could be simplified and enhanced by introducing a raw wood statement piece. This massive kitchen counter possesses the varying thickness and inconsistent edges inherent to a slab of wood, yet still looks distinguished against the uniformly white kitchen it graces. The warmth of the wood transfigures this sterile space into an approachable and inviting area for entertaining. Instead of seeming prehistoric, the stone seats balance the liveliness of the wood for a handsome combination. Such an impressively detailed slab would provide hours of study while serving as a sturdy, solid serving surface.
19. Fashionable Function and Comfort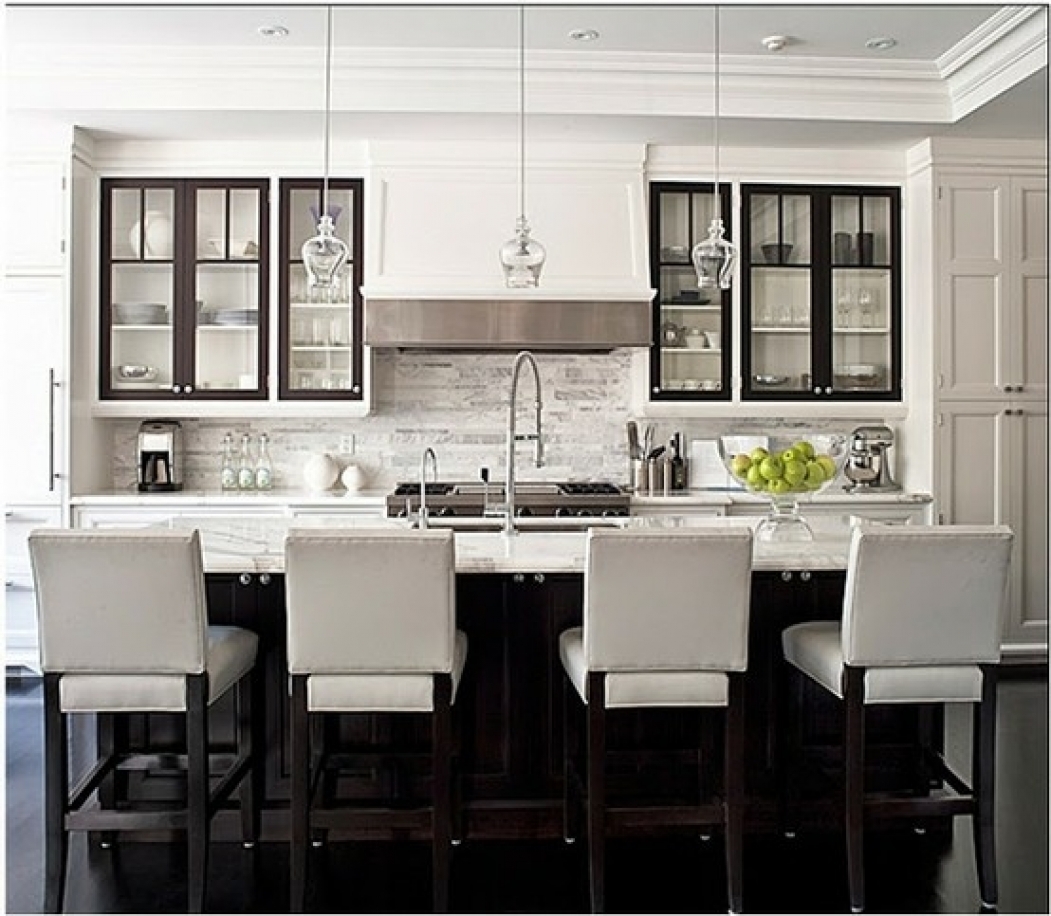 Source: Pinterest
When entertaining, it's important for a venue to be aesthetically pleasing. However, when that venue is in your home, it's imperative that appeal is countered with comfort. The kitchen design in this picture features monochromatic beauty and fashionable function. The cool marble island provides both a gorgeous eating surface and a home for a deep sink with enviable dual faucets for easy cleanup. The island area continues its' timeless appeal with an elegant take on the trendy pendant lighting. The variegated wall design ties together the white cabinetry and silver-finish appliances, while the darkest colors are used to accent the glass pane cabinets and provide a foundation for the island. Cushioned chairs lined up at the counter are comfortable enough to support deep conversations and long meals, while extended counter space provides essential organizing space.
20. Be Daring With Dramatic Pieces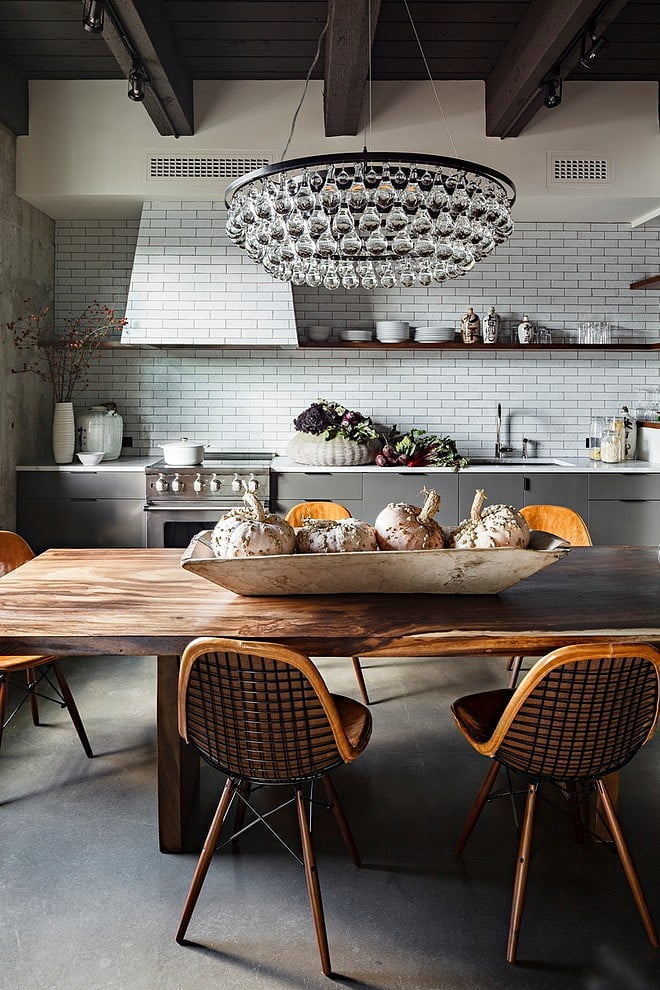 Neutral grey flooring and cabinets are a harmonious combination with pearly subway tile. However, that standard pairing can also serve as a solid base for some dramatic details. The sensational structure of the light fixture centered in this kitchen would be a guaranteed conversation piece in any home. Suspended from bold exposed beams, such an eye catching accessory instantly heightens the interest in any room. A sturdy wooden table with rippling grain pattern add to the pattern of delightful details within this kitchen. While formulating your own kitchen design idea, don't immediately shun an item that carries a strong impact – it could be just the right spice needed in an otherwise basic design.
21. Brick Brings Warming Touches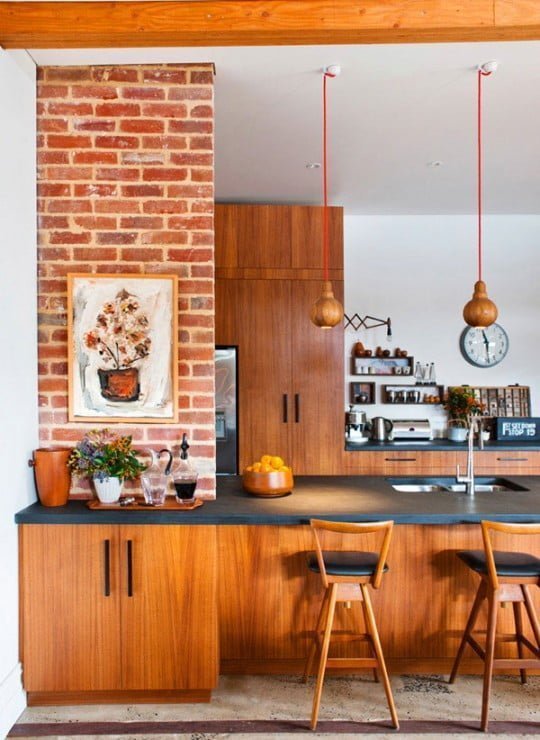 Exposed brick brings to mind the warmth and contentment of a roaring fireplace on a chilly day. Bring that cheerful imagery into the kitchen by incorporating exposed brick into your kitchen design idea. Whether you choose an entire wall or just a beam, the rustic earthy tones of the brickwork provides a vibrant palette of coloring to work with. In the above image, the fiery hue of the brick brightens the rich honey tone of the wooden cabinetry. A painting in the same sunset colors as the exposed beam bring life to the kitchen structure, while dark counter tops and hardware stand out among the russet tones.
22. Farm Fresh Appeal Kitchen Decoration Idea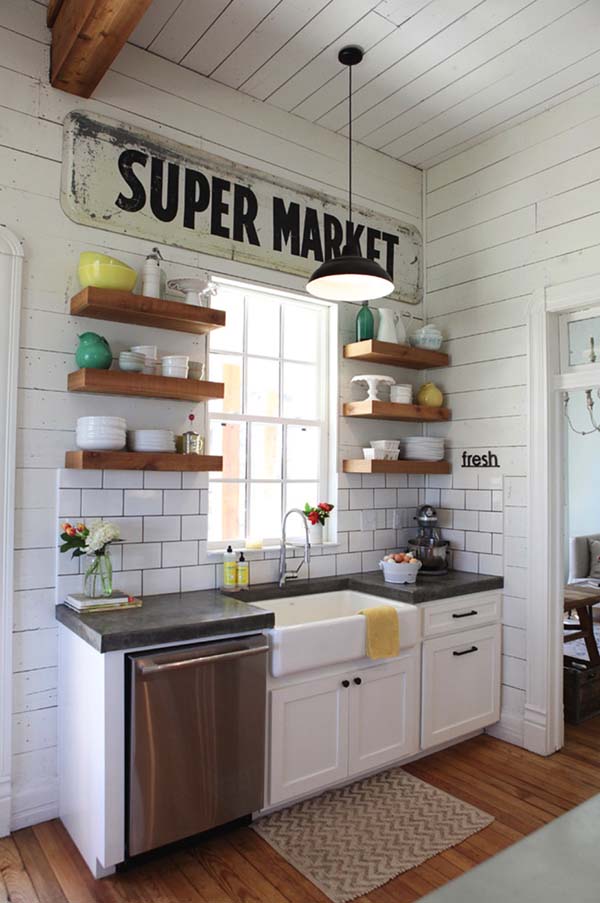 Country style doesn't have to mean gingham and cutesy chicken prints. Harness the charm of a sweet farmhouse kitchen with minimal effort. The best kitchen design tips for this style are keep it simple, keep the space functional, and bold, themed graphics will work in your favor. In this image, the space is small but easily utilized. Exposed shelves keep dishware and serving bowls in easy reach, and a small cabinet allows for storage of the appliances that don't look as darling on the shelf. Fresh flowers and pops of cheerful colors help keep the innocent appeal of yesteryear, while a compact dishwasher and large, deep sink help modernize the chore of cleaning up. A couple of panels of basic white tiles and farm themed graphic signs keep the country home theme strong, even if you're located in a high rise apartment complex.
23. Emphasis on Entertaining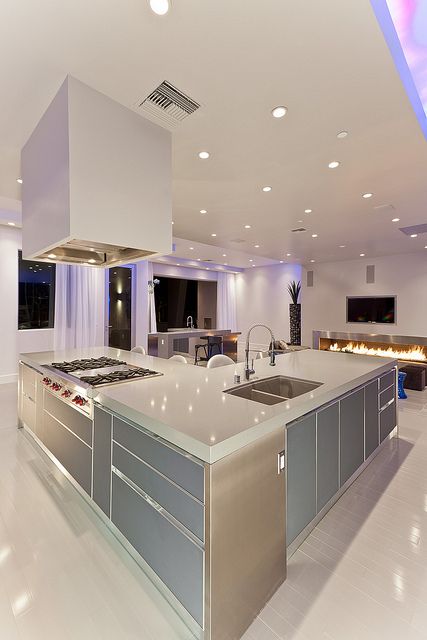 This modern kitchen screams sleek, chic and sophisticated. Broad, smooth surfaces are designed for serving large platters of delicious delectables, while the state of the art appliances ensure you'll be prepared for producing an feast for dozens of friends and family as well. An industrial hood and sturdy stove top provide restaurant quality tools for creating your meal masterpieces. The combination of matte finish and metallic accents add the anticipation of grand presentation, while the various lighting gives the feeling that the space could effortlessly change from a dinner party to a dance floor. Large windows framed with gossamer curtains add to a feeling of openness and grandeur in this kitchen designed for exceptional entertaining.
More kitchen decoration ideas on the next page…