Finding the best kitchen flooring design ideas for your home can be a fun endeavor. Design elements that include stone or tile tend to be great for heavy traffic areas. Limestone and cork provide durable traction and a beautiful rustic look. Always look at your existing and unmovable design elements when deciding to upgrade your kitchen floor. If you have particular colors of wood in your furniture or on the baseboards of your drywall, always take these elements into consideration. Your existing style can be modified but it is always helpful to know where you're starting.
17 Fun and Stylish Flooring Ideas for Your Kitchen

If you want to do an entirely new look, implementing the best kitchen flooring design ideas can be an adventure. Popular ideas often include some small element of hands-on activity. When designing your best kitchen, considering color scheme, materials and experience level can help you have a great adventure.
Determining a general color scheme can help you choose what kind of flooring you want. If you're into bold and dark colors, a contemporary flooring idea with geometric shapes might be the best idea for you. The color scheme can also help you integrate fun additional aspects into your design. If you want to integrate the color black, for example, painting with chalkboard paint can help create additional usability in your kitchen.
The materials involved and your comfort level with installation can come into play when looking for the best kitchen flooring designs. If you are trying to buy sustainable materials, look for projects that can implement eco-friendly materials. Projects that reuse materials that would otherwise end up in a landfill are also sustainable options.
Materials used for flooring also have different levels of durability. Certain enamel and wood materials can wear over time after continued use, making them better for medium traffic areas of the kitchen. Additional tiles on top of your existing floor is a great and easy way to install durable materials that will last.
Your experience level with different do it yourself crafts can come into play when deciding on your next kitchen flooring design. If you are a precise painter and can create a safe environment for redesigning the entire floor, consider a contemporary design that requires only two paint colors. If you find that you lack inspiration, keep reading below to learn about a variety of interesting design ideas. From rustic to modern, the ideas below combine different experience levels and materials to create truly beautiful design elements.
1. Contemporary Black and White Geometric Kitchen Flooring Design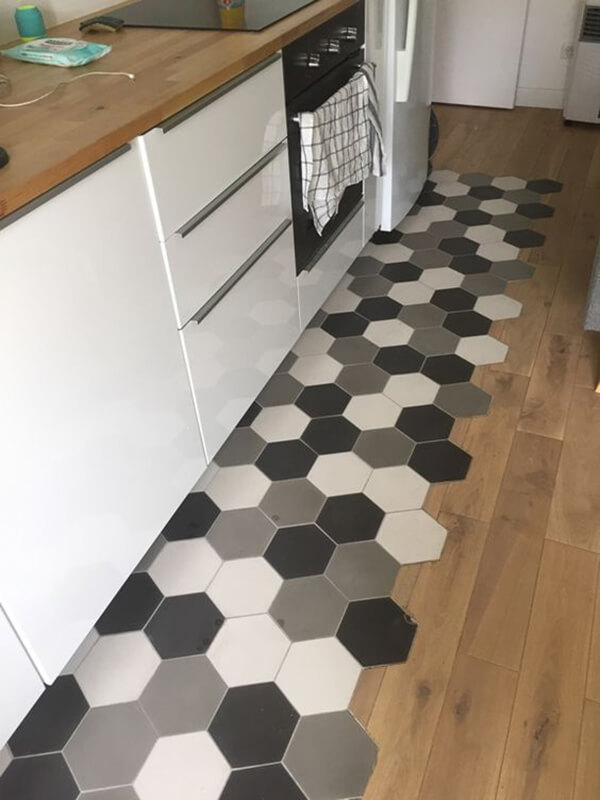 This design idea includes a black, white and gray compilation of hexagonal tiles. Modern design elements include beautiful, contrasting colors and geometric shapes. This is a very contemporary design because of the simple array of colors. This might be a good idea for those looking to increase the durability of their flooring in a particular area.
Implementing this idea will probably require the help of a professional. The black, white and gray tiles are constructed of a durable material that needs to be cut to size. Traditional tiles like these hold up well in high traffic areas, especially if the grout and tile surfaces are installed properly. A cool feature of this product is that you can put it in differently sized spaces.
These hexagonal tiles can be strategically placed in a small space over existing flooring to add a splash of contrast. This feature makes this design idea perfect for putting in a kitchen hallway or in front of the stove and sink. These high-traffic areas withstand a great deal of wear and tear over time. This would make for a very vibrant kitchen atmosphere.
2. New-Age Rectangle Lighting Design Idea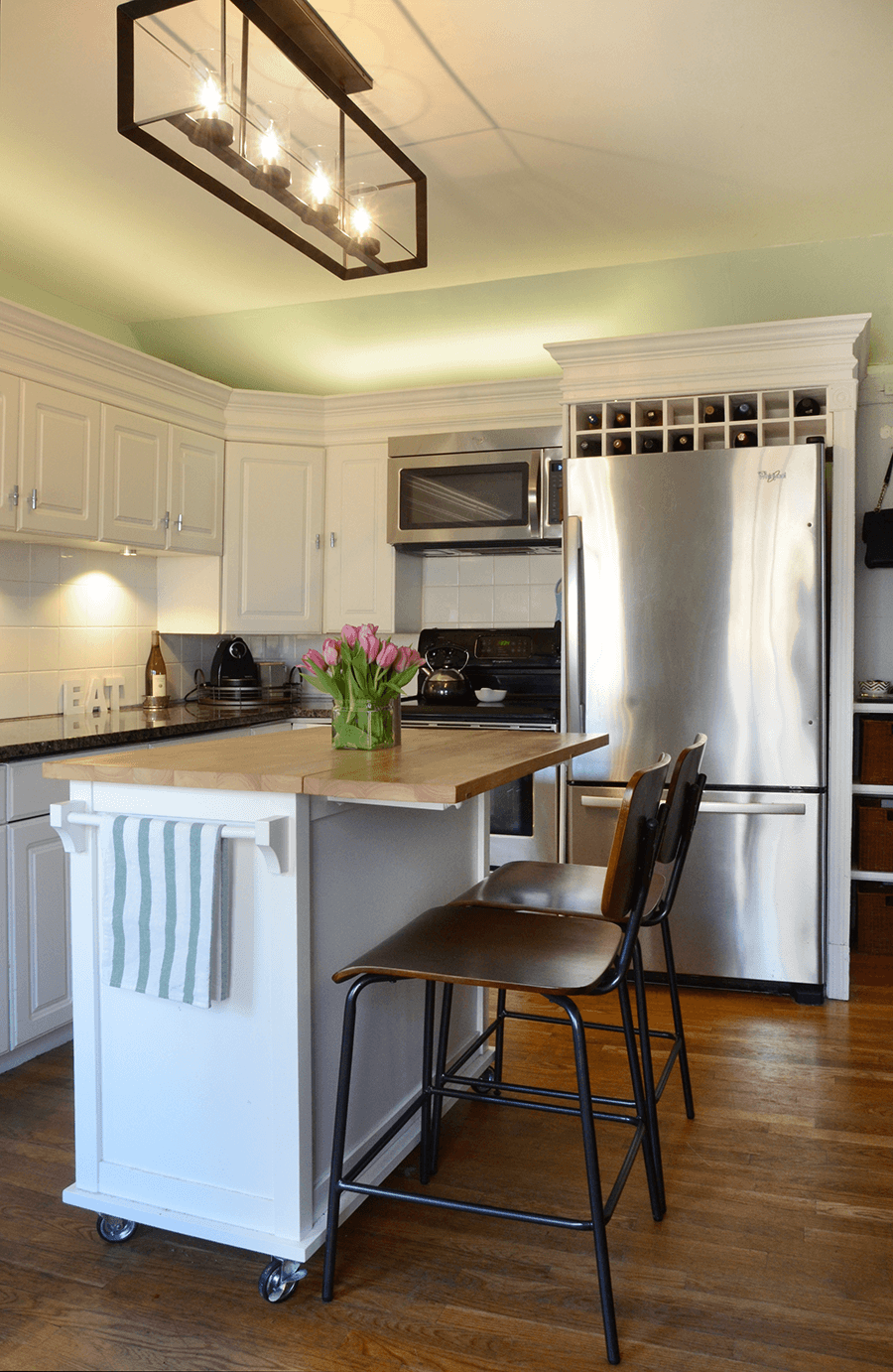 The dark, bronze-brushed rectangle outline of this lighting idea will bring a rustic feel to your kitchen. One of the most overlooked design elements to highlight the vibrancy of your kitchen floors is lighting. This product features a simple and elegant way to show off your entire kitchen.
Inside the rectangle you'll find large Edison bulbs. These product a light and warm yellow color that brings warmth to the kitchen. The ability to bring people into the kitchen when entertaining is one of the best features of a warm and inviting kitchen. This design idea will help create a warming atmosphere when you want to entertain family and friends.
Highlighting your kitchen floors can be useful when it comes to the usability of your kitchen. Being able to work around others, especially small children, comes in handy when you have a large family. The light of the Edison bulbs brings in a bright element that can help you navigate your busy kitchen.
3. Do-It-Yourself Inexpensive Cabinet Decor Ideas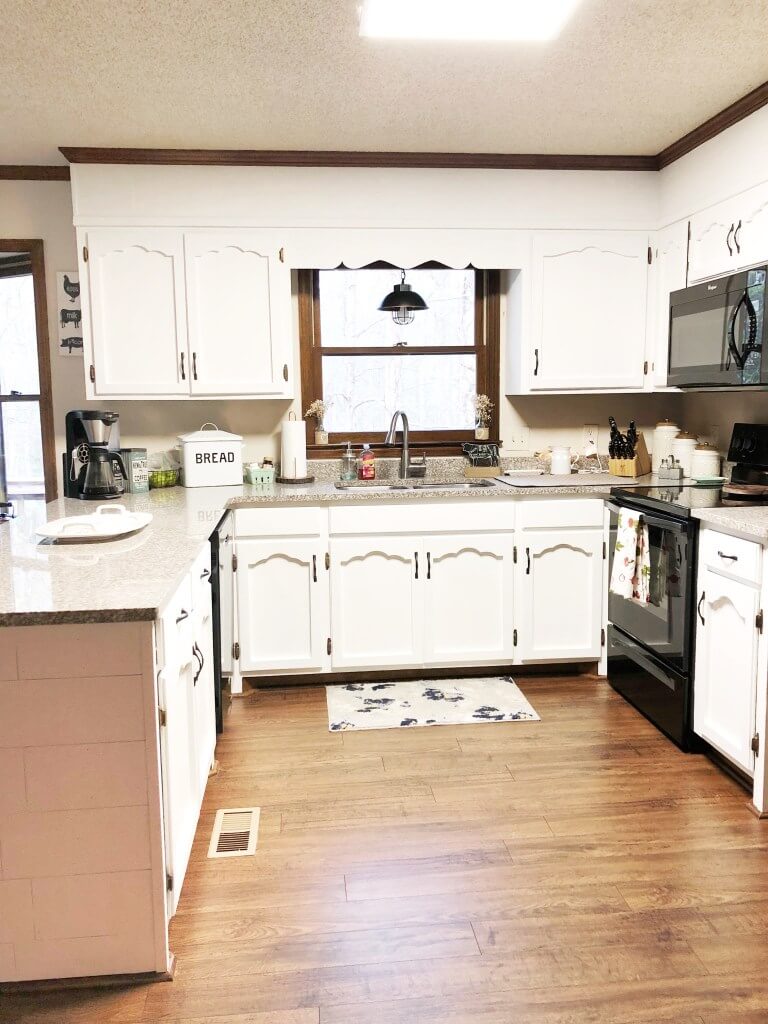 Accent your beautiful kitchen by performing some do-it-yourself cabinet decorations. The kitchen cabinet is one of the most used and functional elements of any kitchen. These small ideas will give you inspiration to perk up your cabinets, including adding a bright color, finding unique fixtures, and making it fun for your family.
Creating an energetic atmosphere in your kitchen can be achieved with this design idea. Altering your cabinets with a simple coat of bright white or off-white paint can bring a lot of gusto back to your design. If you have a small kitchen, adding bright colors can help it feel a bit larger.
Finding design elements, like cabinet fixtures, can help you create the best design for your space. Cabinet fixtures include handles and corner accents, and can often be found on discount in hardware stores. Cabinet painting and applying simple fixtures can be a fun activity for the whole family, too. Creating an environment where everyone helps and working on hand-eye coordination are a benefit of performing this project with your family.
4. Space-Saving Chalk Paint for Functional Kitchen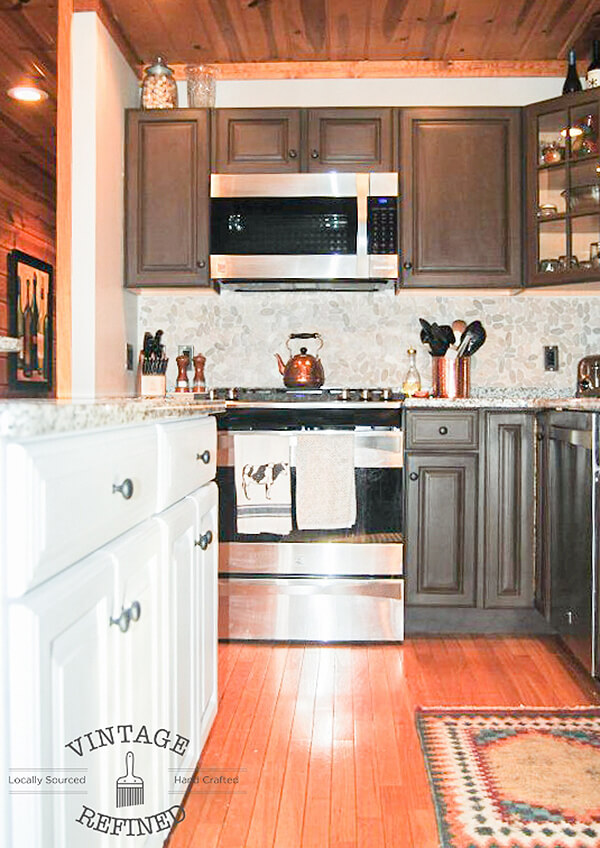 If you're looking for a kitchen flooring design idea that's space saving and do-it-yourself, consider integrating chalk paint into your materials. Chalk paint is a great space-saver because it allows you to eliminate the use of post it notes to communicate to your family. This is also a great idea if you're looking to have a more environmentally friendly household, because it eliminates paper waste.
For a do-it-yourself project, chalk paint can easily be used to create a unique design element. The dark color of chalk paint means that it will match most current color schemes. At the very least, the color black is easily integrated into most color schemes. If you already know that you want your array of colors to include the darker elements, then this is a great idea for you. For families, you can create a fun environment that encourages communication and artistic expression. If you find yourself looking for somewhere to write down the groceries every week, this project might benefit you. You'll easily have access to a space to write down the essentials.
5. Bright and Rustic Kitchen Sconce Design Idea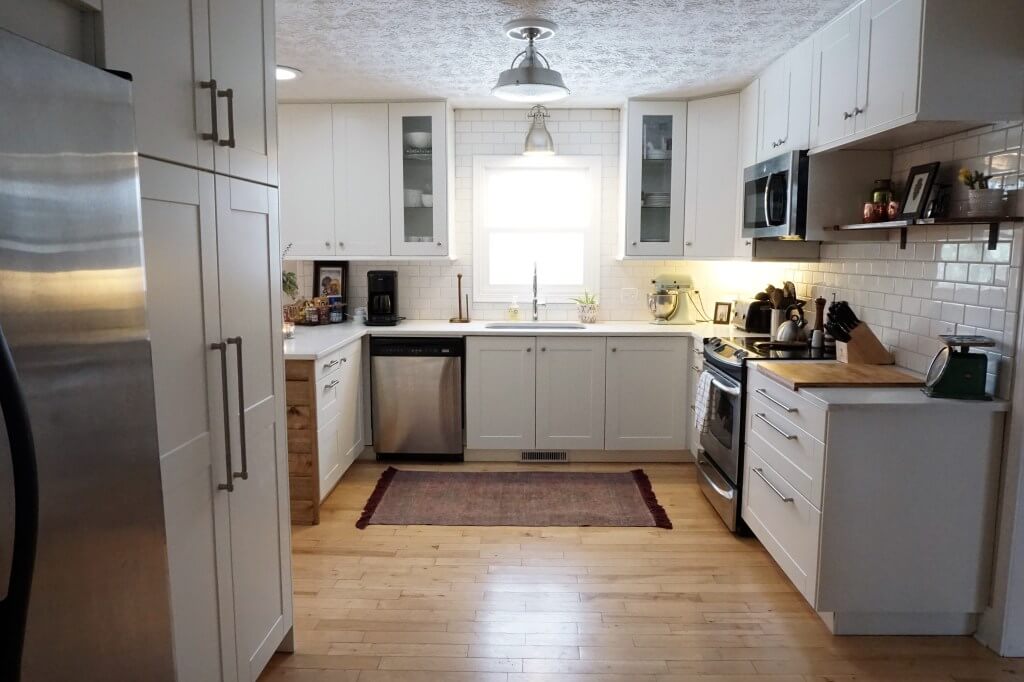 If you need a true centerpiece, this kitchen sconce design idea might be a fantastic piece for you. The brilliant white light that comes from the single bulb and radiates through the large glass holder makes this design piece very bold in feel. It has a small base that adds to the beauty of the main light element.
When looking for good rustic design pieces, sometimes large design elements can help you define a space. If you need to start collecting simple and bold pieces to build your kitchen atmosphere, this sconce is an ideal place to start. It is interesting enough to stand alone, but can also be matched to many other metal decorations. If you already have a great deal of stone or rough design elements in your home, consider adding this kitchen sconce to your collection. The brilliant light and simple look will deliver maximum warmth to your kitchen.
6. Dark Cherry Wood with Glass Subway Tiles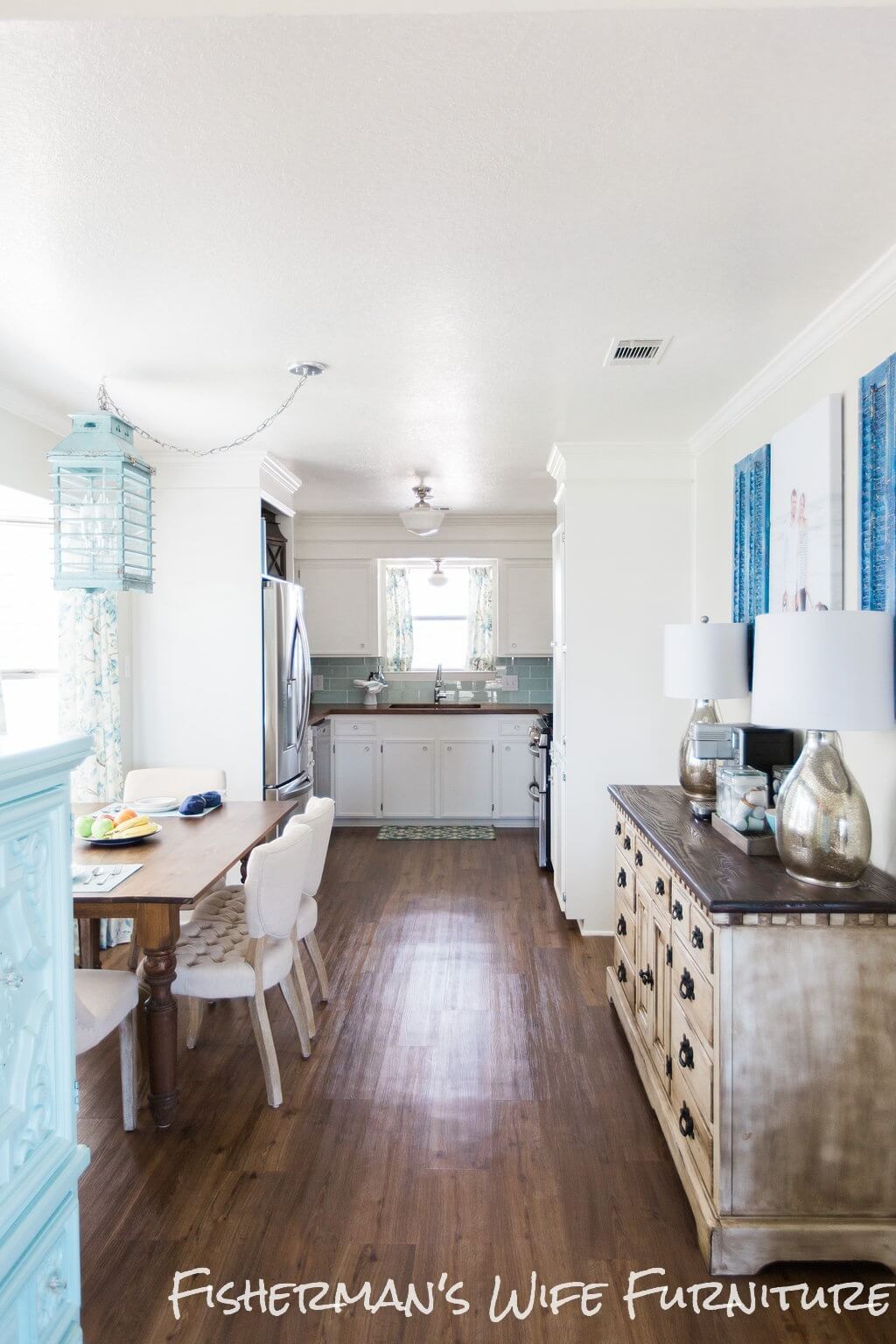 This flooring design idea includes a dark cherry wood flooring accented by glass subway tiles. Because eyes are pulled toward the light when you enter a room, the lighter walls draw your eyes up toward the ceiling in this room. This allows conversation to flow more naturally when entertaining family and friends.
Another feature of this design idea is durability. Hardwood that includes cherry wood is very durable, especially when properly maintained. For this reason, this is a great idea for high traffic areas of the house. Kitchens are notoriously busy and often maintain the highest amount of traffic in the entire house. Installing a durable and stress-resistant cherry wood will help ensure your kitchen stays stylish for years to come. The light subway tile installation can be done by yourself or by a professional, depending on your experience level. When installing a tile to highlight your hardwood, always ensure you protect the wood from damage. This will ensure your kitchen comes out the way you want it!
7. Smooth White and Gray Tile with Kitchen Island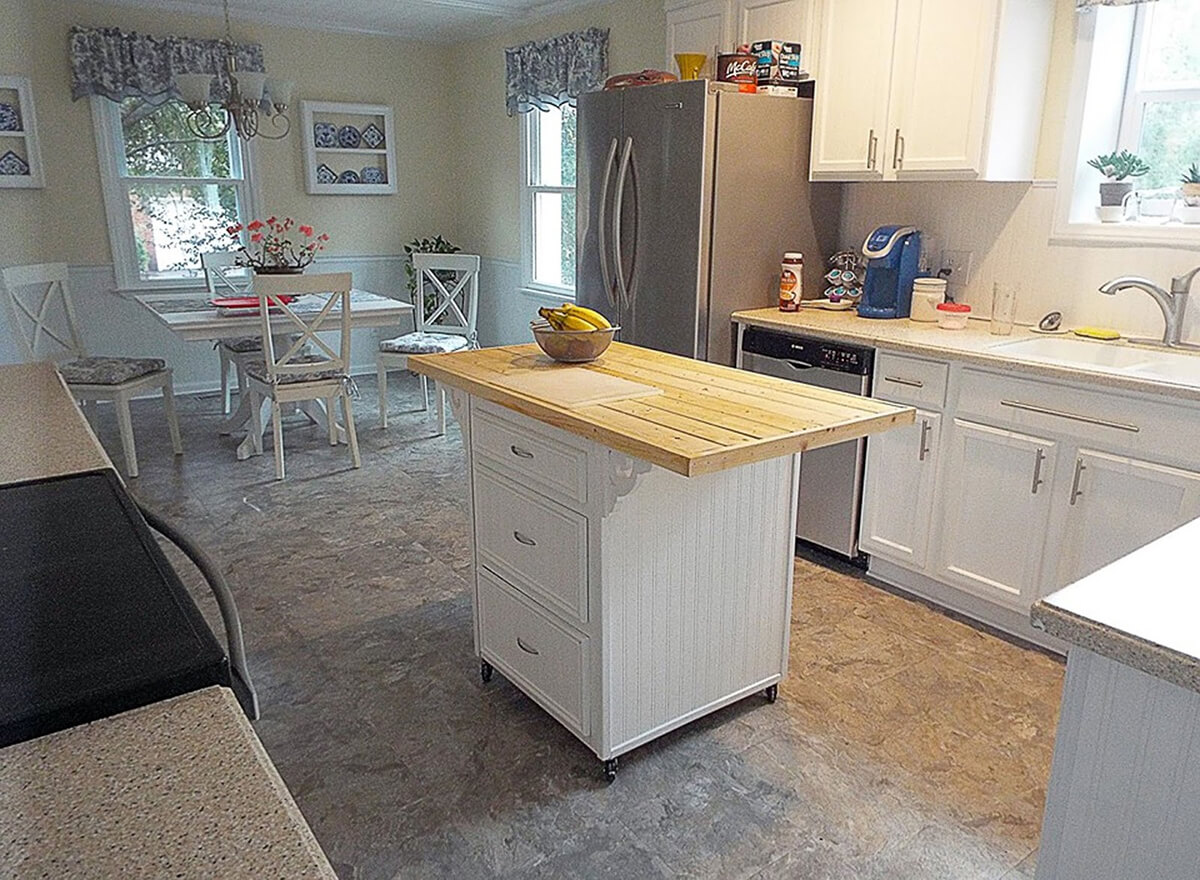 This design idea is perfect for those who already have a lot of color in their kitchens. A smooth white and gray tile that seamlessly flows the the feel of a small space can help make the space feel larger. In this particular tile, the white and gray looks as though it is a water color painting. This design element makes the tiles appear smooth and beautiful. They would pair wonderfully with a kitchen that receives a lot of natural light or has a large light fixture.
To enhance the look of a wide tile with mixed colors, consider adding a small kitchen island. Tiles that have a consistent look and feel are great for larger spaces, but these tiles are dynamic and flowing. Breaking up the look of your flooring with a kitchen island creates blank space that highlights the design.
8. Natural, Large Wood Planking with Cabin Renovation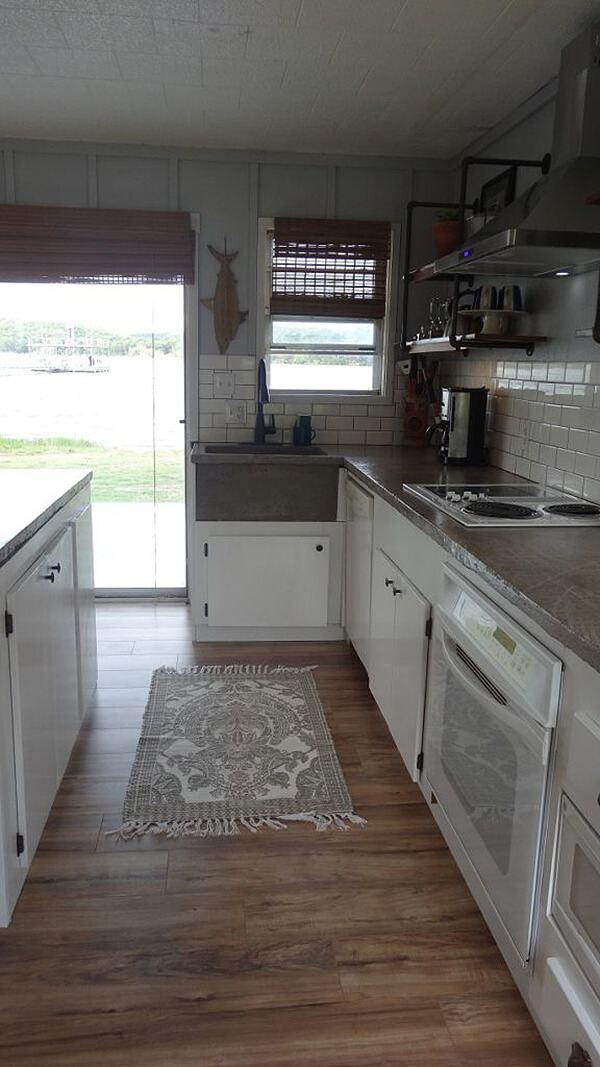 Thinking of a truly cozy kitchen design idea? Implementing large wood planks as your flooring may be your best bet. This idea features large, trans-laterally cut planks of hardwood that are lightly stained. Going natural when it comes to the look of your wood floor can make a room feel extraordinarily cozy and warm. Using hardwood as a material means your floor will be durable as well.
The light color of this wood makes it a good choice for those who have a larger kitchen. The size of the hardwood used in the planks helps to increase the amount of space this flooring can cover. The added aesthetic value of the light color lets light flow through areas with large surface spaces and high ceilings.
If you find that you have trouble keeping your floors clean, these large planks can help make the job easier. They feature less cracks, because of the size of the wood, where food can get caught during cleaning. Hardwood can also be finished with a durable coating that helps with moisture resistance and fading. These features make this design a great choice for busy households. Being able to clean your kitchen floor easily and efficiently is important!
9. Classic Brown and Tan Kitchen Flooring Design Idea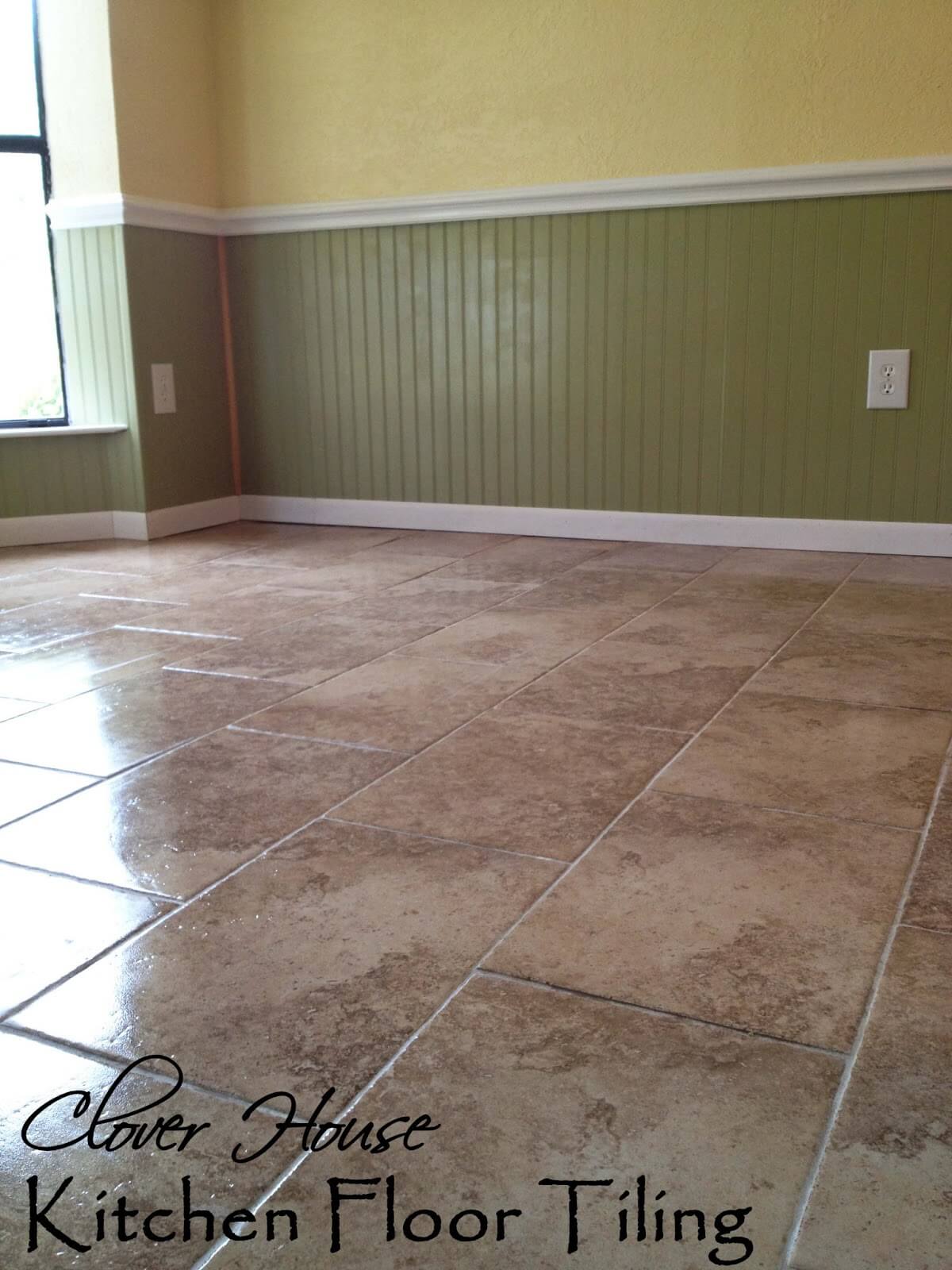 This porcelain floor tile has the look of sand with darker brown accents filtered throughout the surface. The simple look of these tiles and the way in which they pair seamlessly together gives them a very classic look and feel. Brown is a common color for kitchen floors because it is discreet and hides small messes. In addition, the autumn leaf color adds a bit of warmth to the aesthetic.
This kitchen flooring design idea uses floor tile that is extremely durable and long lasting. Porcelain floor tile has sand added to the clay mixture and is fortified with heat and pressure. This creates a tile that's hard, dense and not porous. This feature makes the classic brown and tan kitchen floor tile idea a great choice for high traffic areas.
10. Eco-Friendly Kitchen Flooring Idea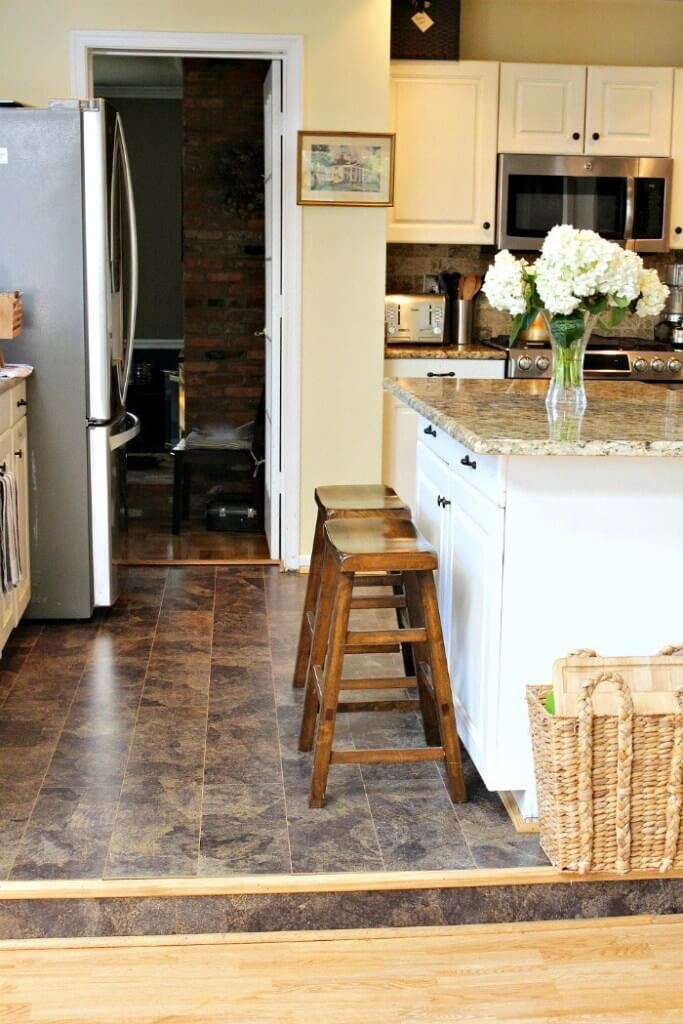 If you're an environmentalist looking for your next kitchen flooring design, this might be the best choice for you. Consider a dark, rich brown tile made from sustainable materials and processes. This tile incorporates a bit of glass into the ceramic, which is an eco-friendly ingredient sourced from beach sand. The look and feel of this tile also makes it a great addition to popular design schemes.
This would make a good addition to rustic interior design because each tile looks dynamic. The colors introduced include dark mahogany brown and deep tan colors. They are reminiscent of campfires and the outdoors. Brown color schemes are often overdone and appear to have one prominent color. These eco-friendly tiles are a perfect mix of colors to provide a consistent but dynamic coloring to your floors.
11. Sleek and Dark Pergo Kitchen Flooring Design Idea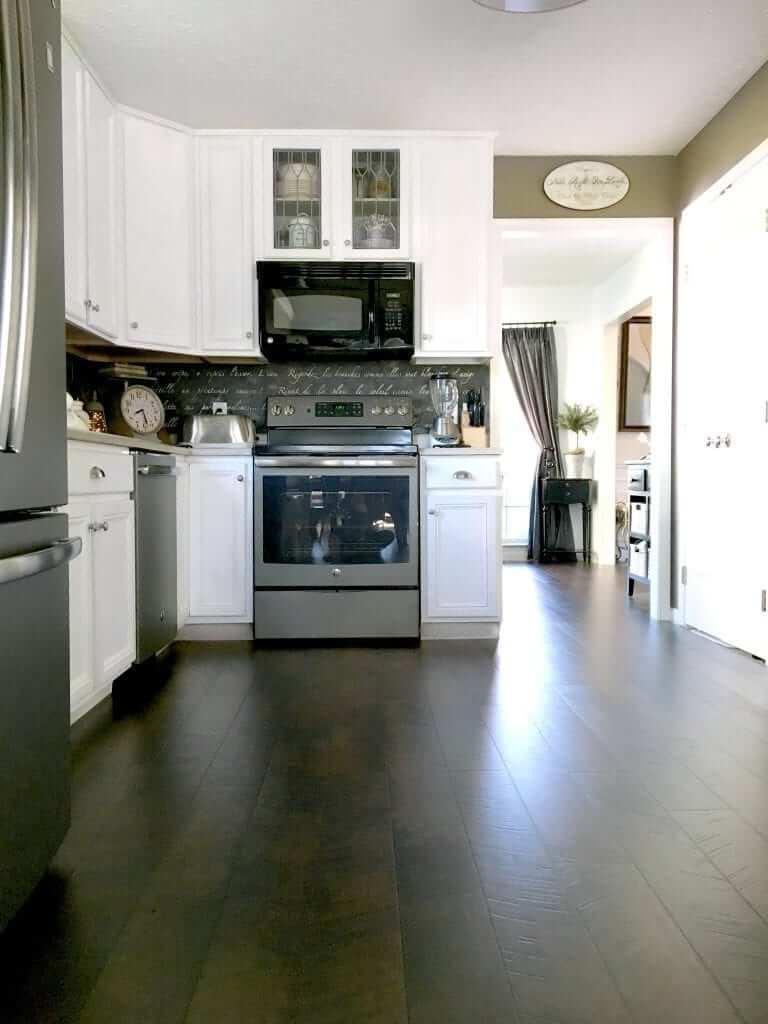 This flooring features a bold and sleek dark cocoa-colored wood flooring that adds a contemporary design element to any kitchen. The dark brown planks are finished in a matte coating, which adds a level of texture to your flooring. Because this design element brings in a lot of the dark side of the color pallet, it is best for kitchens that have lightly colored cabinets.
Using the Pergo kitchen flooring to accent other areas of your kitchen is a huge benefit of this design element. Dark floors contrasted by white cabinets bring a contemporary and upbeat feel to the kitchen. The rich, deep color of the wood looks great when highlighted by natural light. Because of the matte coating on this wood, it holds up well to cleaning and maintenance. While not the most durable of the flooring ideas, it is one of the most stunning.
12. Farmhouse-Inspired Kitchen Floor Design Idea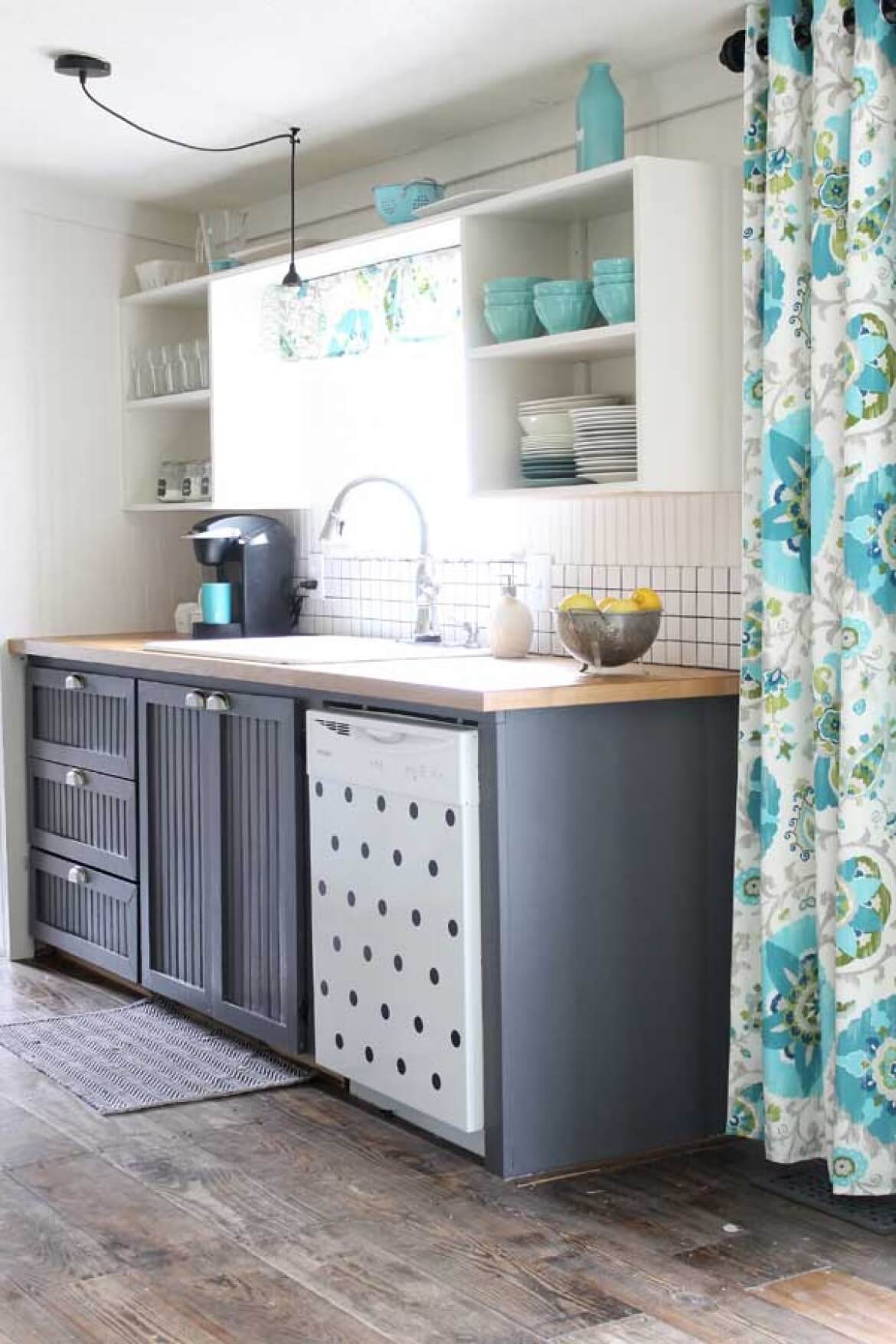 Want a truly unique kitchen flooring design idea? Consider this farmhouse-inspired natural wood look! It features hickory planks that appear unfinished for a warm and beautiful feel. The wood used offers a variegated, grainy appearance in shades of light brown. These color elements can bring a bit of warmth to a cool kitchen. The softer colors in this wood make it a great design element to bring to a kitchen that already has a strong color scheme.
If you're looking for a flooring design idea that has a farmhouse character, this might be it. The look of the wood is reminiscent of a barn, and looks like it can withstand a lot of activity. Colors that go well with this idea include darker browns, blacks and contrasting shades of white. Bold colors pair well with this farmhouse-inspired kitchen floor design because they emphasize the subtle graininess in the wood.
13. Hand-painted Vinyl Kitchen Flooring Idea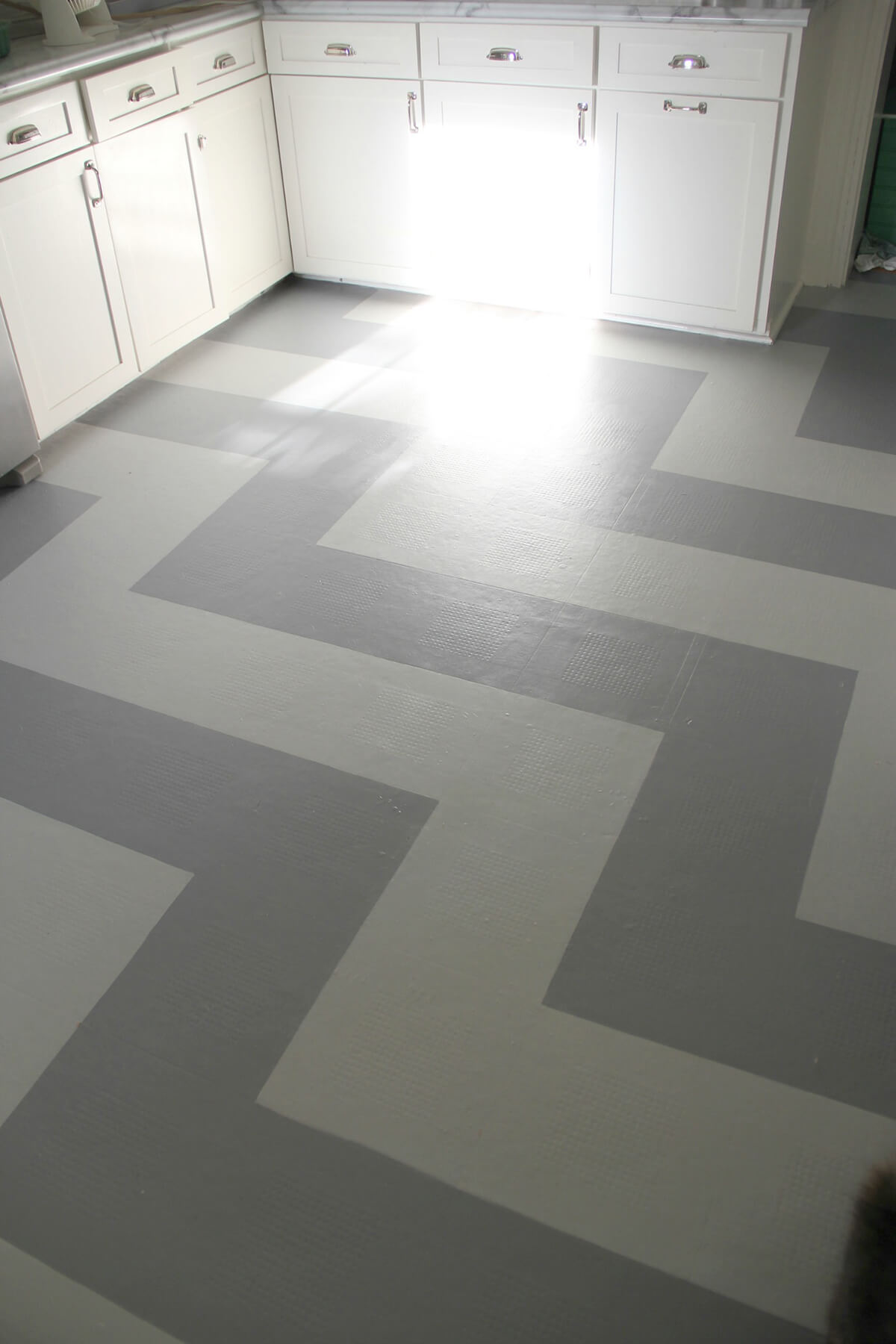 If you have an eye for bold, contemporary design elements, this hand-painted vinyl kitchen flooring design idea might be the best choice. For this do-it-yourself project, you can choose the exact shade of two colors to create a design on your kitchen floor. Two contrasting colors that match your ideal color scheme, like white and gray, can make for a bold result. If you have the time and want to invest in the materials, this is a great design idea for you.
Painting the kitchen floor can be a great activity for the whole family, which makes this project an ideal choice for full households. Allowing the kids to help will increase hand-eye coordination and give you some quality bonding time.
14. Sleek and Simple Vinyl Floor Design Idea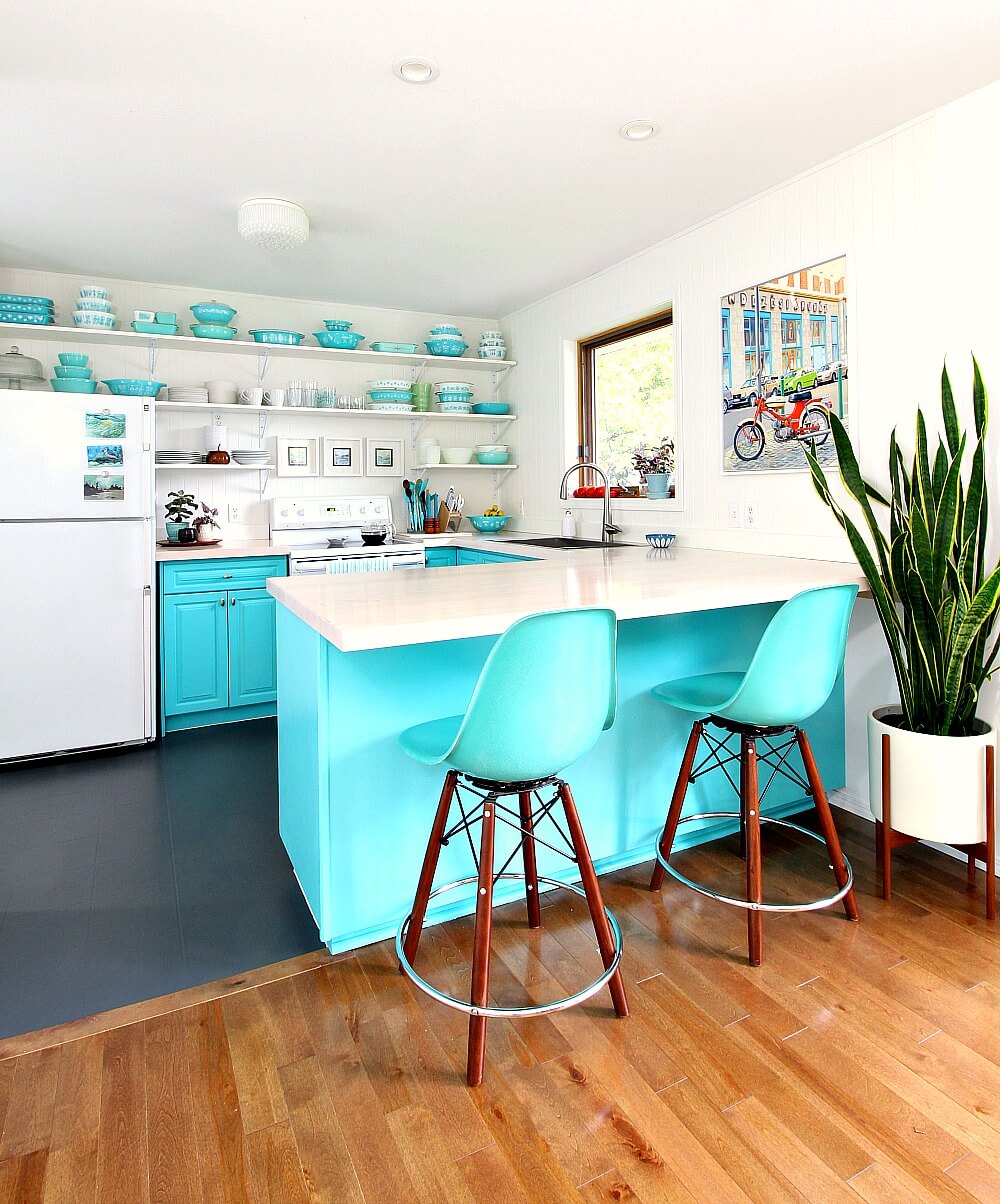 Vinyl can create a durable and flat surface instantly in your kitchen. If you're looking for an easy design idea that can fit in small spaces, this might be the best choice for you. Vinyl is an extremely durable plastic material that can withstand great amounts of activity. For this flooring, you can choose a solid color of vinyl that matches the color scheme you want.
A key element of any contemporary kitchen design includes minimalist elements and a sleek feel. The single color of this vinyl flooring take minimalism to a whole new level. The sleek feel of the plastic is also ideal for creating a truly modern look to the kitchen. If you already have artistic elements in your space and need to maximize their impact, consider a single-colored vinyl floor design. The neutral, single color will let your guests be drawn to the more intricate artistic aspects of your kitchen.
15. Gray and Simple Farmhouse-Inspired Flooring Idea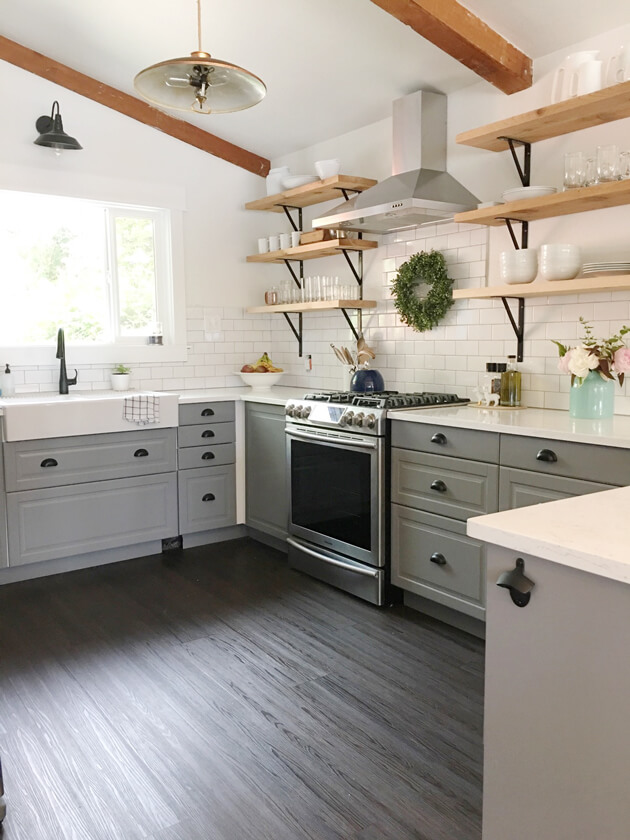 Looking for a farmhouse-inspired flooring idea that incorporates darker colors? This might be it! The grainy nature of this flooring is highlighted by a gray and black stain. While this may look farmhouse-inspired, it is actually a cross between urban and rural style schemes. The intricate look of the wood is contrasted by the color scheme. Gray floors are a hallmark of urban decor, but the grainy hardwood makes you think of the farm. For those who have both aspects in their design scheme, this is a great choice for you.
Gray flooring matches well with subtle colors. If you have a kitchen with pale pinks, yellows or oranges in your design elements, then a gray farmhouse-inspired flooring design might be the best choice for you. The gray in the flooring does a brilliant job of accenting trendy pale colors of a modern kitchen.
16. Black and White Stripe Linoleum Design Idea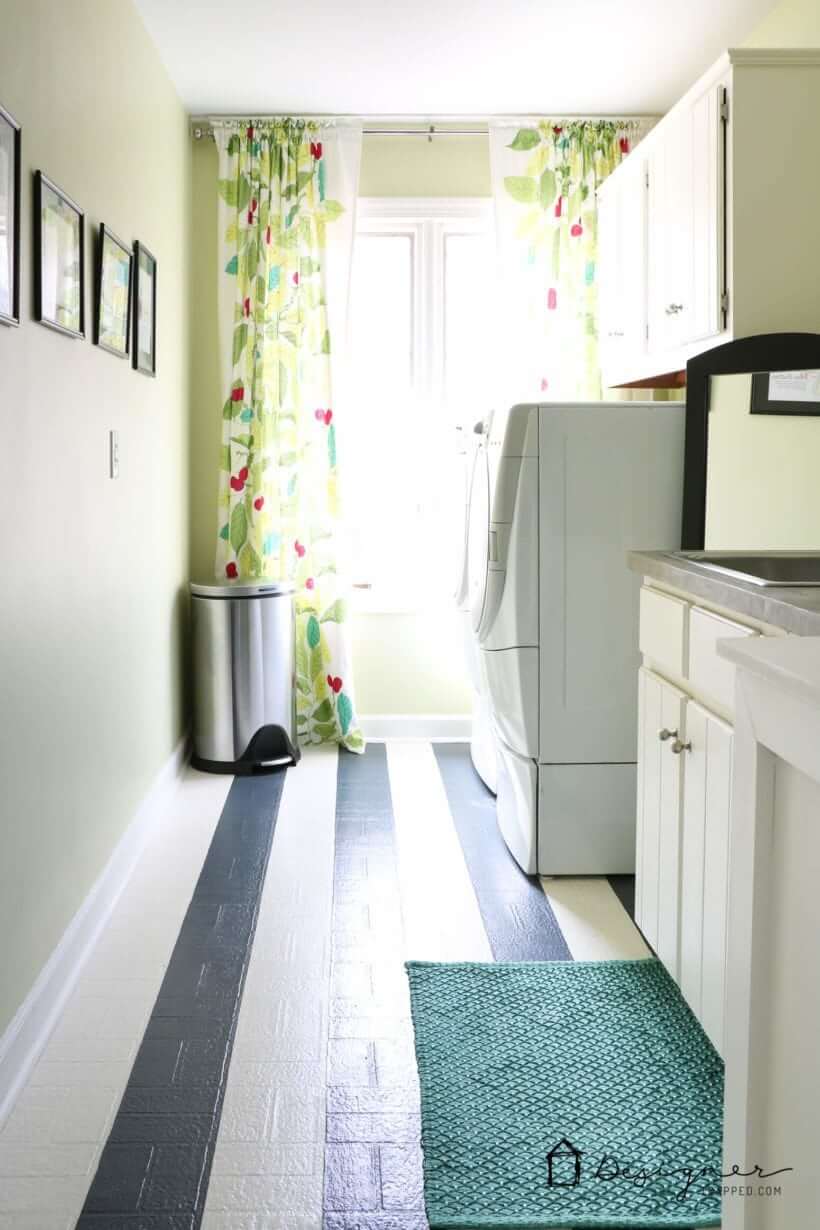 If you're looking for a truly bold and beautiful design, a black and white striped kitchen floor could be your optimal choice. This design idea uses two contrasting colors in large stripes to create a striking affect. Laying down white and black linoleum in a small kitchen can make the space seem wider.
This is a great design idea if you want to create a dynamic space within your kitchen. Dull kitchens make for poor conversation and low activity levels. By putting in a bold design element like this, you can help create an energetic and lively space.
17. Natural Sand-Colored Hardwood Design Idea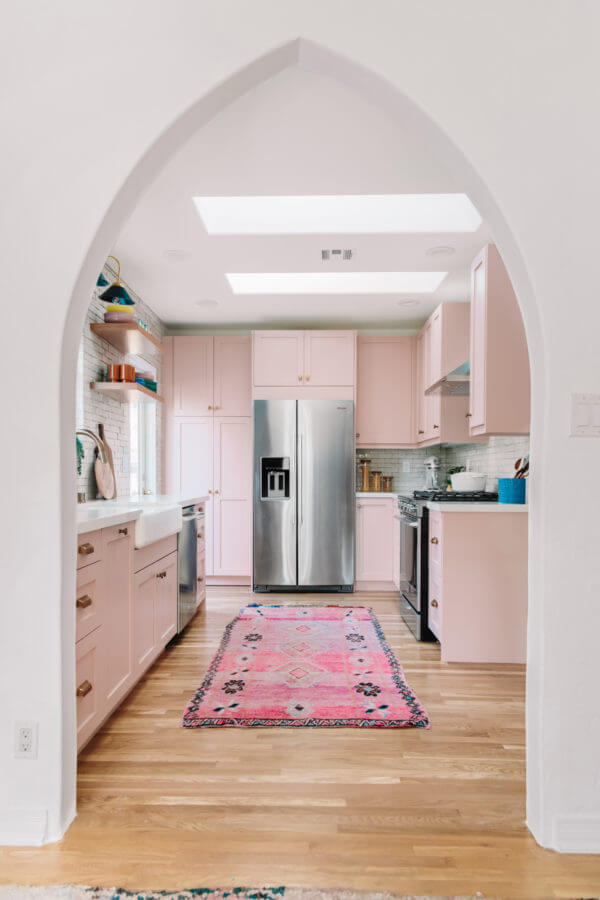 A stained and finished hardwood floor is a beautiful, natural flooring choice. To create a lighthearted aesthetic, consider using a cherry wood or bamboo wood as a flooring idea in your kitchen. Hardwood is very durable, and can last for ten years with proper care. It's also very easy to keep clean, and is great for people with small children who crawl on the floors.
Once you choose your type of wood, a wood stain can be applied to create a custom look. In this design idea, a light stain is used to bring out the highlights in the wood grain. This creates an energizing atmosphere in the kitchen, and completes the natural look of the design. If you're looking for a lighthearted design idea for your kitchen floors, this might be a good choice to consider!
17 Awesome Flooring Design Ideas to Update Your Kitchen
Looking for unique kitchen flooring design ideas all comes down to the usability of the materials and the desired aesthetic of your kitchen. Quality flooring ideas stand up to the test of time and allow you to perform touch ups. For this reason, high traffic floors that withstand a lot of activity are a great place to hand-paint a beautiful work of art. You are able to touch up where needed, and your family sees a cool pattern.
If you need something that feels more rustic to match your existing home decor, consider a farmhouse door to illuminate the room. This unique design idea can help highlight the main floor of your kitchen and redistribute light. If you want a floor that reflects less light, consider hand-painting in a darker color. This allows your floor to remain a cool and calm aspect of the room decor. Highlighting other design elements, like lighting and shelving, can help bring life to your kitchen.
The best kitchen flooring design ideas help you create a warm and inviting atmosphere. For this reason, if you're decorating a family kitchen, consider do it yourself projects. Painting the kitchen cabinets with a chalkboard paint can make a great family activity. The benefits of this idea include creating an environment for the family that encourages communication and artistic expression. The best design ideas bring out the best in your kitchen for you and your household!
Our Favorite Farmhouse Kitchen Decorations to buy on Amazon