If the kitchen is the heart of the home then the island in your kitchen is your home's heart of hearts.
A kitchen island can take many forms, but has at its core the concept of a central location in the home where faces are turned together and magical memories are formed. Utility and satisfaction meet across its varied surfaces as the preparation of food and the enjoyment of the subsequent meal often merge and become blurred together. Conversations are fostered and relationships nurtured in the hours spent lingering in the contented glow of a hearty meal. After the dishes are cleaned and put away, often at the built-in sink and cabinets, the island becomes a game table. In short, it is a social hub.
When you have an island in the center of your kitchen that is right for you and your lifestyle you will wonder how you ever functioned without it!
So enjoy this list of 50 kitchen design tips for the year and you just might be inspired to create the island of your dreams!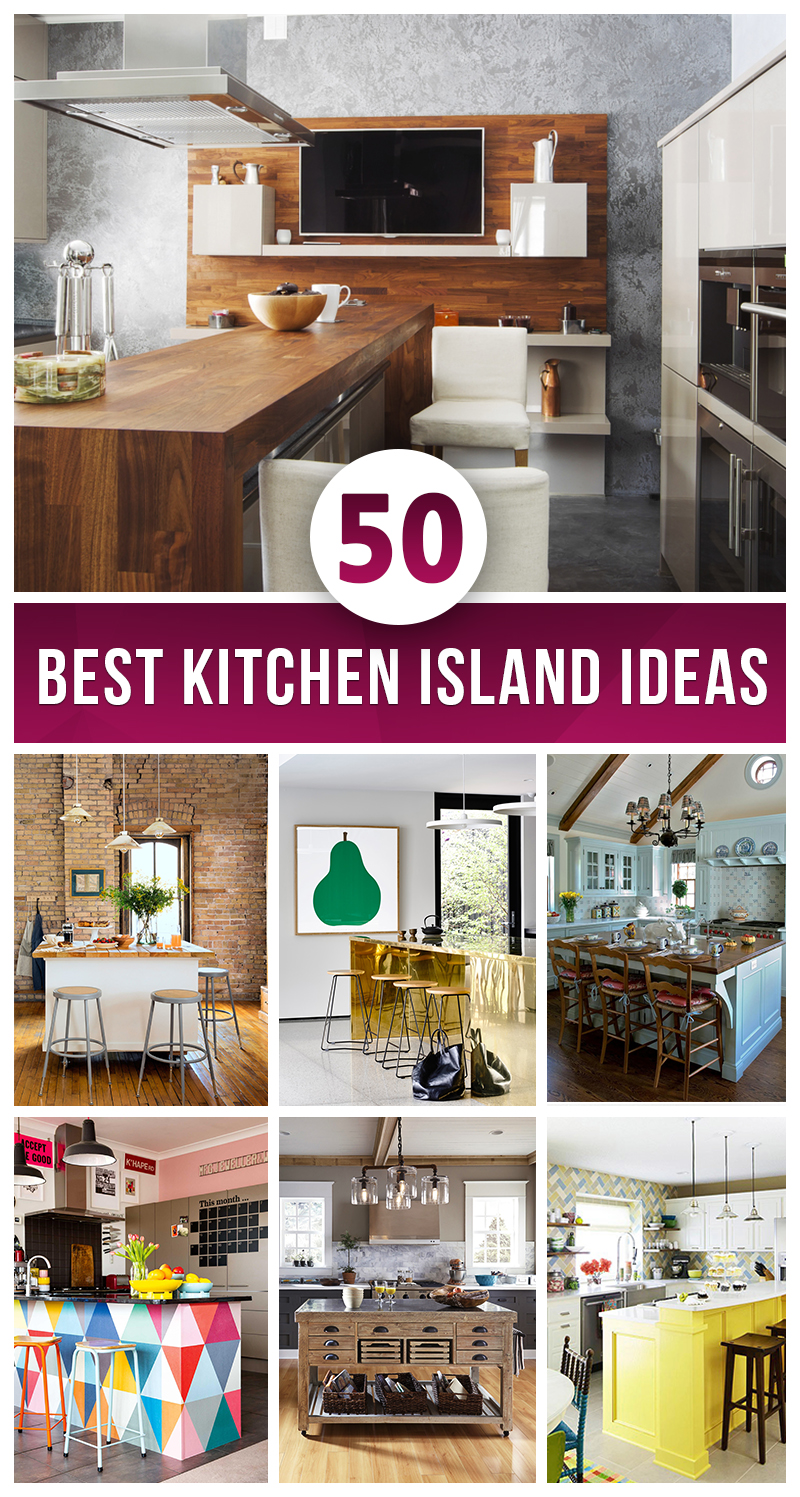 Kitchen island lighting is highly customizable and you will surely find just what you are looking for, whether it is LED track lights or dazzling pendant lights.
A well planned island can help you to be more organized and efficient in your kitchen. It can be as simple as a small rectangle counter on wheels with a couple of drawers to extend your workspace or your island could be so big that it is the biggest and best thing about your kitchen. An island can be outfitted with a sink or a stove top where you can work while chatting with family members.
Invest in a kitchen island with seating and your guests will have a comfortable place to sit as they help chop up veggies for their supper. Your children will have memories of watching you pack their lunches while they perch on the stools eating breakfast. The variety in kitchen island design ideas can seem dizzying at first glance. Remember that your decisions don't need to be based on what others have done – but instead on what your needs and desires are.
1. Perky And Playful Kitchen Island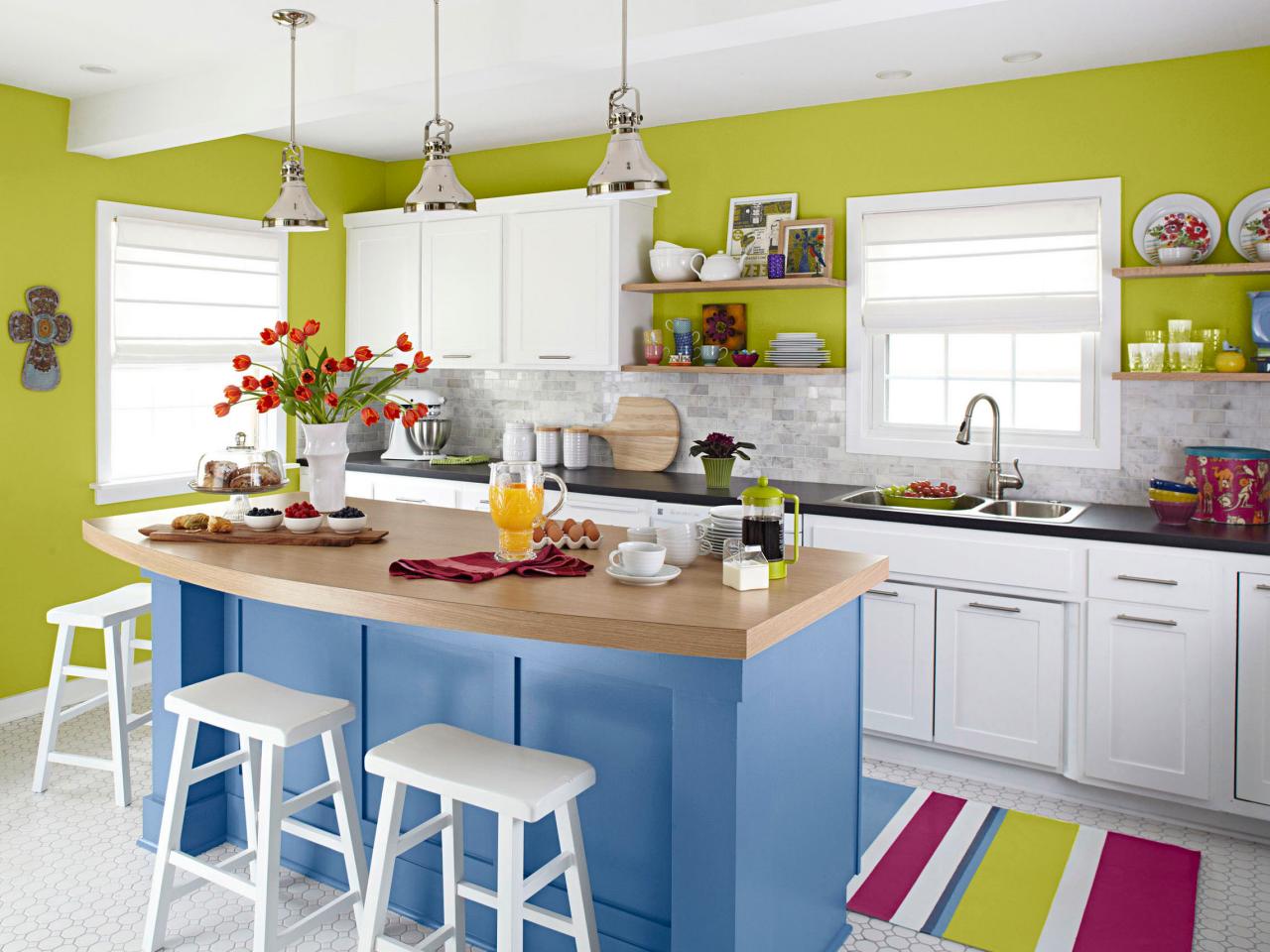 Source: The original source is not available anymore.
This kitchen design is playful and bright. The white stools clustered around the workspace beckon family members and visitors to lend a hand with food prep. The color palette is both grown-up and bold. The trendy hue of blue used to paint the lower portion of this island will stand up well to the wear and tear that comes with daily life. Notice how the countertop curves along the edge which lends character while softening edges and creating a customized look. The three reflective pendant lights keep things bright on the workspace where you need light the most. A kitchen island design such as this gives a playful air to the kitchen space.
2. Better Than a Sports Bar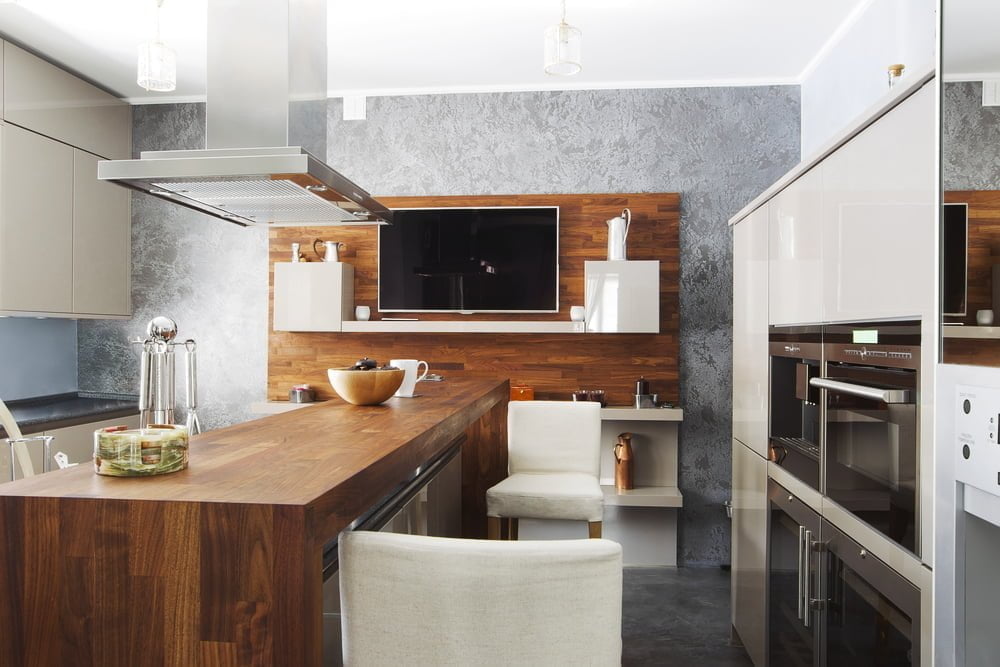 Source: The original source is not available anymore.
Texture is everything in this stylish kitchen. The eclectic mixture of gleaming stainless steel and crisp white paired with the gorgeous depth of dark hardwood makes the space feel masculine and modern. The length of this island causes it to function like a bar in the kitchen. The large television screen against the far wall carries on the feeling of a high-class pub. This island design would work well for a casual eat-in with friends or a more intimate date night complete with drinks prepared in house. The fabulous sheen of the dropped light fixture keeps the look understated and avante-garde.
3. Picasso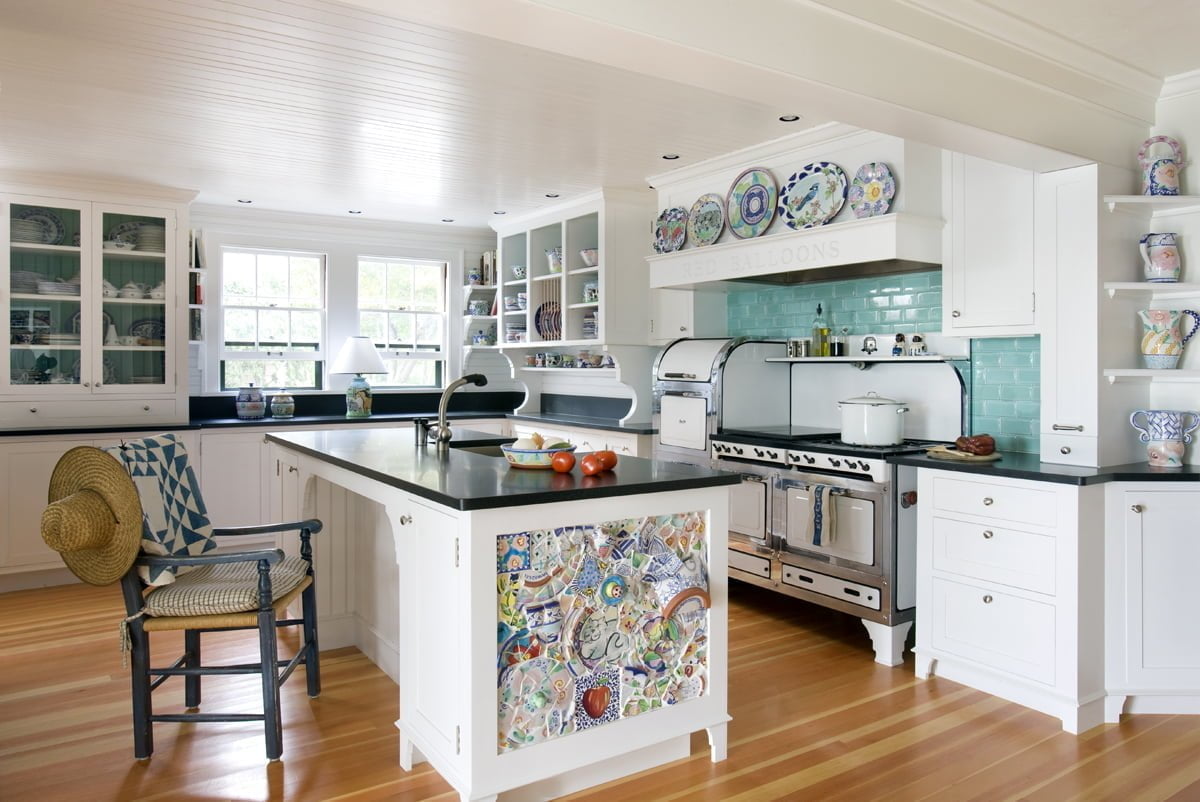 This kitchen design picture is so much fun. The size and shape of the island suit the size of the room and the pleasantly abstract end cap pulls all of the elements together with a certain transcendent flair. For a less abstract look, the end cap could be painted with a mural to complement the color palette of choice. The old fashioned cut-outs worked into the seating area of this island mimic the fun Picasso-meets-retro feel of this room. White and black offer a clean backdrop for a whimsical palette and the island becomes the ideal canvas for a work of culinary art.
4. Streamlined And Fearless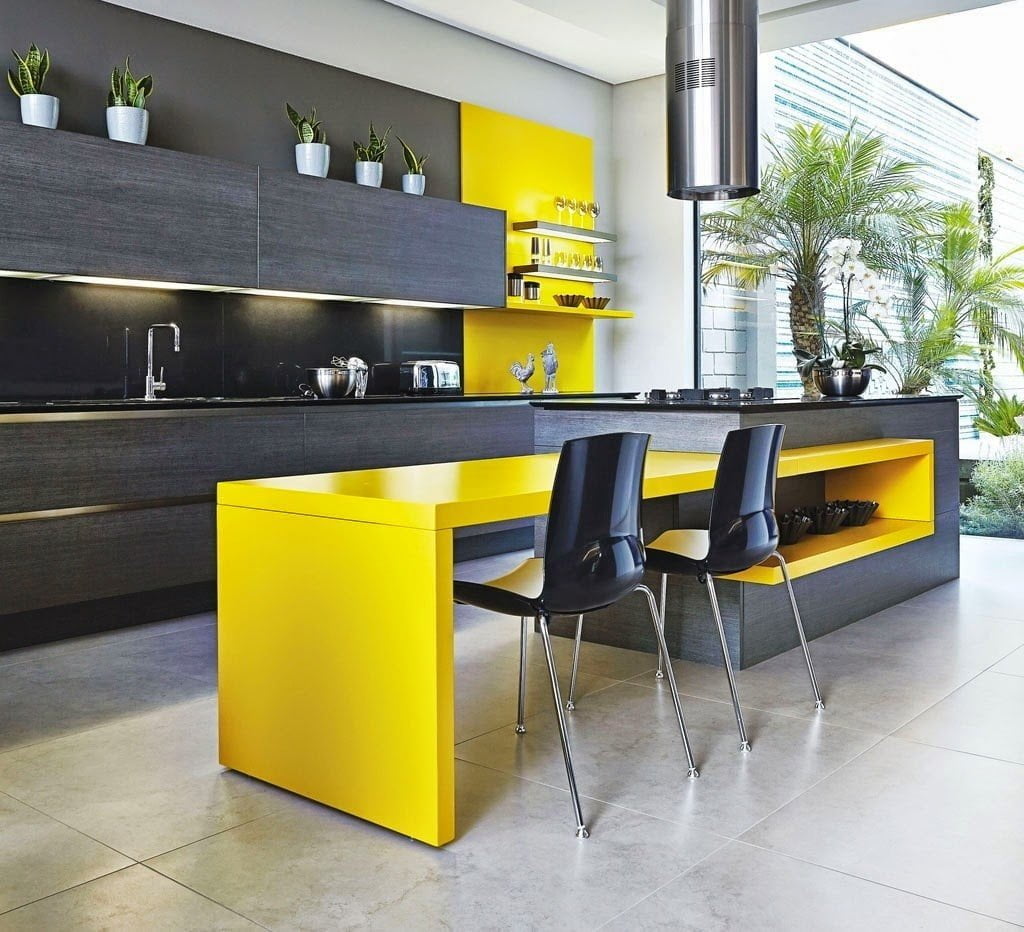 Source: The original source is not available anymore.
This island is decidedly bold and uncluttered. It would be an excellent choice in a loft apartment or in a home with an open floor plan. The lower area functions nicely as an eat-in kitchen table or desk area. The proximity of the bar to the sink would be very efficient for meal clean up. The built in shelf gives an ideal space to display a collection or a conversation piece. The slate colored siding on the island contrasts with the splashy yellow but simultaneously blends well with the shining black counter tops. The unusual stainless steel light option keeps the space unpredictable. This island design is modern and efficient.
5. Elegance From The Baroque Period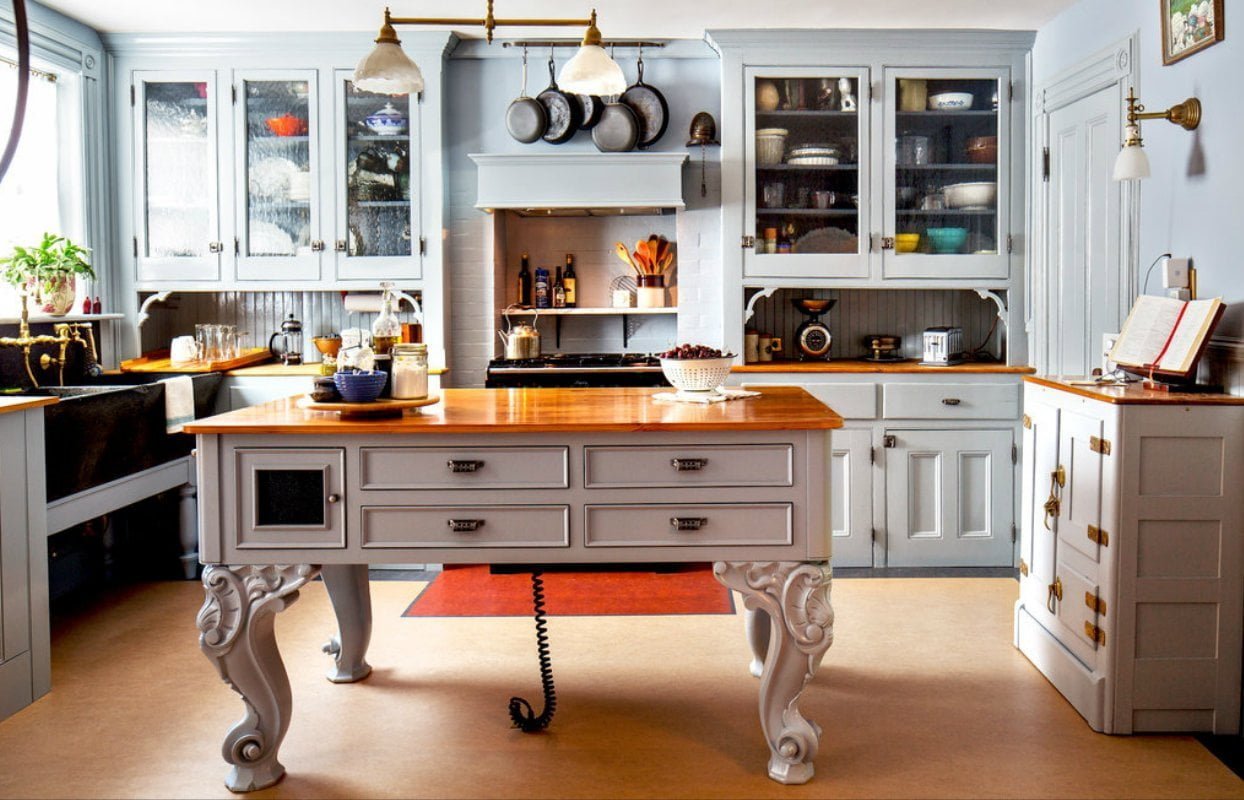 Source: The original source is not available anymore.
Consider an elegant kitchen island design such as this baroque themed piece. If you enjoy this romantic look a free standing island with curliqued legs may appeal to you. Notice how this beautiful kitchen island table looks like a repurposed piece of antique furniture. Stacked drawers and the little cubby door lend interest as well as functionality. A high-gloss countertop completes the fine furnished aura of this island. The thinness of the top brings a delicacy to the piece. Pull up a cushioned chair and use the wide space to copy recipes or quietly enjoy tea and a scone at this wonderful island.
6. A Touch Of Wood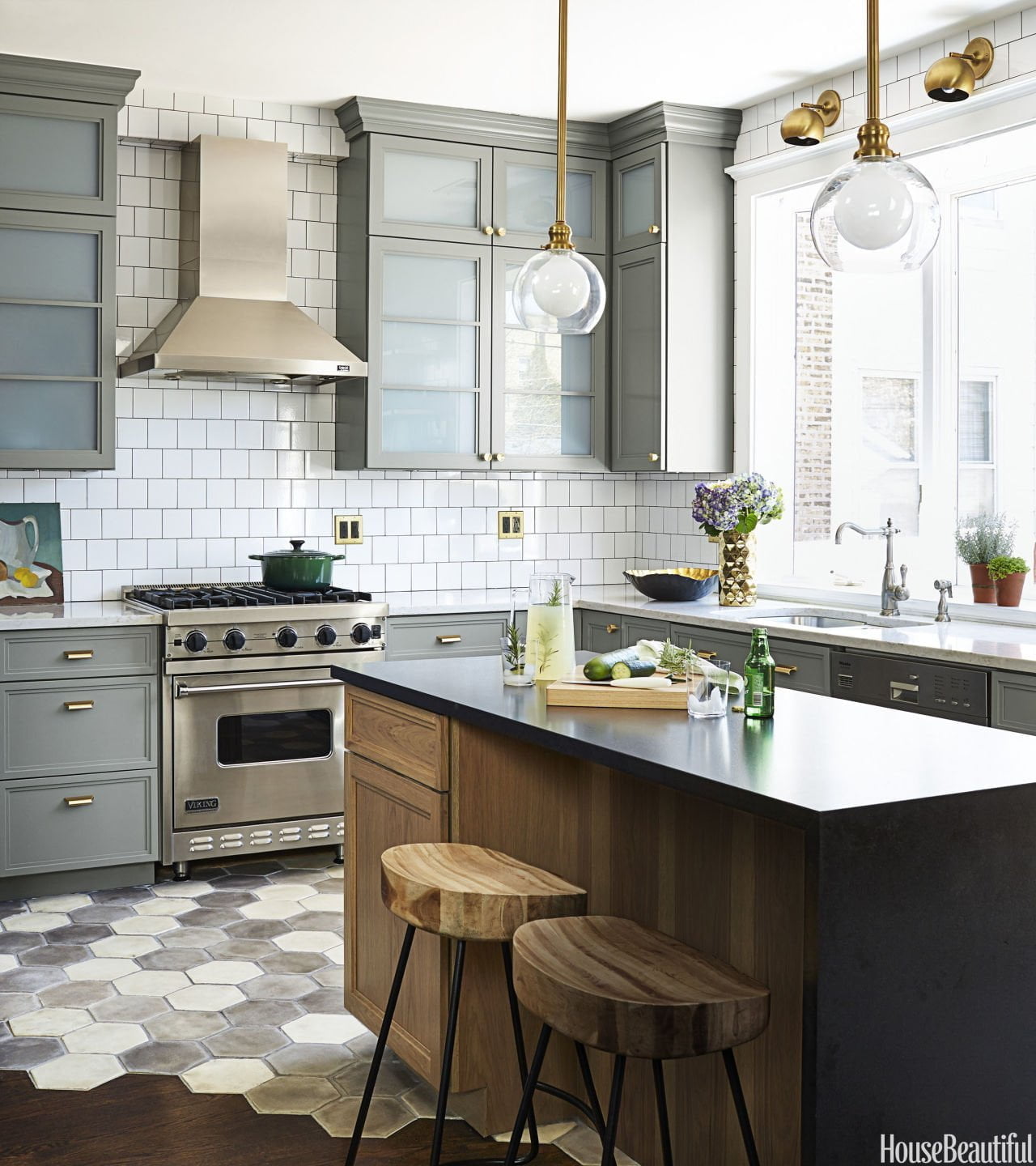 Don't make the mistake of over thinking the top of your island. Perhaps what you really need is a simple rectangular shape without a lot of built-ins and without a sink. Sometimes all that is called for is an uncomplicated space in which to work and clean.
Even so your island need not be mediocre. Take your kitchen island with seating to a whole new level of modern beauty with an unexpected stool design like this one. Take colors as common as the brown of hardwood and the sheen of black metal and add class to your island.
7. Open Your Mind And Your Cupboards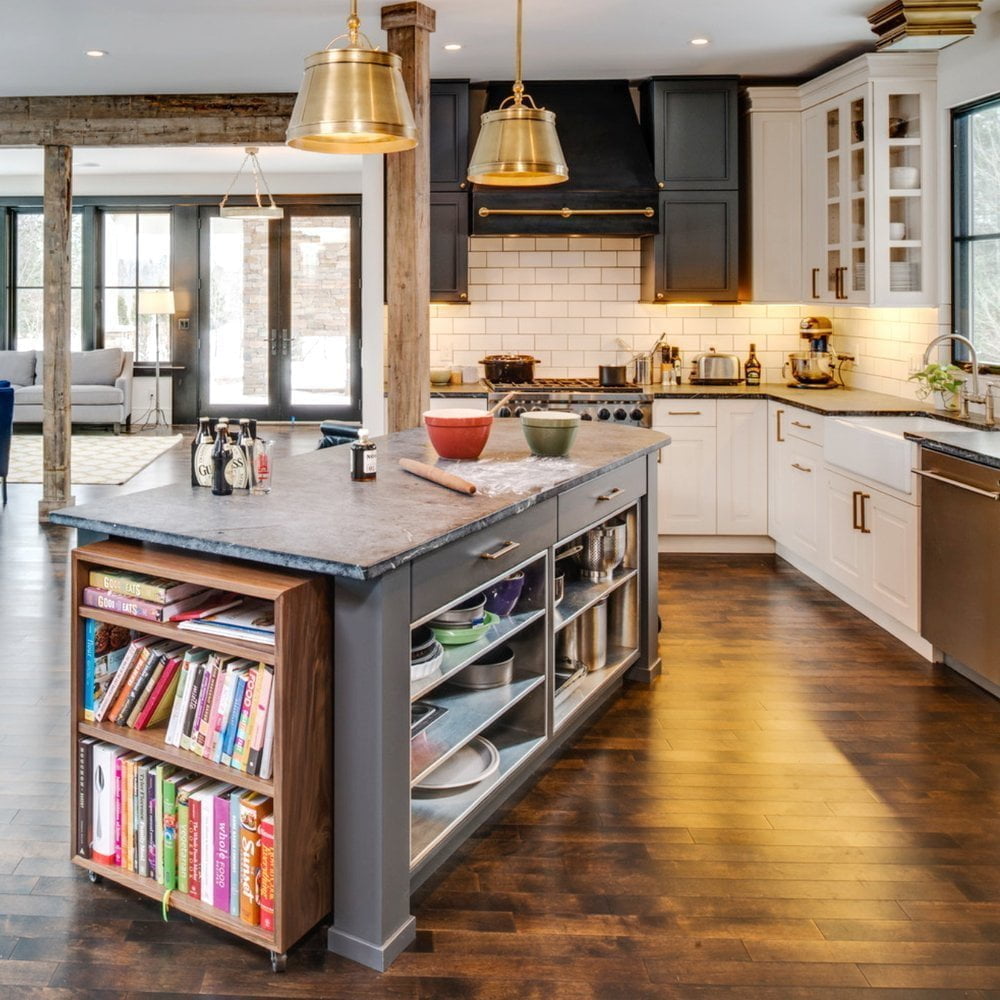 Leave your biases about kitchen design behind you when it is time to choose the placement of your island. For instance, consider placing it at a diagonal to keep the busiest area of your kitchen from becoming that dreaded bottle neck that makes even a spacious kitchen feel crowded.
Another kitchen design tip is to leave off the doors and let your favorite dishes show on open shelving. Let your kitchen island lighting come from a warm light above that gives a welcoming glow reminiscent of the hearth fires of home that were once found in every kitchen.
8. Fussy In A Good Way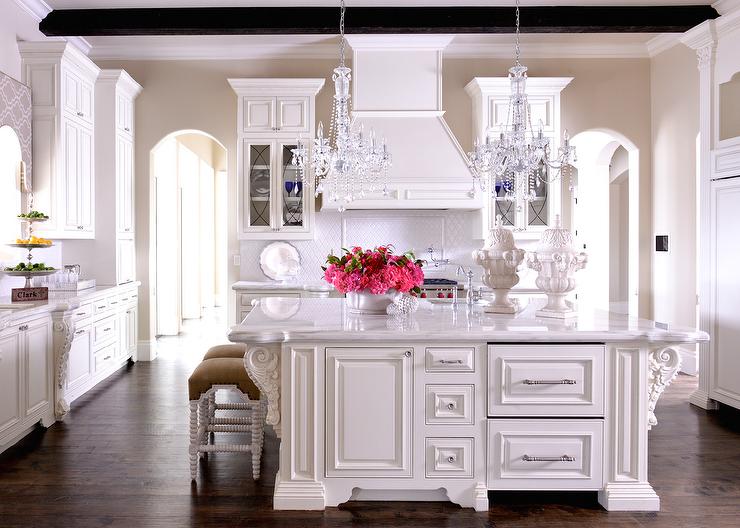 Kitchen design tips for functional elegance: If you want your island to be the crowning centerpiece of your culinary space you may want to consider a glossy white finish. It speaks of luxury and high taste.
When you want to make a lasting investment in your kitchen depend upon the solid beauty of a marble slab countertop.
When your space permits choose a square island. It will give you plenty of work surface and storage space.
The unapologetic opulence joins functionality with a delicate silver prep sink. This is a style reminiscent of French aristocracy.
9. Quickie Facelift Kitchen Island Idea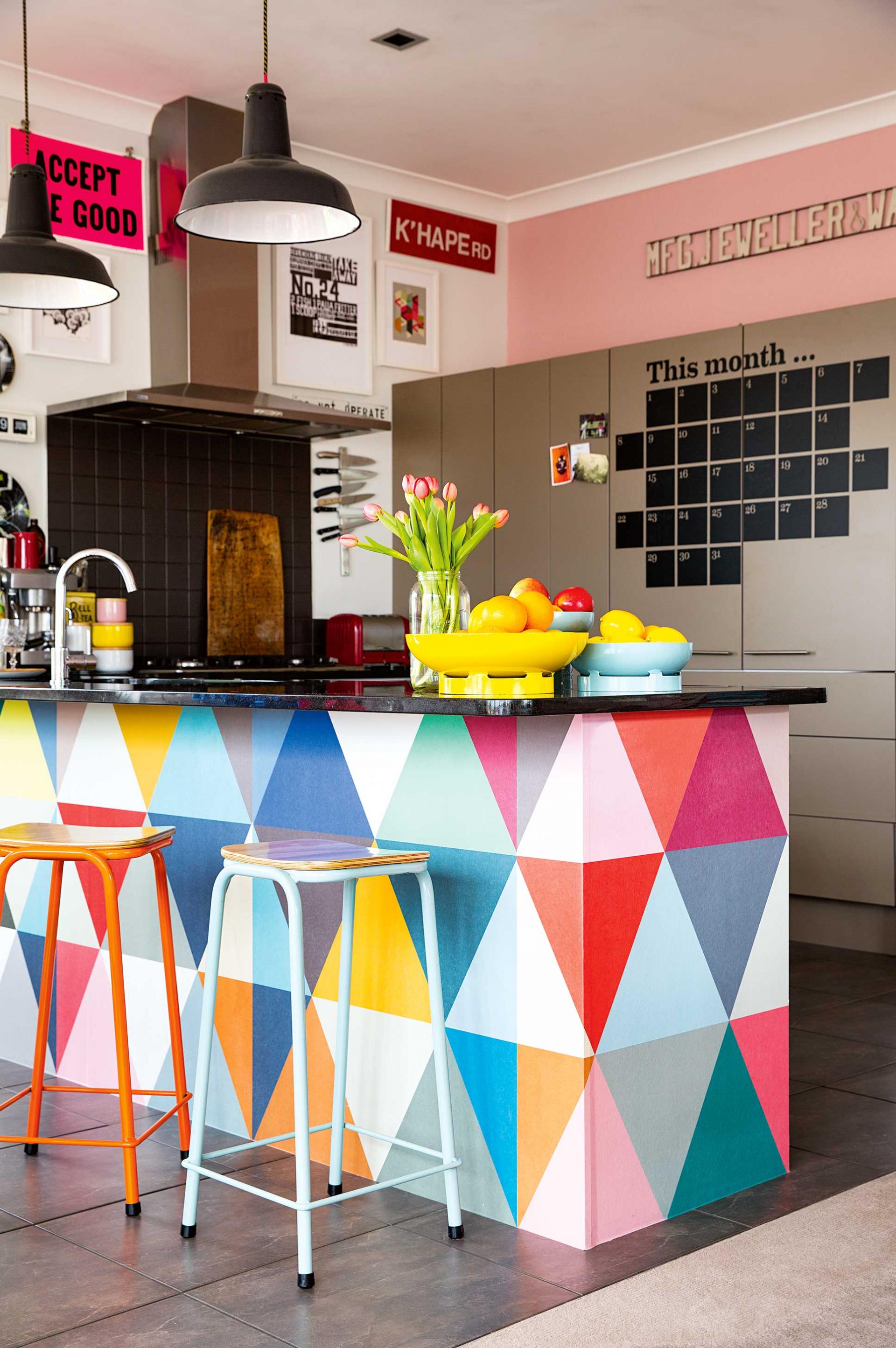 Sometimes you need a change that is fast and inexpensive. Maybe your kitchen island is outdated and ugly and you need something fun that you can count on to make you smile before that first cup of coffee in the morning. If you are a do-it-yourselfer, try some flamboyant color and use an exciting wallpaper to shake things up. If you have a small space beware of large patterns on your walls. Save the geometrics or large prints to try on your island instead!
10. A Few Of Your Favorite Things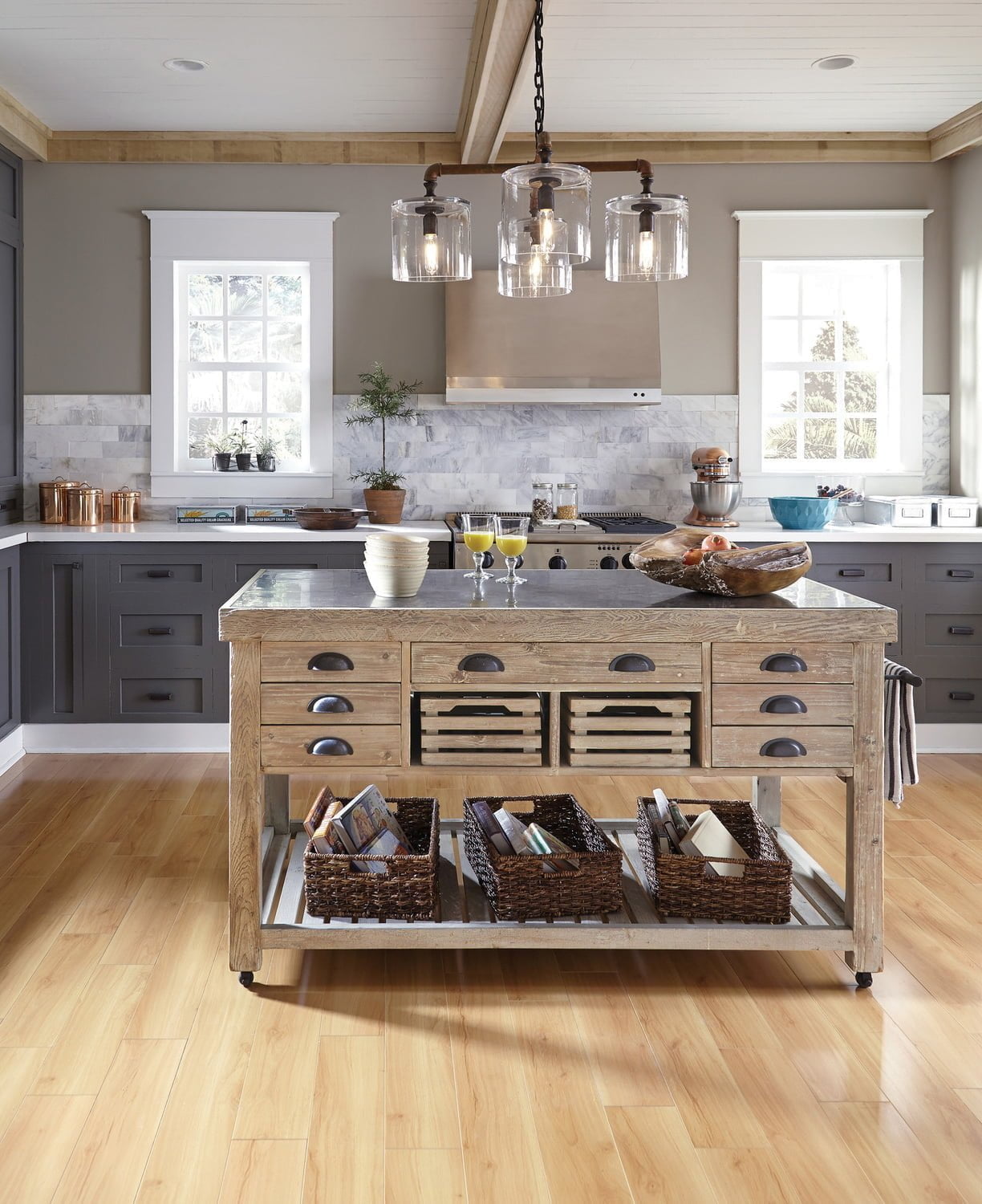 Identify a few pieces and textures in your home that are your favorites and consider ways to work them into your island design. Perhaps you love the nautical look and you will use weathered wood in your kitchen, or it could be you have a basket fetish and you will leave room in your design plan for baskets to keep things organized. An island on wheels is portable and can easily double as a dumb-waiter in a pinch as it ferries dessert and extra dishes from the kitchen to the dining room.
11. An Eye For Detail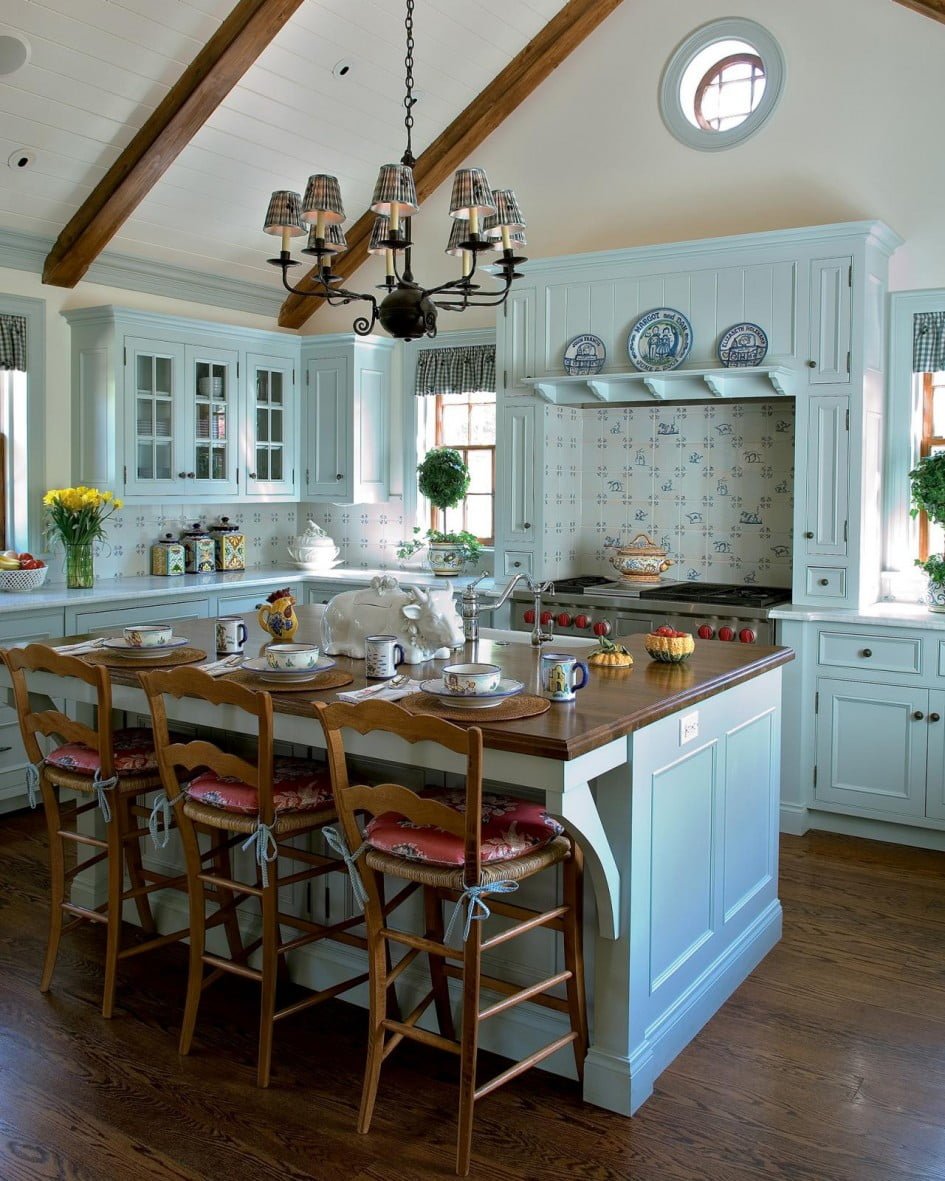 In kitchen design pictures often the first thing you'll notice are the colors and textures used. Now look a little closer and take note of which of the other details that give that touch you love. In this photo with a French Country flair you will notice the simplistic corbels that give understated support to this lovely kitchen island. Cute custom cushions tied on give a touch of care. Tiny lampshades on a chandelier high above will softly cast light over the scene. Train your eye to consider the details.
12. Hand Carved Wood Kitchen Island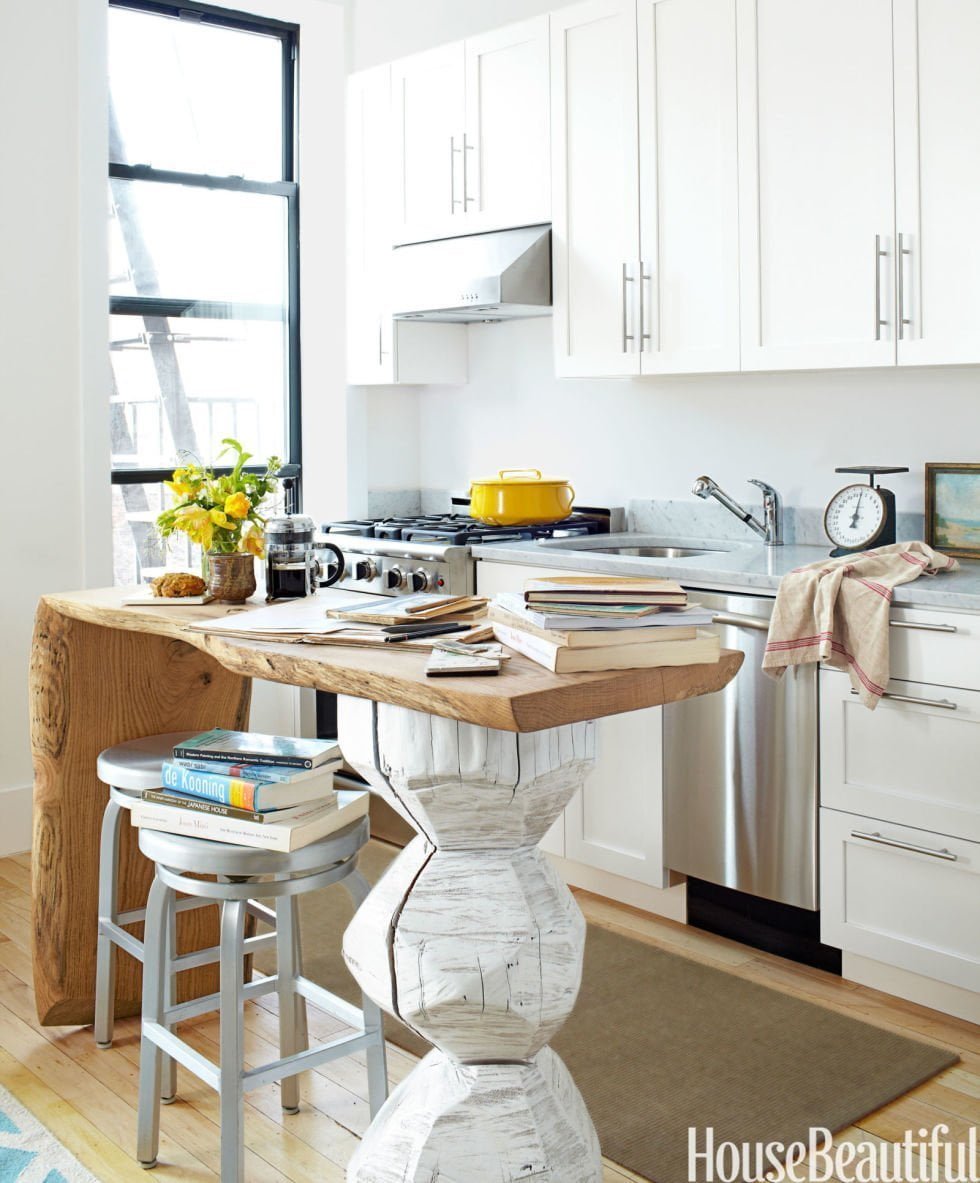 Do not underestimate the power of real wood in your kitchen design. The warm cherry wood used in this unusual island give a touch of nature to a space that could have appeared sterile. Now the white background of the walls and cupboards provide a backdrop for the island's fascinating shape. The hand carved white wood pillar bridges the stylistic gap between the white of the room and the dark hue of the wood. Meanwhile, the unexpected shape makes the whole piece pop and gives the kitchen character.
13. Mysterious Old World Whispers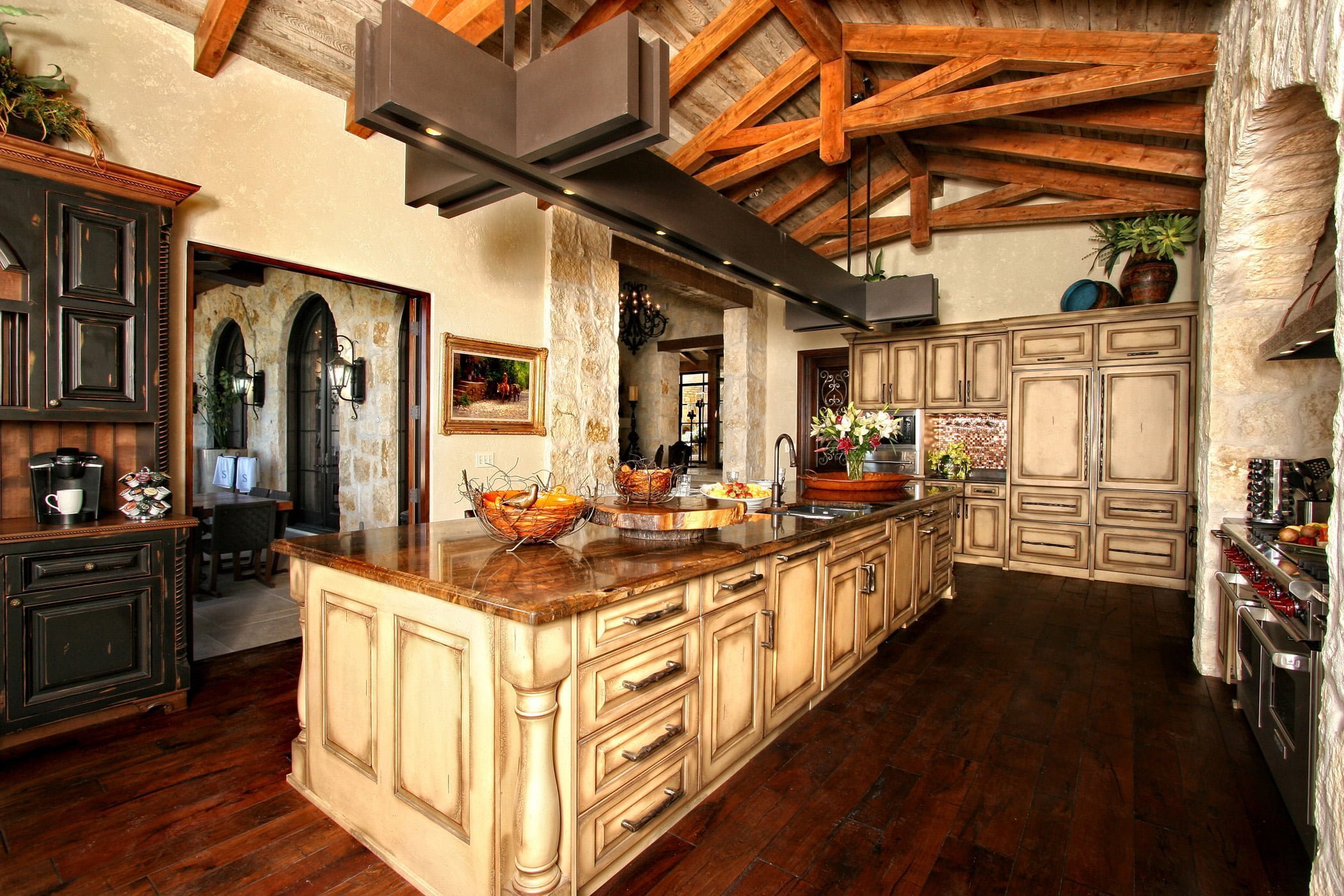 Source: The original source is not available anymore.
Kitchen design ideas and inspiration are plentiful in this home. The overall tone is one of Old World charm. A kitchen island of this size could easily be used by multiple cooks at once. The use of distressed wood on the island make this up-to-date space blend with the other mediums of wood and stone used throughout the space. The distinctive cabinetry can be used as a facade to cover state-of-the-art appliances making this a well equipped room without even a touch of stainless steel.
14. Form Meets Function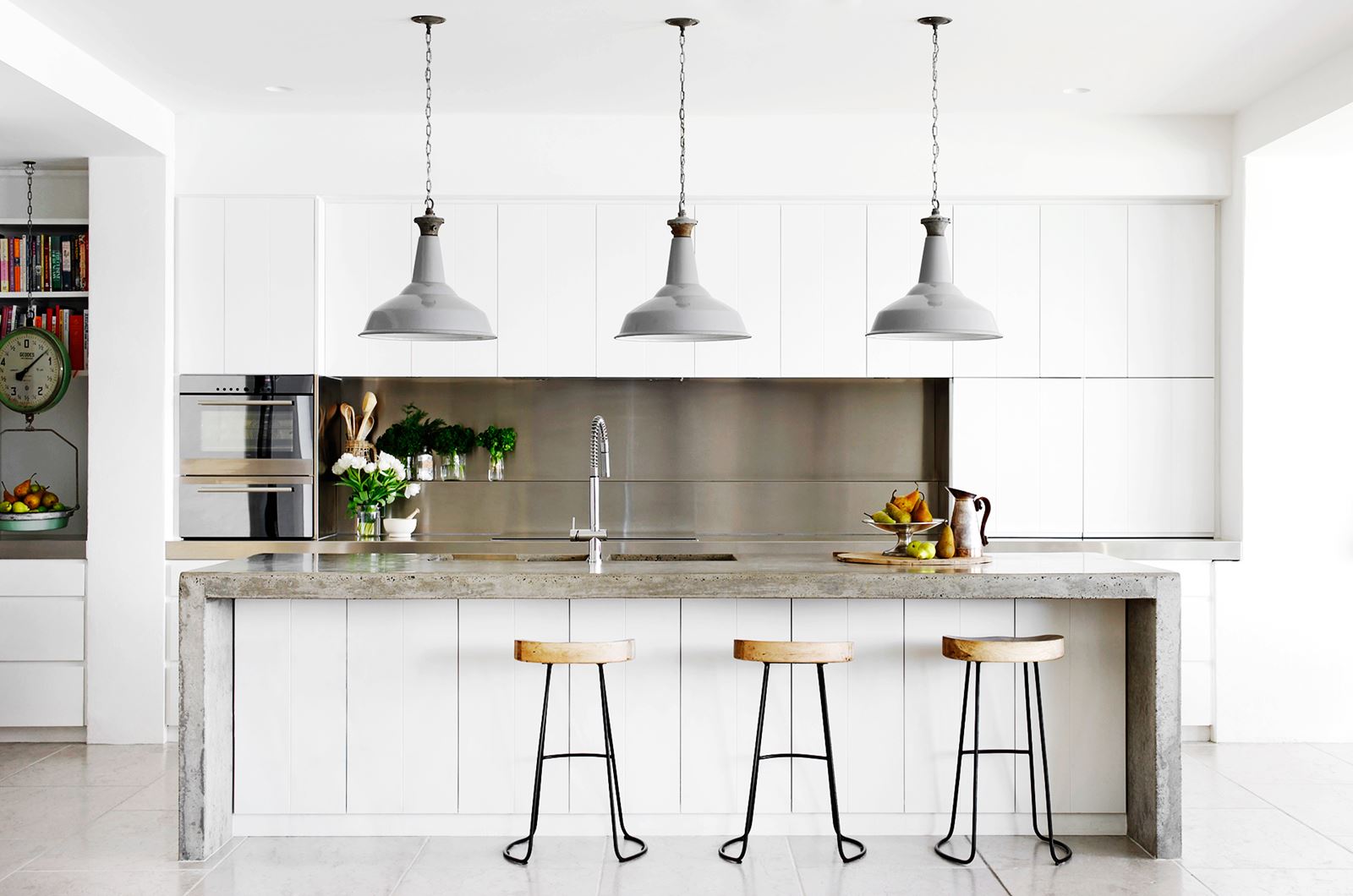 Gray tone and simplicity create a sleek gathering place. Plentiful seating and a sink in the bar will create many opportunities for spontaneous and unexpected interactions. Add matching hanging lights to illuminate your island and give the ambiance you desire. Choosing simplicity of design may be just the thing to help you discover what your real needs are in a kitchen island.
15. Casting New Light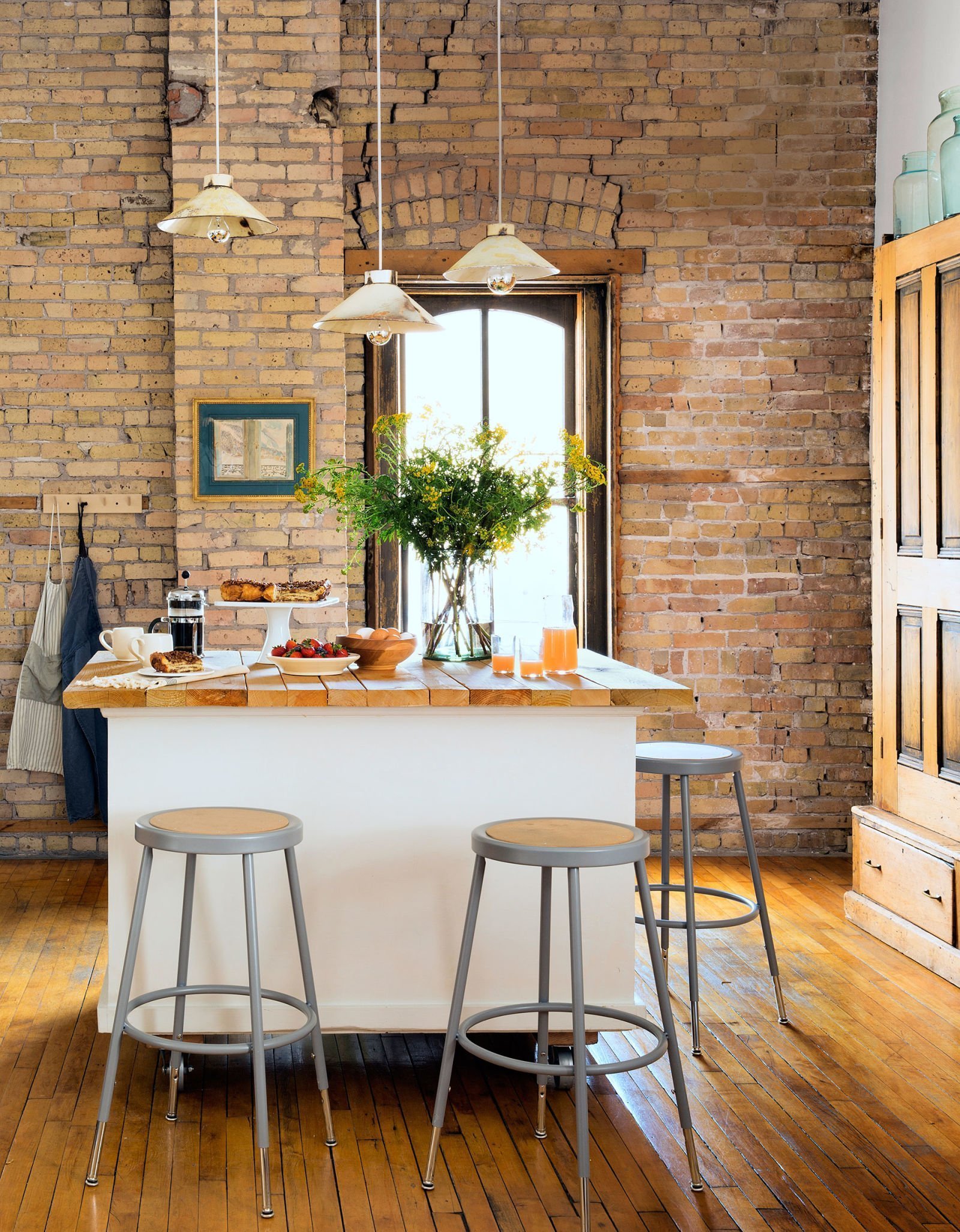 A small island on wheels is a wonderful investment and can even double as a table. Choose an unusual surface for your counter such as these repurposed packing crate slats. Vary the height of your pendant lights to showcase your fixtures and give a less structured look to your space. Tweaking something as basic as your lighting fixtures can do wonders to cast some light on your design.
16. All That Shines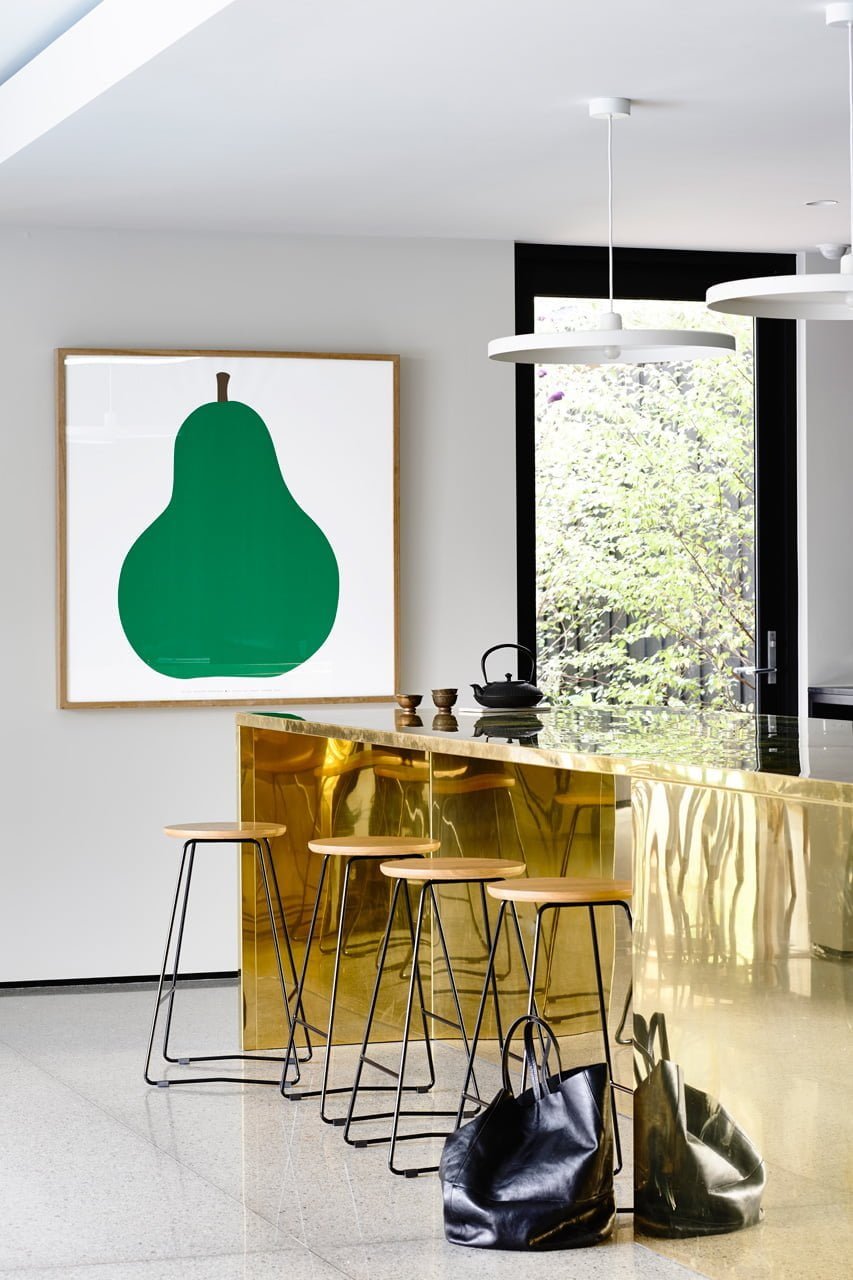 Source: The original source is not available anymore.
Open up your mind to the things you love in life; a kitchen design idea will come to you as you embrace life.Do not be too quick to say something cannot be done. Consider this golden gilt island in all of its reflective glory. Do you love a texture, a gleam, or a shine? Don't rest until you have worked it into your living space in a functional and beautiful way. You will often find that someone else has loved and lived with the same idea and you may be able to glean from their experience.
17. Grand Doesn't Always Mean Grande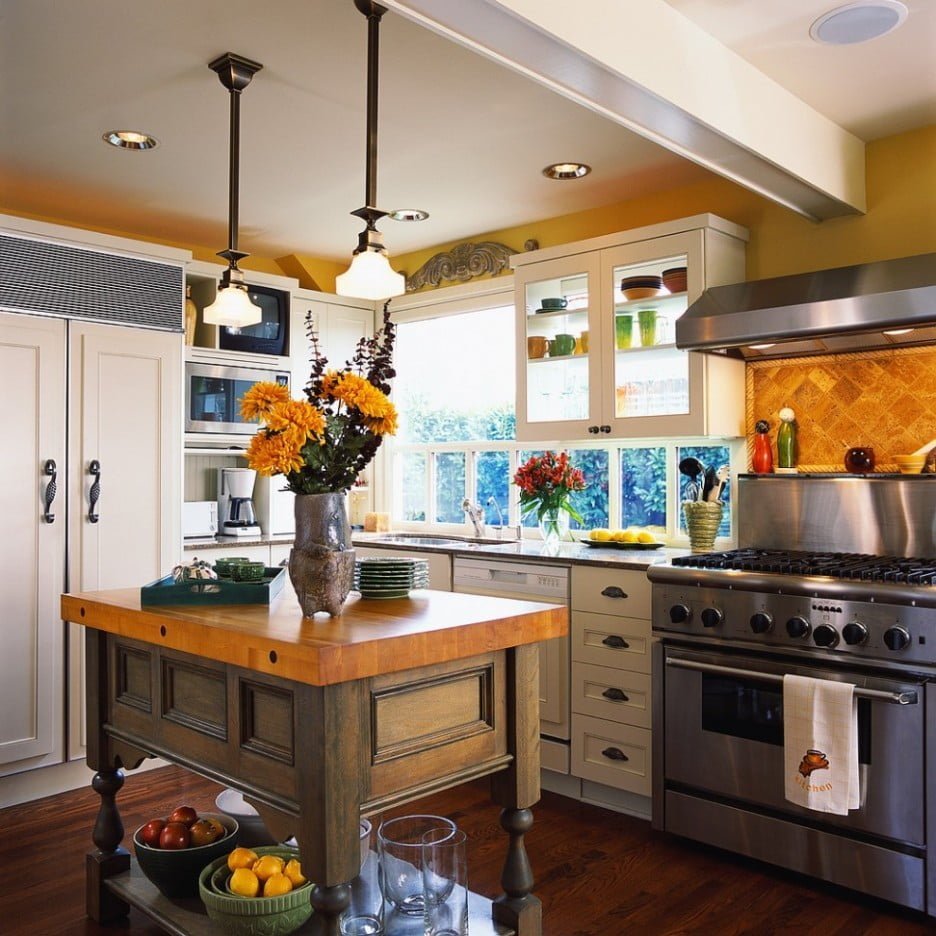 Source: The original source is not available anymore.
Do not just assume that because you are working with a small space that an island is just not for you. A small and carefully planned rolling kitchen island can actually stretch your little space in a big way! You'll want to focus on storage to make good use of every inch. Opting to keep your island uncluttered and regular in shape will help to keep the traffic flowing in even a tiny kitchen.
18. Maximize Your Inner Minimalist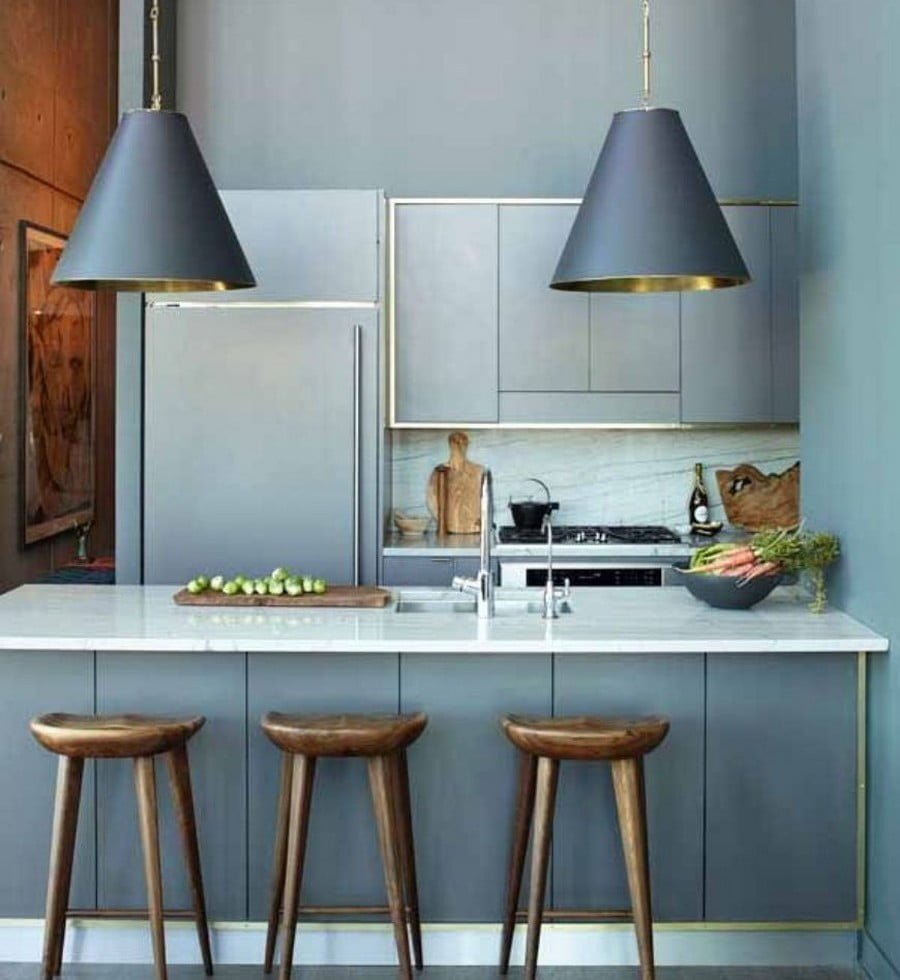 Minimalistic design is all the rage these days and for good reason. It gives the feeling of space and encourages focus and a sense of peace. Consider allowing your island design to flow from your favorite tones. A few comforting touches such as rich wood seating or some warm brass highlights on a light can go far to personalize your kitchen island design.
19. Everyone Has Their Level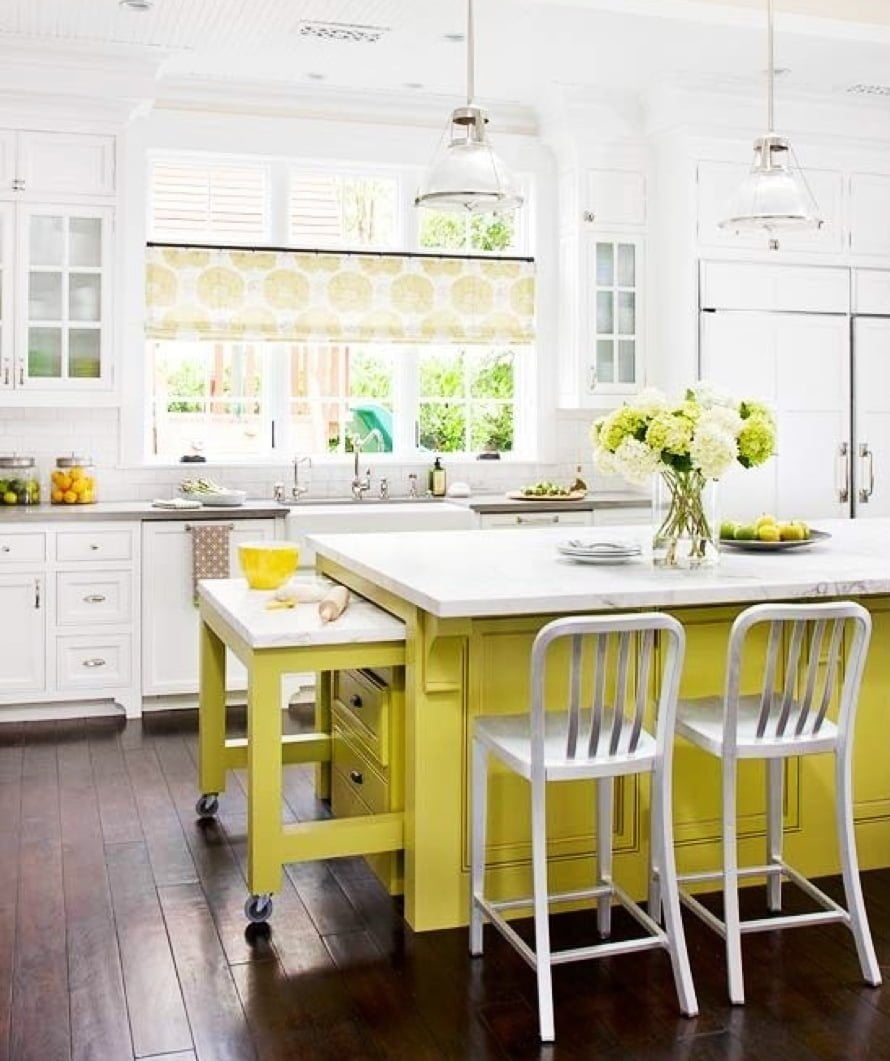 Source: The original source is not available anymore.
How can you tweak your personal island to give it the qualities you have always craved? A low rolling kitchen island can be a fun addition to your home. Being able to instantly slide out a bit of extra counter space can be a real asset. If you love to have a lower work area to roll out delightful crusts or to work with children at you may soon wonder how you functioned without it!
20. Think Outside of the Box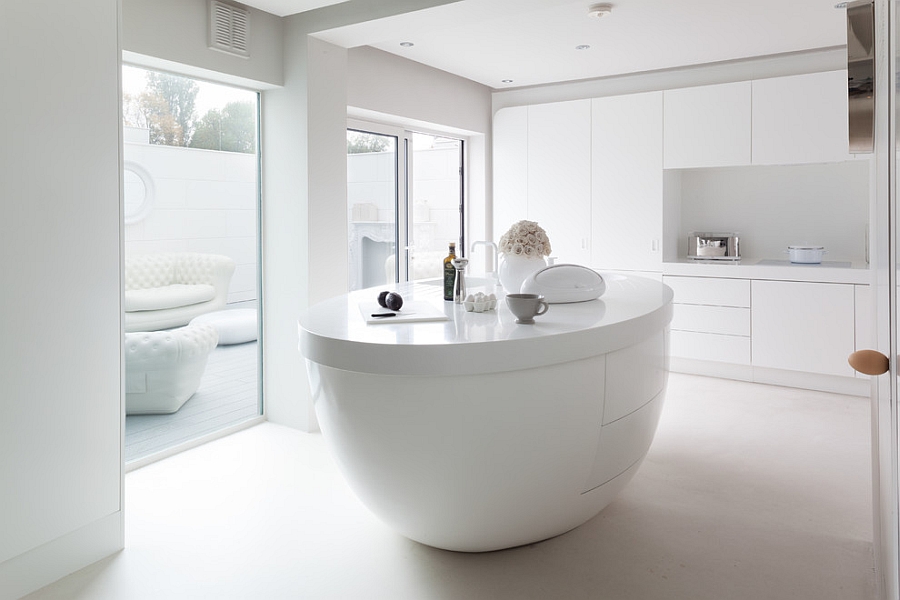 Or, in the case of a kitchen island, think outside of the rectangle. It is incredible what can be accomplished with a bit of imagination and an adventurous carpenter or designer. Just because one company tells you something cannot be done doesn't mean it is impossible. Get a second opinion. Consider the amount of space a rounded island such as this can save. After all, you don't want to wear yourself out trying to push a square peg into a round hole!
21. Quality and Timeless Style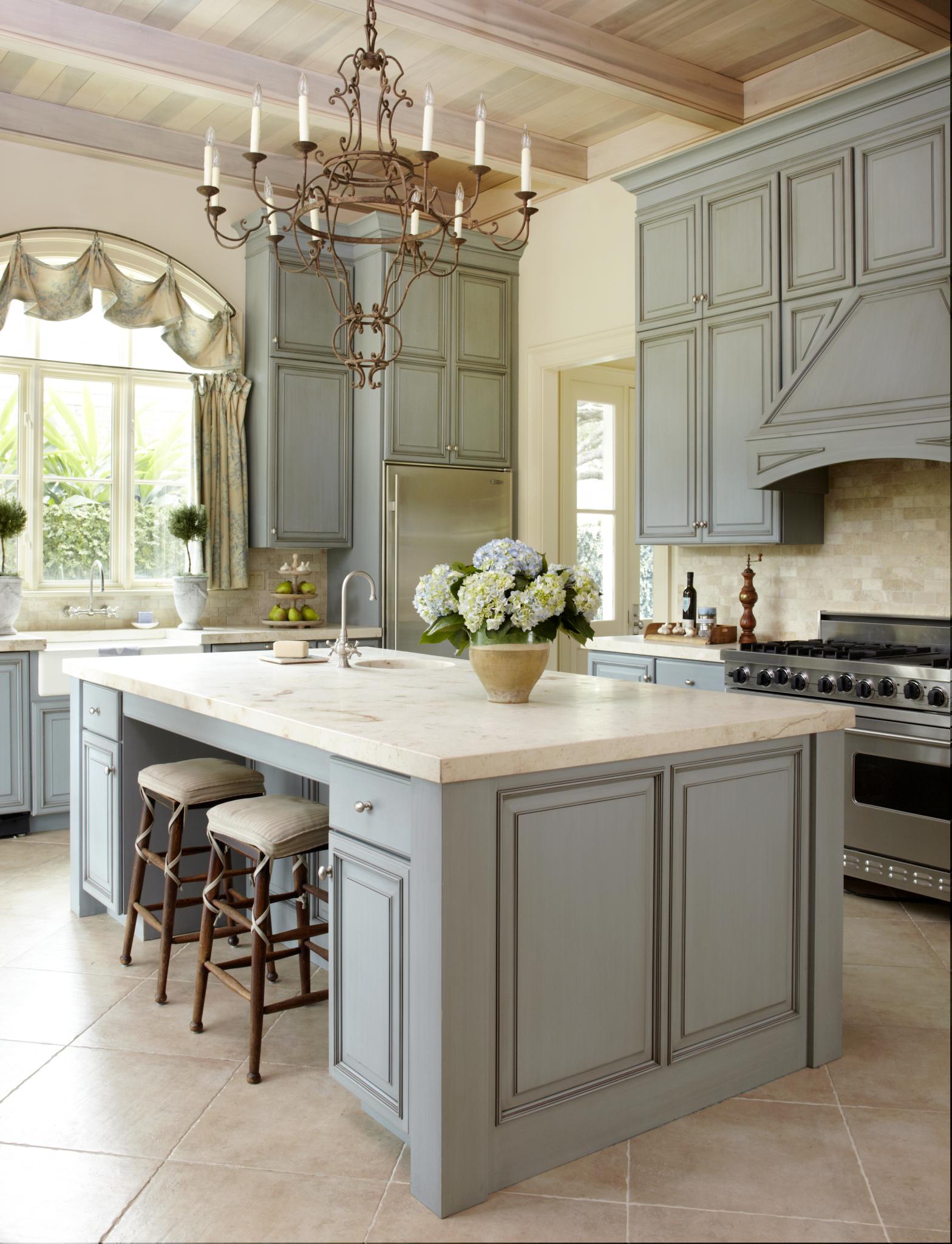 Source: The original source is not available anymore.
Invest in good quality. Especially when it comes to heavily used areas such as a countertop, a sturdy and well-built piece will save you so much hassle in the long run. Countertops in neutral tones and marble are always enduringly in style. Dove-tailed drawers used to be difficult to find but they are making a comeback. Be sure to ask your contractor what options they offer. Better yet, do your own research and bring along a detailed list when you are scoping out a contractor to construct your island.
22. The Entertainer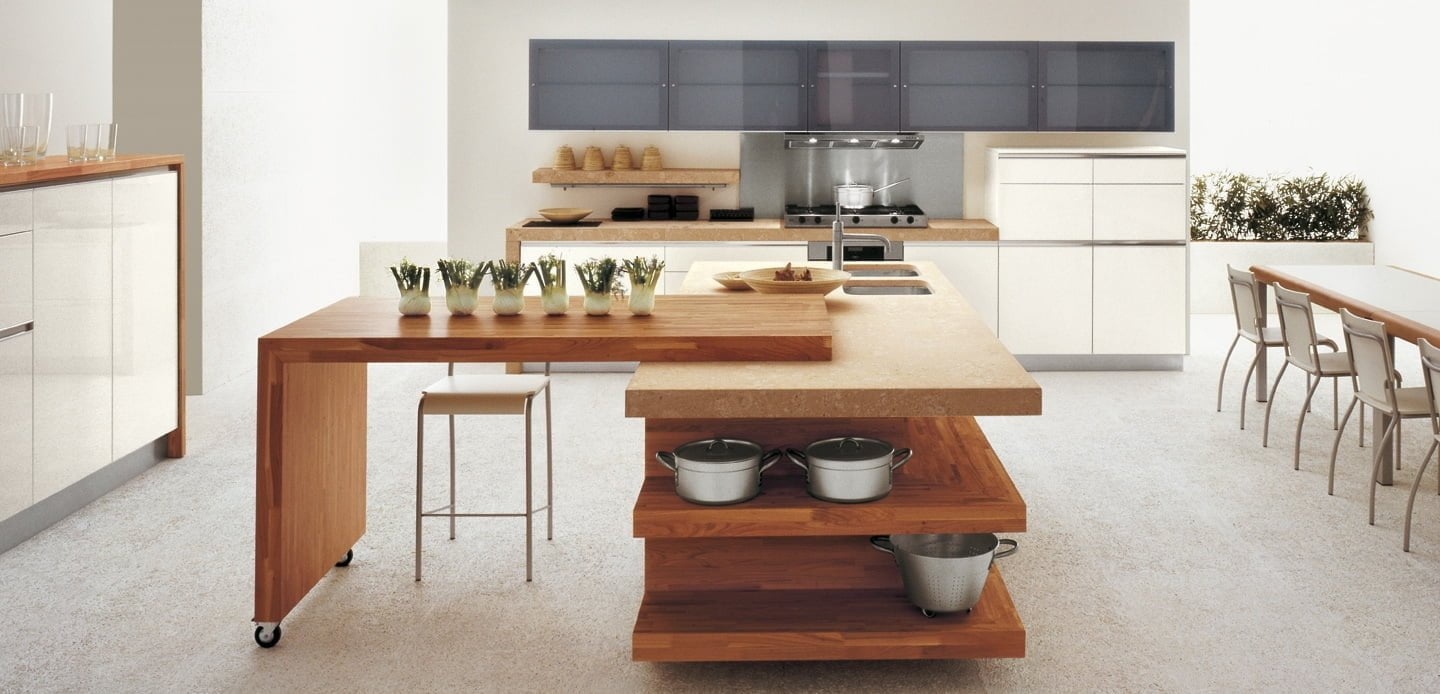 Do you entertain often? Create multiple work stations around your island. Take the time when you are first conceptualizing your island or work with what you already have and get organized!
Work a small prep sink into your island design and keep a scrub brush and soft towels within reach. Voila! A vegetable preparation station. Invest in a well-made cutting board and stock a drawer at hip height with sharp knives. Now you have created a chopping station. Not only will these stations make you more efficient but when you have kitchen help they will rarely need to look far for the tools to complete the job they are assisting with.
23. Legoland Island Kitchen Idea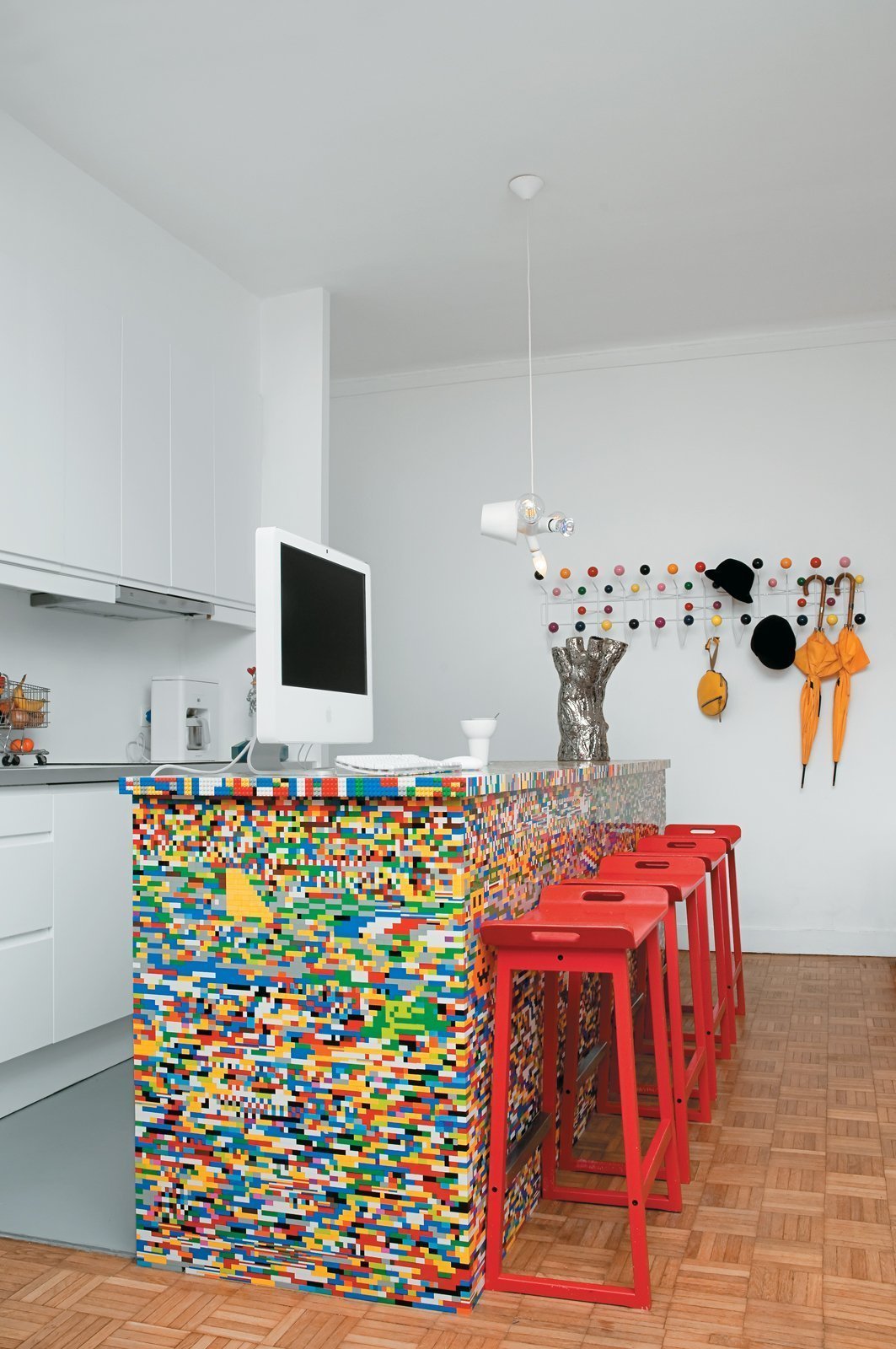 If two grown Parisienne men were daring enough to cover their kitchen island with Legos (see accompanying image) then what could be too over the top for your kitchen? Your kitchen flair need not be inspired by kitchen design magazines or even by colors or shapes you like. Springboard your kitchen design from something completely unrelated to anything kitchen! If you are an avid gamer try a pixel-like themed wallpaper on your island. If you love stripes or animals then work some aspect of that into your island design. Create something as unique as you are and you will enjoy your island much more.
24. New Life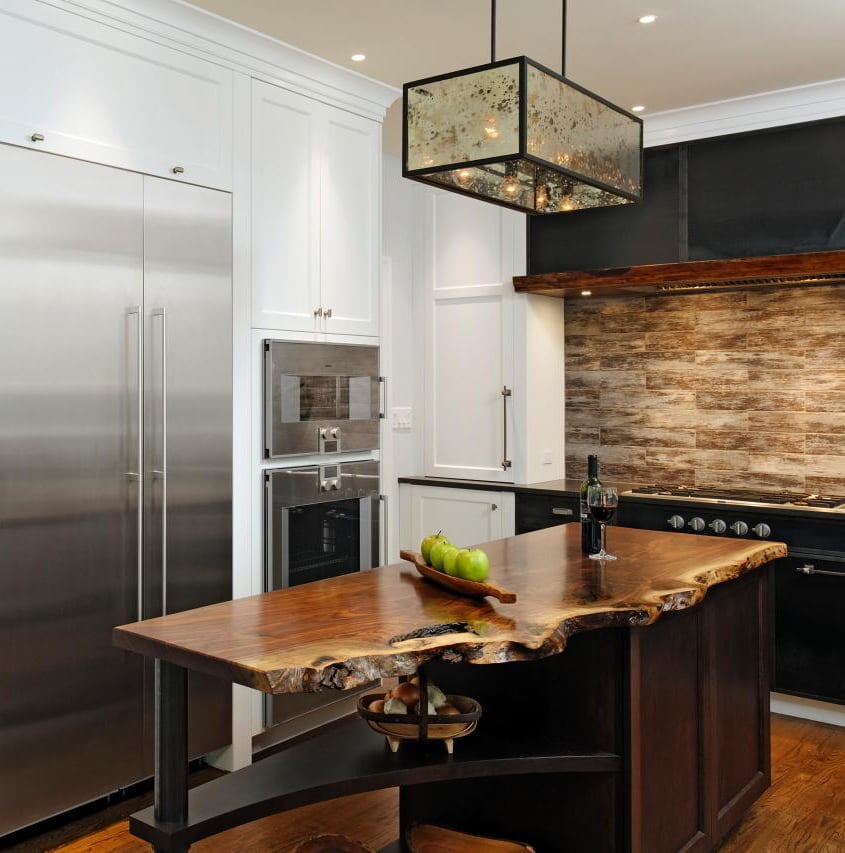 One of the most exciting things about working with wood is using repurposed pieces. Find and recycle a glorious piece of hardwood with a story and have it refinished to use as your countertop. Don't be afraid to welcome a darker walnut or cherry island into your kitchen. It can bring wonderful depth and contrast to your space.
25. Industrial Strength
Source: The original source is not available anymore.
Mixing "the ultimate trio" of brick, metal and wood will give your kitchen an industrial look. These materials are cost effective and add great durability and strength to your home. The lighting fixtures in this kitchen design image add a practical beauty and an industrial edge to this island. The unusual shape and material used on the stools carries on the streamlined vibe here. Use salvaged items from antique shops and flea markets to craft your own industrial styled island.
26. Get the Glow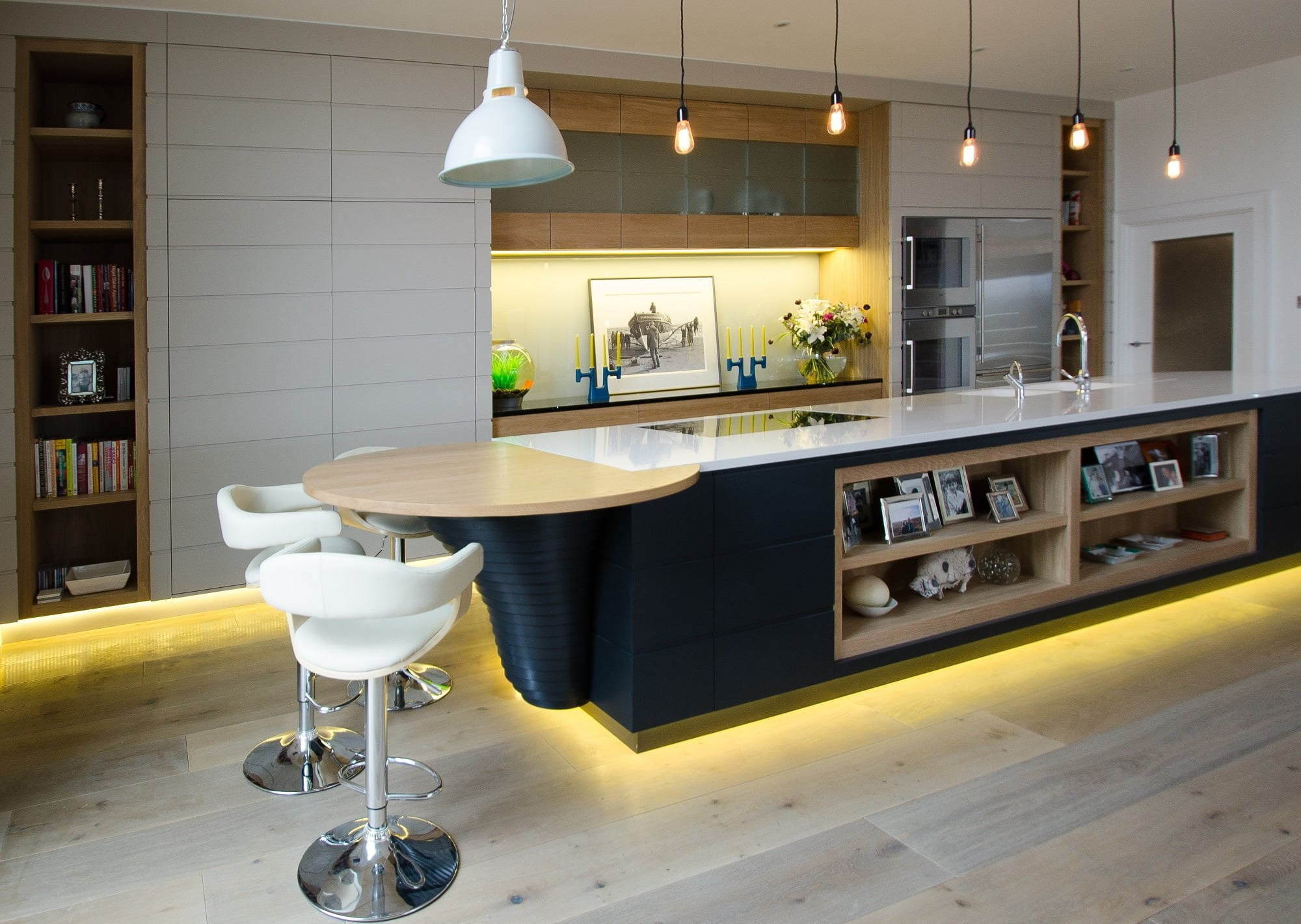 Source: The original source is not available anymore.
You may want to consider how you will illuminate your kitchen when it is off duty. An interesting trend in kitchen illumination is the use of soft lighting underneath the cupboards and even occasionally under counters. Try it for an artistic touch with only the flip of a switch. You'll have enough light to prepare a midnight snack or to fetch a glass of water in the evening without having to turn on the bright lights. Soft glowing light beneath your island bar will showcase your carefully designed workspace.
27. Choose An Island That Makes A Splash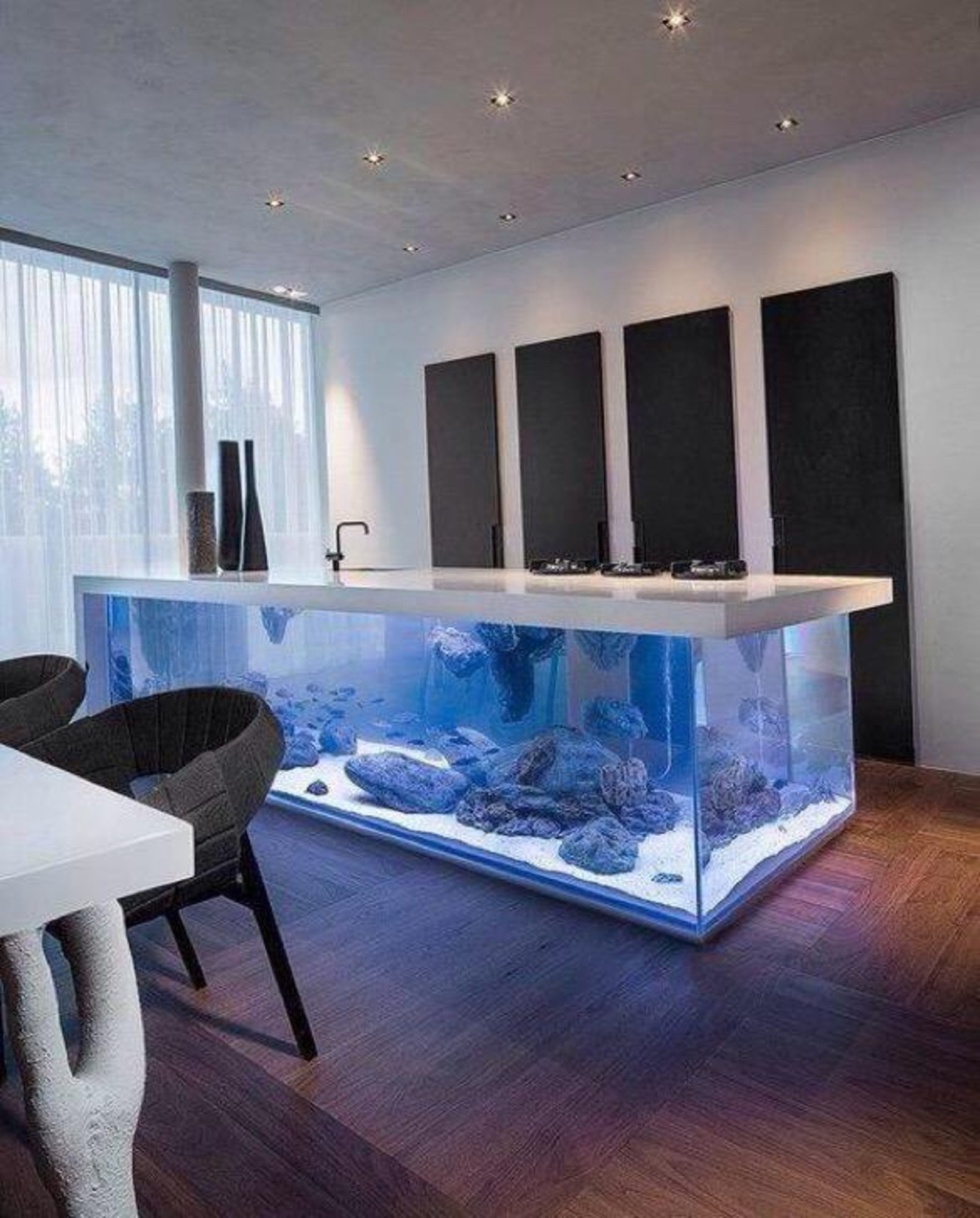 Source: The original source is not available anymore.
Do you have an affinity for nautical things? Then take your kitchen style up a notch with an aquarium island design! This clever design makes caring for your live fish hassle-free. Simply press a button and watch the counter lift. While it appears to be an oversized aquarium it is actually built in an L-shape. There is ample storage tucked around the back and out of sight. This statement piece is both fun and functional.
28. It's All In The Details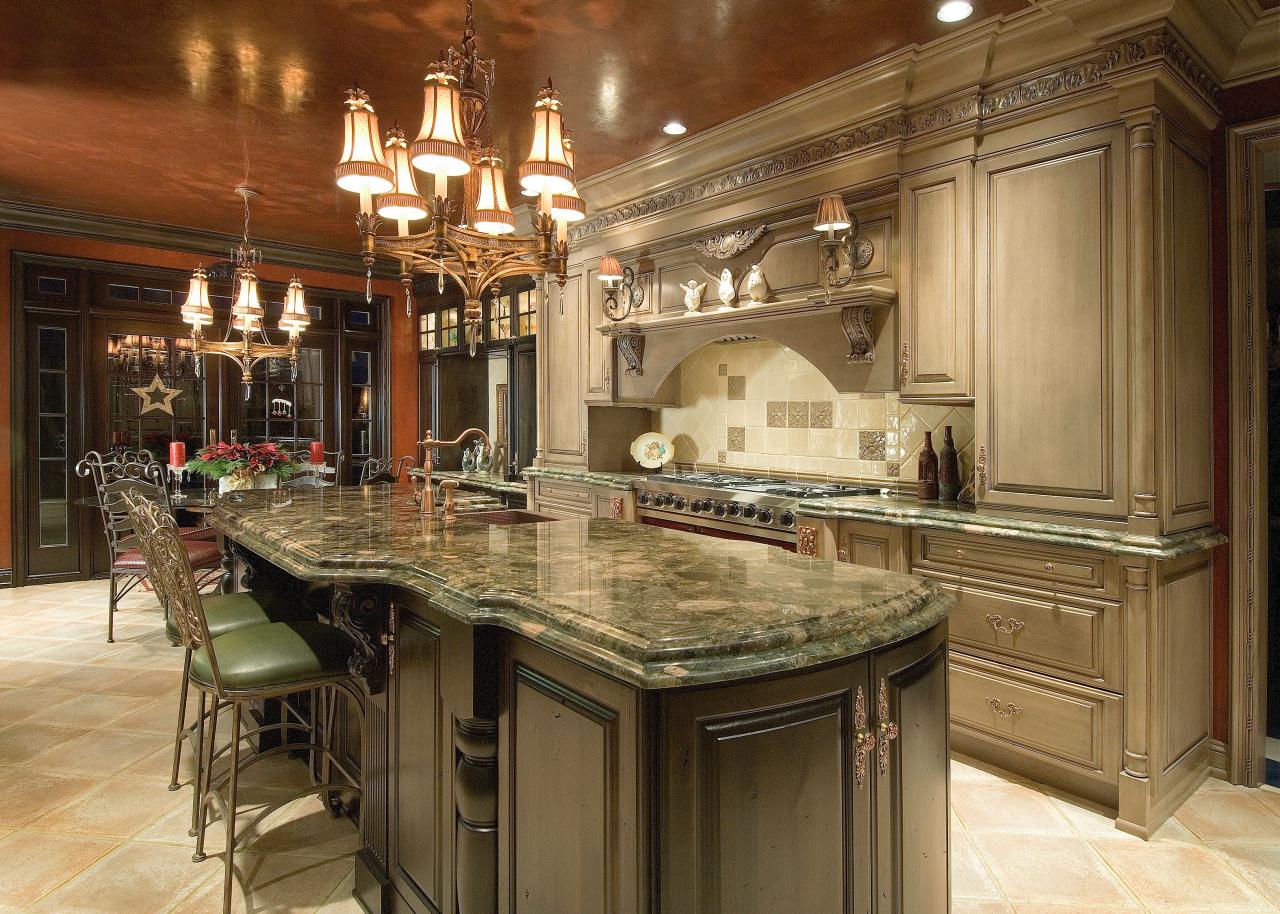 Source: The original source is not available anymore.
Traditional kitchen design pictures like this one speak of elegant attention to the small things. It is the details that breathe life into this style. You will see precious little that is streamlined in this space. Instead the designer has made ample use of shape and form. From the faucet handles to the cabinet hardware and even to the beveled edge of the countertop this is pure classical design at its finest.
29. Kitchen Design Tips For The Galley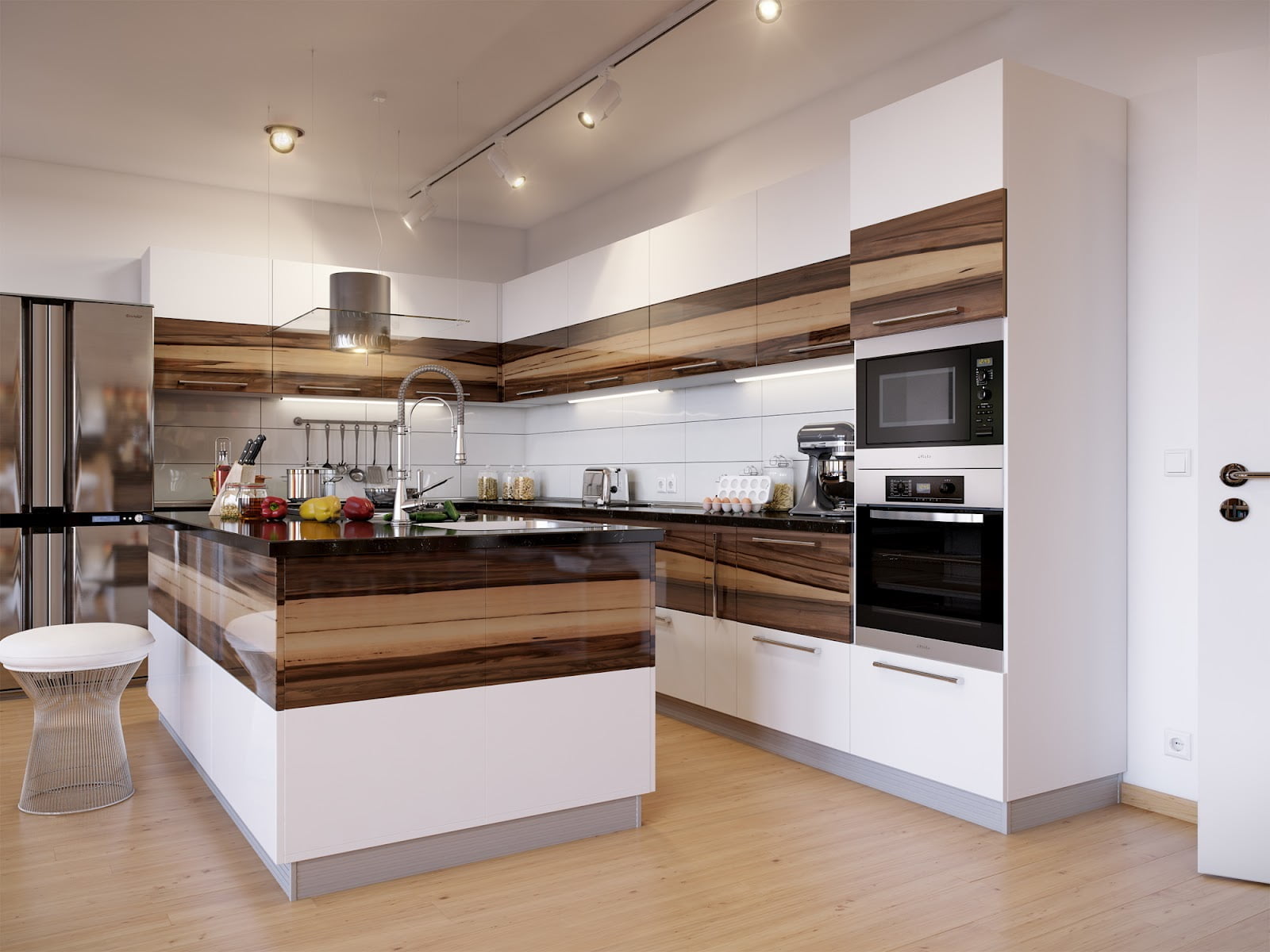 Source: The original source is not available anymore.
By definition a galley kitchen is small and rectangular. With less space on the floor you may want to make use of higher stacked cabinet options for storage. When the design is more streamlined and open it will create a more airy feel. The same is true with lighter colors but don't be afraid to incorporate some contrasting darker hues. The use of horizontal lines will create a lengthening appearance on a short island bar such as the one used in this kitchen design image. LED track lighting gives the capability to splash light onto the glossy finishes all around this kitchen and it draws the eye up.
30. The Rustic Appeal of Cherry Wood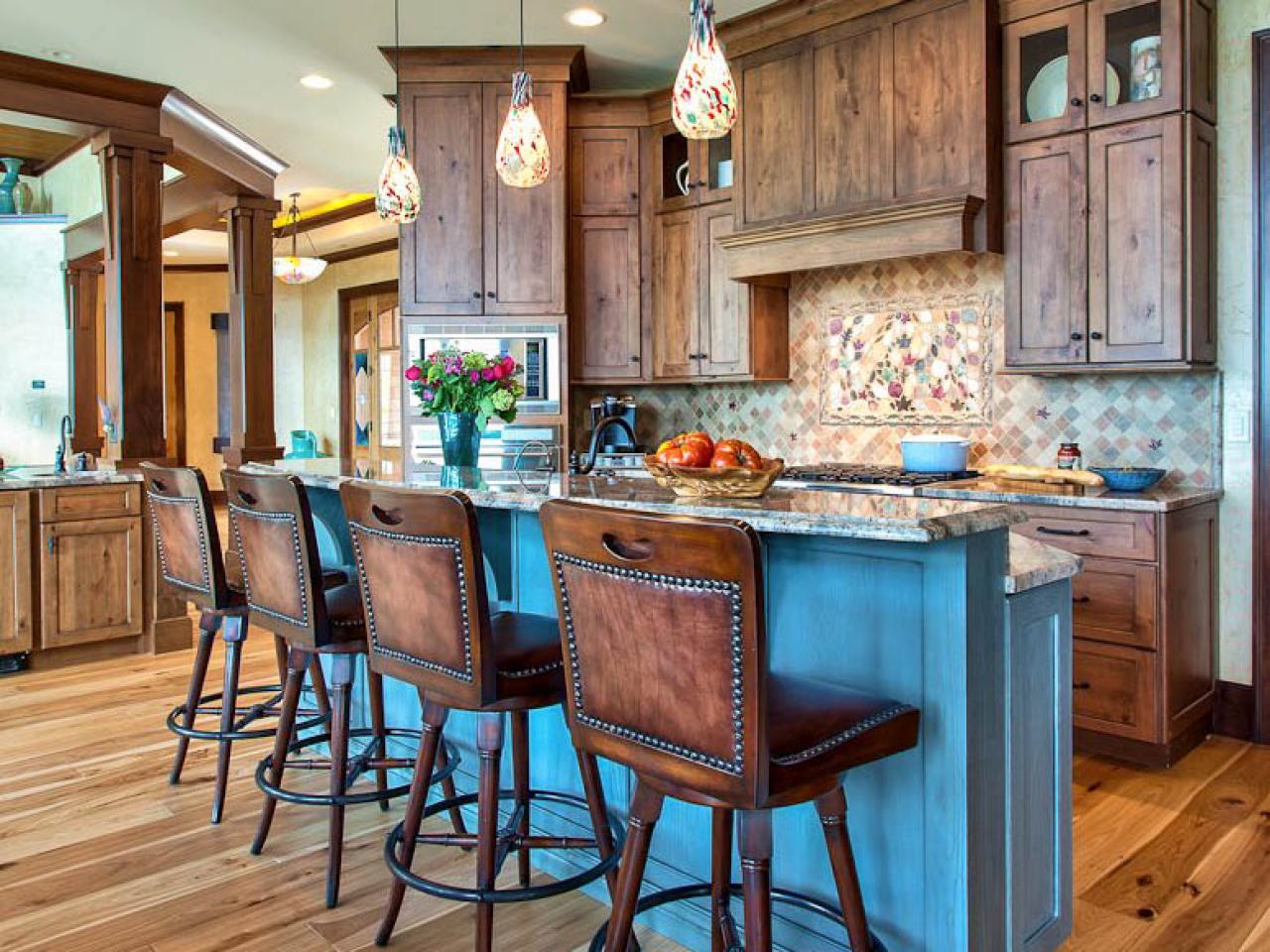 Source: The original source is not available anymore.
This kitchen island with seating comes to life with the snap of turquoise. However, it is the echoes of the cherry tones from the cupboards in the leather bar stools that truly anchors the rustic appeal in this setup. The strength of a granite countertop is the perfect choice. Pendant lights pull the colors together in a delicate yet coordinating fashion – the perfect kitchen island lighting. When lights like these are wired to a dimmer switch they will easily transition the atmosphere from an everyday bright to one of rustic romance.
31. Simply Spunky Kitchen Island Idea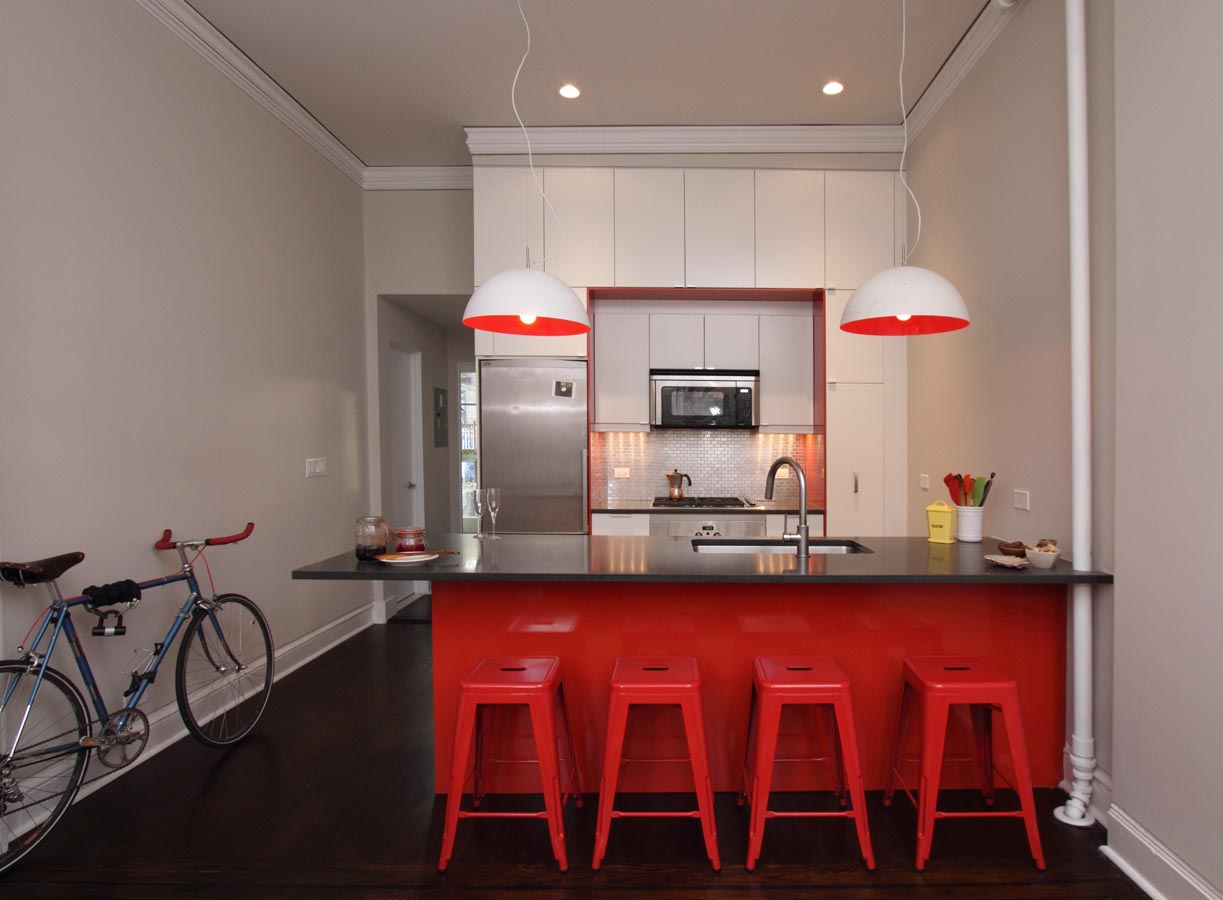 If you have a tiny kitchen it is easy to take it in the style direction that you desire. This simplistic kitchen's bright red accents give it spunk while the black marble countertop and white walls lend a grown up vibe. One great front-and-center statement like these hanging dome lamps above the island can pull it all together and clearly shout out your unique decorating style. You'll notice that the red stools match the color of the island behind them. In a larger kitchen a contrasting color may have been used. Here the oneness that is created by matching gives less color clutter and a more open feeling.
32. Quirky Kitchen Island With Seating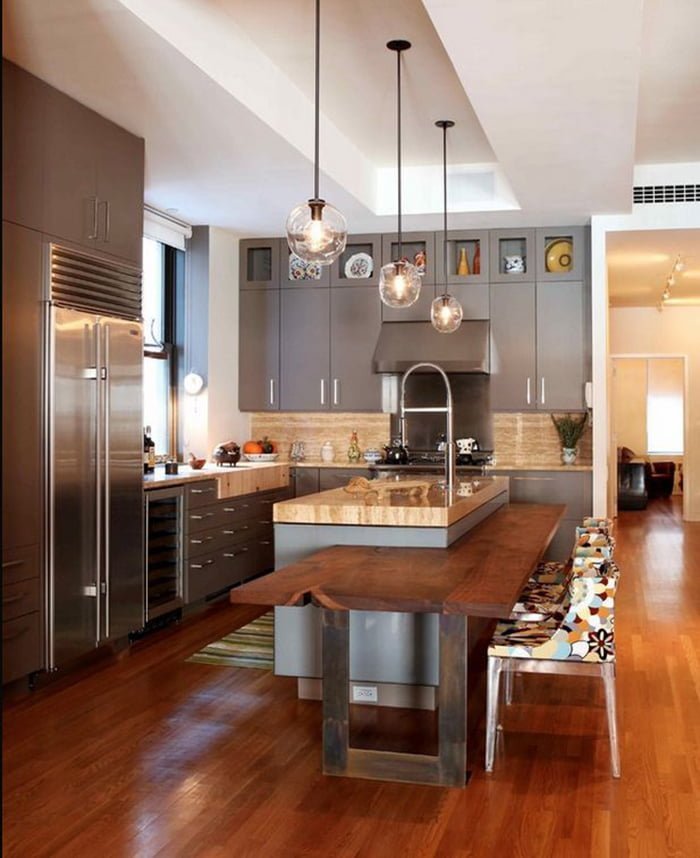 Source: The original source is not available anymore.
This setup is so unexpected and fun! Using a lowered kitchen island table and soft chairs evokes a more relaxed and comfortable feeling. The repurposed and worn look of the table keeps the design from becoming stiff or formal. The fabric pattern on the chairs ties together the established colors of the room with the more unpredictable vibe of the table.
33. A Muse From The Past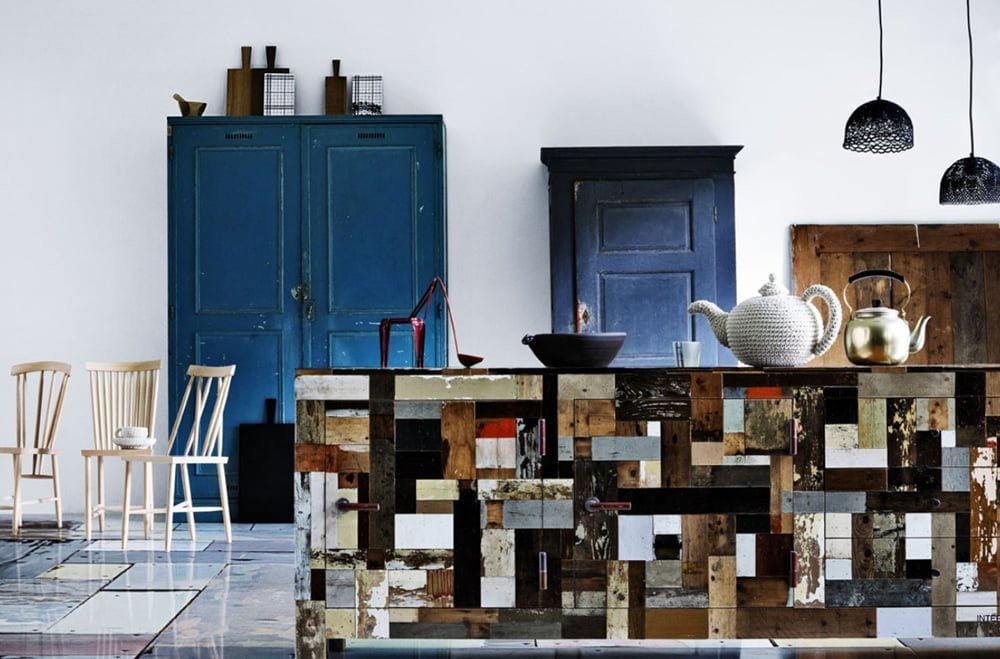 It can be fun to research the styles of other lands. It may be that your family heritage will offer clues to your design tastes! The elegance of French design is well known and the bold tribal vibes of African themes have often been used to great effect. But perhaps you will fall in love with the more stark Danish style which often contrasts dark objects with lighter settings as in the kitchen design picture above. Investigate the enlivening colors of Ireland and consider adding them to your kitchen palette and you might be surprised how much more "at home" your kitchen will feel.
34. Giving Your Appliances A Home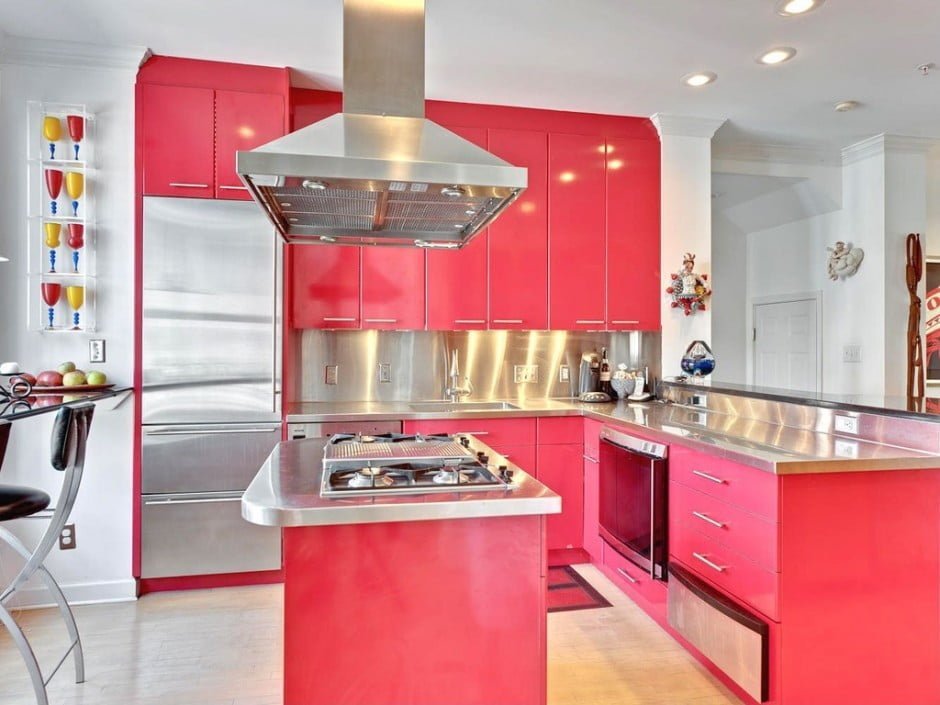 The placement of your built-in appliances is of primary importance. This comes back to the idea of work stations in your kitchen design. For example, you may wish to place your stovetop on the island in your kitchen. This would be an excellent choice if you enjoy cooking in front of your guests as they sit at the bar or if you find a gorgeous stainless steel range hood that you'd like to use as the primary light over your workspace. The daring hot pink with stainless steel look in this image is only carried out by the thoughtful placement of quality appliances.
35. South Beach Flair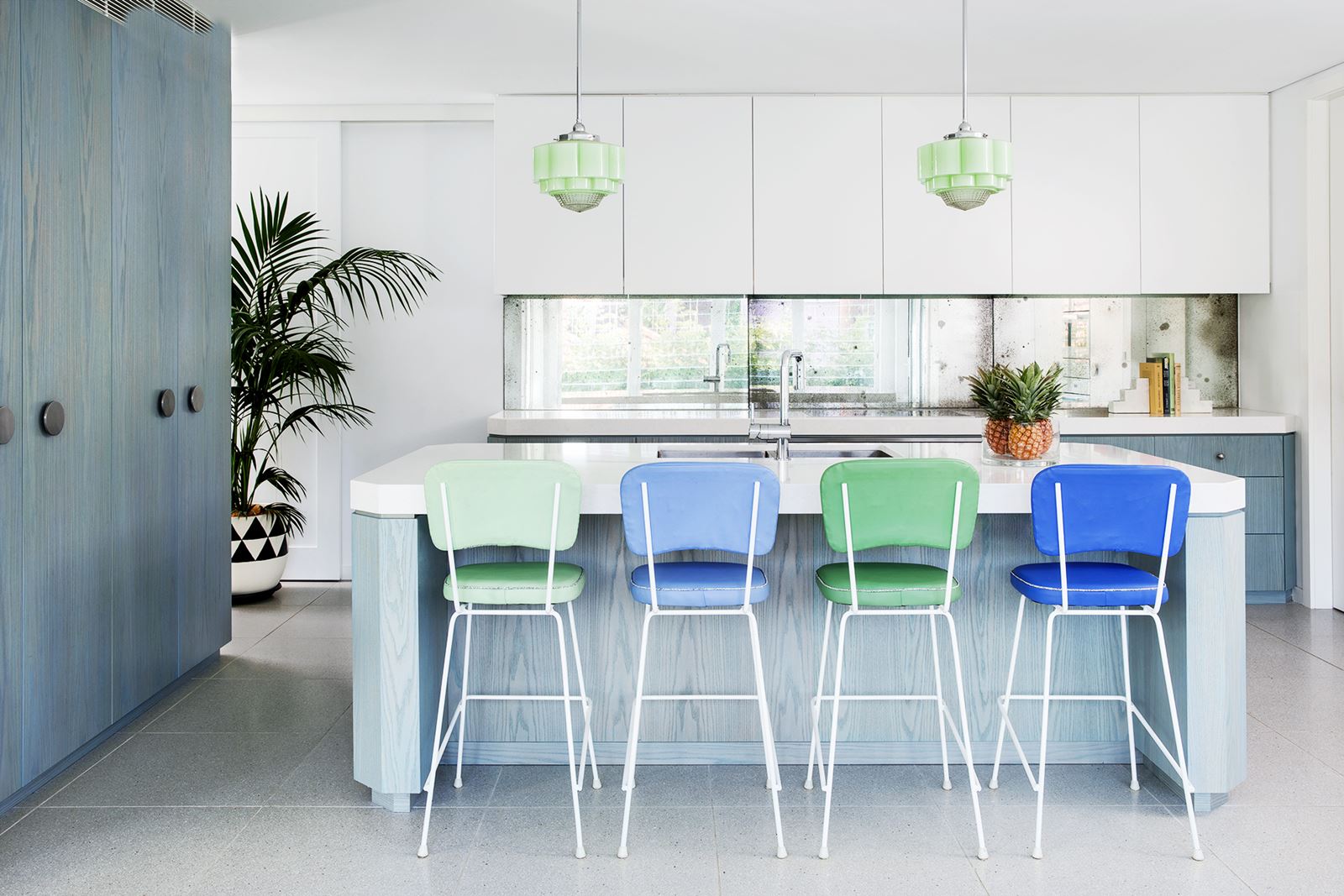 Source: The original source is not available anymore.
The retro of Miami Art Deco is still stylish. Give your kitchen a fresh and peaceful air by using a scale of colors throughout your space. Begin by choosing a solid color and slowly scale back the strength of that color throughout your space. Notice how this kitchen design idea brings an invigorating pop of color to the tranquil scene. Congratulations, you have added the chic look of ombre to your kitchen! The graceful lines in the American oak on the island and cupboards is not quite covered by a light blue wash of paint.
36. Canary In A Cage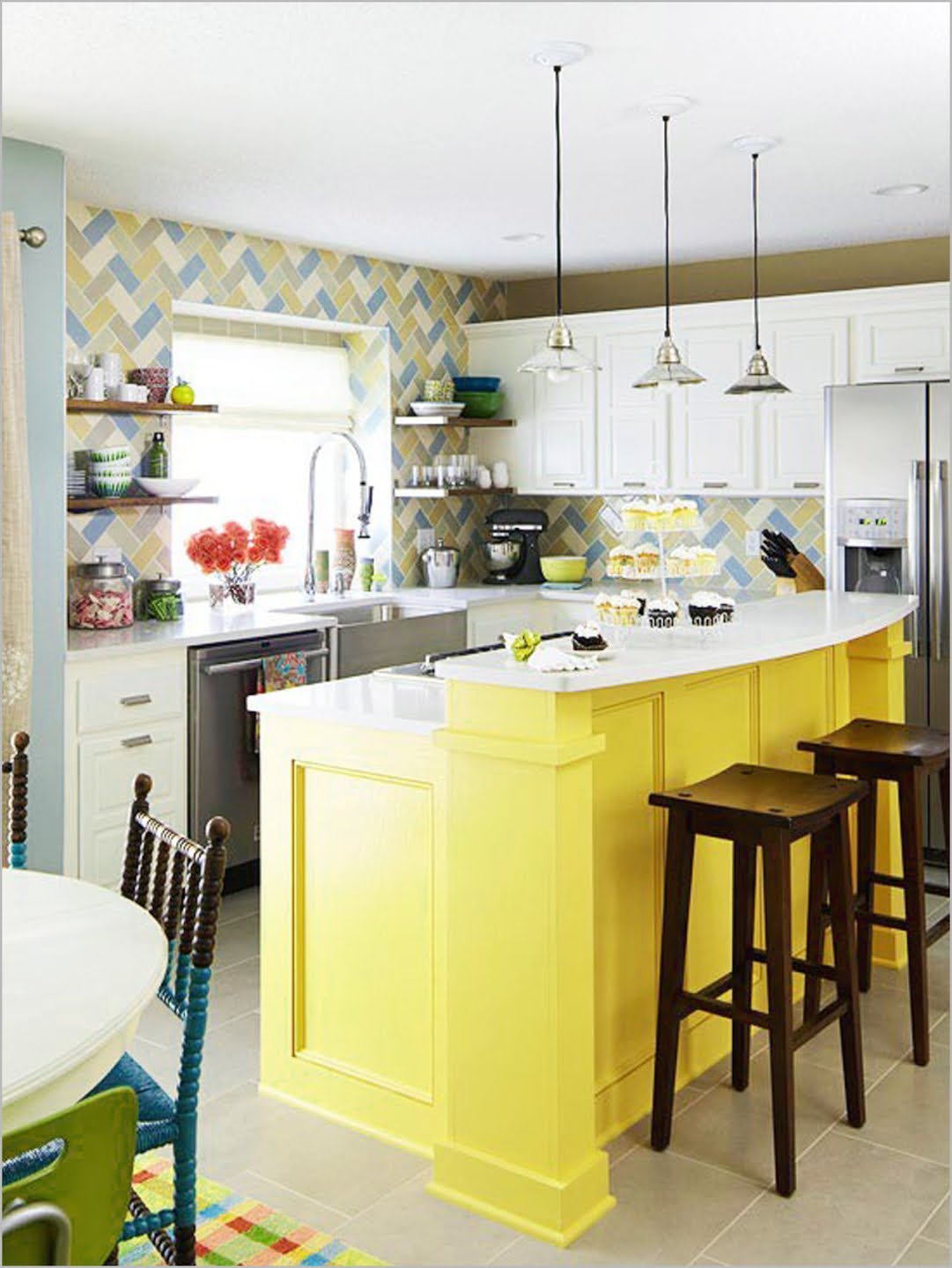 Source: The original source is not available anymore.
Sometimes your kitchen may feel like a tiny cage if you have big ideas and only a little budget to work with. Optimism will take you far though. Even the little yellow canary in its cage will sing! Ask yourself what would give you the most oomph for your money. Do you really need to update your island? Maybe just a fresh coat of paint would give it new life. If you choose colors that are trendy and suit your tastes you might be surprised how updated your island will look!
37. Running In Circles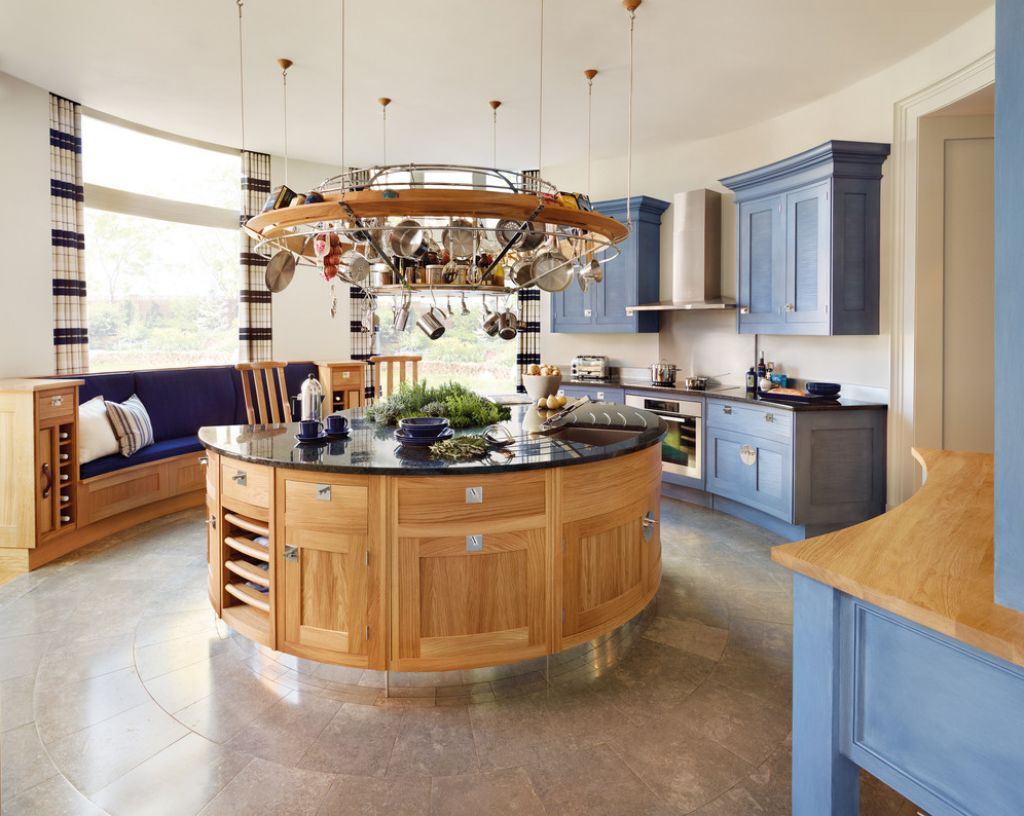 Source: The original source is not available anymore.
Few kitchen island ideas are more unusual than the circle island. It is wise to consider carefully before working in a circular aspect to your space. A circular island will be harder to fit with appliances such as a stove or dishwasher. Even a normal sink shape would clash. You will likely also lose out on counter and shelving space if you round off your island's edges. If none of these considerations are an issue in your kitchen then a circular island may be right for you.
38. Glass On Top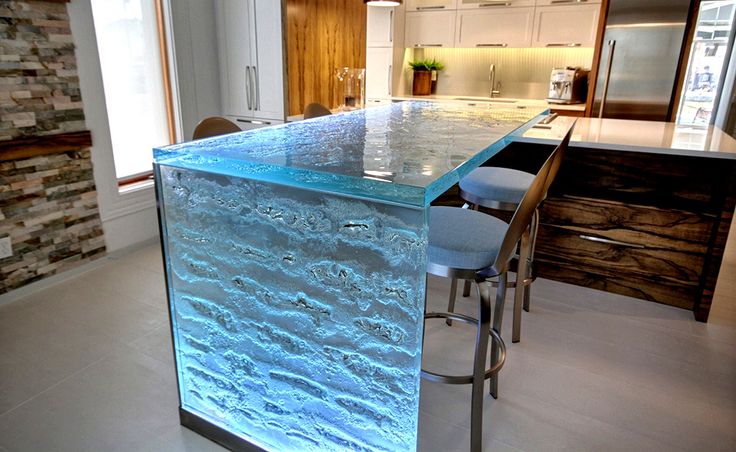 Source: The original source is not available anymore.
There are so many reasons to love glass! Glass can give a stylish glossy finish to your counter. A translucent piece will also take on the sheen of the surface it is placed over. You can choose from different textures to give depth to your kitchen island ideas. On the other hand, if you have small children you may not wish to use glass. Just as with a window, little fingers on glass make fingerprints. Scratching is also a concern with glass countertops. You'll want to carefully consider the needs of your family before choosing glass.
39. Back To The Basics With Marble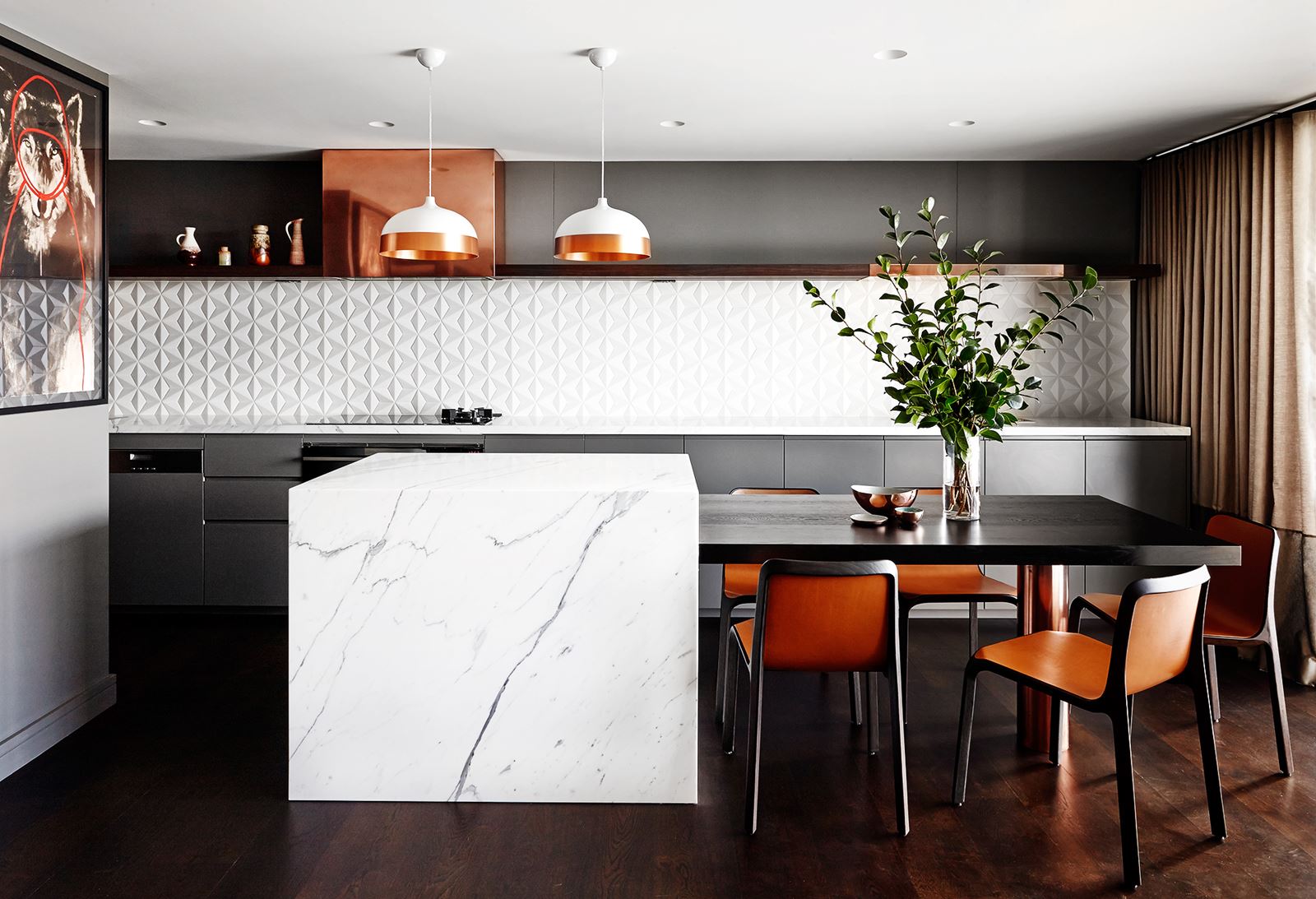 Sometimes a body just needs to return to the most basic form of a thing. There is something so very luxurious about primitive shapes made from quality materials. The large veins running through the opulent white of this countertop are distinctive of Italian Calacatta marble. Calacatta can work well with both cool and warm tones. If a smaller vein were desired Carrara marble is another beautiful choice. The stark whiteness of this island against the black depths of the room show off this piece to its greatest advantage.
40. Don't Forget The Power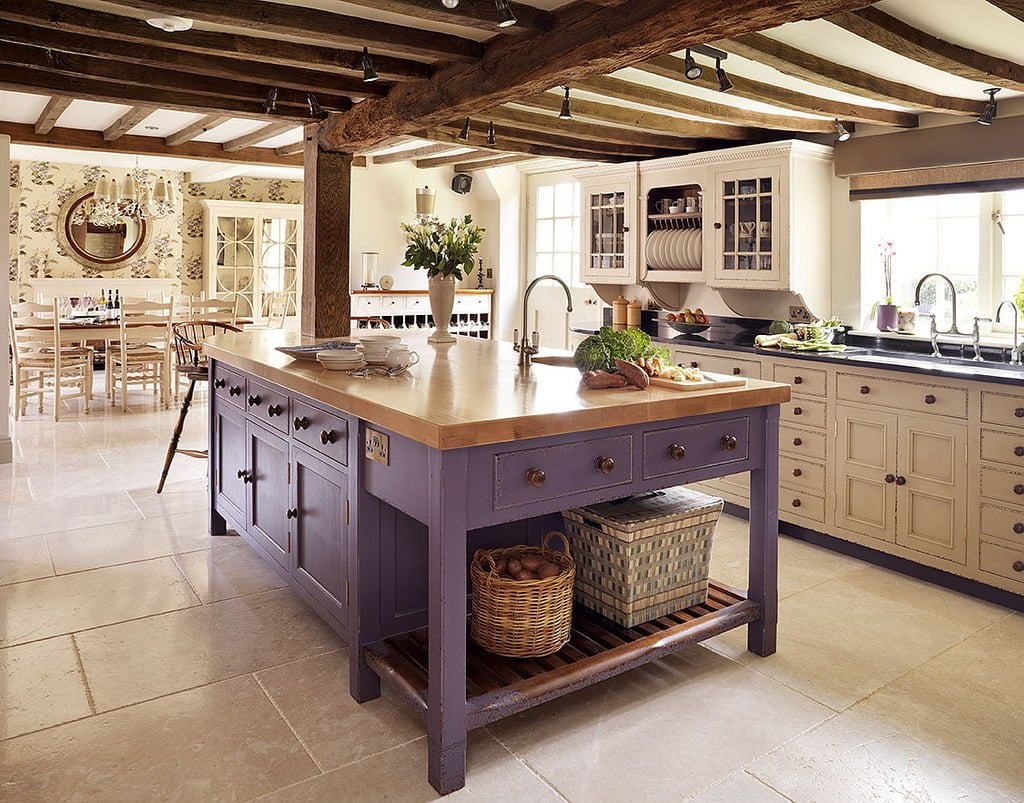 Source: The original source is not available anymore.
When you are fine-tuning your kitchen design idea be sure to include ample electrical outlets in the plan. It will take extra work and time to install extra outlets but it is essential if your island is to be truly usable and not merely decorative. When you plan your work stations around your kitchen you'll especially want those electrical sockets near your baking and blending areas. Also keep in mind fixed homes for appliances you're likely to keep on your counter such as your coffee or espresso maker. Planning with these things in mind will likely save you much hassle in the long run.
41. Kitchens Aren't Just For Girls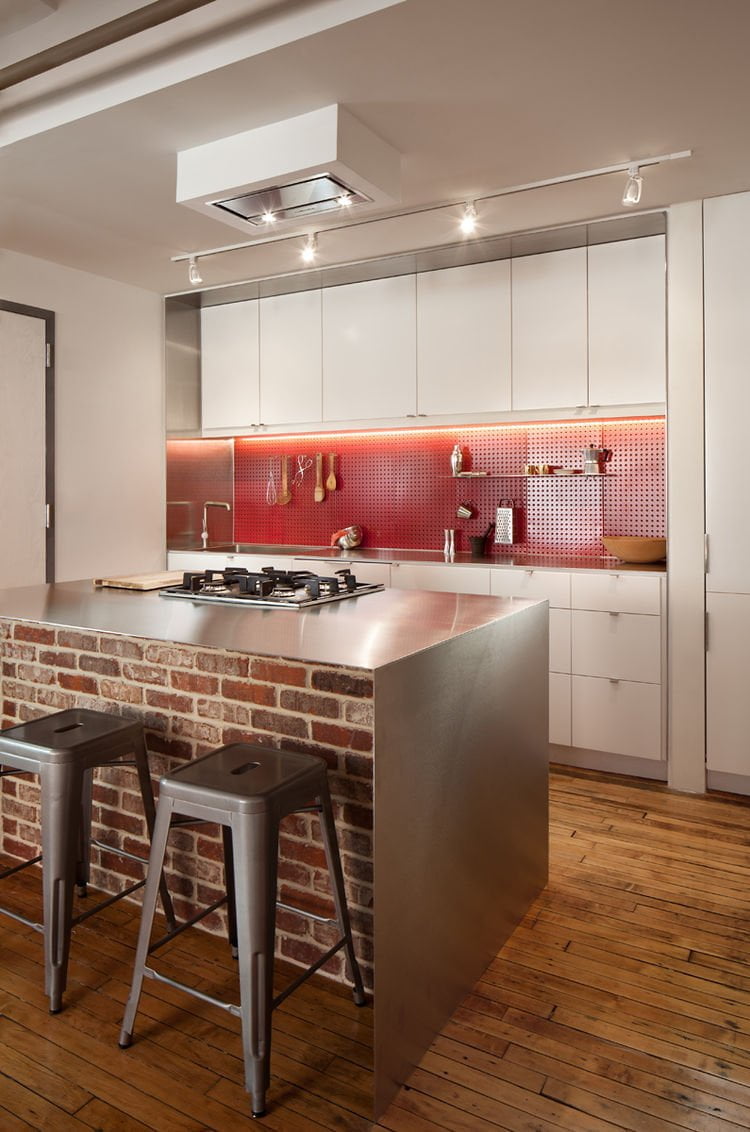 Source: The original source is not available anymore.
There is no reason that a kitchen has to be a floral and feminine room. The primary kitchen design tip you'll want to keep in mind is that you're kitchen should suit you. So if you are a man or if you are simply not drawn to some of the more feminine trends and kitchen island ideas – skip them!
Consider this red brick island with a stainless steel top. It's like something you would find in a truly manly space, yet it is a clean and attractive surface with industrial flair. Even kitchen island designs can have masculine overtones if that is what you are going for.
42. Seating That Steals The Show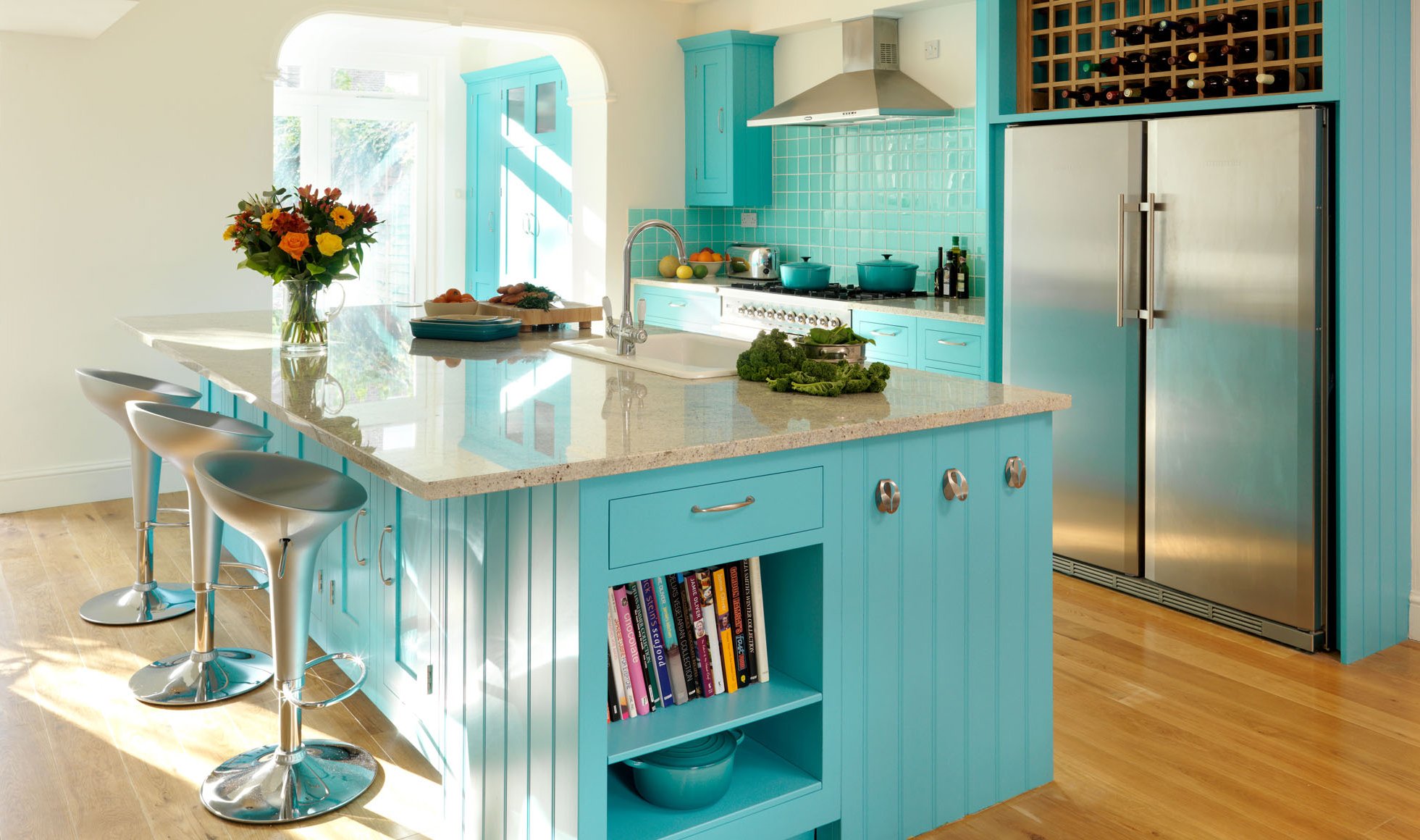 Source: The original source is not available anymore.
Use your own kitchen design ideas to create a truly beautiful and functional island. It will be a joy for years to come. When you have a kitchen island table you will naturally also want to buy the perfect set of chairs. You'll want to consider comfort firstly. Make sure you have a comfortable seat to sink in to while you wait for the water to boil.
Now take into account issues of style. Shape, color, texture and design are all important. If you find the perfect seating before hand you may even want to design your kitchen island with that in mind. Kitchen design photos like this one make it clear that the right set of gorgeous coordinating stools can set off your island perfectly.
43. Kitchen Charisma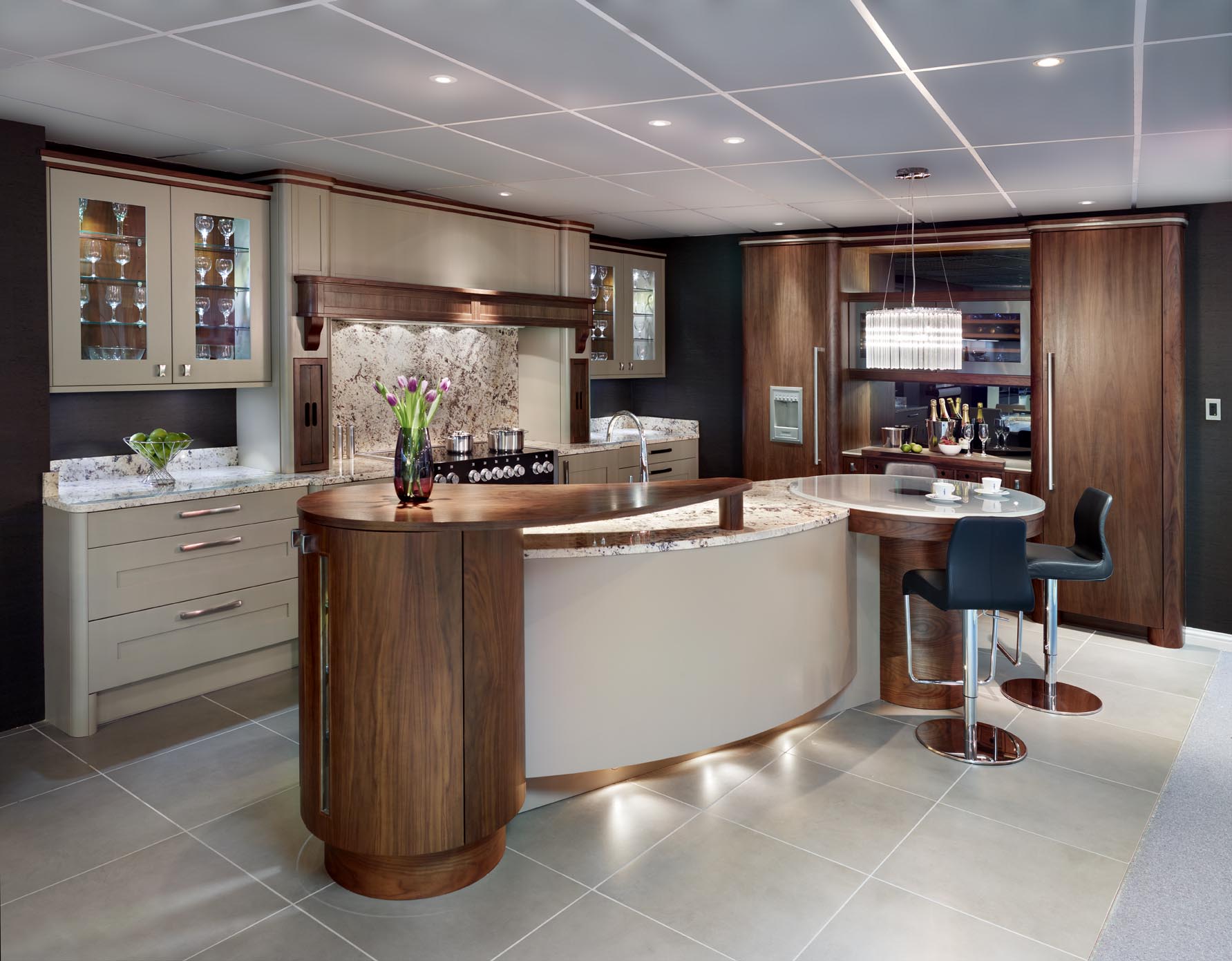 If you want a remarkable island that is a cut above the norm try layering counters. When this technique is executed professionally it will yield stunning results. If you can mix wood with marble or glass for your countertop you can enjoy the best of both worlds. The beauty of the stylish yet more temperamental glass will be supported by the solidarity of marble or wood. Warm tones such as the rich walnut used here can add a great deal of depth to the colors and atmosphere of the island in your kitchen.
44. Why The Sink?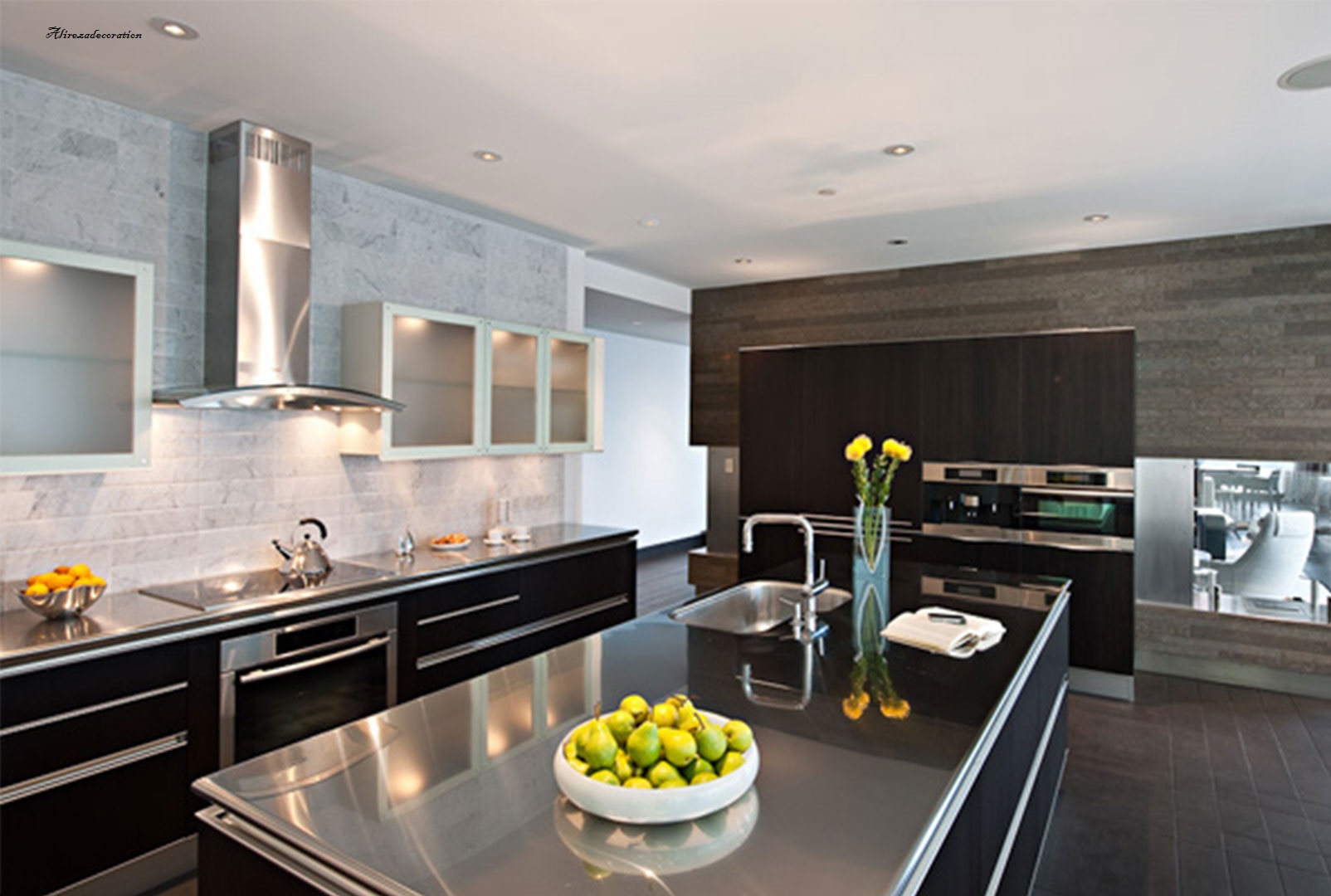 Source: The original source is not available anymore.
Another kitchen design tip: You do want a sink in your island! Stop and notice how many times there is a sink on the island in the newest kitchen design images. You will notice that there is nearly always a sink right in the middle of the work space. Occasionally there will even be two sinks in a large kitchen. This is an incredibly useful design because it brings the sink where you will need it! You will be scrubbing vegetables, filling pots with water, rinsing dishes as they are passed across the island to the very convenient location of your island sink. You may also note that some faucets have such lovely fixtures that they are not unlike an ornament on your counter.
45. French Country Charm Kitchen Island Decor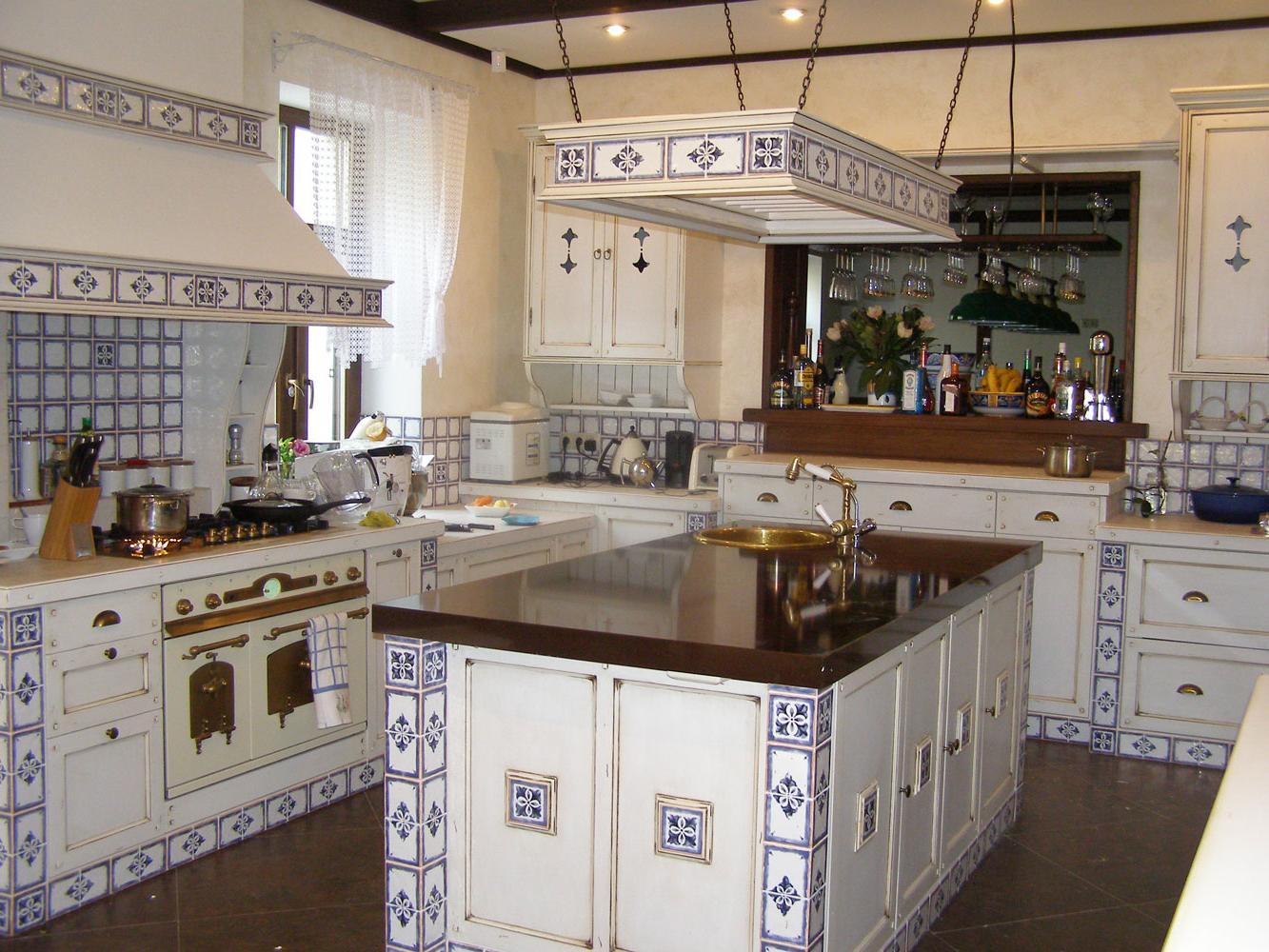 Source: The original source is not available anymore.
Kitchen island designs and inspirations from French styles abound. And for good reason! This Provencal island is elegant with its trademark cream and muted colors. The dark wood counter beckons one to roll some pastries and the golden prep sink gives one a sense of luxury and ease. The tile on the island and hanging rack call one to the fresh country air and a slower pace in life.
46. Modern Natural Kitchen Island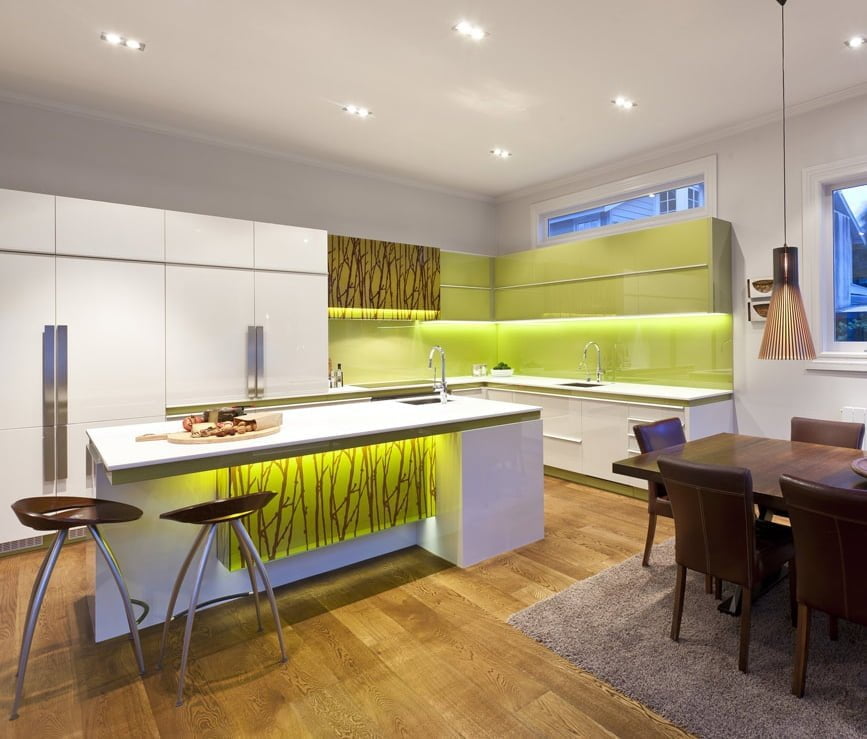 This fascinating kitchen evokes the feelings of seeing the green of spring glowing on the bare sticks of trees at the end of winter's whiteness. The light is often used masterfully to play up kitchen island designs to their best advantage. You will notice the unusual L shape of the island and the way that it extends the usability of the work space while creating a more snug seating area for a few chairs. One of the finest qualities of modern design is its nearly startling lack of clutter. There is room for reflection and creativity with modern kitchen design ideas.
47. Light From Within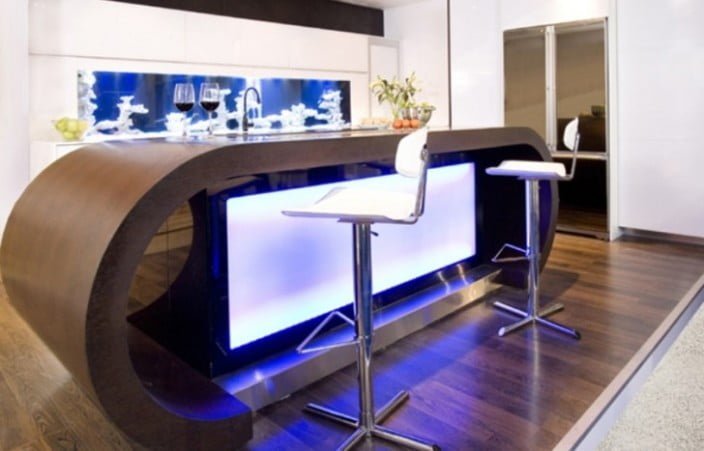 Source: The original source is not available anymore.
Yet another kitchen design image to inspire creative lighting on your individual space! Planning lighting under an island kitchen table can truly be a spectacular idea. The right set of lights can take your stylish piece over the top. Do not hesitate to turn the spotlight on in your kitchen – particularly if your island has an unusual shape or details that you wish to accentuate. There are many kitchen design ideas on the internet that include lights under the seating area of island tables. When you turn the lights on your unique design remember that you are showing a little of your own true self.
48. Let's Be Perfectly Square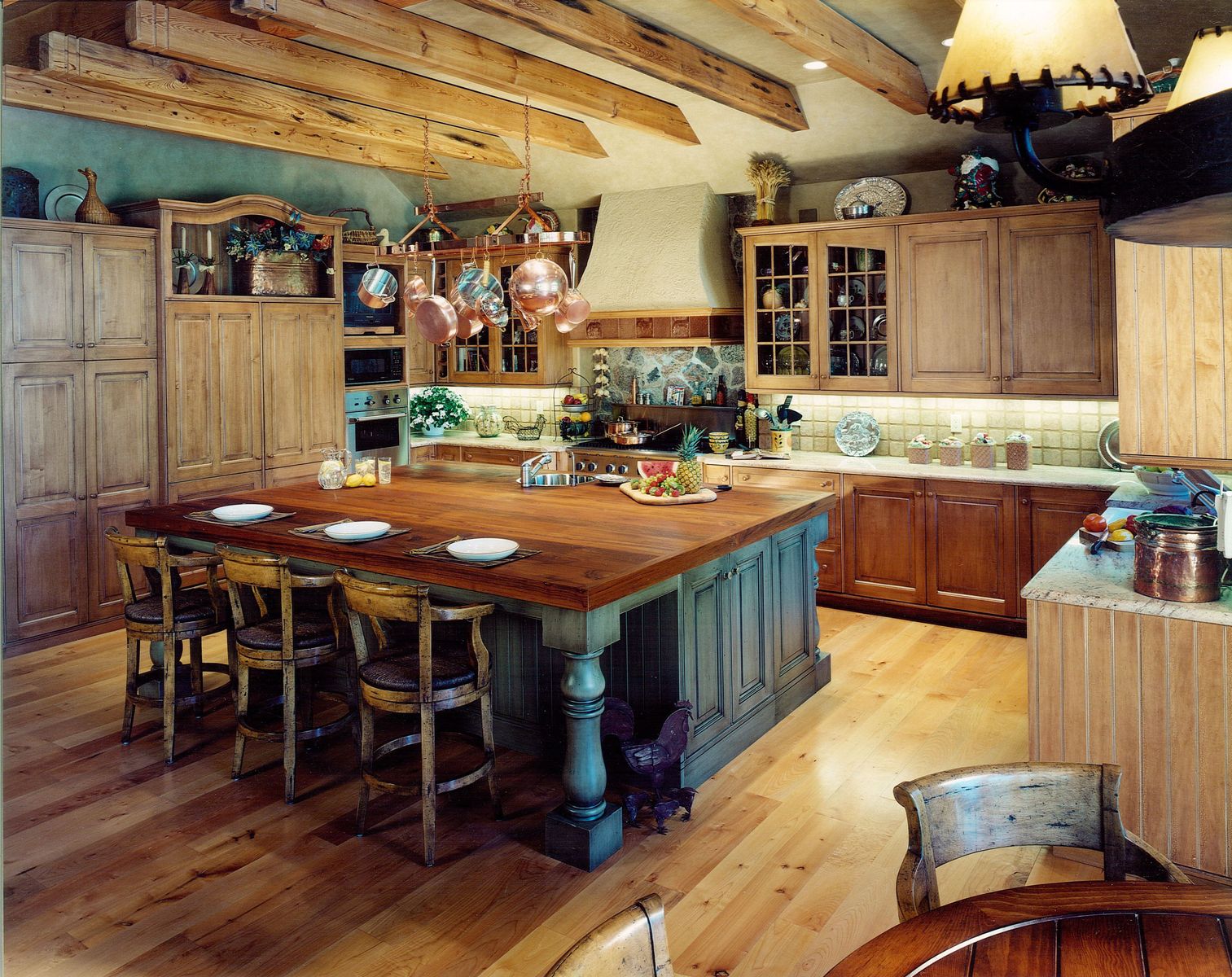 Source: The original source is not available anymore.
This square island appears to be a table at first glance. The turned table legs and the distressed wood contribute an air of humble strength. Primitive style wooden pieces have a beautiful realism to them and are a great kitchen design idea. The broad expanse of counter in the center of a square kitchen island would work well to serve food from. It could also effortlessly display a large lazy susan or a decorative arrangement with plenty of room to spare.
49. It's Not The Size That Matters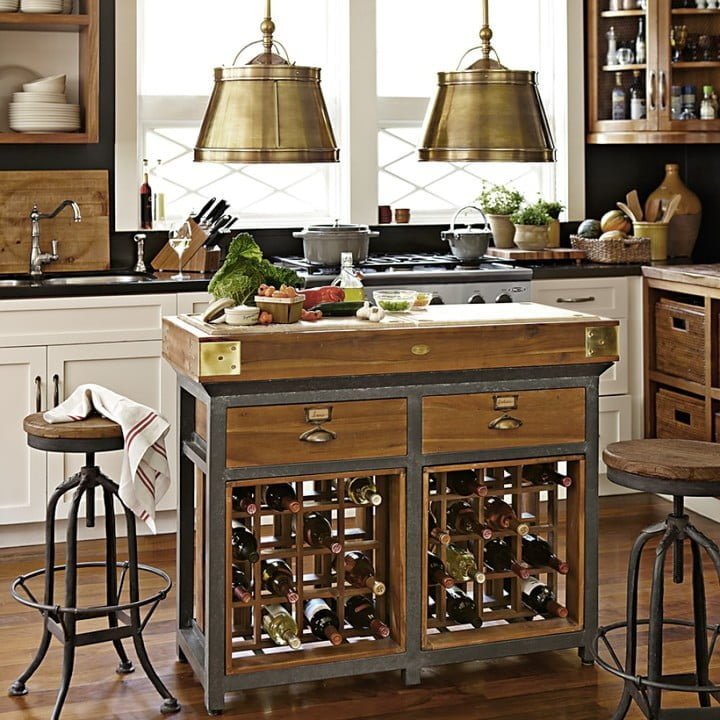 Kitchen island designs like this well built piece are worth so much. It provides a safe and sturdy place for meal preparation and stores wine right within arm's reach. Rubberwood on the butcher-block counter top is a durable choice. When you plan with quality in mind you can rest well knowing that it will last through the years. Brass corner braces and drawer pulls deliver timeless French style. A small piece like this could easily be fitted with wheels and become a wonderful rolling kitchen island.
50. Thriller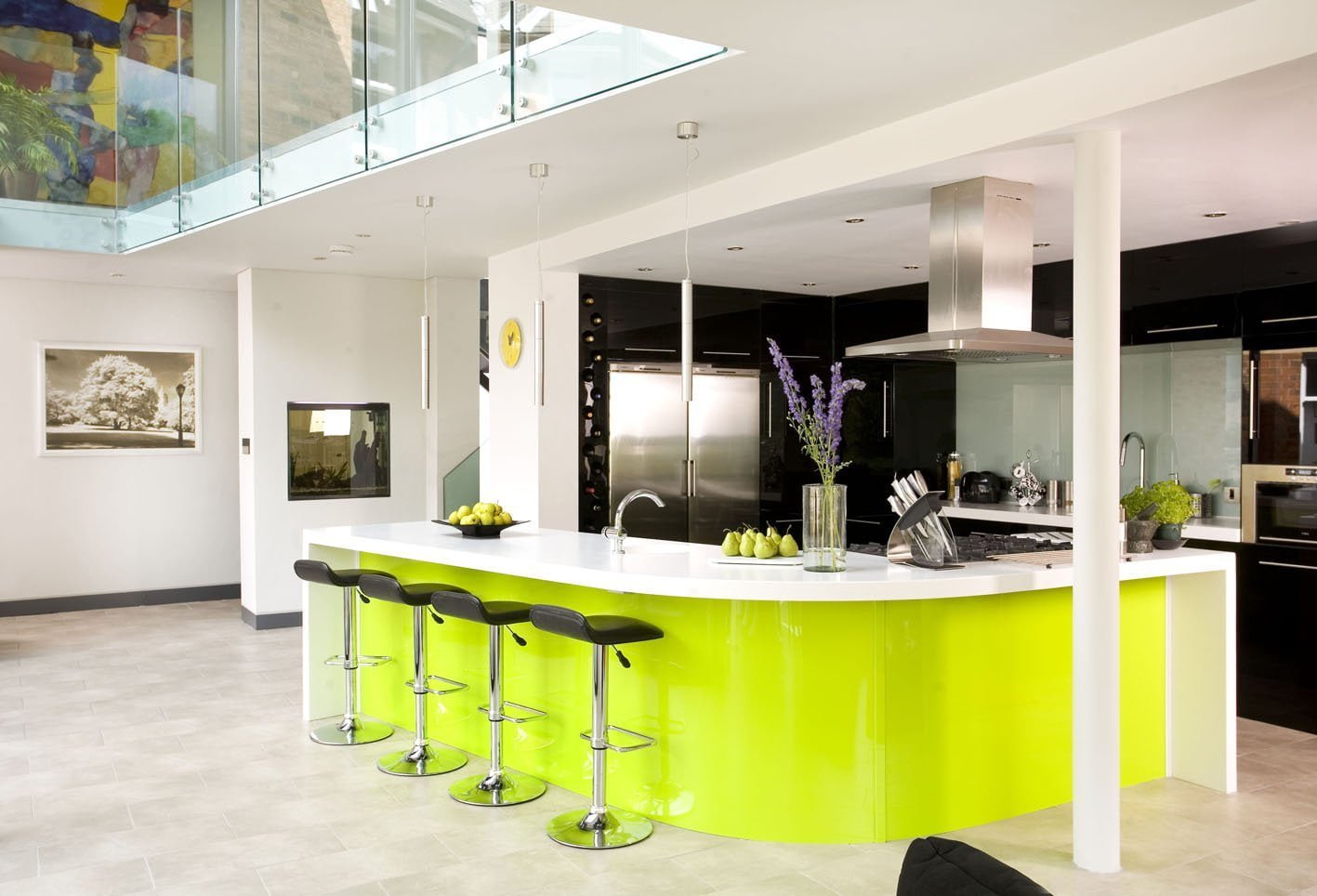 Exciting color is a sure way to get your island noticed. A kitchen design tip to remember: When clean neon color is paired with modern design it looks up to date rather than like a nightmare from the 1980s. This kitchen island is all in your face! Daring fluorescent green pops against contrasting black and white. This statement curved island changes from neon green to yellow as it curves around the modern kitchen. The air lift bar stools are classy minimalist with a sleek chrome base and black leather seat. Don't hesitate to choose strong colors if you truly love them.
Dream Up the Perfect Island
Of all of the kitchen design ideas that have been presented in this list the most important is to be yourself. Let your kitchen reflect your true self. Offer your best to the world, whether you are a flashy lime green personality or a graceful walnut stain sort of person. Don't try to make someone else's style work for you – make your own style! Take the time to find a designer or contractor who is committed to helping you to make your dream island into a reality. Difficulties along the way are only stepping stones to something better.
Create an island for your home that will draw your family and your guests together over delicious food. Give each one a job to help get the meal ready so that they will feel wanted and needed in the family kitchen. Serve a hot meal at your convenient island table with seating. Eat and laugh together. Enjoy every step along the way and may you love living with your island design happily ever after!