If the kitchen is the heart of the home then the island in your kitchen is your home's heart of hearts.
A kitchen island can take many forms, but has at its core the concept of a central location in the home where faces are turned together and magical memories are formed. Utility and satisfaction meet across its varied surfaces as the preparation of food and the enjoyment of the subsequent meal often merge and become blurred together. Conversations are fostered and relationships nurtured in the hours spent lingering in the contented glow of a hearty meal. After the dishes are cleaned and put away, often at the built-in sink and cabinets, the island becomes a game table. In short, it is a social hub.
When you have an island in the center of your kitchen that is right for you and your lifestyle you will wonder how you ever functioned without it!
So enjoy this list of 50 kitchen design tips for the year and you just might be inspired to create the island of your dreams!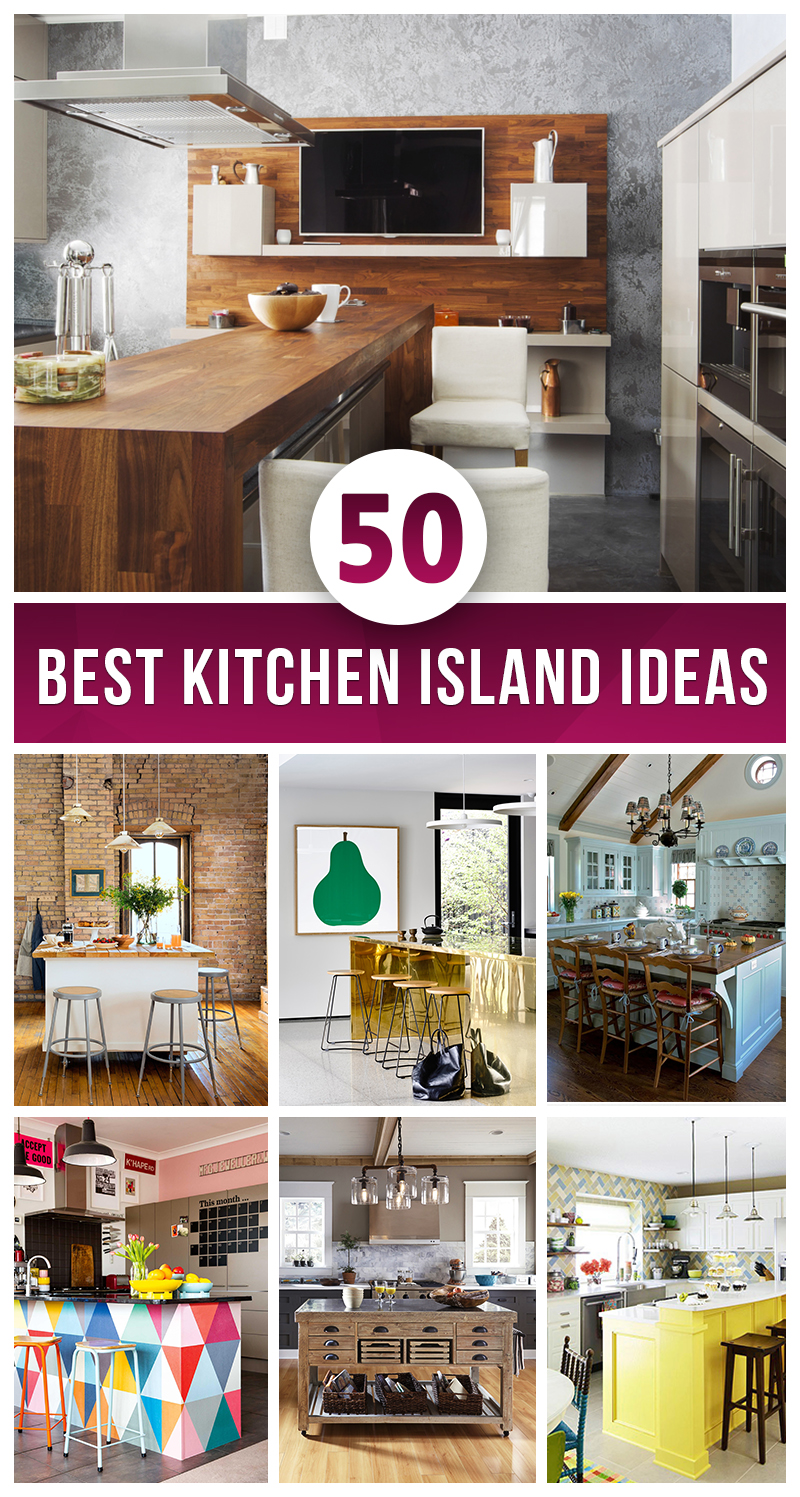 Kitchen island lighting is highly customizable and you will surely find just what you are looking for, whether it is LED track lights or dazzling pendant lights.
A well planned island can help you to be more organized and efficient in your kitchen. It can be as simple as a small rectangle counter on wheels with a couple of drawers to extend your workspace or your island could be so big that it is the biggest and best thing about your kitchen. An island can be outfitted with a sink or a stove top where you can work while chatting with family members.
Invest in a kitchen island with seating and your guests will have a comfortable place to sit as they help chop up veggies for their supper. Your children will have memories of watching you pack their lunches while they perch on the stools eating breakfast. The variety in kitchen island design ideas can seem dizzying at first glance. Remember that your decisions don't need to be based on what others have done – but instead on what your needs and desires are.
1. Perky And Playful Kitchen Island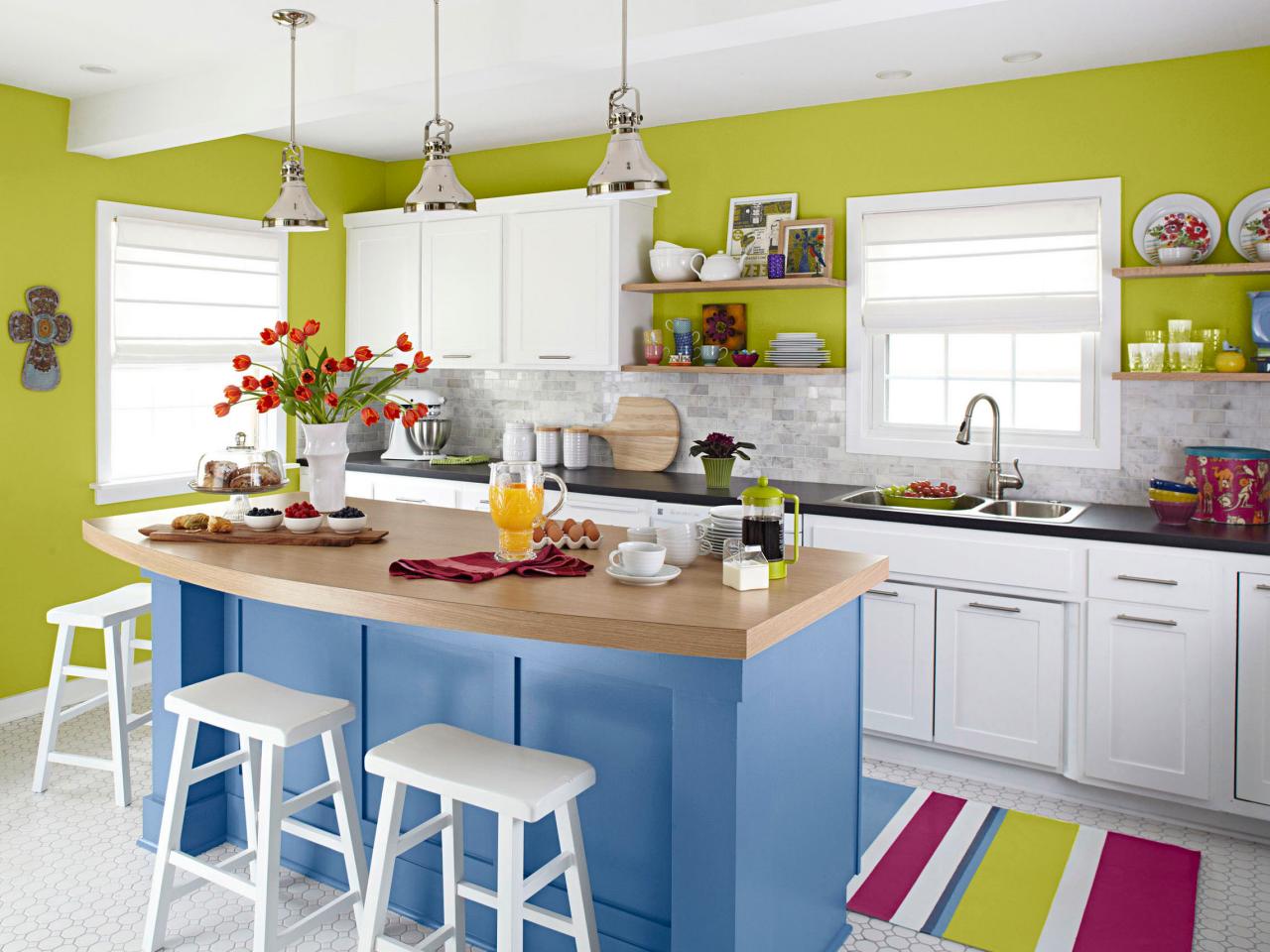 This kitchen design is playful and bright. The white stools clustered around the workspace beckon family members and visitors to lend a hand with food prep. The color palette is both grown-up and bold. The trendy hue of blue used to paint the lower portion of this island will stand up well to the wear and tear that comes with daily life. Notice how the countertop curves along the edge which lends character while softening edges and creating a customized look. The three reflective pendant lights keep things bright on the workspace where you need light the most. A kitchen island design such as this gives a playful air to the kitchen space.
2. Better Than a Sports Bar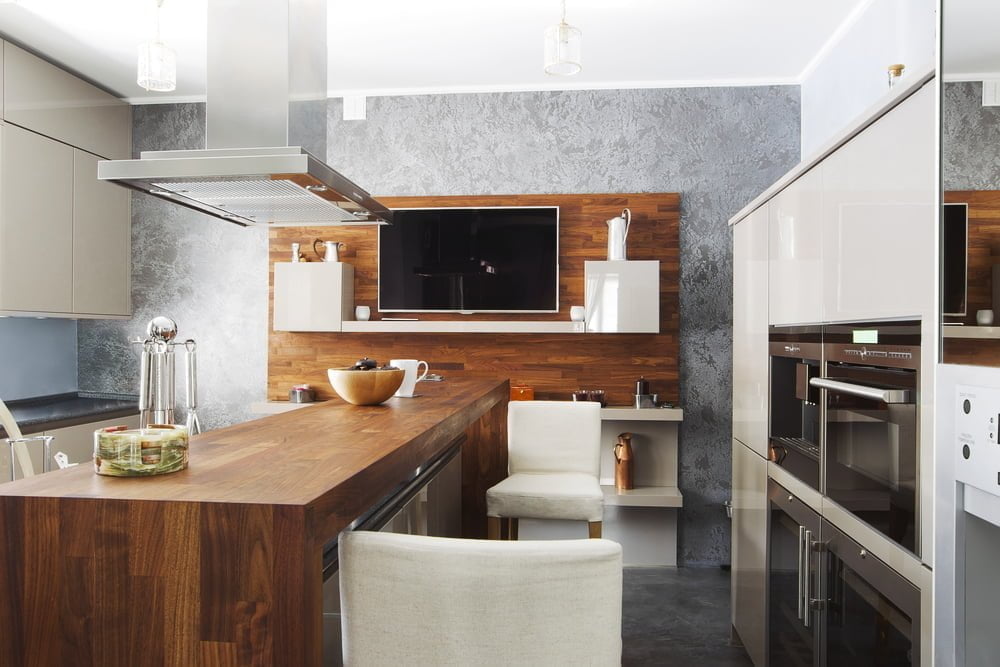 Texture is everything in this stylish kitchen. The eclectic mixture of gleaming stainless steel and crisp white paired with the gorgeous depth of dark hardwood makes the space feel masculine and modern. The length of this island causes it to function like a bar in the kitchen. The large television screen against the far wall carries on the feeling of a high-class pub. This island design would work well for a casual eat-in with friends or a more intimate date night complete with drinks prepared in house. The fabulous sheen of the dropped light fixture keeps the look understated and avante-garde.
3. Picasso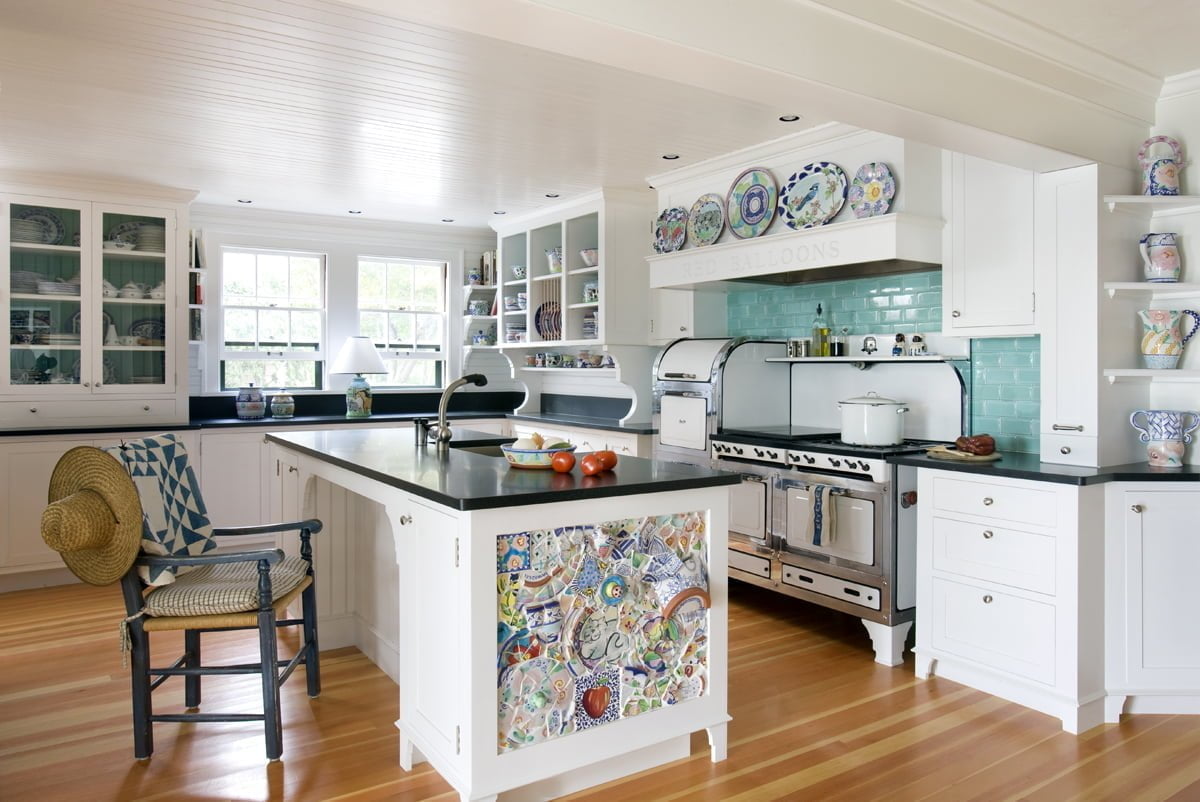 This kitchen design picture is so much fun. The size and shape of the island suit the size of the room and the pleasantly abstract end cap pulls all of the elements together with a certain transcendent flair. For a less abstract look, the end cap could be painted with a mural to complement the color palette of choice. The old fashioned cut-outs worked into the seating area of this island mimic the fun Picasso-meets-retro feel of this room. White and black offer a clean backdrop for a whimsical palette and the island becomes the ideal canvas for a work of culinary art.
4. Streamlined And Fearless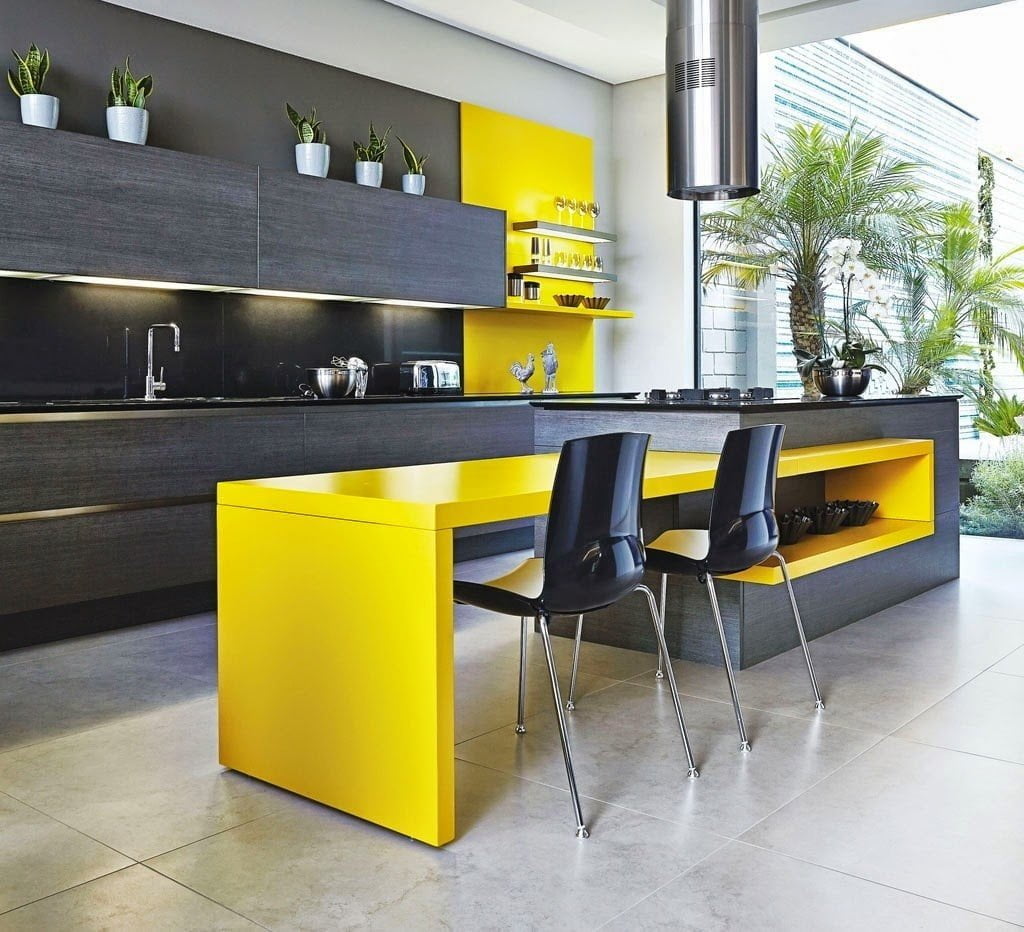 Source: Pinterest
This island is decidedly bold and uncluttered. It would be an excellent choice in a loft apartment or in a home with an open floor plan. The lower area functions nicely as an eat-in kitchen table or desk area. The proximity of the bar to the sink would be very efficient for meal clean up. The built in shelf gives an ideal space to display a collection or a conversation piece. The slate colored siding on the island contrasts with the splashy yellow but simultaneously blends well with the shining black counter tops. The unusual stainless steel light option keeps the space unpredictable. This island design is modern and efficient.
5. Elegance From The Baroque Period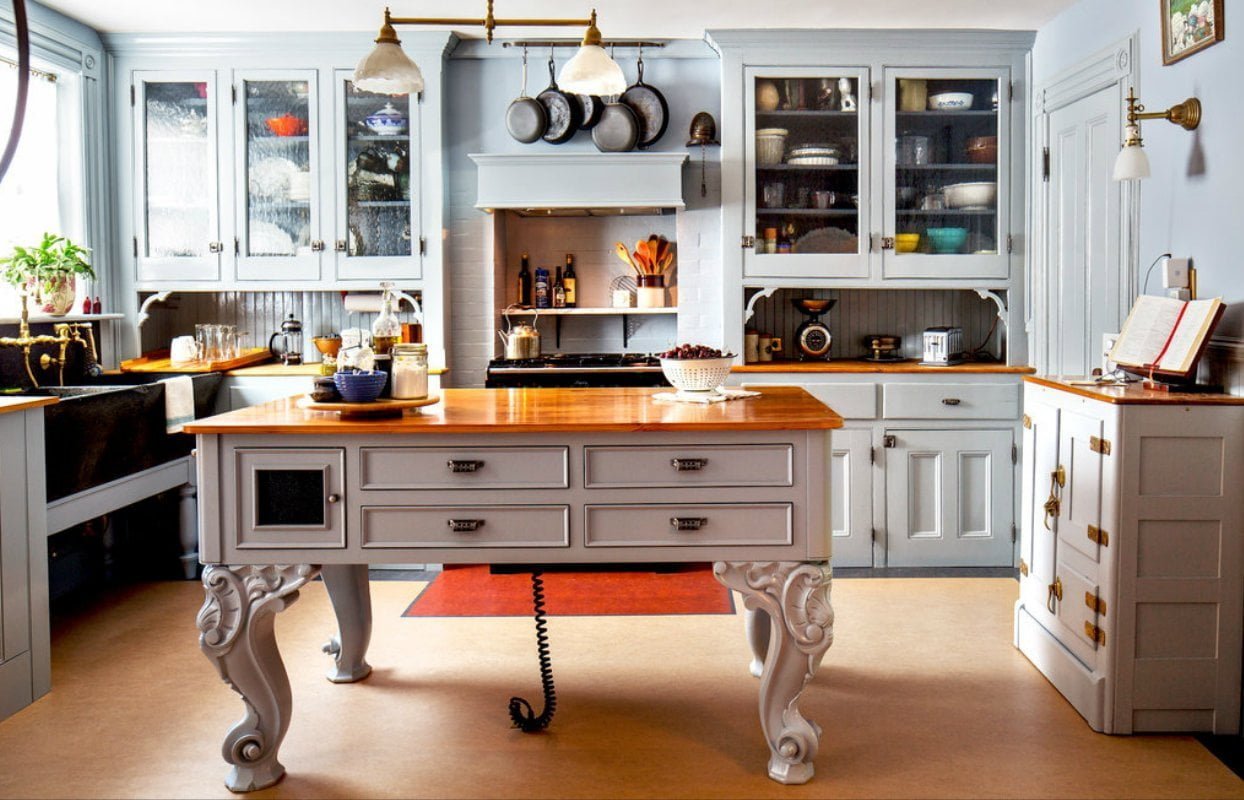 Consider an elegant kitchen island design such as this baroque themed piece. If you enjoy this romantic look a free standing island with curliqued legs may appeal to you. Notice how this beautiful kitchen island table looks like a repurposed piece of antique furniture. Stacked drawers and the little cubby door lend interest as well as functionality. A high-gloss countertop completes the fine furnished aura of this island. The thinness of the top brings a delicacy to the piece. Pull up a cushioned chair and use the wide space to copy recipes or quietly enjoy tea and a scone at this wonderful island.
6. A Touch Of Wood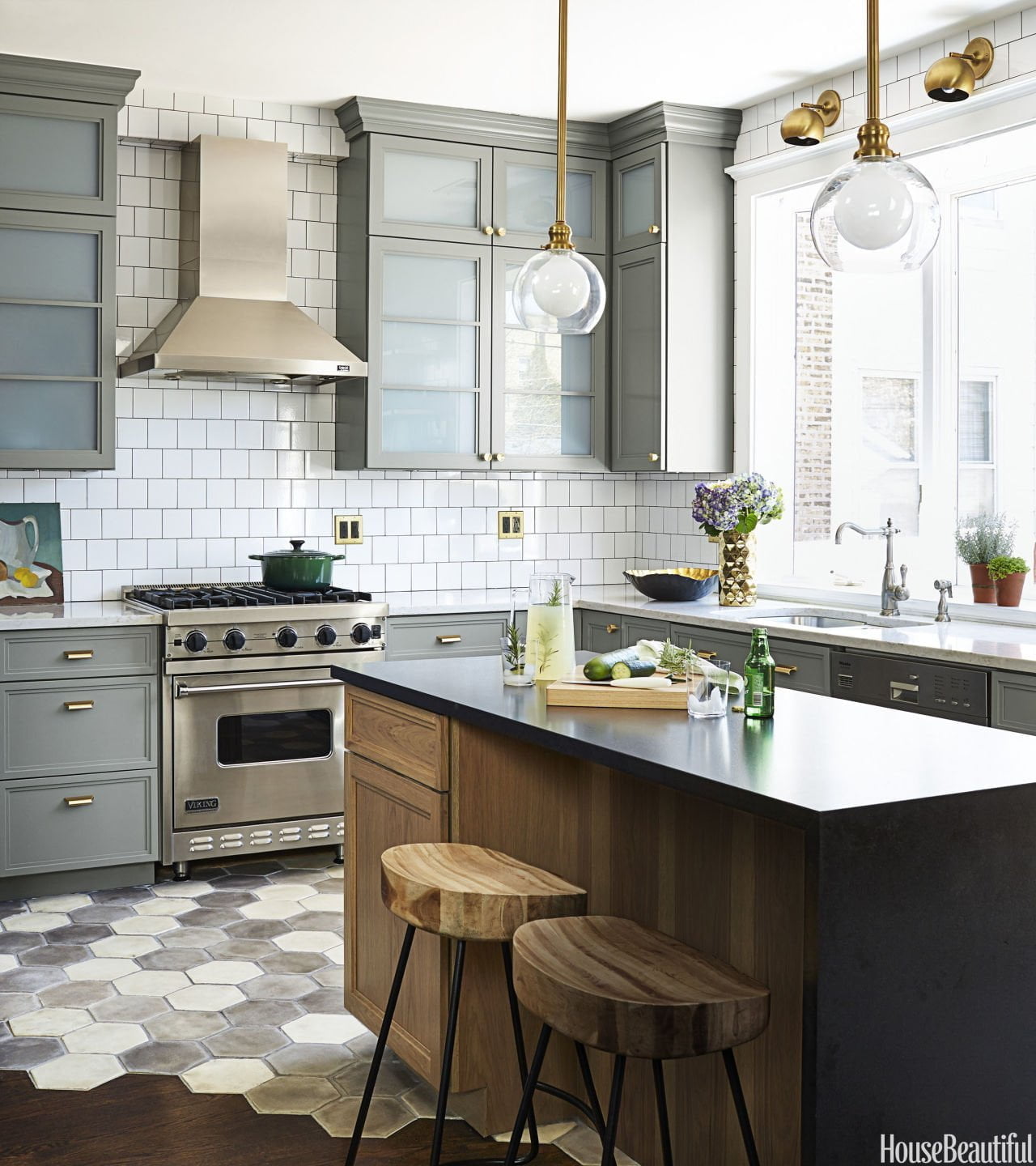 Don't make the mistake of over thinking the top of your island. Perhaps what you really need is a simple rectangular shape without a lot of built-ins and without a sink. Sometimes all that is called for is an uncomplicated space in which to work and clean.
Even so your island need not be mediocre. Take your kitchen island with seating to a whole new level of modern beauty with an unexpected stool design like this one. Take colors as common as the brown of hardwood and the sheen of black metal and add class to your island.
7. Open Your Mind And Your Cupboards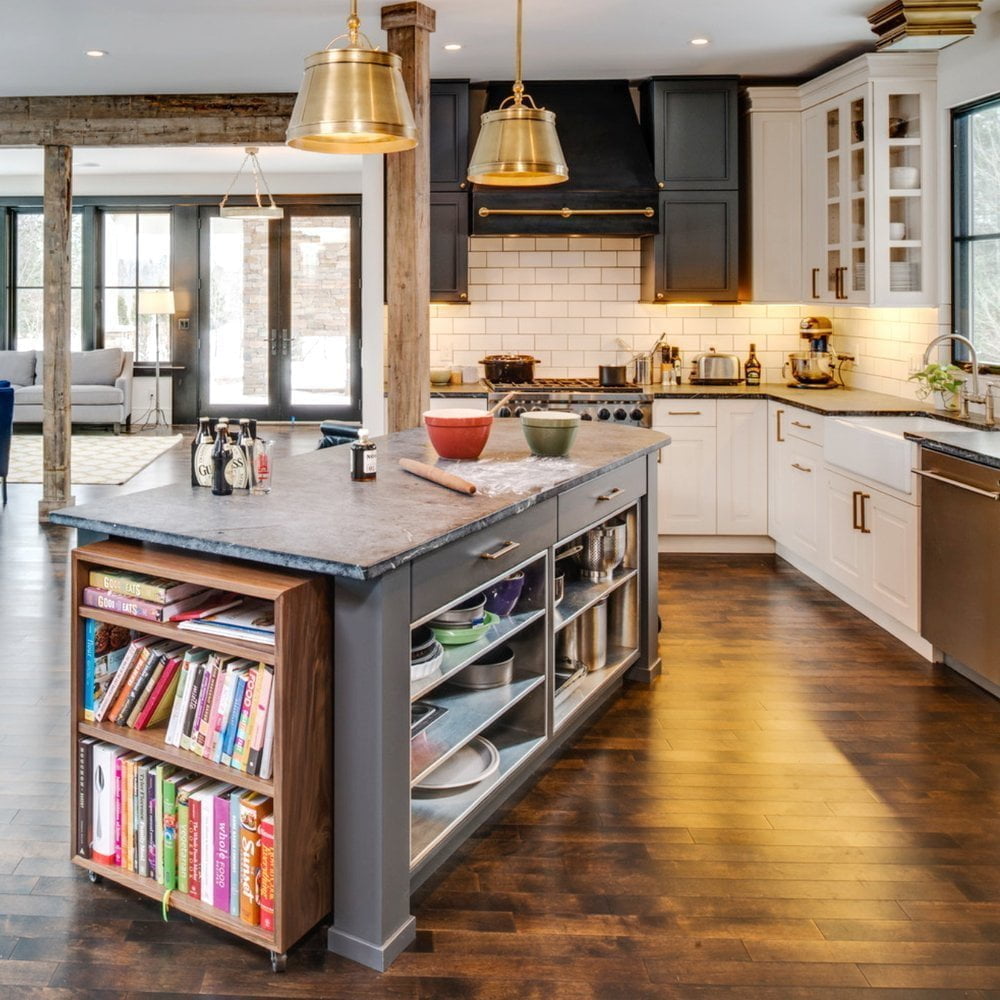 Leave your biases about kitchen design behind you when it is time to choose the placement of your island. For instance, consider placing it at a diagonal to keep the busiest area of your kitchen from becoming that dreaded bottle neck that makes even a spacious kitchen feel crowded.
Another kitchen design tip is to leave off the doors and let your favorite dishes show on open shelving. Let your kitchen island lighting come from a warm light above that gives a welcoming glow reminiscent of the hearth fires of home that were once found in every kitchen.
8. Fussy In A Good Way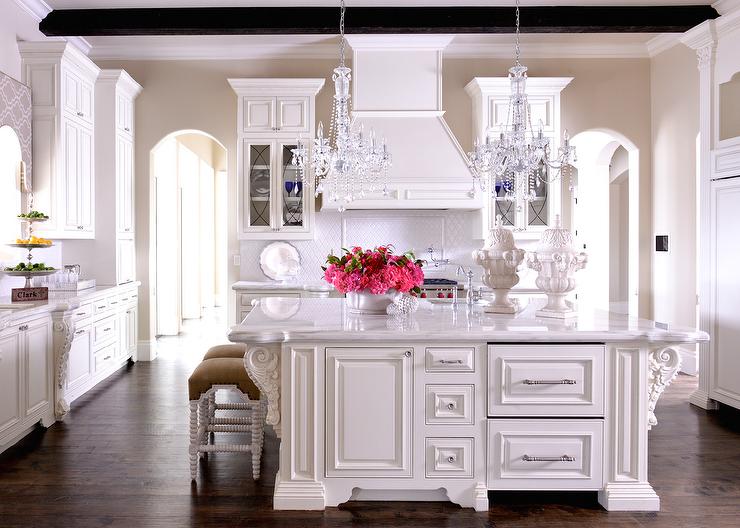 Kitchen design tips for functional elegance: If you want your island to be the crowning centerpiece of your culinary space you may want to consider a glossy white finish. It speaks of luxury and high taste.
When you want to make a lasting investment in your kitchen depend upon the solid beauty of a marble slab countertop.
When your space permits choose a square island. It will give you plenty of work surface and storage space.
The unapologetic opulence joins functionality with a delicate silver prep sink. This is a style reminiscent of French aristocracy.
9. Quickie Facelift Kitchen Island Idea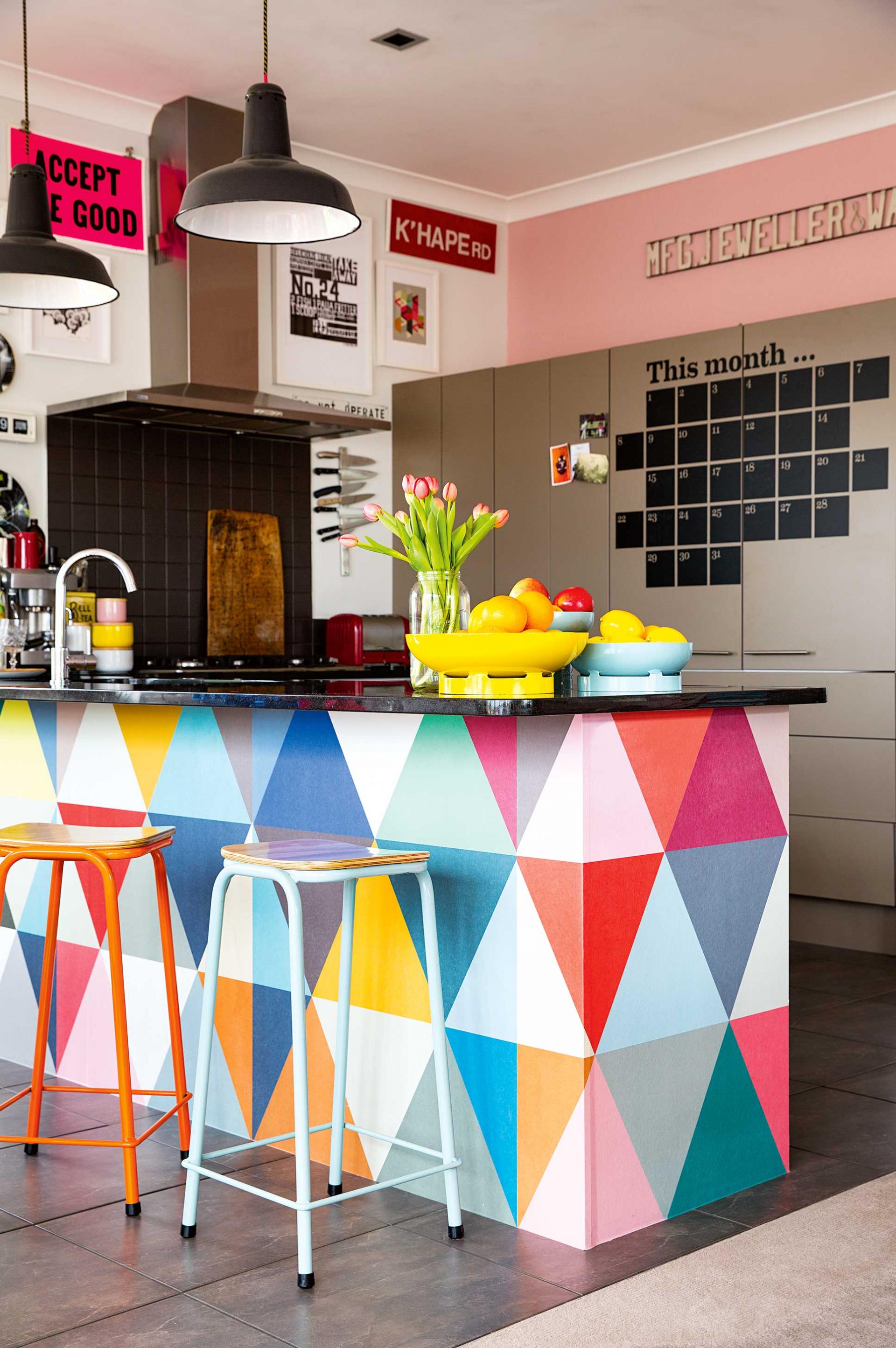 Sometimes you need a change that is fast and inexpensive. Maybe your kitchen island is outdated and ugly and you need something fun that you can count on to make you smile before that first cup of coffee in the morning. If you are a do-it-yourselfer, try some flamboyant color and use an exciting wallpaper to shake things up. If you have a small space beware of large patterns on your walls. Save the geometrics or large prints to try on your island instead!
10. A Few Of Your Favorite Things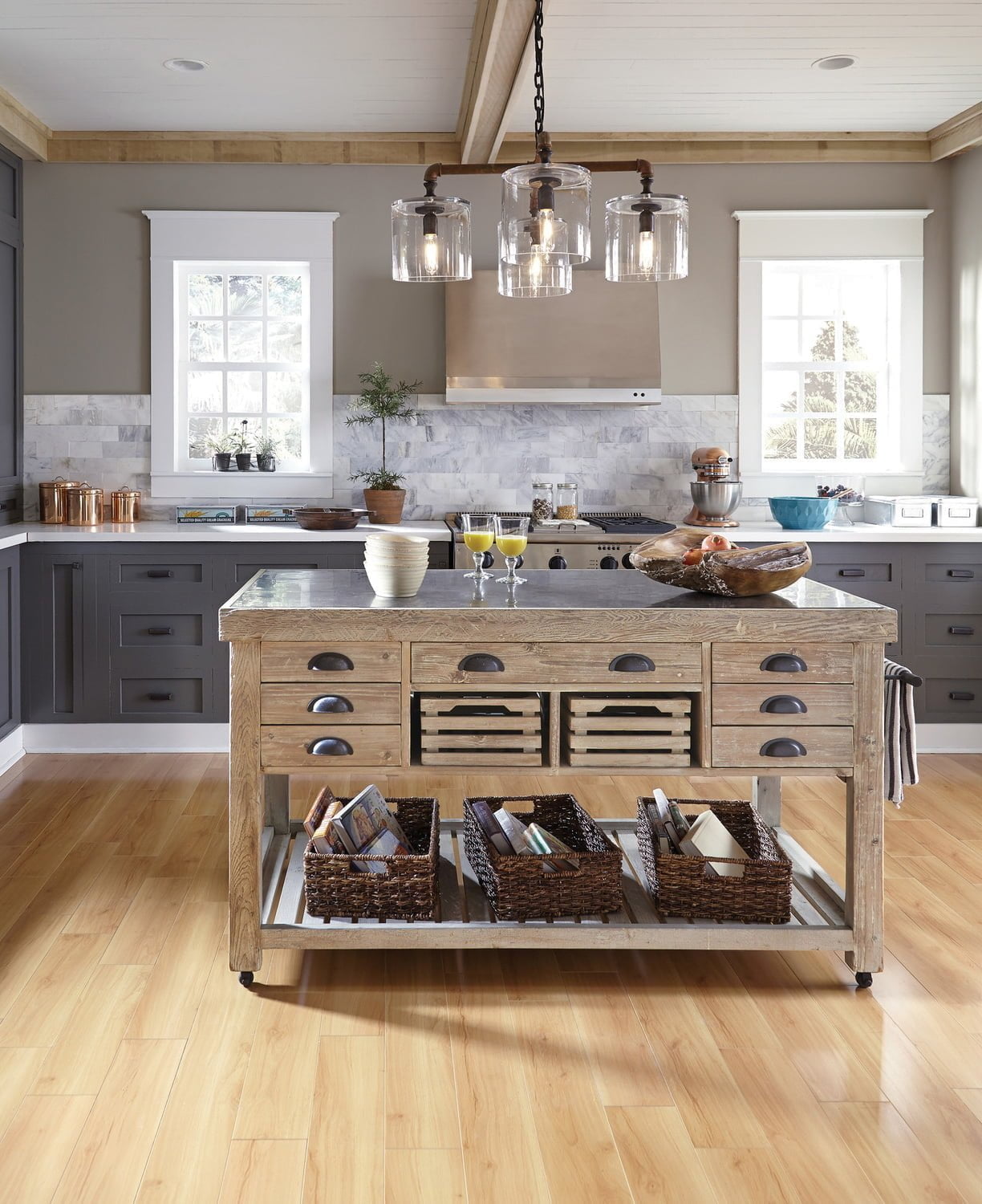 Identify a few pieces and textures in your home that are your favorites and consider ways to work them into your island design. Perhaps you love the nautical look and you will use weathered wood in your kitchen, or it could be you have a basket fetish and you will leave room in your design plan for baskets to keep things organized. An island on wheels is portable and can easily double as a dumb-waiter in a pinch as it ferries dessert and extra dishes from the kitchen to the dining room.
11. An Eye For Detail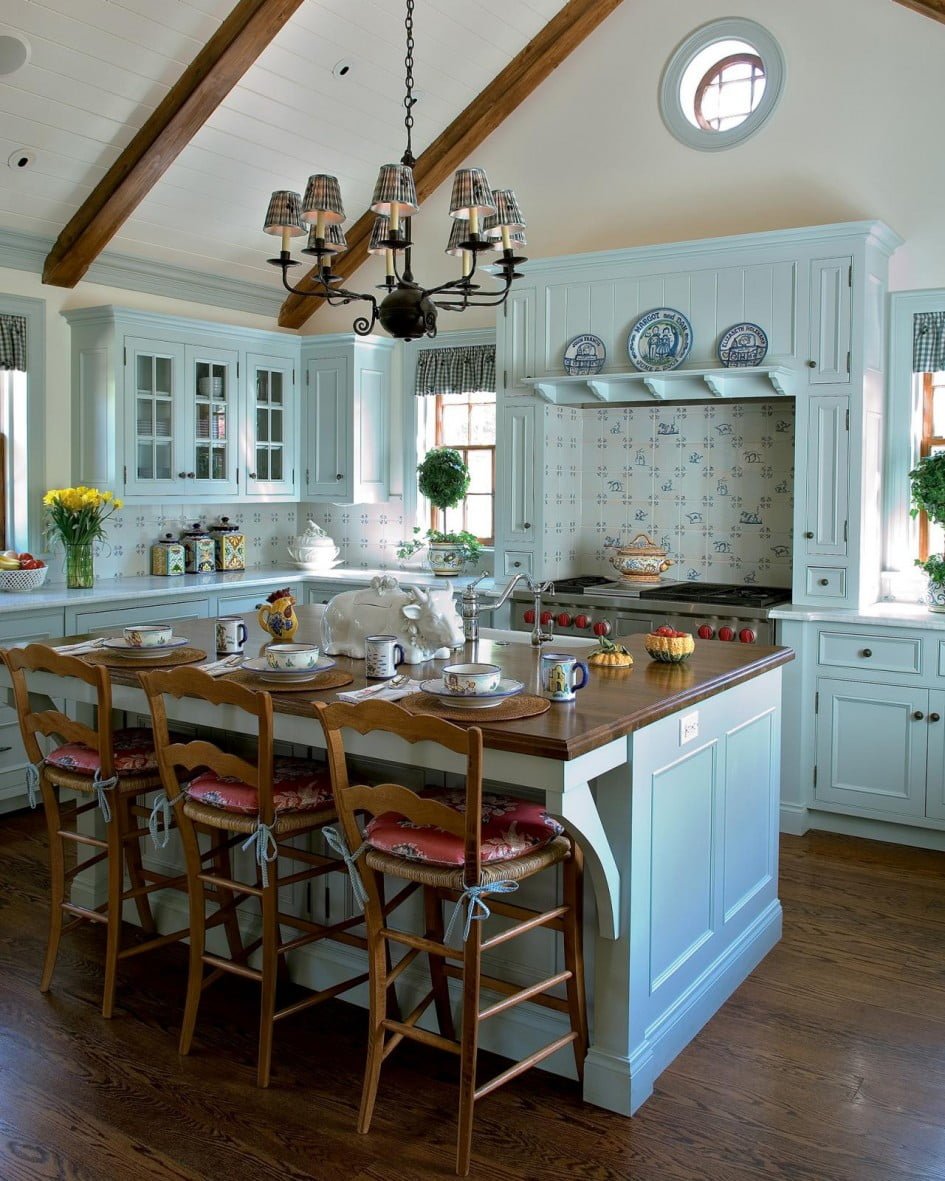 In kitchen design pictures often the first thing you'll notice are the colors and textures used. Now look a little closer and take note of which of the other details that give that touch you love. In this photo with a French Country flair you will notice the simplistic corbels that give understated support to this lovely kitchen island. Cute custom cushions tied on give a touch of care. Tiny lampshades on a chandelier high above will softly cast light over the scene. Train your eye to consider the details.
12. Hand Carved Wood Kitchen Island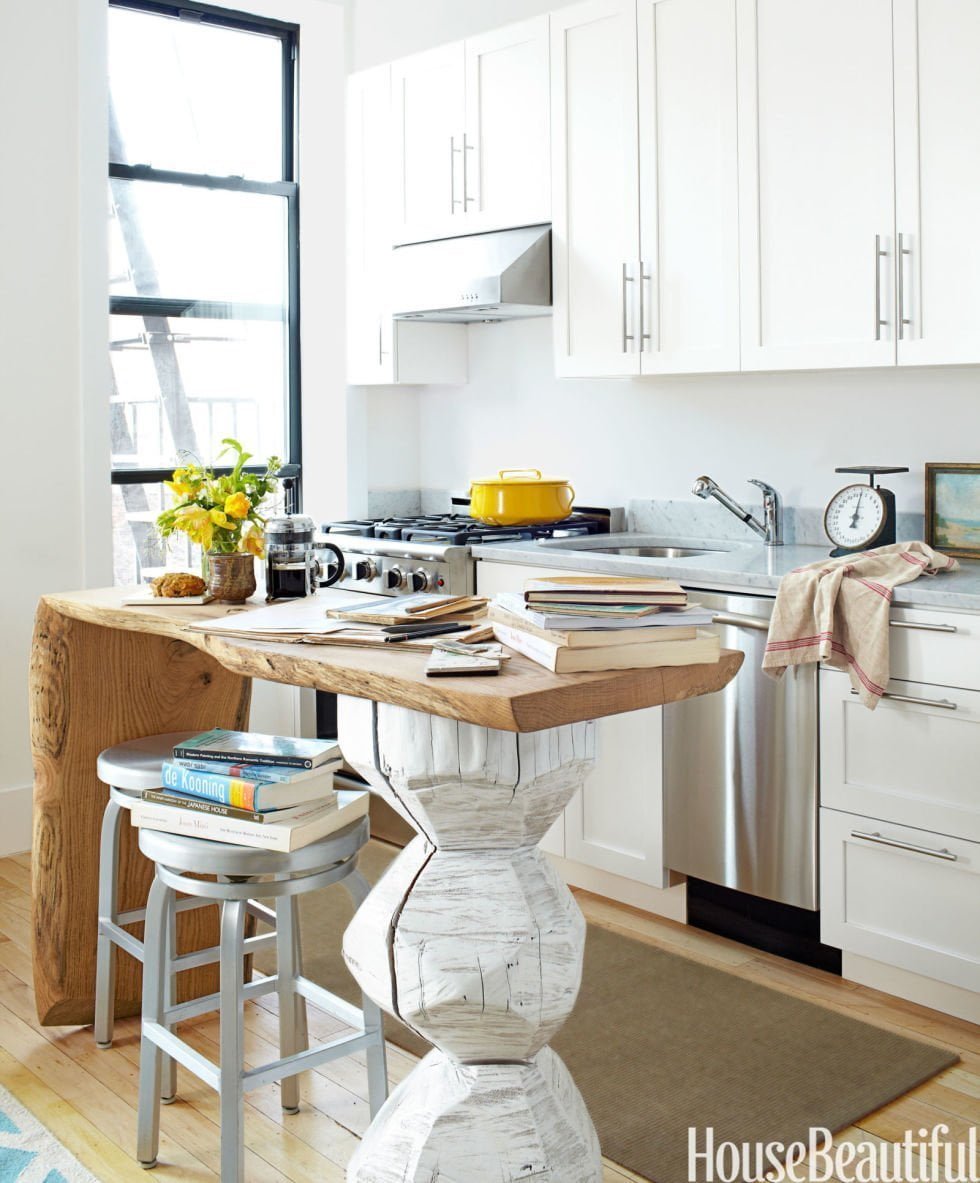 Do not underestimate the power of real wood in your kitchen design. The warm cherry wood used in this unusual island give a touch of nature to a space that could have appeared sterile. Now the white background of the walls and cupboards provide a backdrop for the island's fascinating shape. The hand carved white wood pillar bridges the stylistic gap between the white of the room and the dark hue of the wood. Meanwhile, the unexpected shape makes the whole piece pop and gives the kitchen character.
13. Mysterious Old World Whispers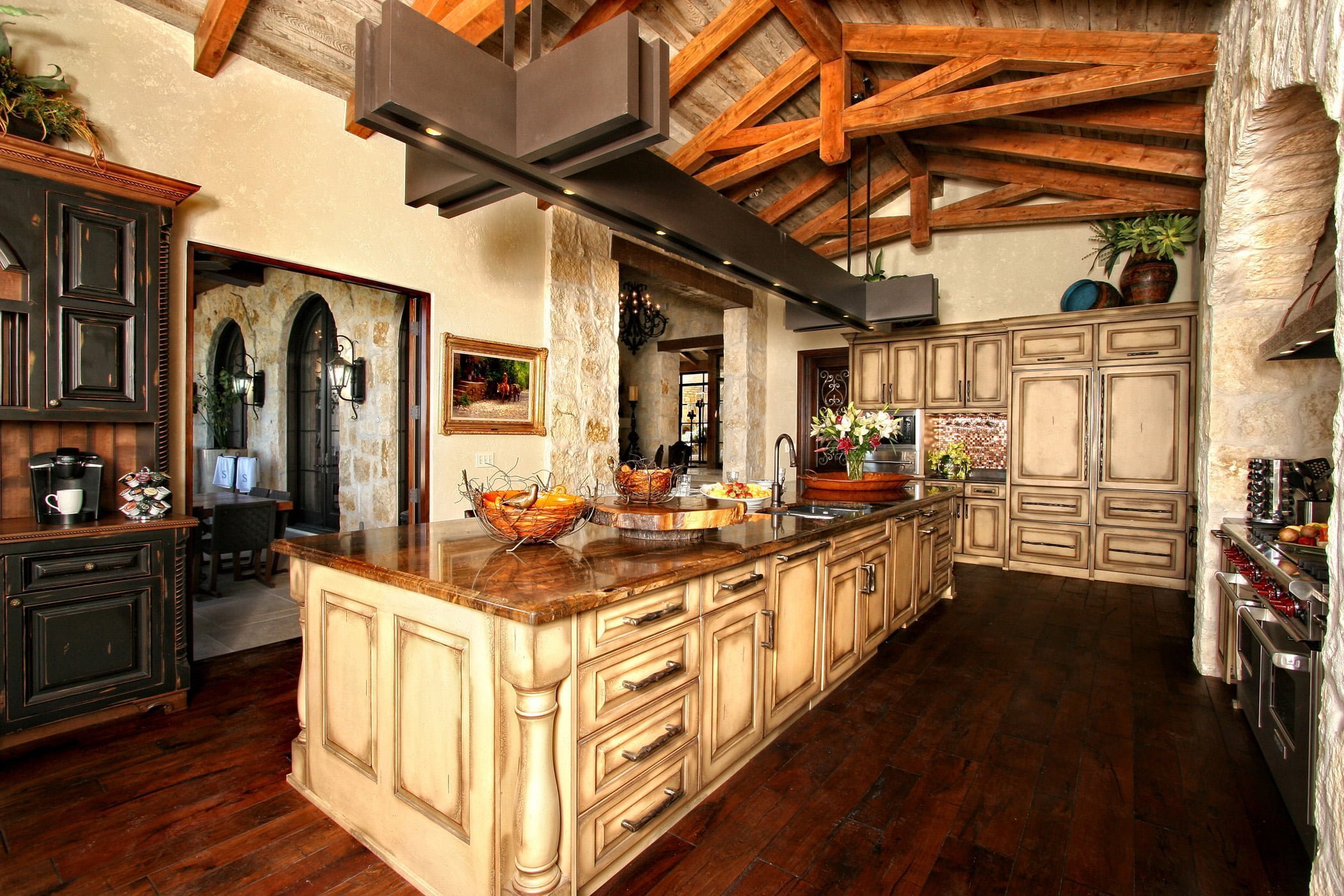 Kitchen design ideas and inspiration are plentiful in this home. The overall tone is one of Old World charm. A kitchen island of this size could easily be used by multiple cooks at once. The use of distressed wood on the island make this up-to-date space blend with the other mediums of wood and stone used throughout the space. The distinctive cabinetry can be used as a facade to cover state-of-the-art appliances making this a well equipped room without even a touch of stainless steel.
14. Form Meets Function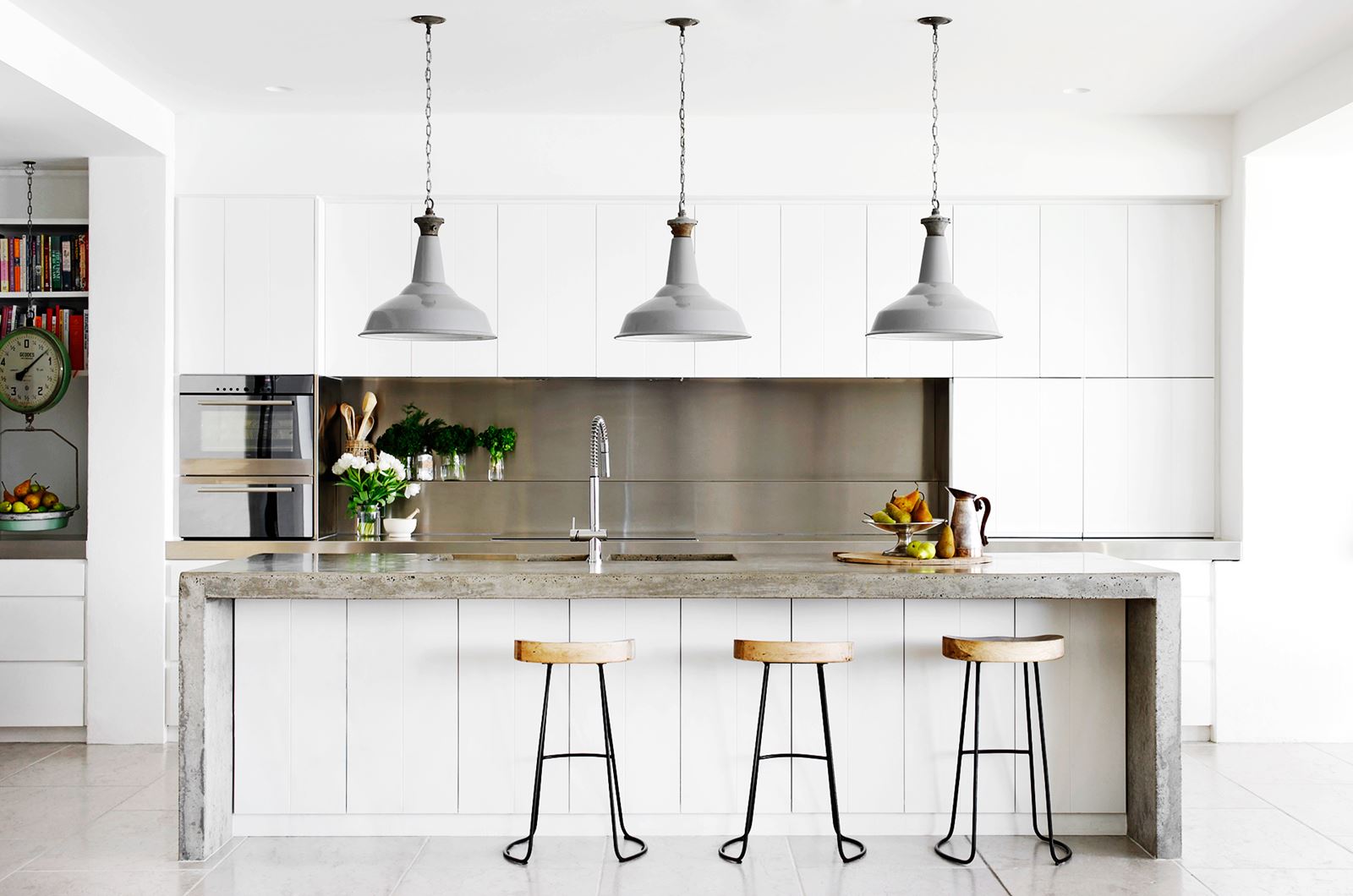 Gray tone and simplicity create a sleek gathering place. Plentiful seating and a sink in the bar will create many opportunities for spontaneous and unexpected interactions. Add matching hanging lights to illuminate your island and give the ambiance you desire. Choosing simplicity of design may be just the thing to help you discover what your real needs are in a kitchen island.
More kitchen island design ideas on the next page…