15. Casting New Light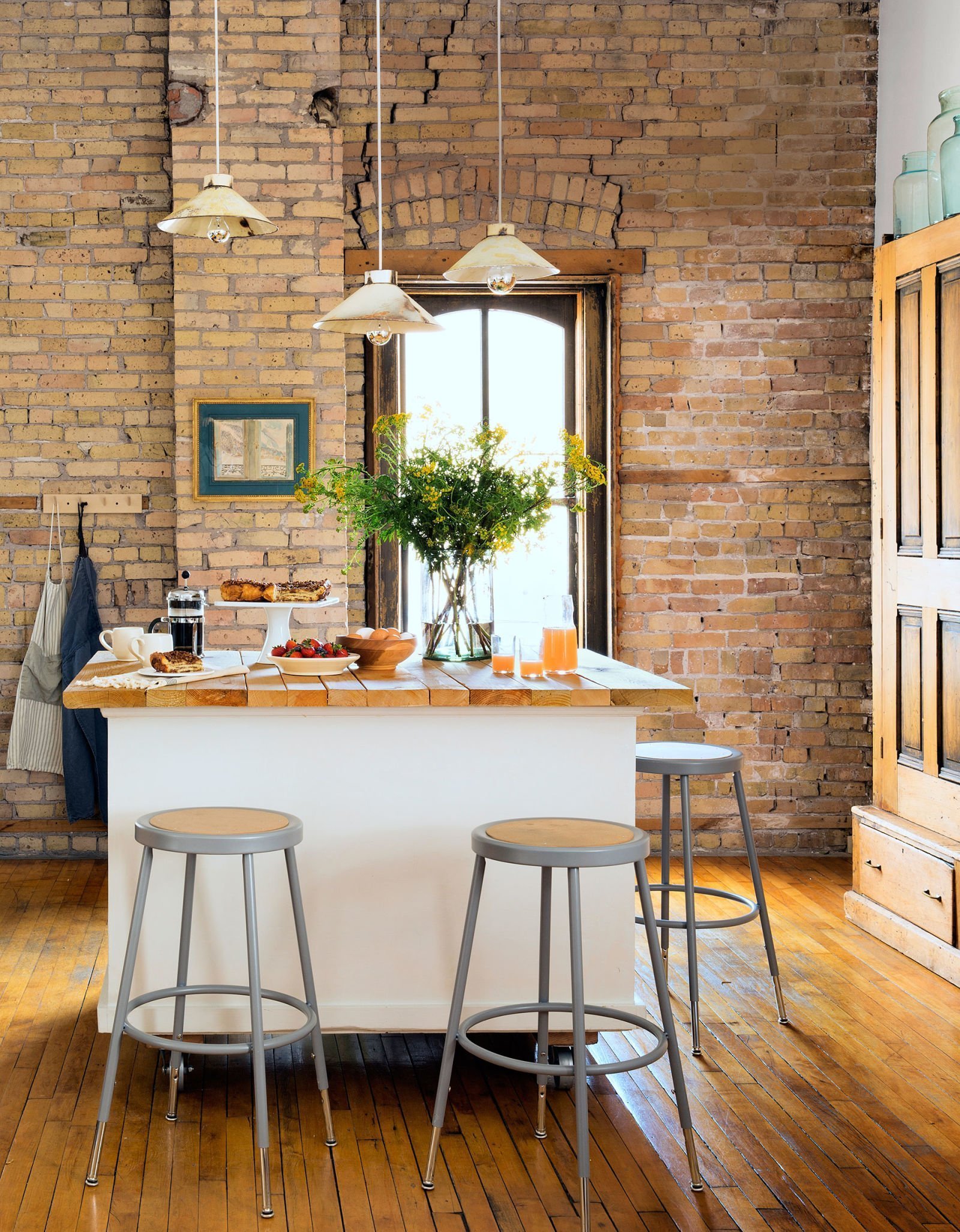 A small island on wheels is a wonderful investment and can even double as a table. Choose an unusual surface for your counter such as these repurposed packing crate slats. Vary the height of your pendant lights to showcase your fixtures and give a less structured look to your space. Tweaking something as basic as your lighting fixtures can do wonders to cast some light on your design.
16. All That Shines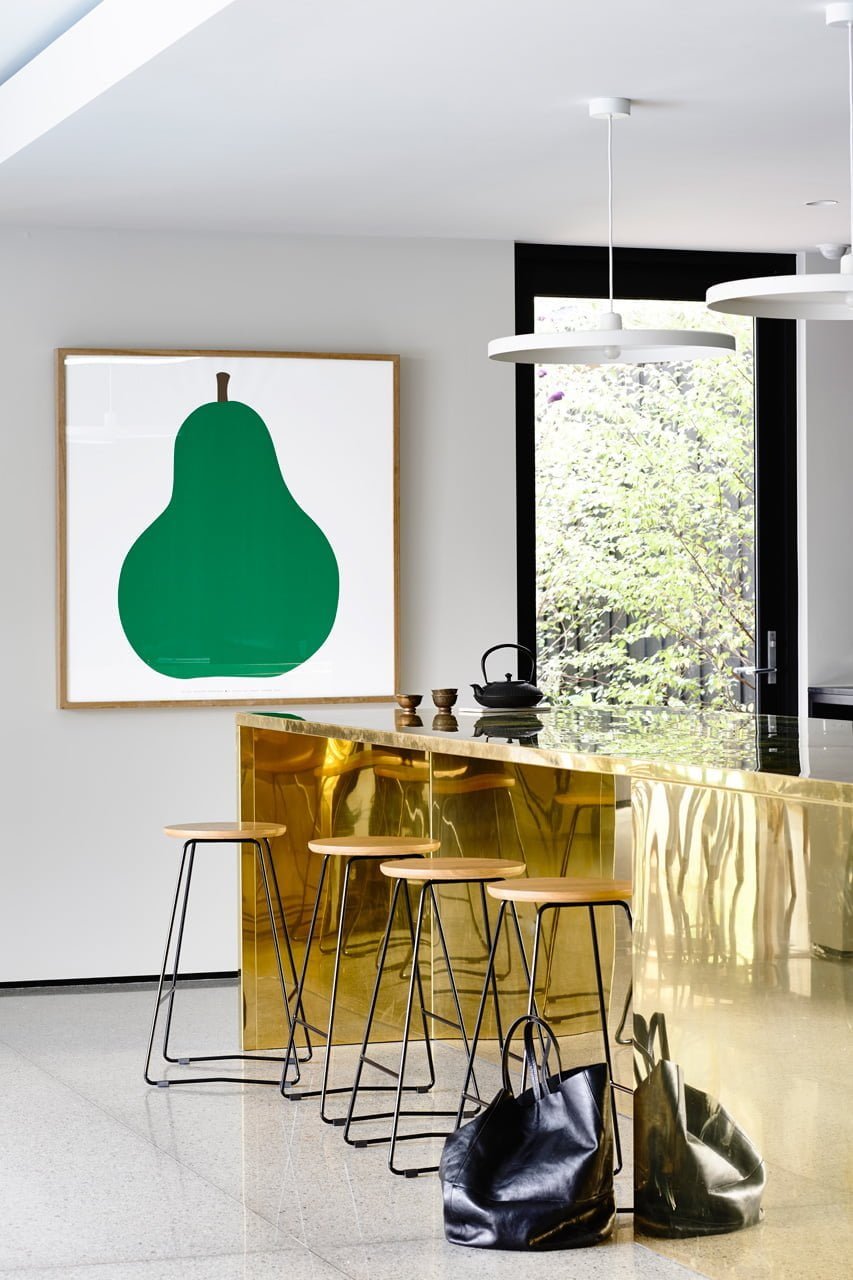 Open up your mind to the things you love in life; a kitchen design idea will come to you as you embrace life.Do not be too quick to say something cannot be done. Consider this golden gilt island in all of its reflective glory. Do you love a texture, a gleam, or a shine? Don't rest until you have worked it into your living space in a functional and beautiful way. You will often find that someone else has loved and lived with the same idea and you may be able to glean from their experience.
17. Grand Doesn't Always Mean Grande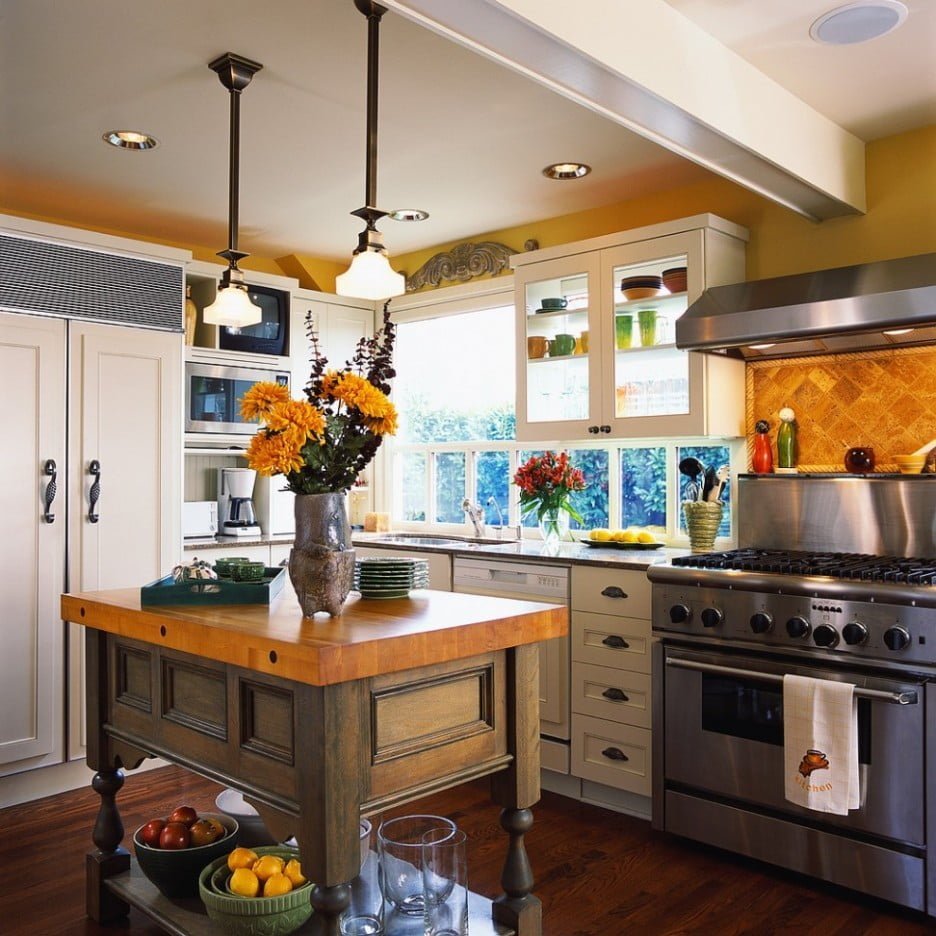 Do not just assume that because you are working with a small space that an island is just not for you. A small and carefully planned rolling kitchen island can actually stretch your little space in a big way! You'll want to focus on storage to make good use of every inch. Opting to keep your island uncluttered and regular in shape will help to keep the traffic flowing in even a tiny kitchen.
18. Maximize Your Inner Minimalist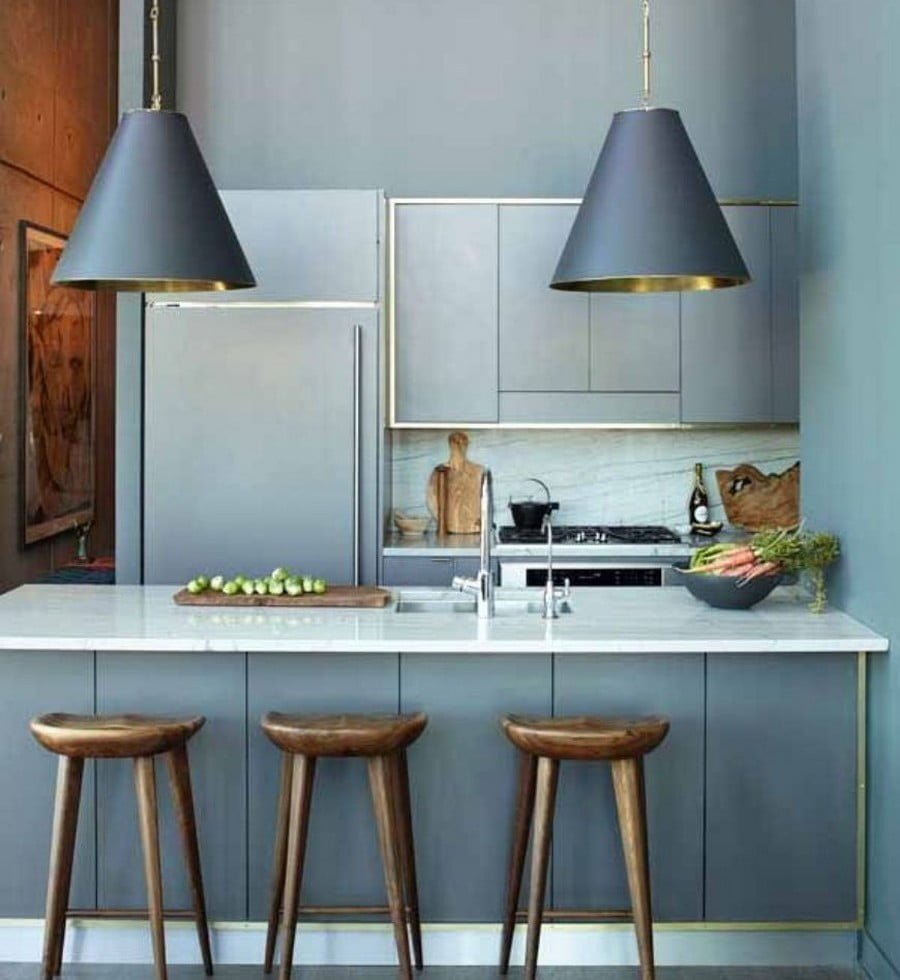 Minimalistic design is all the rage these days and for good reason. It gives the feeling of space and encourages focus and a sense of peace. Consider allowing your island design to flow from your favorite tones. A few comforting touches such as rich wood seating or some warm brass highlights on a light can go far to personalize your kitchen island design.
19. Everyone Has Their Level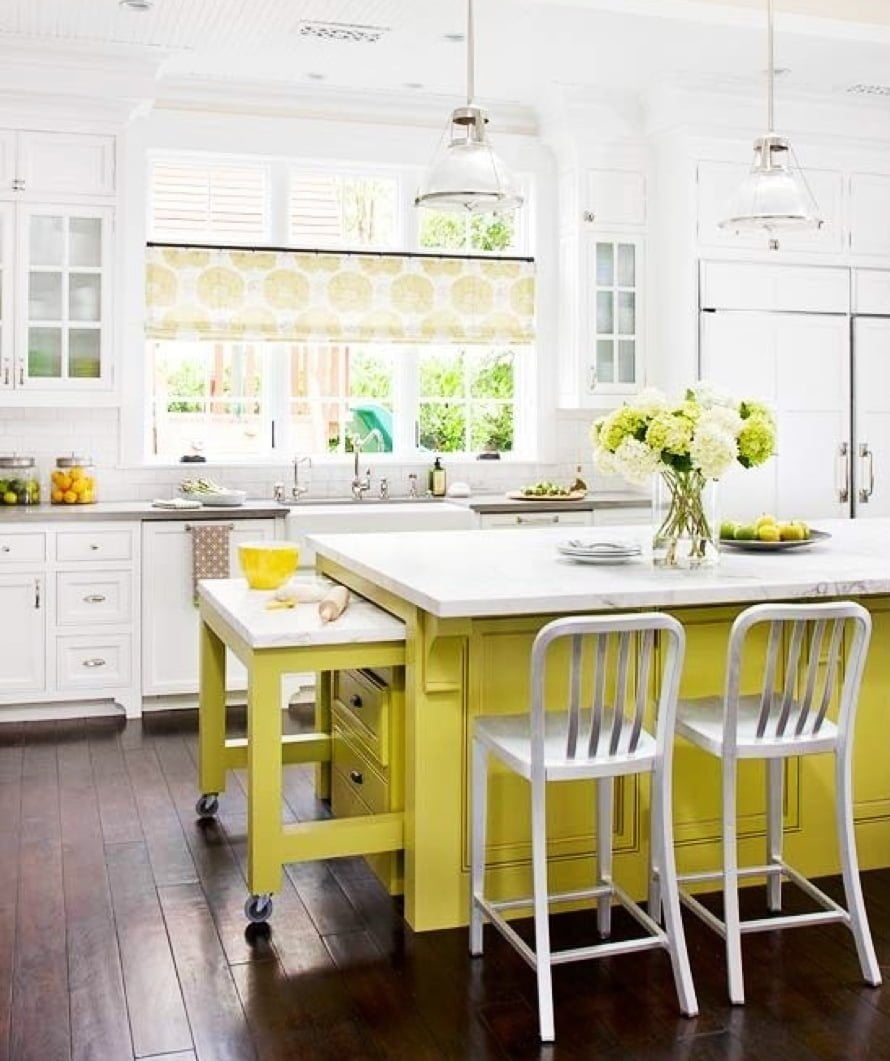 How can you tweak your personal island to give it the qualities you have always craved? A low rolling kitchen island can be a fun addition to your home. Being able to instantly slide out a bit of extra counter space can be a real asset. If you love to have a lower work area to roll out delightful crusts or to work with children at you may soon wonder how you functioned without it!
20. Think Outside of the Box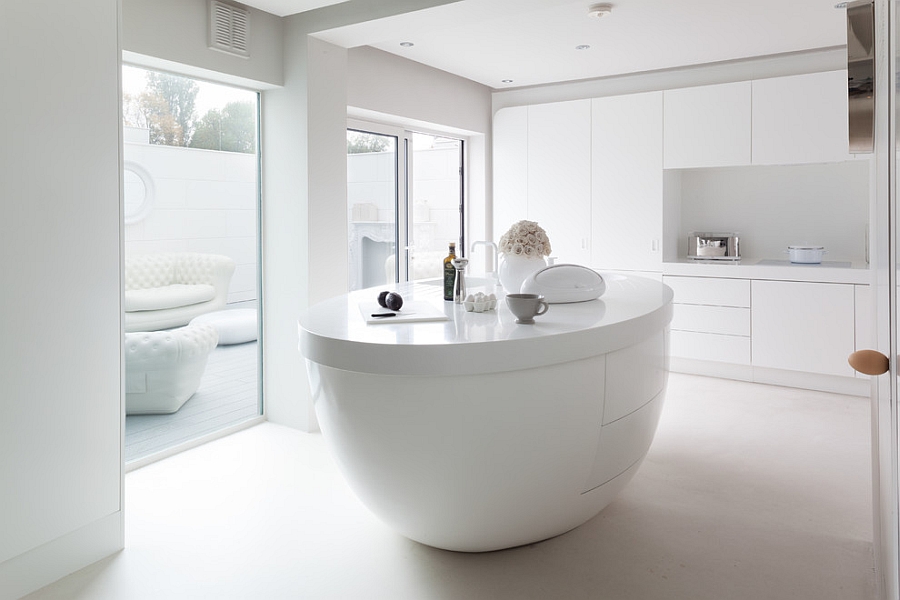 Or, in the case of a kitchen island, think outside of the rectangle. It is incredible what can be accomplished with a bit of imagination and an adventurous carpenter or designer. Just because one company tells you something cannot be done doesn't mean it is impossible. Get a second opinion. Consider the amount of space a rounded island such as this can save. After all, you don't want to wear yourself out trying to push a square peg into a round hole!
21. Quality and Timeless Style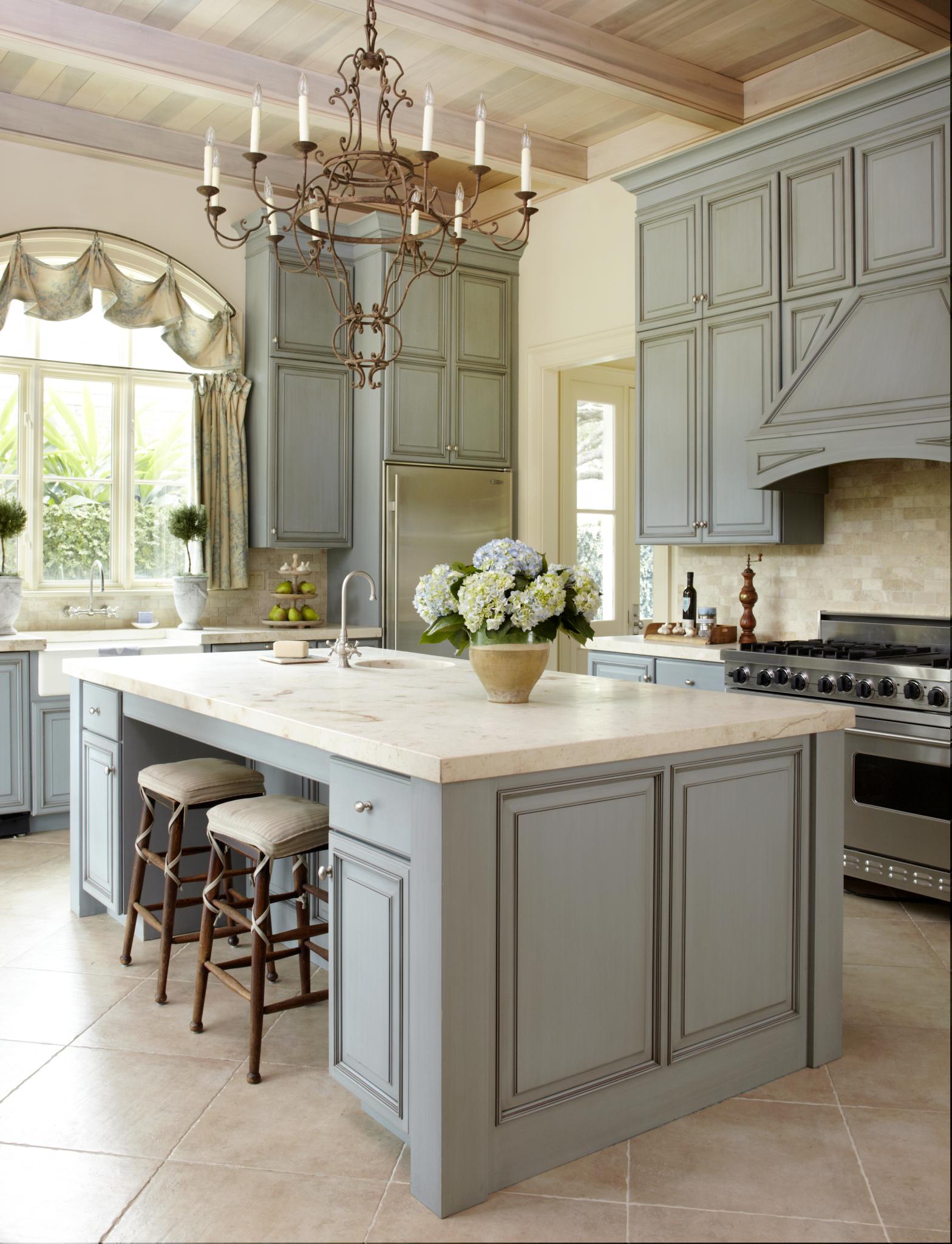 Invest in good quality. Especially when it comes to heavily used areas such as a countertop, a sturdy and well-built piece will save you so much hassle in the long run. Countertops in neutral tones and marble are always enduringly in style. Dove-tailed drawers used to be difficult to find but they are making a comeback. Be sure to ask your contractor what options they offer. Better yet, do your own research and bring along a detailed list when you are scoping out a contractor to construct your island.
22. The Entertainer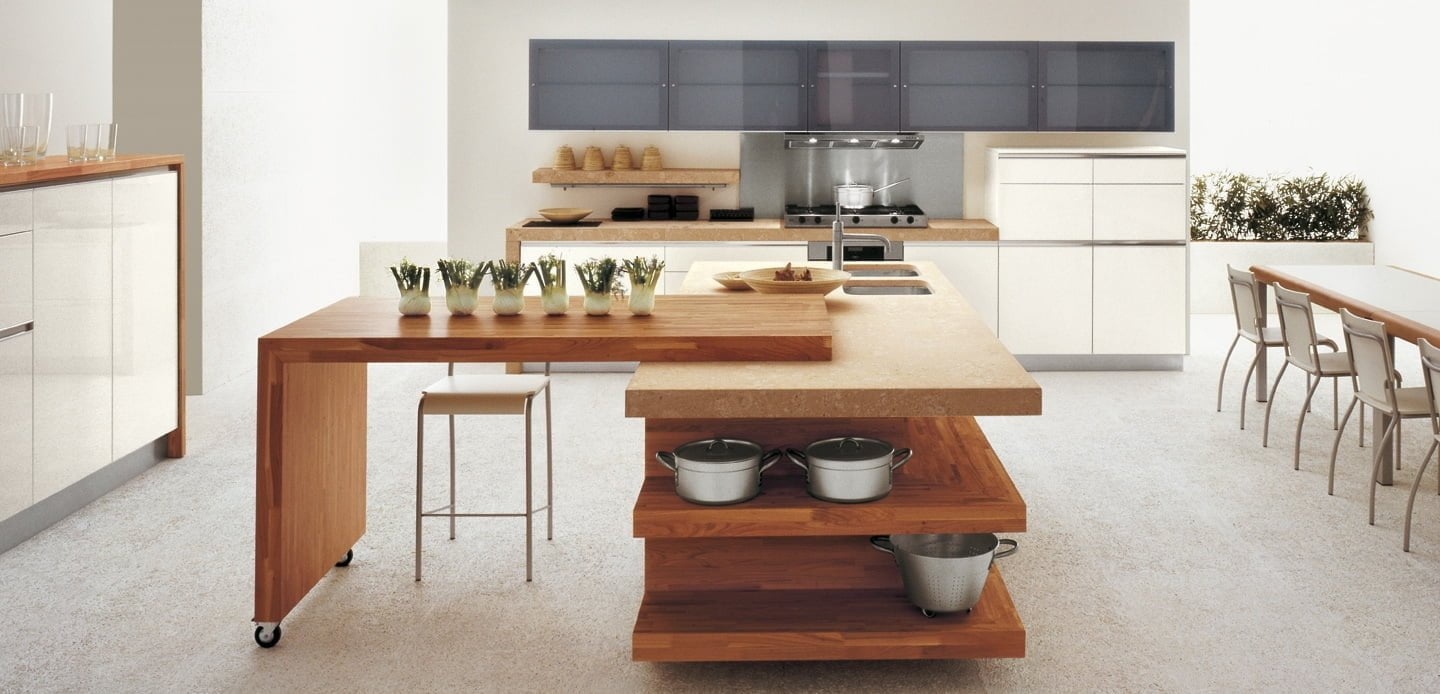 Do you entertain often? Create multiple work stations around your island. Take the time when you are first conceptualizing your island or work with what you already have and get organized!
Work a small prep sink into your island design and keep a scrub brush and soft towels within reach. Voila! A vegetable preparation station. Invest in a well-made cutting board and stock a drawer at hip height with sharp knives. Now you have created a chopping station. Not only will these stations make you more efficient but when you have kitchen help they will rarely need to look far for the tools to complete the job they are assisting with.
23. Legoland Island Kitchen Idea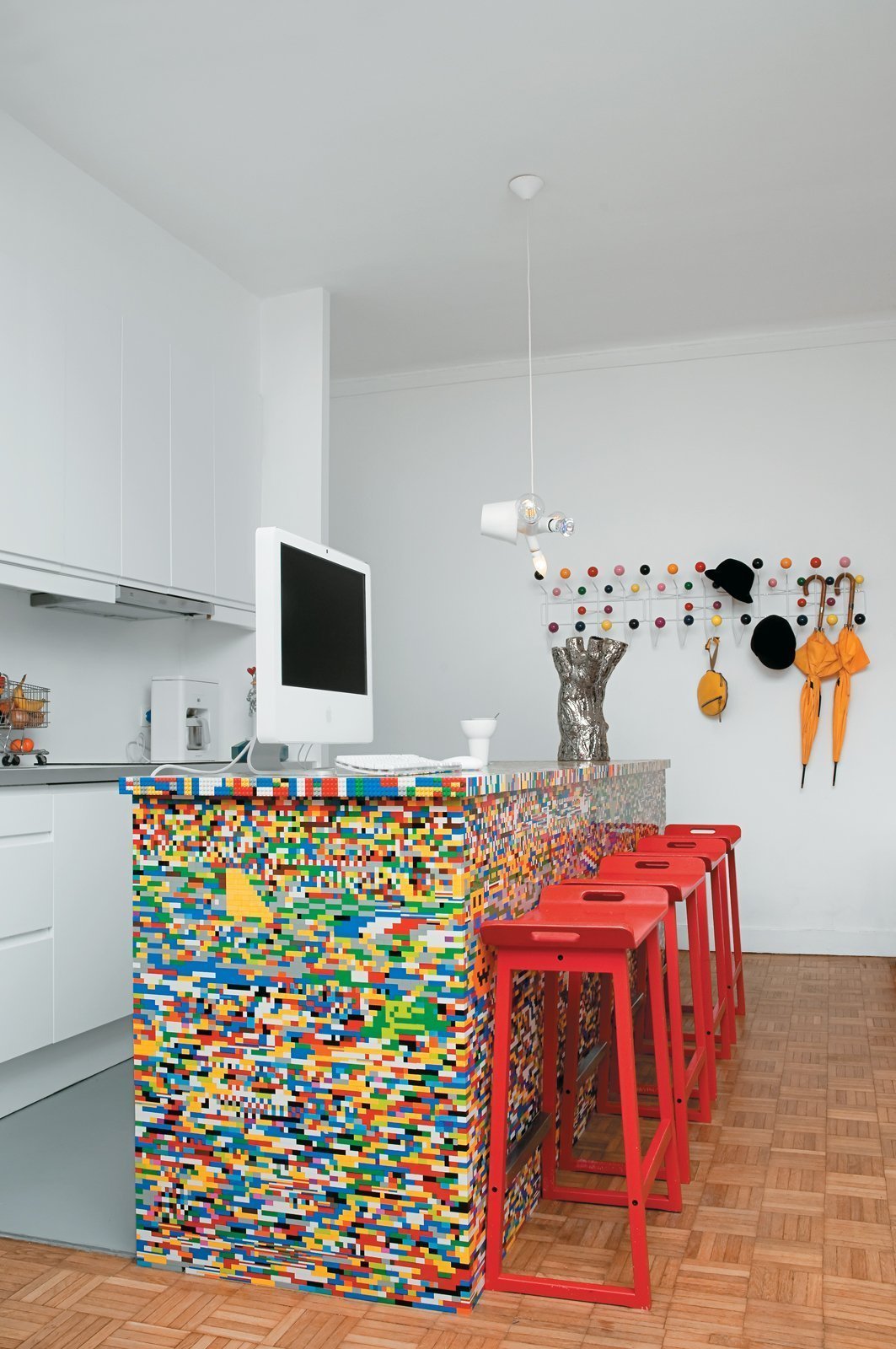 If two grown Parisienne men were daring enough to cover their kitchen island with Legos (see accompanying image) then what could be too over the top for your kitchen? Your kitchen flair need not be inspired by kitchen design magazines or even by colors or shapes you like. Springboard your kitchen design from something completely unrelated to anything kitchen! If you are an avid gamer try a pixel-like themed wallpaper on your island. If you love stripes or animals then work some aspect of that into your island design. Create something as unique as you are and you will enjoy your island much more.
More kitchen island decoration ideas on the next page…