42. Seating That Steals The Show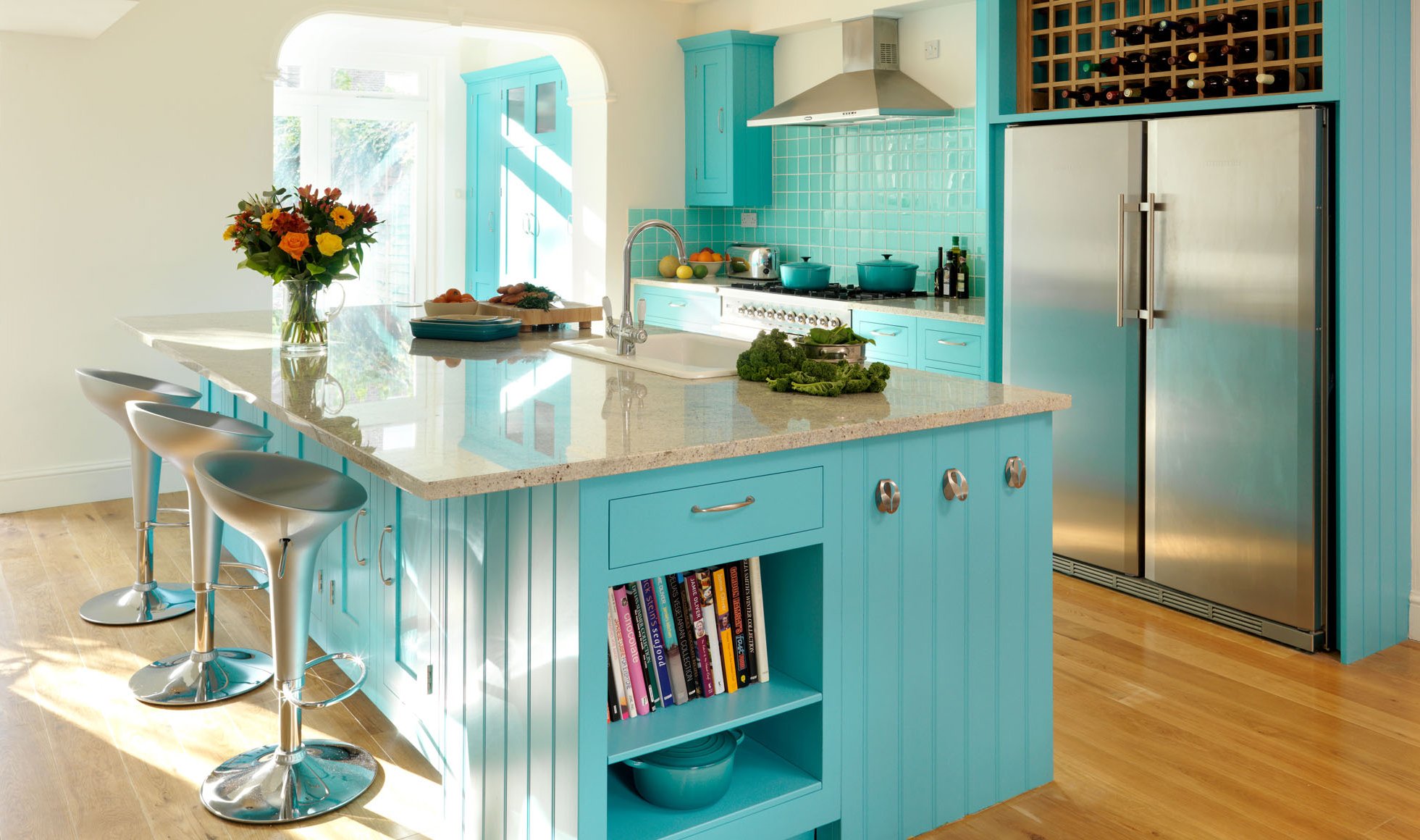 Use your own kitchen design ideas to create a truly beautiful and functional island. It will be a joy for years to come. When you have a kitchen island table you will naturally also want to buy the perfect set of chairs. You'll want to consider comfort firstly. Make sure you have a comfortable seat to sink in to while you wait for the water to boil.
Now take into account issues of style. Shape, color, texture and design are all important. If you find the perfect seating before hand you may even want to design your kitchen island with that in mind. Kitchen design photos like this one make it clear that the right set of gorgeous coordinating stools can set off your island perfectly.
43. Kitchen Charisma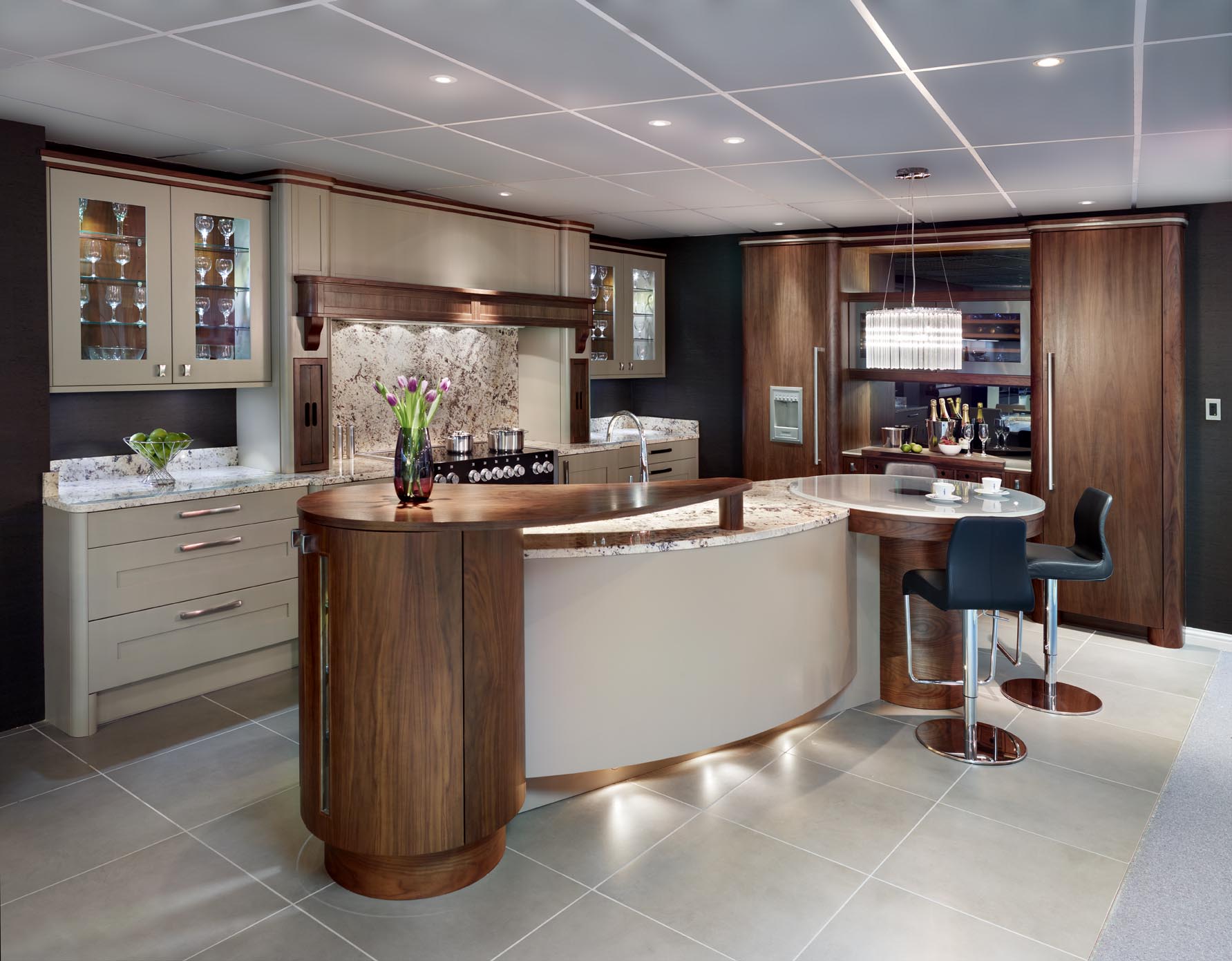 If you want a remarkable island that is a cut above the norm try layering counters. When this technique is executed professionally it will yield stunning results. If you can mix wood with marble or glass for your countertop you can enjoy the best of both worlds. The beauty of the stylish yet more temperamental glass will be supported by the solidarity of marble or wood. Warm tones such as the rich walnut used here can add a great deal of depth to the colors and atmosphere of the island in your kitchen.
44. Why The Sink?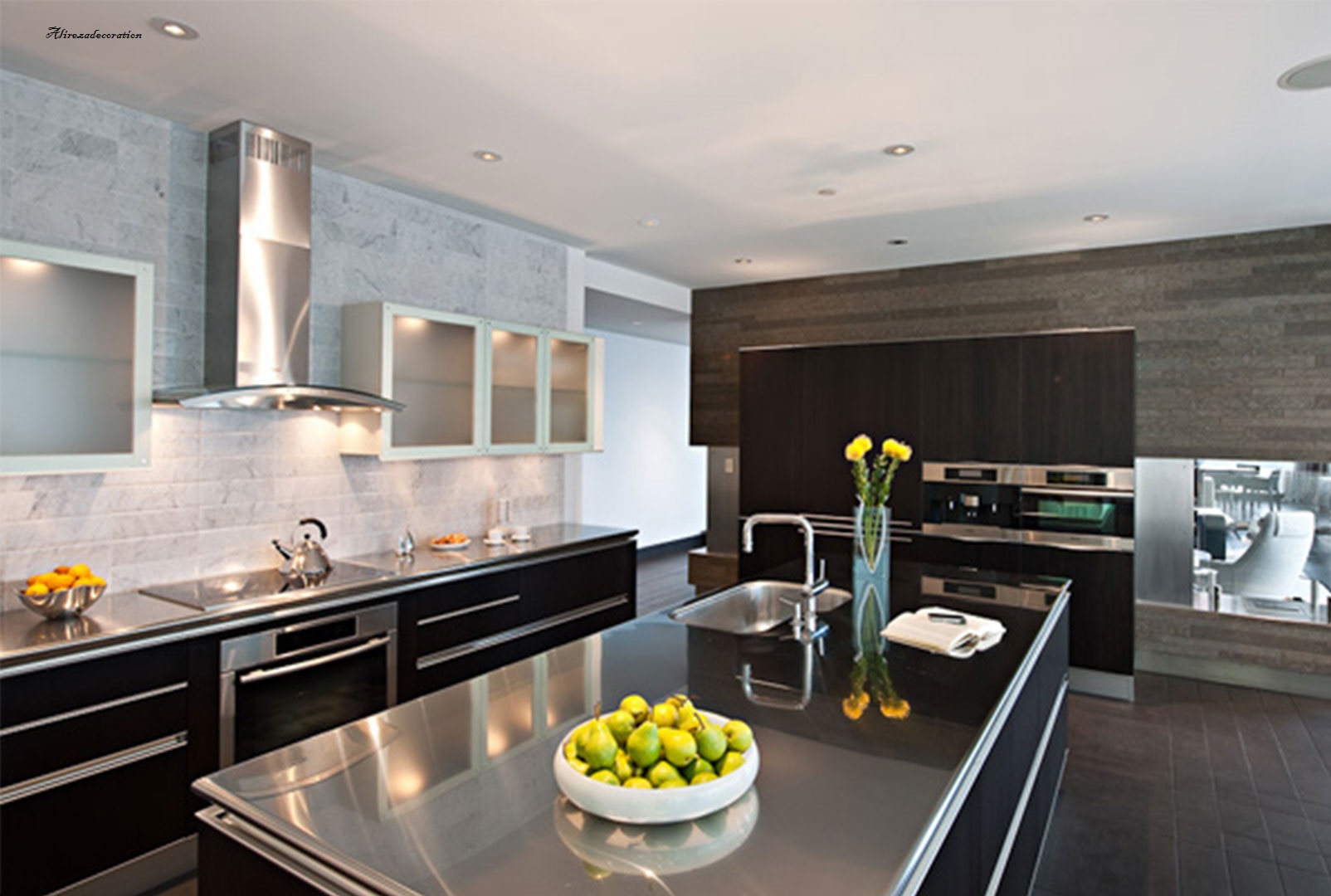 Another kitchen design tip: You do want a sink in your island! Stop and notice how many times there is a sink on the island in the newest kitchen design images. You will notice that there is nearly always a sink right in the middle of the work space. Occasionally there will even be two sinks in a large kitchen. This is an incredibly useful design because it brings the sink where you will need it! You will be scrubbing vegetables, filling pots with water, rinsing dishes as they are passed across the island to the very convenient location of your island sink. You may also note that some faucets have such lovely fixtures that they are not unlike an ornament on your counter.
45. French Country Charm Kitchen Island Decor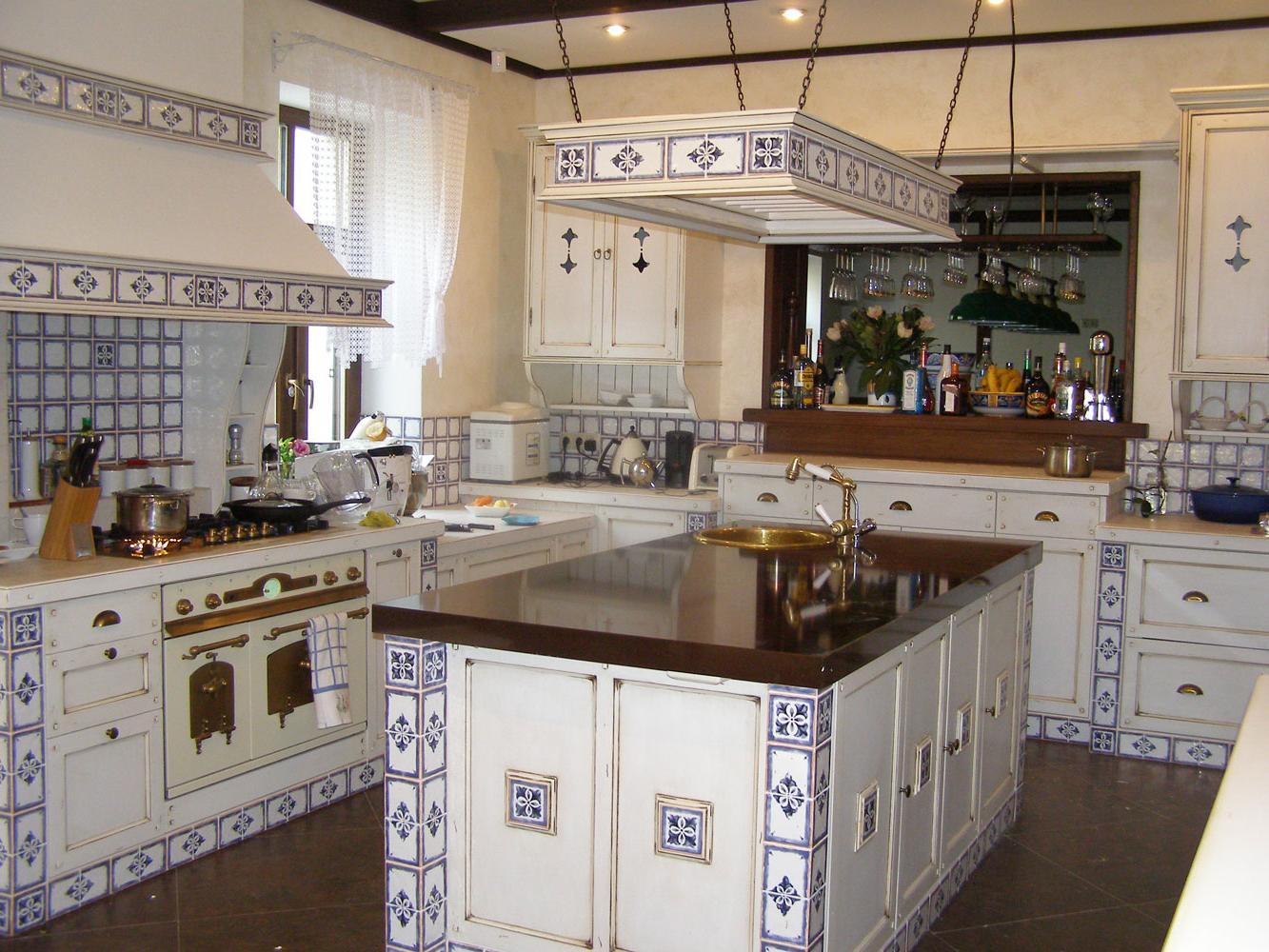 Source: Pinterest
Kitchen island designs and inspirations from French styles abound. And for good reason! This Provencal island is elegant with its trademark cream and muted colors. The dark wood counter beckons one to roll some pastries and the golden prep sink gives one a sense of luxury and ease. The tile on the island and hanging rack call one to the fresh country air and a slower pace in life.
46. Modern Natural Kitchen Island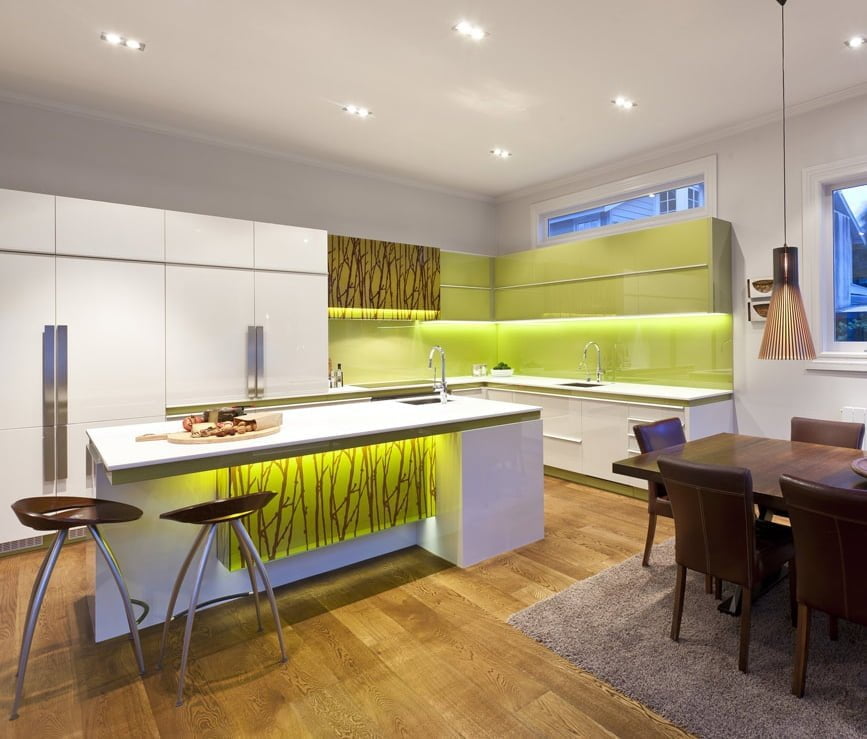 This fascinating kitchen evokes the feelings of seeing the green of spring glowing on the bare sticks of trees at the end of winter's whiteness. The light is often used masterfully to play up kitchen island designs to their best advantage. You will notice the unusual L shape of the island and the way that it extends the usability of the work space while creating a more snug seating area for a few chairs. One of the finest qualities of modern design is its nearly startling lack of clutter. There is room for reflection and creativity with modern kitchen design ideas.
47. Light From Within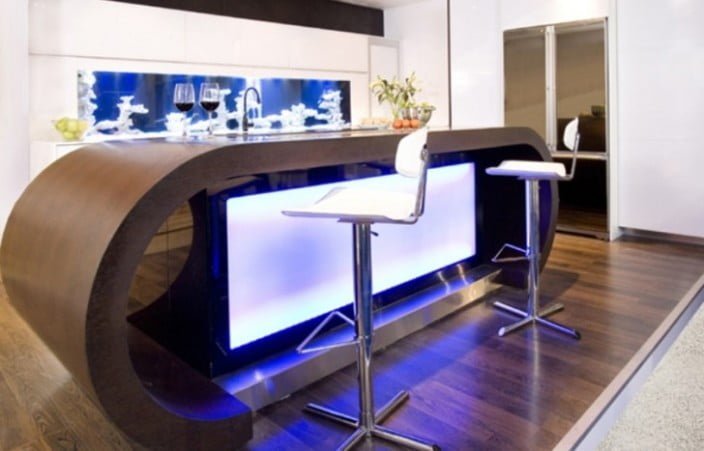 Source: Pinterest
Yet another kitchen design image to inspire creative lighting on your individual space! Planning lighting under an island kitchen table can truly be a spectacular idea. The right set of lights can take your stylish piece over the top. Do not hesitate to turn the spotlight on in your kitchen – particularly if your island has an unusual shape or details that you wish to accentuate. There are many kitchen design ideas on the internet that include lights under the seating area of island tables. When you turn the lights on your unique design remember that you are showing a little of your own true self.
48. Let's Be Perfectly Square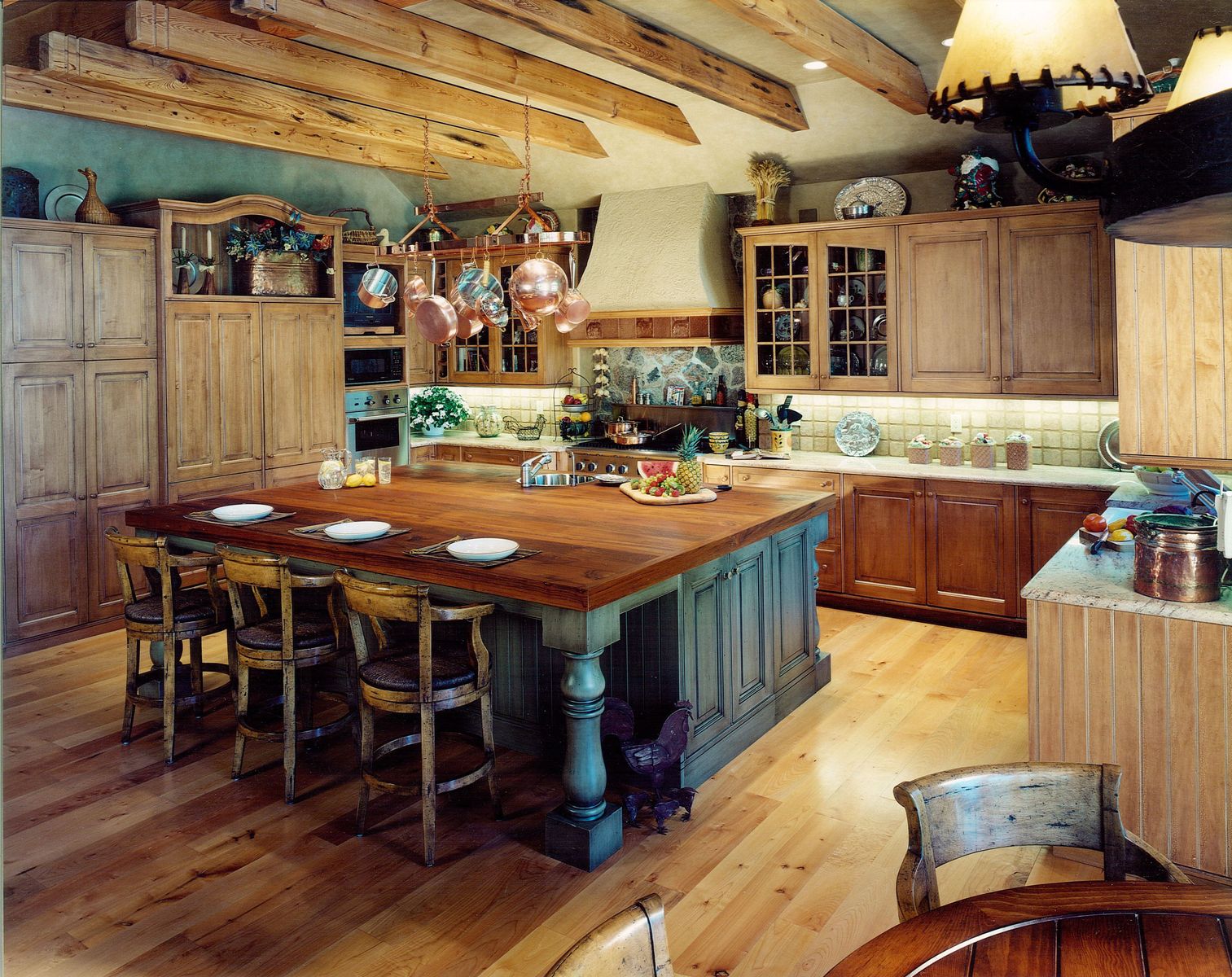 This square island appears to be a table at first glance. The turned table legs and the distressed wood contribute an air of humble strength. Primitive style wooden pieces have a beautiful realism to them and are a great kitchen design idea. The broad expanse of counter in the center of a square kitchen island would work well to serve food from. It could also effortlessly display a large lazy susan or a decorative arrangement with plenty of room to spare.
49. It's Not The Size That Matters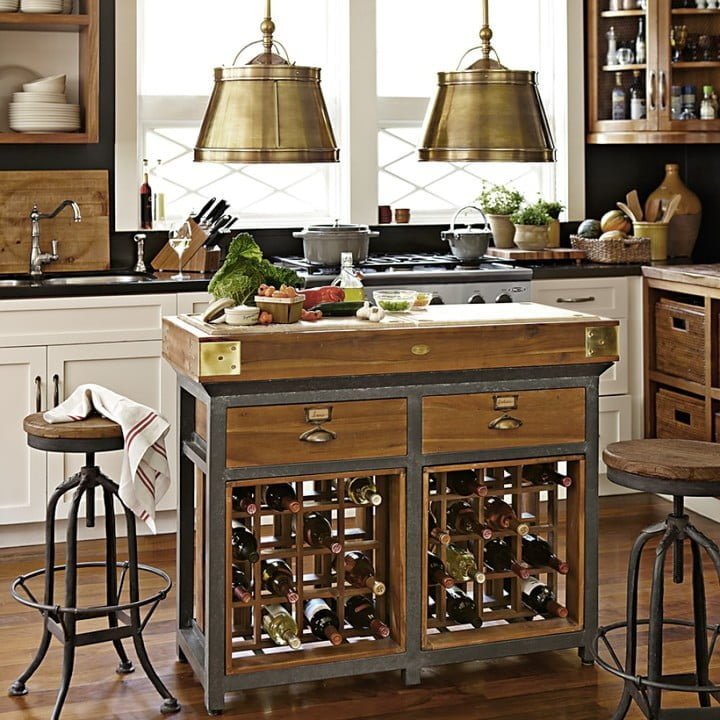 Kitchen island designs like this well built piece are worth so much. It provides a safe and sturdy place for meal preparation and stores wine right within arm's reach. Rubberwood on the butcher-block counter top is a durable choice. When you plan with quality in mind you can rest well knowing that it will last through the years. Brass corner braces and drawer pulls deliver timeless French style. A small piece like this could easily be fitted with wheels and become a wonderful rolling kitchen island.
50. Thriller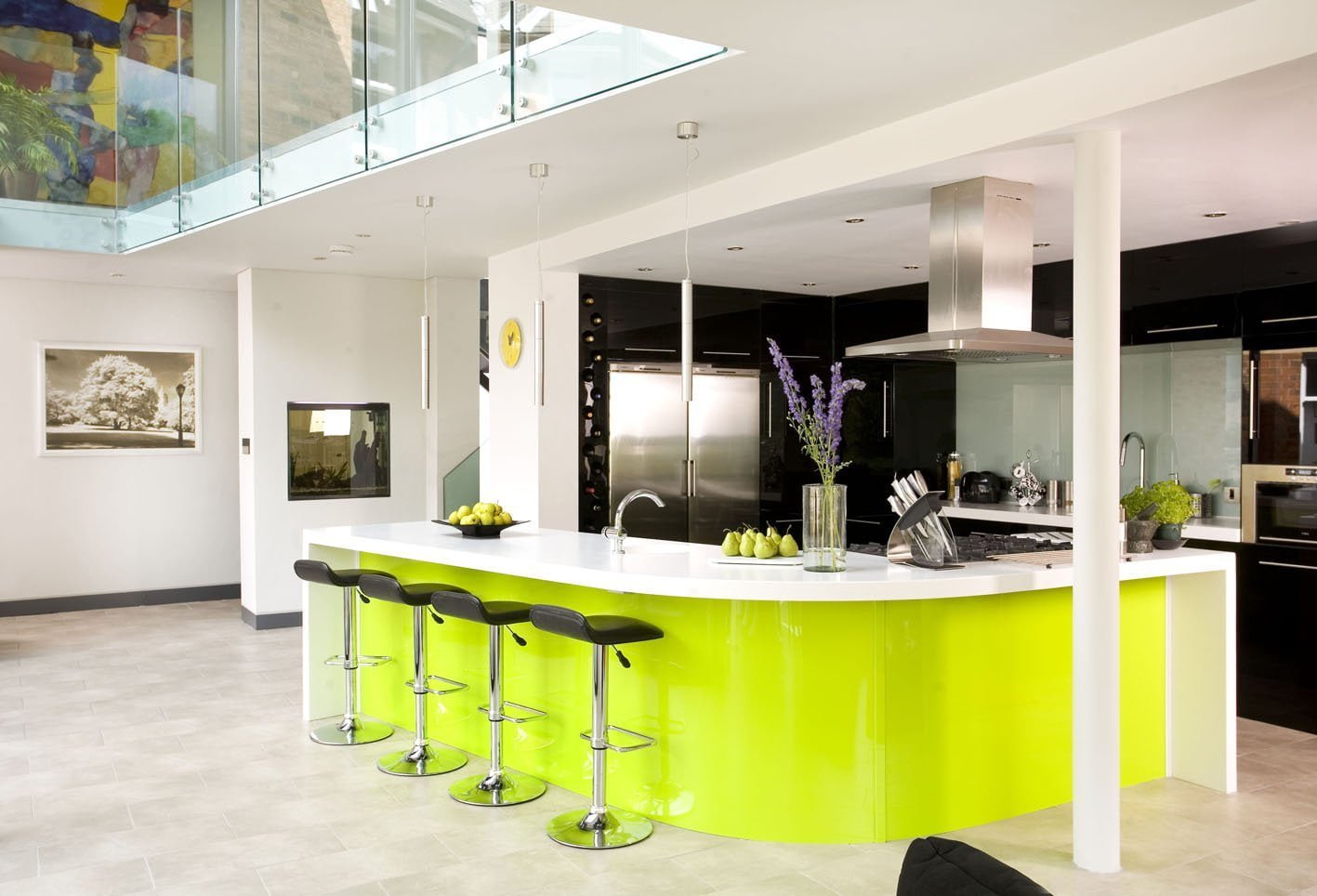 Exciting color is a sure way to get your island noticed. A kitchen design tip to remember: When clean neon color is paired with modern design it looks up to date rather than like a nightmare from the 1980s. This kitchen island is all in your face! Daring fluorescent green pops against contrasting black and white. This statement curved island changes from neon green to yellow as it curves around the modern kitchen. The air lift bar stools are classy minimalist with a sleek chrome base and black leather seat. Don't hesitate to choose strong colors if you truly love them.
Dream Up the Perfect Island
Of all of the kitchen design ideas that have been presented in this list the most important is to be yourself. Let your kitchen reflect your true self. Offer your best to the world, whether you are a flashy lime green personality or a graceful walnut stain sort of person. Don't try to make someone else's style work for you – make your own style! Take the time to find a designer or contractor who is committed to helping you to make your dream island into a reality. Difficulties along the way are only stepping stones to something better.
Create an island for your home that will draw your family and your guests together over delicious food. Give each one a job to help get the meal ready so that they will feel wanted and needed in the family kitchen. Serve a hot meal at your convenient island table with seating. Eat and laugh together. Enjoy every step along the way and may you love living with your island design happily ever after!