Tired of the same old recessed lighting and ceiling fixtures? Ready for something with a little more personality? You've come to the right place! We've found 36 of the most beautiful and stylish kitchen lighting ideas to illuminate everyone's favorite room.
36 Ways to Update Your Kitchen with Lighting

This collection includes pendant lights, chandeliers, ceiling light fixtures, and gorgeous upgrades for basic track lighting. These lighting concepts are design elements unto themselves. To find the perfect lighting style for your home, you must start by knowing what your decor theme is. Then, take a look around at your colors and available natural light. Darker colors or less natural light means that you'll need brighter bulbs and probably more of them, too. Lighter colors and more natural light let you get away with more opaque shades and lights that twinkle more than they shine.
To understand just how important lighting is in your kitchen, just imagine your favorite restaurant and how the lighting defines the experience. Lighting can outline each section of your kitchen and make every part – from your cooking prep surfaces to your dining table – more unique and intimate. Let's fire up those energy efficient light bulbs and brighten up!
1. Rustic Metal Sifter Pendant Light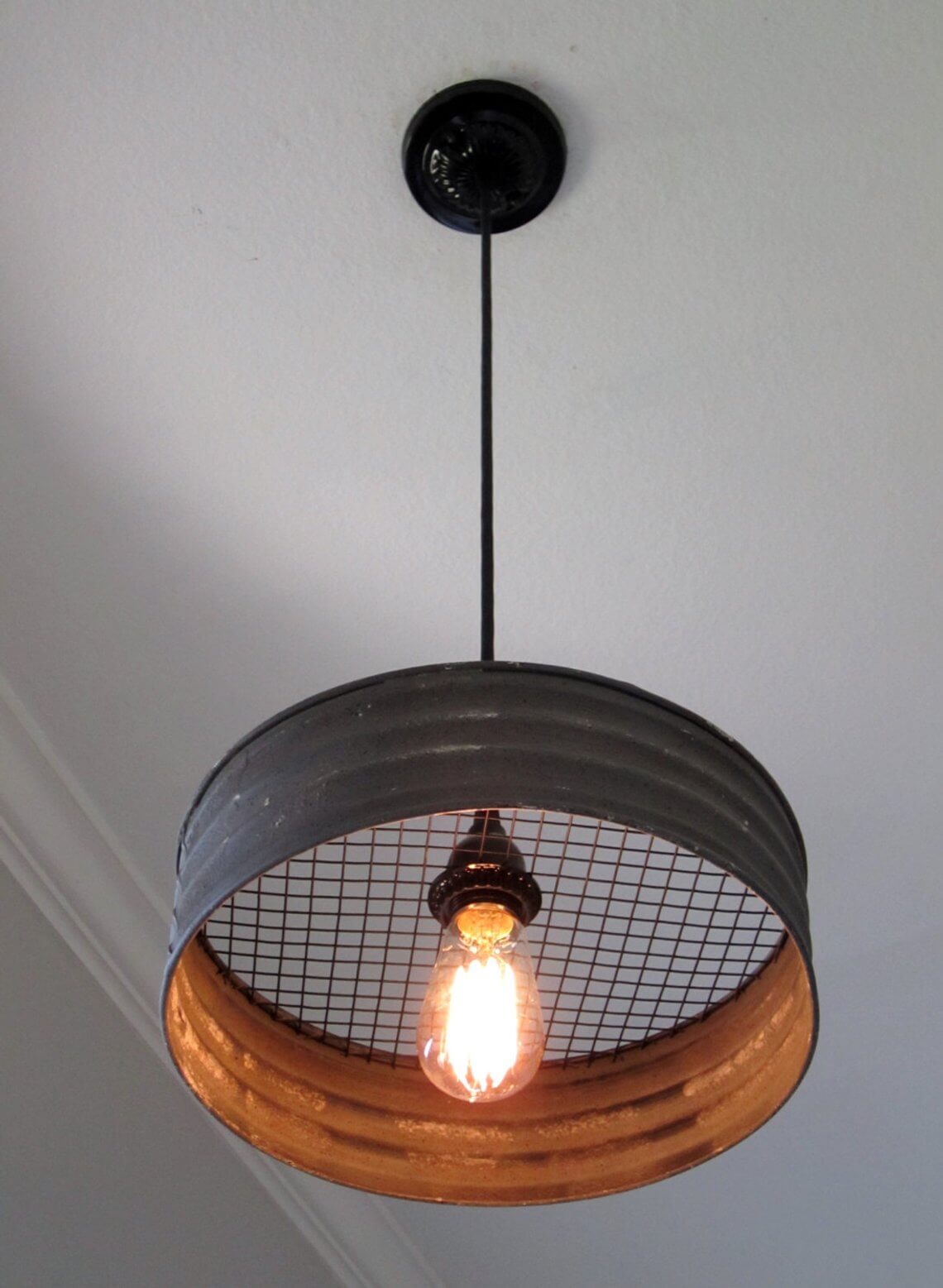 Weathered metal is absolutely perfect for rustic decor schemes like farmhouse or warm industrial. This light fixture is made of a distressed metal rim with a wire mesh backing. An antique style lightbulb works perfectly with this pendant light. This fixture would look great over a kitchen island or intimate dining table.
2. Farmhouse Chic Glass and Wood Pendant Lights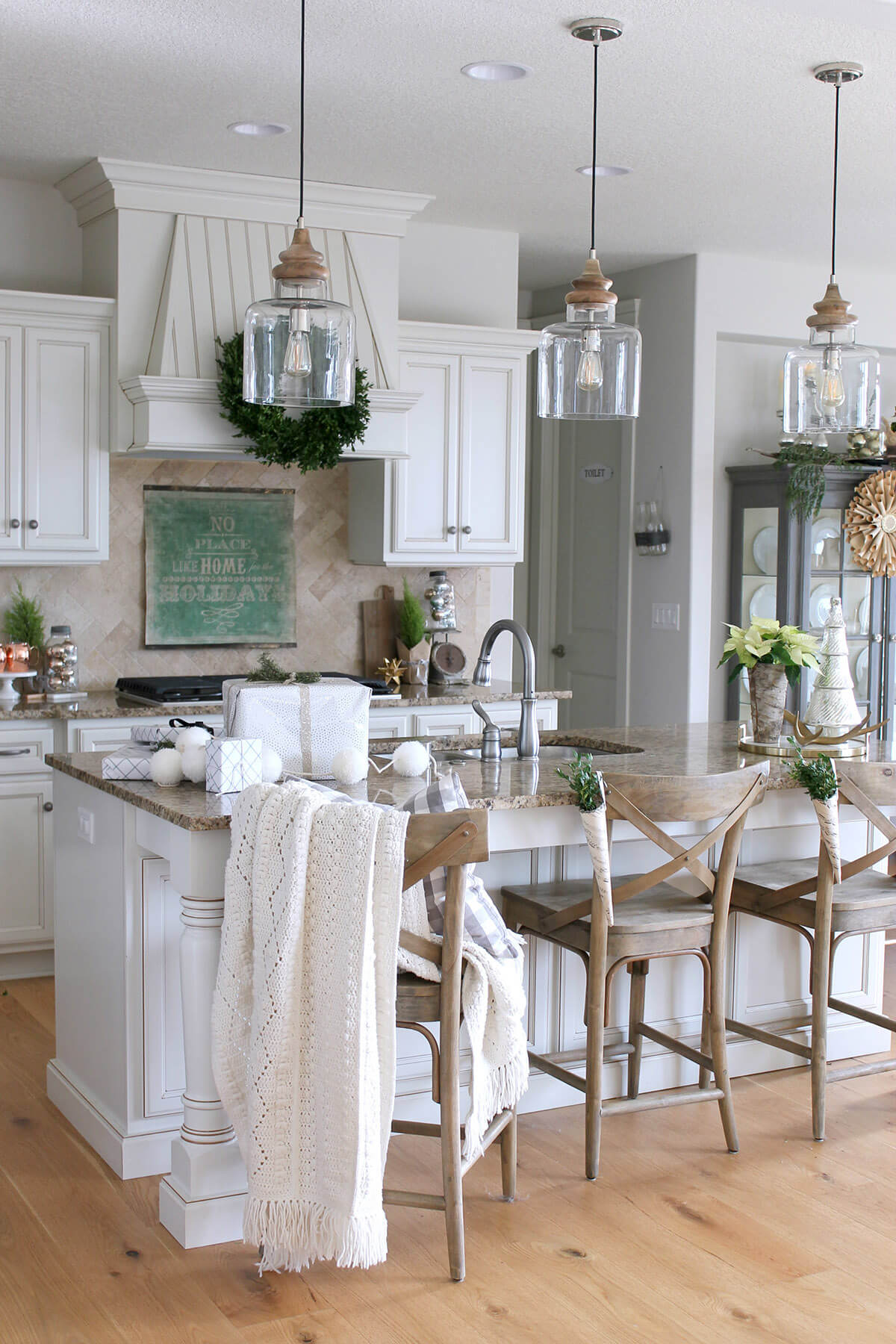 Farmhouse style is so versatile and charming! These beautiful pendant lights are a welcome update to track lighting or recessed lights. These large clear glass vessels are topped with a decorative wooden cap. Unique lightbulbs really set off the look and add an extra splash of character. These neutral fixtures would look great with farmhouse or shabby chic decor.
3. Traditional Patina Gold Chandelier with Crystal Drops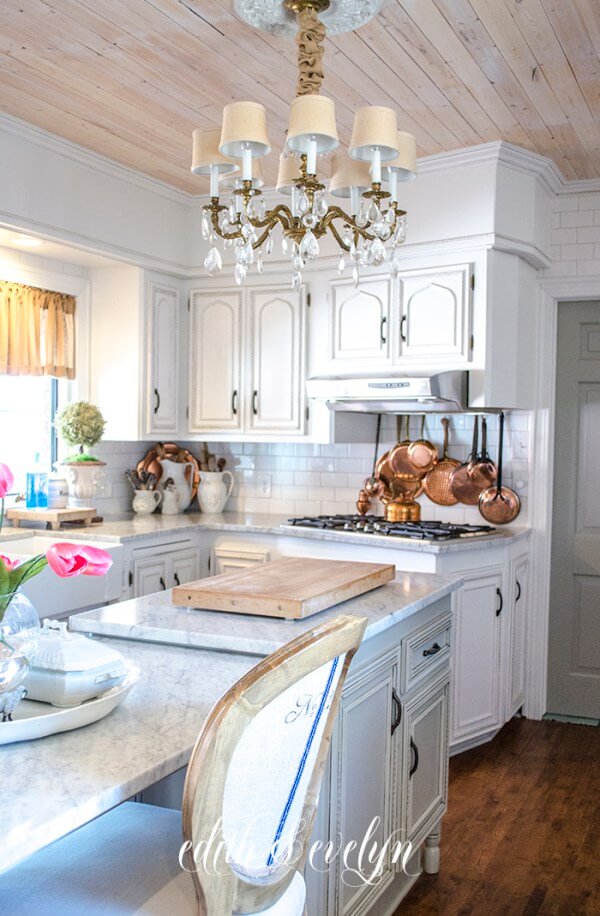 You can't go wrong with a good old-fashioned chandelier. The crisp white cabinets and sleek marble tops in this kitchen keep the chandelier from looking dated. The key to making a chandelier look contemporary and fresh is to combine it with modern and/or eclectic decor. Those crystal drops will make the metal and light dance around the kitchen!
4. Mason Jar Triple Pendant Arrangement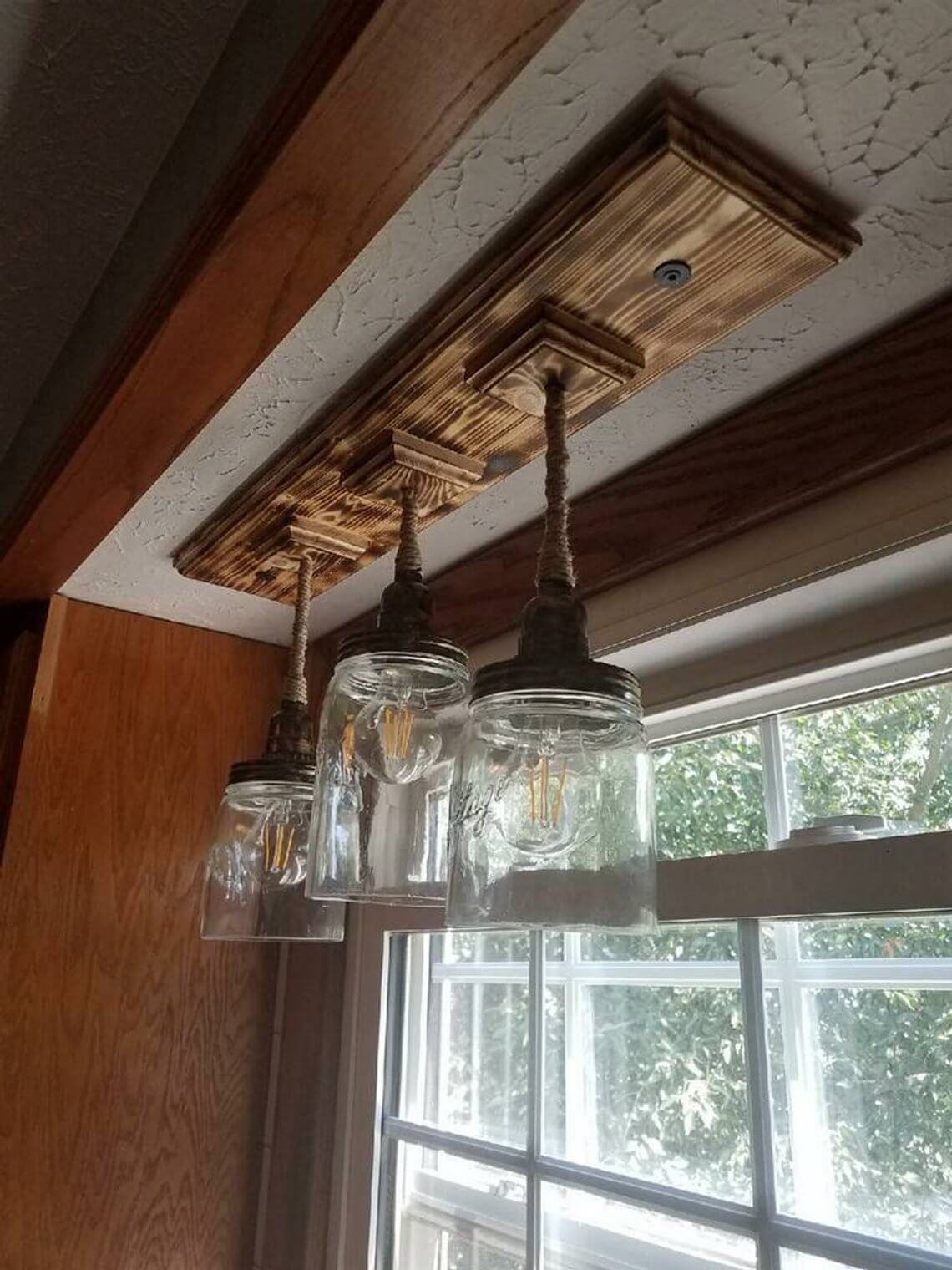 Choosing the perfect kitchen lighting depends on the shape of the room, how much natural light comes in, and the color palette. This Mason Jar triple pendant picture is perfect for those nooks and crannies where you need some extra light without it being too harsh. The design is perfect for rustic, shabby-chic or farmhouse decor.
5. Industrial Black Wireframe Chandelier with Wooden Base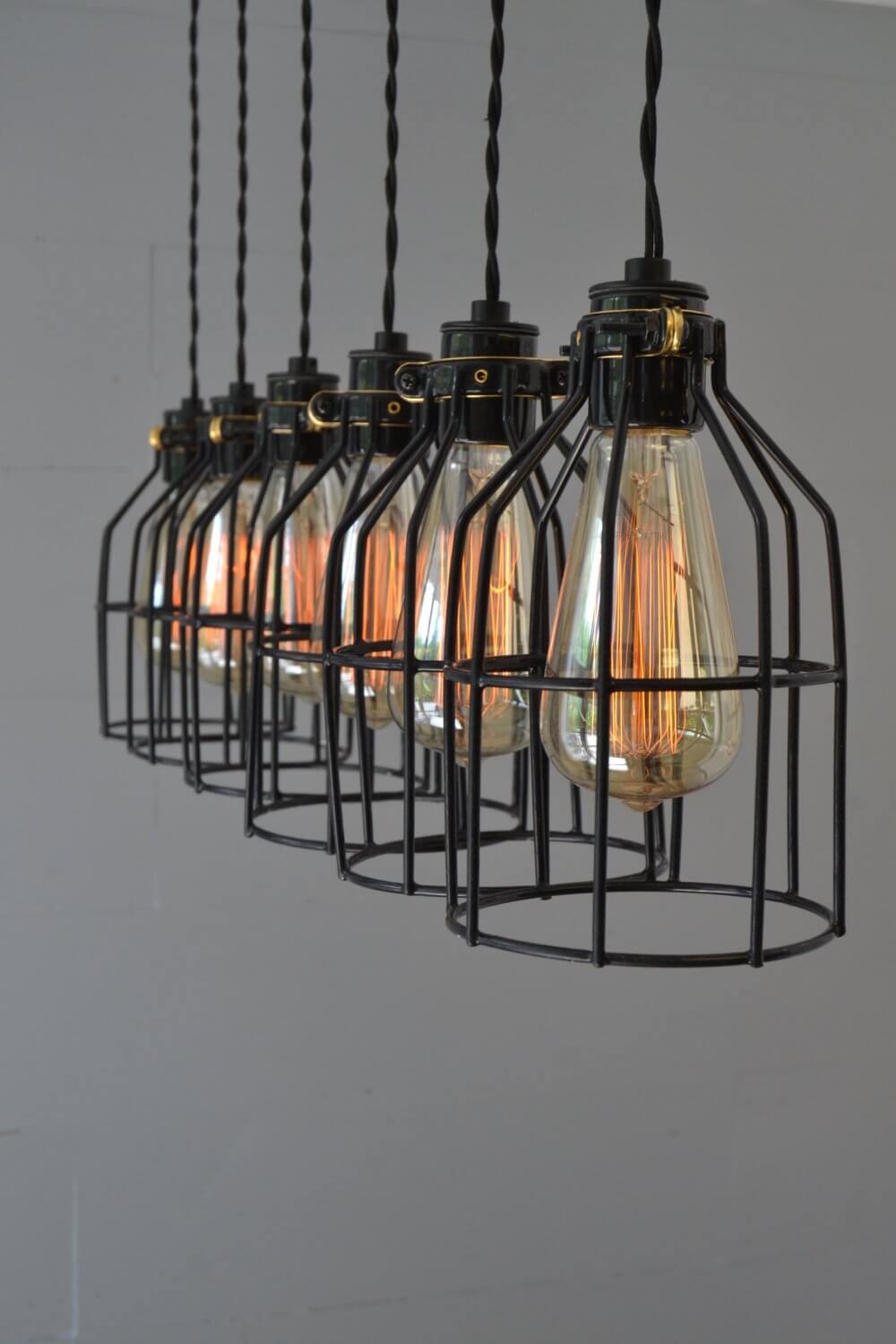 Who says a chandelier has to be so traditional? Kitchen lighting ideas like this are an interesting take on a classic lighting fixture. The arrangement of pendant lights in a row is great for lighting over a dining table or kitchen island. Rustic black wire frames with antique style bulbs are fresh, modern, and delightfully industrial.
6. Triple Mason Jar Pendant Cluster Light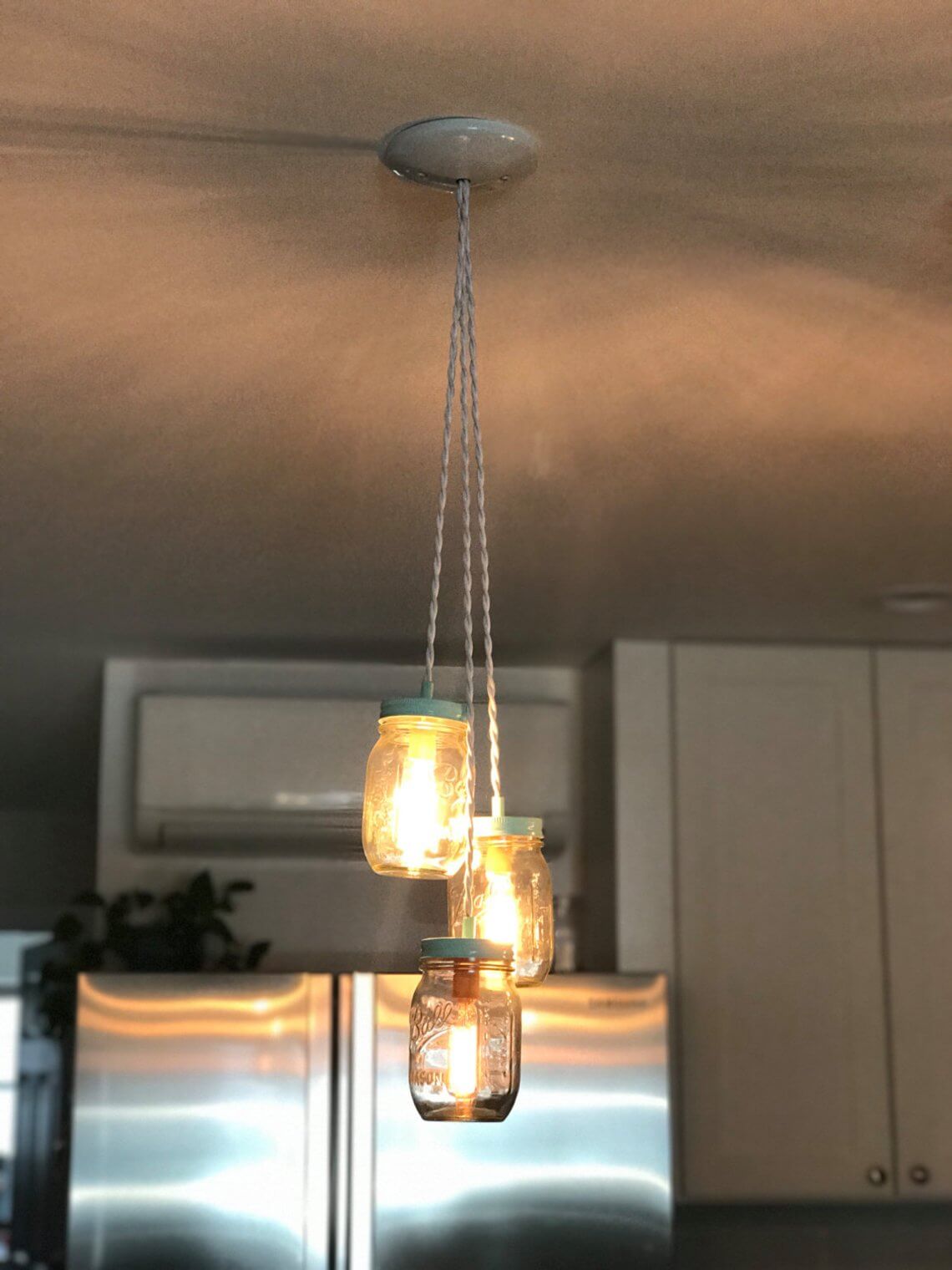 Cluster pendants are often found in a lot of modern and industrial design. This fixture borrows from those themes and adds a farmhouse feel with the addition of timeless and oh-so-versatile Mason jars. A Mason jar lit from within is like having a jar full of fireflies flickering through the night.
7. Antiqued Farmhouse Metal Down Pendant Lights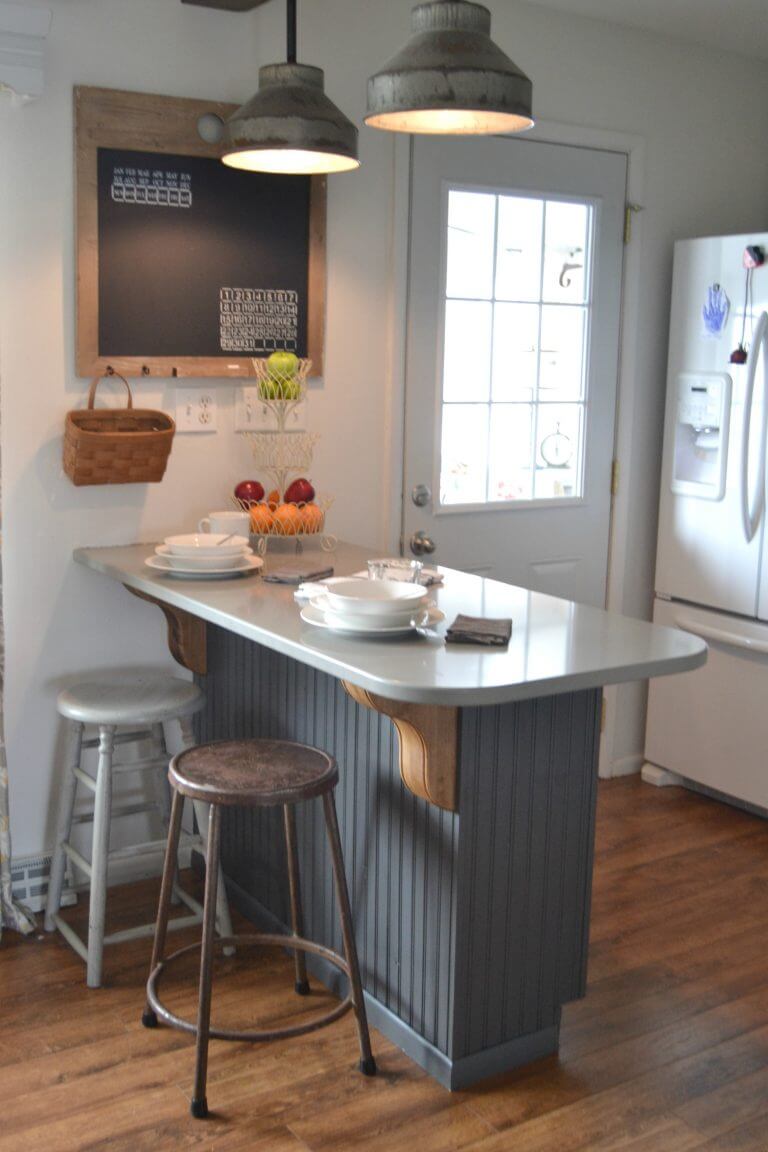 Farmhouse style makes good use of natural weathering and wear to create an authentic "lived in" feel. These pendant lights certainly fit the bill. The simple shape and worn metal look like it came right off of a country tin roof. Use warm bulbs in fixtures like this for a nice soft glow.
8. Wood and Mason Jar Linear Light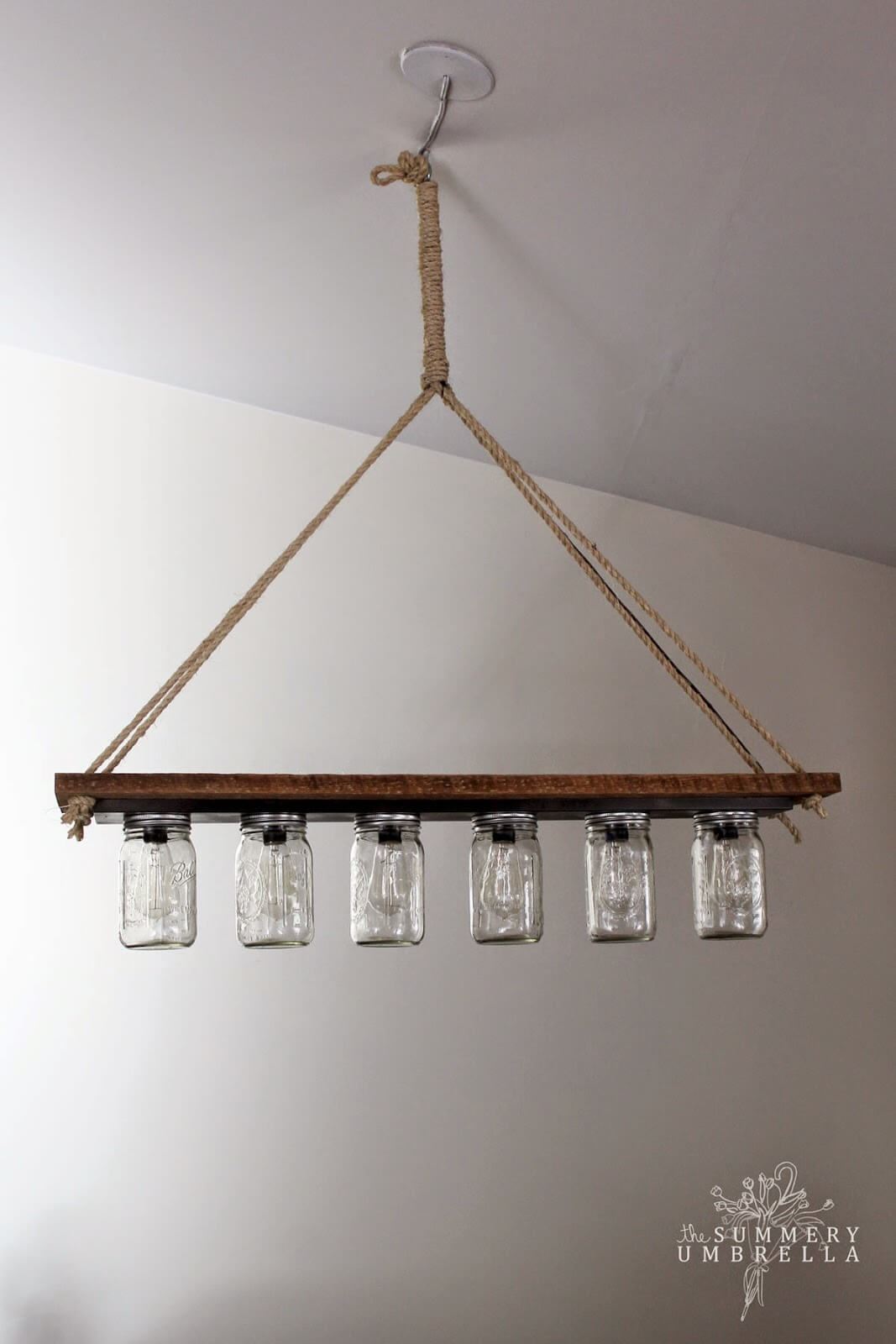 A linear light has multiple bulbs in a line along a single fixture or panel. This beautiful specimen uses a plank of dark stained rustic wood outfitted with Mason jars. The country feel is completed with rope wrapped around the wires to conceal them and add a little texture. This would be perfect to hang over a dining table.
9. Shabby Chic Shaded Pendant with Decorative Wire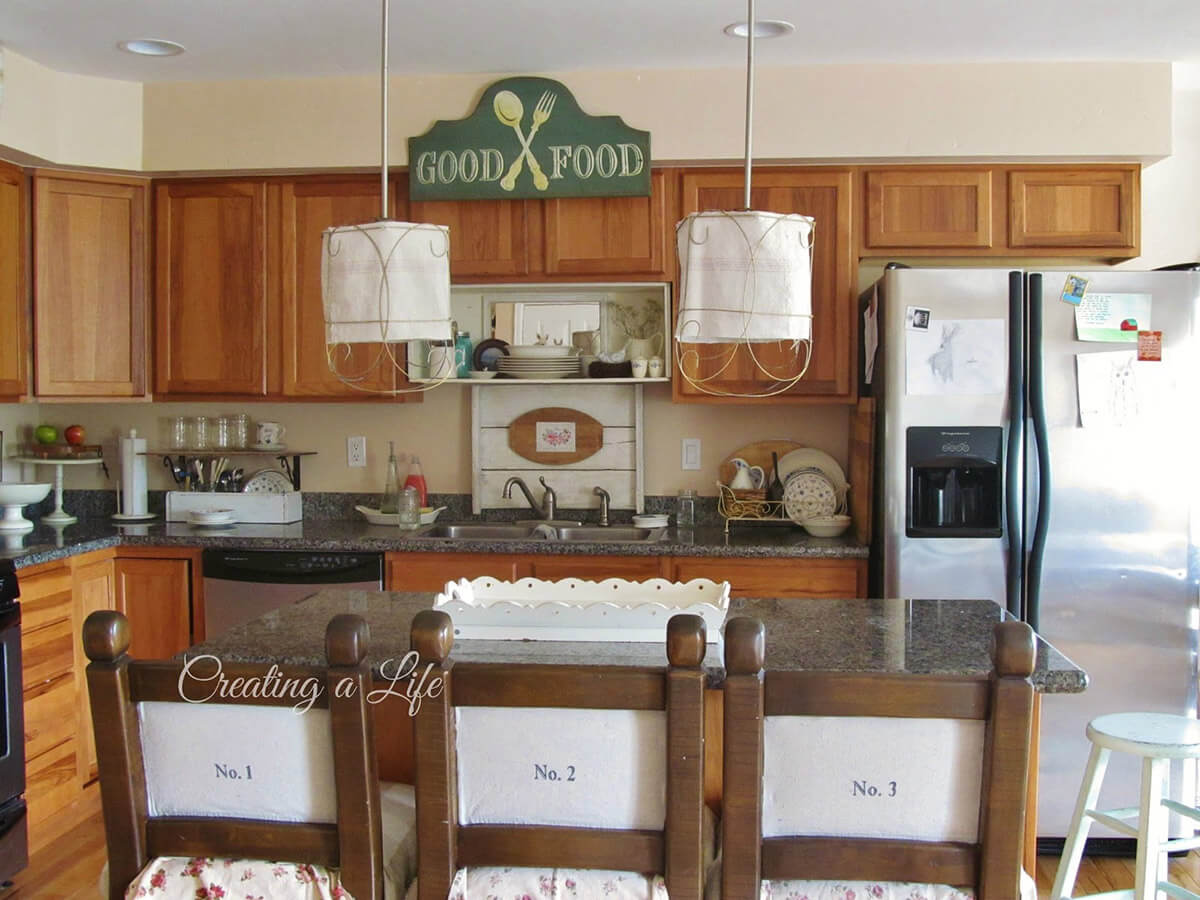 Of all the kitchen lighting ideas out there, shaded pendants are a favorite choice because they really set the mood in a room. The shade disperses the light and keeps it soft, while also pulling focus to a specific area – like this kitchen island with barstools. The decorative wire adds a little extra softness and style to an otherwise minimalist fixture.
10. Clear Globe Pendant with Warm Light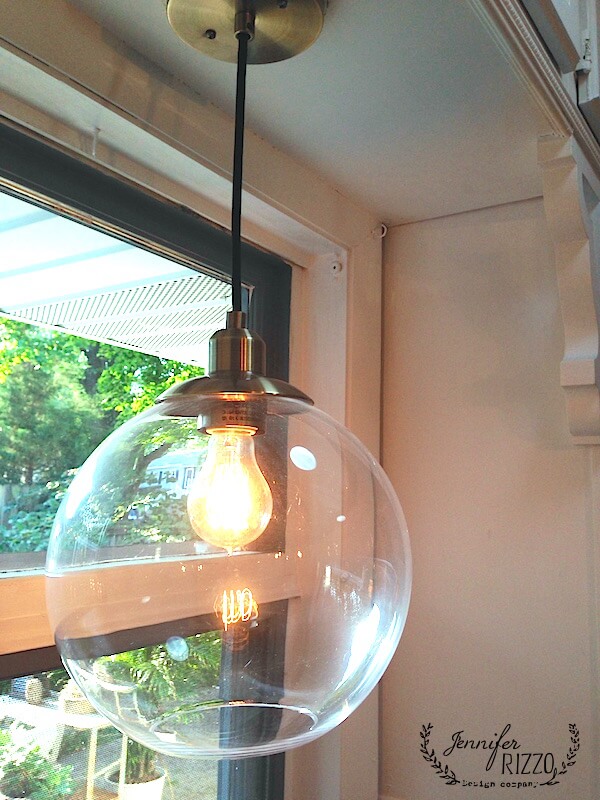 Globe pendants make such a lovely statement. A clear globe like this one gives you the volume and gloss of a globe while still blending in with whatever decor is around it. This fixture has brass hardware and a warm bulb which add to its richness and give it a beautiful amber glow.
11. Wooden Ladder and Mason Jar Chandelier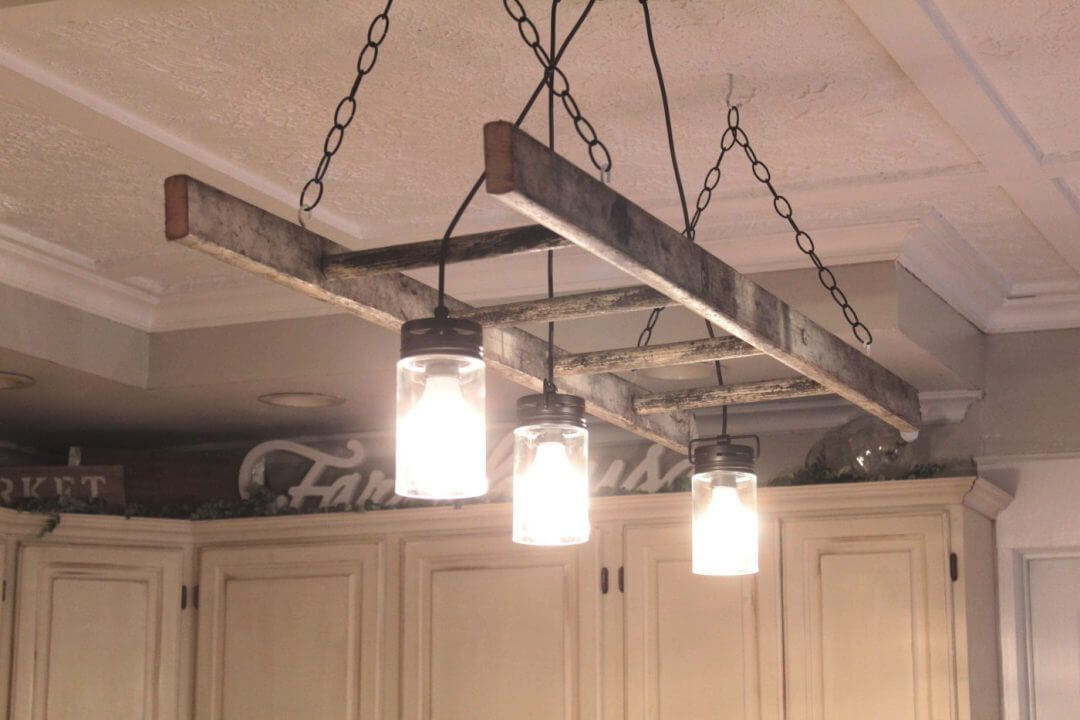 If there's one lighting fixture that's really been transformed by recent design trends it's got to be the chandelier. Farmhouse style has totally redefined the textures and materials you can get away with.
12. Warm Linear Globe Pendant Lighting Fixture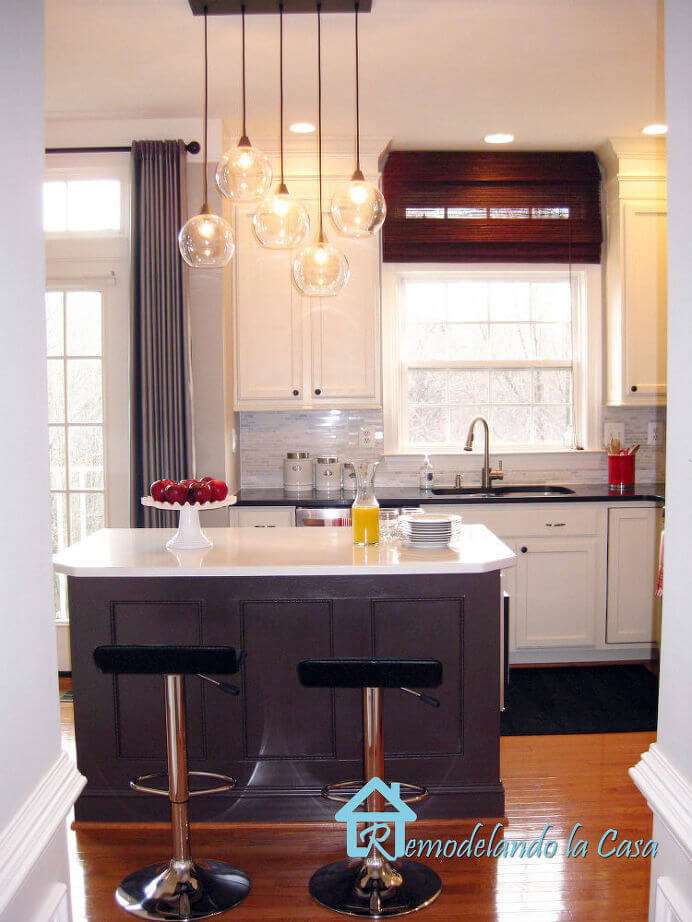 Modern and traditional meet up in a winning combination with this fixture. The copper hardware blends beautifully with the dark and rich elements throughout the kitchen. Three globes cast a warm, inviting light. This linear light is equal parts design and function, and it really pulls together the seating area at the island.
13. Antique Cast Iron Pulley Pendant Light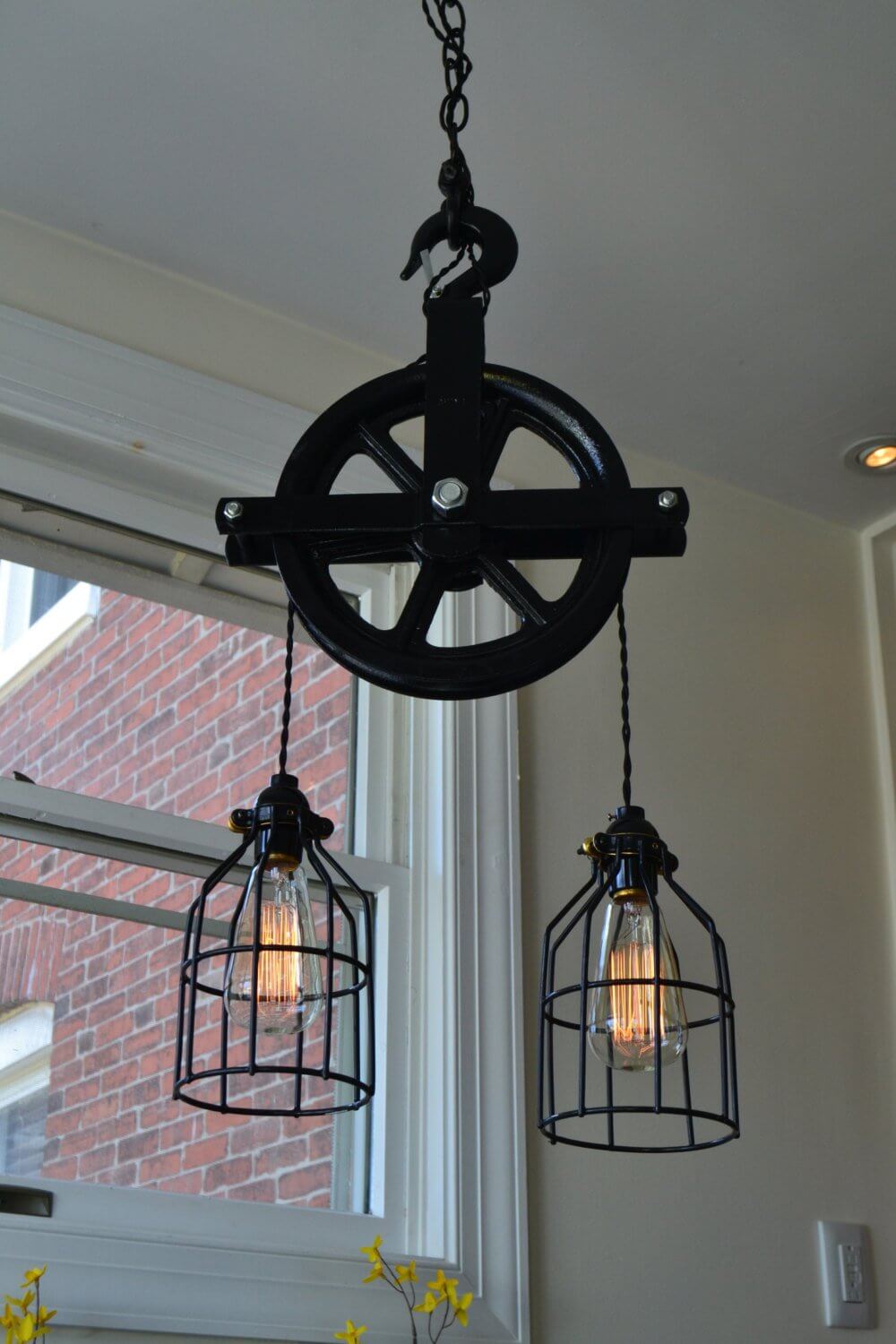 This fixture has plenty of personality. Repurposing an antique like this pulley is a striking way to make your kitchen lighting a little more interesting. The pulley is painted black and the pendants are housed in black wire frame cages. The design works for a more edgy farmhouse or traditional style, or industrial style decor.
14. Triple Linear Light with Glass Shades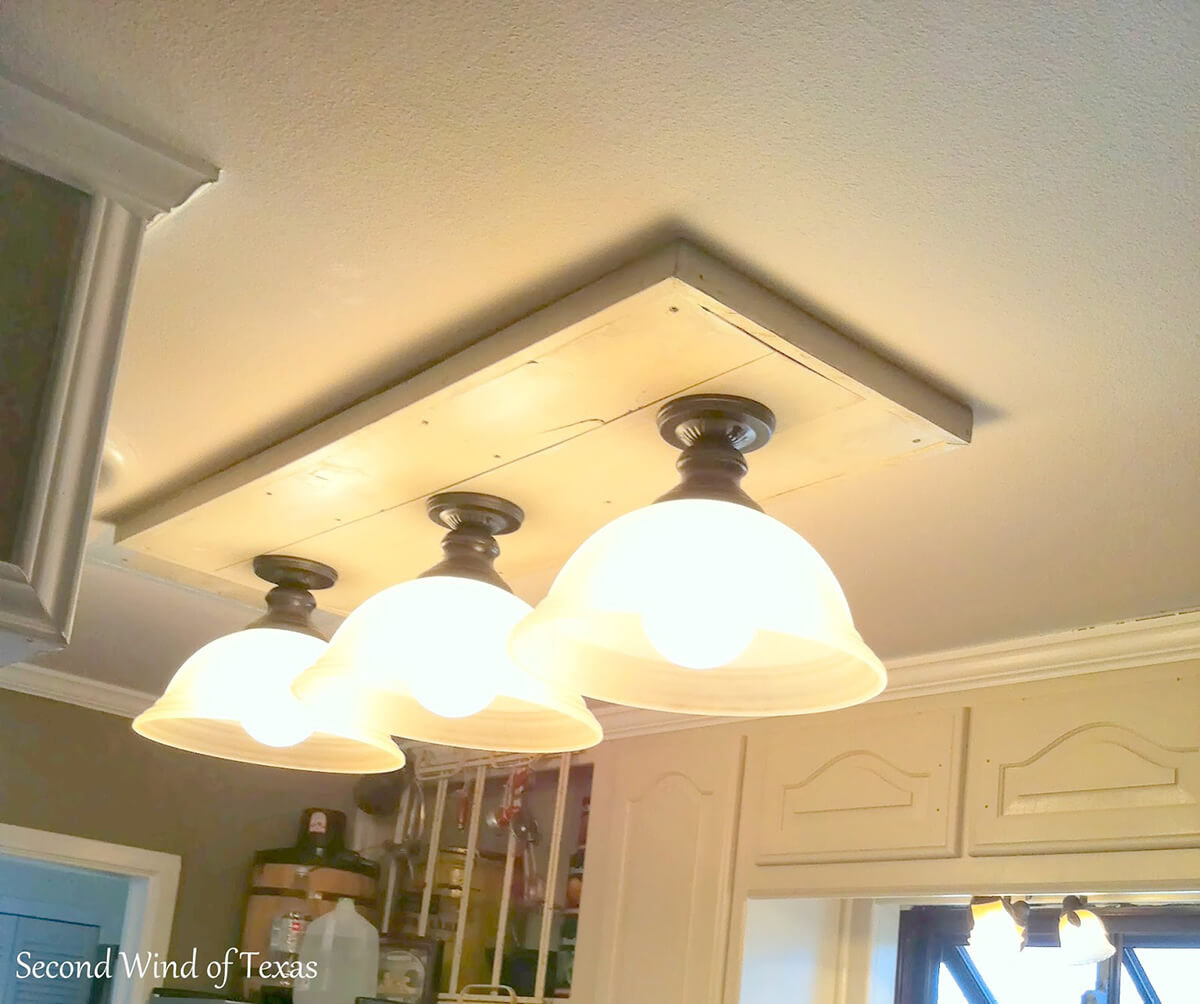 This lighting idea is a beautiful alternative to recessed or fluorescent lighting in a space that needs plenty of bright light. The wooden base and bronzed hardware are attractive focal points. The frosted glass shades have a pretty shape to them which also helps reflect the light all around the space.
16. Layered Wall Sconces with Globe Lights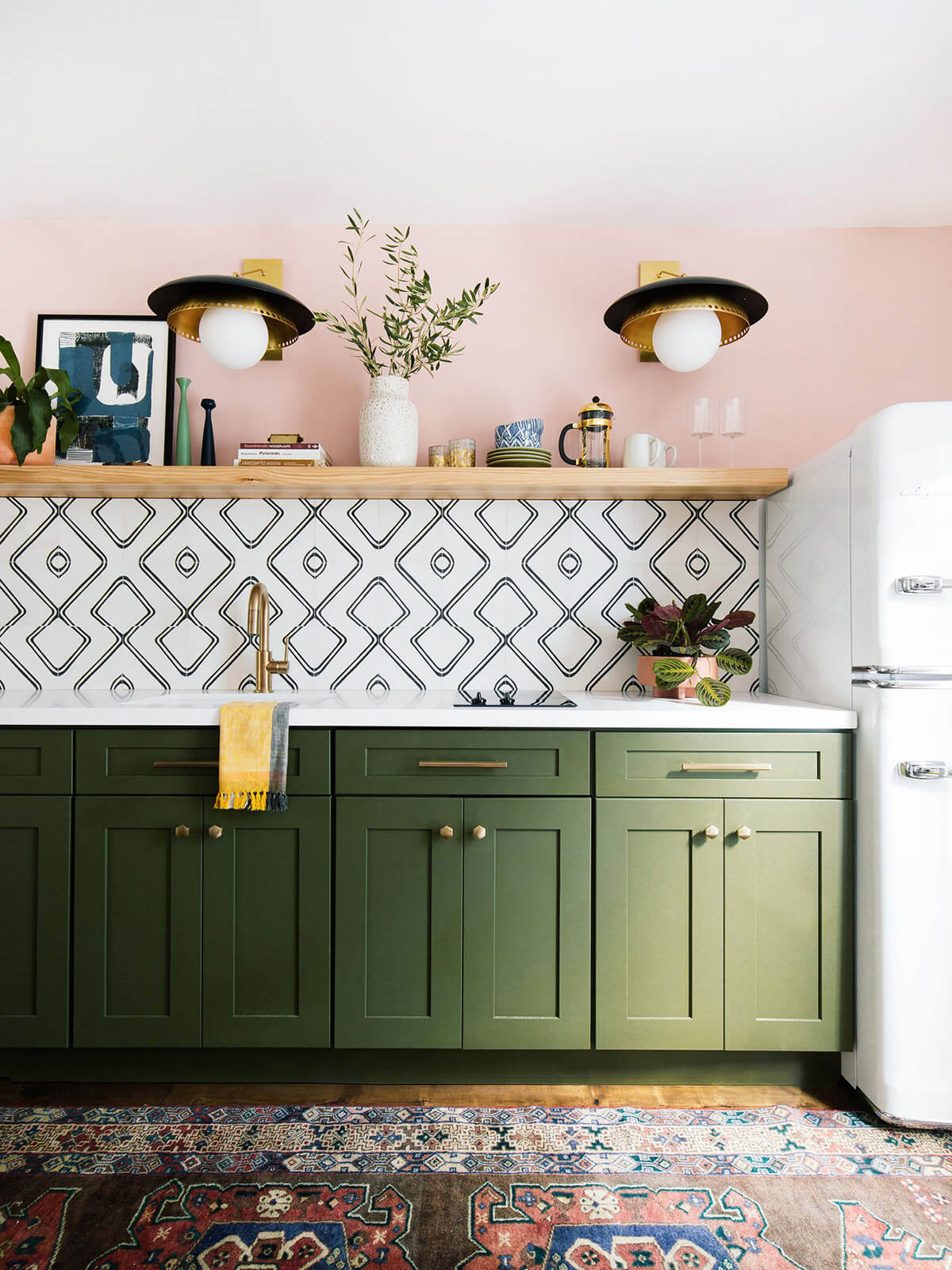 These kitschy sconces are full or personality and fit right in with an eclectic design theme. The gold hardware really pops, and the gold shade with a cutout pattern adds some texture. The 2nd black shade layer makes the look of these really interesting and unique. The final touch is an opaque white globe bulb that is as much a part of the design as it is the source of light.
17. Textured Blue Glass Pendant with Black Hardware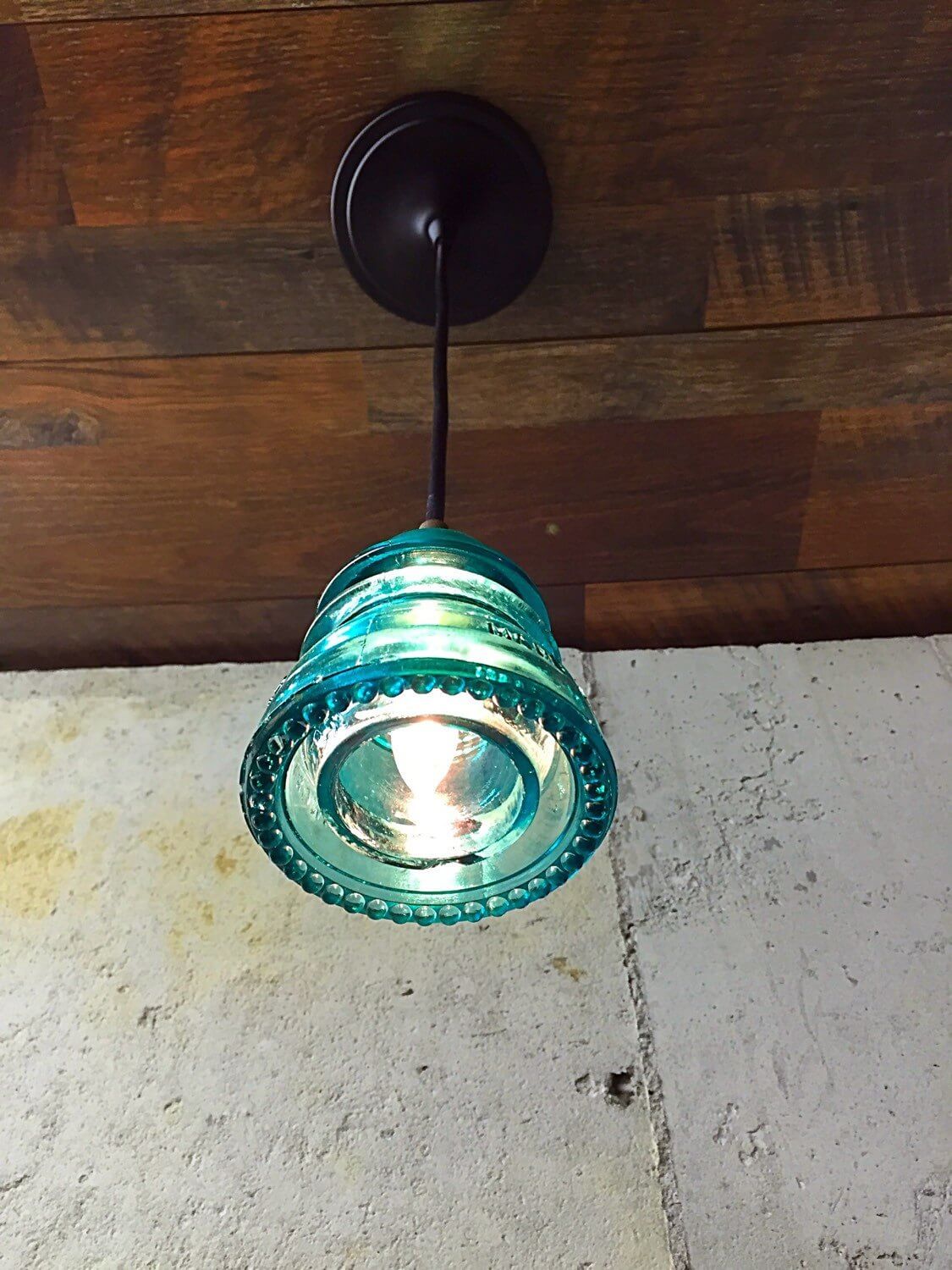 Blue glass casts such a lovely light when illuminated from within. The texture of this pendant makes an interesting glow pattern that's perfect for an intimate space like a small dining nook. The black hardware is a nice choice because it's neutral and blends nicely with the dark wood on the ceiling. Silver could work as well.
18. Mismatched Cake Tin Shades for Linear Pendant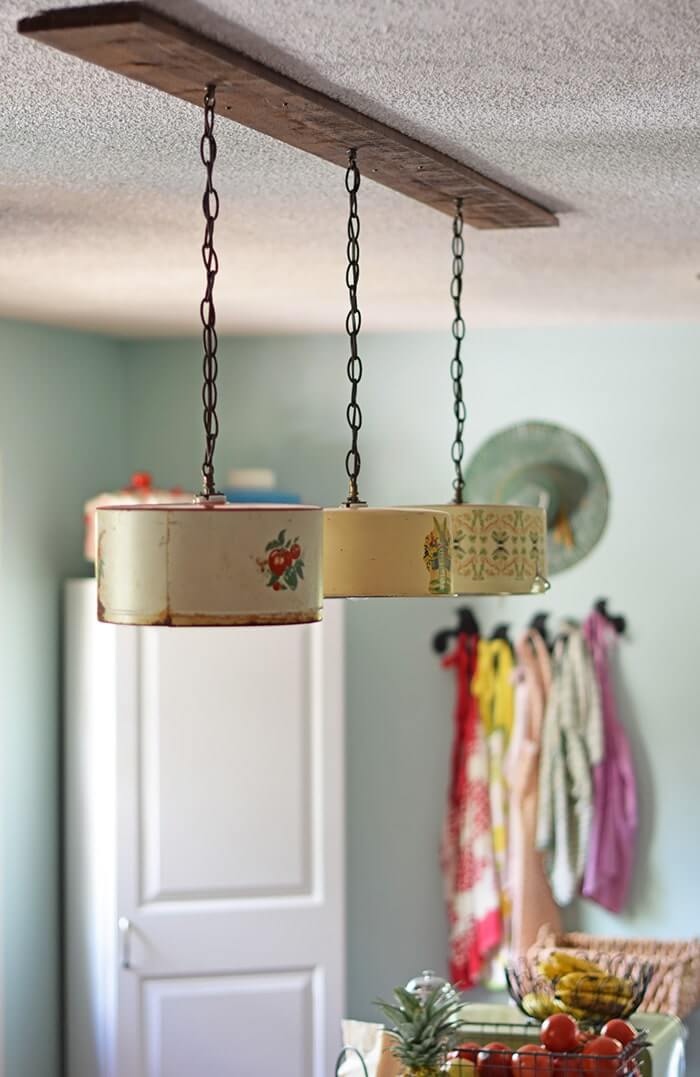 Give your linear pendant fixture a shabby chic upgrade with tastefully mismatched cake tins! This is one of the most creative kitchen lighting ideas we've seen, and it works so well. The antique cake tins are the perfect shape for a pendant light shade, and the simple designs are already "baked in"!
19. Metal Pipe Linear Pendant with Decorative Wire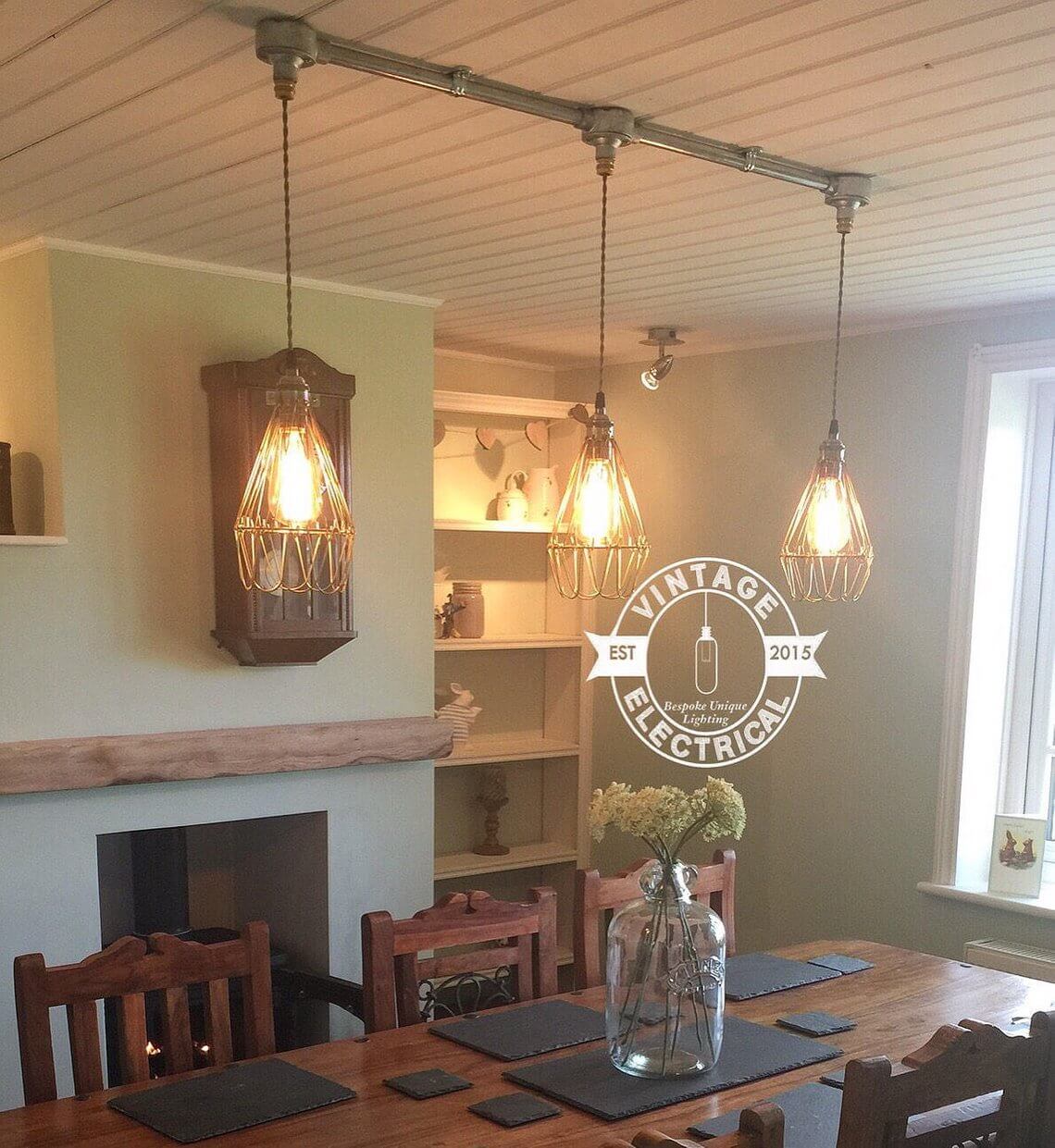 Industrial meets country chic in this linear pendant fixture. The metal pipe base is very simple, but also visually unique. The shades on each bulb are a simple metal wire in a geometric pattern. Since the shades are see-through, use a bulb with visual appeal to create a warm ambiance and cast light that's not too glaringly bright.wire in a geometric pattern. Since the shades are see-through, use a bulb with visual appeal to create a warm ambiance and cast light that's not too glaringly bright.
20. A Milk Bottle Shaped Pendant for Warm, Rustic Elegance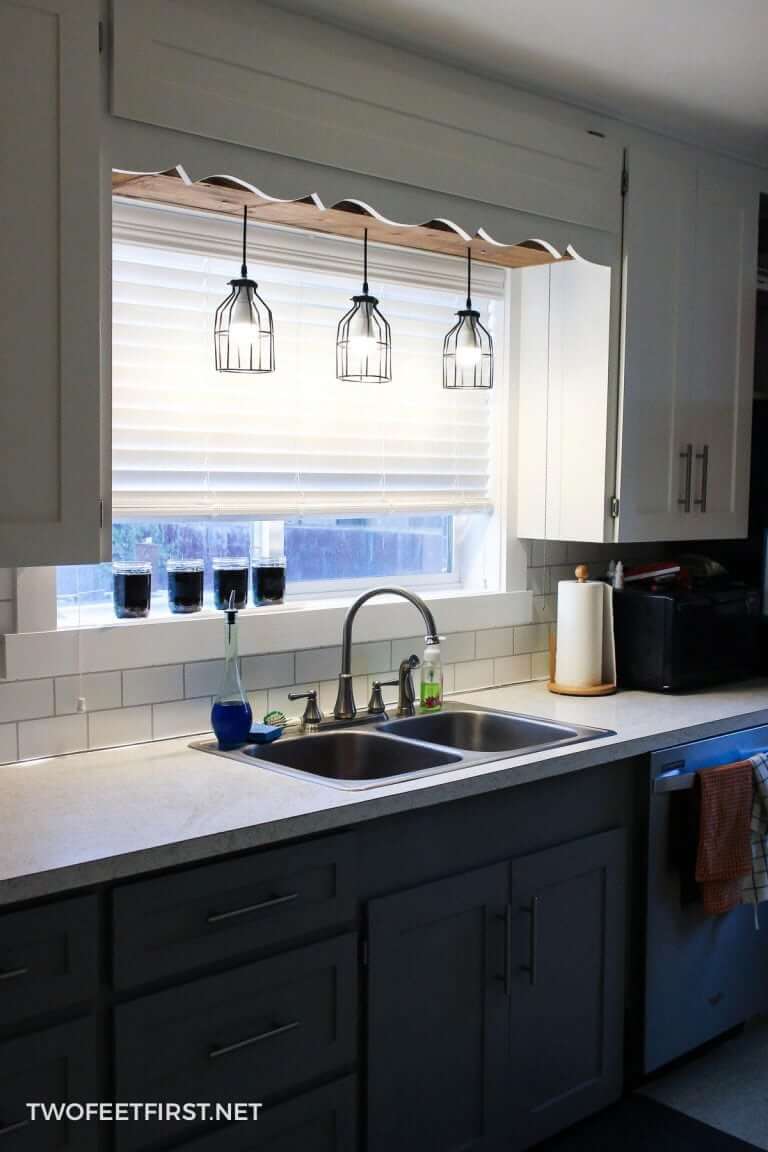 Lighting is a beautiful and inviting way to create interest in a kitchen. Having a kitchen theme built into the design makes the experience even more fun. This DIY lighting idea is a creative take on a milk bottle shape, invoking an old-world, rustic, farm-like feel that will make your kitchen cozier and relaxing for family and friends. It works well for any kitchen design from traditional to modern. Use other rustic-themed items and accessories to help complete the look. Once done, all that's left is a warm piece of apple pie.
21. A Perfect Blend of Modern and Traditional Lighting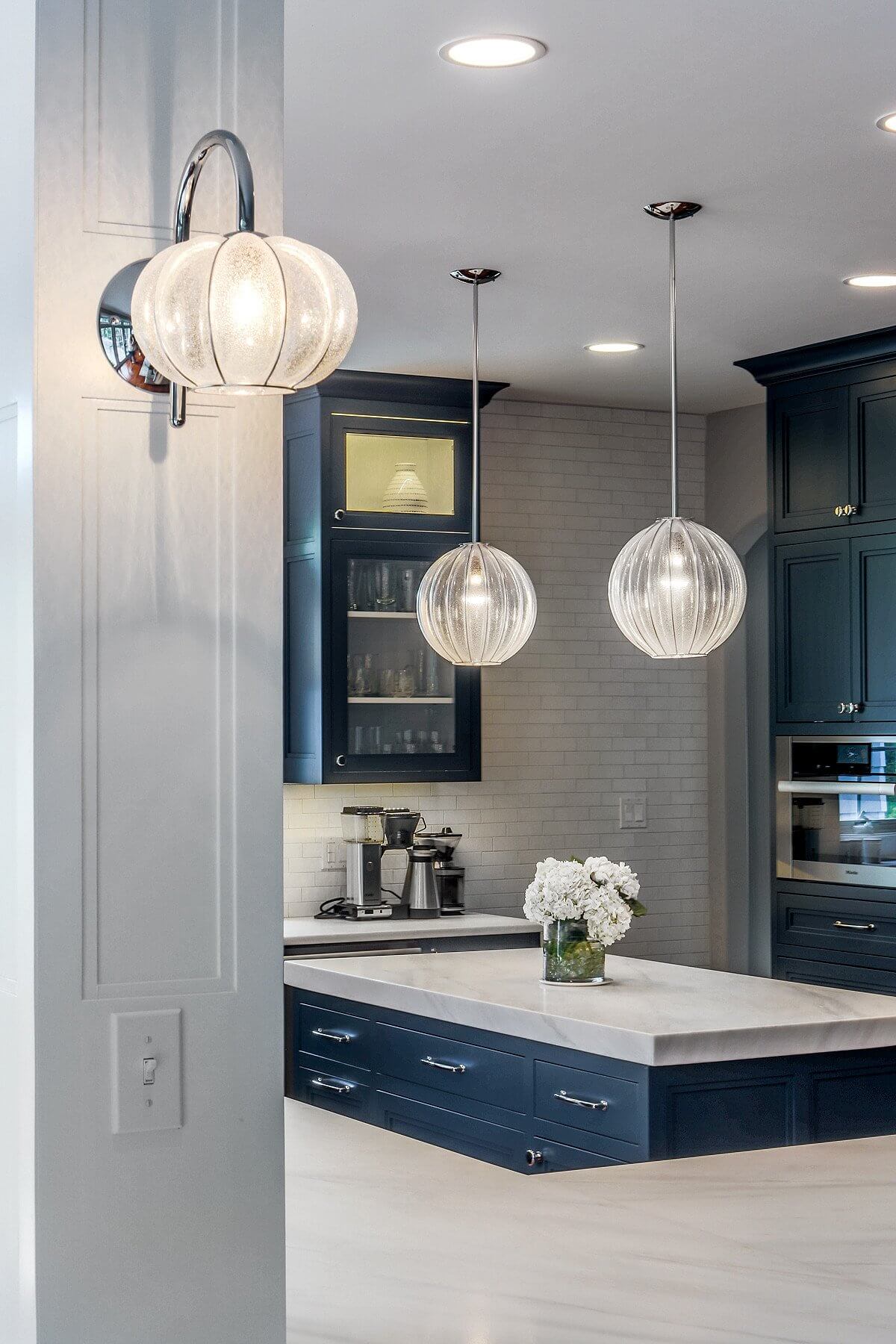 At first glance, these round pendants appear modern, but a closer look reveals a golden, sparkled glass that invokes the beauty of traditional Murano glass. This light is both arresting and visual appealing along a kitchen island, slowing visitors down and letting them enjoy the finer things while enjoying hors d'oeuvre and a delicious bottle of wine. In the case of open floor plans, sometimes the best lighting for kitchen islands is as sophisticated as the neighboring dining room and living room, making everything work together as a cohesive style.
22. Dress Up Your Lighting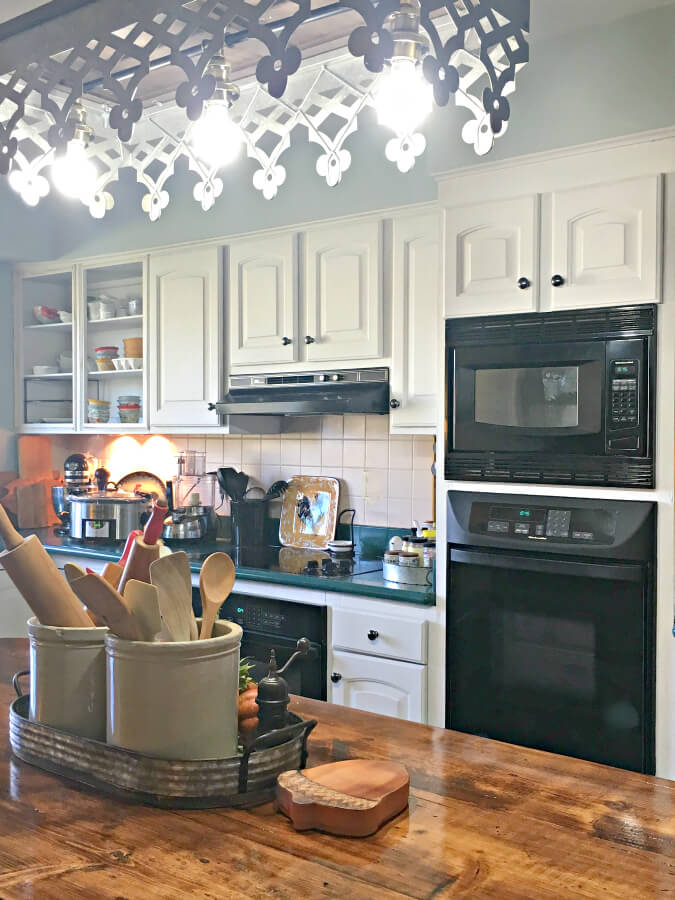 If exposed bulbs and recessed lighting isn't your style, and you crave something more friendly and inviting, then dress up your lighting! This fixture was hand built by combining a three-bulb pendant and a decorative table trim to create overhead lighting with enhanced visual appeal. The design helps create visual interest while the size and visual weight work to ground the island and making the room cozier. Now family and friends feel more comfortable and you and they can enjoy more time in it snacking, cooking, and catching up.
23. Lighthouse Cage Pendants to Shine the Way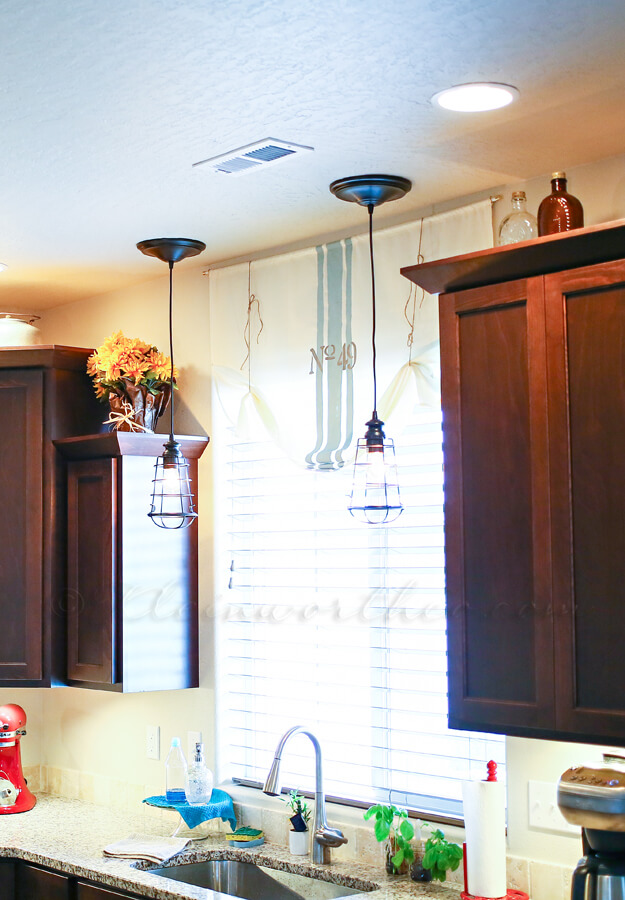 Pendant lighting allows for low lighting while not closing off space. They are also easy to install using the same electricity as existing ceiling cans. Additionally, they provide a lot of flexibility in design. In this case, a simple lighthouse style pendant provides an attractive, compact, and fun way to light your kitchen. This attractive style comes at a fraction of the cost of other designs without appearing low-priced.
24. Sconces as Kitchen Lights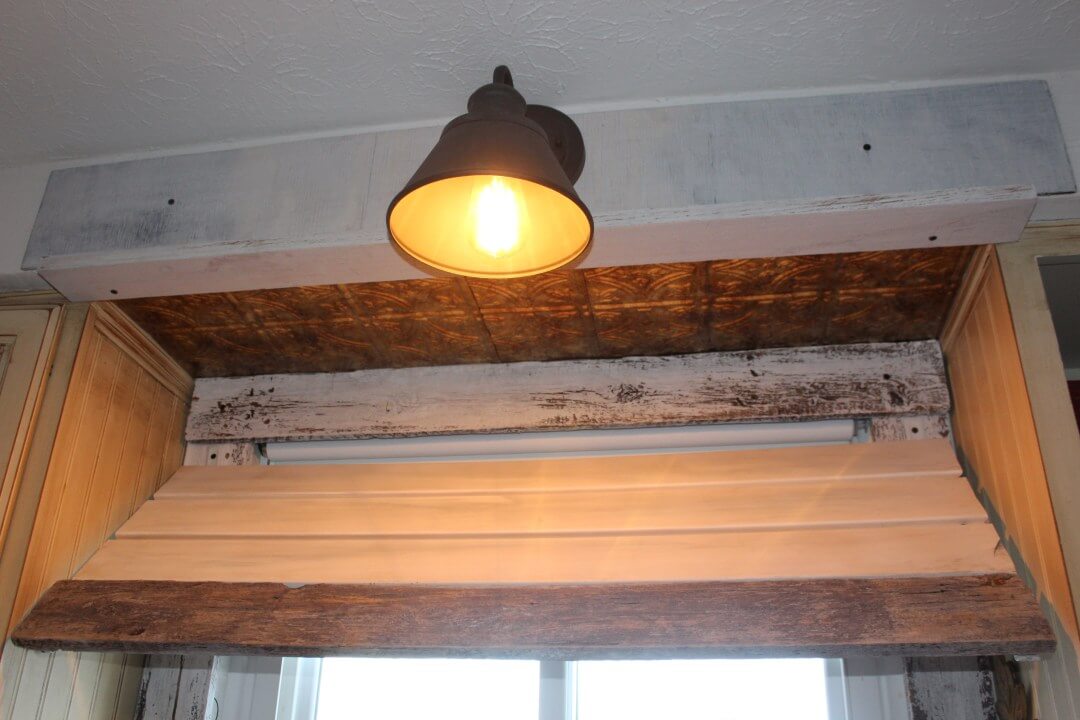 Continuing with a rustic farmhouse theme, this small, traditional sconce is an excellent example of a low-cost option that provides an inviting visual story. Your choice of the bulb will carry that story further, and rustic surrounding wood treatments bring everything together. Low-cost styles such as this light allow you to position sconces in multiple areas, expanding on the theme. And by bringing more of the light's finish into handles and accessories in the kitchen, you complete the story beautifully. Whether it be multiple lights or just one, it's an attractive addition to any kitchen.
25. Kitchen Lights That Bring Up Memories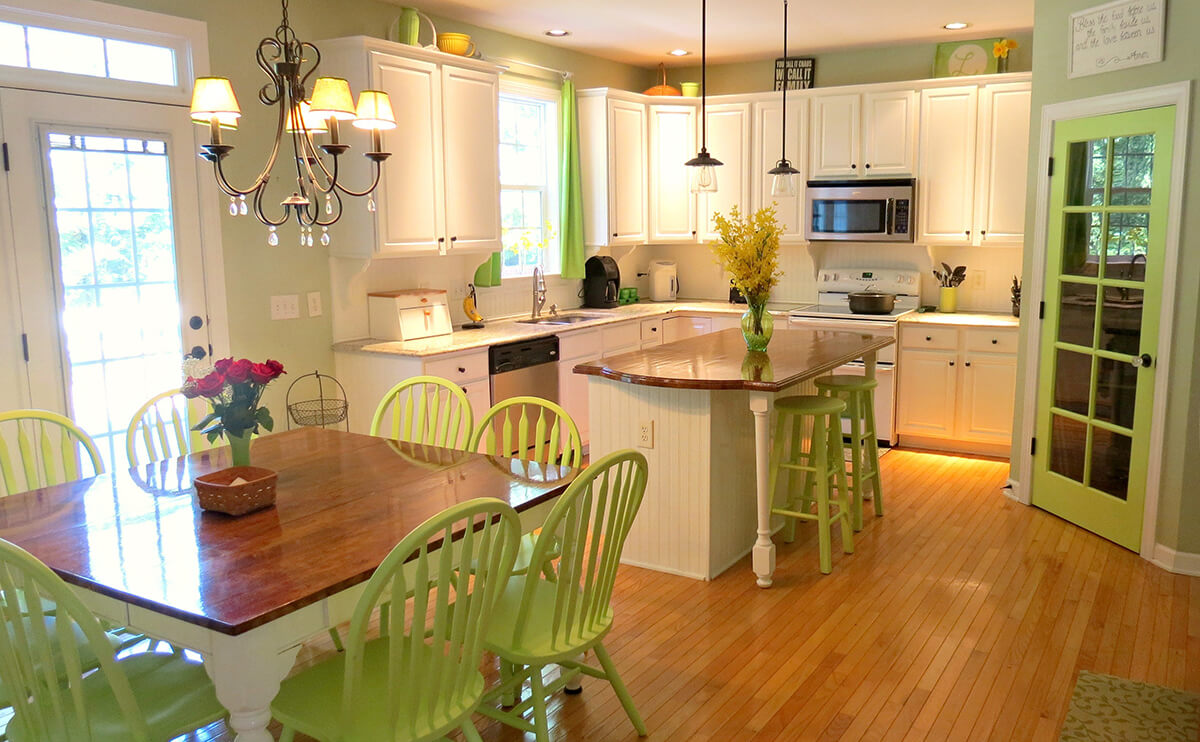 For coziness in a home, some of the best lighting for kitchen ceilings brings up warm memories. When it comes to pendants, kitchen lighting ideas are endless. These lights are a blank canvas and, if so desired, can be designed to evoke certain feelings that make the space more inviting. Here a light brings together many visions we typically associate with homes and food. With a design that is part bird-feeder, part camping light, you bring a deliciously cozy story to the kitchen that addes to the experience. And their small size allows the kitchen to feel big while providing sufficient light.
26. There Is Beauty in Contrast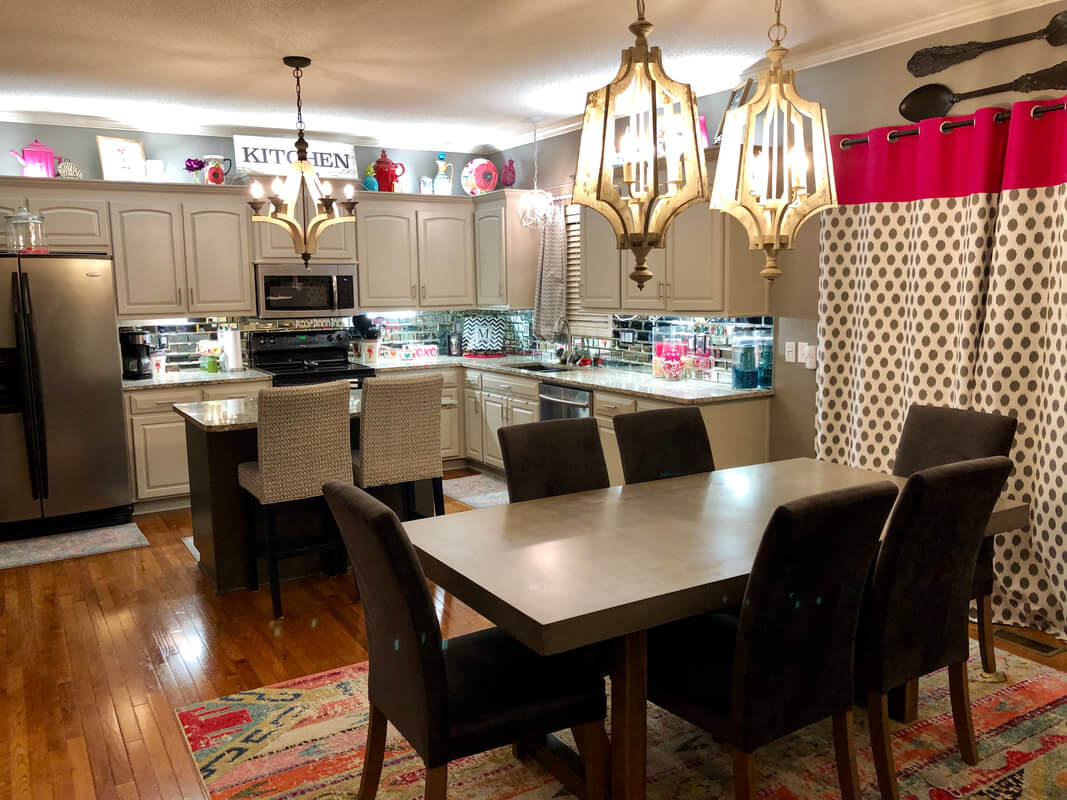 Some of the best lighting for kitchen areas can change your room from bland to beautiful, and one sure way of doing this is juxtaposing styles and finishes. If your kitchen is a modern or transitional style, you can inject life by installing a contrasting style. In this example, the golden tone of the lighting against the earth tones of the kitchen make the lighting shine. This pulls up the feeling of the entire room, making it more friendly and inviting. This lighting will put a smile on any face and more of a spirit in their walk.
27. Under Cabinet Lighting for Enhanced Ambience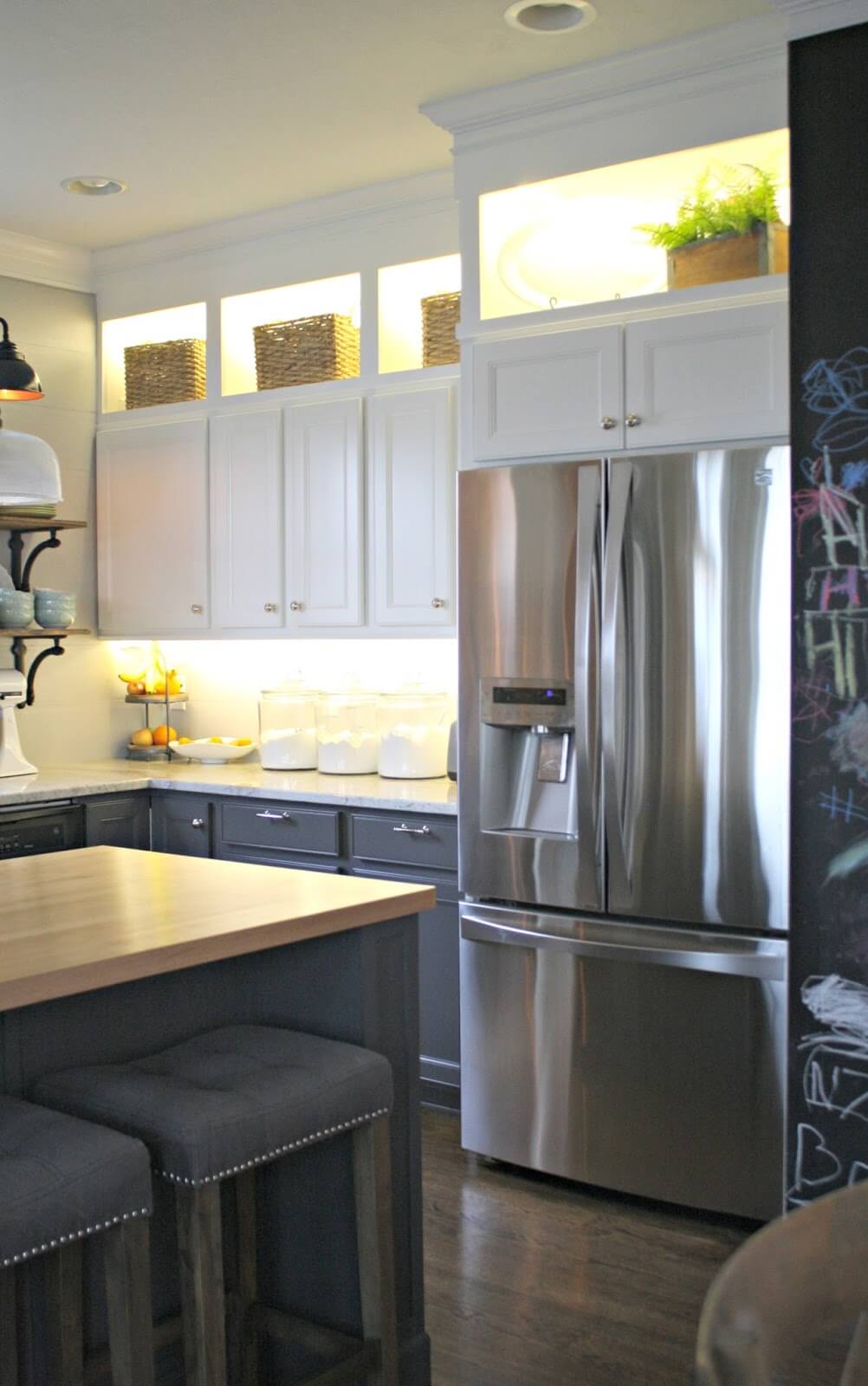 Some kitchen lighting ideas barely resemble lights at all. Undercabinet lighting provides a warm and calm atmosphere in an ultra-clean design. Your kitchen will feel open and user-friendly, giving you access to all you need while lighting your way. These lights are helpful for open storage, changing dark and cold looking corners and pockets into friendly areas that display your favorite items. They provide function without the size, making it a minimalist's dream.
28. Kitchens That Drip in Luxury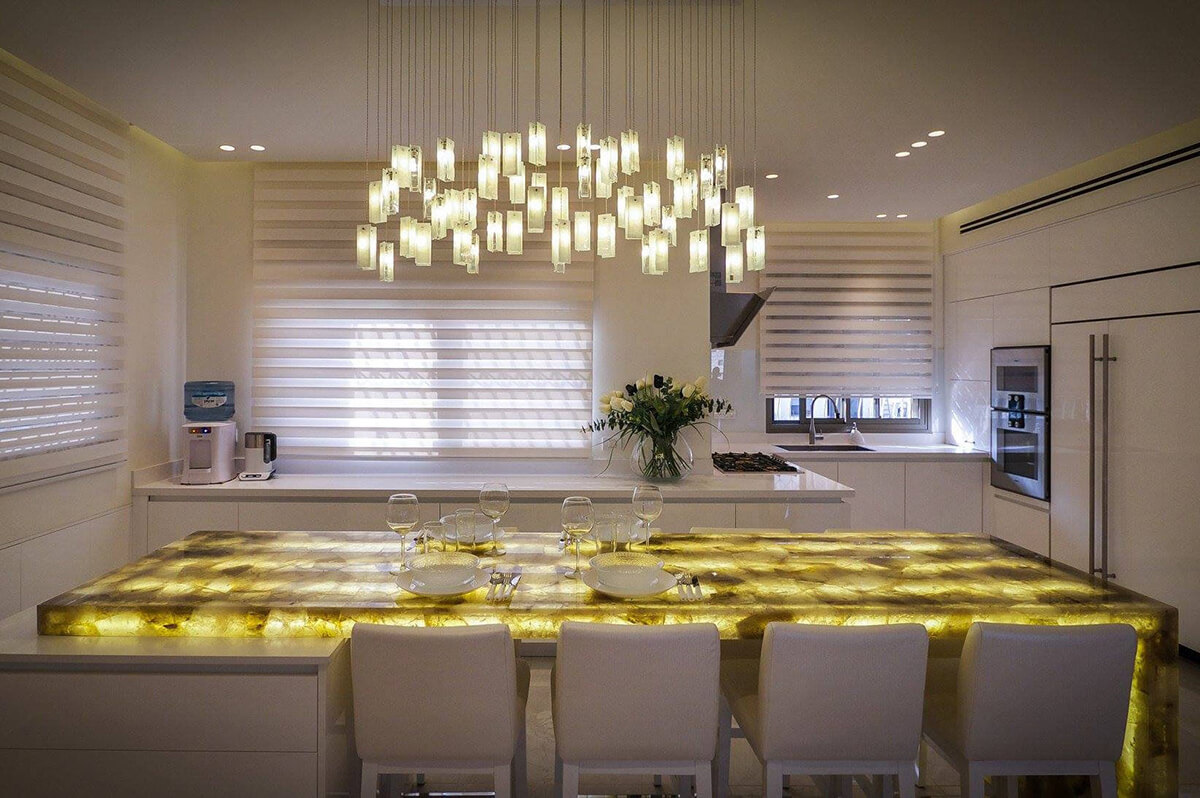 Warm light throughout your home creates an inviting ambiance people enjoy as much as dining chandeliers. It can be some of the best lighting for kitchen counters and islands. You can glam up your kitchen with this canopy light resembling the glow of candles and luxuriousness of crystal. This style can be hung in groups at any size you need, even as single lights for smaller spaces. When grouping, you can get creative with shapes including stepped, rounded, oval, and rectangular. By stacking them downward, you create a shower-like effect. The sky's (or the ceiling's) the limit. You'll enjoy the beautiful glow of these lights and can use complimentary under-counter lighting to complete the entire look.
29. A Rustic Design Worth Repeating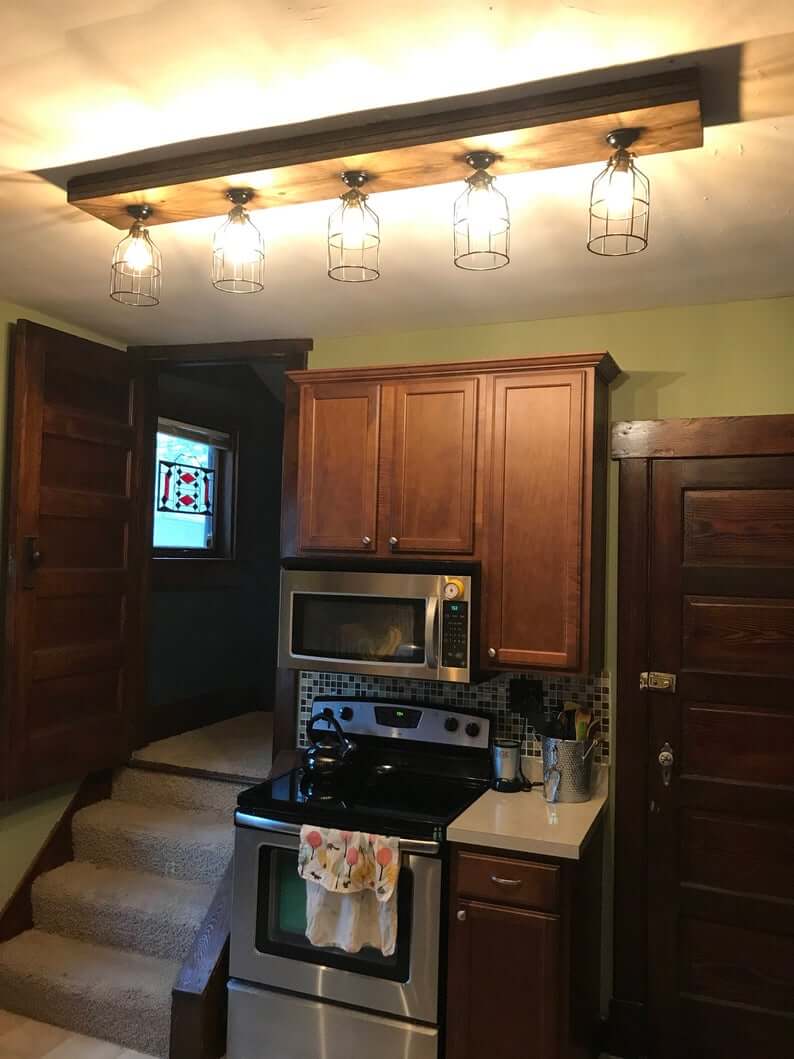 Here is an option of another rustic design in the same theme of the milk bottle shape. Perfect for the home renovator with a pension for DIY treatments, creating this style of lighting is fast and easy. Simply find a socket design that suits your home theme and install them on painted wood support to create a contrast that makes the lighting stand out. Do as long a strip as you like. It is cost effective and creates an intriguing story you can continue throughout the room. With its slightly repurposed feel, you bring the past into the present in fun and creative ways.
30. Antique-Styled Bulbs That Shine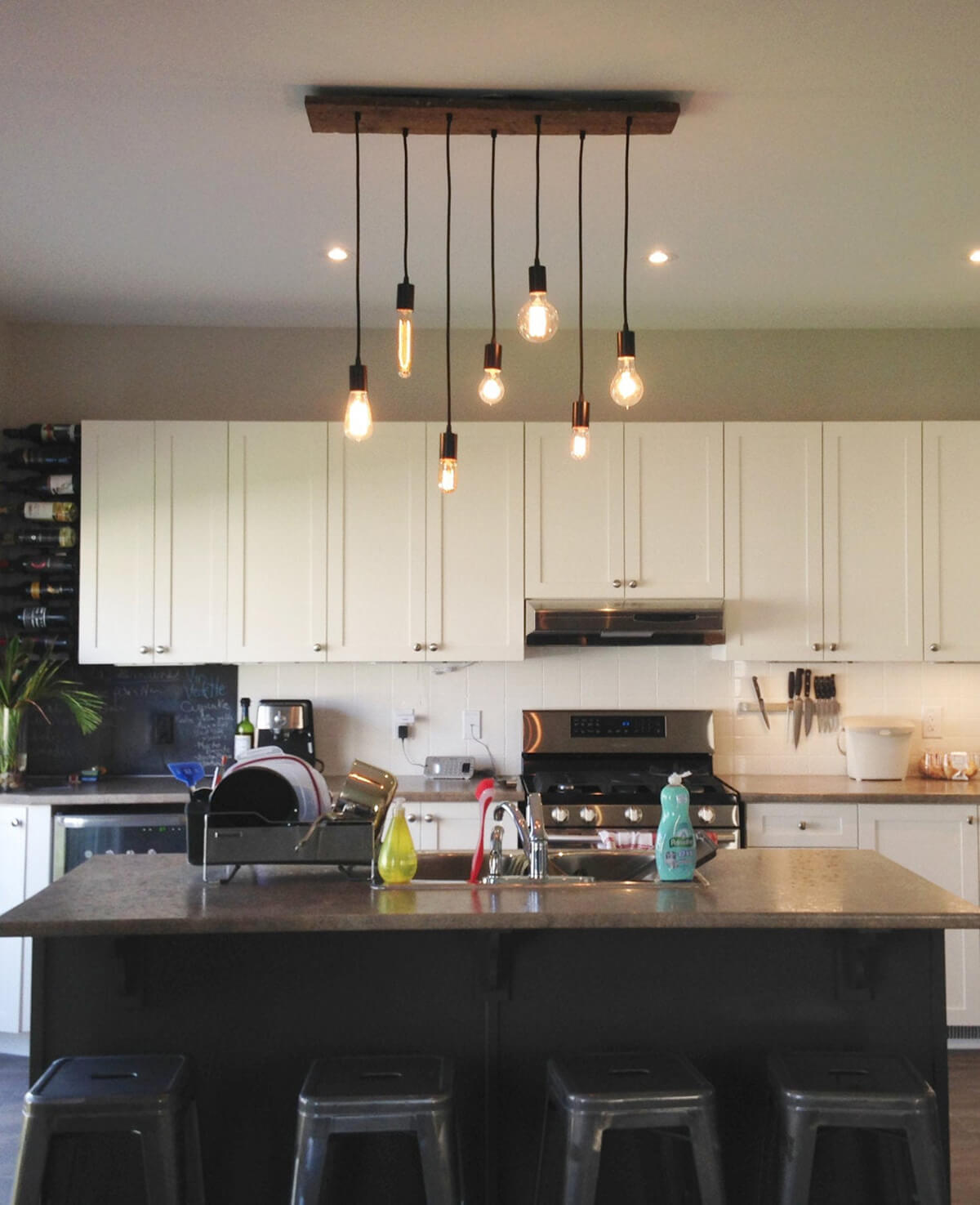 Sometimes the best lighting in the kitchen comes straight from the source. Bulbs are offered in a wide range of style and sizes, many with exposed filaments that provide an old-world feel. Bulbs can be so attractive and interesting on their own, it can be a shame to cover them with anything at all. But you don't have to. Simple casements that hang cleanly as pendants allow these bulbs to glow their soft yellow light and let you enjoy the amazing feat that electricity is. Stack and display as many as you like to create the right light and feel for your kitchen.
31. Lighting Designed to Pull You In
Kitchen lighting ideas are endless and can be quite fun. Who says lighting is just functional? It can be a fun story as well. This light is an example of how you can take the basic requirements of lighting (electricity, cord, bulb) and create a key feature of the toom guests will enjoy talking about. With its combined themes of industrial aged metal and a warehouse feel of a shipyard, you can create a piece that tells a story that's built on fun. It's also an ideal way to show off the right bulb. Mr. Edison would be proud.
32. Keeping It Simple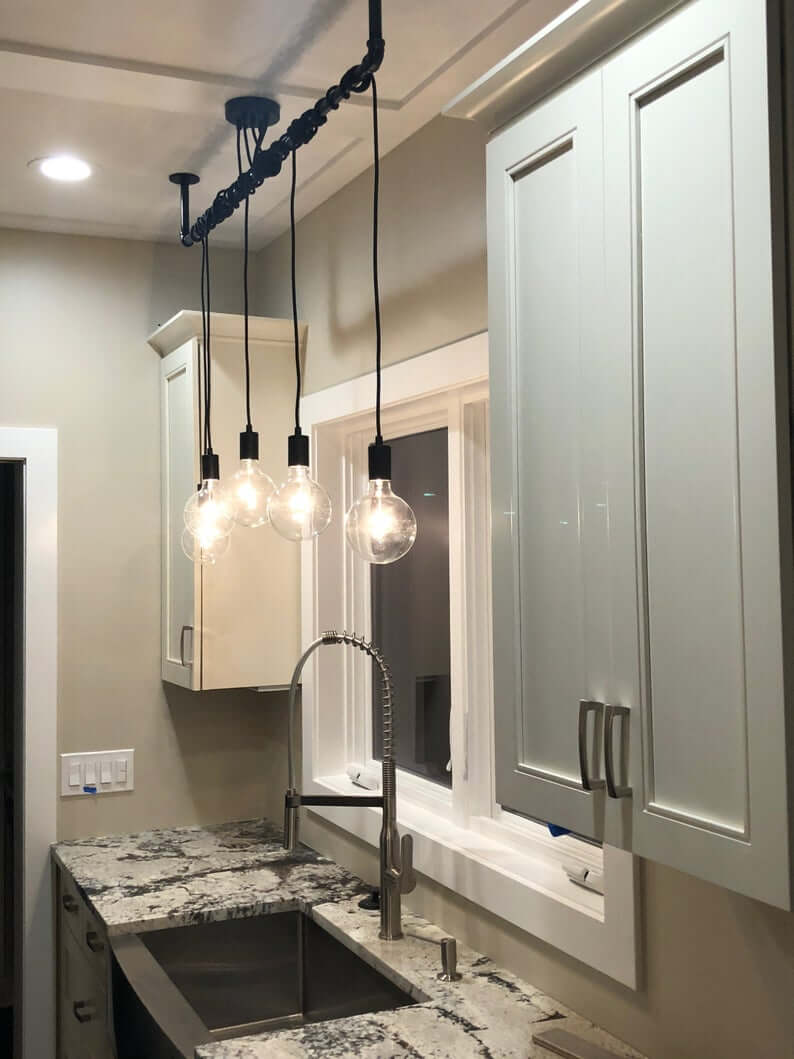 Boiling down kitchen lighting to the barest of elements can create more appreciation for lighting itself. And you can still showcase the lighting in creative ways, making them enjoyable for you and guests. These bare bulbs are hung on a pipe designed as a rod, with each light cord simply wrapped around the support. This allows for multiple lights in a line at the height you need, as well as the ability to stagger the light for added intrigue. The simple black design of the pipe and cords show off the beautiful simplicity of the bulbs. The bulbs have a clean, round design that provides a modern feel for a not-so-modern theme.
33. Get The Party Started with LED Kitchen Lights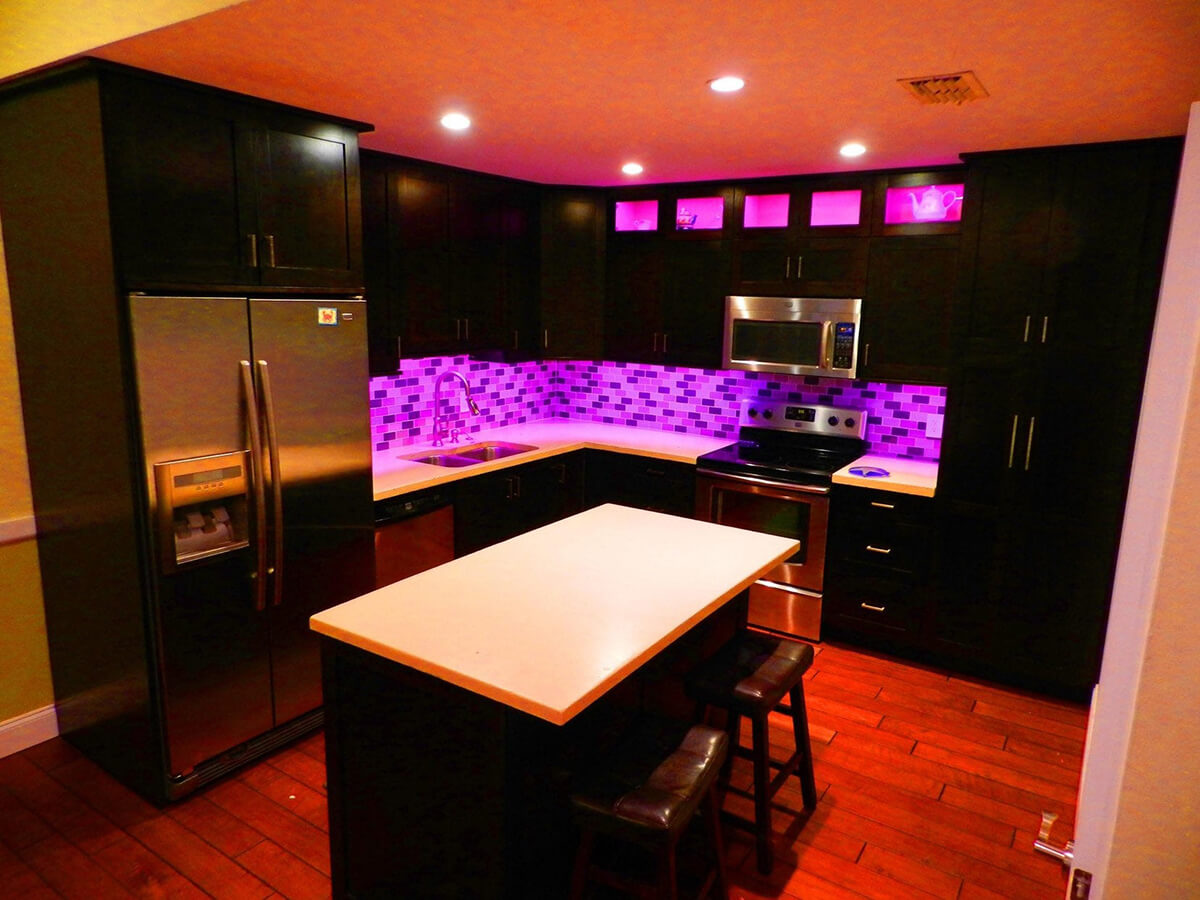 Lighting can create fun where ever it goes. LED lighting does this in spades. With the option of displaying tones in every color of the rainbow, you can create a party atmosphere in the place where most party accessories live – the fridge. And with additional motion lighting options, you can turn your kitchen into a virtual disco ball. The lights tuck neatly behind and above cabinetry to keep your kitchen naturally beautiful throughout the day. And with a simple click of a button, you're ready to resume the party that night. It's a lighting treatment built on fun the whole family can enjoy.
34. BoHo and 70's Kitchen Lighting Keeps You Rooted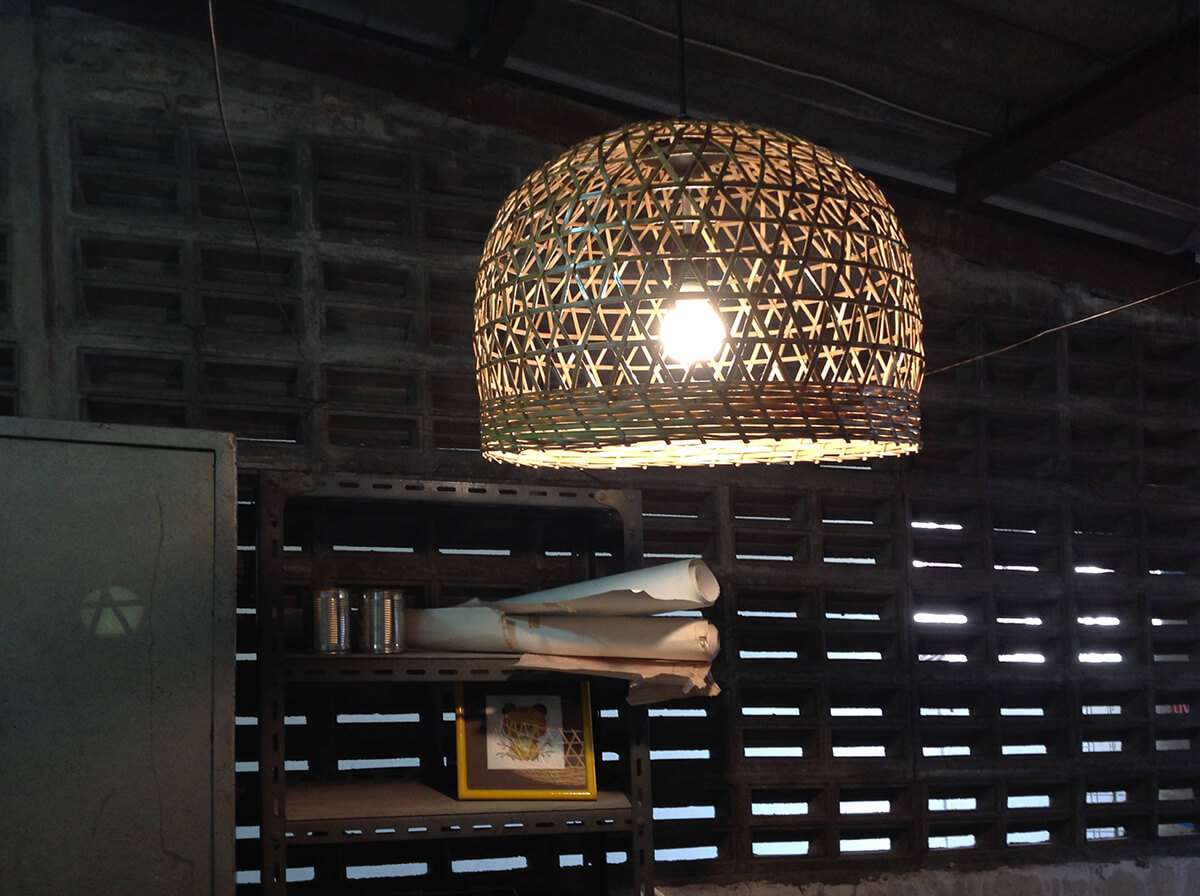 Getting back to more natural elements is a theme that's back this year, and using that theme toward kitchen lighting ideas is easy and attractive. If you have a home that showcases raw elements and furniture with history and natural construction, you can adopt this same approach to your ceilings with creative lighting treatments. A lampshade in a basket design takes your theme upward and extends it throughout the space. By surrounding it with jute wall hangings and antique rugs and cabinets, along with some rustic side tables and beaded chairs, you'll be in touch with Mother Nature more than ever. It's a warm style that will make you want to kick your shoes off and connect with the great indoors.
35. Farmhouse Ladder Lighting is a Step Up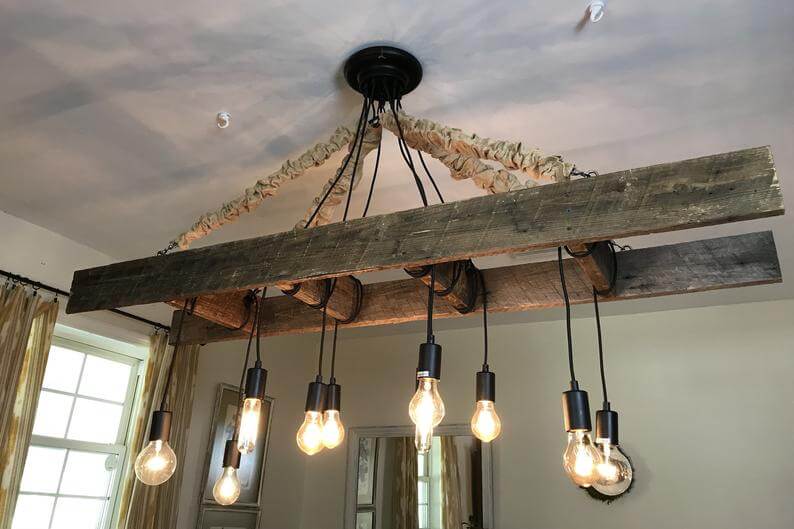 Bringing together unfamiliar elements to create a functional item creates enjoyment and appreciation that will bring up the spirits of any visitor. Lighting needs just a few basic elements to make them function and most anything can achieve them. If needing to span your lighting across a wide area, look for anything that will span. In this case, a ladder does the trick. You can create a trellis-like look that is whimsical in its approach yet is highly functional. Your friends will toast you for your creativity and smart solution.
36. Colorful Rustic Lighting Blends Old and New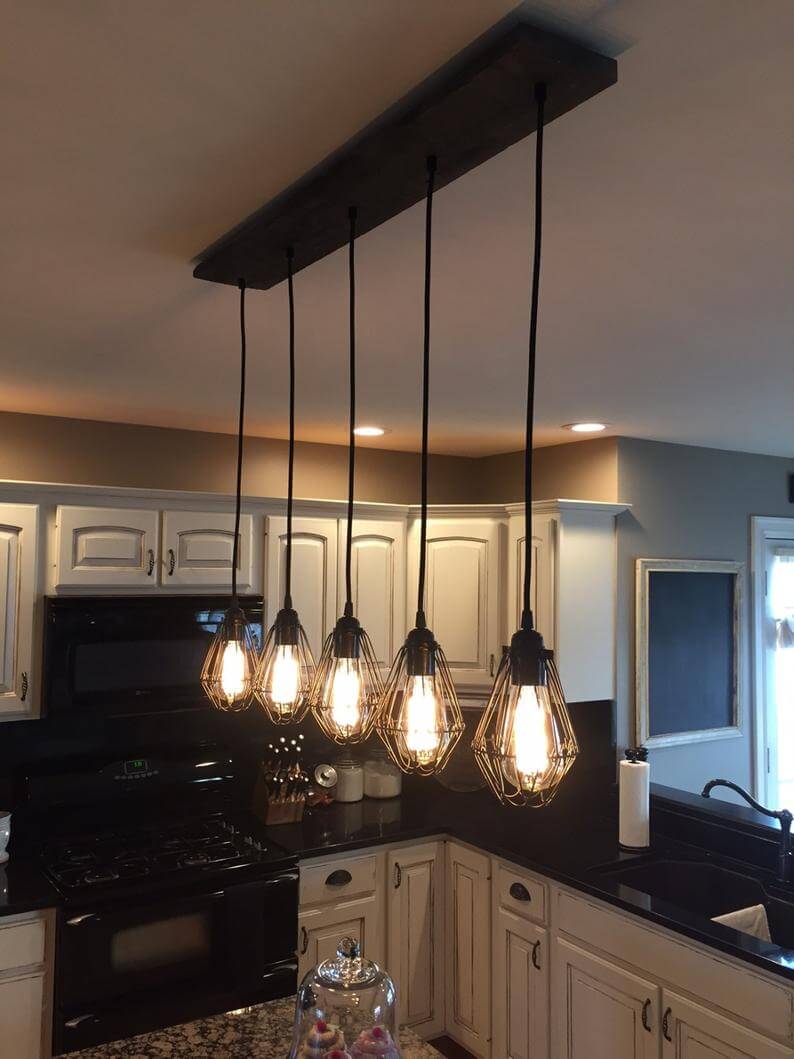 This lighting set allows you to achieve a multitude of options to suit your kitchen. You can choose the style of bulbs you like best, and pick your favorite color cords and sockets. With so many options to choose from, you'll be sure to get the look you want. Blend them with the wood stain that feels most like you and your kitchen. With such a wide range of colored cords, you'll achieve a rustic look that allows for a modern twist, keeping it fun, colorful, and connected to other colors in the room.
Our Favorite Farmhouse Kitchen Decorations to buy on Amazon