The walls in our homes do speak. So, let's give them something beautiful to talk about! Here are thirty-two decorating with lantern ideas that are sure to provide plenty to gab about, for both your walls and the people bustling about inside! From bushels of flowers in the kitchen to flickering candles around the patio, you will find a number of great ideas for decorating your home with lanterns, to help you bring out the beauty that lives inside.
32 Glorious Ways to Decorate with Lanterns to Celebrate Holidays this Fall

Maybe you are looking to introduce a sophisticated touch to a classically styled office space, or perhaps you simply want to add a somewhat rustic note to cozy up the porch space out back. Whatever your specific aesthetic needs and desires may be, this decorating with lantern ideas list is sure to provide you with several creative ideas that you can utilize to introduce the flair that you have been searching for. Finally, you can bring about the transformation your family has been wanting, for your favorite little spaces.
Now, it's time to get creative! So, go find your favorite ribbons and string, a few knick-knacks and sparkling things. Gather a few blooms, and don't forget the glue, for there is definitely much to do!
1. Muted Medleys in the Hall Lantern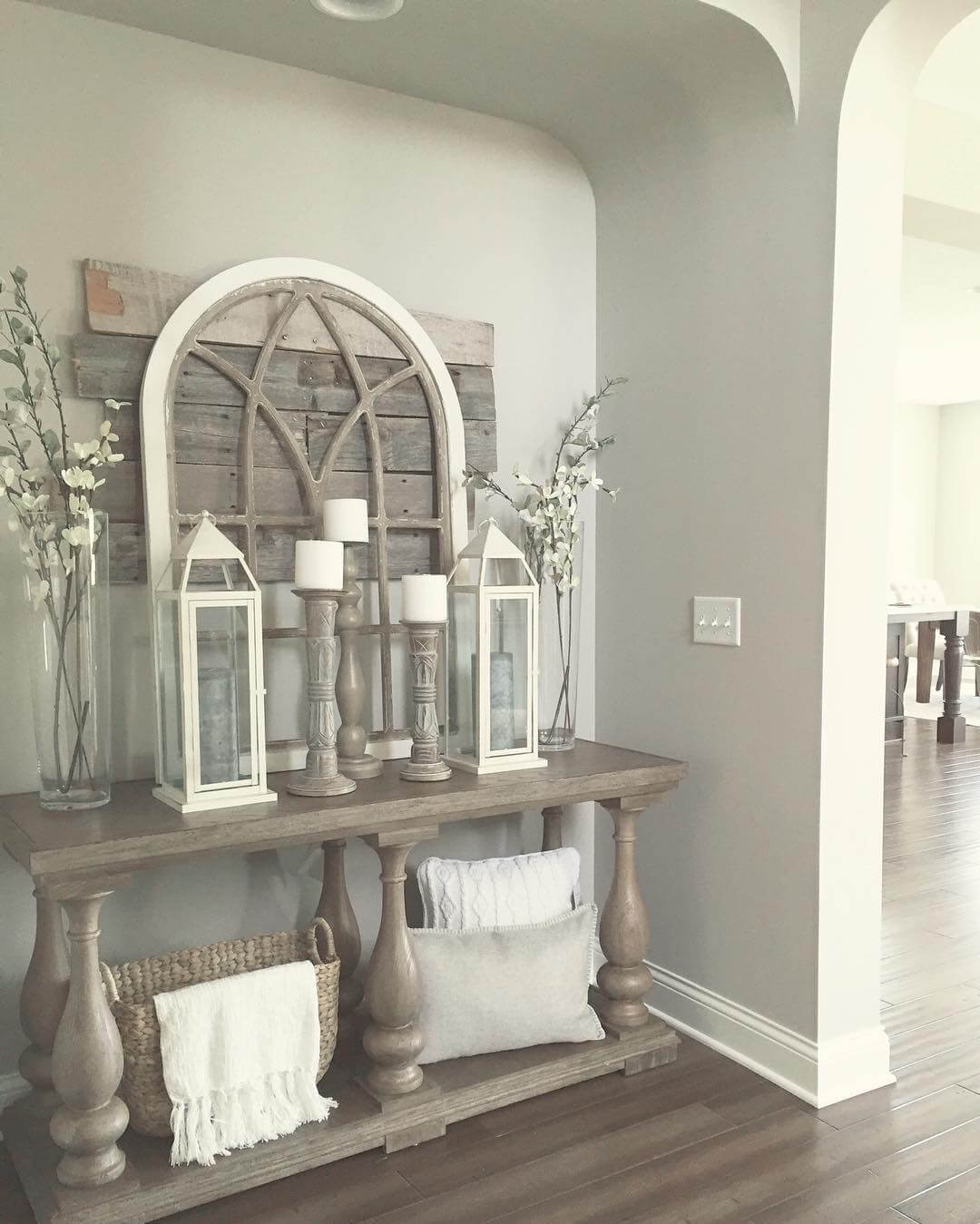 For an elegantly rustic look, consider a tableau in grays, whites, and browns. Use the frame and millions of an arched window against a backdrop of weathered planks attached to the wall and set three candleholders holding pillar candles flanked by two large lanterns with white painted metal frames in front of it. A console table with baluster style pillars has enough room beneath for a big basket, pillows and a throw. Their gentleness and the delicate white flowers in two glass vases on the tabletop soften the overall look.
2. A Touch of Autumn's Bounty Lantern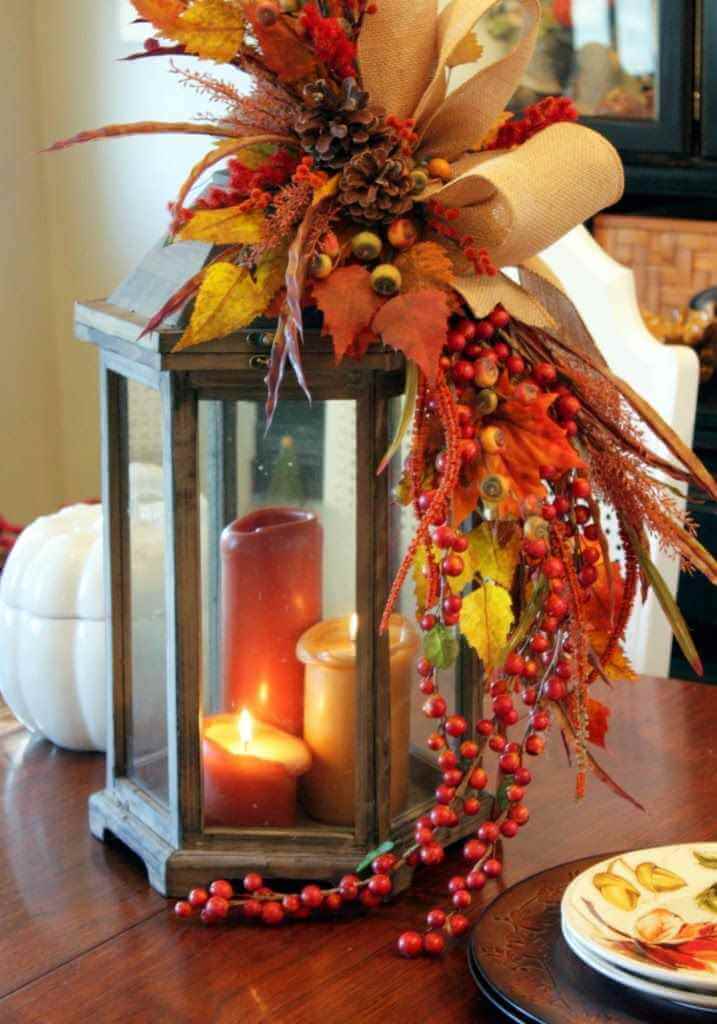 To celebrate the fall, go for a multiple-sided lamp with three orange pillar candles of different sizes. The candles are the type that melts beautifully within themselves and are dripless. The lantern is decorated with a lovely spray made of autumn leaves and trailing bittersweet berries, pine cones, seedpods, and acorns all tied with festive burlap ribbon.
3. In the Sands by the Blue Marina Lantern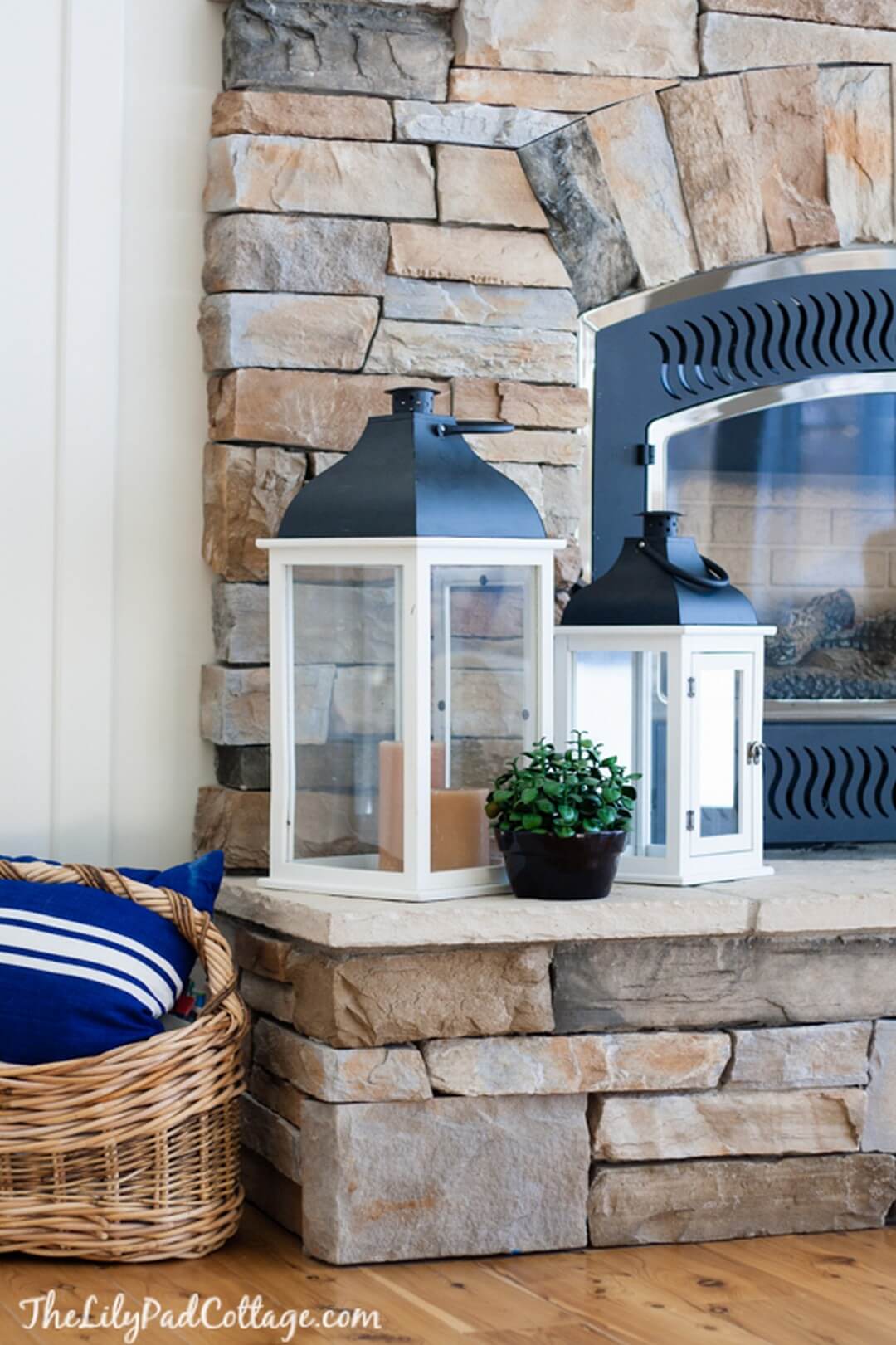 For a simple but pleasing, arrangement place two marina lamps of different sizes on the hearth of an enclosed fireplace. One idea is to put two beeswax pillar candles in the larger lamp holds. A blue and white striped pillow in the rattan basket by the hearth echoes the colors of the lamps, and a little-potted jade plant adds a pop of green.
4. Protectors of the Family Tree Lantern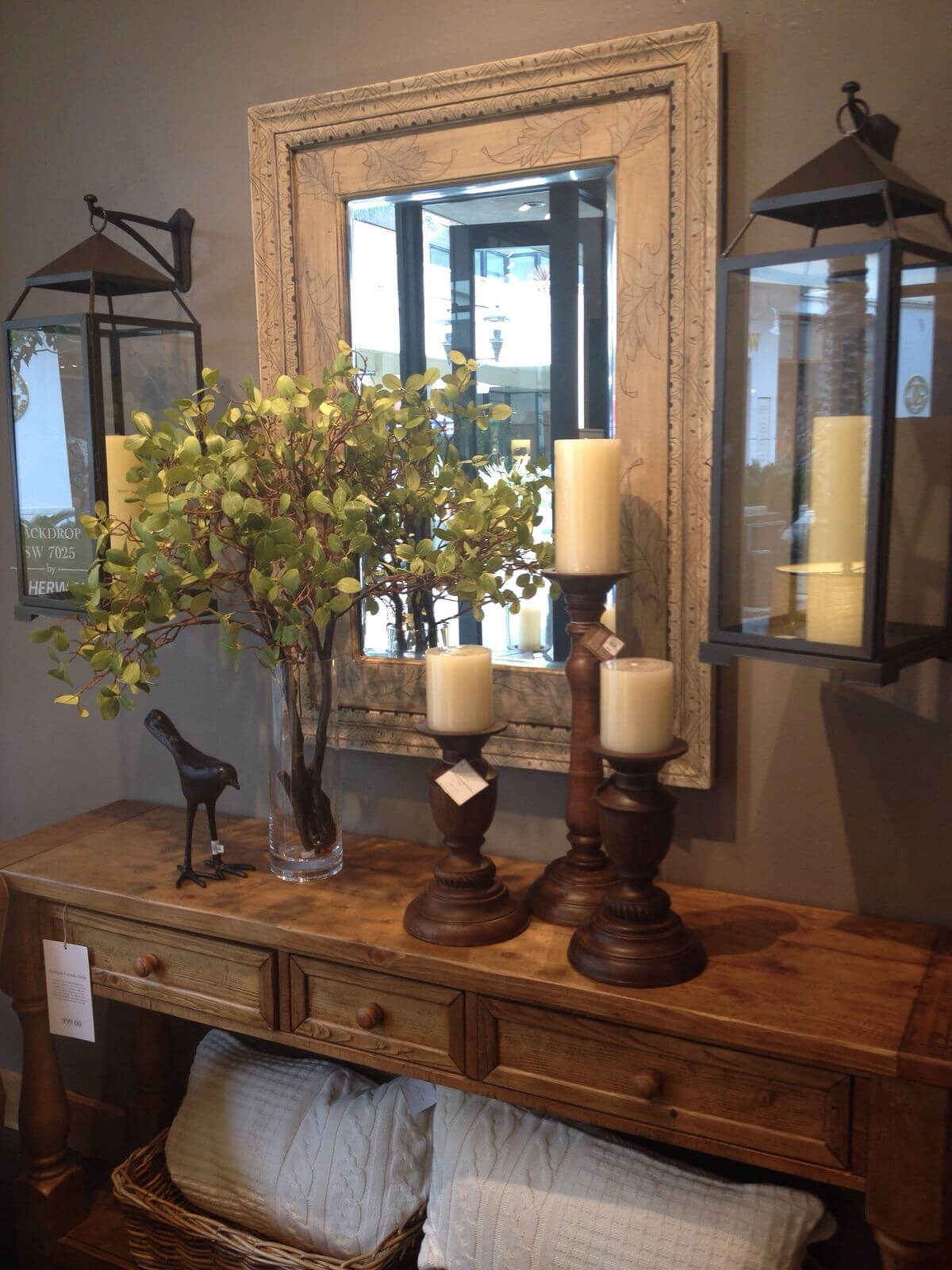 Brown is the predominant color in this arrangement made of two large, hanging lanterns placed on opposite sides of a wood-framed mirror above a rustic console table with drawers. For continuity, have the pillar candles in the lanterns be the same kind as three candles that stand on the table in carved wooden holders. For a playful touch, add leafy branches and a bird sculpture.
5. Have a Holly Jolly One or Two Lantern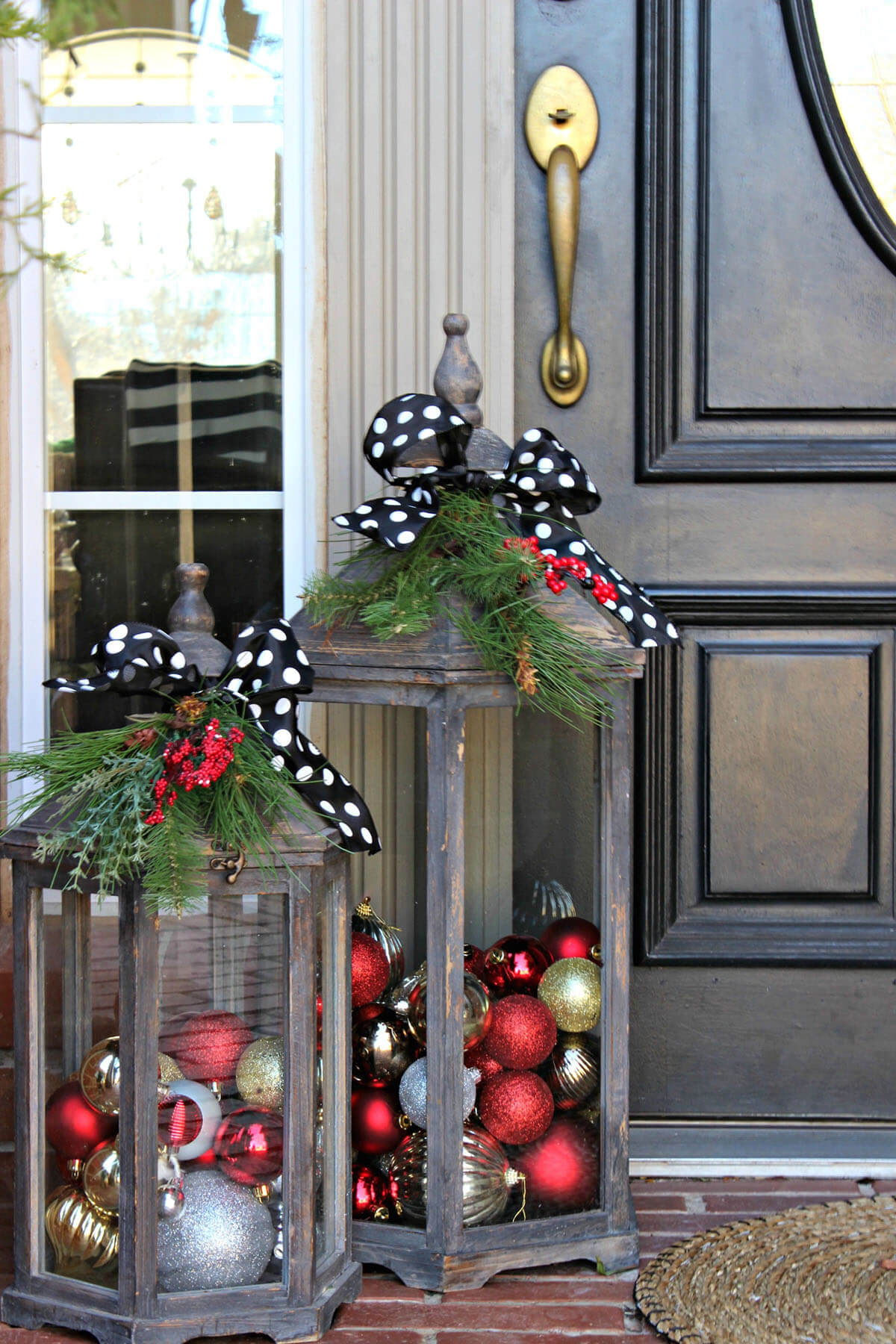 For something completely different, fill two Christmas lamps with a collection of colorful Christmas balls. Place them outside the front door to cheerfully welcome guests to celebrate the season. Decorate the tops with red holly berries and sprays of pine and eucalyptus all tied together with unexpected black and white polka dot bows.
6. Waiting to Welcome You Home Lantern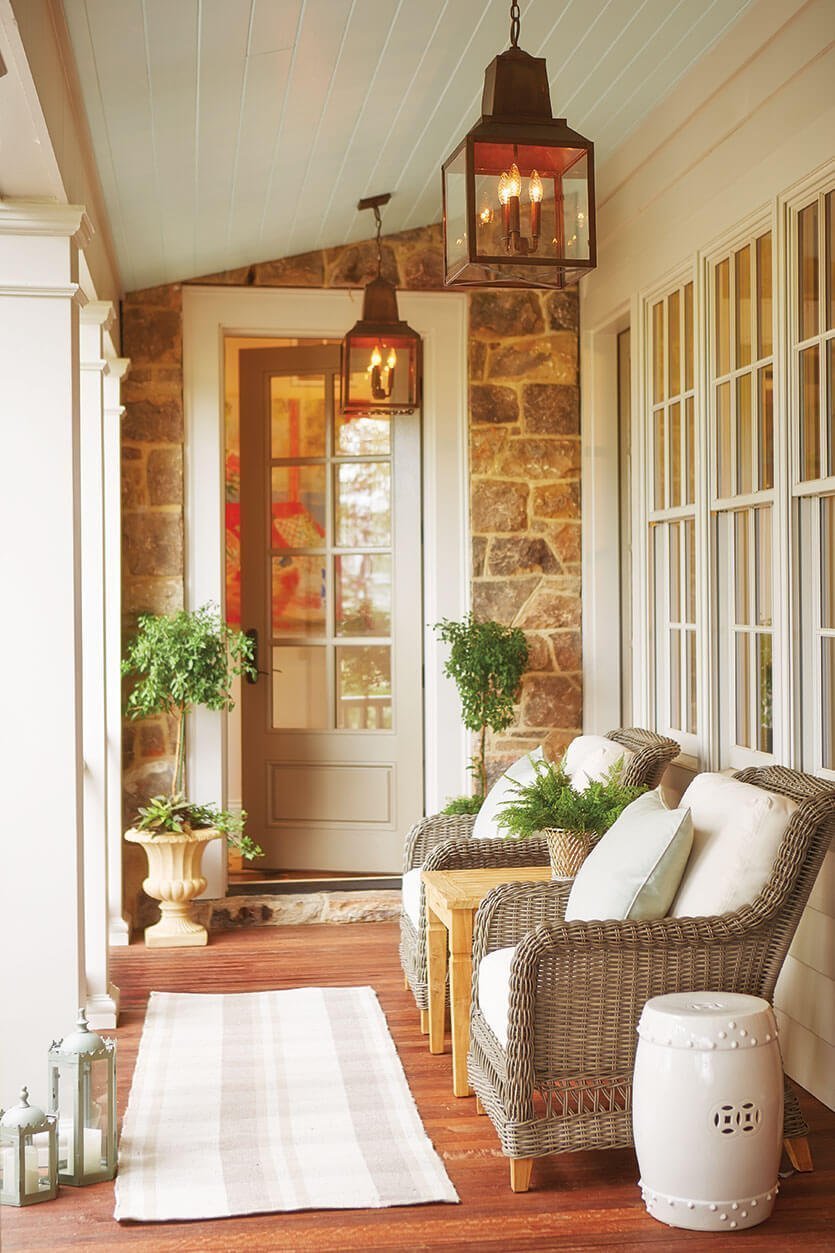 Make your front porch cozy with two types of lamps. Place two large lamps holding electric candles above the wicker chairs and two smaller, white painted lamps holding white pillar candles on the wooden floor beside one of the porch columns. One trick is to have the lamps' color repeat in the seat cushions, the window and door frames and the columns.
7. Let the Stars Light the Way Lantern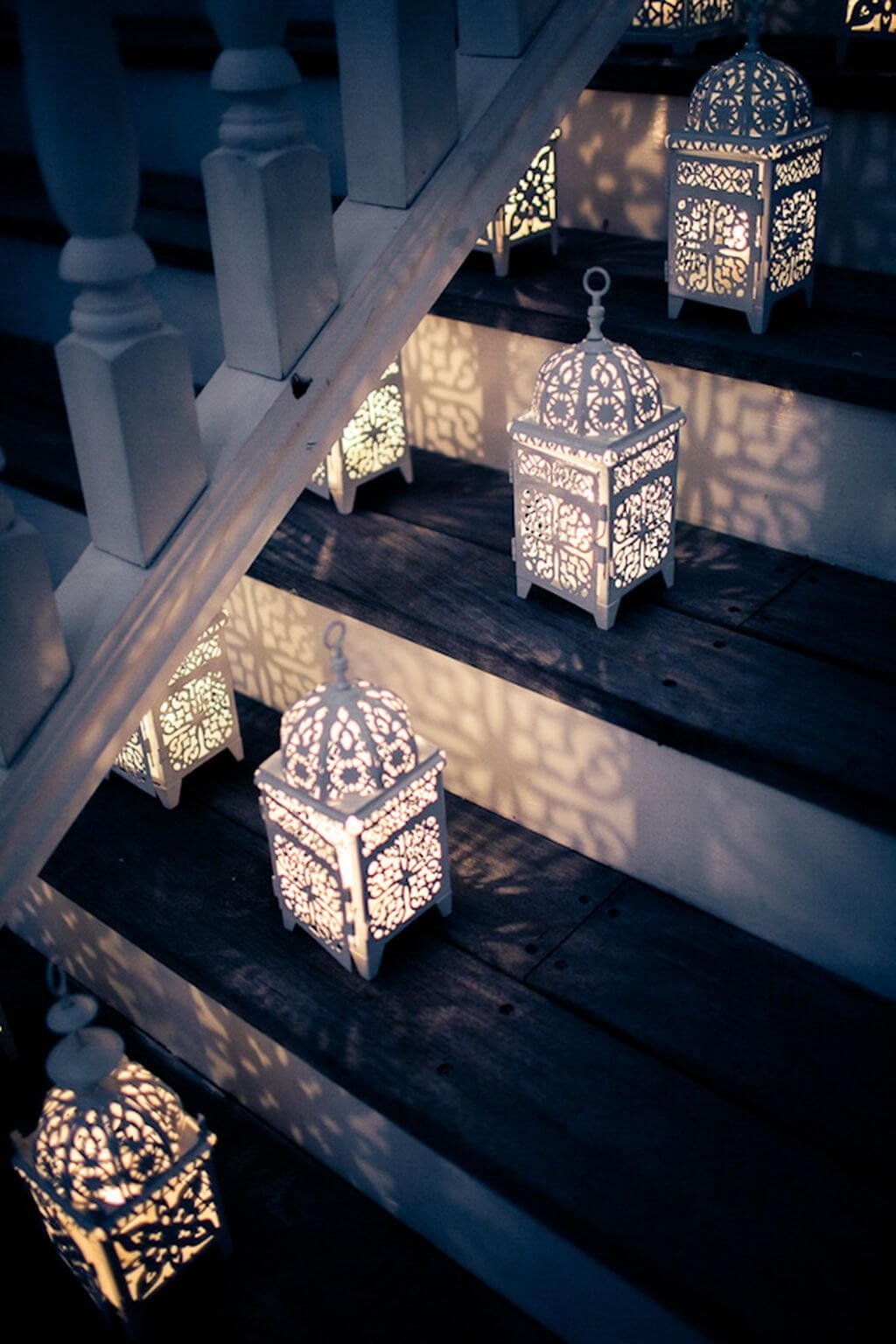 Gather up some small lanterns with stunning and intricate metal pierce work and place them strategically on black stair treads. The lanterns not only have a Moorish feel but cast beautiful light and shadows on the white stair risers. This arrangement not only adds beauty to an otherwise ordinary flight of stairs but lights the way for guests.
8. Once Upon a Midnight Clear Lantern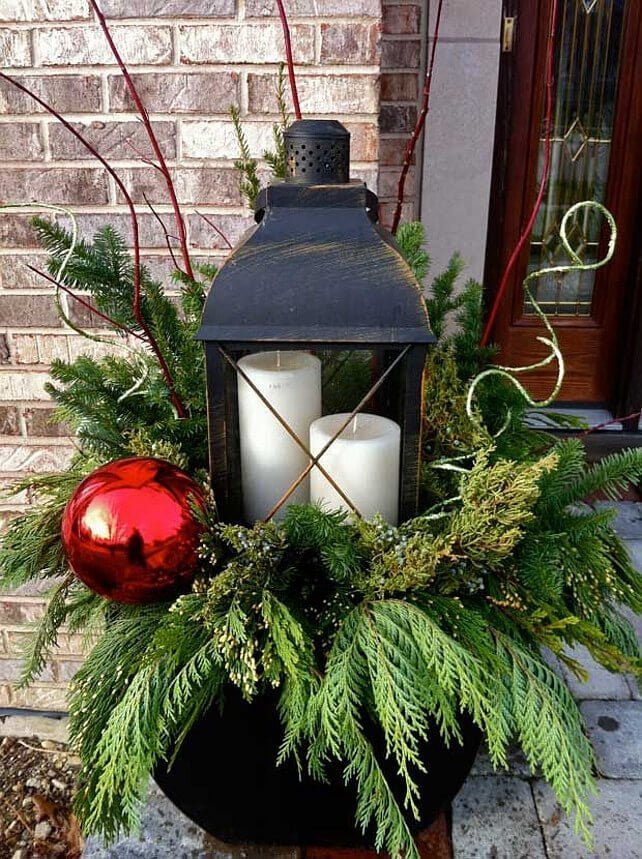 If you possess a rough looking black lamp fit for a coal miner and don't quite know what to do with it, soften it with the addition of pure white pillar candles and sprays of evergreens, some with tiny cones and branches of red dogwood. Place the arrangement in a black cauldron, and add a startling pop of color by a big red Christmas ball.
9. The First Noel Upon the Mantle Lantern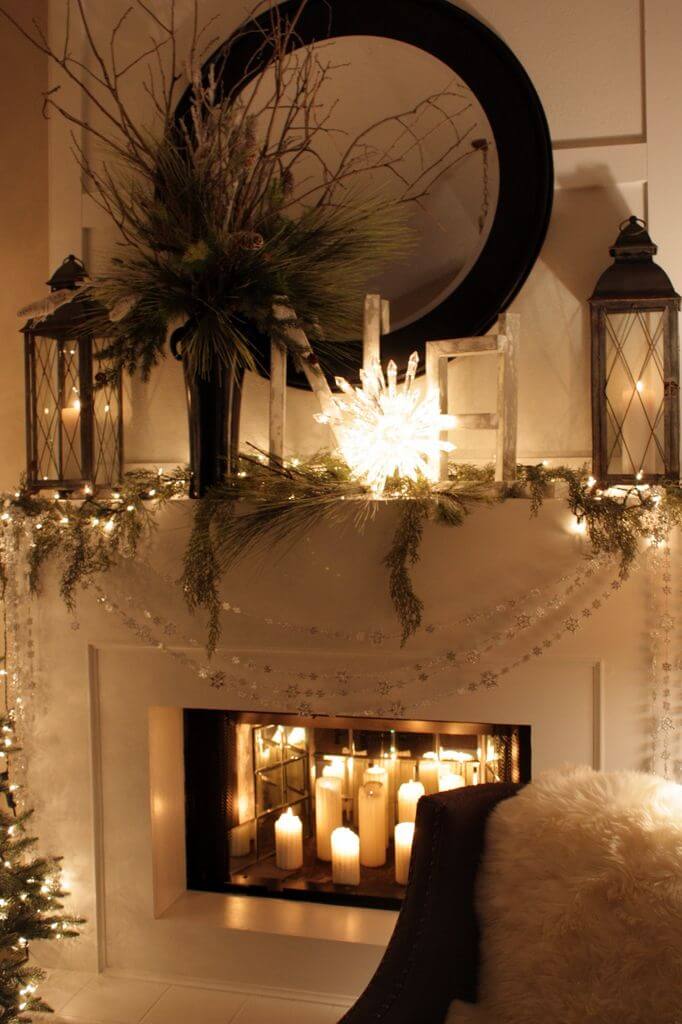 Lanterns in Christmas arrangements do not need to shout. Place one on a mantel on either side of a round mirror and give each one modest candle to contrast with a brilliant starburst in the mantel's center of the mantel. The brightness of the starburst is rivaled only by the collection of candles in the fireplace. The modesty of the lanterns balances them out.
10. Two Lanterns Suspended in Time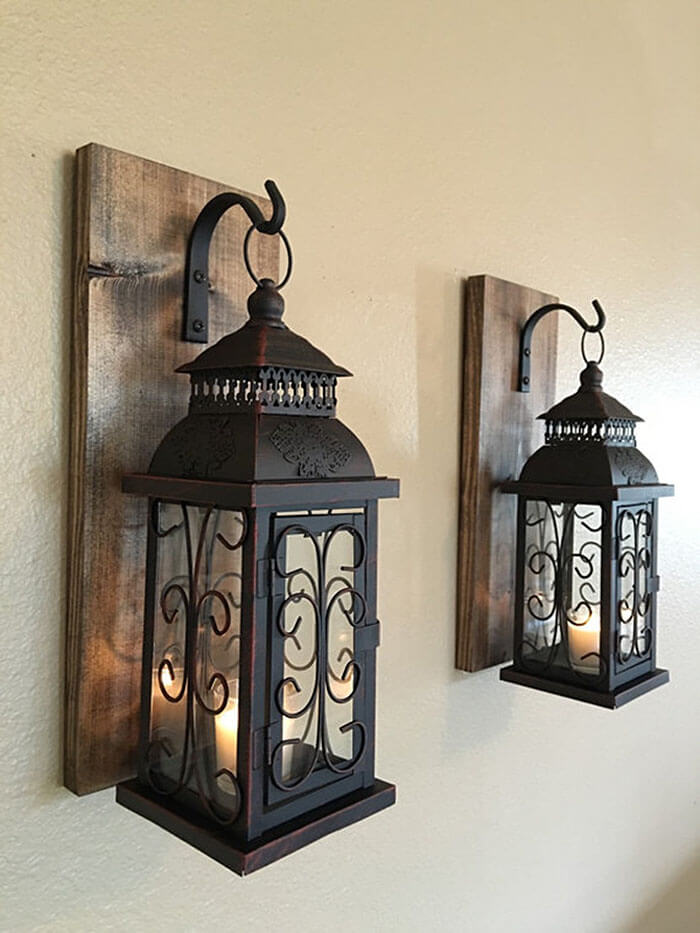 Hang two black, wrought iron lanterns side by side on identical hooks fastened to wood brackets fastened to a plain wall. For a Spanish flavor, buy a pair with vinous wrought iron on their doors and glass, and buy hooks that are sturdy and simple. Place a simple votive candle in each lamp.
11. The Light in Twilight's Corner Lantern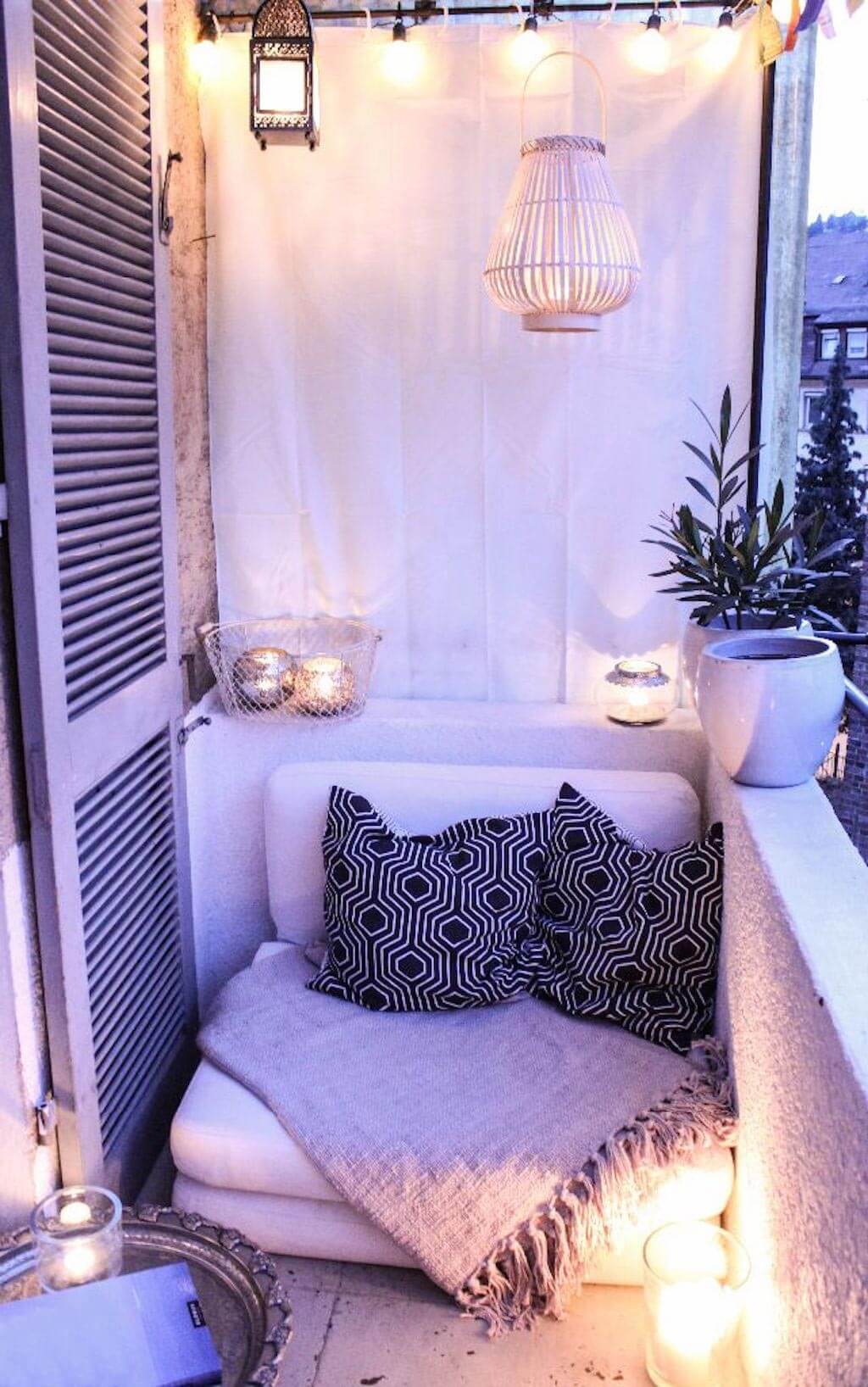 If you crave a cozy, well-lit nook to read or relax, hang a small but ornate lamp in an upper corner and add bare Edison bulbs, a hanging lamp in the form of a birdcage/basket and a collection of candles in beautiful glass bowls and votive glasses. It all comes together to make a singularly cozy setting.
12. The Rustic Tower Becomes Us Lantern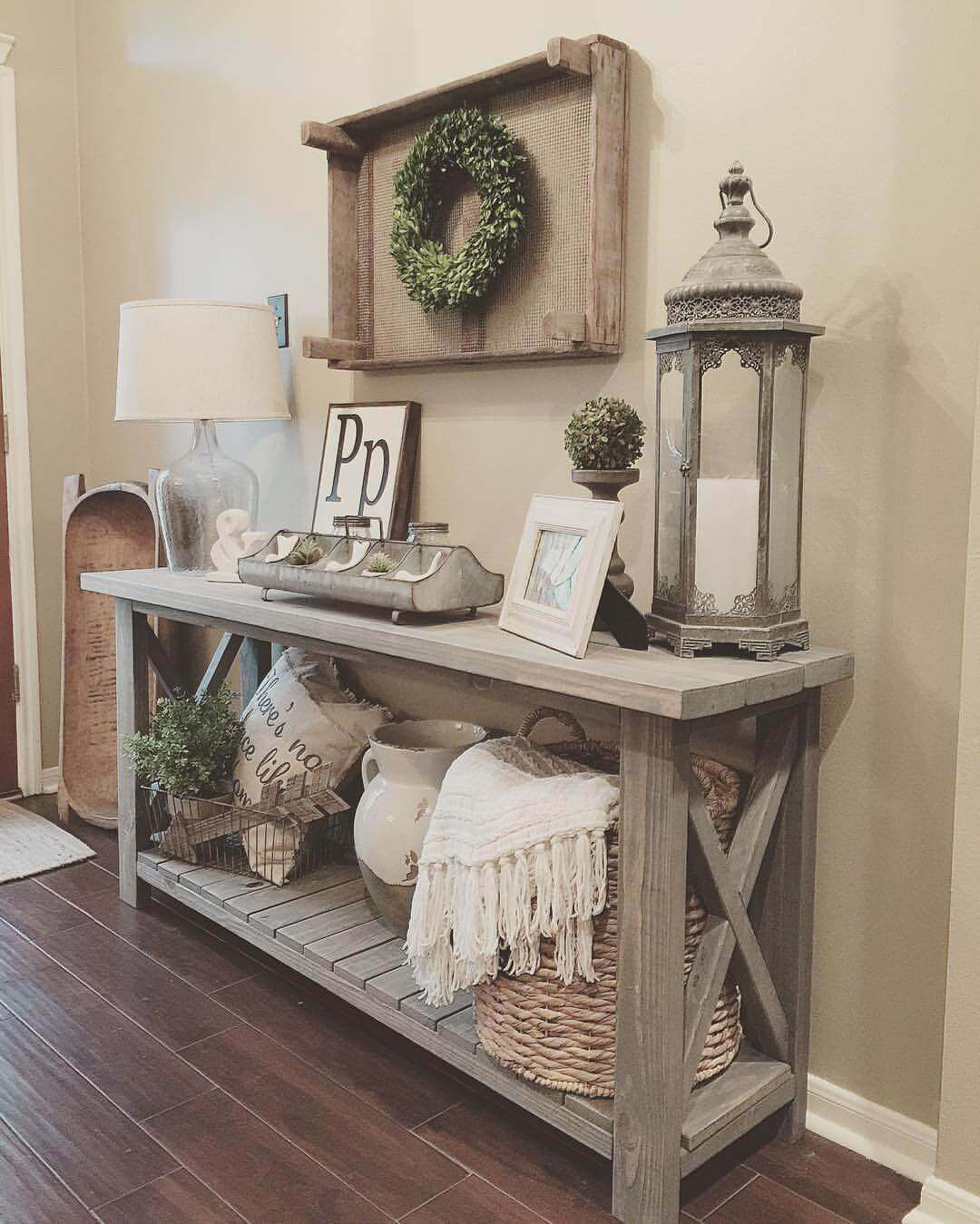 If you have a rustic console table sitting by itself in a seldom visited part of the house, dress it up with a stately lamp among a neutral colored collection of objects. Add an herbal wreath whose frame is an upside down table with sawed-off legs, a lamp, an old metal toolkit now filled with plants and a basket holding a fringed throw.
13. Picnic in the Pumpkin Patch Lantern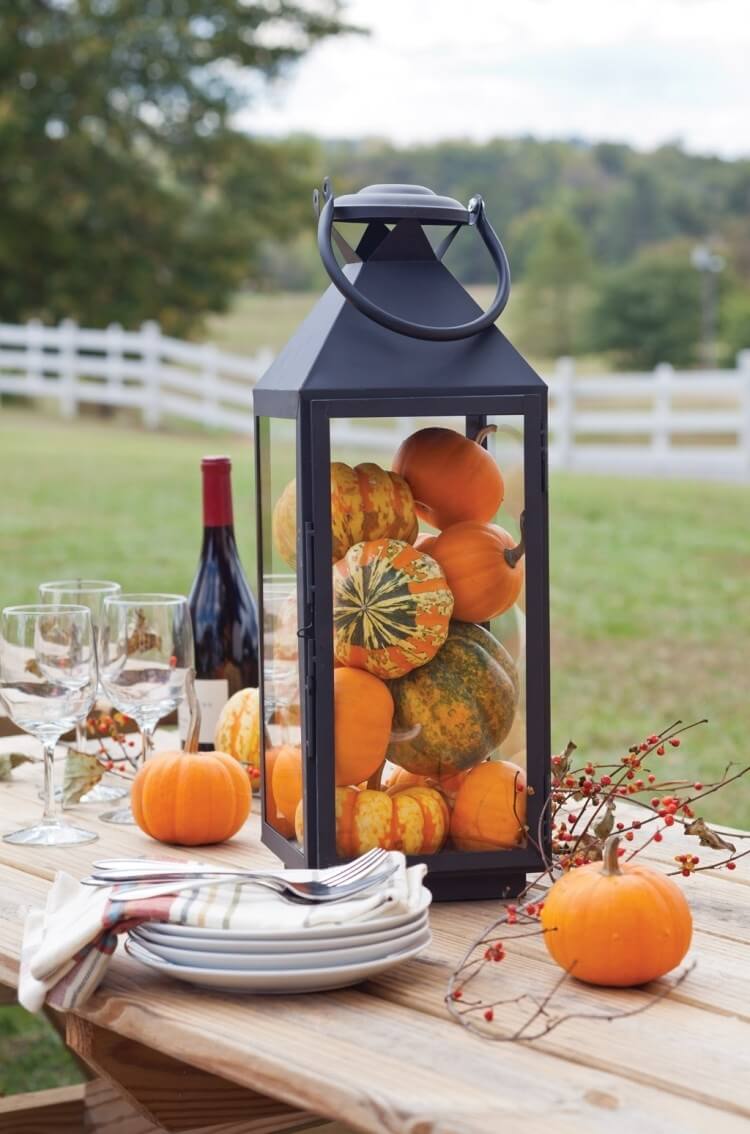 Don't forget to repurpose your lanterns for Thanksgiving. Instead of candles, fill them with collections of tiny pumpkins and other gourds and use them as centerpieces for an outdoor buffet table. More little pumpkins and sprays of red berries arranged around an especially heavy or severe lamp lighten it.
14. When You Wish Upon a Star Lantern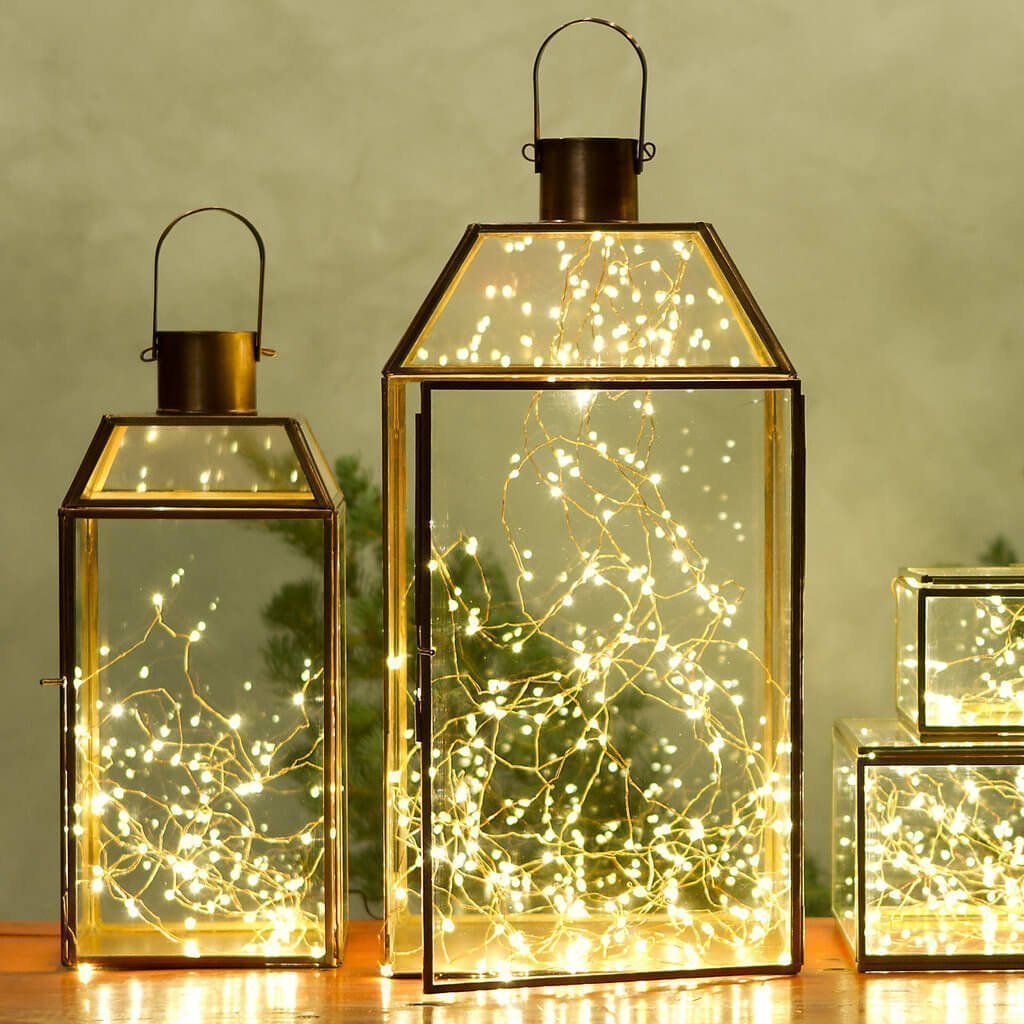 Tangles of fairy lights make two lanterns the perfect decoration for the holidays or for any special occasion. The lights also highlight the brass/golden metal of the lanterns' frames. Add two stacked, matching boxes also filled with fairy lights to balance out the verticality of the lamps. Polish the surface where they all stand to reflect the lights' brilliance.
15. My Special Little Flowerpot Lantern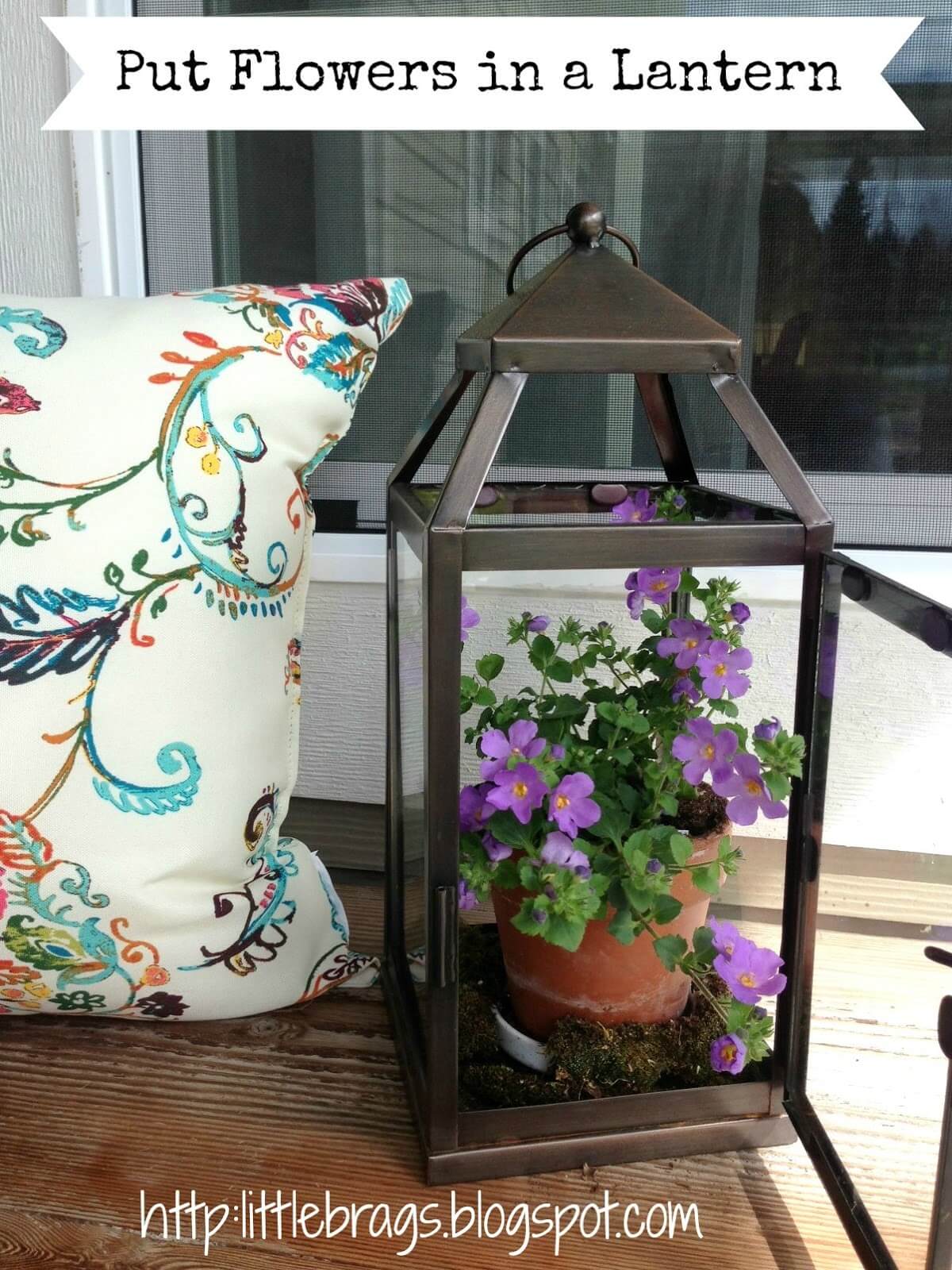 Use a roomy lamp to hold a terra cotta pot of purple flowers. Leave the door open to allow the air to circulate and to allow the plant to spill out a bit. When you place it on the floor beside a throw pillow with a cheerful pattern, it becomes the room's focal point.
16. Lulls of Light in the Living Room Lantern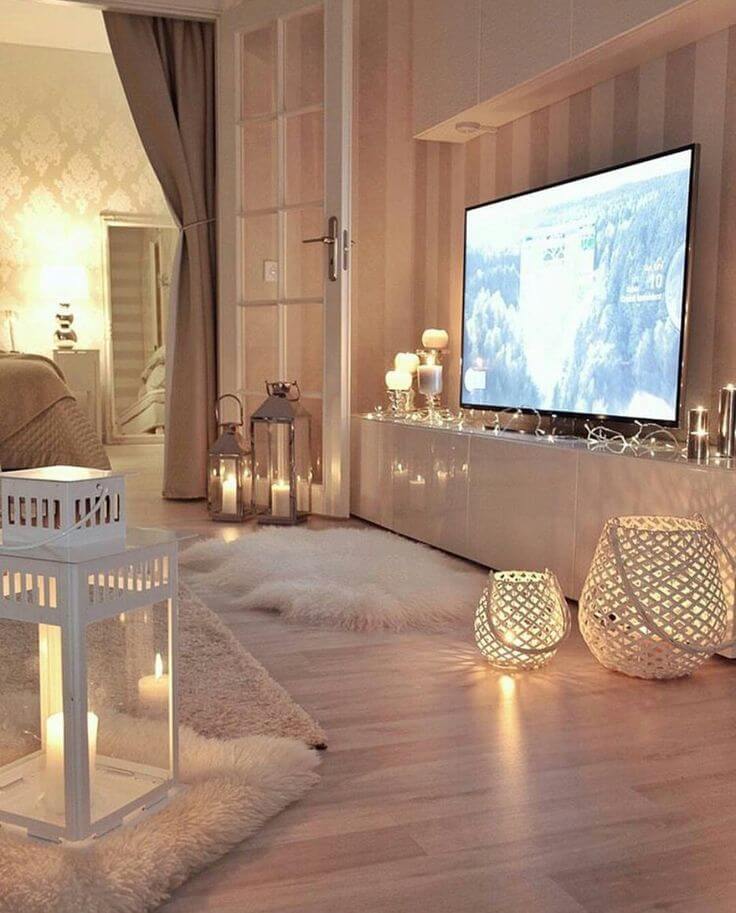 If you want your living room to glow from soft lights placed nearly everywhere, make the source of some of this light strategically placed lanterns. How about two lamps placed against an open French window and another big lamp, holding but one pillar candle, set on a nearby sheepskin rug? Place the other lights, reflected from shiny surfaces, in glass holders, baskets, and polished metal tubes.
19. Candles in the Enchanted Moss Lantern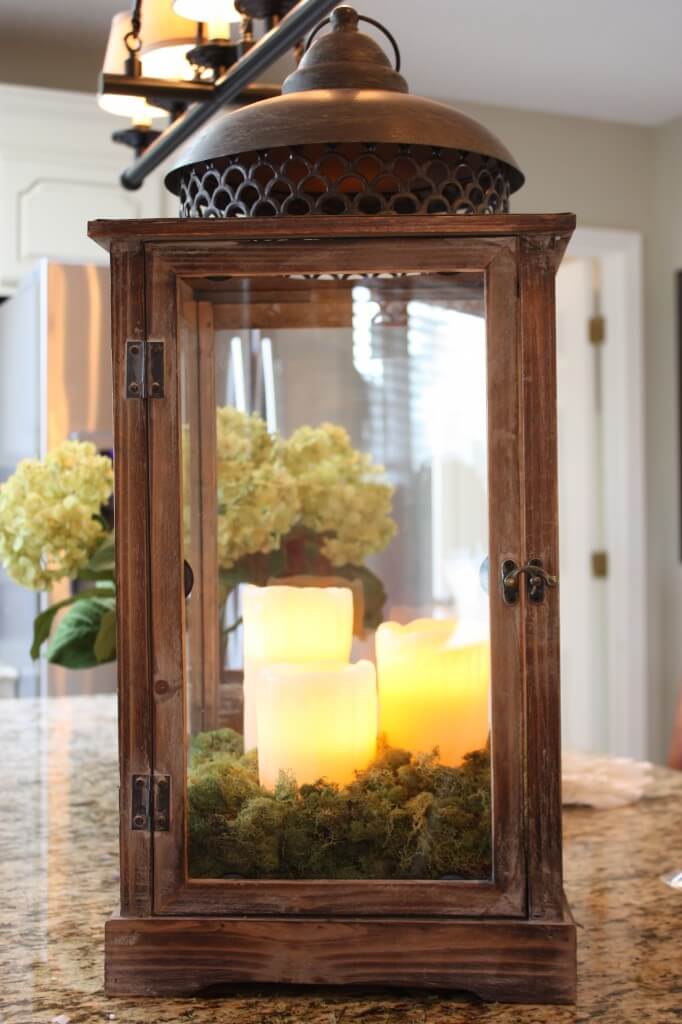 Use an outsized, wood framed lantern to house three dripless pillar candles nestled into a bed of moss. The lamp's somewhat rustic look, with its old-fashioned hinges and door clasp, contrasts beautifully with a glossy natural stone surface and pots of flowers that can be seen through its glass pane.
20. Souvenirs from the Secret Garden Lantern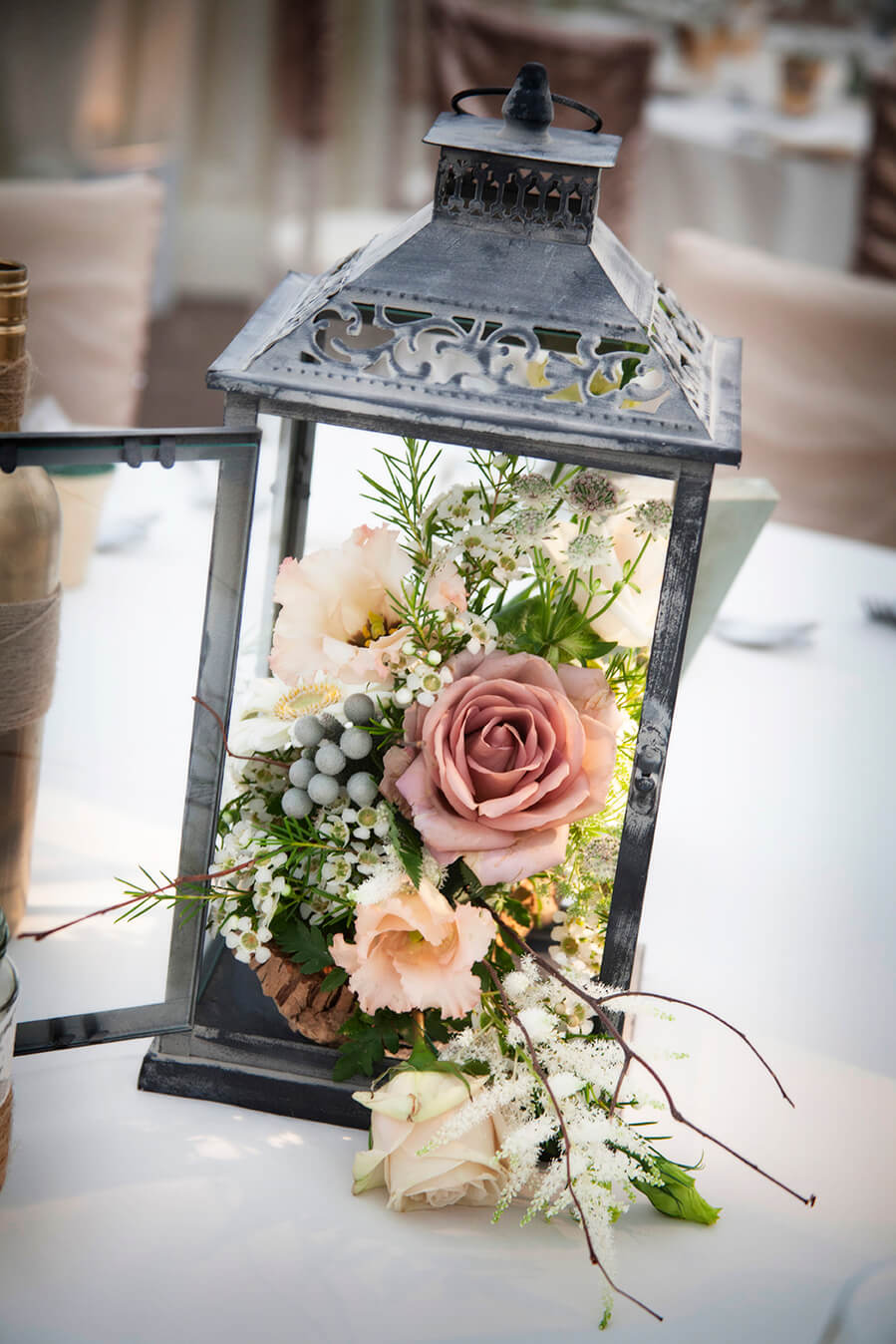 Make a beautiful lamp go a little further than a moss garden or even a pot of flowers by filling it with a bouquet fit for a wedding. Use roses, poppies with fringed petals, white astilbe, stephanotis, sprigs of rosemary, artfully arranged twigs and even a cluster of grapes or any flower or foliage of your choice. Let them spill out of the lamp onto the table.
22. The Cornerstone of Summer's Eve Lantern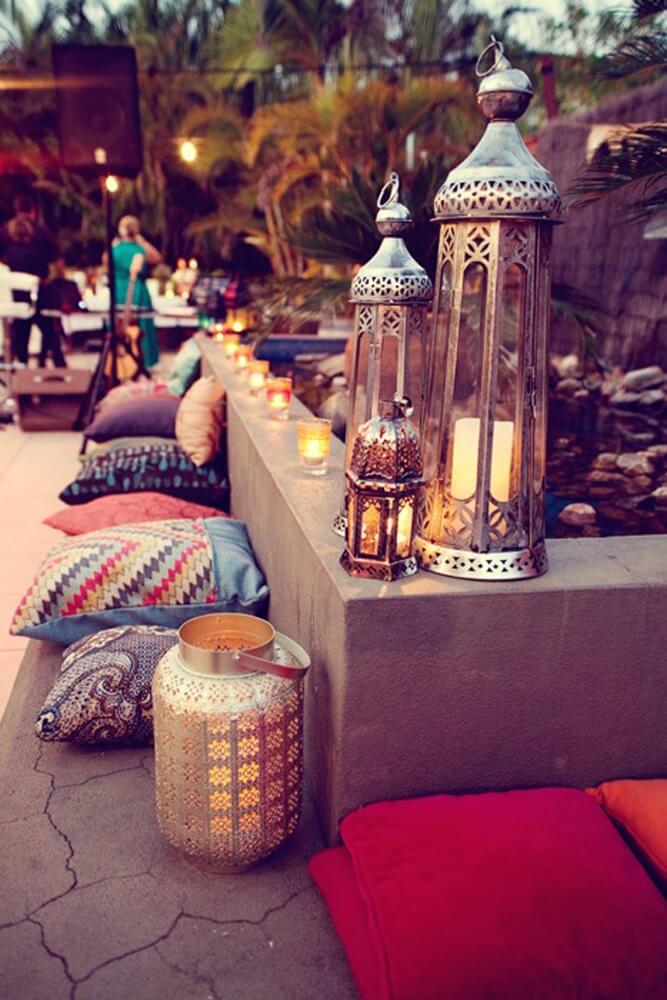 For the feeling of a garden party in North Africa, place stunning, Moroccan style lanterns with arched glass panels, curved tops and silvery pierced work on the edge of a ledge filled with a row of simple votive candles. Add even more panache by grouping them above a pierced work container and near colorful throw pillows placed against the ledge.
23. Soft Flickers on the Fireplace Lantern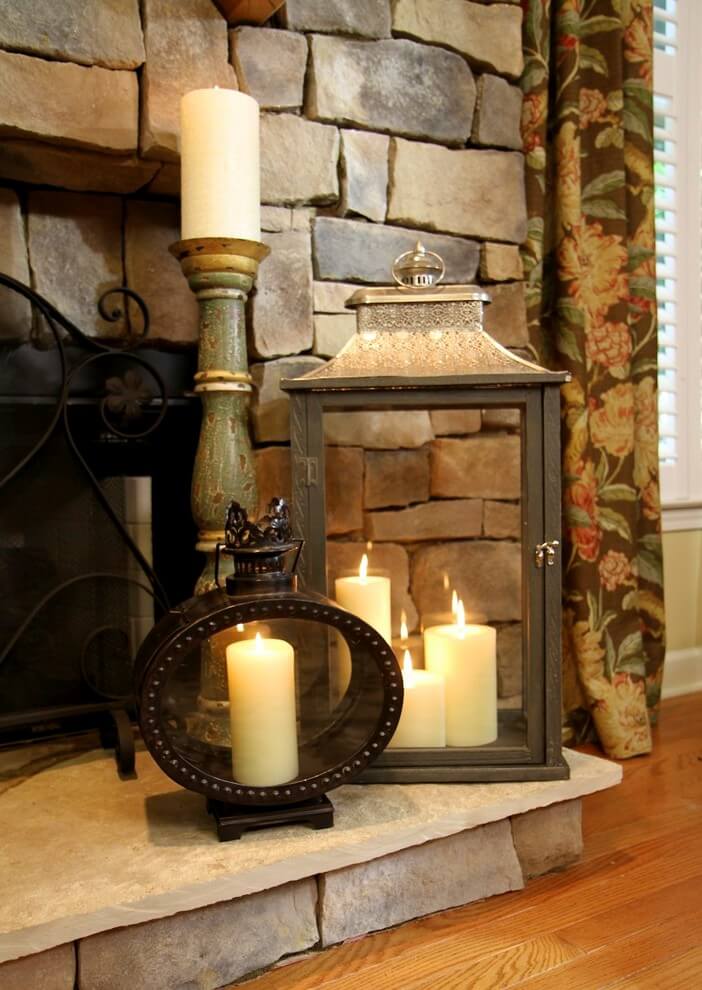 The edge of a fireplace is an excellent place to put a lamp. This one shares the corner of the hearthstone with a tall, turned, wooden candleholder and an oval sculpture in which a single pillar candle has been placed. The substantial lantern itself holds a grouping of pillar candles of different sizes.
24. Promises of a Grand Harvest Lantern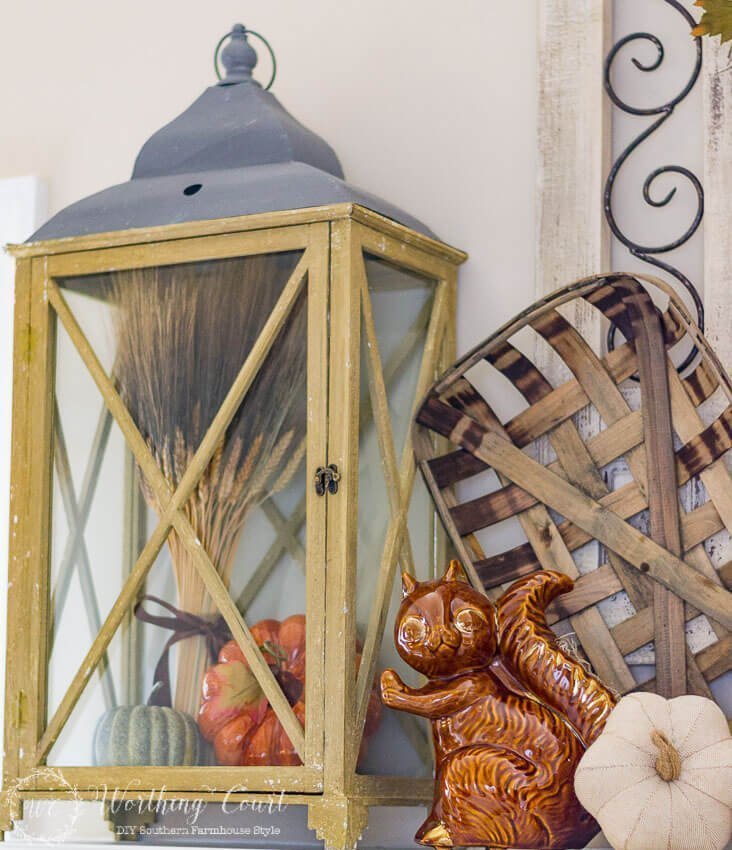 This fall, use a lamp to hold promises of a plentiful harvest. Fill it with small gourds and a sheath of wheat tied with a ribbon. Lean an open weave basket just right for holding apples or little autumn gourds against it, and place a ceramic squirrel nearby to point to it with confidence.
25. Food for our Furry Friends Lantern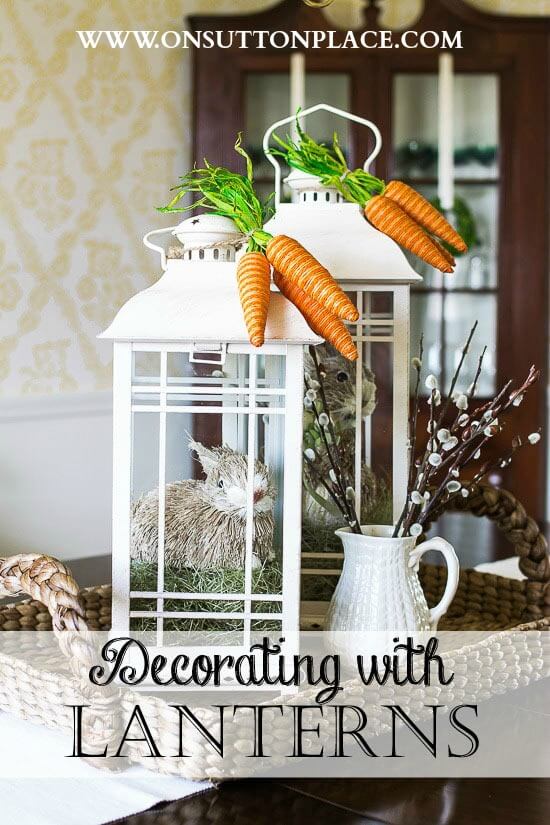 Instead of an Easter basket, paint a couple of lanterns pure white and place a gray bunny on a bed of straw in each. Tie bunches of paper-mâché carrots to the tops of the lanterns and just out of the bunnies' reach. A white pitcher full of pussy willows is a final, springtime touch.
26. The Fire in My Heart Lantern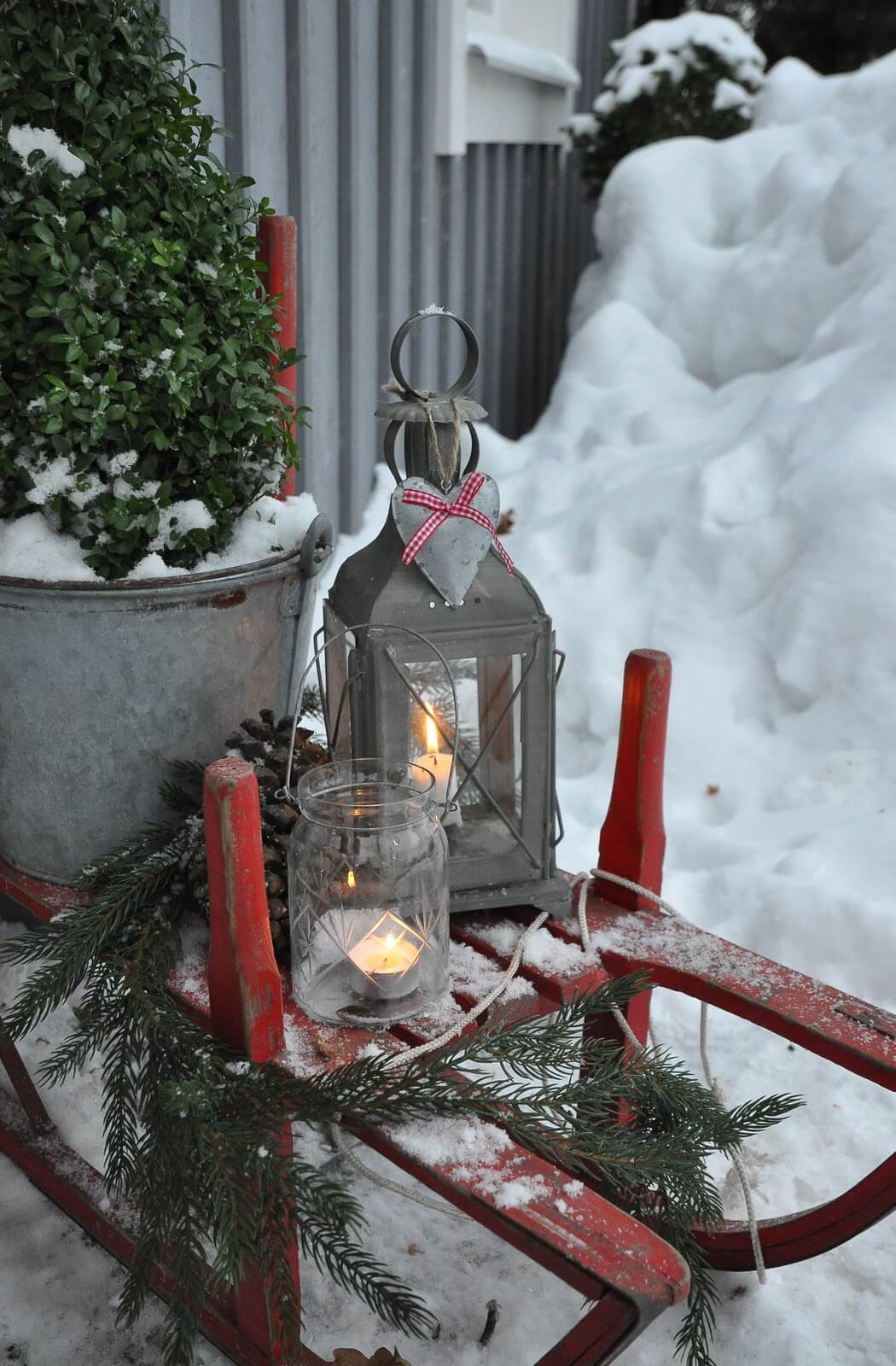 There's no rule that says that you can't throw an outdoor party even in the midst of winter, and a little gray lantern helps make a winter party especially festive. Place one candle inside, and decorate the lamp with a hand-sewn gray felt heart tied with a red and white gingham ribbon. Put a votive candle in a Mason jar beside it.
27. The Silent Keeper of Winter's Fruit Lantern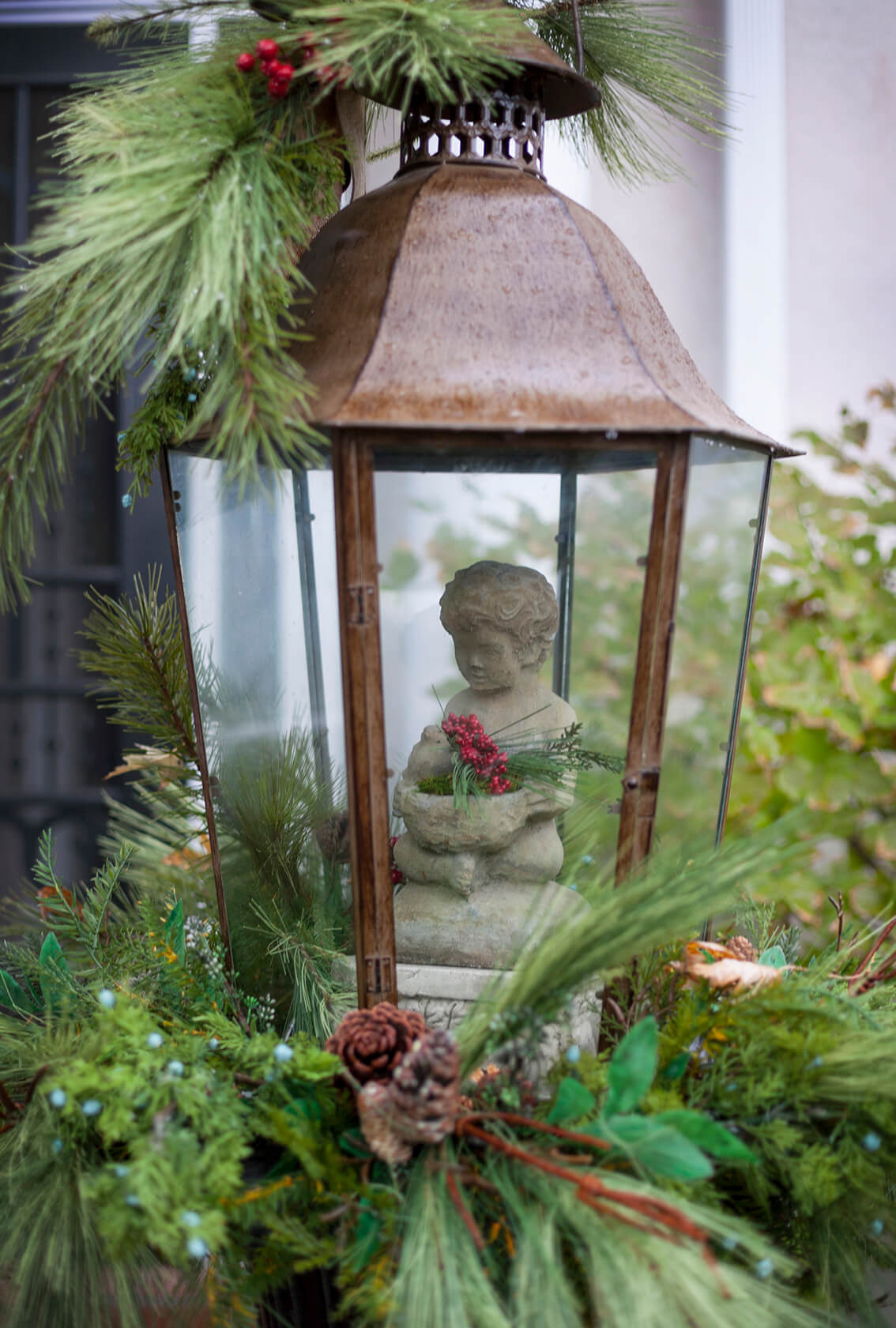 For a more contemplative as opposed to festive look, place a thoughtful little child statuette holding a basket filled with pine needles and red berries inside a large lantern and hang it outside. Add sprays of evergreen and small pine cones to soften both the metal of the lantern and the concrete of the statuette.
28. The Hearth Where We Come Together Lantern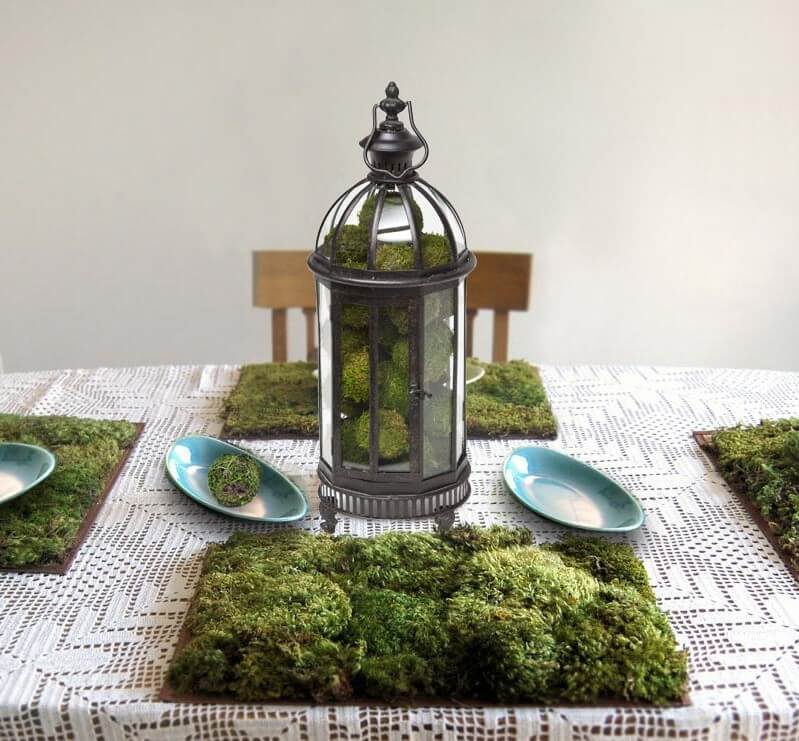 If you have an unusual looking but beautiful lantern, it will make a statement as a centerpiece of a table where the mats seem to be made of moss placed on a crocheted white cloth. To echo the theme, fill the lantern with balls of moss. Recruit the kids to make the balls with you. Add bright turquoise blue dishes to go with the different shades of green and white.
29. To Grandmother's House We Go Lantern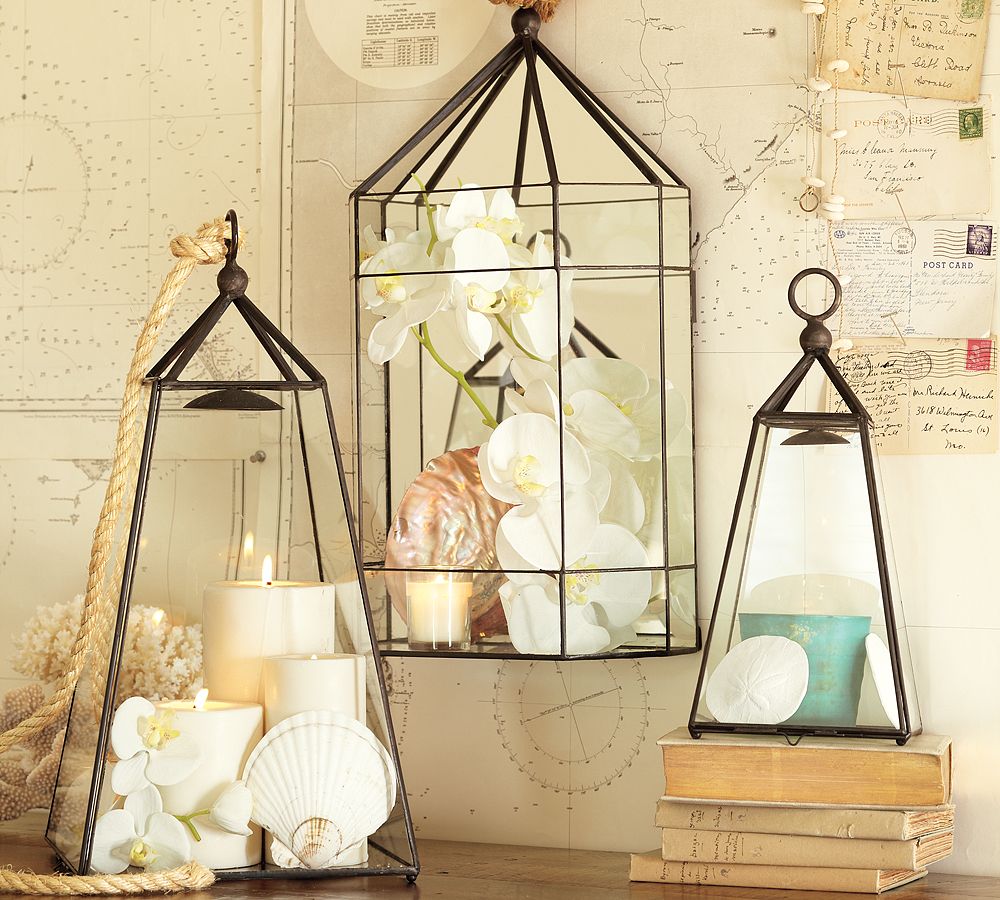 To highlight the good things around your house, place one lantern on a stack of old books, hang one from the wall and put one on the table or mantelpiece. Put votive candle and beautiful white orchids in the largest, put pillar candles, orchids and seashells in the lamp on the table, and arrange a blue metal bucket and sea urchins in the smallest lamp.
31. Lit Roses on the Ropes Lantern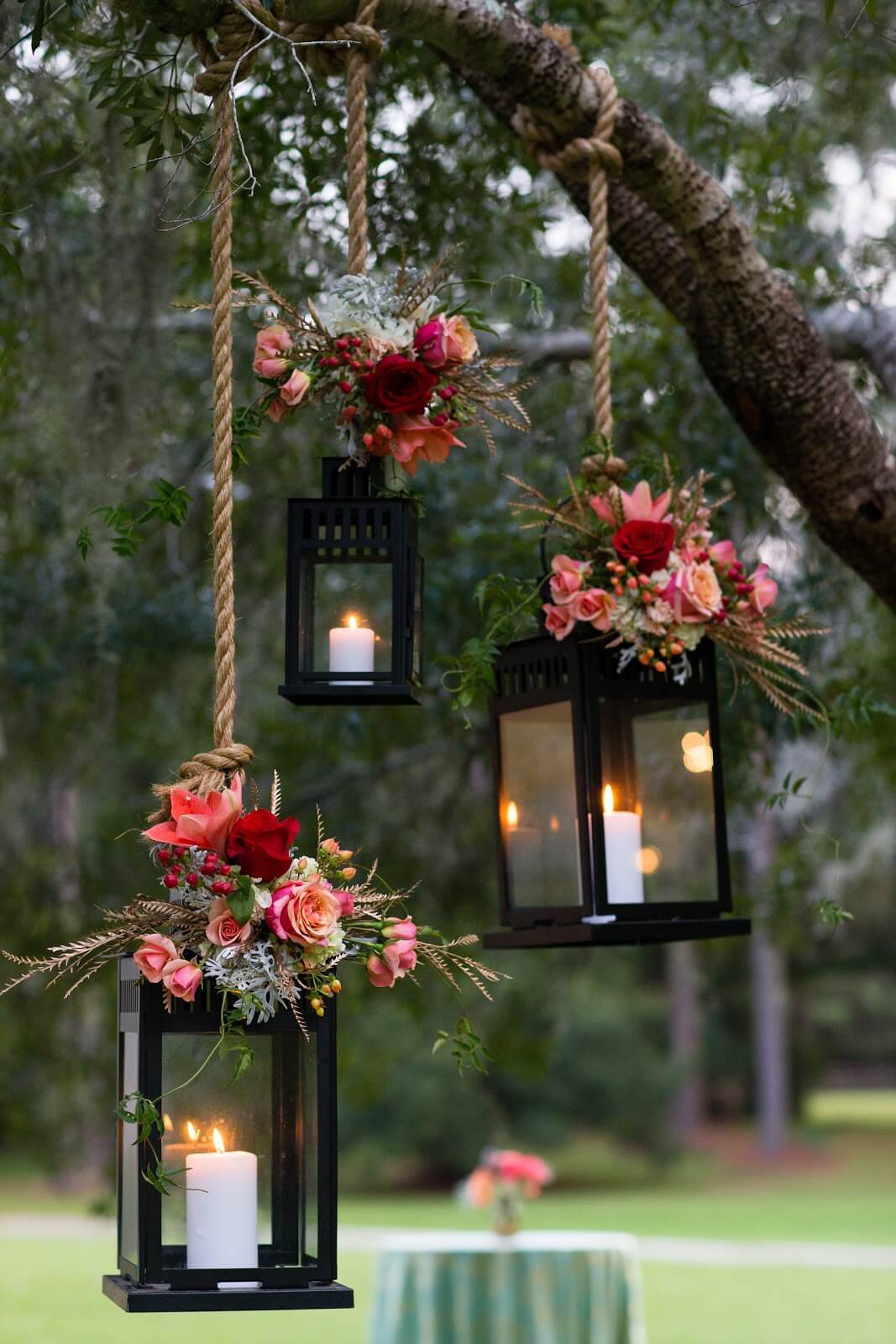 Just the thing for a wedding reception or outdoor party, hang these lamps on strong ropes from the sturdy limb of a tree. Brush up on your knowledge of knots. Put a candle in each lamp and decorate them with arrangements of red and pink roses. The lamps festive enough during the day, but as evening falls lanterns and roses become very romantic indeed.
32. Let the Light Come In Lantern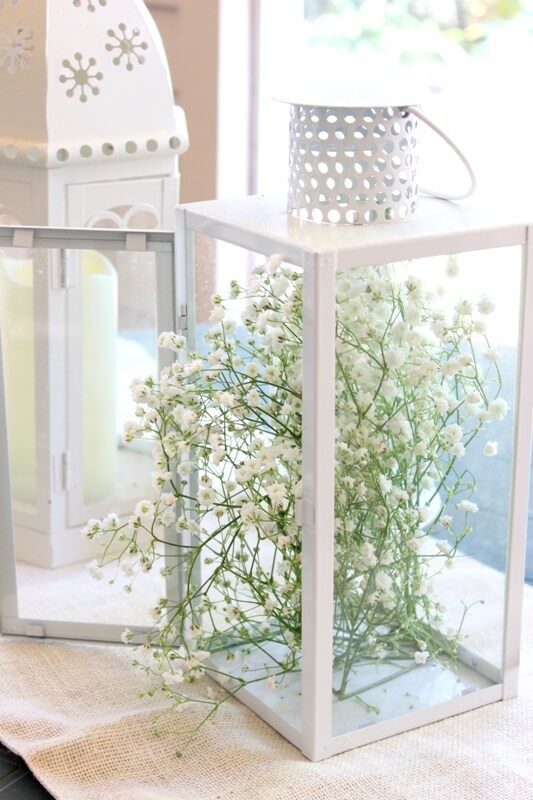 There is more than one way for a lantern to bring light. Find bright white lamps, and place them in a sunny window. In the first, add baby's breath for a display as brilliant as fairy lights as the sunlight pours through them. Light a candle in the second lamp beside it.
Our Favorite Outdoor Decor Lighting to buy on Amazon