15. Eye-Popping Color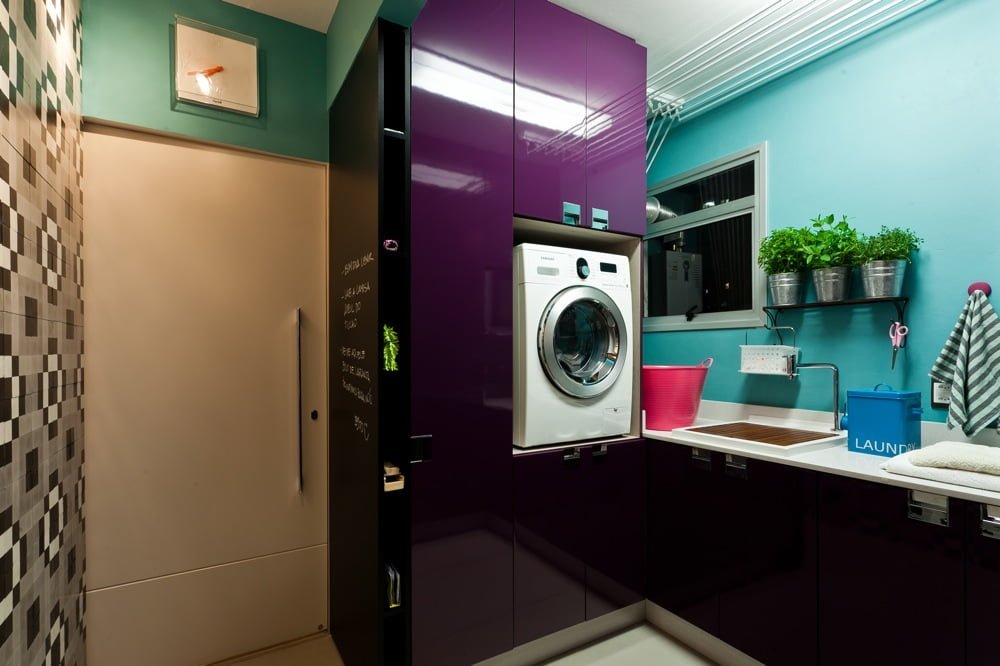 Stunning high gloss plum colored cabinetry provides a bold focal feature for this small yet vibrant laundry area. A rich aqua accent wall is offset by a grey mosaic tile wall, creating smooth clean lines to accentuate the vibrant colors. A geometric clock and square sink provide great laundry room ideas for those working with a smaller space. The oversized plum cabinets provide not only a great focal point, but also loads of storage for great laundry room organization.
16. Sunny Garden Delight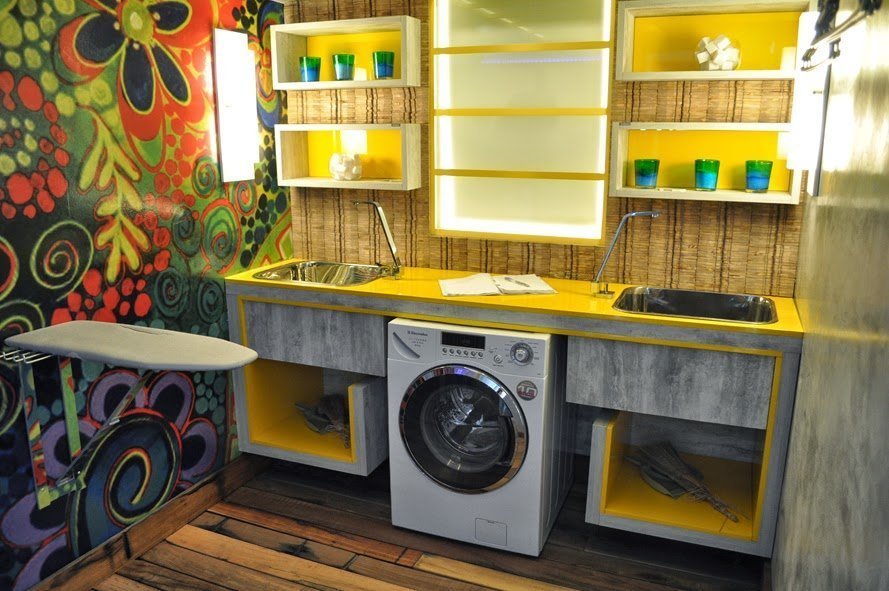 A bold floral wall offsets the rather austere pairing of stark grey and bright yellow. Rattan matting on the walls provides a neutral backdrop for white shelf boxes backed in bright yellow. A small built in ironing board makes great use of a small space to provide added functionality. Mismatched wood flooring creates a delightful contrast to the streamlined modernity of the double sinks. This small room is a study in contrasts that provides a delightful addition to overall home decor.
17. Small But Delightful Laundry Room Idea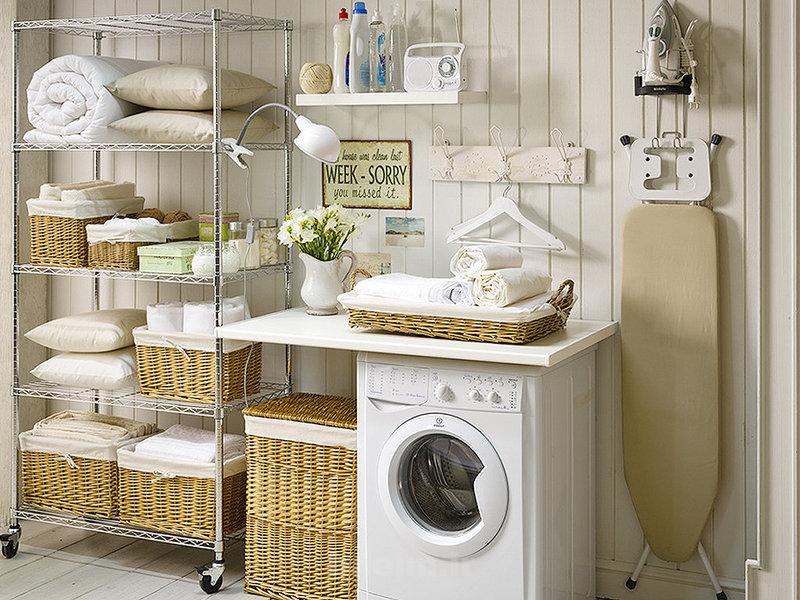 Modern machines that combine a washer and dryer into one unit make this tiny but delightful laundry room design a perfect fit for even the smallest of flats or apartments. A stainless steel rolling kitchen cart does double duty as laundry room decor and provides ample storage when outfitted with all manner and sizes of wicker baskets. White wainscoting provides a splendid backdrop for a shelf, coat rack and hanging ironing board organizer. A shelf installed over the combination washer/ dryer unit adds a small but vital workspace for folding clothes or laundry prep and flowers in a simple white pitcher adds a touch of elegance to this simple design.
18. Maximized Minimalism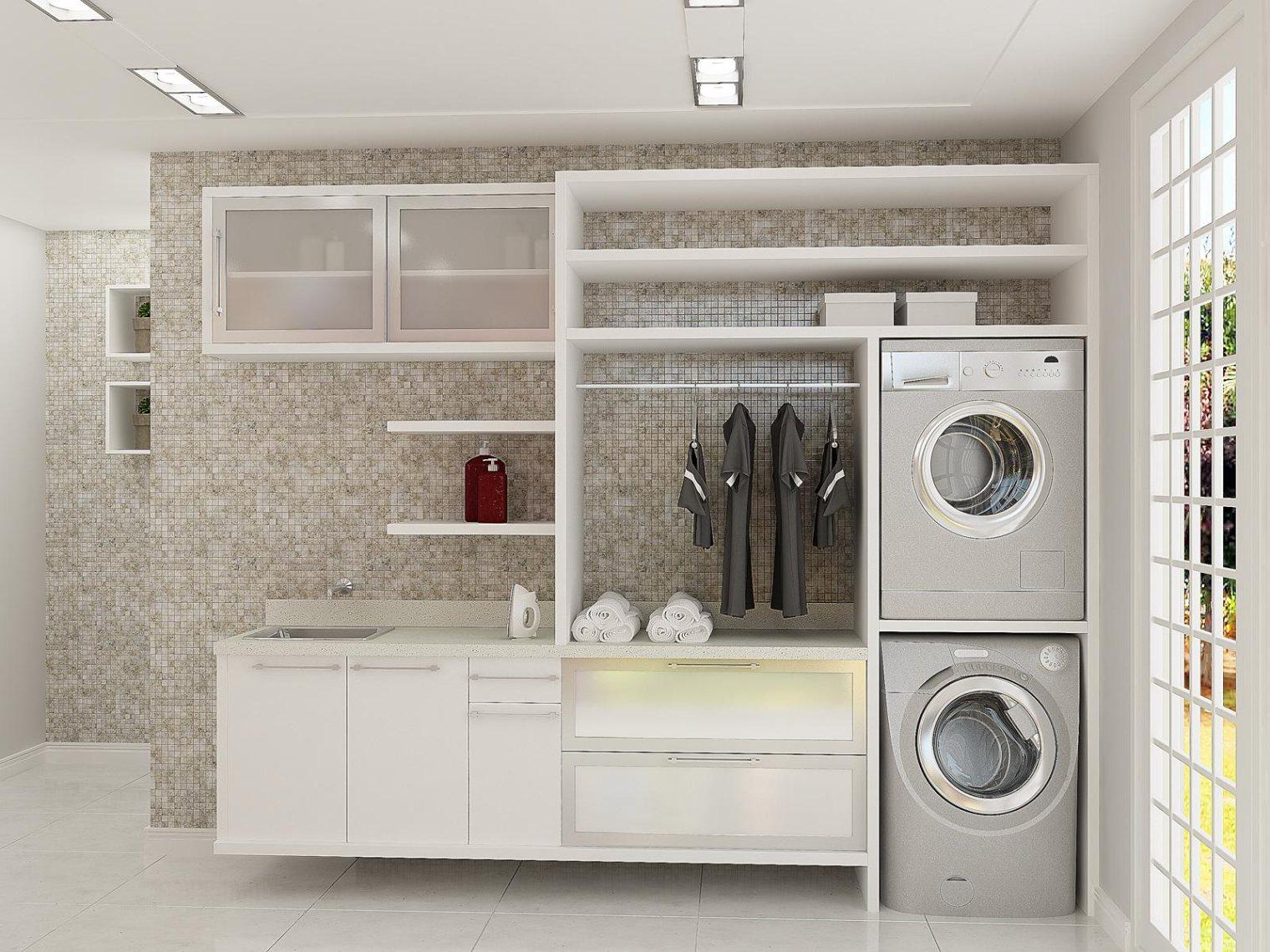 Clean, straight lines, smooth angles and neutral tones make this laundry area a minimalist's dream. Open white cabinetry combined with neutral tiles laid uniformly throughout the space create a clean, simplistic elegance. A floor to ceiling latticed window provides ample lighting to bring out warmth and vibrance in the white floor tiles and cabinets. Clean up is a breeze with laundry room designs that utilize open cabinetry and an open floor plan to create space and light with an eye toward minimalistic design.
19. Timeless Classic Laundry Room Decoration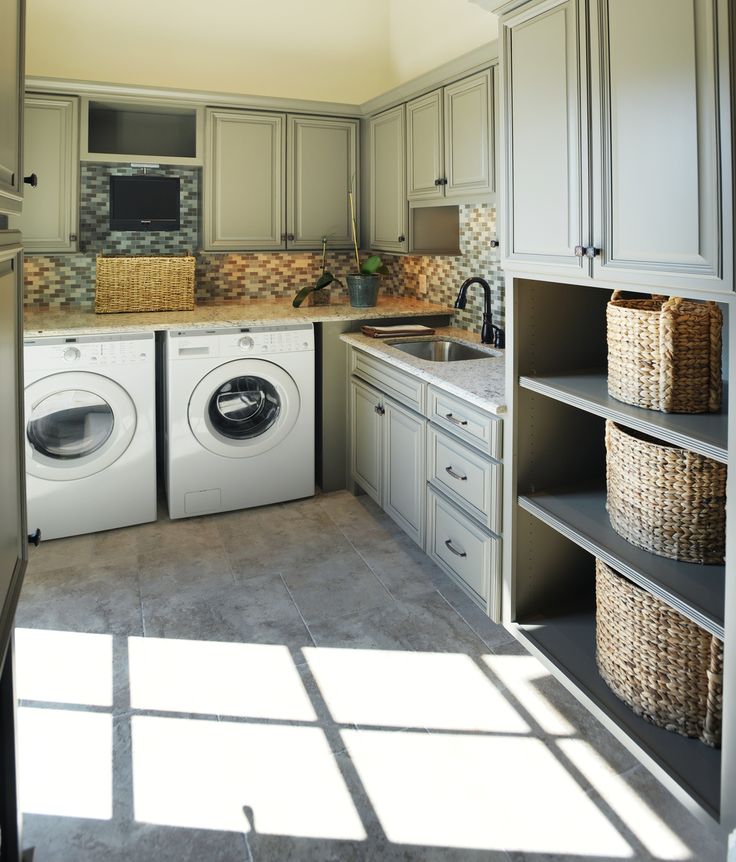 Oversized wicker baskets and just the tiniest hint of green in the cabinets gives this laundry space a timeless elegance that will fit in well with almost any home decor. Light marble or granite countertops combined with dark sink fixtures create a beautiful juxtaposition, which is offset by green glass tiles on the walls. Neutral stone floors and a large window bring warmth and light to this classical, elegant area. This is a great design for anyone with plans for reselling a house as it has enough character to add value to any home, while still being neutral enough to appeal to most buyers.
20. Behold the Bold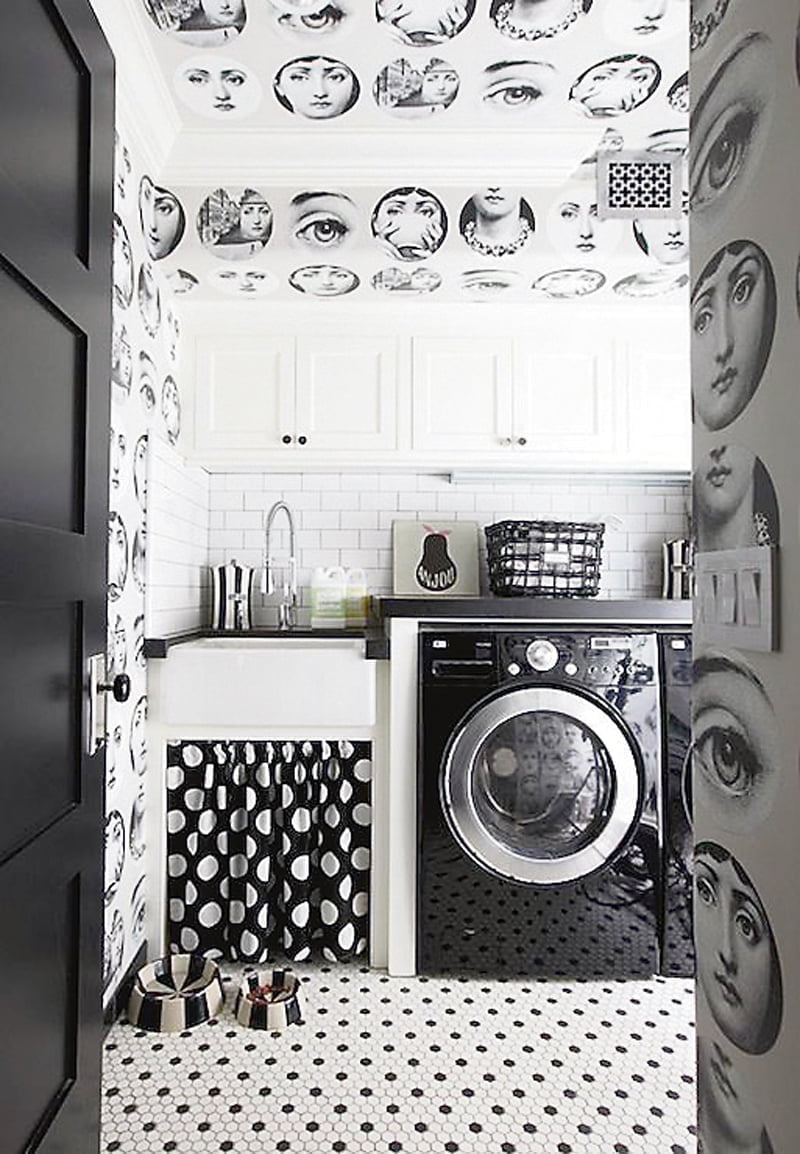 This creative and innovative space is perfect for the bold or avant-garde. A white stone sink underscored by a whimsical polka dot curtain creates a delightful counterpoint to lustrous black appliances. White wall tile and black and white mosaic floor tiles complement the white cabinetry and black door. Black & white circular cutouts of faces and various facial features provide an interesting and unusual feature to an otherwise very matchy-matchy room. Chrome fixtures offer a smooth and sleek complement to the monochromatic elegance of this area.
21. Just A Touch Of Color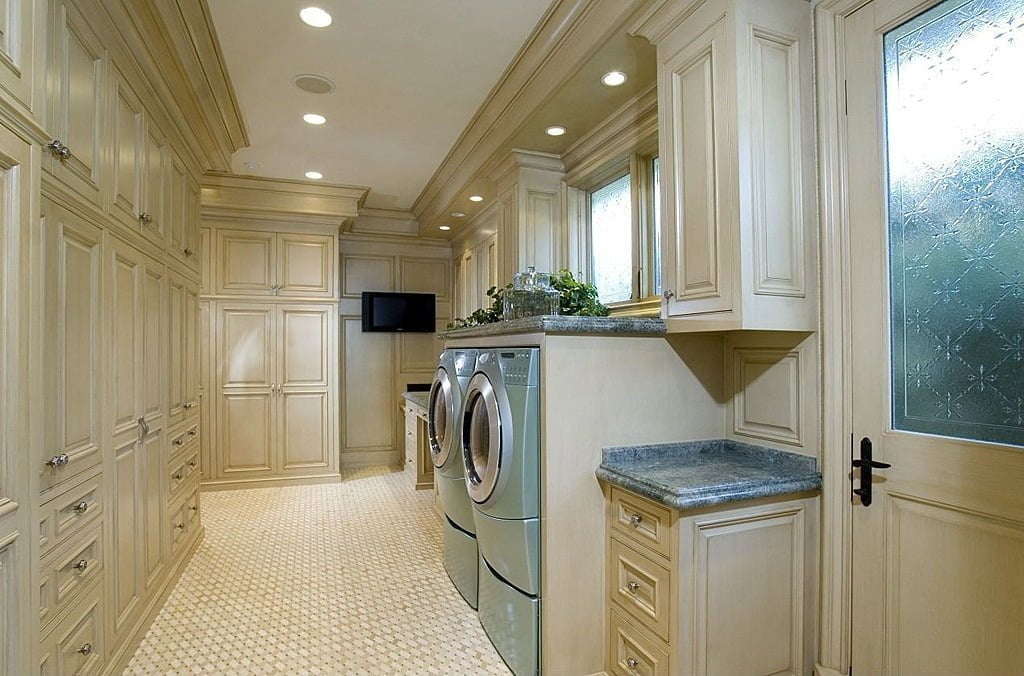 Just a few hints of sea foam green in this otherwise neutral space, provides a beautiful accent that highlights the fine details of the beautifully designed laundry room cabinets. Floor-to-ceiling and wall-to-wall cabinetry creates an almost limitless space to utilize all the clever laundry room storage ideas you have ever dreamed or imagined. Green appliances and green marble countertops provide a beautiful accent to the acres of neutral cabinetry and neutral floor tile. Etched green glass in the doors and windows provide a simple yet elegant accessory to this highly functional space.
22. Log Cabin Classic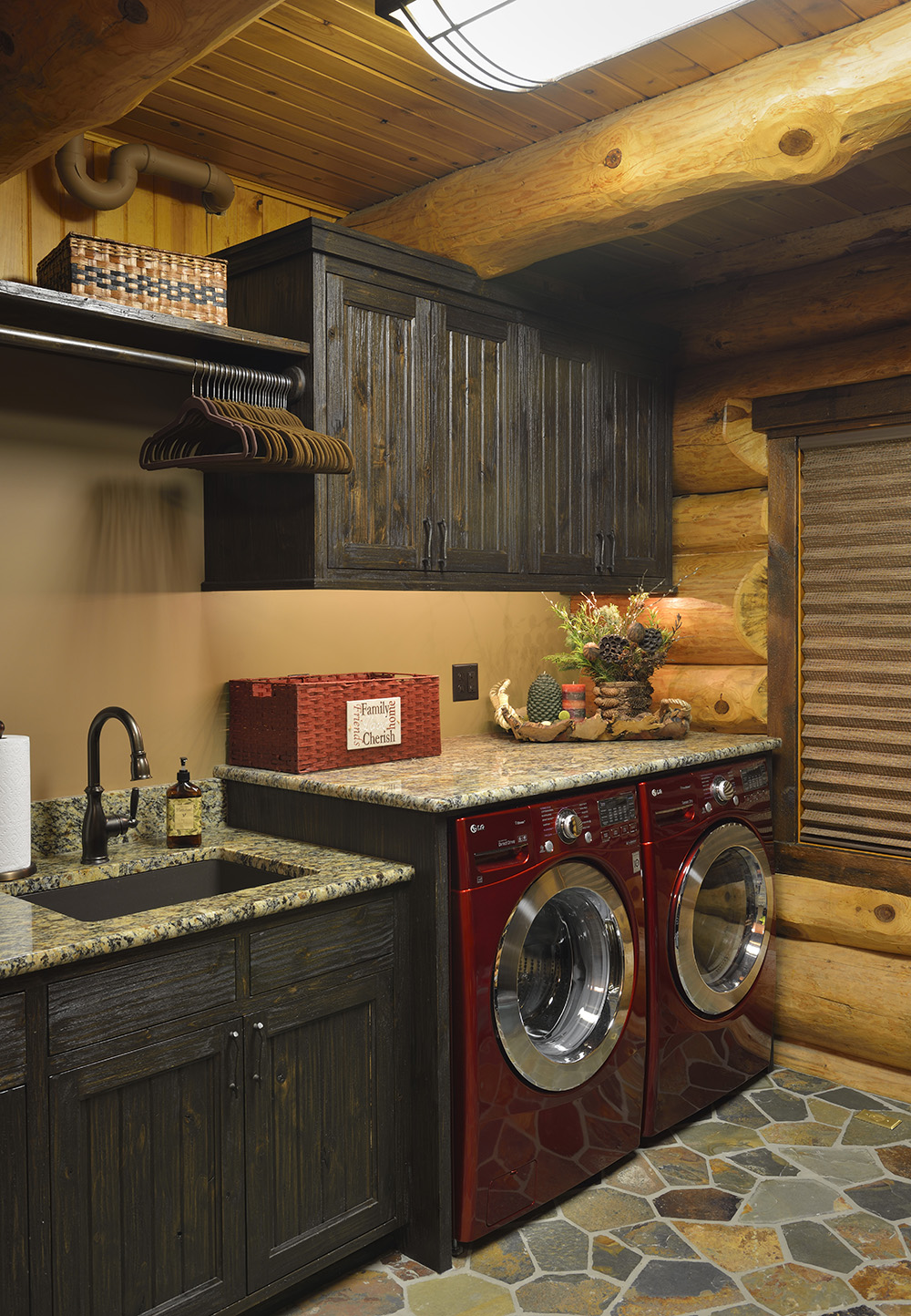 Beautiful deep red appliances provide a stunning feature in this microscopic laundry area. Perfect for a mountain retreat where space is at a premium, reclaimed wood cabinetry and marble countertops provide beautiful accents to the natural wood walls and stone flooring. A hanging bar over the sink area utilizes the best laundry room designs to make use of every available space.
23. Vintage Charm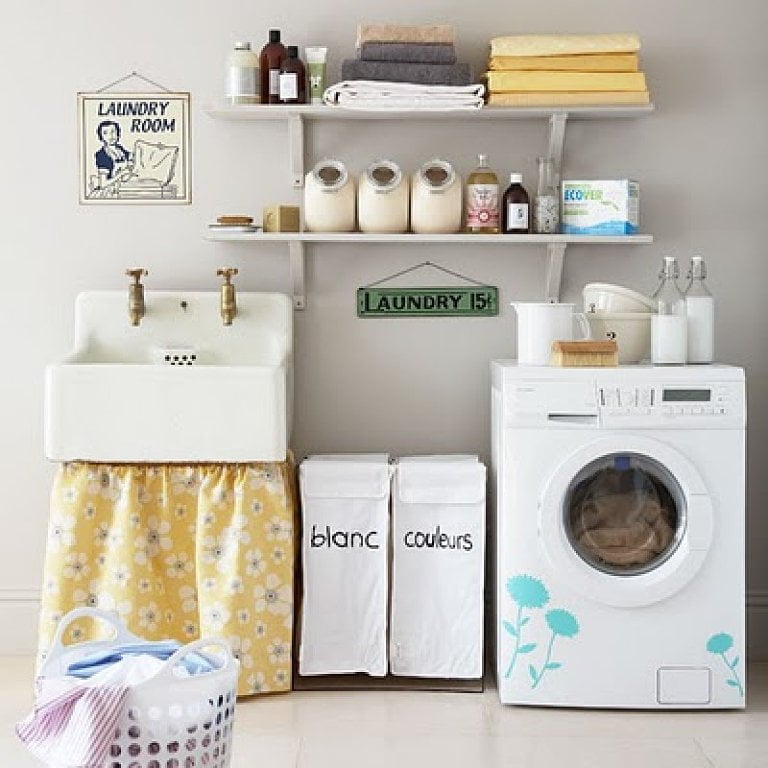 Once again proving that size doesn't matter, this elegant design makes the very best use of a microscopic space. From the floral skirt on the vintage sink with vintage brass hot and cold taps to the flower decals on the combination washer/ dryer, pretty is the name of the game. Overhead shelving accented with glass bottles and ceramic pottery makes great use of the tiny space to provide a much needed storage area. Vintage metal laundry signs and crisp white linen hampers lettered in French complete the overall look of vintage charm.
More laundry room decoration ideas on the next page…