Keeping step with the house plant craze, these are twenty-nine of the best leaf decoration ideas to incorporate into your home. No matter if you possess a green thumb or not, these amazing and interesting leafy treasures are the perfect addition to your home.
29 Creative and Fun Ways to Decorate with Leaves

Sometimes houseplants can be a bit temperamental; however, you won't face such issues with houseplant-inspired decor items like these leaf designs. And, there are so many ways to decorate with them– from the wall to the tabletop and everything in between!
To begin, consider using them as lush wall art. Some large monstera leaves look cool as an accent or focal point on the interior wall space of your main sitting area. Even a glass version adds intrigue to the room as it hangs from a window filtering in the warm sunshine.
For tabletop decor, palm branches become beautiful table runners and smaller pieces transform into festive confetti. Both make marvelous party decor options to properly celebrate a special occasion.
And it's always in good taste to give a gift that speaks to the heart and soul of the recipient. For a true plant lover at heart, any of these best leaf decoration ideas would be a welcomed addition to his/her home decoration collection. Check out the variety in styles and options for including these plant-loving pieces in your next gift-giving opportunity or small home update.
1. Trio of Metal Leaf Decor Wall Art Pieces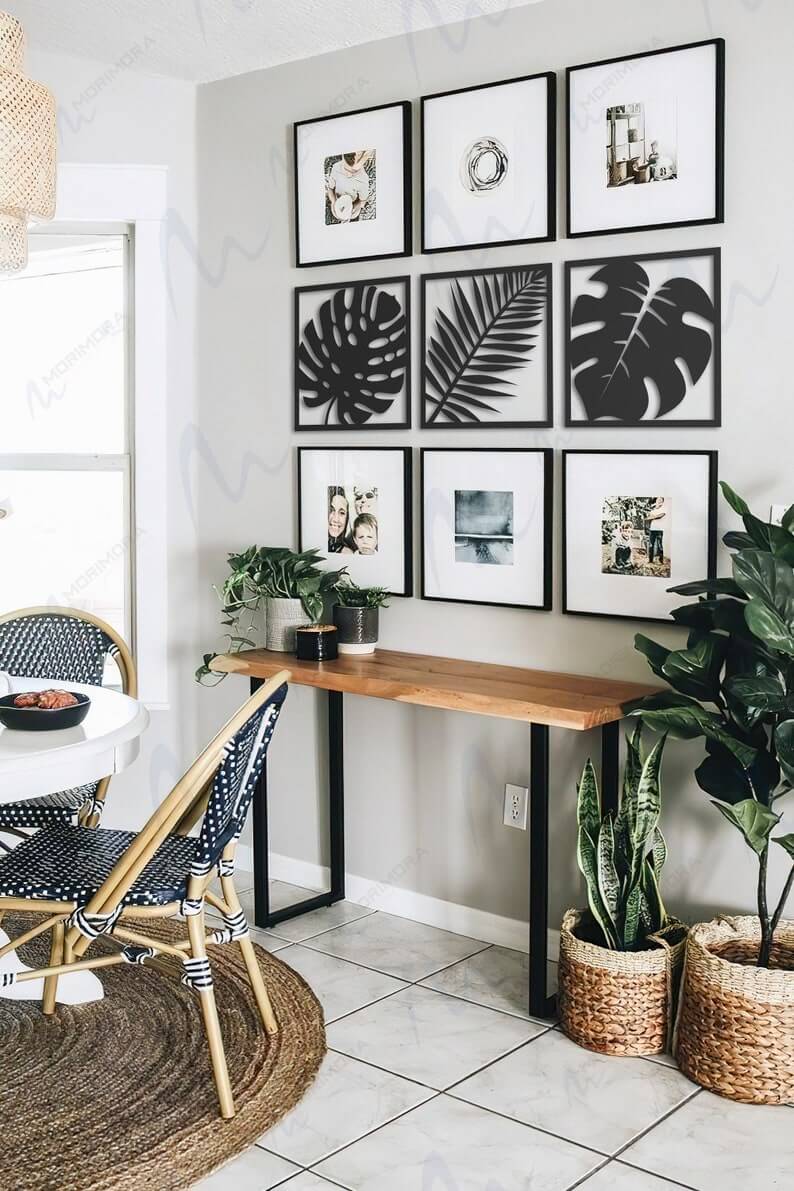 Infuse your home with a modern and nature-loving look with these metal leaf wall art pieces. Styled in a gallery wall setting, these three offer an incredible lineup to take your statement wall up a notch. Featuring three distinctly different leaves, this trio provides enough originality to avoid looking cookie-cutter in design. Line them together or place them abstractly among your wall art gallery for the look you crave!
2. Soft and Lovely Linen Leaf Garland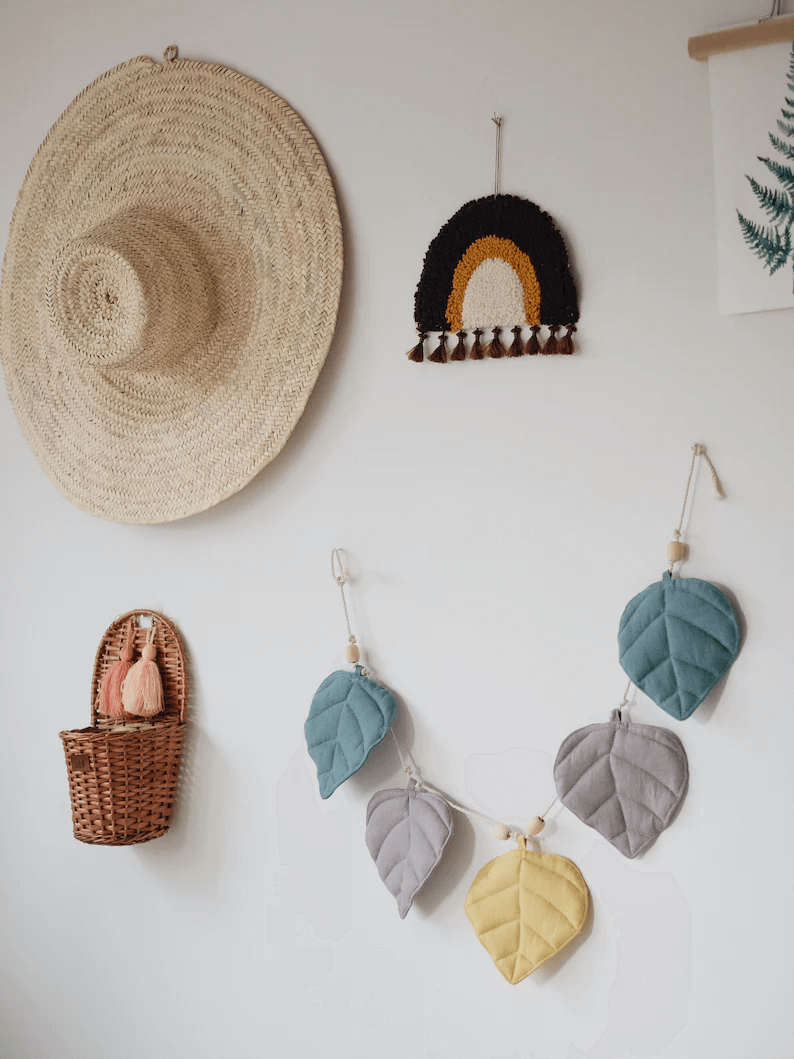 Enjoy the cool tones of this lovely linen leaf garland. Featuring five large leaves, this garland is an original creation as it is made from linen. To add some visual interest and texture to its look, it includes some natural wood beads as nice accents between the leaves. Your child's favorite room would be a wonderful place to hang this gorgeous garland. In fact, it works in almost any room of the home from the entryway to the main living quarters. The muted tones showcased in the leaves are a great way to blend into a more modern designer's space too.
3. Pretty Palm Leaf Paper Garland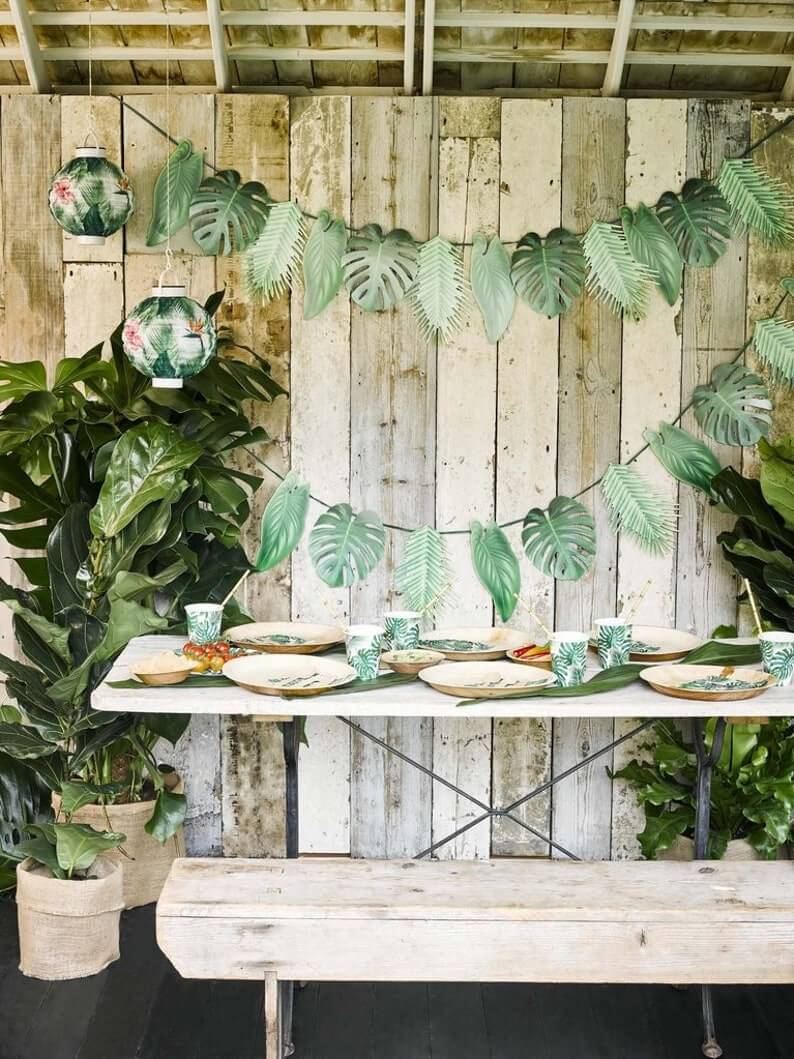 Bring home a part of the island life with this pretty palm leaf paper garland. Drape it on the wall for some perfect party decor. The lush green makes a bold pop of color to get your party started. Use it as a backdrop for a phenomenal photo opportunity for guests. It also makes a great tablescape or even works around the doorway. Coordinate these lovely leaves with matching cups, plates, and napkins for a complete look as you decorate the table with the perfect place settings. Add a few palm plants throughout the room to further embellish upon this lovely leaf-themed party decorating idea.
4. Intricate Copper Metal Leaf Decor Wall Art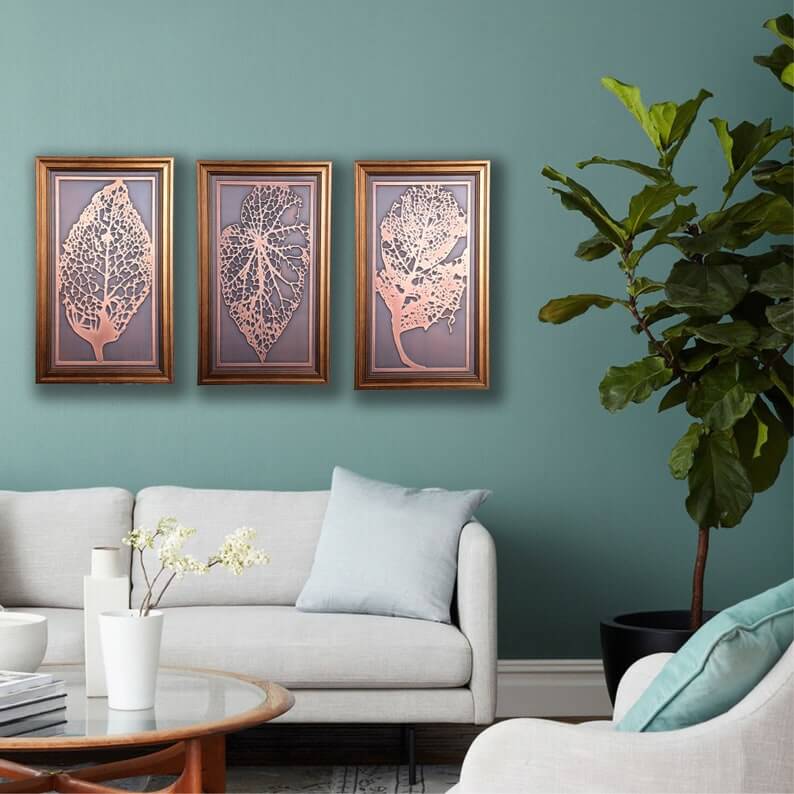 Make a statement by adding this cool and modern-looking piece of wall art to your home. It combines nature with a modern style as this trio of leaves shows off their intricate and detailed lace crafted from copper. Together, they are a bold wall art display; however, they can be placed individually around a room for a unified look. Finishing the design off with a wooden frame gives it a nice contrast in textures and mediums with the combination of metal and wood. This makes a wonderful gift idea for anyone who loves nature or simple design. The versatility makes it a nice look for both a rustic cabin and a more elegant living room space.
5. Flowery Leaf Purple and Green Tile Stickers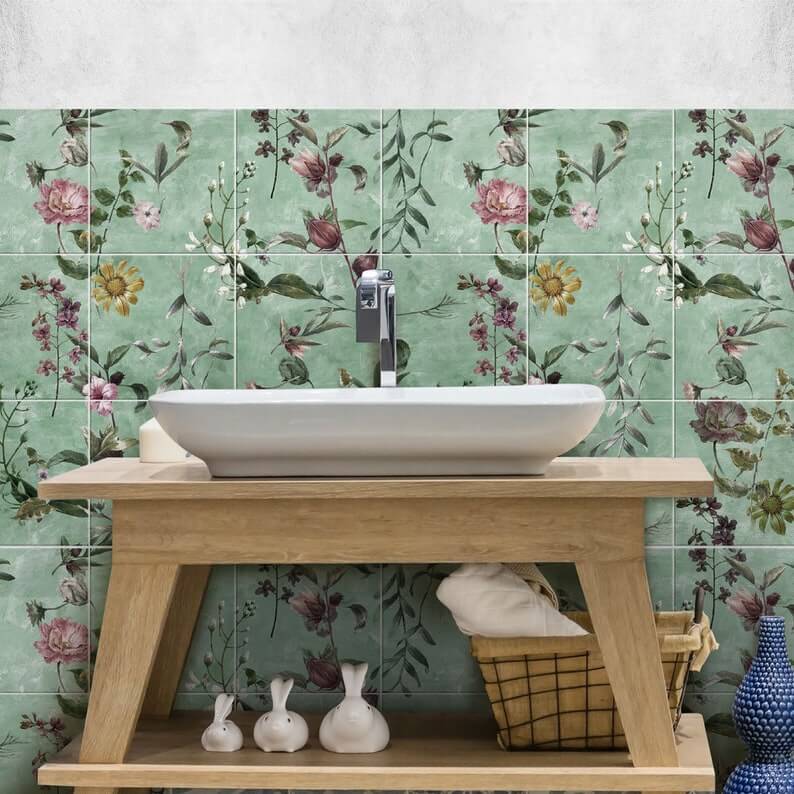 Add a decorative touch to some boring tiles with these purple and green leaf and flower tile stickers. Together, these stickers create a wallpaper effect all across your wall. Forgo the mess associated with wallpaper as these individual stickers are simple to both apply and remove. If an entire wall is too much for your taste, focus on a square behind the sink and create a unique backsplash with these charming tiles. They work nicely in a bathroom, kitchen, laundry, or mudroom depending upon your needs.
6. Three Piece Wooden Leaf Wall Decor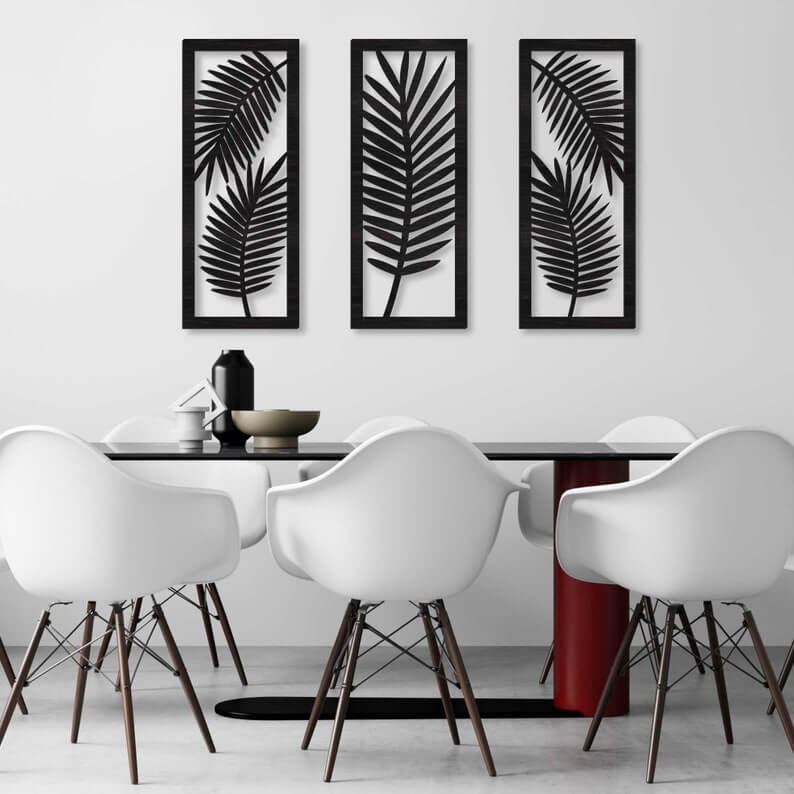 Make a grand display of your love for all things green with this trio of wooden leaf wall art. Hanging together, this powerful three-piece ensemble makes a great focal point above the couch, over the fireplace, or staggered down the staircase. Show off the grains of the wood or choose a more modern black finish to coincide with the look and feel of your home. The texture of the wood adds an element of interest to this leaf-loving creation. With a winning combination of a single large leaf paired between a set of medium-sized leaves, the look is visually interesting and a wonderful way to give your home a quick and easy modern update.
7. Faux Plant Wall Decor in Frames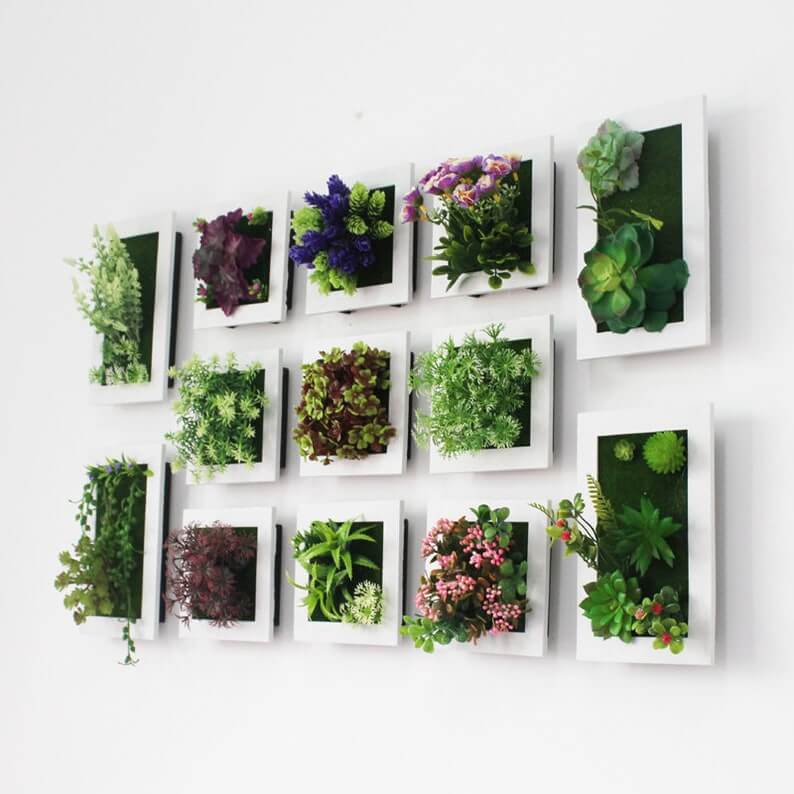 Bring another dimension into your home decor with this interesting and three-dimensional faux plant wall art. Each plant or grouping of plants is carefully tucked into a white traditional frame giving the design a crisp and clean finish. You select your choice of favorite faux plant combinations to achieve the custom look you prefer. The rich green hues really come alive as they nearly pop out of the wall. Arranged in a large collection, these faux plants give a wow factor to the room. If you would rather enjoy them on a smaller scale, place them individually throughout your home to relish their beauty no matter which room you're in. Plants make the best decor choice for any style of design and work in any room of the home.
8. Boho Scandinavian Macrame Hanging Wall Art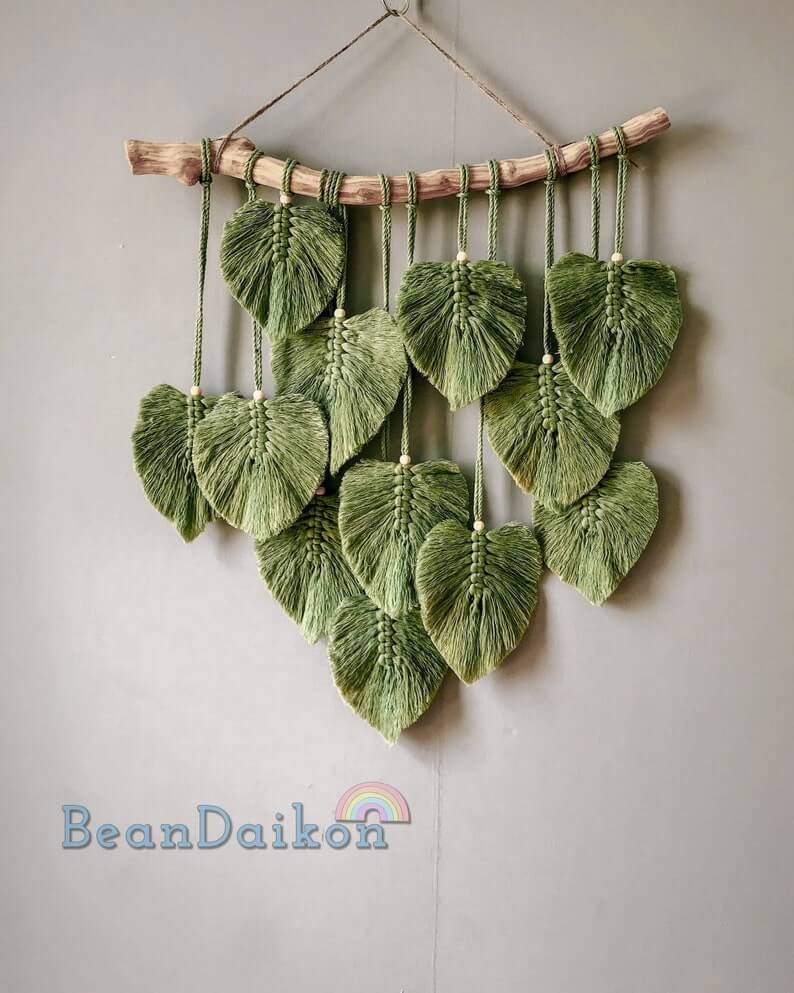 Discover the modern spin on macrame as featured wall art in your home. This interesting design features a bohemian hint with a Scandinavian flair that makes a fabulous update to your living space at home. It even makes your office space more user-friendly by creating comfort and charm making you enjoy your time there. The wall art has a nice natural wooden piece to hold the carefully hand-crafted macrame leaves that are made in a muted and nature-loving green tone. Hang this in the newborn's nursery for a modern spin on the gender-neutral bedroom. Position it near a nook of your home that includes most of your houseplants to coordinate the special space.
9. It's a Jungle Out There Wallpaper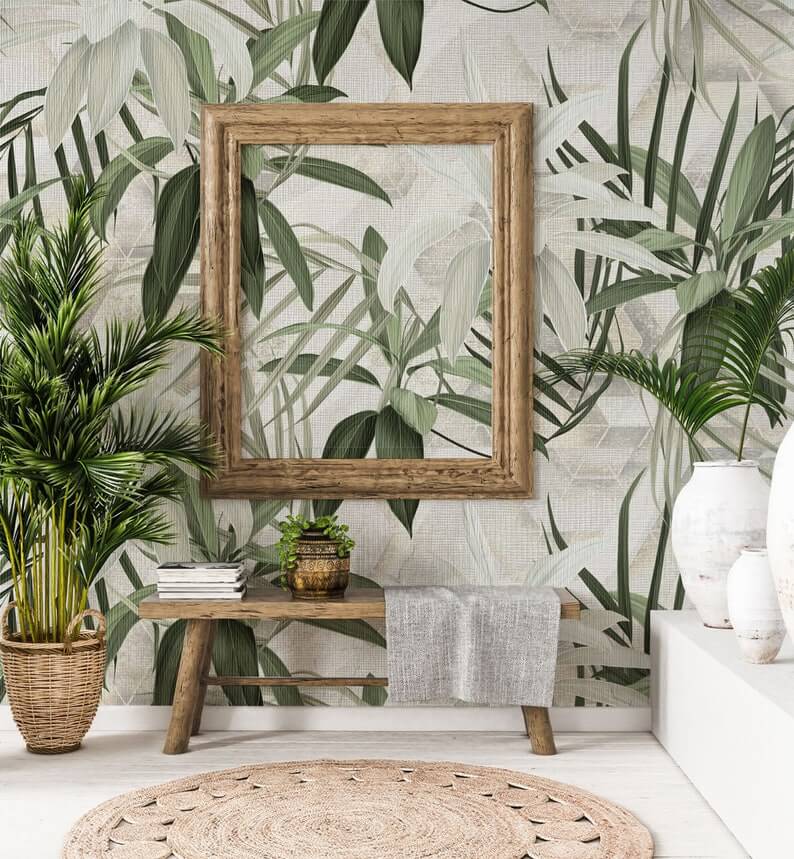 This easy peel-and-stick wallpaper will transform your room into a remote, lush jungle. Full of green hues, this powerful plant print is set on a creamy neutral background to maximize the intensity of the gorgeous green plant fronds. Choose a statement wall to cover with this jungle-themed print. It makes a good choice for a bathroom, dining space, or entryway as it brings a completely new look to the room.
10. Gorgeous Green Hues Tropical Pre-Strung Garland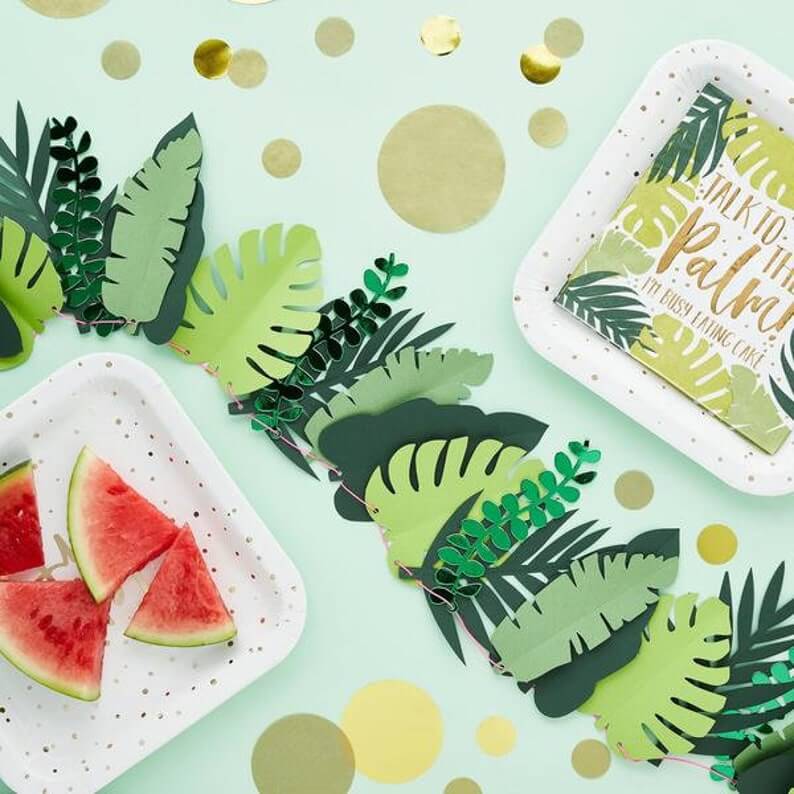 Host a cool luau with this tropical garland! Featuring a gorgeous variety of shades of green, your party will be the talk of the town with your amazing and unique palm leaf decor. The garland comes to you pre-strung with a neon pink colored string to further add to its beauty and makes it ready to use right after opening. Hang it overhead for some jungle madness or lay it across the table to create your perfect tablescape at the food table or on each individual dining table. Guests will love the bold hues of green from light to dark as they work their magic in bringing this lovely luau to life!
11. Willow Leaf Vine Garland Decoration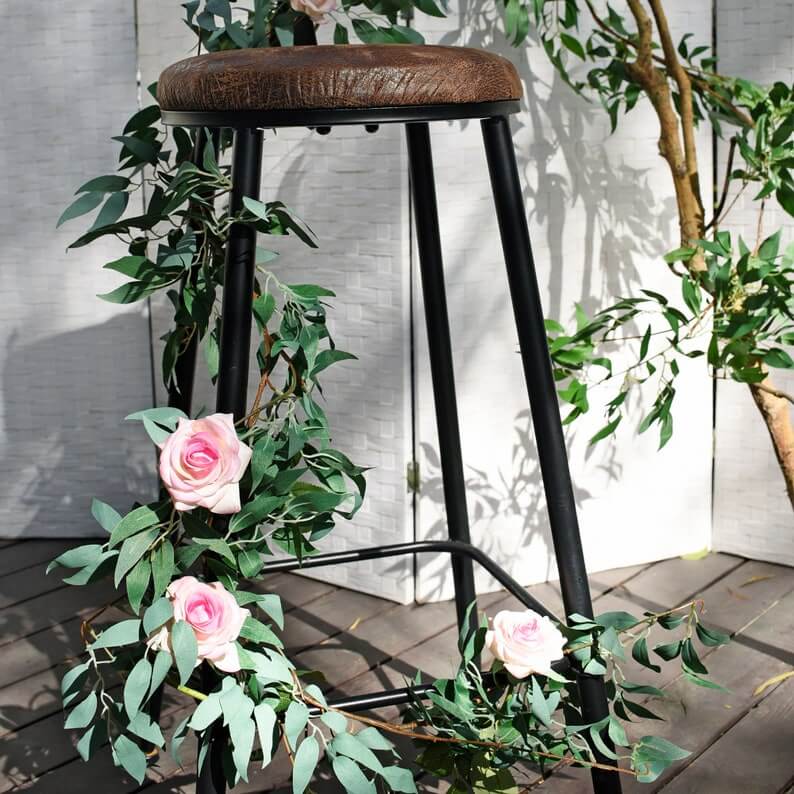 One of the easiest ways to add some green into your home decor is with garland. This practical decoration fits in nearly any space. It can easily become a custom look with its versatility. Wrap it around a window, drape it across the mantel, or wind it around into a wreath shape. The possibilities are endless with ways to decorate with leafy garland and this willow version is a great way to give your existing space a pop of green. The subtle almond-shaped leaves of the willow vine add a perfect touch to any style of decor. For a brighter pop of color, be sure to include some floral pieces interspersed throughout for a unique look.
12. Monstera Black Metal Leaf Decor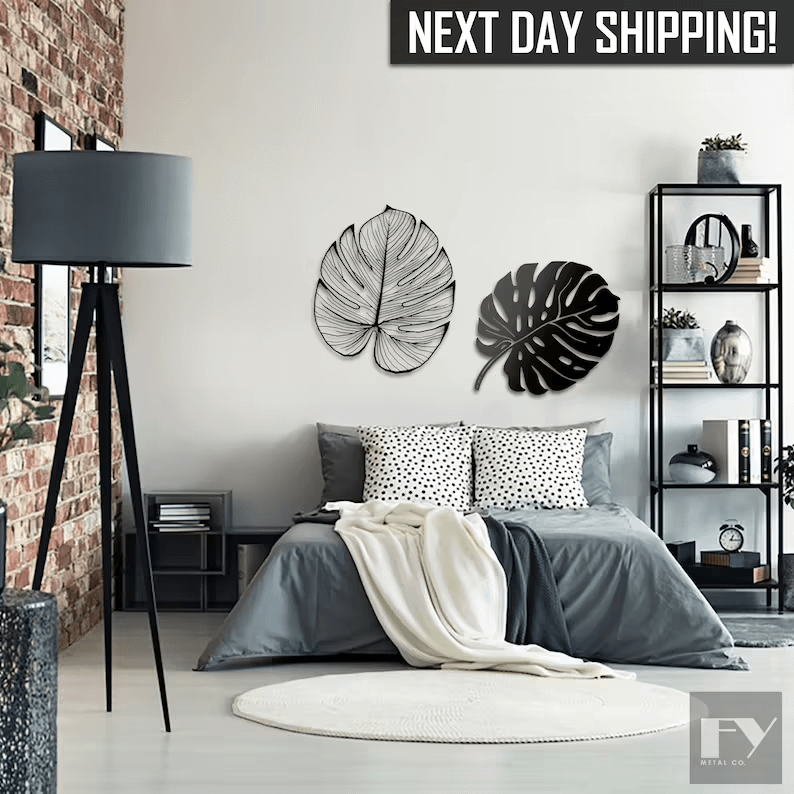 Modern and contemporary can enjoy the plant revival springing up across our country and this set of metal leaf decor makes a good example. First, the pair is an ideal contrast as one shows off an intricate and thin set of lines to create the leaf, while the other is a bold and thick version of its counterpart. Hang them over the bed, above the couch, or in the hallway to add a modern plant vibe to your home. Created with a matte black finish, it really gives the overall design a modern style that's a perfect fit for nearly everyone.
13. Serene and Green Leaf Cushion for Baby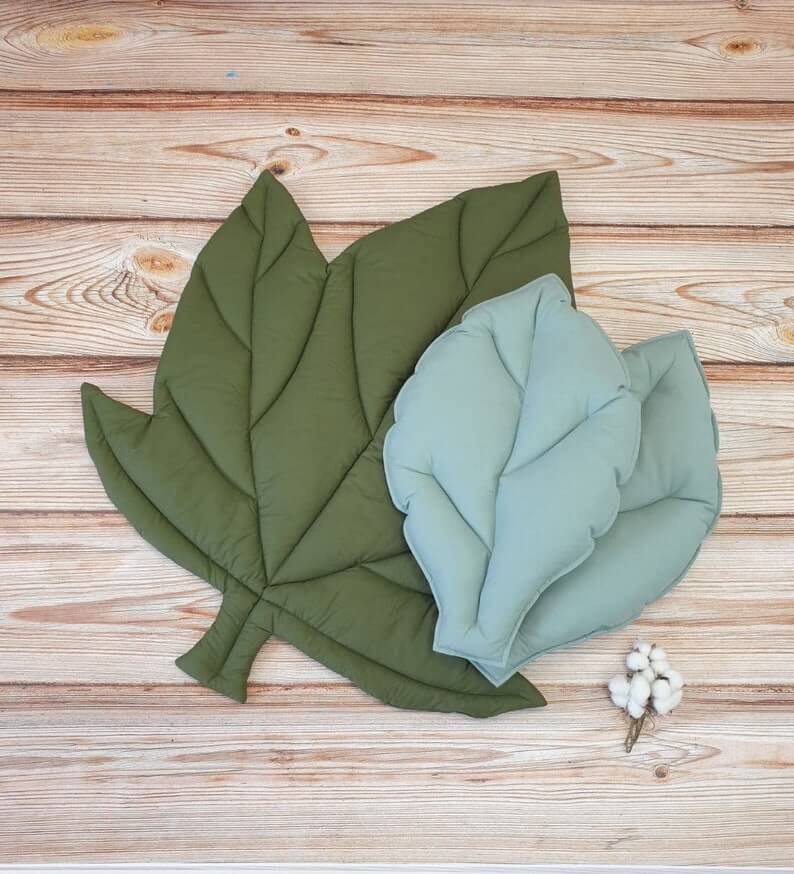 Make your next photo session with the baby an easier endeavor with this lovely set of leaf cushions. Since they are the perfect mix of style and comfort, your baby will adore resting on top to show off that adorable smile! These cushions can be placed as background decorations as well. The smaller leaves are perfect for holding too. When the camera isn't capturing photos, these cushions continue to be useful as decorative accents in your home. Place them on a reading chair or in the corner of a couch. They are within reach and can be tossed onto the floor for your baby to enjoy!
14. Handmade Laser Cut Wood Personalized Leaf Ornament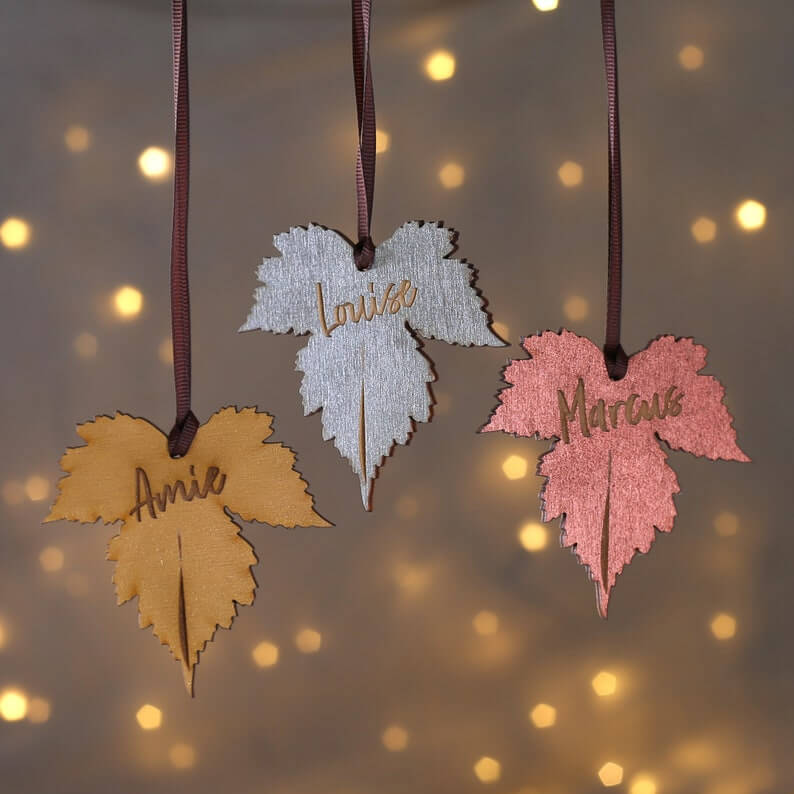 Here's a cool and custom leaf design that makes a nice decoration for your tree or works well as a name tag for a gift. Each leaf is laser etched to give it a professional appearance while a name is written in metallic to make it stand out. Gift one to every member of the family to help identify their Christmas presents, or create an entire collection to display on a decorative tree. These ornaments are nice for embellishing a Christmas tree, but also a decorative tree that you leave up year-round. Another fun way to use these handmade wooden leaves is as part of your family dinner included at each place setting. What a nice touch for a seating chart during a special holiday meal.
15. Handmade Hand Painted Personalized Palm Cake Topper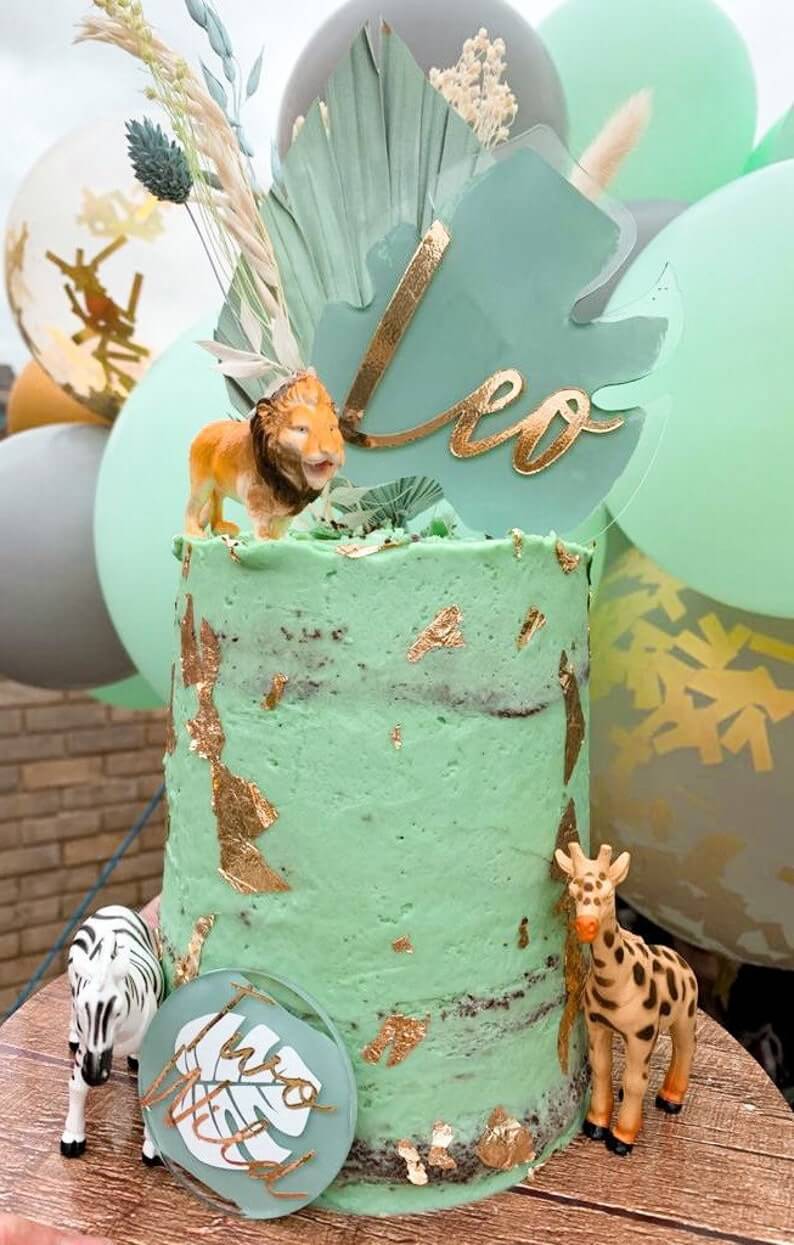 If you're planning a celebration that centers around a tropical, jungle, or dinosaur theme, please consider accenting the main cake with this custom cake topper. Handcrafted, this acrylic palm leaf shows a beautiful hand-painted leaf with the guest of honor's name as well as the age to celebrate. Easily stick this topper into your cake and it's ready to go! It doesn't get much easier than this when deciding on a custom way to make the birthday cake a little more special for the birthday boy or girl.
16. Cute Ceramic Heart Shaped Gift Tag Ornaments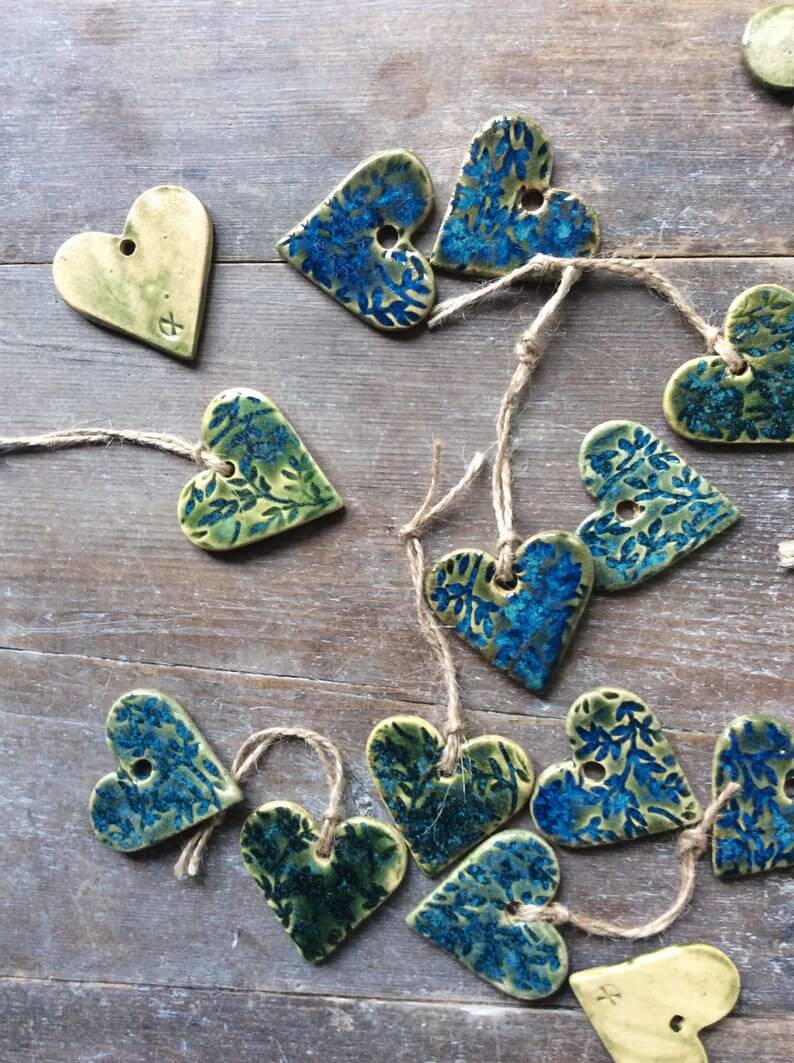 Dainty and delicate, these cute ceramic hearts that have been bisque-fired and glazed to perfection make a fabulous choice to add to your holiday time arsenal. Use them as unique gift tags for those special gifts. Of course, they look amazing hanging on your Christmas tree with your carefully curated existing ornaments. The beautiful green and blue hints throughout their design give them a one-of-a-kind custom look. Use these happy little hearts to create a darling garland to use for decorating all year long!
17. Elegant Stained Glass Olive Branch Suncatcher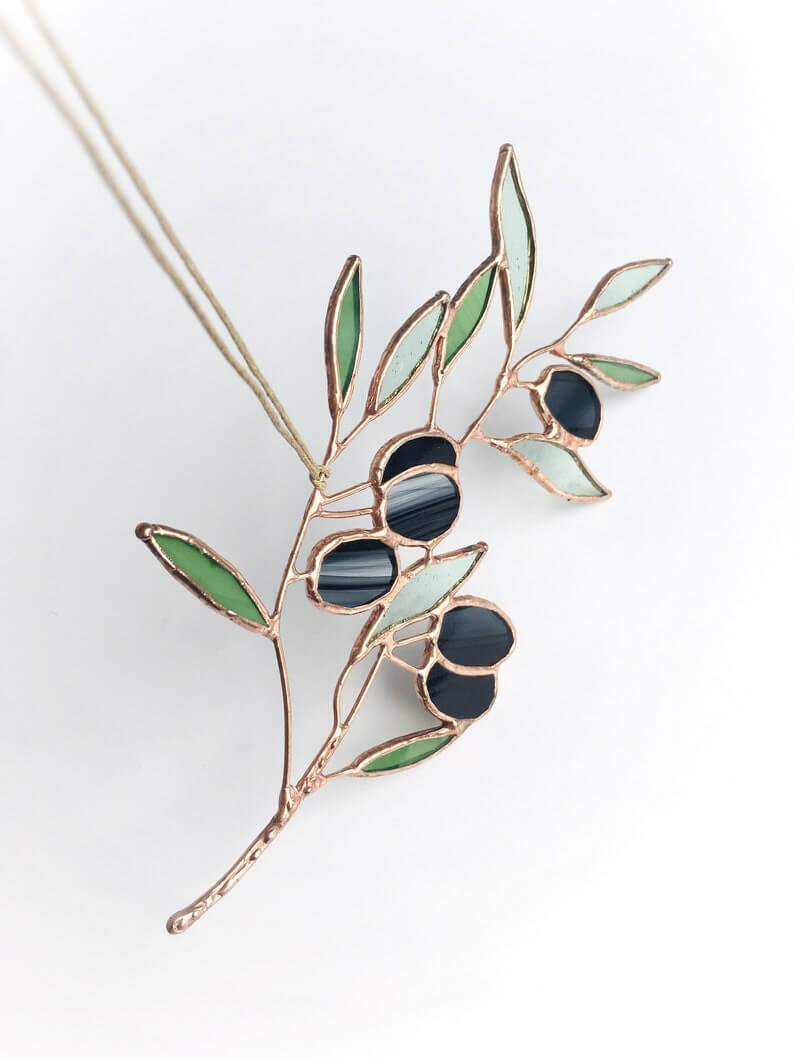 Life in the Mediterranean is revisited with homage paid to the iconic olive branch. Representing peace, this symbolic suncatcher makes a great gift idea for family and friends. The artistic beauty in its creation is evident in the natural flow and bend of the branch and the unique coloring of each olive fruit. No two will be exactly alike as they are made to order, offering a custom gift choice. This would be a wonderful gift idea for the avid traveler on your list as well as the one who spends most of his/her time in the kitchen. For the chef, include this as part of a themed basket filled with olive oil, a nice skillet, and a bottle of wine. Or for the traveler, including a travel guide booklet, toiletry bag, and new luggage tags for a complete gift idea.
18. Macrame Feather and Wooden Wall Art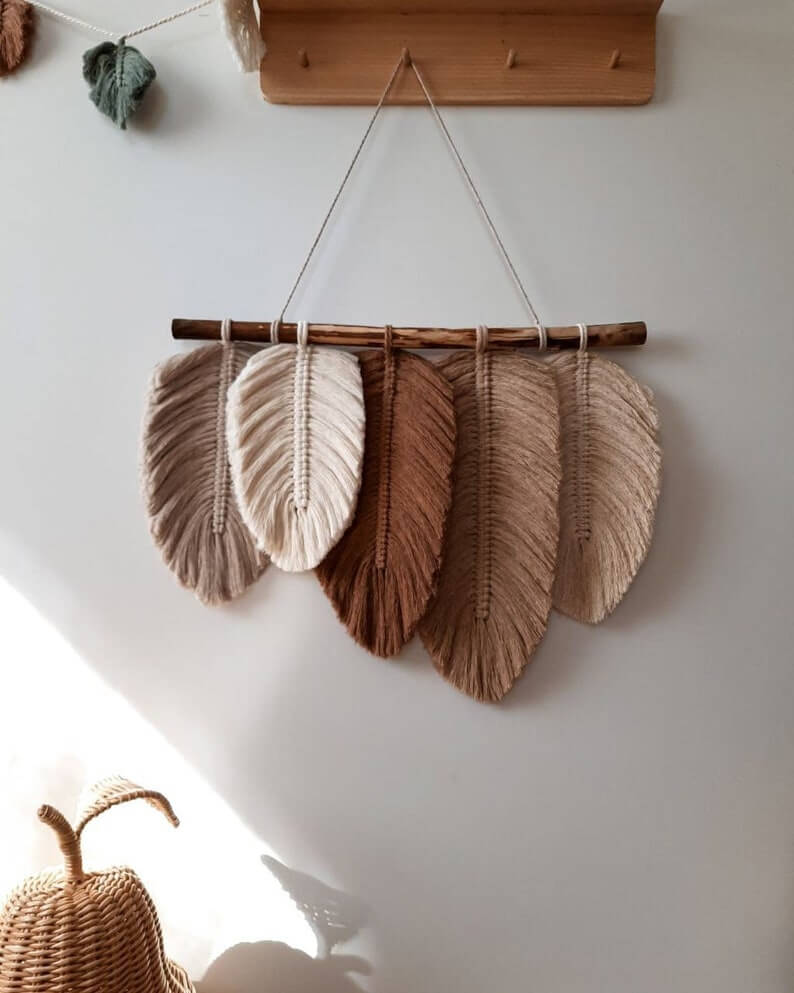 Style and nature collide in this piece of modern wall art. Using a rustic natural piece of wood, this hanging macrame feather decoration instantly becomes a focal point on your wall. Pick your favorite color combination from a selection of three fabulous neutral color palettes. No matter if you prefer cool or warm tones, there is one that will certainly work in your space. Consider using this as the main attraction above the crib in a nursery, over the mantel in the living room, or over the bed in the master bedroom. The possibilities are nearly endless with this pretty palette of neutral hues that become lovely bohemian feathers made of macrame.
19. Gorgeous Maple Leaf Stained Glass Suncatcher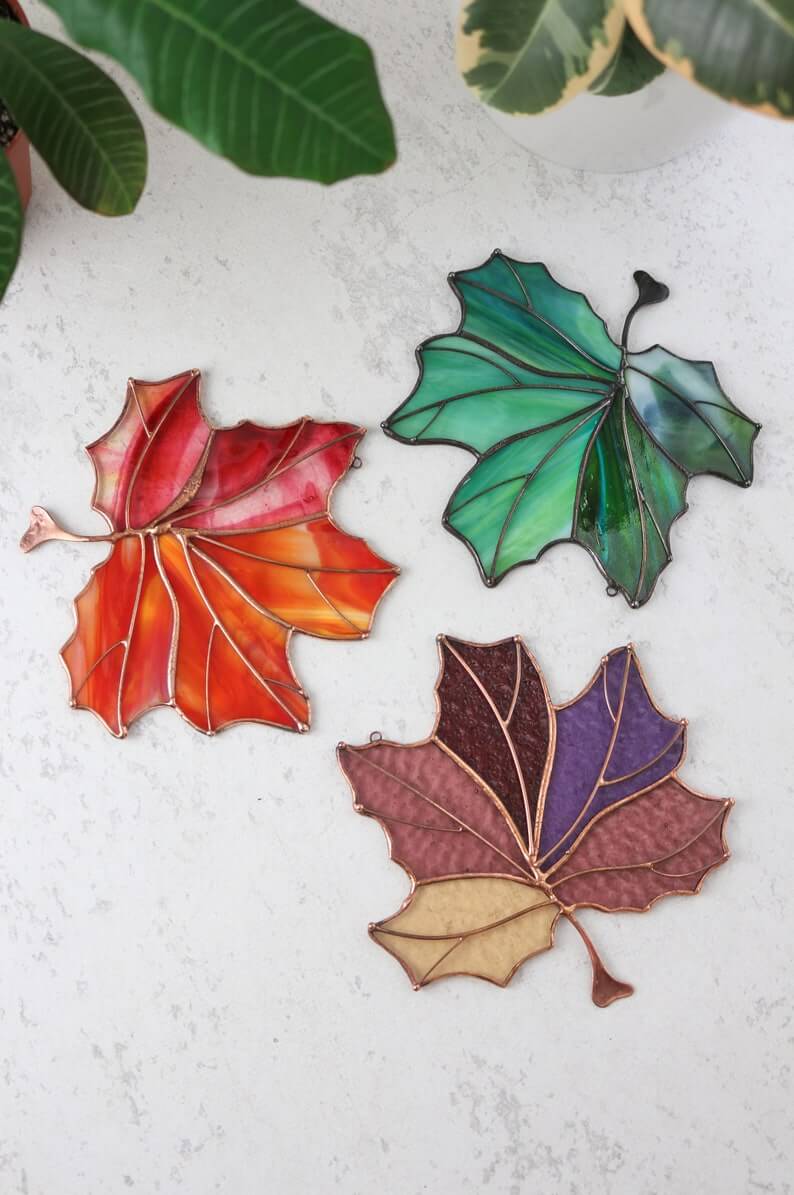 As the sun enters your home, you'll delight in the beauty of this gorgeous maple leaf that comes alive with the pretty colors of stained glass. Choose your favorite color combination from shades of green to a more fall look filled with red, purple, and orange. Arranged together, you could easily create a one-of-a-kind hanging display resembling a wind chime with a collection of these leaves hanging at different positions. Placed in a prominent window, this would become an instant wow factor in your home!
20. Green and Leafy Ribbon Party Backdrop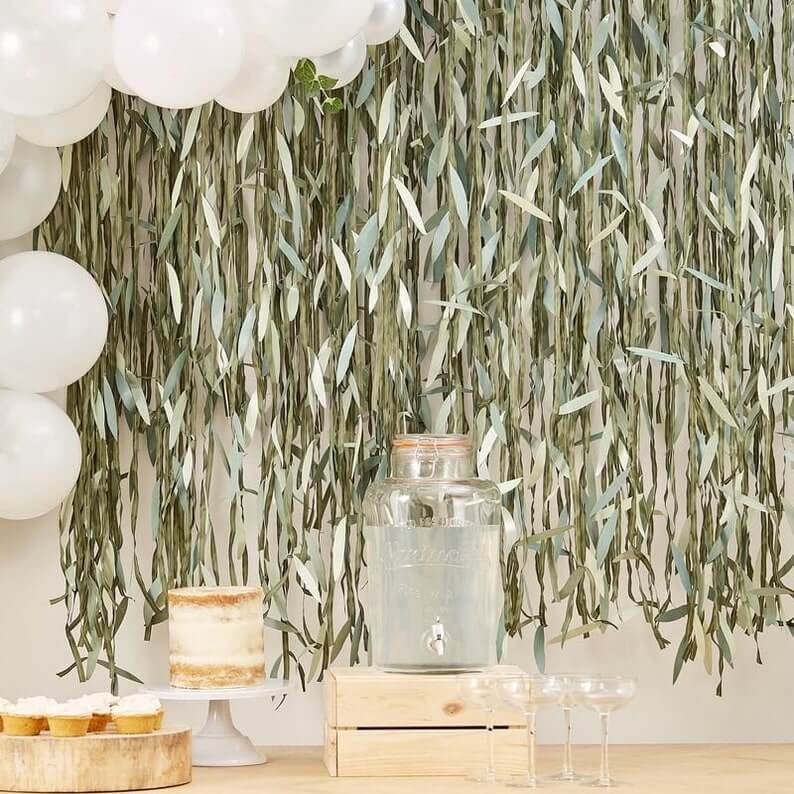 Give your party guests a fun hangout for taking some selfies and group pictures with this amazing leafy ribbon backdrop! It drapes across the wall and down to provide plenty of room for adorning a cake display or a fun photo booth area. The ribbon leaves are so much more intriguing in your pictures than a boring white background so capitalize on the party fun as guests indulge in many opportunities to capture that perfect picture!
21. Shades of Green Paper Leaf Cutout Decorations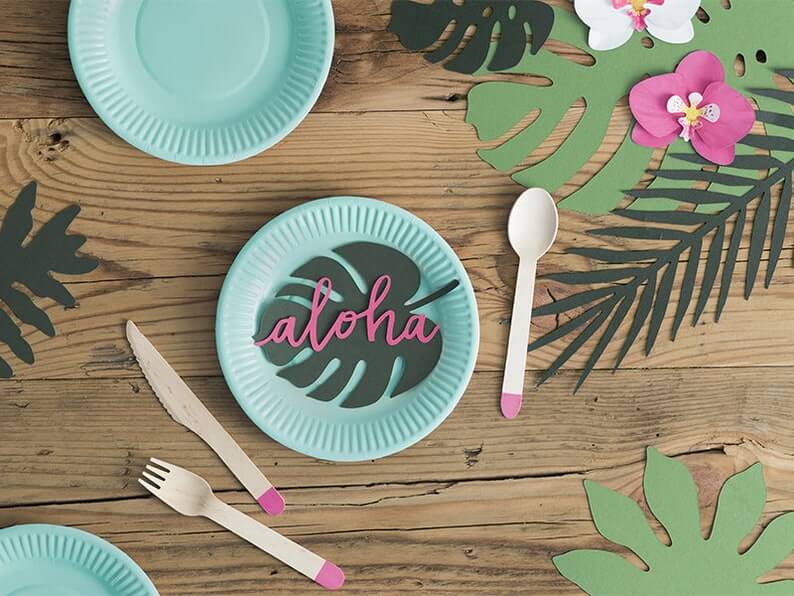 Anywhere your heart desires are where you'll use these paper leaf cutout decorations at your next celebration! From scattering on top of the tables to including within a large balloon arch, these green goodies are a nice addition to your tropical or jungle decoration collection. Stick with green as your main decorating color for a more jungle-themed event or add some pretty pink flowers for a more tropical look and feel. The variety in sizes and hues of green adds a nice touch to make your decorating seem more professional-looking as well.
22. Glittery Golden Miniature Monstera Leaf Confetti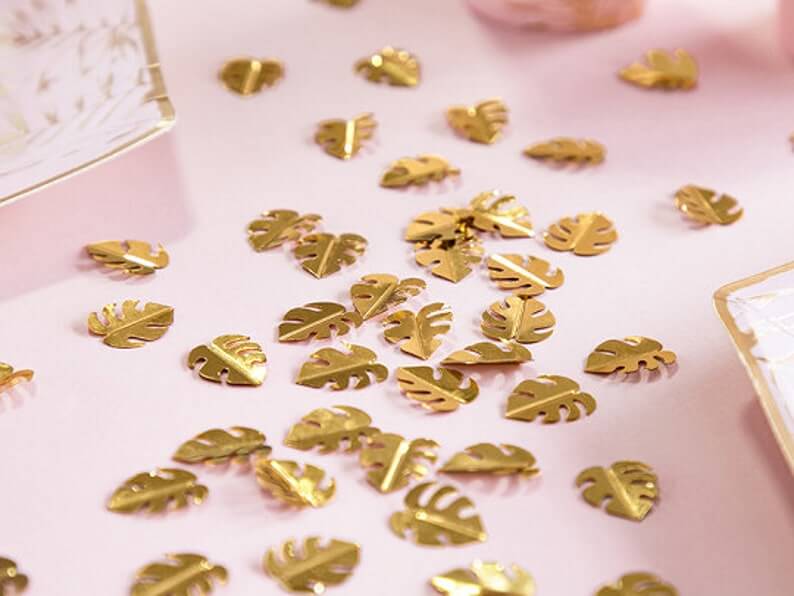 Kick-off your celebration in style with this gorgeous confetti. Featuring a luxurious and shiny gold finish, each miniature monstera leaf works its magic as it's sprinkled on the tables at your next party. Plan your event down to the last detail by including this unique leaf confetti in your decorating. Toss some on the food and gift table, as well as for an accent as the centerpiece at each guest's table. Confetti is always a fun and festive addition to your party decor so an original look of miniature monstera leaves becomes a modern choice when searching for the perfect one.
23. Great Green Palm Leaf Party Garland
Have fun setting the mood for a fabulous tropical-themed event like a birthday party, baby shower, or other special celebration. This consistent palm leaf design looks great in so many different party settings. Try it on as a backdrop for some fun group photos. Or you may want to decorate around the top of your tablecloths with this lush green garland. It even works for a dinosaur or nature-inspired event. Trimming a doorway with this fabulous leaf design garland is just another means of incorporating it into your decorating for your next big event.
24. Magnificent Monstera Stained Glass Suncatcher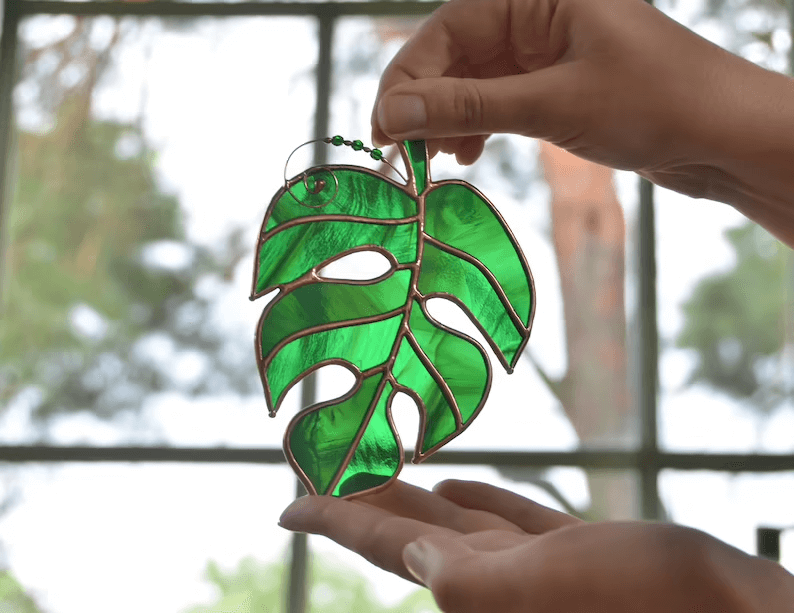 All the beauty of a natural monstera plant comes to life when you add this gorgeous and one-of-a-kind suncatcher to your home. Above your kitchen sink, in the window, is the ideal place for this suncatcher to call home. With a few of your favorite smaller houseplants perched below on the windowsill, this ties in so well with your natural design. For the friend who adores plants, this makes a fabulous and thoughtful gift idea too. The stunning hues of green are incredibly vibrant as they filter in the light from the sun. Individually crafted, no two are alike which further adds to their beauty.
25. Faux Hanging Ivy Plant Home Decor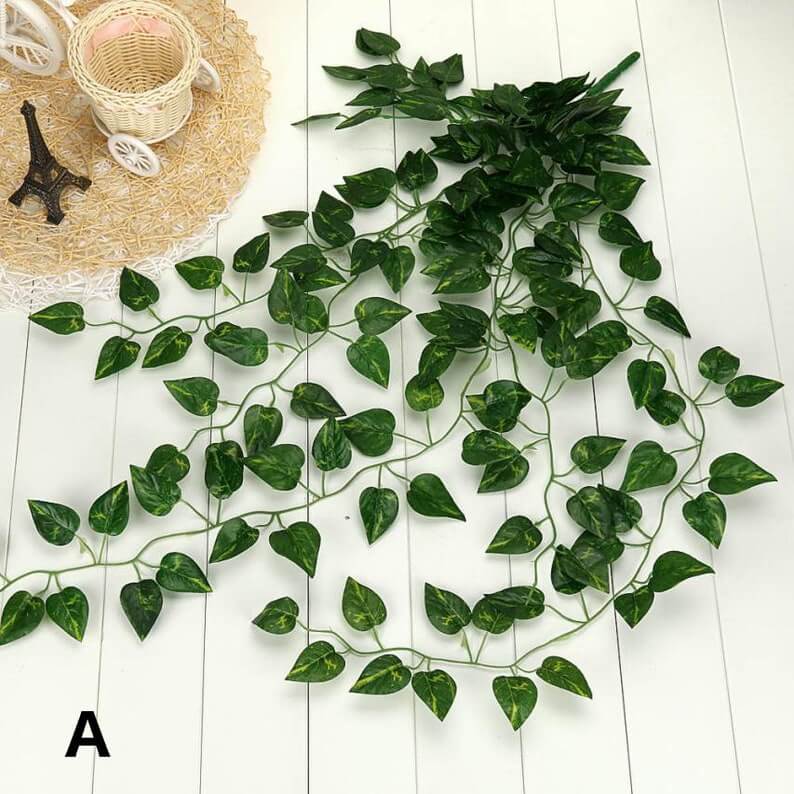 The look and feel of a gorgeous vining plant hanging in your home add to the relaxing atmosphere of the place we call home. Even if you can't keep a houseplant alive to save your life, you can still enjoy the look with this faux hanging plant decor. Spilling over the sides of your favorite macrame hanger, this lovely plant adds so much style to your home. As the leaves cascade down, the eye is drawn vertically making your room feel larger and more spacious than before. Hang one in any room of your home for some extra green appeal. No need to water or position in the sun as this faux beauty is hassle-free!
26. Tropical Jungle Leaf Party Table Decoration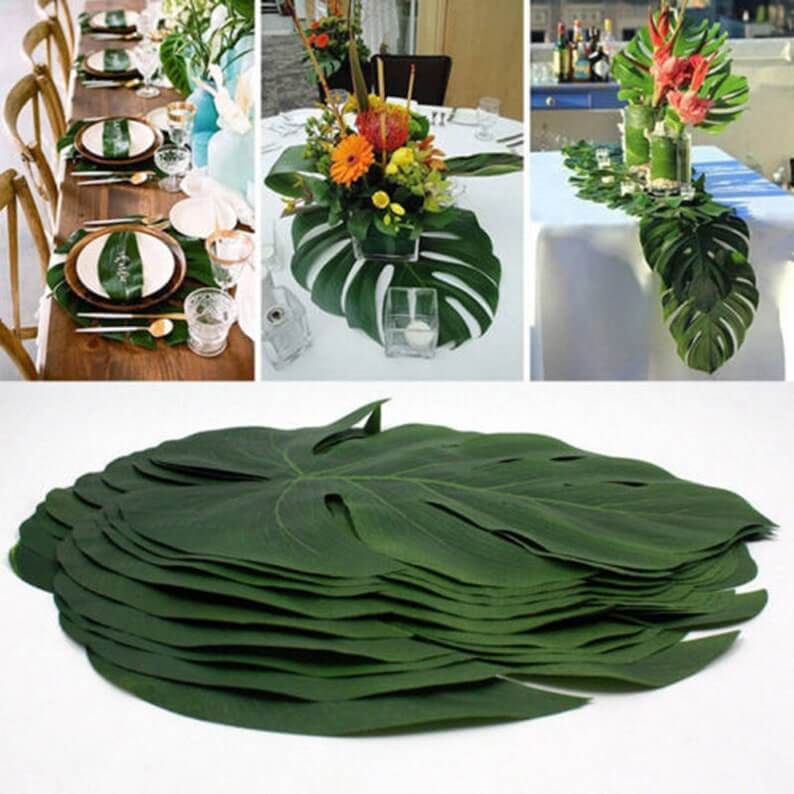 Take your tropical-themed party to the next level with this set of jungle leaves. Arrange them in a circle or spread them across in a line for a bold look. They can be used individually at each and every place setting as well. Although they are considered table decorations, they seamlessly become wall decor if needed. You can continue your jungle theme all around the room! Use a white marker to add a special message or highlight the purpose of the event on the large green leaves. Any jungle or luau celebration requires a lot of green to be seen and this incredible set of tropical leaves is a great place to begin gathering your party decor!
27. Gold Leaf Acrylic Custom Cake Topper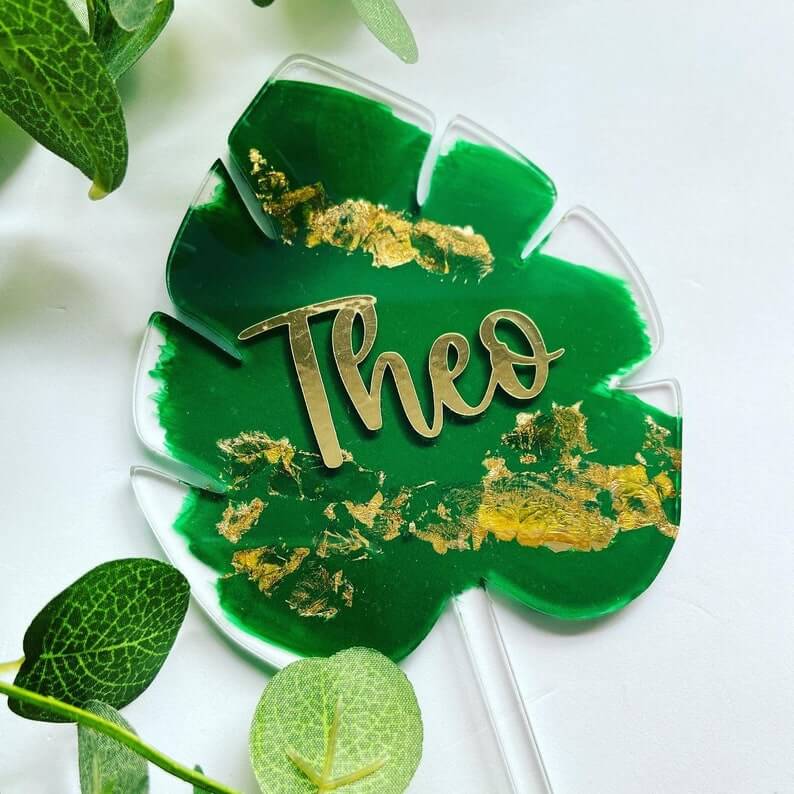 Green and gold team up as the dynamic duo in this awesome acrylic cake topper! Shaped in the form of a tropical leaf, the touch of gold leaf accent ties in wonderfully with the personalized name. Stick this in a birthday cake to celebrate your family member or friend's special day! For a large family celebration, you could include a personalized palm topper for each guest and serve individual cakes or cupcakes. These gold and green leaf toppers take your celebration up to the next level with their graceful and elegant design.
28. Laser-Cut Leaf Pieces for Home Decor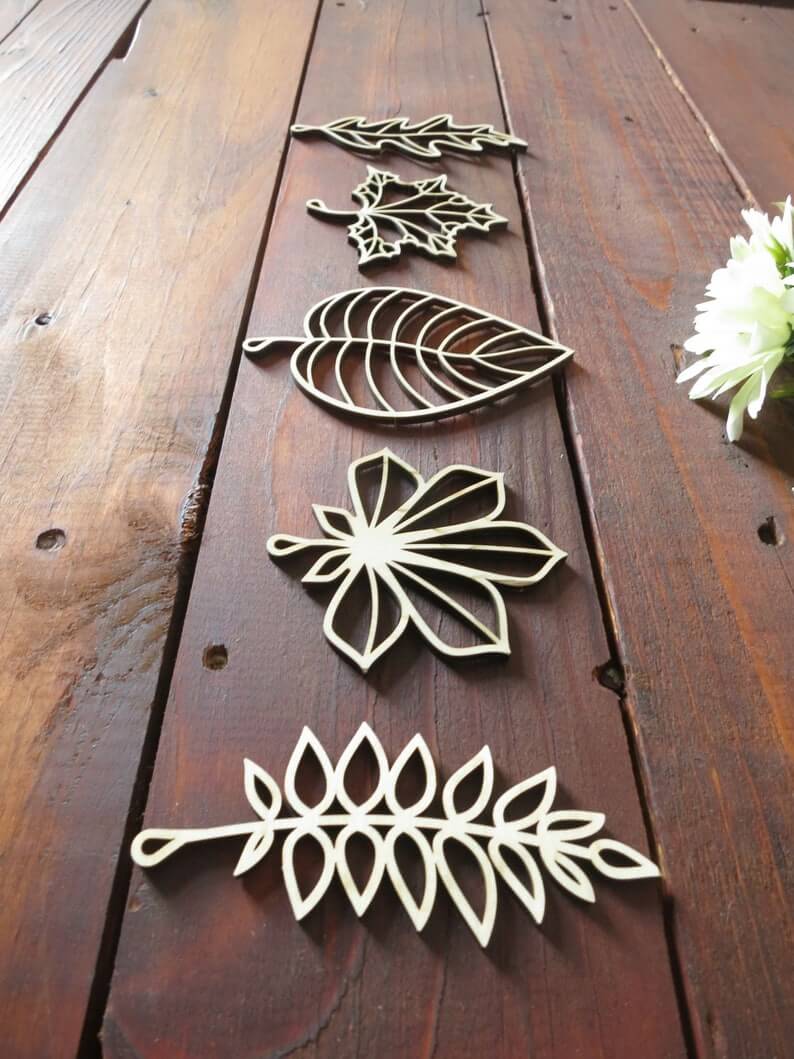 Check out these laser-cut beauties! Your five-piece set includes a nice variety of leaf designs with an open design concept. Use them as ornaments for a decorative tree or place them in a wreath for added appeal. They can be strung together to create a pretty garland too. Of course, they can also be used by simply laying them on a tabletop as a decorative element there. The possibilities are endless when it comes to using these interesting laser-cut leaves in your home decor.
29. Tropical Gold Leaf Party Pack Decorations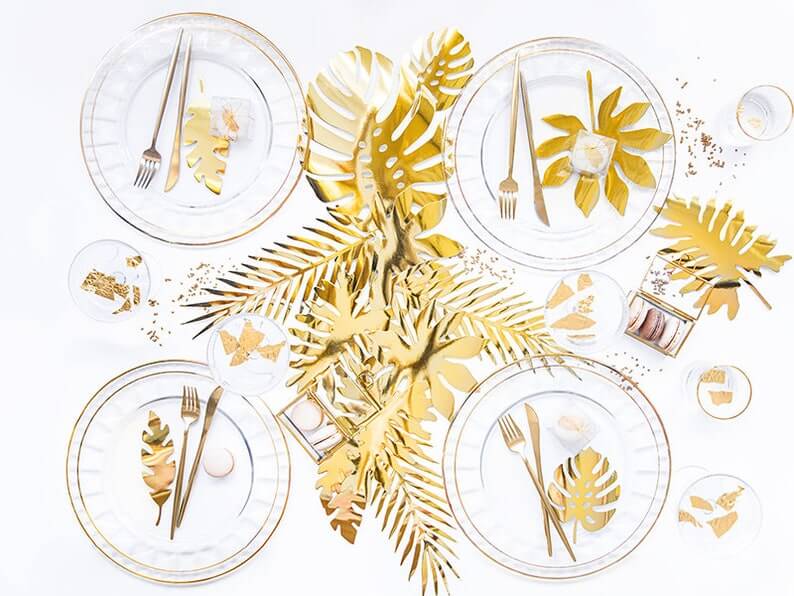 Fill your tropical party with gold leafy goodness as you decorate with this golden-colored party pack filled with tropical leaves. From small to large, you'll enjoy a variety of shapes and sizes of leaves to add the decorative touch you crave. Make each guest table sparkle by adding a nice arrangement of these spectacular golden confetti pieces. Continue the gorgeous look by including them on the gift table and food table too. Use clear plastic plates with a few of these placed underneath for a charming place setting. Accenting your party with some metallic gold pieces will add just the right amount of dazzle to your special celebration.
29 Amazing Leaf Decoration Ideas to Try out for Your Home
Including plants in your home without boasting a green thumb has never been easier! There are so many incredible ways to decorate your space with plant leaves, from your walls to your tabletops, that you can't go wrong with any selection you make.
And if gift-giving is your focus, these are some of the best leaf decoration ideas that accent your present as well as work as presents themselves. Consider the small ceramic leaves that are ideal as name tags for your gift bags. Or you may just love the look of hand-painted wooden leaves that can be used as ornaments after they help identify the recipient of the gift.
For plant enthusiasts, the sparkling suncatcher collection is a must-have idea. The gorgeous shades of green will be simply breathtaking as they filter in the warm glow of the sun into your home!
Or if you prefer a bold statement design, there is always the option of a large wall dedicated to framed faux plants. This is by far one of the most dramatic ways to make a statement wall without too much thought. Or you might prefer less color and choose metal leaf designs that pair a thick and thin leaf pair together with a matte black finish.
No matter how you choose to style your home with the best leaf decoration ideas, there is no loser on this list! These are 29 amazing ways to include more greenery in your home and gift-giving endeavors.