15. A Pop Of Color Against A Black And White Backdrop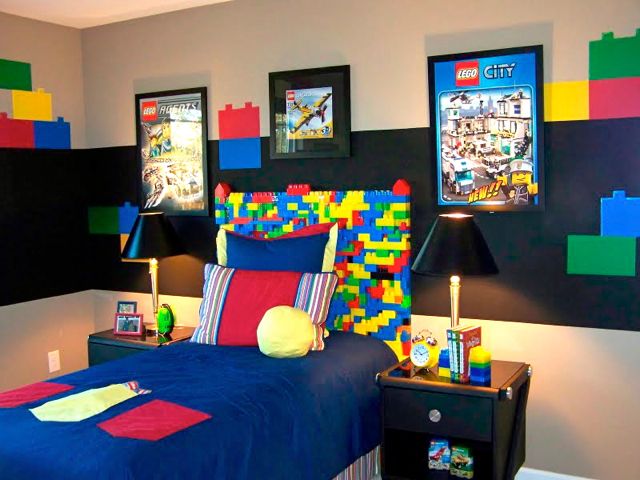 LEGO room designs truly don't have to entail wall decals, murals or even brightly colored walls. This homeowner proves that you can create a LEGO-themed room without making any permanent changes. Against a black and white backdrop, this homeowner used framed LEGO posters and artwork above the bed as a focal point. A headboard made from actual LEGO blocks is a brilliant way to evoke the LEGO design scheme without permanently adhering anything to the walls. Colorful bedding and accents on the night stands tie this beautiful LEGO bedroom together.
16. Just A Little Touch Of LEGO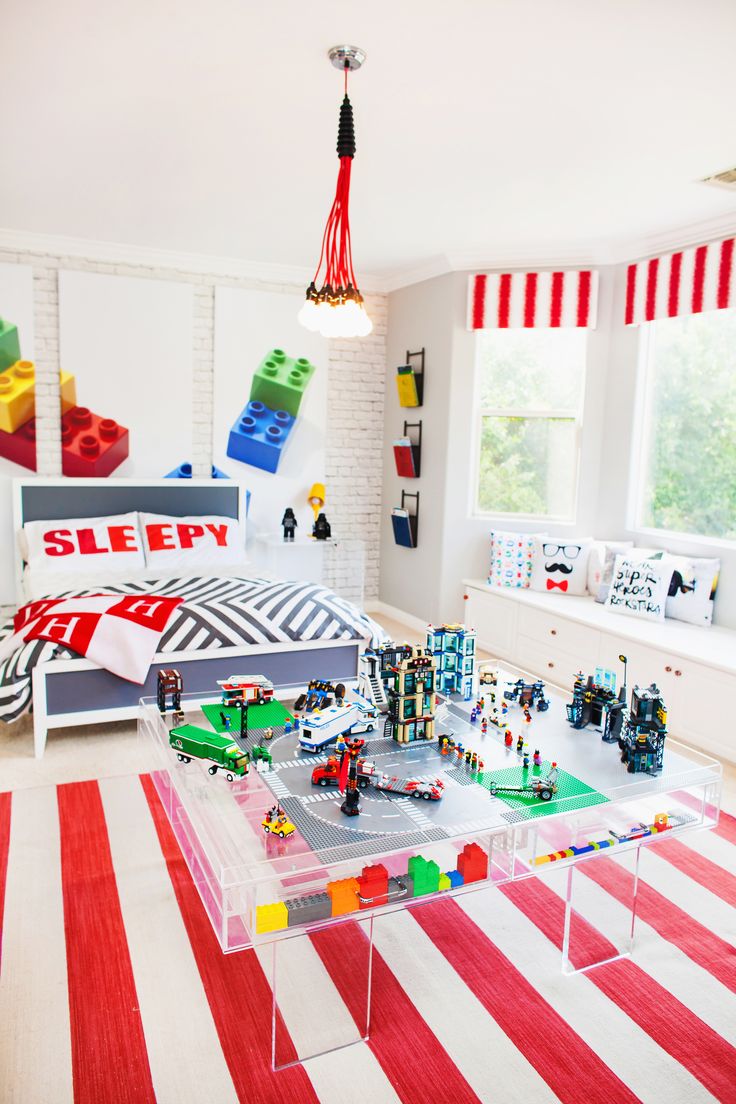 You don't have to completely transform your space into a full-blown LEGO oasis. Instead, if you want to show your love for LEGO without completely redoing the room, just add a few touches of LEGO room decor. This white bedroom, punctuated with simple red accents, isn't inherently LEGO-themed, but the three-piece LEGO wall art above the bed clearly shows that the occupant is a fan of the classic blocks. The stunning clear acrylic craft table is a shrine to a LEGO collection, but could easily be repurposed should the kid who lives in this room every grow out of their LEGO hobby.
17. A Cool LEGO Loft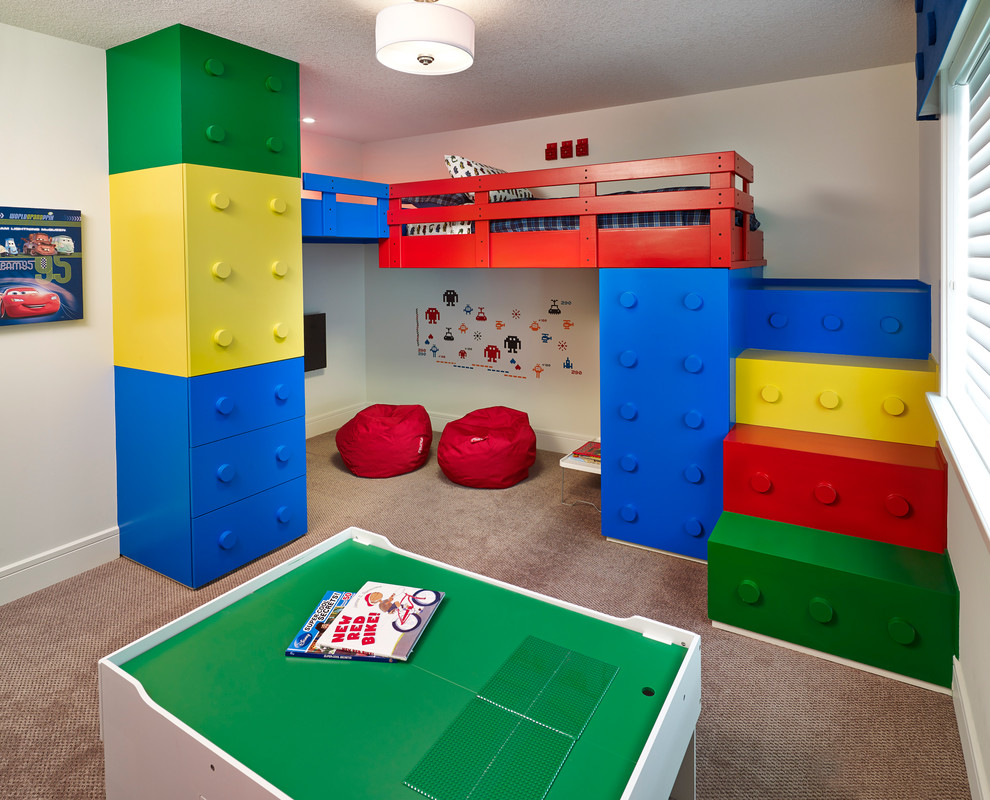 Installing a loft bed with play space underneath is a perfect way to get the most out of a small space. Indeed, if you're looking for
LEGO room designs but don't have a lot of space to work with, consider going up. This homeowner used paint and round wooden pieces to turn a simple loft bedding unit into a gorgeous piece that looks like it was literally built out of giant LEGO blocks. The space underneath is decked out with two bright red bean bags that beautifully match the red in the loft bed unit.
18. Digs Inspired By The Medieval World Of LEGO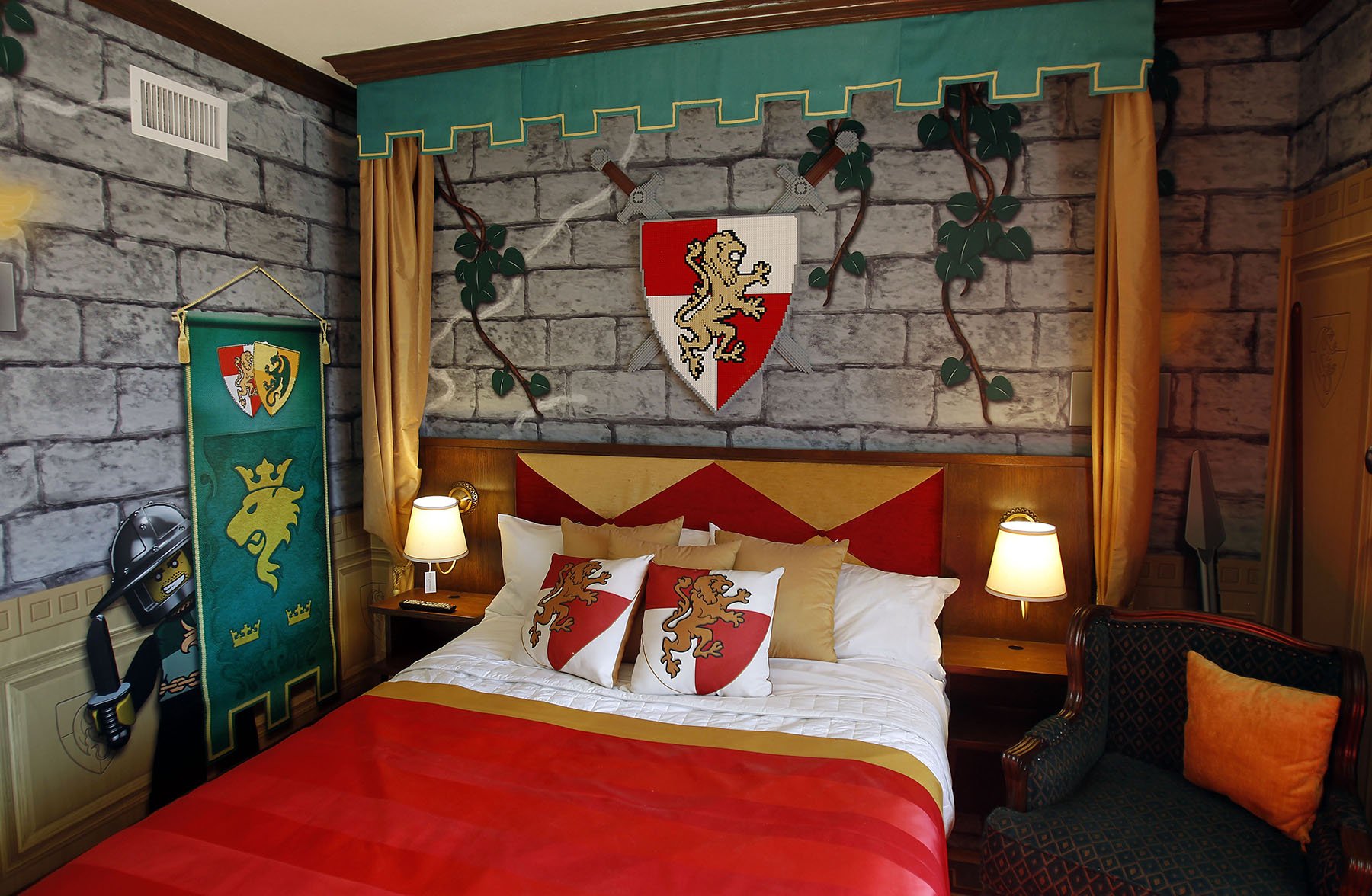 Aside from Star Wars, one of the most popular LEGO kits are the medieval-inspired castle kits. This homeowner decided to pay tribute to this LEGO theme by creating a completely medieval space. Instead of turning the walls into LEGO blocks, the homeowner created the illusion of grey stone blocks, as seen in the LEGO castle kits. This bedroom proves that LEGO room decor doesn't always have to feature the traditional yellow, red and blue block design. Instead, feel free to create a design that's inspired by your favorite LEGO building kit.
19. A Girly Bedroom Inspired By LEGO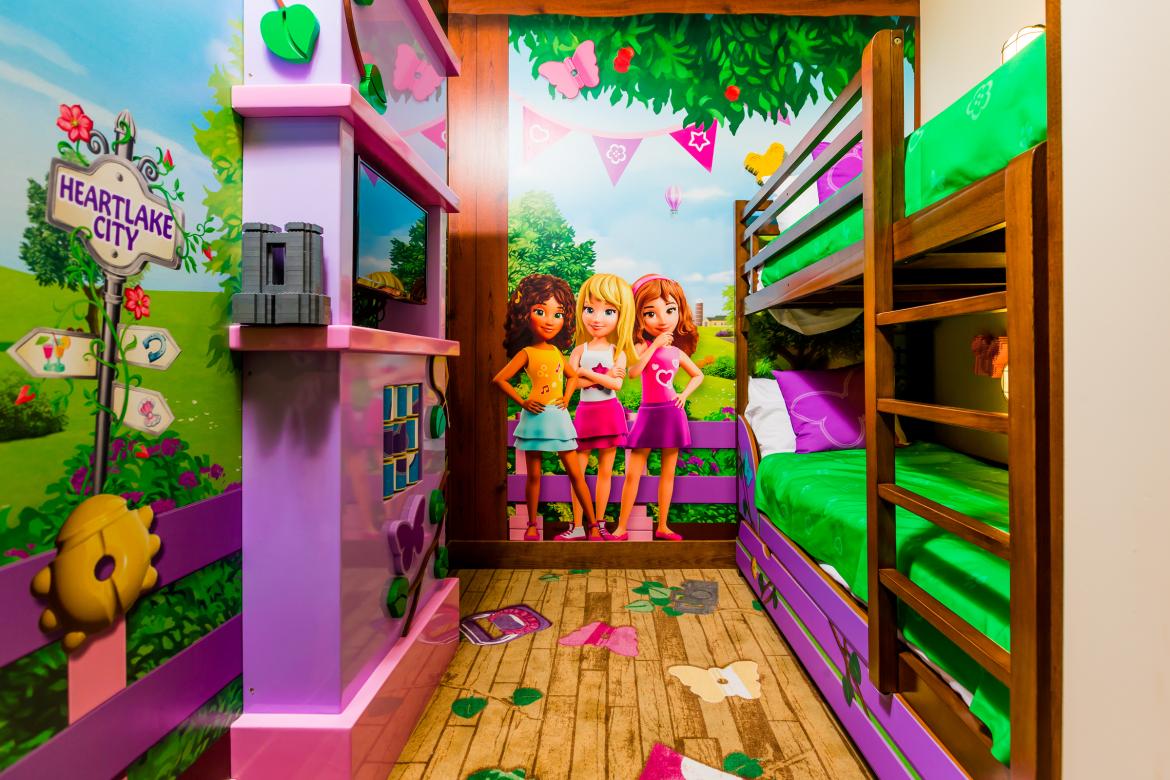 This is another bedroom that's inspired by a specific LEGO kit rather than the blocks themselves. LEGO's Heartlake City line is a fun building kit for little girls that allows them to create whimsical castles and homes. This homeowner used wall murals featuring the kit's popular characters to create a bedroom that is both girly and classically LEGO. This room is proof that drawing inspiration from the world of LEGO isn't just for boy's room ideas. By using the Heartlake City wall art, in addition to muted lavenders and pinks, this homeowner created the perfect room for a LEGO-loving little girl.
20. A Room Fit For A Pharaoh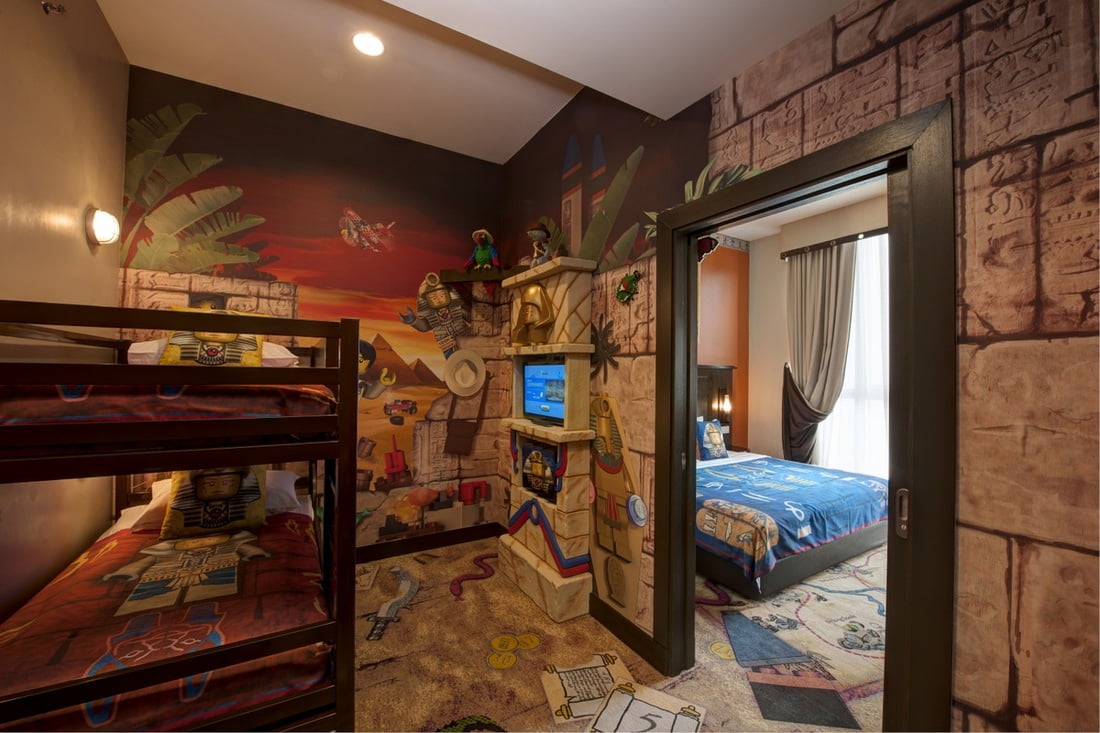 This is another one of the LEGO room designs inspired by a specific LEGO collection. LEGO has created myriad Egyptian-inspired kits, including the immensely popular Pharaoh's Quest. To create this beautiful divided room scheme, the homeowner created a mural that featured Egyptian stones and hieroglyphics, inspired directly by the artwork in the Egyptian LEGO collections. Egyptian-themed bedspreads on both the bunk bed and the queen bed help to tie the whole theme together.
21. Create A Real World LEGO Pirate Ship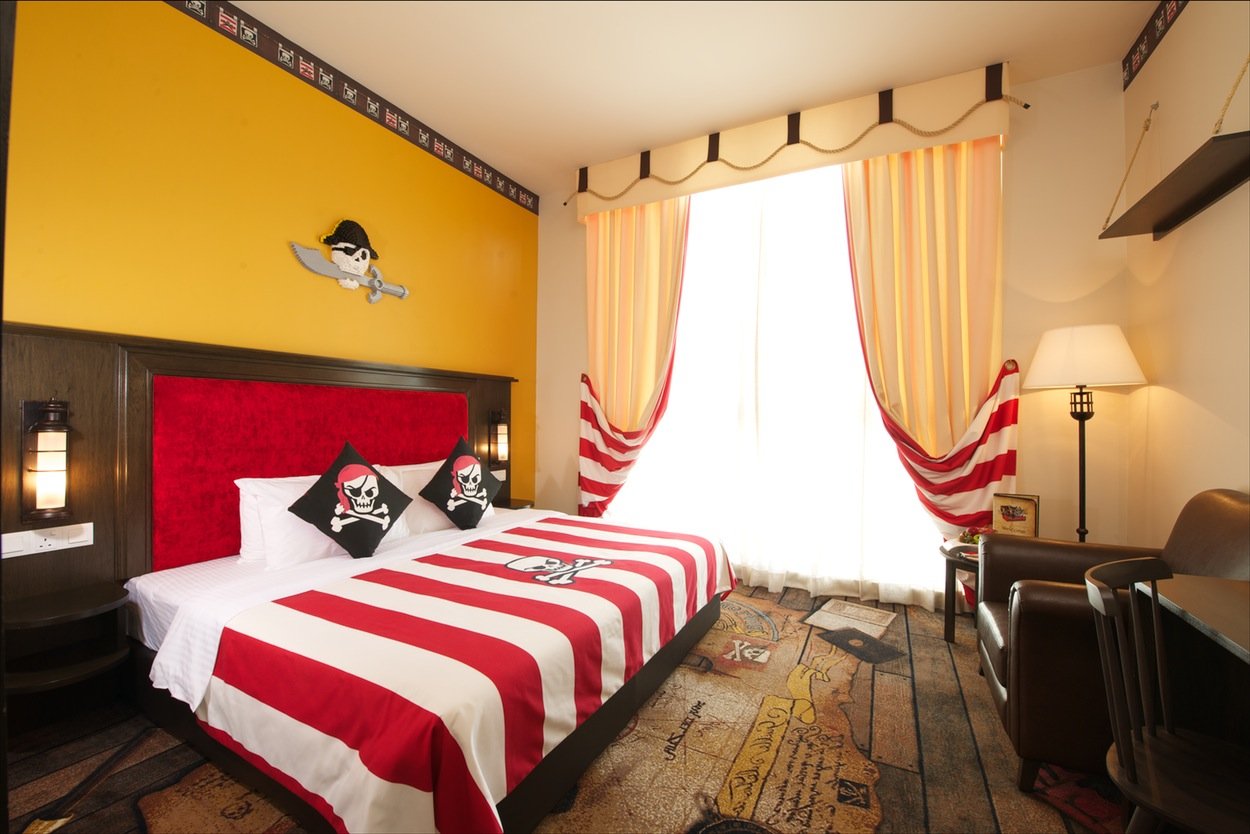 This room is inspired by LEGO's classic pirate ship building kit. At first glance, this bedroom seems to feature very classic home decor touches. However, give it a second look and you'll realize that it's a brilliant haven for any fans of the LEGO pirate theme. The classic LEGO pirate skull lego is featured on two throw pillows, which lie against a simple red and white striped bedspread. A stunning pirate's map-inspired rug lies atop the beautiful unfinished hardwood floor. Classic deep mahogany furniture and a dark leather armchair give this pirate room an elegant finish.
22. Simply LEGO, Simply Adorable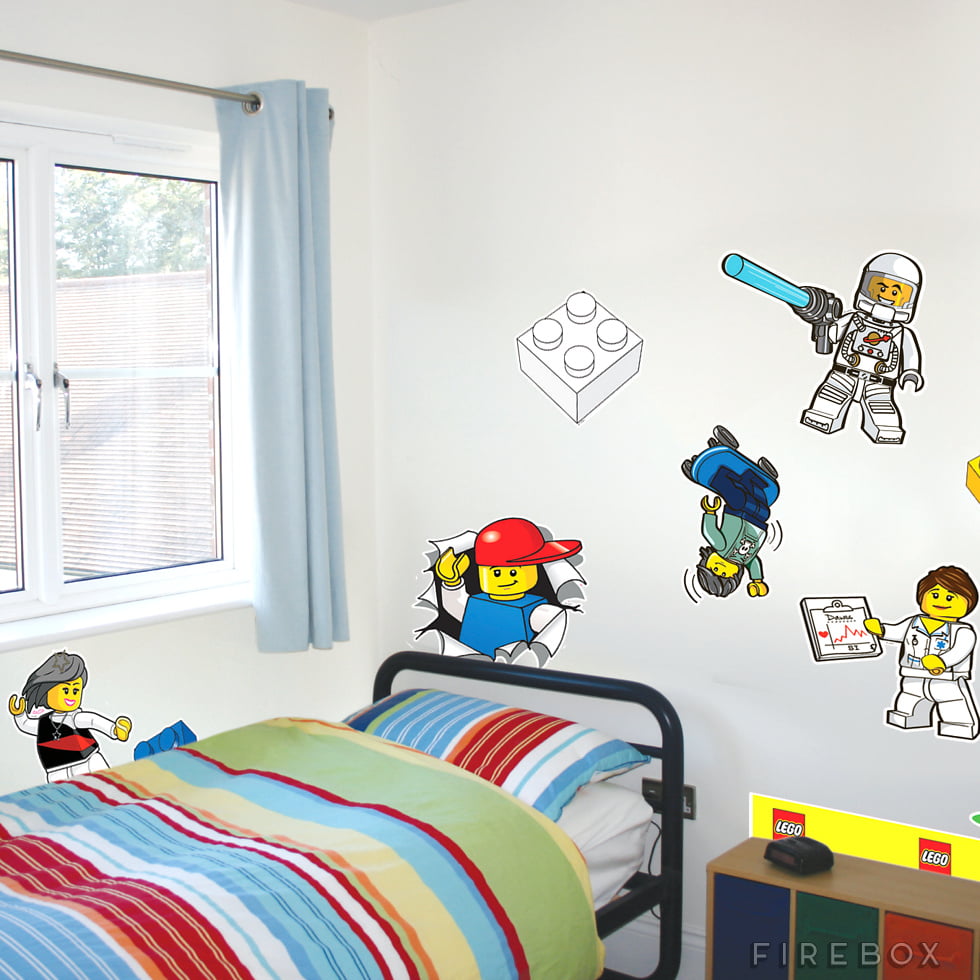 This little LEGO decoration idea would be perfect for any apartment dweller who is looking for kid's room ideas but can't make any permanent changes to the bedroom in question. These LEGO branded wall decals are easily found online. They are designed to be semi-permanent, which means that they won't start to peel or come off on their own, but they can eventually be removed using some gentle scraping with a credit card. The rest of the room is decorated simply but beautifully, with a multicolored striped bedding set that will last the child for years.
23. A Unique Spin On The LEGO Wall Art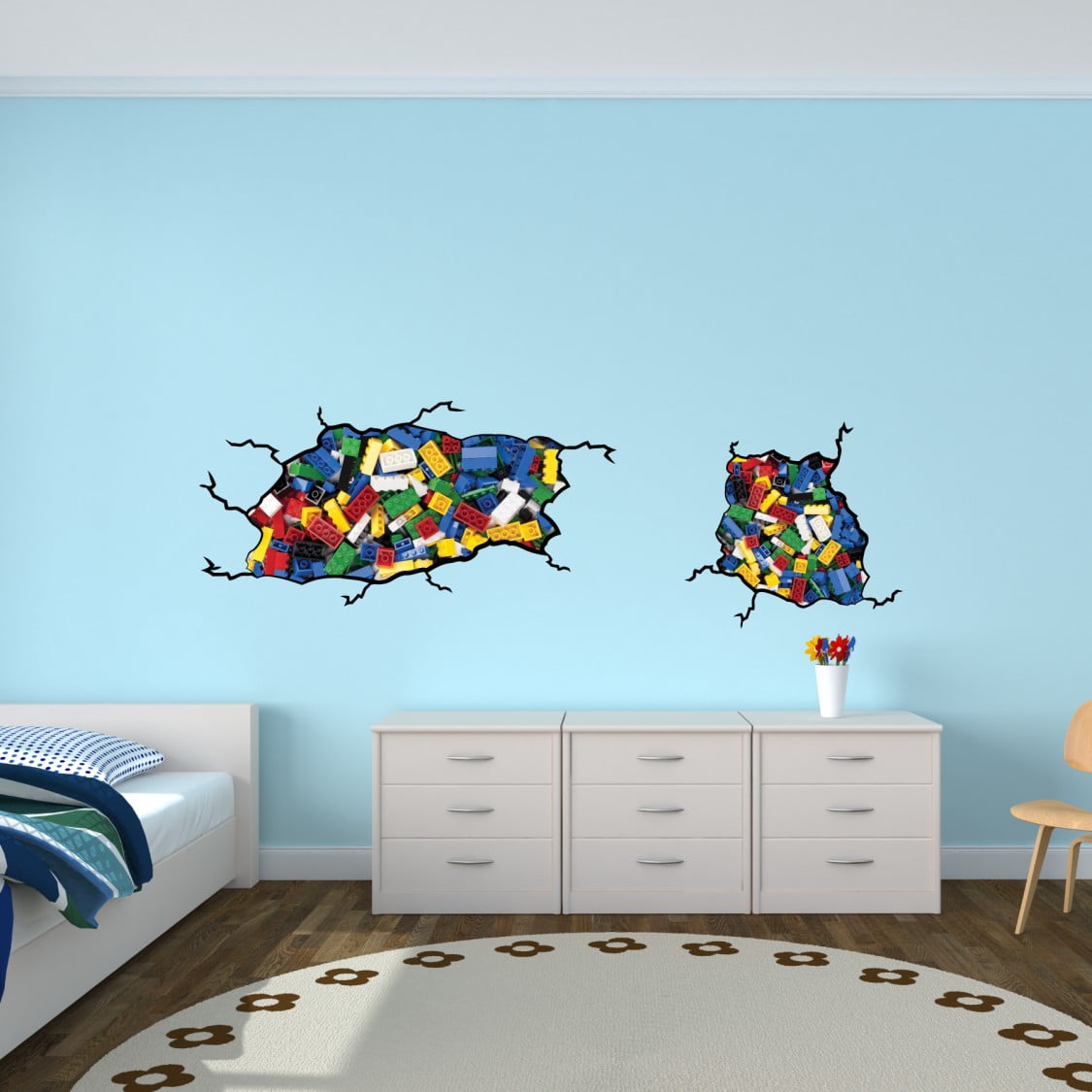 This homeowner put a completely unique spin on LEGO wall art. They took a LEGO wall mural and cut it into two irregular shapes. After affixing them to the wall, they used black paint to outline the shapes and create the illusion that the pale blue wall was cracking open to reveal the real LEGO wall inside. When it comes to LEGO room ideas, you can always add a DIY flare to existing LEGO room decor. This unique little wall design is completely unexpected and fun.
More LEGO room decoration ideas on the next page…