If you live in a space long enough, you know that the status quo can end up feeling rather humdrum. You get used to your ruts and routines, and your furniture does, too. Even when you try to spice things up with a new end table or an interesting flash of wall art, you may have felt a dull sense of ennui when you look around at your dining room, living room, and bedroom.
12 Fabulous Accent Wall Design Ideas that will Transform Your Living Room

It doesn't have to be that way, though. And although you could invest loads of money doing a total overhaul, you don't have to spend a fortune to make a big difference in the look and feel of your most frequented rooms. Our advice? Add flavor to the walls.
That's right: those boring, plain, unimaginative, two-dimensional and perfectly predictable walls – that's where the potential lies. When you take on the challenge of sprucing up a wall, you can begin to reconsider the whole feel of a space.
The beautiful thing, of course, is that you don't have to do your whole house. You don't even have to do a whole room for that matter. This list of accent wall ideas will open your eyes to some gorgeous and innovative ways to reinvent a room by making changes to just one single wall.
Whether it is adding color, texture, shape, dimension, patterning, or drama, each of these designs represents a potential transformation for your interior spaces. And for as lively of a change they can bring, they are far more affordable than other remodeling or redesigning projects.
That's all and well, you say, but what about that old mainstay of home improvement projects? Paint can do wonders, sure, but do you really want to spend your next weekend sampling colors, taping, rolling, untaping, and drying, drying, drying (oh so much drying!)? We didn't think so. Check out these elegant, affordable, and easy-to-execute designs for that perfect accent wall.
1. Large and Lovely Black Entertainment Wall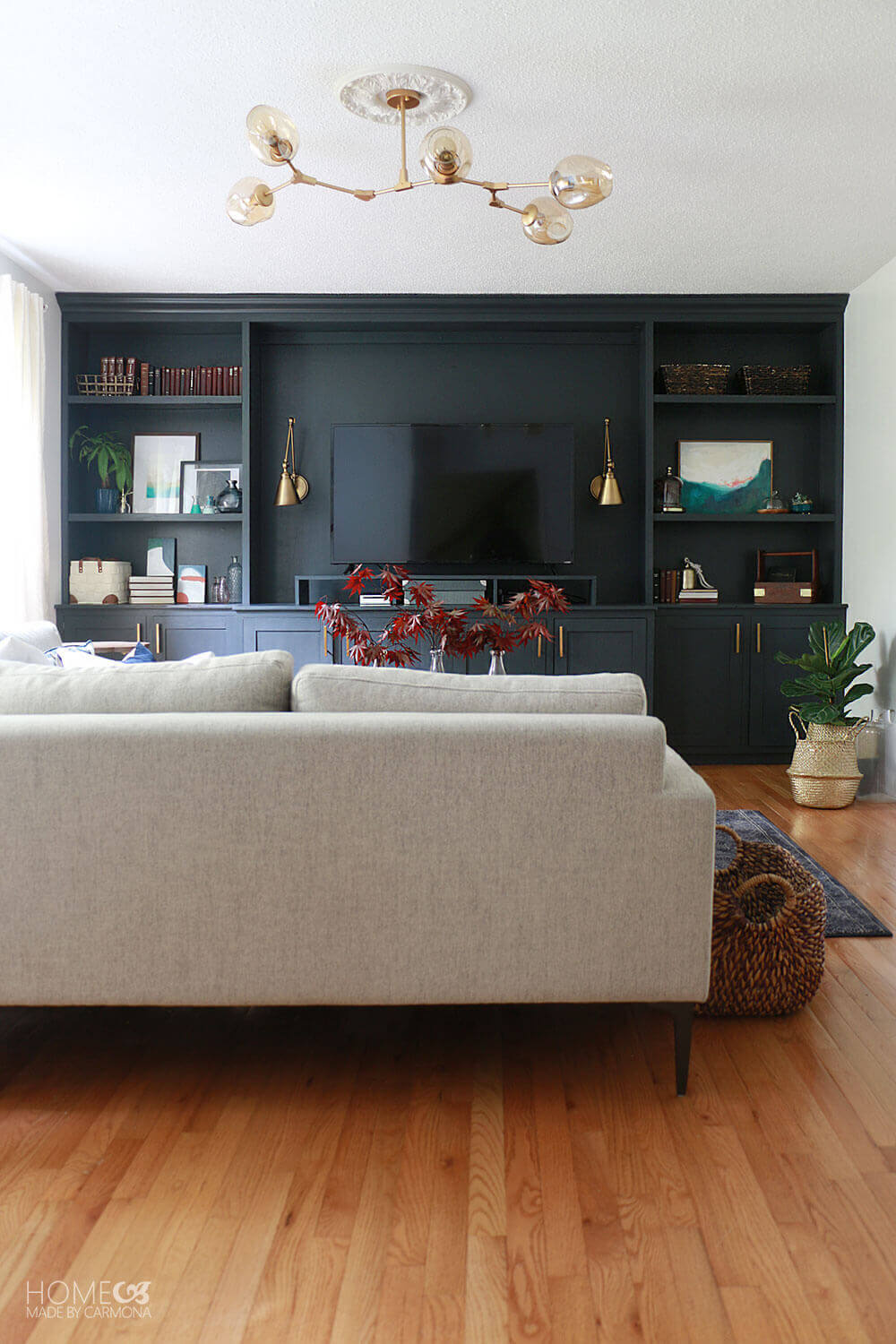 An effective and efficient way to create an accent wall is to turn it into a complete console. This wall has a place for everything and includes both closed and open shelves, lighting, and the perfect place for a TV. If you are looking to create an accent wall that isn't just for looks but serves a purpose, this is a good choice. This is an especially good idea if you have a smaller living room that you are hoping to improve without having to sacrifice space and storage options. With open shelves for décor and closed shelves for storage, it is a perfectly designed piece.
2. Chevron-Styled Textured Living Room Accent Wall Design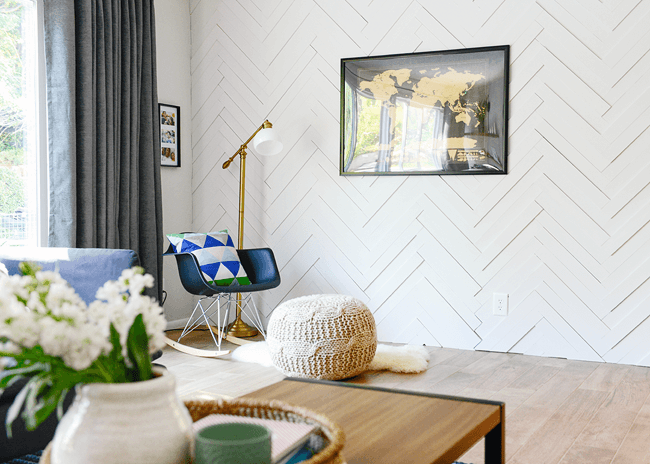 If you are looking to create an accent wall that stands out without drawing too much attention to itself, this design is a good option. Instead of adding a bunch of elements to the wall, this option simply turns the wall into something new all on its own. By maintaining a solid color throughout the room, this wall maintains its connectedness to the rest of the space but also offers a little something extra to help it stand out. One great thing about this option is that you don't have to sacrifice wall space in order to display art.
3. Board and Batten Design Featuring a Shelf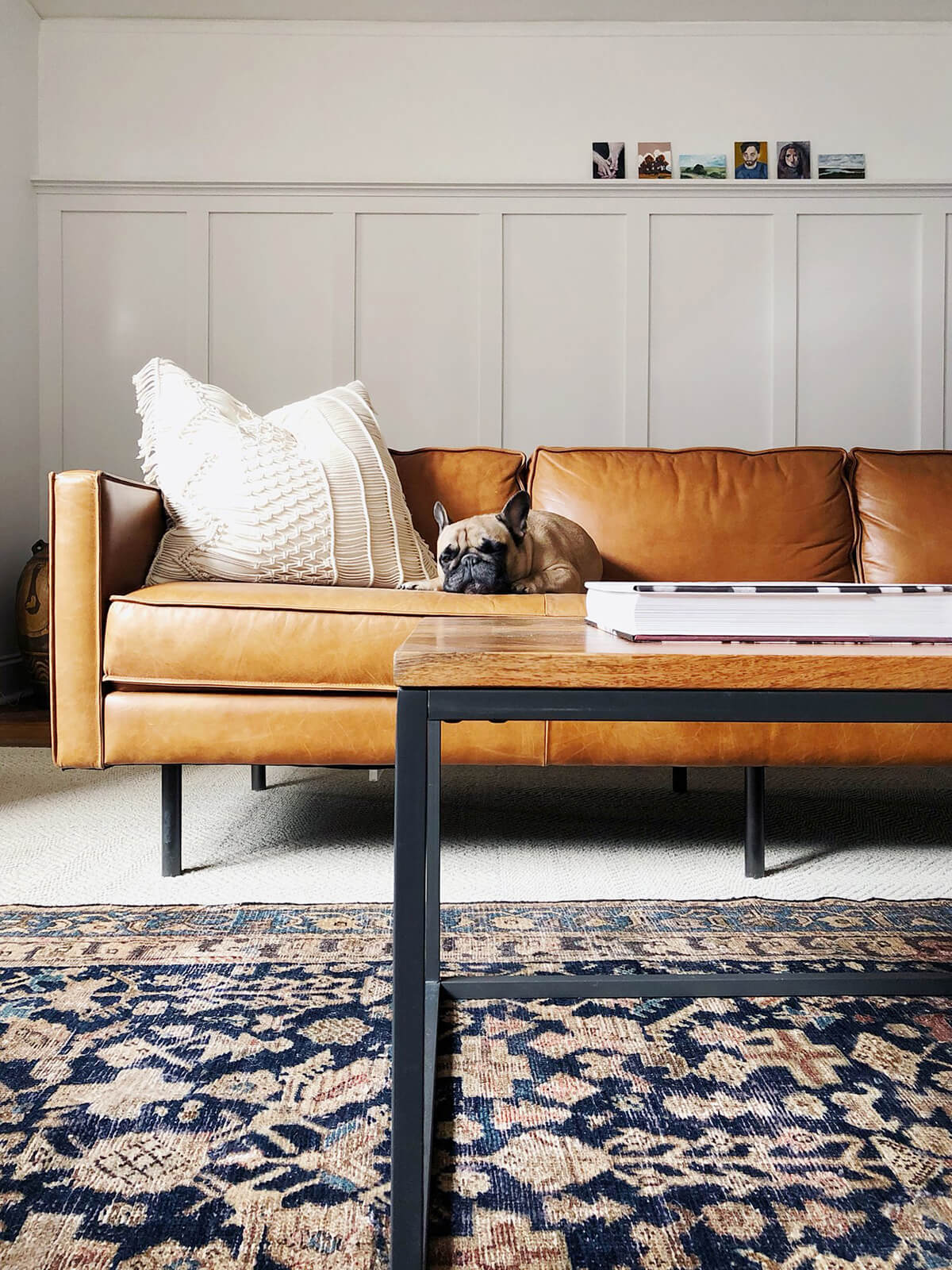 Board and batten is a great technique to add texture and dimension to your walls. It can be a different color from the upper wall or not, and it can go as high as you like. Similar to wainscoting, this design is particularly interesting since it offers something unique: shelf space. Having the few inches at the top for photos or small plants and trinkets adds such a fun and surprising twist to this classic design. You can create a wall like this in your home fairly simply, filling your new mini mantel with all your family's favorite things.
4. Bright and Playful Lemon Tree Stencil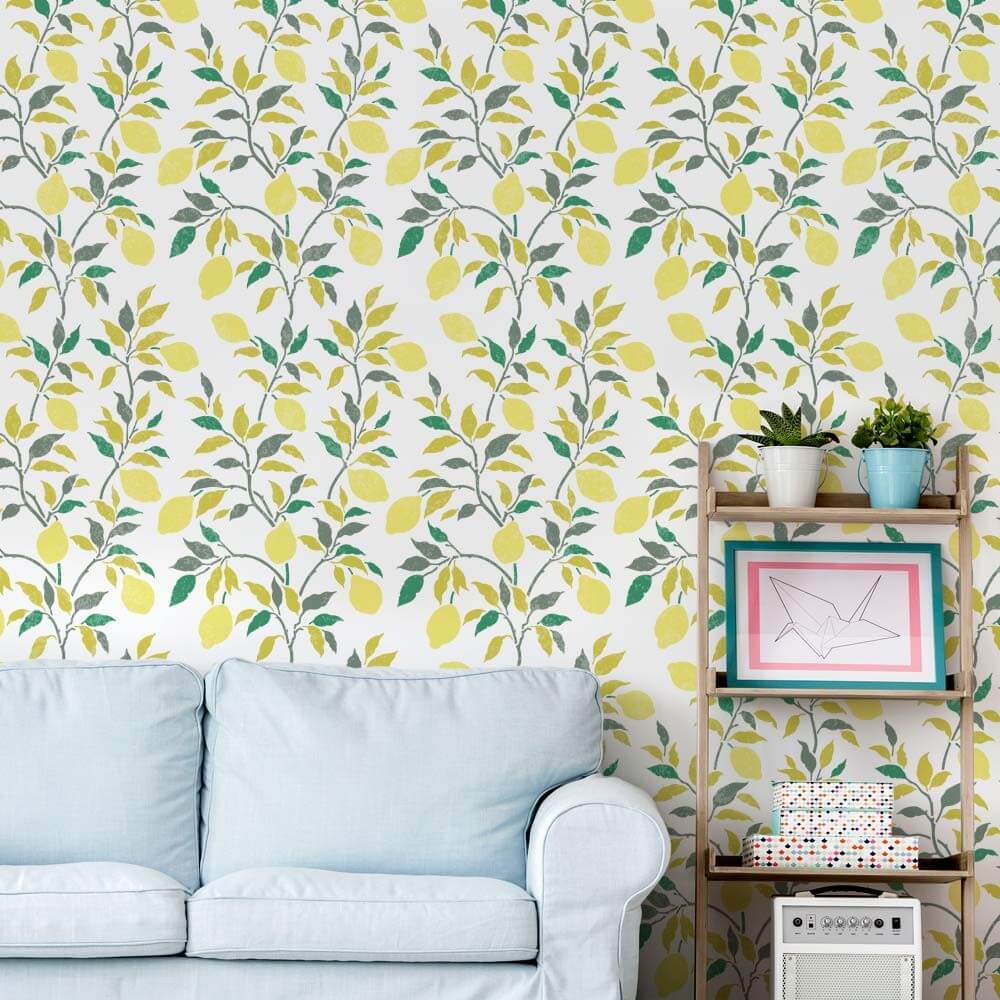 Looking so good you may think it's wallpaper, this hand-painted stenciled design is a breath of fresh air for any home. This design has a particularly vibrant feel with its bright colors and citrus fruit design. You can create your own pattern to design what works best for your home. Overlap the stencil for a lush lemon look or keep it simple by adding just a few pretty stems here and there. Using a stencil keeps you in complete control over the finished look. Have fun, go for lemons or limes, and feel the creative juices flowing.
5. Rustic Chic Farmhouse Style White-Washed Walls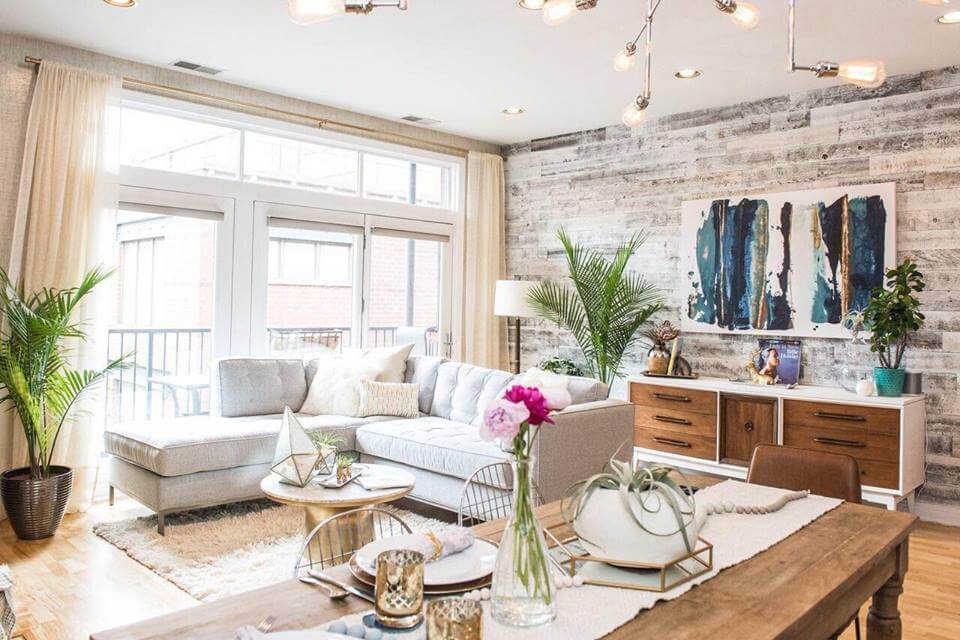 A great base for a fun and gorgeous accent wall is classic white-washed boards. When placed all together, they create a rustic, elegant look that pairs perfectly with any other wooden elements and light-colored décor. There is something romantic and whimsical about this design as it feels both homey and stylish. The rustic chic look is very much in right now, so it shouldn't be hard to find great pairings to match this cool contemporary style. You can purchase this stick-on reclaimed weather wood for just $14 per square foot and cover any wall or walls in your living space, bedroom, or kitchen.
6. Dark and Lovely Shiplap Wall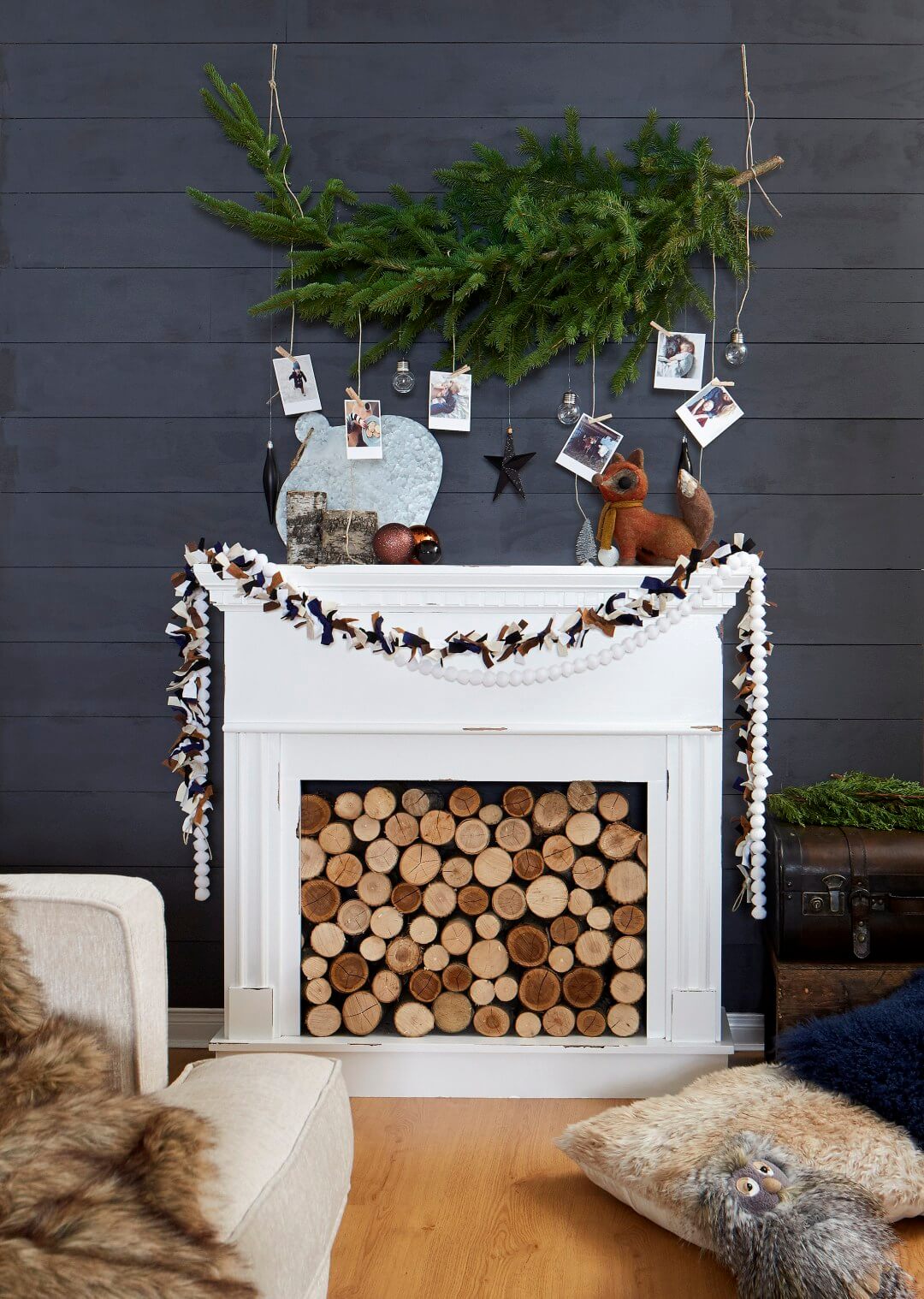 Finding a perfect contrast for an accent wall can be tricky, but this gorgeous shiplap wall seems to make the choice easy. These dark wood accented walls are super cool and are an easy way to make a space feel homey but with a slight edge. This design is one that you want to cozy up in, making it reminiscent of cold dark nights in a mountain cabin. If you are looking for a way to make your space feel more intimate and to emphasize the bright colors of your home, this is a good choice. It also goes perfectly with the ever-popular farmhouse chic decorative style.
7. The Perfect Chalkboard Living Room Accent Wall Design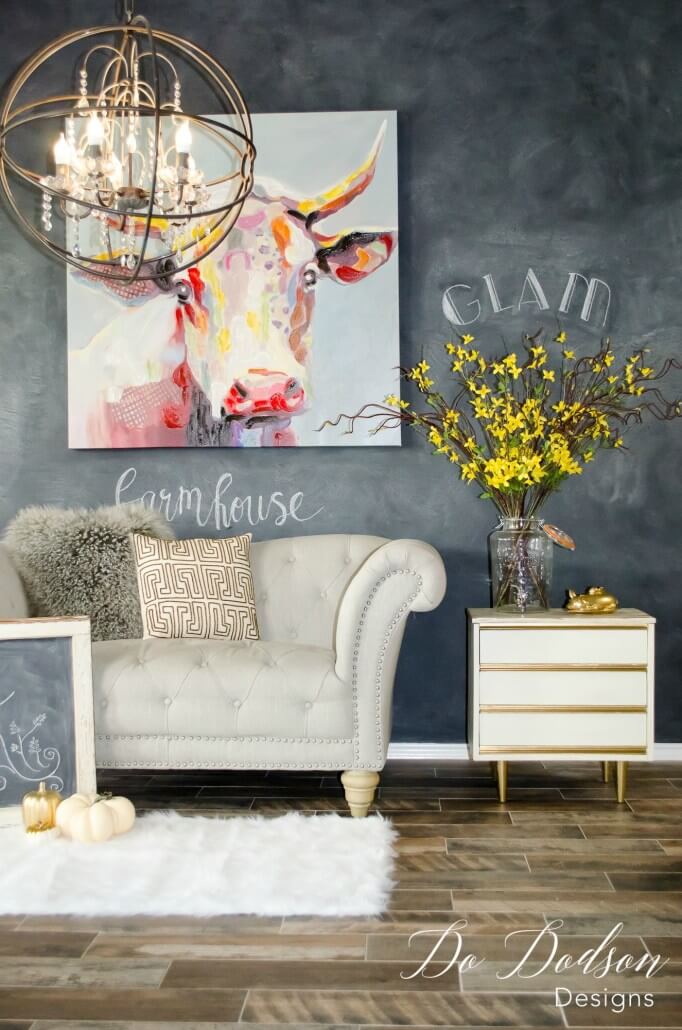 What could be more fun than adding a whole chalkboard wall to your home? If you have kids, they are sure to go crazy over the idea of it actually being okay to write on the walls. Of course, you will want to make sure to maintain your wall well to keep it looking great. This project can be done fairly easily on your own with some awesome chalk paint and a few common tools. This is a great option if you like to always be changing things around a bit or if you want freedom to create new and unique designs at will.
8. Breath of Fresh Air Wallpaper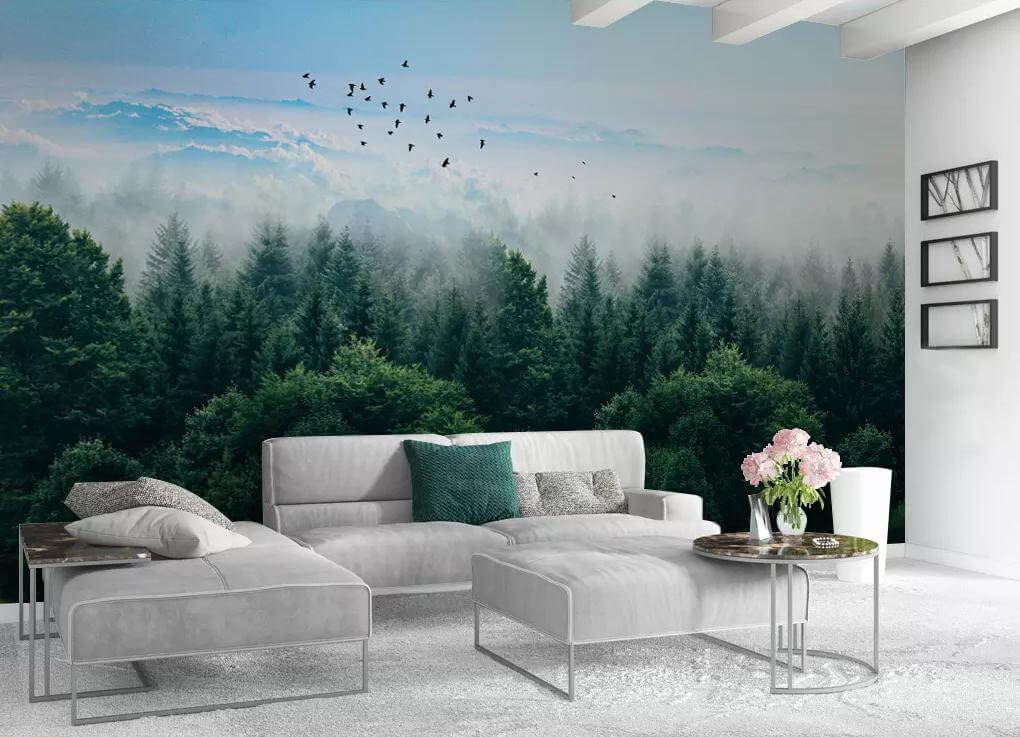 If you choose this wallpaper for your home décor, you will find it hard not to try breathing in the fresh mountain air anytime you enter the room. Looking like a scene from the Cascade mountains, this beautiful design features distant snowcapped peaks, lush green forests, and a gentle morning mist. Made from 100% polyester, this wallpaper requires no glue or paste; it simply peels and sticks. It is also easy to remove if you are ever feeling ready for a change of scenery. But honestly, who would ever get tired of this amazing view?
9. Fabric Wallpaper Panels with Abstract Mountain Range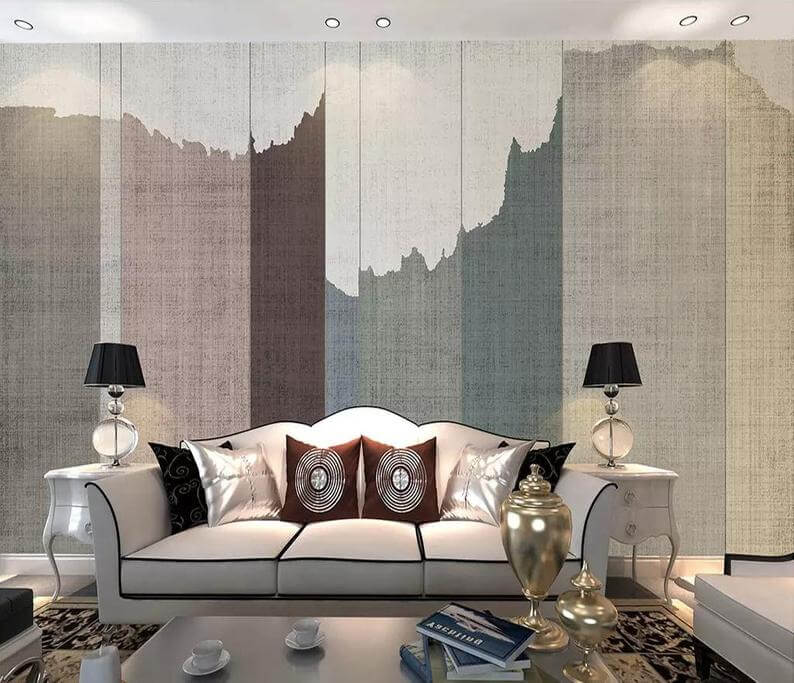 Sometimes a room just needs that extra little push to move from drab to dynamic. These stylish fabric wall panels are a relatively easy addition to a space that can make a big impact. Featuring a range of muted tans, burgundies, and steel blues, these panels make for a perfect accent in a neutral-toned design theme. Another plus is that they eschew traditional approaches to accent walls like paint or wallpaper, instead introducing the additional element of texture. The fabric is described as wrinkle-free, tear-free, and durable, so you can enjoy the soft colors and texture without worrying about wear and tear.
10. Upward Cascading Art Deco Wall Panels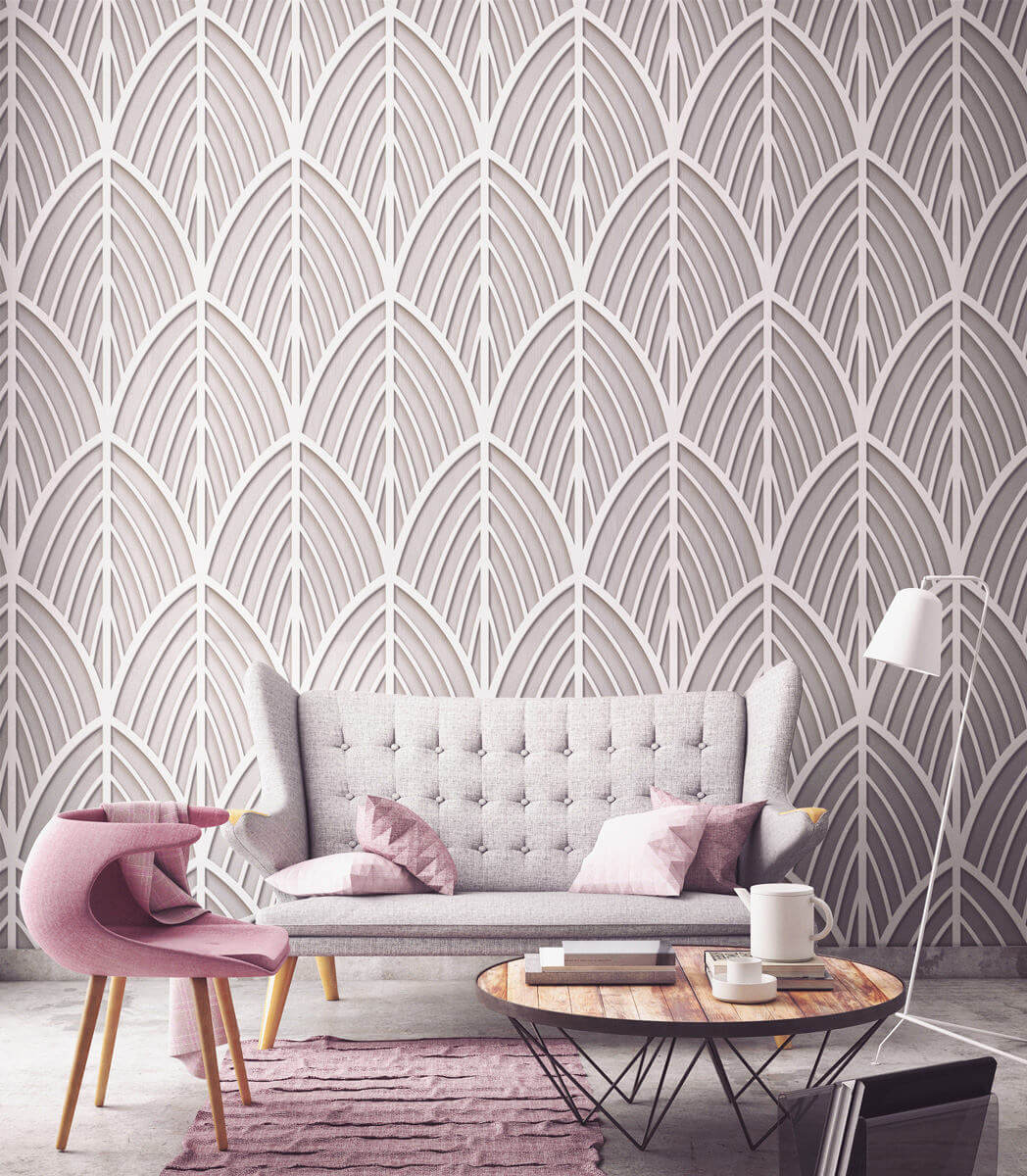 Need a little drama in your home décor? Sick of staring at white walls and smooth matte finishes? Then you've stumbled onto a winner. This stick-on wall paneling embraces Art Deco through and through with its upward cascading design. This is one of those pieces that can almost mesmerize you with how many different ways there are to look at the pattern. One moment it looks like a bunch of leaves overlaid on each other, and the next it looks like a series of Empire State Buildings; it looks as much as like an abstract mountain range as it does a wall of arrows pointed toward the ceiling.
11. 3-D Living Room Accent Wall Design Ideas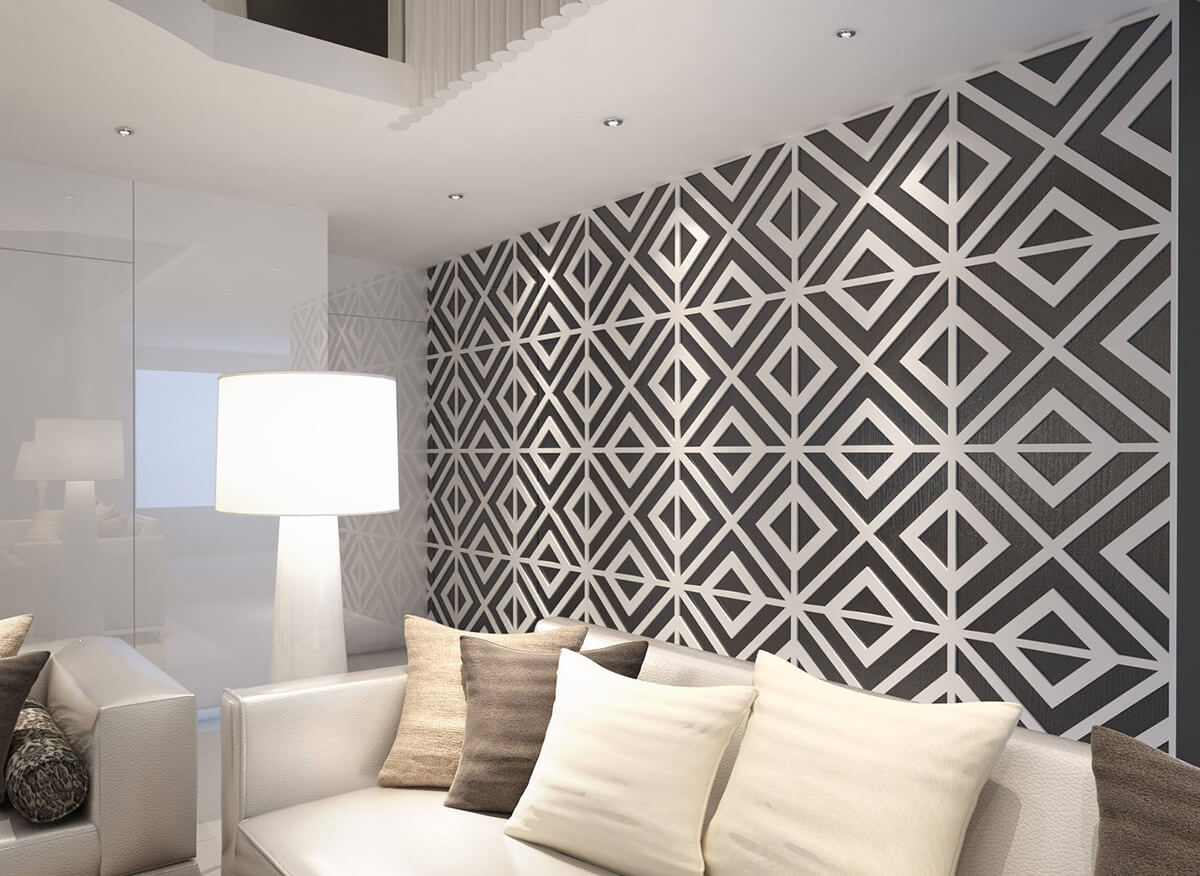 If you are looking for an overnight transformation of your dining or living room, check out this incredible stick-on wall design. There is no taping, painting, or really even that much planning required to mount this super cool geometric design. Just choose a prominent wall that needs a little life added to it, measure the space you'd like to cover, order the materials from this Etsy store, and apply using the included Velcro tape. For even more pizzazz, consider painting the pieces before applying. This will add shape, dimension, interest, and color to that plain-as-white-bread wall.
12. Interlaced Leaf-like Paneling for Walls or Ceiling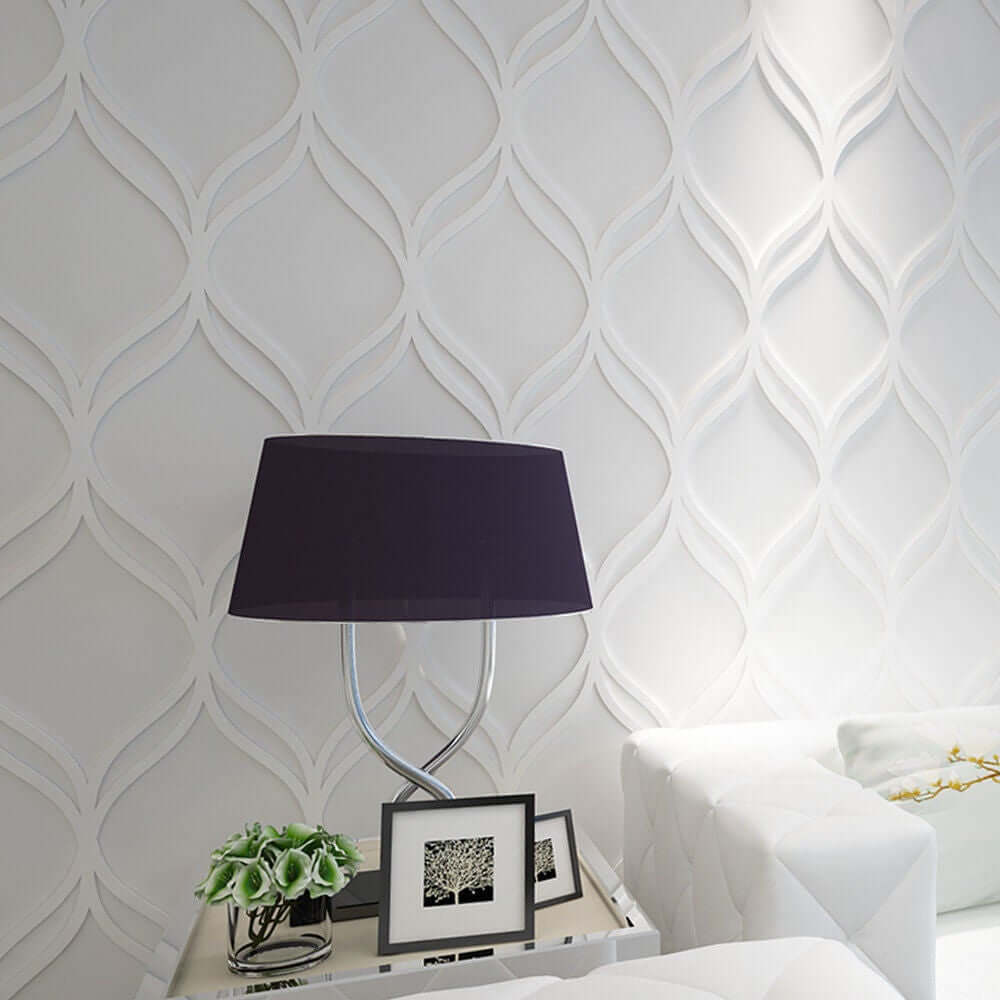 This geometric yet organic-looking wall paneling puts the modern into midcentury modern. Take a plain white wall and transform it into something brilliant through the easy application of these stick-on wall panels. You can make this effect as subtle or attention-grabbing as you like. Apply to a small corner wall for a tasteful addition or go big and bold by featuring the pattern on a kitchen or dining room ceiling. Especially interesting about this design is that you're not dealing with wallpaper here; this application is a 3-D mold whose relief adds that much more visual interest.
12 Living Room Accent Wall Design Ideas for a Stylish Interior
Well if that list didn't give you some wall accent inspiration, then you should probably just move houses. (That was a joke. Instead, you should just look through the list again; clearly you must have missed something.) As you can see, there is definitely not just one way of creating an accent wall, nor one single style that is going to work for every person, every house, or every room. The way that you have set up your living room is different than the way you have set up your bedroom, which is different than the set-up for your dining room. Each space has its own feel, energy, and functions, so each one will benefit from different kinds of accent walls.
And that brings up a good point: You can stick to redesigning one wall for now, but don't feel you have to stop there. Obviously two accent walls in one room would be a bit much, but having a tasteful accent wall in two separate rooms in the house isn't a bad idea at all. And again, these are big chances for relatively little money and work. In other words, the investment is low and the return is high when you put the accent on great wall design.