15. A True Blue Retreat Modern Living Room Design idea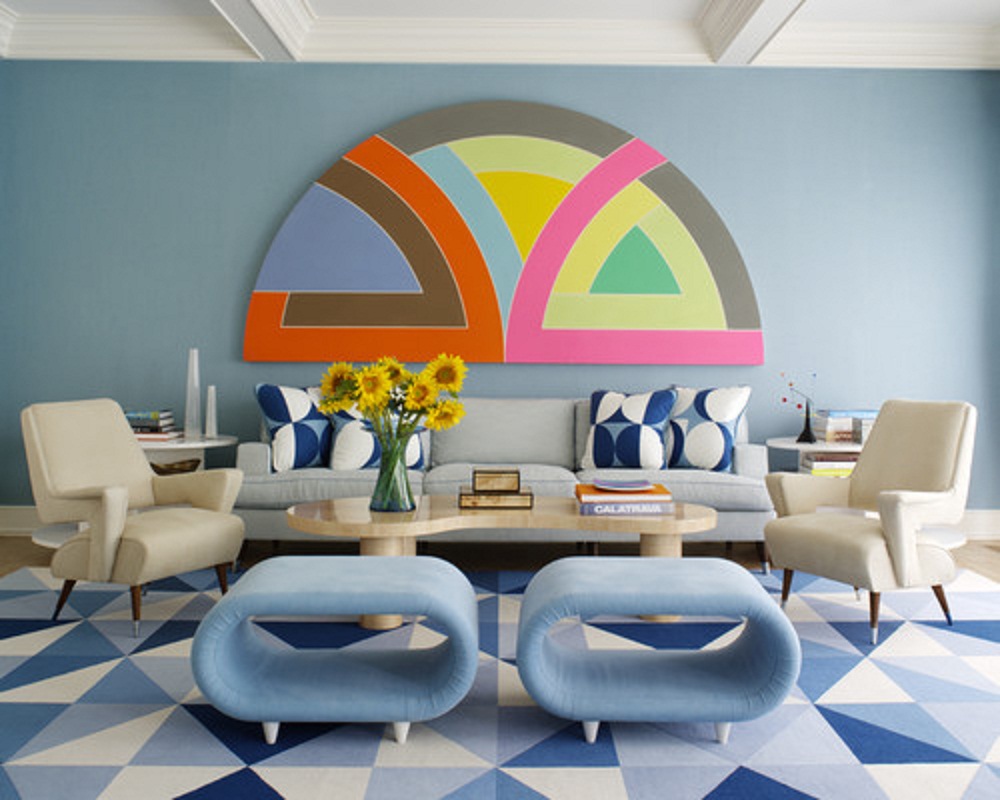 Modern living room ideas are all about maximizing the comfort of the space, and that's definitely the goal of this blue-infused design option. This living room idea revolves around the calming effect of light blue hues, both in terms of its wall color and in terms of its furniture choices. The living room decorating ideas present in this concept also seek to balance out the blue so that homeowners never feel as if the room is repetitive. A large, colorful piece of artwork placed above the sofa, and khaki chairs that add great contrast, give the room a needed sense of balance that keeps the blue walls and accessories feeling welcoming, calming, and airy.
16. Industrial Chic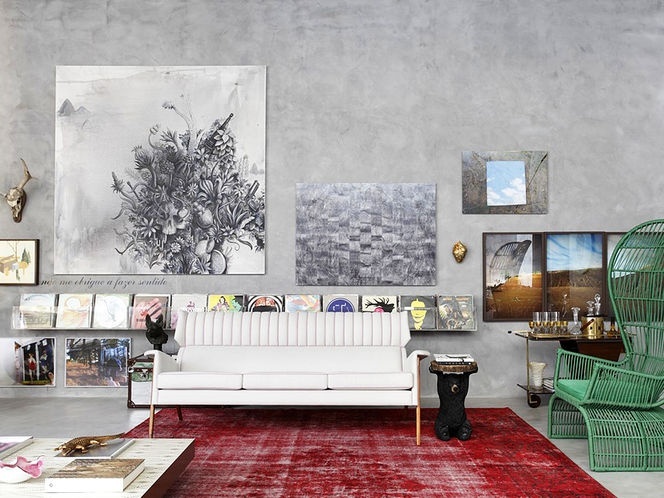 Not all homeowners are interested in the conventional walls, floors, and patterns that traditionally indicate a comforting space. In fact, one of the best modern living room ideas is to turn the space into an industrial playground. Leveraging both concrete materials and faux concrete patterns, this design is about embracing hard materials and celebrating gray accessories. For contrast, bright red, white, and green accents draw the eye away from the abundance of gray while adding an eclectic vibe. This is a perfect fit for homes in urban areas, especially those in converted warehouses and lofts, usually located in a more historically industrial part of the city itself.
17. A Vivid Retreat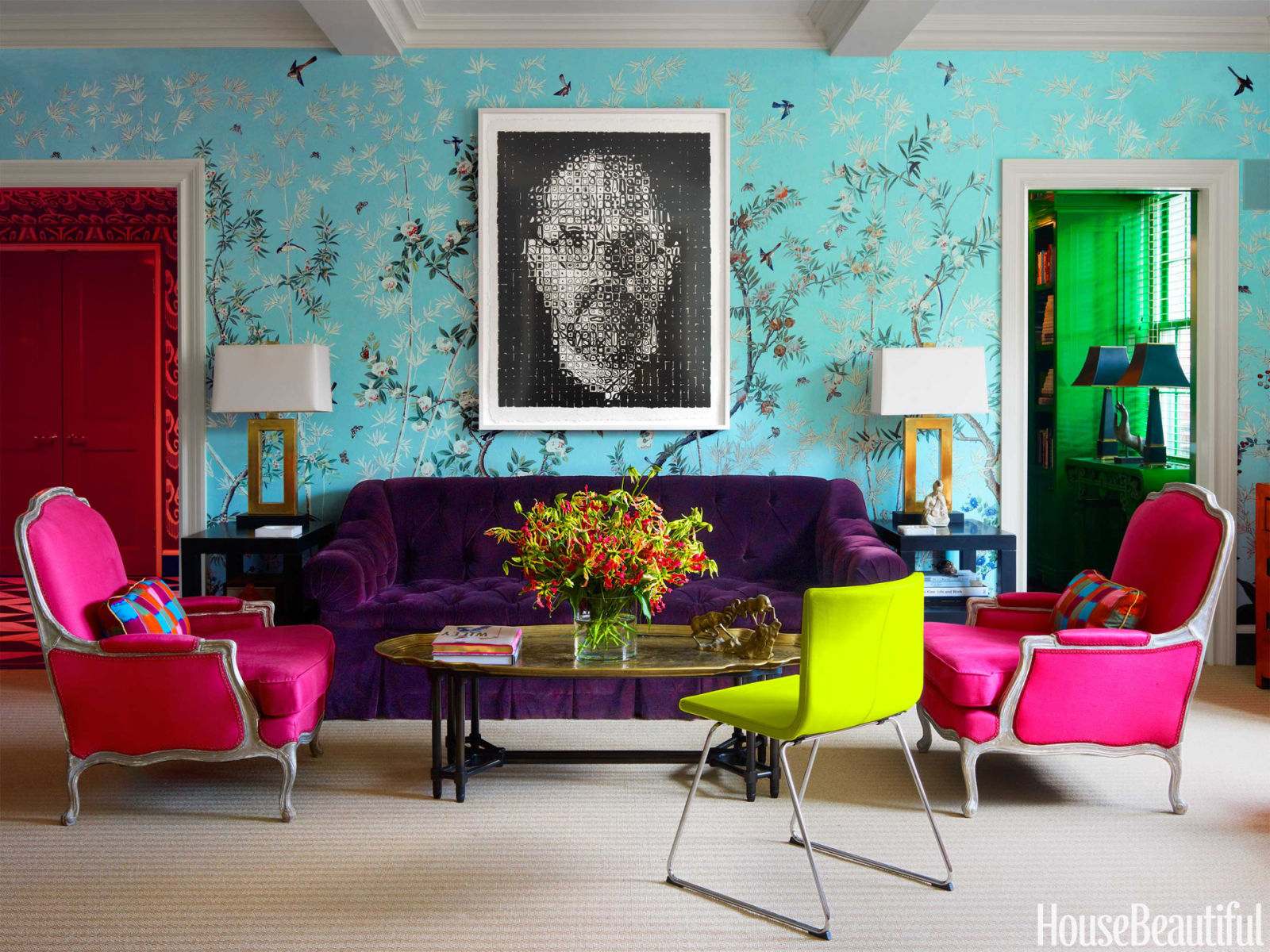 Many modern living room ideas revolve around subdued colors, but not this one. For the most vivid and vibrant personalities, this design embraces bold and highly contrasting colors that will start a conversation. The symmetrical design relies on two matching, contrasting pieces of furniture that frame a large, comfortable couch. A backdrop pattern, which could come either from wallpaper or actual painting on the wall, brightens up the room and adds a distinct accent to the focal area. Symmetry is consistent in the tables and lamps as well, balancing the room and creating a sense of order that will work best for homeowners who prefer straight lines, symmetrical design, and total balance.
18. Longhorn Living Room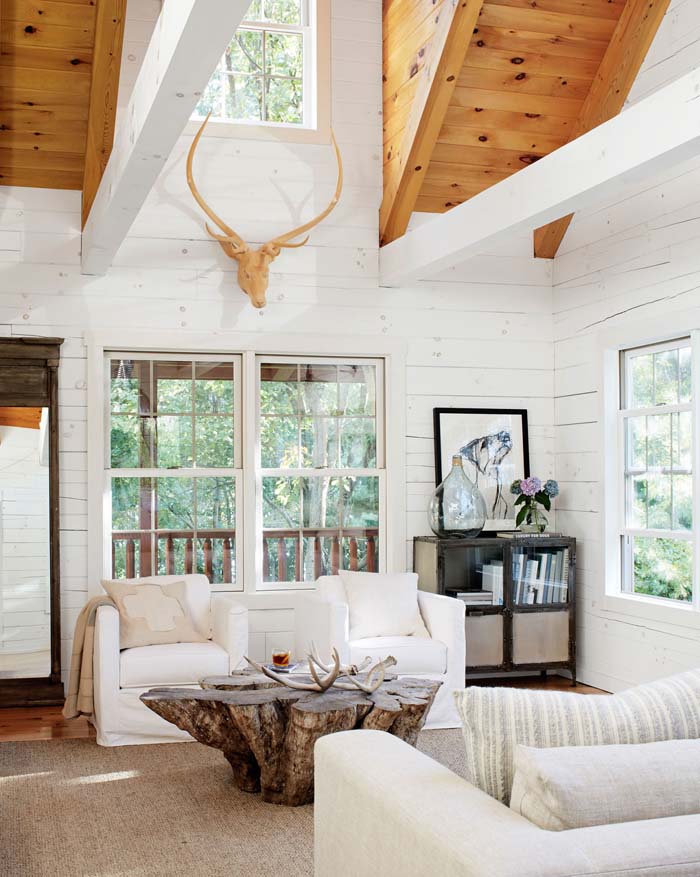 Looking for something that looks like it came straight from a Texas ranch? There's no need to look any further, with a design that embraces all of Texas' historically prominent design elements: The longhorn bust, wide planks that have been whitewashed for contrast, and exposed beams that help to break up the height of a traditionally vaulted ceiling. The design creates cozy spaces through the use of modern furniture, centered on a natural and intriguing coffee table. With windows that run the length of the room's height, natural light helps to give the space an open and inviting feel that will make it a hub of family and social activity for years to come.
19. The Outdoors, Inside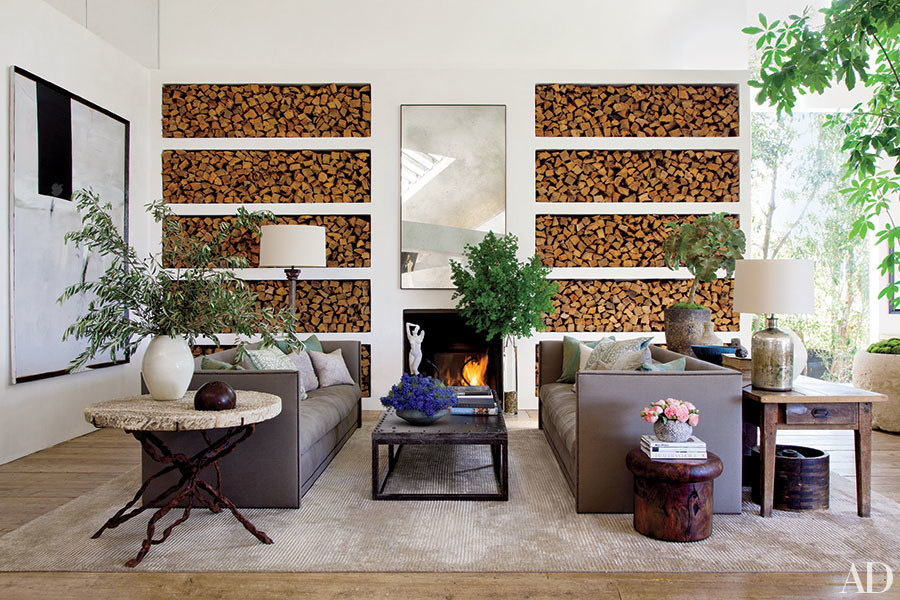 A fireplace is central to many living rooms, but most people prefer to hide the natural elements that fuel the fireplace and provide for their home's stunning outdoor areas. This design doesn't exclude those materials from being used in the living room itself. A new trend within modern living room design ideas, this design actually brings firewood into the living room as a design element and conversation piece. Natural wood floors, plants placed throughout the room for accepts, and an open view to the outside, make the room feel like it's connected to what's going on in the front lawn. These elements also make the room cozier on cold nights, when the fireplace becomes the central gathering point for a family taking shelter from chilly winter weather.
20. Concrete Apartment Living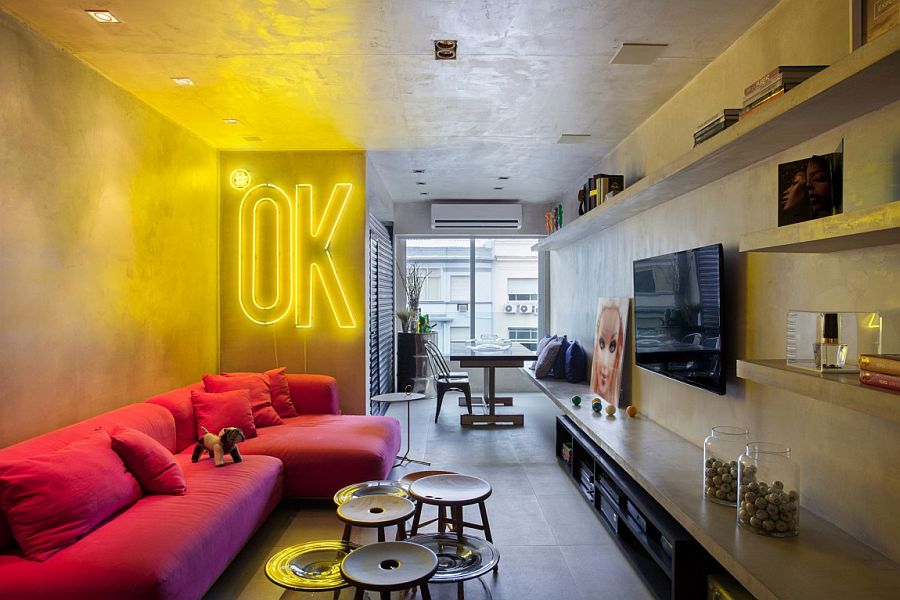 Some urban apartments have been restyled in recent years to embrace concrete, much in the same way that they began embracing exposed brick walls a few decades ago. Concrete's industrial appeal is transformed into a more inviting aesthetic with this design, which is uniquely urban from top to bottom. Bright, neon fixtures bring new sources of light and color into the room without so much as a splash of paint on the walls. A modern sectional, which focuses centrally on the television and bookshelves, provides both a focal point and a comfortable place to catch up on the news of the day or entertain a few guests. The unique configuration of this design, and its embrace of unconventional lighting, means that it can scale up or down to a room of almost any size in an urban environment.
21. Off-White Oasis Interior Decor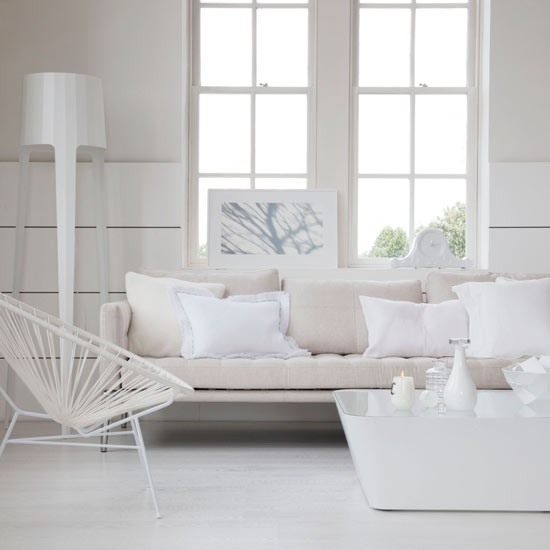 While some modern living room designers try to downplay white and off-white colors, this design embraces them and uses them in almost every aspect of the room. The design is focused primarily on creating an open and airy space, but white and off-white accents have a few other effects. First and foremost, they keep the room cool during the warmer parts of the year. They also blend perfectly with the design of a beach home or summer cabin, giving it a unique way to stand out from homes that typically use richer colors or more varied design elements. This design approach is also perfect for urban homes that have smaller square footage and therefore need to leverage color to create the perception of a larger living area.
22. The Urban Bachelor Pad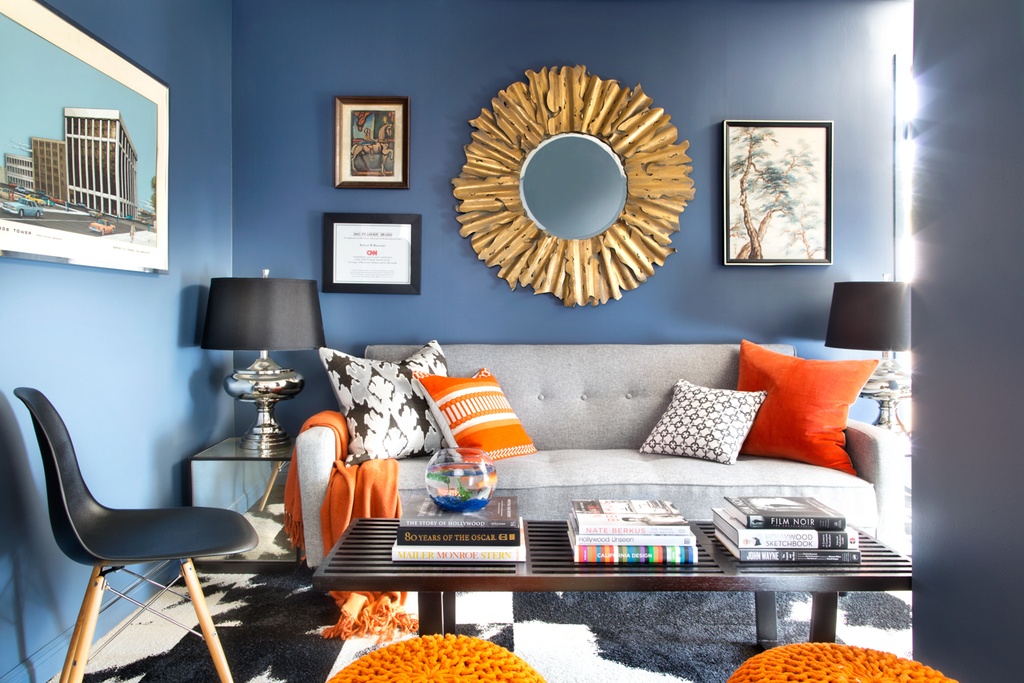 One of the best ways to achieve a versatile, masculine living room interior design is to go with darker wall colors and deep, inviting accent colors. That's exactly where this living room idea succeeds: The design brings a deep, almost navy color to the walls, while offsetting that dark hue with bright orange pillows, patterned accents, unique furniture, and a modern rug. The use of natural materials and classic artwork in the wall accents also gives this design just the right touch of stately energy, making it a natural hub for entertaining guests. Perfect for small living areas in urban homes and apartments, this design is a great fit for a first home in the city.
23. The Manor Living Room Design Idea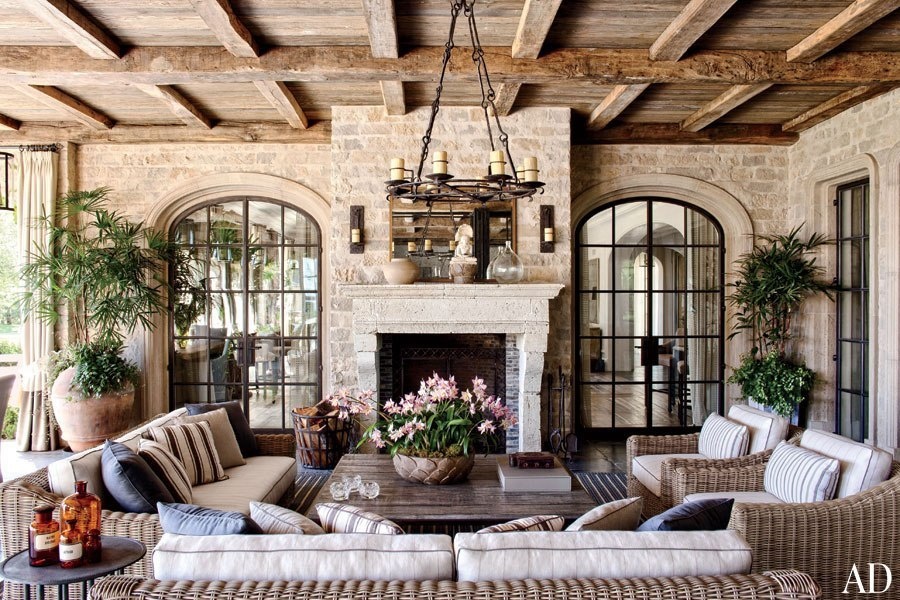 Want to really bring elegance into the home's living room? Look no further than this design, which relies on all of the classic elements that dressed up the homes of the Philadelphia Main Line in its heyday. This design, which looks like it belongs in a large manor or mansion, throws out the idea of plain walls and a basic ceiling. Instead, stone walls and an exposed, wooden ceiling are used. These premium materials make the room feel expensive, upscale, and stately. Versatile enough to be used indoors and out, this living area opens to the outside and uses durable wicker furniture to provide comfort to guests in all seasons.
More living room decoration ideas on the next page…