24. Nordic Comfort Living Room Idea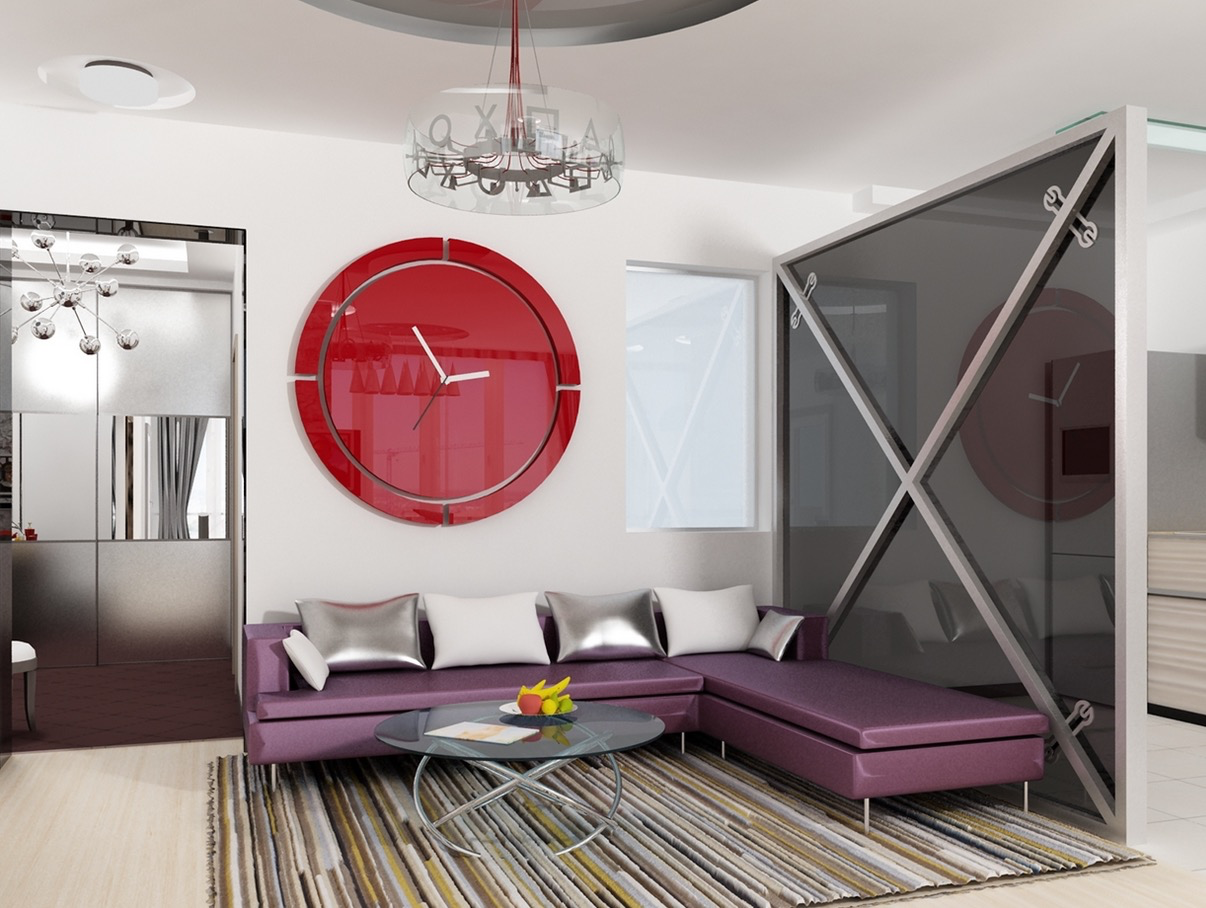 When most people think of Scandinavian living room decor ideas, they often refer to the styles, patterns, and accessories sold at IKEA. That's not a bad template. In fact, this design looks like something that could plausibly be seen in many Scandinavian homes and IKEA stores. The difference, however, is in this design's embrace of premium materials, bolder colors, and the type of unique wall accents that take time to find and skill to hang. This design has all the trappings of Scandinavian minimalism: stainless steel materials, a natural floor, smooth walls, and only a minimal embrace of color to provide focal points. It's an excellent choice for urban dwellers and the purely modern homeowner who wants a forward-thinking living room interior design.
25. Over the Rainbow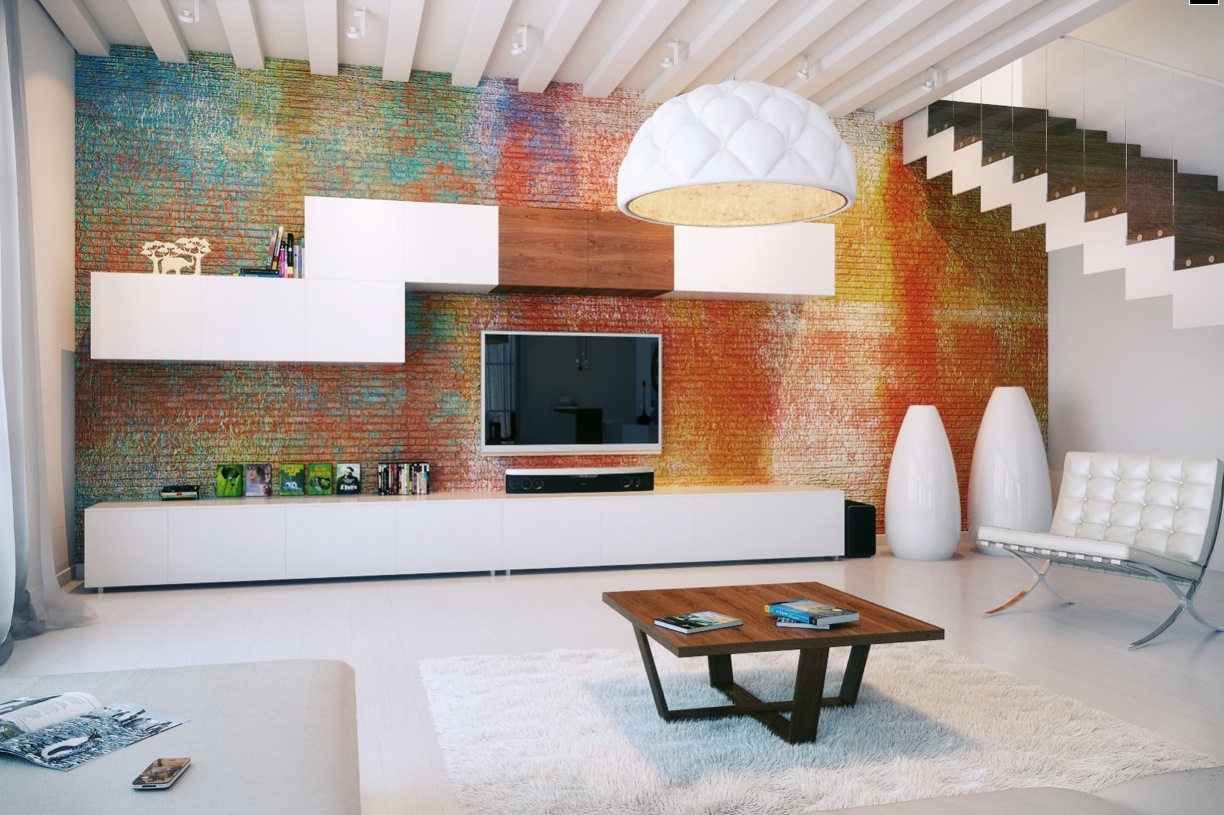 Don't show these living room decor ideas to exposed brick purists. While the brick can still be seen in this design, its natural finish is hidden behind what looks like a combination of urban murals and urban graffiti. Perfect for a penthouse or even a basement family room, this design's use of color is minimal. The accent wall's rainbow of colors contrasts nicely with white walls, floors, and home furnishings, giving the space a modern and minimalist feel that will appeal to homeowners and designers with those sensibilities. While not for everyone, the living room decorating ideas found in this space provide great inspiration for transforming brick materials into a conversation piece.
26. A 60s Throwback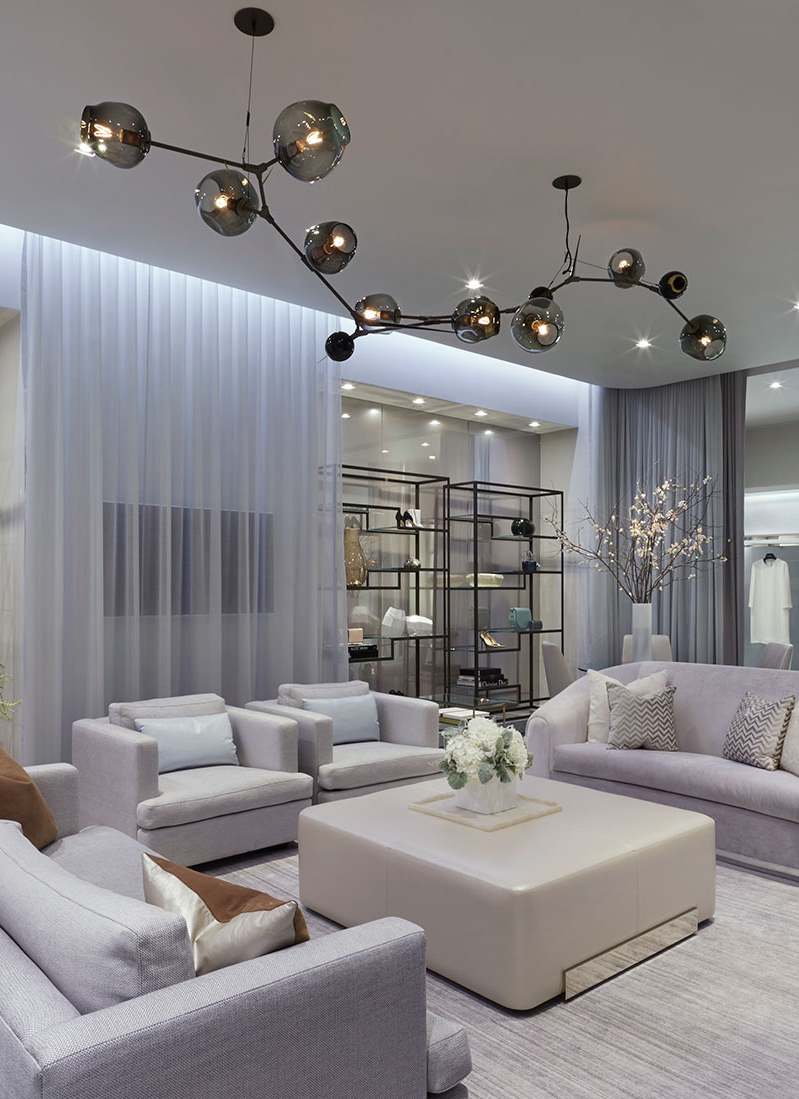 One of the hottest design trends in the 1960s was to place curtains along the wall, perhaps to add color or to hide certain items of furniture that homeowners of the time considered unsightly. Bookcases and TVs often hide behind curtains, while furniture with minimal lines kept the attention of guests in the center of the room. Does that sound or look familiar? This set of living room ideas brings them all back, but with a modern twist that leaves the retro 60s color schemes in the past. Crafted as a modern throwback to mid-century American design, this open living room concept uses shear curtains and basic patterns, as well as a central living area, to emphasize conversation among guests.
27. A Perfect Kids' Room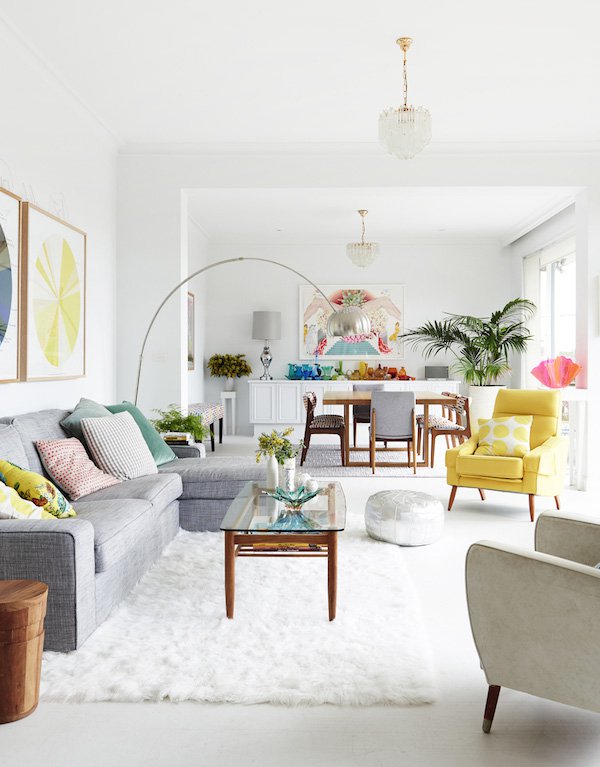 Some living room decor ideas look distinctly grown up, but this design emphasizes the importance of a living space for the youngest members of the household. White walls and ceilings give way to bright and exciting furniture placed throughout the room. High-pile carpets, ample pillows, and movable cushions also allow the room to be perfectly customized to the preferred comfort and most common uses of the home's living space, whether it's to entertain guests, entertain the kids, or serve as a home theater of sorts.
28. Big Brown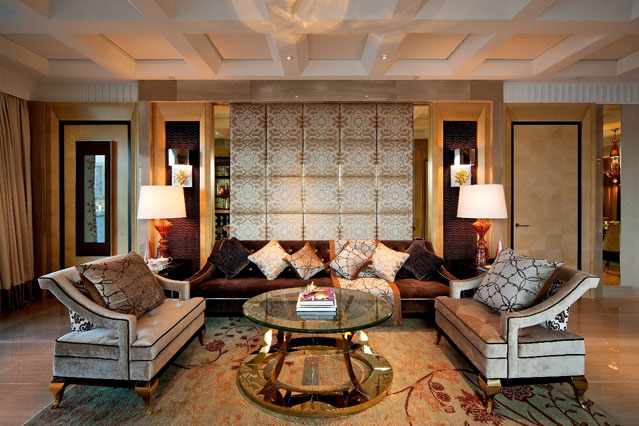 Brown needs more appreciation in the modern living room, and this design seeks to give the color what it deserves. A bold design that uses an unconventional palette, this effort shows just how versatile brown can be when used appropriately in a larger living space. From tan and khaki accents to a deep brown sofa and chocolate wall accents, this living room is an inviting and warm space for all seasons. Symmetry in the room is also a perfect fit for long conversations with the friends or with the kids.
29. Cool Blue Living Room Decor Idea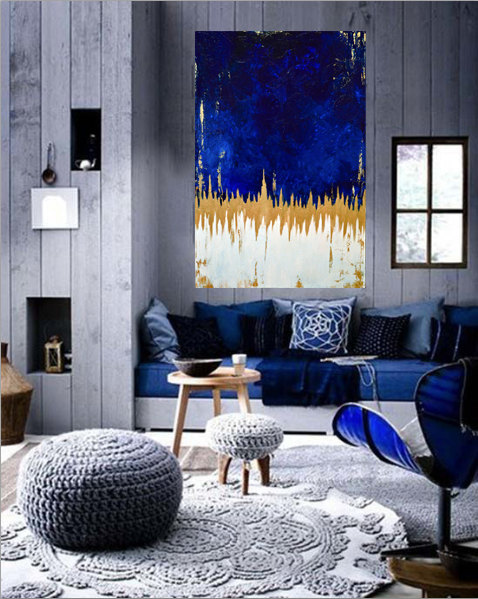 Living room decorating ideas don't all use blue the same way. While some designs have presented blue as the perfect color for creating an inviting space, the living room ideas in this concept show that it can just as easily be used to create a cool space that works perfectly at a beach house or in a cabin with exposed, wooden walls. The contrast of royal blue and a steel blue color in this design, along with bold artwork and accessories, could be a fun way to change the vibe of a living room into one that's a bit more unique throughout the home. The handmade appeal of this design also gives it a unique way to convey care and comfort that some designs lack.
30. A Modern Basement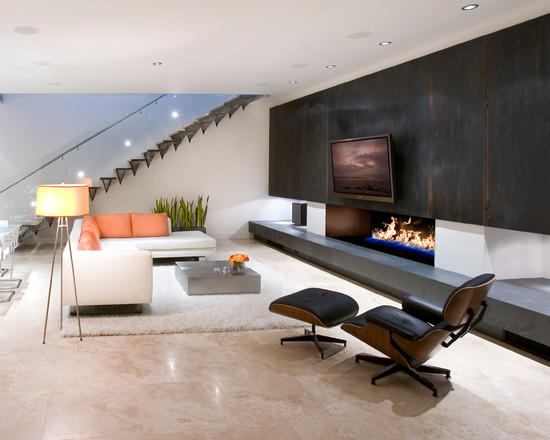 There are many living room decorating ideas that leverage the power and versatility of a concrete floor, but this one might be the best. A stained concrete floor brings an almost marble-like aesthetic to the living room, giving the space a premium feel. And while white walls give the room a more open feel, black cabinets ad shelves bring the living room back down to earth and create a central point of focus on fireplace and television. This design is a perfect fit for basement family rooms and living areas, due to its open feel, durable materials, and more media-oriented set of design principles.
31. 21st Century Elegance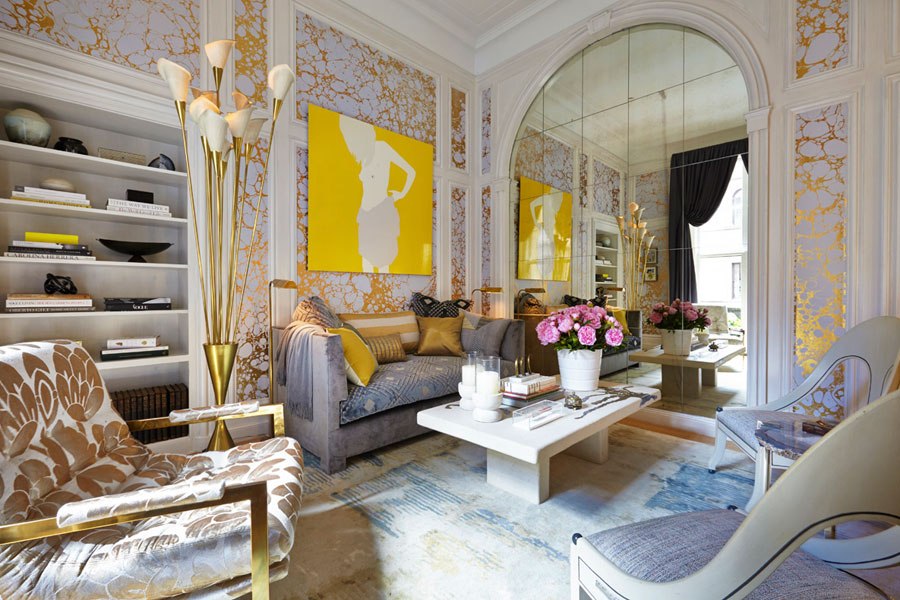 This concept looks like something out of a modern castle, which makes it a perfect fit for larger homes that can provide the open floor plan and higher ceilings needed to maximize the effect. Using softer colors gives the room a decidedly relaxing or feminine appeal, but small changes to the color scheme and furniture choices can fundamentally alter whose castle this design appears to be creating. One overlooked element of this design might be its natural flooring material, with a patchwork of colors that make the floor itself a focal point. That's not found too often in modern designs for any room!
32. The Green Room Decoration Idea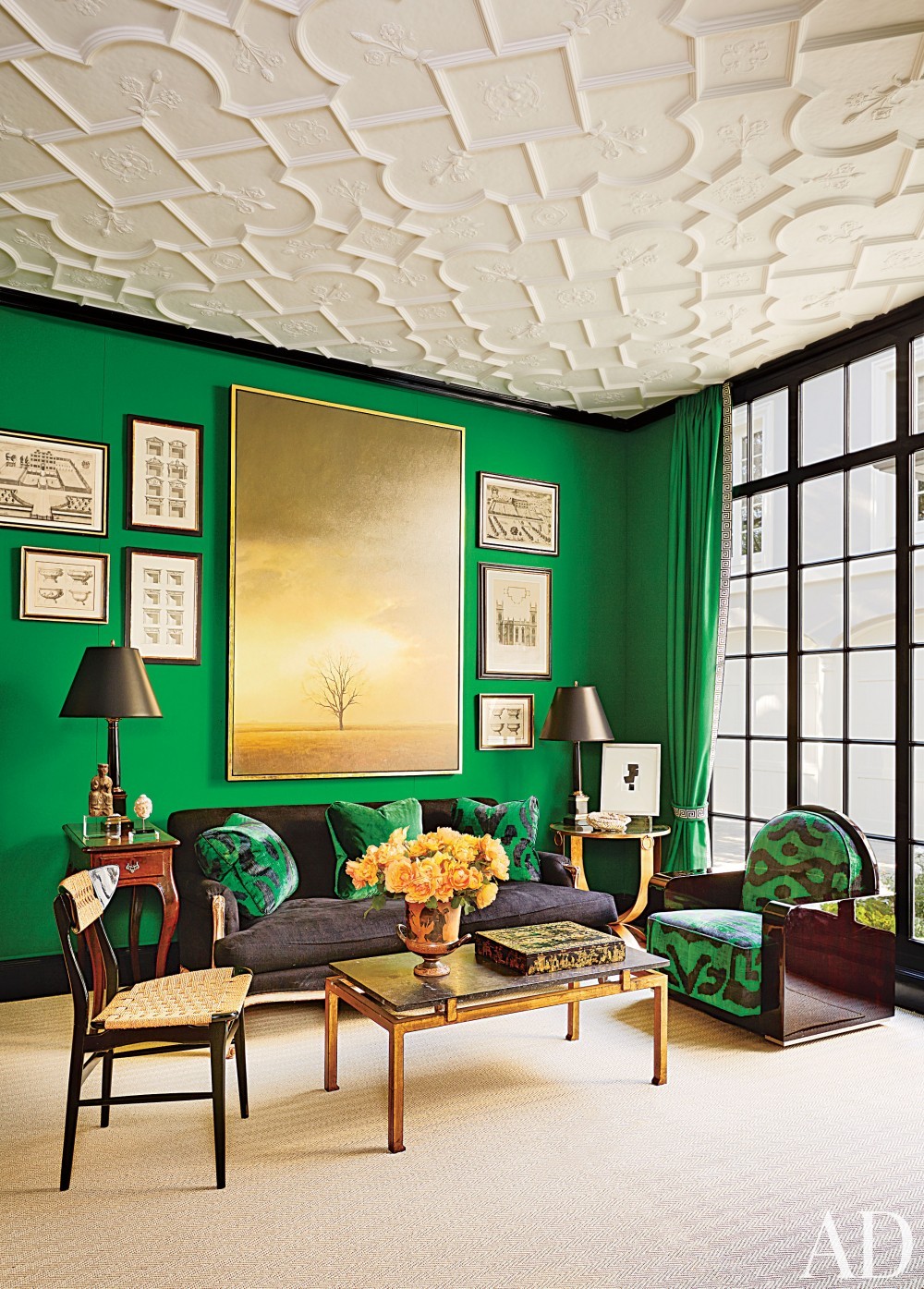 Rooms in the White House are often named after colors, and designed to represent those colors in some form. This is the average homeowner's answer to the stately "Blue Room" of the White House. Electric green walls, paired with a patterned ceiling and large windows, make this room both inviting and stately in appearance. TO offset the ornate design elements and bold color choices, furniture is decidedly modern and comfortable. Modern patterns make this feel more like a place to live within the home, and less like a place to entertain foreign dignitaries.
More living room decorations on the next page…