33. Beachfront Living Area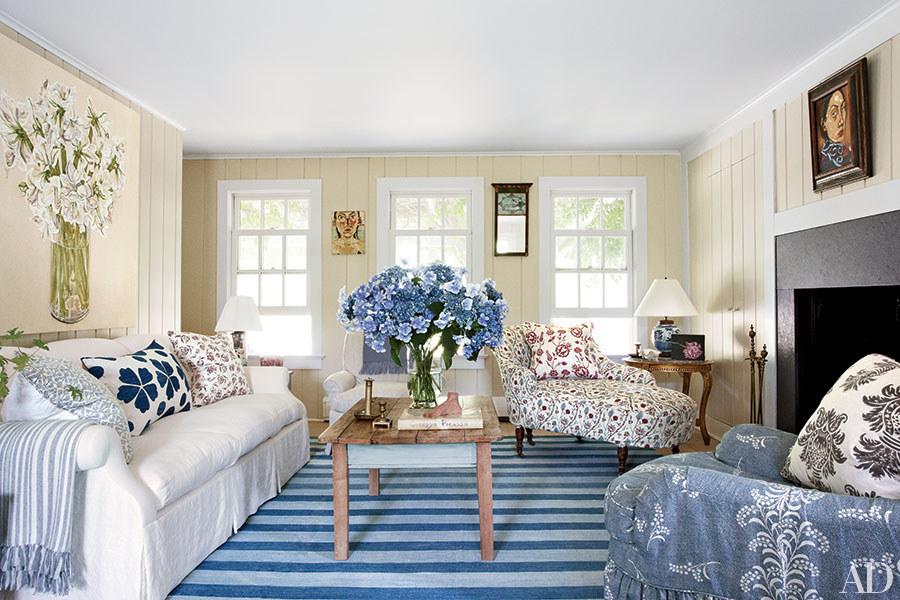 Living room designs that capture the magic of a beach house are a popular choice among designers and homeowners alike. This is largely because of the sense of comfort that such designs provide. This beachfront living area design has all the elements of a classic beach hose: plank walls, ample use of blues and off-white colors, and just the right amount of classic patterns that look handpicked to provide the coziest sense of space. Listen carefully enough, and you just might be able to hear the ocean from this living room.
34. Modern Hunting Lodge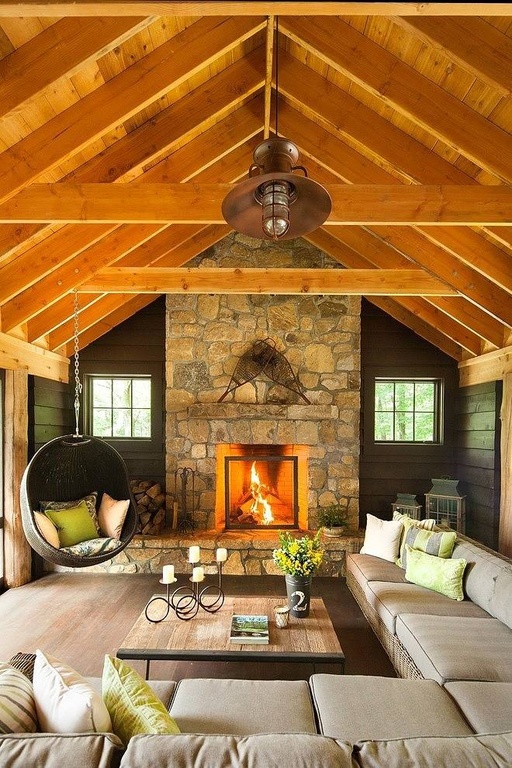 The hunting lodge, much like the beach house or the upstate retreat, is a tradition in American design and home buying that goes back several centuries. This design pays homage to the hunting lodges of the past while laying the groundwork for a modern take on tradition. Classic elements of the design include its premium exposed materials, like the stone fireplace and wood beams, as well as the natural and unfinished floor. Modern touches aren't left out, however, with a minimalist sectional and pod chair that could be found in any modern space back home. It's a perfect blend for families that want the best of both worlds.
35. Contemporary Classicism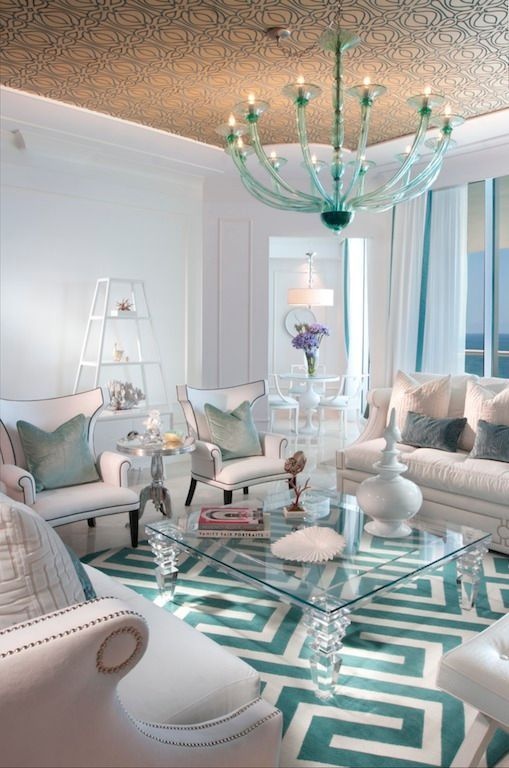 Ask any designer or homeowner to name the most "classic" touches for a living room, and they'll likely list things like a chandelier, an ornate ceiling, and wing chairs. All of those design elements are found in this concept, but they've been updated and paired with some more modern touches as well. An all-white color scheme is blended with just the right pops of color, found in both the updated chandelier and modern area rug, giving this room a perfect balance between understated class and refined modernism. This room is designed primarily for entertaining guests, and it will certainly start a conversation.
36. Brick Loft Living Room Decoration Idea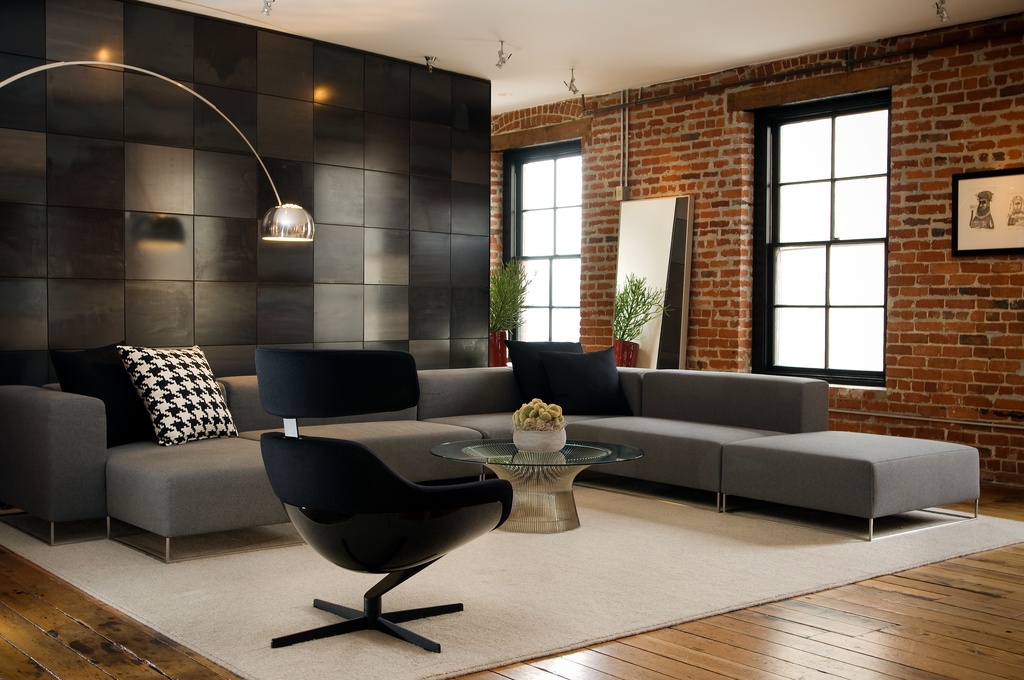 Urban lofts present one of the best opportunities for innovative living room designs. These spaces typically feature exposed brick walls, natural wood floors, and large windows that allow ample light to illuminate the space. That's where this design comes in. The design leverages high ceilings and natural surfaces to create a space that is truly engaging and urban. Black walls, gray accents, and a white rug combine in a unique way to defer to focus to exposed brick walls. The design works best in an open environment, which maximizes its utility as a social space.
37. Purple Loft Living Room Idea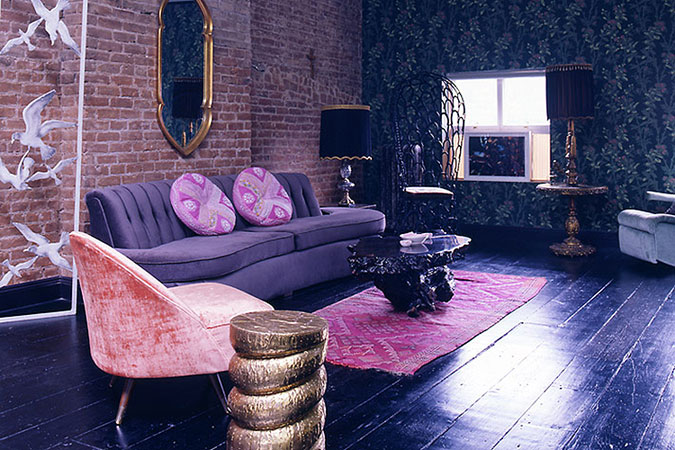 Another take on the popular urban loft concept that has taken living room designs by storm, this purple-infused loft design is perfect for young families that want to bypass the more masculine touches common to this design trend. Set off by innovative and exiting rugs, which blend black, white and purple elements into a modern and attention-getting design, this concept can even work in smaller loft spaces that might have very little room to spare. Its lighter material colors and fabrics also make the design perfect for spaces with limited sources of natural light.
38. Modern Hamptons Elegance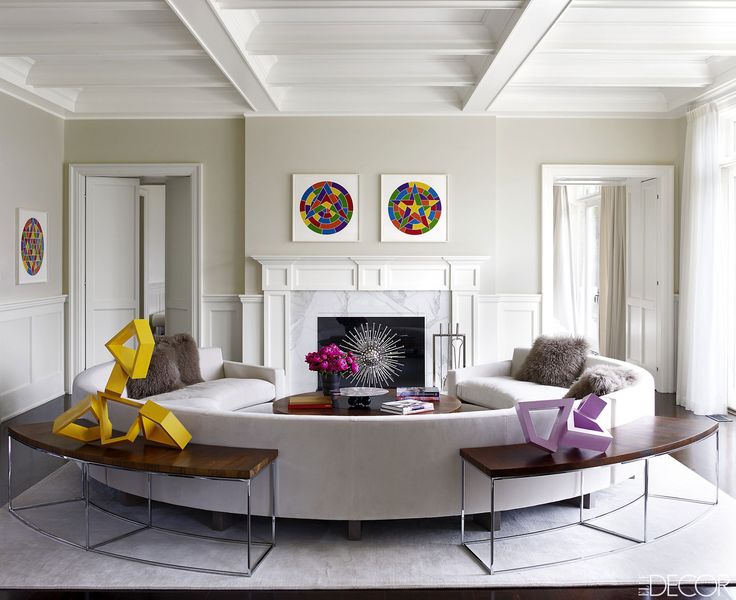 The Hamptons have long served as inspiration for everything from TV and moves to living rooms and kitchens. This design pays homage to that, with an approach that recalls the distinctively classic Hamptons aesthetic, like a bold fireplace, with modern accessories that add a pop of color. The modern, round sofa is a uniquely modern touch that encourages social interaction and turns the seating area into a central hub of activity in the living area. With light colors and lots of windows, this is a design that leverages nature and looks as if it could be just steps from the beach.
39. Luxe Blue Beach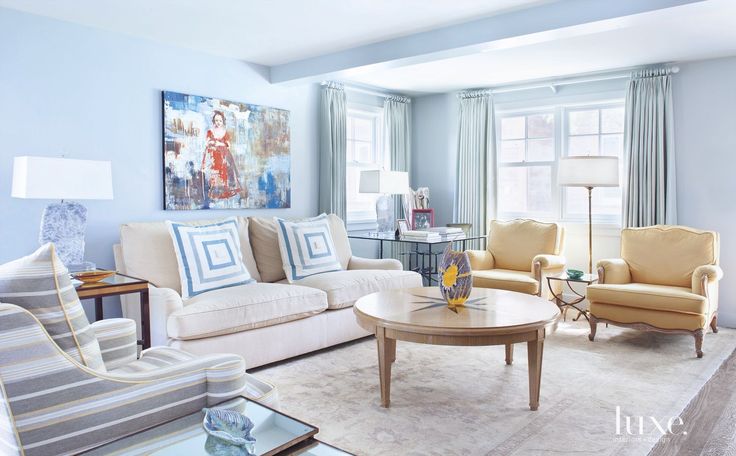 Another great take on the oceanfront living room is this design that swaps white and tan colors for pale blues and more welcoming furniture. A more classic take on living room designs overall, this concept living room embraces traditional lamps, contemporary accessories, and pale accent colors in each of its accent chairs. A classic area rug with a subtle pattern finishes off this luxe design.
40. Luxurious Ski Lodge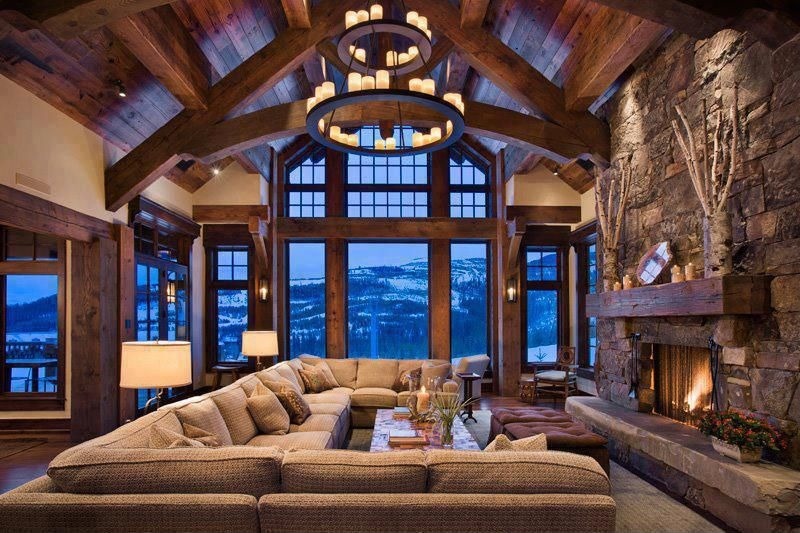 Whether the design is intended for an actual ski lodge, or simple to recreate the magic of a ski lodge all year long, this design concept has what homeowners are looking for. A scenic view, whether through the window or by carefully selecting artwork for the home, sets off this design and sets the tone for each of its elements. Rich, dark wood tones are used to create a warm environment in the room, while an oversized sectional in front of the fireplace encourages a central meeting place for family interaction and entertainment. For those who like rich browns, candlelit ambiance, and the cozy feel of a ski lodge, this design is second to none.
41. Red Leopard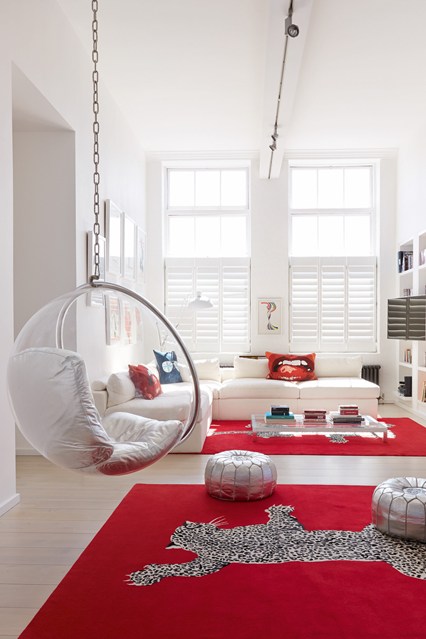 Some living rooms need to be designed for younger inhabitants, and this concept fits the bill. Unlike some of the more serious and adult designs, this one leverages stark contrast between white and red, solid and leopard prints. With distinctively modern furniture, clean lines throughout, and a concept specifically designed for smaller living rooms, this option is also a perfect fit for new homes, and starter homes, where square footage is often quite limited.
More living room décor ideas on the next page…