42. Brooklyn Penthouse Design Idea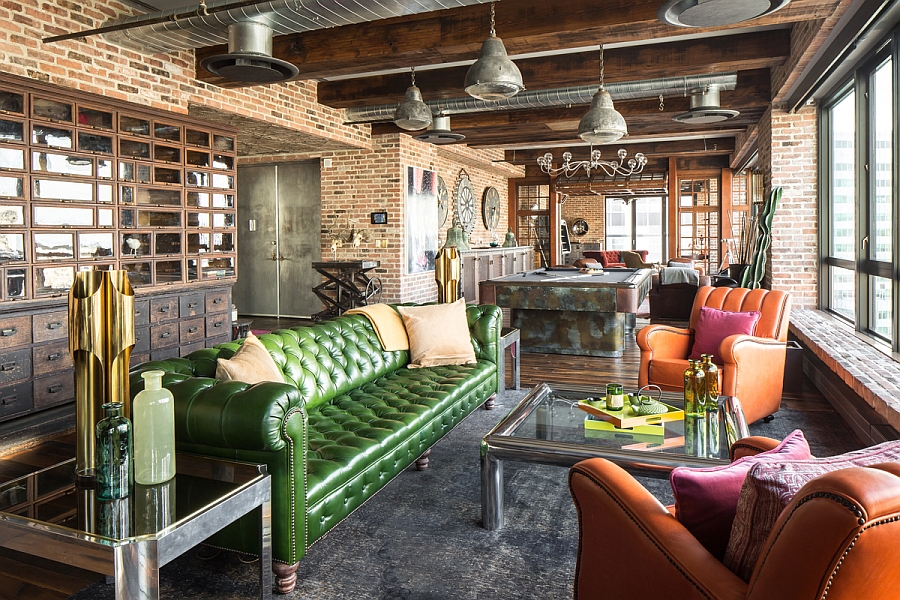 A Penthouse in Manhattan might have elegant touches and contemporary finishes, but head to Brooklyn and the ideal design becomes something more like the industrial, "old loft" feel found here. This concept celebrates the grit and history of a city's oldest and most storied industrial buildings, embracing their brick walls and accepting rough ductwork and hanging light fixtures. Rustic wooden furniture, along with retro furniture, helps the penthouse connect with its historical roots and offer an authentic feel for urbanites.
43. Sun, Sky, and Sand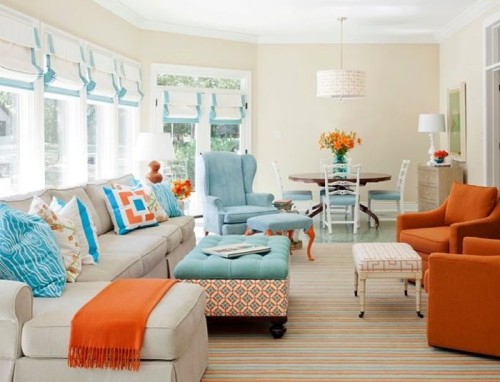 Whether it's a fun family room or an update to the beach house aesthetic, this bright and fun design is a great fit. Using colors like aqua, orange, khaki, and white, this design fits perfectly into smaller living spaces by creating a more open feel. The design's modern use of hanging pendant lamps, colorful throws, and beautiful accent chairs, gives a luxurious look and feel to the living room that will draw the family there on a routine basis.
44. Classic Country Living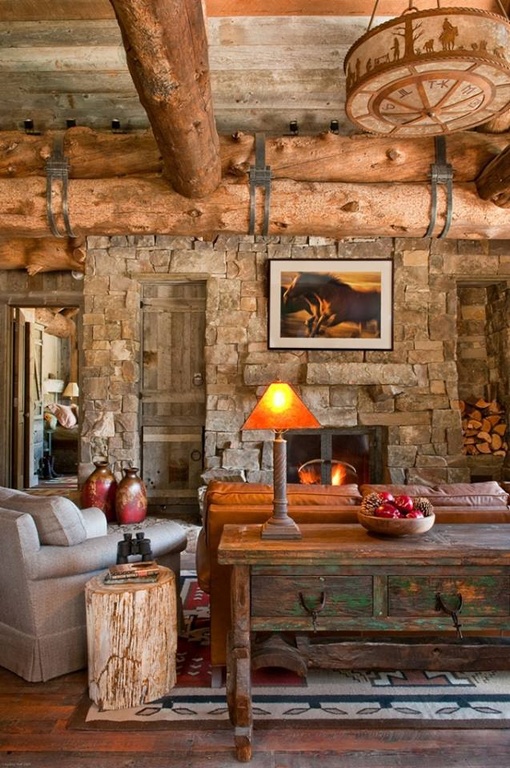 Take country living to the next level with this rustic, ornate design that celebrates every aspect of idealized rural locations. This design is all about exposed natural materials, including the exposed logs that serve as ceiling beams, side tables, and more. Stone walls and worn, rustic furniture pieces provide a necessary sense of balance, while the use of colorful accessories allows for several focal points. Perfect for a warm night by the fire, this design will bring the great outdoors to even the densest urban environments.
45. Main Line Luxe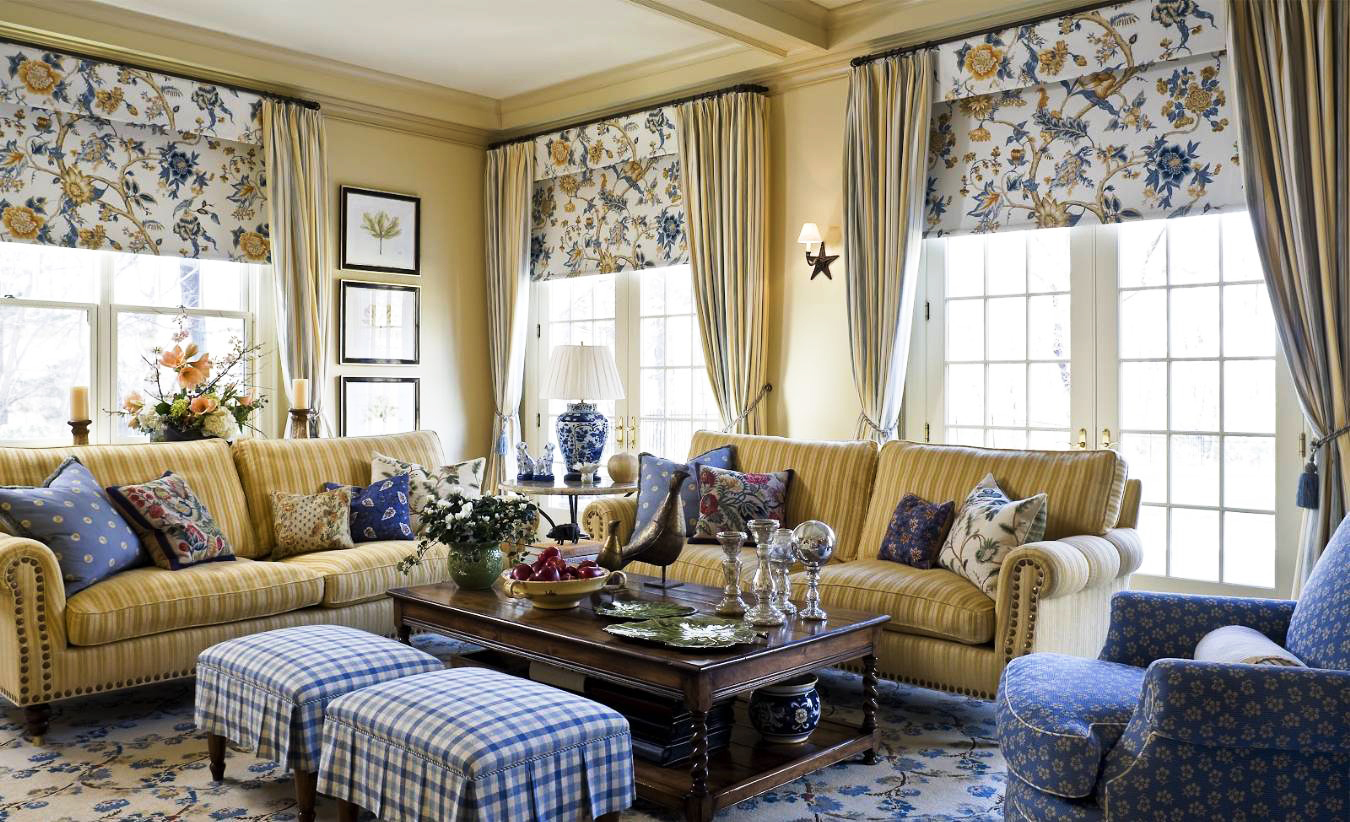 Sometimes, there's no place for today's clean, modern lines and design elements. Instead, it's time to opt for something classic. This design, inspired by the most timeless elements of Main Line design from the 20th century, relies on classic gingham and floral patterns in traditional royal blues and yellows. Furniture is primarily comfortable and classic, rather than stiff and angular. The room makes use of every square inch of space, maximizing the ability to entertain a large number of guests.
46. Comfortable Entertainment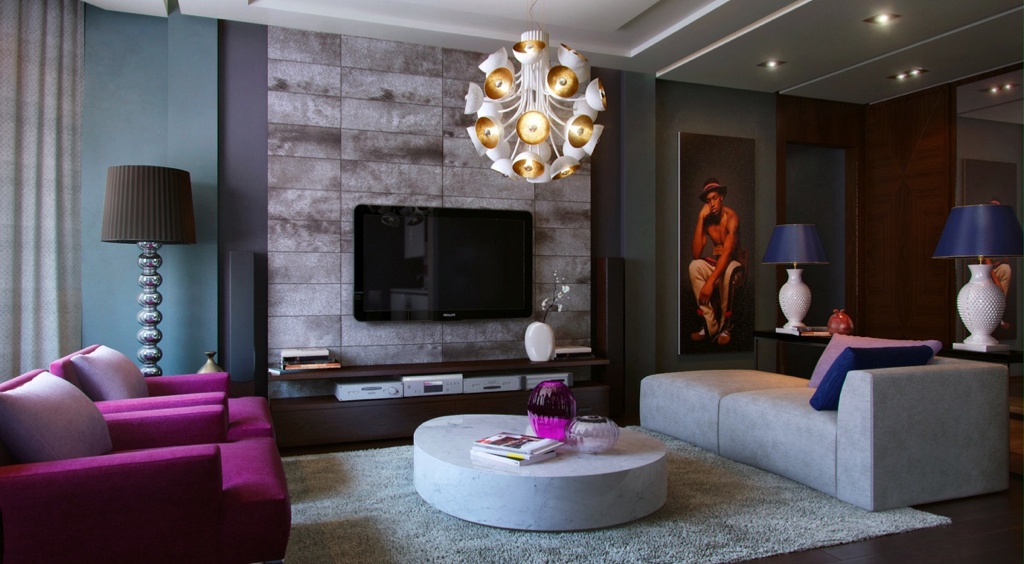 For every classic or modern design, there's a comfortable alternative that wants to create the best space for binge watching something on Netflix or entertaining a few guests. That's where this design comes in. Rather than adhering to current trends or classic aesthetics, this design focuses on a central TV, low-profile couches that offer excellent comfort, and bold colors that will serve as a conversation piece for the family and guests alike.
47. Mid-Century Update Living Room Design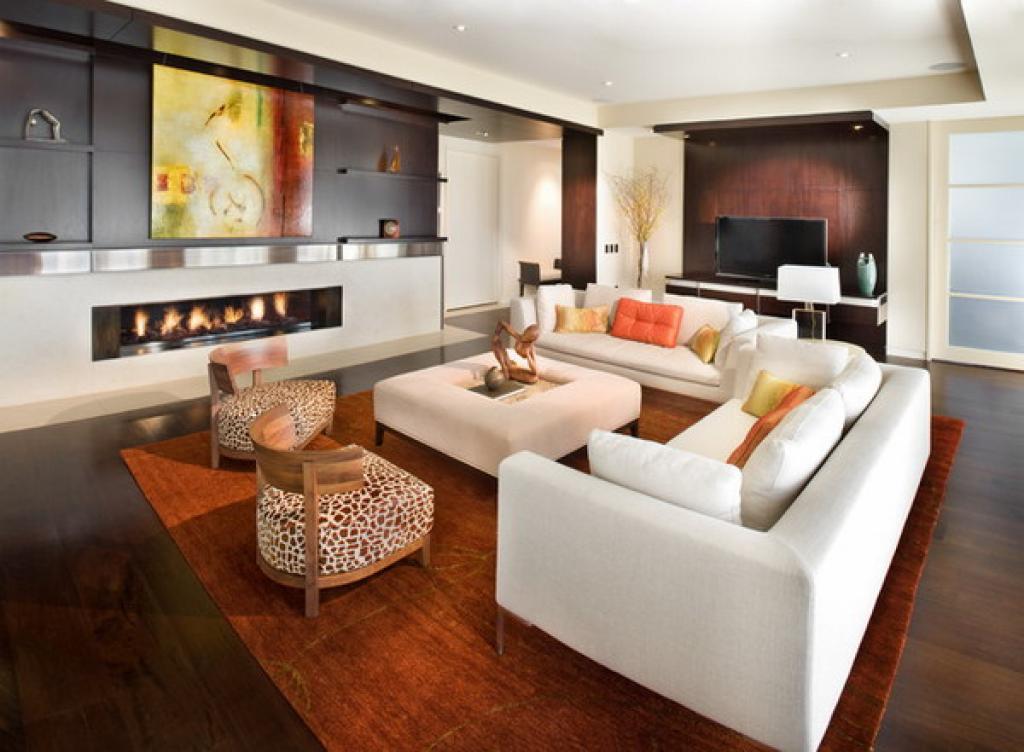 One of the most popular design trends in 20th century America was the mid-century modern. This design isn't a mid-century modern design, but the influences of that trend can be seen in every aspect of the living room. Ample natural materials, primarily wood, are used. Finishes are darker than the mid-century modern concept, but lighter fabrics and wall colors help to offset the darker tone of the room overall. To update this type of design, animal print accent chairs are used to create a conversation piece and add something a bit unexpected to the space.
48. Classically Green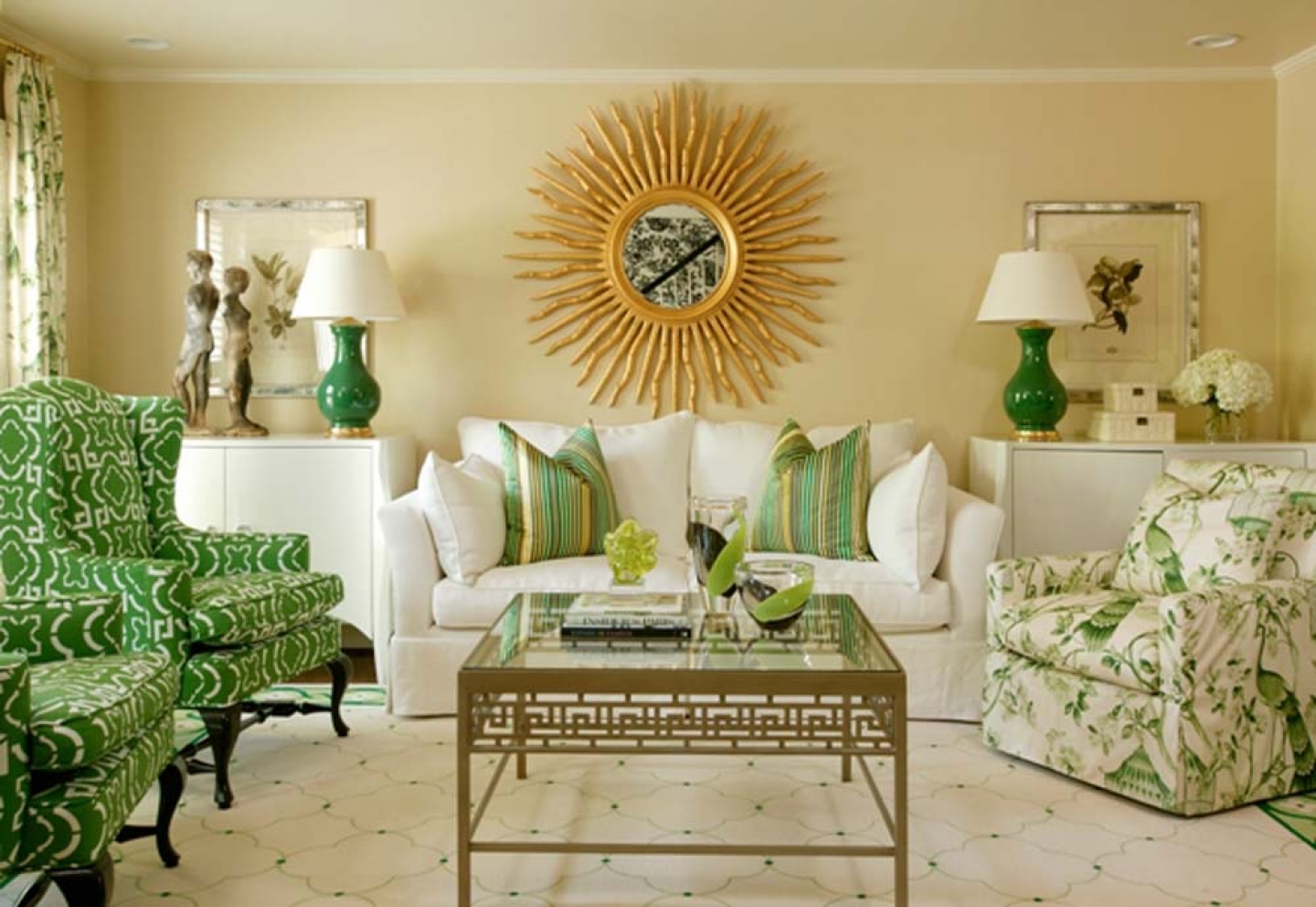 Living rooms that need a splash of green can find everything they need in this classic concept. Instead of opting for ultra-modern designs and finishes, this classic concept is designed to be versatile enough to fit into any home. Whites and greens come together to create a room that blends the best of the indoors and outdoors, reflecting natural light in a way that creates a more open and inviting space throughout the day.
49. Maximum Color Living Room Idea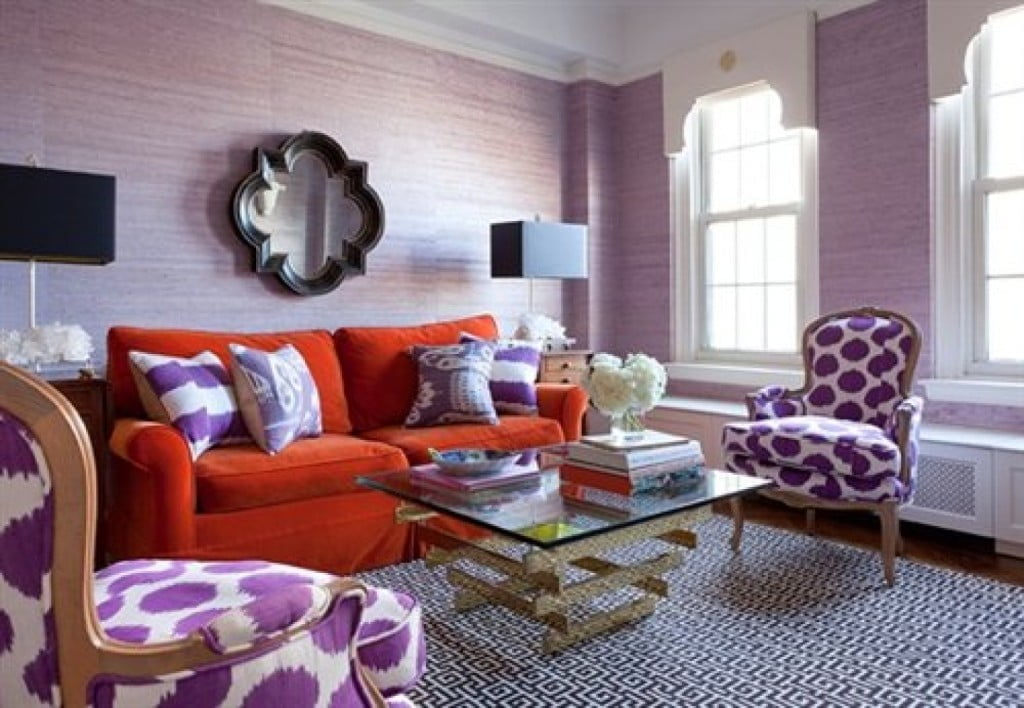 Lavenders, purples, and reds set the tone for this modern design. Primarily a great fit for younger children, new families, secondary living areas, and first homes, this design uses a patterned wallpaper that adds a touch of elegance to any space. Crown molding, retro prints, and a bright red sofa that draws attention, all make this design stand out against more conventional choices for the living area in any home.
50. Clean Purple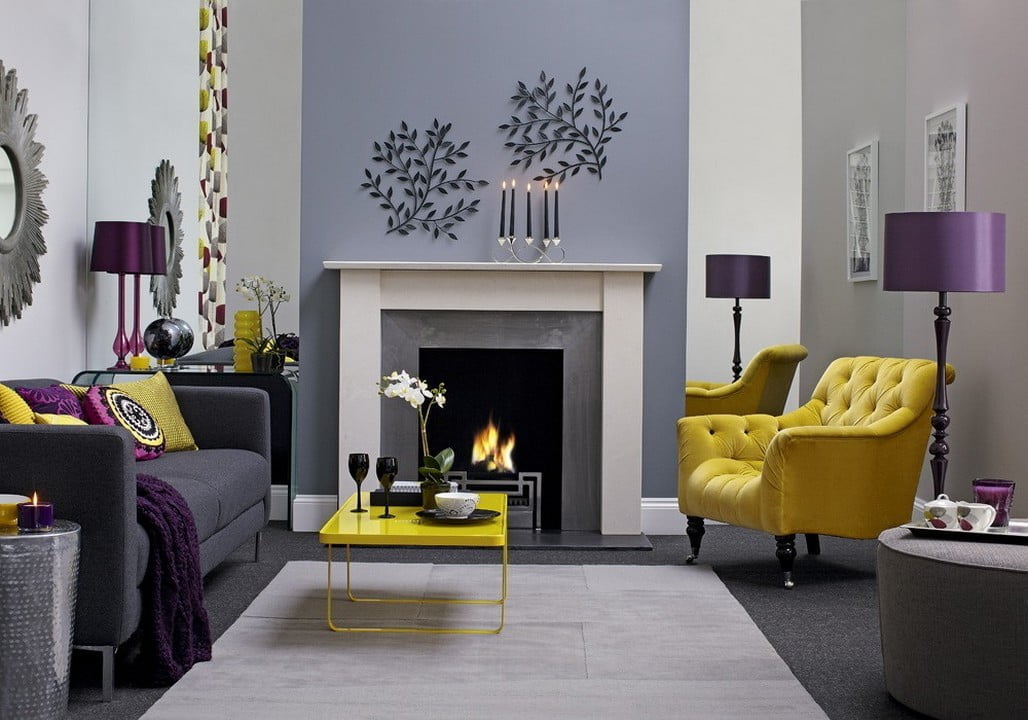 A great modern design requires clean lines and smooth shapes. That's what this design offers. The central fireplace offers no frills, no lack of symmetry, and no classic aesthetic. Bright furniture, in purple and yellow, offers a secondary focus that's sure to be inviting to guests, while wall accents and a bright table keep the design from feeling too heavy or too dark.
50 Great Living Room Designs for a Comfortable Living Space
Living rooms span the spectrum from ski lodges and rustic designs to the ultra-modern penthouses and lofts that dominate the landscape in cities around the world. Each design is carefully crafted to maximize the room's appeal, its use of local resources, and its embrace of the home's occupants and purpose. Each of these 50 designs offers something to homeowners that they need in their lives: superior comfort, room to relax, space to entertain, and the ability to use design elements to make the space feel bigger and more inviting to all. By choosing the best design, colors, and materials available, homeowners will create a durable living room concept that will stand the test of time and provide excellent comfort for many years to come.