42. Bleeding Your Team's Colors During the Big Game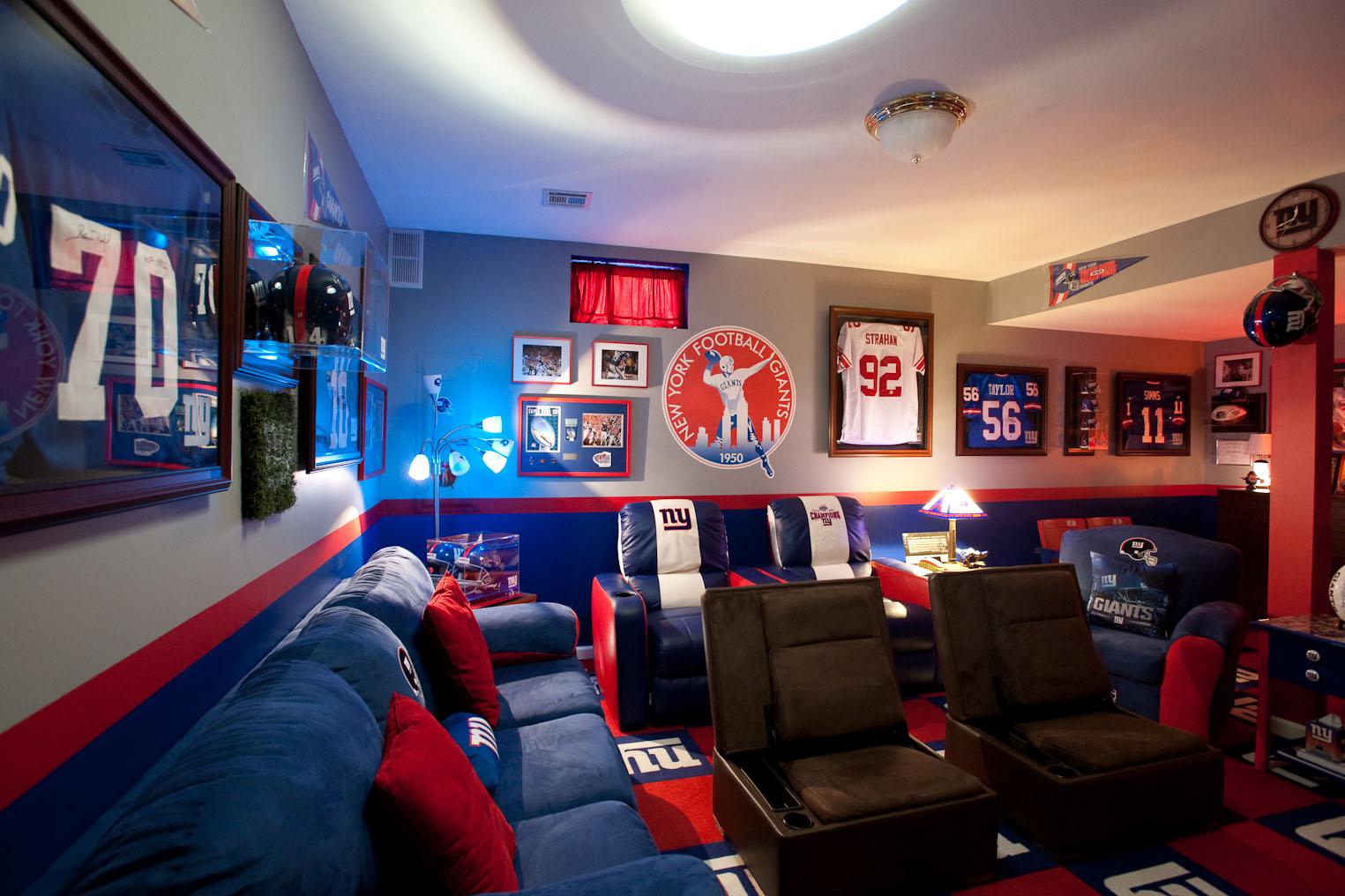 Source: Pinterest
A lot of guys who create man caves are also sports fanatics. If this is the case with you, a great man cave designing idea is to pay tribute to your favorite sports team. In this picture, sports memorabilia covers the room. Lighting is carefully used to highlight many of the sports artifacts on the walls. The whole thing is pulled together with a smart use of the team's colors. Without a doubt, this is the place to be for the big game!
43. Design Inspired by Nature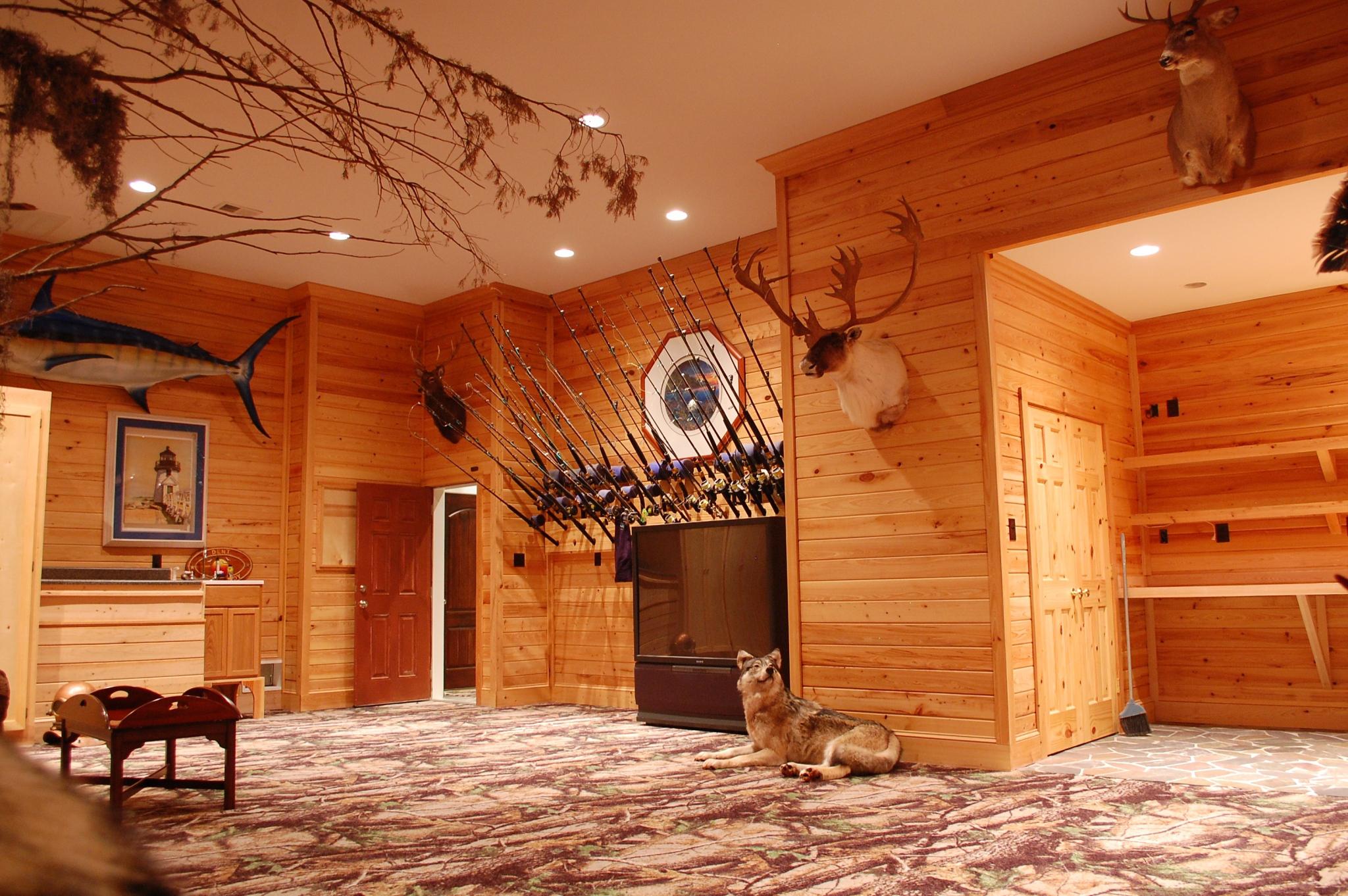 Source: Pinterest
A natural theme is a cool man cave idea that isn't hard to achieve. Nature has long inspired man, so it's no surprise that it also inspires man caves. In this example, the unfinished wood provides a striking earthy look to the room. The nature themed design elements of hunting and fishing further this look. The mottled carpet creates interest without clashing. An important design decision comes with the positioning of the television, making sure it doesn't detract from the theme of the room.
44. Working With What You've Got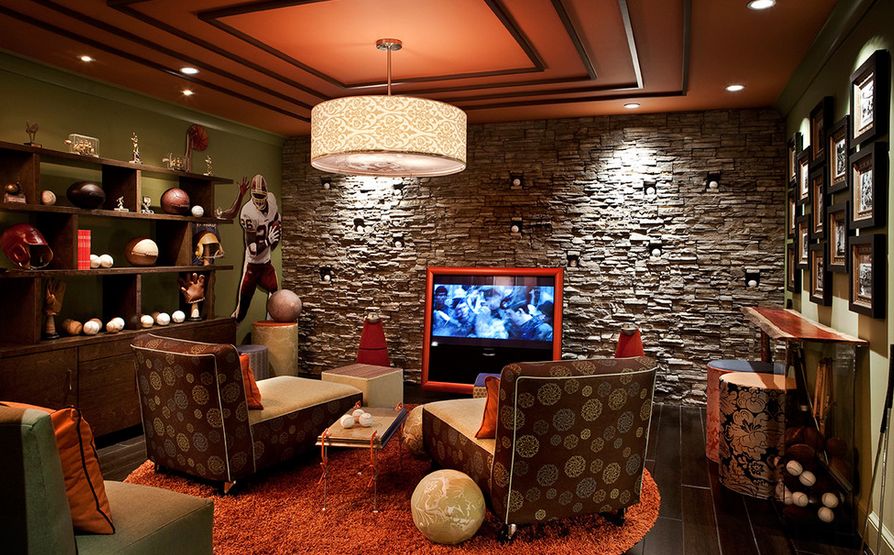 Source: Pinterest
When working on cheap man cave ideas, the budget is something that you can't escape. In those instances, the wise thing to do is to figure out how to work in the existing decor of your home into your vision. That isn't as hard as it may seem. In this example, the wall is used to provide a quirky texture for the rest of the room. This theme is continued by the the fuzzy carpet. The wall is also used as an inspiration for the color scheme, in particular the green is chosen for how well it goes with the gray of the wall. This design is an example of a simple way to repurpose an old space that makes a big statement.
45. In-home Basketball Court
Source: Pinterest
In this room, the sports theme gets reimagined into an actual basketball court. This wide and spacious area is fully utilized for the use of recreation. It isn't a small man cave idea by any means. But if you have the space this can be a fun and effective way of showcasing your personality and transforming it into play. The basketball court is designed with a natural theme that highlights the wood flooring. The lighting is designed to take advantage of the natural light from the outside. Green is chosen as a nice contrasting color. After a hard day at work, being able to pick up and play with the guys is a great way to unwind.
46. The Pinball Wizard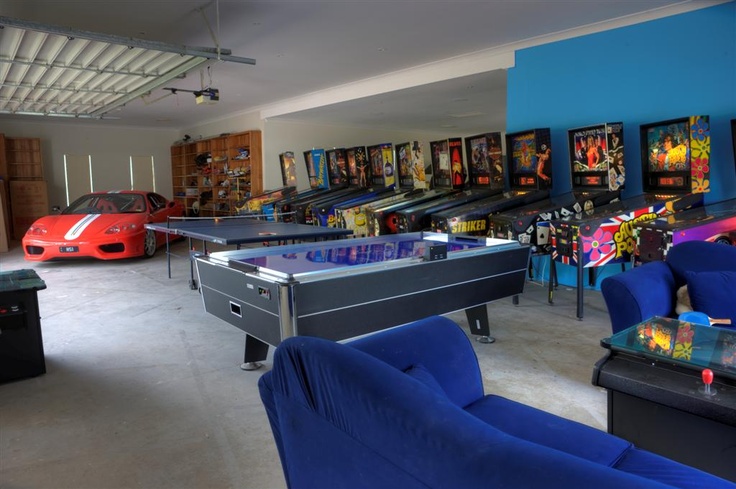 Source: Pinterest
When working with such a large wide open space like the garage in this image, it's important to consider decor that won't overwhelm the viewer. In this case, the two-tone color scheme of electric blue and white is easy to accessorize. This is seen with the deep blue couches that keep the space comfortable while also energetic. The color scheme is also a fun spin on the pinball hall design theme. Part of what works so well for this man cave, is that it's still functional as a garage. It would be a mistake not to note that the two-tone color scheme is also utilized to work well with that gorgeous red race car.
47. Natural Wood with a Sports Inspiration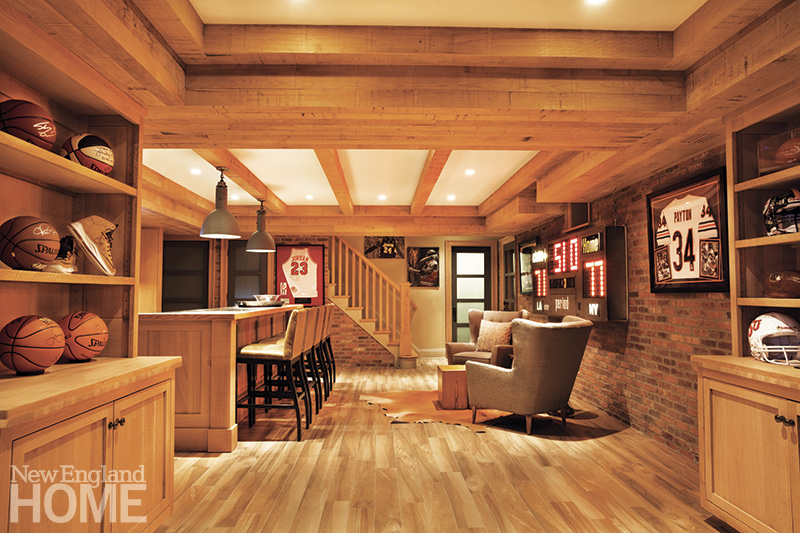 Many man caves that rely on the natural wood look usually incorporate outdoor sports like fishing and hunting as design elements. The example in this photo does things a little differently. The helmets, basketball, and jerseys all designate this room as belonging to a ball sports enthusiast. Of course, we can't not point out the digital scoreboard which provides an interesting, high-tech contrast against the nature theme of the rest of the space. Taking elements of the natural world and blending them with modern elements is an engaging idea that sets this design apart.
48. The Minimalist Man Cave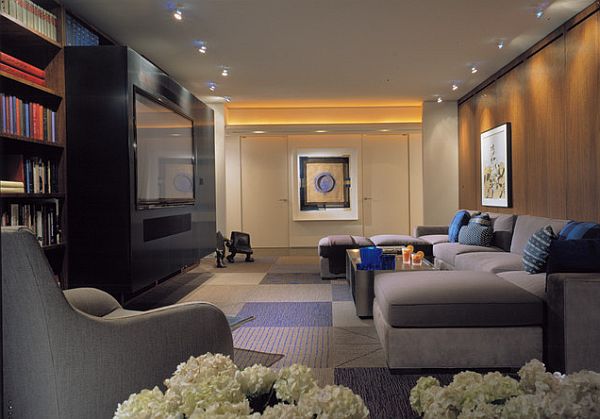 Source: Pinterest
Unfortunately, not every home has the financial budget or capacity to dedicate an entire section of the house to create a man cave. If this is your situation, it is possible to design a masculine space that isn't strictly a man cave. In the example photo, you can see that this space lacks the typical accouterments of masculinity like sports memorabilia or gaming that we've shown in other examples. However, the tasteful male-centric color scheme and refined modern design aesthetic reveal this space as one filled with possibilities for masculine relaxation and recreation.
49. 50s Style Man Cave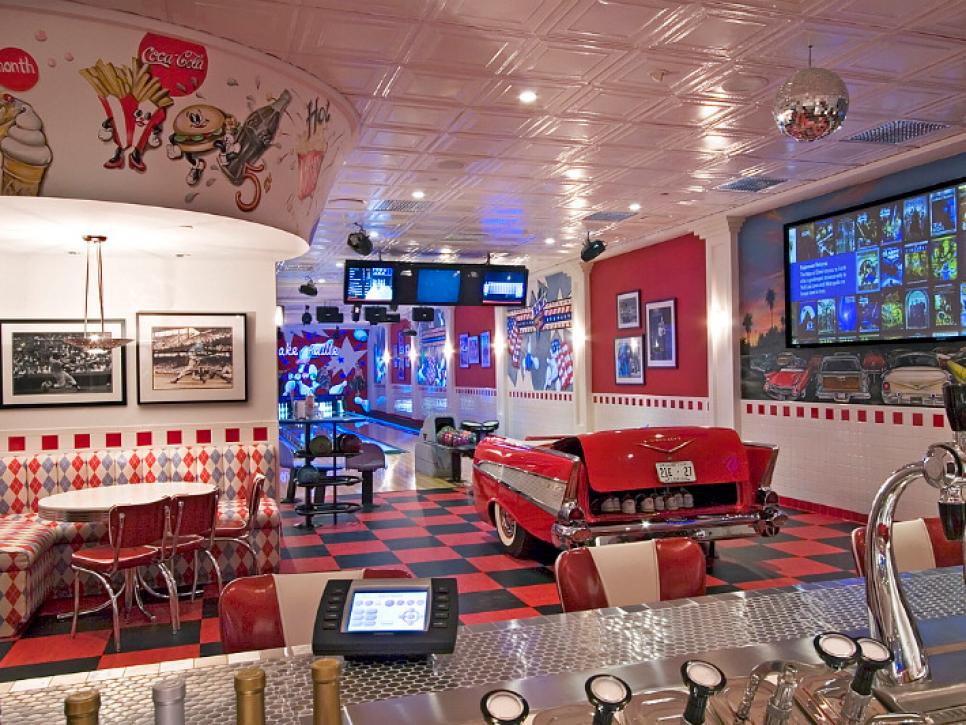 Source: Pinterest
Man caves are a way to show off your passions in life. Coming up with with a unique man cave that does this is one of the fun challenges of creating one. In this example, the devotion to 50s style diners is unmistakable. In this photo, every inch of space has been covered with memorabilia and accessories from 50s era diners that add visual interest. In particular, this man cave is an homage to the the milkshake bar, the bowling alley and the drive-in. The checkerboard floor is also a playful throwback to this decade. It's an excellent display of how you can turn your man cave into a trip down memory lane.
50. Small Space Big on Design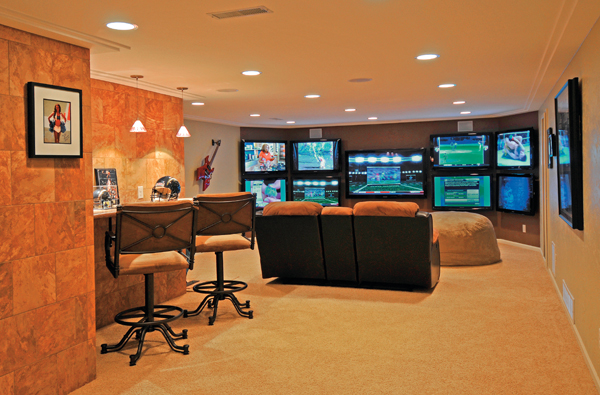 Source: Pinterest
Sometimes you want a more casual look for your man cave, especially when it comes to small man cave ideas. The white on the wall and floor are subdued to showcase the beautiful marble walls. Speaking of color, it's important to note that white was strategically not used on the television wall as a way of preventing too much brightness that would be hard on the eyes. The guitar on the wall and the photographs around the room alright another casual way to create a masculine touch.
King of the Cave: The Best 50 Design Ideas for Man Caves
If there's one thing we hope we've shown you in this list, it's that there isn't a right or wrong way to come up with your man cave ideas. Man caves are as varied and individual as the men who make them. When it comes to man cave furniture and color scheme, there are no rules. If you're drawn to unusual objects or colors, don't be afraid to try them out. Use your man cave as a chance to tell your story and the interests that really matter to you.
There are a few tips, though. First, think about the space you want to work in. Is it large or small? That will have an impact on how you go about designing your room. With larger spaces, focus on ways to make them communal. With smaller spaces, you'll want to avoid them feeling cramped. If you are using your man cave as a space to gather friends an family, you'll want to focus on striking a balance between coziness and separation. You want your decor to allow your guests to feel relaxed in your man cave.
Next, what is your man cave for? Is it a home theater or a game center? Most man caves are designed to blend recreation and relaxation. Be sure to focus on a decor that works for your room's intended use. For example, a man cave dedicated to a home theater should seek to enhance the television viewing experience. As seen in our examples above, this means utilizing ambient lighting to make your screens easy to view.
Hopefully, these tips and photos will inspire you to create the next great DIY man cave idea!