One of the easiest ways to spruce up your guy's sacred space is by hanging up some cool man cave signs. You may be wondering though: what's the point of a sign? Don't he and his buddies already know they're in a man cave? Truth be told, even if it is just his getaway spot, it still deserves to be treated like any other room in your home. Wall art readily brings more life to your home decor, and the same can be said for his cave.
28 Creative Man Cave Signs to Add Personality to His Getaway Spot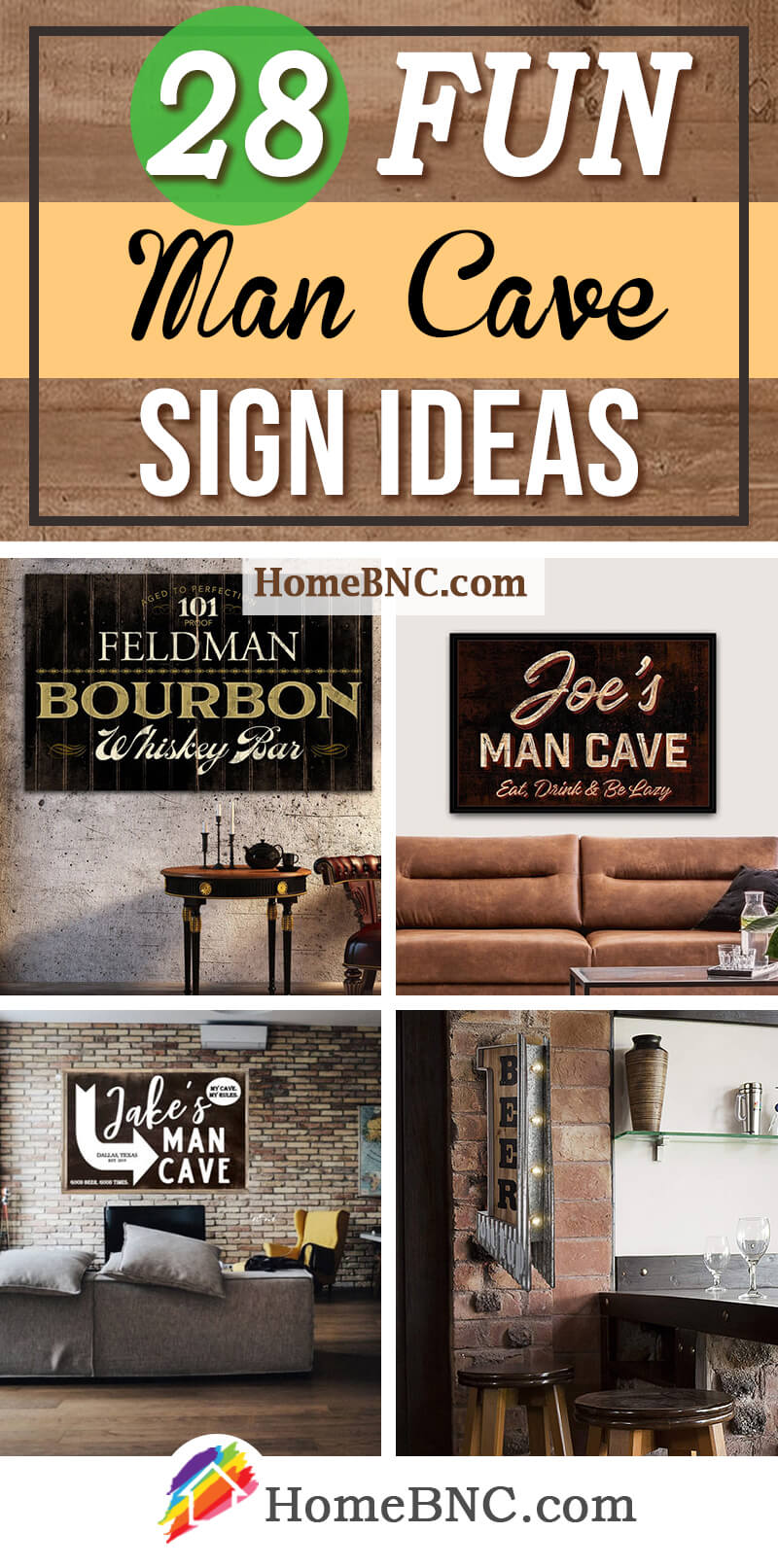 What's great about finding a sign for his room is that your imagination is the limit. Need one that explicitly screams "man cave"? There are several of those to choose from. Or are you seeking out a more custom man cave sign to show just how much you care (and pay attention to) that special guy in your life? No matter what you choose, all roads lead to you decking out his personal hangout spot with some of the best wall art created with men in mind.
It may seem overwhelming at first deciding what type of sign he'll actually like, so consider his current man cave decor. Is he working towards a particular theme? Consider finding a unique sign that will blend in. Enhance a bar-themed space with colorful signs that let everyone know they're at the best place to get a cold beer. Or try your hand at a food or animal-themed sign to highlight his love of cooking.
We managed to sort through dozens of signs to find 28 cool ideas you can select from. Whether you choose from our list or simply find yourself inspired by it, you're sure to leave here with a clearer idea on how you can help personalize the only space in the home that truly belongs to your man.
1. Funny Marriage Joke Man Cave Sign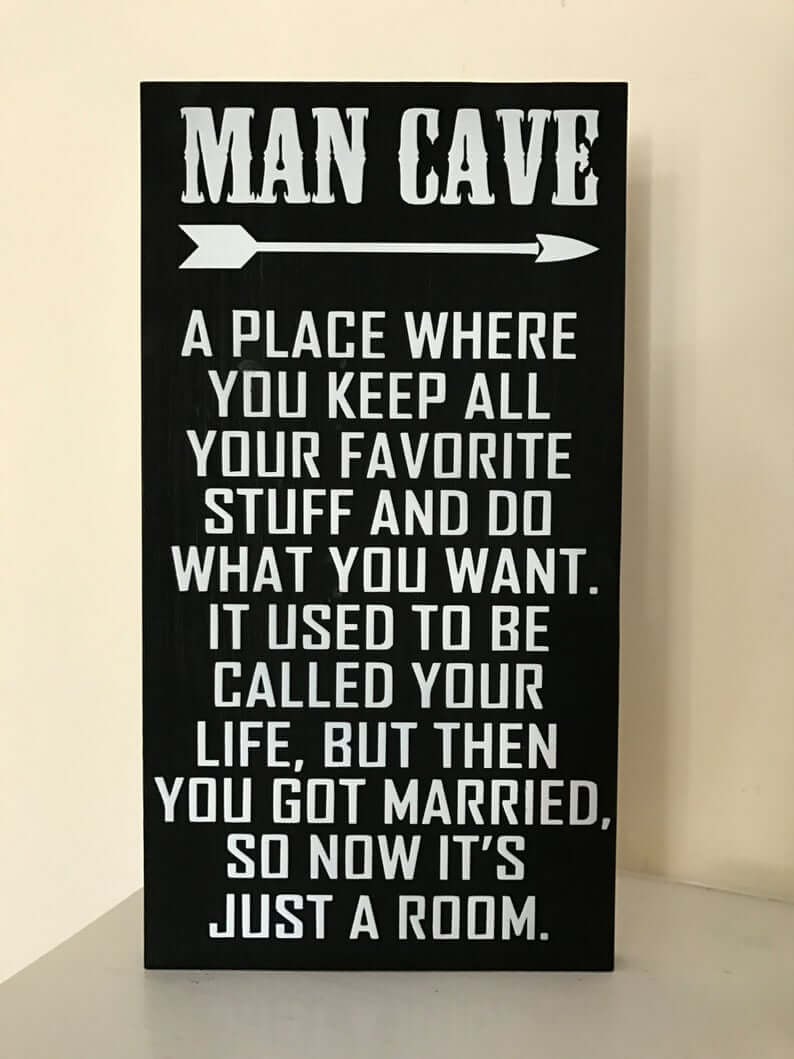 The classic ribbing about a man who has subsequently lost room for all his favorite things because of marriage can still elicit laughs. This handmade gem offers a funny twist to the age-old gag. The bold lettering gets the point across well enough: his favorite things may not be the center of the universe anymore, but you're kind enough to give him one room to cram it all in. It's an awesome idea for the guy who can still find humor in an old joke. Maybe you can give it to him as a wedding gift or an anniversary present.
2. Old-School Jack Daniel's Tennessee Whiskey Sign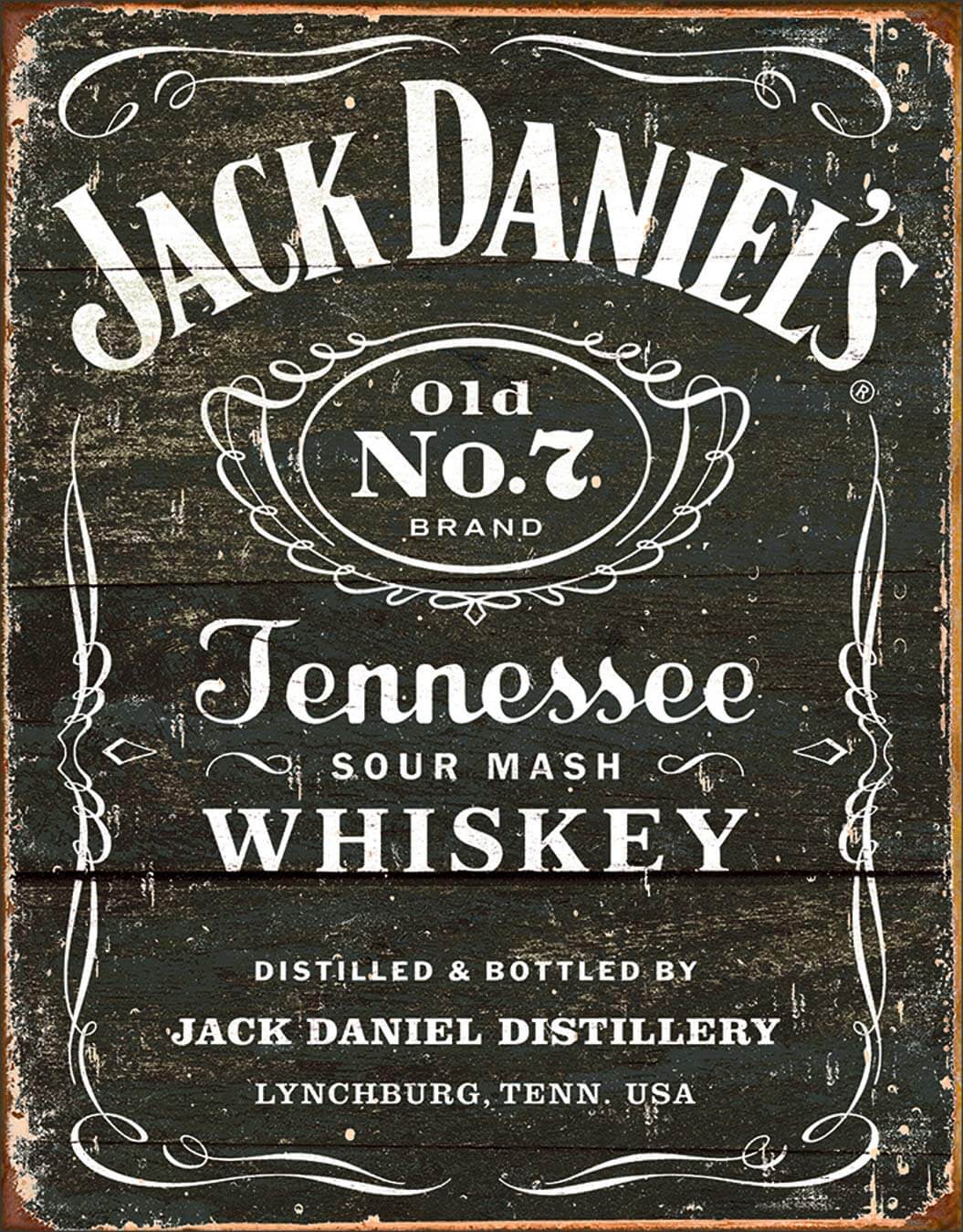 Out of all the man cave signs you can find, this Jack Daniel's Tennessee Whiskey one is an awesome way to give his personal room that much more depth. It's constructed from reliable metal to help it last longer. Even so, it's still printed in a way to help it resemble those old wooden barrels the whiskey is usually entrusted in. Everything has a vintage feel from the elegant white lettering, down to the weathered details seen throughout the sign's surface. Proudly manufactured within the U.S., this piece is able to add that special touch to any whiskey-lover's dream room.
3. Classic Man Cave Garage Sign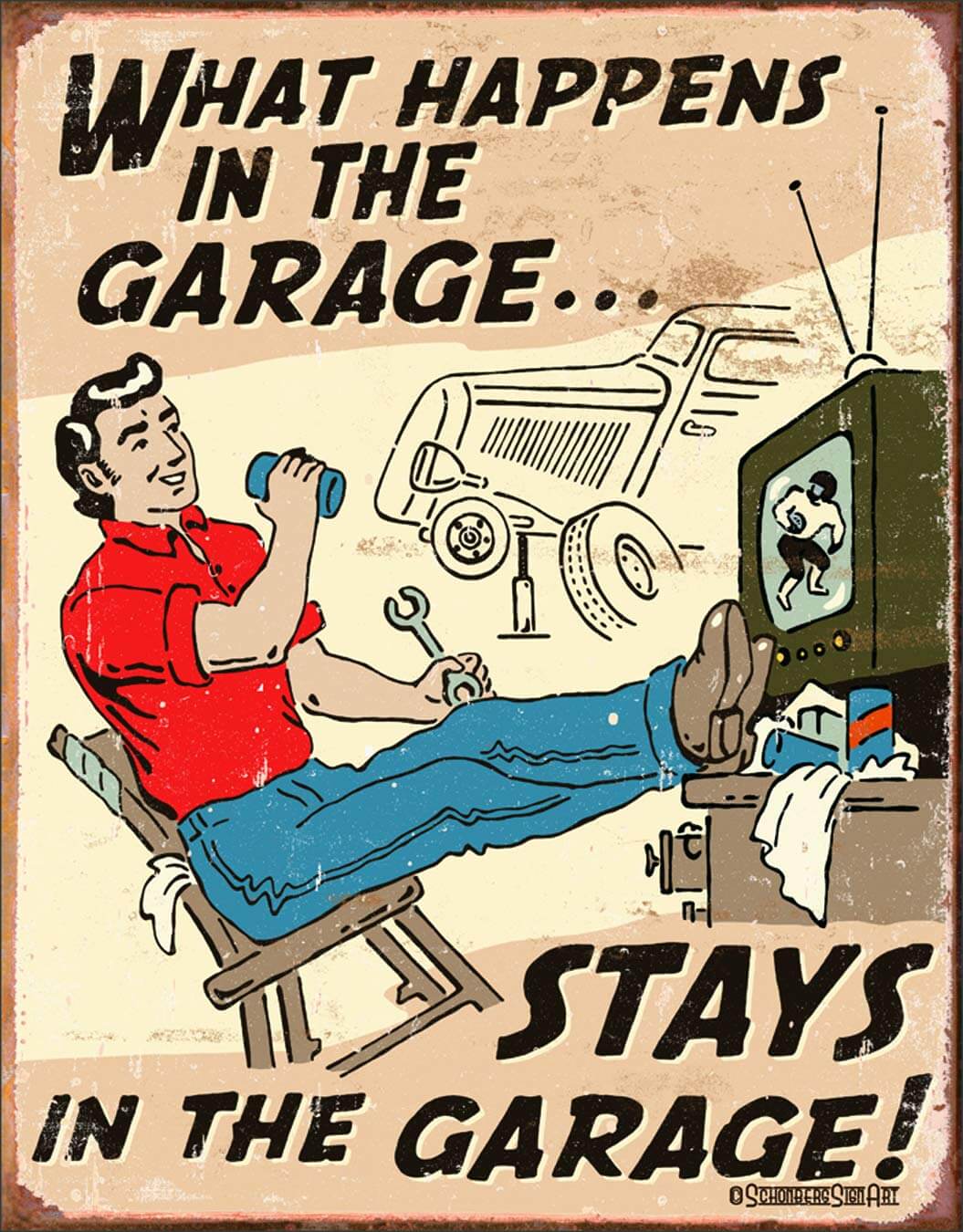 Are you in need of a sign idea for man caves that are tucked away in a garage? This retro-inspired piece may be the perfect wall art for the job then. It's lightweight metal that you can hang up in a flash. With the vintage drawing of a man lounging back, a drink in-hand, and game on the TV, that special guy in your life may feel even more at home as it hangs in his garage cave. The sign even manages to achieve that distressed look without actually being old, managing to liven up the garage space with ease.
4. Another Beer Vintage Distressed Sign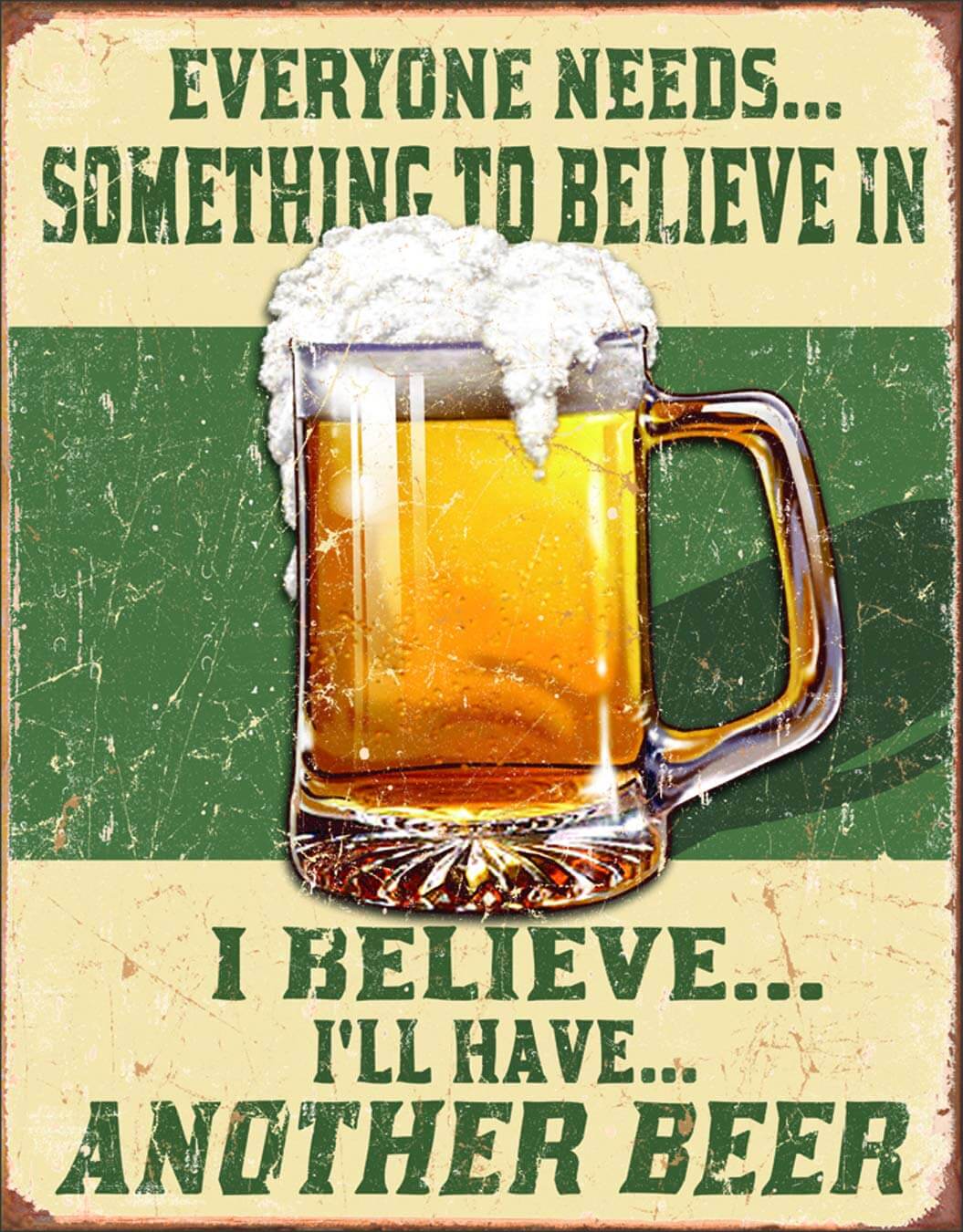 It seems like any beer-lover's dream is to be constantly reminded just how much they enjoy the beverage. If that sounds like the guy in your life, then this old-fashioned sign is right up his alley. It can take your home decoration to another level as it's as simple as it is effective. All it consists of is a single, large picture of a frothy beer along with the words indicating that all your man needs to believe in life is that he'll have another beer. Hang this up in his man cave to show him you believe in it too.
5. Route 66 Highway Road Sign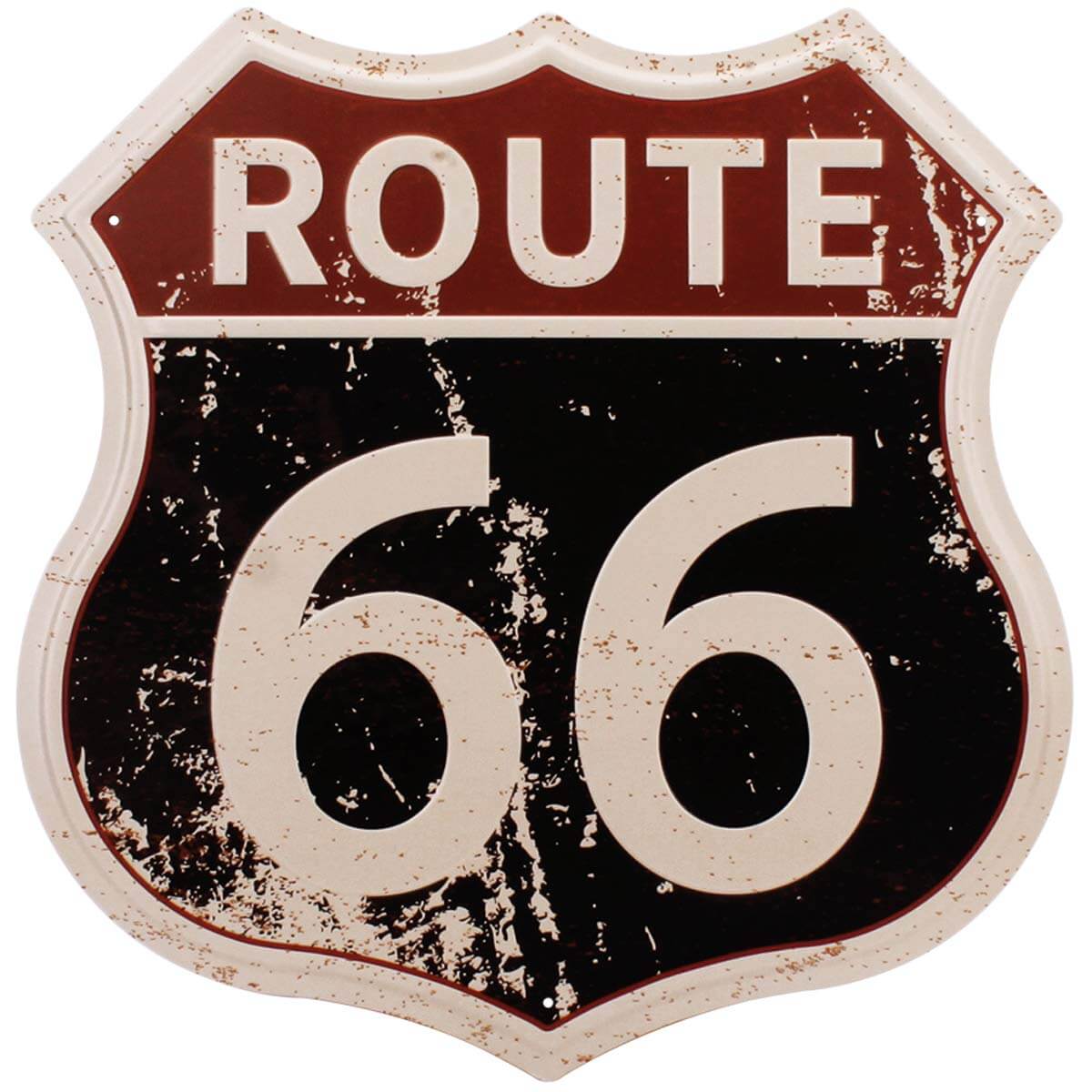 Sometimes, a simpler touch is all that's needed if you want to add more layers to his man cave. If that's the case, he'll probably enjoy this roughly weathered wall art that's reminiscent of a classic roadway sign. It's a rather straightforward piece of art with Route 66 designed in bold lettering. The scratches and intentional fading makes it seem like it's survived some harsh winds and dust on a back road somewhere in the country. This type of sign can work as well for a basement setting as it can for a man shed sign or a garage sign.
6. Dad's 24-Hour Garage Vintage Metal Sign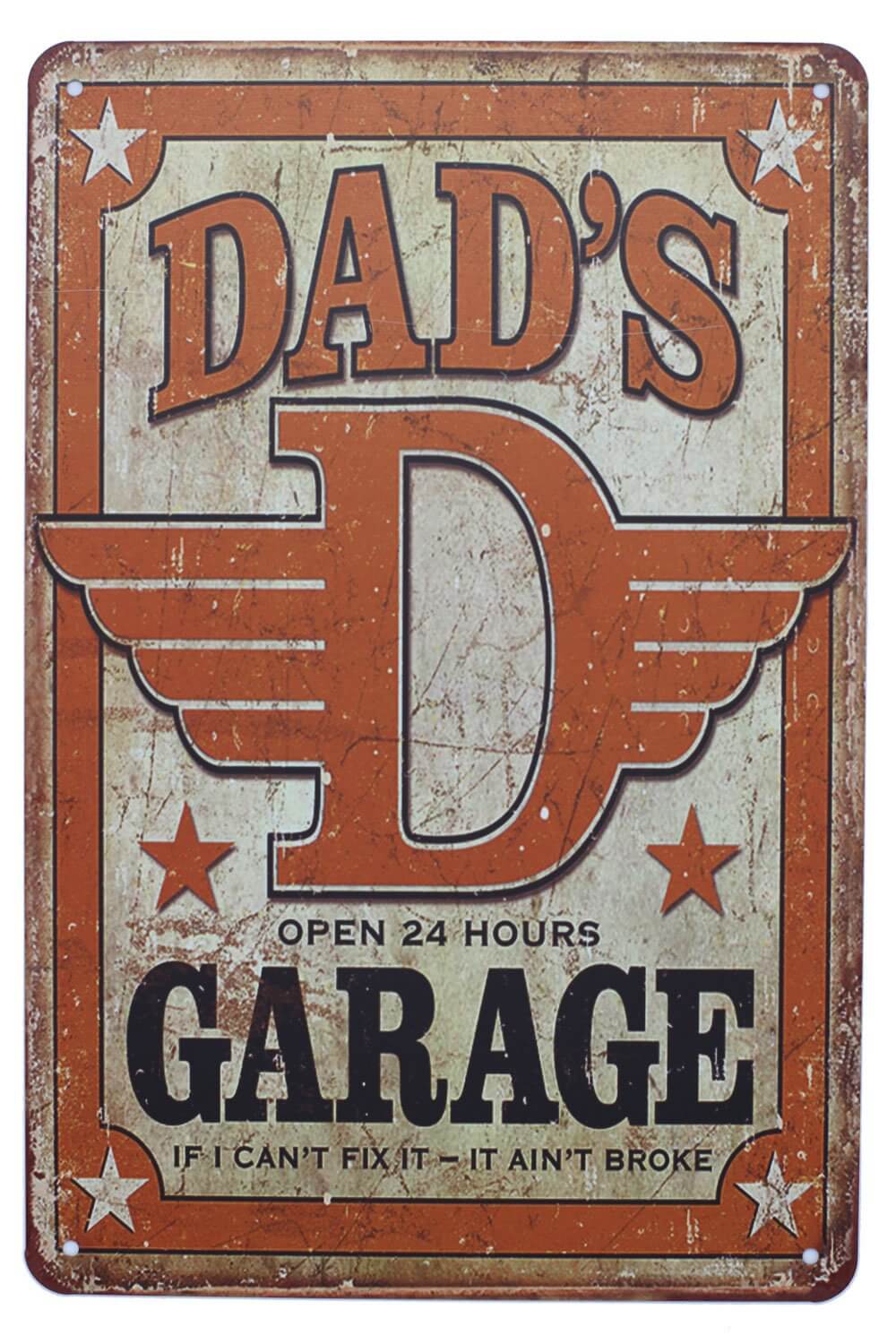 Man caves aren't just for the childless guys in the world. Dads need a space to escape to as well. Thankfully, there are many man cave signs that focus just on fathers, and if his sacred room happens to be in the garage, consider hanging up this gem for him. Let everyone who enters the garage recognize right away that they're now entering Dad's realm. This sign has a cool classic look with some weathering added to it. As a final touch for good measure, there's a funny dad joke thrown in: "If I can't fix it, it ain't broke."
7. Fun Man Cave Warning Sign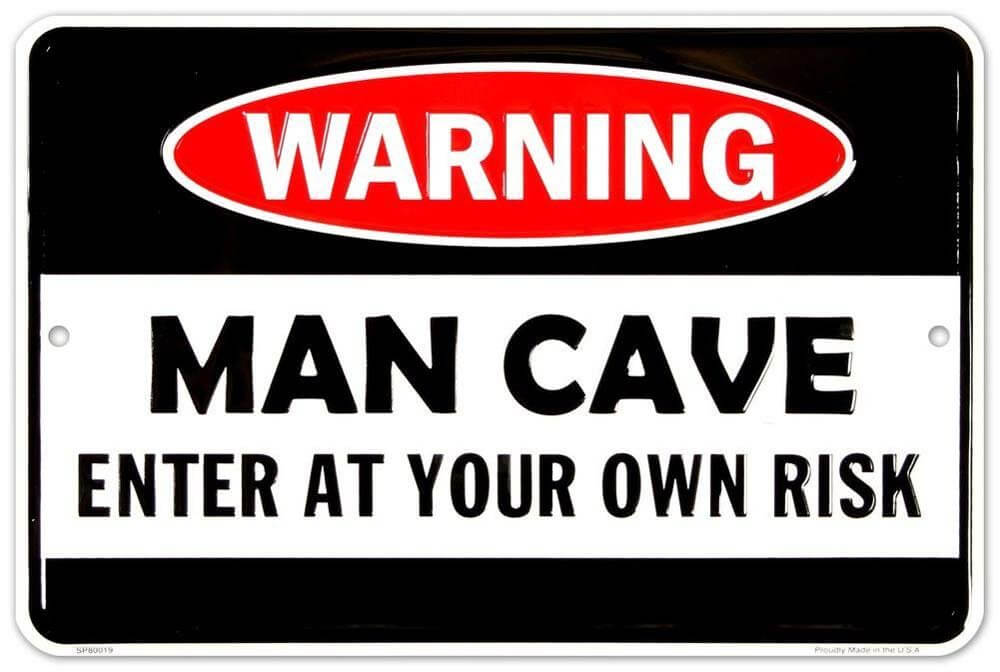 Do you know what actually happens in your man's personal cave? If he's up to nothing but fun debauchery, it's only wise to caution anyone who dares to go inside. This wall art is an uncomplicated, efficient sign idea for man caves where anything and everything can happen inside. The "warning" label is bold, and underneath, it addresses that all those who enter are doing so at their own risk. It can work as well for the more rowdy man caves as it will for the guy who just enjoys making light of what really goes on in the cave.
8. Decorative Man Cave Novelty Sign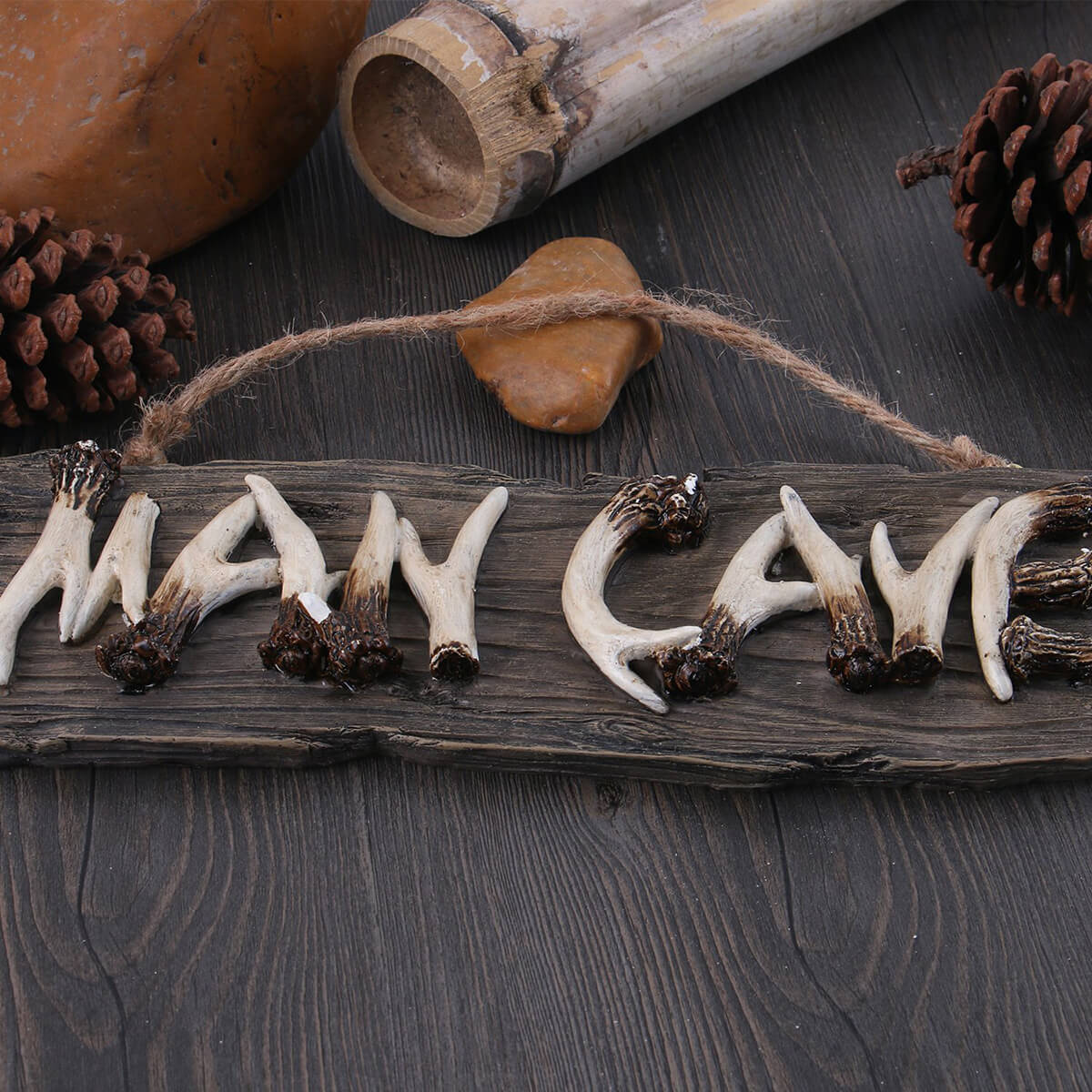 Is your guy more interested in making a statement with something clean and transparent? A small sign can still get the point across. This man cave sign jut spells out the words using a decorative bone-like design against a wooden frame. It's the perfect representation of his room without making a loud statement. Hang it up on the wall inside or even on the door leading into his domain. This may also be a good way to keep your home decoration cute while still maintaining a touch of manliness for your guy as it also comes with a vintage-looking rope to hang it with.
9. Big Daddy's LED Marquee Sign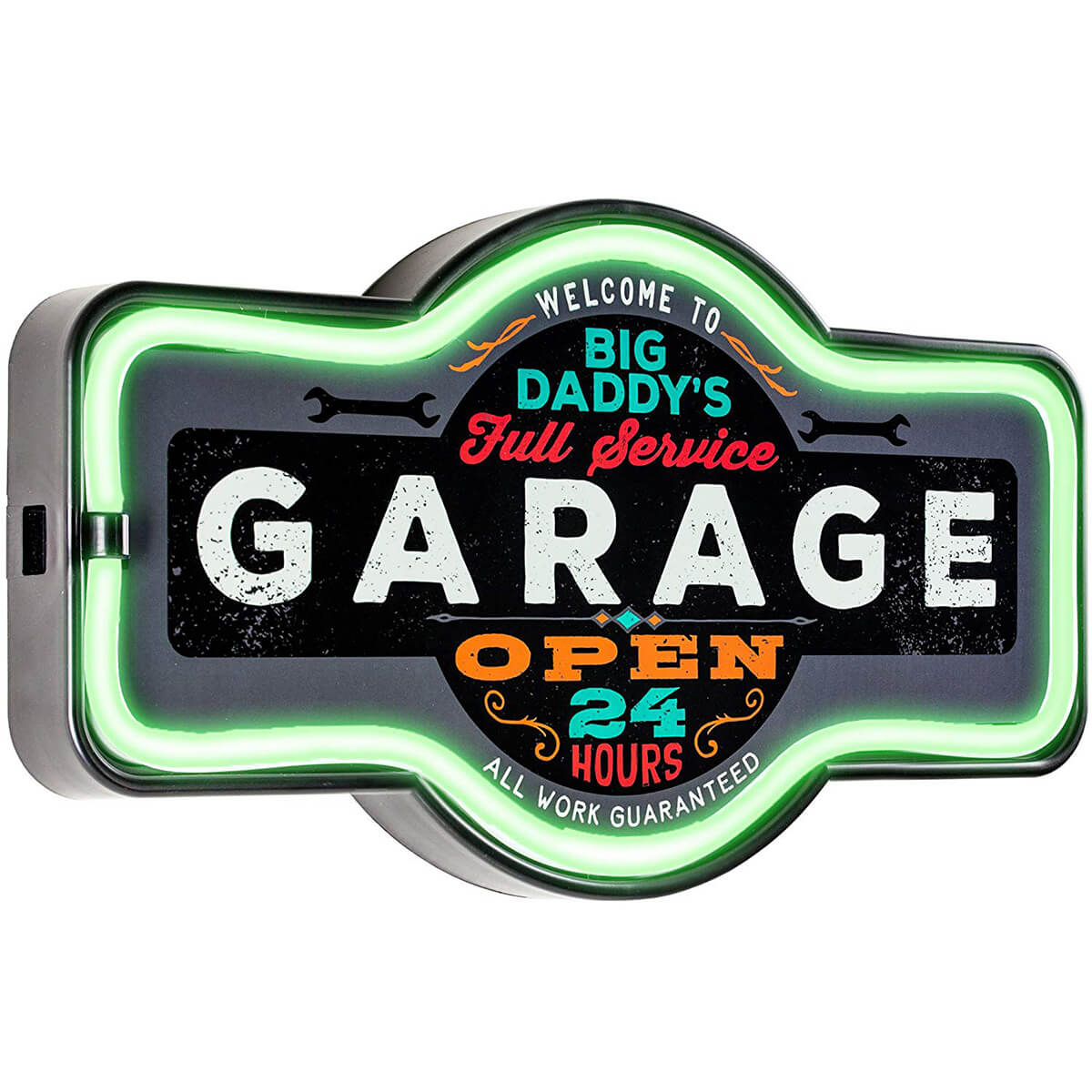 A custom man cave sign for the Big Daddy in your life will surely bring a smile to his face. Consider adding this classic marquee sign backed with colorful LED lighting to his garage. The lighting effect is a rope that outlines the sign. This bright neon can easily bring more life and fun to the room. There's an easy-to-use on and off switch so he can control whether or not he wants to use the lighting. Also, it's versatile in how it's used as it can work with just batteries or you can opt to plug it in instead.
10. Colorful LED Decorative Bar Sign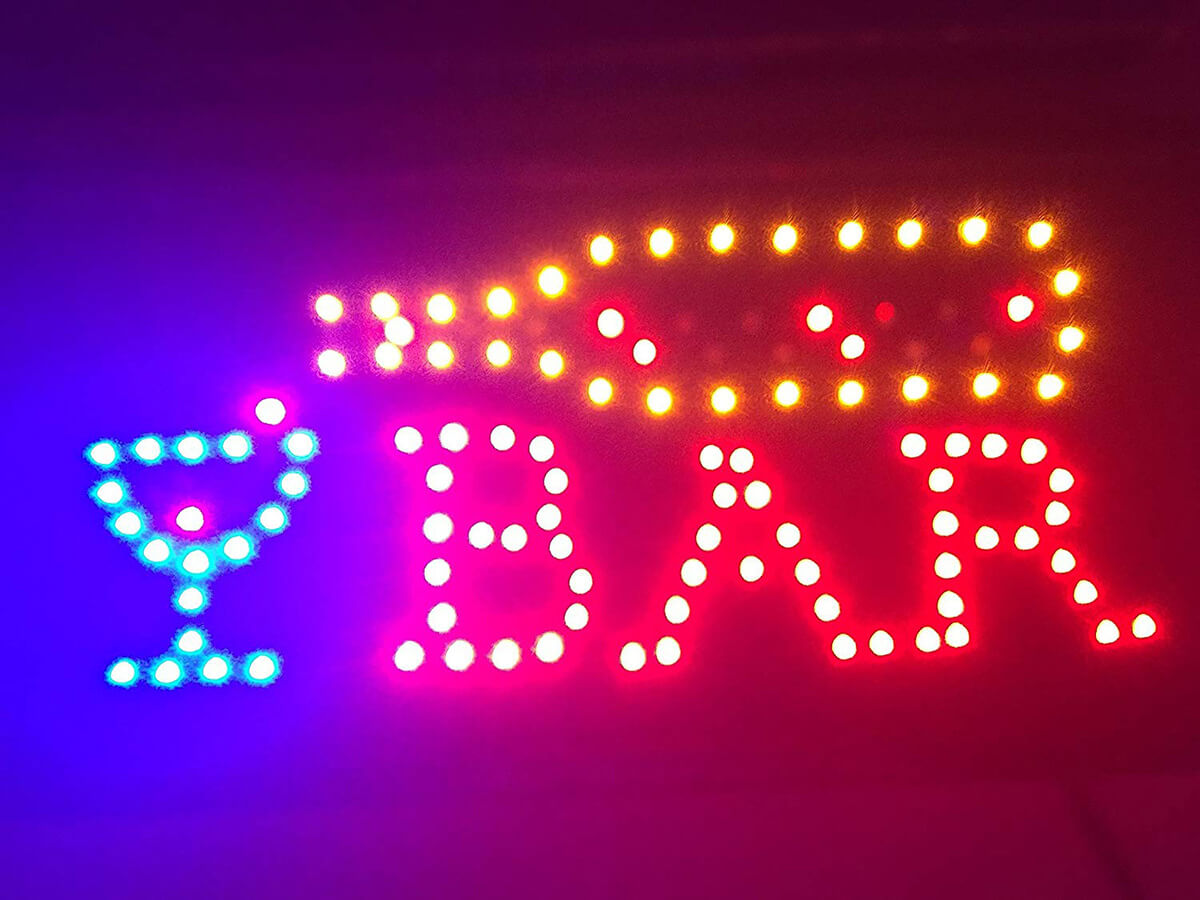 Some guys place emphasis on the alcohol area while they select their man cave decor. If that's the case with your guy, then perhaps he'll appreciate some attractive wall art to place around the bar in his room. This LED sign is slim in profile so it won't take up much space. It features brightly colored, neon LED lighting across the "bar" word. There's also appealing art of a bottle of alcohol being poured into a glass, all the lighting controlled by a single pull power cord. Hang this up in his cave, and he may feel like he runs the coolest bar in town.
11. Personalized Modern Neon Man Cave Sign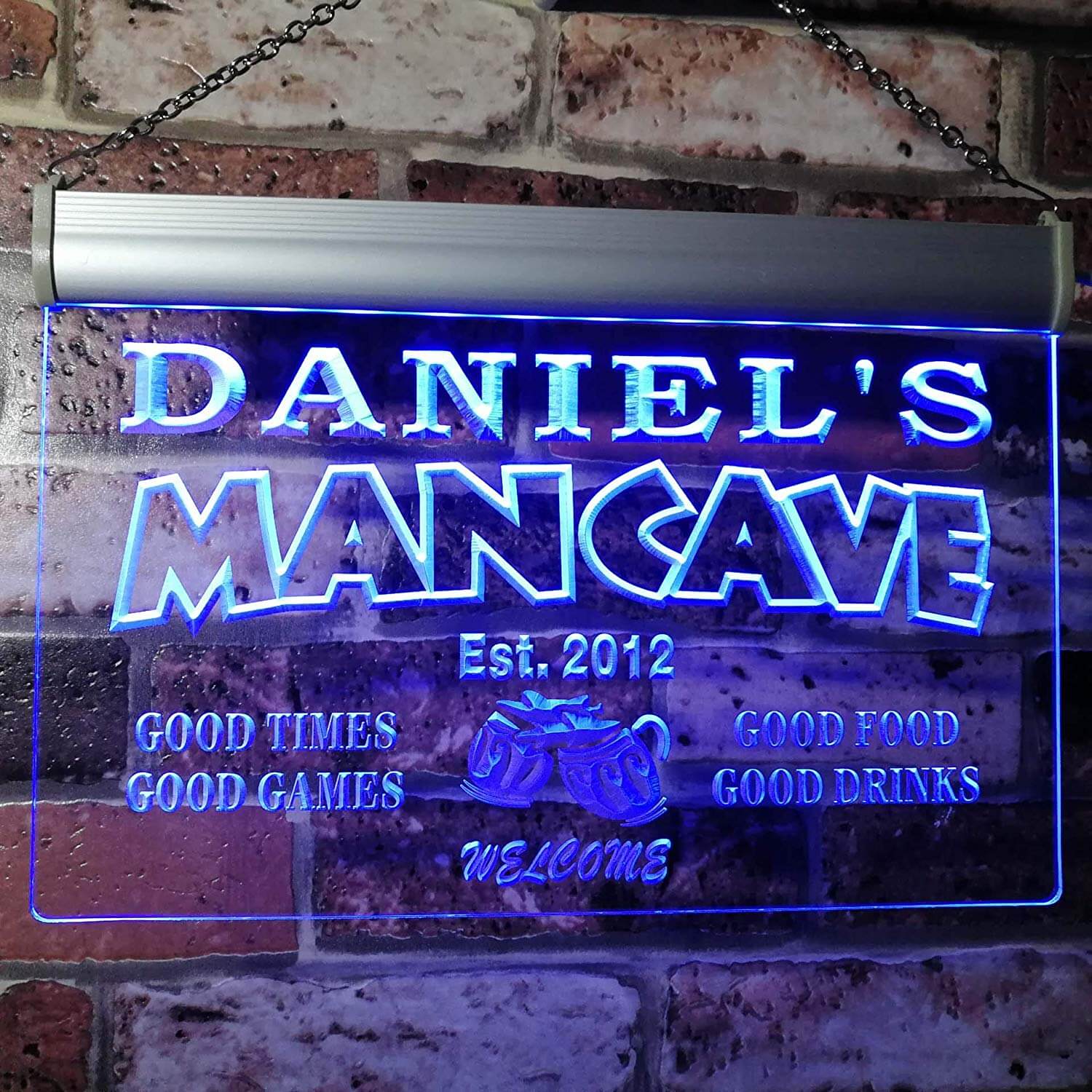 An easy way to keep up with your overall modern home decor is with this sweet neon wall sign. It's made using an aluminum light box that features a transparent background. The design may be in more aligned with a man who still likes a touch of elegance to his cave. It's even ideal if you want a custom man cave sign as you can personalize it. His name and a date that's special to him can be engraved into the sign. There's a multitude of colors you can choose from as well so that you can further customize it.
12. Double Sided Craft Beer Marquee Sign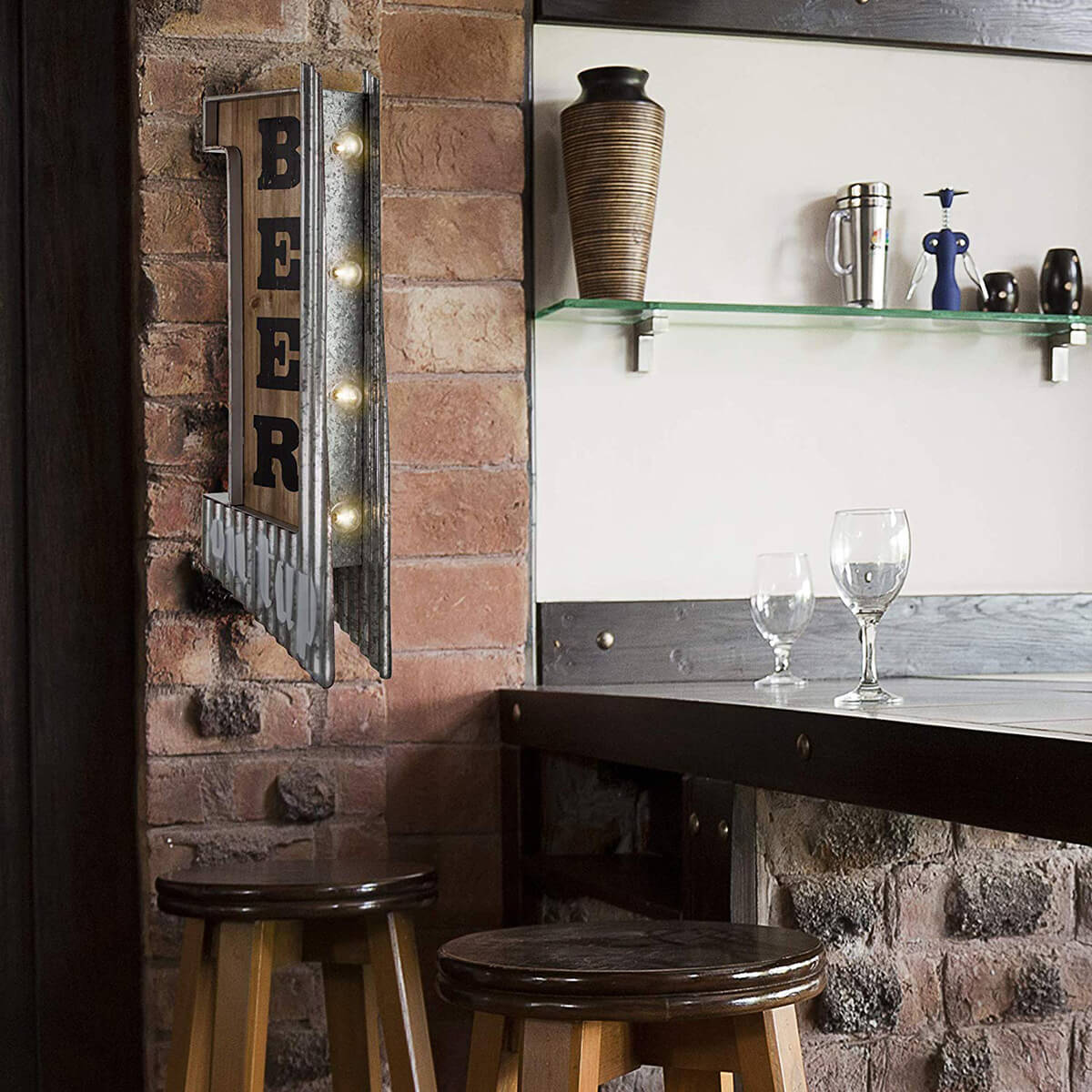 There are not many man cave signs that scream classic bar setting like this one. It features a weathered wooden appearance, allowing it to boast a stylish yet rustic feel. This may be a way for you to spice up his man cave while still having it look comfortable and homey. There are also four LED lights attached on the double sided sign to keep up with the classic marquee theme. Your guy won't have to worry about any unsightly cords either since it's entirely battery-operated. So turn it on and let all visitors to his cave know where they can get a craft beer served cold.
13. Dad's BBQ Cooking Man Cave Sign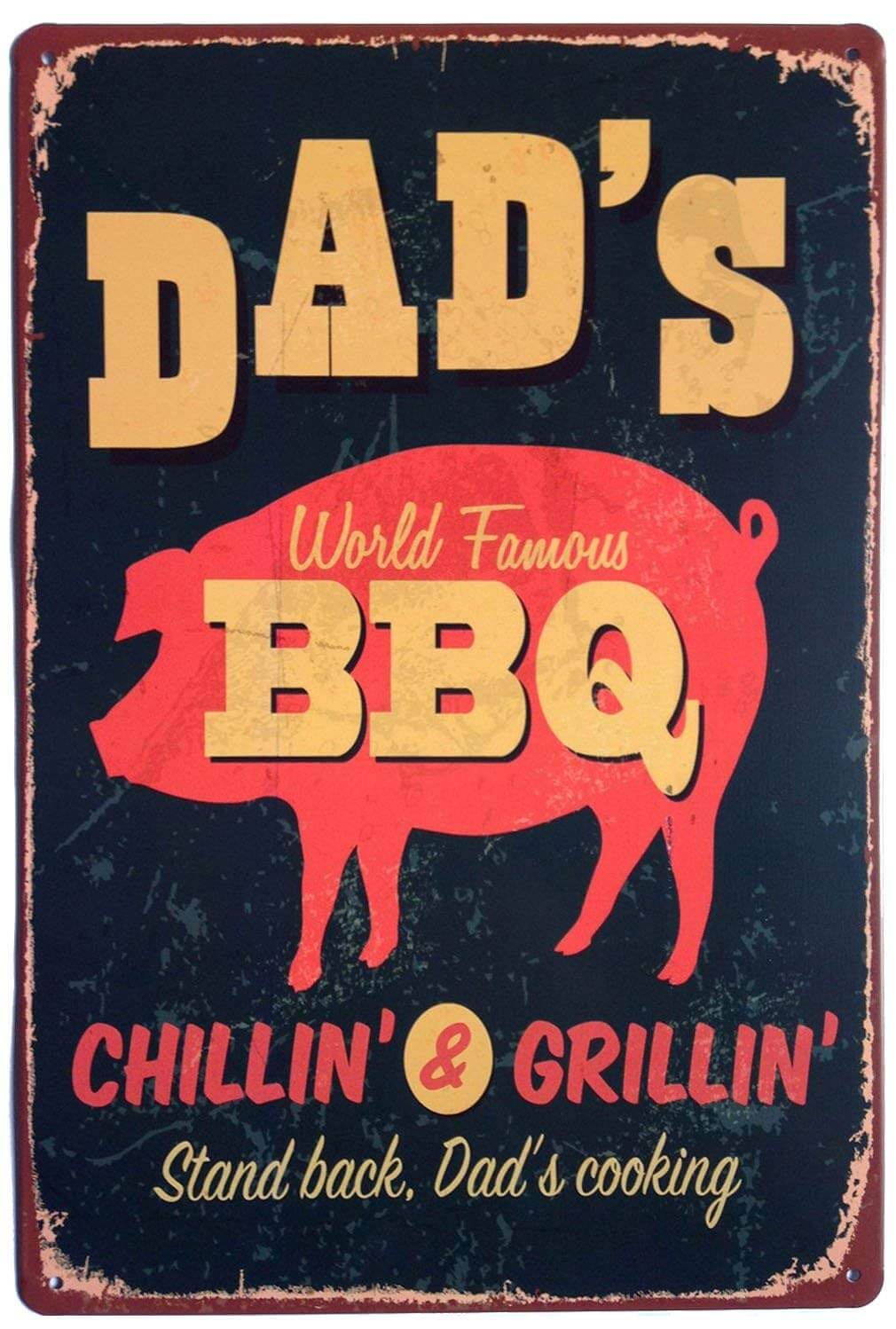 Are you looking for a sign idea for man caves where food is served? Then this BBQ-themed wall art sign may be right up your alley. Plus, there are countless of dads that love to fire up the grill, so this may even work well as a man shed sign outdoor to add some decoration to his cooking domain. This also follows along with the usual vintage theme seen in many wall art decorations for man caves. There's some fun humor thrown in as well with "World famous BBQ" printed across a large, bold outline of a pig to give him a chuckle each time he looks at it.
14. Retro Beer and Friends Tin Sign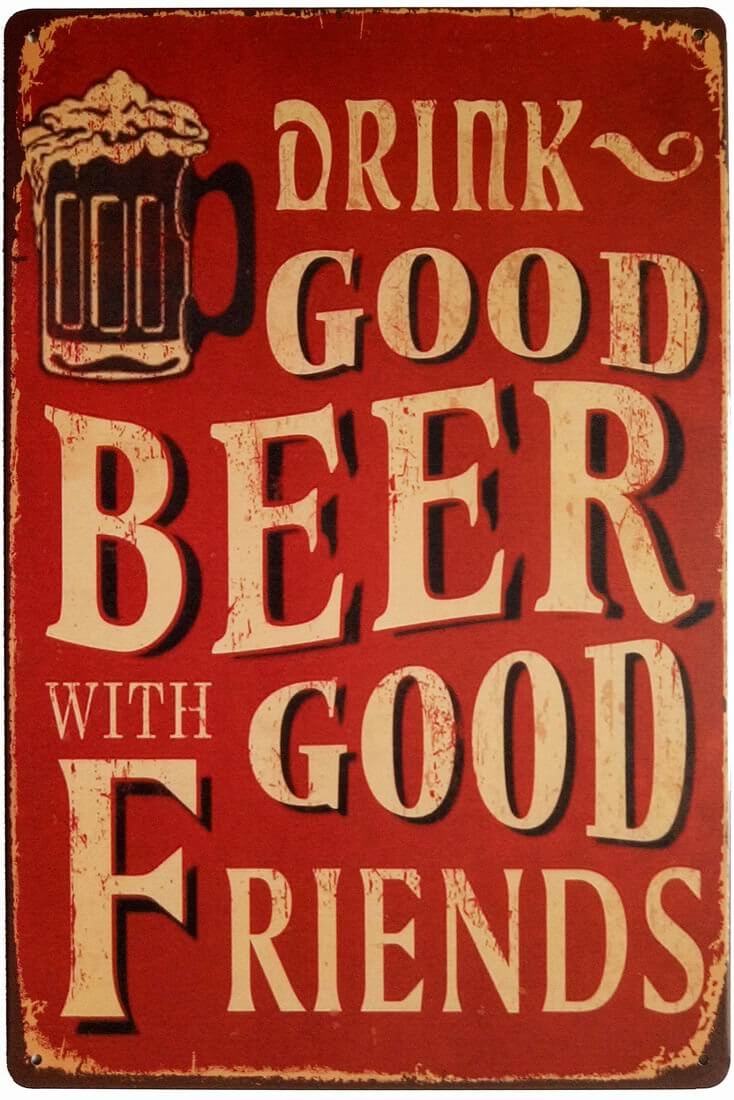 Whether or not your guy has a bar in his cave, he may still enjoy being able to crack open a cold one with his pals. It may even be a ritual with them, and this sign pays homage to those good times. This is an awesome idea to help him decorate his area if he wants something that has a bit more simplicity. There's a retro-inspired theme behind it too, especially with the beer drawing at the top. The edges and outline have a frayed look to give it an older appearance as though he's had the sign for years.
15. Enter at Your Own Risk Weathered Sign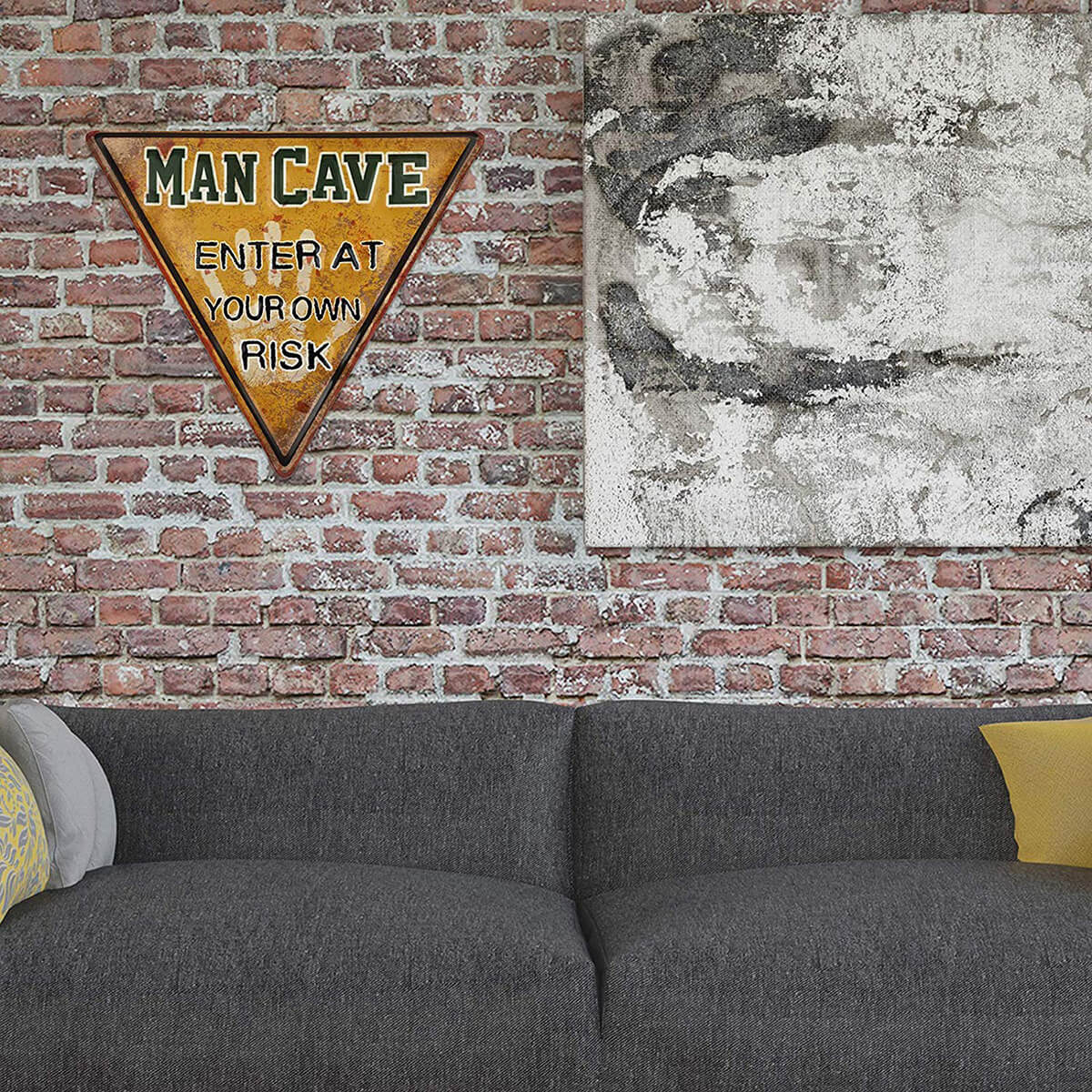 A unique spin on the warning man cave signs is this vintage piece of art. It's a triangle-shaped sign that's designed like something you'd see in a restricted area of a zombie movie. Beyond the "man cave" label written in bold at the top, the sign also features a warning that anyone who's entering does so at their own risk. All of the lettering is embossed too in order to add some texture to it, and the background is completely weathered. To help this art standout even more amongst other similar warning signs the fun handprint that's planted right in the middle of it all.
16. Harley-Davidson Shield Man Cave Sign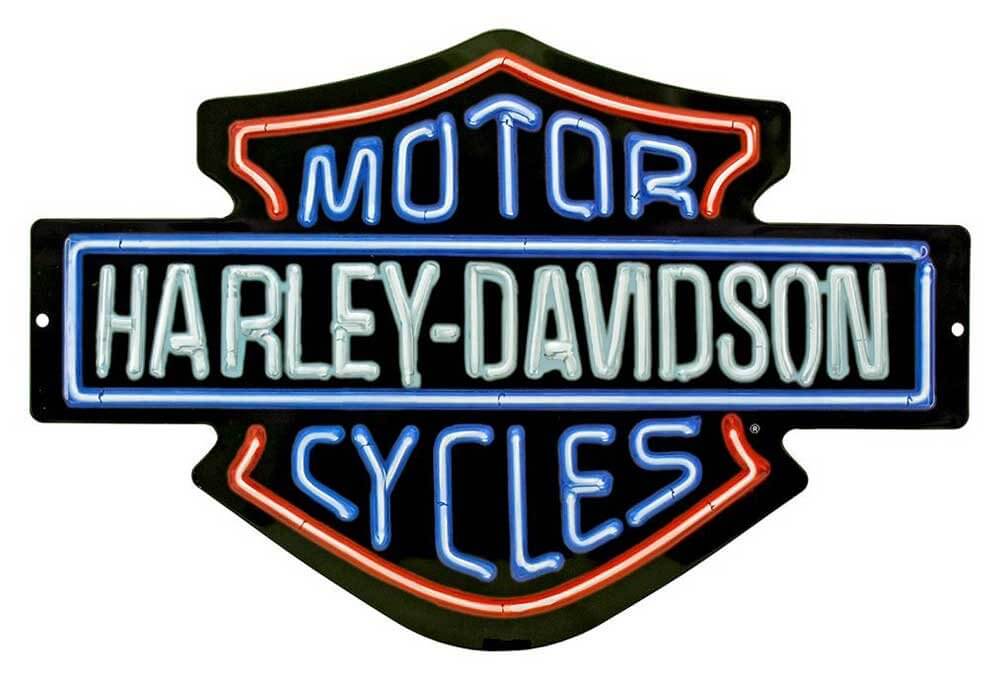 Enthusiasts of Harley-Davidson will flock to this sign once they see it hanging in your guy's man cave. It features the classic shield logo the company is known for. There's lettering not just for Harley-Davidson, but also motorcycles so that there's no doubt what this sign represents. It may work well alongside other man cave decor that boasts more of a biker theme. What's also cool about this sign is that it offers a neon-like design without actually having neon lights. Instead, it's made entirely of sturdy tin with an embossed graphic along the front of the sign.
17. Custom Neon Bar Man Cave Sign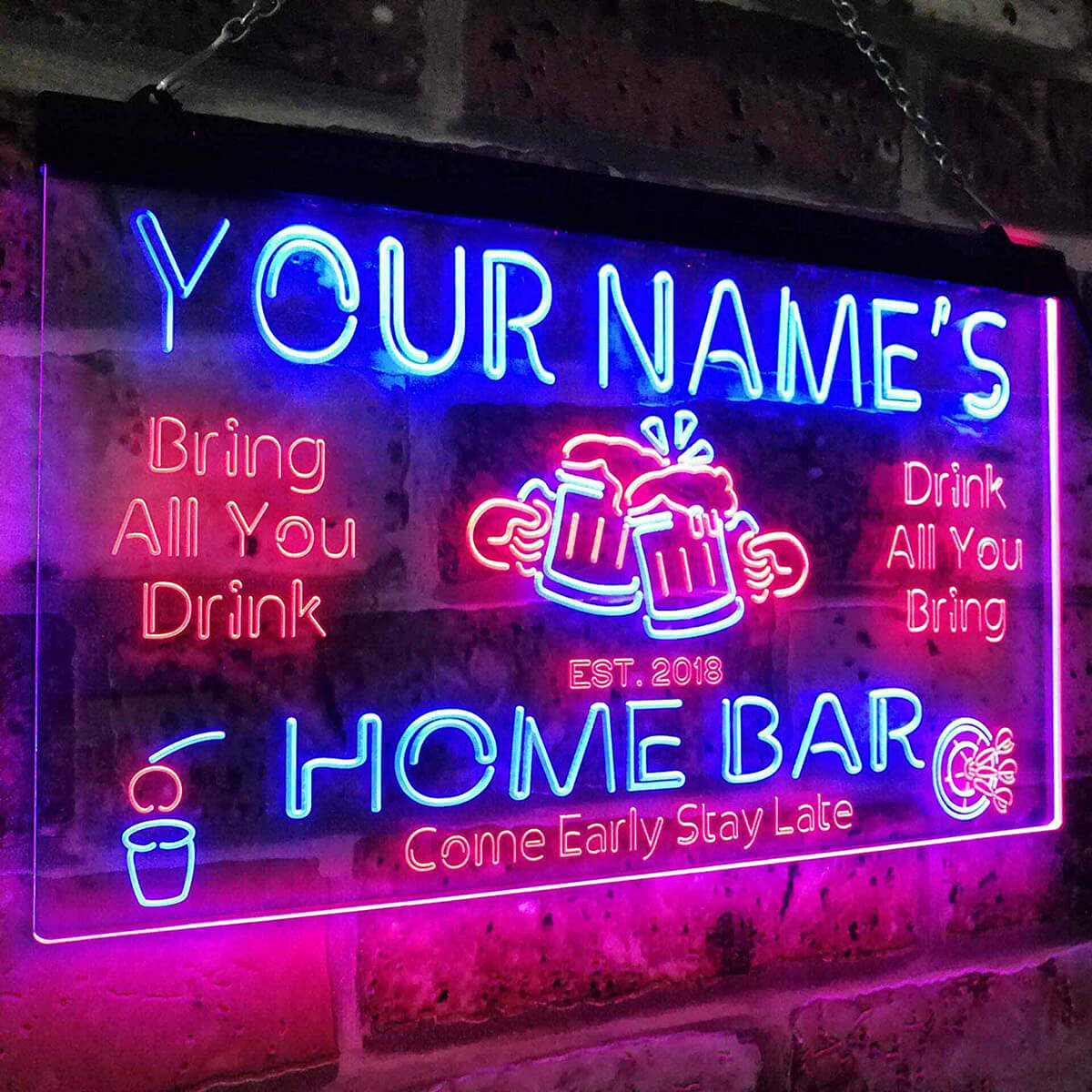 A quality custom man cave sign, this gives you different personalization options. You can place any name at the top whether it's his name or a nickname. Beyond that, you can customize the label of the location that's underneath the toasting beer mugs, a handy feature if he has a name for his man cave or the bar that's in it. If you wish, you can select from a handful of different colors, allowing it to match up better with his specific taste. Simply plug it in and flip the easy on and off switch to brighten up the room with strong LED lighting.
18. Old-Timey Bar Welcome Man Cave Sign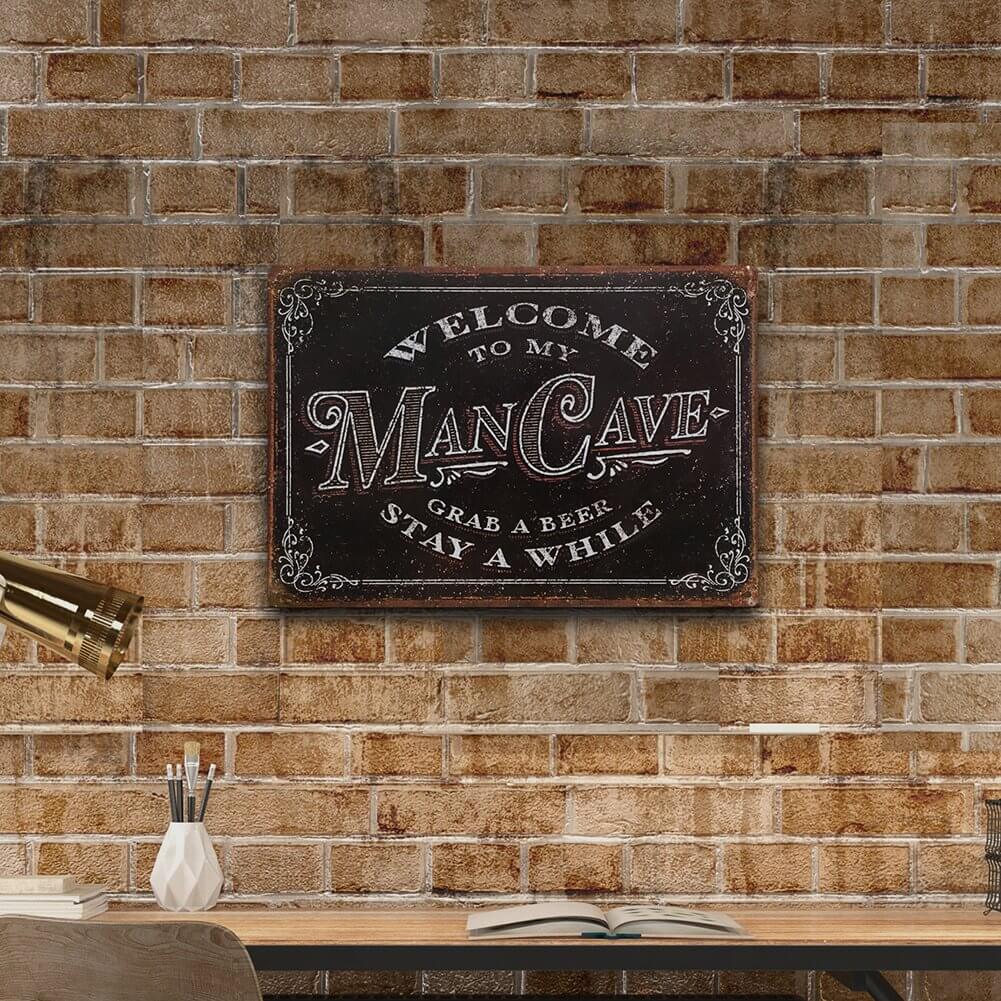 You can add some fitting wall art to his bar-themed man cave with this vintage sign. It aims to symbolize some of the common bar signage seen around the early 1900s. Compared to a few other antique signs available, this one gives off a pleasant balance between intricate style and rustic, man-like design. The font is wonderfully laid out in an old-timey fashion. Once he hangs this in his cave, anyone who ventures inside will know that they are welcomed to kick back, take a beer, and, as the sign says, "stay awhile".
19. Handmade Vintage Wooden Man Cave Sign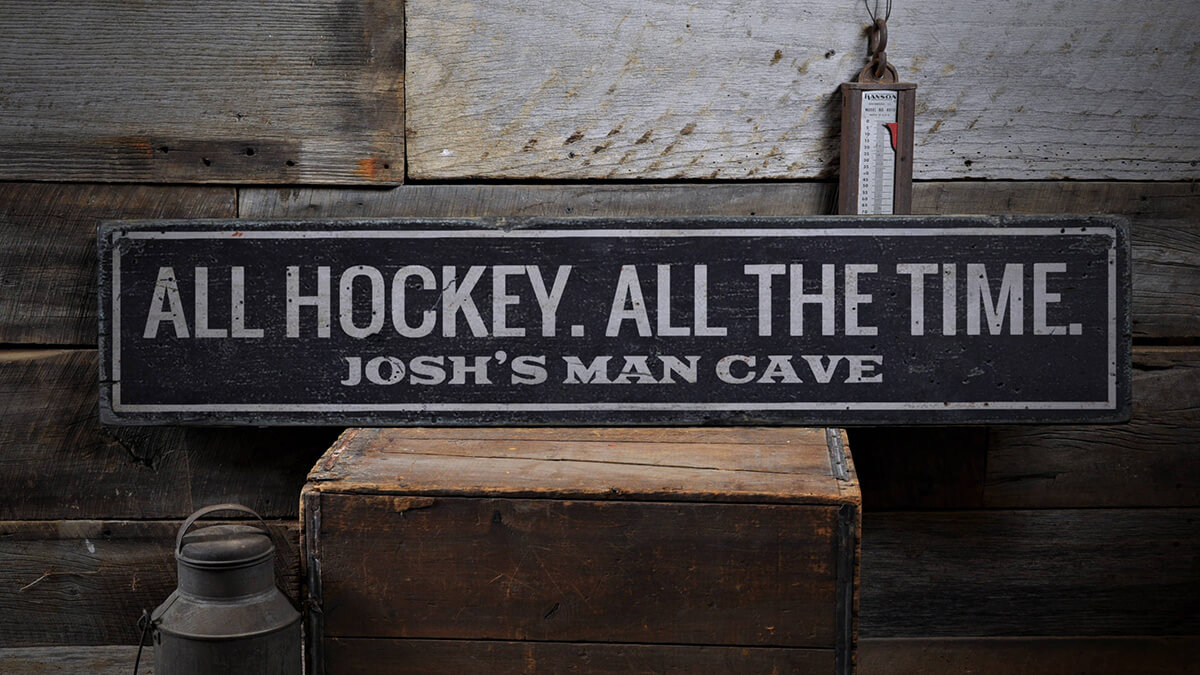 A perfect way to show him just how much you care and respect his personal getaway space is with this personalized sign. It comes in a variety of sizes so that you can select the one that fits best with his room. Whether you want a billiards-theme sign or sports-focused sign, you can customize it accordingly to what he likes. As it's handmade, he'll also receive something that's completely unique. There's even a quality rural-like feel to it as the wood, although new, goes through a process so that it instead appears as though it's hundreds of years old.
20. Personalized Wooden Farmhouse-Style Man Cave Sign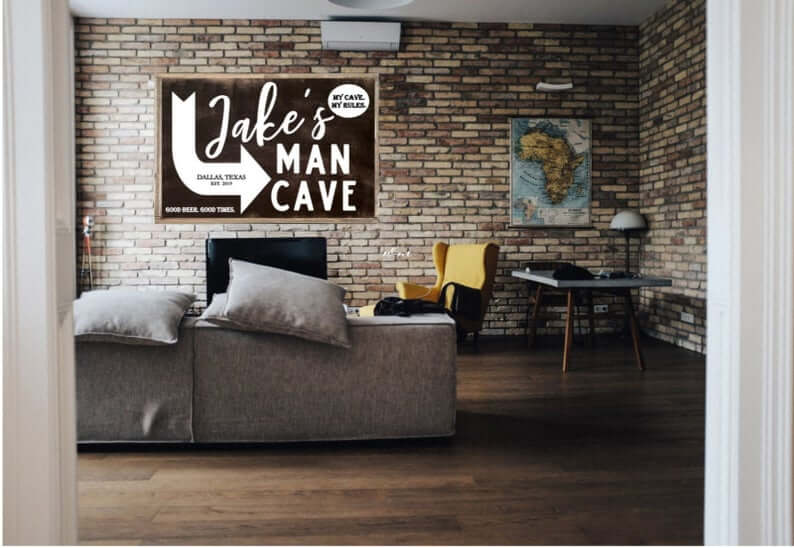 Perhaps your guy's man cave decides to feature the same farmhouse home decor that the rest of your house boasts. If so, this wooden rustic sign will blend right in. Available in a couple of different sizes, this sign can proudly show the direction toward his cave with the large arrow design and his personalized name printed in bold in the center of the sign. This art also indicates that in his cave, his rules reign. At the same time, the "good beer, good times" label showcase that his cave is still all about having fun sharing a drink with friends.
21. Custom-Designed Text Man Cave Sign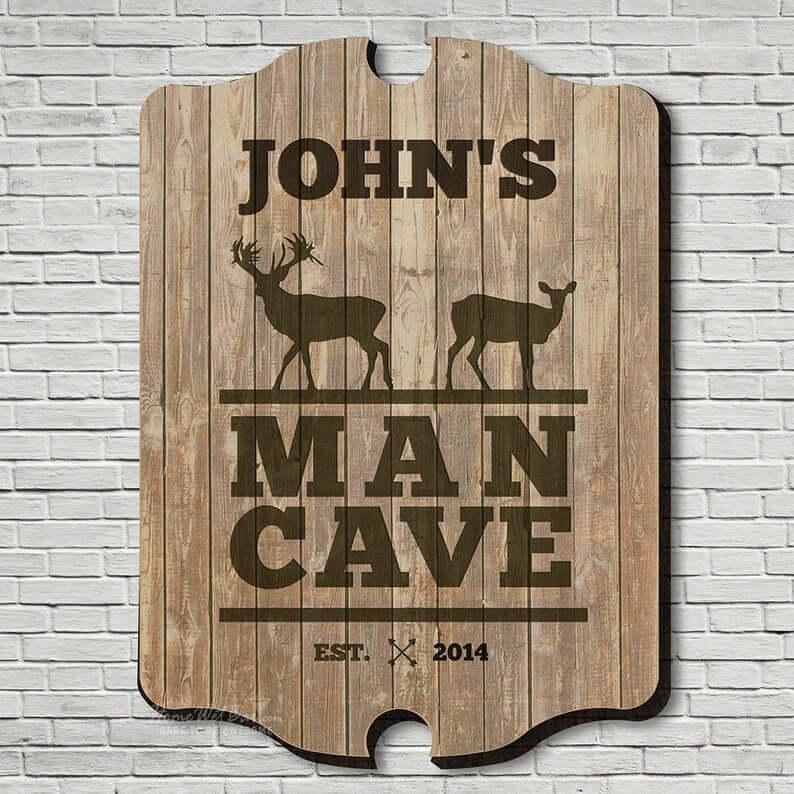 Sometimes the straightforward route is best if he doesn't want his signs to standout too much or if he has opted for a minor decorative style in his man cave. This custom-made wall art only features bold black text placed against a white background. What may be the greatest thing about this custom man cave sign is that you can completely control all the text seen on it. For example, if it's for a father, you can put something like "Dad's man cave" and add in his interests at the bottom such as sports, motorcycles, and beer. This sign can highlight all of his favorite things in a clean, direct way.
22. Tailored-Made Deer Hunter Man Cave Sign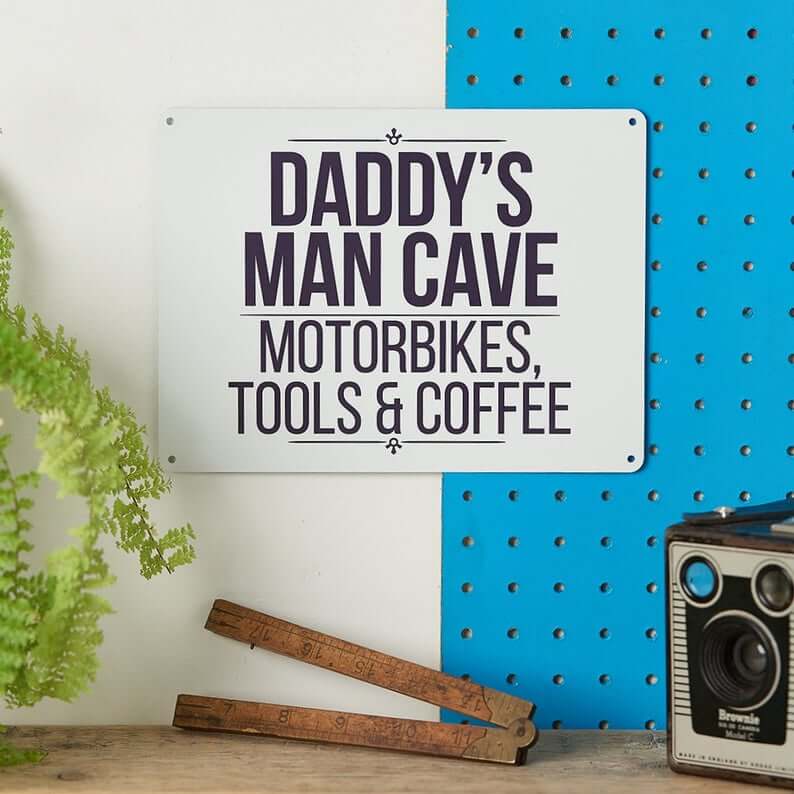 Are you in the market for man cave signs that cater more toward his appetite for hunting? Take a look at this customized wall art then. Made from natural birch wood, this utilizes a cute, yet masculine design choice that wouldn't look out of place at a normal hunting lodge. You can personalize it with his name as well as an established year. There is also some awesome outline artwork of two deer standing side-by-side right underneath his name. All those who gaze at the sign will not only know whose room they're in, but also his love for deer hunting.
23. Rustic Football-Shaped Personalized Wooden Sign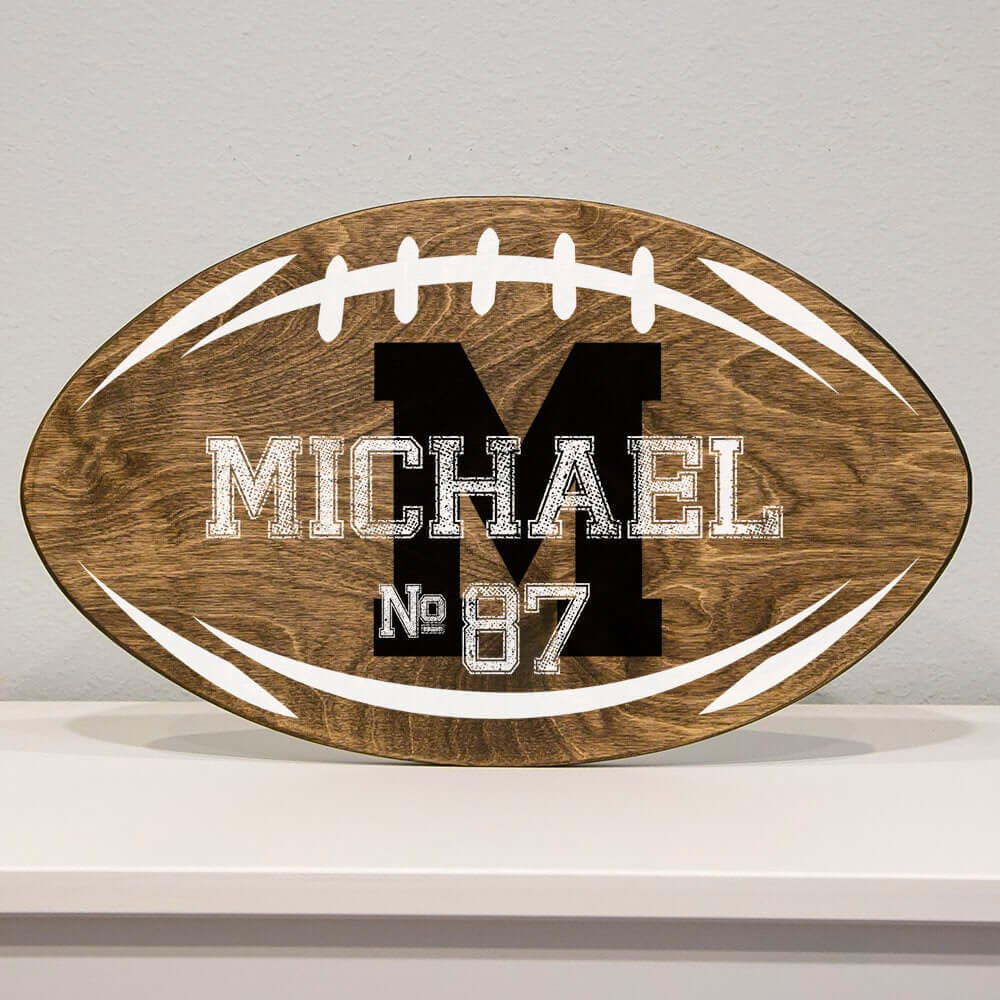 For the football lovers out there, this football-shaped sign will make them more than happy. The sign says so much by saying so little. Simply personalize it with his name, initial, and a player number. This can be his number, the number of his child if he's a football dad, or just the number of his favorite professional athlete. You can choose from a brown or gray stain finish so that it blends in better with whatever man cave decor he already has. As the ink is UV-based, the sign may even work well if he has outside in his personal outdoor domain.
24. Custom Name and Quote Man Cave Sign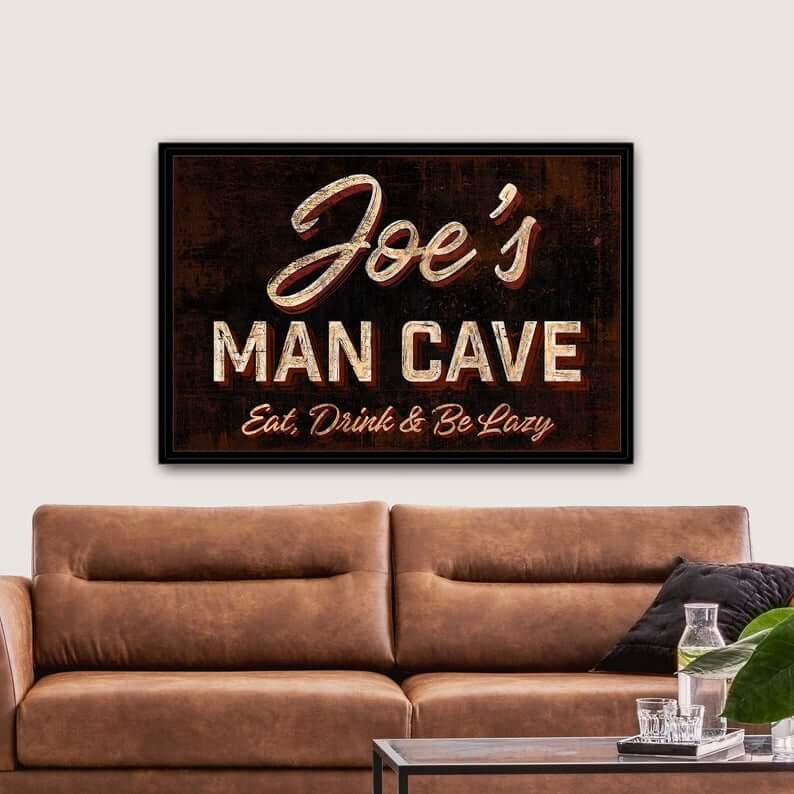 You can give him something large and bold to hang on the wall in his man cave with this powerful sign. Does he want everyone to know that the cave is just his and his alone? You can place his name followed by "man cave" if you wish. There's even the ability add a personalized quote below the name, and there's barely any limit to what you choose to place there. Alternatively, you can input any special dates, locations that mean the most to him, or any other names that are important.
25. Custom Name Pub-Style Man Cave Sign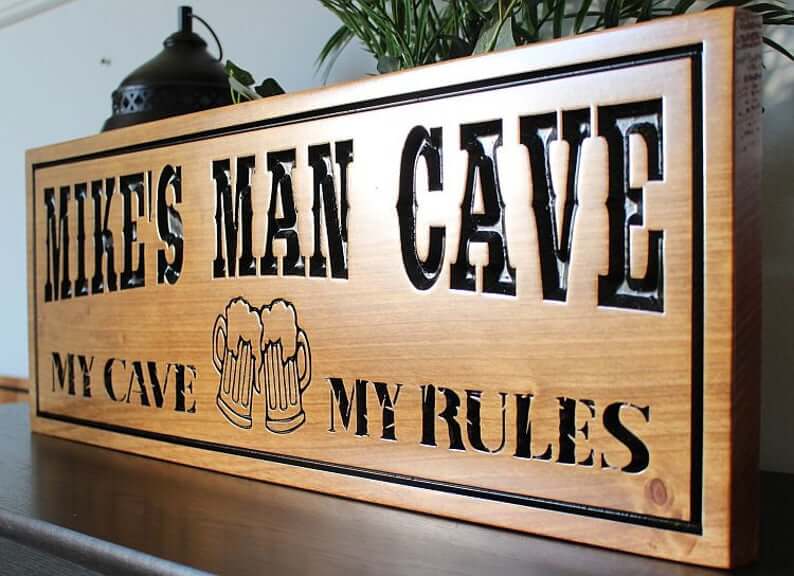 Carved with black lettering in quality pine wood, this may be an excellent way to provide him with a custom man cave sign that will last a long time. It features some significant craftsmanship in a design that is large and fearlessly declares that the cave belongs to him. There is also a rather cool drawing of two foamy beers in mugs toasting together in between the "my cave, my rules" label. It easily hangs flush against the wall. This way, he should be able to hang it up no matter where his man cave resides in the home.
26. Retro Metal Warning Personalized Sign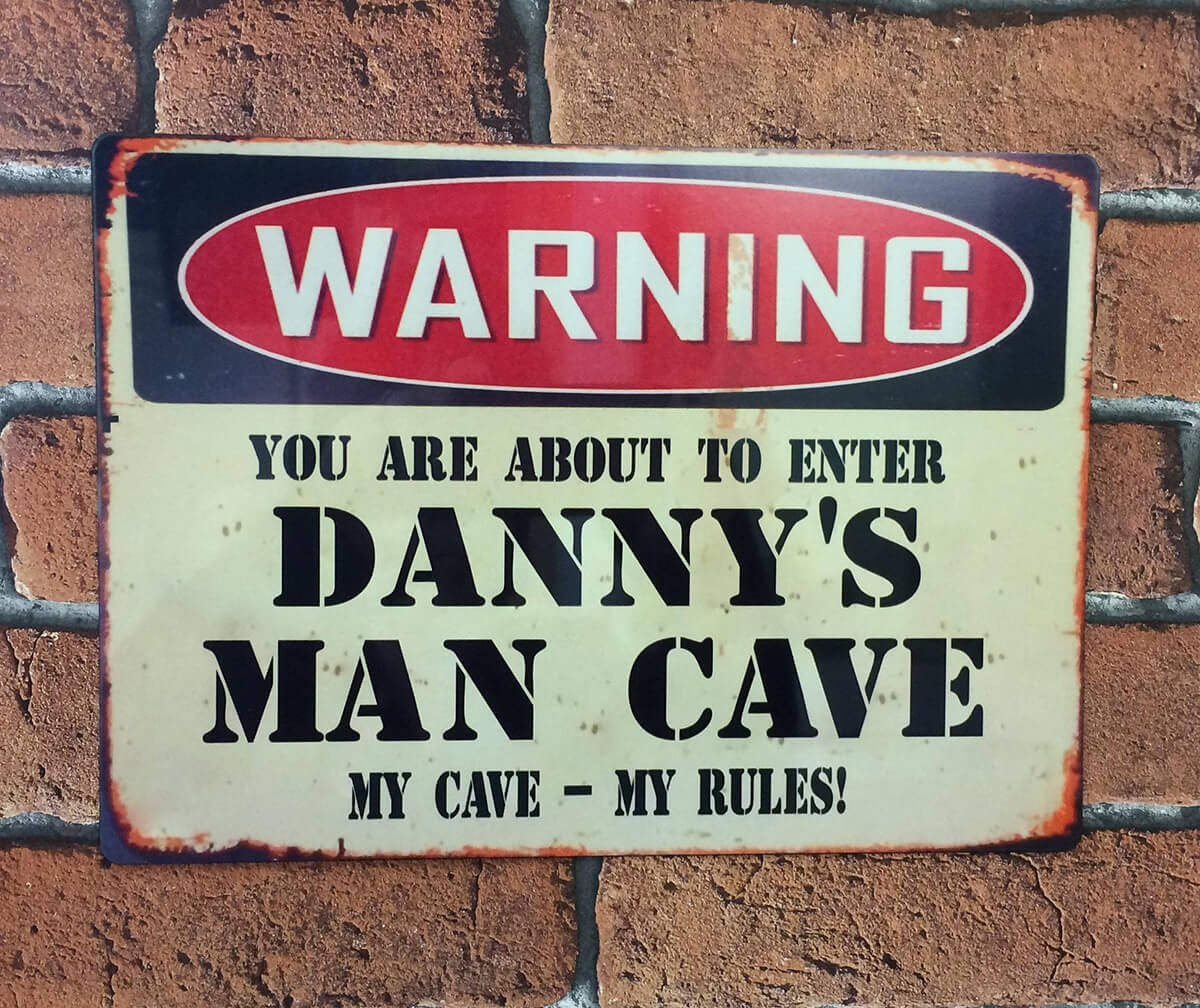 If you need a man shed sign whether it's on the inside or outside his personal realm, then this vintage-inspired sign may do the trick. There is a powerful warning label at the top of it. Underneath indicates that all those who journey inside must abide by his rules. You can readily personalize it by adding his name to the sign. The overall appearance of the sign has a distressed appearance as the corners and edges all appear burnt, giving this a cool, borderline apocalyptic look. It's still waterproof and weatherproof so that it can survive the outdoors.
27. Billiard Room Tailored Wall Art Sign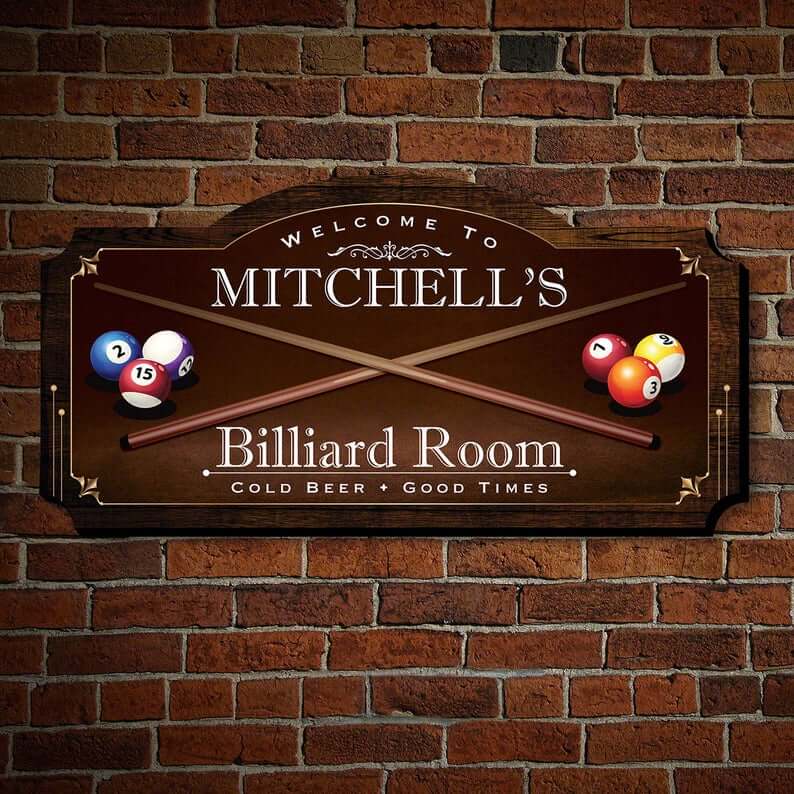 Having a pool table is a common man cave decor choice that it makes since to have man cave signs based around it. This one in particular offers a sleek, stylish way to represent him and one of his favorite pastimes. Not only is it welcoming everyone to his room as you can personalize his name to the sign, but it uses a cool drawing of pool cues and billiard balls to surround his name. The colors are vivid against the smooth birch wood. It's a way you can enhance his man cave with some elegance without completely erasing the manly feel of the room.
28. Custom-Name Bourbon Lover Man Cave Sign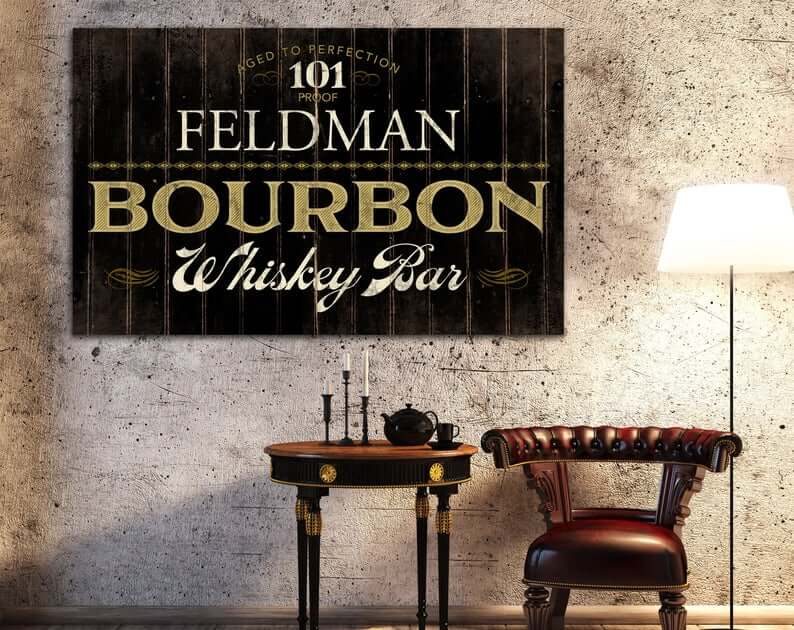 This sign may be your go-to option if you're looking for some seriously masculine wall art that focuses on just how much he loves his whiskey. It's an awesome idea for the cave that's in need of some decorative choices around the bar or drinking area. There's an attractive distressed texture added to the sign too so that it's more in-touch with rustic-style rooms. You can add his name to the sign as well, further helping him claim the room and everything in it as his own while highlighting how much of a bourbon connoisseur he is.
28 Awesome Man Cave Signs that will Capture Everyone's Attention
When it comes to man cave signs, there is no shortage of options to decide from. You can select according to how your home is already decorated by adding things like modern signs or farmhouse signs. Or you can continue along whatever theme he has chosen for his room from a hunter's theme or a sports style. Our list should provide you with a healthy number of choices if his tastes line up along with any of those ideas.
Of course, you can also find signs that offer a healthy dose of personalization. Whether you want to add his name, an important date, or simply a quote he loves, you can find man cave signs for that. There are also signs devoted to the beer or whiskey lover out there. You can always hang up some wall art that showcases how welcoming his cave is for sharing a drink with friends. Many of these signs also feature some sort of LED neon display if he's interested in adding a pop of color and lights to his room decor. No matter what you're leaning toward, our list should give you some ideas on where to start so you can find the best man cave signs for his domain.