The word "mandala" represents the universe and the search for one's self-unity and completeness in the universe and the best mandala room decor ideas can help bring the same feeling into your home. It also means the figure of perfect symmetry, often of a flowery type of figure. It is directly tied to Hindu and Buddhism practices. Mandala comes from Sanskrit for "circle", which is apropos considering how circular many mandalas are.
23 Gorgeous Mandala Room Decor Ideas

Some of the most famous mandalas are art forms used in Buddhist and Hindu temples for the purpose of getting practitioners to move in circles three times several times a day or moving in circles on specific spiritual days.While mandalas themselves cannot be considered useful in terms of home organization or storage, they can be painted, appliqued, or otherwise used to decorate storage and organization items. In fact, you may find lots of unique ways to put mandalas on different home decor items in your home.
There's no end to the number of mandala patterns and styles available, and no end to the project ideas either. We have chosen to feature our favorite and best mandala room decor ideas below.
1. Dreamcatcher and Mandala Create an Ideal Dream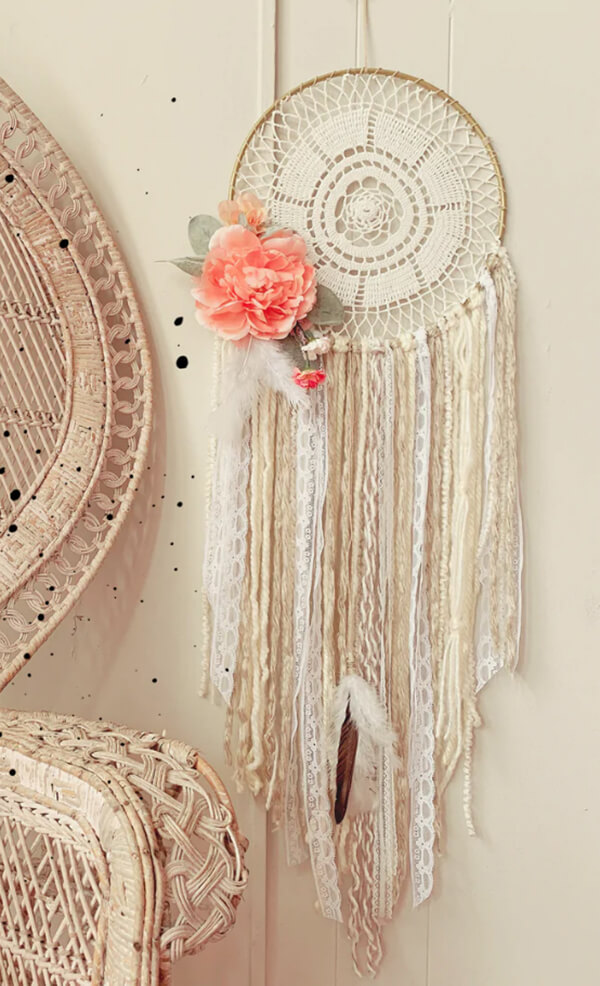 The universe, unity, and dreams come together as one in this doily mandala dreamcatcher. It's pretty and delicate, the ideal little wall hanging in a creative space. It's lovely hanging over a bed too. Thankfully, you don't have to crochet most of it yourself. You just have to find the right mandala-like doily and follow the instructions for the project.
2. Stenciled Throw Pillows Highlight a Great Project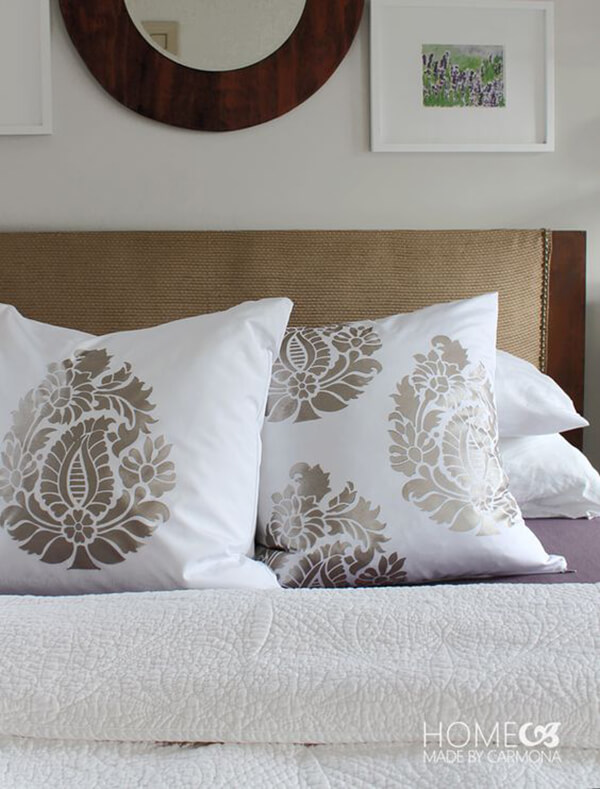 Taking craft paint and a mandala stencil to create great throw pillows is something you can do in just an hour or two. The result is thrown pillows that look like you imported them from India for hundreds of dollars when it really only cost you for the blank pillow, the stencil, and a little paint. The richness of the metallic paint here with its shine is reminiscent of silk shantung used for the dresses of Hindu brides. After you get the hang of using a stencil on a fabric throw pillow, it quickly becomes a project you want to do again and again. These pillows decorated by your hand make excellent housewarming or bridal shower gifts. You may even find that you like making them so much you want to make more to sell. Make curtains, sheets, duvets, etc., to match and sell as an entire room decor ensemble.
3. Mandala Coffee Table Made for Kings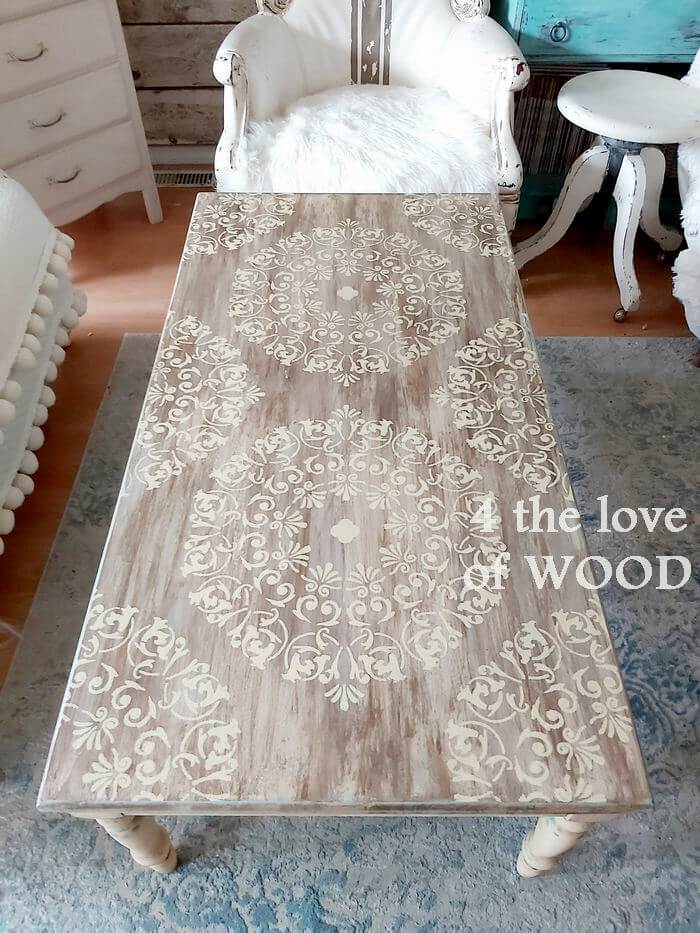 Old-world tables often had exquisite designs carved into them. They were made to be beautiful and attractive while representing the wealth that could afford such pieces. You don't have to be wealthy to create this mandala-covered coffee table. In fact, you can use a worn-out thrift store coffee table and some craft paint to create this beauty. A mandala stencil helps too. Just the right colors will make it look like it's centuries old and very valuable.
4. Antique Wardrobe Gets a Unique Mandala Makeover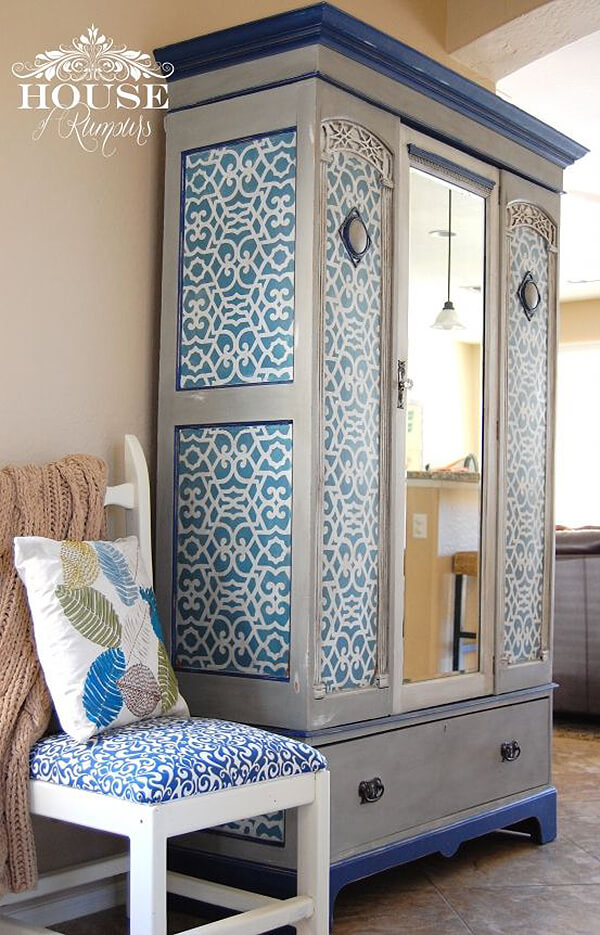 Wardrobes are such neat things. They are what your great-great-grandparents used to store their clothes because closets didn't exist back then. Wardrobes, particularly antique wardrobes, are still around, but they don't quite fit into modern decor. Still, that doesn't mean you can't use one of the best mandala room decor ideas to refresh the wardrobe and make it fit in with the rest of your home. A stencil comes to the rescue again, letting you get creative with where to place the paneled mandala design. Maybe you want it on the sides of the wardrobe. Maybe you want it on the front doors. Maybe you want it all over the inside of the wardrobe! Make it your own in your own colors. When you're done, it's the perfect piece of storage furniture for your hallway or bedroom.
5. Vibrant-Colored Mandala Carnivale Cushion Brightens Your Day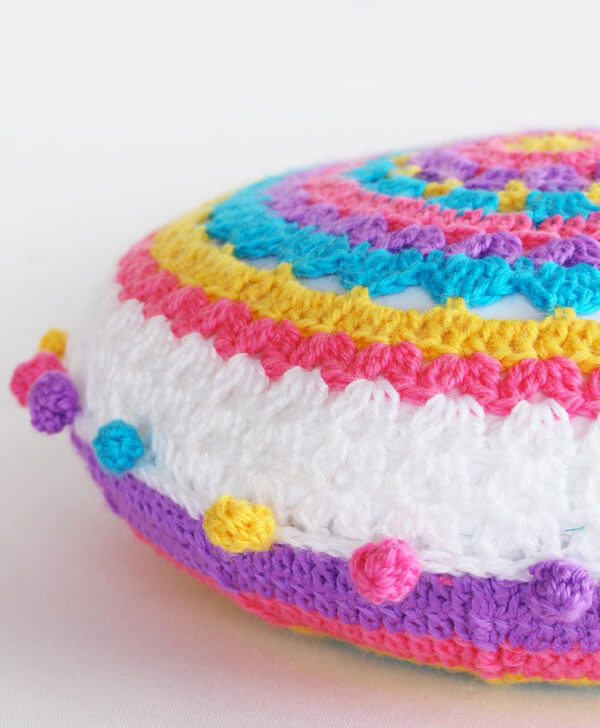 This particular cushion reminds us of the brightly colored, tiered, and ruffled dresses ladies wear to Carnivale in springtime. It's happy, bright, and ready to party. If you have a room that needs a little dressing up, this cushion might be just the thing. Another variation on the mandala cushion, this hook crocheted toss pillow of sorts uses many colors to create the mandala top. While the pattern suggests specific colors, you could substitute your own colors so long as you use the correct weight of yarn. For fun, the pattern tells you to add matching little pom-poms around the edge of the finished cushion, but that's up to you.
6. A Melee of Mandalas on Canvas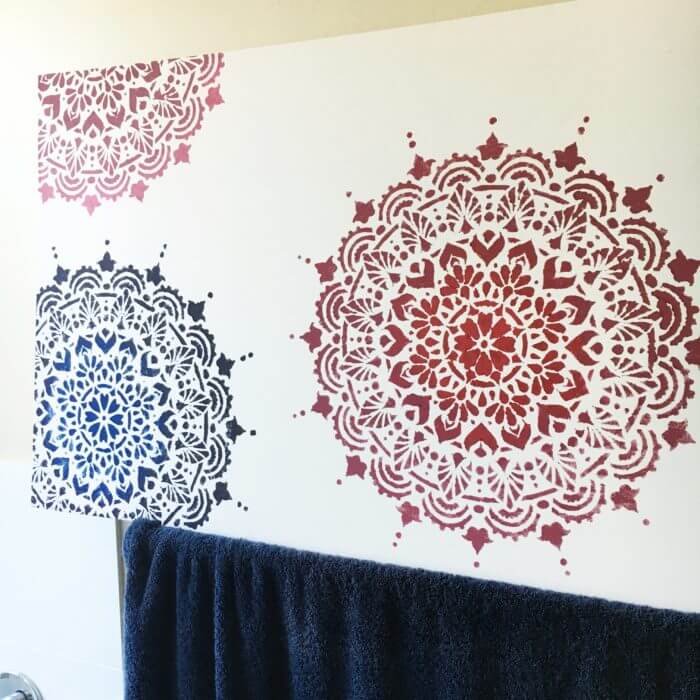 The mandala stencil gets another use in a way you might not have expected. It makes total sense when you think about it though. The stencil is used to paint multiple, seemingly random mandalas on a canvas, which you can hang on any wall in your home. Make it as wild or as colorful as you want. In this case, the artist chose to make a fairly simple design that makes the mandalas look like they are floating in space like multiple universes. Seems apropos, doesn't it, considering the meaning behind mandalas?
7. Another Great Mandala Decor Idea with a Table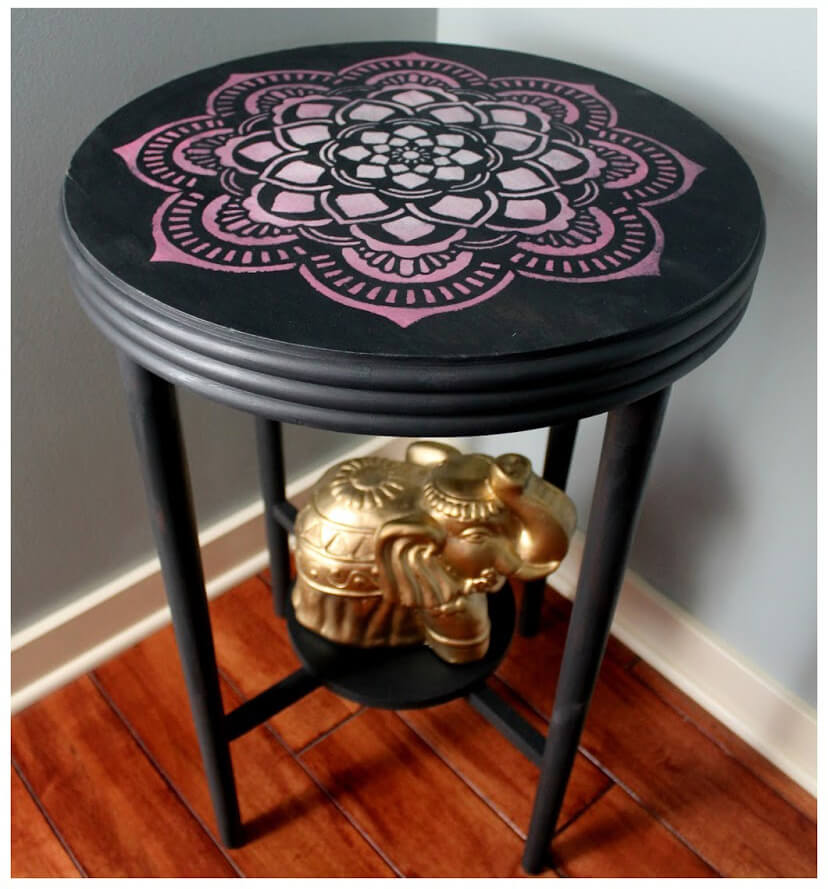 A basic hallway table gets a facelift or a makeover when you repurpose it to create this mandala-covered table. The mandala is perfect because it's another stencil, so you shouldn't have to worry about painting the mandala freehand. If you don't have a little hallway table for this project, thrift stores have an abundance of gently used furniture and side tables you can buy for pennies and use for this project. While it looks nicer to repaint the entire table one color, you don't have to. You don't have to make the mandala a single color either. The stencil on top lets you use any number of colors to paint in the mandala pattern. Because it's painting, you can always paint over the table or the stenciled mandala if you don't like the final result and want to redo it.
8. Challenging Mandala Decor Idea Turns Trivets Beautiful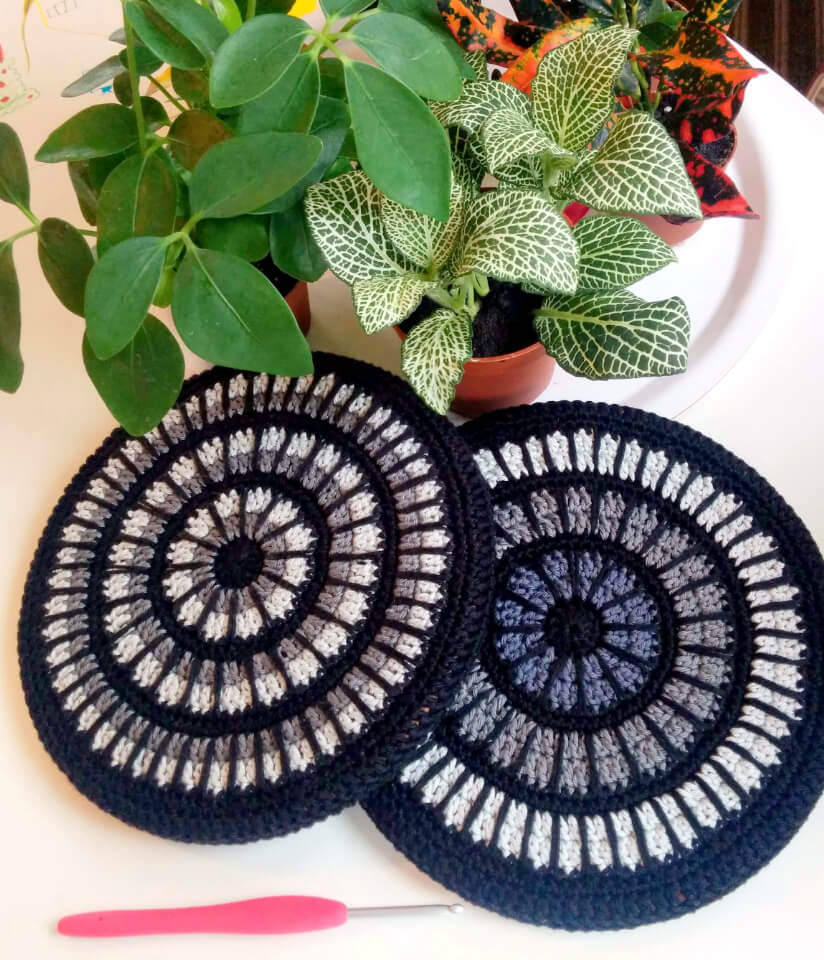 Hook crochet is a challenging art form. If you can master it, you can create lots of really great home decor items. Take this trivet cover for example. Who would have thought you could hook-crochet a round trivet cover and really want and need such a thing? Yet this pattern shows you that a trivet cover for a super-basic cork trivet is exactly what your crafting doctor ordered. The pattern is freely shared, but you will have to translate British units of measurement into standardized American English. That's a bit of a project unto itself, but it's worth it. Use the recommended yarn because as everyone knows trivets are for hot cooking utensils, and you don't want to burn or melt the yarn when the trivet is in use.
9. Crocheted Tree of Life Mandala Perfect for Nature Lovers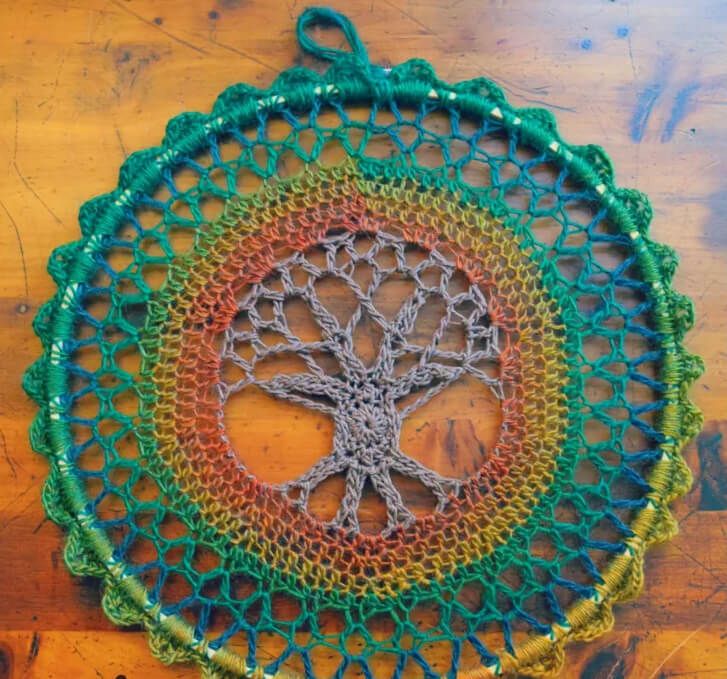 What do you get when you cross a mandala with a dreamcatcher? It probably looks something like this Tree of Life crocheted project. You can use it as a wall hanging, the basis of a throw pillow or cushion cover, or just about anything else you can dream up. This project is not for crochet beginners. Before you start it, read over the free pattern instructions. Then decide if you want to tackle it anyway.
10. Huge Wall Stencil Creates Two Great Mandala Projects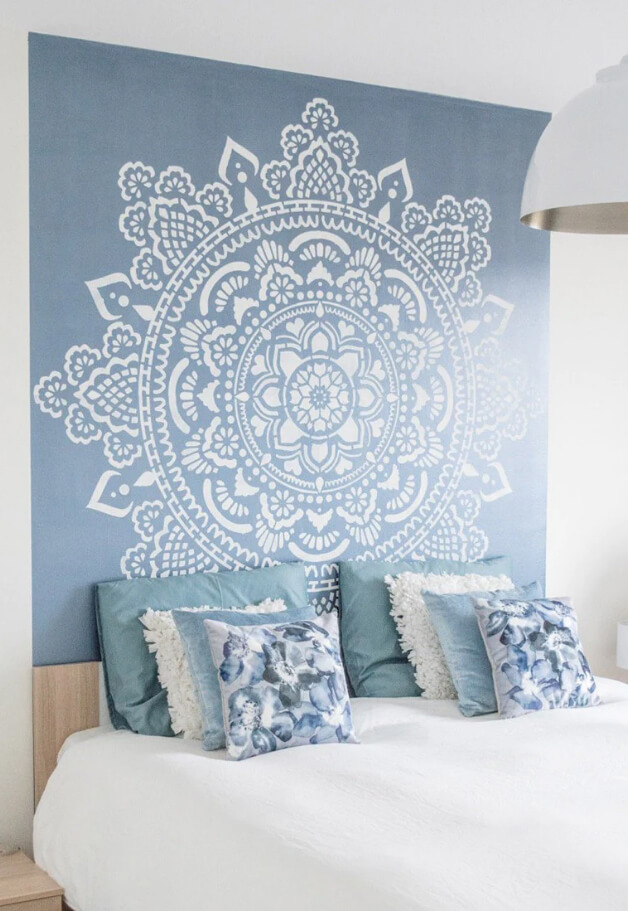 A mandala stencil frequently creates a positive image on a surface. This giant stencil can create a negative image as well as a positive one. By this we mean it can create a light-colored mandala on a dark background or a dark-colored mandala on a light background. Both effects are quite stunning where this massive stencil is concerned. If you want to get reverse, or negative, the image of the stencil, paint the wall a darker color first. Then use the stencil to paint some shade of white over the mandala. Practice makes perfect.
11. Ornate Mandala Creates Another Cool Faux Headboard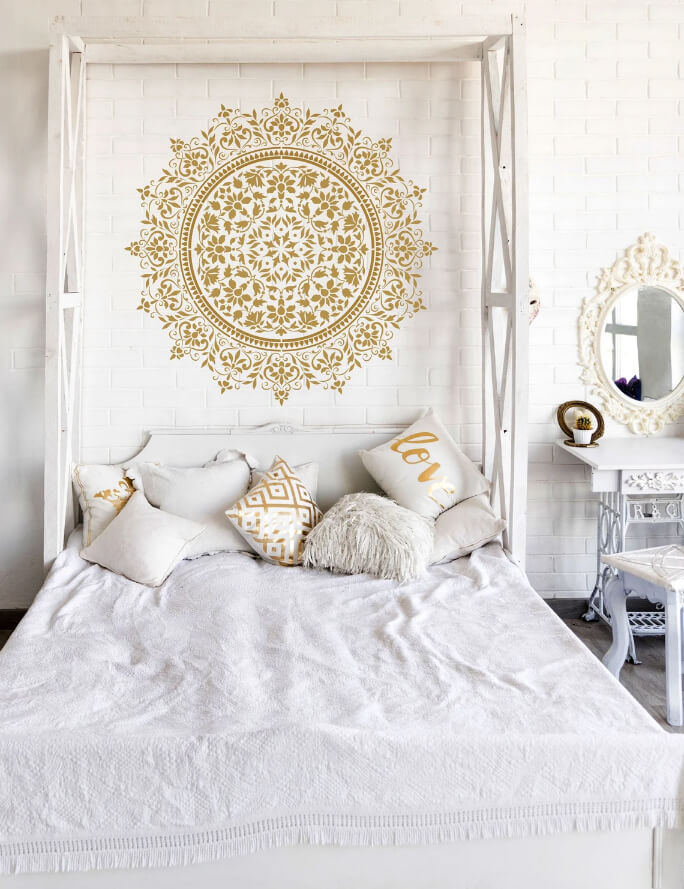 This mandala decor idea creates one of the most ornate faux headboards we have seen to date. It seems very royal or regal with its crown details, and the gold paint makes it especially rich in detail. Placed on a wall behind a bed creates a focal point for the entire room, and this particular style pictured makes a very interesting faux headboard indeed. The stencil used to make this mandala is sold in multiple sizes so you can customize how big or how small you want the decoration to be. You can buy the same pattern in a half or quarter mandala too, which only motivates you to come up with more ideas on how to use this. Personally, we'd love to see this in rich European tapestry colors just to see how it looks, but you can do it any way you like.
12. Unique Pastel Crocheted Mandala Throw Pillow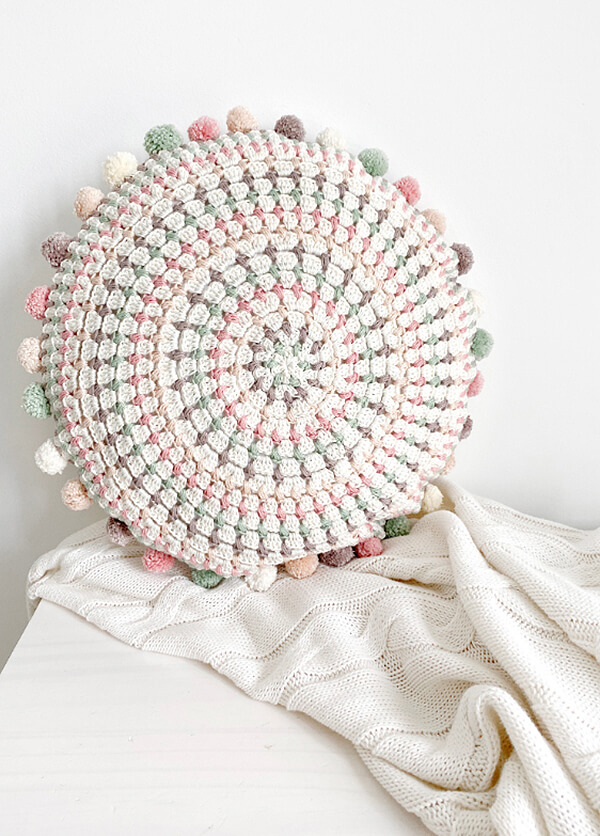 If you crochet, you may want to try your hand at this mandala throw pillow. The pom-poms around the edge really make you want to hug it and play with it while watching TV. The pastel colors are fun and playful and reminiscent of spring or Easter. Considering that a mandala is about unity and the universe, this pillow seems to go hand-in-hand with any spring or Easter decor, which is often about rebirth and becoming one with nature. The crochet pattern is available online. The yarn in whatever colors you like is up to you. The stitches are small, so don't expect to finish this crocheted mandala cushion in a single weekend.
13. Boho Mandala Creates Unique Wall Art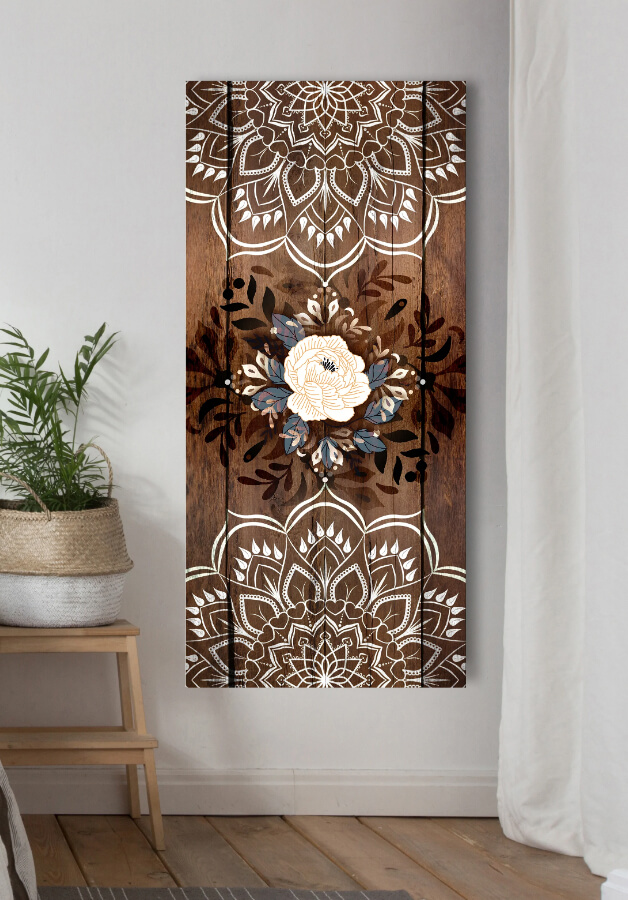 Repurposed wood with painted-on mandalas is as charming as it is fun. If you are fond of Boho items, this wall art puts your interests on display. Peek-a-boo mandalas on the top and bottom peer out from the top and bottom edges of the wood frame. The center floral decoration is part of the Boho crossover touch. Could you make this yourself? More than likely, you could. It would only require some sanded wood, a stencil, and some paint, plus a little creative inspo. Give it a whirl and see what happens.
14. Move Over Boring Dresser! Mandala Drawers Are Here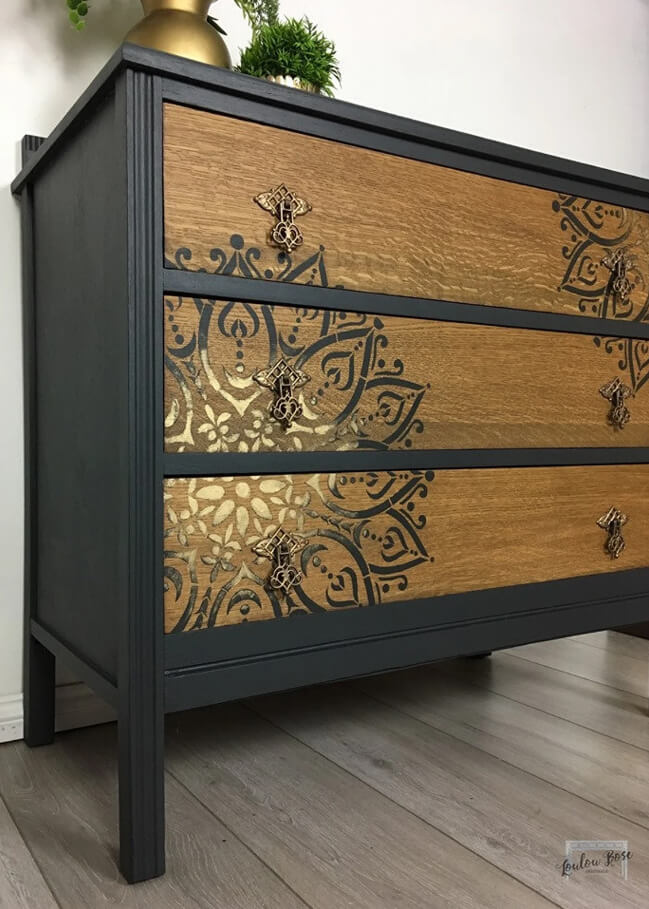 This custom chest of drawers is one of the best mandala room decor ideas we have seen anywhere. Granted, the mandala is a stenciled imprint over the chest of drawers, but it looks like someone went to great lengths to gold leaf the mandalas, not just paint them. That's probably the most impressive part to the whole thing, and we're loving it! Gilding wax and gold paint were used along with the mandala stencil for this piece of furniture. It takes a little bit of time and practice to work up to the results you see here when you are working with gilding wax or gold leaf. However, when you master such materials, you get really amazing results and quality pieces of heirloom furniture too.
15. Striking Gold Metal Mandela Makes a Perfect Headboard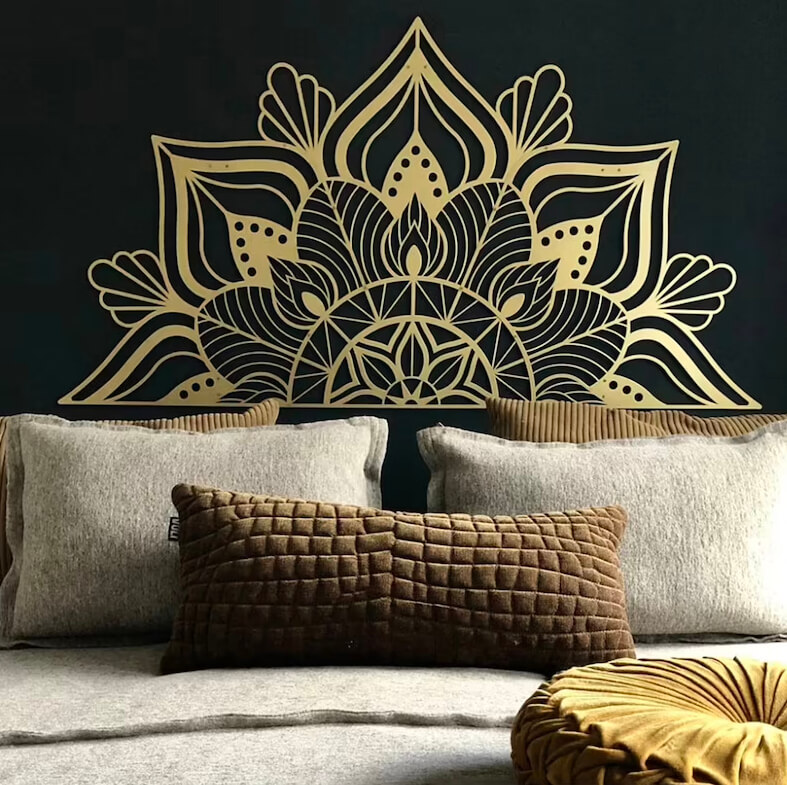 Although this mandala seems incomplete since it is cut in half horizontally, it is still quite striking and very cool. The gold on the black makes the half-mandala stand out, and it creates a perfect headboard for any bed. Best of all is the fact that it is on the wall behind the bed without even needing a headboard on which to paint or adhere it. While we love the very stylish gold on black look, you could do this with any two colors. You can keep it as simple or as ornate as you want. You could even do a white base wall and then use multiple metals cut out to create different metallic effects. It's ideal for any bedroom where a traditional headboard is either lacking or can't be used because of the type of bed in the room.
16. Perfect Soothing Wall Meditation a la Mandala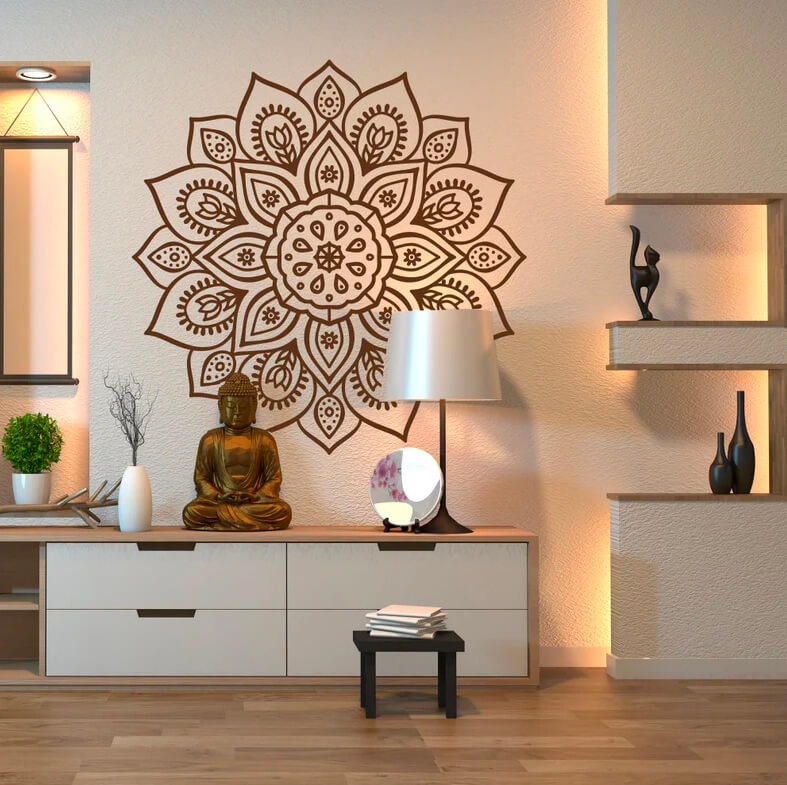 If you sat and stared at this huge mandala on your wall long enough, it might start slowly advancing and receding in a hypnotic fashion. That makes sense, considering that mandalas were meant to help people increase focus and meditation. Placed on a large section of bare wall, this may become your favorite space to sit with coffee, read a book, or just peacefully meditate. Paint and a stencil or vinyl cut into the right decal shapes create just the most perfect mandala. Materials should adhere or fix to a wall of any textured or untextured surface so that the mandala's design is smooth and unbroken, like the one pictured here.
17. The Perfect Mandala Created via Stencil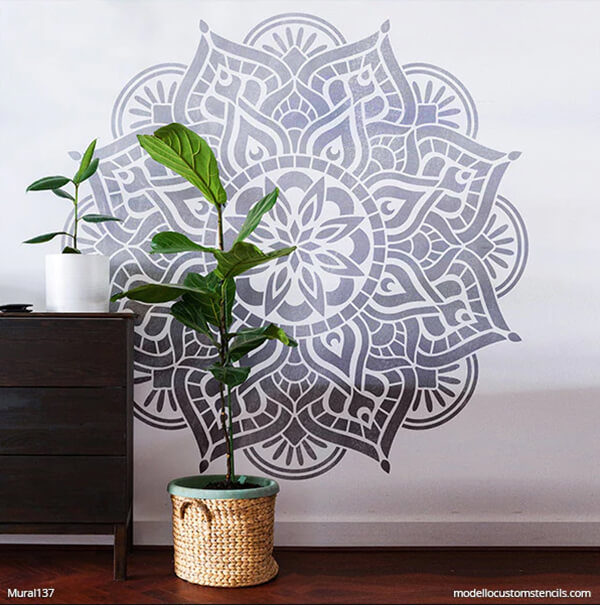 If you're old enough to remember the '80's, you're old enough to remember when stenciling walls was all the rage. Women would use all kinds of stencils to design mid-walls or upper walls. No pattern was off-limits either, and everything from roses to ducks to unicorns and rainbows were stenciled everywhere. That stenciling fad has returned, but with a very different style. Here you can see how a giant wall stencil has created the most unique wall mandala. Use absolutely any color or colors you like in the spaces cut out of the stencil. It never has to be one flat color as most ancient mandalas were never just one color at all.
18. Screenprinted Feather Mandala Takes Flight on Your Wall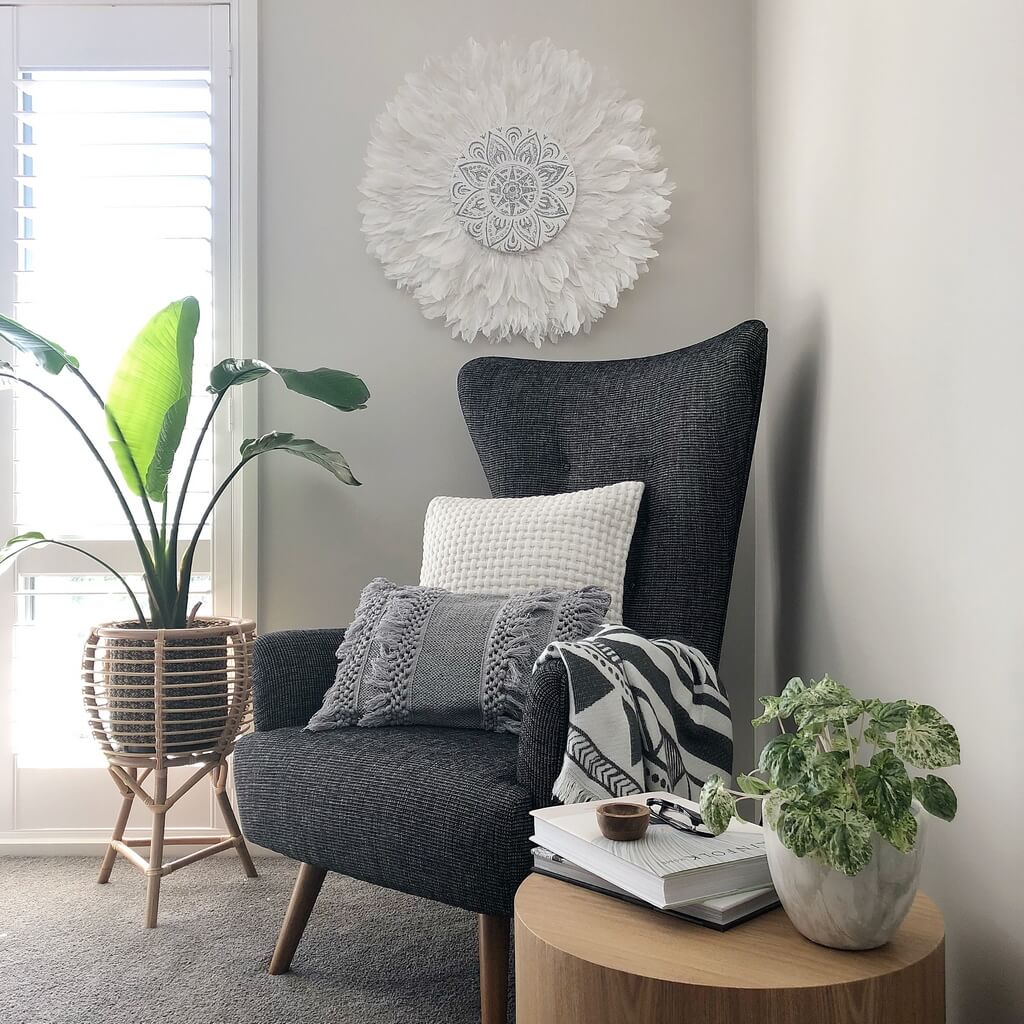 A very interesting take on mandalas, this one is surrounded by actual feathers. It begs to be touched, and the mandala is lovely to look at too. The center design is actually screen printed onto a wooden "porthole" or disc before the feathers are added around it. The neat thing here is that you can pick any mandala design to screen print on the wooden disc. You could also choose feathers of any color, although the white feathers seem very serene and angelic. It just depends on whether or not you want it to match the colors of your decor or create a striking wall piece that doesn't blend in with its surroundings.
19. The Mandala Tapestry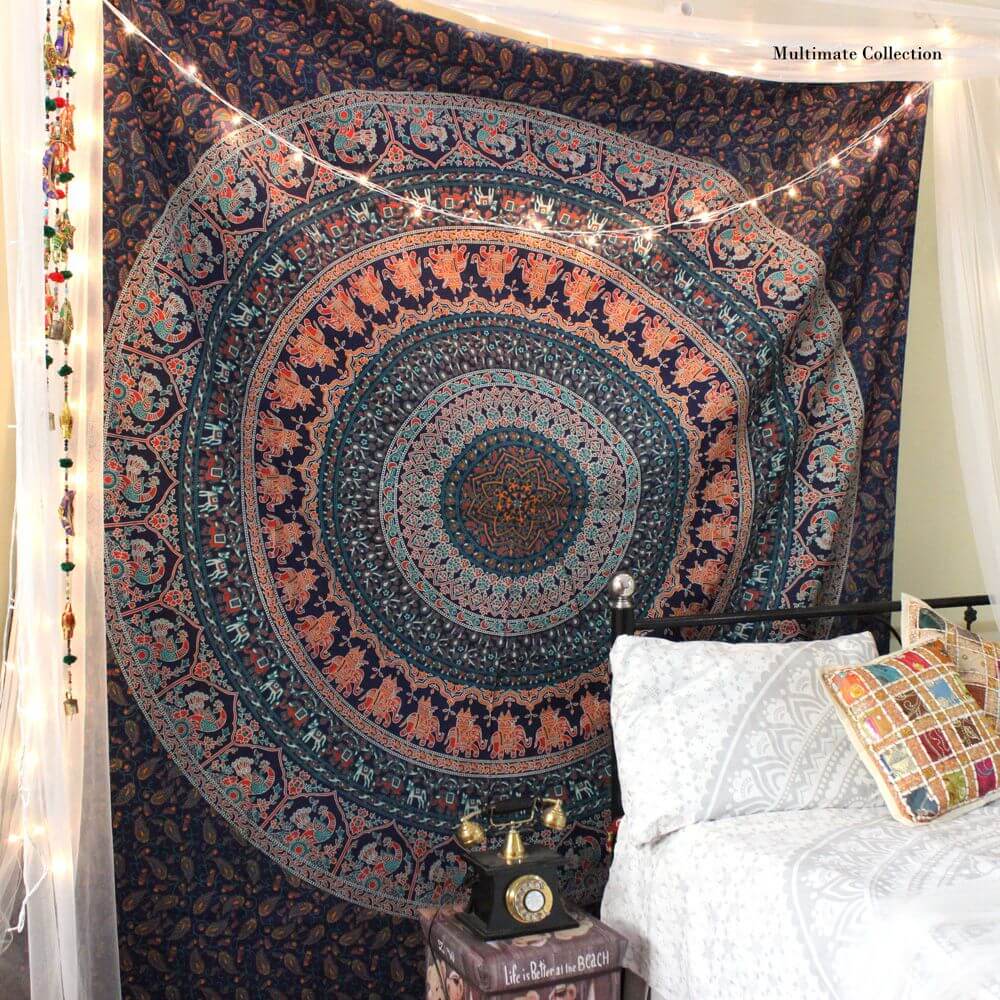 Well, it isn't quite a tapestry per se. It's a cotton dyed reproduction of what an Indian mandala tapestry might look like. Still, it's an impressive piece of cloth that you can use to cover a wall, a window, or even your bed for decoration. You could use batik to create something like this. Otherwise, you could just order this and use it to decorate your home as is. It could even be used to create a blanket or quilt, or anything else that pops into your creative head.
20. Cool Watercolor Mandala Throw Pillow for Sewers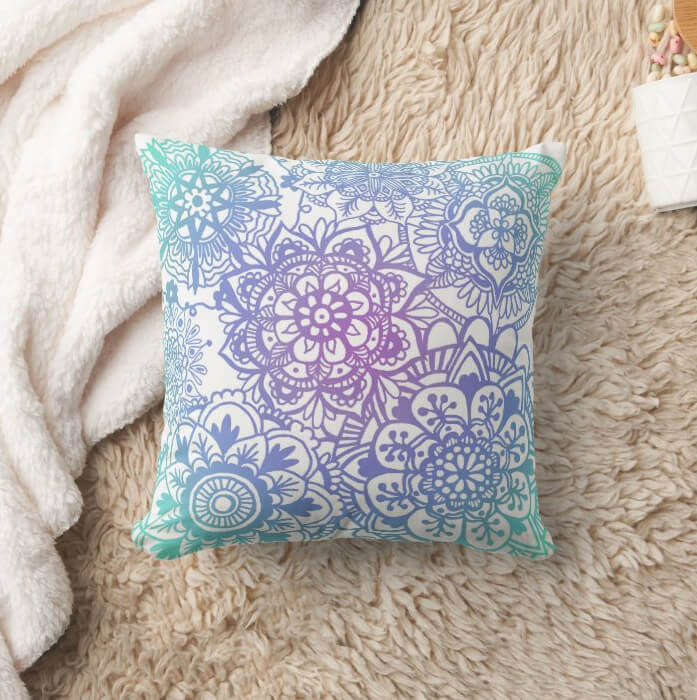 Sometimes the mandalas are built into the materials and all you have to do is turn the materials into something really fun. This project is for all the sewers out there who love to take a cloth and turn it into useful objects. It's sewing at its most basic, but the fabric used to make these throw pillows is definitely not basic. It's colorful and light, fun and eye-catching. A single yard of this watercolor fabric is all you need to make 1-2 throw pillows of different sizes and shapes. When you already know how to sew a simple square or rectangle pillow shape, it's a breeze. Keep and add to your toss pillow collection or give it as a gift.
21. Mandala Carved Headboard Adds Dimensions to the Wall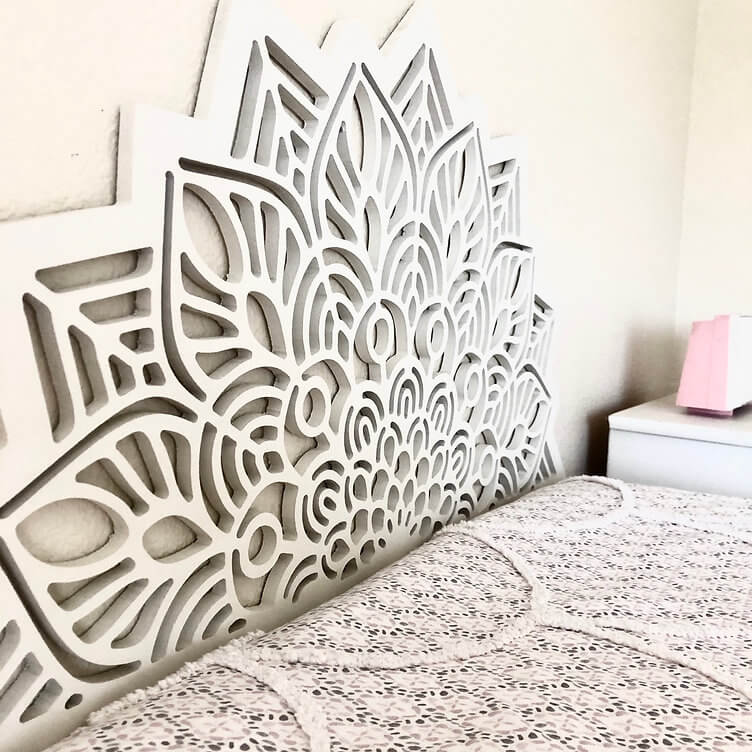 Another take on the faux headboards that seem to be cropping up everywhere these days, this carved headboard deserves a double take. Its deeply carved wood cutouts and smooth edges create more dimension and depth than some of the other mandala-themed faux headboards. It fools the eye quicker and better than the two-dimensional versions. Made of rich wood, you are not likely to make this yourself unless you are a woodcrafter. It requires chisels, a jigsaw, and a lot of hand sanding. If you do make it yourself, you can at least paint it or stain it whatever color you want.
22. Cool Outdoor Laser-Cut Mandela Table for Patios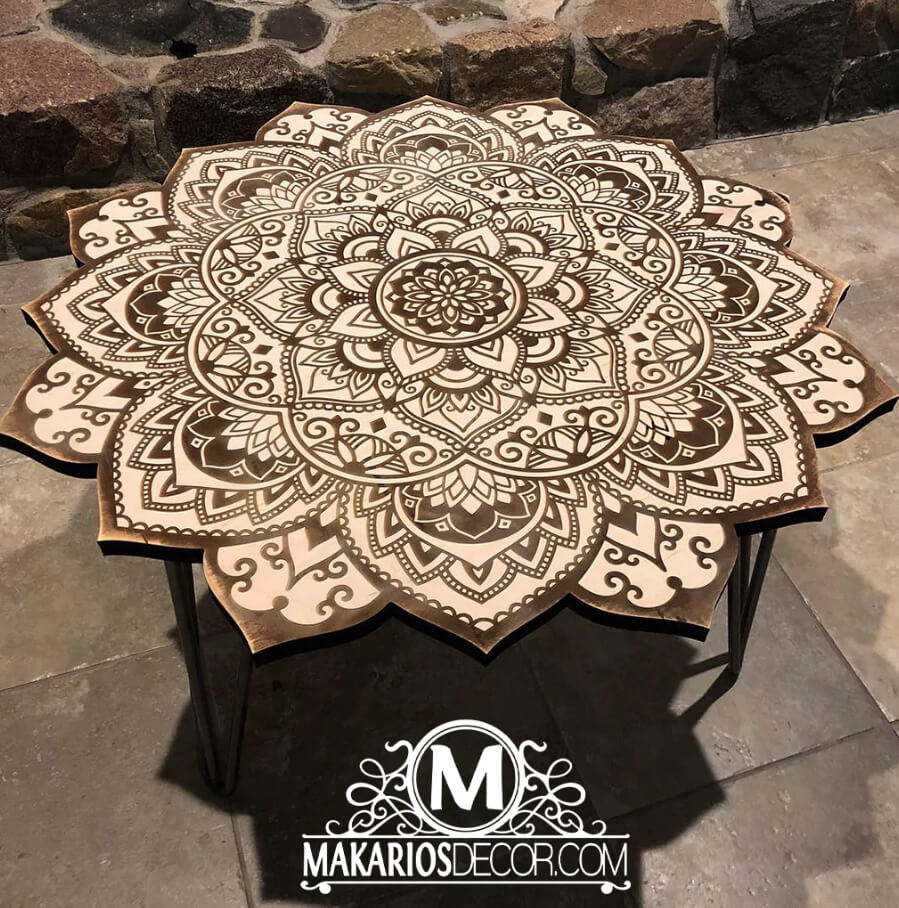 It's probably not likely that you have access to a laser cutting machine, but if you do this is one awesome and very cool table for your outdoor patio. The design is uploaded from dozens of mandala designs into the machine and a piece of wood or metal is loaded onto the table. The computer attached to the table instructs the laser to cut the design out of the wood or metal which is just perfection beyond belief. It works so well as an outdoor table because it provides enough room for cups of coffee, afternoon drinks by the pool, books you love to read, and so much more. Your fingers can trace the design and feel the smooth cuts in the material. After the mandala is cut, it is mounted to sturdy legs and a metal frame that can withstand the elements.
23. East Meets West for Unique Wall Mandalas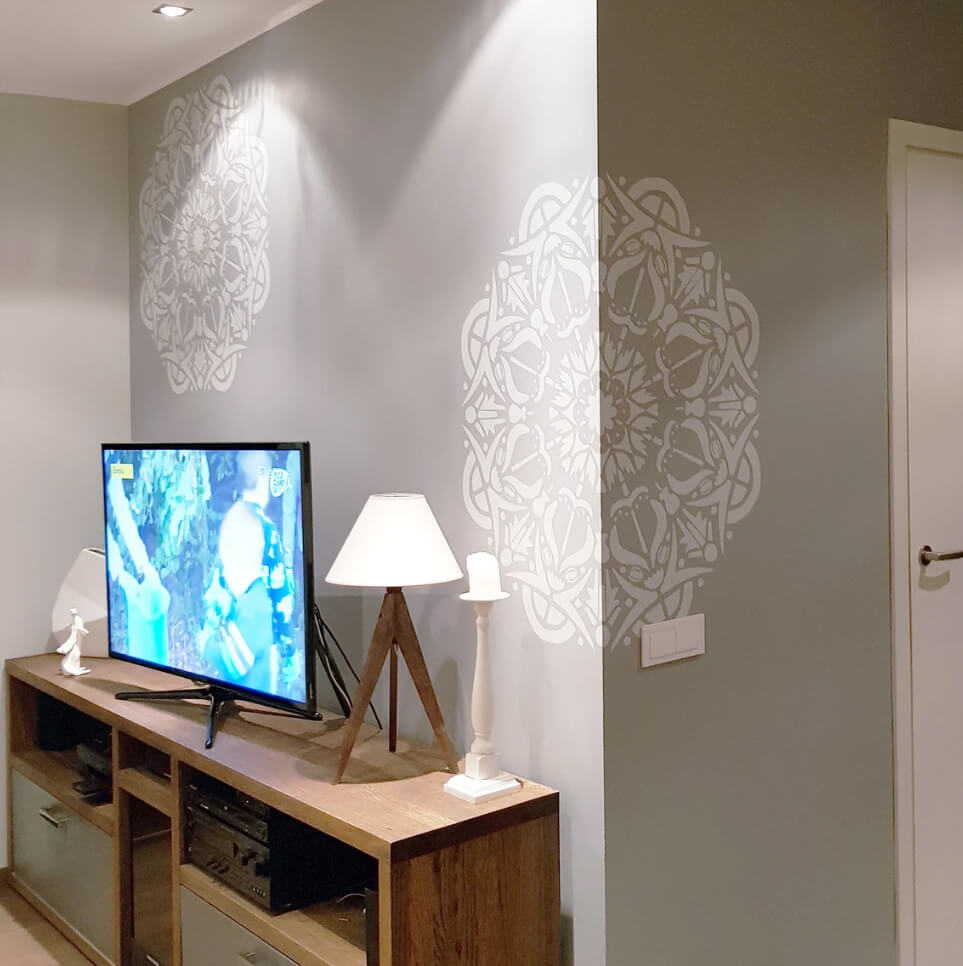 As far as the best mandala room decor ideas go, this one is really cool. Certain shapes and features of Norwegian and Swedish folk art have been incorporated into the Eastern mandala form to create a wall stencil you can use again and again. At first glance, it just looks like many other Eastern mandalas, but when you look a little closer you can spot the Scandinavian folk art bits in the mandala. Decorate walls, tables, floors, ceilings, or just about any blank space that would look more interesting with this mandala on it. The stencil makes it very easy to apply the design anywhere, including wrapping the design around corners and edges of walls. Because it is a stencil, you can also use literally any paint colors you want, including traditional Scandinavian, Norwegian, or Swedish paint colors.
The Best Mandala Room Decor Ideas Come from You
While all of the above ideas are pretty spectacular, ultimately the best mandala room decor ideas come from you. You can peruse and use any of the above ideas, but when you make them your own or create your own, it's even better. You will love your creations more as a result of the originality you put into them.