If you've ever contemplated why you need the best mandala wall art in your home, you've come to the right place. Maybe you're even trying to figure out what a mandala actually is and then you'll be able to better understand why including one in your interior design is a good idea.
To begin, a mandala is a symbol that represents completeness, self-unity, and the universe in all its glory. It's notably found in Buddhist and Hindu culture as it identifies the individual's search for achieving completeness or oneness with the universe. Of course, in order to achieve such a deep level of wholeness, it would be critical to begin with an open mind, soul, and spirit.
25 Mandala Wall Art Ideas that will Bring Harmony into Your Home

Oftentimes, a mandala wall painting or mandala wall decor will be showcased in meditation gardens or prayer rooms. Another common location is on the wall of a yoga studio. One thing each of these places has in common is the ability for one to relax, clear the mind, and begin to focus on a true connection with the universe/creator and inner self.
So if you are contemplating the creation of some solitude or quiet space in your home in order to connect on a more meaningful level or simply destress, adding a mandala wall art piece is a wonderful way to start.
There are a few common versions to consider when selecting the right mandala for you. One easy option is a vinyl wall decal. These are basically stickers for your wall and the best part is they are removable! Not like old wallpaper, these stickers adhere and can be removed easily for disposal or relocation.
Another choice adds a textural element to your home. The laser-cut wooden option enhances your space with its delicate and intricate details. These are lightweight making them easy to hang as well. Both the wall decals and wooden choices are available in a wide variety of color options so you can customize until your heart's content.
Consider including one of these universal icons in your home decor and enjoy its beauty and benefits for yourself.
1. Two-Piece Harmony Mandala Wall Art Set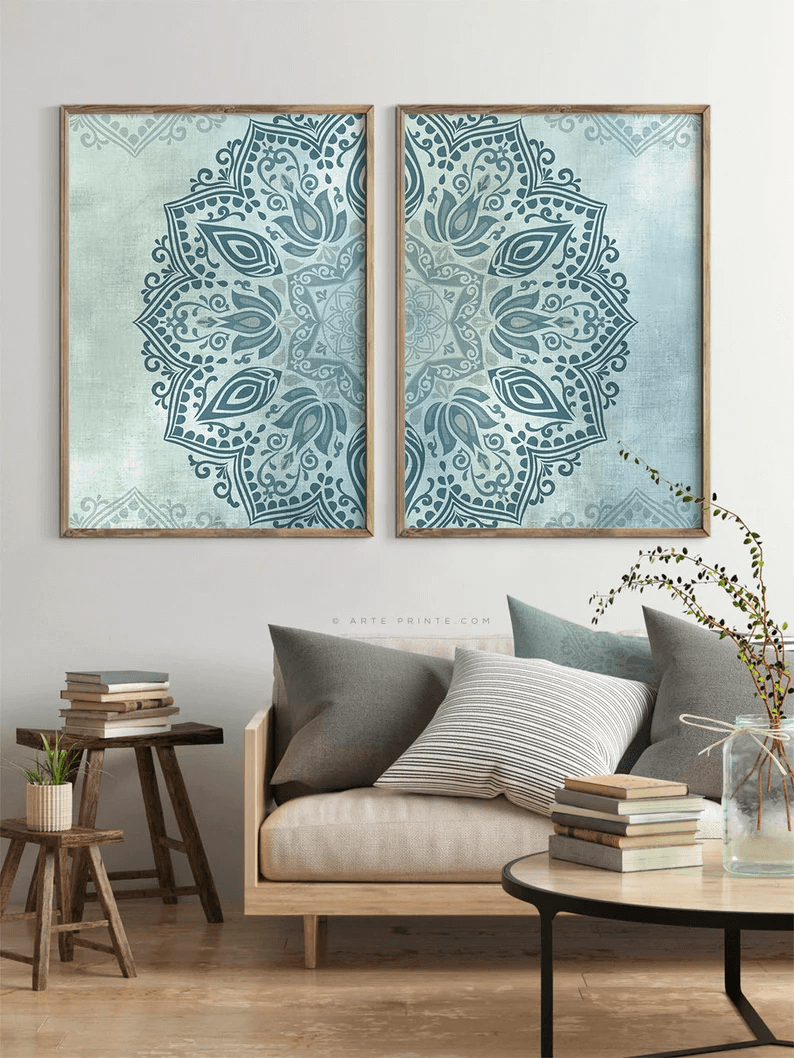 Bring some peace and harmony into your home with this mandala wall art set. This two-piece set features a stunning mandala wall decor in a tranquil turquoise color. Piecing this decorative feature together adds a touch of interest to your interior wall offering a cool drift off the beaten path of single framed prints. Such a light and airy artistic piece works well in a bedroom, bathroom, or main living space to meet all of your decorating needs. It is also a great choice for a prayer or meditation room or garden. In a world of chaos and constant motion, choose a moment of peace with this mandala wall art.
2. Metal Mandala Wall Decorative Wall Art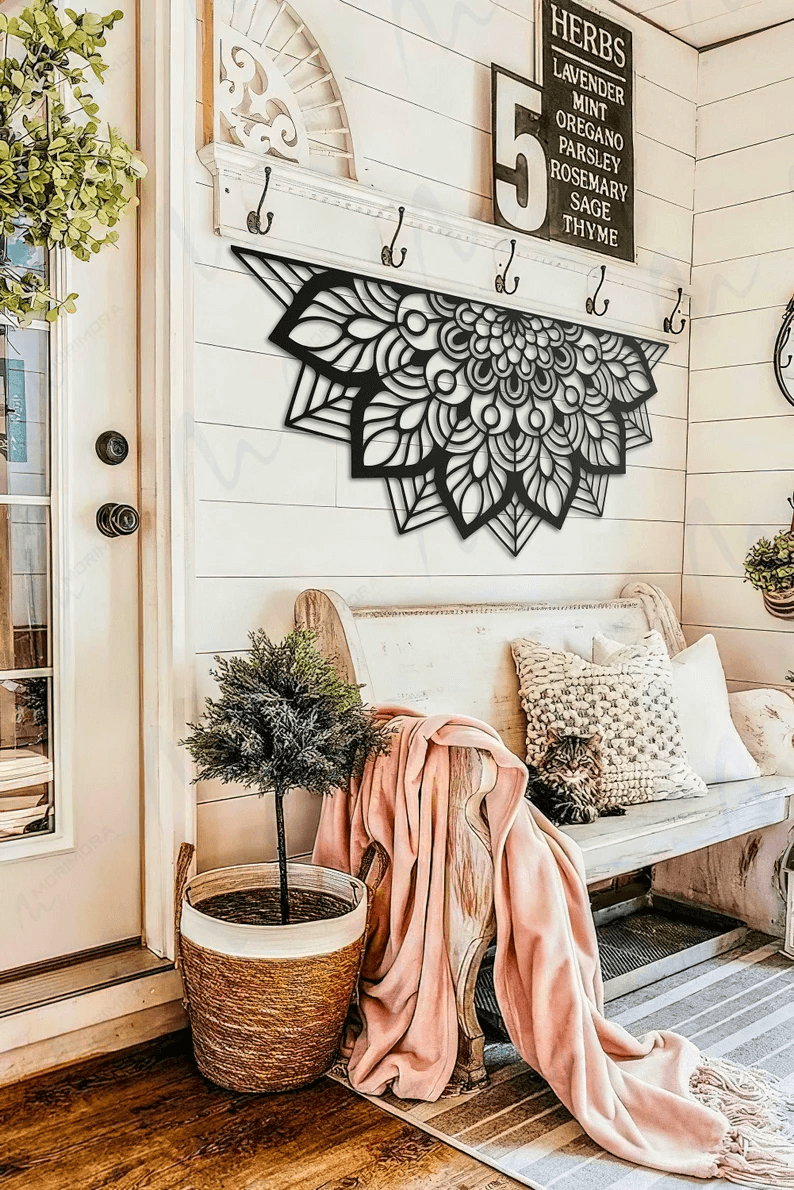 Add the element of metal into your design plans for an extra inclusion of texture. Finished in black matte, this metal masterpiece exudes a modern flair that's subtle and understated. Such a versatile wall art creation, this metal mandala makes a magnificent headboard for your bed offering a gorgeous and calming design to your bedroom. It also serves as a nice addition to an existing hook rack in the entryway or mudroom. Outdoors, this mandala adds charm to your patio or garden area as well. It can even be used as a climbing post for a cherished vining plant.
3. Matte and Modern Metal Shiva Mandala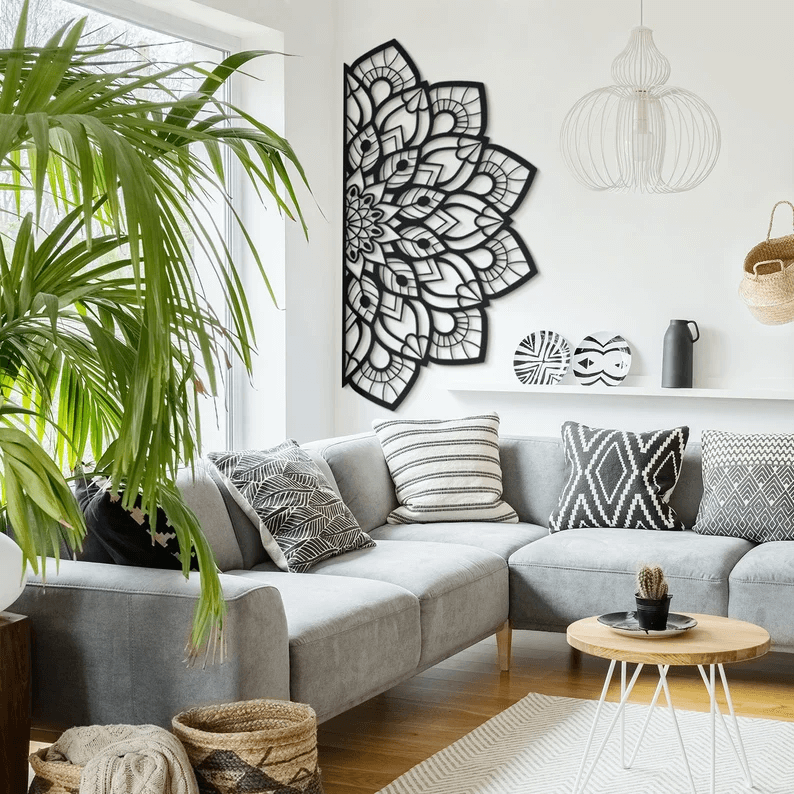 Maintaining a simplistic modern industrial look for the home takes diligence and careful planning, but it looks incredibly cool when you include marvelous metal artistic works like this shiva mandala. Choose any way to display this matte black mandala as it works equally well positioned both vertically and horizontally. The intricate detailing of the petals acts as a delicate lace-inspired feature offering a soft touch to a metal object. Place this beside a window, over the bed, or at the top of the wall for decorative appeal.
4. Six Set Bright and Bold Mandala Art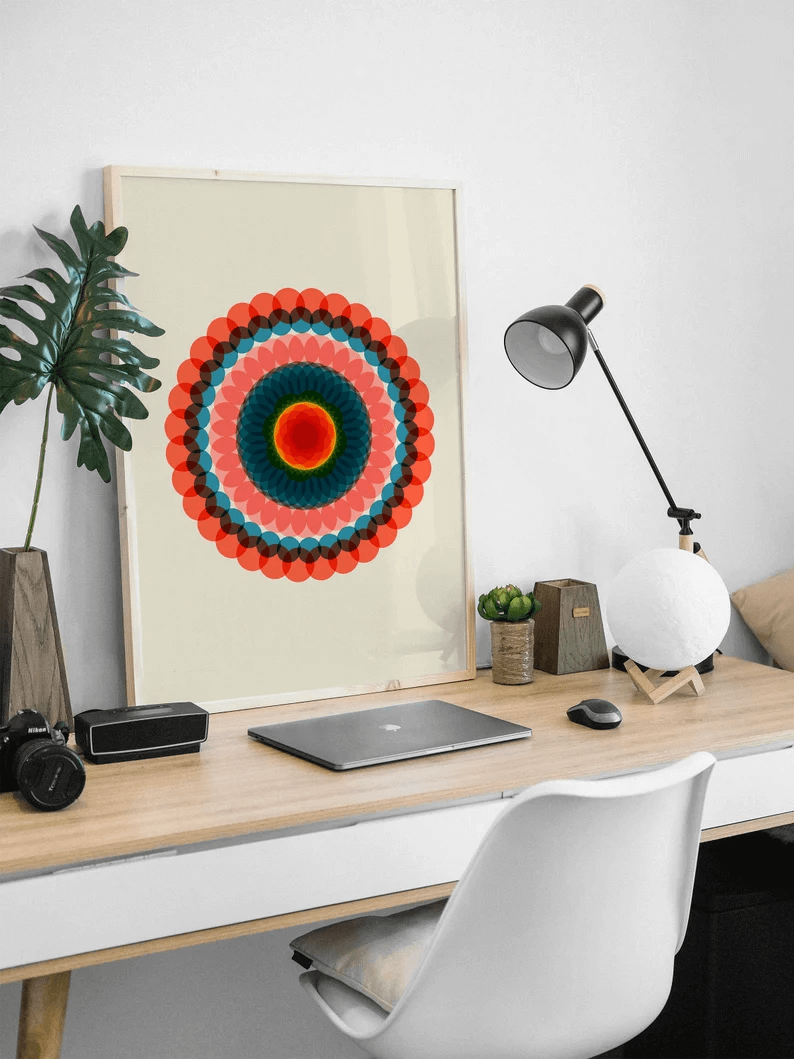 A bold burst of color adds life and youth to any room and is easy to achieve with this six set of bright mandala art. Full of geometric goodness, the circles of colors bring magic into your kid's nursery, bedroom, or play area. Perfect for any gender, these prints hint at a nostalgic theme with their simple and charming designs. Line them up together on one wall for a main attraction or spread them around the room or home for a tied-together design. They are even a nice choice for a colorful accent in a home office or den.
5. Lovely Lotus Metal Mandala Wall Art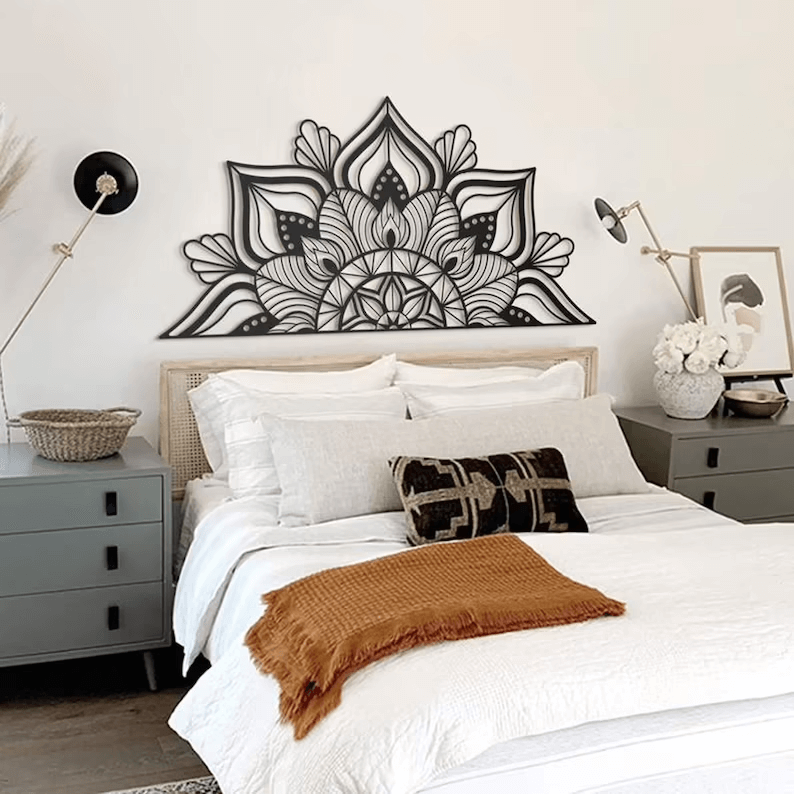 Infuse some peace and harmony into your humble abode with this lovely lotus flower metal mandala. Hanging above your bed, you'll have the peaceful retreat for restful slumber you've always wanted. Choose the finish of this incredible wall art to make it the perfect fit for your bedroom. White, black, or gold looks amazing as the finishing touch for this metal wall art. Another great location for this gorgeous metal mandala is in your own private zen garden. It's the ideal accent for a meditation garden in the comfort of your own backyard.
6. Ombre Indian Painted Wood Mandala Wall Art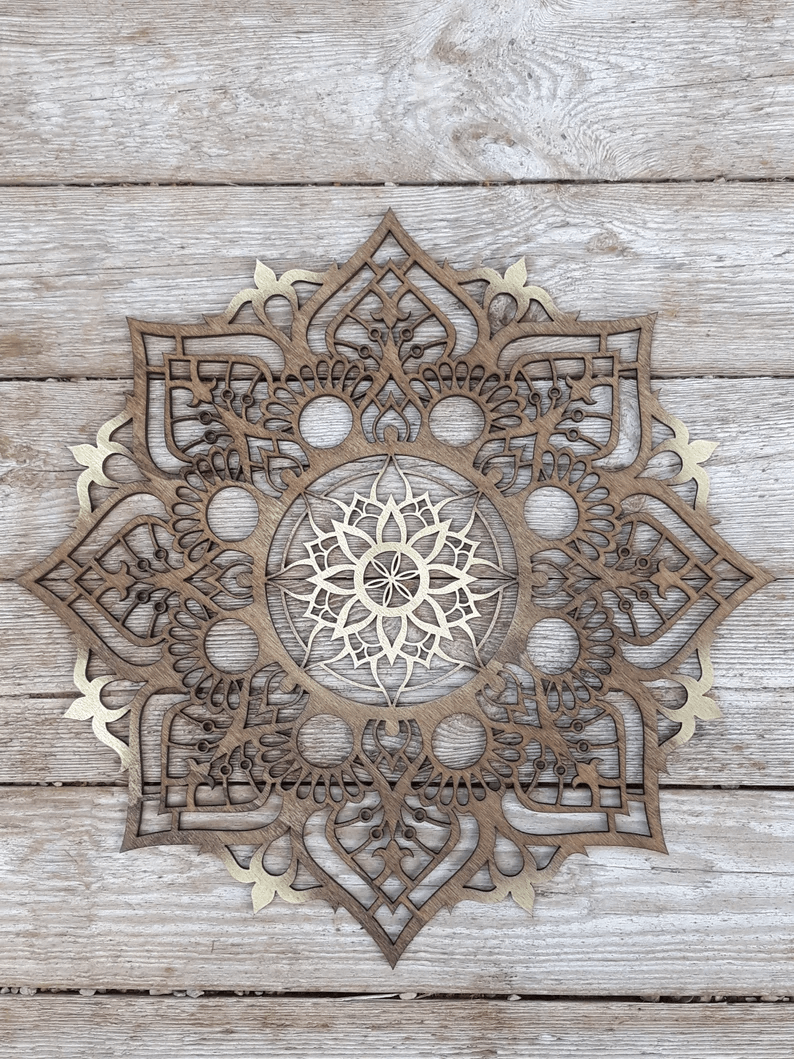 Lightweight and versatile, this Indian mandala wall art is created in poplar wood making it an easy-to-hang decoration. Take it beyond the paintbrush and enhance its beauty with some ombre effects that extend from the center to the outer edges. Your most loved colors will make this mandala the star of the show in your home with its personalized palette. Hang it on the wall in any room of your home for extra interest or use it as the foundation for a beautiful centerpiece on your dining room table.
7. Large Lotus Half Mandala Wall Sticker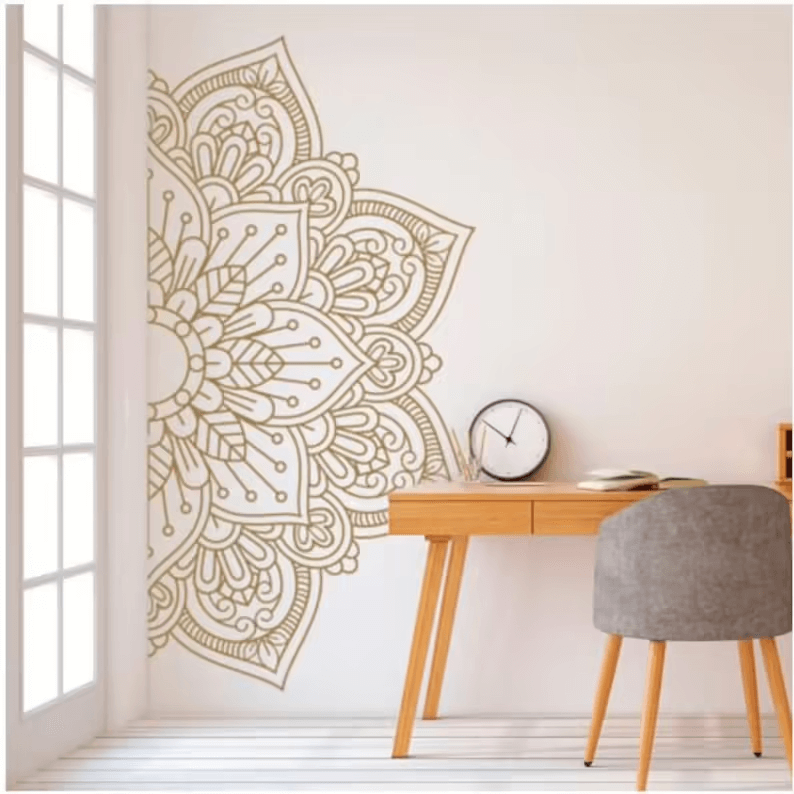 Make a bold statement with little effort when you apply this wall sticker inside your home. The larger-than-life lotus adds a bohemian beauty to the room and is available in white, black, or gold depending upon your preference. With delicate details in the creation of this fabulous flower, nestle it in the corner of a wall to allow it to seemingly emerge from the crevice. Place it at the top of the wall for another dramatic look or allow it to become the faux headboard in which you've been searching.
8. Half to Full Mandala Stencil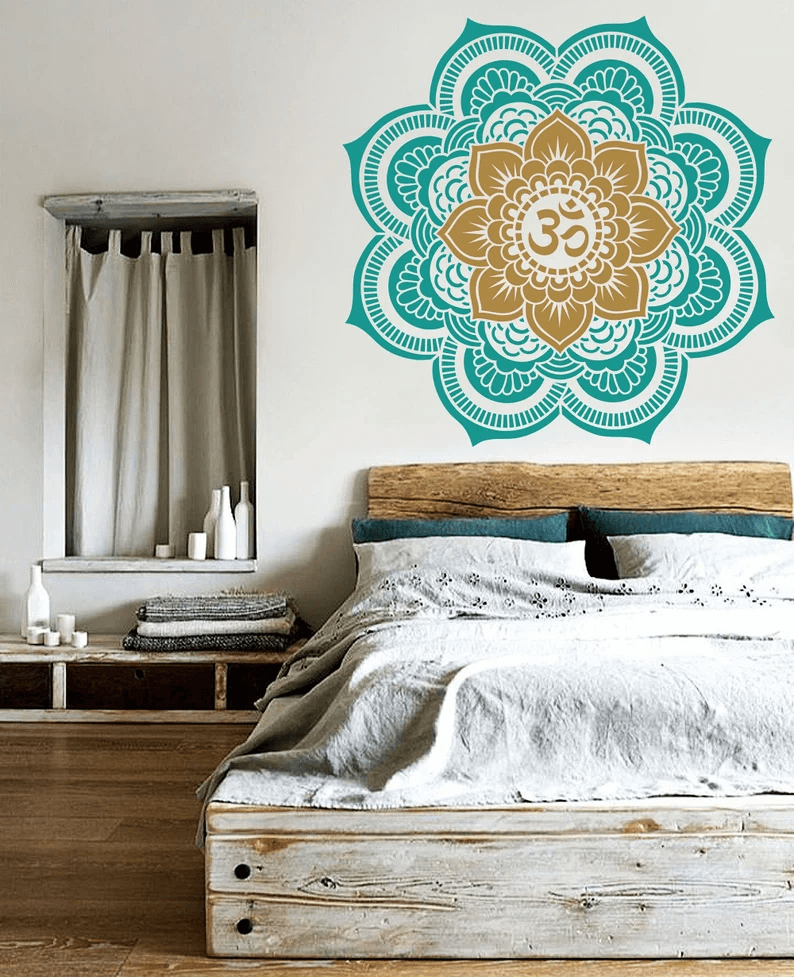 Create your own mandala masterpiece with an easy-to-use stencil. You even have the ability to choose the size you desire from the options of a quarter, half, or full mandala to meet your needs. In the center of this flower of life, you'll appreciate the om resting there. Stenciling is a great option for adorning a yoga space or outdoor meditation garden as some paint quickly converts a drab and boring floor into a wonderful work of art. Use a full size in the center of the room and embellish the corners with quarter-sized stencils for a pulled-together and designer look.
9. Custom Color LED Mandala Wall Light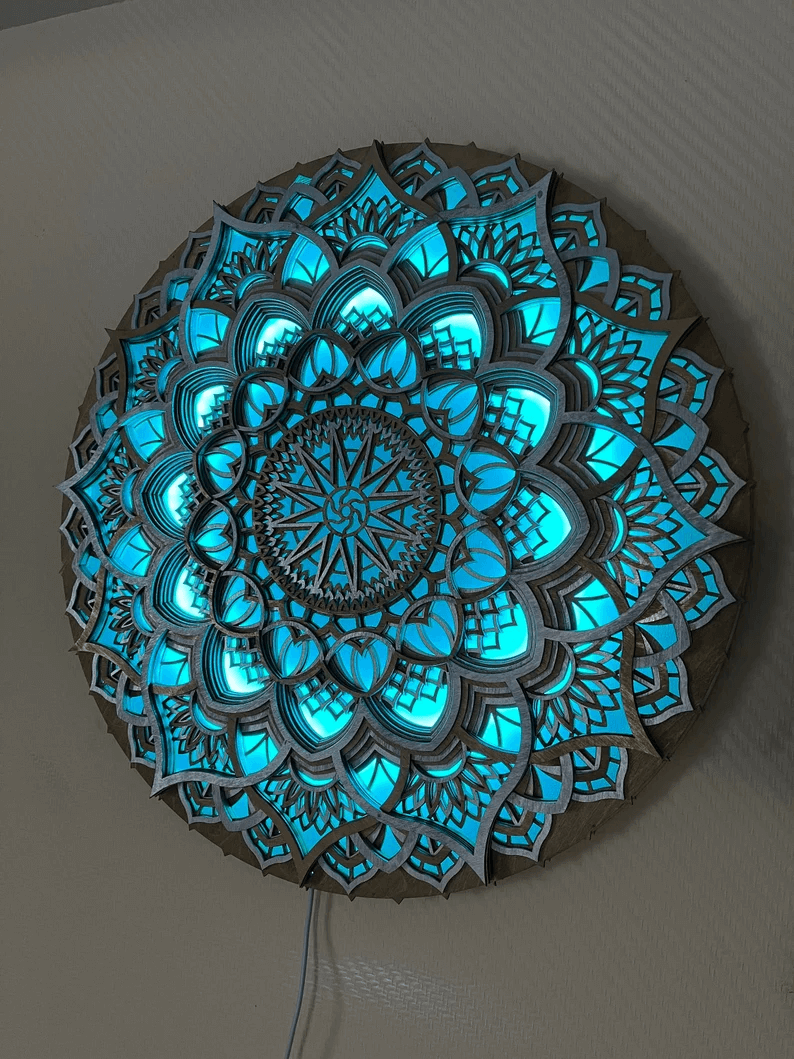 LED lights are infusing color into teen bedrooms across the world. Extend this trendy decorating fad into a more mature setting with a mandala wall light. Featuring the popular LED lights, this unique wall light is a chameleon for coordinating its color with your choice for the day. Change it up with the seasons, celebrations, or your personal mood. This decorative light is a good choice for practicing yoga under a relaxing atmosphere as well as sprucing up an apartment or studio.
10. Muted Vintage Bohemian Mandala Print Set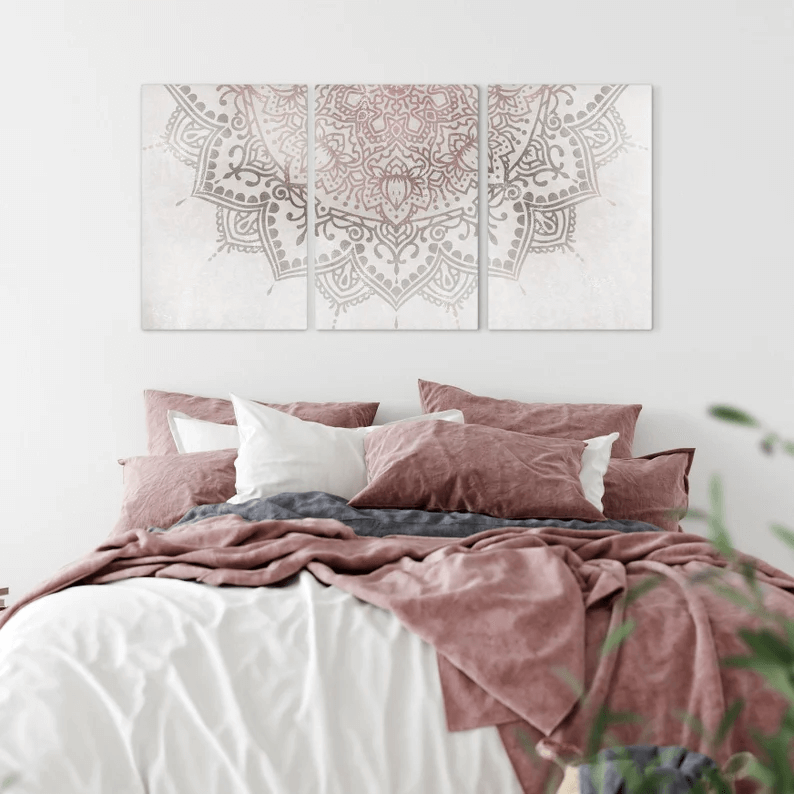 Understated and subtle bohemian flair is brought to life in this mandala print featured in a three-piece set. Arrange them together over the couch in your main living space for a lovely and beautiful boho-chic look. Created in a soft and subtle color scheme, this print set works with neutral decor in almost any room of the home. Feature the horizontal line of the mandala at the bottom and it nearly rivals the rising sun. With muted colors of blush and beige gray, this display looks amazing in your vintage-loving bohemian design.
11. Turquoise and Gold Feathered Mandala Wall Sticker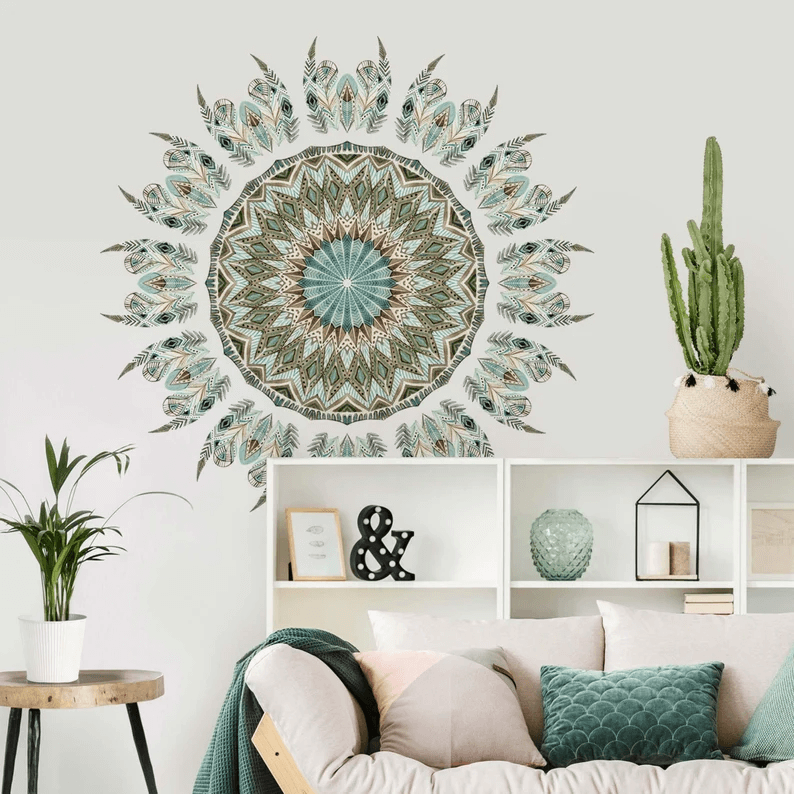 Enjoy the gorgeous greens and golds in this stunning mandala wall sticker. Anywhere you place it, it is sure to draw the eye into its central circle that's surrounded by decorative details. This inner circle comes together in a kaleidoscope fashion with a framed fringe of feathers for further detail and style. In this spectacular sticker, two cultures collide to create its intricate beauty. Accessorize the wall space of a bedroom or stick this to a circular coffee table for added interest. A smooth ceiling would provide a nice option as this feathered mandala could highlight a solitary light fixture.
12. Extra Large DIY Mandala Stencil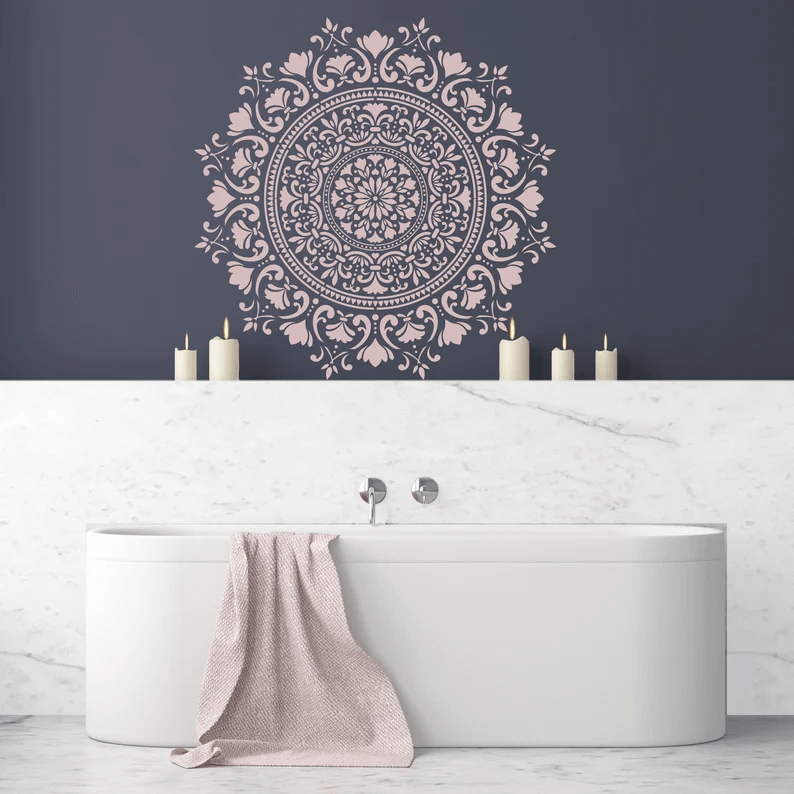 Perfect patterns await your painting projects when you choose to use this extra-large mandala stencil. The sky's the limit in terms of creativity when using this stencil. Work its magic on a concrete floor to enhance a patio, yoga studio, or special room in the basement. Jazz up a plain picnic table with a pattern of carefully placed mandalas for a pretty place setting base. And of course, you can customize any wall space to your liking from a single mandala over the bed or couch to a planned out pattern that beats any wallpaper with a lot less stress and mess!
13. Handmade Yoga Decor Mandala from Bali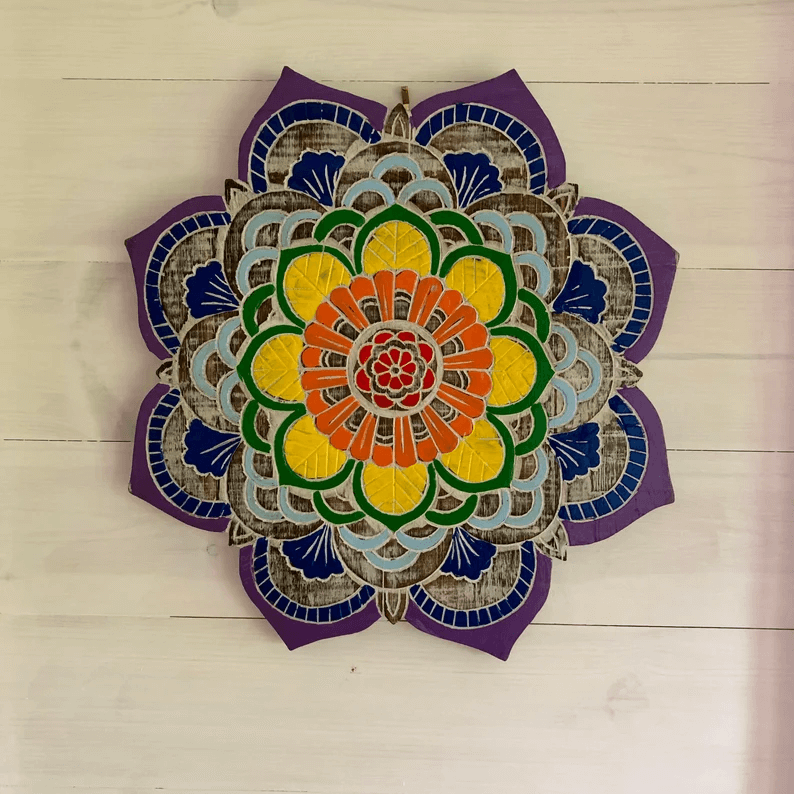 Handcrafted in Bali, this beautiful and colorful wooden mandala makes a great decor choice for your favorite yoga space. Filled with all the colors of the rainbow, this magical mandala exudes inner peace and positive energy of the universe into the room. The layers of colors nearly portray a three-dimensional look as this wooden gem comes to life on your wall. Hang it as the focal point on your main wall or use it in lieu of a wreath for the entrance to your yoga studio.
14. Intricately Detailed Decorative Mandala Wall Art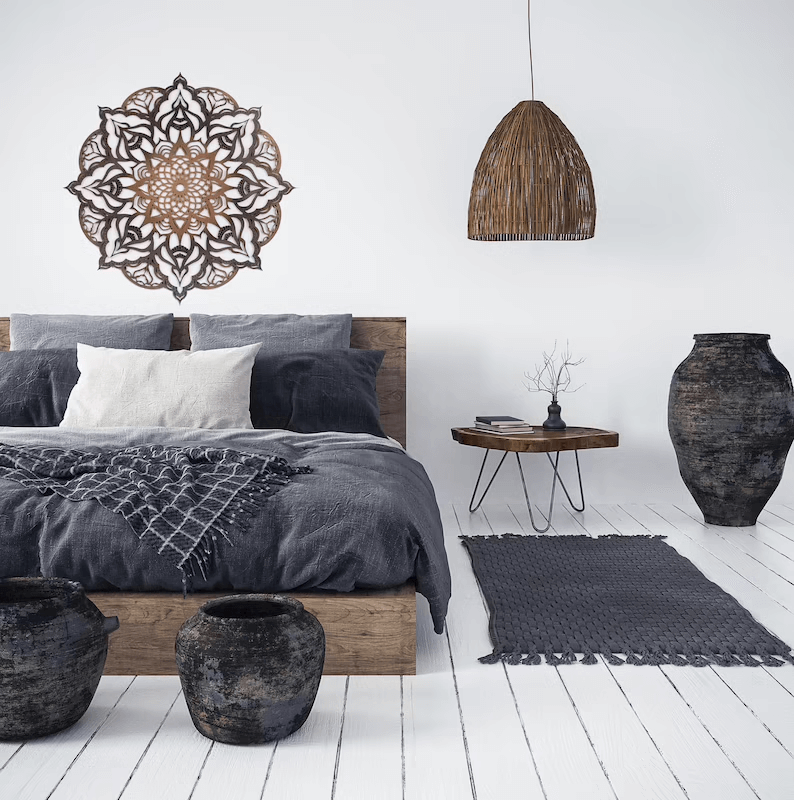 Everyone will adore the abundance of details infused into this creative wooden mandala wall art. You may choose to leave it in all of its natural wooden splendor or jazz it up with your favorite bright and bold colors. Each layer of leaves working their way out from within the center includes precise details that create an intricate pattern and design. Give this gift of harmony and peace to a friend in celebration of a new home, job promotion, or another special occasion.
15. Beautiful Beige Goddess Mandala Wall Art Set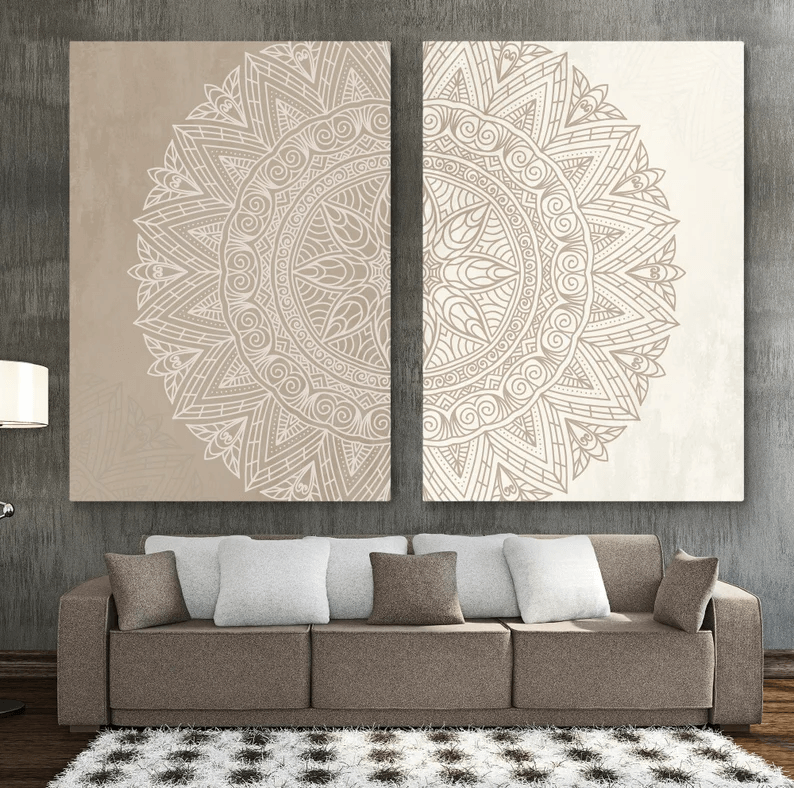 Find your connection to the universe with this beautiful beige mandala wall art set. This two-piece collaboration is presented in neutral colors to seamlessly blend into your modern, bohemian, or contemporary home. The extra-large size allows this mandala wall art set to take center stage as the focal point in the room. Look closely and you'll notice how the two prints nearly mirror one another and provide a perfect contrast as they counter one another in a precise manner. Hang this pair on the main wall in the great room, above the couch in the main living area, or on the wall in the foyer for maximum effect.
16. Mandala Vinyl Wall Art Sticker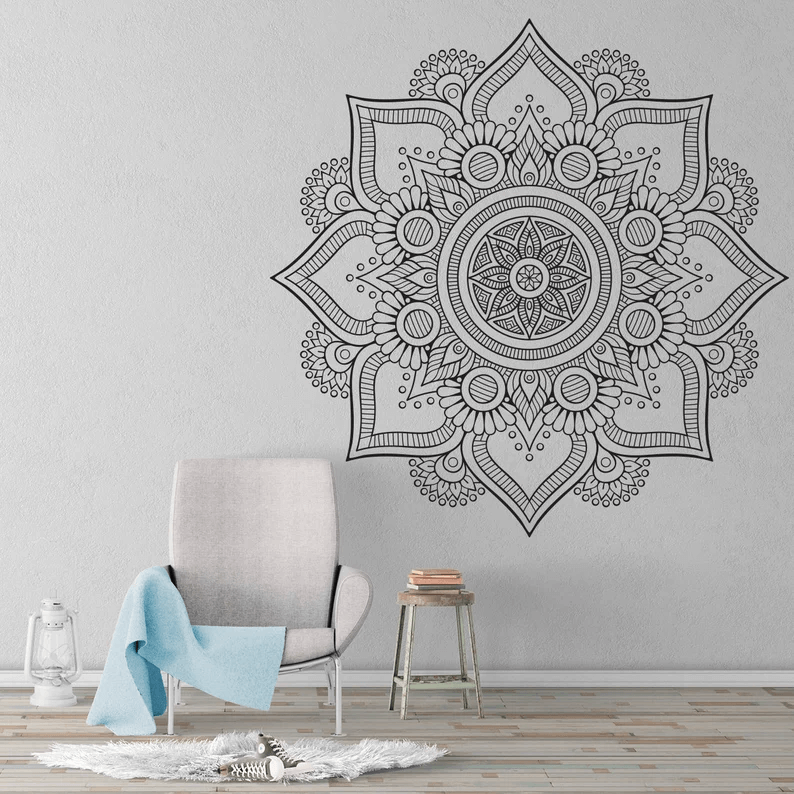 Pick your size and color to create this amazing mandala wall decor for your home. It comes in nearly any color you can imagine and features lacey detailing. In your home office, a quarter mandala makes a unique and interesting corner accent to create a more polished and professional workspace. Above the bed, a half mandala acts as a hassle-free headboard. Finally, a full-size mandala looks fabulous making a bold statement on your largest interior wall as a lovely focal point.
17. Metal Mandala with Lotus Flower Center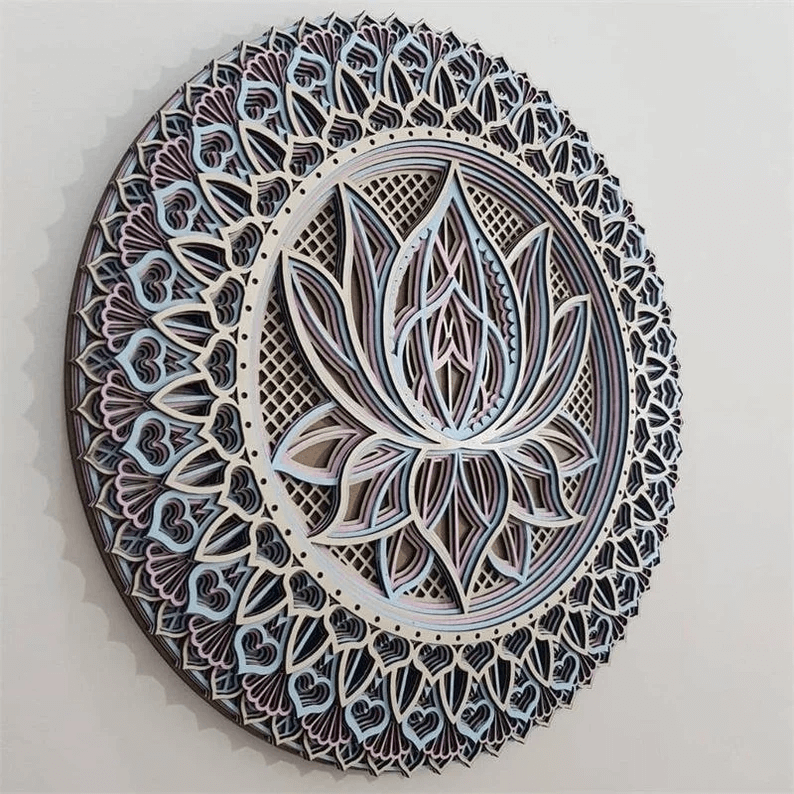 Mesmerize your family and friends with this optical illusion lotus flower mandala wall art. Although this mandala wall painting is a flat metal creation, it feels as if it extends from the wall with its magical layers and delicate details. Carefully crafted, this charming circle work of art makes a wonderful and welcomed housewarming gift for a close friend. Look carefully and you'll appreciate all of the minute details from hearts to latticework that makes this such a gorgeous and unique piece of wall art giving your home that "wow factor."
18. Blush Canvas Background White Mandala Print Set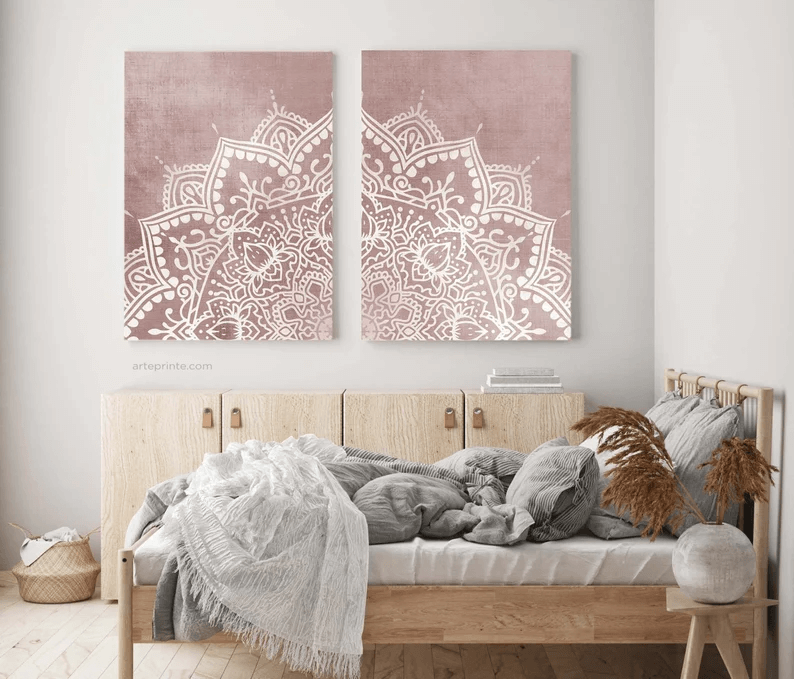 Lovely, light, and airy blush fills the background of this mandala print set. With the use of textured design, it feels like a painted canvas foundation for this neutral mandala design. Choose this for a modern baby girl's nursery for a bohemian vibe with an understated pop of color. A muted hue like this blush background adds a serene sophistication to the look and feel of the entire room. Displaying such a large and charming piece of wall art allows for a more relaxed and less chaotic decorating scene in the room as few to no extra wall decorations are needed. Let this elegant and enormous print set work its magic and steal the show.
19. Three-Piece Metal Mandala Wall Art Set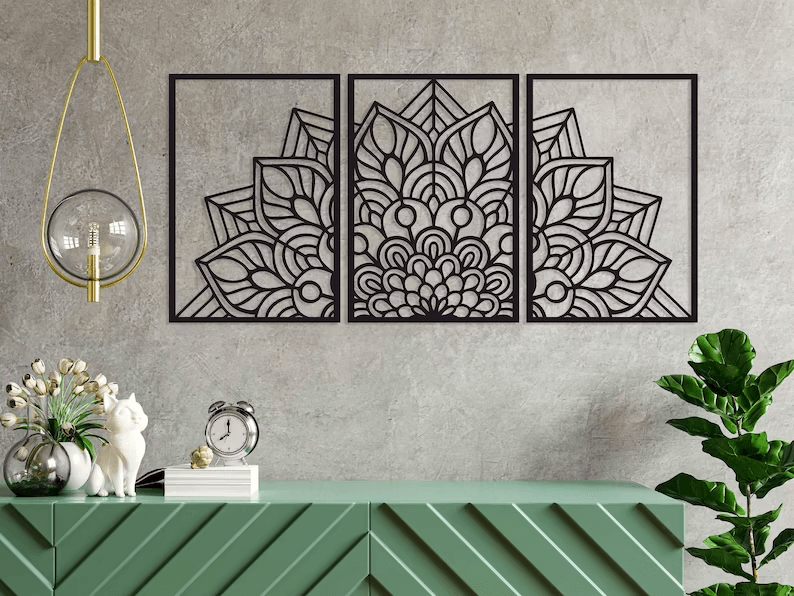 From the inside of your home to your favorite outside space, this metal mandala set conquers all. Looking lovely and luxurious, this crafted metal masterpiece makes a great decoration in your backyard garden or private oasis. Gardening will be more fun when the workspace is stylish. Place this trio over your garden center to create an inviting and charming outdoor workspace. Or if you spend more time unwinding with friends in the conversation space of your outdoor furniture, hang it above your largest sitting spot for a well-defined hangout.
20. Achieve Bohemian Zen Wooden Mandala Wall Art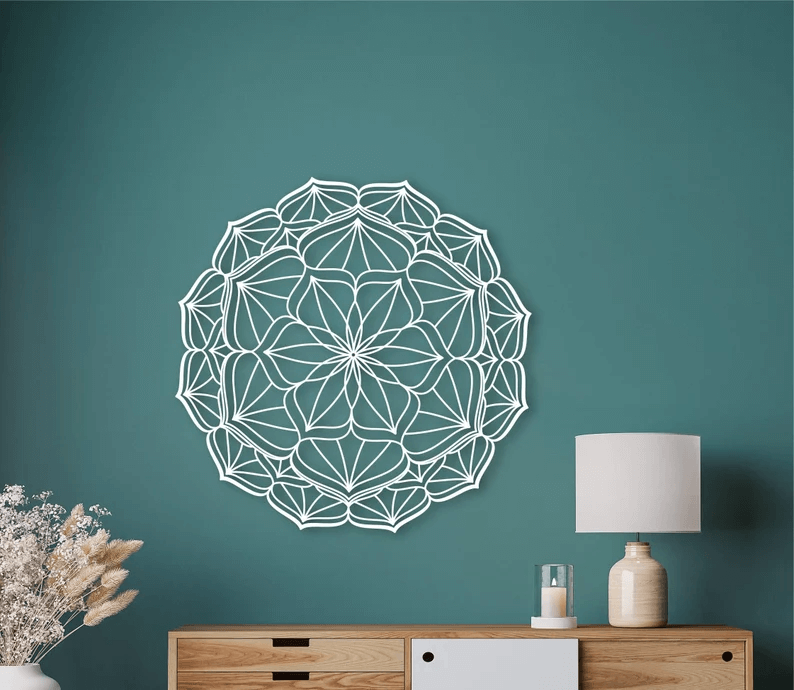 Let your decorating heart run wild with the multitude of options for finishing this gorgeous wooden mandala wall art. The simplistic beauty of this harmonious symbol is represented in all its wooden glory. Choose to add a burst of color with nearly any hue you desire as the finishing touch or keep it subtle and neutral with a natural birch wood finish. This wooden mandala adds charm and peace to your home and looks amazing hanging on any wall space you choose.
21. Magnificent Mandala Wooden Boho Wall Art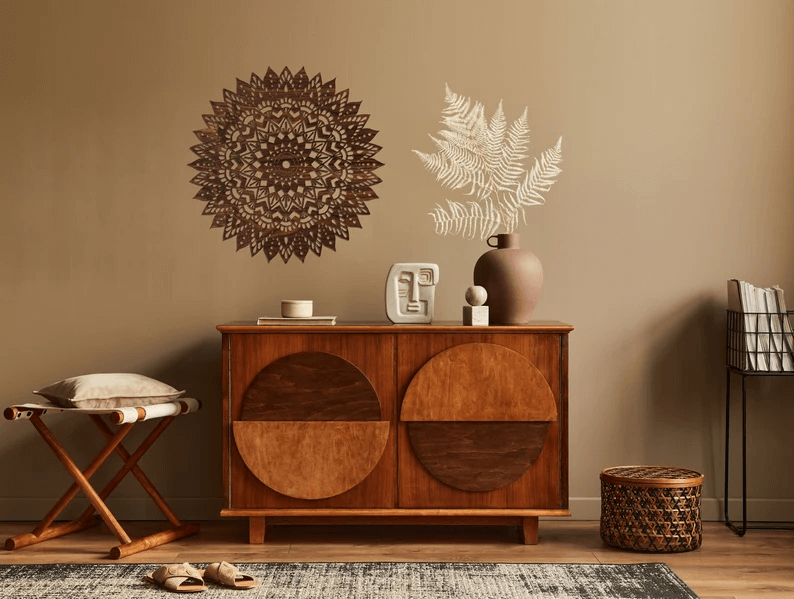 Include some texture into your wall art designs with this pretty mandala wall art decoration. Its beauty works as a focal point when hanging on the wall as you concentrate on your current yoga pose. If you aren't into downward-facing dog, it adds a striking shape in your dining room or bathroom. The end of a hallway would be another point of interest for hanging this bohemian mandala piece. Pick your favorite type of wood so your mandala will blend in with your existing decor no matter if it's modern or mid-century in design.
22. Unique Yin Yang Wooden Mandala Decoration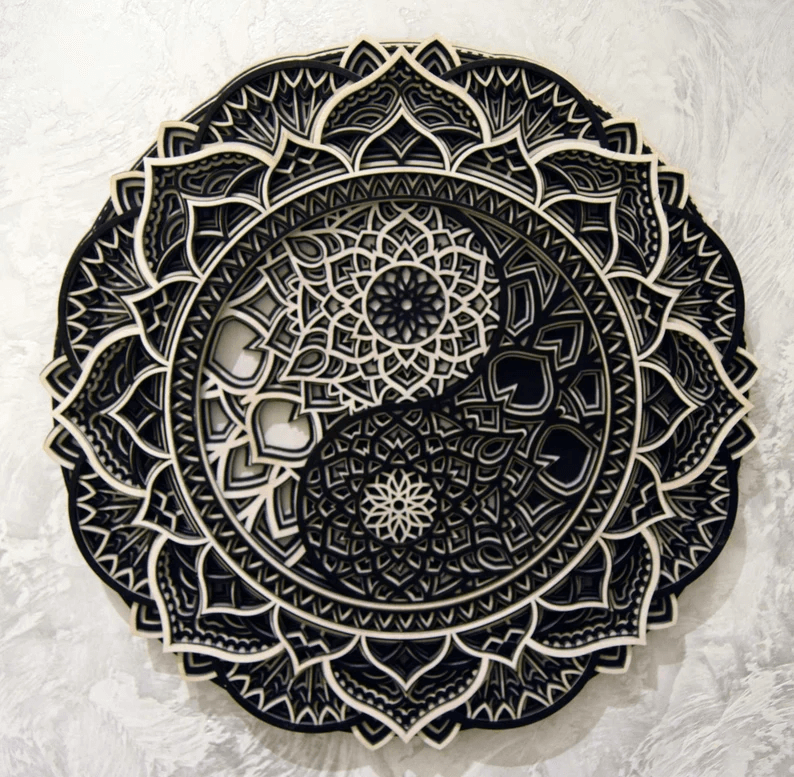 Cherish the iconic cultural symbol from Asia with this cool yin-yang mandala. By selecting a two-tone color combination for the finish, you will be sure to make this symbol really pop from the center of this mandala decoration. Use it as the main wall art in your meditation garden or room where it can be the focus of you opening your mind and soul. Allow the simplicity of a natural open mind to be your guide as you embark on a level of zen during your next meditation.
23. Laser Cut Oblong Wooden Mandala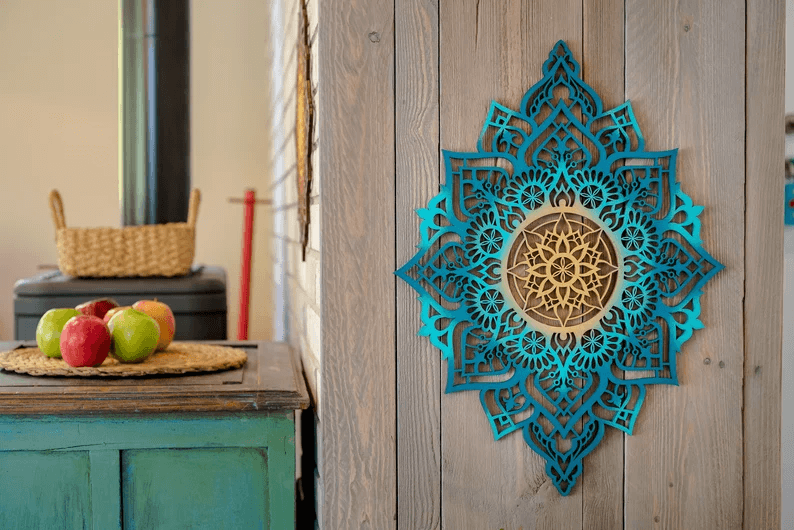 Straying from the circular mandala path, this oblong version is nearly a rhombus base offering a fresh spin on the popular peaceful pattern. Intricate lace details throughout the pattern provide delicacy and beauty that is hard to match in woodworking. Add a bright burst of color with a large selection of options to make your mandala the main attraction in your home. This Indian artwork piece intends to infuse peace and harmony with its positivity and connection to the universe. Its lightweight nature makes it a breeze to hang up on the wall as well.
24. Half or Full Rainbow Ombre Mandala Sticker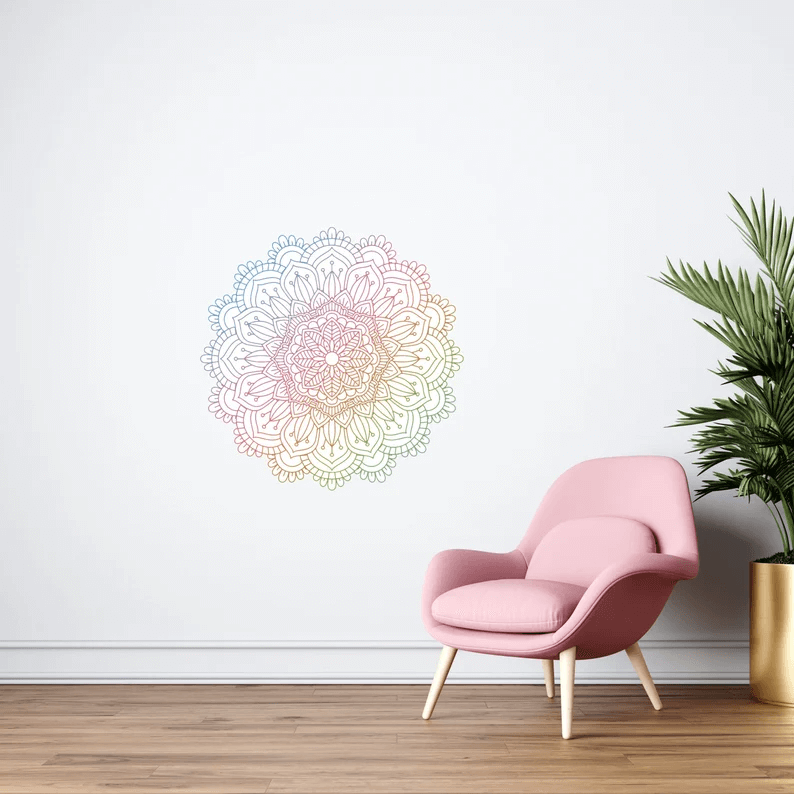 Here's a great option for a mandala wall painting that looks amazing, but isn't a permanent fixture. Available in your choice of half or full styles, this vinyl wall decal mandala shows off its beauty in an ombre effect. Spanning all the colors of the rainbow, this wall sticker is what you've been searching for. Full of vivid colors, this mandala decal would add some fun to the kids' playroom or a fresh new decoration to the child's bedroom. The half mandala option is best for using as a faux headboard design or above a comfortable couch. You'll get the most out of the rainbow colors if you hang this treasure on a plain white wall.
25. Protected from Harm Squared Wooden Mandala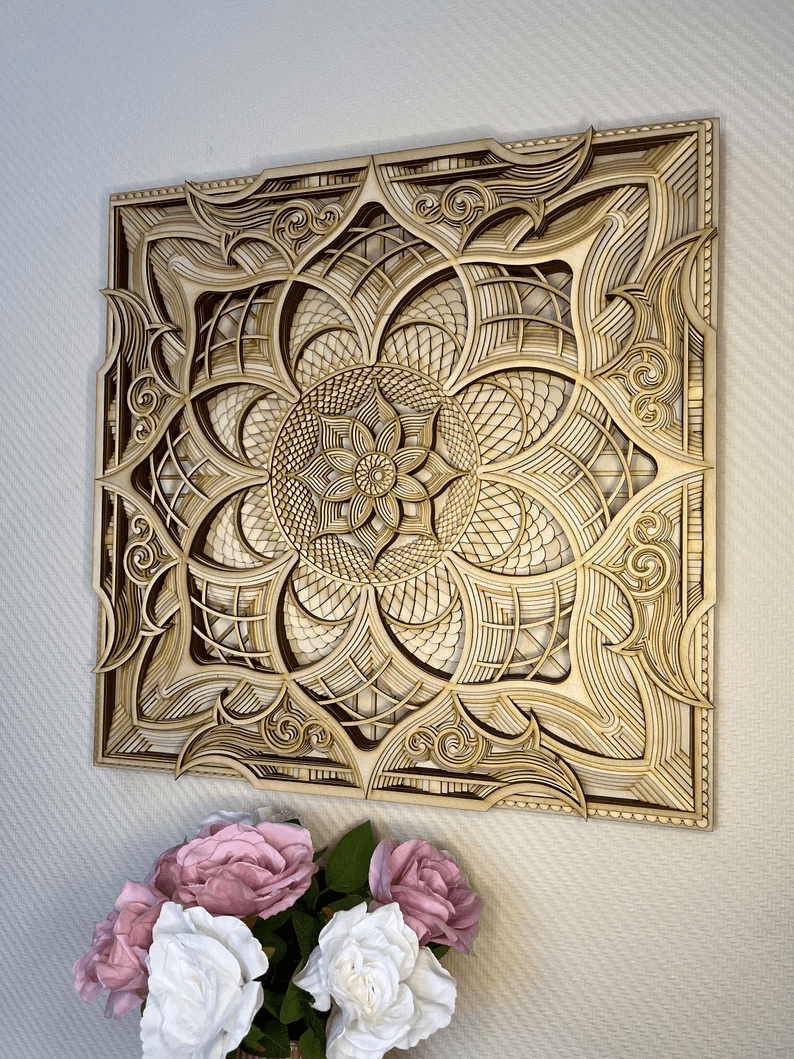 Protect the ones you love most by keeping bad energy at bay with this squared wooden mandala that invites you to connect your inner being with the world around you. Featured in a square format, this style is presented with a nice frame including beading around the edge. No detail has been left out. The gift of a breathtaking mandala, like this wooden one, makes a wonderful sympathy gift instead of flowers. When searching for a one-of-a-kind gift idea for a special friend who's difficult to buy for, consider giving the gift of positive vibes with a decorative and designer-looking mandala wall art decoration.
Meditate in Peace Amid the Best Mandala Wall Art
For believers of the Buddhist or Hindu faith as well as yoga enthusiasts, the inclusion of a mandala is nearly a necessity. For the rest of the world, it may be a good way to take away the stress of daily life or simply add some artistic beauty to your home.
Choose a laser-cut wood version in a natural finish to show off the beauty of natural wood giving a low-key and neutral accent to your design. Or brighten up a wall with one of the best mandala wall art looks in your choice of vibrant colors. From a pair of colors to an ombre rainbow, adding a focal point is simple.
The vinyl wall stickers would be cool as a decorative base around an overhead light. While the half mandala options are fantastic when used as faux headboards, the quarter-sized ones are ideal for accenting a plain and boring home office space.
From yoga studios to housewarming gifts and all the spiritual scenarios in between, the use of a mandala in your decor is a fabulous idea. The intricate geometric beauty exhibited from the intense detailing makes the mandala a top pick for adding a soft and serene beauty into any space.