Mason jars lend an authentic feel to rustic DIY decor. Whether you're decorating an apartment, setting up an Etsy backdrop, or showcasing your artisan crafts, you'll find that these versatile jars aren't just for food storage or organizing bulk grains and spices anymore. Creative crafters from around the world have conclusively proven that artistically implemented mason jar wall decor ideas can make any wall sparkle with imagination and color.
45+ Lovely Mason Jar Wall Decor Ideas to Make Any Home Sparkle

Invented in 1858 by John Landis Mason as a wholesome alternative to tin canning, Mason jars gained popularity in the 20th century due to their effective seals and attractive transparent designs. Most Mason jar wall decor ideas you see today are made possible by the Ball Corporation, which still manufactures their jars in the U.S.A. Nowadays used for much more than just food canning, with a little imagination and technical skill, Mason jars can become effective oil lanterns, reusable drink containers, or decor items.
Crystal-clear transparent glass, the nostalgic lilting Ball logo, and the revered status which Mason jars enjoy in today's culture make them a top pick as display cases for seashells, flowers or collectibles. Here are 45+ mason jar wall decor ideas that showcase the true creative power of these iconic vintage canning jars.
1. Simple Farmhouse Mason Jar Flower Vase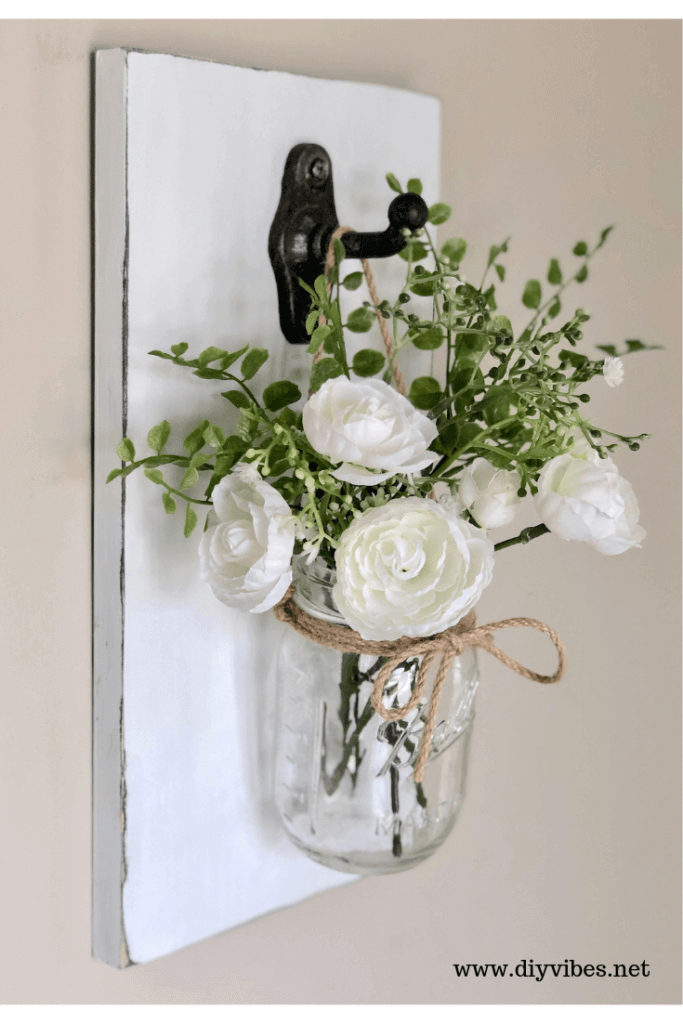 If you're looking for something more small-scale, consider using a simple plank of wood to create a wall vase. Add on a hook and feel free to give everything a distressed appearance to nail down that rustic look. For the Mason jar, the use of a rope tied around the top can help stick to the overall theme while also making it easier to hang on the hook.
2. Rustic Mason Jar Hanging Wall Lanterns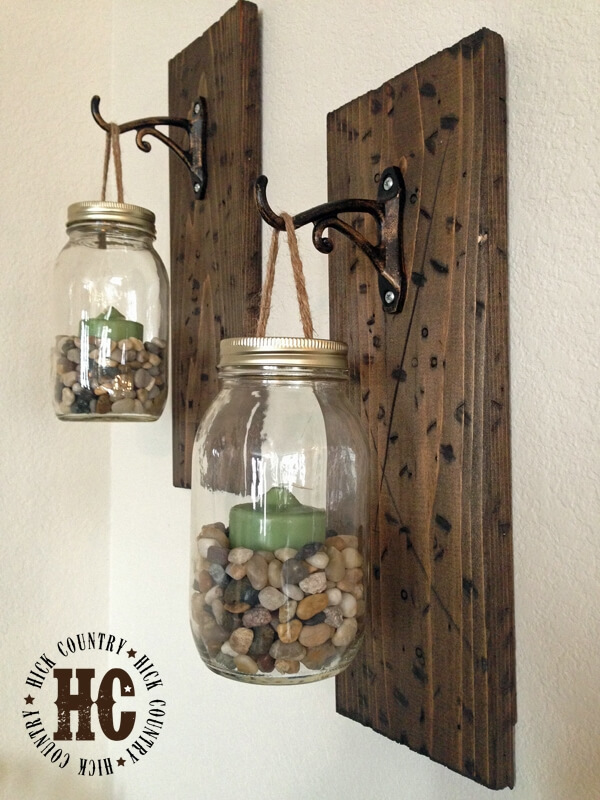 Adding lanterns to your walls is a unique way to add some lighting to a room. With Mason jars, that lighting can have an even bolder impact. You can use some vintage-looking wood to hang the jars on, and from there, add some different decorative items to the jar that can hold a tea candle such as rocks. If you want to use real candles, then you can't cover the top of the jars. Otherwise, you can use fake ones.
3. Painted Rusted Mason Jar Wall Sconces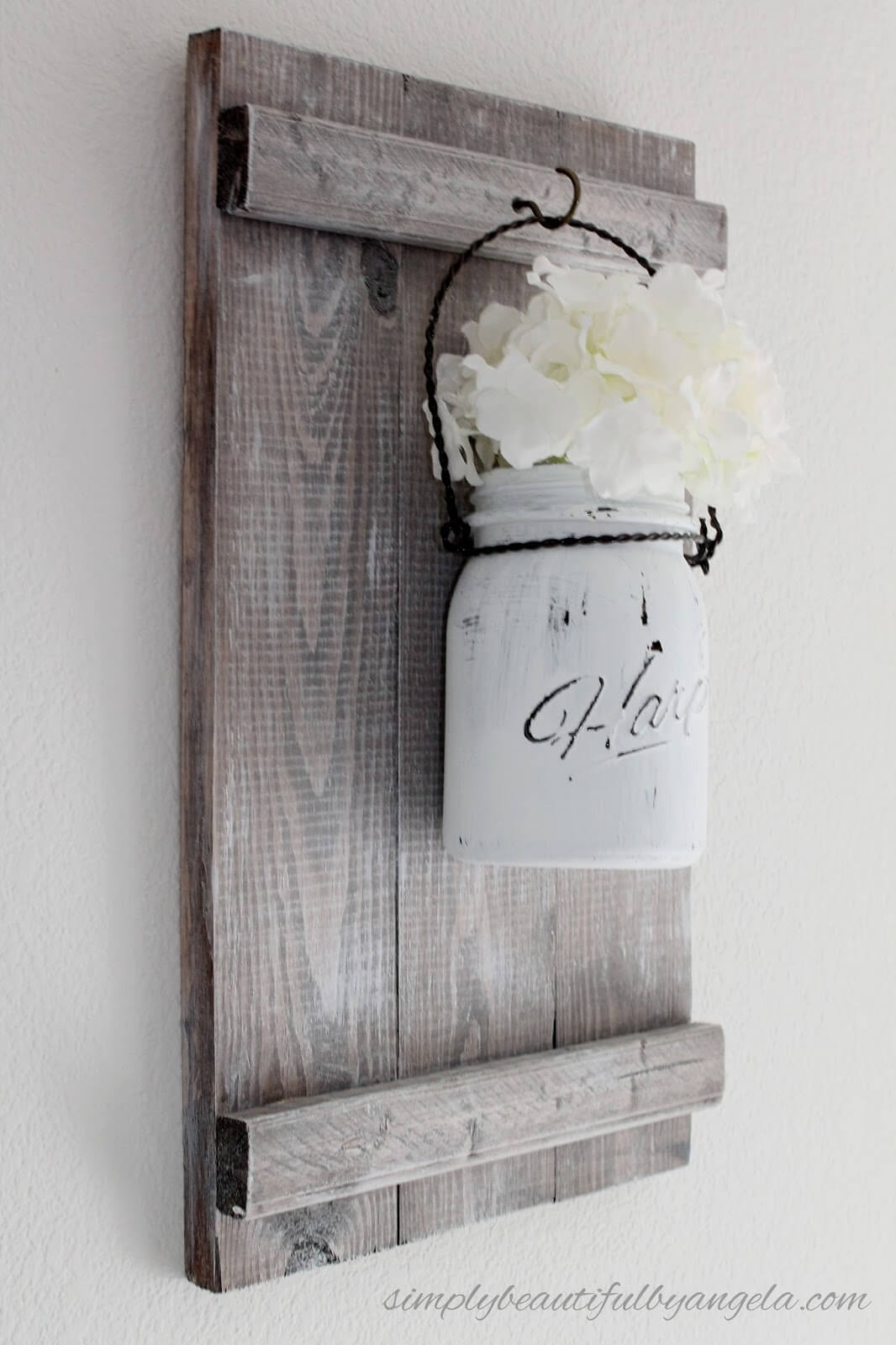 Wall sconces remain a go-to type of decoration to fill up some of that empty space you may have on your walls, so why not go for a more rustic vibe using aged wood as the background? You can even use some chalk paint on the Mason jars since that gives them a rougher look befitting a country-style decorative theme. You can fill them up with flowers that match whatever color you go for when painting the jars.
4. Repurposed Cabinet Mason Jar Wall Vase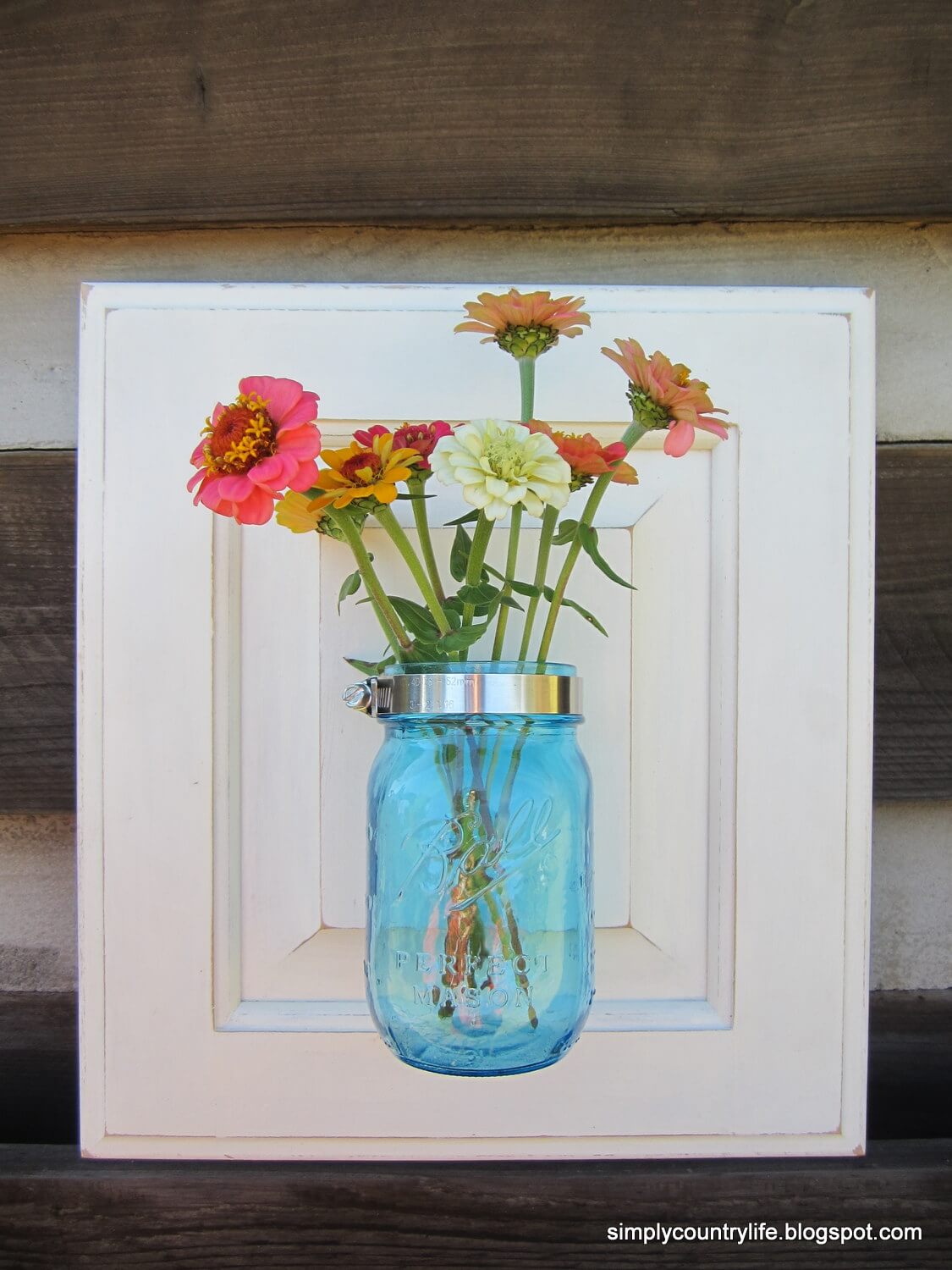 Upcycling something is always a fun project as it breathes new life into something old or previously broken. A piece of the cabinet is a good choice when you don't want to find new wood to use to make a wall vase. It's sturdy, and you can paint it however you like without having to make a new design if it's already decorative. It can also give your decorations a more classic vibe.
5. Adorable Colored Mason Jar Wall Vases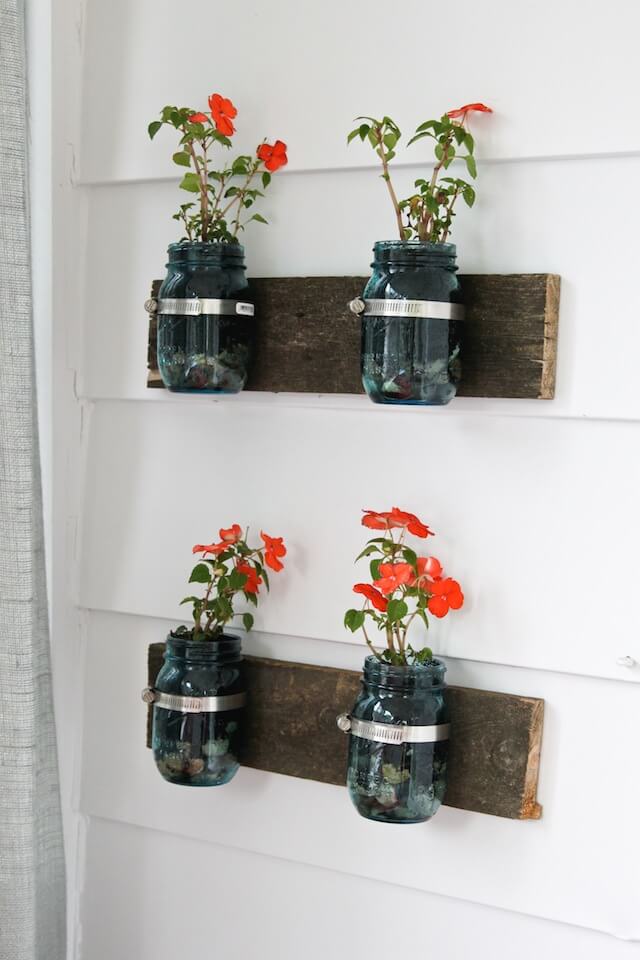 Sometimes, colored Mason jars can help your decorations further stand out. You don't have to paint them yourself either as there are many vintage-colored jars out there that you can still somewhat see inside. They can serve as good bases for flowers if you fill the jars with some soil as well as something firm to give it more of a decorative feel. Rocks can help greatly in this case.
6. Cool Vintage Mason Jar Wall Sconce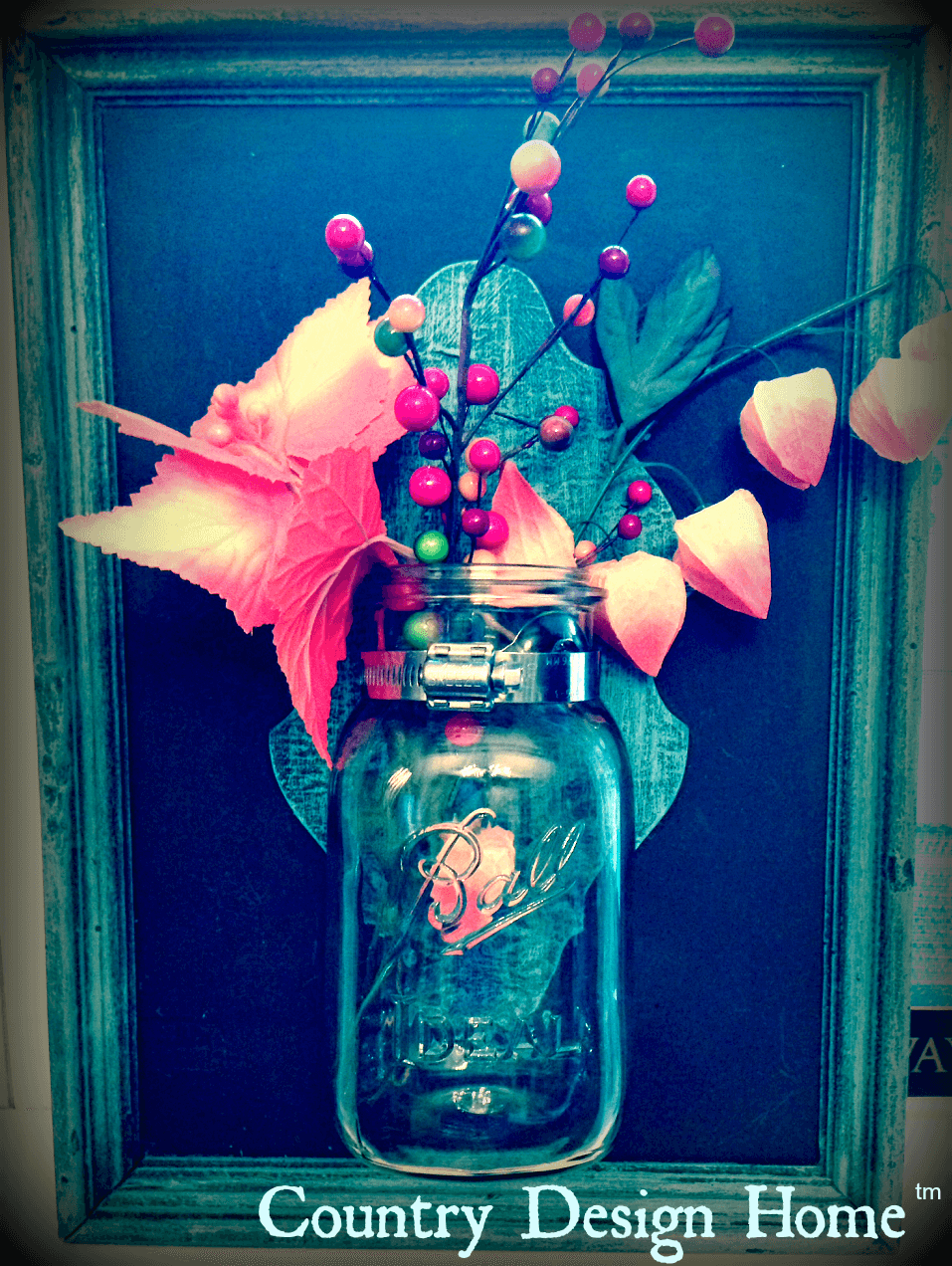 A wall sconce can help you create a wonderful vintage decorative item that will look great hanging anywhere in your home. The Mason jar works as the perfect focal point where you can add in multiple items like faux plants. There's not much you need to do to the jar at hand since keeping the clear appearance further helps show off everything you're adding inside of it.
7. Traditional Wooden Mason Jar Wall Sconce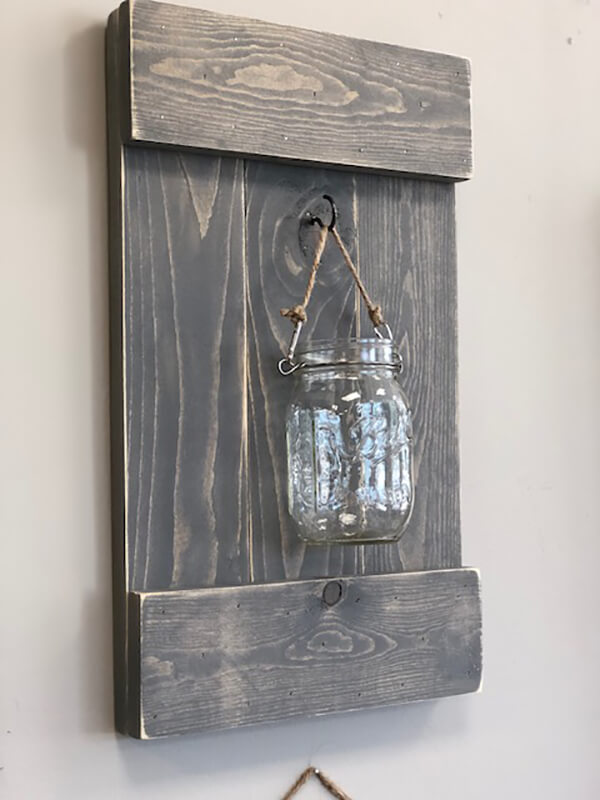 Simplicity can be best for many people when decorating the walls. If you want more freedom to add different items to a Mason jar, consider setting up a basic piece of wood with a simple hook to hang the jar from. Nothing too flashy as that might detract from anything you put inside the jar. However, you can put just about anything inside like flowers. Or leave the jar empty as it can speak for itself well enough.
8. Rural Mason Jar Wall Planters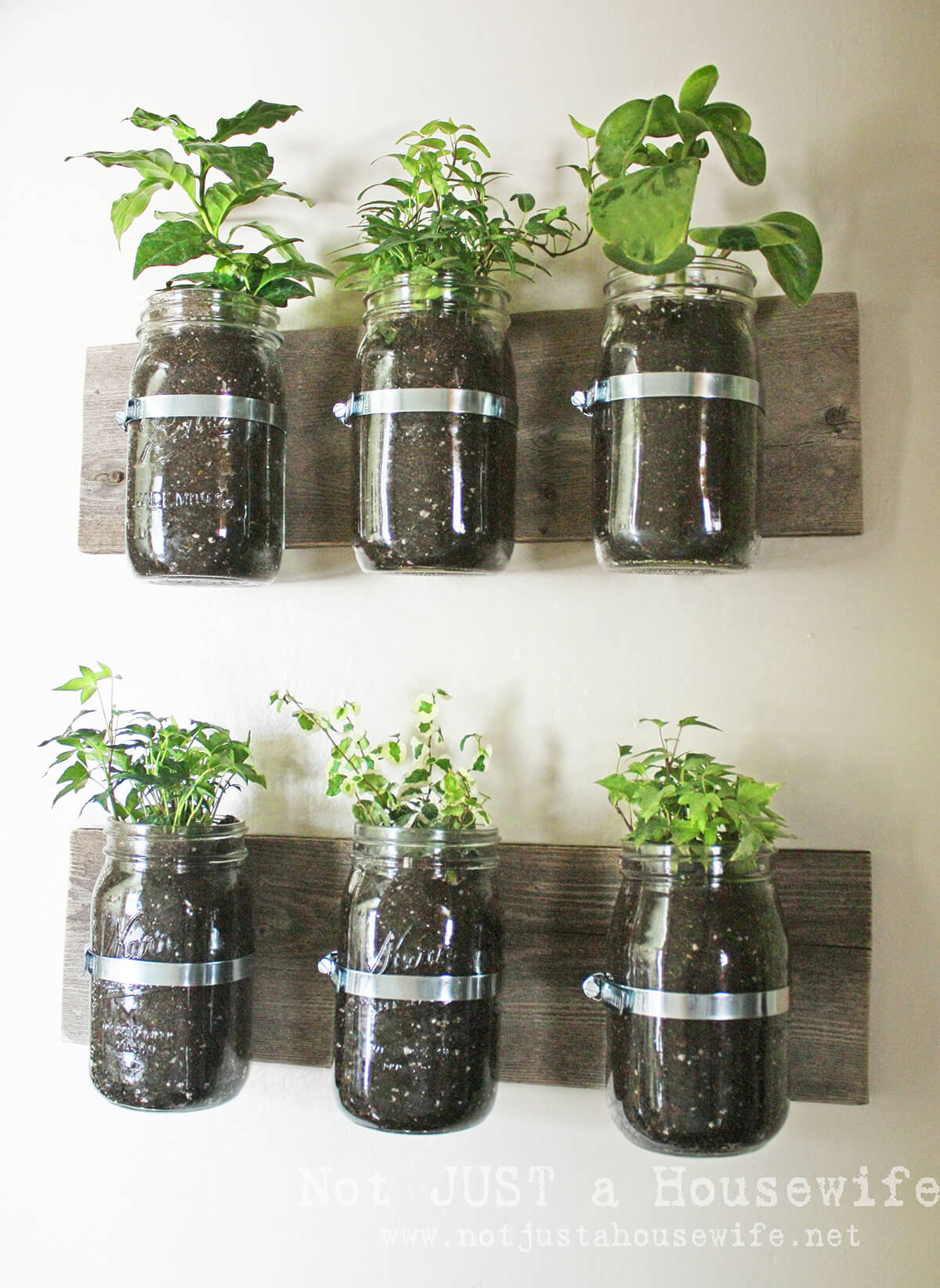 Don't want to hang traditional planters on the wall? Well, you can take a unique approach by using Mason jars in place of the usual planters. You can fill them to the brim with soil, and they are sturdy enough to support everything while giving your plant set up a different look. Making multiple ones hang either side by side or vertically can provide your decorations with a sense of flow.
9. Upcycled Scrap Wood Mason Jar Wall Vase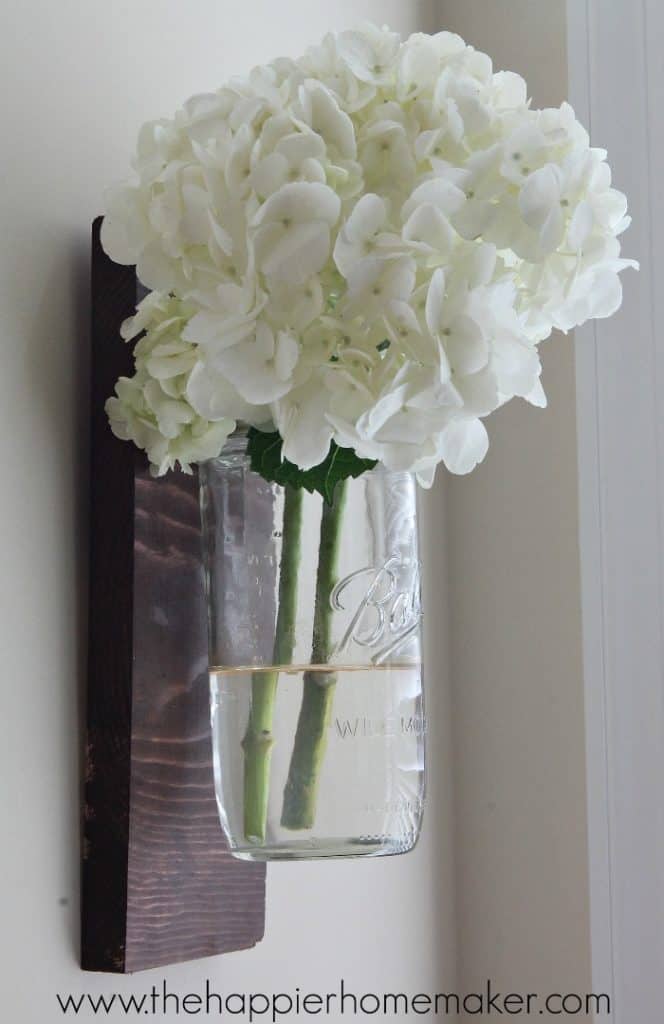 It's incredible how much you can change a piece of scrap wood without doing too much to it besides adding a Mason jar. Just cut it down to whatever size you need in accordance with the Mason jar you have, and you're left with the perfect piece to create a wall vase. You may even already have everything you need in your home to finish this project.
10. Colorful Reclaimed Wood Hanging Mason Jar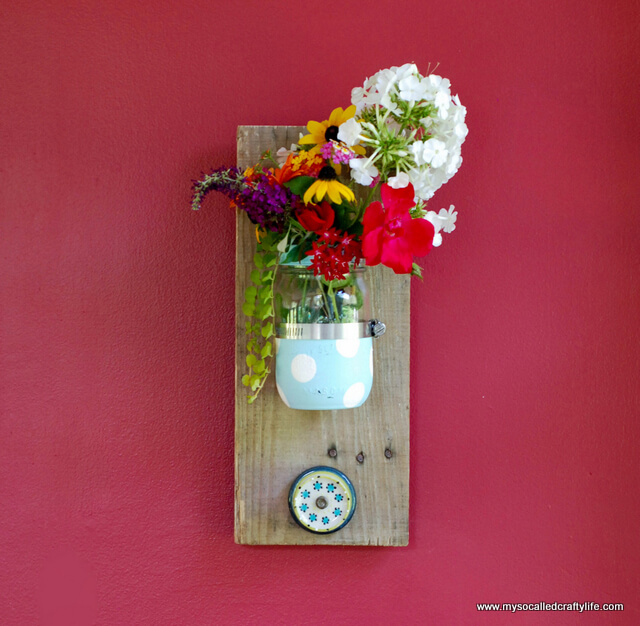 Using reclaimed wood is a good way to ensure nothing goes to waste. You can leave the wood as is and instead focus on decorating the Mason jar itself. Painting half of the jar with a particular pattern can add a unique touch to it. Consider adding some bright flowers if you are looking to have more color and life to your decorations.
11. Mounted Mason Jar Wall Vases on Wood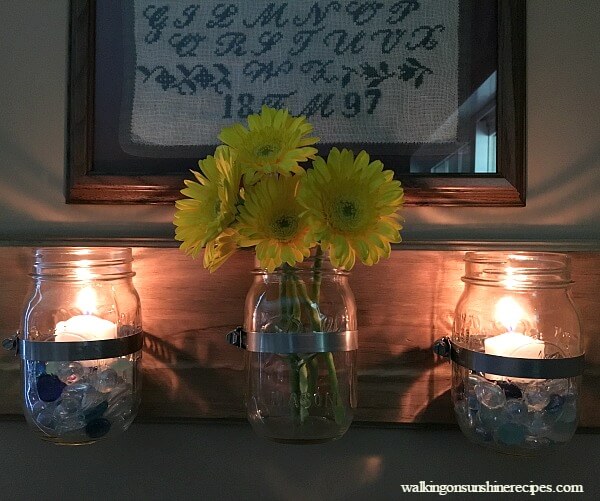 Here's a multi-functional mason jar idea that provides plenty of versatility to your home decor scene. From a traditional vase filled with flowers to a great hangout caddy for bathroom essentials, this trio of mason jars is attached to a wooden board for easy and convenient wall hanging ability. Fill them with trinkets and treasures for decorating or store your stash of art supplies for quick crafting.
12. White Painted Mason Jar Sconces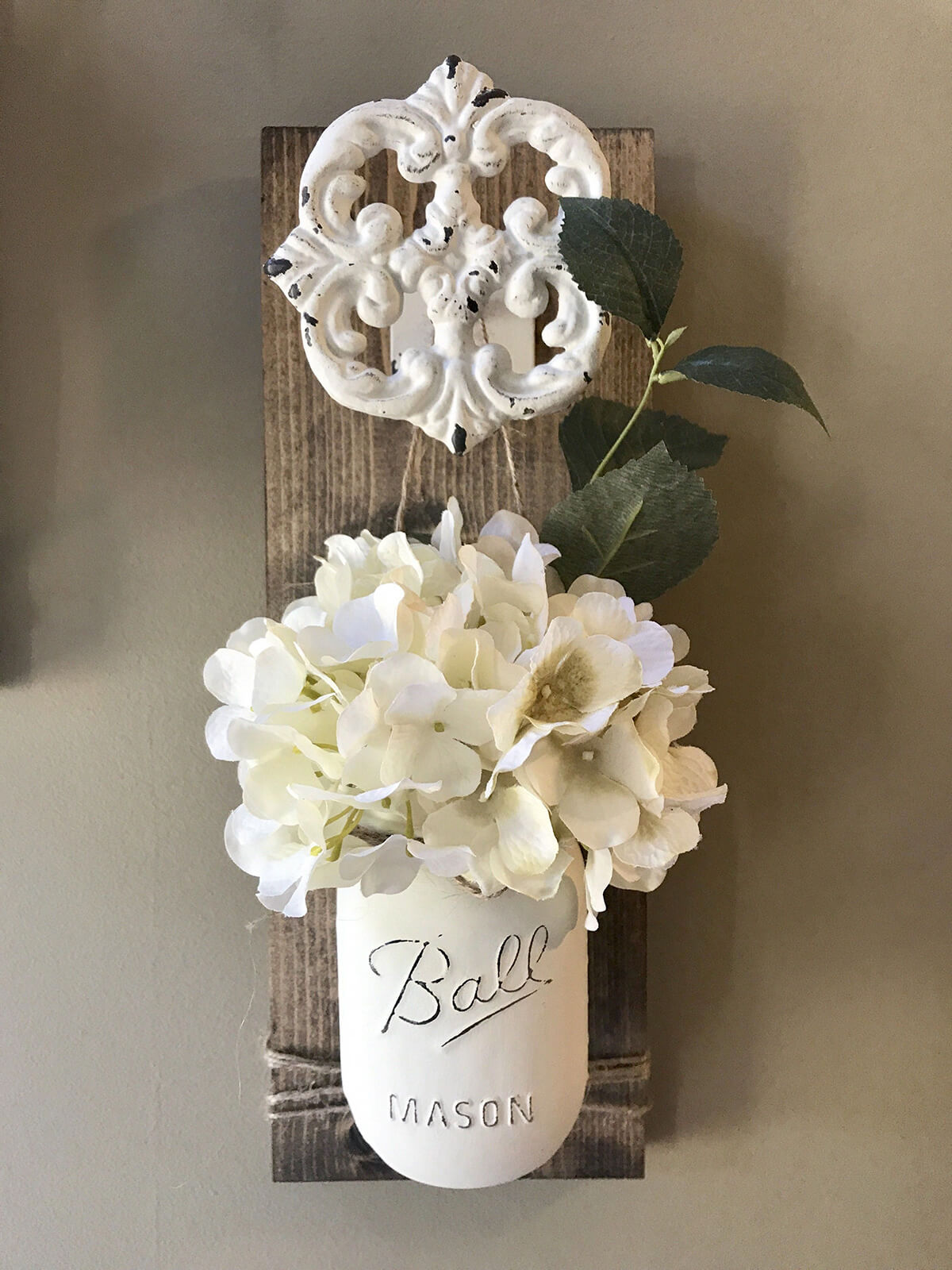 For the perfect touch to your farmhouse-styled home, these Mason jar sconces can look great hanging in numerous rooms. Add them to your kitchen, or set them up to frame a wall TV in the living room. You can even swap the flowers out to better fit your style or to go along with specific seasons. These come with the hanging hardware already on the back so you don't have to add it yourself.
13. Elegant Wall Mounted Mason Jar Fairy Lights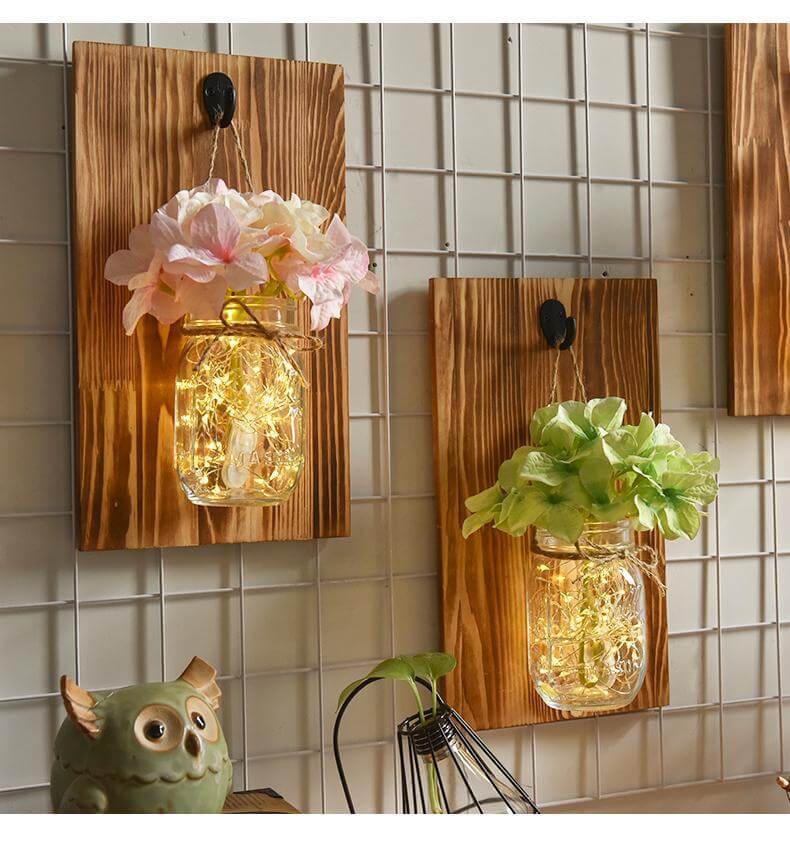 Blend modern with a touch of rustic with these beautiful fairy light Mason jars. Created out of wood and glass, these can add a perfect amount of extra lighting to a room, making them fit for a family room or even a child's room. Along with the lights, they are made with elegant flowers to further add to the decorative feel.
14. Mason Jar Flower Sconces with LED Lighting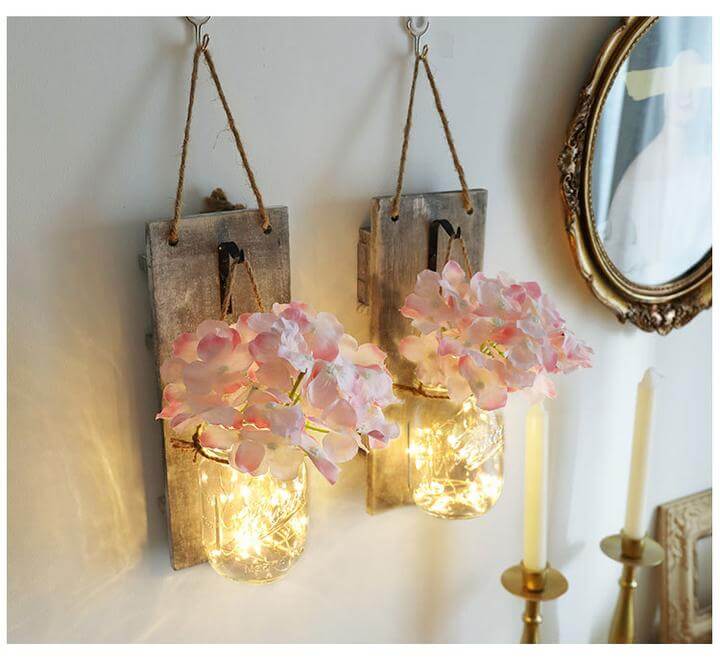 These Mason jar sconces can bring a charming feel to your home. They are made with LED strips inside for lighting purposes, and they also feature artificial flowers inside. You have your choice of six different flowers as well as three different types of wood, giving you the chance to find the right set that will best fit your home's design.
15. Mason Jar Wall Sconce DIY Kit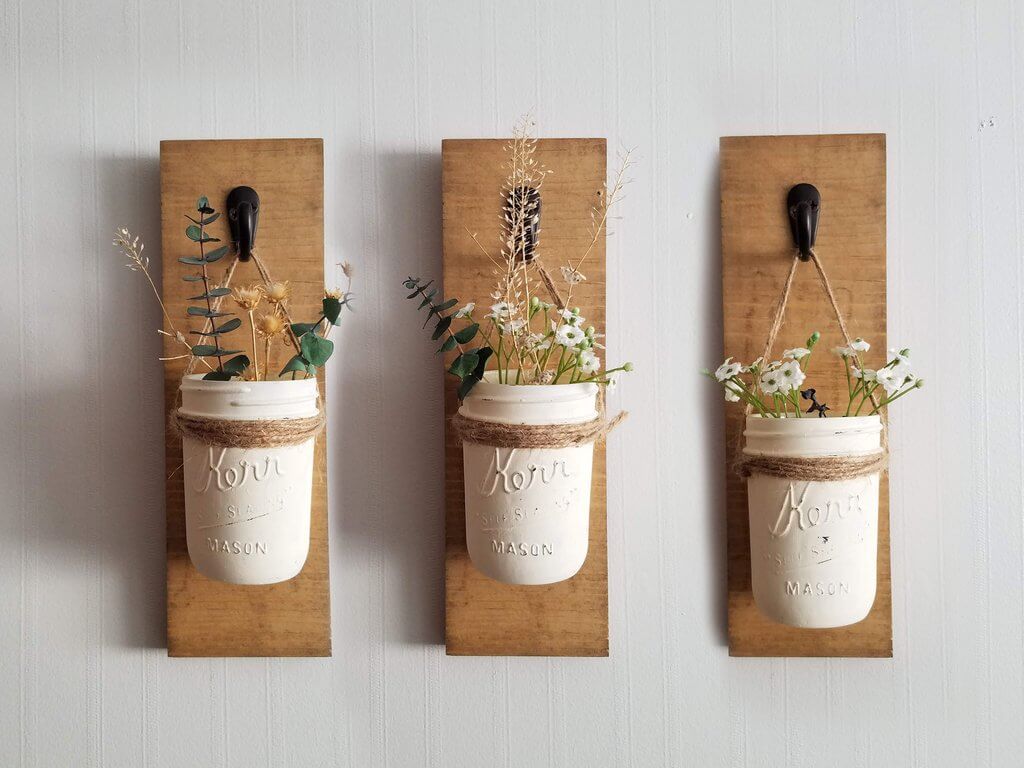 Rather than buy something pre-made, this kit lets you dive into your creative side. It gives you everything needed to create three wall sconces, and even though there is a step-by-step guide, you're free to add a personal touch to them. You'll get three Mason jars along with three pieces of stained wood. You can choose what stain you want as well. Besides those, you'll get the paint, brush, jar hooks, twine, and sawtooth hooks.
16. Rustic Flower Vase Mason Jar Wall Decor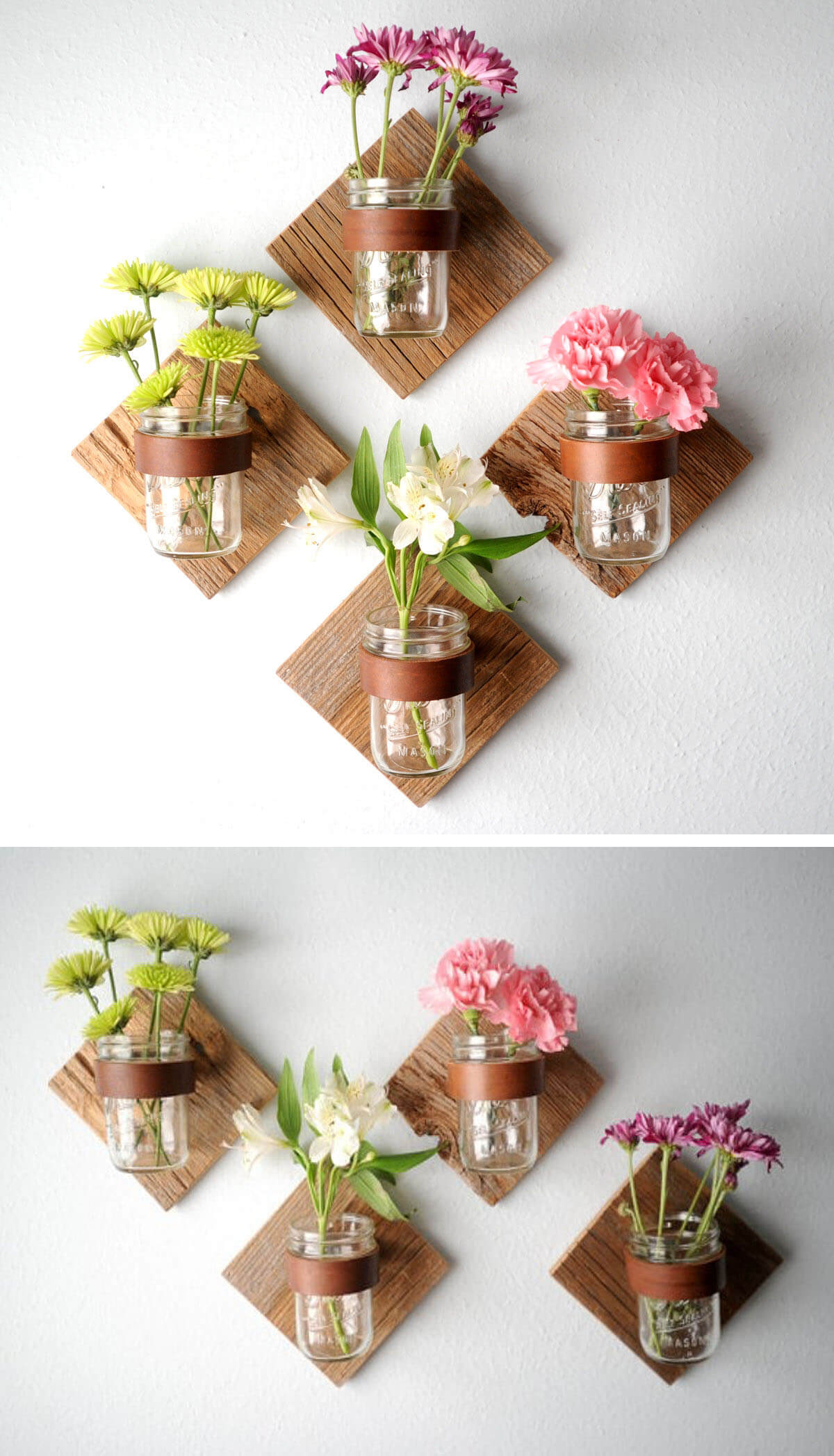 17. Mason Jar Flower Vase and Key Hook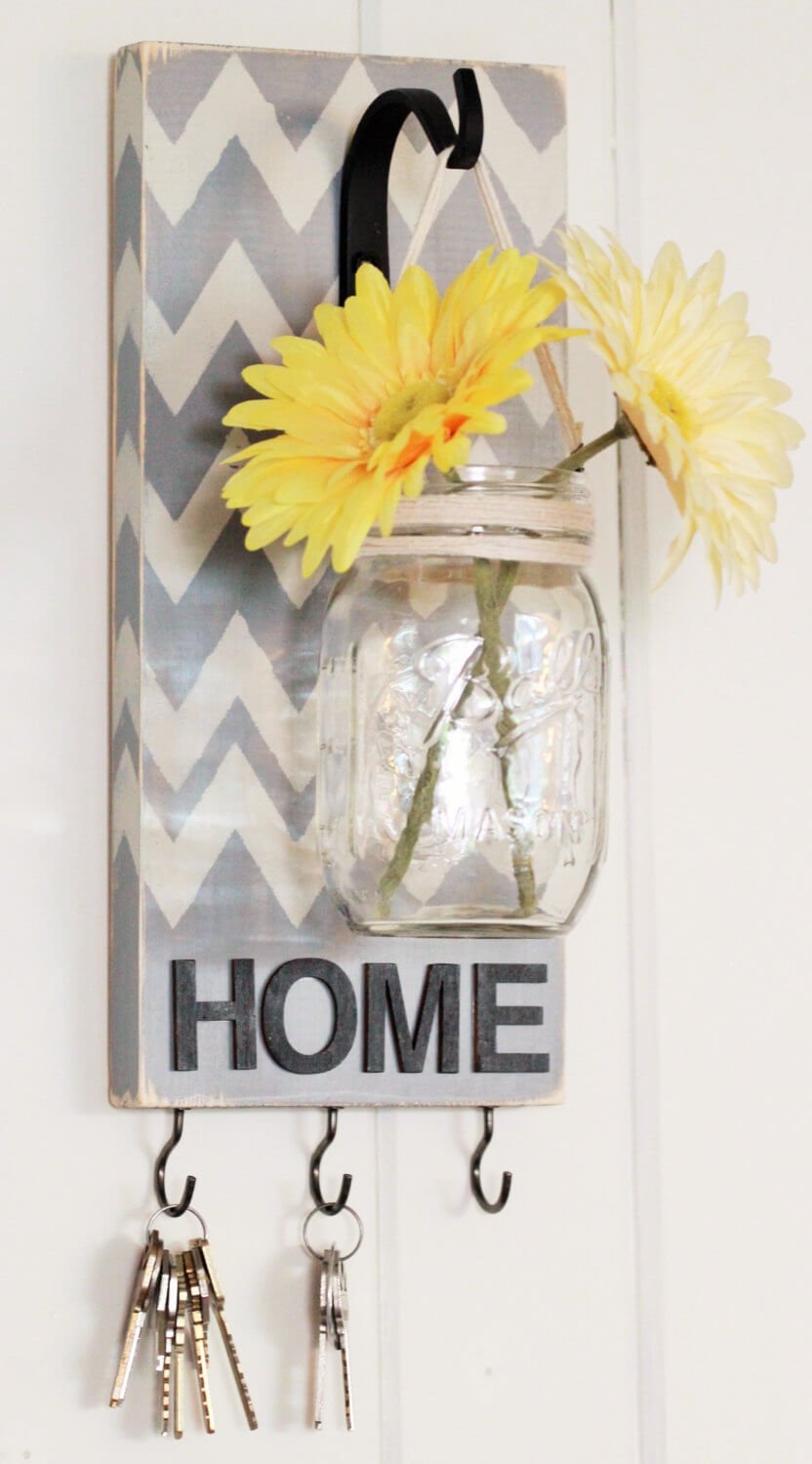 18. Wooden Mounted Mason Jar Spice Garden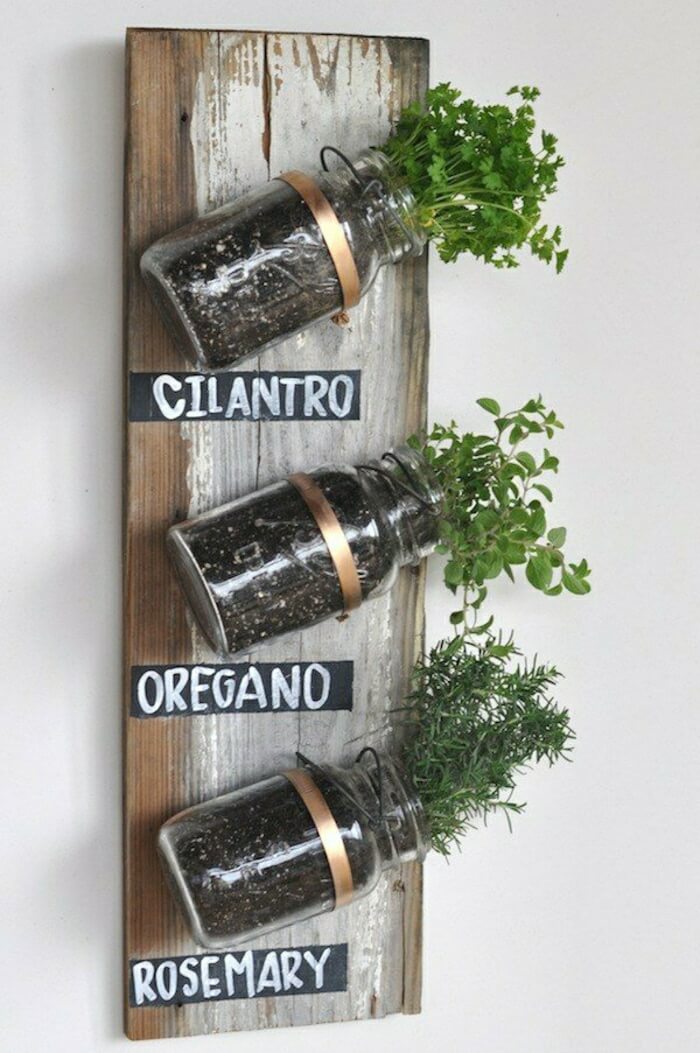 19. Gorgeous Painted Mason Jar Flower Decor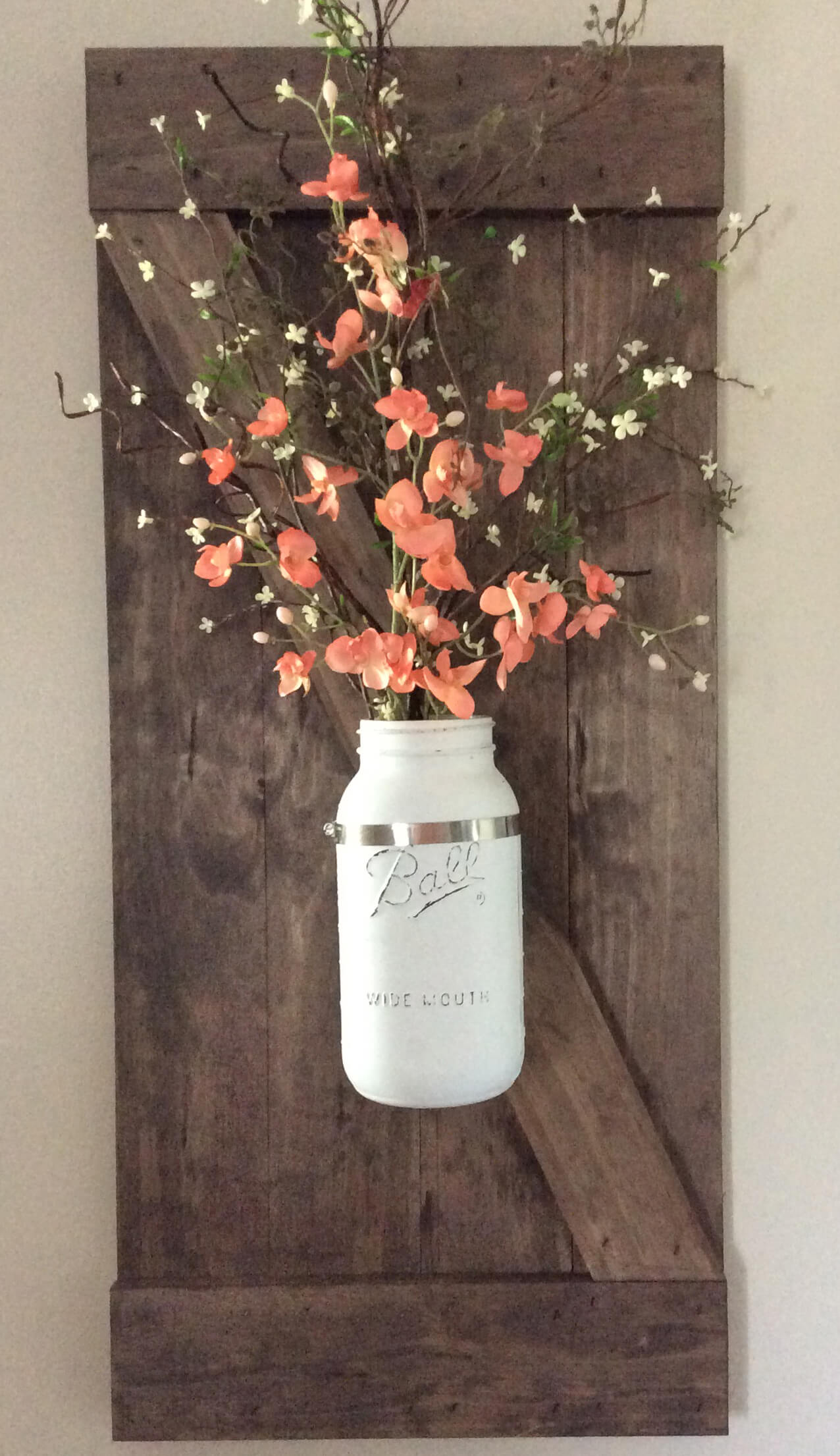 20. Quaint Mason Jar Window Frame Decor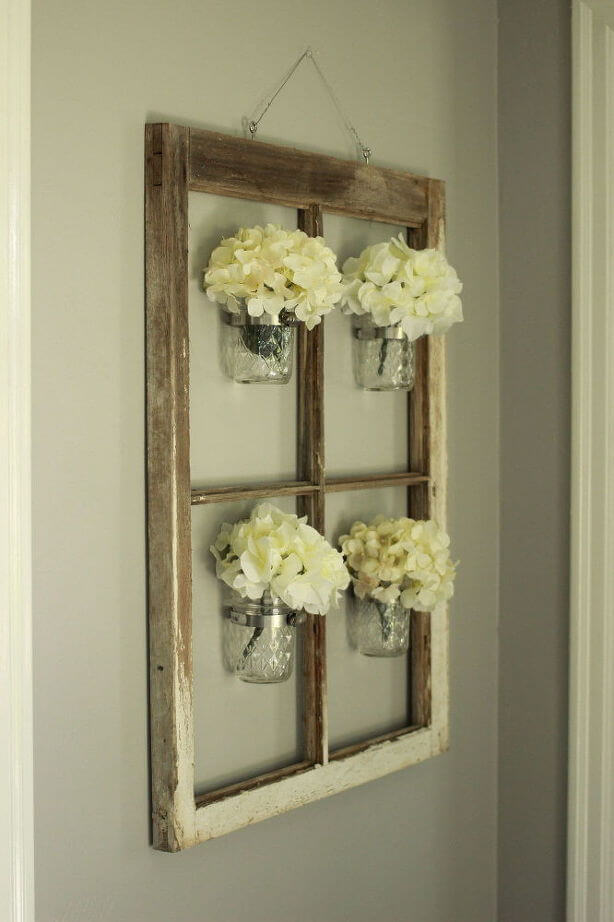 21. Lovely Mason Jar Wall Decor With Key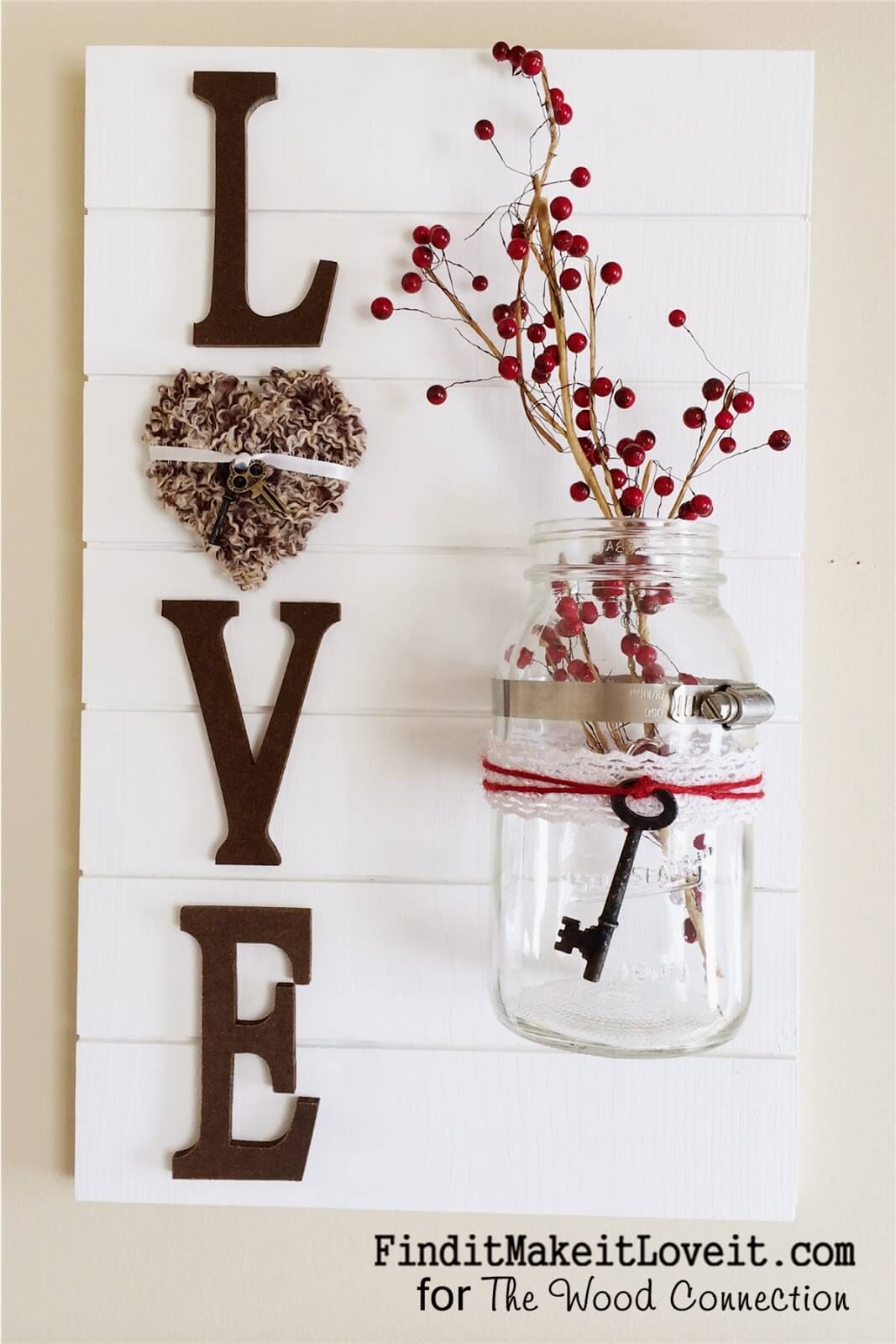 22. Rustic Mason Jar Lantern Wall Decor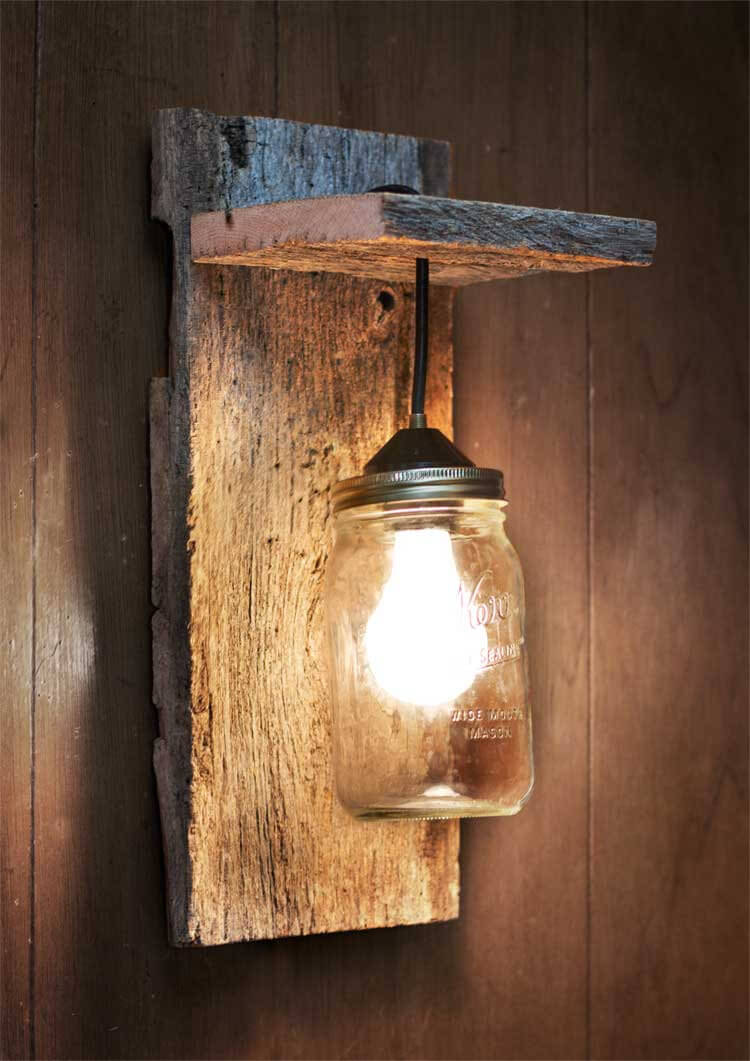 23. Vintage Mason Jar Pebble Wall Decor

24. Pallet Planter Earthy Mason Jar Wall Art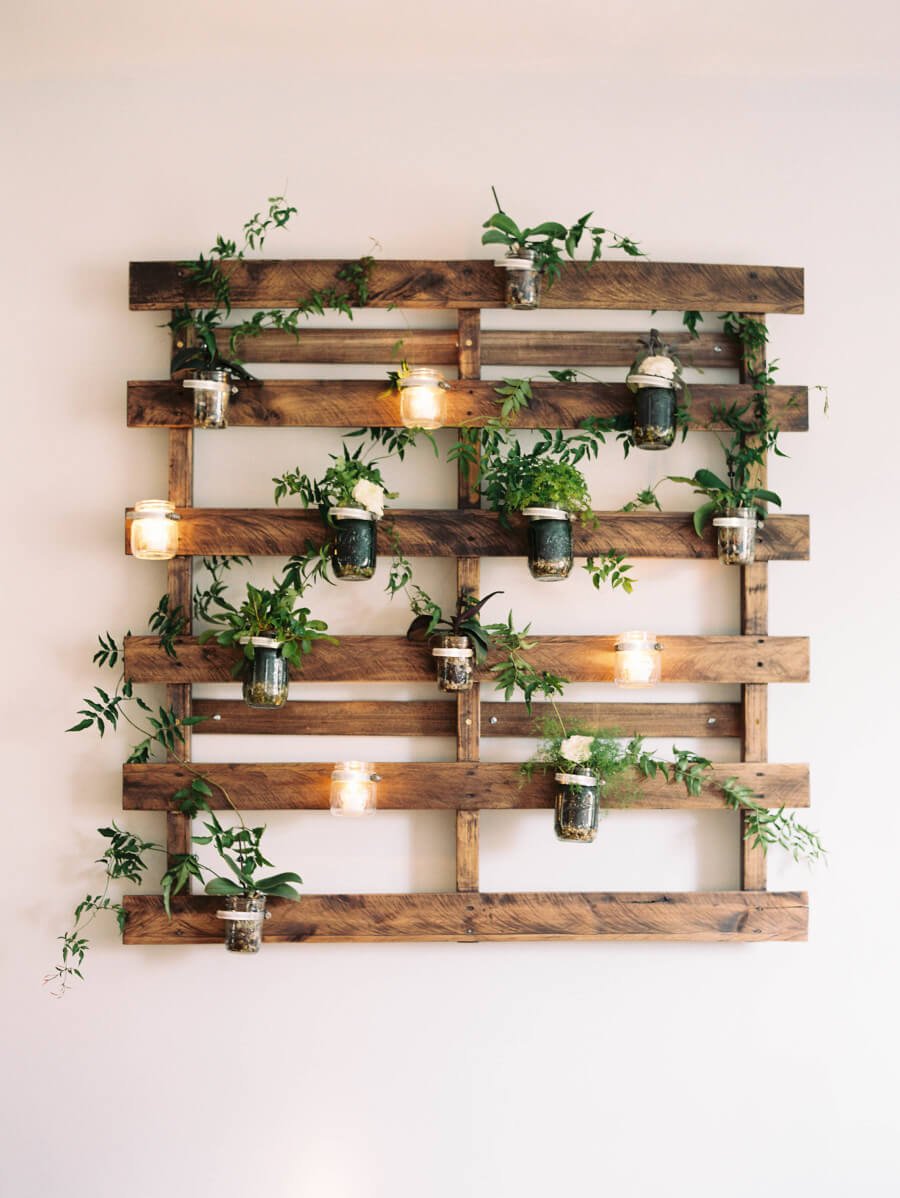 25. Upcycled Drawer Mason Jar Flower Wall Decor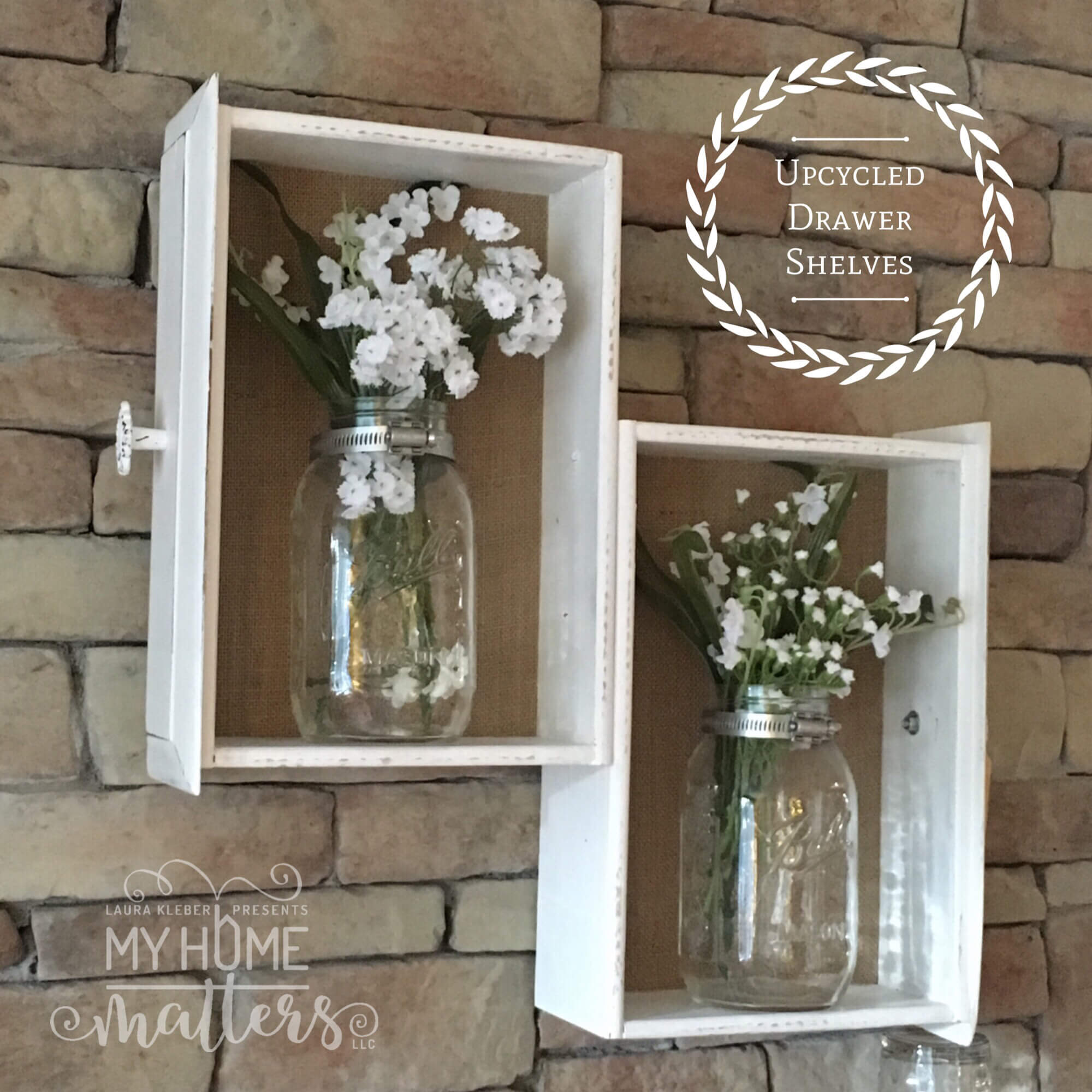 26. Purple Flower Whitewashed Mason Jar Wall Decor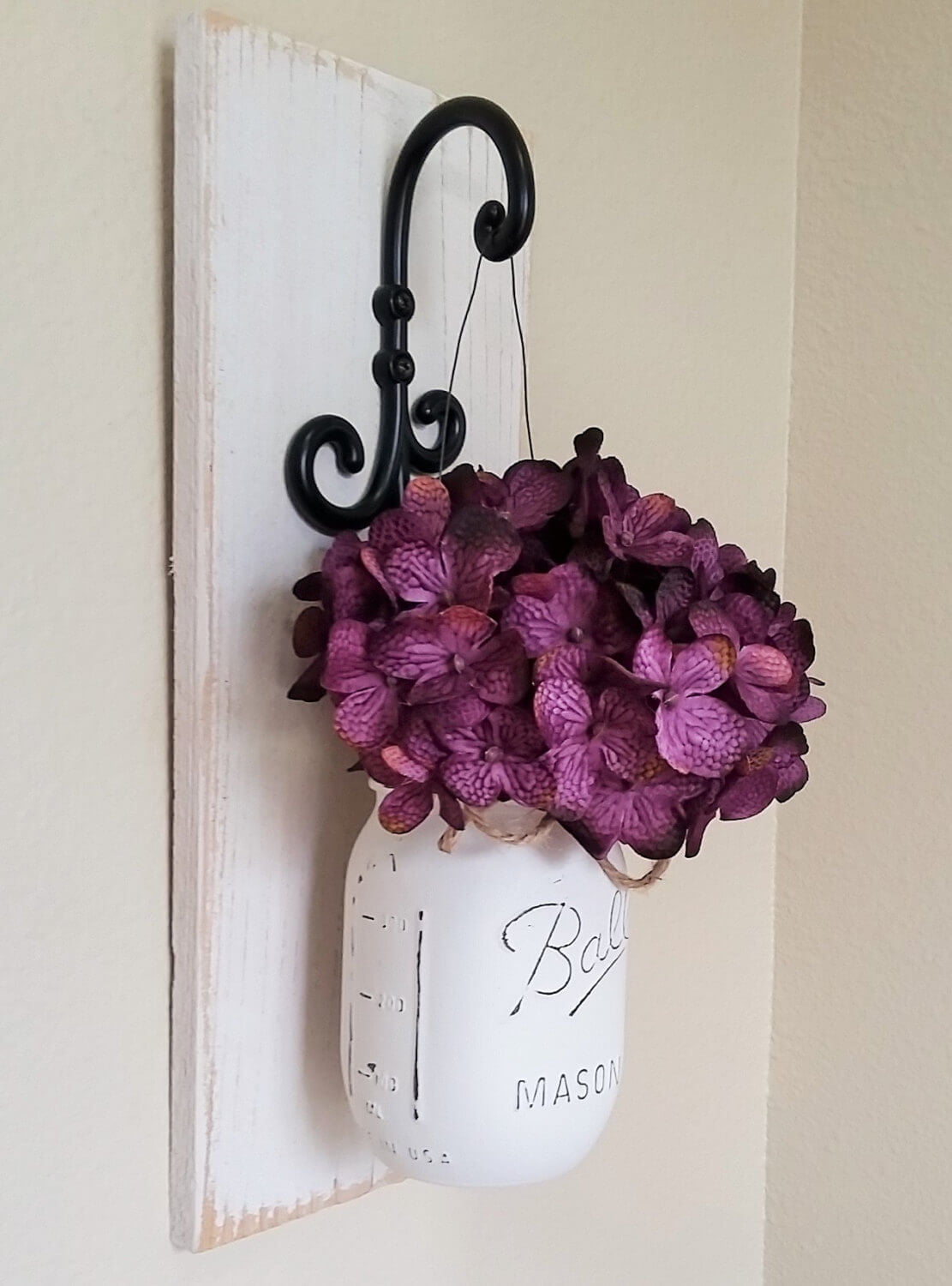 27. Mason Jar Six-Planter Earthy Wall Set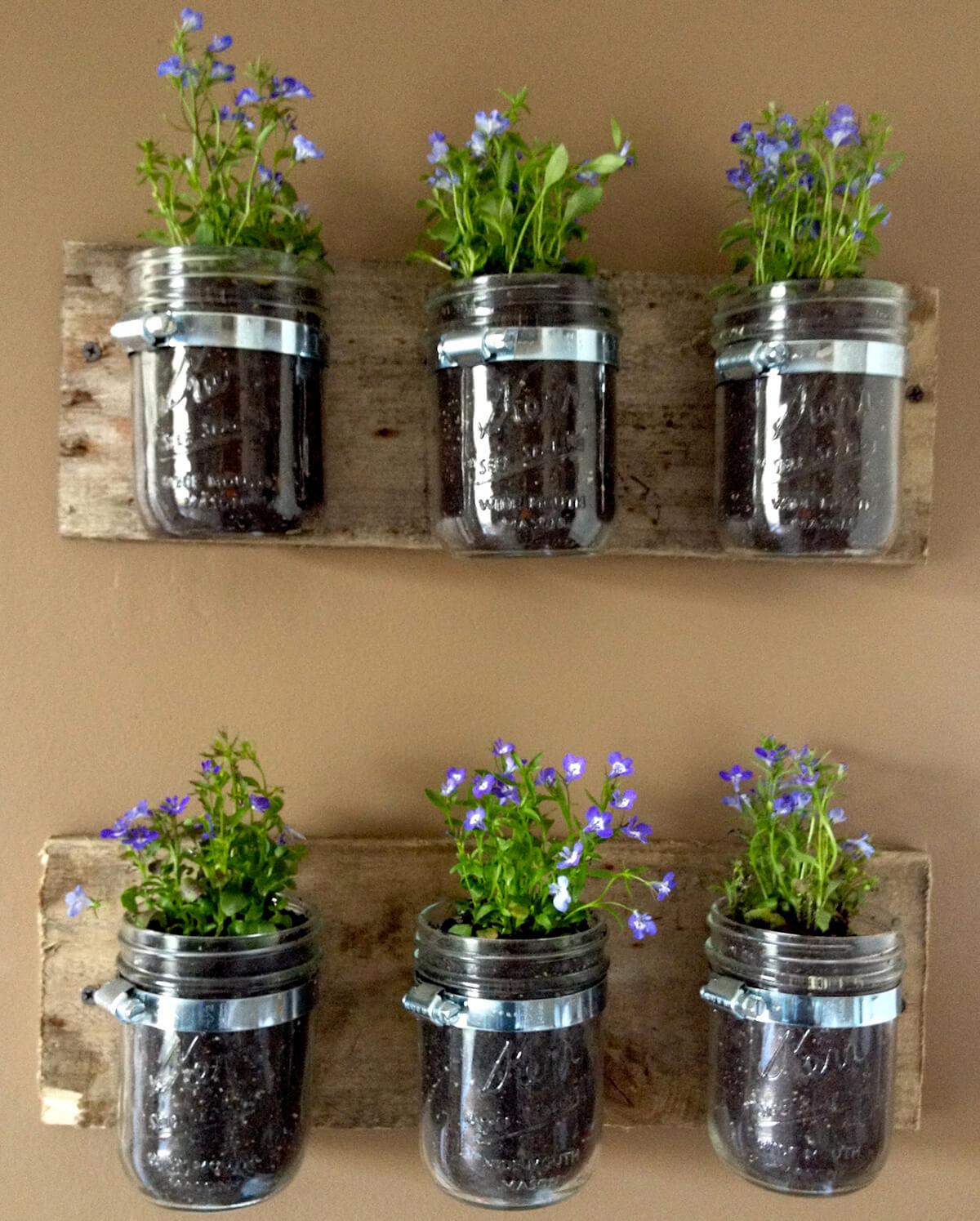 28. Hardwood Picture Frame Mason Jar Wall Decor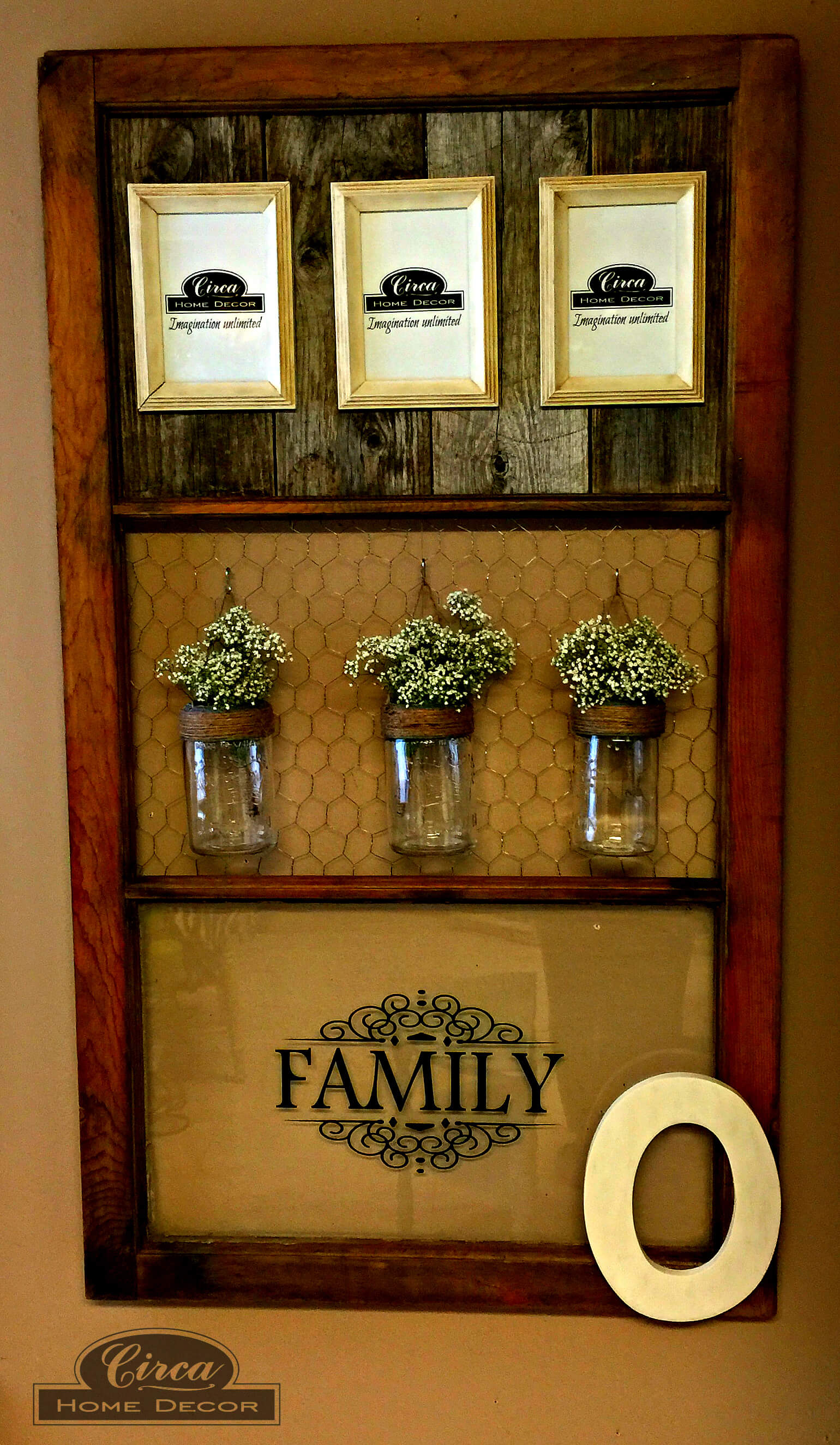 29. Vintage Atlas Mason Jar Flower Holder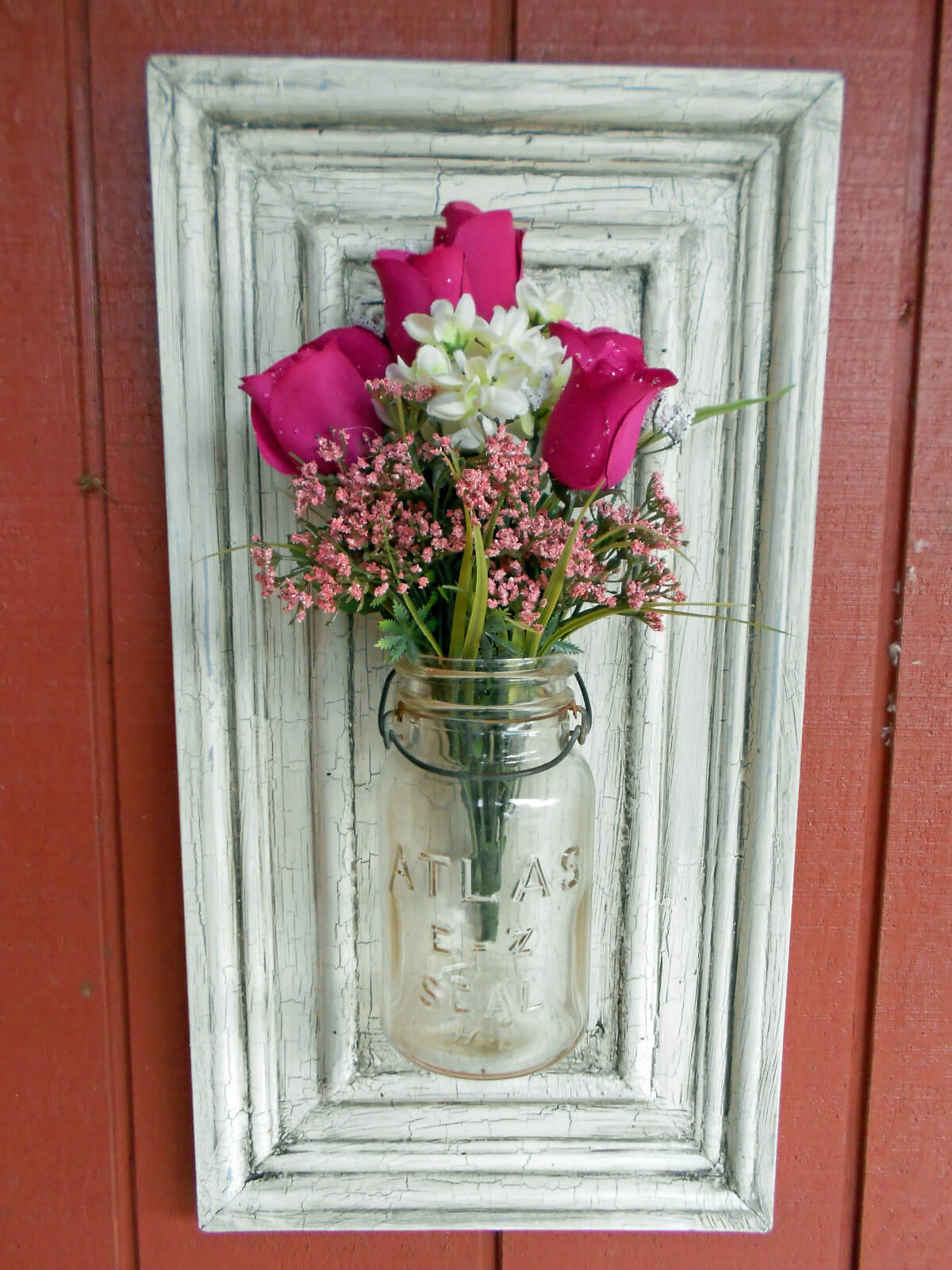 30. Painted Planters Mason Jar Wall Decor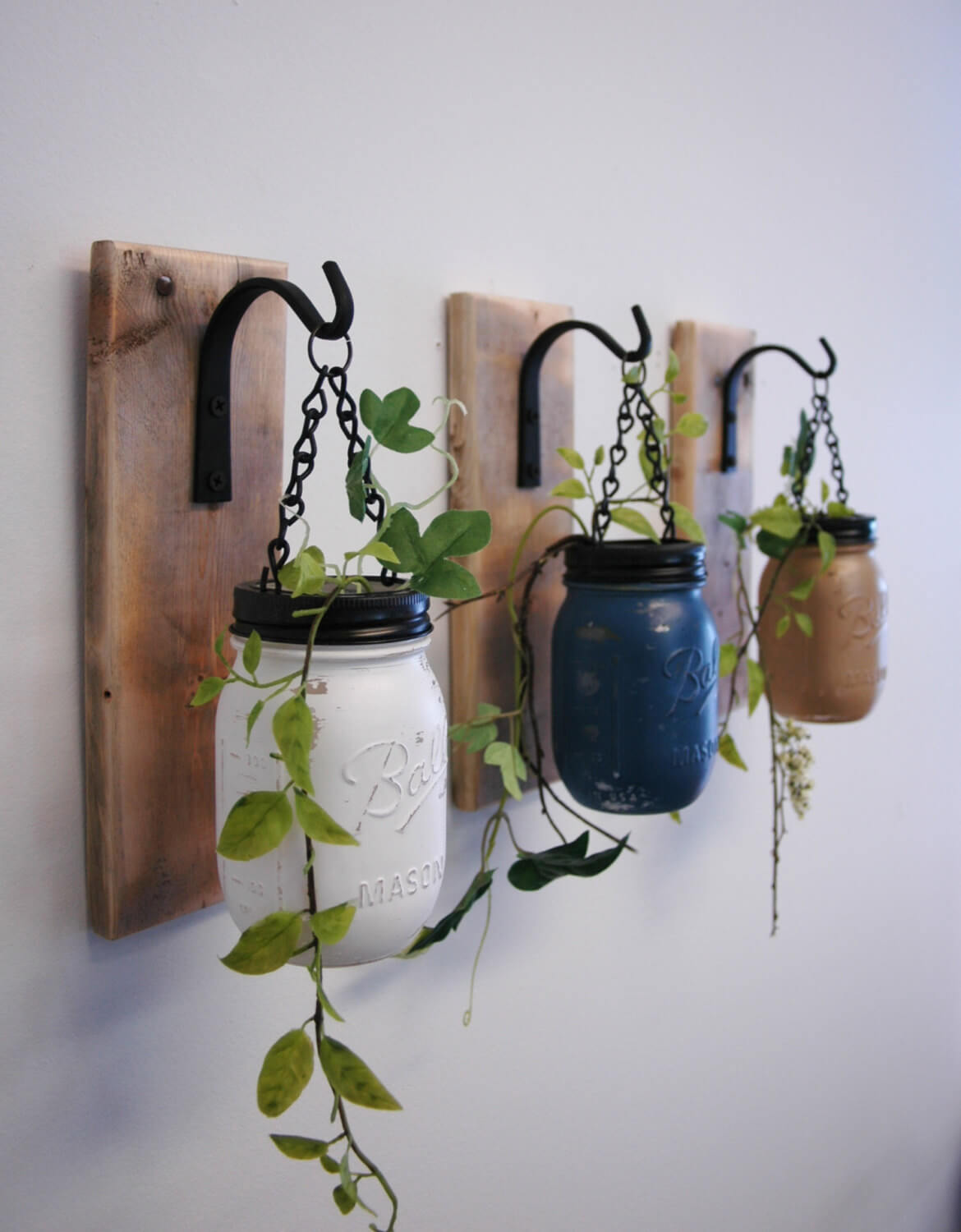 31. Flower Spray Weathered Mason Jar Wall Art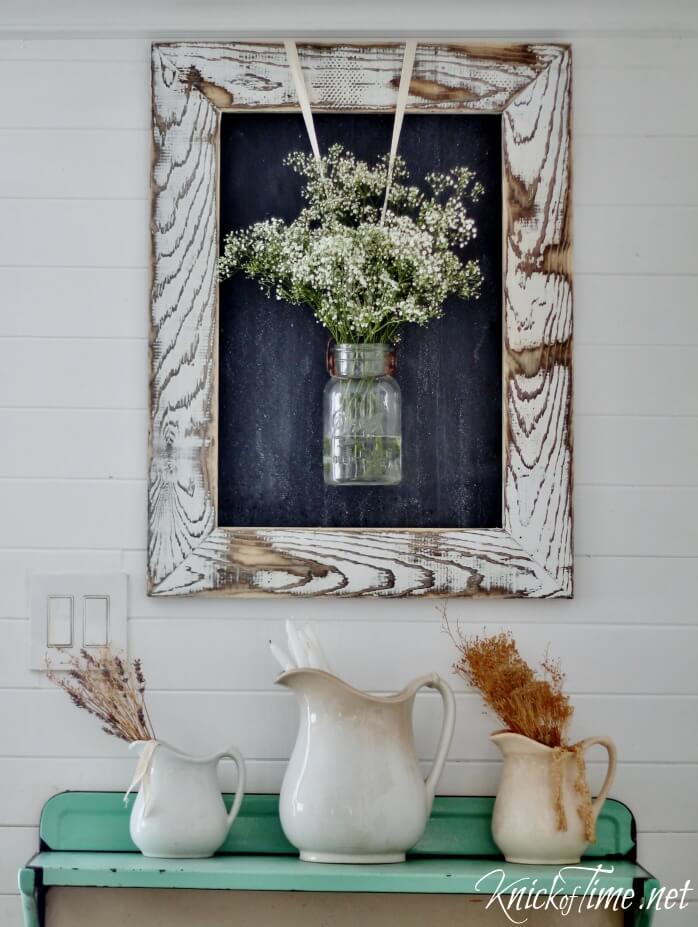 32. Weathered Wood Blue Mason Jar Flower Holder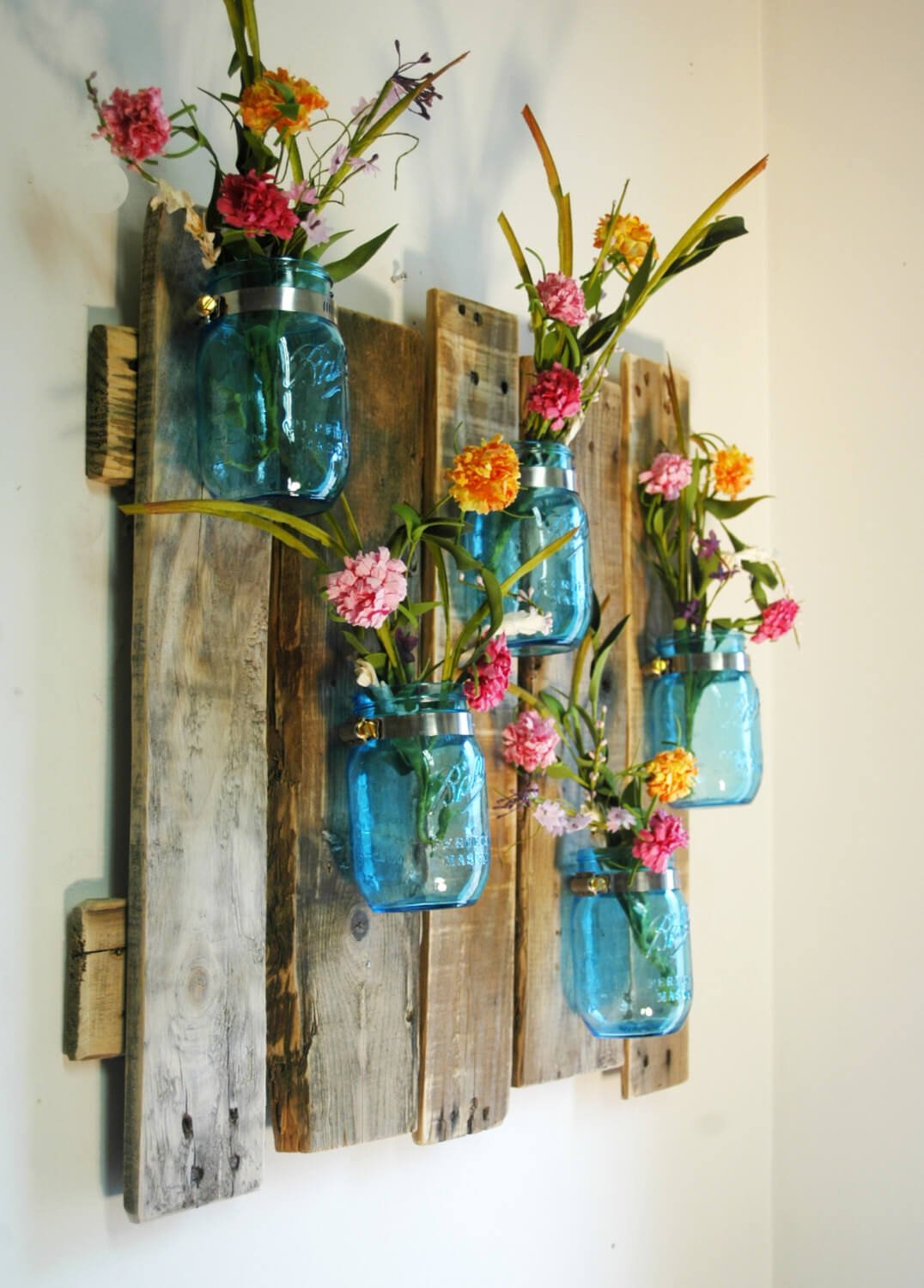 33. Vintage Window Whitewashed Mason Jar Wall Decor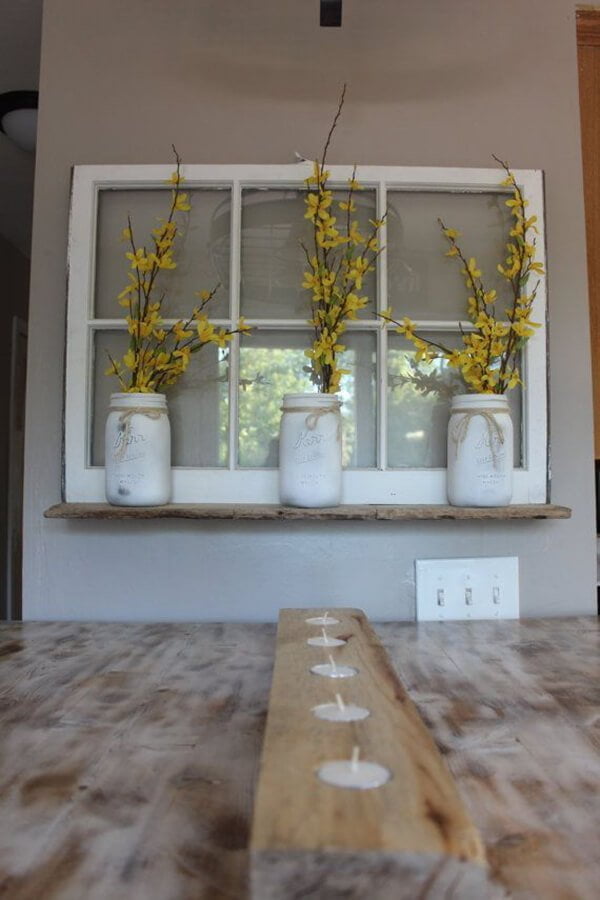 34. Creative Chandelier Mason Jar Wall Decor Ideas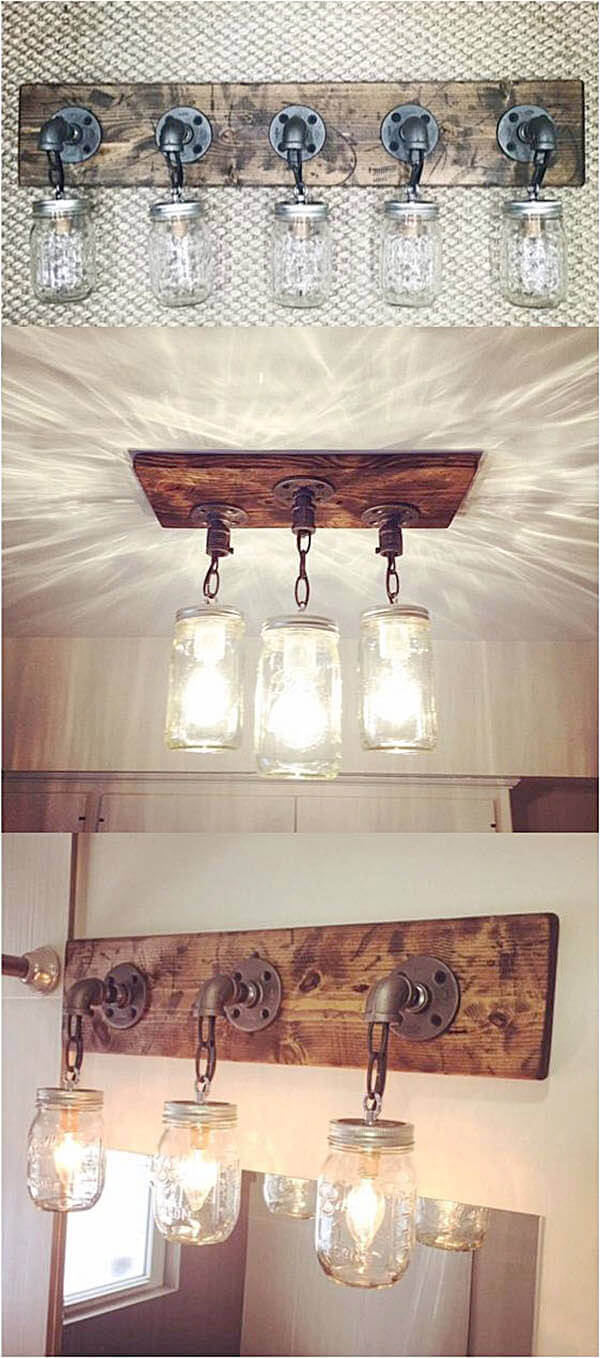 35. DIY Mason Jar Spice Garden Wall Decor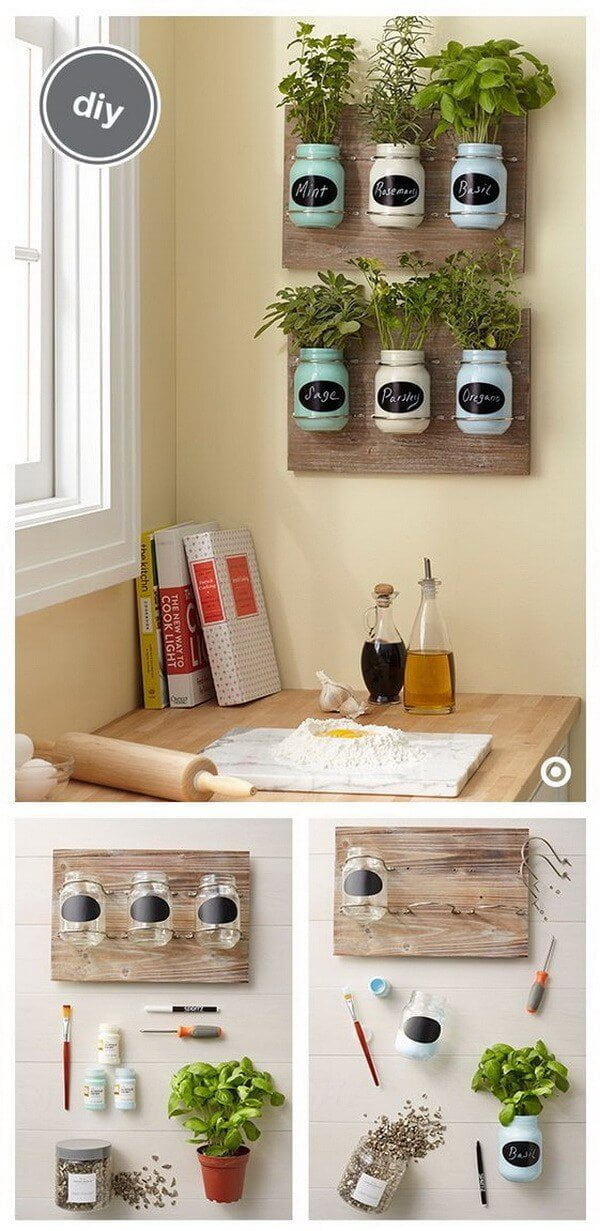 36. Simple Flower Vase Mason Jar Wall Decor

37. Rustic Vertical Vase Mason Jar Wall Art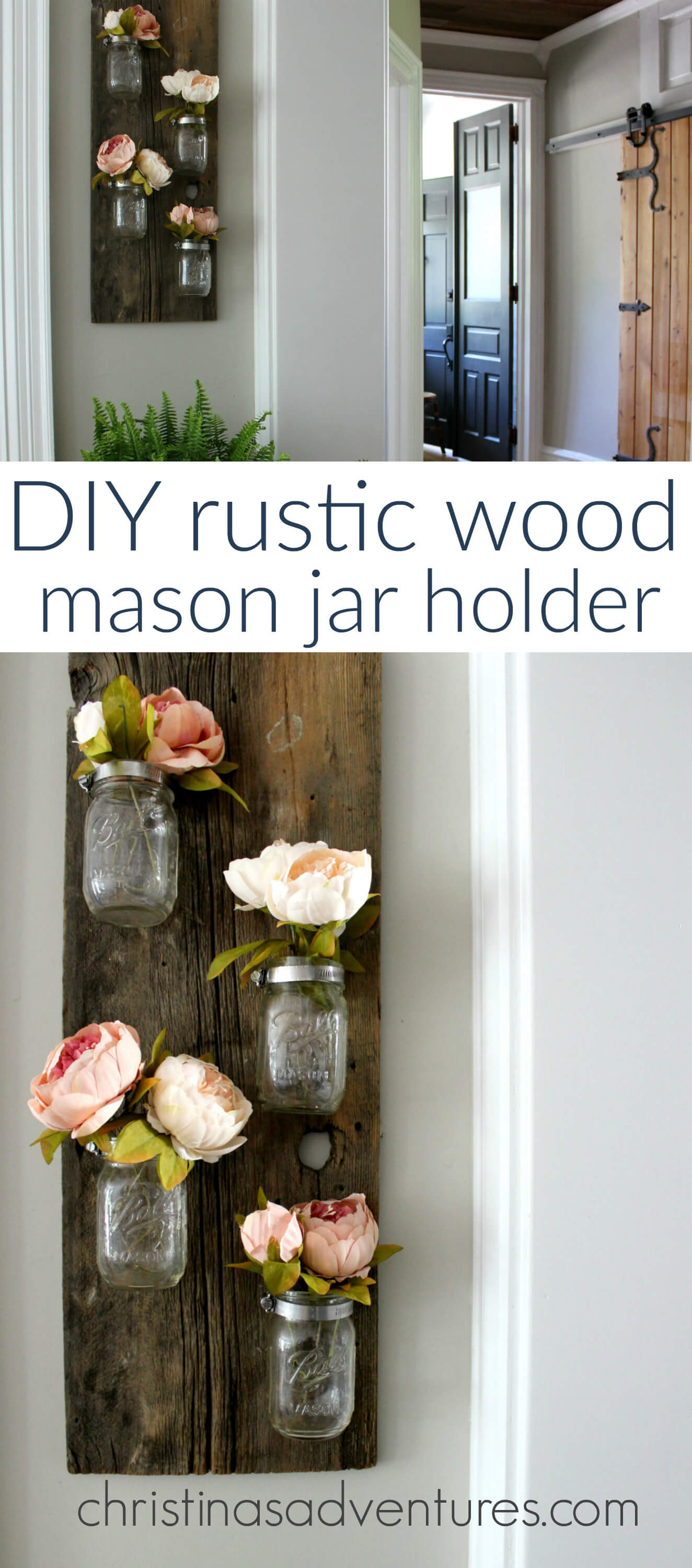 38. Rustic Weathered Wood Mason Jar Vase Idea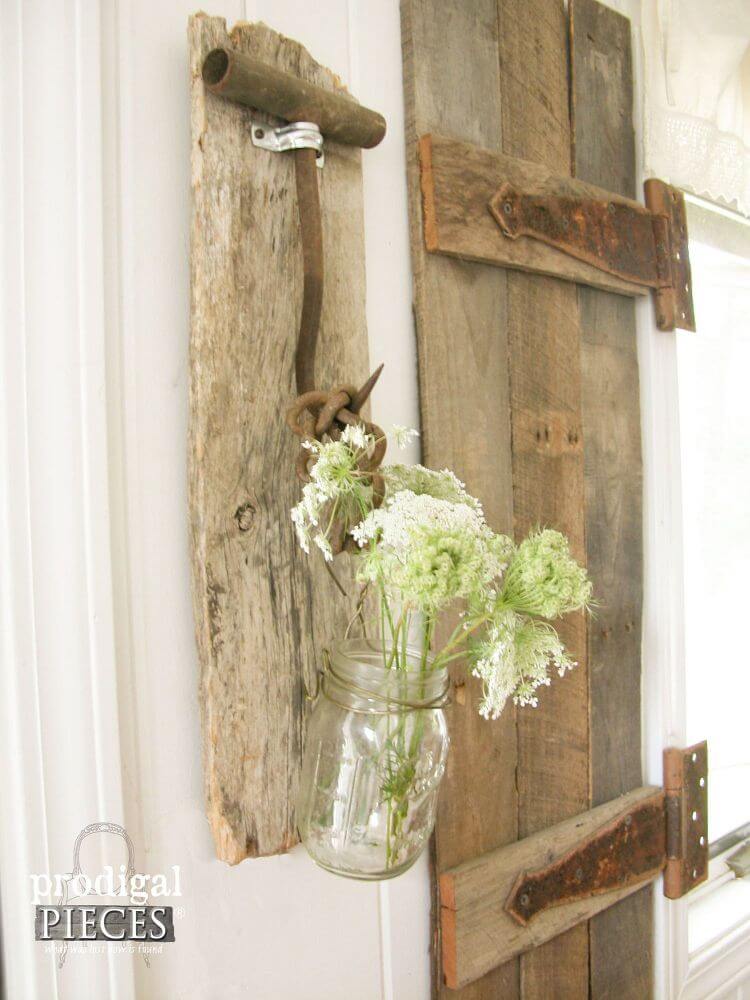 39. Eclectic Natural Mason Jar Hanging Vases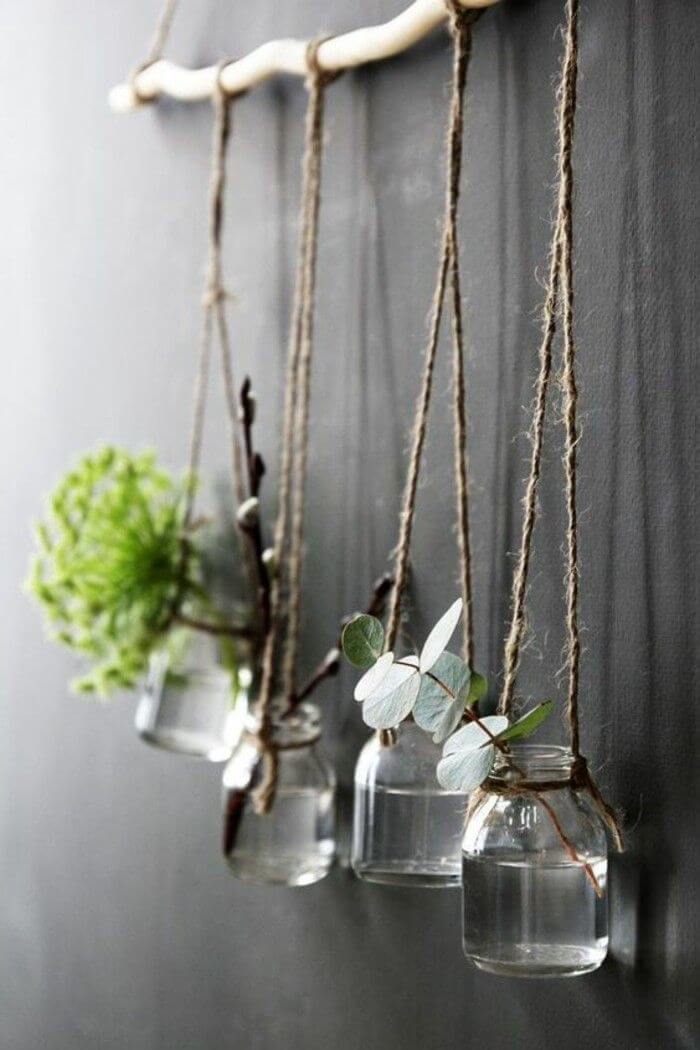 40. Wooden Base Metal Hanger for Mason Jar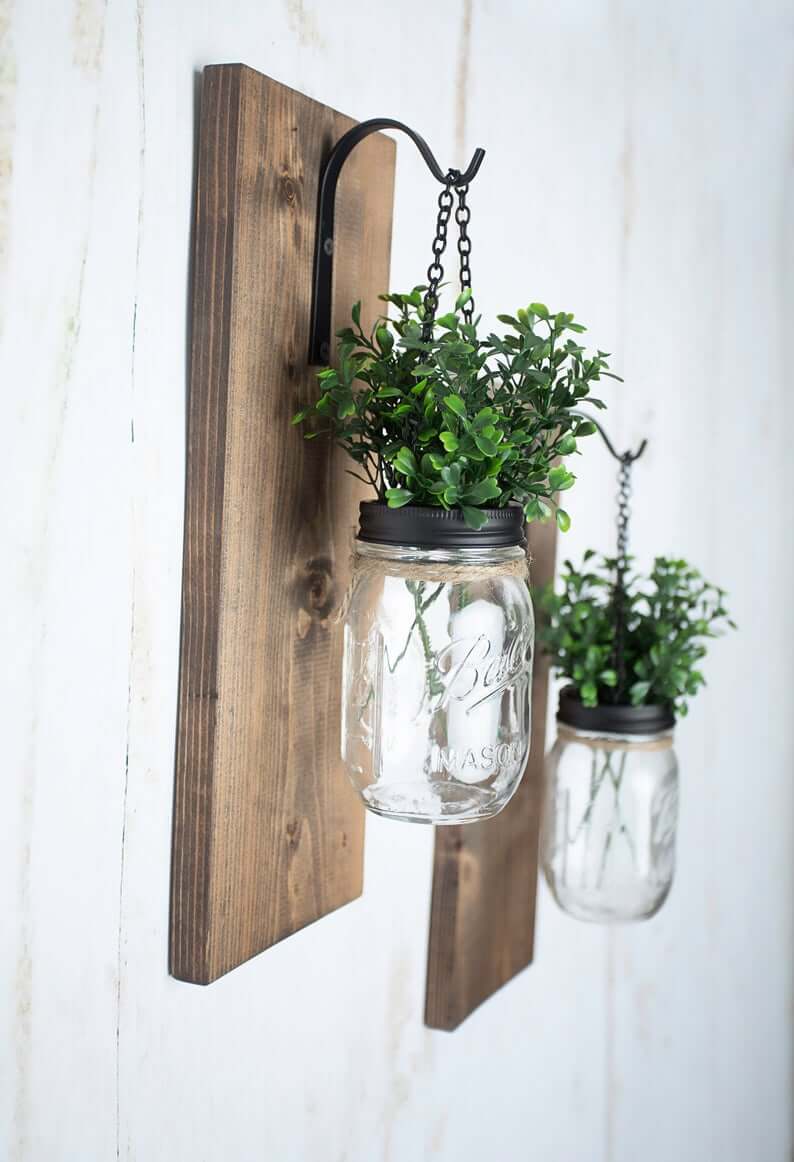 Add some modern farmhouse into your home with this updated take on the traditional wall sconce duo. This set of mason jars are effortlessly hanging from rich black hooks that are secured to a warm wooden rectangular base. Not only are they sturdy, but they are also an amazing way to use your mason jars.
41. Black Scrolled Mason Jar Hanger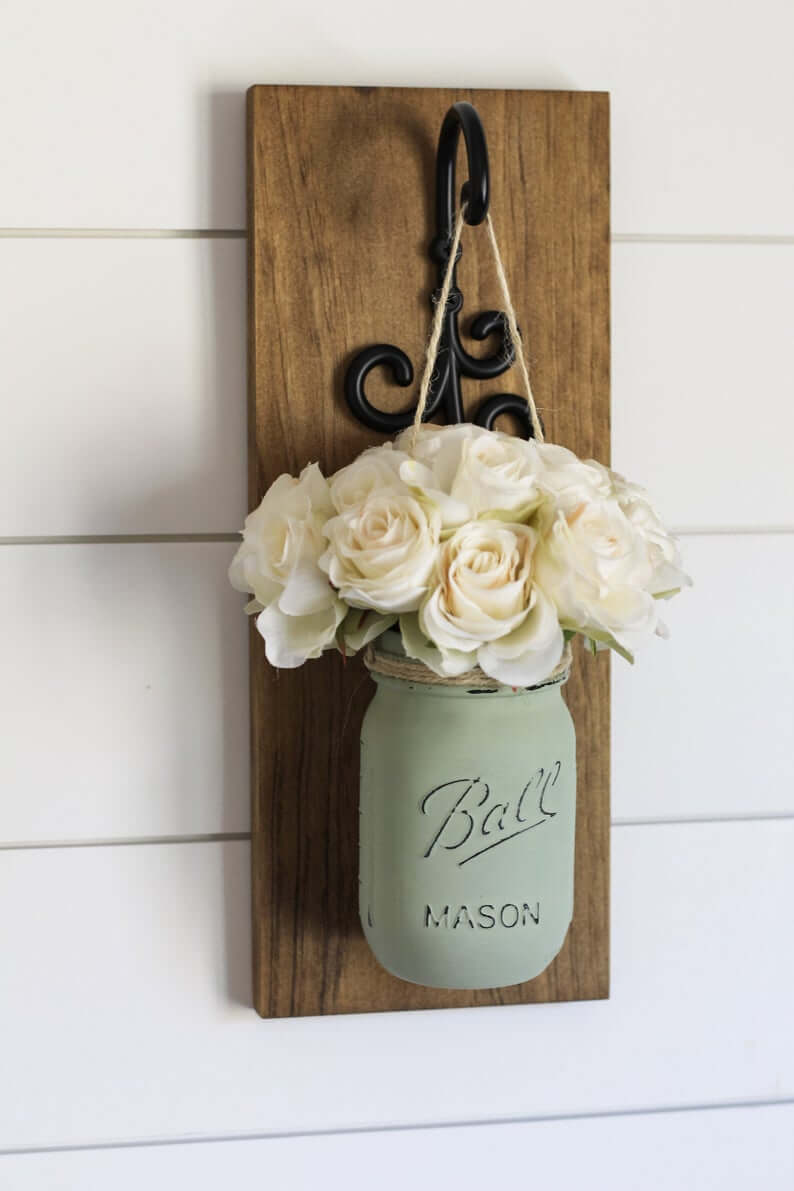 Check out this magnificent mason jar display that features a beautiful scroll design. Attached to the wooden board, this scroll pattern spreads across the midway point as it holds your hand-painted mason jar that's filled with your favorite flowers.
42. Shabby Chic Shiplap and White Mason Jar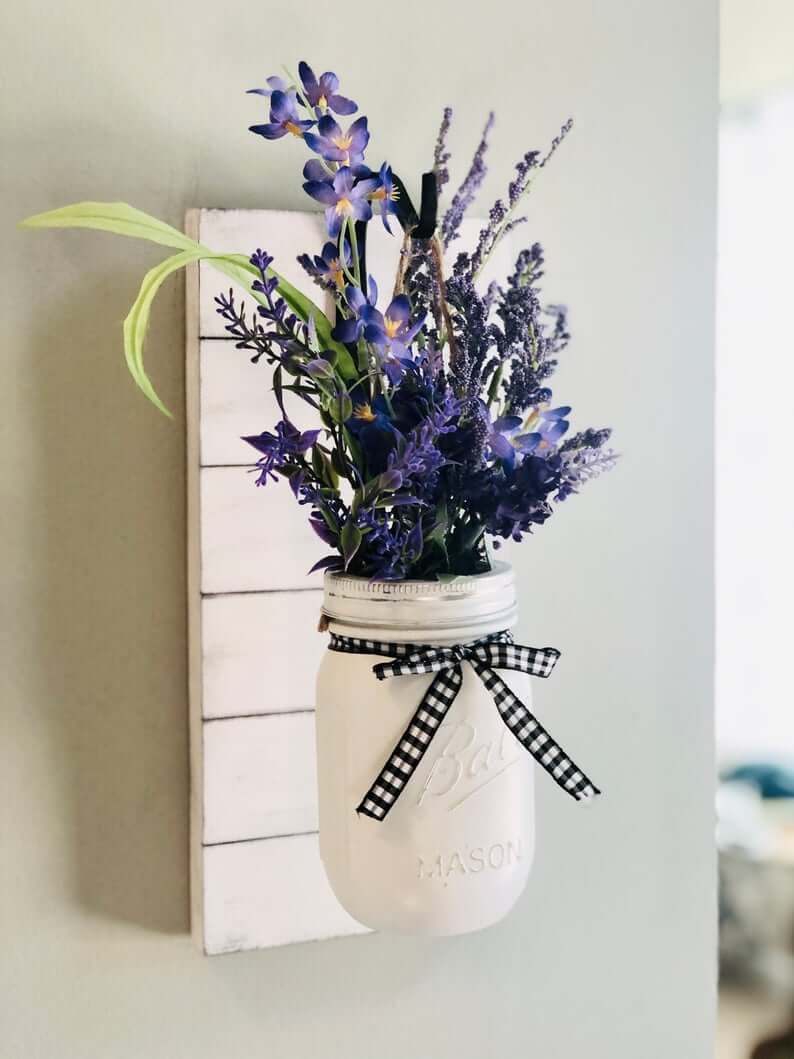 Infuse your home with the rich simplicity of the modern farmhouse trend without adding an entire wall of shiplap. This mason jar holder is positioned on a shiplap backing that adds the farmhouse feel without going overboard. With the white of the shiplap copied in the mason jar, this wall art will feel right at home in your farmhouse.
43. Trio of Decorative Mason Jar Wall Vases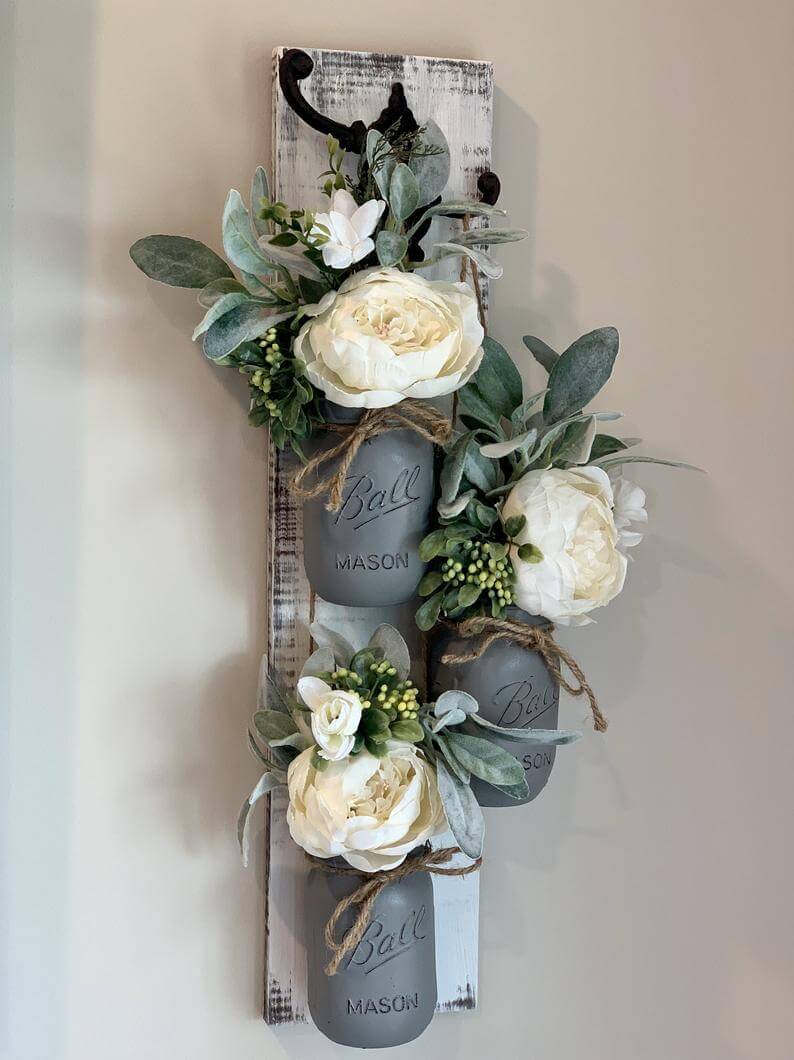 Make a statement with this trio of mason jar wall vases. Filled with greenery and a creamy white peony, each painted mason jar becomes a gorgeous new vase. Adhered to this distressed board, this jar family creates a gorgeous piece of wall art that makes a great gift for any interior design lover.
44. Shiplap, Twine, and Mason Jar Vase Set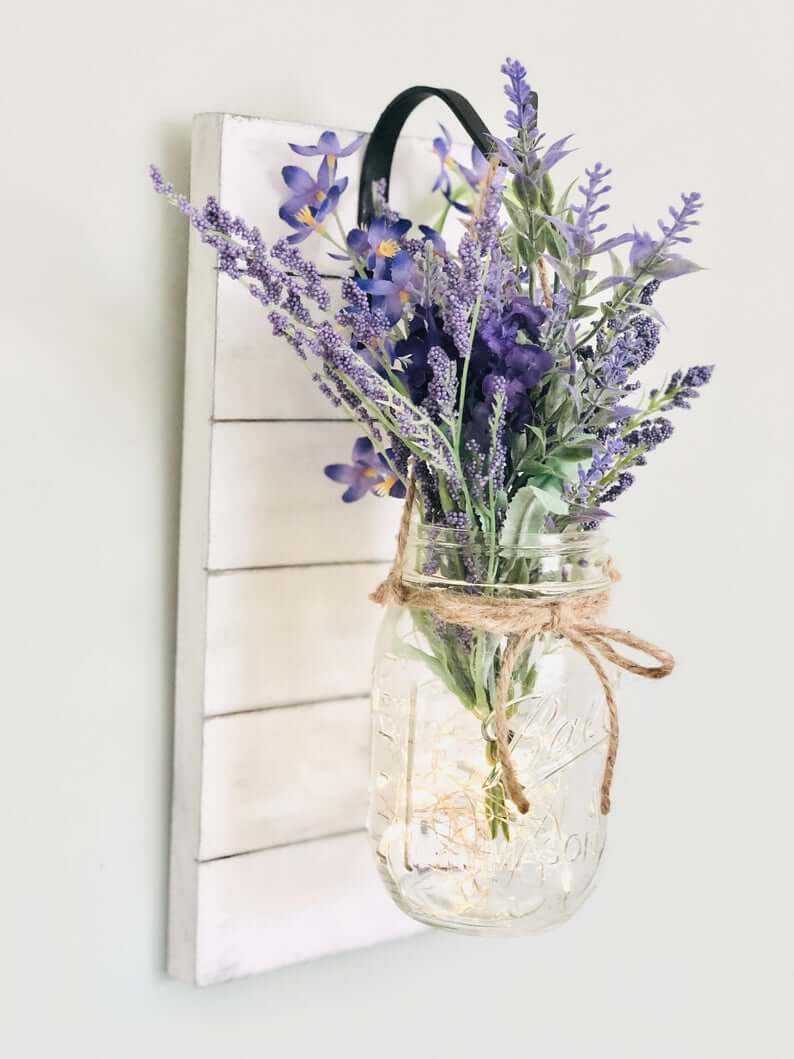 This is about as simple as it comes in terms of basic flower displaying. With a small shiplap foundation, this classic mason jar hangs from a traditional twine rope for a country and farmhouse appeal. Add this to your kitchen and fill it with your favorite garden trimmings each week.
45. Mason Jar Metal and Wood Wall Art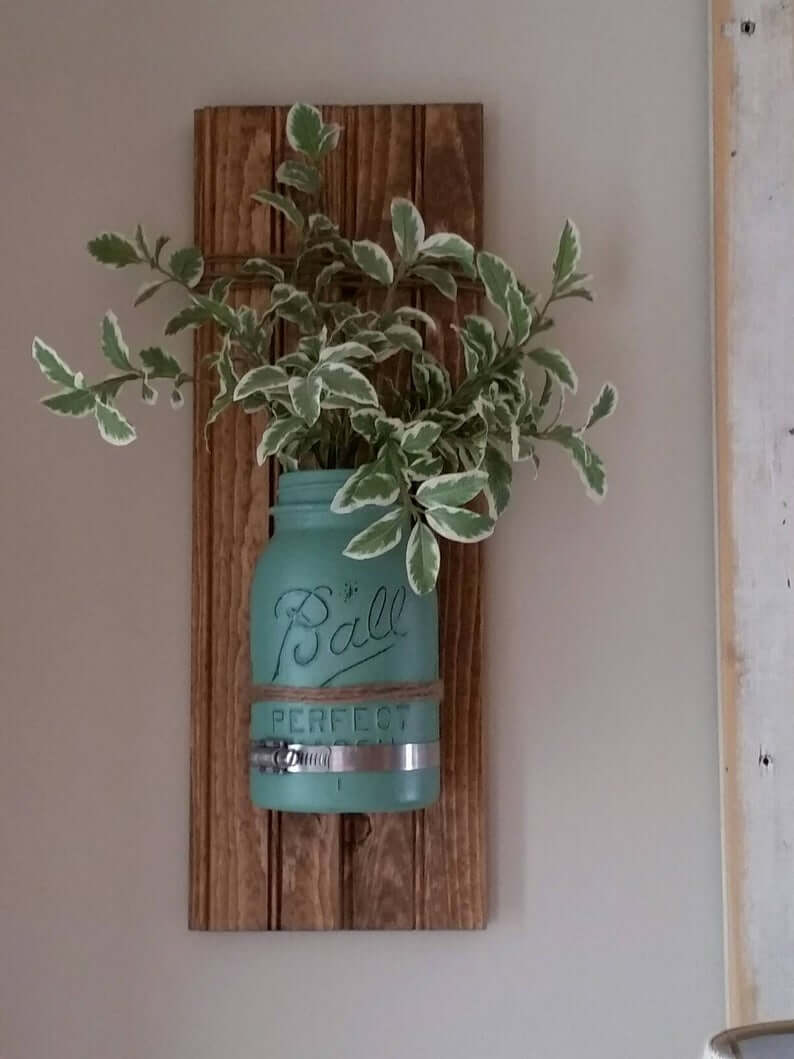 Check out the muted jewel-toned turquoise in this painted mason jar. It adds a unique pop of color to your space as it is set off of a wooden board. The board showcases lots of character in its lines and grains to give richness to your unique piece of wall art.
46. Barnwood and Mason Jar Wall Sconce Set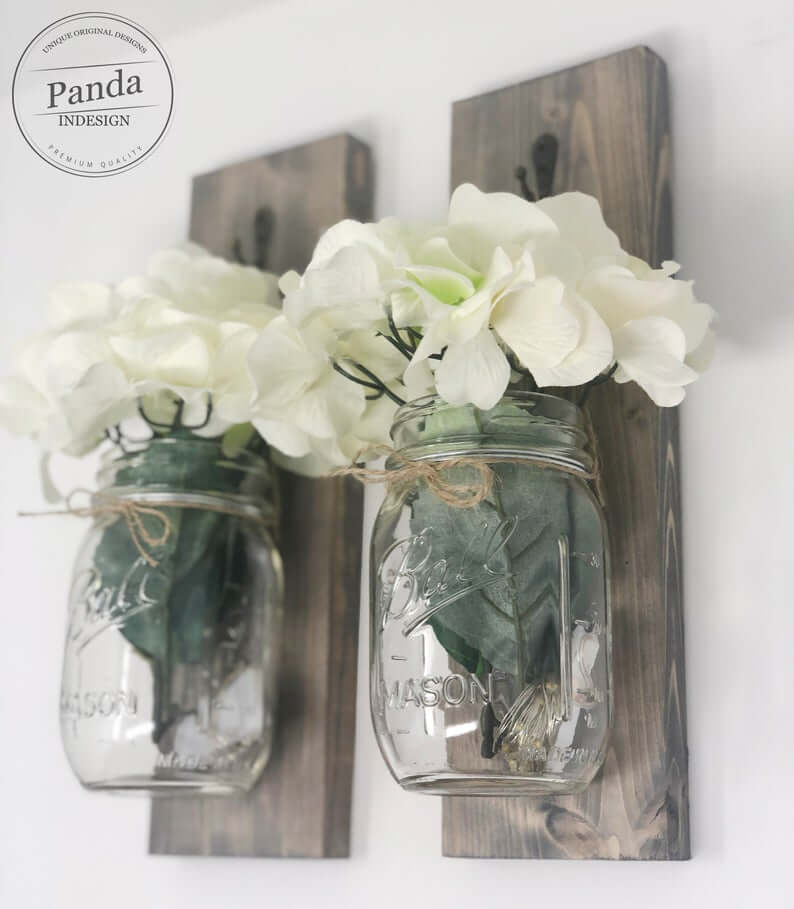 Constructed in wood reminiscent of your grandfather's barn, this set of wall sconces is a no-fuss option for adding some masculine femininity to your home. The rustic wood along with the classic mason jar creates a manly touch that's topped off with the beauty of some feminine florals.
47. Rustic Squares and Leather Holders for Jars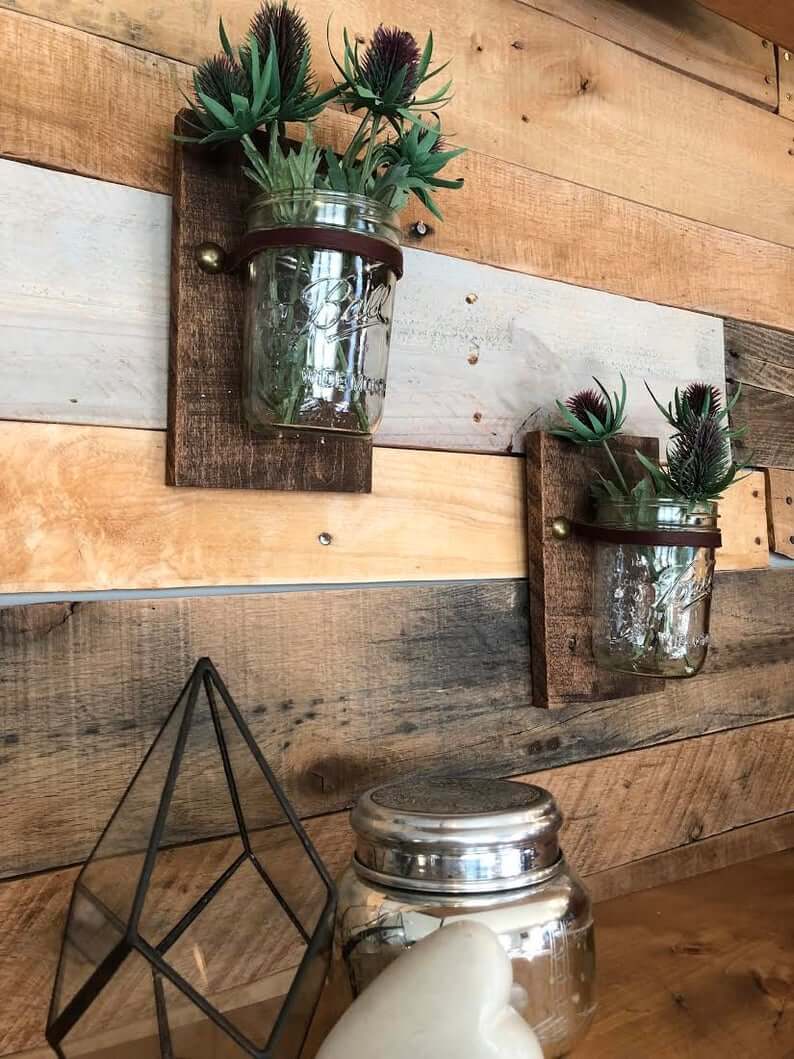 Using a leather strap to keep them in place, these mason jar holders are small in size but large in appeal. The backboard is a small square crafted from a rustic piece of wood that further adds to its natural and rustic charm. They work on both a white shiplap wall or in a regular cabin.
48. Classic White Bouquet Filled Mason Jar Art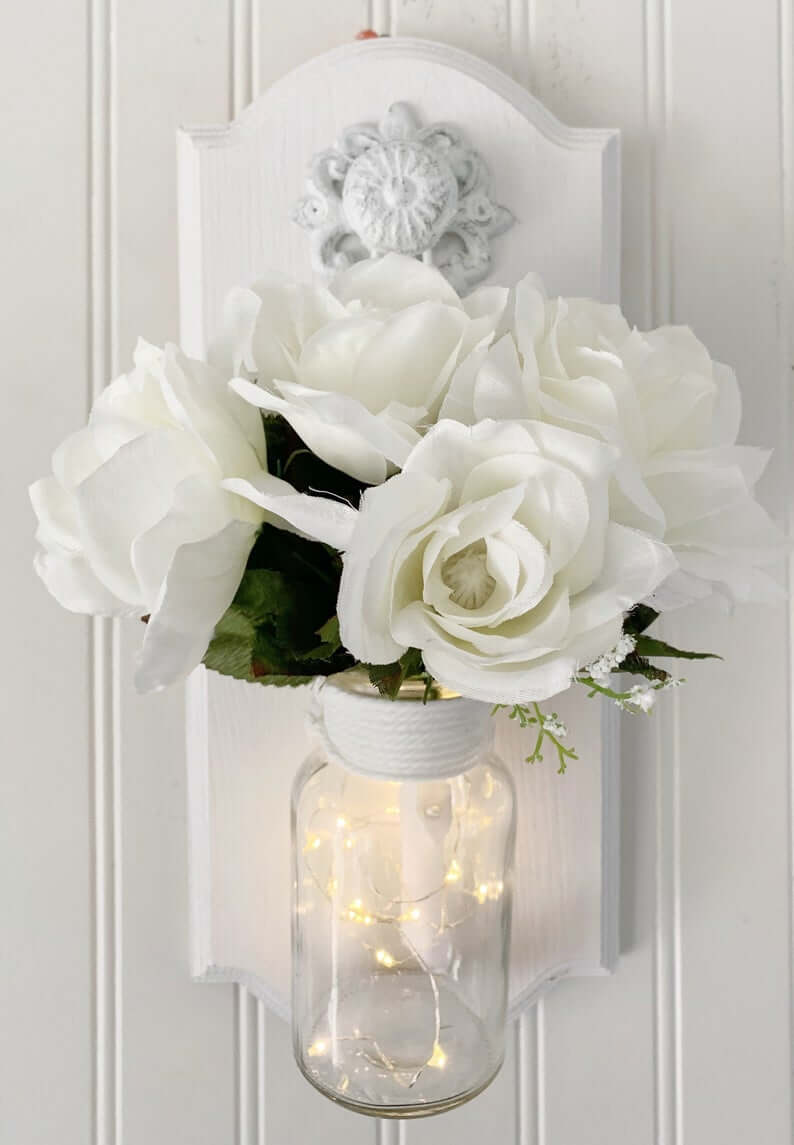 Keep it simple and elegant with this rose bouquet that calls this lit-up mason jar home. Dangling from a dainty Victorian-style door handle backboard, this mason jar design is finished off with some white rope around the rim. This would be a pretty aisle decoration for a lovely wedding.
49. Contrasting Dark Wood with White Mason Jars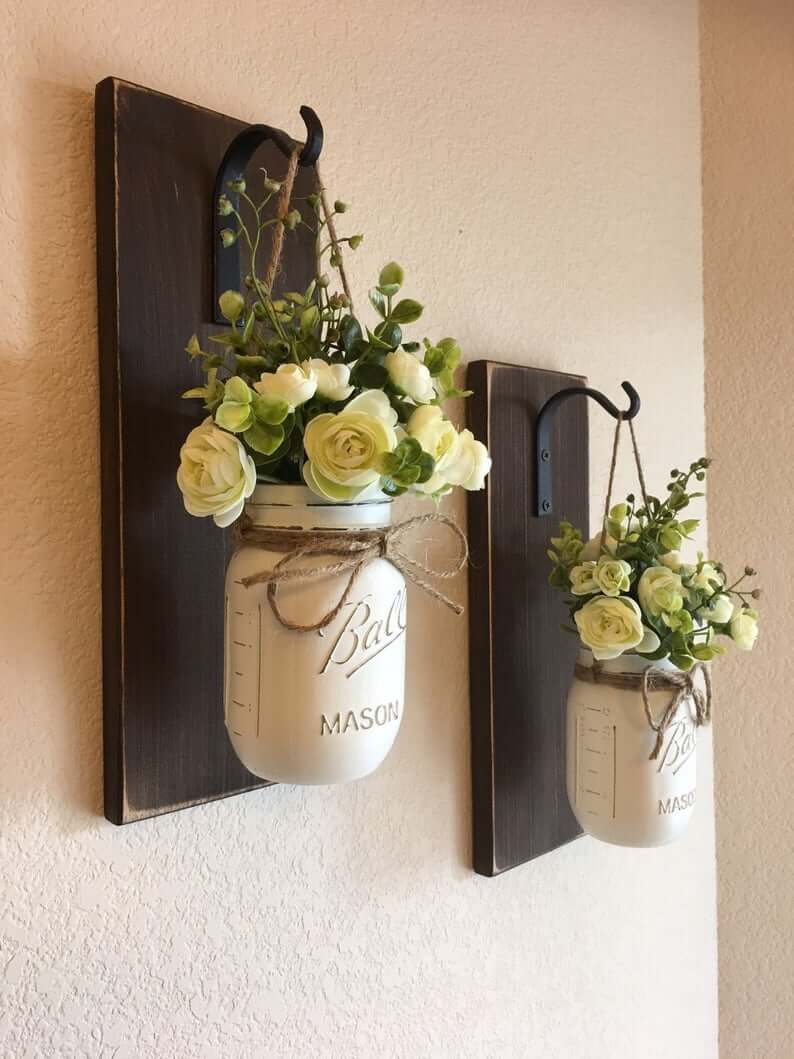 Classic and creamy, these mason jars really pop as they are set upon a rich and deep dark brown wood base. Tied with thick twine ribbons, the set of mason jars holds your favorite flowers in a unique wall sconce way.
50. Slanted Mason Jar Trio Wall Art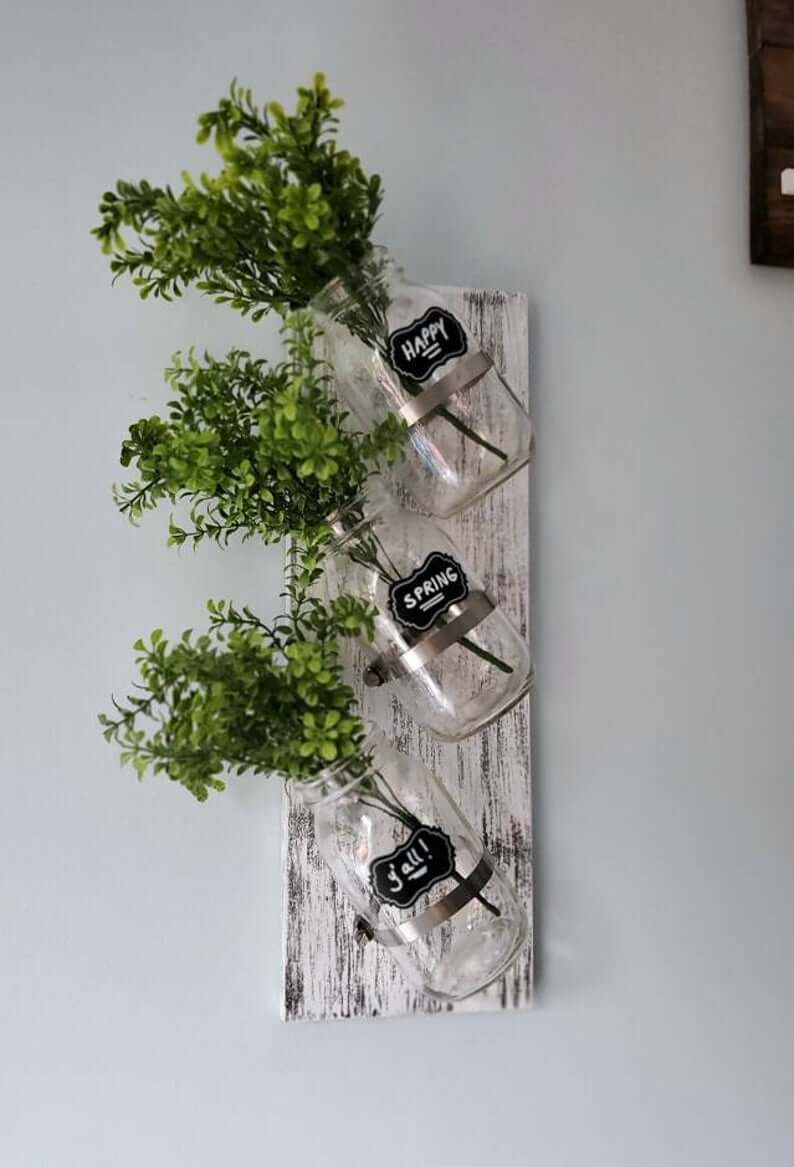 Featuring a distressed white background, this trio of slanted mason jars makes a fun touch to your home. With small chalkboard signs, you can decorate each one. Spruce them up with some green sprigs to welcome the new season.
51. Buffalo Plaid Ribbon and Black Mason Jar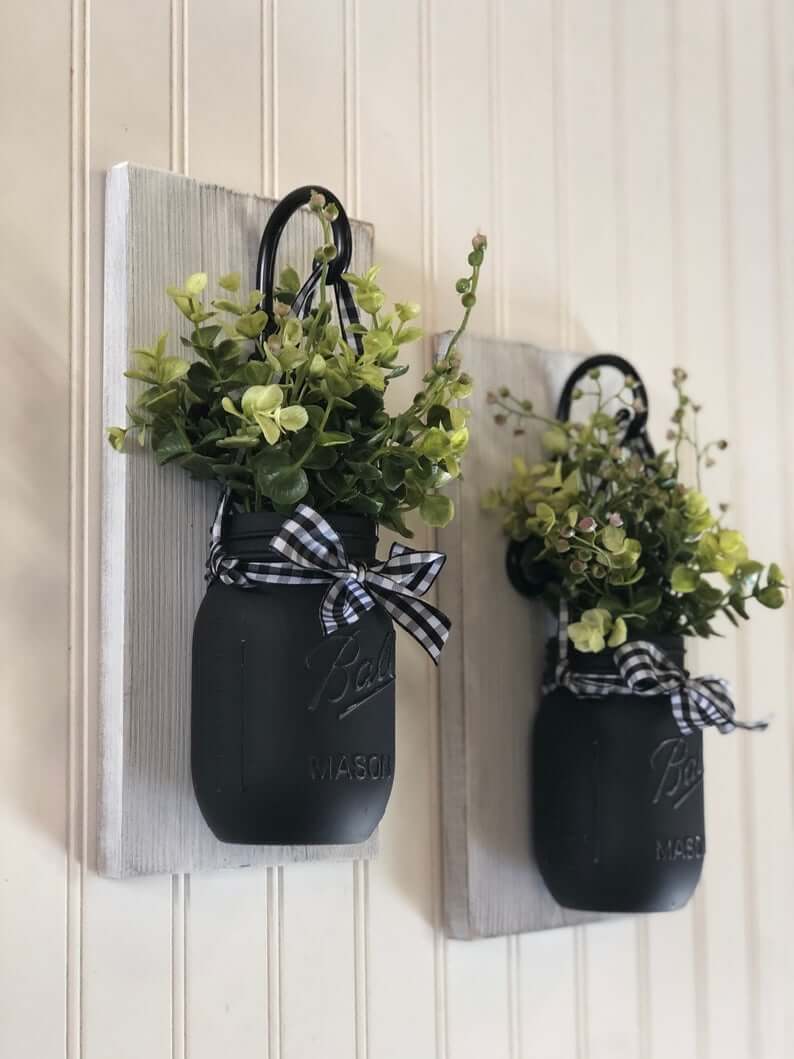 What's not to love about this use of buffalo plaid ribbon finishing off these dark black mason jars? Hanging from a metal hook, these jars are a perfect way to add some greenery to your home without sacrificing style.
52. Painted Mason Jar Vase on Board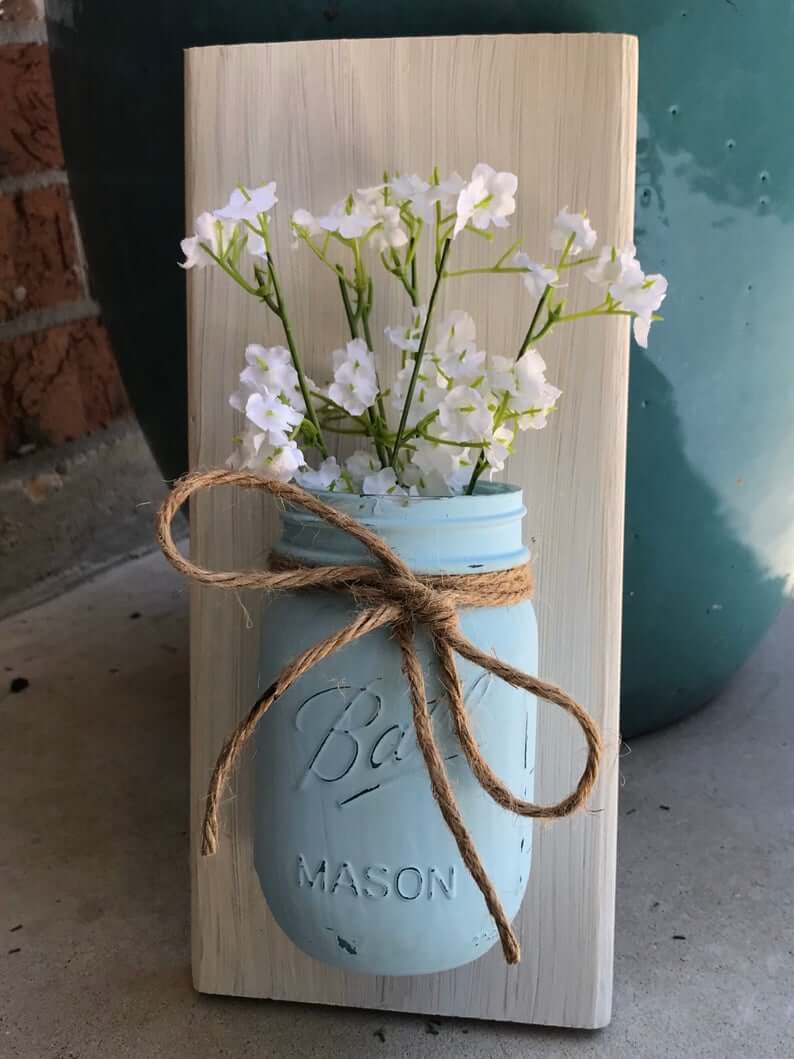 Make a bold look with your mason jar by simply giving it a fresh coat of paint! This turquoise beauty is just the splash of color your home needs. Attached to a blonde wooden specimen, this decorative piece would look great in any room of your home.
53. Wrought Iron Hook and Mason Jar Trio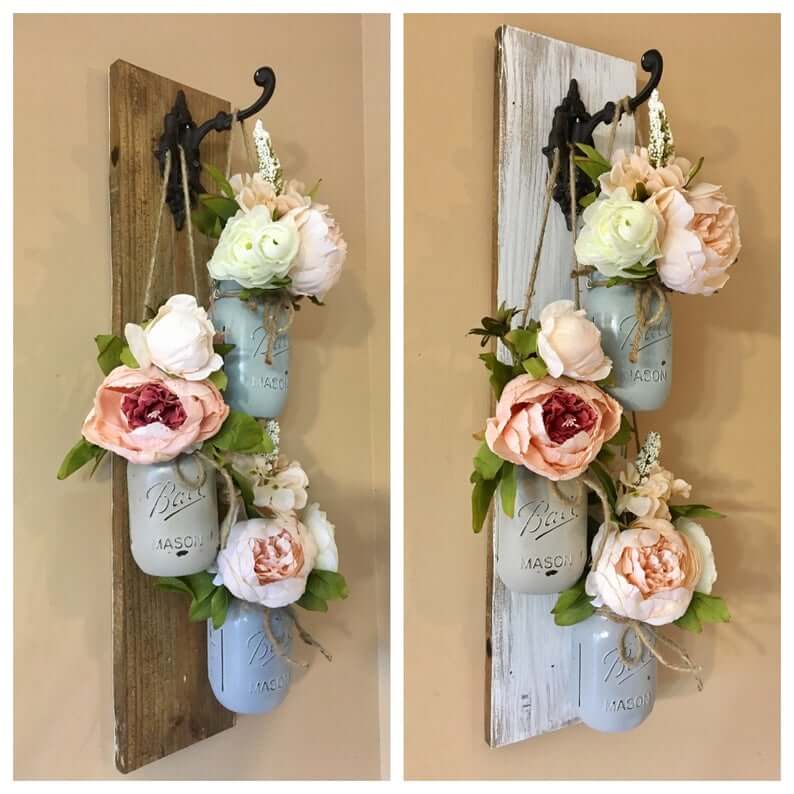 Hand-painted mason jars in a variety of colors create a custom look for your latest wall art endeavor. The trio works together as they are bursting at the top with warm neutral and peachy peonies. Above, the wrought iron hook keeps them safe while adding a lot of character and charm to your design.
54. Tied with a Bow Jar Wall Vase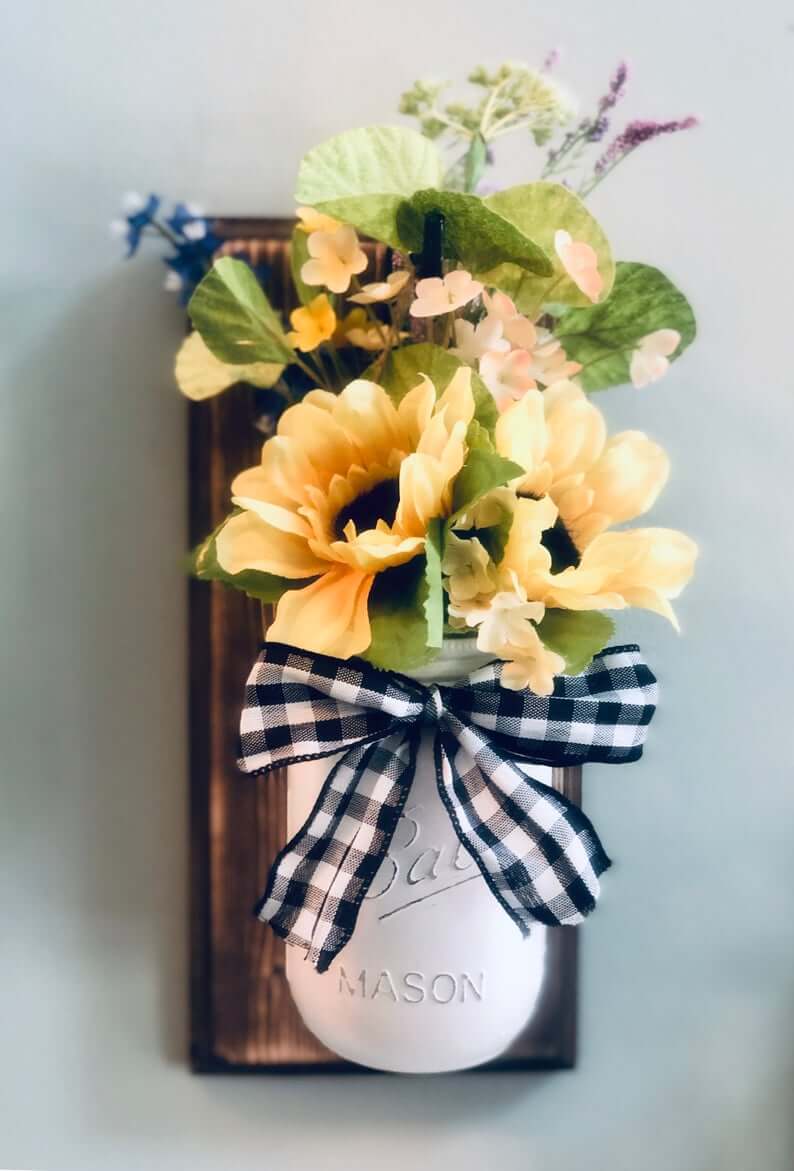 Take a cute plaid bow to tie off your favorite mason jar in creating this new piece of wall art. Decorate your space with the farmhouse favorite vase that's secured to a sturdy wooden back. Stuff it with your favorite flowers for just the right pop of color in your home.
55. Wooden Cross Panel Board with Mason Jar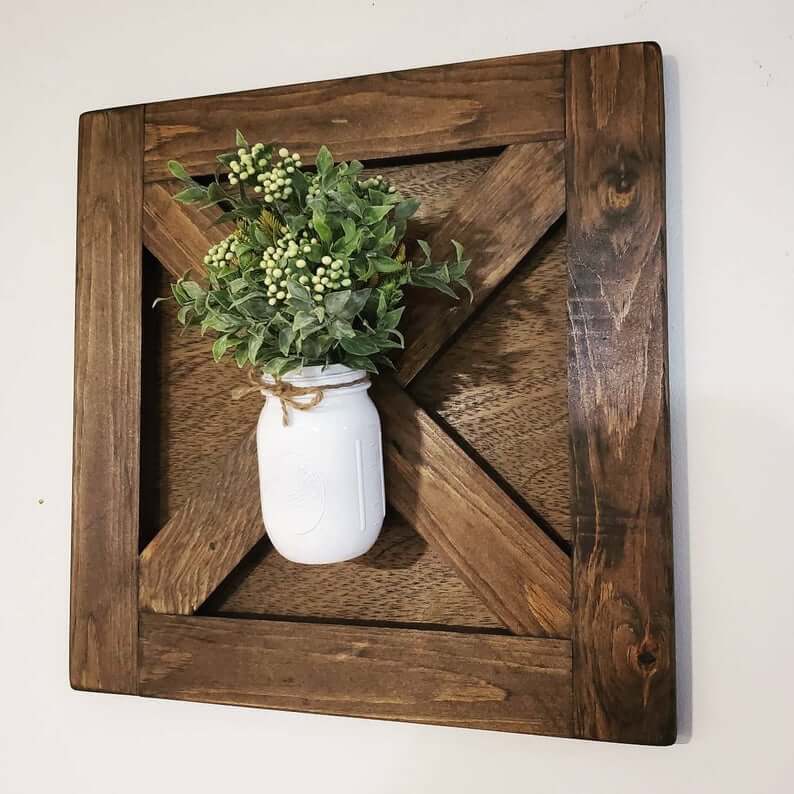 The detail of this wooden board brings back memories of Grandma's kitchen door. With a cross detail inset in addition to the gorgeous grains, this wooden board creates a bold base for your mason jar vase. Painting the glass further adds interest, providing a nice contrast between the two pieces.
56. Black Accented Mason Jar Wall Hanger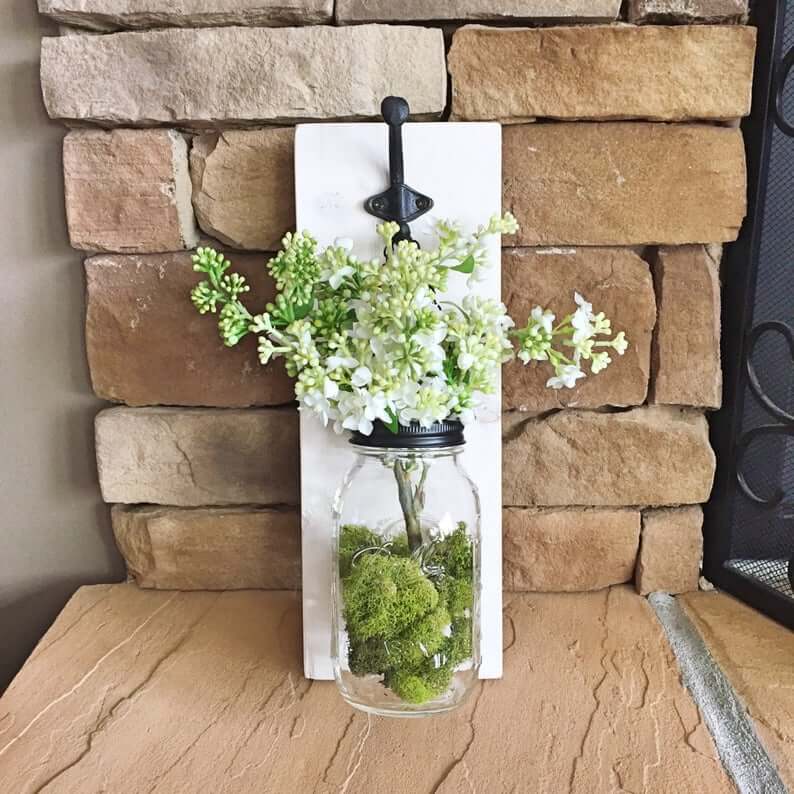 Fastened upon a plain whiteboard, this mason jar features a painted black lid that coordinates with the black metal hook upon which it hangs. Fill it with some pieces of moss to hold your favorite arrangement of flowers precisely in place.
57. Rustic Country Charm Bow with Mason Jar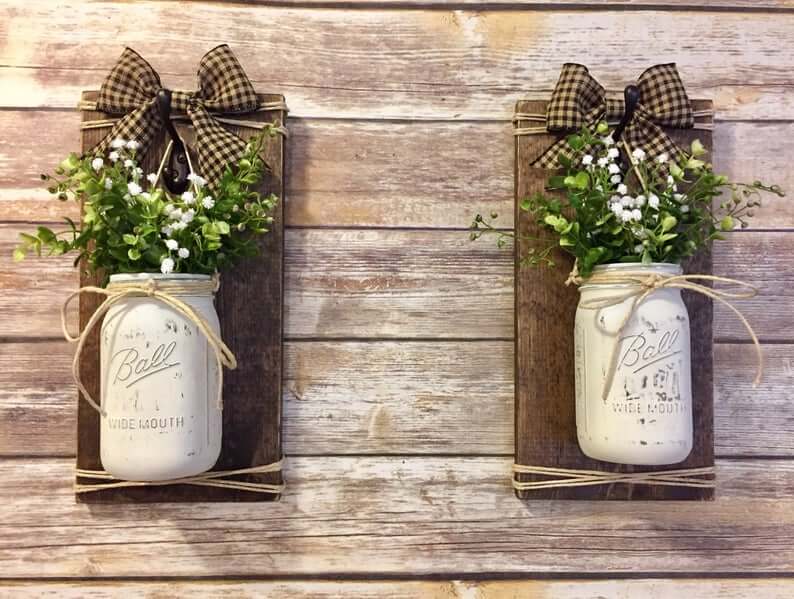 Check out all of the rustic charm infused into this country decoration. Your home will enjoy the warmth from the small plaid bow atop of the dark wooden backing. Twine wrapping is carried throughout the piece while the painted mason jar rests front and center.
58. Neutral Distressed White Farmhouse Mason Jar Decor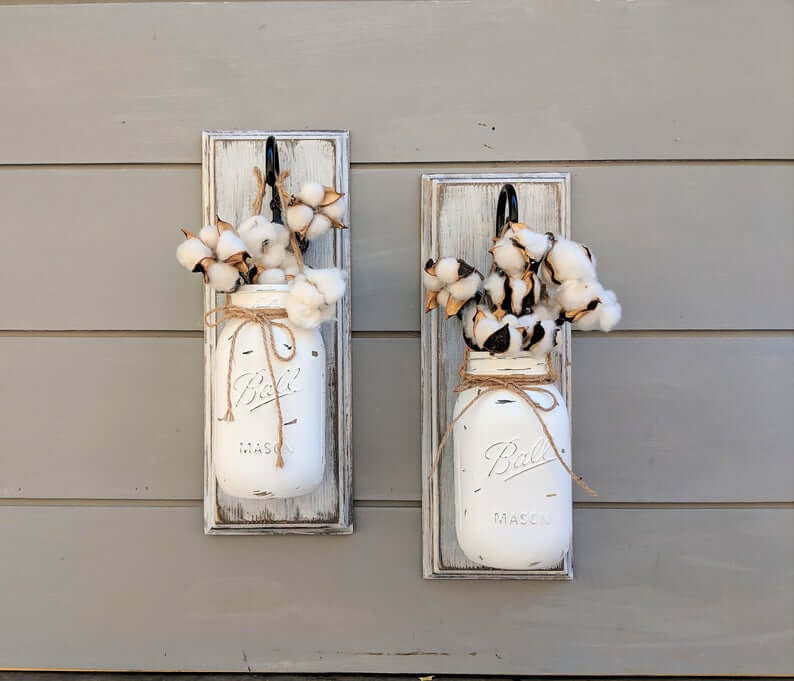 Keeping the color palette in check, this neutral design incorporates a feeling of shabby chic and modern farmhouse decor with its mixture of textural elements. The softness of the natural cotton is balanced with the smooth glass of the jar and the rigidness of the wooden base.
59. Distressed Brown Mason Jar Wall Hanger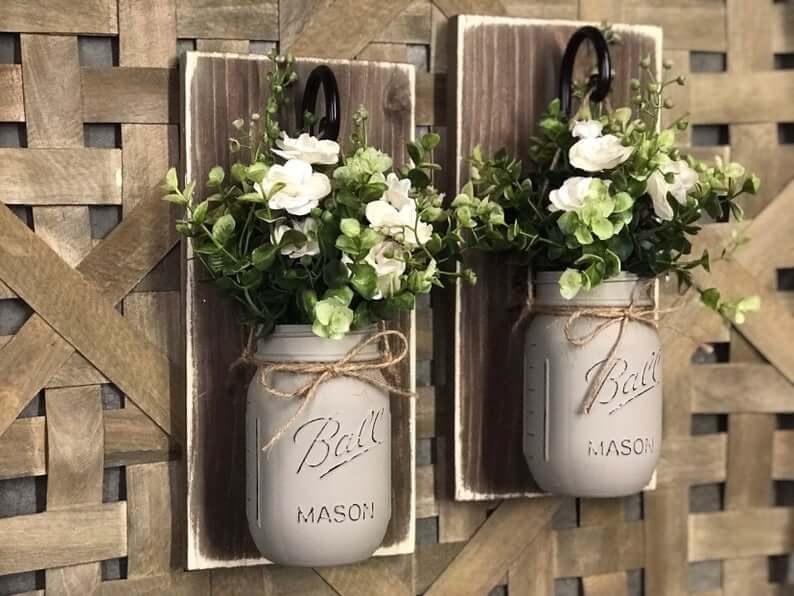 If you prefer more richness in color than classic white, this distressed brown creation is right up your alley! The distressed finish on the wood board adds character, while the mocha-painted jar infuses light and airy spin on this brown-themed arrangement.
60. Traditional Shiplap and Metal Hook Jar Hanger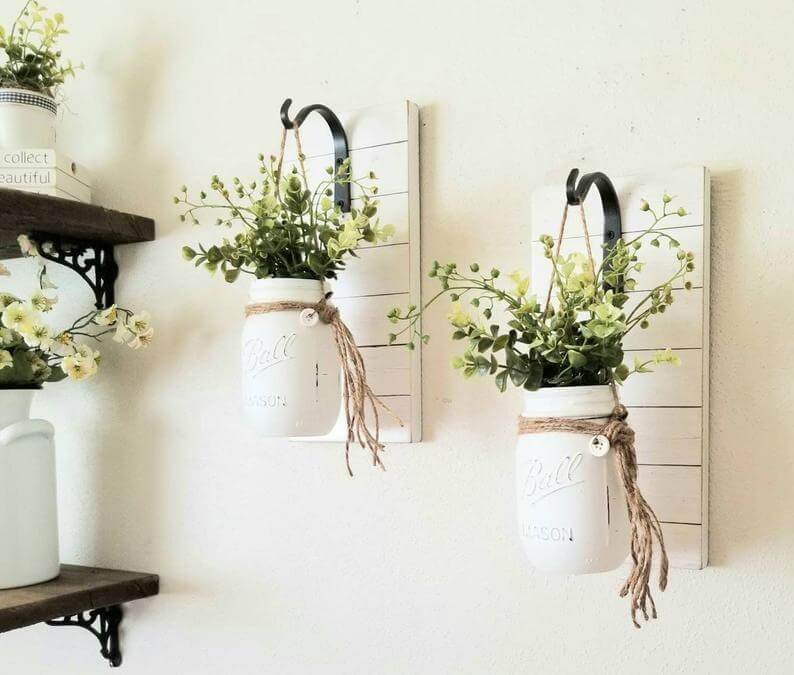 Add a touch of modern farmhouse to the room with this shiplap and metal mason jar holder. The black metal hook is a great contrast to the white shiplap base and really lets your mason jar stand out as the focal point of this decoration.
61. Old Picket Fence Painted Jar Holder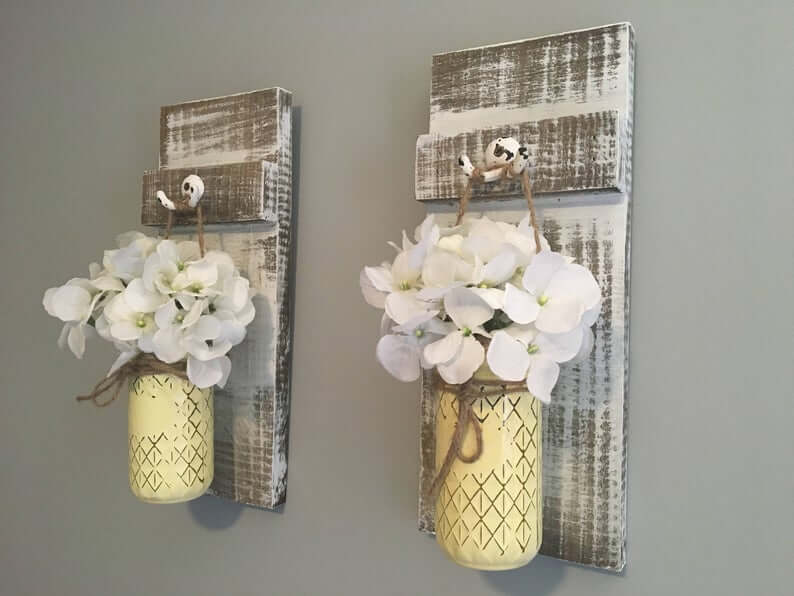 This rustic creation features a wooden foundation that shows one way to repurpose an old picket fence. It provides lots of character and texture to the overall look and feel of this glass jar holder. A buttery yellow glass jar brings in a little color without overpowering the design.
62. Old Fashioned Mason Jar and Wood Decor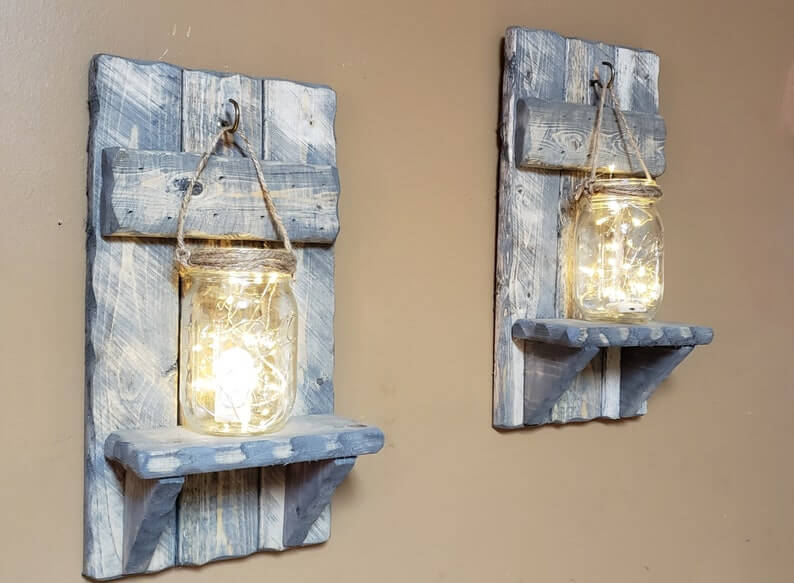 Leave the light on for your family with this old-fashioned barn wood creation that holds your clear mason jar that's filled with a bright light. Guide them down the hall or up the stairs in your home with this decorative piece that also has a purpose.
Choose Rustic Wall Decor Ideas to Make Your Home Warm and Inviting