Breathe some minty freshness into your home with the best mint green home decor ideas for updating your space with on-trend colors. For some of us, decorating our homes is a never-ending journey. We find colors and patterns in which we fall in love and before we know it there is a new hue on the scene. This endless battle of keeping up with the home decor trends can be daunting but have no fear. When you incorporate a small piece of the trendy shade, you can begin to enjoy decorating your home once again.
27 Marvelous Minty Fresh Decorating Ideas

From a quick update to a weekend warrior project, there are countless ways to add some mint green into your rooms without doing a complete overhaul of your existing space. A little splash here and a bold pop there will be enough to get the job done!
If you take delight in a weekend DIY project, perhaps you might try your hand at new tiles in your shower. Or, if you prefer something much simpler, change out the shower curtain. Either way, you can change your shower's look and feel without doing a complete bathroom remodel.
Another easy way to bring some mint green onto your home scene is with a few strokes of the paintbrush. There are a plethora of nightstands, side tables, dressers, as well as bathroom vanities and kitchen cabinets that would love to be coated in a bath of this lovely hue! Already white kitchens and baths are an easy foundation for this growing trend of colored cabinetry. Embrace the magic by rolling up your sleeves and trying your hand behind the paintbrush.
And of course, you can always settle on a simple endeavor like adding a piece or two of home decorations that embody this newly famed color. A simple sign, plant stand, or accent pillow is sure to do the trick. For other great ideas, check out this list of 27 mint green decor ideas curated just for you!
1. Vintage Mint Green Side Table Dresser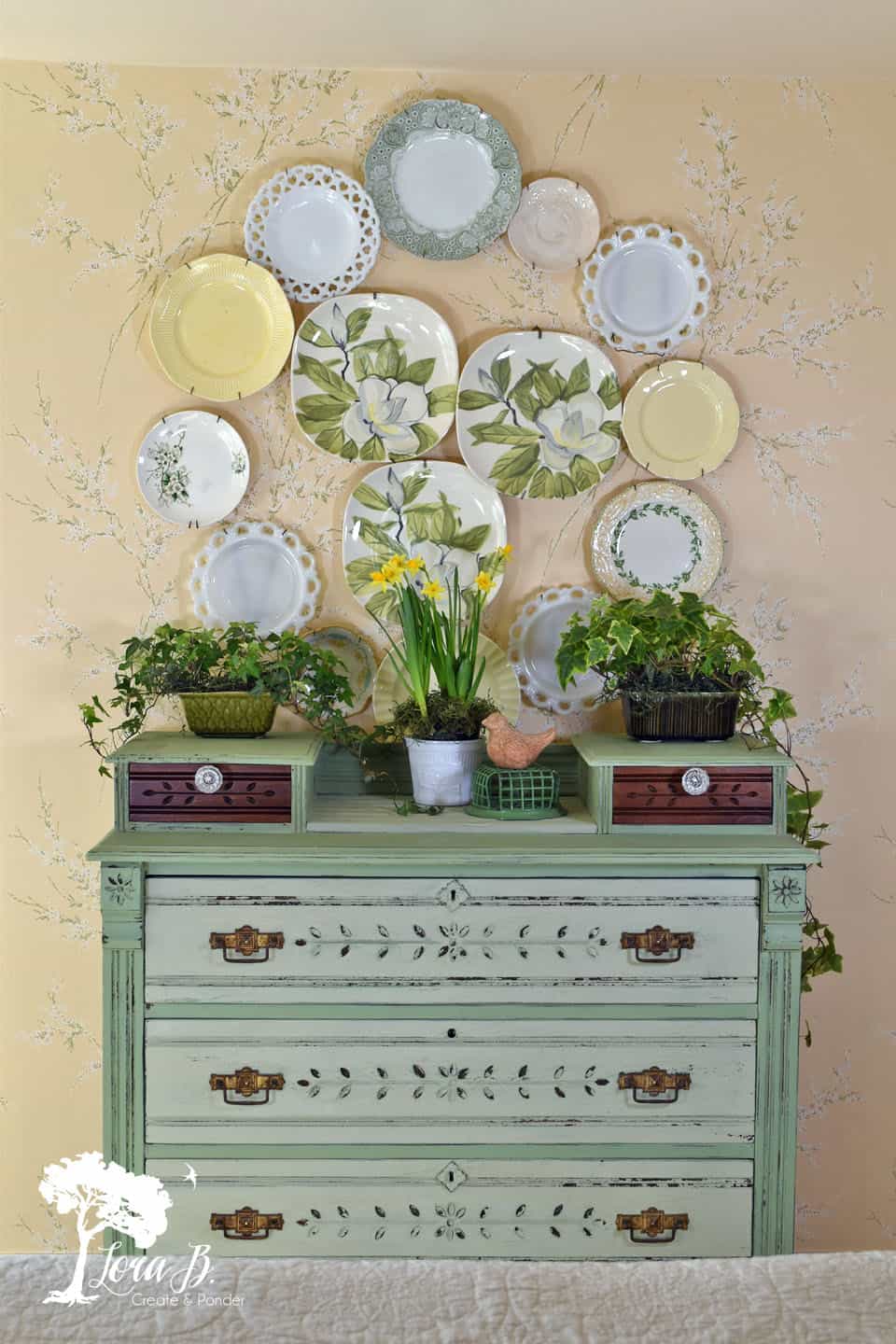 Green gets gorgeous in this trendy mint hue. Update your vintage dresser with a splash of this color to bring it up-to-date. Make a real statement in your home by decorating all around and on the top of this antique piece. A collection of vintage floral dishes makes a great work of art on the wall, while a couple of cascading house plants is an awesome idea for resting on top of both sides. What there is to love most about this unique piece is the cool mint green color offers a touch of color without making a loud noise. Your entryway will be tickled pink to show off this pretty mint dresser filled with loads of welcoming goodies.
2. Modern Contemporary Kids Room Mint Shelving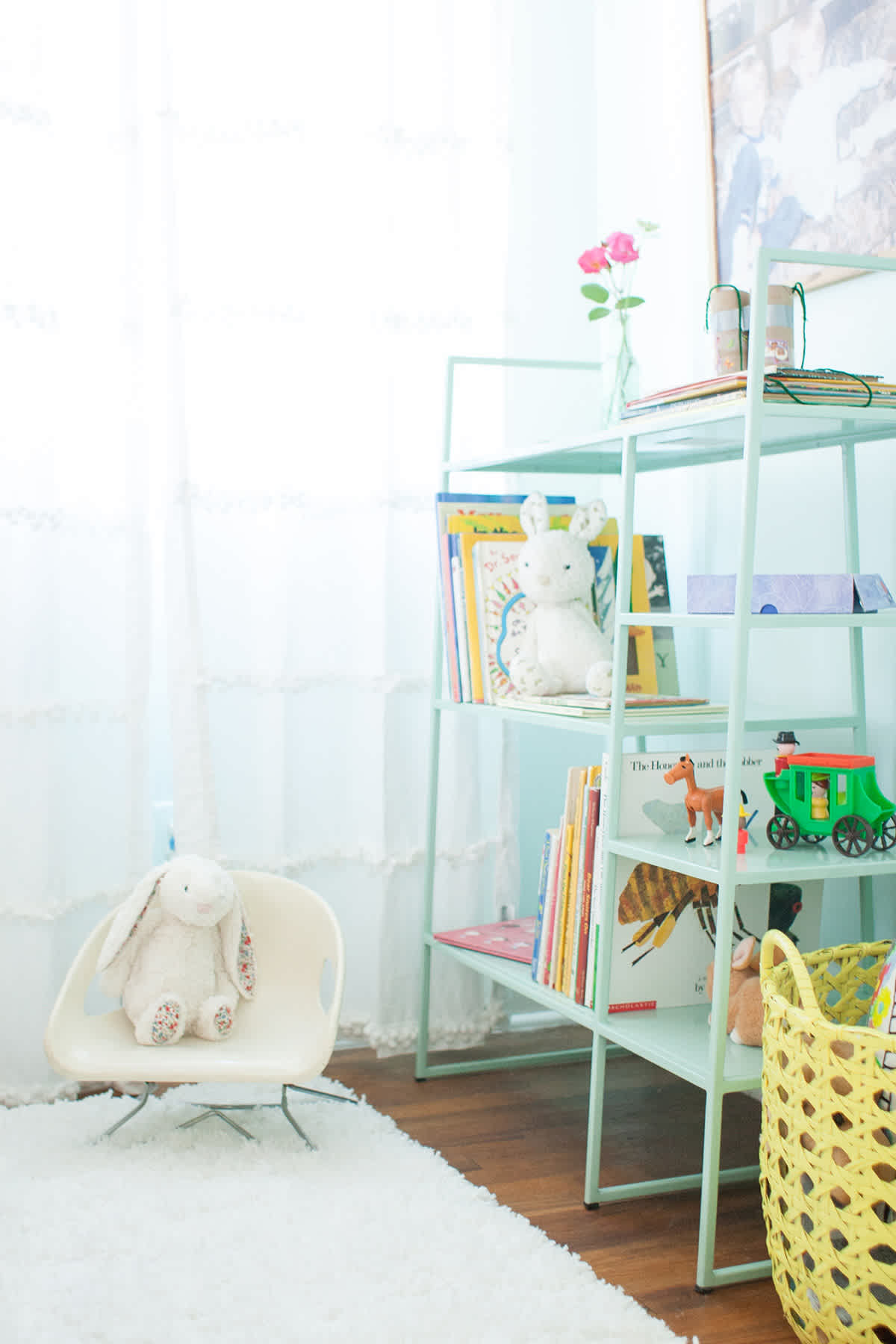 Being organized doesn't have to be unfashionable, especially in the never-ending options of on-trend hued shelving units. Continue your home design all the way into your kid's bedroom with some modern home organization furniture that doubles as some of the best mint green home decor ideas. With all of the many loved trinkets, toys, and books that tend to pile up in a kid's room, this mint shelving system is a great addition for storage ideas to organize your home. Your kid can easily reach all of his or her favorite toys and treasured stories to make playtime even more fun! And it's just as easy to put everything back in its place when playtime is over.
3. Traditional Mint Dresser with Golden Bee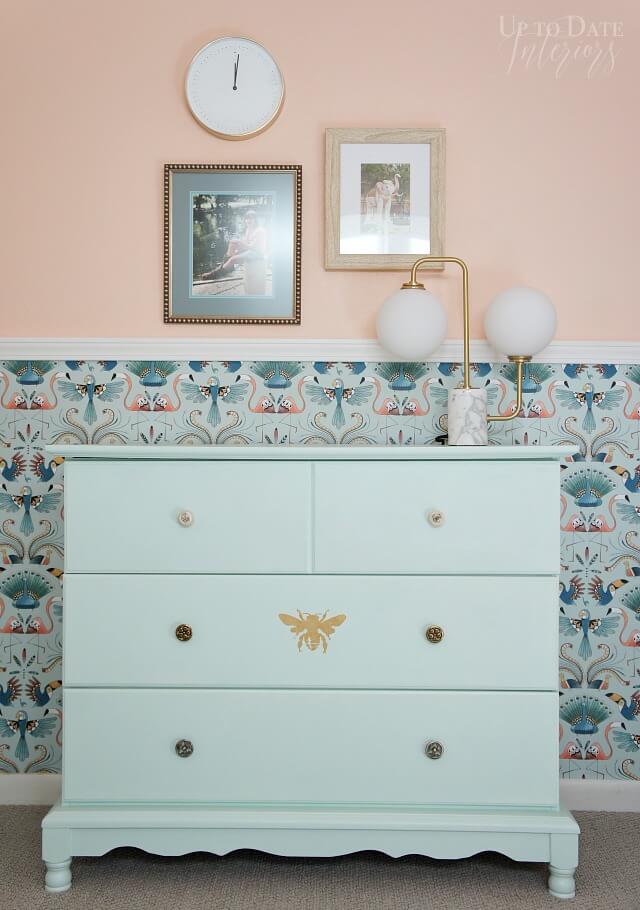 Wow! This traditional dresser looks amazing set in front of this vintage wallpaper that boasts beautiful blues and pinks on a mint green background. Combining the old with a new twist makes this one of the best mint green home decor ideas you'll find! They are set off by accents with gold, as seen in the small white double globed lamp, as well as the picture frame, wall clock, and bee embellishment in the center of the dresser. Such a unique piece works in a wide variety of spaces. It's a great way to welcome a new baby girl into your home, yet it also looks equally stunning as bedroom decor for both your houseguests or teenage daughter alike.
4. Luxurious Modern Mint Green Kitchen Cabinets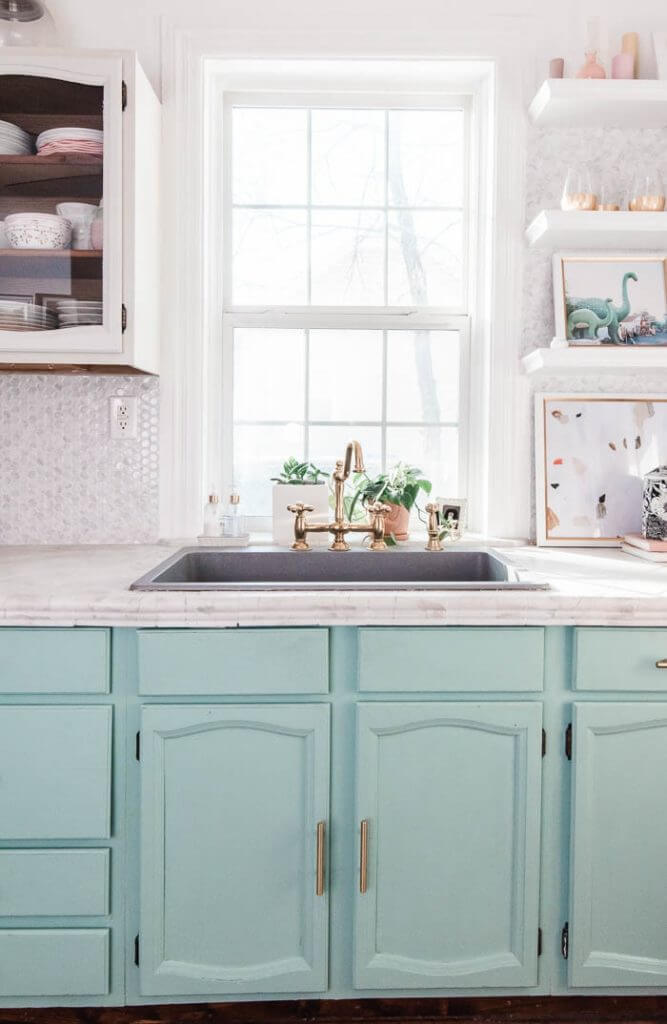 Keep the clean lines going in your white kitchen by adding a subtle splash of color with a cabinet update featuring a gorgeous mint green. Roll on some style and elegance as you elevate your white space up to the next level in modern appeal with this on-trend mint hue. Accentuate the color with your white kitchen and incorporate golden hardware and a faucet to really make the overall look seem fresh and new. This would work just as nicely inside the confinements of your home's bathroom. Carry the same cabinetry and color palette into both the kitchen and bathrooms to maintain a consistency that looks custom and provides a seamless transition throughout your home.
5. Retro and Modern Mint Green Paisley Chair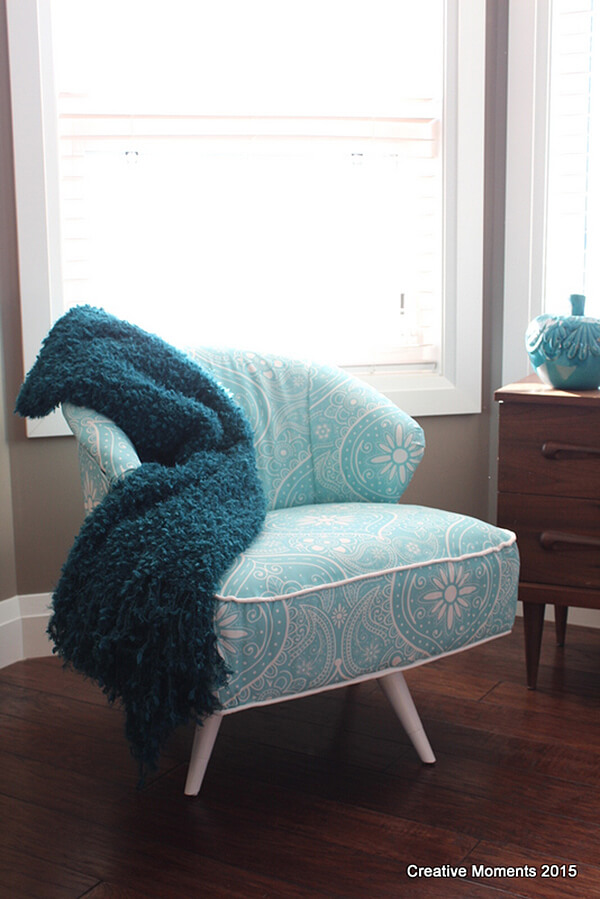 Add a punch of color and style with little to no effort as you place this charming chair in the corner of your home. Crafted in a pretty mint green paisley print, this retro chair gives a modern edge to any living room and creates a fun and inviting nook in which to read. It might be just the comfy hangout your teen has been needing to kick back and do some homework or the relaxation station for your guests to enjoy. Drape a cozy throw over it and everyone will be fighting to see whose turn it is to use this chair!
6. Pale Moss Green Cushioned White Settee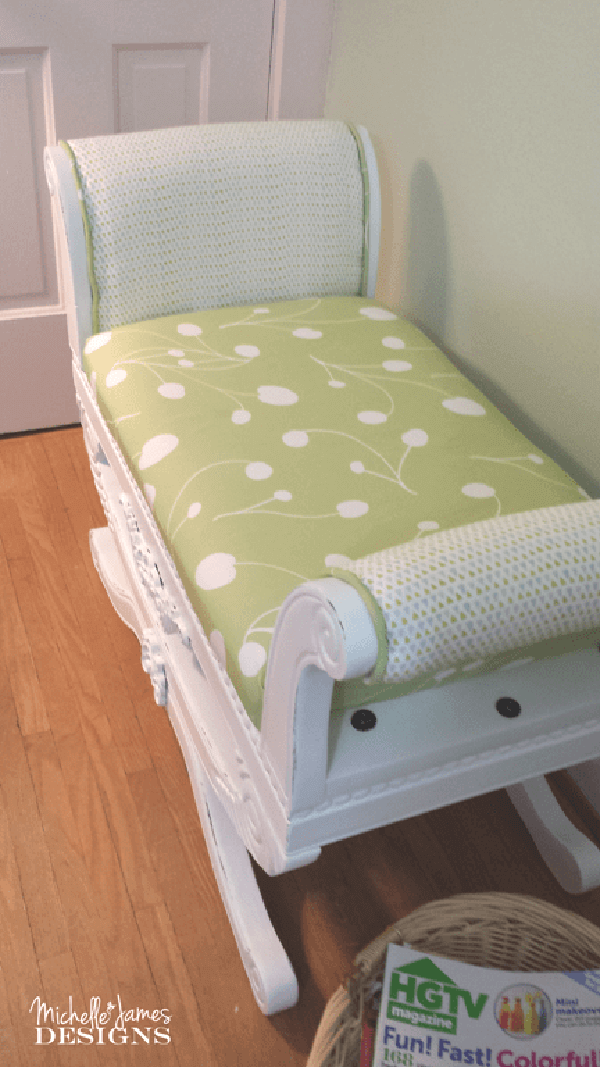 Here is the ideal item if you're searching for a small, but a quaint piece of furniture to add charm and an extra seat to your home. This white settee boasts a lovely moss green colored seat cushion to add both the style and comfort you need. Align it along the wall in your hall, place it in an open space in your living room, or set it at the end of your bed to give you a spot to sit down and take off your shoes at the end of the day. A covered front porch of a summer cottage would be another place for this piece to call home.
7. Cuban Attitude Mint and Wood Dresser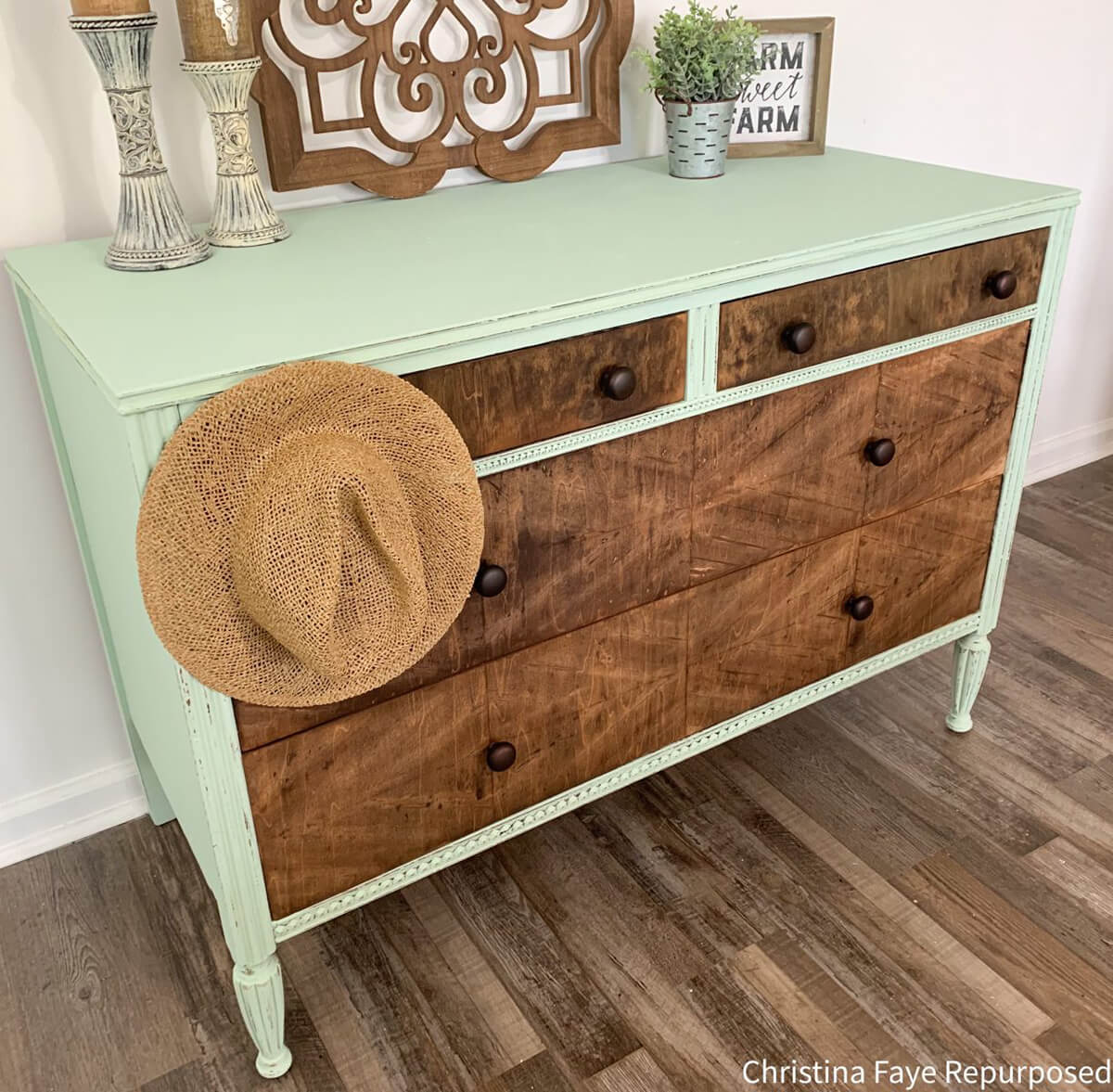 The islands are calling and you'll be happy to answer with this distinctively darling mint green and warm brown wooden dresser full of Cuban attitude! A perfect place to rest your sun hat, the brown wooden drawers are the ideal place for the home organization as you put everything back in its place after spending the day at the beach. Adorn the top with candle holders and an intricately designed wooden grid that adds charm to this teak-looking dresser piece. Using the cool mint green allows the warm island vibe to permeate your home while providing a great storage solution for all of those extra items that need a permanent place to belong.
8. Golden Aged Mint Green Modern Bathroom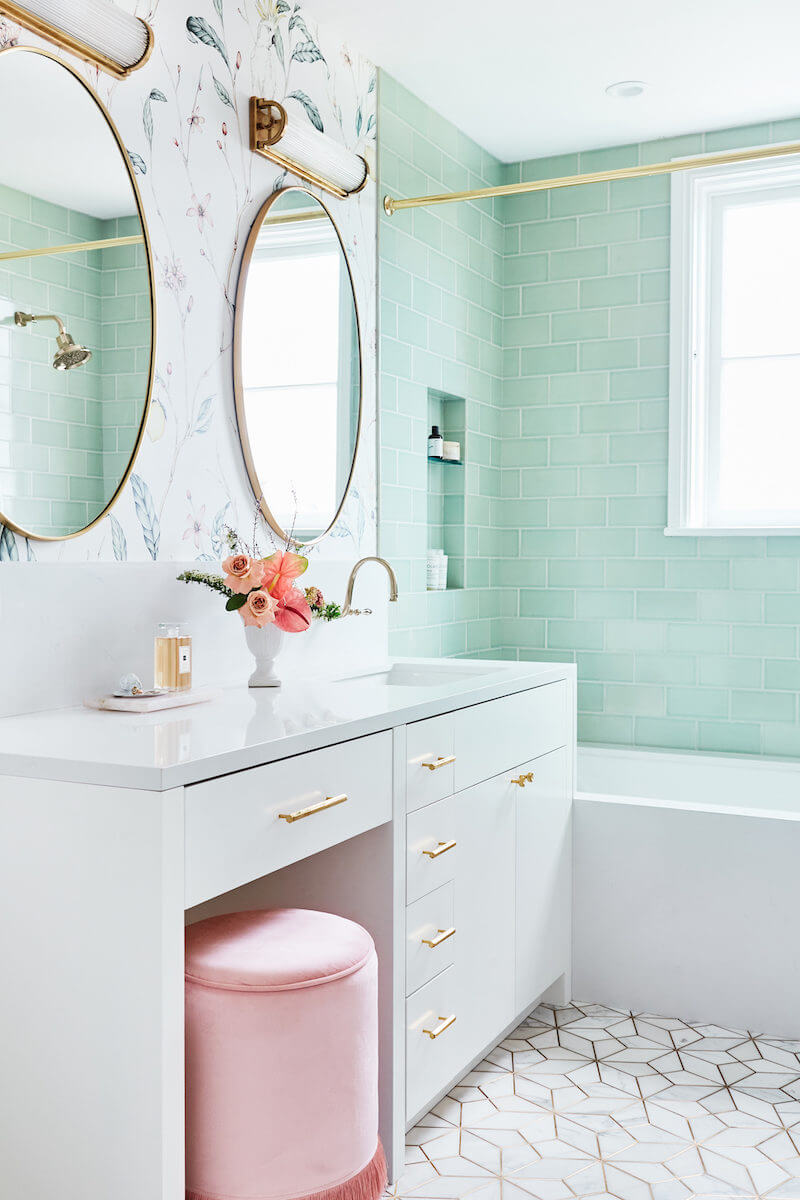 Bring the feeling of The Great Gatsby back to life in this updated retro-looking modern bathroom. The classic subway tile shows off the gorgeous green as the natural light flows into this space. Complete with a pink poof seat, you can finally have the powder room of every girl's dreams! Complete with a sleek white sink cabinet, the gold drawer pulls and vanity mirrors add to this timeless and classic design. With a color palette emanating from the Roaring '20s, these mint green decor ideas for the bathroom are ready to take you back in time as you unwind in a relaxing bath at the end of a long week.
9. Comfortable and Chill Mint Green Duvet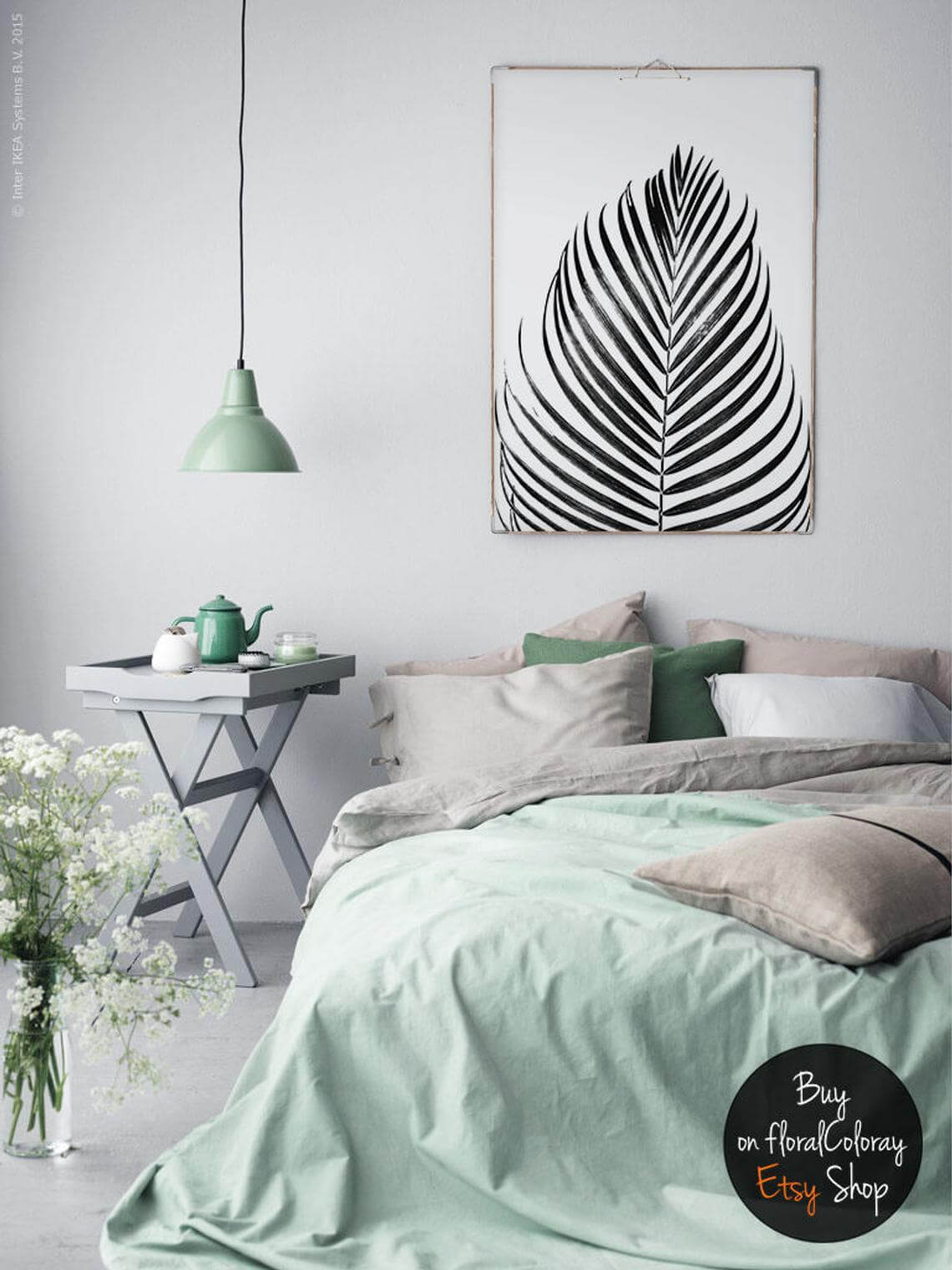 Go from bachelor pad to couple's retreat with this slim and cool mint green bedding. Sure to add a delicate hint of color to your grey interior design, this light and airy bedding works in both masculine and feminine spaces. Add to the simplicity of this color with a similar shaded lighting fixture and pottery for your bedside table. This duvet is just the appropriate weight that can easily be layered for additional warmth come wintertime.
10. Bohemian Crocheted Mint and Grey Dreamcatcher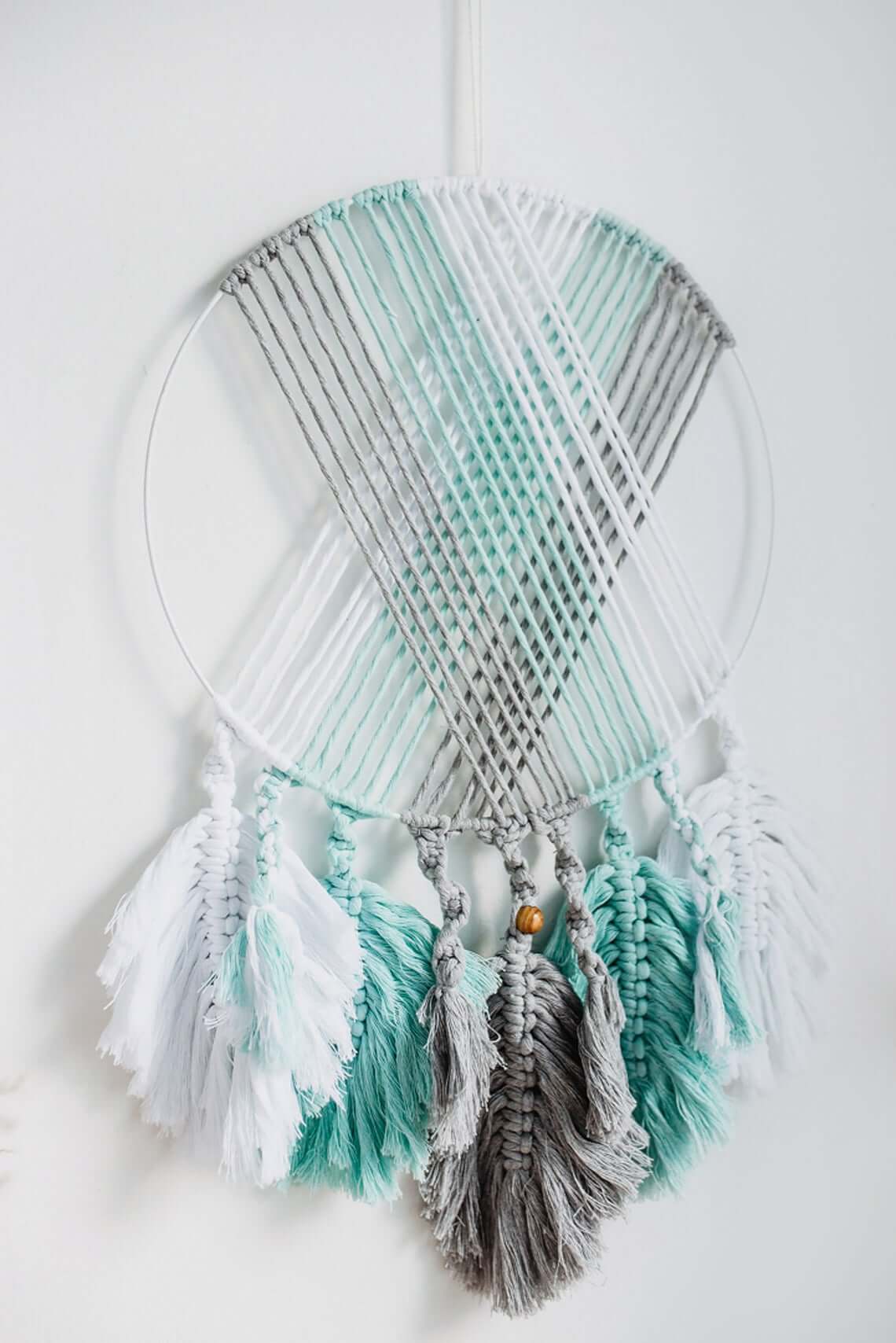 Add a touch of bohemian romance into your home with this beautifully hand-stitched crotched dreamcatcher. Whether you need a break from those bad dreams, or simply wish to change up your existing decor, you can't go wrong with one of these mint green designs in this dreamcatcher wall art. It's a wonderful addition to the home decoration in a baby's nursery as well as a new piece of wall art for your bathroom. You could even use it in lieu of a wreath on your entry or back door.
11. Natural Botanical Fields Mint Green Wallpaper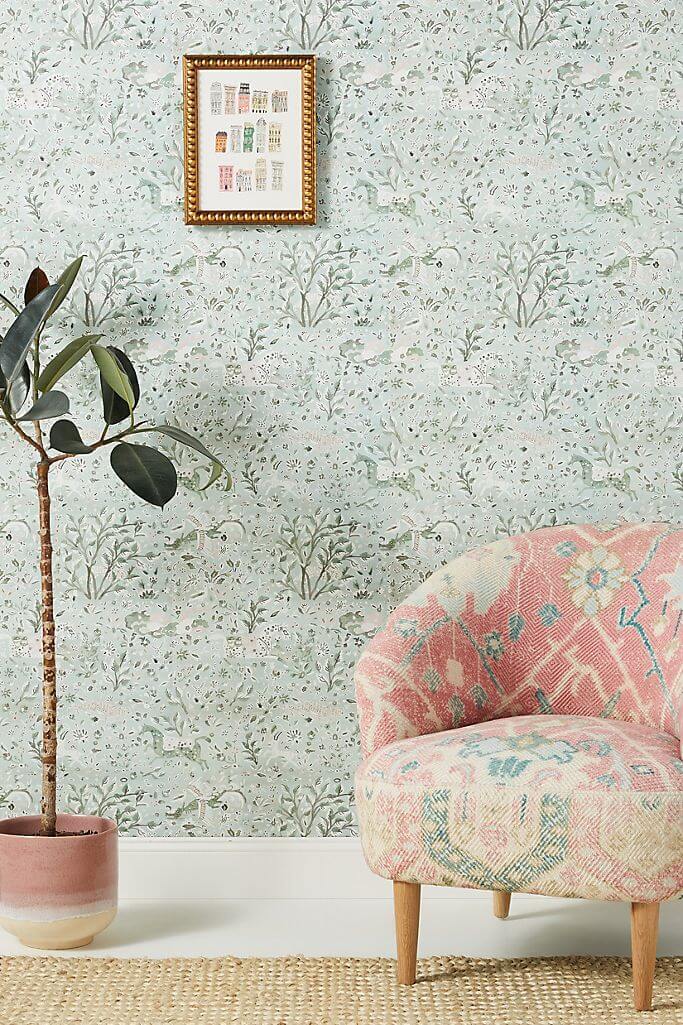 Coming back with a bang is our interior design friend of the past- wallpaper. With so many endless options, this mint green version showcasing a botanical field print is just the right touch of nature and comfort to blend into your home decorations. Such an awesome idea for updating a hallway or bathroom space, yet it also looks fabulous trimming out the walls of a bedroom. With such a detailed print, you can keep the rest of your decor to a minimum and let the botanical fields do all of the talking.
12. Classic Mint Green Pendant Dining Light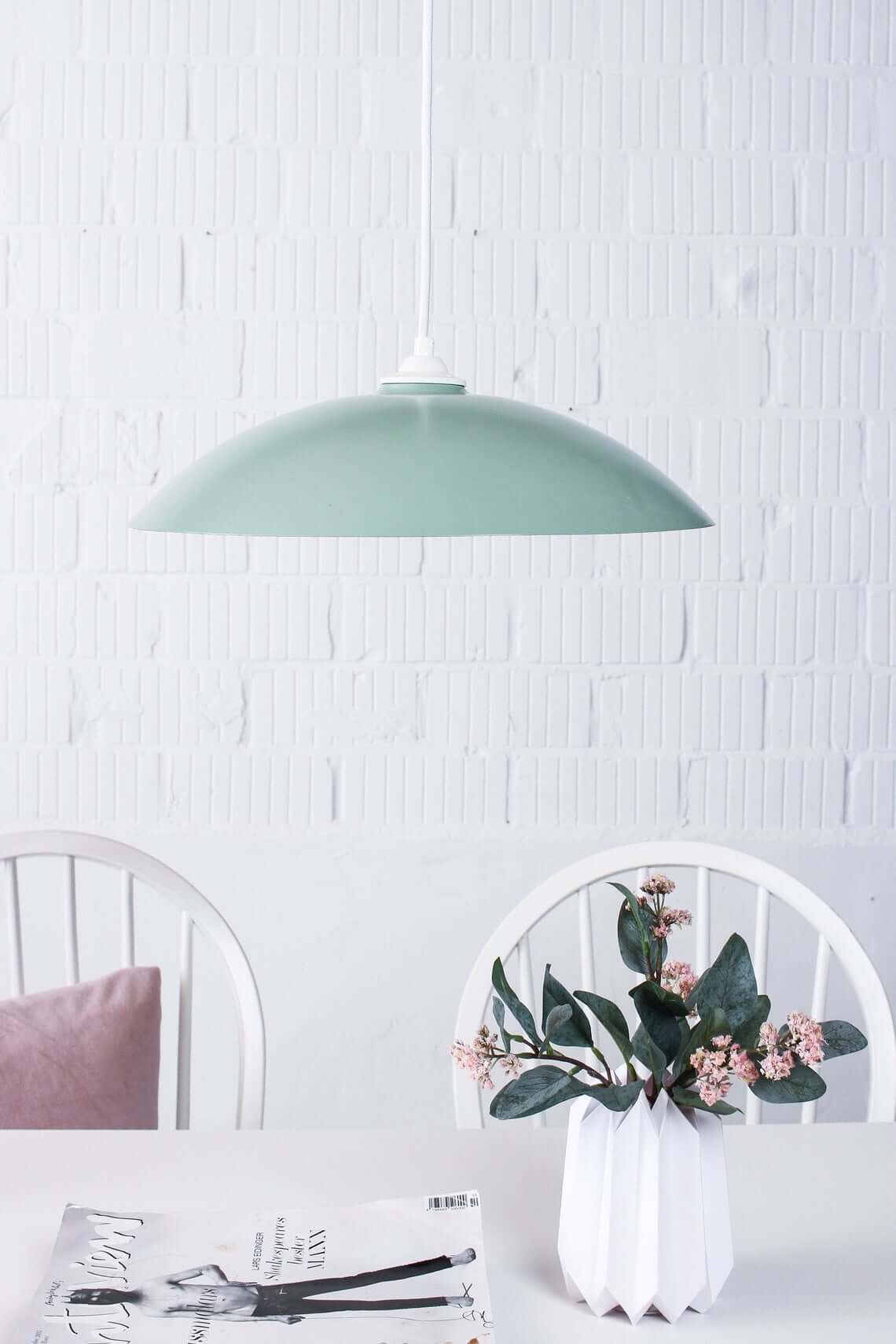 Swap out the old with the new to enhance the dining ambiance in your kitchen and dining space. Located front and center, this pendant light draws the eye in as it is suspended in the center of your dining room table. Coated in a rich and deep mint green hue, this lighting fixture is simple while getting the job done. Such a versatile design, this pendant looks amazing in both an industrial apartment and a cozy suburban home.
13. Dark and Light Mint Diamond Shower Curtain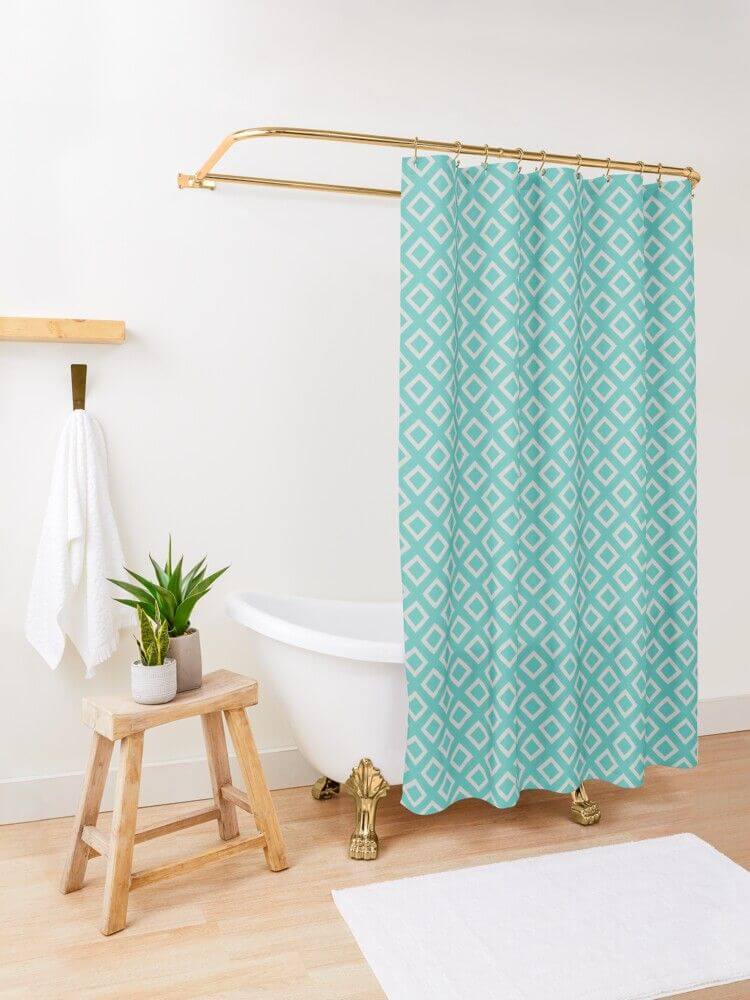 Check out this stunning diamond-patterned shower curtain featuring two shades of mint green. With the contrasting variation of this color tone, this shower curtain adds another dimension to your bathroom design. Being able to change this design element out so easily makes this one of the best mint green home decor ideas you'll find. Spruce up your kid's bath with some modern appeal without making it seem too mature. The geometric design is both classic and contemporary without skipping a beat.
14. Mint Green Chambray Bedding with Matching Pillows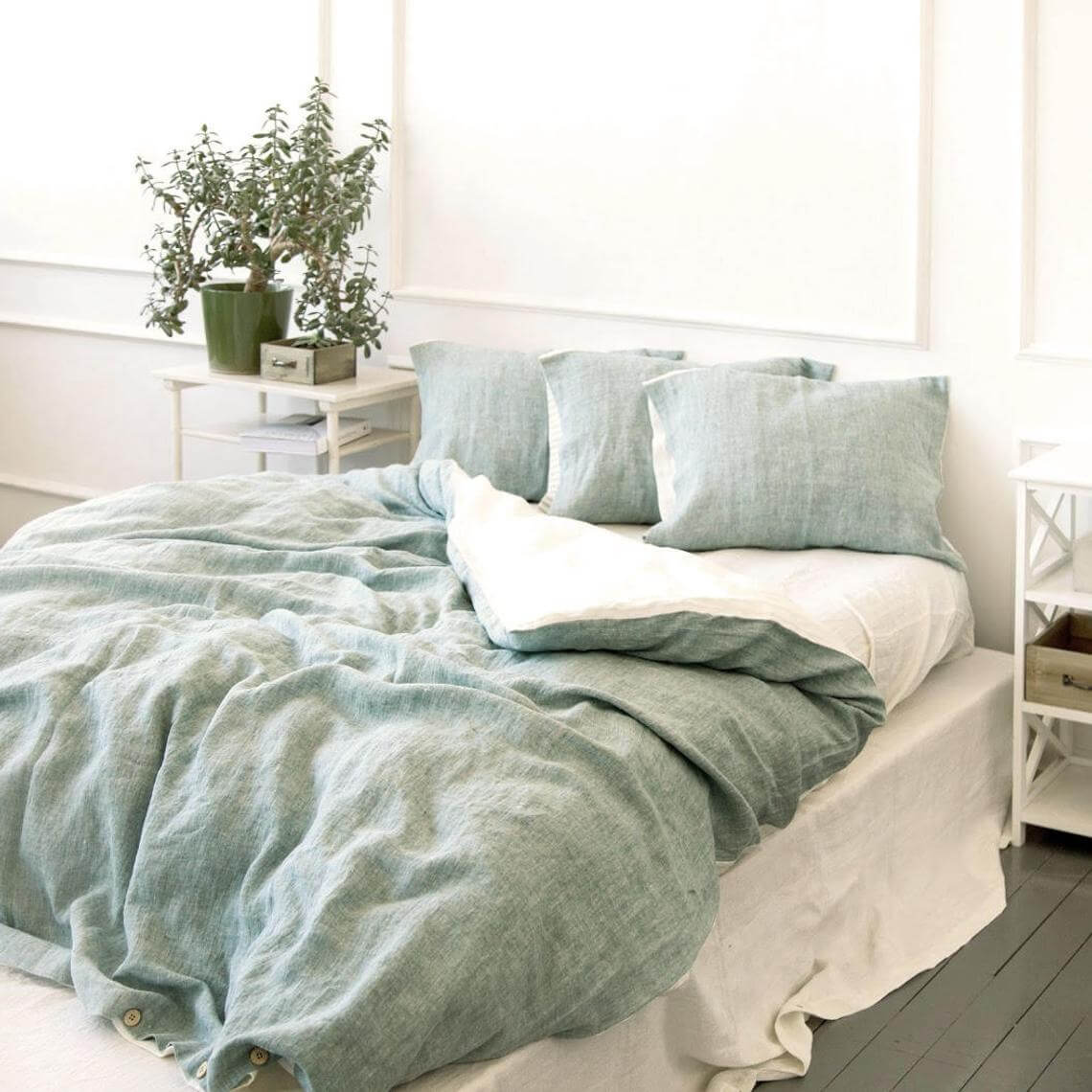 Look forward to heading home to the comfort of your bedroom retreat where you'll find this ultra-comfortable and pillowy chambray comforter shown here in mint green. With coordinating pillowcases, this bedding group works as a team in achieving your bedroom dreams. For an added punch of green, arrange a houseplant (or two) next to your bed to add to the appeal and filter your zzz's at the same time!
15. Modern Contemporary Cylinder Planters in Mint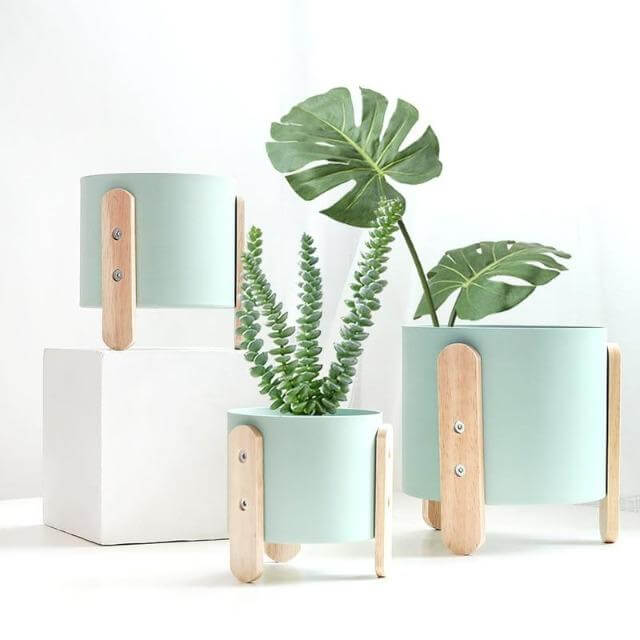 Out with the old and in with the new, give your houseplants the update they deserve as they flourish in these cylinder container planters crafted in a fun and modern mint green. Their shape alone is enough to grab your attention, but the detailed wooden legs and mint color make this houseplant hotel an awesome idea that can't be overlooked. Nestle the trio in a corner near natural lighting to create a gorgeous display or place one in each room of your home to add some charm and better breathing everywhere you go.
16. Peacock Printed Mint and Turquoise Pillows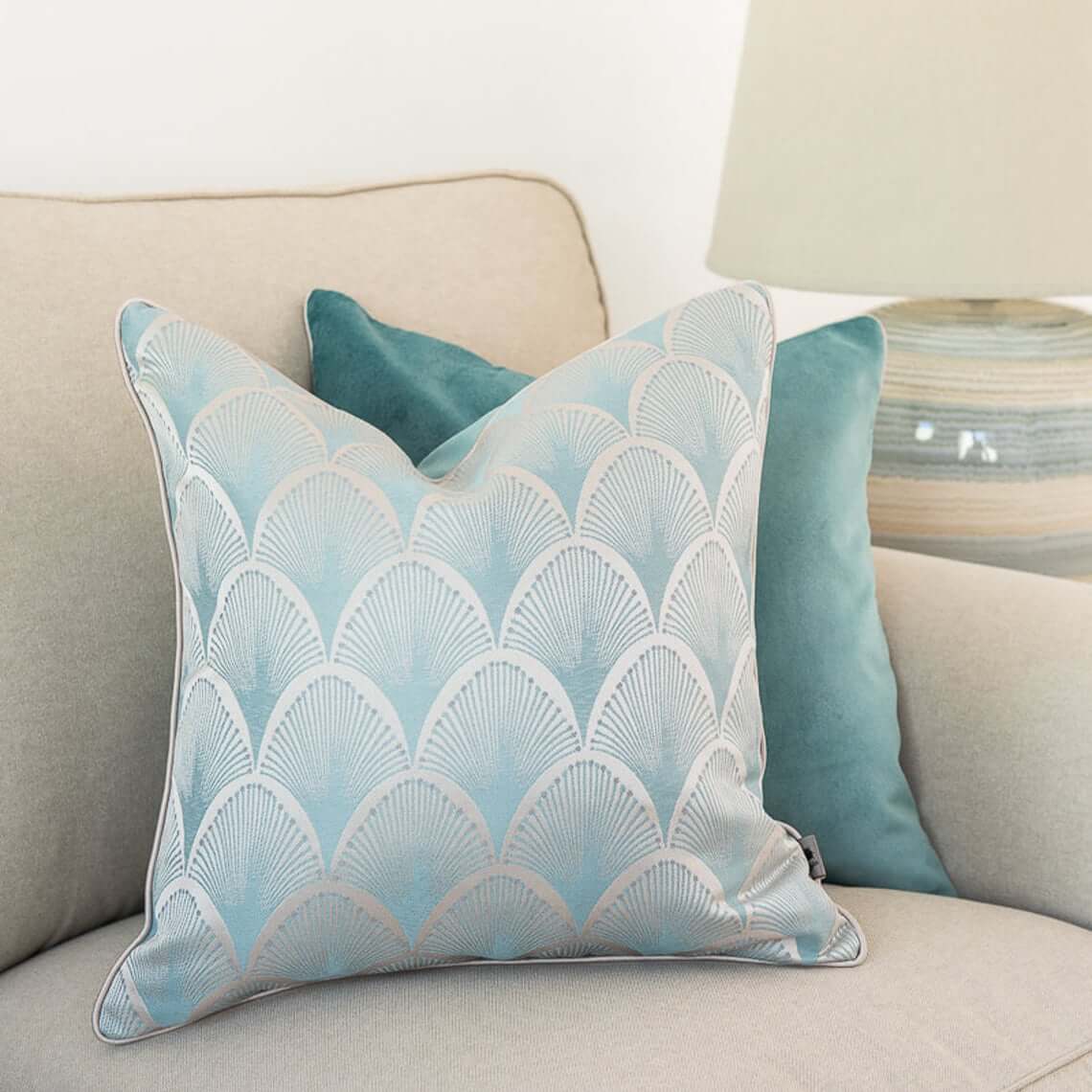 Dress up your sofa this season with some fun throw pillows! Perhaps the perfect pair, this duo includes one solid color alongside its peacock printed friend for added interest and flair. Whether you have a gorgeous table lamp, room-sized rug, or large wall hanging that includes this mint hue in its color palette, you can be sure this set of accent pillows will both comfort and cozy up your interior design space.
17. Upholstered Green Headboard and Bamboo Wallpaper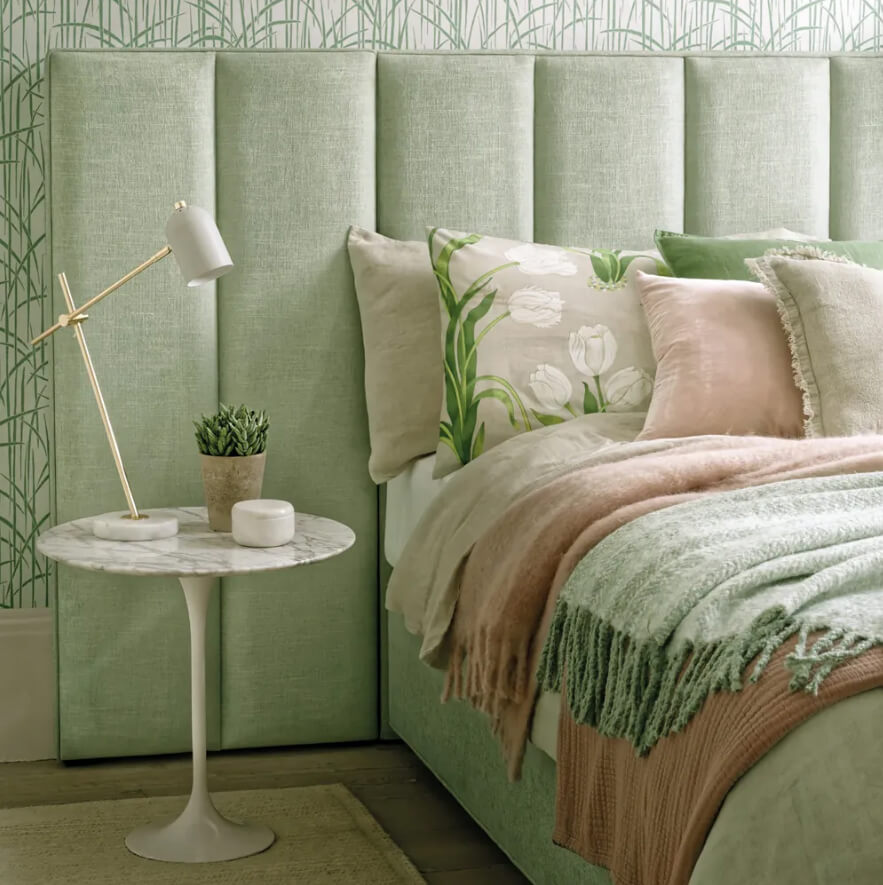 Whether the grass is always greener on the other side or not, it's definitely greener in this lovely nature-infused bedroom haven. With lively green and white bamboo print wallpaper, the upholstered headboard is both bold and big in every sense of the word. Infusing a monochromatic color palette into your room, you'll likely achieve this tied together look that seems like it's been professionally produced. Rest a tiny pot of succulents on a marble bedside table to give your relaxation refuge the natural touch it needs.
18. Mint Rosebuds Nestled in Your Initial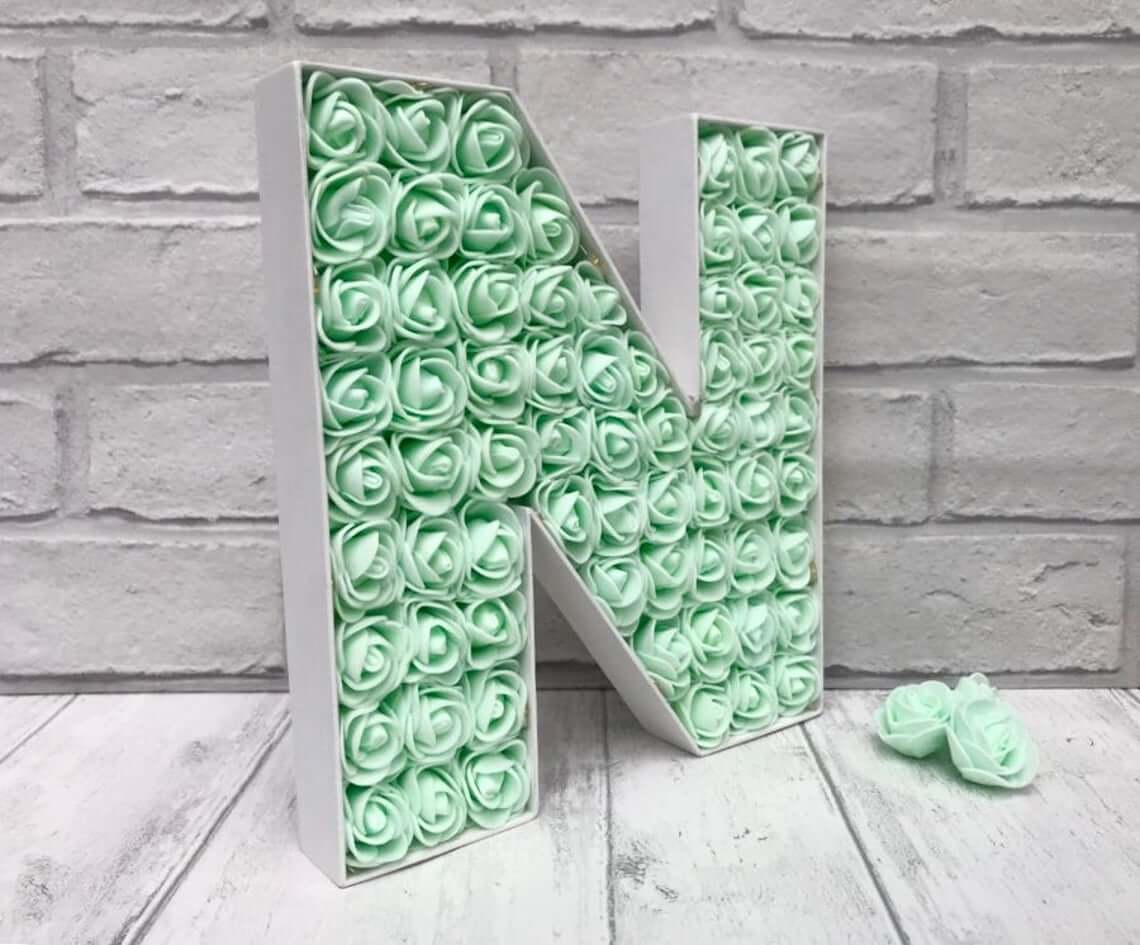 Home decorations tend to include lots of tokens that embody the personality of the home's occupants. What better way to extend this than with a letter representing their surname? Within this initial, dainty mint-colored rose buds are nestled together to create an intimate and feminine touch to your home's decor. Not only would this look amazing and be cool as part of wedding reception decor, but it's also a perfect gift for the couple-to-be that can become a treasured piece in their new home. The bride may even wish to get all her bridesmaids together so each lady can create one of their own to take home and enjoy!
19. Classic Round School Clock in Mint Green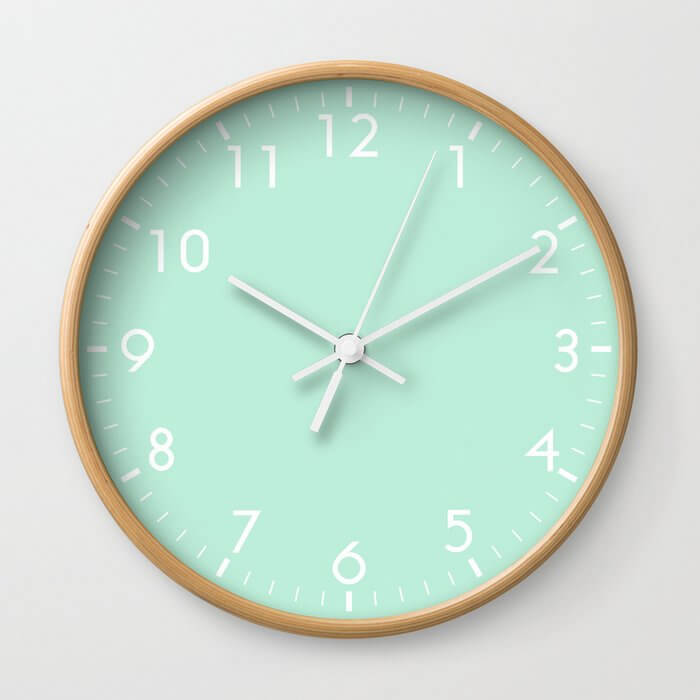 Add some whimsy and nostalgia with a touch of today when you hang this mint green circular schoolhouse clock. The round, classic design has stood the test of time and looks great with its fresh coat of mint green background. The white numbers and hands make it easy to read. It's the ideal timekeeper for your kitchen without sacrificing an ounce on style. Your home office would be another space where this timepiece would certainly click.
20. Mint Deer Head with Silver Glittered Antlers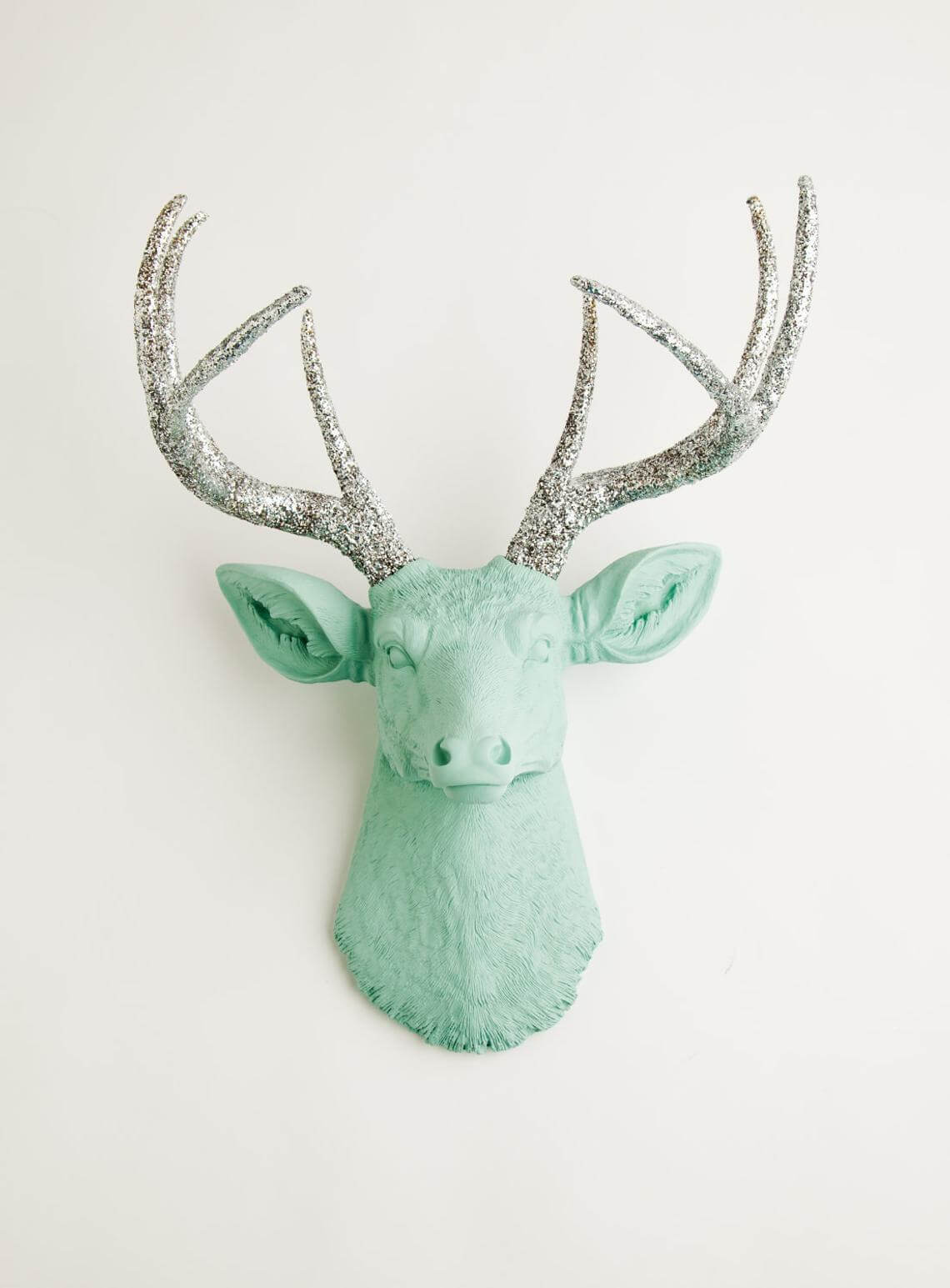 Forget the old, rustic, real deer heads you'll find in your country cabin and give yourself a sparkly update on this mounted trophy masterpiece. While this mounted deer may lack size, it certainly makes up in shimmer! It's a fun way to mix rugged with grace as you style your space for both sexes. A woodland-themed girl's room would be a humble abode for this "deerly" loved wall art. Or make your lakeside cabin a modern marvel when you decorate its walls with such a delicate forest friend.
21. Friendly and Fun Pom Pom Power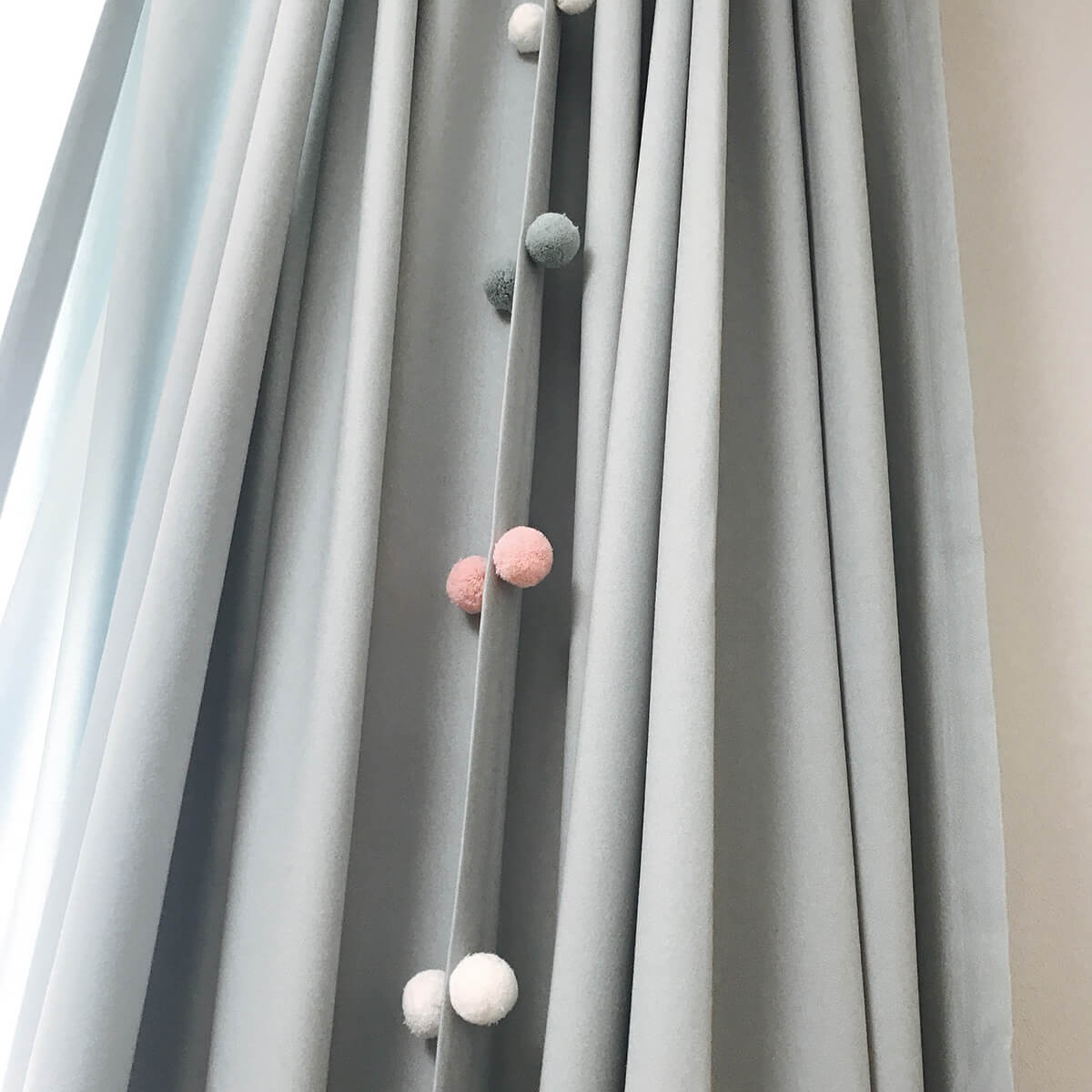 Those soft and squishy circles of your childhood have been given a new life as they are hitting the home decoration scene in full force. From fringes of them to space them out along a curtain, you can't go wrong when you include these fun and friendly embellishments in your home. They can also be used to create a darling mobile for the nursery or a new piece of wall art for your young adult. Choose muted neutrals or bright primary colors depending on what overall look you are striving to achieve.
22. Enjoy the Little Things Green Sign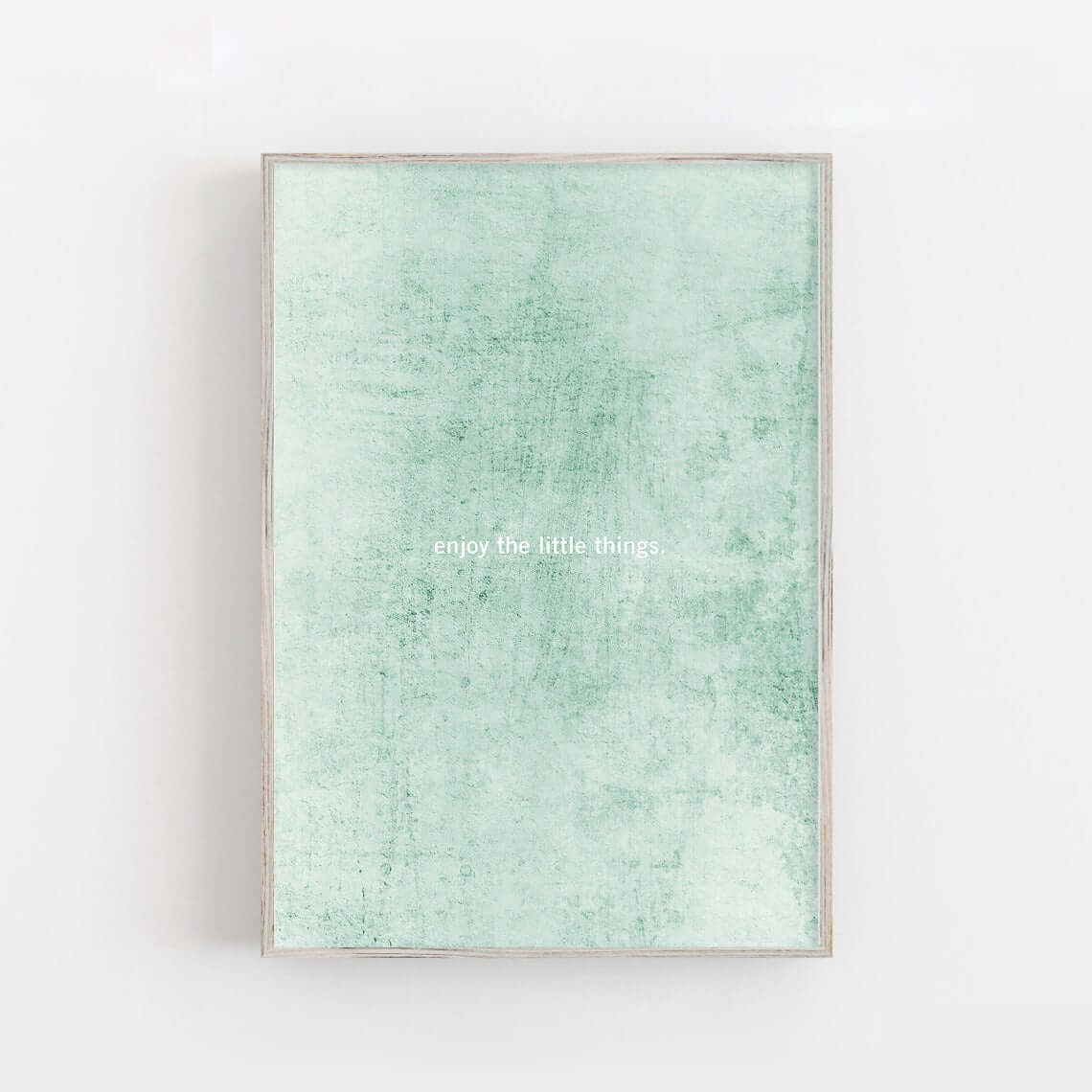 This simple phrase set on sophisticated paint strokes of green embodies the solitude of life as you embrace the most important parts of it when you enjoy the little things. It's a gentle reminder as we often get caught up in our non-stop daily routines of work, school, homework, sports, sleep then repeat lives. Take a minute to stop and smell the roses since you'll realize all too late that the little things really were the big things after all! Gift this green goodie to a friend or prop it up in your home office for a friendly reminder.
23. Traditional Bead Board Nightstand in Mint Green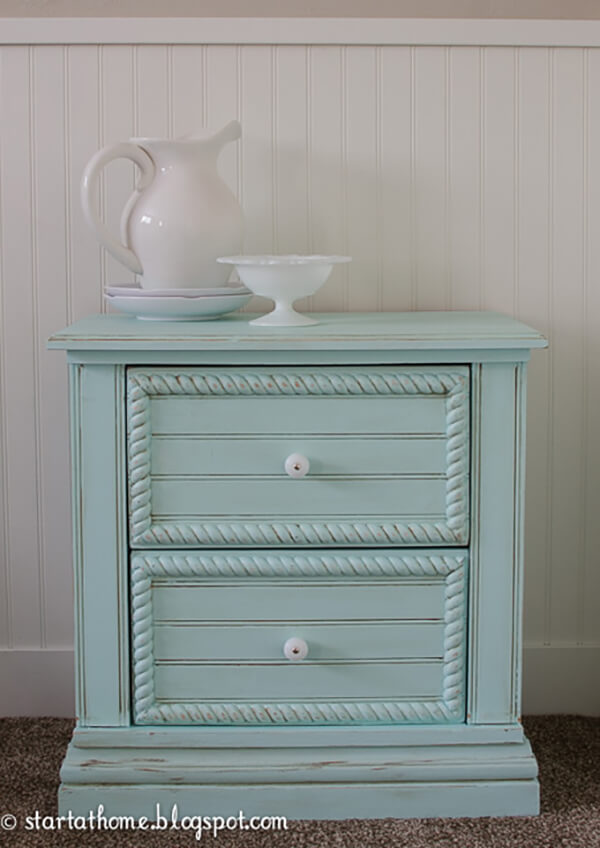 Keep it cool and classy in your cottage with this traditional two-drawer nightstand displayed in a gorgeous minty green. From the beadboard planks to the rope trimmed drawers, this nightstand is every inch a sailor in terms of sailing you to dreamland. Any bedroom would love to house this classic furniture staple alongside its four-poster resting quarters. With a subtle hint of mint green, this side table gives your bedroom some extra home organization with its double drawer design and looks amazing while doing so.
24. Rain Drops Mint Green Wall Mobile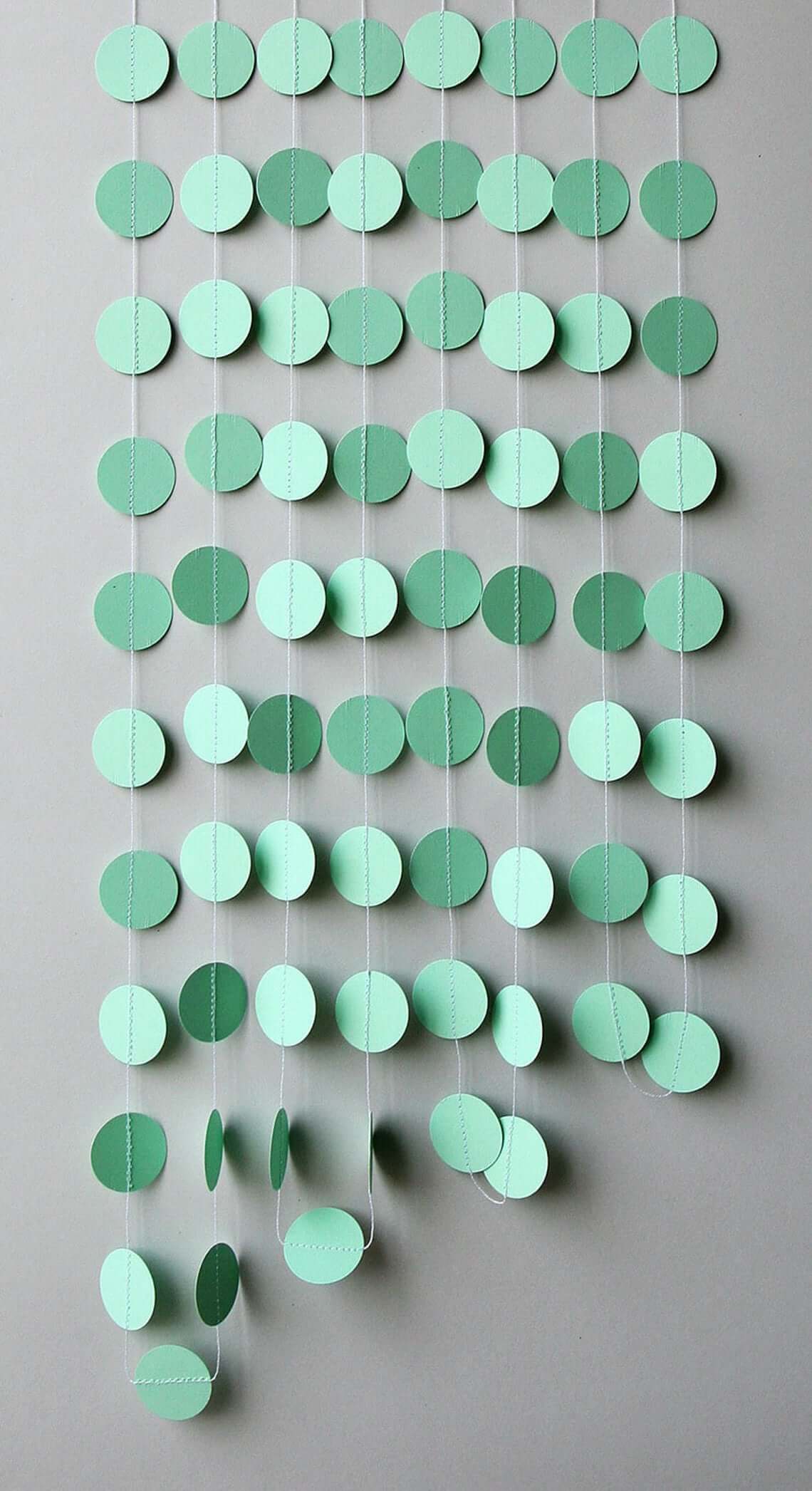 Who doesn't love the sound of a gentle rain? Why not bring some of the beauty of those water droplets into your home with one of these mint green designs? Such a unique wall art piece, its various lengths add to its character and charm. From a neutral nursery decor piece to a fun teen hangout, this wall mobile could be mounted anywhere the sound of the soothing rain can be enjoyed. Its overall appeal lends a delicate and airy vibe to all of its surroundings.
25. Luxurious and Gorgeous Mint Velvet Pumpkins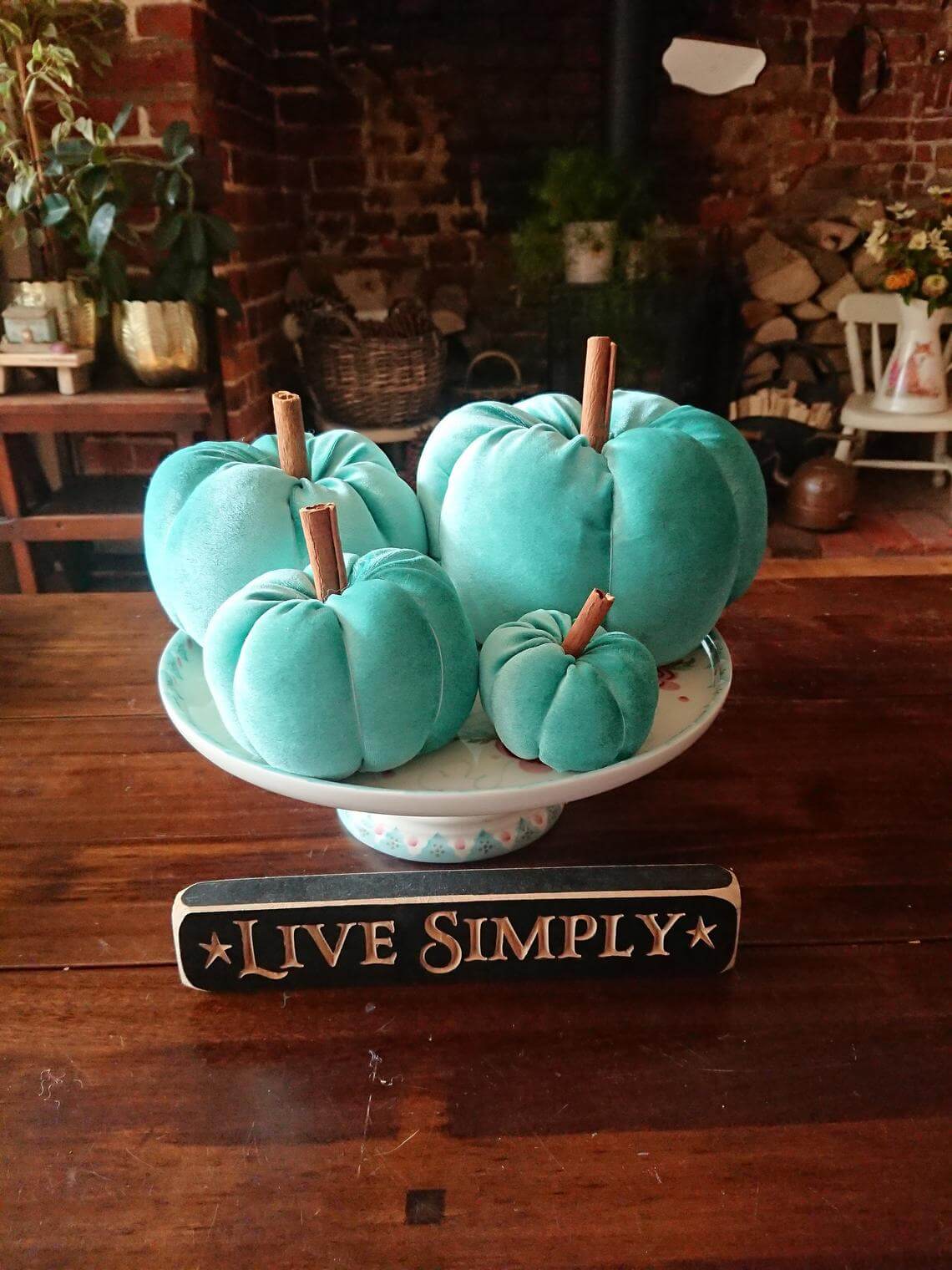 Live simply and add a touch of luxury as you feel the soft and contouring comfort of these velvet pumpkins. Their velvety texture adds sheen to their beauty without the mess that accompanies their glittered friends, making them one of the best mint green home decor ideas for fall. What an awesome idea to create these fall-friendly pumpkins out of such a cool colored and fabulous feeling material. Bunch them together for a sensational centerpiece or divide them up and spread their love throughout your home. They make a great gift idea for anyone on your fall shopping list.
26. Felt Spun Starry Night Window Tie Back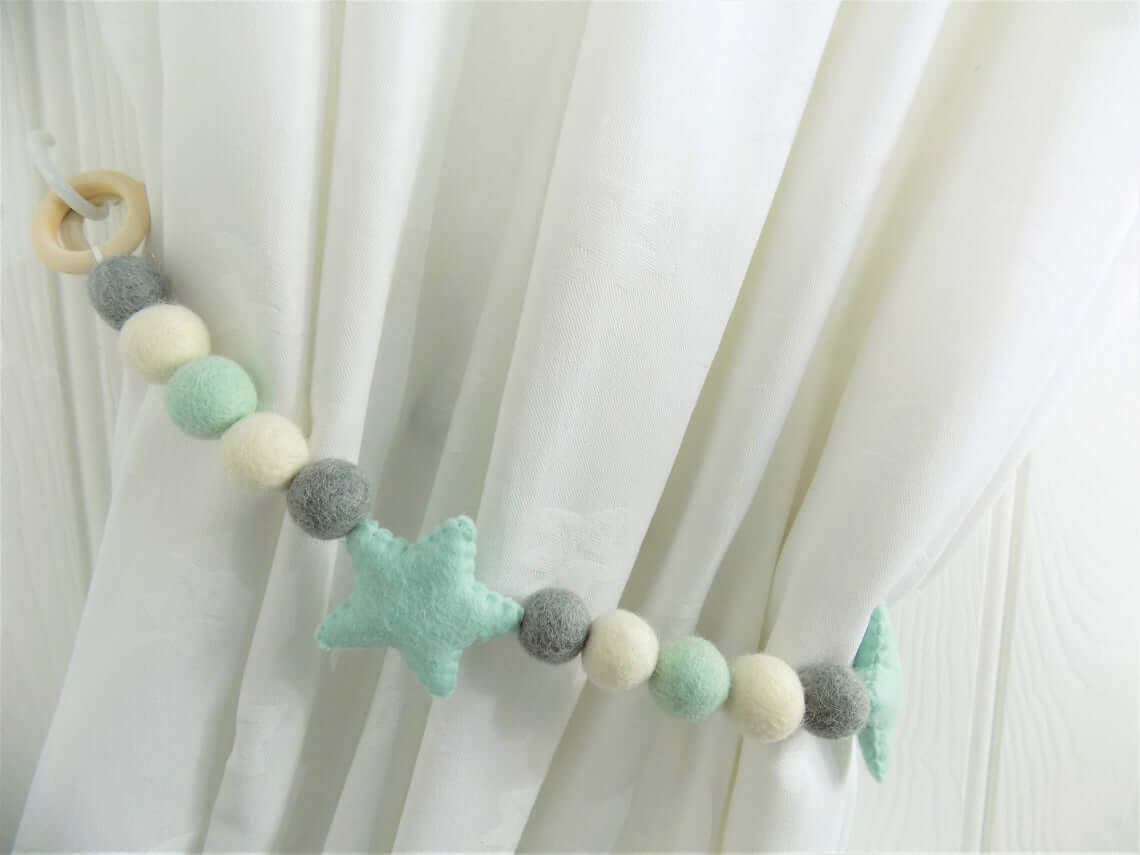 Imagine the nursery of your dreams and then add this special starry night felt spun tie back to your window. The beautiful texture of these felt balls and star-shaped masterpieces form a one-of-a-kind way to open your curtains and allow the natural light to shine through. The moon and stars collide in this cute and fun nursery addition. Make a longer strand and hang it around the room along a shelf or at the top of your window dressings. You can't go wrong with these cute and whimsical felt designs.
27. Crocheted Rope Greeting in Mint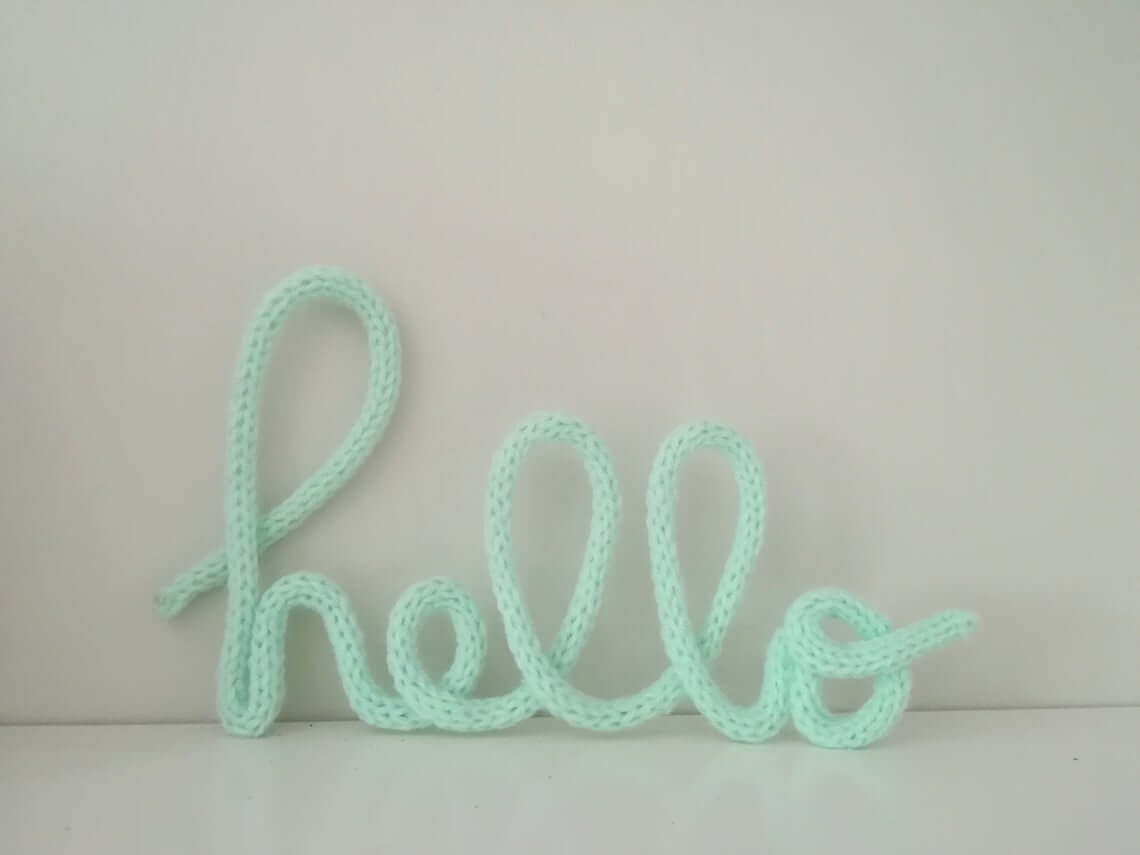 Check out this gorgeous scripted greeting of "hello" crafted in a darling mint green yarn. The detail of the rope design provided by the handcrafted crochet work is truly beautiful. Add this friendly welcome to a shelf in your guest bath or along the mantel. This crocheted script could be hung on the wall as part of a gallery design nestled among your favorite friends and family photos. It would be a fabulous addition to a wall highlighting favorite vacation destinations too. You could use it as a house warming gift for a new neighbor or to a friend who recently moved into a new space. And, it would be super cute as part of your daughter's dorm decor.
Mint Green is Meant to Be in Your Home Decor
Regardless of your designer's taste tends to fall on the old, vintage side of the track or is of-the-moment with modern farmhouse, you can't go wrong with these mint green decor ideas. From the bedroom to the bathroom and all the spaces in between, there is a way to bring this fun, muted color into the comfort of your own home.
The mint subway tile lining your shower is a perfect way to lend a luxurious spa feeling to your personal retreat without breaking the bank. Dressed up with a sleek, white vanity and gold-trimmed mirrors, you can have the vintage modern bathroom that rivals any magazine.
Then, you can always opt for a new accent chair that boasts a fun print crafted in this lovely mint green. Or if you are short on space, there is always a place for an extra accent pillow or cozy throw that encourages you to snuggle into a good book with a warm cup of coffee this fall. Maybe your fall decor needs something with pizazz. How about adding a rich and bold velvet pumpkin to the mix? You can even give your favorite house plants an update by re-homing them into a minty fresh planter.
There are so many wonderful wall art ways to utilize this color. From scripted greetings crafted from crochet to cascading stationary mobiles filled with circles, you can find something beyond your basic sign. And the nursery can be a top-notch location for housing items of this color since it lends itself quite easily to both genders. Its inherent softness speaks to the delicacy of a new baby without saying a word. Try incorporating it as a window tie back, wall clock, or mounted woodland creature.
The mint green sky is the limit when it comes to this color's appeal for your home in terms of mint green designs. Try some on this season or simply choose to share them with friends as special gifts. You can't go wrong with this fresh color that's all the rage this year!